Women can hardly imagine their everyday lives without makeup, highlighting all the advantages of their appearance. And the essential point influencing the quality of your makeup is healthy and glowing skin. You should thoroughly select cosmetics suiting you perfectly to get such an effect.
Proper cleansing, toning, and moisturizing of the skin is also essential for an attractive glam makeup look. A woman will never look fabulous even with the most professional makeup if she has problematic skin with acne or other troubles. So, you should never forget about skincare.
Although many women consider glam makeup defiant and provocative, it's first feminine and lovely. Ladies usually try to make their eyes more expressive, and the whole look becomes amazing and attractive. Of course, there are numerous options concerning such glamorous makeup, and each woman will have the possibility to choose the best one for herself. Learn more about the latest makeup trends in 2022 and pick your favorite.
Crystals Makeup You've Always Dreamed About
Glitter products are the easiest option for everyday makeup and special occasions. It was considered suitable only for some parties or catwalks for lots of time, and almost nobody used crystals. But times are changing, and today, pastel makeup colors with glitter and rhinestones are at the peak of popularity.
Such soft glam makeup is a perfect solution for any lady, independently of her skin color and occasion she has. Use a black eyeliner and eyeshadow palette of the preferred shade to highlight your eyes. If you want to make your appearance more attractive and perceptible, pick the brightest colors in your arsenal.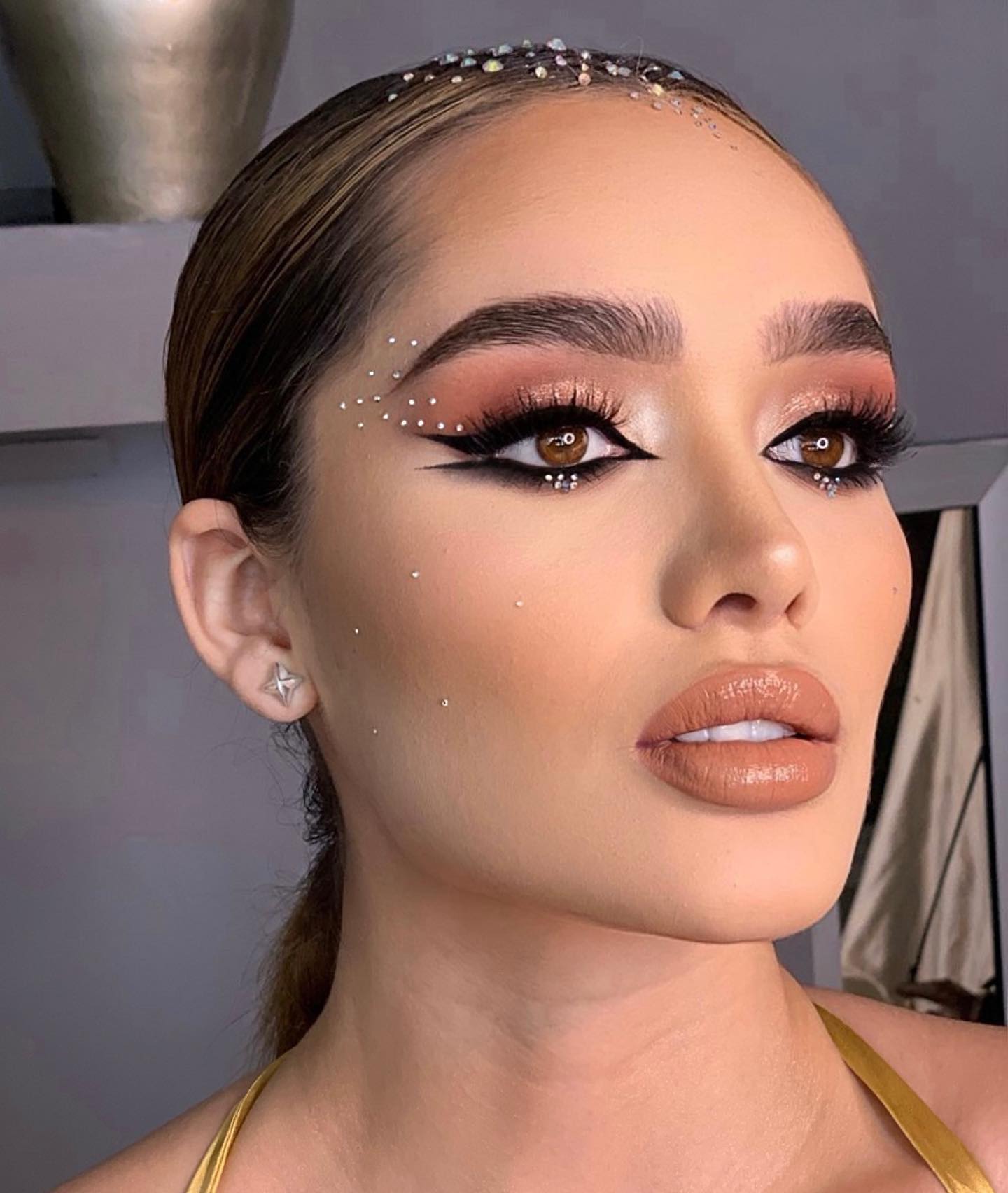 via @eea.studio
Contrasting Eyeshadows for Bright Personalities
Spring is exactly when women prefer to experiment with their wardrobe and, of course, makeup. If you would like to attract tons of attention from the surrounding people, proceeding with bright makeup is the best idea. If you are already tired of some classic ideas, take contrasting eyeshadows and shine!
Here, the chromatic circle is the main assistant, allowing ladies to quickly pick the most suitable colors. For instance, you can select red and blue eyeshadows and make a perfect accent on your eyes. Of course, the shades selection depends on your skin color, which is the main criterion that should be considered.
Start your makeup routine with moisturizing cream, and add the full coverage foundation. Then, move on to eyebrow shaping, which is also of great importance in your appearance. Professional makeup artists recommend making fluffy brows, one of the most recent trends among all fashionistas. When the base of your makeup is ready, show your imagination and choose the most interesting eyeshadow colors. It's better to use nude lipstick or balm since the accent is on the eyes.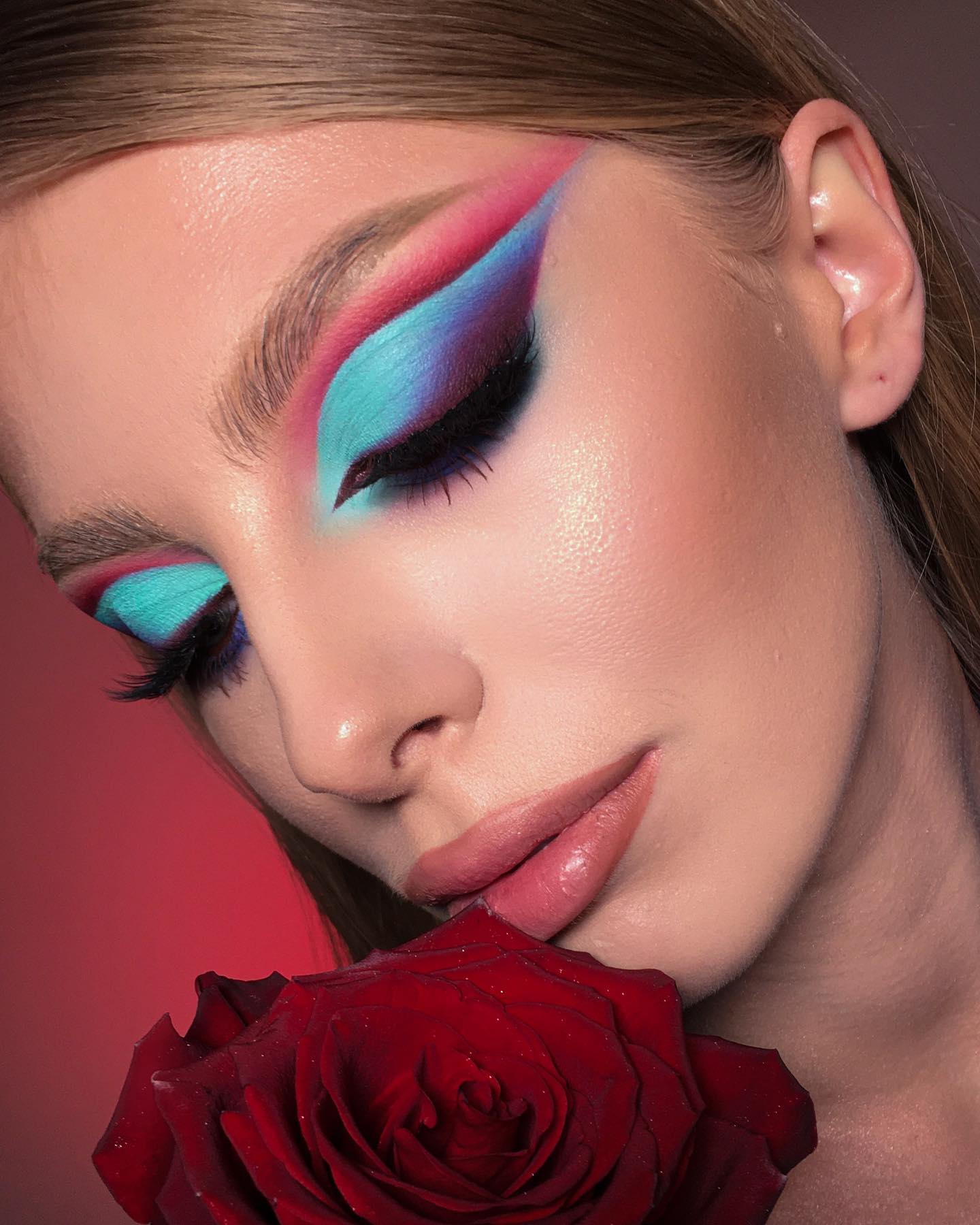 via @sorokairyna
Draw a Sunset on Your Eyes
A sunset makeup usually implies using some bronze, orange, or even yellow eyeshadows. Such shades are considered neutral, and they suit all face shapes and skin colors, so we are confident that every lady can use them. It's significant to choose the appropriate shades to provide a bright accent that will attract attention.
The first step is constant: you should properly clean and moisturize your skin according to your habits and routine. After that, your skin is ready for makeup. Apply the foundation, make fluffy brows, and then use eyeshadows. Don't forget to make a thin line on your upper lashes to make your eyesight even more expressive. Add the main color on the eyelid, and then turn on your imagination.
As a rule, such makeup implies adding some bronze or gold glitter, but it depends on your preferences and the colors that suit you most. You can also use several colors in this makeup, but don't forget that you should also take some matching transition shades.
Such makeup is considered quite strict and can be suitable even for some formal meetings. Moreover, it is also worth noting that bronze and orange colors suit everybody, unlike bright green eyeshadow or different shades of blue. So, sunset makeup can be now considered classic. And to make them look more festive, add false lashes and feel irresistible.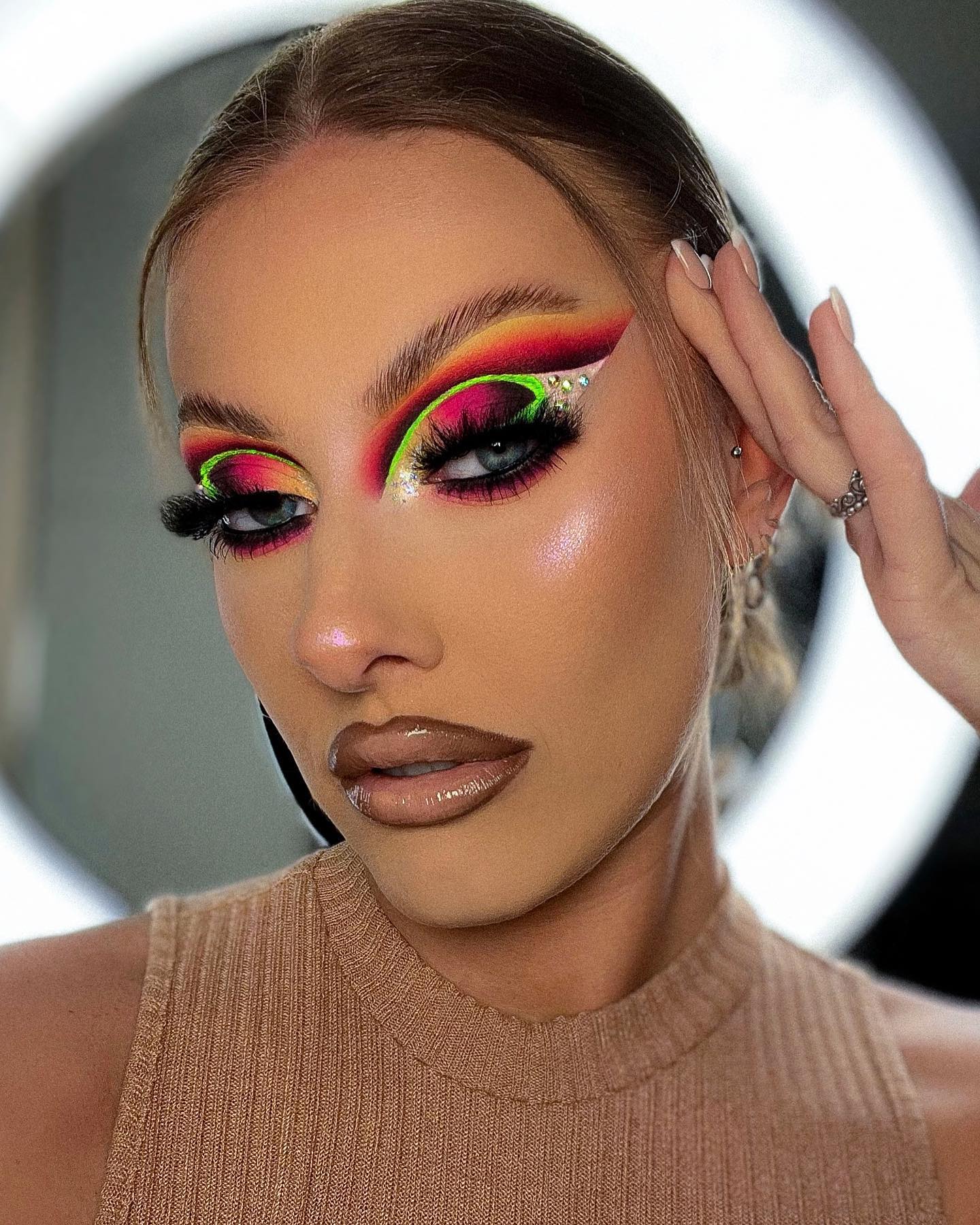 via @katiewakenshaw
Elegant Glam Makeup for Daily Basis
Many ladies think that glamorous makeup should obligatorily be bright, but it is a common misconception. The most common version of soft glam makeup is using some rosy tones that suit all ladies of all ages with any skin color. Such ideas can make your everyday look bright and stunning, allowing you to create an unforgettable impression.
As a rule, women prefer to make an accent on their eyes and use a nude lip gloss in addition. If you want to make your look brighter, don't forget to use a liquid eyeliner of any color. In this case, black liner is considered the classic option, but different shades will make your look even more exciting.Moreover, you can use a setting spray to help your makeup last longer.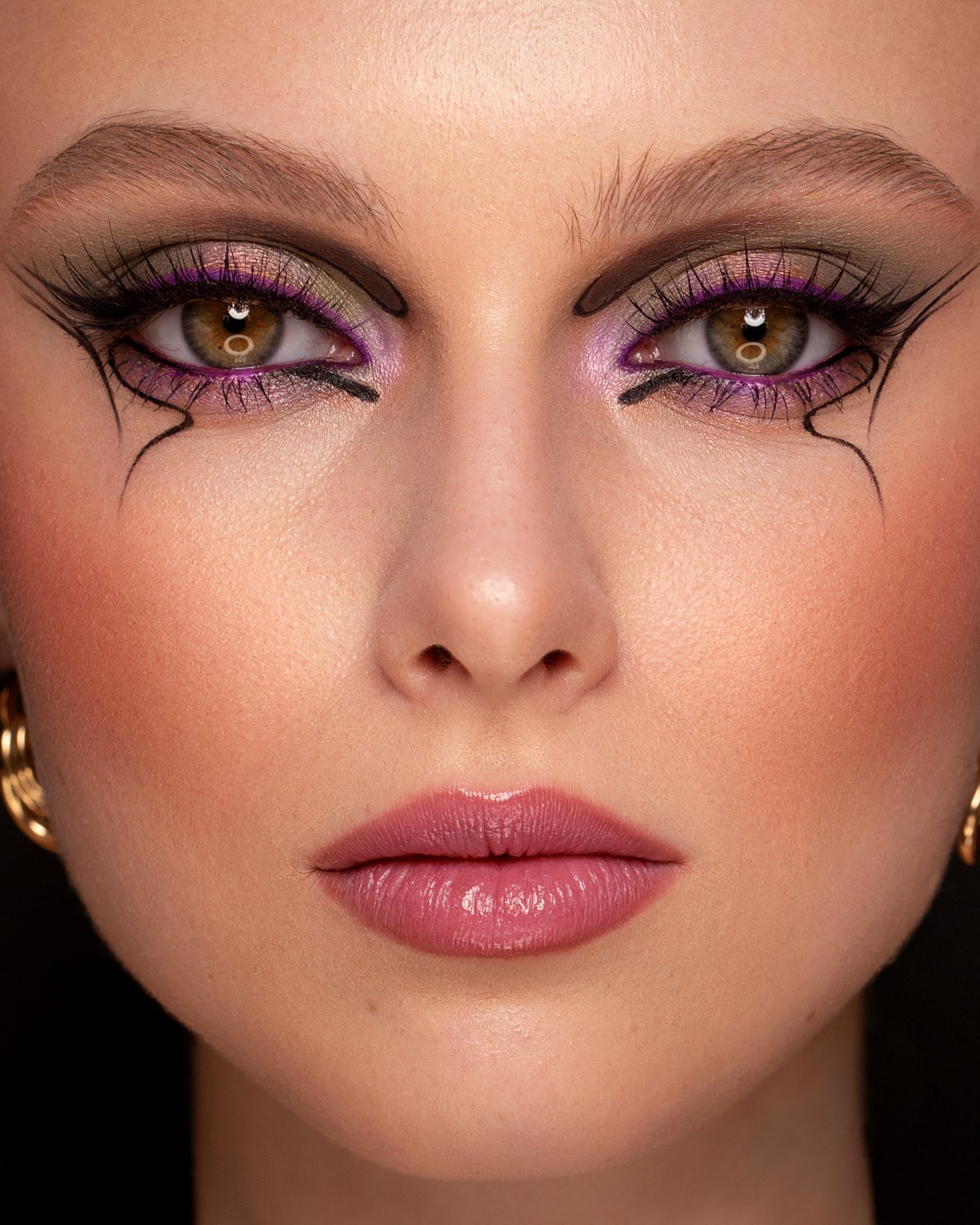 via @avoevodina
Pink Glamour: Barbie Style Is at the Peak
If you are in the mood to feel like a Barbie, pink eyeshadow is the best choice. Such makeup is quite common among women since you can hardly find any female who doesn't like this color. Some women consider this option for their wedding makeup.
It is worth noting that selecting a suitable shade depends on your eyes color. Those with grey and blue eyes should better pick calm and pastel shades, while ladies with brown eyes usually select brighter eyeshadows. Adding a black liquid eyeliner is a classic, suiting all women.
Pink makeup suits all ages and provides ladies with a flattering look. Many still consider it perfect only for younger women, but this is far from the case. Older females often prefer such makeup, and the most important issue is to choose the most appropriate colors. Natural lashes will complete your look and make it romantic, so it's enough just to apply some mascara.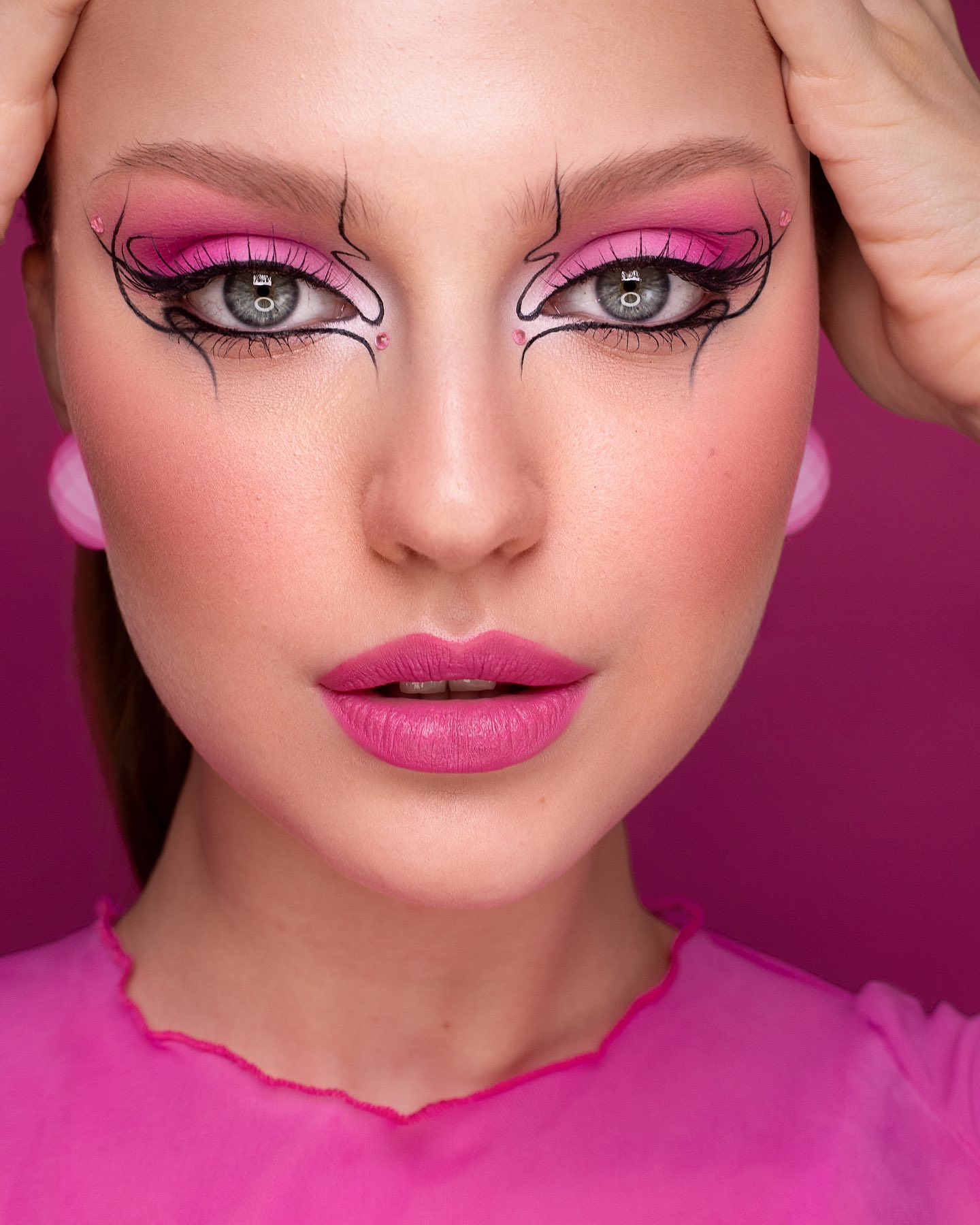 via @avoevodina
Pretty Shades of Blue for Glam Makeup
Although blue cannot be considered the most common color for makeup, many ladies still prefer to use it. And if you style these shades correctly, they will be appropriate even in day makeup. Every lady can choose suitable colors for her glam makeup.
Remember that such makeup implies no harsh lines. A transition from dark-to-light blue eyeshadow looks perfect independently of a woman's skin color and wardrobe shades. It seems surprising, but blue suits all people. Of course, one of the most significant criteria for successful and attractive makeup is a suitable natural foundation, emphasizing the advantages and hiding the skin imperfections.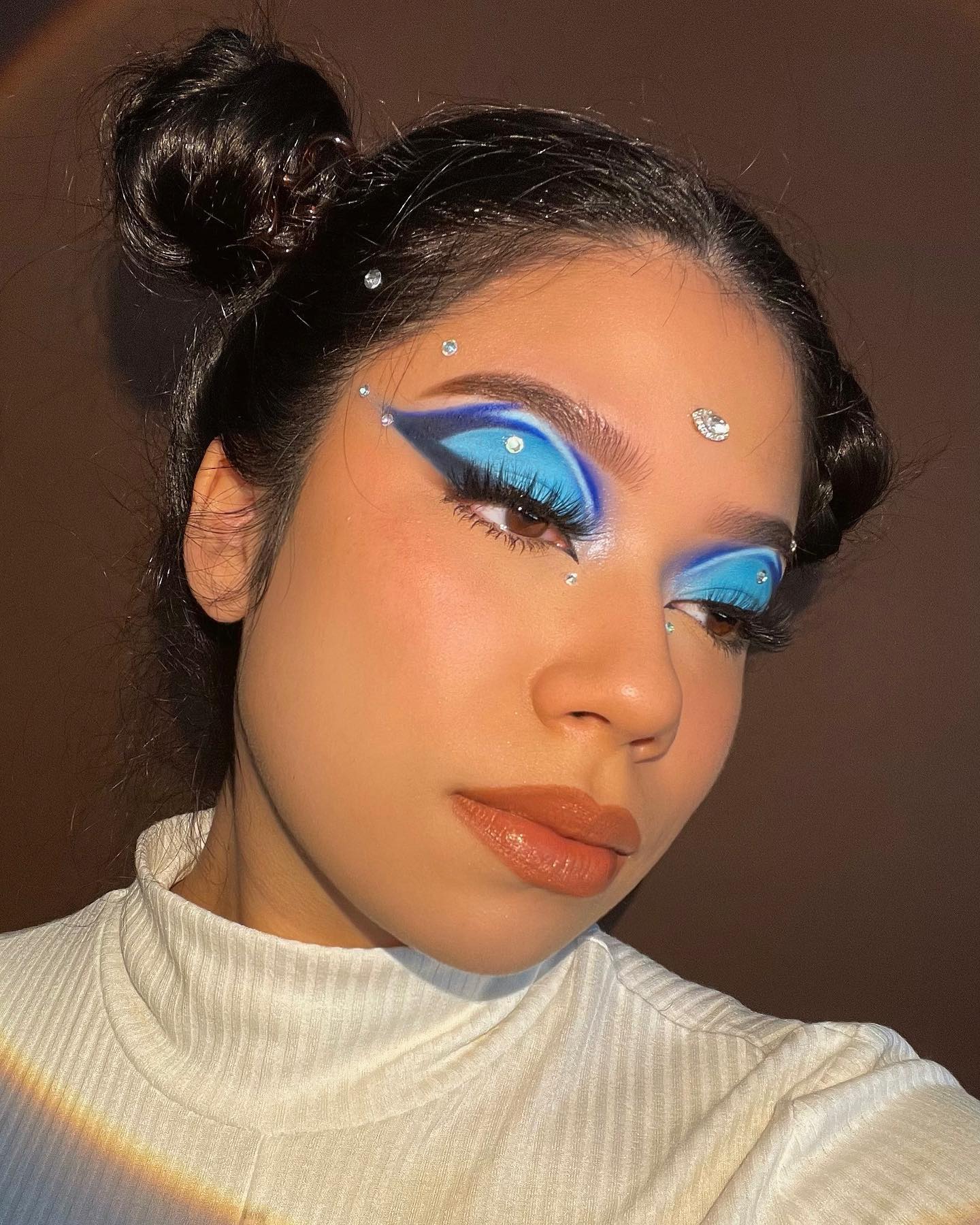 via @its.rebeccaking
Choose All Rainbow Colors and Shine
Rainbow makeup is now at the peak of its popularity among trendsetters. Bright eyeshadows are not the most common solution for daily makeup, but this is the choice of bright personalities who like attracting attention. Although it may be surprising, you can easily make a natural look even using the brightest shades for your eyes.
The most important thing to consider is that if you make an accent on your eyes, the rest of the makeup should be neutral and calm. Of course, you should pick the right concealer to ensure skin smoothness.Rainbow makeup implies the usage of red, yellow, green, blue, purple, and orange shades – just choose the most exciting combination and add all these eyeshadows. Apply some liner on your lower eyelids, which will make your look even more attractive.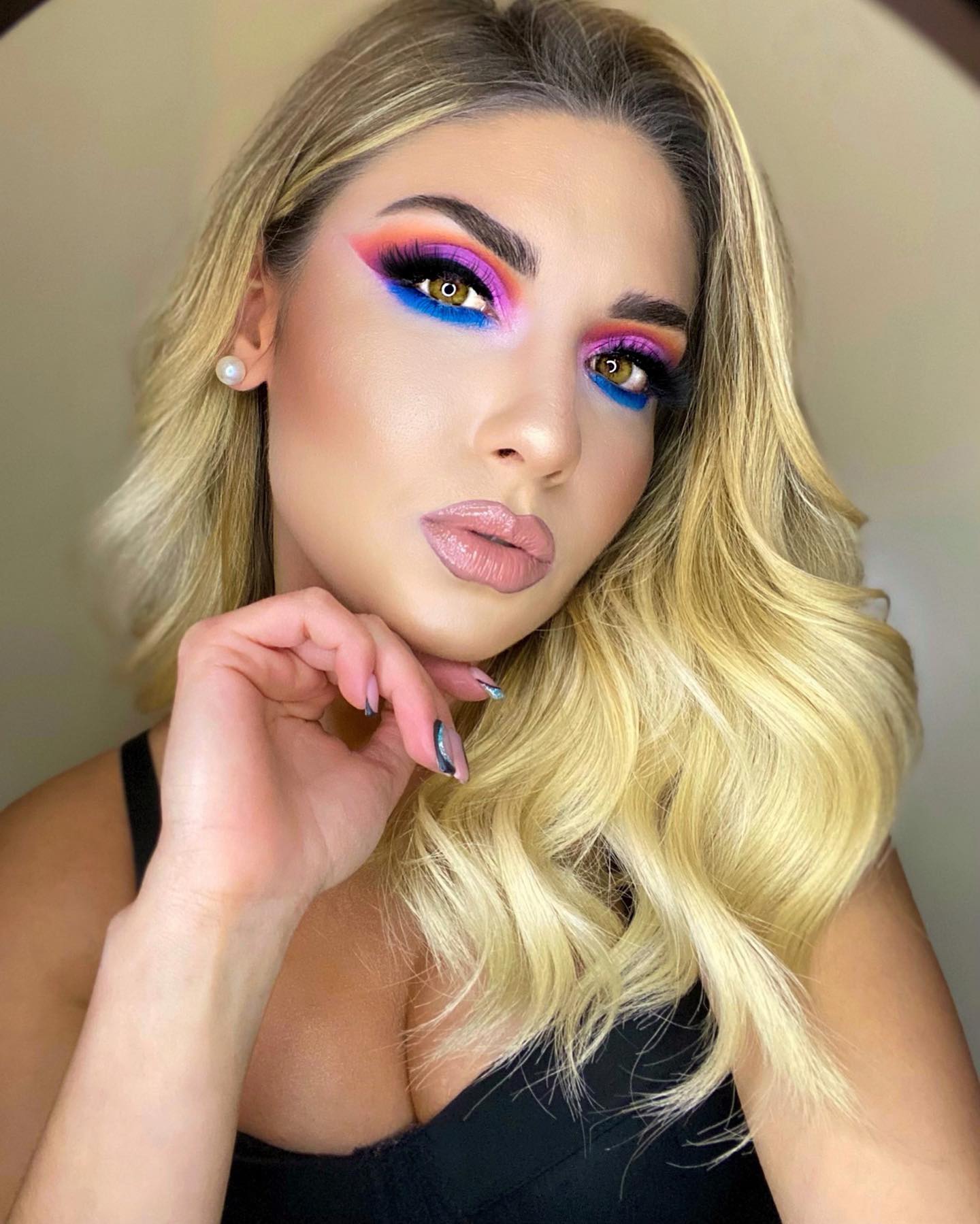 Incredible Green Glamorous Look for Brave Girls
Green is the choice of brave and bright individuals who don't mind attracting people's admiring glances. Rich green eyeshadow is a perfect solution if you have a special occasion and want to be in the center of attention. However, many ladies also prefer using such eyeshadows daily, wearing them to the office.
A glam look is guaranteed if you choose green eyeshadows and nude lipstick. You can also add some highlighter on your cheekbones and under the eyebrows to sparkle more. It is a gentle look to glow!
If you are unsure how to proceed with such makeup or find it challenging to pick suitable colors, contact a professional makeup artist who will easily help you with this issue. This glam look will leave the most favorable impression about its owner!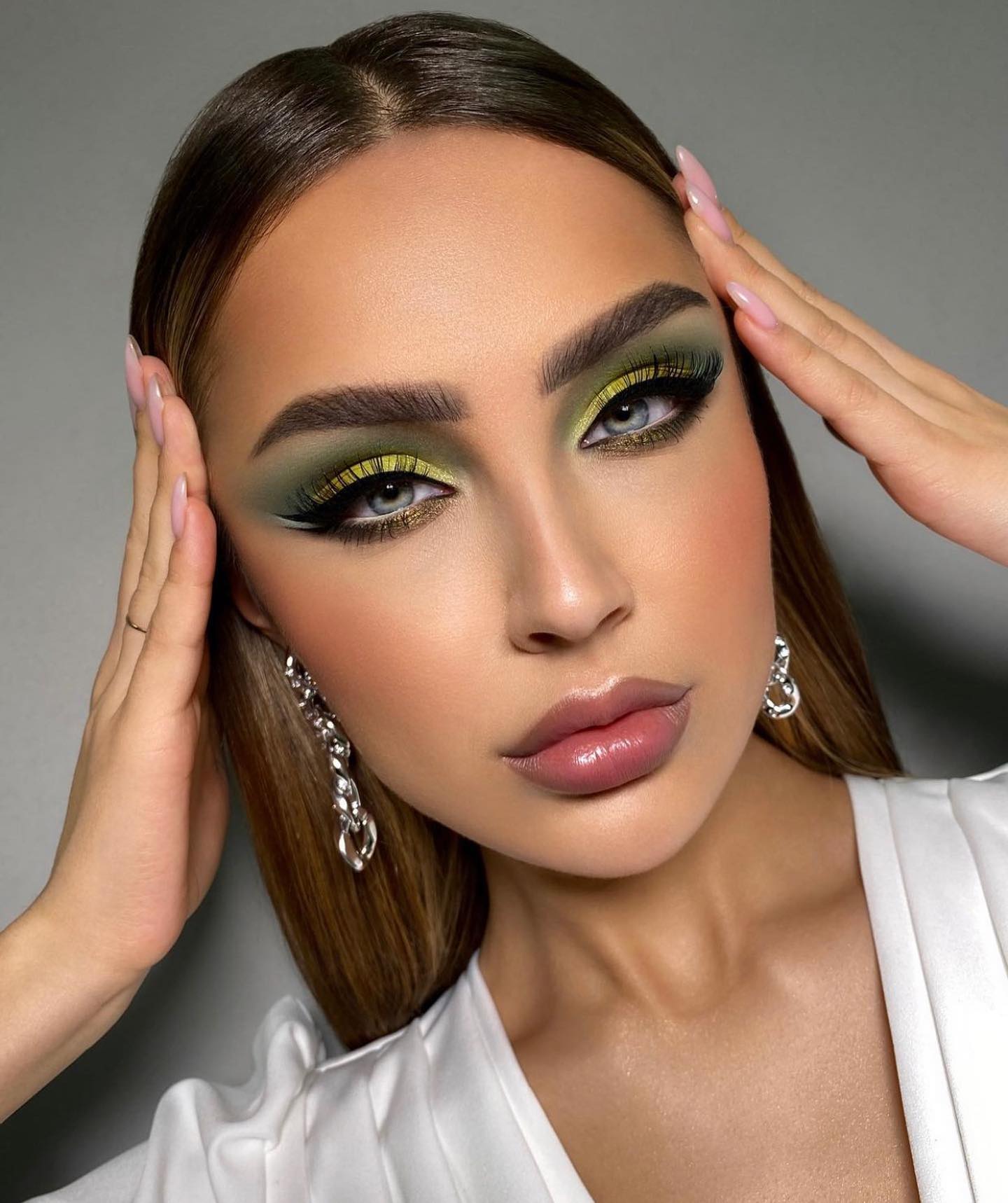 via @beauty_vain
Floral Accents in Your Eye Makeup
Such makeup looks amazing, but, of course, it's suitable only for some special events or a catwalk. Numerous makeup artists perform it as their graduation work when finishing their education. The first and the most significant step to fantastic makeup is a perfect base, allowing you to get smooth skin.
If you are​​ good at drawing, you should turn on your imagination and proceed with different colorful flowers on your eyelids to get an extravagant and attractive look. Those who don't like or don't have time for drawing can apply some crystals and glitter. Add a highlighter to glow even more!
The choice of shades for such makeup is amazing, so you can pick a burning red eyeshadow or deep green – it's up to you to decide. Add a seamless finish to get a more long-lasting makeup and enjoy the admiring glances.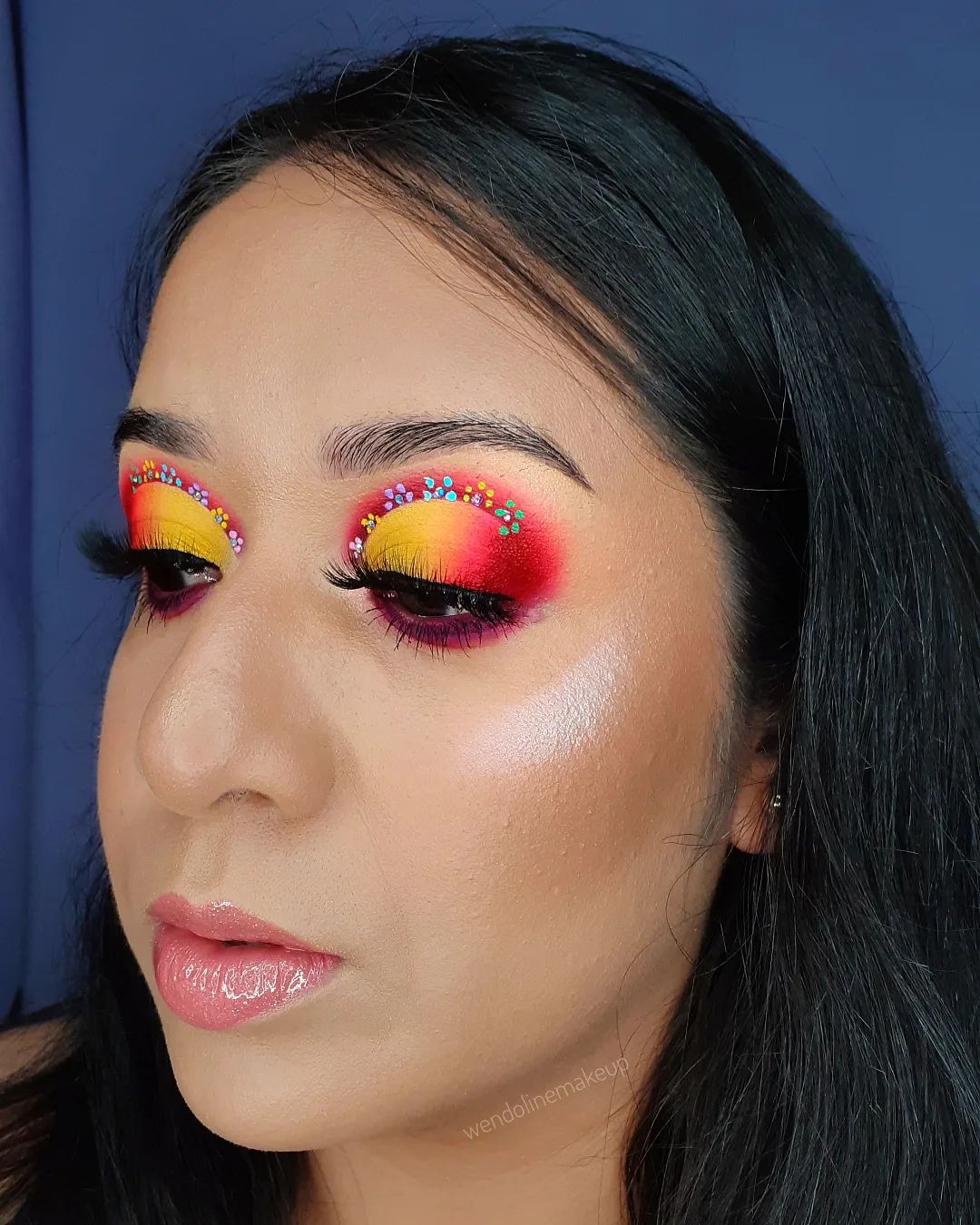 via @wendolinemakeup
Pick a Silver Eyeliner to Shine Bright
Many women would like to know how to make their day makeup more unusual and attractive. And we have a solution – just apply a silver eyeliner instead of the typical black one or your upper lash line. This will provide you with a small amount of highlight without too many sparkles.
You can pick any basic colors for such makeup and shine bright! Such accents are accessible even for daily makeup. And if you have a special occasion or a party, add false lashes.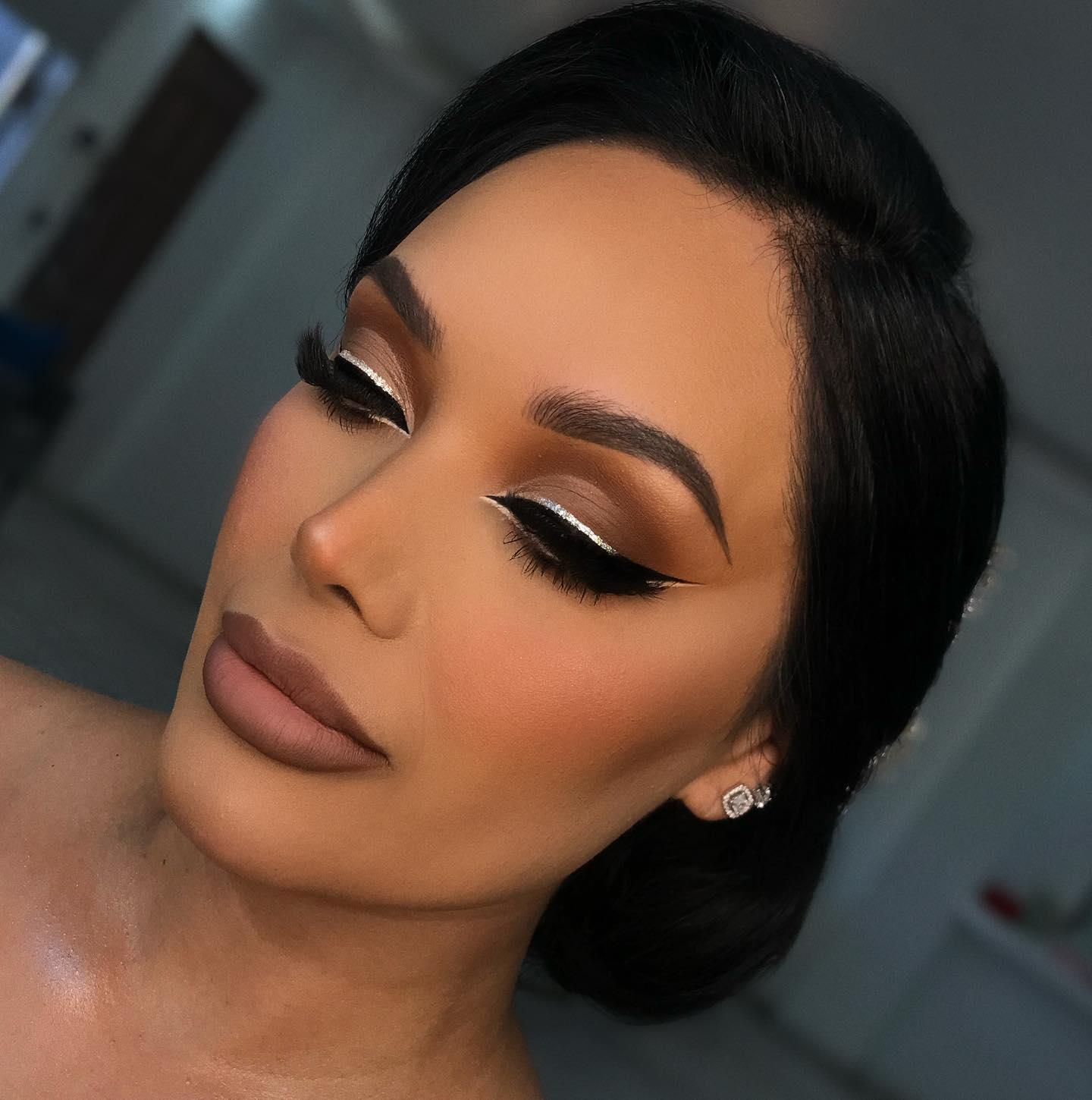 Yellow Accent in Your Appearance: Feel Like the Sun
Yellow eyeshadow quickly gained popularity among fashionistas since each woman wanted to shine like the sun. You can choose the suitable shades according to your skin type. This makeup will look good even at formal meetings or in the office since you don't obligatorily choose bright and saturated colors.
For instance, you can choose light brown eyeshadow as the main color and then add some yellow pigment to get a perfect smokey eyes effect. Remember that a perfect coverage foundation is a must when starting your makeup. You should also complement your look with some mascara on your natural lashes.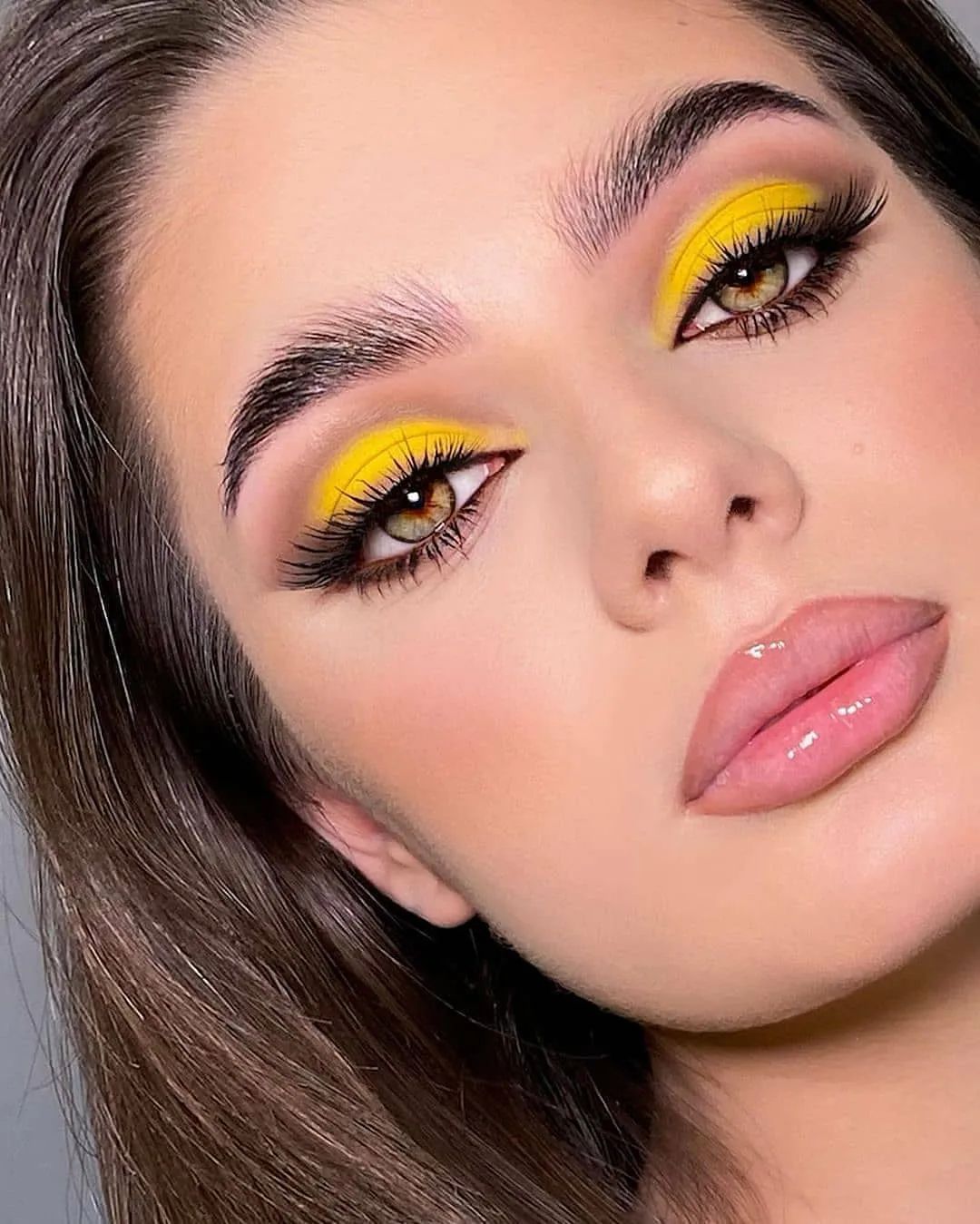 via @makeup.wise
Aqua Glam Makeup for Real Mermaids
Not so many women prefer to experiment with their makeup and choose blue and green. However, we hasten to assure you that these aqua shades are at the peak of their popularity. Soft glam makeup can be done with some pastel shades, complemented with glitter, or several rhinestones.
A natural skin tone guarantees that your makeup will be attractive and always relevant, so make sure to choose an appropriate foundation. Then, choose the eyeshadows that you will use. Keep in mind that if you use several colors, the transition shade should be more neutral. Aqua makeup is suitable for any event, but it's better to have natural lashes if you want to make it during daylight hours.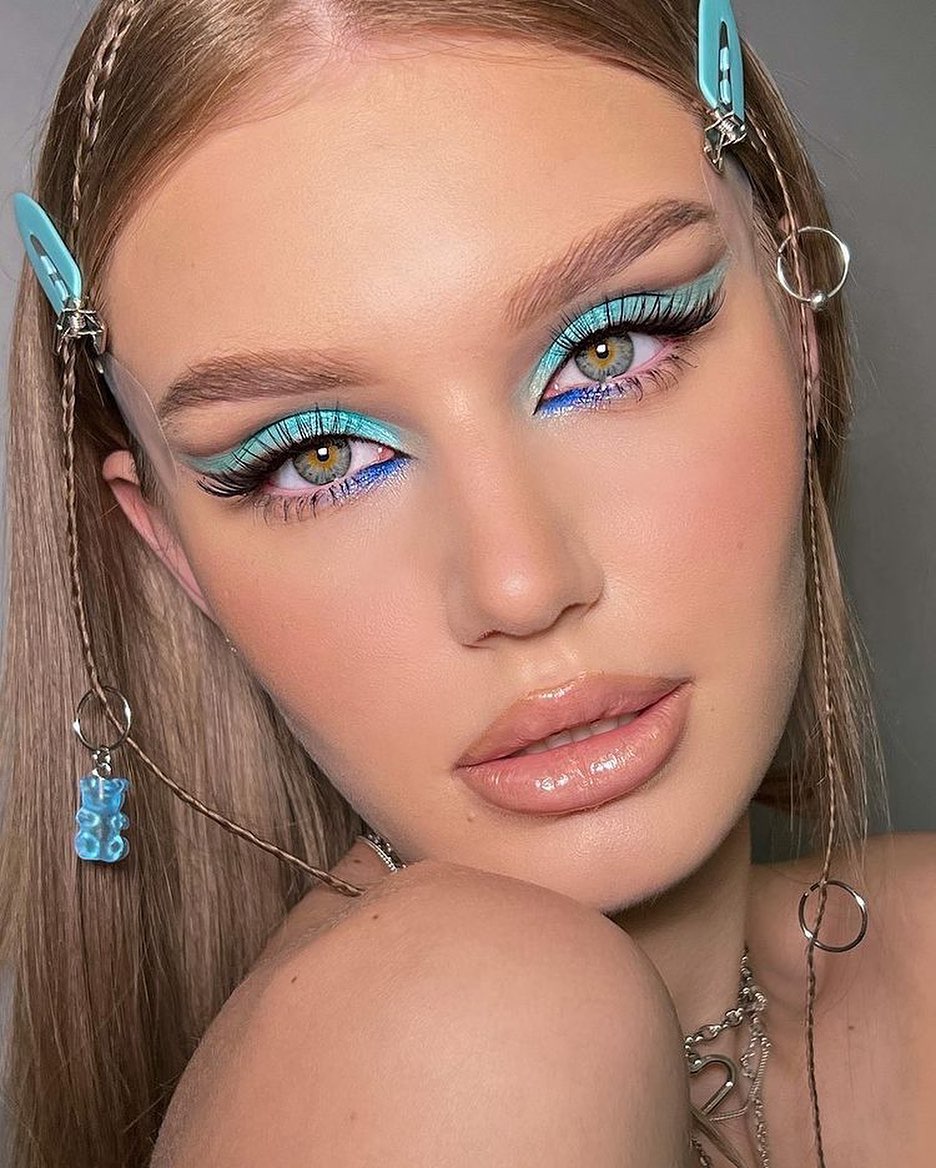 via @beautybeexyy
Elegant Green Glam Makeup That Suits Everyone
Women rarely choose green eyeshadow for their makeup, but this color is worth your attention. Different shades of green and emerald look stunning all the time. Moreover, you can add some gold highlights to glow and provide a contrast.
Makeup artists often recommend applying sparkly crystals, which will perfectly complement green colors. This method will also help you to get a 3D makeup effect. If you make an accent on your eyes, you should better choose nude lip gloss. Some ladies prefer to use red lipstick to create a charming contrast. However, it depends on the occasion, so you have to make sure that such bright makeup is relevant to the event.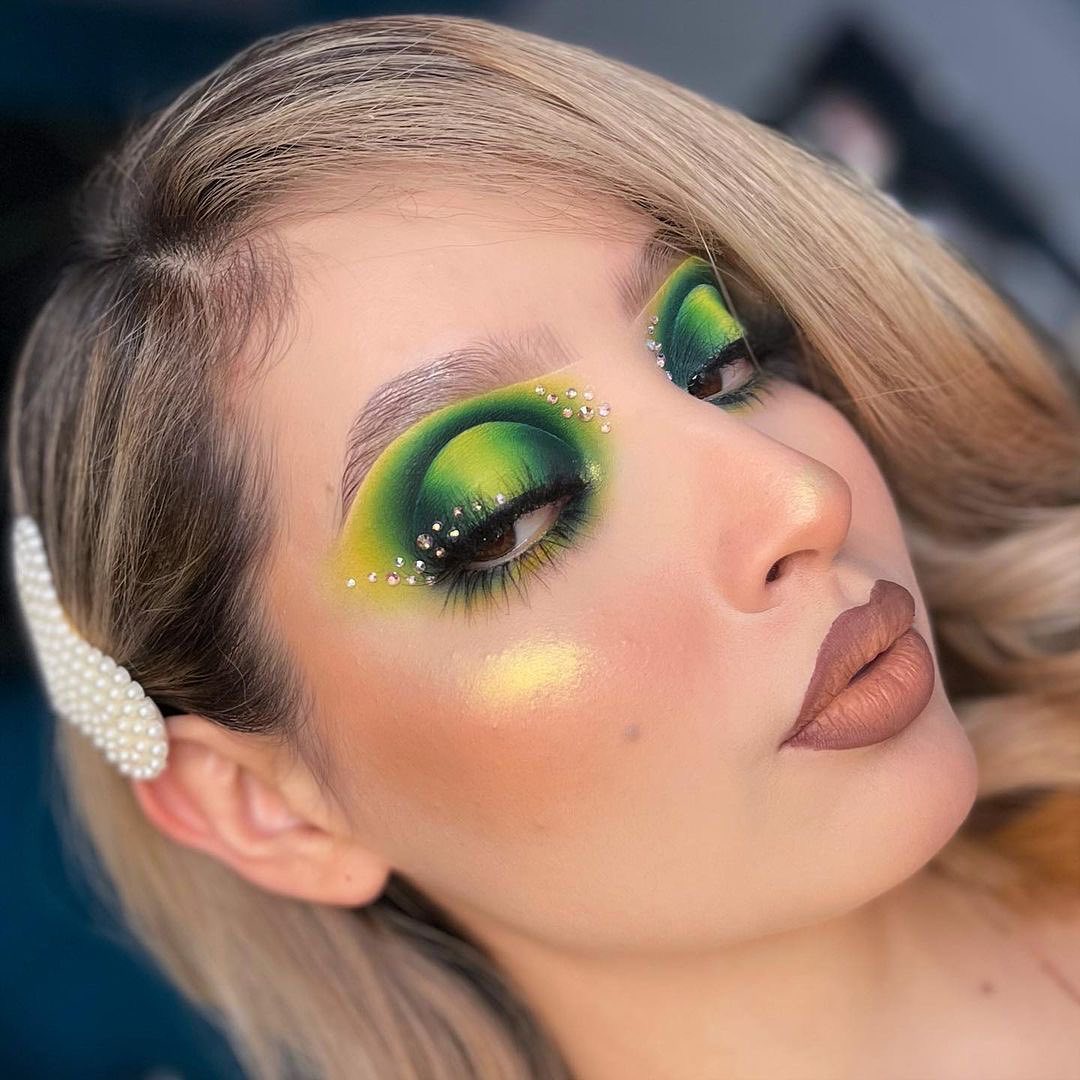 Matte Red Lipstick Is a Must-Have in Your Cosmetic Bag
There is a myth that red lipstick is not for everyone, but it's not true. The secret is that you should choose the proper shade that would look amazing with your skin tone. It is hard to imagine a classy makeup look without red lips. Remember to make nude makeup on your eyes to avoid too many accents.
Matte red lipstick is at the peak of all trends, and it is not without reason. Matte cosmetics usually last longer, so it's a great option for everyone. Don't forget about a perfect base – apply the foundation and powder to have incredible makeup. Blush on the cheeks will add romance to your look, and a little black mascara will emphasize the expressiveness of the eyes.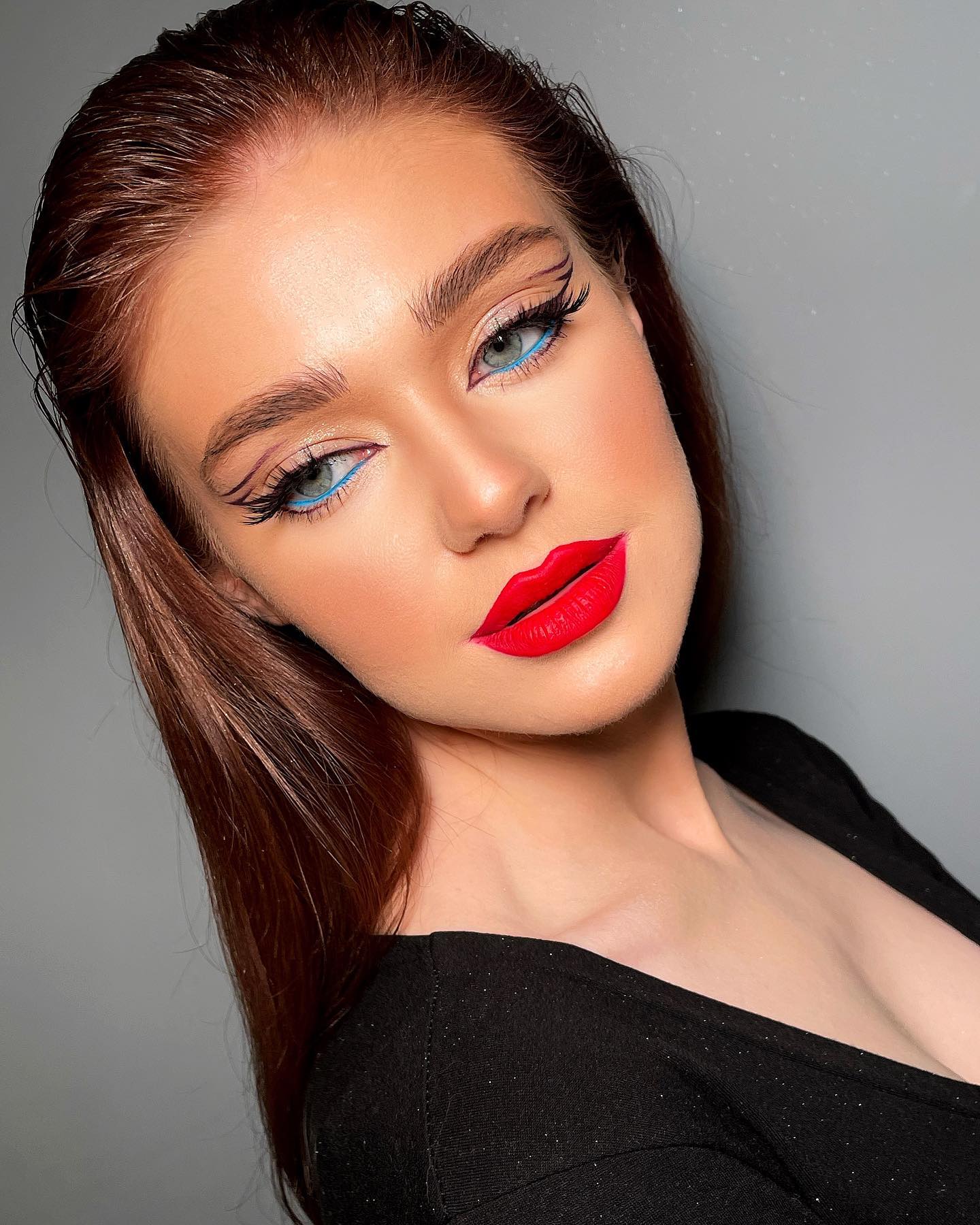 via @nes.make_up
Top Ideas to Highlight Gray Eyes
Here, we have some good news since almost any makeup is suitable for gray eyes. You can choose different shades of blue or make a mixture of bronze and black – all this will emphasize your eyes. The basis of perfect makeup is a natural foundation, and the rest depends on your imagination!
If you have a special occasion or a party, you can add some shimmer to the eyelid and shine brighter. False lashes will be a perfect addition to your glam look!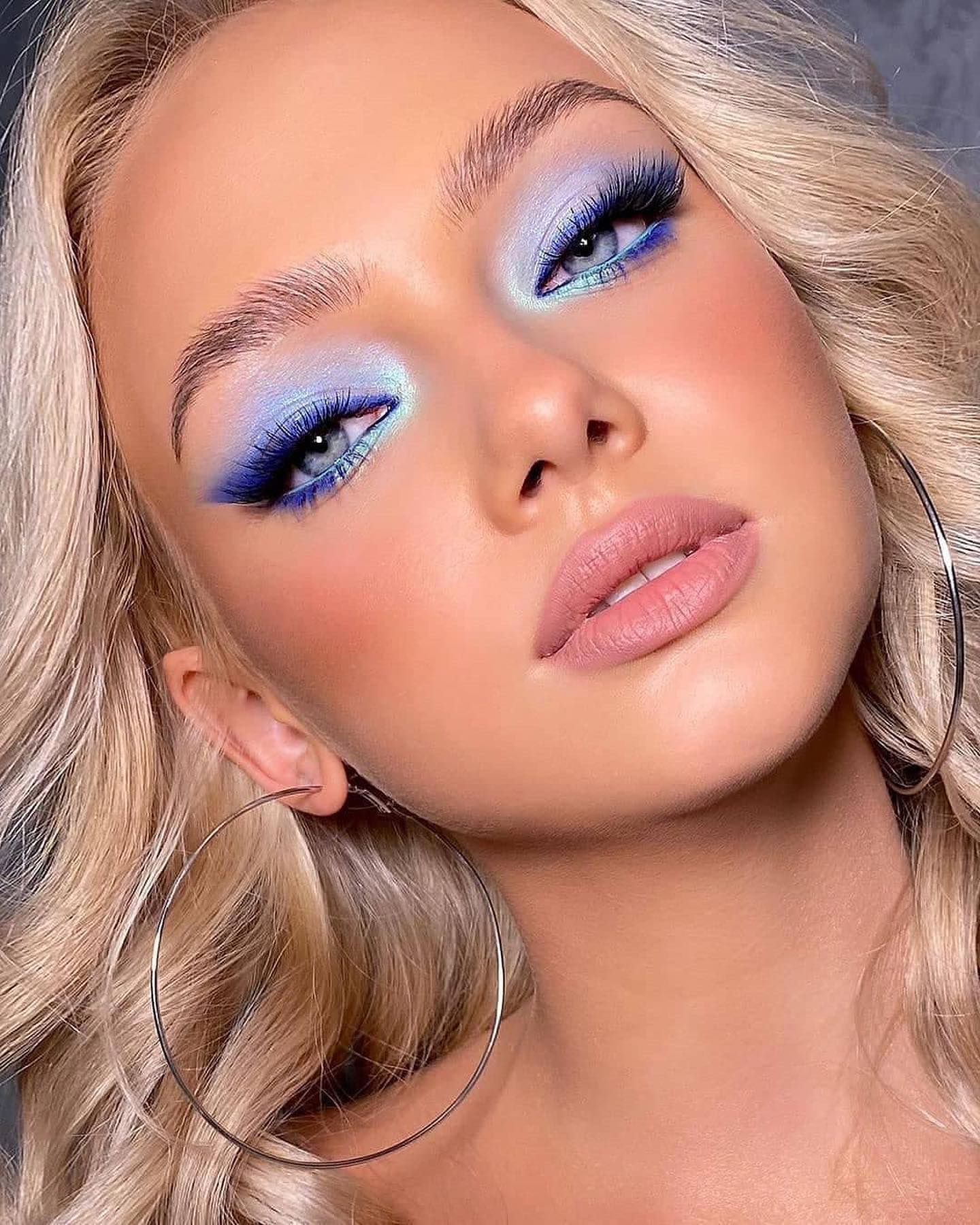 via @makeuplm_
Your Freshest Look with a Sunny Makeup
Many women think that bright makeup is good only for catwalks, but it is a common misconception. Bright yellow eyeshadow can look fabulous, but it's better to avoid other accents such as saturated blush or lipstick. A makeup with bright spring colors is a great idea for any special occasion.
If you want to have shiny skin, choose a proper foundation, and don't forget to add some highlighter to your cheekbones. Moreover, black eyeliner is a must for any glamorous makeup look. Feel like the sun and be ready to attract a lot of attention!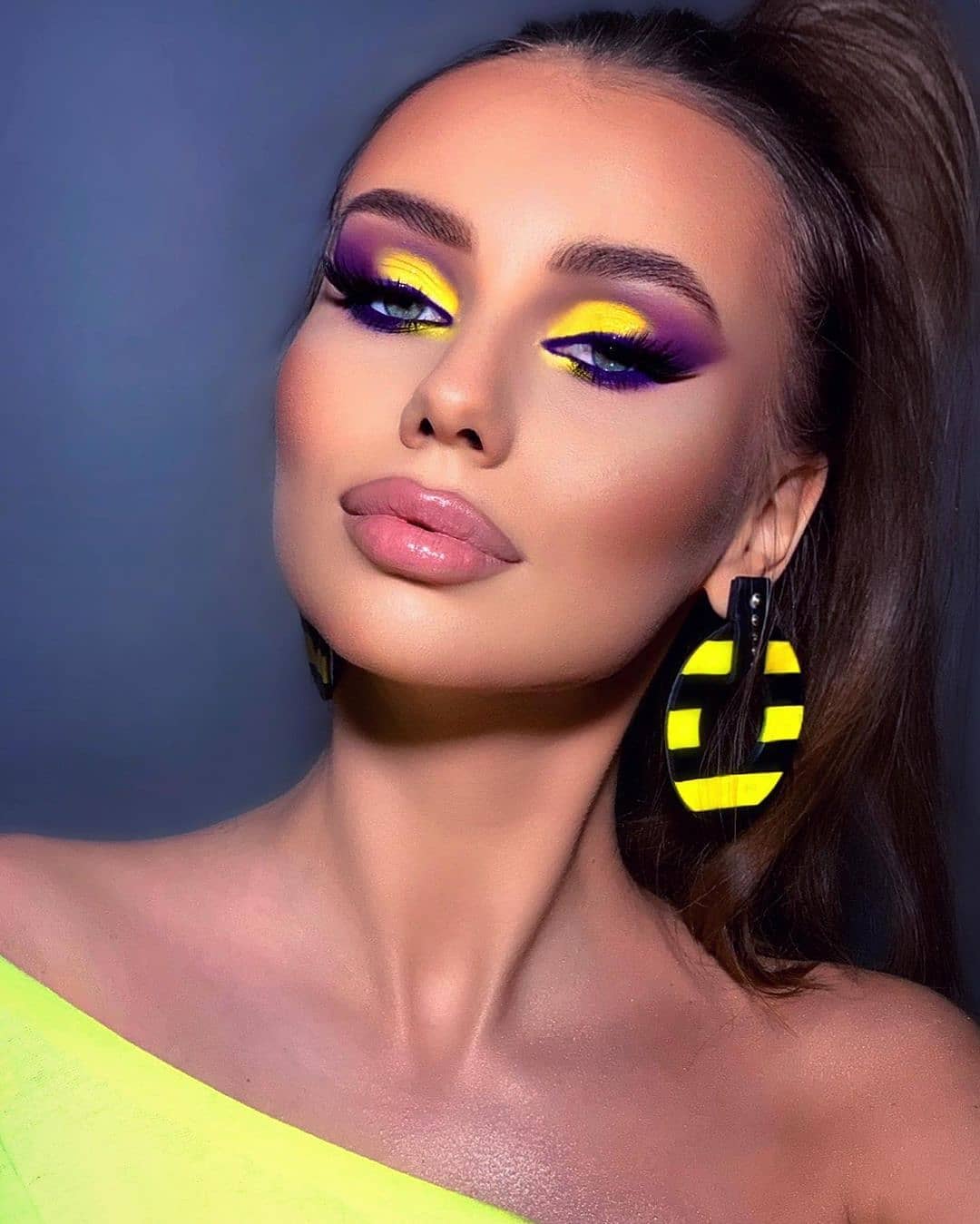 via @makeupsharp
Glam Makeup with Colorful Mascara
You can now find a mascara suiting all preferences, and using some bright products is a real trend! You can choose a purple one or choose among numerous shades of green – this all depends on your taste and skin color. Green mascara is especially suitable for those with red hair, creating an incredible contrast in their appearance.
If you pick a colorful mascara, you already get a bright accent in your makeup. Remember that in this case, the best option is to apply black eyeliner and use pastel lipstick.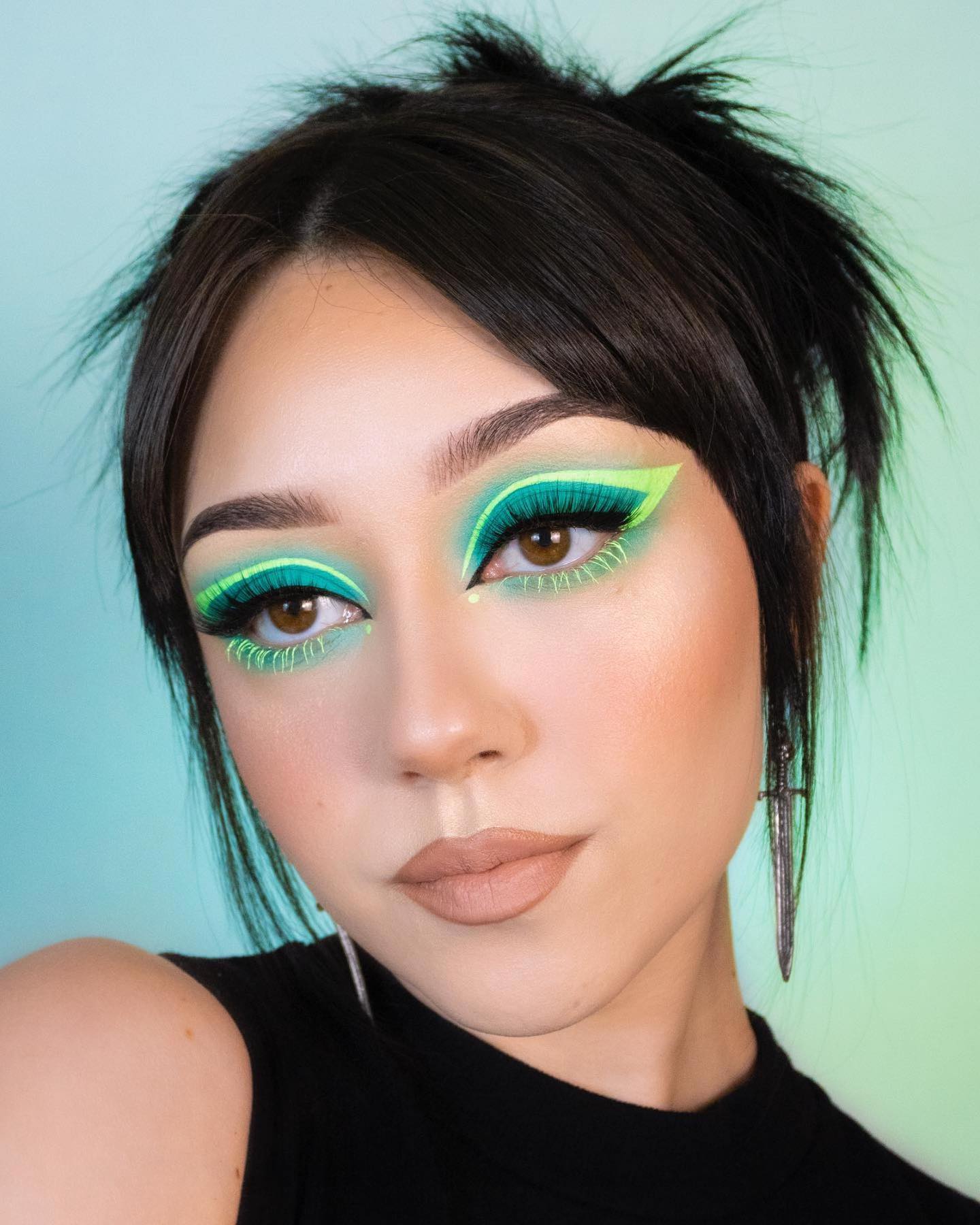 via @cool.makeups
Glowing Eye Makeup for Bright Personalities
It's enough to add some glitter to your eyelids to get an incredible shiny effect in your makeup. It is worth noting that eyeshadow color doesn't matter, and you can pick the one you like most. You can blush and highlight your cheeks for a more glamorous effect. And apply a nude or brown matte lipstick as a finishing touch.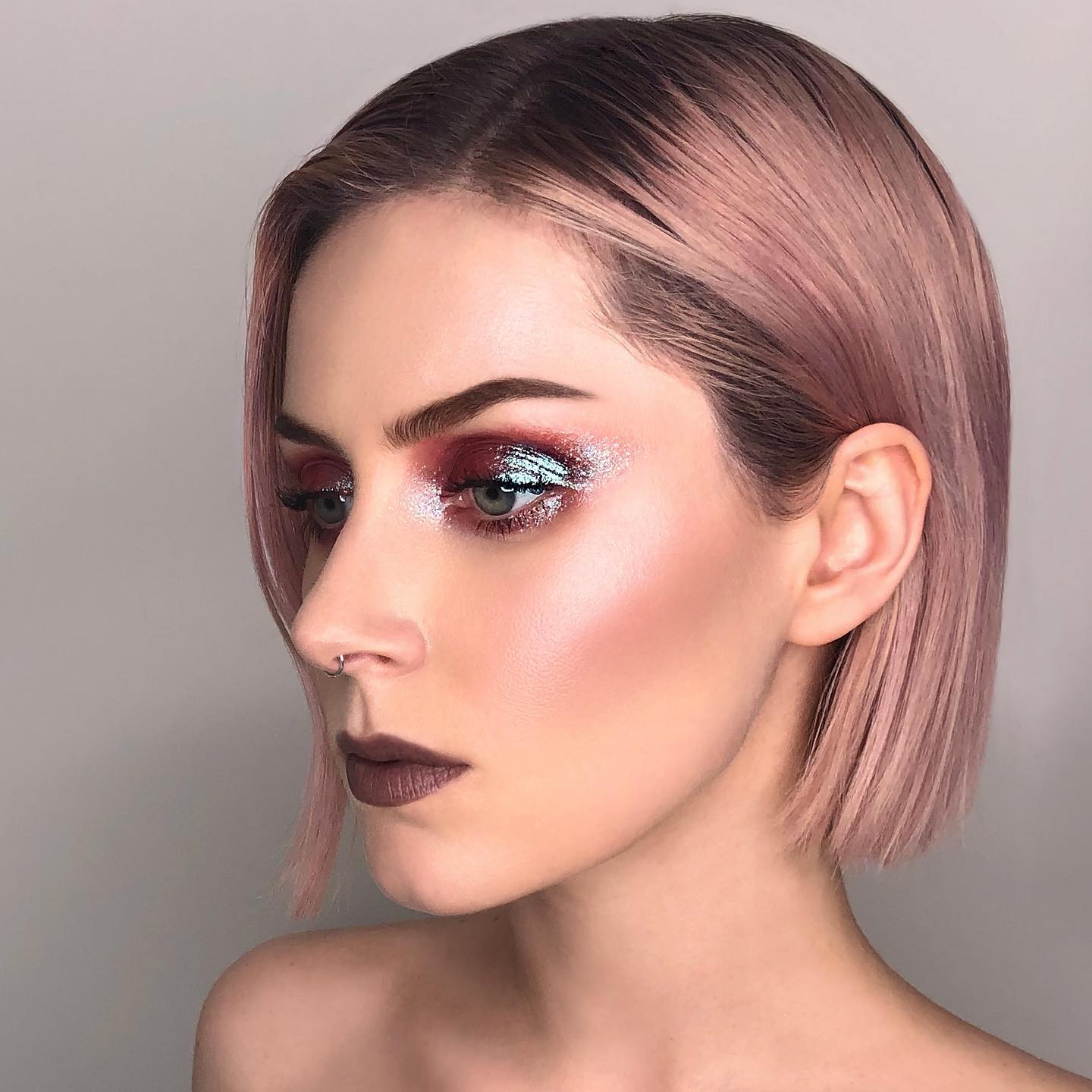 via @ritueldefille
What to Choose for Best Green Eyes Makeup?
A colorful makeup can highlight the beauty of your eyes, and thanks to the proper shades, you will receive a ton of compliments. The best option for green eyes is to favor warm over cool tones, for instance, bronze, gold, and brown. Makeup lines should be sharp, which will highlight the eyes' shape. A burgundy lipstick is also a great decision if you pick pastel eyeshadow.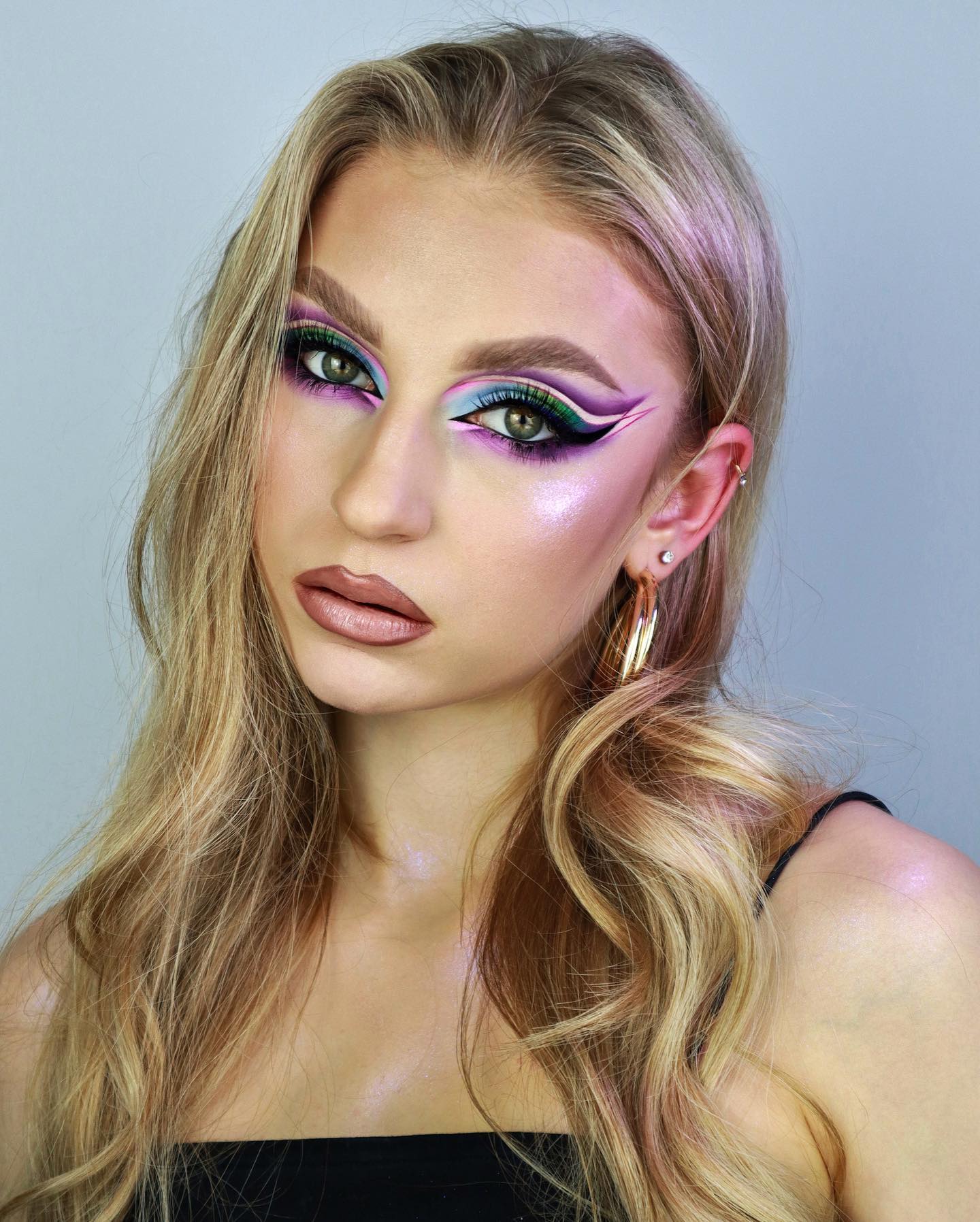 Incredible Bright Orange Makeup for All Skin Colors
Orange eyeshadow is a great solution for ladies who prefer being at the center of attention. Such makeup will look amazing during the daytime, and if you add a little glitter, it will shimmer beautifully in the sun. Using more pastel colors will help you provide a natural look, suitable for office or some formal meetings. Moreover, orange shades are outstanding for bright makeup for black women, creating an attractive contrast.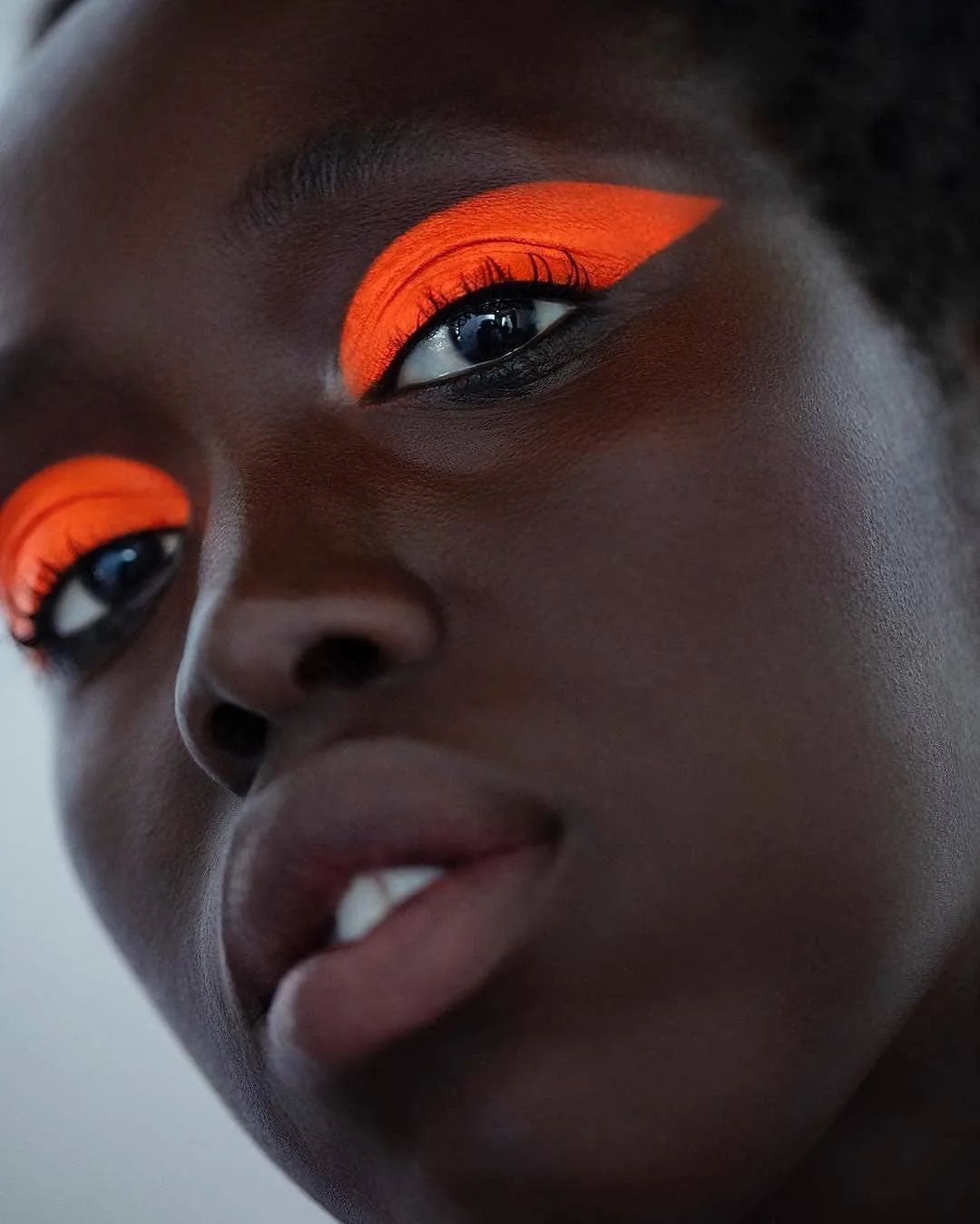 via @makeup.wise
What Is a Soft Glam Makeup?
Many people think that glam makeup is something bright and extravagant, but it's not true. Glamour implies attraction, charm, and magic. And the most important feature of soft makeup is the possibility of a woman highlighting all her advantages and always looking relevant. It is not enough to choose bright colors that will catch the eye and attract attention. You must always be well-groomed, feminine, and beautiful.
The basic rule for applying makeup is that you should not highlight all parts of the face simultaneously: if you focus on your eyes, make them "the main ones on your face," and don't add any bright lipstick or vice versa.
Take a look at some useful tips for your everyday soft glam makeup in the tutorial:
An elegant makeup style is appropriate for all occasions: day and evening. The main thing is to choose the shades of shadows and lipstick skillfully.
Remember the golden rule when choosing cosmetics: they must be high quality. It is better to buy fewer products, but let them all suit you and highlight the benefits. And, of course, do not forget about quality skincare!