Are you in the mood to change your hairstyle and get a wonderful new look? Learn more about trendy hair colors this season! Different shades of caramel hair are at the peak of their popularity. Moreover, they have a secret – they perfectly suit all ladies with any skin tone and facial features.
Balayage style is a dyeing technique that has become classic among ladies of different ages. It helps you immediately look fresher and younger. Moreover, women with thin hair can use such a hairstyle to add additional volume to their coiffures. Light highlights will perfectly shine, making balayage a great summer idea.
What Is a Balayage?
Balayage is a hair dye technique, implying that separate strands are lightened, creating a sun-bleached hair effect. It doesn't matter which natural color you have since you can make balayage on brunette and blonde hair. Remember that this technique is quite difficult, so it's better not to do it at home.
Balayage highlights are the best way to accent your hair. Many ladies also prefer making light waves to get a more attractive hairstyle. Caramel balayage hair color is suitable for women with any skin shade. You should only consider selecting the best shades to get an impressive coiffure.
1. Caramel Honey Balayage Hair
Caramel honey color is one of the most common shades chosen by women. This shade looks amazing both on wavy and straight hair, providing extra volume and fantastic highlights. Honey caramel balayage is a hairstyle suitable for all ladies, making them look younger and more attractive.
Your hair texture doesn't matter; just consult your hairdresser before dyeing and pick the most suitable cosmetics. Remember that if you have brunette hair, several coloring procedures may be required not to harm your hair and do everything in several stages.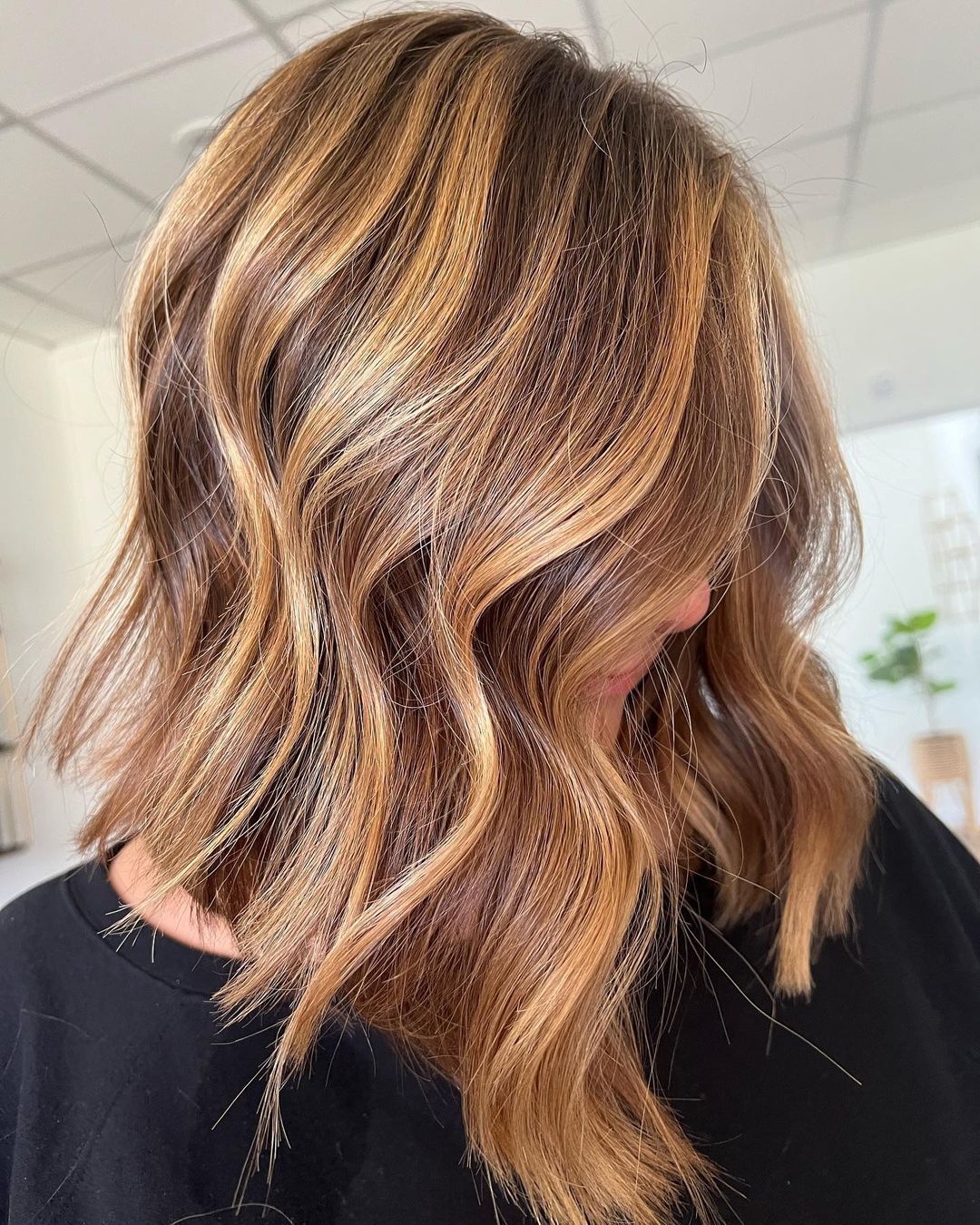 via @hairmeroar
2. Caramel Balayage on Black Hair
Balayage is a perfect idea for brunettes who are not ready for some significant changes but would like to make a new hairstyle. Black hair caramel balayage implies adding some light strands, making hair look more voluminous and shinier. Don't deny yourself the pleasure of getting an impressive, low-maintenance coiffure. However, remember that this dyeing technique is complicated, so it's better to visit a beauty salon unless you are a professional hairdresser.
Caramel balayage highlights freshen up your look and are perfect for summer. Overall, such a sun-kissed hair effect suits all women independently of their appearances. Dark hair caramel balayage doesn't require you to visit your hairdresser too often since dark roots look stylish and trendy. And if you leave more natural color, they won't even be noticeable.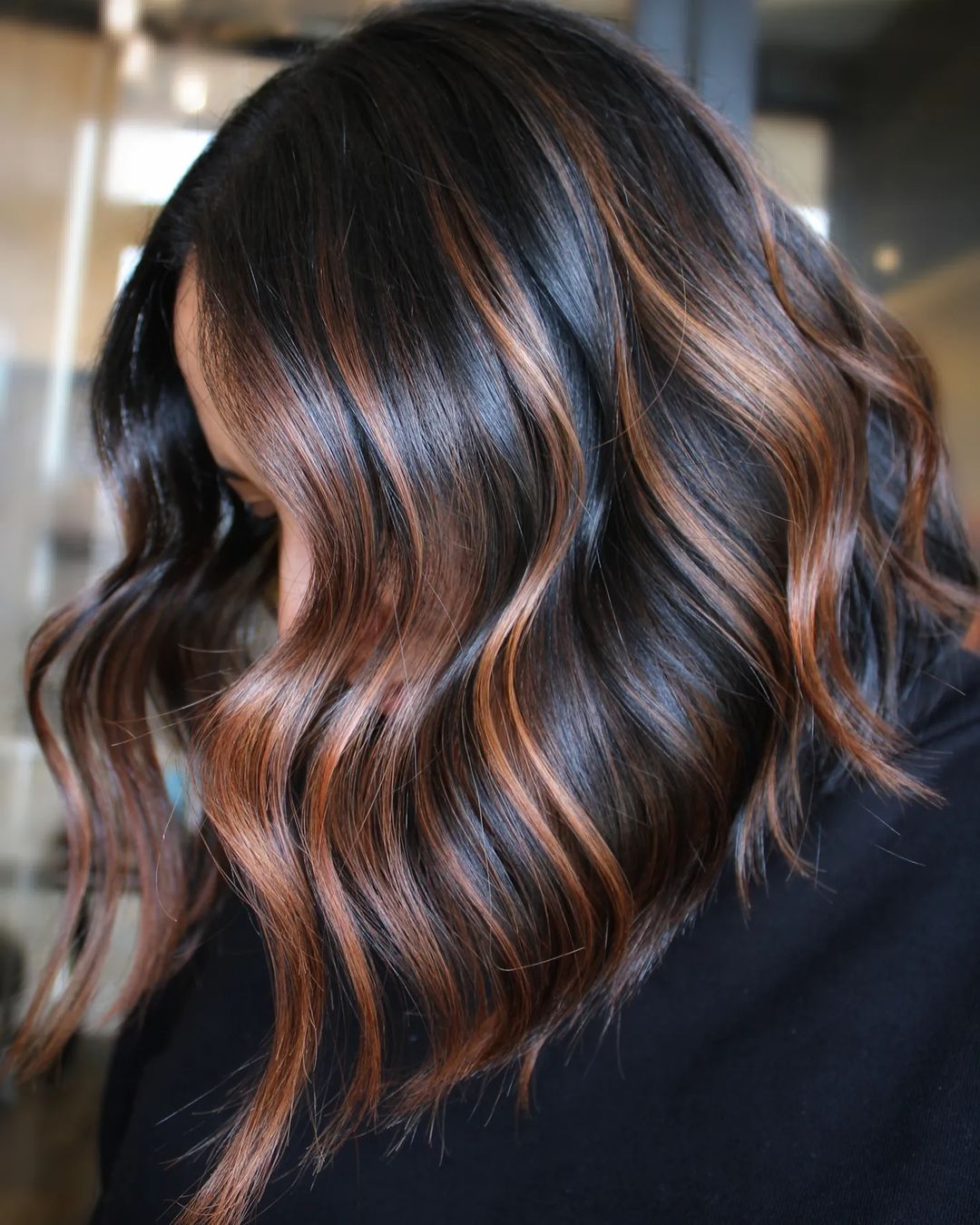 via @hairbynathi
3. Brown Hair Caramel Balayage
Brown caramel balayage is the most common hairstyle that hasn't lost relevance for many years. And we are confident that it will remain at the peak of all trends! It implies no abrupt transitions and creates a natural gradient effect. Brown roots won't attract attention since the dyeing is smooth, so you won't have to color your hair regularly.
This hairstyle implies natural-looking hair, providing a sunburned effect. This is one of the reasons why women adore making balayage during the warm period. You can also get a caramel brown base, which looks wonderful on all hair types. A brown balayage is definitely the trendiest hairstyle selected by thousands of ladies worldwide.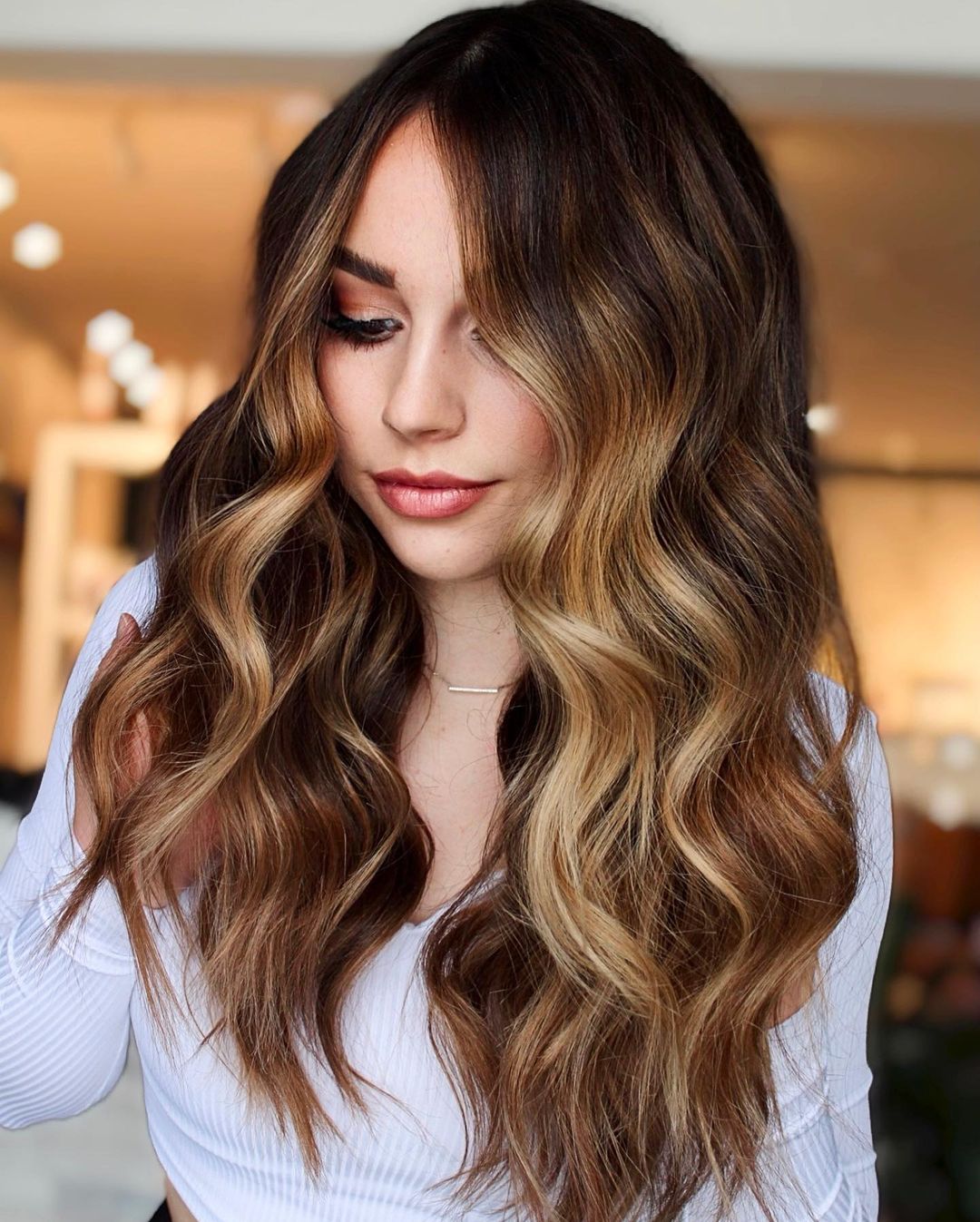 4. Caramel Dark Brown Balayage on Short Hair
Many ladies think that balayage is good only on long wavy hair, but it's a common misconception. Dark brown balayage hair can also look amazing if you have a short haircut and want to make some changes in your appearance. A short wavy bob is the best way to implement something new to your style. Moreover, such a coiffure suits all women, and the most important thing is to choose the right length.
It doesn't matter whether you have caramel or dark chocolate hair color since you can always freshen up your look with some lighter shades. Make your dark brown hair color more unusual and attractive. Just find a professional hairdresser who knows all about complicated dyeing techniques and will provide you with the best hairstyle in a few hours.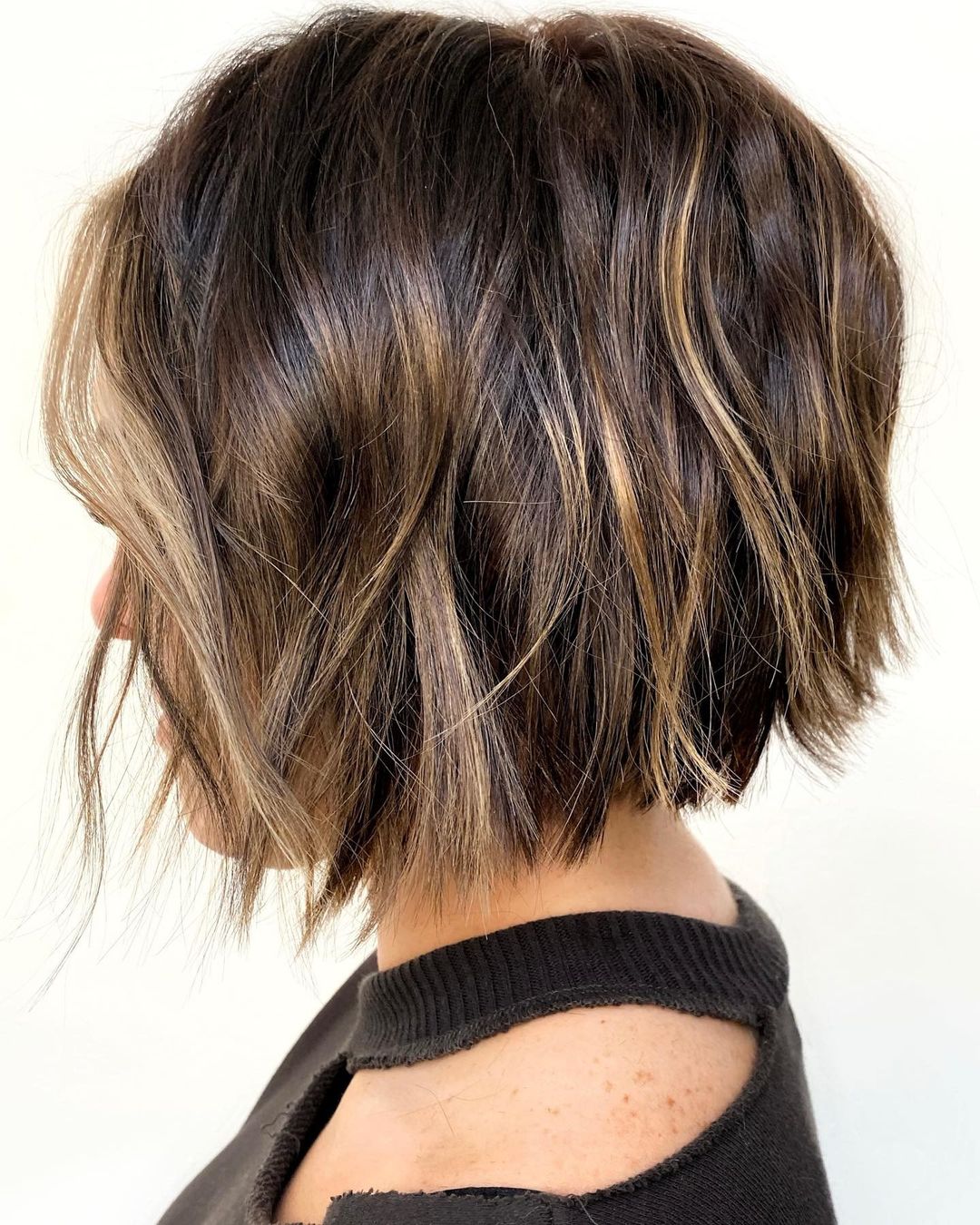 via @shmoakin_hair
5. Butterscotch Caramel Balayage
Butterscotch color is quite unusual, but its benefit is that it suits all ladies. It doesn't matter whether you have pale or tanned skin since a brown hair balayage is a perfect hairstyle for everybody. Pick the caramel tones you like and ask your hairdresser to make a unique coiffure.
Light caramel highlights added to your natural hair color can be a great accent to your hairstyle, which is perfect for summer. Many ladies prefer light shades in summer, so diversify your image with new hair color. Be ready to attract numerous admiring glances and dozens of compliments.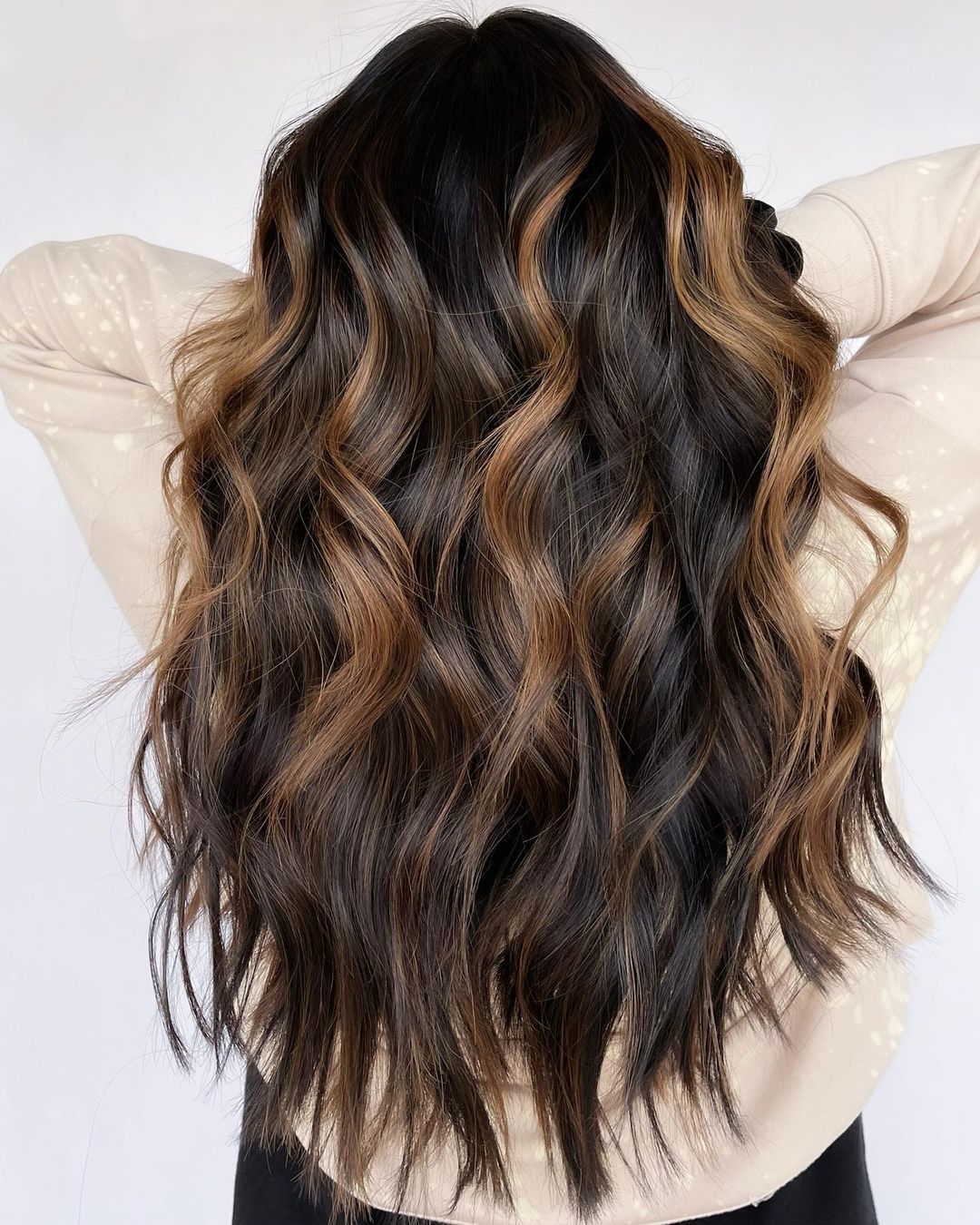 6. Caramel Blonde Balayage
Are you in the mood to make a new hairstyle? Brunettes should definitely consider dark root caramel blonde balayage. It is one of the most common dyeing techniques nowadays, but it looks unique to every woman. Both straight and wavy hair look fantastic with a caramel color melt.
Select the combination of the most interesting shades, or search for inspiration among celebrities' pictures. Caramel honey blonde hair color is the best way to create an elegant and interesting look.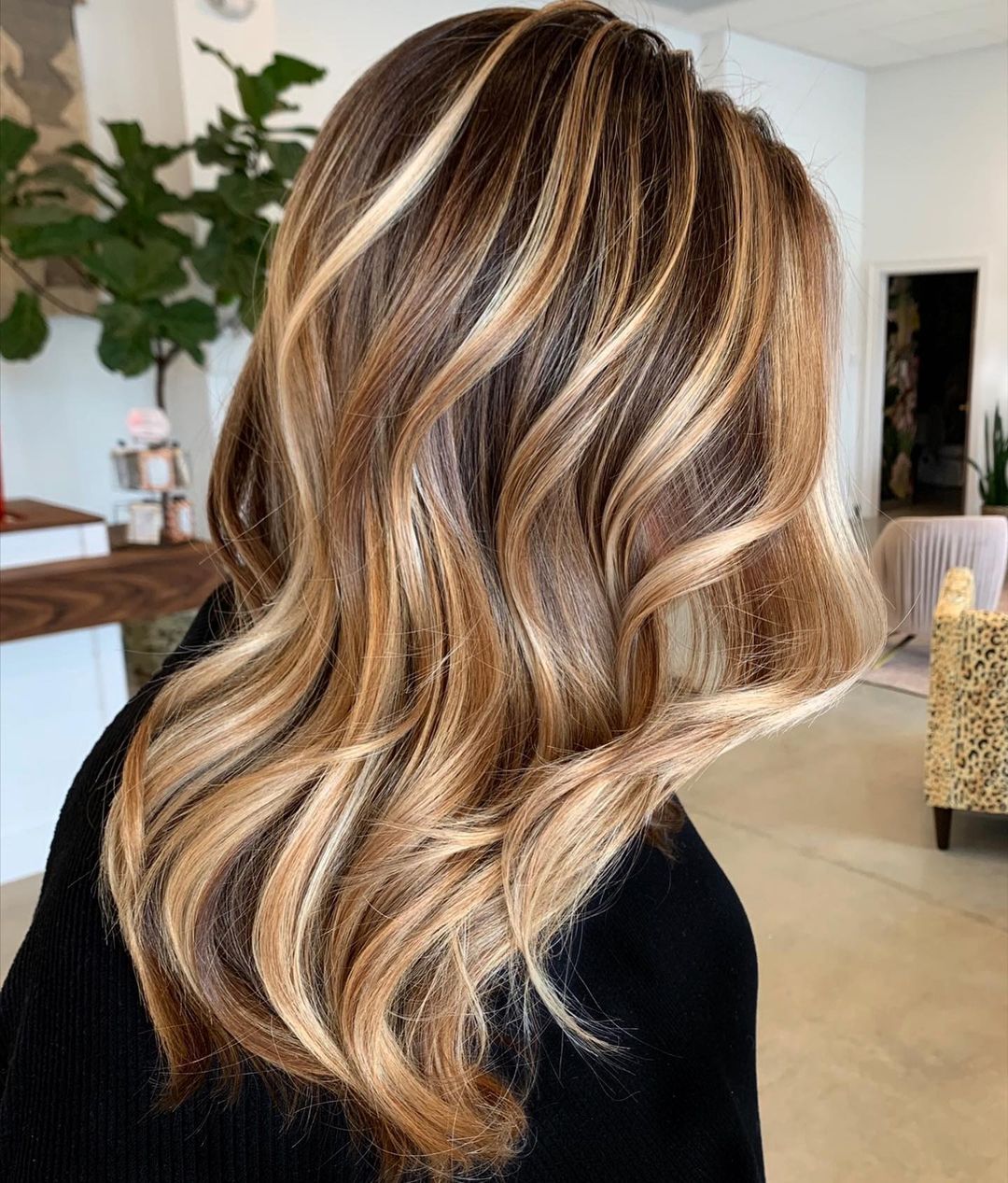 7. Balayage Caramel Highlights
Don't worry if you don't have any ideas for your stunning balayage style since we have already gathered the best options for you. Applying caramel highlights on brown hair is the best solution for ladies with all skin tones. Just make sure to pick the appropriate shades suiting your color type.
For instance, warm hair tones are better for tanned skin, while pale women should choose cooler shades. Caramel highlights on brown hair will never leave you without attention and gather hundreds of compliments.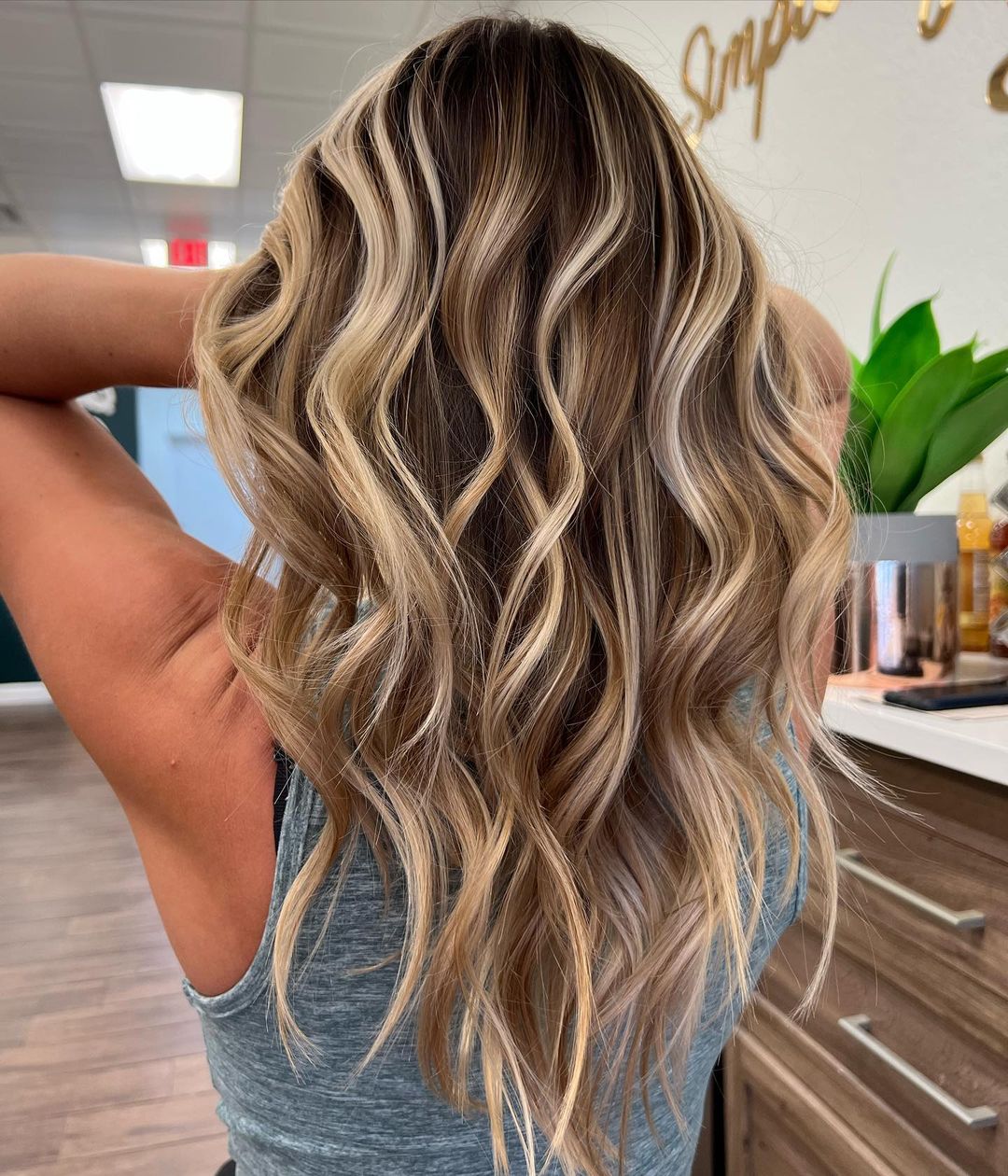 via @hellobalayage
8. Caramel Balayage on Short Hair
We have already figured out that balayage is perfect for all hair lengths. Of course, most women think that the best option is a long wavy hairstyle, but short hair with caramel highlights also looks fantastic. Lighter caramel shades are a perfect way to make a bright accent to your appearance!
Get inspired by Natalie Portman, Vanessa Hudgens, and many other celebrities. Looking for some pictures with caramel brown balayage hair is the best way to find the most suitable haircut and change your style.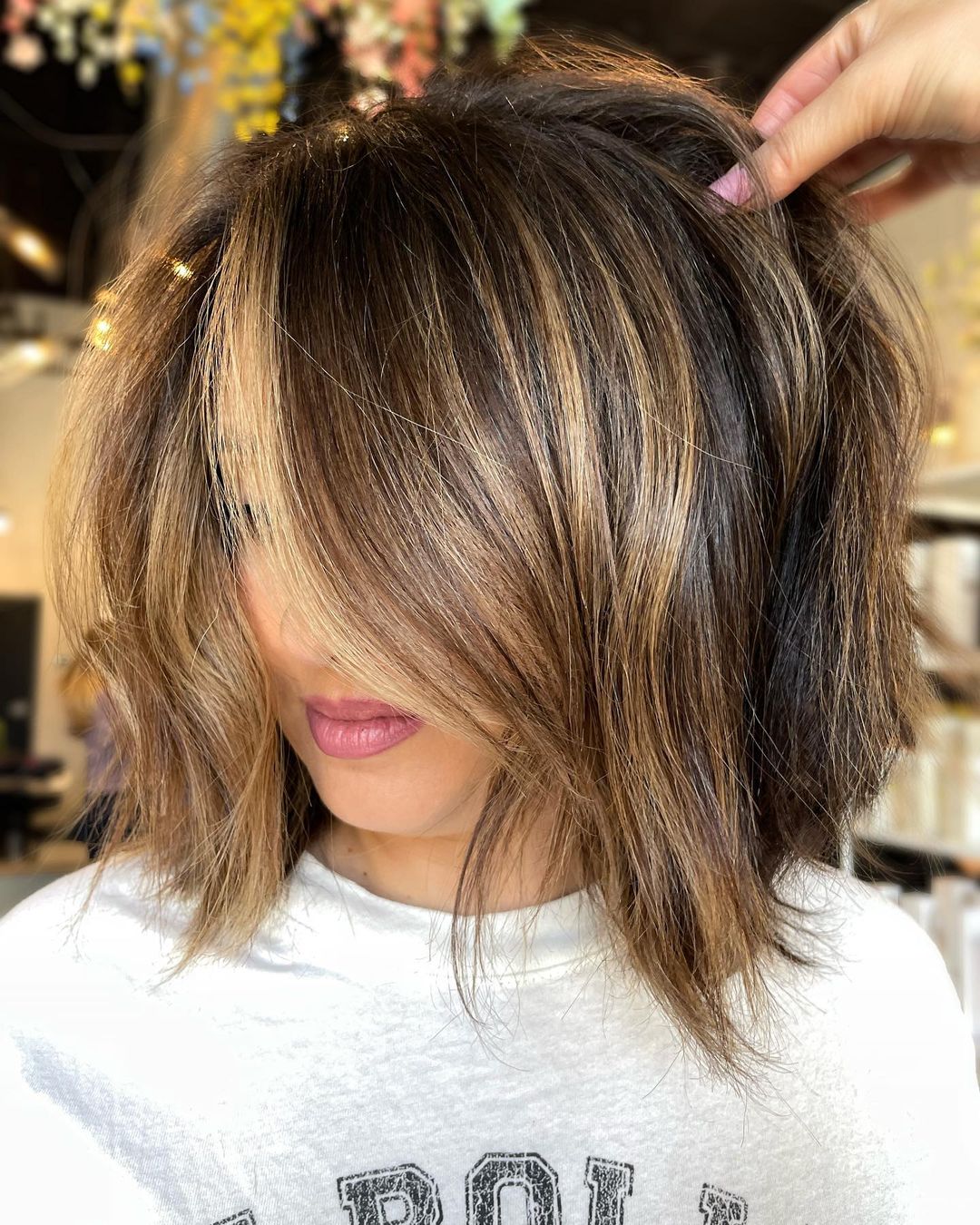 9. Brunette Hair with Caramel Balayage
Balayage hair does not lose its position in the list of brunette hair color trends. This hairstyle looks natural and is considered a low-maintenance coiffure, allowing you to visit your hairdresser quite rarely. The most important point is to choose the most suitable cosmetic products to keep the hair texture smooth and soft.
A brunette-to-blonde balayage remains the most common option of this dyeing technique. Overall, light brown hair color suits all ladies, so consider this hairstyle during the next salon appointment. It's the easiest way to change appearance without any difficult manipulations.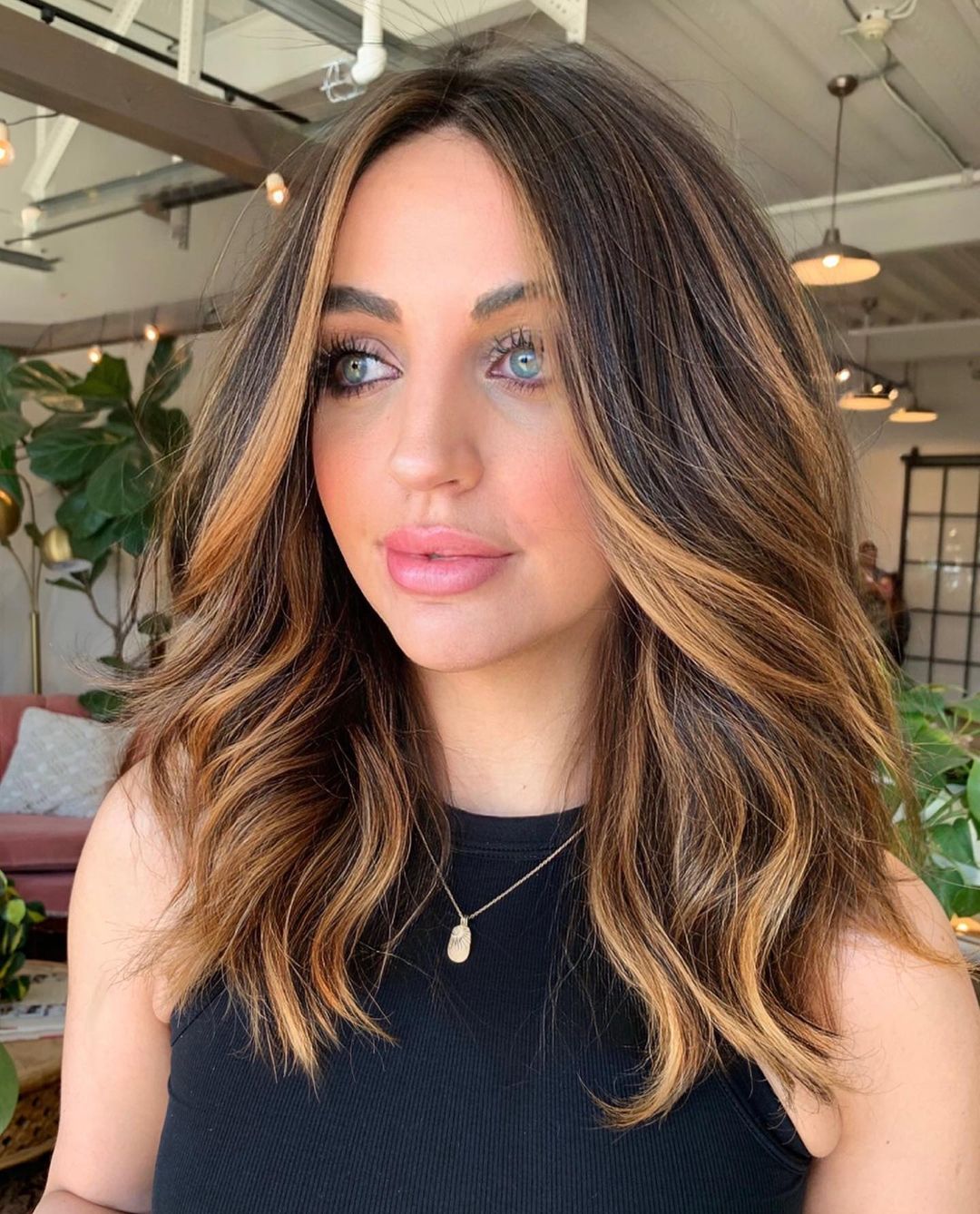 via @_hairbypaula
10. Chocolate Caramel Balayage Hair Color
Ladies often don't want to harm their naturally darker hair with lightening and complicated coloring. However, remember that the hair structure will remain natural if you pick proper hair products. Moreover, it's important to go only to trusted hairdressers and use the highest quality materials.
Add caramel hues to your long locks, and you will notice that your appearance has changed almost immediately. Such coloring makes the hairstyle more voluminous and attractive. Remember that a brown balayage looks best on wavy hair, adding romance and elegance to your image.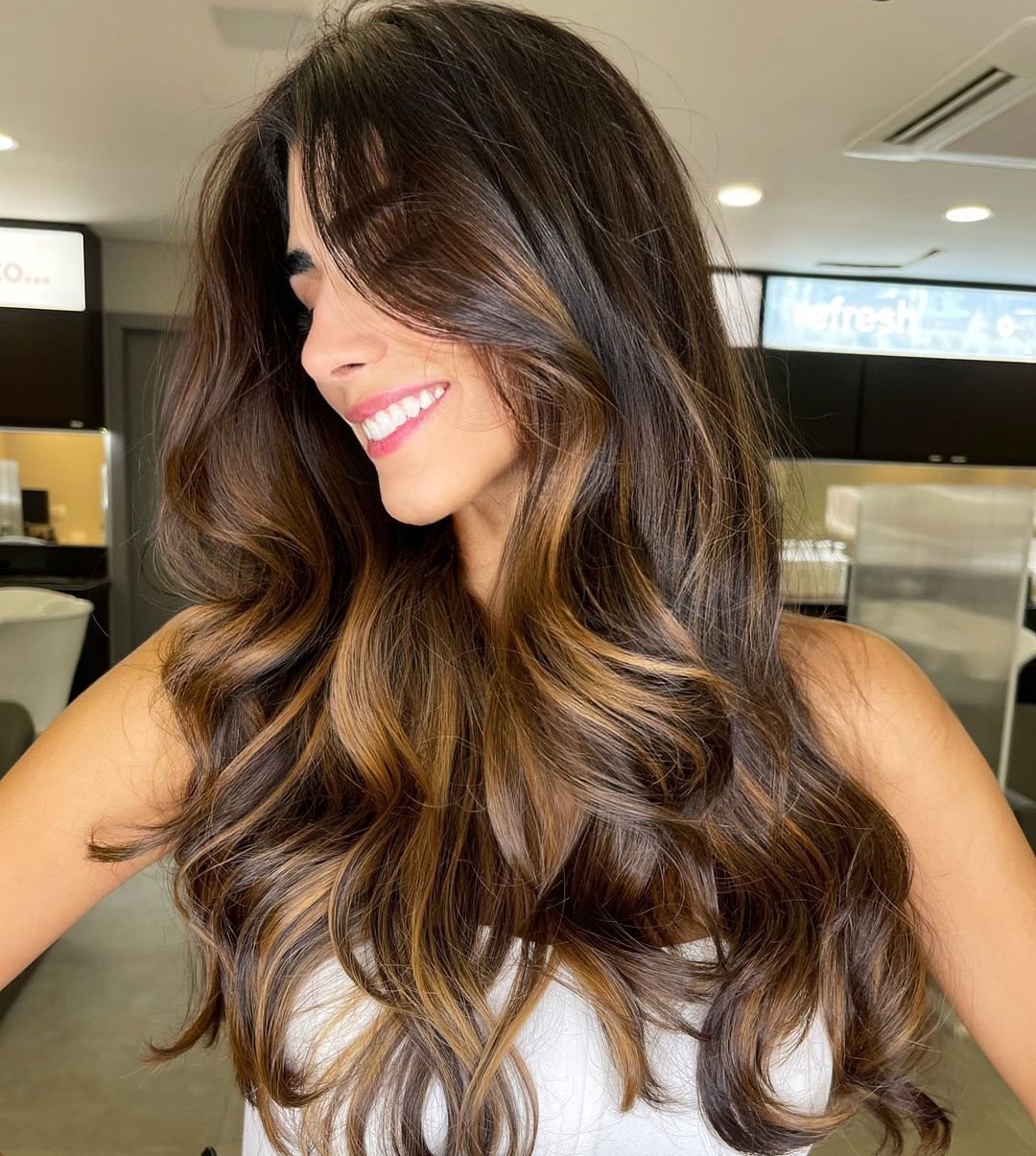 via @eliaslazarohair
11. Golden Brown Balayage
Lighter shades of brown hair are always a great idea, adding freshness to the lady's look. Moreover, this hairstyle provides multicolored layers, being the best way to make your hair visually thicker. You can apply a caramel hue to make your image more unusual and attractive.
A caramel balayage is one of the most common hair coloring options, which millions of women adore. It seems that this idea will never lose its relevance. Find ladies with a similar color type and such a hairstyle and search for inspiration before proceeding with your stunning locks.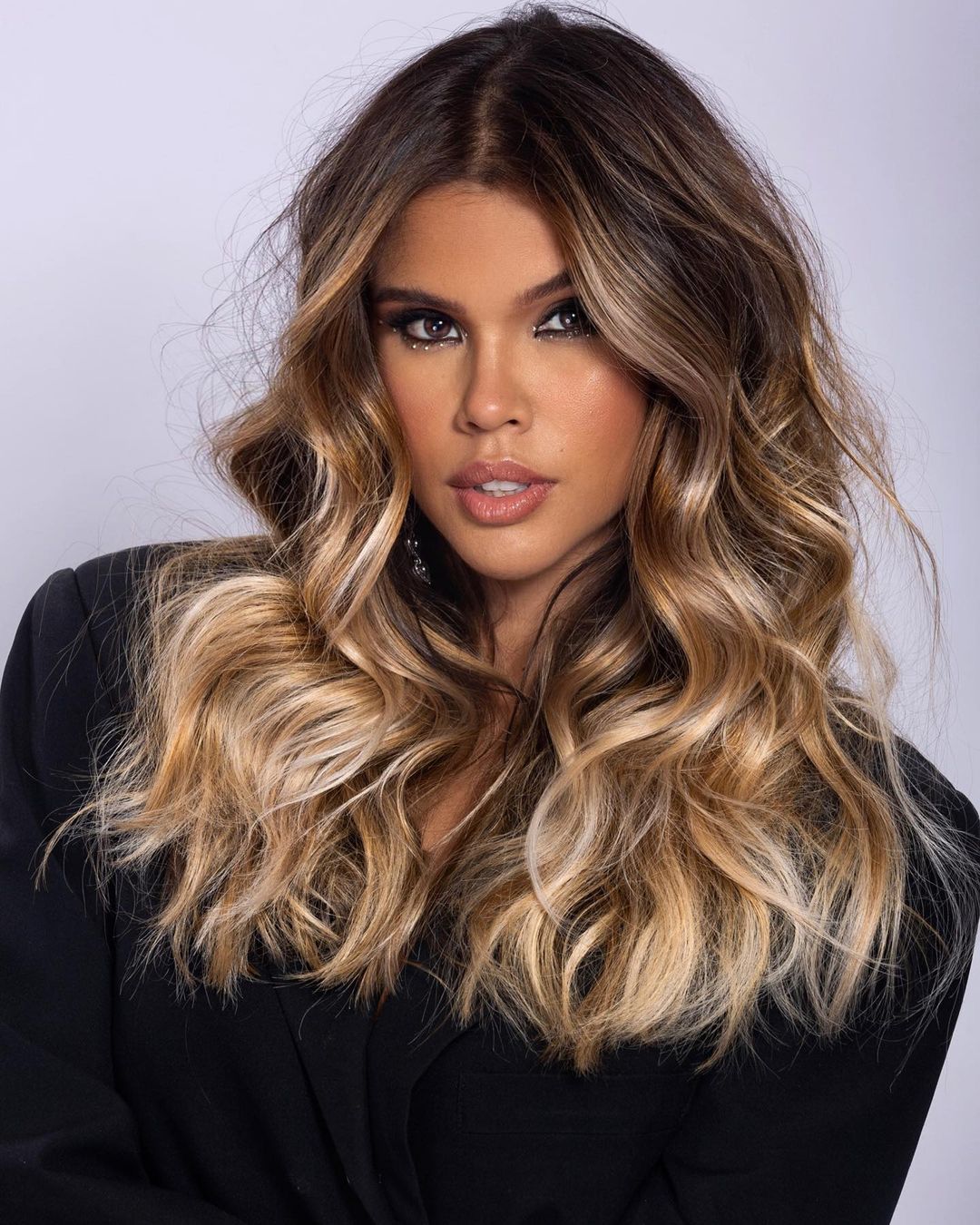 via @daniloherbert
12. Caramel Balayage on Dark Curly Hair
Making a balayage on curly hair is always a great idea! Of course, ladies with such a texture rarely lack volume, but balayage anyway looks stunning. If your natural hair color is black or dark brown, you can get a sweet caramel balayage in one procedure.
It's not a secret that this hairstyle is mostly suitable for loose curls, so you will definitely look outstanding on any occasion. Add the shades you like and enjoy the light transitions among colors. Make your ideal ombre or balayage for curly hair, and admire your reflection in the mirror every day.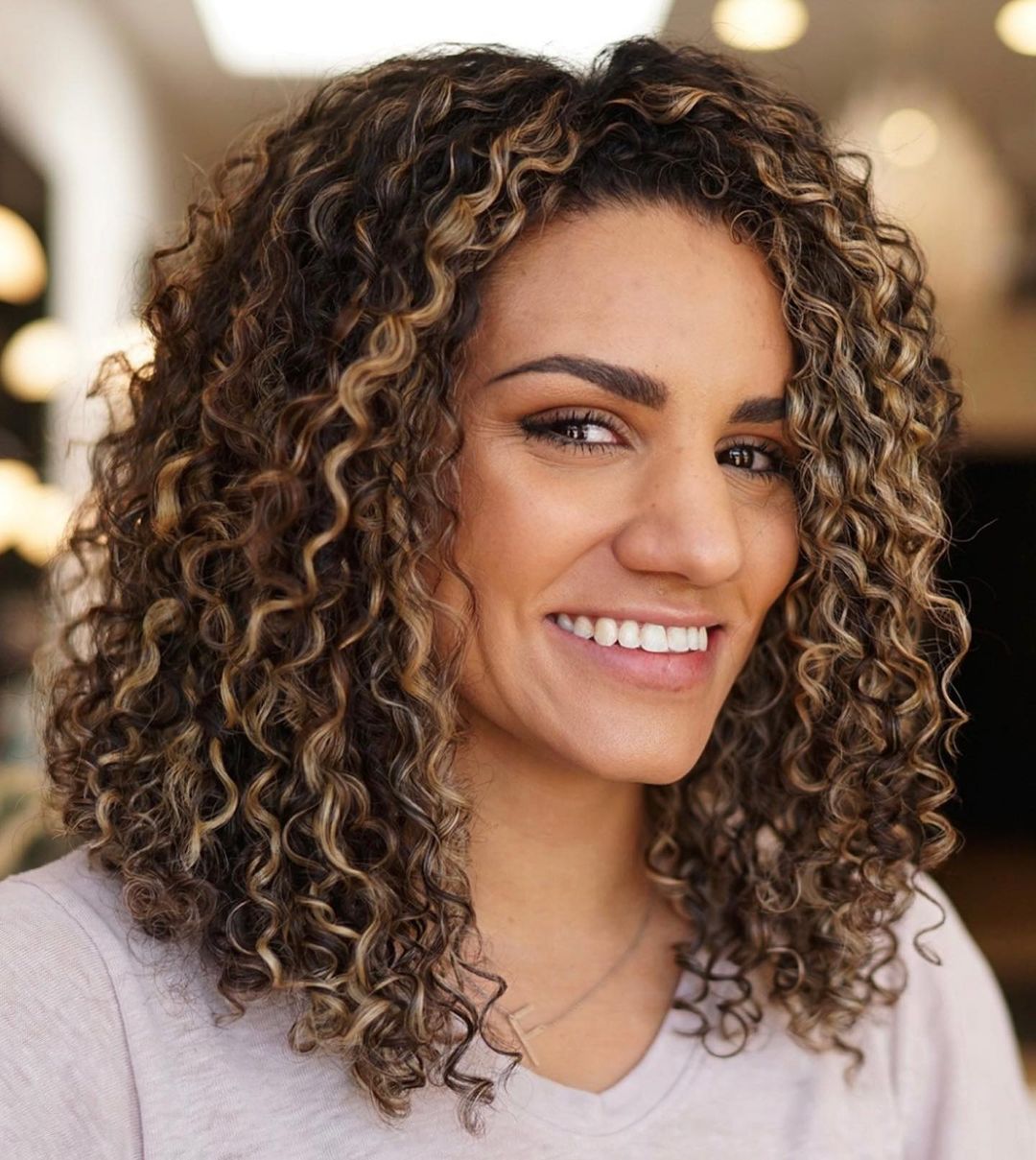 13. Caramel Balayage on Medium Brown Hair
Honey caramel balayage has already become a timeless classic and a universal hairstyle for all ladies. Such a coiffure is relevant for any occasion, and you will always be at the center of attention. There's hardly a woman who doesn't like caramel brown balayage since it looks fantastic! Many celebrities, including Margot Robbie, Kara Delevingne, and even Queen Letizia, prefer such hair color.
Caramel color melt looks stylish and makes the whole image cozier and more attractive. Choose the best brown balayage hair color idea suiting your skin tone, and be ready to shine bright every day! Use a curling iron and make light waves to make you look more romantic.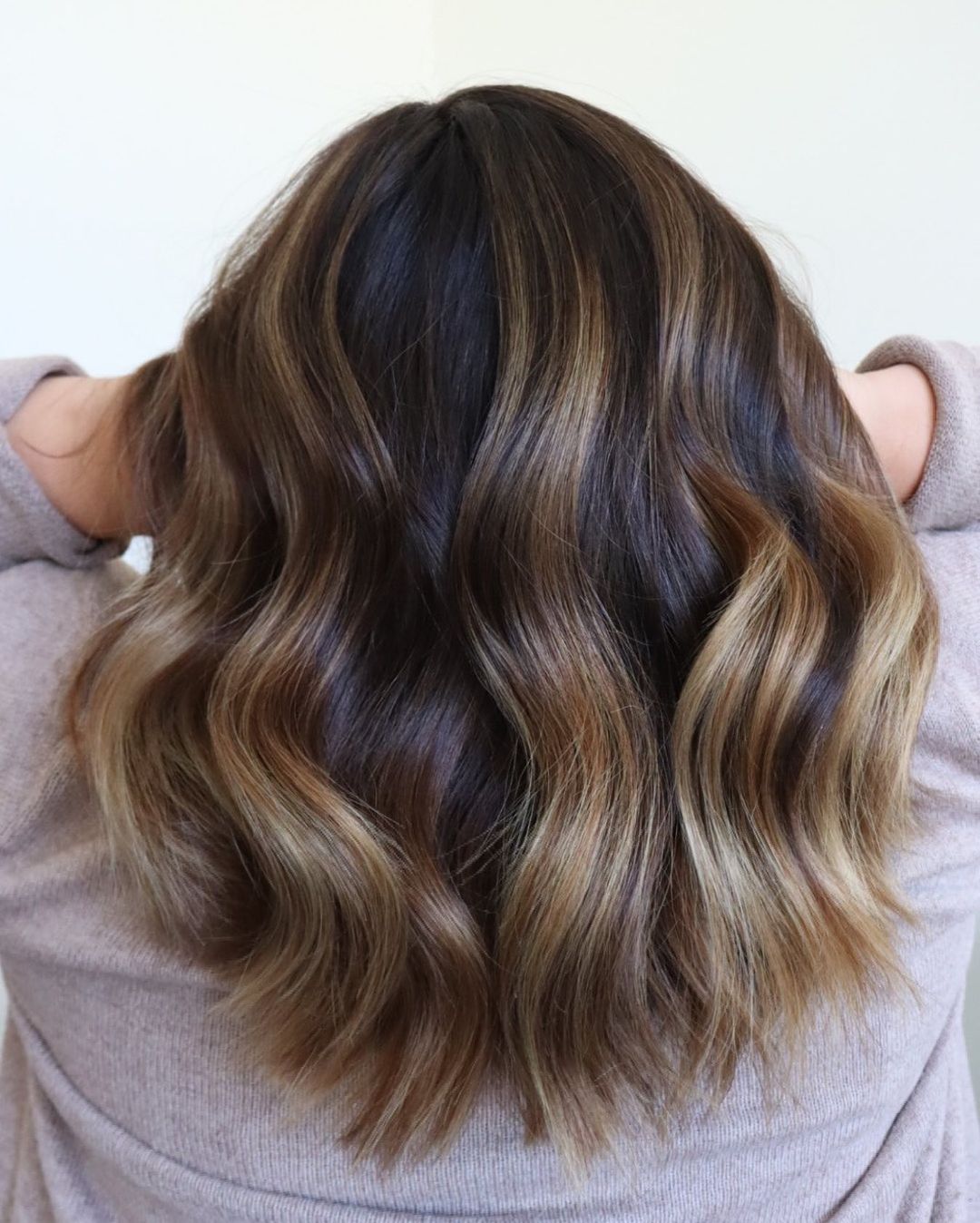 via @rob.levi
14. Dark Caramel Balayage
A brunette balayage has a wide range of benefits for its owners. The first thing ladies adore about this hairstyle is the immediate effect of additional volume. Balayage vs highlights is a great way to make a sun-kissed effect on your hair. And one of the greatest advantages of this technique is that you don't have to color the dark roots.
Pick the shades that are the most suitable for your skin tone. We are confident that you can get inspired by pictures of celebrities, or your hairdresser will recommend you the best options. Make your naturally dark hair more unique and get tons of compliments from others.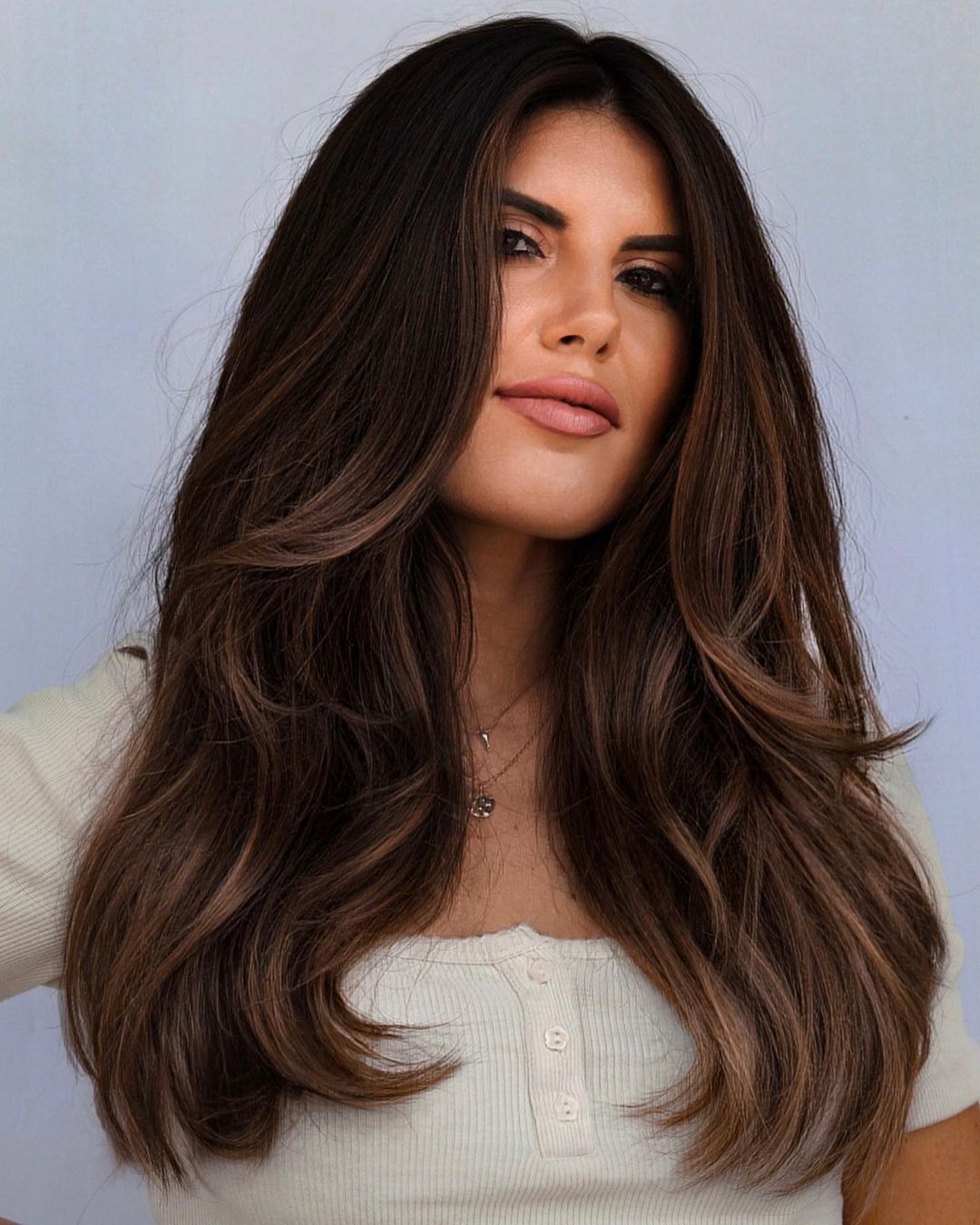 via @colorbymaddie
15. Light Caramel Balayage
Blonde highlights can definitely add freshness to any look and make a lady look younger and more attractive. Ladies with light brown hair can enjoy numerous shades suitable for them, so turn on your imagination! Light caramel balayage is a perfect hair coloring for self-confident ladies who desire to look amazing in any situation.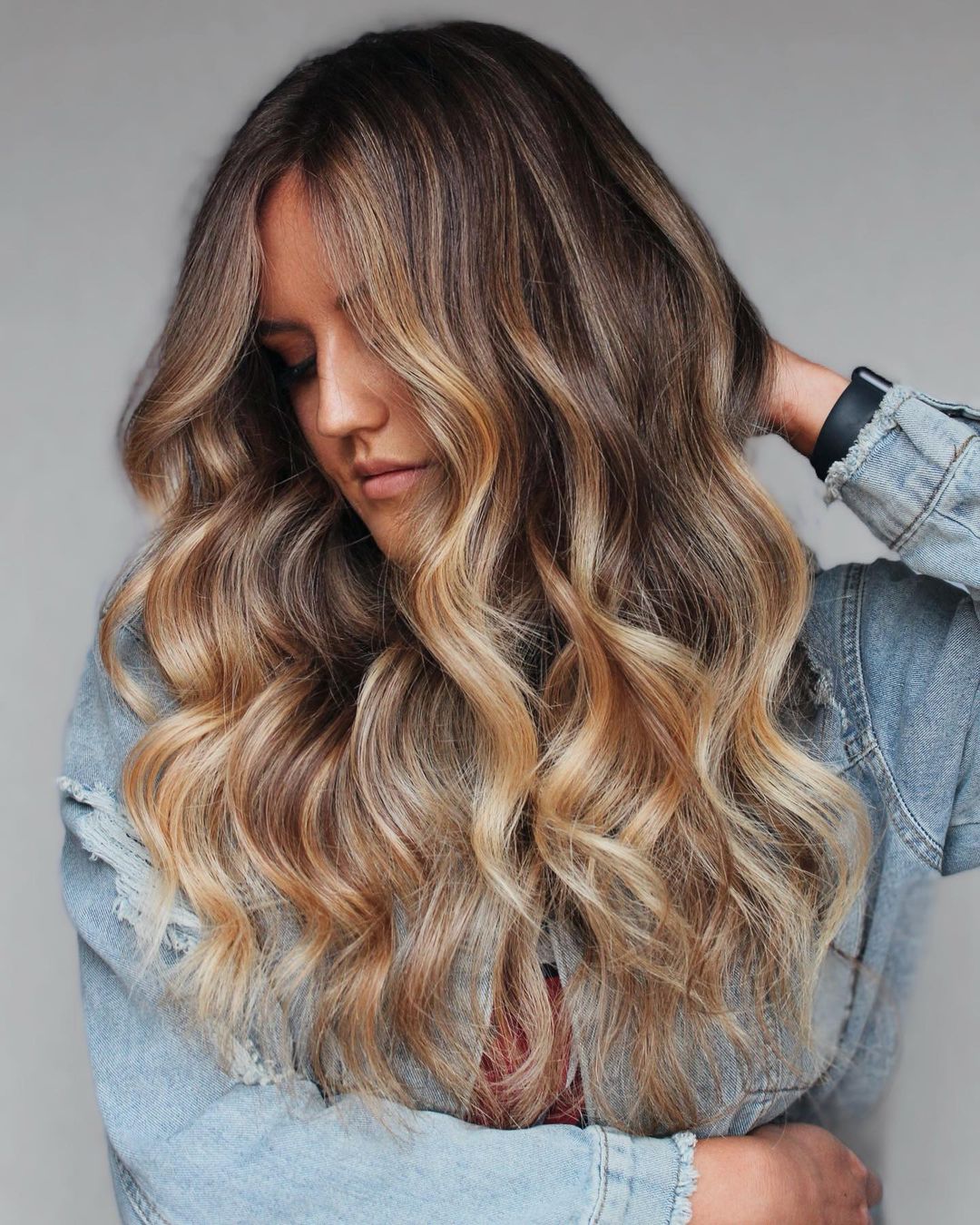 16. Partial Caramel Balayage
All women have at least heard of the balayage technique, but do you think you know everything about it? For instance, what is partial balayage? While the usual coloring implies applying light highlights all over the hair, a partial technique offers to add them only on the upper layer. It's a great way to get a sun-kissed hair look without complicated manipulations.
Of course, any hair coloring, especially lightening, can harm the hair texture and make it brittle and dry. And if you add light shades only on some strands, most of your hair will remain in natural shade. Light and natural brunette hair color is the best option for summer. You can select straight or naturally curly hair since both alternatives are perfect.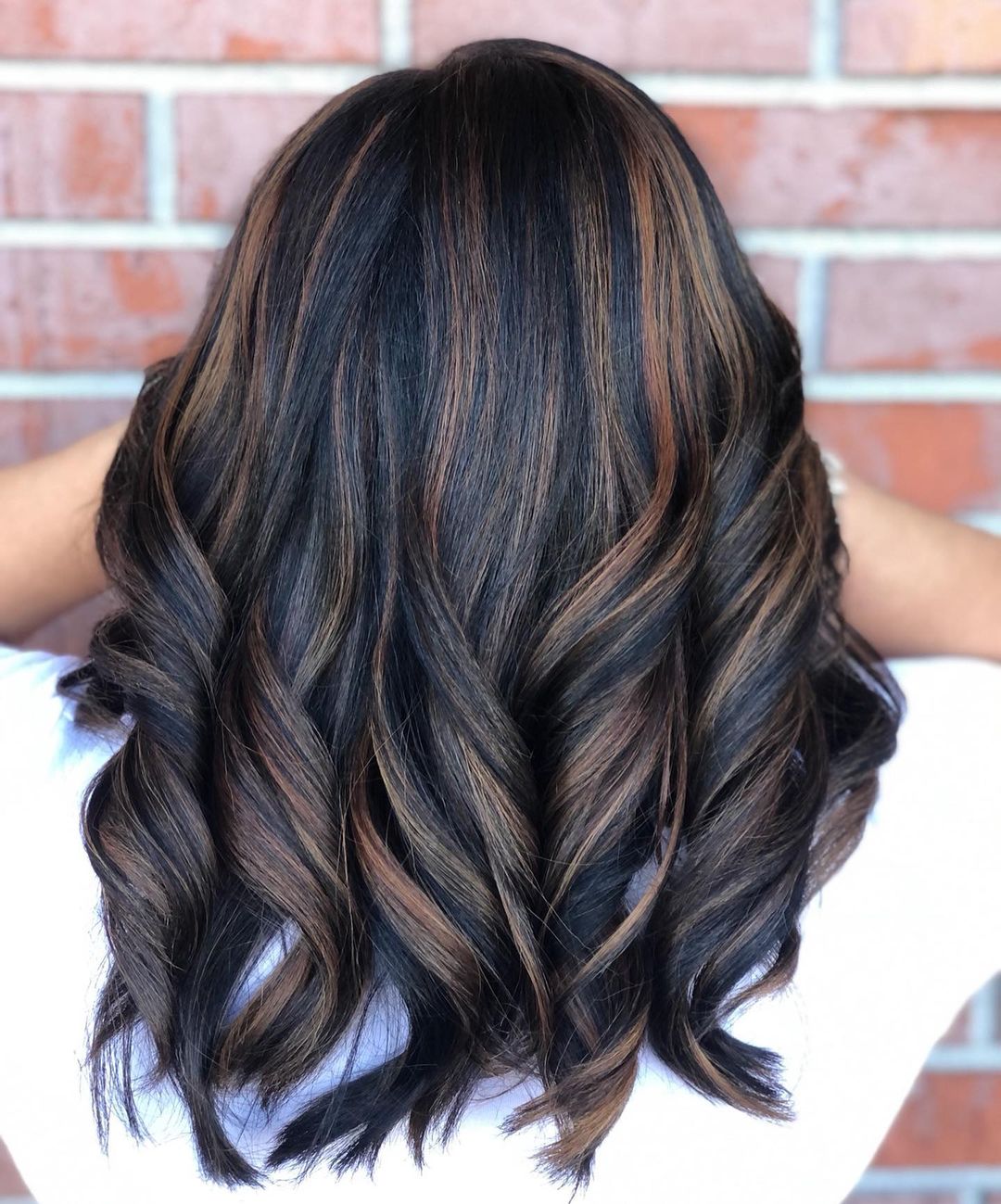 17. Copper-to-Caramel Balayage Hair
Are you searching for some unusual hairstyle ideas? Then you should definitely consider copper balayage! It's one of the most impressive brown hair color ideas, which is not as common as classic caramel or light-brown coloring. Many women think that this option is suitable only for long haircuts, but this is far from the case. It is perfect for any hair length, so choose the shades and go on!
Pick the summer hair style you like and plan the salon appointment at the nearest time. If you have been thinking about changes in your appearance, the best way is to make a new coiffure. Be ready to attract hundreds of admiring glances!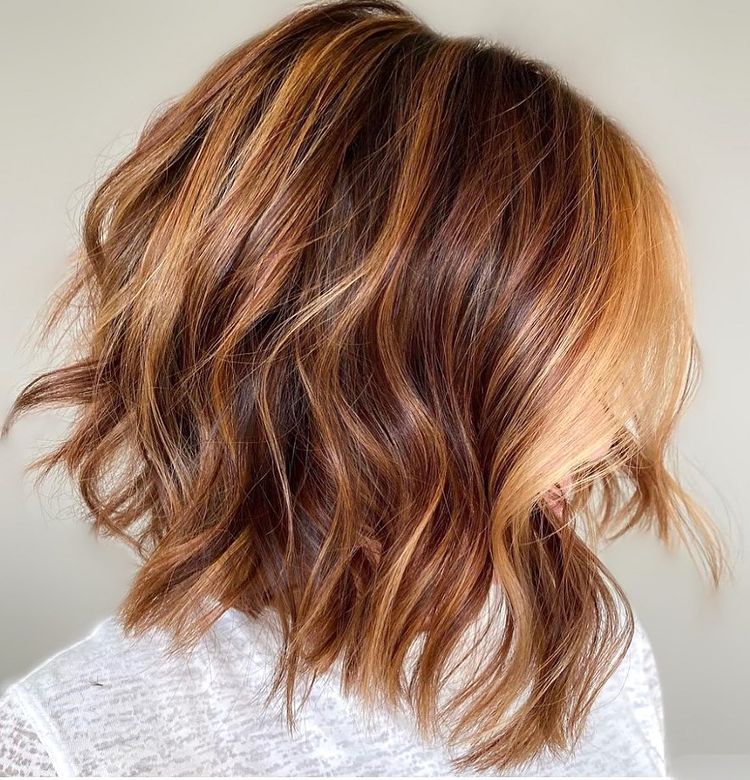 18. Caramel Mocha Balayage Hair
If you don't want to add any contrasting shades to your black hairstyle, pay attention to soft caramel balayage. It's the best solution for brunettes who want to add a bright accent to their natural hair and look more attractive.
Ask your hairdresser to help you pick the most suitable hair cosmetics to keep the stunning hair texture. With this dyeing technique, both straight and wavy hair will look wonderful, so select the option you like most.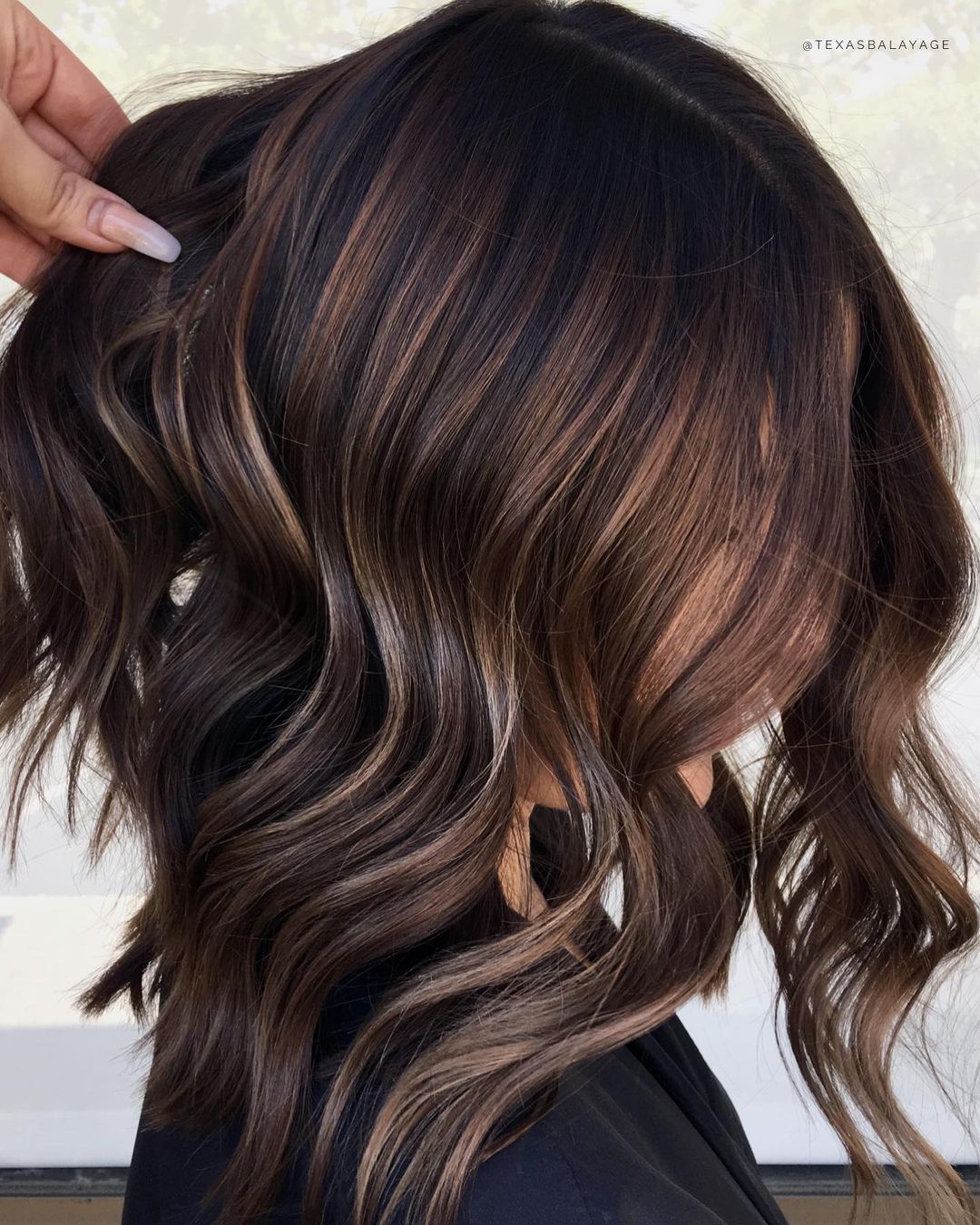 via @texasbalayage
19. Strawberry Balayage Hair
When you think about strawberry color, you immediately imagine bright red balayage. And, of course, some ladies preferring extravagant hairstyles can consider this option. However, as a rule, this hair shade implies ginger shades, looking noble and elegant.
Strawberry and caramel highlights are not the best idea for brunettes but pay attention to such a coiffure if you have blonde, caramel, or light brown hair. Adding warm highlights for your hair in summer is a great solution if you want an unusual and unique hair ideas.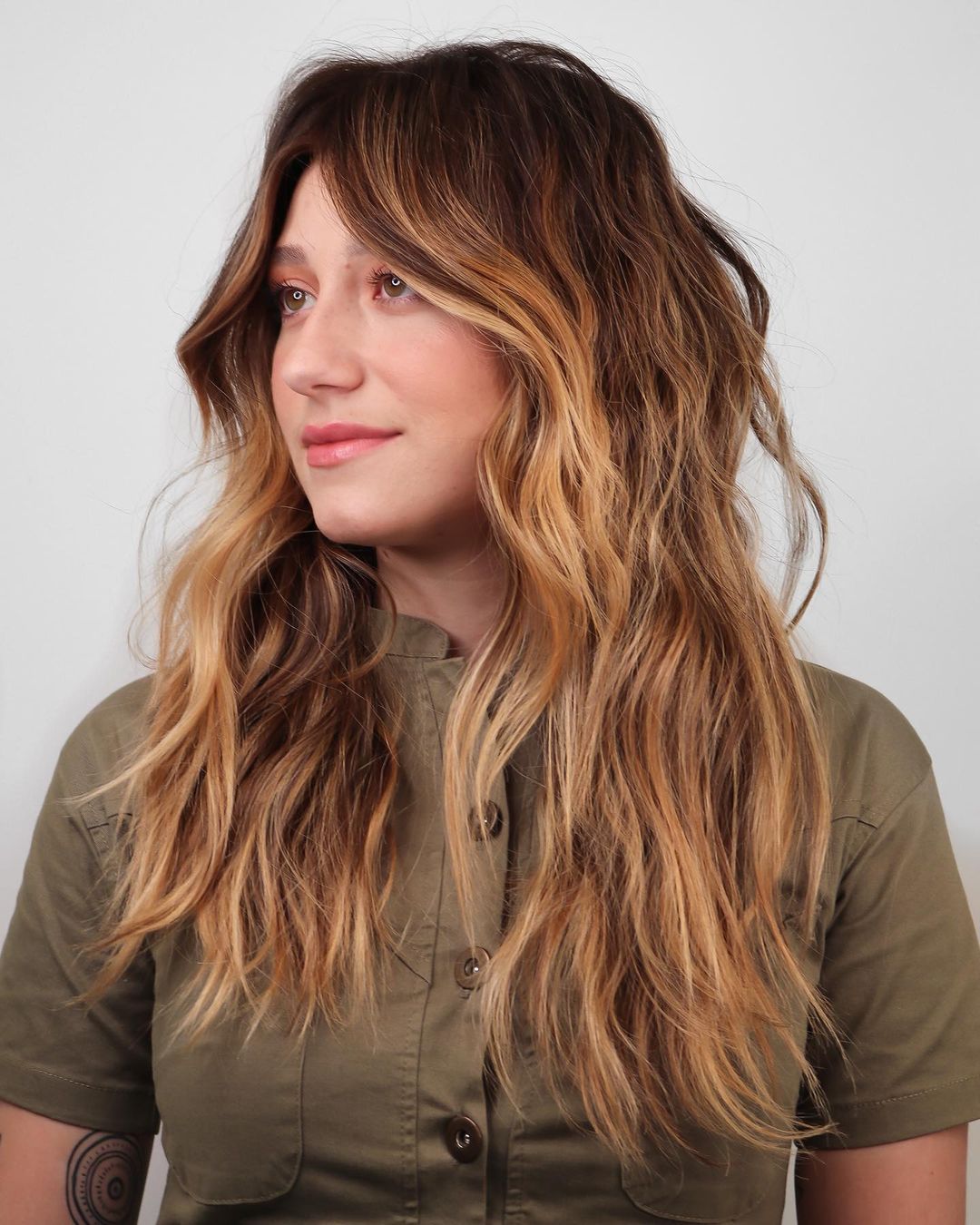 via @g_deodato
20. Toffee Balayage on Short Bob Cut
Do you like your short bob haircut? And what about making the color more unusual and saturated? Soft caramel balayage on dark brown hair implies light highlights, creating additional volume and making your look fresher, which is especially relevant in summer. Moreover, you can leave dark roots with caramel balayage, implying that you won't have to visit your hairdresser too often.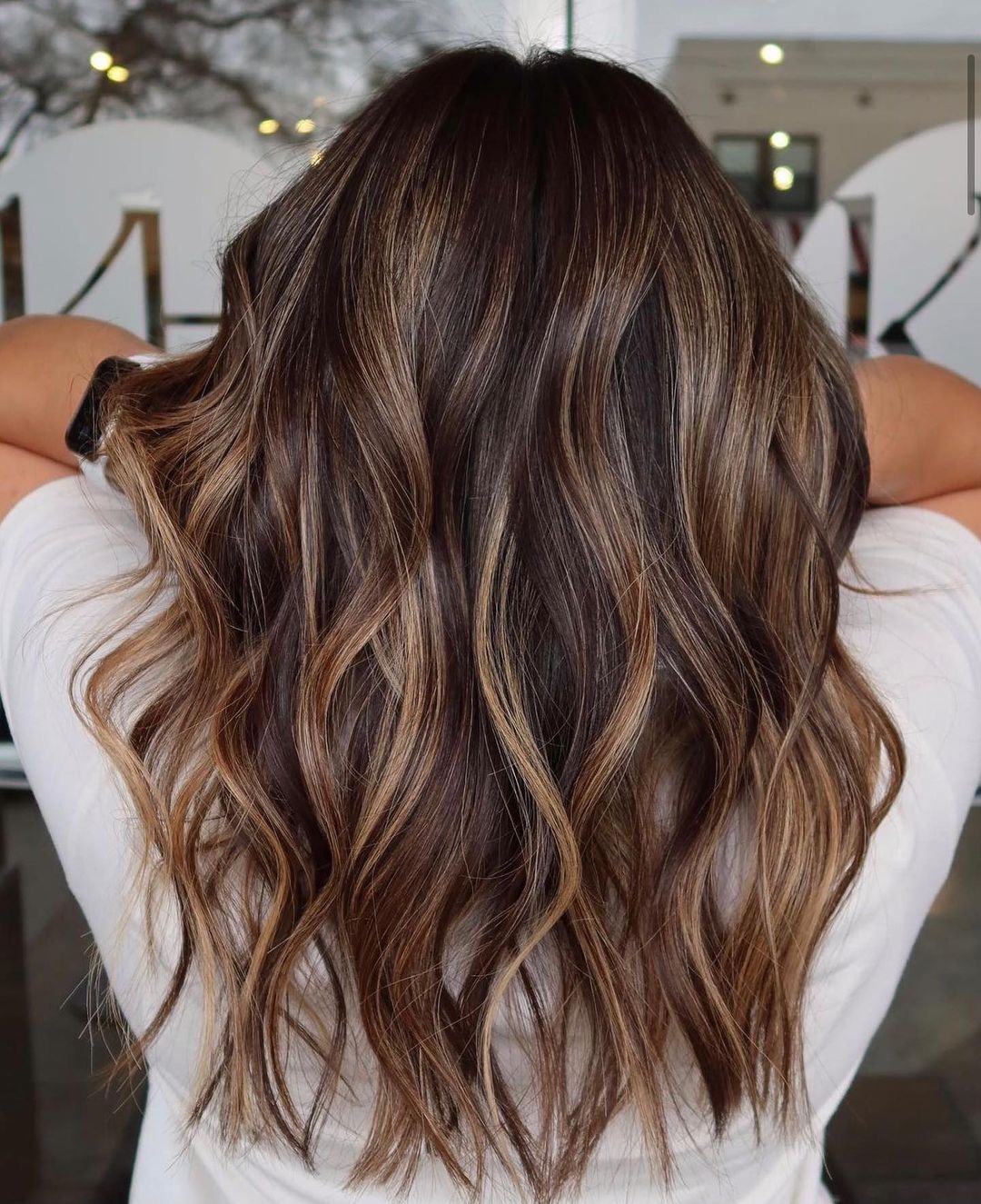 FAQ
Every woman has definitely faced the choice of hair cosmetics. Do you remember yourself looking at full shelves in a shop with various bright jars and tubes? Grab some tips on how to choose the best products!
What are the best shampoos and conditioners for balayage hair?
Bright advertisements attract women to buy the production of different brands of shampoos, conditioners, and hair masks, but do they really perform all the declared functions? You should never forget that the main goal of using shampoo is washing your hair. There are no universal cosmetics, so the best way is to consider your skin type when selecting:
if your hair becomes greasy quickly, then you should better get a shampoo with microspheres;
ladies with dry hair should pay attention to nourishing and revitalizing shampoos containing proteins and collagen;
women with normal hair should just find products with vitamins, maintaining a normal water-fat balance in the hair structure.
Of course, using a conditioner after washing hair is an obligatory process. It's the easiest way to simplify the styling process and make the hair softer and less brittle. While you choose a shampoo considering your skin type, you should better pick the conditioner according to the hair texture. Moreover, remember that you don't have to apply conditioners and hair masks to the roots to avoid a greasy effect.