A stylish look is impossible without the best eye makeup. A natural-looking finish must match the occasion and the outfit.
What types are recommended by professional makeup artists? What do you need to remember for your makeup looks to be beautiful and appropriate? We bring to your attention the TOP-20 best options for any image and event!
1. Smokey Eye Makeup
This type is prevalent among makeup artists and their clients. Are you preparing for a party or an important event? Perhaps, this is the best way to emphasize the beauty of the eyes!
Saturated light and dark shimmery shades will add mystery and languor to your look. An additional accent on the eyes can be achieved with a darker Bobbi Brown eyeliner.
This makeup is a favorite of all women, regardless of hair color and age. When choosing shadows and pencils, be sure to consider the color of the eyes. Thanks to this approach, smokey eye makeup looks spectacular and, at the same time, natural.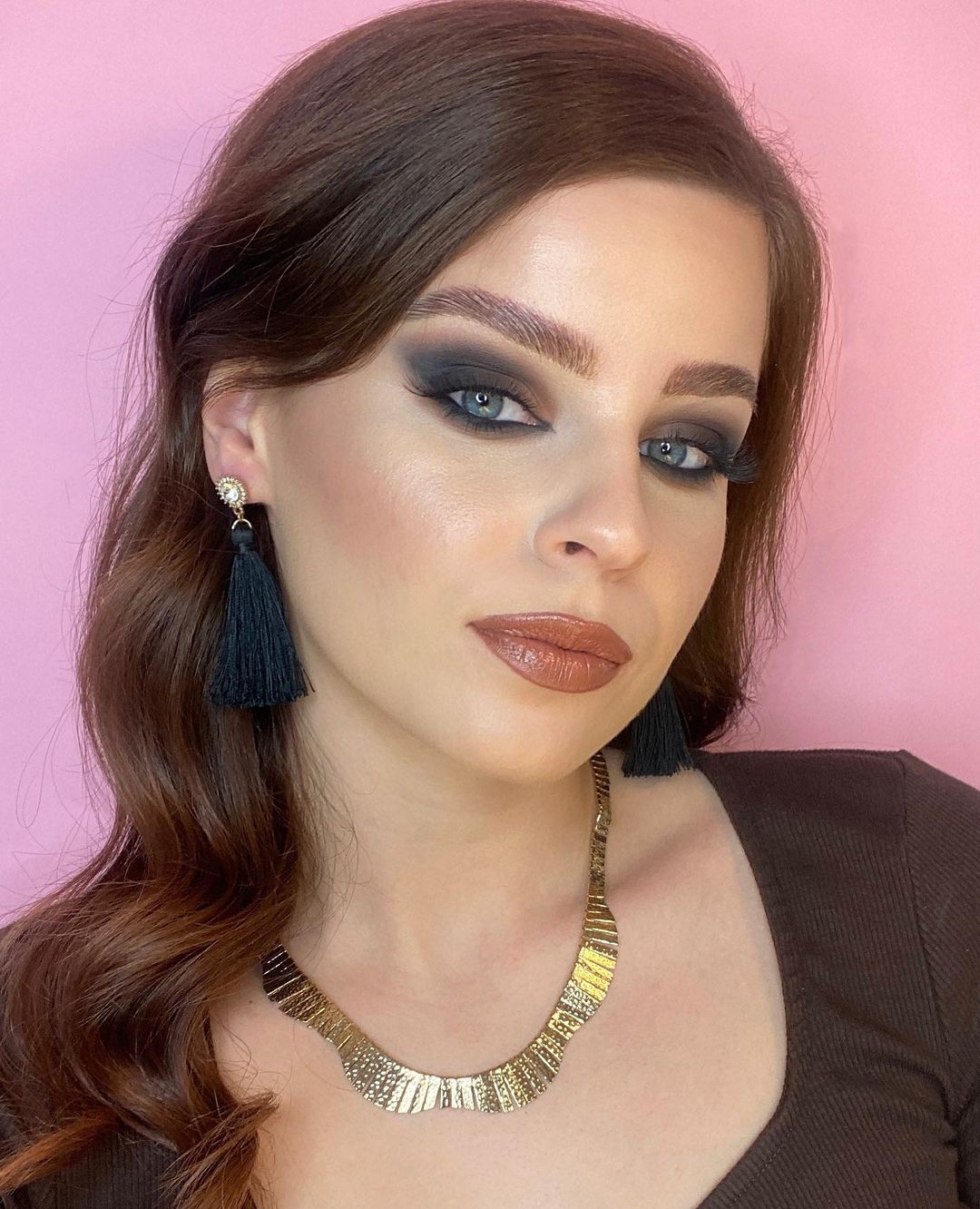 2. Cat Eye Makeup
This eye makeup is characterized by thin graceful lines. They are created using liquid eyeliner.
To get natural-looking makeup, follow the basic rules:
Owners of round eyes need to draw only a thin arrow on the upper eyelid; the lower eyelid should not be emphasized.
For narrow eyes, you will need wide arrows on the upper eyelids, which gradually taper towards the outer corner.
If the model has small eyes, it is better to use a soft pencil, especially for brown eyes makeup instead of eyeliner.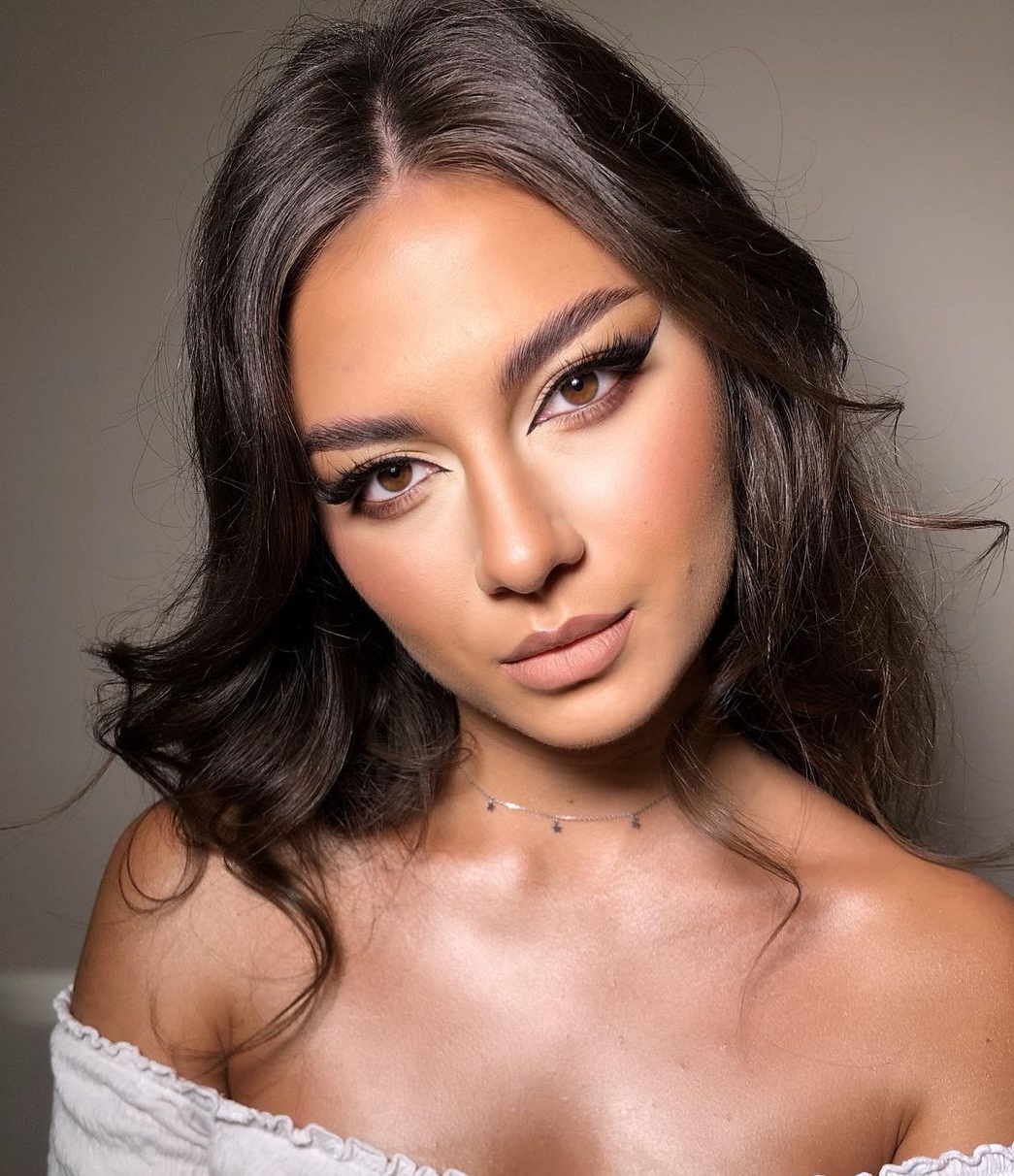 via @oliwia_zarabska
3. Fox Eye Makeup
One of the trendiest types in recent years is fox eye makeup design. It confidently wins the hearts of beauties, making them temporarily forget about the classic cat look. In many ways, it became popular because of celebrities who often appear in public with such makeup. Among them is Bella Hadid.
Drawing natural shape eyes with eyeliner and eyeshadow is quite simple for a professional master. Particular emphasis is placed on the inner corners: they are given characteristic almond-shaped contours. You can use false eyelashes if you wish. They can make fox eyes even more expressive.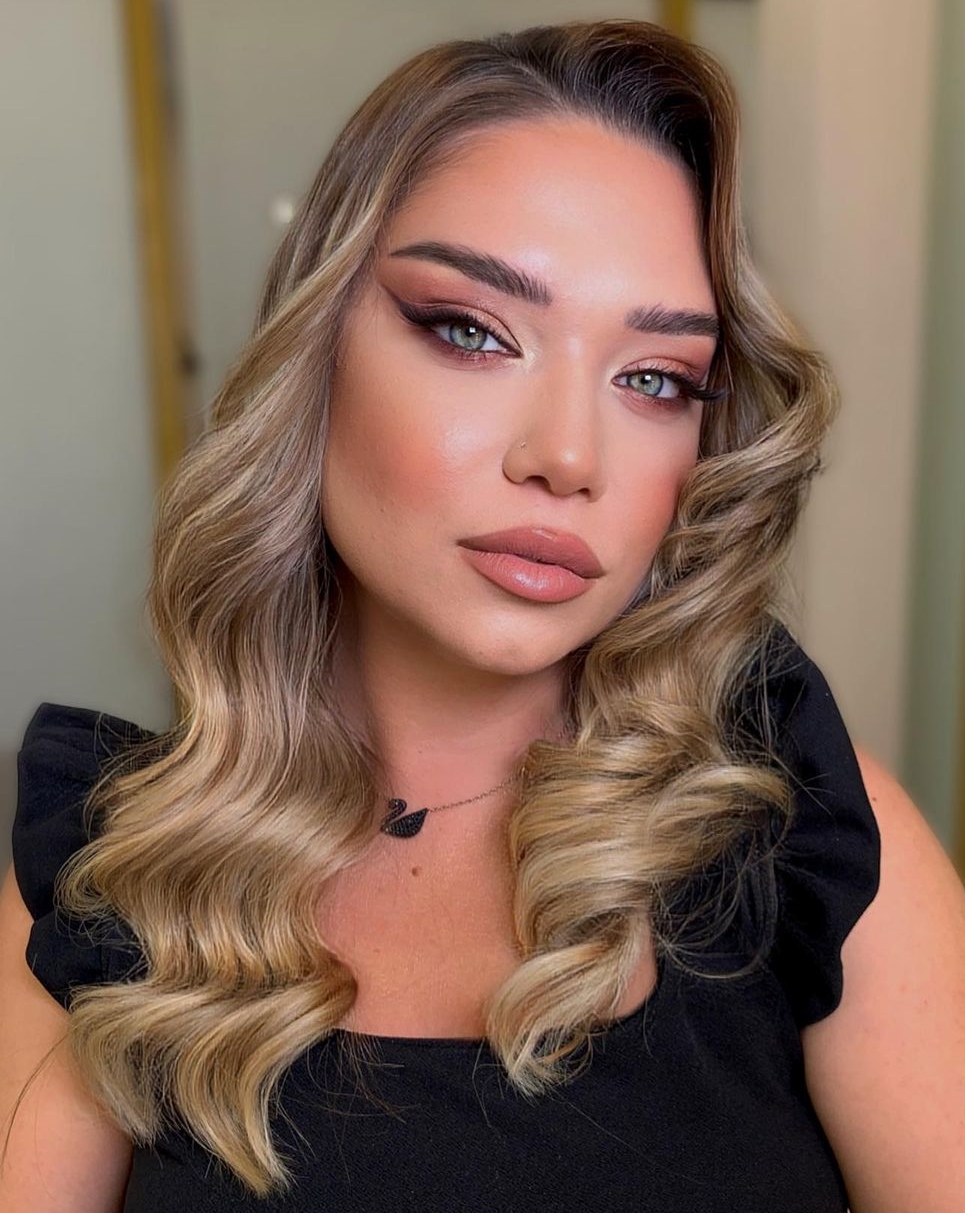 4. Hooded Eye Makeup
Popular and simple eye makeup ideas for owners of overly prominent brow ridges. Be sure to use only matte shades! Shimmering shadows will reflect the sun's rays and make the flaw even more noticeable.
The ideal makeup for hooded eyes is done like this:
On the upper eyelid, create a thin arrow with eyeliner.
Make a smooth transition from light matte shades to dark ones from the inner corner of the eye to the outer.
You can bring the lower eyelid with a white eyeliner with a shimmering effect.
Emphasize the eyebrows and cheekbones. Carefully placed accents will complement the natural look and help achieve the best result.
5. Black Eye Makeup
Do you want to create a luxurious solemn image? Then, you cannot do without expressive black makeup and dramatic red lipstick!
How to transform into a femme fatale? Use dark gray or black shadows, dark eyeliner, and waterproof mascara. Light shimmering soft pencils or small sparkles, rhinestones can act as additional accents.
The image of a rock star looks especially impressive for owners of large round eyes. But girls who need to achieve a wide-open look with the help of cosmetics should be more careful with it. Such makeup for gray eyes can further reduce them.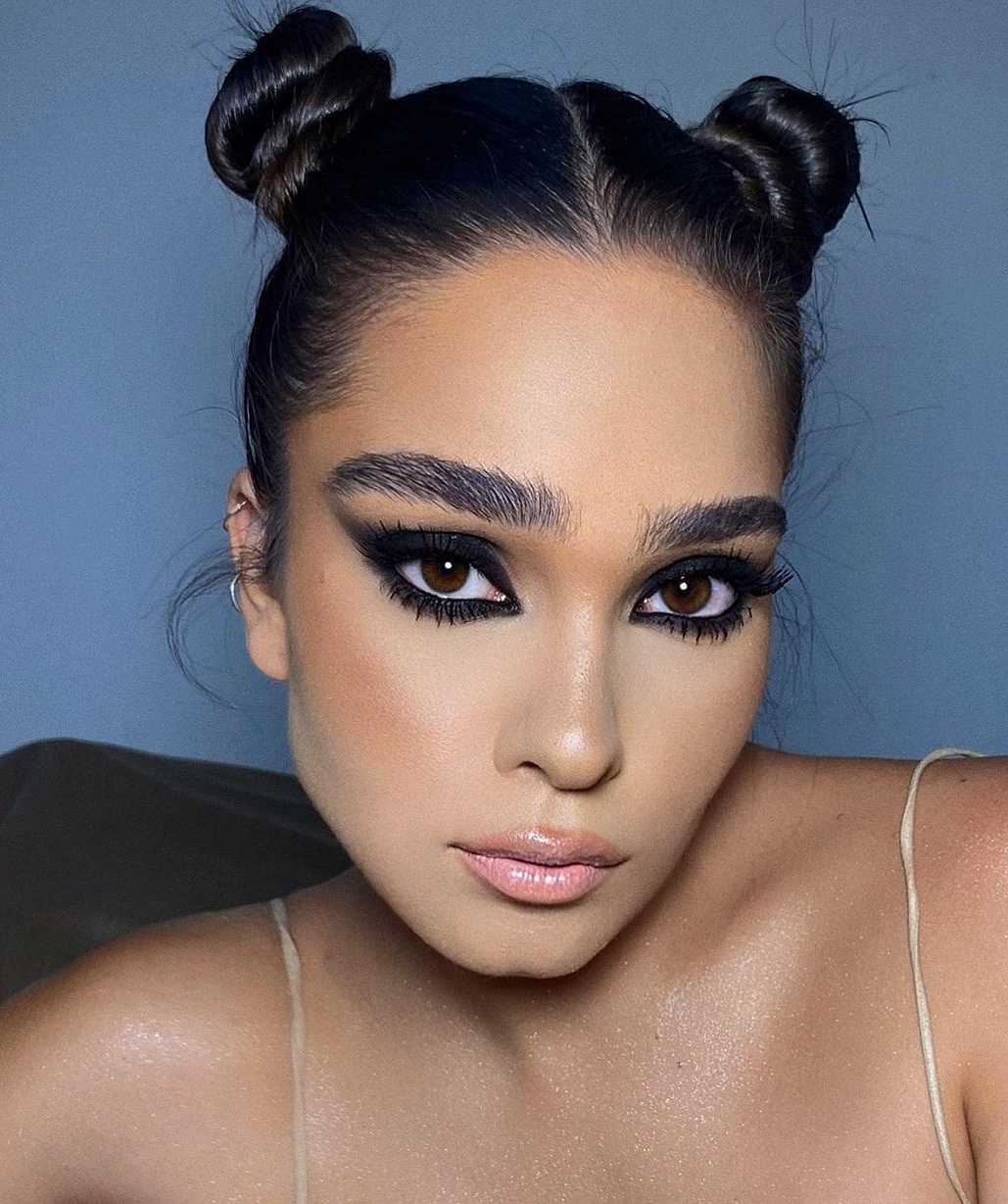 6. Blue Eyeshadow Makeup
Bright blue eyeshadow is a stylish solution for bold beauties! Today, this makeup is chosen not only by the stars for parties but also by ordinary girls.
When choosing blue shadows, consider the color of the eyes. Brown-eyed girls will suit rich deep shades. They can use both pearlescent and matte eyeshadows in combination with lighter tones and liquid eyeliner.
Is it worth choosing blue makeup for blue-eyed beauties? Yes. But try to make it more contrasting with copper, orange, and light brown shades.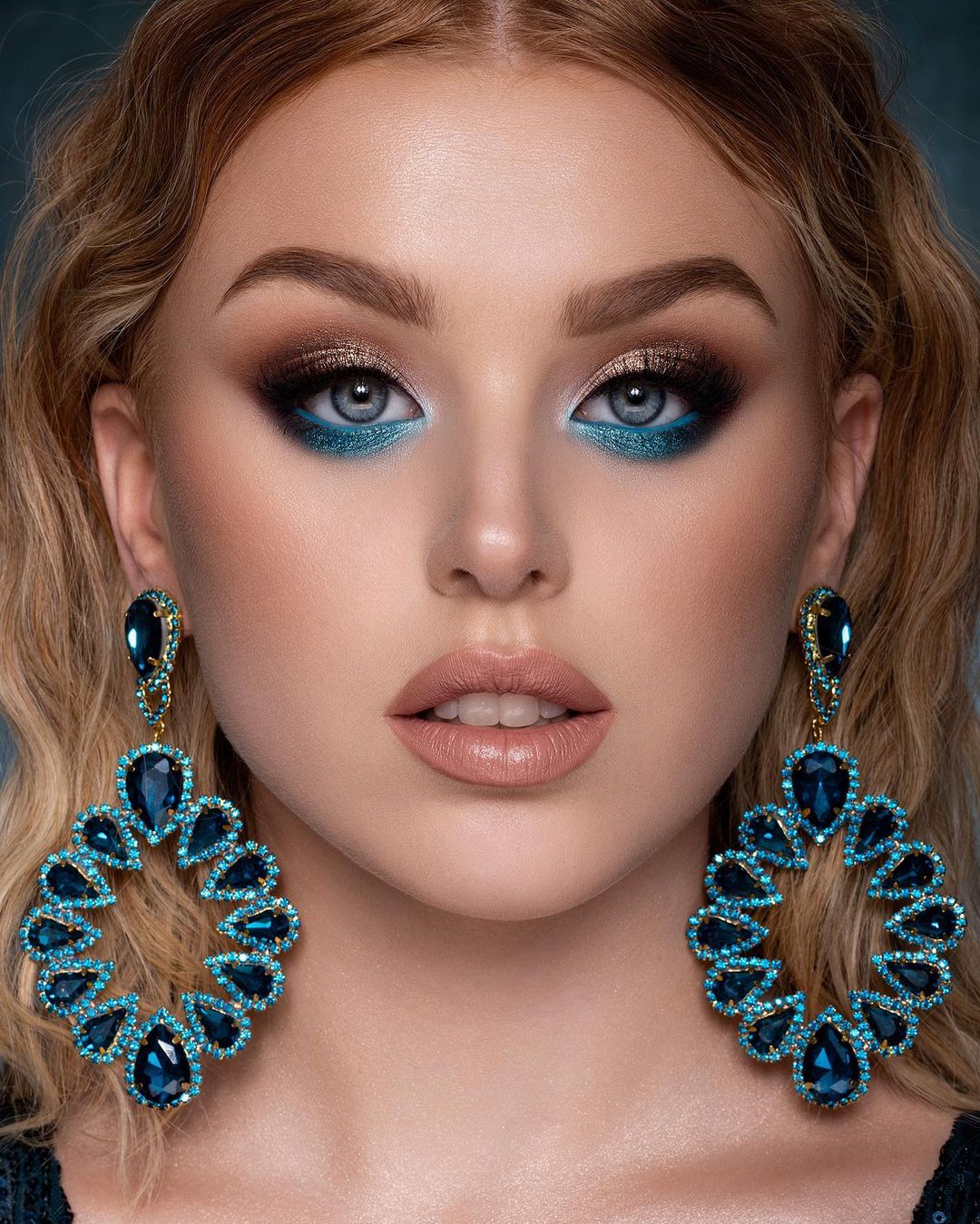 via @iwona_grabowska_makeup_photo
7. Red Eye Makeup
Do you like to experiment and look unusual? In this case, be sure to try red eye makeup for brown eyes!
You can not only apply reddish shadows but also make a full-fledged smoke. To make such glitter makeup look stylish, you need to learn how to apply makeup in bright colors correctly.
Makeup artists advise beginners to start with a light pink or matte brown base and add rich red only to the crease and blend. In the future, you can independently try different ways of working with the eye shadow palette and add contrasting eyeliners.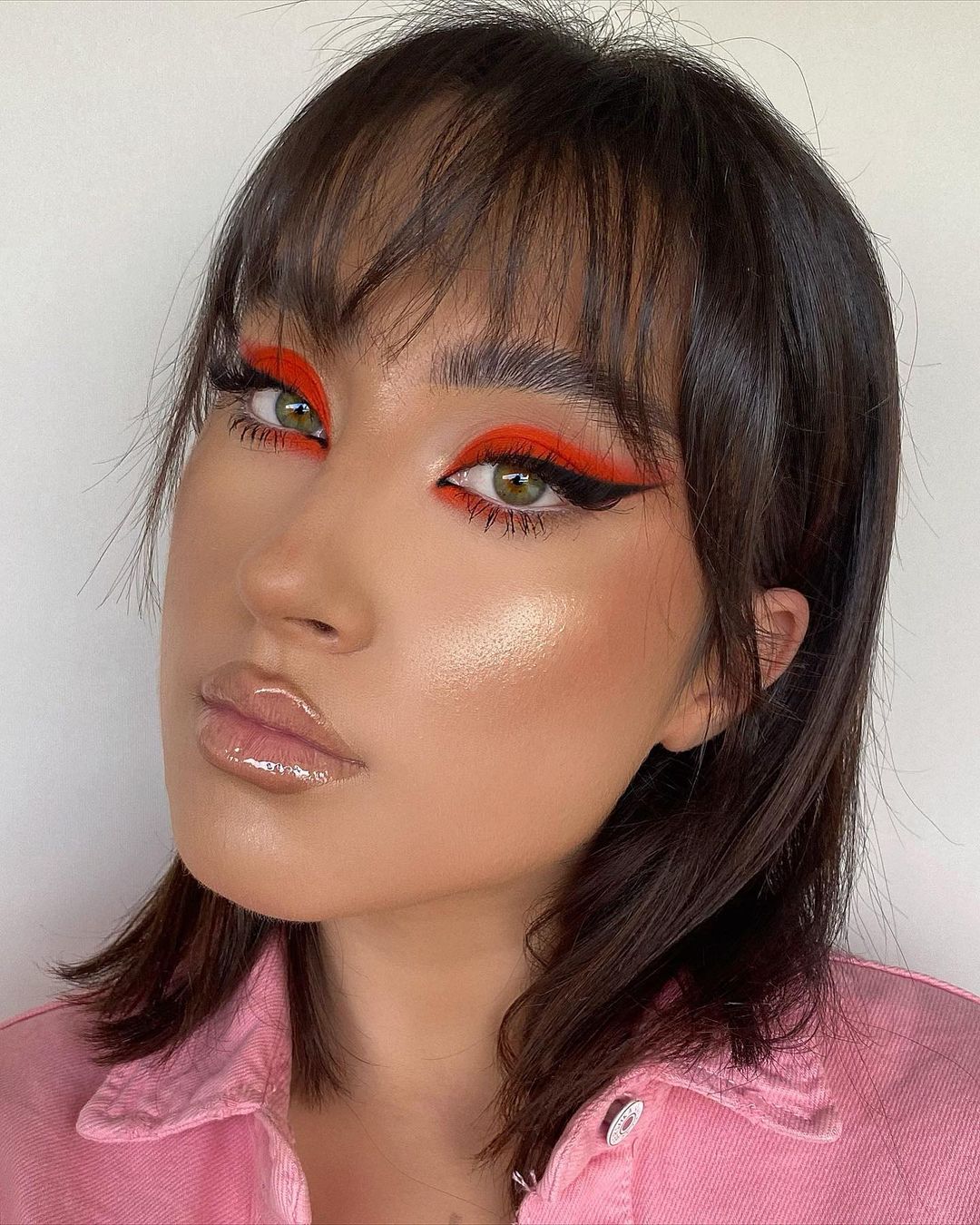 8. Natural Eye Makeup
For a casual look, it is better to choose natural eye makeup for every eye color. It will be appropriate to look at school, in the office, on a walk, or in a cafe. In addition, it is easy to transform it into evening make-up with just a couple of strokes.
Which pastel eye shadow is better to choose? Professional masters use:
brown
bronze
terracotta
pink pearlescent shades
The selected color should suit the skin tone. In addition to cosmetics, order the everyday makeup brush set. High-quality tools will help to achieve the most natural makeup.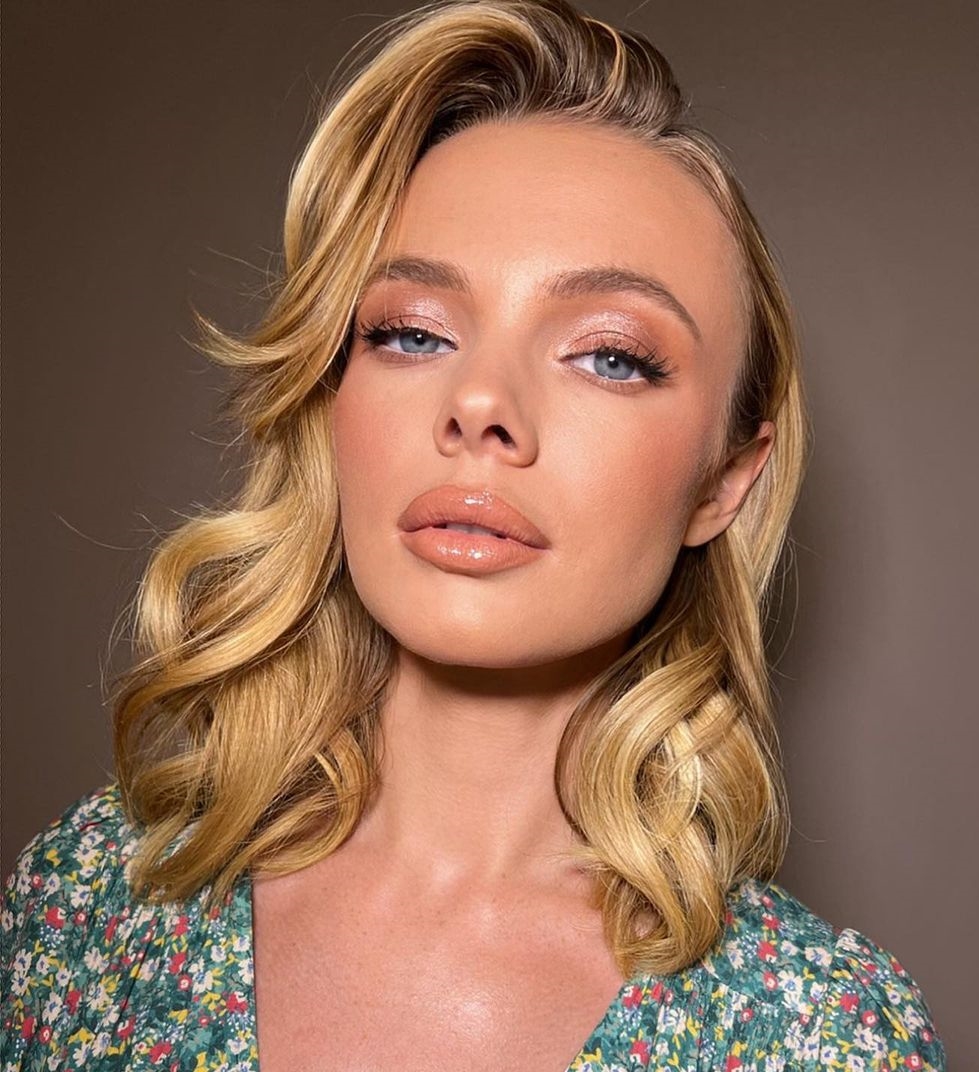 9. Brown Eye Makeup
The classic evening makeup for brown eyes implies the use of shades of brownish hues. You can complement them with brighter colors — red, orange, green, and even purple. Liquid eyeliner and Estee Lauder eyeshadow in these tones will help lighten the eyes a little and make them radiant.
When creating glitter makeup for brown-eyed beauties, do not forget about mascara. Many makeup artists claim that blue is best suited for such eyes.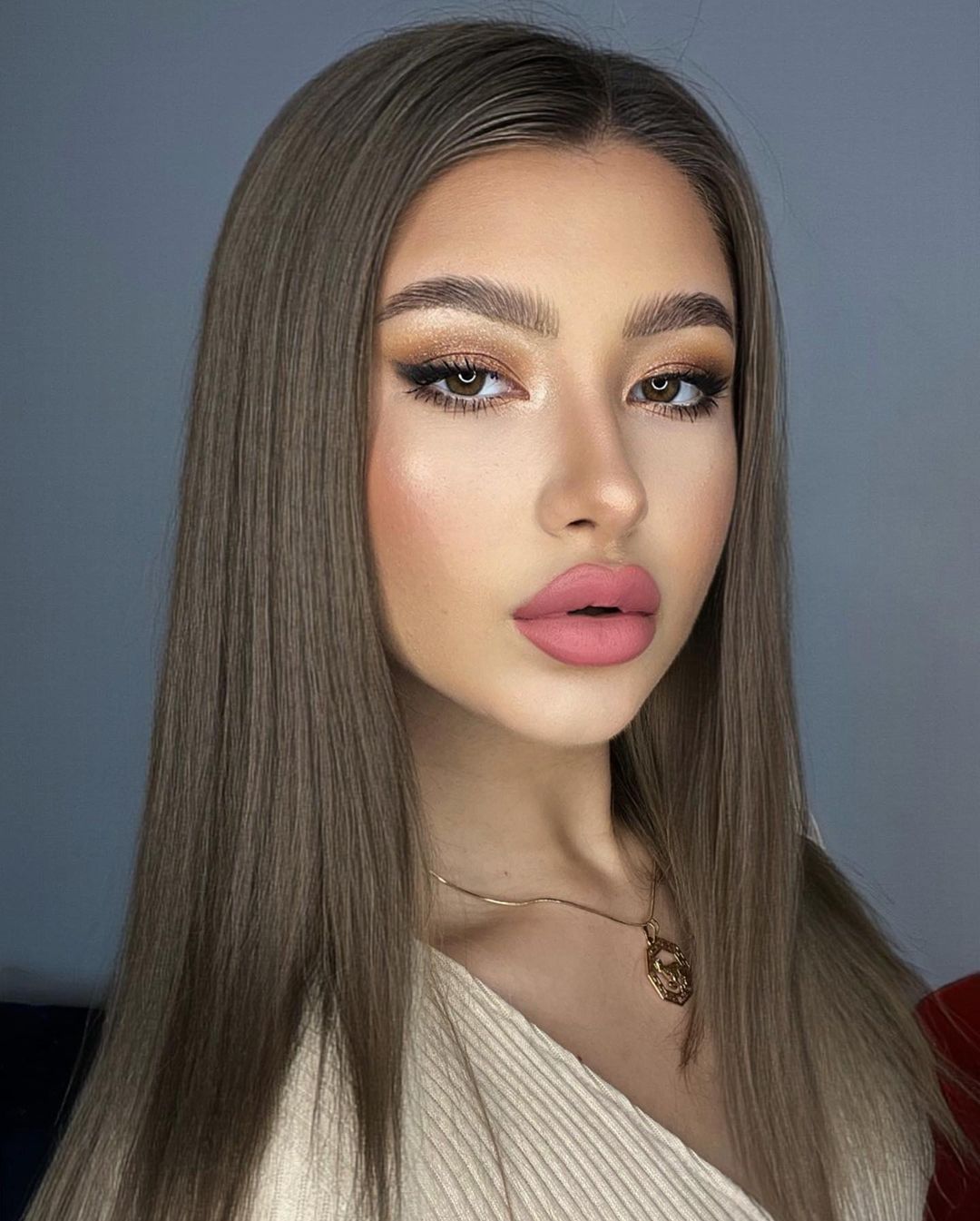 via @sabinadianailie
10. Pink Eye Makeup
One popular but controversial type is pinkish glitter eye makeup. How to make pink eyeshadow look natural and not create the effect of illness?
First, choose the right shade. For a casual look, weightless powdery tones are perfect, and for a celebration — rich raspberry, fuchsia, gray-pink, etc.
Secondly, carefully apply glam makeup for every eye shape along the surface of the eyelid, avoiding the waterline and inner corners. It is these places that can turn a stylish look into an unhealthy one if the shadows are applied incorrectly.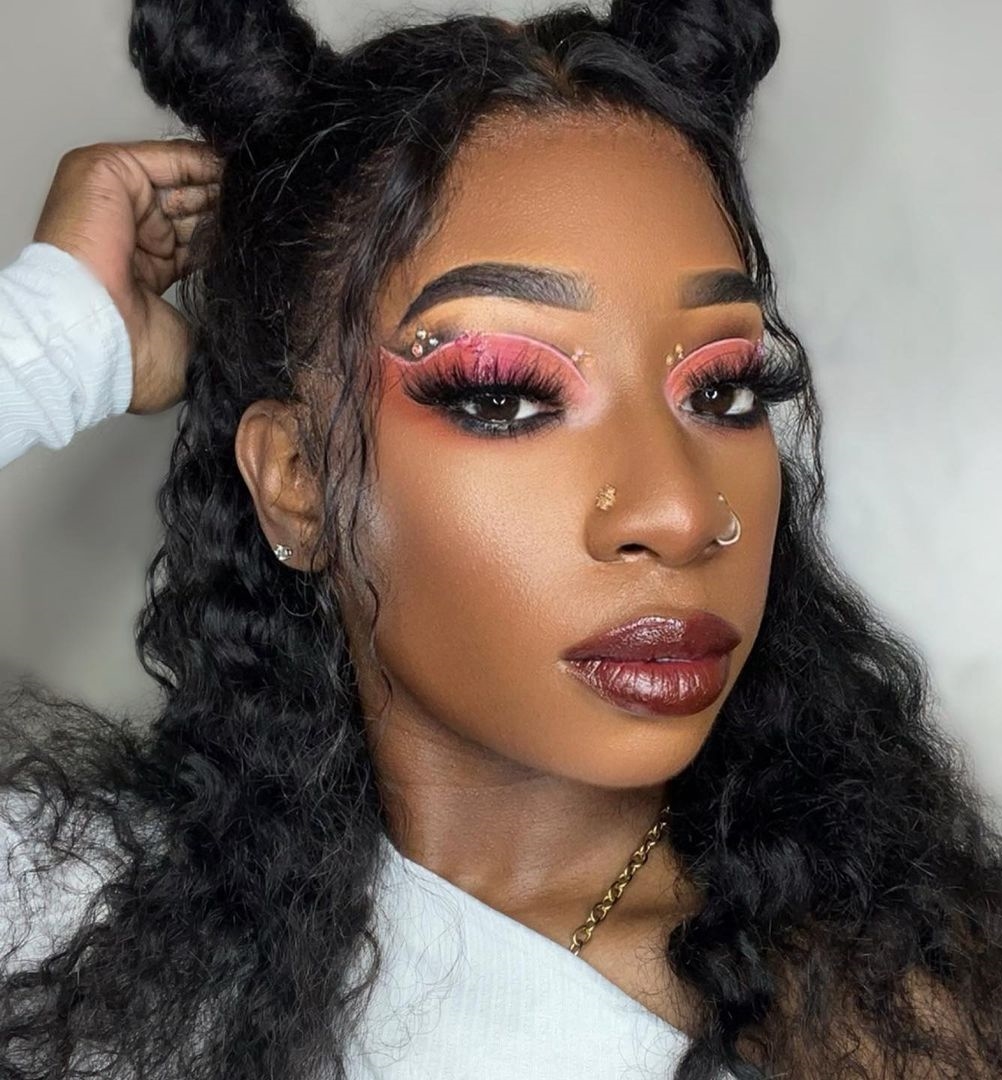 via @tee.chantel
11. Green Eye Makeup
Dark green eyes will not be left without attention. Salad, emerald, and swamp shades are suitable not only for green-eyed girls but also for brown-eyed fashionistas.
How to make green eyeshadow looks more contrasting? Add red shades. They are on the color circle directly opposite the green.
If you have chosen makeup for green eyes, complement it with burgundy, wine, and coral. An original solution will be the use of pinkish-golden shadows. With their help, green eyes will flicker even brighter.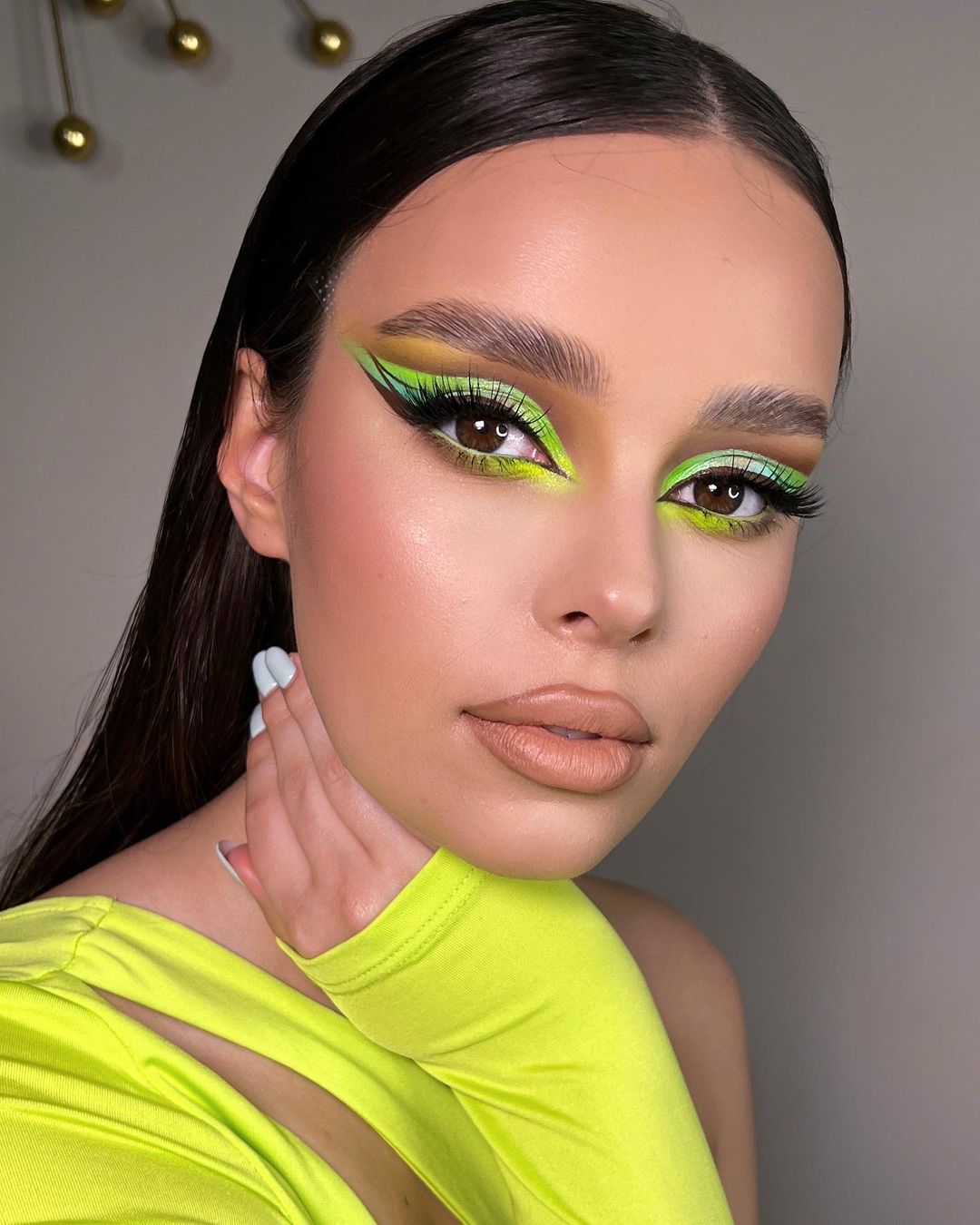 via @sorokairyna
12. Rhinestone Eye Makeup
Do you like 2000s makeup? At the nearest party, try adding even more shine to your image with iridescent rhinestones!
What ideas can be realized with small sparkles? You can choose butterfly makeup, turn into a snow queen, a delicate fairy, or a charming alien.
So as not to look absurd, place rhinestones in such areas:
superfluous arcs
waterline
cheekbones
internal and outer corners of the eyes
nose bridge
In some cases, you can apply shiny elements to the lips. Rhinestones eye makeup for every eye color is the choice of bold girls who like to amaze the imagination of others!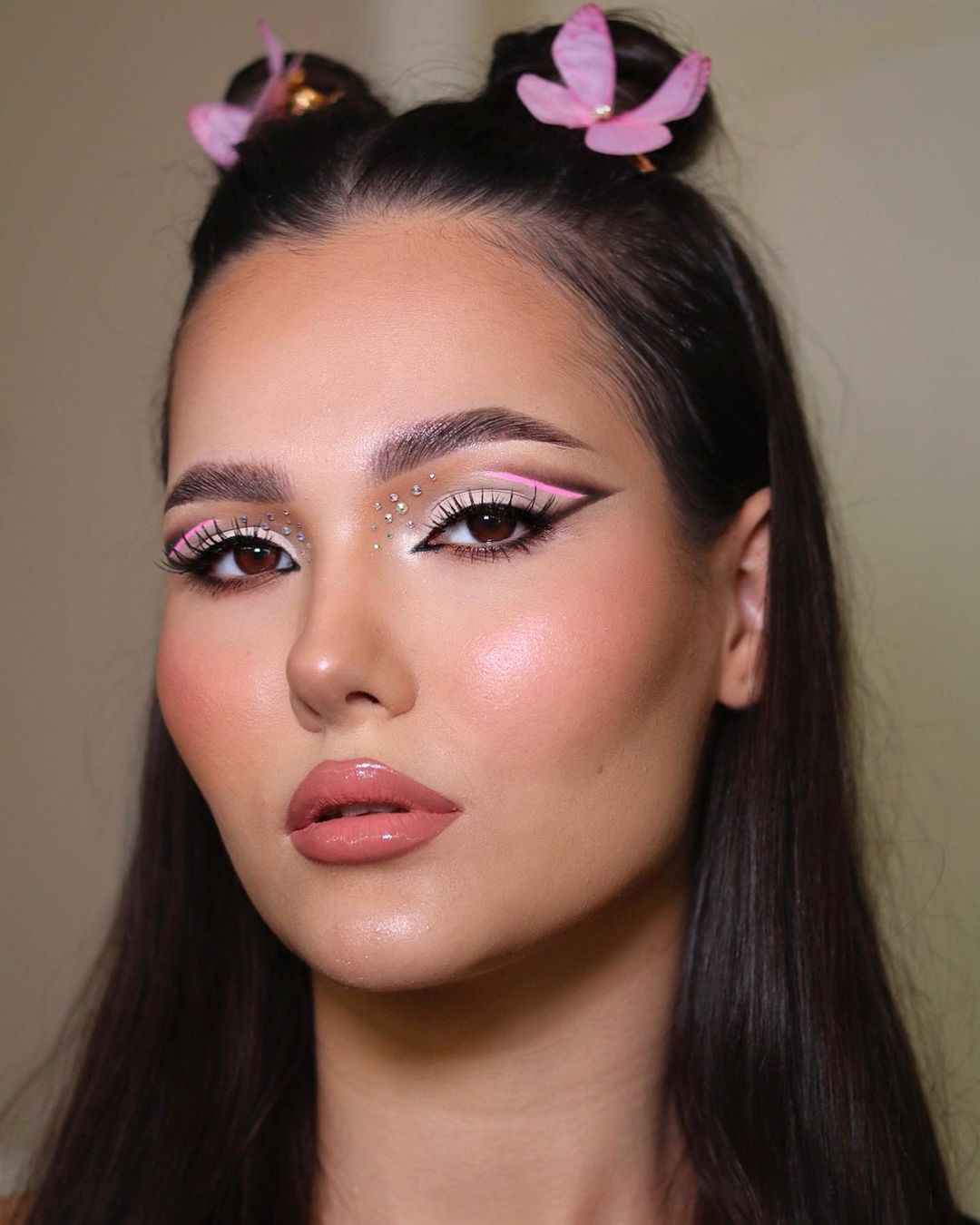 13. Under Eye Makeup
Bright under-eye makeup is rather an exception to the rules. Basically, this type means the use of a concealer to correct possible disadvantages.
In particular, it helps to effectively hide dark circles under the eyes. If you do not get enough sleep or have too thin skin through which blood vessels are shifted, find together with a dermatologist or makeup artist the best concealer and feel confident in any situation.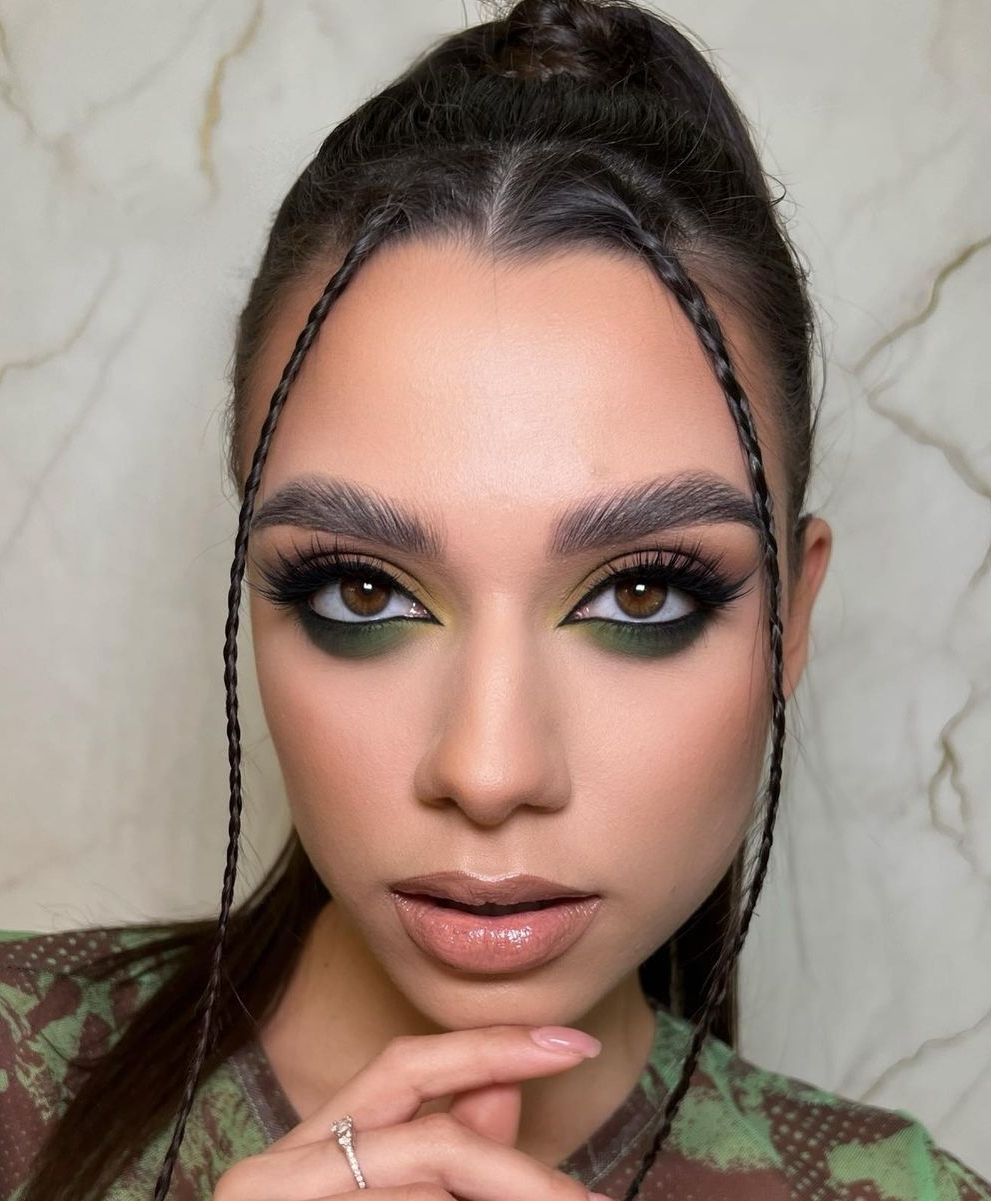 14. Gold Eye Makeup
Want to feel like a real queen? With the gold glitter makeup, it is possible!
With it, you can emphasize the natural beauty of green, blue, or hazel eyes both in everyday and festive images. For every day, use pale and calm iridescent shades. For parties, choose more saturated brown eyeshadow looks with contrasting eyeliners. And do not forget about bright red lipstick!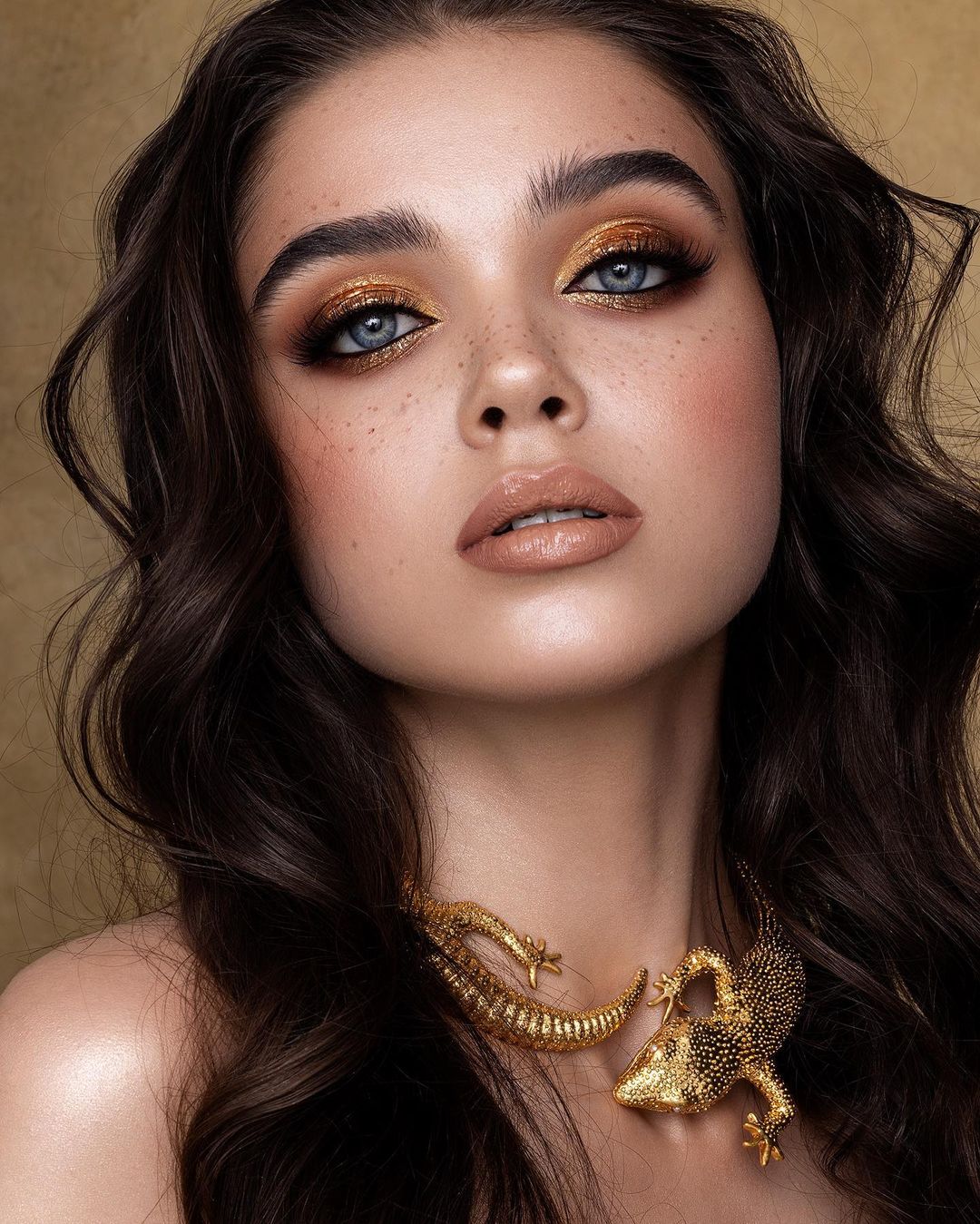 via @iwona_grabowska_makeup_photo
15. Butterfly Eye Makeup
Among the many fantasy eye makeup looks, the original legendary butterfly is special. It can be different depending on your preferences and the upcoming event.
A popular shiny or matte makeup can be unobtrusive and slightly noticeable or exciting to a large part of the face. On a creamy face base, you can apply shadows of any shades and textures, which allows you to create the most incredible images.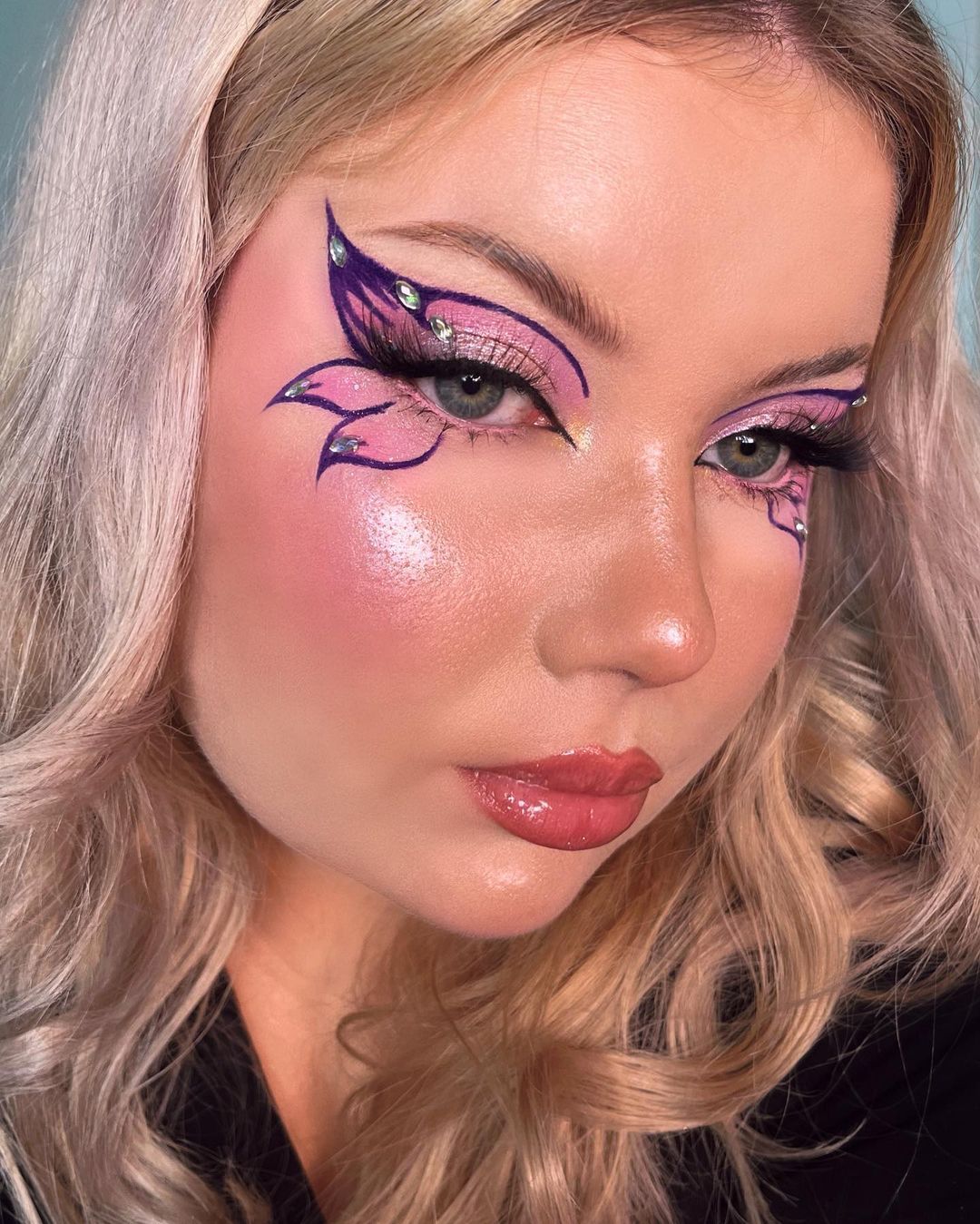 16. Purple Eye Makeup
Purple smoky eye makeup is often found at parties. It is especially loved by the owners of brown eyes because it emphasizes their color and adds freshness to the image.
Warm purple eyeshadow looks harmoniously and with green shades. Blue-eyed beauties are recommended to choose colder and bright tones.
When choosing a lipstick for creative makeup for any occasion, makeup artists advise dwelling on reddish-orange tones in purple. This combination is versatile and is suitable for almost all women.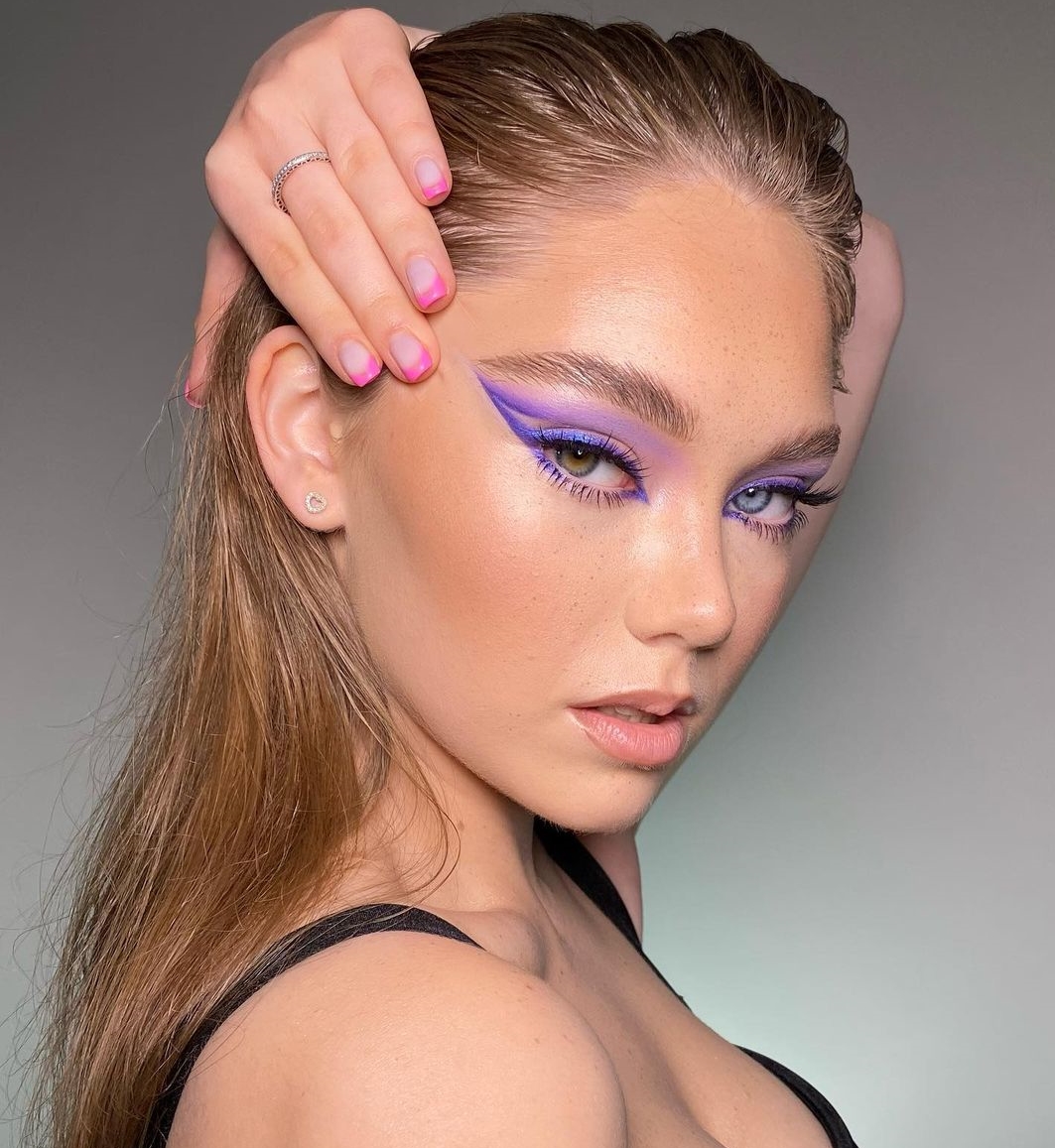 via @_shokoladka9_
17. Asian Eye Makeup
How to apply makeup for Asian eyes correctly? The main goal is to create the effect of a more open look.
Pastel eyeshadow palettes will help achieve the desired look. Use a contrasting eyeliner for creating elegant arrows, emphasizing the lower eyelid and lengthening mascara. Cream or powder with the face shimmer effect completes the image.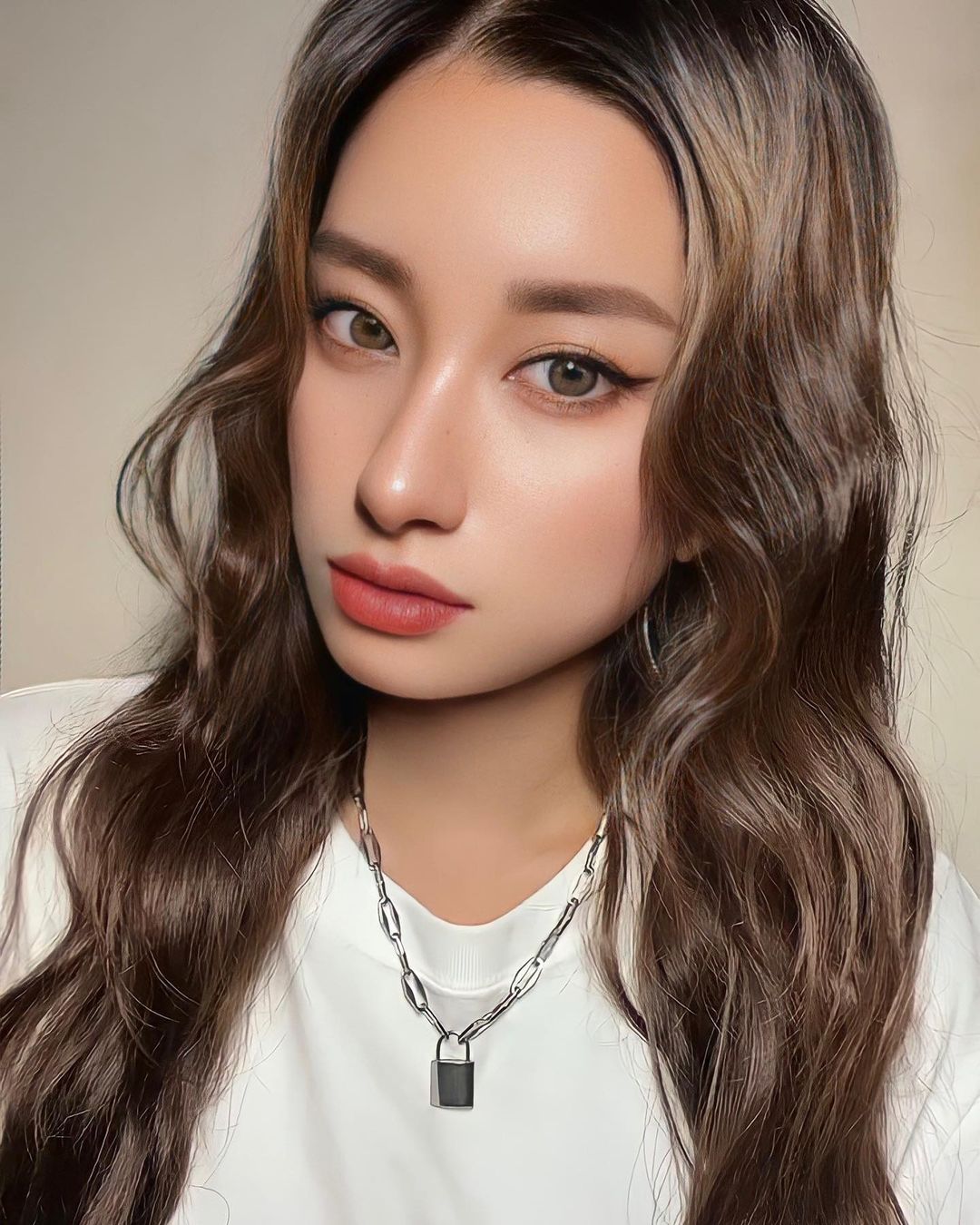 via @sarah_h0129
18. Rainbow Eye Makeup
Another creative eyelid makeup, which cannot be forgotten, is rainbow. Models often use it for photo shoots and at parties dedicated to fairy-tale themes.
It is best to trust the application of rainbow makeup to professionals. They will be able to choose in eyeshadow palettes exactly those shades that are suitable for a particular face type. Do not forget about the specifics of the formation of transitions. For this, masters create an eyeshadow blend, where they combine different tones as neatly as possible.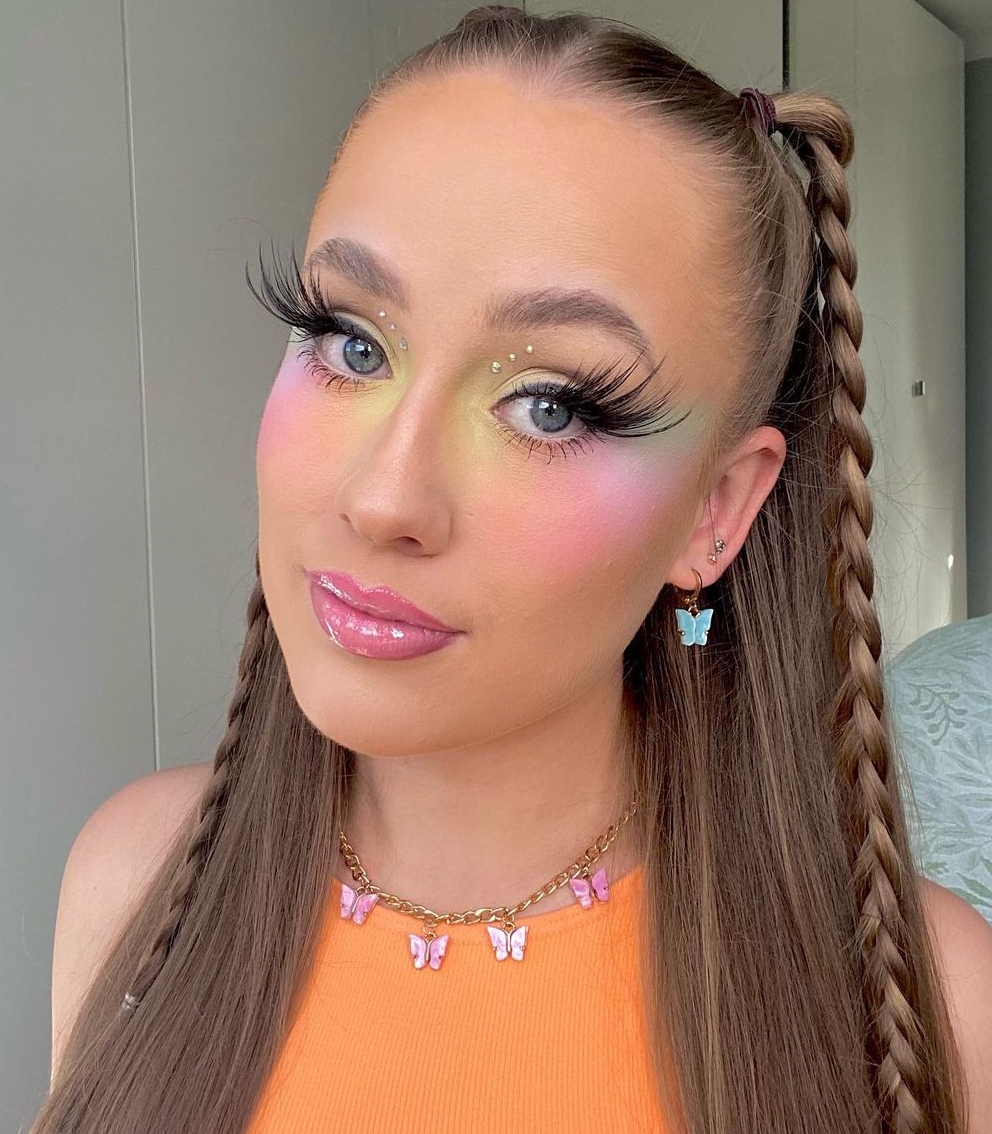 via @kia_artistry
19. Spider Eye Makeup
Getting ready for Halloween or another similar themed party? Feel free to choose 3D creative eye makeup in the form of a spider or cobweb!
Thanks to the precise application of makeup products, the masters will create a spectacular image that will definitely attract the attention and compliments of everyone around you.
To create such makeup, you need to carefully select cosmetics and think over the future ornament. For example, spider web eyeliner can be located only near the outer corners or capture the entire eye, eyebrow, and cheekbones.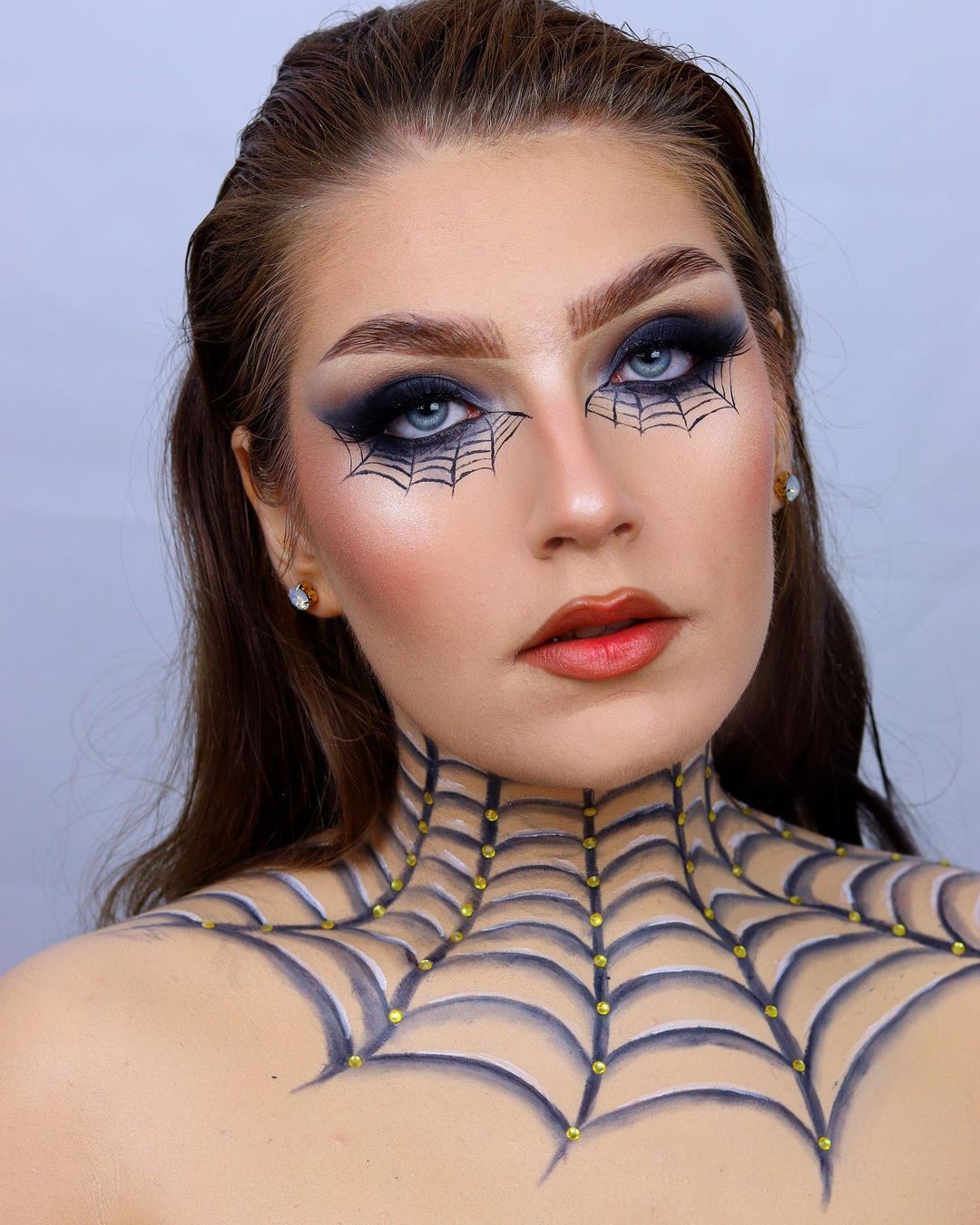 via @makeup_miru
20. Silver Eye Makeup
It is popular makeup for gray eyes and other shades, which is versatile. A wide silver eyeshadow palette allows you to choose both warm and cold tones for women of any color type. In particular, a decent selection of shades is presented in Maybelline New York cosmetics.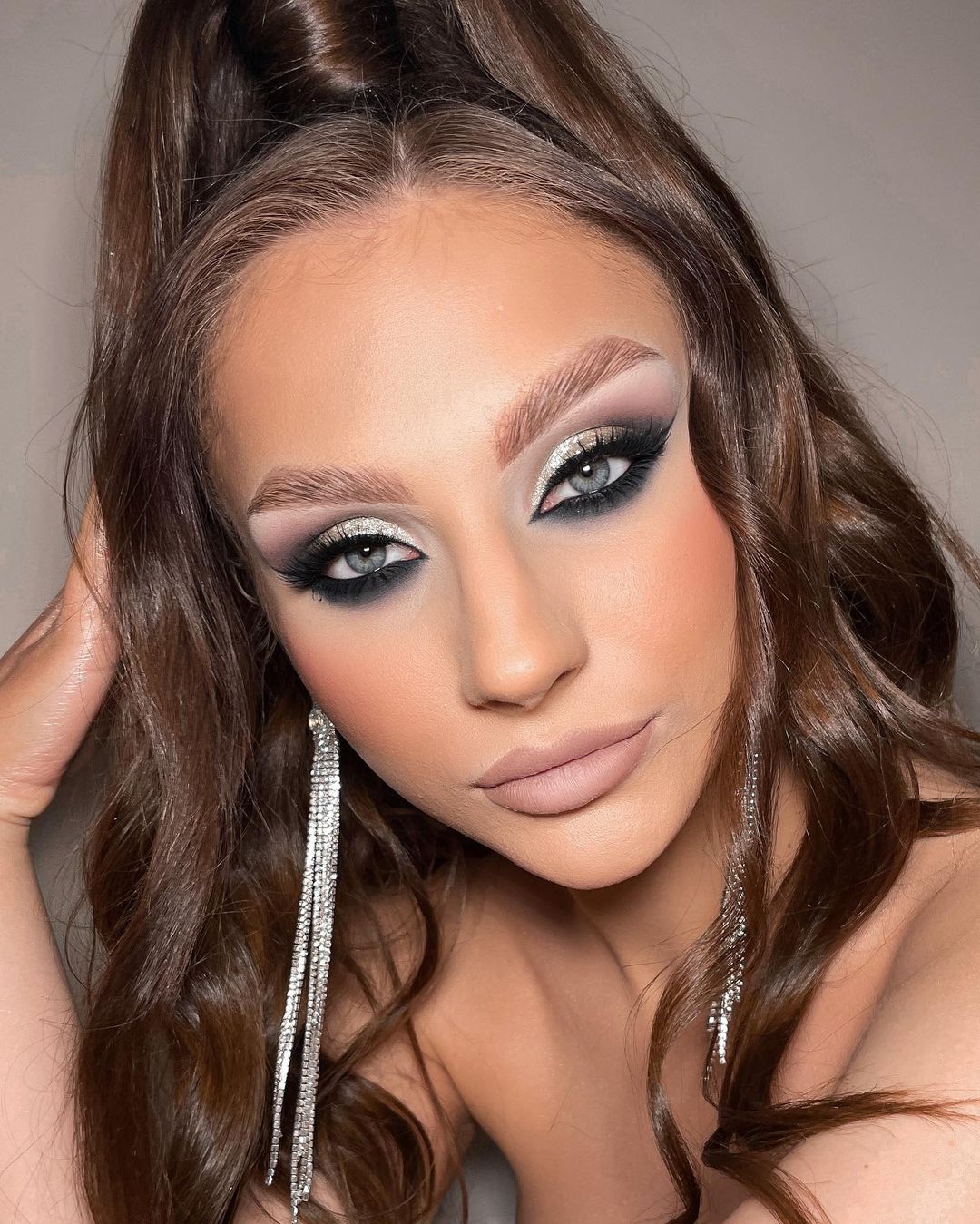 FAQ
How to prepare face skin before applying makeup?
Before applying decorative cosmetics, be sure to thoroughly cleanse and moisturize the skin:
Wash with warm water.
Use an exfoliator.
Apply toner or serum to the skin, followed by moisturizer and eye cream.
Also, do not forget to prep your lips and apply a primer.
How to clean makeup brushes and sponges?
Proper brush preparation includes:
Wetting the bristles with warm water.
Applying detergent with a light massage.
Thorough washing.
Squeezing the bristles with a clean cloth.
Restoration of the shape of the brushes.
Drying.
The brushes should dry in such a position that the bristles hang down from the edge of the surface. Make sure that they do not come into contact with the underlying tissue. Otherwise, mold may appear on the brushes.
Also, you cannot dry the brushes strictly vertically. In this position, water can penetrate the junction of the bristles with the base of the handle. This will wash out the adhesive and deform the product.