Women often face the following situation: they are in the mood to change something in their style but don't know where to start. And the easiest way to cheer yourself up is changing a hairstyle. Just imagine the situation where you leave your favorite beauty salon and enjoy your new appearance. If you want to have something unusual but strict, selecting among classic hair cuts is the best solution!
Bob hairstyle is definitely the most common alternative for women who don't like wearing long hair or having a very short hairstyle. Moreover, the haircut will look even more elegant and cute if you have natural curls!
Women with straight hair can make their bob haircut curly using blow-dry and appropriate styling products. Of course, there are numerous variations of this haircut, so let's look at some common types. Below, you can find multiple ideas for your perfect coiffure to enjoy your look every day.
What is a Bob Haircut?
This hairstyle implies medium-length hair, perfect for women with any facial features and hair colors. And the most amazing feature of this haircut is that you can adjust the length according to your preferences. You can make it on straight hair or proceed with a fantastic bob for curly hair. It's a really universal hairstyle for ladies of all ages and appearances.
A bob haircut has been extremely popular in the 50s, and now a lot of women also prefer this style. It doesn't matter which hair texture you have. Your hairdresser will definitely help you choose the best length and style. Moreover, many ladies now prefer a wavy and curly bob, which looks romantic and elegant.
Classic Curly Bob for Elegant Ladies
If you have wavy hair, a naturally curly bob is a fantastic solution. Such hairstyle suits all occasions and will make a great highlight in your appearance independently of the dressing style you prefer.
Many ladies with thick curly hair think that the only option available is a short hairstyle, but it's a mistake. Bob is a great option for any natural hair texture. Moreover, it's a perfect way to make fine hair more voluminous and shiny.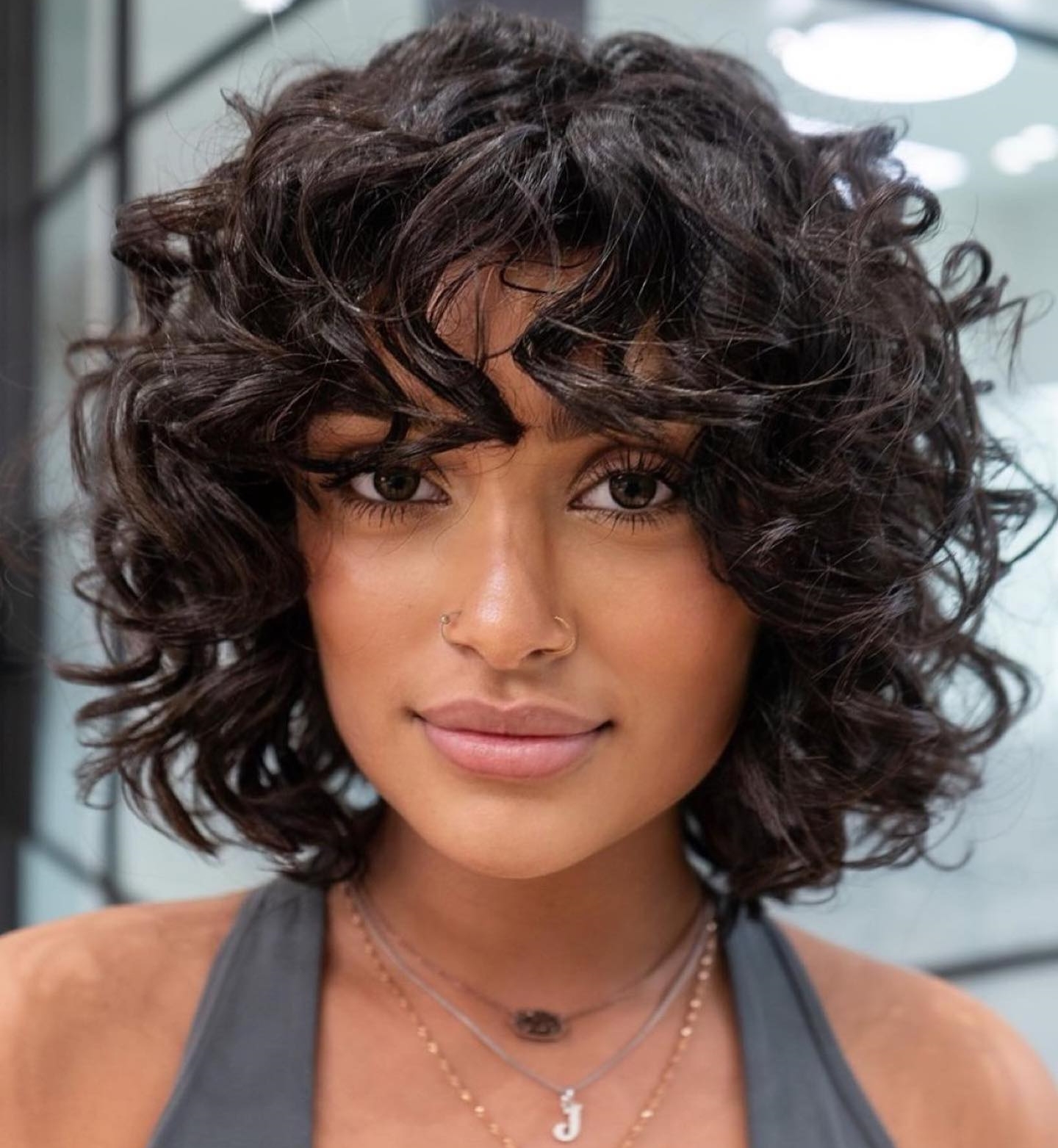 Stylish Short Curly Bob
Experiments with haircuts can always help ladies increase their mood and enjoy changes. Curly bob hairstyles are now very common among women since it's easy to experiment with length and volume.
Your natural curls will look fantastic, and this haircut doesn't require a lot of styling. Make your messy curls, wear a nice dress and be ready to conquer the world. Feel like a queen with your bob hairstyle!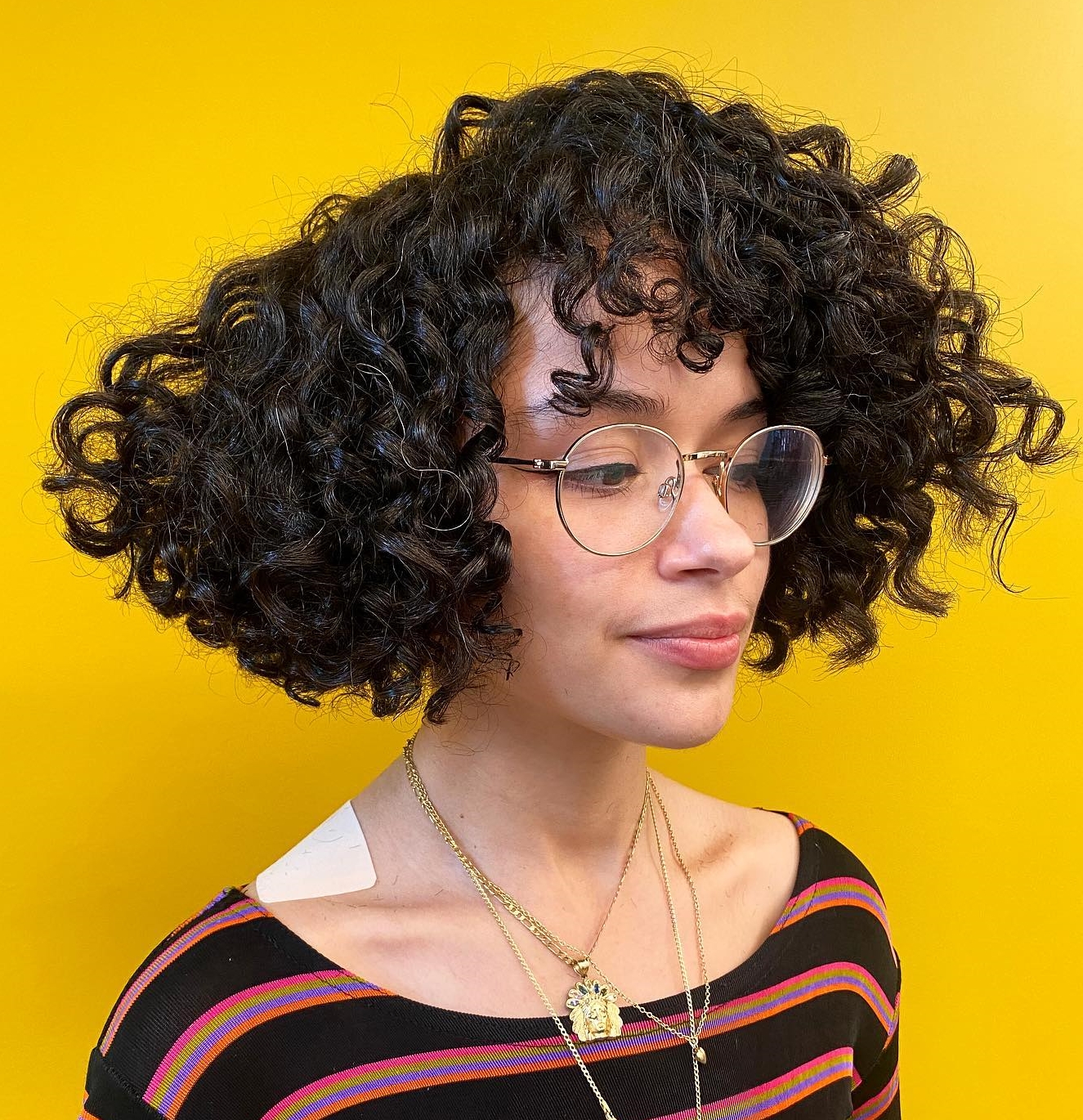 via @themonacut
Incredible Bob Cut with Loose Curls
Loose curls are a great idea for all hair lengths, so a wavy bob haircut will immediately add romance to your image. Such a coiffure is a perfect solution for daily routine and special occasions.
A natural wavy bob hairstyle will help you feel more self-confident and attractive.
It is considered that all hairstyles look amazing on wavy hair, and it is especially true concerning bob. You can pick any hair length since a loose curly bob is a perfectly adjustable coiffure. Each lady will be able to choose the style suiting her and attract dozens of admiring glances.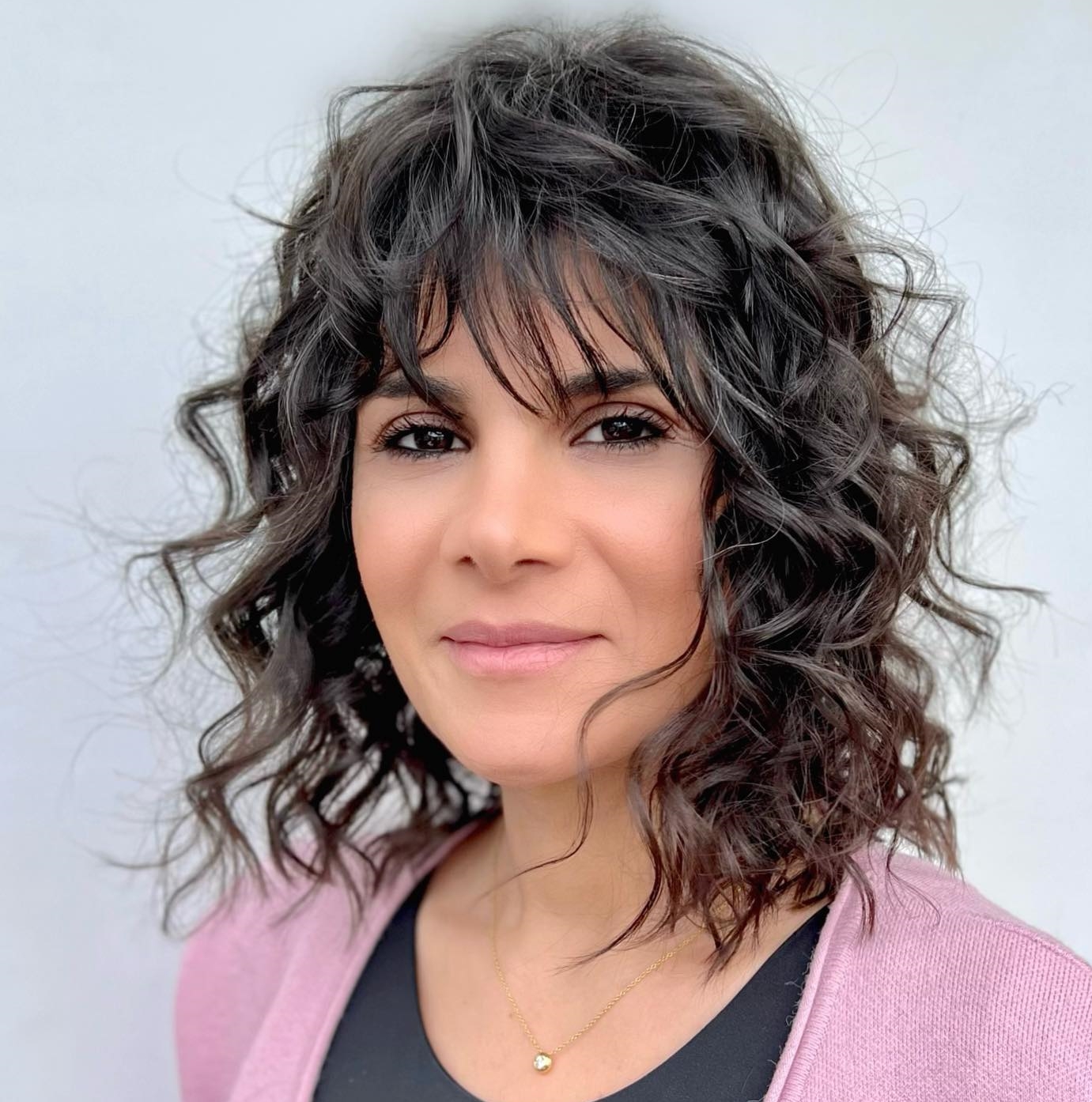 Stacked Short Curly Bob Cut
An undercut short stacked bob cut is an unusual, unique coiffure, and not each lady would be ready to make it. However, those who like standing out from the crowd and attracting attention will definitely enjoy this idea. Those who consider natural wavy bob boring should think about an extravagant curly stacked bob.
This hairstyle implies that you make a classic wavy hair bob, but the only difference is that the hair on the nape is shorter. It suits all hair colors and facial features, so this curly bob alternative is a wonderful solution when you are risky enough to make such changes.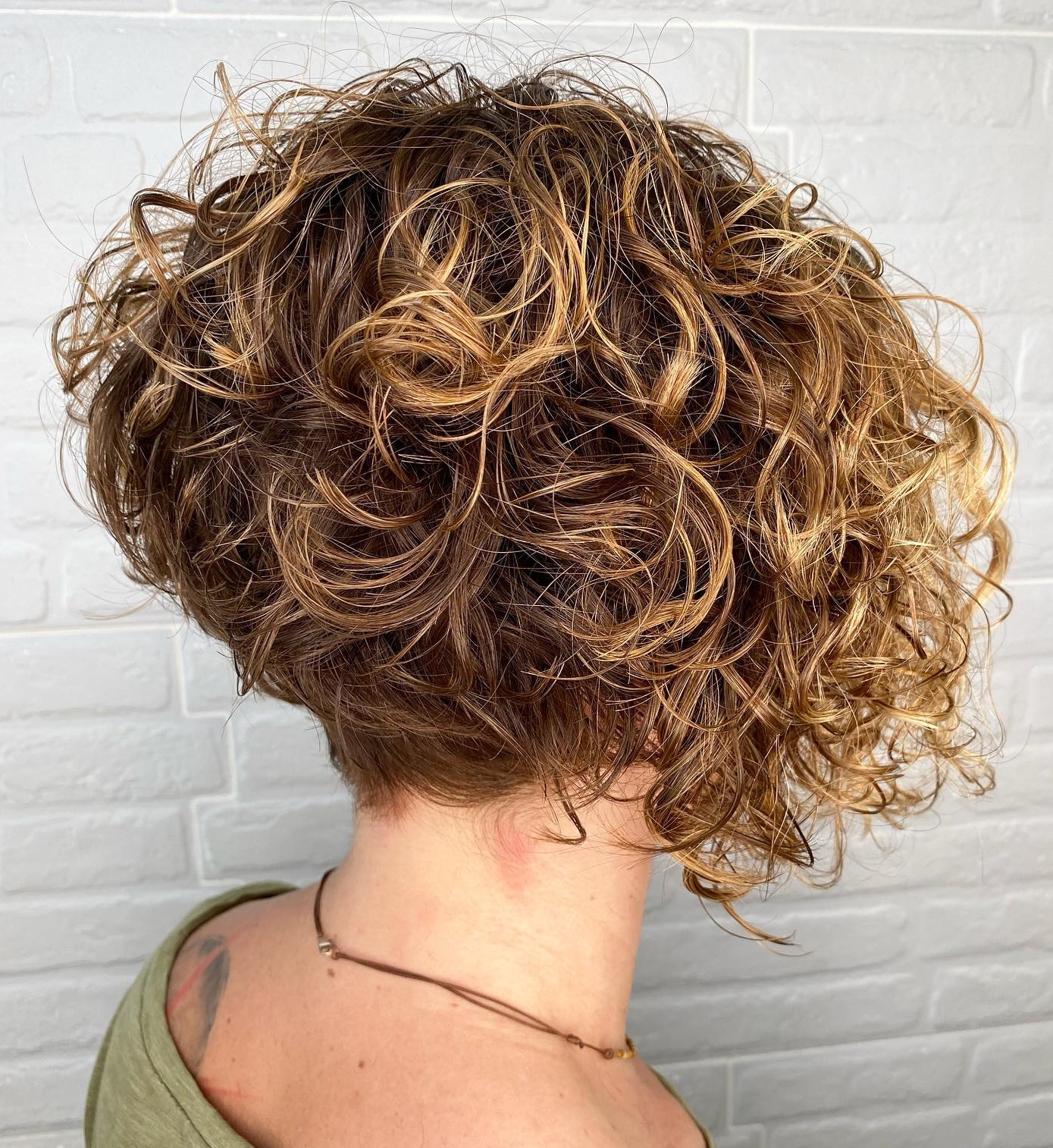 Impressive Side Part Curly Bob Haircut
The side part is a method of styling your curly hair bob, which is perfect when you would like to look fresher and more unusual. This option also works for straight hair, making the image unique and stylish.
The process is simple – just make an uneven parting so that there is more hair on one side. Such styling suits any bob cut length, making it a universal hairstyle for all ladies. Enjoy your naturally curly bob in a new variation!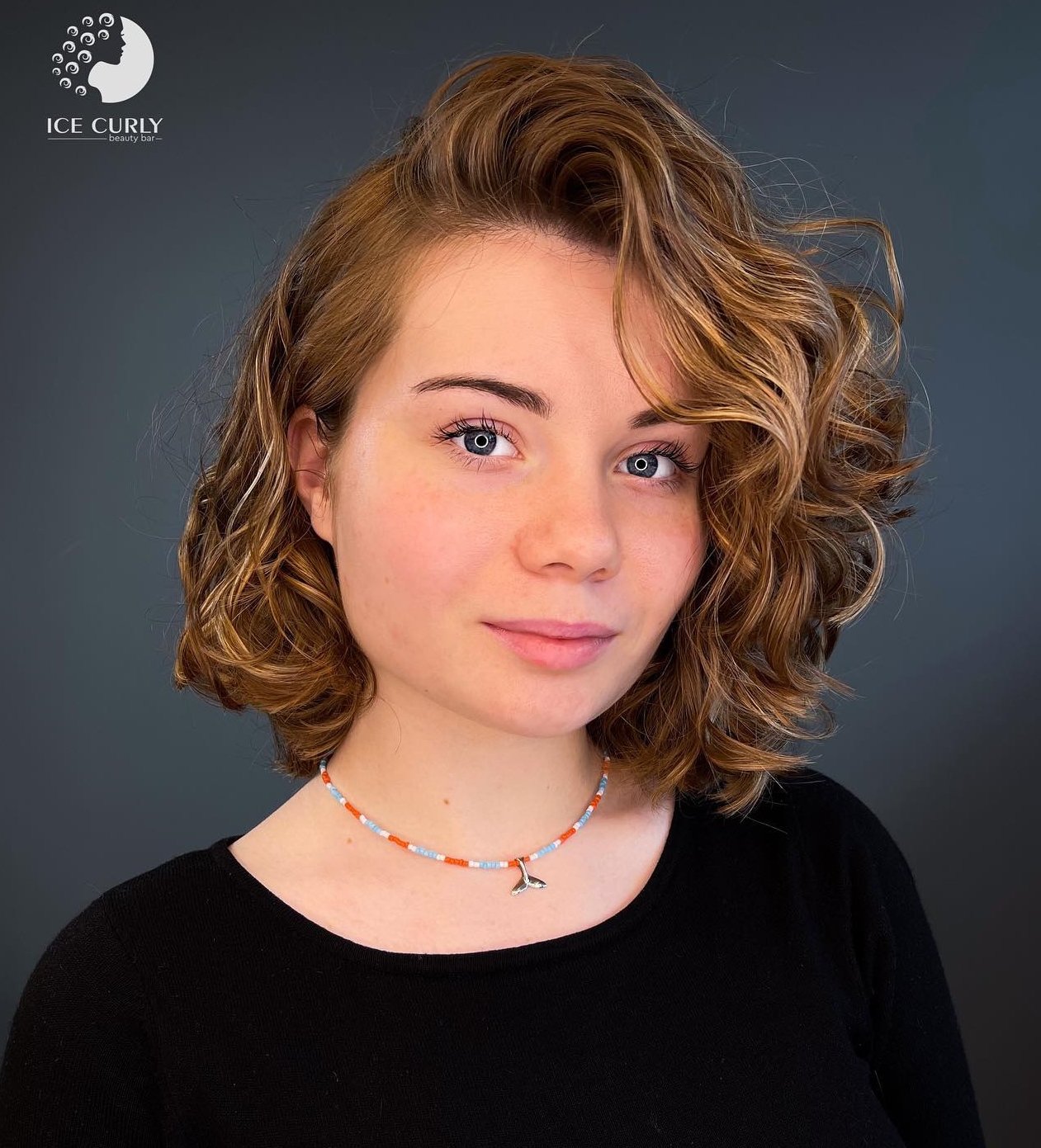 via @aysel_curly
Layered Wavy Bob Cut for Bright Ladies
A layered curly bob suits all ladies with thin hair since it's a wonderful way to add volume immediately. A short bob cut is a great solution for all ladies, but each looks unique. It also suits all hair colors, so you can pick both blonde or brown curly bob to get many compliments. And if you have straight hair, use a curling iron to change your style in ten minutes!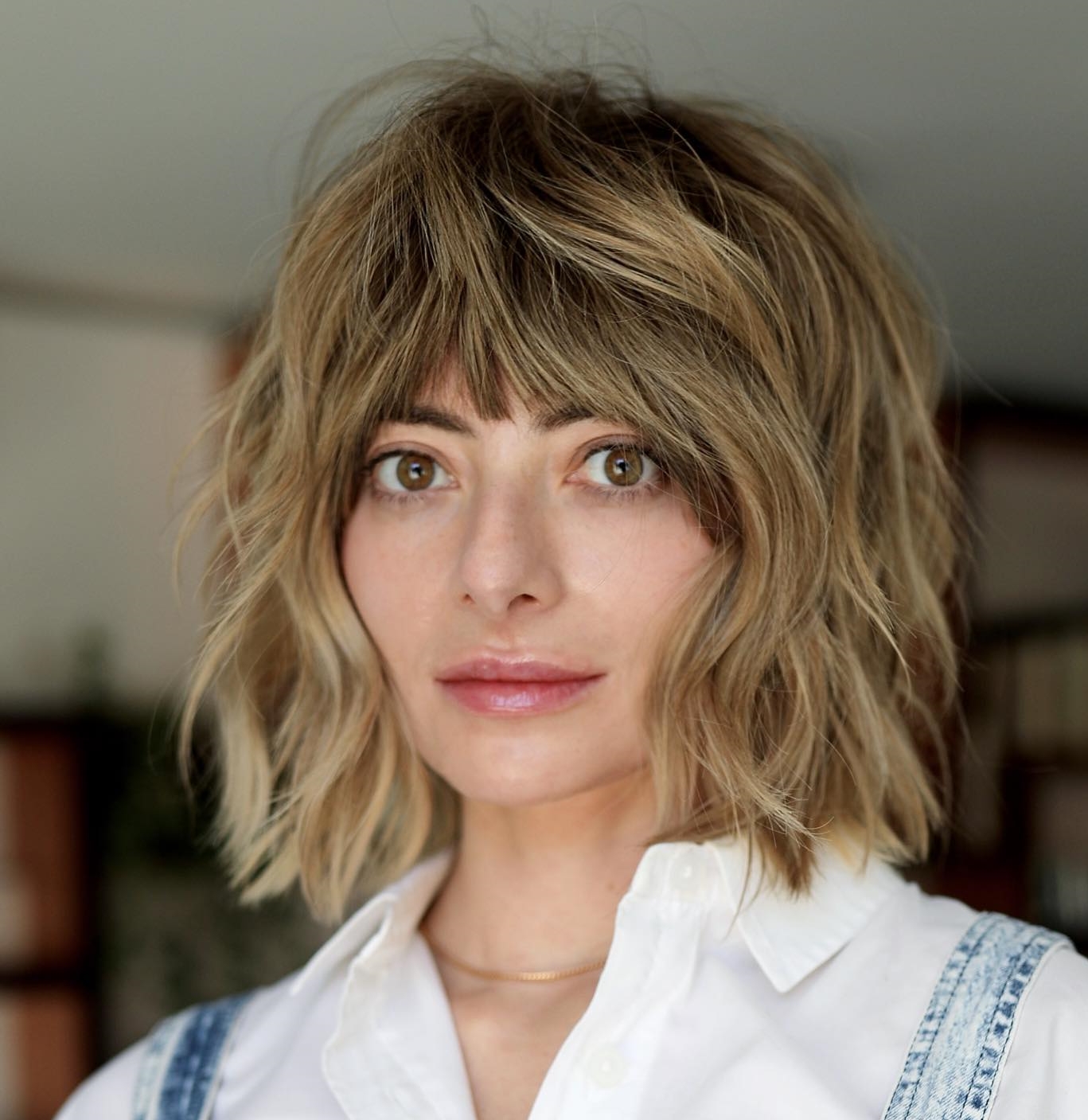 via @hirohair
Fantastic Inverted Curly Bob
This hairstyle implies short hair, with longer strands framing the face. A curly inverted bob is a perfect way to add volume to hair and highlight the facial features of any woman. If you are searching for short curly hairstyles, you should definitely consider this option.
Such a haircut is especially relevant for older women since it can help them look younger and fresher. Many think that this coiffure suits only ladies with straight hair, but this is far from the case. If you have curly or wavy hair, ask your hairdresser to choose the appropriate style and go on. A cute curly bob is a hairstyle suiting all occasions, so be ready to shine bright every day.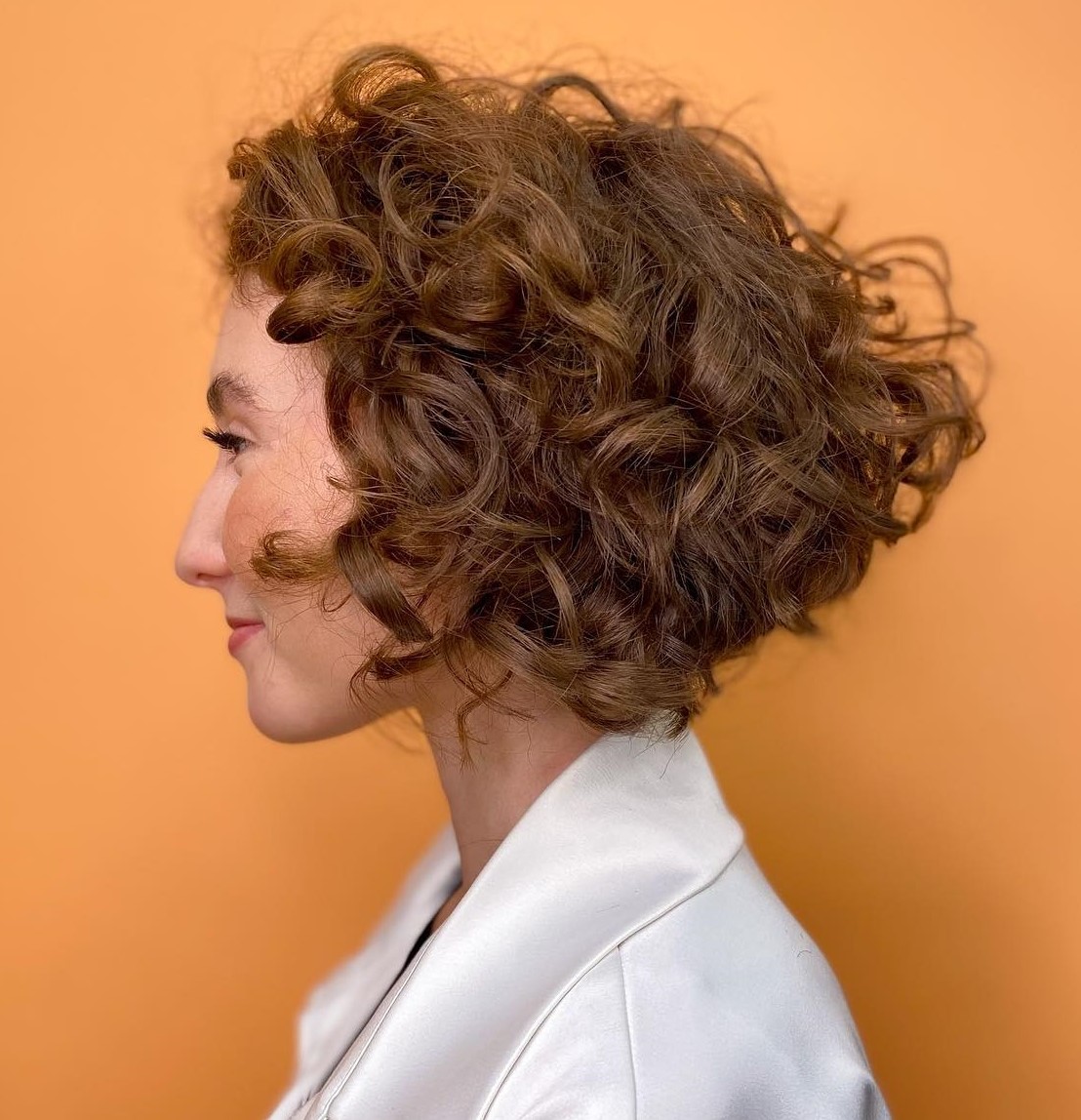 via @takihodi
Shoulder Length Naturally Curly Bob Cut
The main advantage of bob haircuts is that they can be adjusted according to the woman's preferences and are made of any length. A shoulder length bob is a perfect alternative for ladies who want some changes but are not ready to say goodbye to their long hair. Such a haircut can immediately add volume and provide you with thick-looking hair. Moreover, a medium curly bob doesn't require any styling products, and only a bow-dry is usually enough.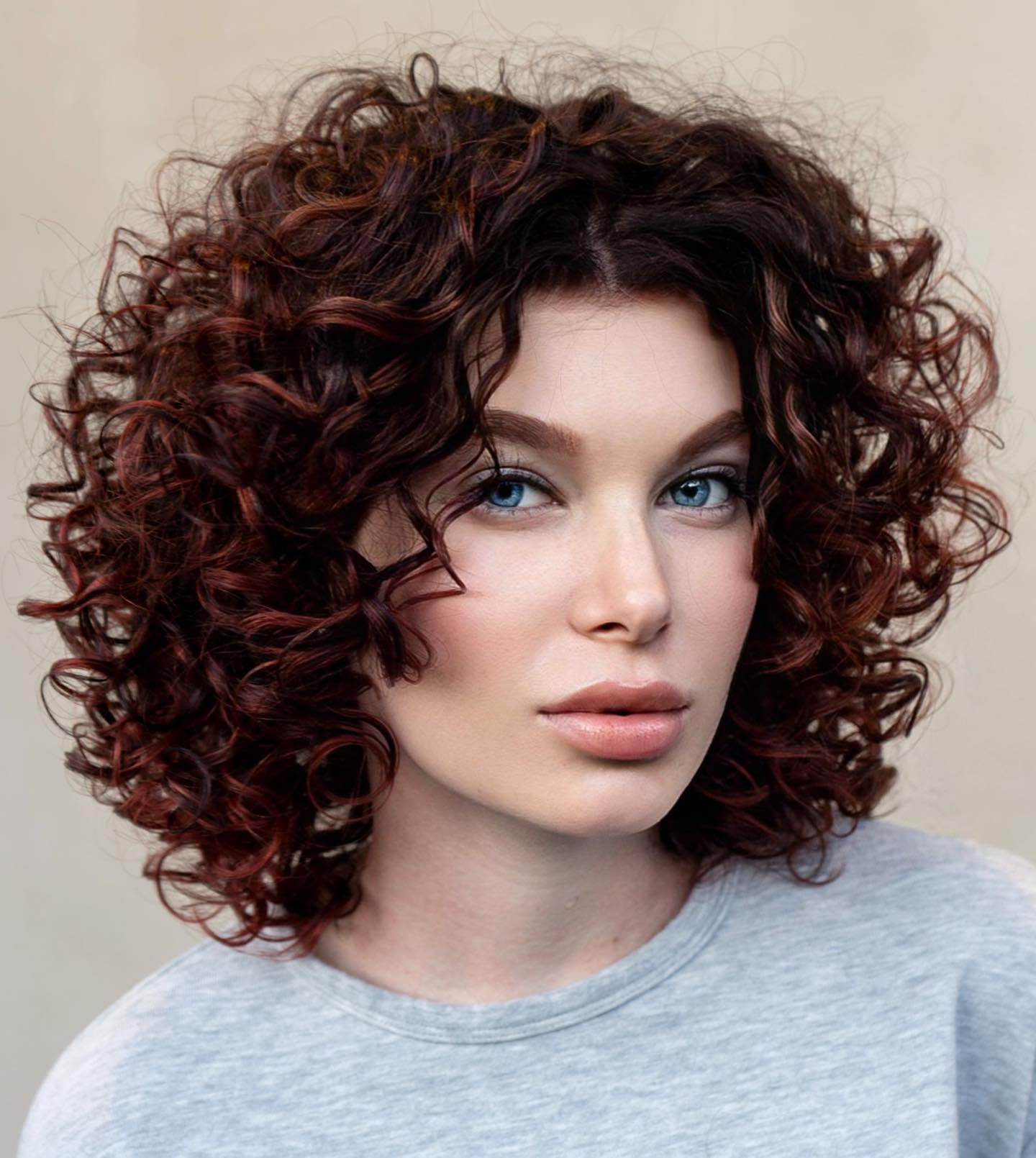 Amazing Long Curly Bob Haircut
If you don't want to get rid of your hair length, there's an idea for you. A long wavy bob cut is a great solution for ladies with thick curly hair. Don't deny yourself the pleasure of making such a haircut if it's all about you. Those with thick hair don't need to proceed with a short haircut to make the coiffure look more voluminous.
A classic curly long bob suits all women, and it doesn't matter which face shape they have. And if you would like to make the coloring more exciting and unusual, consider a curly chocolate bob with blonde highlights, which is really trendy now.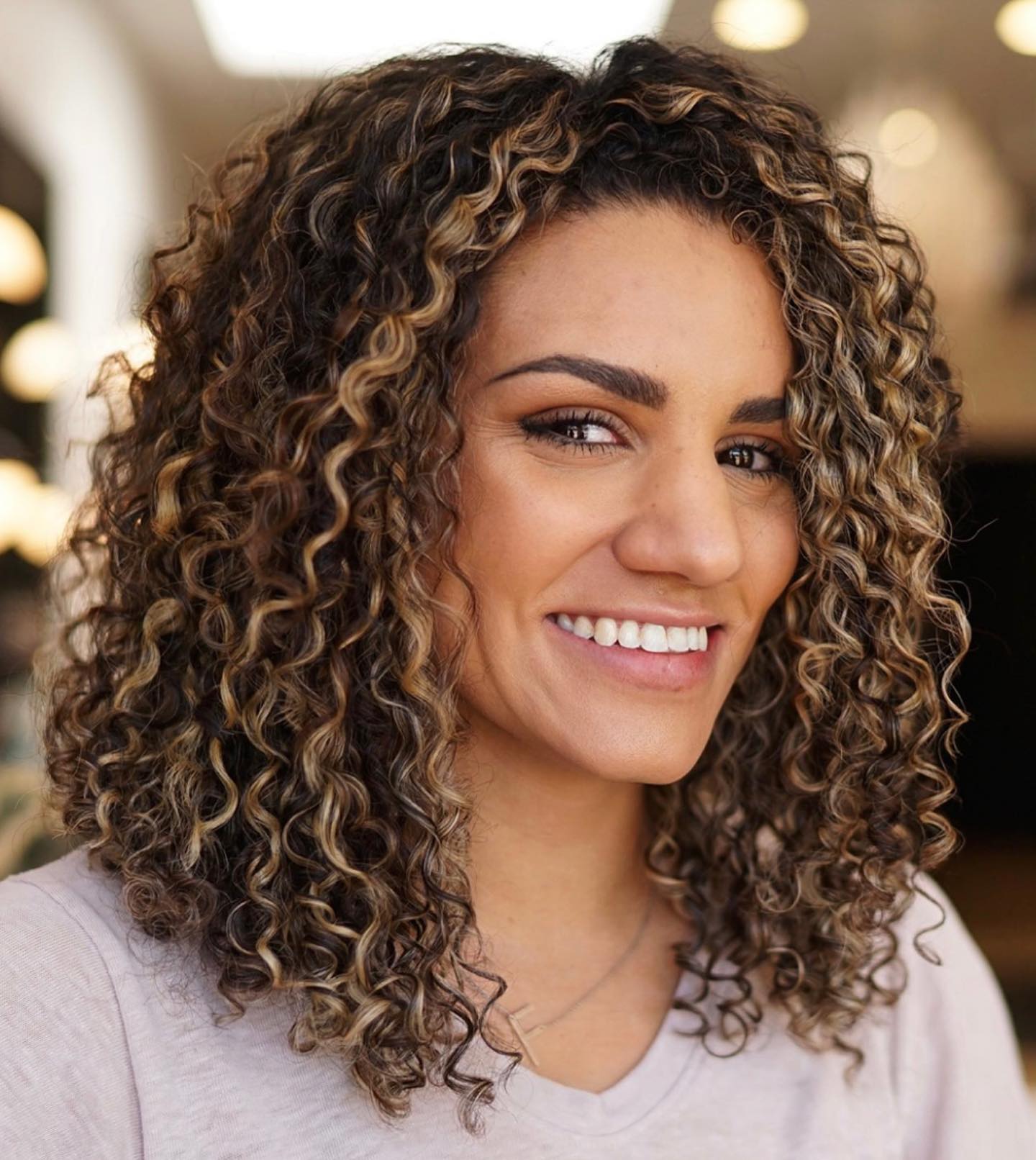 Strict and Stylish Ear Length Curly Bob
If you have tight curls, you should definitely pay attention to this retro-style haircut. A jaw length curly bob cannot be considered classic and suits extravagant and bright personalities.
Leave your natural hair color or proceed with a cute dying technique to get a unique hairstyle. A blonde or dark short curly bob is perfect for any clothing style and will only highlight that its owner follows all fashion trends.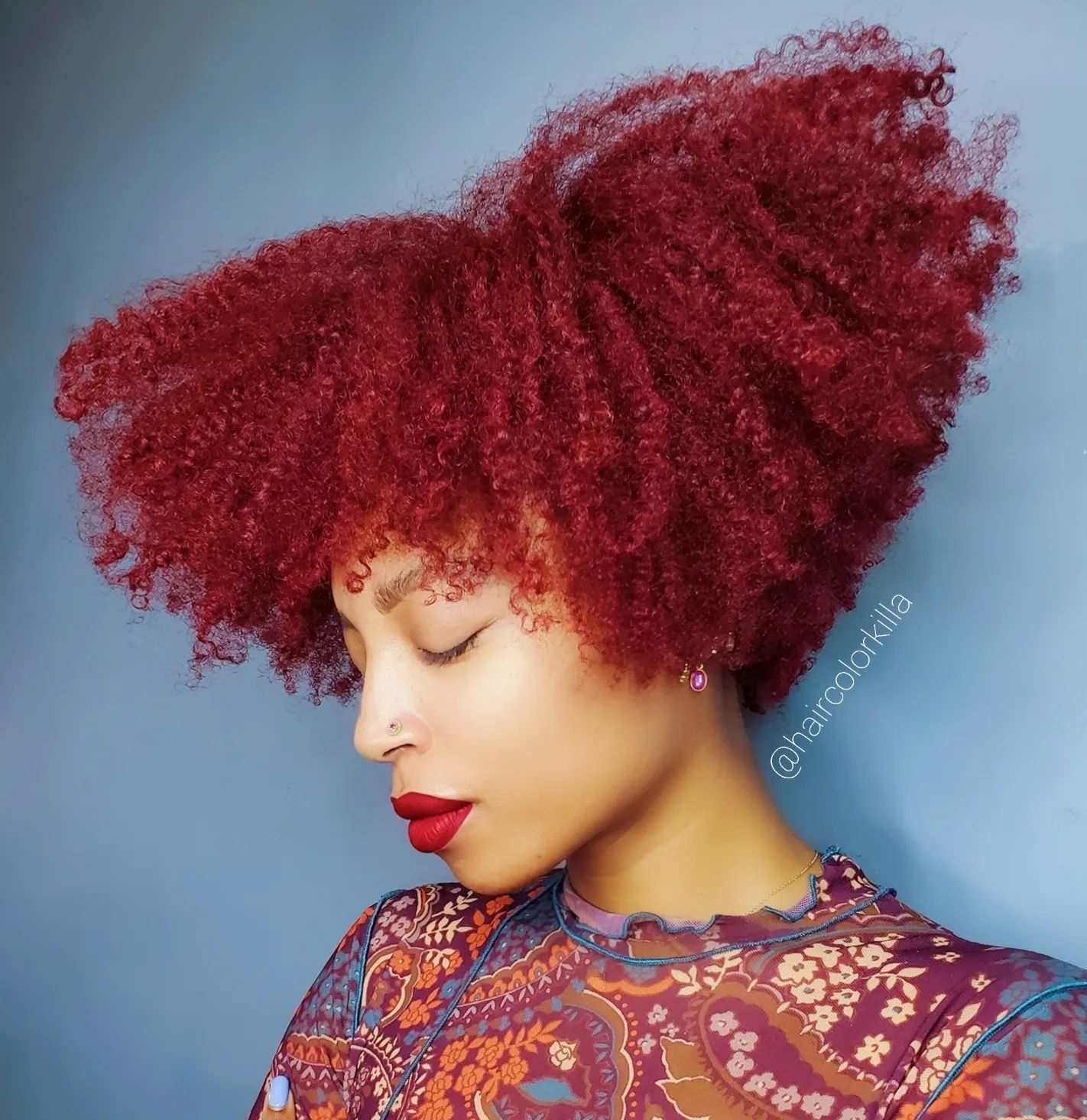 via @haircolorkilla
Undercut Short Curly Bob for Bold Looks
If you are ready to make an extremely short haircut, this option is for you! Undercut hairstyles are at the peak of popularity now, but not so many ladies are brave enough to have them.
Such a coiffure implies a thick curly hair top and a shaved nape, providing a unique style for its owner. This short bob haircut will look remarkable on natural hair color or dyed hair, so it's up to you to decide.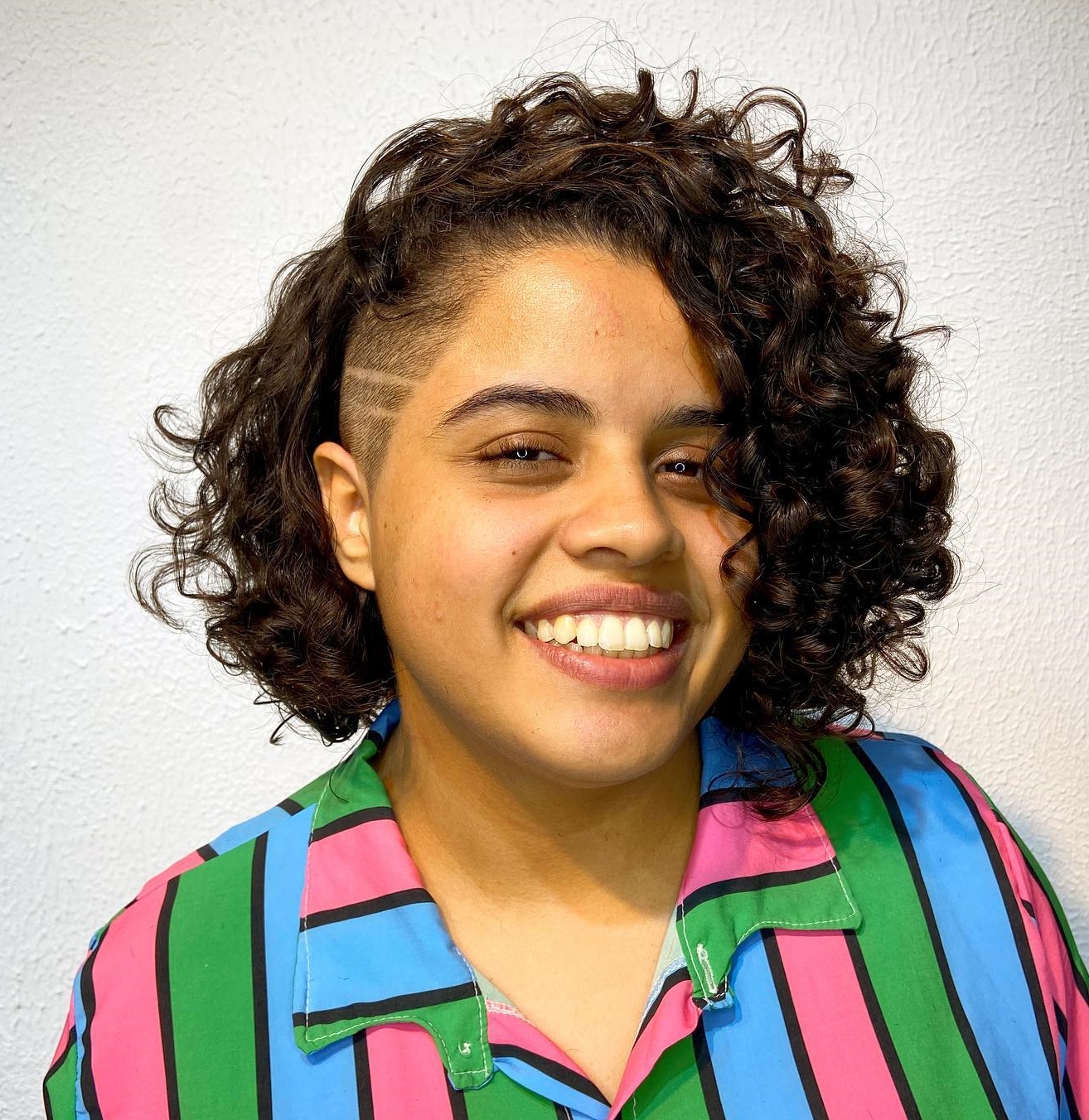 Curly French Bob Cut
A French curly bob adds charm and elegance to any woman who immediately wants to put on a light dress and take a walk around Paris. A chin-length bob is one of the most common classic hairstyles that suit women with almost all facial features. However, consider that if you have a round face, you should better pick another haircut. Short curly bob hairstyles are increasingly popular, and it seems that they will remain on top of trends for a long.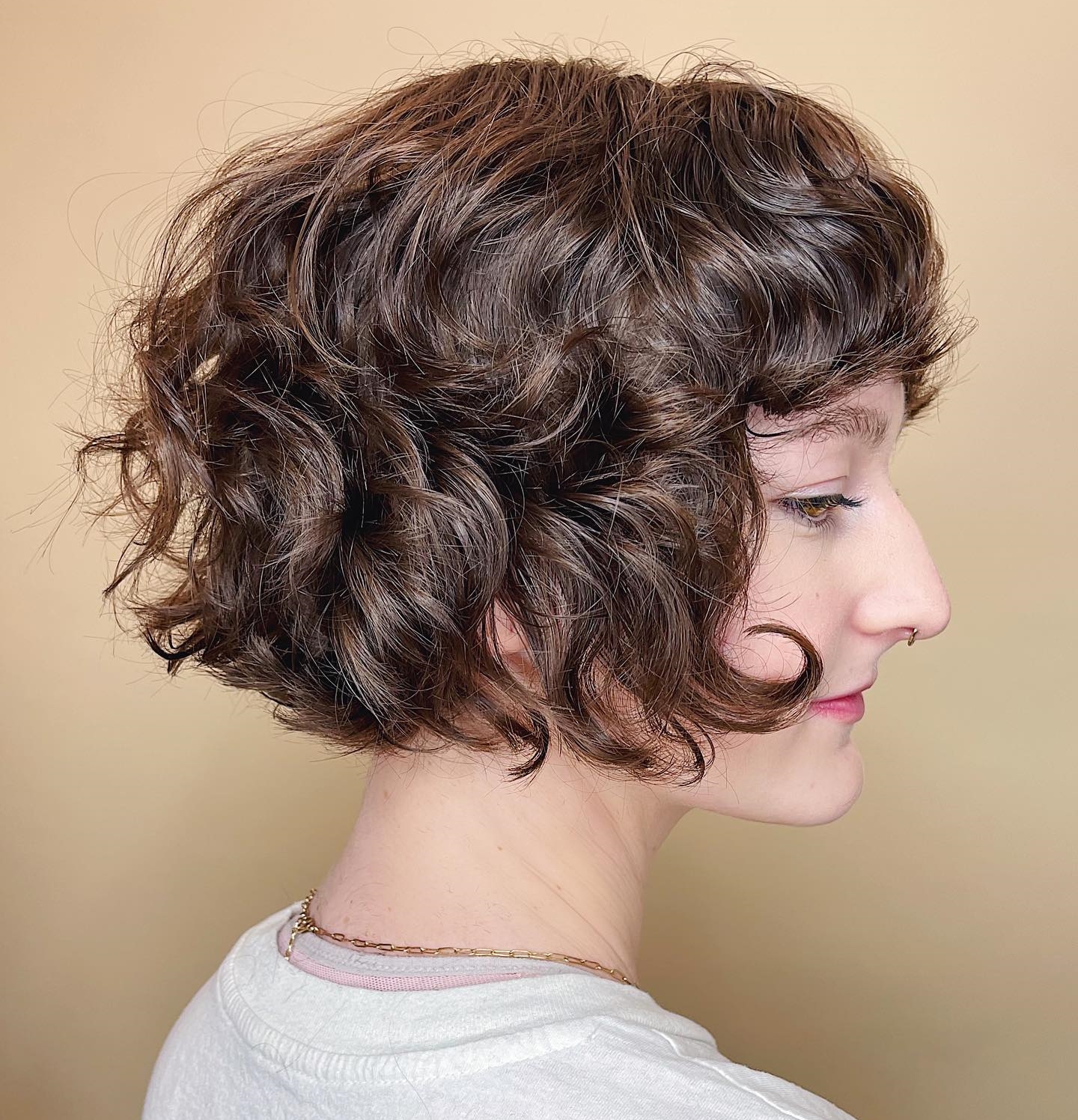 Cute Curly Angled Bob
A curly angled bob hairstyle will immediately transform your appearance and make you look bolder and more stylish. A curly lob is the choice of numerous women of all ages, proving that it's a really universal hairstyle.
Such a wavy bob haircut implies having longer face-framing strands and shorter hair on the nape. It's a great way to attract attention from other people and get a truly unique, messy-looking bob haircut.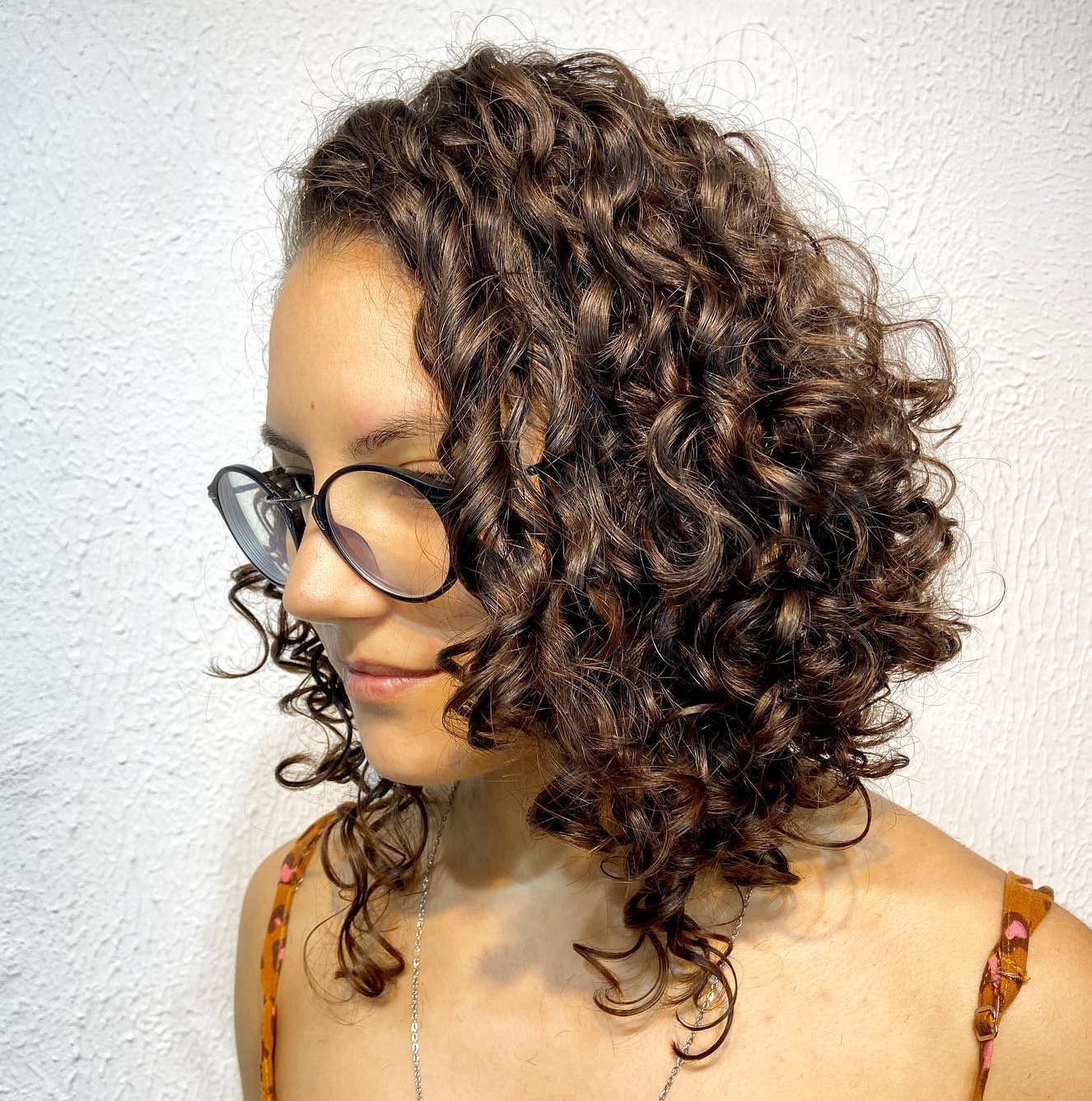 Asymmetrical Curly Bob Cut for Ladies of All Ages
A curly asymmetrical bob is the choice of self-confident and stylish ladies who love being at the center of attention. It is one of the most popular modern haircuts, but not all women like it. While some consider it boring and outdated, others think it's the best hairstyle ever. Overall, a long bob cut is often made by older ladies who would like to look younger and more modern.
A blonde or dark curly bob is a great solution for any occasion, and it doesn't require a lot of styling. It's the case where messy hair looks outstanding, so don't spend a lot of time in front of the mirror and make your coiffure natural.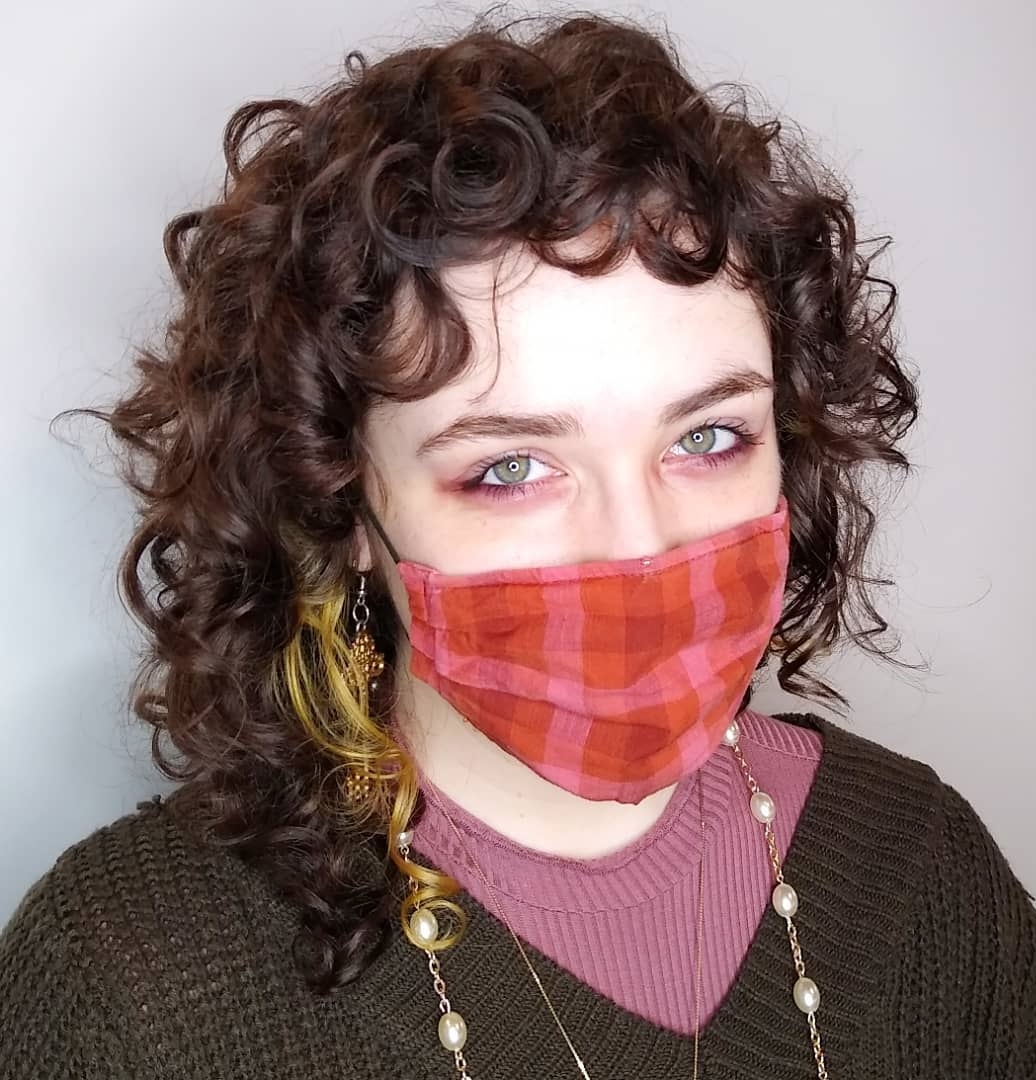 via @scotiadoeshair
Impressive Blunt Curly Bob
A blunt bob cut implies a strict hairstyle with straight ends, perfect for any occasion. It was initially considered a bob cut for black women, but ladies have picked up this trend globally. If you have naturally wavy hair, just make a haircut and not proceed with any styling. However, if you have straight hair, you will have to spend some more time getting a perfect coiffure.
There are two ways to make tight curls. The first option is to proceed with small braids on wet hair and leave them overnight, while another one is just using a curling iron. After that, you will get a natural curly bob! Don't comb your hair and make your blunt bob cut a little messy, which is the hottest trend nowadays. Enjoy your thick-looking hair immediately after the procedure!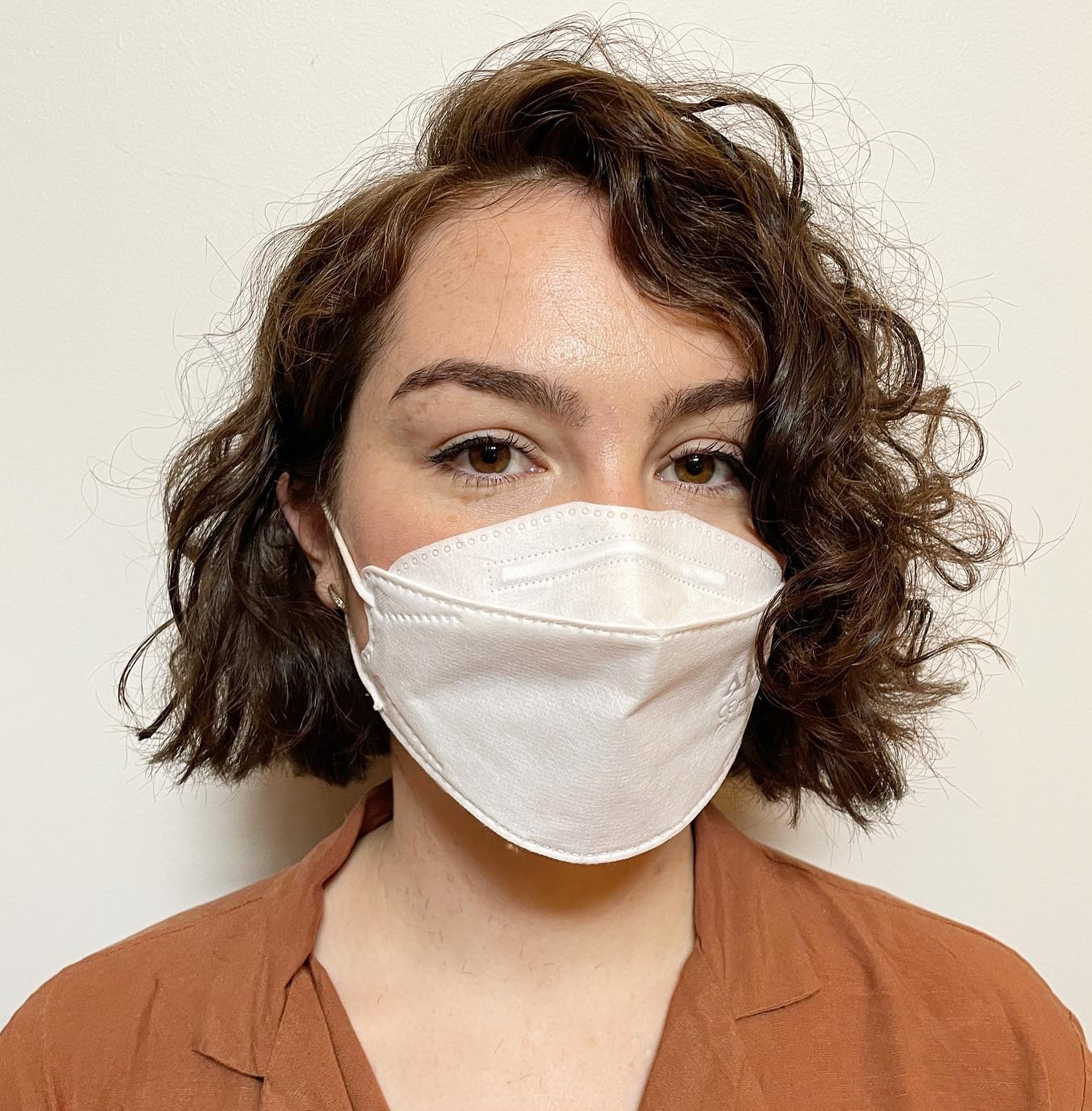 via @florence.hair
Curly Bob with Side Bangs
The easiest option to significantly transform your appearance is adding bangs to your curly hair. Curly bob with bangs is a great solution for ladies of all ages, making them look more elegant and stylish. French women, considered style icons, often choose a medium curly bob. Even though such a haircut is classic and quite usual, curly bangs will add charm.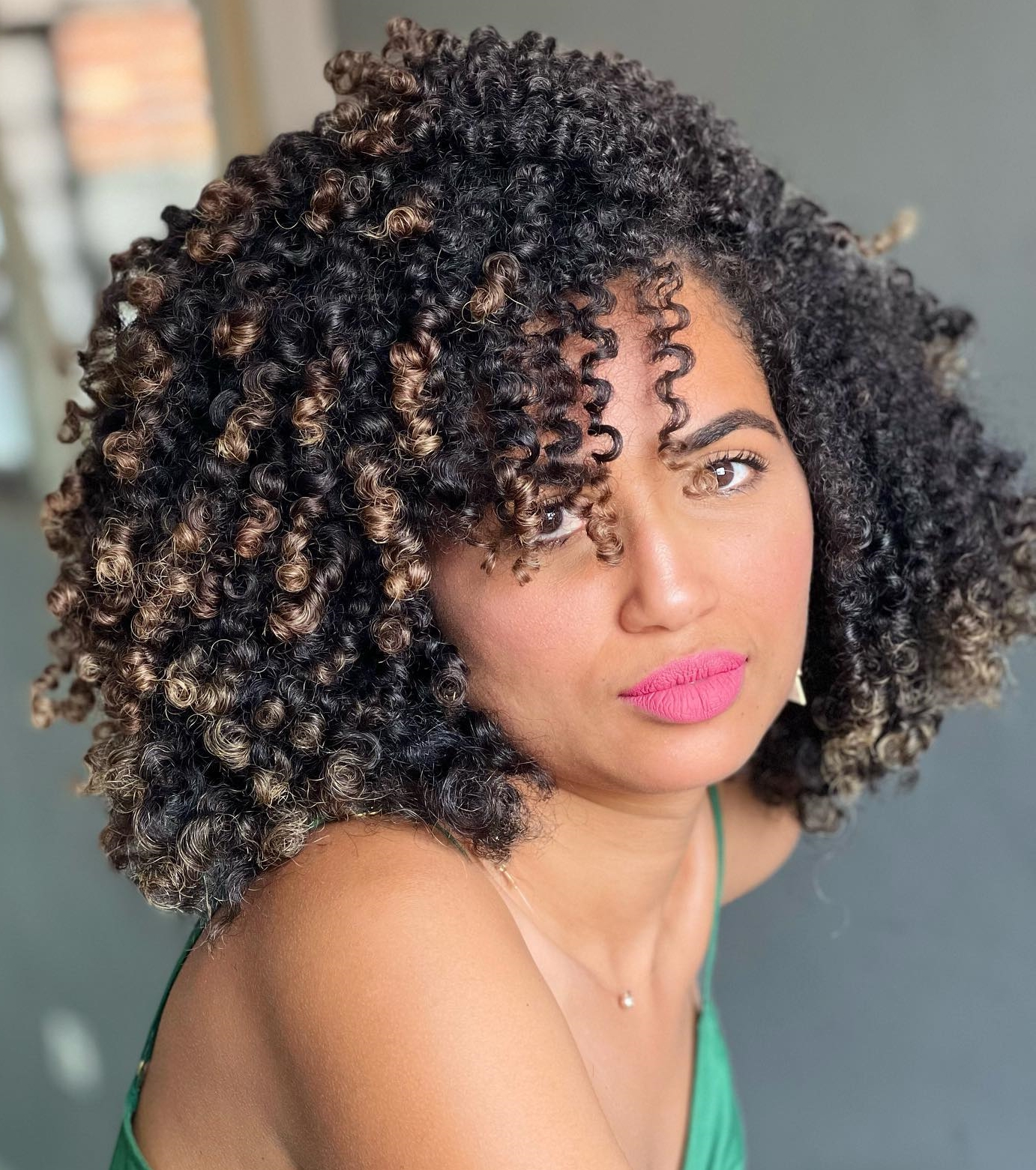 via @cachosrubinathy
Unusual Curly A-line Bob
There are numerous curly bob hairstyles, and each lady can pick the one she likes most. An A-line bob is a perfect option for those who lack hair volume and want to make it look more attractive and thicker. This haircut implies that hair on the nape is much shorter than that framing your face. A curl straight A-line bob is considered classic, but you can use a curling iron to add little waves, which look more elegant.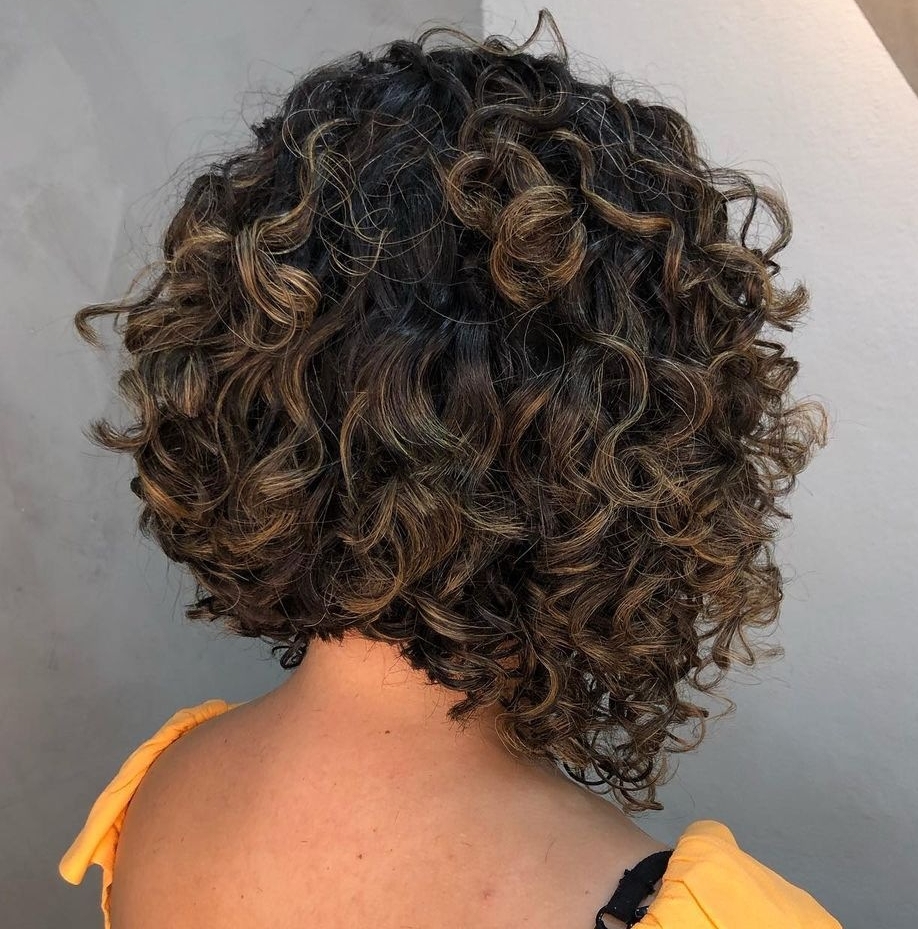 Stylish and Cute Curly Shaggy Bob
Many ladies consider a shaggy curly bob an outdated hairstyle, while we think it's a timeless classic. Curly bob with bangs is a great way to highlight your facial features that suits all ladies independently of their facial features and hair texture.
A curly shag haircut is feminine and elegant, suiting all occasions and clothing styles. And curly bangs make a unique accent, providing its owner with dozens of compliments.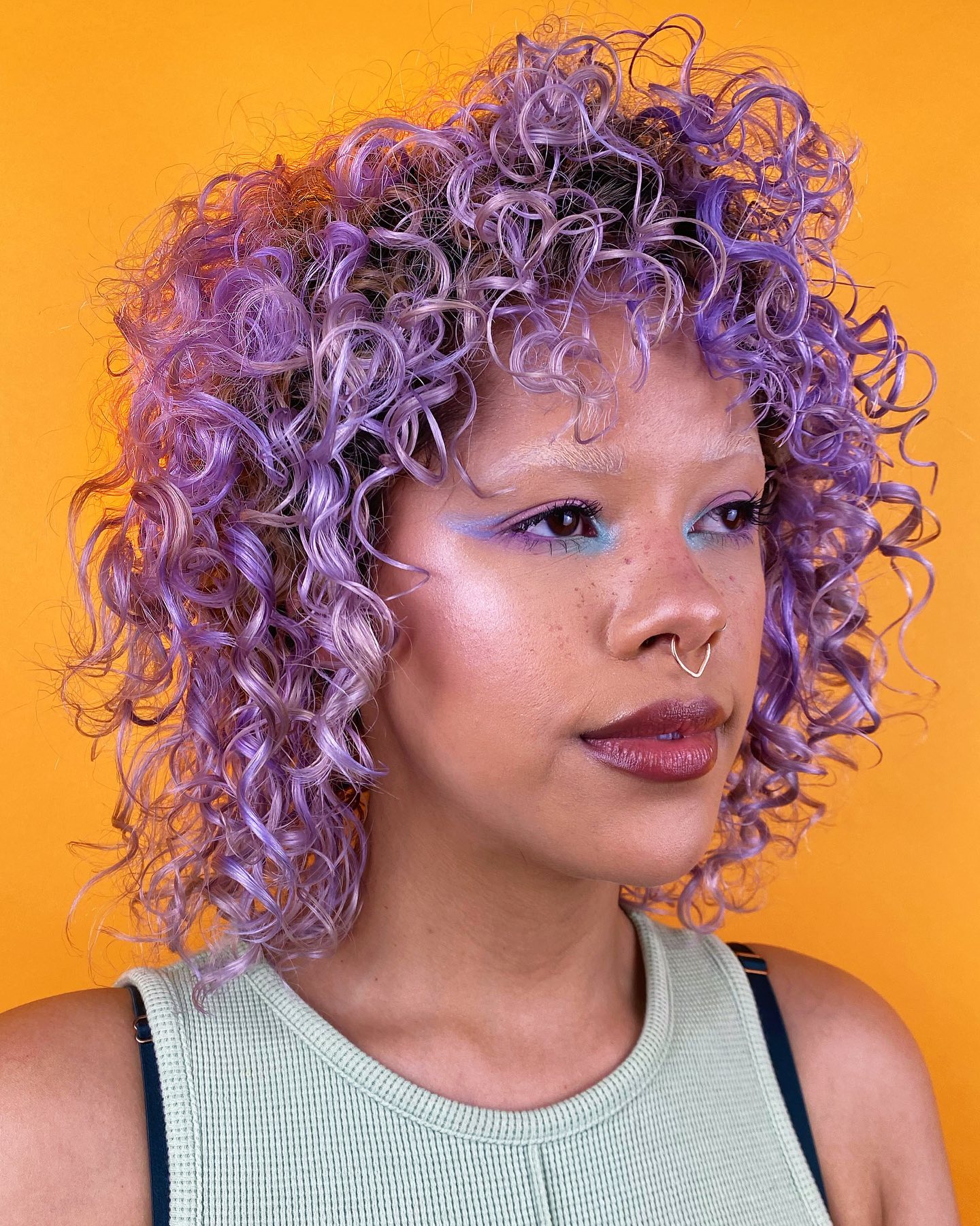 via @shelby.loos
Curly Bob Cut for Women Over 50
Older women also follow all trends and want to look stylish and attract attention. And those with natural curls should definitely consider a layered curly bob, providing insane volume for their hair. If you've always dreamed about a classic bob, it's time to make it and enjoy your reflection in the mirror! Such voluminous curls for women over 50 are always a great idea.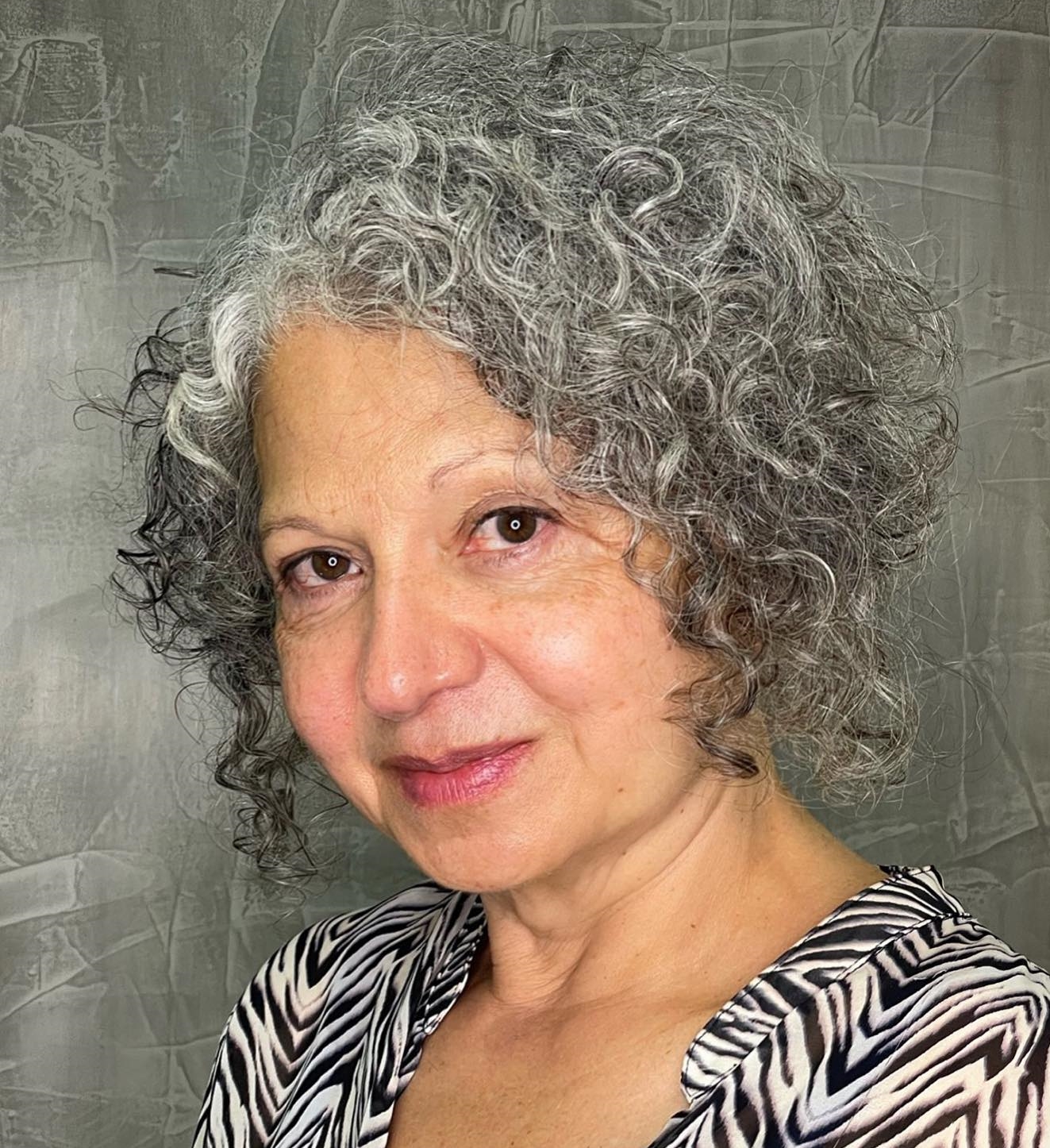 via @se_augusto
Curly Bob with Blonde Highlights
Numerous dark-haired ladies with a bob cut have thought about becoming blondes, but not many of them are ready for such significant changes. And here, some exciting dyeing techniques come in handy. For instance, blonde balayage highlights are a great way to add volume to your long curly bob. You can get sparkly textured hair immediately after dying and enjoy your perfect hairstyle for a long.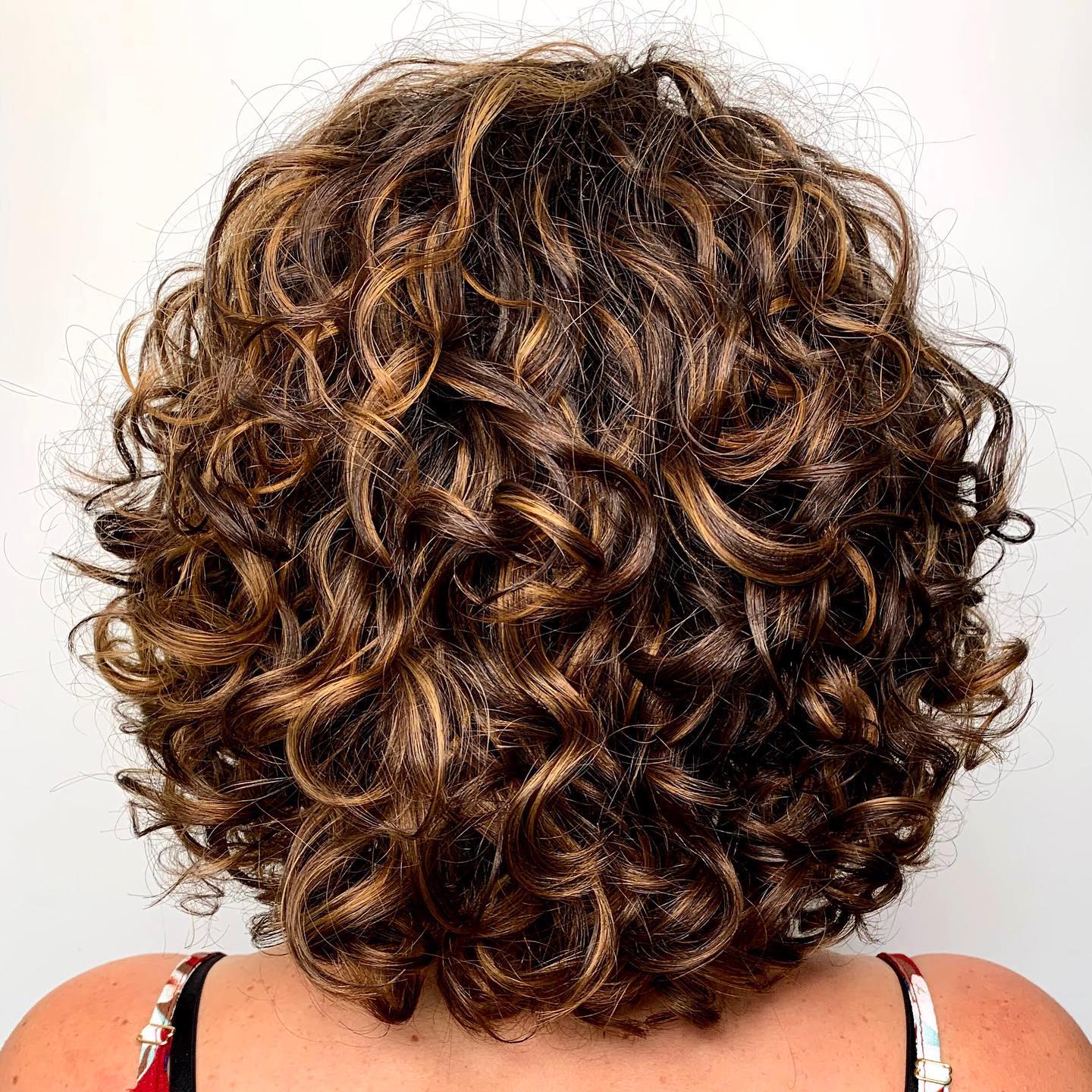 Dark Brown Curly Bob for Self-Confident Women
A curly bob looks amazing on any hair shade, so try this option if you have dark brown hair color! A layered curly bob is one of the best ways to add volume and make your hair look healthier right after visiting a beauty salon. A perm-looking bob is a wonderful option for all ladies, and their facial features and hair texture don't matter. If you want to get rid of your long hair, consider a short curly bob cut.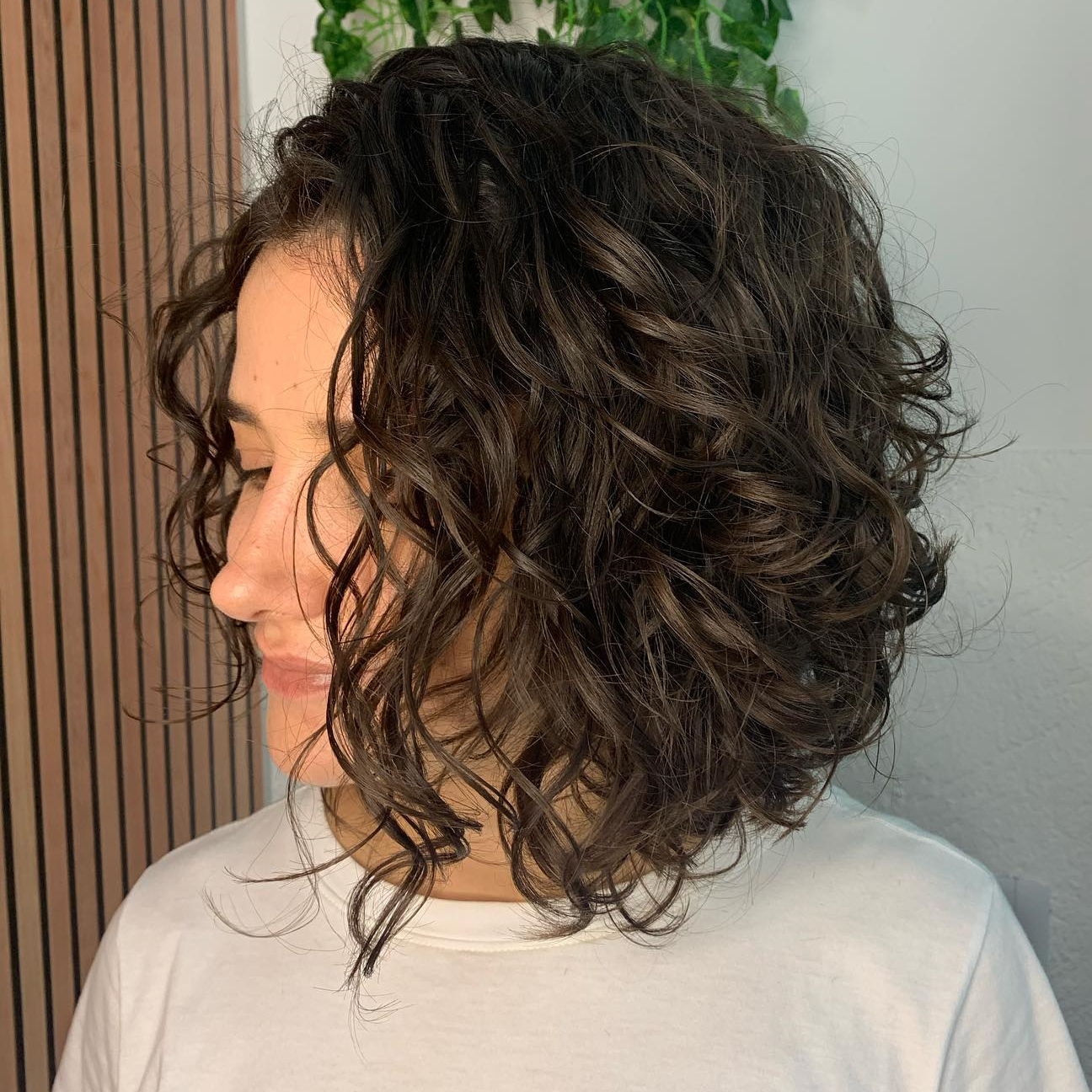 Messy Curly Bob Haircut
There are numerous variations of curly bobs, and each lady can pick something suitable for her. A messy curly bob is an awesome option for daily routine since you don't have to waste a lot of time styling your coiffure. If you have naturally straight hair, you can get a perfect style with a curling iron; just ensure that you have some spare time.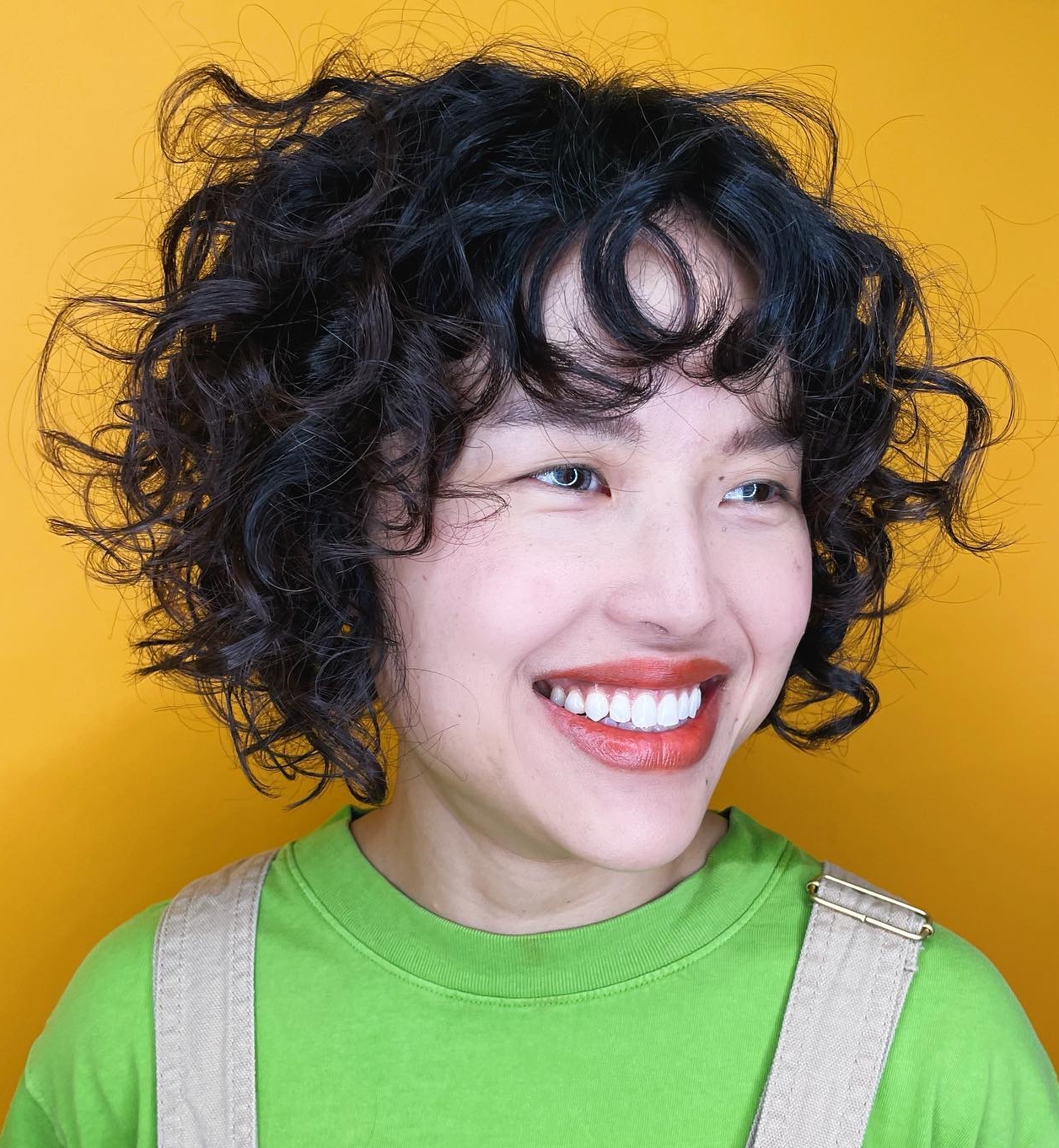 Classic Curly Rounded Bob Cut
A rounded short curly bob is considered a timeless classic, and millions of ladies adore this style. Its main benefit is that it suits all women, and the main thing is to choose the suitable length. Consider making loose curls for a more romantic look. Leaving your hair straight is also a stylish idea!
If you want to get a unique coiffure, consider bob locks, which are extremely common among African American women. This alternative is not suitable for naturally curly bob, but ladies with straight hair should try it.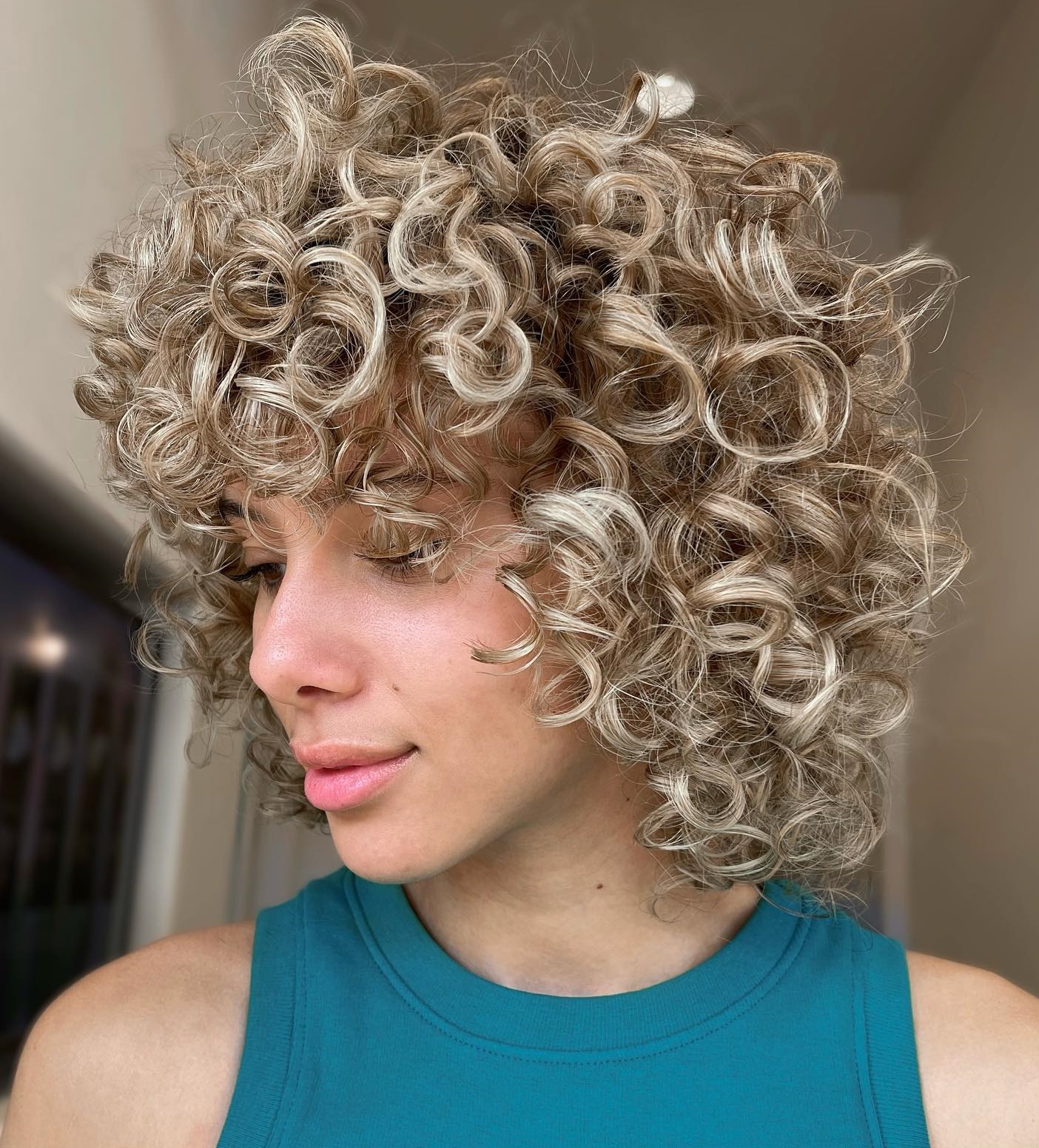 Classy Nape-Length Bob Cut
This classic blunt haircut is a trendy and stylish option, suiting ladies with all hair colors. The most common variation is to make such a hairstyle with straight hair, but adding tight or loose curls will help you look unique. A curly brown bob is the best way to get more volume and enjoy your thick hair after leaving your hairdresser.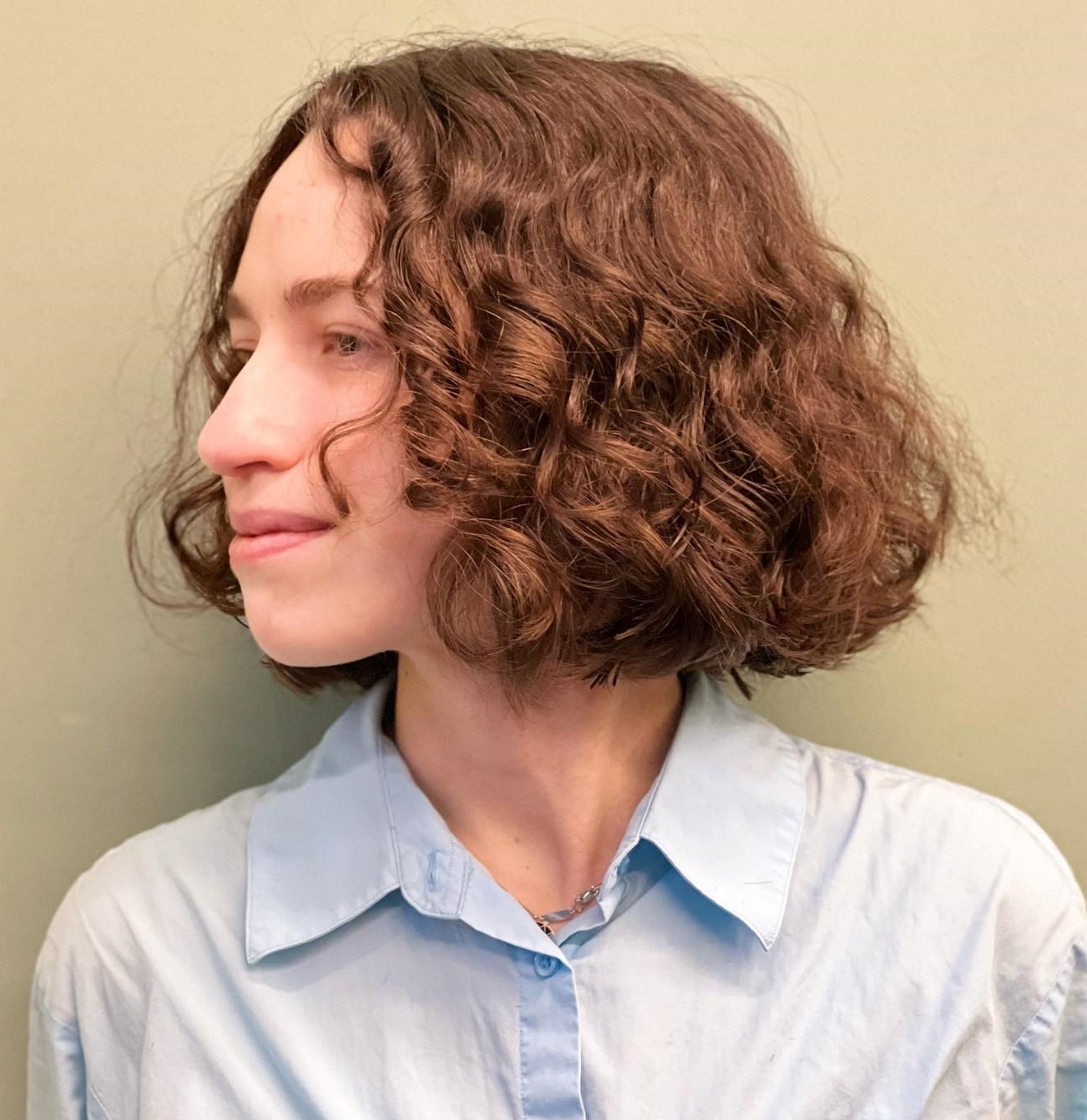 via @mefiu
Unique Spunky Bob Cut
A spunky bob hairstyle implies chin-length hair, which is a perfect solution for women with any features, except for round faces. Enjoy one of the most popular modern hairstyles and be ready to get hundreds of admiring glances. A curled bob looks elegant and is relevant for any occasion, whether in an office or a Christmas party.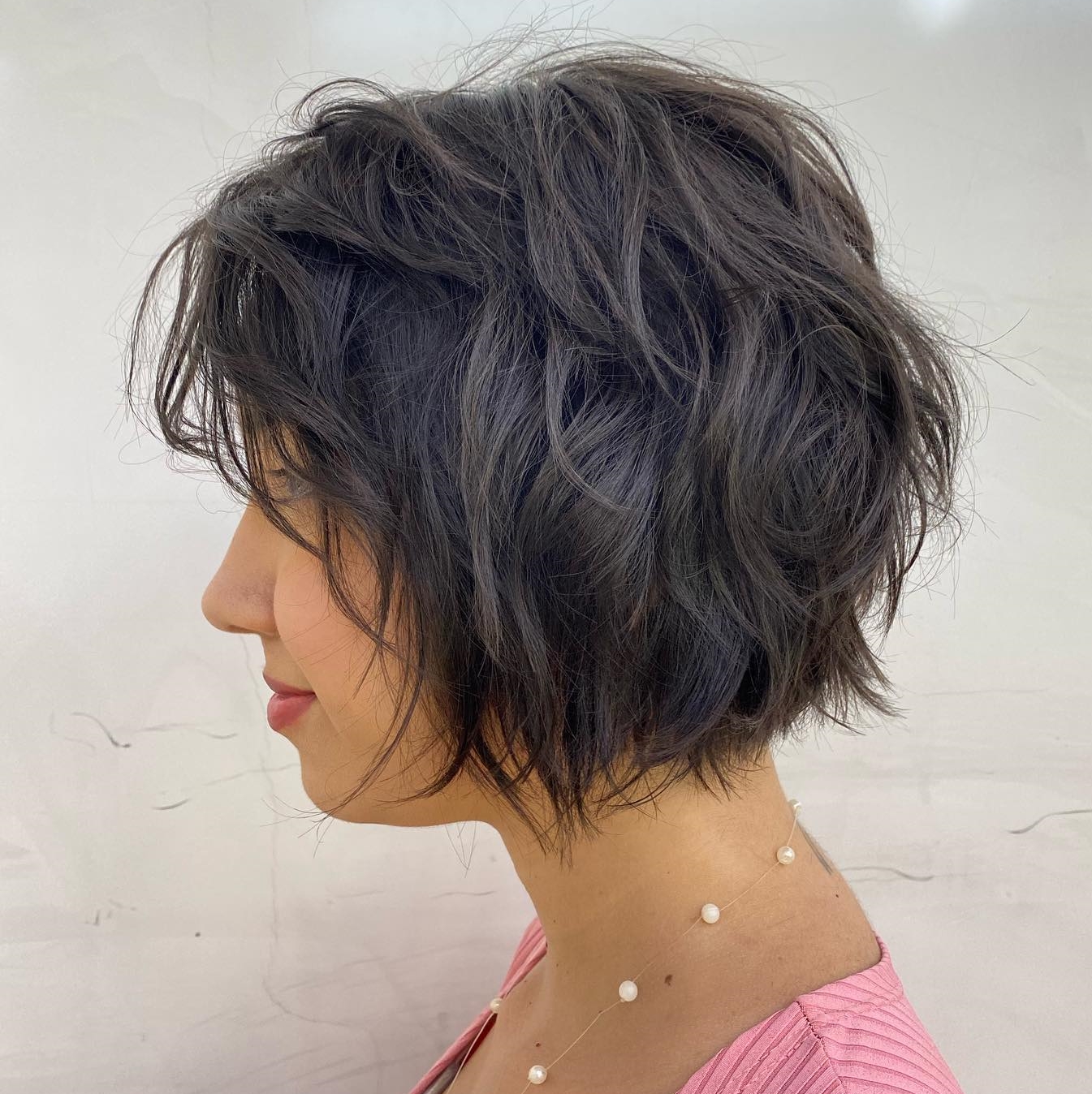 via @nikcabral
Choppy Wavy Bob Hairstyle
Do you want to get a bold and unusual hairstyle? A choppy bob cut is the best solution for you! It is one of the most common curly bob haircuts, highlighting your facial features and making a bright accent to the overall image. It implies a classic bob with choppy ends and making loose curls will provide you with a more elegant and romantic look.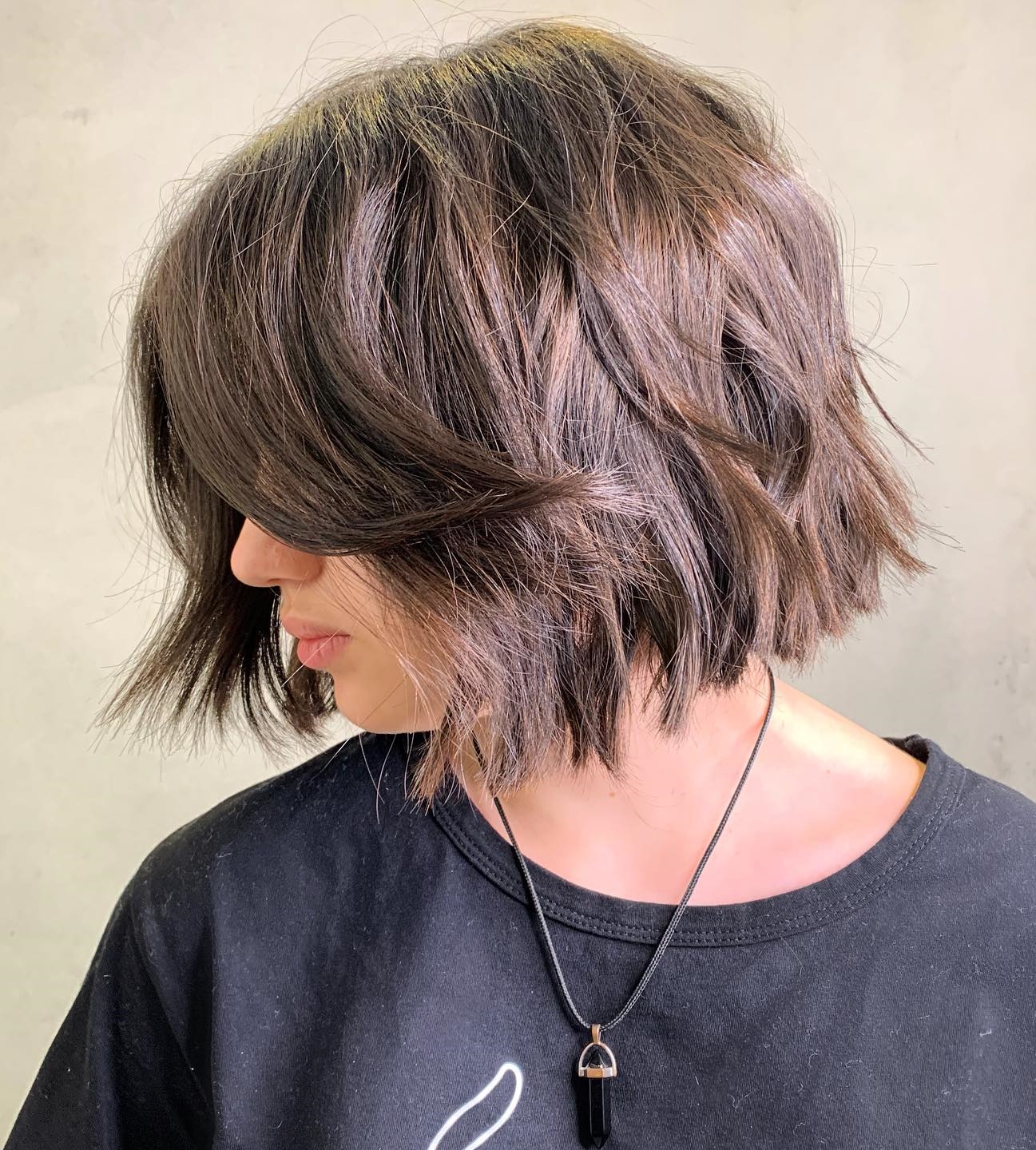 via @vanillasalonsp
Wavy Brunette Shoulder Length Bob
Those who would like to implement some changes to their appearance without losing hair length should consider a dark brown curly bob. The length can vary according to your preferences, making such a coiffure a perfect choice for all ladies.
You can leave your natural hair color, proceed with a dying, or add bright highlights. It's all up to your imagination! Women with a high forehead usually select a bob with bang, which will make a face visually smaller. Brown-hued curls are always relevant and stylish!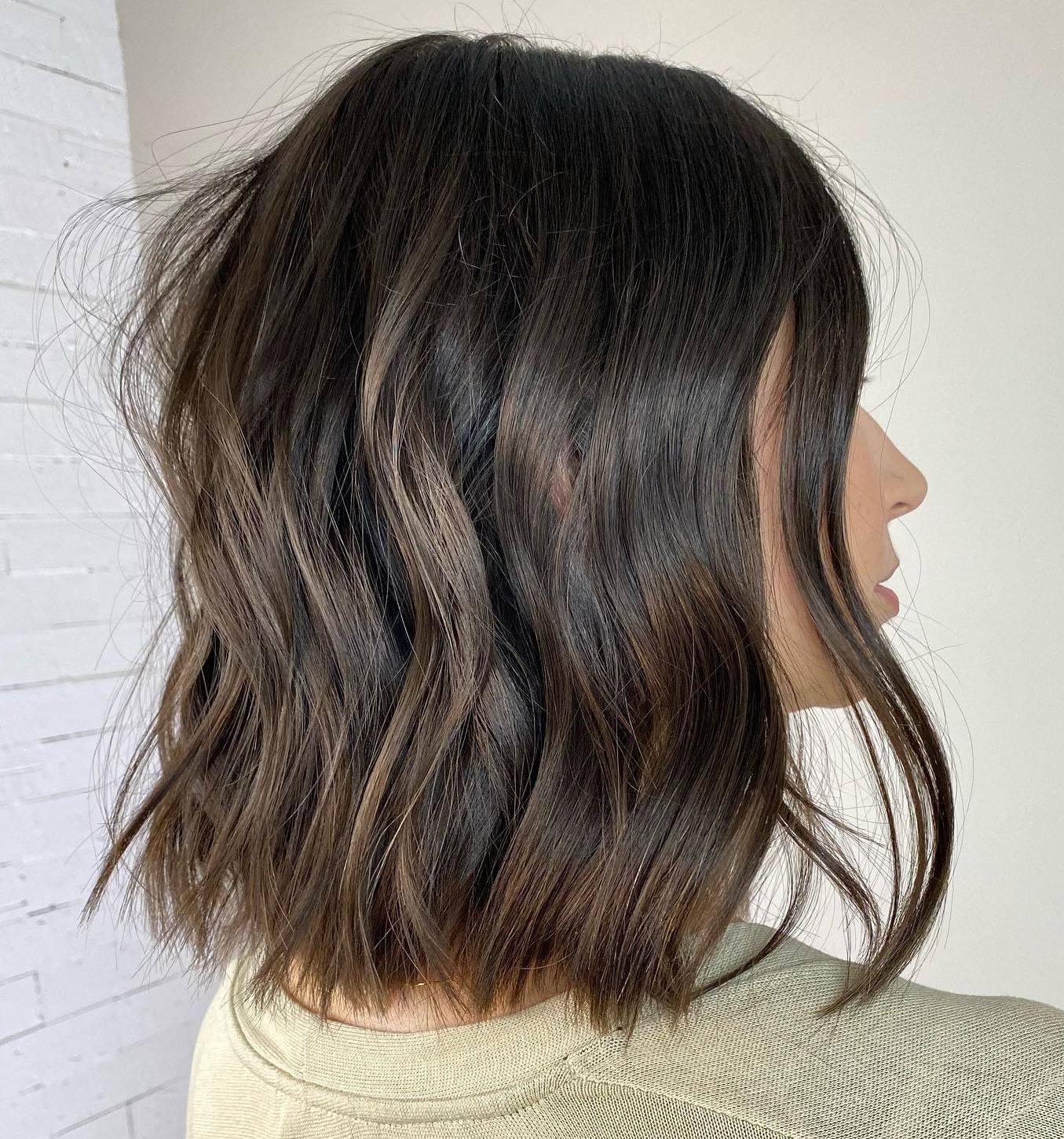 via @nikcabral
Jaw-length Curly Caramel Bob
Caramel hair color is at the peak of popularity now, and it suits almost all women of any color type. A jaw-length bob is a classic hairstyle, allowing to highlight the face oval and make the overall image fresher. Moreover, short curly hair is a great way to get the additional volume to your coiffure. If you used to have long, fine hair, you should definitely consider this option during your next visit to the beauty salon.
Make a curly caramel bob and get tons of compliments from other people since you will not be left without attention. A rounded bob hairstyle is a classic, but you can make it more unusual by adding bangs or picking an unusual hair color.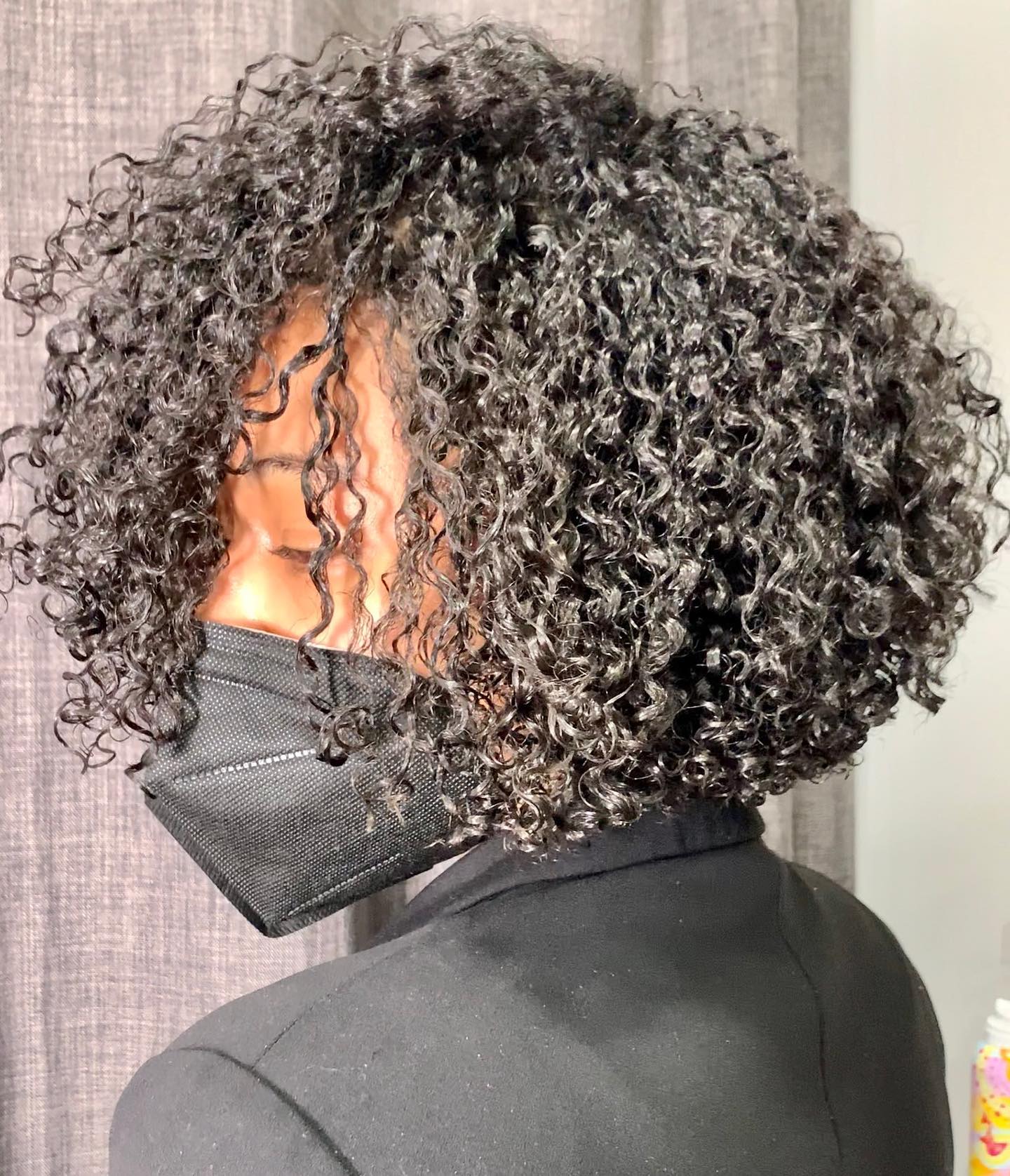 Elegant Wavy Angled Bob Haircut
An angled bob hairstyle implies that the hair on the nape is shorter than in the front. However, it's worth noting that the length of the haircut can vary depending on your preferences. A classic option implies a neck-length bob cut, and it suits all ladies. Bob with messy waves is perfect for any occasion, and you can also consider straight bangs to make a bright accent.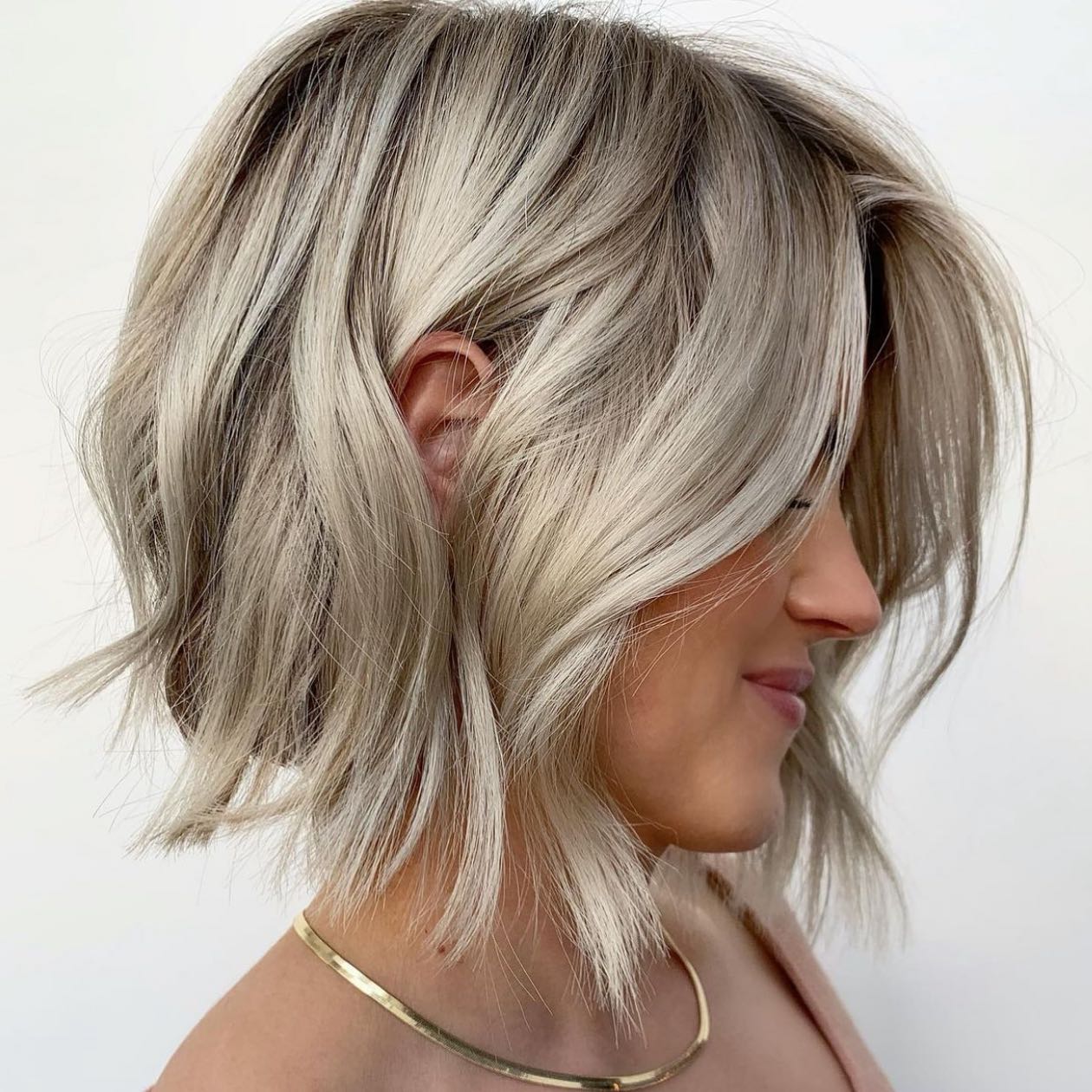 Nice and Unique Feathered Wavy Bob Cut
A feathered wavy bob cut cannot be considered one of the neat-looking hairstyles, but it's a great choice for ladies who enjoy standing out of the crowd. Such a hairstyle implies additional layers, making your coiffure more voluminous. It's one of the most stylish wavy bob cuts, suitable for all women. And if you have dark hair, add some blonde wavy highlights on a bob cut to get the effect of thicker hair.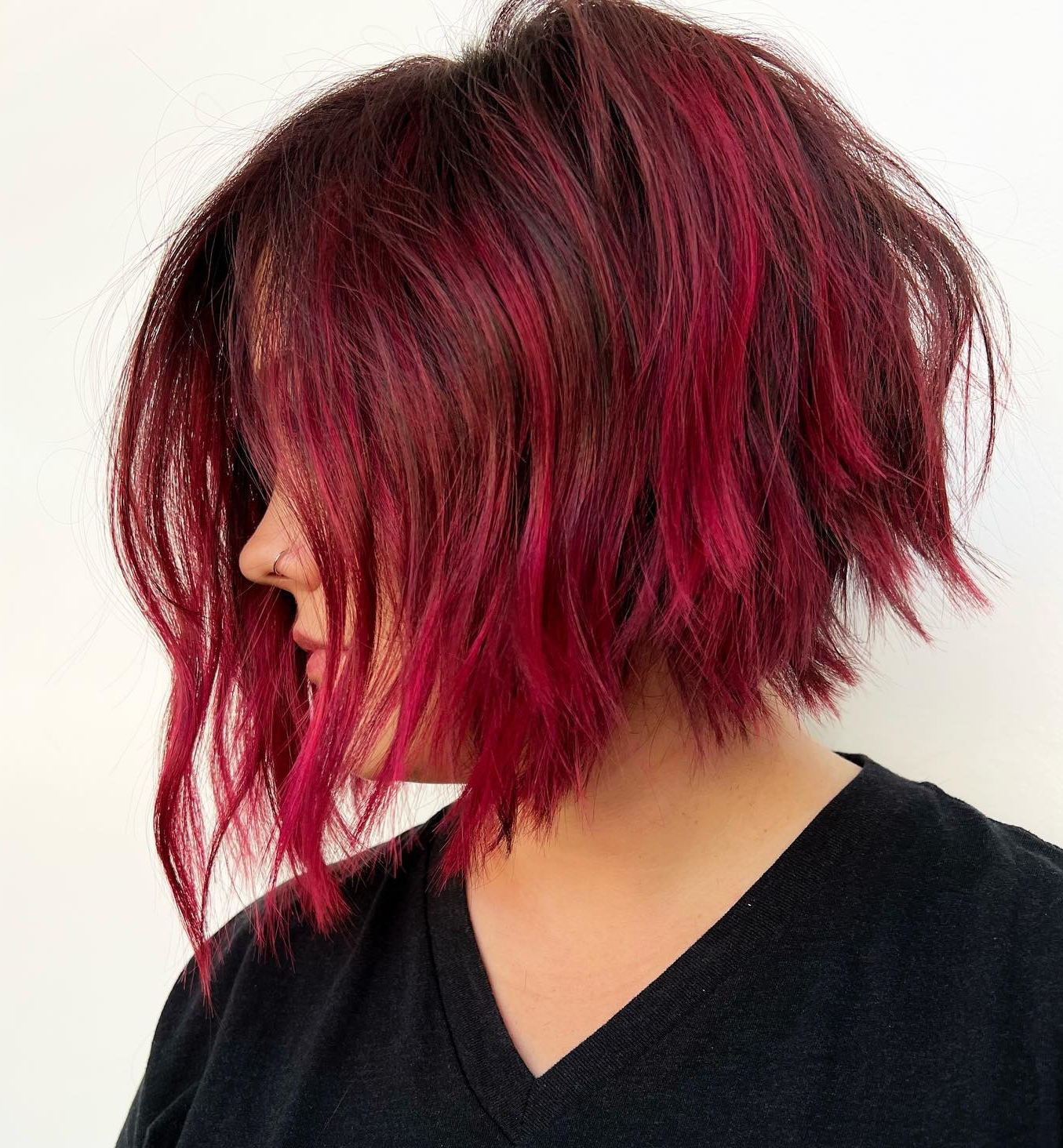 via @shmoakin_hair
FAQ
Which Brushes Are the Best for Curly Hair?
Curly hair, as well as straight, should be brushed properly to look neat and attractive. And nowadays, the selection is enormous, so many ladies may feel confused about what to pick. The first thing is to ensure that the brush has no sharp edges. You should also pay attention to the comb teeth since they should be sparse, polished, and rounded not to injure the scalp.
The most common option is a massage brush that gently combs curls without tangling them. Remember that teeth should be far apart. In addition, the most important rule is always to comb curly hair only when it's wet.