If you're searching for a hair transformation that combines elegance with a touch of whimsy, look no further than rose gold hair color! This stunning shade has taken the beauty world by storm and is the perfect way to breathe new life into your blonde hair.
Whether you're a natural blonde looking to spice things up or a brunette ready for a bold change, we've got you covered with 40 dazzling rose gold hair color ideas that will leave you feeling radiant and fabulous. Get prepared to be inspired for your next show-stopping look!
Dark Rose Gold Hair
Think the rose gold hair trend is only for blondes? Think again! If you've got dark brown hair or any other color, you can rock a gorgeous rose gold shade too. Achieving this mesmerizing hue of rose gold on dark hair might require a little extra effort, but it's worth it!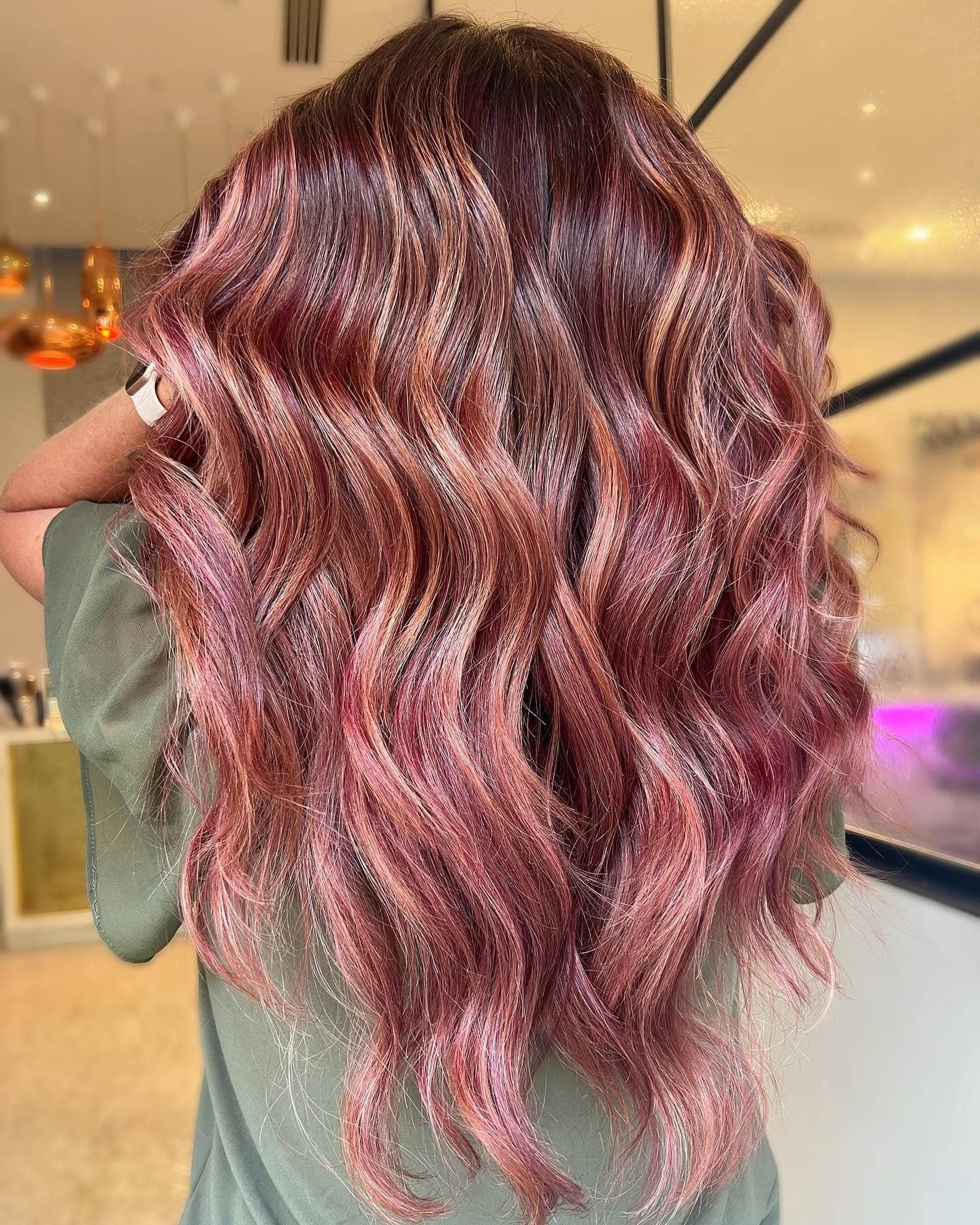 Start by lightening your dark tresses with professional help, and then let the magic of rose gold hair color take over. The captivating blend of warm pinks and lustrous golds will give you stunning hair color.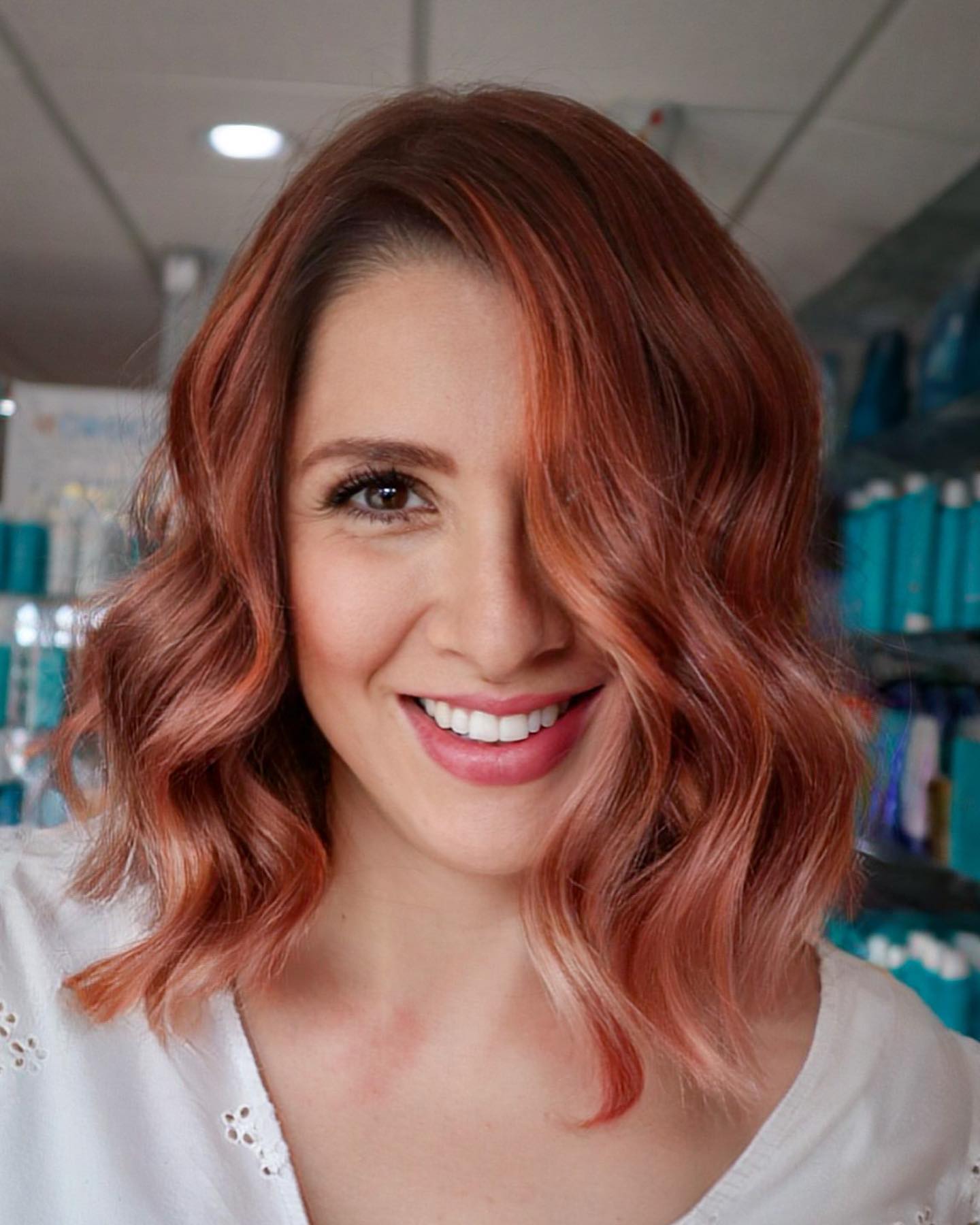 via @paintedbyanavel
Blonde Rose Gold Hair
If you want to get inspired by rose gold hair ideas that effortlessly exude sophistication with a touch of playfulness, consider the enchanting blend of blonde and rose gold hair. This stunning combination beautifully balances light hair with warm rose gold undertones, creating a chic and radiant look.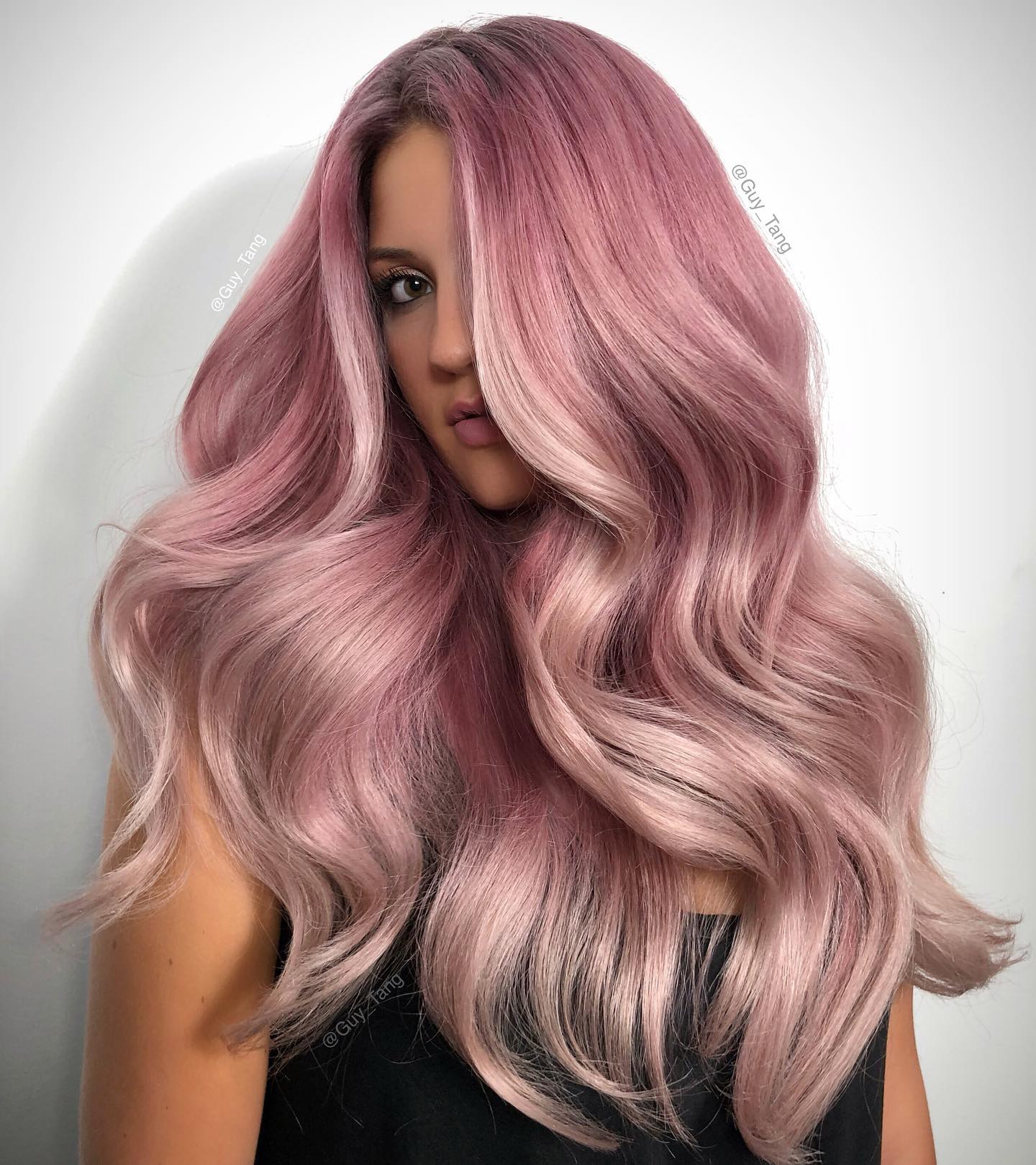 via @guy_tang
Consider your skin tone when selecting your ideal blonde rose gold hair color. If you have cool undertones, choose rose gold with more pinkish hues, while warm undertones can rock a richer, golden rose gold.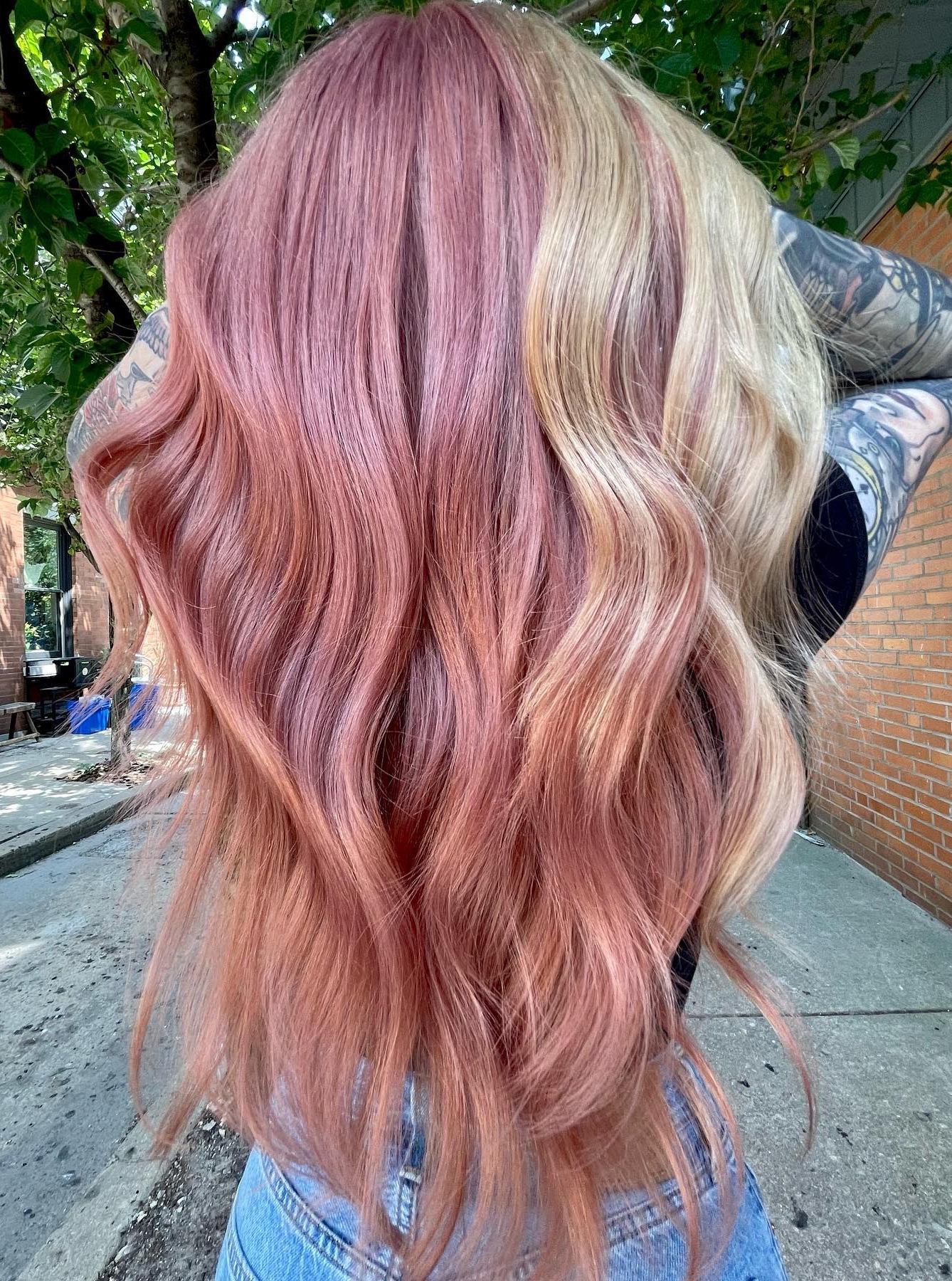 via @catecutdye
Rose Gold and Strawberry Blonde Hair
If you're on the hunt for a hair color trend that's both sweet and sassy, consider the dazzling blend of rose gold and strawberry blonde hair. This striking combination adds a playful twist to the ever-popular rose gold hair dye, creating a multidimensional look that's both unique and smashing.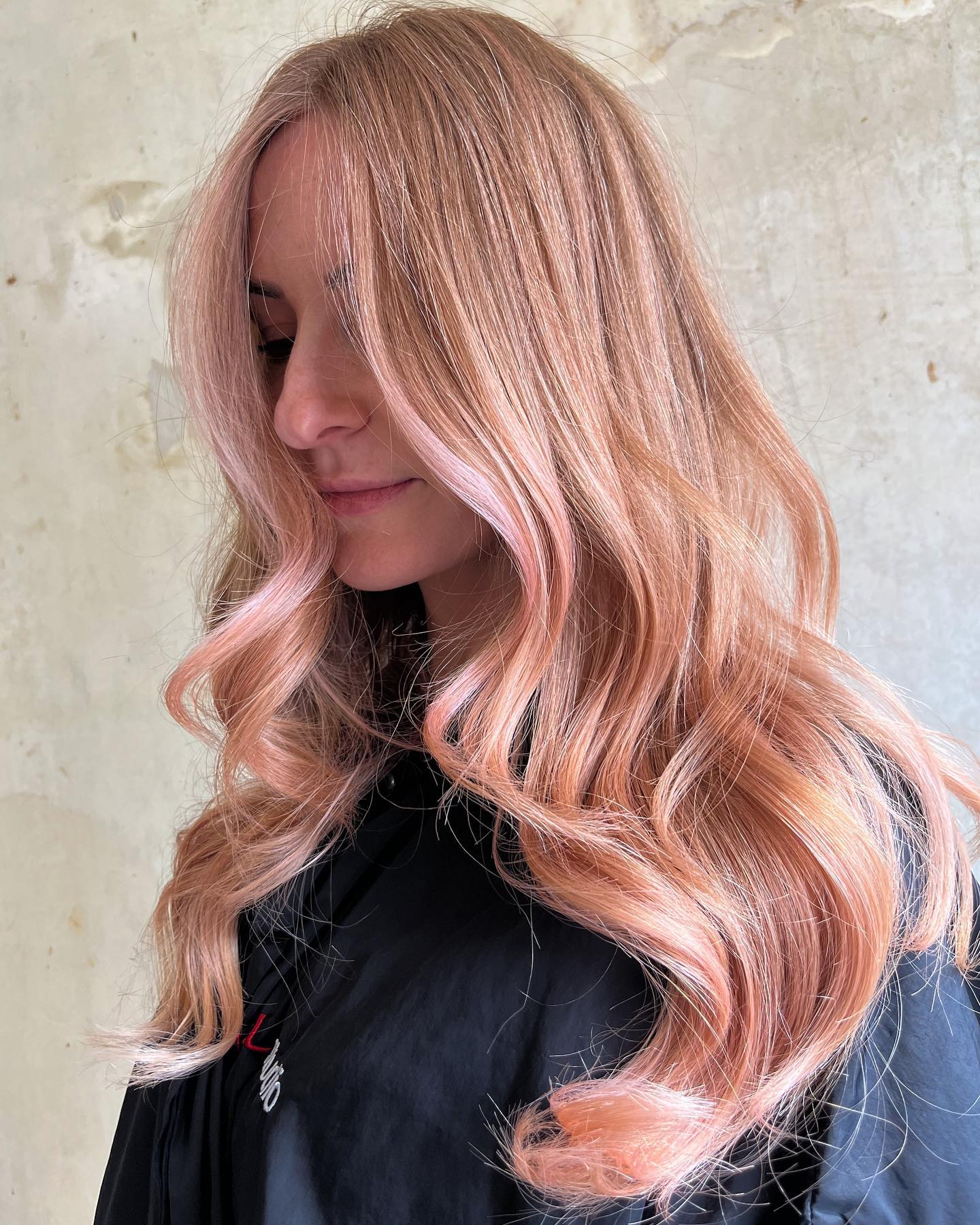 via @anya_colours
The best part? It works wonders for every skin tone! Whether you have fair, medium, or deep skin, this versatile blend complements a wide range of complexions, adding elegance and charm to your overall appearance.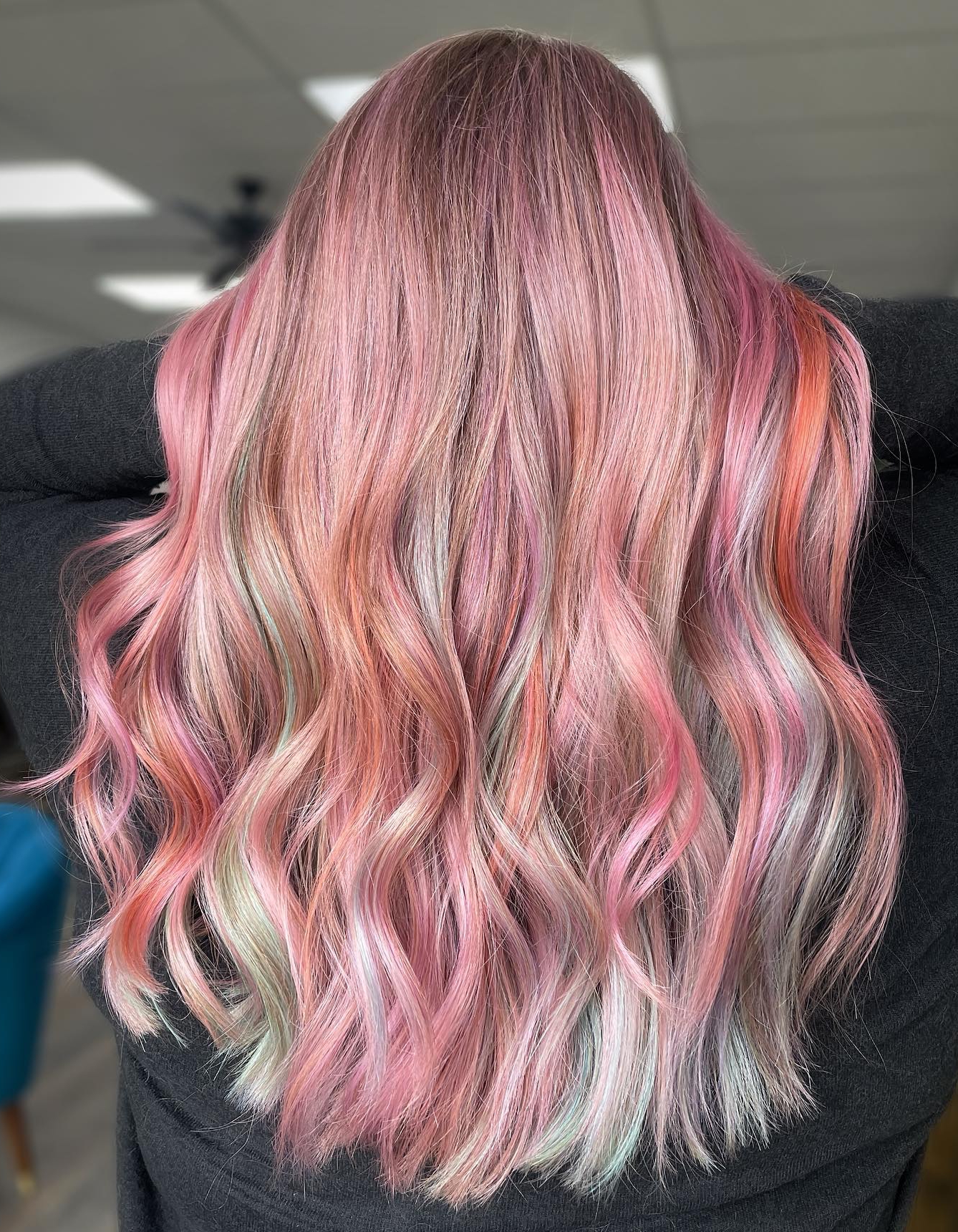 via @hollyydoeshair
Rose Gold Hair on Brown Hair
We are calling all brunettes! If you dream of adding a touch of oomph to your natural brown hair, the dark rose gold color is here to make your hair goals a reality!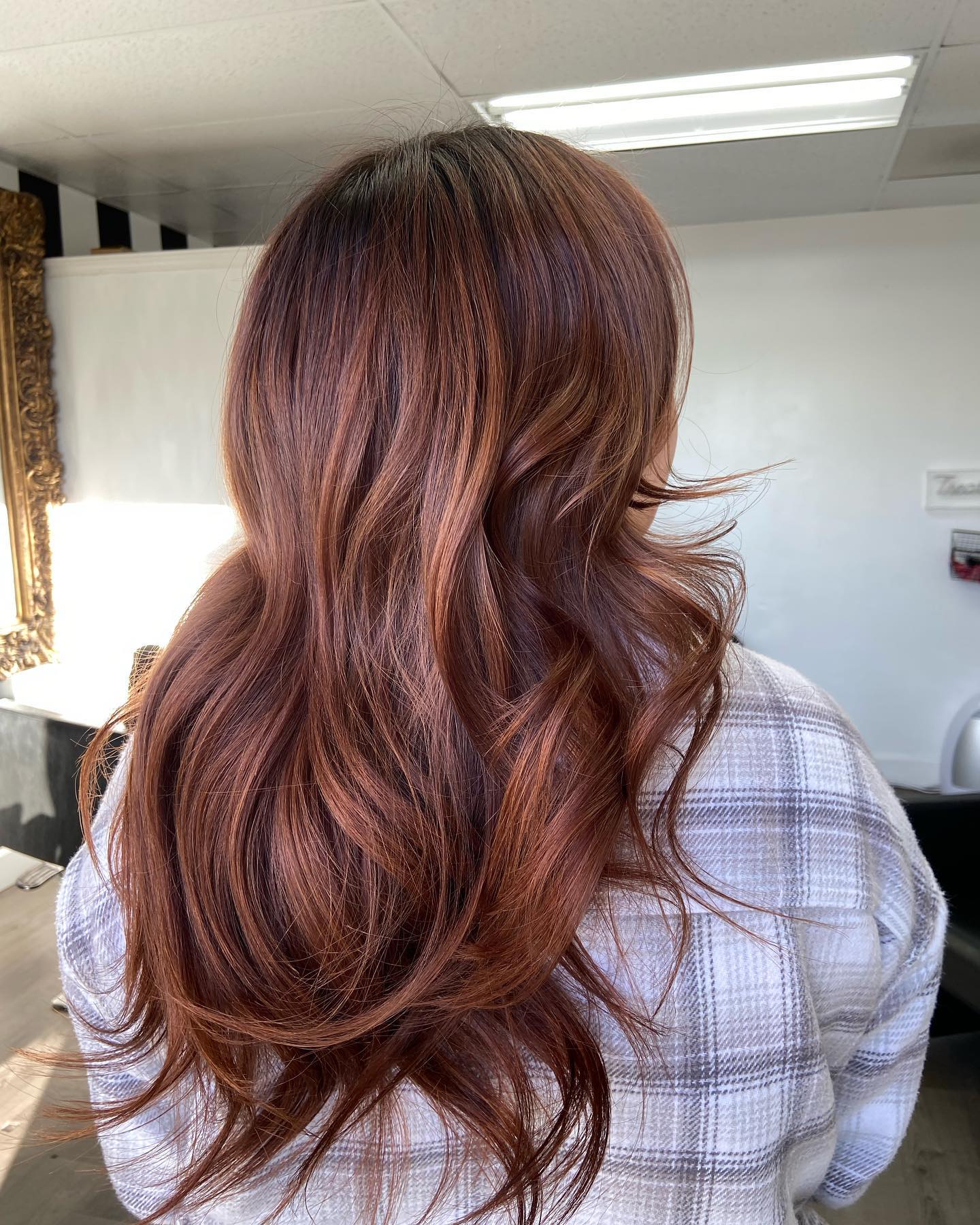 via @shainadoeshair
The right approach is entirely possible to achieve this mesmerizing shade on brunette hair without causing damage. Your colorist will start by pre-lightening your hair with a gentle method like balayage or highlights to create a perfect canvas for the rose gold transformation. Next, they will apply a high-quality rose gold hair dye that nourishes your strands, ensuring a lustrous and healthy finish.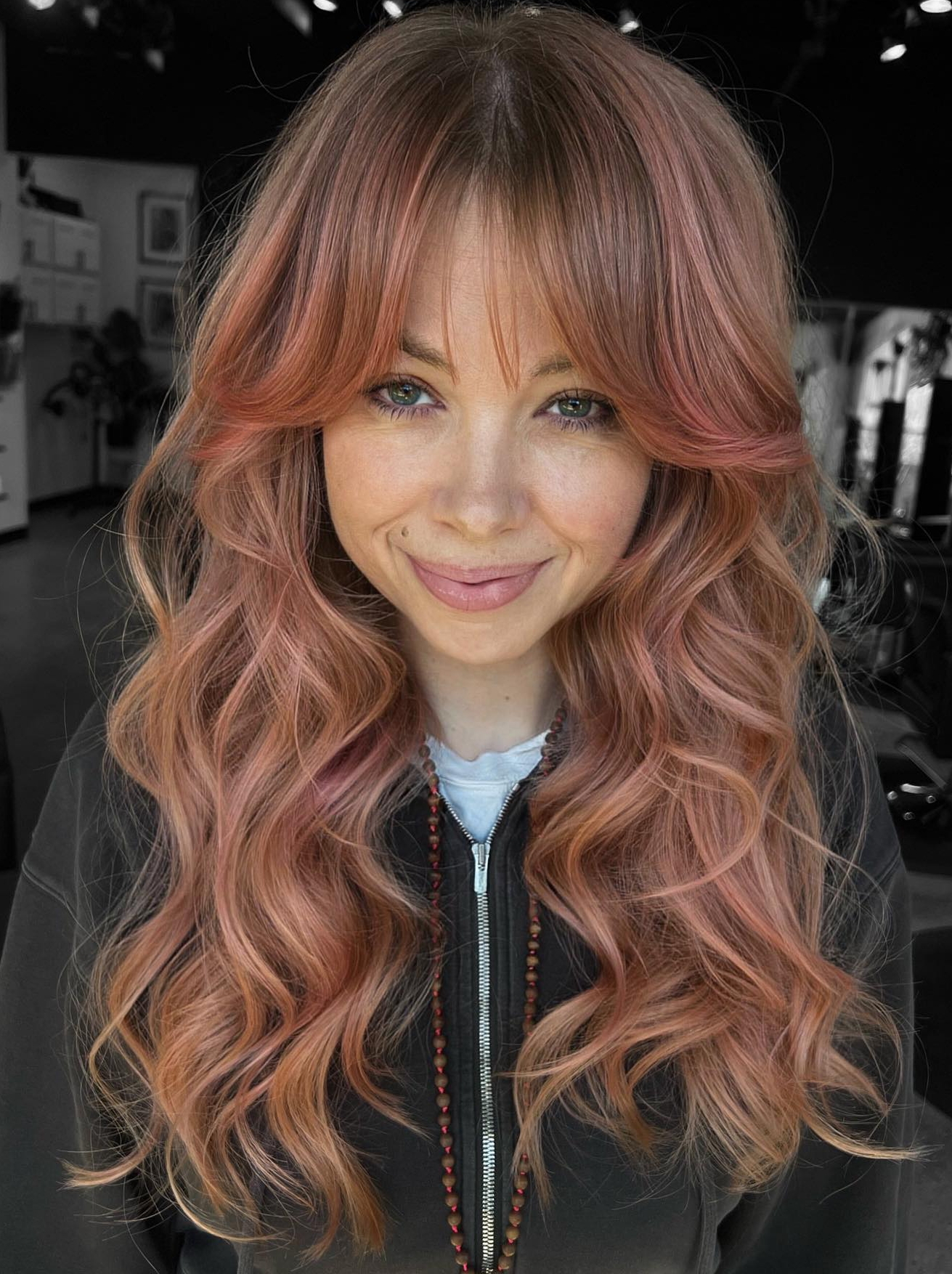 via @aaashleee
Rose Gold Ombre Hair
For all the blonde-haired beauties out there, get ready to be spellbound by the ultimate rose gold hair inspiration! This delightful trend combines the popular ombre technique with rose gold hues, resulting in a seamless gradient that transitions from blonde hair to rose gold.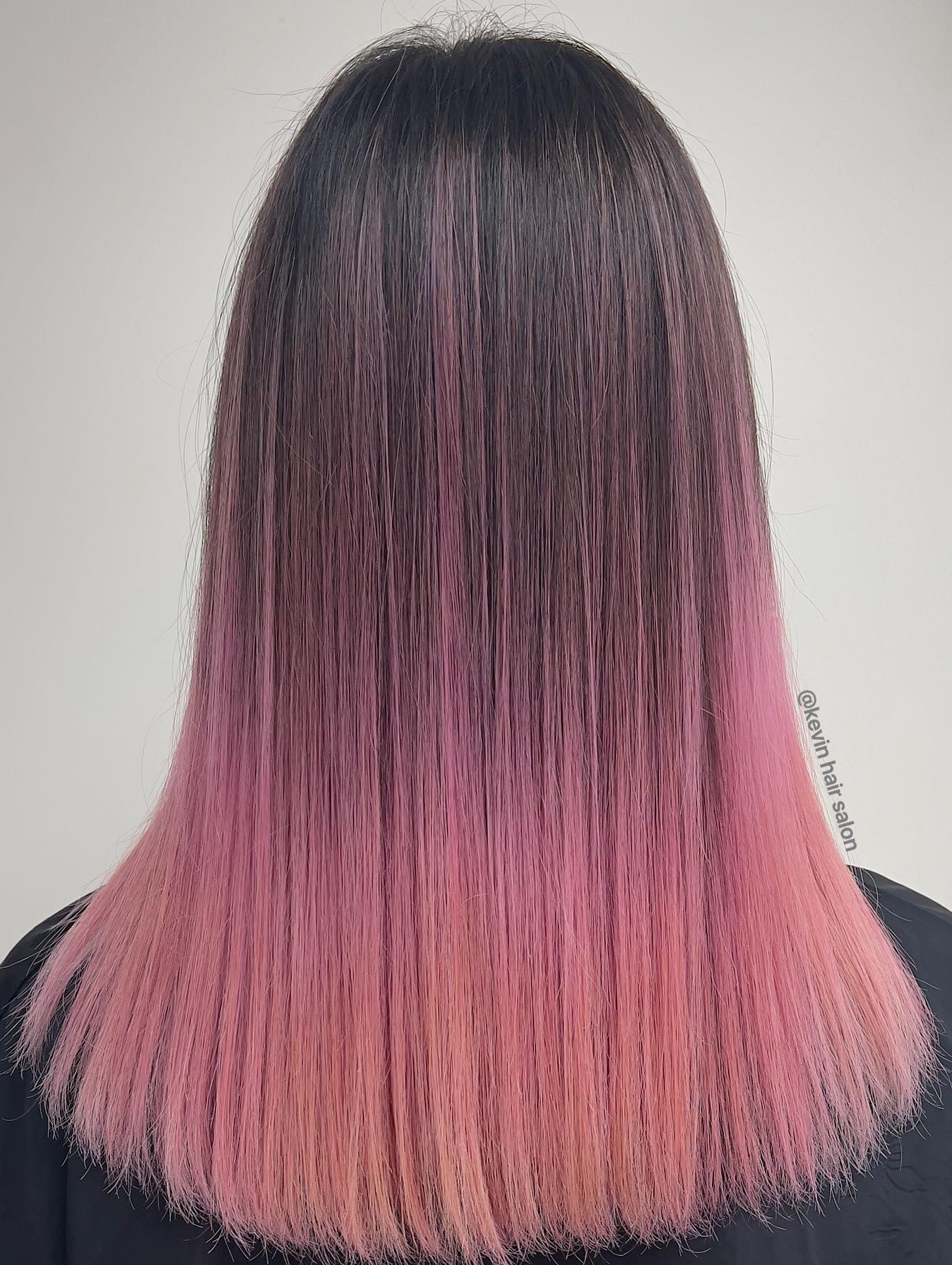 via @kevinhairsalon
Skilled colorists use a careful hand-painting technique to achieve this stunning look, seamlessly blending the rose gold hair tones into your blonde hair. The result? A breathtaking and dimensional hairstyle that will turn heads wherever you go.
via @msnataliejean
Rose Gold Pink Hair
Looking for a brighter and funkier take on the classic rose gold hair color? Say hello to rose gold pink hair with a touch of pink! This unique and vibrant pink hair color infuses the classic rose gold hue with deep pink hues, creating a look as charming as bold.
via @celebluxury
Whether you opt for an all-over pink transformation or subtle pink highlights to your light, rose gold base, this whimsical twist on the trend will turn heads and make a stylish statement.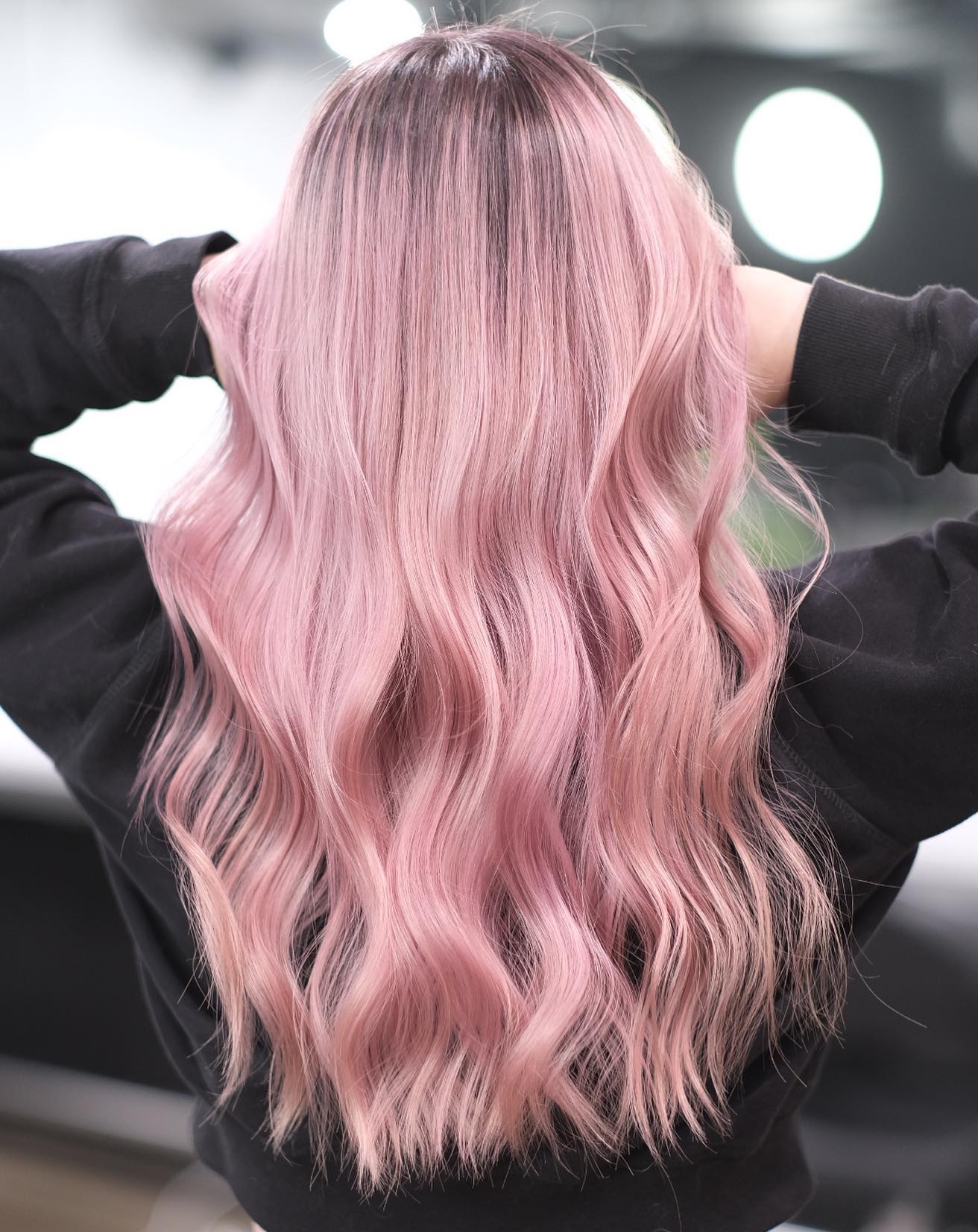 via @garynghair
Champagne Dark Rose Gold Hair
Looking for a hair color that exudes sheer luxury and festive elegance? Google Champagne Dark Rose Gold Hair! This exquisite shade is a luxurious twist on the classic rose gold hair color, boasting a perfect blend of warm gold hair and delicate pink undertones.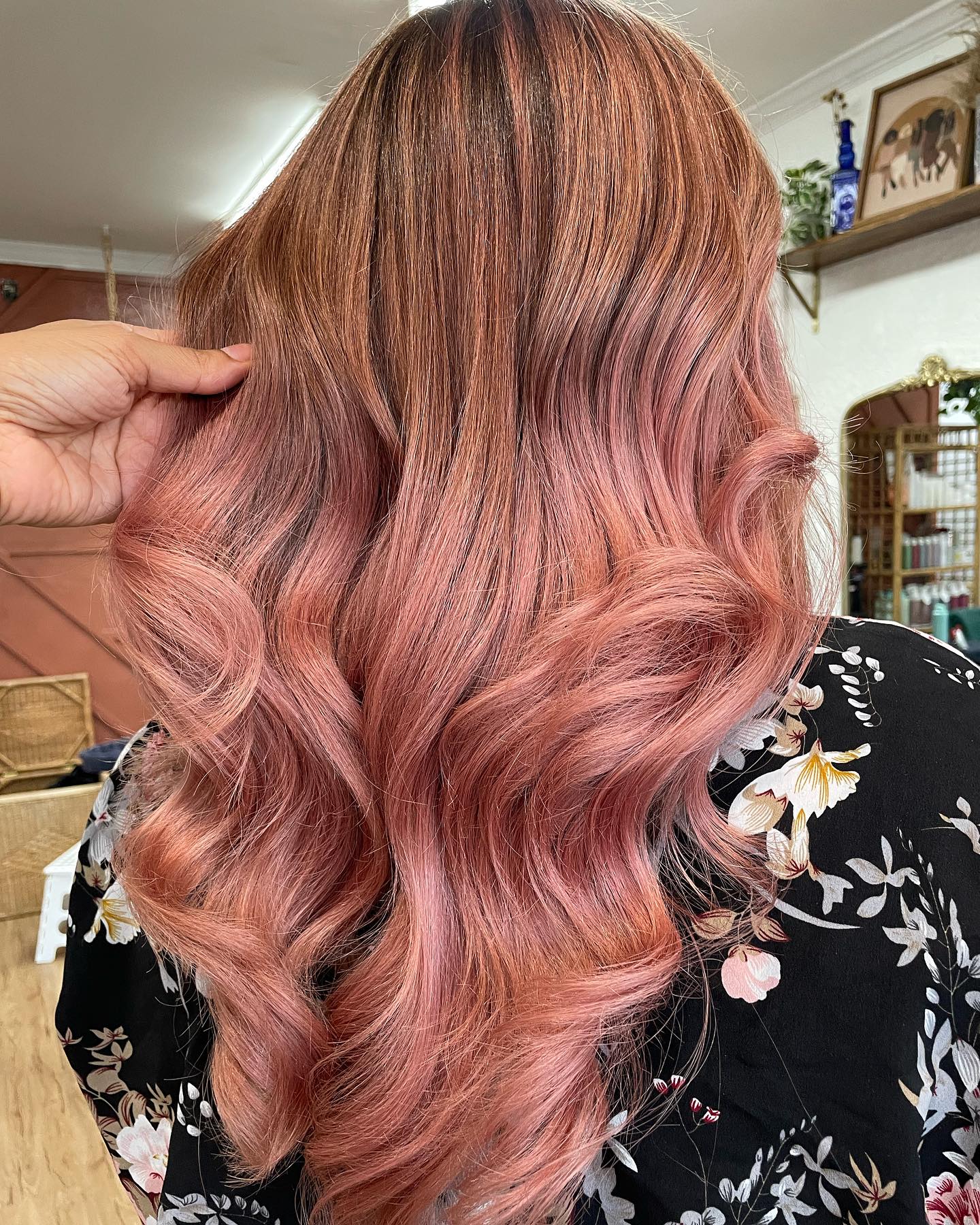 via @kaylien_
Ideal for various skin tones, this pale rose gold hair color exudes sophistication and celebration. Whether you're attending a special event or want to feel like a star in your everyday life, this champagne pink hue will make you stand out most elegantly and festively possible.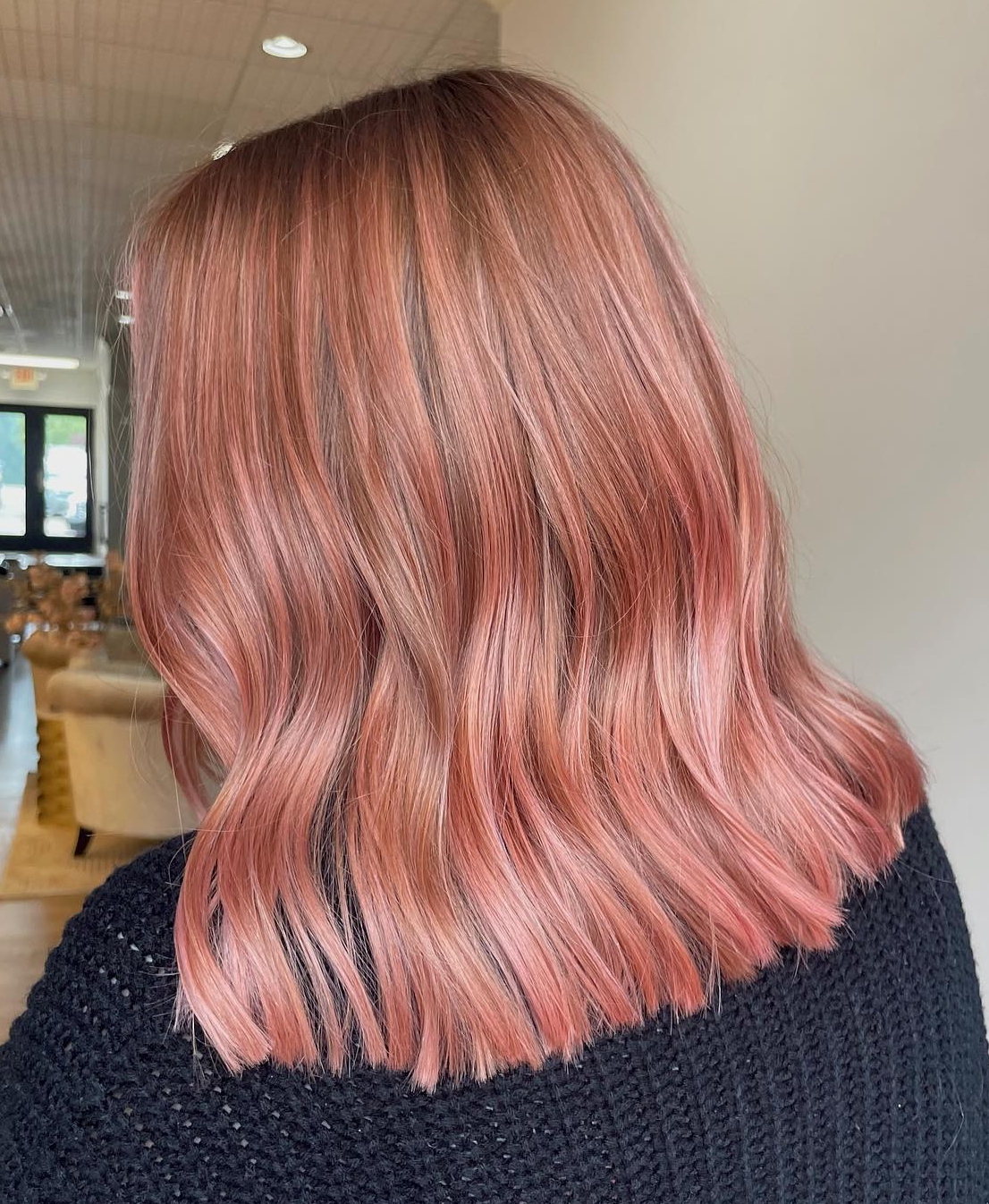 via @josiepicosita
Subtle Rose Gold Blonde Hair
For those with pale skin tones seeking a dreamy hair color that's both delicate and dazzling, look no further than a subtle blonde rose gold hair color! This barely-there pinkish hue delicately softens your blonde hair, creating a pale pink hair color that's both enchanting and refined.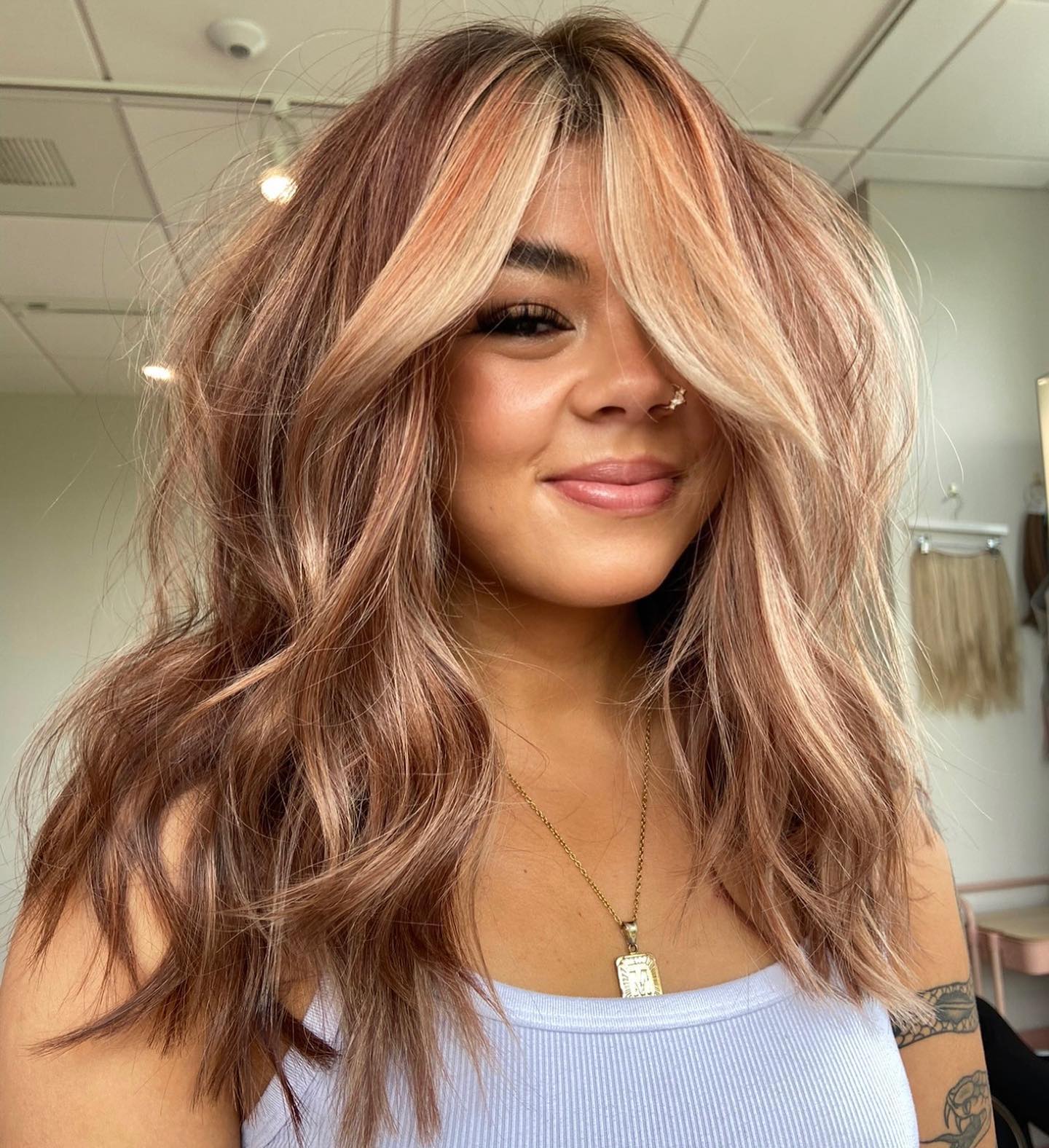 via @mommyandthemane
The magic of this rose gold look lies in its ability to soften your overall appearance, adding a touch of warmth without overpowering your natural beauty.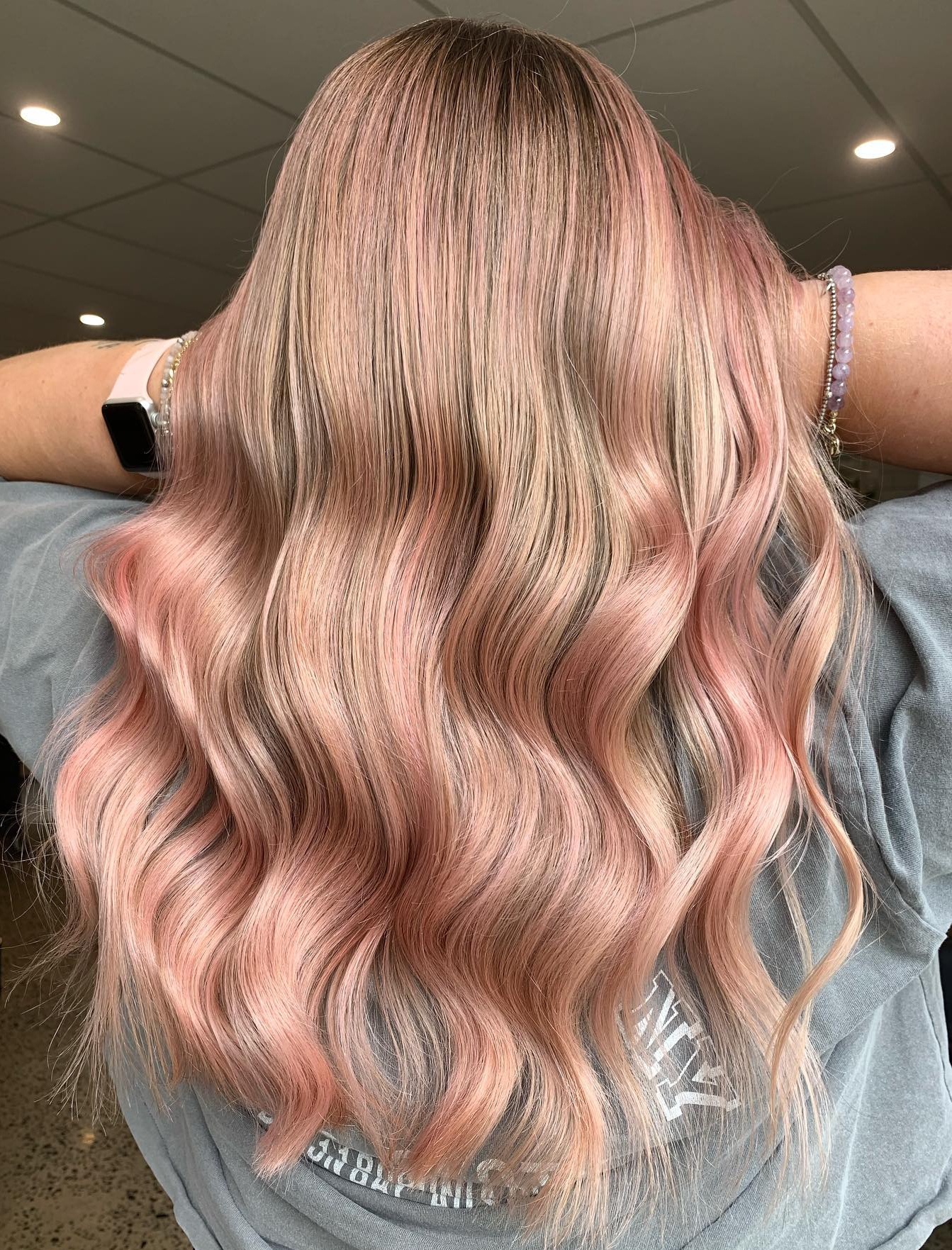 via @hairbyleish
Rose Gold Highlights on Dark Hair
Want to add a touch of pizzazz to your dark locks without going all-in on a complete color change? Try rose gold highlights! These glossy rose gold hair highlights work wonders for dark hair, offering a stunning contrast that complements your natural base.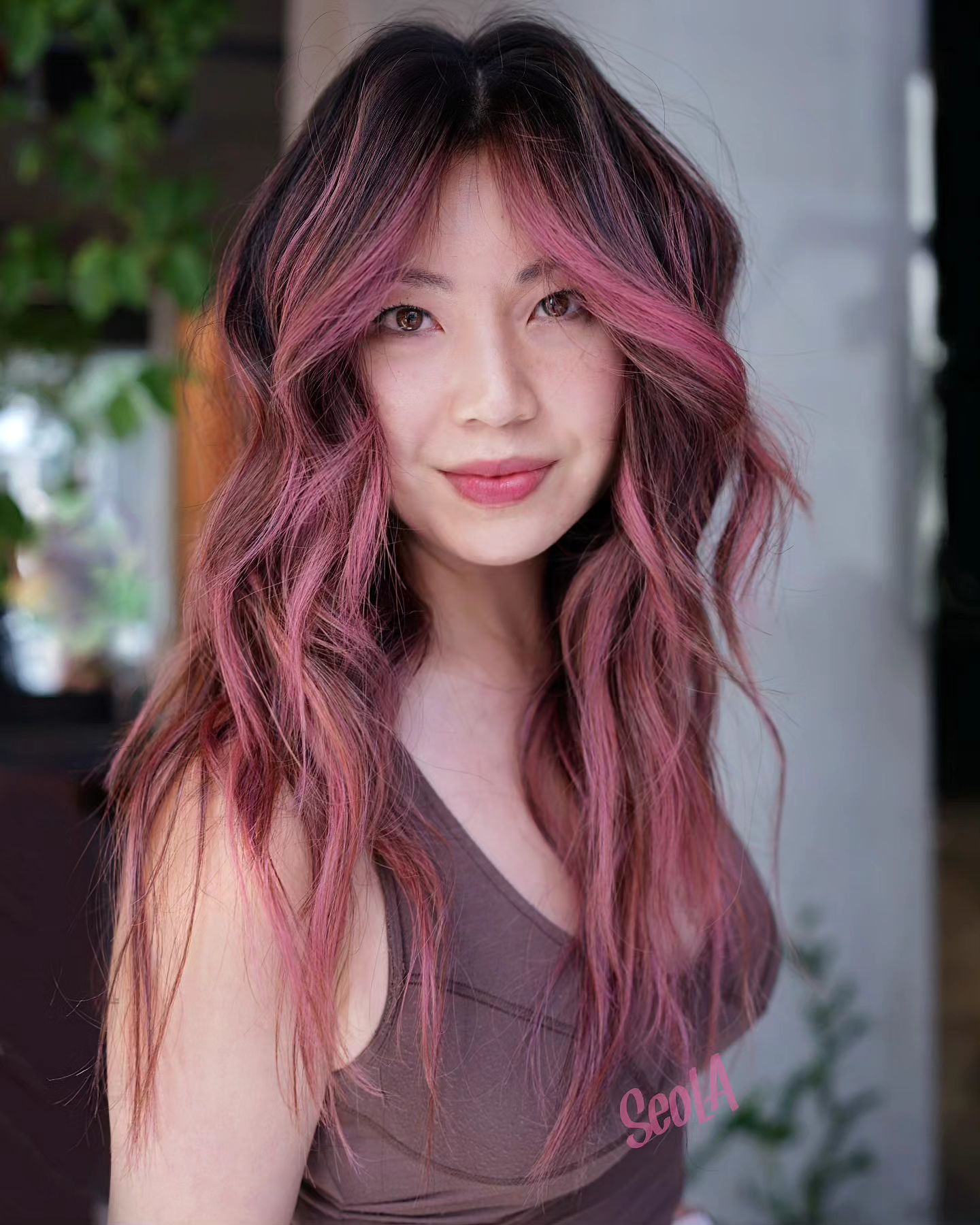 via @seolahair
From face-framing subtle rose gold highlights to strategically placed strands, there are various ways to incorporate this fantastic hue into your dark locks. Whether you prefer a delicate, barely-there touch or a bolder statement, rose gold highlights allow you to experiment and explore different rose gold hair ideas, adding a touch of glam and radiance to your overall look.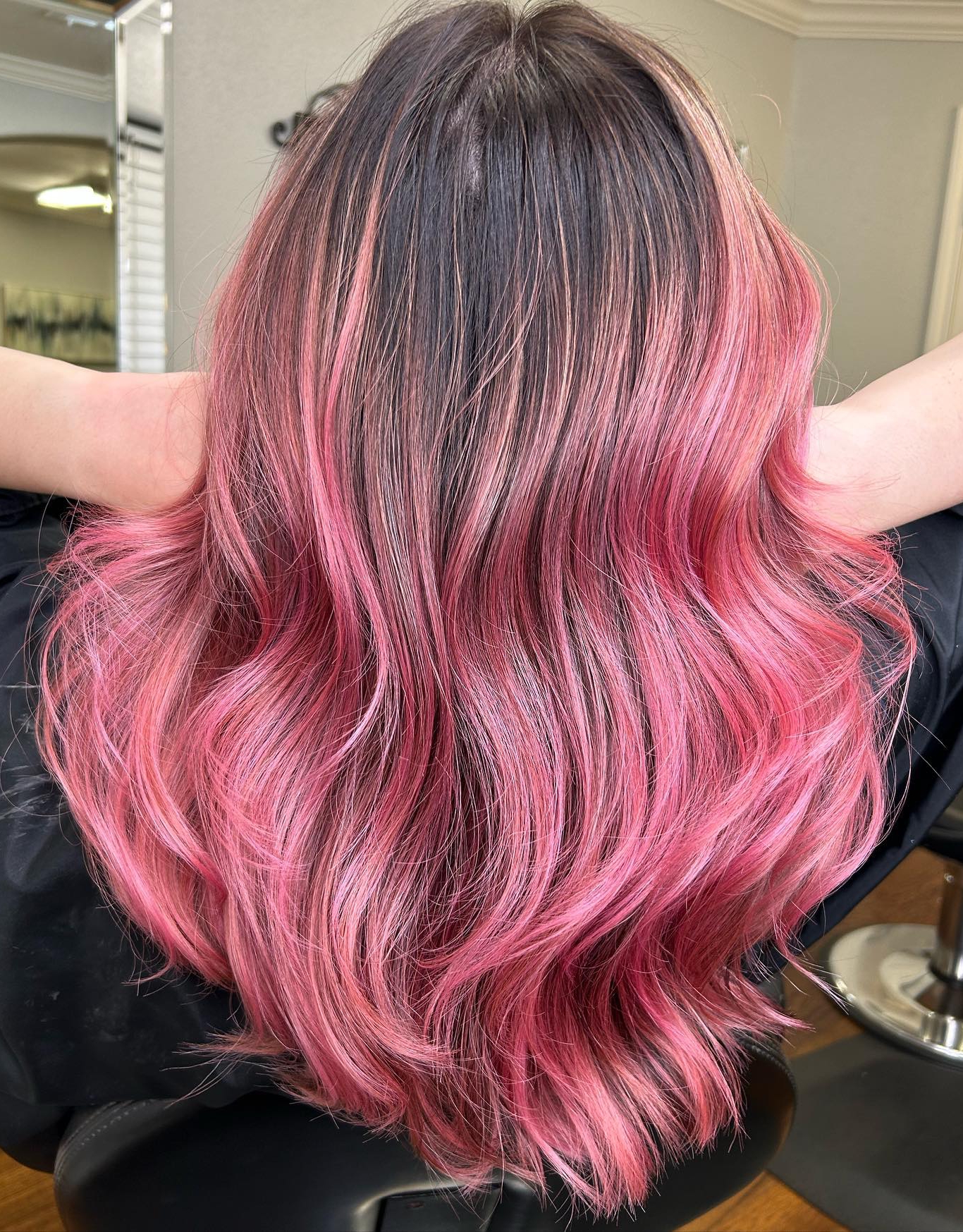 via @glossedbysteph
Pastel Rose Gold Hair
Are you looking to channel your inner fairy-tale princess? The pastel rose gold color is here to whisk you away to a world of dreamy enchantment! This ethereal blend of soft pink and warm gold shades creates a whimsical and romantic look that's perfect for anyone seeking a touch of magic in their hair.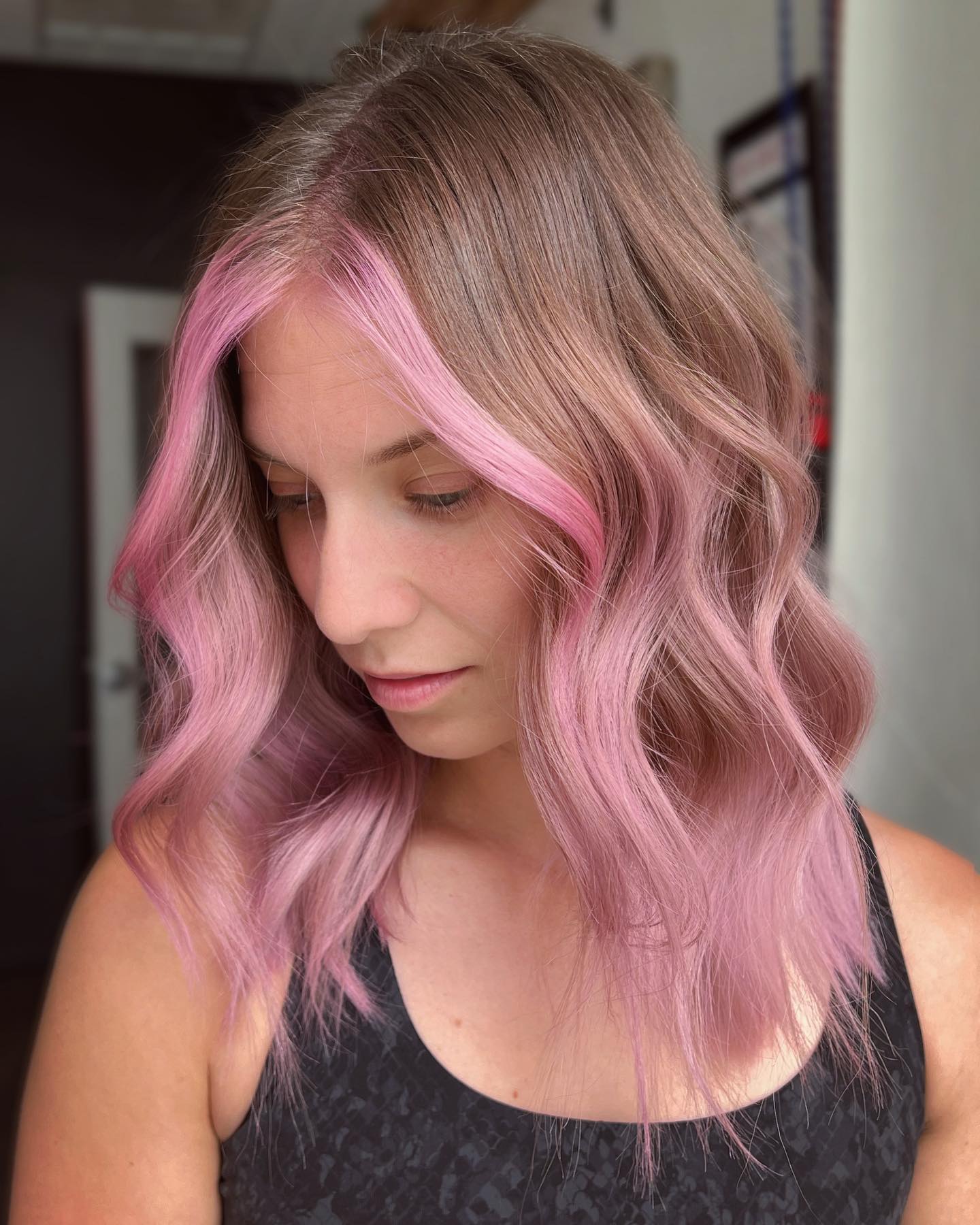 via @theneonblonde
The best part? Pastel rose gold hair color is incredibly versatile and suits various complexions. From fair to medium to dark complexion, this fairy-tale hue, especially when paired with dark roots, will leave you feeling like a princess!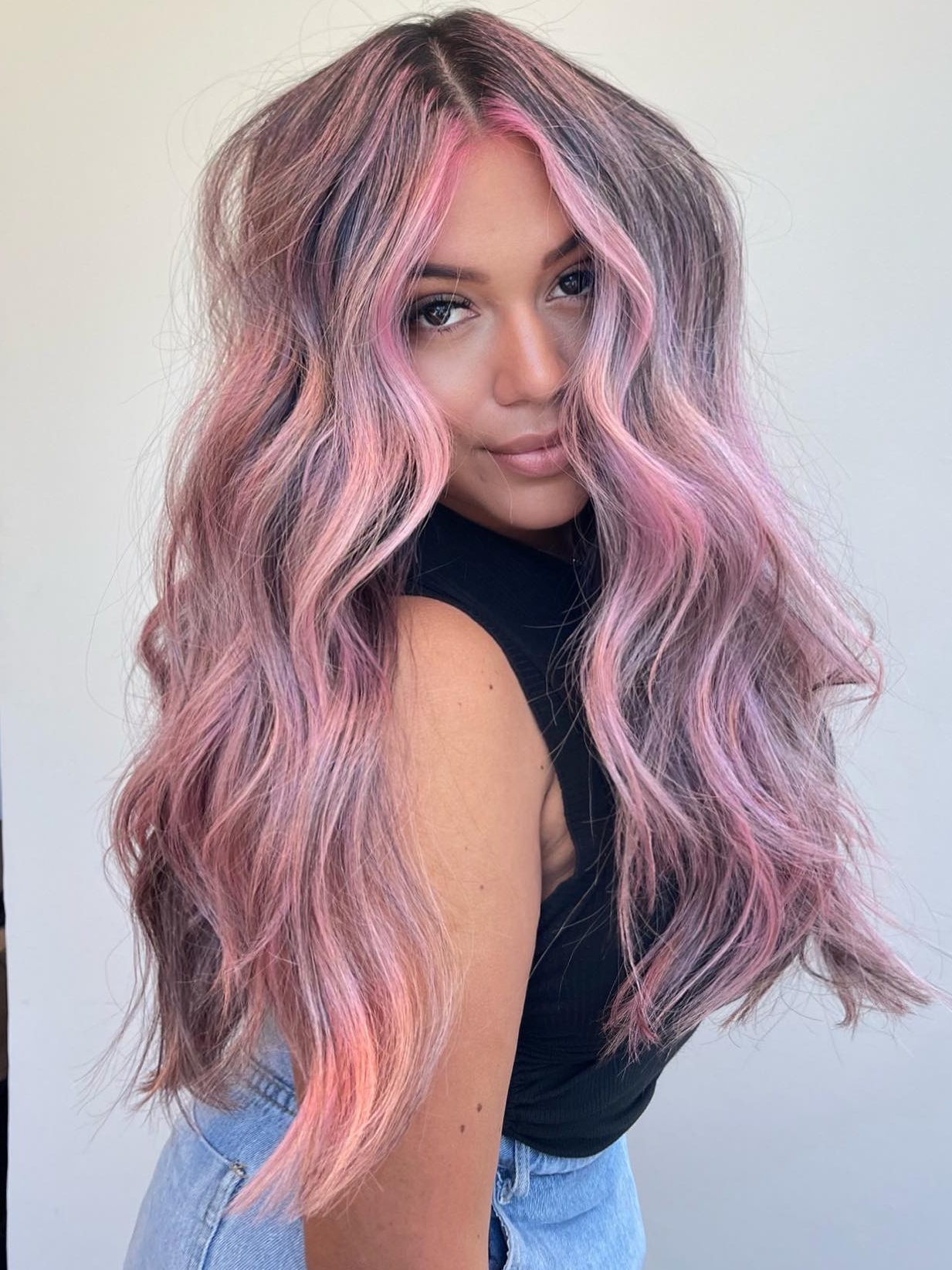 via @thebalayqueen_b
Rose Gold Highlights on Black Hair
The juxtaposition of the dark richness of black hair with rose gold highlights creates a mesmerizing, bold and sophisticated contrast. Opt for deeper rose gold shades with hints of copper or mahogany to complement the dark base beautifully.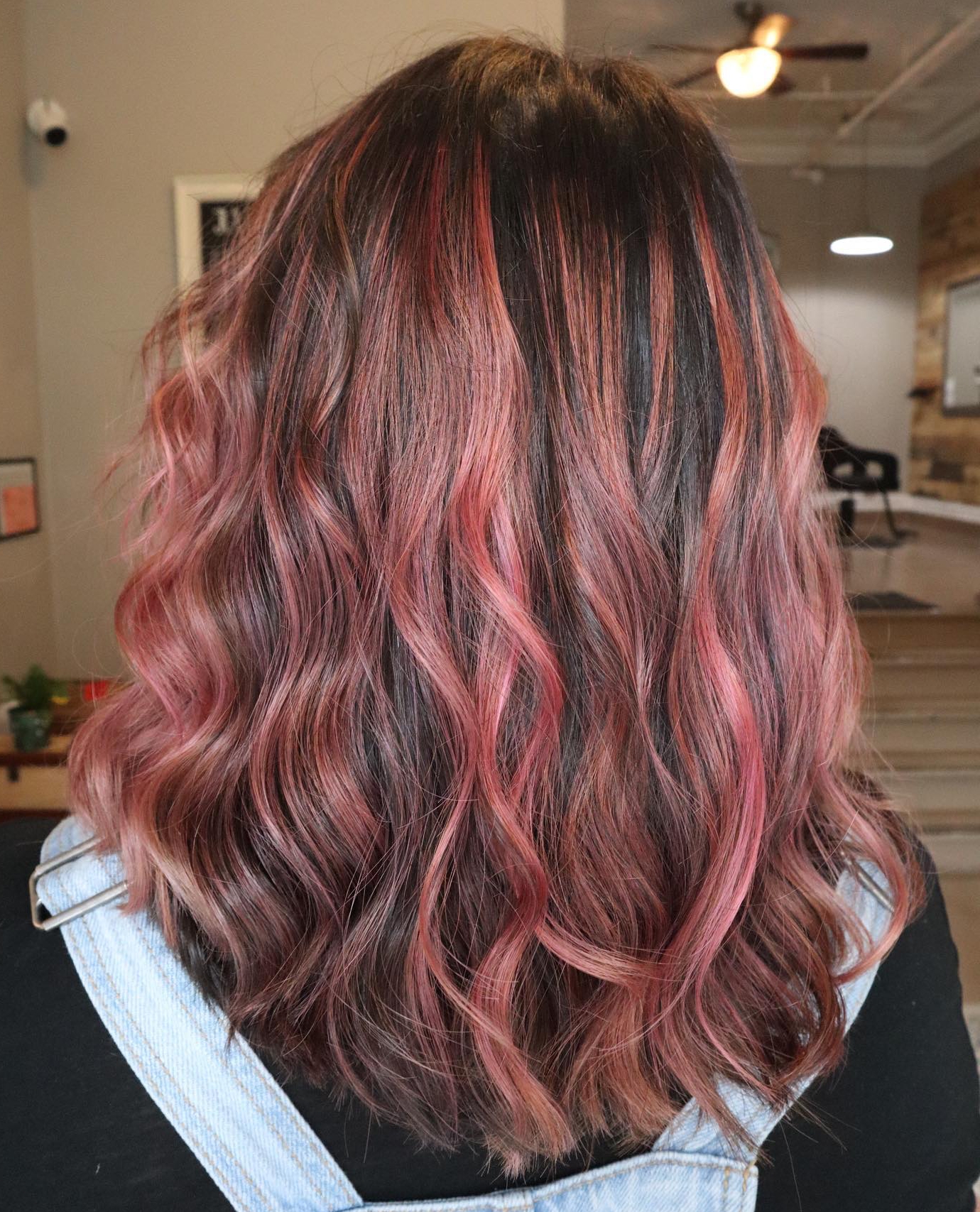 This delightful fusion adds dimension and infuses a touch of warmth and radiance, resulting in a stunning look that's impossible to ignore!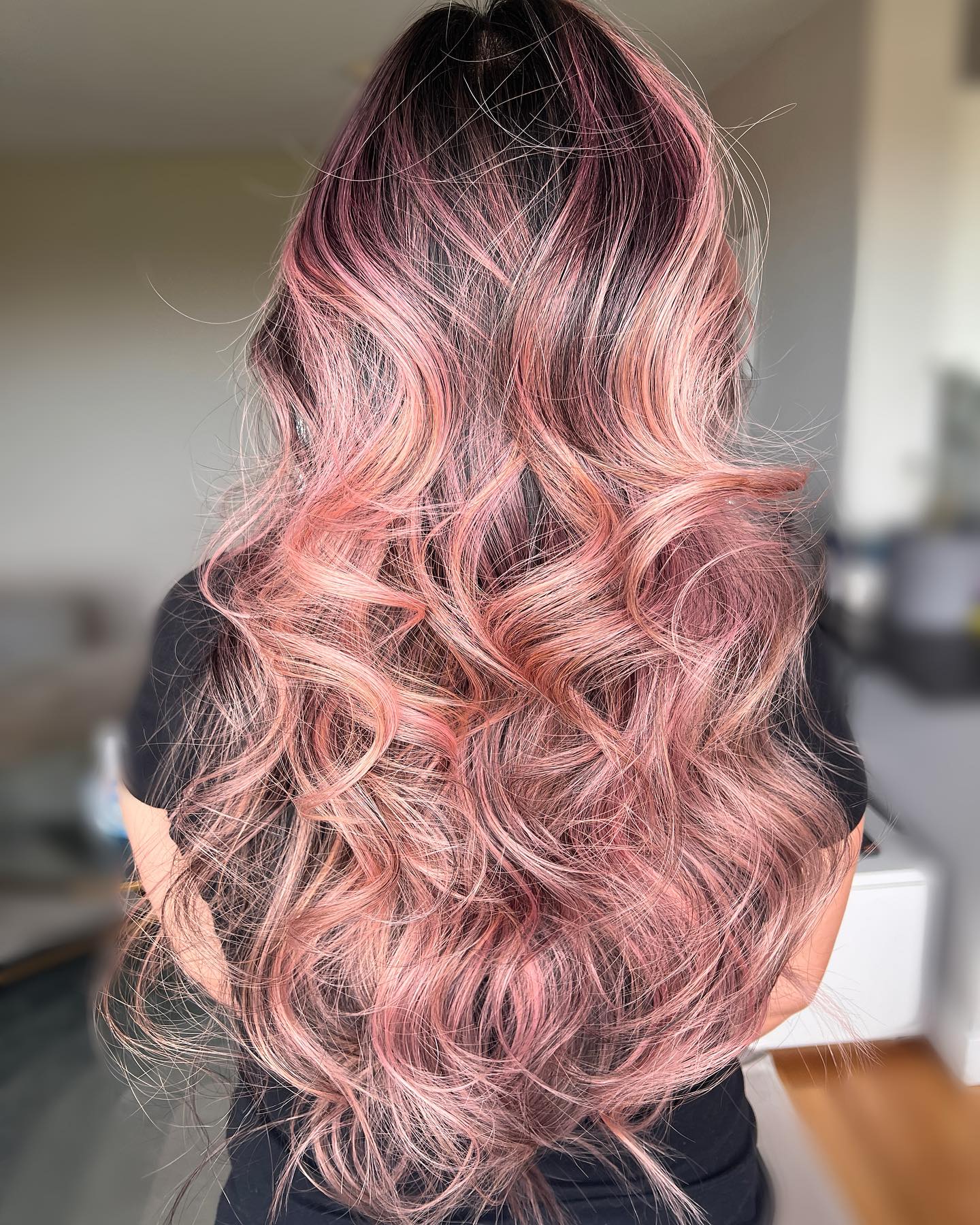 via @hairbytiannad
Rose Gold Balayage
Long straight hair gets an irresistible upgrade with the magic of rose gold balayage! This trendy technique seamlessly weaves your brunette hair with rose gold shades, creating a natural sun-kissed effect.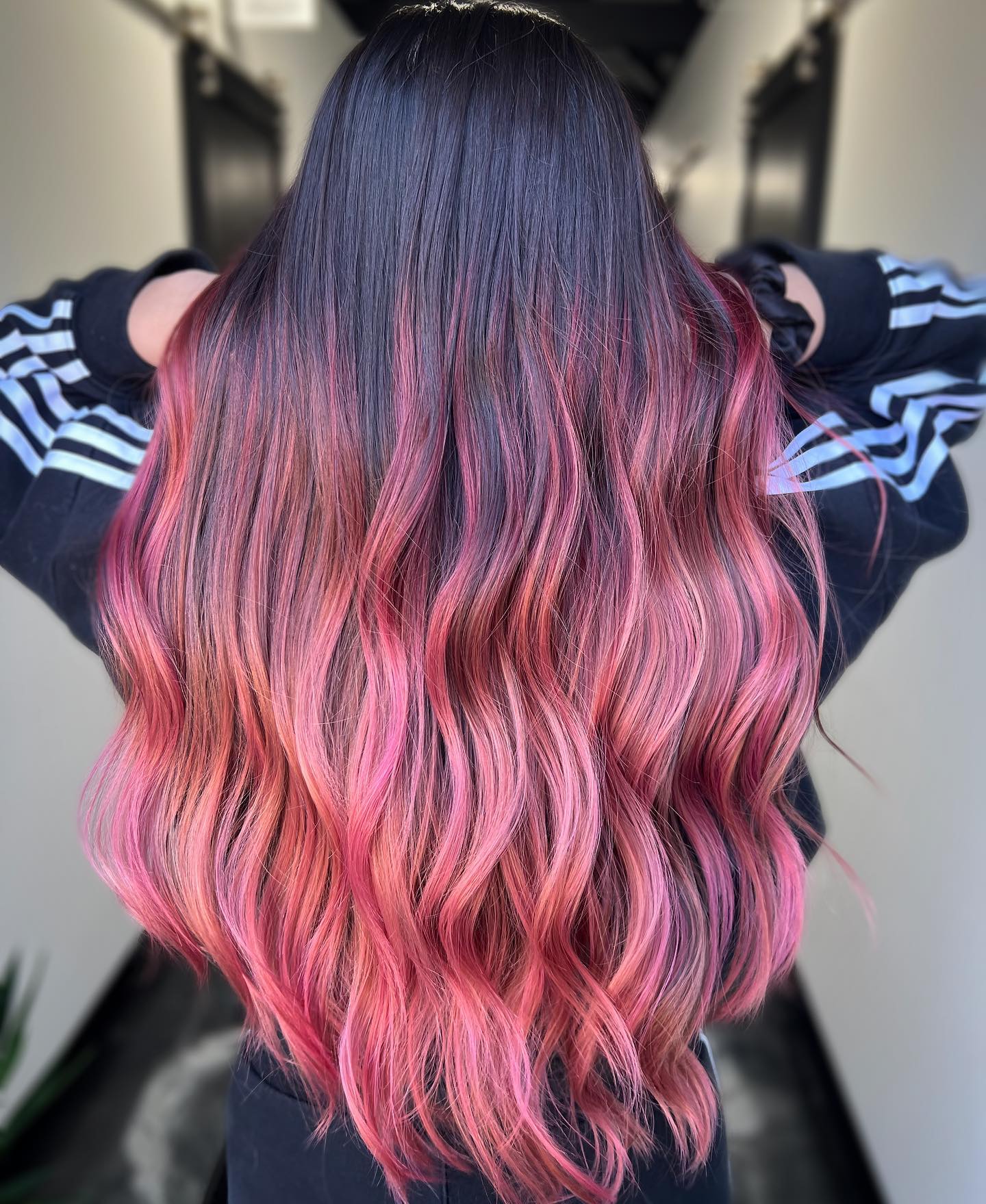 The advantage of rose gold balayage lies in its low-maintenance charm – as your hair grows, the graceful transition between your natural hue and the rose gold tones remains effortlessly chic. So, whether you're a free spirit or a corporate pro, this rose gold balayage style promises to keep you looking effortlessly fabulous at every turn!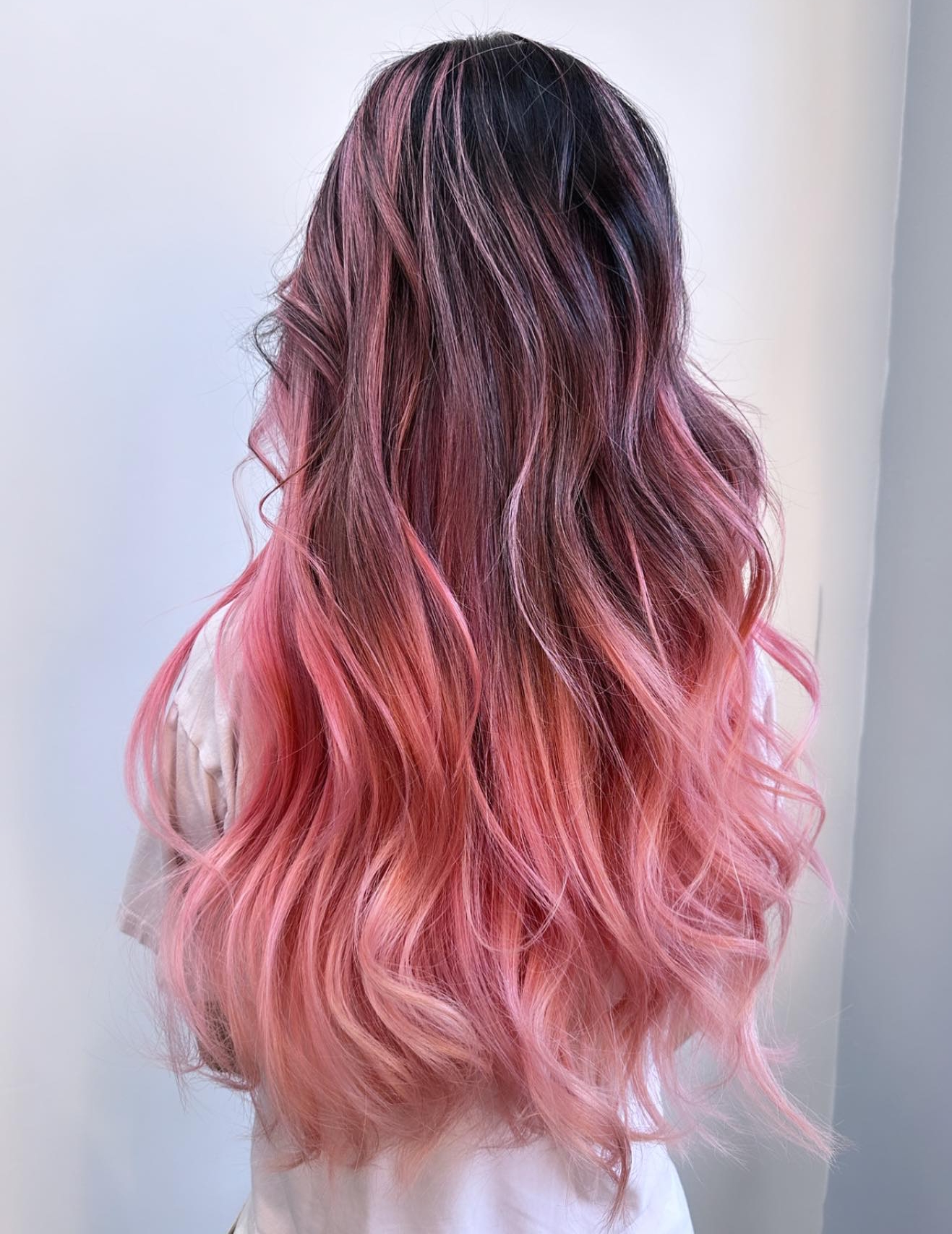 via @chris0712
Rose Gold and Copper Highlights on Brown Hair
Regarding rose gold hair ideas, the copper and rose gold color blend is an absolute stunner on brown hair! This dynamic combination infuses your brunette locks with depth and dimension, thanks to the warm undertones of both shades.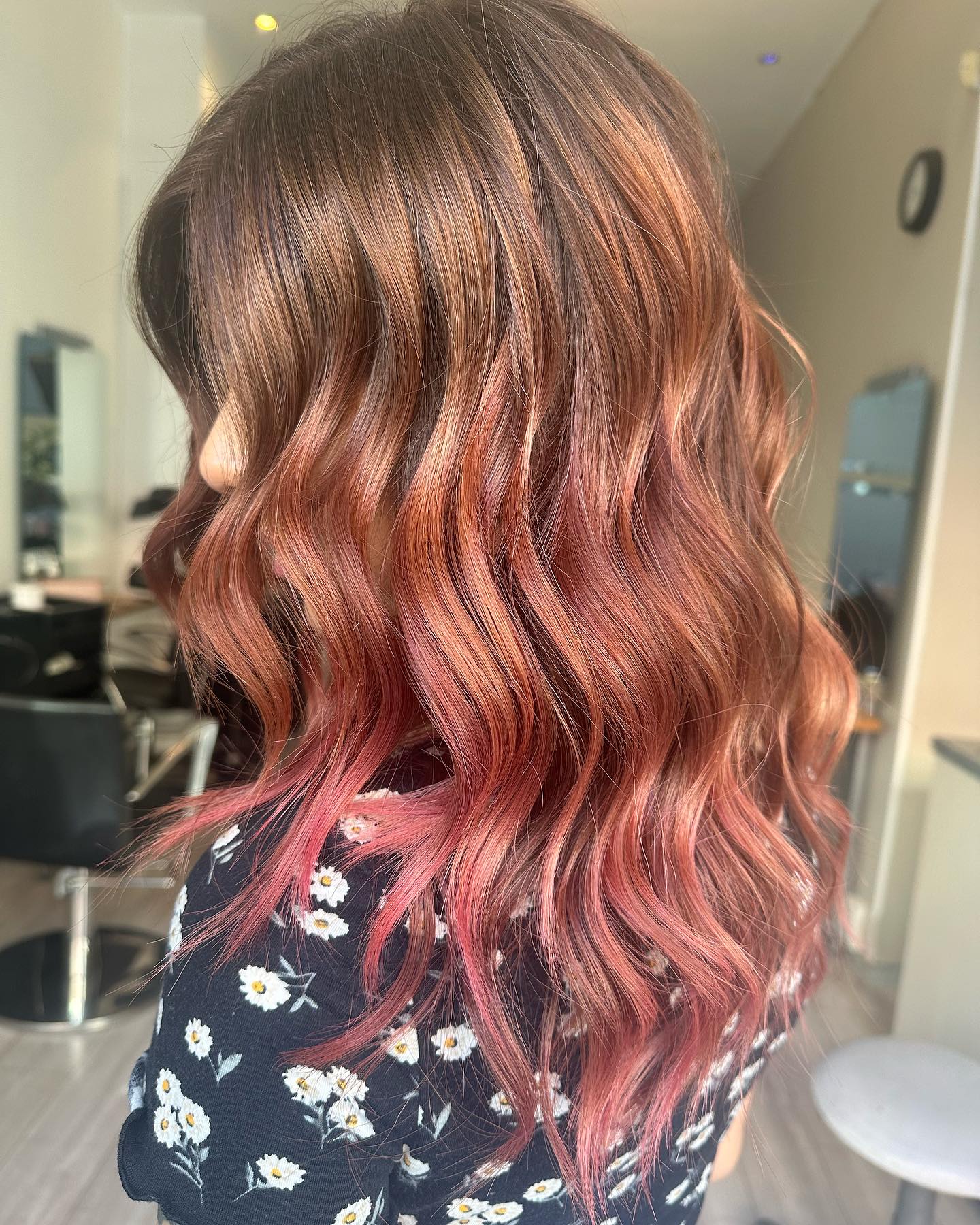 via @jenny_diamond_hairdresser
The rose gold shade adds a touch of elegance, while the copper injects vibrancy and richness. Together, they create a harmonious dance of colors that perfectly complements your brunette hair, making you the envy of every hair trend enthusiast!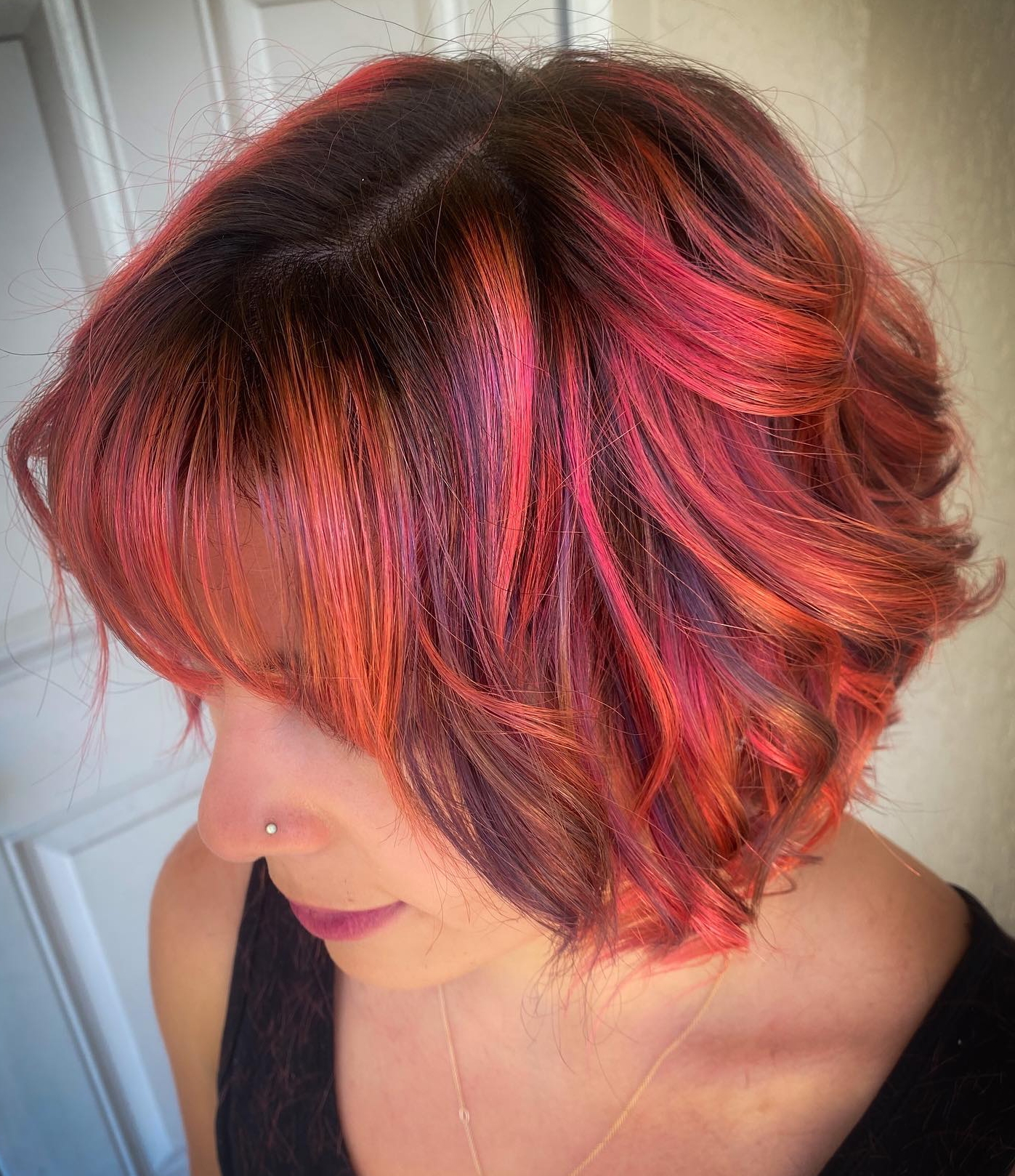 via @neonlooks.bylex
Rose Gold and Peach Hair
When making a statement with short gold hair, the blend of peach hair with rose gold hues is a knockout choice!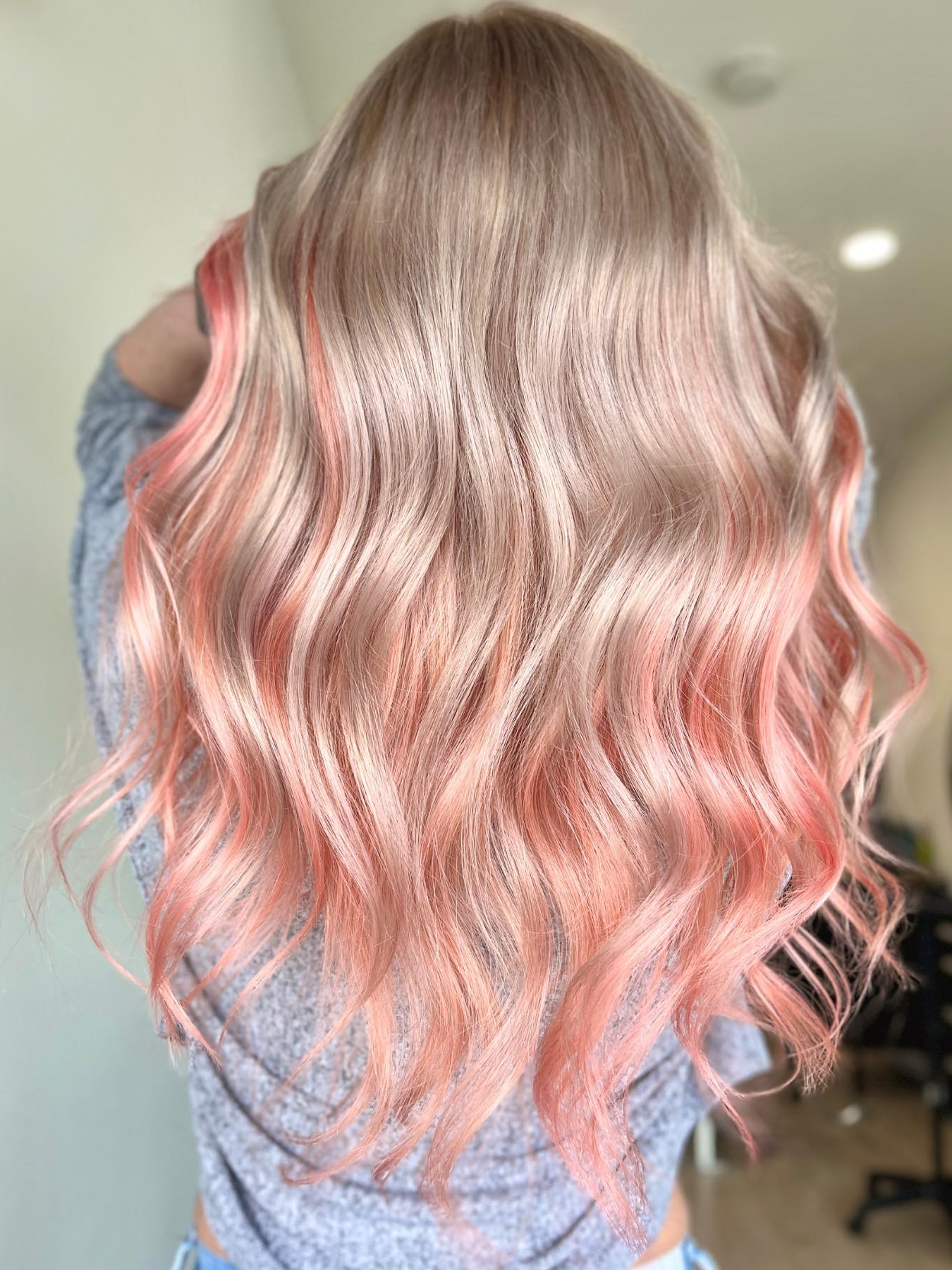 via @supvalerie
Picture this: the soft blush of peach seamlessly intertwined with the charm of rose gold hair while maintaining your edgy short hairdo. The secret to nailing this look lies in creating depth through slightly darker roots, allowing this lovely blend of colors to pop truly.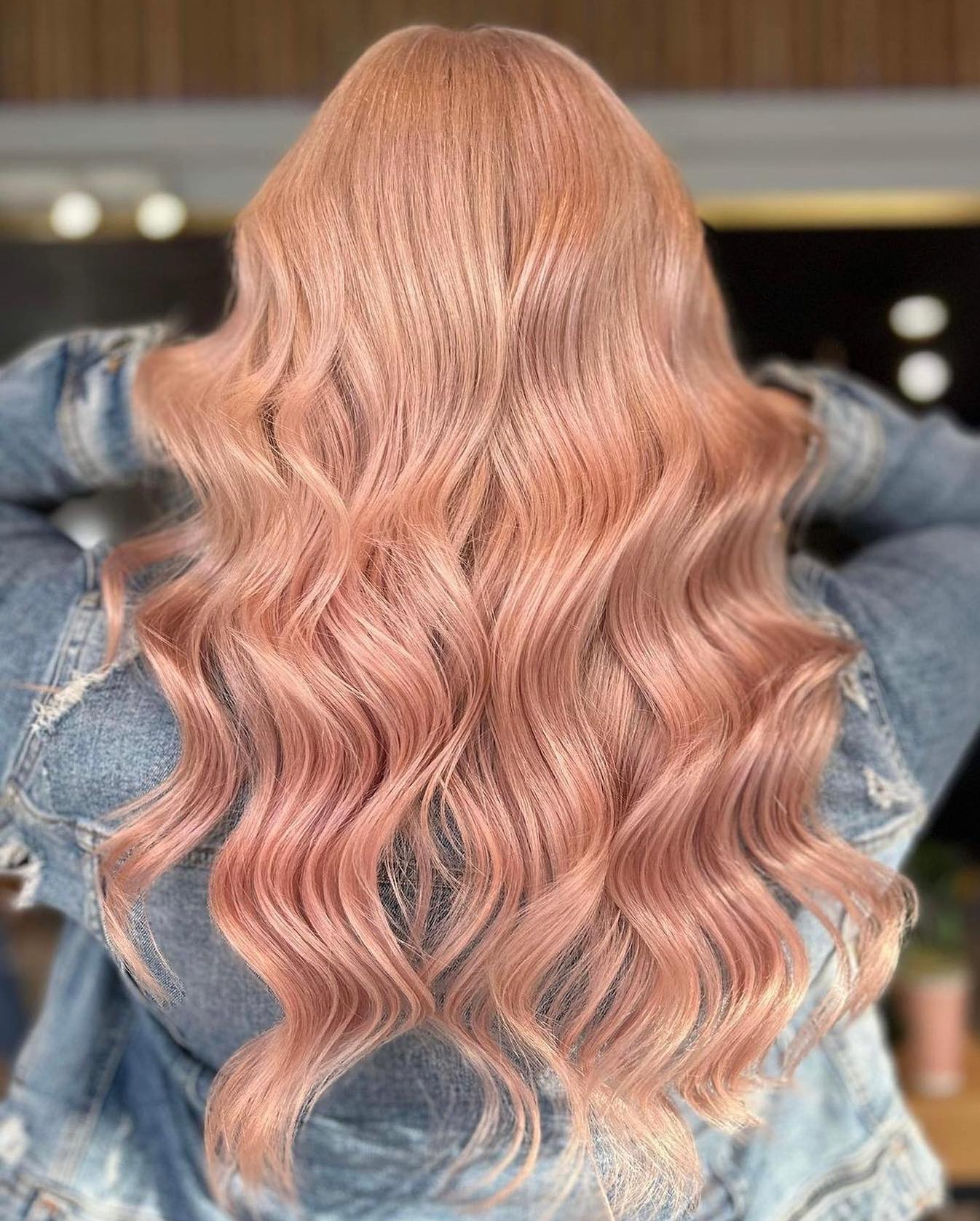 via @katrina.phan
Rose Gold on Platinum Blonde Hair
Imagine the mesmerizing fusion of platinum rose gold blonde hair cascading down on long straight hair! This dreamy combination marries the icy allure of platinum with the warm embrace of rose gold hair color, resulting in an ethereal and vibrant hue.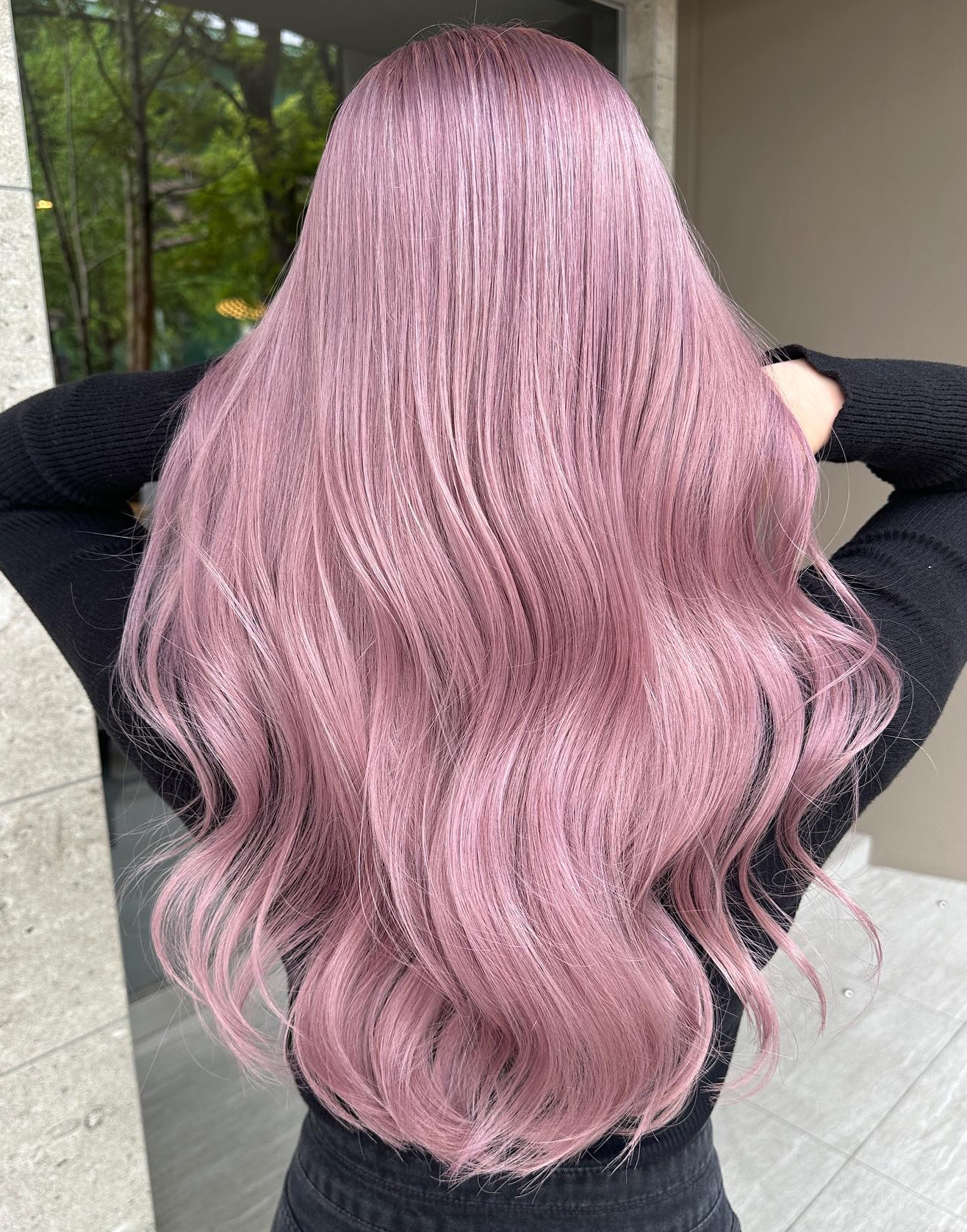 To achieve this flawless look, choosing the right platinum shade that complements the rose gold shade and enhances your neutral skin tones is crucial.
via @slm.beauty
Metallic Rose Gold Hair
Explore the enchanting rose gold spectrum with a metallic rose hair transformation. From a blonde rose gold pixie cut to longer locks, this trend adds an edgy shimmer to the classic hue.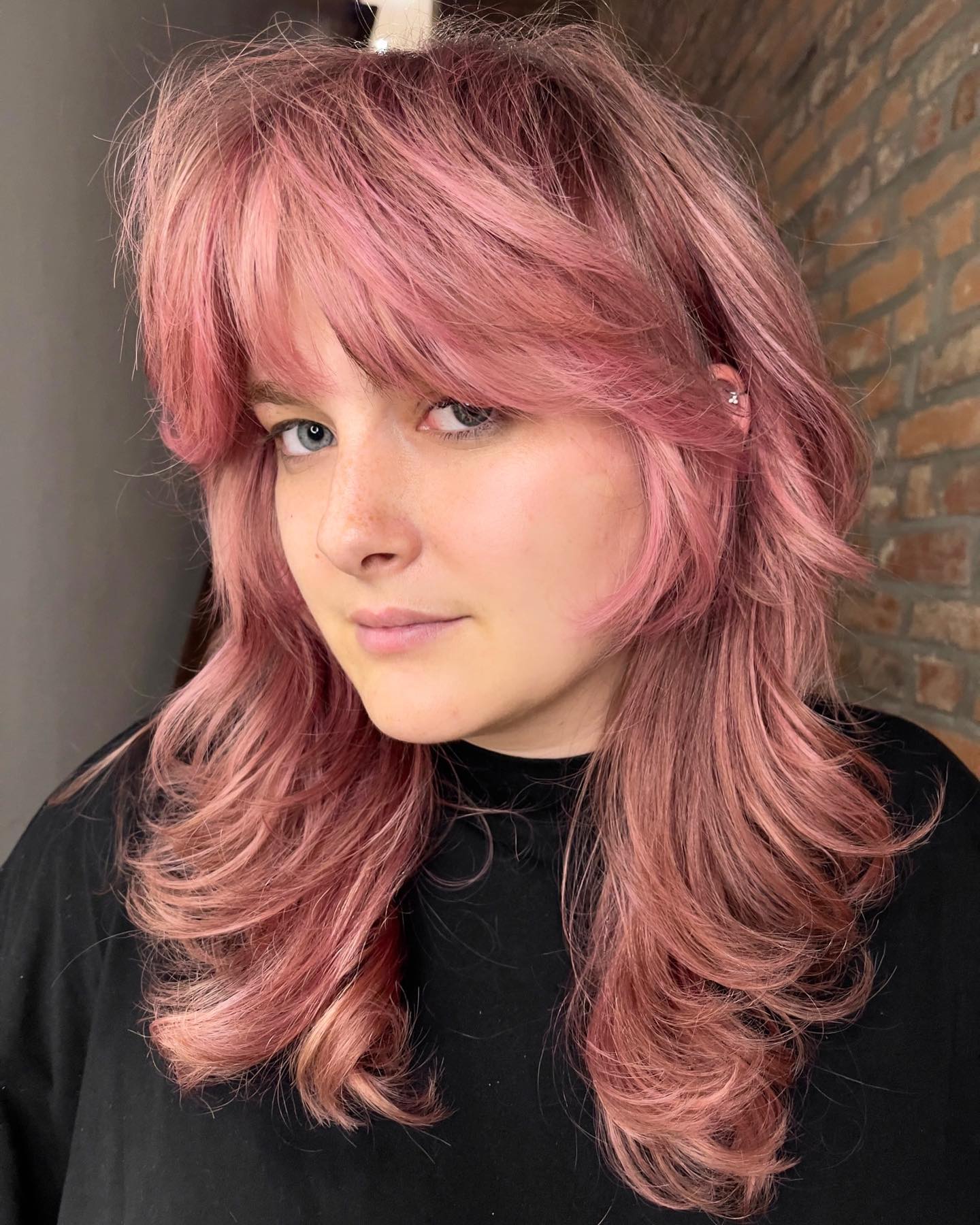 via @ajaonyourmane
Achieving the metallic effect involves blending deeper and more saturated rose gold tones with hints of silver or platinum, creating a stunning reflective sheen. The result? A multidimensional and luminous finish that sets you apart, giving your look a modern and sophisticated flair.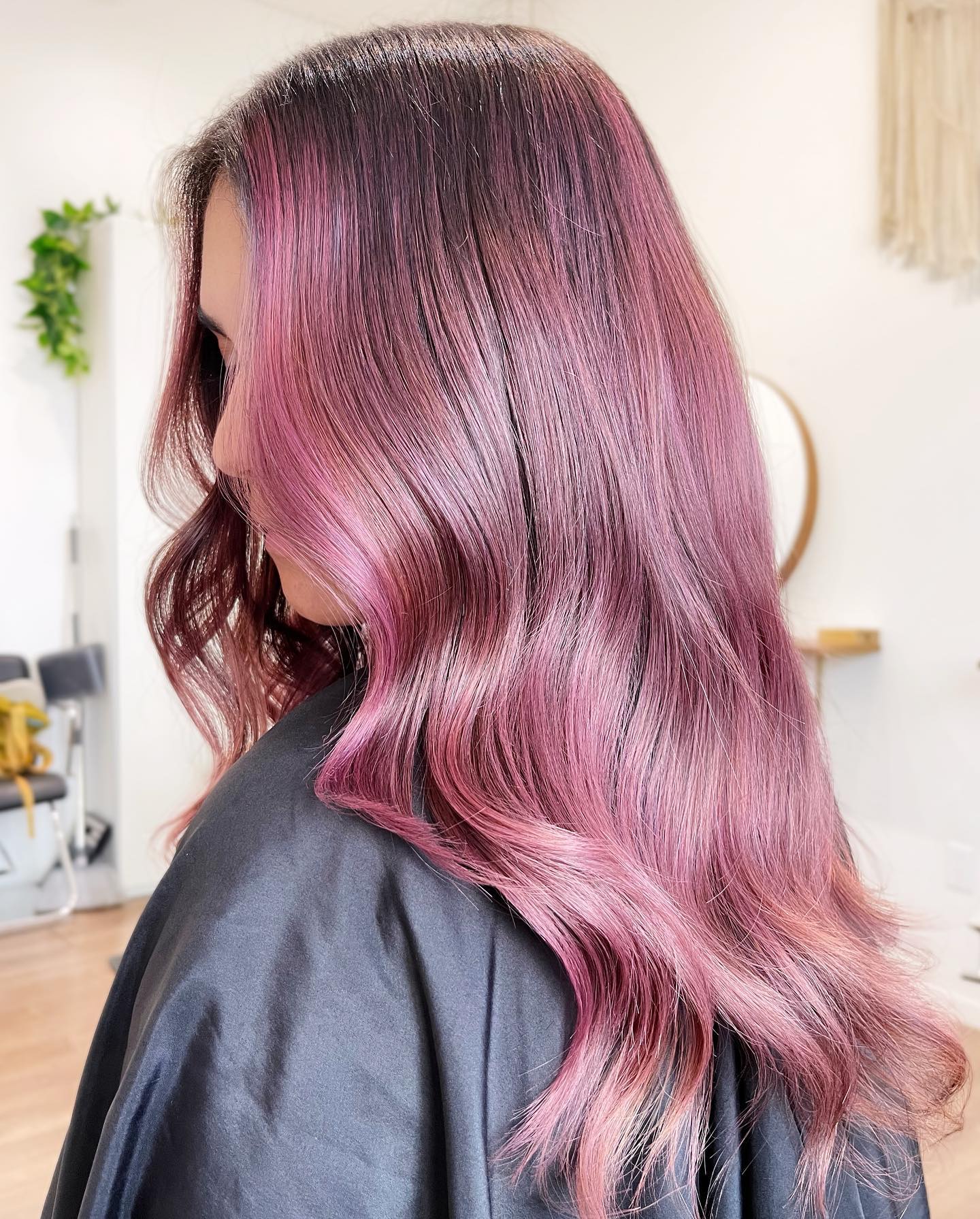 Red Rose Gold Hair
Marrying the depth of red undertones with the delicate charm of pastel pink tones, red rose gold hair is a fabulous choice for long wavy locks. This trend effortlessly blends the fiery allure of red hues with the soft warmth of rose gold hair color, creating a striking yet harmonious look. The secret lies in expertly weaving the red hues through your base, allowing the pastel pink tones to dance delicately.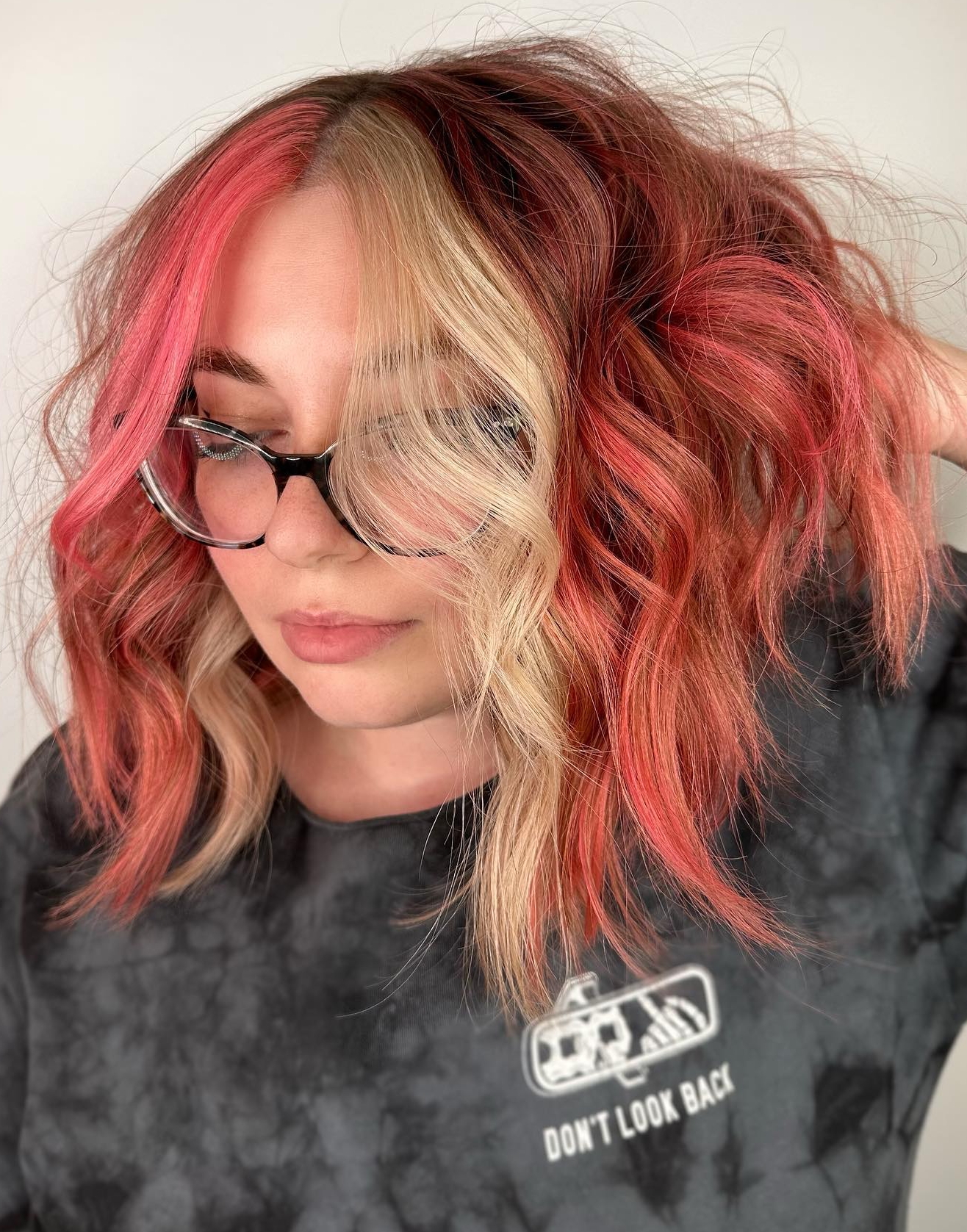 via @vividlyliv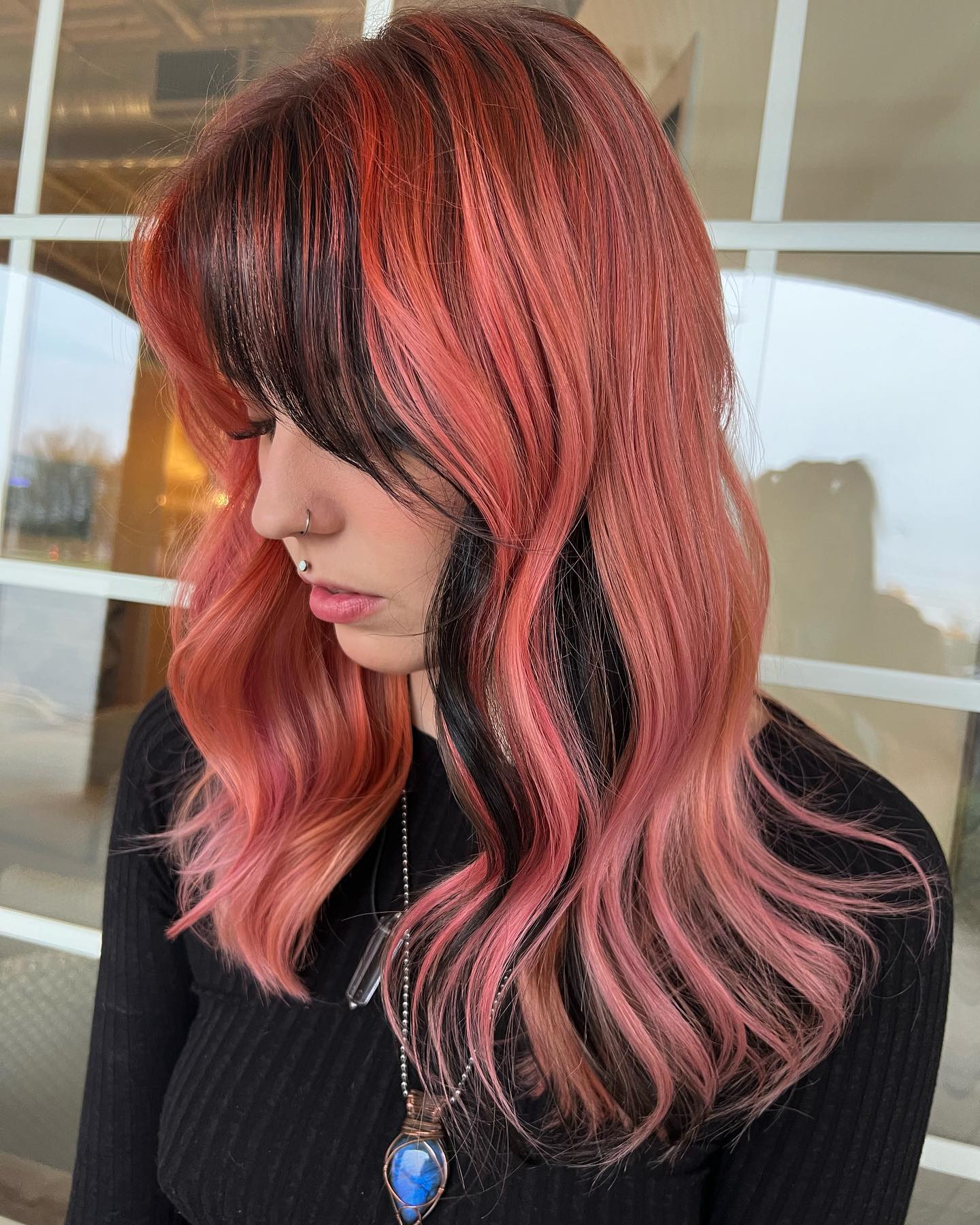 via @meganrosecolors
Rose Gold Bob
Elevate the classic inverted bob cut with pale pink tones, adding charm to this classy bob haircut. This rose gold trend not only adds depth and volume to your sleek bob but also accentuates the clean lines and angles of the cut.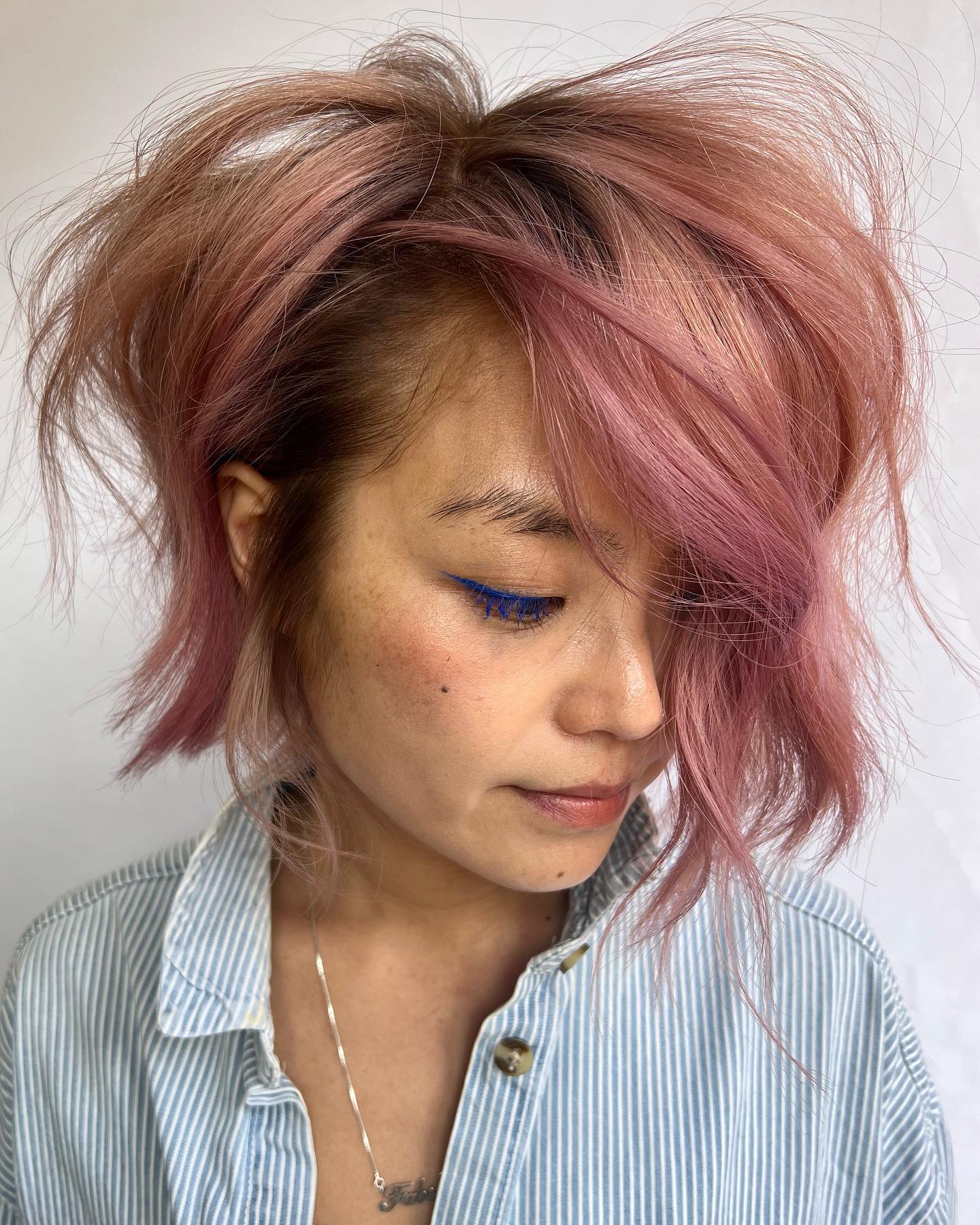 Incorporating slightly darker roots into a rose gold bob creates an edgy and refined dynamic contrast. Get ready to rock a hairstyle that beautifully fuses chic sophistication with a hint of whimsy in your fabulous rose gold bob!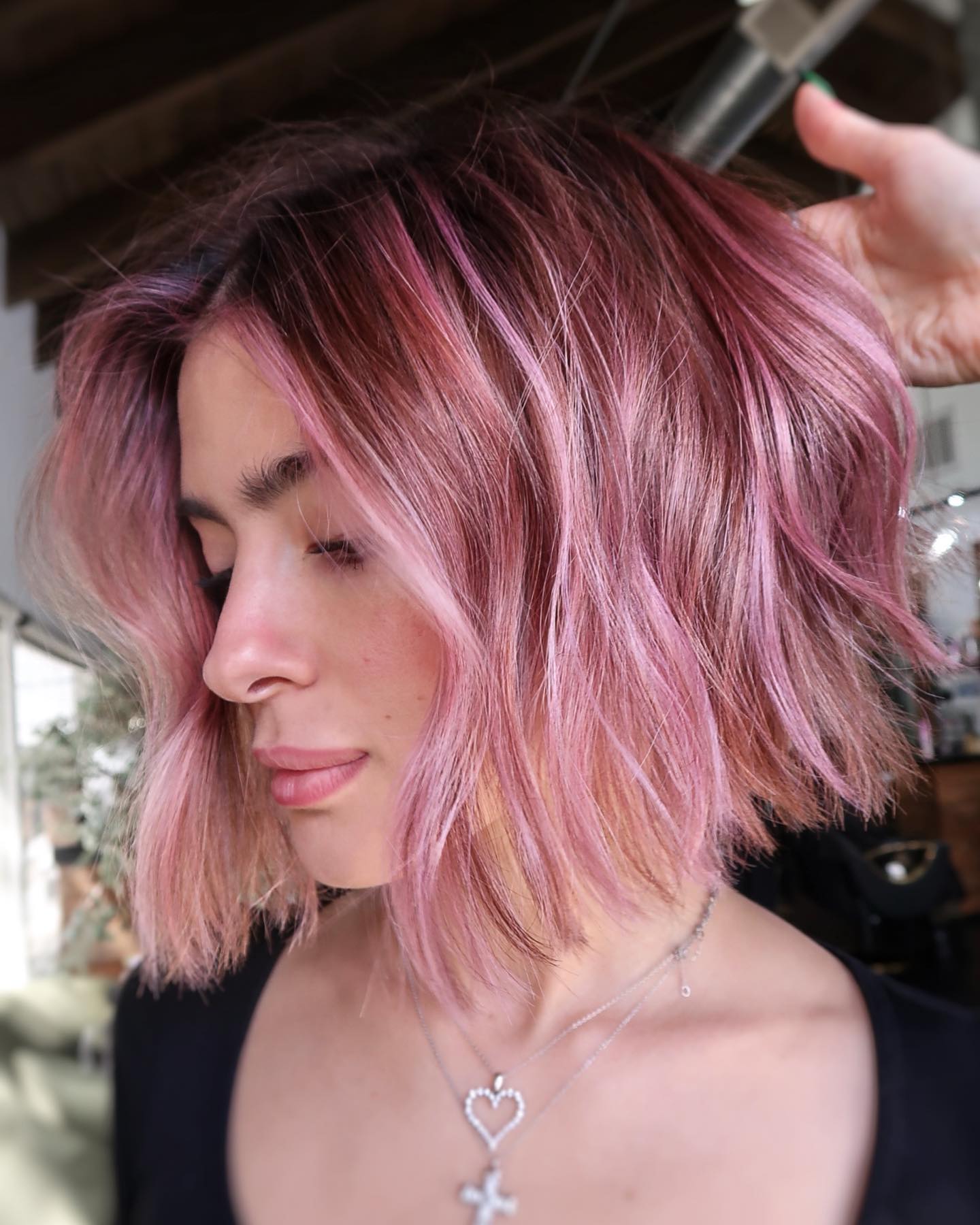 via @larisadoll
Braided Rose Gold Hairstyle
Elevate your braided hair game with the sparkling glamor of rose gold braiding hair. The delicate strands in shades of rose gold intricately woven into your natural hair will create a stunning tapestry that dances with your every move.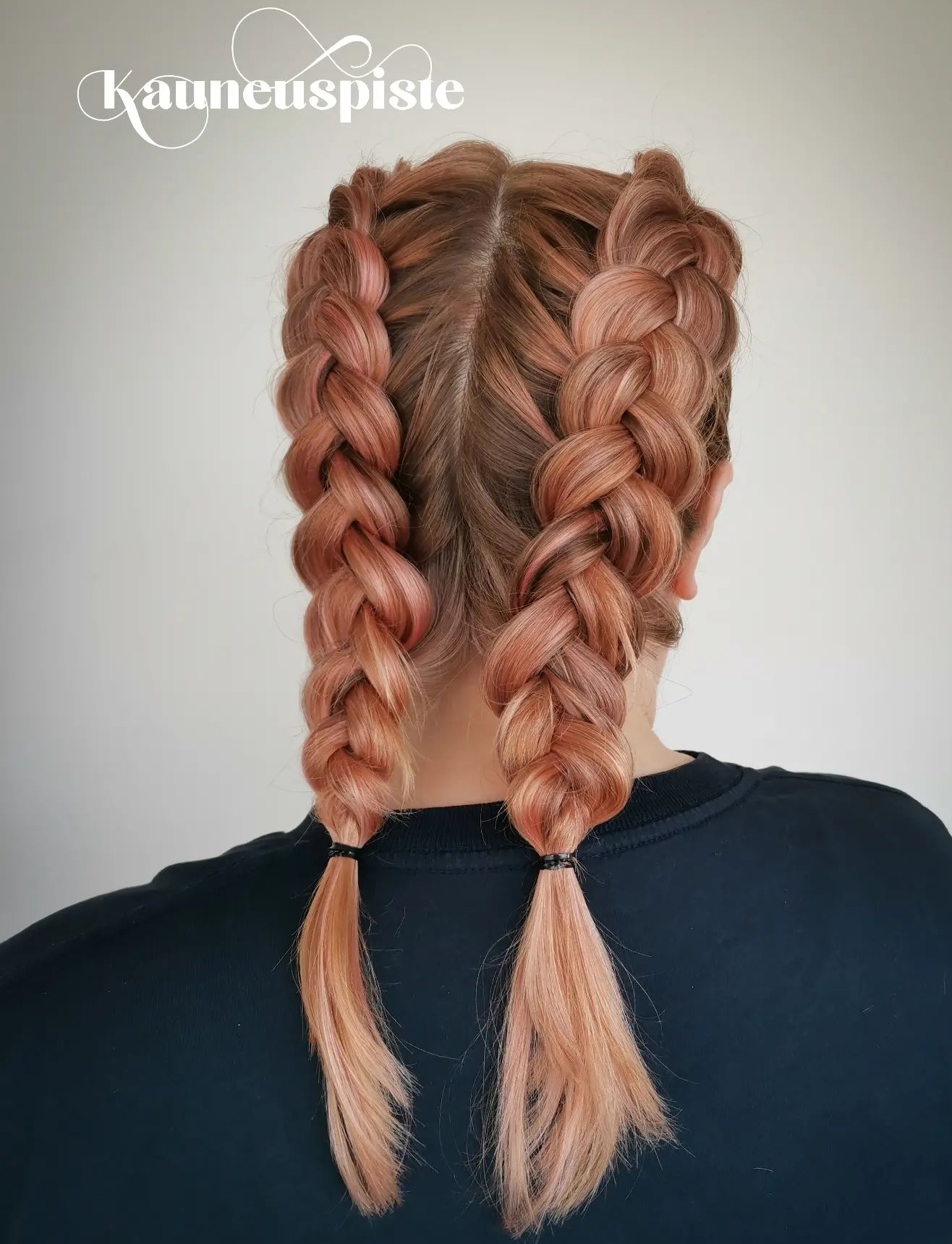 To make these rose gold and purple hues blend seamlessly through your braids, combine thicker and thinner braids, allowing the colors to intertwine and create an eye-catching show. You will surely end up with a braided masterpiece that exudes elegance and individuality, ensuring all eyes are on you and your fabulous rose gold braided hairstyle!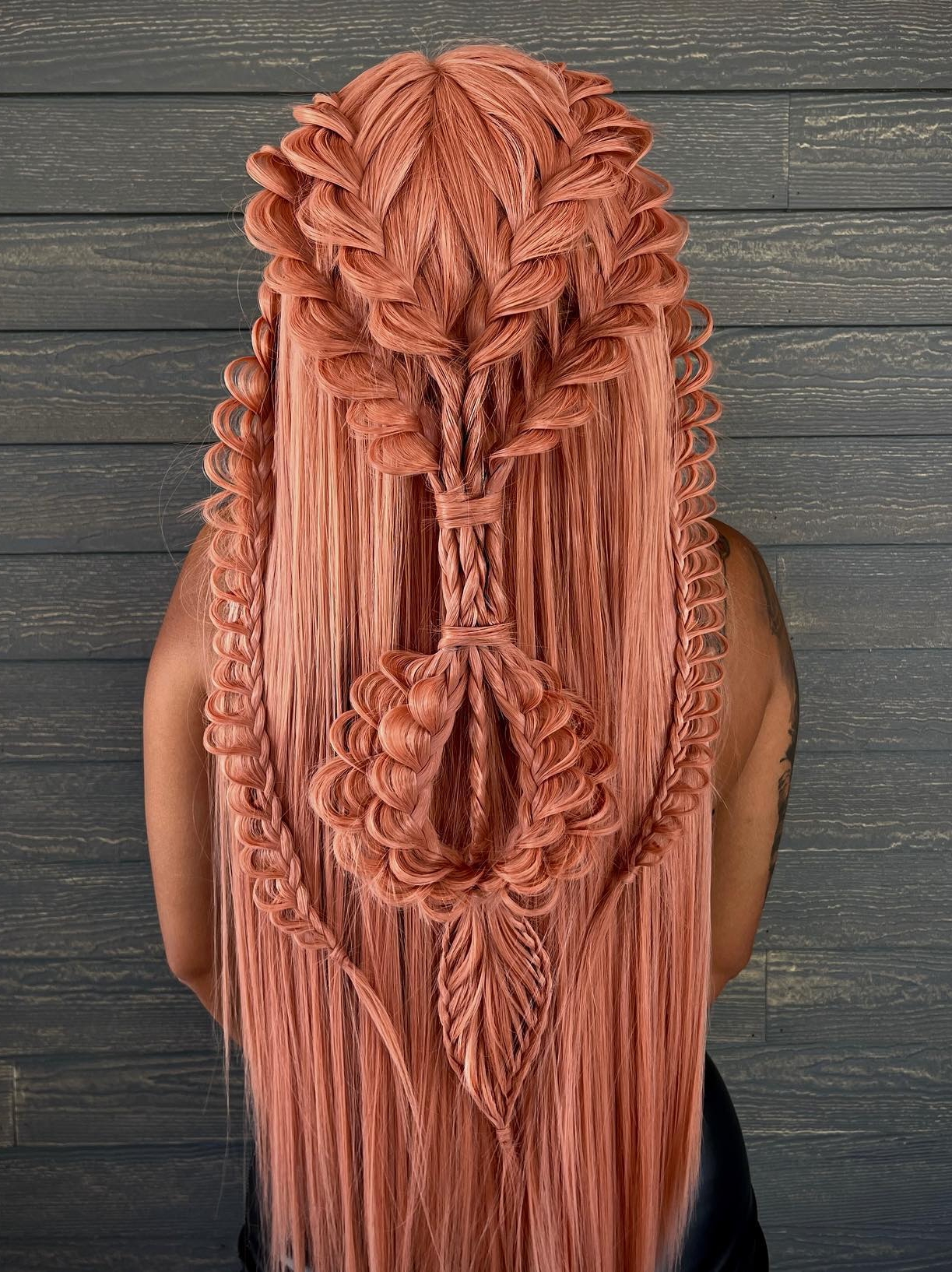 Washed Out Rose Gold Tones
If you're after a hair color that exudes understated charm, look no further than the ethereal beauty of washed-out rose gold hair color. The light and pale rose gold hues create a whisper-soft pink shade that delicately graces your locks.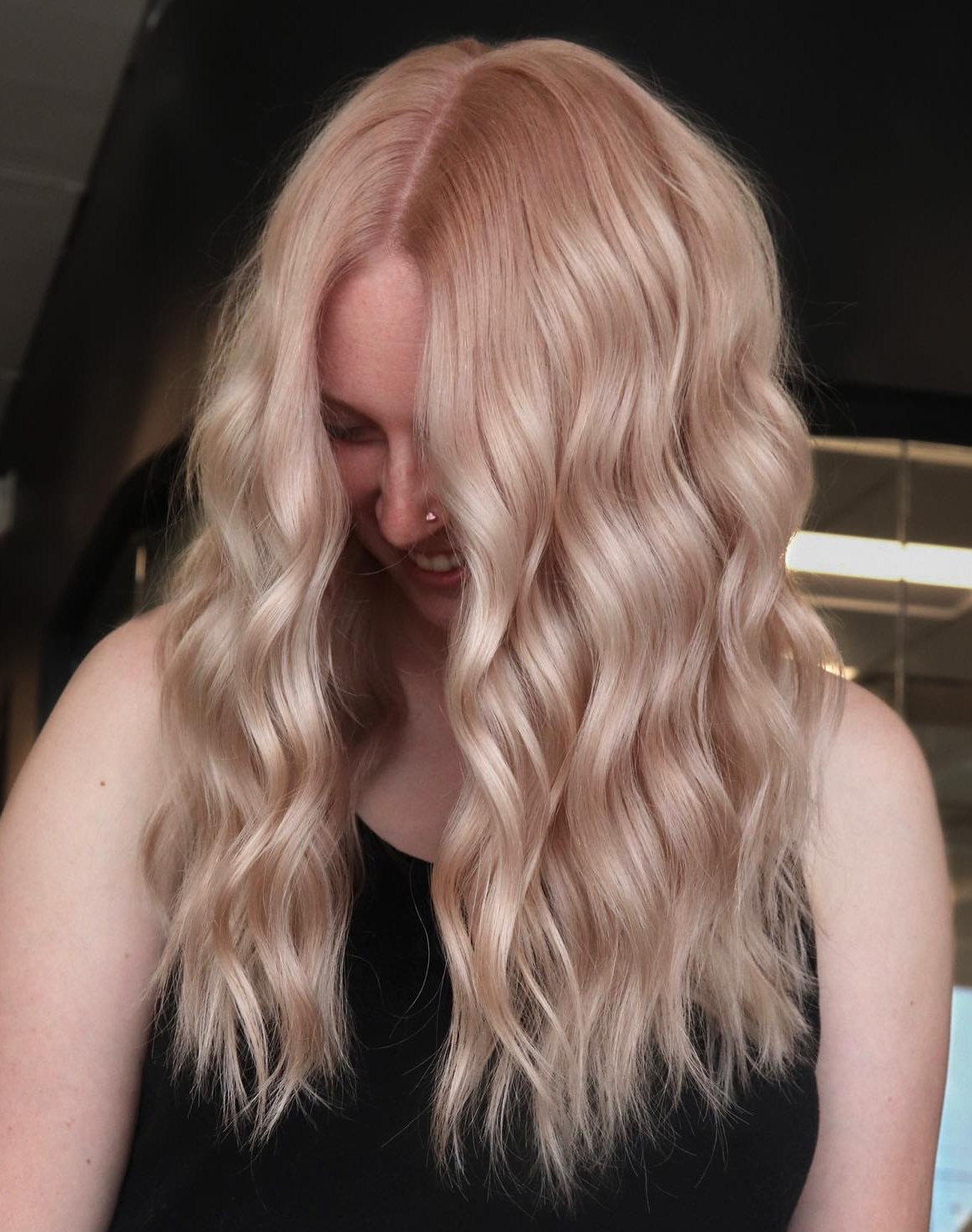 via @mandicolorshair
This gentle approach to the rose gold trend allows for a seamless blend with your natural color, giving you an effortlessly chic look. With washed-out light rose gold, it's all about embracing the subtle elegance that adds a touch of magic to your style in the most delicate way!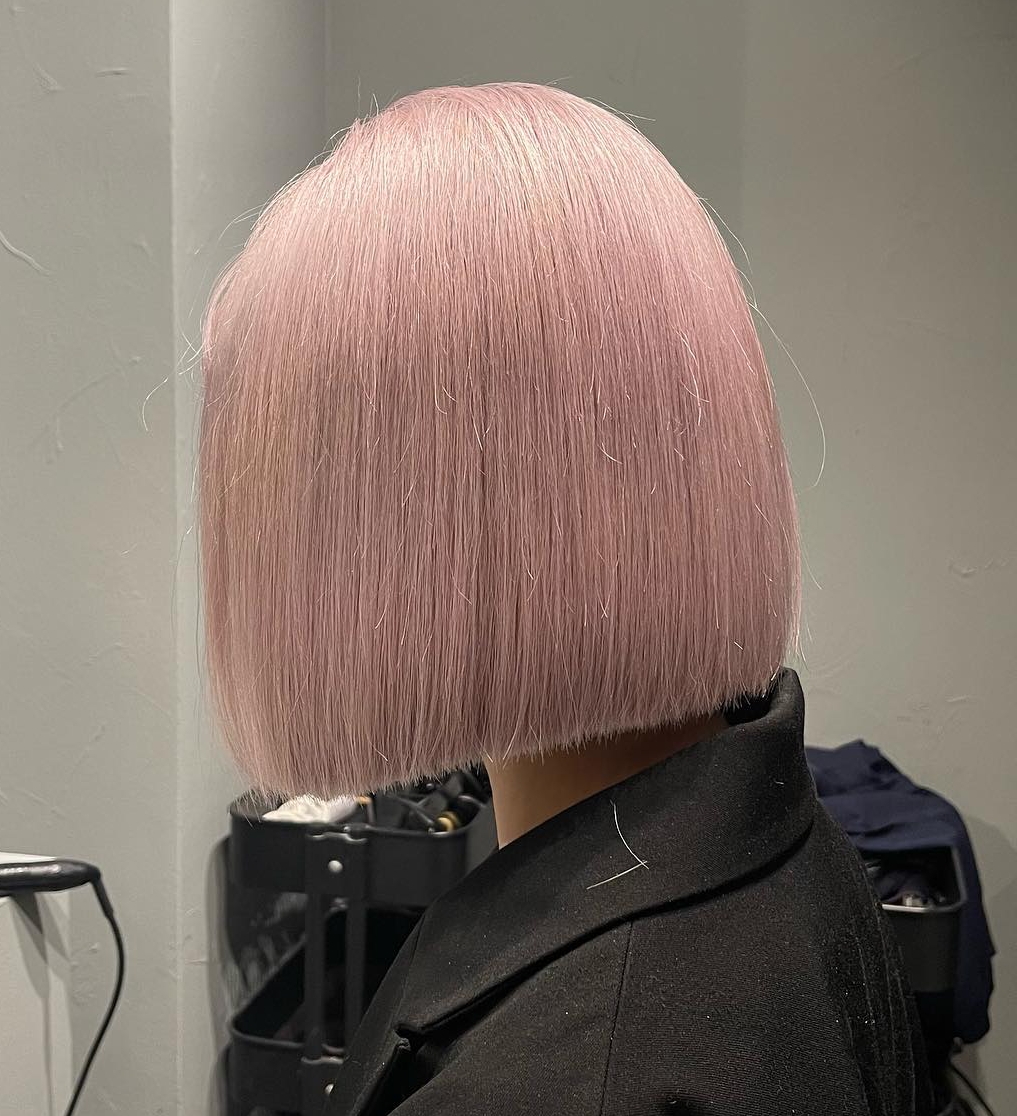 via @hair_nic
FAQ
What skin tones suit rose gold hair?
Rose gold hair color is versatile and can complement various skin tones. Whether you have fair, medium, or deep skin, the warm and luminous rose gold shade adds a touch of radiance and charm to your overall look.
The key lies in selecting the right tone of rose gold color that complements your skin's undertones – more fabulous pinks for cool undertones and warmer golds for warm undertones.
So, no matter your complexion, rose gold hair color is here to enhance your natural beauty and create a stunning, personalized style!