Defining a fashion statement with your nail paint can be a breeze with neon nail colors. Join us as we take you through some hot neon nail trends. You will get thousands of exciting and daring bright nail ideas if you search Instagram. And because these trends look gorgeous on celebrities like Katy Perry and Rihanna, there's no reason why we should shy away and not try a few of these gel polish trends on our nails.
Neon Green Nails – Trendy Mani
If you have decided to go in for neon green nails, there are more options for your next manicure. Try these nail art ideas – green marble effect, lime green nails with holographic shapes, olive-green base on nails with lighter lime swirls for a monochromatic look, slime-drip green nail design, nude and neon ombre nails, or dare to go all out with the glow-in-the-dark neon green nails.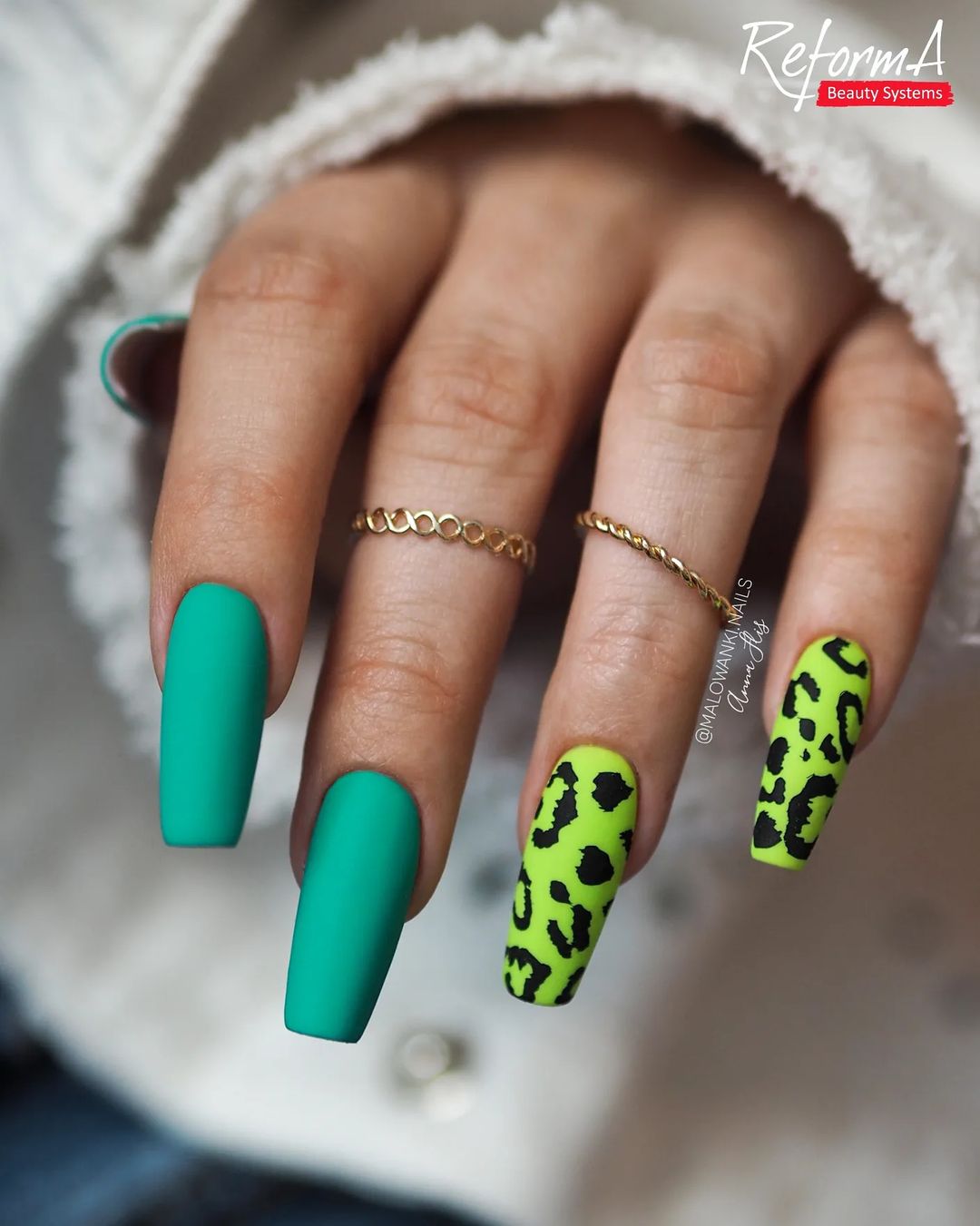 via @malowanki.nails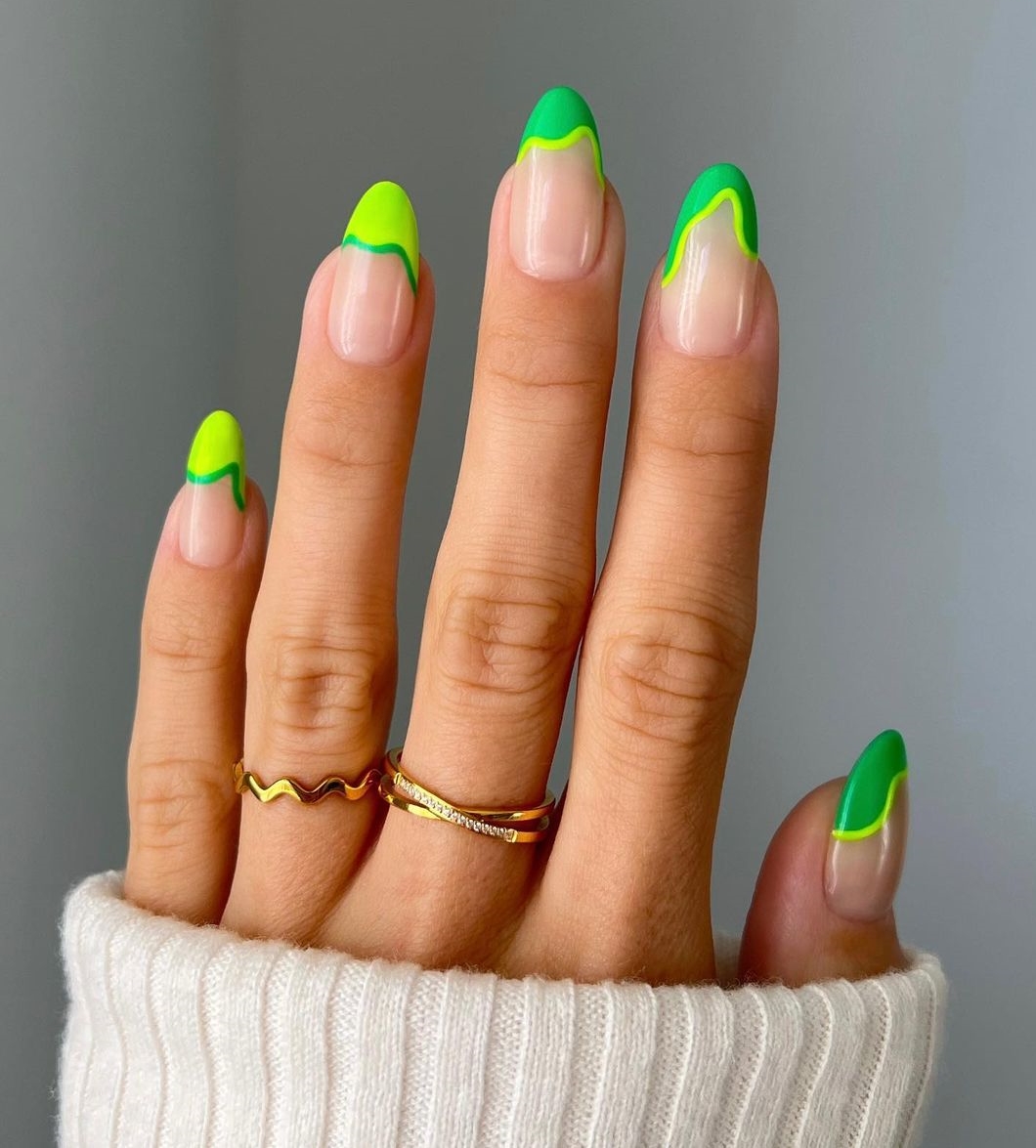 via @nailsbysmf
Neon Orange Nails – Zesty & Fiery
The neon orange color indeed looks zesty and fiery, decorating your nails with a unique style. Bright orange nails, long or short, on manicured hands are the ideal style for summer. Make your hands bright and stylish with one of the best neon nail ideas. If you wish to experiment, you can try this idea – a tangerine orange tip on the nail matching it with a silver base.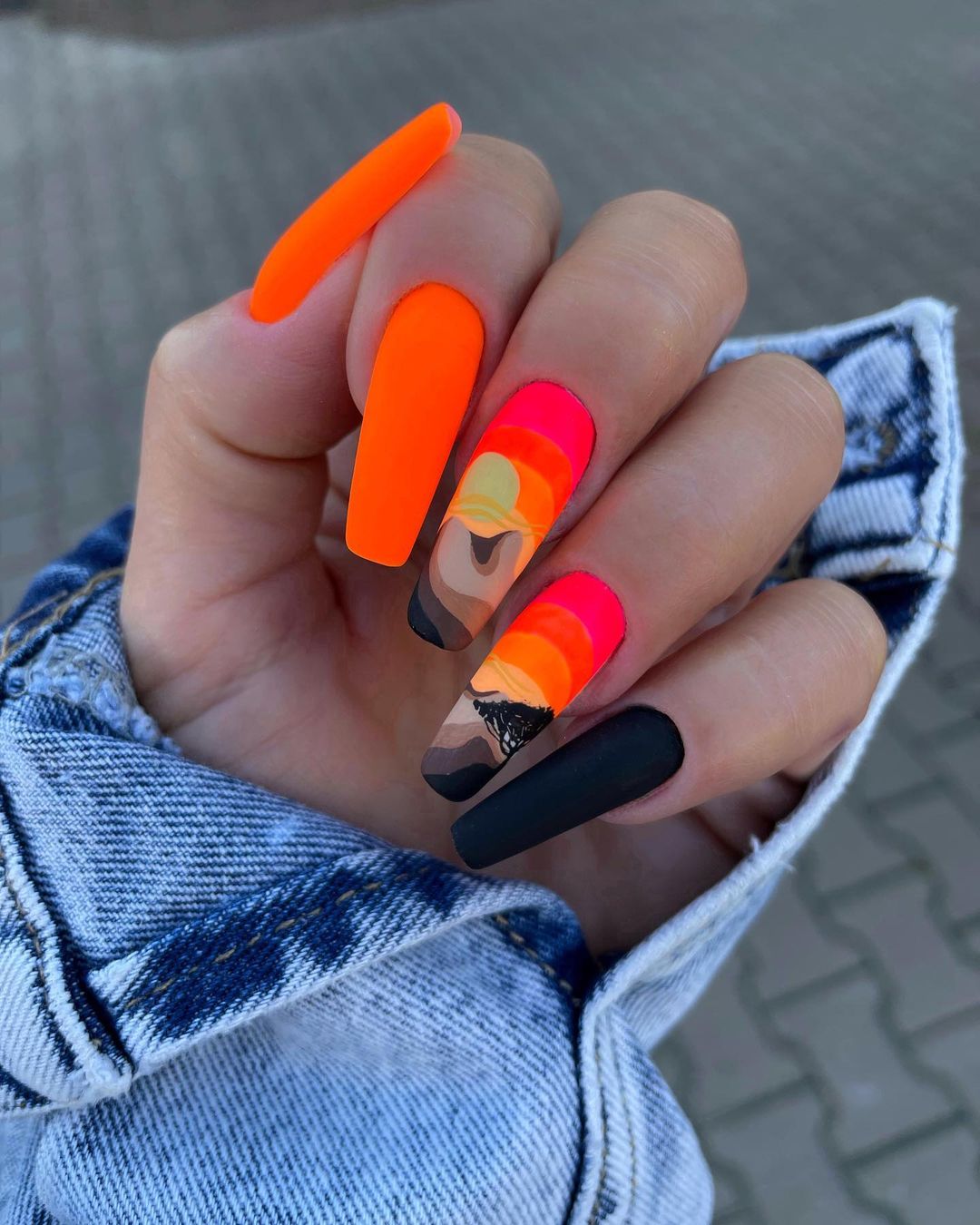 via @black_pazy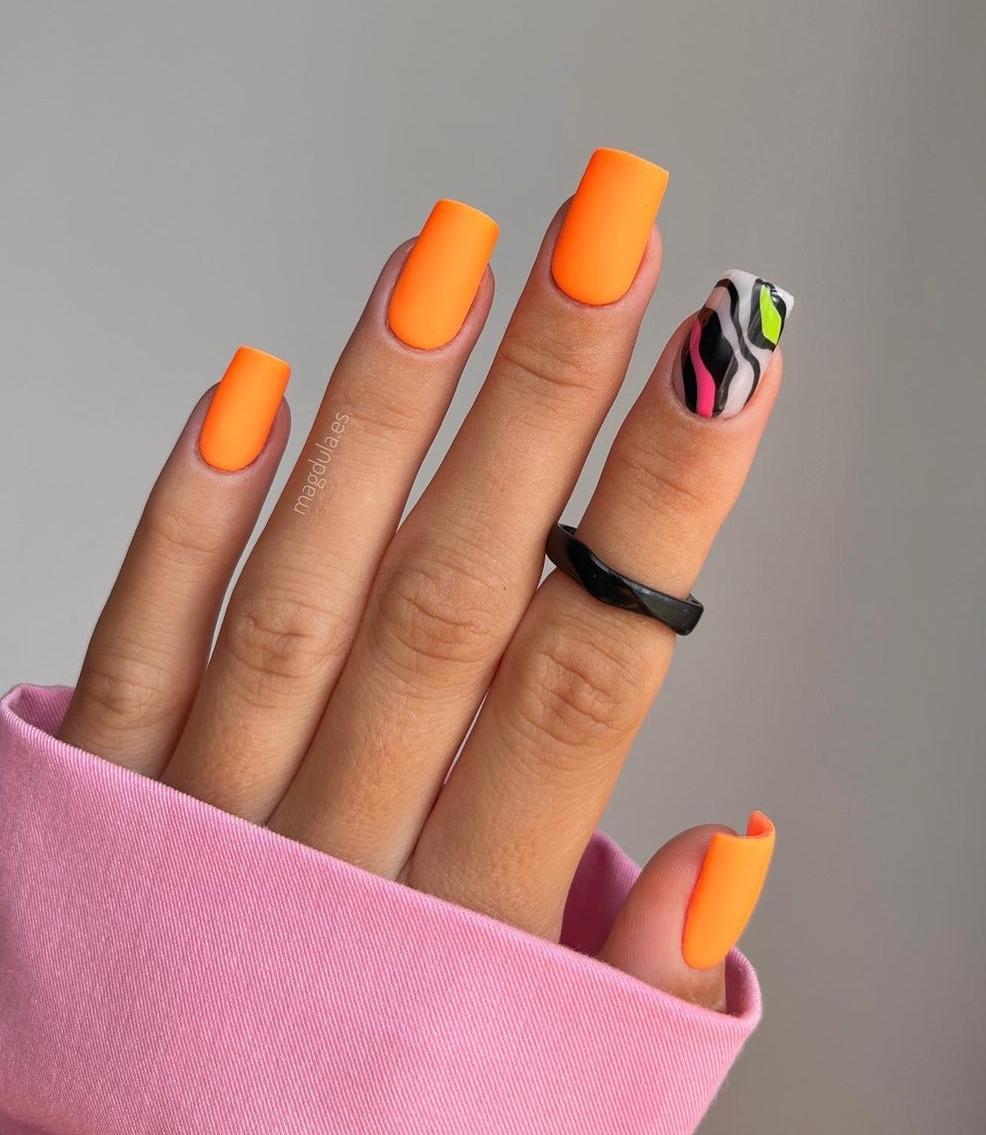 via @magdula.es
Neon Yellow Manicure – Vivid Nail Art
There are various ideas for neon yellow nails. Try full tennis-yellow nail paint with yellow press-on nails that are very simple to apply. If you want to keep your nail look toned down, try highlighter-yellow nails in which the base color is yellow with crisp gray or other neutral colors. You can go bold with highlighter-yellow matched with bright colored accents like pink and orange.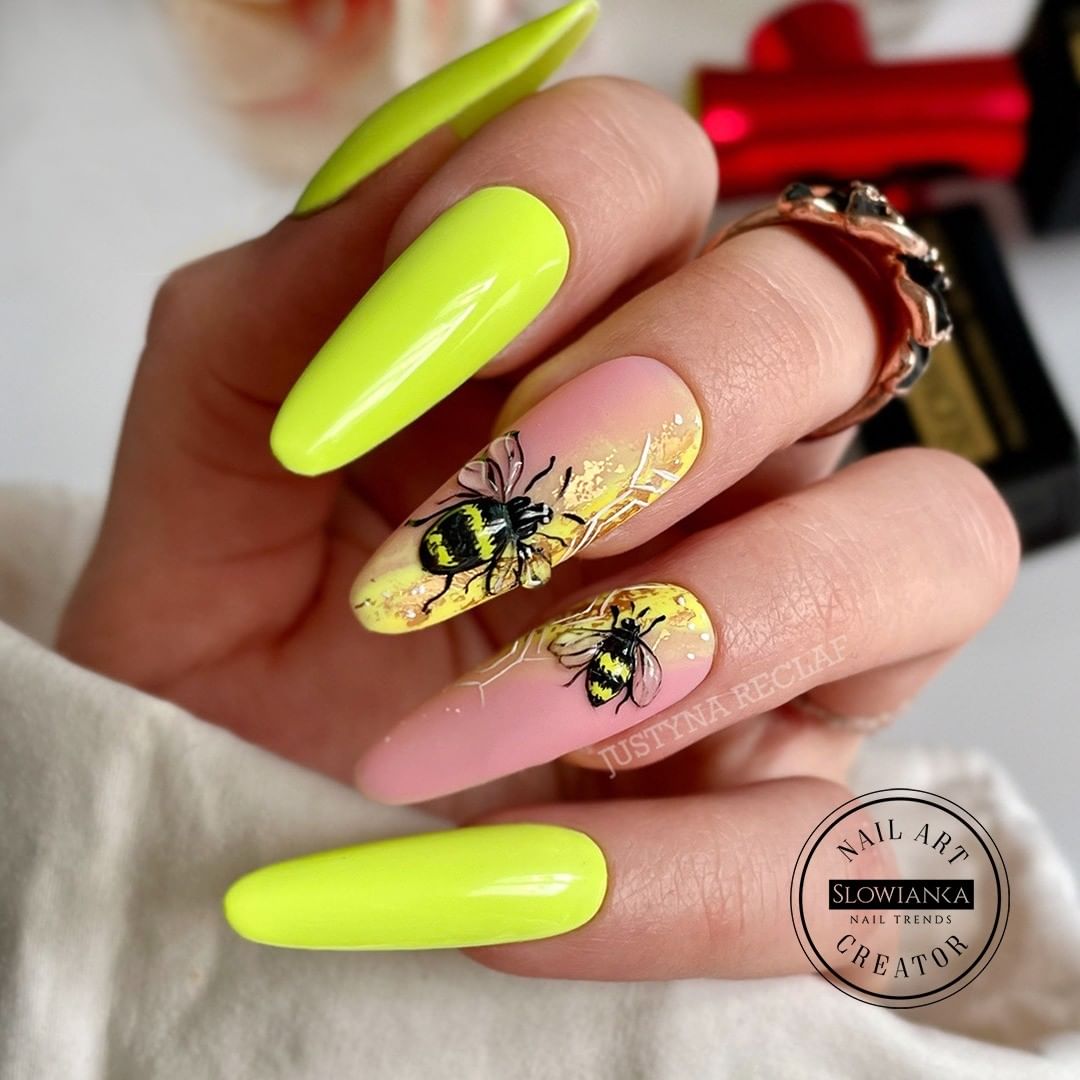 via @slowianka_nails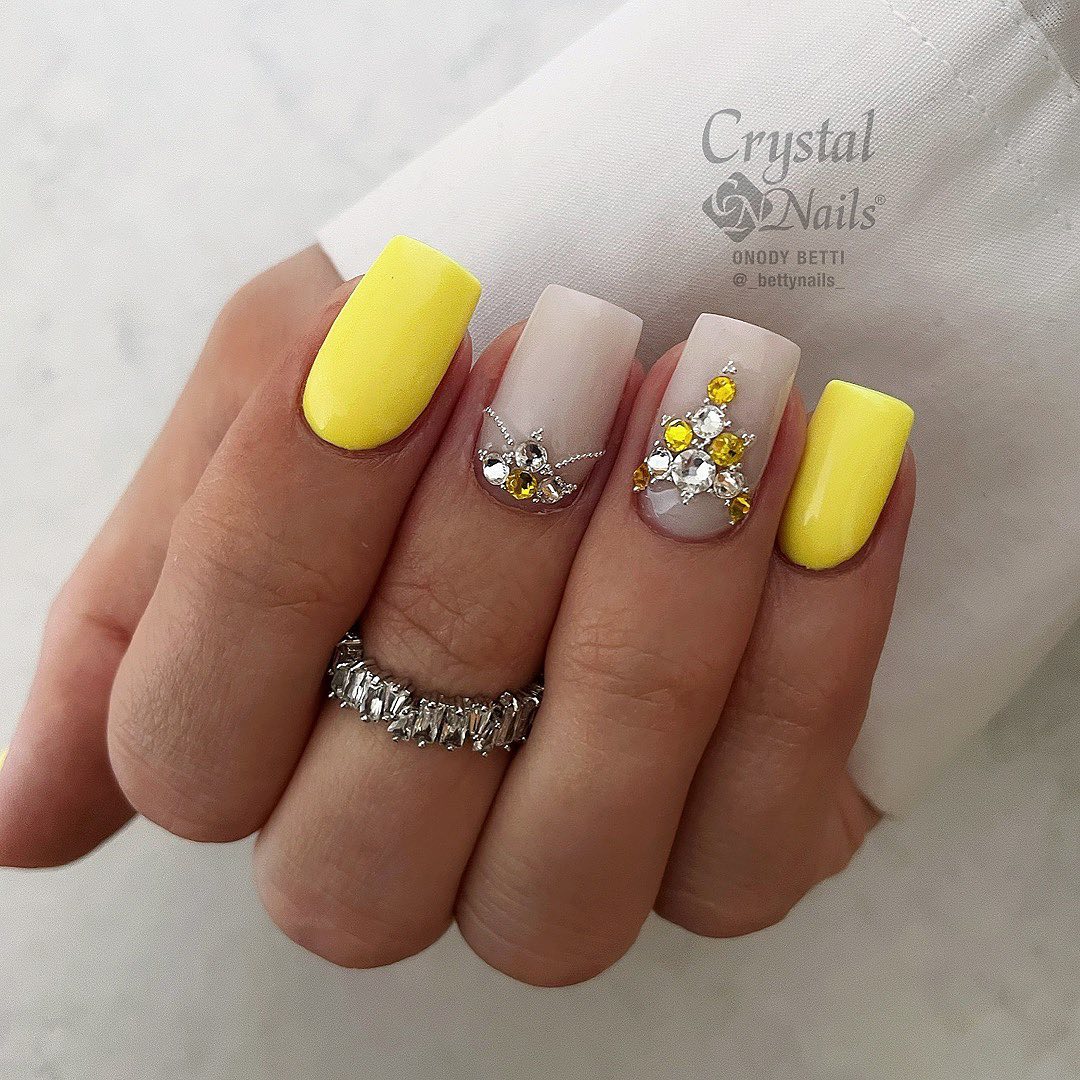 via @_bettynails_
Neon Pink Nails for Sparkling Nails
Pink nails in neon add sparkle to your nails. There are various ways to decorate your nails with this luscious color.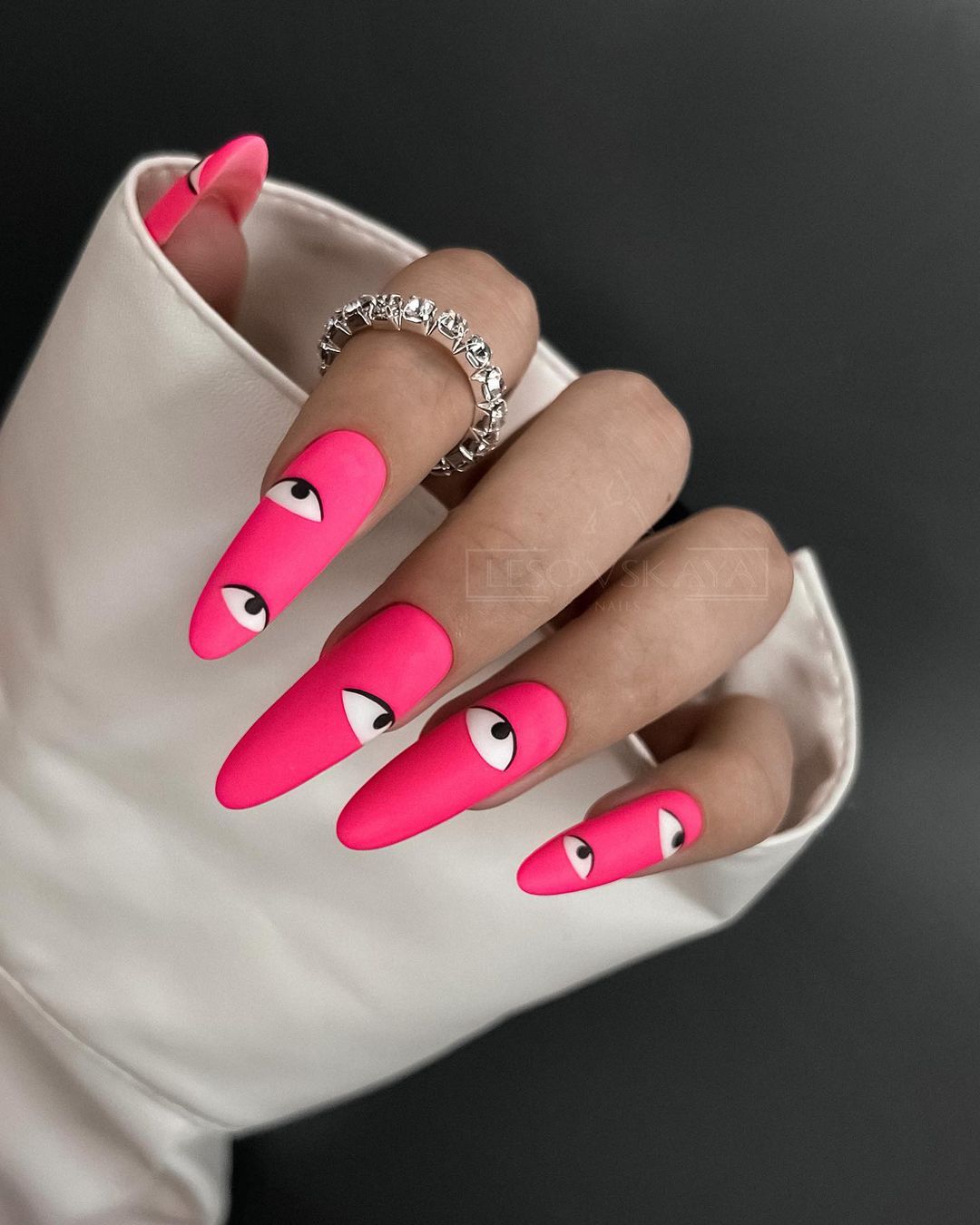 via @esovskaya.nails
One way is going the accent way – start with your little finger; paint it dark pink. As you move away from it, you can transition from pink to orange and then yellow on the thumb. Another excellent pink neon nail design is to combine it with a light pink tone for ombre nails.
Want to get a hot pink manicure look on your nails? Go in for nails with pink tips with neutral base colors.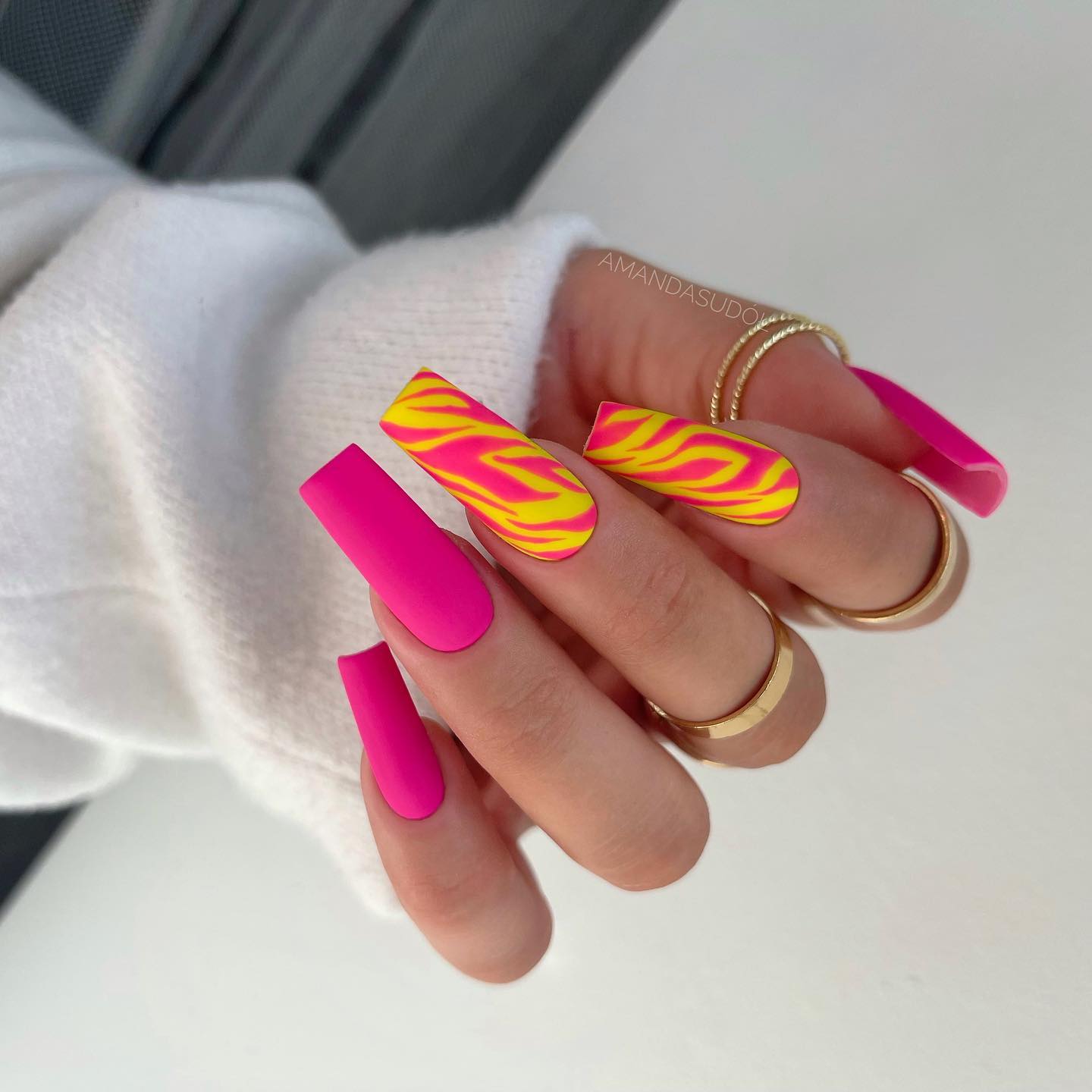 via @amanda.sudolll
Acrylic Neon Nails for an Eye-Catching Manicure
Shift from gel manicures to acrylic nail ideas because of their durable looks. Long acrylic nails look beautiful and eye-catching with acrylic. Your manicurist can create some fantastic neon nail colors in combination with acrylic and other hues and paint art styles. You can try excellent styles, including cherry acrylic, rose quartz, marbled acrylic paint, Barbie Pink acrylic, rainbow-flared, starry-eyed, and checkered tips.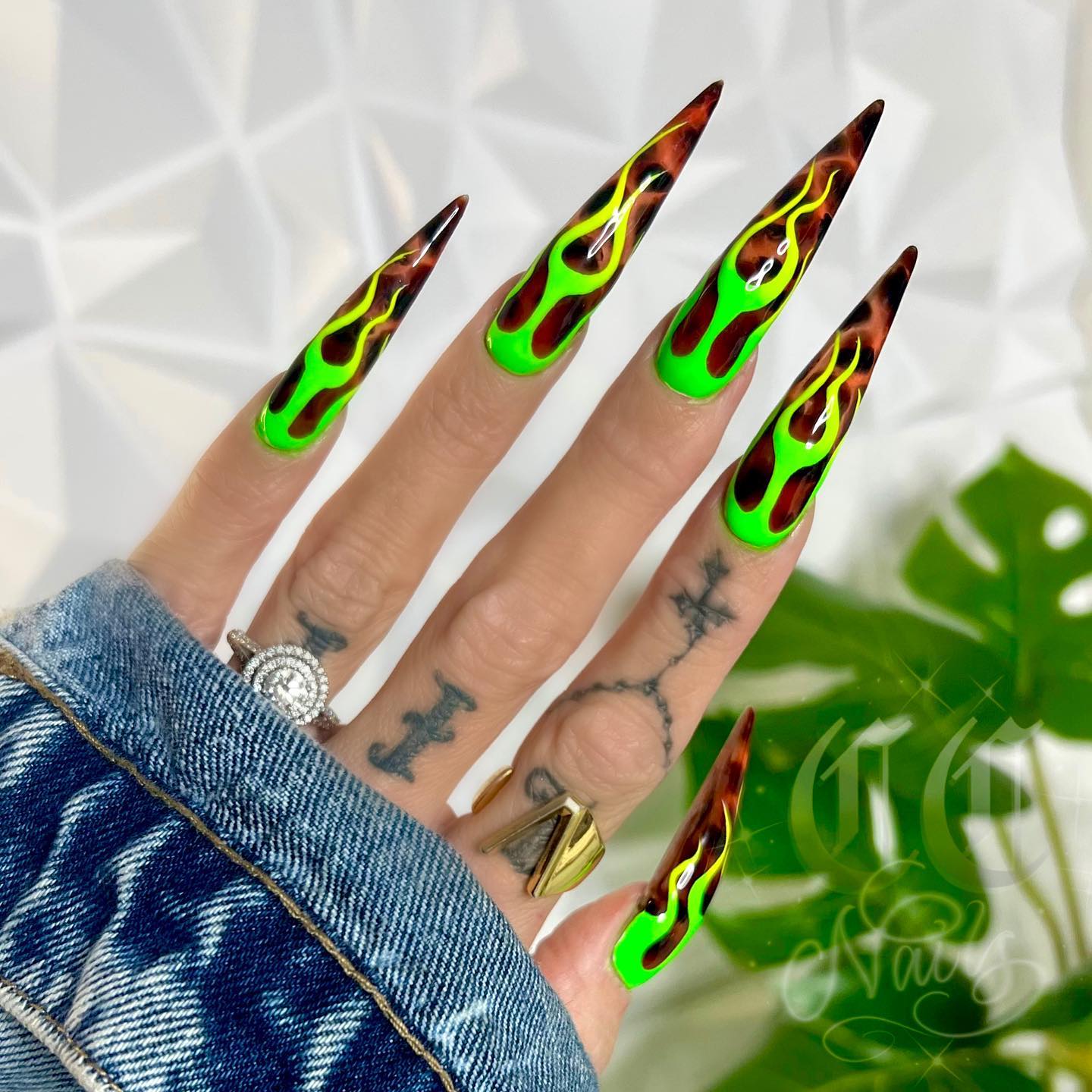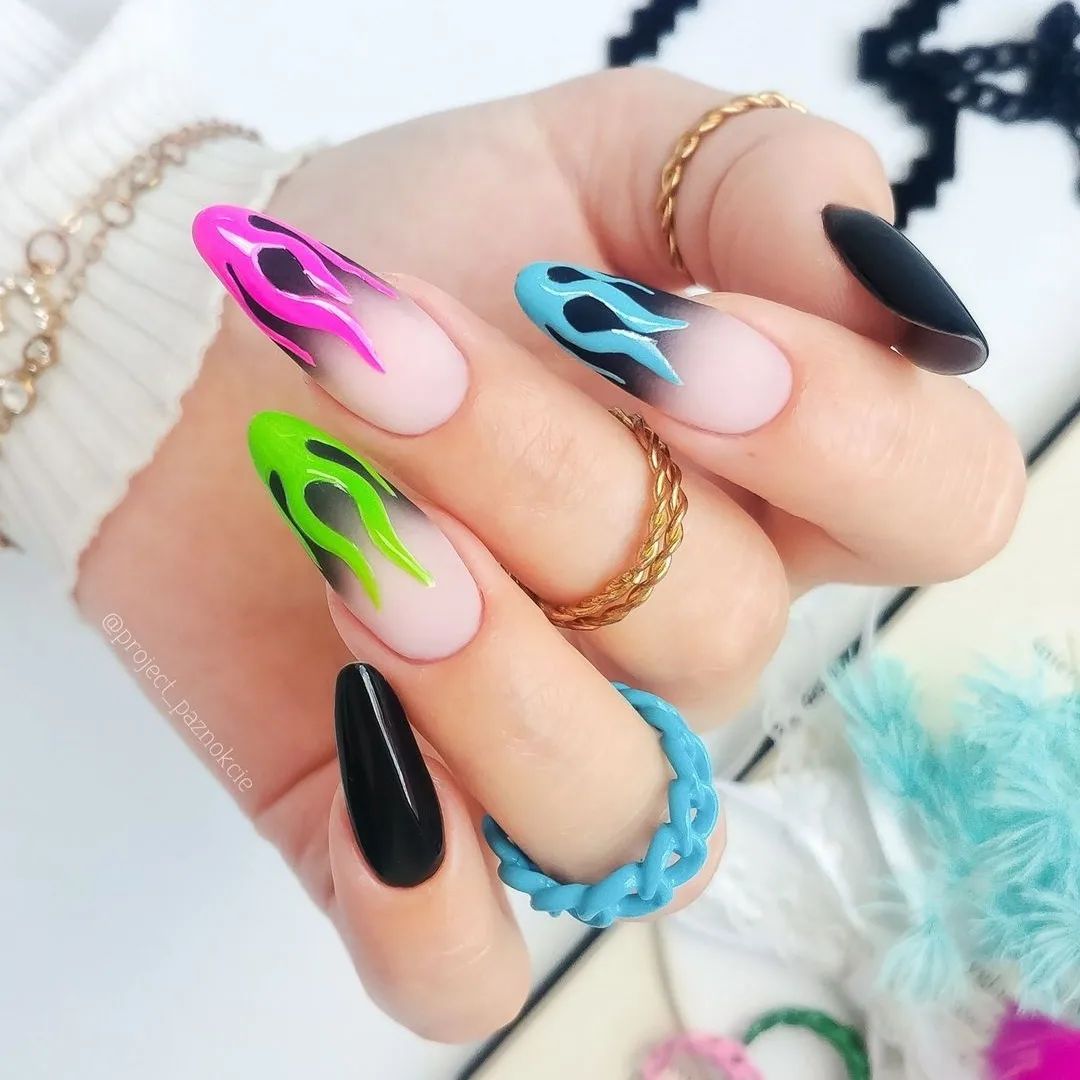 Neon Blue Nails – Eclectic and Amazing Finesse
Go in for a head-turning bright blue mani for your nails with yellow, orange, and lime accents. You can go in for geometric patterns alongside accents. The other blue neon nail paint idea to make your short or long nails look electric is to pair it with leopard prints or go chic by contrasting it with nude and purple. French manicure stickers or stencils can create these layers with great finesse.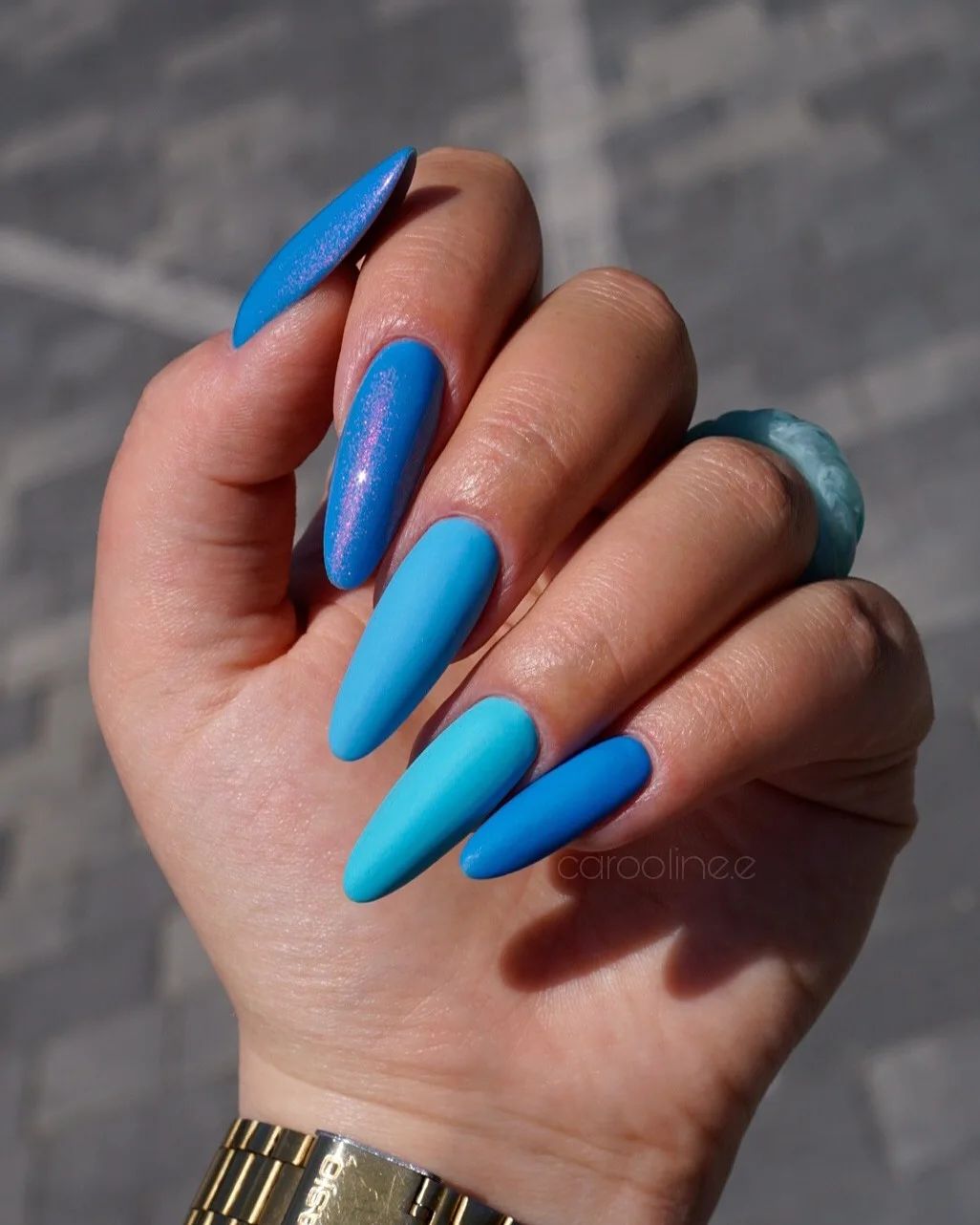 via @carooline.e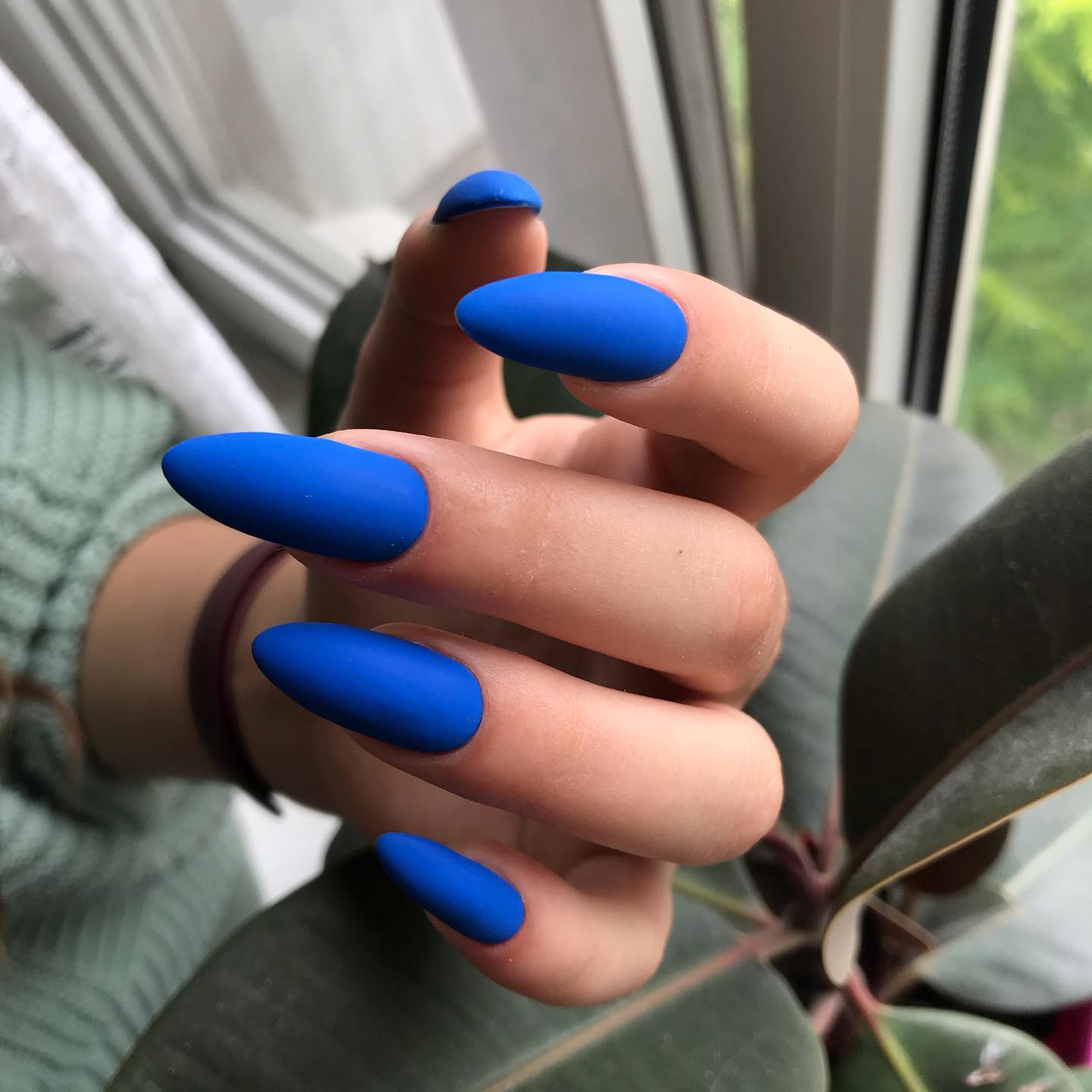 Neon Ombre Nails – Stylish Simple Look
Are you planning to go minimalistic and yet look chic? Use ombre nail ideas because these can be done with much simplicity. A mix-and-match of two to three colors can help achieve a brilliant look. Use any neon nail color and see the result.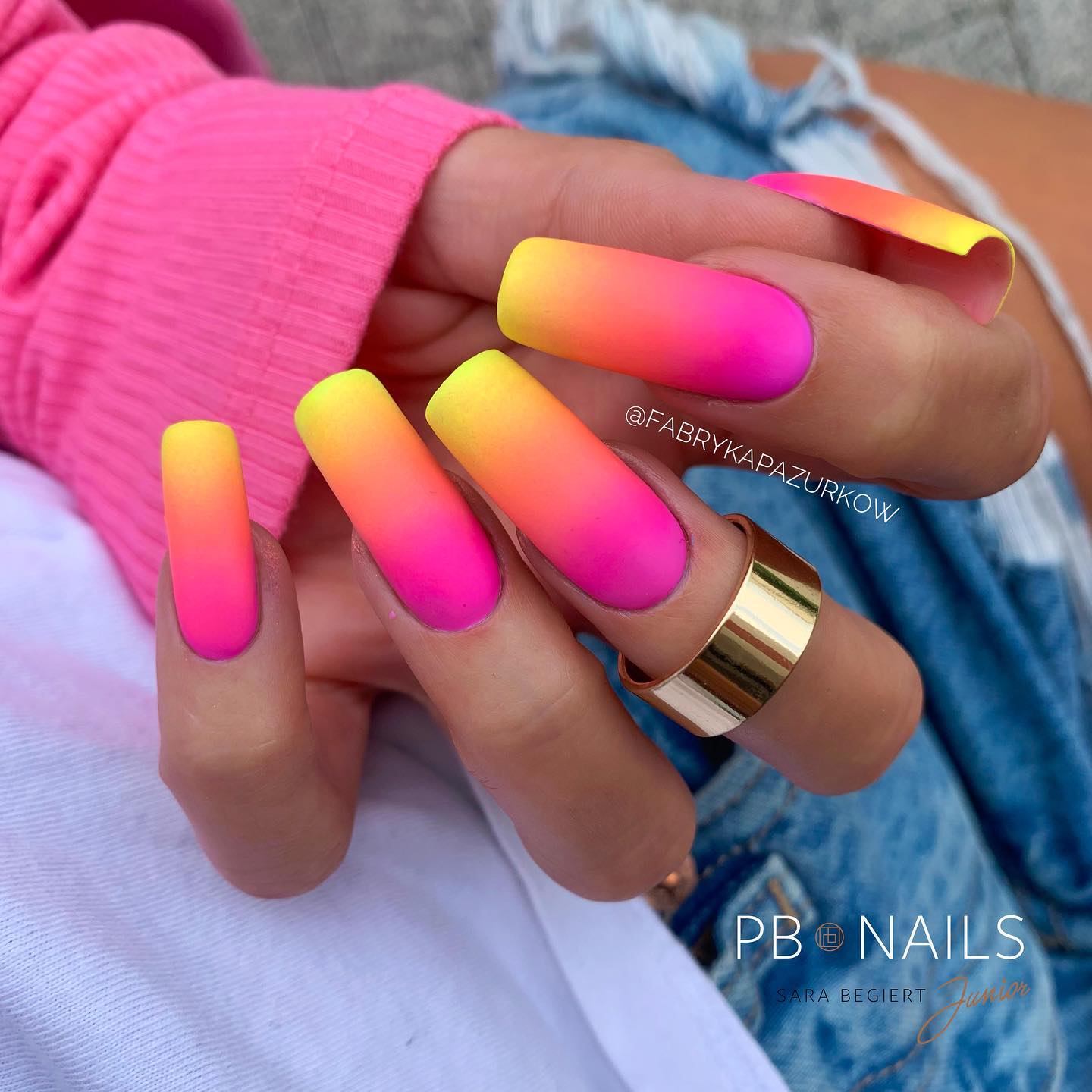 via @fabrykapazurkow
A few fun nail designs for any season include a colorway that begins from pink and goes to orange and yellow. Or, use an array of colors in the vertical frame to get a bold look.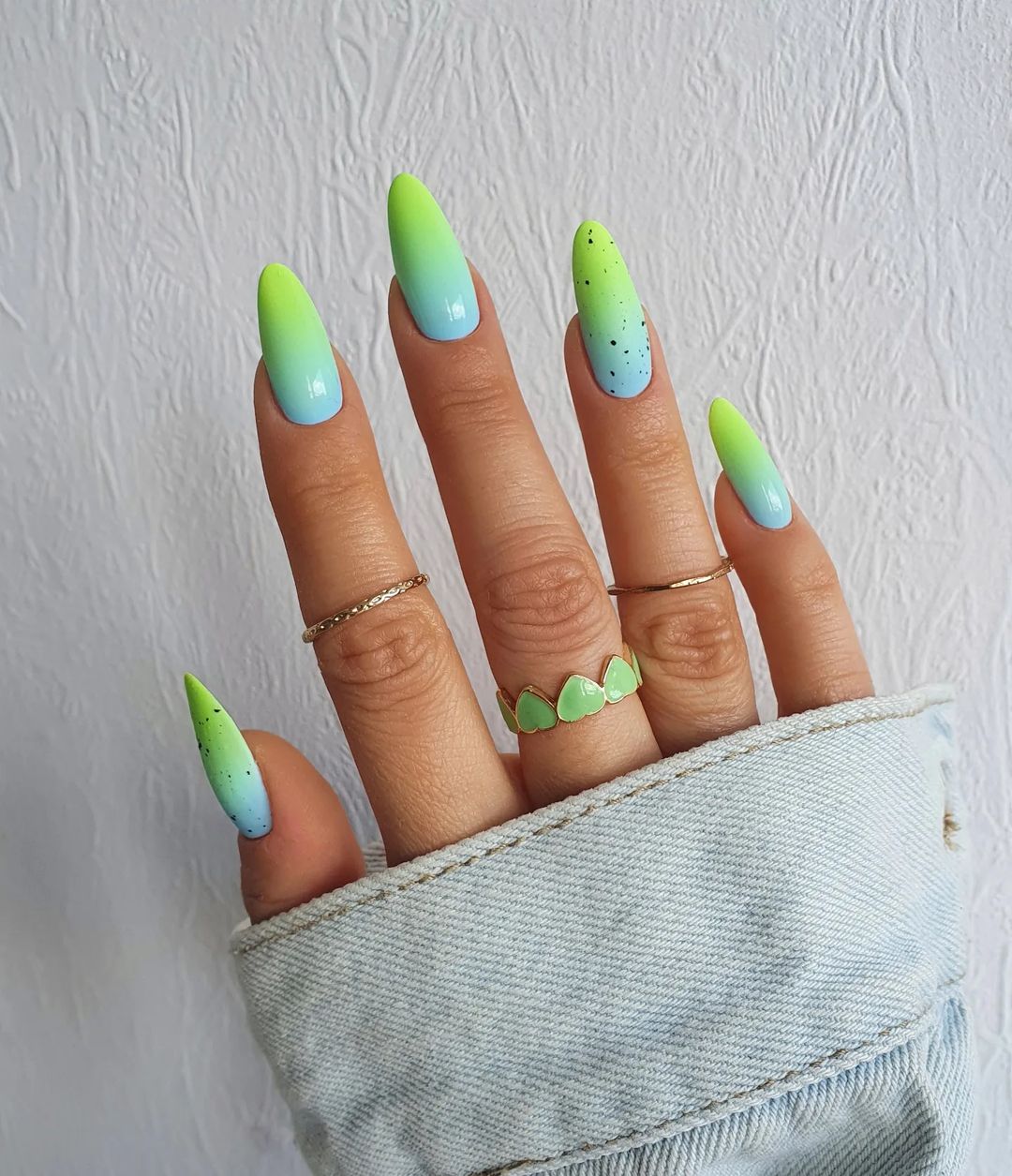 via @kamjaw_indigo
Go Contemporary with Rainbow Neon Nails
A French colorful manicure on plain white tips in a rainbow-colored manner is classical indeed. Not just simple, it's eye-catching too. You can choose from a mismatched French manicure making it the perfect rainbow nail design on your nails.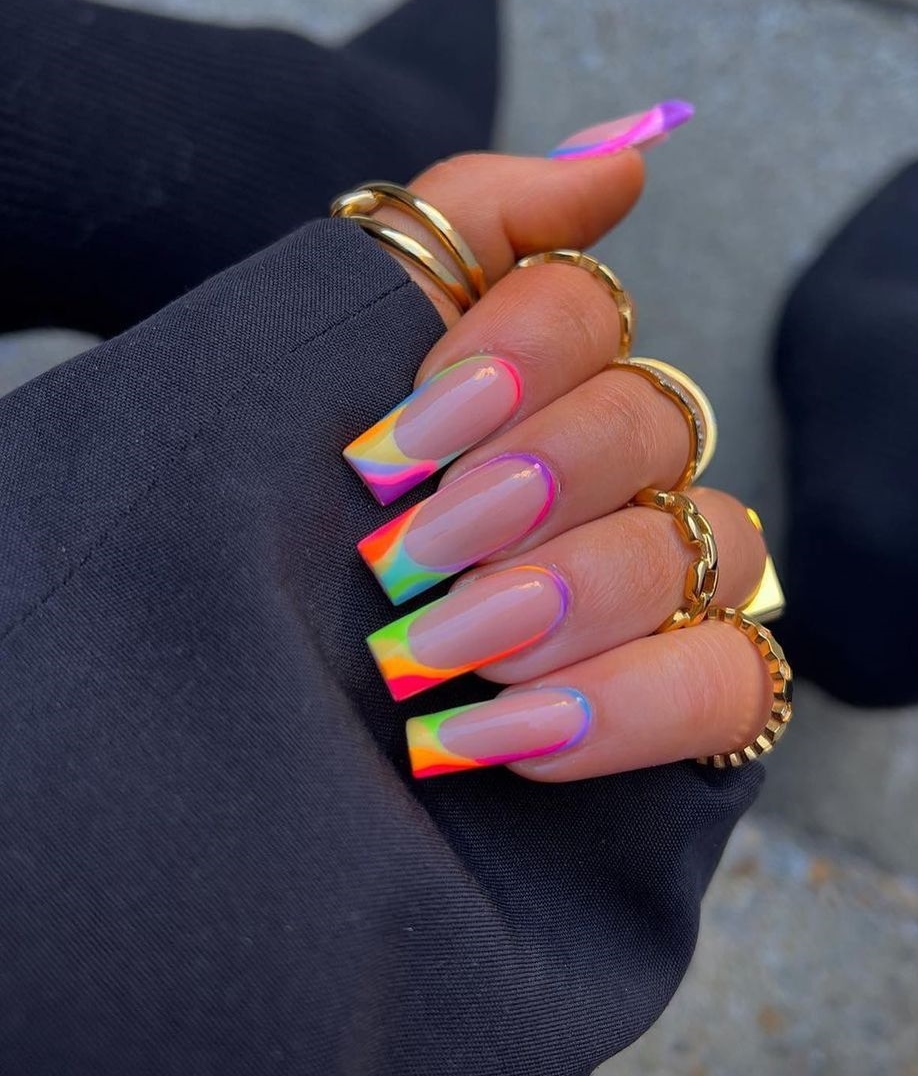 via @radiantnailart
Neon colors can make your rainbow nail paint stands out. These bring in a great deal of motivation to your bright summer nail.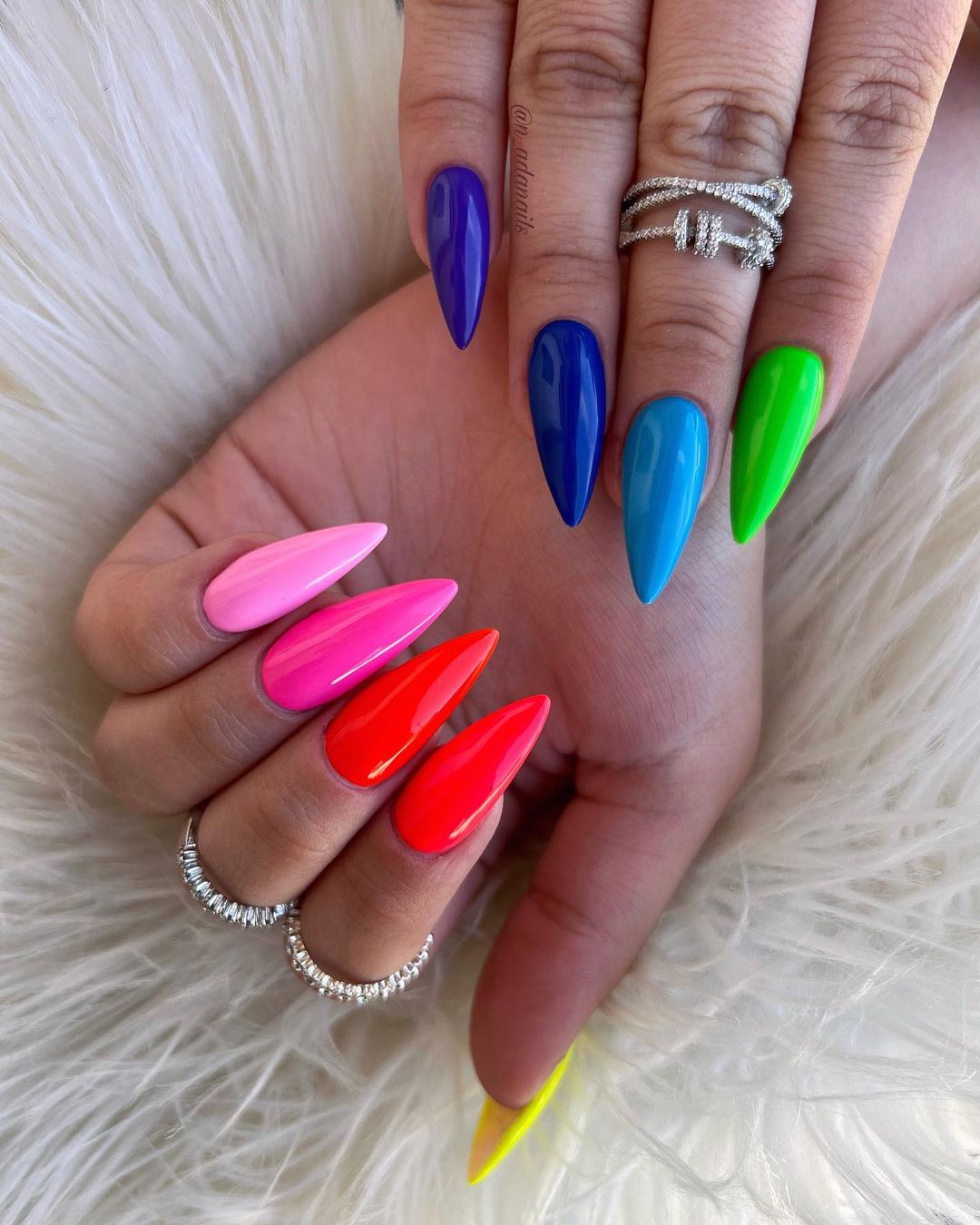 via @n_adanails
Glittery or Nude Purple Neon Nails
To achieve some striking shade of purple nails, pair them with nude and neutral colors or match them with the blue color. Purple neon nail polish goes impressively well with the pink color; looks fabulous as ombre nail paint. You can experiment, too – try the bluish-purplish-pinkish neon paint with a white spider web design. Go ahead to have purple nails with glitter or a matte look.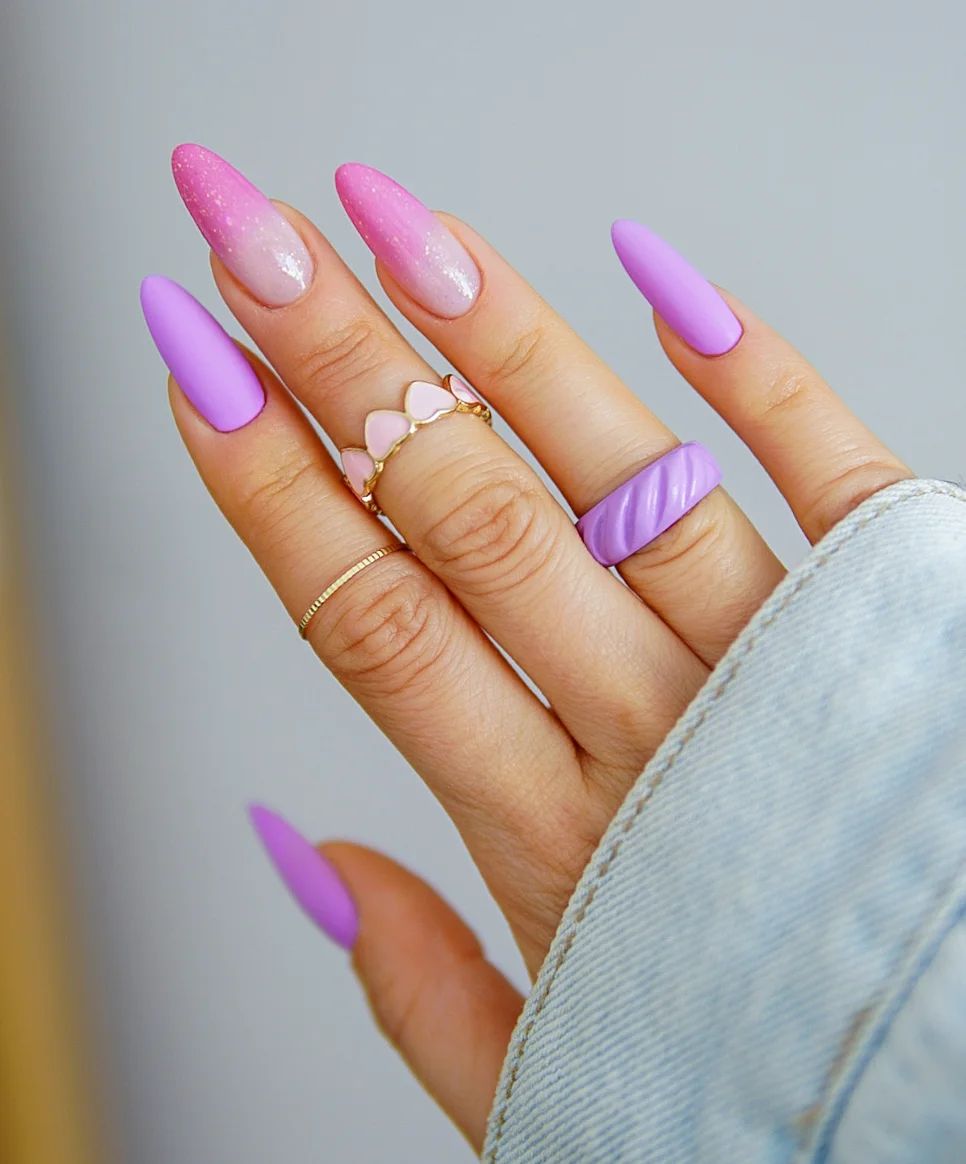 via @kamjaw_indigo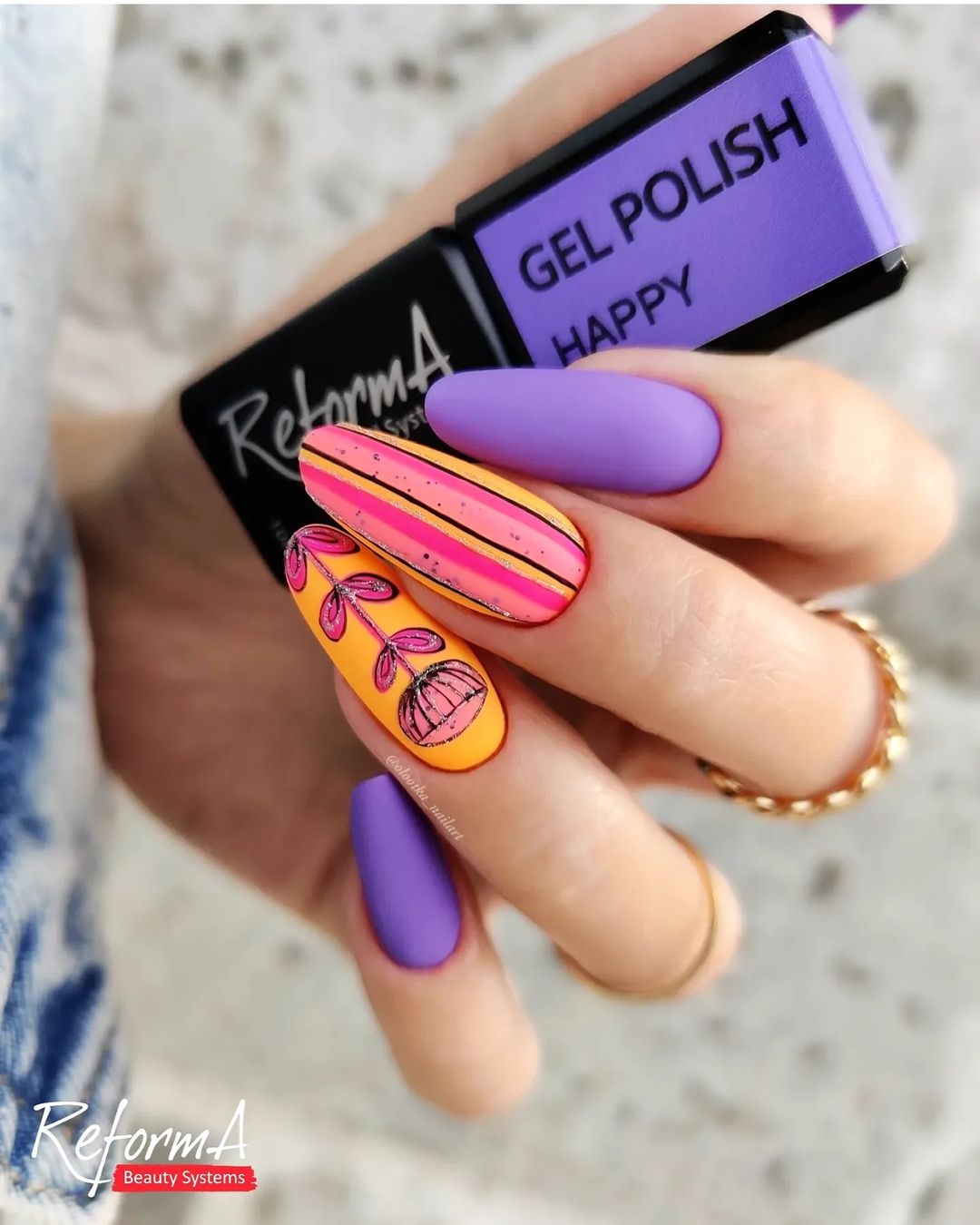 via @olootka_nailart
Black and Neon Green Nails for a Trendy You
Some neon black nail designs can be highlighted with smiley face designs. Buy press-ons to make it simpler for you to apply at home and remain up-to-date with the latest nail art trends.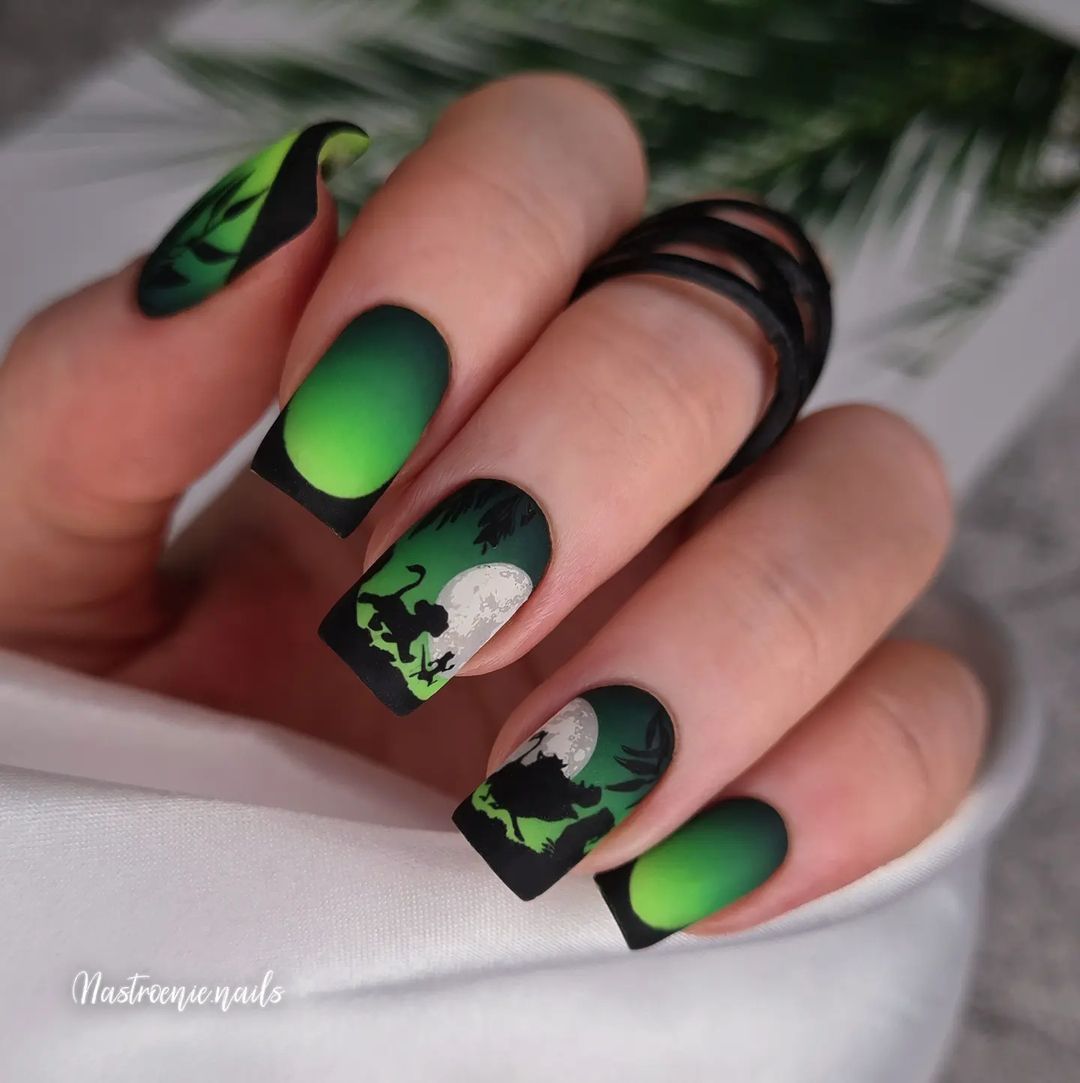 Here's how to apply a trendy design to neon nails for every season – apply a neon green base, detail out a section with cocoa color, and apply the black line between these contrasting colors.
via @puro.nails
Go Chic with Neon French Tip Nails
Go chic with neon colors by applying a French manicure. Colors like lime and neon yellow on French nails with geometric shapes, stars, or clouds look pretty stylish.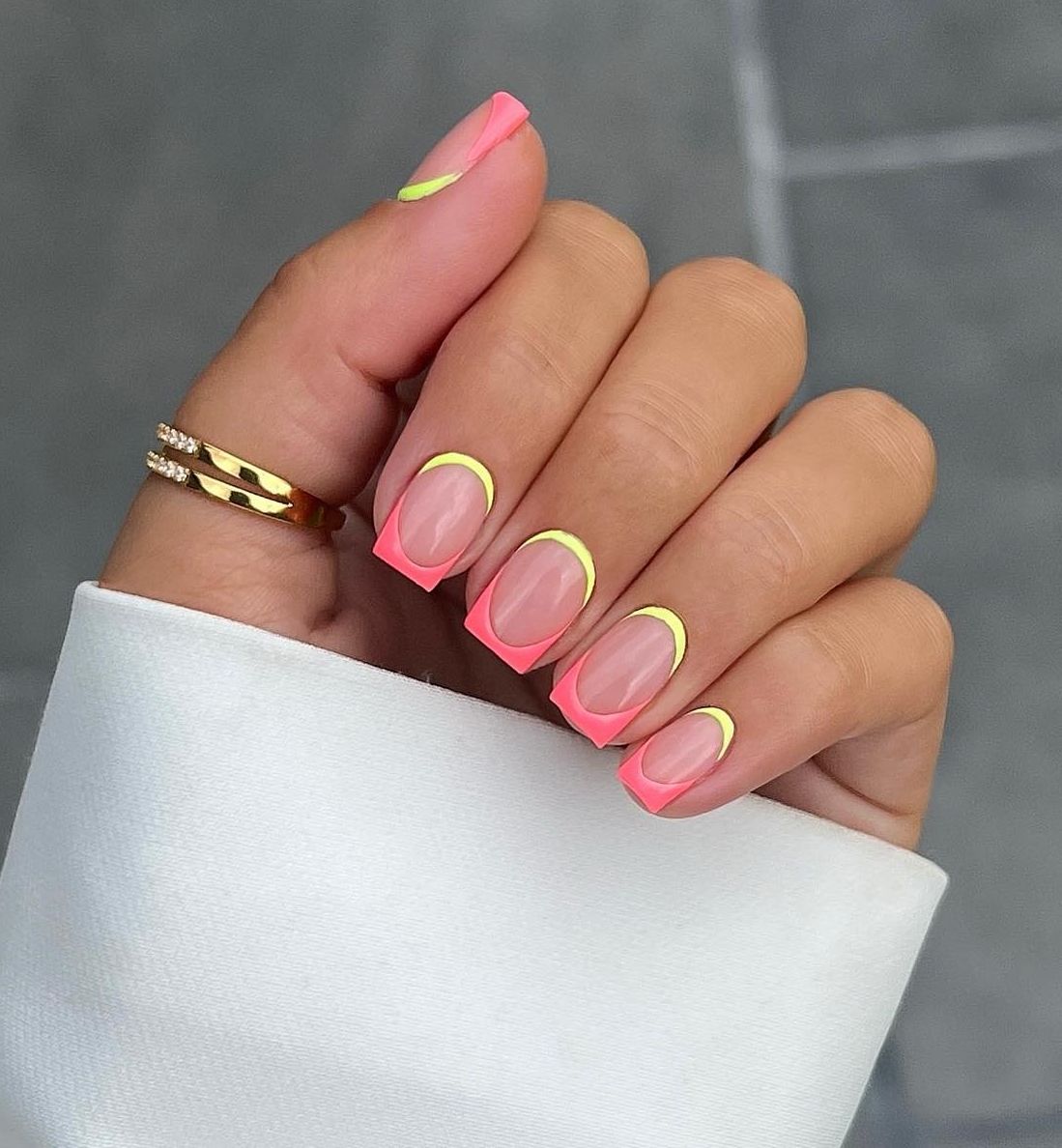 via @_nailsbybethany
You can combine neon pink or green nail tips to get that perfect look. In fact, you can mix and match multiple colors to look fantastic and smart.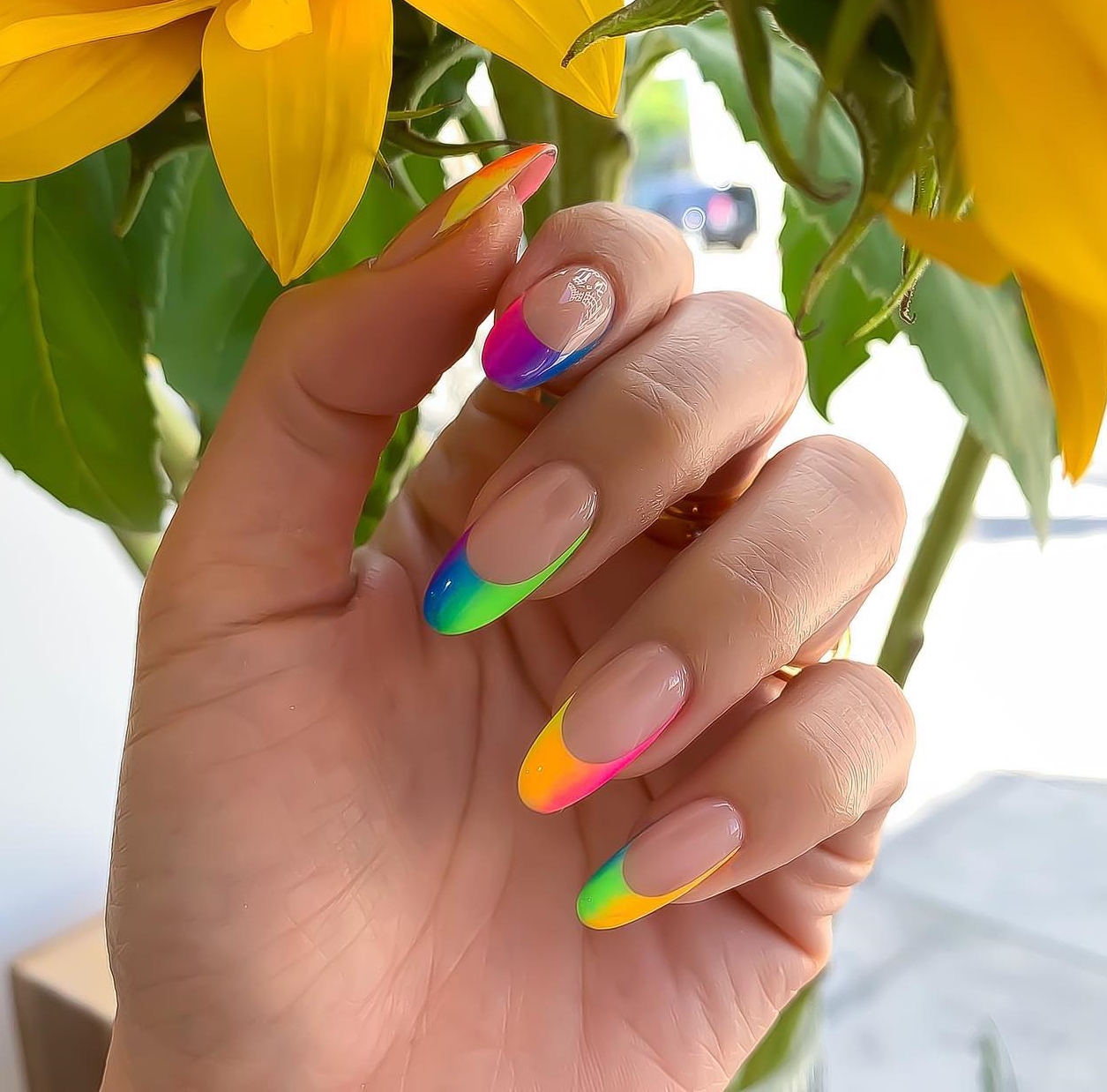 via @nails_and_soul
Coffin Neon Nails to Highlight the Shape
Coffin nail shapes are like pointed wooden shoes. Hence, these are also called ballerina nails. Some funky coffin-shaped nails include 80s-style swirl patterns, V-tip ombre coffin nails, abstract designs, confetti designs, geometric patterns, marble coffin nails, checkerboard, and chrome coffin nails. Apply neon colors on nails for outstanding results.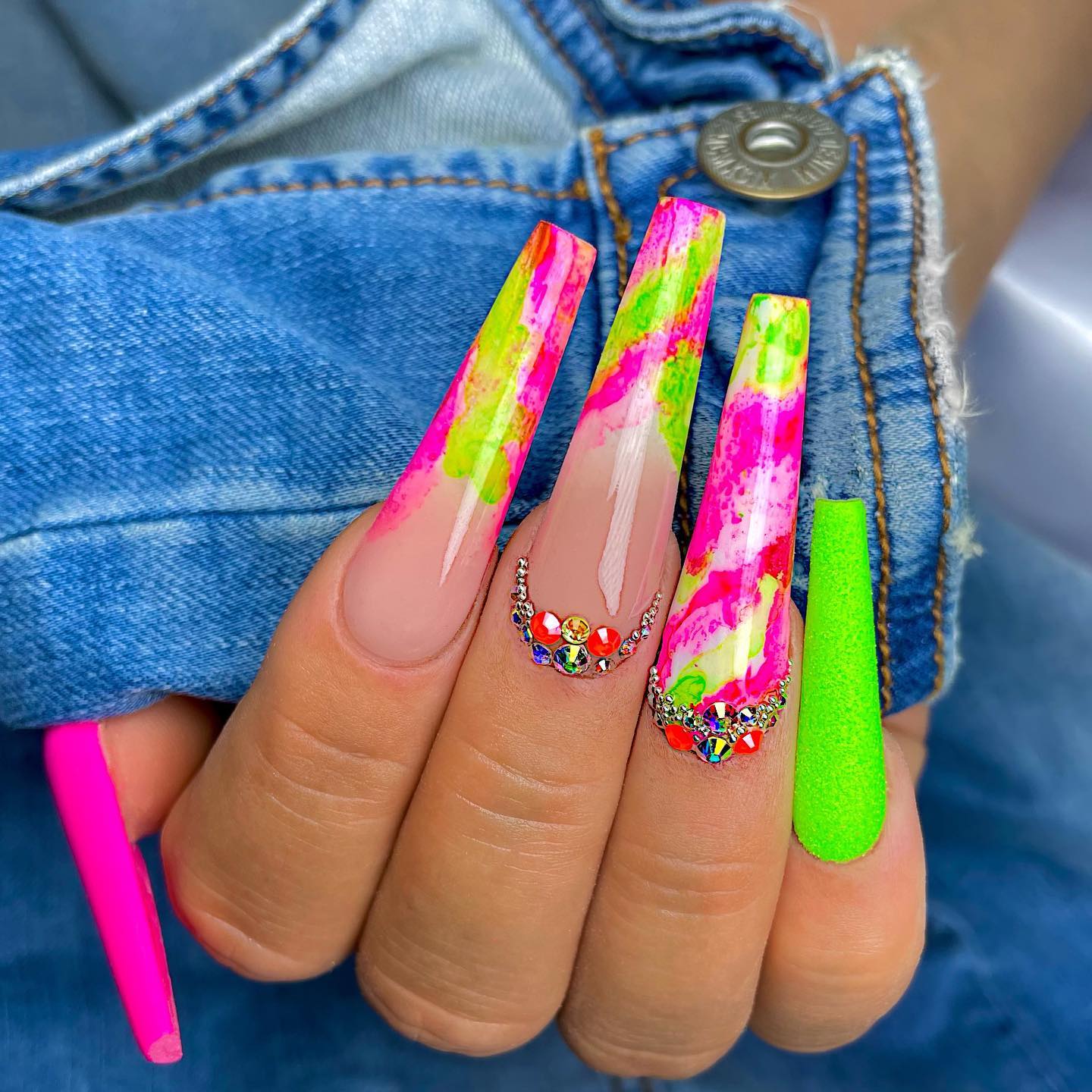 via @roccokruemmling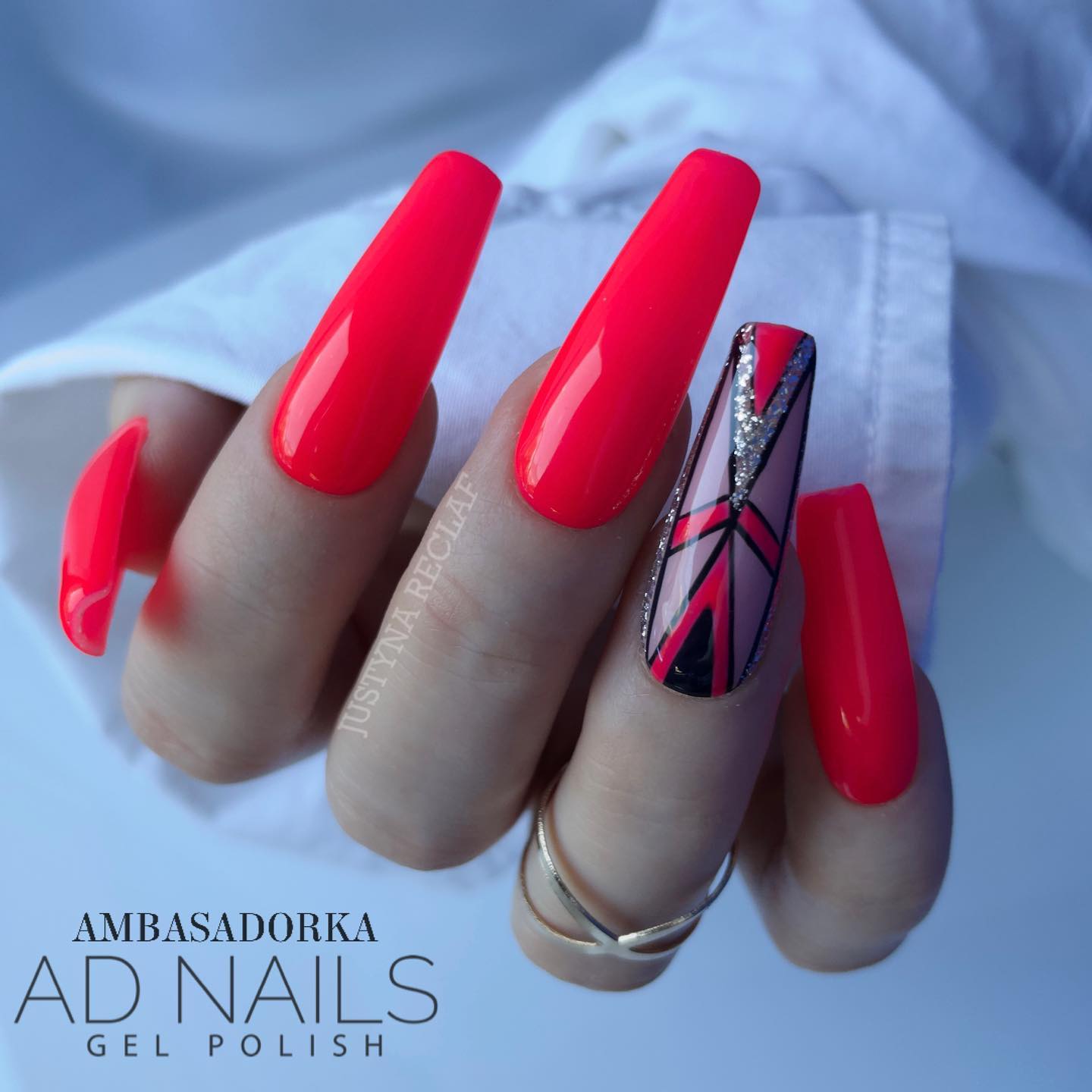 Neon Red Nails for Added Charisma
You may be experienced in going over-the-top and bold with bright plain red nails. Now, try some neon red classy nail designs. Your nail art looks gorgeous with the charismatic red nails. There are so many designs possible – you can go traditional or contemporary with Haute acrylic and ombre red neon nails with designs.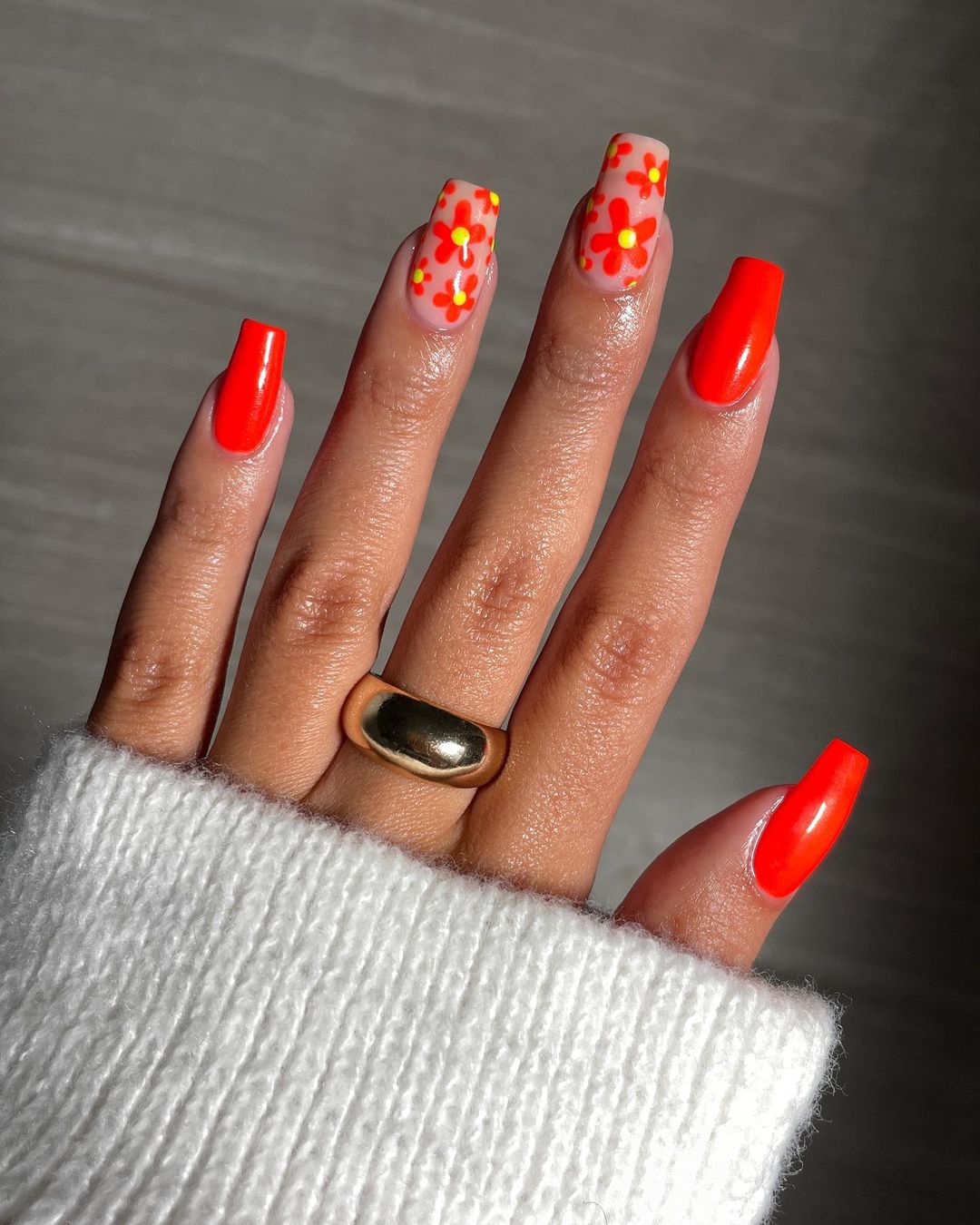 via @kuypernailart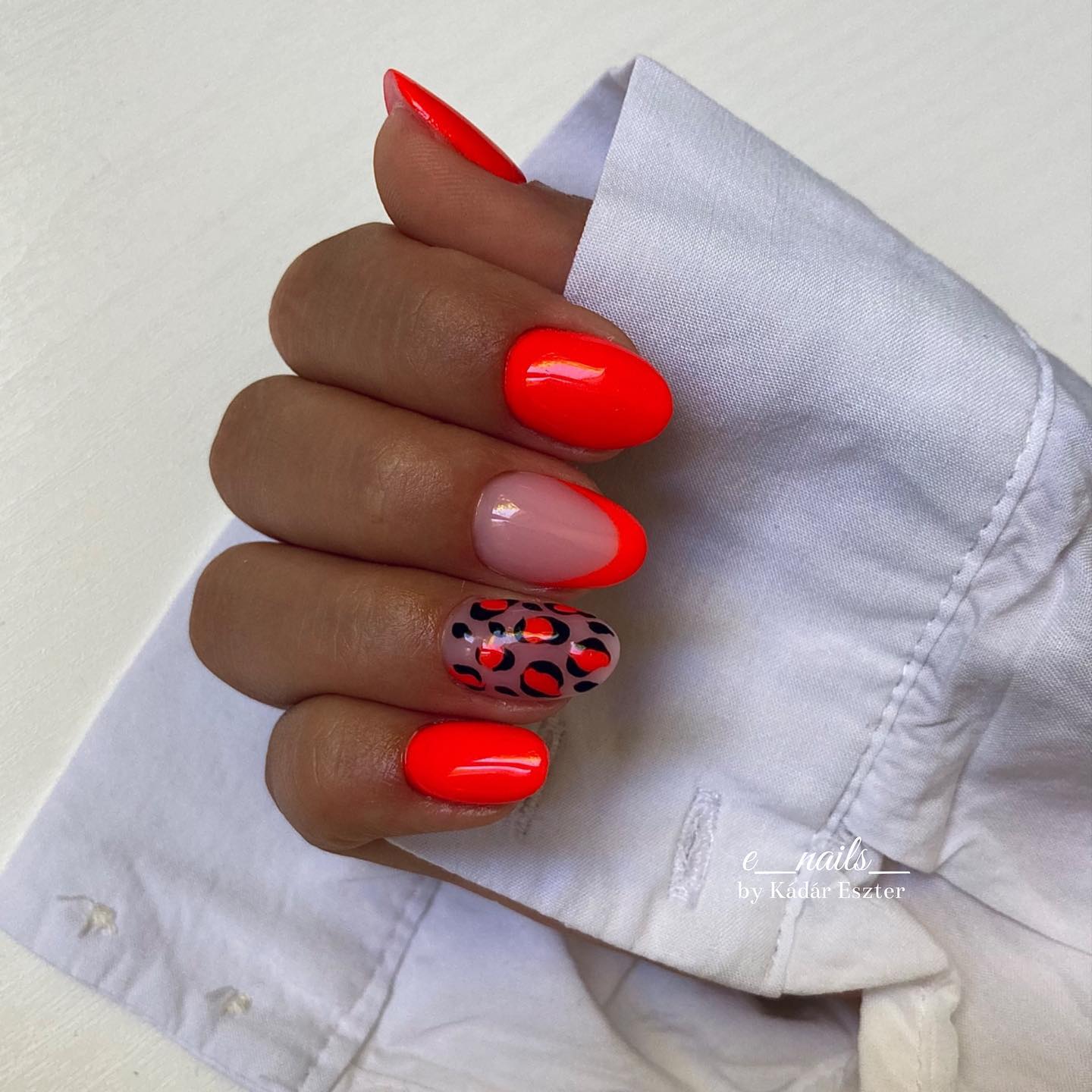 via @e_nails_
Matte Neon Nails – The Latest Trend
While glossy finishes of nail paint are dear to hear, recently, matte finishes on neon nails have seen growing popularity. The good part is that the designs can be accented with fun shades for your mani and trendy designs. You can share great ideas for your nail appointment with your manicurist on Instagram. Ideas like lacy design, neon tips, baby blues, peach contrasts, etc., are great to go with.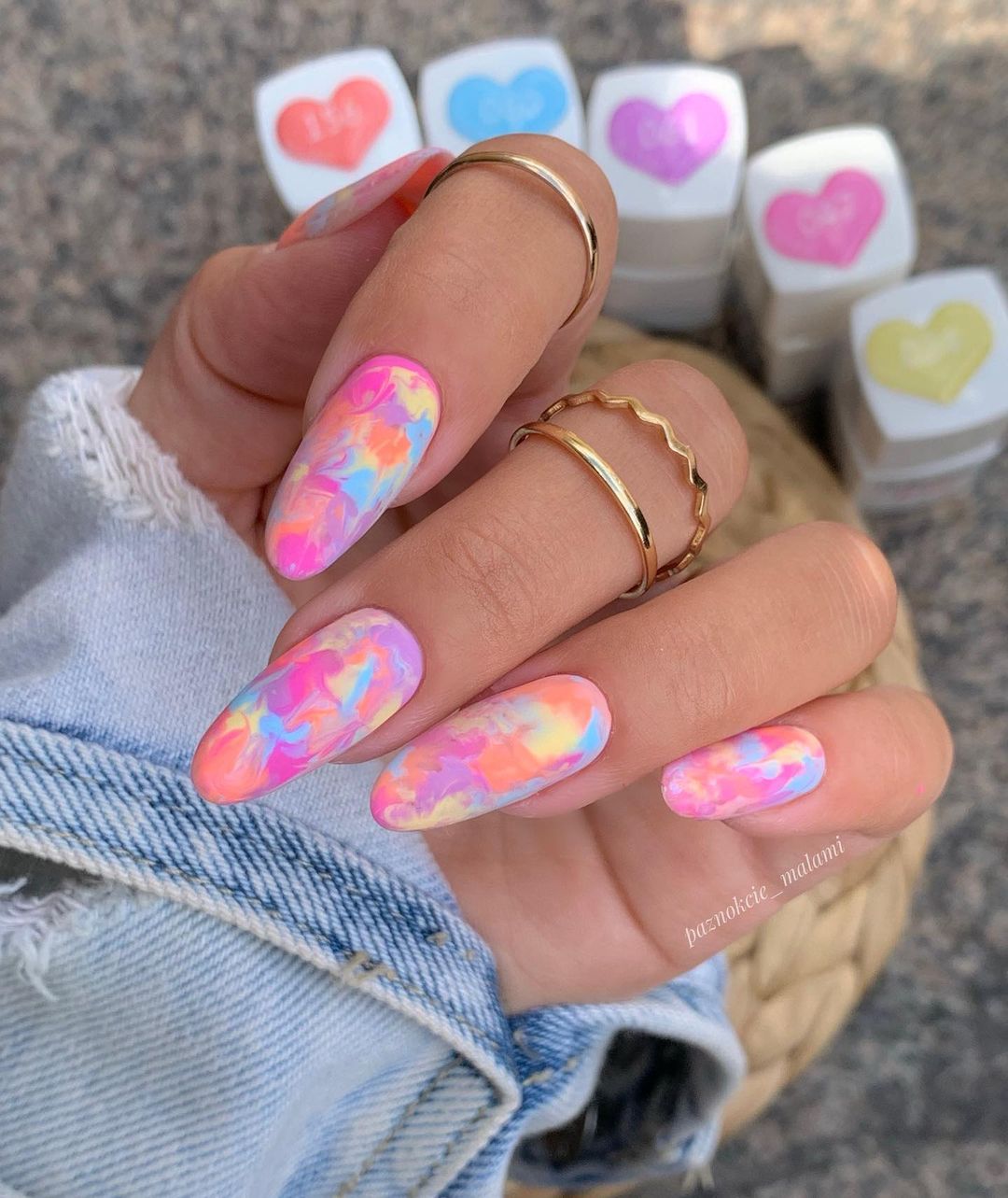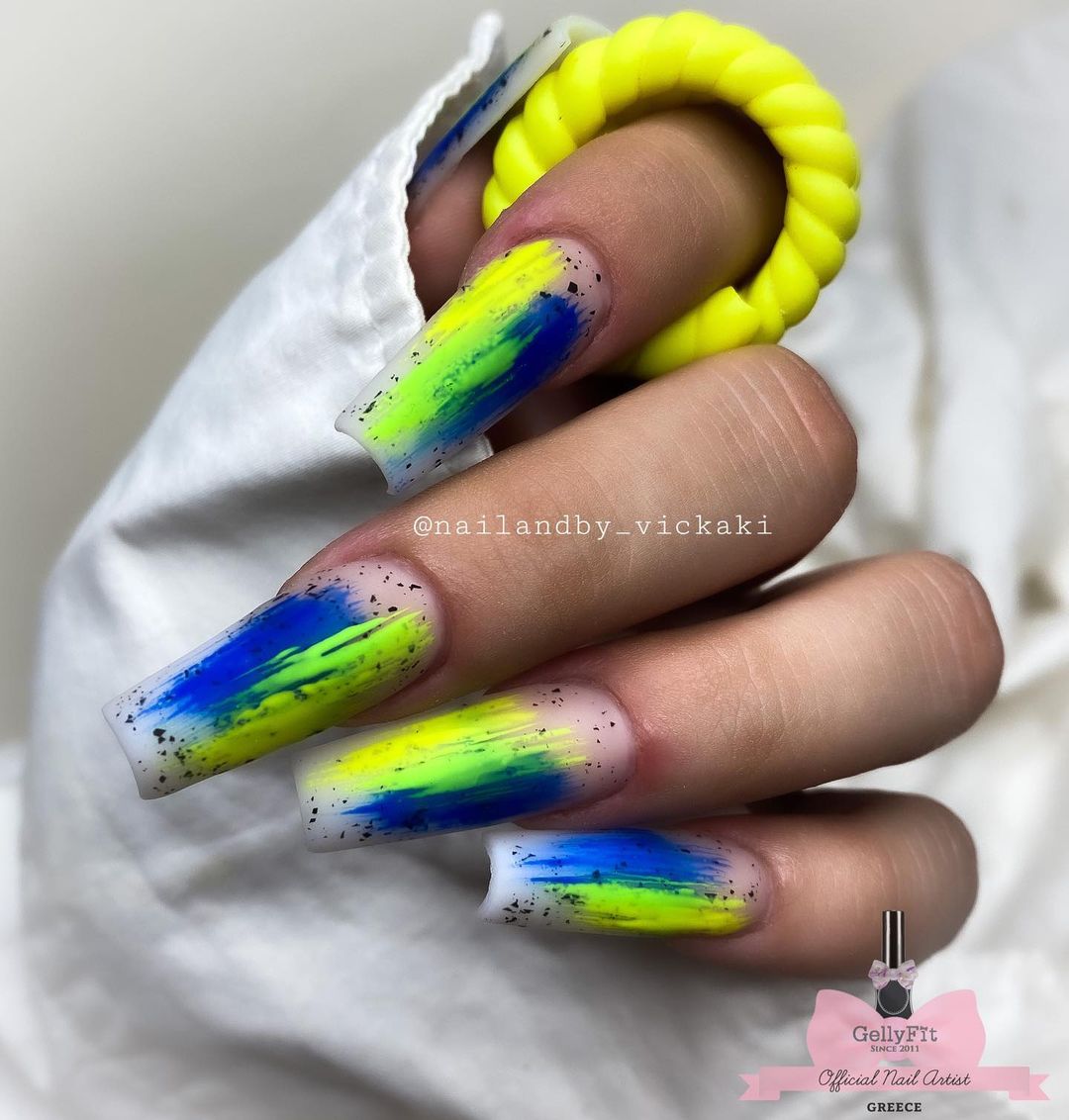 Nude and Neon Nails for a Subtle Look
Nude nail colors look good because they complement your skin tone adding a layer of blush. Nude neon looks great on short or long nail shapes. Interestingly, colors of all types look good – orange, yellow, or green neon nail designs. Add a spot of orange or yellow neon on a nude base for a subtle look.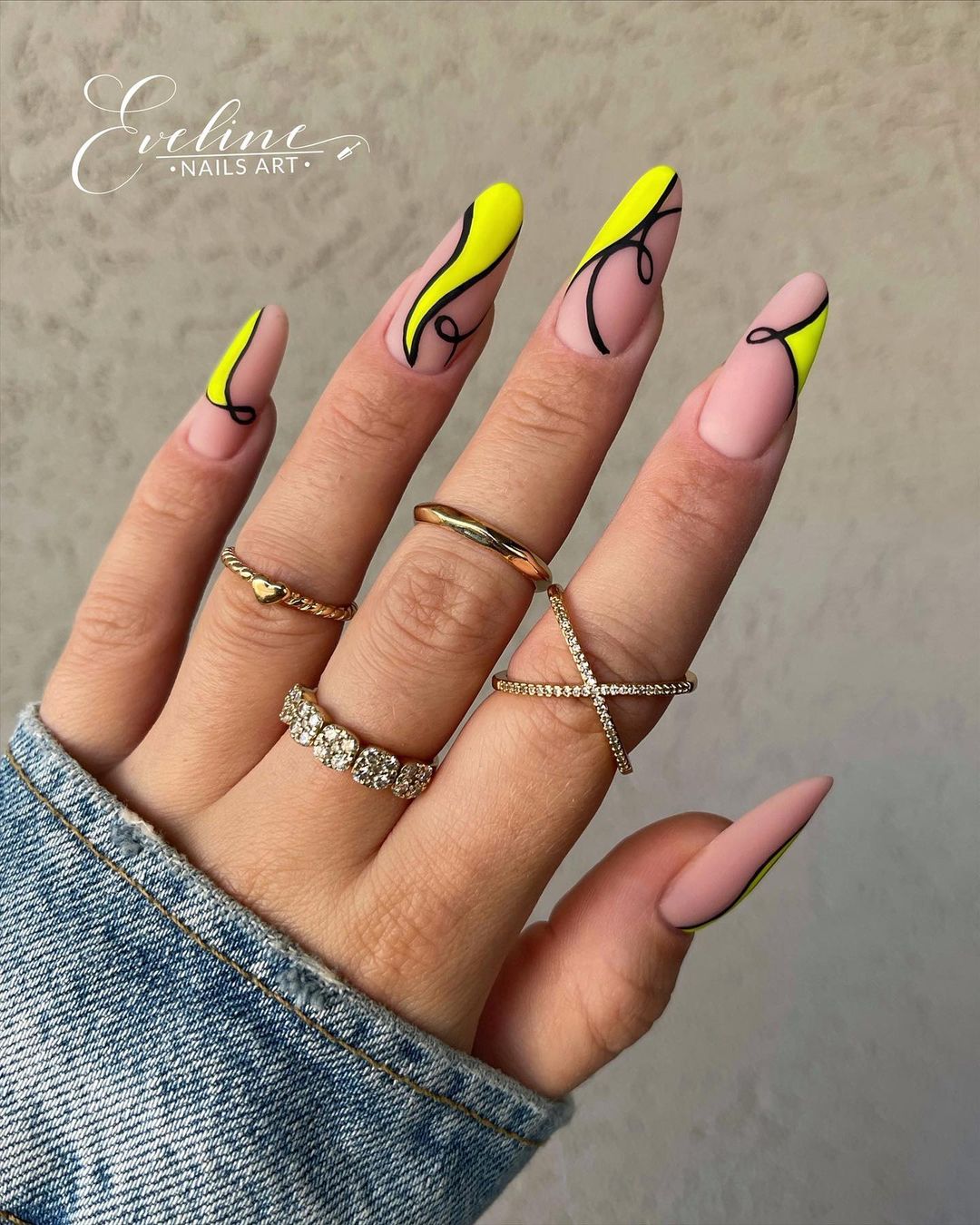 via @evelinenailsart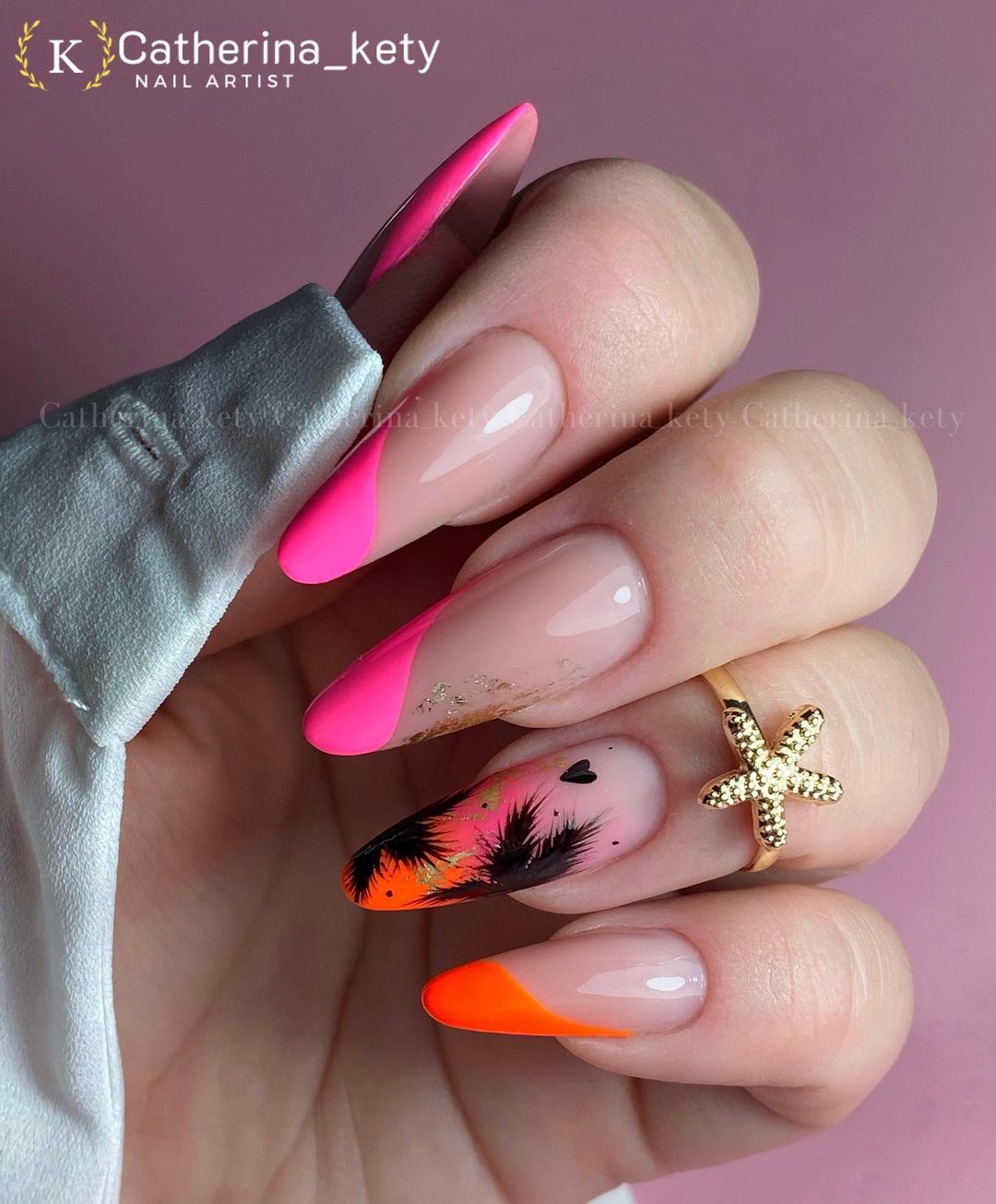 via @catherina_kety
Cute Ideas for Neon Square Nails
Ten bright square nails can add so much to your personality that it is worth trying. Here are some cute nail ideas – add a touch of neon to a non-neon base and keep it all colored, add monochrome shapes to water-colored neon bases for square nail designs, or a scratchy design on a yellow neon base does the trick.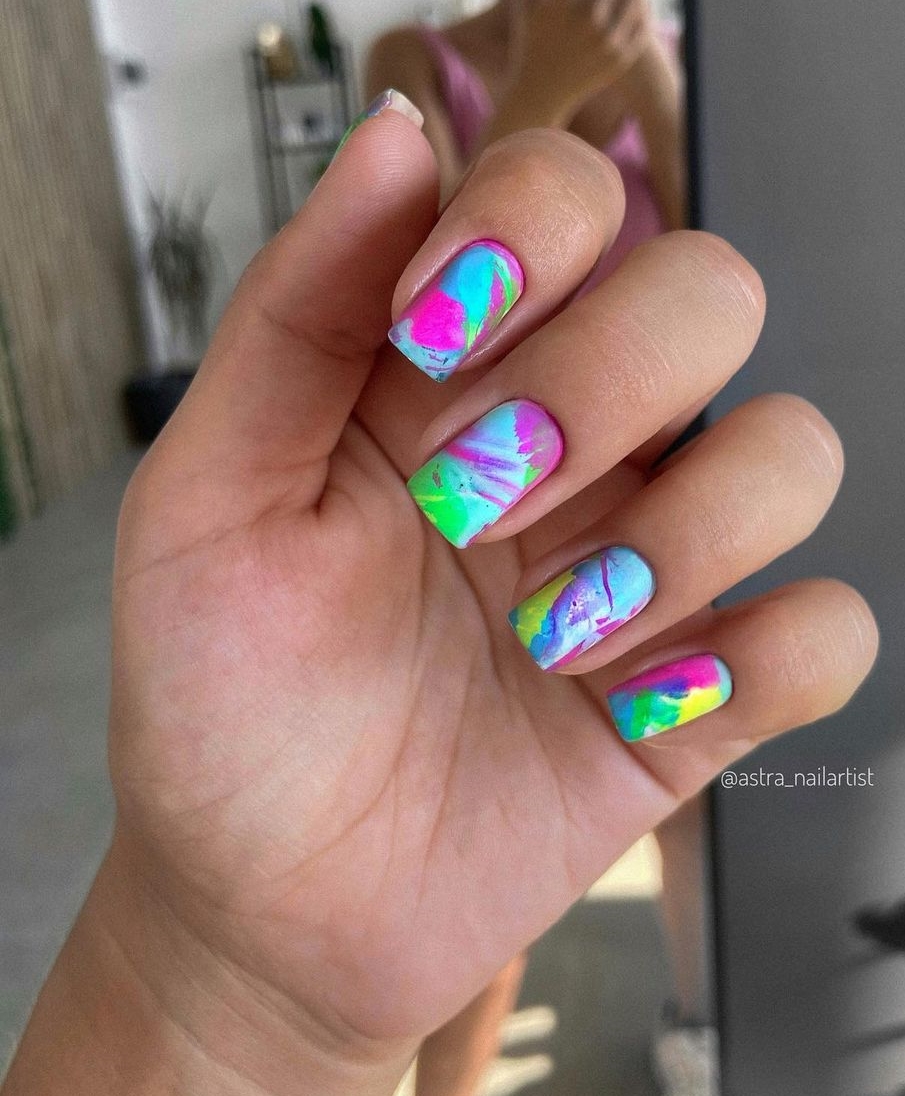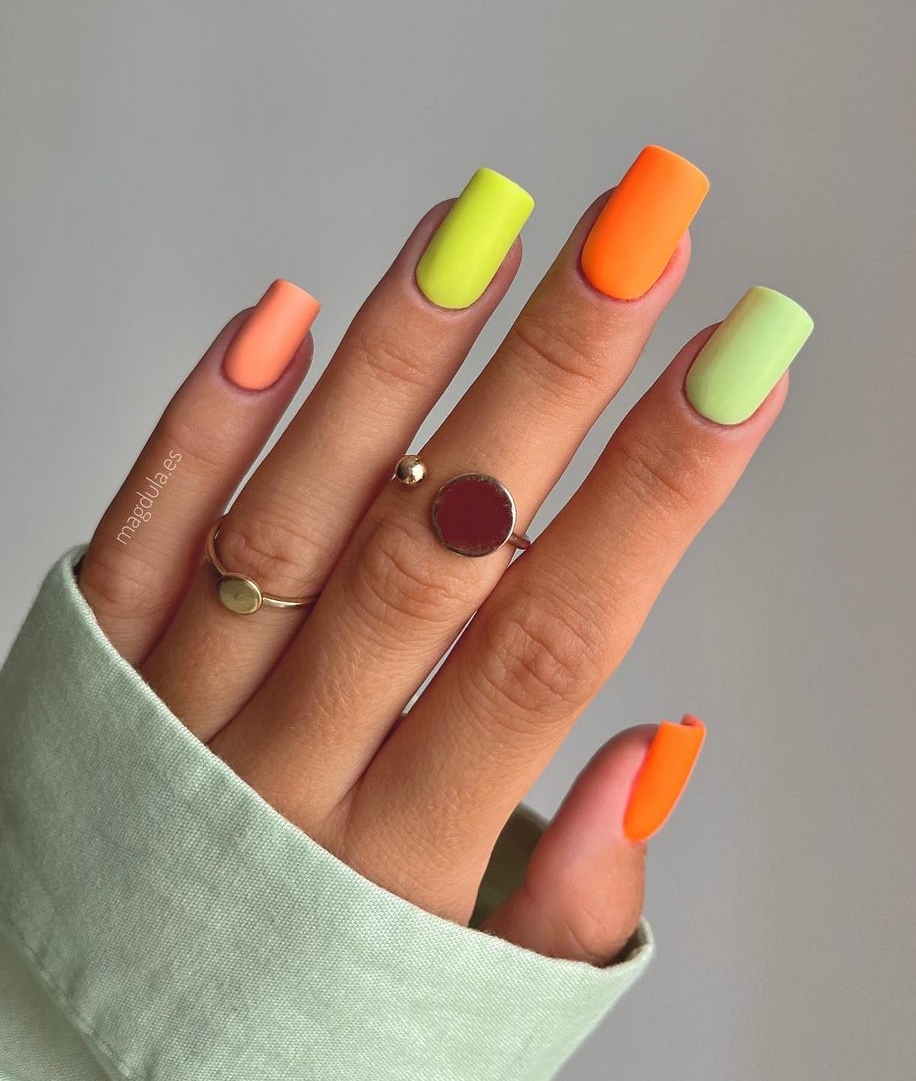 via @magdula.es
Black Neon Nails Suits All Nail Shapes
The black and yellow nail color combination is one of the vivid choices for your nail paint. Due to the powerful contrast between the two colors, you can brighten your mani with abstract neon lines on a black base. But you can DIY and experiment with different nail designs with rhinestones and achieve that impressive look. The black neon nail paint, filled with positivity and passion, suits any shape or length of nails.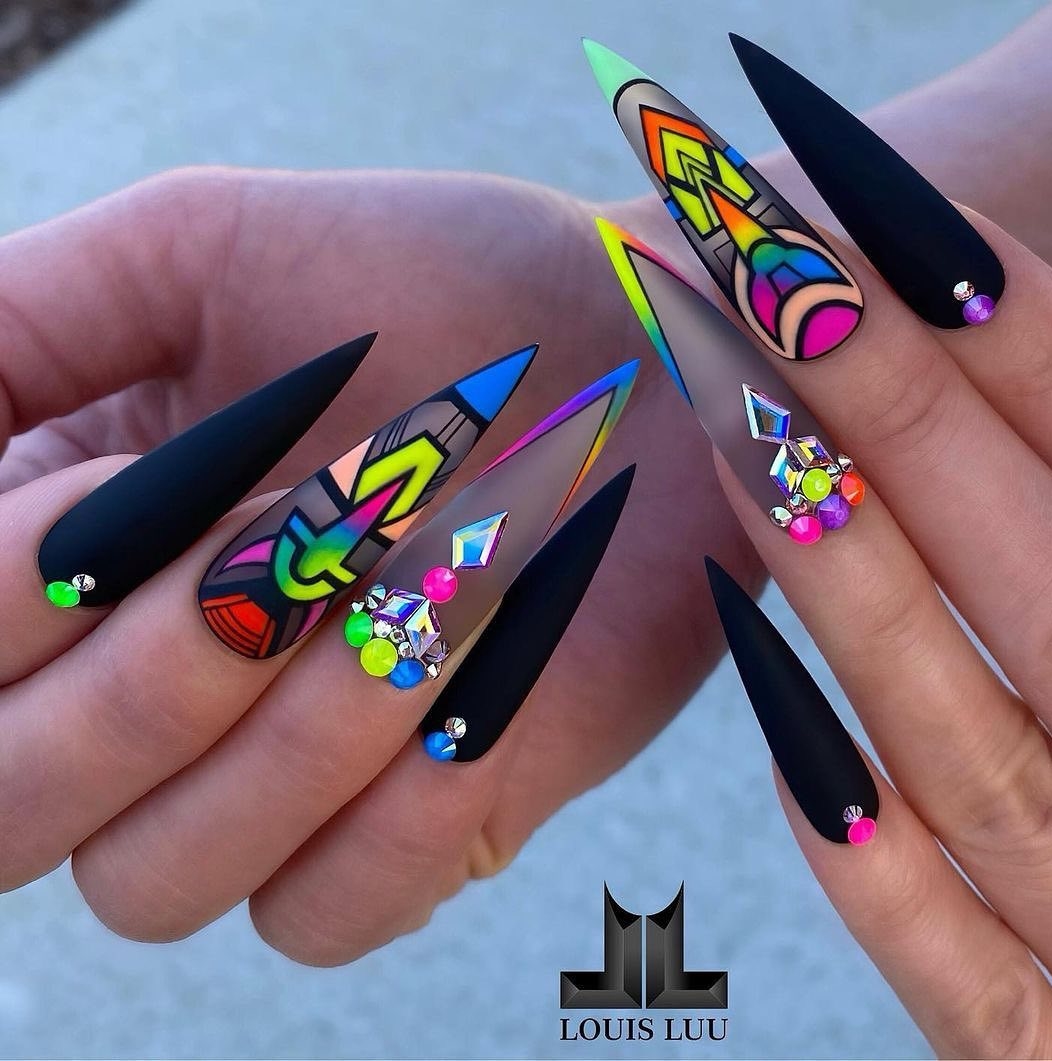 via @nailsbynick_la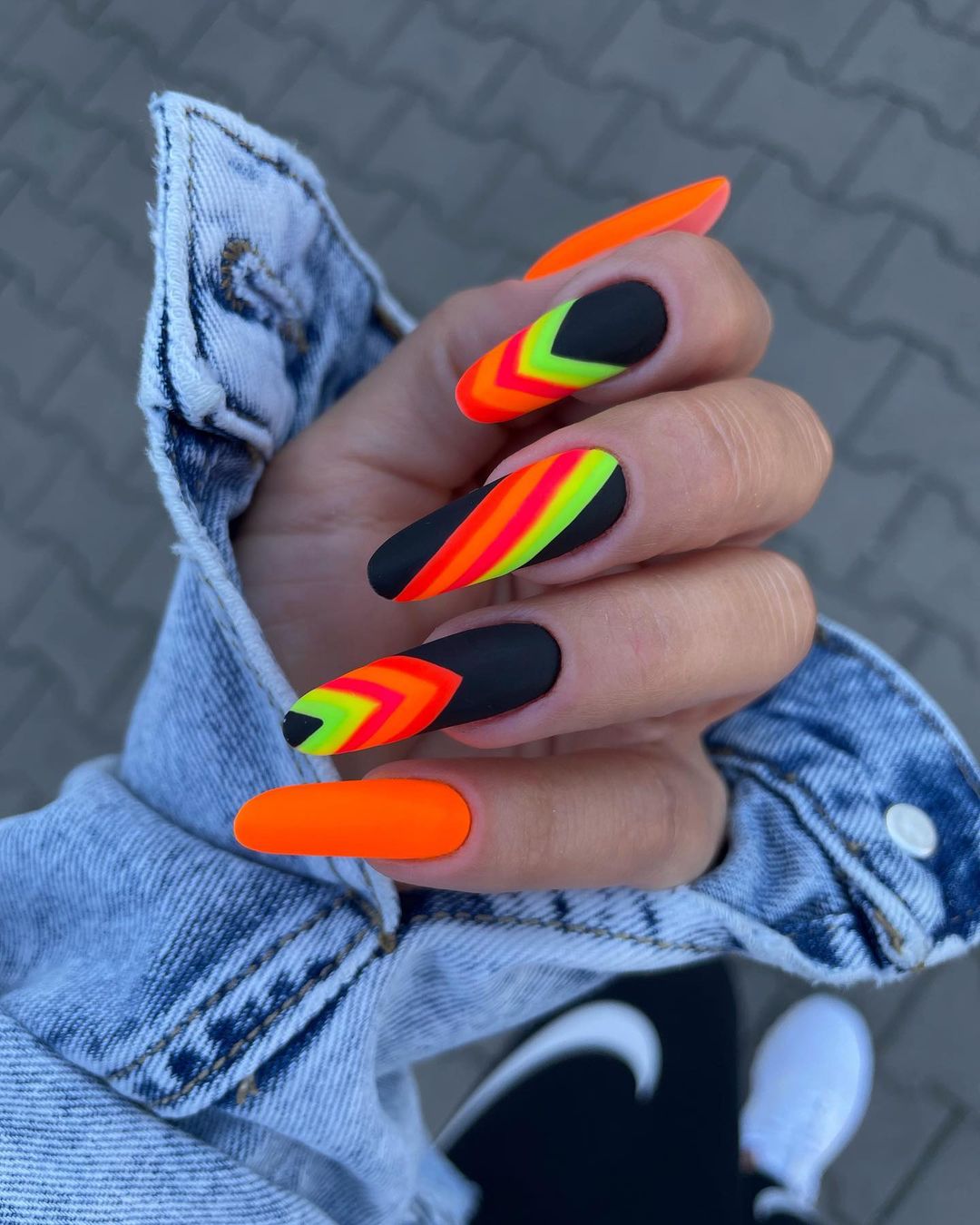 via @black_pazy
Short Neon Nails – Worth a Try
Short nails do not mean you cannot have fun and experiment with fluorescent short nail ideas. Since neon is trending, you can ask for a neon manicure on short nails the next time you visit your manicurist. Looks excellent in summer, try neon nails with black dots for a bright twisted look on your nails.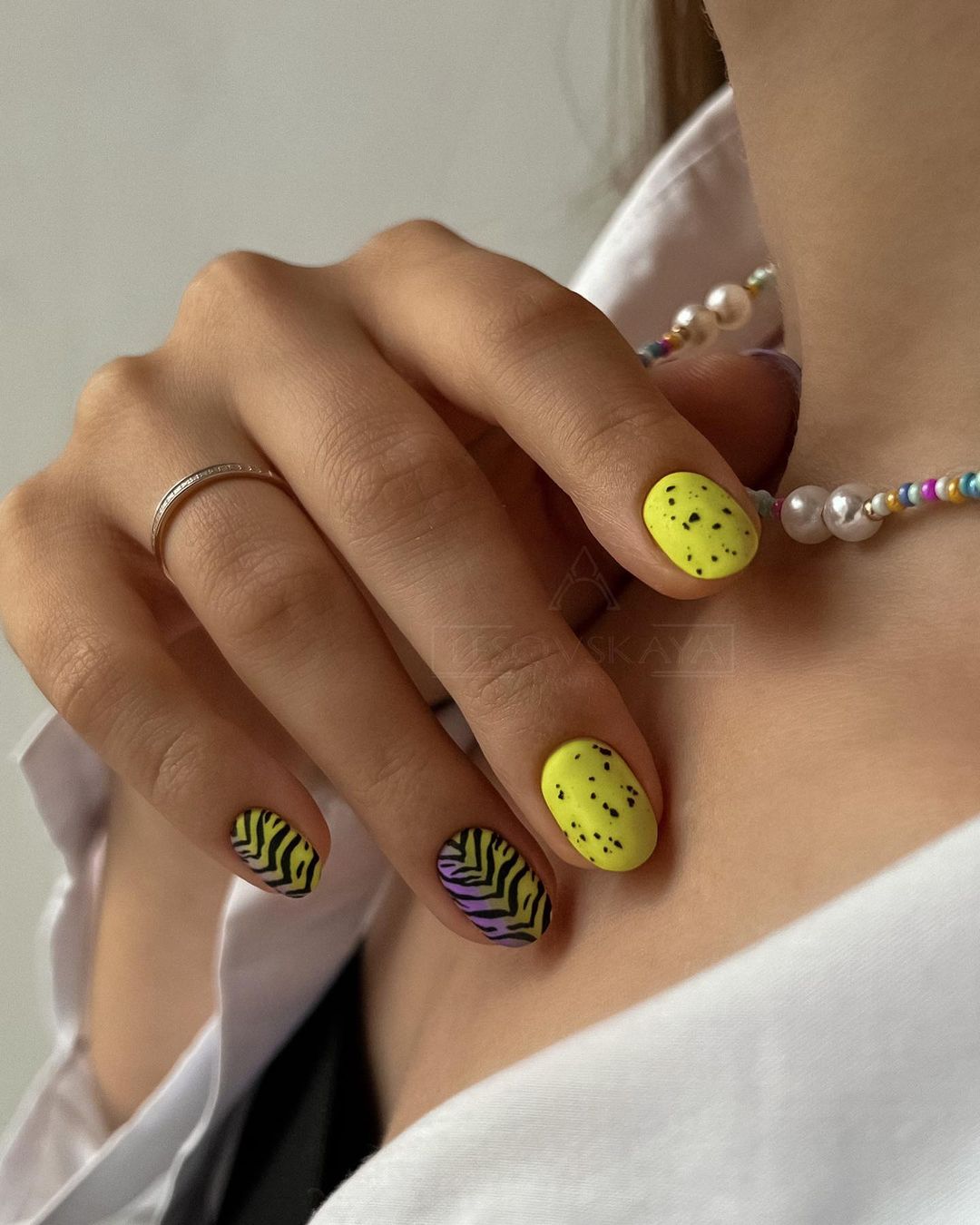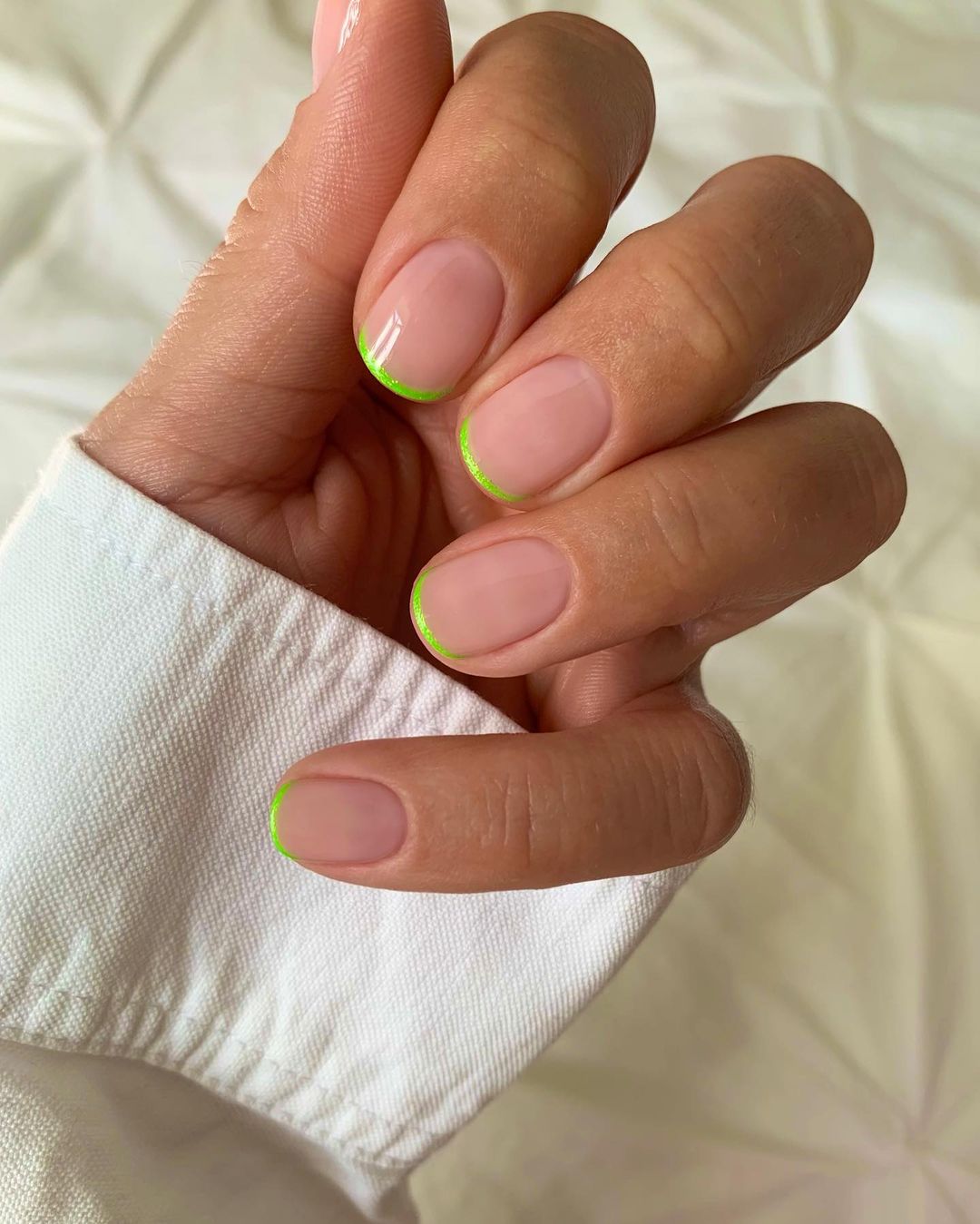 via @gel.bymegan
Neon Nails with Zebra Print – Unique and Aspiring
Try zebra print nails to give it a unique look. It becomes exclusive as leopard and cheetah designs are so common. Go ahead with a black, white, and pink combo with neon nail polish.
via @hybrydowemani_paulinaboho
You can also experiment with acrylic sparkly nail designs, like trying a shiny blue base topped with the zebra print. Or, try a girly pink zebra print for an extra-feminine touch!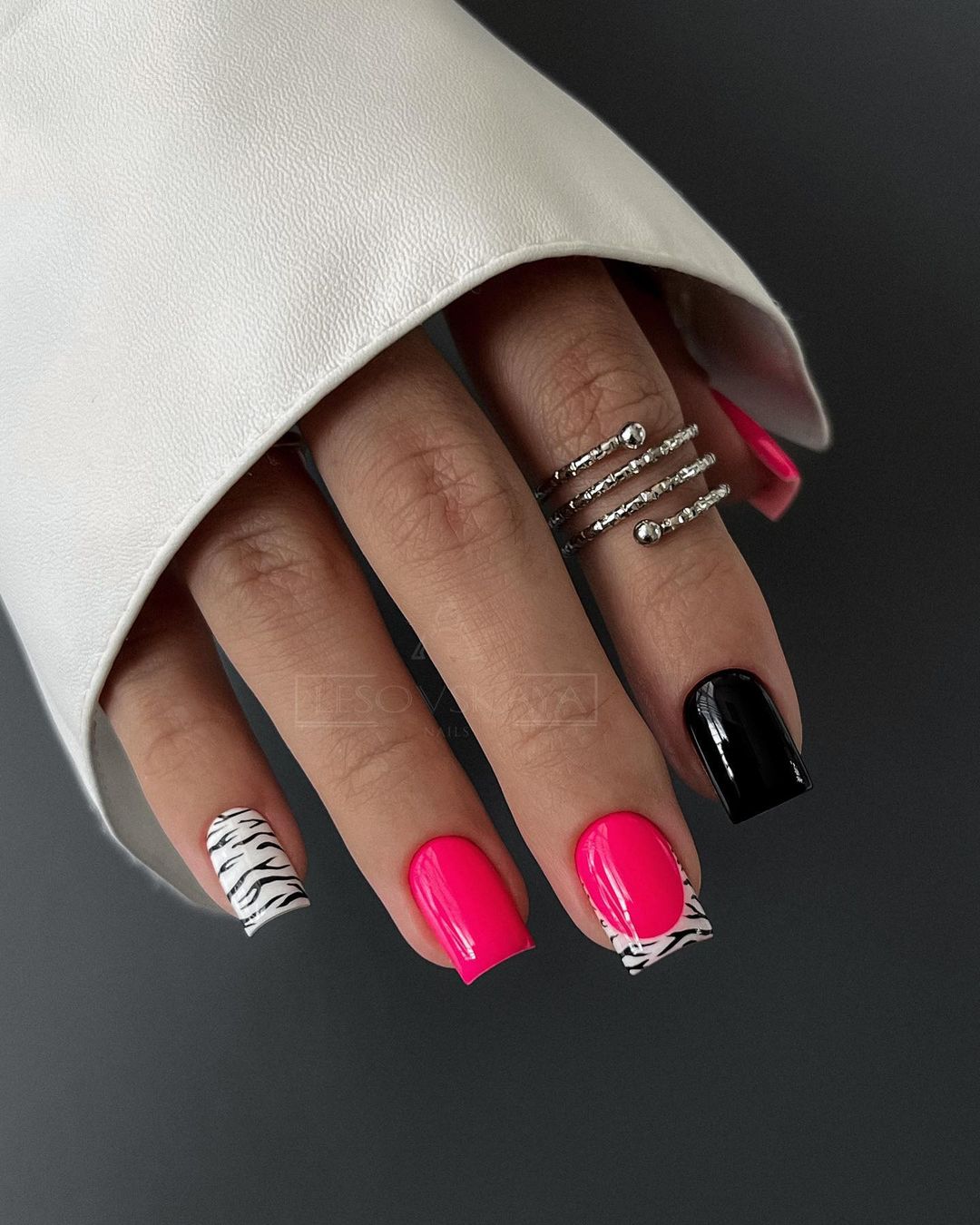 via @esovskaya.nails
Neon Stiletto Nails in Technicolor
Turn the sharp points of your nails with bright stiletto neon nail art. Doubling as a self-defence weapon, you can make your long pointy nails look seemingly attractive and manicured with the use of some cute neon nail paint designs.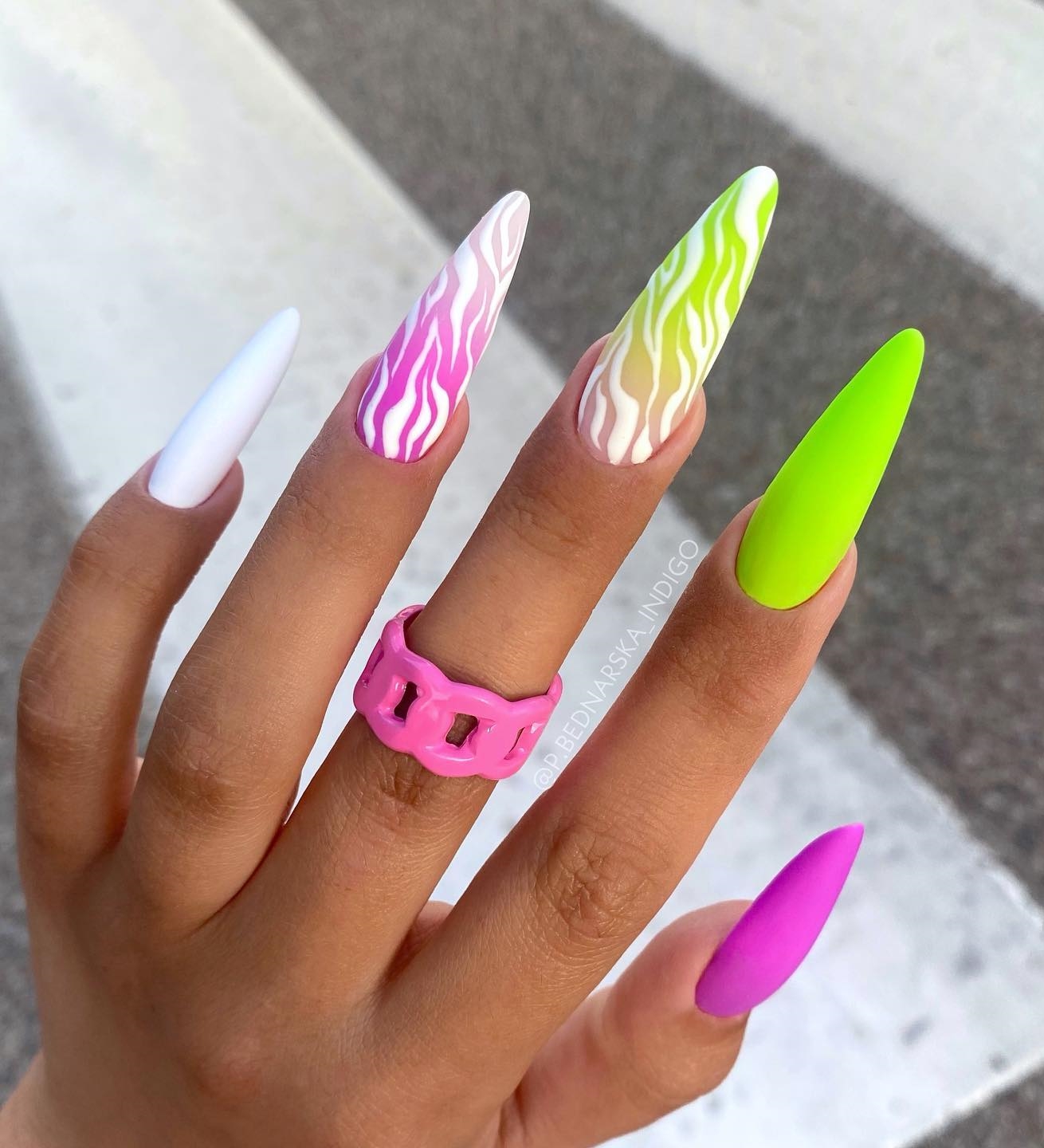 Want to keep things toned down? Try the technicolor tips. You can go ahead with the multi-colored tie-and-dye design for a fun summer manicure.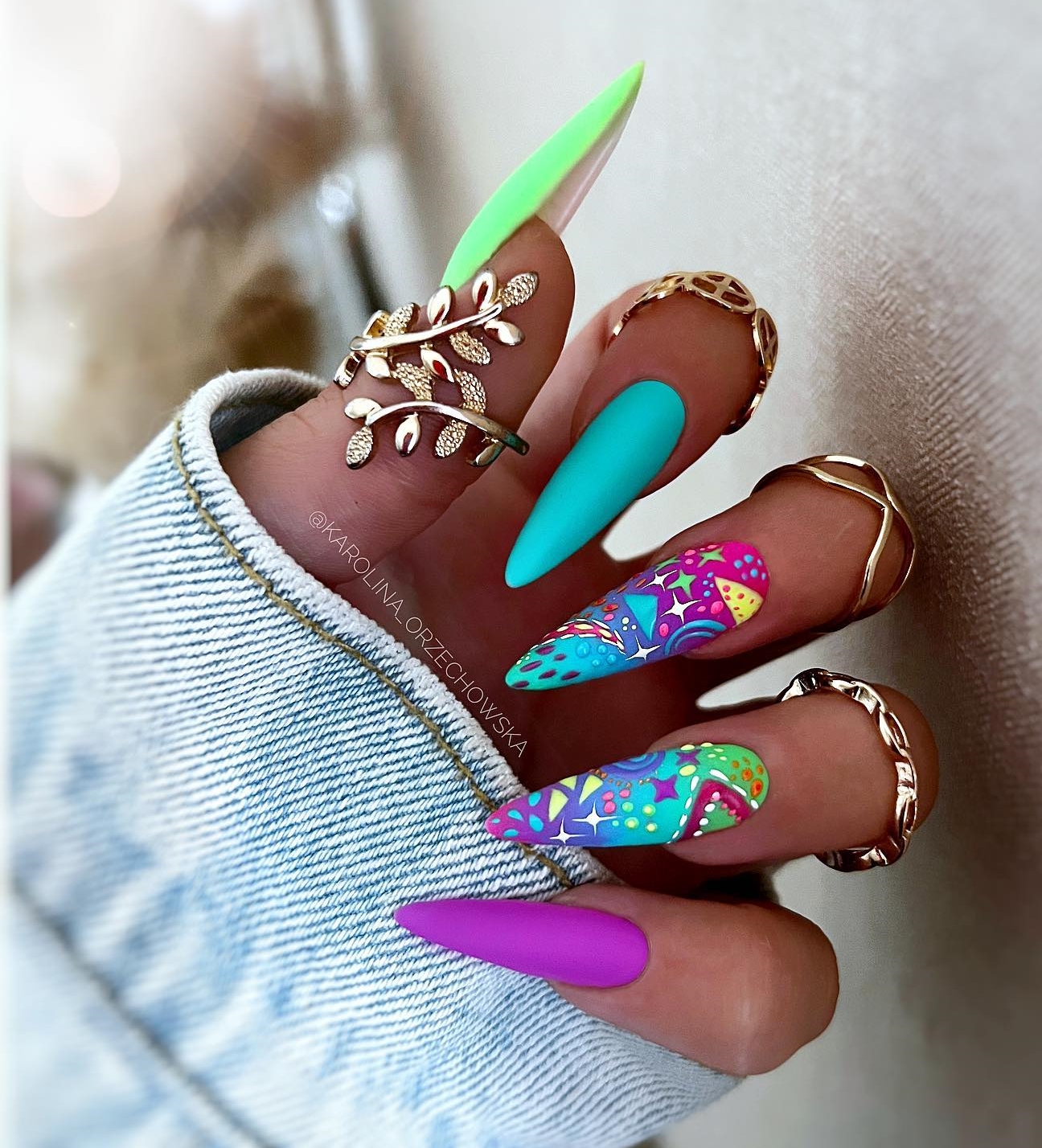 Neon Nails with Foil – DIY is Easy
Are you bored with the plain neon design on your nails? You must try combining neon nails with designs like gold foil on nails. You can try some of the designs on your own with DIY methods.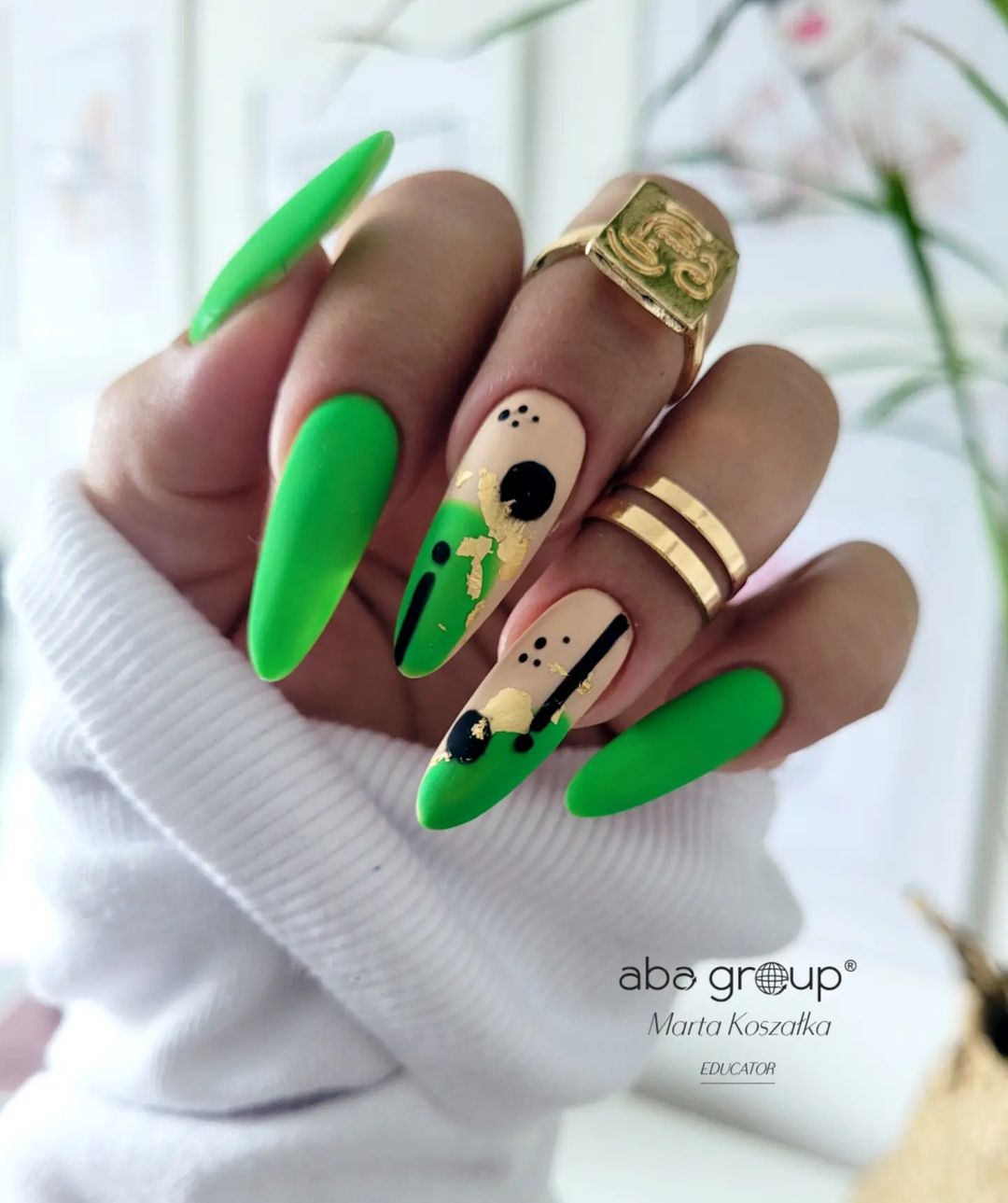 You can make it all more fun with a nude base with a foil design. The style is a perfect contrast that can feature different elements like rainbows, dots, smileys, and hearts and even add a touch of glitter to your nails.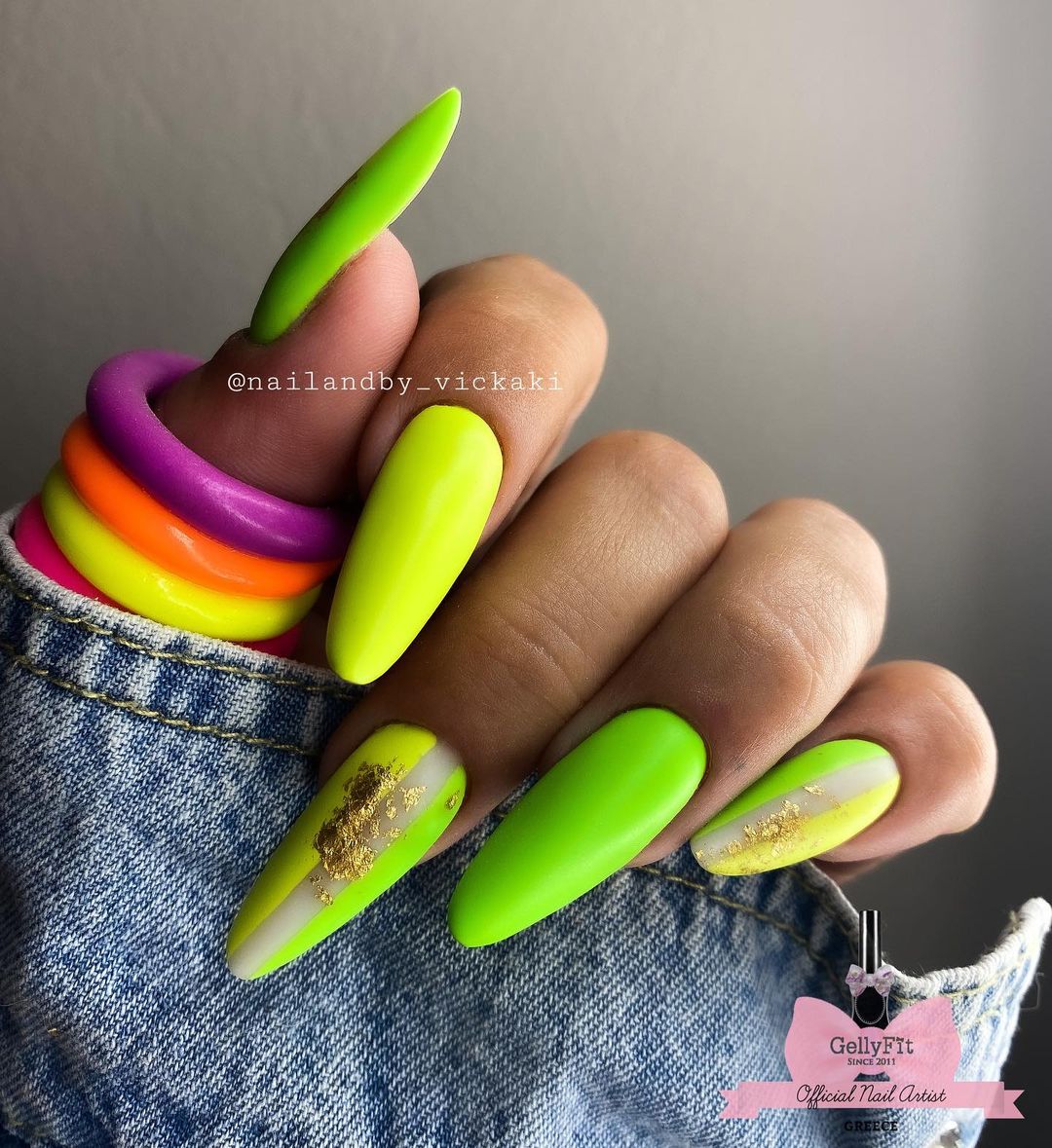 Neon Bright Summer Nails for a Hot Look
Summer is here. You take care of your skin, face, and hair. It's time to binge on bright summer nail designs for that hot, tempting look. Try neon pink for a more glowing you.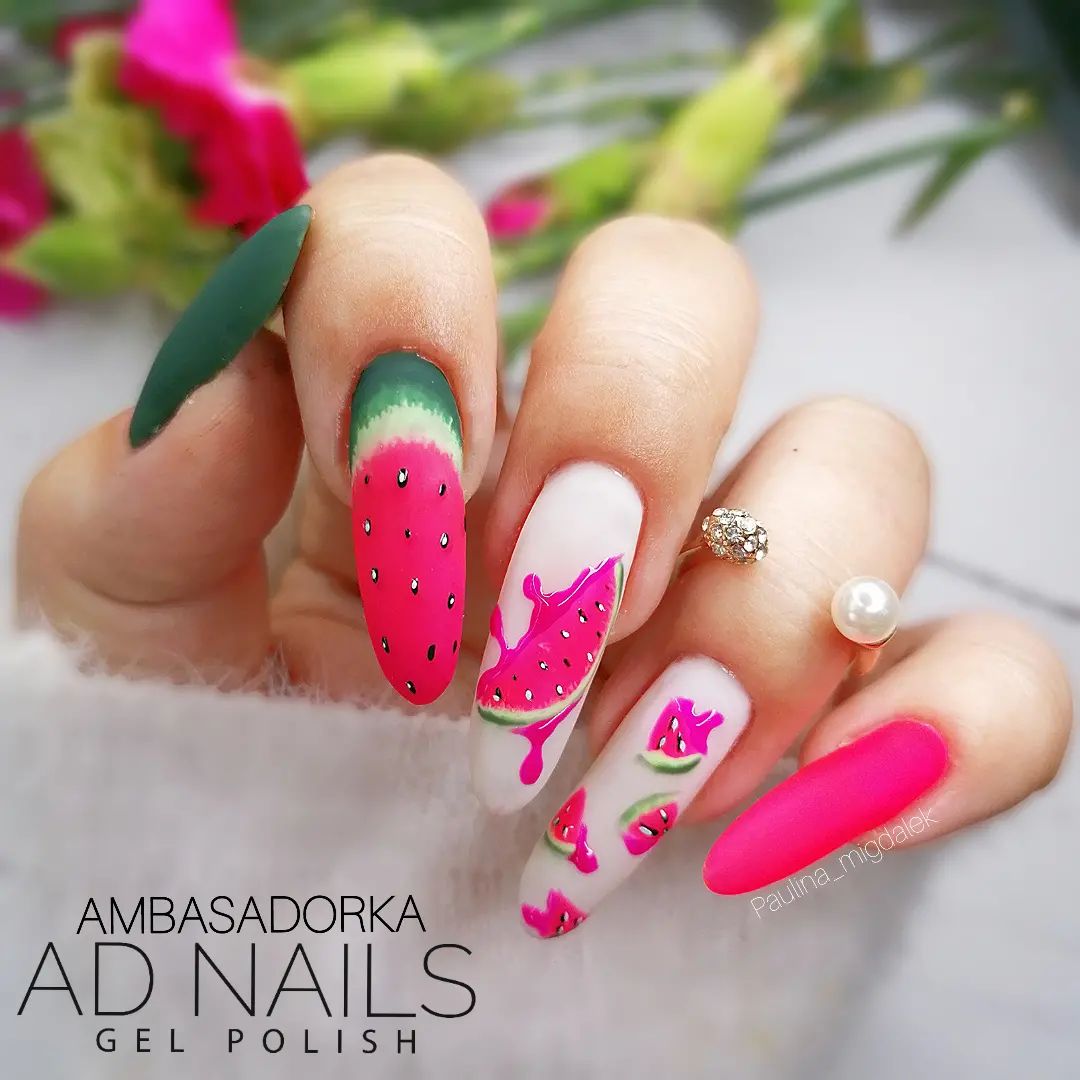 The hot pink nails for the holiday season can be experimented with using a range of pink hues and designs. Next on your list should be the bright orange nails that reflect the sun's fiery spirits and power.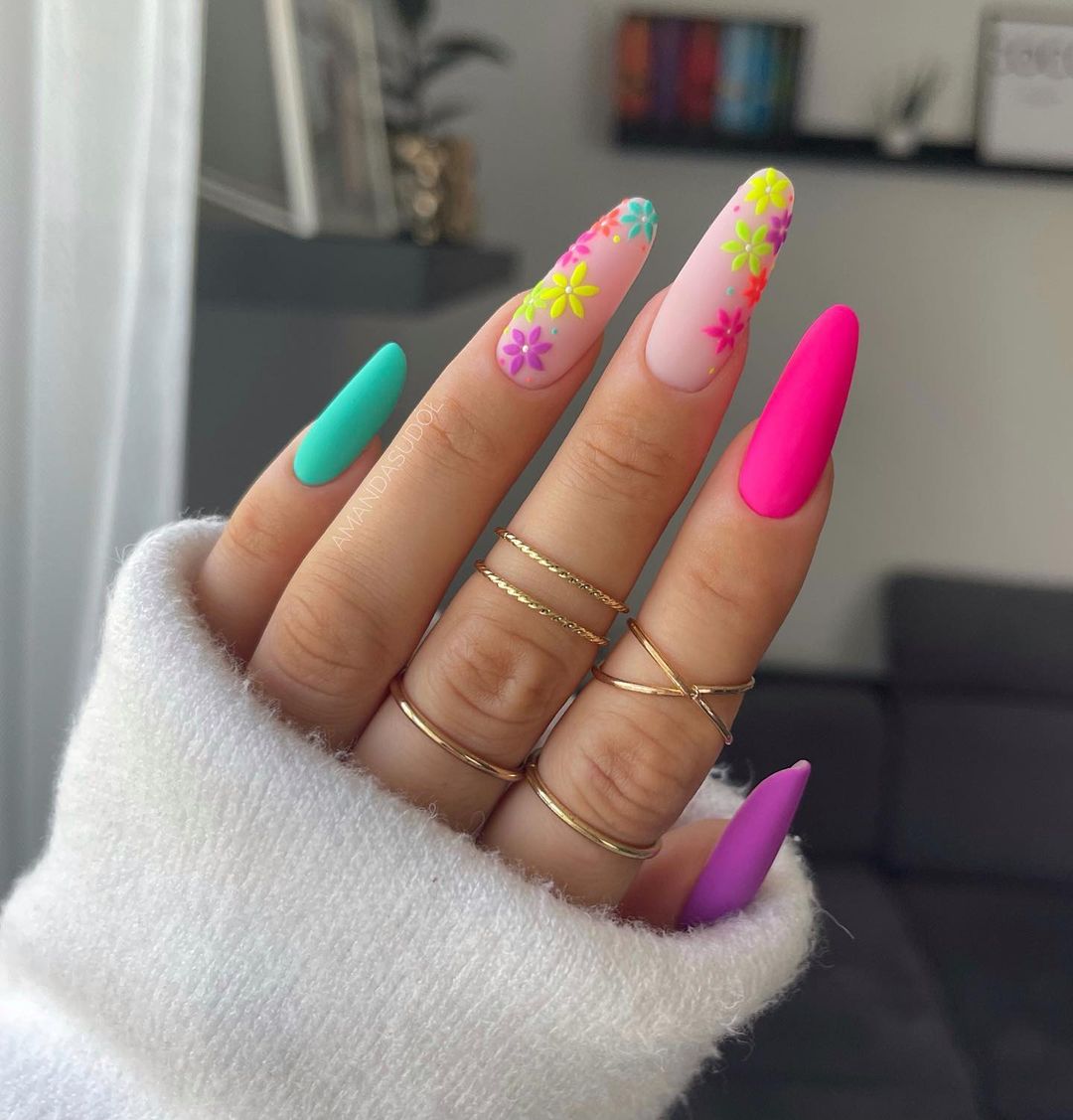 via @amanda.sudolll
Black and Neon Yellow Nails for a Creative You
Go bold with highlighter yellow nail polish with bright colored accents like black. Some cute mani ideas for black and neon yellow nails include yellow star prints on your nails or yellow-black checkered nails. You can get as creative as possible with black and yellow nails with design.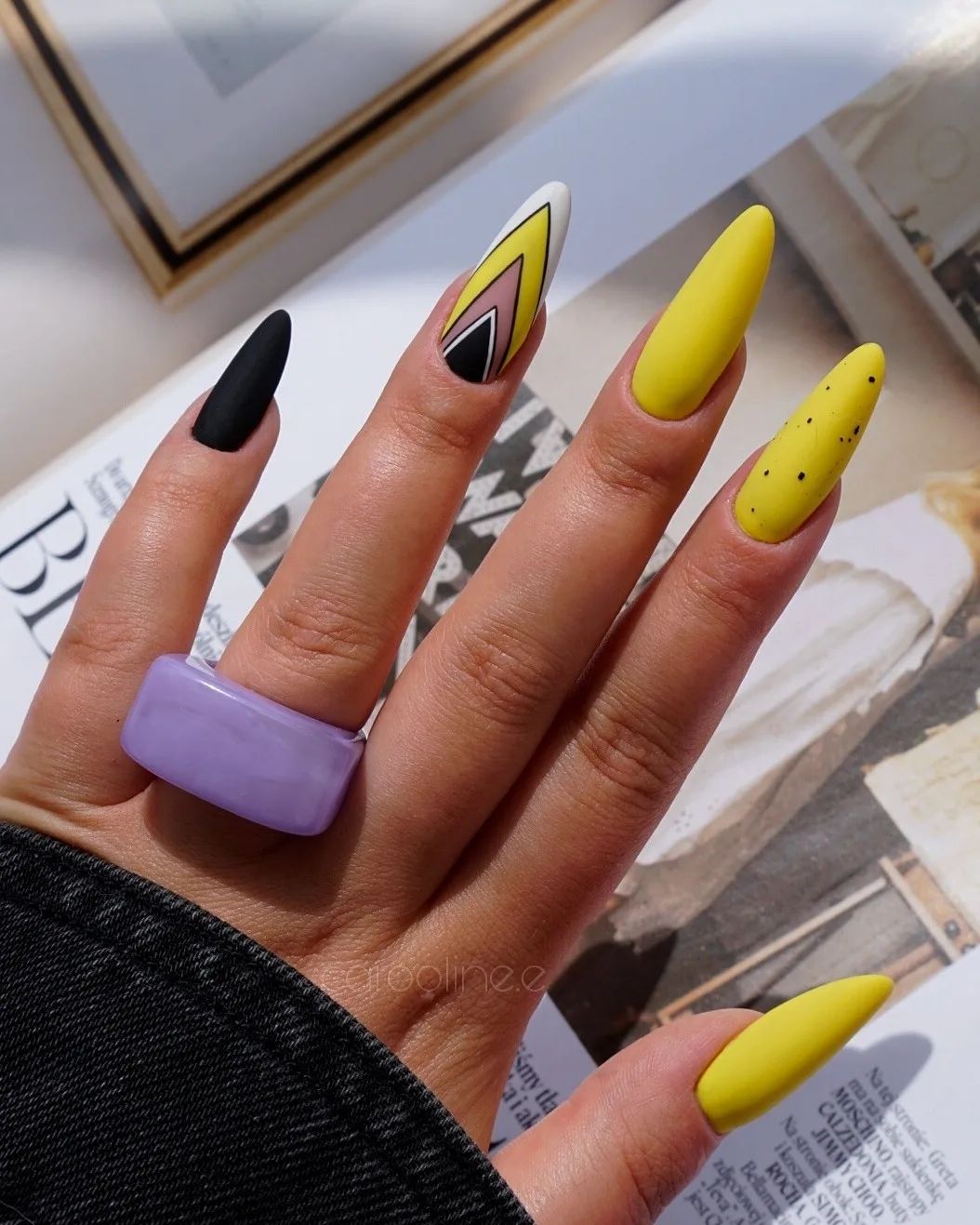 via @carooline.e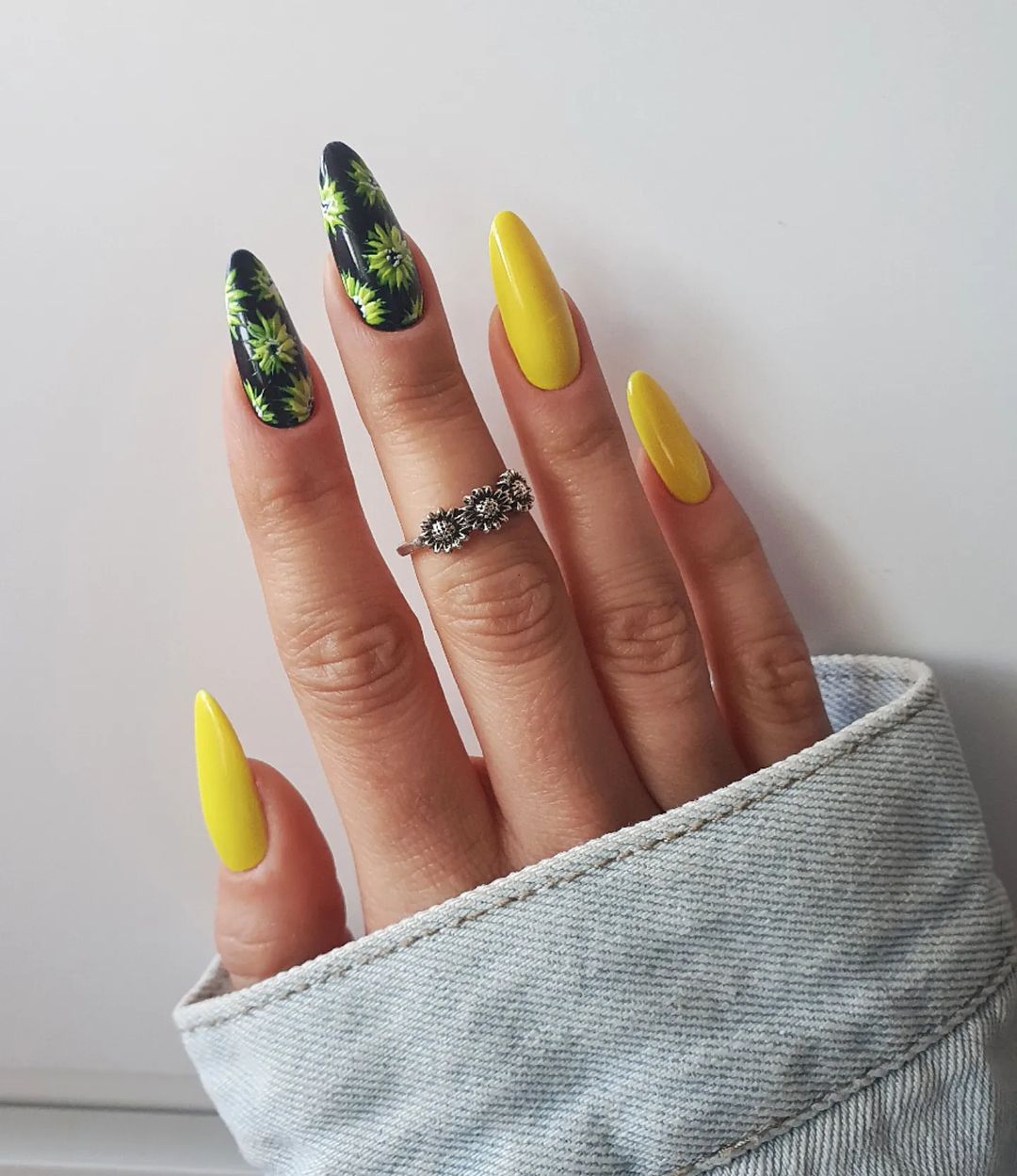 via @kamjaw_indigo
Neon Almond Nails – The Versatile Type
Quite interestingly, all types of designs look good with almond-shaped nail art. You can experiment with different color ranges, starting from cute orange nails to neon twists on nails. Try Zebra hippie, cheetah prints on a purple base, a classic black and white Cruella, or highlight the edges with neon in orbit-styled nail art.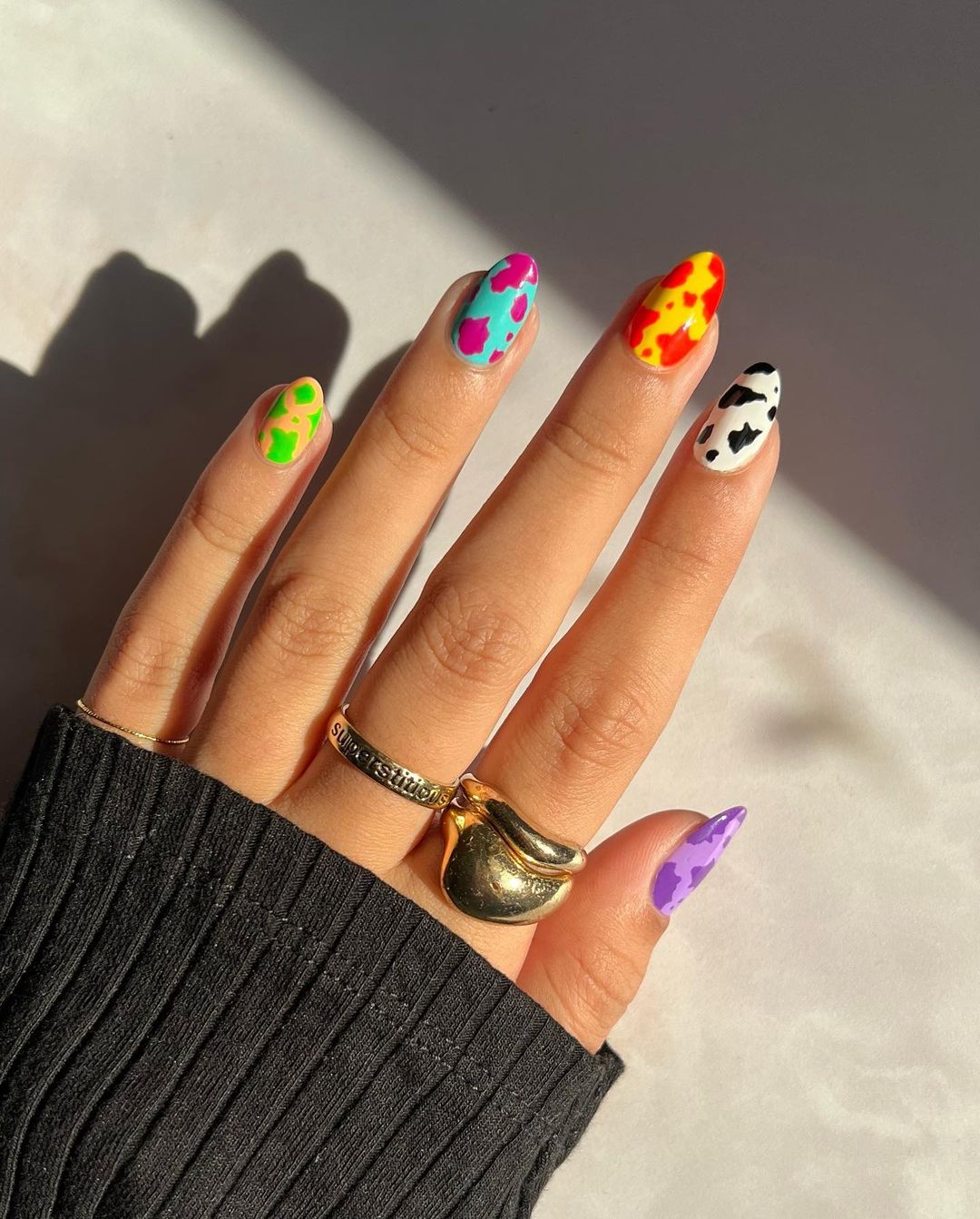 via @samrosenails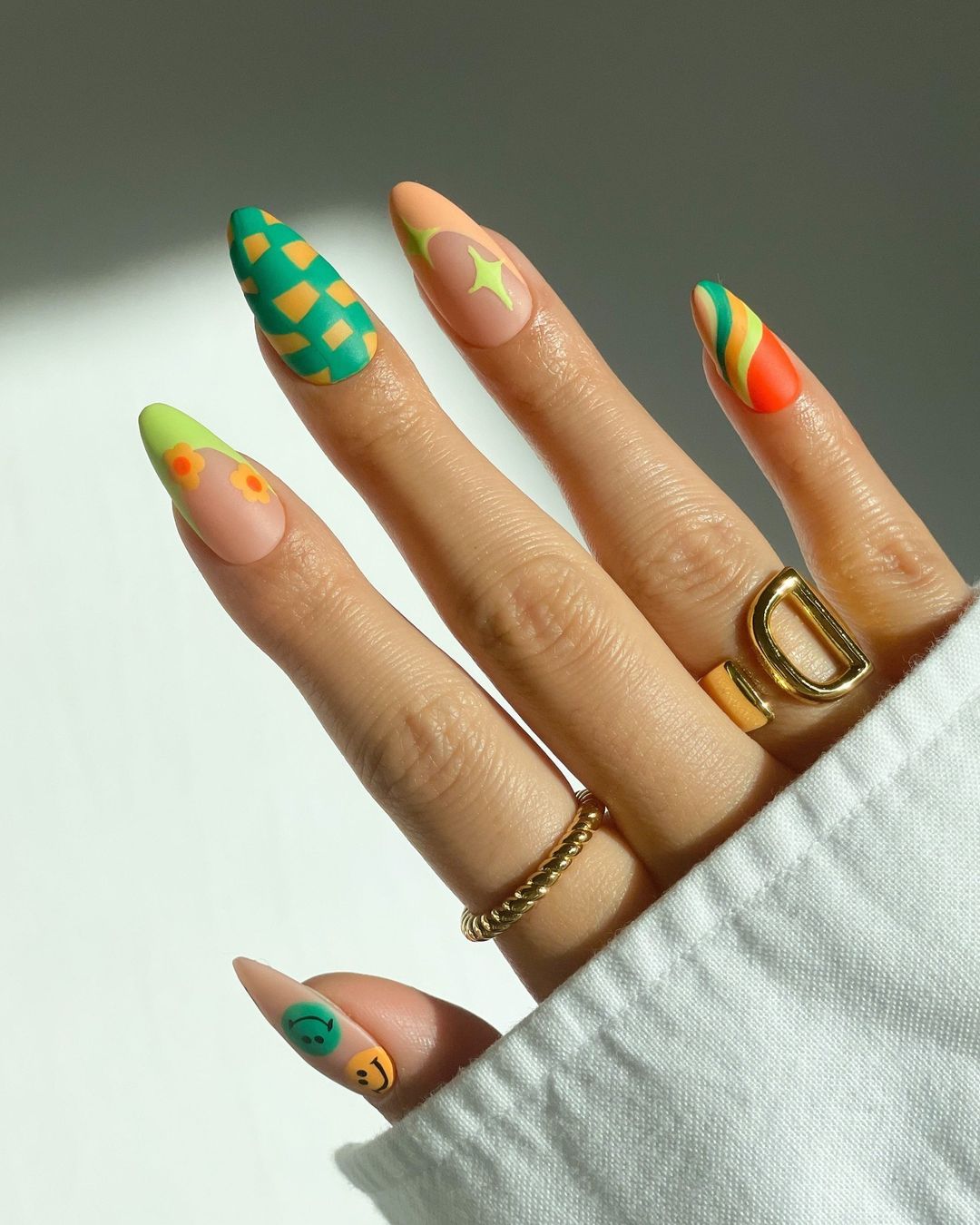 via @lightslacquer
Green and Orange Neon Nails Looks Great in Contrast
Another set of effective contrasting nail polish designs is to match green and orange neon nail paints. Not only do orange neon nails with green make your nails attractive, but they are also contemporarily stylish. There are hundreds of designs that you can try during your mani. The most common one is to go in for neon nail tips colored in orange with a green base.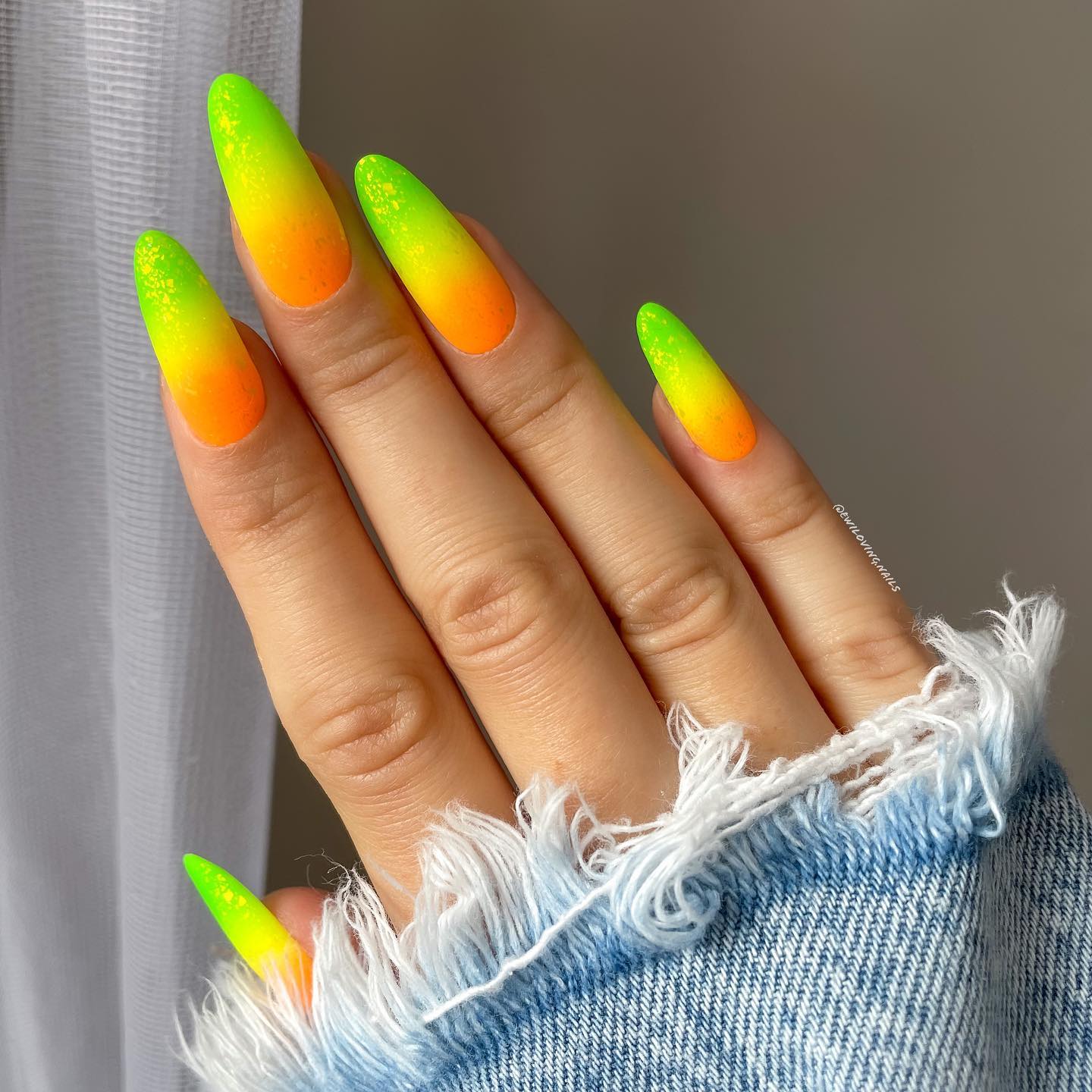 via @ewiloving.nails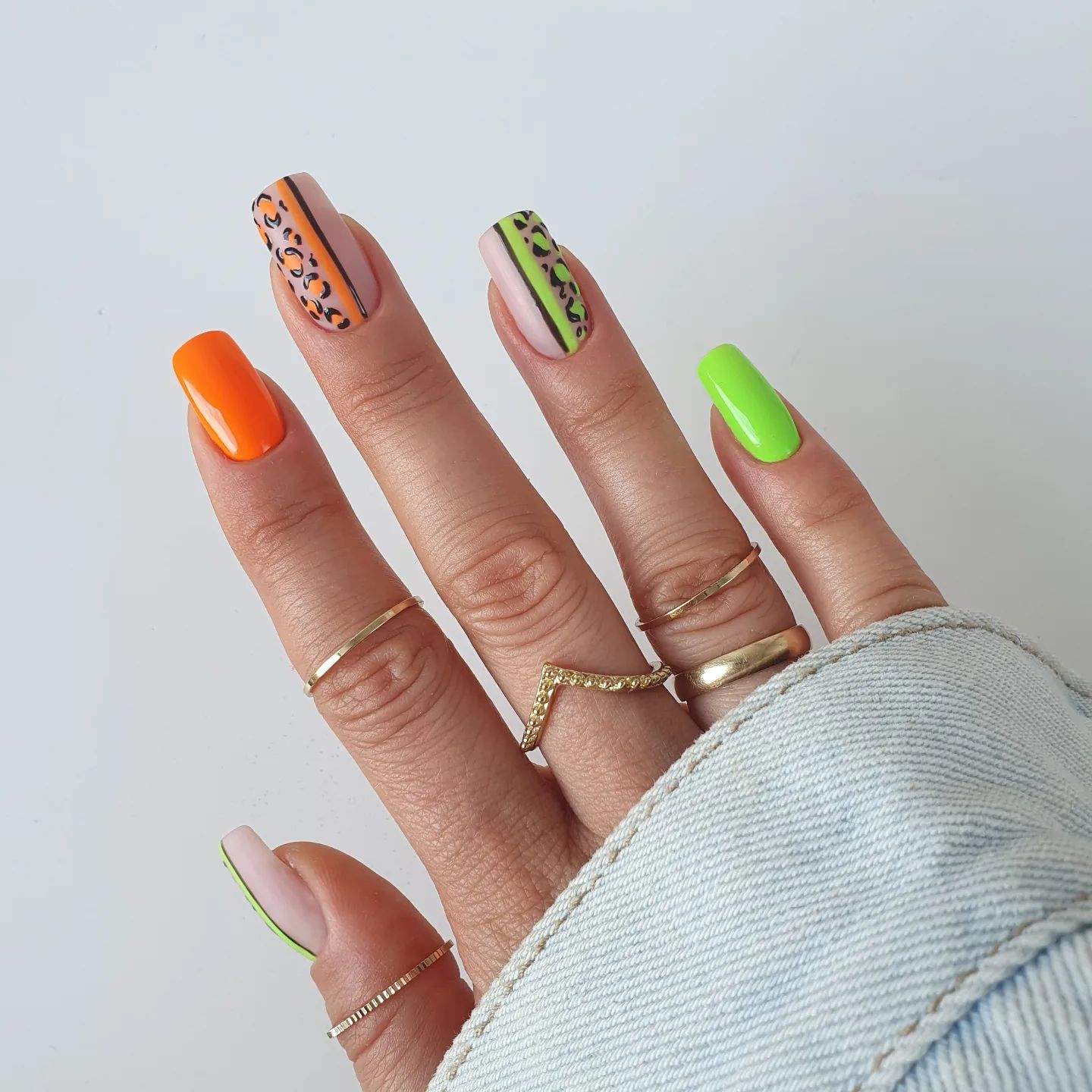 via @kamjaw_indigo
FAQ
What is the best nail polish brand?
There are multiple nail polish brands in the market today. The best ones are brands like JINSOON, created by Jīn Soon Choi, Deborah Lippmann's Gel Lab Pro with 41 color choices, Sundays, Olive & June, Smith and Cult, Chanel, J. Hannah, Mischo Beauty's 15 color options, People of Color, and Hermès.