Round faces feature the width that is almost equal to the height with little to no angles defining the forehead and jaw line. This makes the faces look a bit flattened out or even fat, especially when a woman has chubby cheeks. To avoid the effect, choose one of the trendy hairstyles for round faces from our pick, based on current trends and hair experts' tips.
Choosing Hot 'Dos by Hair Length
Some round-faced ladies believe they should hide behind the hair, putting much of it around the face when wearing shoulder-length 'dos. Others think they can slim and lengthen their full faces with long hairstyles. And sure, there are Ginnifer Goodwin's adherents who put their faith in pixie cuts. They all have a point, and we're going to prove that round-faced gals can rock any length.
Chic Short Hair for Round Face
Yes, Ginnifer Goodwin is a pixie icon for girls with full faces, but she's not the only star to steer by. Miranda Kerr wears bobs now and then, and Adele frames her chubby face with choppy tresses. "If a bob is your choice of style, go a few inches longer than a traditional bob to balance the roundness of the face. By creating layering, you ultimately affect the shape of your face – round faces should opt for square layers," says Sam Burnett, KMS Global Style Council member, to MarieClaire. When choosing a pixie, make sure you have plenty of texture to minimize the roundness.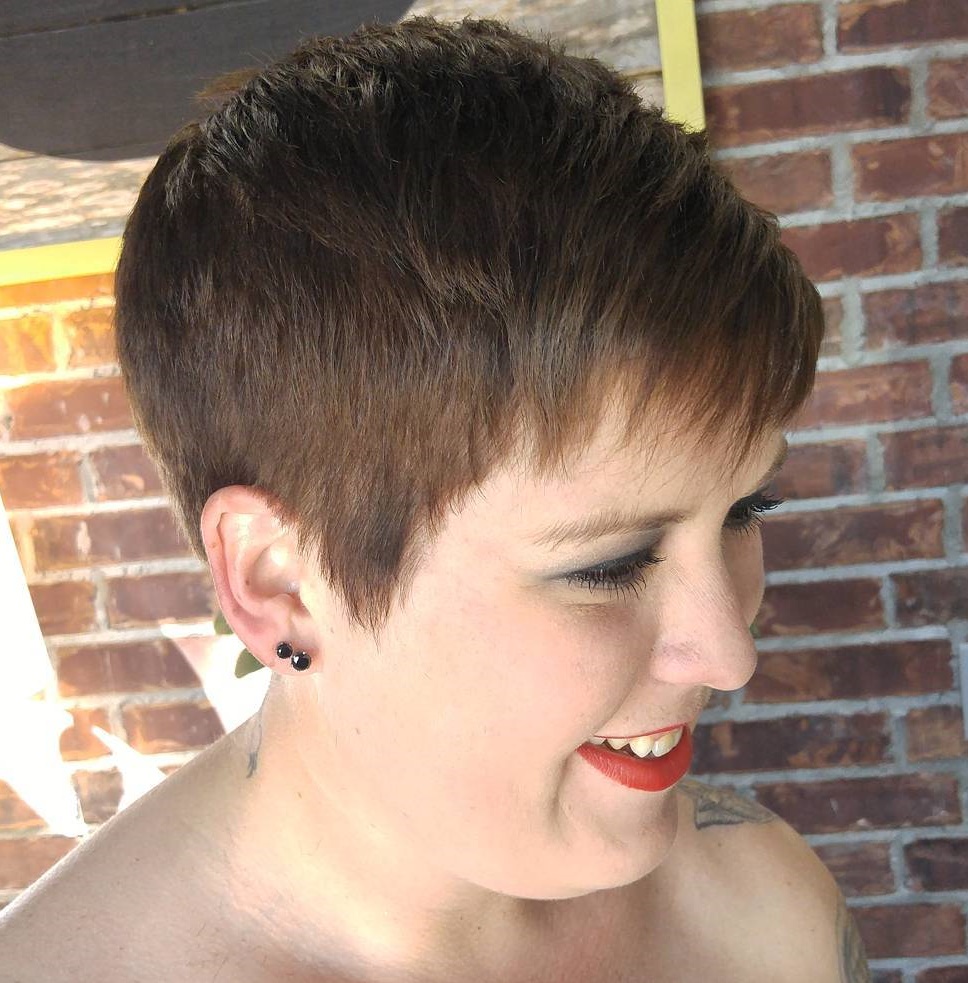 via @morgan.mecca.hair
Even ladies with double chin can pull off a cool pixie, if it's piece-y enough to give some angles to the round shape.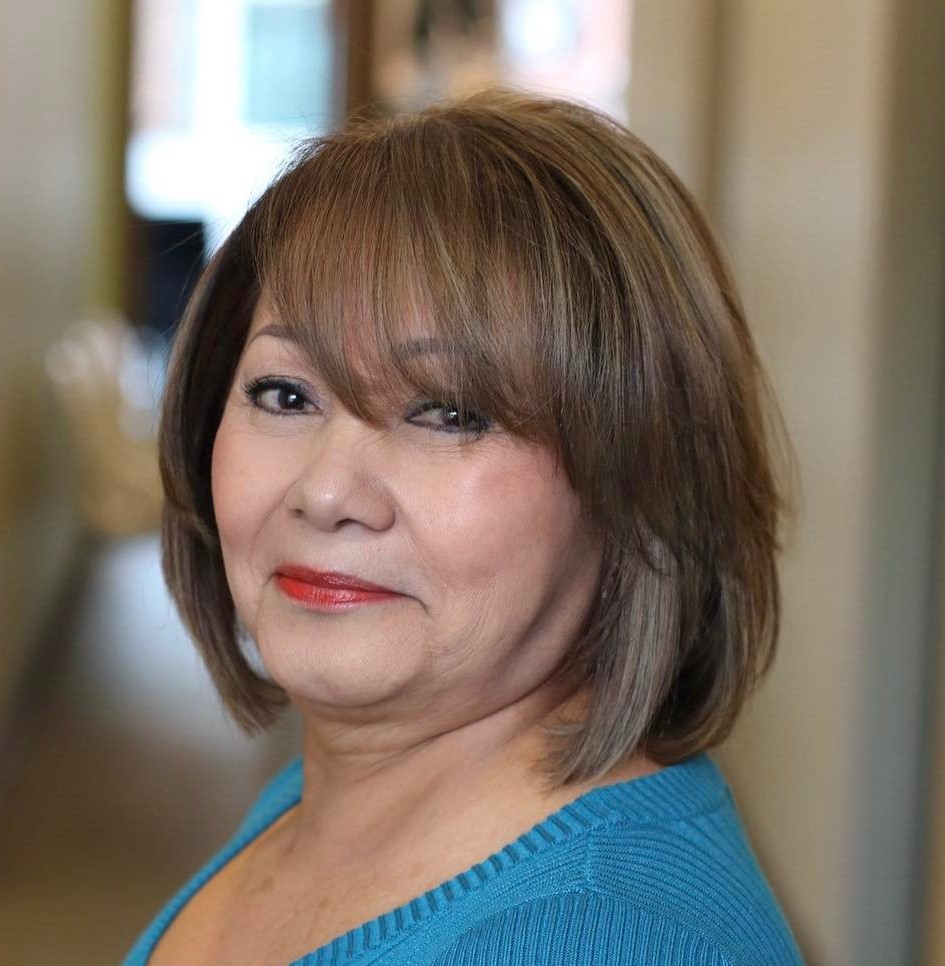 via @beautybyjorge
Women over 50 may want to add something youthful, like these long wispy bangs, complimenting the layered bob.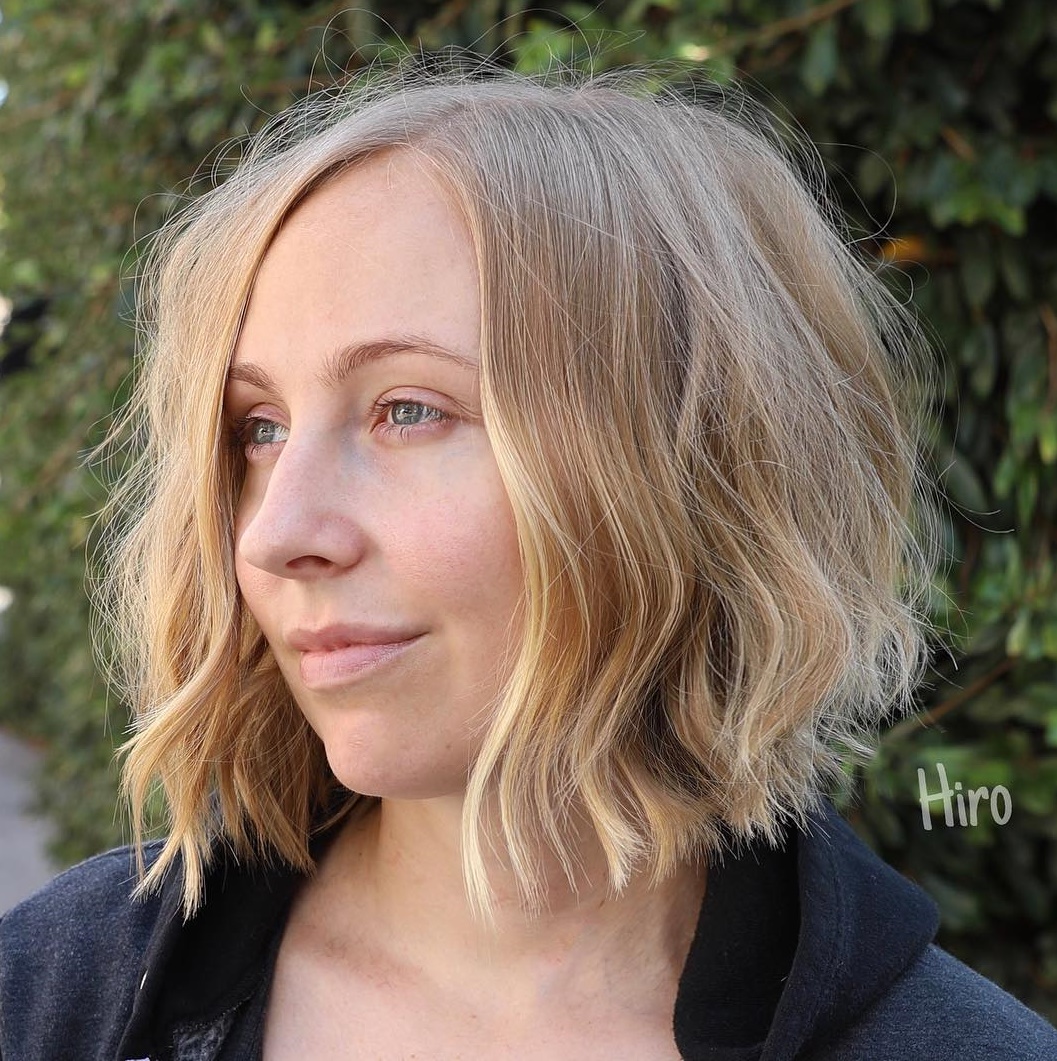 via @hirohair
Both thin hair and the round face shape require one thing – texture. You can find it in a sliced wavy bob, teamed up with a flattering deep side parting.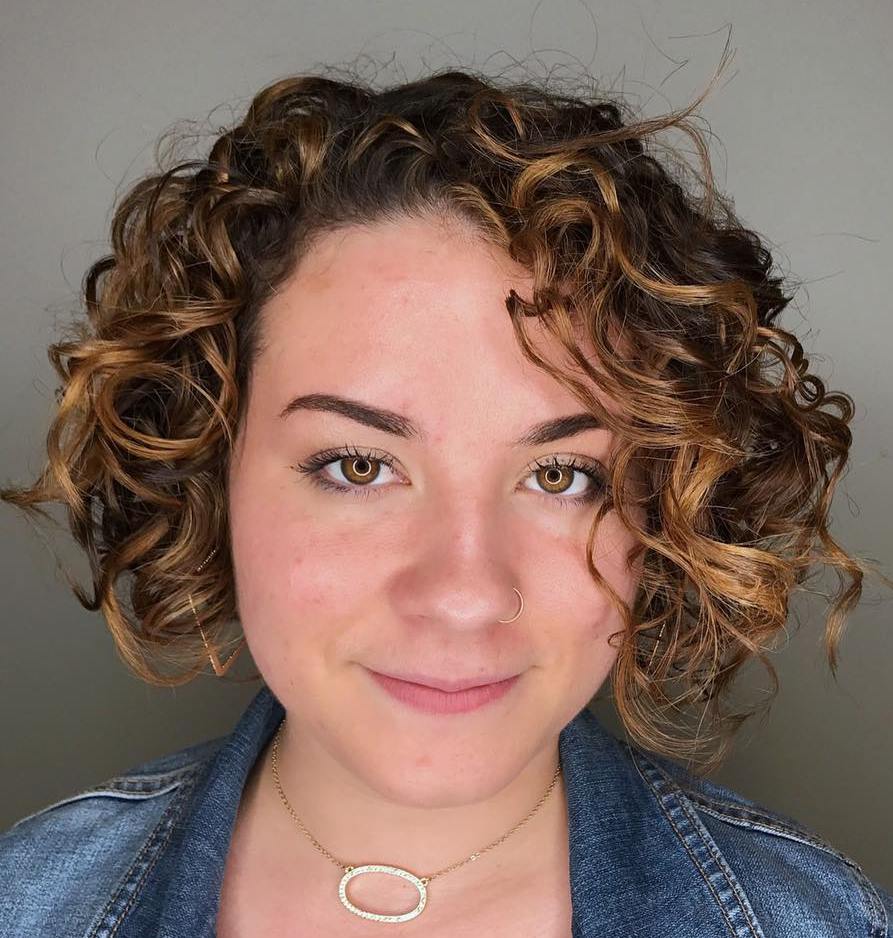 via @thehivesalon
Think that ringlets will make your face even wider? Interrupt the roundness with curly strands, falling diagonally on the face.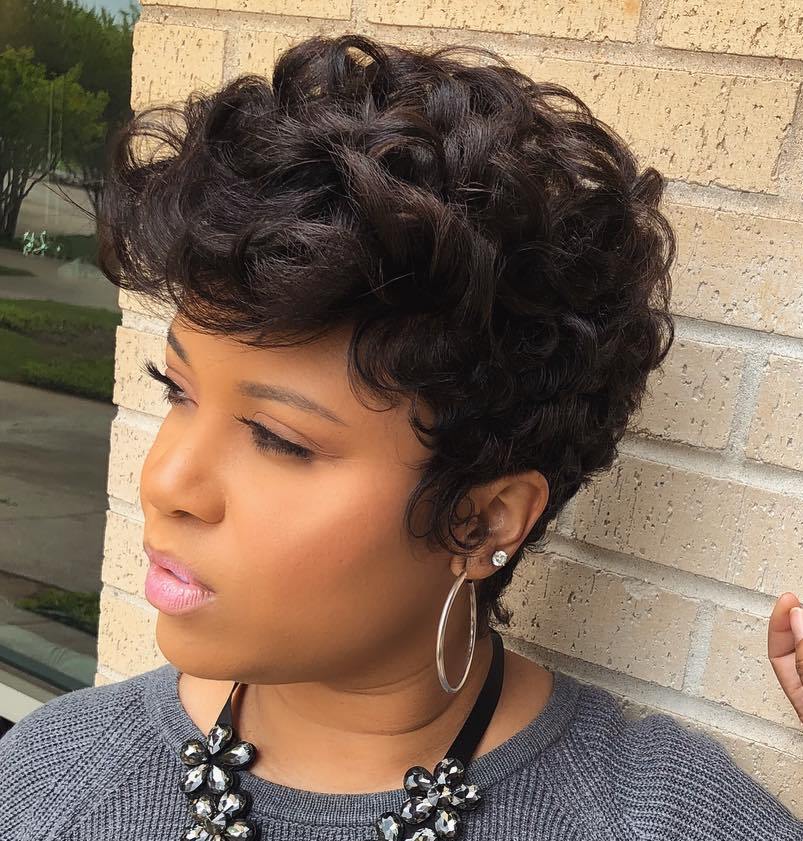 via @khimandi
It's a nice idea for a black hairstyle to enhance volume on the top through fluffy locks, thus creating the desired elongation.
Hot Medium Cuts for Round-Faced Girls
The best way to pull off mid-length 'dos for round faces is to get them layered so that the cascade of layers could sweep along the cheeks. Texture and waves are welcomed, but stay clear of locks that are too done – this can make you look doll-like. For minimizing the widening effect in haircuts for fat faces, it's better to curl the hair closer to the ends rather than from the very roots. And don't forget about the parting! "The ideal part line is down the middle or a deep side part. Both of these parts will give the illusion of length and create symmetry around your face," celebrity hairstylist Mika Fowler told Byrdie.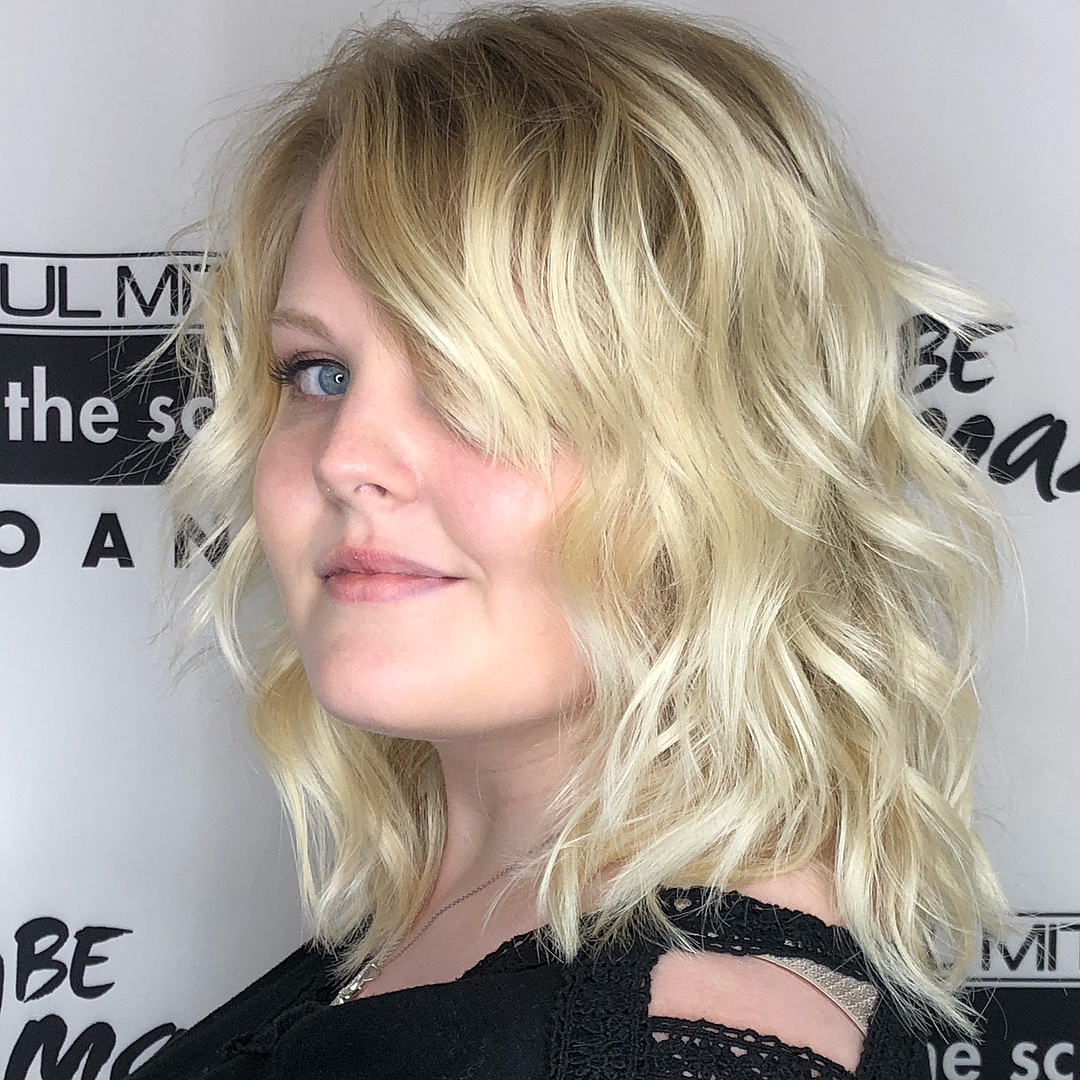 via @accomando
This blonde lob with bangs has everything you need to camouflage excessive roundness – choppy layers, textured waves and the diagonal line of fringe.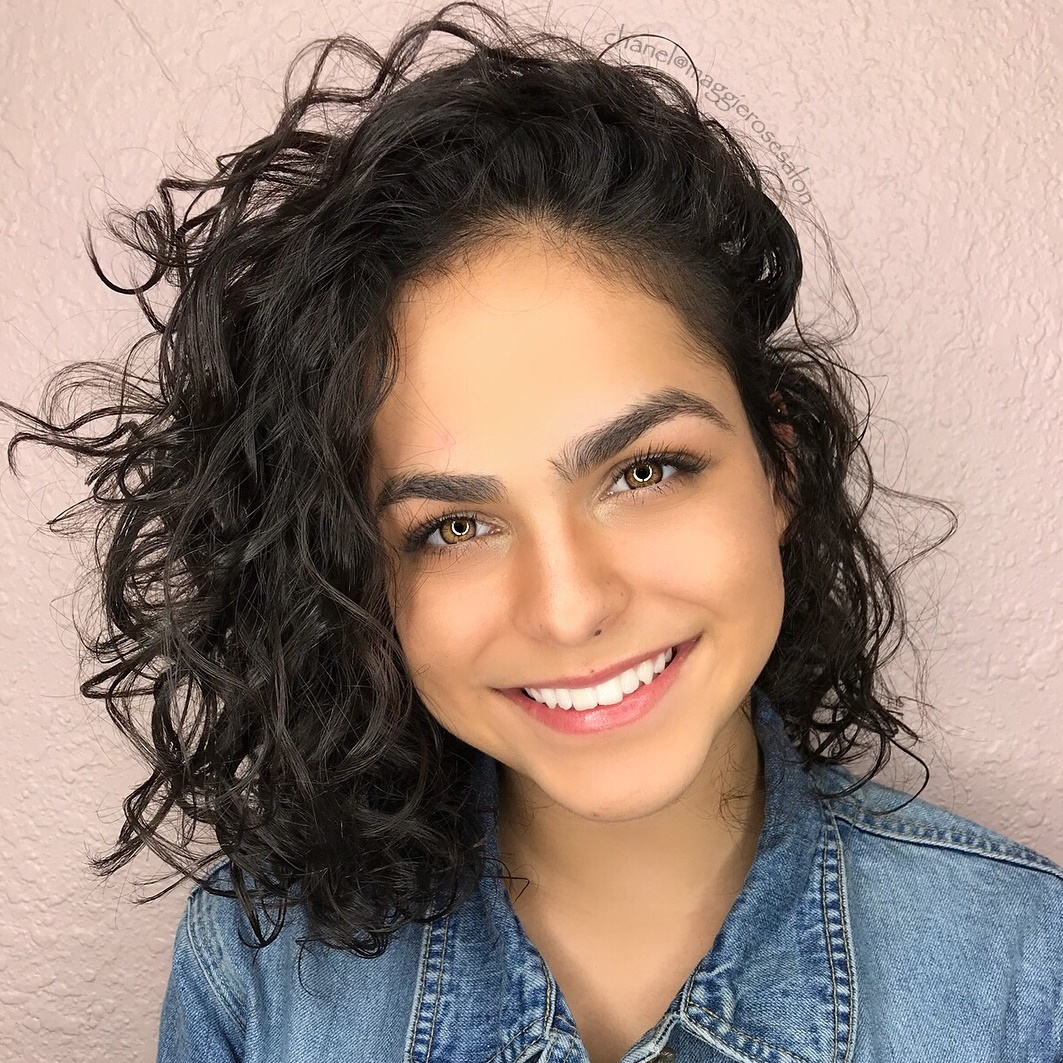 via @chanelstylez
This shoulder-length curly lob looks gorgeouswith side-swept styling that creates an elevated top to balance the width of the bone structure.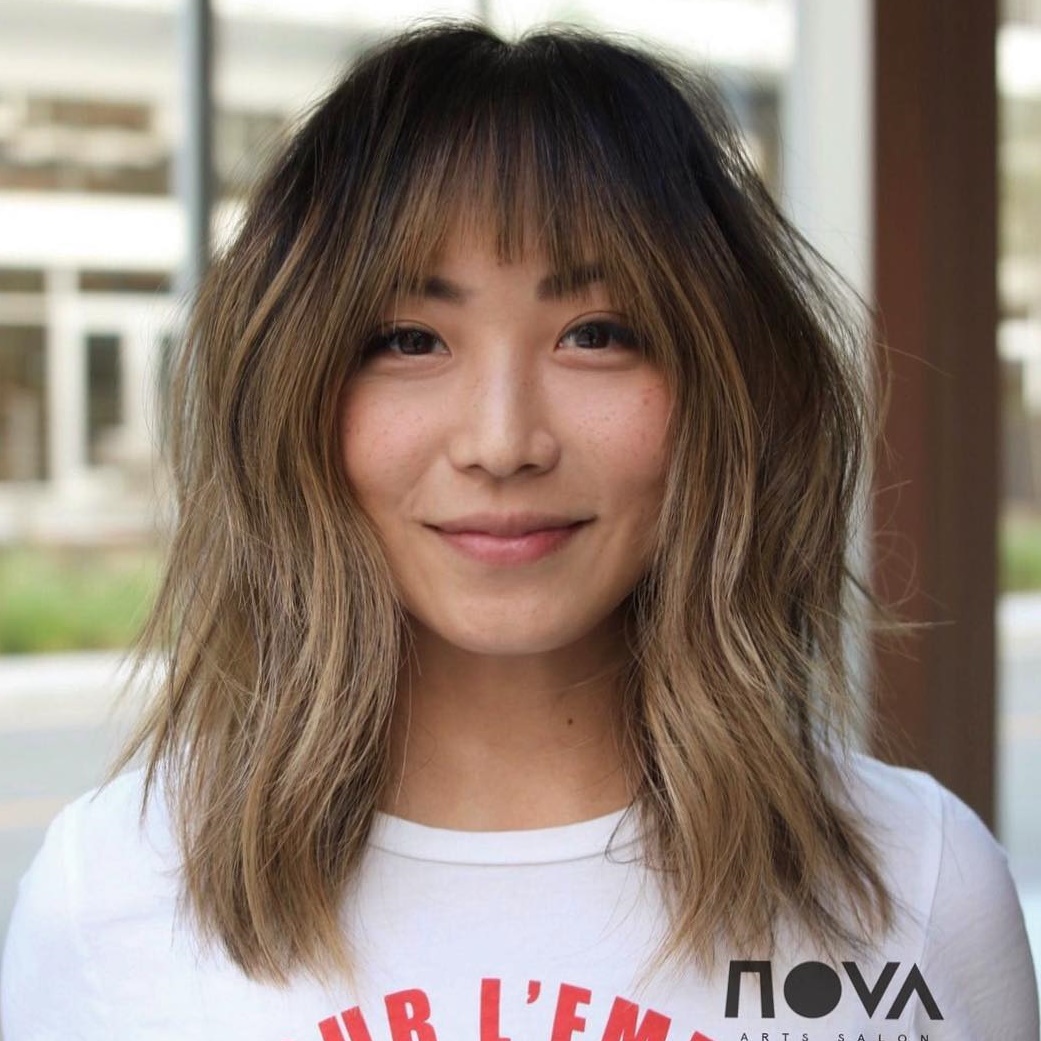 via @salsalhair
Asian girls will like the shaggy lob, adorned with a teasing multi-layered fringe and brightened up with an awesome color transition.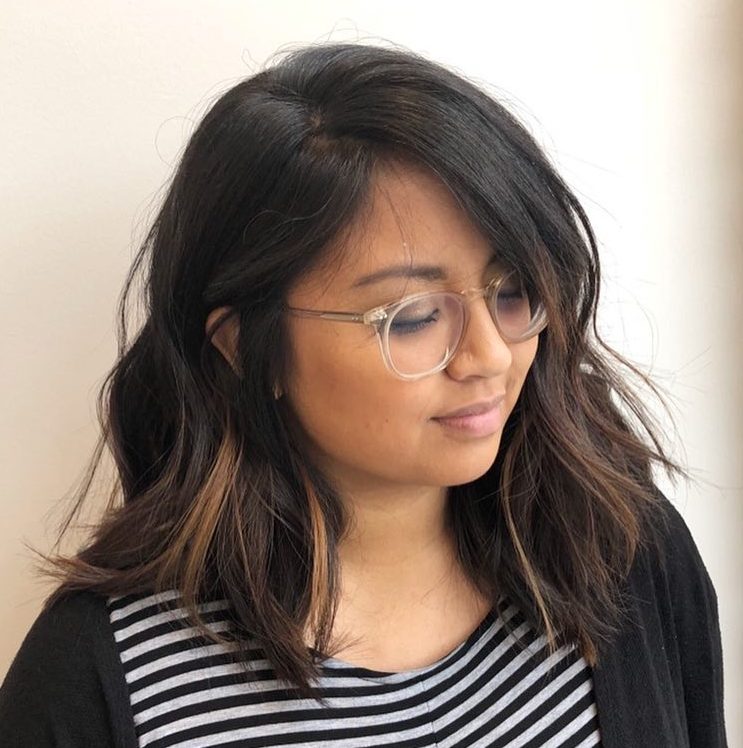 via @hairbykelsieangst
This girl sports dark thick hair with lovely highlights that look so natural. And she smartly balances her face shape by bangs and behind-the-ear styling.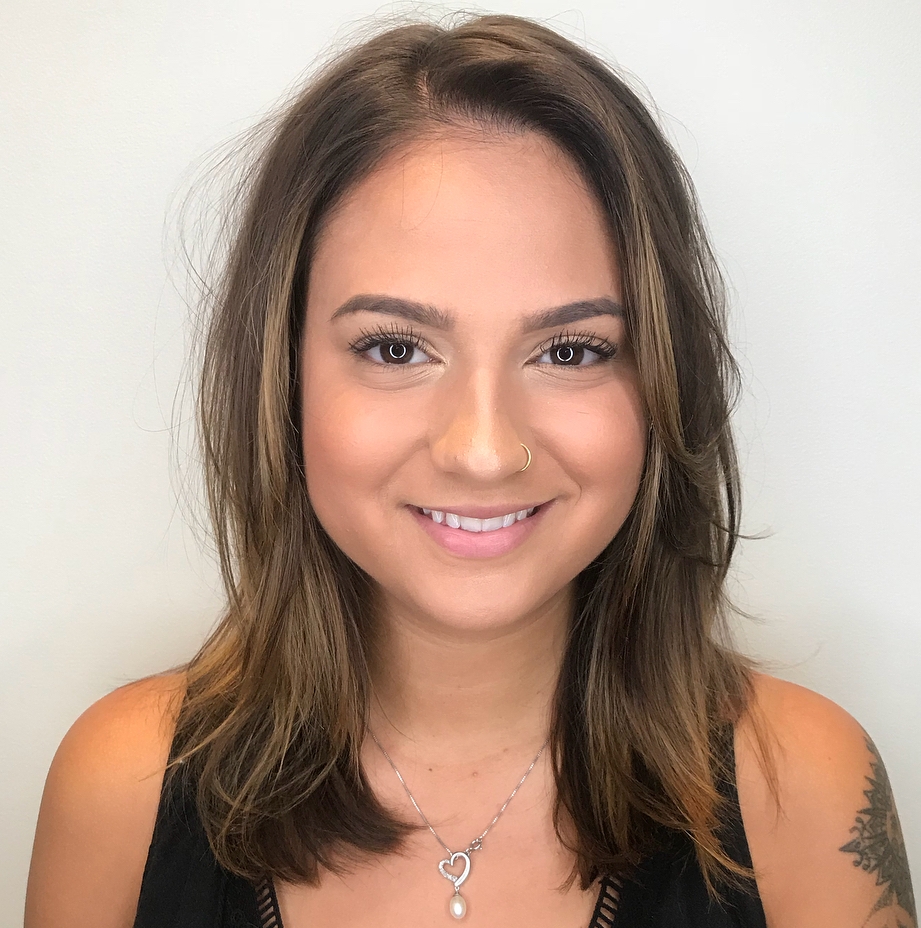 via @breanna_scs
When you have the right length to drag your face down, take it a step further and get your hair layered for a bouncy feel.
Modern Long Hairdos to Hide the Roundness
Probably, you won't be surprised to find out that layering is your go-to option when it comes to longer hairstyles. While the length gives your face the power to look slim, long hair often lacks lift and movement, which can be delivered through layers. A long fringe is another thing to consider since it adds some visual height on the top and helps balance the look. When choosing full bangs, opt for those with longer pieces on the sides, while side fringes work better when they are also layered. If you want to curl your hair, go for soft waves that start below the chin to avoid excessive fullness around the cheeks.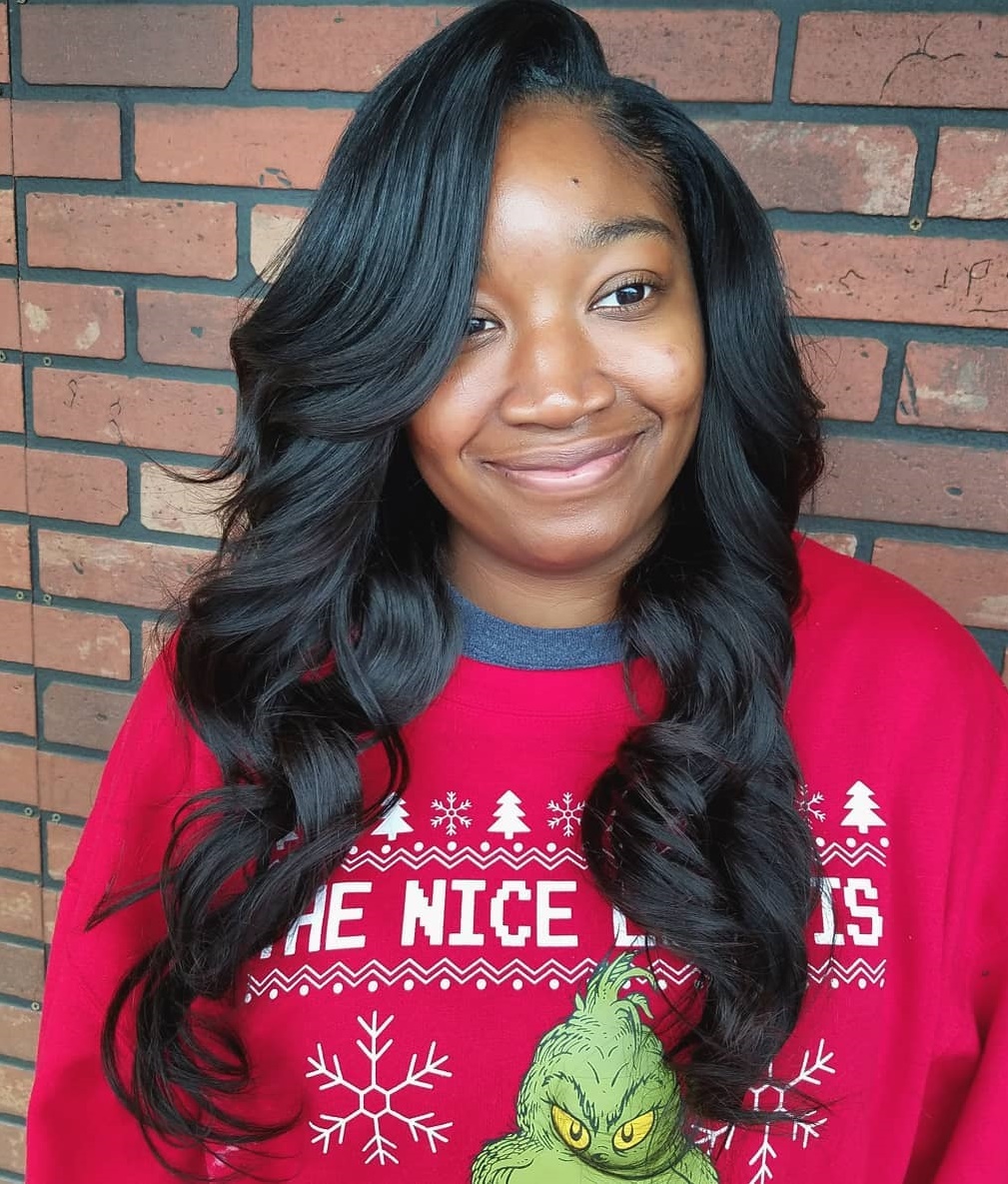 via @harmony_hair_studio
This weave hairstyle is lavish, but it's also well-balanced due to the elevated and side-swept tresses.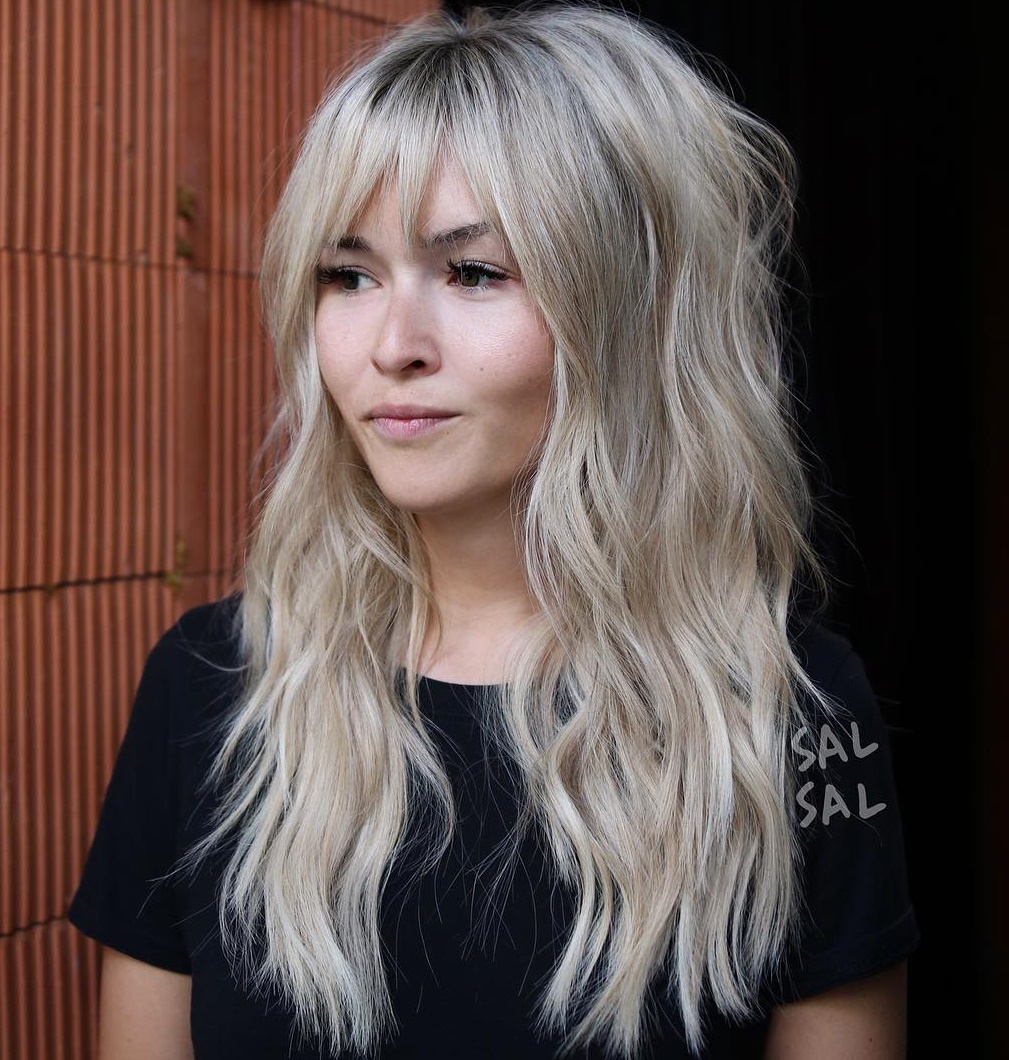 via @salsalhair
The long shaggy hairstyle gains this iconic Bardot-esque look, when coupled with a tapered fringe that also serves to correct proportions.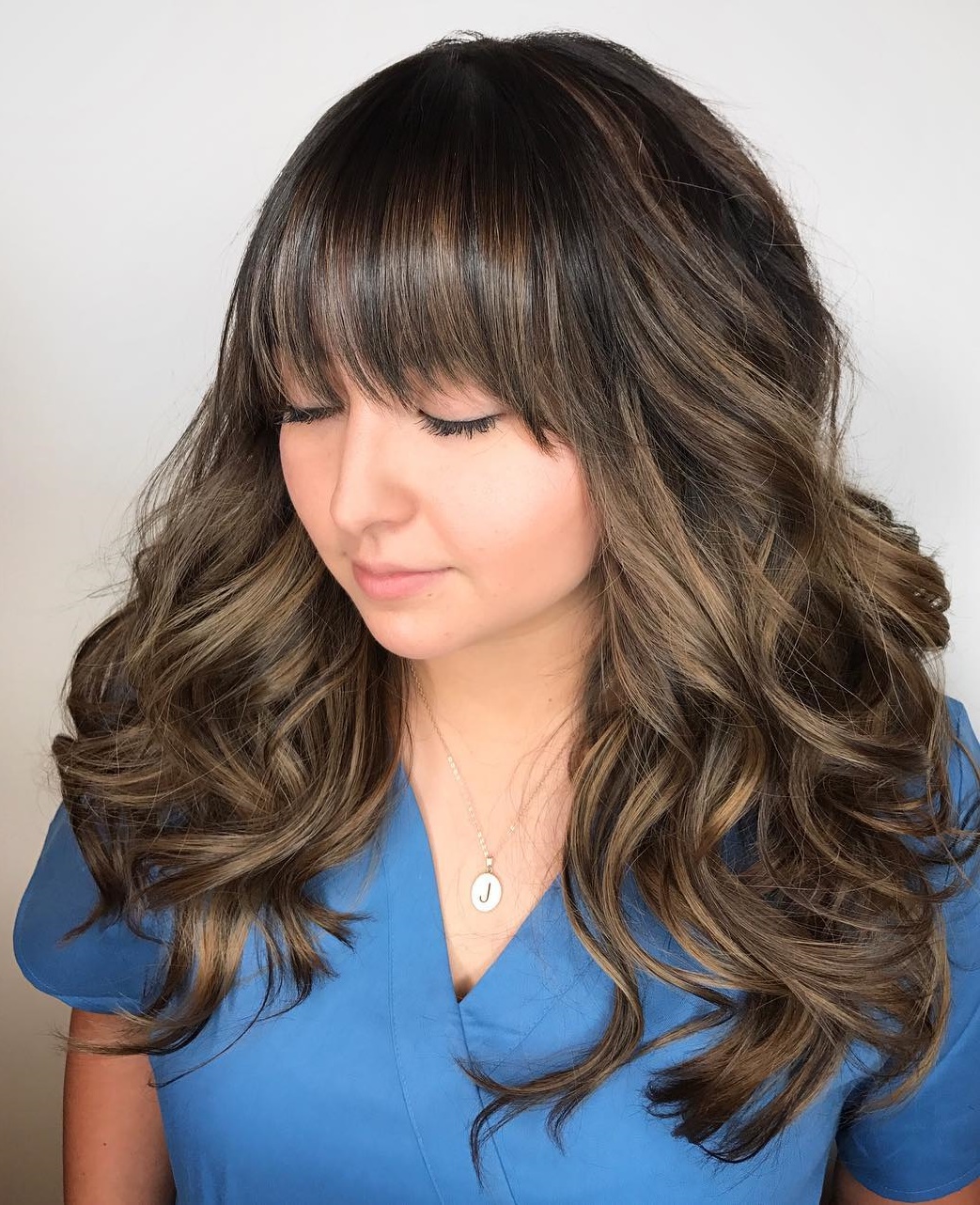 via @aprilbloom
A full layered fringe is a sure-fire way to add some length to the face. Steal this stunning wavy hairstyle with fringe and amazing highlights.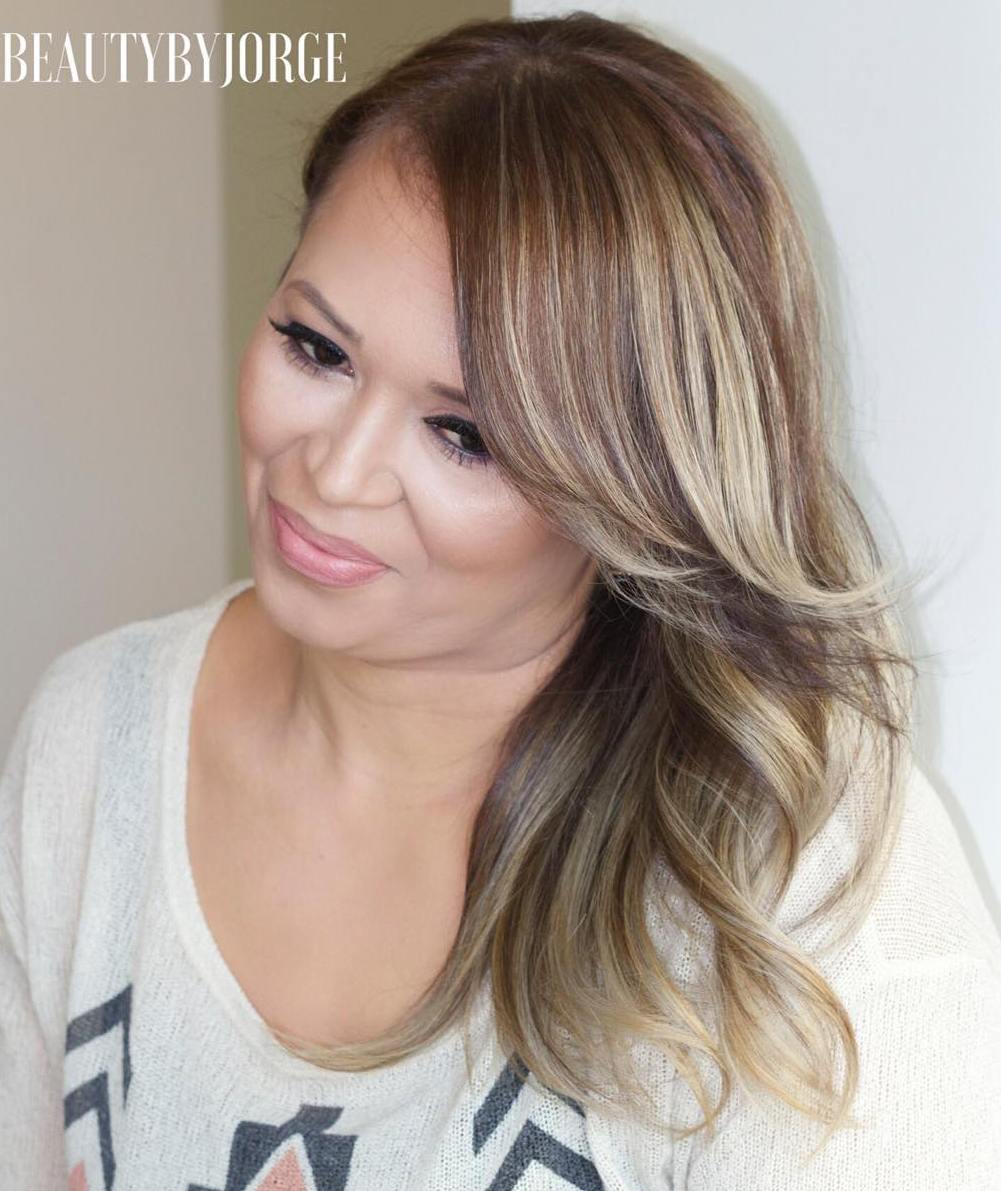 via @beautybyjorge
Ladies over 40 shouldn't shy away from long 'dos! You'd better make it rejuvenating by playful flipped-out styling and an exceptionalbalayage.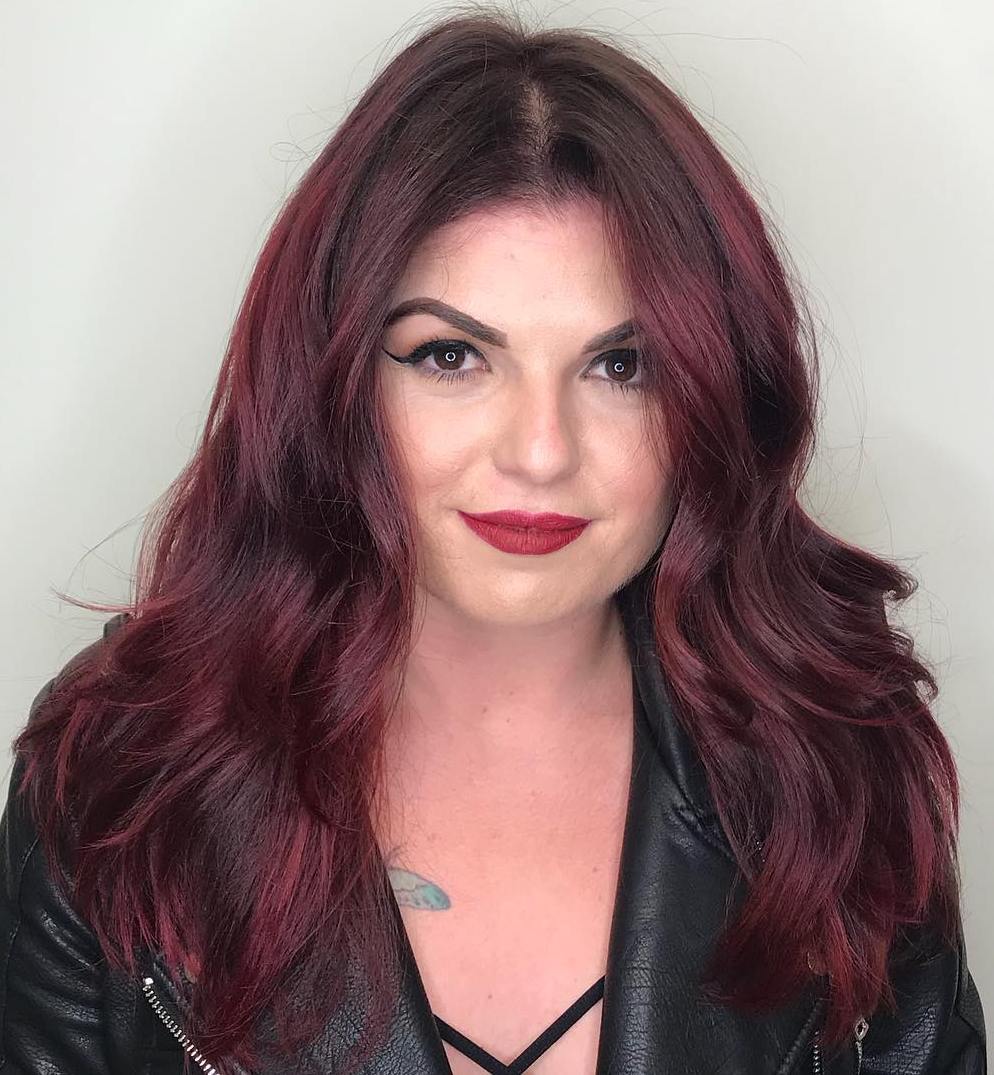 via @ronesiabarrshair
This layeredhairstyle boasts a centre parting and face-framing tresses that start at the collar bone level – which is perfect for round faces!
Picking Hip Haircuts by Hair Type
Whichever face shape you have, it's a good idea to factor in your hair type, since shape and texture work together for creating a look. When having thick and healthy mane, you can opt for long hairstyles and even go blunt. With fine locks, that's another pair of shoes, as in longer versions they tend to fall flat if not layered. "A round face looks really good with an uneven cut, meaning a mix of lengths," says Chris McMillan, who does the hair of Jennifer Aniston, Miley Cyrus and Anne Hathaway, to Allure. However, don't overdo it, since too much layers can end up in a sparser feel.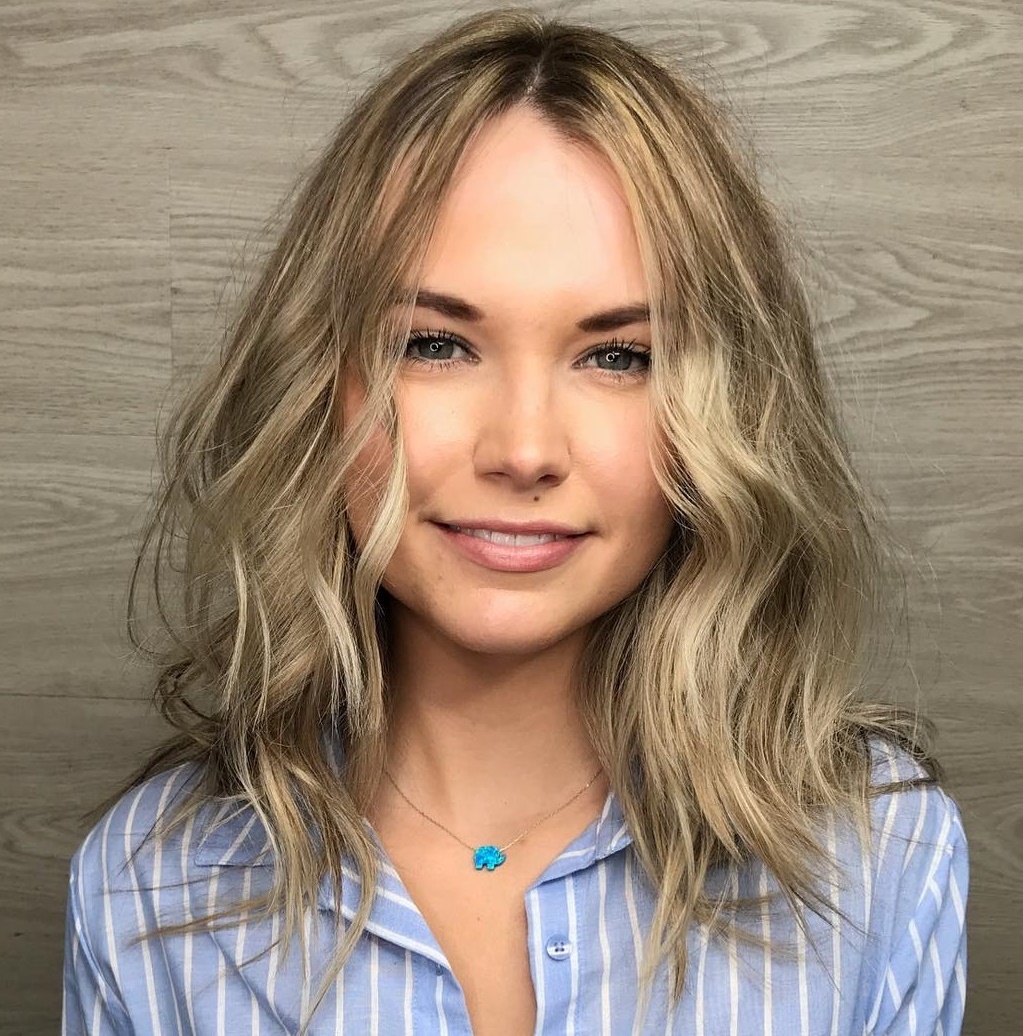 via @michaelalborhair
Longer layers work fine for thin hair, giving it oomph, while this triangle shape and sliced tips are just what you need to get some angles.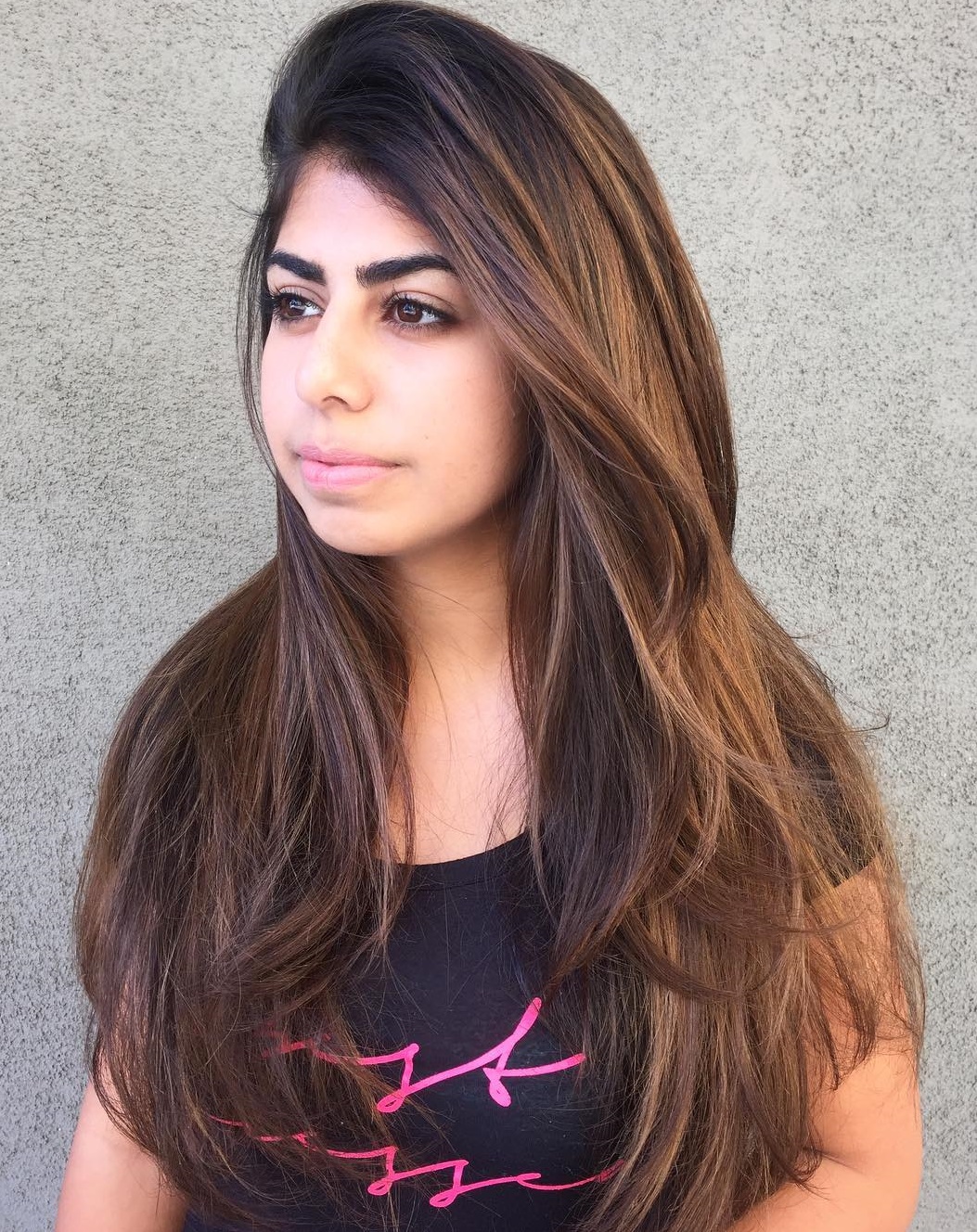 via @jordanfinch__
This amazing thick mane boasts plenty of texture past the chin to lengthen the face, but it's also side-swept for an even greater effect.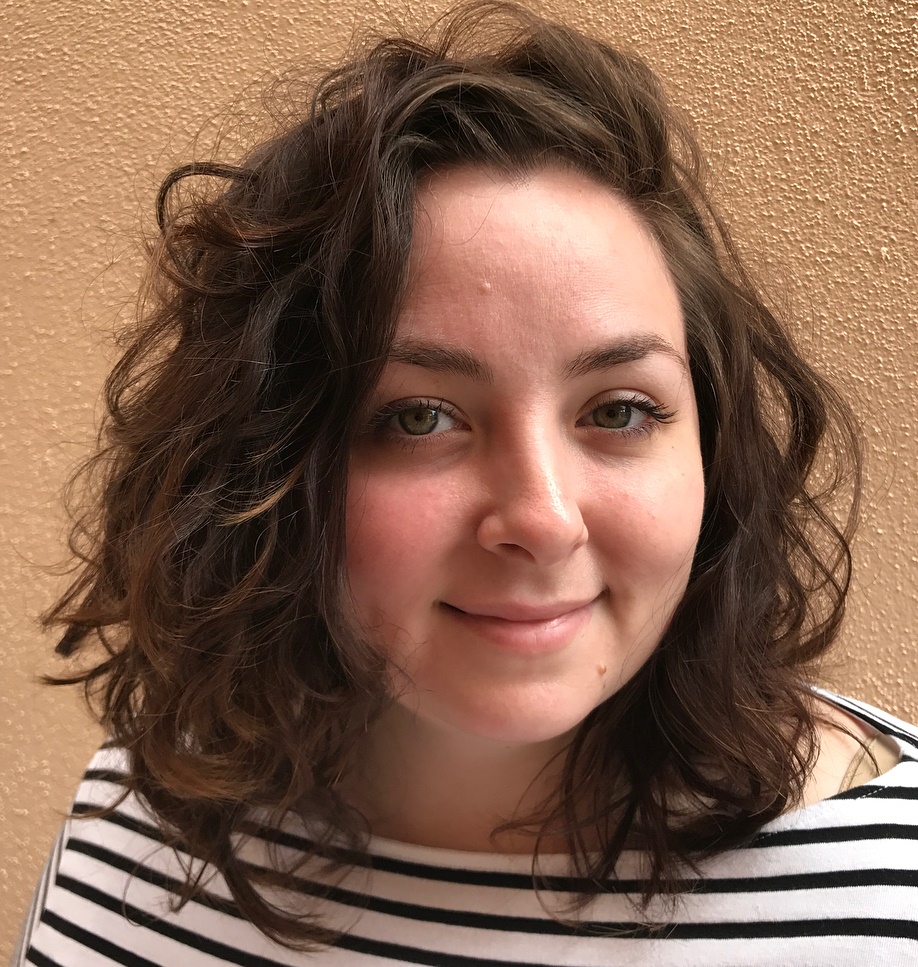 via @torrensalicia
Here is a nice example of how to wear your curly hair – cut below the chin, lifted on the top and naturally bouncy.
via @anhcotran
A middle part is good for a round face, and this straight bob proves the rule. Tuck side tresses behind one ear to switch up your look and add some flattering asymmetry.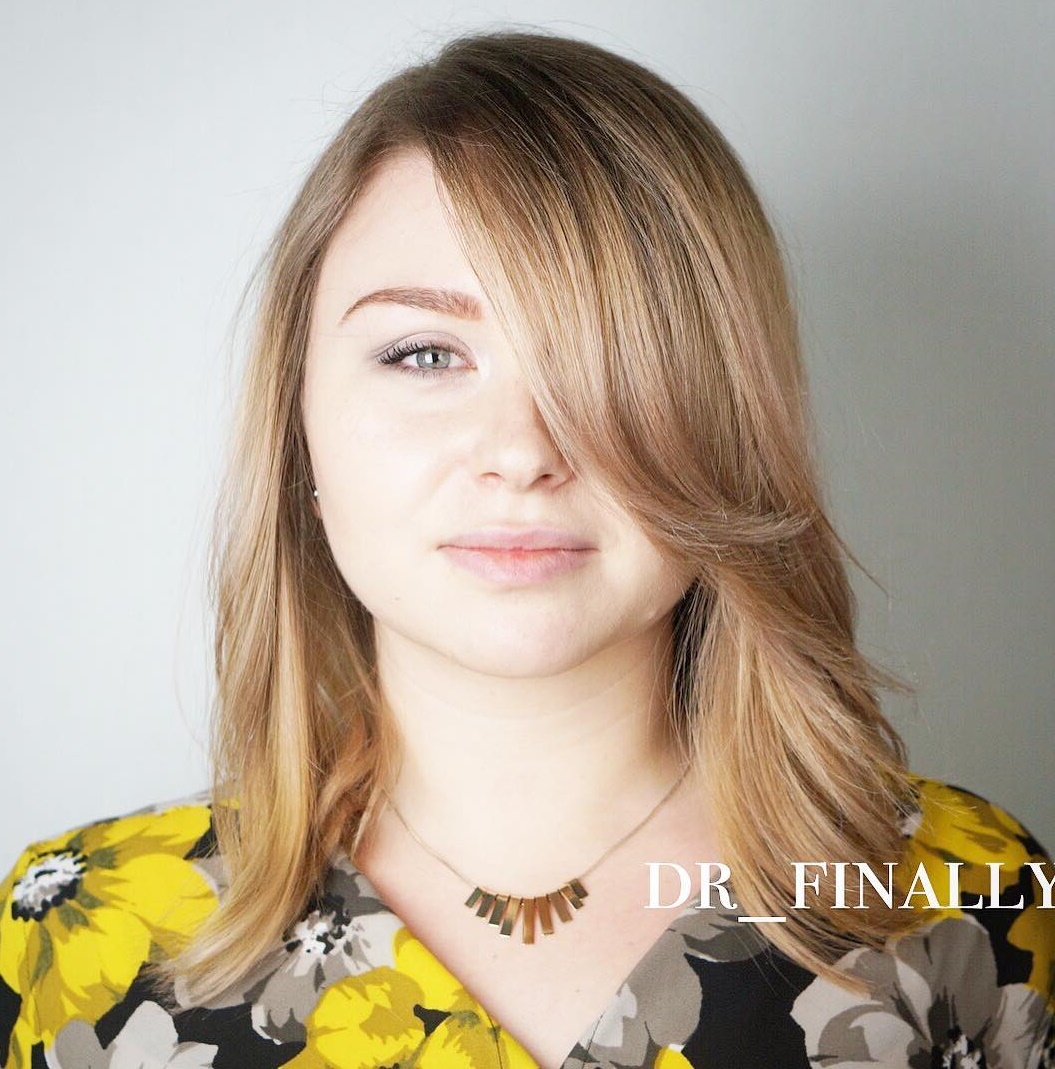 via @dr_finally
Fine hair benefits from subtle layering, while a feathered finish makes it even airier. Wear it with tapered side bangs to balance the look.
Cool Bob Haircuts for Round Faces
As previously noted, both the chin-length bob and its longer version go well with round faces, if correctly customized. The key to a flattering style is to avoid a one-length short cut that is round-brushed just to accentuate the cheeks. If your hair isn't prone to frizz, ask for razor-cut ends to have a choppier look. "If you don't feel like you can pull off a super blunt bob, but love the length, this is your haircut. This cut can also save you from going anywhere near a 'mom bob," said DJ Quintero, celebrity hairstylist behind Katie Holmes and Sarah Jessica Parker, in his comments for Today.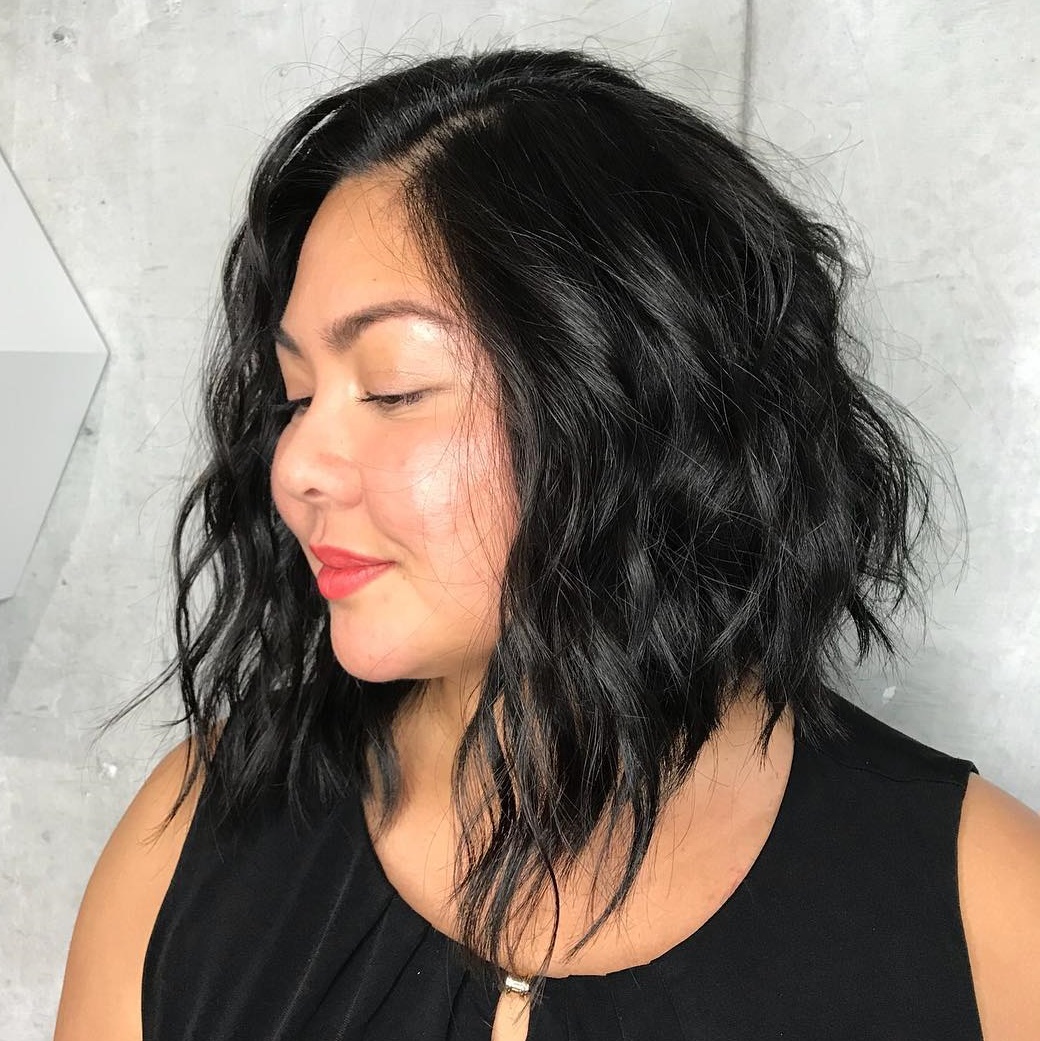 via @sonia_hairstory
This long bob is slightly angled towards the front to put more emphasis into the elongating face-framing tresses.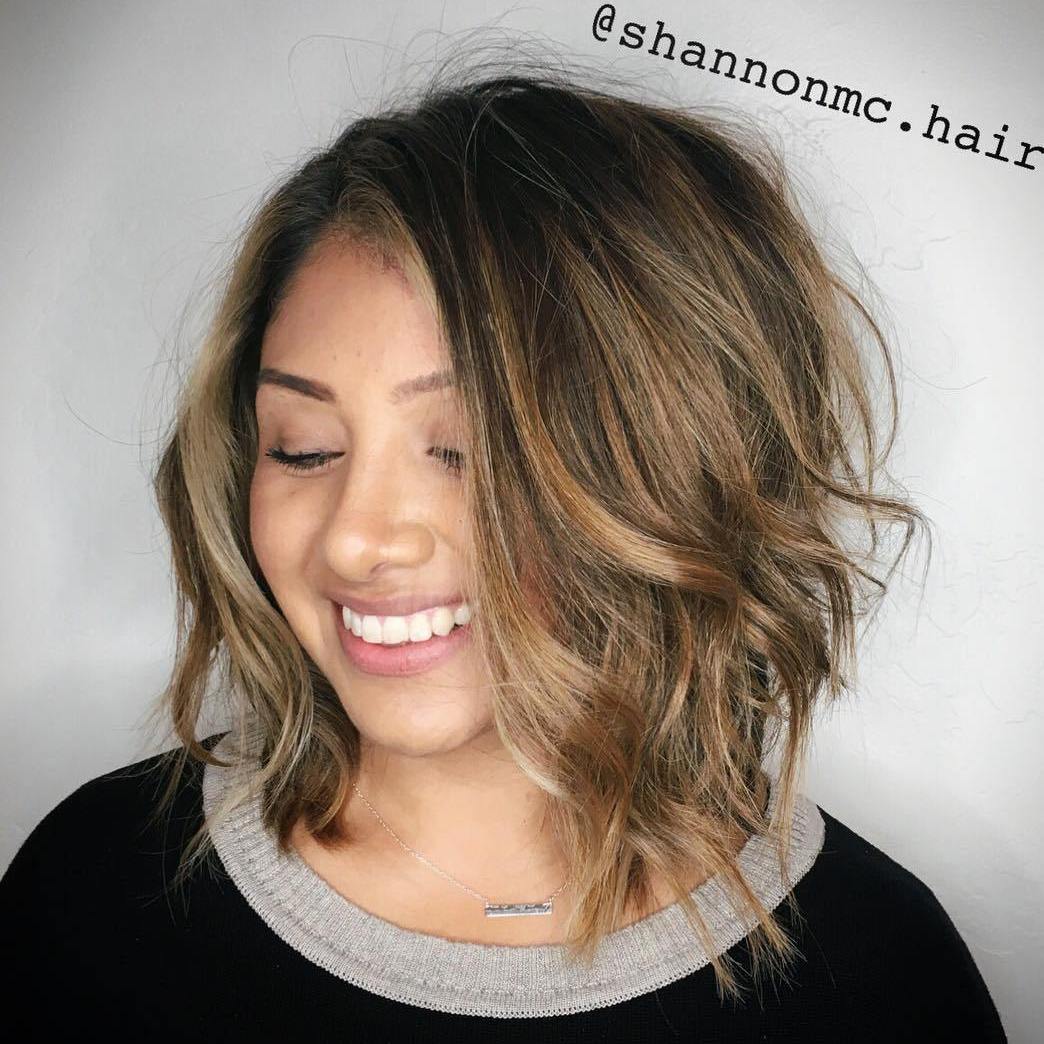 via @shannonmc_hair
The messy lob delivers texture, which is great for round faces, but the effect can be enhanced with a side parting.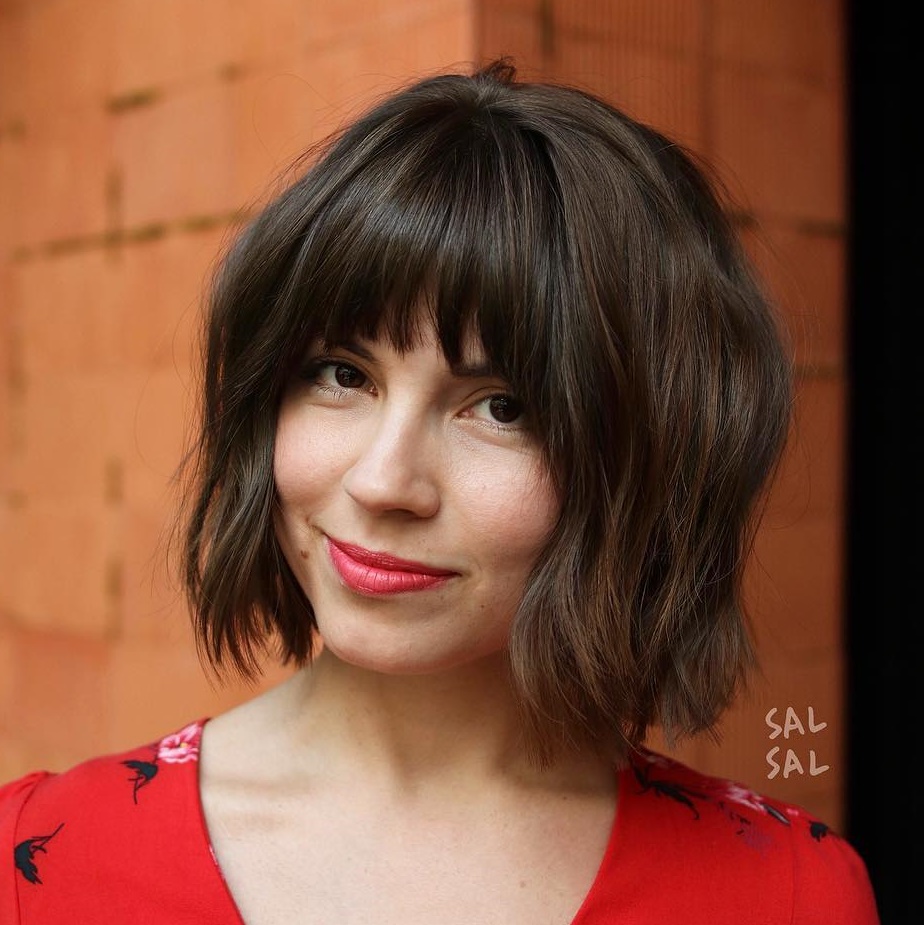 via @salsalhair
Thick manes often look bulky, but it's not the case with the thinned-out shaggy bob that features full bangs, angled towards the temples.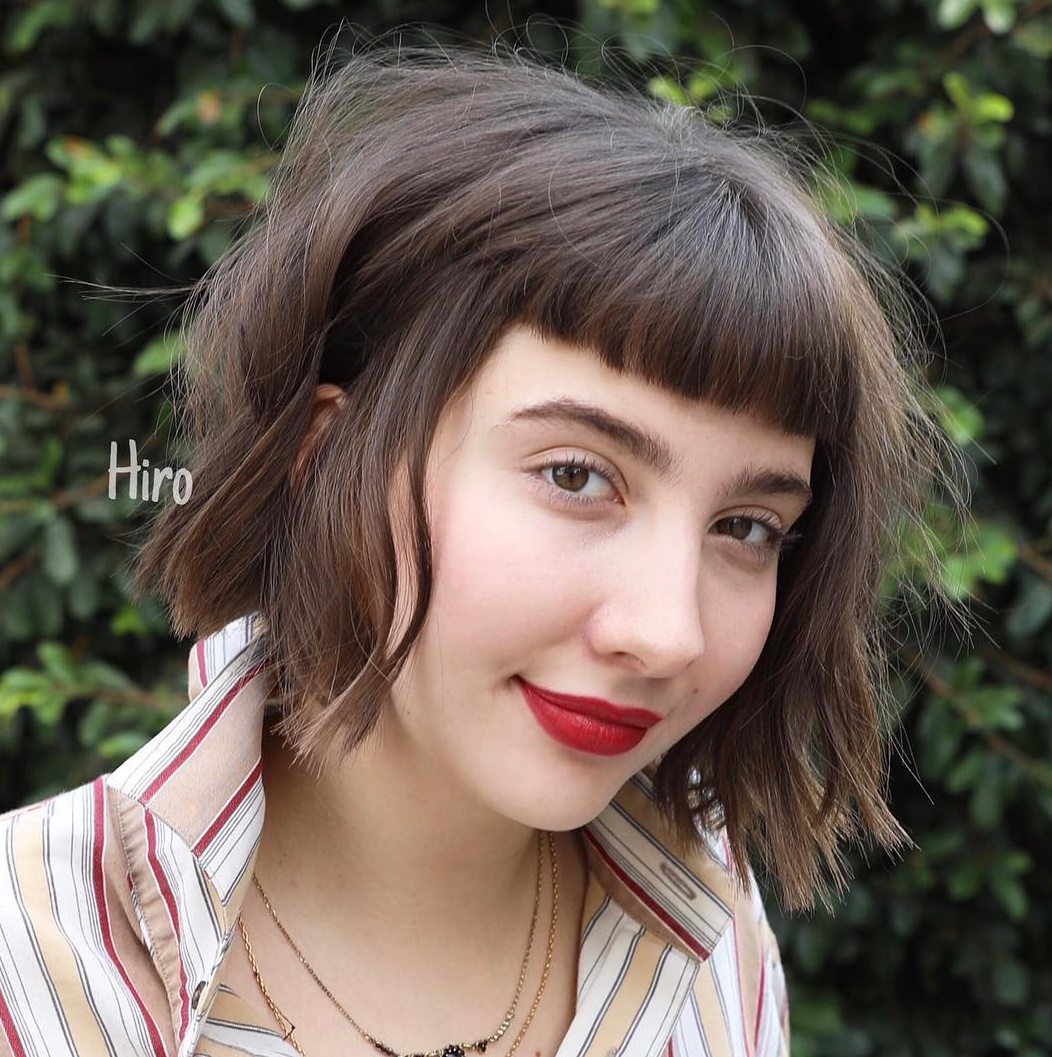 via @hirohair
This chin-length bob comes with bangs, sure to grab attention. Perfectly blunt, they are also dramatically short – and this makes the style really hot.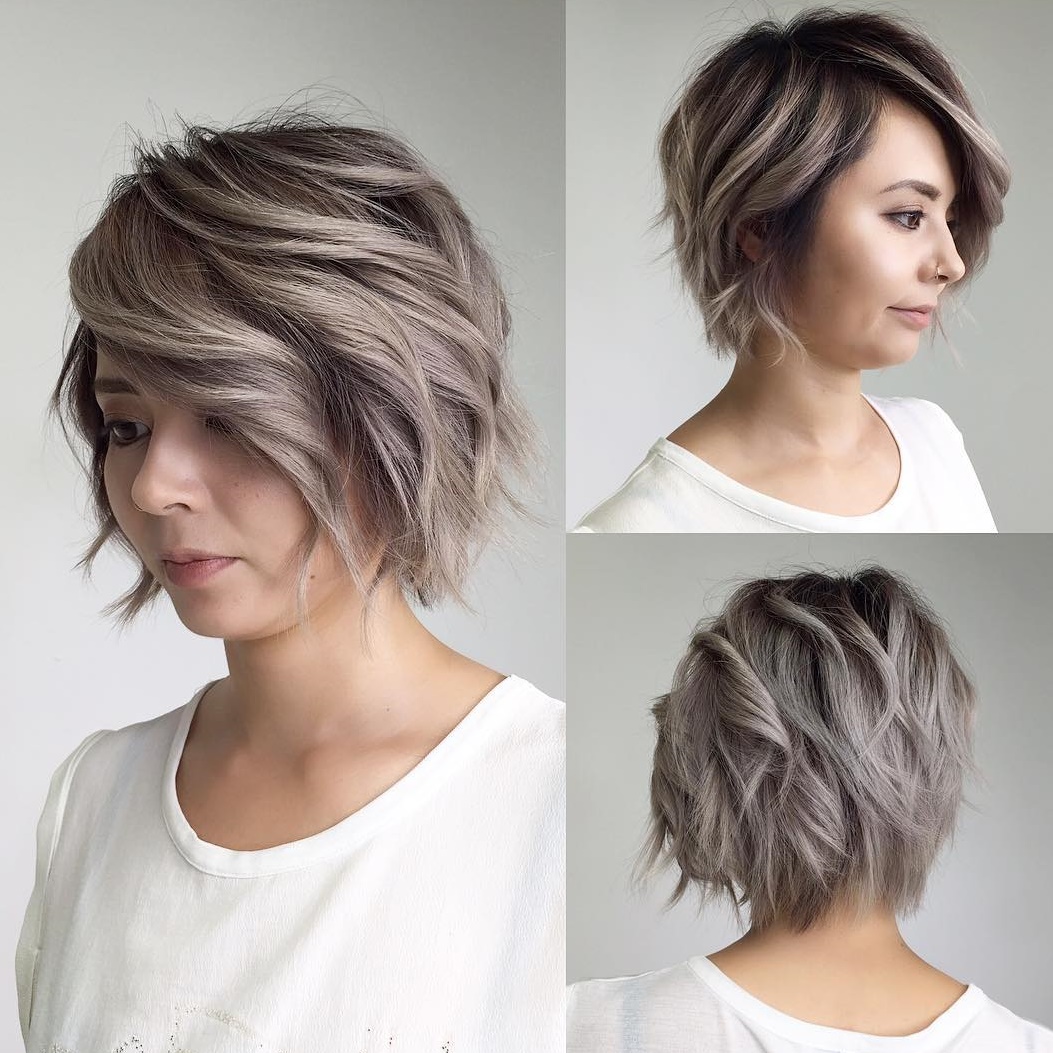 via @chiyukihair
Here is an eye-catchingshort bob that is layered, tapered and curled to have angles and pieces all throughout the head.
Fun Black Styles to Flatter Round Faces
Black hairstyles for round faces pose certain challenges. On the one hand, frizzy texture of natural African American hair can create excess volume around the cheeks in short and mid-length cuts. On the other hand, growing out long hair is quite tricky with its fragile texture. This is where relaxing, braiding or asew-in style can really help in taming bushy Afro hair, while giving it an elongating effect. Yet, natural hair shines in pixie cuts and bob chops, especially when the latter is layered to get more definition and visual structure. Anyway, opt for tapered lines, since they create the required angles to build more advantageous framing.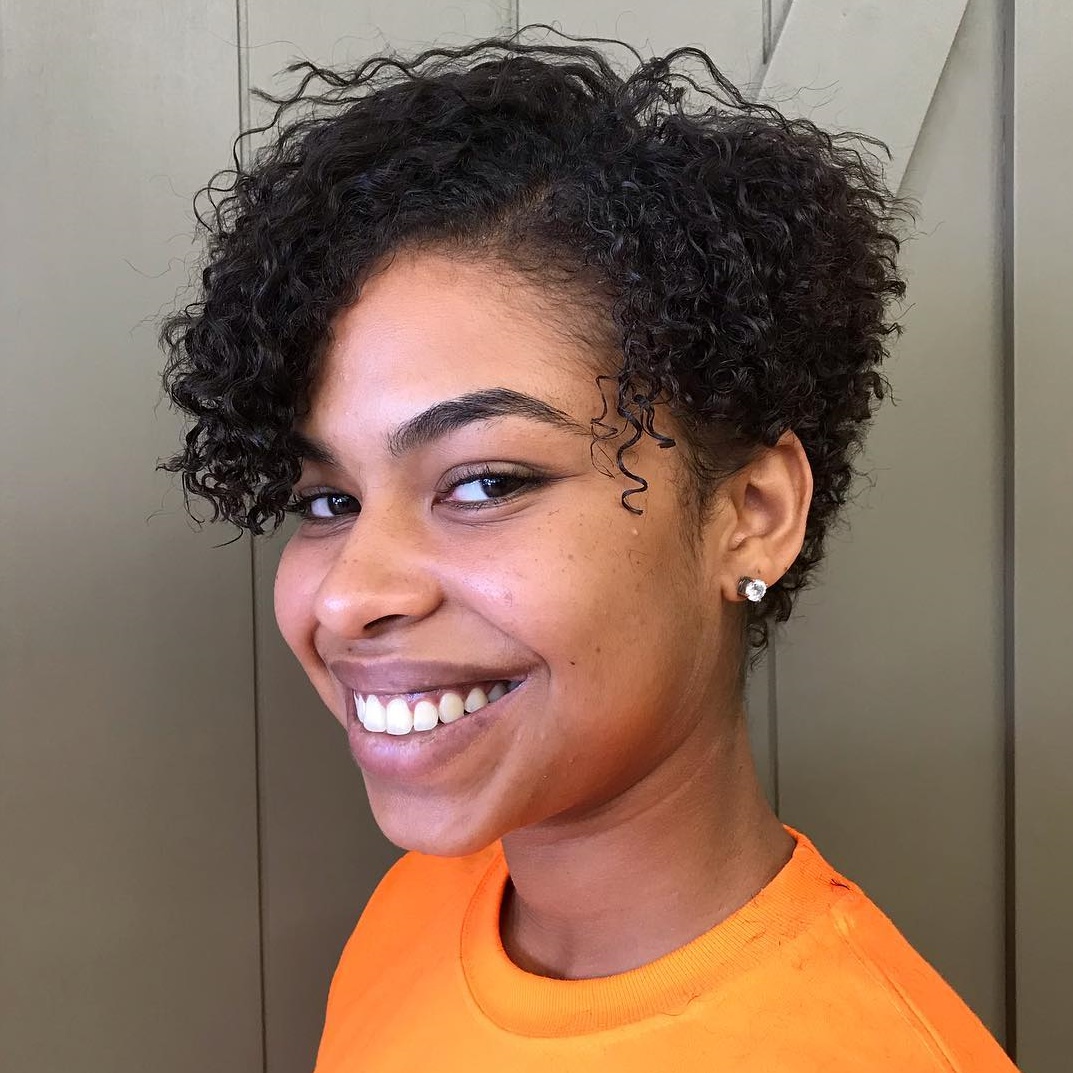 via @curlqueenleyla
This girl proves that short hairstyles go well with fuller faces, when volume and texture are added to the top.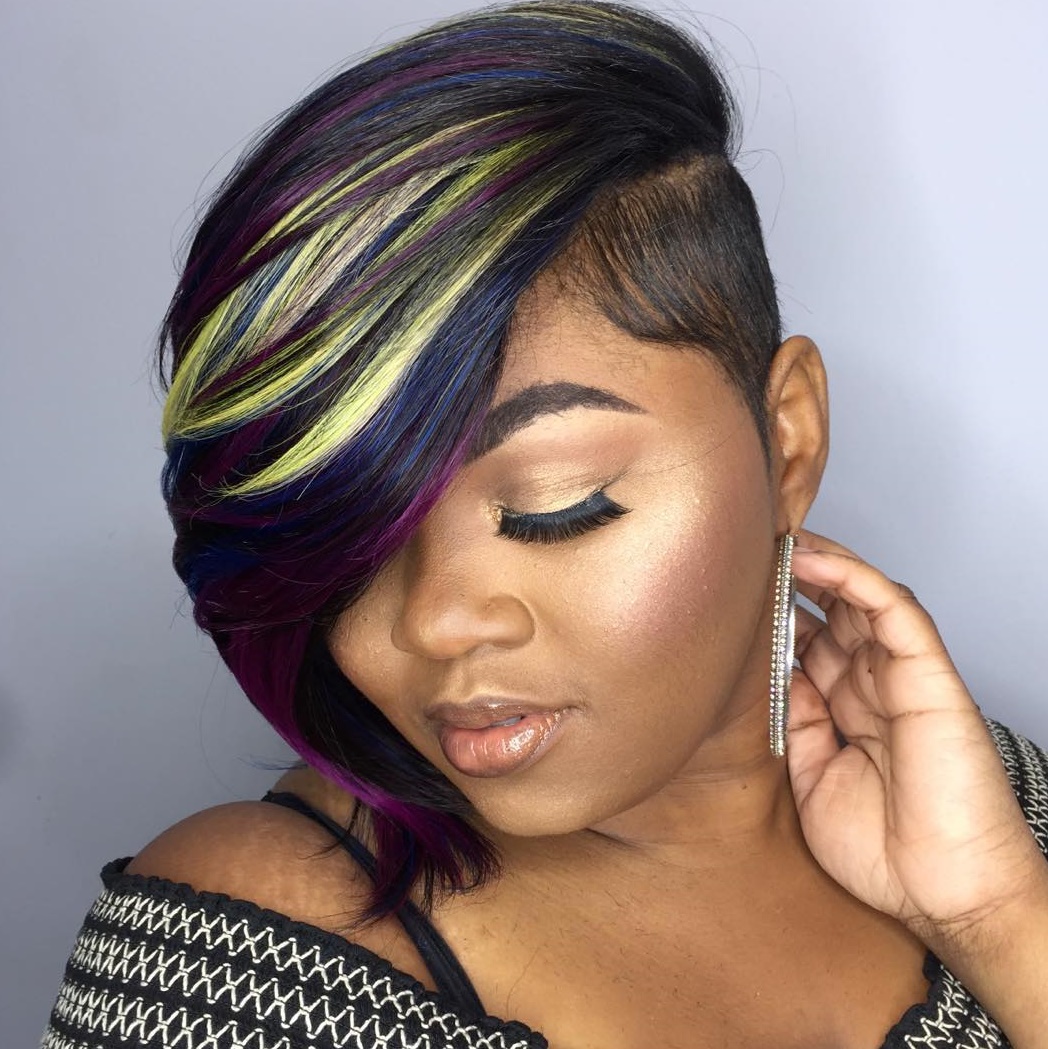 via @porshaporche
If you lack natural volume, don't hesitate to go for weave hairstyles, like this eye-popping 'do with flattering asymmetry.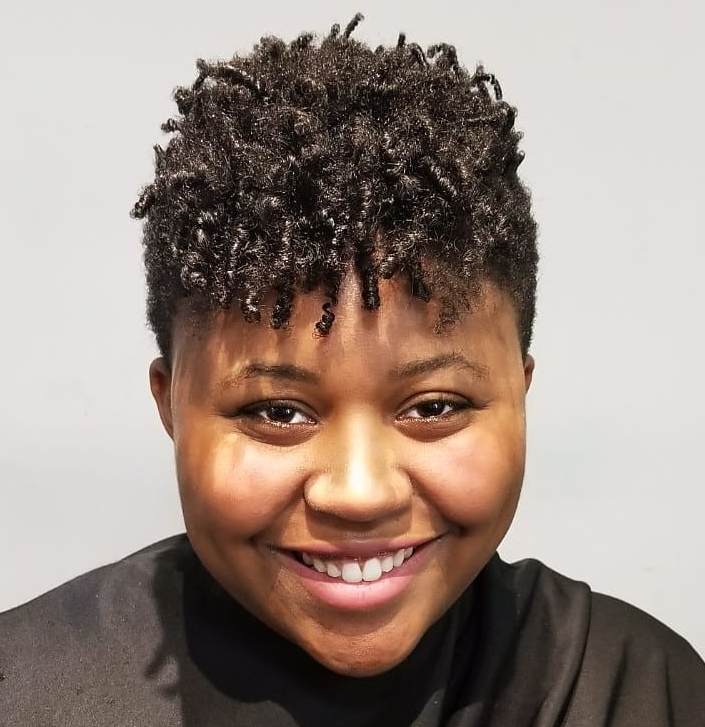 via @iamporschadanielle
You can enhance yournaturaltextureand try a faux hawk hairstyle with fun twist out spirals.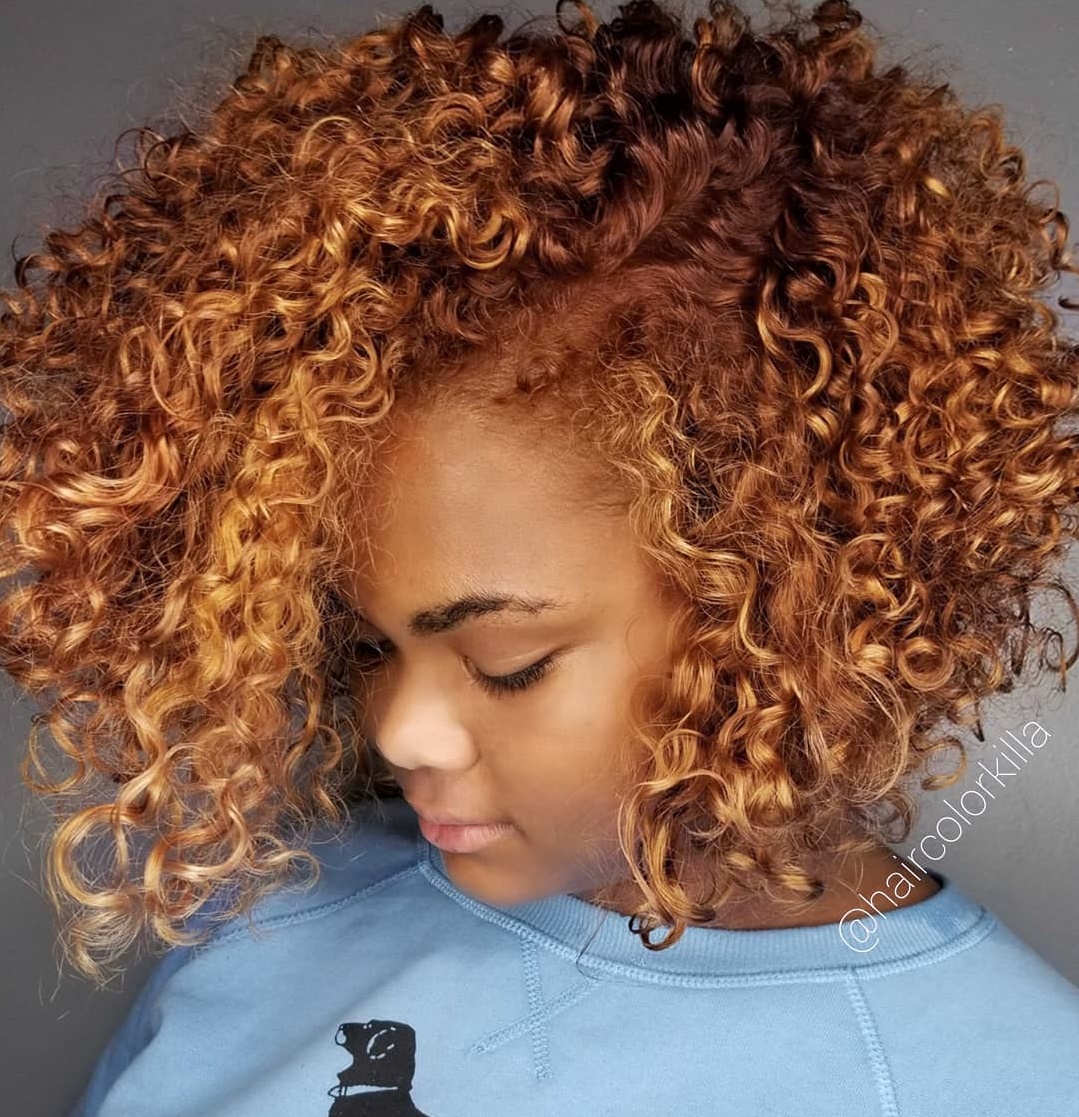 via @haircolorkilla
This African American gal knows how to embrace her natural curl and adapt it to her face shape –through a glam side-parted bob.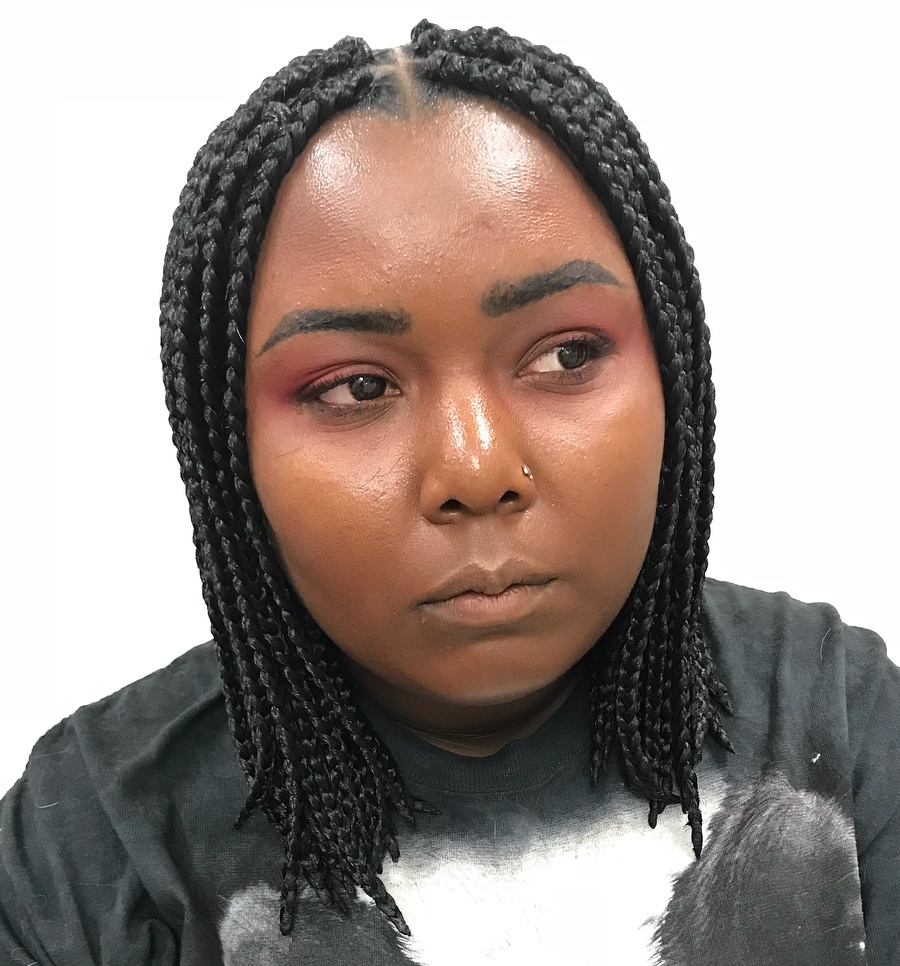 via @machine_hands
Opt for a braided lob, if you prefer protective styling. This is a good illustration of box braids with a dragging down feel.
10 Best Hairstyles for Round Faces to Take on Board Right Now
All you need to learn from the above is that round-faced girls can nail almost any hairstyle, from chops to waist-length 'dos, when the look is balanced with the right details. Parting, bangs, finish, texture – all these little things make the difference. And do you know that dark hair adds volume to a face, whereas highlights, ombre and balayageserve to frame full faces beautifully.Here is another itty bitty trick from a pro. "Really important – ask (beg) your hairstylist to leave that little section that falls in front of your ear on the long side. […] I've been cutting hair for 16 years and I can tell you, as soon as you cut into that piece, you start opening up the face," Kristin Ess, celeb hairstylist, shares her experience in the blog.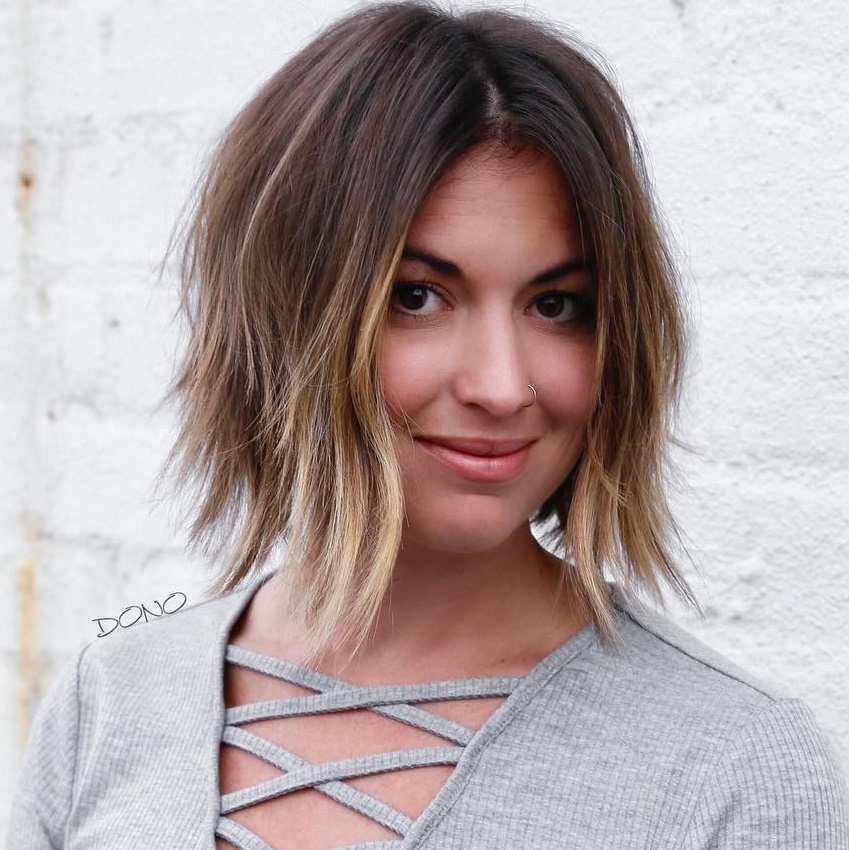 via @donovanmillshair
This choppy bob is all layers and pieces. Coupled with a middle part, it looks startling and slimming.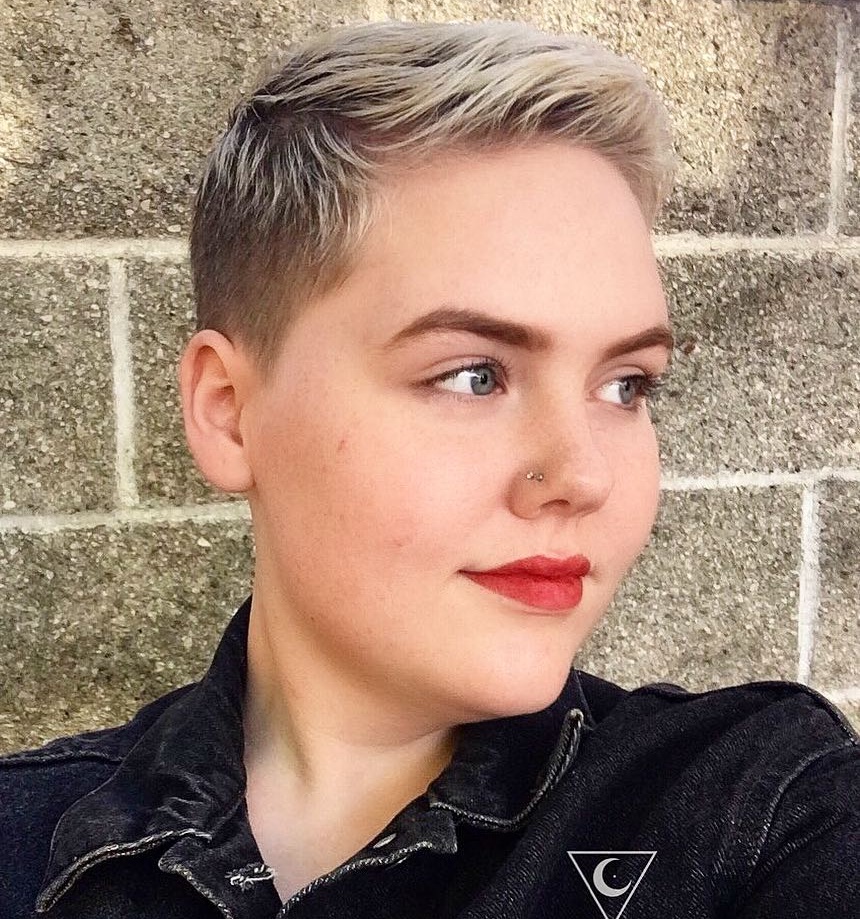 via @riahmai
A very short pixie can be balanced by a spiky top and contrasting pieces on the sides.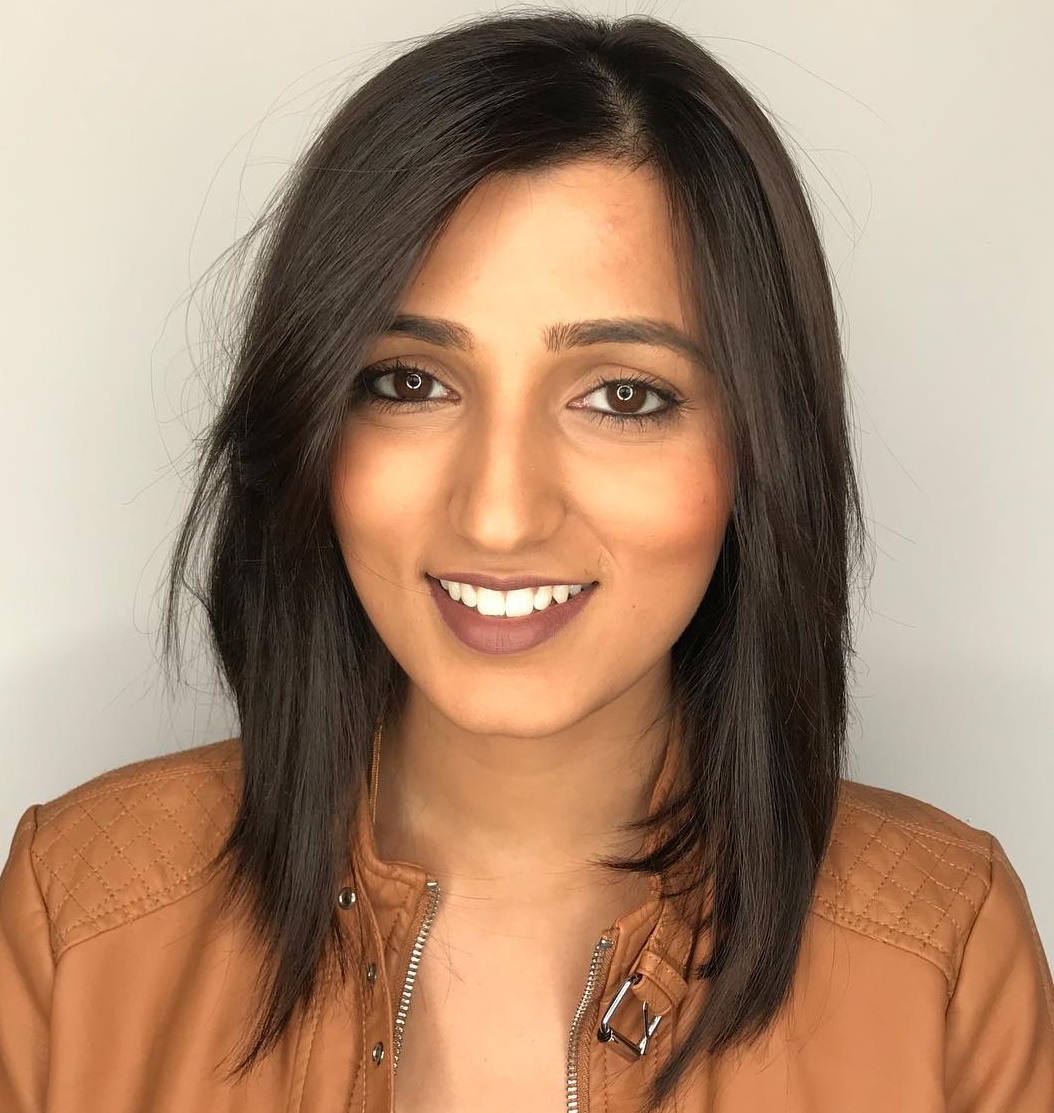 via @maqandmane
This Indian girl works straight silky lob with face framing layers and razored tips.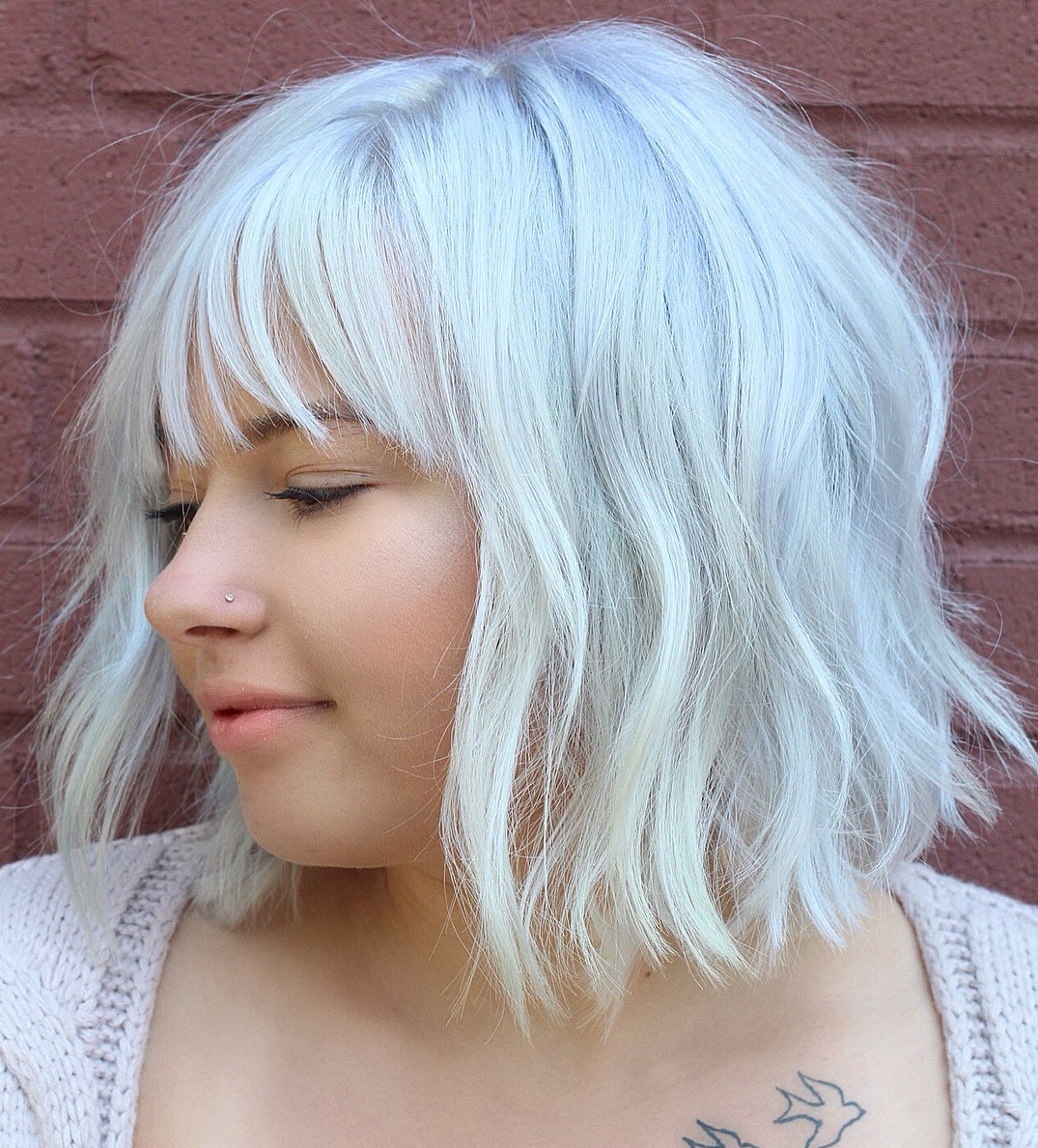 via @bohobrushed
Get inspired by this razor cut hairstyle that falls just a bit bellow the chin and draws attention away from the round cheeks.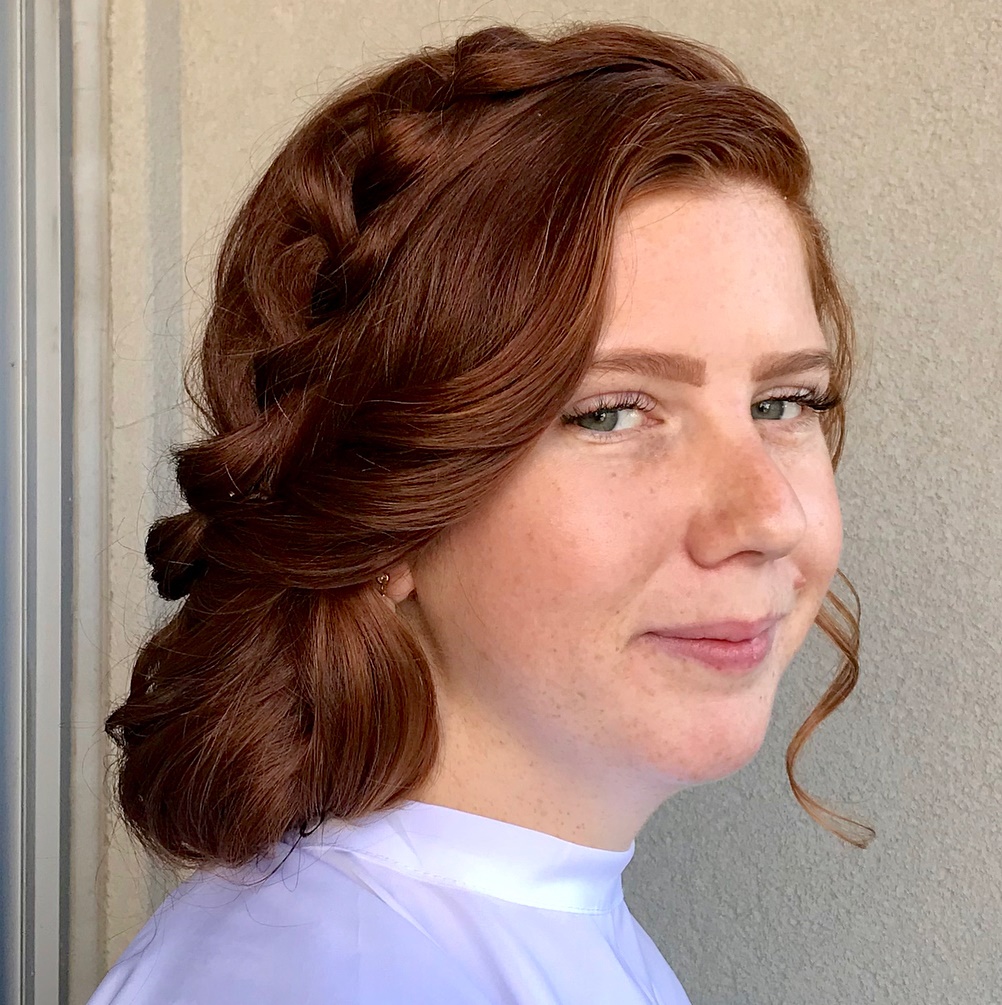 via @hairmastertoronto
When choosing updos, make sure you follow the same rules – asymmetry, side-swept tresses, added height and length, for example delivered with a side twist.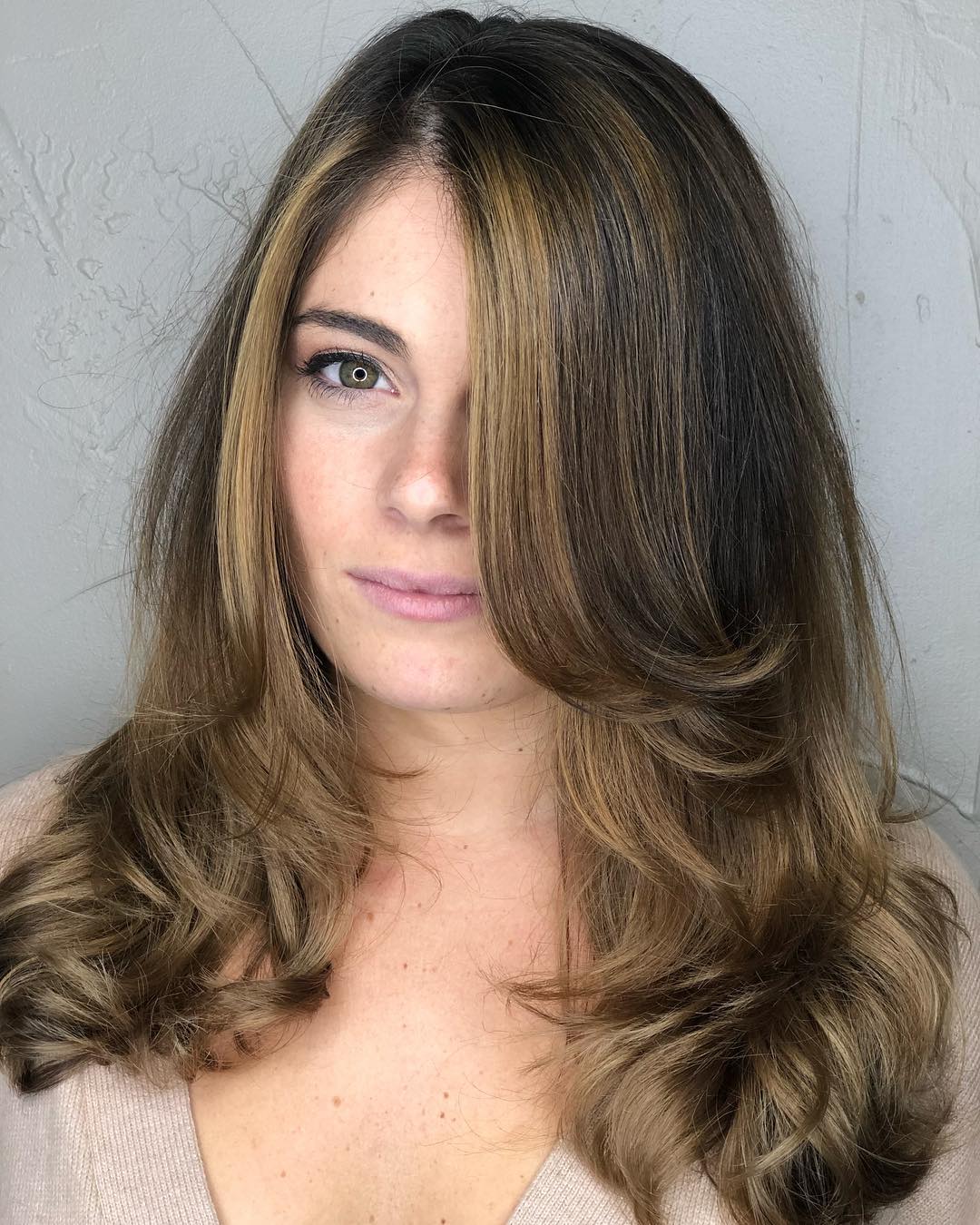 via @gma_styles
For a layered hairdo, it's vital to have the first layer hitting at your jaw and cascading down. This helps shift the focus away from the cheeks.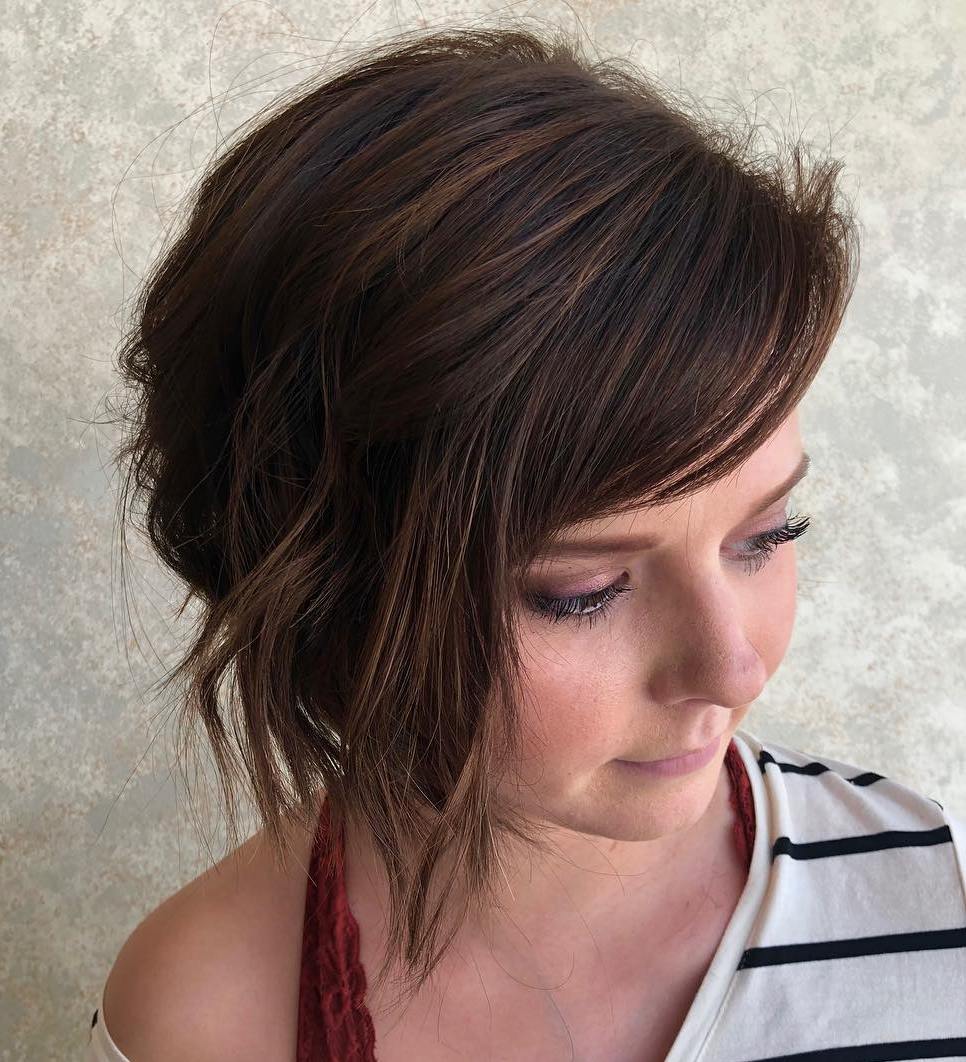 via @heatheradellehair
This chin length cut is cute and flattering, as it features defined choppy strands and side bangs.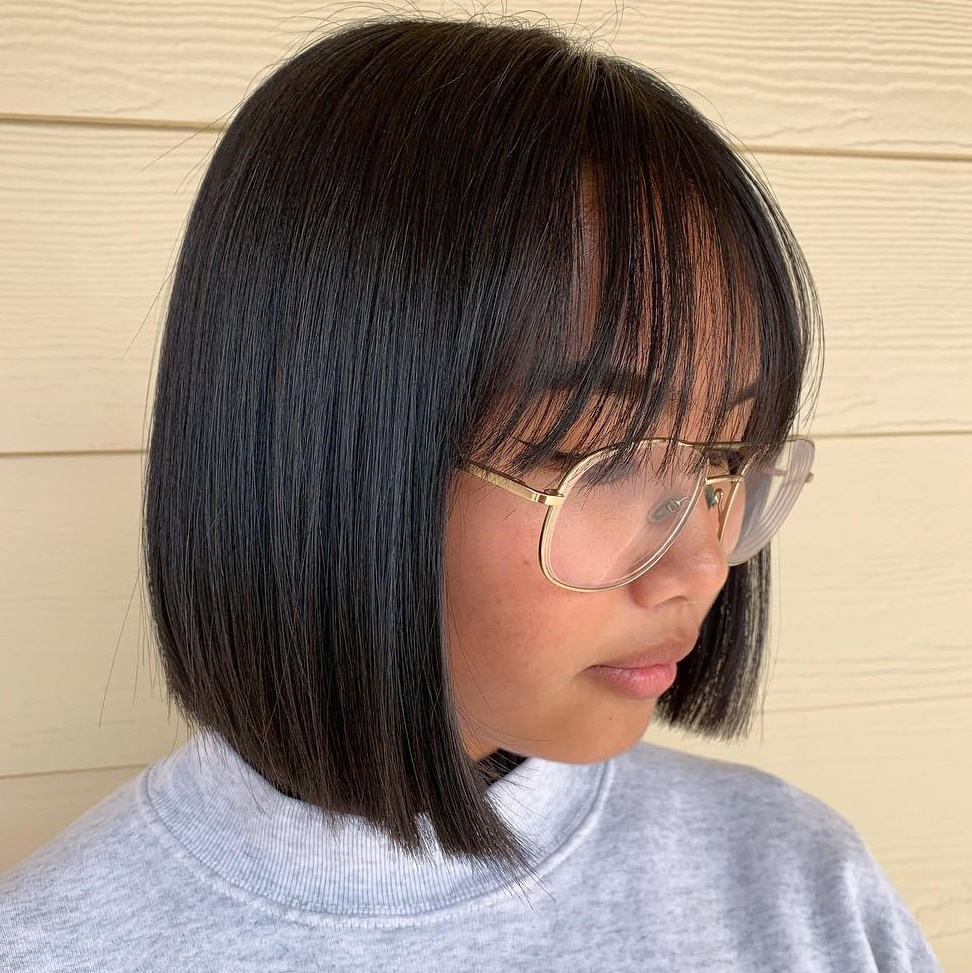 via @glambyalondries
A long wispy fringe is your universally-flattering go-to option for a round face.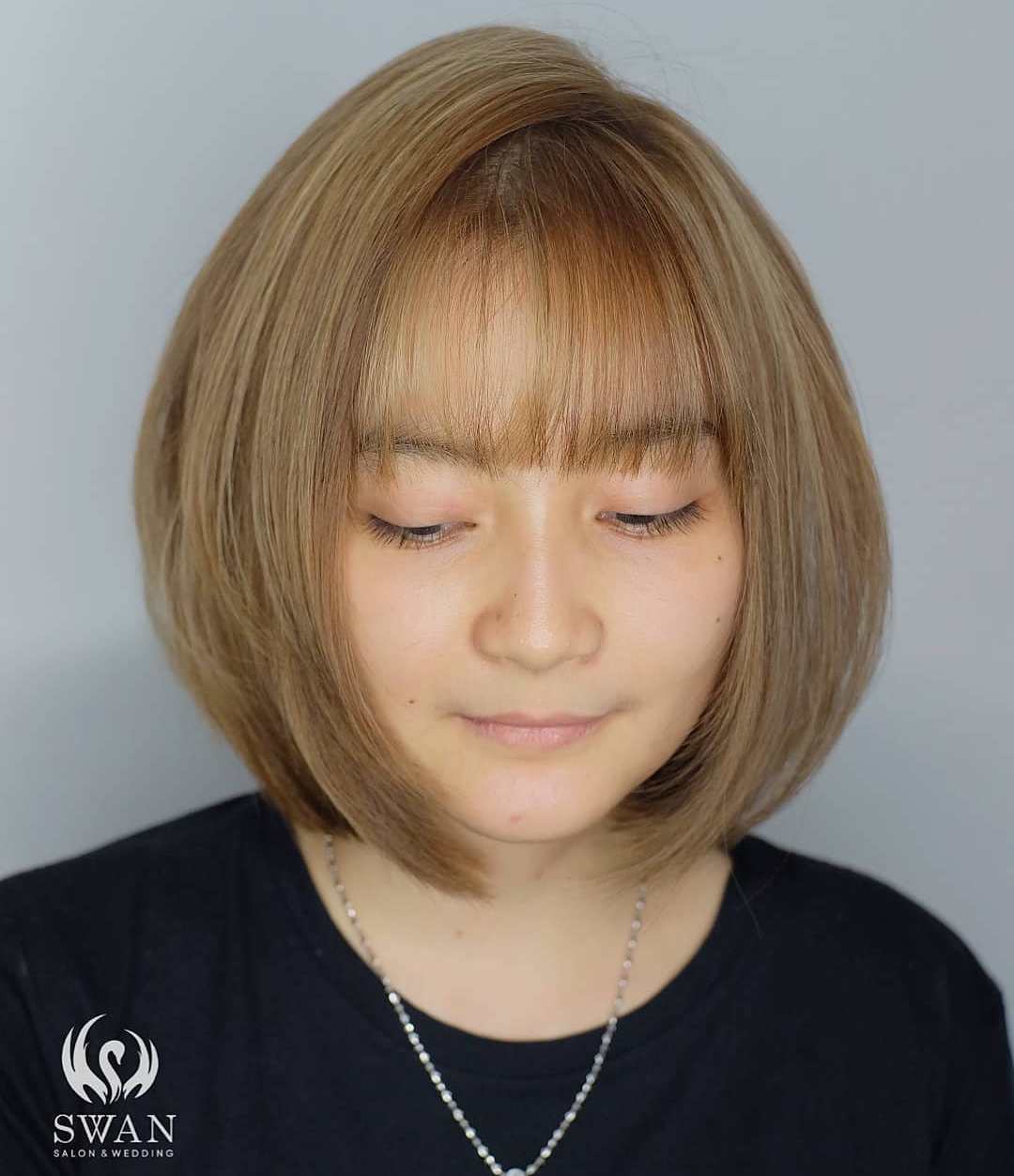 via @swan.salon
And this Koreanlady shows that a round-brushed hairstyle can be lengthening, too. The elevated top, long thin bangs and vertical color streaks all work together to produce the desired effect.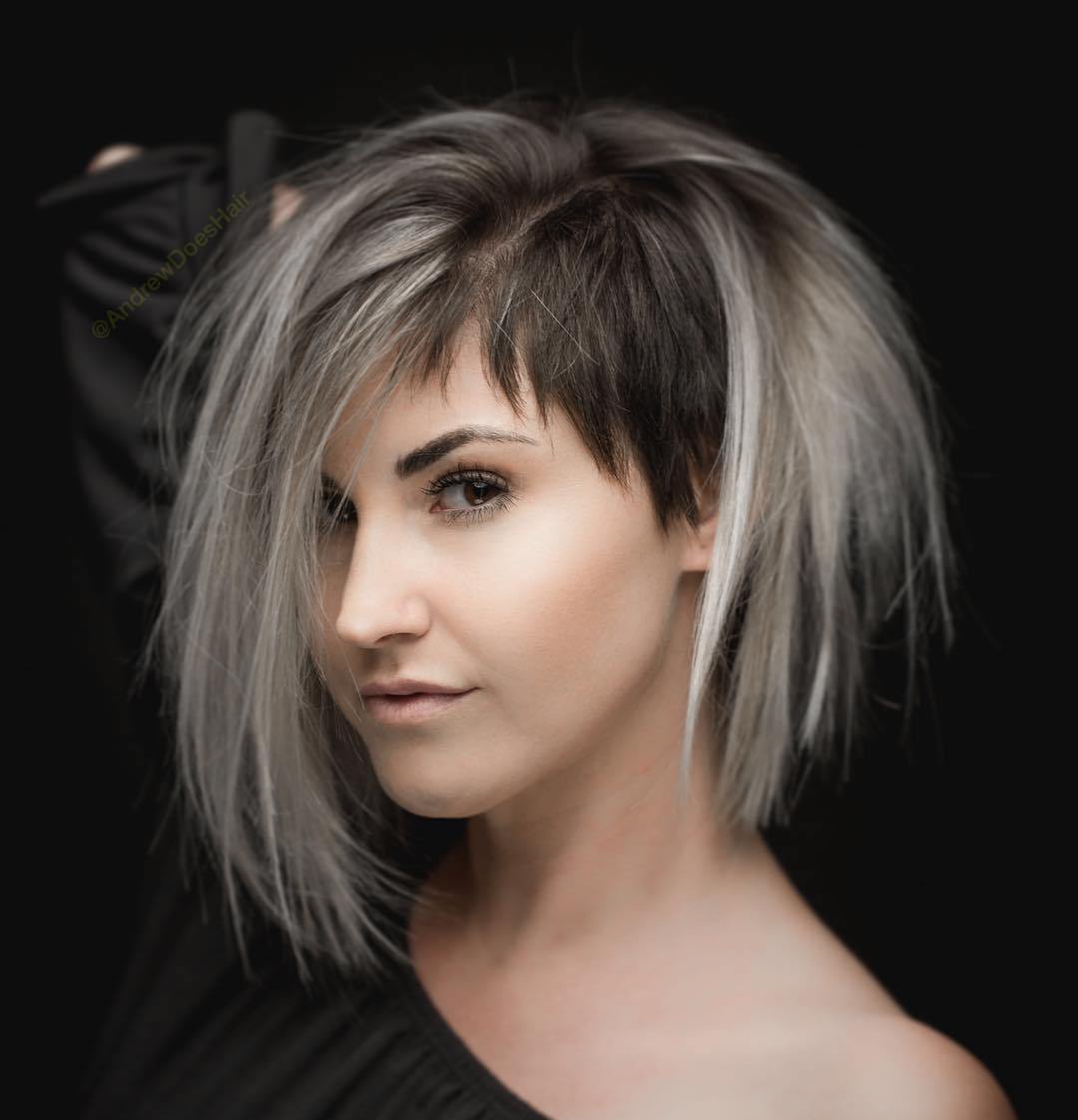 via @andrewdoeshair
Side shavedand undercut hairstyles offer asymmetry that suits round faces. This jaw-dropping cut is a pretty example.
Well, we've presented a broad choice of cute and chic hairstyles to find something to your liking. It's a nice start for creating your own 'do by adding customized colors, styling and texture, while taking into account your individual preferences. We go on searching for trends and inspo, and hope to stumble across your stunning photos soon!