Are you looking to add some flair to your black hair? Look no further than highlights!
Are you looking to add some flair to your black hair? Look no further than highlights!
Highlights can bring out the best in your natural texture and add some extra oomph to your locks, whether short or long, wavy or curly hair or even poker-straight hair.
From subtle, sun-kissed highlights to bold streaks of color, there are plenty of highlight ideas to choose from. So, if you're ready for a change, consider adding some highlights to your mane and let your hair shine like never before!
We are here with some ideas to bring bling to your black hair!
A Striking Contrast: Black Hair with Blonde Highlights
Black hair with blonde highlights can add depth and dimension to your natural black hair.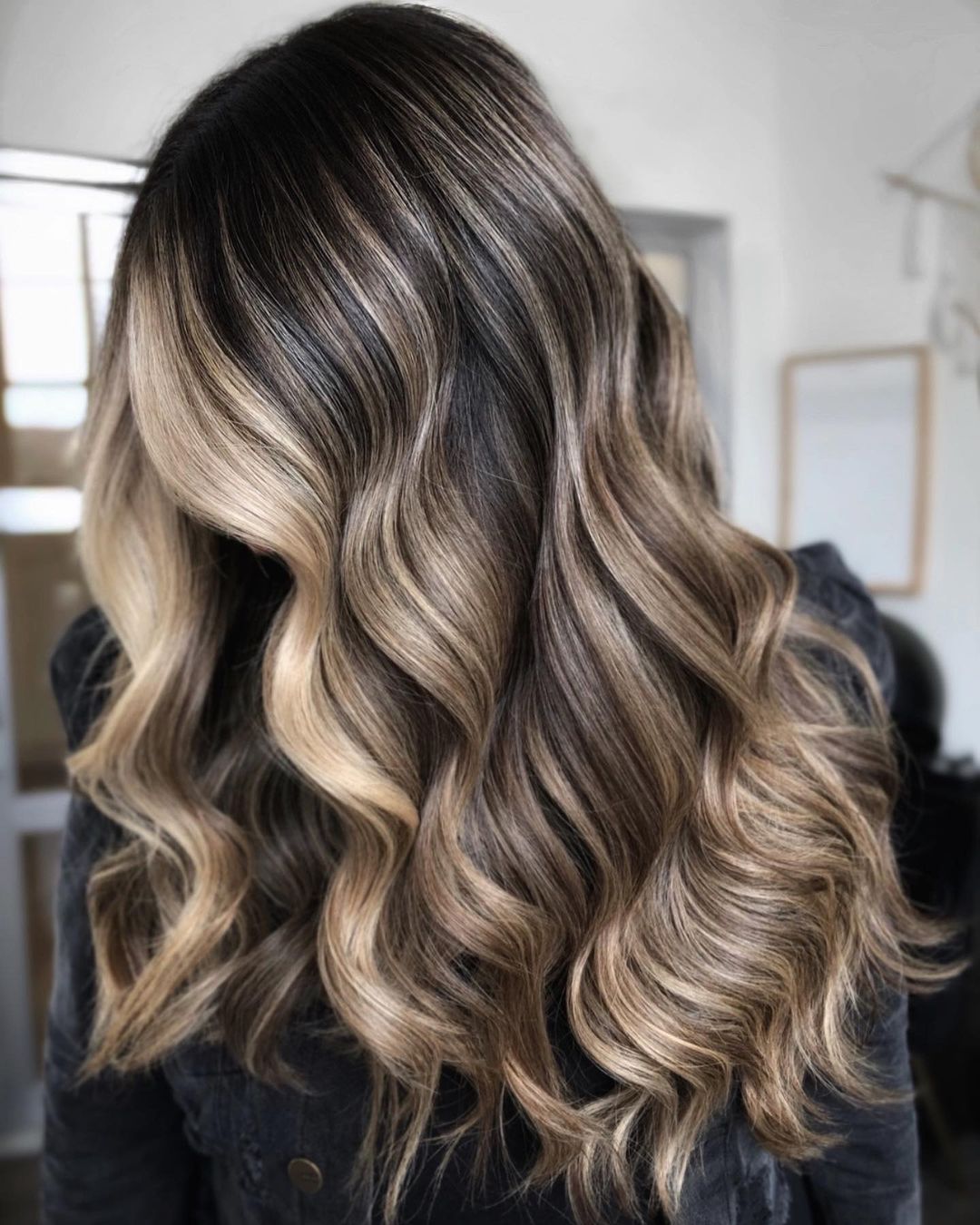 via @colorbymarina
For long hairstyle ideas, blonde highlights are a trending fashion that complements olive skin tones. However, the delicate structure of black hair requires the right products to protect and maintain its health. Applying blonde highlights on black hair can be done with various techniques, such as foiling or balayage.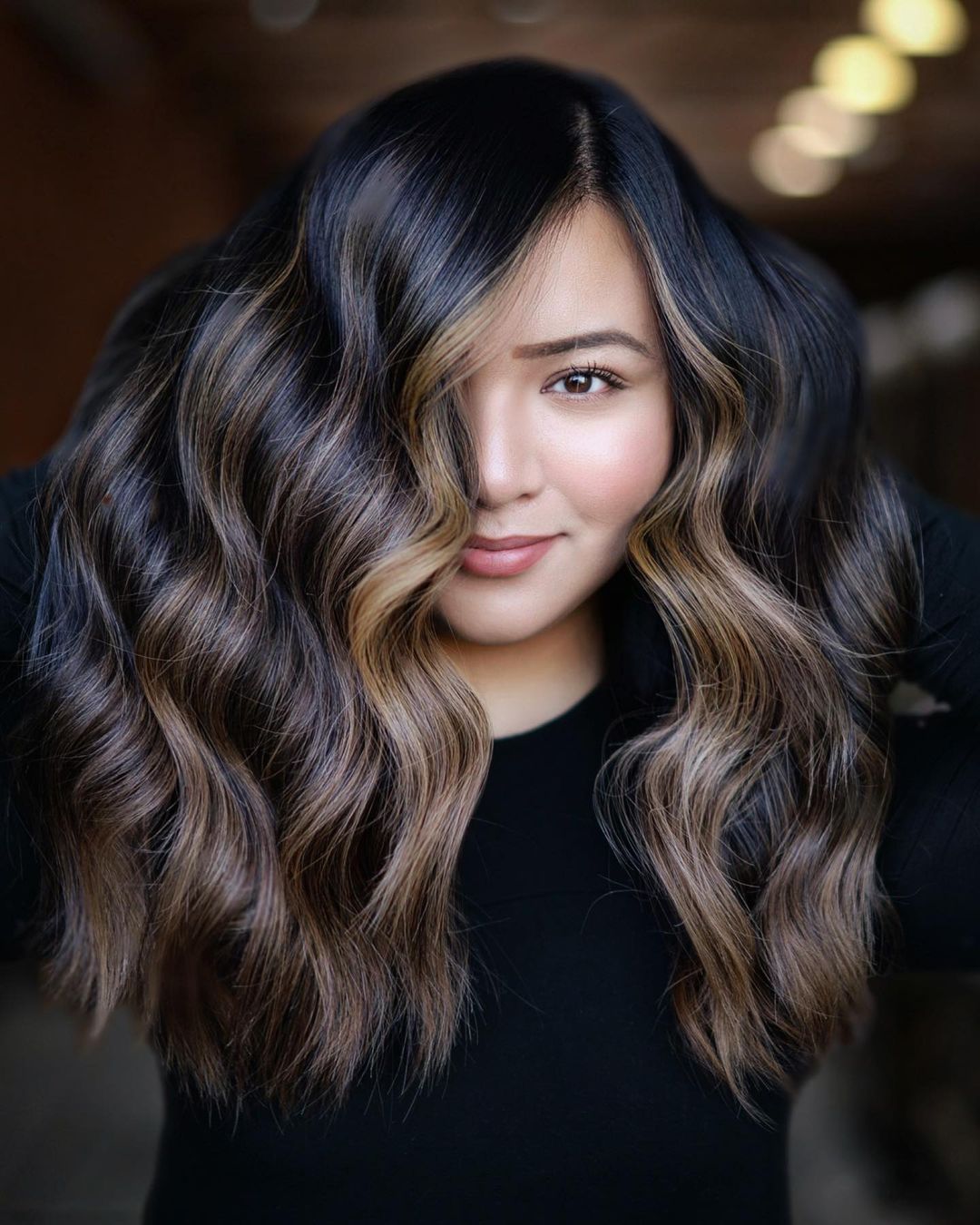 Shine Bright Like Silver: Dark Hair with Silver Highlights
Long hairstyle ideas get a twist with silver highlights for black hair. Soft waves with silver highlights introduce richness and intricacy to dark tresses.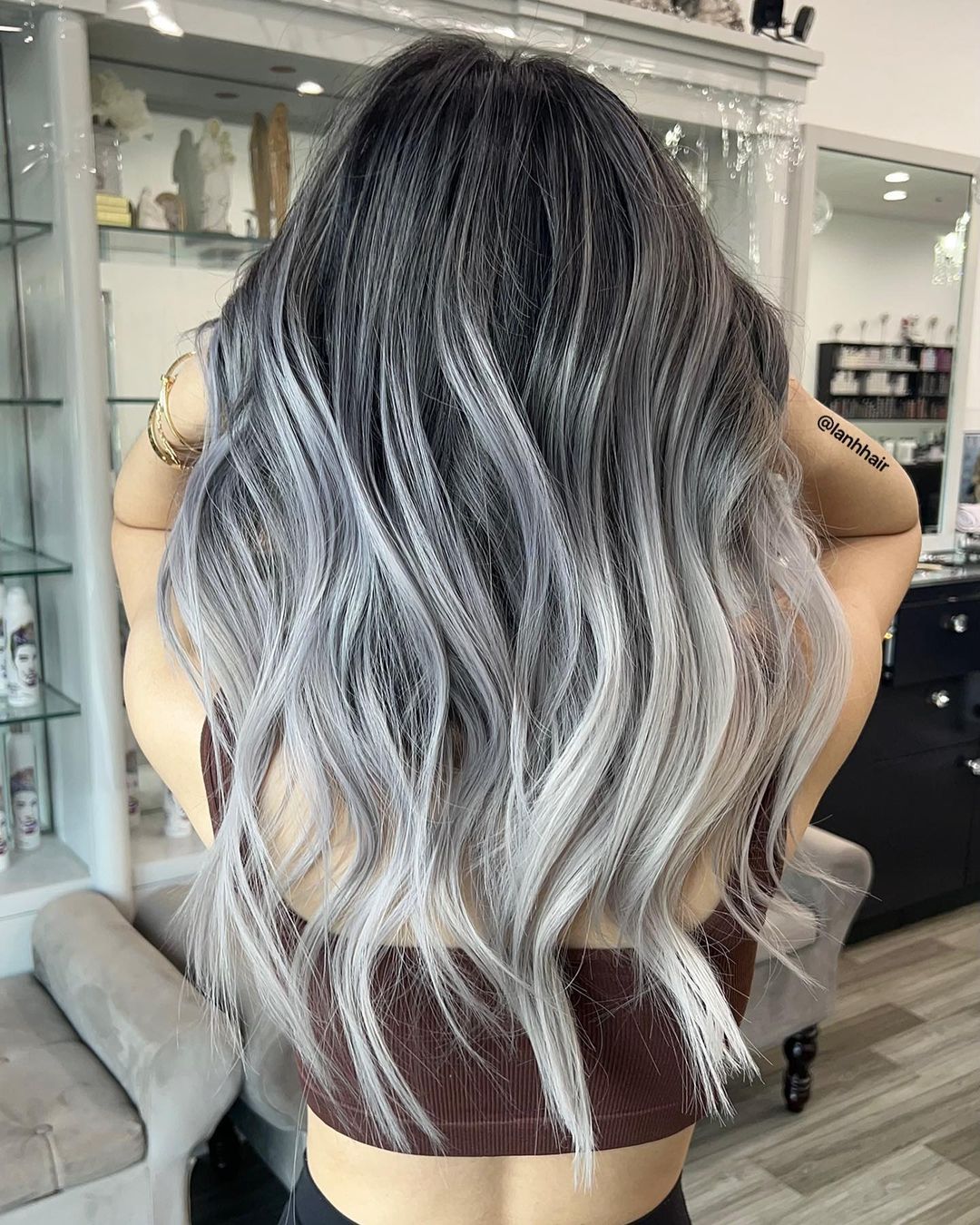 via @lanhhair
Achieving the perfect silver highlights on black hair requires several bleaching stages, as black hair is typically challenging to lift. The highlights are strategically placed throughout the hair, adding a touch of shimmer and shine. The result is a stunning, edgy and elegant style, highlighting the hair structure's beauty.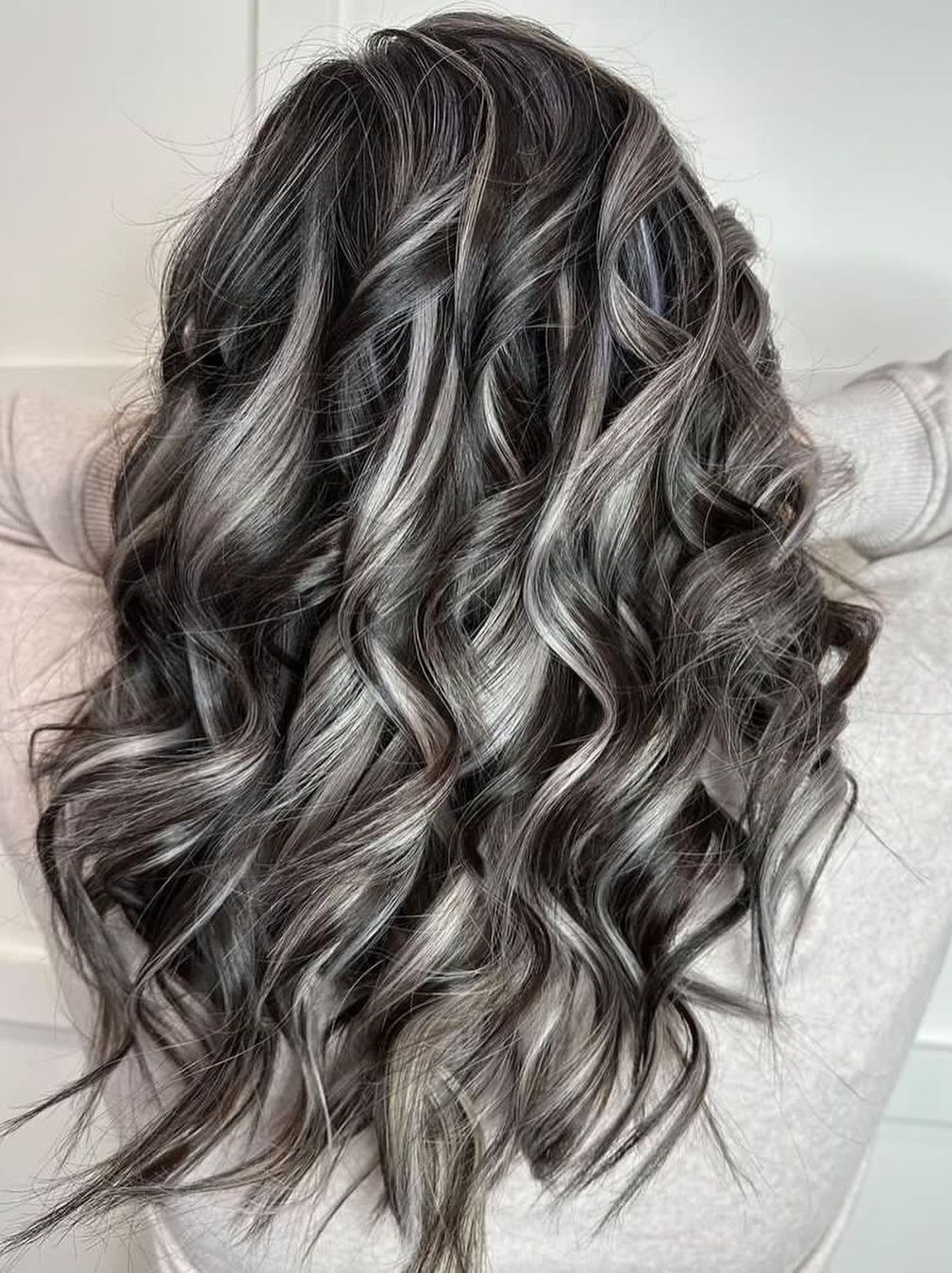 Be Bold & Fiery: Black Hair with Red Highlights
Black hair with red highlights is a bold choice to add a pop of color to natural hair color. Some hairdressers may recommend bleaching the hair first to achieve the best shade of red, while others may suggest darker shades of red highlights using just developer for a more natural look. People with warm skin tones love this style as it instantly revives their appearance.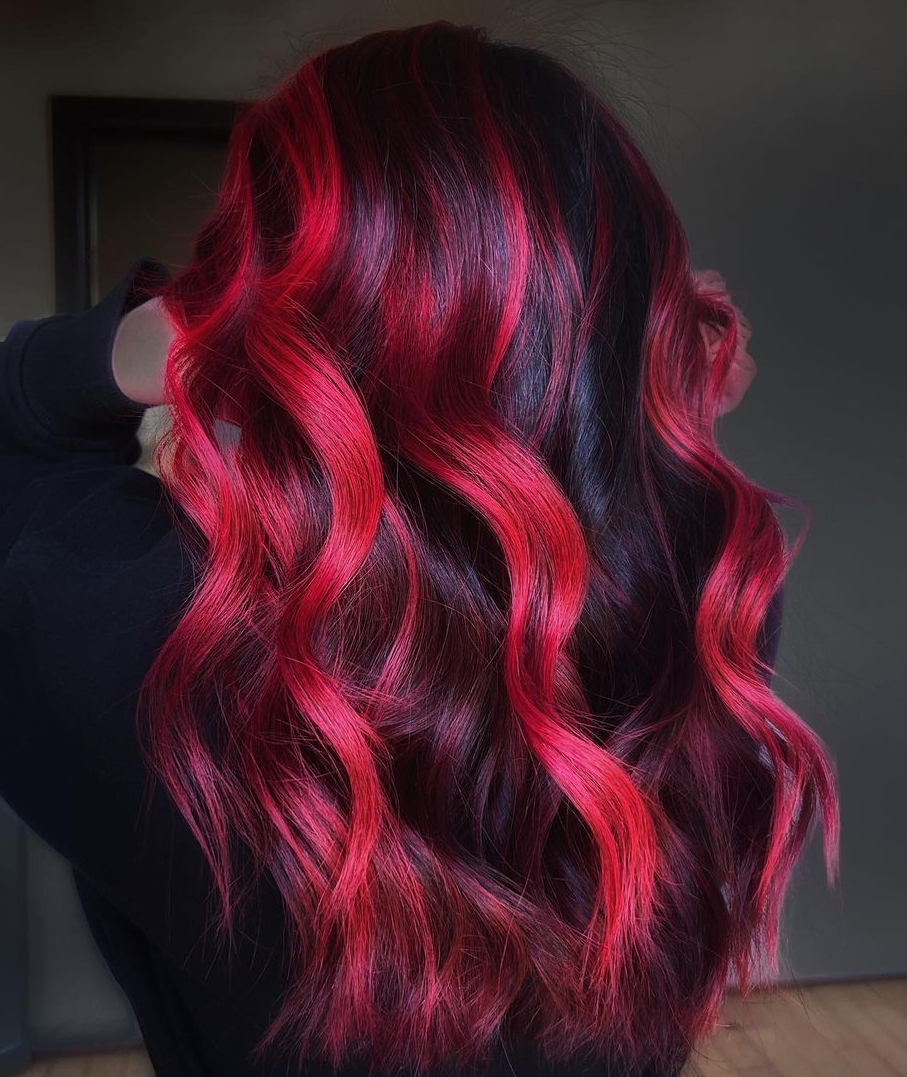 via @dakotajameshair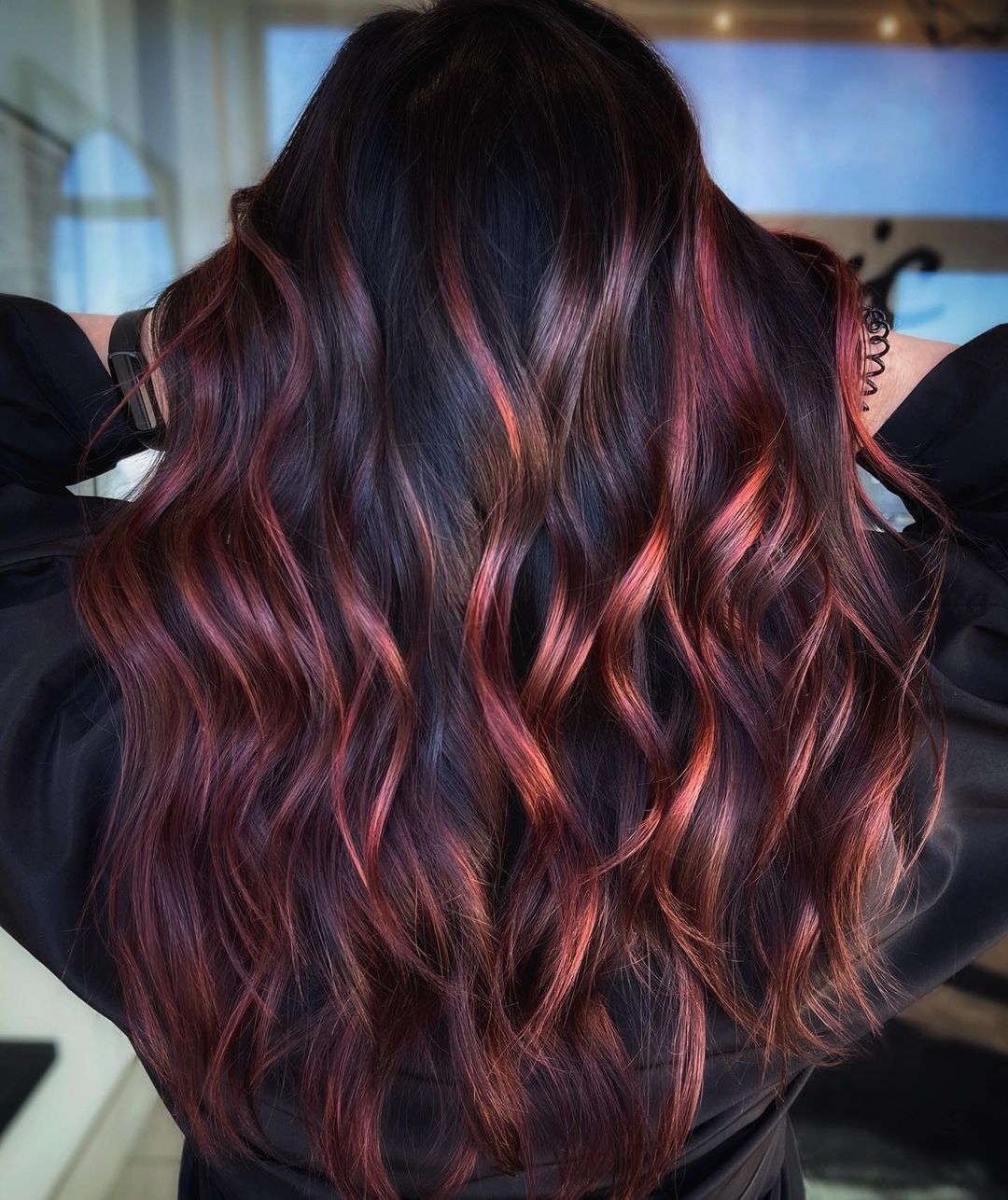 Chic & Sophisticated: Black Hair with Brown Highlights
Brown highlights may be the perfect solution to update your black hair.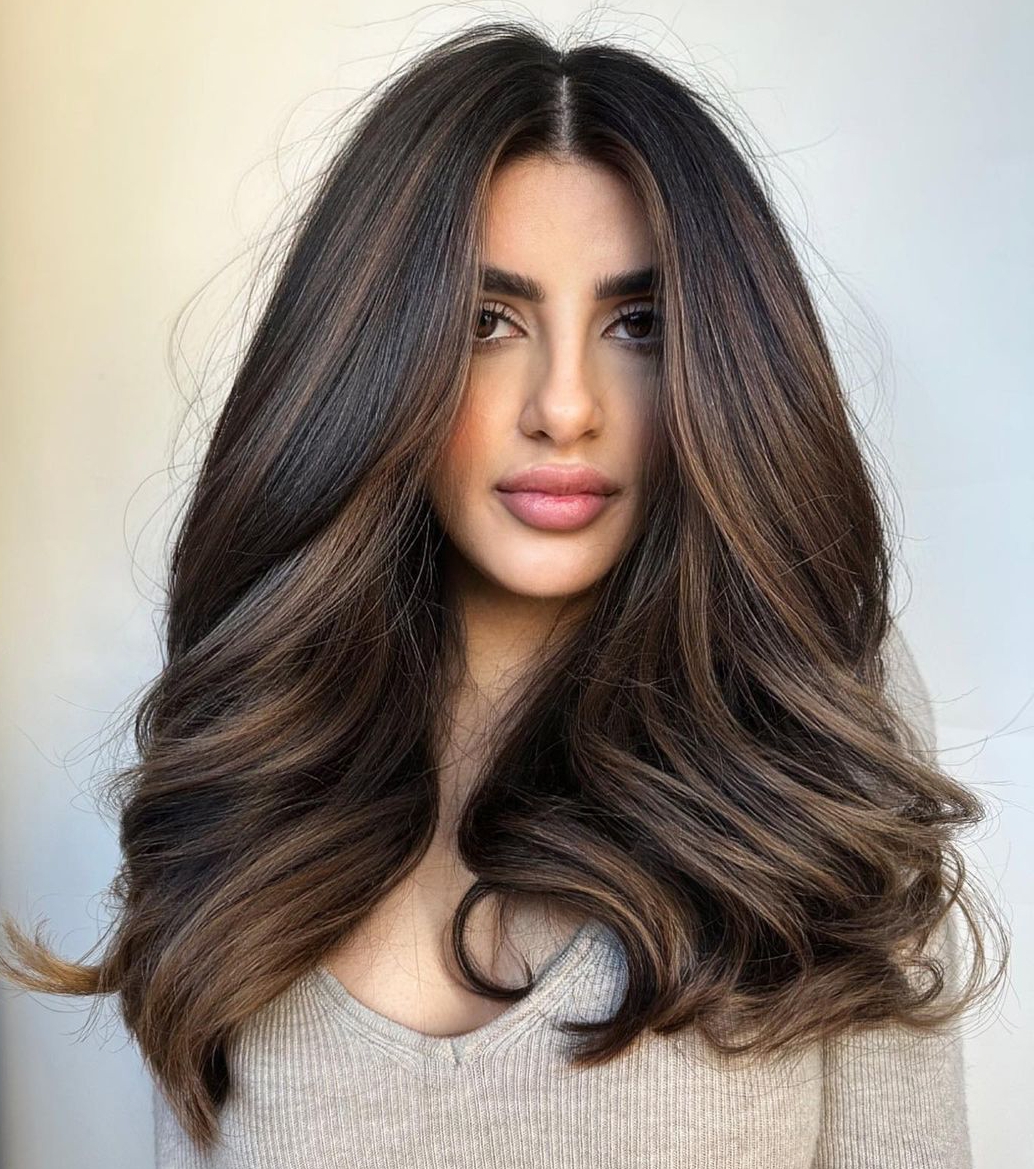 via @dvcolour
Brown balayage and chocolate brown highlights on black hair create a striking contrast and enhance the beauty of black hair. Your hairdresser may recommend a pre-lightening treatment before applying the brown highlights to achieve the desired result. However, the extent of bleaching required will depend on the individual's hair structure and color. With the right technique and application, you can effortlessly elevate the look of your ebony hair.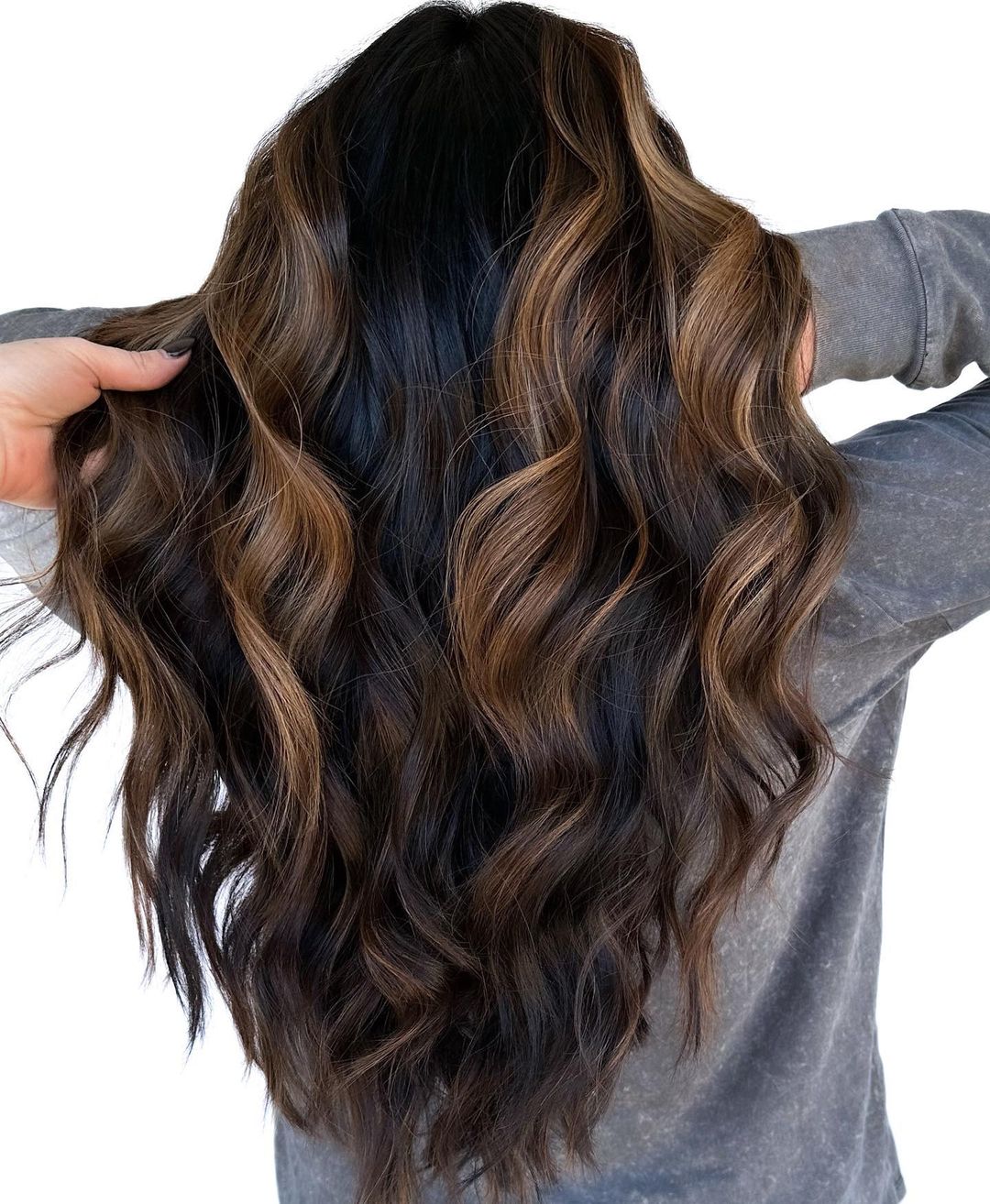 Bold & Beautiful: Black Hair with Blue Highlights
Black hair with blue shades is a trendy hair fashion. Consider blue highlights if you want a new look for natural black hair. The blue highlights can be applied in various techniques, such as dip-dye or balayage, to create a unique look.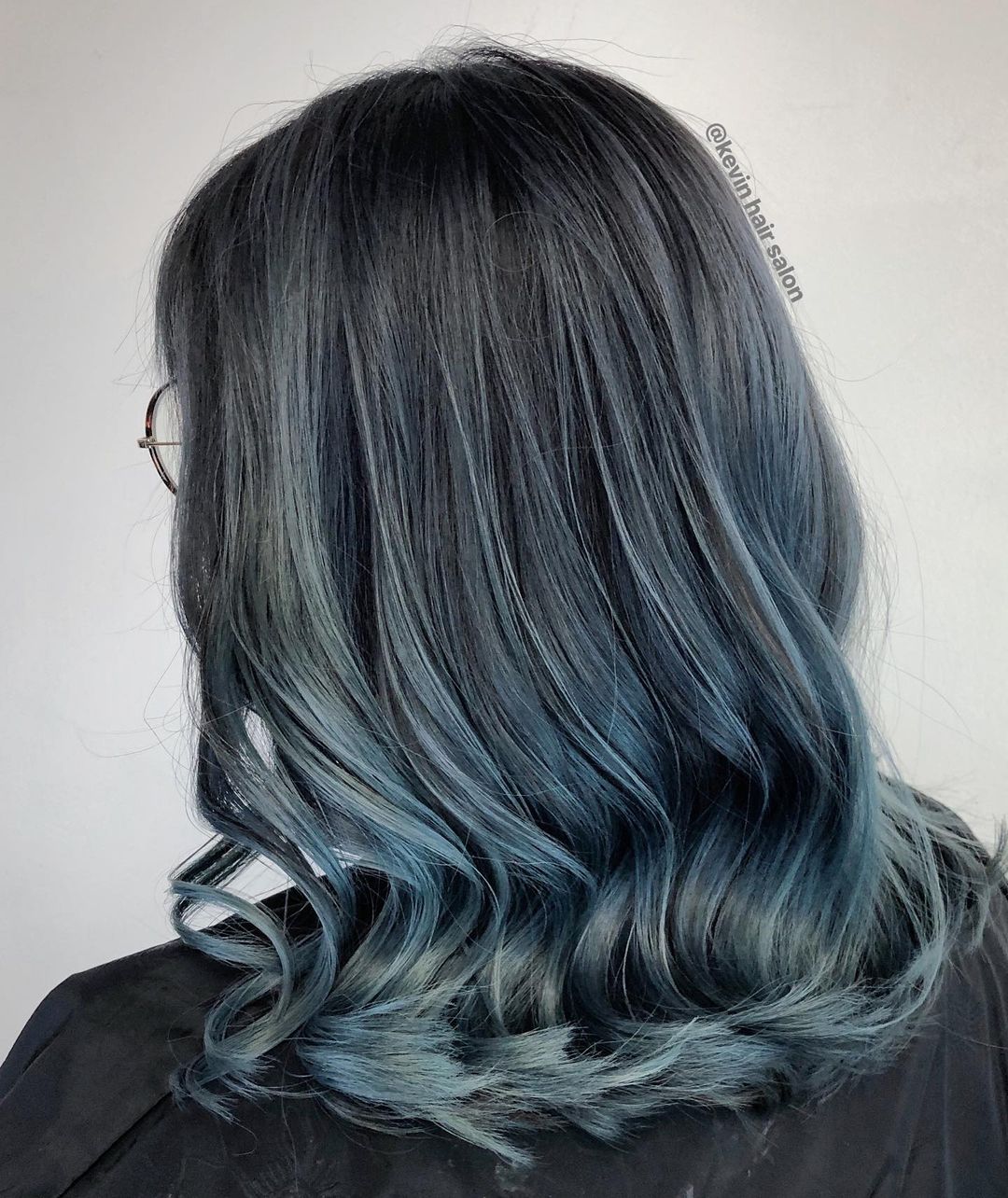 via @kevinhairsalon
For darker hair, pre-lightening is usually necessary to achieve the desired blue shade. This style is best suited for those who want to experiment with vivid and daring colors. Ensure your curly locks' long-lasting beauty with blue highlights and a proper hair care routine.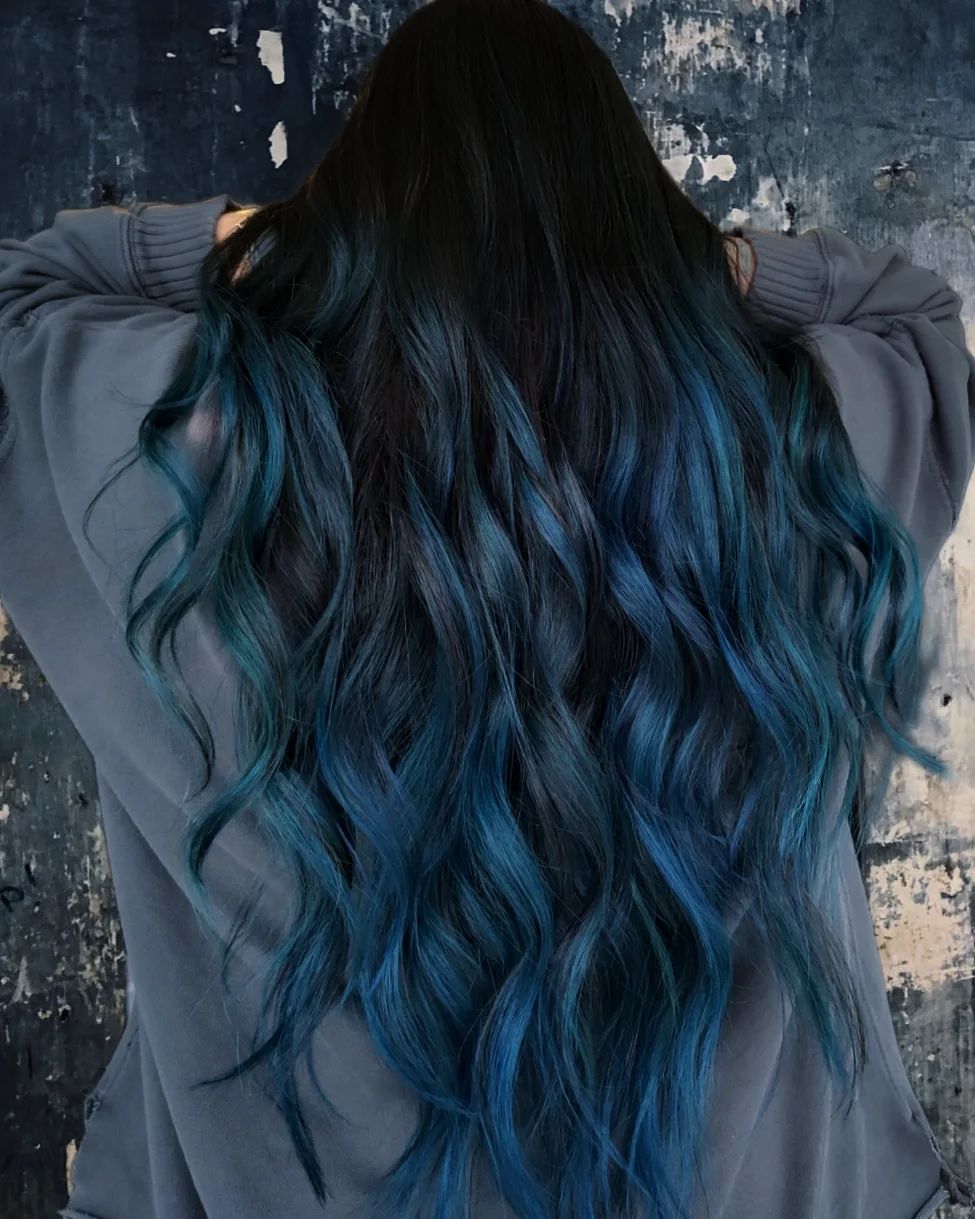 via @adlydesign
Indulge in Sweet and Rich Black Hair with Caramel Highlights
Black hair with caramel highlights is a stunning combination that adds warmth and dimension to long black locks. The contrast of the dark base with the soft caramel hue creates a striking look.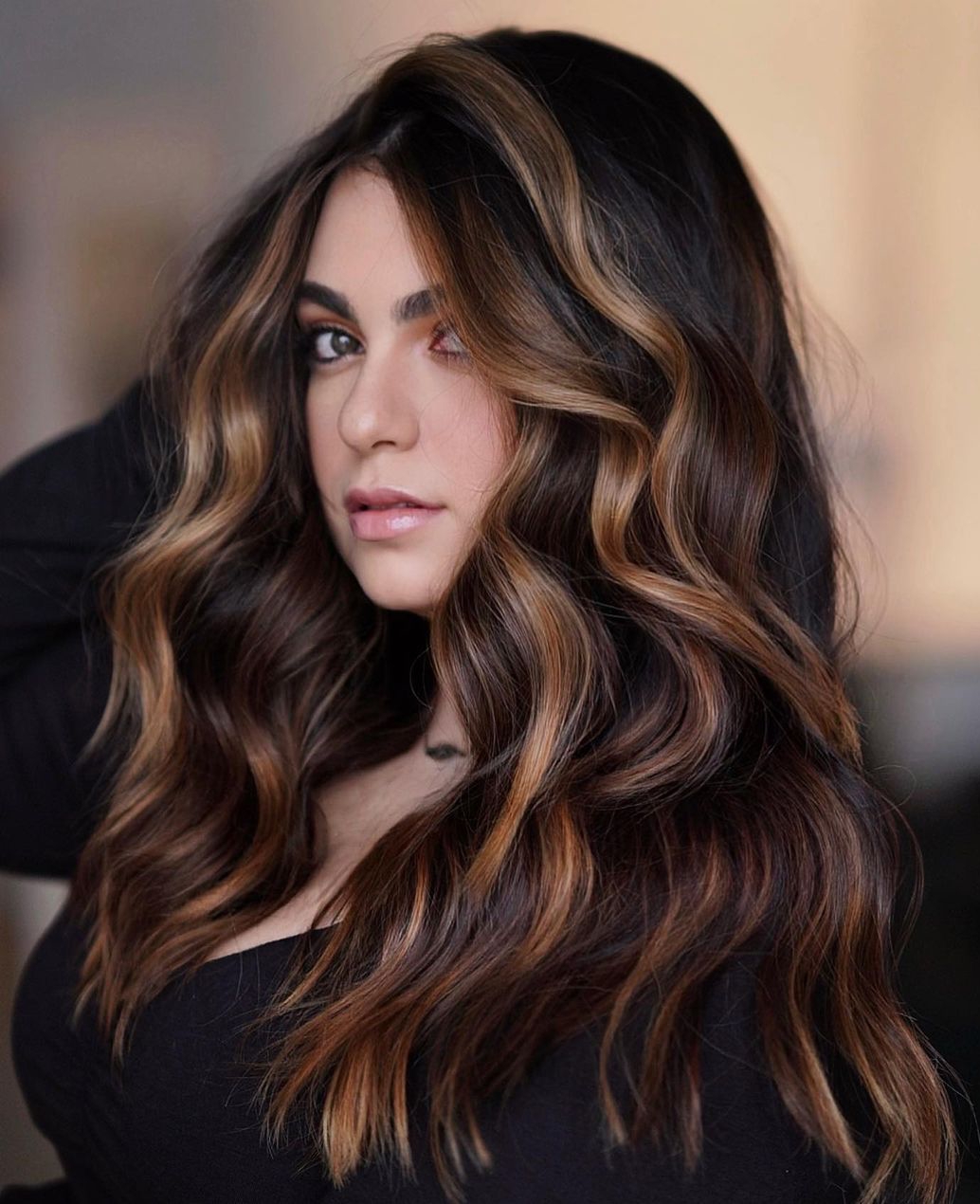 You can go for chestnut highlights for black hair and brown lowlights. To get vibrant caramel highlights, you may need a pre-lightening treatment- however, it depends on the color and structure of your natural hair. Hair stylists may recommend lighter shades of caramel for a subtle look or deeper shades for a more dramatic effect.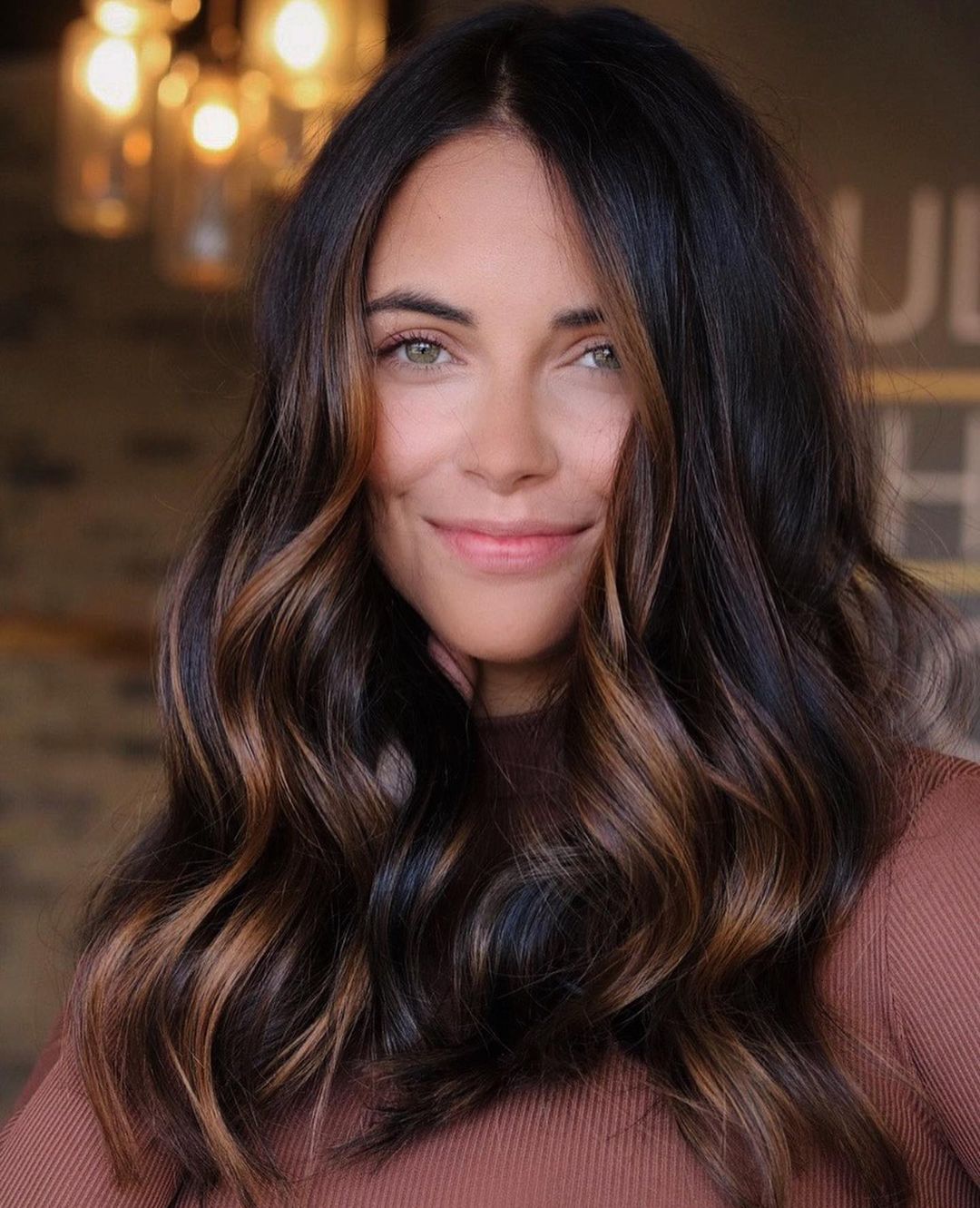 via @parkerjamesmane
Be Ready to Rock with Short Black Hair with Highlights
Short black hair with highlights can be a stylish and low-maintenance option for those who prefer shorter haircuts. Whether it's a short bob cut with highlights, a pixie bob with golden highlights on black hair, or short curly hair with partial highlights, the highlights create a lovely contrast against dark hair.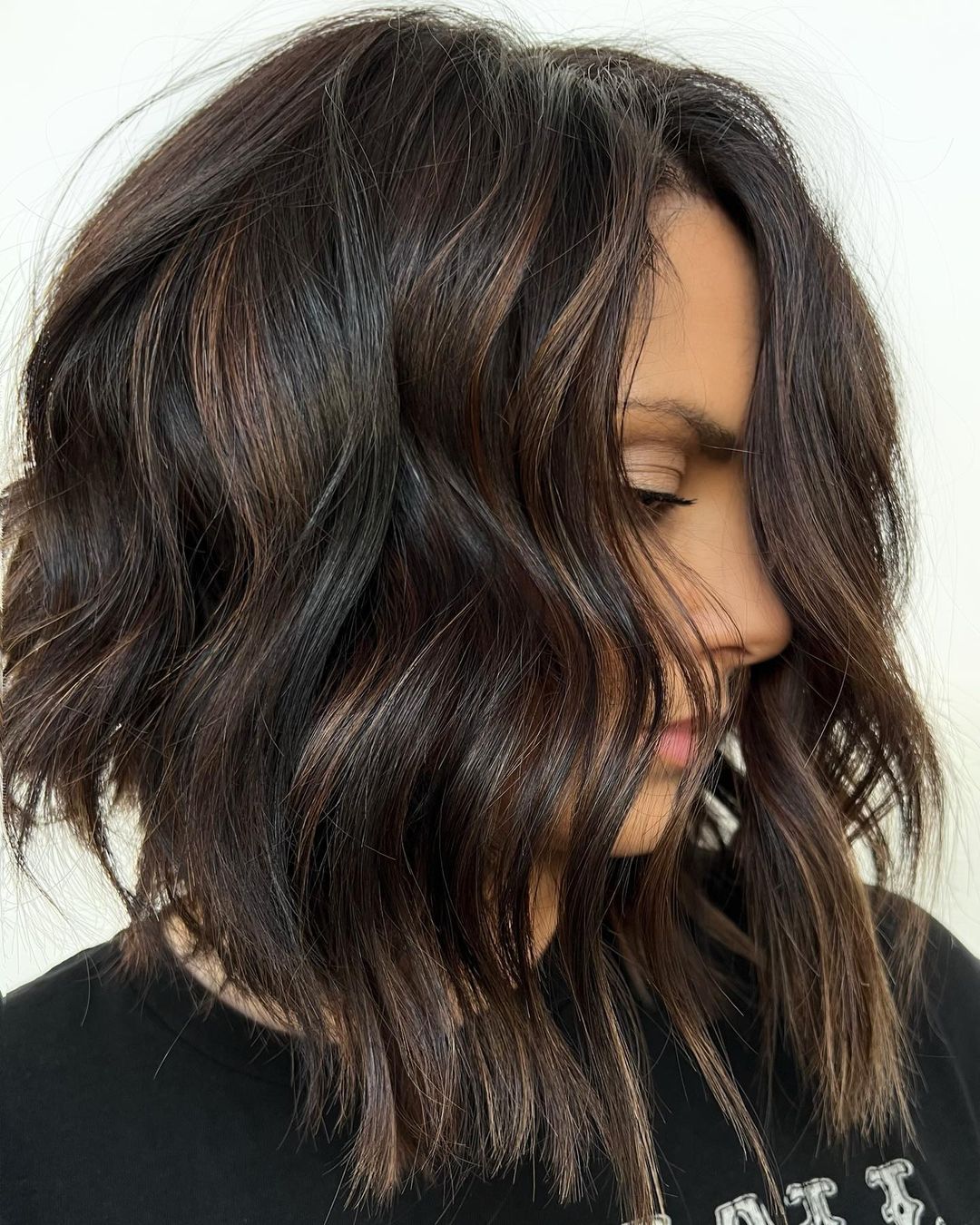 via @shmoakin_hair
The key is to choose highlights that complement your hair structure and skin tone. Your hair stylist can help you determine the right shade of highlights. Adding lighter tones to the hair can achieve a more dynamic and textured look, making your hair appear fuller and voluminous.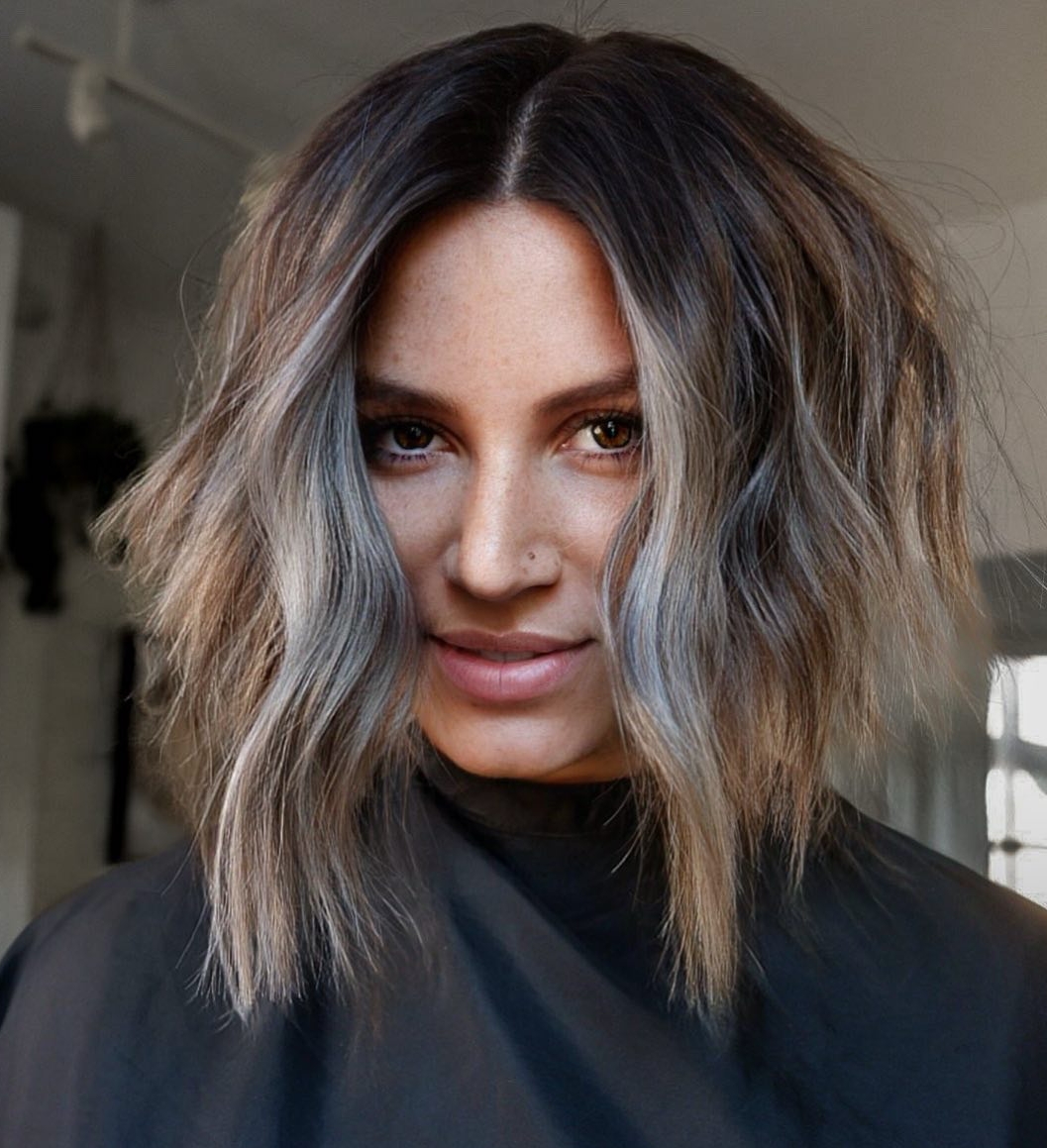 via @colour.jade
Unleash the Beauty of Black Hair with Purple Highlights
Black hair with purple highlights is a stylish and eye-catching hair color trend that is gaining popularity among fashion-forward individuals. The contrast between the dark brunette base and the light brown highlights with purple hues creates a unique and striking effect.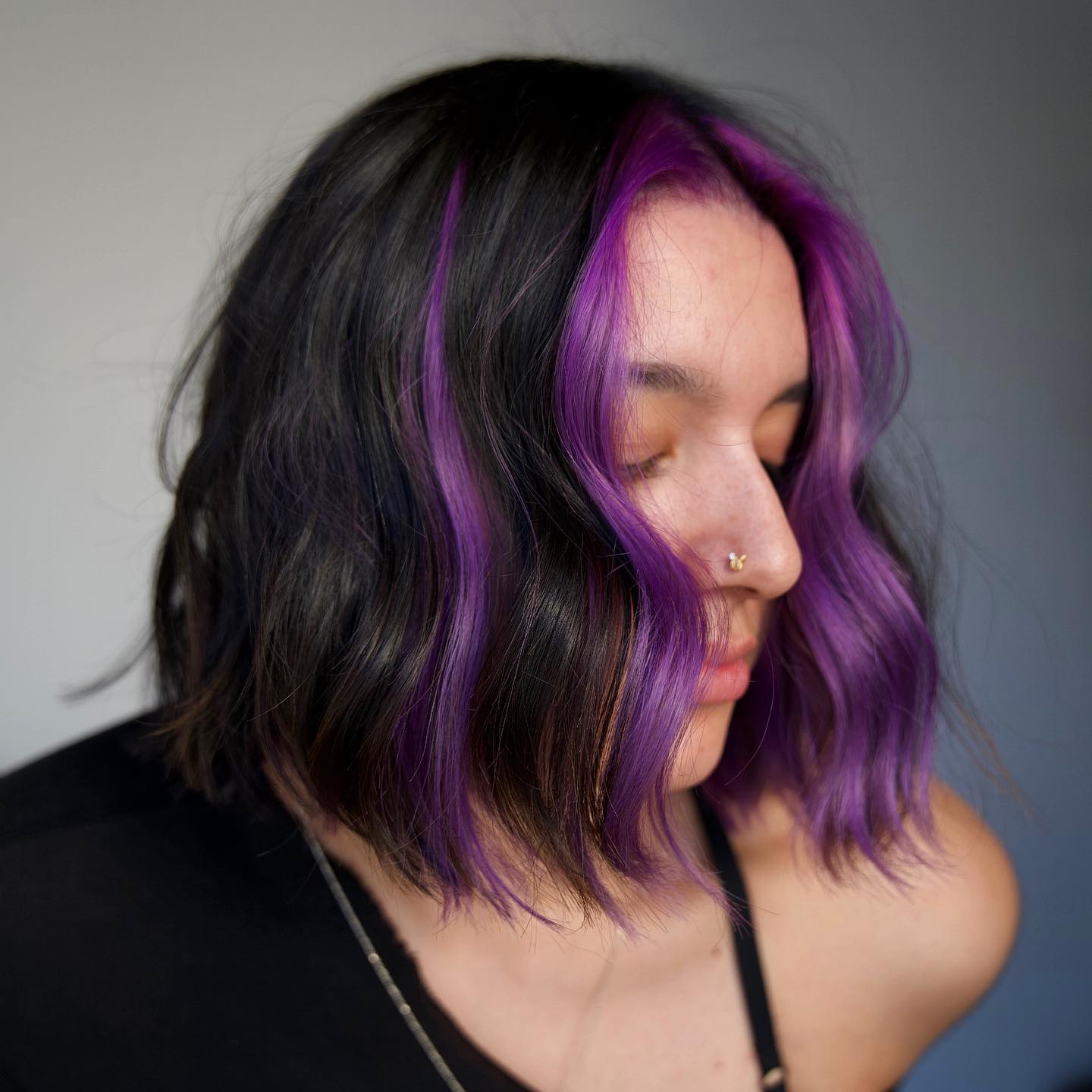 via @nat_doeshair
When applying purple highlights on black hair, your stylist may recommend bleaching dark hair for a more intense color deposit. It is essential to consider the hair structure to ensure that the highlights blend seamlessly and create a natural-looking result.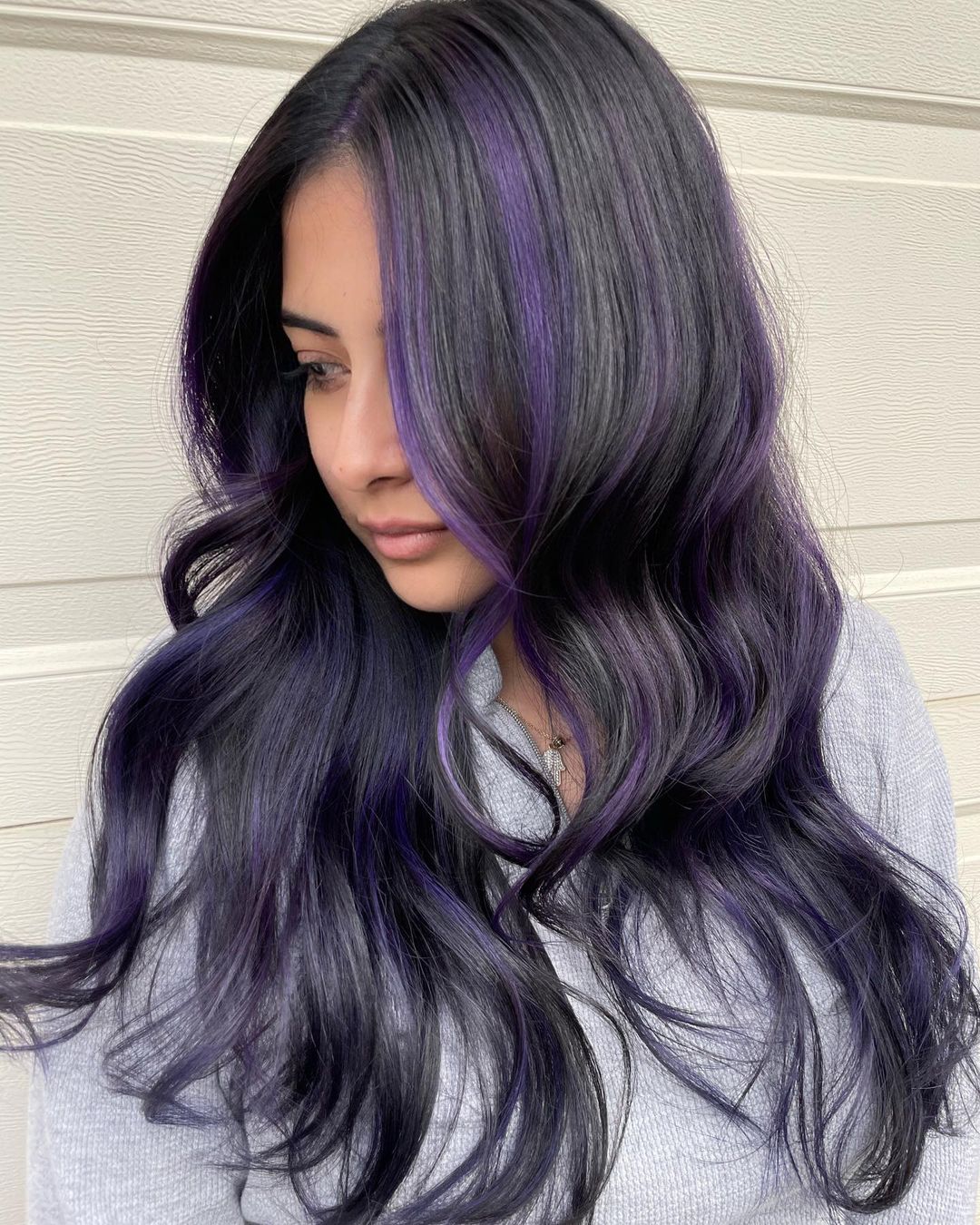 via @hunaayhair
Subtle Sophistication: Ash Brown Highlights on Black Hair
Ash brown highlights can bring life to black hair. When you highlight black hair, selecting the right shade is highly significant as it can affect your overall appearance.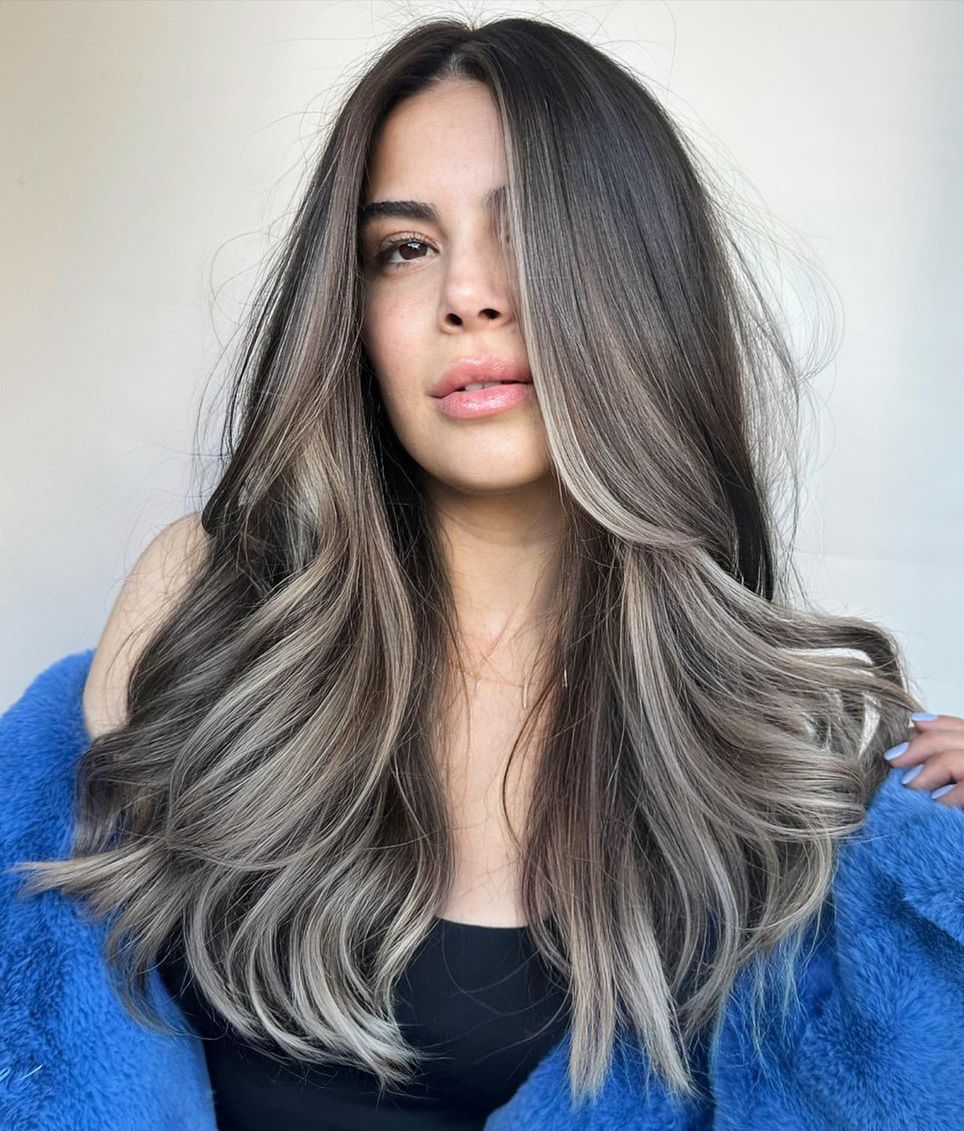 via @dvcolour
Dark brown highlights with silver hues are a great way to accentuate your tresses' natural shine and luster. It creates a sophisticated and modern hairstyle that is sure to turn heads. This look works particularly well on people with a fair skin tone.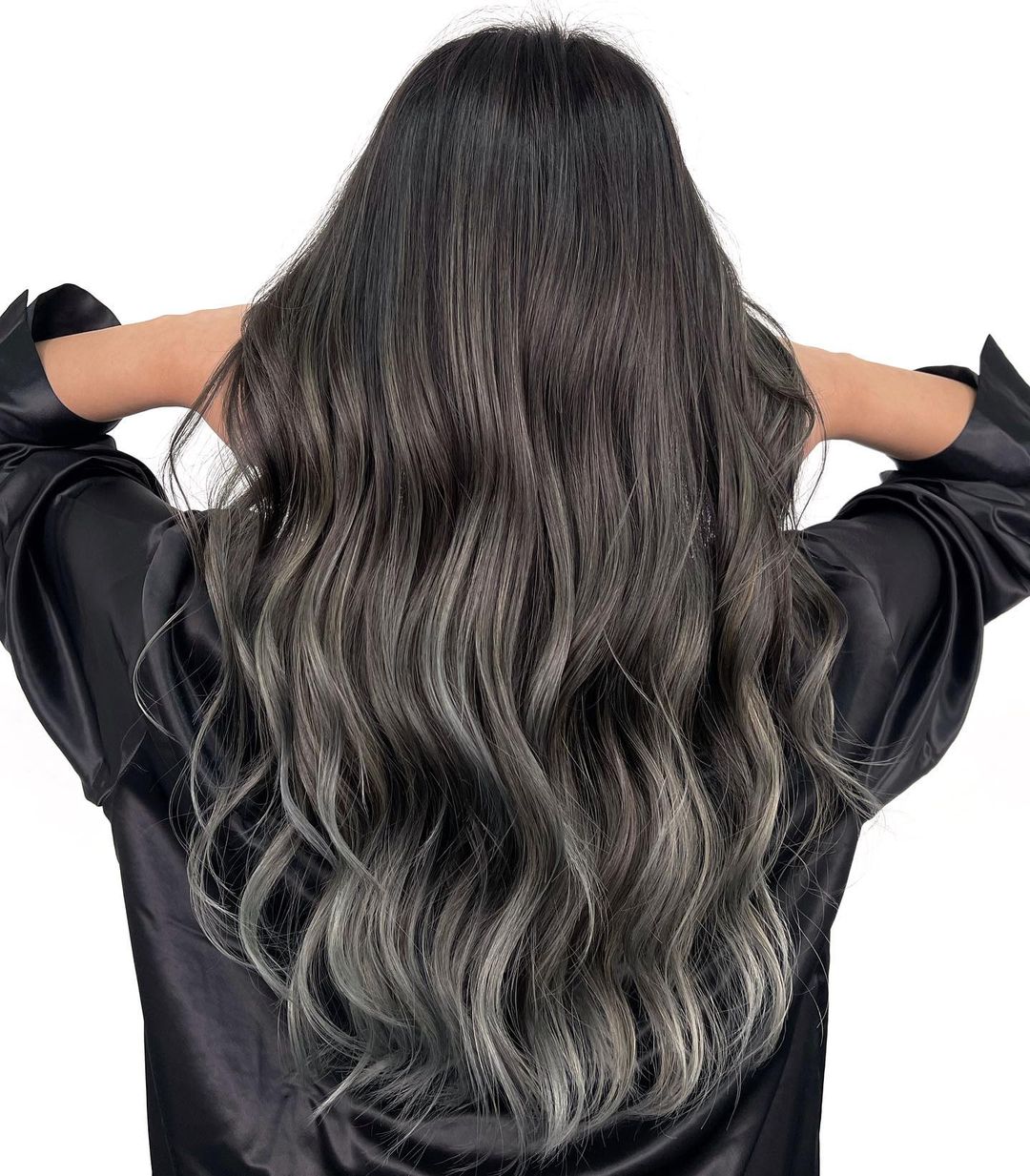 via @glenhew
Ombre Black Hair with Red Highlights Will Add a Bold Twist to Your Appearance
Ombre black and red hair is a stunning and dramatic style, perfect for those with dark curly hair, as it provides an excellent canvas for the pop of colors.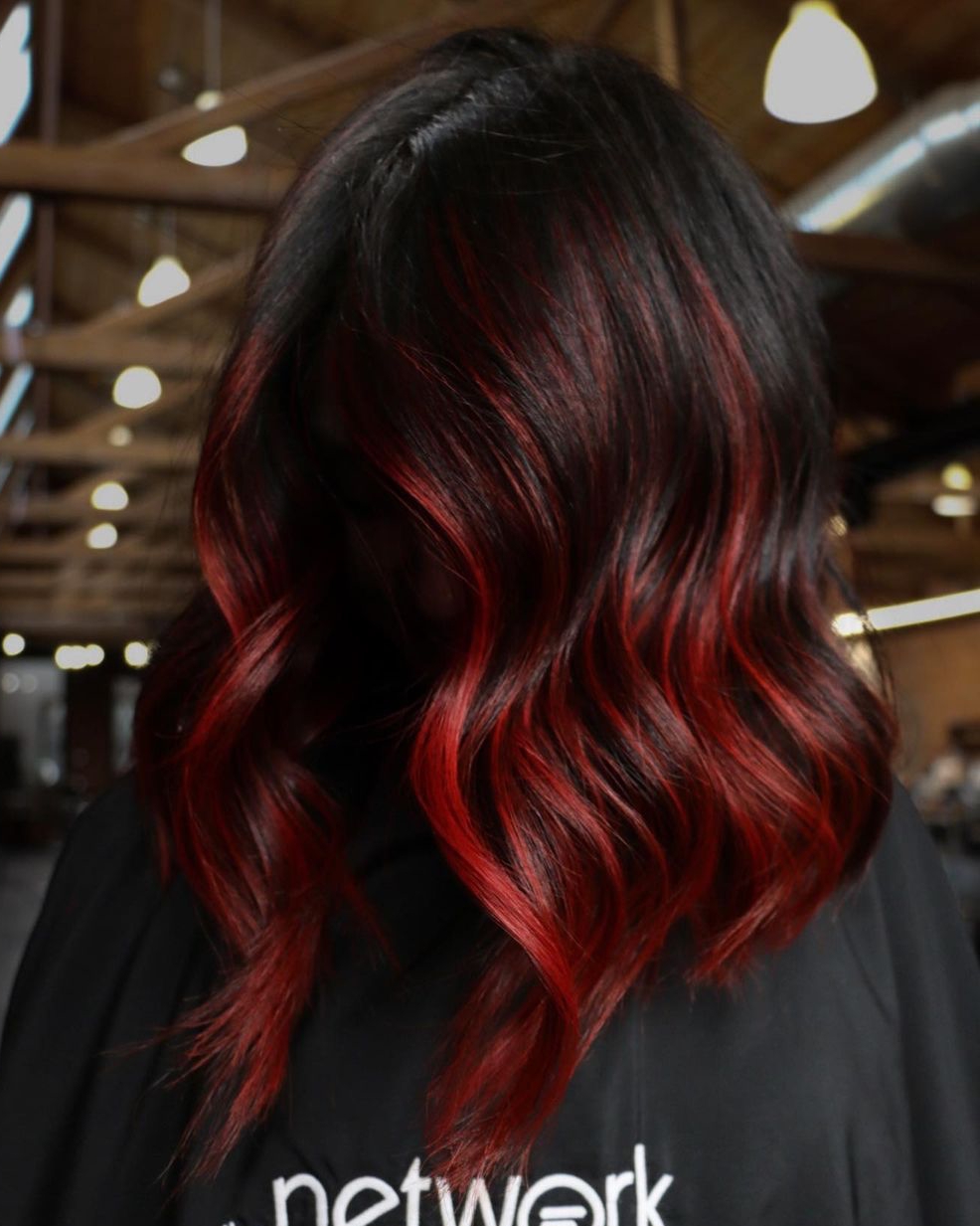 via @dakotajameshair
The highlights should be strategically placed to complement the natural curls and create a beautiful contrast. The stylists may recommend bleaching the hair first for the best color output and using darker shades of red for those with warm skin tones, while those with cool skin tones can opt for brighter shades of red. Red hair with black highlights always keeps you party-ready!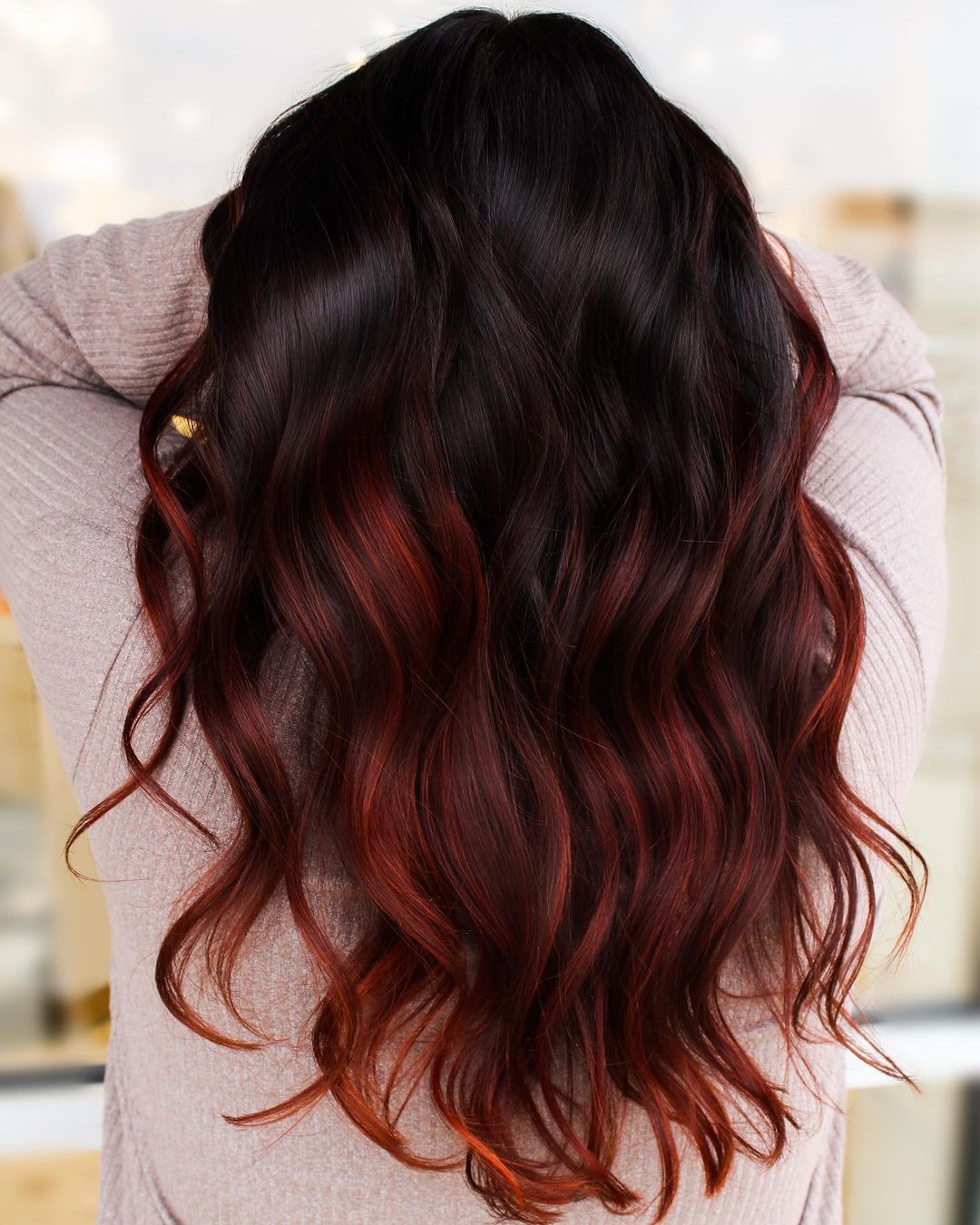 via @hair.by.jessv
Trendy & Gorgeous: Shoulder Length Black Hair with Highlights
Are you looking for a way to enhance your straight shoulder-length hair? Adding highlights is the perfect solution! Black hair with highlights can also add dimension and shine to your tresses. Curly brunette hair with copper highlights looks gorgeous, especially on warmer skin tones.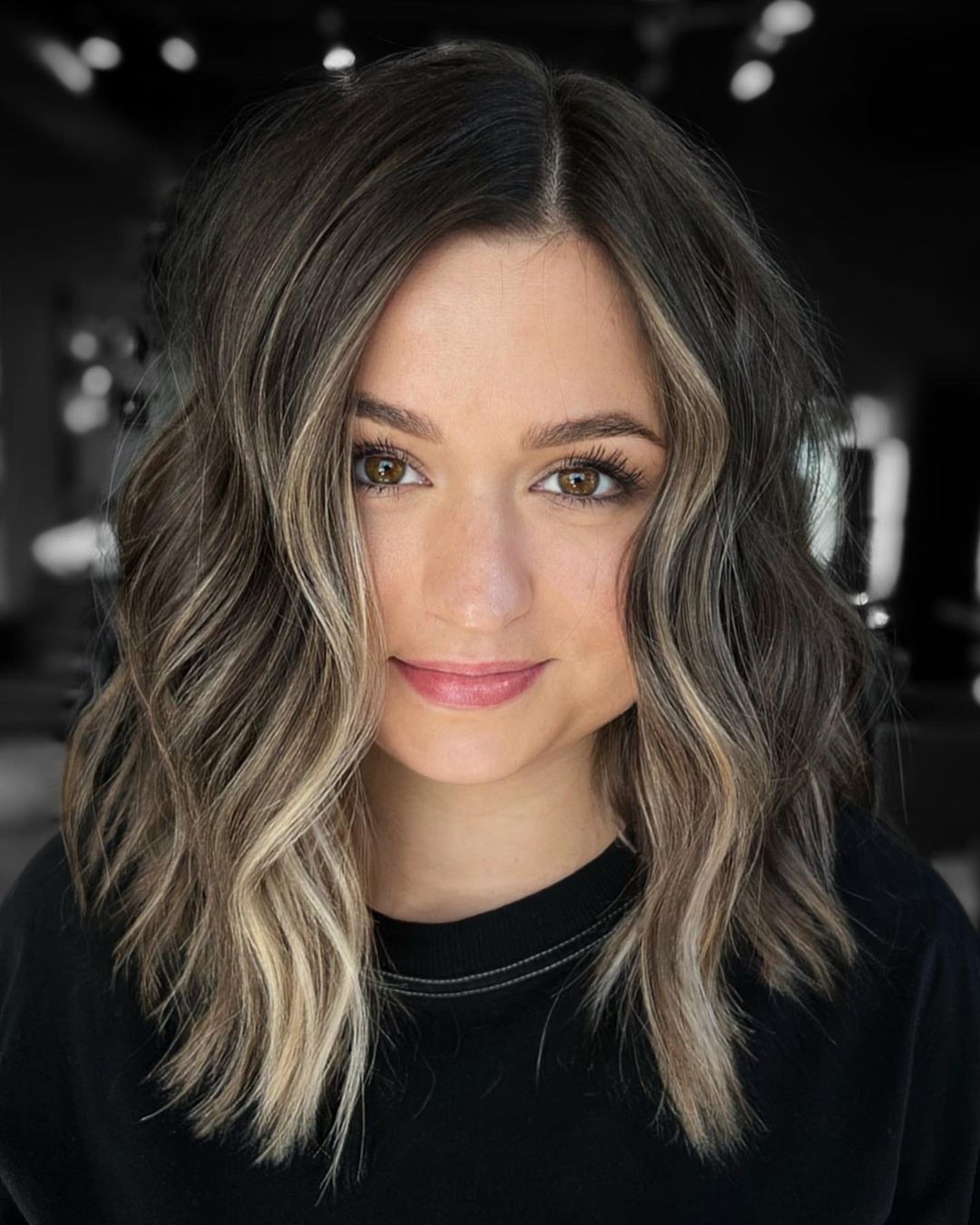 via @aaashleee
Firstly, the natural pigment of your hair will be uplifted by applying a lightener. Then a toner will neutralize the leftover brassy tones for the deposition of desired copper hue. When done right, highlights can take your hair from ordinary to extraordinary, adding depth and texture to your look.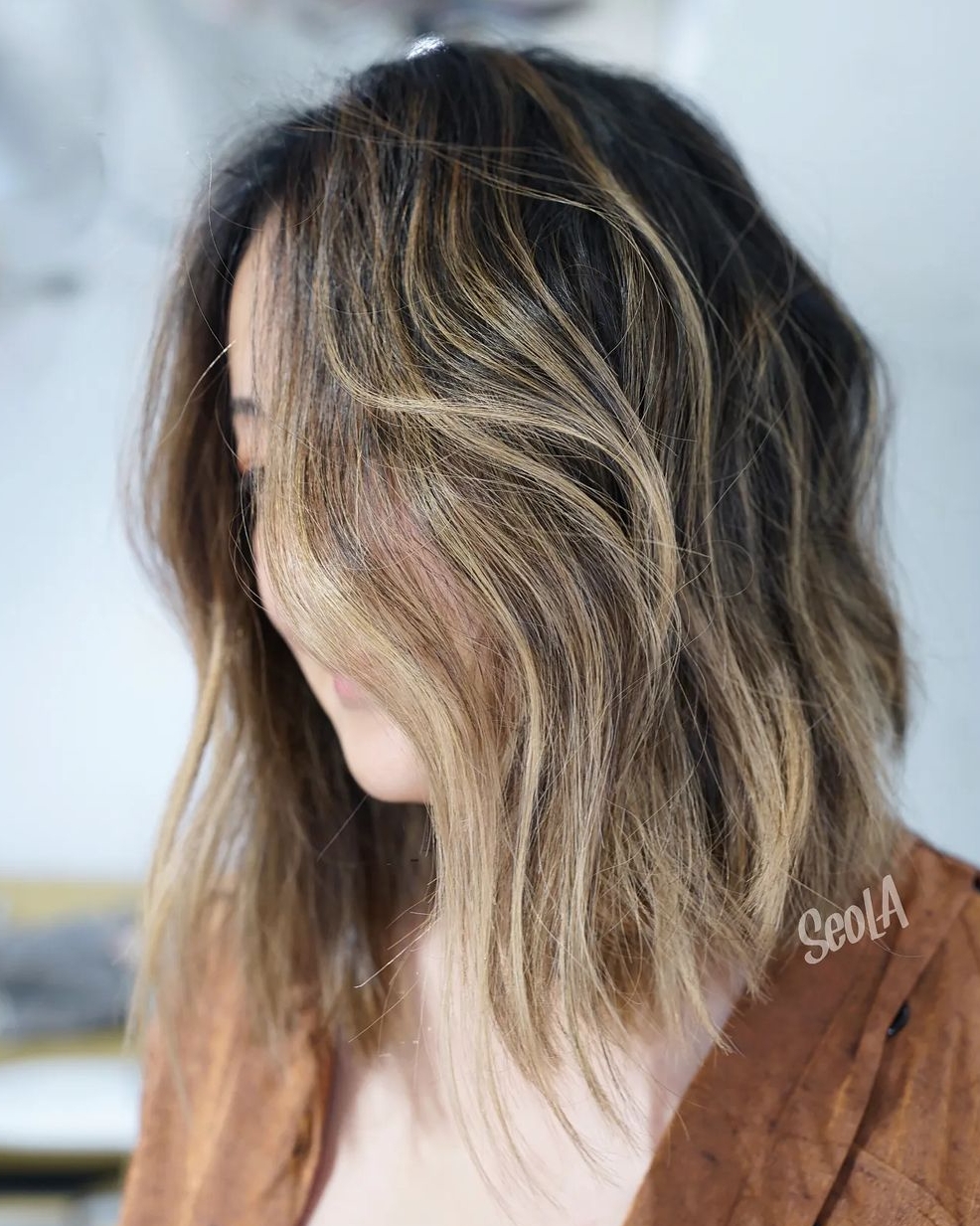 via @seolahair
Burgundy Bliss: Dark Hair with Burgundy Highlights
Dark brown hair with burgundy highlights is a stunning combination for those looking to add a pop of color to their hair. The deep red tones, like burgundy, complement the hair's natural color and add dimension to the overall look.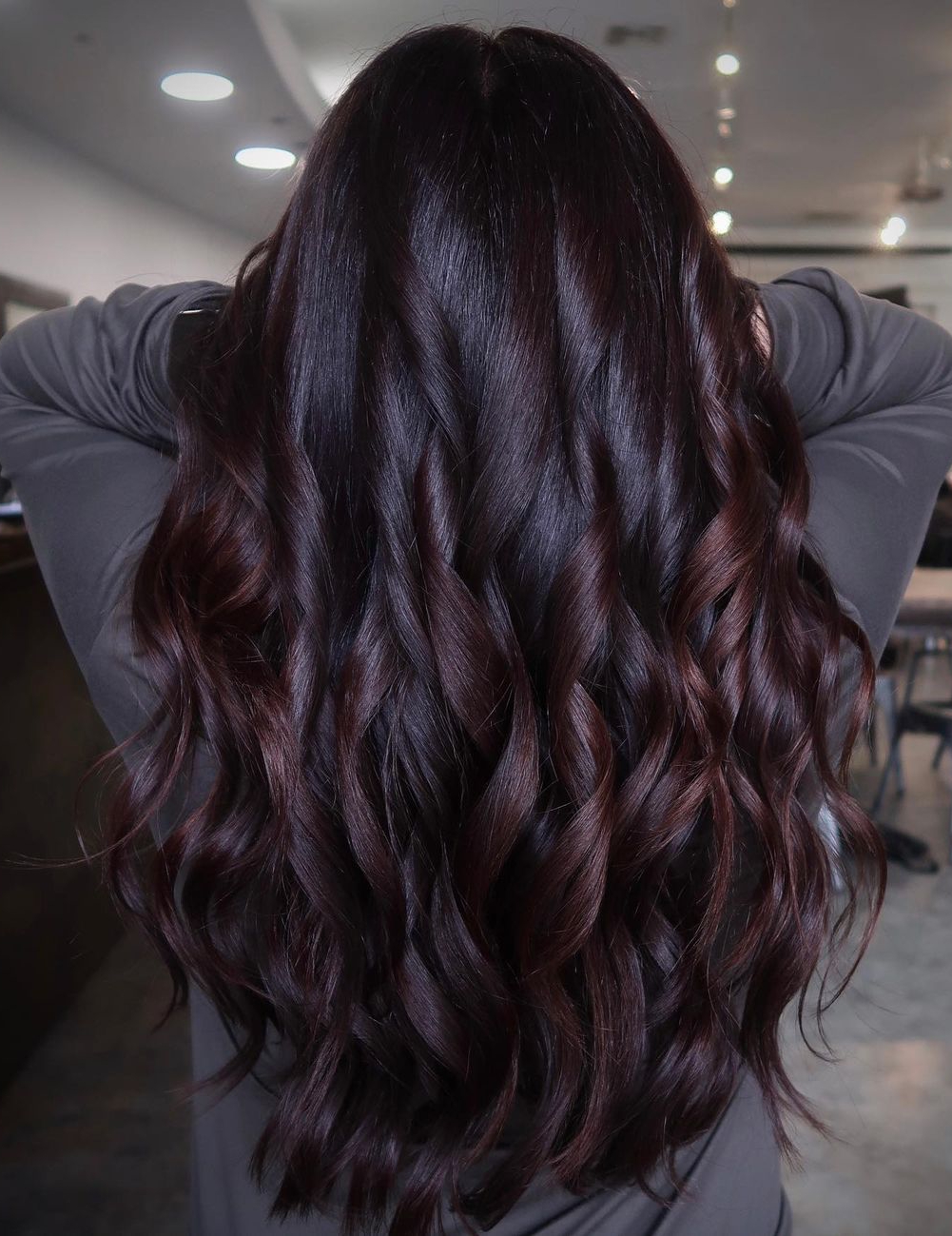 Dark locks with dark red highlights are one of the best long hair ideas, as they can add depth and richness to the hair. For a stunning effect, your stylist may suggest hair bleaching.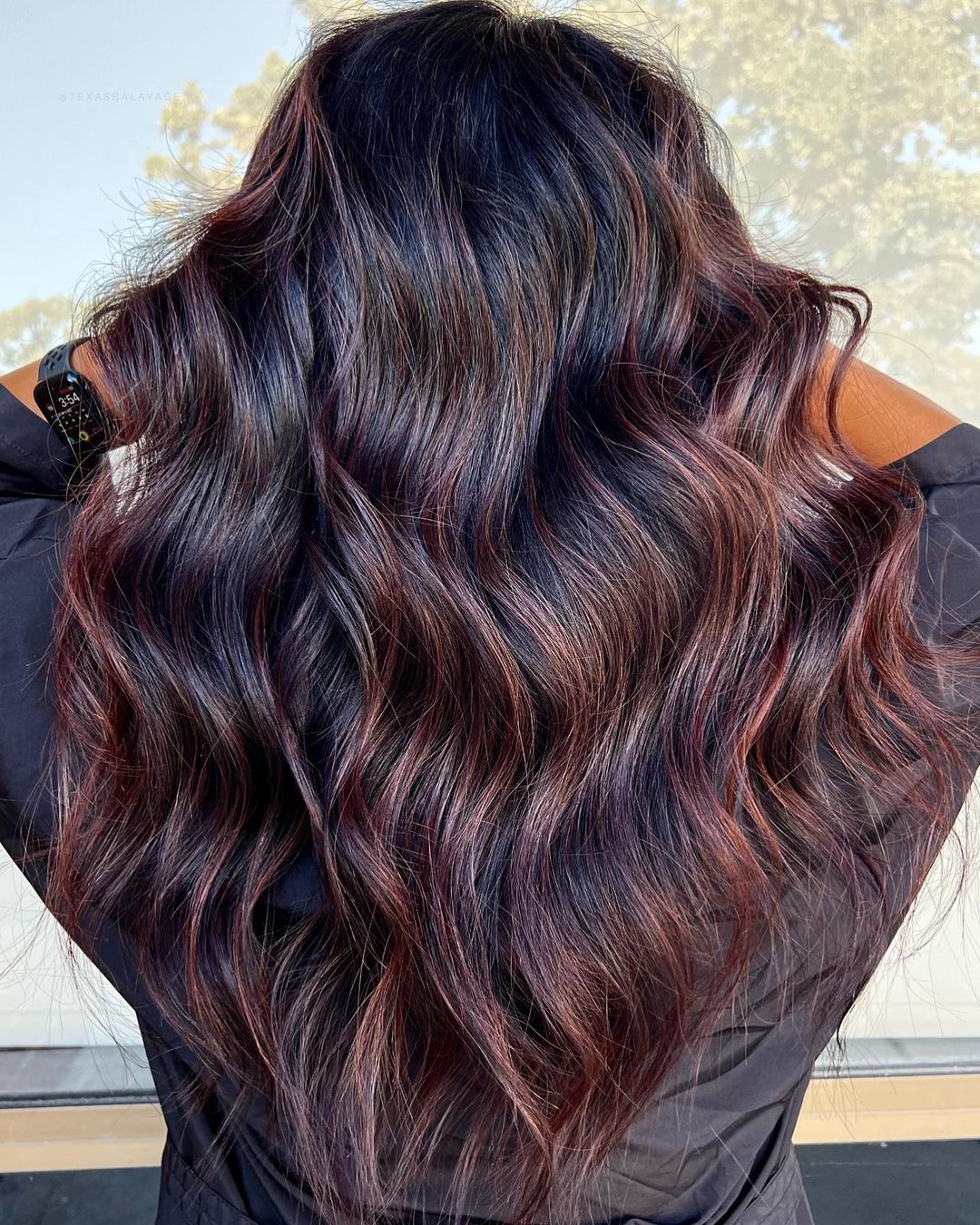 via @texasbalayage
Emerald Envy: Black Hair with Green Highlights
Dark brown hair color or naturally black hair with green highlights look unique and eye-catching. Dyed black hair can also achieve this style. The key to successfully pulling off this color combination is choosing the right green shade that goes well with your skin tone and hair structure.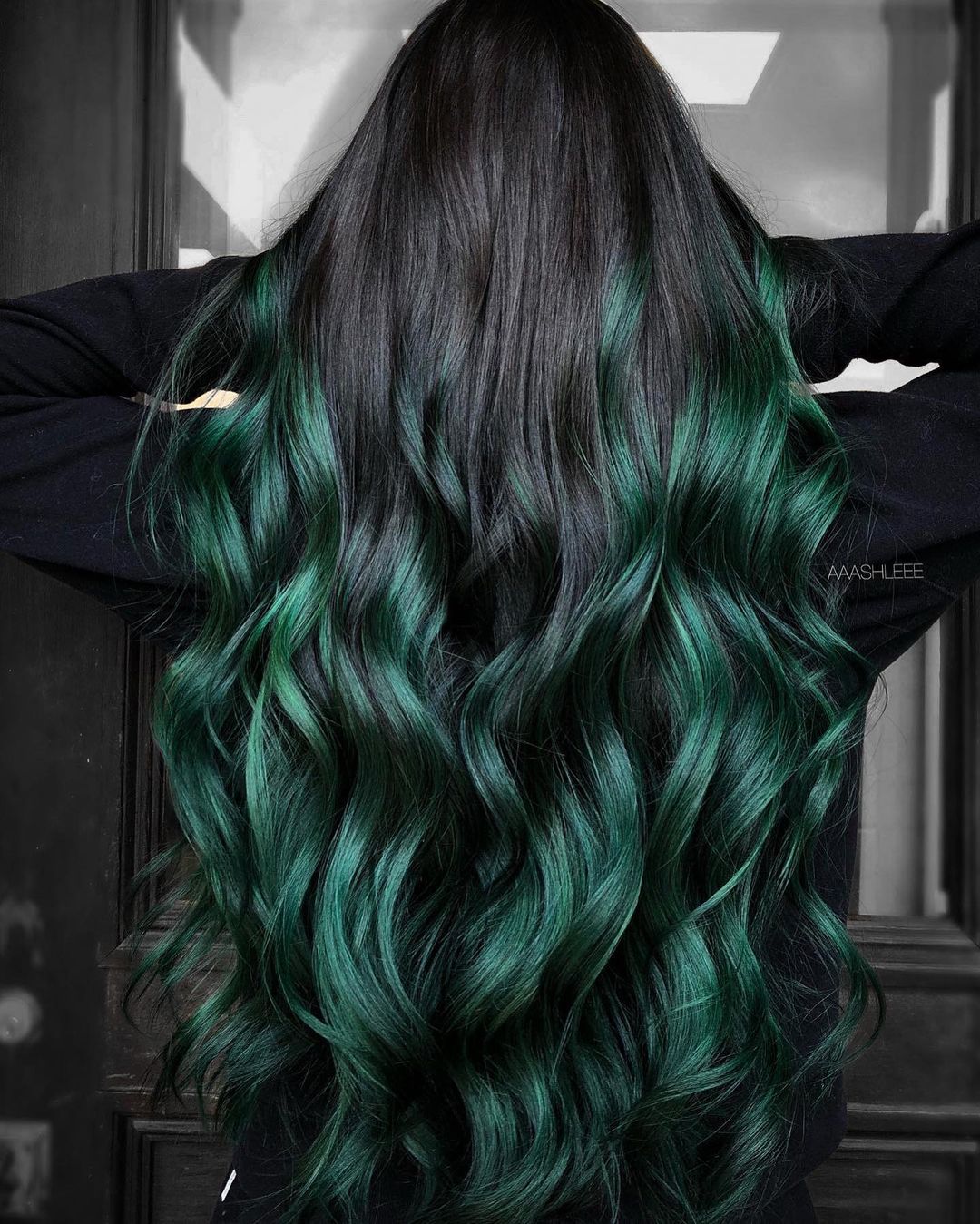 via @aaashleee
A subtle approach is best for short or long black hair; choose thin and finely woven highlights to create depth and dimension.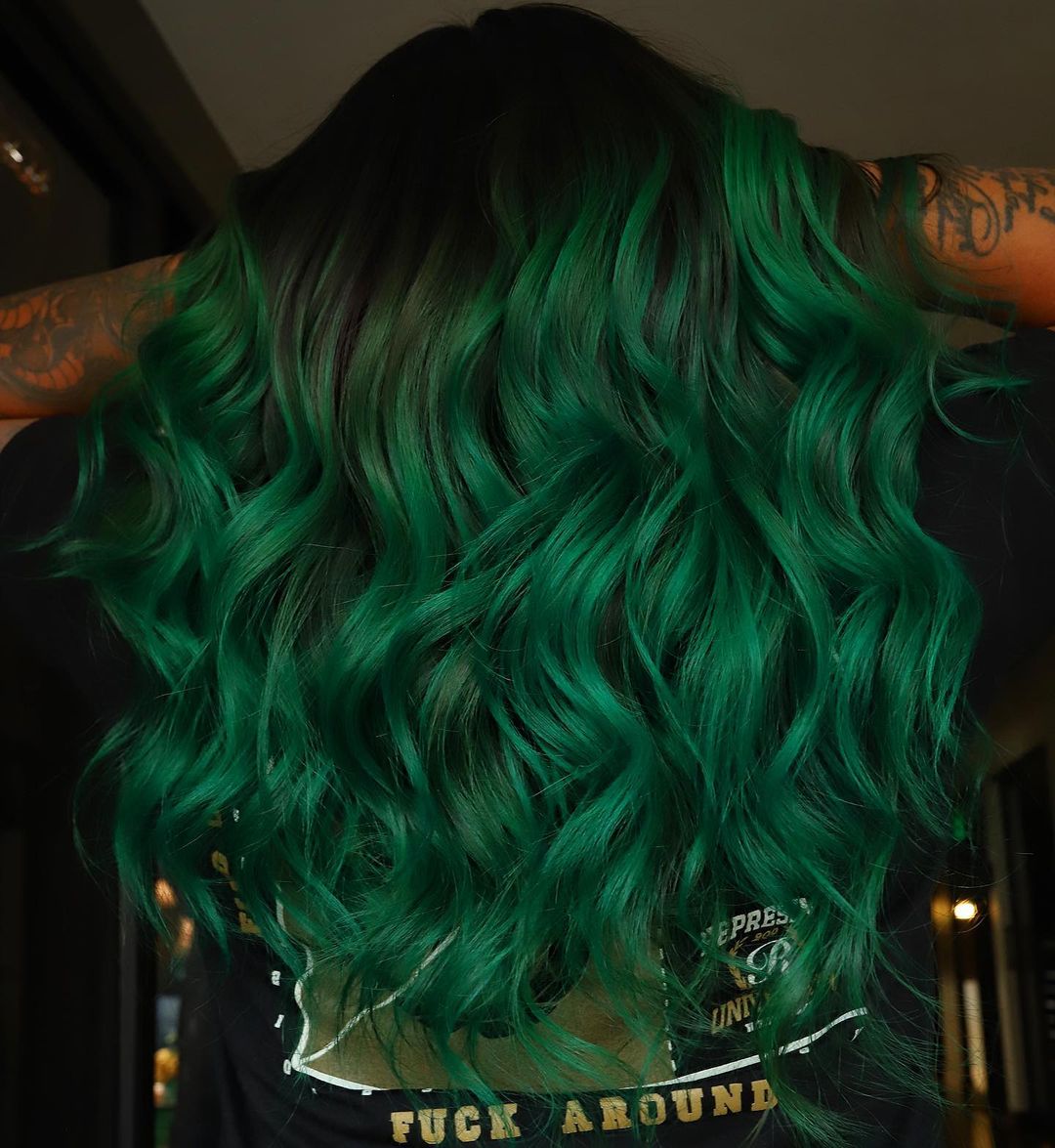 via @makeupbyfrances
Unleash Your Inner Unicorn with Black Hair with Peekaboo Highlights
Black hair with peekaboo highlights is a great way to add personality and uniqueness to your look. It is a stylish and trendy option for those looking to add fun colors to their hair.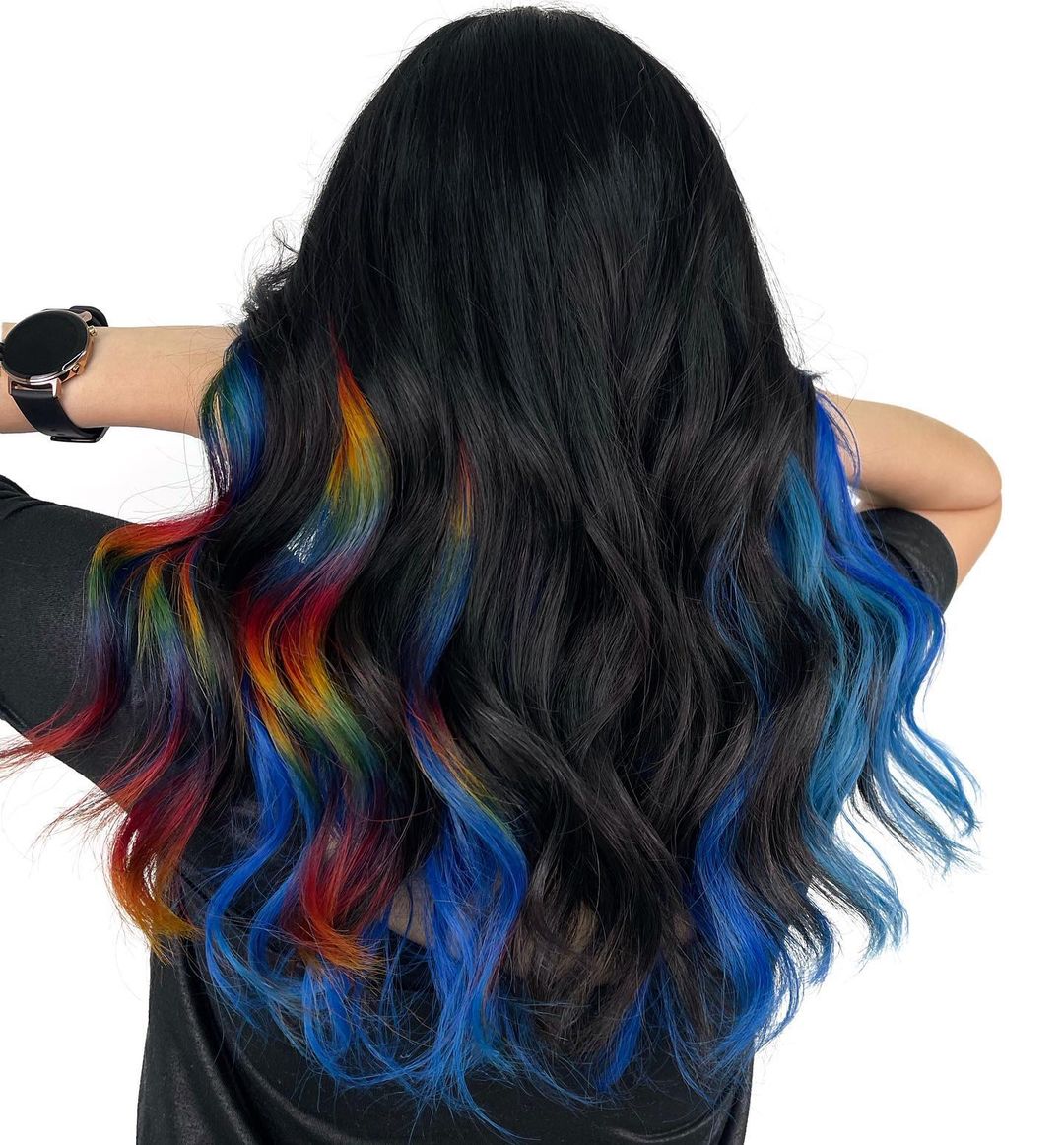 via @glenhew
One popular choice is the "rainbow peekaboo on black hair" technique, where hidden rainbow hair is added to the dark brown base. This creates a striking contrast that is both subtle and eye-catching. The highlights are strategically placed within the hair's structure, creating a natural-looking flow that highlights the hair's texture.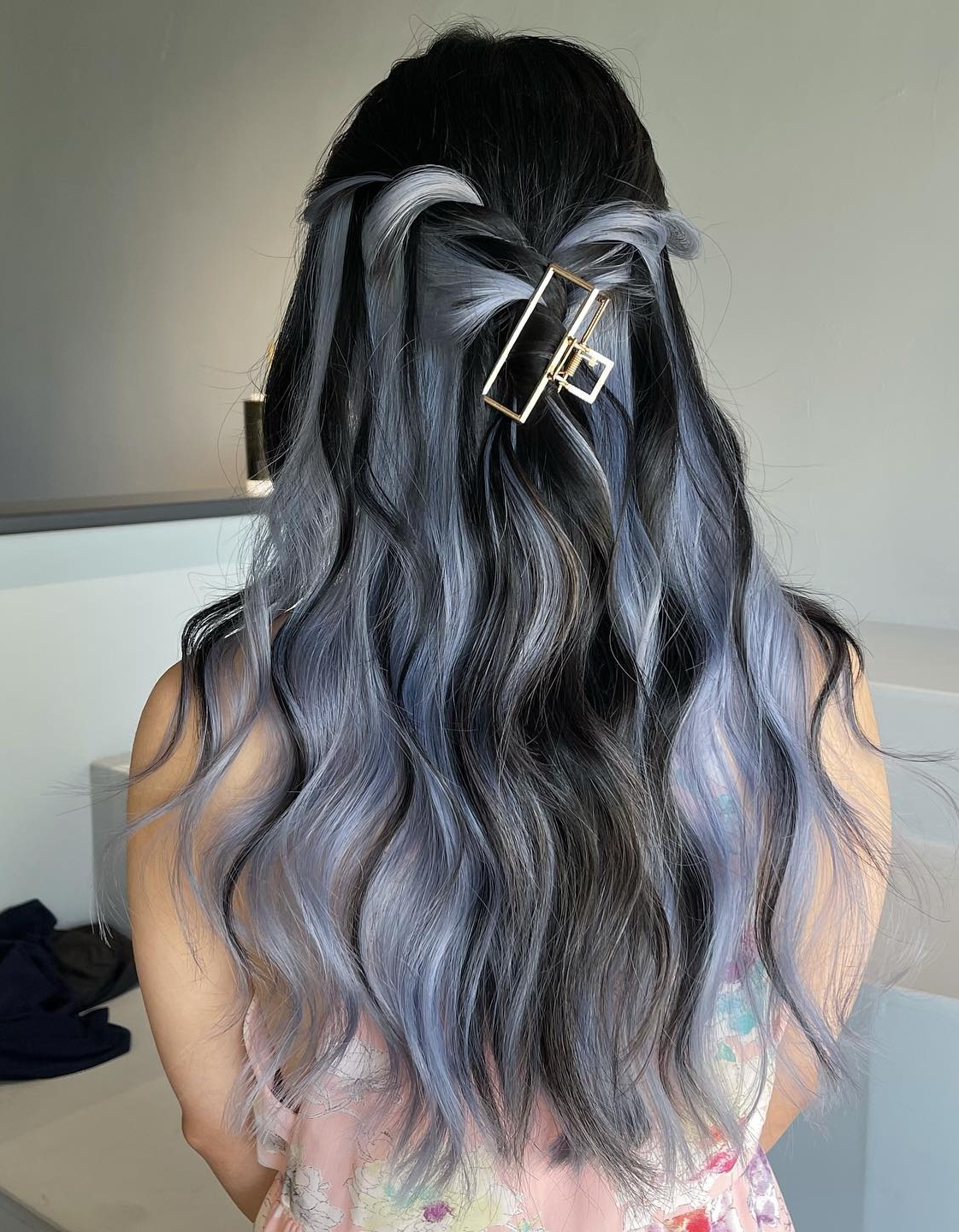 via @hair_nic
Dark Hair with Honey-Blonde Highlights: A Match Made in Heaven
Very dark hair with honey-blonde highlights is a trendy hair color choice. Dark straight hair with light brown highlights also creates a stunning contrast. Copper highlights on black hair can add warmth and shine to the hair.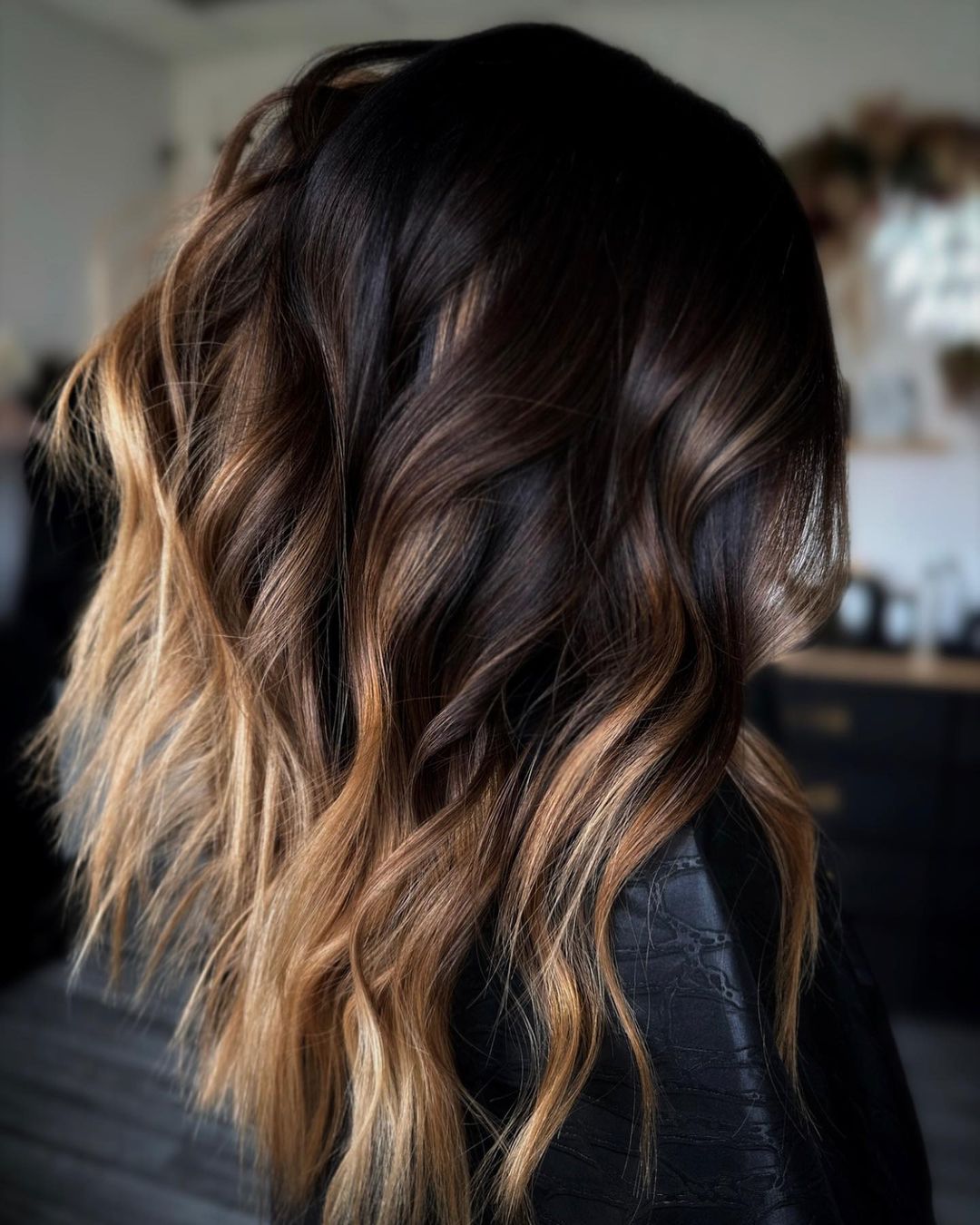 via @pipsyhair_
Hairdressers recommend using a balayage technique for highlighting dark hair with honey blonde, creating a more natural and seamless transition.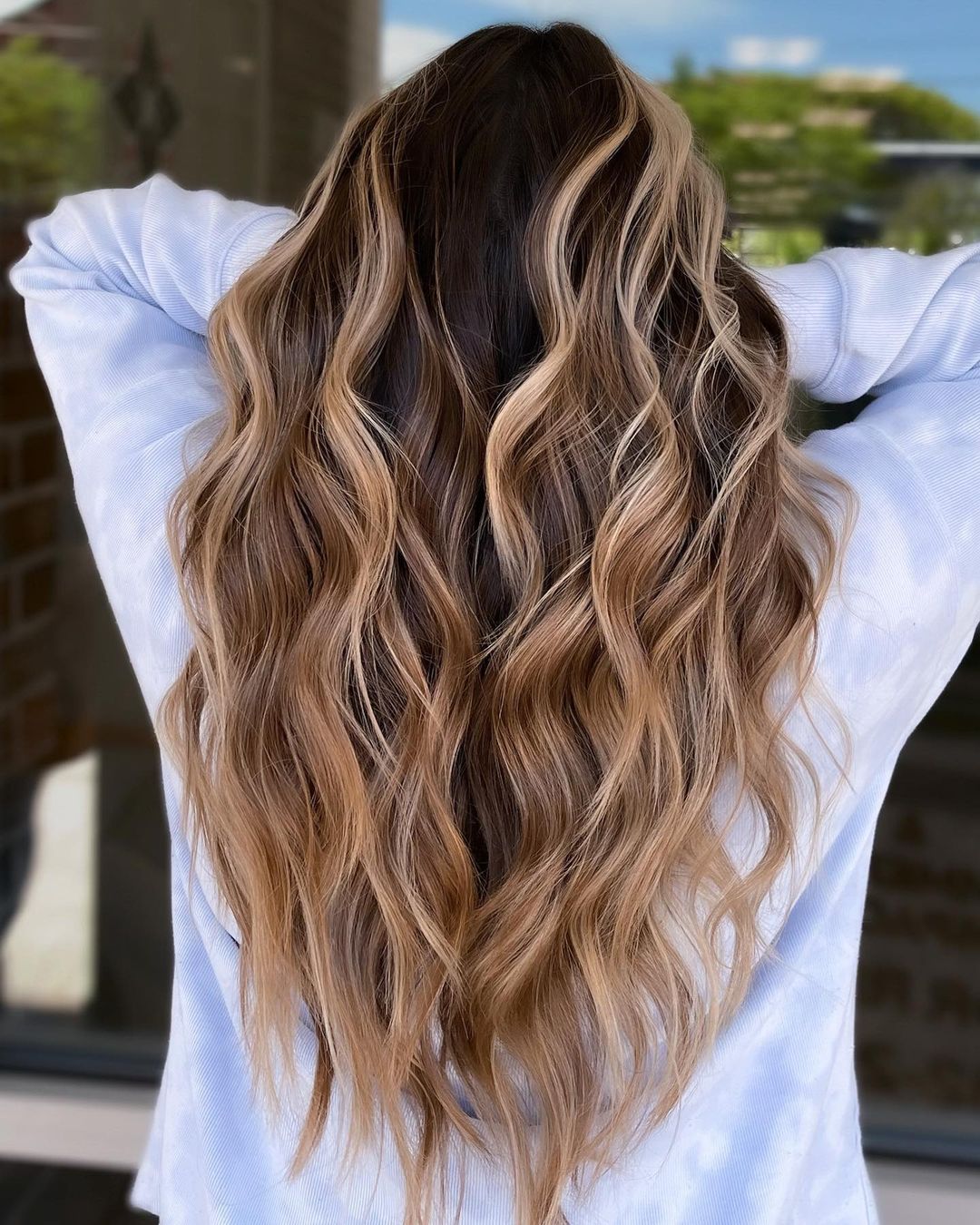 Spice Up Your Look with Black Hair with Yellow Highlights
Black natural hair with yellow highlights can create a striking and unique hairstyle. Yellow hair strands can add spice to your hair look, especially when combined with black hair's dense structure. This look works well with short hair, as the highlights can be more easily noticed.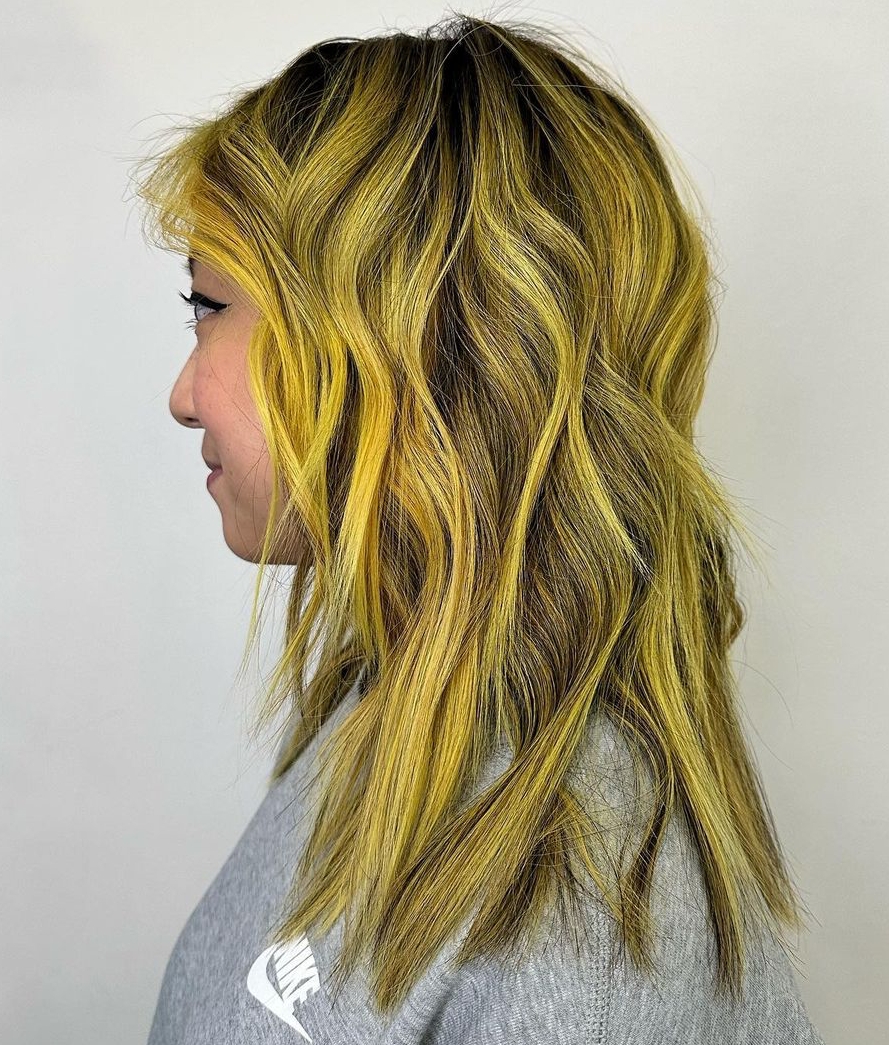 Hairdressers may recommend placing yellow highlights around the face or towards the ends of the hair for a more natural look.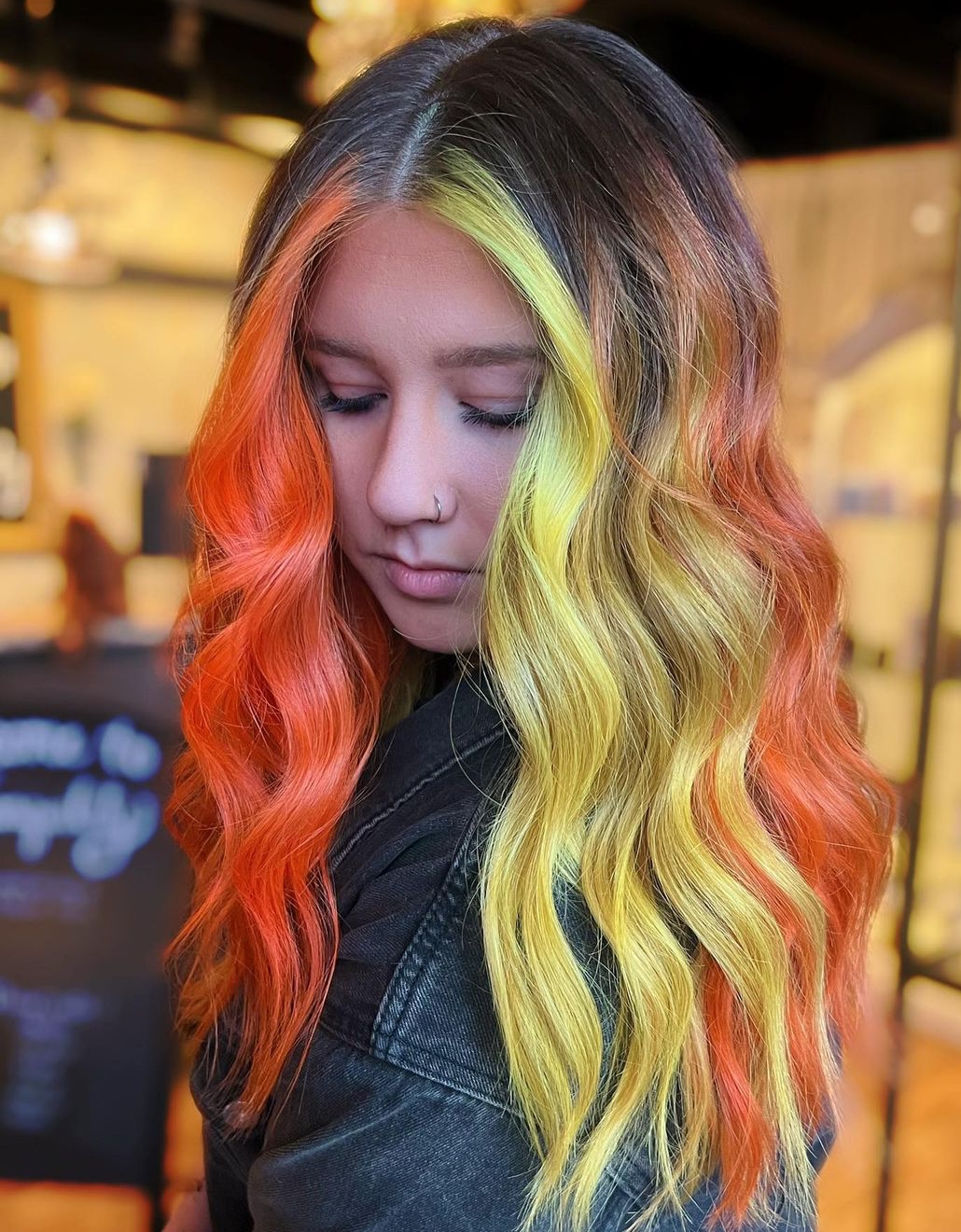 FAQ
What highlights go well with black hair without bleach?
Black hair looks great with bold highlights that don't require bleach, such as caramel, honey, or bronze tones. These warm colors naturally contrast black hair, adding depth and dimension. For a more dramatic look, consider burgundy or deep red highlights.
It is always advised to consult with a professional stylist to determine the best highlights for your specific hair type and skin tone.