Classic strawberry blonde hair has a characteristic reddish-blondish shade with certain variations. There are exciting possibilities, from a subtle pinkish tint to a vivid reddish and stopping midway into a beige-neutral tone.
Classic strawberry blonde hair has a characteristic reddish-blondish shade with certain variations. There are exciting possibilities, from a subtle pinkish tint to a vivid reddish and stopping midway into a beige-neutral tone.
Be it ombre, balayage, highlights, metallic rose gold, platinum, or marigold, you have a platter full of variations to try on your tresses.
The nice part about strawberry blonde hair is that anyone who likes to flaunt crimson shades can go for it. The shade usually doesn't occur naturally and looks good on people with fair or warm skin tones.
Another notable aspect is that you can try strawberry blonde hair color for any length. Be it fine or thick hair, the strawberry blonde dye is a must-try color if you have the complexion to complement it.
Whether you love the reddish tint on your hair, you have many options when trying this hair color. Here are some great strawberry blonde hair color ideas to try this season.
In Vogue Strawberry Blonde Balayage
Balayage on blonde hair creates depth and dimension, raising your fashion statement several notches. With a strawberry hue, get ready for a red glow of warmth across your tresses with texture and movement. Darker roots showcase the fantastic effect of balayage on lighter hair ends.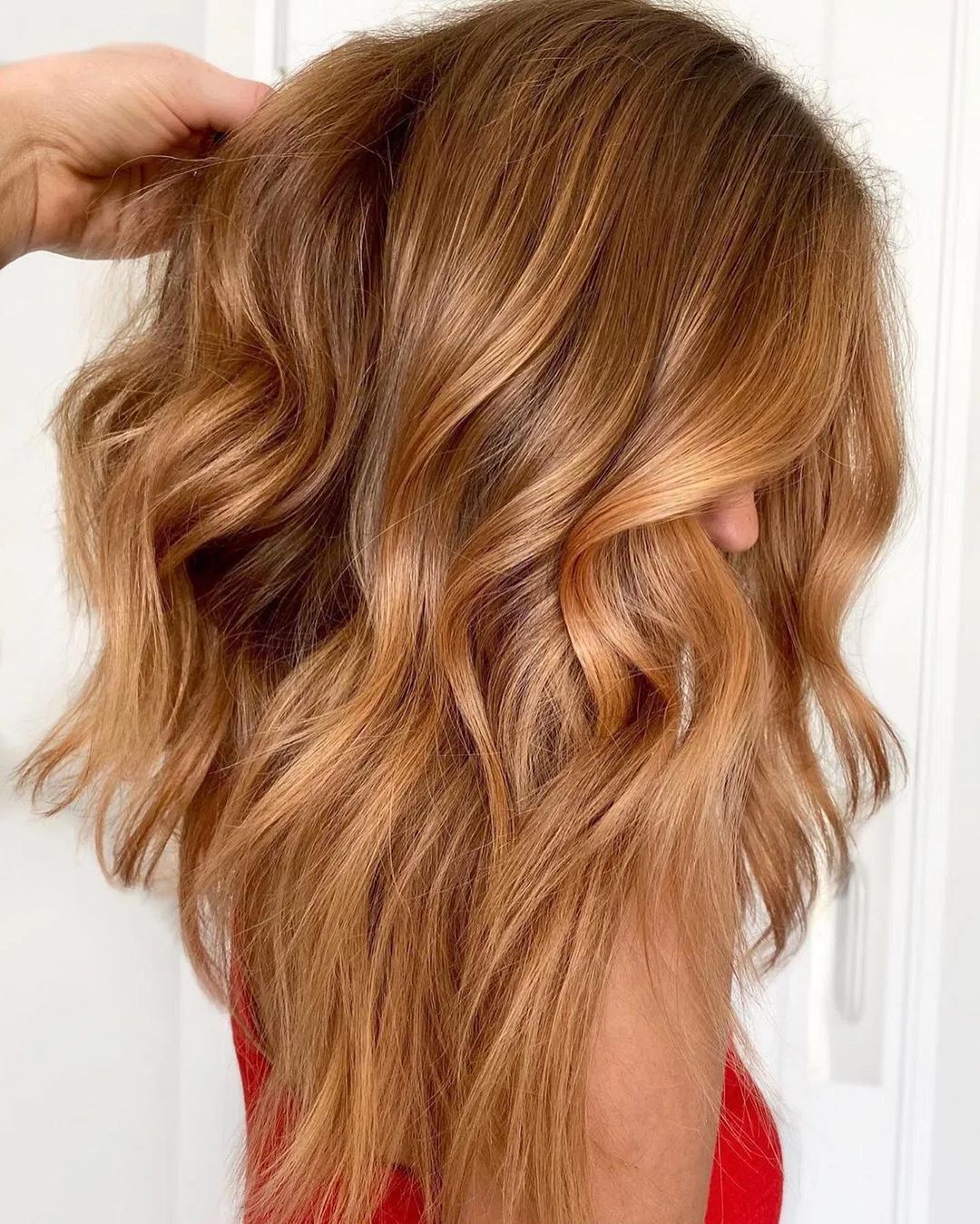 via @maeipaint
This is one of the shades of strawberry blonde that suit girls with fair skin. The vivid bright red roots and the light strands of ribbons fill the entire mane with unparalleled brilliance.
The color-treated hair helps accentuate your fair complexion and facial features. You can keep the shade subtle or add brightness with a pop of color. For example, add amethyst purple and style it in curls!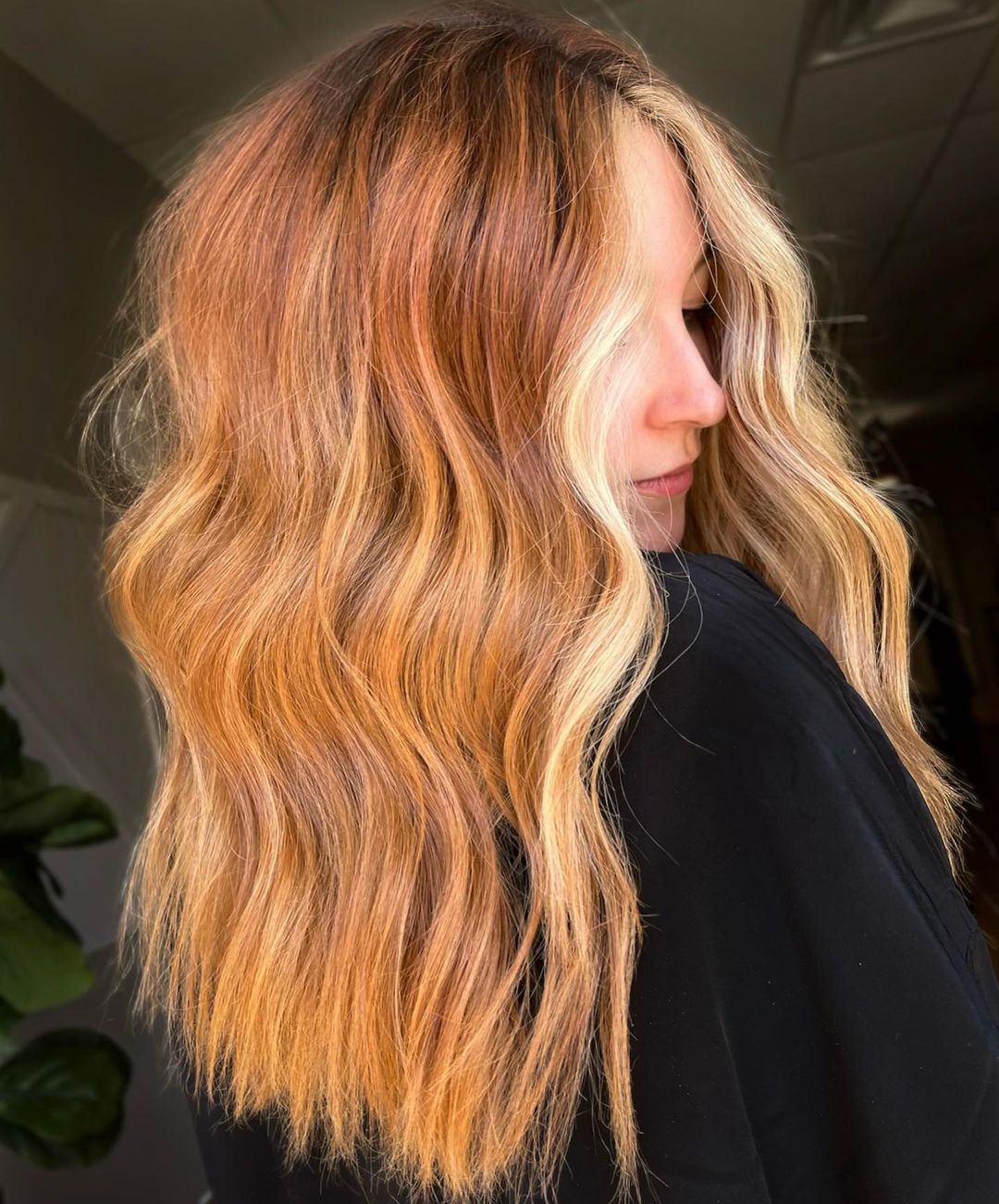 via @colorbyciarra
Dark Strawberry Blonde Hair For a Stunning You
A darker strawberry shade on blonde hair looks more like the copper color, distinctly bright. If you have naturally dark hair or have thick hair, try dark strawberry blonde with darker roots, gradually getting lighter towards the end. By curling the ends, you can show off the shades better. Else, have the entire mane colored in the dark due.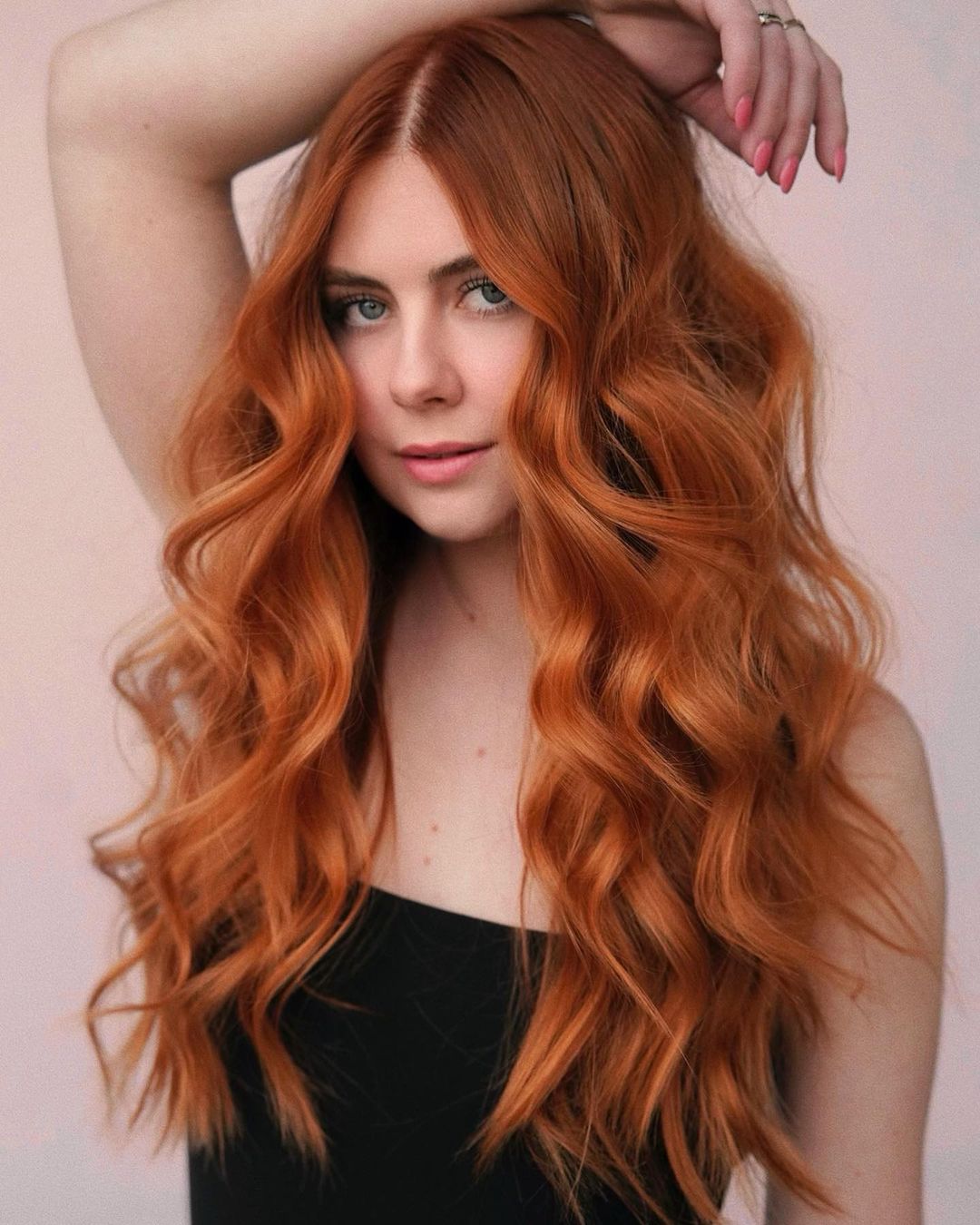 The dark strawberry blonde mane looks excellent with tanned or darker skin tones. Also, if your eyes are darker, this hair color looks fabulous. It's flattering with your contrasting looks. Another aspect for the hue to look even more stunning is when your hair has natural waves.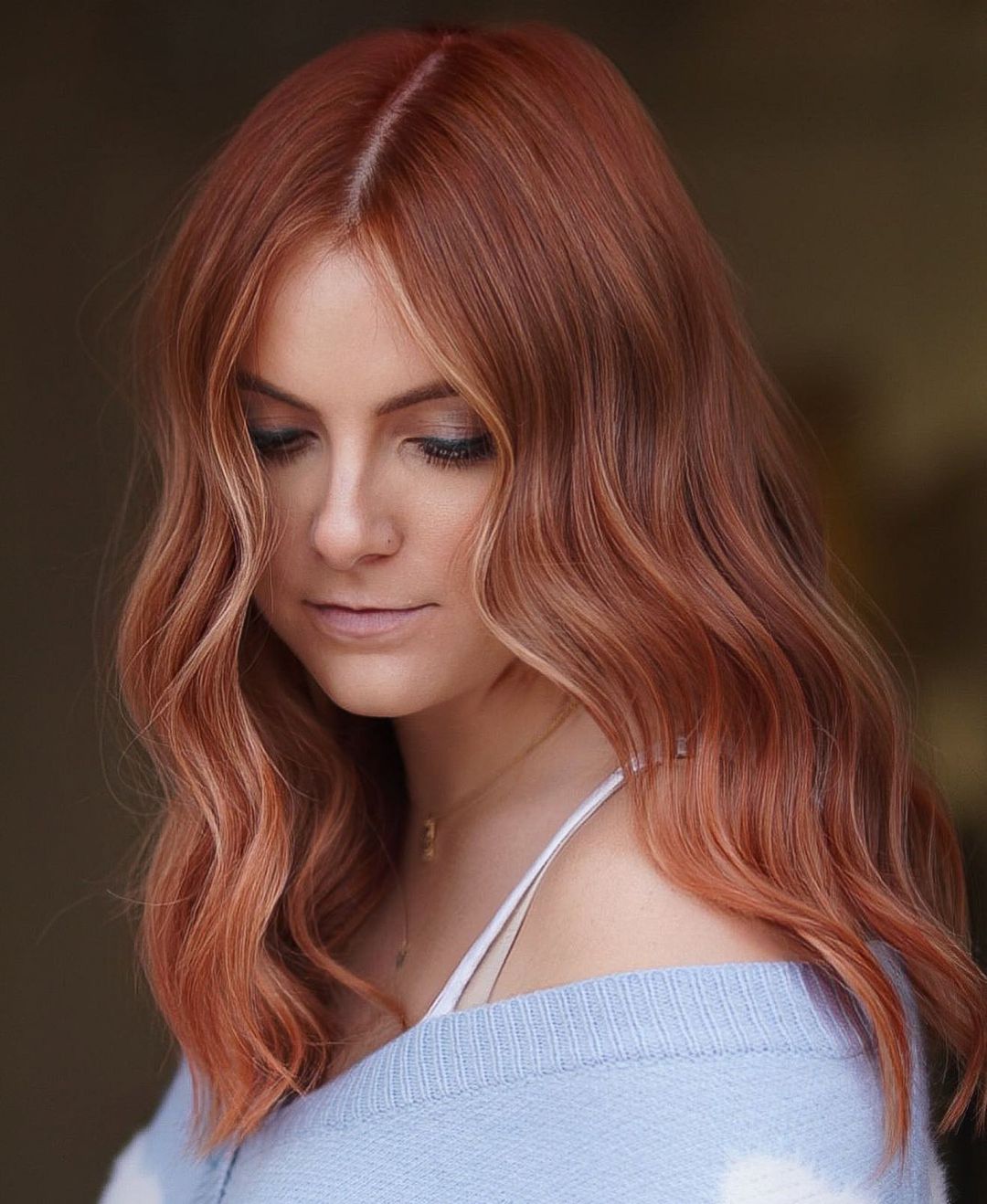 Strawberry Blonde Highlights For Natural Warmth
Highlights are one of the best ways to adapt to a new hair color. Women with blonde hair can try strawberry-blonde highlights to spice up things. For dark blonde hair, lowlights on strawberry blonde tresses can give a dramatic look to your personality.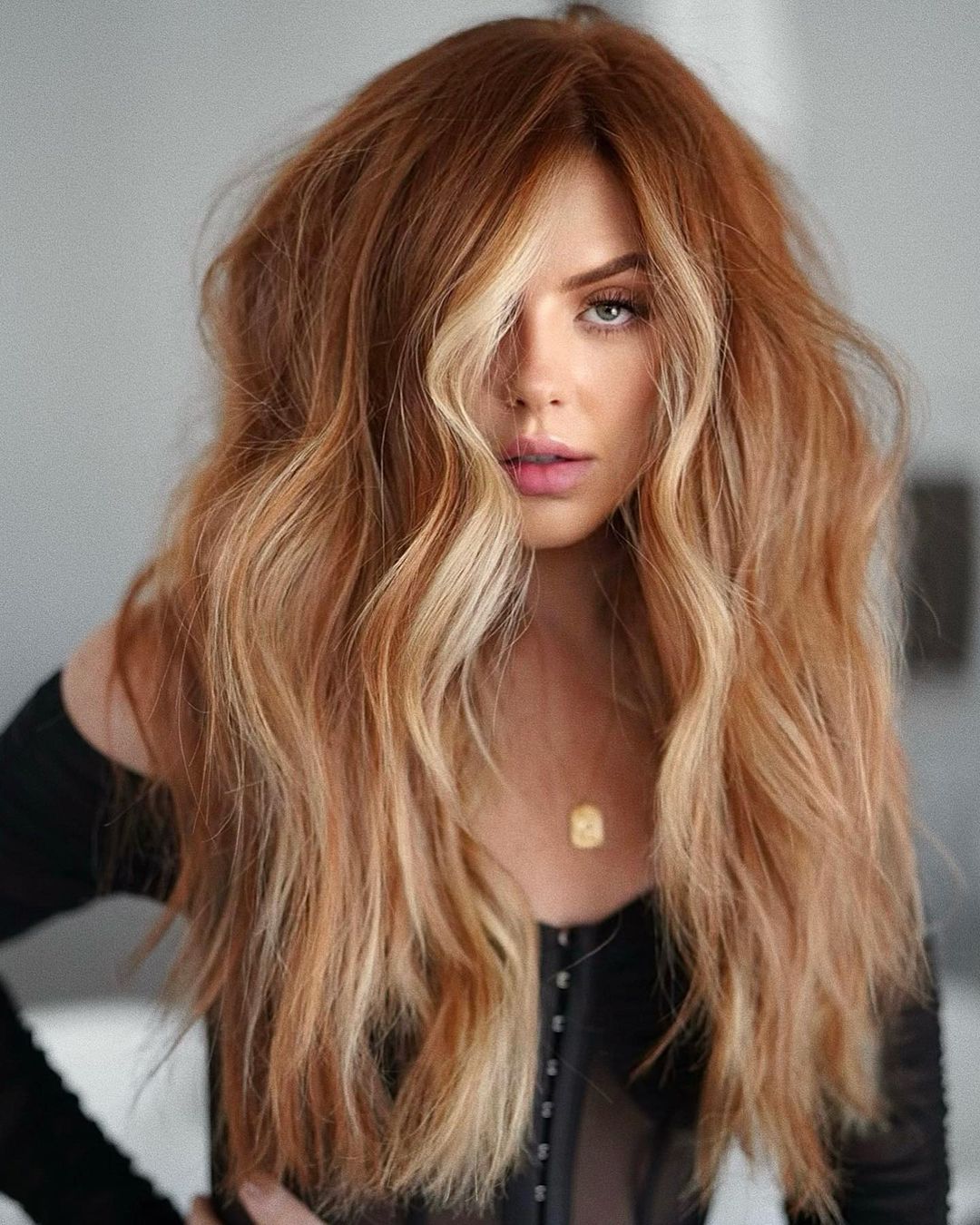 via @kianna.hair
Strawberry highlights on light brown hair are another great option, showcasing your finest features impeccably. Your blue eyes, and the shape of your lips, all sync well together to create a flawless appearance.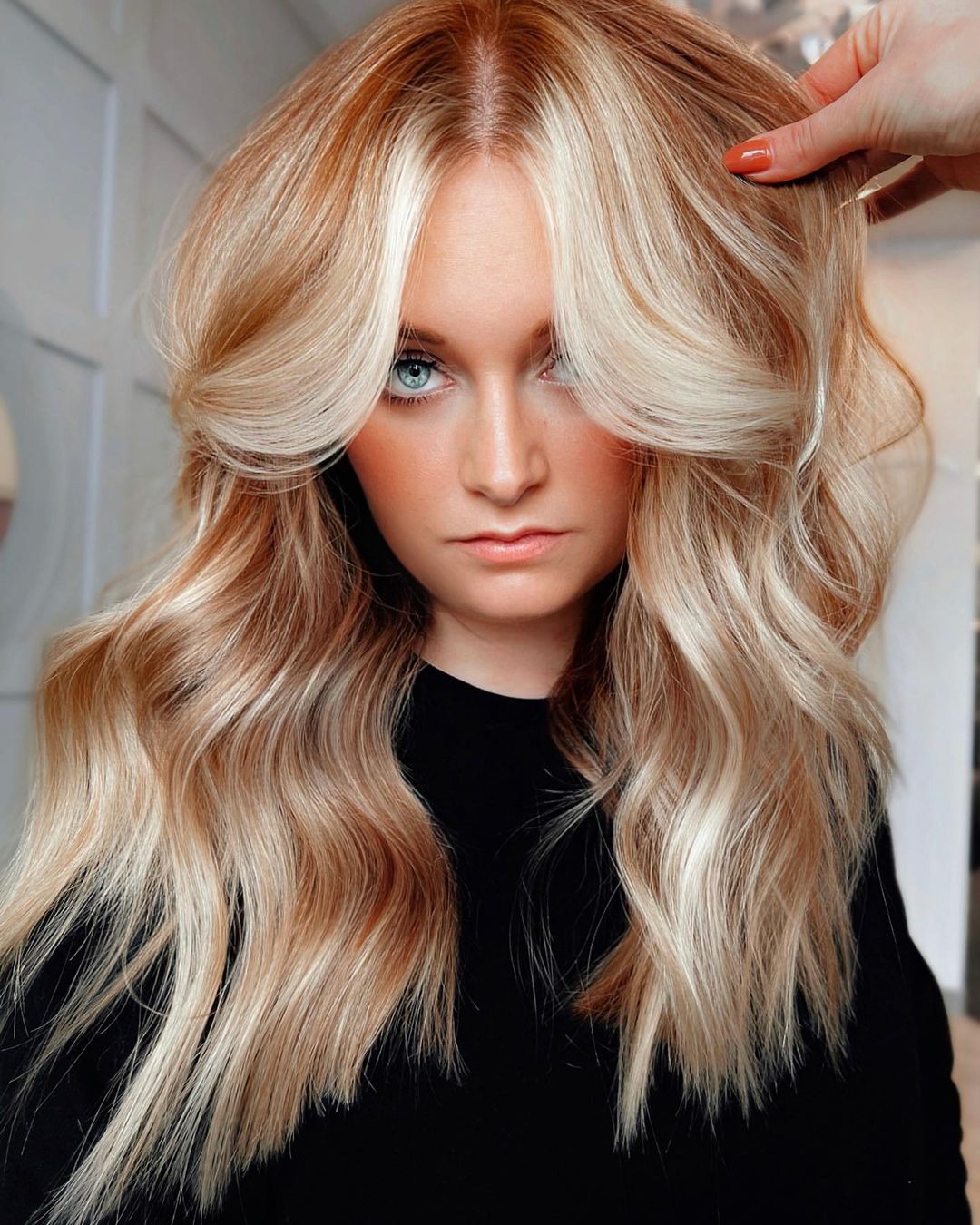 via @envied.ends
If you have dark auburn hair, these cute hair colors look magical. The hair radiates warmth, lit by a golden chestnut sparkle. On dark brown hair, too, the highlights look natural.
If you have bangs, put a shade of the dye to highlight them.
Shiny Copper Strawberry Blonde Balayage
If you have natural copper hair color, strawberry blonde dye is a must-try for your hair. The strawberry highlights on a few random strands can change your look completely. If your natural locks are not copper colored, you can get a deeper shade of strawberry blonde dye to get the copper tone.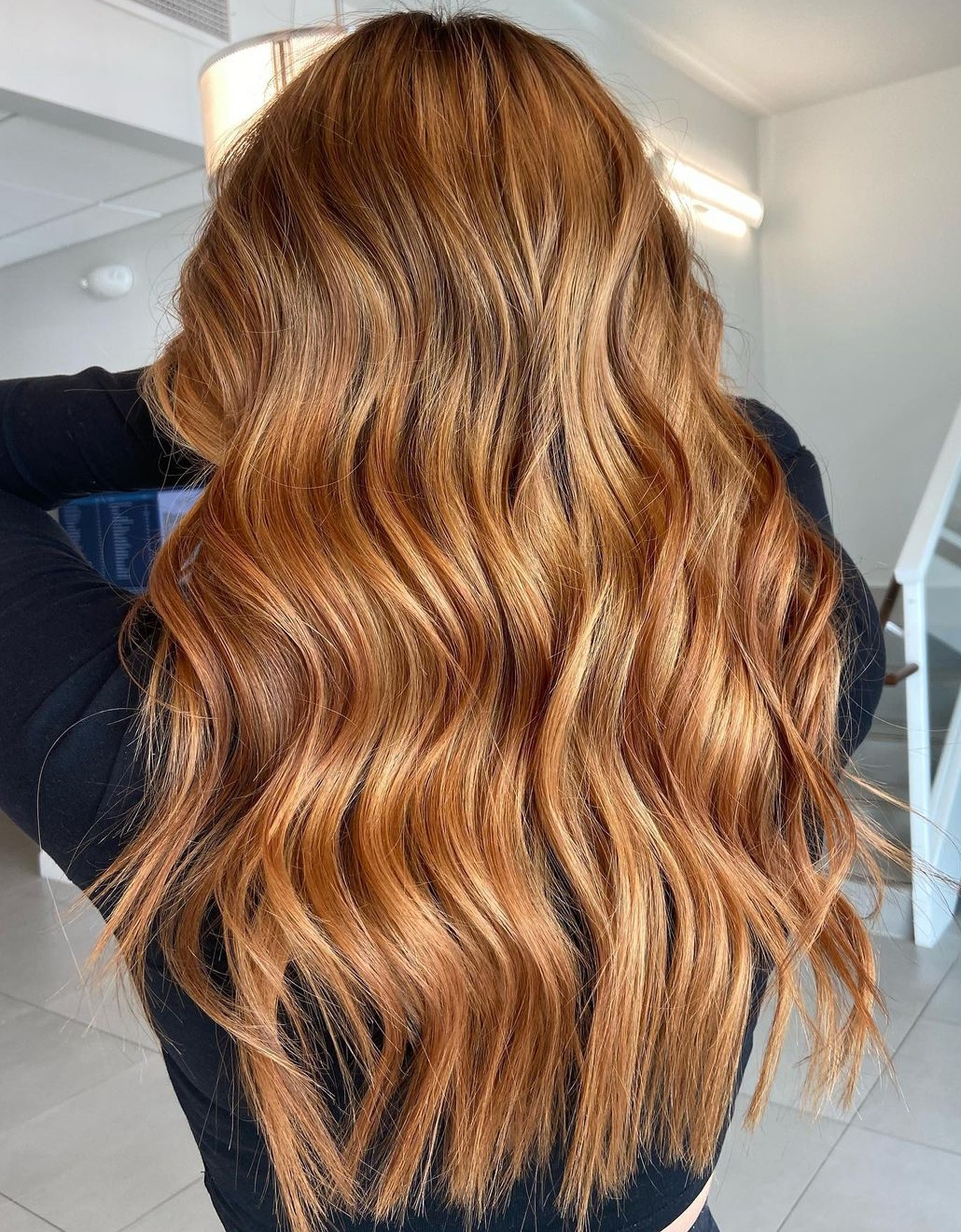 via @alinah_valdez
Copper to strawberry blonde balayage is an excellent choice for long hair as the color flawlessly takes a look to a new level.
Choosing a good hair dye will help nourish the hair strands, giving the hair an unmissable glow and shine. Go soft or vivid, but this one will surely give you a sophisticated look!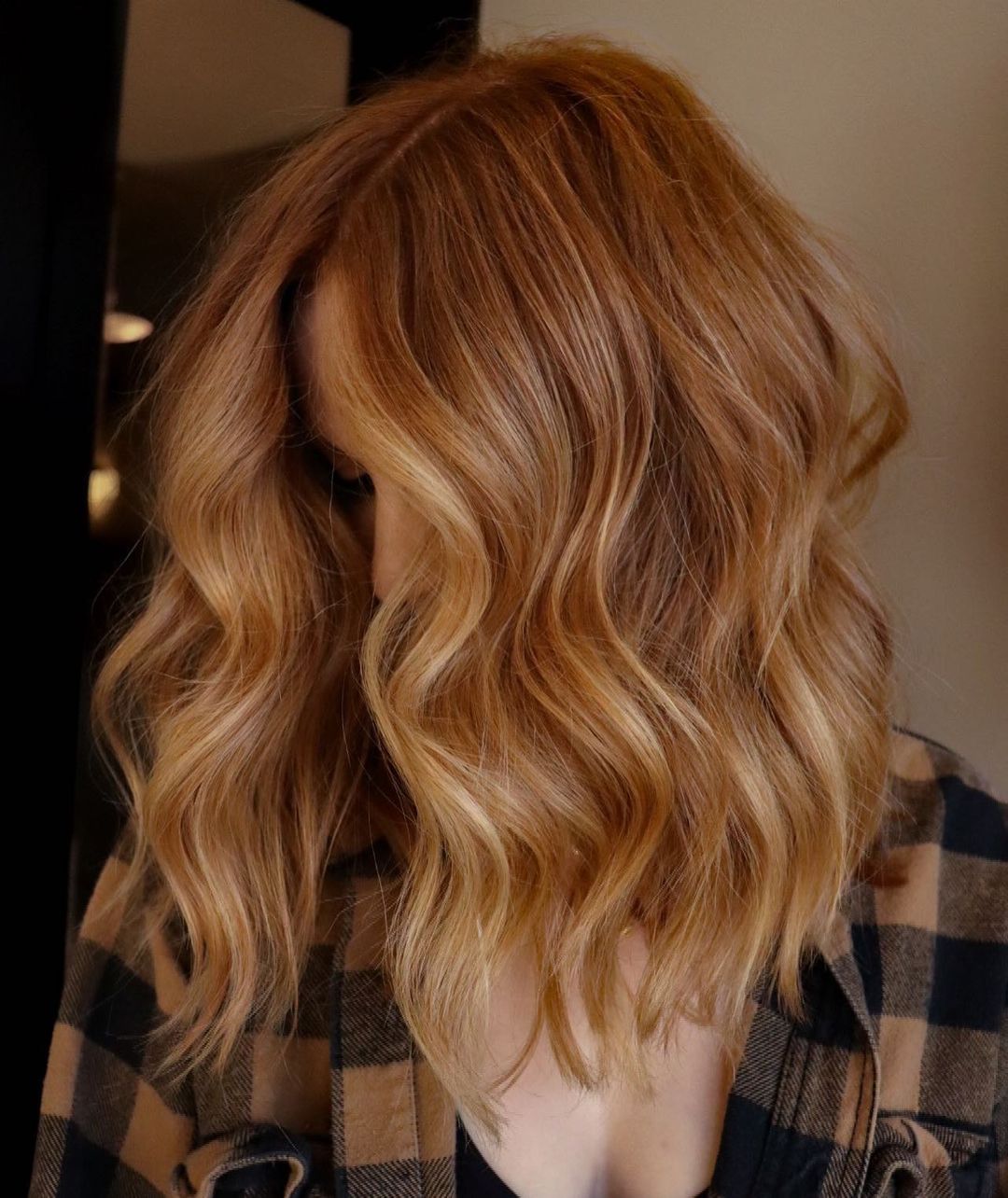 via @rob.levi
Divine Metallic Rose Gold Strawberry Blonde Hair
The rose gold strawberry blonde hues are pinker, the pastel shade. Rose gold is a metallic hue and one of the colors that are trending at the moment. It is blonde with a pinkish hint.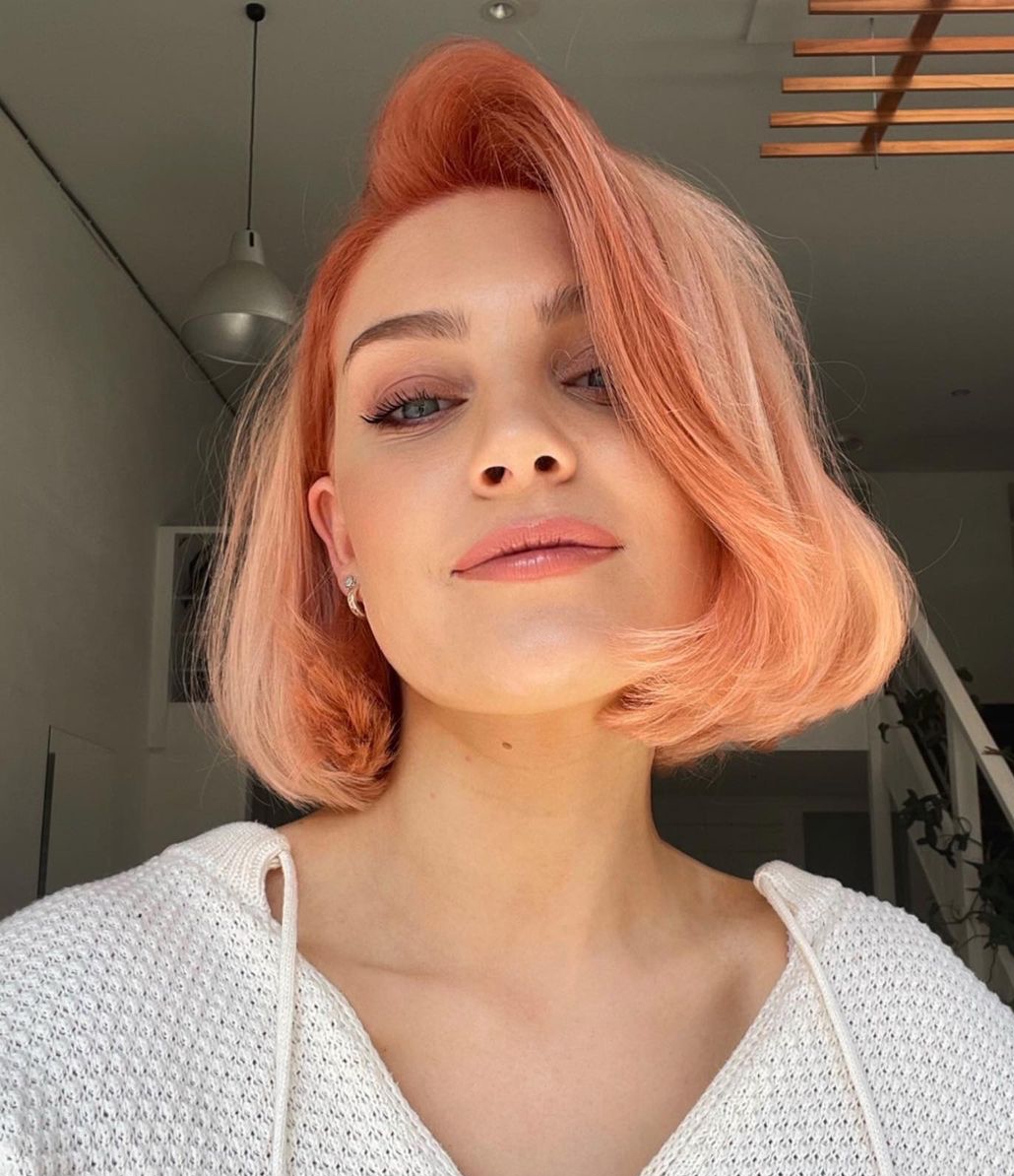 For a girl with natural red-blonde hair, rose gold gives an ashy appearance. Rose gold hair tones are best suited for women with warm skin tones.
Top up with pink highlights to make your hair look even prettier. Try rose gold highlights on brown or black hair; you'll find it complements your skin tone with exquisite precision. No doubt, this metallic color with strawberry blonde gets termed divine!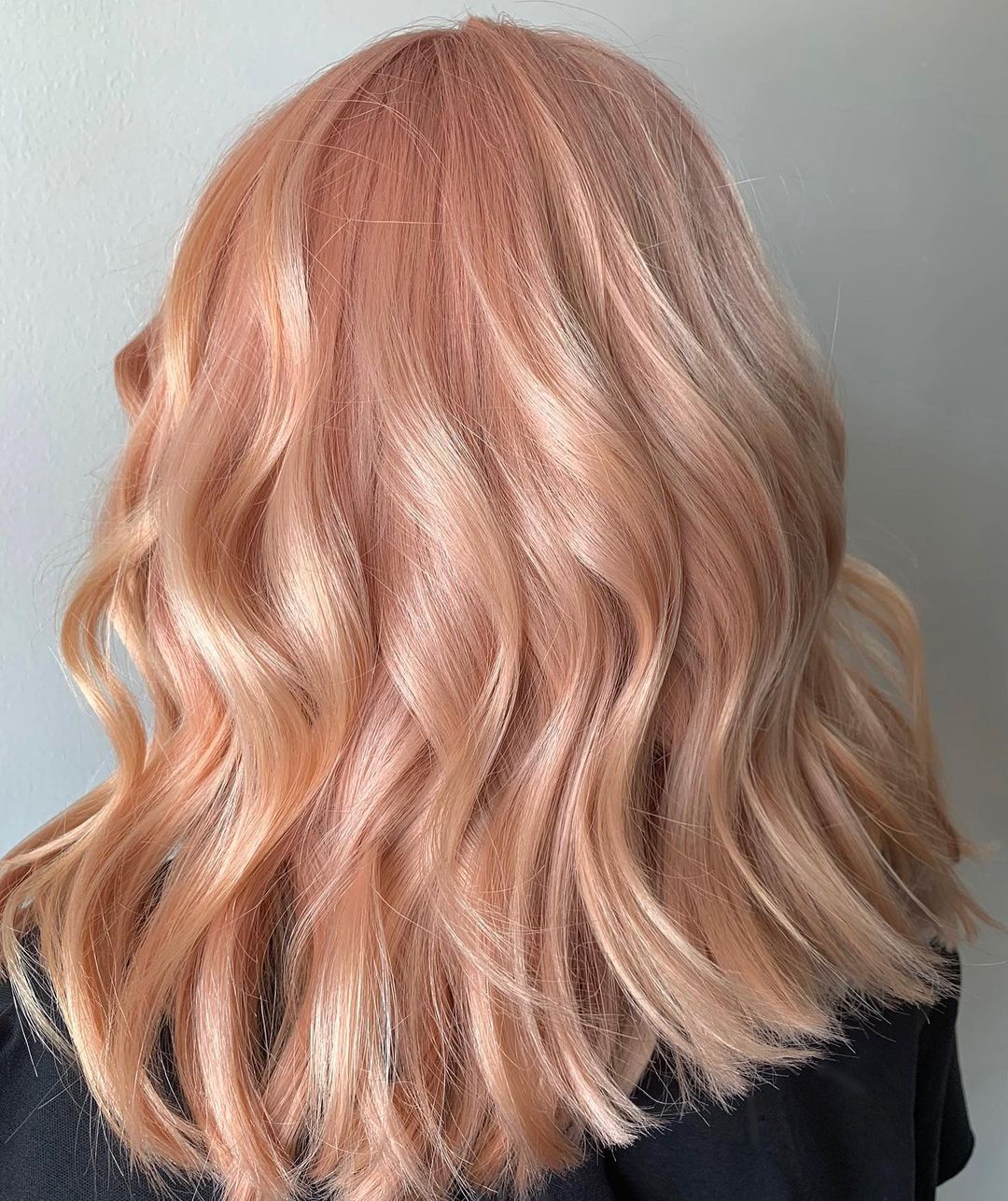 via @hair_by_janeth
Flattering & Stylish: Very Light Strawberry Blonde
The subtle and light strawberry blonde color looks more like a golden hue on the paler side. However, a closer inspection will reveal that the strawberry hue is concealed in the faint red tint. This is the shade to go for if you have a fair skin tone. The color is a fabulous combination with your porcelain skin. When you go out in the sun, the pale and light blonde shade in crimson will show beautifully.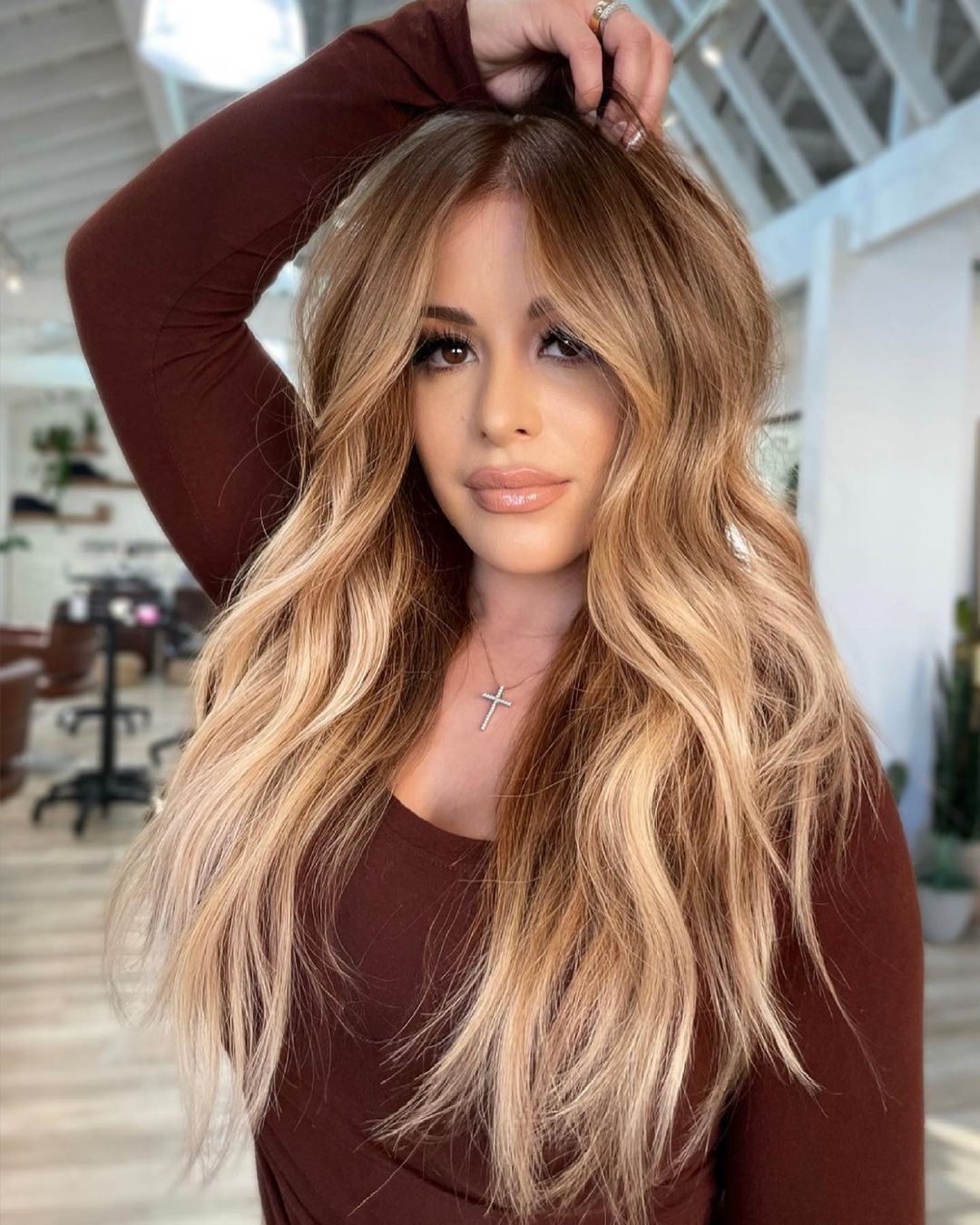 via @danielmbeauty
This subtle appearance of the dye is advised for girls who are not too fond of pink. If your mane has warm undertones, the very light highlights do wonders. It's a great style to wear to the office.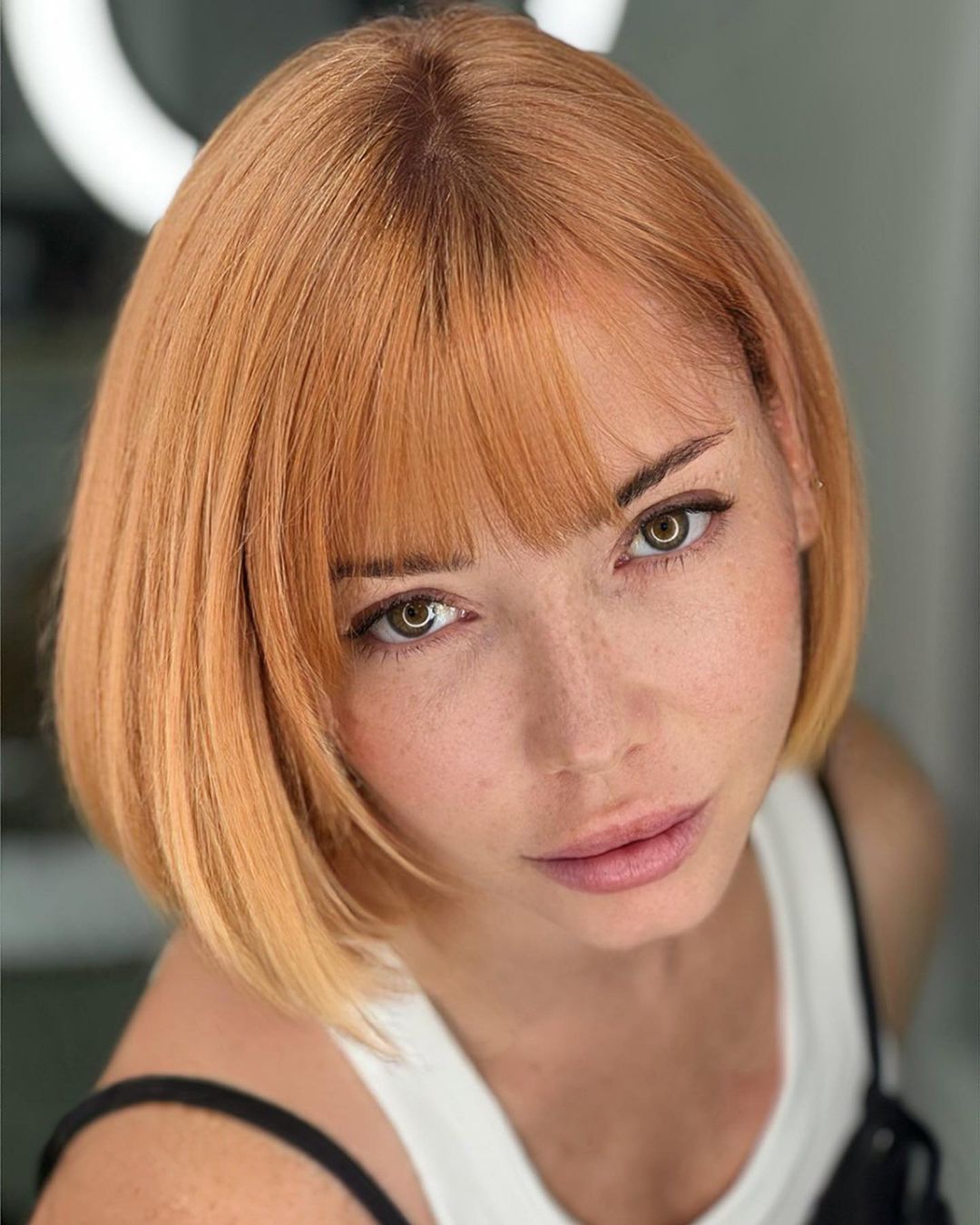 Platinum Sun Kissed Strawberry Blonde Hair
Want to add depth to your ash blonde hair? Go in for platinum blonde with strawberry highlights. Your hair stylist will either work on your natural blonde or have it toned down to a lighter shade before working on the shades.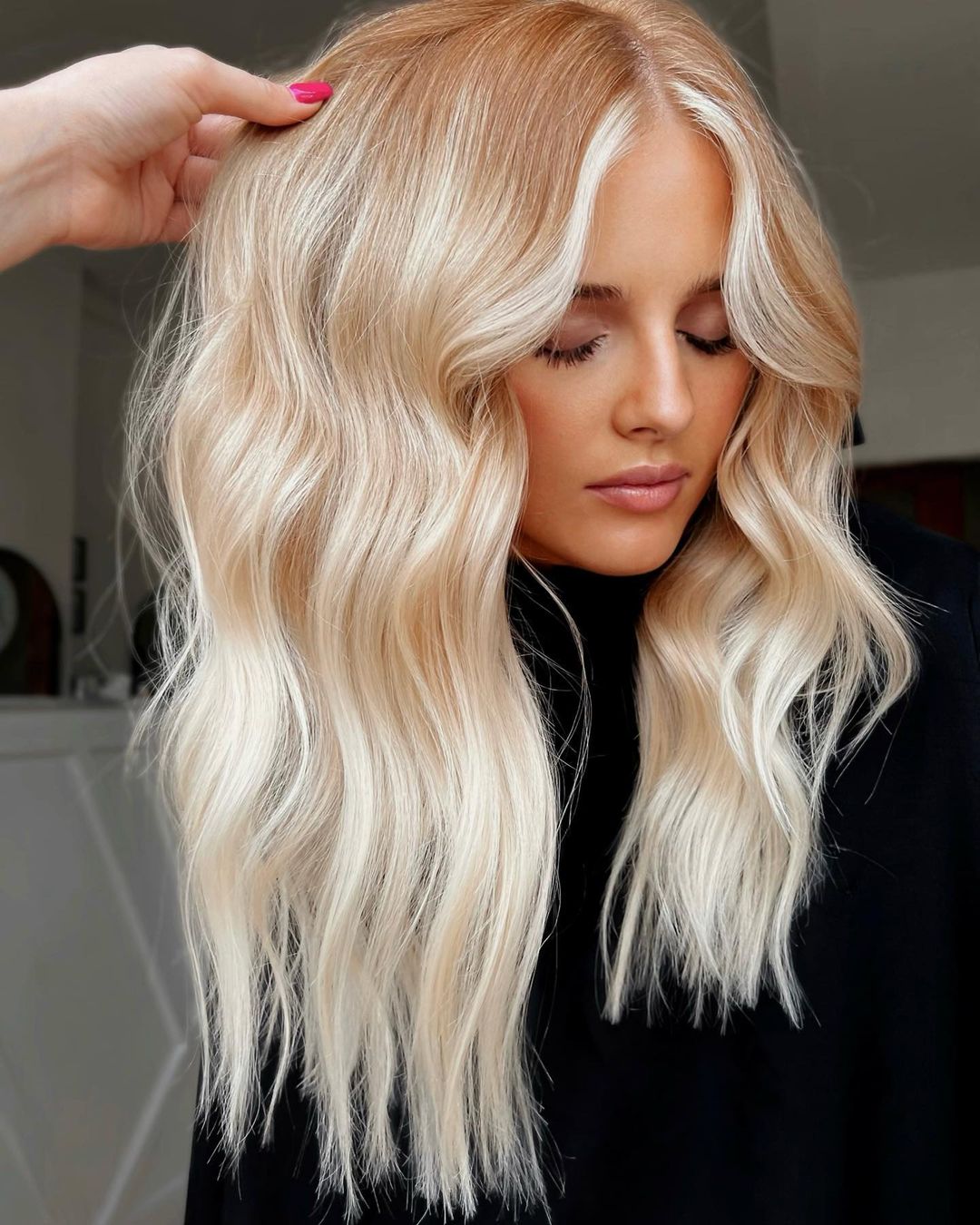 via @envied.ends
This multi-dimensional look, achieved with the help of platinum strawberry blonde, gives your hair plenty of movement and texture. The hair length does not matter with this color. Whether you have a wavy bob haircut, shoulder-length, or love to wear long hairstyles, this is a fall-inspired hairstyle.
The platinum shade gives fullness to your tresses. Your hair also reflects the early morning sun's ambience spreading across the sky.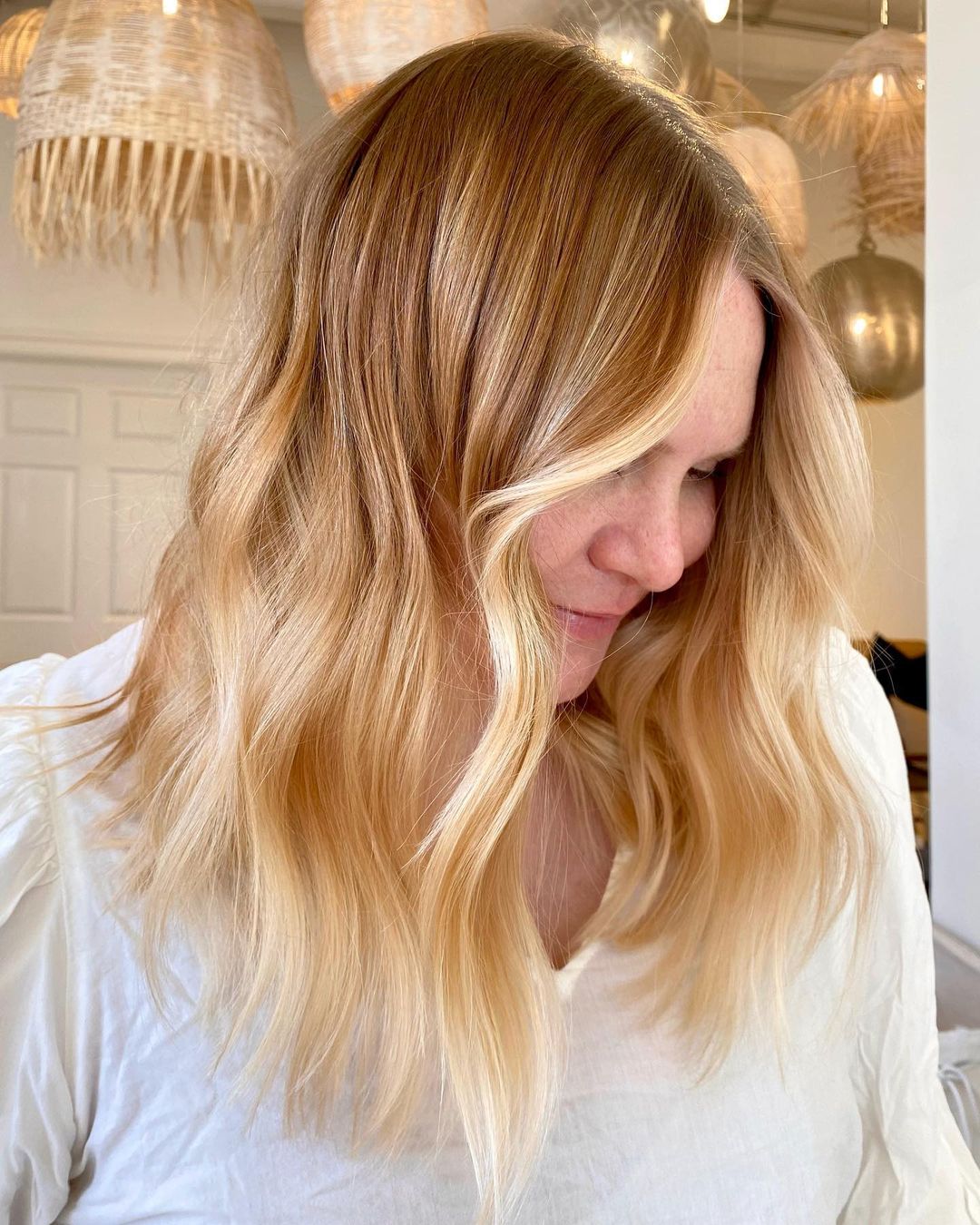 Strawberry Blonde Highlights on Brown Hair Gel Well
One of the beautiful and trendy brown hair color ideas is highlighting them in the strawberry blonde hue. This is because both the colors belong to the same color family and gel really well.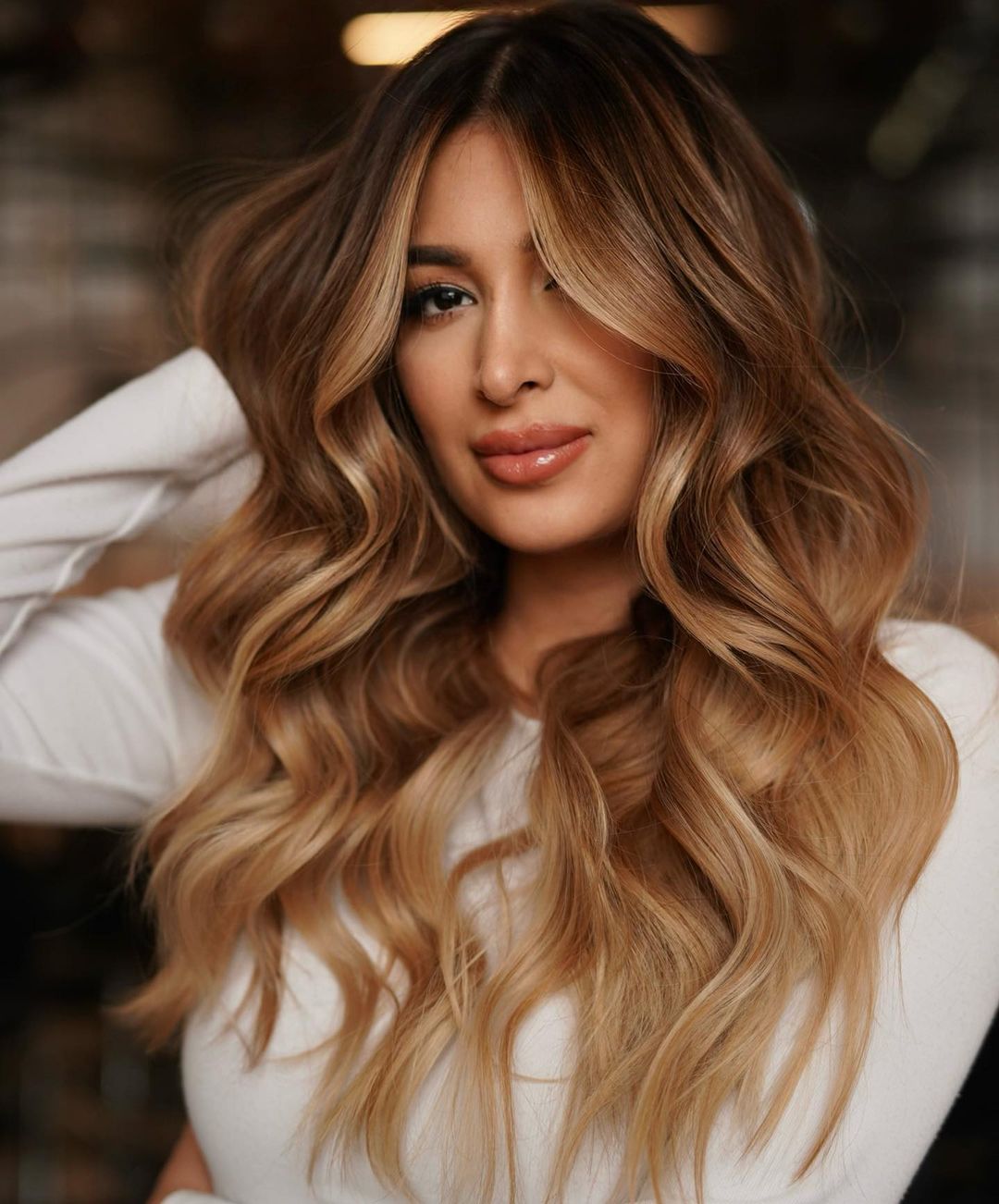 The dark strawberry blonde highlights emphasize the best features of your tresses. Length does not matter. The highlight adds a soft, warm touch to the mane and looks good with all types of makeup on your face. This is the best dye color for your brown hair if you have long natural hair and light-coloured skin. With wavy hair, you will get good movement, and the hair will keep looking healthy and young.
Strawberry Blonde Ombre: Reminds of the Sunset
The ombre style is popular these days. Rather than being colorful or vivid, ombre has a subdued softer look, making it such a darling for your tresses.
The strawberry blonde shades remind you of the fall. From dark copper at the roots to lighter blonde in the center, subtle pink or platinum blonde at the end creates a mystical appearance. It is a hair color for a pale skin tone.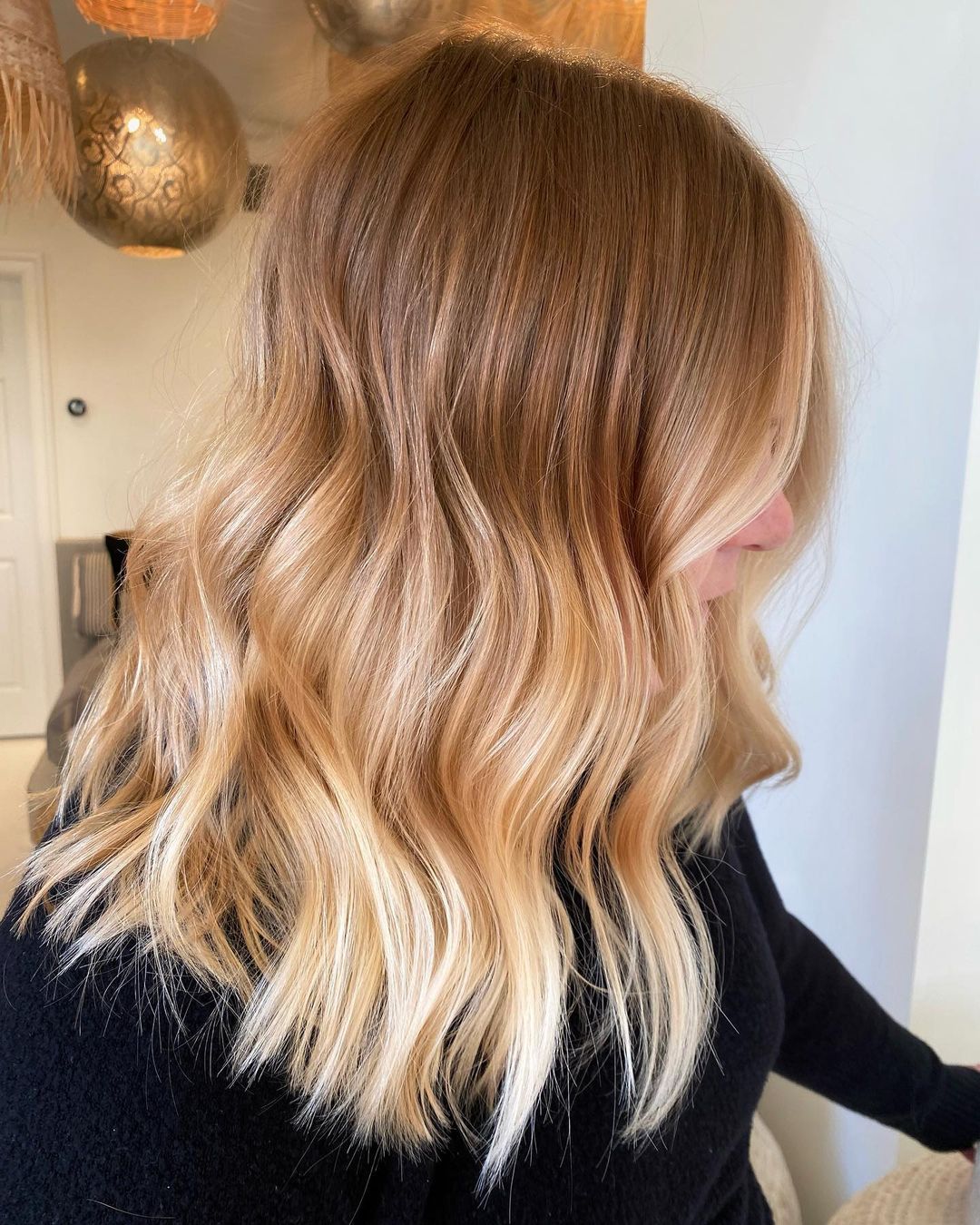 The blonde ombre will remind you of the sunset during the autumn with a beautiful meltdown of the warmer shades to lighter blondes and pink colors.
Try different styles. For example, the ombre effect on your wavy hair at the mid-length section creates volume. With natural curls, your hair looks like the sandy beaches on the seashore.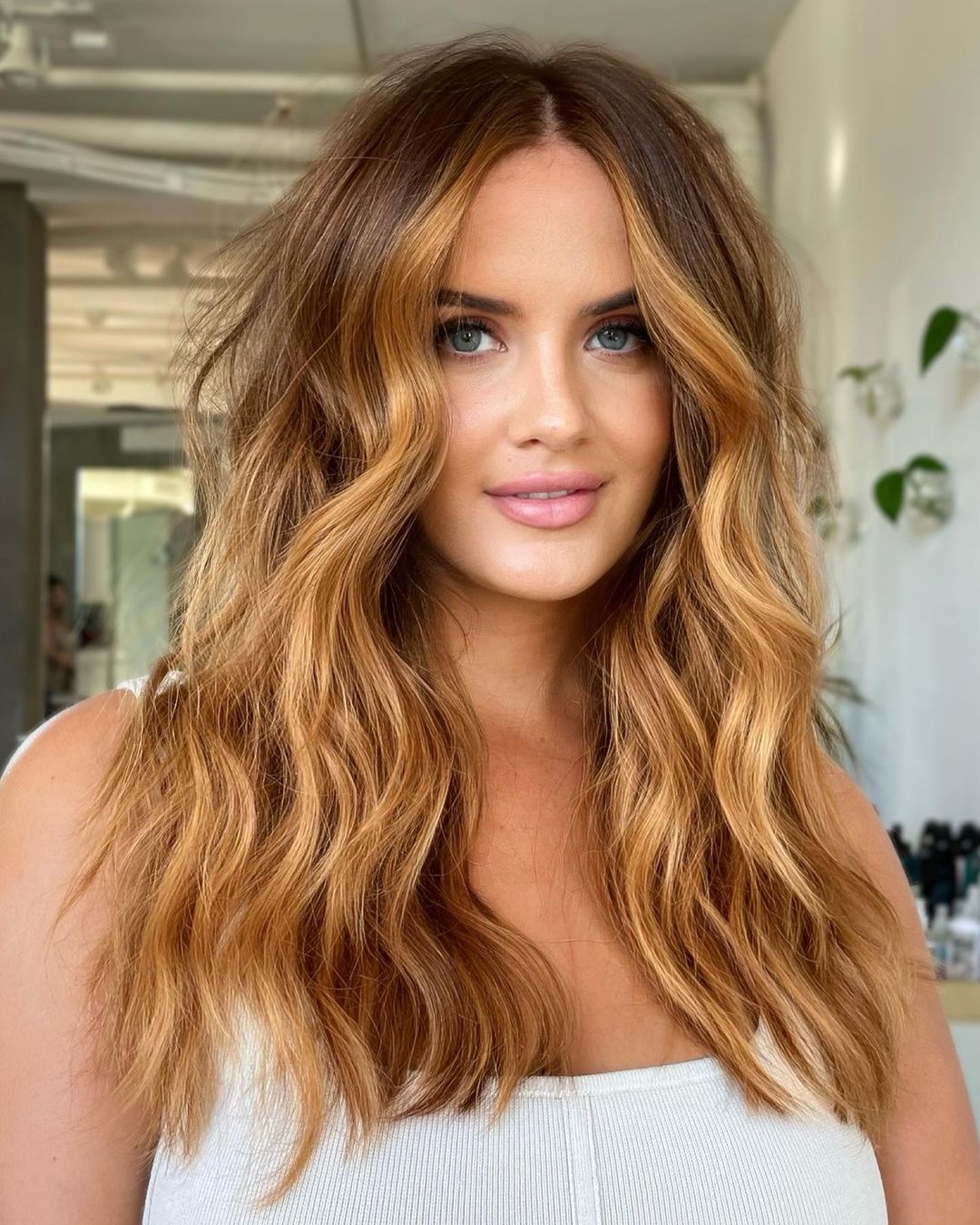 via @danielmbeauty
Fiery & Cool Strawberry Blonde Marigold Hair Color
Marigold strawberry blonde is an inspirational color all through. Orange is a warm blonde highlight that complements all skin tones. Gold-orange highlights with strawberry are such a beautiful mix of colors. Whether you leave your hair open, tie it in a braid, or a messy ponytail, your fair complexion gels well with all hairstyles. There's a burst of vibrancy and vivaciousness to your look.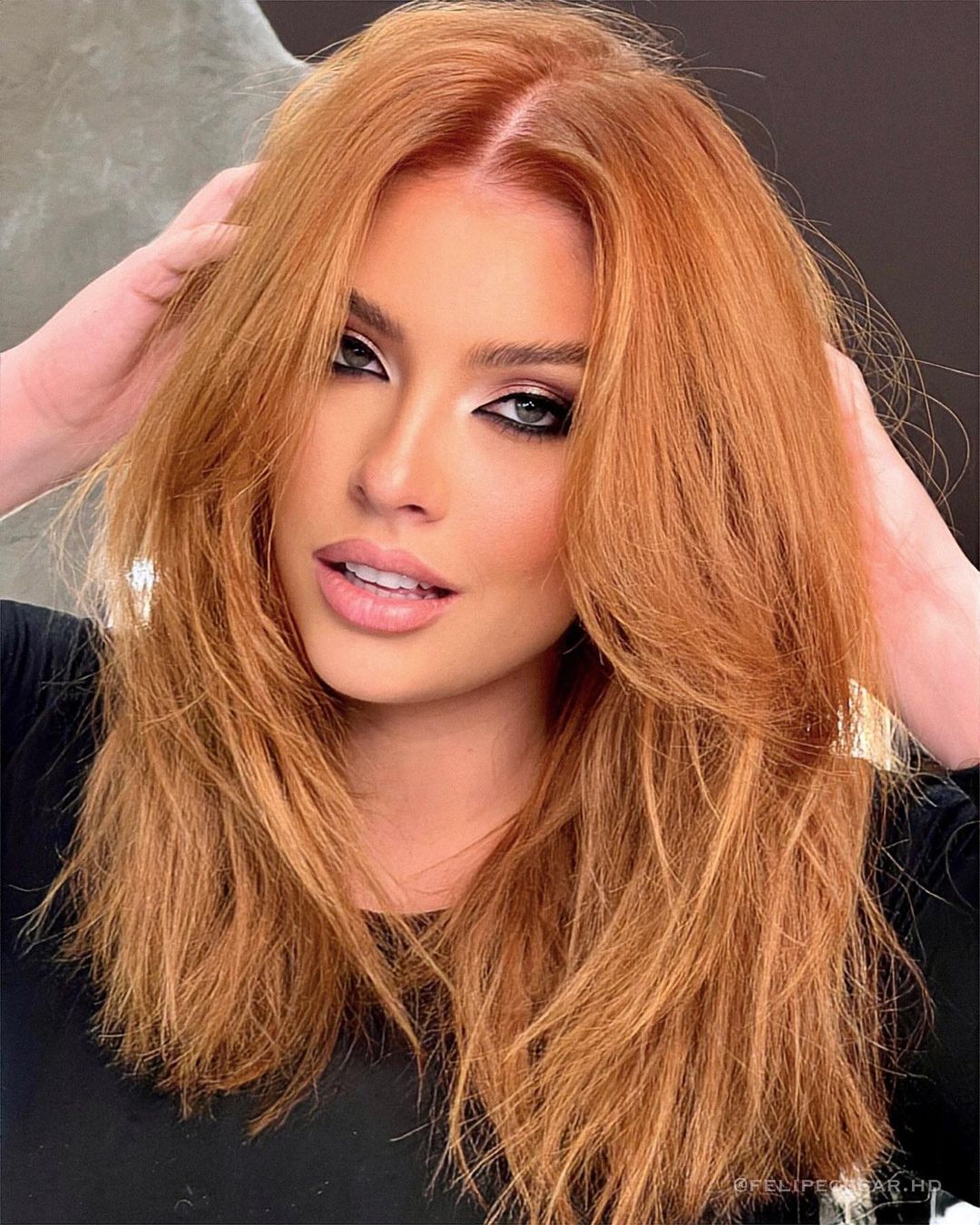 via @felipecesar.hd
Your hairstylist can add even more fruity and flowery colours to the mix. Golden blonde with strawberry hues makes the orange resplendent with a unique shine. The overall look is stylish with curls, whether you keep it sultry or go all out like a bombshell. So get ready for electric jolts with your highlights melting with perfection.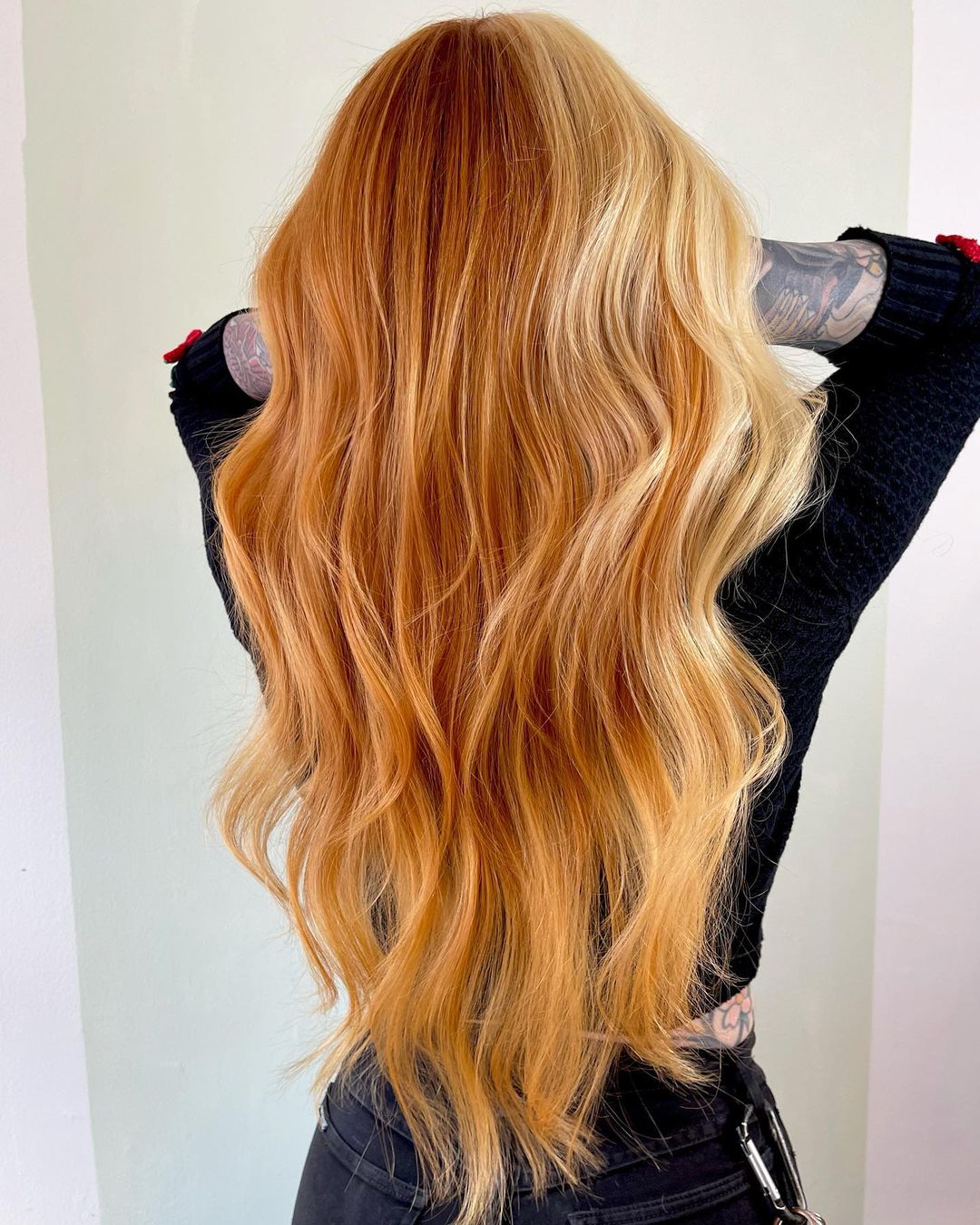 via @catecutdye
FAQ
What is the best hair dye brand for strawberry blonde color?
If you wish to dye strawberry blonde hair at home, the best brand is the L'Oreal Paris Superior Preference Fade-Defying 9GR Light Reddish Blonde color that lasts up to eight weeks.
Another superior product to try is the dpHue Gloss+Semi-Permanent hair color with a built-in conditioner, enhancing the color and the look. The dye lasts well for a few weeks.
You can also try Revlon Colorsilk Beautiful Color 85B, strawberry blonde. The look is salon-quality, with multi-toned shades from the roots to the tips. The effect remains for quite some time.