A pixie haircut remains the trendiest option for short hair, and for many decades, women of different ages have preferred it to other styles. If you decide to make this coiffure, you don't have many chances to get lost in the crowd since you will always attract tons of attention. Most women like to have long hair, considering it feminine and elegant. However, a pixie haircut is gorgeous and a bit eccentric and unusual, adding special charm to its owner.
Pixie Cut that Suits any Face Shape
You can choose a pixie hairstyle according to your face shape. Although many women consider that it suits only ladies with a model appearance, this is far from the case. It all depends on the style and hair length that is preferable for one or another type. For instance, ladies with square faces should make long strands along their cheekbones, highlighting them. Women with oval faces should better choose an asymmetrical style with long bangs.
Styling a pixie cut is also not as difficult as it seems at first glance. The main thing is to choose an appropriate hair gel or mousse according to your hair type and use a blow-dryer. Even if you have never done such procedures, some experience will be enough to make a perfect coiffure. So, let's take a look at some advice about how to style your hair fast and attractively.
Boost Hair Volume with Styling Products
Do you feel the lack of hair volume? A pixie haircut can come to the rescue! If you used to have long hair but feel that it's not voluminous enough, cutting it is the first option that your hairdresser will recommend. Under its weight, the hair often becomes heavy, which makes it look less well-groomed and lush.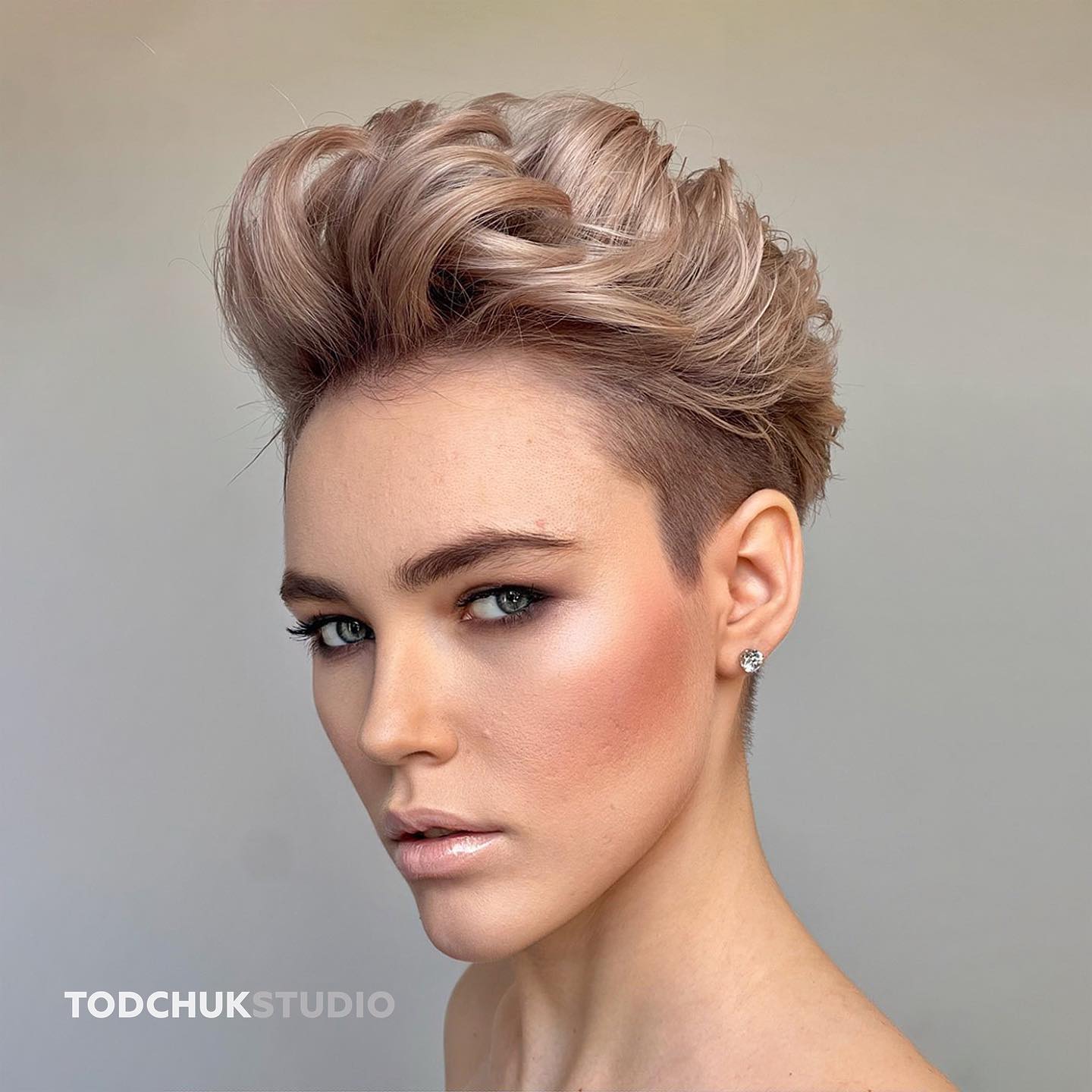 via @todchukstudio
Of course, short hair requires more styling products, but it's not difficult to choose and use them. The most important thing is to select an experienced hair professional who will evaluate your skin type, and hair natural texture and recommend the best products.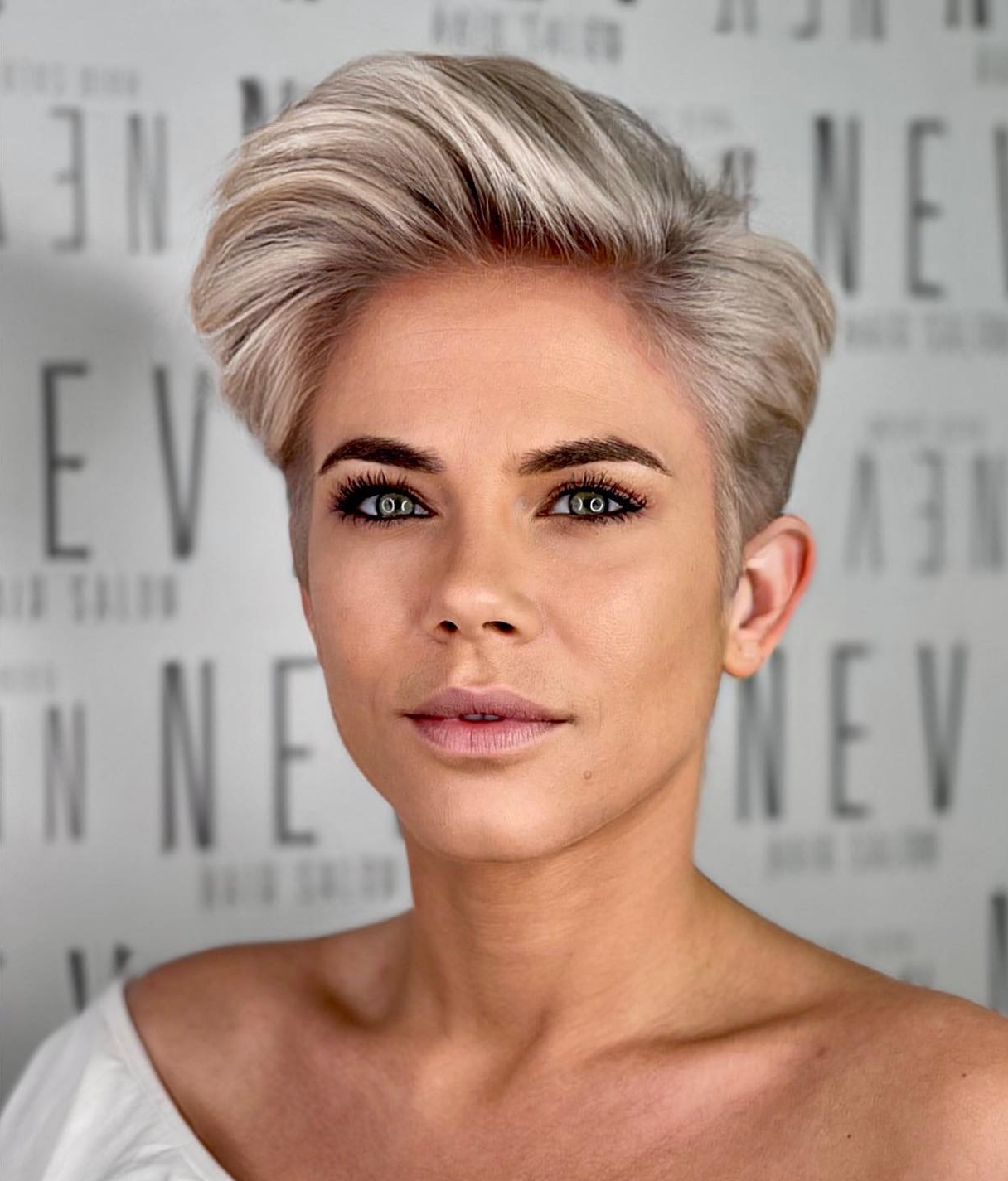 No special skills are necessary to style a pixie cut. The most important items you should have in your arsenal are a blow-dry and a hair spray. The latter is extremely significant, so make sure it has heat protection functions. If you have porous and unruly hair, use hair wax to get a stylish coiffure.
Get an Awesome Curly Pixie Cut
Curly hair always looks more elegant and romantic, and women prefer doing it daily. This task is easy for those with naturally curly hair since no special manipulations are required. A short pixie allows you to experiment with your appearance and be different every day!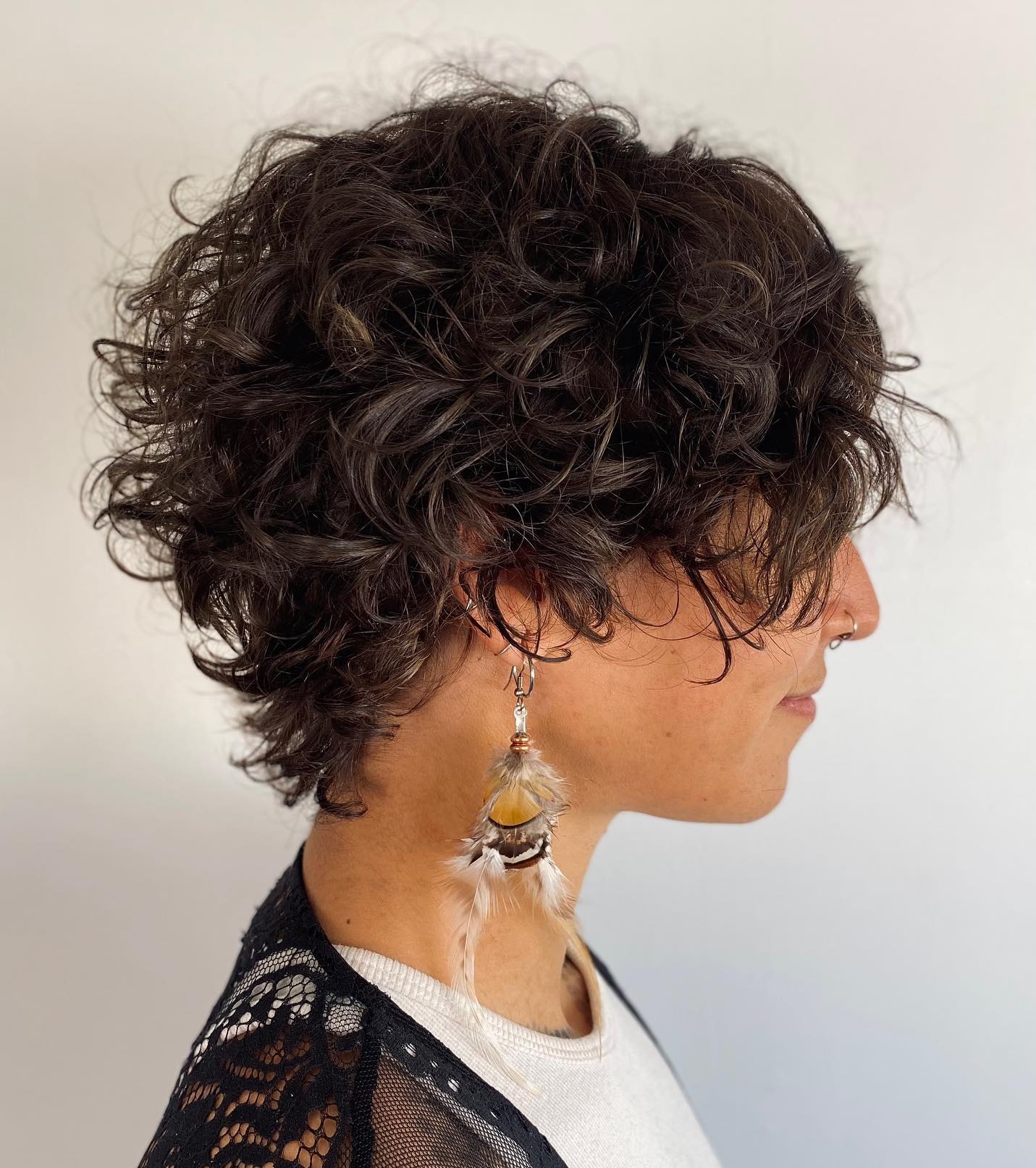 via @tracibarrett
The head shape doesn't matter if you decide to make a short coiffure. To get a pretty curly pixie, have a curling iron and a volumizing spray. And if your hair is naturally wavy, just take a blow-dry and get an excellent curly pixie in ten minutes.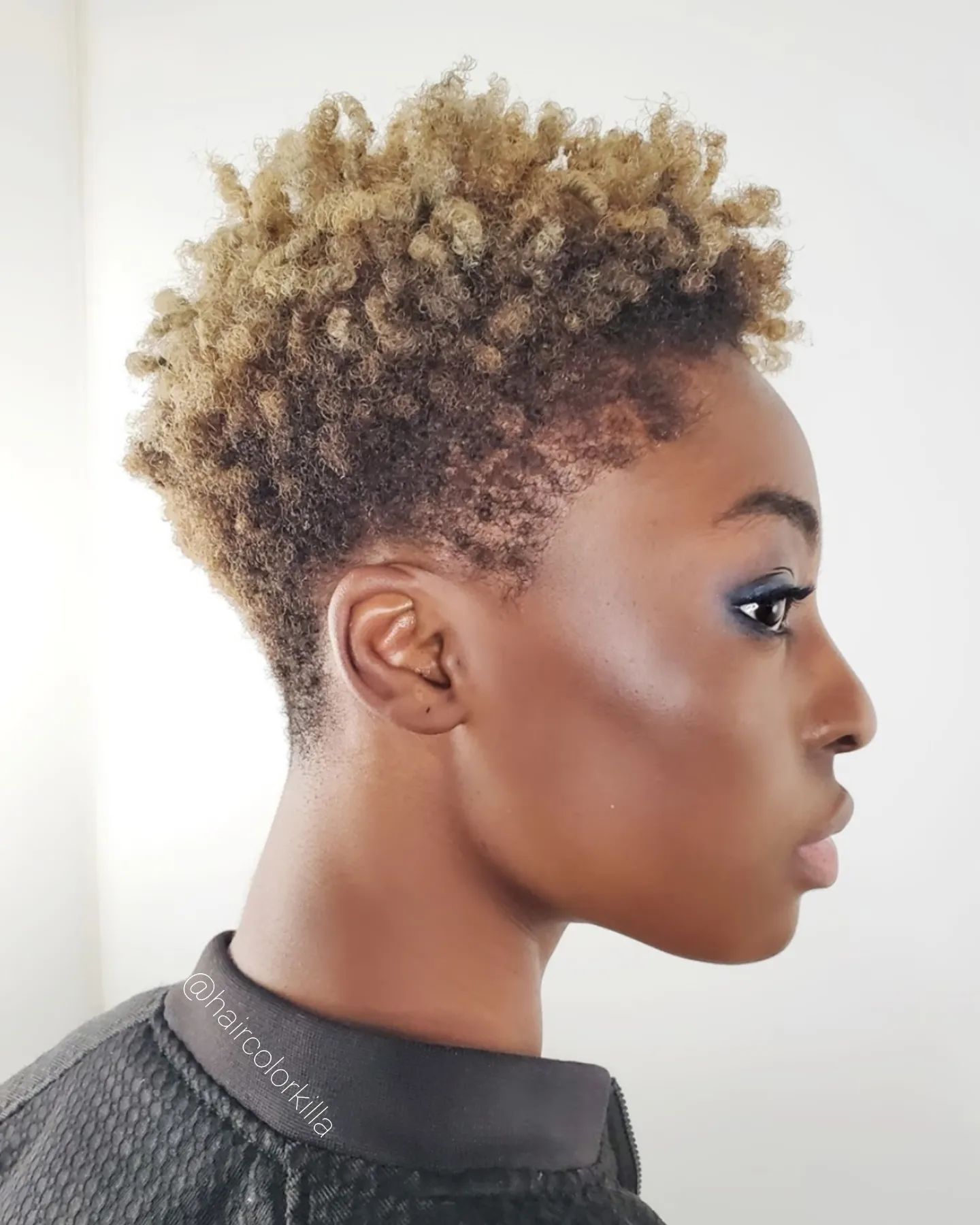 via @haircolorkilla
Wet Pixie for Stylish Looks
A wet-looking hairstyle looks greasy and unkempt for many women. However, we hasten to assure you that such an option has been at the peak of all trends for many years! You can easily get such a coiffure with any hair length, including a classic pixie cut. Women with such a hairstyle look boldly and stylish, attracting millions of admiring glances from the surrounding people.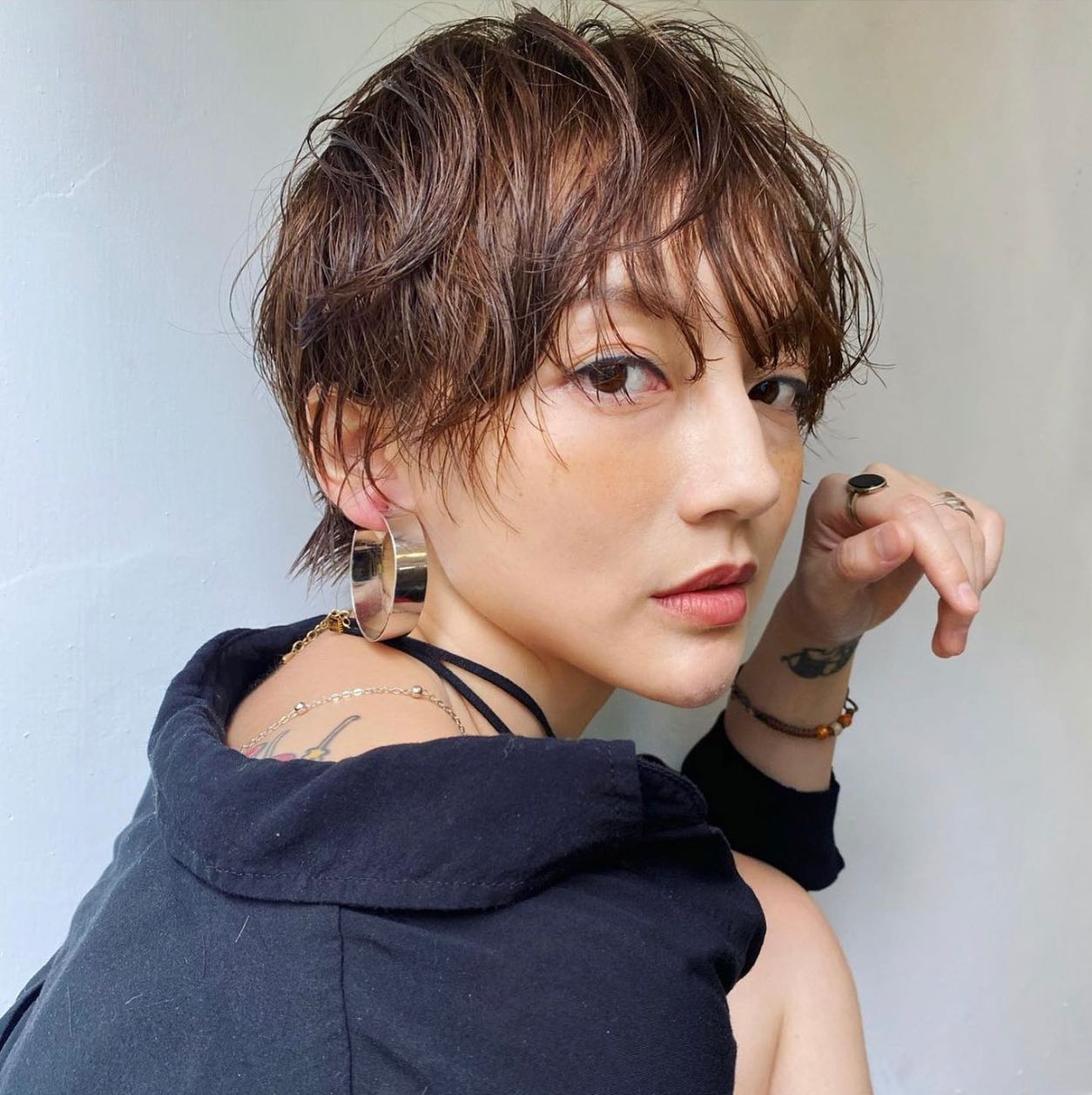 To get a fantastic wet hair effect, get a styling gel and hair volumizing mousse, allowing you to make a perfect hairstyle in a few minutes. Add the mousse before blow-drying and lightly dry your hair. After that, apply a lot of gel and let the hair as it is. You will get a tremendous natural effect and enjoy your coiffure.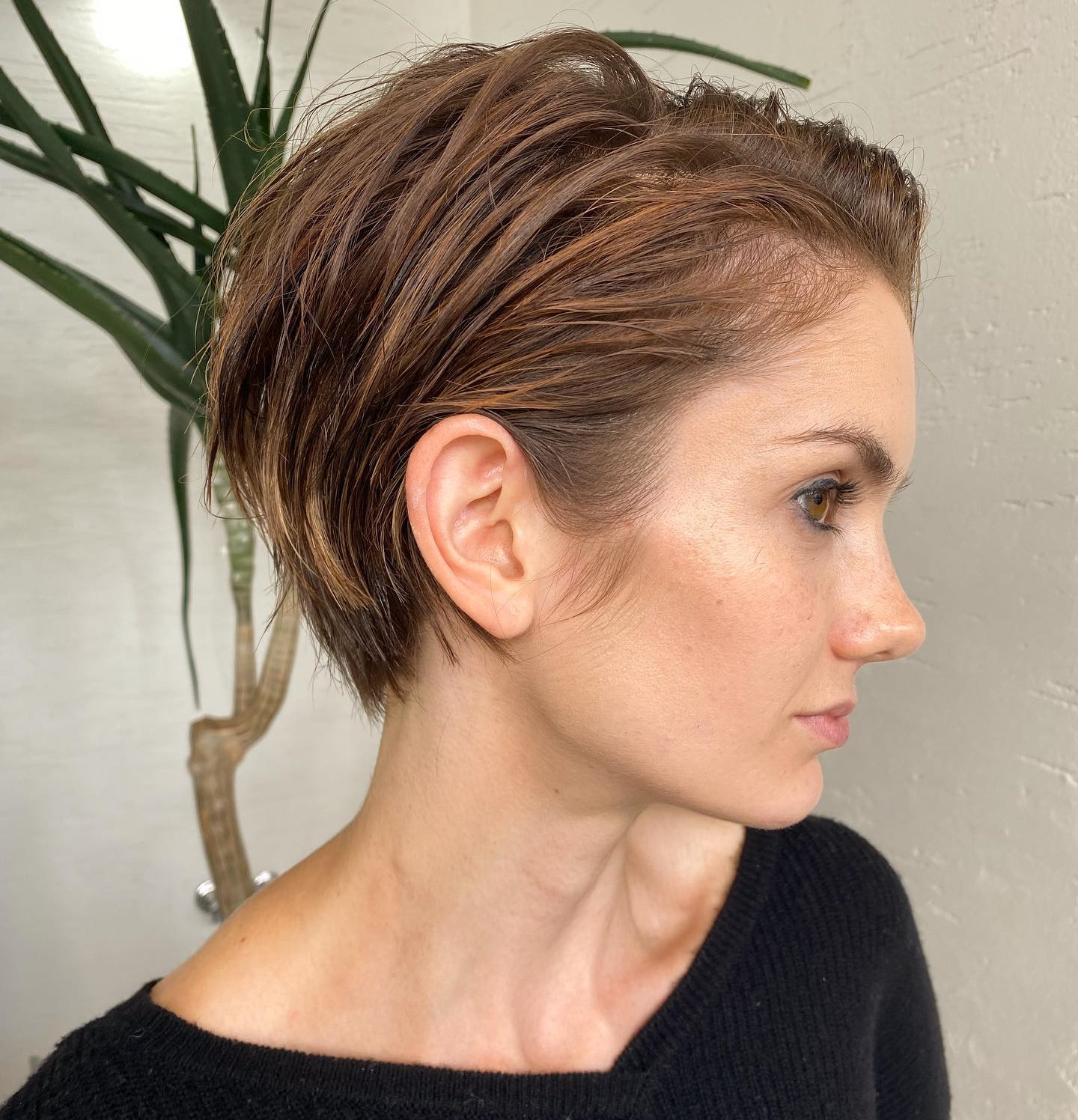 Wet-looking pixie has one more secret. Such styling is a great idea if you don't have the mood to wash your hair. Just add the styling mousse or gel and make the necessary shape. No one will notice this little tip, which will help you look excellent!
Best Styling for Spiky Pixie
Do you have spiky hair that is hard to style and are already disappointed in the possibility of making a great hairstyle? Don't hurry up to conclude! Even a very short pixie can be easily styled with only a blow-dryer and a mousse or a gel suiting your hair type. It is worth noting that it doesn't matter whether you have curly or straight hair.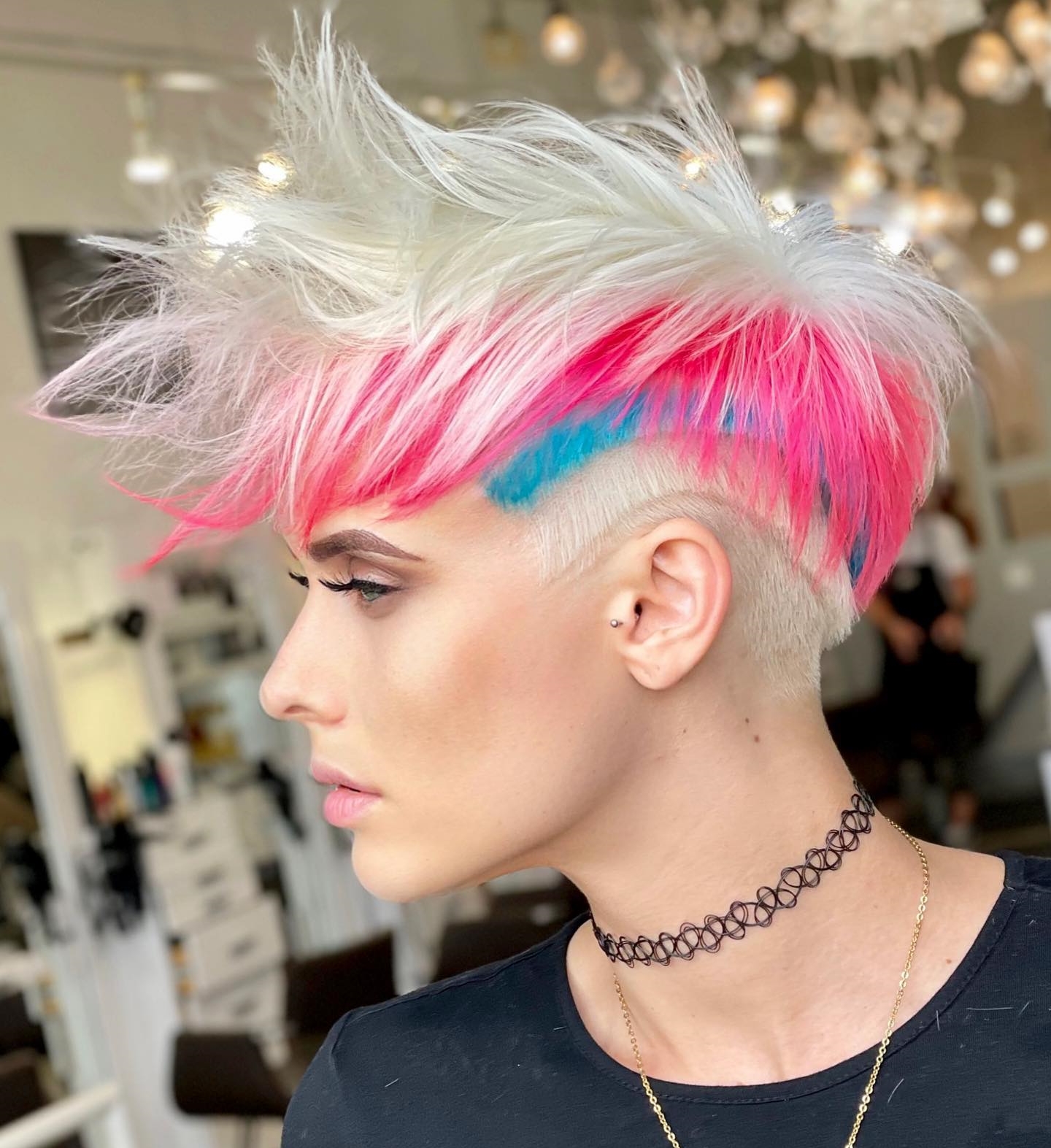 Those with straight hair can proceed with such a hairstyle easier since only a mousse and a blow-dry are necessary. It's worth noting that some women can cope with styling even without additional cosmetics. Thick hair is usually more difficult to style, but some experience will help you be successful in this deal.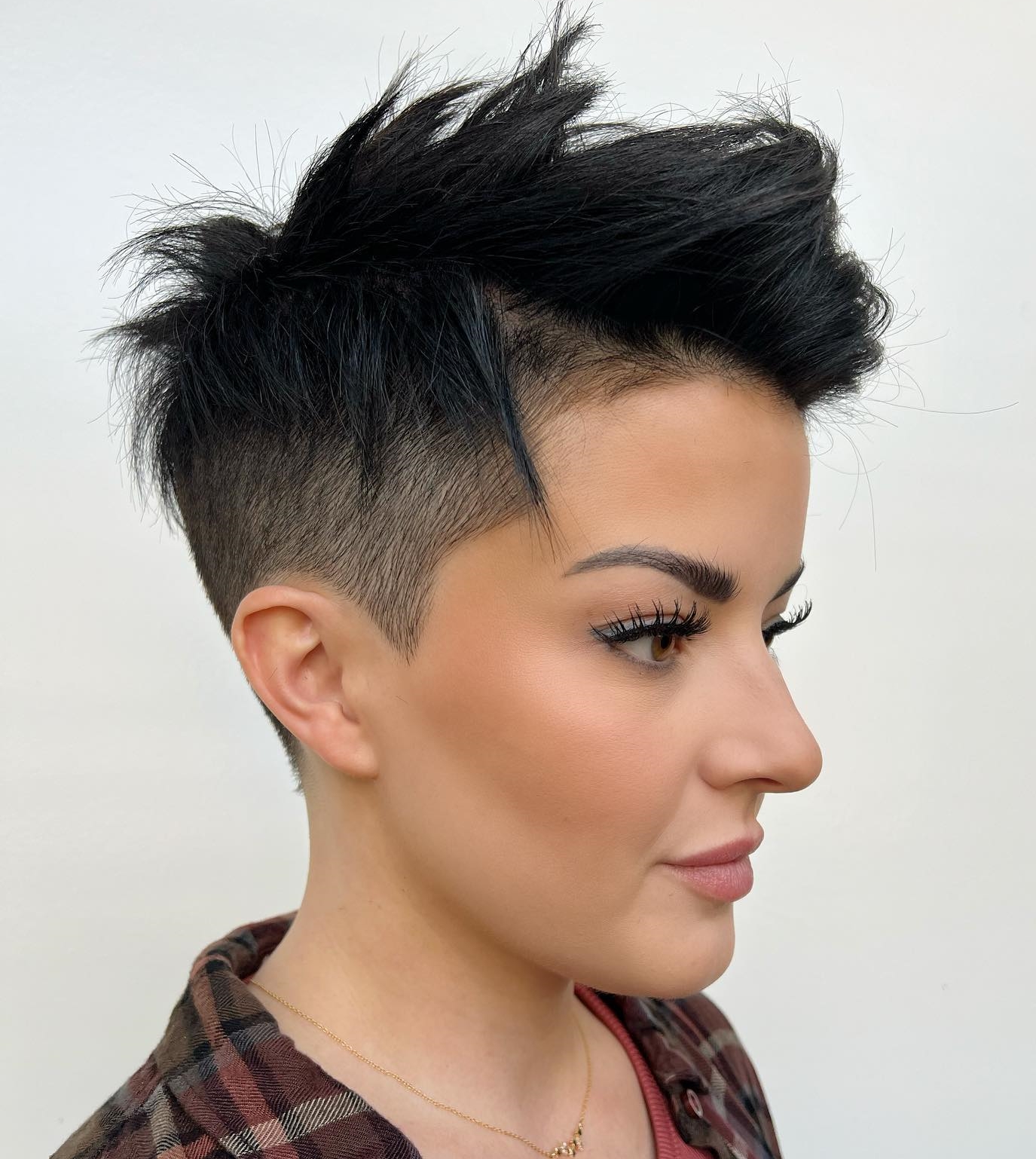 via @shmoakin_hair
Create a Little Mess on Your Pixie Hairstyle
Naturalness is nowadays in trend, so making your hairstyle a bit messy is a great idea. It is worth noting that such a coiffure is suitable for ladies of all ages, including older women. Pixie style for women over 50 will make them look younger and more stylish, making a bold image of a woman following all fashion trends. Side swept bangs are also at the peak of popularity, so consider it when visiting your hairdresser!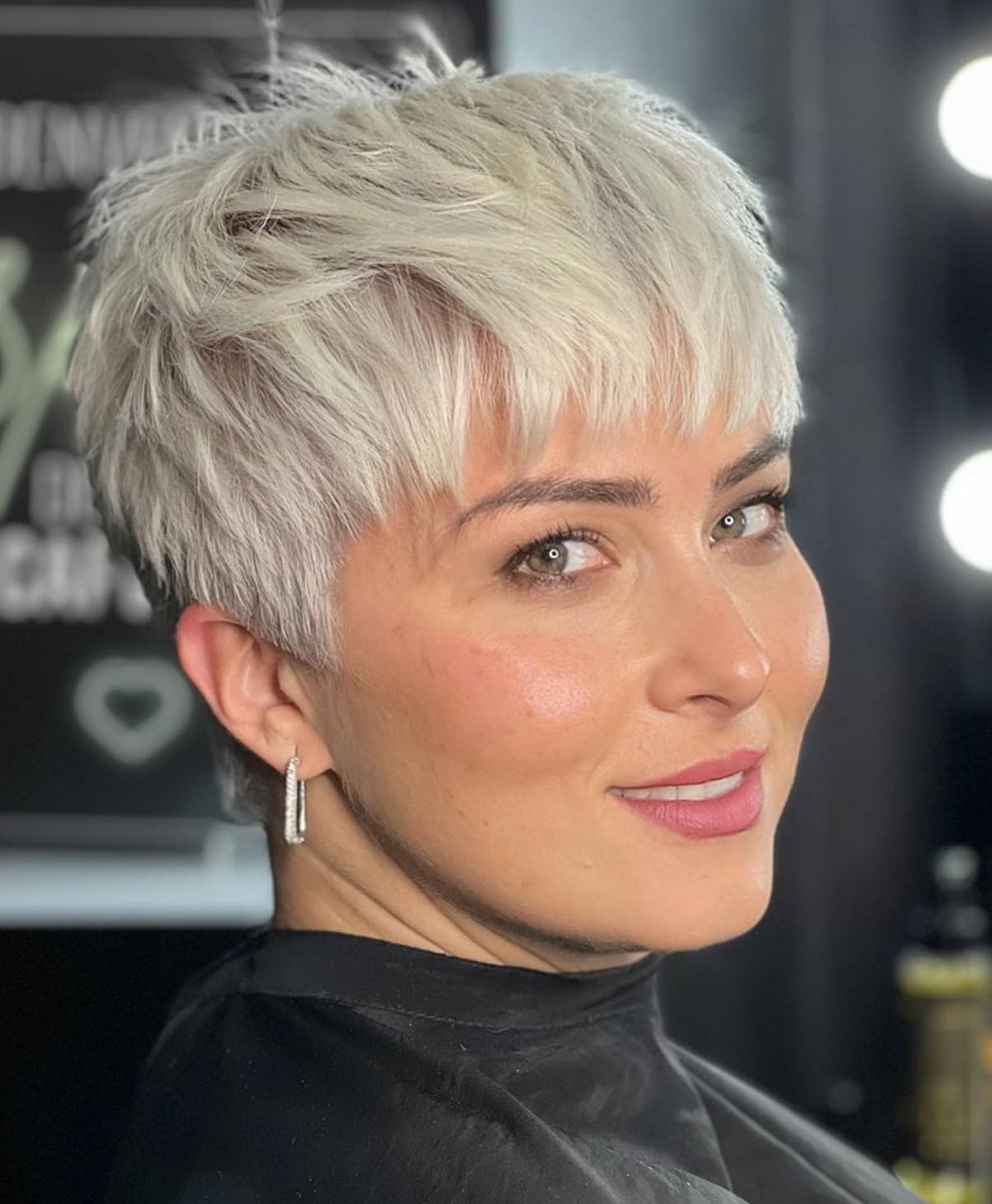 You won't have to spend a lot of time and effort to style your pixie haircut. However, it's worth noting that women with shorter hair face the need to wash it more often or even every day. After washing, take your favorite styling products and a blow-dry. Make the hair look chaotic: add mousse and style hair with your hands. After that, dry it. In most cases, it's recommended not to comb the hair and leave it as it is.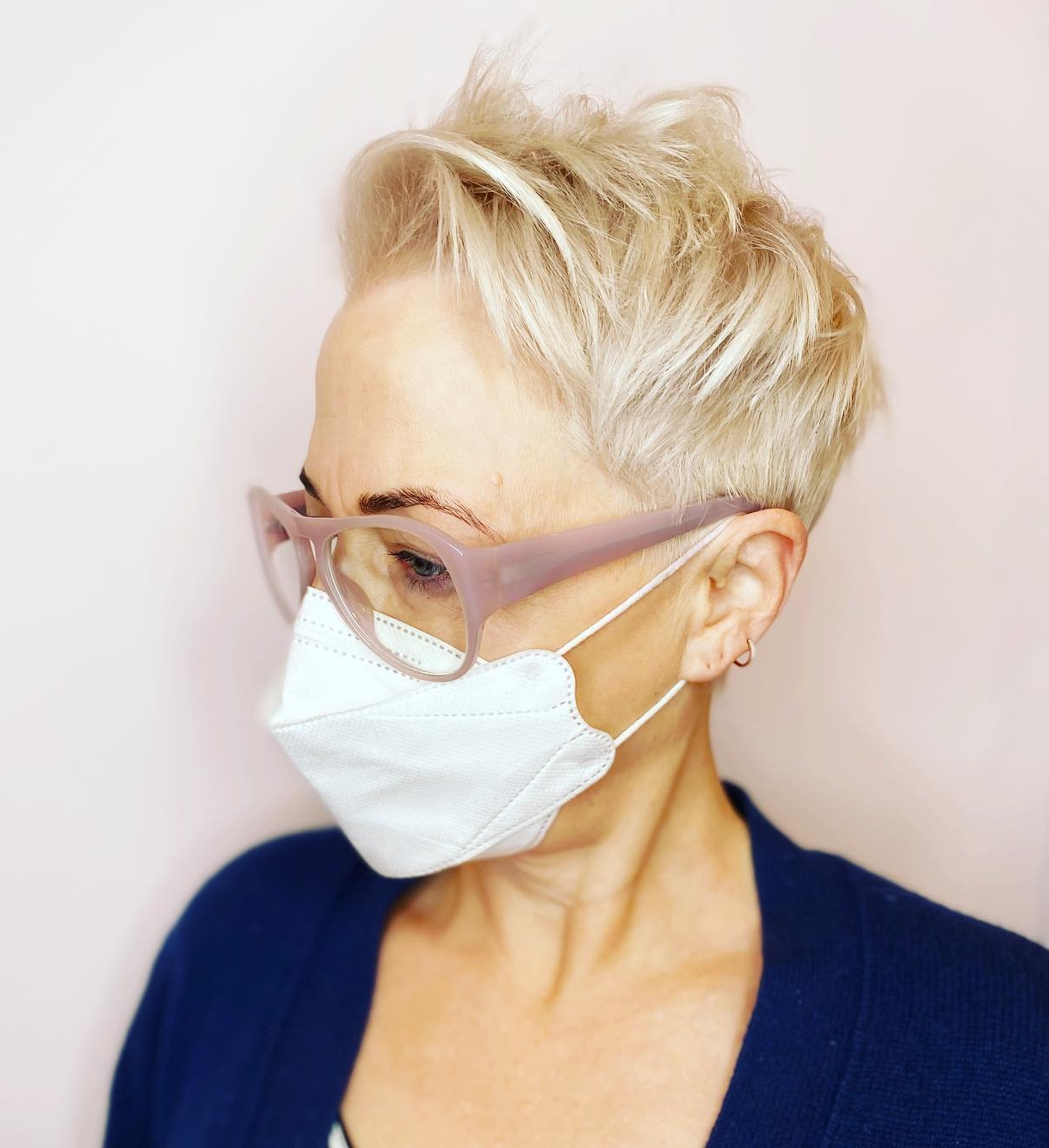 If you want to make blonde hair color and your natural shade is dark, you will have to lighten it. This procedure can impact your hair condition and require special treatment and extra cosmetics.
Impressive Pixie with Long Side Bang
A classic pixie haircut can be complemented with different elements to make your look even more unique and unusual. A long side bang is one of such options, which suits all women with any face shape. Moreover, those with fine hair lacking volume can add texture and enjoy a more voluminous coiffure right after going to the hairdresser.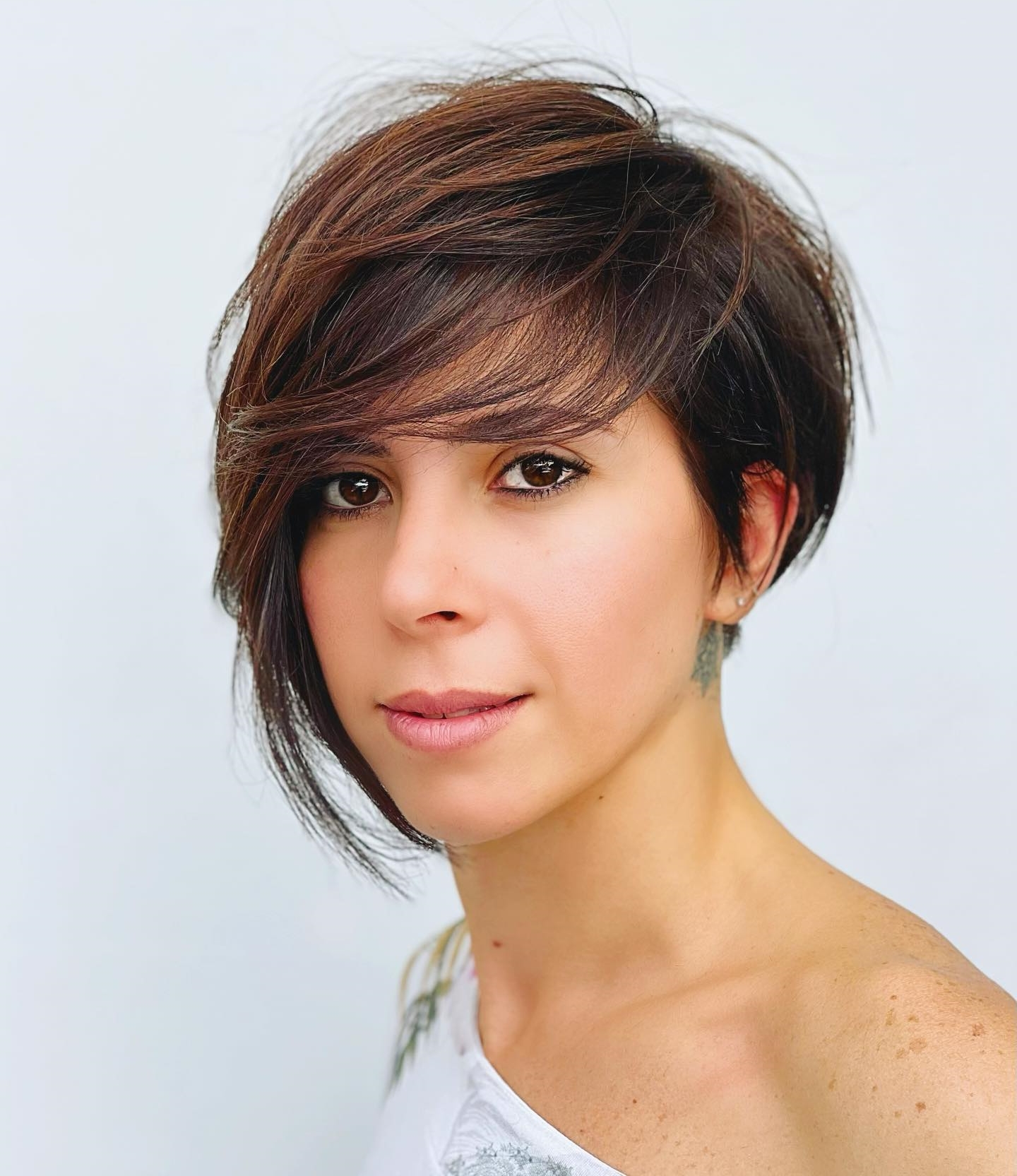 One of the most significant points about a pixie haircut is proper styling. Many women avoid making it since they think that making an attractive coiffure is difficult and time-consuming. However, it's not true. Even if you are not experienced in this issue, some practice will help you act like a professional. There are numerous styling options, just don't forget to select the most suitable products for your hair type.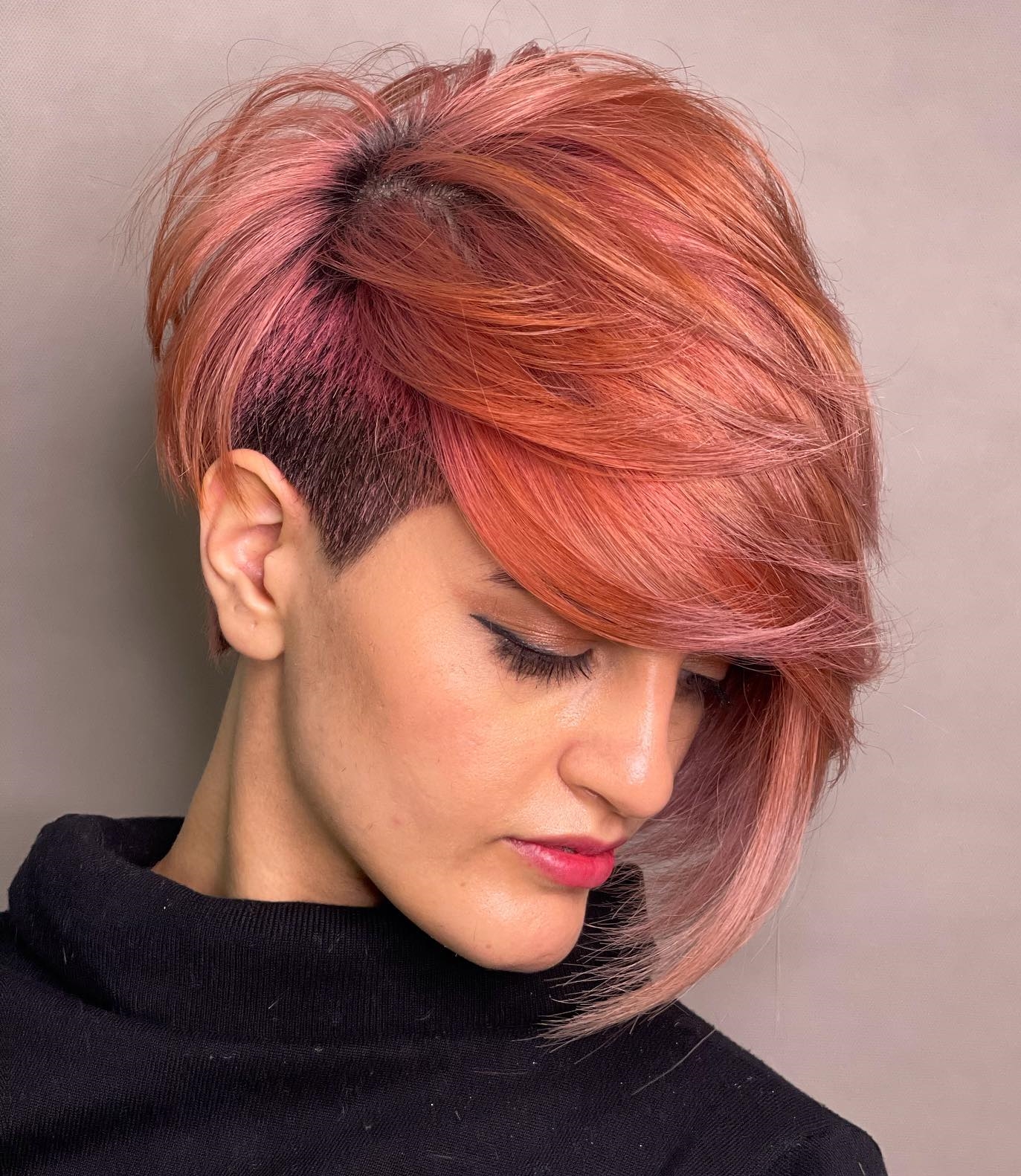 If you want to have a pixie hairstyle continuously, visit your hairdresser quite frequently. Regular trims are essential to keep your haircut neat and well-groomed.
Extremely Short Hairstyle for Fashionable Ladies
Many people think that super short hairstyles require a lot of time for styling, but it's not always true. For instance, an extremely short pixie is considered a low maintenance hairstyle, allowing you to spend minimum time in the bathroom when getting ready for work or other events.
At the same time, short hair has a wide range of benefits over long one. For instance, it can immediately add more volume to thin hair, allowing a woman to feel more attractive and self-confident.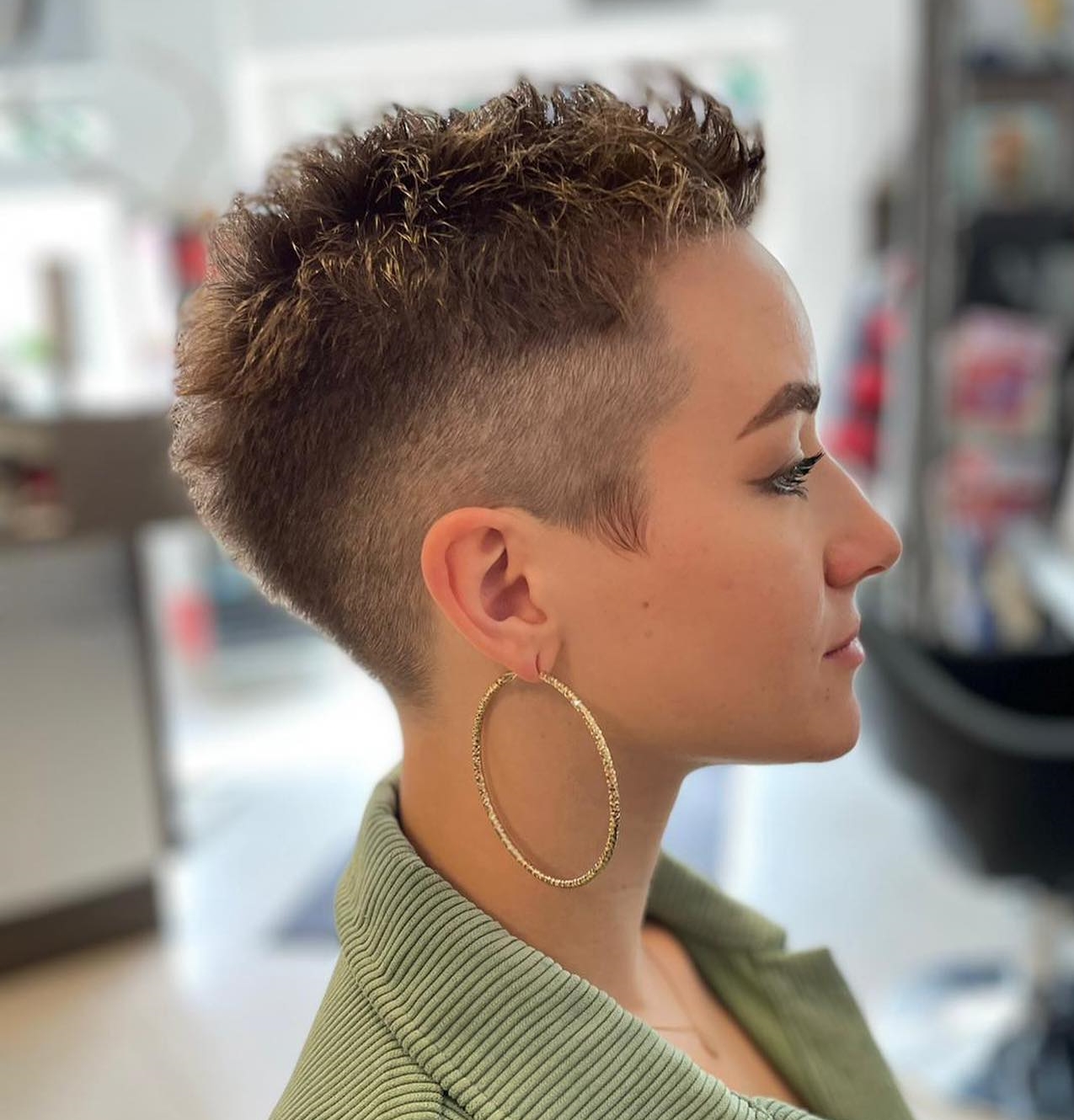 via @bennysfriseure
Moreover, styling is not complicated, so each lady will quickly get used to it. Just choose your favorite hair mousse and go on! And if you use a blow-dry regularly, don't forget about heat protectants, keeping your hair healthy and shiny.
The super-short hairstyle is extremely stylish and is perfect for any clothing style. In addition, it is a great idea for all ages. For instance, it suits women over 50, making them look brighter and younger.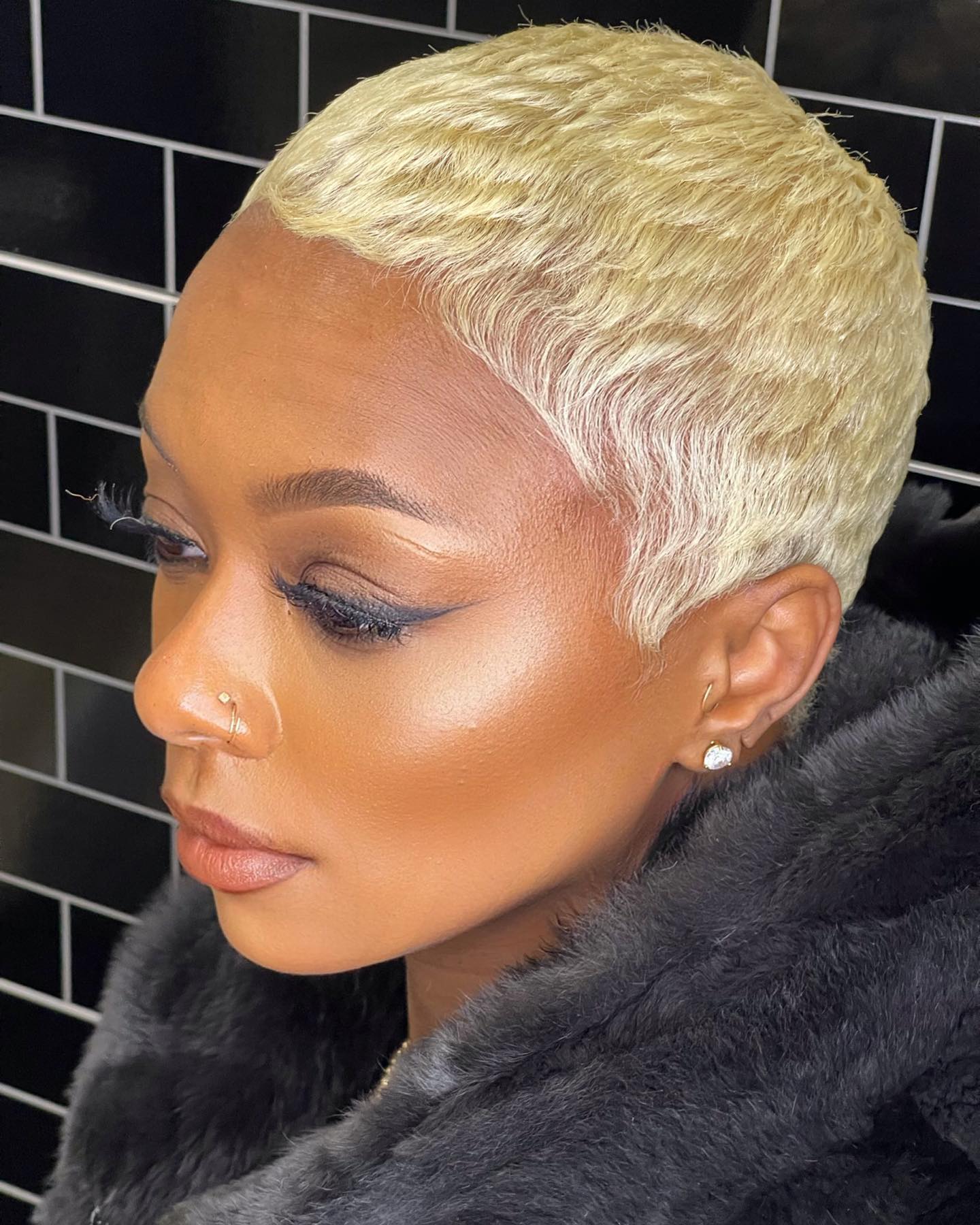 via @jsaleemhair
Braided Style for Your Perfect Pixie
Having a short hairstyle doesn't imply that a woman cannot proceed with exciting hairstyle ideas. For example, a braided pixie is a nice and unusual option, which will receive tons of compliments from other ladies. If you have longer bangs, you can make braids and comb them back, securing them with a hairpin.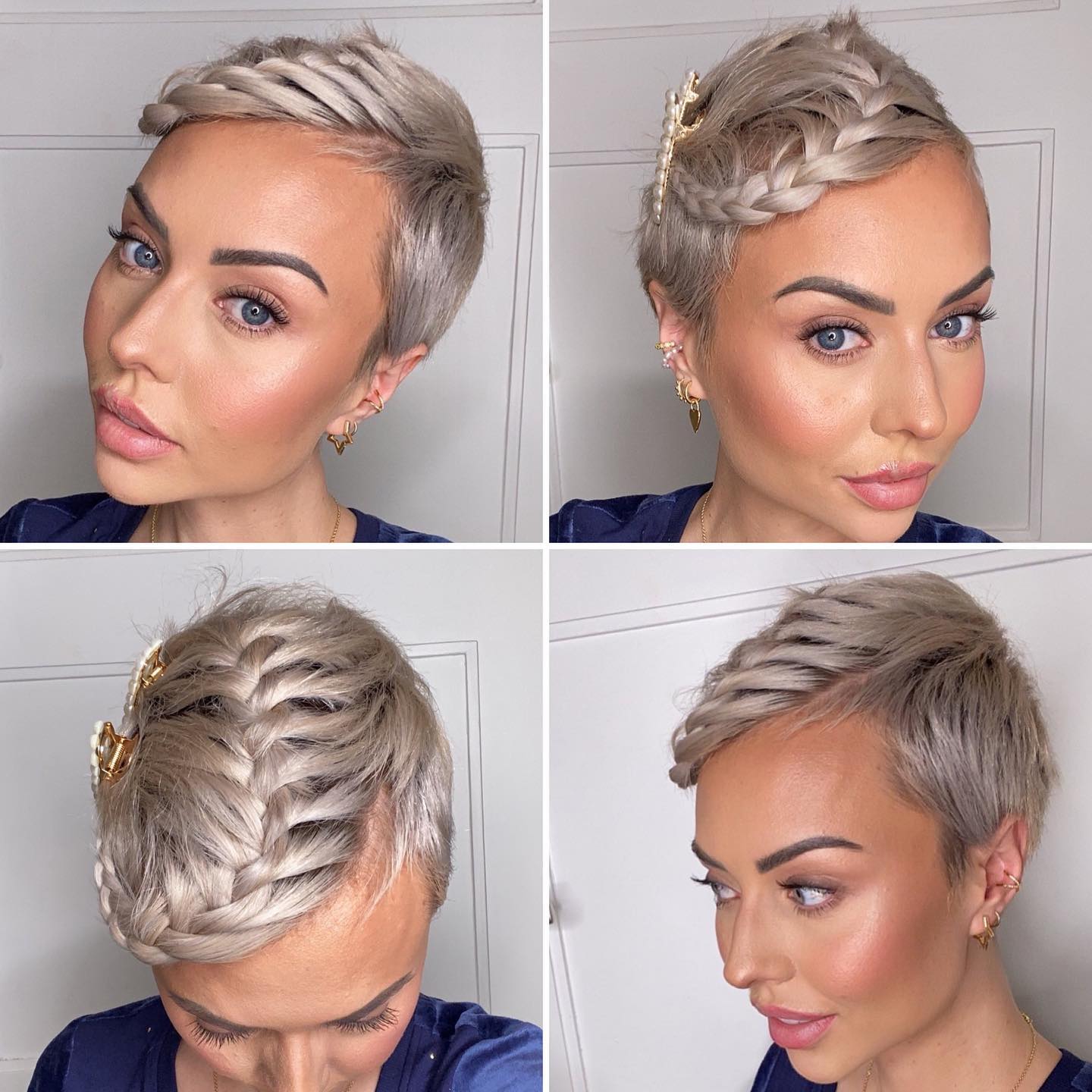 Making braids is also a great way to make light waves without using a curling iron. Braid your wet hair and use a blow dryer. After that, loosen them and use a round brush to style the haircut. This idea is perfect for vacation, where a natural effect is extremely suitable.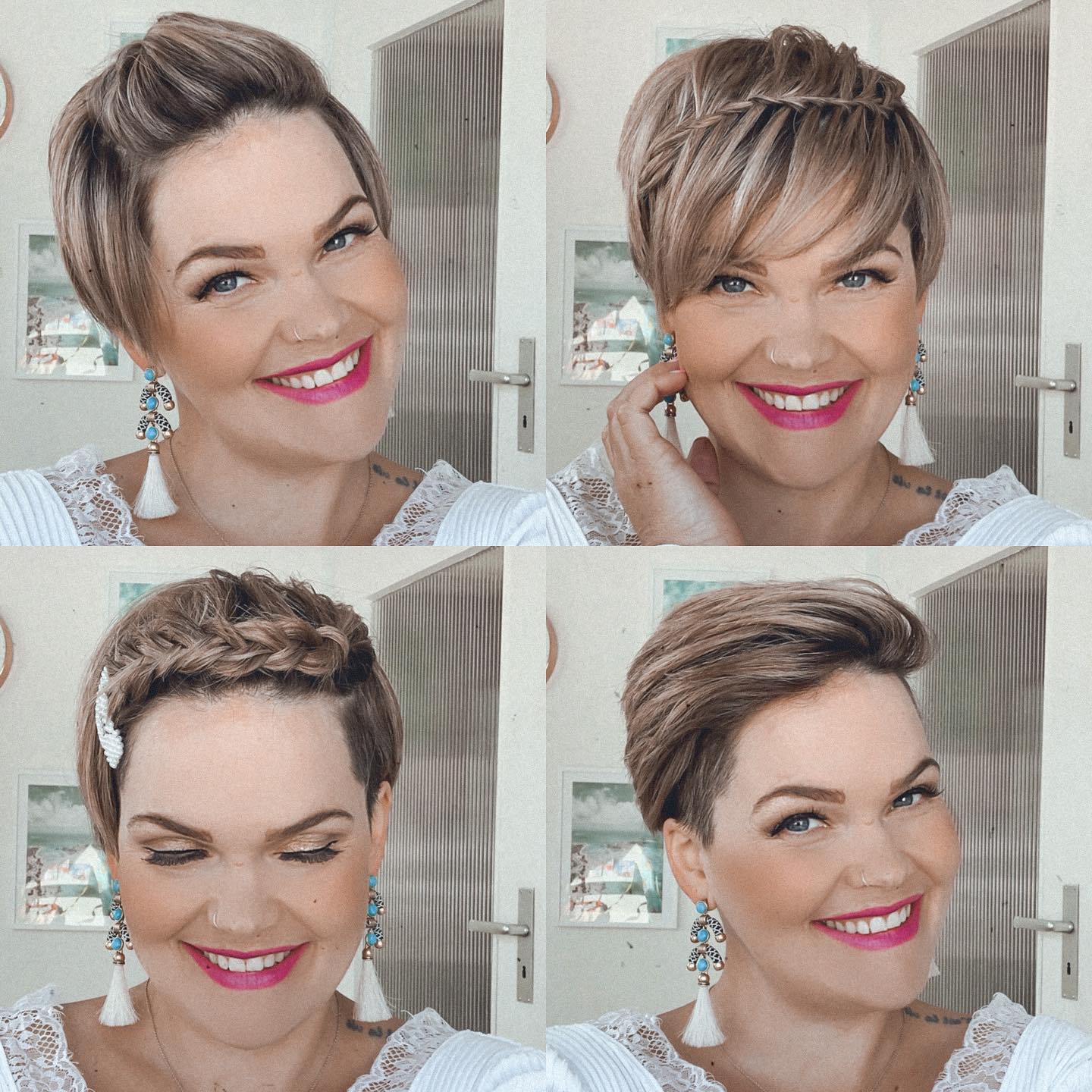 via @salirasa
Incredibly Stylish Asymmetrical Pixie
Asymmetrical haircuts were on the rise several years ago, and now, they are becoming popular again. Such a coiffure will help you stand out from the rest and get dozens of compliments every day. Moreover, the styling process is easy, which is especially relevant for women with spiky hair spending hours attempting to make an attractive hairstyle.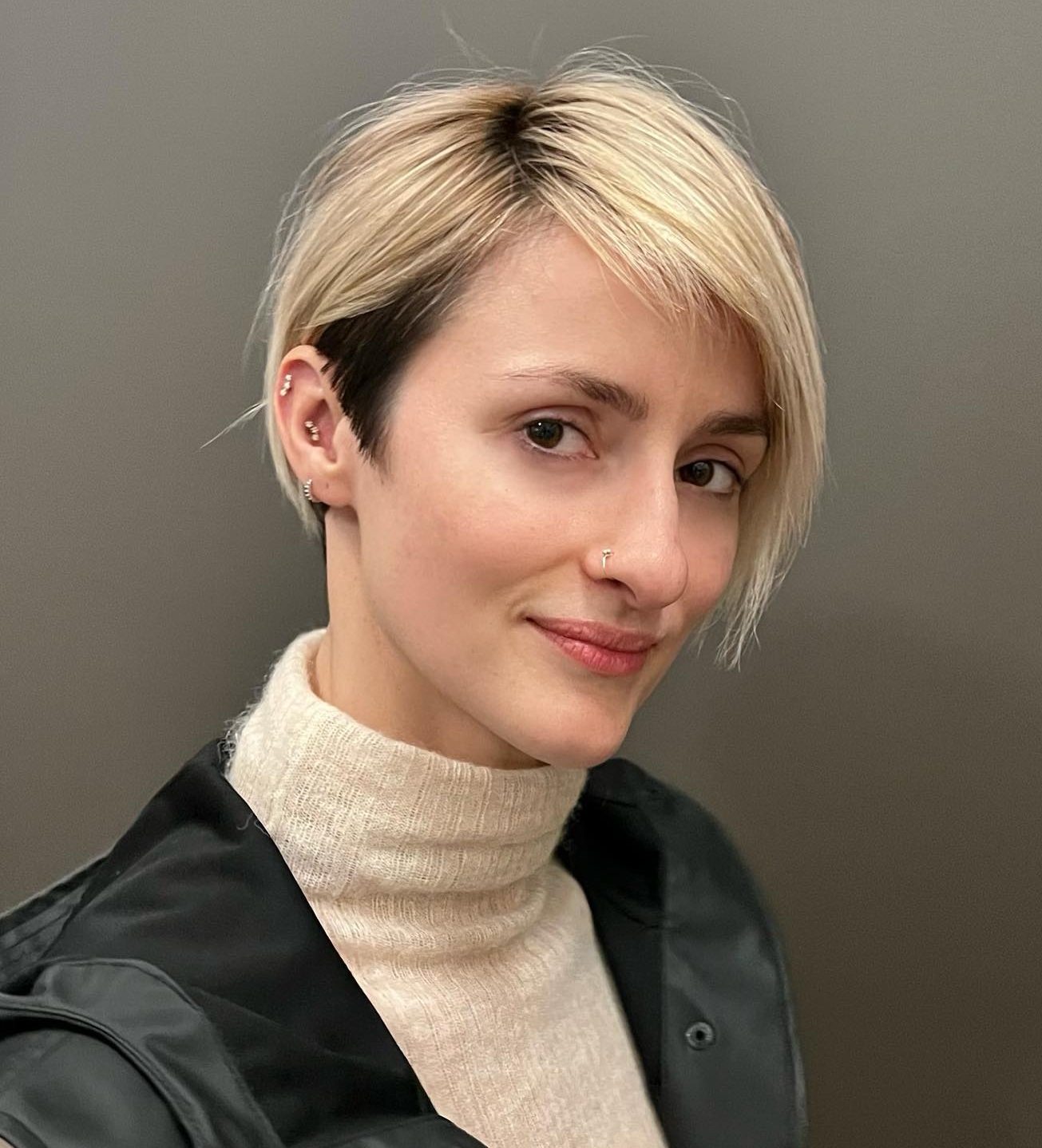 via @anhcotran
This hairstyle is perfect for all ages and any hair type, making it a universal option for most ladies. The most significant point is to choose the appropriate length. Despite the common misconception, pixie suits the oval face shape. But it is better to add long bangs in this case.
via @akira__sato
Pixie with Shaved Sides Styling
Shaved sides are a stylish and unusual way to make an accent on your hairstyle. It's possible to make them in any coiffure, but it will look extremely attractive in pixie, making your image bold. It's the best way to create an edgy look, allowing a lady to feel more self-confident and stylish. As a rule, not many styling products are necessary to make your coiffure look astonishing.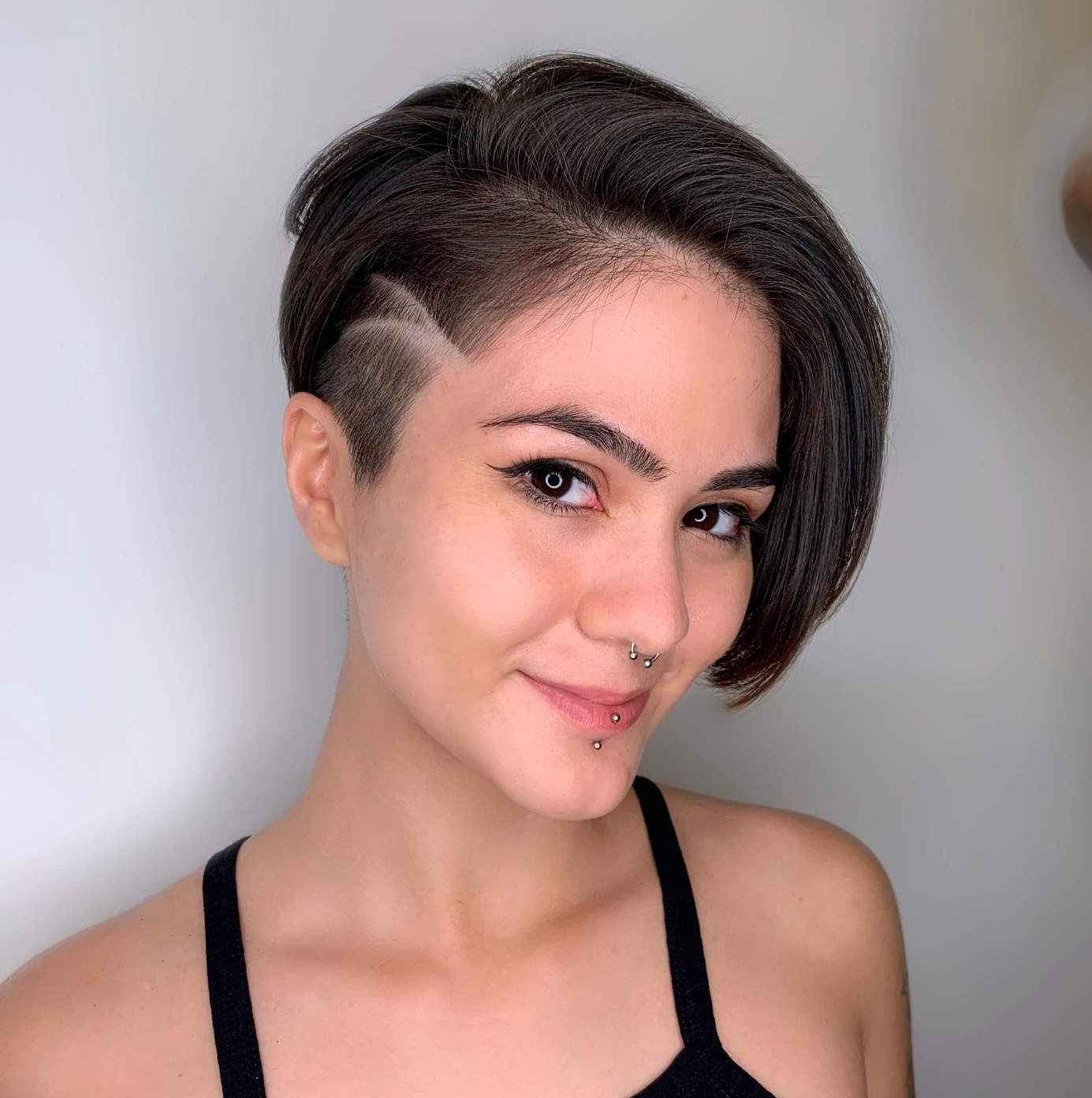 via @sabrayna_
A short hairstyle will immediately add volume to your flat hair, strengthening it, and making it healthier and more glowing. To find the most appropriate haircut suiting your facial features, consult your hairdresser, who will suggest the best options. Moreover, you can find inspiration on social media, searching for people with similar appearances.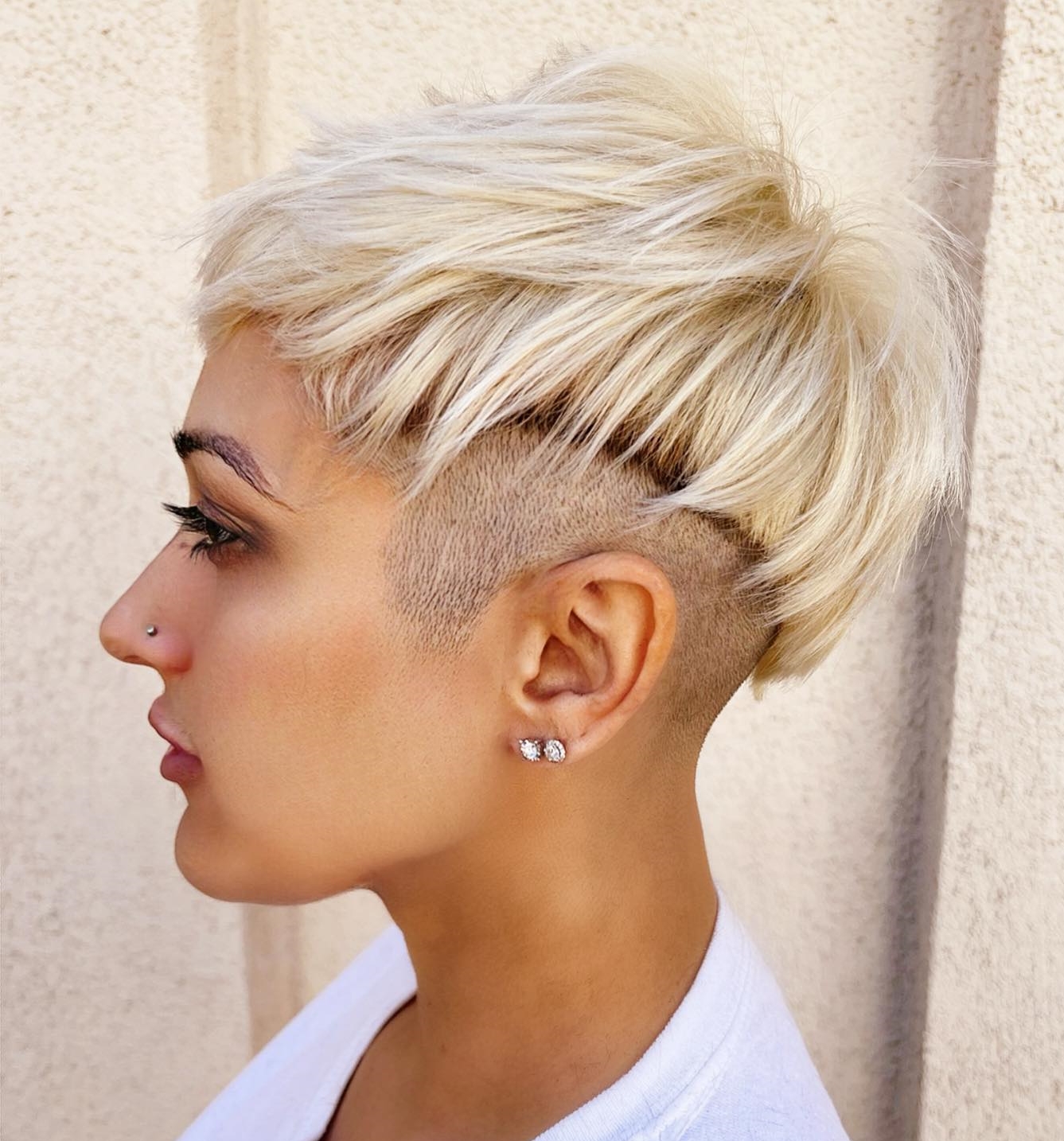 via @heidiwiest
Fantastic Voluminous Coiffed Pixie Cut
A coiffed pixie is a hairstyle immediately adding extra volume to all hair types. It looks stylish and unusual, but keep in mind that it suits not all face shapes. For instance, those with round and oval faces should be cautious with this idea since it can make them look bigger, visually adding several extra kilograms. However, consult your hairdresser, who will find a suitable haircut for you!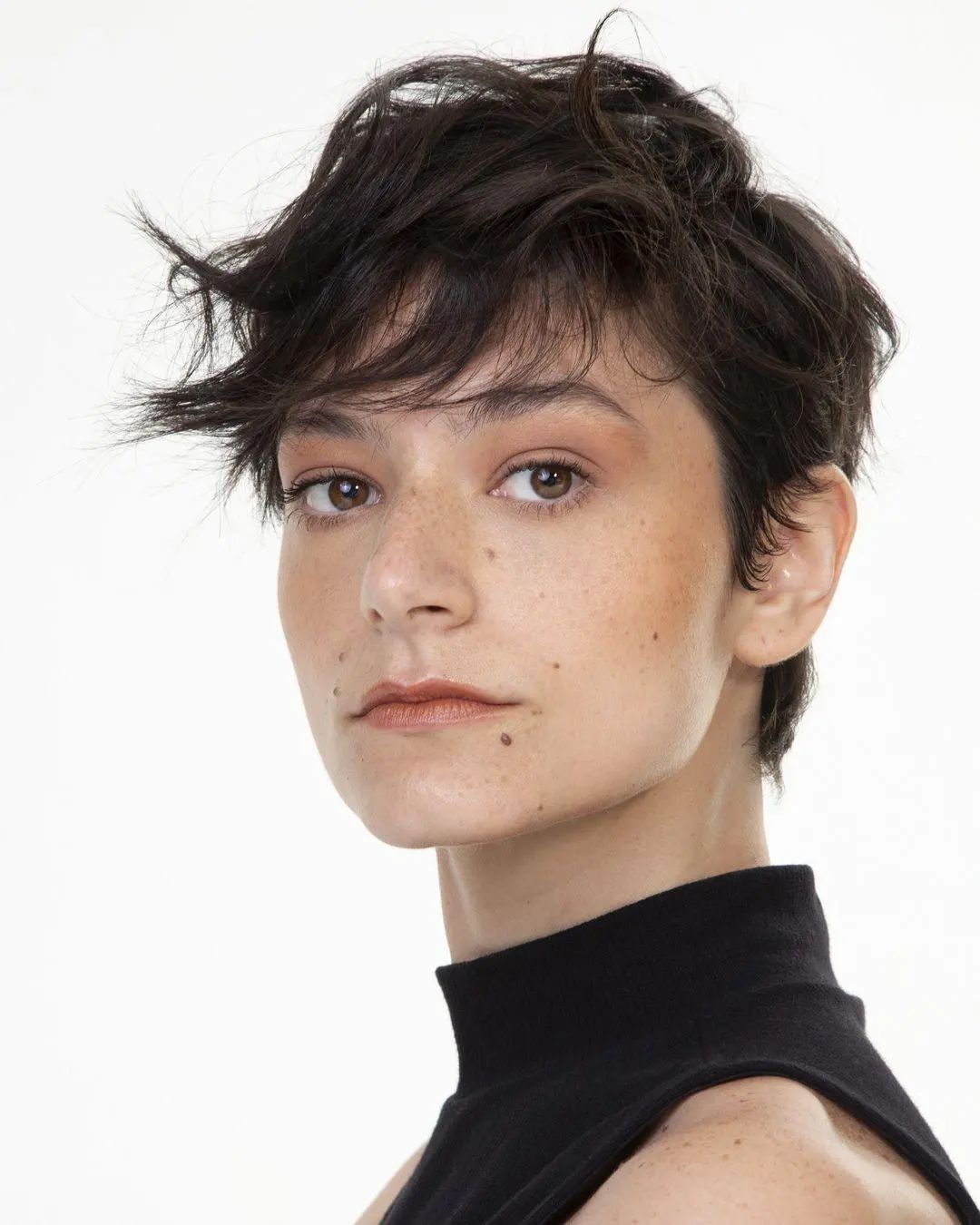 via @pxqueen
This coiffure usually requires styling, so make sure to use a flat brush during blow-drying. A gel or mousse suiting your hair type will be useful to make the proper shape. And you can also add volume with hair spray!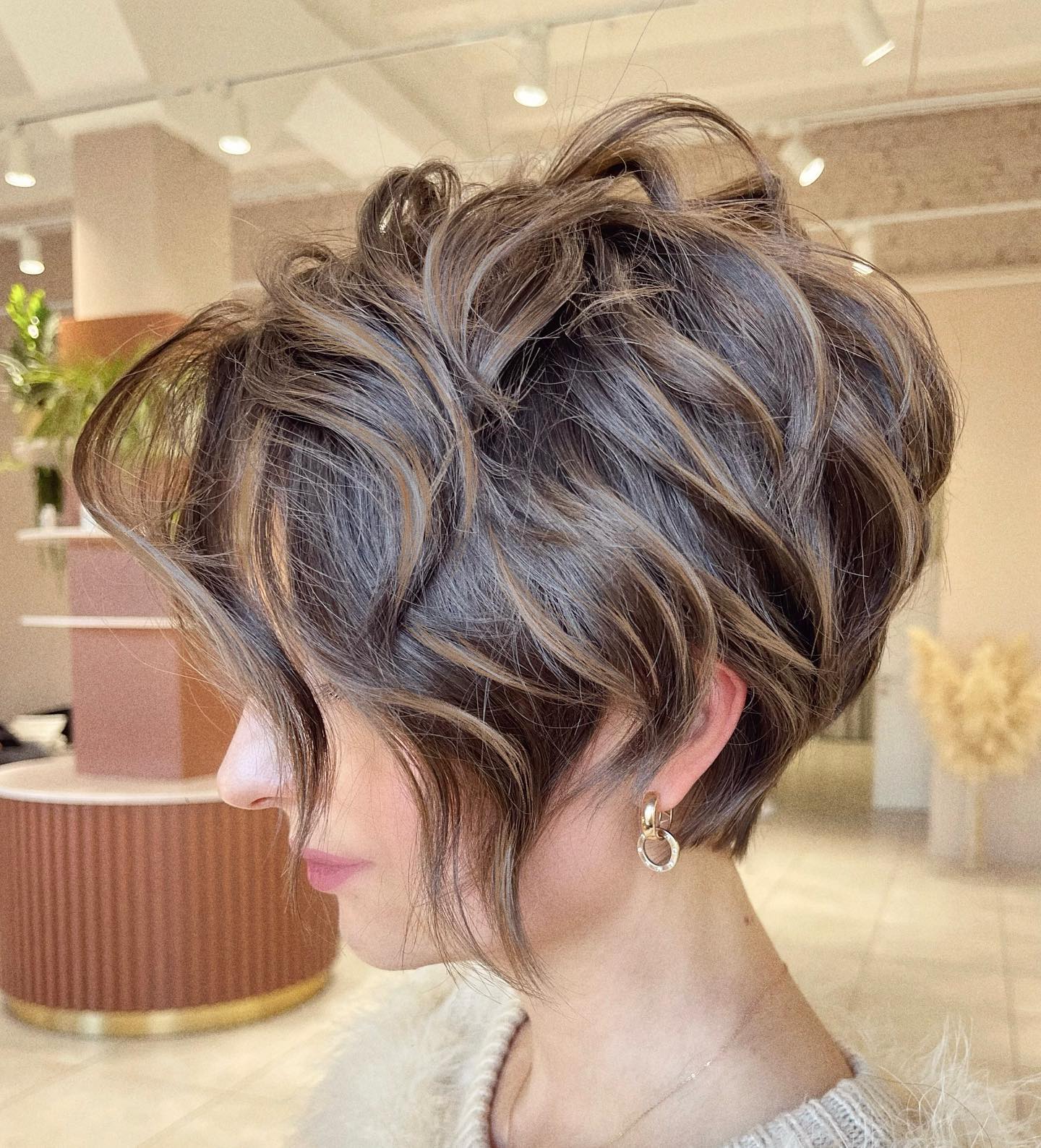 This hairstyle is a choice of numerous Hollywood celebrities, such as Jennifer Lawrence, Ann Hathaway, and many others. You will look like a star on the red carpet and will attract tons of attention and compliments from other people!
FAQ
How Do You Style a Pixie Cut at Home?
Of course, the easiest way to get a perfect hairstyle is to visit a beauty salon and relax for an hour. However, not all people can use it daily, and most women have to deal with their haircuts at home. Numerous ladies think that this task is difficult and won't be able to do it on their own, preventing them from making the desired hairstyle. But we hasten to assure you that it's unnecessary to be a professional to make excellent styling!
The styling process is really easy, so everything you need is a bit of practice, even if you have never done it. So, look at a quick guide on how to receive an amazing hairstyle and spend less than half an hour:
Wash your hair with your favorite shampoo (remember that it should be suitable for your skin type).
Use a mask or a conditioner (you shouldn't obligatorily use products of the same brands, just ensure that it matches your hair type).
Blow-dry your hair, combing the longest strands forward.
Using an iron for hair, twist the curls in the opposite direction from the bangs.
You need a hair wax for styling, so add some to your hands and warm it up.
Give the bangs the desired position and fix it with the wax.
You can model the hairstyle in the desired way and fix separate strands with a hair spray.
The final touch is giving your hair a little frizz to add some trendy sloppiness.
Watch a short video to find more pixie styling ideas!
As you can see, the process is quite straightforward and won't require significant effort. At first, it may seem a bit complicated and time-consuming, so make sure to get some more spare time for styling. And with time, it will become a routine for you!
Ladies with spiky hair may have some difficulties when styling bangs. However, a high-quality mousse or wax will easily cope with this problem. It's essential to pick the suitable cosmetics for your hair type, and you can enjoy a perfect coiffure for a long without the need to correct it during the day.
What Are the Best Hair Styling Products?
As has been already mentioned, choosing the most suitable hair cosmetic products is the recipe to success. The days when women had to make cosmetics from herbs and improvised products have already passed. Of course, this made life much easier for us, since the necessary styling products can be bought even in the nearest supermarket or specialized store.
The best option when picking suitable cosmetics is to consult your hair master and follow their recommendations. However, if you cannot do it for some reason, take a look at some common options that ladies mostly prefer. Below, we have gathered the most popular options to help your coiffure look amazing.
The main task of all styling products is to fix the hair and add more volume. And which criteria should a woman consider when choosing proper cosmetics? A good hairstyling product not only performs the primary function and protects the hair from mechanical and thermal stress, does not stick it, smells good, and is easily washed off. Moreover, it's important to choose products that do not create the feeling of a "dirty head."
To get the most suitable cosmetics, you should consider whether it's natural or colored, your hair condition, and your length. There are four styling products types: mousse, foam, gel, and powder.
A mousse has a weightless structure that can be easily applied to hair. Moreover, it's almost impossible to overuse it and get the effect of greasy hair. A mousse is a perfect decision to make a natural volume and make the hair look thicker.
On the other hand, the foam has a denser strategy and higher fixing capability than the mousse. However, foams are more often used for medium-length and long hair.
A styling gel has good fixing capabilities, but it's important not to overuse it. If you add too much gel, you can get sticky strands. However, you can use this option to make a perfect wet-looking hairstyle.
The powder is less common compared to other hair products mentioned below. However, they have a tremendous fixing effect and can help you proceed with high hairstyles, such as coiffed pixie cut. Experiment with different cosmetics, and you will find something perfect for your hair type. Choose the product you like most and proceed with an ideal hairstyle, allowing you to look fantastic every day!