Hair color trends evolved significantly from natural hair colours being the only options. In the early 1900s, women applied henna or alternative natural dyes to achieve an auburn or reddish-brown color. Then, hair coloring was considered a luxury. Later, in the 1920s, Hollywood glamour icons like Jean Harlow or Marilyn Monroe inspired women with blonde hair.
Hair color trends evolved significantly from natural hair colours being the only options. In the early 1900s, women applied henna or alternative natural dyes to achieve an auburn or reddish-brown color. Then, hair coloring was considered a luxury. Later, in the 1920s, Hollywood glamour icons like Jean Harlow or Marilyn Monroe inspired women with blonde hair.
The 1960s and 1970s witnessed bold experiments with vibrant hair colors like green, pink, or blue. The trend continued into the 1980s, with punk and new-wave styles leading. Grunge and alternative styles grew popular in the 1990s, with more natural and darker hair colors such as brown, black, and red becoming prominent. Thanks to celebrities like Jennifer Aniston, this trend resumed in the early 2000s as these celebrities popularized natural-looking highlights and lowlights.
Recently, more daring and unconventional colors like pastel shades, rainbow hues, and metallics have been trending. Hair color is more accessible than ever in today's digital world. From subtle shifts to extreme transformations, today's generation uses hair color to express themselves and their individuality. It will be intriguing to watch what the future holds for hair color.
One of the most recent trends in hair color is silver. Silver hair dye is a great way to include a touch of modernity and allure to any look, and it can be worn in various styles. There are endless shades of silver, from silver blonde hair to frosty platinum to smoky gray. A subtle change or a dramatic transformation, silver hair may be a flexible and à la mode choice.
This article will explore 40 silver hair ideas for a new look. Let's explore the brilliant world of silver hair.
How to Get Silver Hair Color?
There are a few steps you can take to achieve this trendy look. Here are some tips for dyeing hair silver:
Lighten your hair: Silver hair dye is best applied to light blonde or bleached hair. If your hair is dark or darker, first lighten it with bleach.
Choose the right silver hair dye: From light silver to dark metallic shades, choose a shade that suits your skin coloring and individual style.
Protect your skin and clothing: Silver hair dye can stain your skin and clothing, so make sure to protect both with petroleum jelly and a cape or old t-shirt.
Apply the color: Proceed with the instructions on the hair color packet and apply the color uniformly all over your hair. To achieve an even color, saturate each section of hair.
Rinse and condition: After the dye has been set, rinse your hair with cool water. Apply a deep conditioning treatment to nourish and protect your newly silver locks.
Overall, getting silver hair color, especially on brunette hair, requires patience, dedication, and a willingness to take proper care of your hair. It is recommended that you get it done by a professional hairdresser.
Dark Hair with Silver Highlights Becomes a Sensation
Under this style, two of the most popular trends are long straight hair with silver highlights and black hair with silver strands. The color merger of black with silver can add depth and dimension to your hair.
via @lescbeauty
The contrast of dark and silver tones creates a compelling effect, making your hair look vibrant and refined. You can choose to have subtle silver highlights throughout your hair or create striking streaks to make a statement. With the proper care and maintenance, your dark silver hair can be an eye-catching style you can enjoy for a long time.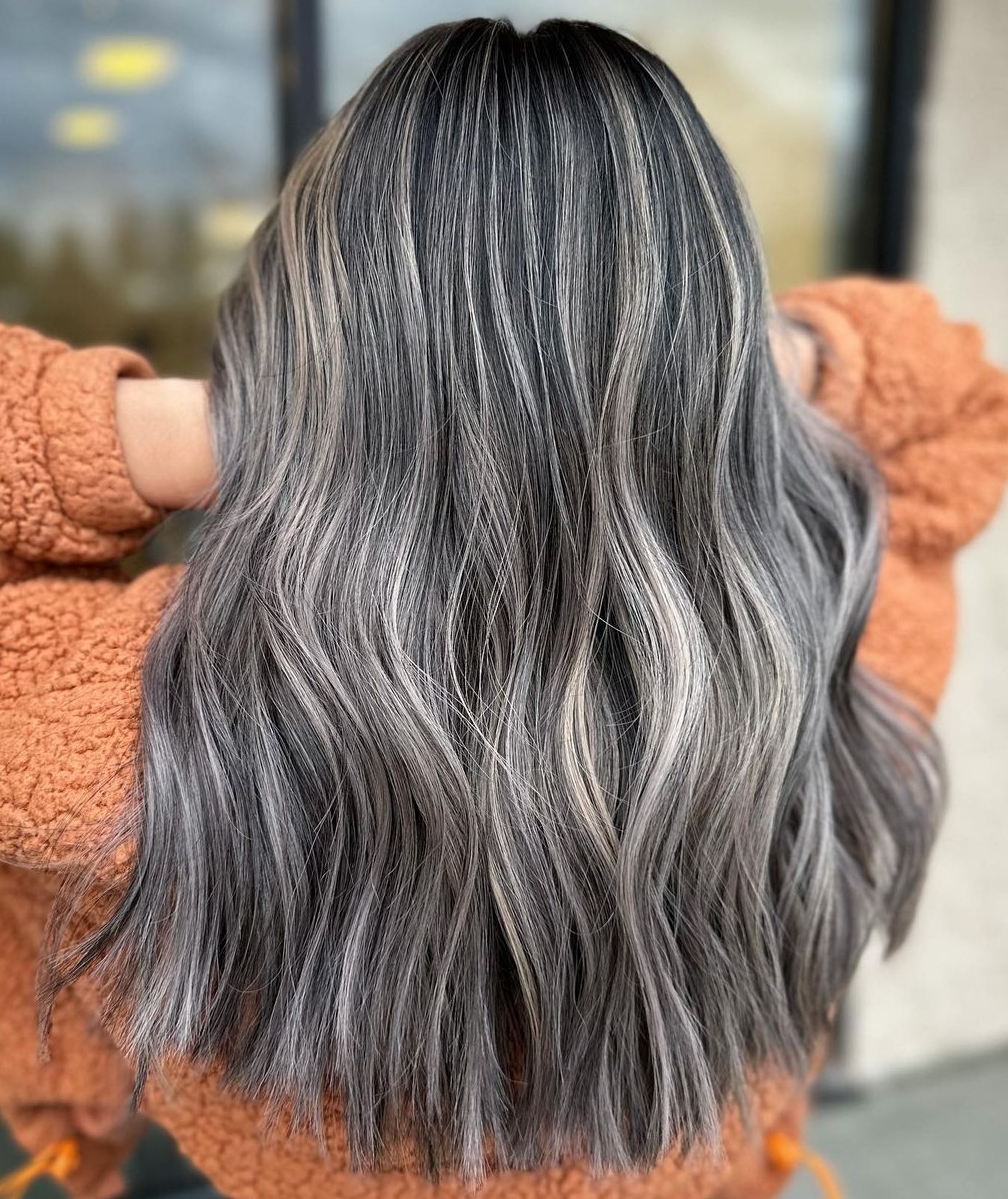 via @hairbykathyyy
Show the World You're More with a Silver Blonde Bob Cut
This style complements different skin tones. The wavy hair texture adds a gentle and feminine touch to the look. The silver bob color can vary in intensity from a delicate ash tone to a more vibrant silver shade.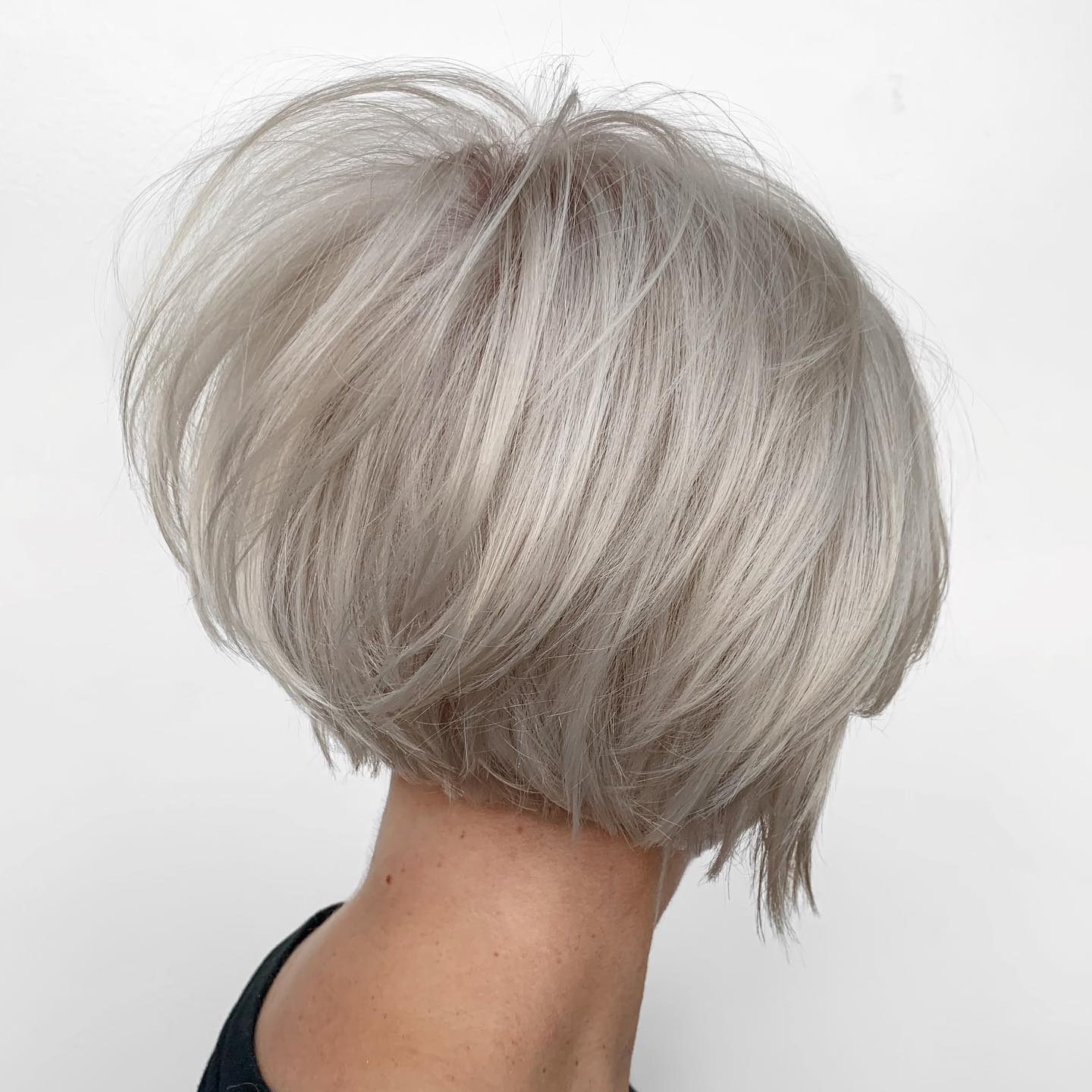 via @headrushdesigns
Selecting the right shade of silver hair for different skin tones is essential to ensure an admirable result. Cool skin tones can opt for a silvery-white shade, while warm skin tones pick silver with a hint of gold.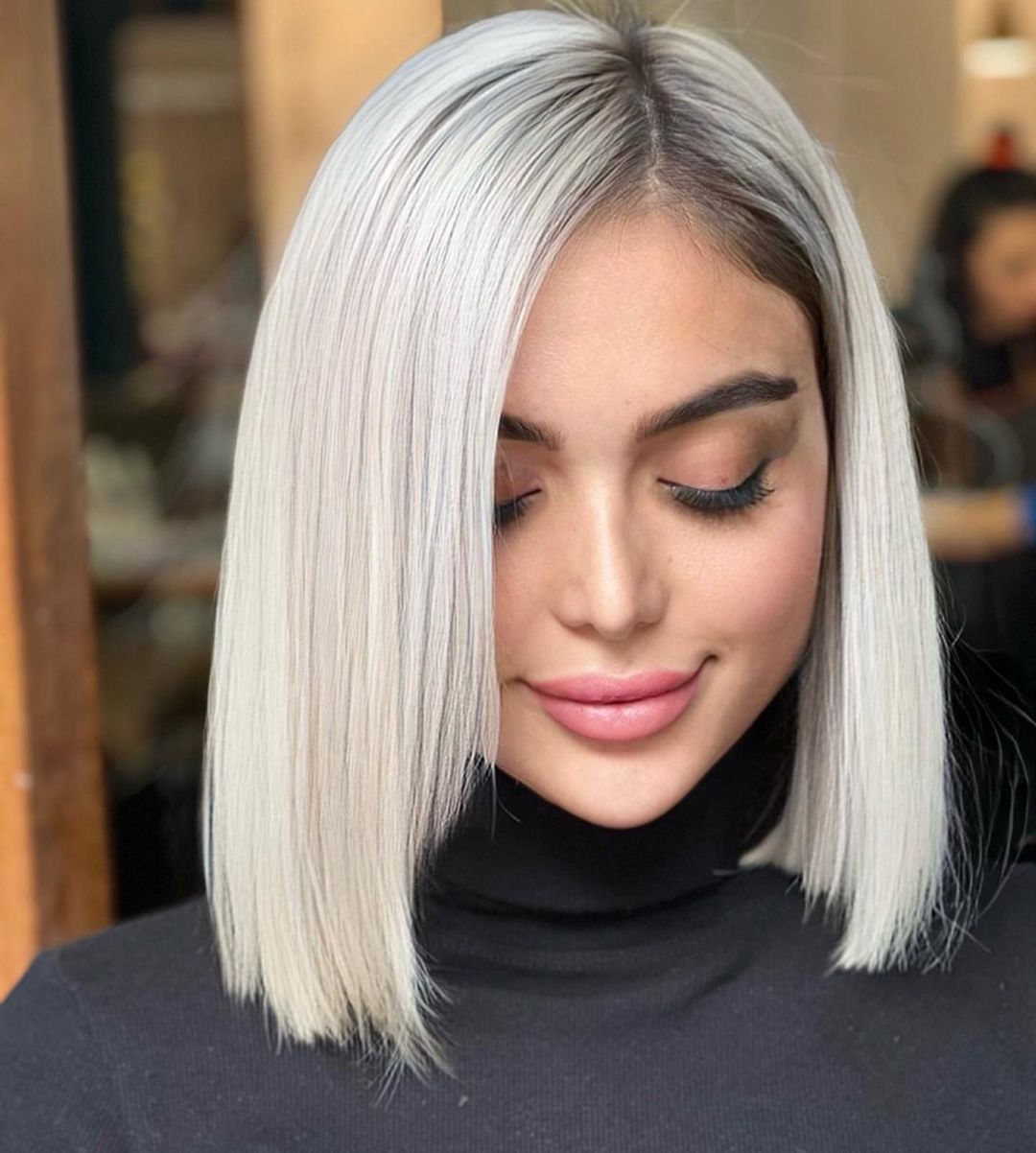 via @mirall_hair
Silver Blonde Pixie Cut to Fuel the Diva in You
It combines two famous hair trends: the silver hair trend and the pixie cut. The silver hair trend includes dyeing hair silver or gray, while the pixie cut is a short haircut that frames the face.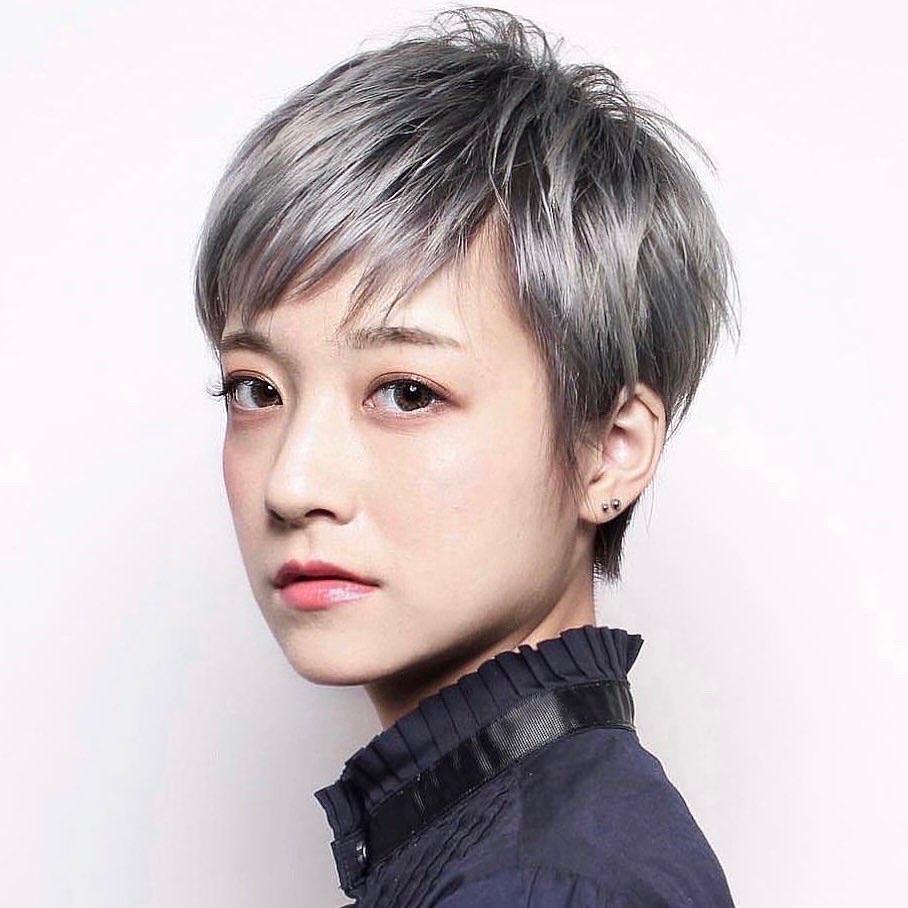 via @yuya__hair
Another spinoff to this style is the pixie cut with long silver bangs and darker roots. The silver bangs create an energetic and flirty touch, while the darker roots boost depth and dimension to the overall look.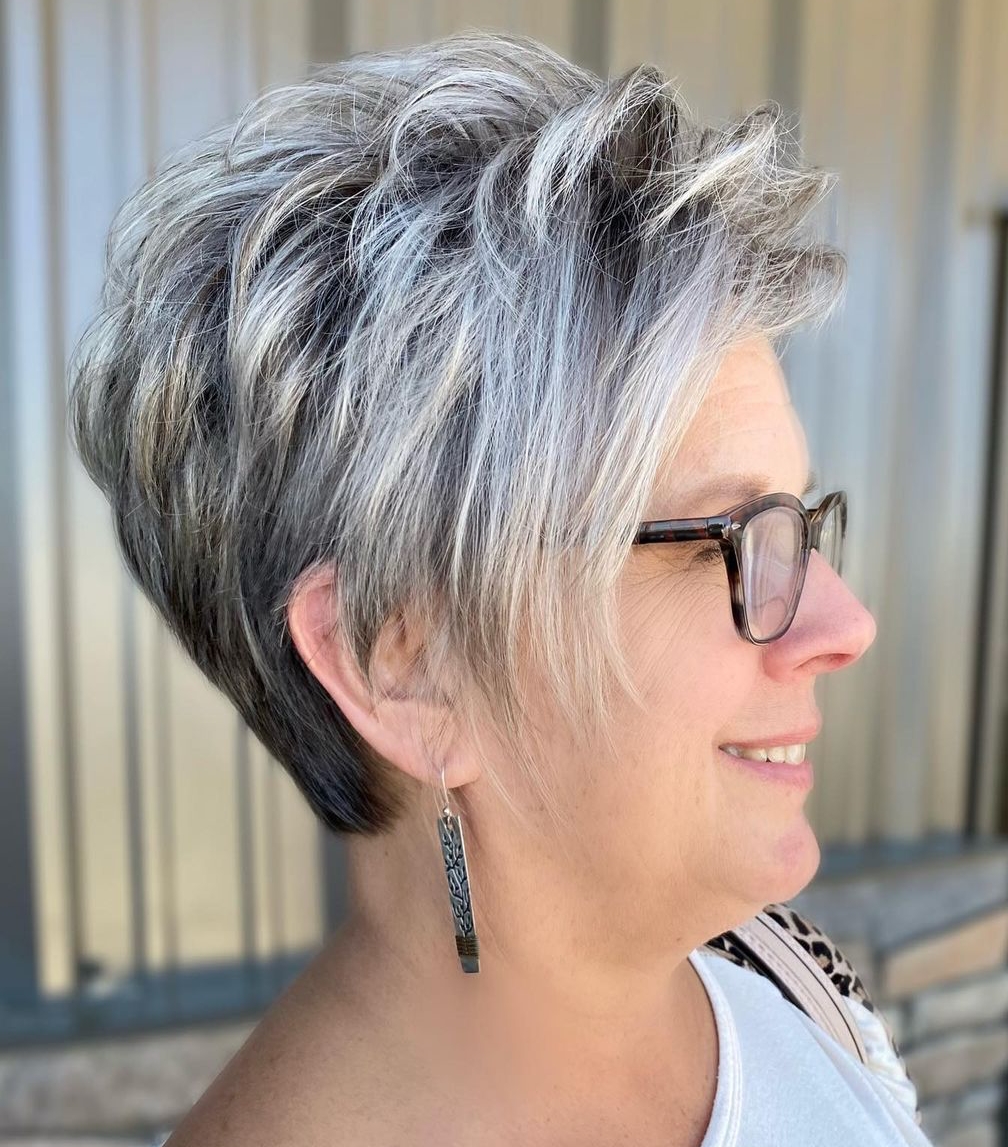 via @roxanne_goslee
Flaunt your uniqueness with Long Silver Hair
Whether it's naturally silver blonde hair or natural hair with a silver hue, these silver color locks are eye-catching and exclusive.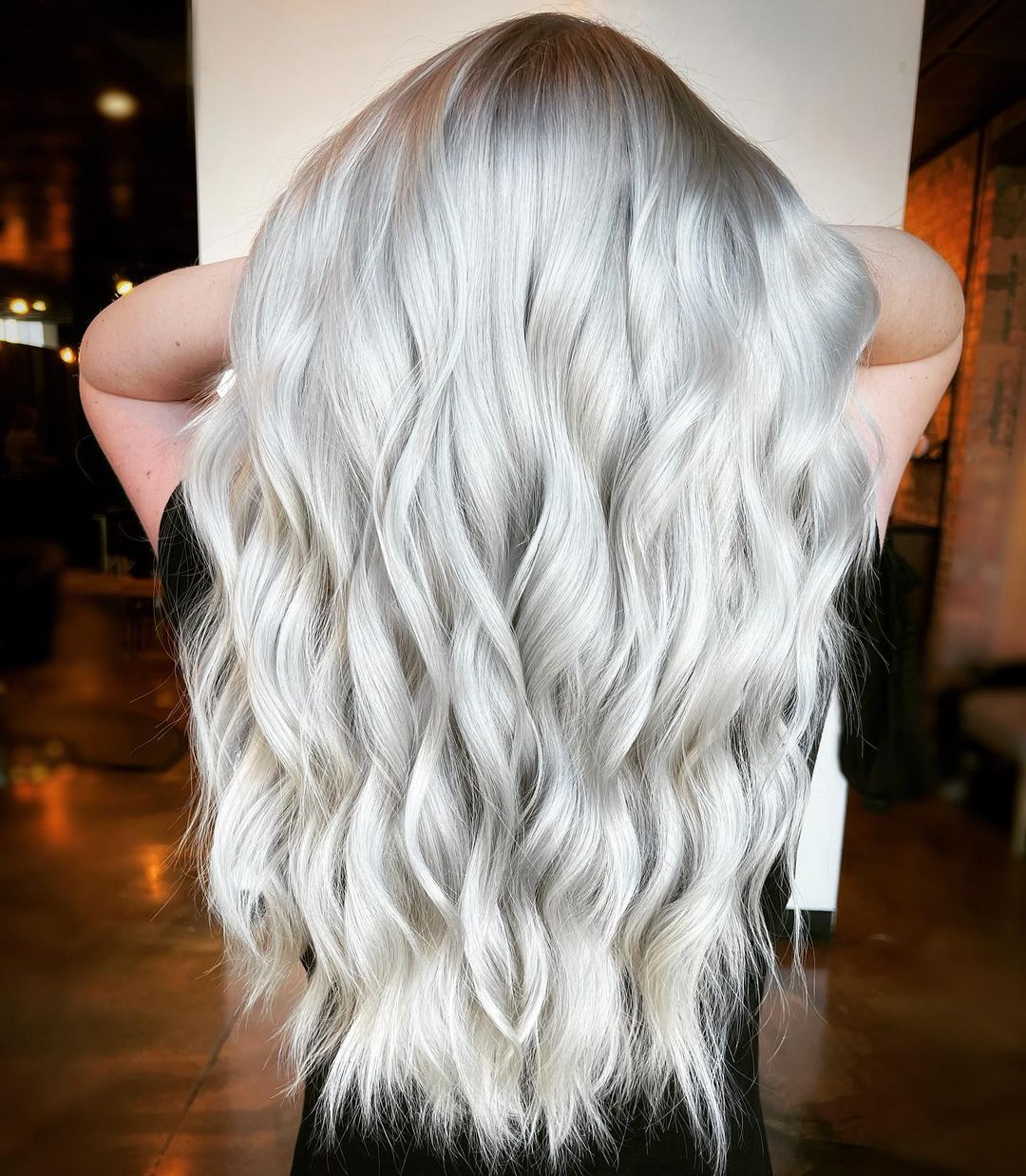 via @shmoakin_hair
The beauty of silver hair is that it can complement a variety of skin tones and hair types, making it a versatile choice. Regular use of deep conditioning treatments and avoiding heat styling tools can help keep your long silver locks looking healthy and vibrant.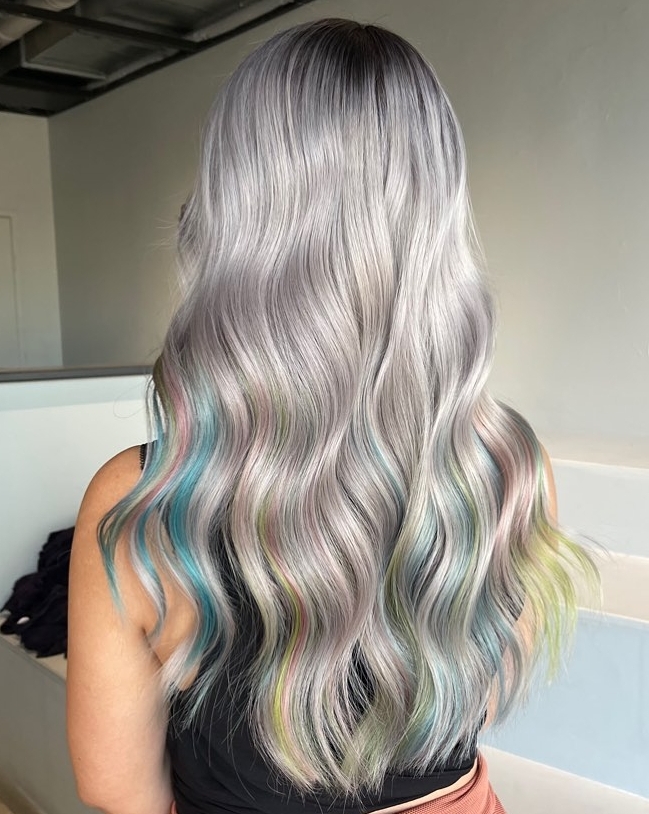 via @noyrhair
Silver Balayage on Straight Hair for a Mesmerizing Look
It is achieved using the balayage technique, which involves highlighting the hair to create a natural, sun-kissed effect. For this style, platinum silver hair creates a striking contrast against dark brown roots.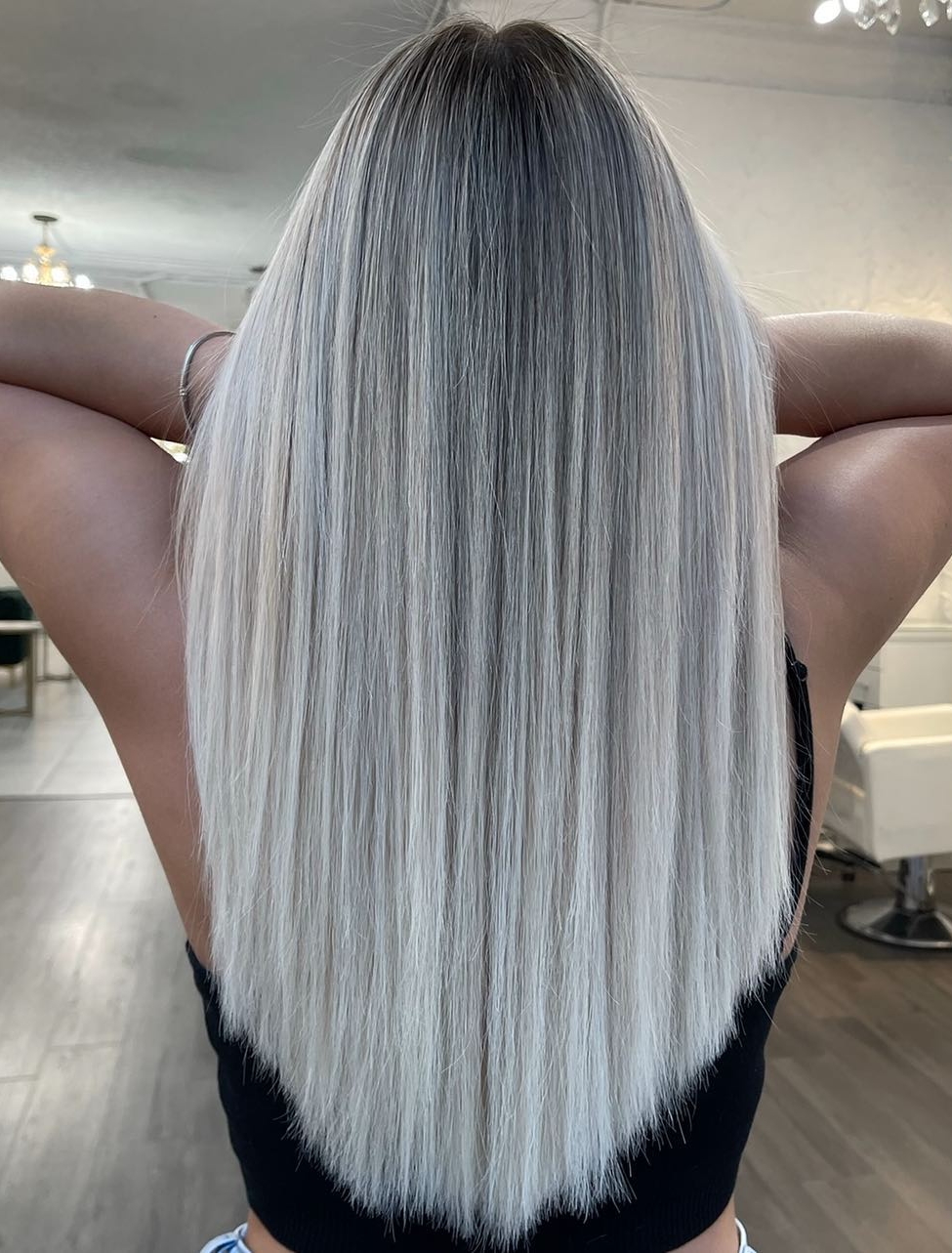 via @sabithantal
The straight texture of the hair allows the color to pop and showcase the dimension created by the balayage.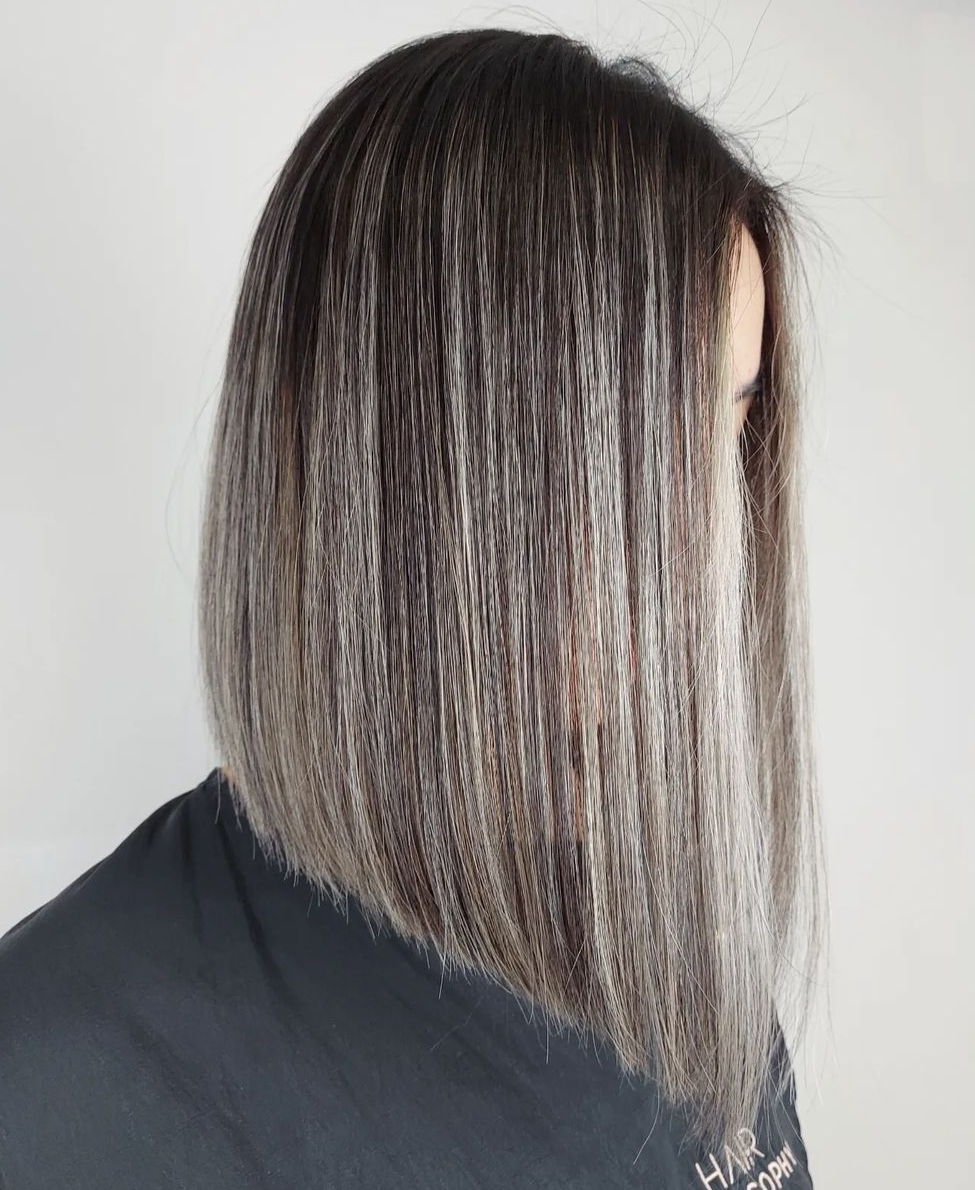 Metallic Silver Hair for a Sharp & Piercing Look
It is achieved by using darker silver hues and silver tones on natural hair. This is particularly striking on short silver hair, creating a sharp, piercing look.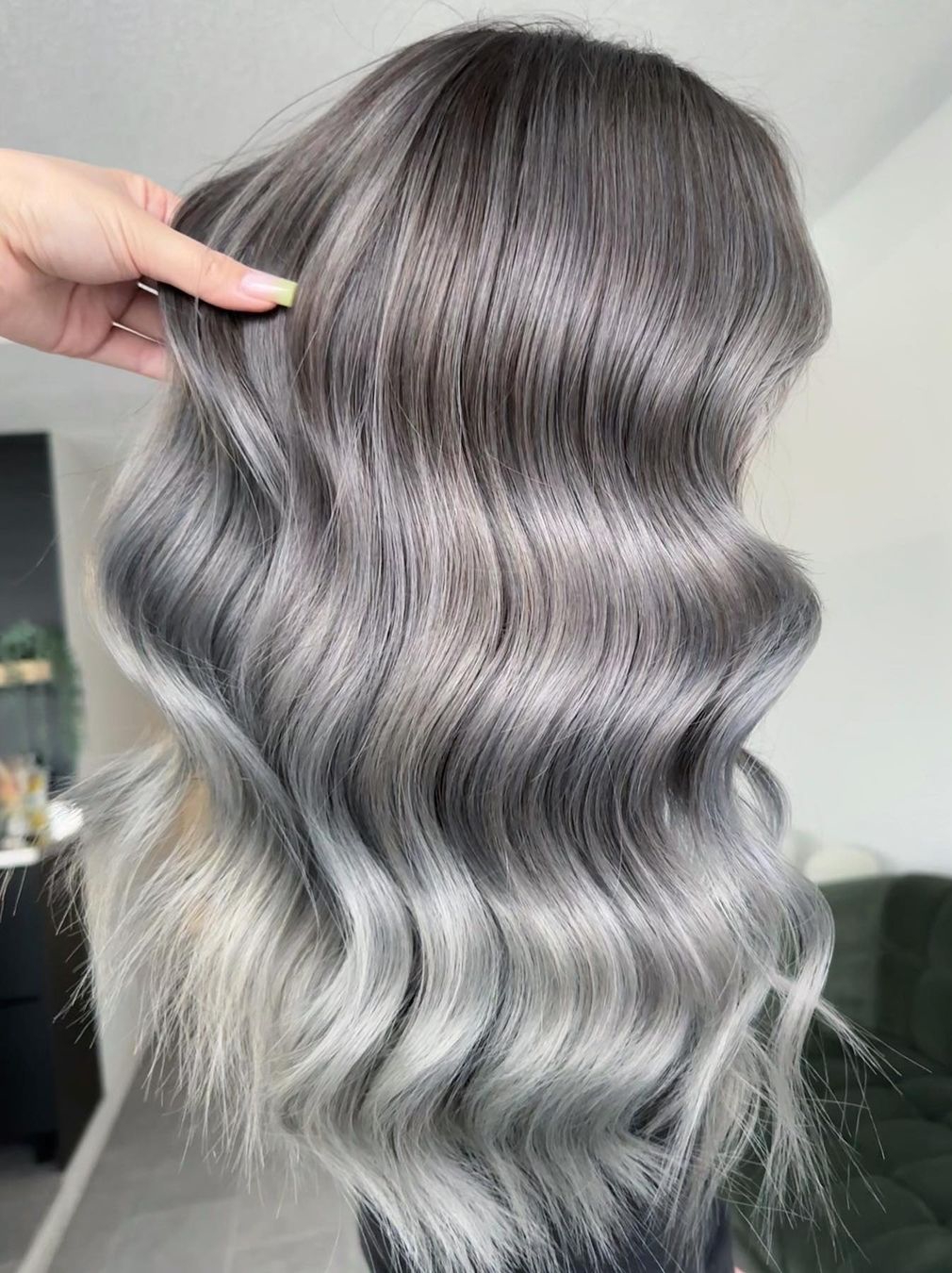 Have a professional colorist who can help you choose the right shades and provide the necessary treatments to maintain the color. Proper care, regular touch-ups, and deep conditioning treatments are essential to preserving metallic silver hair.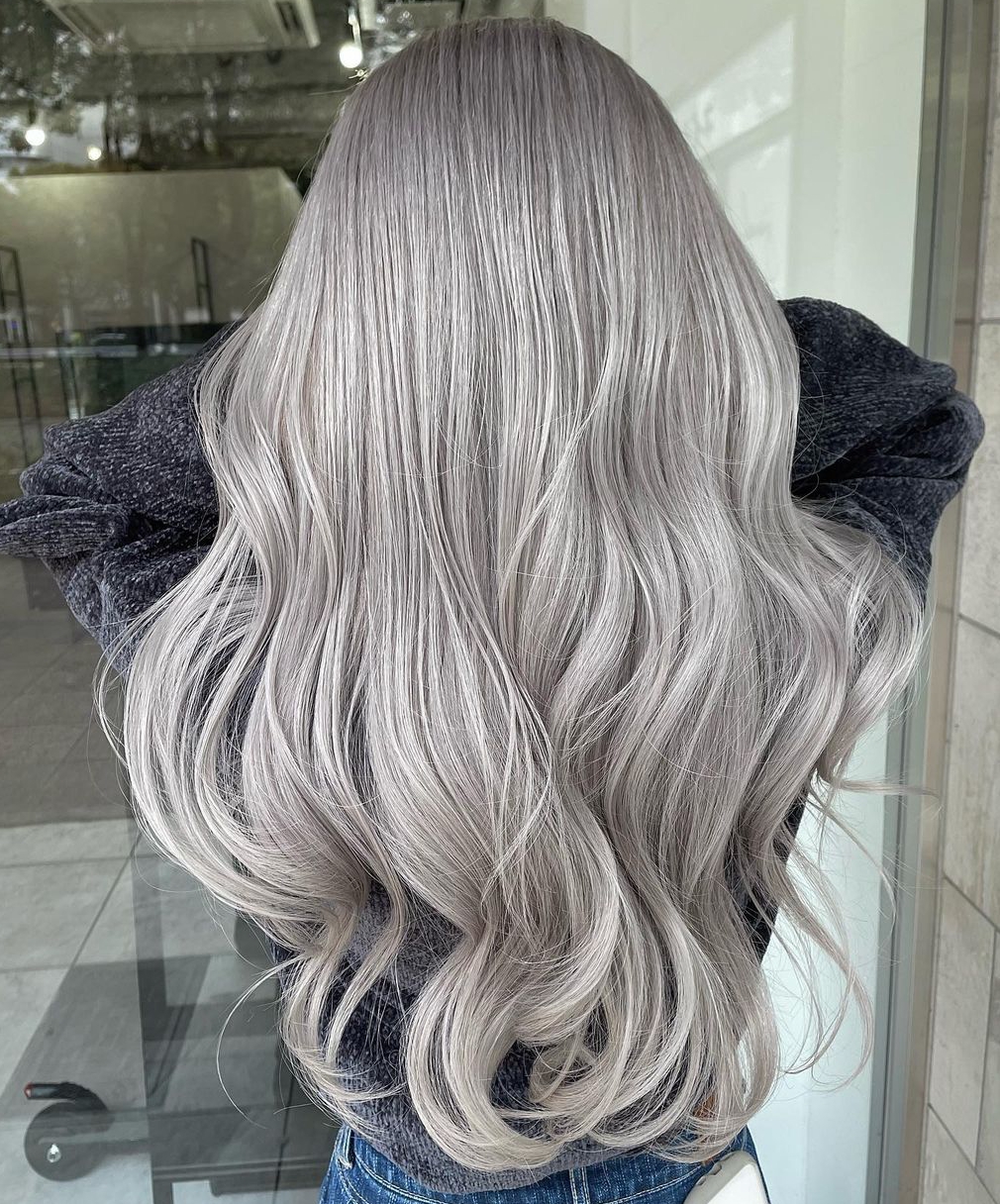 via @ryu_blonde
Embrace Eternity with Silver Ash Blonde Hair
This a great hair color idea for older women looking to switch things up! It combines the cool tones of ash-brown hair color with the brightness of blonde for a striking yet sophisticated look.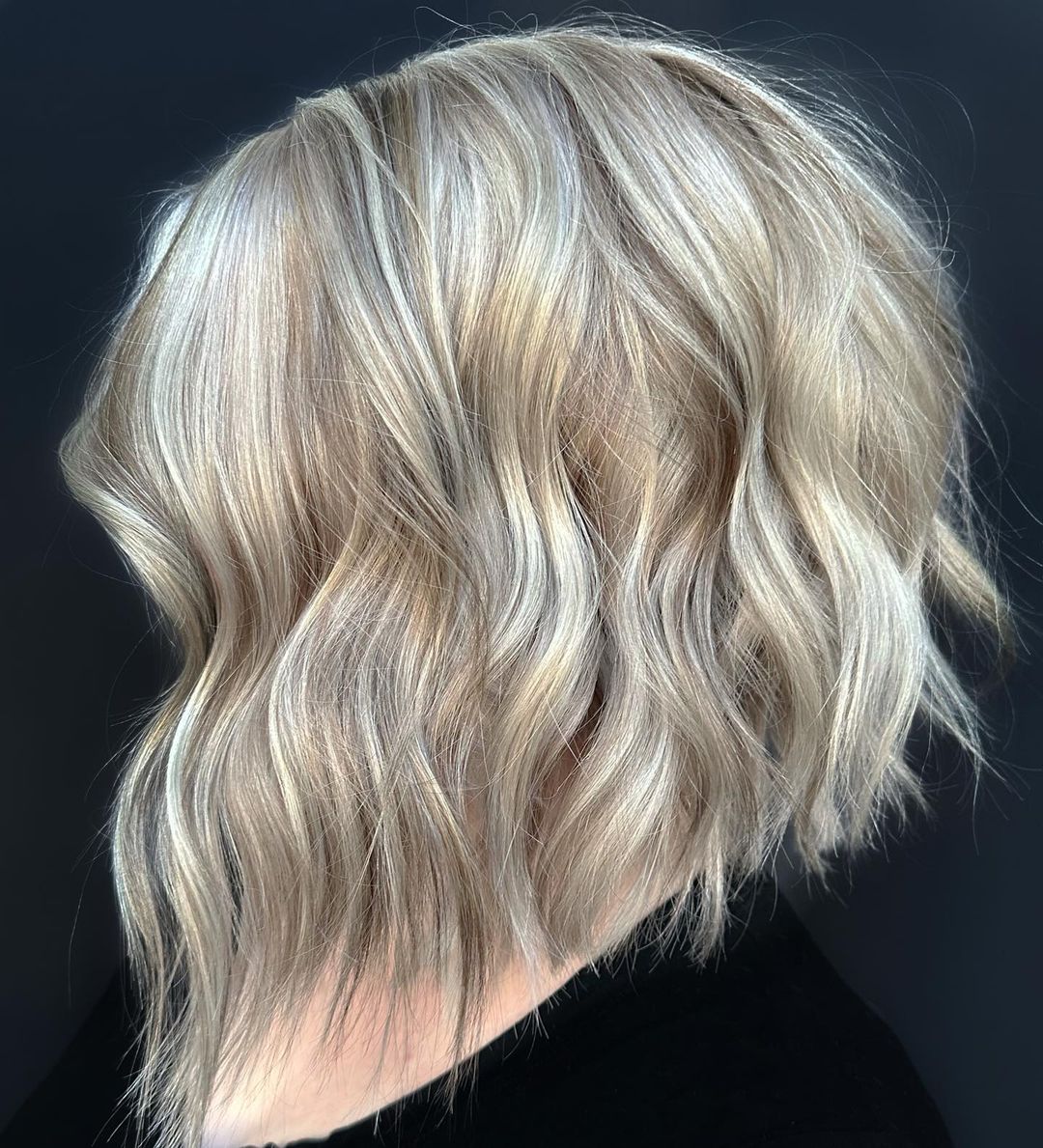 via @shmoakin_hair
This color can also be helpful for those with thin hair, as the silver tones can create the illusion of fuller hair by reflecting light and creating dimension.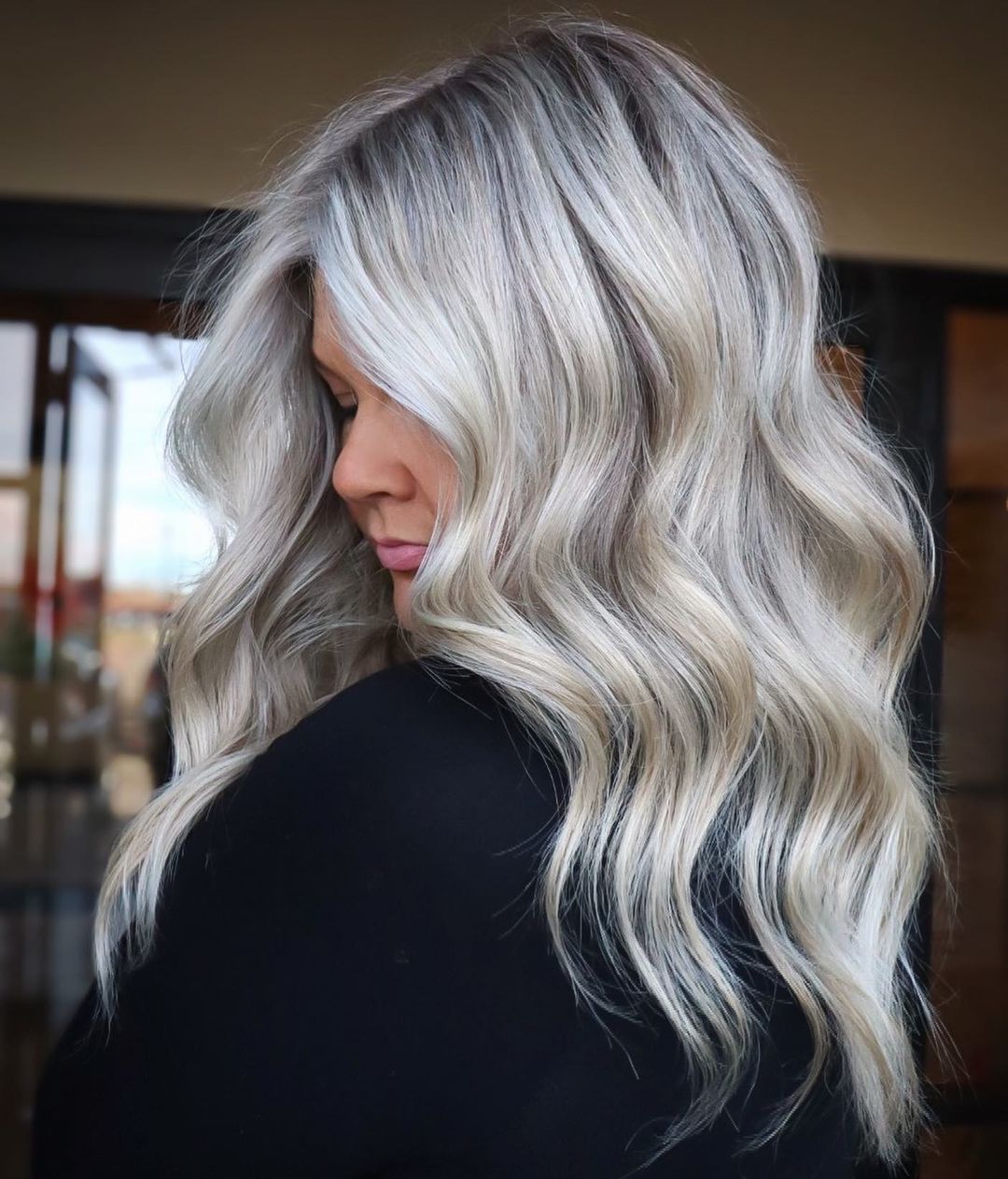 via @rob.levi
Silver Purple Hair: An Eye-Catching Choice
It combines platinum blonde with purple highlights, creating a striking and unique color combination. The straight bob cut adds to the modern and stylish vibe of the hairstyle.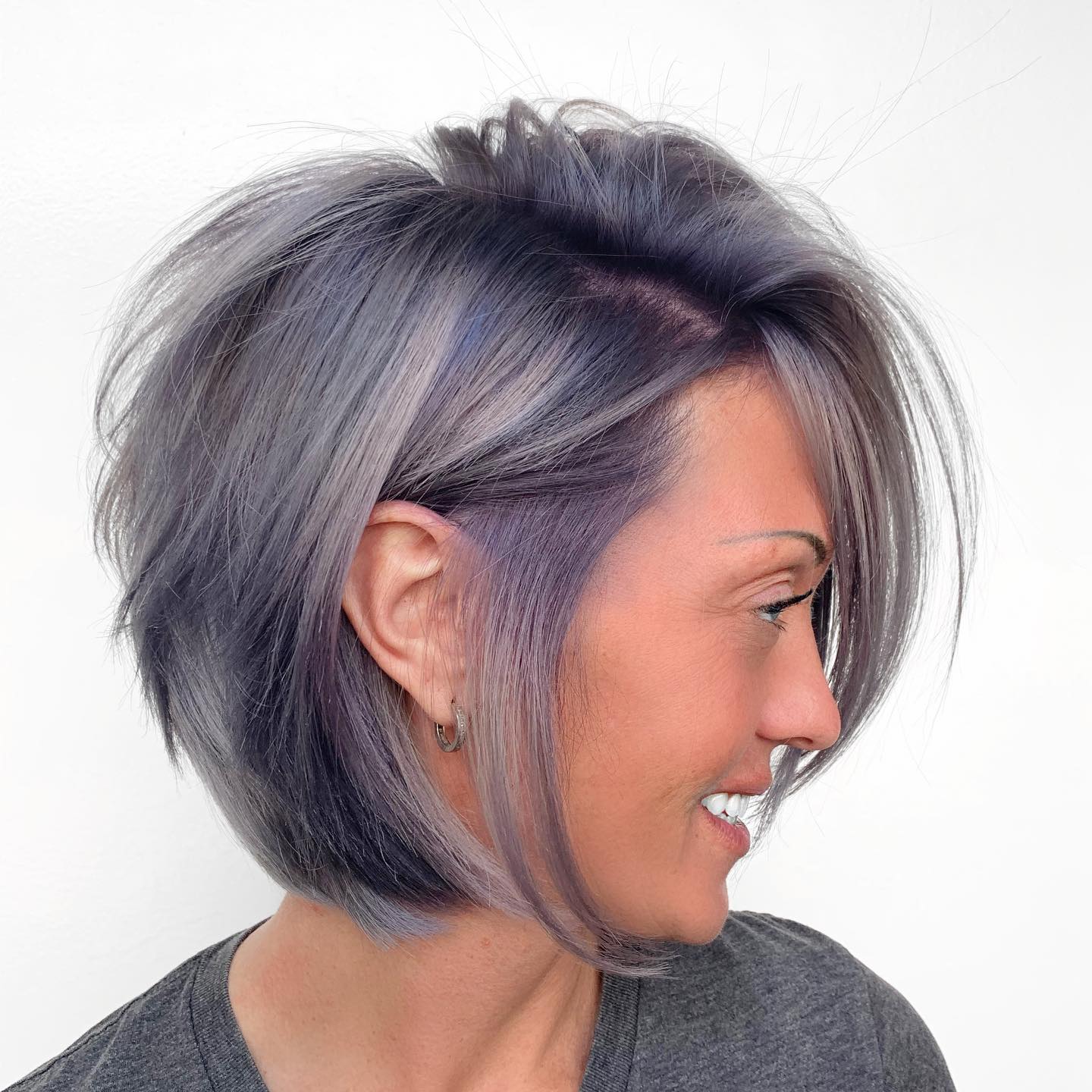 via @headrushdesigns
To achieve cooled-toned hair, your colorist may apply a toner to neutralize any unwanted warmth in the blonde base. This results in a more silvery, almost icy appearance, which pairs well with the purple highlights for a dramatic effect.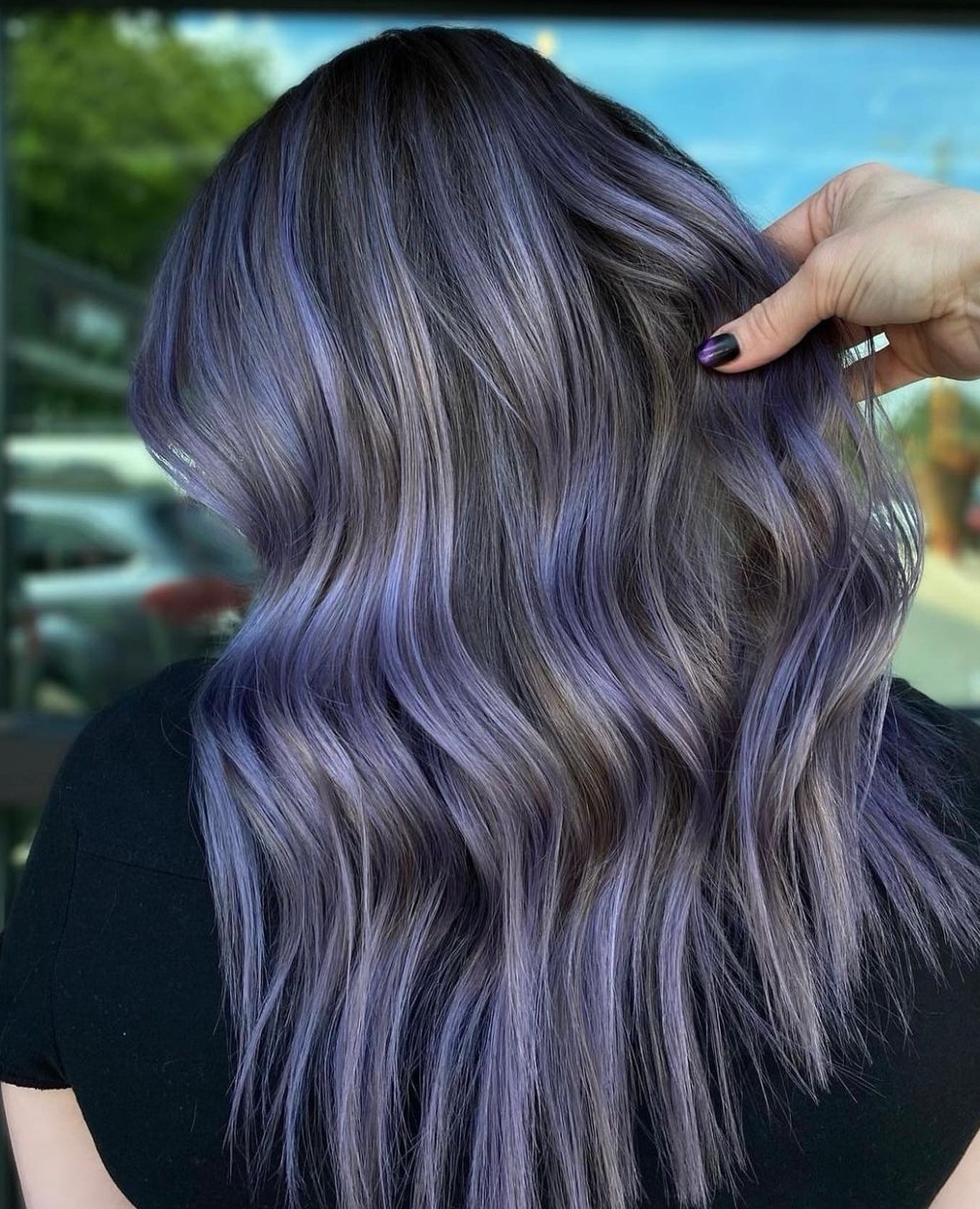 via @florida.maam
Oh! My Beautiful Silver Blue Hair Color
This is a good hair color idea for long wavy hair, particularly if you have a fair skin tone. This shade combines icy blue and silver hues, creating a stunning, multidimensional effect.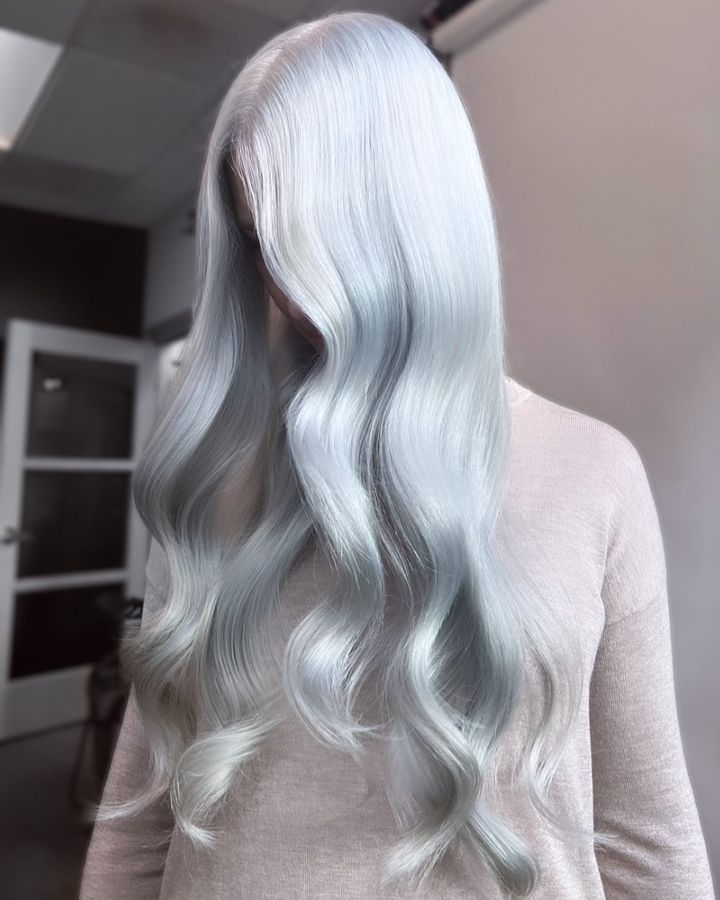 via @theneonblonde
This hair color idea is also ideal for those who want to embrace their gray hair with cool tones of silver and blue.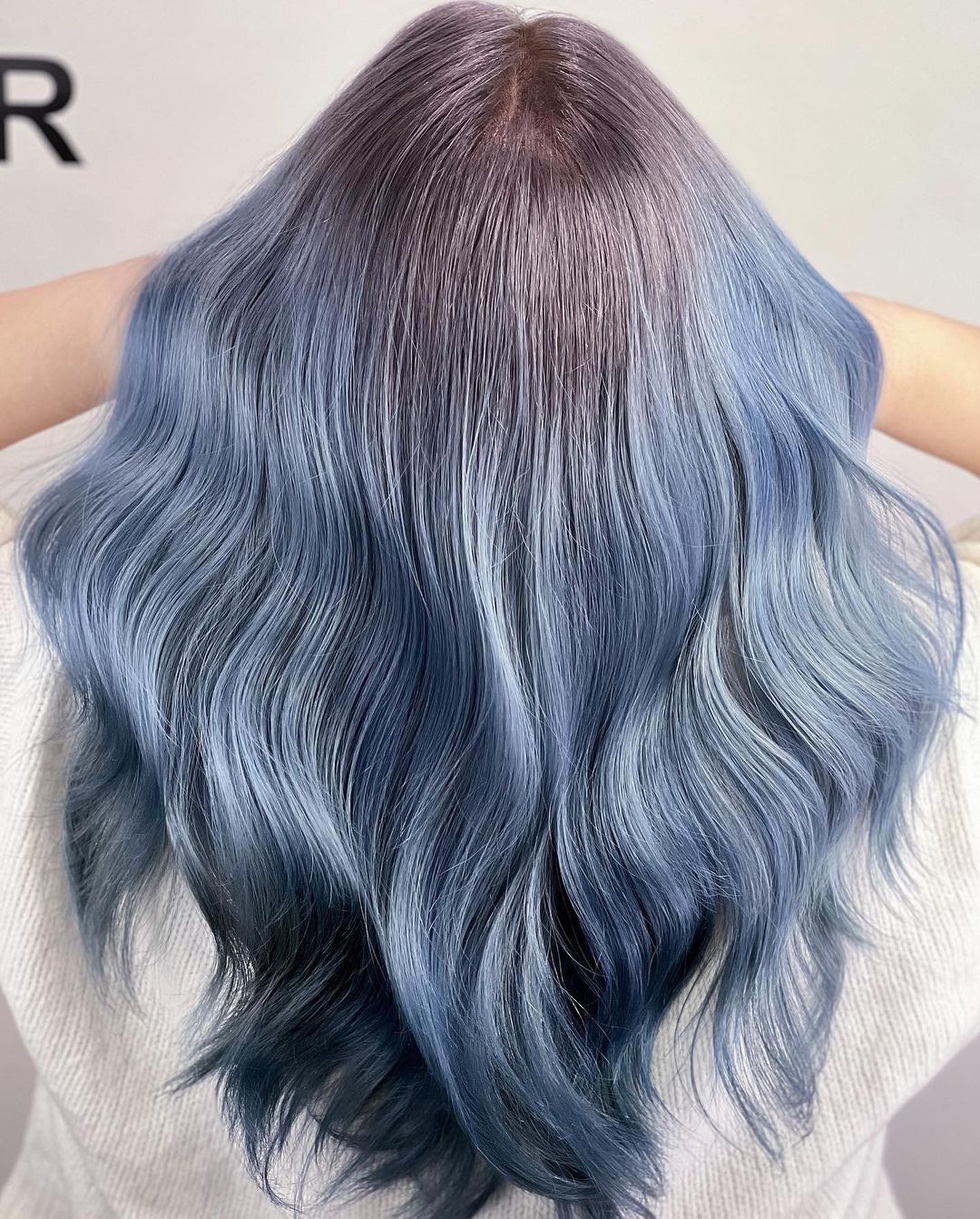 via @jonathan_colors
Jazz with Silver Highlights on Brown Hair
Consider giving your short brown hair a jazzy makeover with dark silver highlights. This trend is also perfect for those confident ladies with dark brown hair who want to add a subtle touch of glam to their dark brown locks. And it is low-maintenance.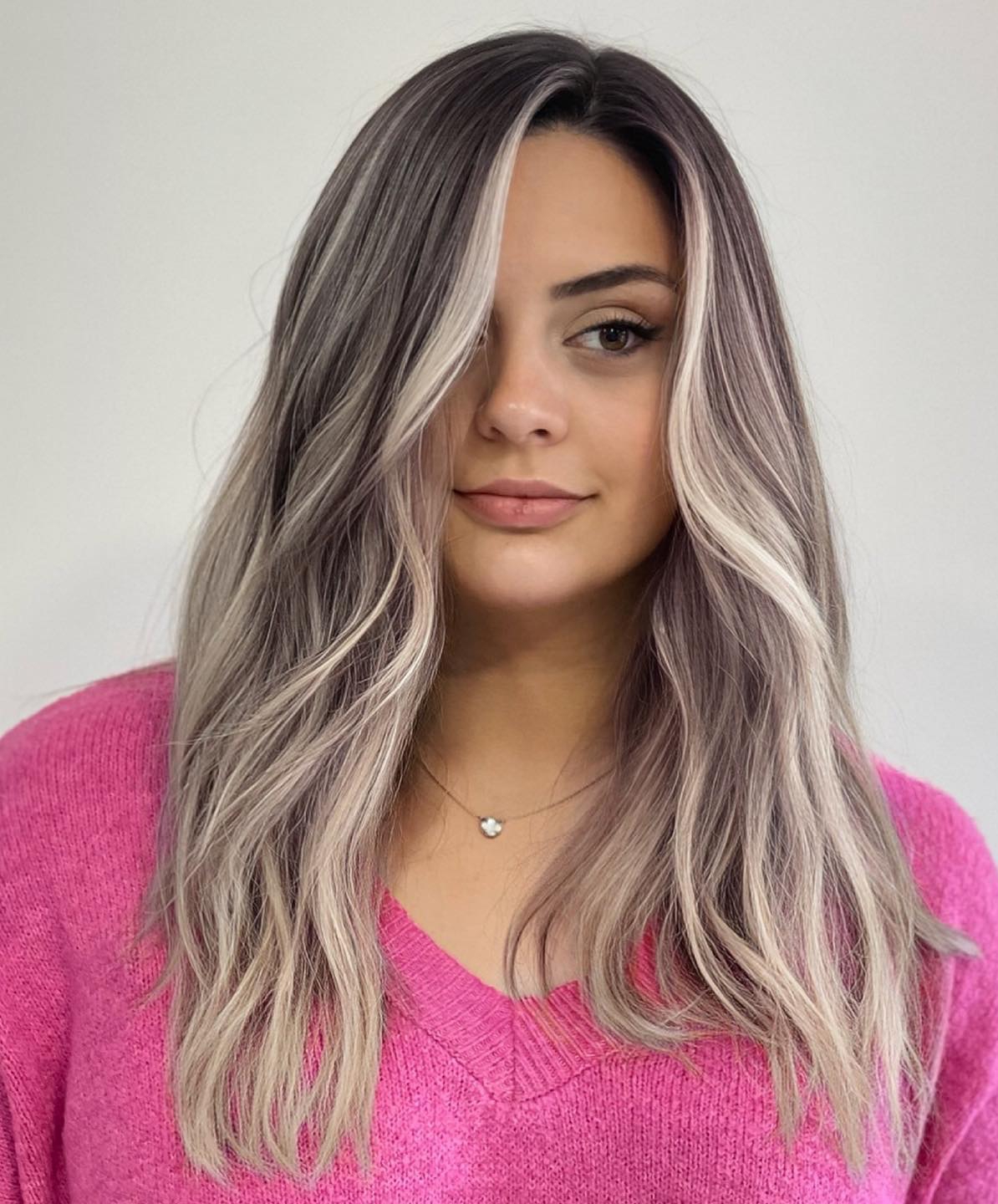 via @ayhanonluel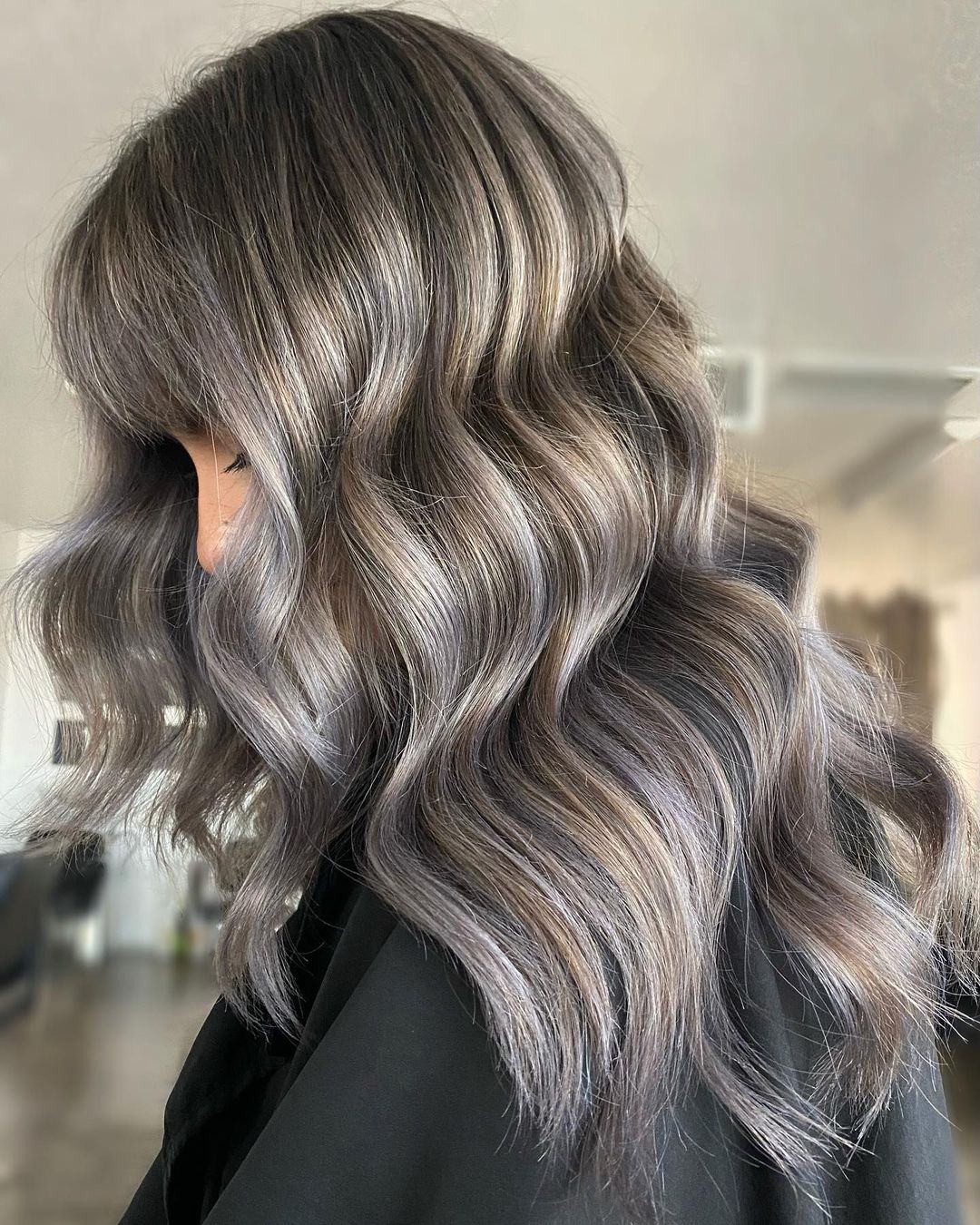 Silver Lavender Hair for an Enchanting Look
It is a uniquely voguish color idea for any hair length. It involves adding subtle silver streaks throughout the hair and then adding lavender hues to the silver. The lavender shades on sliver hair make the overall look warm and soft at the top and cool and metallic at the base.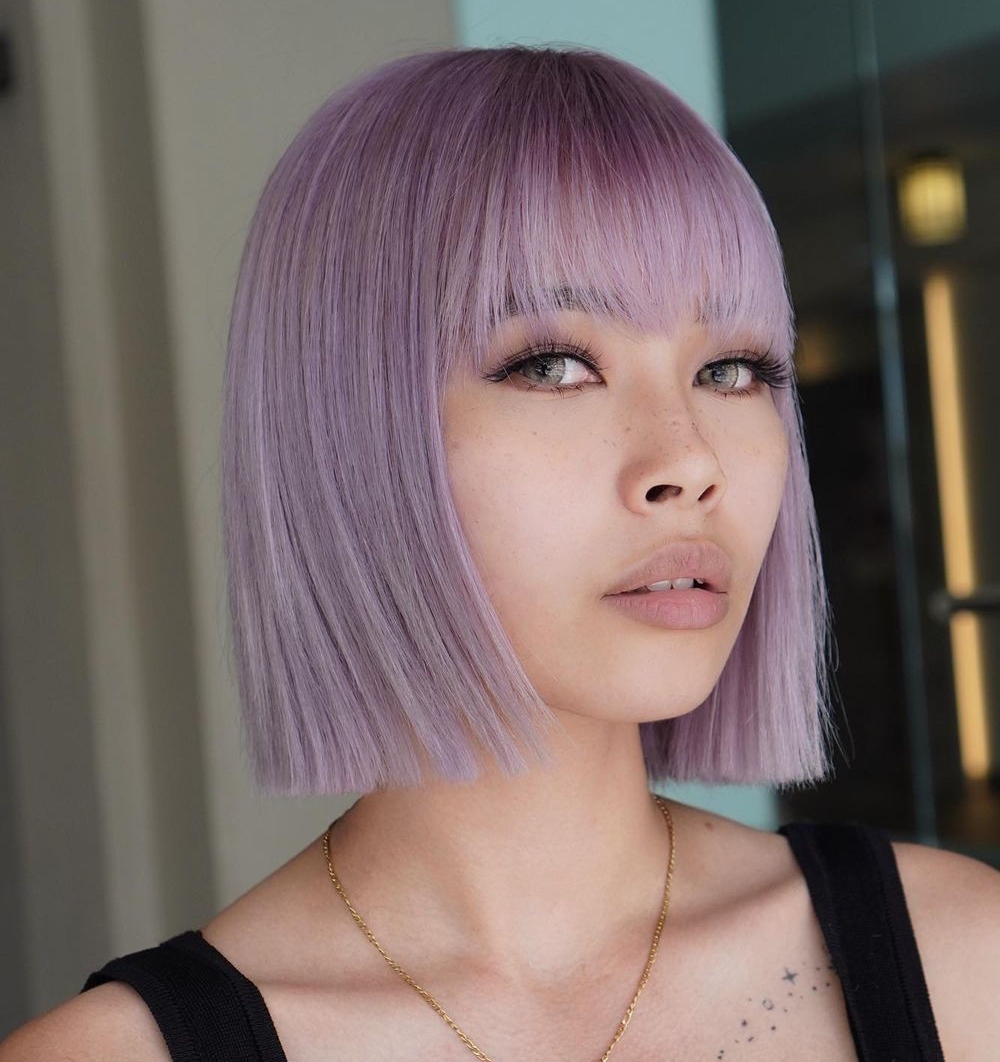 via @hairbykysa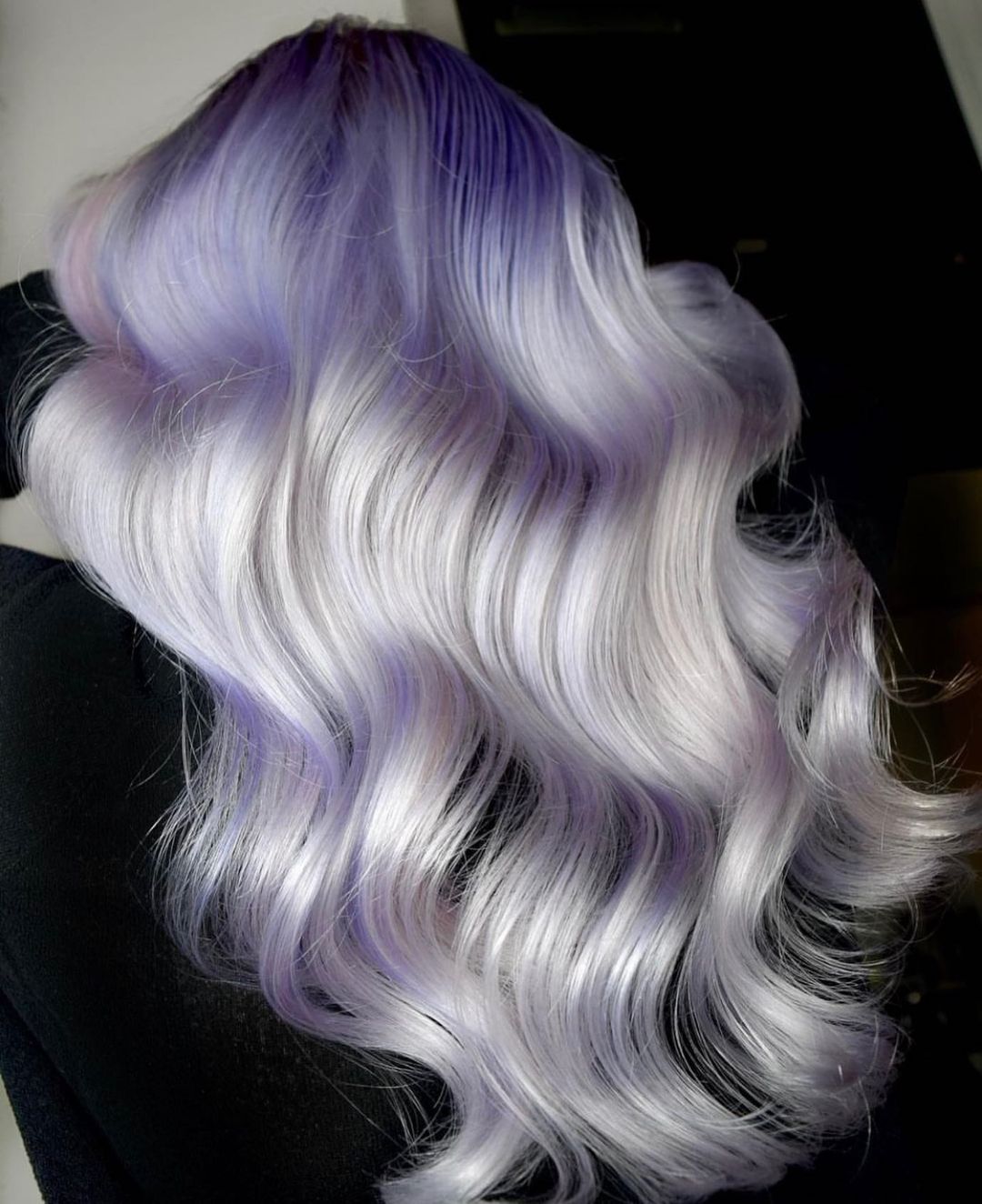 via @melodyandmike
Take Fashion Forward With Silver Ombre Hair
Blend your natural hair color with a beautiful silver hue. The most trending version of this pattern is silver hair with dark roots. The color is applied to the hair's ends, gradually fading from the natural color to the silver shade. At the same time, the dark roots give a beautiful contrast to the silver hair color.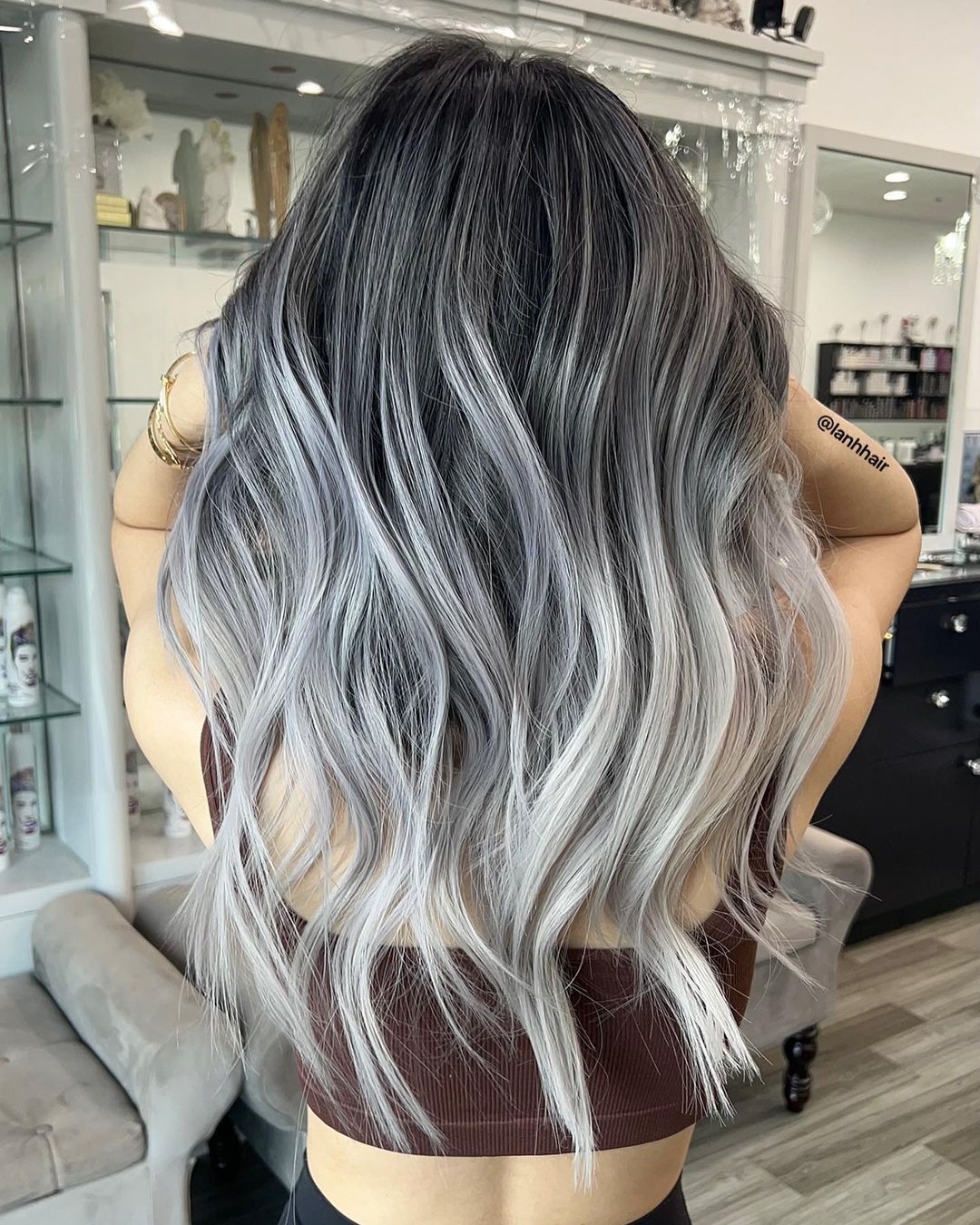 via @lanhhair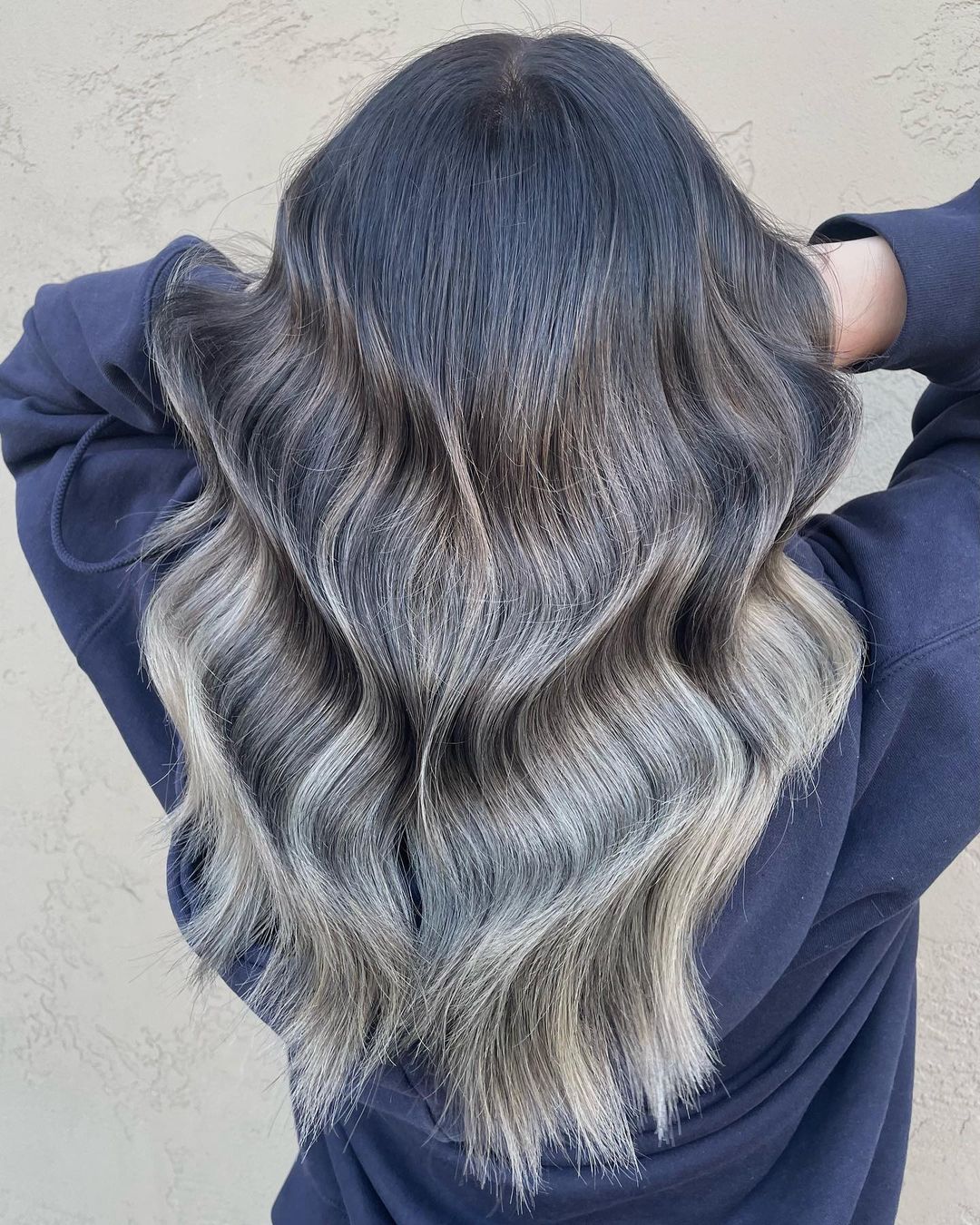 via @hairbyhao
Go Whimsical With Mermaid Silver Purple Hair
To achieve this look, you must first bleach the hair to a very light shade and then apply the purple dye with silver tones added for a whimsical effect.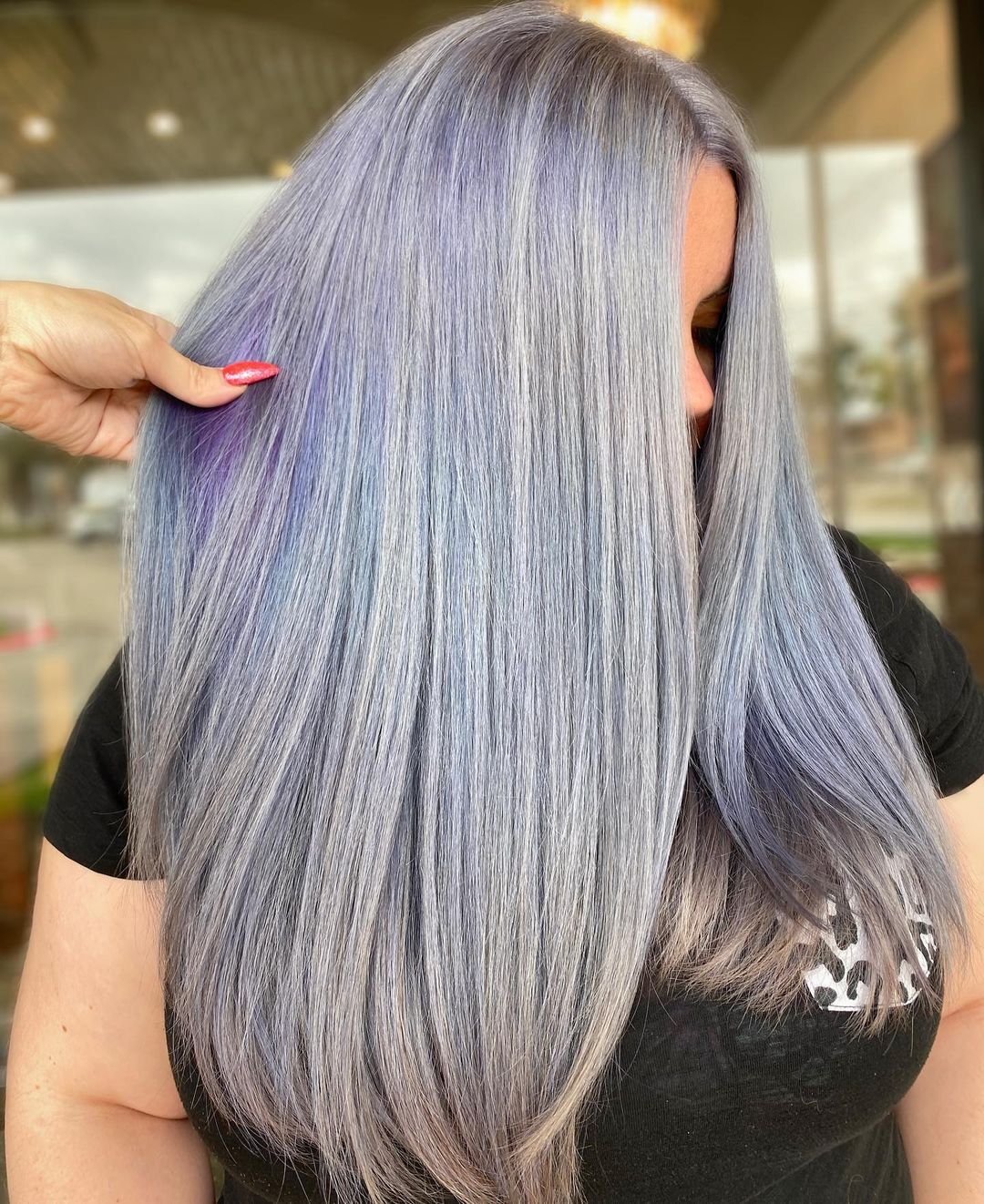 via @shell.vega
Blue highlights can be applied throughout the hair to create depth and contrast. The outcome is an outstanding blend of mermaid purple hair with silver hues and blue highlights.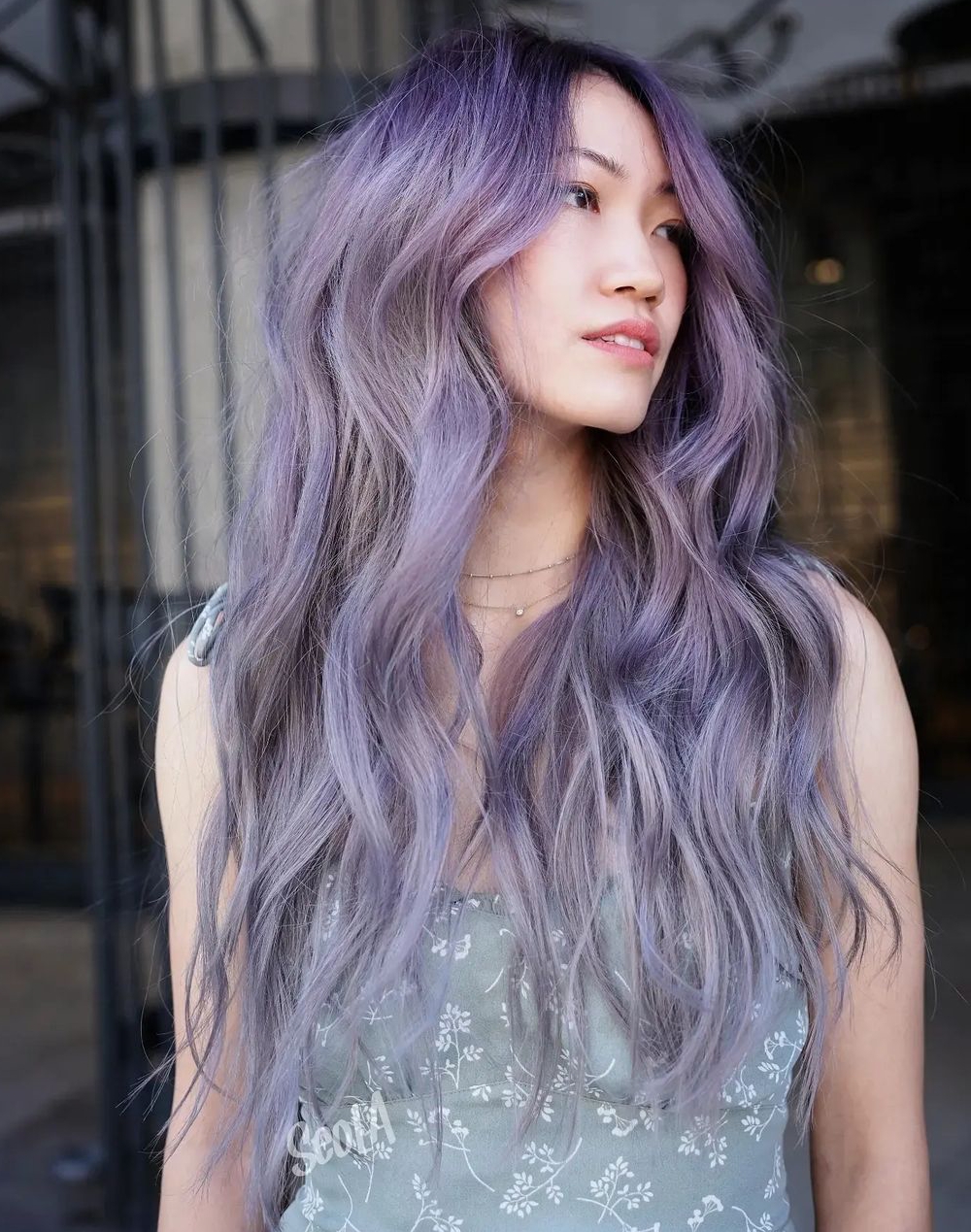 via @seolahair
Beige Silver Hair Color for a Dashing Look
An excellent toned hair color with silver highlights will give you a dashing and modern look. As this color is typically achieved through color treatment, using a sulfate-free shampoo is essential to maintain its vibrancy and prevent damage to colour-treated hair.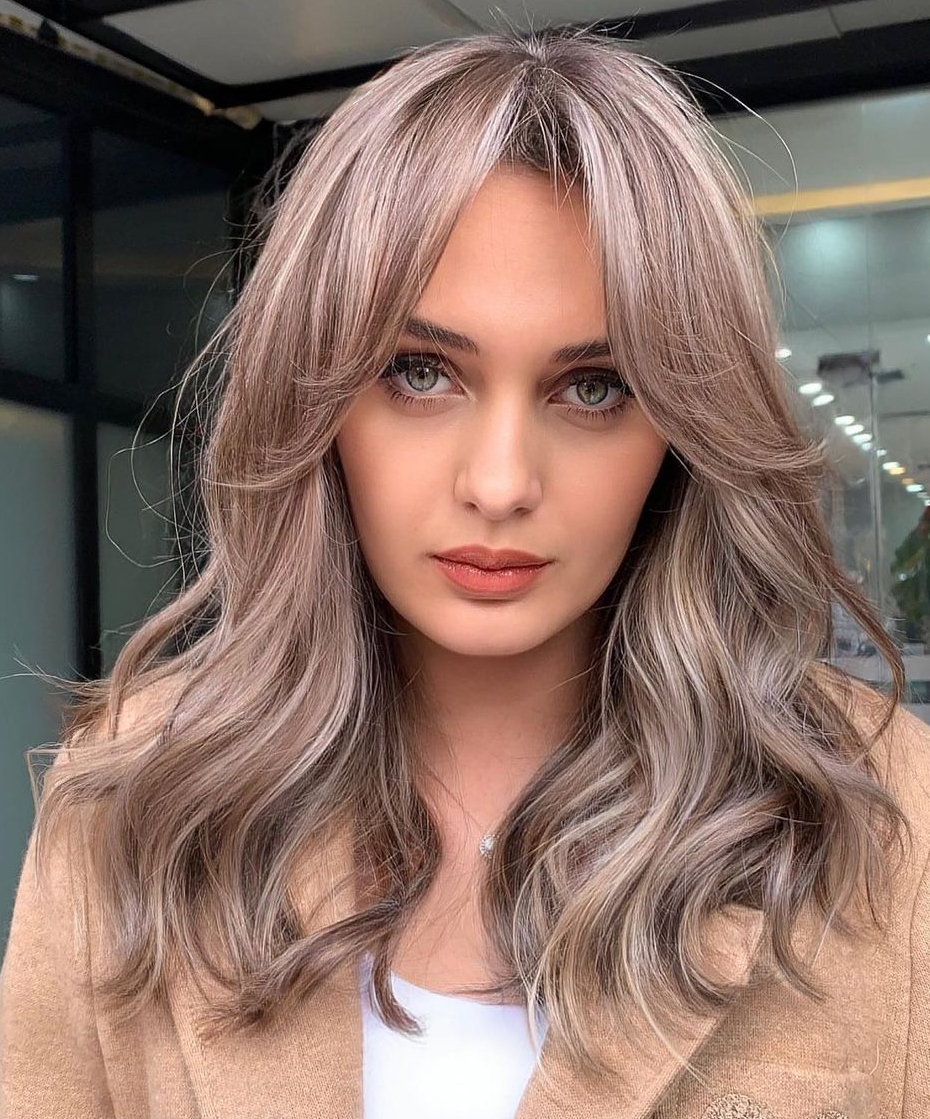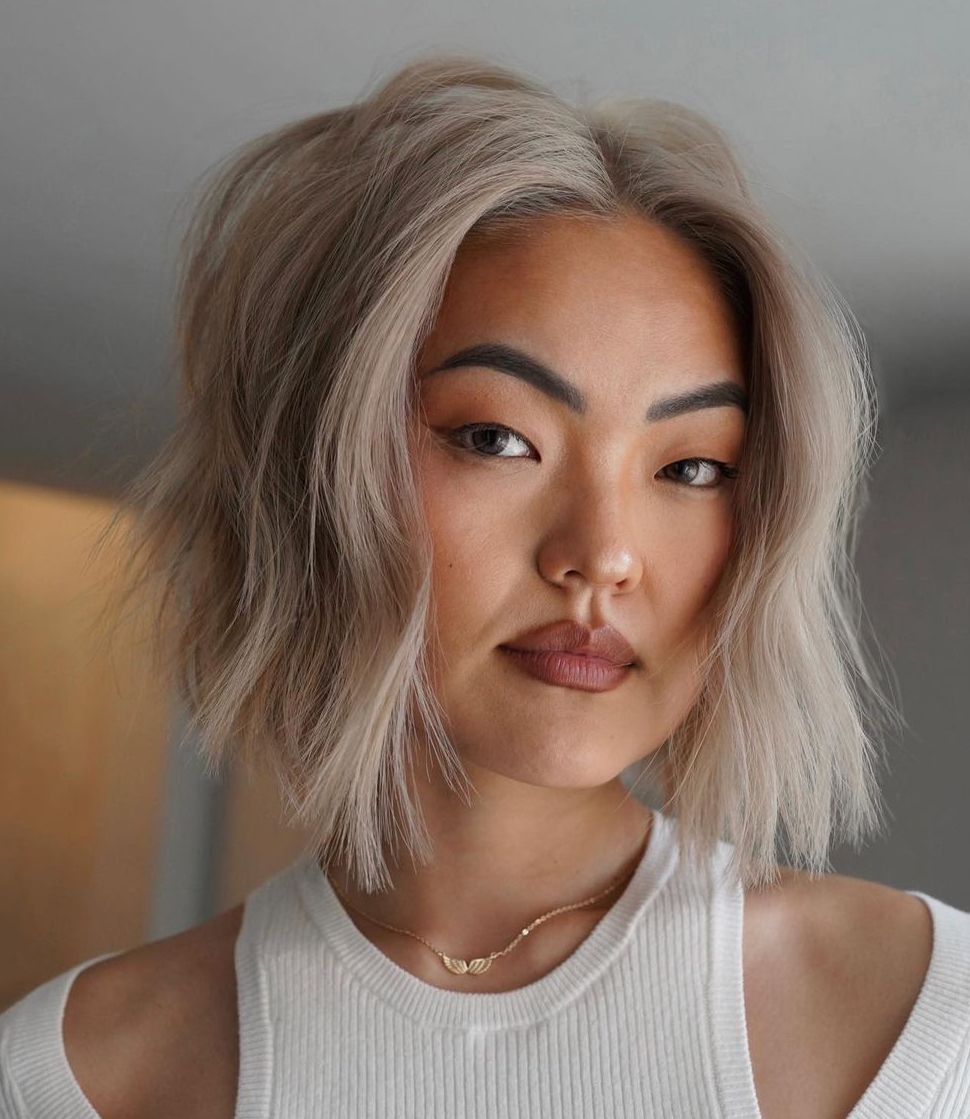 via @yukistylist
Hype the Fashion Inside You with Peekaboo Silver Hair
Are you looking for a bold yet subtle change? Go peekaboo with a silver look underneath your natural hair color. It looks particularly striking with ash-brown hair. Consider this idea for your next salon visit for a fun and unique upgrade.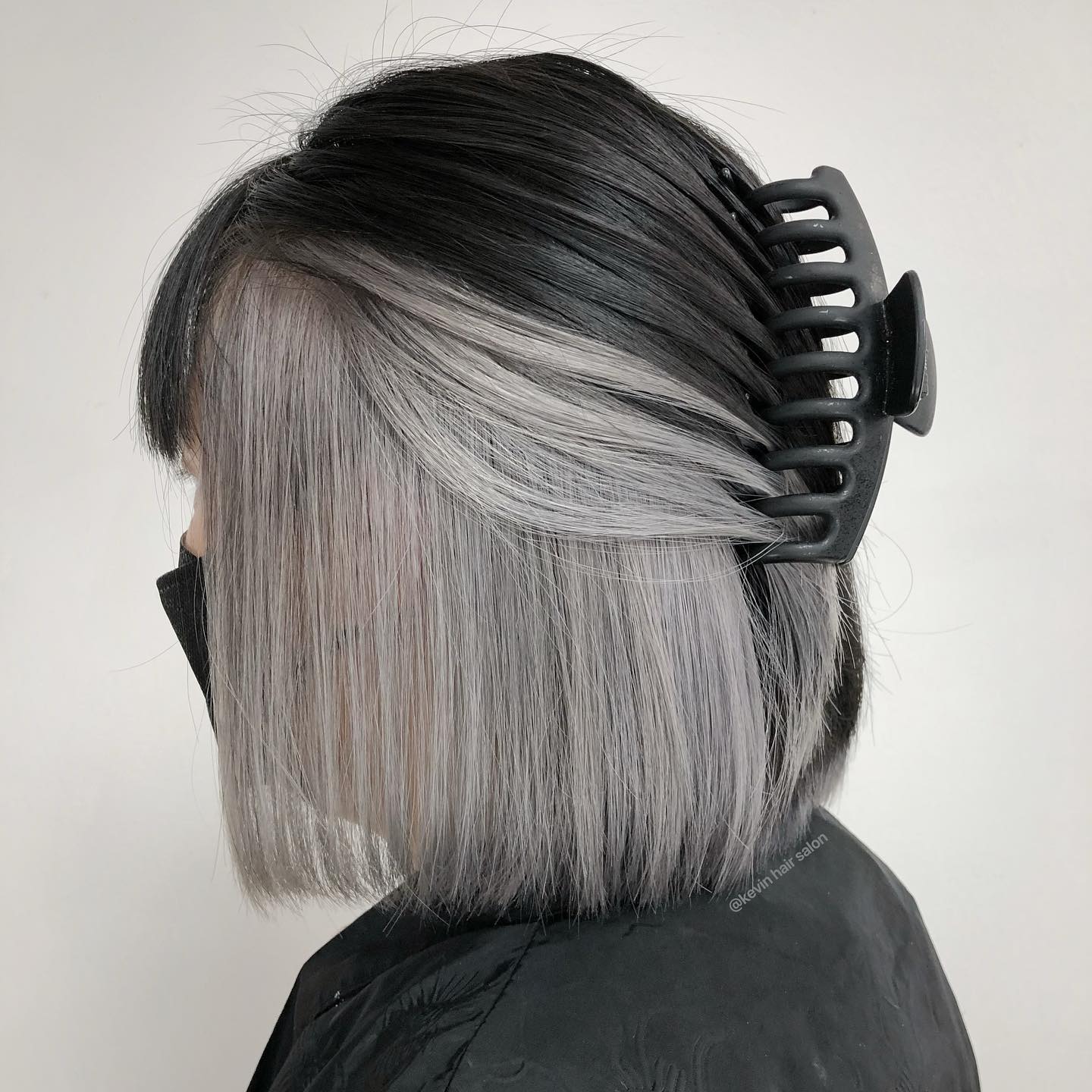 via @kevinhairsalon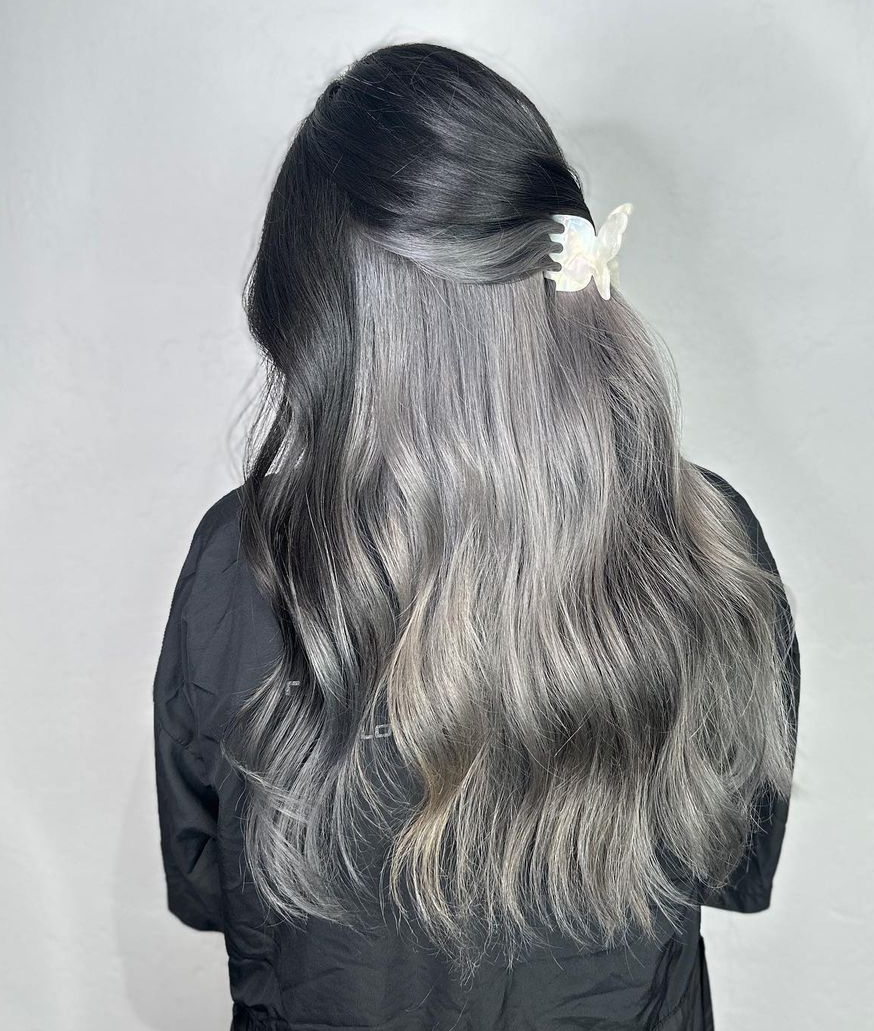 via @chris0712
Step-Up with Silver White Hair
This hairstyle features a pure white color with subtle gray highlights. Typically styled in a straight bob cut, this hair color is fashionable among women of all ages.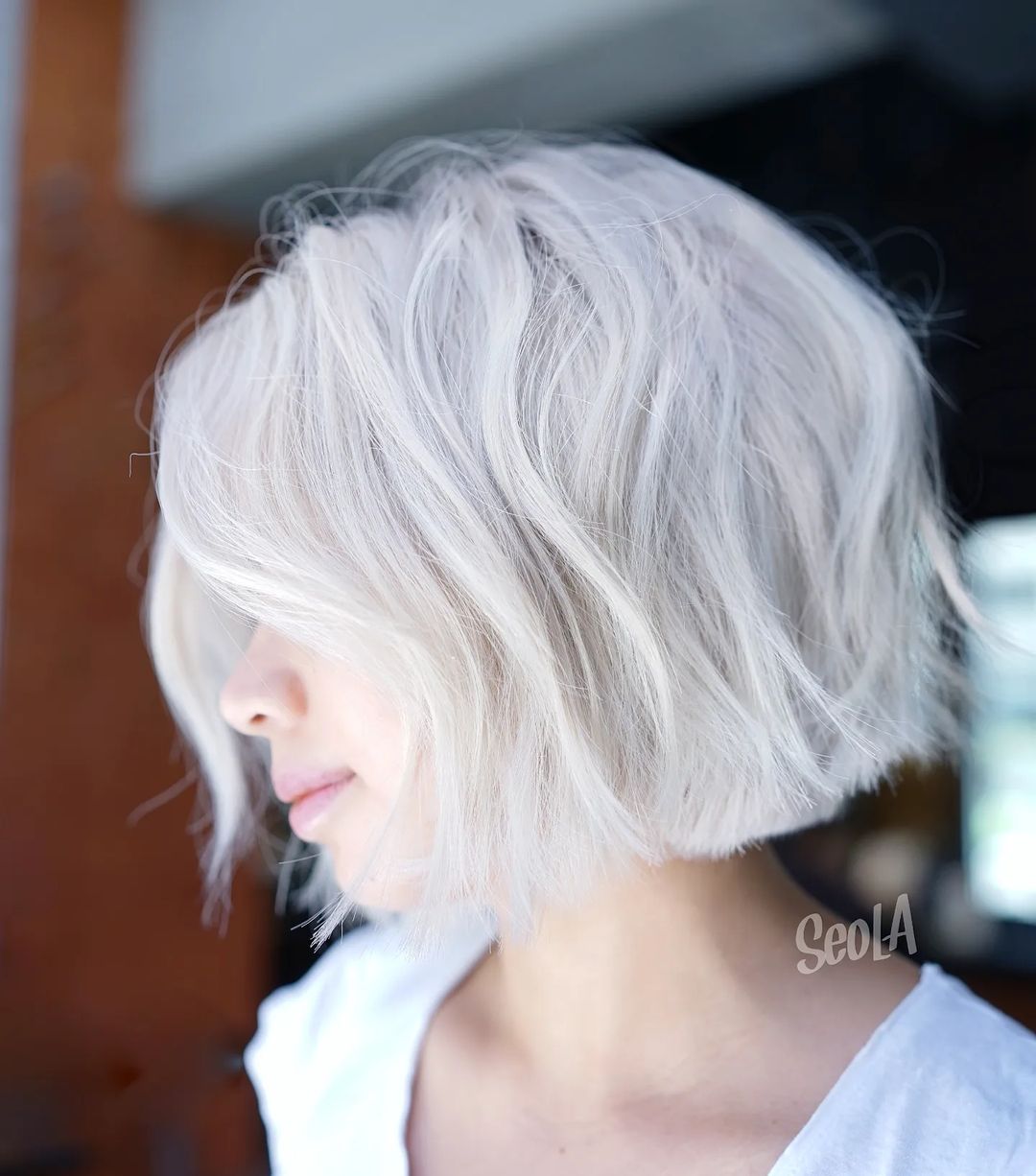 via @seolahair
The pure white color of the hair adds a touch of elegance and style, while the gray highlights provide a modern twist.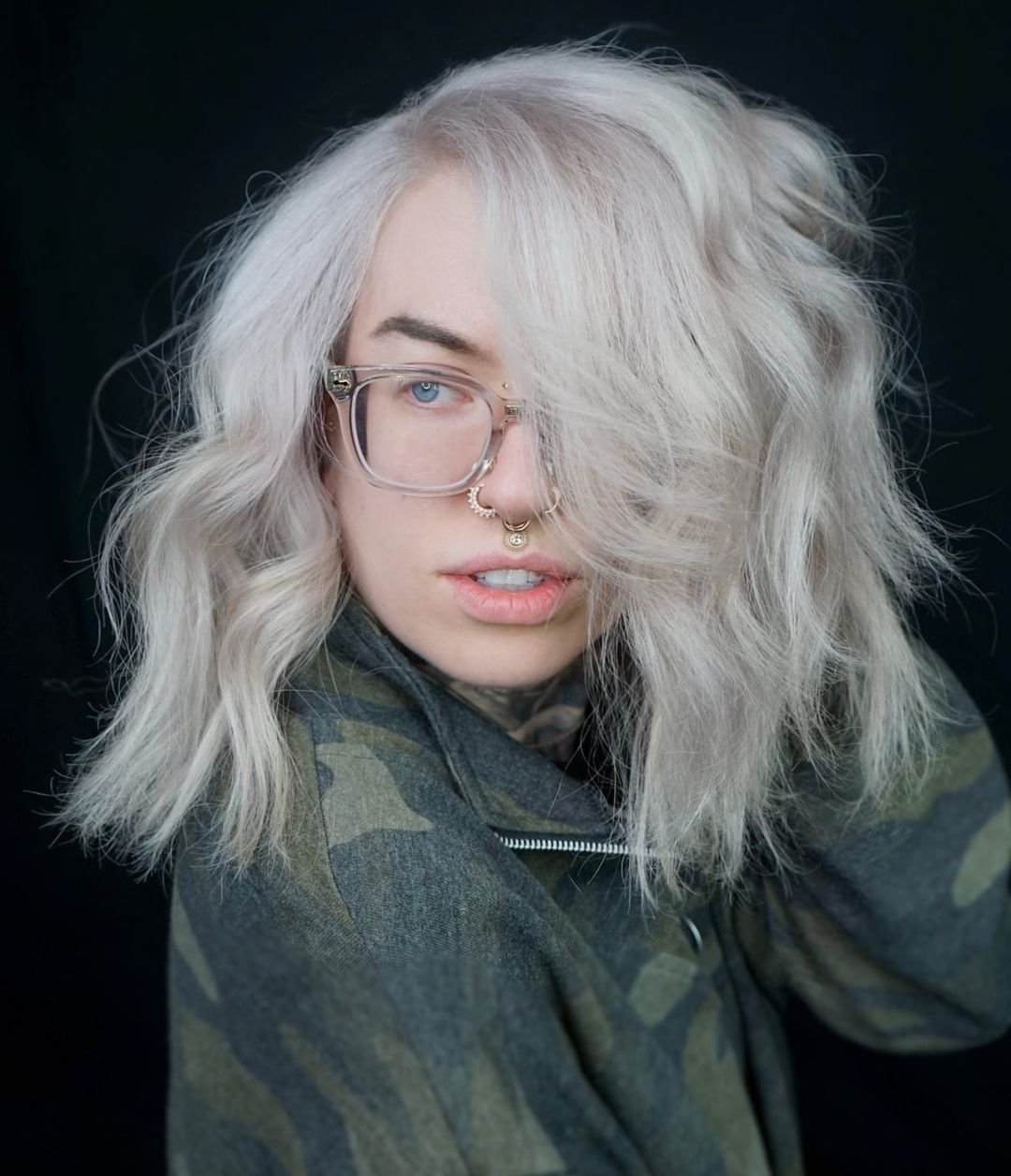 via @vividlyliv
Silver Money Piece for a Trendy Look
A silver money piece on dark hair is a modern hair coloring technique where a section of dark hair is left untouched while a section next to it is dyed in a platinum silver shade.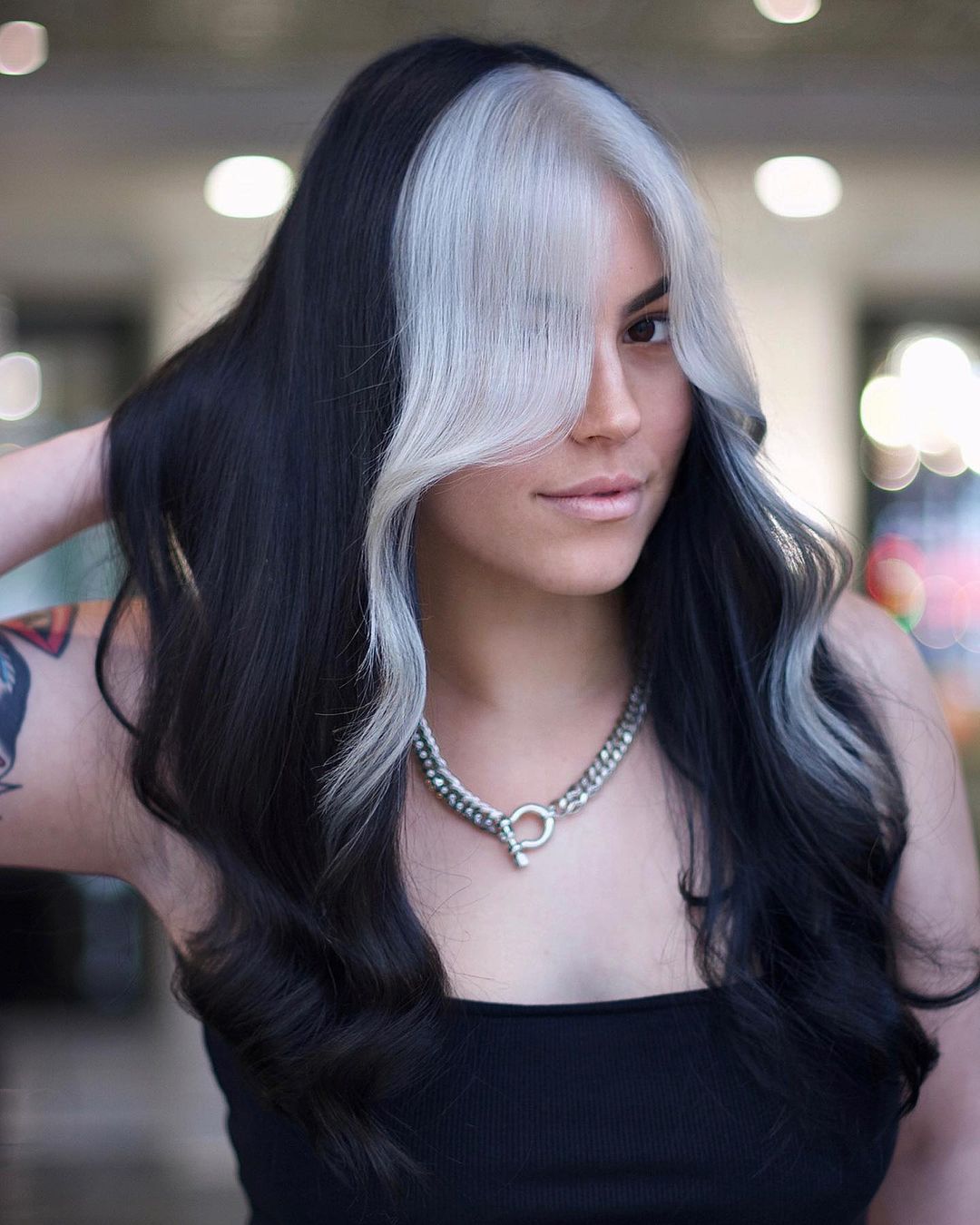 Platinum silver hair is a popular option for this technique, as it provides a bright, metallic contrast against dark hair. Dark silver hair can also be used to create a more subtle yet still eye-catching effect.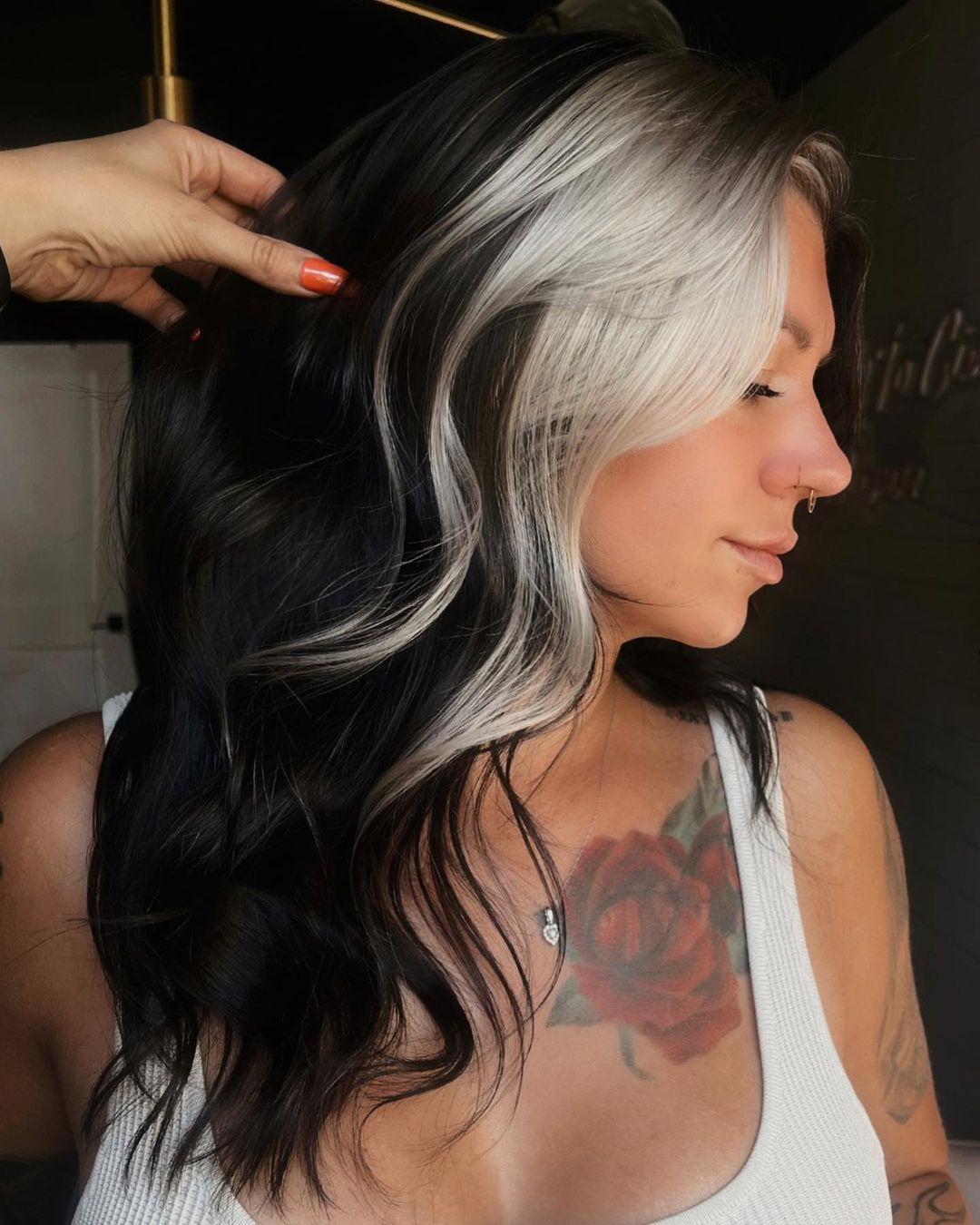 via @glambylexx_
Ash Gray and Blue Ombre: A Staggering Hair Color Choice
It is for those with warm skin tones and wavy hair textures. This unique combination features silver ombre hair with blue highlights, creating a cool and dashing look.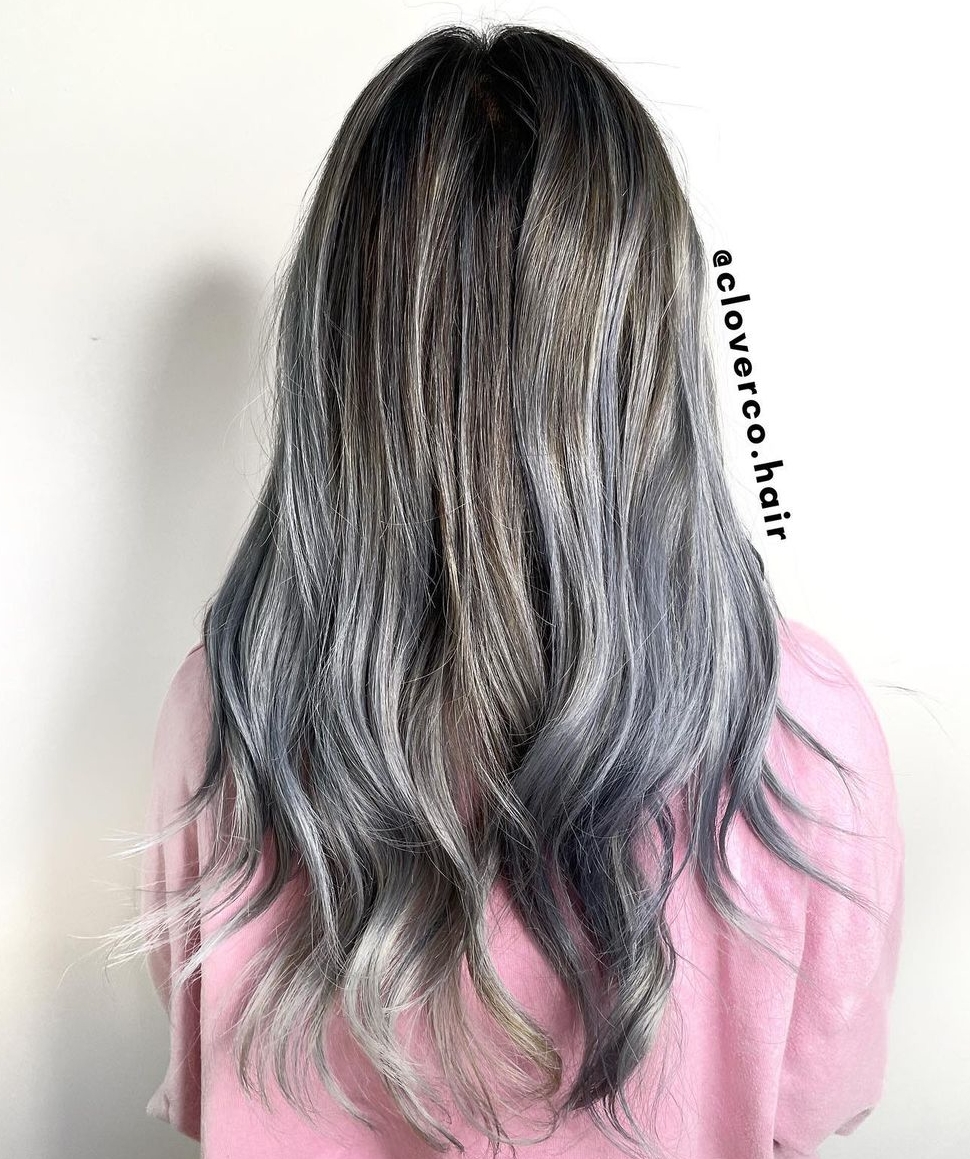 via @hairby.chesca
The ash-gray base gives the hair depth and dimension, while the blue highlights create a flash of color that suits warm skin tones. The wavy hair texture adds volume and movement to the hair, enhancing the overall effect of the ombre.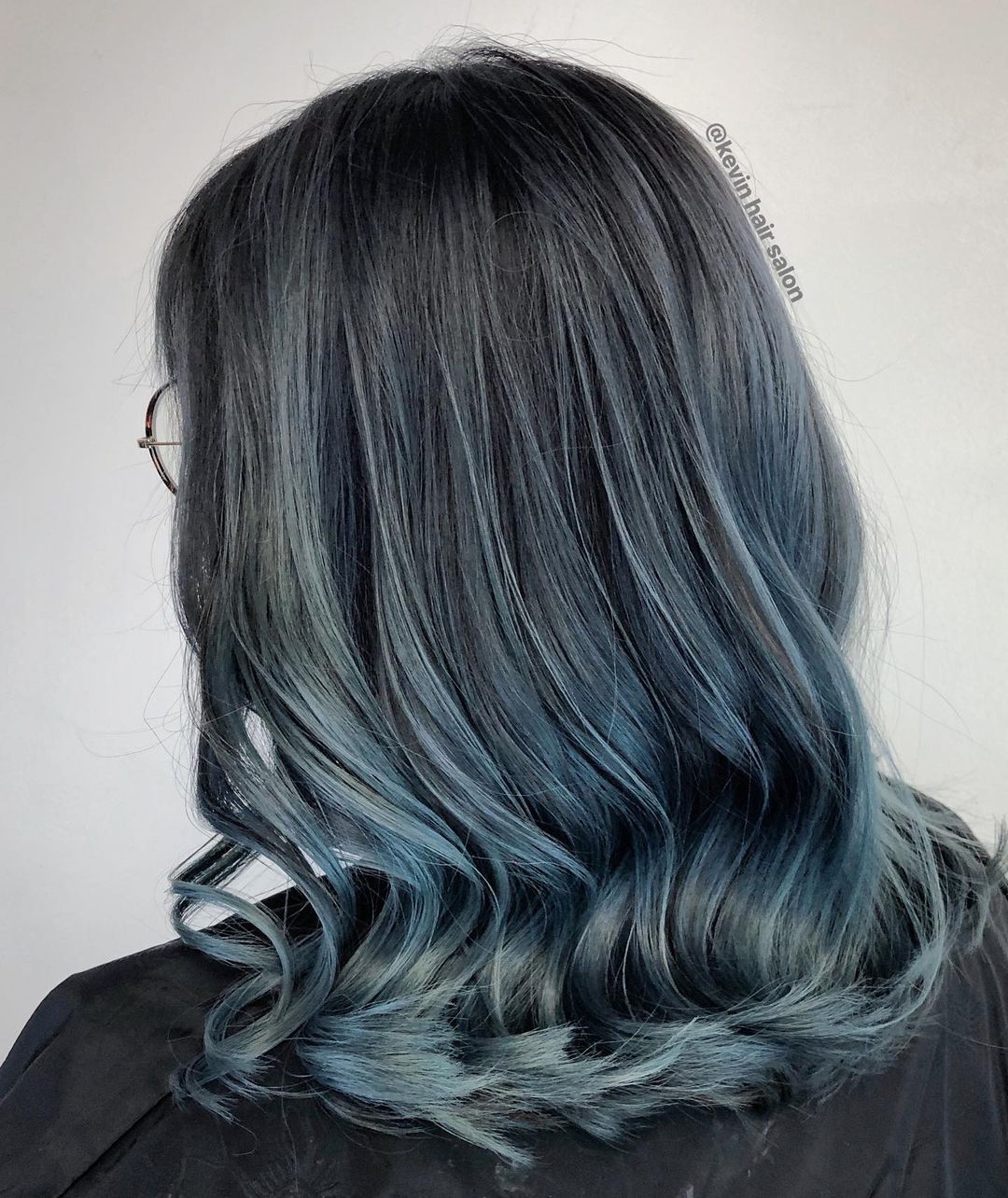 via @kevinhairsalon
Silver Curly Bob for an Elegant Twist
It is a hairstyle for women over 50 who want to embrace their natural silver-blonde hair. This hairstyle adds more texture and volume to hair while keeping it short and attainable. The cute curly bob is simple to maintain and can be worn in many ways, from sleek and sophisticated to tousled and fun. Feel your best at any age.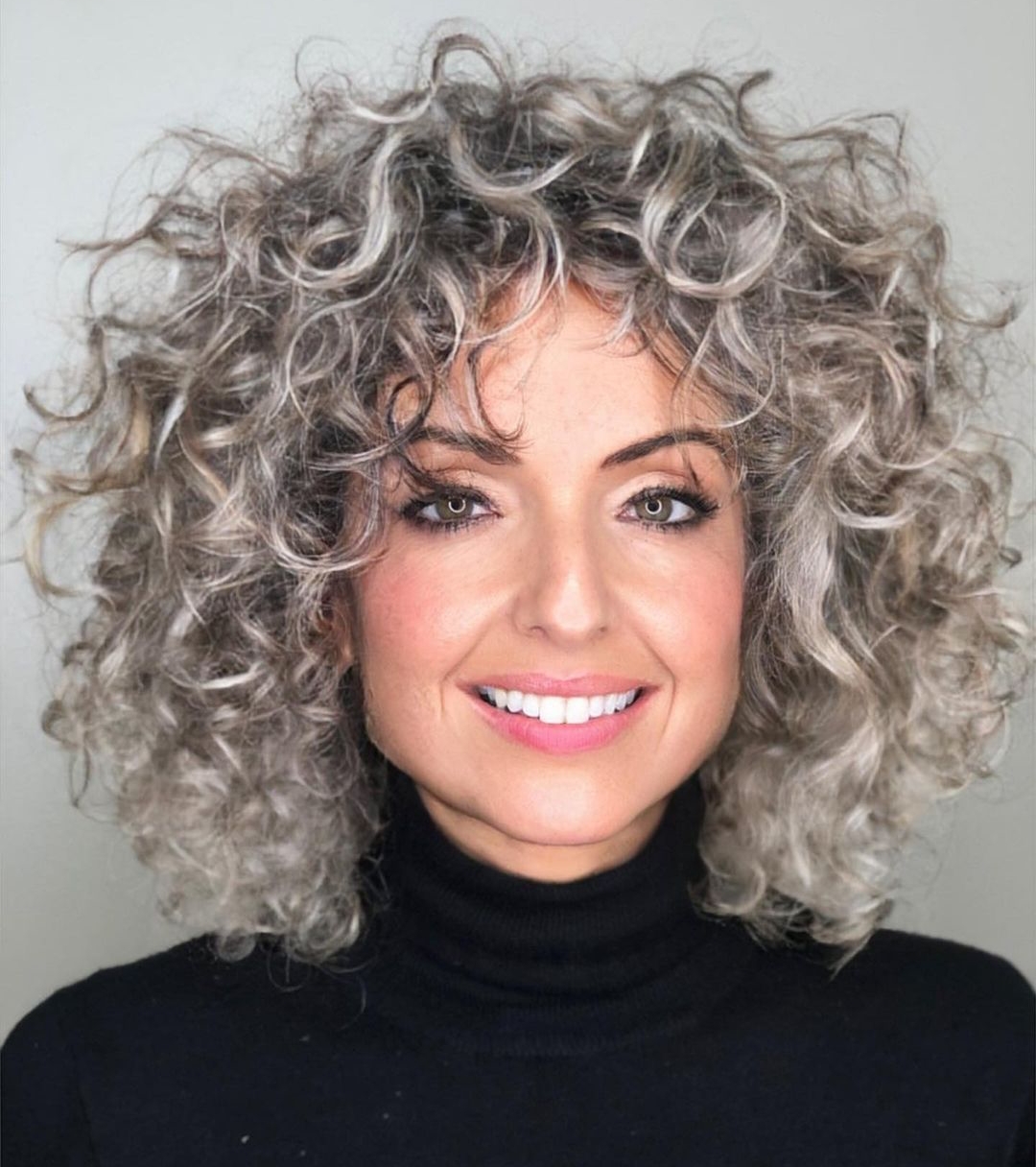 via @novaperruquers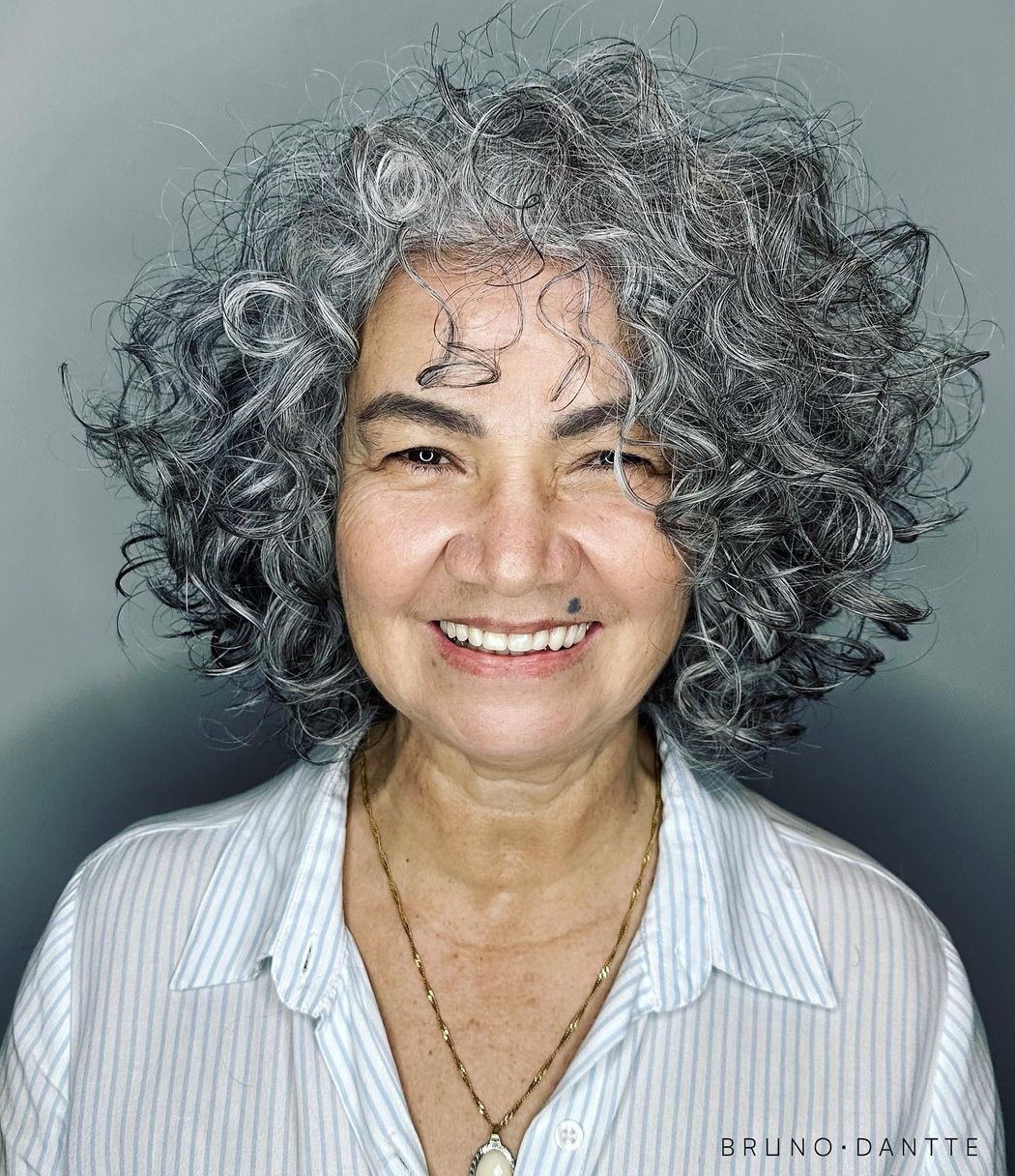 via @brunodantte
Partial Silver Highlights to Grab Full Attention
It is an excellent idea for adding some dimension to darker hair. With long wavy hair, these highlights can create a subtle yet eye-catching look. Some partial highlights include a few face-framing strands or a subtle ombre effect. When done well, partial highlights can blend seamlessly into your natural hair color and enhance your waves for a stunning look.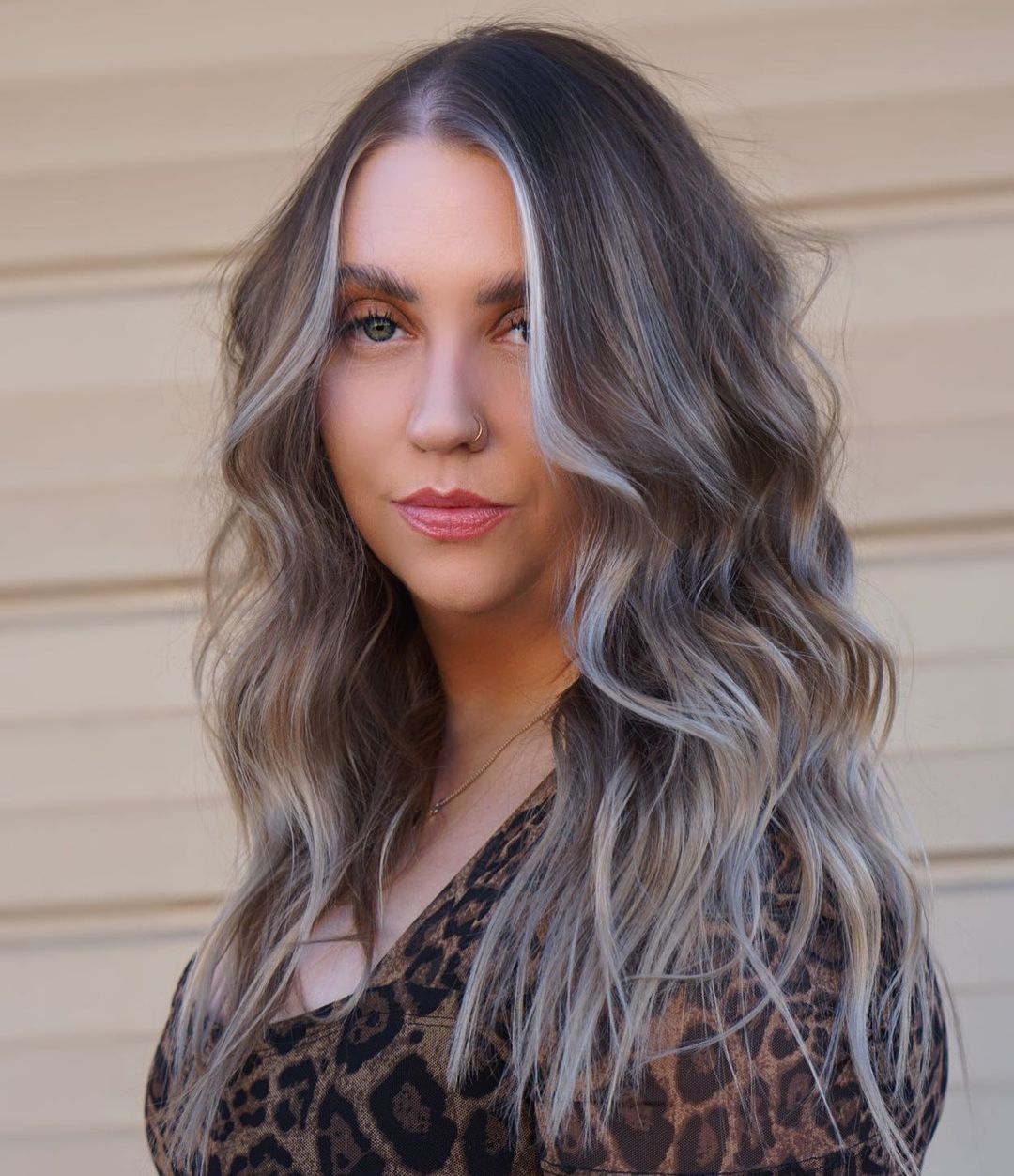 via @hairhecker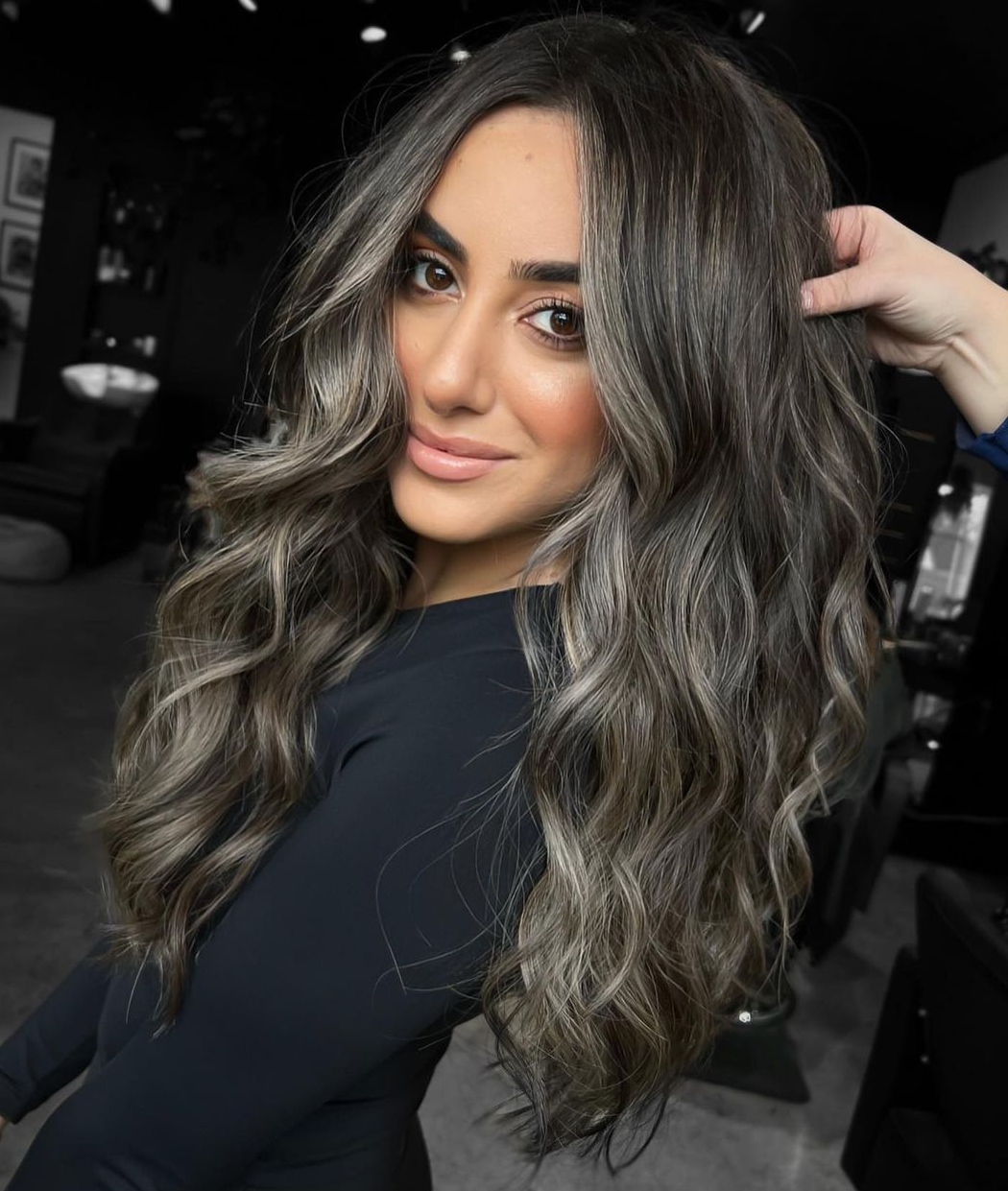 via @aaashleee
FAQ
What's the best shampoo to maintain silver hair?
Look for sulfate-free shampoos, as sulfates can strip the hair of its natural oils, leaving it dry and dull. A few recommended shampoos for silver hair are Kérastase Blond Absolu Bain Ultra-Violet Shampoo, L'Oréal Paris EverPure Sulfate-Free Brass Toning Purple Shampoo, Madison Reed ColorSolve Customizable Daily Moisture Shampoo, Davines Heart of Glass Silkening Shampoo, Better Not Younger Silver Lining Purple Shampoo, and Joico Color Endure Violet Shampoo.