Are you bored with natural hair color but are afraid to radically change your hairstyle? The best solution, in this case, would be peekaboo trendy coloring. The main feature of this hair color technique is the presence of contrasting lower strands under natural curls.
It should be noted that such staining has been popular for more than a dozen years. It is generally accepted that peekaboo hair is associated with the name of actress Veronica Lake. In the film "I Wanted Wings," released in 1941, she appeared before the public with a new hairstyle that instantly became popular
What peekaboo hair ideas are trending this season? That's what we're talking about now!
What Is Peekaboo Hair?
Peekaboo hair for long and short cuts is a great way to keep your natural color while adding vibrant hues without harming the structure of your curls.
How to make bright highlights? Choose any contrasting dye and think about exactly where you would like to place the colored strands. Perhaps they will completely capture the curls located in the depths of the mop or only certain areas in the temples, bangs, etc.
Which option you choose doesn't matter. It is important to follow the basic principle of this coloring: peekaboo is colored strands hidden under the layer of hair.
1 Blonde Peekaboo Hair
Do you want to try to turn into a blonde but, at the same time, leave your favorite dark strands? In this case, blonde hair with peekaboo highlights is just for you!
A 100% contrast hairstyle will not be left without the compliments of others. The combination of platinum blonde hair color also looks stylish with copper-red curls.
Love to look unusual? Be sure to add light pink highlights to your look!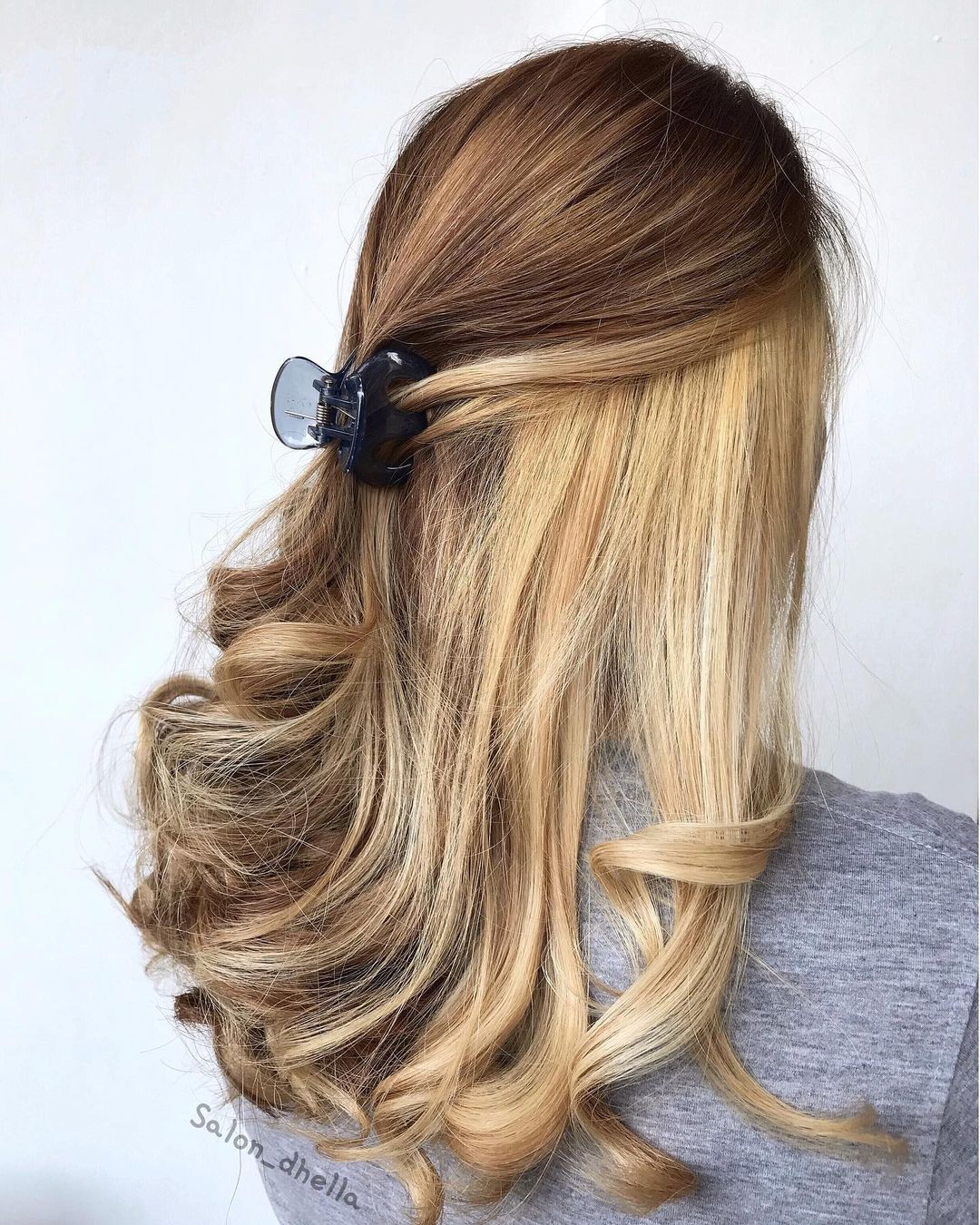 via @salon_dhella
2 Silver Peekaboo Hair
Light silver highlights combined with the natural dark hair color are the trend of this season! Iridescent curls will refresh your look and help you feel like a snow queen!
With what strands does this coloring look better? It all depends on the chosen warm or cold shade. Most often, it is used by brunettes or owners of wavy dark brown hair.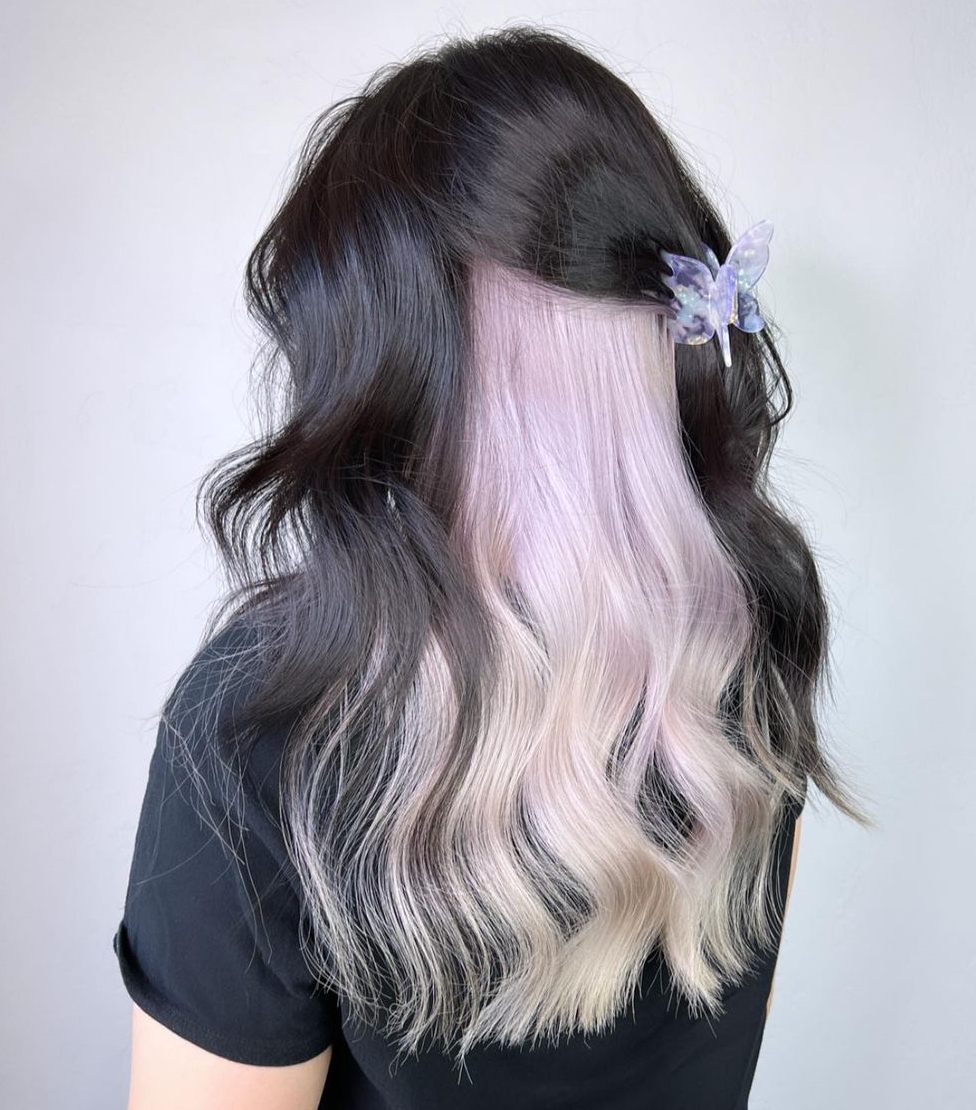 via @chris0712
3 Peekaboo Highlights on Brown Hair
What shades can be used to diversify brown shiny, healthy hair? As hidden highlights, choose blue, lilac, purple, or white strands.
Want to create a fabulous look and stand out from the crowd? Try making rich pink peekaboo highlights!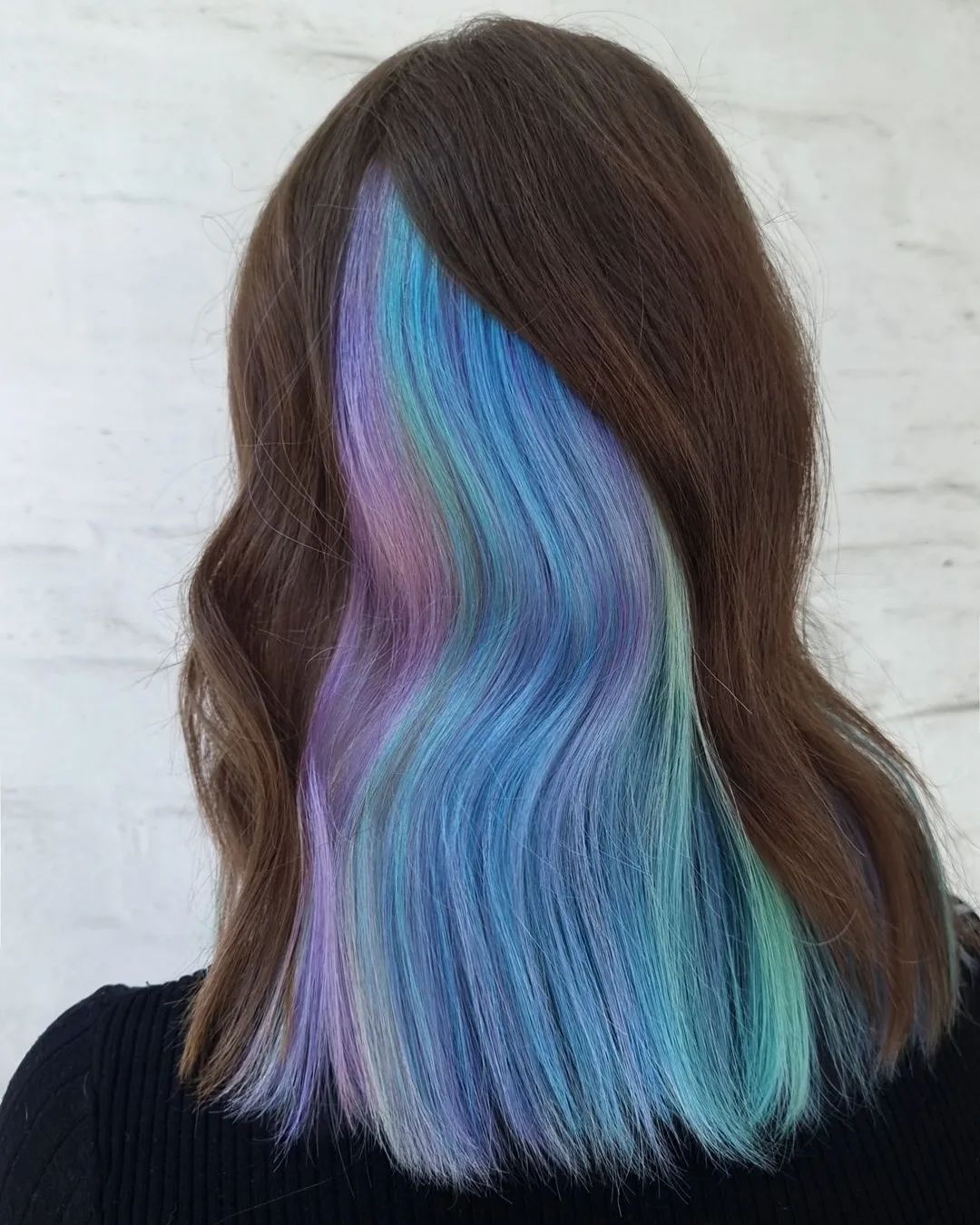 via @jaymz.marsters
4 Pink Peekaboo Hair
One of the favorites of 2022 is intense dark brown with pink peekaboo highlights. At the same time, colored strands are located not only on the back of the head. Many girls dilute their dark natural hair at the temples or in the bangs.
A wide selection of shades of pink allows each beauty to choose the best option for herself. A delicate powdery color or deep fuchsia can become a stylish accent for a wavy hairstyle.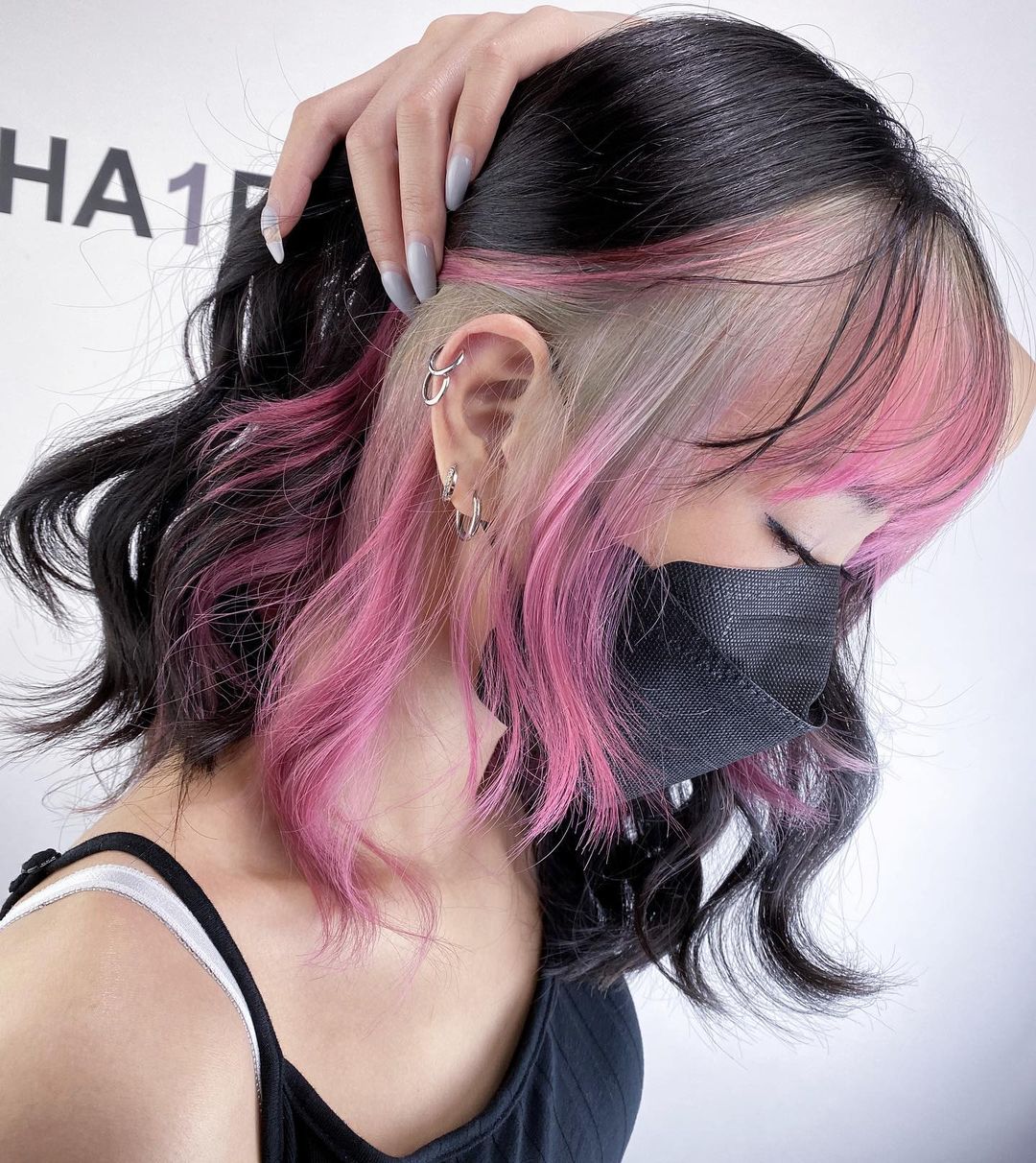 via @hair_one_tino
5 Red Peekaboo Hair
With bright red highlights on dark brown or black hair, you will definitely not be able to avoid admiration! This trendy hair color idea is made just for daring babes.
Exquisite blood red or burgundy on the strands is a decoration not only for brunettes. No less luxurious look red peekaboo highlights on blonde hair.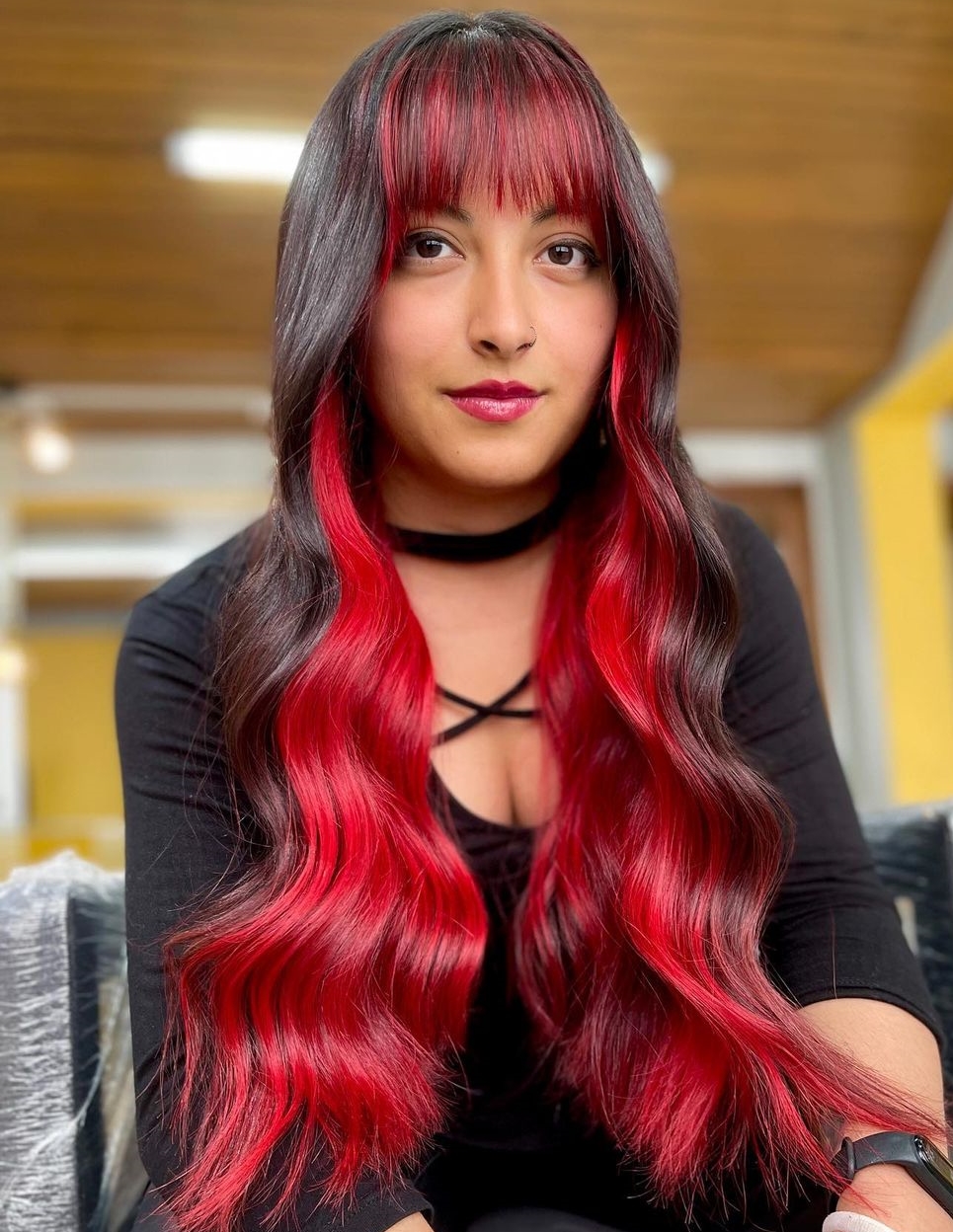 via @brianhairst
6 Purple Peekaboo Hair
Purple peekaboo highlights can be both provocative and unobtrusive. This is one of the most popular highlights on natural brown hair.
You can choose from a delicate lavender shade or fantastic ultraviolet. Any variation of purple highlights on short haircuts and long strands looks charming.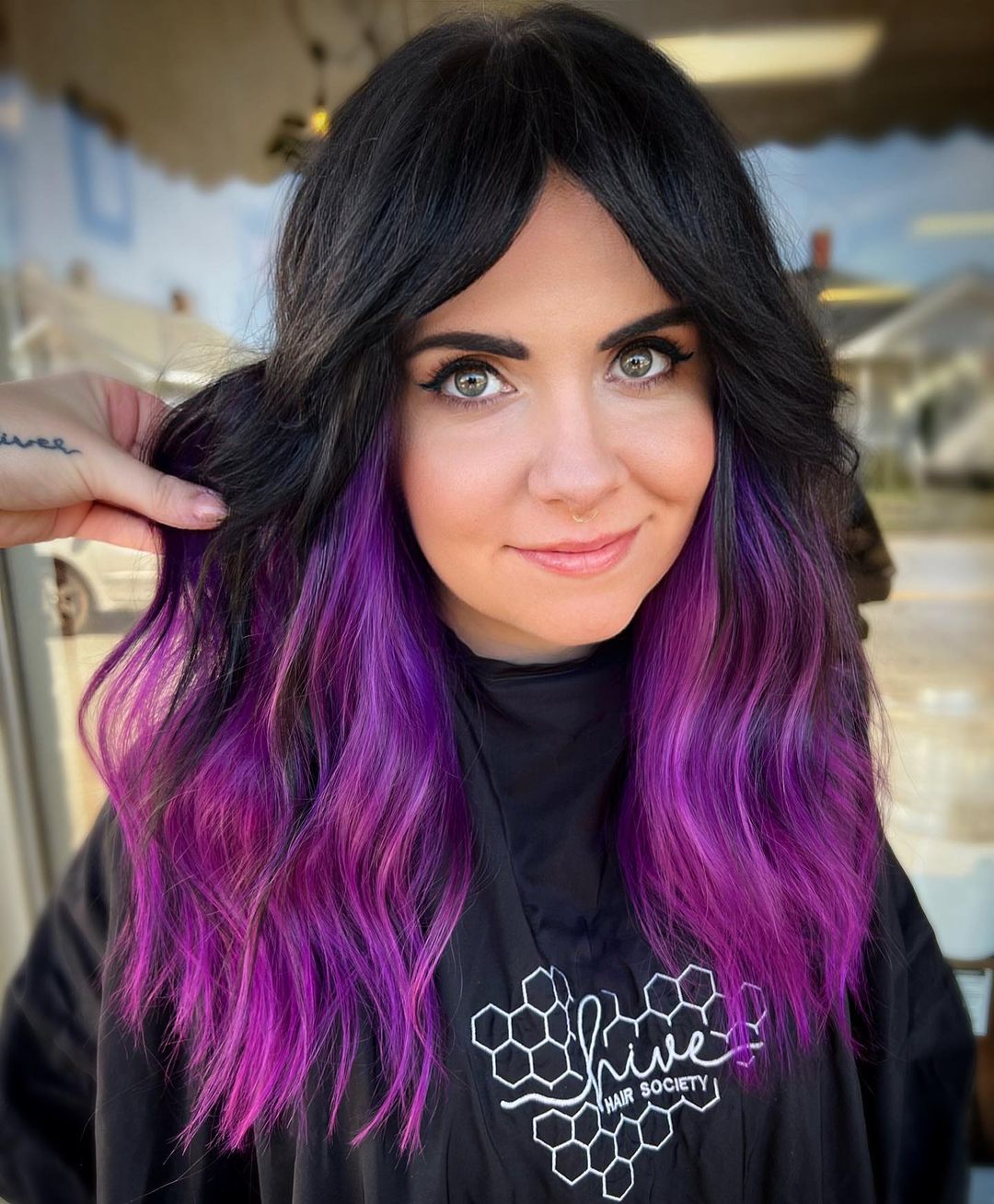 7 Blue Peekaboo Hair
It is one of the non-standard peekaboo hair color ideas. Underneath blue highlights hide the unique personality of the owner and her craving for experiments.
Have you dreamed of becoming a mermaid since childhood? You have that opportunity with blue peekaboo highlights on blonde or dark hair!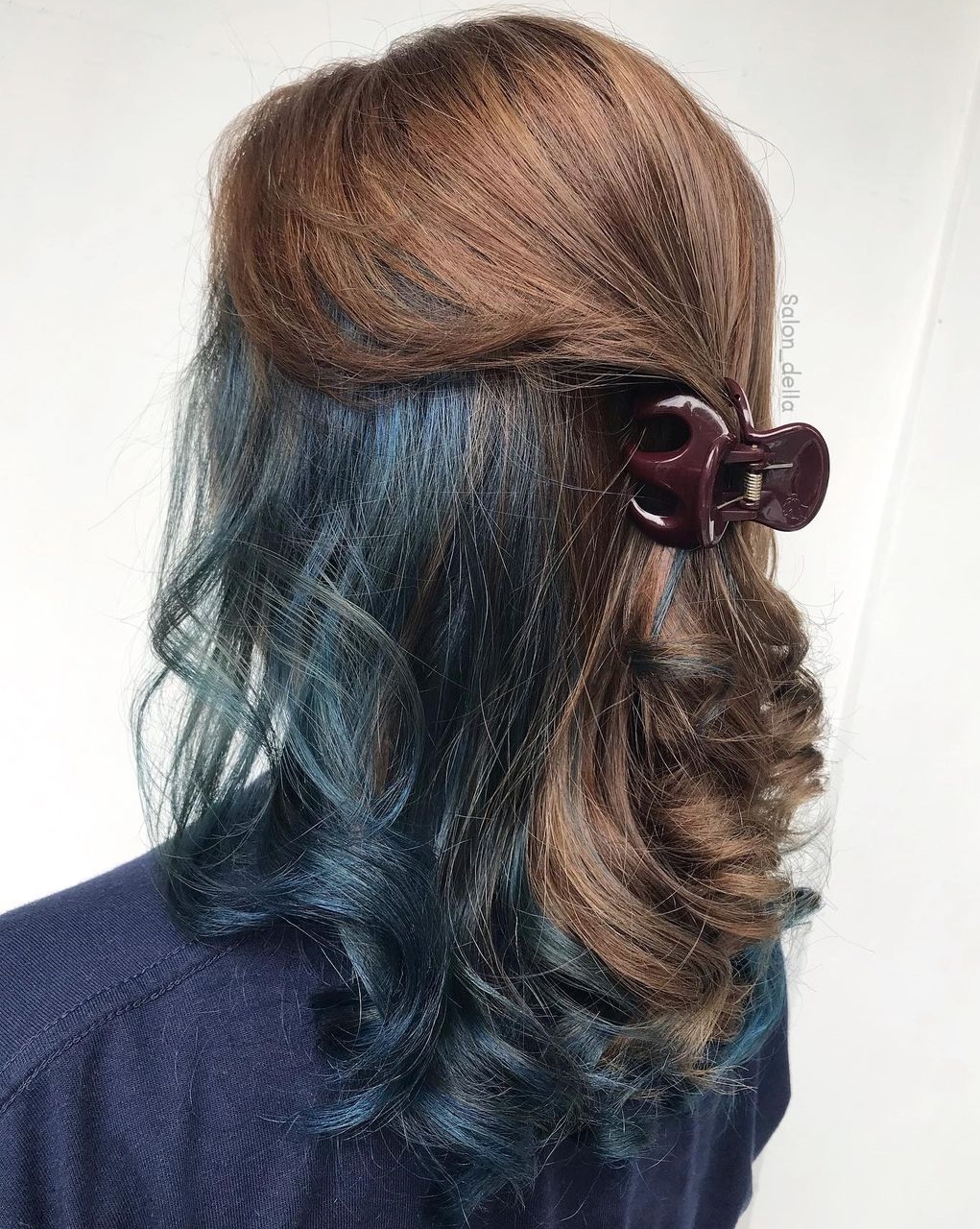 via @salon_dhella
8 Blonde Peekaboo Highlights
Are you looking for the most natural yet spectacular coloring? Pay attention to light brown hair with blonde highlights.
If you're looking for a casual option appropriate for school or office, try underneath blonde highlights to hide naturally dark hair. This hairstyle is distinguished by elegance and restraint.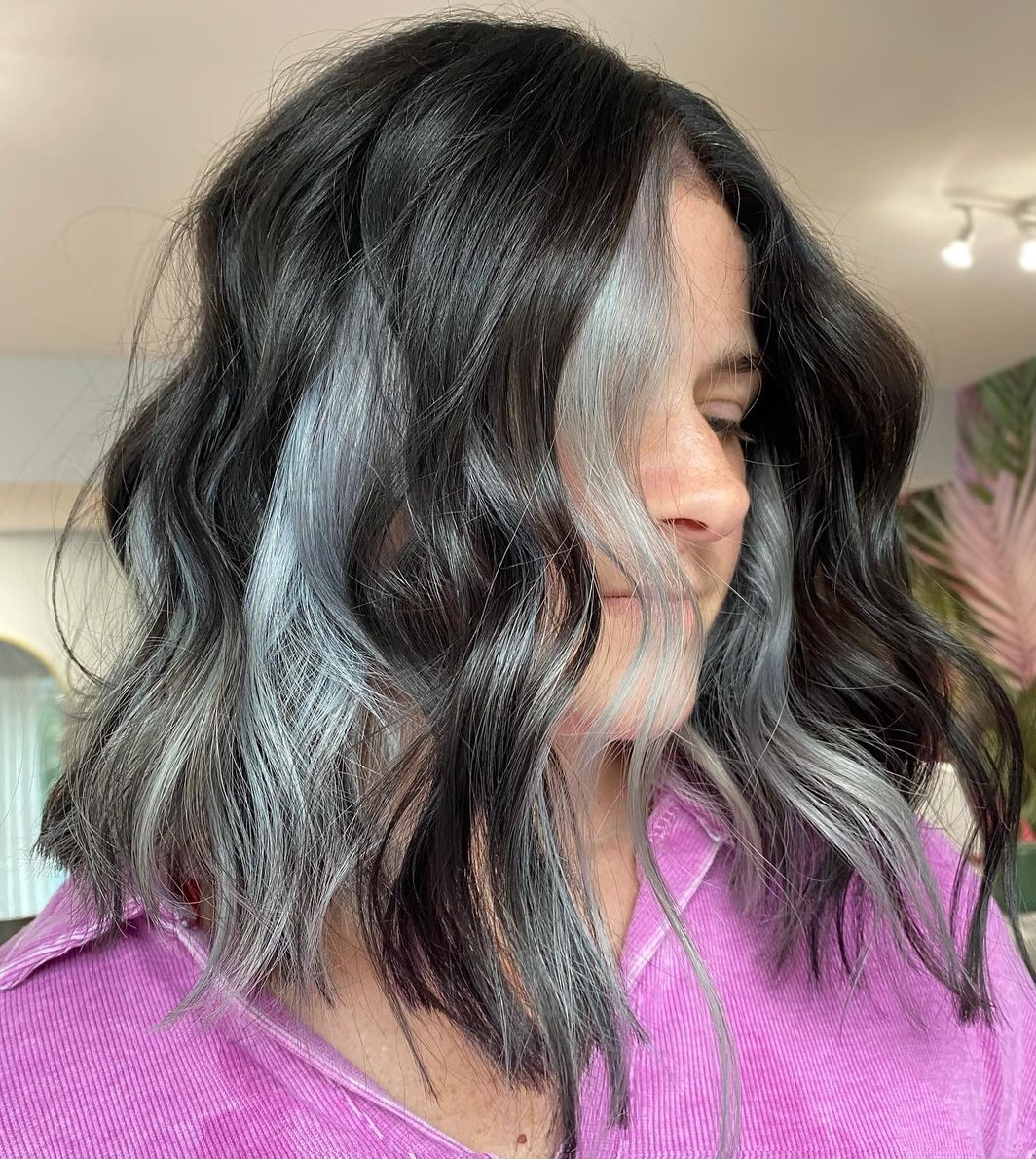 via @vanity_byrose
9 Peekaboo Highlights on Short Hair
What highlights on short hair are in the top today? Trendy combinations include blonde hair with blue highlights.
Also, bright short hairstyles can be created with burgundy, crimson, or a full rainbow!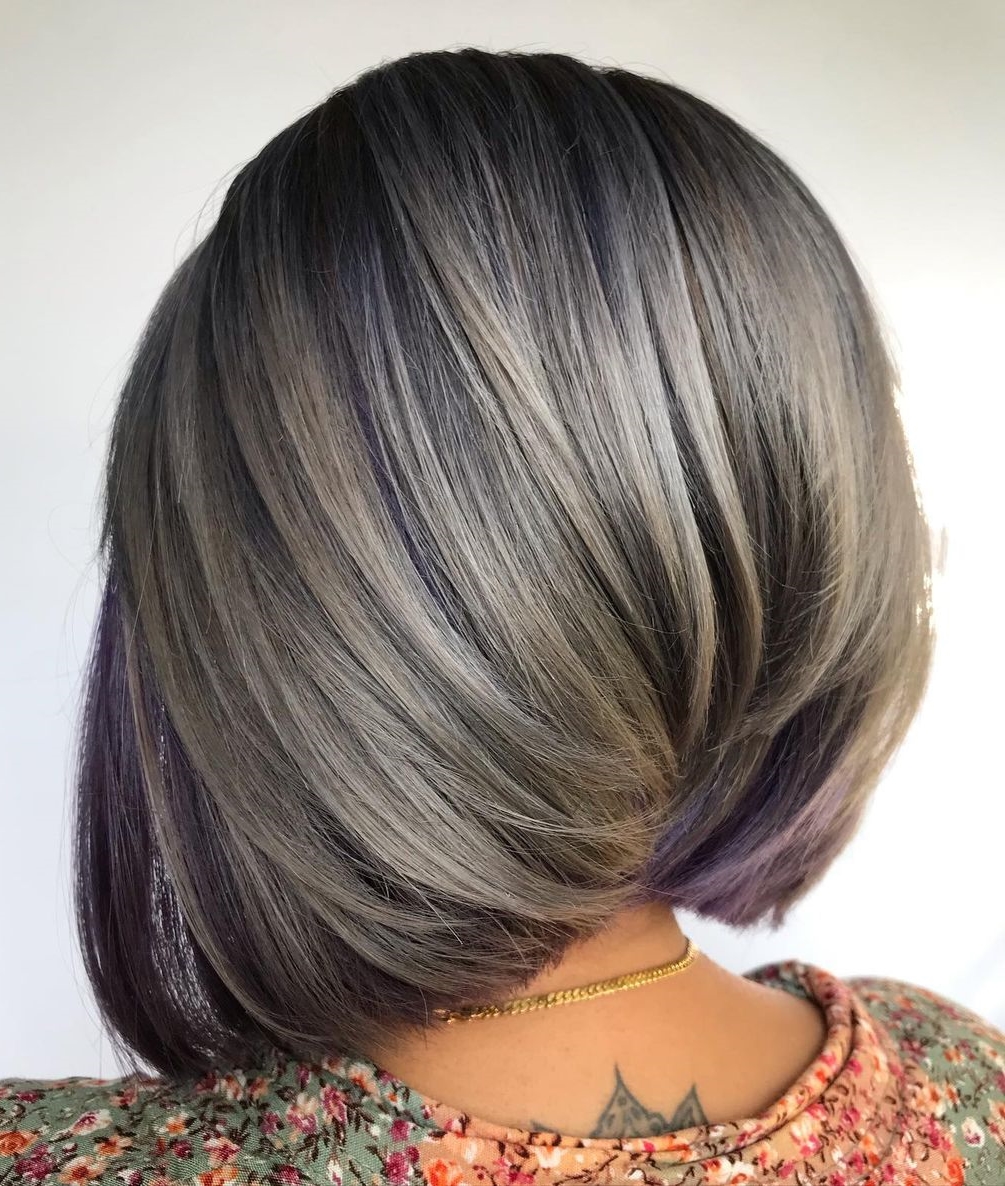 via @windaliem29
10 Rainbow Peekaboo Hair
Do you need galaxy hair ideas? Welcome to the world of rainbow peekaboo highlights!
The laconic dark top layer of hair can hide incredible secrets. High-quality peekaboo hair dye in different colors of the rainbow will help turn an ordinary hairstyle into a fountain of emotions!
11 Yellow Peekaboo Hair
Urgently need contrasting long hairstyle ideas? Yellow peekaboo highlights will come to the rescue!
Sunny strands are the best way to freshen up your look. Warm shades of yellow are perfect for brown hair with highlights.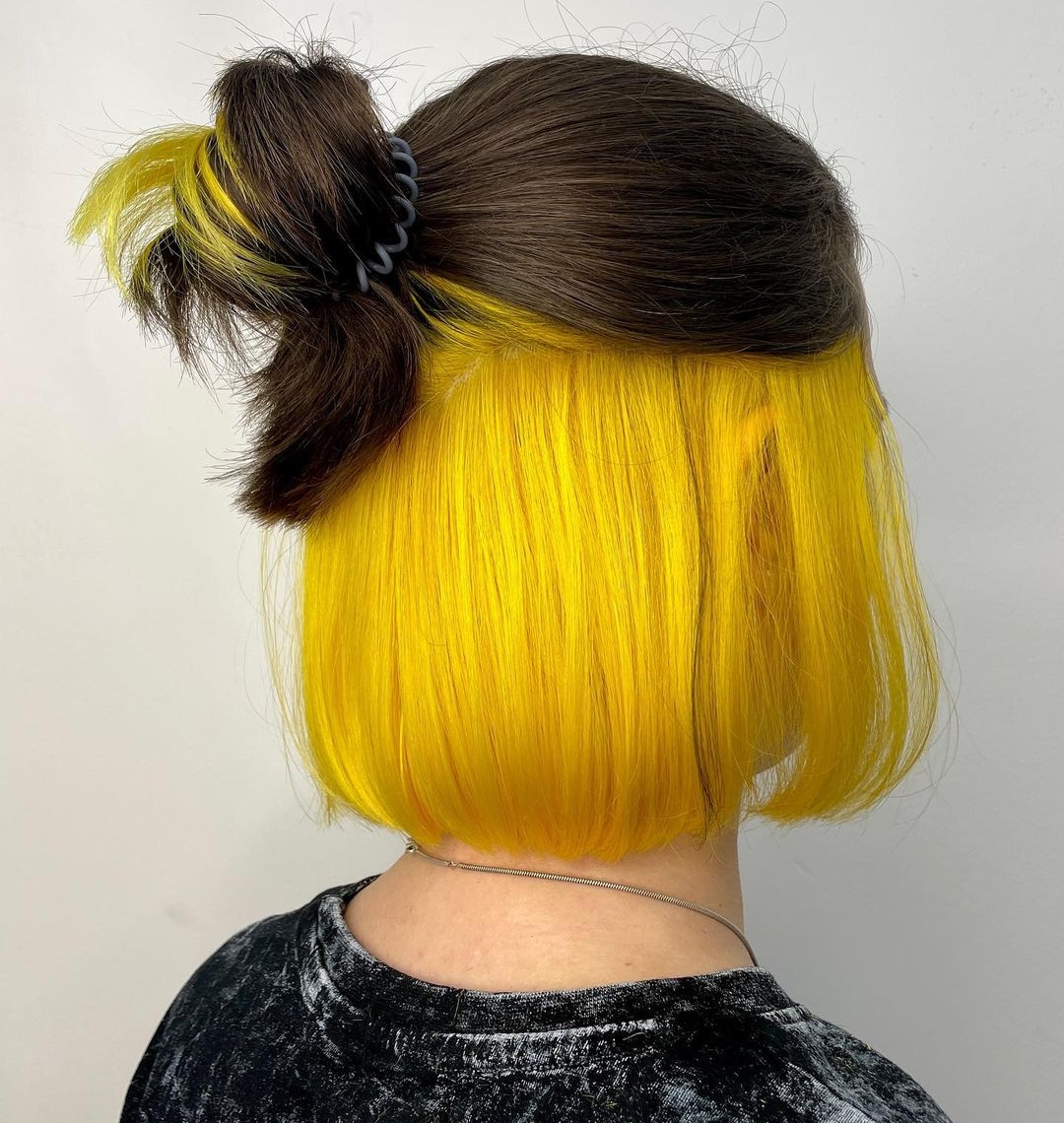 via @alkarrrin
12 Green Peekaboo Highlights
The choice of true witches is green peekaboo hair. You do not need to reveal yourself fully — just add little saturated green highlights.
As a rule, brunettes with any hair length choose this coloring. Royal emerald green peekaboo highlights will help create a unique look filled with magic.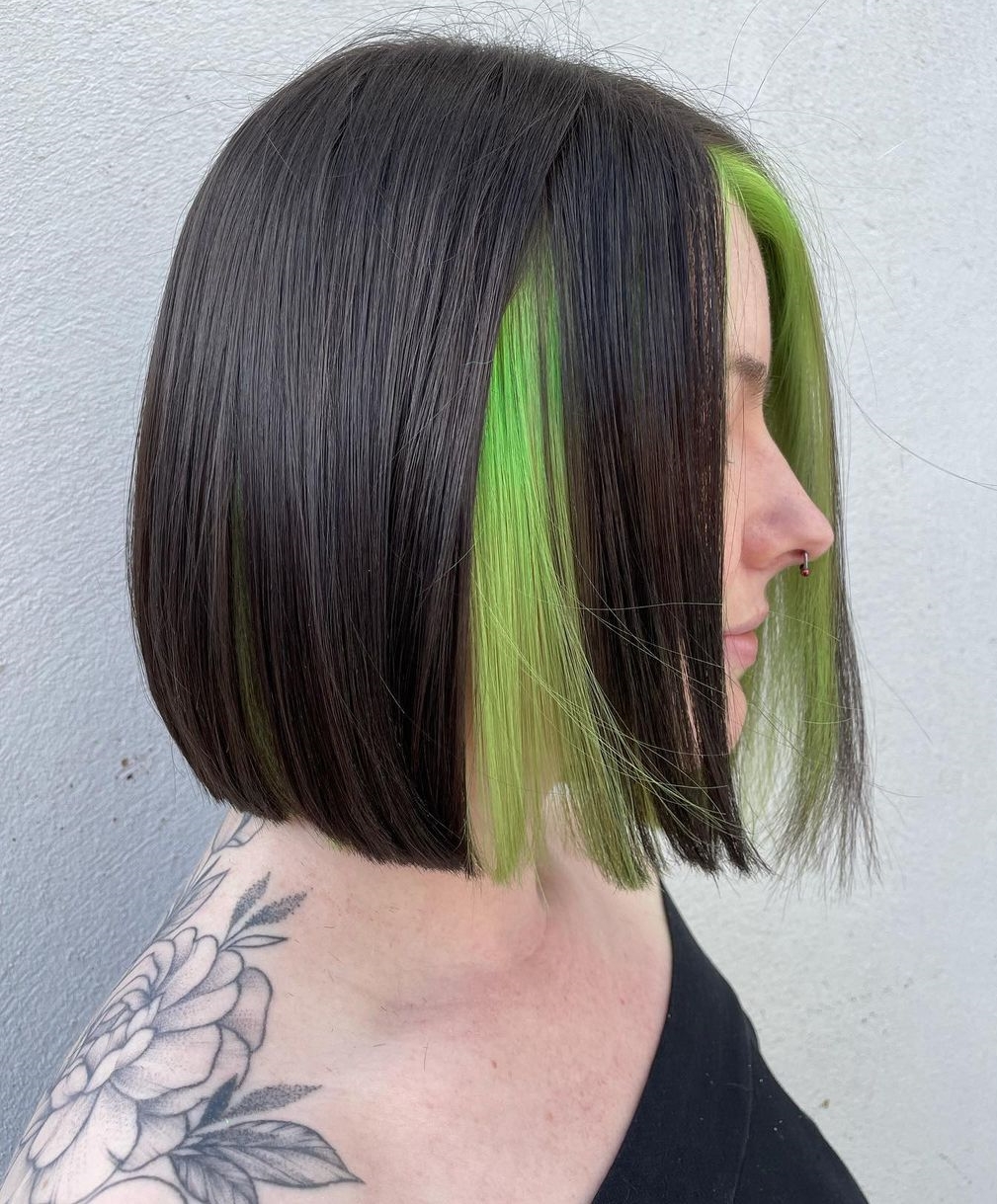 13 Shag with Peekaboo Highlights
A casual shaggy hairstyle with blonde or caramel highlights is a great choice for any occasion and season. Just a few details will turn the usual curls into a voluminous hairstyle of a classic heartbreaker. Nothing is impossible with a unique peekaboo style!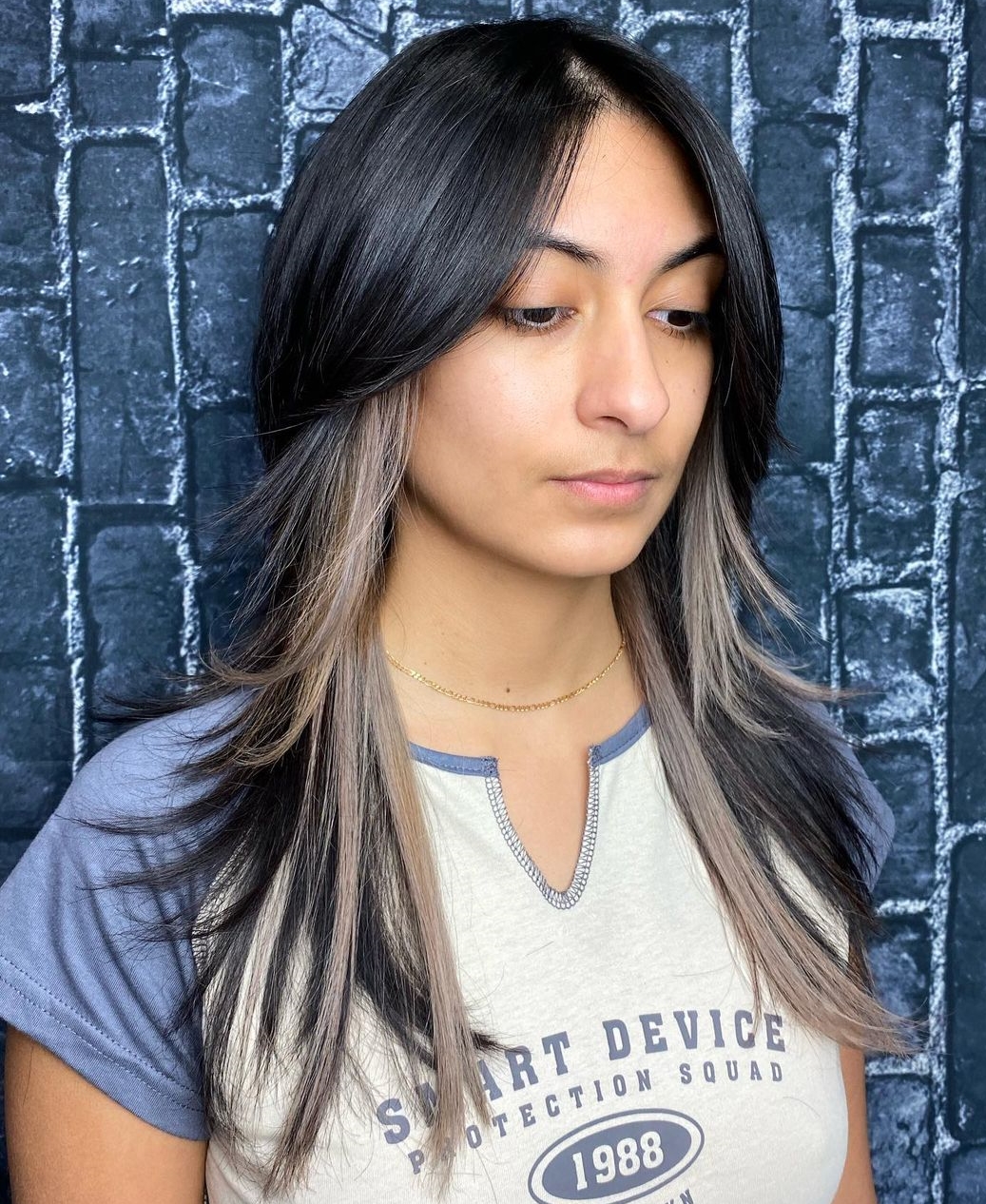 via @miamihairmel
14 Lavender Peekaboo Highlights
If you want to emphasize your femininity and romance, try subtle purple highlights. A gentle lavender shade is especially flattering for girls with a winter color type. If you have long dark hair and are thinking about highlights, this is a great option!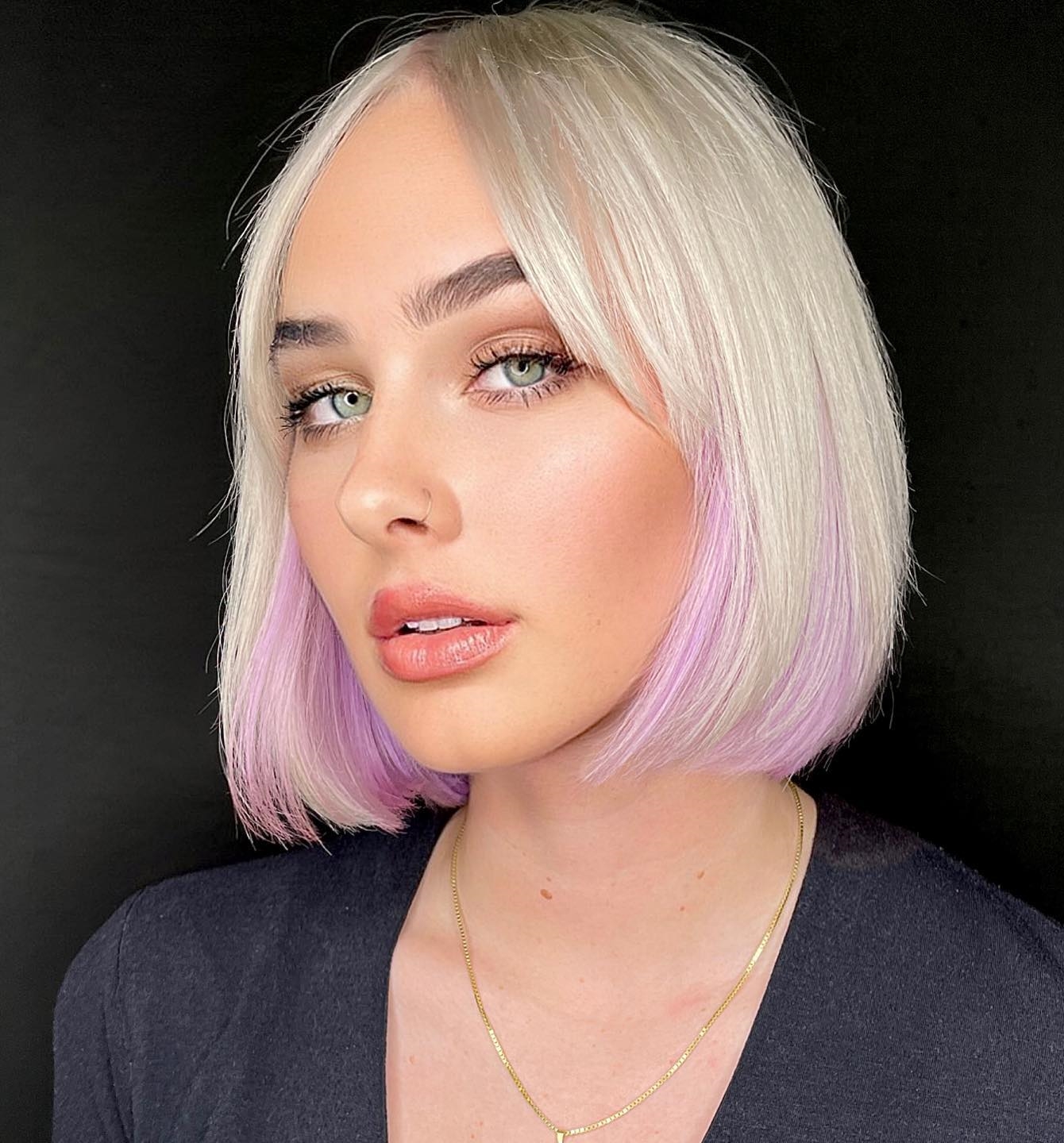 via @john.n1115
15 Teal Peekaboo Hair
Common bright colored peekaboo highlights are the teal color underneath the top layer. Brunettes with such an accent in the image look unsurpassed.
To make highlighting look harmonious, consider skin tone when choosing a shade.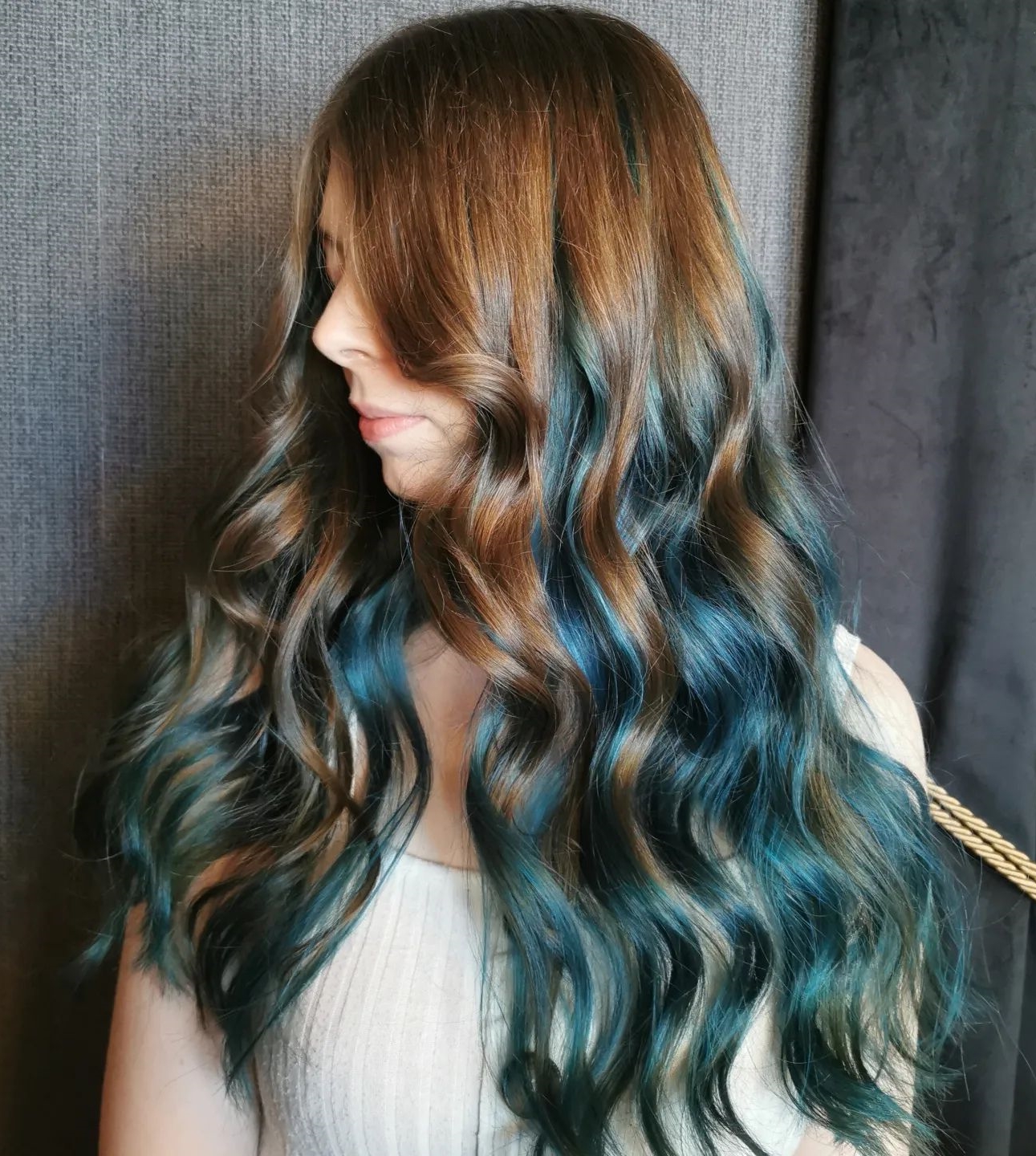 16 Blue-Purple Peekaboo Hair
Aren't you afraid to look unusual? Try a combination of blue and purple peekaboo highlights.
These colors noticeably diversify the long dark hairstyle. They will add expressiveness to the look and mystery to the image. No wonder purple and dark blue highlights are so loved by stunning brunettes.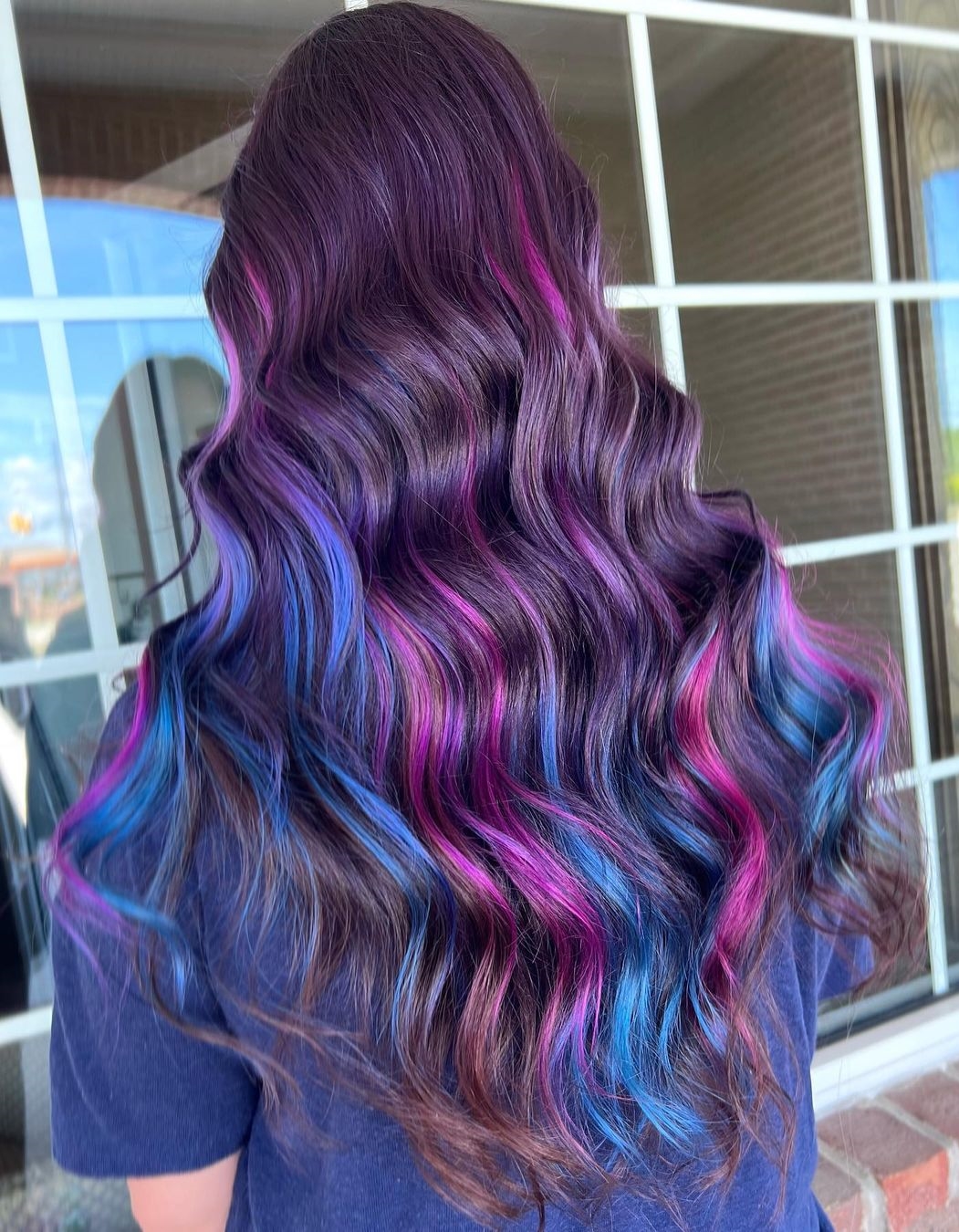 via @meganrosecolors
17 Magenta Peekaboo Highlights
Hot pink peekaboo highlights for confident babes. Such strands blow up trends and are at the top of the masters!
Most often, highlights under dark hair are chosen. But blondes can also use magenta! Deep dark pink hair will add fire to short and long haircuts.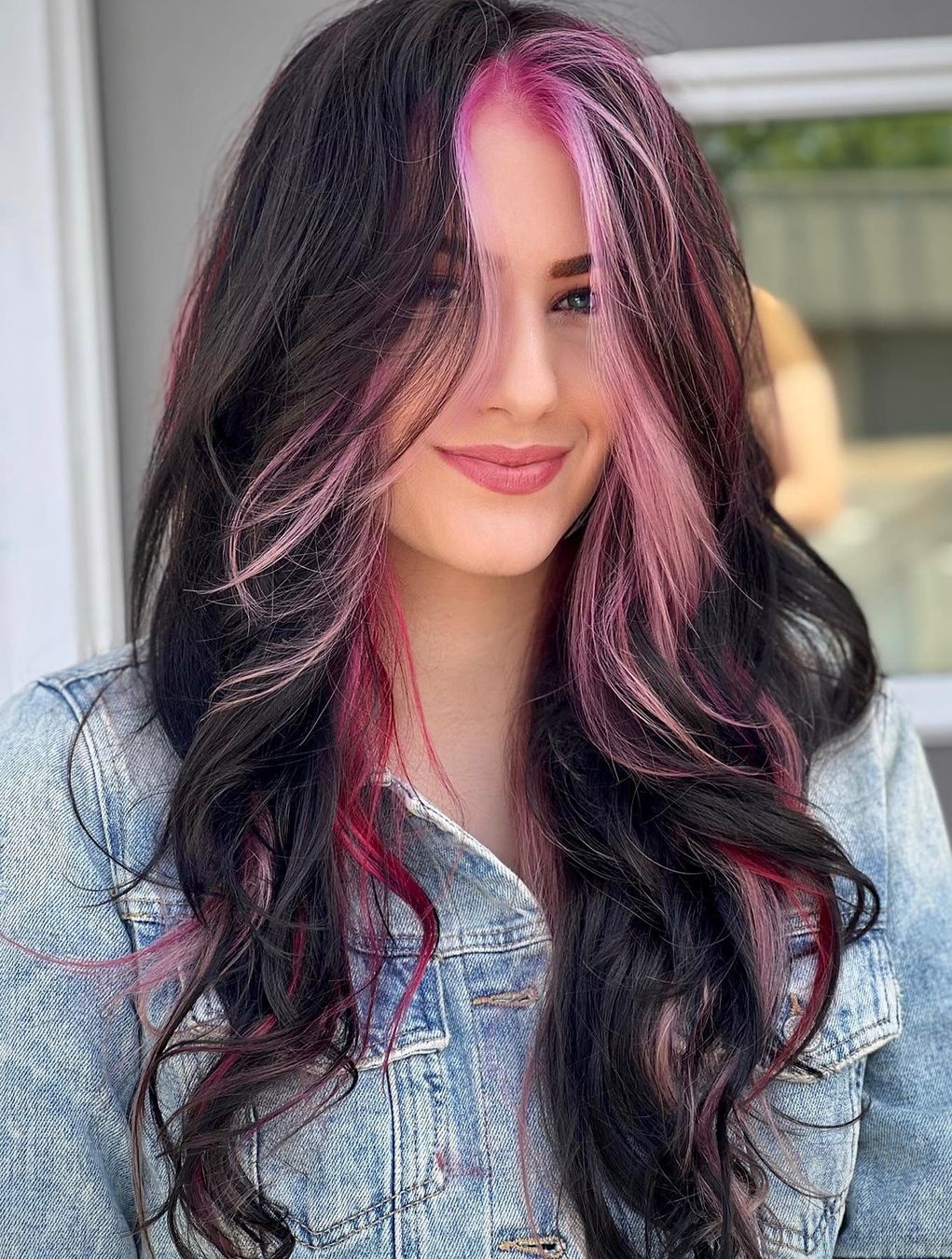 18 Rose Gold Peekaboo Highlights
What should be peek-a-boo highlights on blonde hair? One of the most feminine and sophisticated options is rose gold color strands.
This shade represents elegance and luxury. Gentle peekaboo highlights are a real temptation for girls who want to emphasize their natural beauty.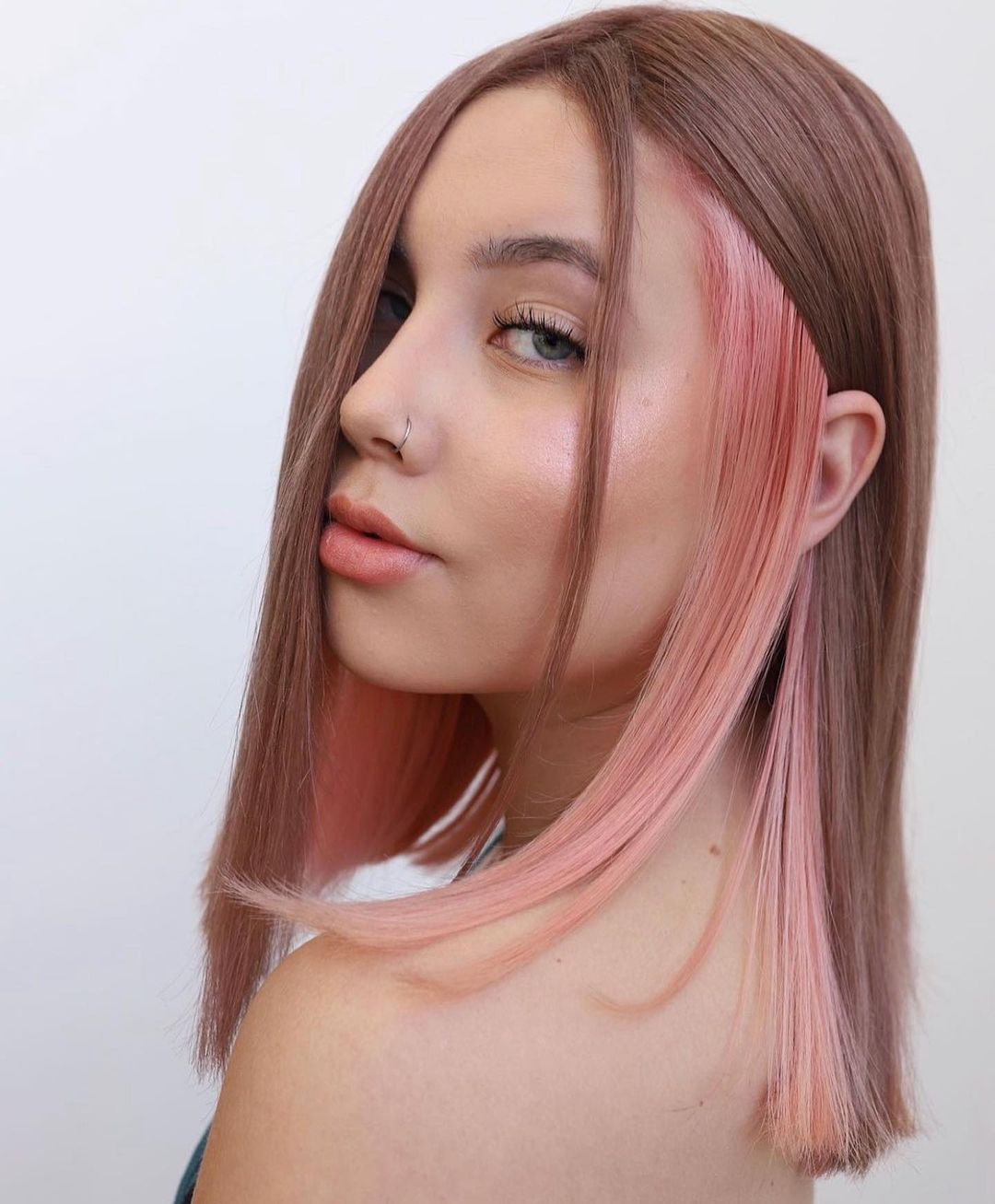 via @maggiemh
19 Pastel Peekaboo Highlights
What coloring to do: colorful or pastel peekaboo hair highlights? The answer depends on your style, natural color, and strand length.
Highlights on blonde or caramel hair are perfect for a business look. Pastel shades will look almost invisible. They are suitable for both short and long hair.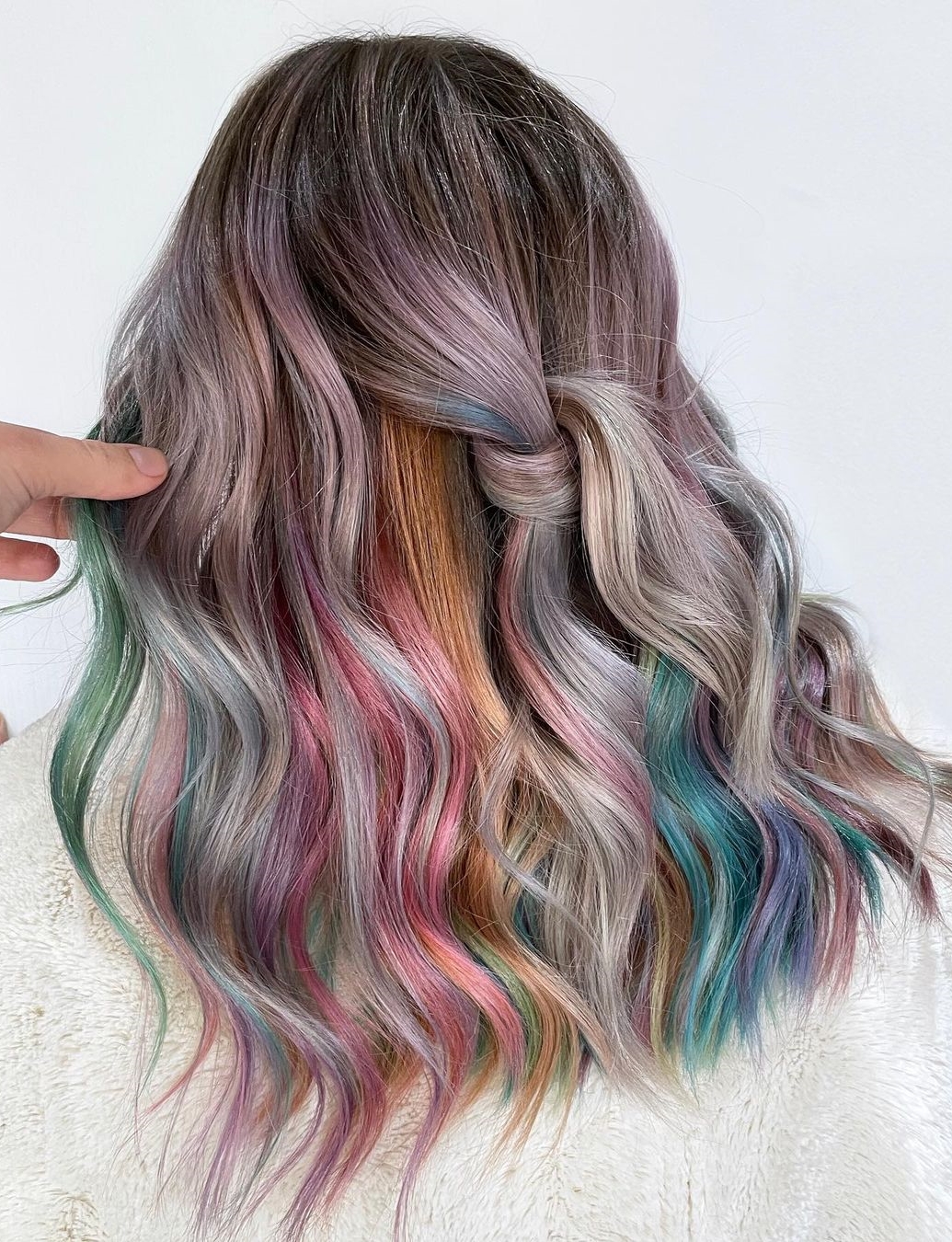 20 Hidden Neon Red Highlights
TOP 2022 is neon peekaboo for dark brown hair. A bright red shade will complement any hairstyle on long straight or curly hair. At the same time, it will not look too defiant. Highlights under hair are stylish, contrasting, and neat.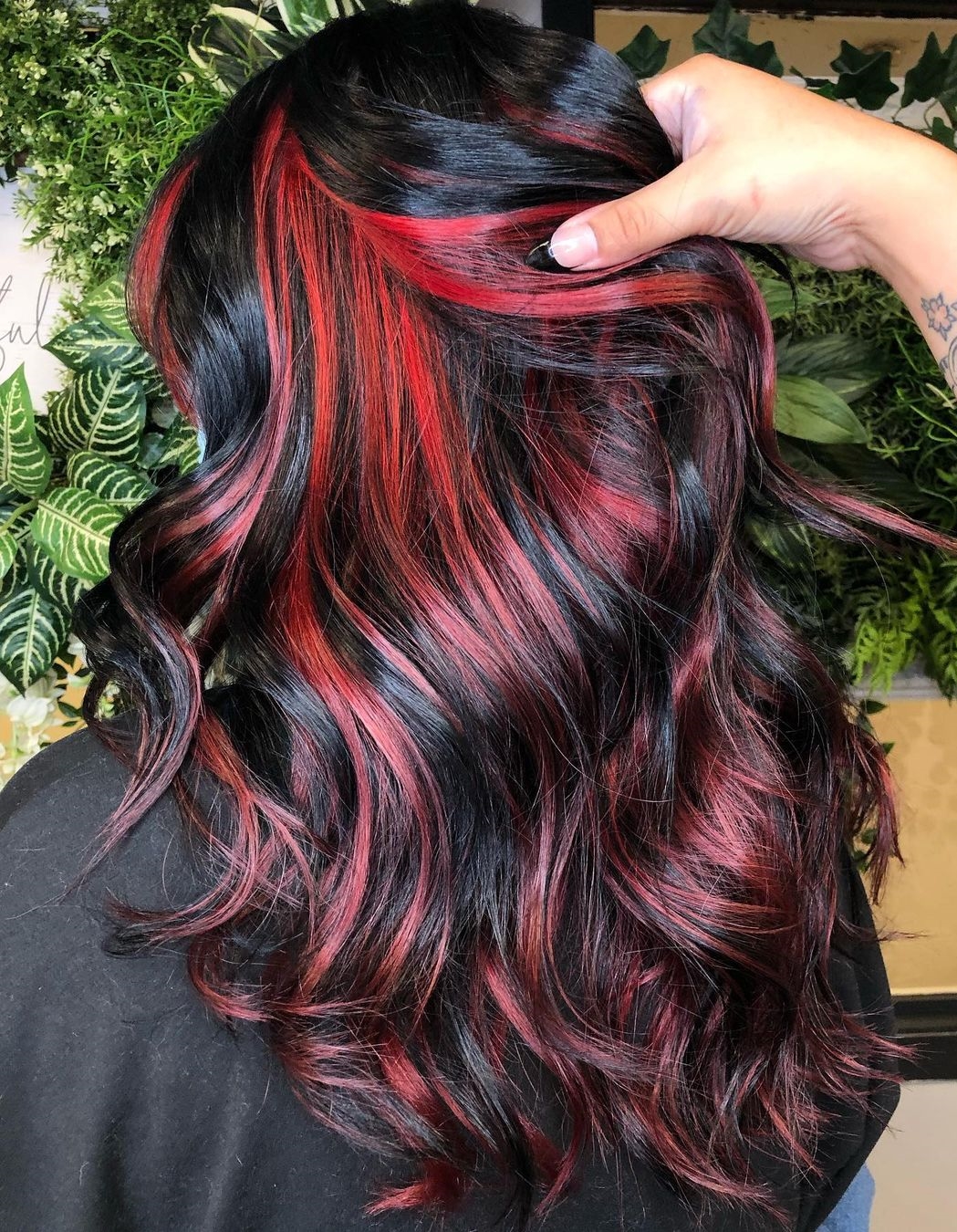 21 Gray Hair with Blue Peekaboo Highlights
How to make blue peekaboo highlights more interesting? Try to combine them with gray.
Blondes have endless possibilities for experimentation! Gray-to-light blue ombre hair color is a coloring that is impossible to resist.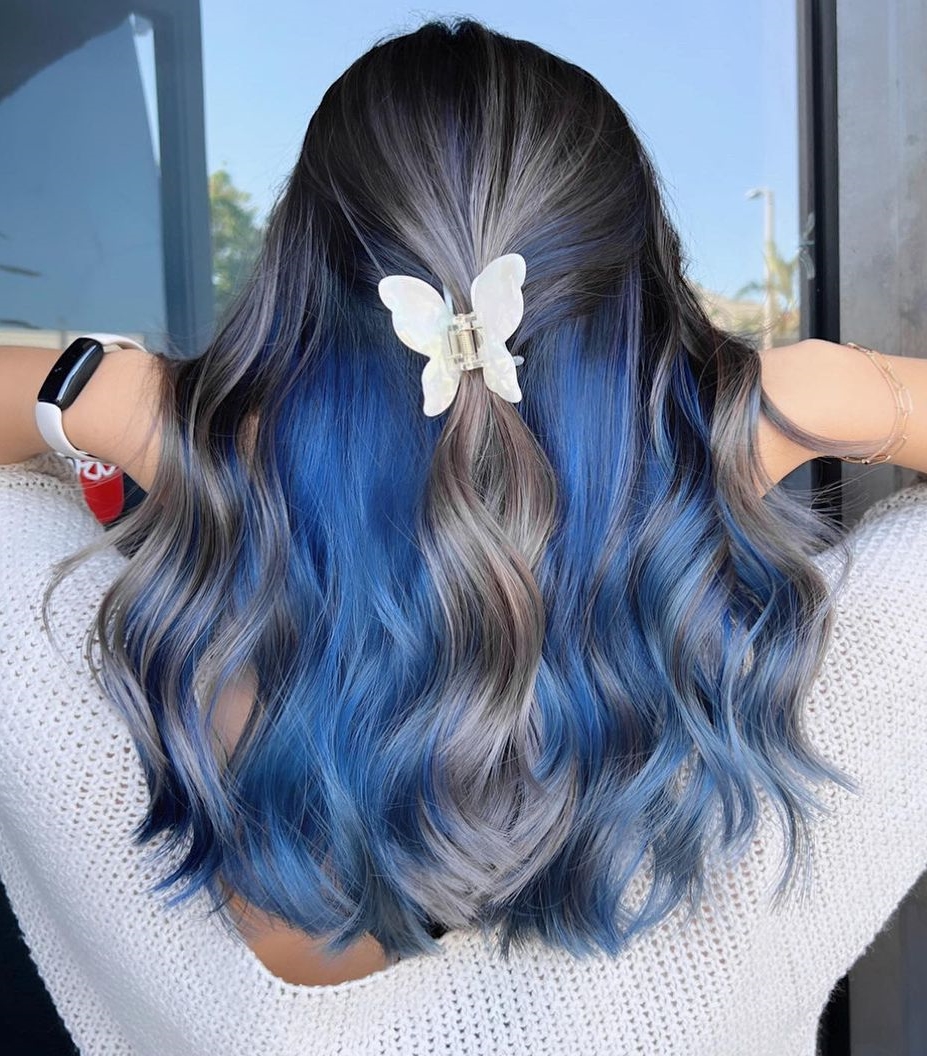 via @alexis_hair__
22 Orange Peekaboo Hair on Black Hair
Do you like orange hair color? Add some cheerful orange strands to your hairstyle!
Orange highlights underneath black top layer are an easy way to freshen up your look before spring and summer. More brown shades will be a godsend for the fall.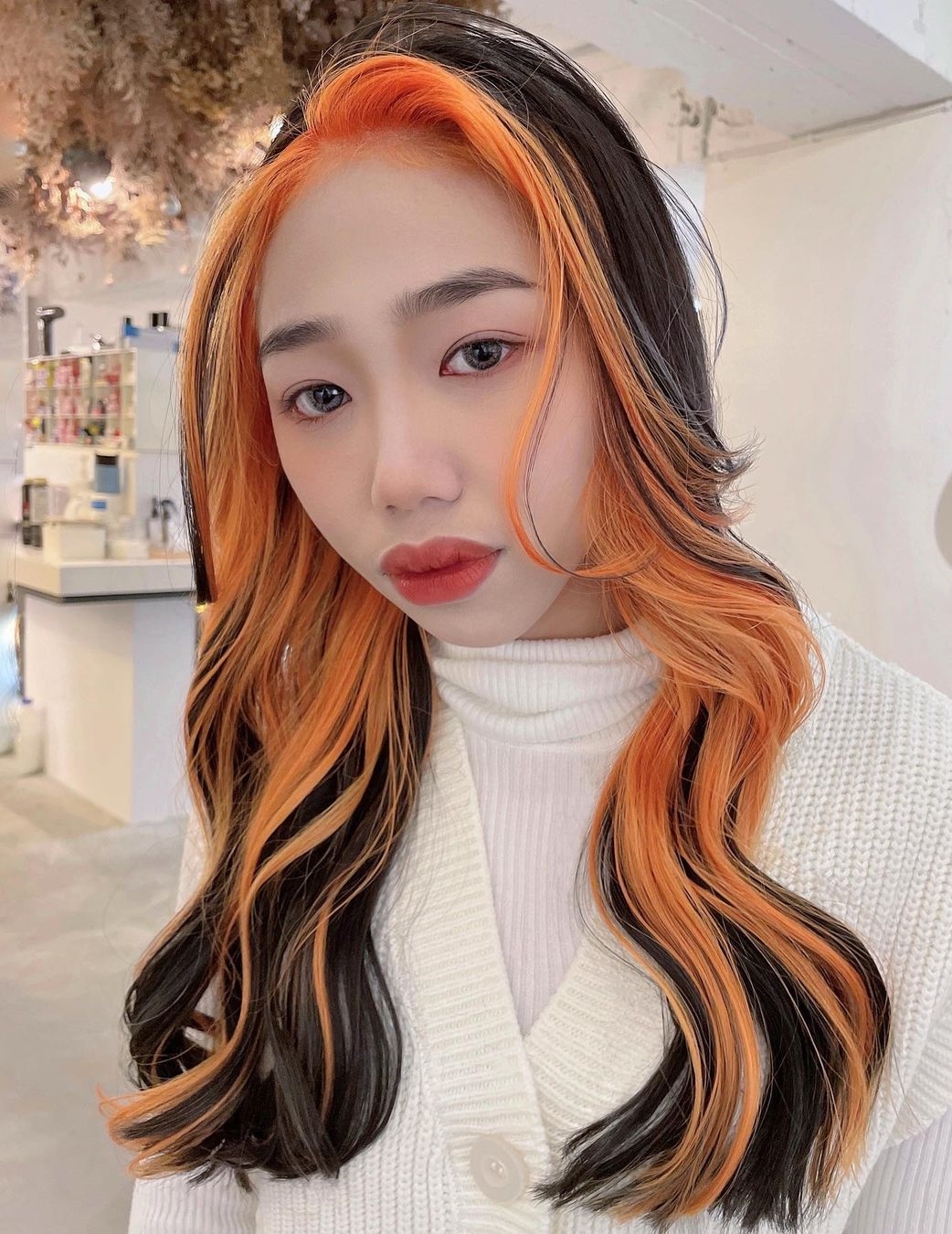 via @chubechou_705
23 Blonde Highlights Underneath Dark Brown Hair
Embellish long straight hair with ash blonde highlights! Natural coloring is suitable for brunettes, brown-haired women, blondes, and even redheads.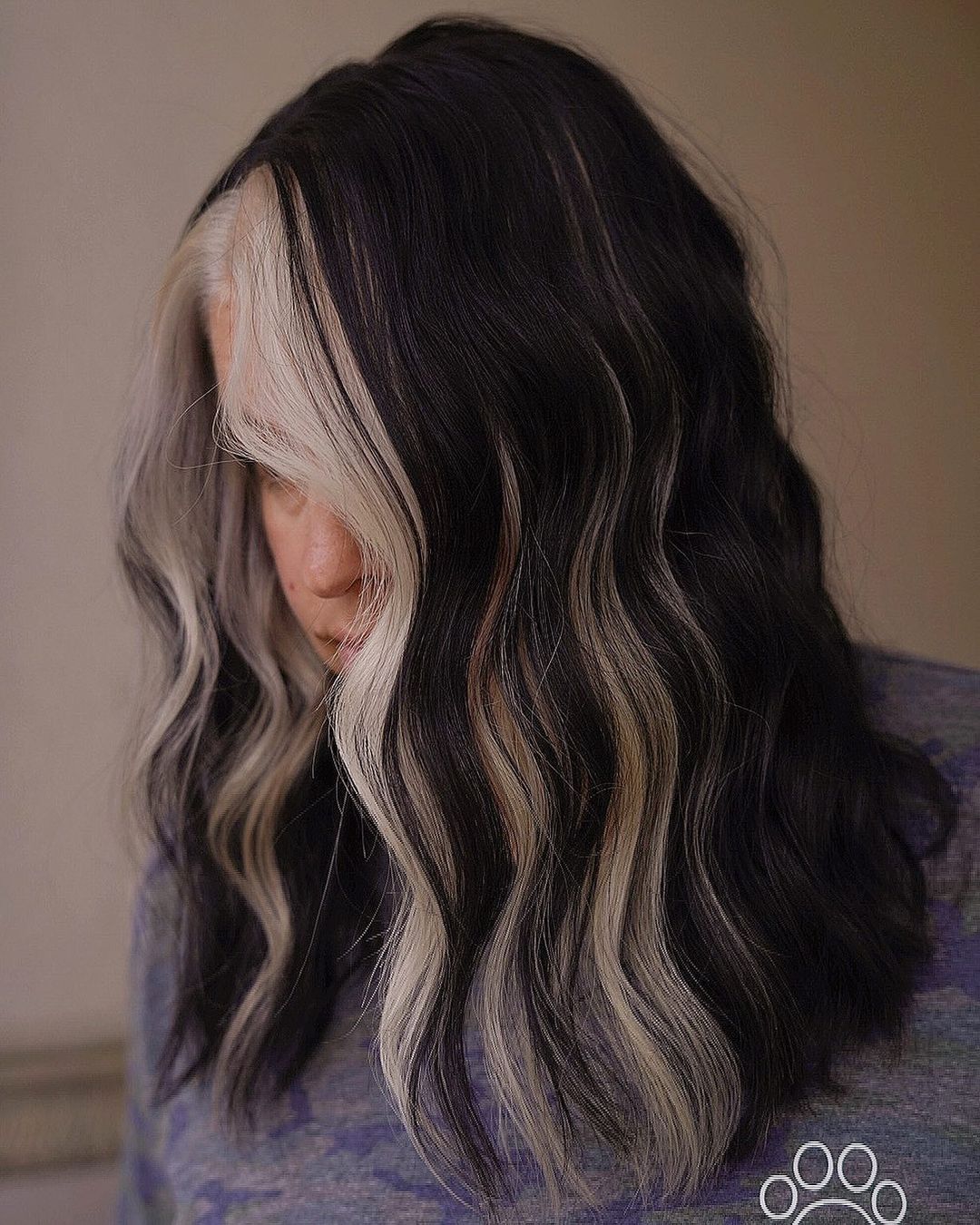 24 Black Peekaboo Underneath Natural White Hair
An awesome hair color idea is black peekaboo on light curls. An unexpected contrasting combination will emphasize your individuality. What does Cruella's look like on short haircuts? See below.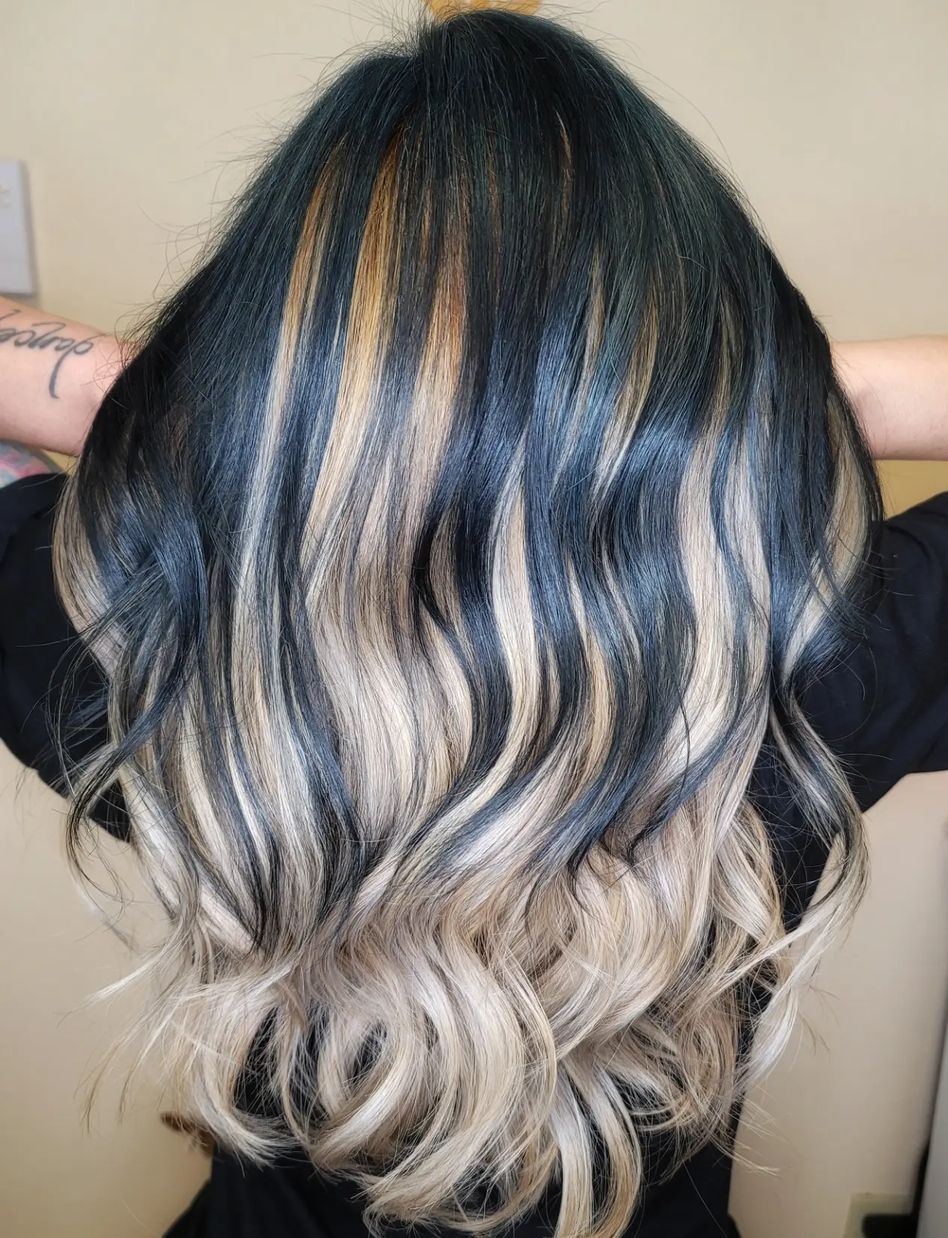 via @hairby_me
25 Red and Blue Peekaboo Highlights on Blonde Hair
Cute red and blue hair highlights are a chic addition to anime-style looks.
Are you looking for peekaboo hair ideas for your next appointment? Try a combination of two bright shades! You can color different strands or make a smooth transition between colors.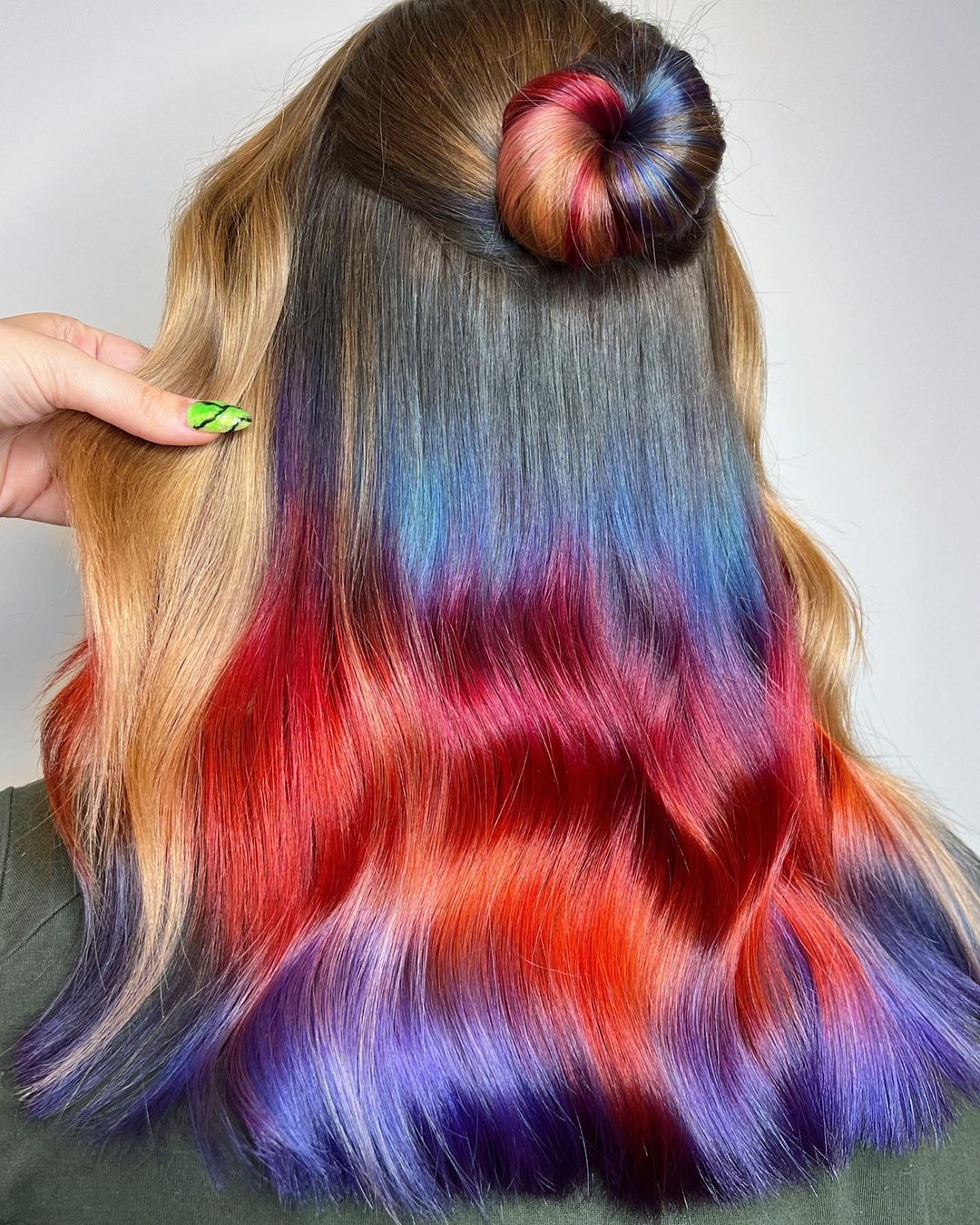 via @kelsey.mtl
26 Half Yellow Half Magenta Hair
Getting ready for a party? Create an unforgettable look with unique peekaboo highlights!
Do not be shy! Take a bright boo hair color and do a contrast color on both sides. This style is only for the brave crumbs!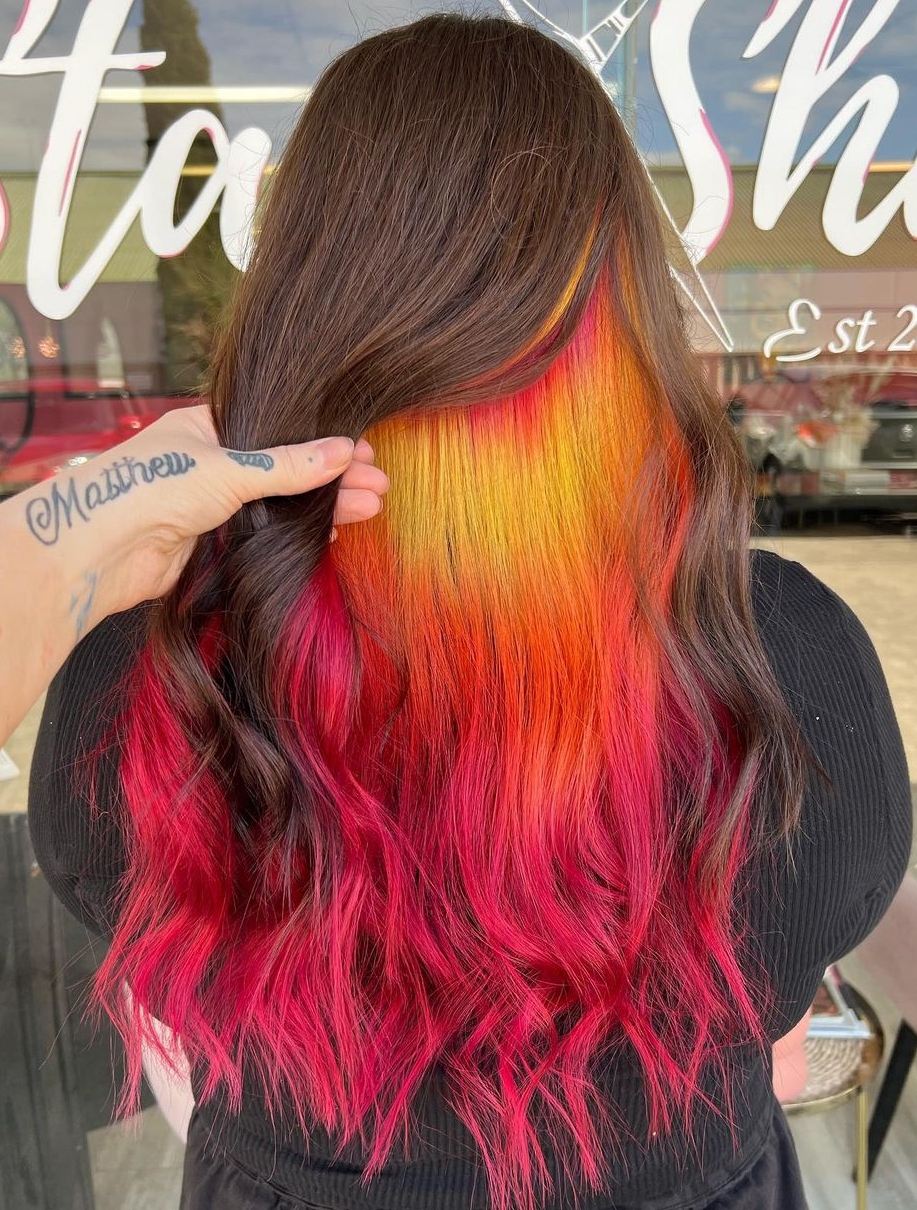 27 Ombre Peekaboo Hair
Ombre highlights are more time-consuming but very effective coloring. Yellow-to-dark red peekaboo hair is one of its varieties. This ombre looks especially bright on long straight hair.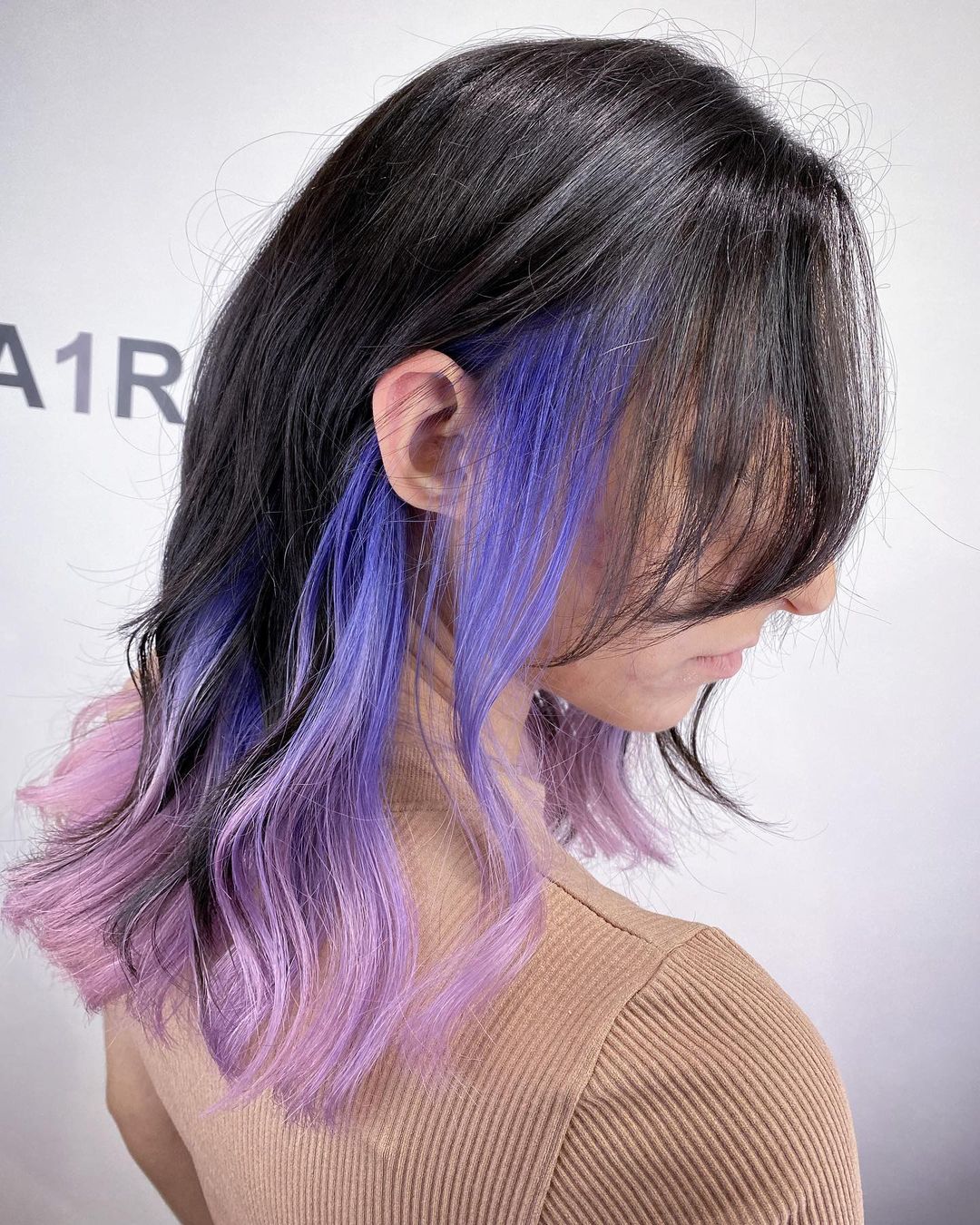 via @hair_one_tino
28 Peekaboo on Curly Hair
Should I add bright highlights on a curly bob cut? Why not?
When choosing a shade, look at the skin tone. Fair-skinned girls are better off using pastel colors. For darker beauties, rich colors are suitable for experiments. One example is wavy hair with green highlights.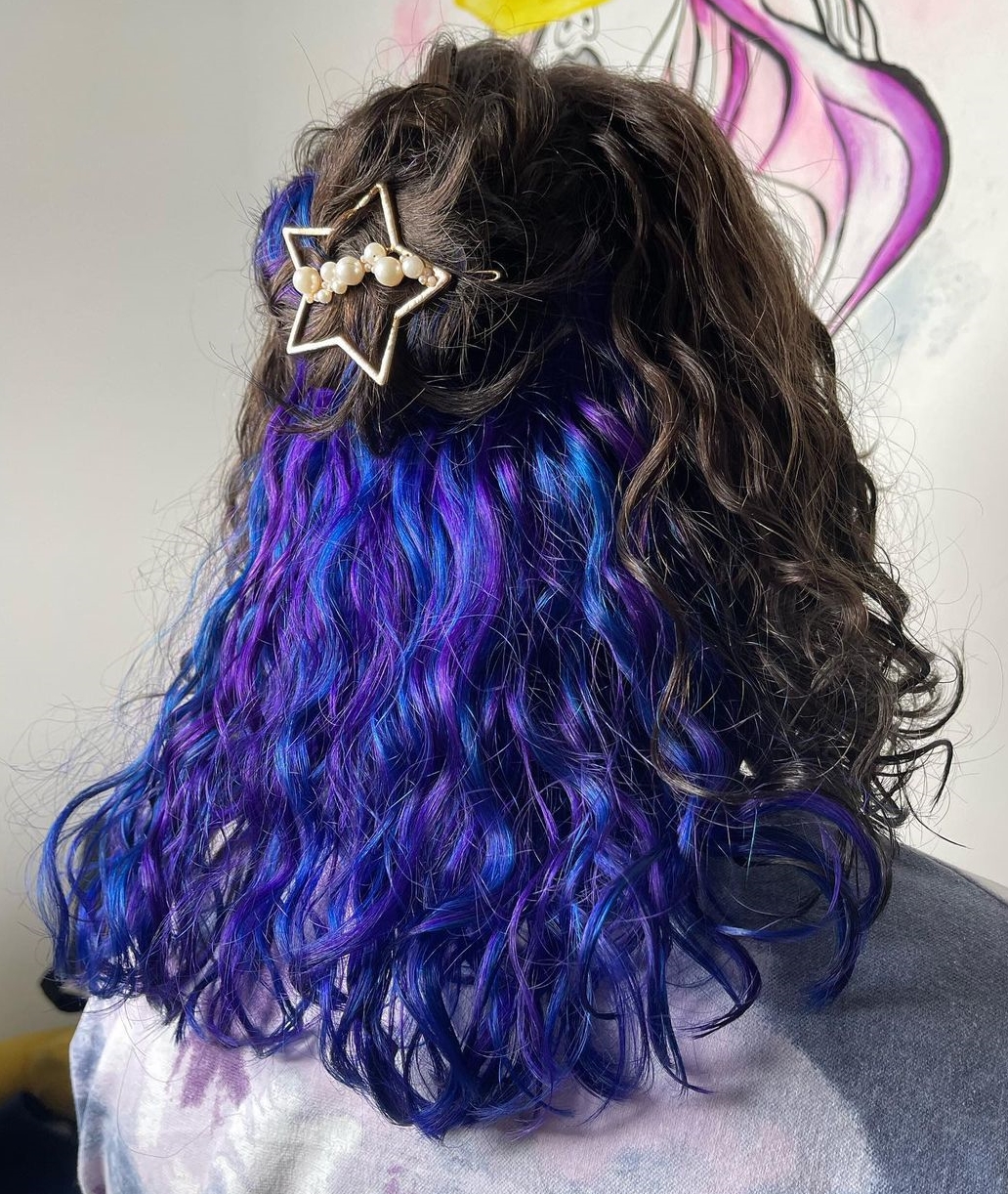 via @toridar_hair
29 Peacock Peekaboo Highlights
Do you want to capture the imagination of others? Peacock peekaboo hair will help you with this!
This coloring combines several popular bright colors. As a rule, turquoise and purple tones become the basis. An experienced master will combine them into a stylish composition using different pastel shades so that the image does not look overly eccentric.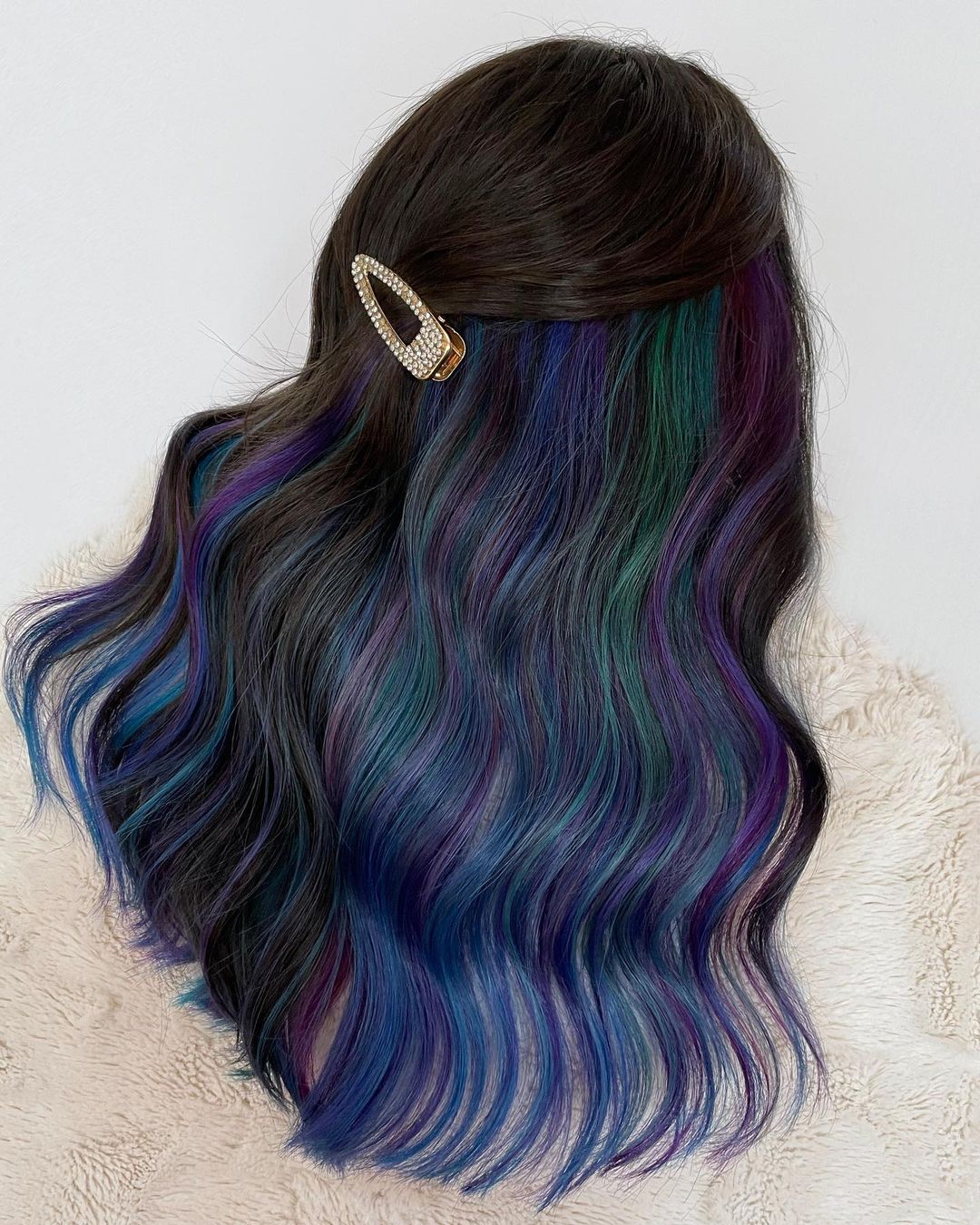 30 Unicorn Peekaboo Hair
Fans of fabulous images will not be able to pass by multi-colored peekaboo on blonde hair. Such highlighting is dominated by cold shades of blue, pink, and purple.
Which one is better to use for hair? Make your choice based on hair type and skin tone. It is better for blondes to highlight the unicorn type to take light shades — heavenly, lavender, powdery, lilac. Brunettes can safely experiment with richer and deeper tones.
For the colors to fully reveal, it is preferable to do highlighting on long curls. But this does not mean that the owners of a short choppy bob are contraindicated in turning into a fabulous unicorn!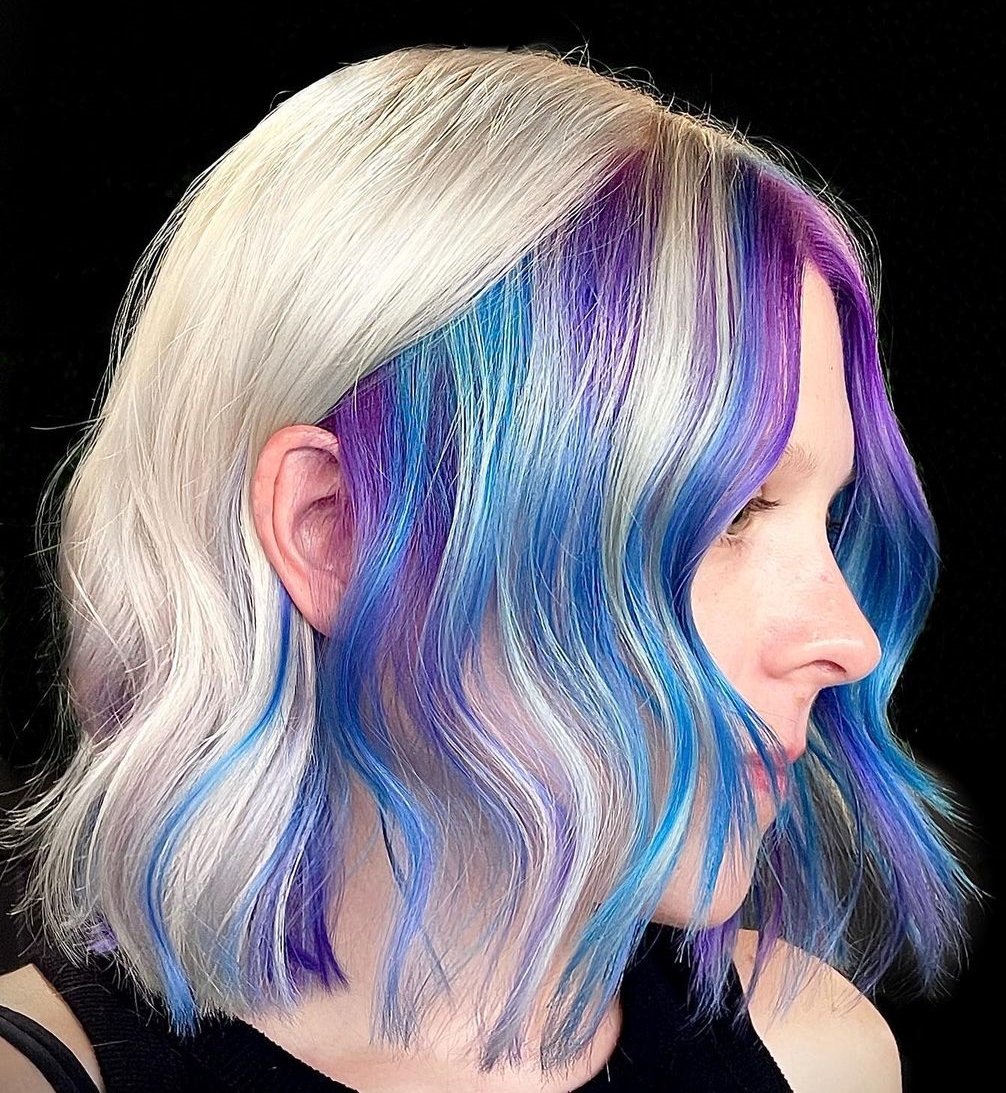 via @krystaalyse
FAQ
Best products to maintain peekaboo hair
How to care for staining so that it retains a bright and attractive look? Follow a few simple rules:
Choose a gentle shampoo. Special formulations for colored hair will help prevent the quick removal of color.
Complement the care with a hydrating conditioner.
As the color is removed, consult with the master and set a date for the next procedure.
Basic care for colored hair includes:
Gentle cleansing. The structure of the colored strands resembles a sponge. They easily absorb water, pigments, and other chemicals. That is why avoid shampoos with harsh ingredients. They will quickly remove the pigment and can damage the curls.
Wash your hair with cool or warm water only. Too low and high temperatures affect the brightness and contrast of staining.
Prepare to re-color in three to four weeks. And don't forget to trim your split ends regularly! On damaged hair, the pigment is unevenly fixed, poorly retained, and quickly washed out.
Follow these recommendations and enjoy bright hairstyles!