Modern women mostly prefer flat shoes or even trainers, which have become suitable for any dress code. However, none of us can do without a classic pair of heels. Even if a girl has a sporty dressing style, there are days when she wants to create an elegant image of a businesswoman with comfy high heels.
Of course, most women don't like wearing heels in winter when the road is slippery and strewn with snowdrifts. That is why for most girls, it is summer footwear. In summer, we prefer to wear romantic, feminine dresses that go so well with elegant shoes. Take a look at the most popular types of heels and choose the pair that you like most!
Types of Shoe Heels for Stylish Ladies
The diversity in the industry is so huge that your eyes will go wide when you enter a shop. Different shoe brands offer numerous options to be able to select a suitable pair for any style. Office style allows any footwear, but wearing elegant shoes is a great option for any woman. It's possible to get a universal pair of heels for any occasion and feel comfortable and elegant in any situation.
Elegant Clear Heels
Clear heels are the classic option that suits any woman and is perfect for any situation. Beige high heels are considered the most suitable alternative since it makes your legs look longer and thinner. However, you can choose more comfy heels every day and feel convenient and attractive.
Each lady should have classic summer shoes on clear heels that can be worn to the office, date, or party. Have a special event? Please don't hesitate to pick such a classic pair. It can be a great alternative for wedding shoes, just choose the convenient height and feel irresistible!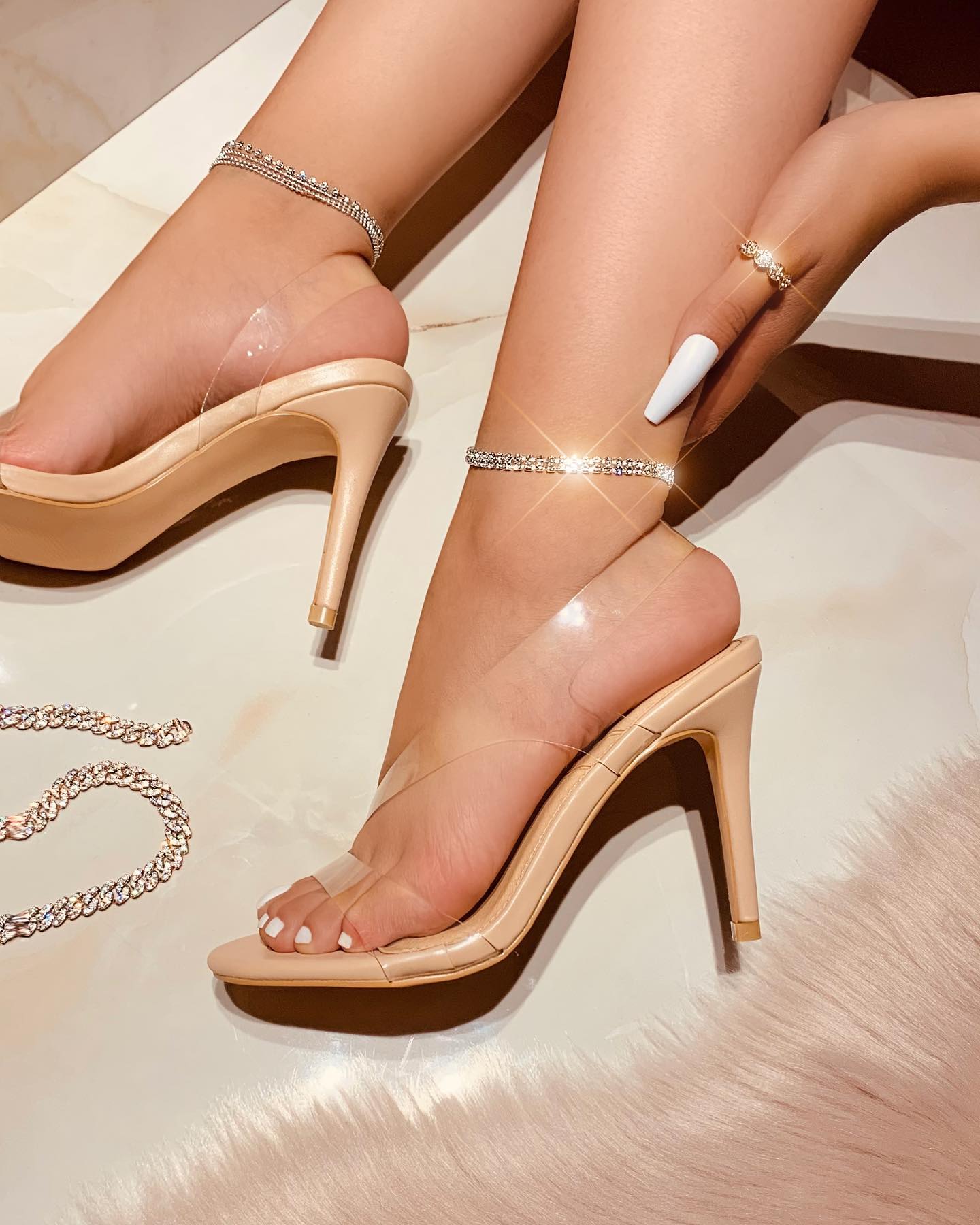 via @myshoesmexico
Comfortable Platform Heels
Platform heels are not a pair for every day, but if you have a special event or party, go on! Pick a good pair of high-quality leather shoes and enjoy dozens of admiring glances. These shoes have a very high heel and a platform under your toes, so it's not the most comfortable option.
You can select colors according to your wardrobe and enjoy your perfect footwear. Most ladies like bright summer season shoes that highlight their personality and add an interesting accent to their looks. Stay tuned to learn more about other heel options!
via @babeemichelle
Cute Kitten Heels for All Occasions
These shoes are usually narrow-nosed with 5-7 cm heels, so even those who are used to wearing trainers will feel convenient and confident. Moreover, this two-inch heel can be combined with dresses and jeans, allowing you to be different every day.
Many footwear brands provide numerous variations of such office style shoes. If the weather is really hot, getting kitten heel sandals is a perfect alternative. And if you are searching for footwear for your special occasion, remember that wedding kitten heels are a suitable and convenient option.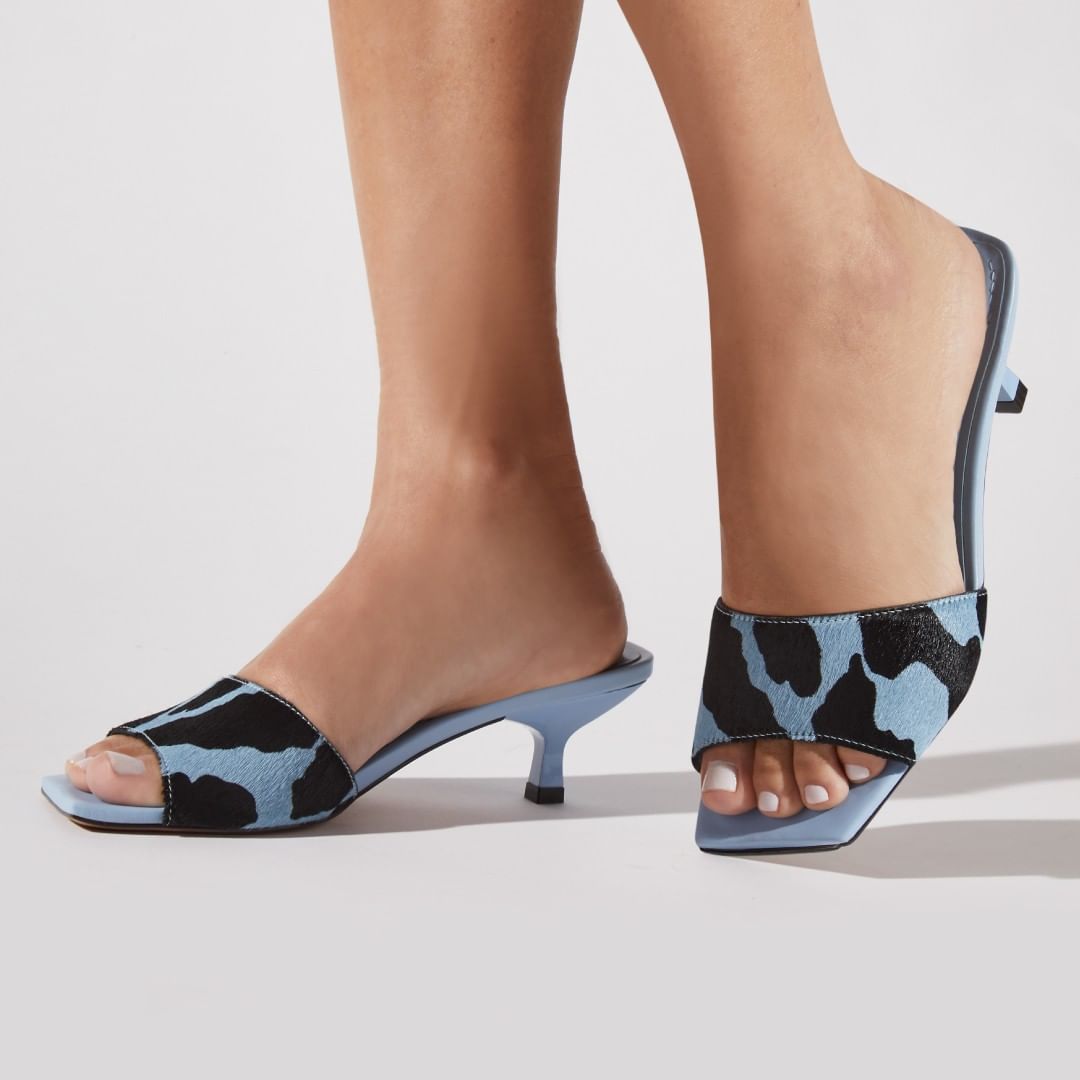 via @santa_lolla
Unusual Block Heels for Bright Ladies
If you think that wearing high heels is inconvenient, you have never tried medium height shoes with block heels. These comfy summer shoes offer a wide, stable heel that looks elegant and stylish. As a rule, a strap also fixes the foot and emphasizes the ankle. Choose strappy block heels, mix them with any clothing style and be amazing every day. Chunky heel footwear is always relevant and is suitable for any occasion.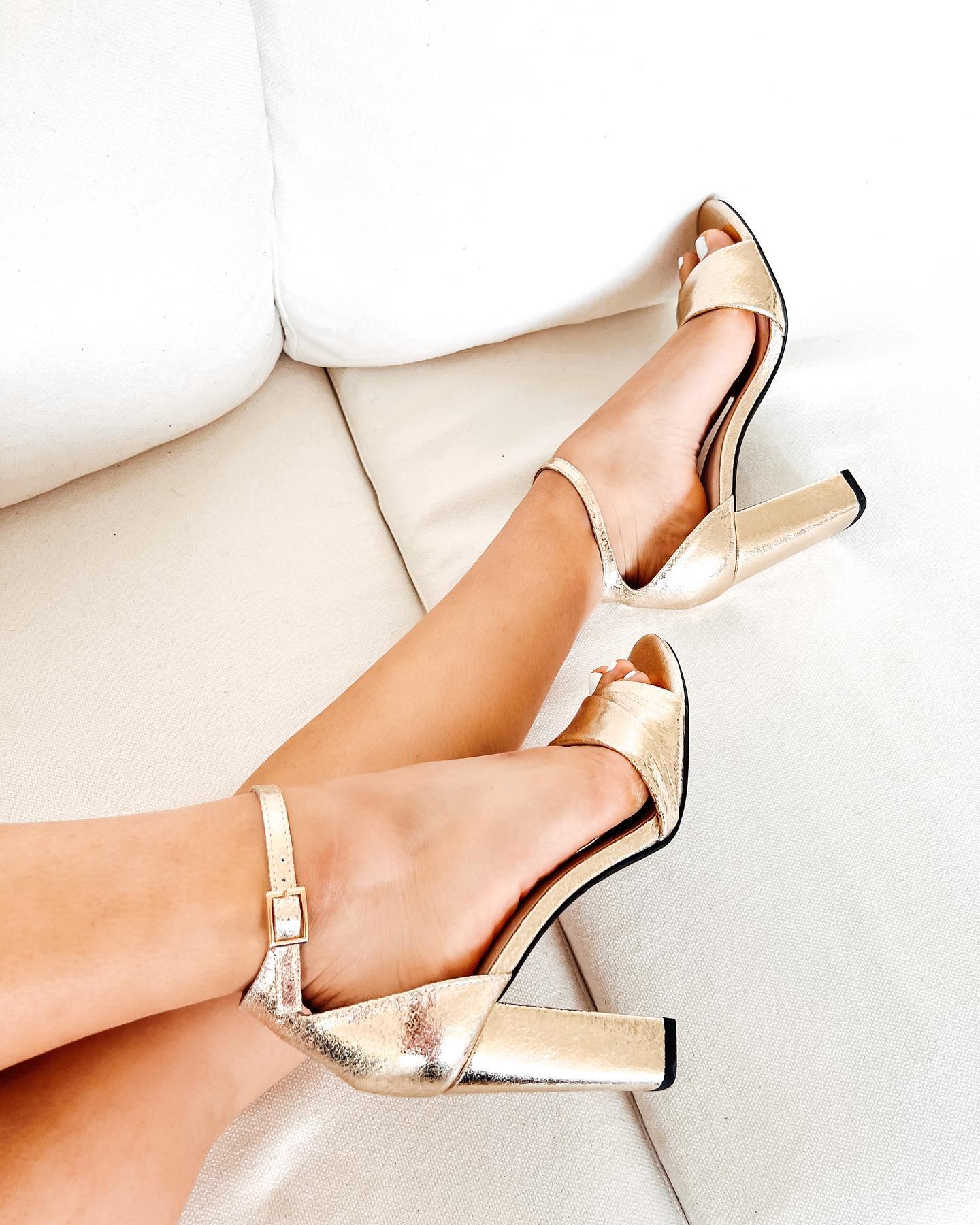 via @artepiedi
Stunning Stiletto Heels for Self-Confident Women
Unlike classic clear shoes, stiletto heels are extremely high and thin and are mostly worn on special occasions. There are numerous variations for summer, for instance, stiletto heels sandals. If you want to find a comfier pair, consider ankle strap stiletto heels. Thanks to the clasp, the foot is fixed better, making walking more comfortable. Platform stiletto heels are also a great idea for those who would like to look taller since they imply additional lift under the toes.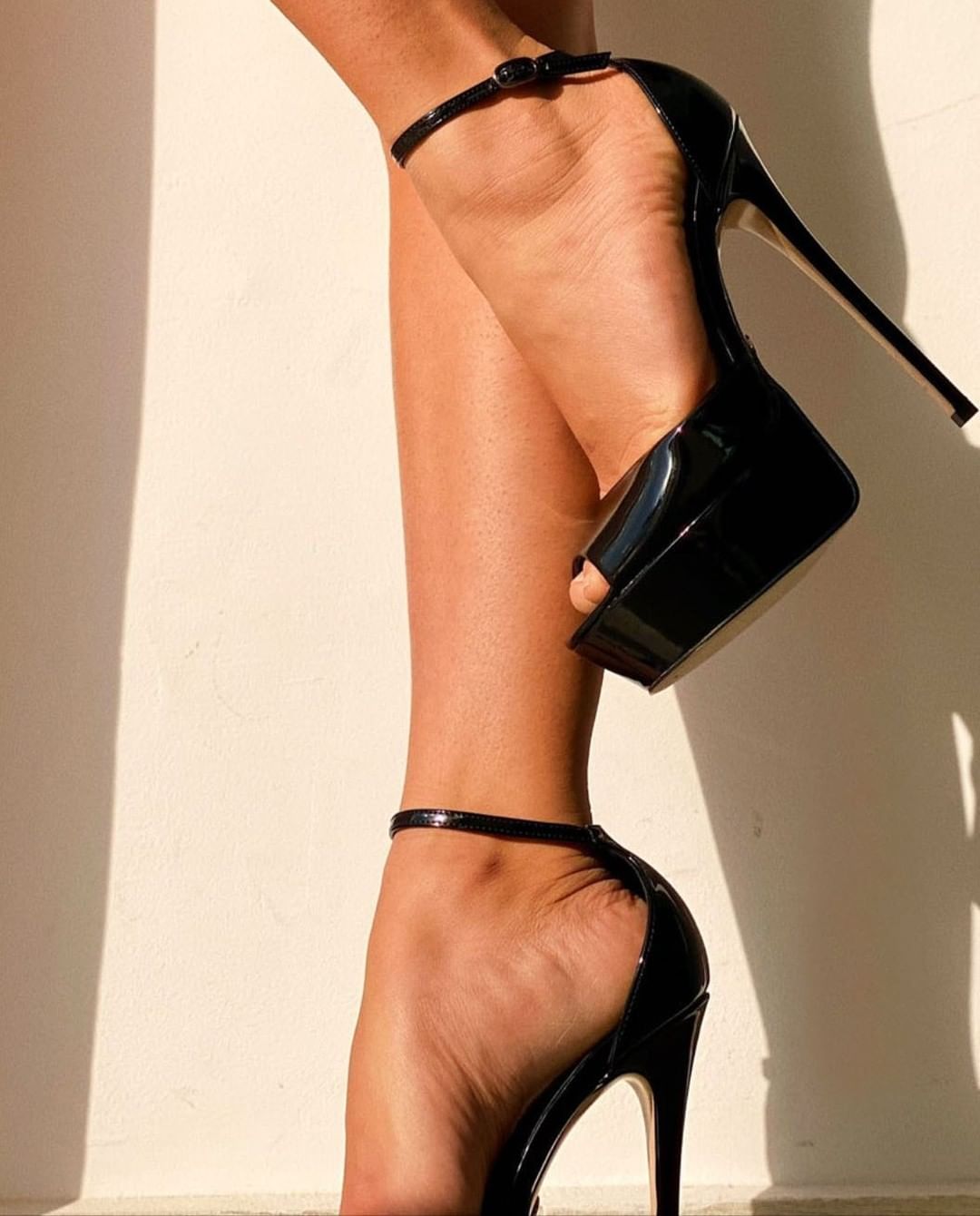 via @hotheelsshop
Unique Croc Heels for Extravagant Girls
Croc heels are a little crooked mid-heel that usually implies a mixture of classic and sports shoes. Croc with heels is a collaboration of Balenciaga and Crocs, which is extremely common among modern fashionistas.
Croc Balenciaga heels cannot be left without attention. It is one of the most exciting and unusual new footwear trends. Combine it with jeans or pants in color and be bright! Of course, such shoes are not for every day, but if you are brave enough to wear them on a special occasion – go on! Croc platform heels will highlight your personality and is an exciting option for those who like unusual clothing.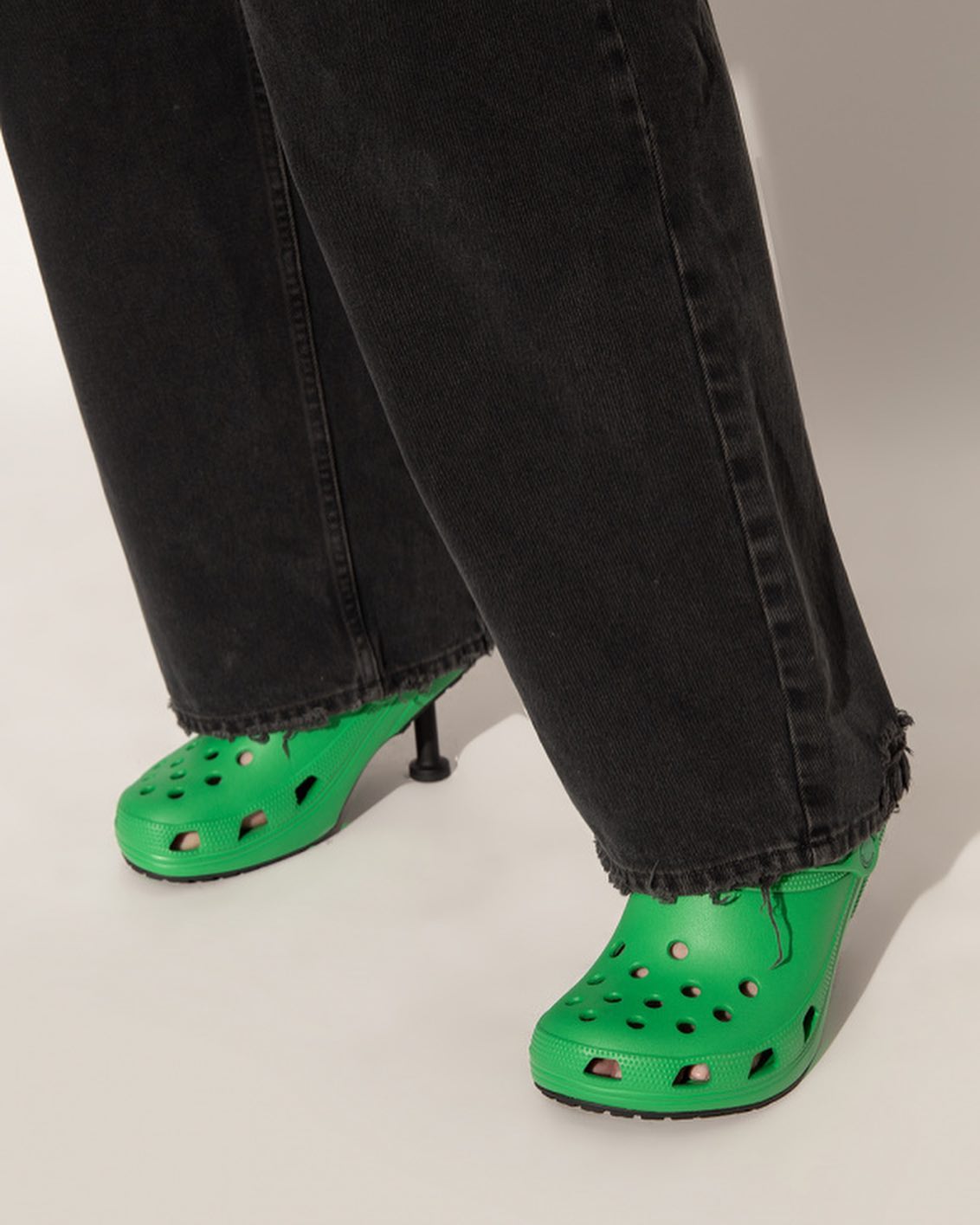 Chunky Heels for Casual Looks
If you are searching for summer shoes for women that you can wear daily, consider low chunky heels, suiting all styles and occasions. Make a bright accent and your look, and pick gold clock heels to shine bright every day! The standard heel in such footwear is around 7 cm.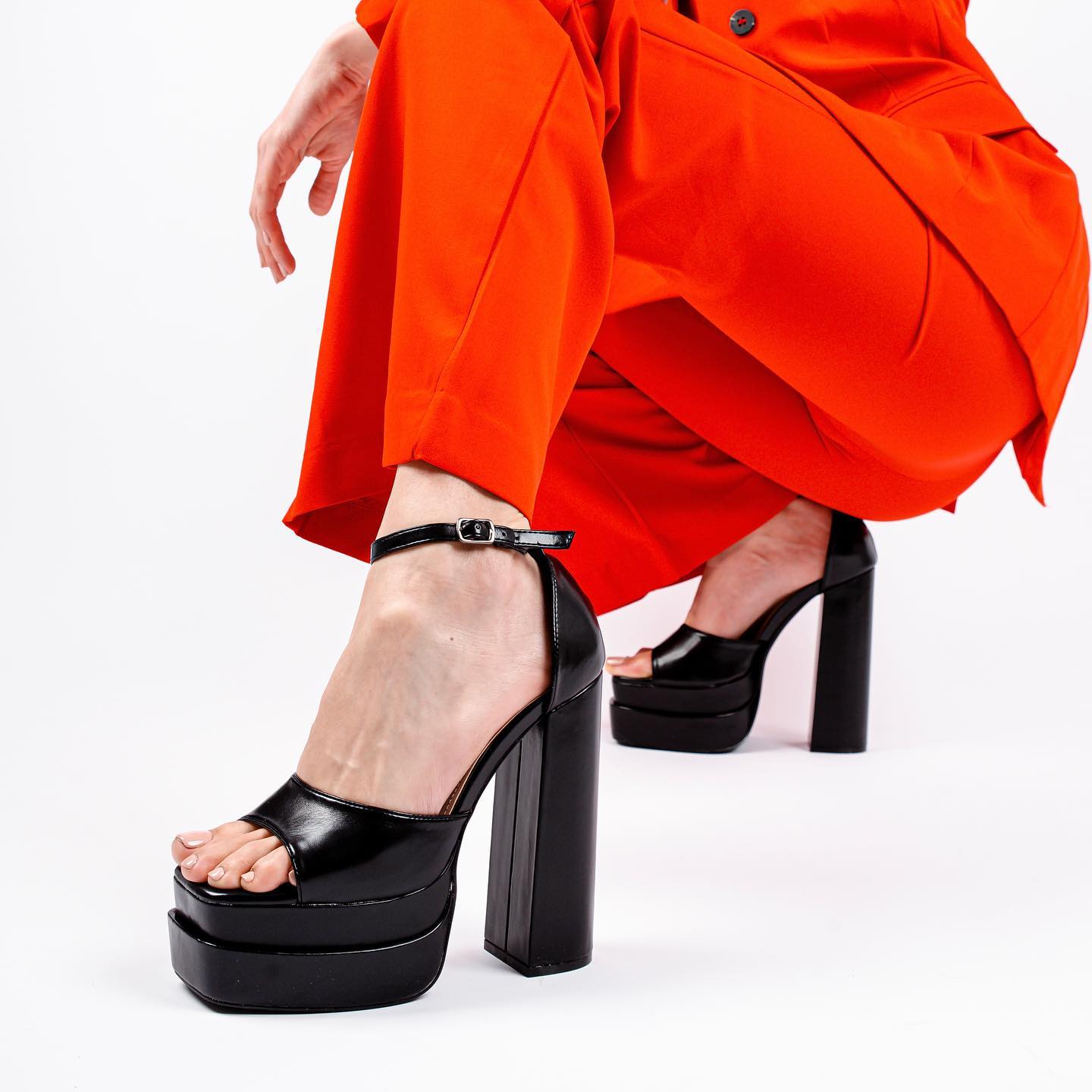 via @cg_stores
Closed Toe Heels
These shoes are more like sandals, as most of the foot is open. In this model, only the toe and heel are closed, making it a fairly convenient option for walking in summer weather. At the same time, ankle strap closed-toe heels are appropriate for the office and will fit perfectly into the business dress code of any company. It's cute footwear for any occasion suitable for everybody.
Beige or black closed-toe heels are a classic option that suits all women, and their wardrobe colors don't matter. However, it's also a perfect alternative for weddings. Make sure to choose bridal white closed-toe heels with comfortable height and enjoy your special day.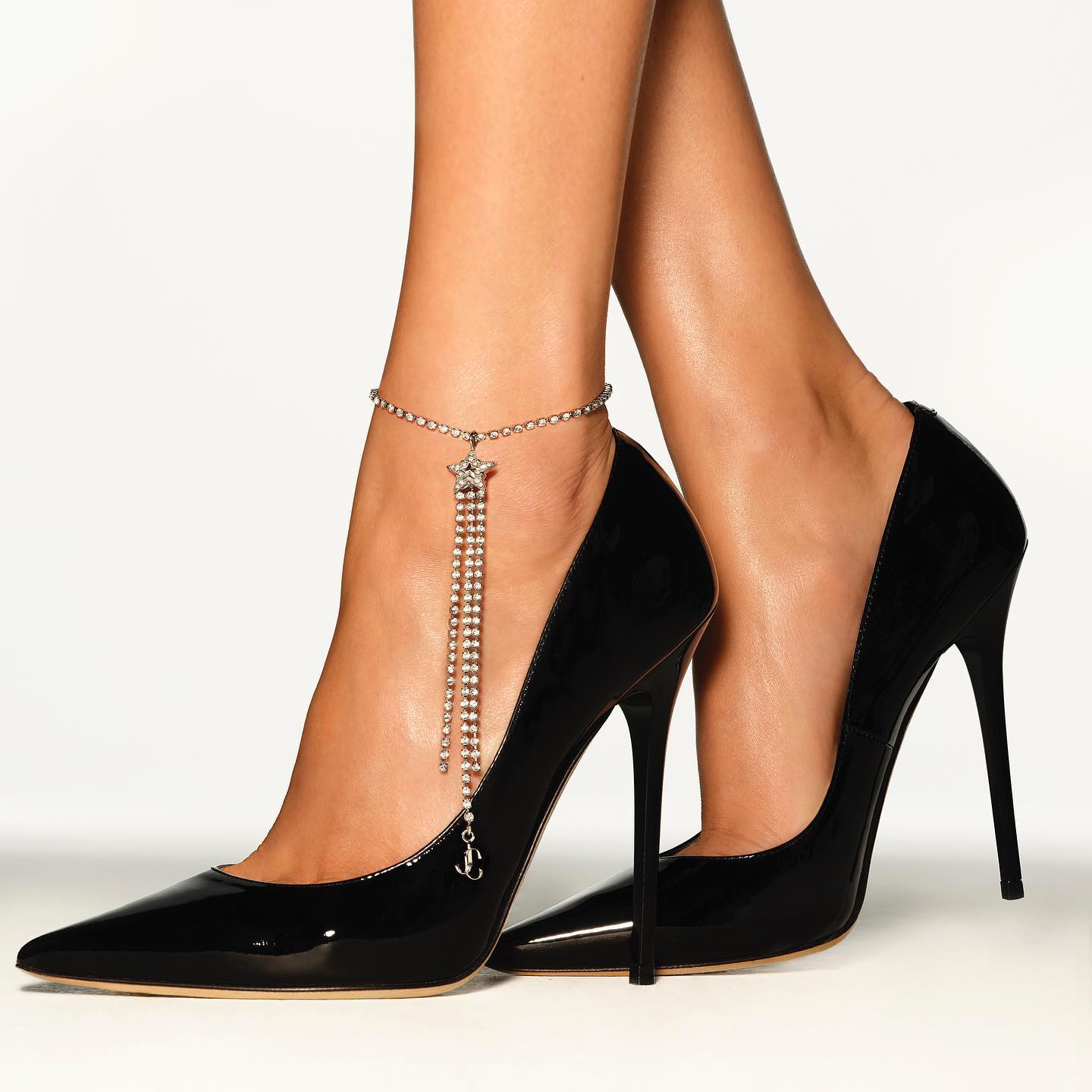 via @jimmychoo
Trendy Square Toe Heels
Square toe shoes were incredibly common in the 80s, and then their popularity declined. However, even now, you can find such footwear with any heel height, allowing you to choose the most suitable option for you. Modern designers provide both shoes and sandals with square toes, offering a great selection of summer shoes for women.
You can wear them to the office or on a date and enjoy your perfect look. White square toe shoes are a great solution for any style. It is classic footwear that will draw a lot of attention to your feet.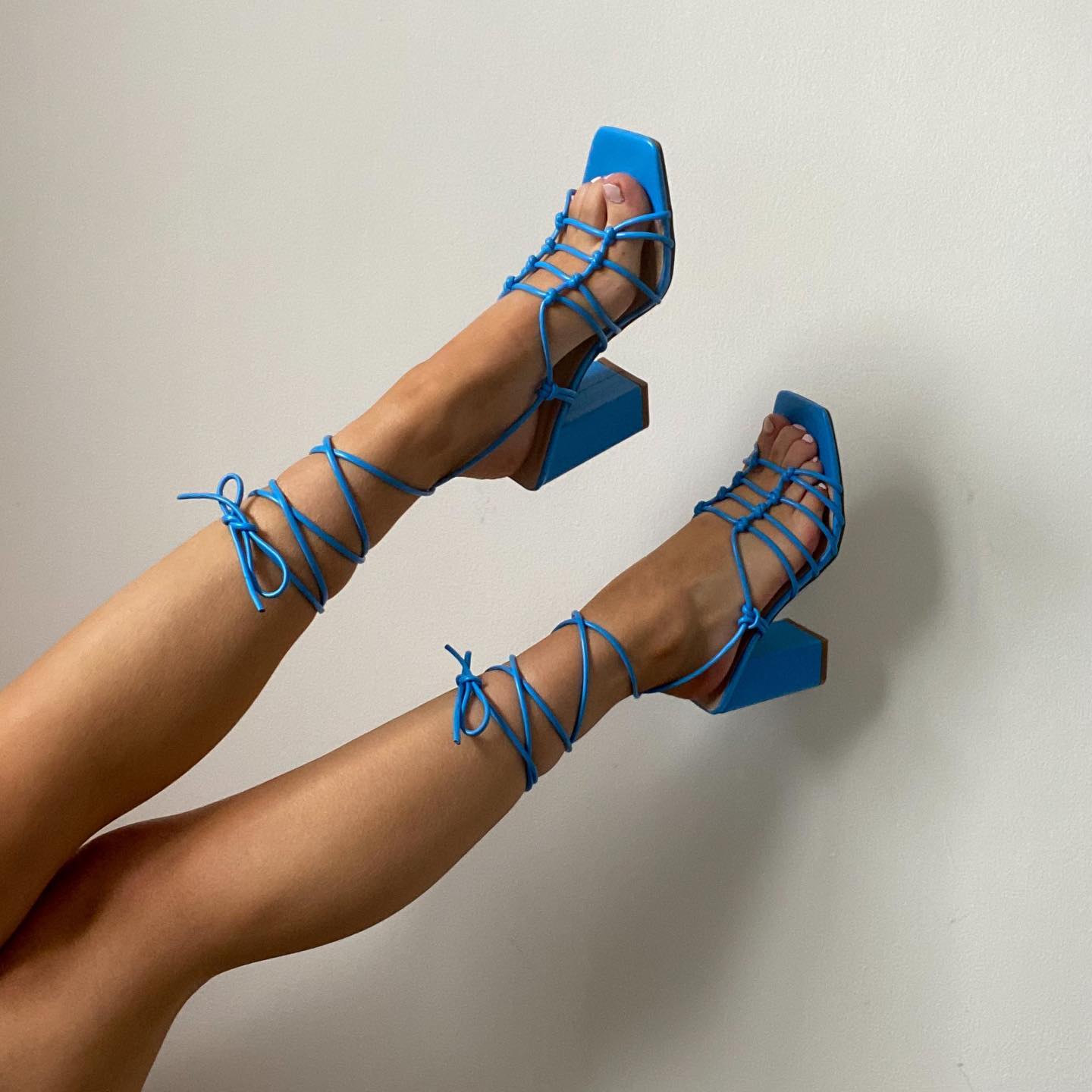 via @gabbiearmstrong
Sparkling Rhinestone Heels
Are you in the mood to shine bright like a diamond? Then choose sparkly heels and feel irresistible every day! Silver rhinestone heels can be combined with your business suit or jeans. Of course, it's also a great option for wedding shoes since rhinestones look wonderful with white dresses. Don't forget to choose comfortable heels height to dance and have fun! You should also pay attention to black rhinestone heels for any occasion.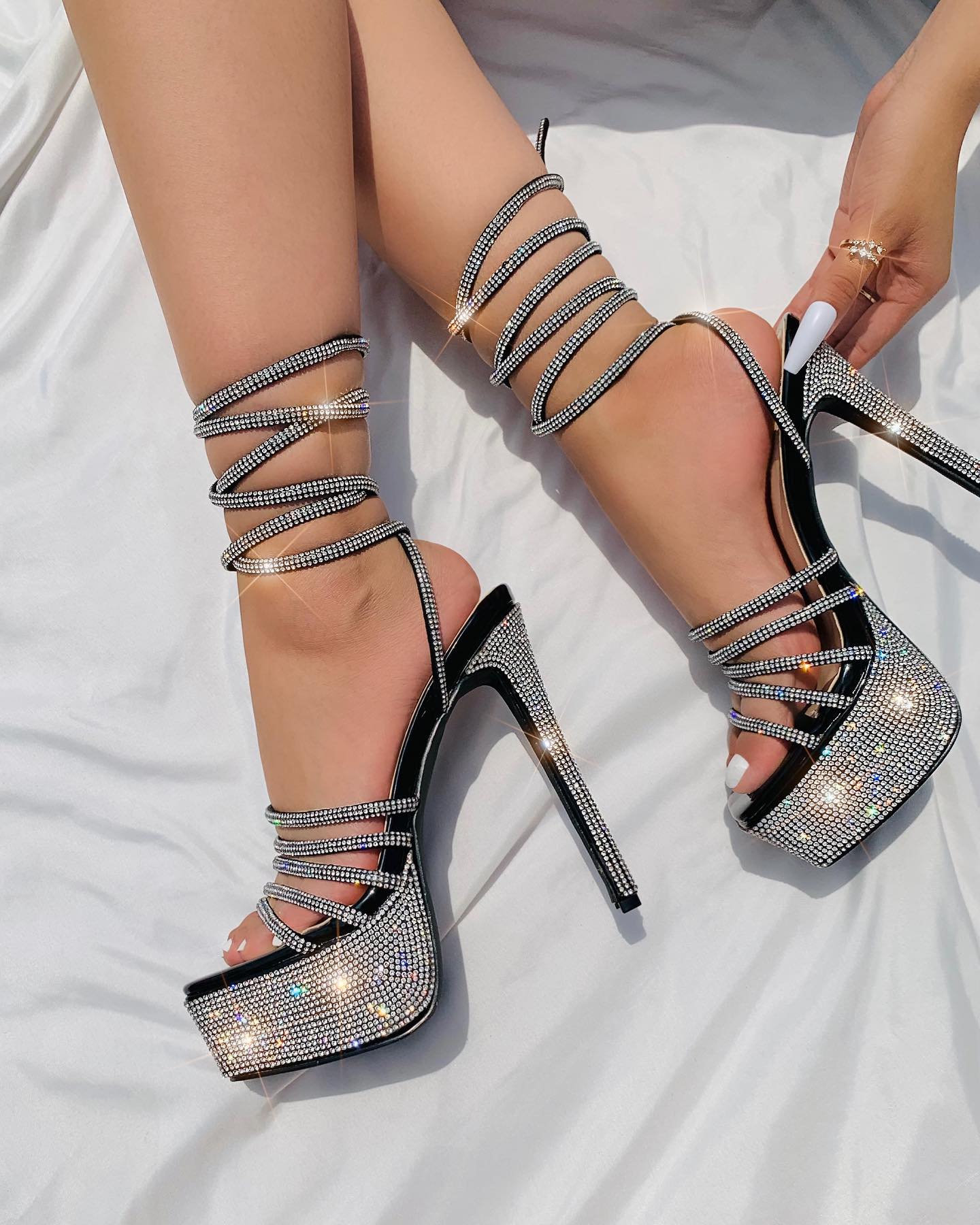 via @myshoesmx
Exclusive Butterfly Heels for Bright Personalities
Classic footwear with butterflies over the heel remains incredibly stylish. Such brand shoes will not leave you without attention. Butterfly high heels can be perfectly combined with a nice summer dress. Wear these special occasion shoes and go on a date or party with your friends. Such an elegant accent will not go unnoticed!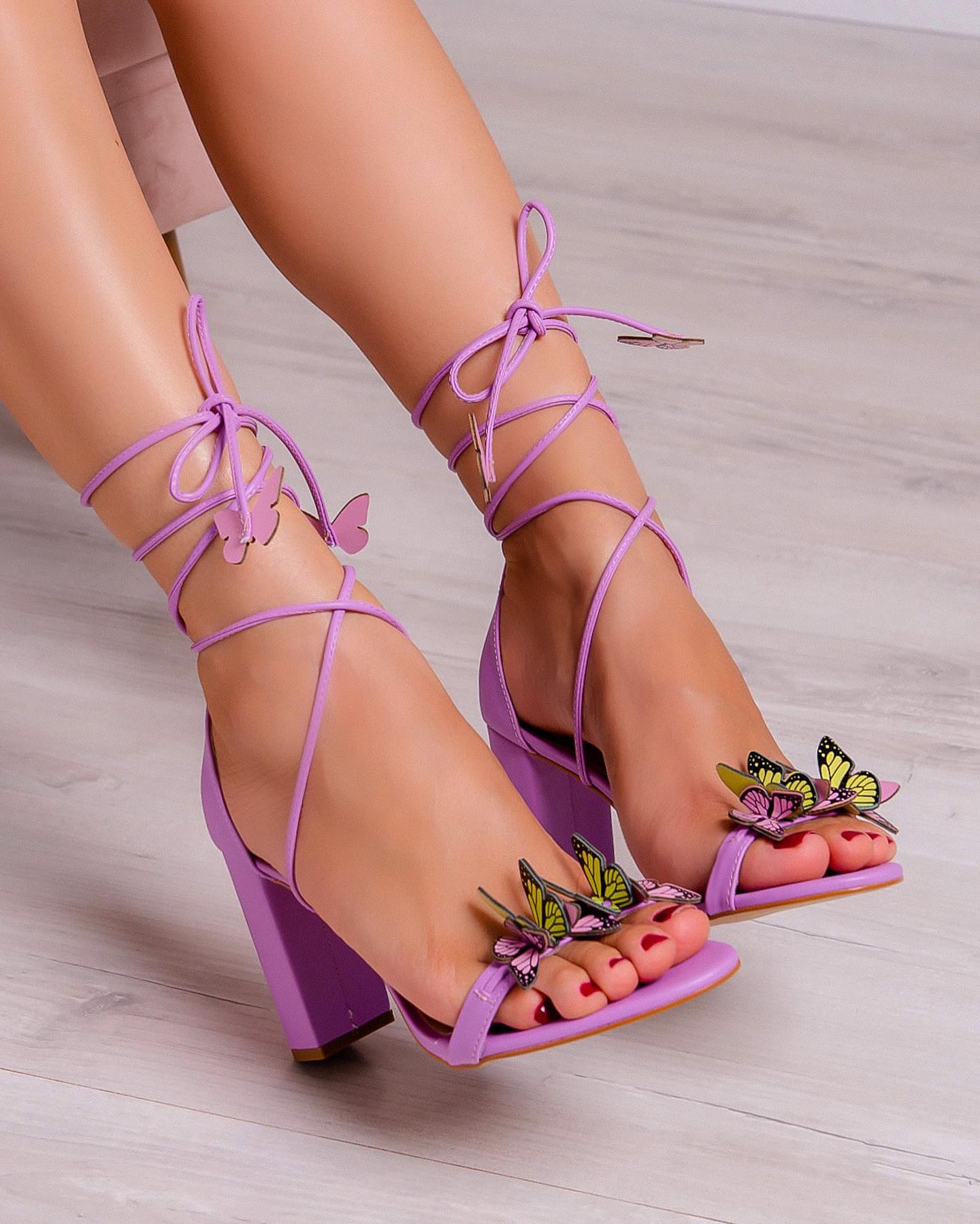 Elegant and Nice Bow Heels
Are you looking for pretty summer heels? We have something interesting for you! Classic shoes with a bow always look festive and attractive. It cannot be said that such footwear suits any outfit, and the best option is to wear a nice dress or classic trousers to create an unforgettable image. For instance, black and silver bow heels are a great option for a party or informal meeting.
Of course, such shoes can be used as prom heels, but make sure not to choose the too bright dress in such an instance. Sparkly bow heels are an accent to your look, so don't add too many glittery details to make it look like a Christmas tree.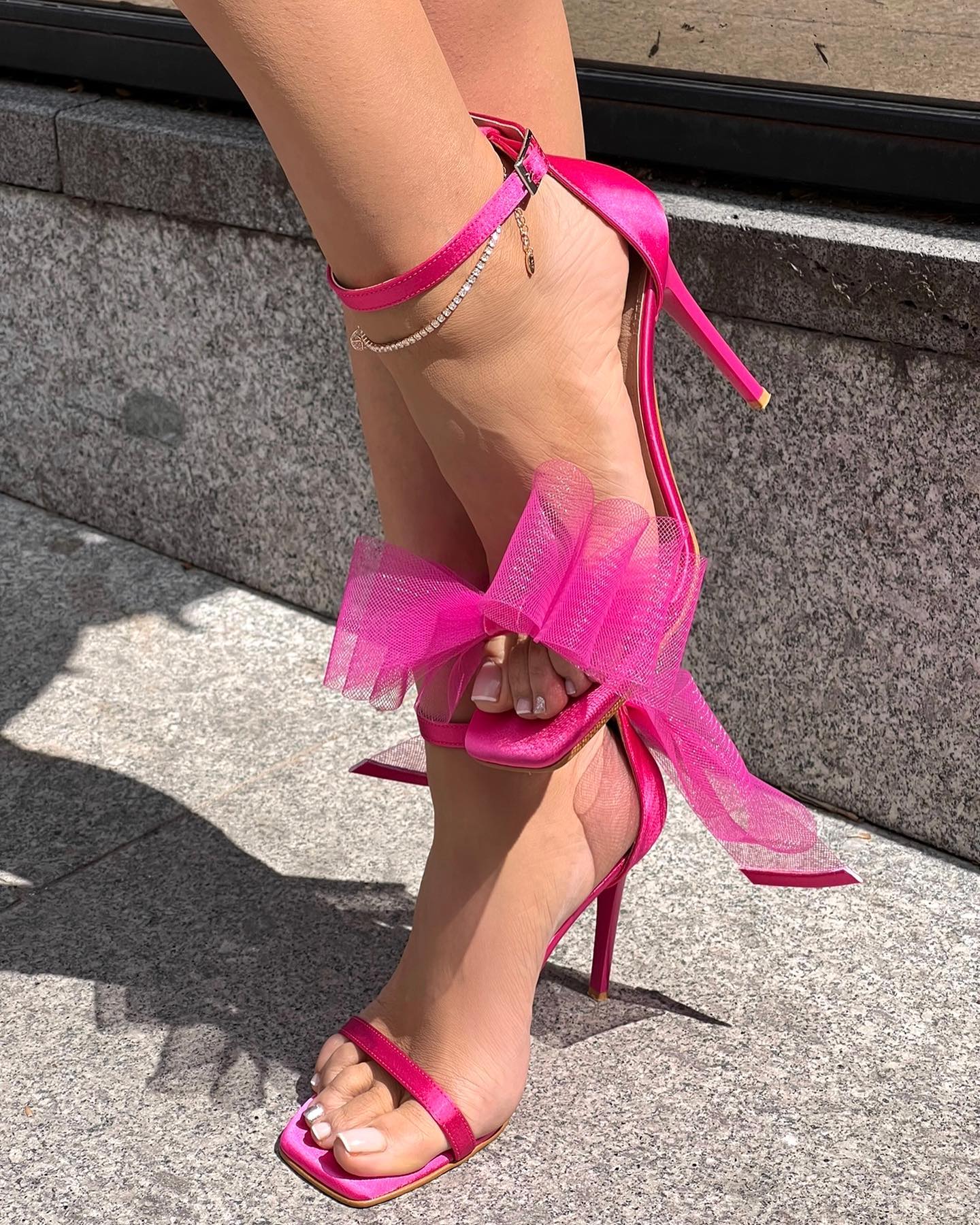 Best Bridal Heels Alternatives
Do you have a wedding very soon and haven't decided about the footwear you'll choose? Consider rhinestone bridal heels that always look attractive at such events! Women choose white bridal shoes, but you should also pay attention to milky and other nude shades. If your dress is sparkly, try plain bridal bow heels that will accent your legs nicely.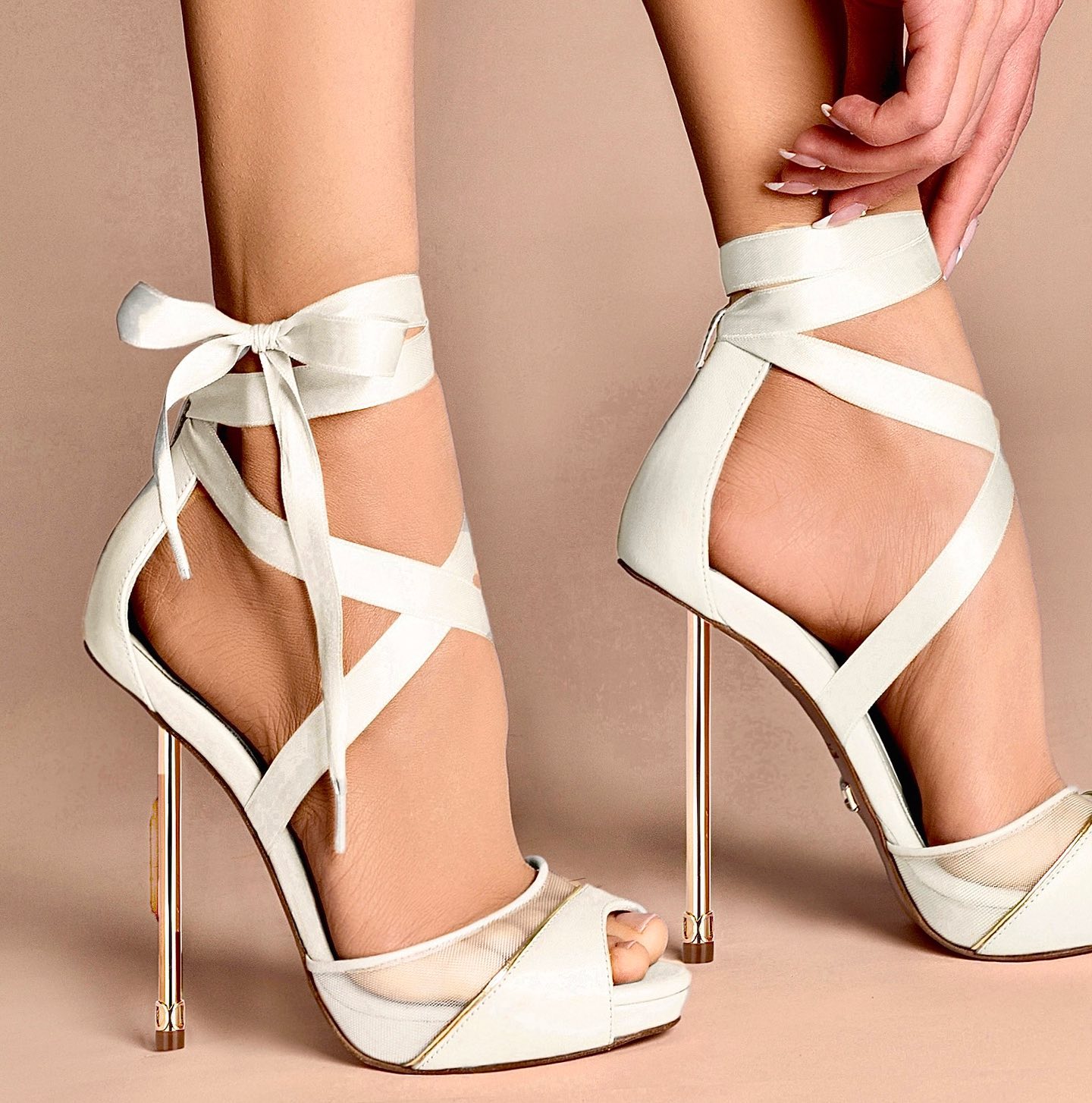 via @dukascomgr
Classy Pumps Heels for Each Princess
Such footwear is the most classic alternative to office shoes with high heels that can be perfectly combined with any clothes. These are classic shoes with a closed toe and a heel, which is a great option of summer style footwear to wear to the office or a meeting with friends. Choose colorful heels and make a bright accent to your look, or pick a classic neutral pair!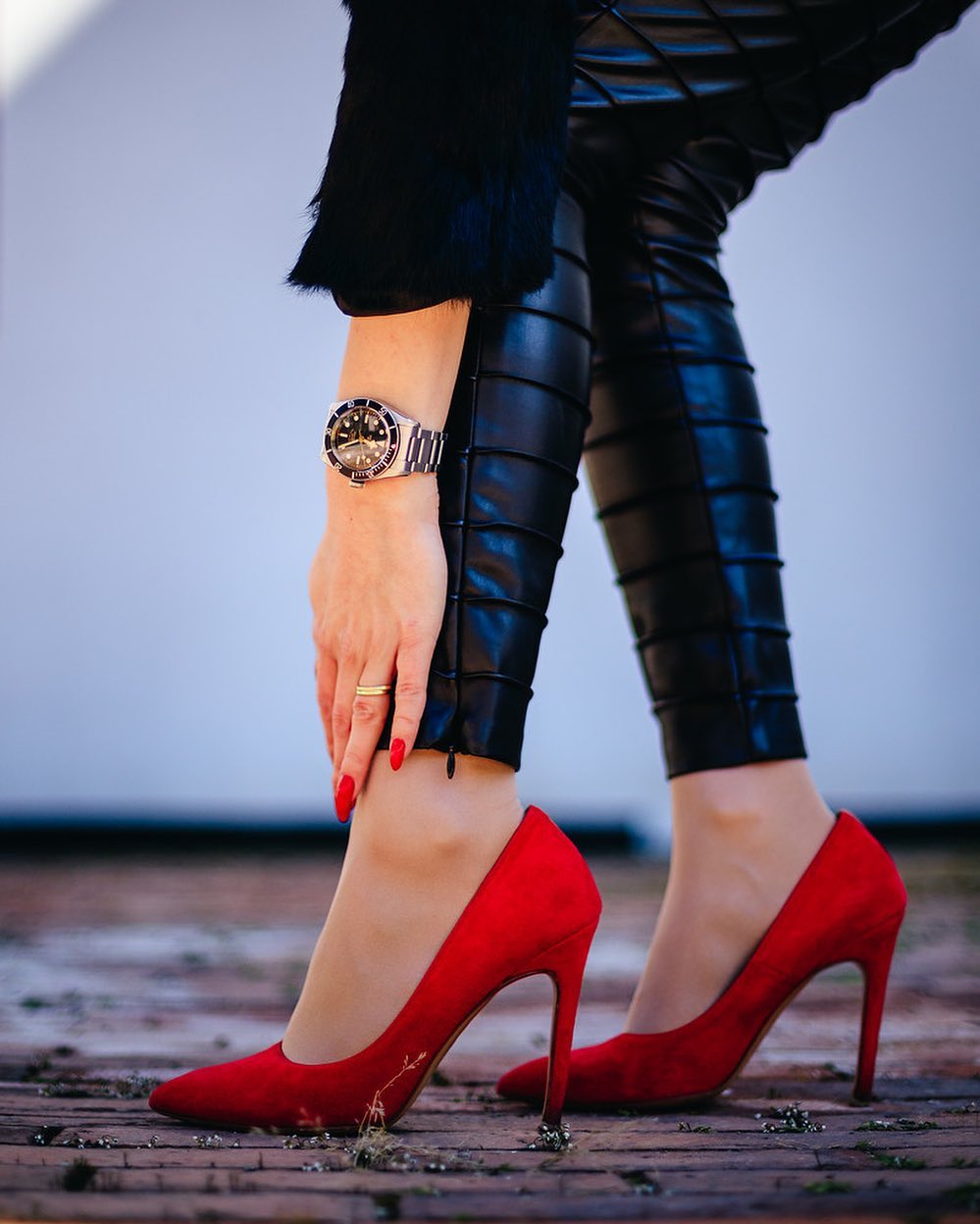 via @marijakl
Unusual Flip Flop Heels for Every Day
This is a perfect casual daily footwear, which you can quickly put on and go wherever you want, making it the best summer option. For instance, you can wear white wedge flip flops for a walk or beach. However, keep in mind that such shoes are not the best alternative for office and formal meetings. Classy flip flop heels are great for leisure and walks!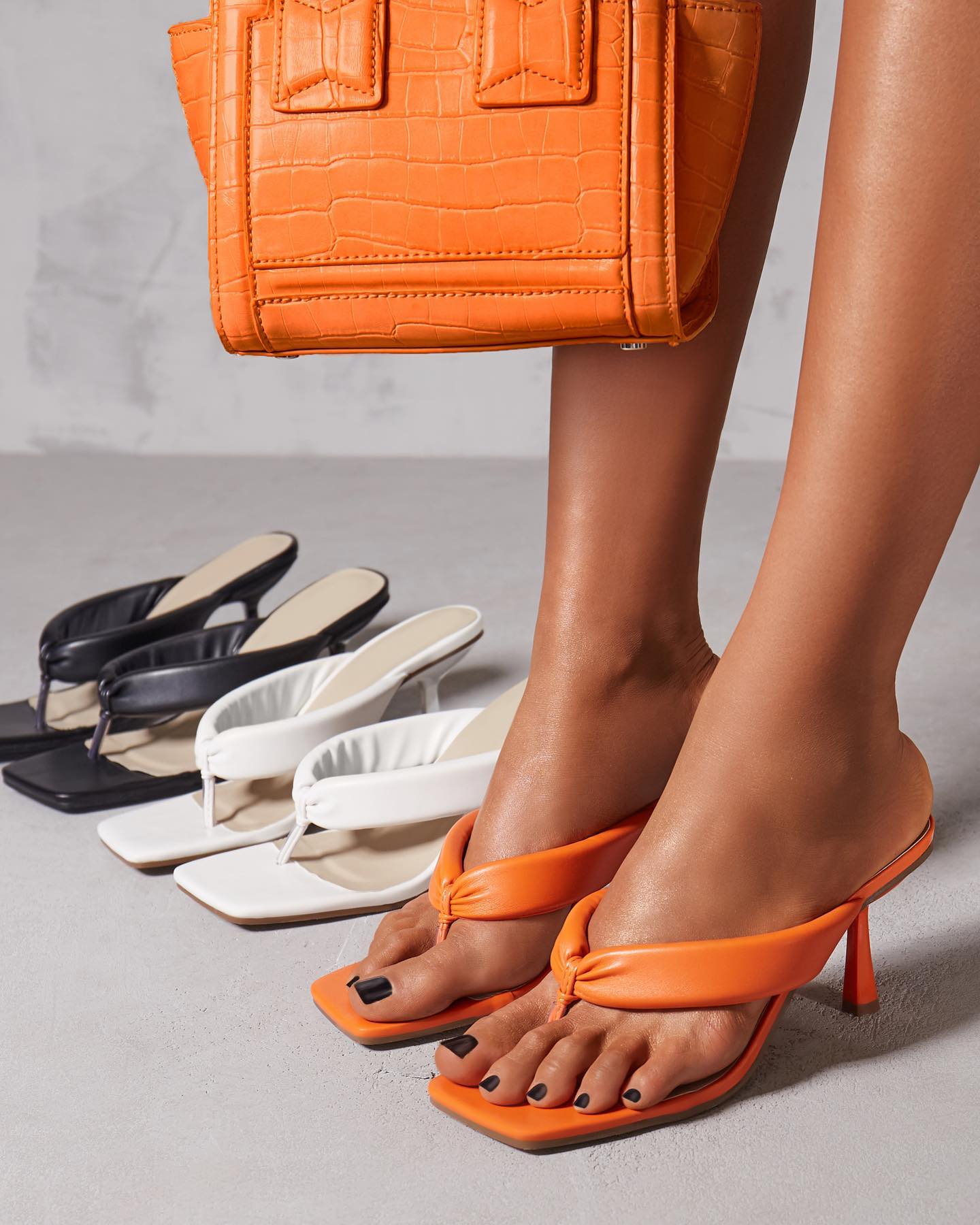 via @reneegirls
Cute Pointed Toe Heels
These classic pointy shoes should be in the wardrobe of every girl. You can choose the heel height that best suits your lifestyle and enjoy your elegant look every day. Black pointed toe heels suit the office dress code perfectly and can be combined with strict business suits and elegant romantic dresses.
Pointed toe pumps are a great solution for office meetings and your casual looks. Wear them with jeans and a jacket and go for a walk with your friend now!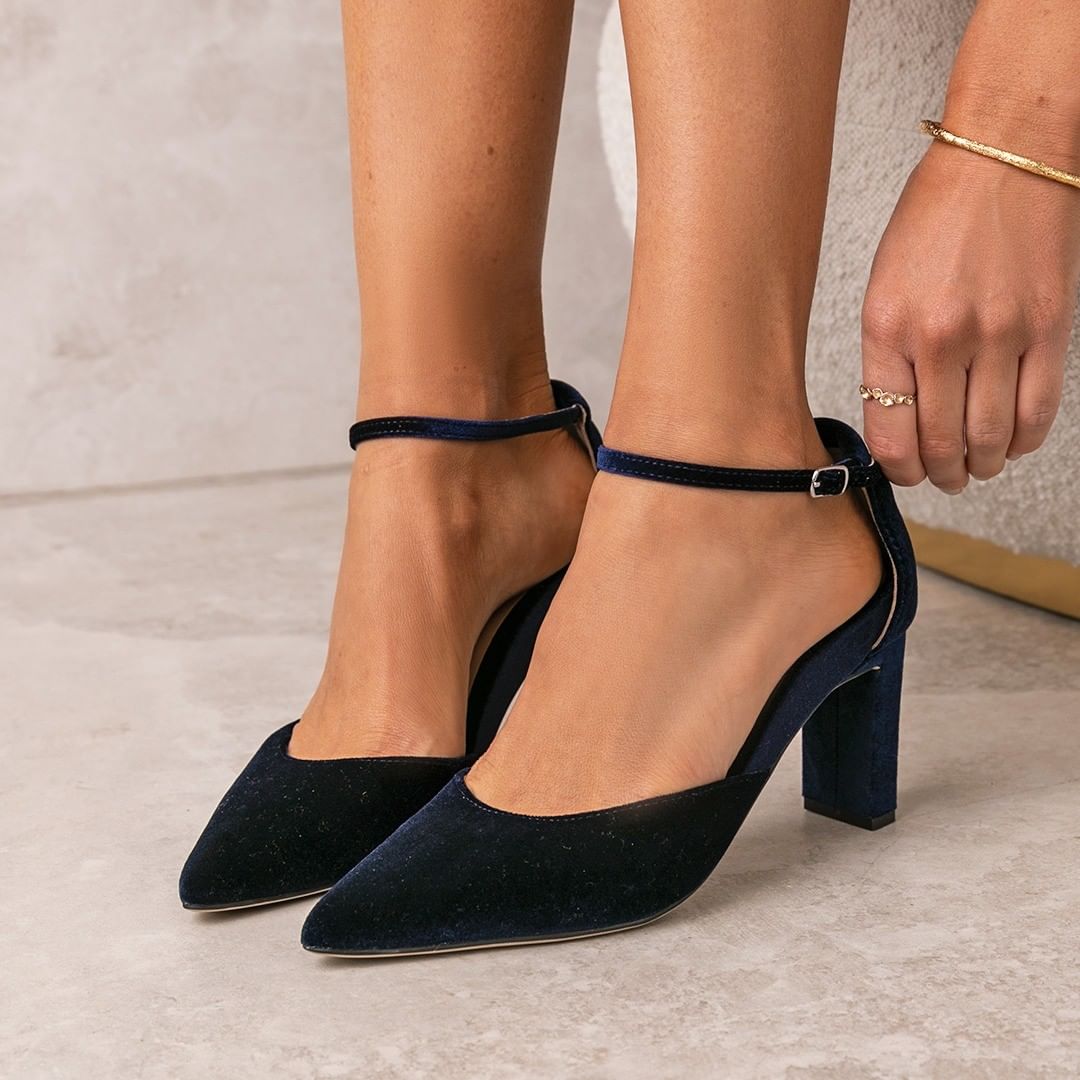 via @baredfootwear
Nice Sandal Heels for Hot Weather
Sandals are the perfect option for hot weather, and it's hard to imagine summer without them. White summer sandal heels are a great way to feel comfortable and create nice looks daily. Moreover, choosing strappy heels will add convenience when walking. Thong sandal heels are a good option for going to the office and can be perfectly combined with any dress code. If you have been looking for heels for any occasion, consider this option when going to the footwear shop.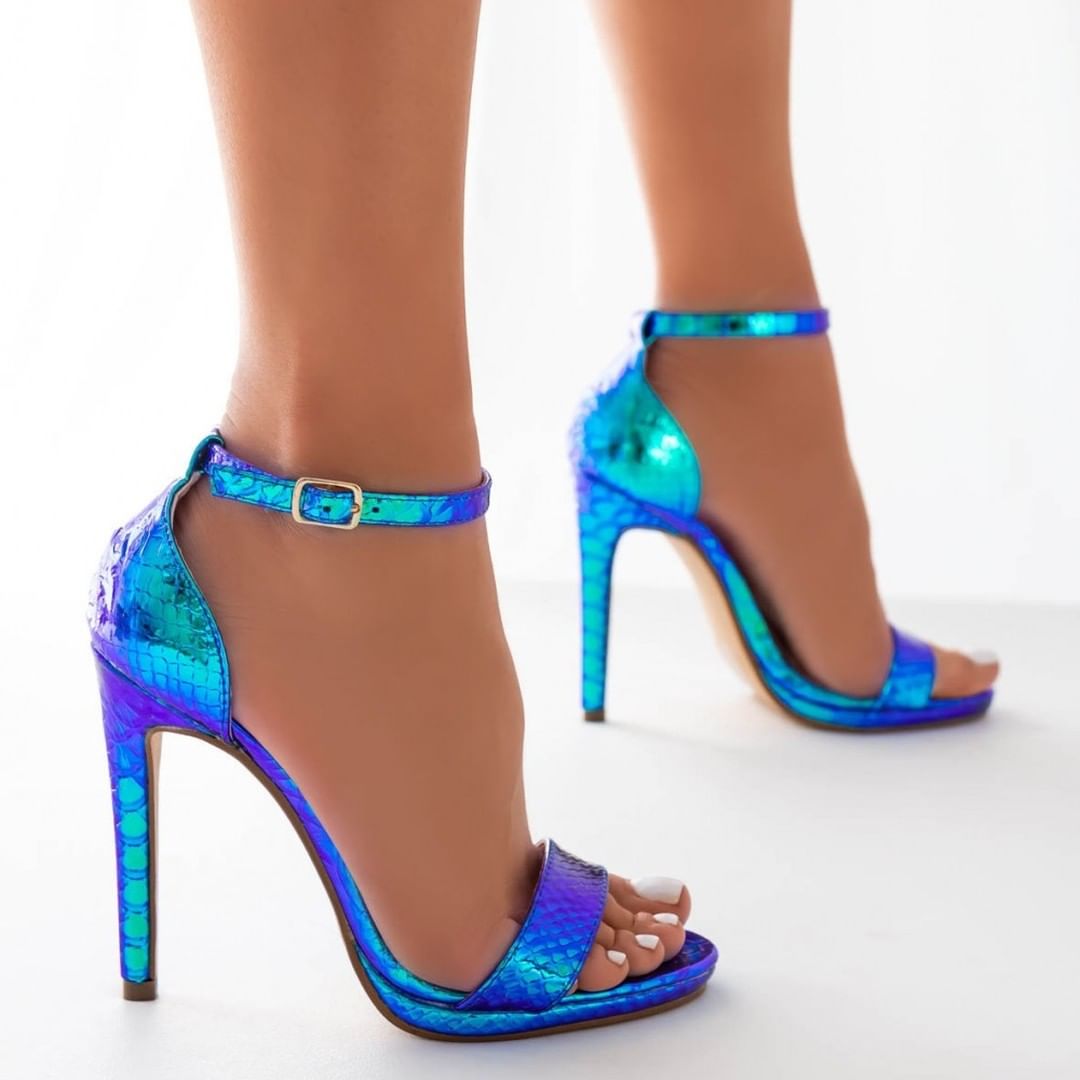 via @lovetshoponline
Consider Incredible Clog Heels
Those who have been looking for unique heel shoes should consider clog shoes. For many ladies, they seem outdated, but it's still a comfortable pair that everyone needs. These are the comfy flip flops that you can wear in a second and go wherever you want! Clog heels sandals will save you when the weather is extremely hot. Check the new arrivals this season and select the most suitable pair.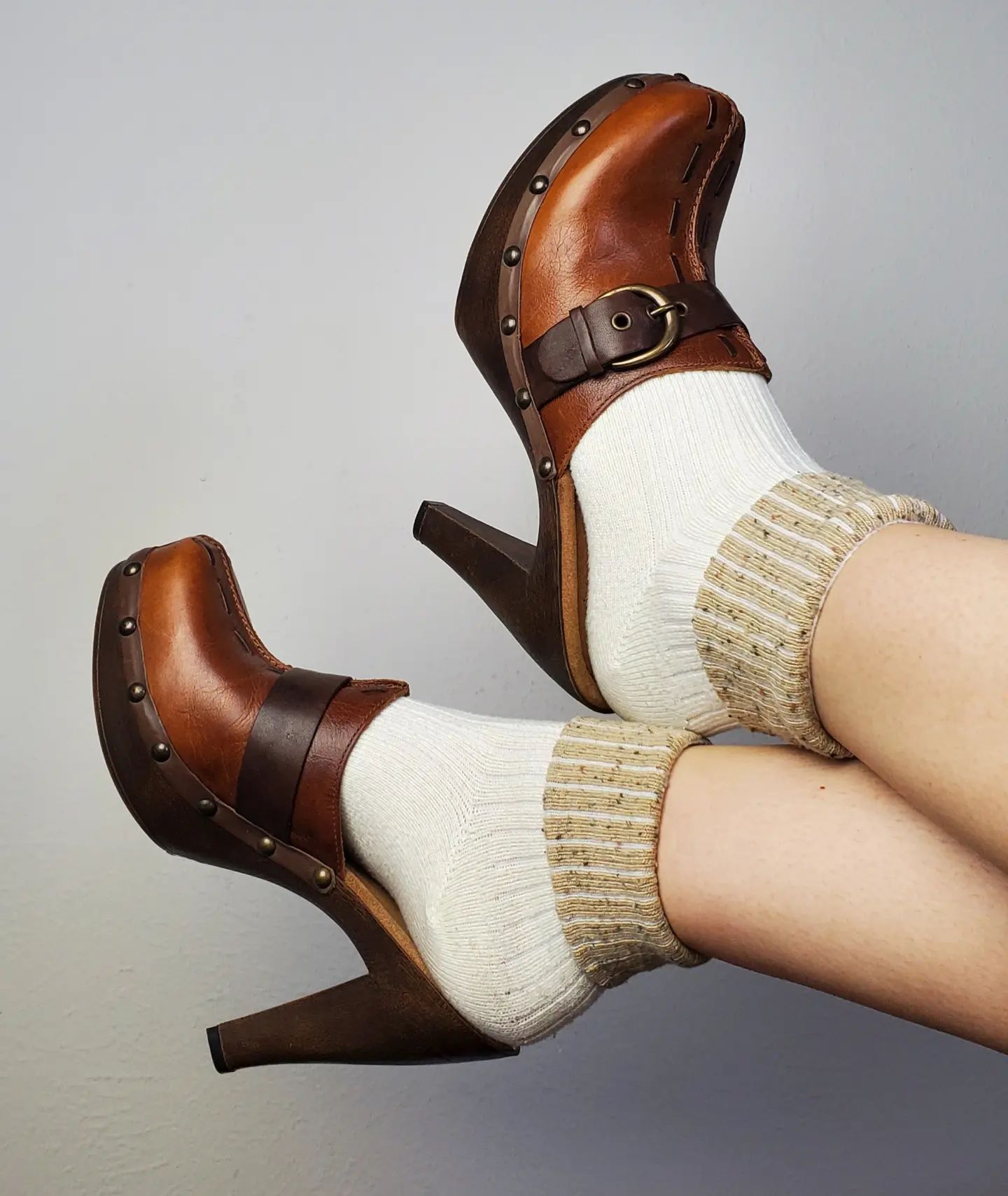 Bright and Attractive Metallic Heels
Silver metallic heels remain at the peak of popularity and will not lose their relevance in the nearest seasons. Of course, the selection is enormous, and you can pick hot pink metallic or gold metallic shoes. Just search for the options that suit your wardrobe and be ready to receive dozens of compliments.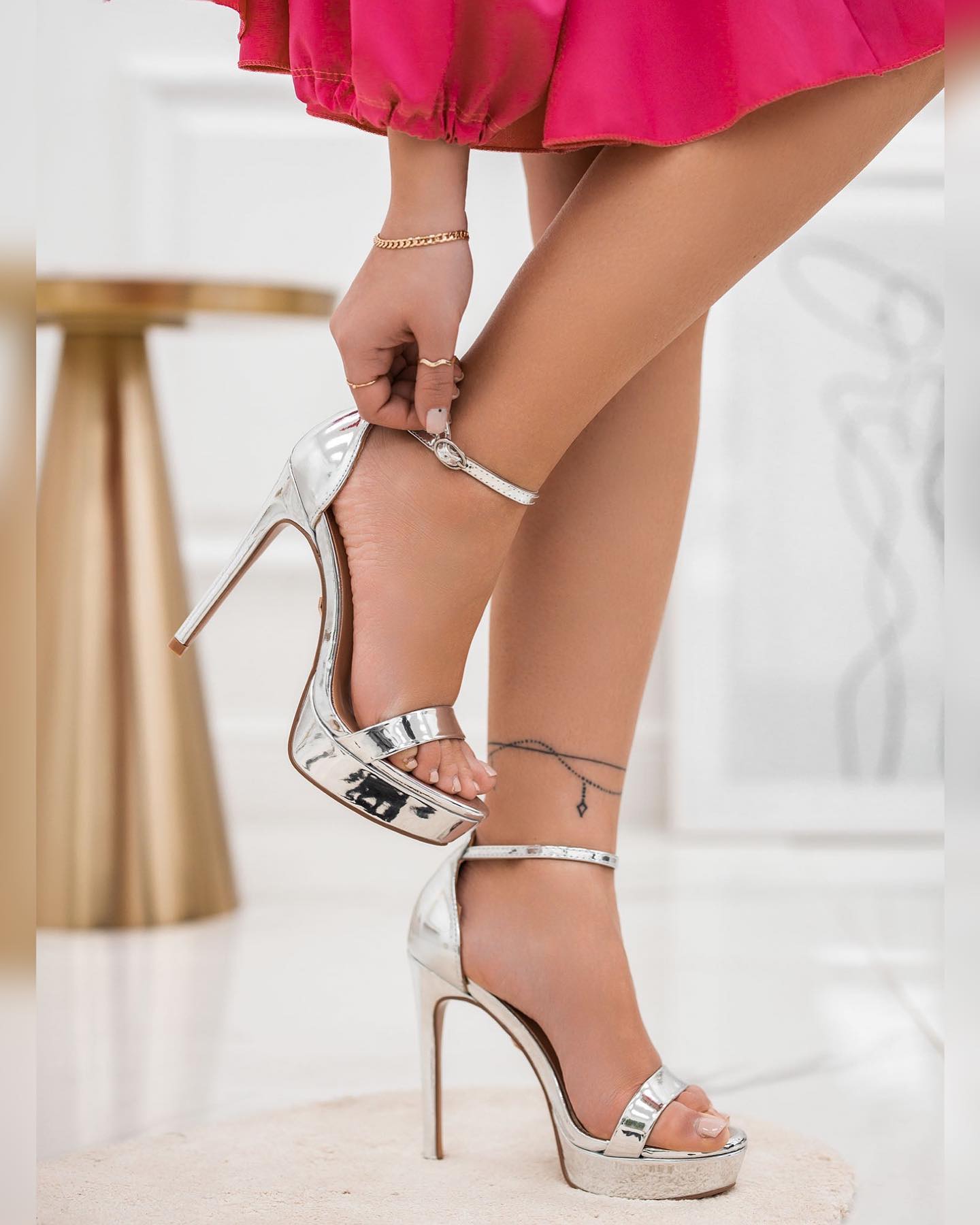 via @alexoo_it
Tight High Heels as the Most Classy Footwear
Such footwear is a classic and excellent office style choice. These cannot be considered an option for daily casual looks, but you can choose them if you need heels for formal events. Such summer shoe style mostly suits some special occasions where you should look like a queen. You can also pick knee-high boots, which are great for cool evenings.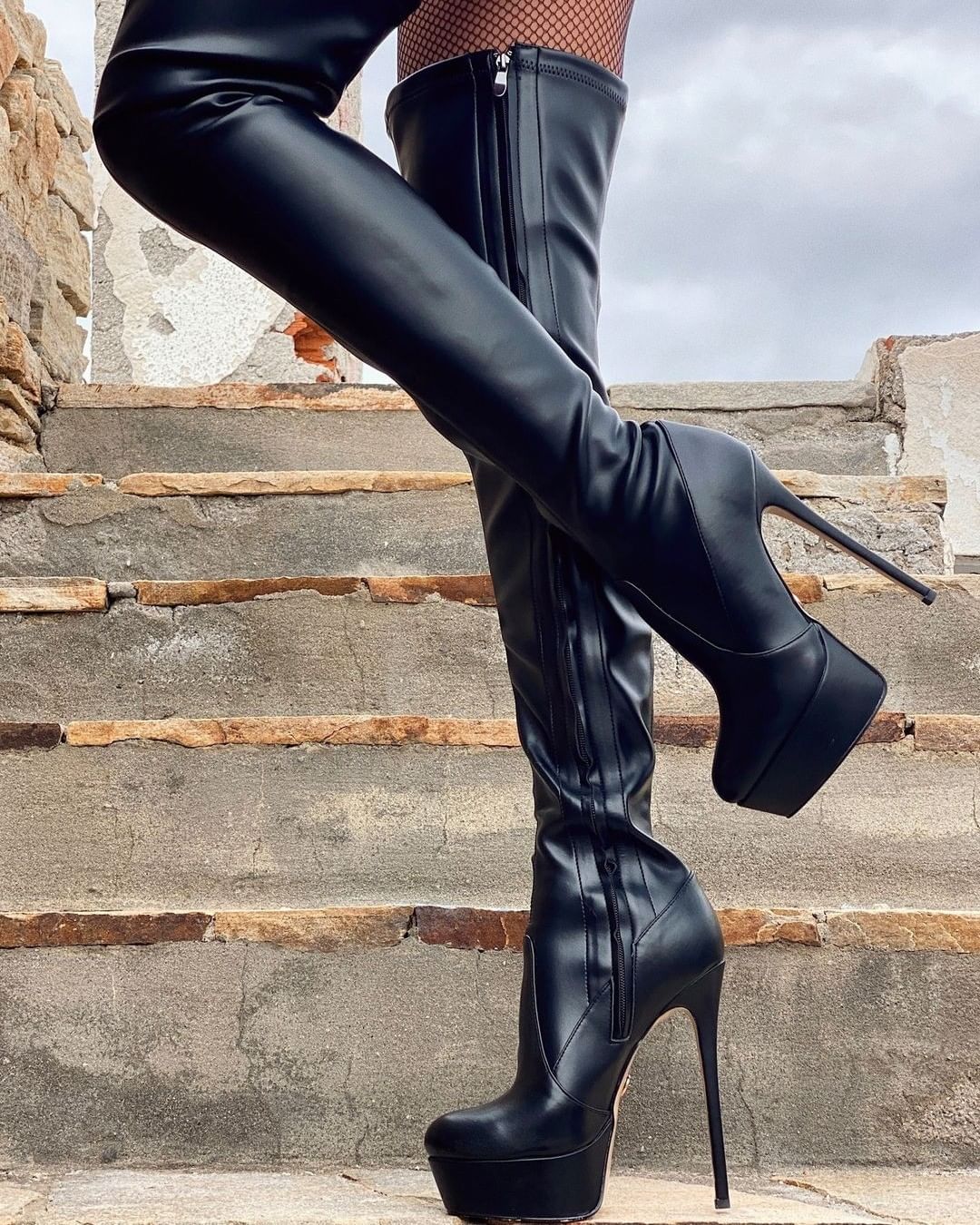 via @hotheelsshop
Comfy Strappy Heels for Casual and Office Looks
Strappy sandals with numerous ropes, which are evenly tied along the leg right up to the knee, are a perfect option for summer. You can choose the tie up heels or flat footwear since the selection is now enormous. If you don't want to tie the ropes on your legs, wrap around heels and get a unique style.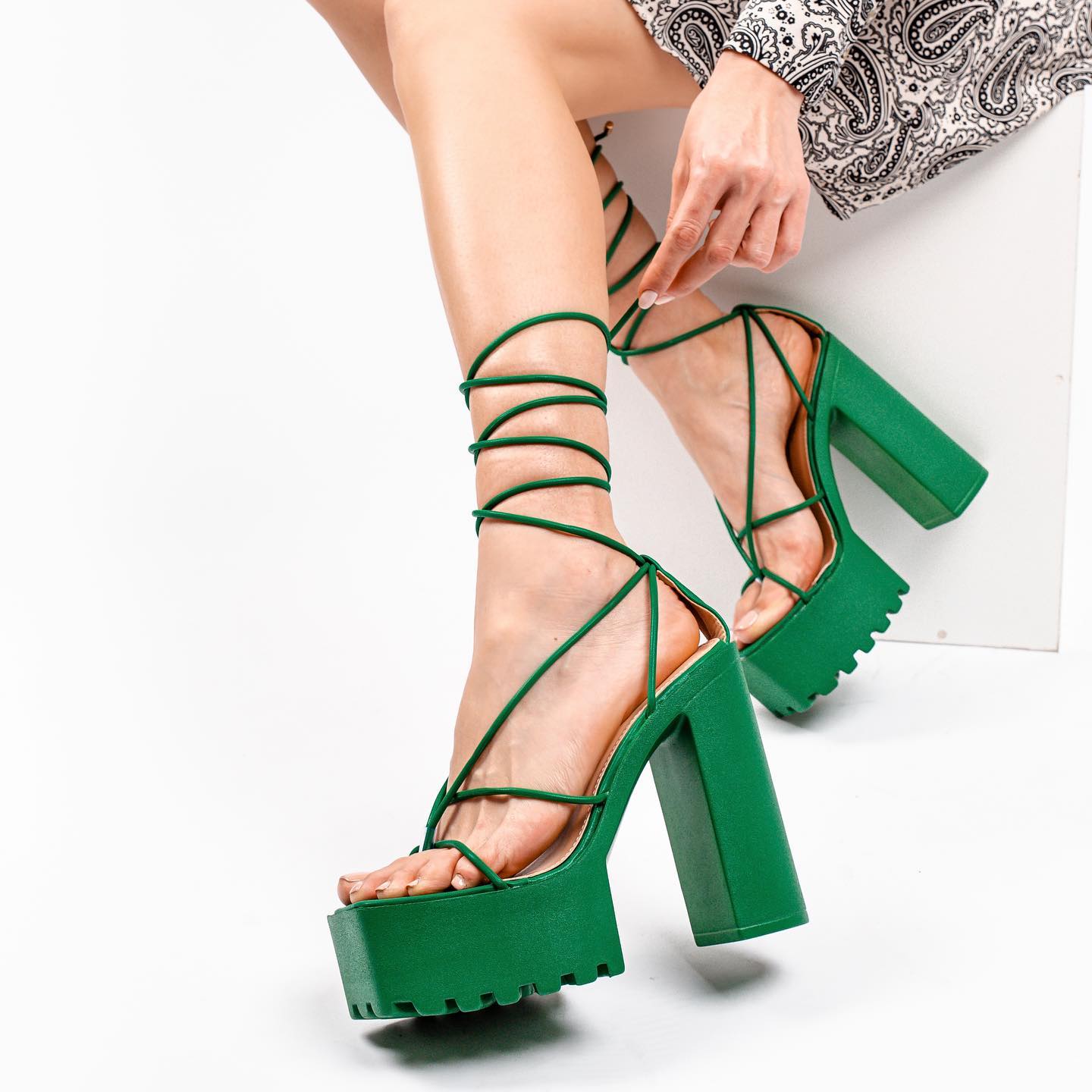 via @cg_stores
Super High Heels
6-inch heels in stiletto shoes are not an option for everybody, but it is the excellent footwear to attract attention. It's a perfect solution for short girls who would like to look taller. Such heel fashion can hardly be worn daily, but go on if you have a party or a special occasion. If you are not confident you will feel comfortable when walking, search for a pair of thick heels. We are confident that heel stores around you provide a great selection!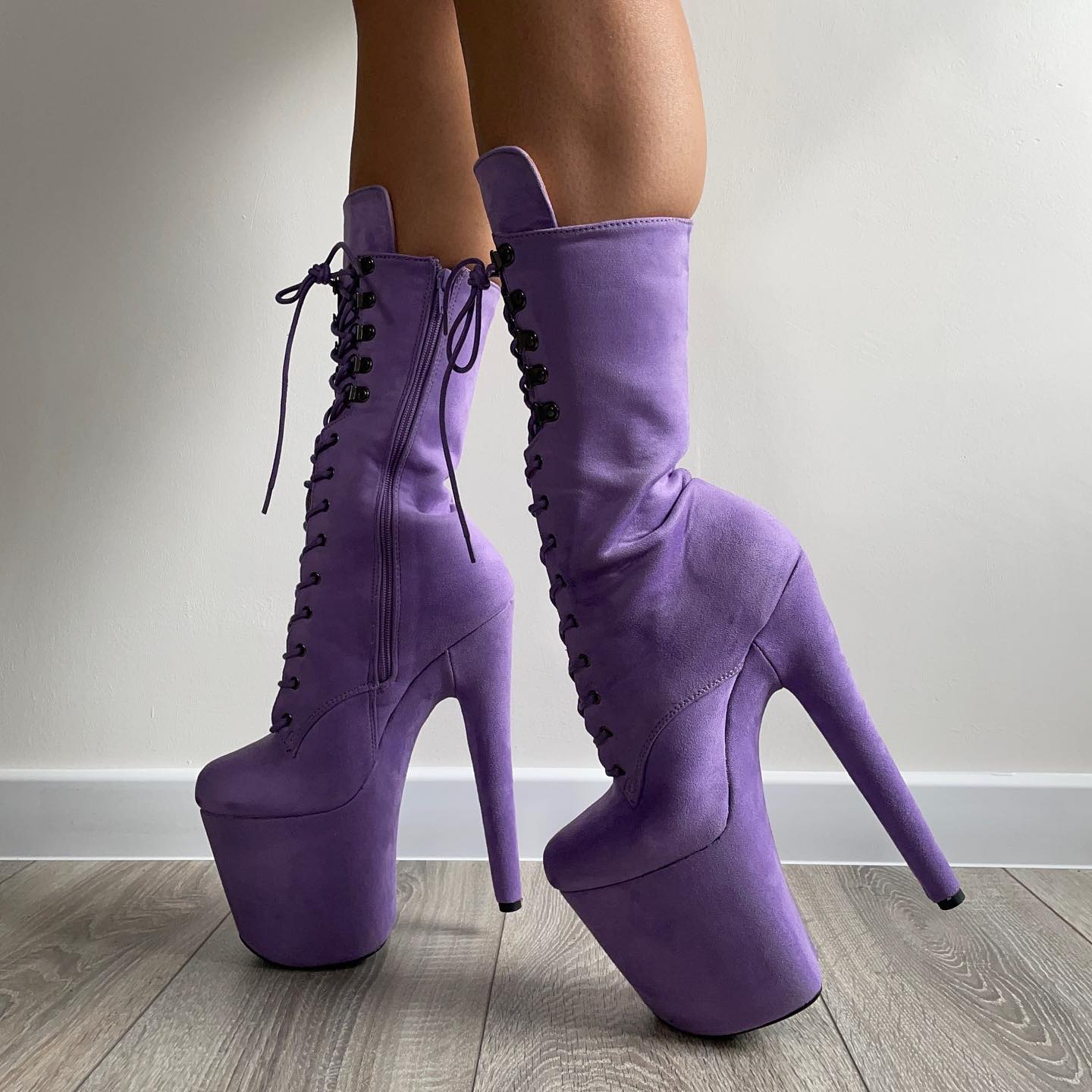 via @leecabe_shoes
Wonderful Louboutin-Styled Red Bottom Heels
Black heels with the red bottom are a classic created by Christian Louboutin, and such a pair is a great way to add color to your strict look. These are the classic stiletto shoes with a nice accent! Imply a little change to your classy heels and select suitable footwear. Of course, it's not obligatory to choose designer high heels since they are costly. You can find multiple affordable alternatives of great quality.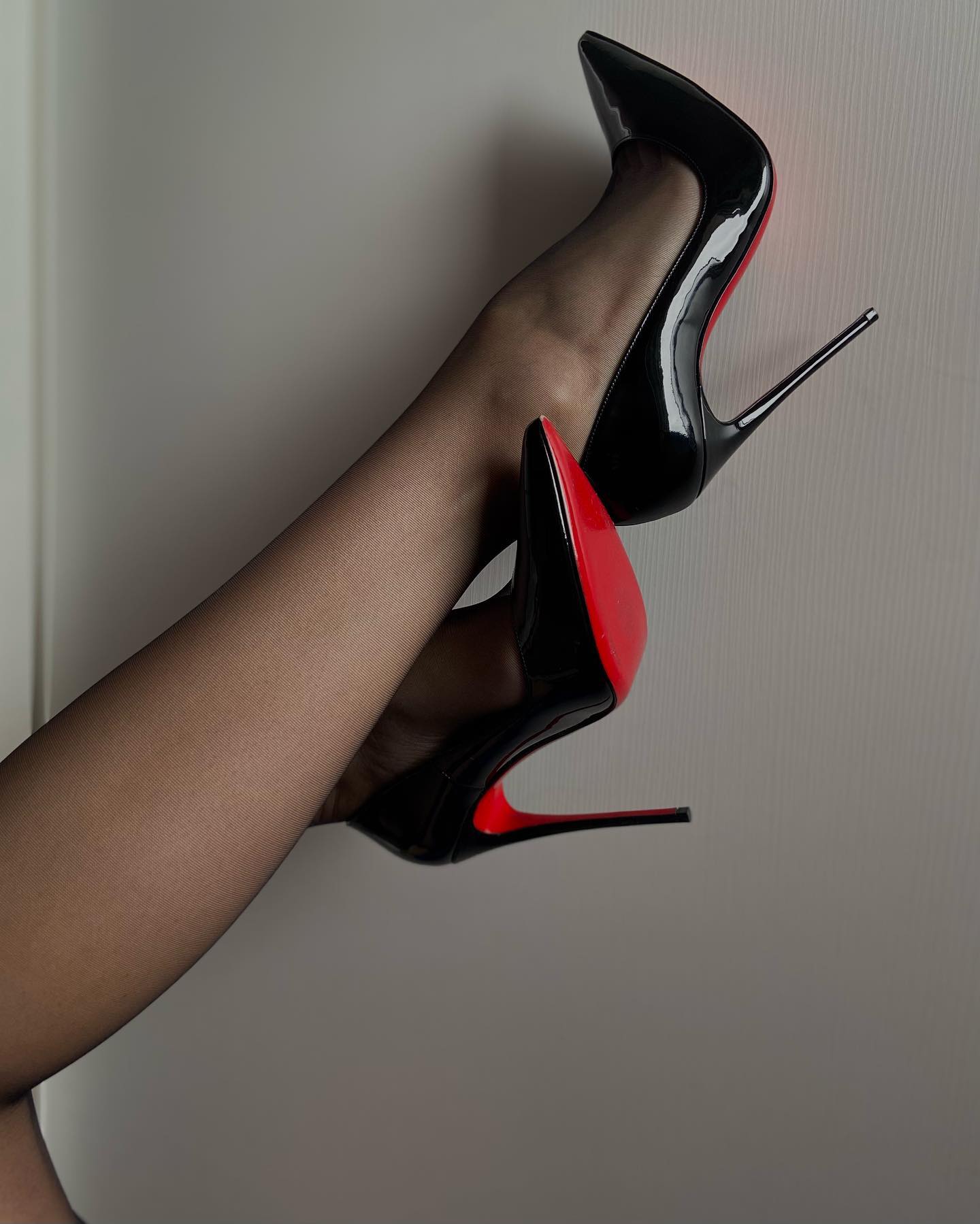 via @_my_heels_
Leopard Print Heels for Bright Ladies
Glossy leopard shoes are a great option for those who prefer wearing monochrome colors and are searching for a bright accent for their look. Animal print heels have been at the peak of their popularity for many years, and it will not change. If you mostly prefer strict plain colors, make your look complete and add a bright accent.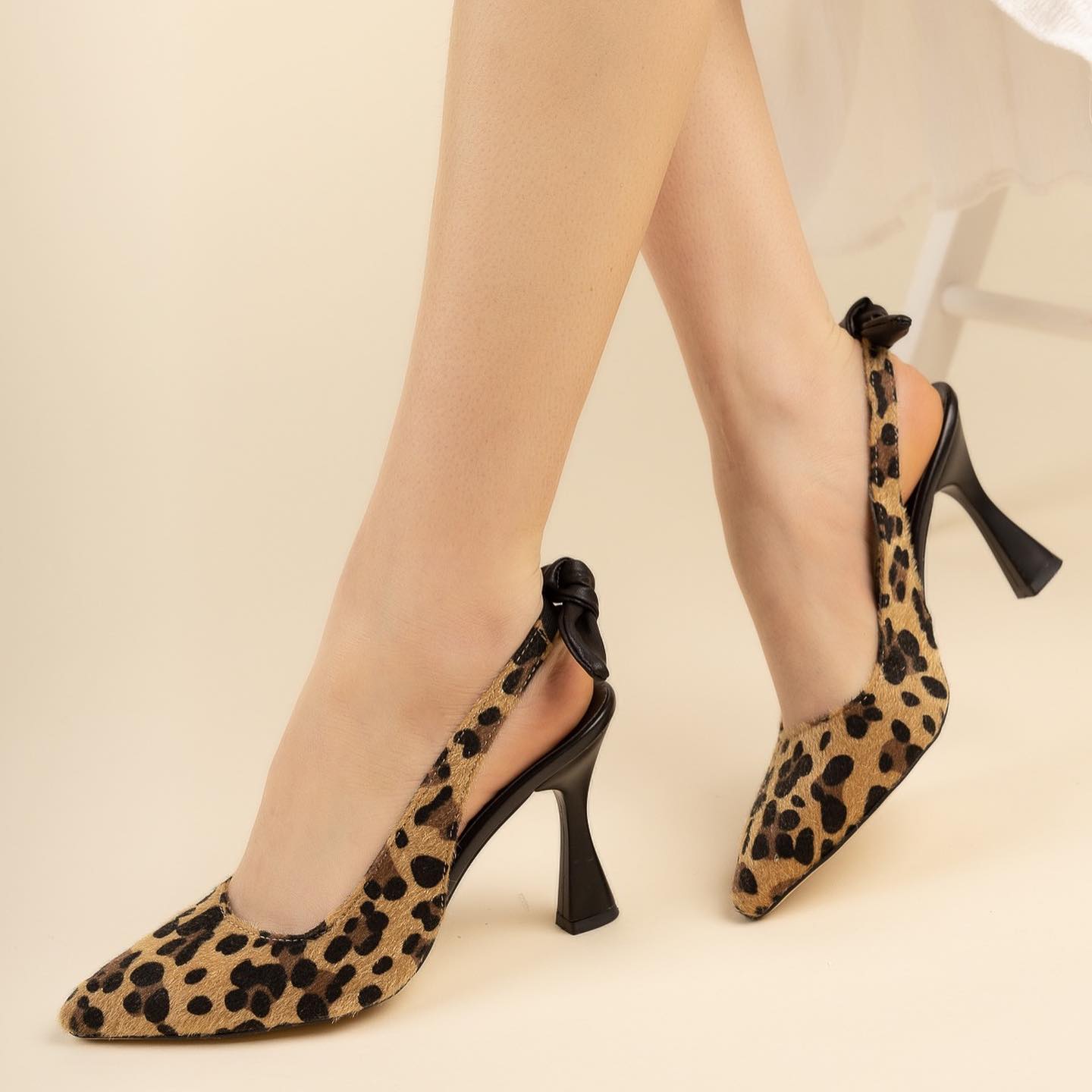 via @modaadam
Cute Romantic Pearl Heels
Any clothing or footwear decorated with pearls adds romance and elegance to a woman's look. Cute summer heels of any color can be perfectly combined with pearls and suit any occasion. For instance, white pearl shoes suit any look. Moreover, these are great wedding shoes that will be amazing with any dress. And if you are searching for prom heels, bright footwear is a great choice.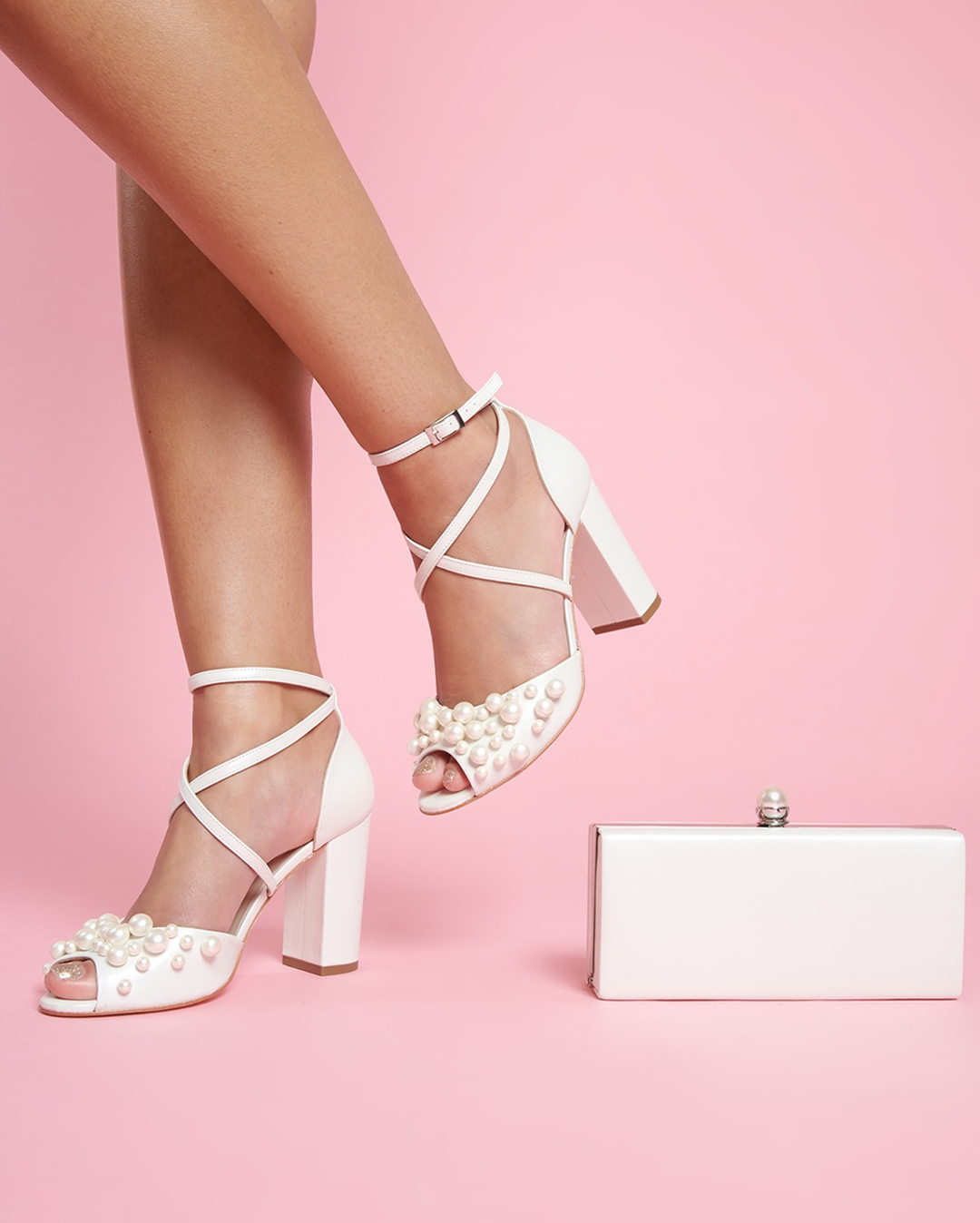 Classic Mule Heels for All Outfits
Mules are universal practical footwear that suits all styles and is a wonderful solution for any occasion. They imply heels with no back that will greatly complete any summer look. Shoe stores now provide a wide selection of heel heights, so you can choose the best one for you. Find your perfect summer shoe style right now!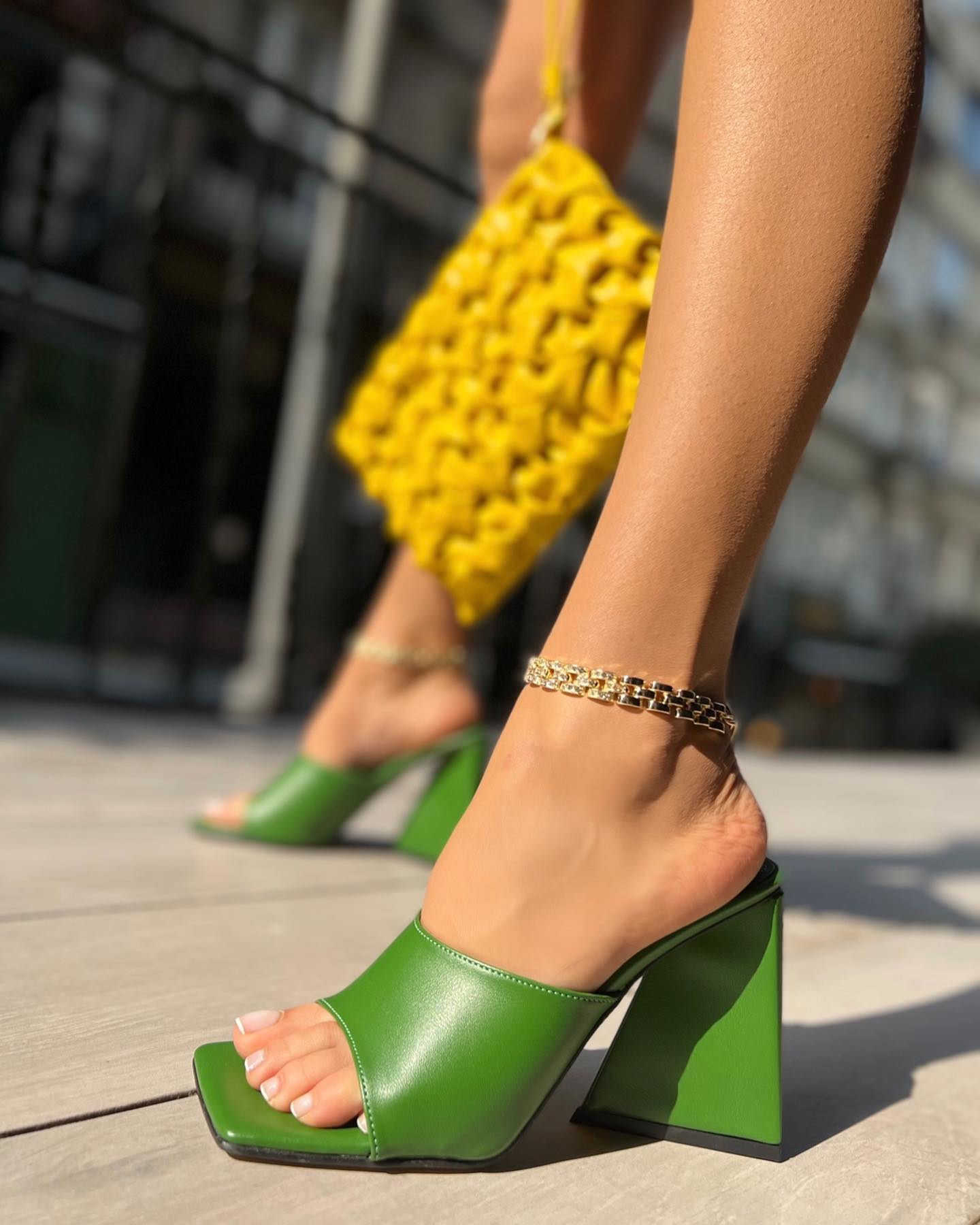 Sports Chic with Sneaker Heels
Sneaker heel is a bit outdated sporty shoe style, but many women still prefer such footwear. You can have a unique look with high heel sneakers, combining them with light dresses and classic jeans. It's worth noting that, as a rule, they imply comfy heels so that those who used to wear trainers won't feel inconvenient when walking.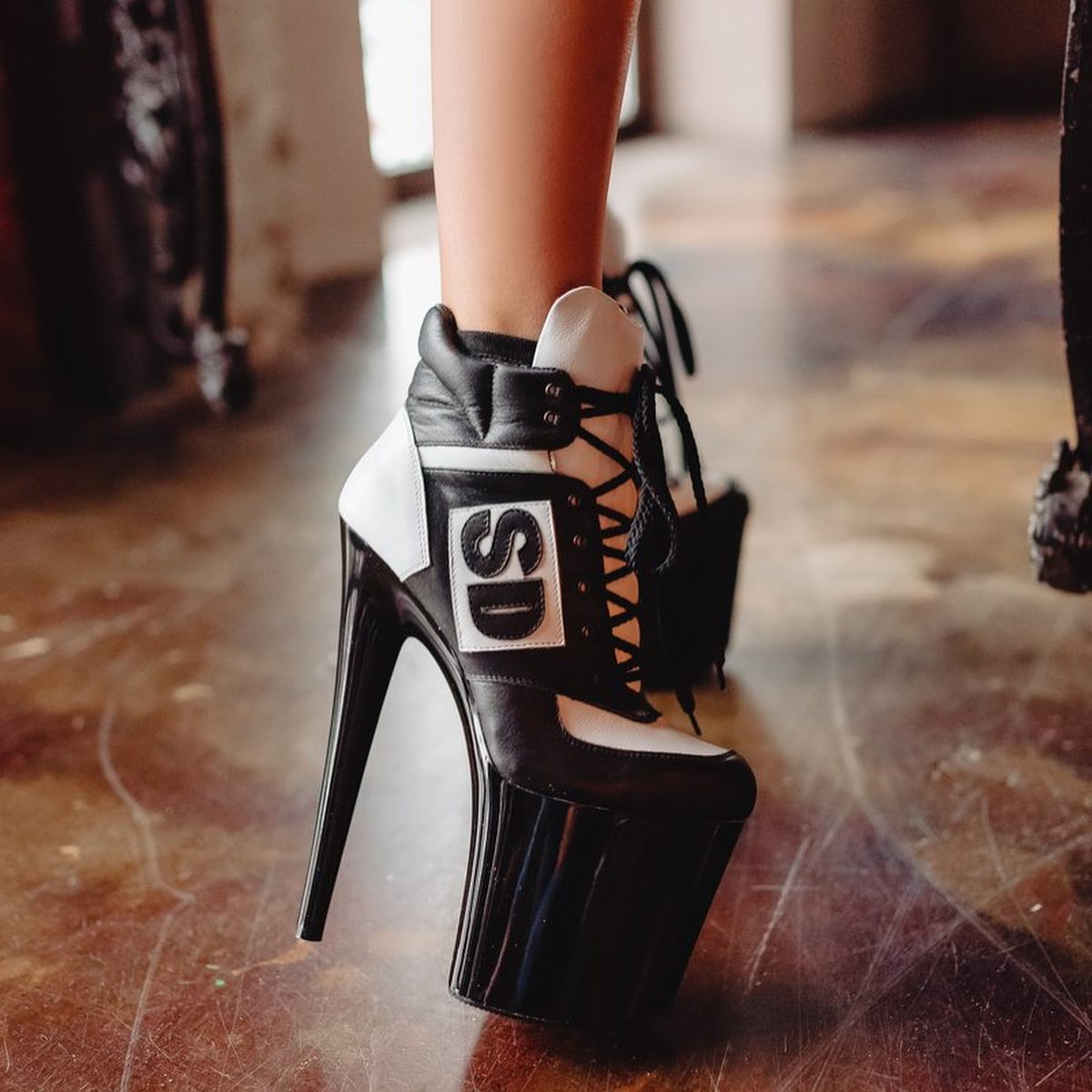 via @studiopride18
Unusual Loafer Heels for Formal Occasions
This footwear type is extremely common now, but have you ever heard about heeled loafers? They are suitable for any business code and are a great solution for casual outfits. You can find platform loafer heels for all preferences and choose the best option. Unique classy heels will add elegance to each lady's look!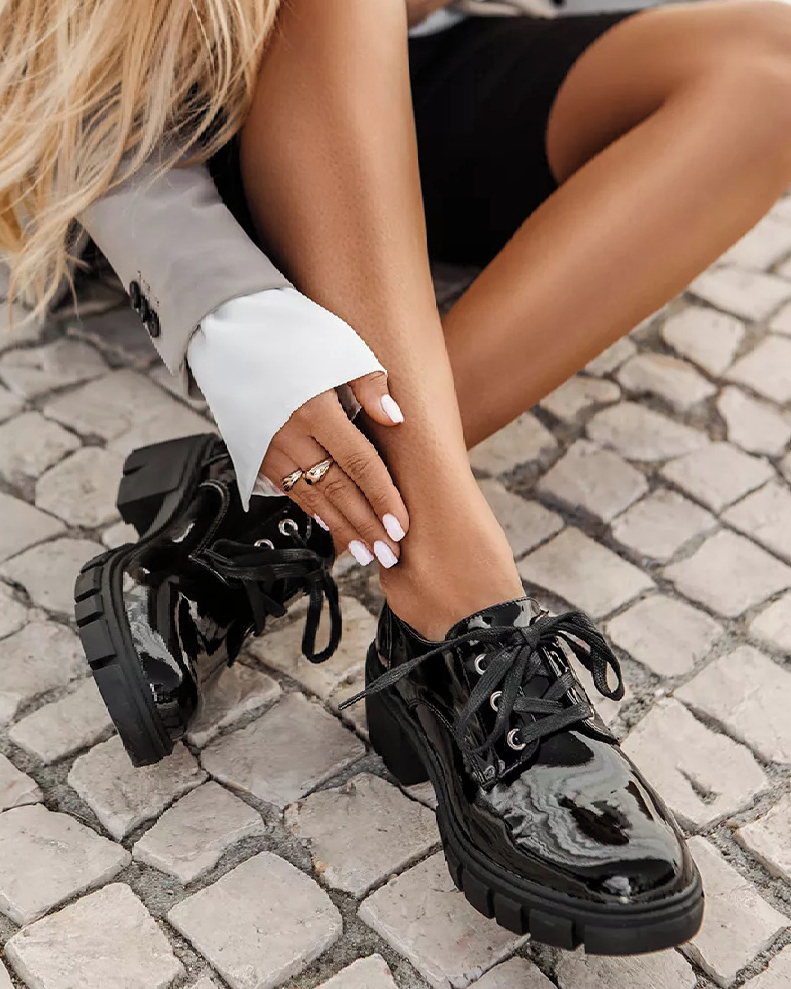 via @deezee
Multi-Colored Feather Heels
Heels with feathers are not an option for casual outfits, but make sure to have such a pair for special occasions! Fluffy heels will add charm to any look and can be combined with elegant dresses and skirts. If the weather is really hot, consider feather sandals, which can be flat and high-heeled. Such a unique type of heels guarantees tons of attention and compliments!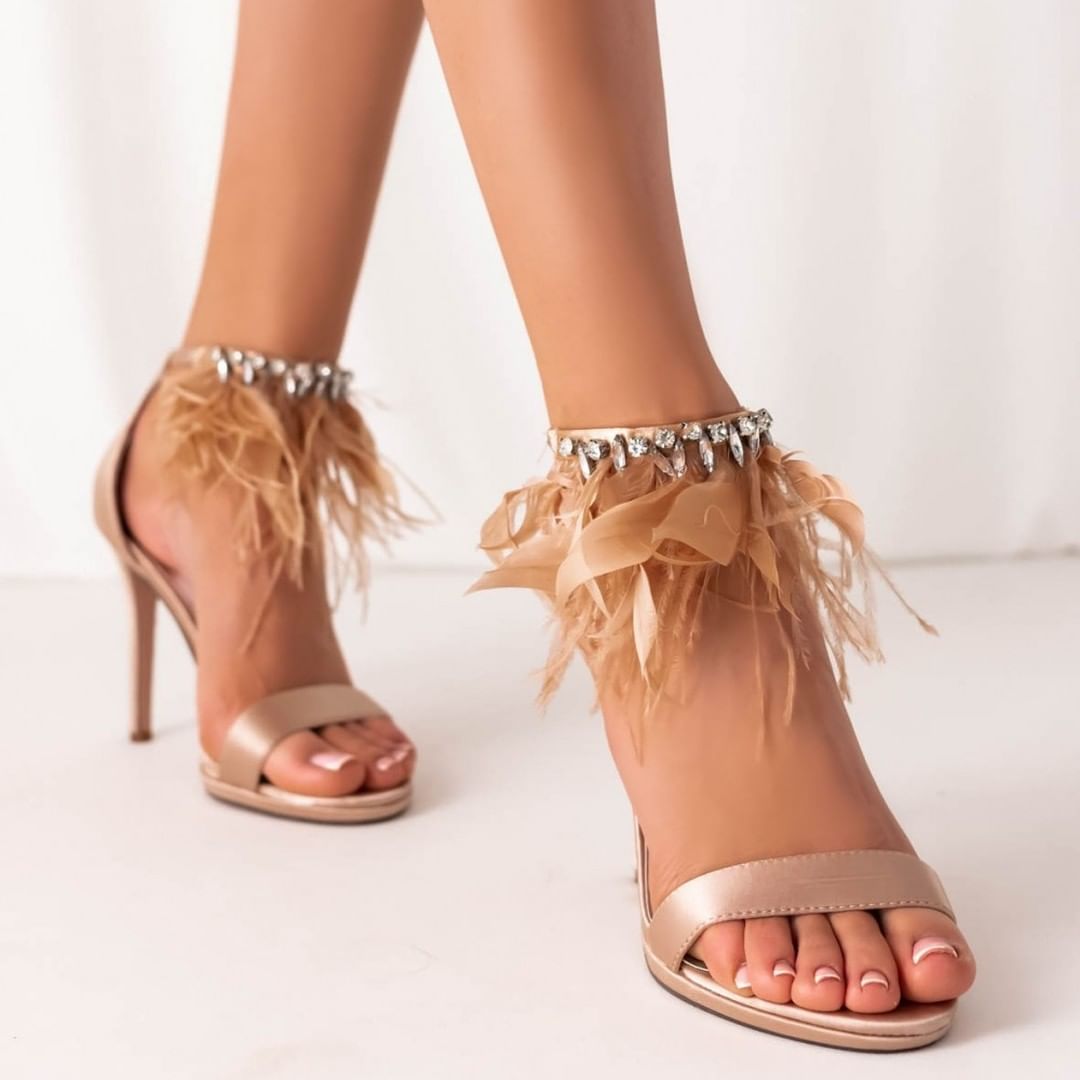 via @lovetshoponline
Comfy T Strap Heels for Any Style
This type of shoe implies straps on classic pumps, which provide extra comfort while walking since your feet are fixed. It is a kind of vintage shoes since this model was popular several decades ago. However, many women still prefer t strap heels due to their convenience and practicality. If you prefer retro shoes for women, this option is perfect.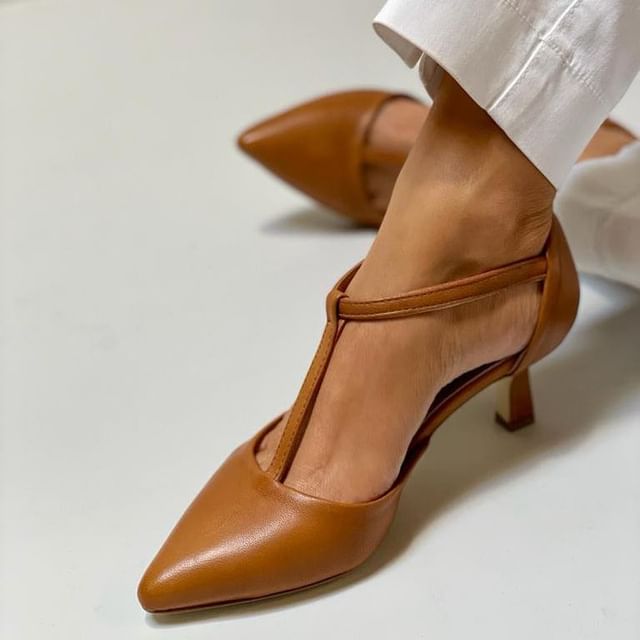 Unique Ugg Boots Heels
Ugg boots are usually associated with a comfy look and cozy winter evenings. Although it's only a winter shoe style for many, such footwear can be suitable for a cold summer day. Moreover, Ugg products can be stylish and elegant! You can find models with low heels that can be worn with dresses and office looks.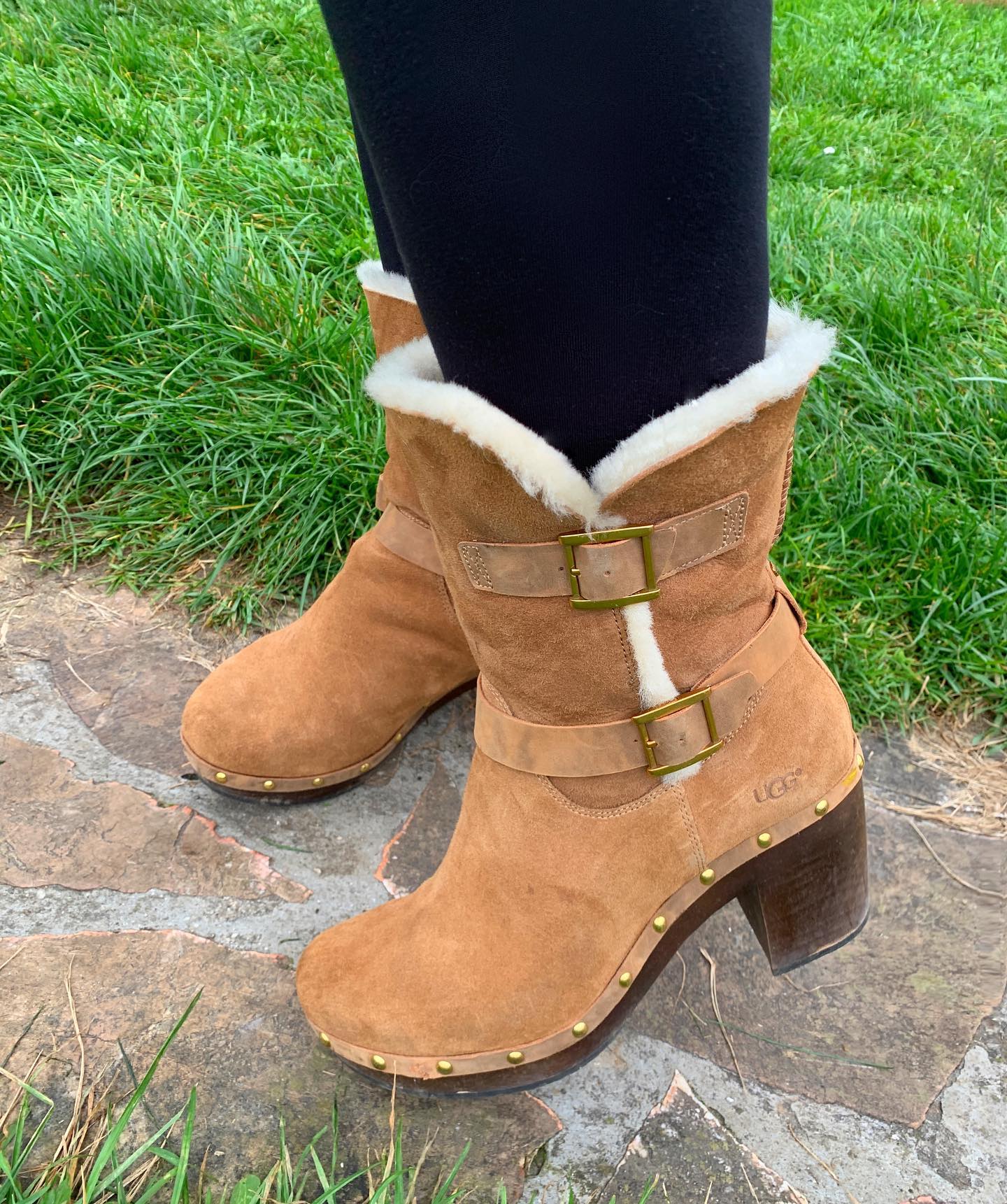 via @jomostyle
Perfect Summer Floral Print Heels
You shouldn't always choose monochrome footwear, and multi-colored heels are a great alternative. Ladies can now select among various prints, but floral heels remain the most popular. It's a summer shoe print that highlights your elegance and cuteness and is perfectly combined with any dressing style.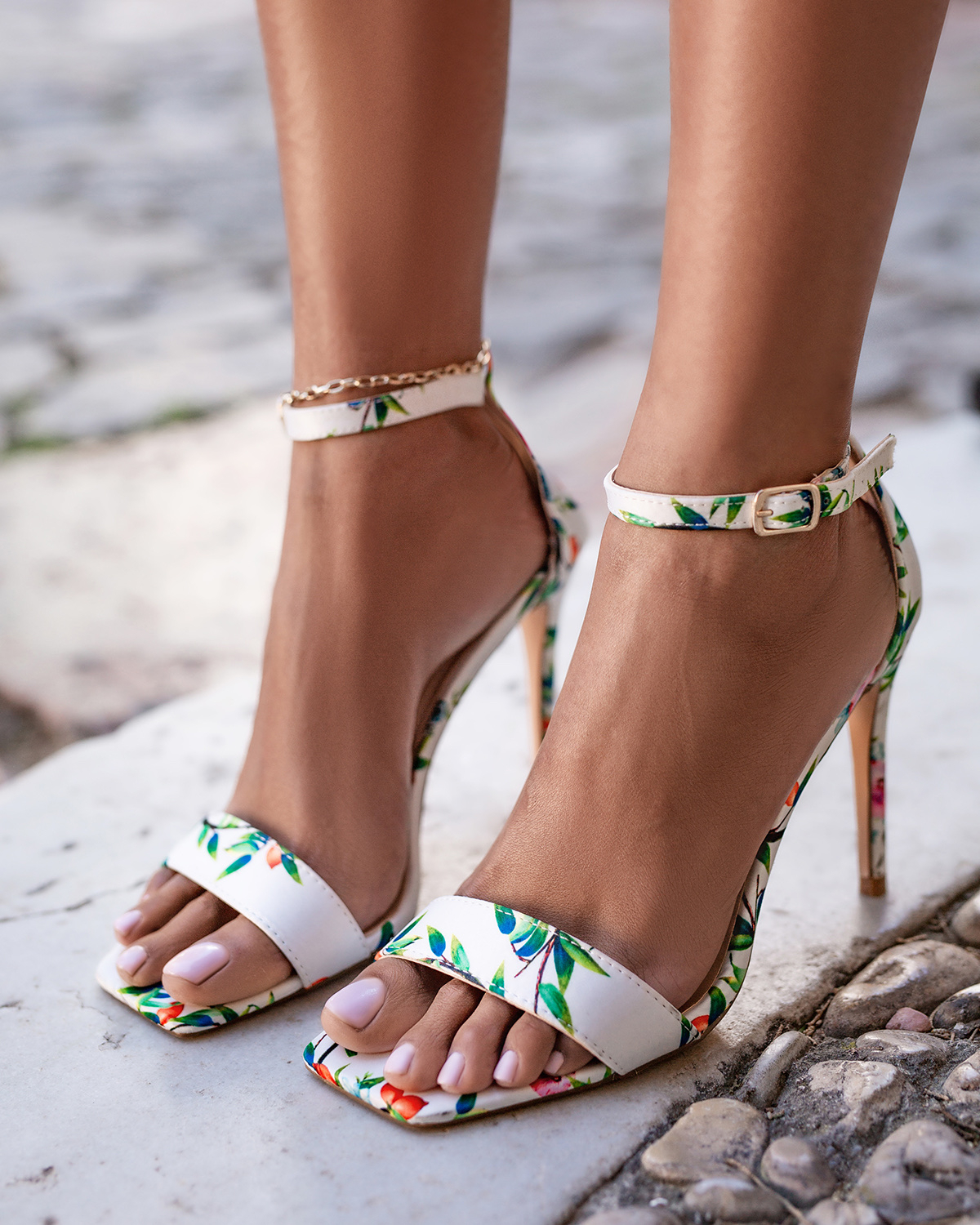 via @deezee
Classic Boots with Unusual Heels
What do you think about classy oxford bootie heels? We consider it great footwear both for casual looks and special occasions. Not all boots are suitable for summer, but you can pick black sock heels or open toe heels that are a great option for hot days. Select tight shoes that are comfortable for you and combine them with light elegant dresses and brutal leather jackets.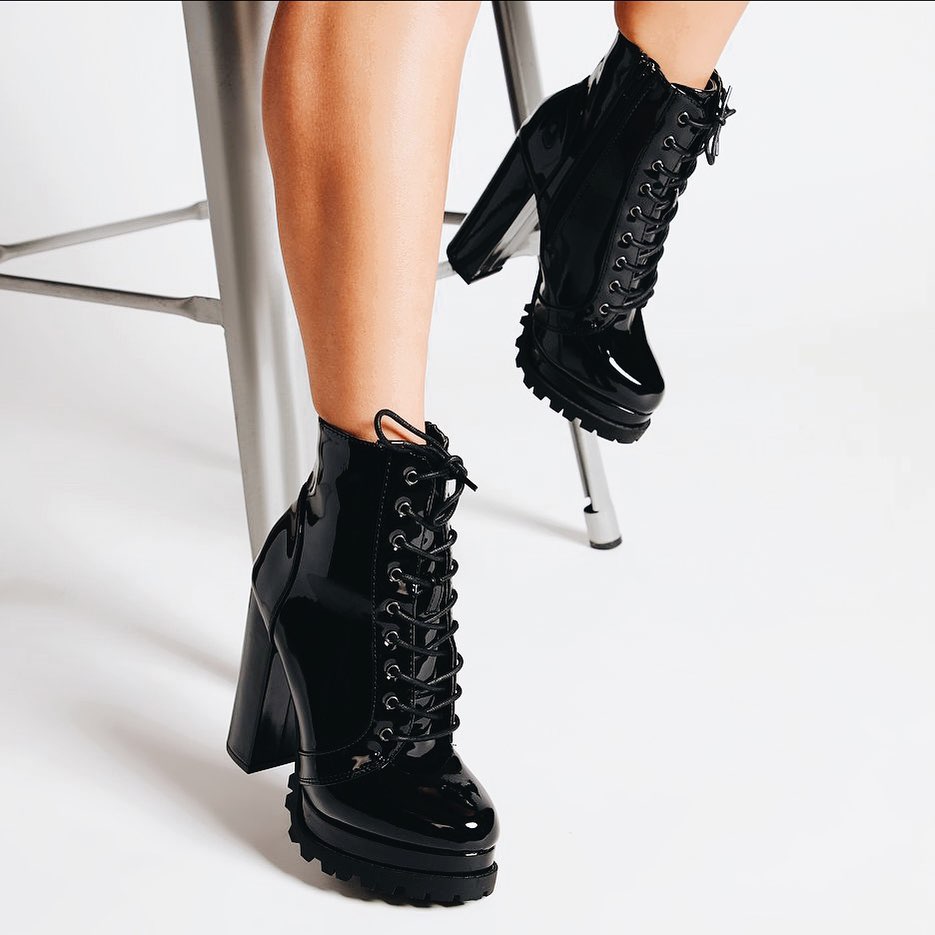 via @easypickins
Classic Multi-Colored Studded Heels
Such footwear is mostly popular thanks to the Valentino pumps that became popular several decades ago. You can find such spiked heels in different colors and varying heel heights, making it a comfortable and nice option for every lady. Studded strappy heels can be combined with any clothing style.
via @alexoo_it
Amazing Rainbow Heels for All Tastes and Preferences
Do you like different colored heels? Find cute heels to brighten your day right now! Rainbow shoes will highlight your personality and can be combined with clothes of different shades. You can select the style and the height of the heel that suits you and create interesting looks. For instance, yellow heels for women are an option that will provide you with a great mood!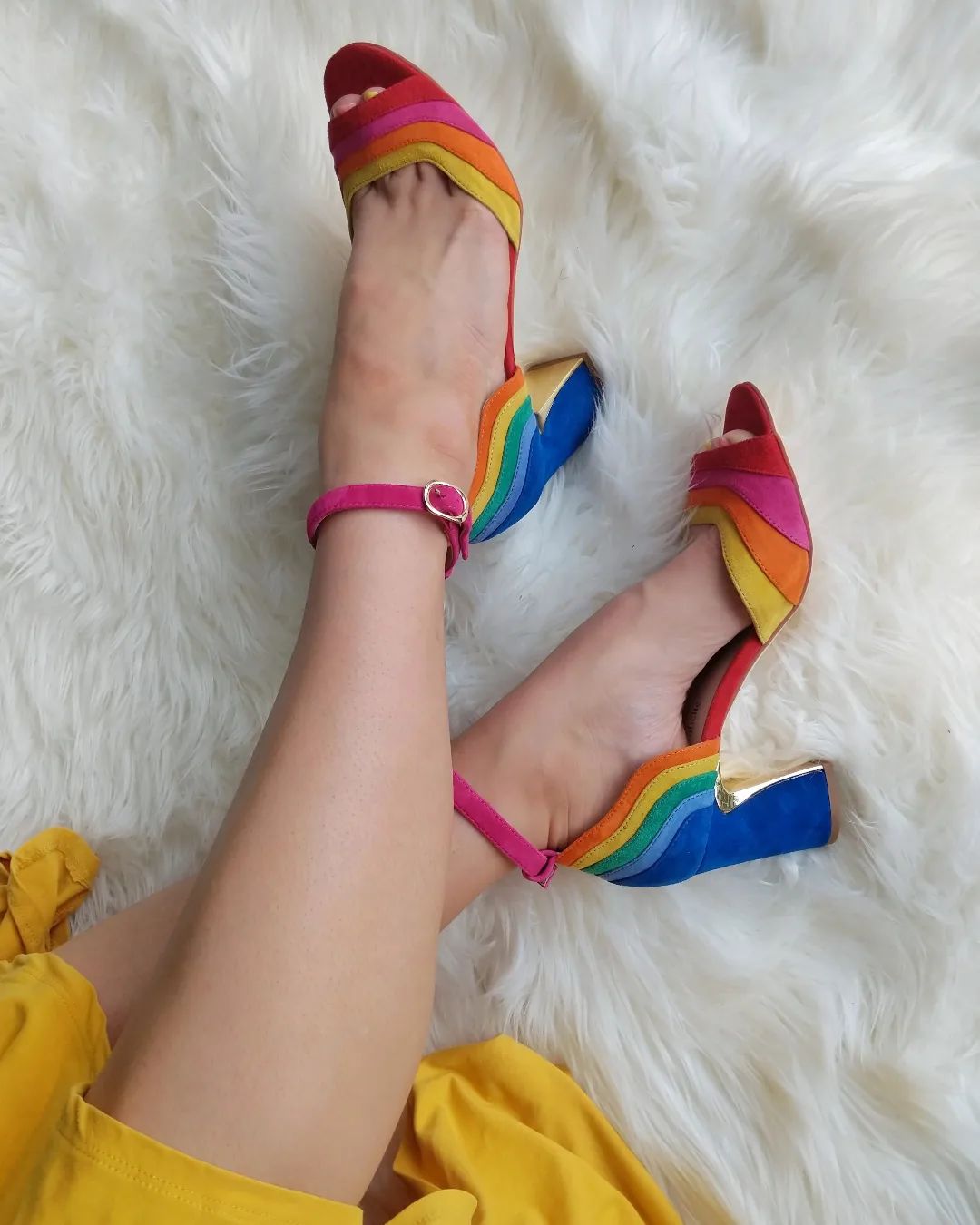 via @cardinoshoes
FAQ
Who Invented High Heels?
It's hard to imagine a modern ladies' wardrobe without high-heeled shoes. But when did this fashion start? Its origins began in Ancient Greece, where people wore shoes with thick soles. Moreover, it's considered that such footwear was first made for men. Of course, trends changed, and nowadays, heels are not the same, but their prototypes were similar to modern mules.
How to Prevent Heel Blisters?
The best way to prevent heel blisters is to wear comfortable shoes of your size and make sure they aren't too narrow or wide. Similarly, wet shoes and socks should be avoided. When the shoes are new, it is best not to wear them too long. As a rule, you can understand whether it suits you on the first day of wearing new footwear. If you feel it may cause blisters, wear socks and walk around the house, which will help stretch them a bit.
Best Ways to Treat Blisters
If you weren't lucky enough and got blisters after wearing new shoes, don't hasten to be disappointed. It can be treated so that you will forget about this problem quite fast. First, make sure to always have patches in your purse, which will help you in case of getting blisters outside the home. And don't forget to buy a special ointment and apply it several times a day until it heals.