Beauty magazines are screaming about the latest fashion trends, but you are out of the loop? Maybe, you just need a guide into the most popular skirt designs to help you spot the right type of skirt for your body type and get you back on track. Take our helping hand!
History of the Skirt
Before you start wondering why there are so many types of skirts out there, you should learn that, actually, humans have been wearing skirts for longer than pants. They wrapped the lower part of their bodies in some kind of fabric in prehistoric times, long before mastering the sewing job.
Within the more modern history of fashion, skirts appeared during the 15th and 16th centuries, when they were separated from the bodice. Nowadays, skirt styles differ in length, cut, fashion, and many details, so let's sort them out nicely.
A-Line Skirt
It is easy to guess that this silhouette looks like the letter A, meaning it sits tightly on the waist, gently hugs the hips, and then widens out towards the bottom. Although the term was initially introduced by Christian Dior within his famous New Look concept, Dior's skirts were originally full and pleated, which is not the case with the modern A-line skirt. Still, the style smooths wider hips, creates a well-defined waistline, and balances broad shoulders, so it will be the most flattering for "pear" and "apple" body shapes.
Asymmetrical Skirt
No, this style is not limited to garments with a short front and long back, although this version is, probably, the most common. Handkerchief skirts, for example, have a different length throughout the hem, and they also count towards the asymmetrical design.
Tall and lean girls will pull off an asymmetrical hem skirt easily since the play of lengths won't cut their figures visually but will add some curves and shift the focus to the legs instead.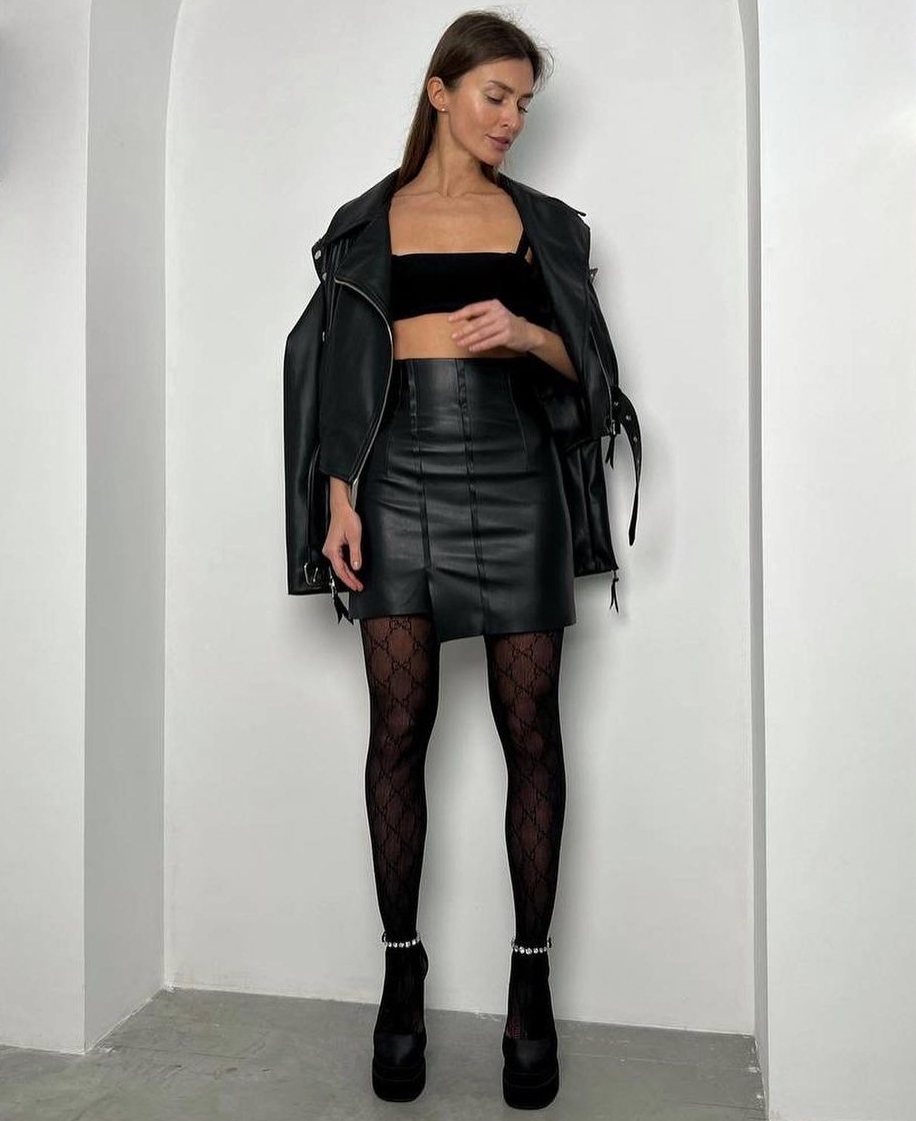 via @freshlookniki2
Bell-Shaped Skirt
Unlike the A-line silhouette, this flared skirt gains fullness right from the waist, usually having plenty of gathers there, but then transitions to a more cylindrical shape, without getting much width on the bottom. Since shorter skirts hold the shape better, the style rarely goes below the knee length, and the skirts are usually made of heavy fabric. A bell skirt will suit ladies with narrow hips and help those who want to accentuate their waists.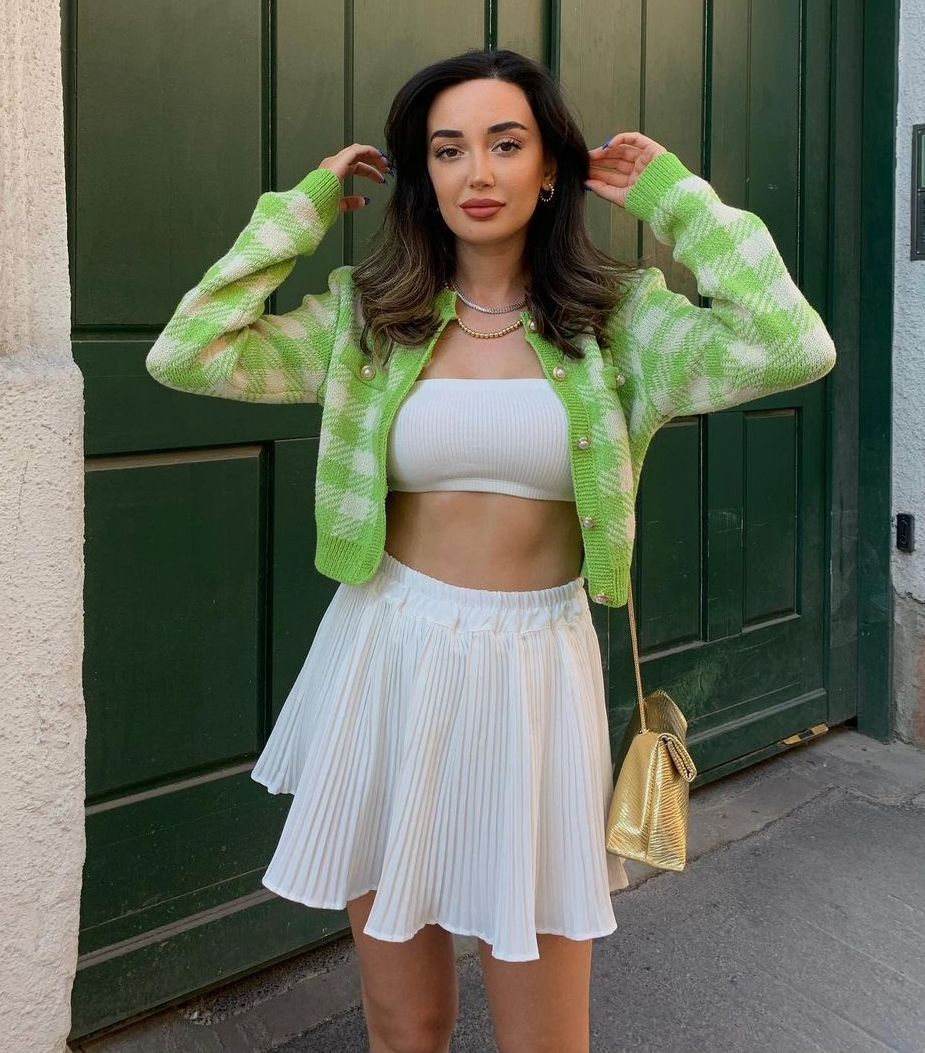 via @durmanovica
Bubble Skirt
Also known as a balloon skirt, this design fits a waist snugly while creating plenty of volume around the hips thanks to multiple gathers and a tighter bottom half, which is also tucked back under. As the result, we have a fun puff skirt with a guaranteed dimensional effect in the lower part of the body. And since the style can come in any skirt length, the effect can be used by many girls, from petite to tall, from rectangle to inverted triangle shaped.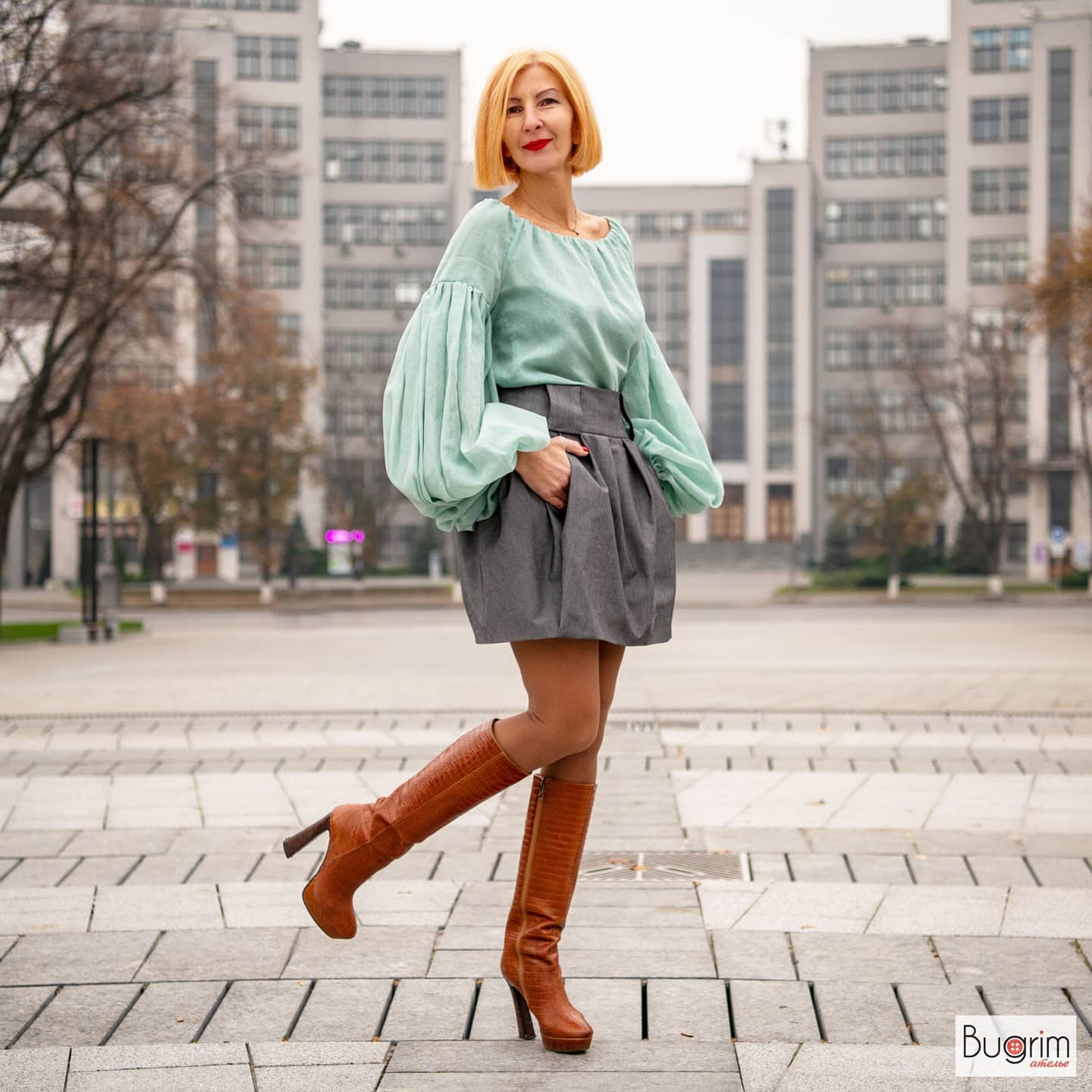 via @bugrim_atelier
Broomstick Skirt
This long skirt style, which typically hits the ankles, has a narrow waist and gets much wider towards the hemline, ensuring lots of movability enhanced further by the use of lightweight fabric. Yet, the signature feature of this style is a wrinkled look created through multiple pleats and specific fabric processing.
While women of a low stature may appear even shorter with the maxi length, taller girls wishing to camouflage their curves will love this free-flowing tiered skirt.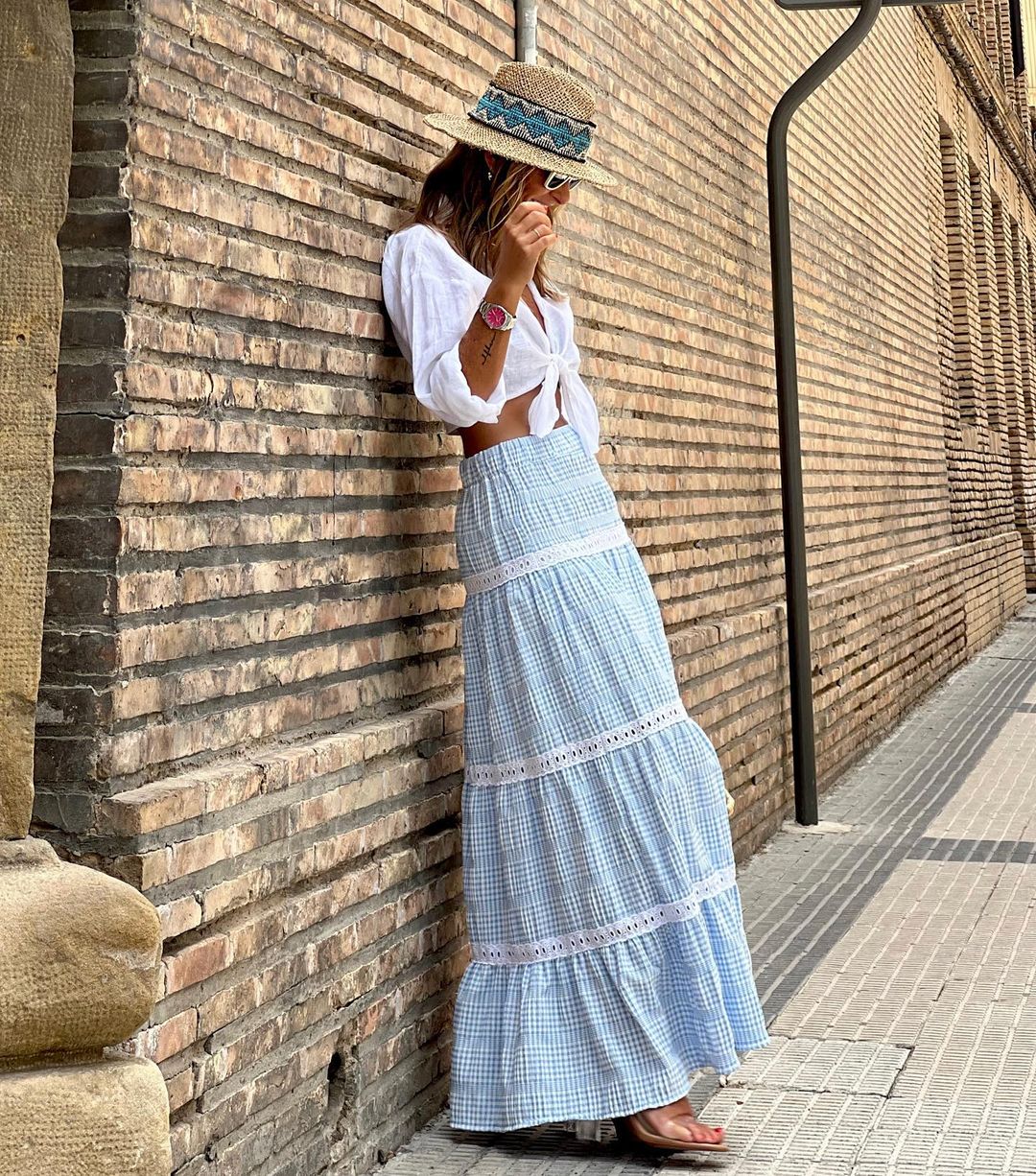 via @mdfhima
Circle Skirt
This style provides the simplest way to construct a DIY skirt by just cutting out a circle for the hemline and carving a perfectly round hole for the waist. However, it won't work with a maxi circle skirt where you will have to cut panels of the desired length to piece them together into a circle.
By adding wide waistbands, you will arrive at high-waisted skirts, which are greatly appreciated by apple-shaped girls for creating a more defined waistline. But ladies with a thick middle should prefer the design naturally flouncing outwards over a pleated circle skirt.
Denim Skirts
Well, we all know mini denim skirts, which are mostly trapezium-shaped and have a fitted waist. However, the fabric is processed in different ways to land a stiffer or softer texture, and thus, denim skirts come in a variety of styles, ranging from playful designs trimmed with a flounce to exquisite fishtail skirt styles.
As such, there is a denim garment for each body type, and you can choose a straight skirt to balance your broad shoulders or opt for an A-line shape to slim down your heavy hips.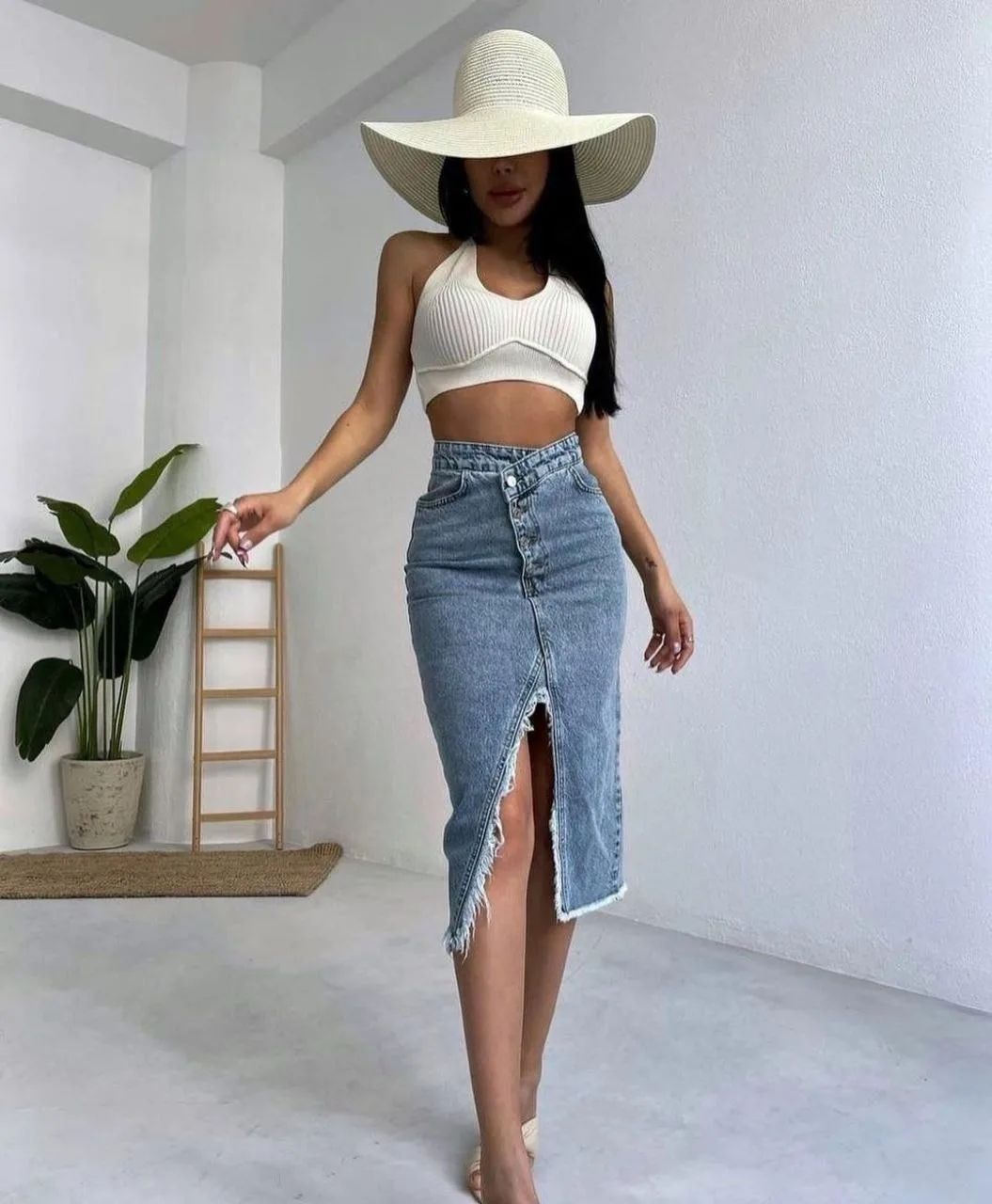 via @shop.pryklad
Flared Skirt
Similar to the previous style, flared skirts comprise a whole bunch of designs that have one thing in common – increased volume around the hemline. You can pick a fashion similar to an A-line skirt where the fullness is opened by closing darts or give preference to a knee-length flared skirt made with gathers galore around the waist. With such vast customization opportunities, a flared skirt suits any type of figure, be it a picture-perfect hourglass or a tricky diamond.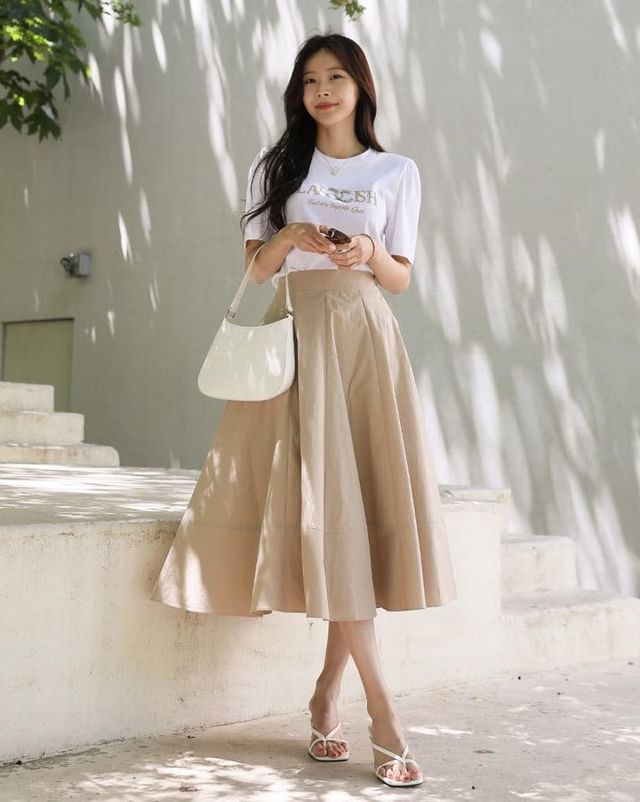 via @2.lazy.people
Pencil Skirt
This tight narrow garment envelopes your body from the waist to the knees, loosening up the fit through a vent at the back or the side. The elegant and rather formal style usually comes as a midi skirt, covering the knees or falling a bit below them. Stylists recommend pencil skirts for women with a well-toned body since the design leaves a little room for hiding imperfections in the lower part, but Kim Kardashian has proved that large hips shouldn't prevent you from rocking the style.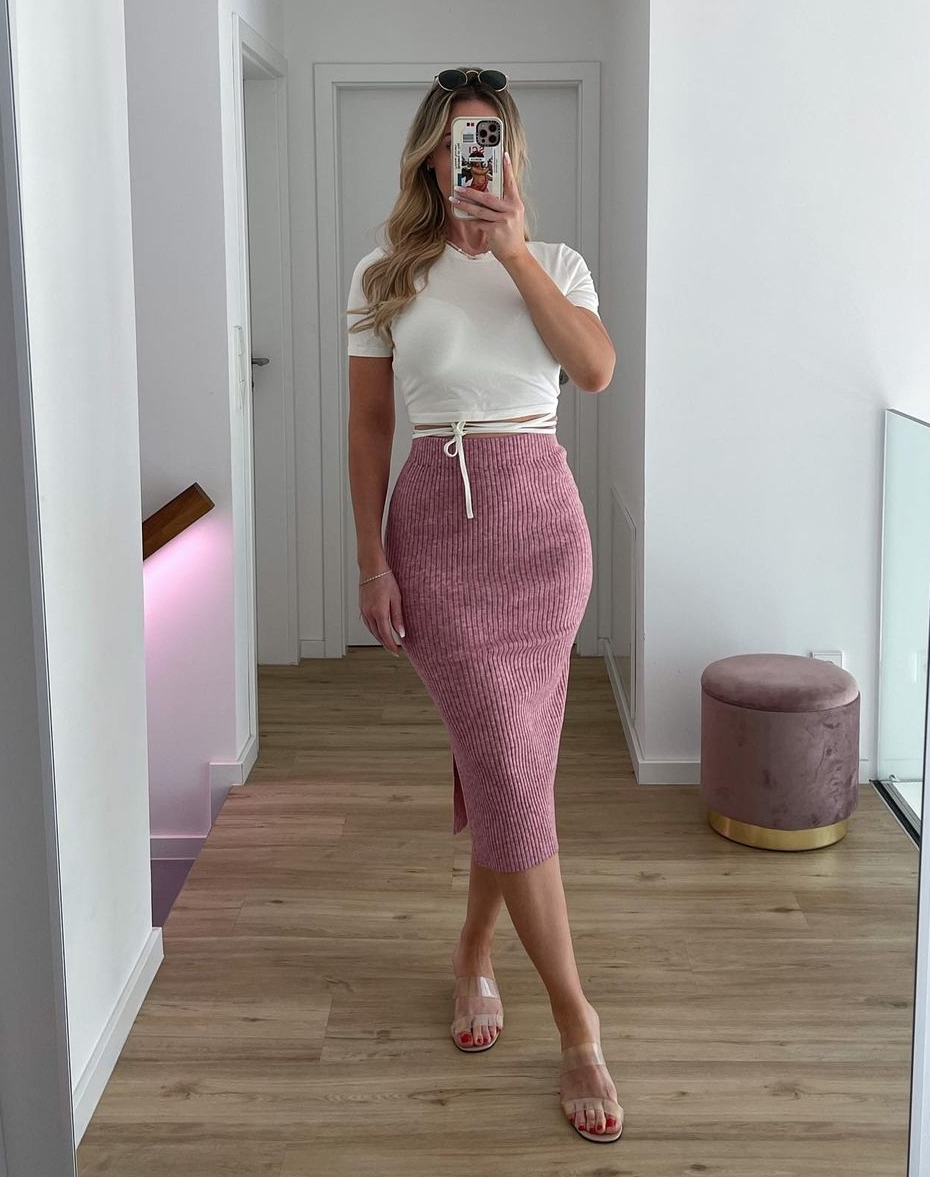 via @pinka_minka
High Waisted Skirt
Actually, any type of skirt that has a waistband placed higher than your natural waistline falls into this category. Reminiscent of empire waist dresses of the Bonaparte era, this unique vintage skirt style can be flared, A-line, or straight nowadays, covering a radical mini or maxi and also including an elegant midi or ankle length skirt. While form-fitting high-waisted skirts suit slim women, designs that flow away from the body will flatteringly outline the waistline and mask the belly in apple-shaped ladies.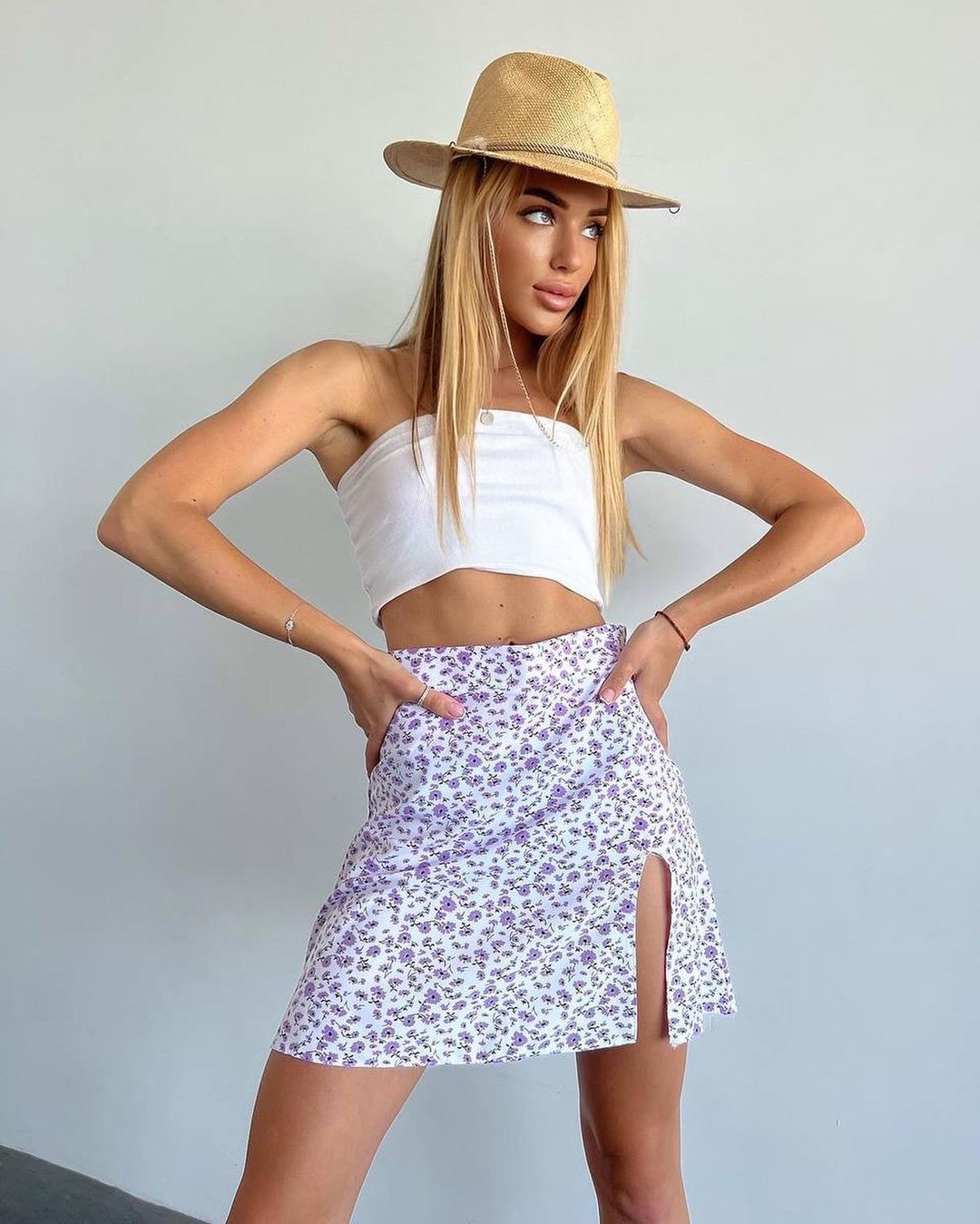 via @chrisy_shop
Tulip Skirt
This stylish skirt type gives us a good example of asymmetrical design diversity. It features overlapping panels in the front to recreate an inverted tulip shape, which attracts much attention to the legs. Since asymmetrical tulip skirts are often designed with extra volume around the hips and a slightly tapered bottom, not only hourglass figures but also pear-shaped women can take advantage of the style. If you don't want to show your knees, just select a tulip midi skirt that opens up below them.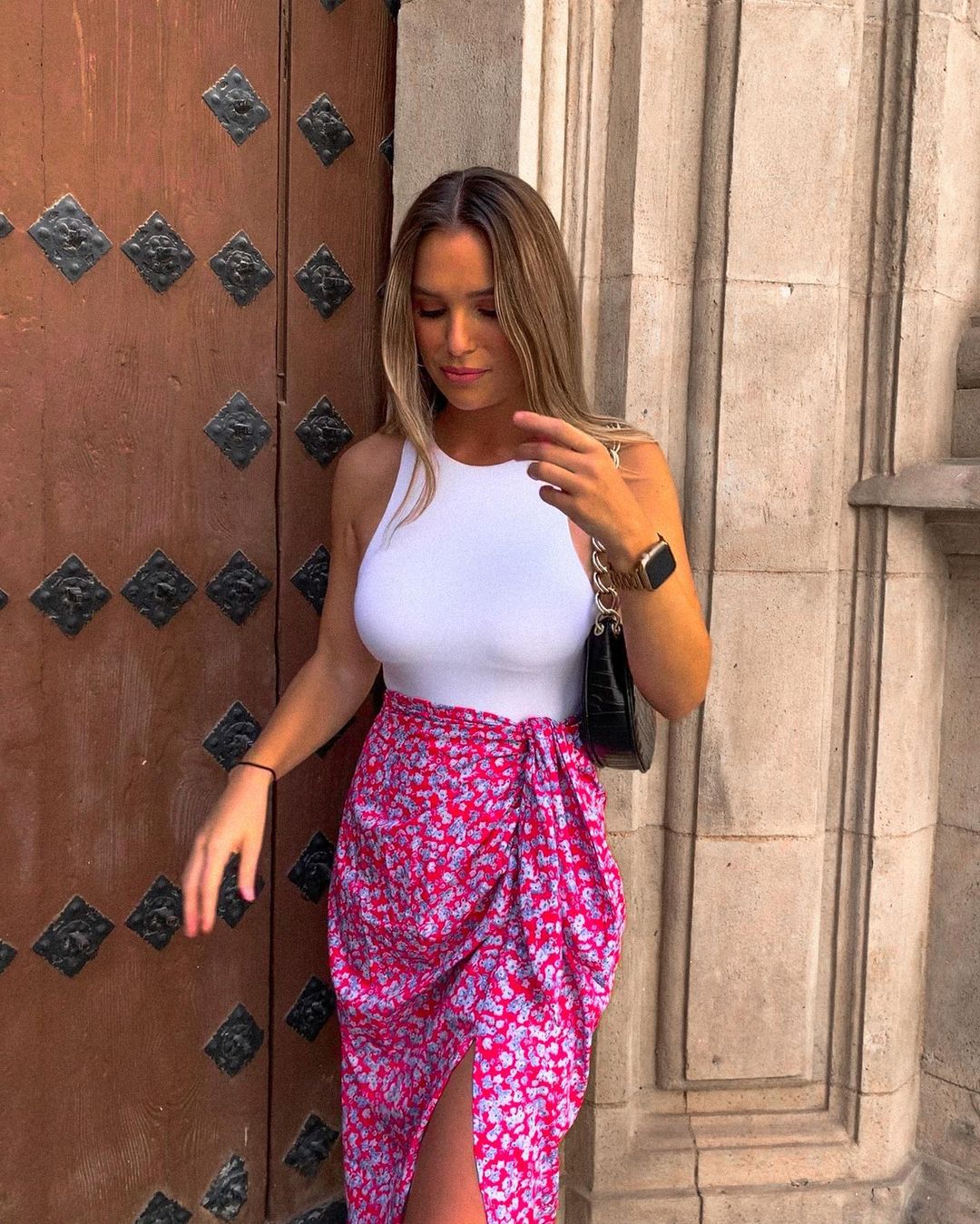 via @uciaarocav
Layered Skirt
Alternatively called tiered skirts, these pieces of clothing are created for fullness and comfort with several layers of fabric stitched one below the other and getting wider towards the hemline. As the style implies using lightweight materials, it makes a a href="https://www.hairstylery.com/comfy-outfits-for-every-closet/">perfect comfy outfit with boho vibes, especially when mixing and matching layers of different colors or patterns.
Layered skirts suit younger women, but they also deemphasize your hips and slim down your waist, which works fine for rectangular or inverted triangle shapes, the more so that you can choose mini or maxi layered skirts.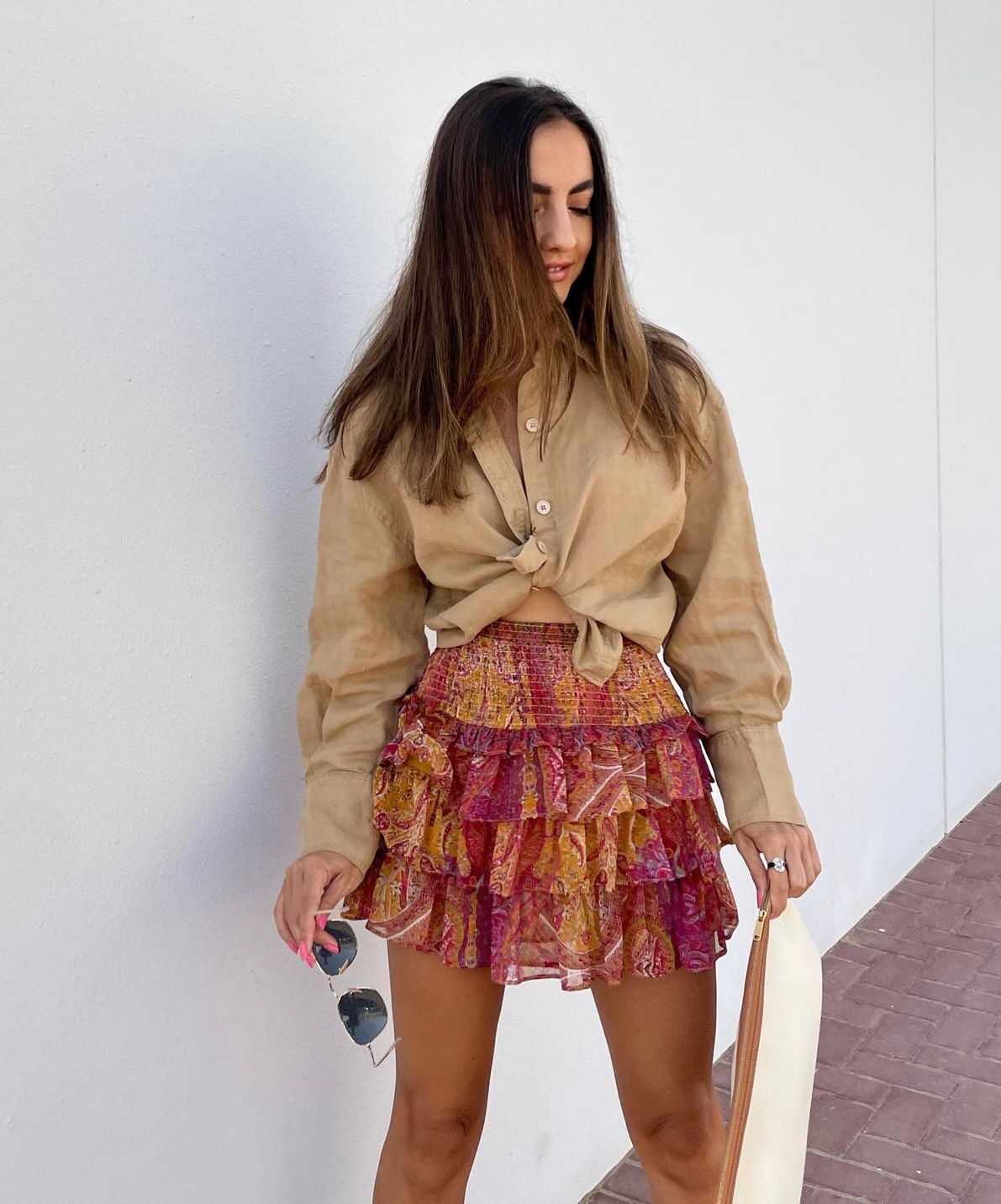 via @dlrmk
Wrap Skirt
Do-it-yourselfers will love the simplicity of a wrap skirts pattern, which often boils down to cutting out a trapezoid piece of fabric and a little bit of sewing to produce a light summer skirt with some kind of material overlap in the front. That said, the style allows for various types of fabric and skirt lengths to invent a cute or elegant garment for every season. Thanks to this flexibility, we can get wrap skirts that suit any body type, except those avoiding accents in the waist area.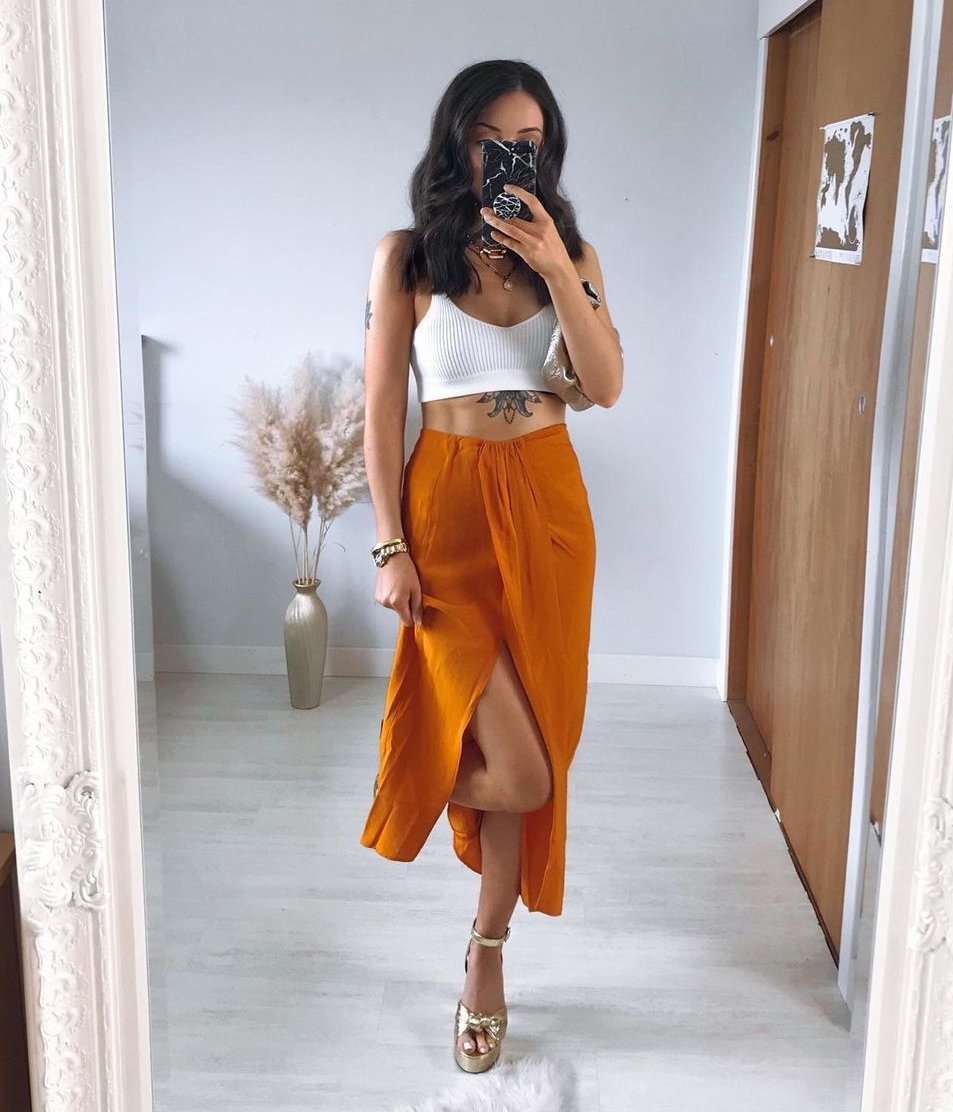 via @terriface
Mermaid Skirt
A more exquisite cousin to a pencil skirt, this style sits tightly all the way down from the waist to the knees but then suddenly flares out somewhere above the hemline to resemble a fishtail. It is also close to a trumpet skirt, which starts flaring slightly higher, at the thigh level.
The difference is clearly seen in floor-length mermaid skirts, as they create a more dramatic silhouette and highlight the torso instead of elongating the legs. Made of stretch fabric, shorter versions of these skirts are quite suitable for casual wear.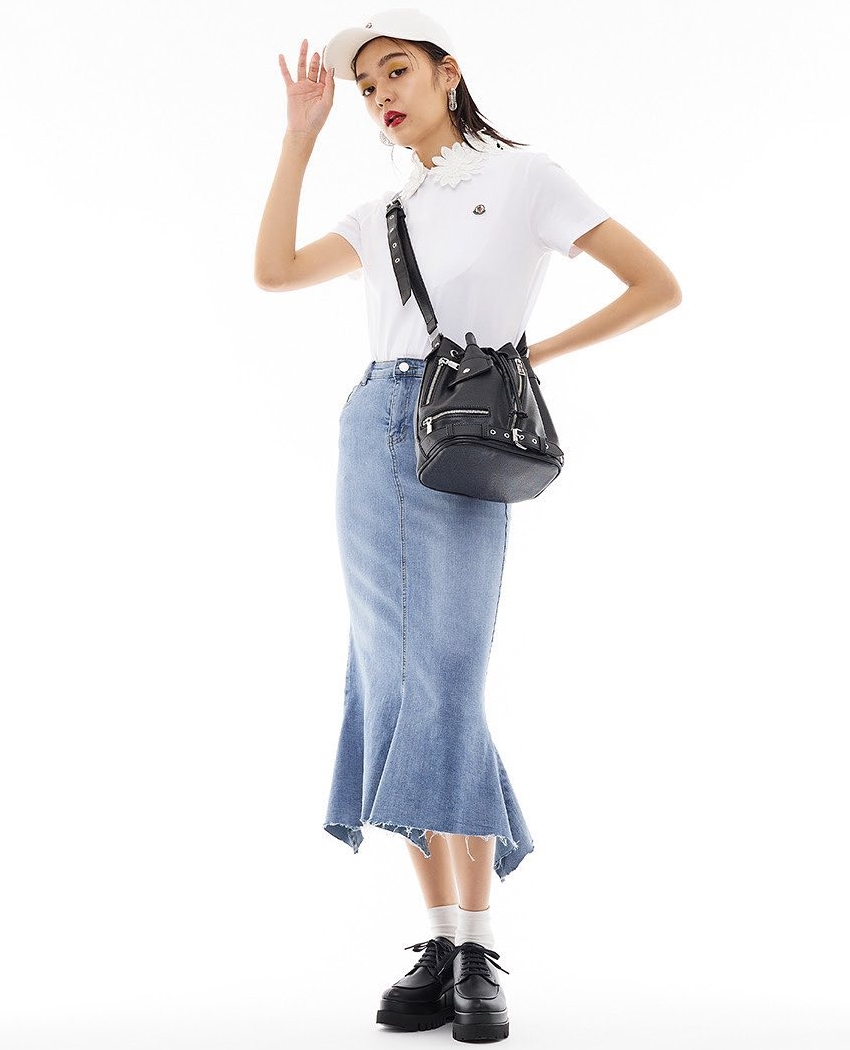 Straight Skirt
If your choice of clothing is limited by a strict office dress code, this minimalist style is your go-to option. You are welcome to select between a straight pencil skirt close-fitted along the whole length or a looser design that clings to your waist and hips yet falls in a straight line down to the hem. Knee-length skirt styles are more appropriate for a work environment, and shorter versions, for example, made of denim, fit well into casual looks.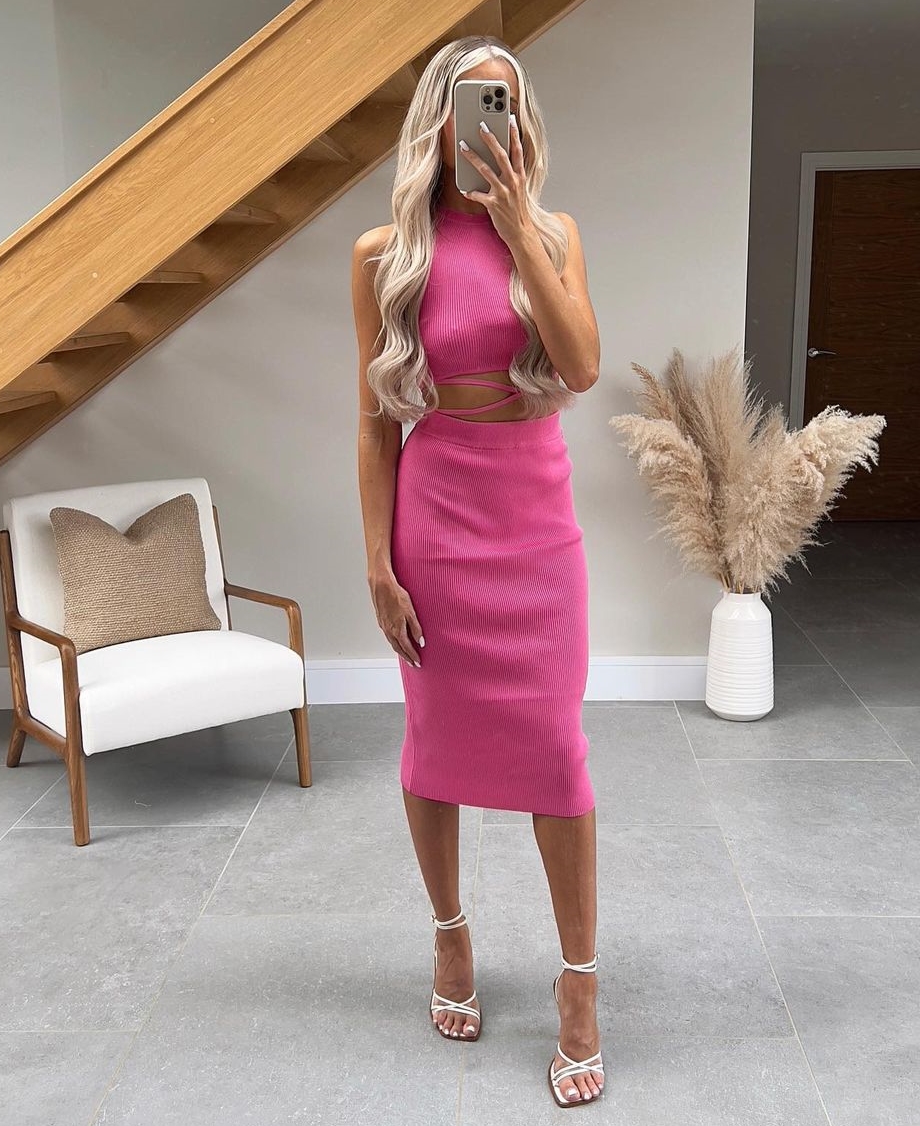 via @perriesian
Pleated Skirt
We all adore short and long pleated skirt designs for their feminine feel and easy care, as they don't require much ironing unless they have wide pleating like an inverted pleated skirt. Besides, they are highly versatile with the volume created in different ways depending on how the skirt is designed and pleated. Anyway, this style adds fullness to a slim figure, which is an advantage, while plump women should steer clear of it.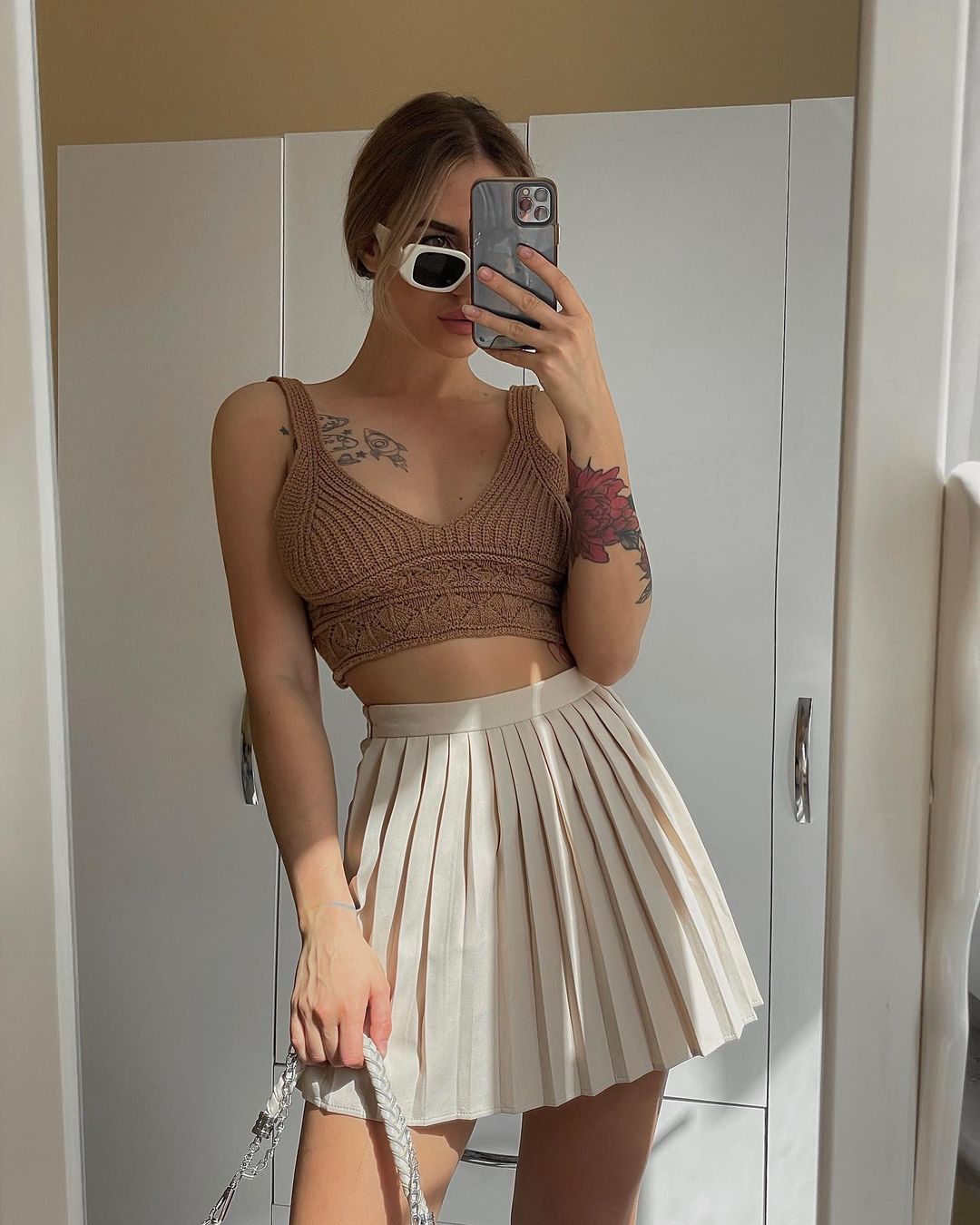 via @ocean_wom
Sarong Skirt
Imitating traditional clothing of Asian countries, this summer wrap skirt requires a square or rectangular piece of lightweight fabric to envelope your hips and tie either in the front or at the side. A short sarong skirt is usually paired with a swimsuit, but a classy long version complemented with a top can serve as casual wear for hot summers. However, stylists don't recommend choosing a sarong drape skirt for ample-bodied and triangle-shaped ladies.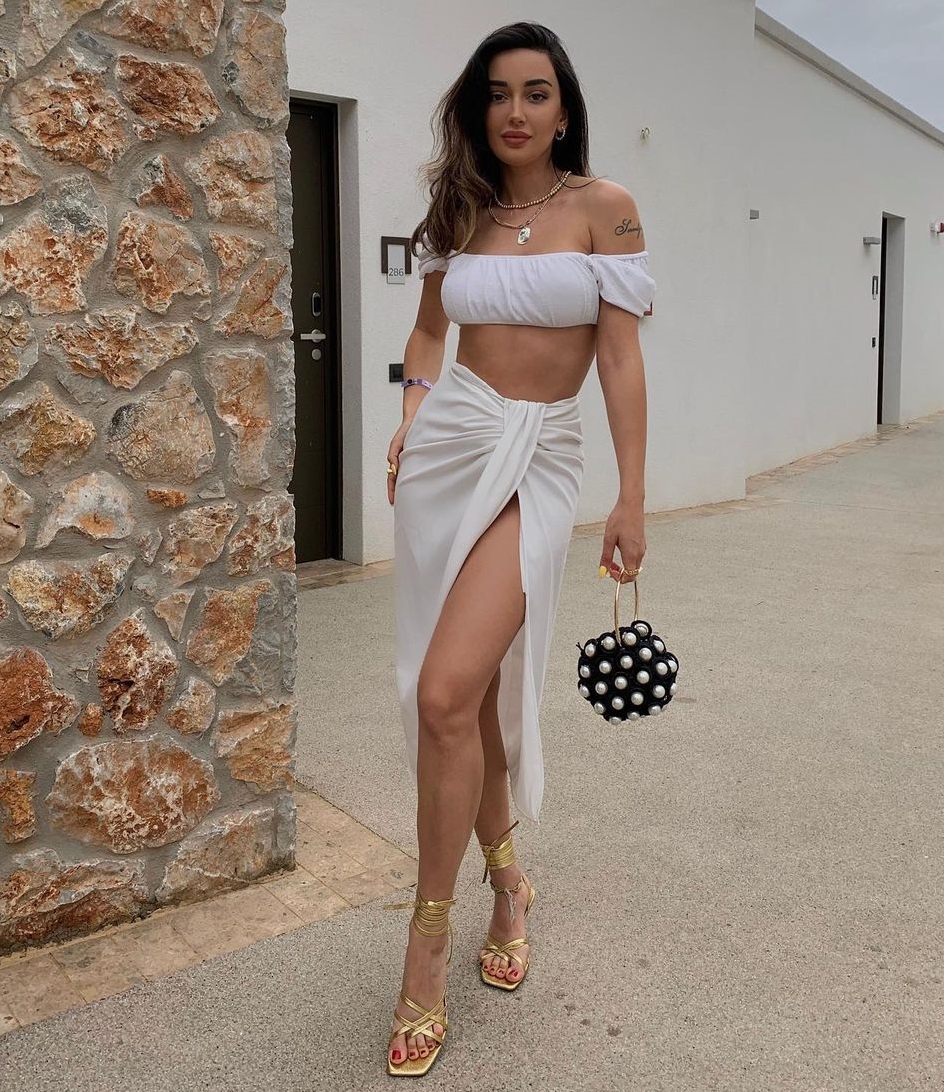 via @durmanovica
Peasant Skirt
Here is yet another variation of free-flowing layered skirts, also called a gypsy skirt. Unlike other similar styles, it hits at least an ankle length and has layers stitched to each other to deliver a patchwork-like feel. You can choose between solid and printed peasant skirts, but keep in mind that one-colored garments work better towards an elongating effect. So, opt for a long white peasant skirt if you are, say, a diamond shape.
Godet Skirt
You are sure to stumble across this style when looking for flared skirt patterns since it implies adding extra fabric to the garment's body exactly for enhanced fullness. Triangle inserts used towards this goal can be embedded in different ways, so you can end in a short A-line skirt gaining volume right from the hips or a floor-length godet skirt of the mermaid type. That's why many believe it is the best skirt for any body type, but you need to customize the style wisely.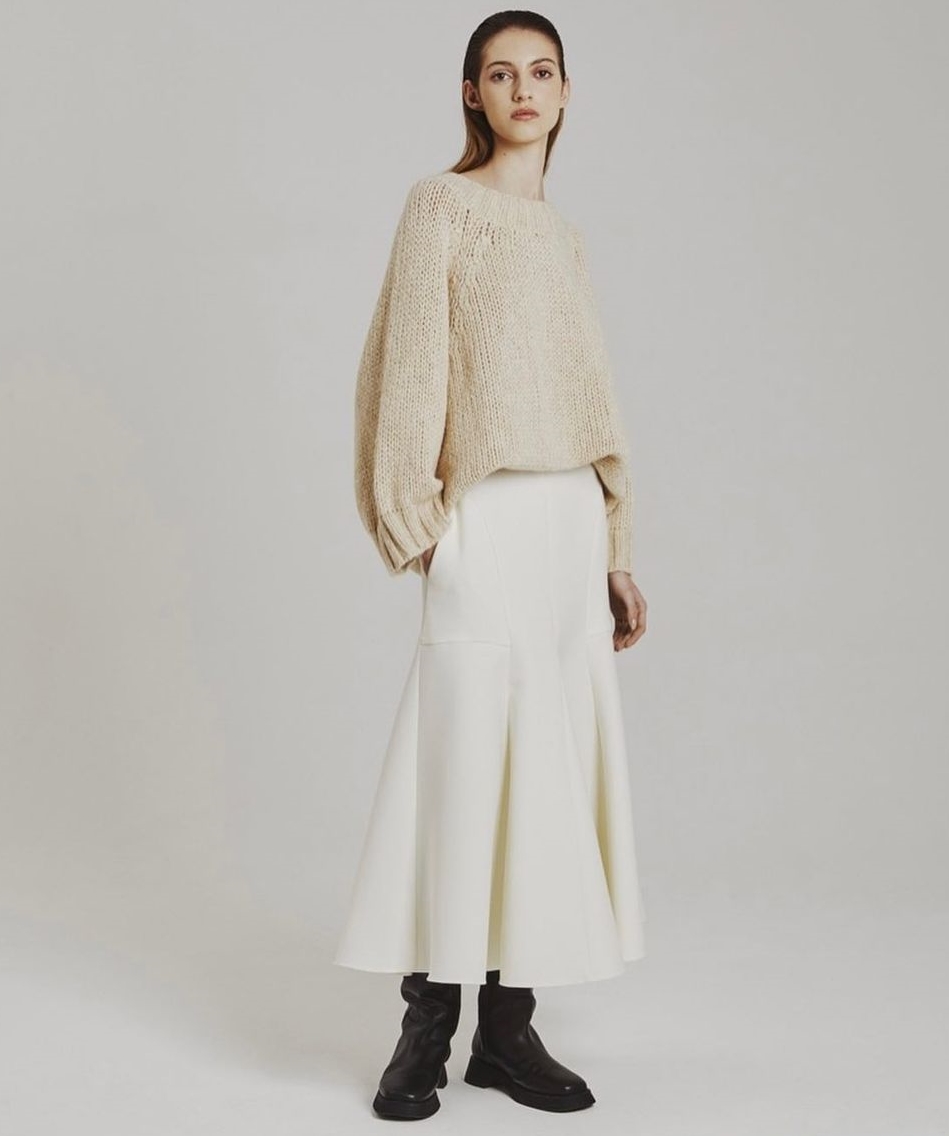 via @iamluciarestani
Peplum Skirt
This is, basically, a form-fitting skirt but with a twist — it has a flounce sewn around the waist to add an interesting accent to the otherwise regular pencil shape. Stylists recommend a midi peplum skirt for plus-size women since the ruffle camouflages some ampleness in the belly area while the skirt's length and narrowed shape slims down the silhouette. However, there are different types of peplum skirts for other body shapes, for example, a mini peplum style skirt for a petite lady.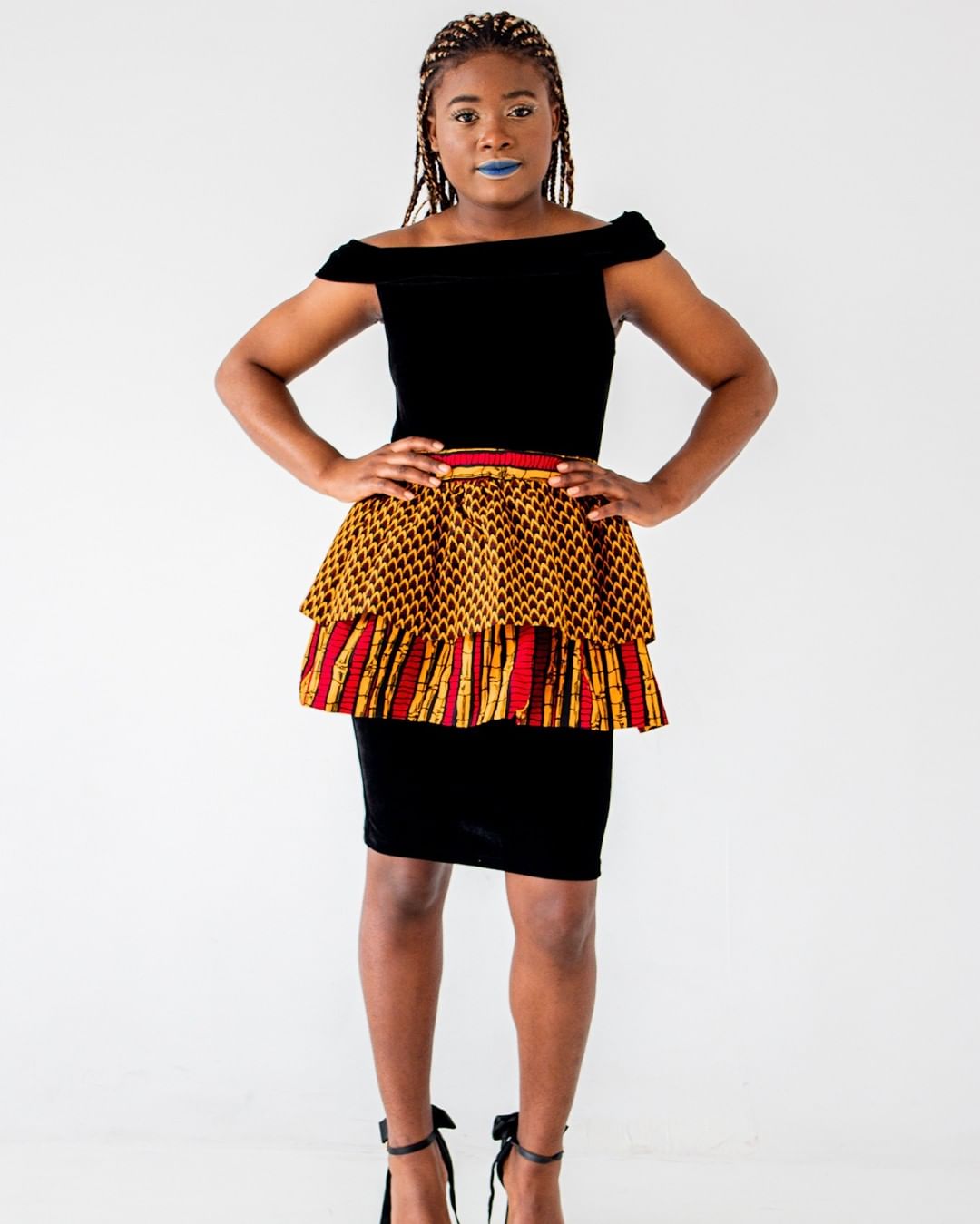 Ruffled Skirt
Frankly speaking, any skirt with ruffles attached for greater volume and fancier look falls into this style, and the addition can reap truly game-changing results. A black pencil ruffle skirt will balance heavy hips, and a classy mini ruffle skirt will create necessary fullness for girls with narrow hips. As the options are really endless, we can enjoy ruffles in various styles, from a denim ruffle skirt for casual wear to multi-layer tulle outfits for special occasions.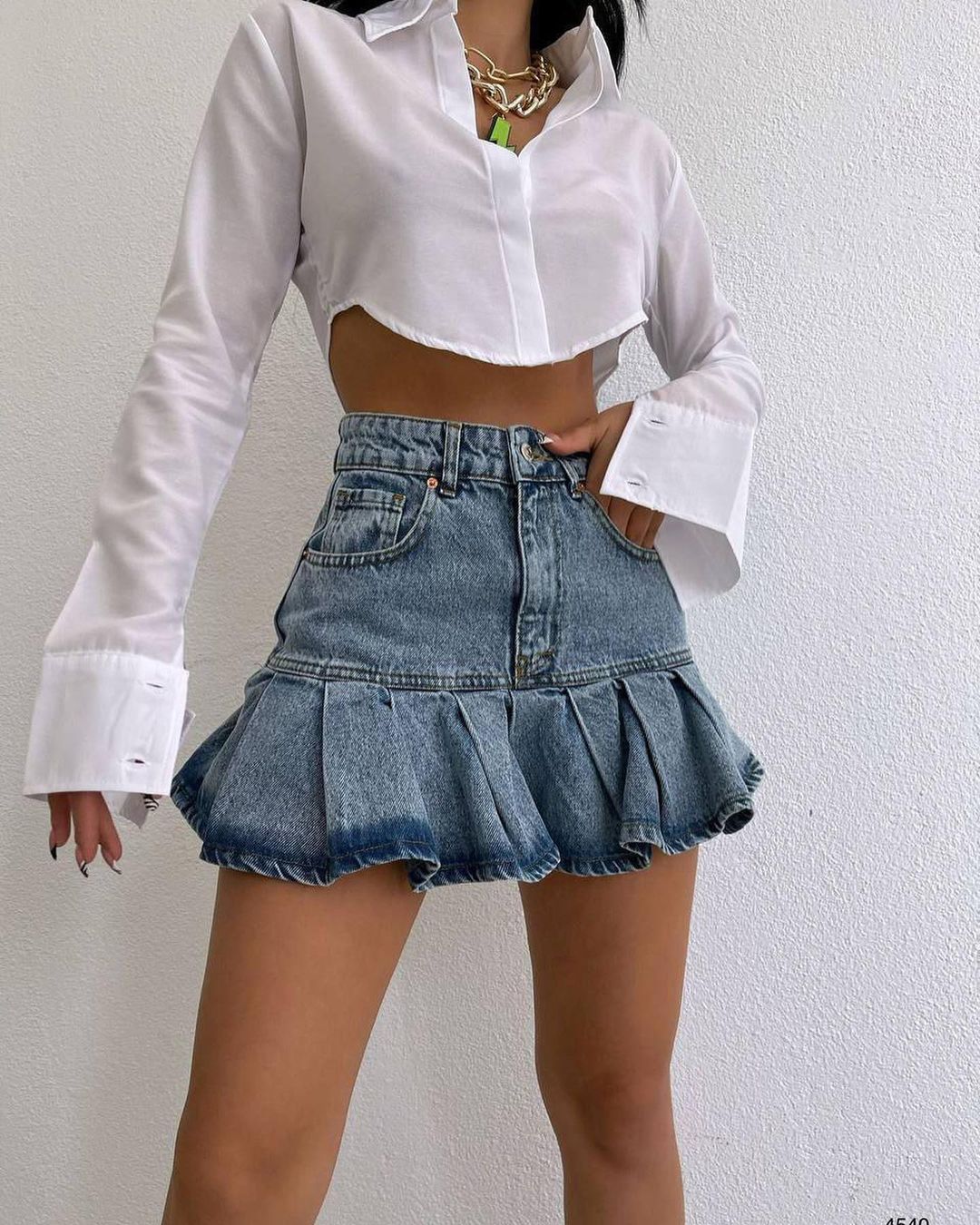 via @kralya.shopp
Accordion Skirt
Being an example of pleated skirts, this type differs from other versions in the width of its pleats, which are very narrow and heat-treated to keep their shape. If you see a long pleated skirt with a zig-zag pattern at the hemline, it is likely to be the accordion pleating. For better flaring, these skirts are usually made of a lightweight fabric: chiffon, satin, silk, or organza. The style is suitable for all body types and frames, but you need to choose the color and length accordingly.
Trouser Skirt
Giving us the best of both worlds, trouser skirts come in many variations connected through one idea — they split like pants for comfort in wear yet mimic a skirt to retain femininity. Some skirt pants are designed with an overlay attached to the waist to flare out, but you can also encounter wide knee-length trousers that look like skirts and are called culottes.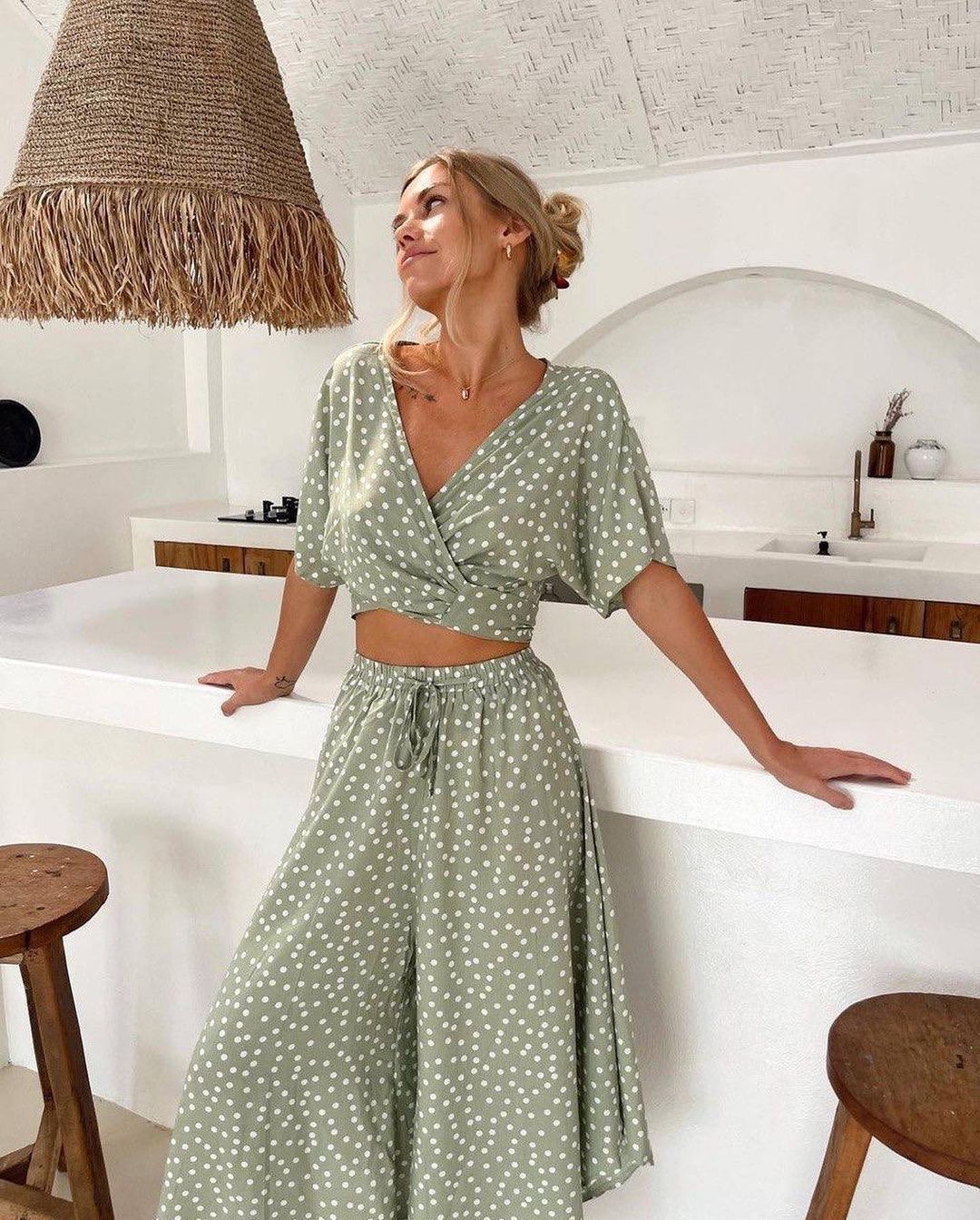 via @_vbrana
Tutu Skirt
Do you want to step into the shoes of a prima ballerina or, even better, replicate some of the most iconic Carrie Bradshaw looks? Then, a voluminous layered skirt made of tulle is what you need. Due to the rise in popularity, today's fashion industry offers different types of tutu skirts suitable for almost all body shapes except pear and diamond. But tulle circle skirts are easy to sew within a DIY project, so take the plunge and tailor the outfit to your needs.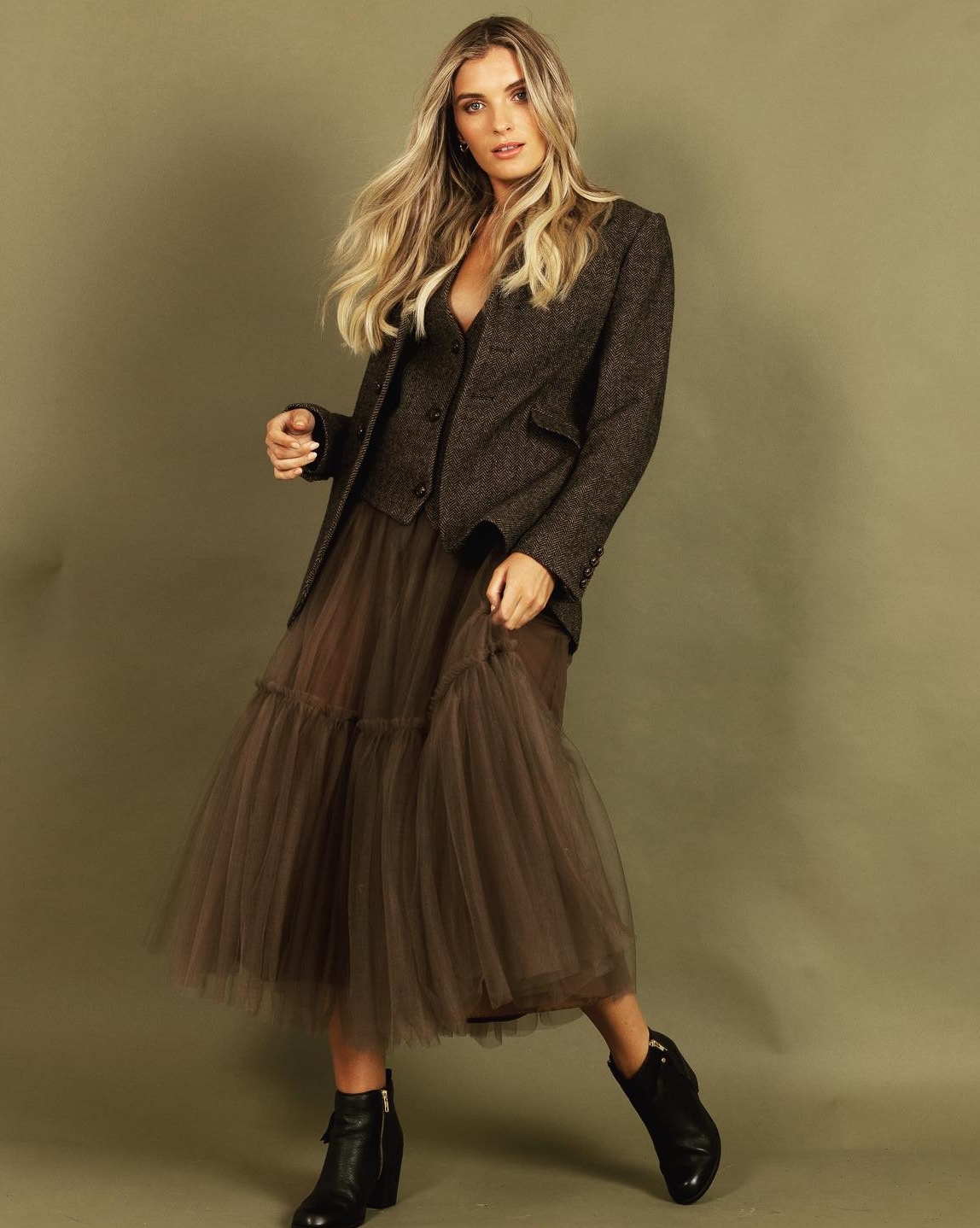 via @joeythelabel
Handkerchief Skirt
A rectangle or square-shaped handkerchief skirt has at least four corners cascading down to result in a nice draping. In addition to extra volume, which can be placed throughout the length with multiple layers, the asymmetric hems create a strong focal point, directing attention to the legs. Thus, you can choose a short skirt to showcase your well-toned legs or opt for a calf-length garment to emphasize your thin ankles.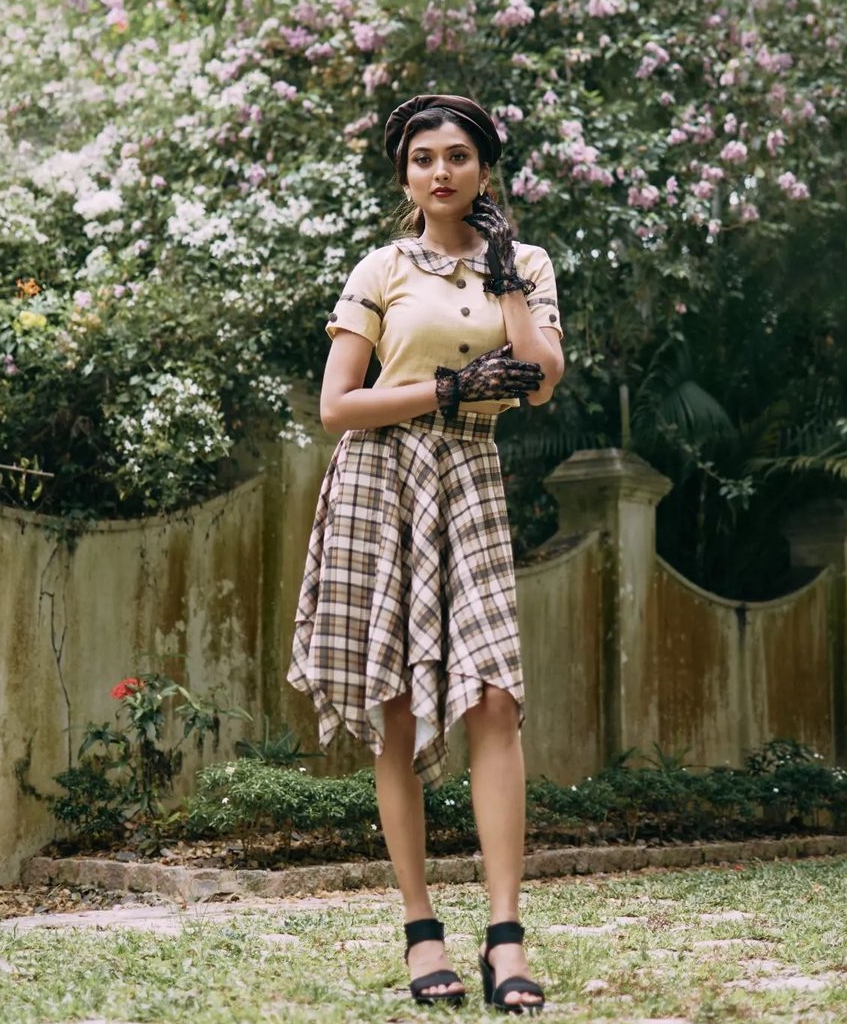 Mini Skirt
Since mini is not about the shape but the length, different types of skirts make it into this category. The main point is that they need to stop at the mid-thigh level, while their micro versions hardly cover underwear. The short straight skirt type is, probably, the most popular option for girls with trim figures, but a tiny form-fitting skirt will also derive curves from the rectangular body shape.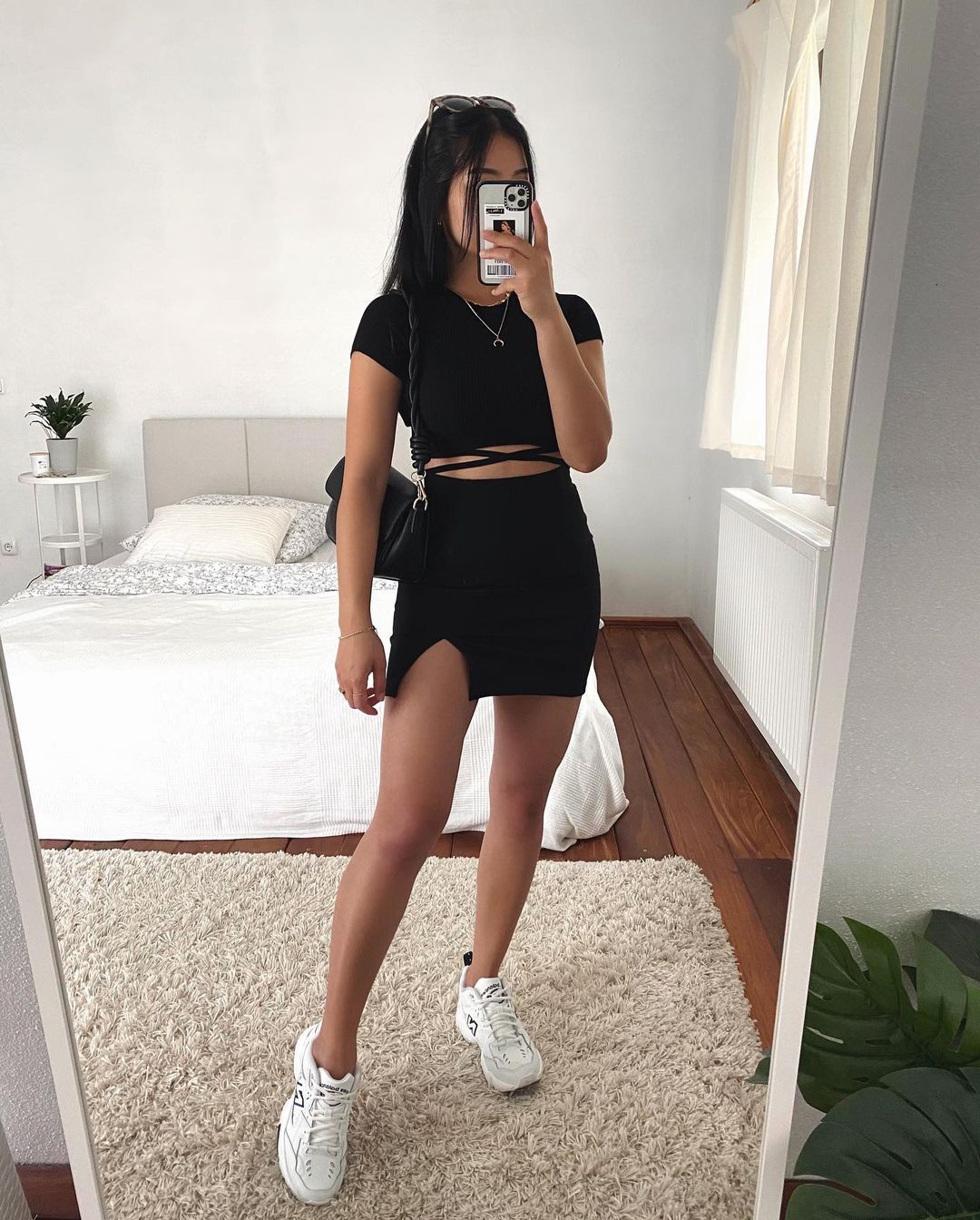 via @thanyaw
Maxi Skirt
Going down to the ankle level, classy maxi skirts look no less cool than their short counterparts, and they are ideal for tall women and hourglass-shaped ladies of medium height. Although petite girls should avoid this length regardless of their body shapes, other types can adjust pleated or straight floor-length skirts to their specific features, for example, by choosing the right top.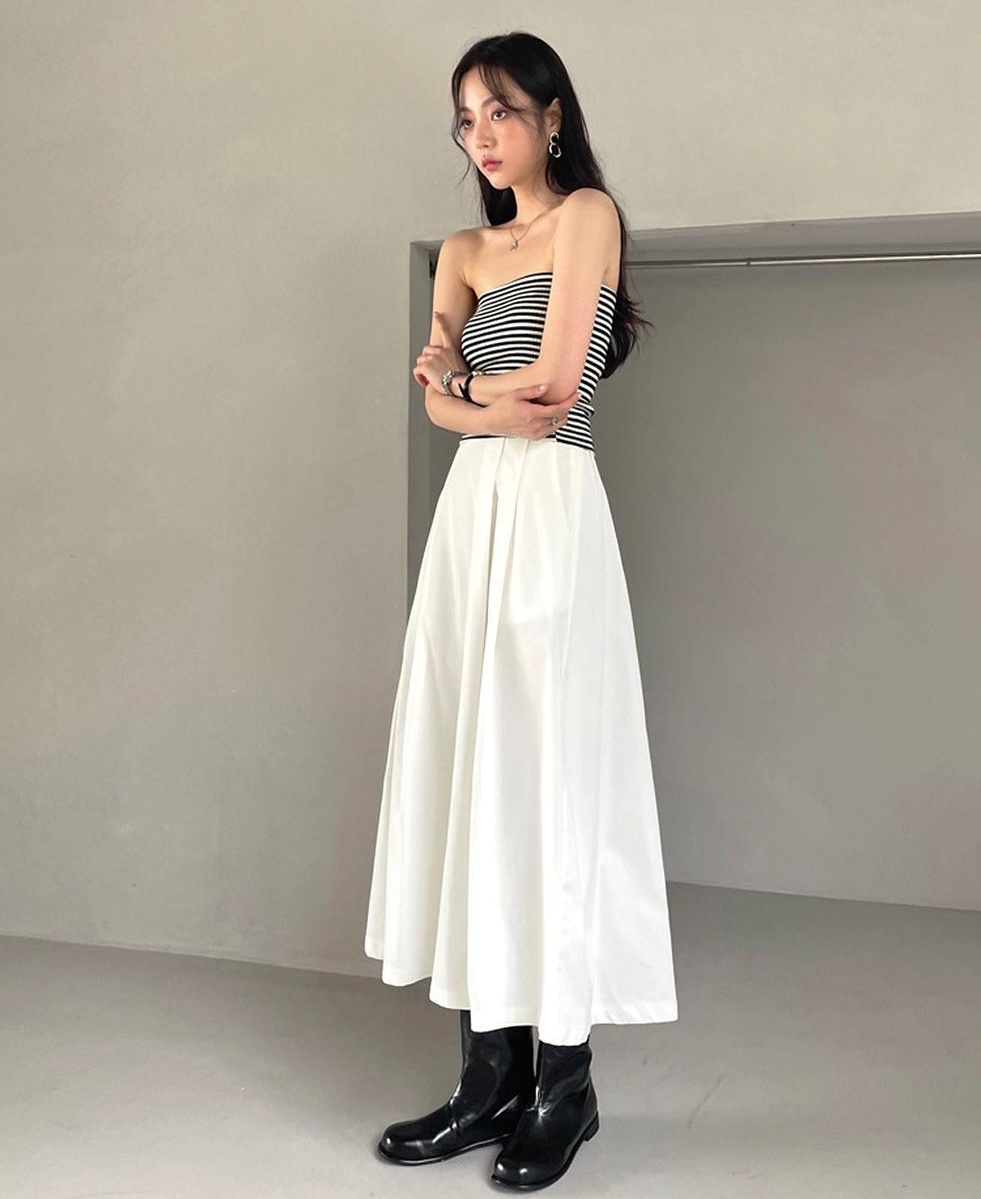 Poodle Skirt
The history of poodle skirts dates back to the 50s when they became the first teenage fashion trend and were seen on any dancefloor across the whole USA. They got the name after an applique depicting a poodle, which was an extremely popular choice in handmade designs. Today, any handy woman can cut out a wide circle skirt and adorn it with a custom applique to get a fun outfit with retro vibes.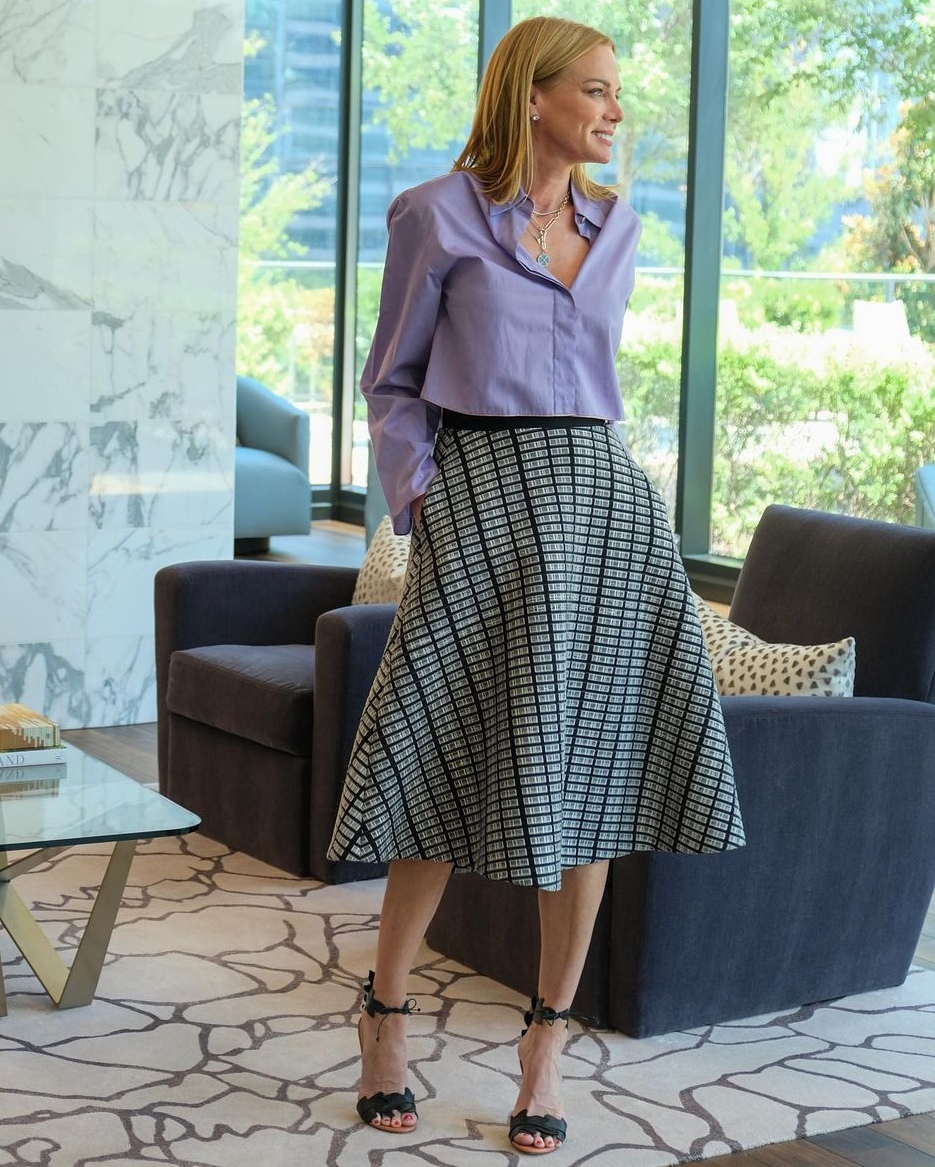 Box Pleated Skirt
Girls who have a rectangle, diamond, or hourglass body type should start searching for box pleated skirt patterns ASAP, as the accent created on the waist and the fullness added around the hips will balance their figures perfectly. Unlike knife pleats, box pleats face away from each other, and they are frequently used as standalone pleats, which allow for diverse designs. Although we can oftener find this pleating in a mini or knee skirt, a maxi box pleat skirt makes a gorgeous outfit for special occasions.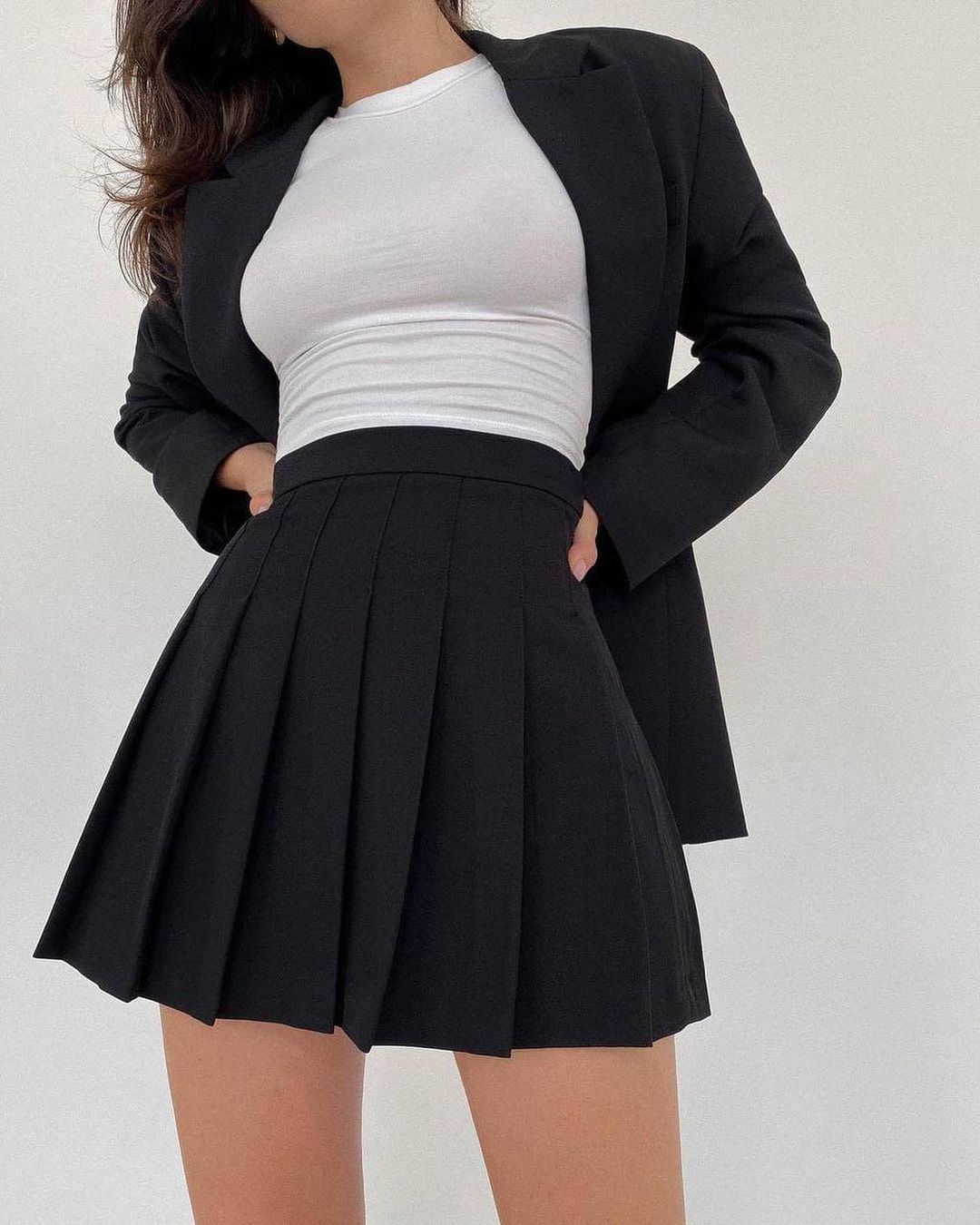 via @sonore_boutique
Draped Skirt
Whether you are after summer skirt outfits or elegant looks for a social outing, pay attention to designs creatively draped to gain fullness right in those places where you need it. For example, an asymmetrical draped skirt can shift the focus to your slender legs, while vertical draping will elongate the silhouette to make it slimmer. You are free to buy a flattering midi skirt on Amazon or get it tailor-made — draped skirts always feel stylish and dainty.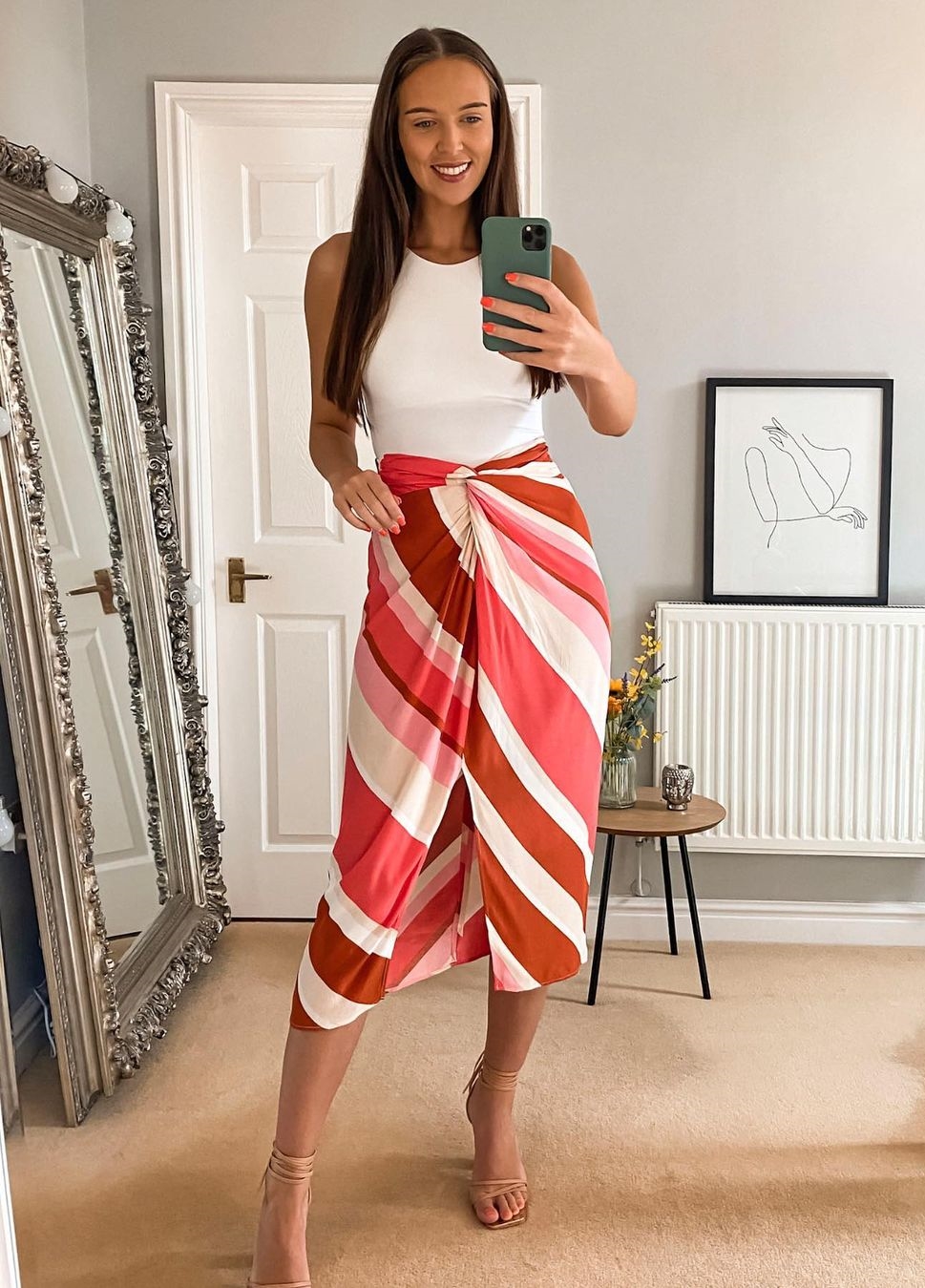 via @_just_niamh_