Whether you are going to a party, family gathering or formal meeting, wisely selected updos for long hair are always to the point. They'll give you a classy look, while highlighting your face and opening more of your neck and shoulders, even if you opt for half-up hairstyles. So, get all your bobby pins, hair elastics and barrettes ready, since we're starting our journey right now.
Chic Updos for Different Hair Types
Your hair texture is definitely a thing to keep in mind when considering updo hairstyles for long hair. Sure, you can work a flat iron through your curls or curl your straight locks with a wand, but forcing your hair into an updo that disagrees with the type of your hair adds much prep hassle and can easily end in the fragility of your style. Vice versa, it is smart to show the best of your natural texture through the chosen hairstyle, whether it's the airiness of fine locks or gorgeous body of thick tresses. "It's equally important to take your face shape, the neckline of your dress and the weather into consideration, so your hair doesn't annoy you during someone's nuptials," says Kristen Stewart's and Diane Kruger's hairstylist Bridget Brager in her comments for People.com, reminding us of the need to strike a happy medium. And here are some cases in point.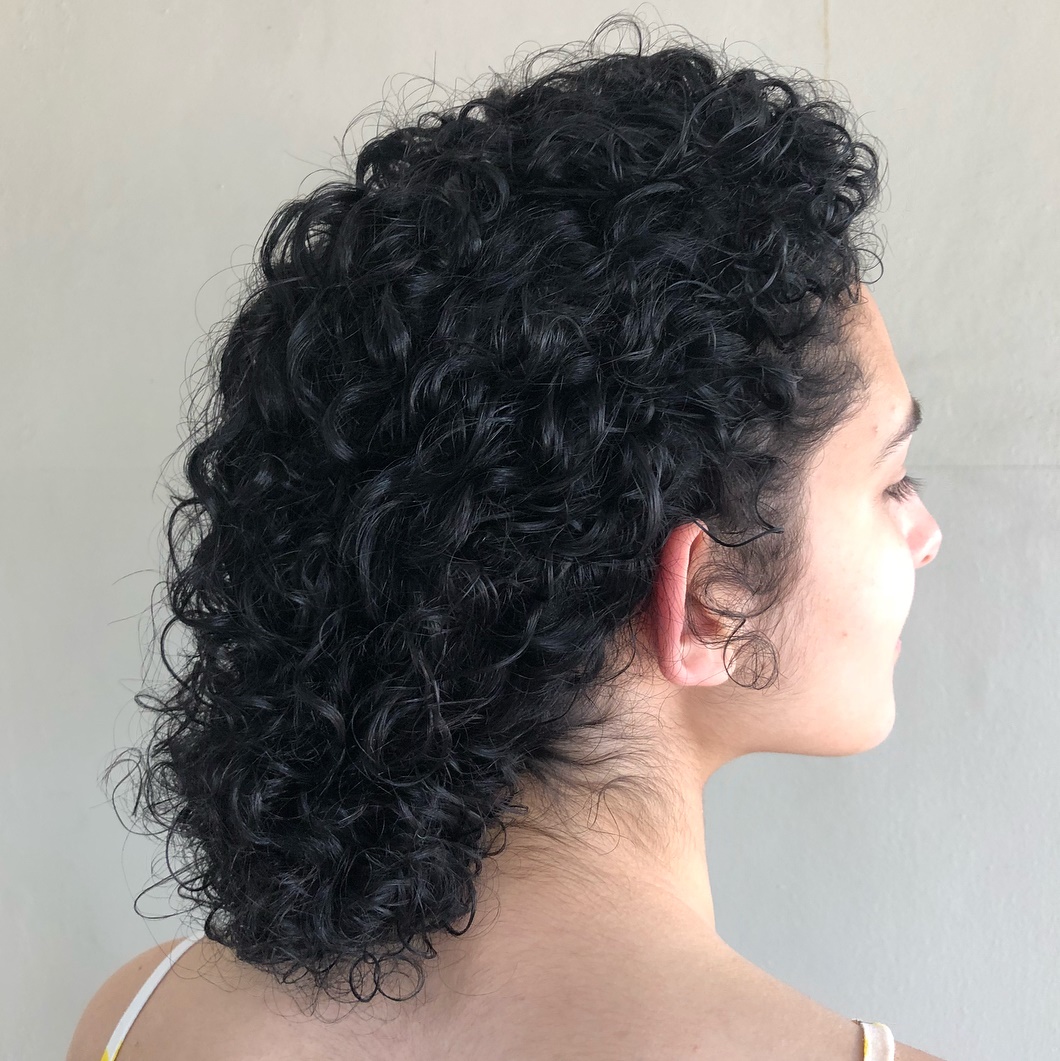 via @rolyhairstylist
These curly locks are beautifully defined, pulled back and wrapped into a seamless low bun at the nape of the neck.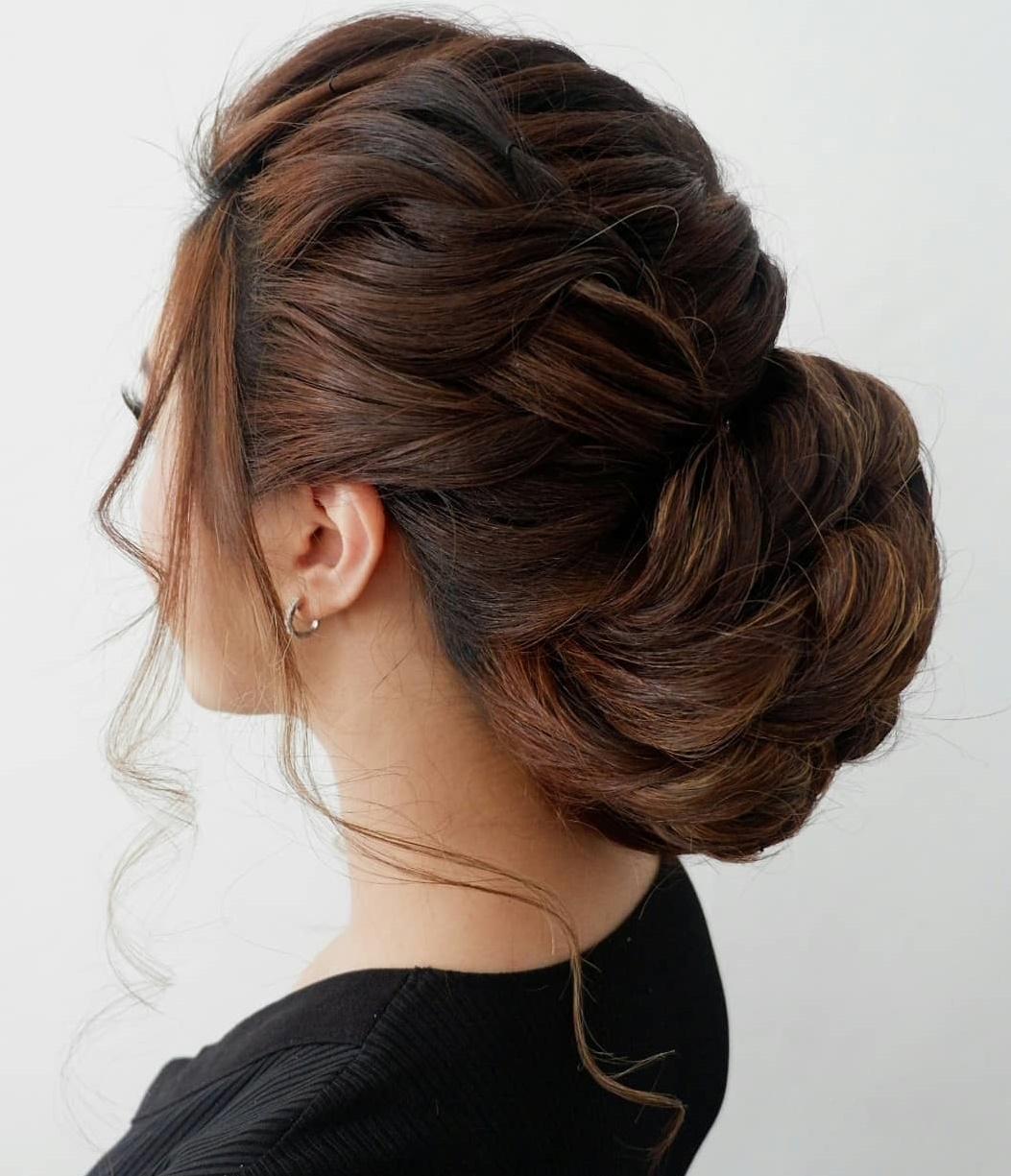 via @sonia_hairdo
Thick tresses can be intricately interwoven, creating a kind of braids on the sides, and then packed into a massive textured bun.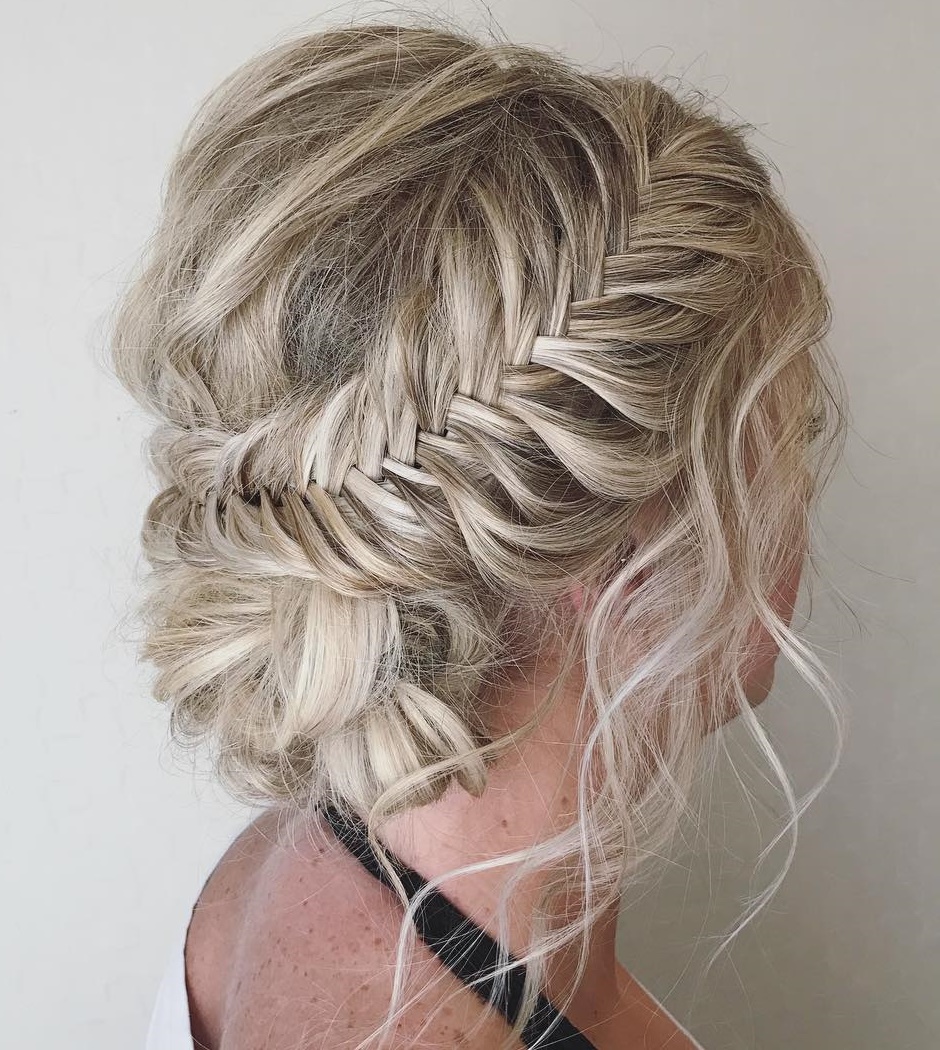 via @em.the.beauty.operator
Thin strands look fuller in messy updos like this one, featuring a bouffant, framed with a loose fishtail braid and loops at the nape.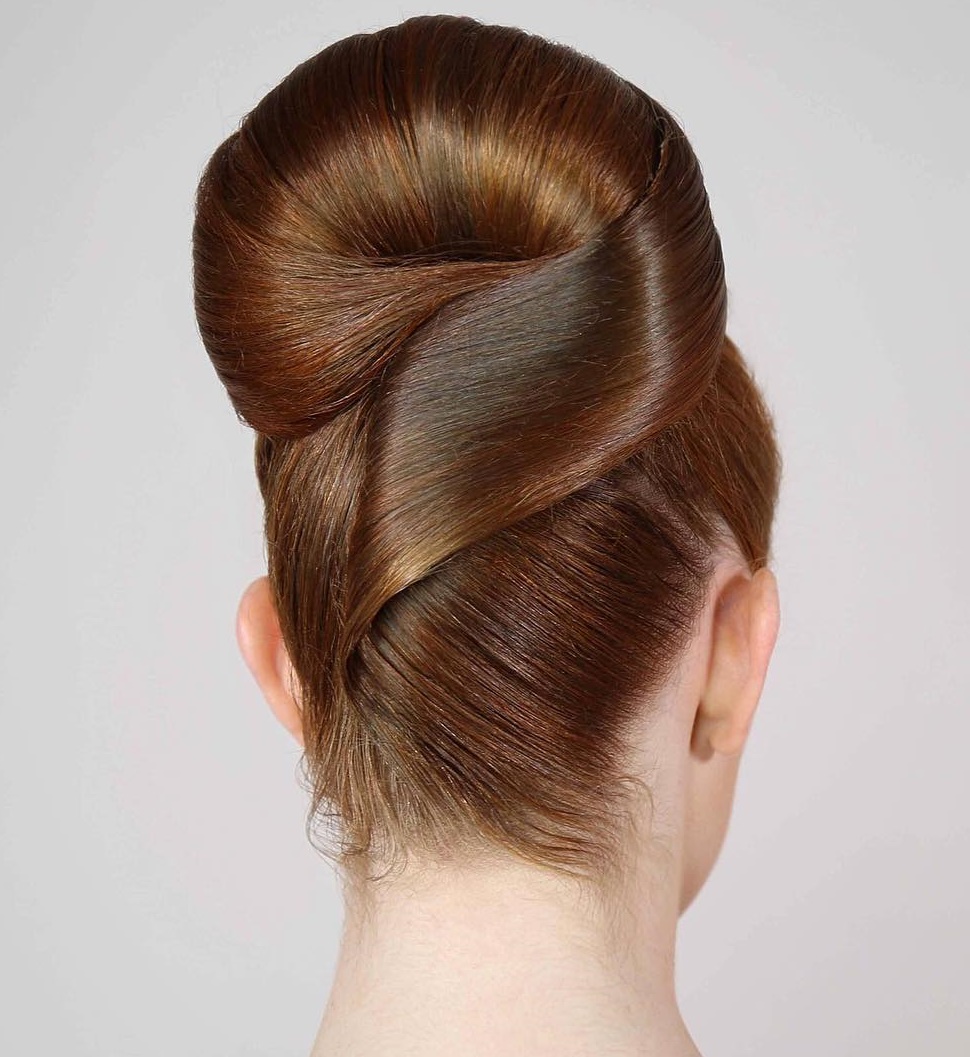 via @patrickcameronhair
Straight hair shines in sleek 'dos, and this neat, yet graphic roll style boosted with hair padding speaks volumes (literally).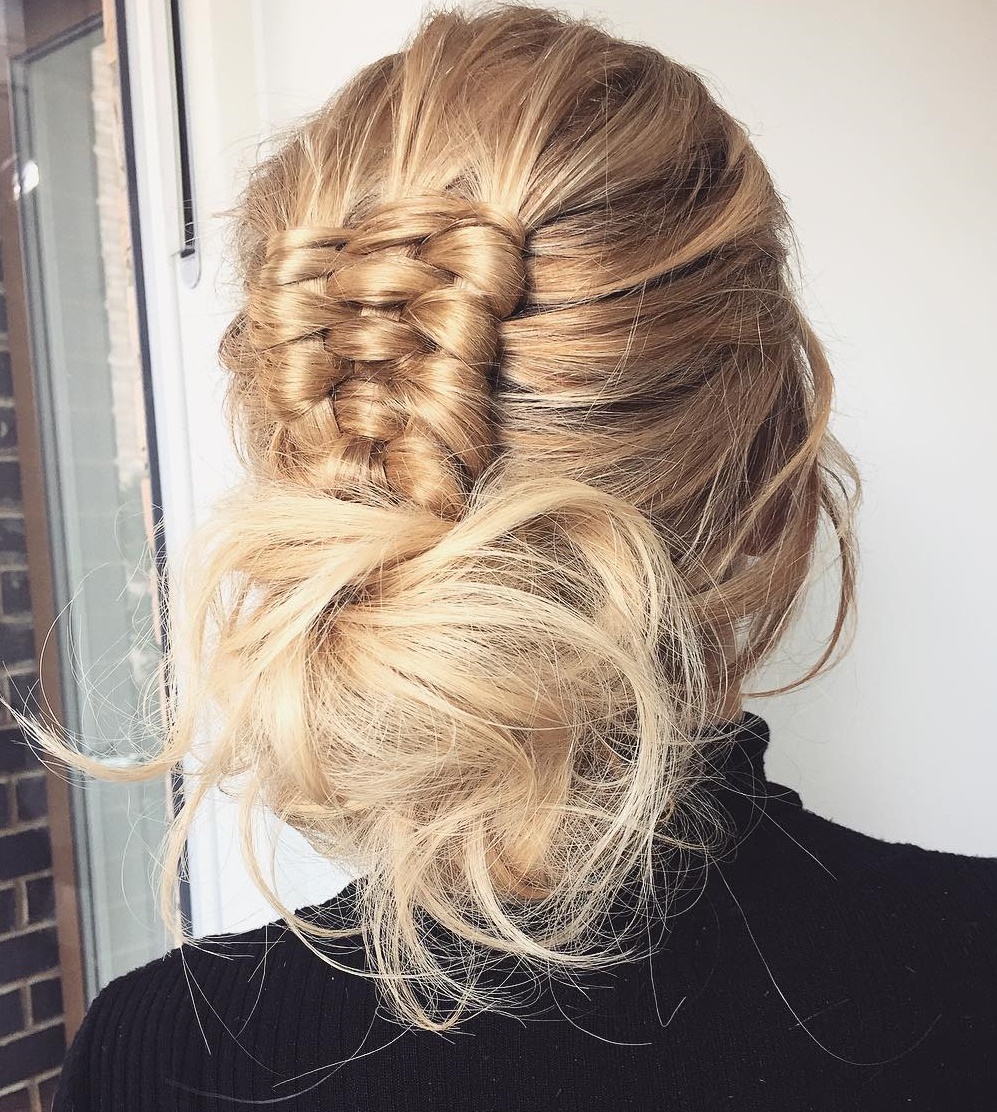 via @michaelgrayhair
And what about mimicking the cobra weave in fine tresses? The fancy braid is a perfect focal point for messy styling with a disheveled bun and many intentional flyaways.
Gorgeous Wedding Hairstyles
We can say without a shadow of a doubt that Meghan Markle's wedding messy bun turned out to be the most coveted bridal hairstyle, and it is still trending. While sleek 'dos are graceful and timeless, undone weeding hairstyles are seen as sexier and edgier at the moment. "I like to describe it as disheveled elegance. A more polished look would be reminiscent of your mom's wedding hair," says celebrity hairstylist Nunzio Saviano to Brides. However, you are not limited to mimicking Meghan's cute chignon, and the desired relaxed feel can come even with more fanciful styling. Scroll through our collection for a couple of fresh ideas.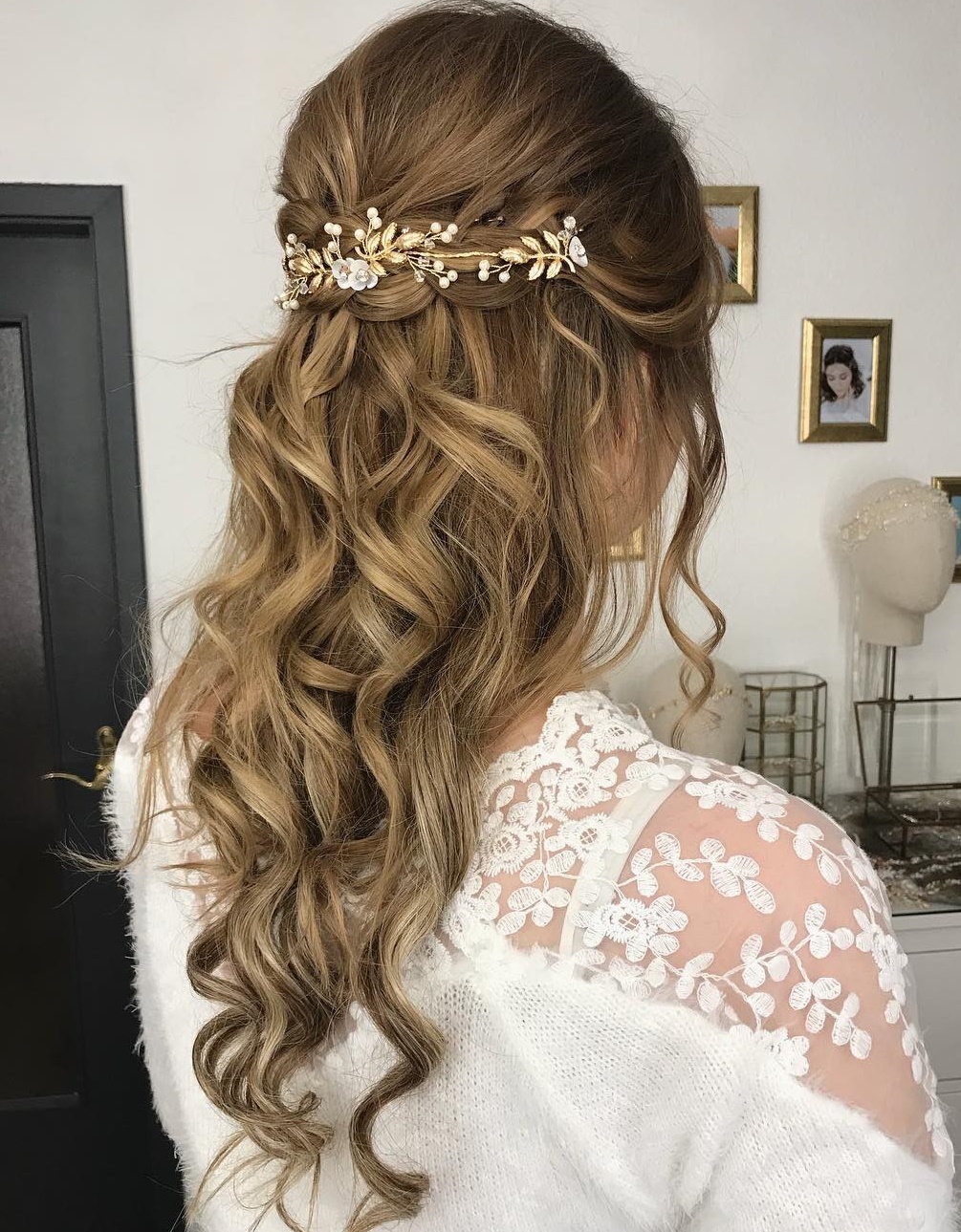 via @la_chia_headpieces
Think of soft cascading half updos with an elevated top and a lovely decorative headpiece, which sits here right on the delicate side-to-side braid.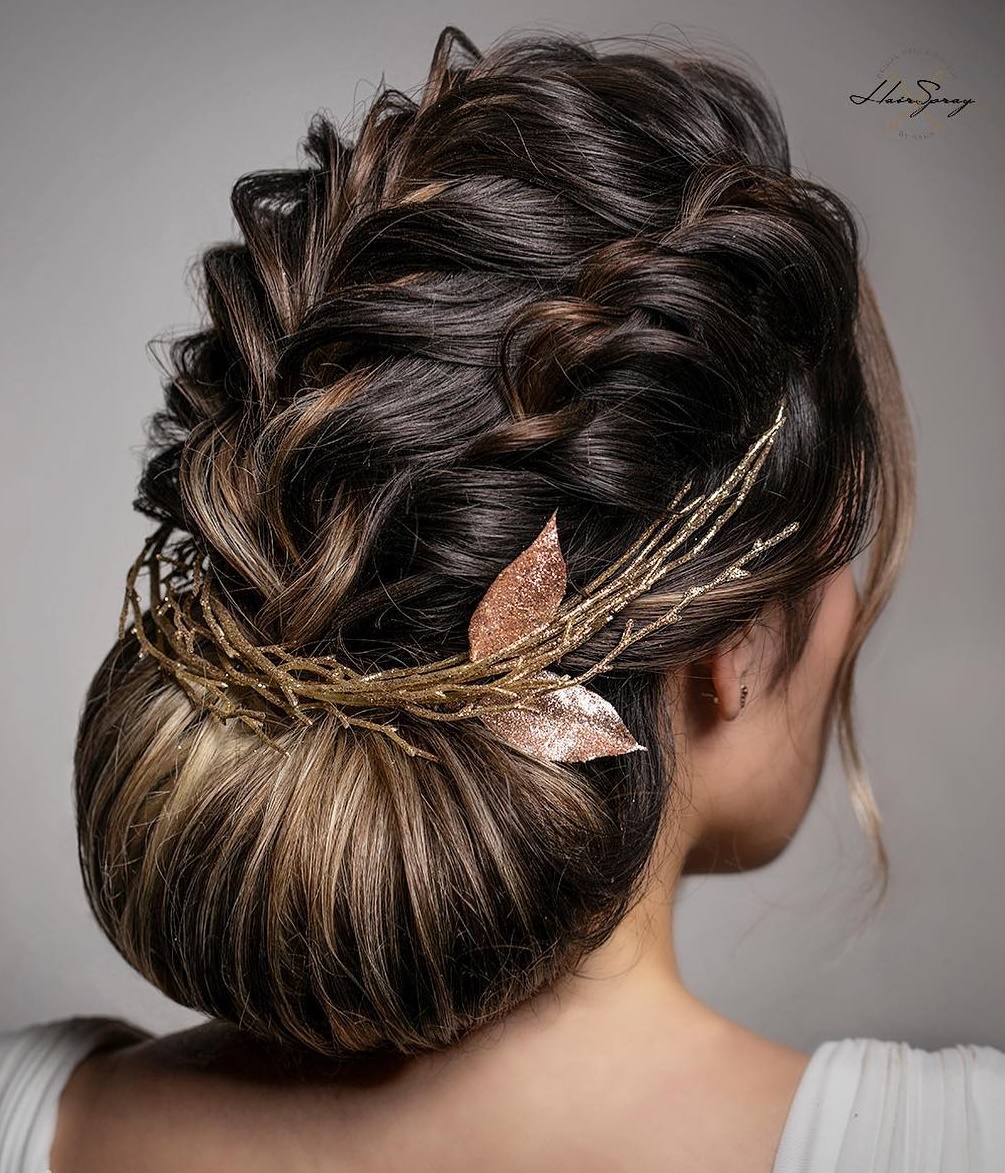 via @hairspray_studio
Create a stunning bridal look with a neat chignon at the nape and contrasting loops galore on the top. Sure, we love this out-of-the-ordinary twig headpiece, too.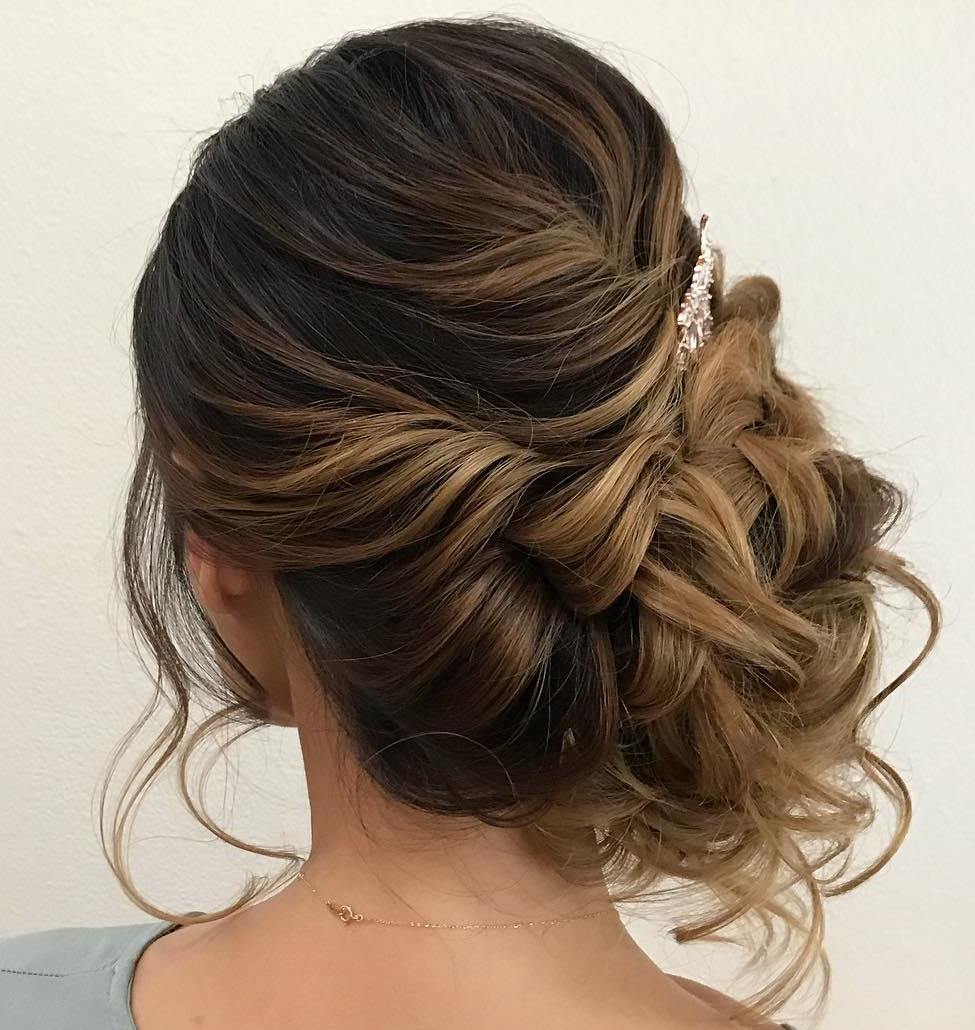 via @heidimariegarrett
Don't hesitate to open your neck by shifting volume to the side when wrapping your tresses into loose romantic loops.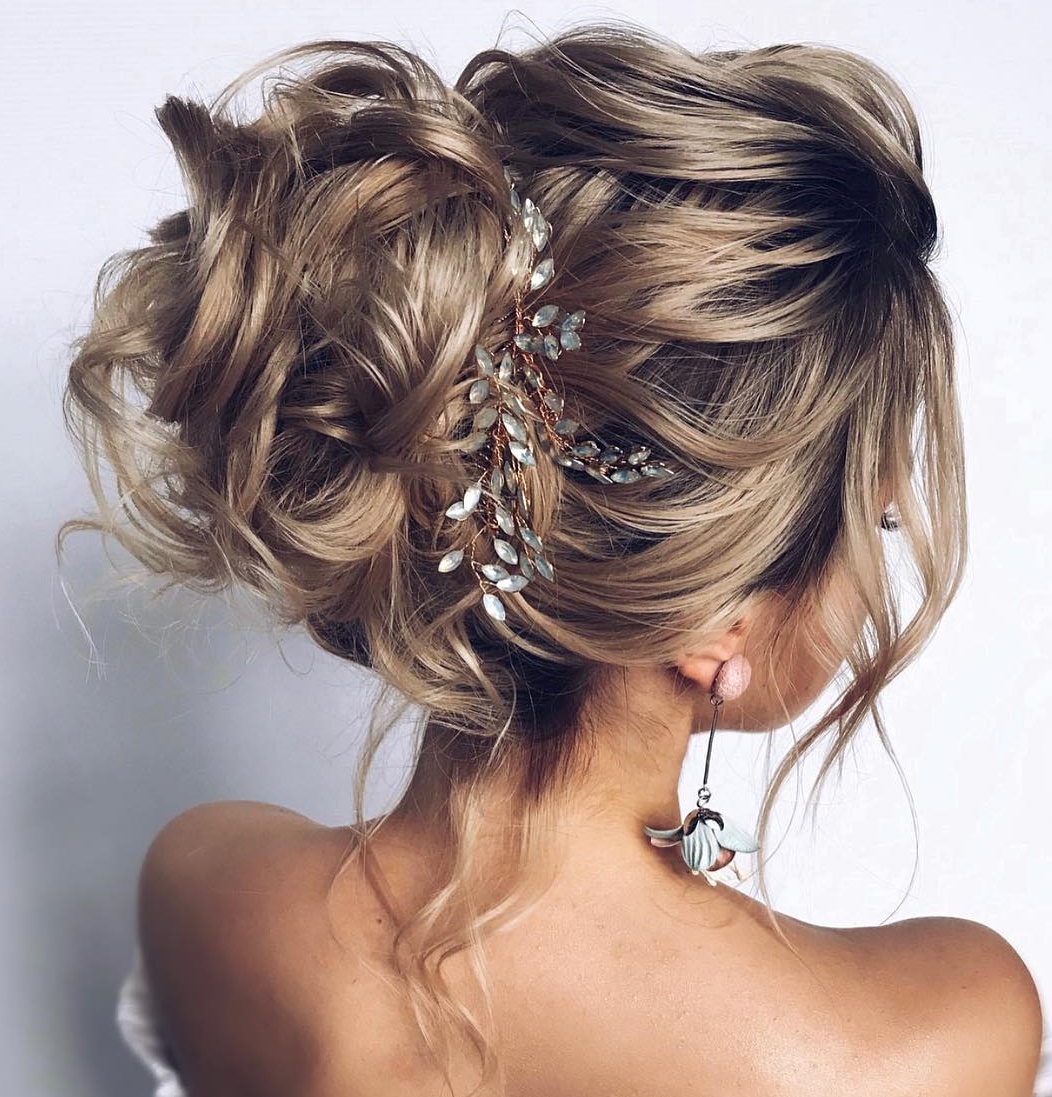 via @hair_vera
Steal this awesome look with a voluminous bun for a beach wedding, as it embraces both carefree styling and a sun kissed feel.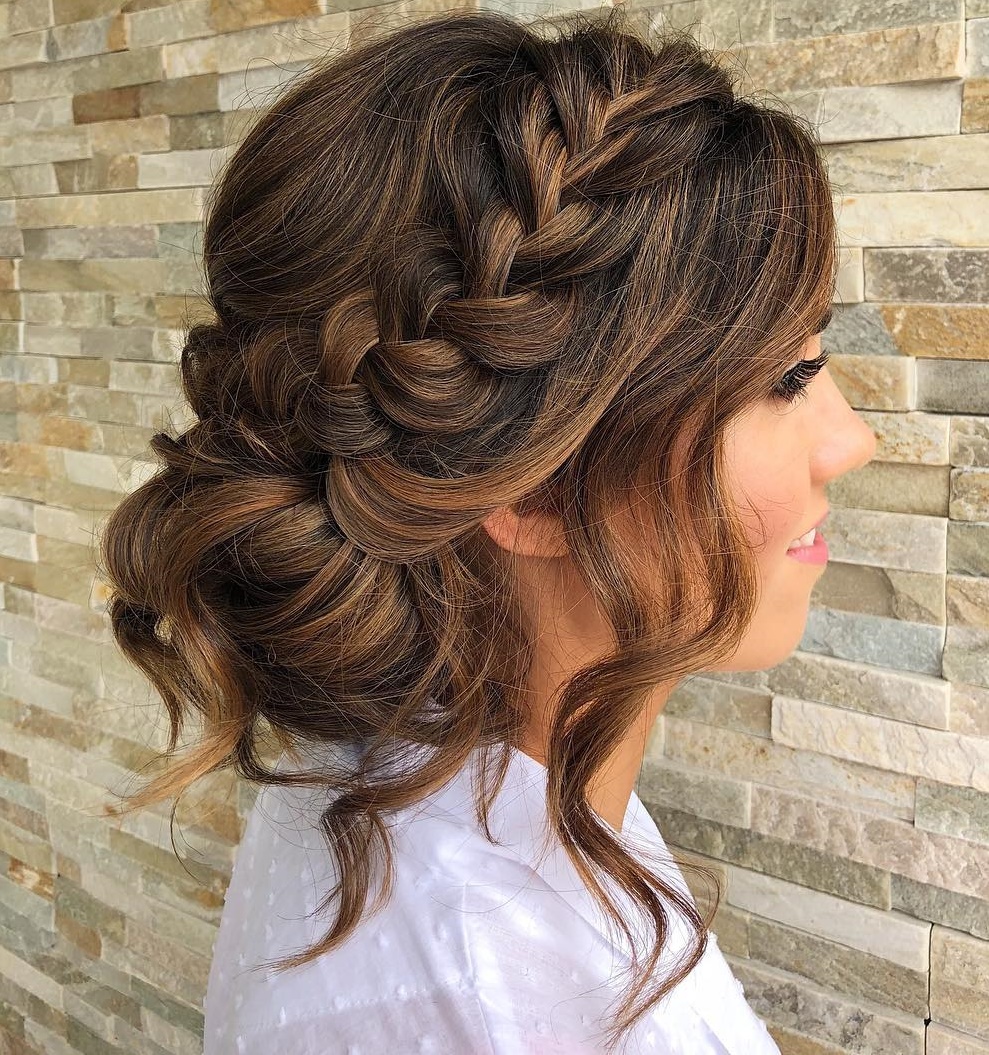 via @deelushhair
For a bridesmaid, this effortless braided style with a messy bun and plenty of soft waves is just the thing to sparkle without outshining the woman of the day.
Instagrammable Prom Updos
Actually, we should thank the current undone trend, as it green-lights quick and easy styling for both casual wear and special occasions. So, you don't need to sweat over your prom updo either when styling or while rocking it – all hail small imperfections! "Don't worry about every little strand. Let some of the layers fall out and frame the face and the back of the neck," says Mara Roszak, who styles Emma Stone and Elle Fanning among other celebs, to Allure. But what if you favor the idea of neat and smooth 'dos? No problem, just make sure it has enough texture for a trendier look, as illustrated below.
via @marianaleiva_beauty
This relaxed braided 'do with textured tresses wrapped haphazardly at the nape is full of boho vibes and spiced by color streaks.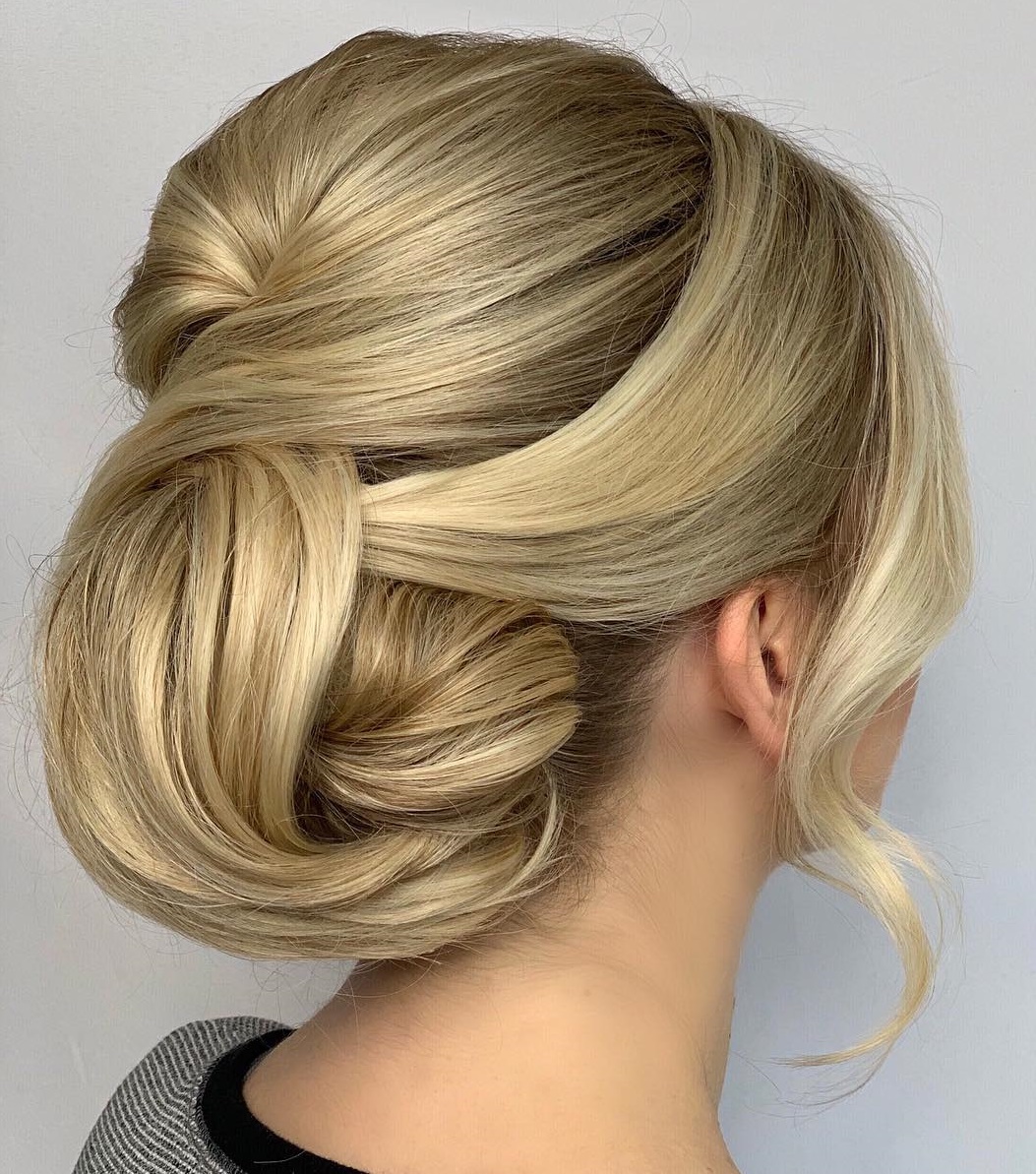 via @annette_updo_artist
Those seeking for a more elegant prom hairstyle can consider this chignon 'do, swirled artistically in the back and complimented with accentuated side tresses.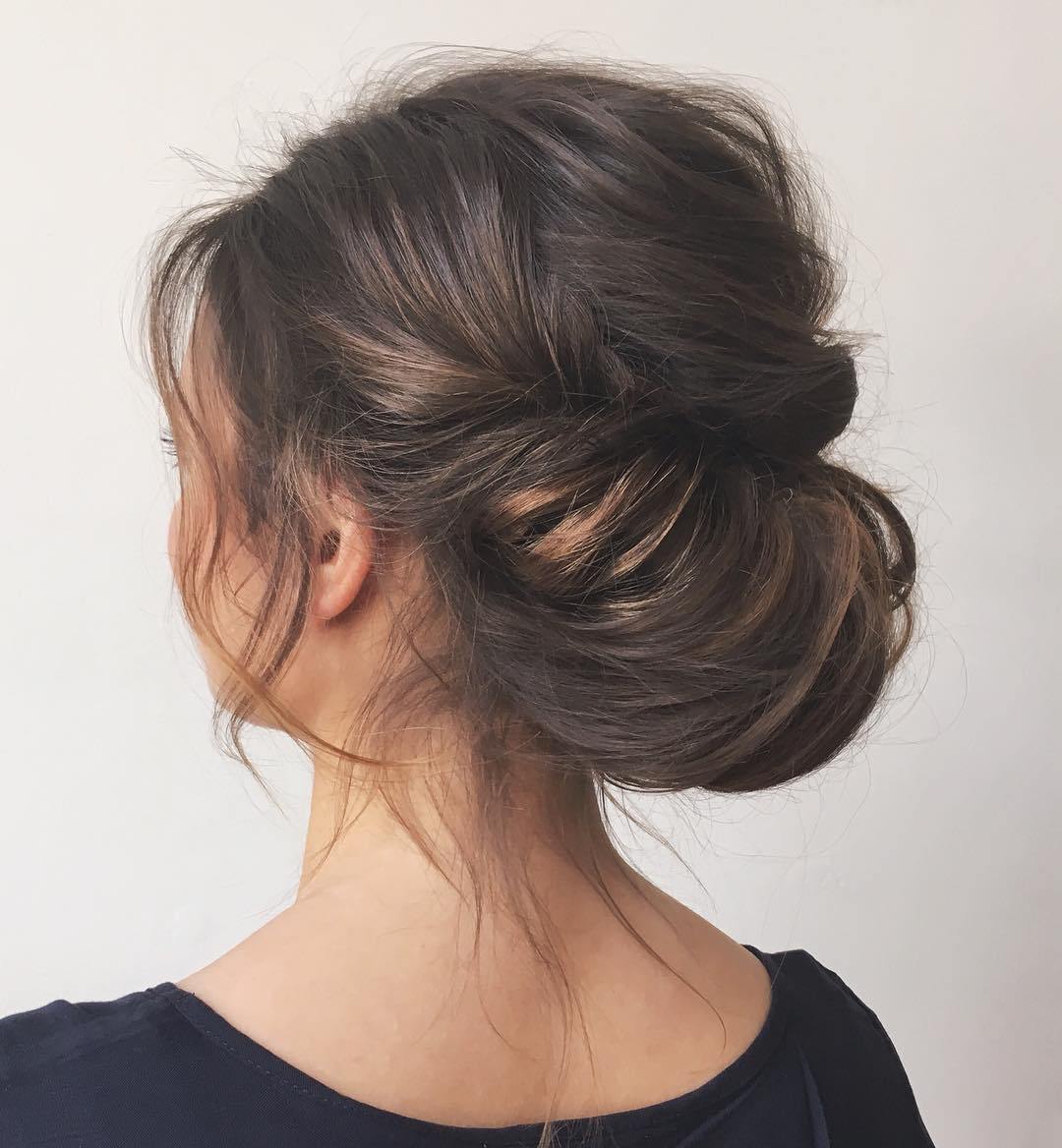 via @sabrinadijkman
This brown hair is casually rolled in the back and fluffed on top to show a modern take on the Gibson tuck with a bohemian feel added.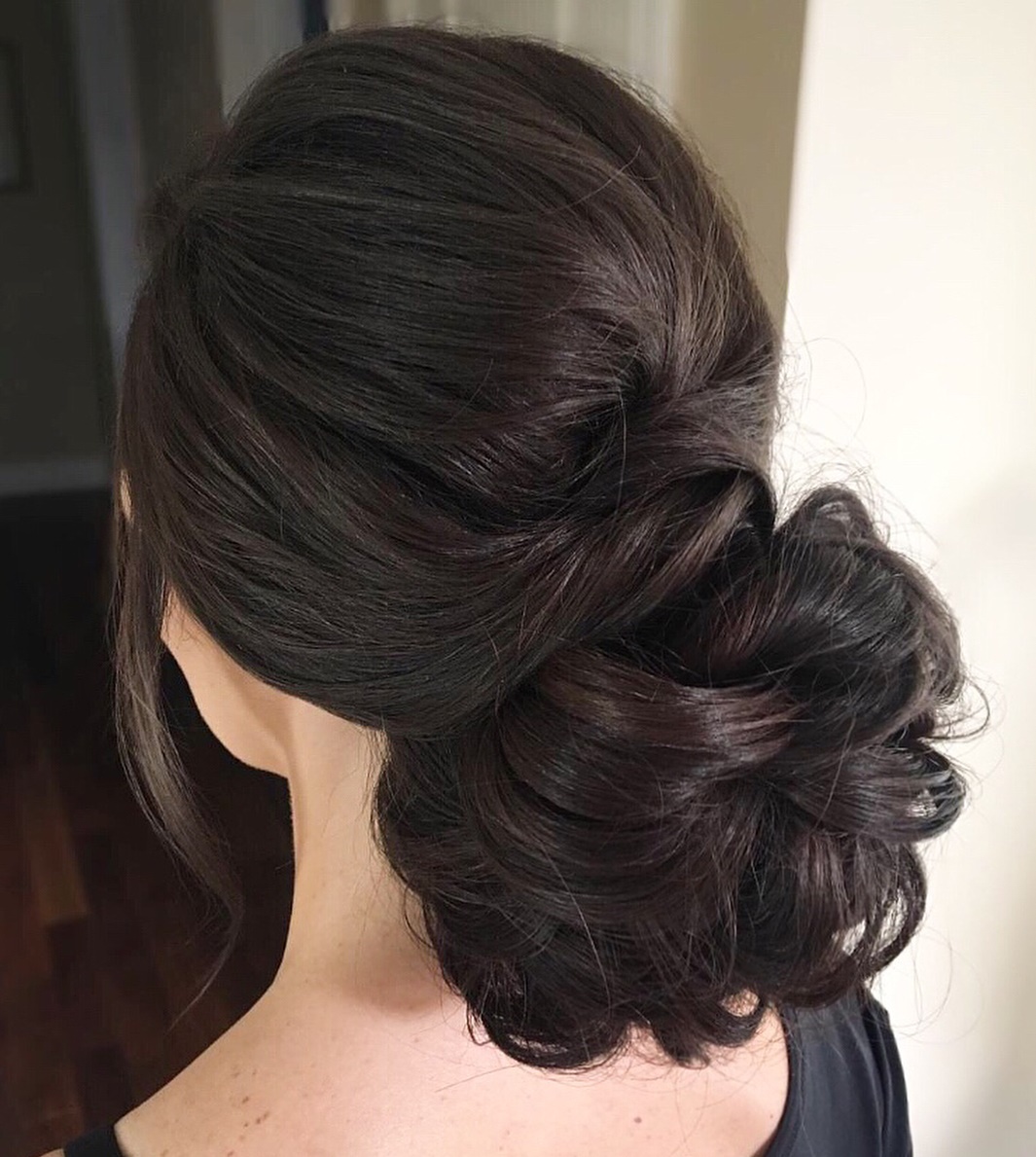 via @bridalhaircouturebykatie
Having thick hair, it's easy to recreate this chic textured updo, boasting a lush chignon interlaced with large loops.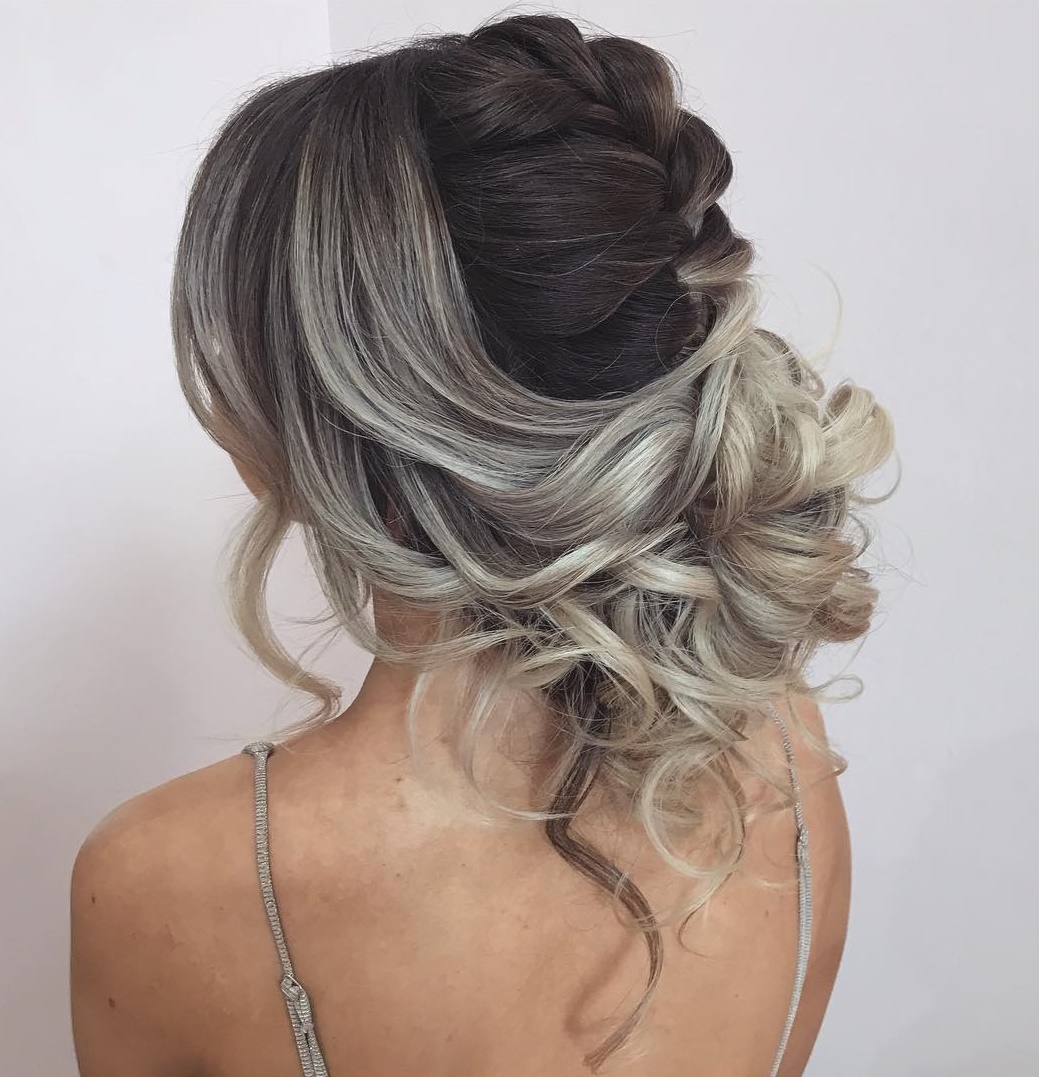 via @kykhair
This fantastic hairstyle stuns with its contrast between the dark braided top and icy blond loose curls on the bottom.
Cool Braided Hairstyles
"Braids are unique, but totally timeless too," says Larry Sims, hairstylist behind Kerry Washington and Gabrielle Union, to Brides. "Braids are the first thing I think of when a bride wants a hairstyle that's special, whimsical and fun. Plus, you have the major bonus of taking your hair down after the reception and having these gorgeous waves throughout your hair for any post-wedding festivities or the flight on your way to the honeymoon the next day," he adds, and we do believe this is applicable to all braided updo hairstyles for long hair, not only to bridal looks. To prove the fact, we've collected a nice set of braided styles for every occasion.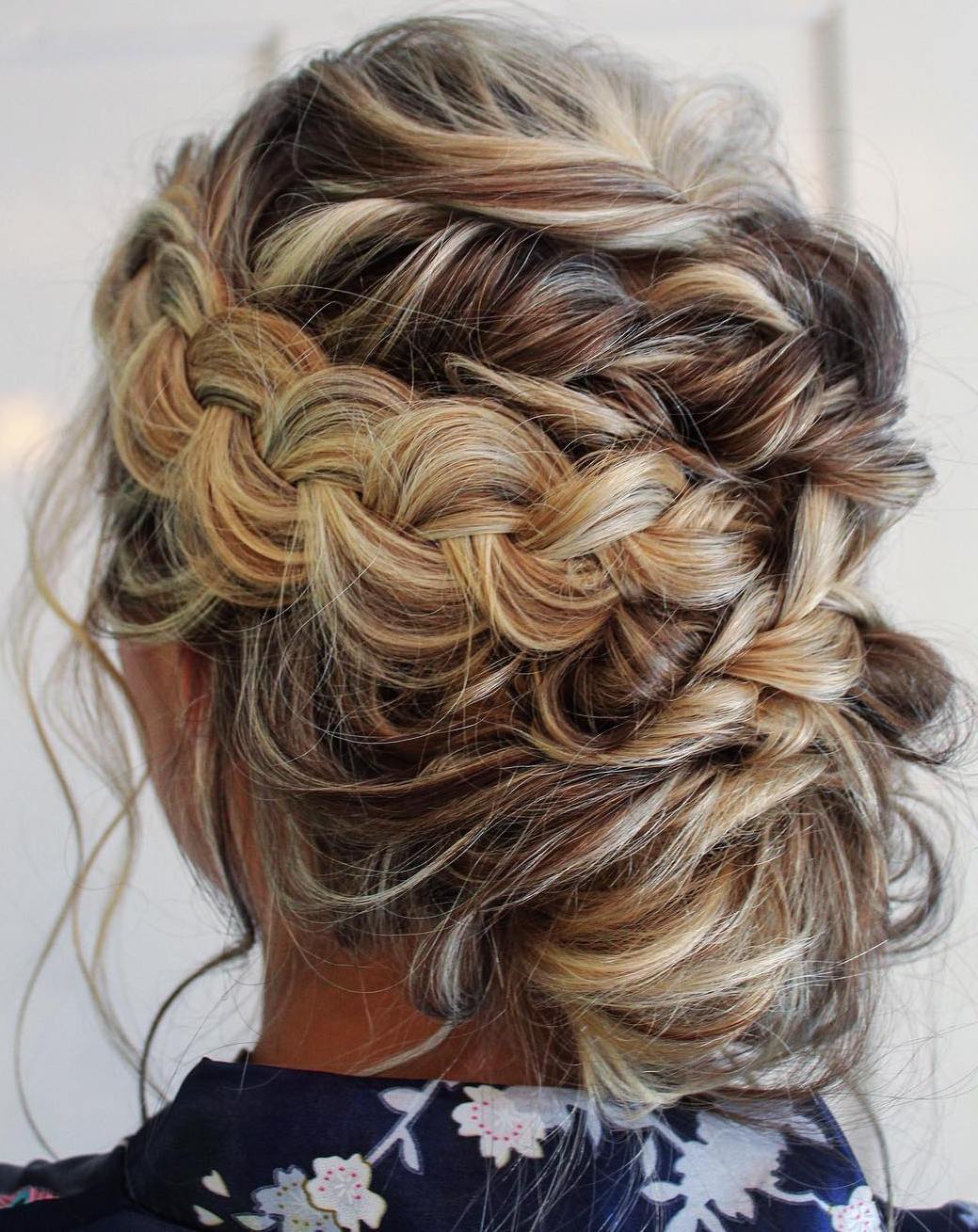 via @theupdogirl
This messy updo incorporates a loose braid and a plethora of twists stuffed into a low bun – a vibrant textured look is guaranteed.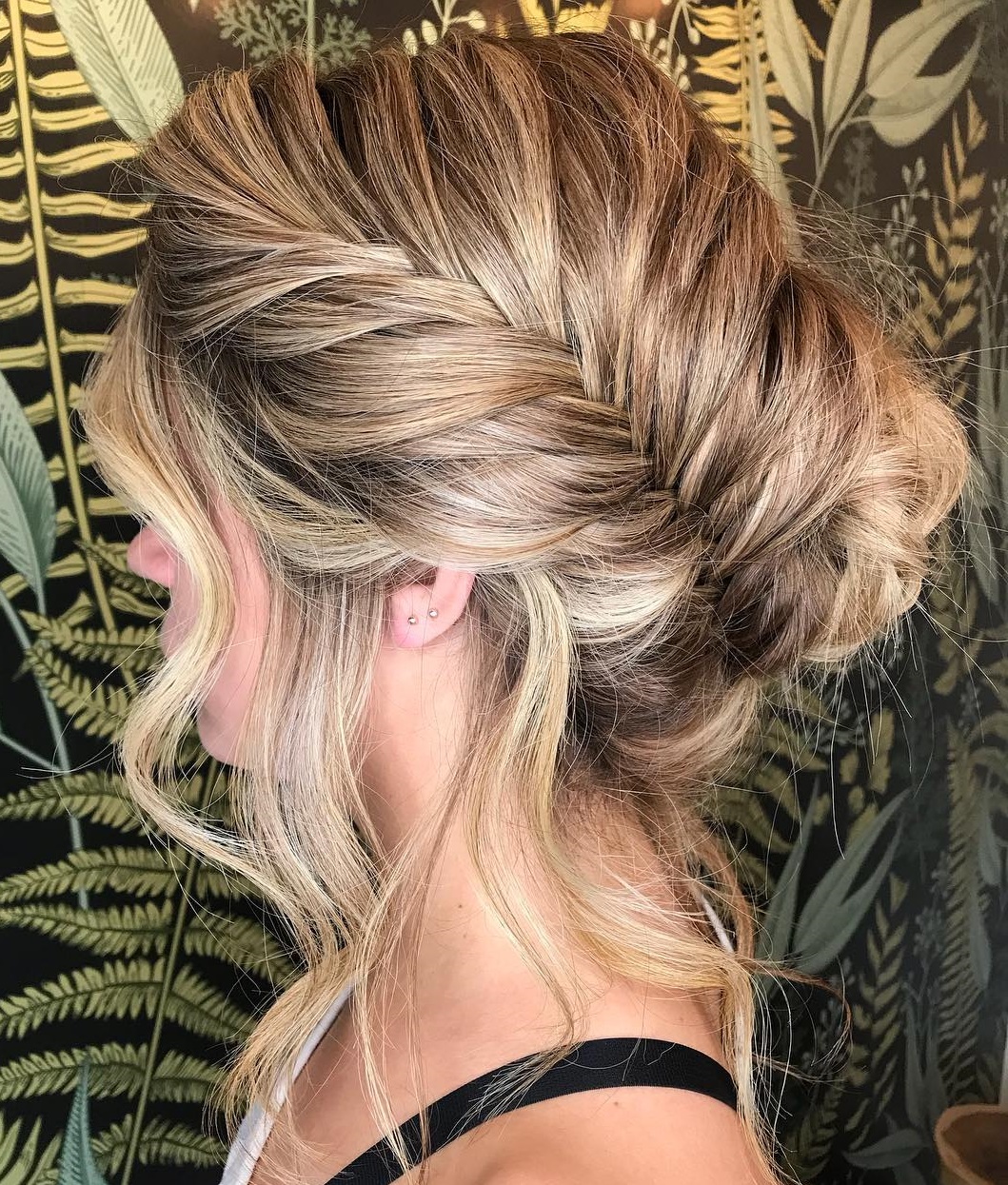 via @hairbyginger
Here, voluminous French fishtail braids create crisp texture, accompanied with multiple tendrils throughout the style for an airy and dynamic touch.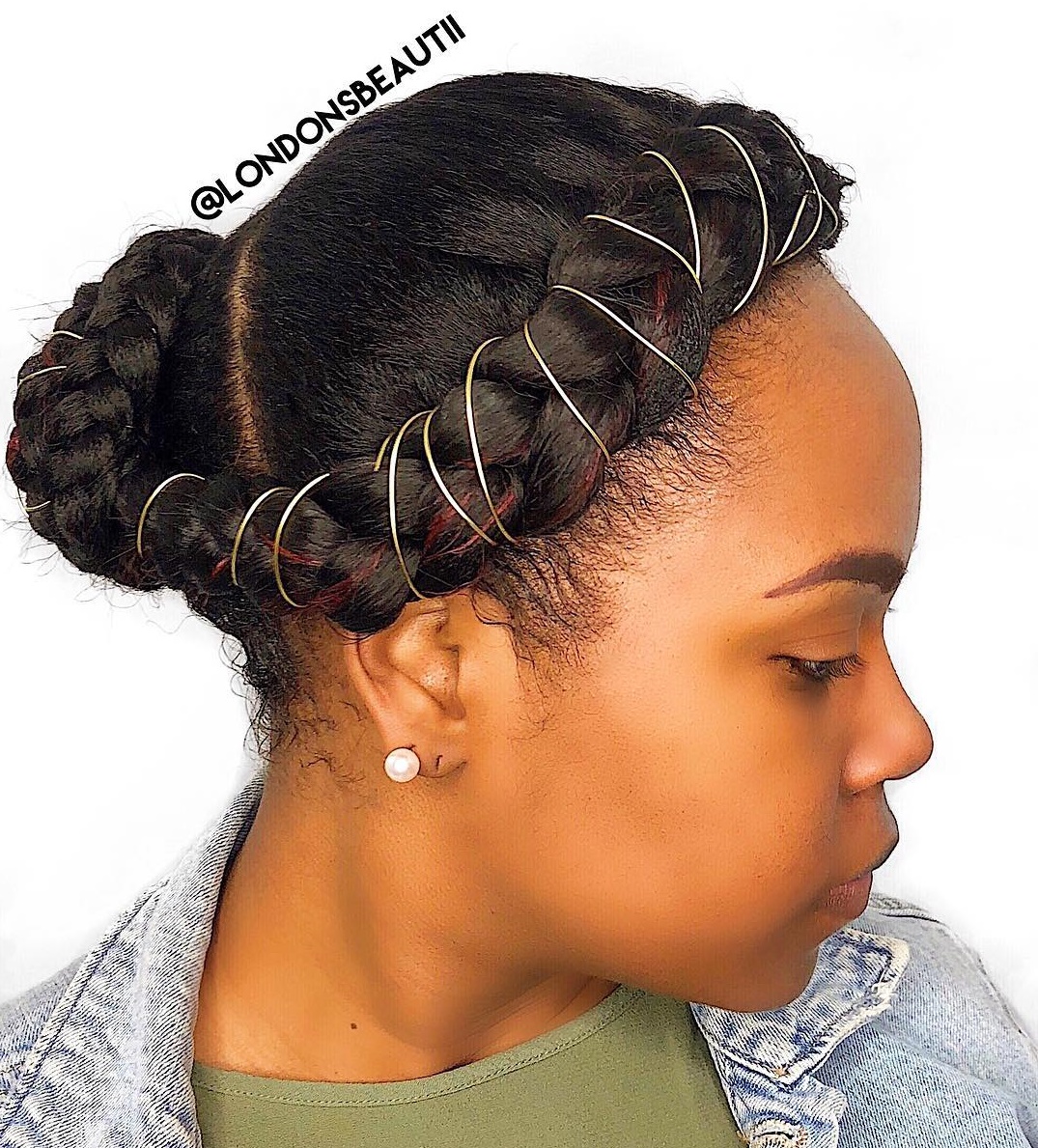 via @londonsbeautii
This black hair looks authentic with a tight halo braid wrapped into a braided bun and decorated with a contrasting thread.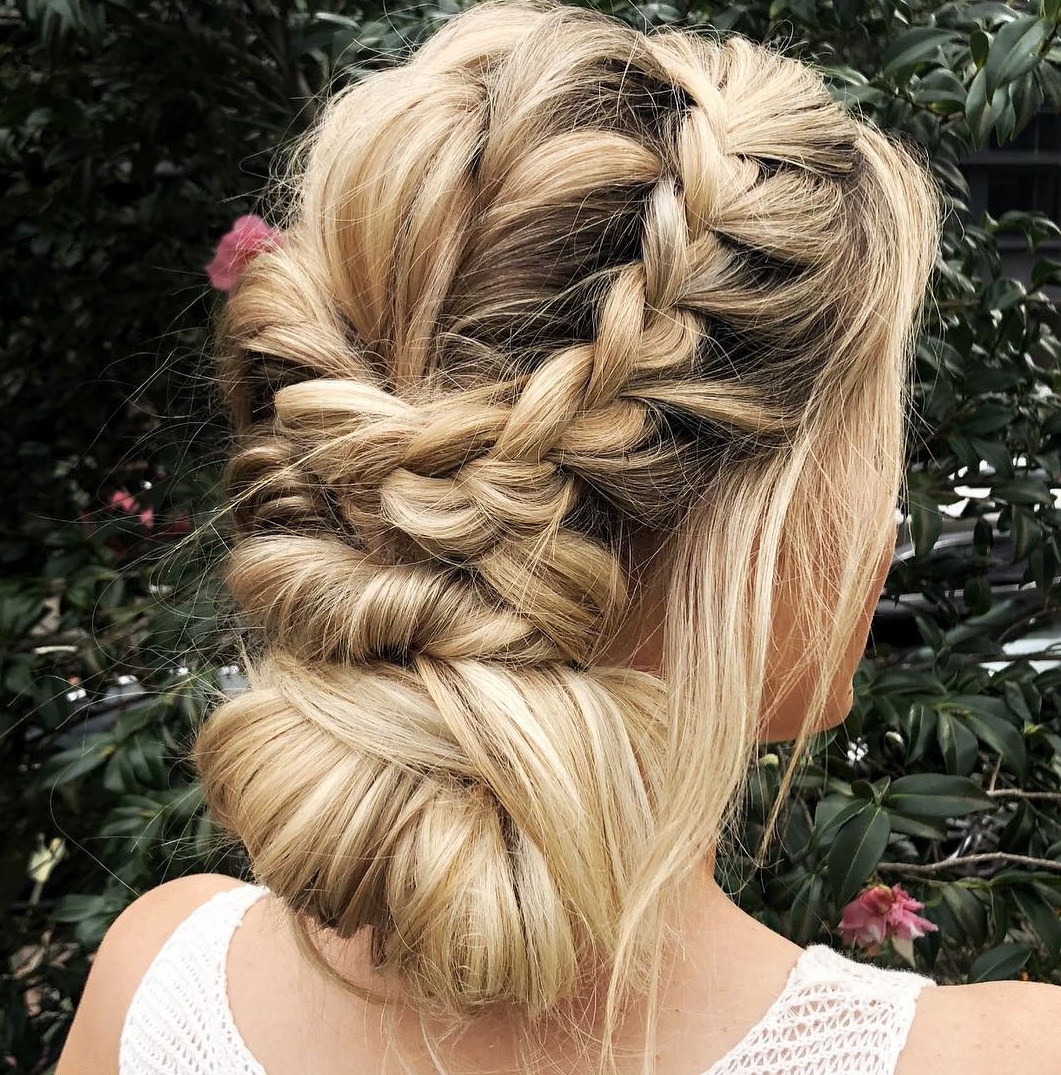 via @hairbyjaxx
Balayage highlights work fine for braided prom 'dos, adding depth and bringing out texture and volume gained through messy styling.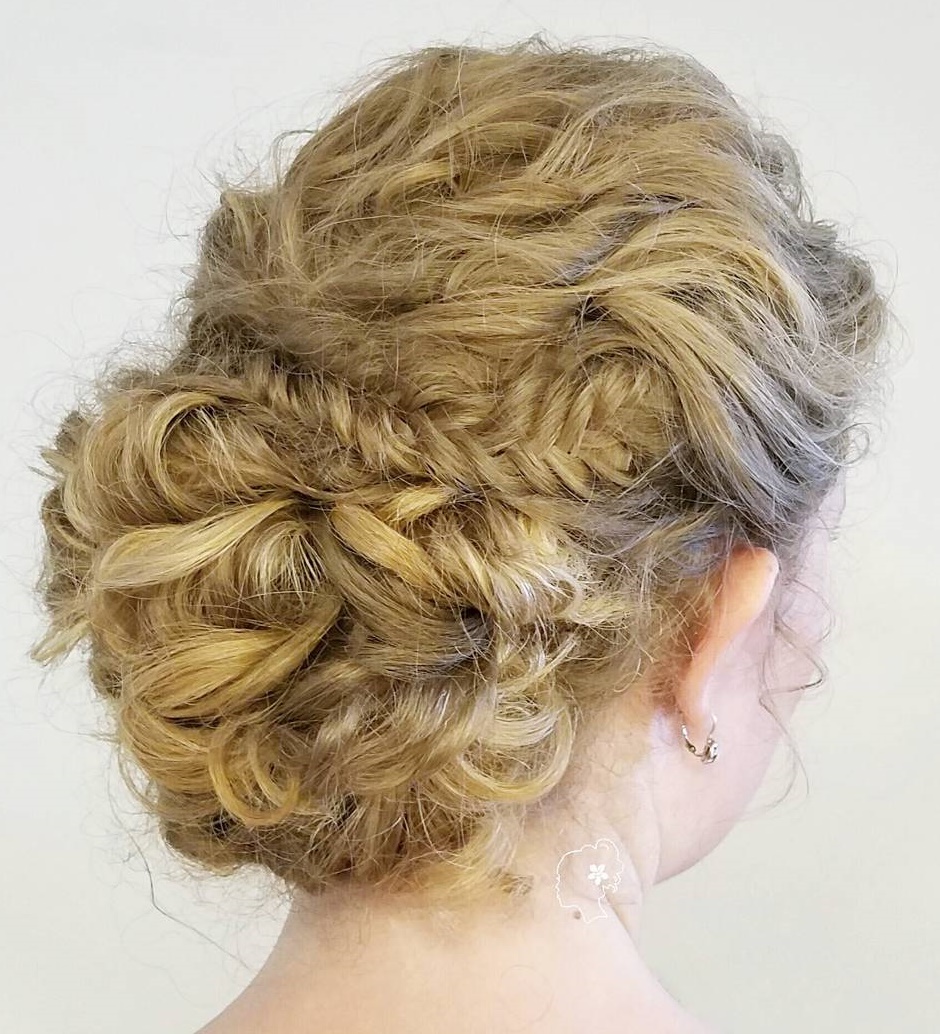 via @alliedoeshair
Don't even think of straightening your curls for a prom updo! Get inspired by this touchable hairstyle, featuring a fun fishtail added to crisp waves and loops.
10 Best Long Updos Ideas to Steal for 2021
Well, we've seen a lot of fancy updos to rock every day and at special occasions, so you can try and replicate at least some of them at home. Here are a few tips from pros to make the process fast and simple. "As I do with all of my up styles and braids, I texturized our models hair with the Sam Villa Texturizing Iron prior to styling. Adding texture not only gives the hair more grip but also imparts a visual organic look and feel to the hair. And the styles last much longer!" writes Sam Villa, Redken Global Artistic Ambassador, in his blog. Ann Bray, who works with stars like Leonardo Dicaprio and Selena Gomez, confirms in her interview for Modern Salon that it's important to prep hair before styling, giving preference to grip-adding products that leave the locks flexible and pliable. Armed with these tips, let's get inspired by the best updos available on Instagram.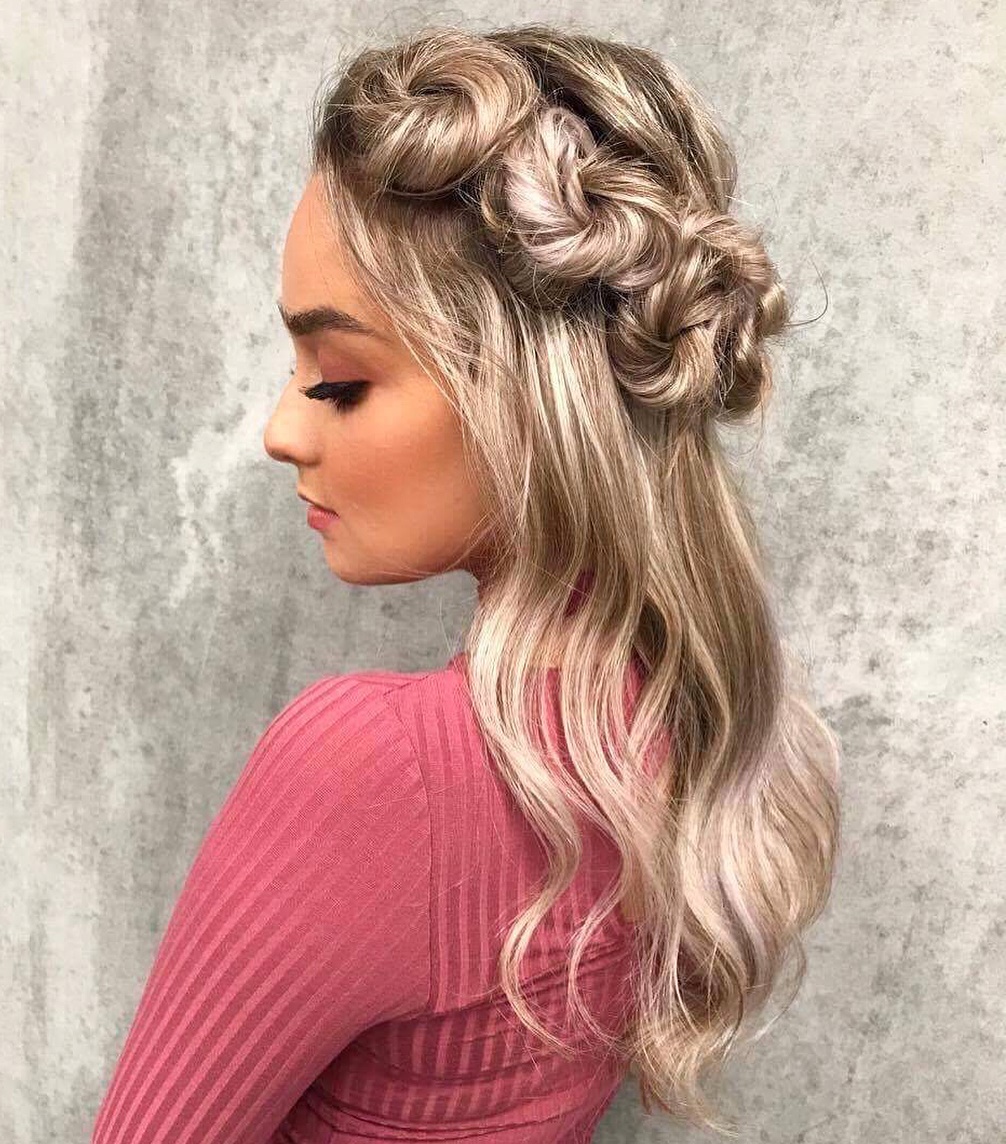 via @hairbyasla
What a wonderful idea for prom half updos – get loose buns twisted all around your head to recreate this gorgeous crown.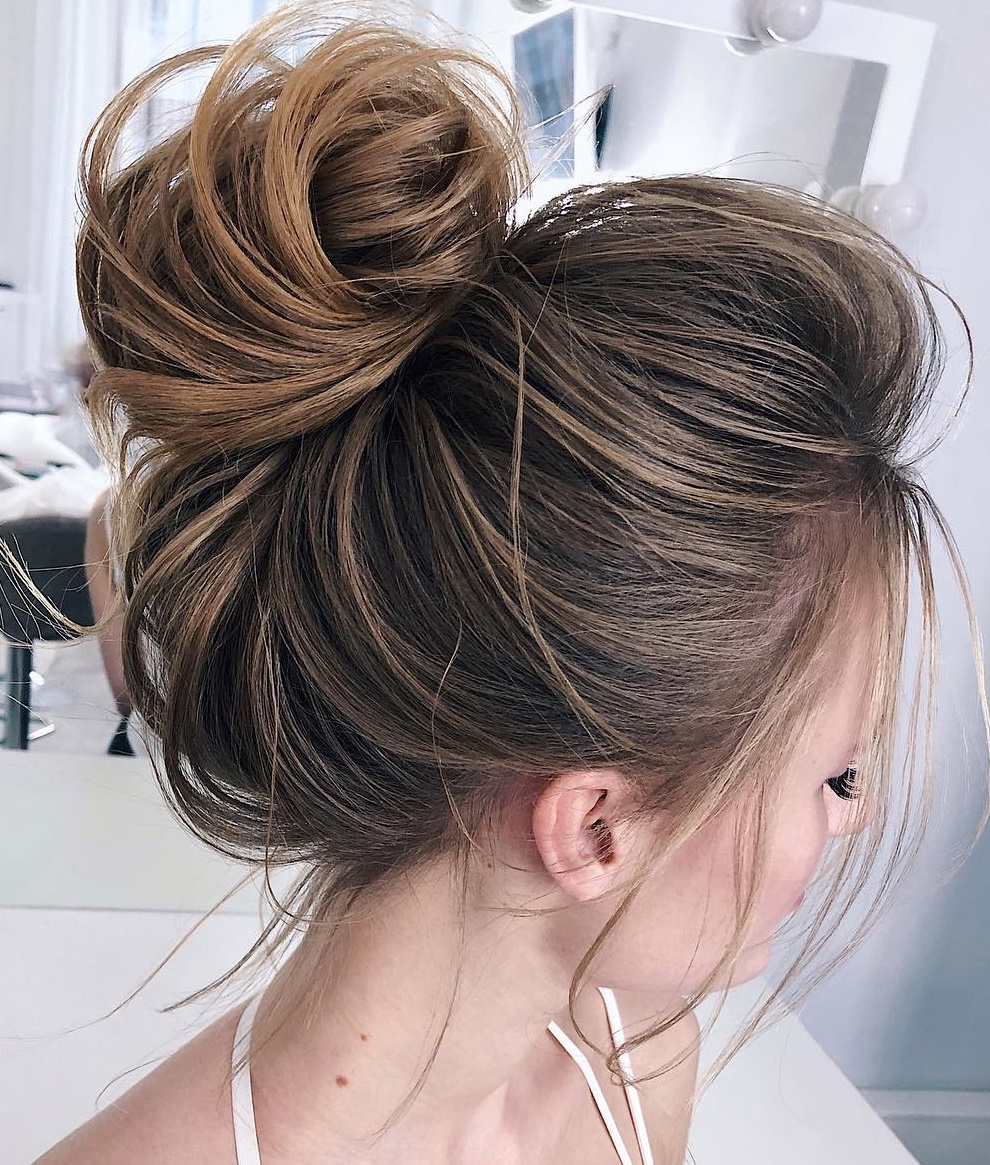 via @my_wedmakeup
For a trendy casual look, find inspo in this airy and voluminous hairstyle with a textured top knot and wispy strands.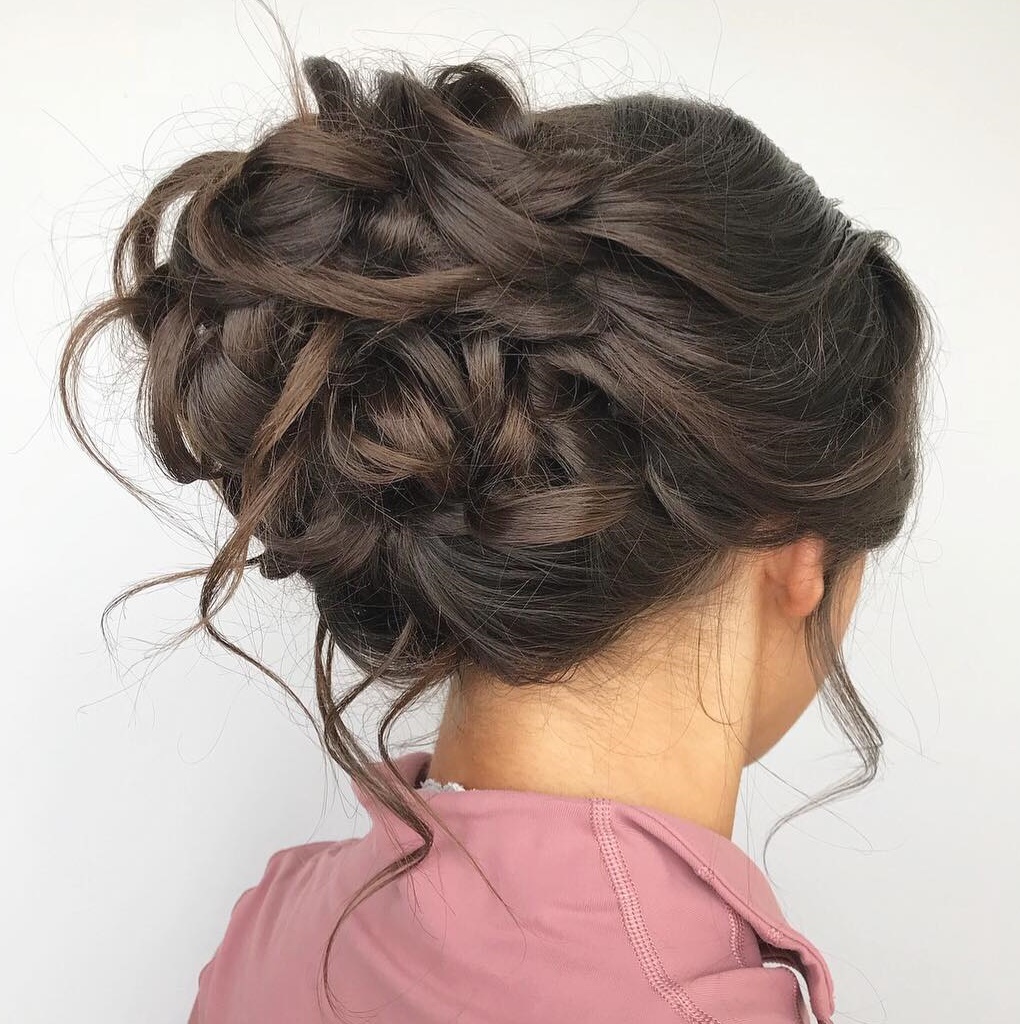 via @tamedandtinted
This 'do is great for formal occasions with its intricate weave of locks and some loose pieces let out for a more relaxed touch.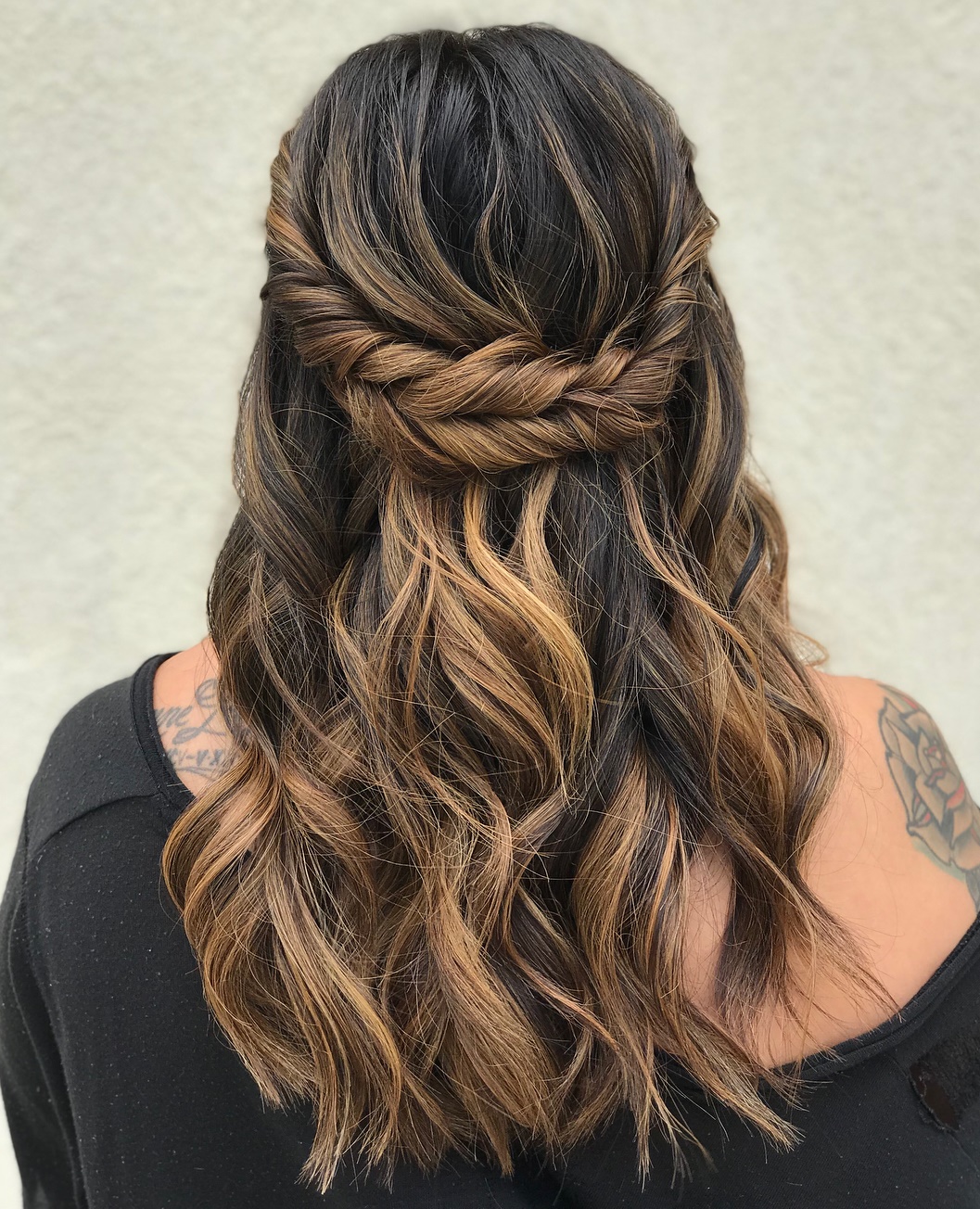 via @krystincurry
This partial updo is simple, yet romantic and sweet, showing plenty of movement through beachy waves and decorated with side-to-side twists.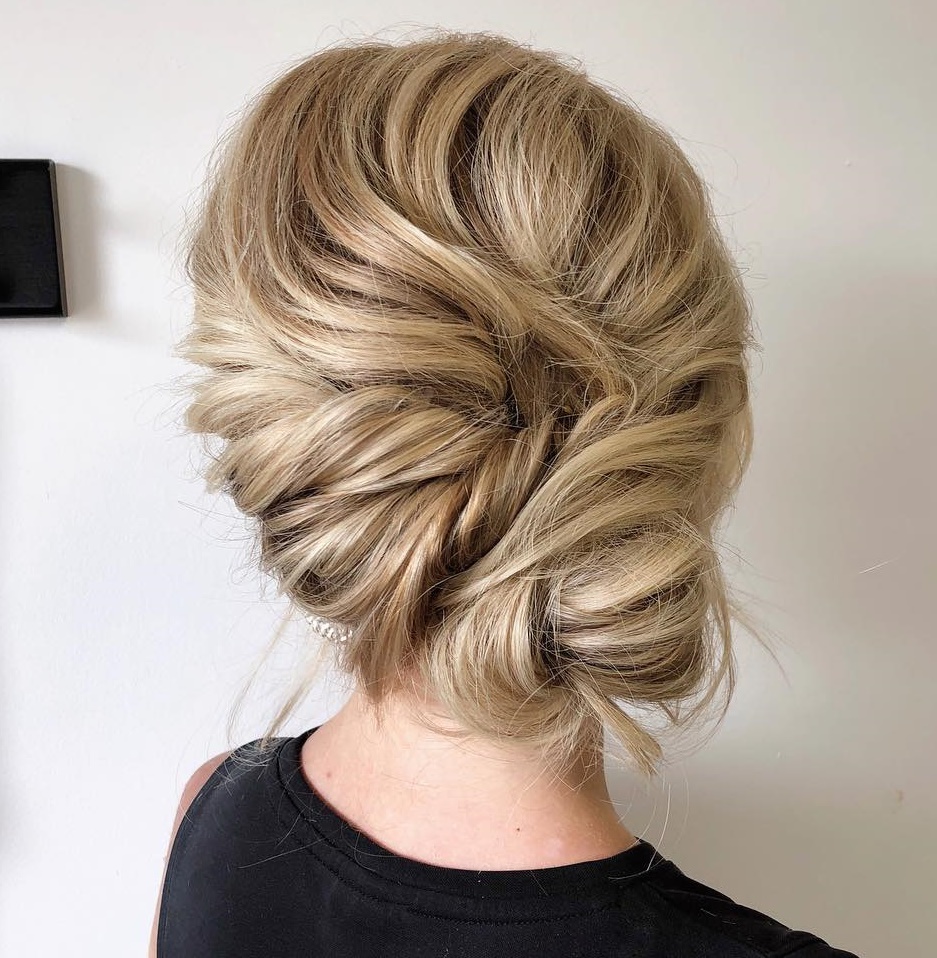 via @krystlewaiviohair
We can't but adore laid back side updos like this one, especially when its pattern is emphasized by color.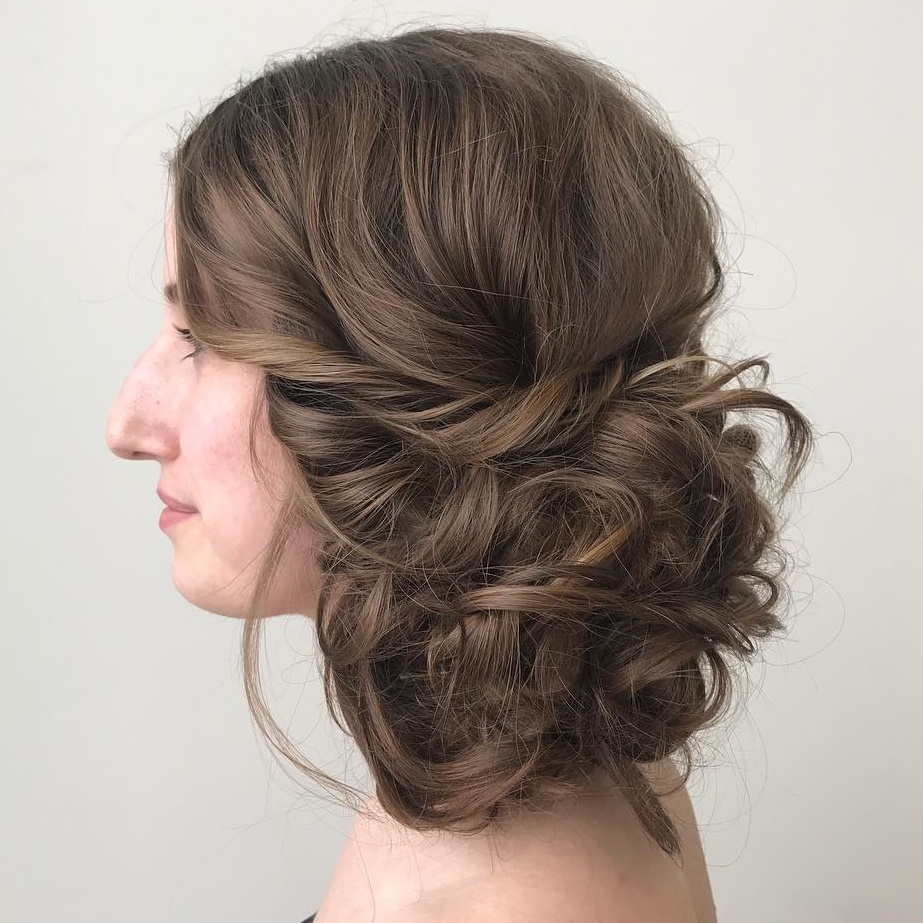 via @simonavigh.hairdesign
Have your hair curled to get the right texture for this charming homecoming updo with a wealth of scattered loops pinned creatively at the nape.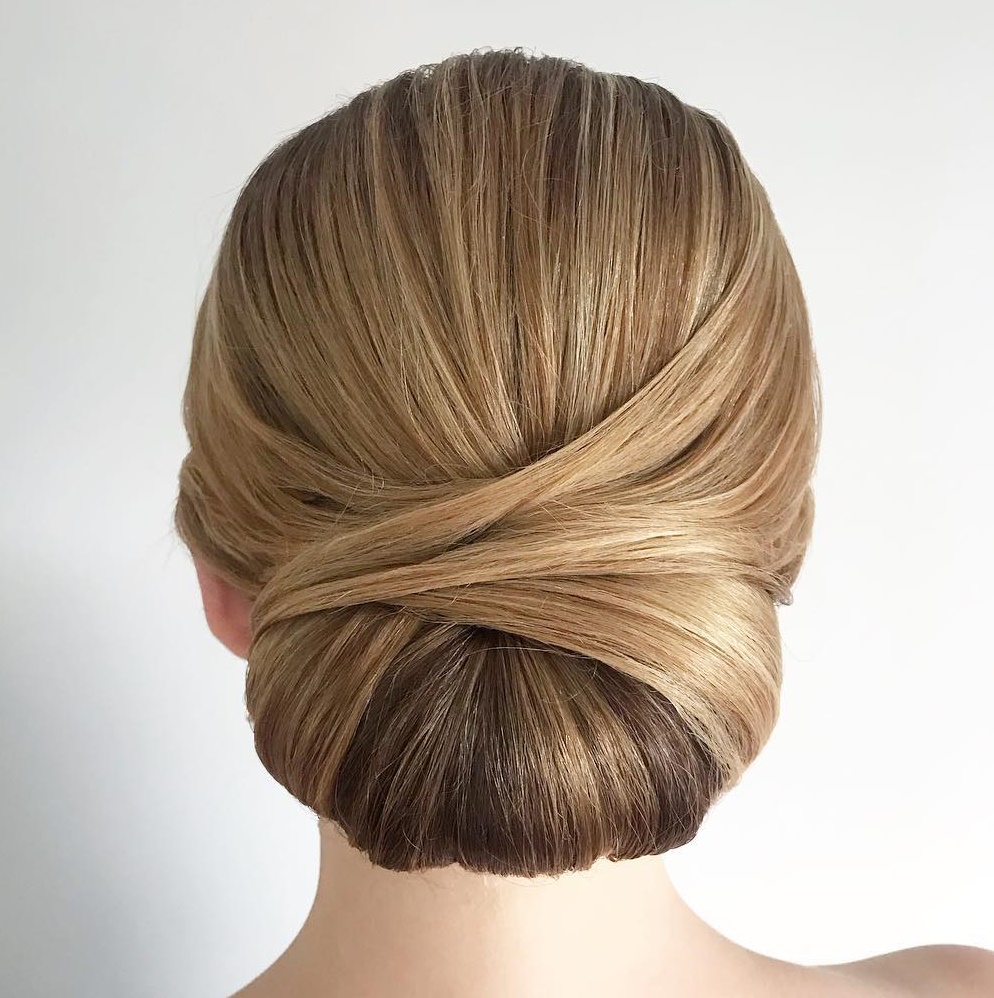 via @hairicome_
This elegant hairstyle is suitable both for work and special occasions, featuring a lush, polished chignon wrapped around with side strands.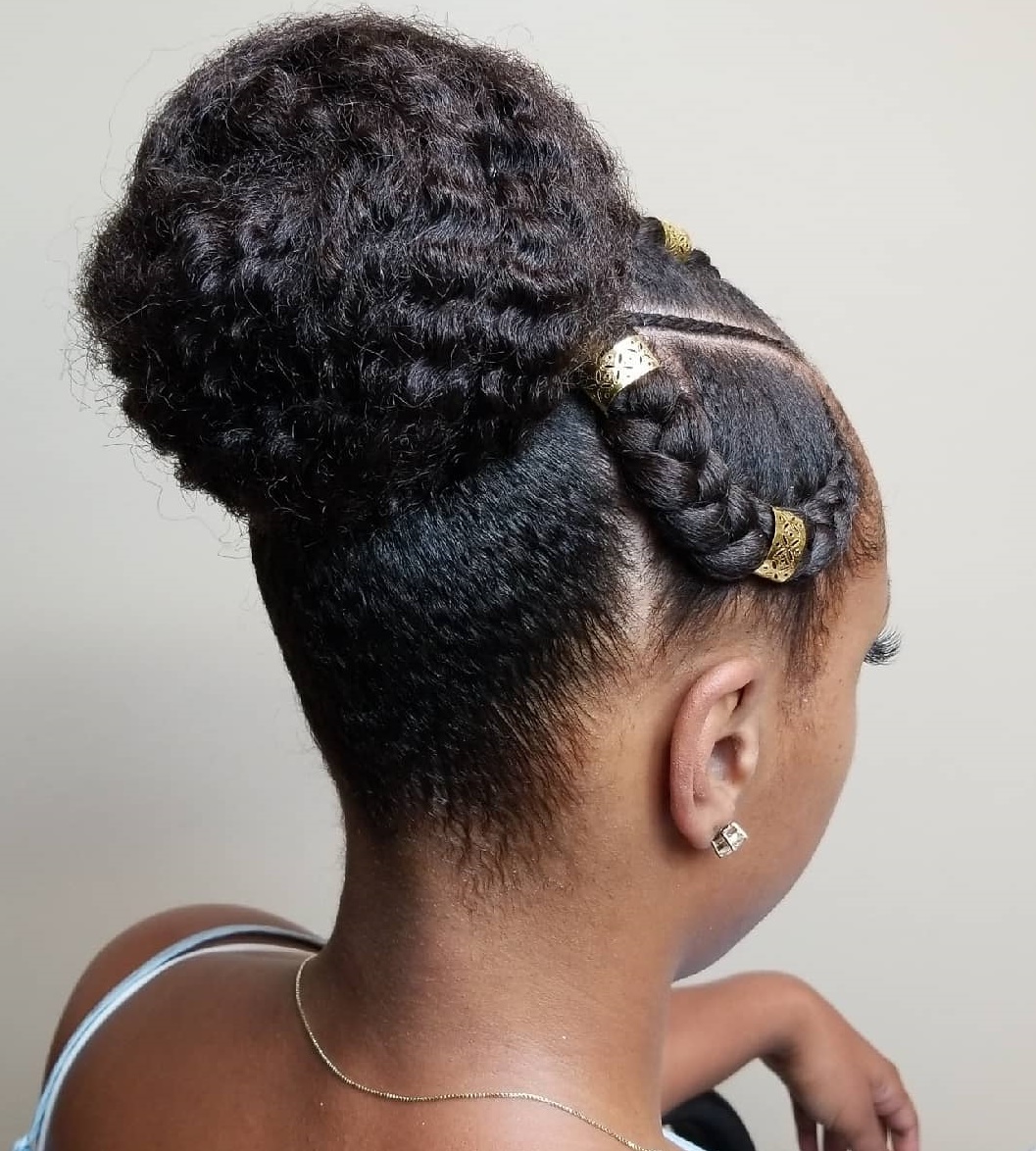 via @getmanetamed
A top knot is a casual option for natural hair, but you can make it outstanding, when pairing with braids and decorating with filigree cuffs.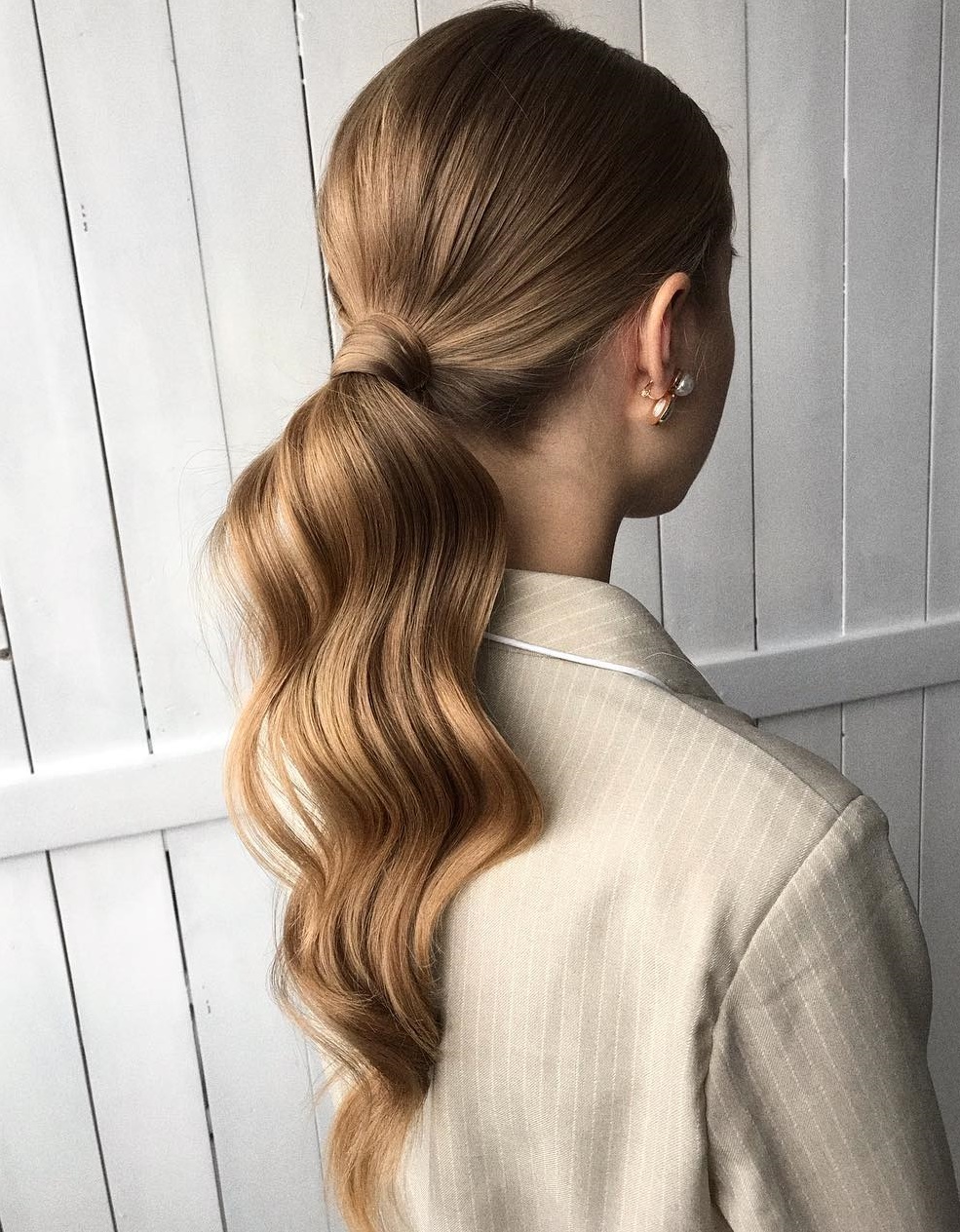 via @hair_by_pustovalova
This cool ponytail has not a hair out of place– and we can't take our eyes off its creamy color and beautiful wave pattern.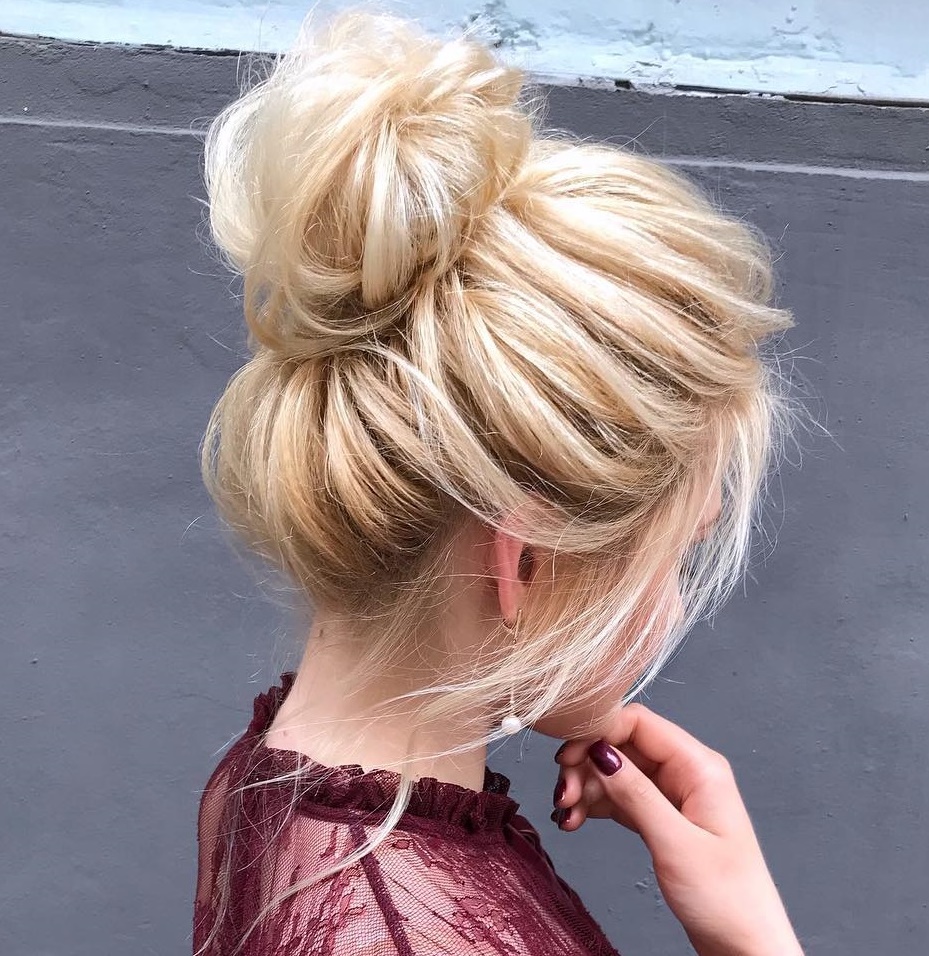 via @hair_by_zolotaya
Make sure to tease your locks at the roots to create a plethora of volume for this tousled bun to sit on. A texturizing product is also a must!
Though some of these cute hairstyles are not so quick to master without a knack for styling, you can always take any picture you like to your salon and get both a cool updo and hacks on how to do it by yourself. And if you happen to invent a new version of upos for long hair, be sure to share it with us!