We know firsthand that thin hair tends to tangle, and it is easily damaged, and it lacks volume, and (how could we forget!) it becomes greasy very fast. You may think of other shortcomings, but we prefer focusing on how to fix this. Let's look at short hairstyles for fine hair approved by hair experts for wearing in 2021 and supplemented with comments from two celeb hair stylists.
Choosing Short Hairstyles for Fine Hair by Color
When searching for a new look to show your thin hair to the best advantage, don't forget that color and shape work together. Their successful blend can give your hair everything it lacks, from density and texture to vividness and trendy feel.
"For blondes, either go platinum blonde or don't highlight too close to the roots leaving streaks and darker base on the roots. For brunette and dark hair, lighten up the ends so it doesn't look too heavy or just go solid dark but keep the shape super clean lined", Jenny Cho, celeb hairstylist, said to Coveteur, explaining how to achieve a chic look with bob hairstyles. Let's see how this works when applied.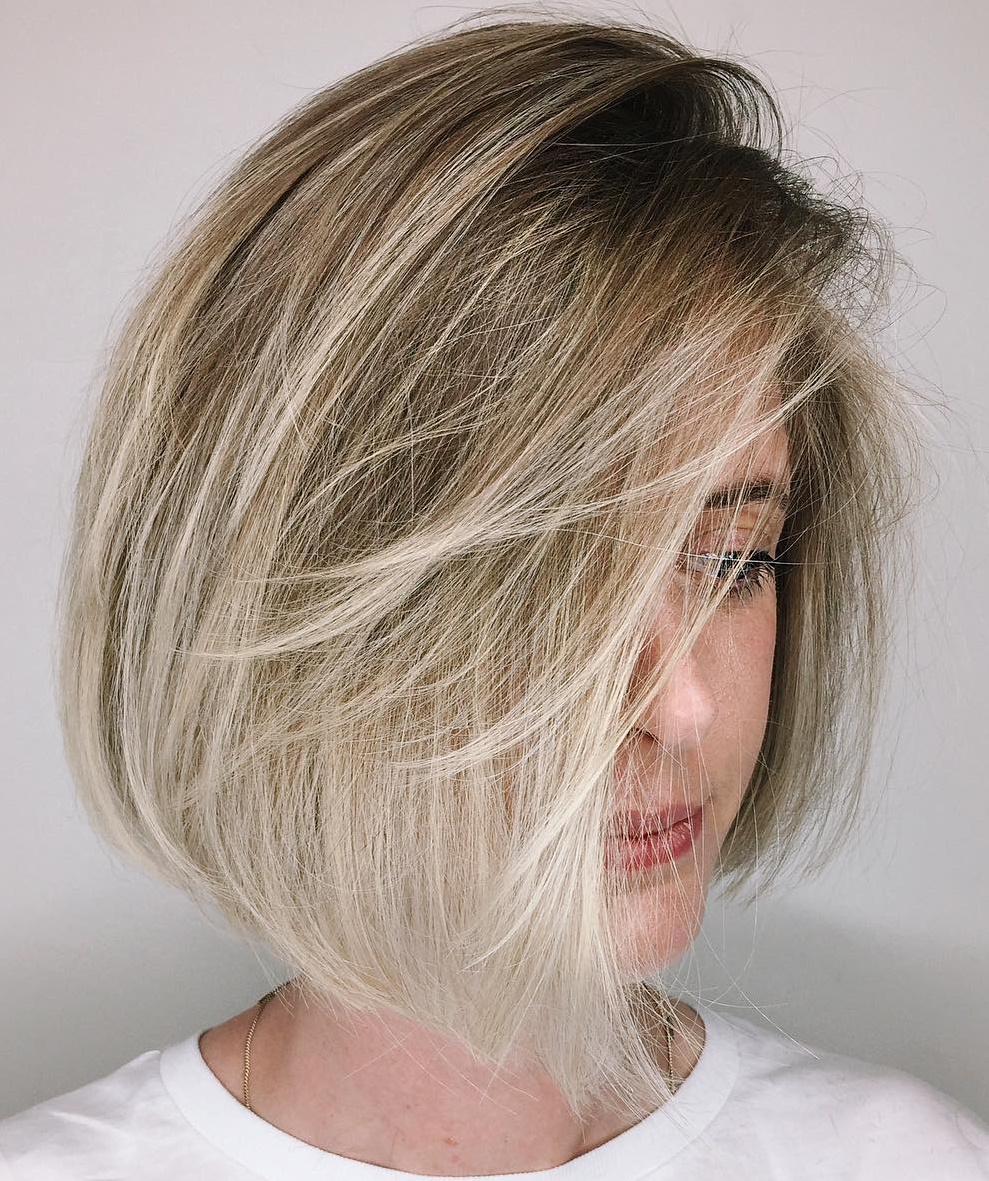 via @chrisweberhair
This bob has a lot of depth and the California beach flair due to its lovely transition from warm darker roots to a cool sun-bleached blonde on the tips.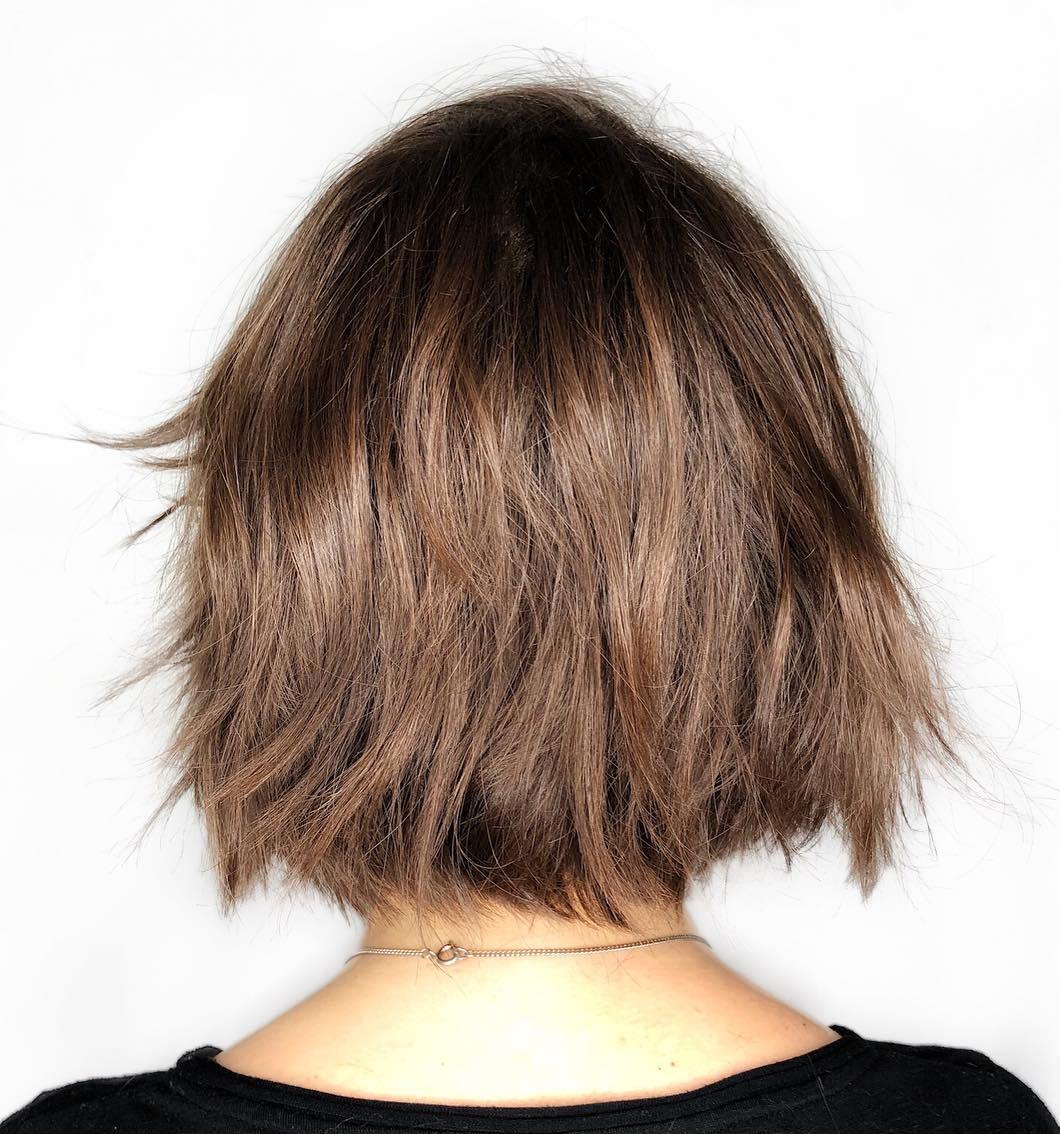 via @gencrocksdc
Blending high-contrast colors is not a must for getting volume – this one-tone brown hair sparks, since it is beautifully textured.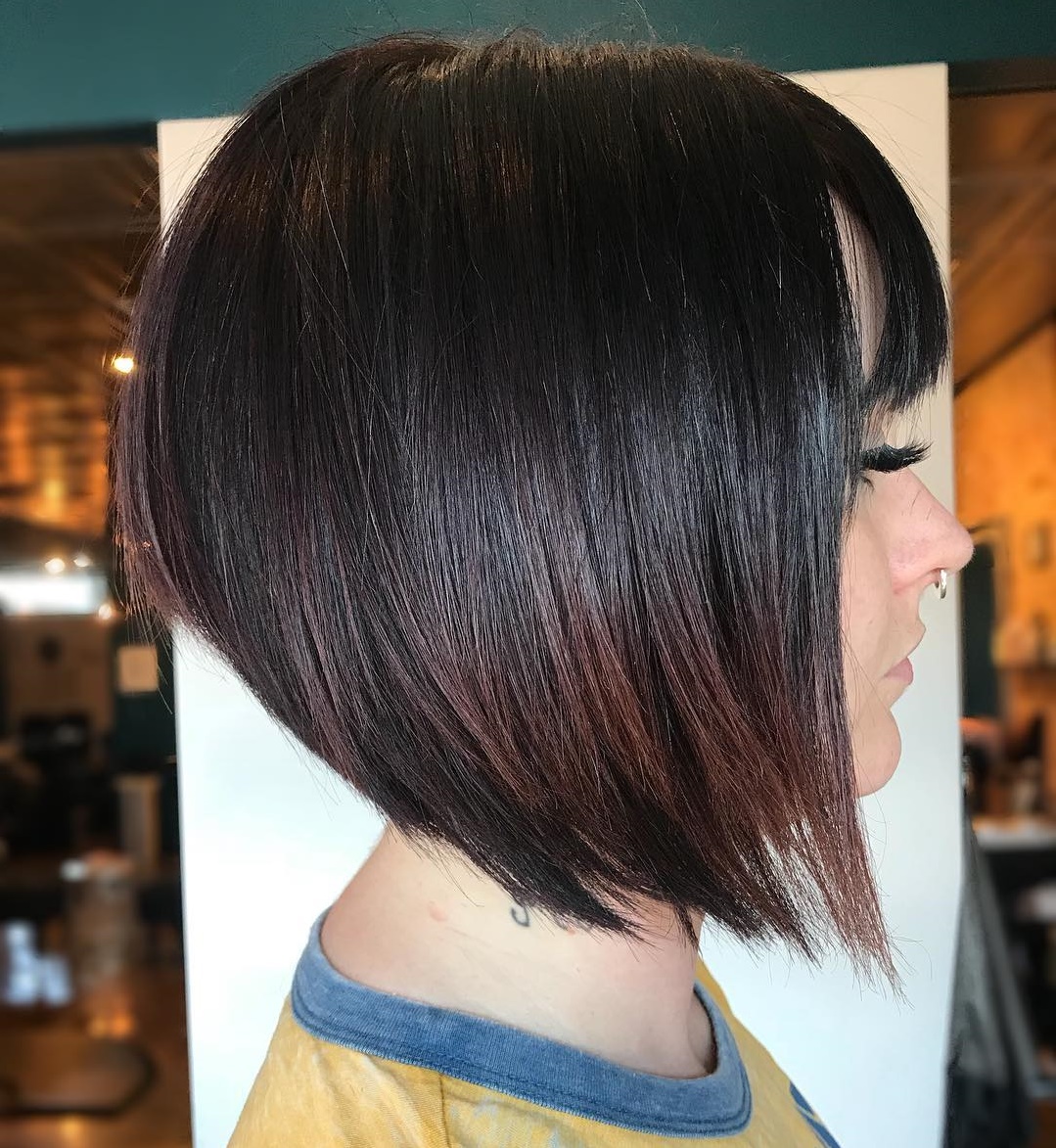 via @shmoakin_hair
If you have straight dark hair, try a clean angled bob with a fringe and get it razor cut in the front for an edgier look.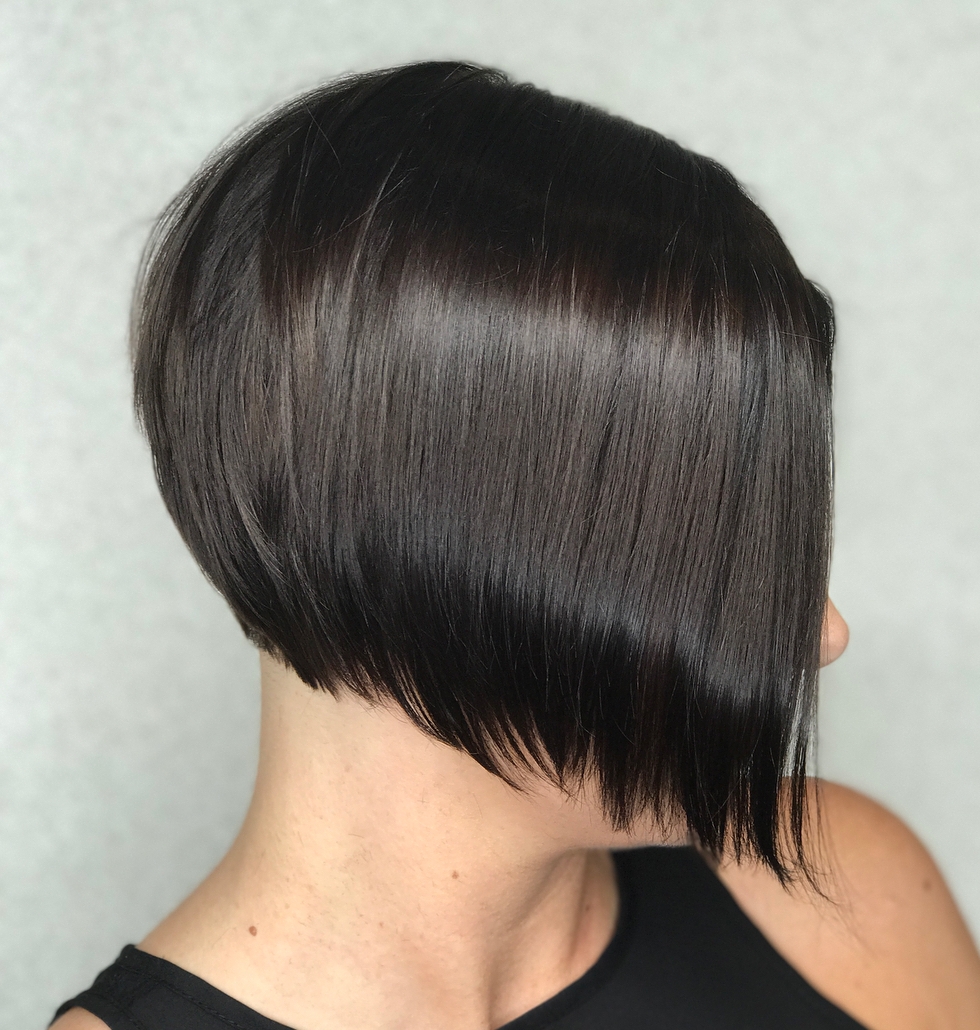 via @knormhair
This black hair really shines, and the simple, softly-angled cut works fine for healthy locks to show off.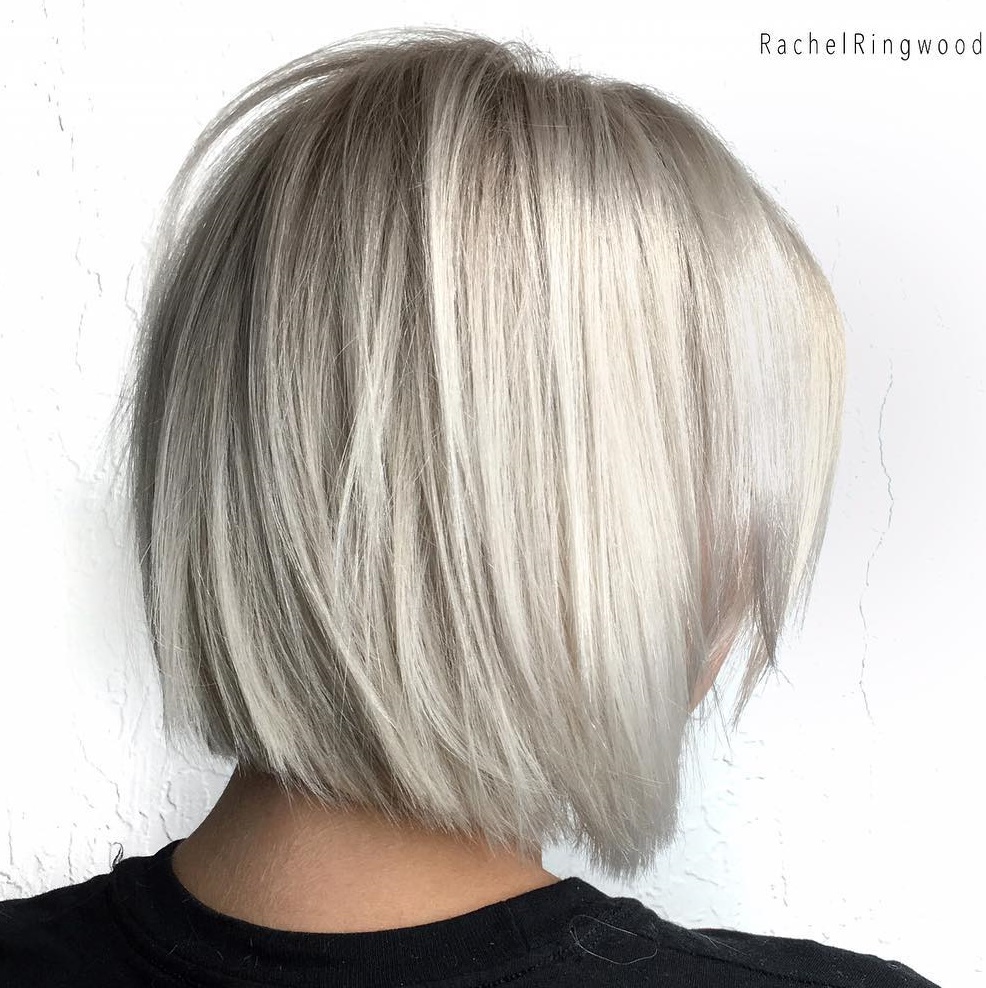 via @rachelringwood
Think of adding ice to your white hair, but make sure to opt for the shadow root coloring. Blurred transitions are on trend now, and darker roots are always good for creating some depth.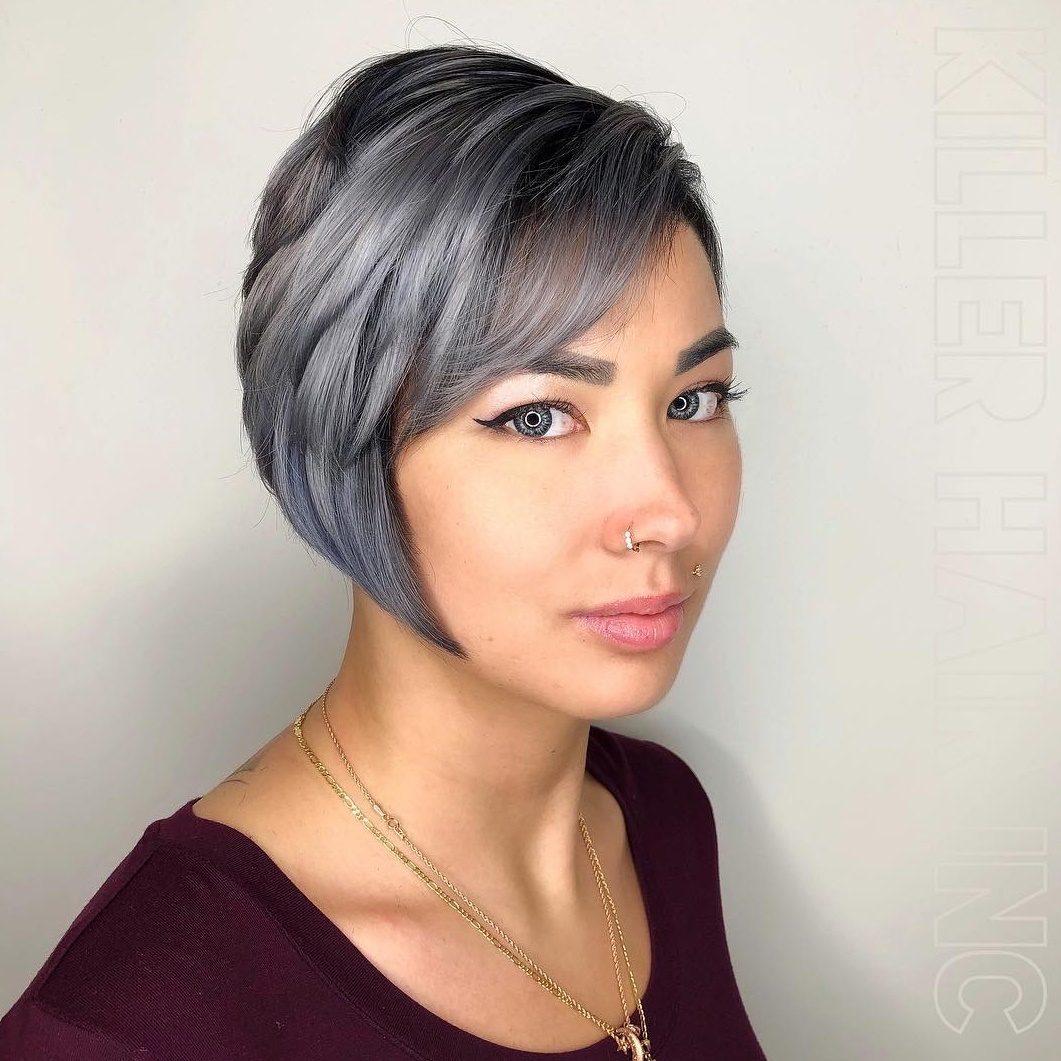 via @killerhairinc
What a nice idea to combine a daring shade of gray with a multi-layered textured bob cut to make the hairstyle pop!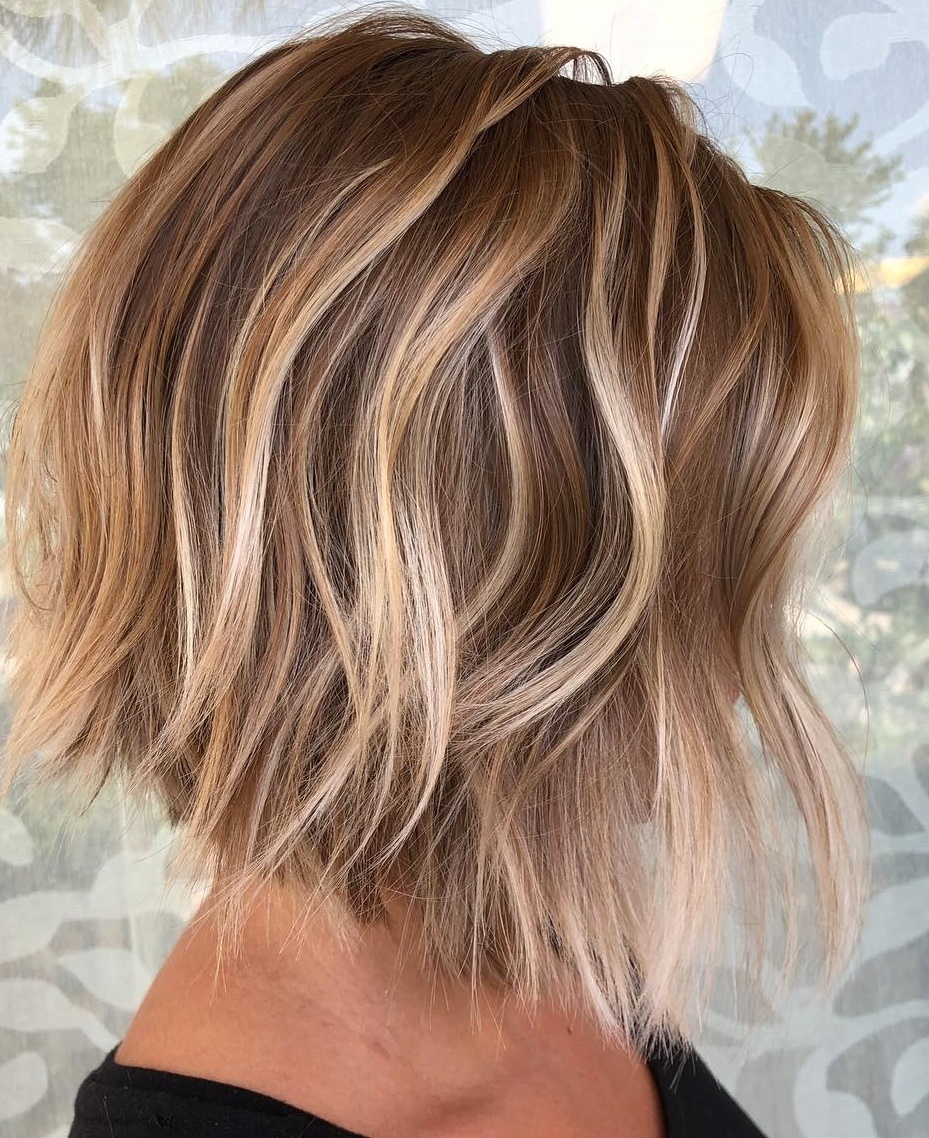 via @hellobalayage
A balayage in your flattering color is a sure-fire way to create a tridimensional effect; and when complimented with chopped tresses, it is just unbeatable.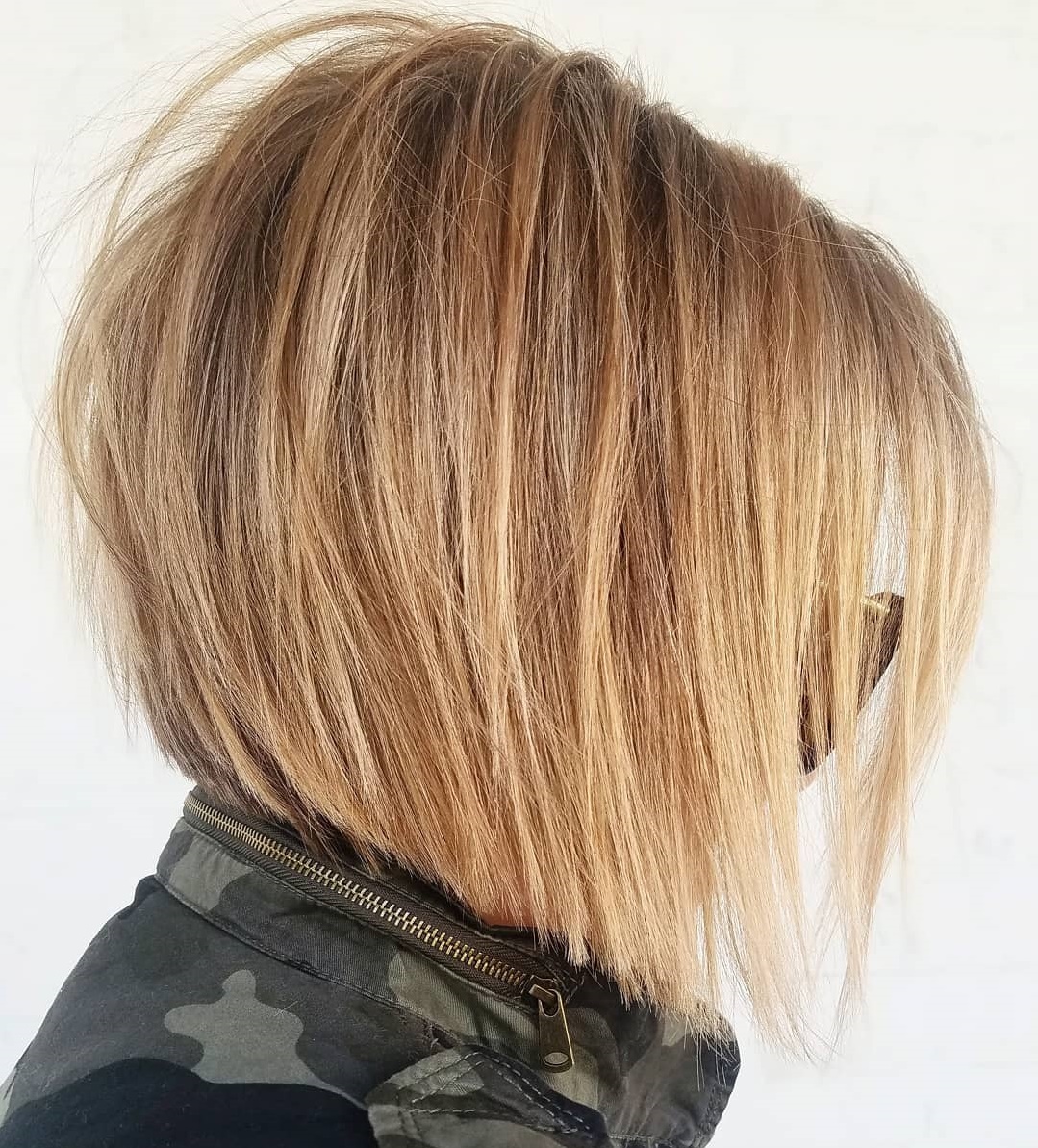 via @magic.maker
This is a proof that straight thin locks can look great when styled both sleek and messy. A medley of soft hues and some root lift are the key factors to get the desired fullness.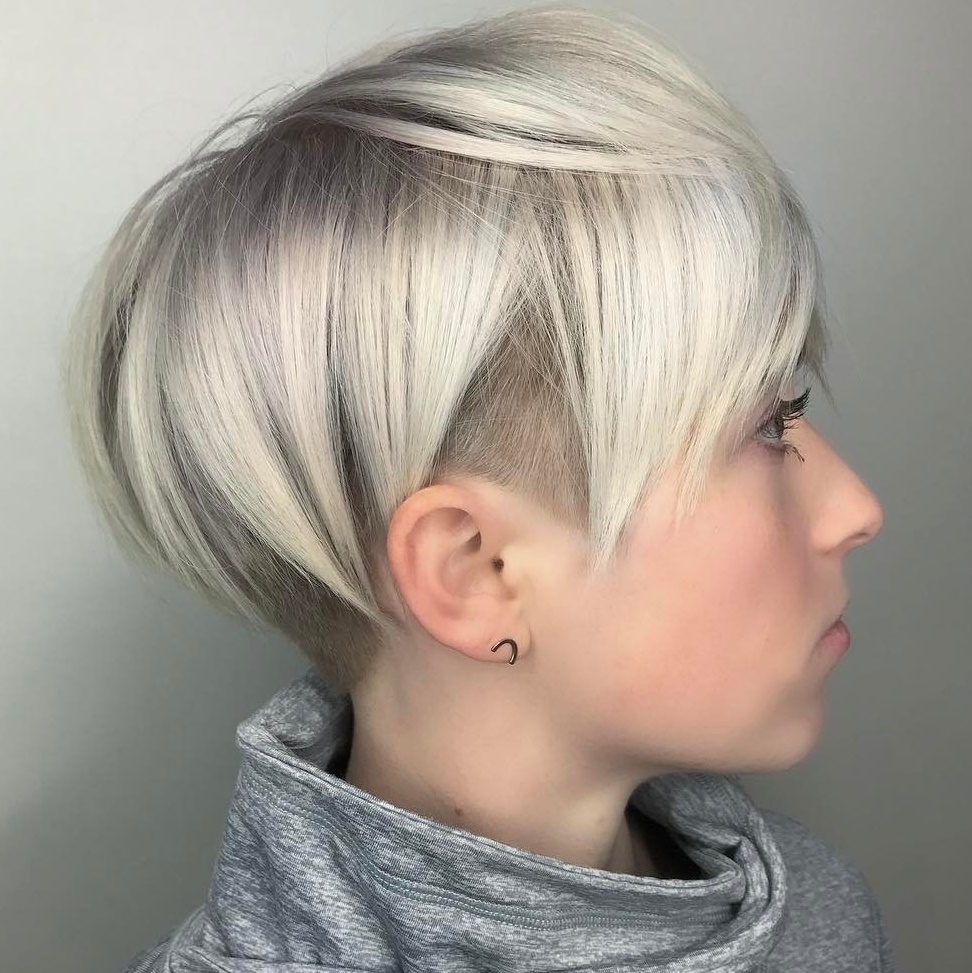 via @presleypoe
This hairstyle has everything, from an opalescent blonde color to an awesome pixie shape. Have you noticed that nice volumizing effect created by the combination of an undershave and sleek, long tresses?
via @immortalbelovedsalon
If you have wavy hair, it is really simple to volumize your thin locks by getting them chopped and textured.
Adapting Short Hairstyles to Your Face Shape
Obviously, you need to make allowance for your face shape, when considering short haircuts for thin hair. Cuts, softening the rough shape of a square face, can have a blurring effect on round faces, and hairstyles, which balance round faces well, can add an unflattering extra length to long faces. It would seem that everything is clear, but …"Over the years, I've spoken with many people who have always thought they were one face shape (and followed the guides for that face shape) only to learn that their face was another shape entirely", says Kristin Ess, celebrity hairstylist and co-founder of thebeautydepartment.com, in her post for the website and gives a helpful guideline on finding your face shape. Sure, we have completed it with hints and photos for thin hair.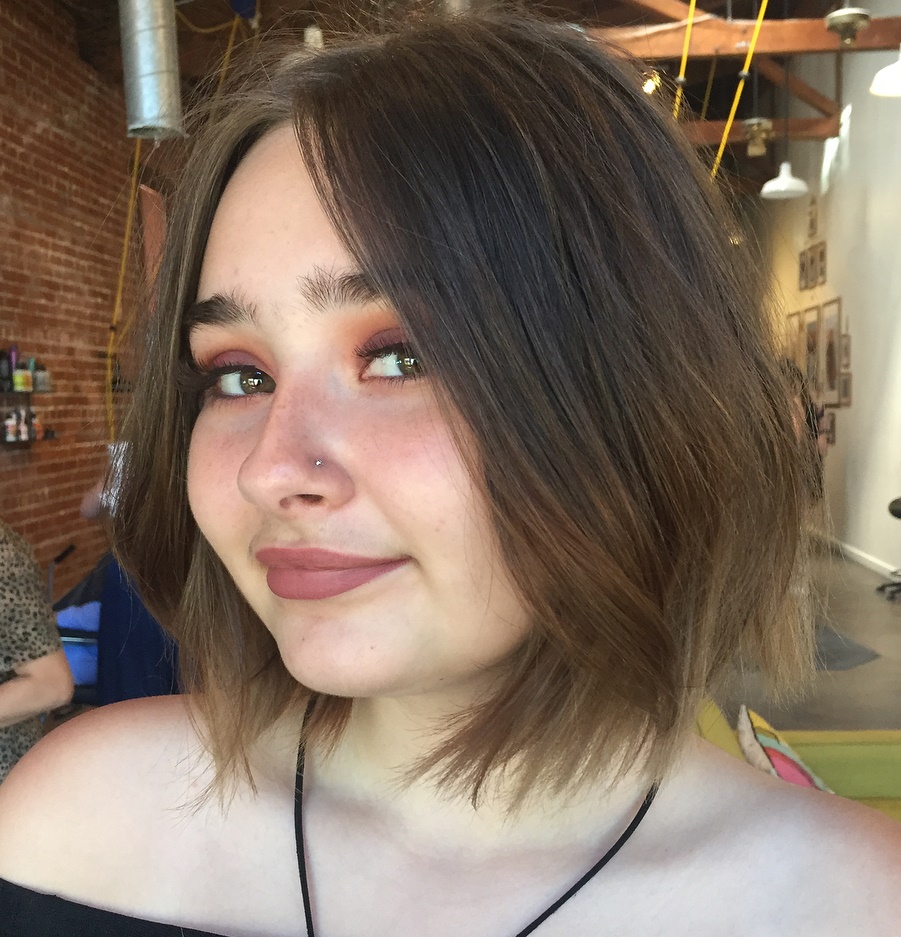 via @franzimakepretty
Since volume on the sides is not recommended for a round face, why not to shift the focus to below-the-chin level for an elongating effect?
via @anhcotran
An oval face is the perfect shape, and you can frame it handsomely with a straight bob haircut, while rocking a middle part and softly textured tips.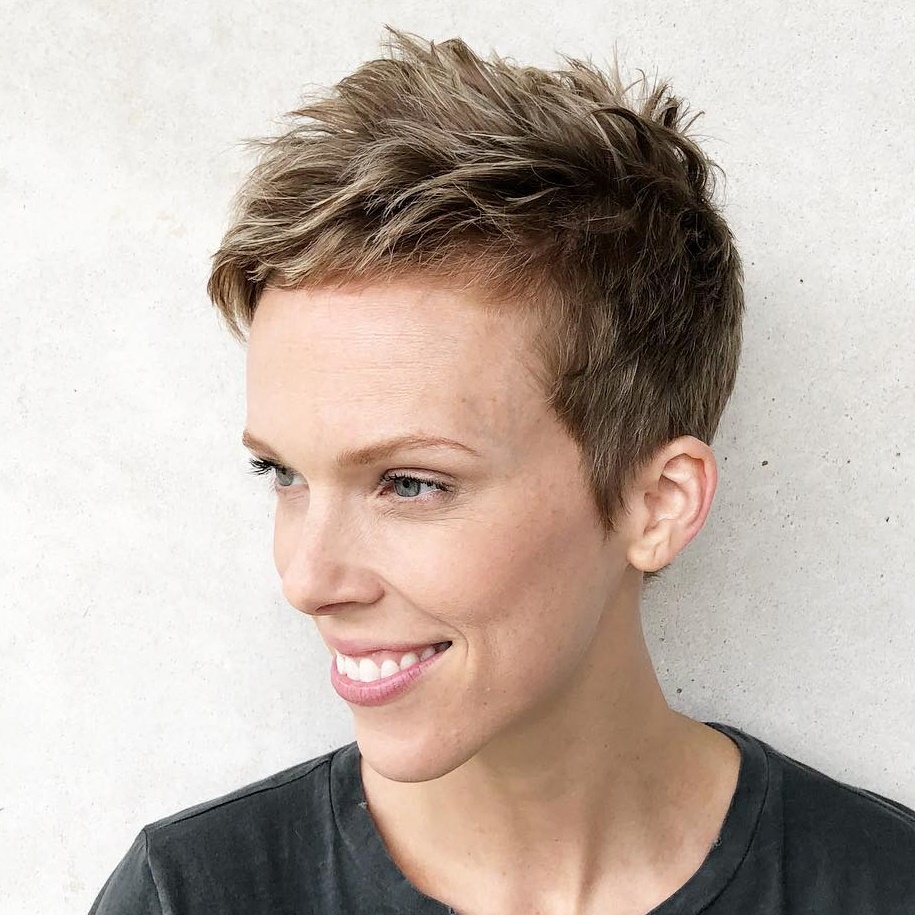 via @jessecuts
Short pixie haircuts can be a nice choice for long faces, provided they have plenty of texture on the top.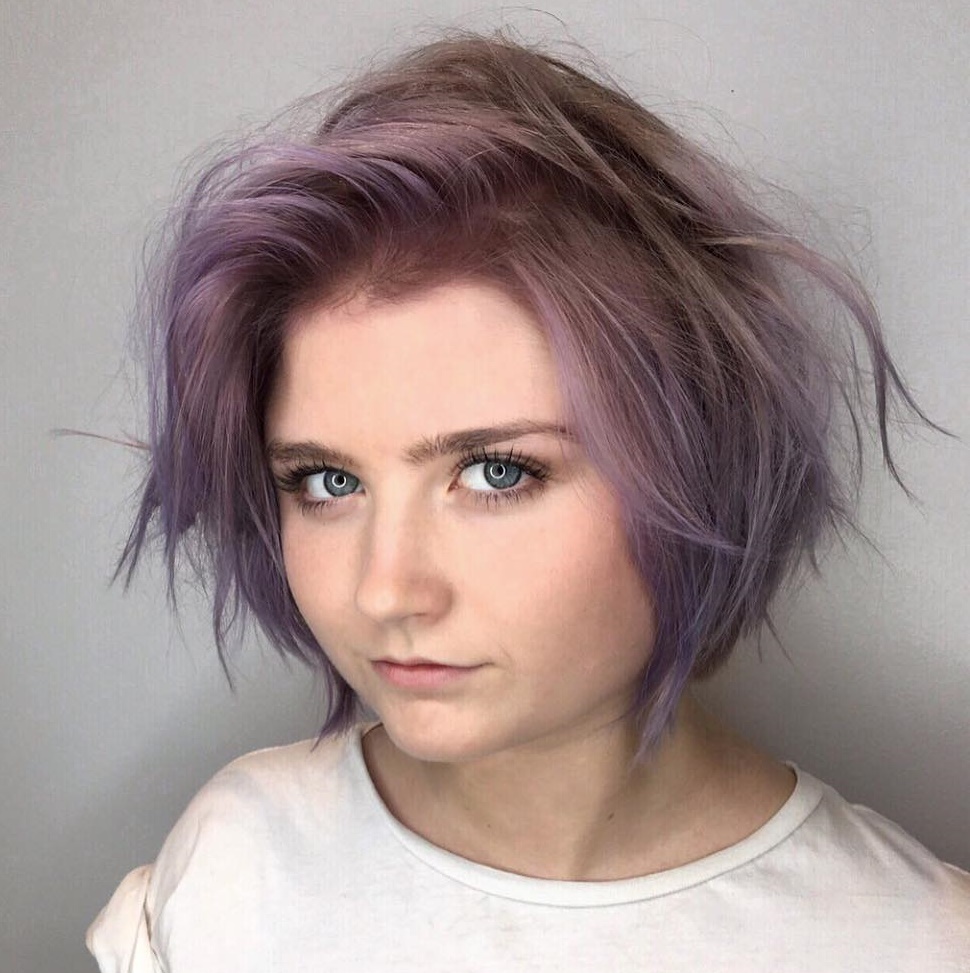 via @cutyourhair
Square faces require softer shapes, and you can get one with this messy bob cut, featuring raised roots, many layers and an unhackneyed color choice.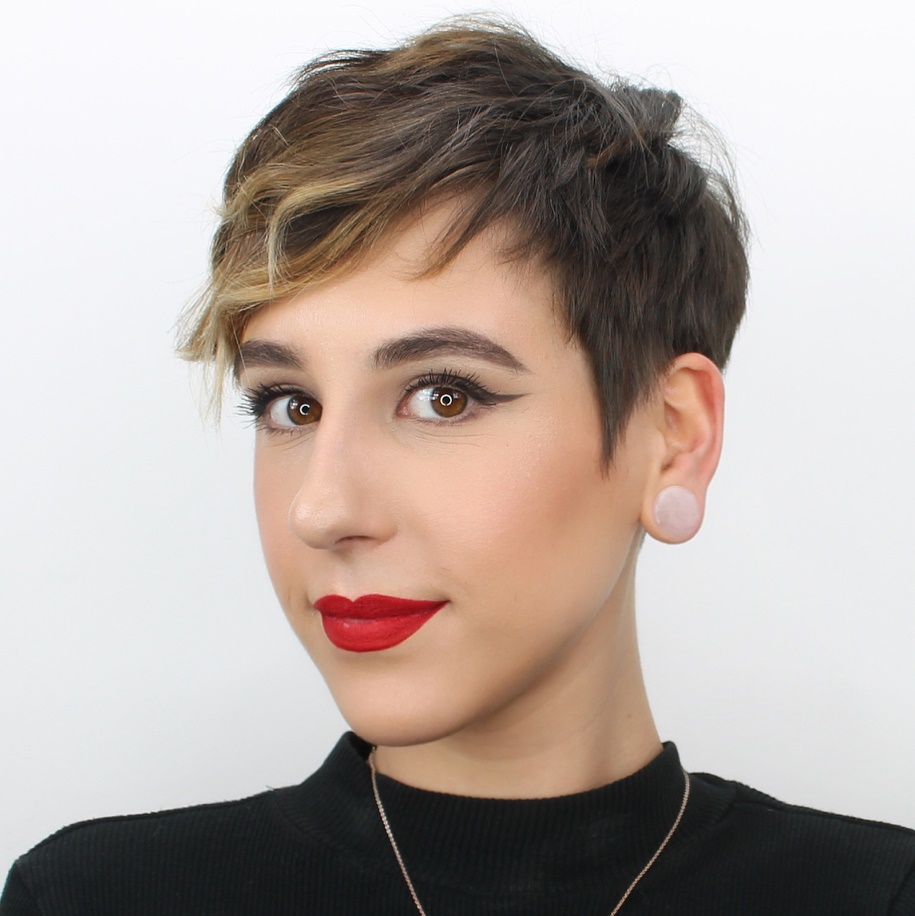 via @dkatz_hair
Don't forget about bangs, since they do the job, when you need to balance your face shape. Just like this cute fringe, hiding the forehead and making the face look less long.
Tips on Short Bob Haircuts for Fine Hair
The blunt bob is good for adding some body to the lower edge of your haircut, the stacked bob creates volume in the back, and the choppy bob brings tons of texture… So, which bob is the most flattering for you?
Hair experts insist unanimously that for one thing you need to try a faux bob (to make sure the hairstyle is your cup of tea) and then to find a hairdresser with a good eye. Your face shape, hair texture, lifestyle, and styling skills – each aspect matters for choosing the right bob.
But even if you are not thrilled with your current bob cut, here is one tip to take on board. "Flat iron waves!(…) Flat iron waves create such a cool vibe where a curling iron makes it more "pretty", says Kristin Essin to Coveteur.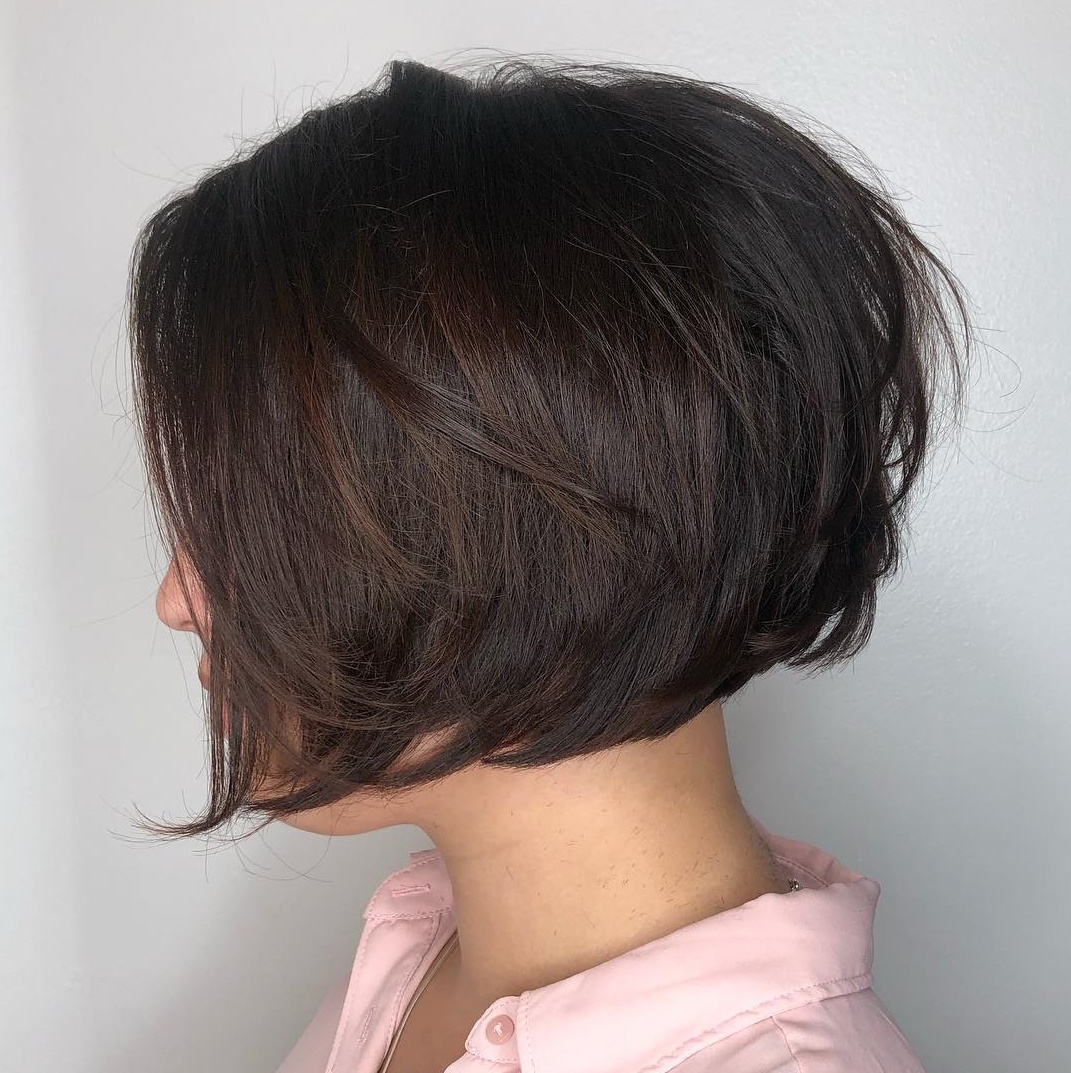 via @alimackenziehair
While graduated bob haircuts are perfect for adding volume in the back, you can get even more texture by emphasizing some tresses with the help of suitable hair styling products.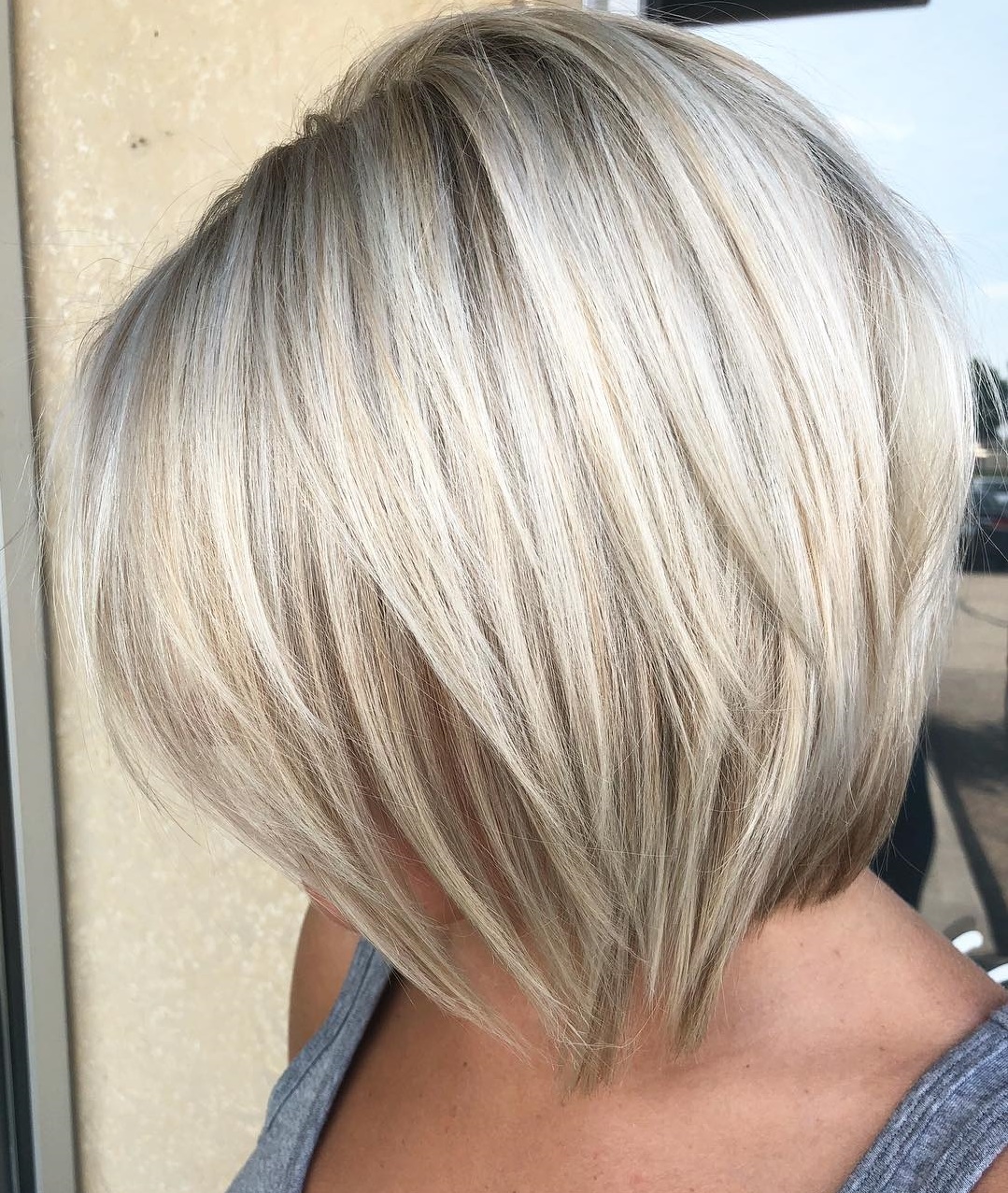 via @hair_bynay
This short layered bob looks fabulous, since layers create both body and movement, while shadow roots deliver the depth, which thin hair often lacks.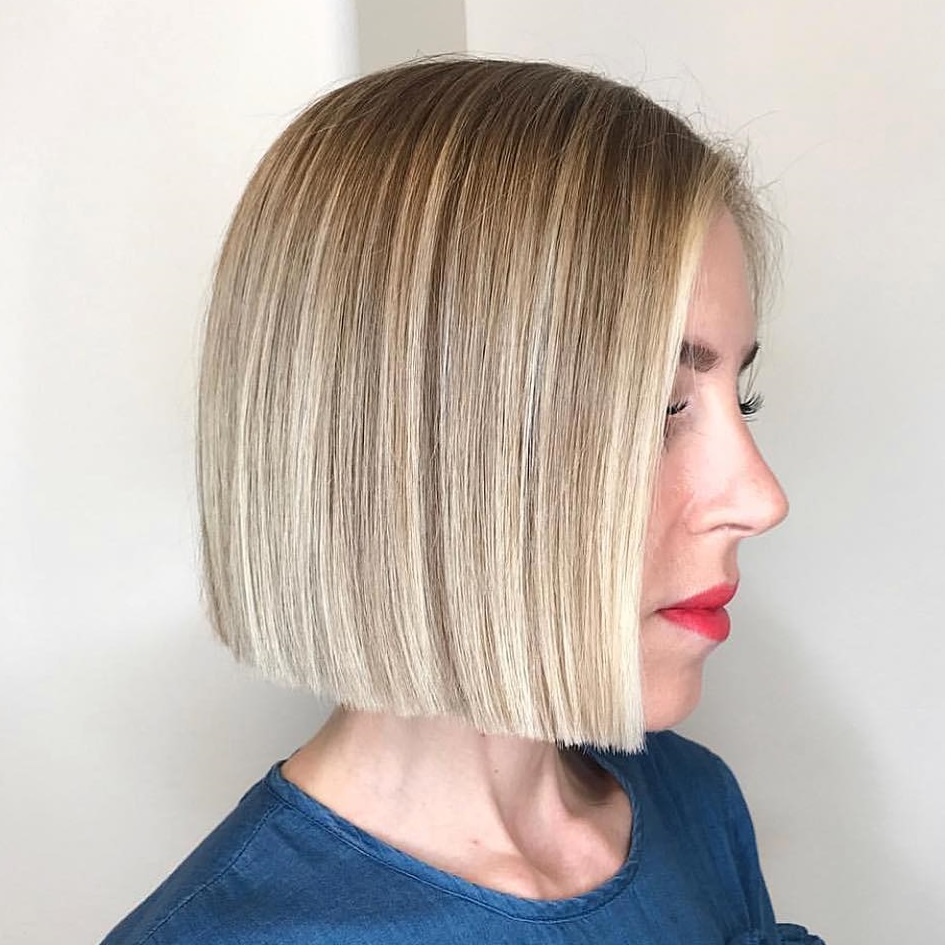 via @rosemarymonicahair
However, a blunt cut can show your straight hair to the best advantage, too. Just keep it sleek and choose melted colors to make your hairstyle shine.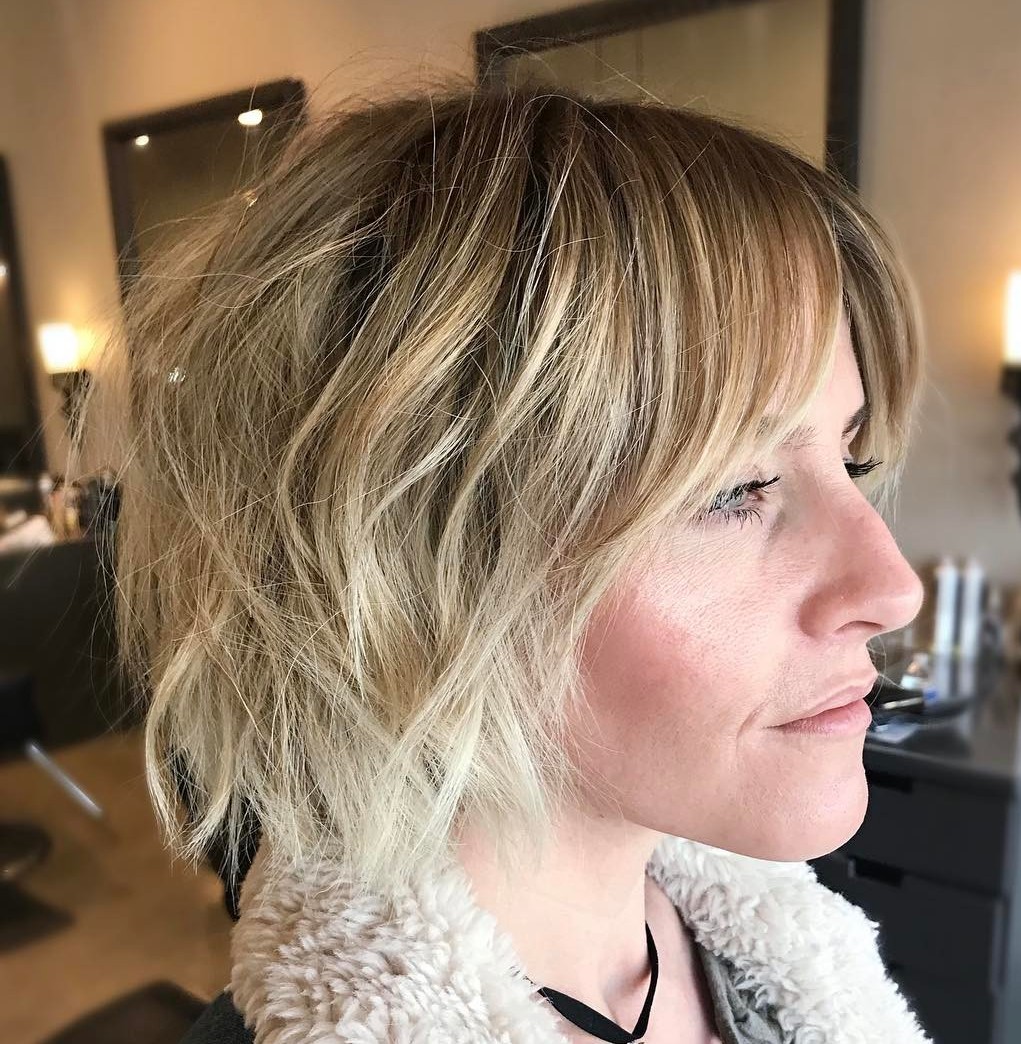 via @heathertequiere
Shaggy bob hairstyles look sexy, and they are easy to manage, but you will fall in love with them ultimately, when realizing how good they are at hiding weak locks.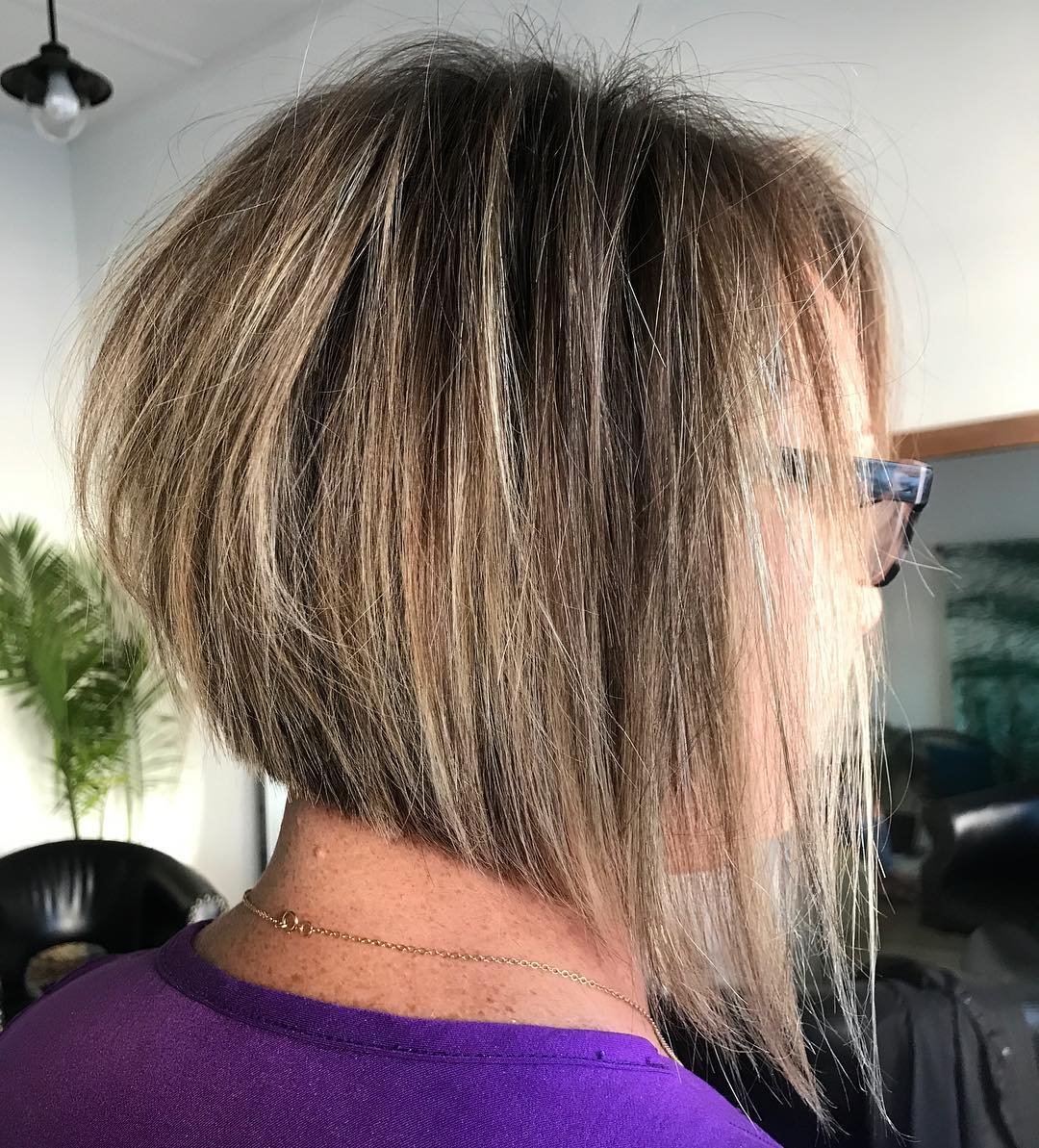 via @erin.boha
This inverted bob takes advantage of both the color combination and varied lengths to give the impression of fullness on fine hair.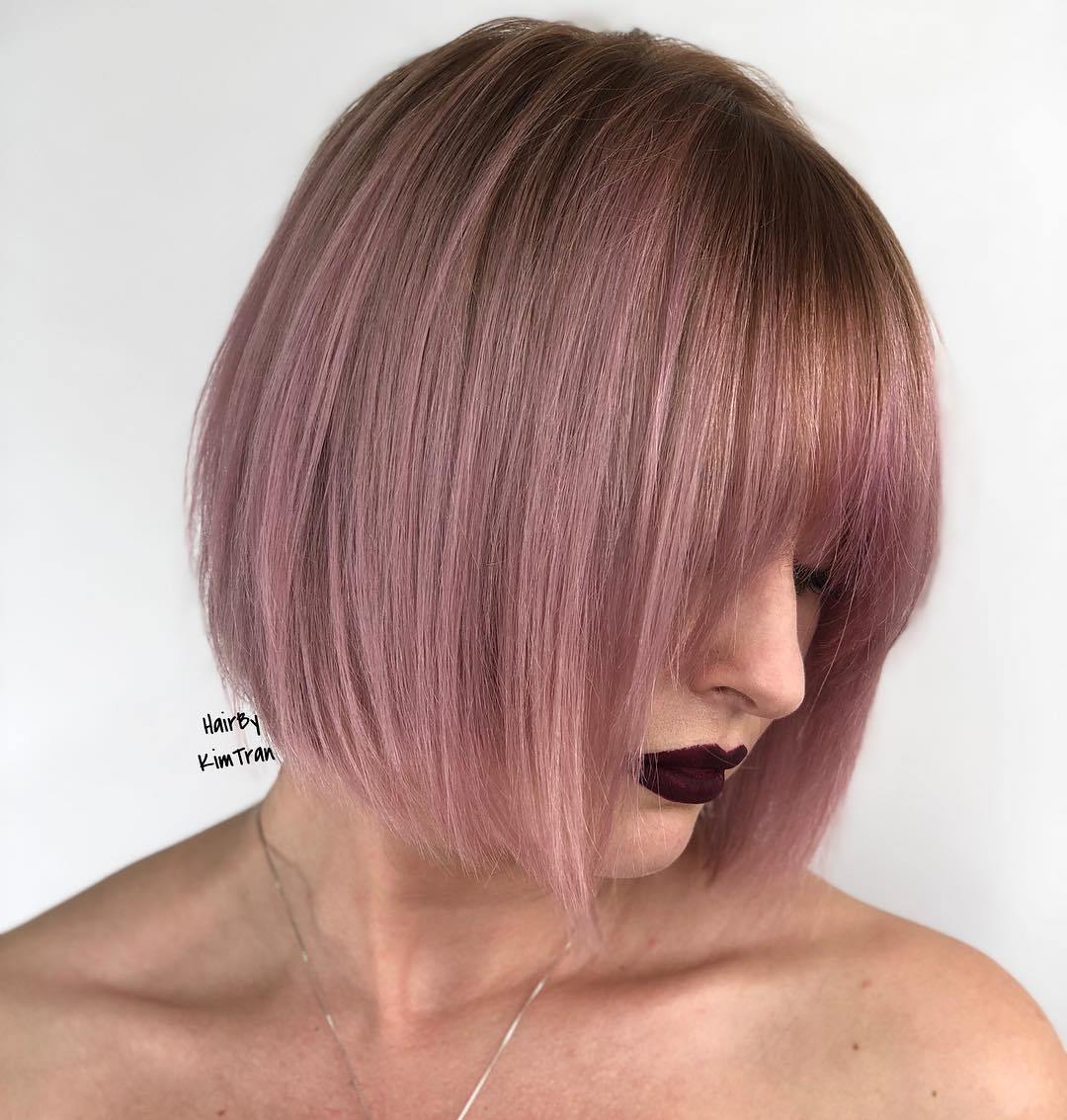 via @hairbykimtran
Classic Cleopatra bob hairstyles with bangs are never out of fashion, when properly adapted to current trends and hair types. Avoid blunt ends and add a color melt to look gorgeous.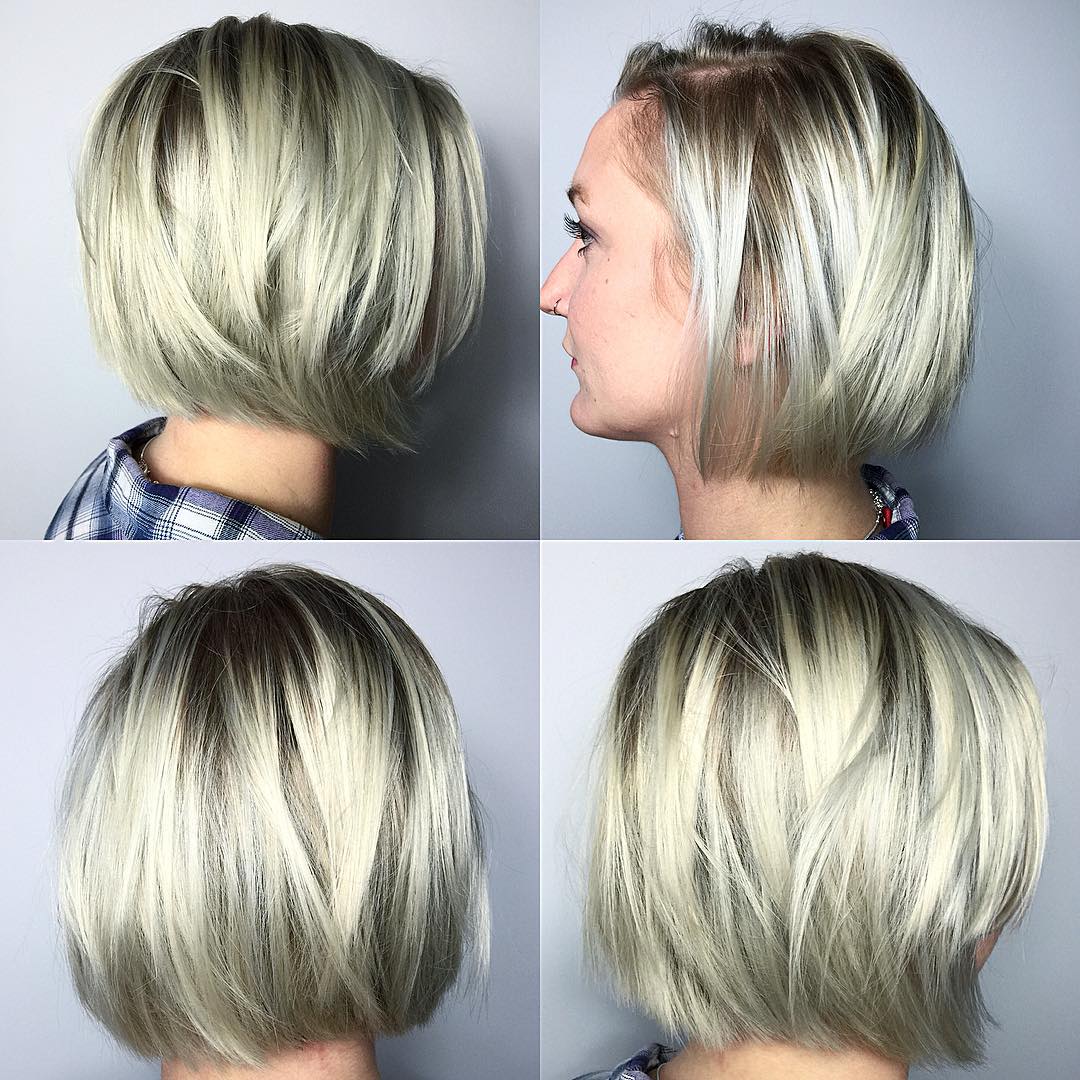 via @thecurlninja
Want to have an edgy haircut? Opt for an expressive color scheme, multiple layers and styling that feels a bit undone.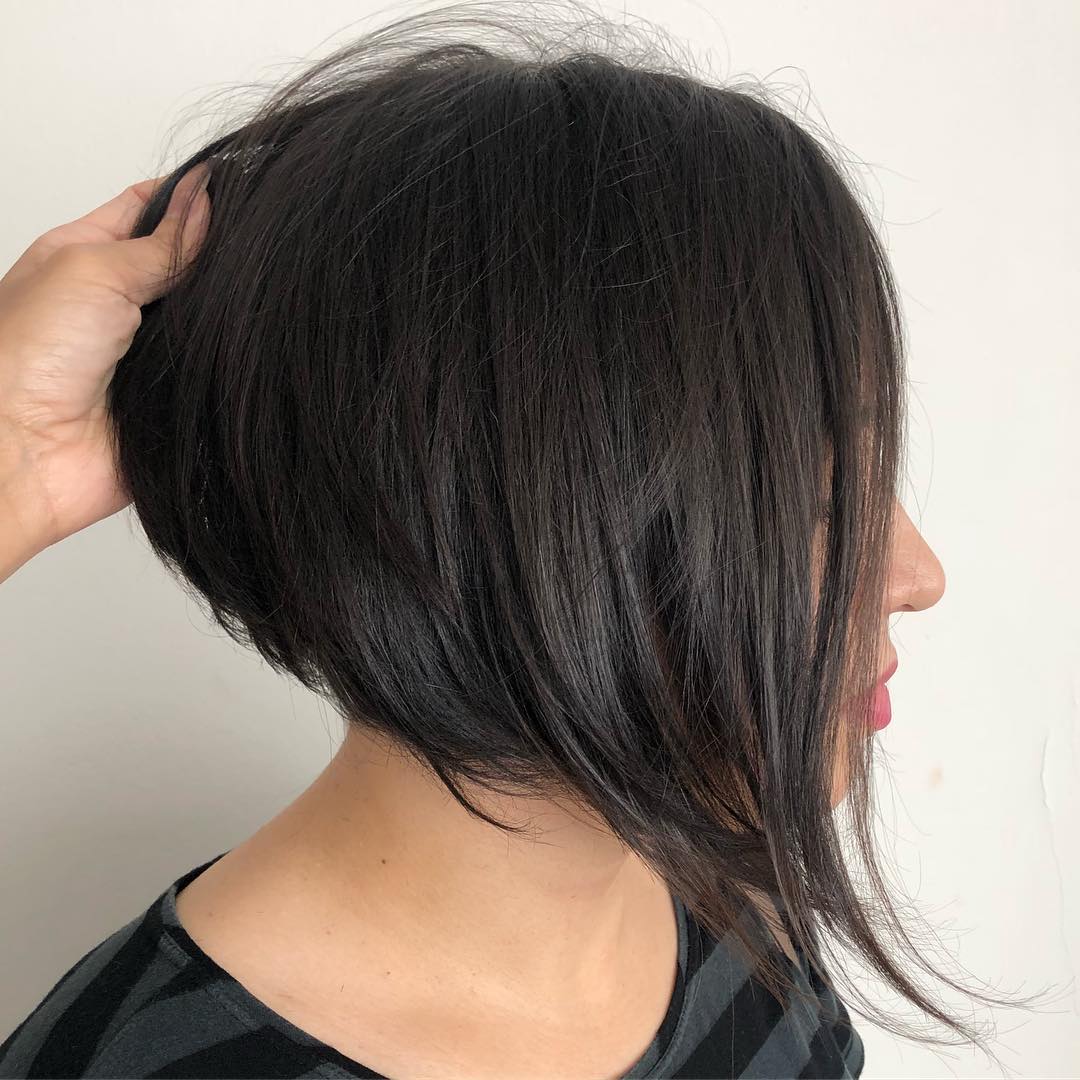 via @priss_duarte
While thin tresses tend to tangle, you don't need to keep them short all around. Get longer front locks with this strongly pointed A line bob.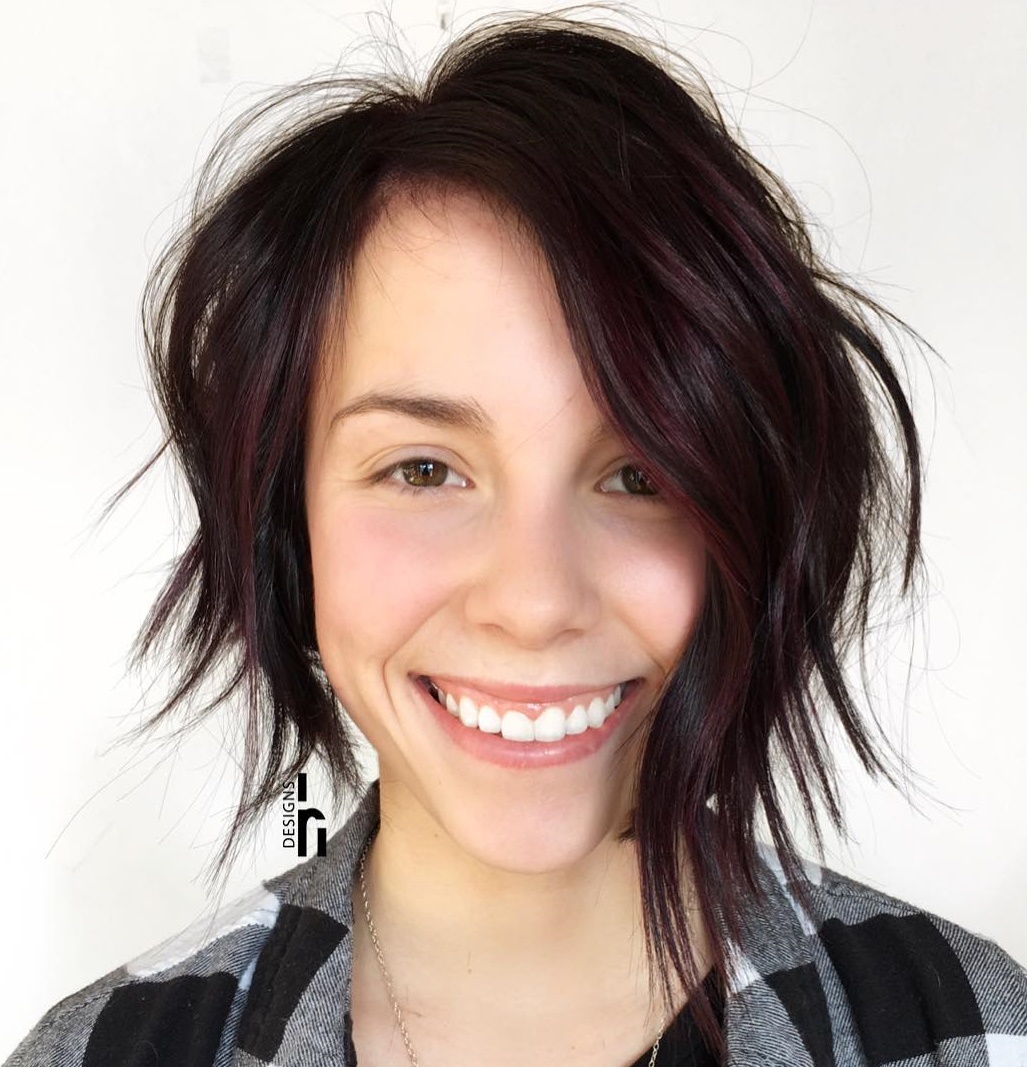 via @headrushdesigns
Asymmetrical options can also meet the case, especially when volume and texture are added through razor cut layers.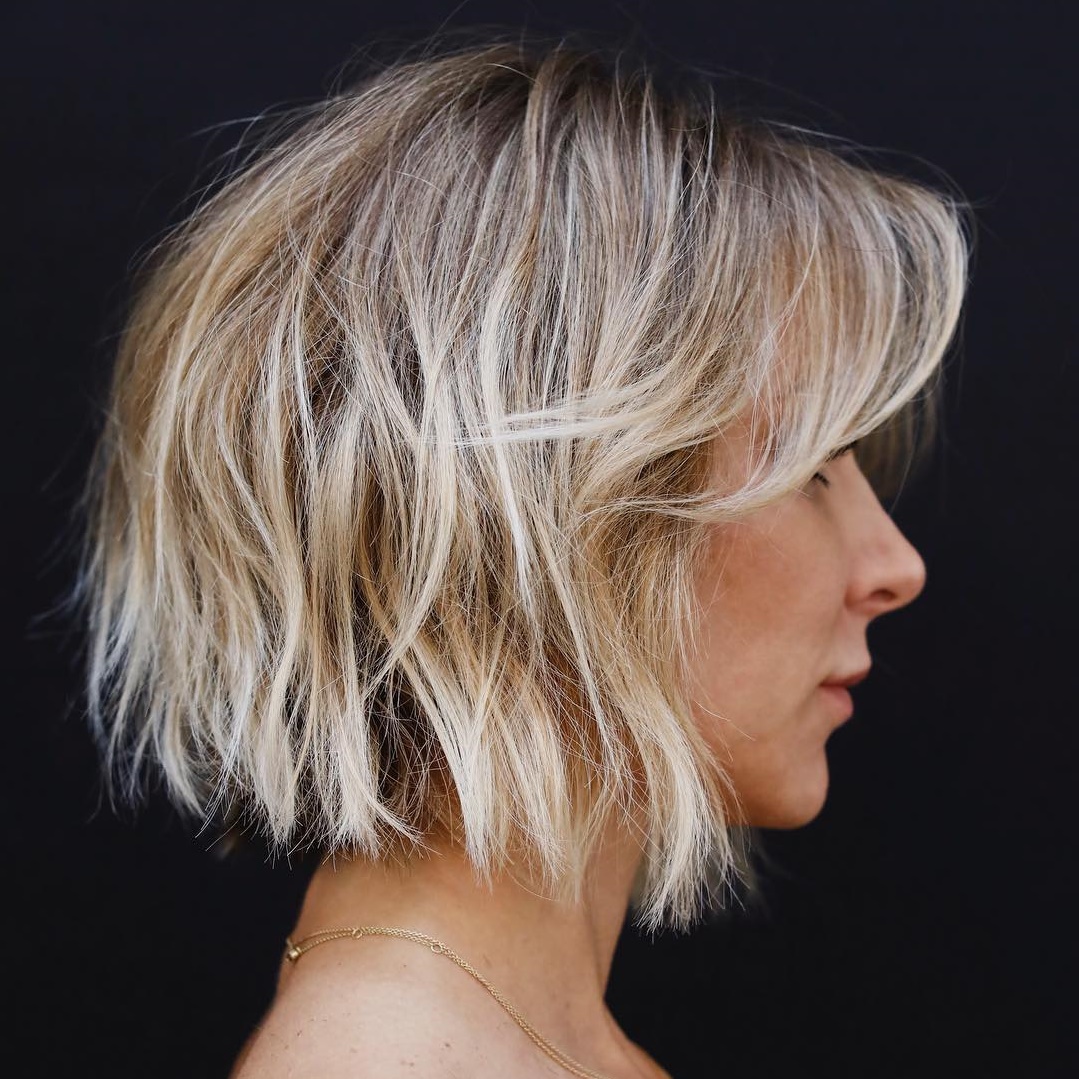 via @anhcotran
Choppy bob hairstyles are adorable for their dynamics, but you can make your cut even more vibrant with bold highlights.
Inspo on Pixie Cut for Thin Hair
While thin hair tends to tangle and look limp, you can avoid both troubles by cutting it really short. As a rule of thumb, shorter tresses are stronger compared with long locks and harder to get tangled, too. So, pixie haircuts are acey-deucy for fine hair, and it's needless to say that they are hot and versatile.
Besides, pixie haircuts are quite easy to manage during the growing-out process (in case you get tired of your cropped hairstyle). Jenny Cho recommends using a sea salt spray to texturize the hair and to hide your longer strands into a messy do. "You don't need multiple products at this stage, so a sea salt spray is a great one and really light, but it gives hair a lot of grit," she said to Refinary29.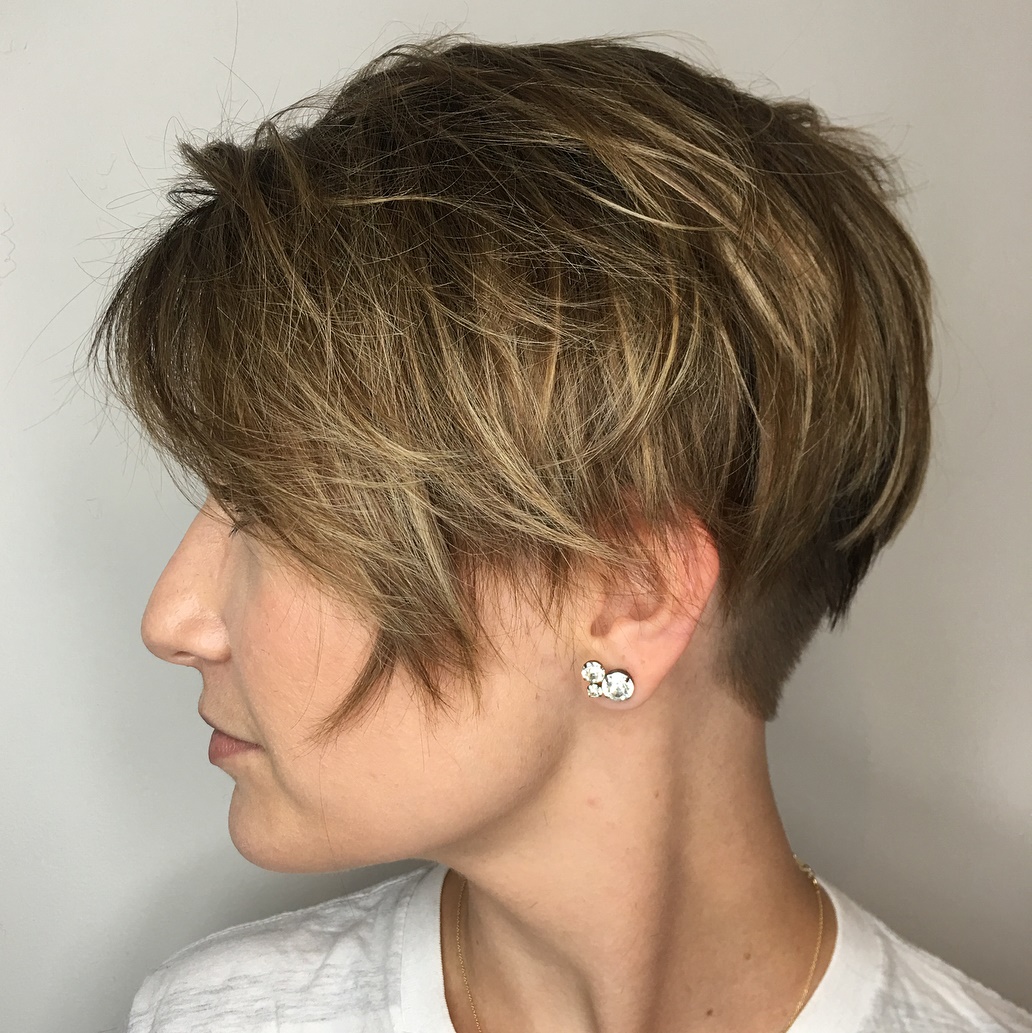 via @hair_by_trevor
This undercut hairstyle is well suited for fine thin hair, since it leaves a plethora of longer tresses for creating the desired volume.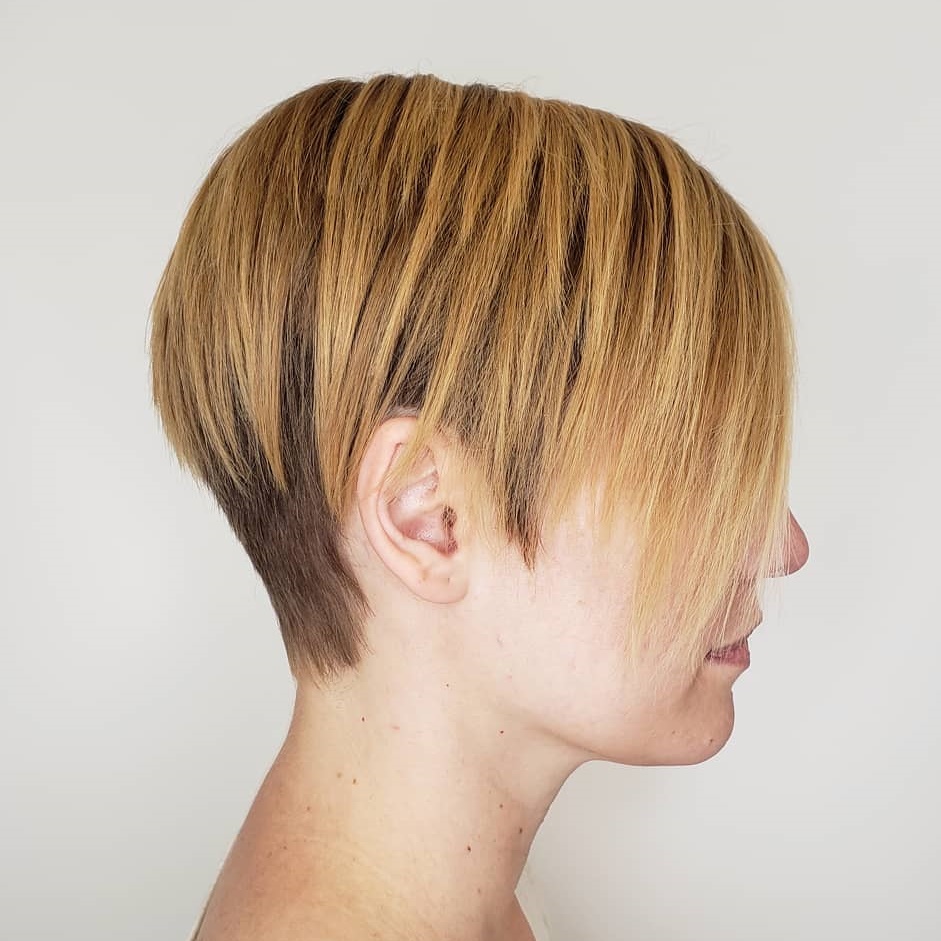 via @tiffanyshuck
For straight fine hair you can choose a less messy option that wins at the expense of length and color alterations.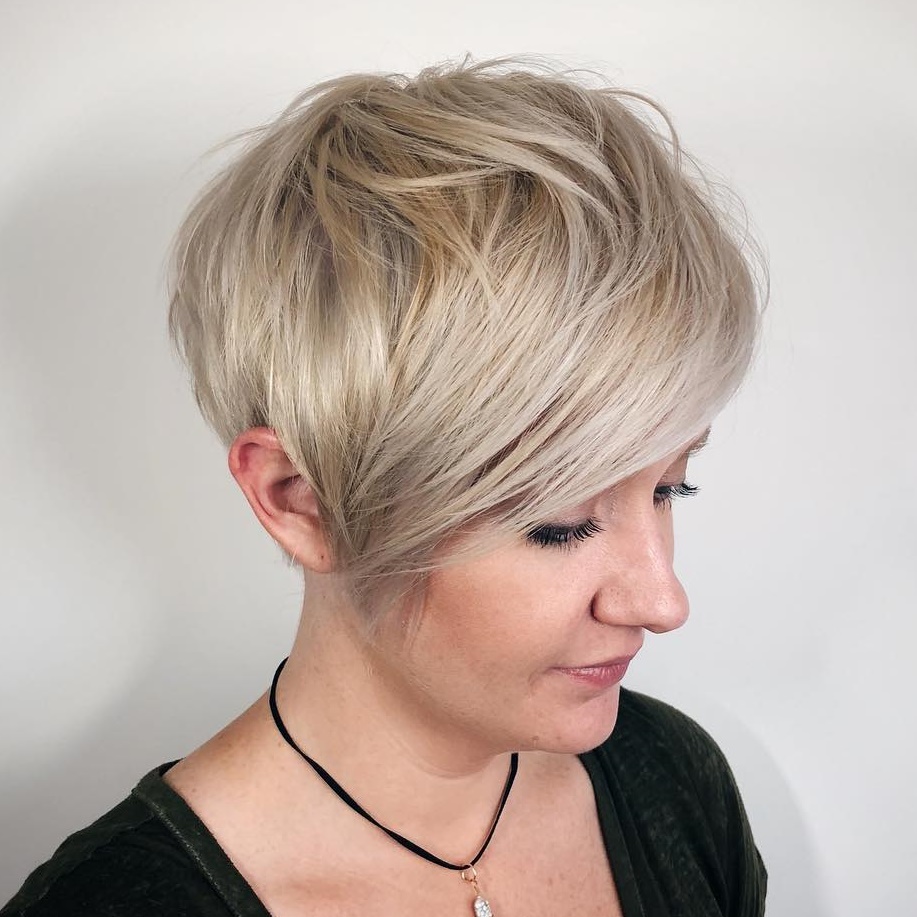 via @kasdoeshair
This asymmetrical pixie features a long deep bang with a side part and shorter top tresses styled frontwards – a stunning mix of layers complimented with a color blend.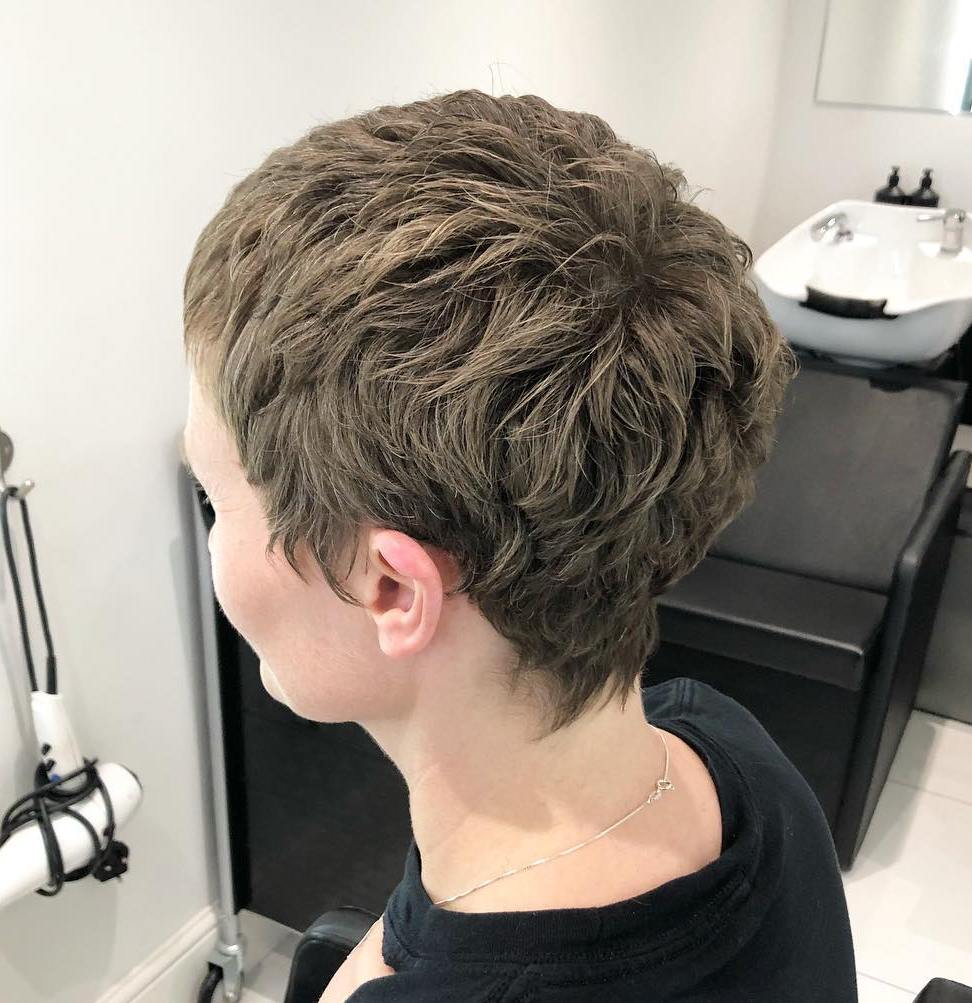 via @dc_hairmakeup
When you want to radically change your look, we'd suggest pixie crops. Yes, you can get tons of texture just by applying light texturizing products on your dry hair.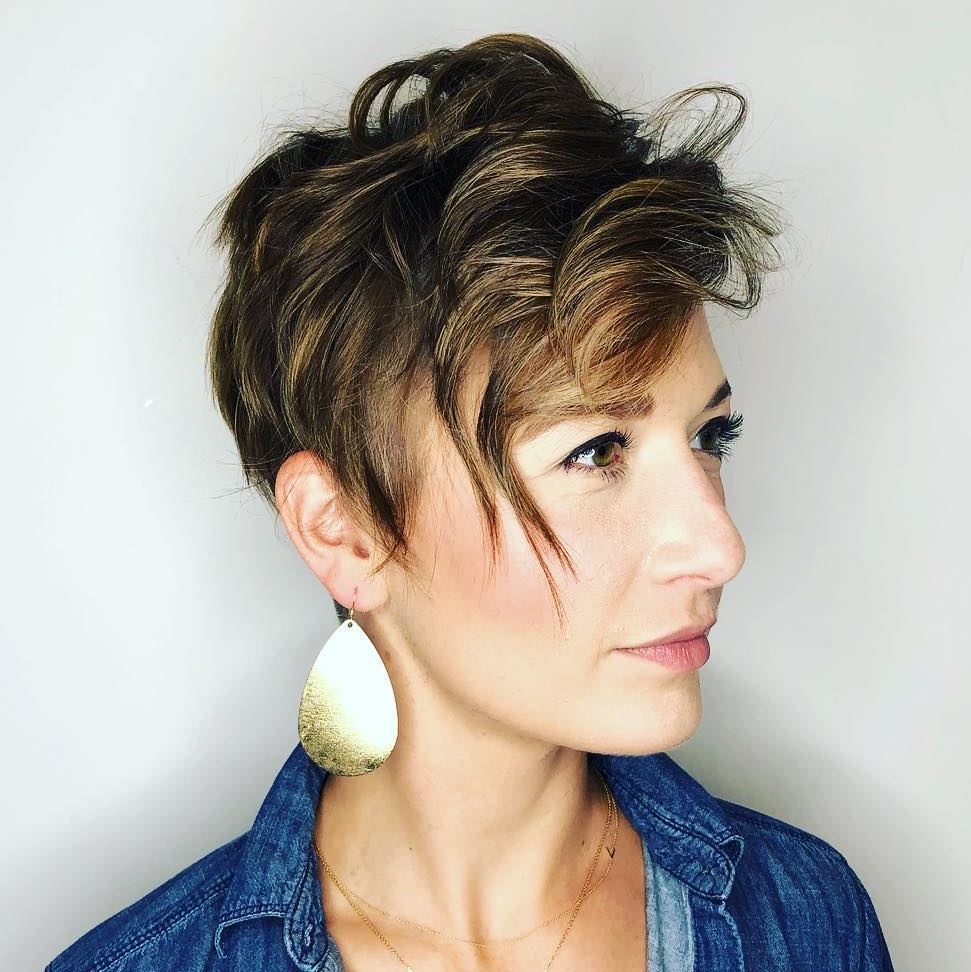 via @hair_by_trevor
And there is a cool pixie option for wavy thin hair – it is built on the contrast between the shaved sides and large locks on the top.
Hints on Layered Haircuts
Whether you have thinning hair on top or struggle with weak and tangled ends, layered haircuts are so diverse that they can address any challenge. And there is no point to be scared of short hairstyles just because you will be deprived of the camouflage of longer hair. (…) "Oh, I'm getting older, my neck is wrinkling," but you don't have to be scared of that because you can cut layers into it a certain way that, if you don't want to clear your neck completely, you don't have to, but you can still wear shorter hair", says Kristen Ess to Newbeauty. And you will probably agree with her when you look at our side and back view photos listed below!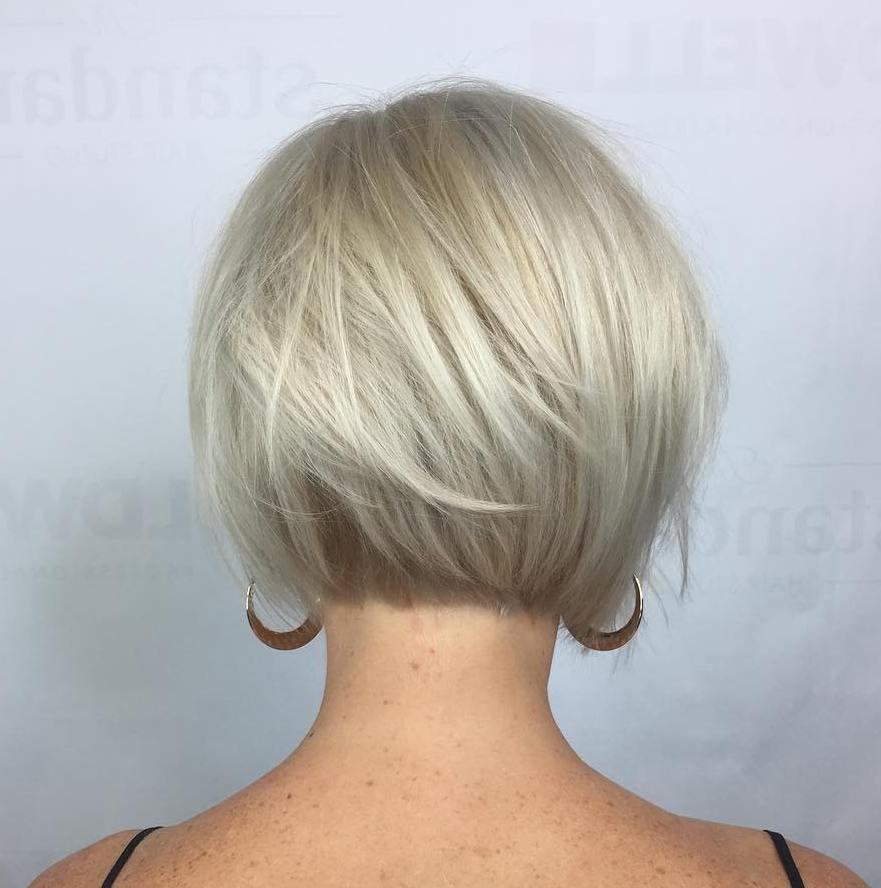 via @dillahajhair
This short layered hairstyle combines long tresses and an undercut to deliver both length and volume (not to mention its wonderful toning).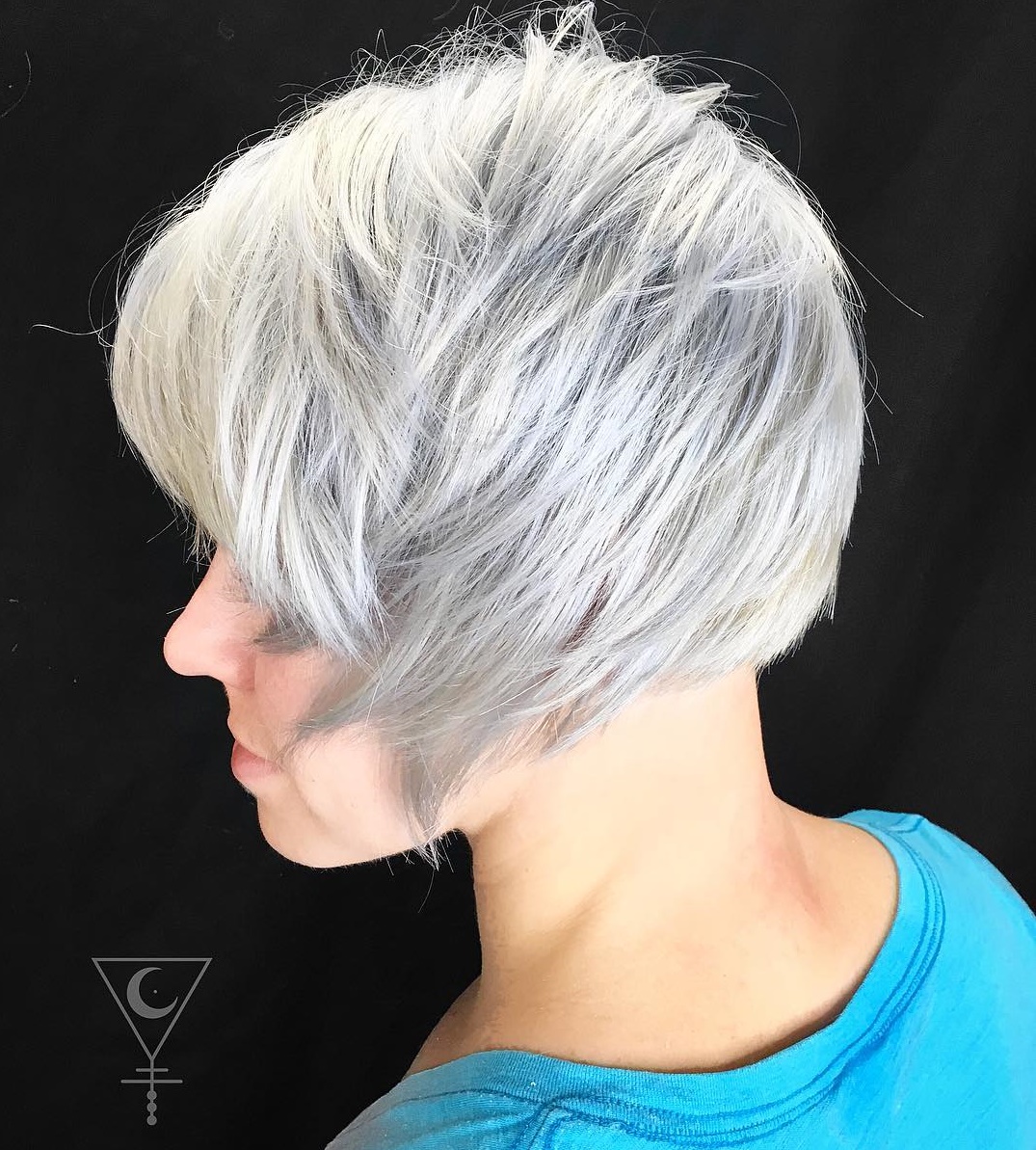 via @riahmai
We know that layers are good for thin hair, but these layers are just awesome, since they add much movement with their front-swept styling.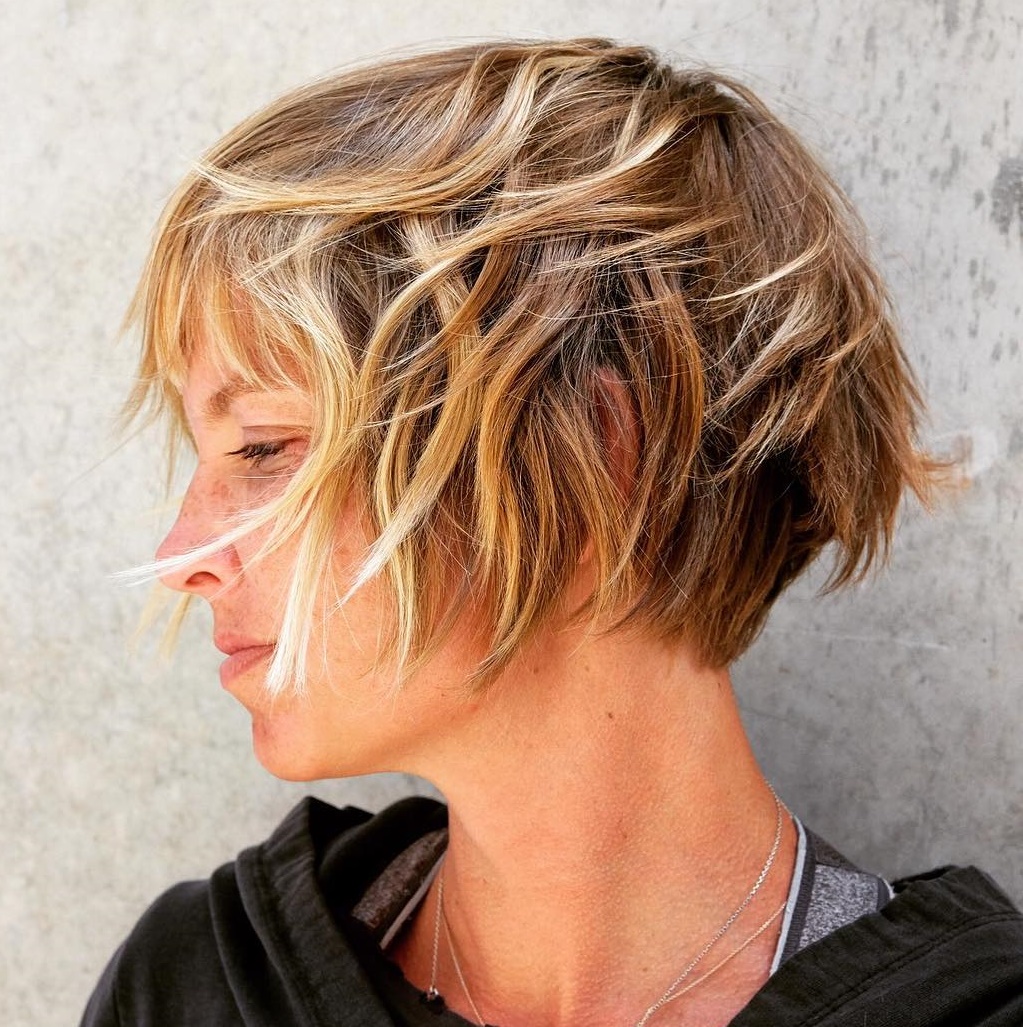 via @yamashiro_hair
Layered haircuts with bangs are perfect for casual styling – like this fun graduated bob with textured and highlighted strands.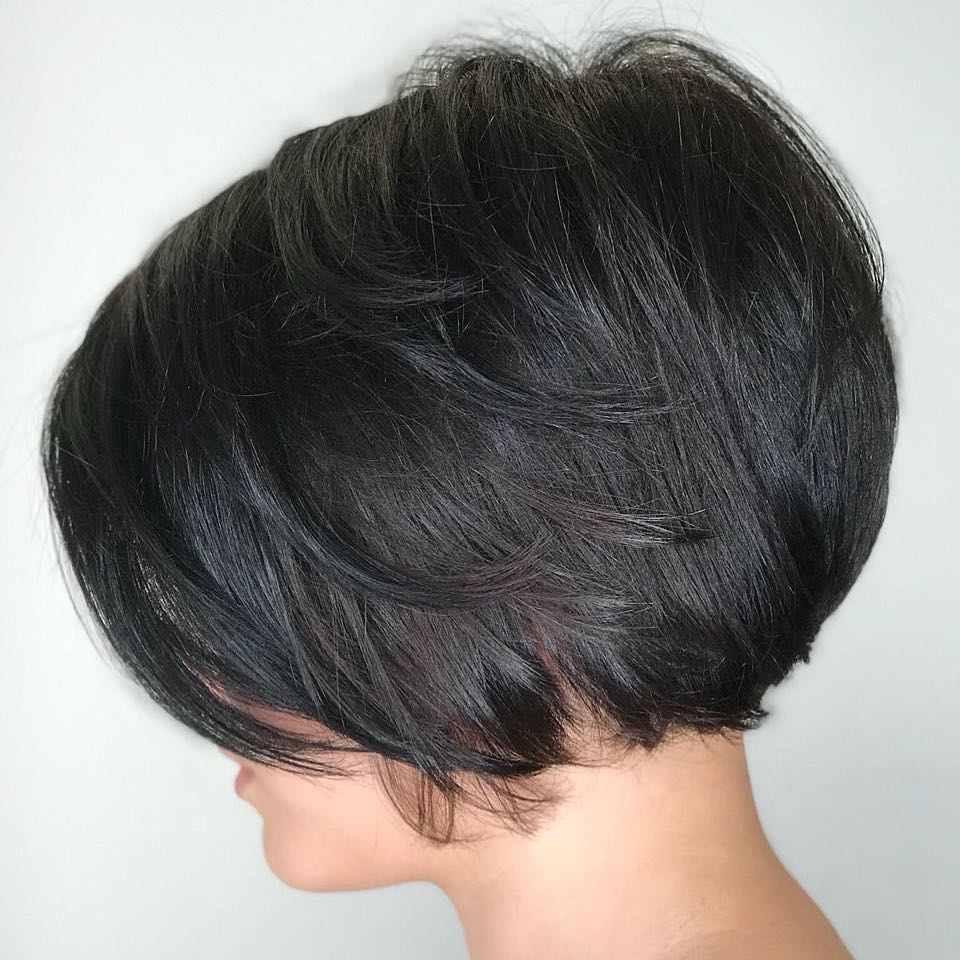 via @sebastianguedeshairemakeup
But layered styles are so versatile that you can get more formal, yet lively styling based on the same graduated bob – this time, backswept.
via @chrisjones_hair
And when your hair is very thin, you will be pleased to style it easily, using only a texture hairspray to accentuate layered tresses.
Best Hairstyle Ideas for Women with Fine Hair Based on Current Trends
We all are striving for easy care hairstyles, but it would be rather childish to expect that any hairdresser can completely relieve you of the necessity to maintain your hair. "Fine hair tends to get greasy quicker and lose its shape, so washing every day is usually a must", says Jenny Cho (who is also Suave Professionals expert) to InStyle. She recommends choosing light products to avoid weighing hair down and losing its volume, while giving preference to those having "volume" or "thickening" on their labels. Also, you should always protect your hair when using heat for styling and keep it away from blow-driers or flat irons whenever it's possible.
Meanwhile, get inspired by our pick of the best ideas from thin curly hairstyles to straight crops, and from sophisticated styling to simple air-drying.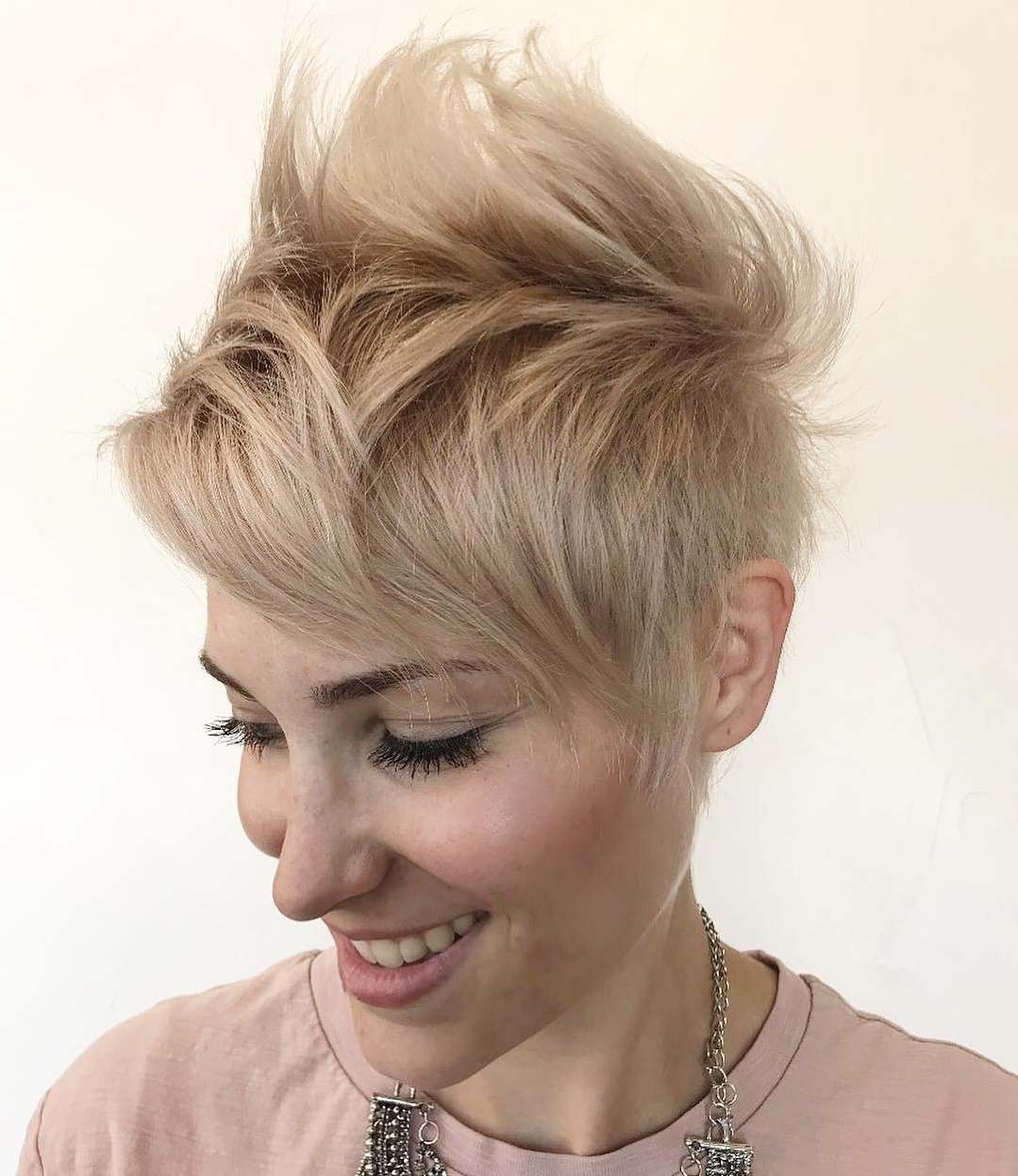 via @hairdesignbybrittney
Give your pixie cut a fancy twist with this spiky styling coupled with an extraordinary shade of blonde.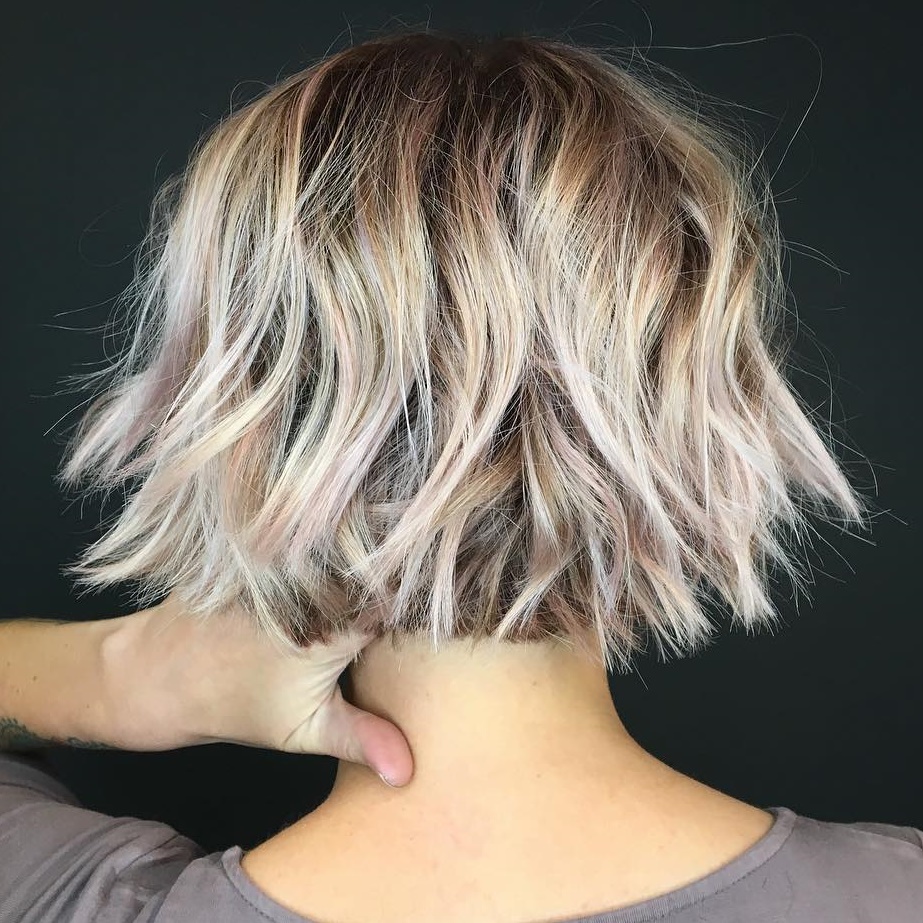 via @strandedchicago
A cropped bob is an easy-to-manage option for thin hair, especially when you opt for casual messy styling.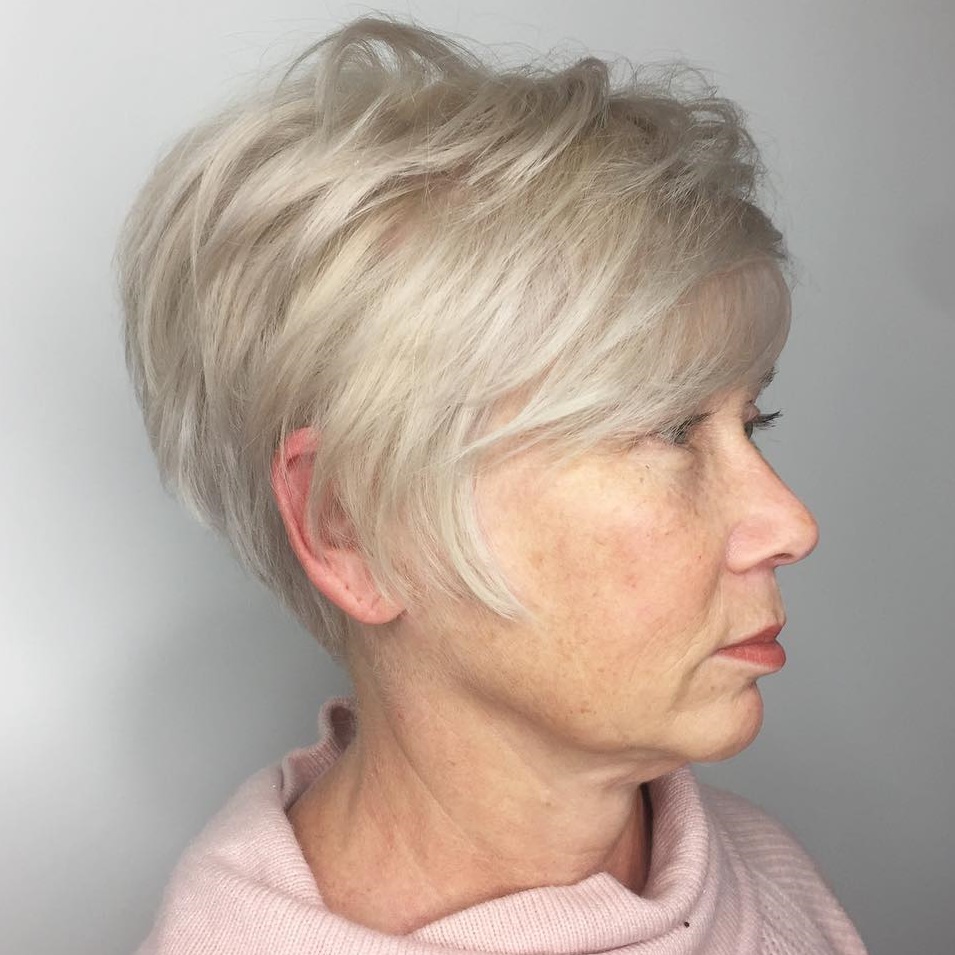 via @nelsonstylist
Longer versions of pixie cuts do well for older women and allow for elegant styling, while creating the required elevated look.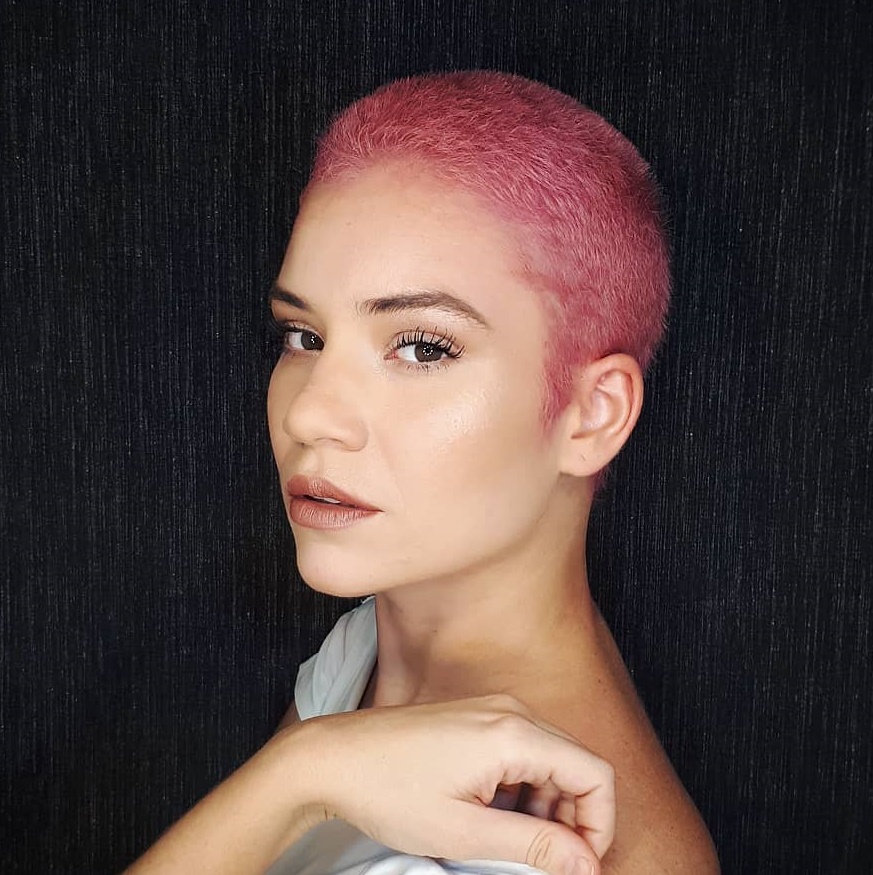 via @phjacomassi
If you are bold enough to wear a very short hairstyle, think of the buzz cut. Then think again and make it really exceptional by choosing a bright candy color.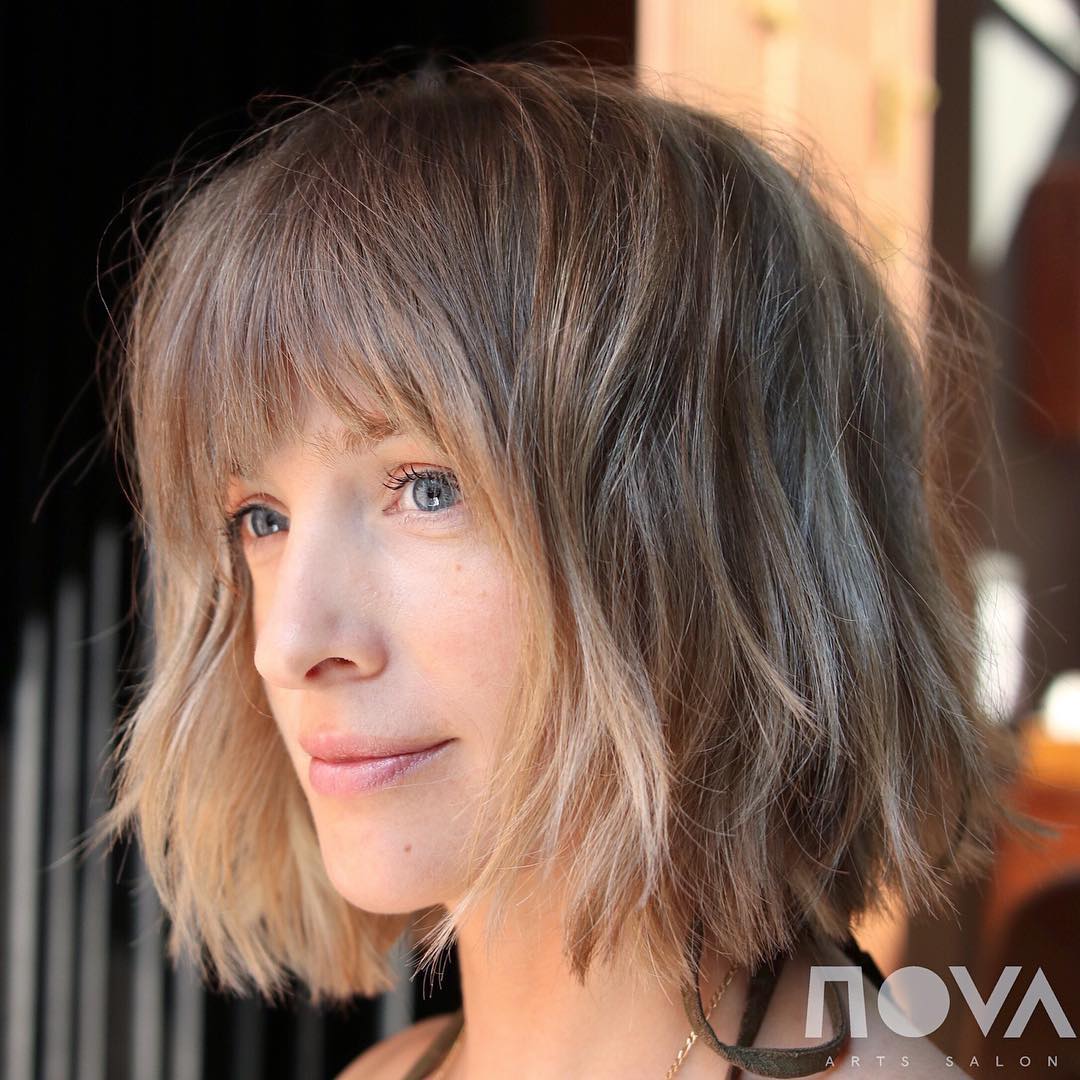 via @salsalhair
It is smart to give preference to haircuts with bangs, when you need to balance your facial features. Here is a good example of how to make a long and narrow face look more proportional.
via @domdomhair
We love shaggy haircuts for that laid back feel and those tons of texture they boast. But there is always a chance to add some vibrancy through creatively done highlights (or lowlights).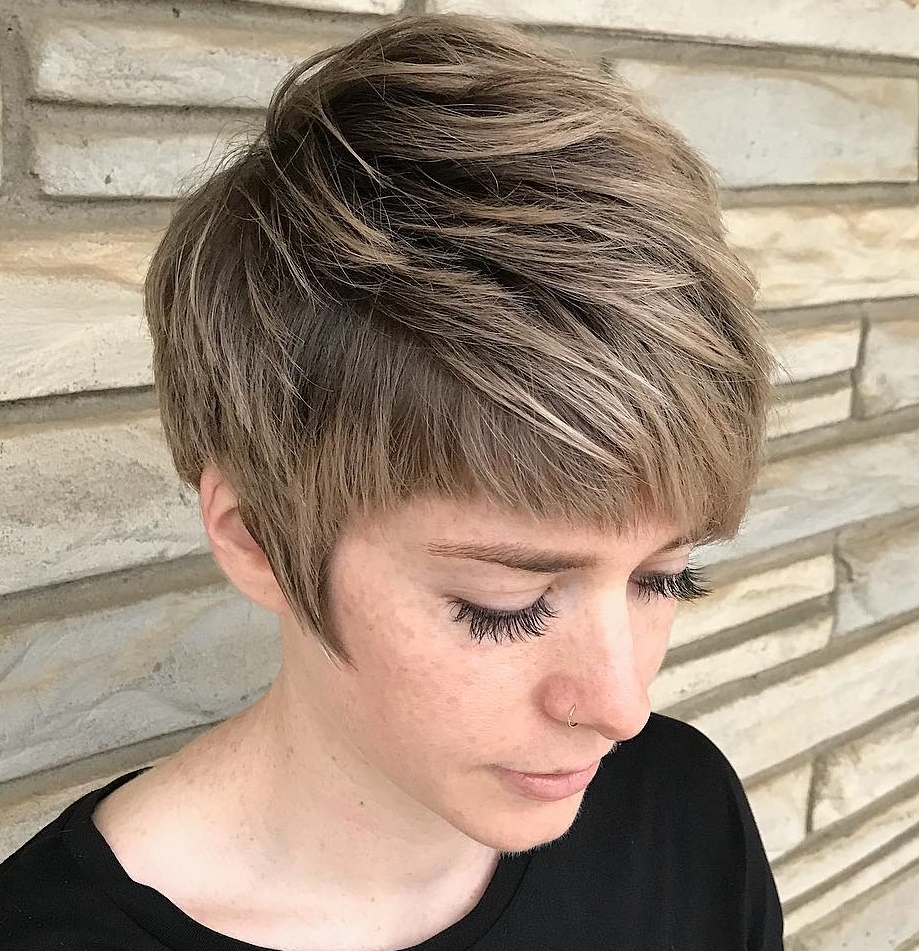 via @aryavarji
When thinking of transforming your pixie cut, don't miss this fantastic feathered styling. Besides that it ensures some extra texture, these beautifully shaped strands look truly cool.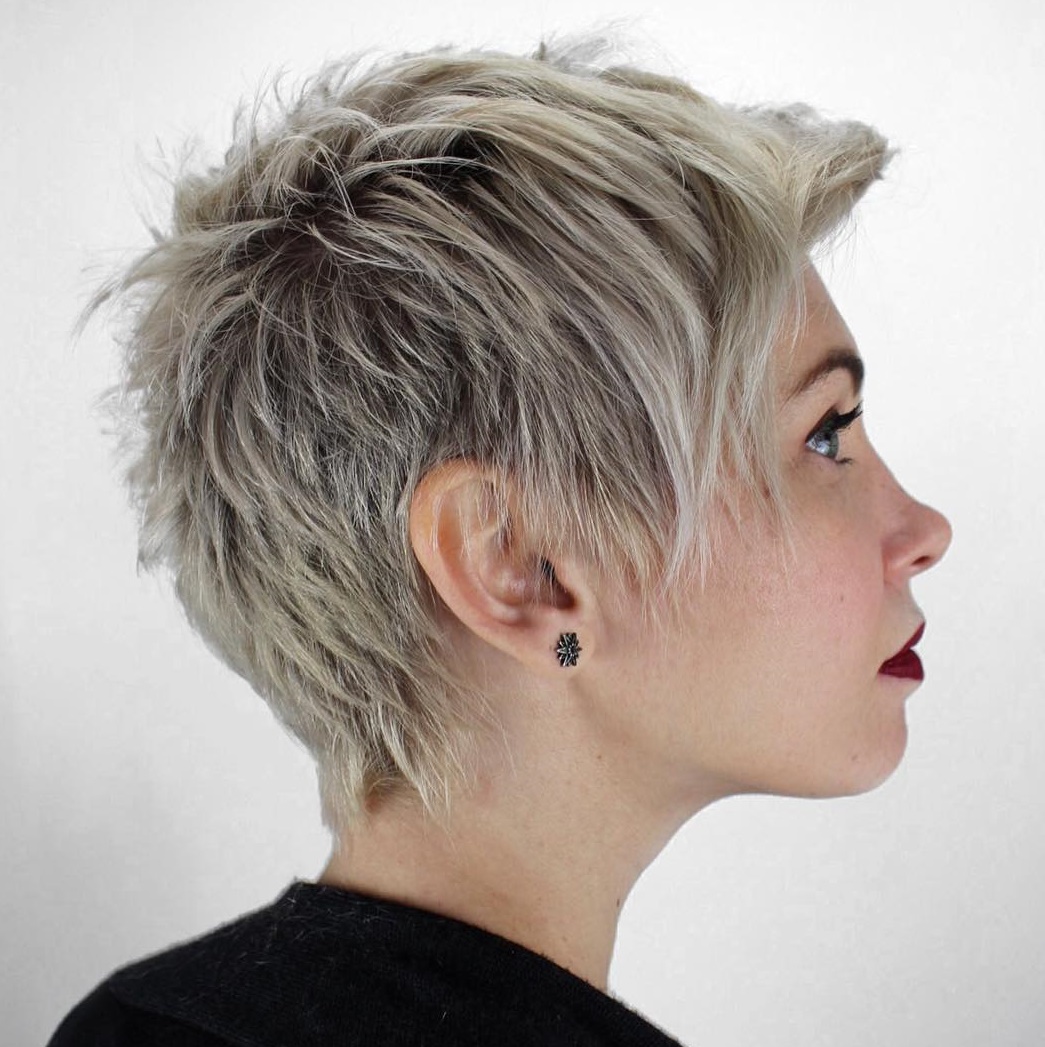 via @lovelanesalon
This short shaggy pixie shows how you can get the best from texturizing products – the thin hair has both body and structure.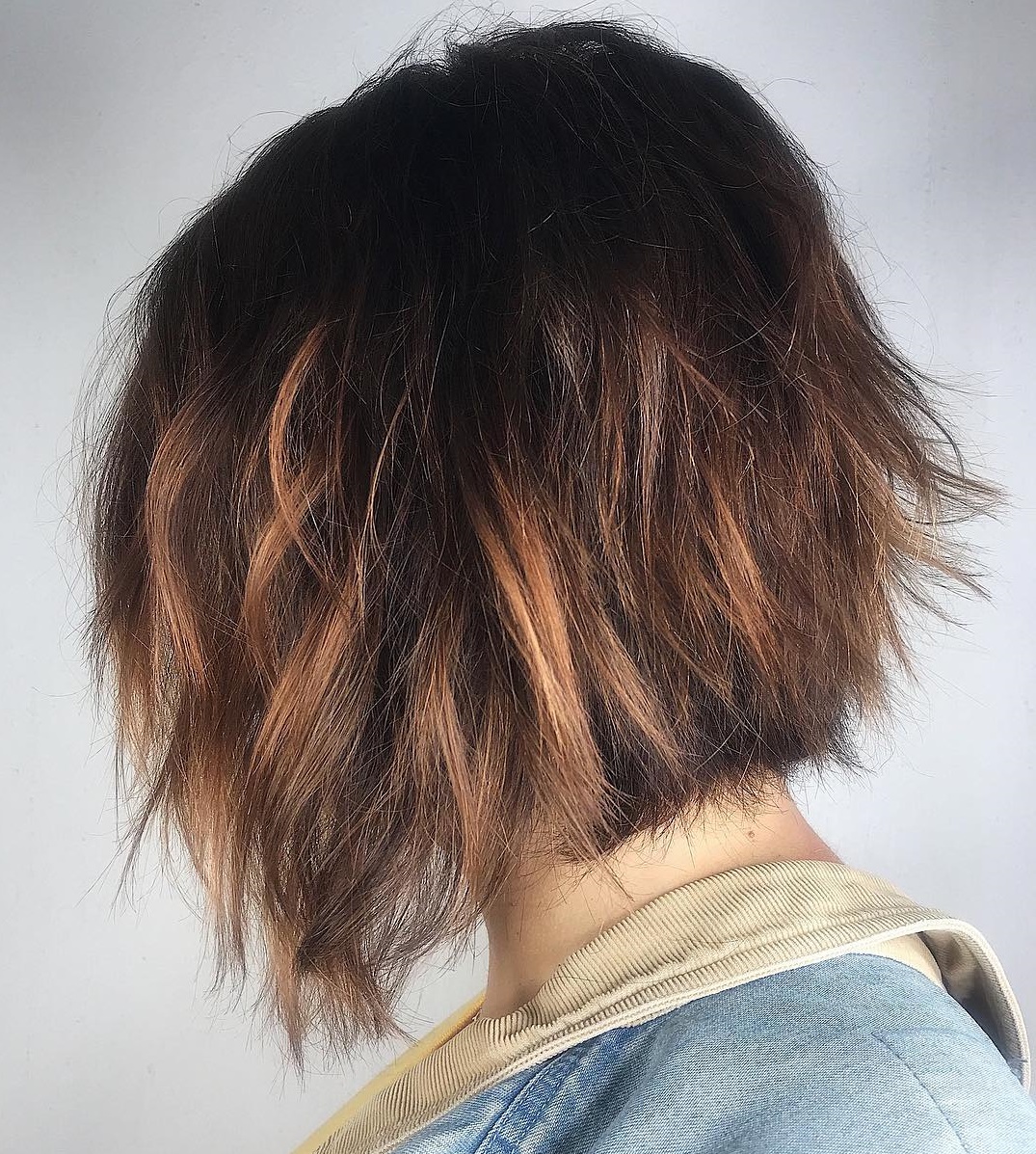 via @truashton
However, you may want a softer look, and this razor cut messy hairstyle with copper blinks is just the thing.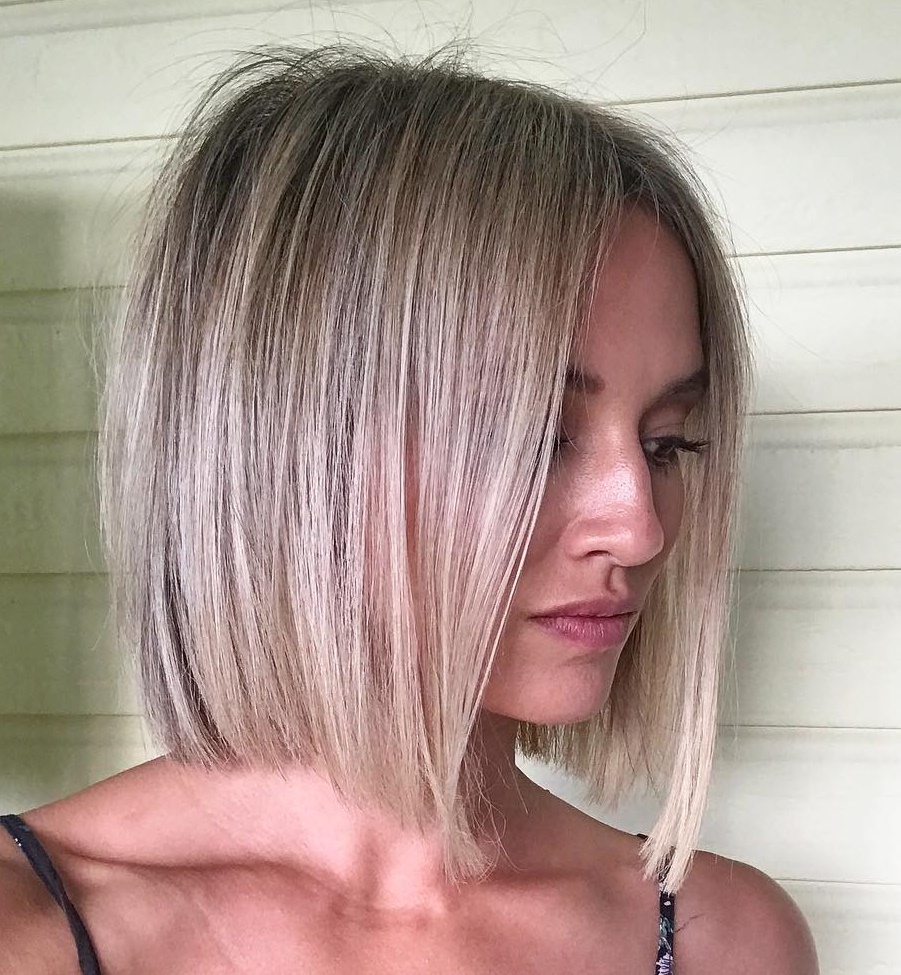 via @boltcollective
Meanwhile, the blunt bob holds up, sparkling with its classic chic and elegance. Get depth through coloring and create volume at the roots when styling – ta da! You are drop-dead gorgeous!
We do hope that with such an array of fabulous haircuts for thin hair you won't have a headache over finding your own style. Be brave to toy around with shapes, colors, lengths and styling options, while taking good care of the health of your fine tresses. At the end of the day, you will be rewarded for your efforts with a hairstyle that excites admiring envy.