A timeless pageboy haircut deserves the attention of every fashionista. Its history and evolution are fascinating because the transformations it has undergone since its inception are colossal.
The dramatic, edgy hairstyle originated in the 1950s and is named after the blunt shoulder-length haircut boys wore during the late medieval and Renaissance periods. The modern version of the Pageboy borrows elements of this historical style with the addition of more feminine and fashionable notes.
Among the ambassadors of page haircuts are Hollywood legends Audrey Hepburn and Grace Kelly. Unsurprisingly, a short, charismatic haircut remains popular because women worldwide have wanted to look like these greatest actresses for many years.
Charismatic Pixie Pageboy Haircut
This haircut combines two classic hairstyles — pixie and traditional Pageboy. The combination creates a unique look — elegant and yet moderately daring.
The Pixie Pageboy gained popularity in the 1950s and remains a chic and timeless choice for those seeking a bold yet understated look. It combines short hair at the back and sides with the signature blunt edges of the pageboy cut.
If you want a haircut with some spice, choose Pixie Pageboy Haircut — you can't go wrong!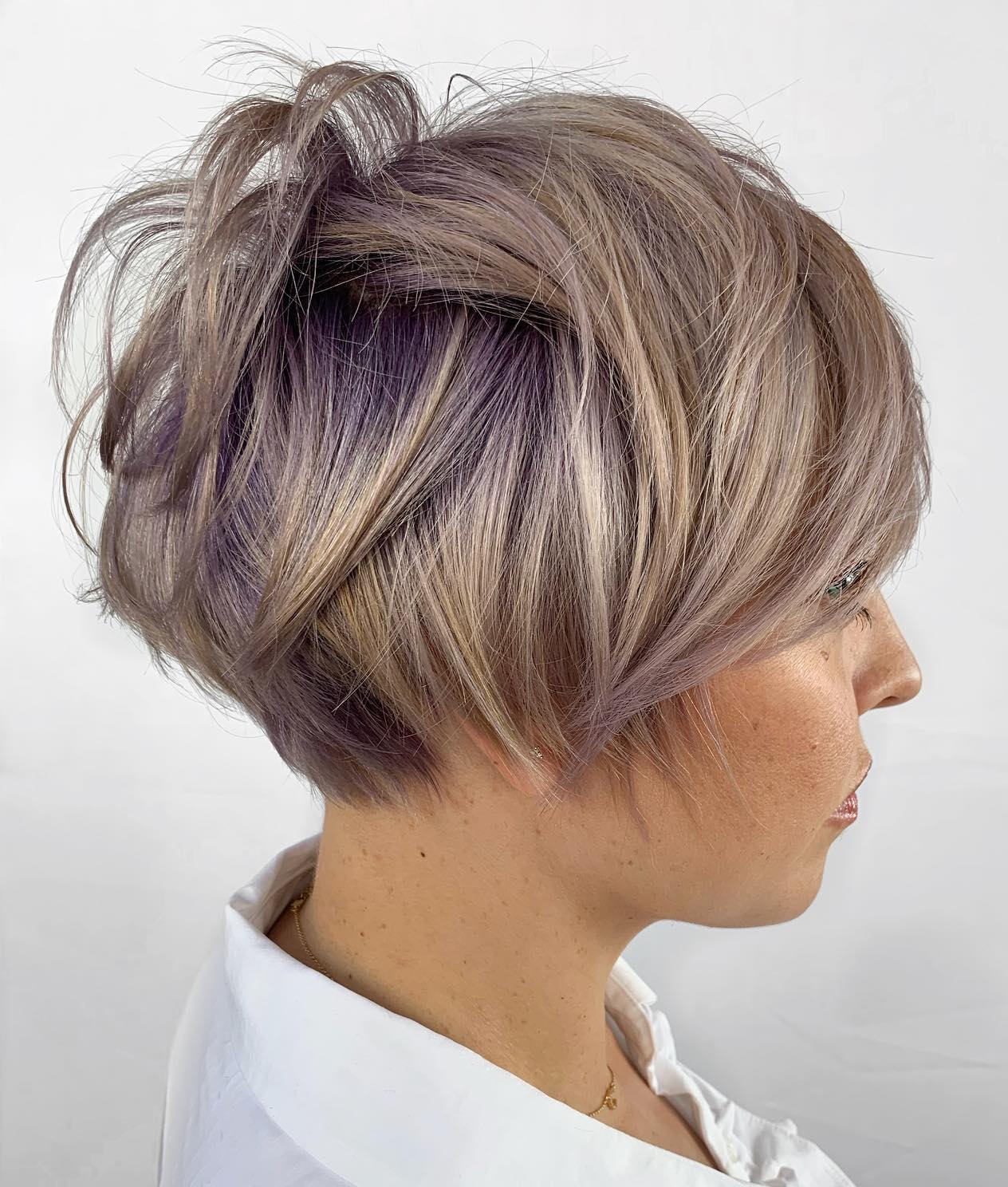 via @headrushdesigns
New Pageboy Hairstyle: What Are the Differences?
Are you looking for a spectacular modern female haircut with the possibility of personalization? You might like the new pageboy hairstyle!
Unlike the traditional Pageboy style, this style features asymmetry, layers, and textured ends. The straight cut turns into a more trendy and seductive look, thanks to them.
The indisputable advantage of Pageboy cut for women is its versatility and ability to adapt to different face shapes and hair types. New Pageboy continues to evolve and transform, giving you every chance to create your unique style!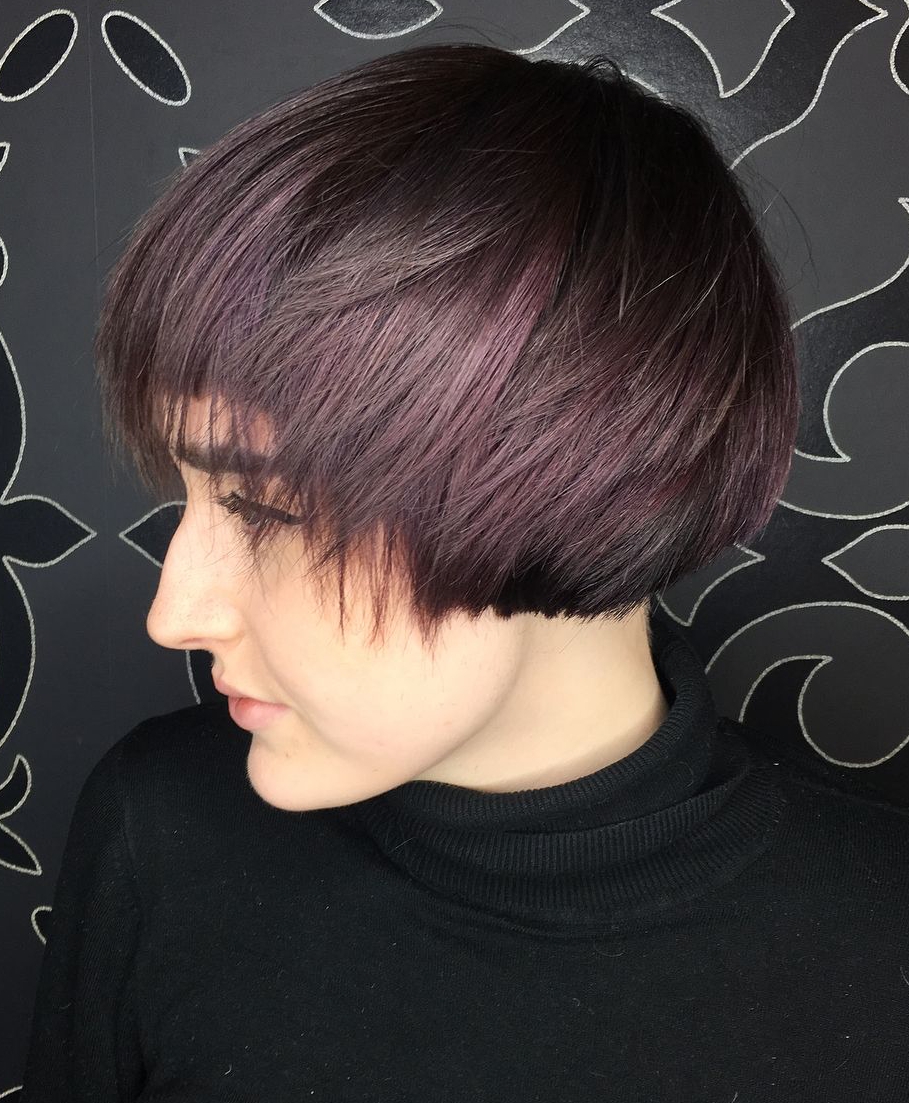 via @headsbysavanna
Laconic Short Pageboy Haircut
The short pageboy hairstyle is a variation of the classic pageboy haircut in which the hair is shorter. Usually, its length reaches the shoulders or chin.
These short haircut ideas are known for their uncluttered, structured lines and simplicity. They gained popularity in the 1960s and remain the ideal solution for women who prefer styles with a vintage touch.
The short Pageboy often has a straight, blunt cut and thin curls at the ends. It's easy to adapt to any face shape and gives you a classic or modern look.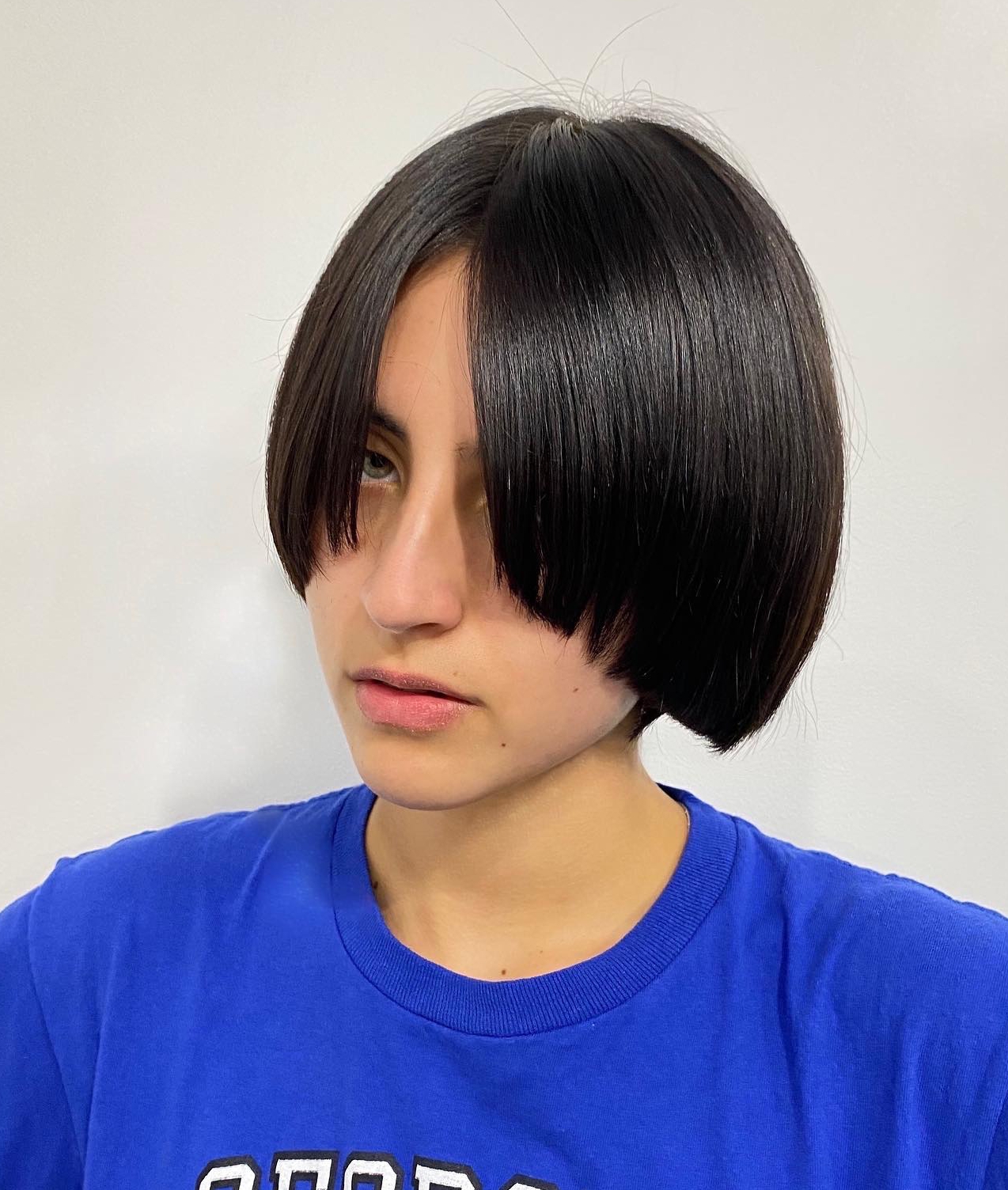 Pageboy Haircut with Blunt Bangs
A pageboy haircut with blunt bangs is a stylish and original hairstyle that will be a boon for those with thick hair. It was at the peak of its popularity in the 1960s and has recently made a comeback in fashion, demonstrating its enduring appeal.
In pageboy hairstyles of this format, curls frame the face and make its features more expressive. Straight bangs in this style are usually cut straight across the forehead and can be varied in length from just below the brow to the brow ridge.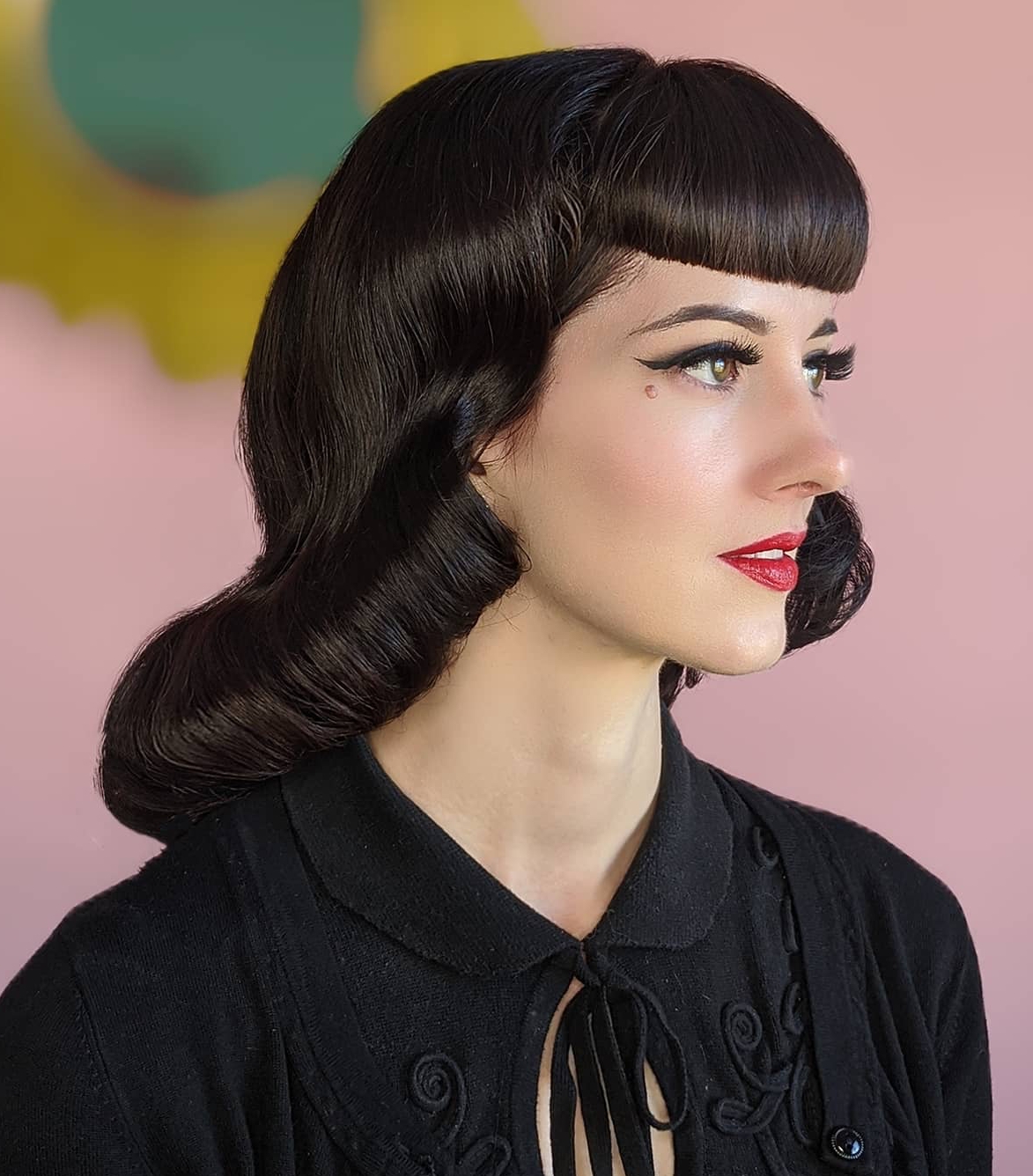 via @rubylane_thevintagestylist
Minimalistic Long Pageboy Haircut
Do you like a feminine, modern hairstyle? The long pageboy haircut is a variation of the classic pageboy style that will become your favorite!
Its key difference is the hair length, usually reaching the shoulders and going down below. The Long Pageboy gained popularity in the 1970s and was embraced by many fashion icons, including Farrah Fawcett.
Long Pageboy allows you to experiment with different styling options on straight or textured wavy hair.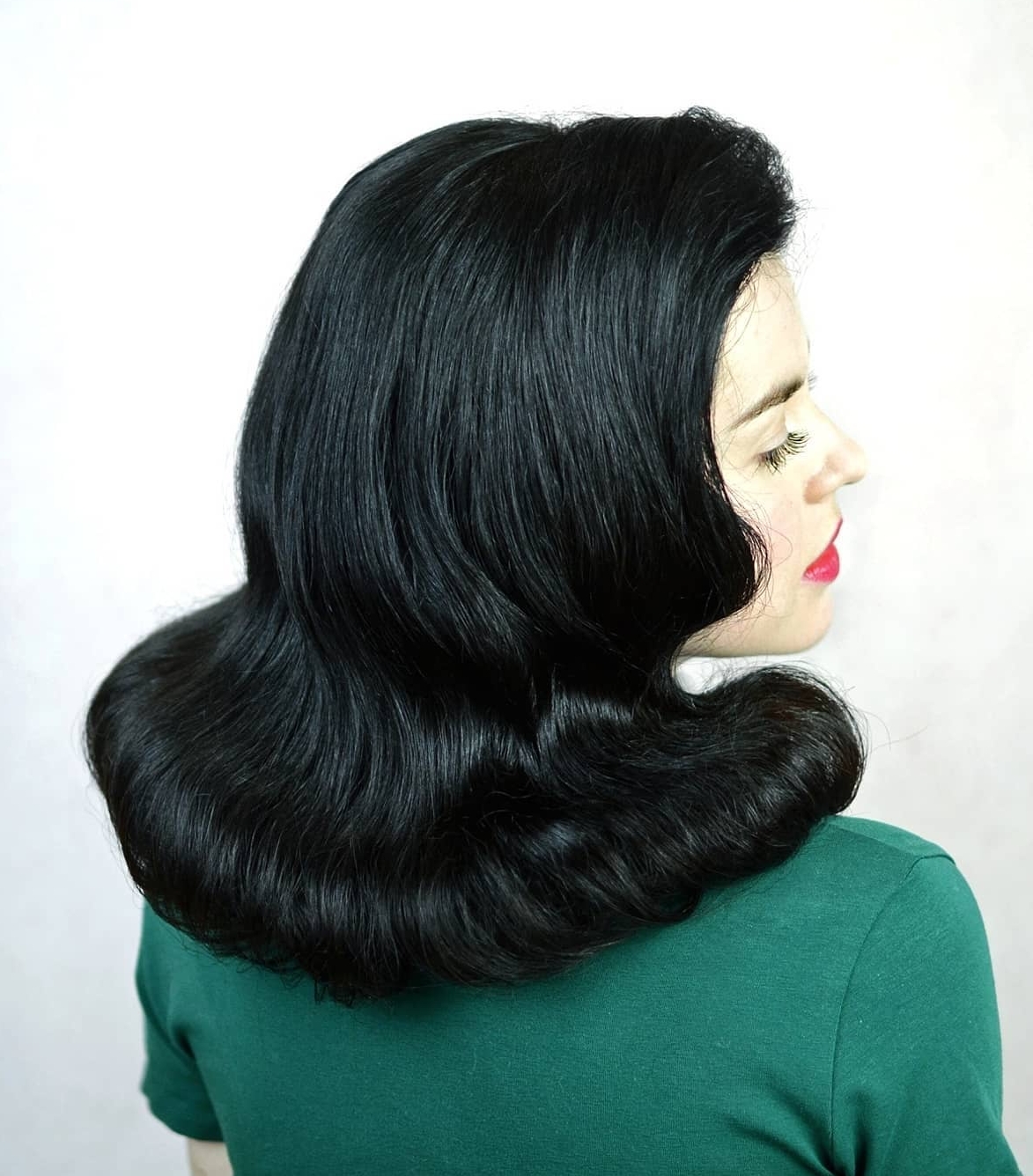 Creative Layered Pageboy Haircut
Another popular pageboy cut option is the Layered Page. As the name suggests, this is a modern hairstyle variation in which additional volume and dynamism are provided through many layers.
The layers in this hairstyle are arranged especially: they are created mainly at the ends and around the face to achieve the desired hair textures.
A layered pageboy for thick hair is a universal solution that can be adapted to any look and face shape. Don't believe it? Your master will help you make sure of this!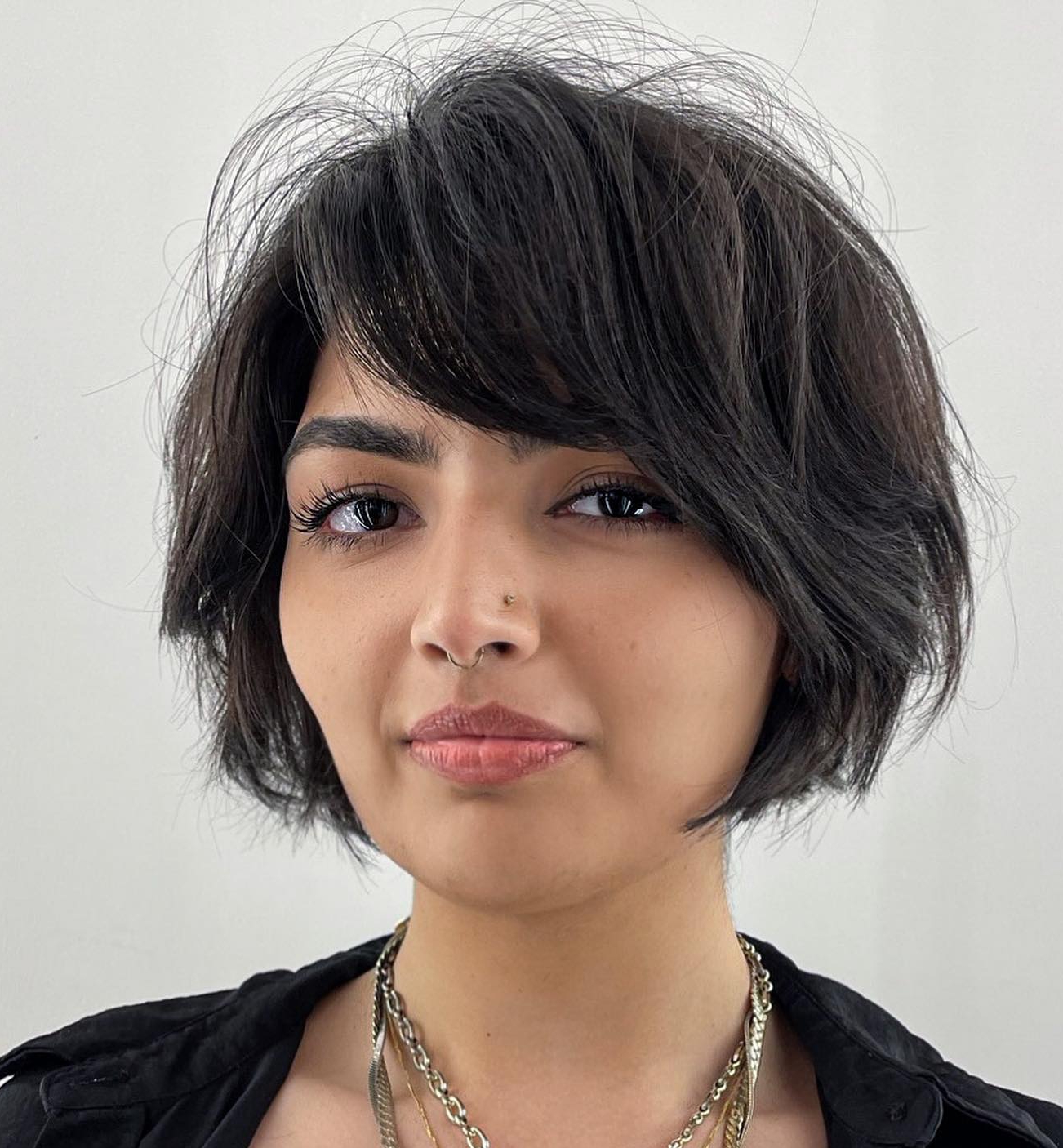 via @omiezee
Pageboy Haircut with Micro Bang
Pageboy style with short bangs is your ticket to the world of spectacular and futuristic looks! It creates a unique and striking look that combines strict, classic lines and daring micro-bangs.
This haircut is perfect for thin hair and any face shape. Experiment with styling and achieve the perfect reflection in the mirror!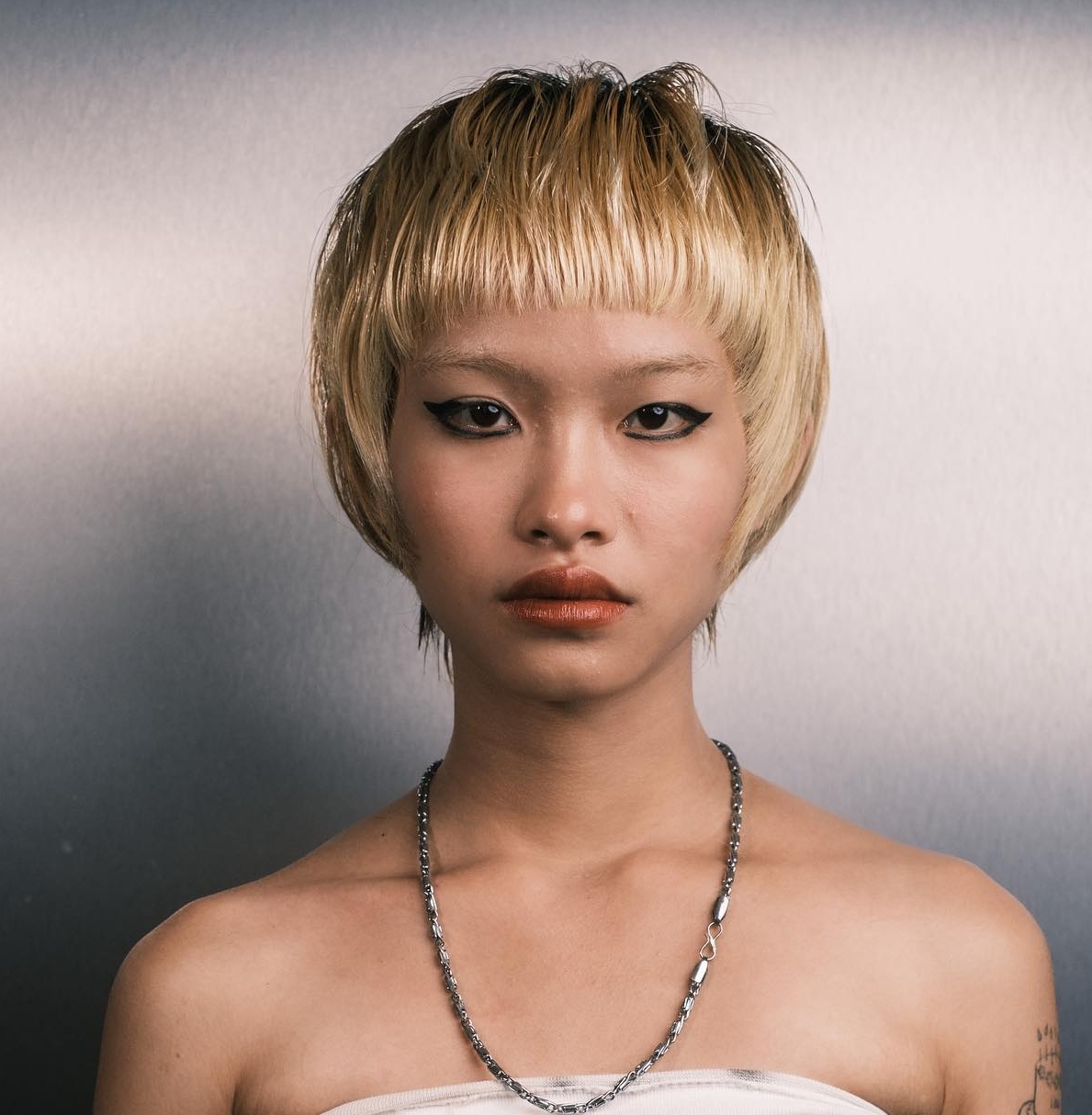 Shaggy Pageboy Haircut
How to add a little bohemian chic to your everyday look? Try to make a layered pageboy haircut!
It's a modern and casual take on a timeless classic. This version of pageboy haircuts has a tousled texture, guaranteeing a deliberately casual and carefree look.
In contrast to the traditional, strict lines, the Shaggy Pageboy has a more lively effect. This haircut emerged in the 1970s as part of the broader shag trend, offering a dramatic and simple style for women with thick hair texture.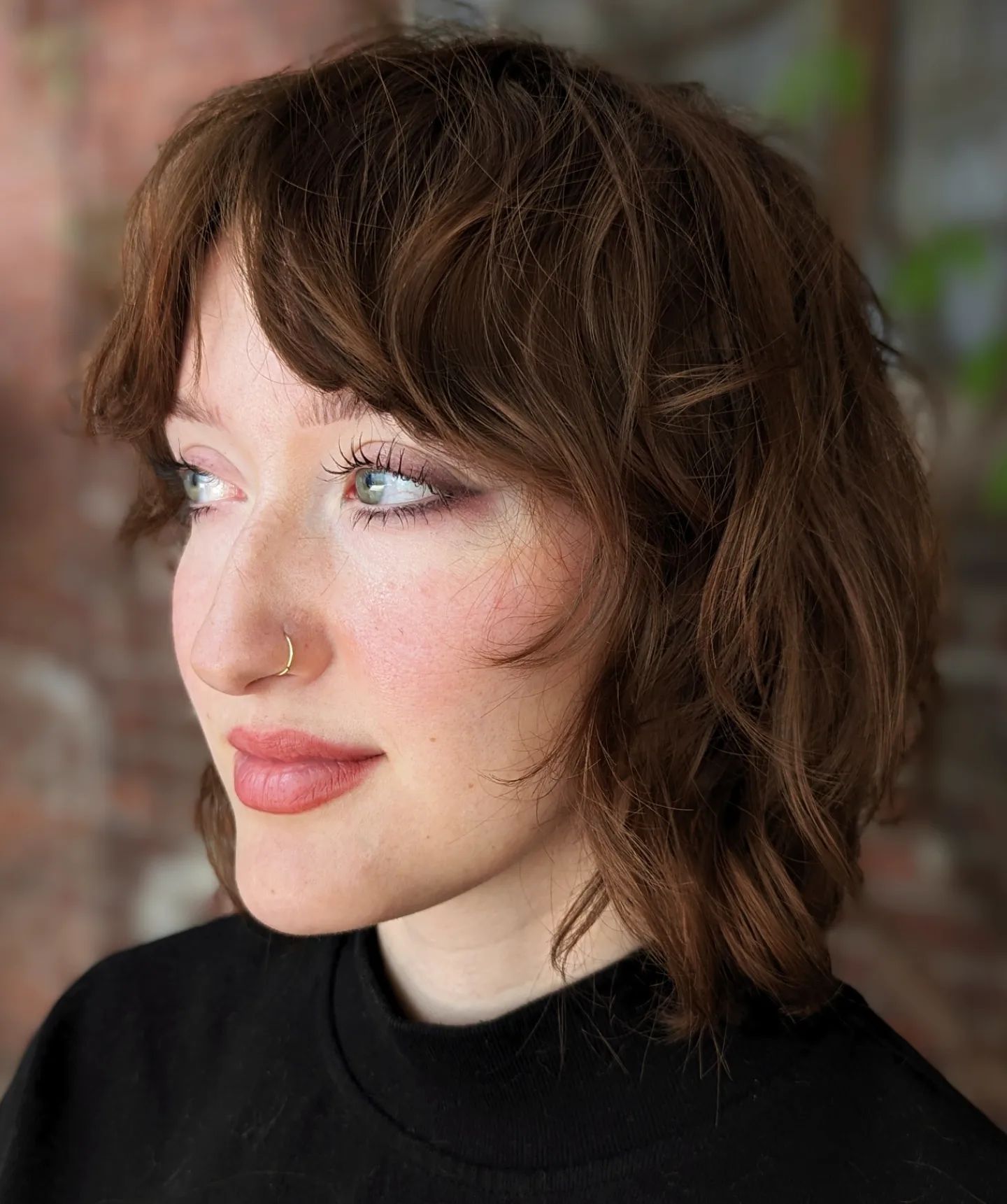 via @caylacutshair
Attractive Ombre Pageboy Cut
Pageboy cut with ombre is a popular trend that catches your attention.
Ombre involves mixing two colors, usually from a darker shade at the roots to a lighter one at the ends. Combined with a classic haircut, it creates a new version of the Pageboy, adding depth and volume.
This hairstyle won the hearts of fashionistas in the early 2010s and continues to be trendy. The ombre Pageboy Cut allows for a wide range of color combinations and the addition of straight bangs if desired.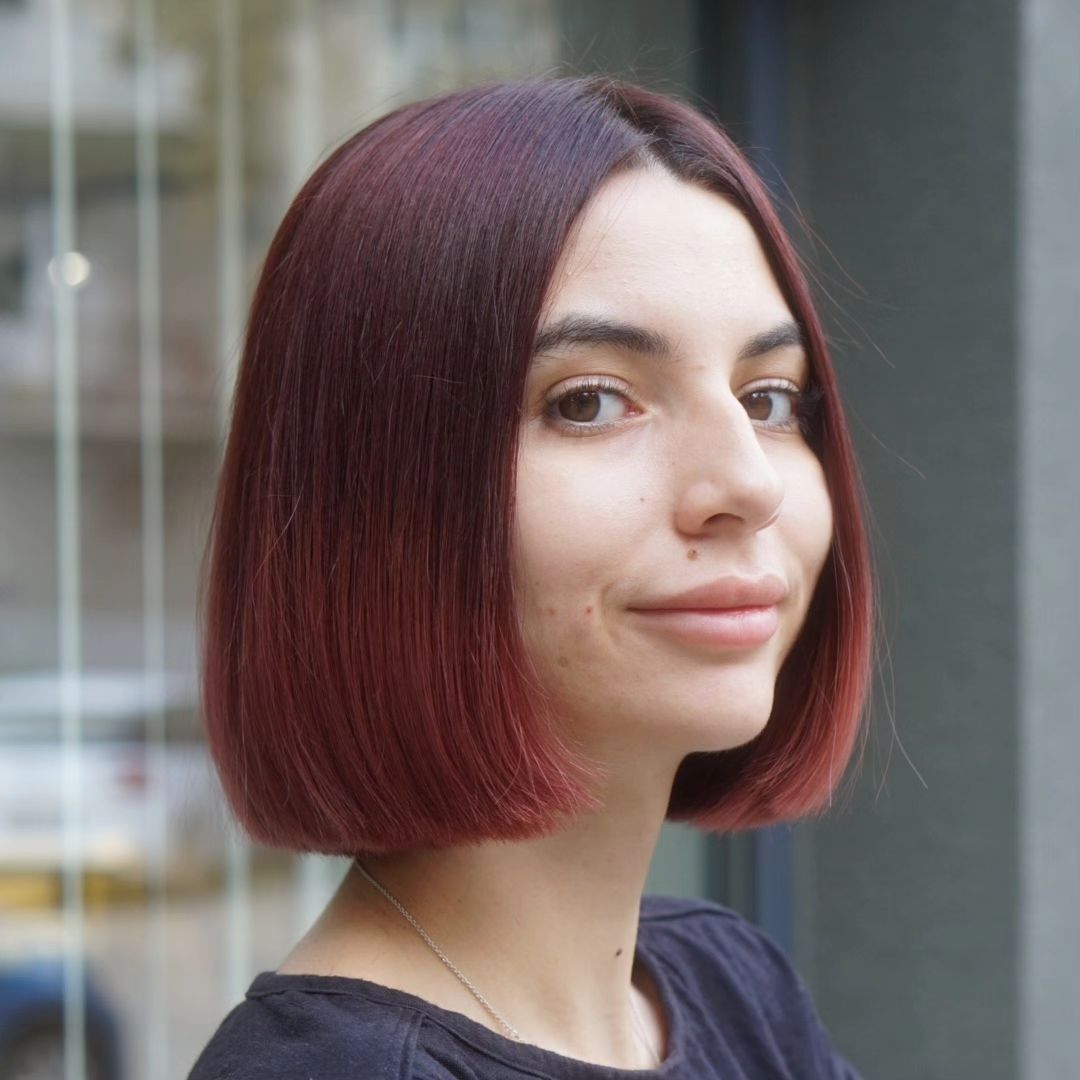 via @tacolourga
Curly Pageboy Haircut
The Curly Page haircut is a charming and stylish variation created especially for people with curly hair texture. It has the signature straight lines, but curls or waves add a playful twist to the look.
This hairstyle gained popularity in the 1960s and 1970s, reflecting the craze for voluminous and textured hair. The curly Pageboy cut balances the strong lines of a short architectural bob and natural texture, making it the perfect embodiment of curls with a retro look. Working with a hairstylist with experience cutting and styling curly hair is considerable to achieve this style.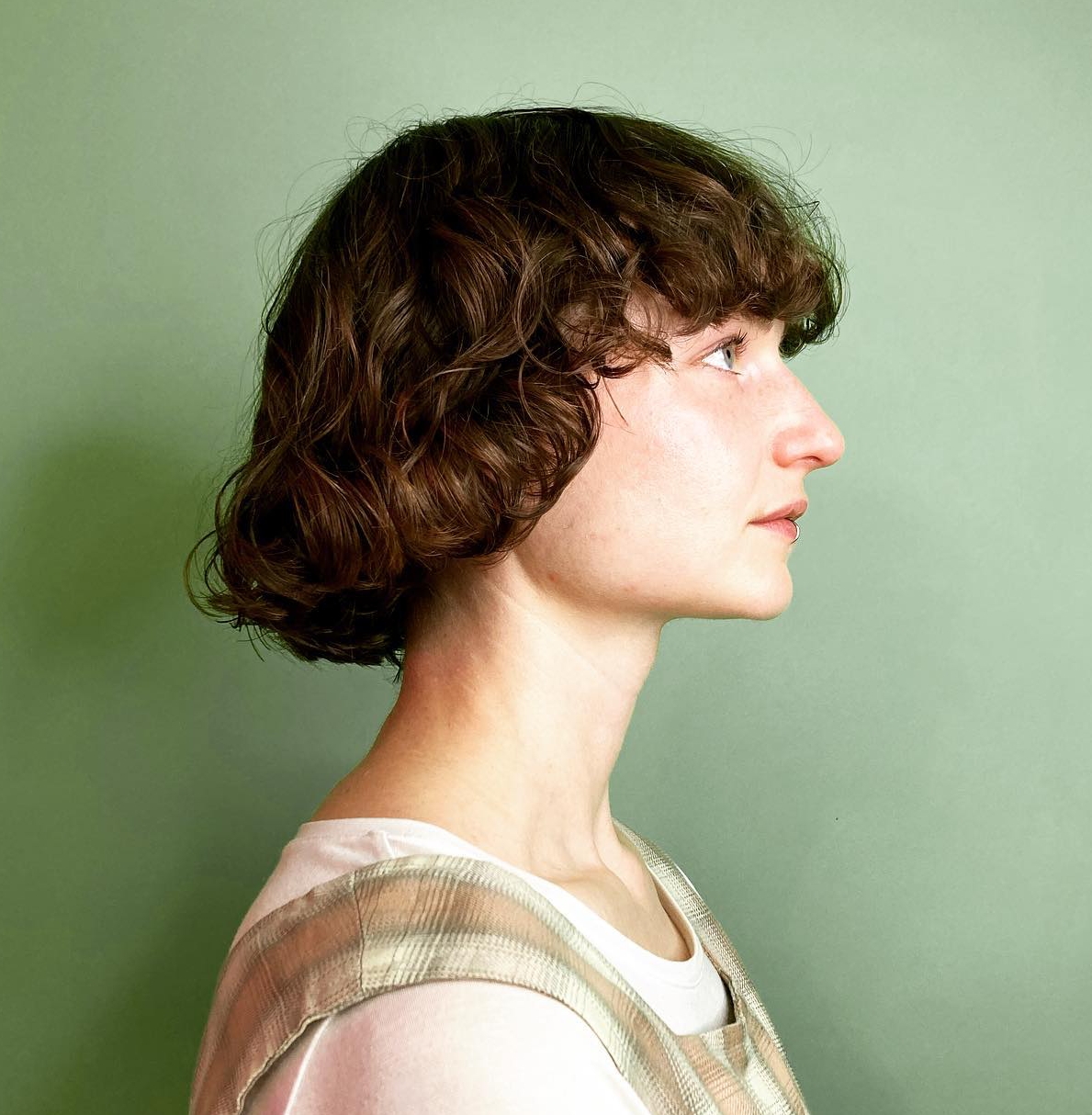 via @m.v.h_hair
Pageboy Haircut 1970s
The Pageboy cut in the 1970s was heavily influenced by the fashion and cultural trends of the era. It resulted in a more casual and natural look.
At this time, the classic pageboy haircut said goodbye to traditional straight hair: it was replaced by soft layers, twisted ends, and additional volume. Celebrities like Farrah Fawcett popularized an updated version of the popular feathered haircut and straight bangs, which became an iconic look of the '70s.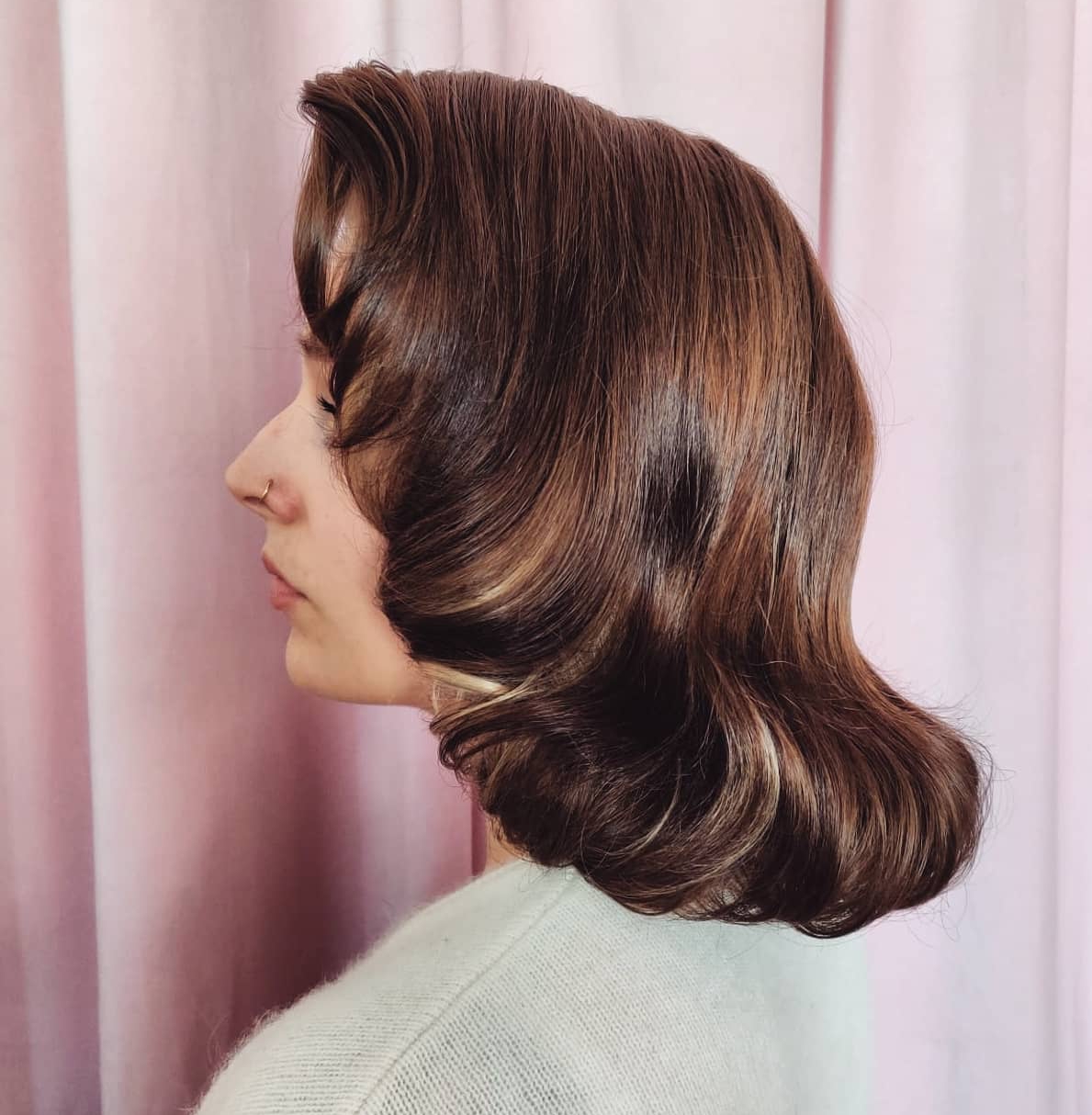 via @stadinsanni
Pageboy Cut in the 1980s
In the 1980s, haircuts adapted to bold and extravagant fashion trends. The classic Pageboy was often paired with perms, combed bangs, and bowl cuts, reflecting the '80s love for volumizing haircuts. The merging of the page with a grandiose aesthetic did not go unnoticed and made the new version genuinely memorable.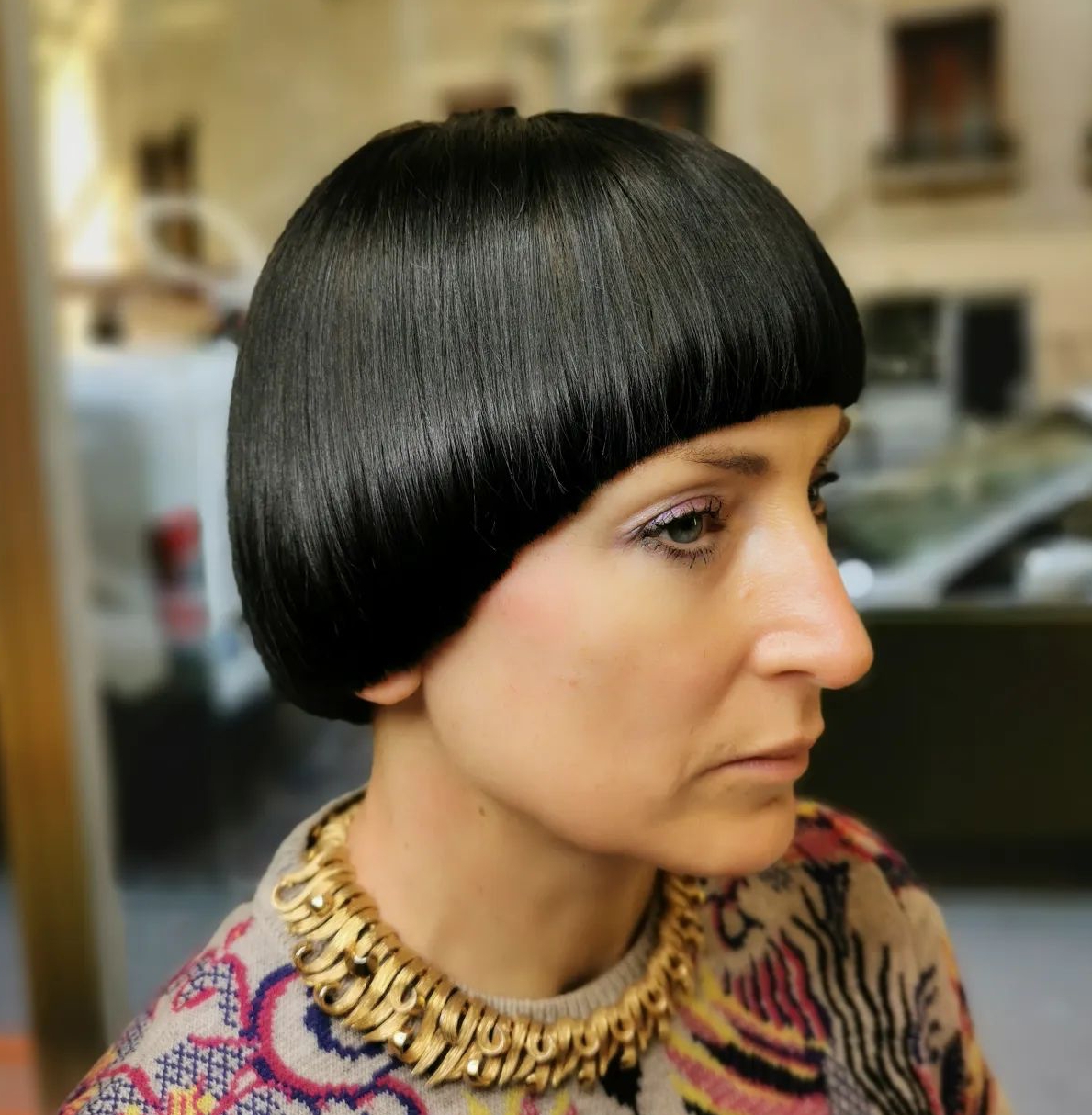 via @remthebarber_
Messy Pageboy Haircut for Stylish Experiments
If you like messy hair, try this variation of the classic pageboy haircut, filled with ease and lightness.
It is characterized by deliberately tousled and disheveled layers, emphasizing facial features and creating a carefree look. This haircut has only become more popular in recent years due to its bohemian style and simple care.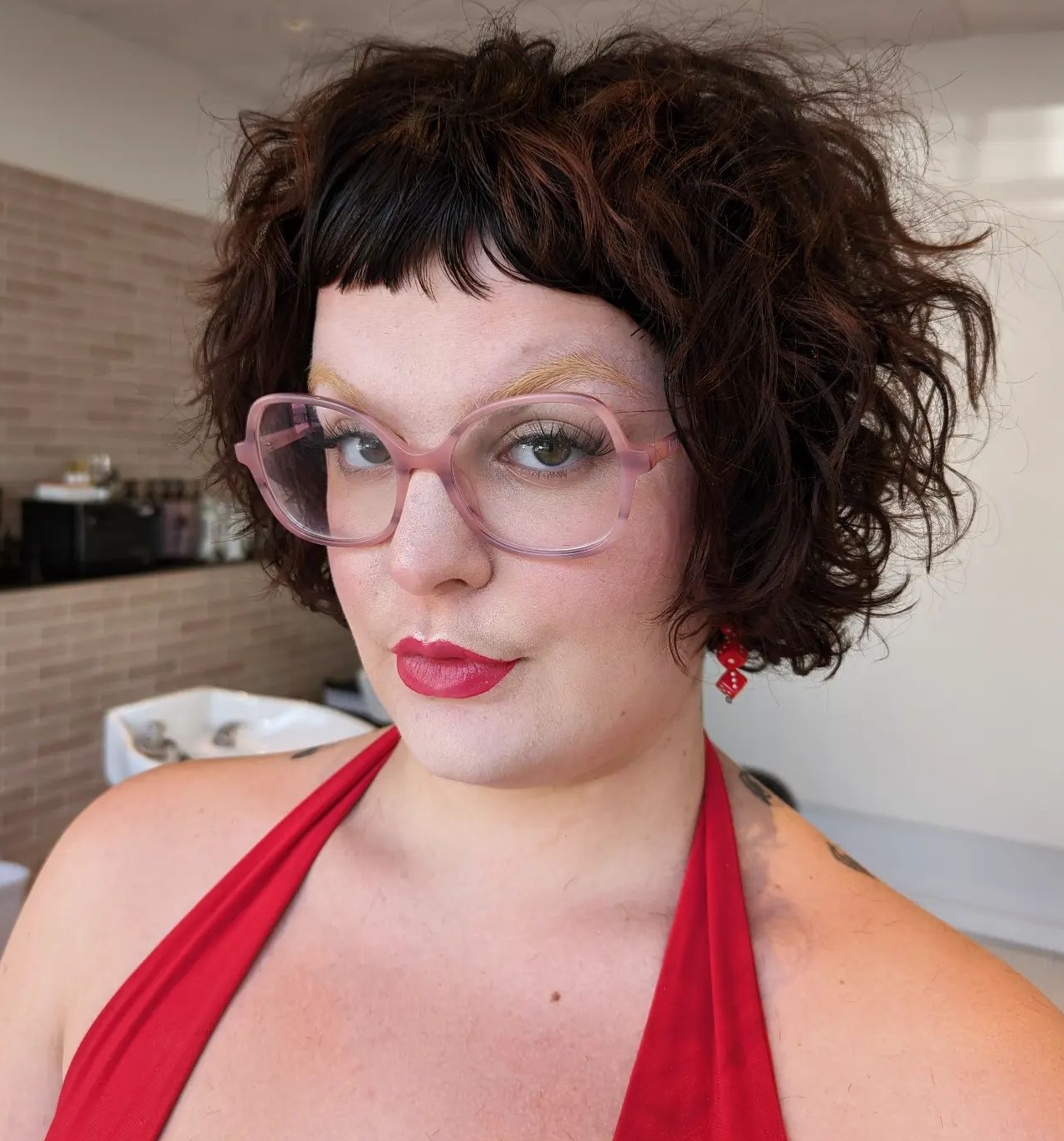 via @caylacutshair
Refined Blonde Pageboy Haircut
Do you want to transform your charming blonde hair? Pageboy with choppy layers will help you with this!
The blonde makes the traditional cut look fresher and brighter. Light shades emphasize the dramatic lines of the hairstyle and make it a model of sophistication. Moreover, this option is great for girls with different skin tones.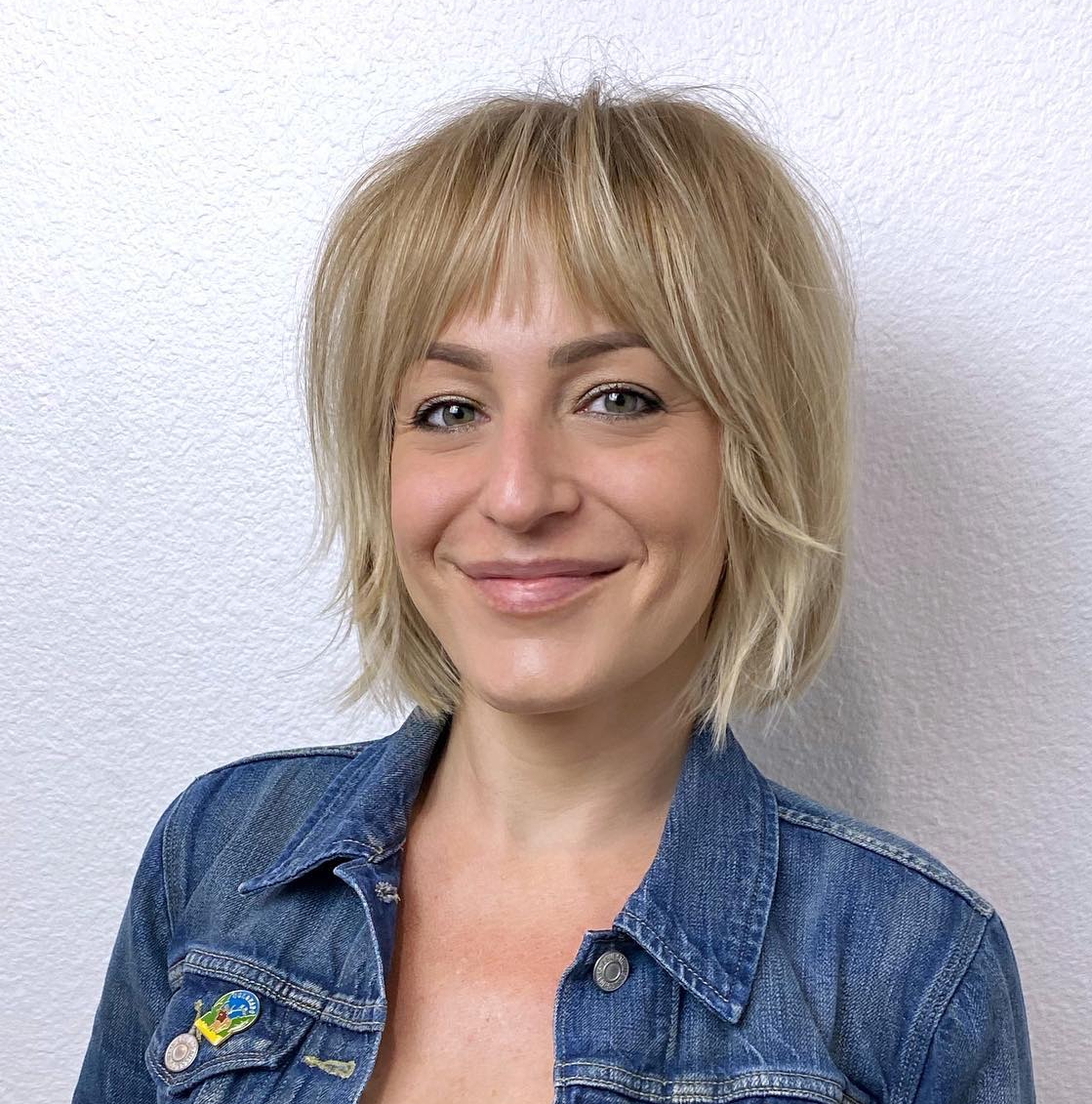 via @randa.rivera
Bob Pageboy Haircut for Casual Looks
What do you get if you combine a classic style of a pageboy haircut and a French bob with long bangs? It is precisely what stylists thought in the 1960s and decided to undertake serious experiments!
The resulting style combines a short chin-length bob haircut or slightly longer length with the Pageboy's signature straight, blunt cut and twisted ends. Versatility, elegance, and modernity are the main advantages of this hairstyle, which can be adapted for every girl.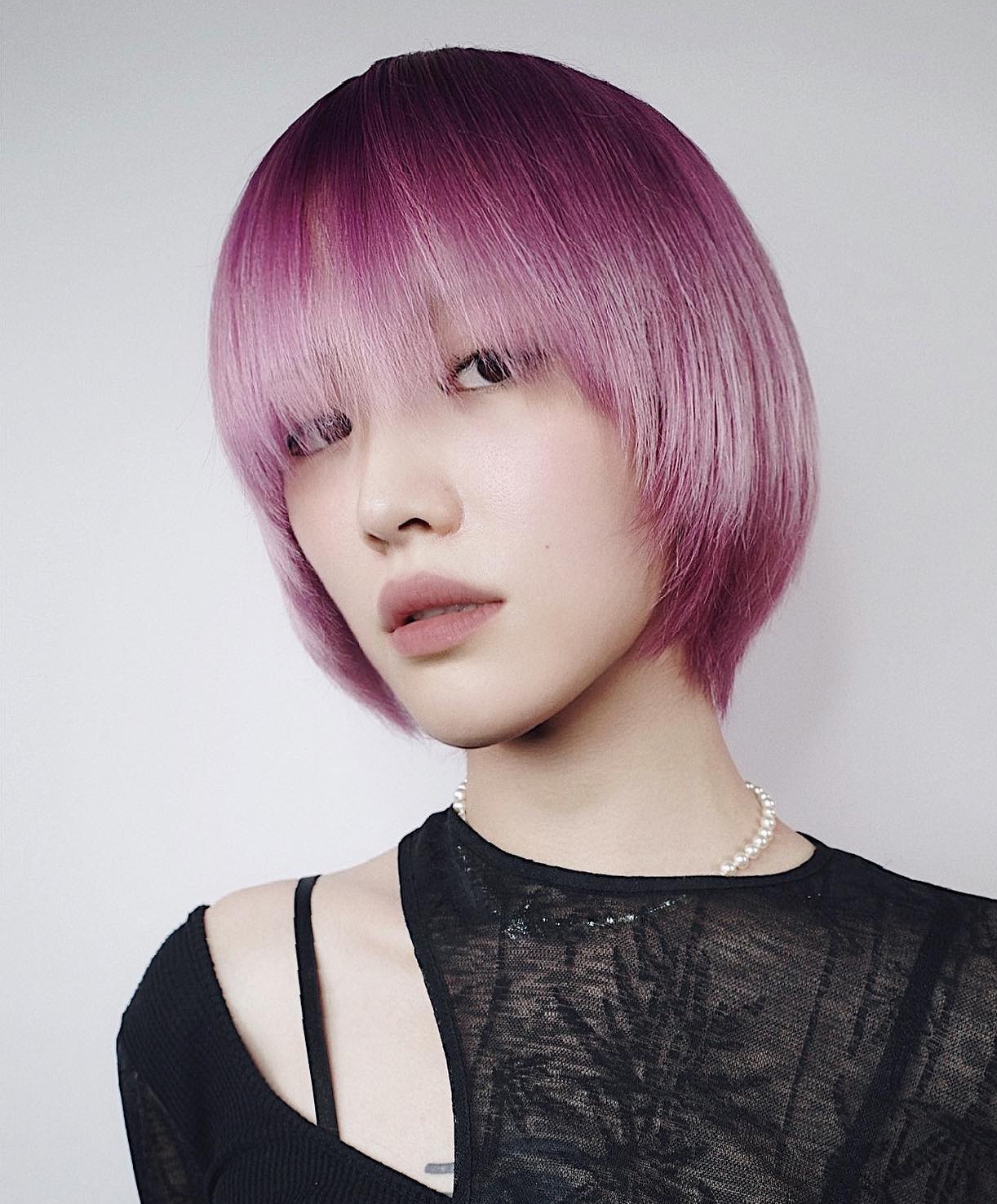 via @stanleyman001
Dutch Pageboy Haircut with a Touch of Elegance
The Dutch pageboy haircut, also known as the Dutch bob, combines classic Pageboy and Dutch bob elements.
The trendy, youthful haircut has a straight, chin-length cut with slightly curled ends, similar to a pageboy but with a distinctive Dutch bob shape that slopes slightly upward toward the back. This short hairstyle gained popularity in the early 20th century and remains an enduring choice for those who appreciate a sophisticated, minimalist look with subtle twists.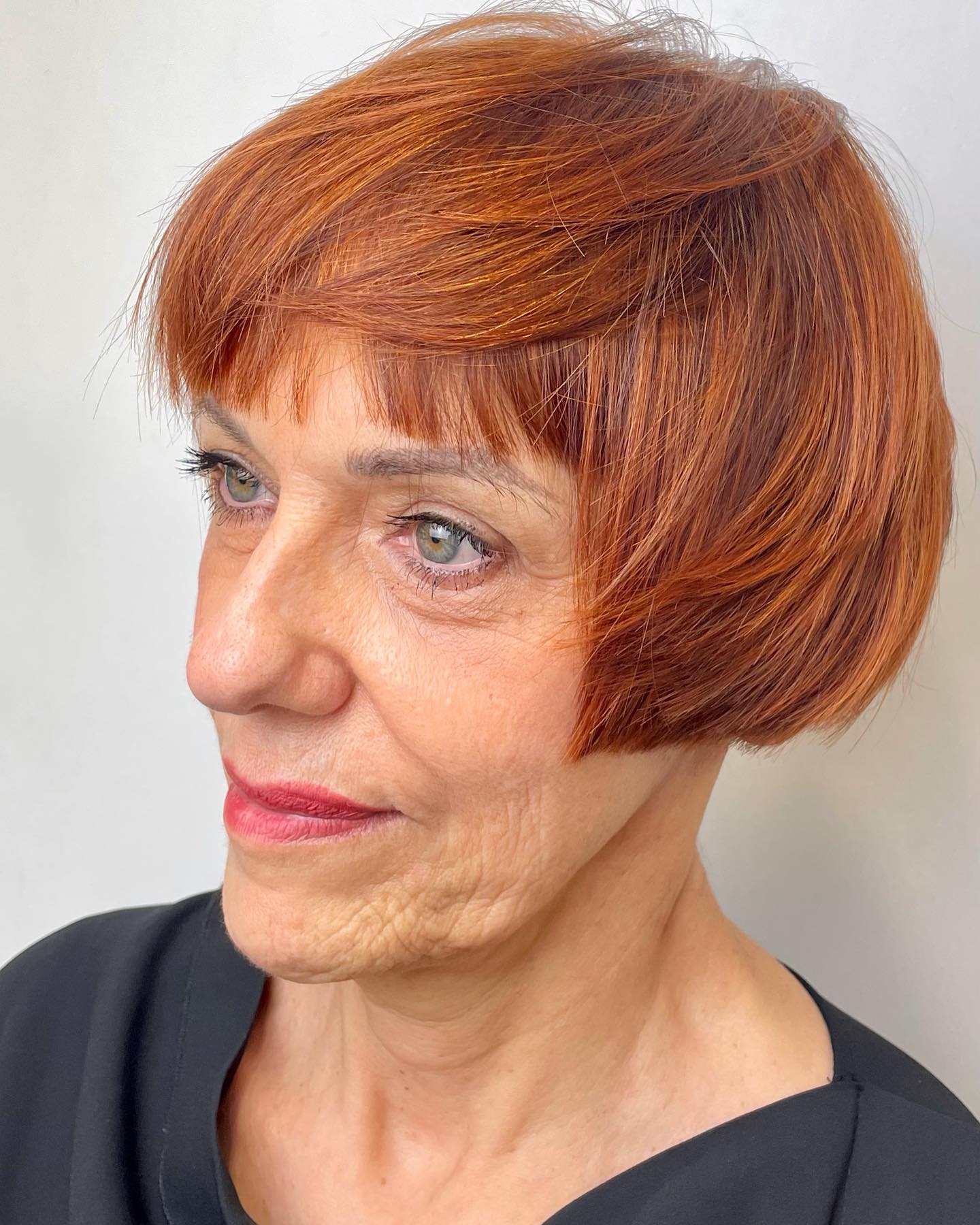 Romantic Wavy Pageboy Haircut
Do you need a short and trendy wavy hairstyle? Consider a wavy pageboy haircut for fine hair.
It perfectly combines natural waves and curl texture. The haircut has a characteristic straight, blunt cut with turned or curled ends, but the curly strands provide a gentle and romantic look.
This wavy layered cut has captivated women worldwide with its versatility: it can be adapted to different face shapes and hair types for everyday life and special events or crazy parties.
via @a_h_salon
Pageboy Cut with Bright Colors for True Rebels
Is it time to experiment? So, it's worth adding neon shades of pageboy hairstyle!
Feel free to express your creativity and individuality with vibrant colors. Do you want hot pink hair? No problem! Dreaming of neon or acid strands? Easily!
Feel like Hollywood stars who are not afraid to embody the most daring and rebellious ideas for self-expression – today, you can!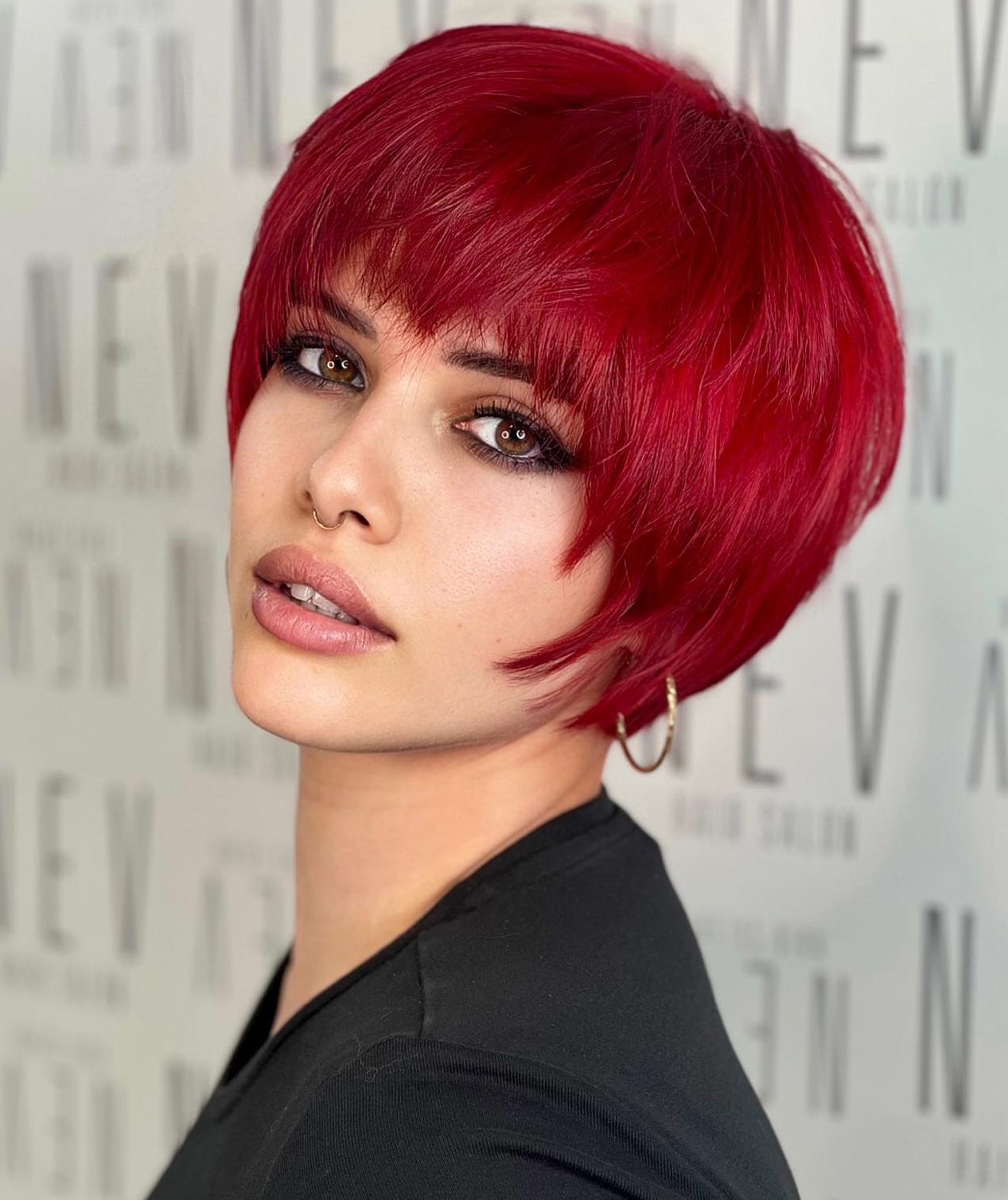 Exquisite Pageboy Haircut with Curtain Bang
Curtain bangs are a universal element that perfectly complements any hairstyle, including modern versions of a pageboy haircut.
A straight, laconic haircut with soft bangs will elegantly frame your face and even proportions. If you want to add charm and lightness to your everyday look, these bangs are what you need!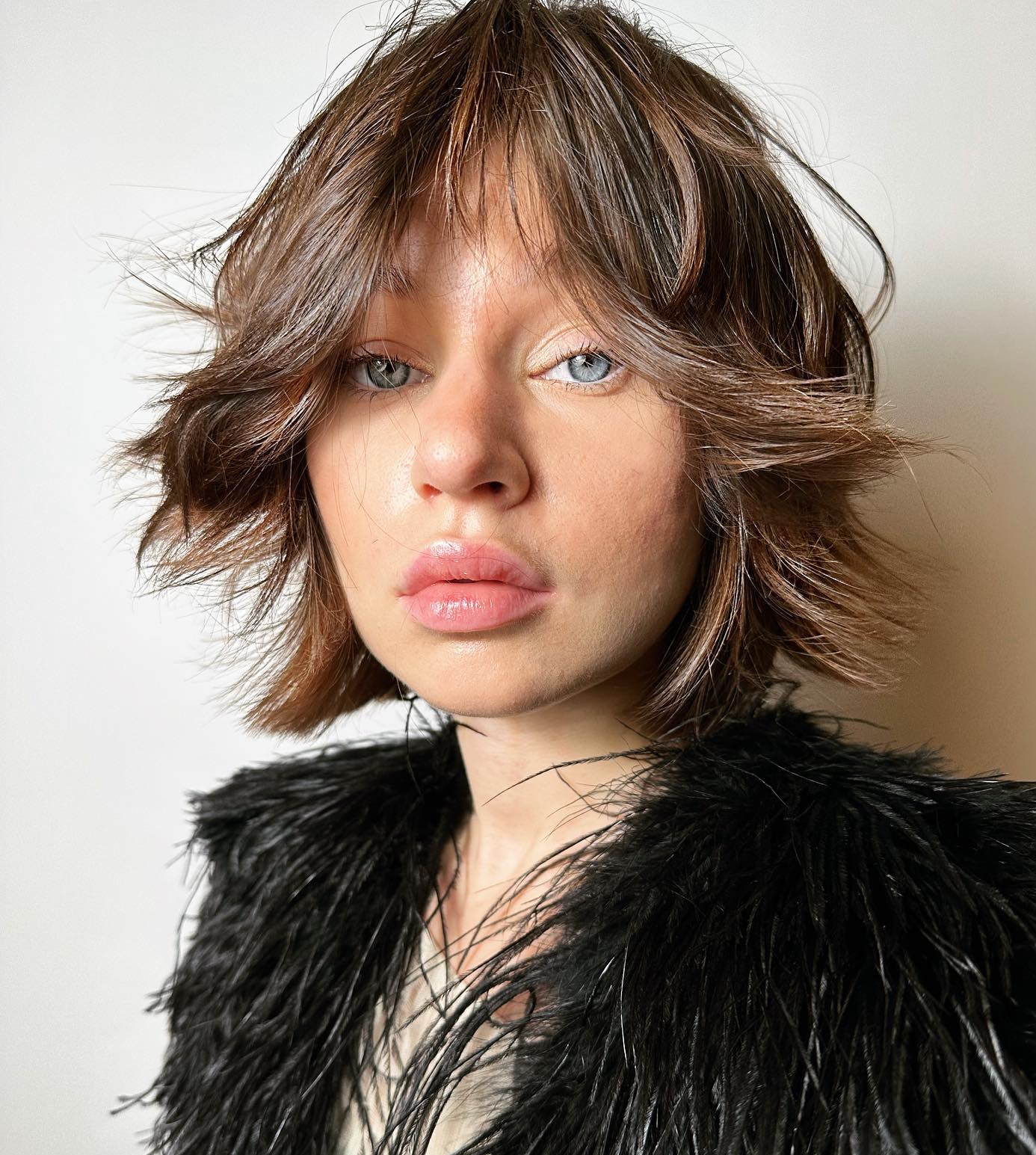 Bold Pageboy with Undercut
For fans of undercut ideas, such a stylish variation of the classic Pageboy has been created as a page with an undercut.
Suitable for all face shapes and hair textures, this hairstyle combines structured top layers with shaved or cropped sides and back.
The bold and dramatic undercut contrasts with the Pageboy's conservative lines, creating a fantastic visual effect. Experience it for yourself!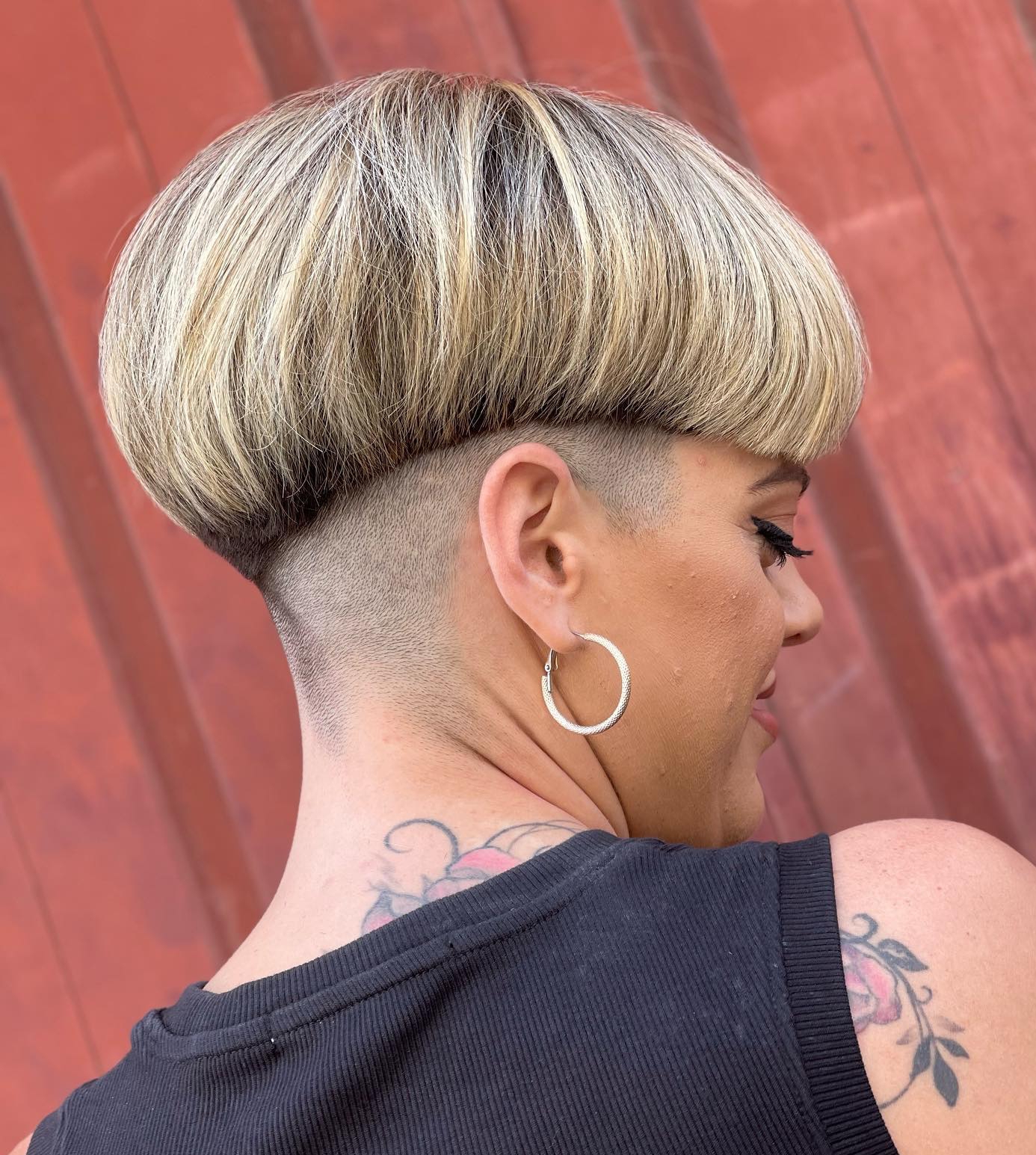 FAQ
How to style a pageboy haircut?
Page haircut is an eternal classic that requires compliance with recommendations for hair styling. So, we offer you a simple guide to create the desired image!
1. Make styling only on clean hair.

Wash and dry your hair. Use shampoo and hair conditioner to achieve the best state of strands.

2. Attend your hair to styling.

Apply a heat defender to strands evenly. It will reliably protect the hair from the harmful action of high temperatures working with hair iron or curling forceps.

3. Divide the hair.

As a rule, the page has a pronounced Part Down in the middle of the head.

4. Straighten your hair (if desired).

Are you a happy owner of playful curls? Then you have to straighten them with an iron. Before using tools for heat-laying, make sure the hair is dry. Spend with an iron in small areas of hair: start from the roots and slowly advance to the ends.

5. Create the twisted ends.

Twisted or bent ends are a distinctive feature of a page. You can achieve this effect in several ways:

Hot curlers. Wrap the strands of hair on hot curlers, paying attention to the tips. Fix the curlers until completely cooled, then remove them.
Curling tongs. Keep them horizontally and wrap small strands of hair around the forceps, rolling it under yourself.
Iron (for a thin coup). Click a strand of hair near the ends with an iron, then slightly turn the iron and pull it down.

6. Add a little volume (if desired).

For additional volume, gently comb the crown or apply a voluminous spray at the roots. It will lift the upper part of the hair and make the hairstyle more air.

7. Apply hair varnish.

Medium-fixed hair varnish will help you fix the shape of your hairstyle and wrap ends. Spray it evenly on the strands and follow the recommended distance to not "weight" the hair.
The styling technique can vary depending on your type of hair and the length of the page haircut. Experiment with various methods and create the image that matches your style!