The bowl haircut resembles the mushroom cut so closely. Of late, this classic hairstyle has been witnessing a comeback of sorts. But this time, the look is way cooler with a punk feel but messier than before. Just the style that goes with your sexuality!
Today, we'll talk about bowl cuts for different hair textures that are truly inspirational.
What is a bowl cut?
A bowl cut is one of the easiest to manage. It looks like a bowl has been applied to your head while cutting the hair. The back and front hair lengths are the same, and it's a straight fringe cut. You can even have longer hair at the back to suit your face.
Classic Bowl Cut Elegantly Frames Your Face
Straight bang hairstyle that frames the face! This is the classic bowl cut and comes to the mid-forehead. It's an excellent cut for thick hair. A straight bowl cut has equal hair length around the head.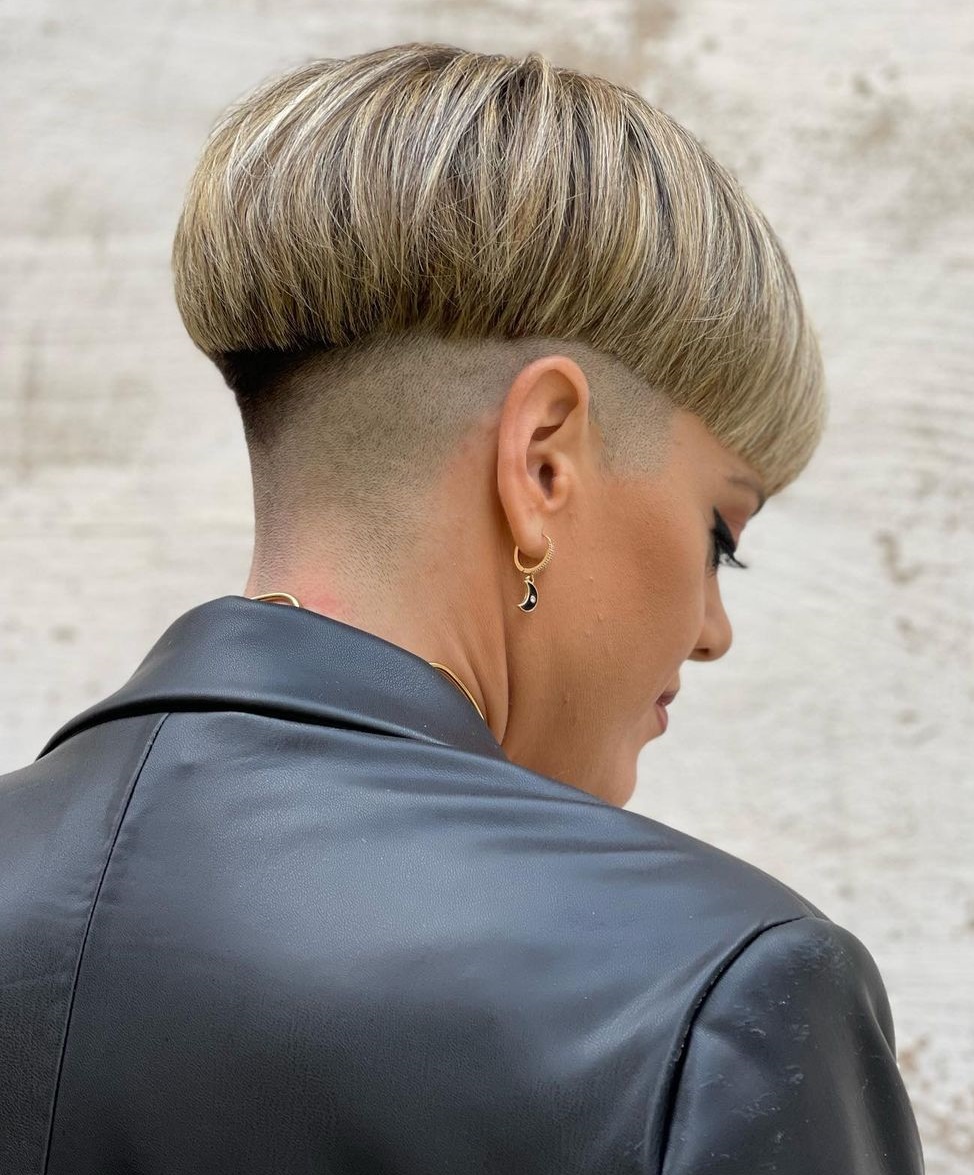 Pixie Bowl Cut For a Moden Style
For people with thin hair types, this spiky bowl cut is ideal for giving your tresses a trendy overtone. It looks like a modern hairstyle with shaved sideburns and bright colors on the underside and top. Dare and bold, this is a very tomboyish haircut.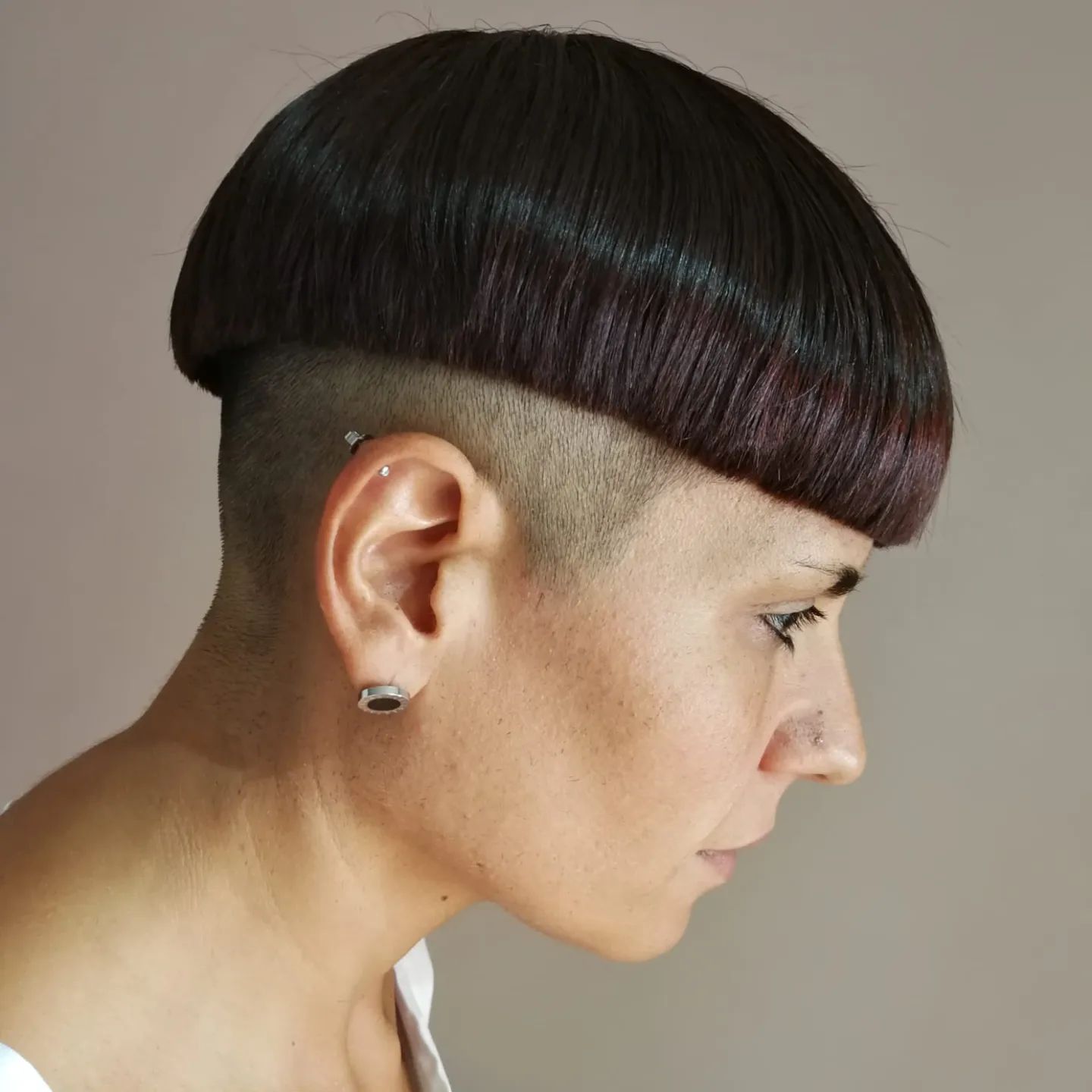 Bowl Cut on Thick Hair Gives a Retro Style
You should try this volumizing haircut if you have thick hair and an oval face shape. The asymmetrical bang makes the retro look stylish and also helps highlight your facial features.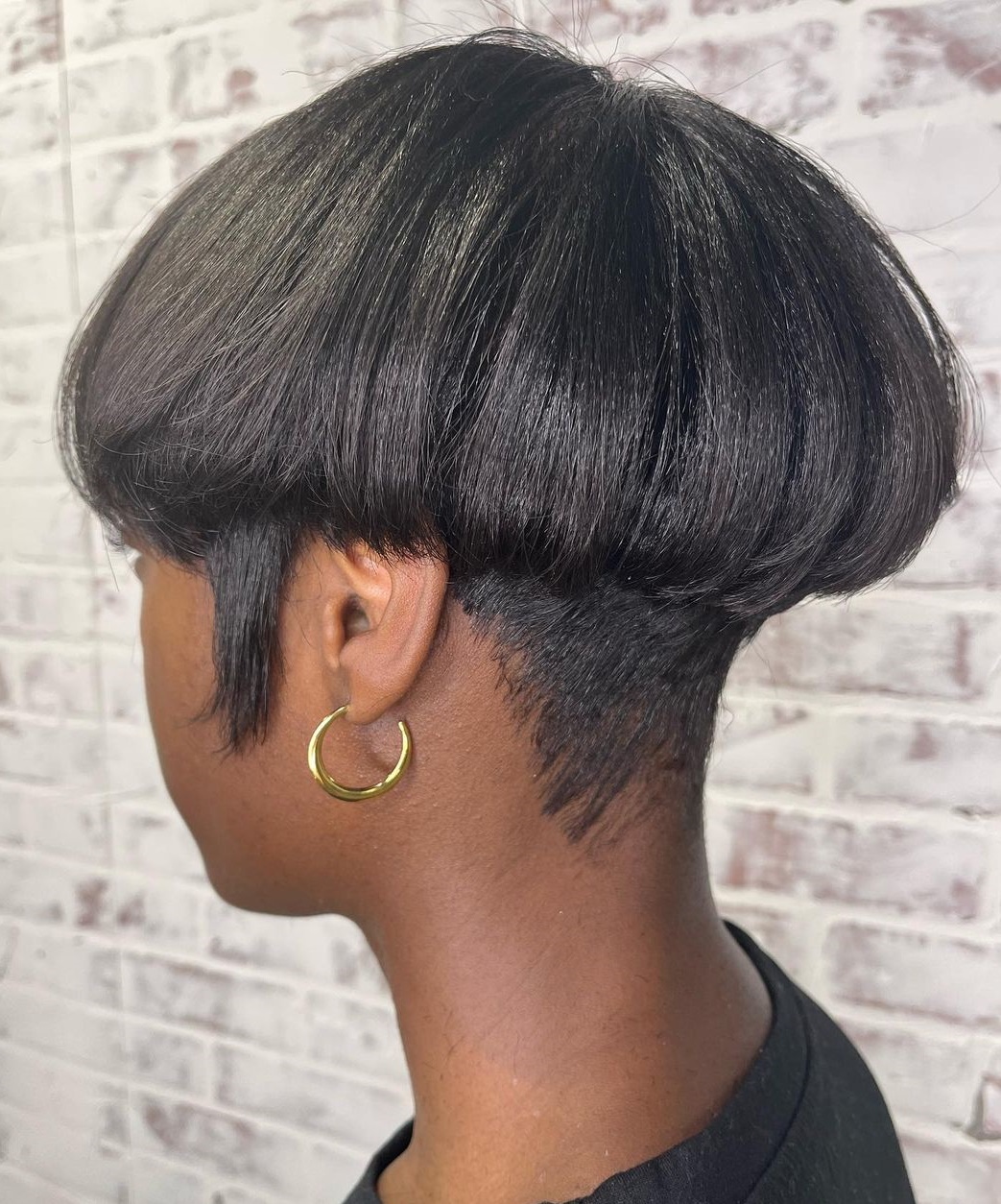 Curly Bowl Cut Looks Quite Stylish
The layered bowl cut is a must-try style for people with natural curls. Not just convenient, but also the vintage edge makes it all quite stylish. The classic style looks neat with tapered sideburns, experiments with shaved sides, and other fun styling techniques.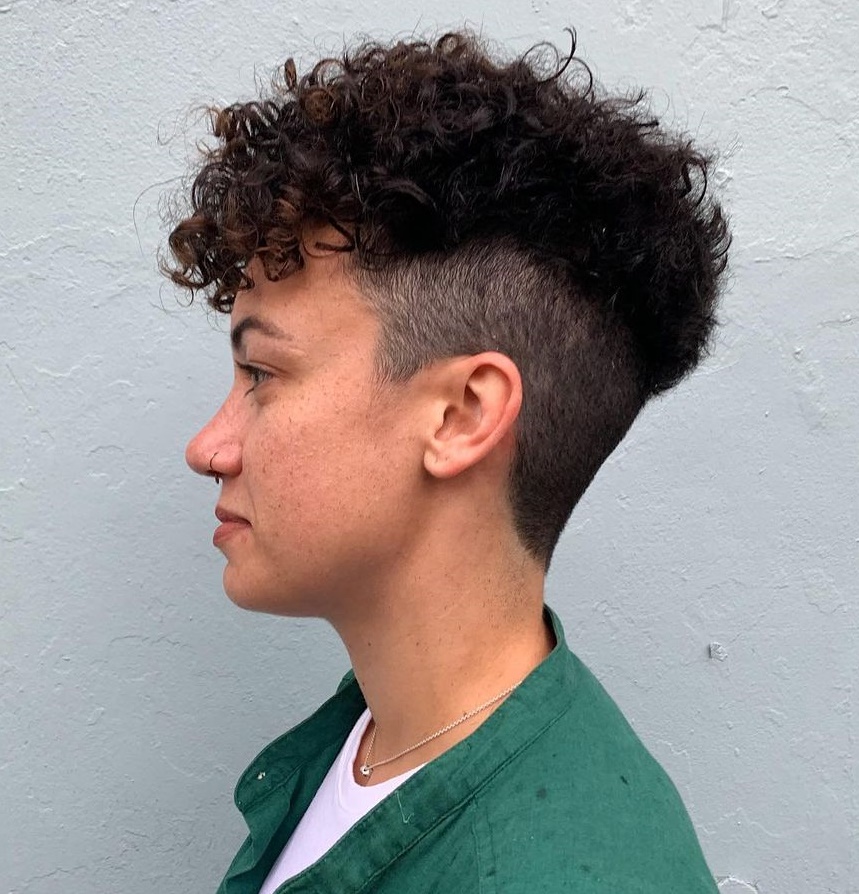 via @mouseybrowne
Bowl Cut with Edgy Bangs For a Cool Look
This style has a shorter cut on top. It is a low-maintenance bowl cut with shaved sideburns and challenges the classic style. For added texture, you can keep the bowl cut shorter with a long fringe in front. The side bangs can be accented with a pop of color to give a cool look.
via @barnets_by_bean
Choppy Bowl Haircut Looks Impressive
It looks similar to the French crop, but this textured cut has a buzzed side. It's a modern bowl cut that gives you a very youthful look. If you have straight hair, an uneven front line gives a wavy hair look. Looks different and impressive.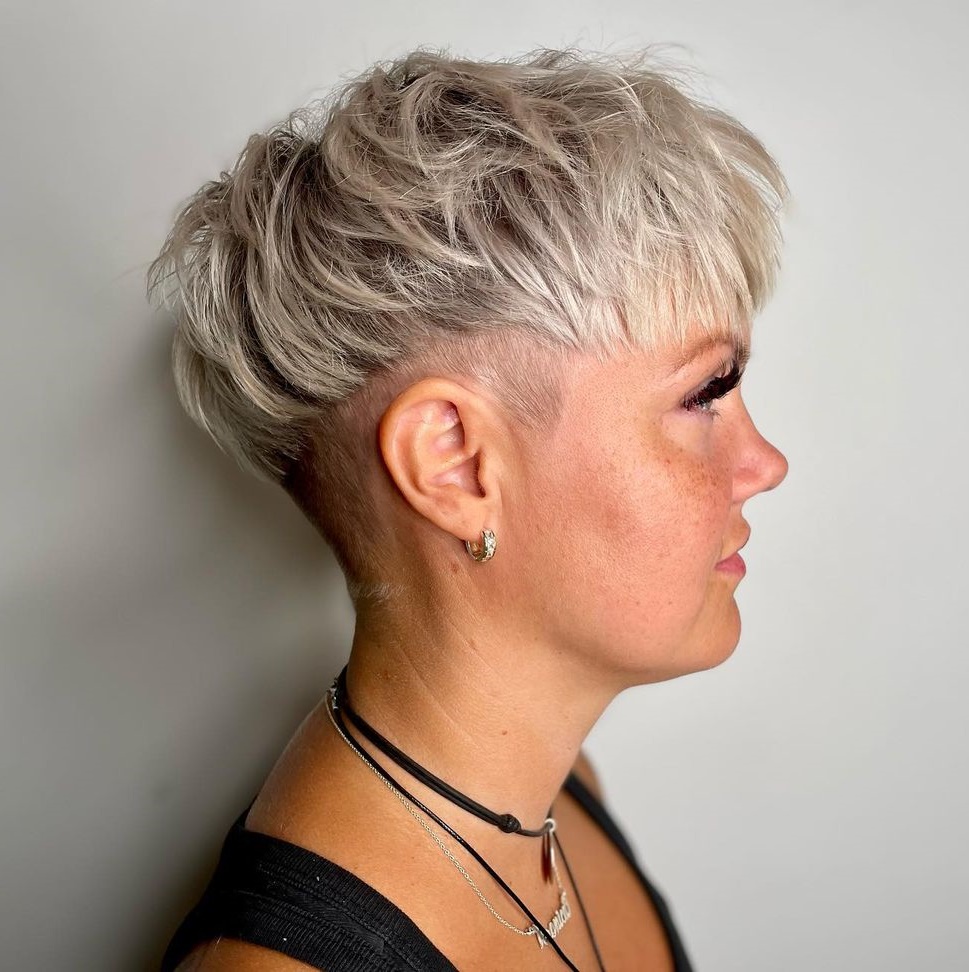 via @anitaoveraa
Medium-Length Bowl Cut Offers You a Refined Appearance
It's a superb haircut for any hair type and includes a middle partition. With a refined appearance for your round face shape, get ready to highlight your best features. The medium-length cut comes with wispy bangs that can either be tucked behind the ear or left loose.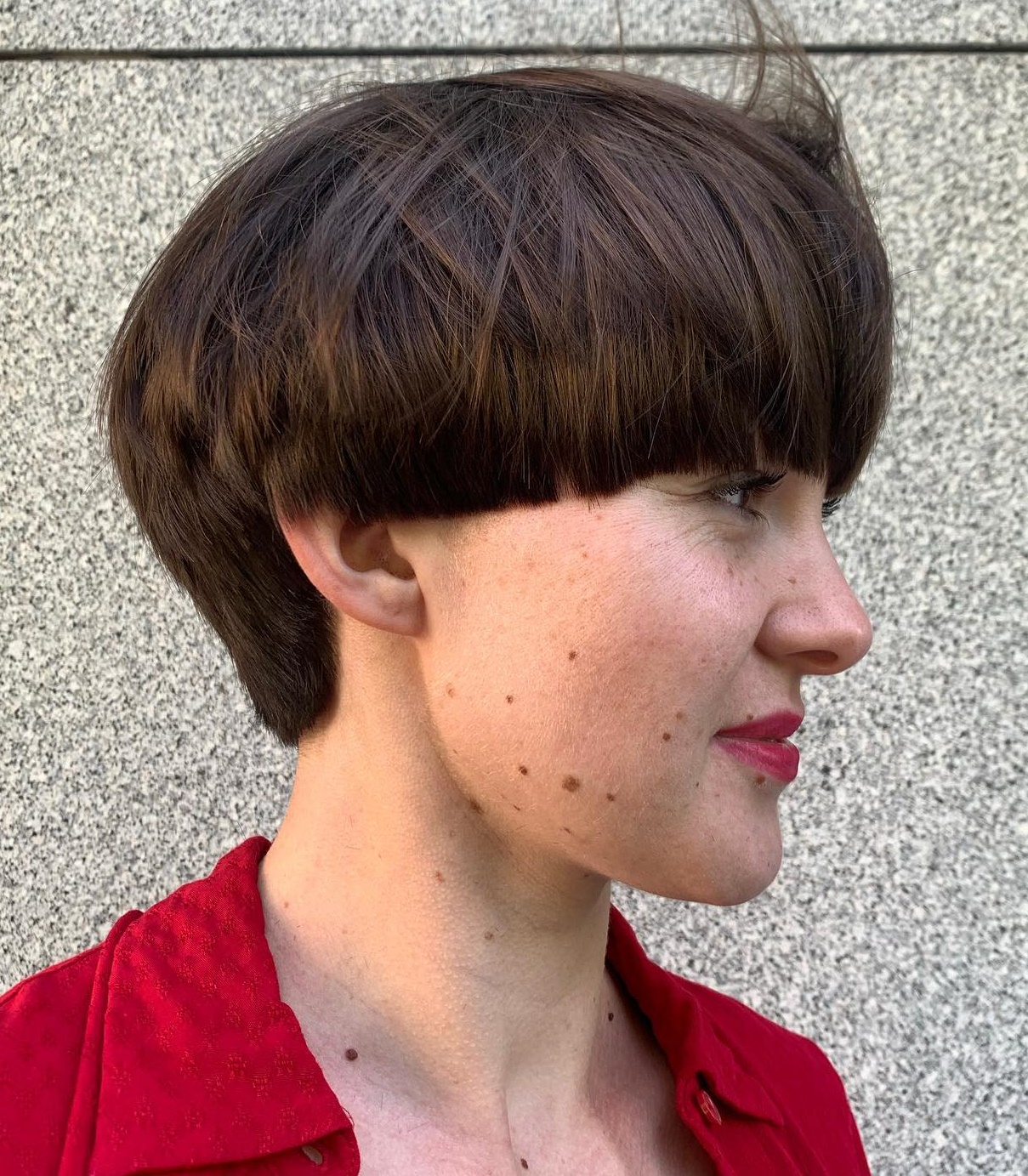 Ravishing Blonde Bowl Hairstyle
If you have blonde hair, you can try various colors and cuts on your hair, including the choppy bowl cut. Try the platinum blonde hairstyle or any other pop of color. You can also experiment with different bowl-cut shapes that suit your face shape and try layering the bowl in pastel hues.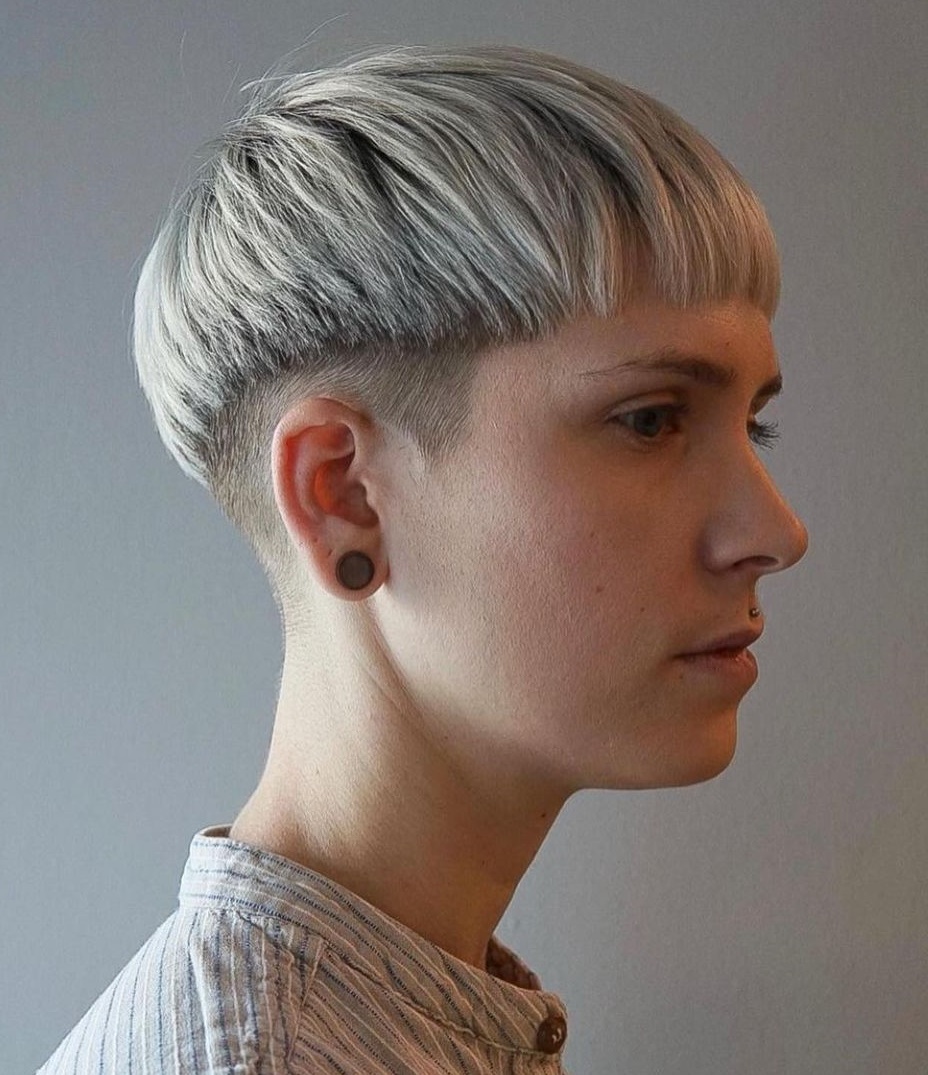 via @kompaniettowe
Bowl Style with Undercut Looks Edgy
Be it a man or a woman, today, seekers of stylish-looking hair love undercut hairstyles. Disconnected undercut or popular shaved sides is a good combo with the bowl cut for a chic look. Cleanly shaving the sides gives an edgy fringe and is a youthful cut idea. This haircut flatters faces of all shapes.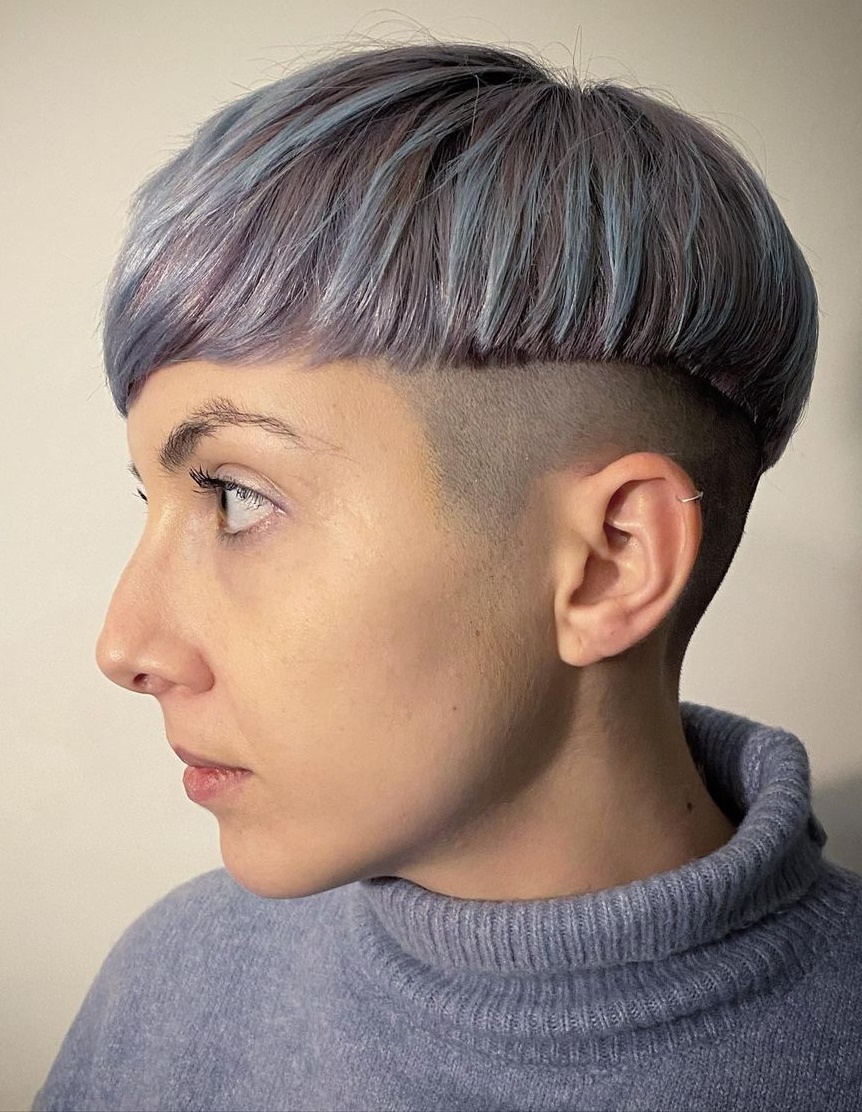 via @marina_velea
Messy Bowl Cut to Flaunt Your Silky Tresses
A messy bowl haircut is a mushroom cut with blunt bangs and long bull cuts. This is a bold hairstyle that highlights the person's eyes and cheekbones. The asymmetrical choppy haircut is a good choice for silky hair. The tousled twist makes this a sophisticated hairstyle.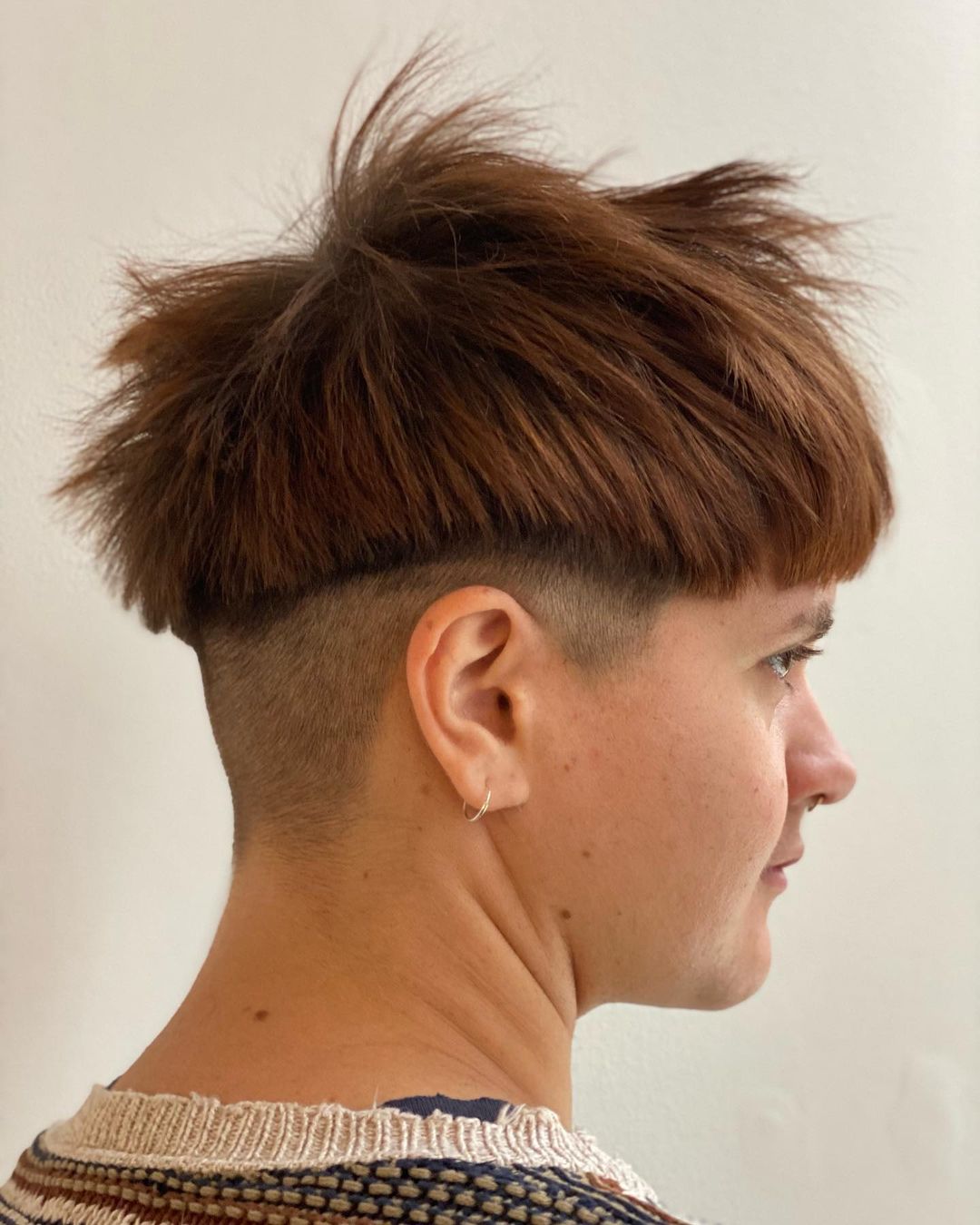 via @hippiefliphair
Bowl Cut with Highlights Lets You Make a Statement
If you have silky smooth straight hair, go for a bowl cut with blonde highlights. The look is amazingly cool, just like a modern-day rockstar. It would help if you worked closely with your hair stylist to highlight the right parts with bright colors.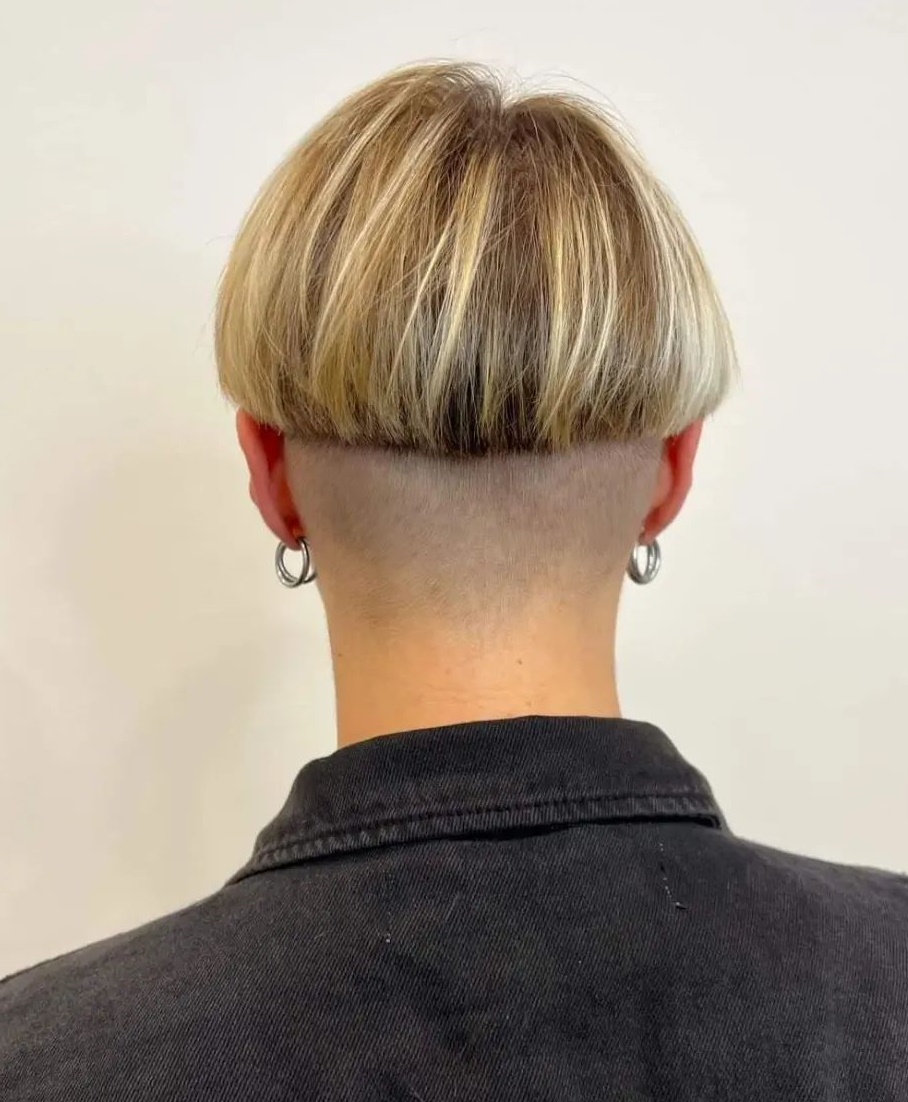 Choppy Lavender Hairstyle For a Fab Look
Give your hair a pastel purple shade, and your messy bowl cut will appear as gorgeous as possible. It's a new hairstyle to try and helps you push your boundaries.
Why stick to a set concept or go with the classical look? The long bangs at the temple look fab, with the cropped hair at the nape.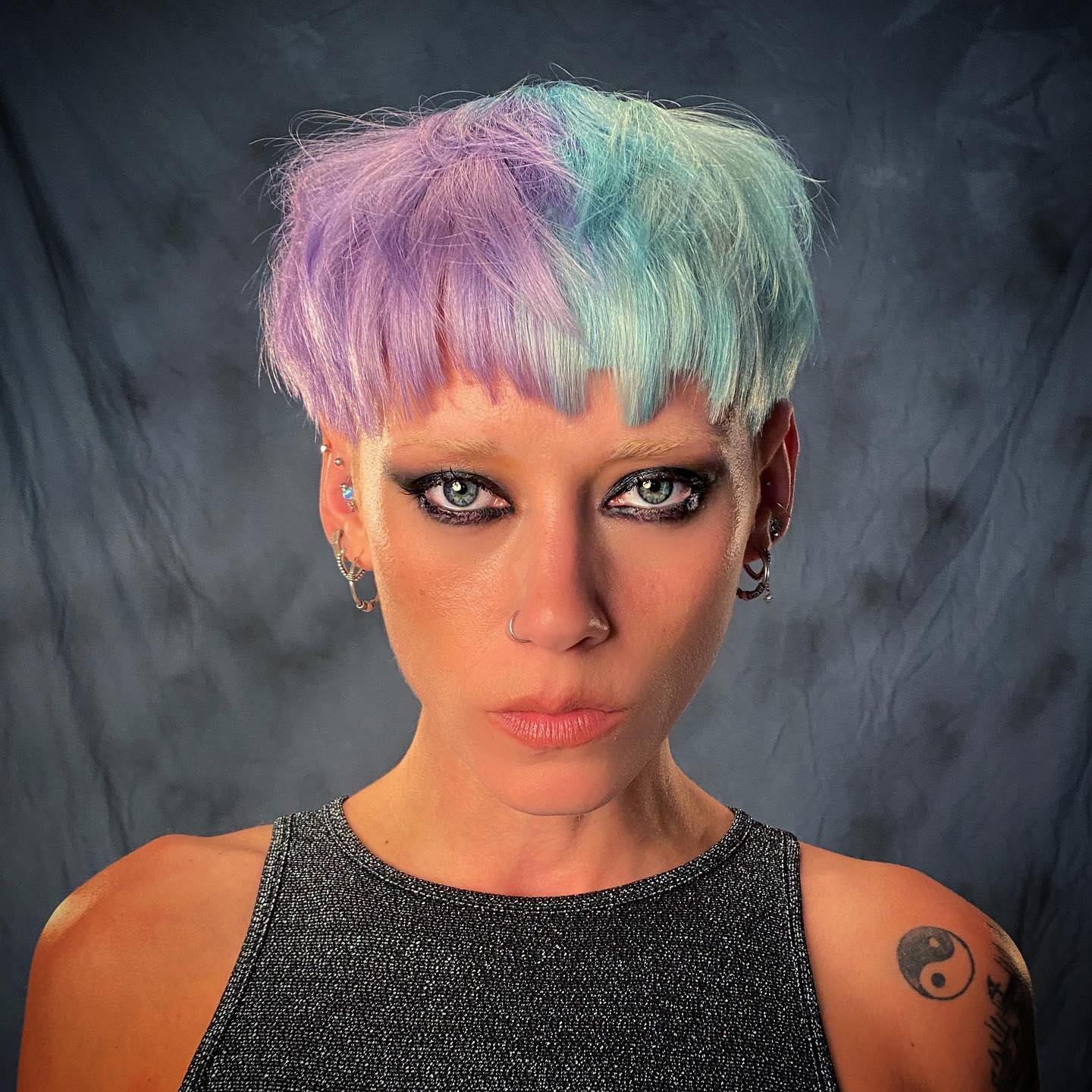 via @caseyc_hair
Deep Part Hairstyle Gives You a Sassy Style
Go for the deep part style of modern bowl cuts for a daring you. It is sophisticated and chic. Choose a new hair color with soft highlights, a deep part, under shave, and long bangs, and you are ready to look your sassiest best. A great hairstyle for straight or wavy hair structure, and the deep part looks best with a color fade effect.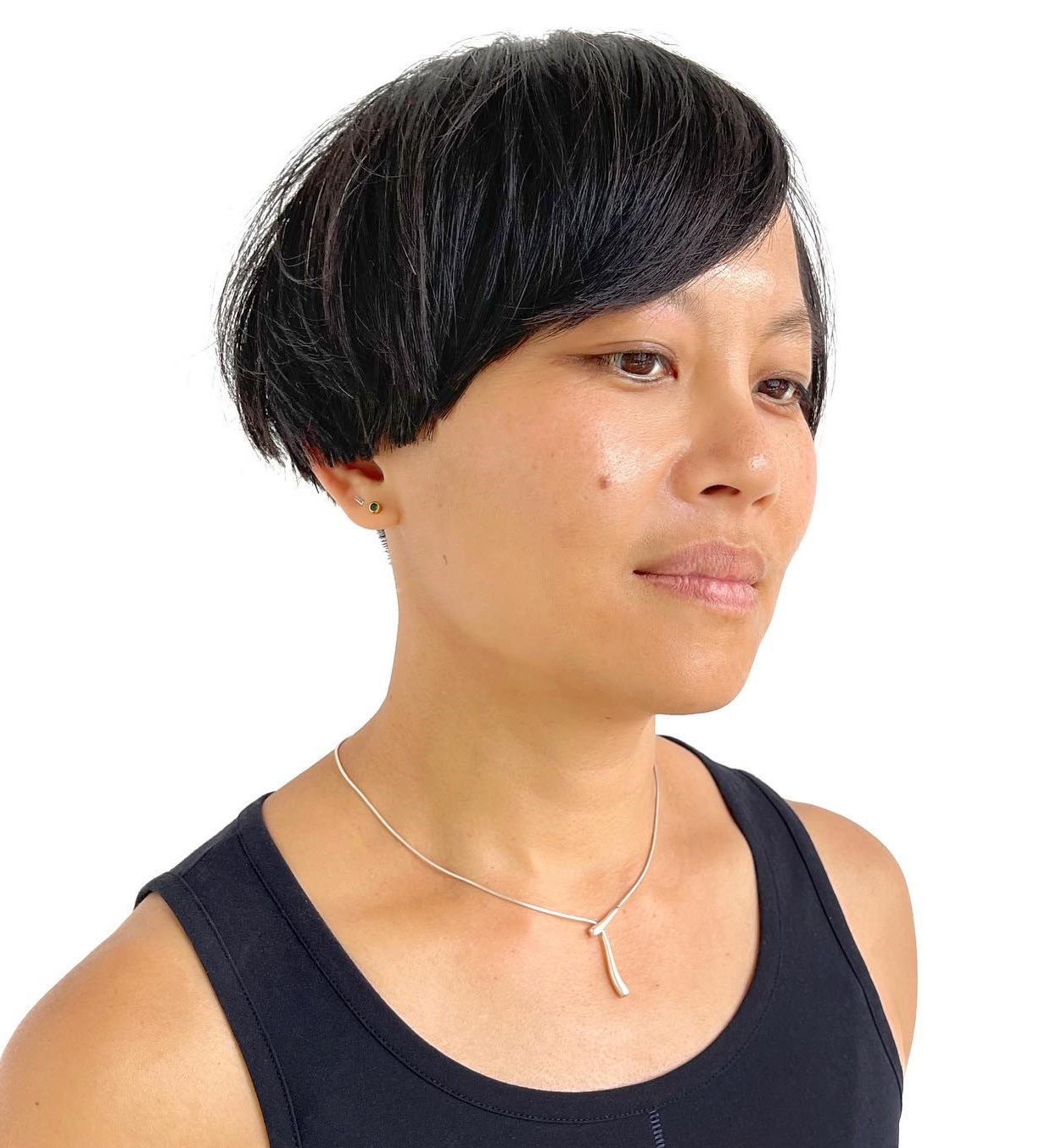 via @__k_vu__
Multicolored Hairstyle to Showoff Your Happy Personality
A curly bowl cut is the best hairstyle to experiment with multiple colors in one go. This one is a popular choice for people with warm skin tones. In bold and graphic multicolored hairstyles, you can try orange and red shades, green, platinum bold, gray, and more. Looks great on men and women.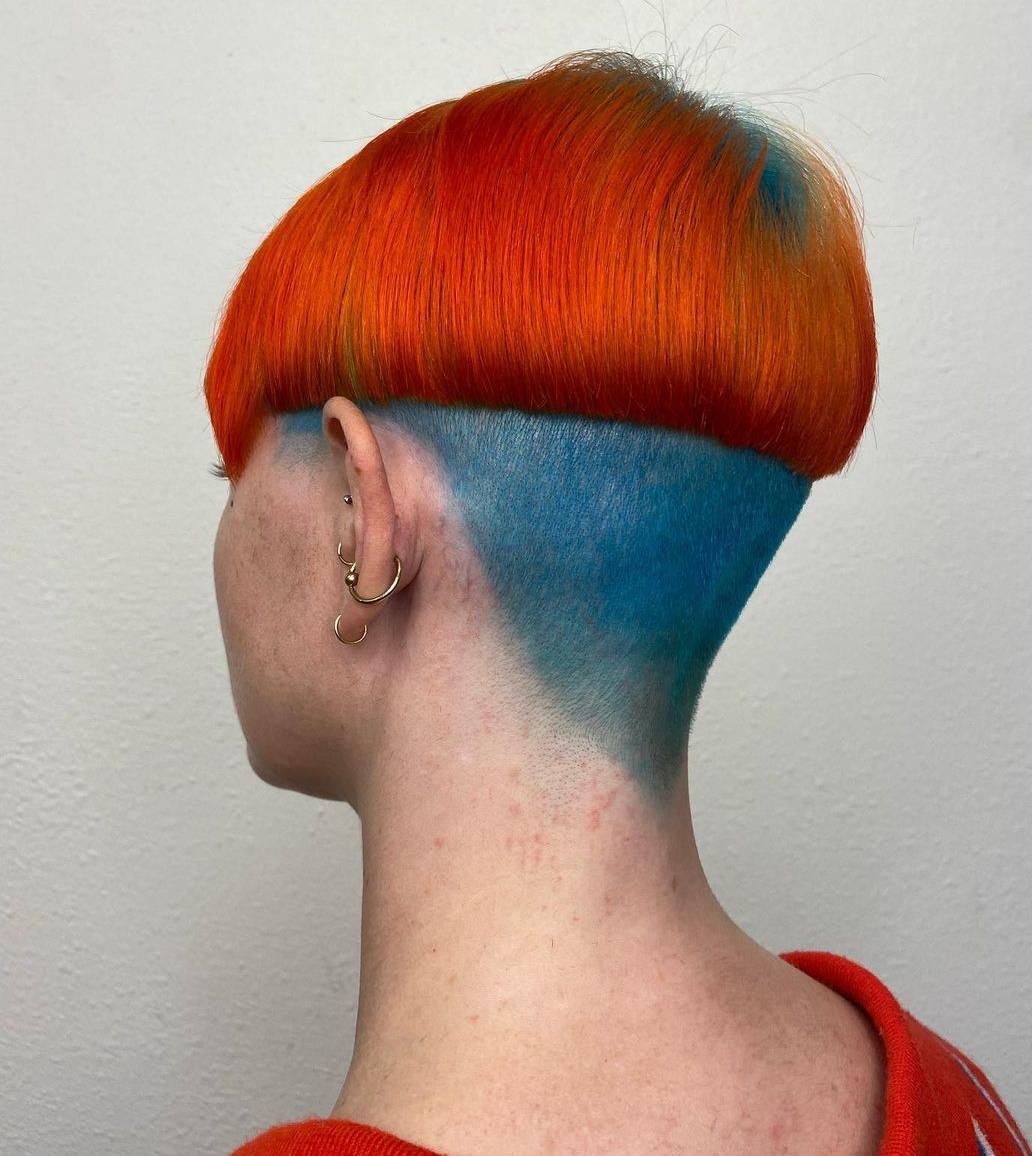 Feathered Cut with Undercut Looks Flattering
A feathered haircut resembles birds' feathers and is layered similarly. It is another youthful bowl cut that looks amazing on men and women. The shaved sides cut is a glamorous take on the classic look.
The soft feathered layers on top with a sexy undercut are an excellent style option for a brighter you.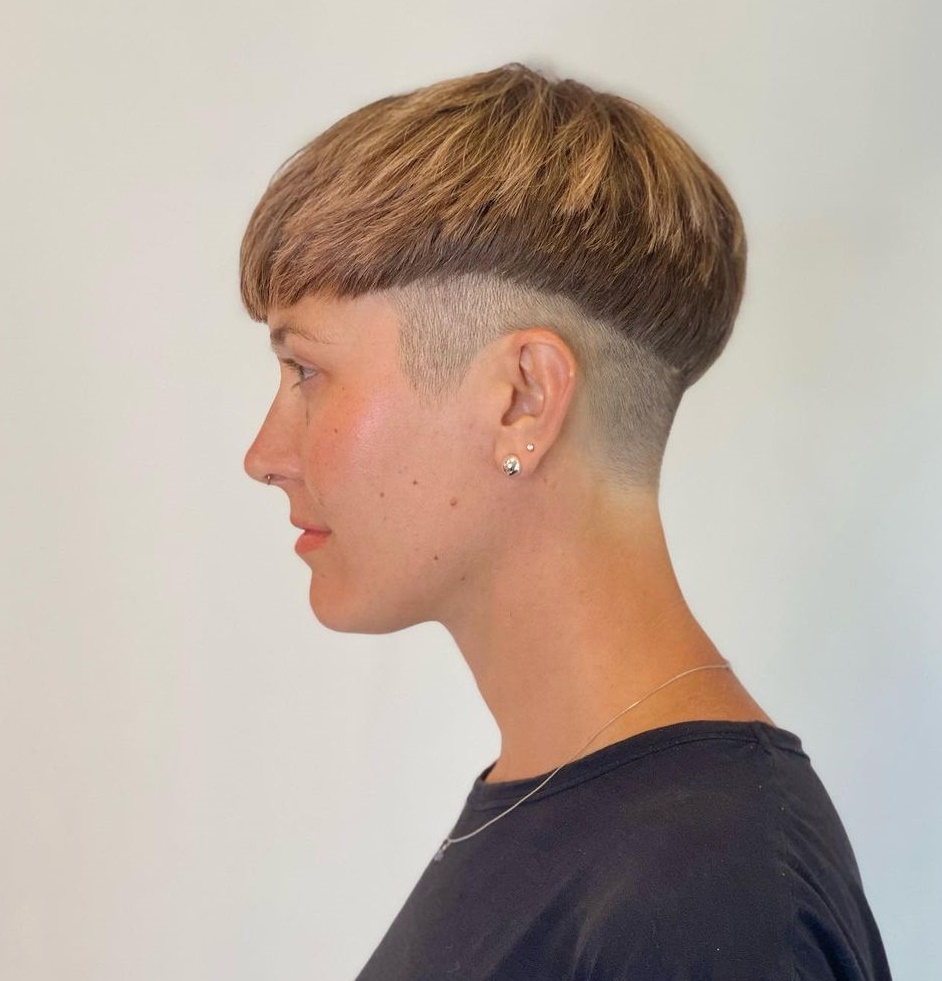 Sophisticated Bowl Cut with Heavy Bang
The bowl cut with heavy bangs is a sophisticated style for an oval face that highlights facial features. The longer and heavier bangs give layers to your hairstyle to add texture to your cut. The thick straight hair falls from the crown to accentuate all your facial features.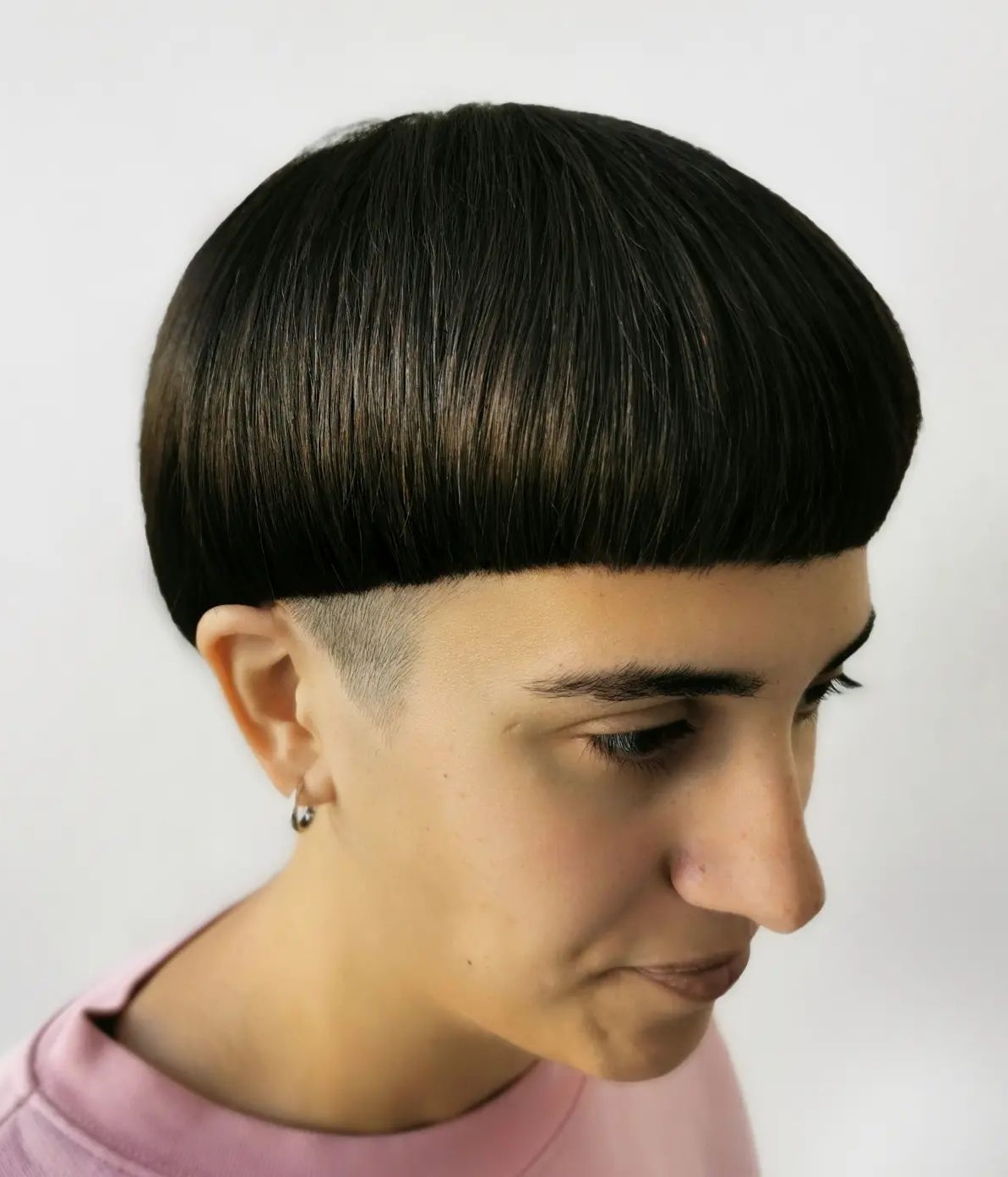 Asymmetrical Bowl Cut Takes Your Style to Another Level
More on the lines of the multicolored bowl cut, this trending style involves bright colors for your new haircut. Go for a mix and match of vivid colors. This style has asymmetrical bangs and sides typical of a bowl cut with highlights. A fantastic style for blonde hair with pink and black shades!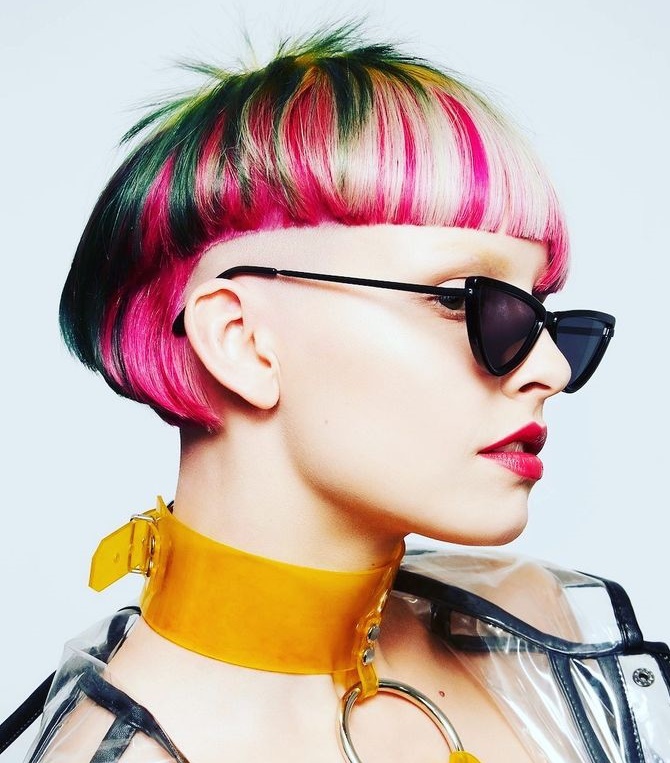 Bowl Cut Hair with Colored Fringe For a Dramatic Appearance
Why not break stereotypes and go with a short bowl cut with colored fringes? With shaved undercut, this one is a good try for hair of all colors. Use bold colors to highlight the fringe. Keep longer bang.
Green or henna color looks great with black hair. But don't stop at just that – use the pinks, blues, and purples for dramatic effect.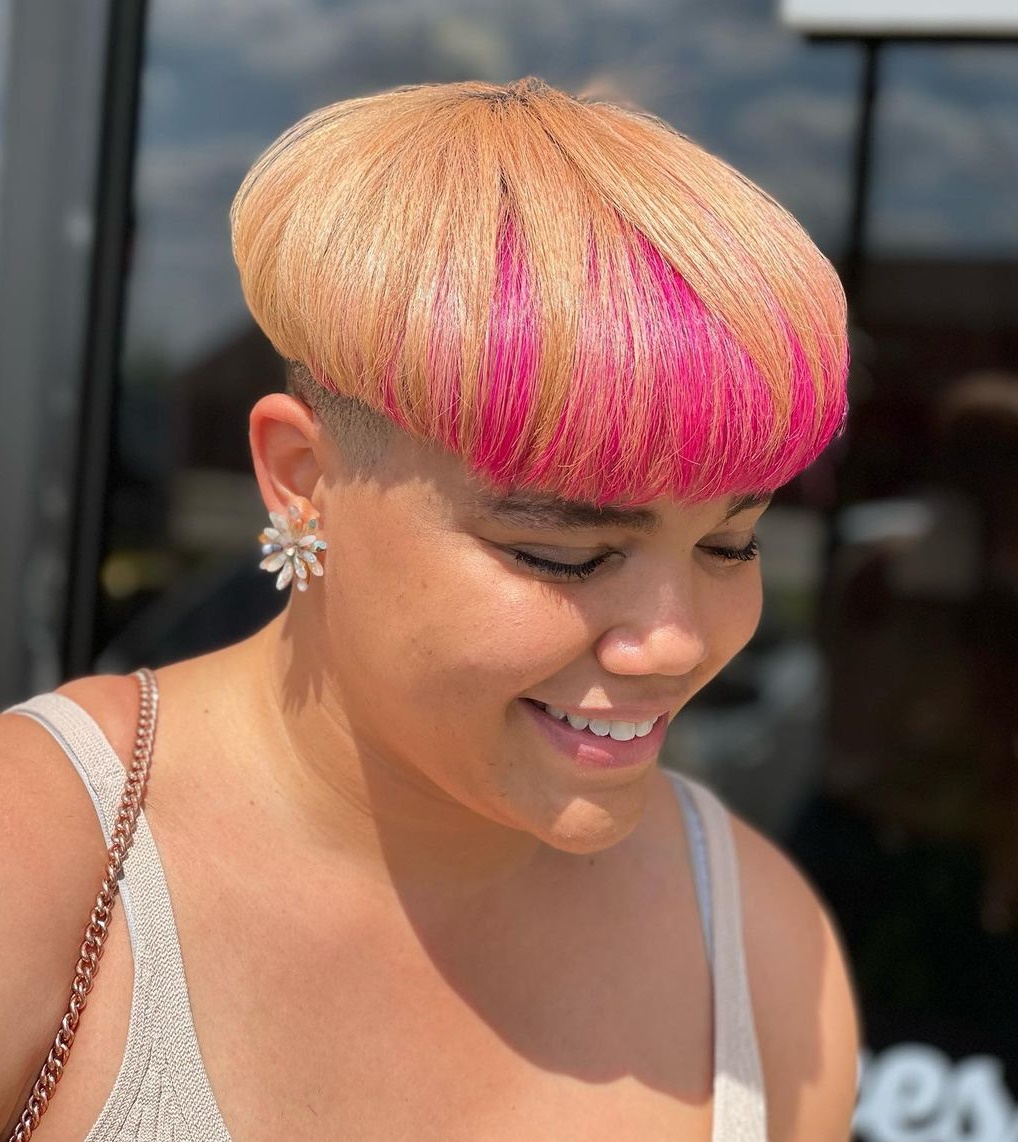 via @jmarie_styles
Turquoise Bowl Cut is Adorable
Your adoration for the sea colors can be well exemplified on your hair with the turquoise bowl with an undercut. The entire mass of the mane is colored in shades of blue for that beautiful look. It suits a spiky haircut, and your straight hair comes alive with this low-maintenance hairstyle. Get ready to give your bowl cut a fire version!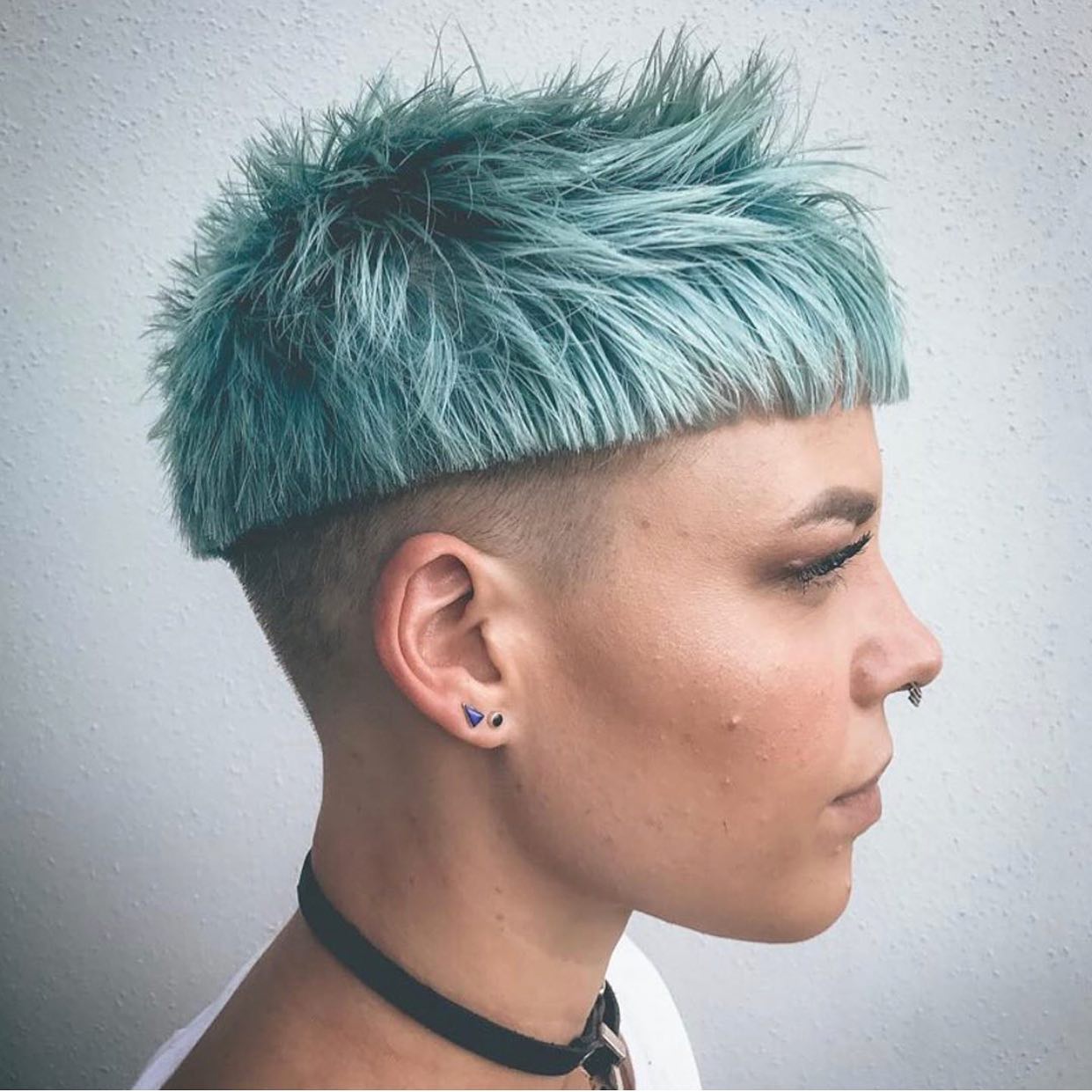 via @joeltorresstyle
Neon Pink Hairstyle is Truly an Attention-Grabber
Want all the attention at your age? The bowl haircut for older women with neon pink color is too flattering, and you must give it a try. Relieves from looking after long tresses, this modern short haircut is all about convenience, style, and a funky look. The hairstyle is an option to try on straight or wavy hair structure. Looks good either way!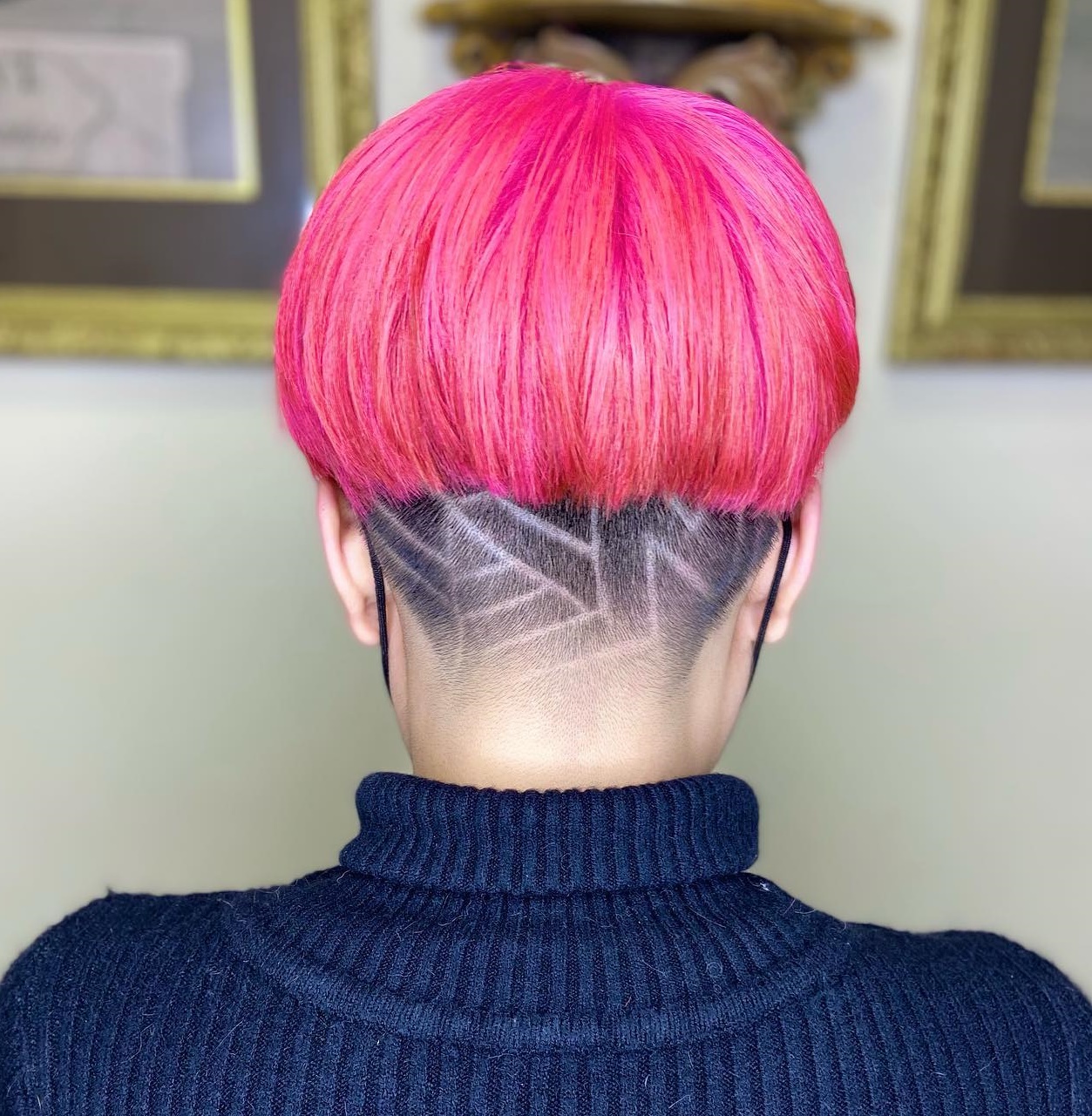 Blunt Bowl Haircut For a Vintage Hair Look
Convert a blonde bowl cut into a blunt hairstyle. Try this out if you are bored with the classical bowl cut.
A fantastic haircut for fine hair; the short straight fringe is a bit piecey, while overall, the shape is uniform. You can keep it lengthier if you want. It has a vintage look to it!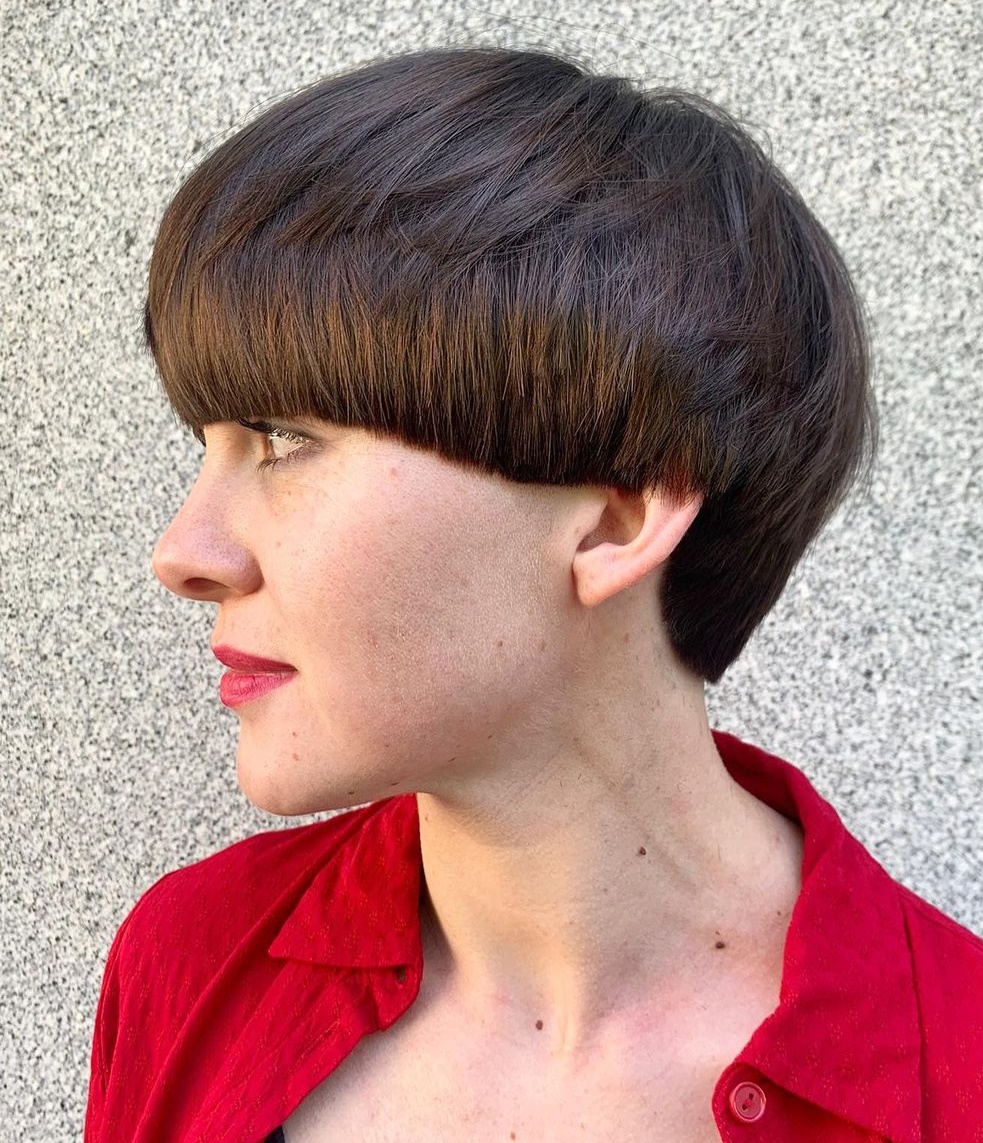 Bowl and Bob Comb is Fascinating
Sometimes you want the best of both worlds, and this hairstyle is a classic example. Do you need some action on your short bob cut? Go for bowl fringes.
For a woman, femininity is right on the spot. You can even combine the bob with a longer bowl cut. No one's stopping you from experimenting with your hairstyle. Color it and add layers if needed.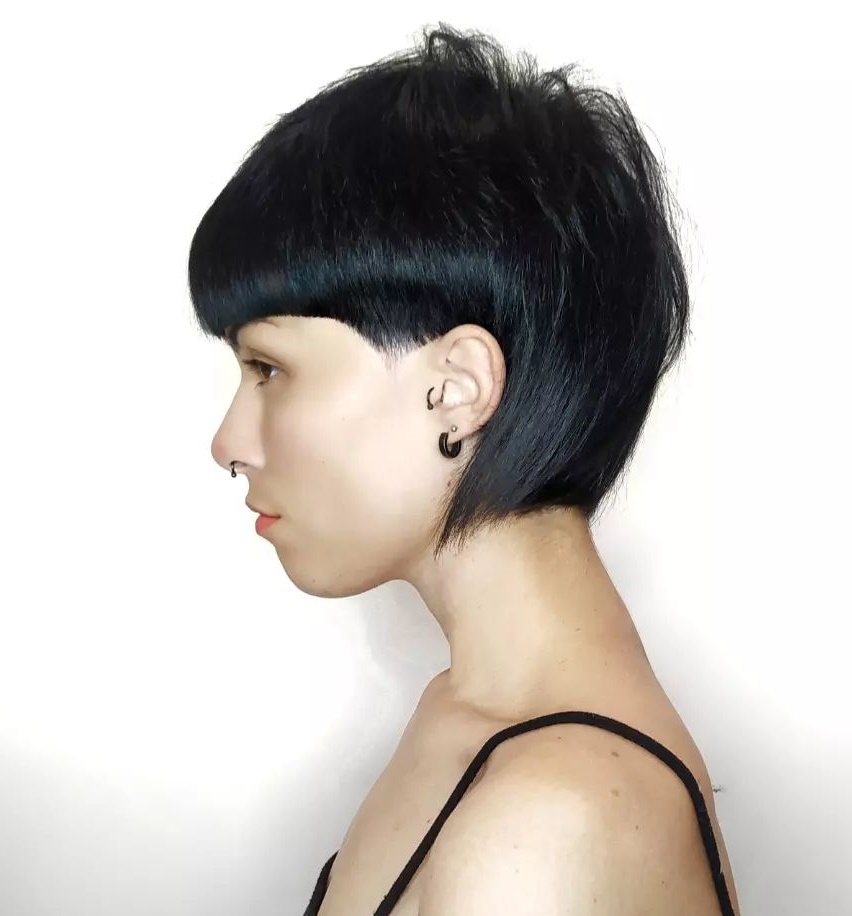 Mullet and Bowl Combo Is Stylish and Comfortable
The mullet haircut is back. This belonged to the 1980s. You can mix a classic bowl cut with long sides and a top. The combo of mullet and bowl features a long top with faded sides. But there's no tail. This can be the best combo for someone who prefers a shorter haircut with a bowl style.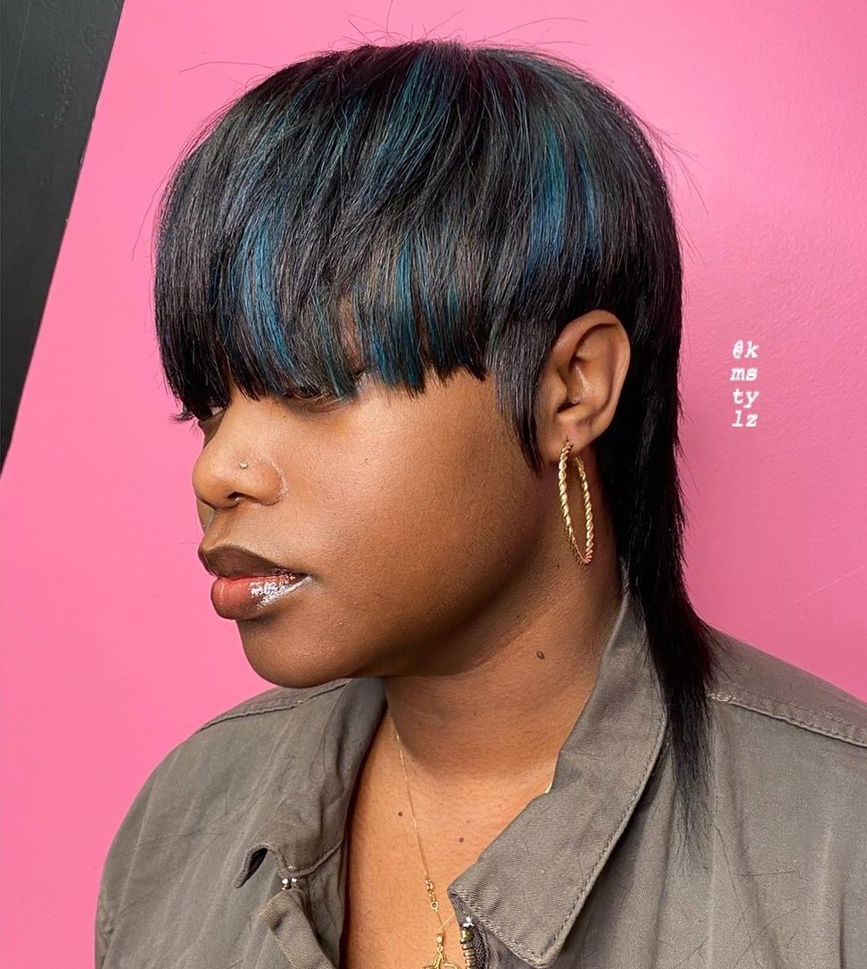 via @kmstylz
Geometric Haircut Makes You Look Fearless
A modernized bowl cut with geometric ends is difficult to imagine, but one that you can pull off with such ease. Nonetheless, it is a fearless trend. You need to be bold to carry this blunt cut on straight hair. The sharp edges and the cuts have to be attained with finesse. You need a specialist hair stylist to render this style.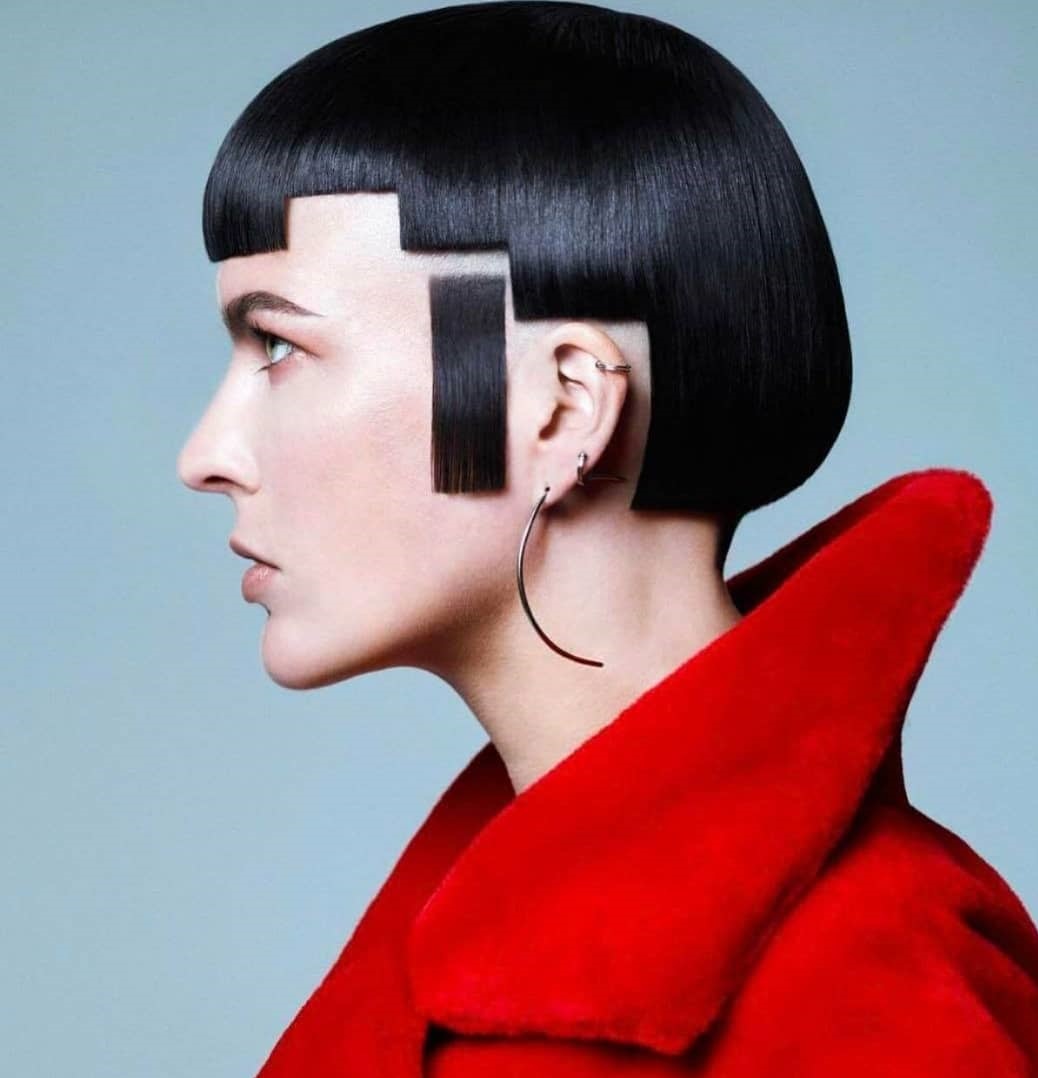 via @gimmedatbowlcut
Blue Haired Bowl Cut is a Trend-Setter
Get ready to take the world by storm! Yes, with this mushroom cut for women over 50, you can do so. The bright blue hair color pops from all across and catches the attention of everyone. Go for a straight and short bang for a more dramatic effect. This one deserves all praise!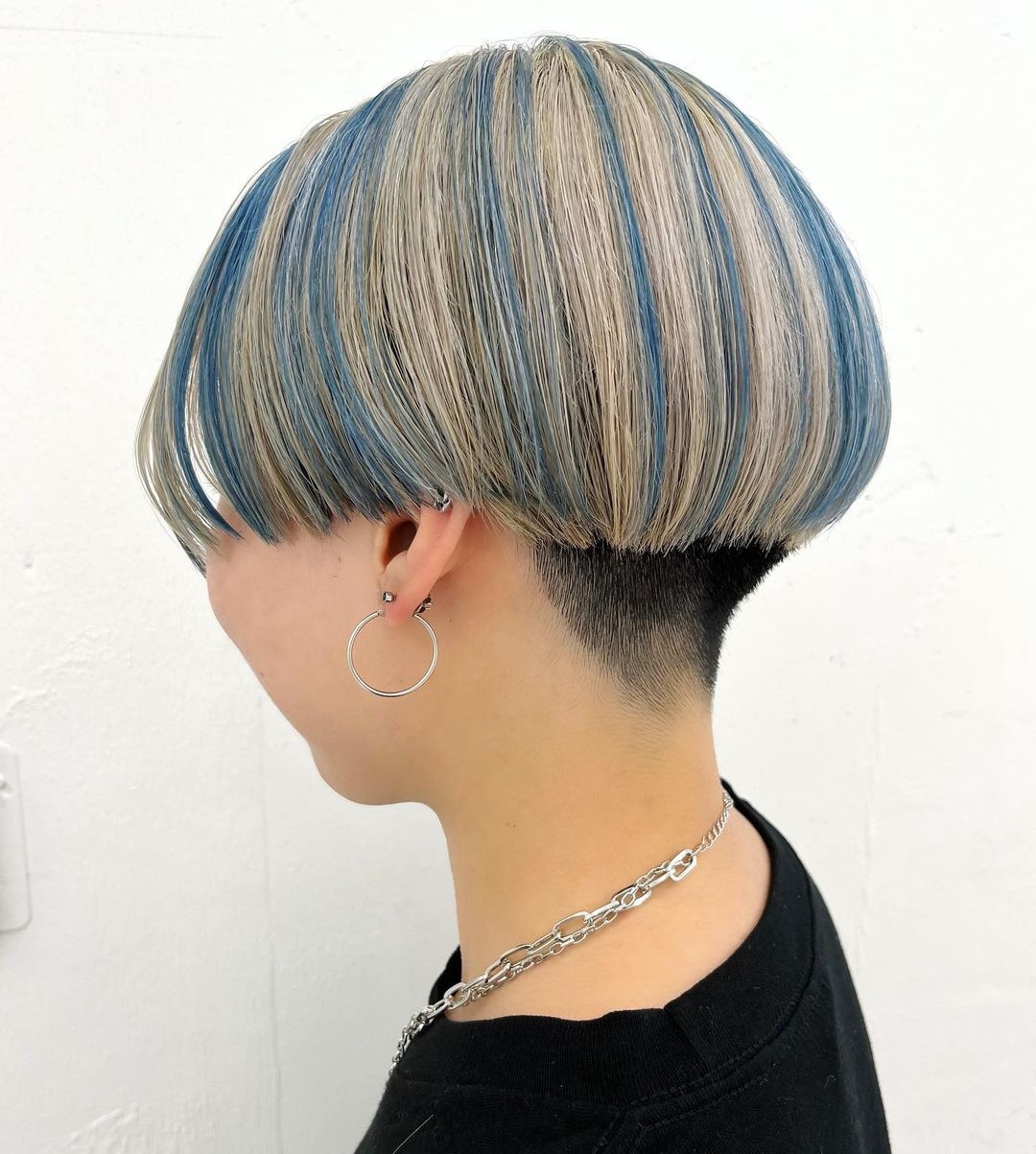 via @ququ_kimiko
Rainbow Bowl Cut is the Center of Attraction in Your Overall Look
Another form of the multicolored bowl cut is rainbow hair color. The shades of blue and pink are lovely colors of the rainbow that make your short bowl-cut hair the center of attraction for one and all. This can go as bold as you would want to. If you are game for experimentation, you must surely try this.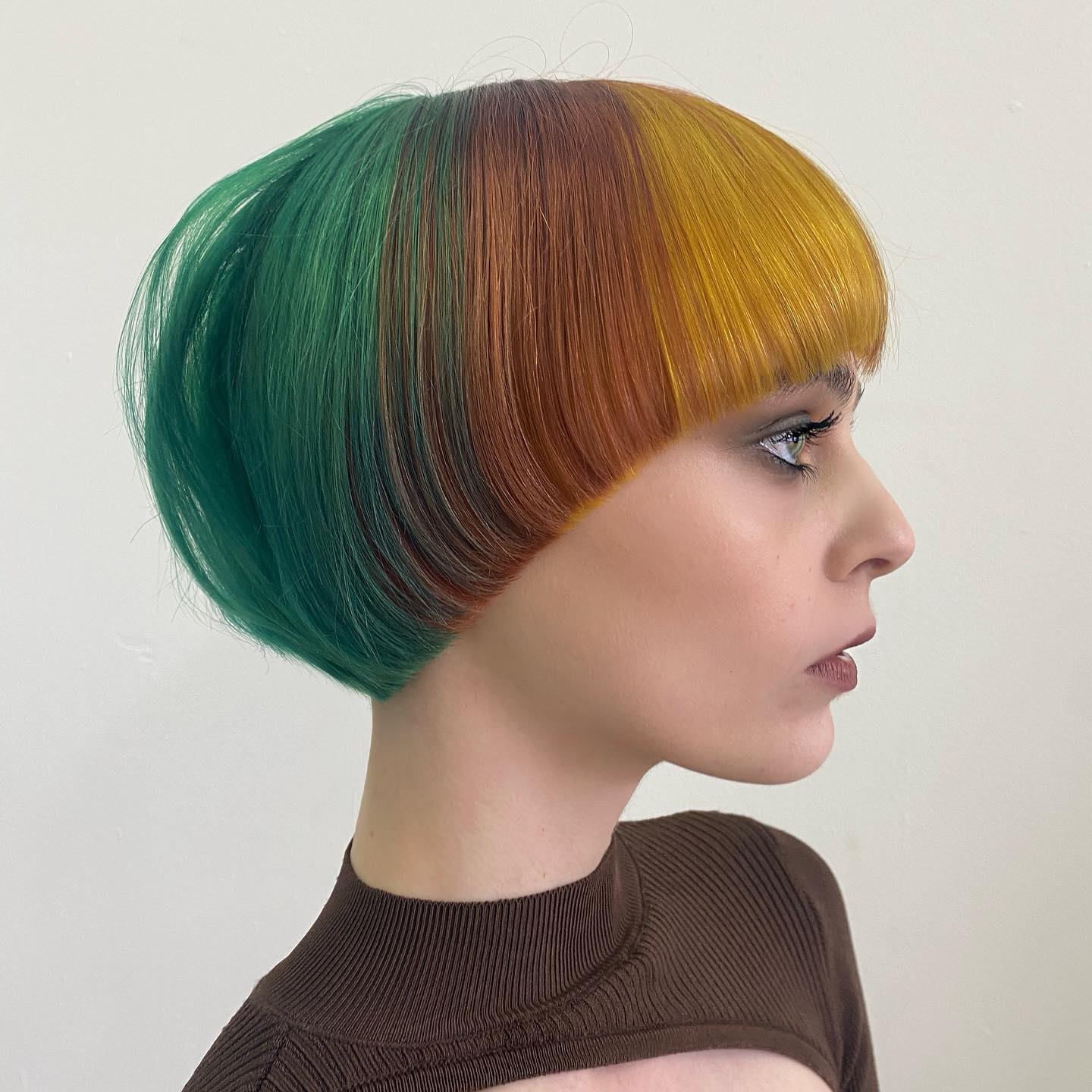 via @caseyc_hair
Short Bowl with Blue Hues To Give A New Makeover to Your Style
A blunt short haircut with blue highlights gels exceedingly well with dark hair. Black hair and blue shades look so impressive. This is a must-try hairstyle for older women looking to change their look and redo their style. Get ready for an outstanding you with this new cropped look.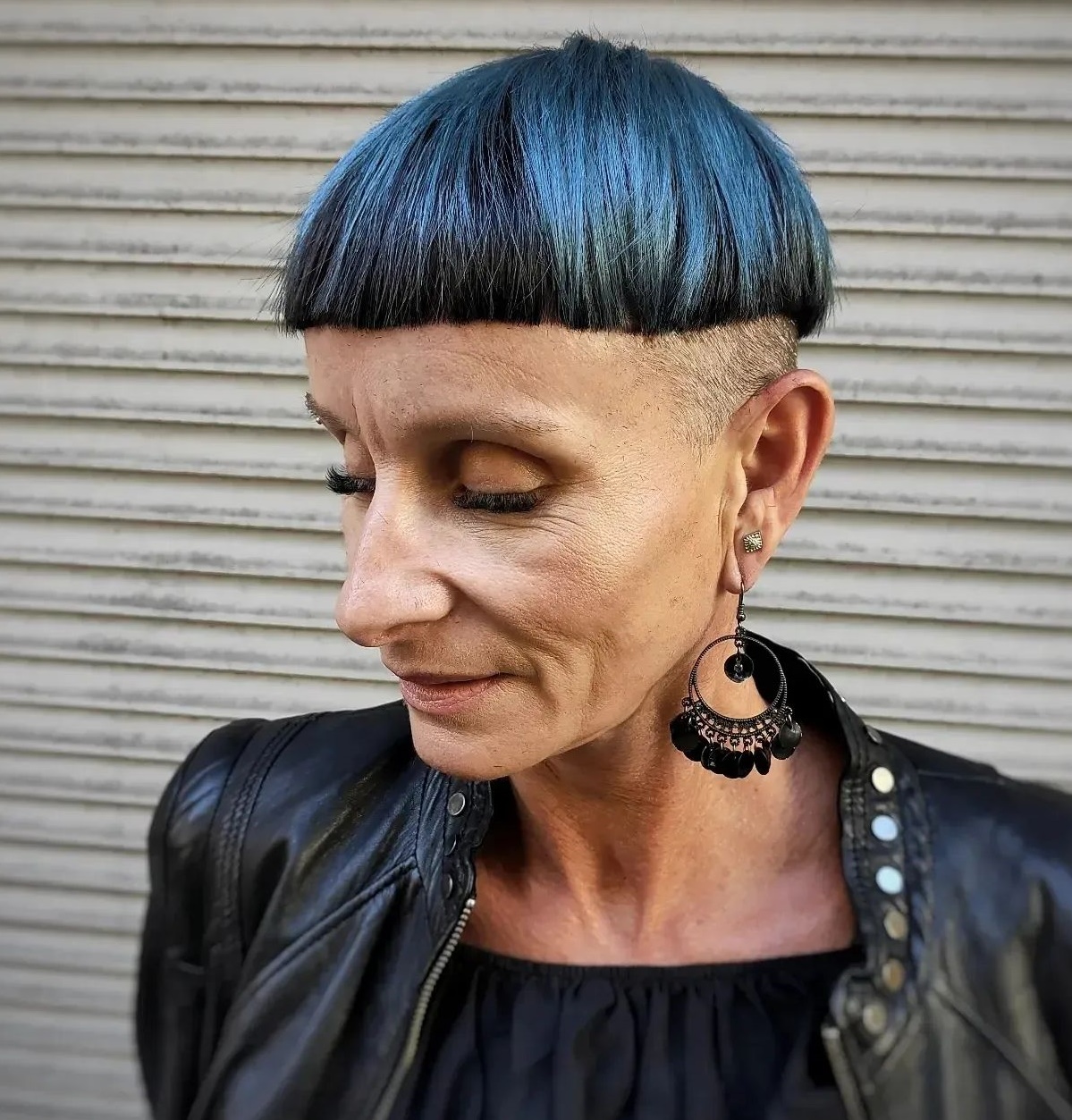 via @5thofjouly
Bowl Cut on Black Hair Are Best for Afro-Textured Tresses
One of the great black haircut ideas is to go for the Afro-textured hair that works gorgeously for thick hair types. This one looks great on a round face shape with the volume on top and at the front. The long bowl takes away the mushroom effect. This one suits hair types that are either thicker or curly.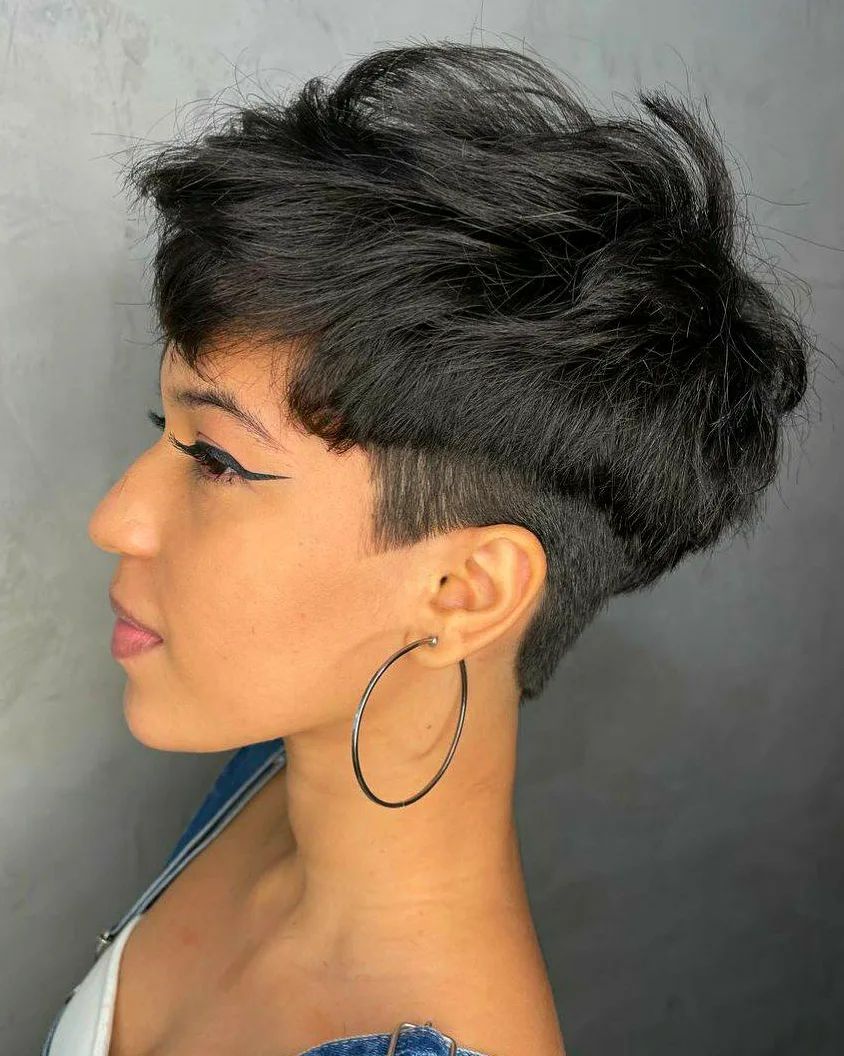 via @barbeirinha
Faded Bowl Cut Flatters the Round Face the Most
The faded bowl cut looks excellent on a short hairstyle. The faded bowl cut for women can be low or high fade. The low fade begins above the ear and justifies a round face. It can occur in any area. A nape fade flows smoothly from the top to the back and the sides.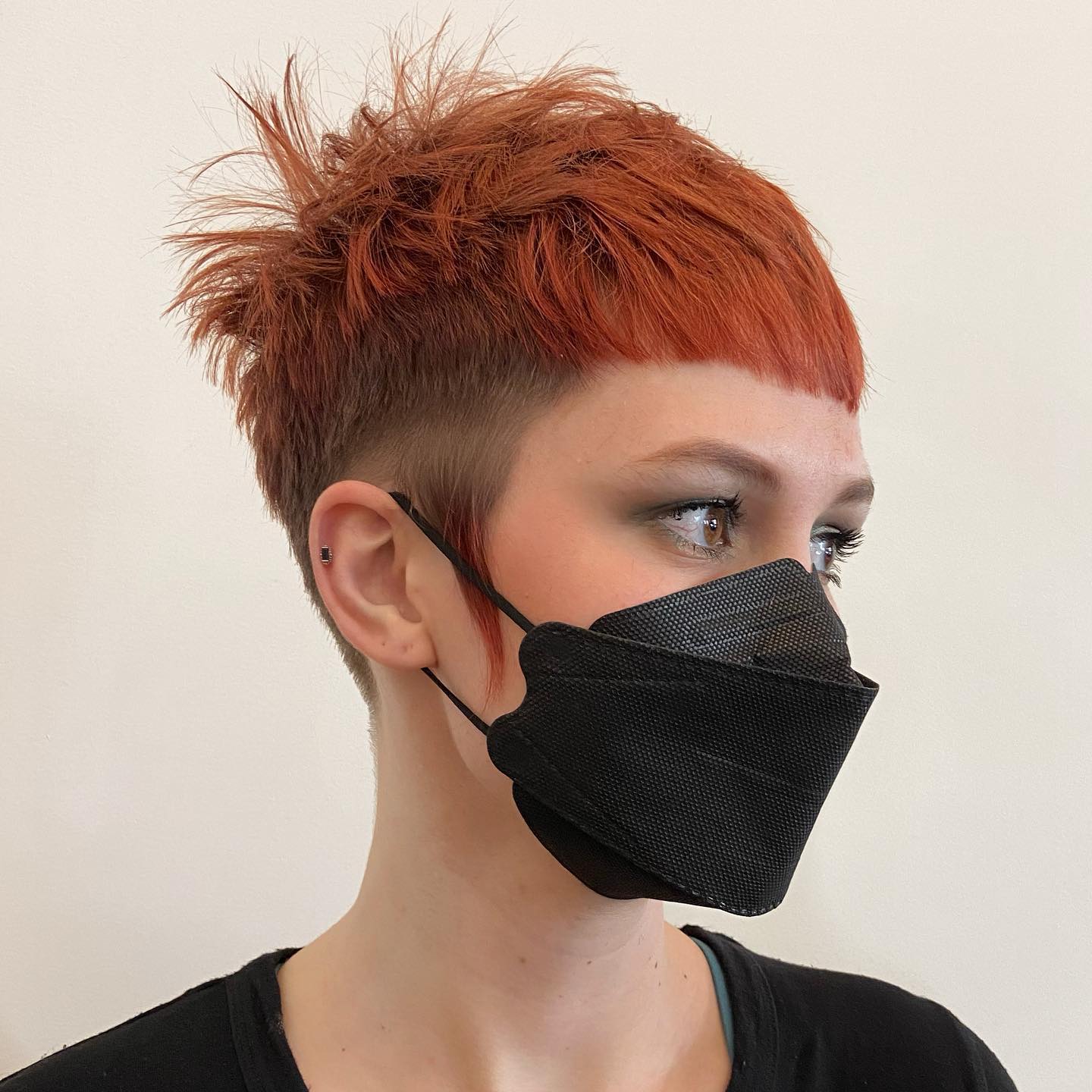 via @dirtysouthhair
Orange Bowl Cut to Showoff Your Fierce Side
Orange is fiery and can be as beautiful as copper hair color. Long bowl haircut with orange color all across the mane can brighten up any place, any day, with all the positive and energetic vibes. This new trendy hairstyle is for you to carry stylishly. Ensure that the orange color effect is professionally done.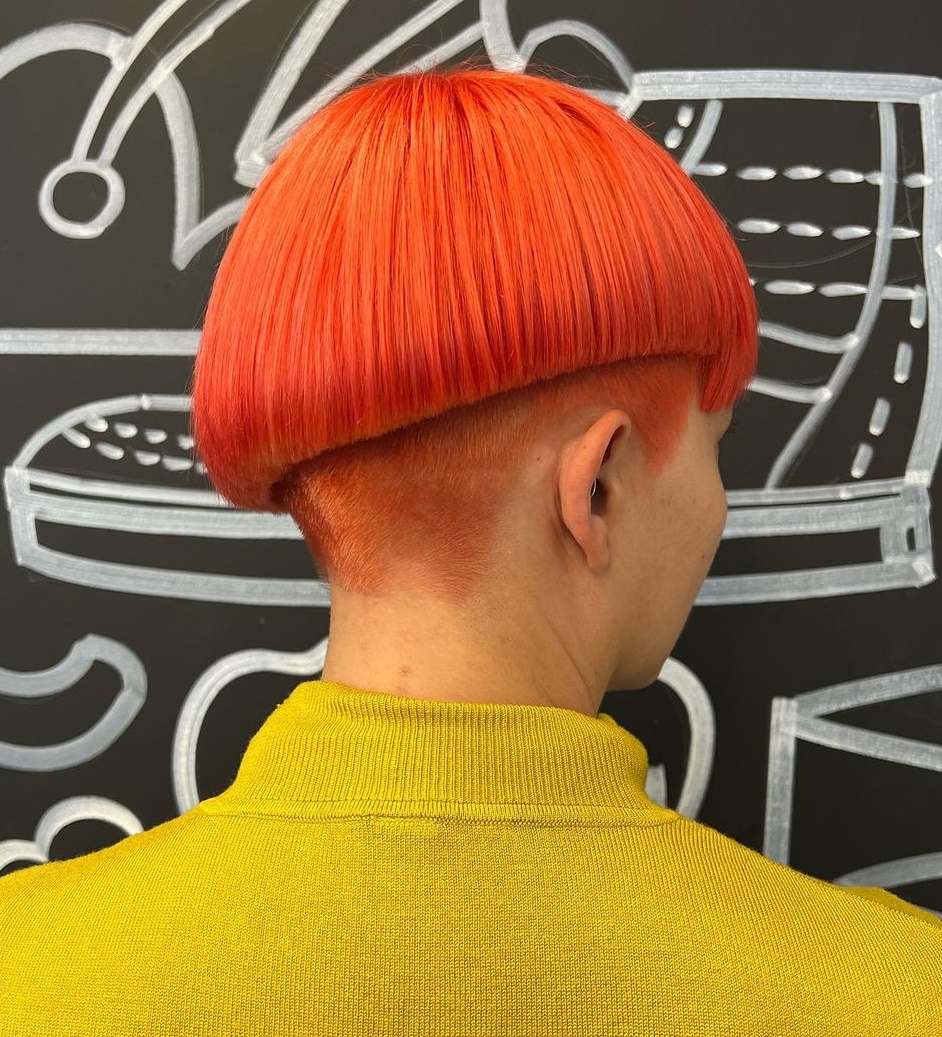 FAQ
How to style a bowl cut?
You can style a bowl cut by making it ruffled and tousled, textured and layered, coloring the ends, fringes, or the fang, giving it a fade cut, or combining a bob with a bowl cut.