Curly pixie cuts have become trendy for women with naturally curly hair and those seeking haircuts that embrace their beautiful texture. The pixie cut curly hairstyle works for any curl pattern, from loose curls to tight ringlets, complementing virtually any face shape. Moreover, it needs little maintenance and is easy to style, allowing women to flaunt their playful side.
Whether you prefer long, short, wavy, or edgy styles, we have curated 20 delightful curly pixie cut ideas that will inspire you to revamp your look and let your curls shine like never before!
Magical & Mesmerizing: Long Curly Pixie Cut
Combine the best of both worlds – the elegance of long hair ideas and the playfulness of curly bangs – with a captivating long curly pixie cut! In this enchanting naturally curly pixie cut hairstyle for long hair, the crown is adorned with bountiful curls that gracefully cascade down.
The curly bangs frame your face, adding whimsy and allure to your overall look. Dare to embrace the magic of your curls and embark on a mesmerizing hair journey with this uniquely delightful long curly pixie cut!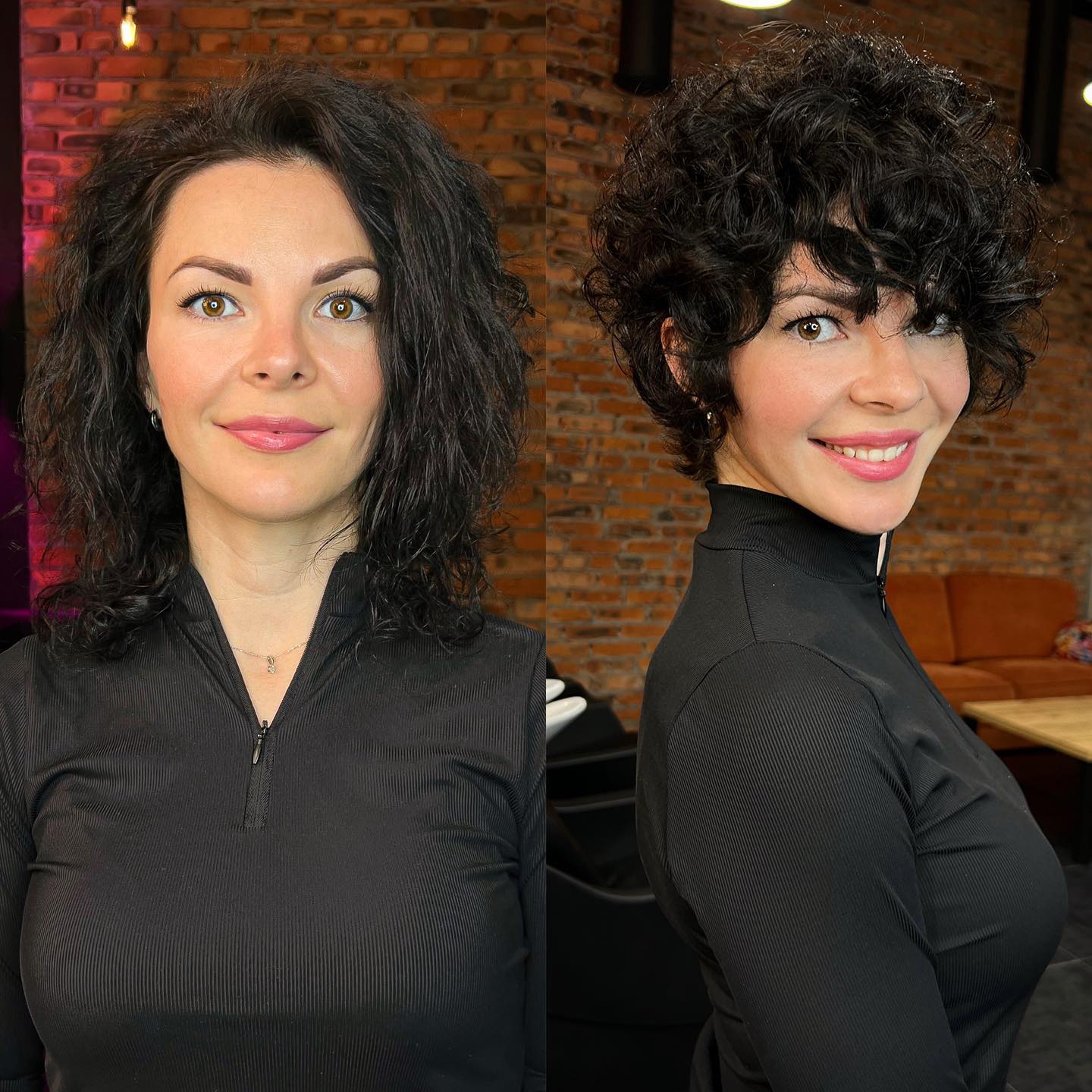 via @studio_mostton
Ultra-Cute Yet Edgy: Short Curly Pixie Cut
If you have oily, tight curls and desire a no-fuss hairdo that makes a bold statement, opt for the short curly pixie cut. This super-short hair idea highlights your curls' natural spring and volume, all while keeping hair maintenance to a minimum.
With close-cropped sides and back that gradually get longer on top, this cute curly pixie cut looks ultra-daring yet undeniably sweet, especially when paired with face-framing side sweeps and a pixie crop that falls right above the nape.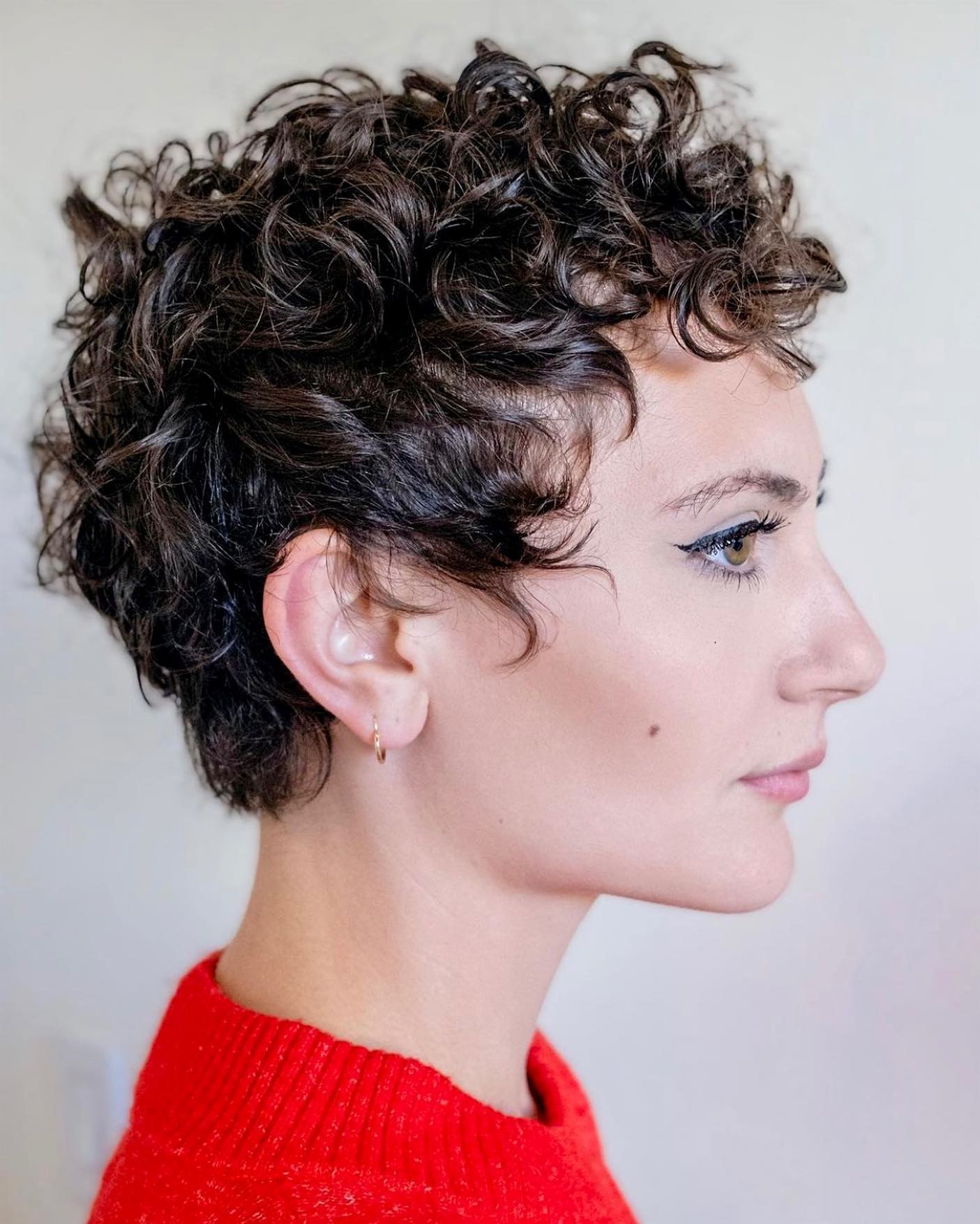 via @thesambullen
Tempestuous Charm: Tomboy Curly Pixie
For a look that is equal parts tough, tousled, and downright tomboyish, go short and wavy with the tomboy curly pixie. If you have naturally curly hair begging for an adventurous style revamp, this short wavy pixie cut will put them into a gorgeous messy halo while requiring minimal styling effort. It's a trending brunette pixie hairstyle these days.
The choppy layers and choppily graduated sides add mystery to your personality and perfectly frame any face shape.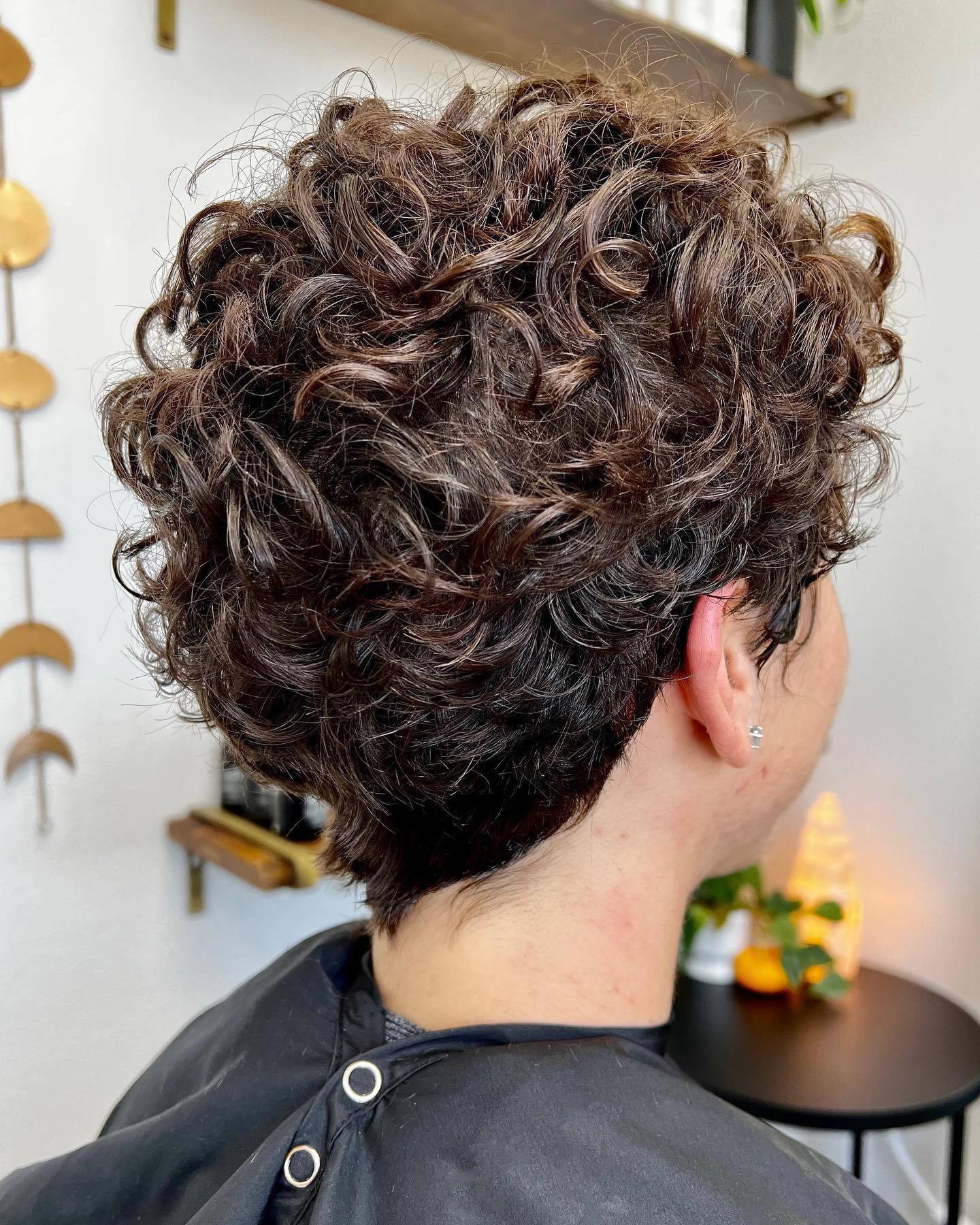 Bold Yet Playful: Curly Pixie Haircut With Undercut
Add a rebellious twist to your curly pixie cut hairstyle with an edgy undercut that shaves the sides and back while leaving length on top. This daring undercut hairstyle pairs perfectly with your natural curls, giving you ultra-spunky curls to flaunt with fun and freedom.
The short top length defines your curls into bold rings and coils, while the shaved sides take your pixie cut attitude up a notch. This fun pixie delivers a bold yet playful vibe for sure.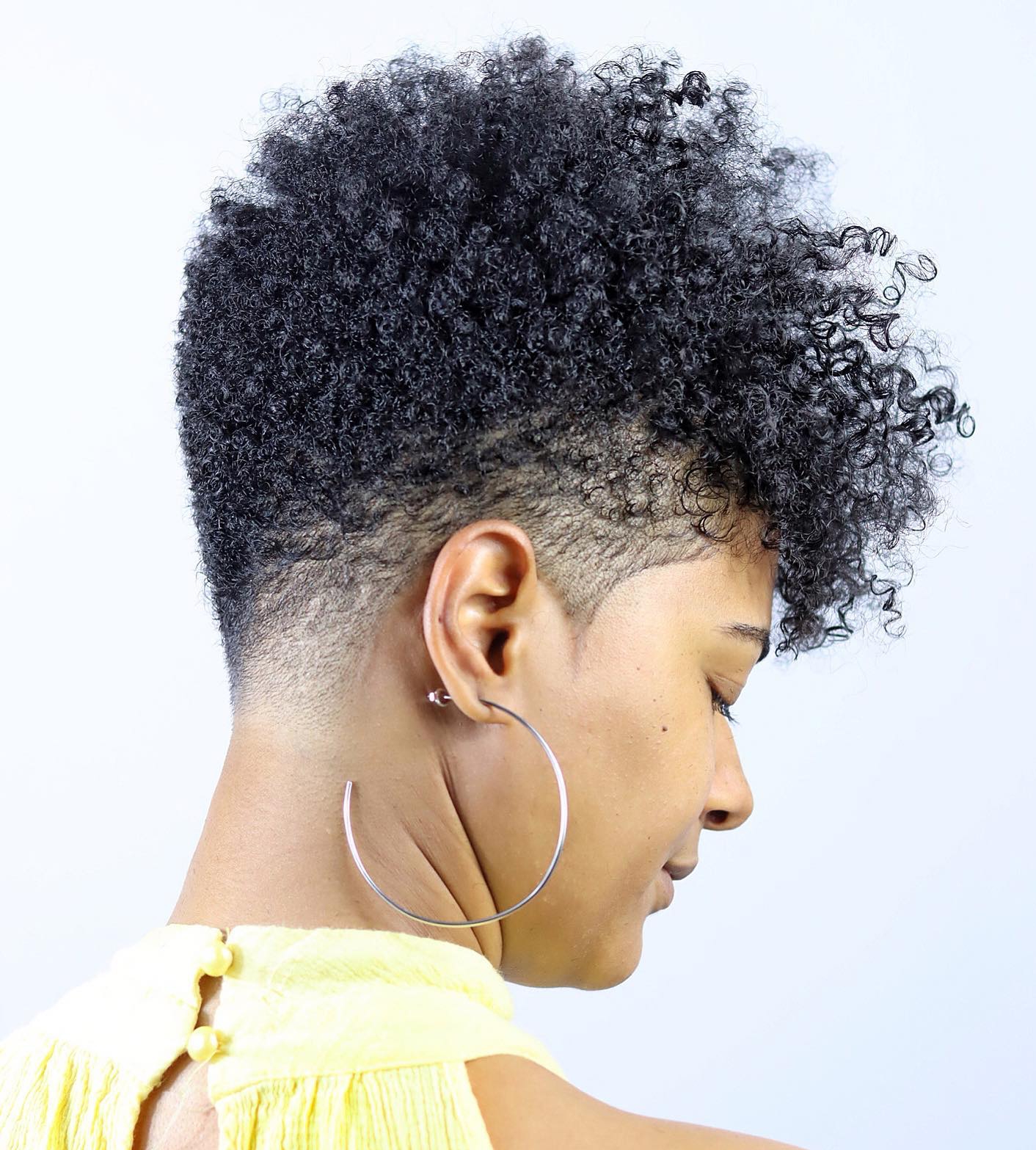 Effervescently Vivacious: Wavy Pixie Cut
Say hello to the wavy pixie cut if you have thick, naturally curly hair demanding an energetic overhaul. This peppy style embraces your thick hair texture in all its bouncy, spirited glory while letting your carefree personality shine through.
Lightly textured layers add a lift at the crown for an effortlessly tousled effect, complementing your lightly layered ends that form vivacious waves and gentle ringlets imbued with an effervescent charm. No matter your face shape, the style flatters with its voluminous curls.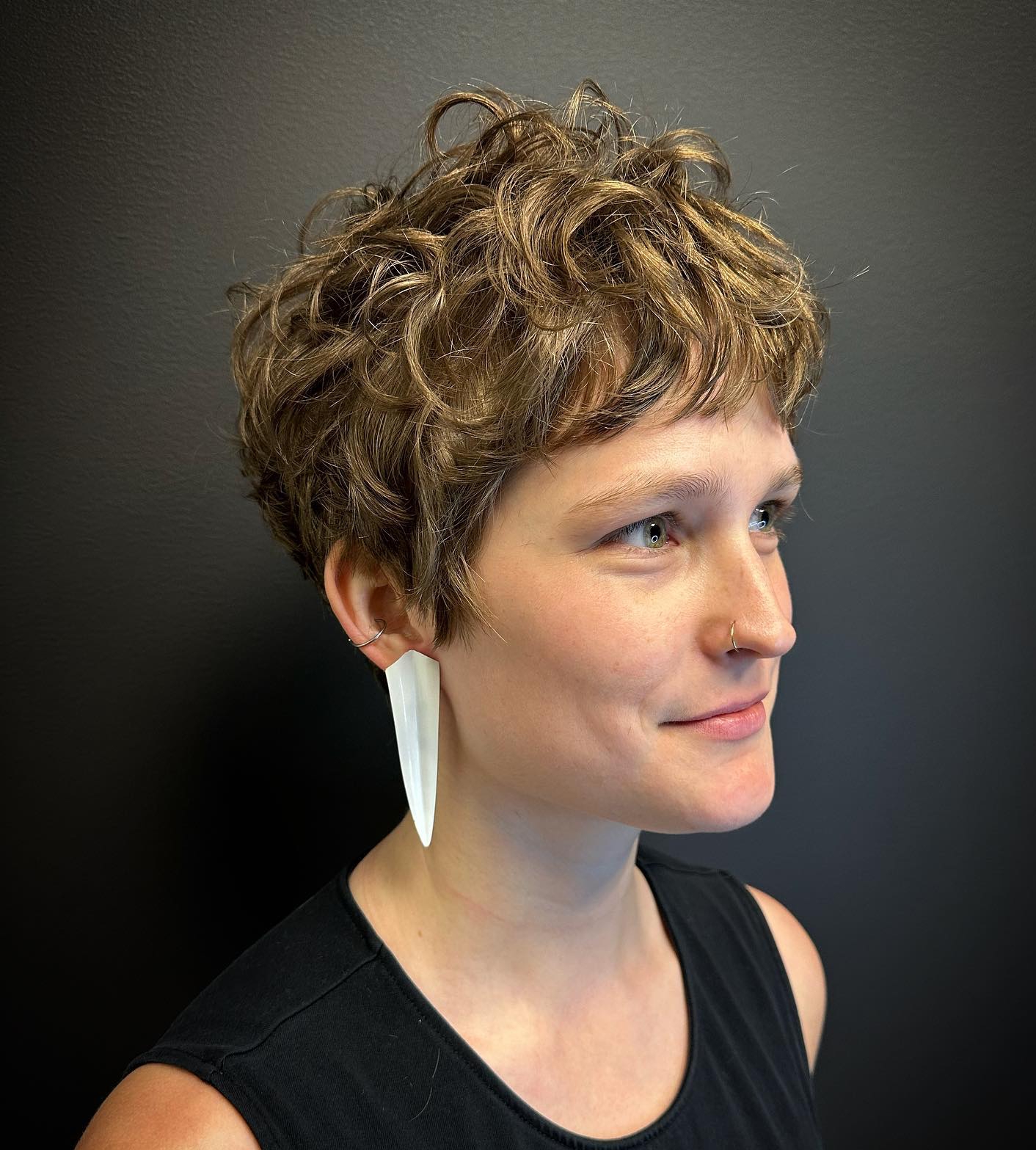 via @thirdhandsalon
Effortlessly Cool: Asymmetrical Pixie Cut
Make a bold statement with an edgy asymmetrical curly pixie style that celebrates your dynamic voluminous curls in rebel-chic fashion. One side is kept longer with a blunt cut and swooping side bang, while the other is cropped short and choppy, giving your layered curls more dimension and movement as they form ringlets.
The offset design naturally contrasts your curls' tightness and texture between sides, adding charm. No matter your face shape, the asymmetrical pixie infuses your cropped style with an effortlessly cool attitude.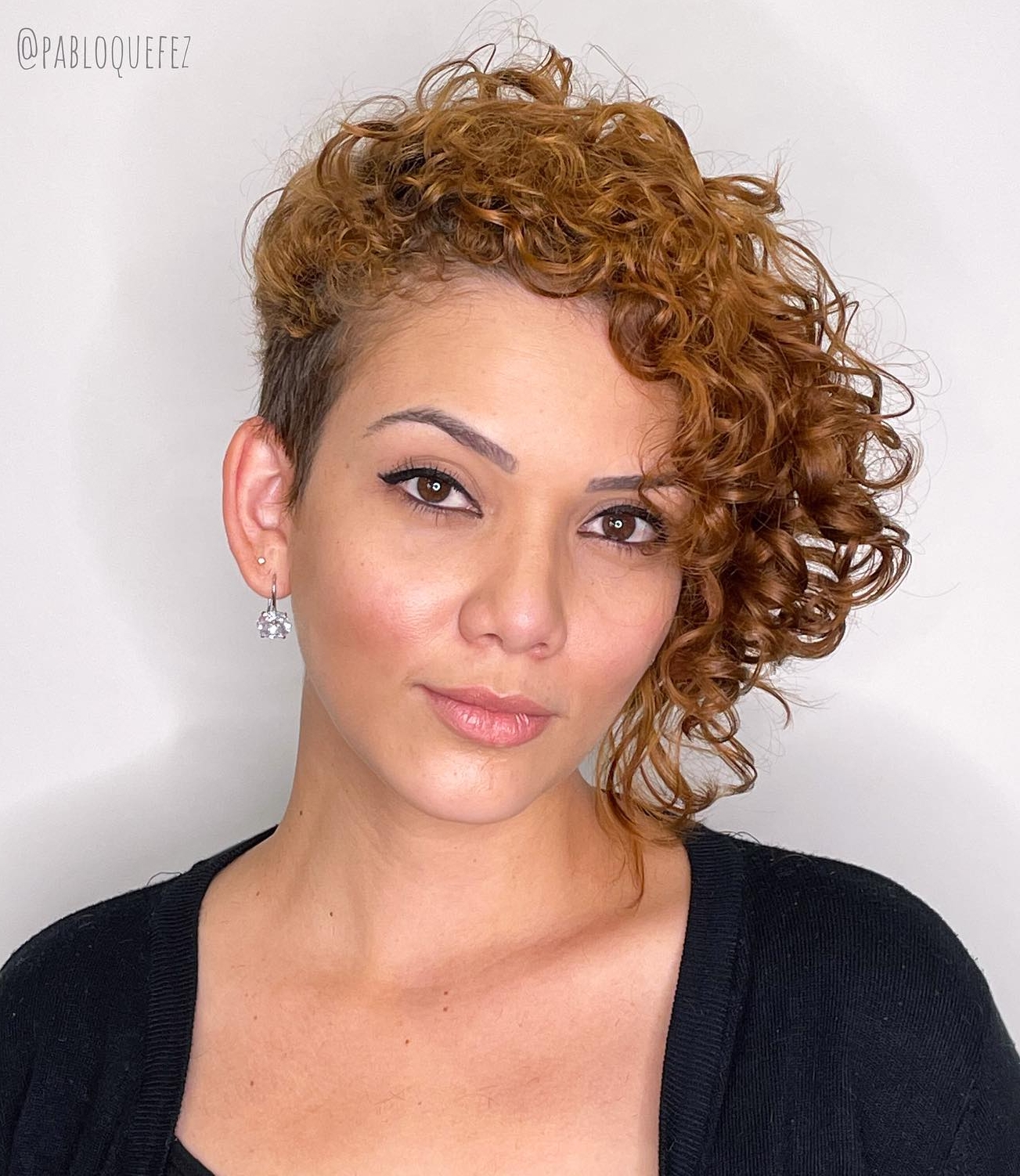 via @pabloquefez
Fiery & Fashionable: Edgy Curly Pixie
She walks through life with the bold confidence of a wildcat, her unruly edgy pixie hairstyle mirroring her indomitable spirit. The short, dark locks frame her face in a riot of carefree abandon, refusing to be tamed like the woman who wears this brunette pixie cut with unapologetic pride.
This impishly defiant short hairstyle, from all the other short hairstyles, symbolizes her independence, making a fashion statement that she creates her own rules as she lives life on the edge.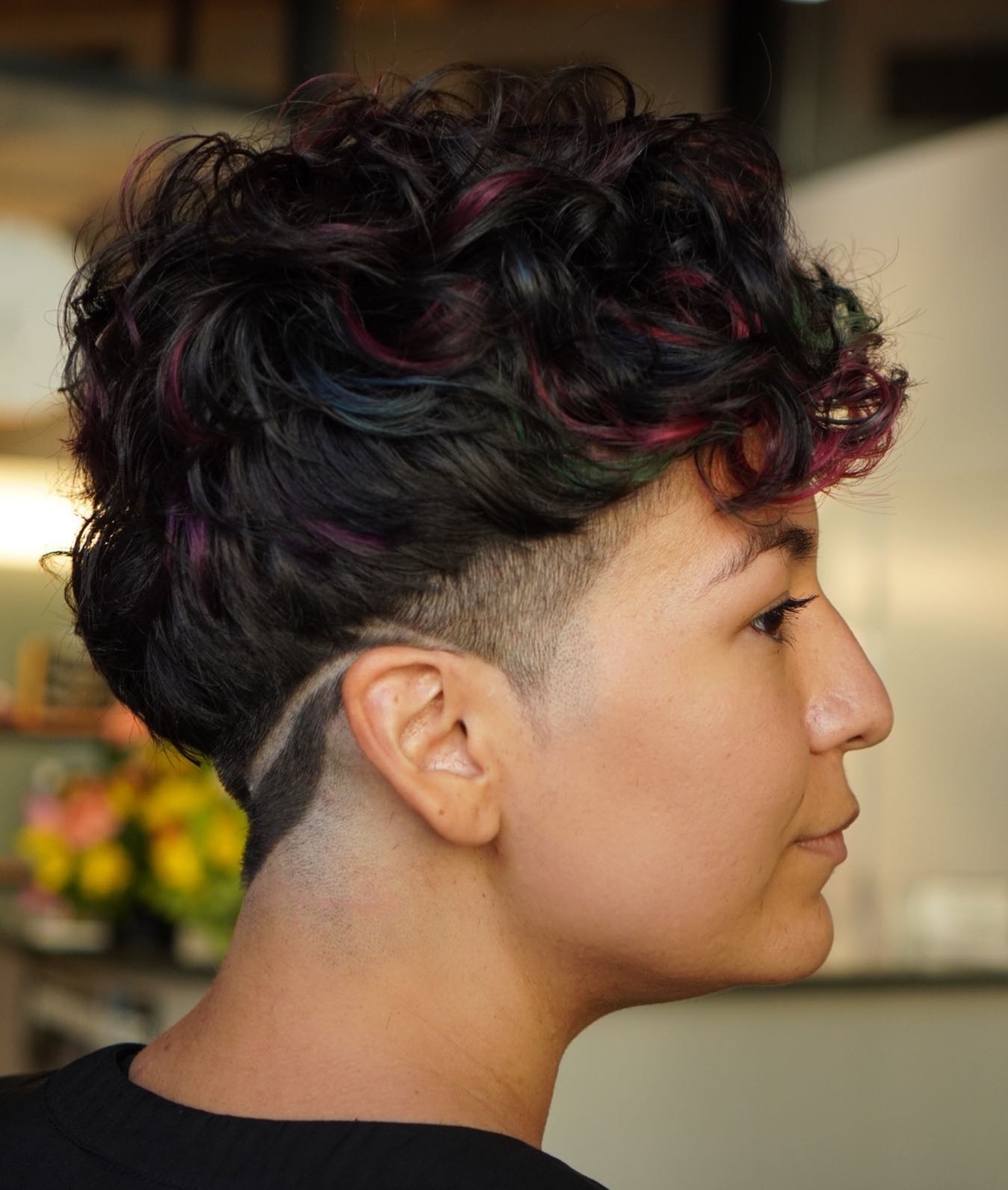 via @lexxy_hermosa
The Ageless Allure: Curly Pixie For Women Over 50
Curly pixie haircuts add charm to mature women's salt and pepper hair, making it look softer and more textured.
This curly short haircut lends flair and femininity that defies numbers, framing the face in a playful pop of timeless appeal. The assured grace of its wispy waves whispers a subtle rebellion against conformity, celebrating the beauty of following one's heart at any age.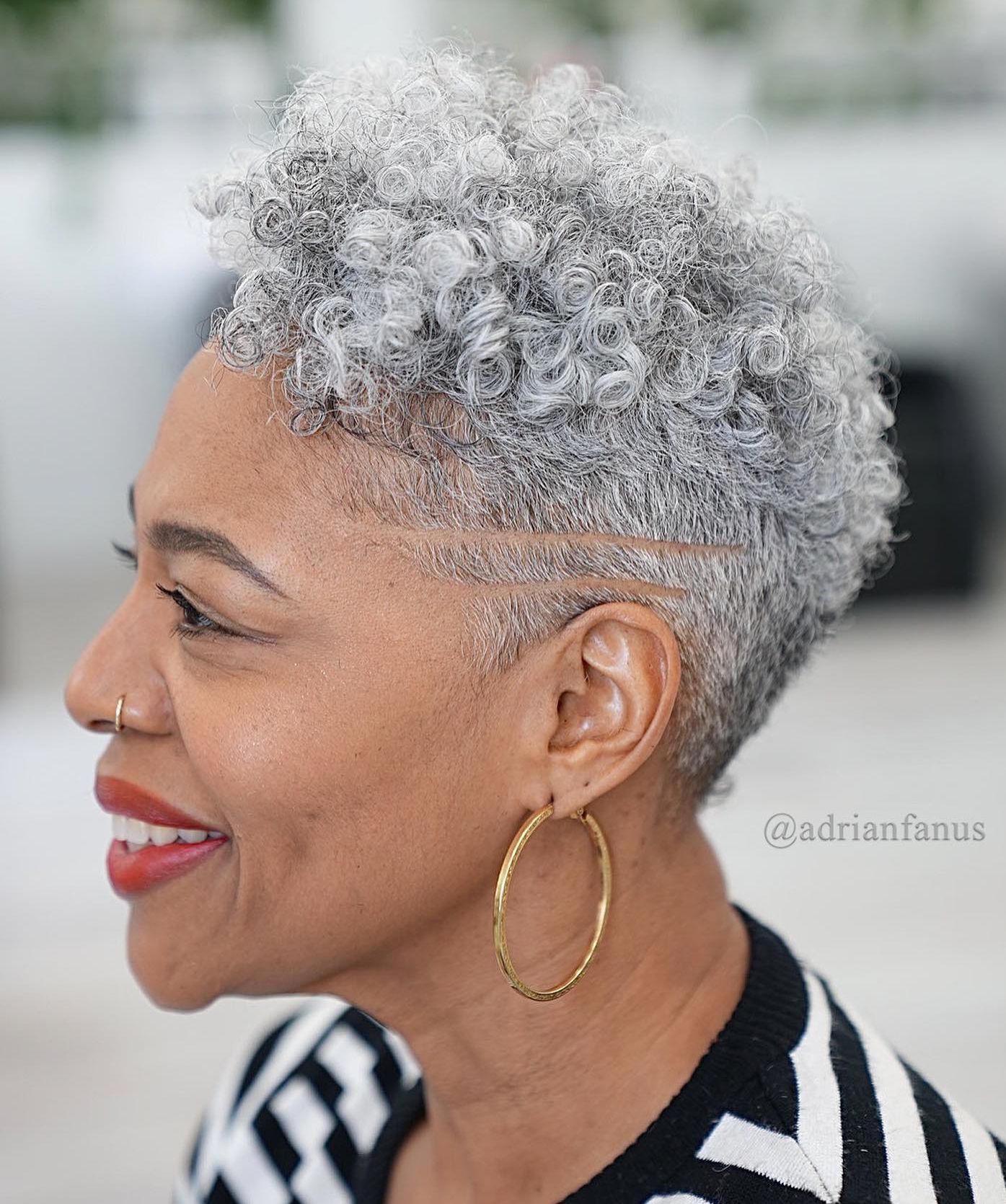 via @adrianfanus
Bouncy Tresses Revived: Curly Pixie Cut For Thick Hair
The voluminous bounce of thick hair texture brings joyful vivacity to the curly pixie with long bangs, framing the face with a bountiful body and healthy hair nourished at the roots.
The short layers of lively coils and ringlets capture the essence of cheerfulness, exuding a spirit of whimsy and freedom that defies gravity while drawing the eye with their charming curlicues. This modern hairstyle showcases its thick strands like a badge of honor, shining with the confidence of unapologetic vivacity.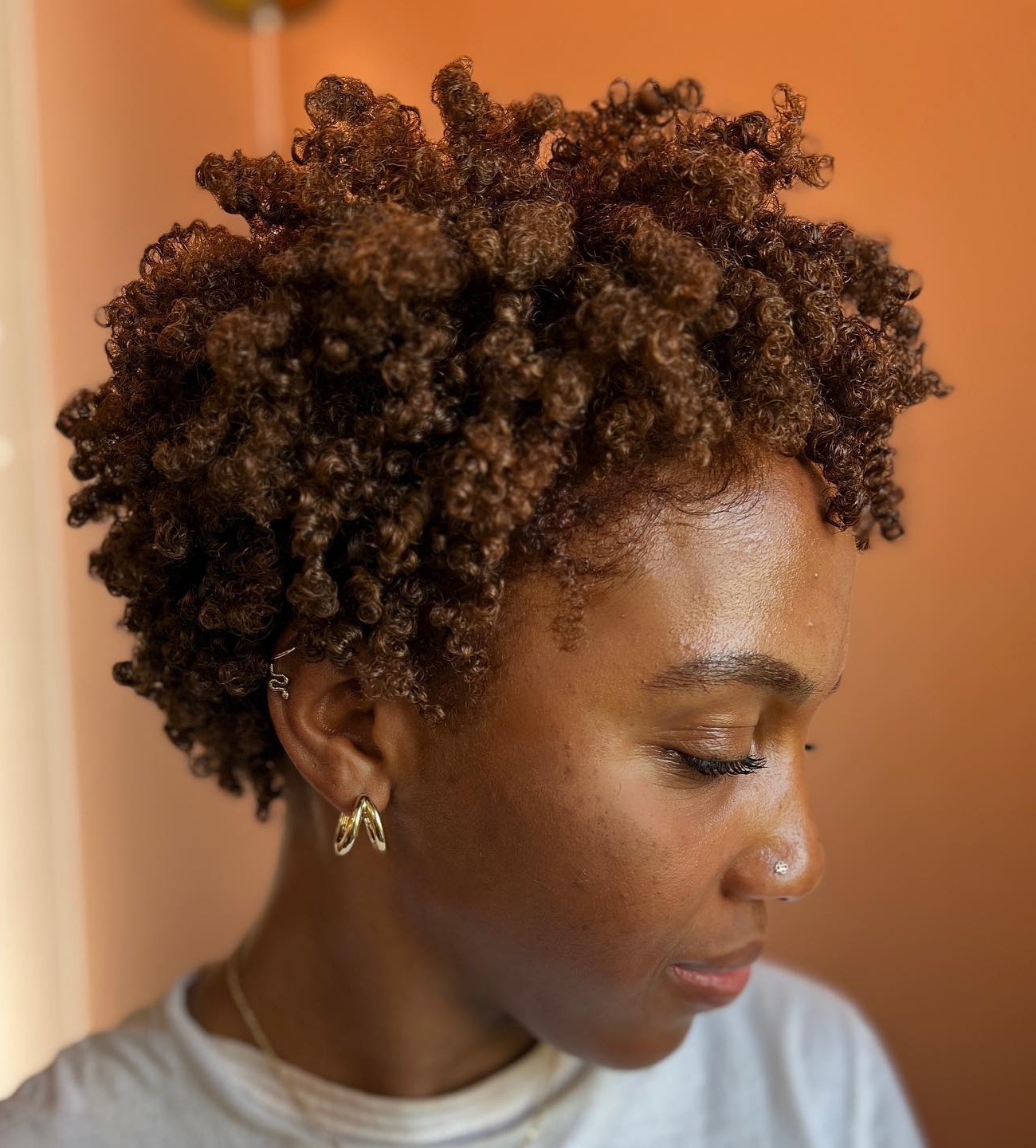 Be Free-Spirited & Feisty: Disconnected Curly Pixie Cut
The bouncy mess of curls and spirals loves freedom with this disconnected pixie. The short pixie cut sits in a happy jumble on the neck and cheeks. You can see the twisty bits all over, with lots of shapes. With its daring and modern touch, it takes center stage, setting your curls free in a mesmerizing dance of texture and movement.
This proud pixie curly cut makes it excellent for women to be different and not just follow the rules by showing off their kind of mess of bouncy strands.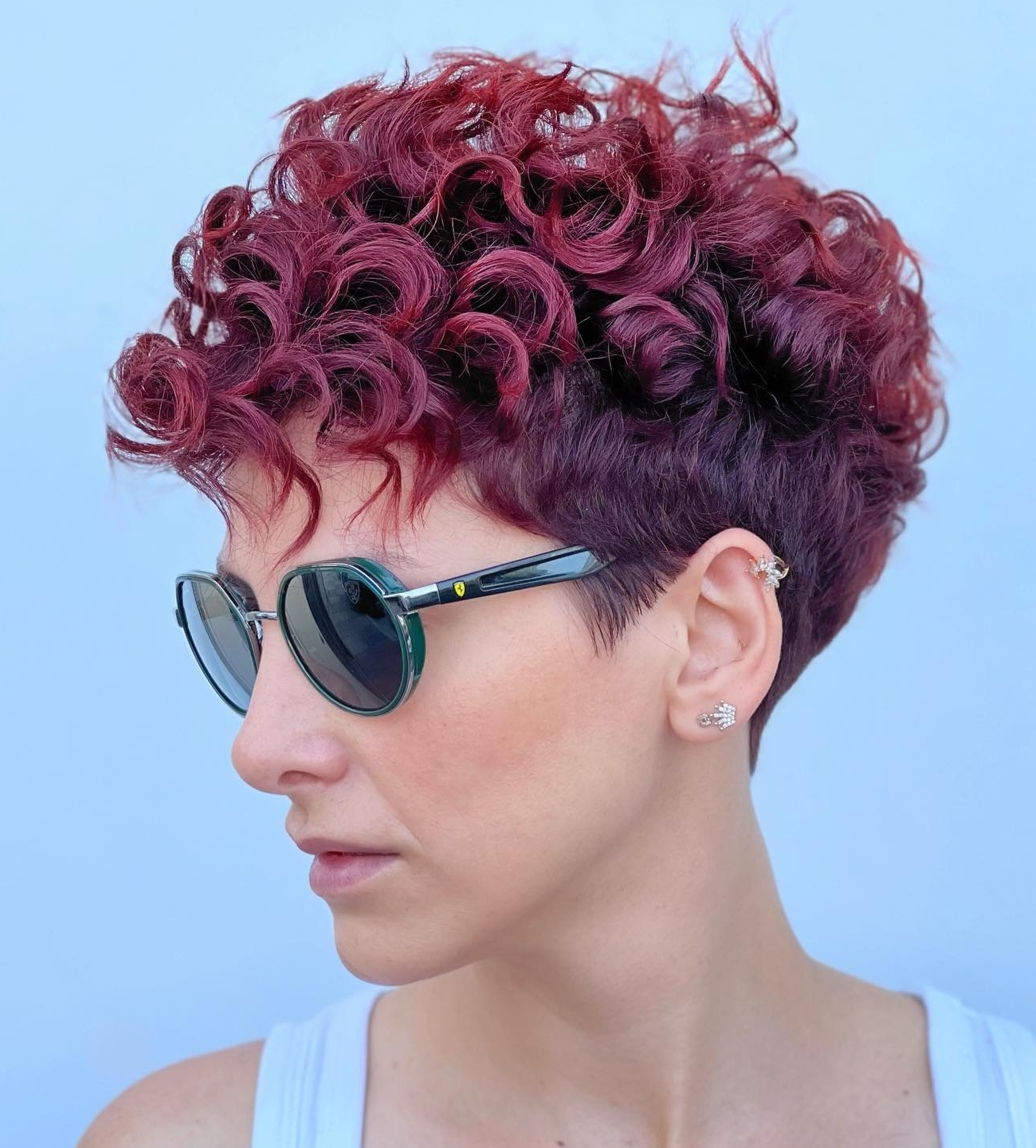 The Bubblegum Beauty: Pink Curly Pixie Cut
This pink, sassy pixie cut lures with its silly, sweet charm. The Bardot-inspired soft swoop of silky blonde curtain bangs framing a head of hot pink tight curls creates a bewitchingly girlish vibe that is impossible to ignore.
The eye-catching pop of hot pink color infusing this short curled style fills it with life and laughter, channelling the fun-loving spirit of youth. This charming pink pixie with long curly bangs unleashes a sassy, playful confidence that tells the world, "I am just as I should be."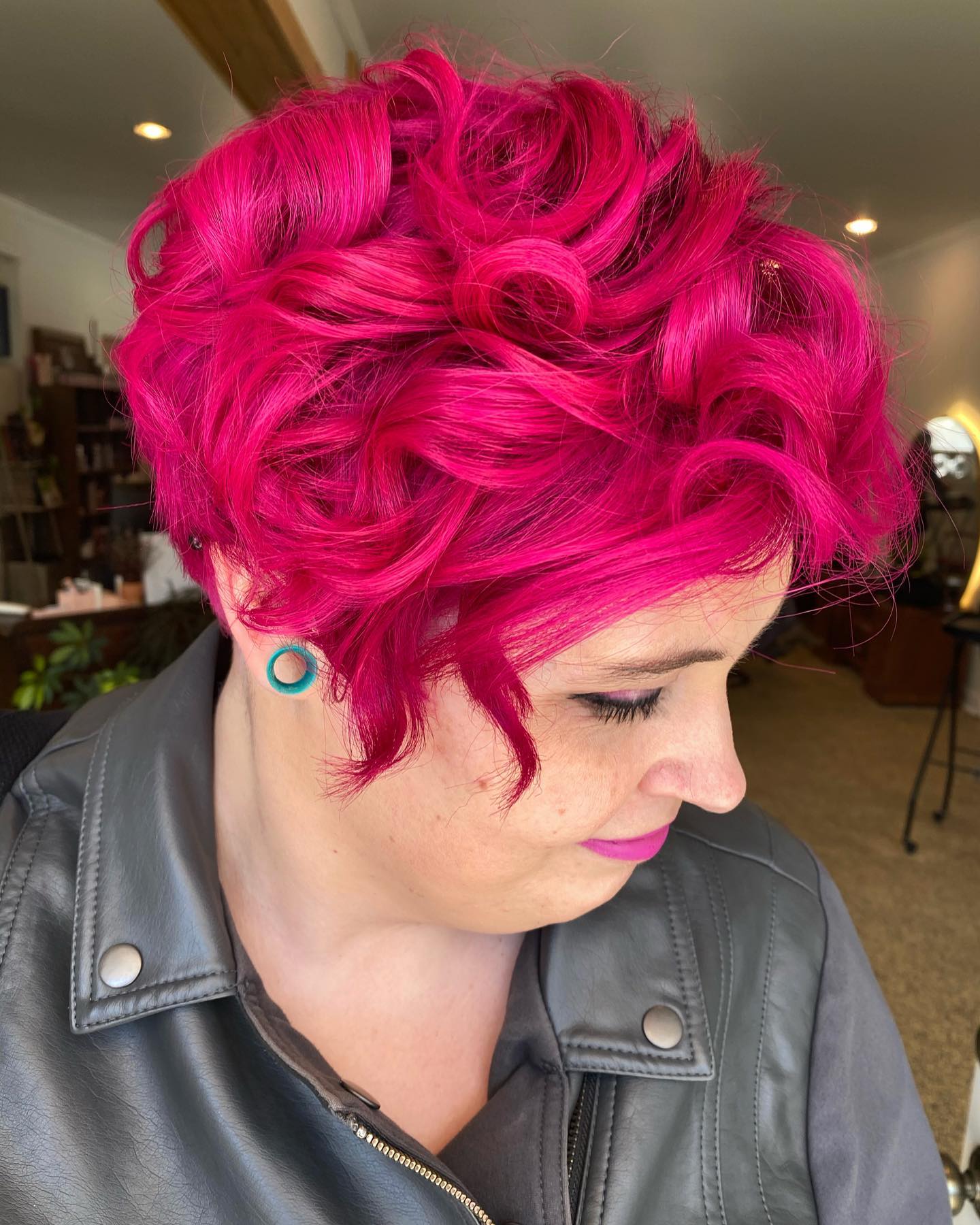 Effortless Elegance: Low-Maintenance Curly Pixie Haircut
This effortlessly chic curly pixie bob cut needs little more than a shake and go in the morning to shine. The easy-breezy coil crown creates low-maintenance hair of natural texture that requires no heat styling or product overload.
Its untamed coils' unpredictable spring infuse this short cut for curly hair with nonchalant charm and effortless style. Say goodbye to fuss and hello to fabulousness as you flaunt this effortlessly elegant cut.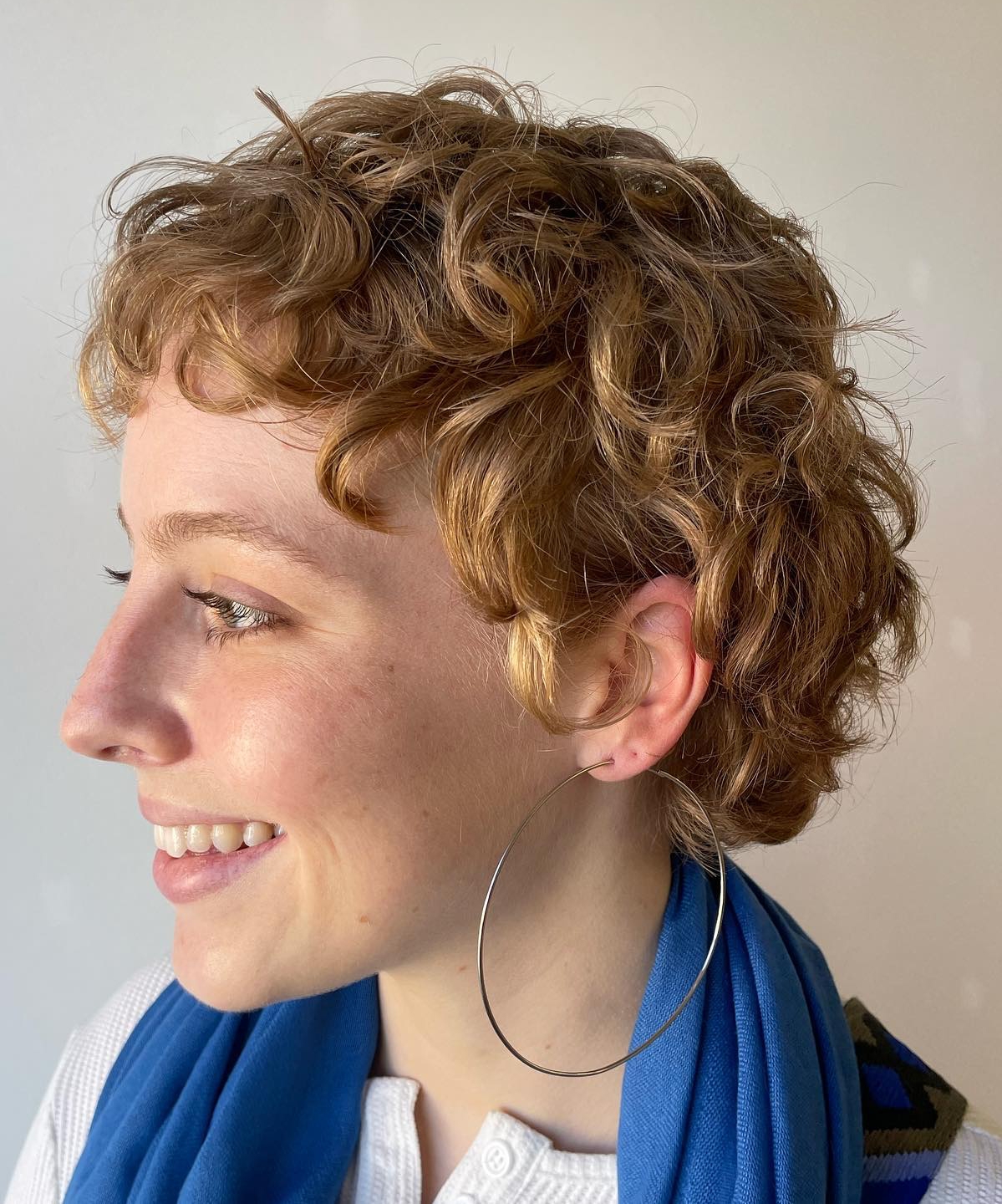 via @curlofakind
Free-Spirited: Blonde Curly Pixie Cut
This sun-kissed sprite of a pixie cut charmingly attracts everyone with its softly golden halo of loose, springy ringlets. The blonde hair color infusing this short style casts a warm, happy glow, while its untamed and carefree loose curls make a case for not fussing too much.
The youthful shoulder-grazing length of this long pixie cut for curly hair channels a free-spirited artistic vibe, inviting you to embrace your wildly excellent natural waves and corkscrews.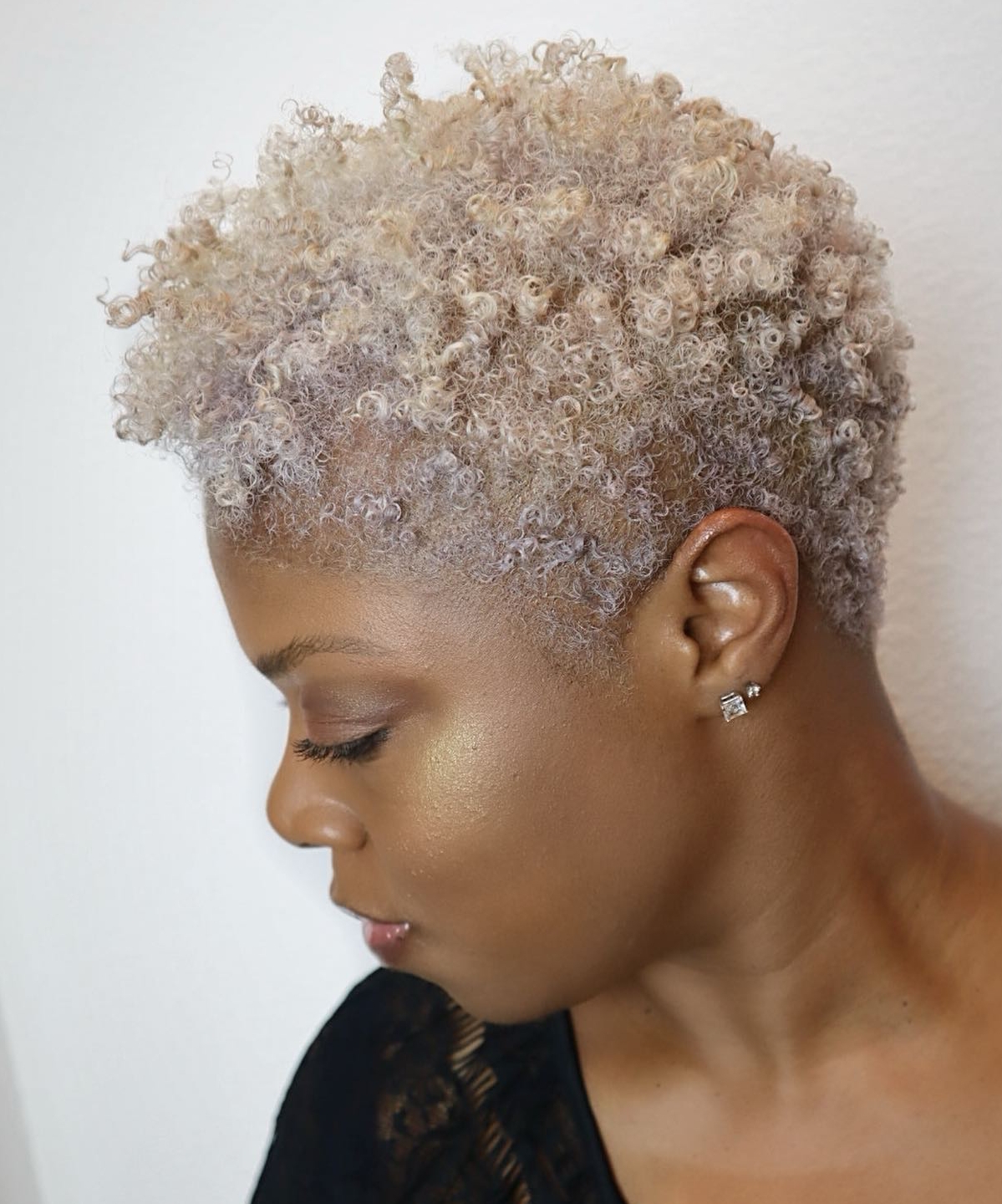 via @edgybgirl
Simply Stunning: Curly Pixie Cut For Black Hair
It celebrates the allure of black hair ideas, combining the charm of a wavy style with a short pixie cut. This unique wavy pixie crown for black hair crowns the wearer with spirited volume and life-loving bounce.
The untamed yet styled corkscrew coils infusing this short style create a beautifully imperfect afro-textured look that needs no daily wrestling with a comb. The gently grazing nape and ears of this short pixie on black hair call on you to embrace your ethnic curls and kinks gracefully.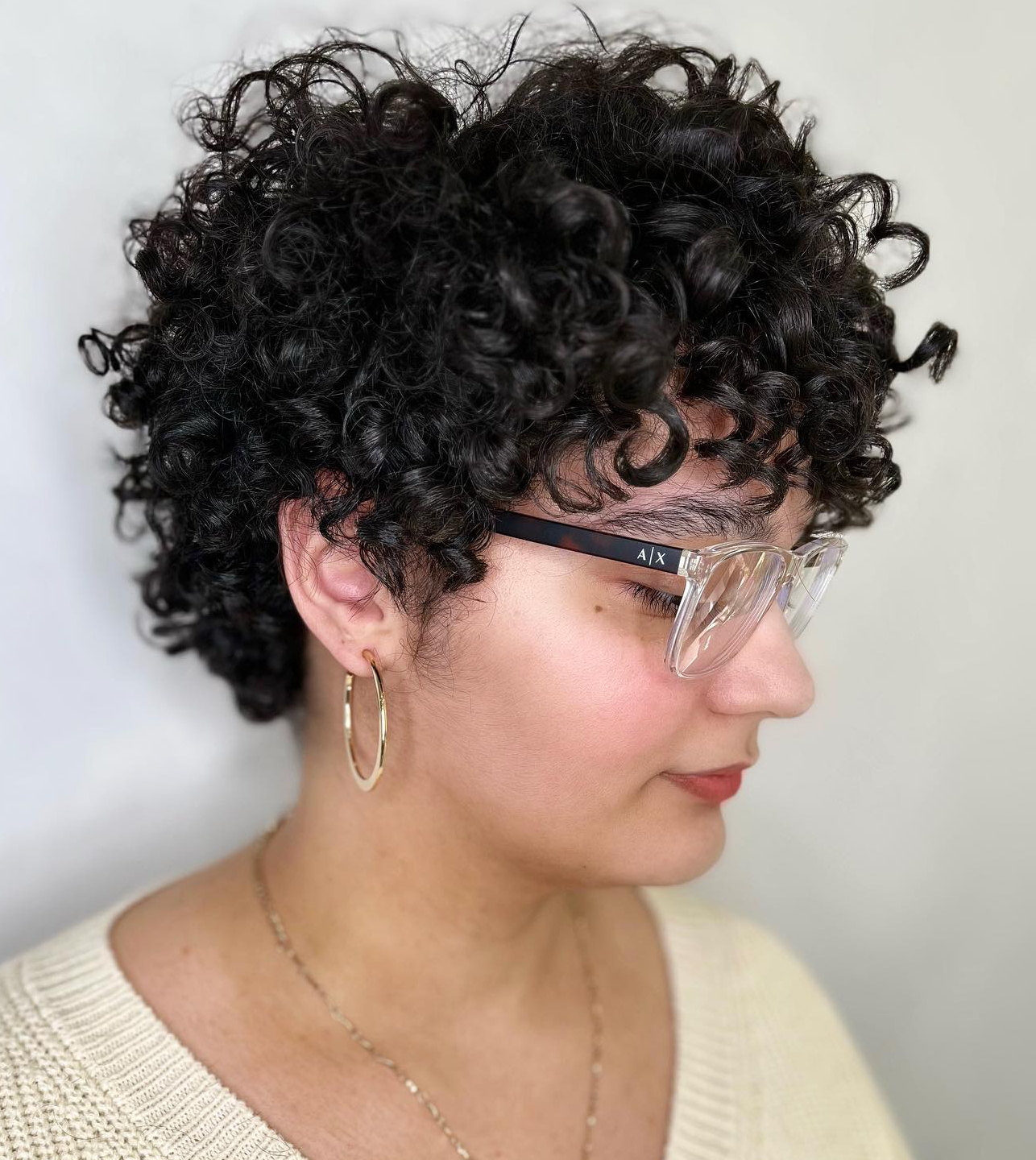 via @cutsbynelly
Whimsical You: Messy Curly Pixie
This sprung-spirit crown of a messy hairstyle was made with those with an untamed mop of curly locks in mind. The carefree shoulder-grazing layers and asymmetrical fringe showcase the joyful abandon of its wearer's springy coils, inviting them to embrace the joyfully messy vibe infused by its free-spirited curly locks.
This asymmetrical pixie on curly hair allows these natural curls to bounce with youthful exuberance, unleashing the beautiful chaos within. Leave a trail of fascination wherever you go!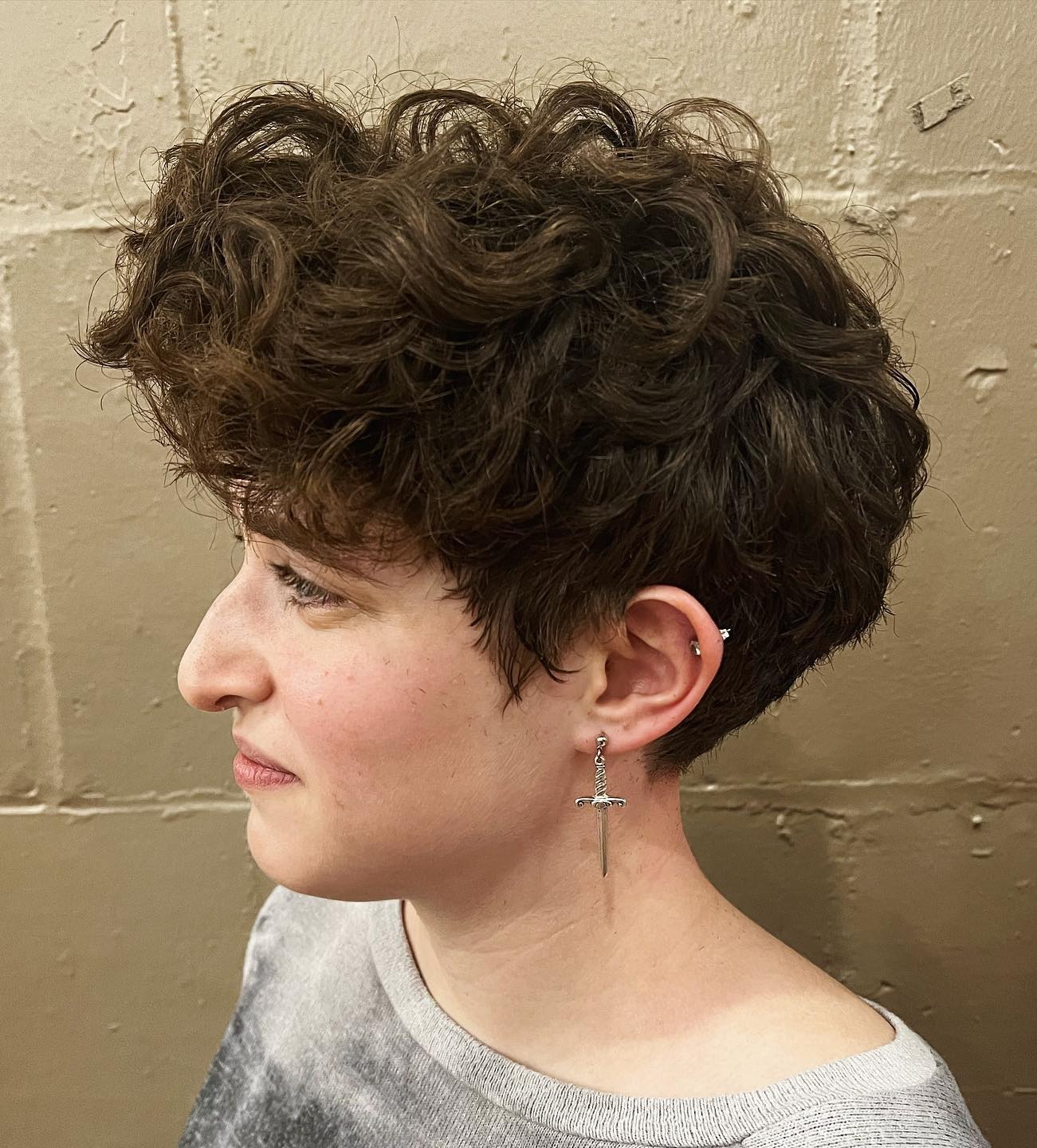 via @tnystylist
Jolly & Vibrant: Rainbow Curly Pixie Hairstyle
A stunning combination of perfect curls and rainbow softness! This Technicolor tendril crown of a perfect curly pixie cut invites you to embrace the art of coloring your wild curls.
The face-framing side-swept bangs and subtle facial layers allow for colorful ombre and balayage techniques that beautifully blend hues while maintaining the health of those rainbow soft curls. The shoulder-length style encourages volume at the crown as colored corkscrews spring joyfully free, unleashing an inner gypsy spirit.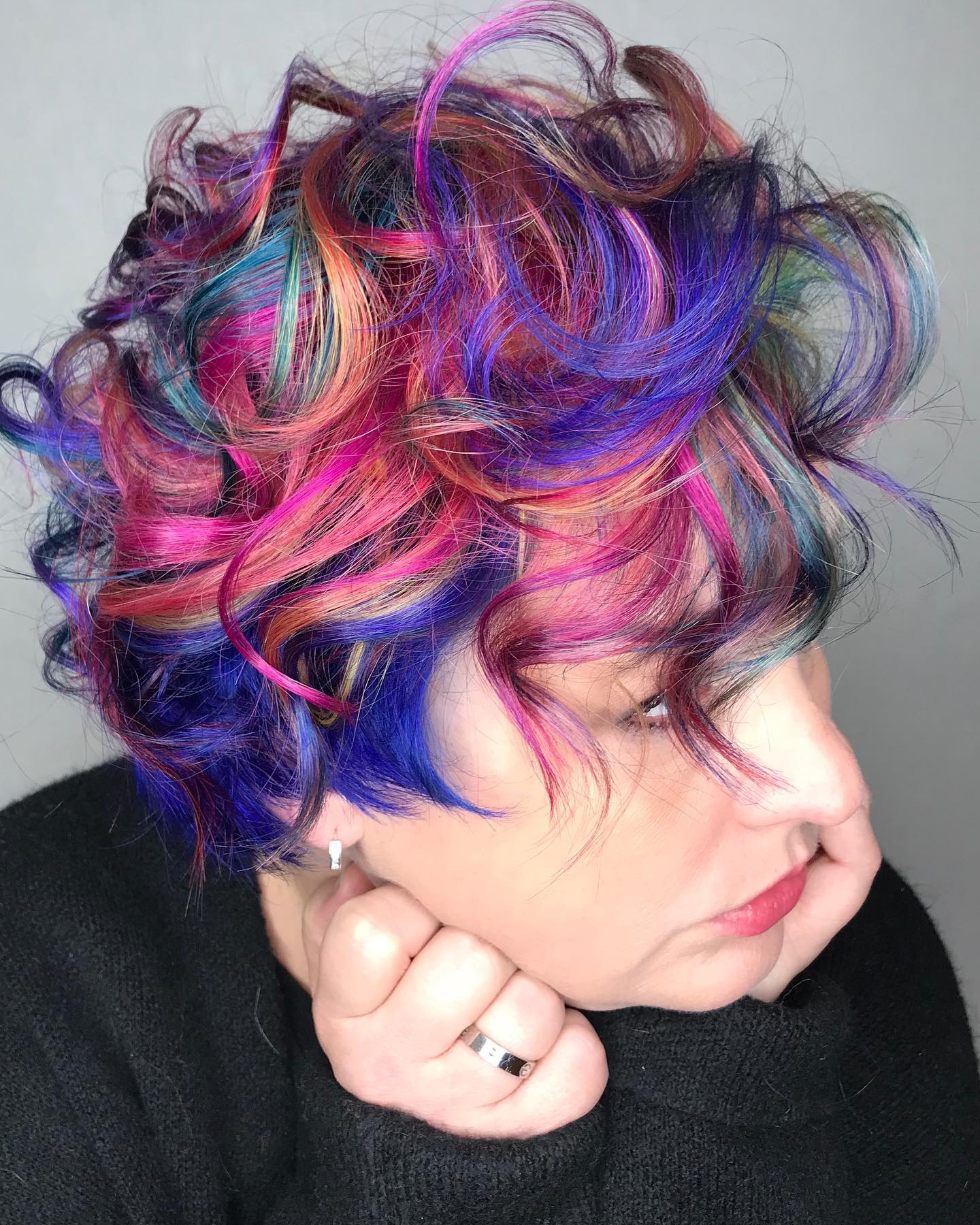 via @color_ahead
The Mini Mermaid Crown: Curly Pixie For Thin Hair
Are you looking for short, fine hair ideas? This mini mermaid crown of a compact curly pixie cut was designed for those seeking to showcase fine, thin hair.
The graduated layers and long side-swept bangs frame the face while creating the illusion of lush volume for those short, fine hair strands when curled. The mid-length curly pixies encourage a lavish body and bounce, generally hidden within thin hair, allowing these natural corkscrews to frolic freely.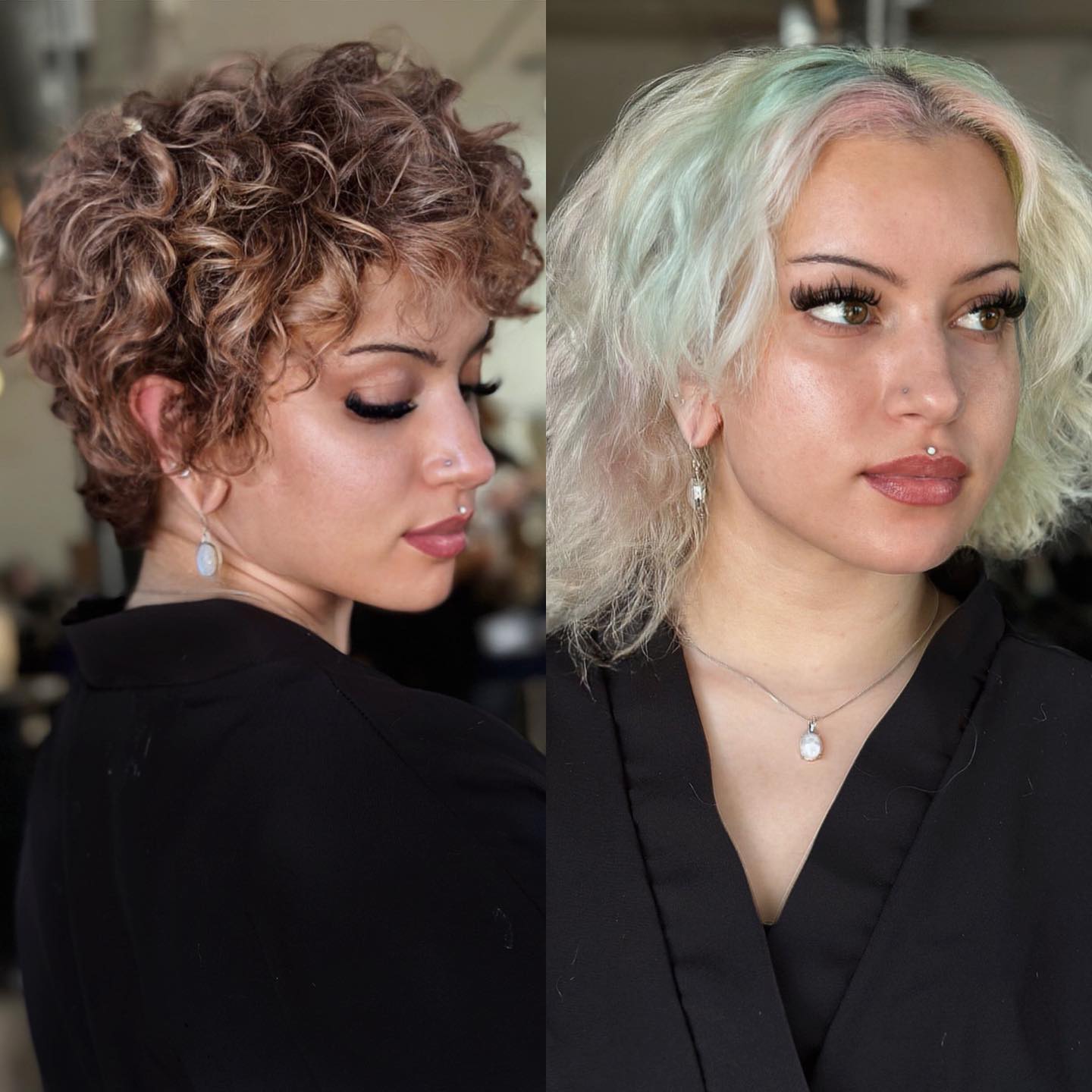 via @donebydayvhud
Thrilling & Enigmatic: Curly Pixie With Nape Undercut
This spirited stack crown of a short curly pixie cut with a nape undercut invites curly-haired femmes to unleash the bountiful volume often hidden within their corkscrew coils. The close-cropped sides and shaved nape allow for healthy growth and moisture at the crown of spirited ringlets that spring joyfully free.
The face-framing layers showcase this curl's bountiful body and texture for curly hair, channelling an effortlessly chic look with just a scrunch and go. Embrace your inner crown of corkscrews, freed from flatness by the liberating nape undercut.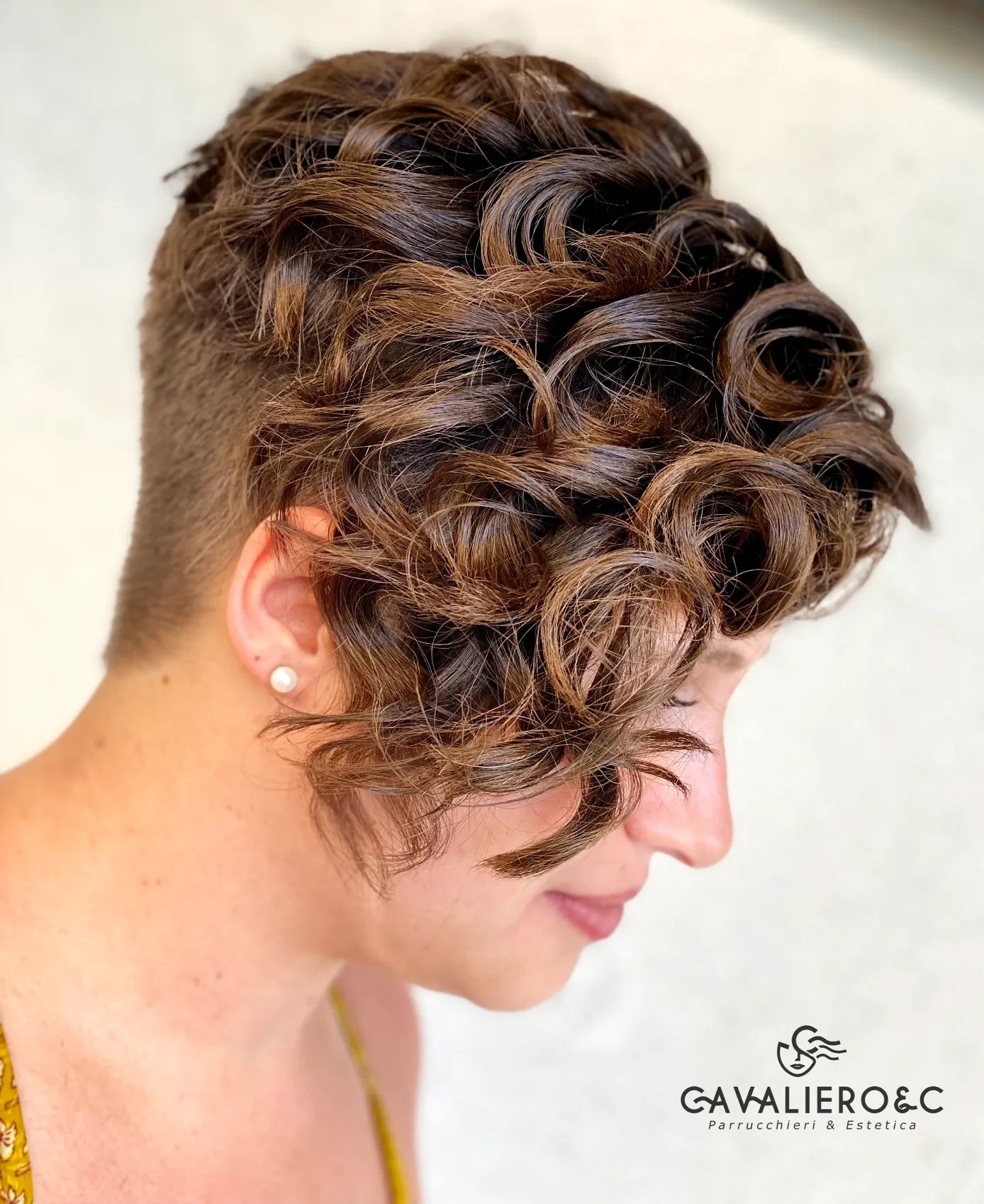 via @cavaliero_e_c
Fun & Flirty: Curly Pixie with Bangs
Opt for a spunky, eye-catching style by showing off your natural curls in a pixie cut with fade and fringe. The short sides and back fade naturally into your shorter, curled top layer, while your full, natural-curly bangs frame your face.
This pixie style with blunt bang lets your gently textured, natural curls shine through in a carefree, low-maintenance cut that embraces your hair's natural wave and curl pattern. With its "Cascading Charisma," you'll ooze confidence and elegance, turning heads with every bounce of your curls.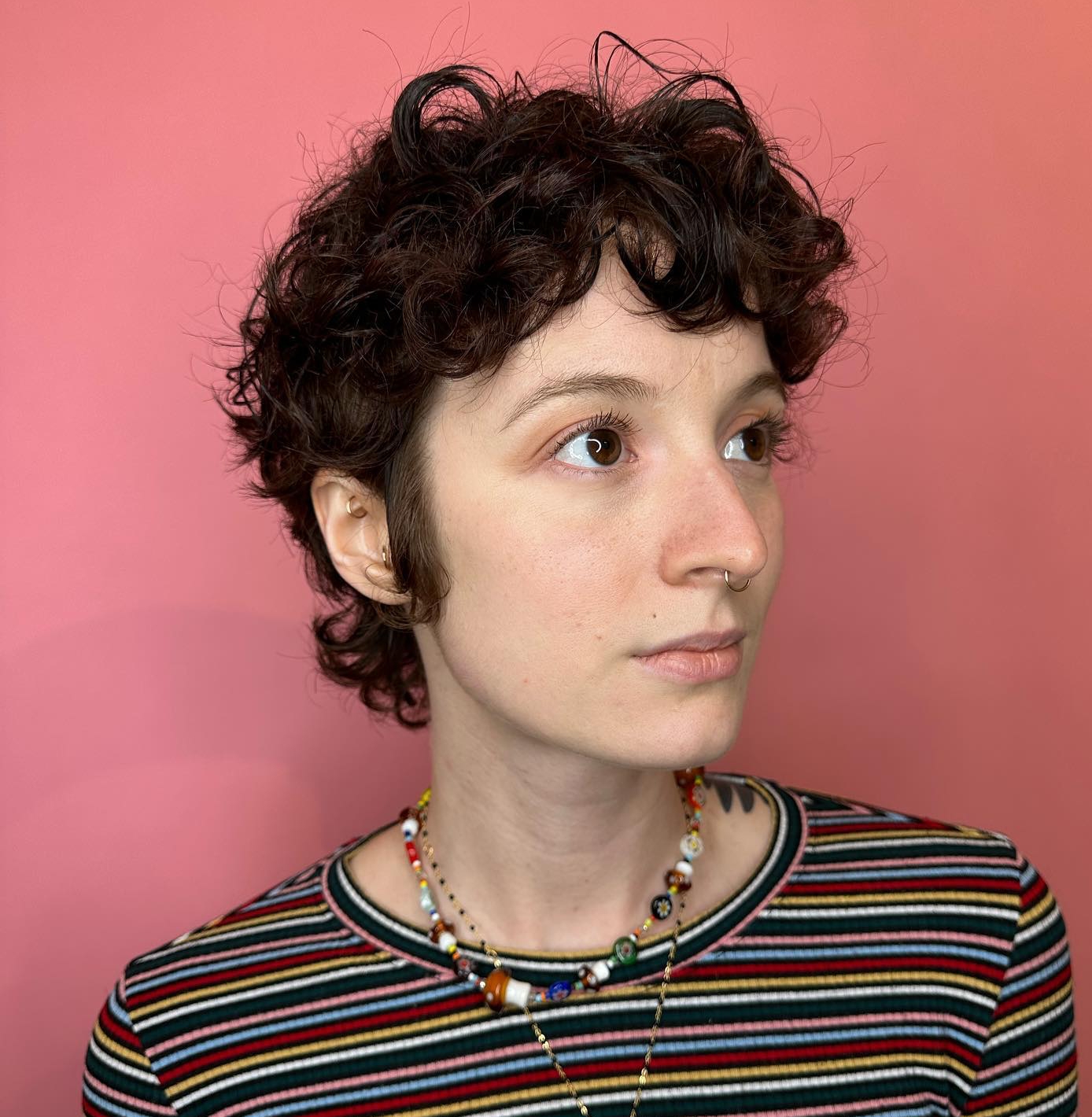 Sun-Kissed Serenade: Curly Pixie Cut With Balayage
This bold yet delicate look features balayage on a short, curly pixie cut that lights up your face. The balayage highlights the transition from warm golden caramel at the roots to sun-drenched honey streaks at the ends.
They enhance the shape and volume of your thick curly hair without weighing it down. The result is a modern yet whimsical take on the classic pixie with short sides and feminine curls on top that dance with a ballerina's grace for a style that is equal parts playful and refined.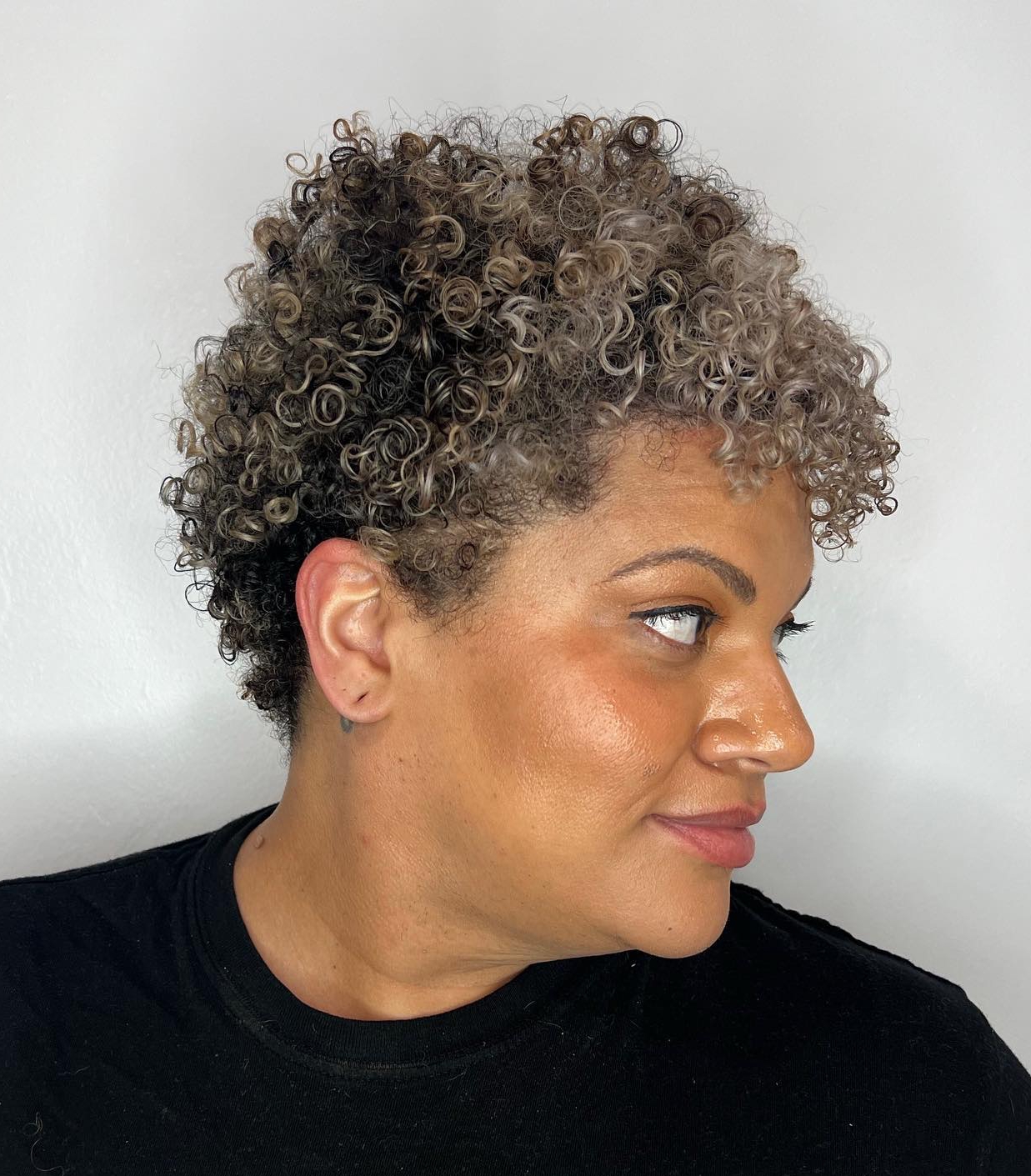 via @beautyxsyd
FAQ
How to style a curly pixie cut?
Styling a curly pixie cut is a delightful way to embrace your natural texture while exuding confidence and flair. To style your curly pixie:
Start with damp hair and apply a curl-enhancing cream or mousse for definition.
Use a diffuser attachment on low heat to dry your curls, encouraging volume and bounce.
For a playful look, scrunch your curls with your hands to enhance their shape. If you prefer a sleeker style, use a small amount of hair gel to tame flyaways and create a polished finish.
Embrace your individuality and let your curly pixie shine with minimal effort and maximum charm!