Now is the time if you have been thinking about going for a bolder look. With the new year coming up, why not make a statement with stunning and cute hair color?
Pink hair is something that you must try. Today, you will explore the top 23 shades of pink hair to achieve an eye-catching look. So if you're ready to stand out and make a statement with your pink short or long haircut, let's get started!
Pastel Pink Hair Are For Those Who Love Minimal Hair Styling
A soft and delicate shade of pink known as pastel hair color is frequently used with other lighter shades of hair color, such as blonde and even purple, or it can be worn on its own. It looks great with all complexions, skin tones and hair types and is one of the highly versatile hair color ideas. Try this new color on a bob cut for an extraordinary appearance.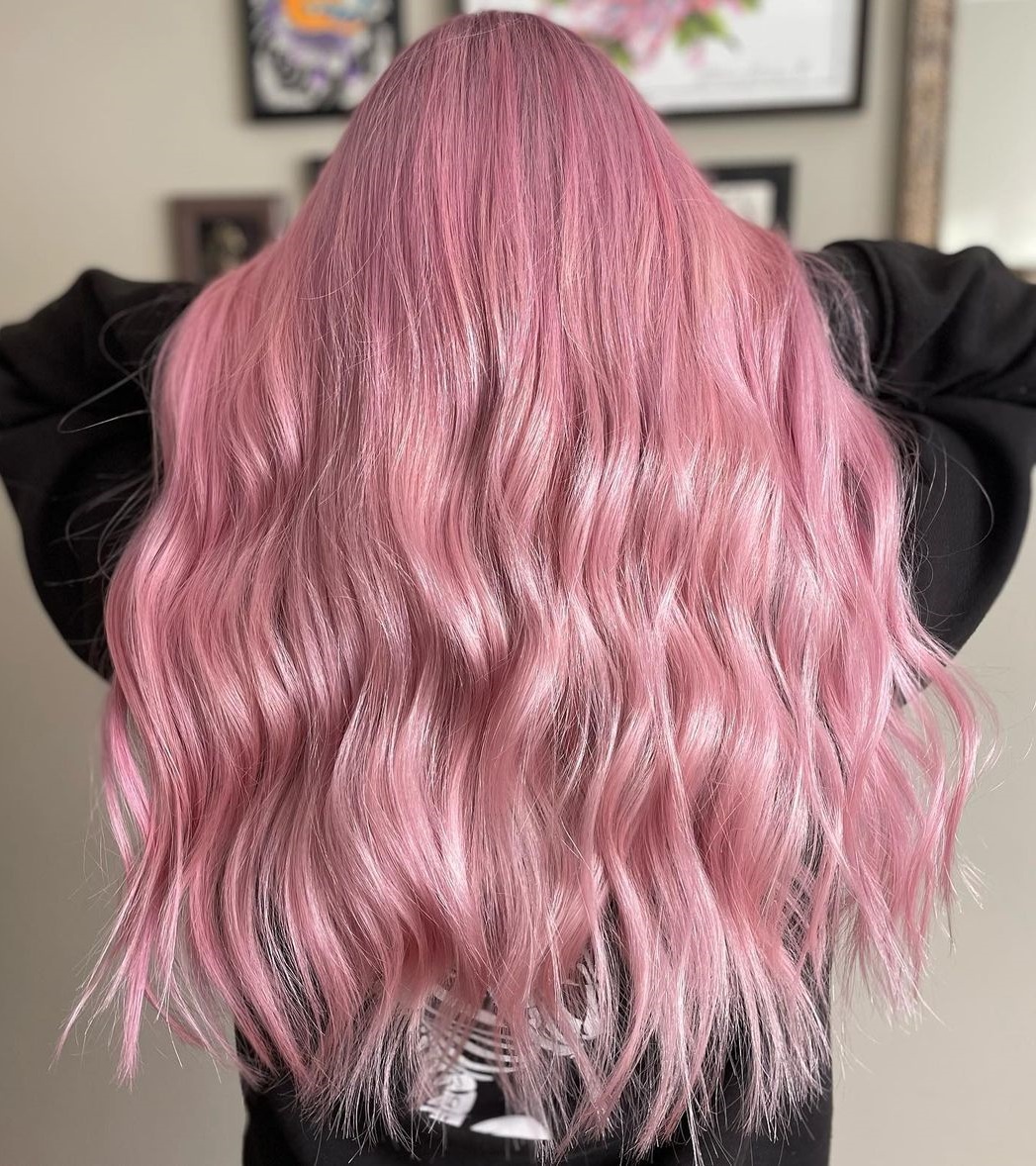 via @hair_byvale
Light Pink Hair Always Looks Modest
Light pink is a delicate and modest shade of hair dye for natural hair. It denotes happiness, carefreeness, and kindness. It is a superb hair color for people with fair or cool skin tones.
You can make a statement this new year with gorgeous light pink curls. This particular hair dye is in trend nowadays and is loved by celebrities too.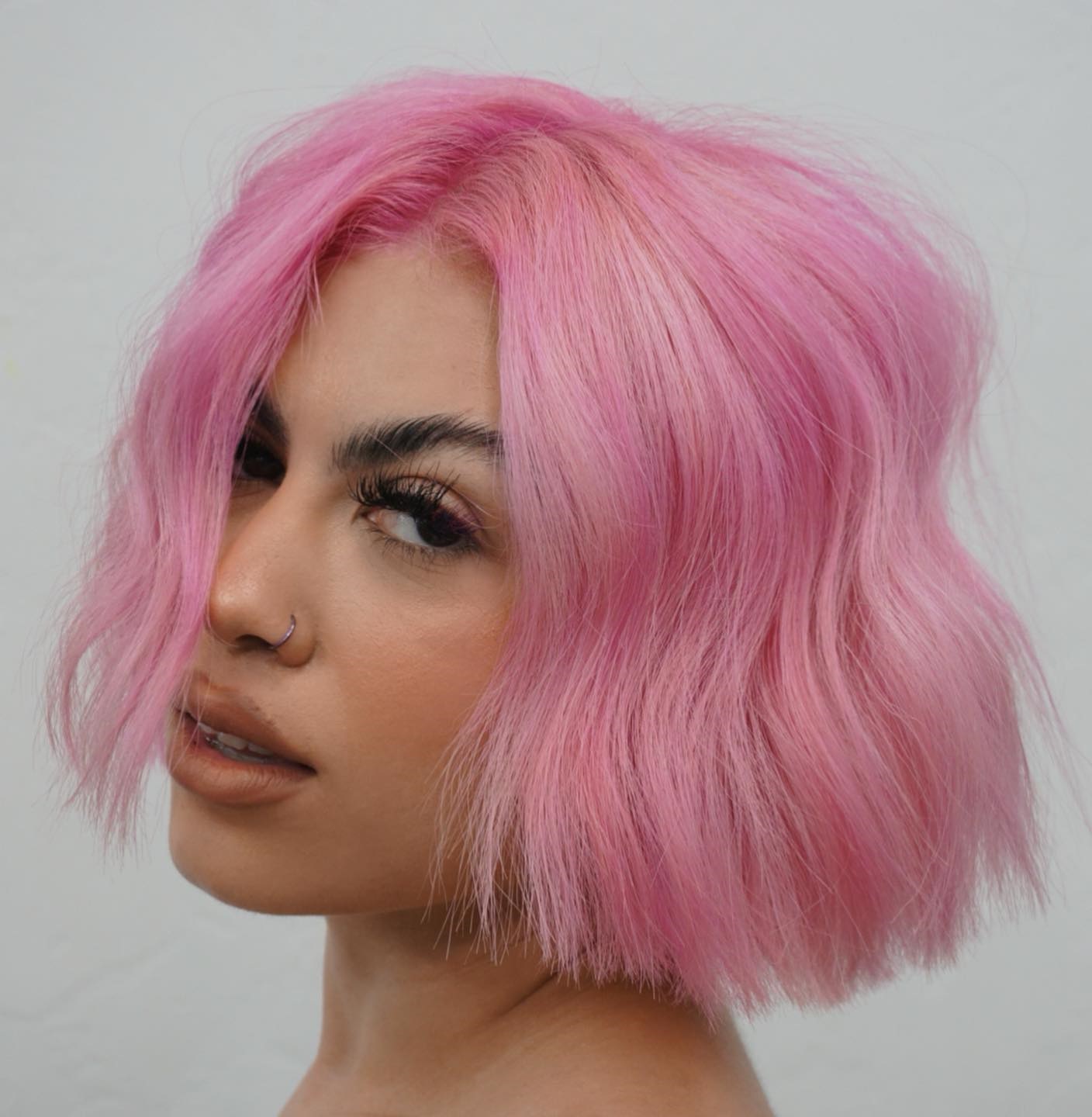 via @matthewwhair
Show Off Your Bold Personality With Dark Pink Hair
Women with darker hair are extremely proud because it is a highly versatile natural hair colour.
Deep pink hair color exudes a more refined mood than bright pink hair, which looks attractive on all skin tones. It's now a widely used hair trend. You can ask a hair stylist for the best pink color ideas for a pixie cut that will make you look fashionable.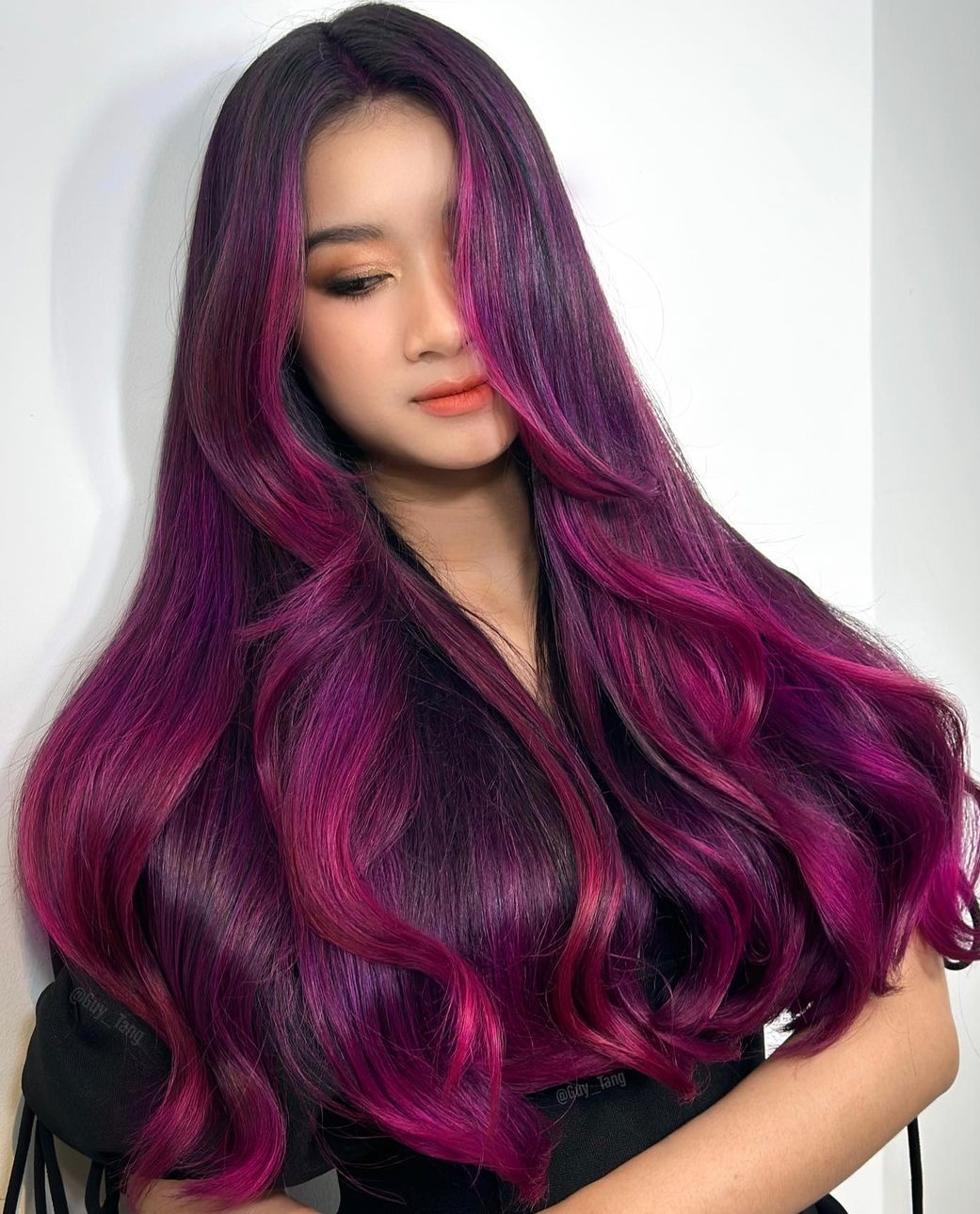 via @guy_tang
Hot Pink Hair Color for Courageous Women
Hot pink hair makes a bold statement and has a long history. If your hair has dark roots, you may need several bleaching procedures to get the desired outcome. Even though bleach can occasionally cause some harm to your hair, a professional stylist will give you a gorgeous, healthy hot pink color to your long or short hairstyle.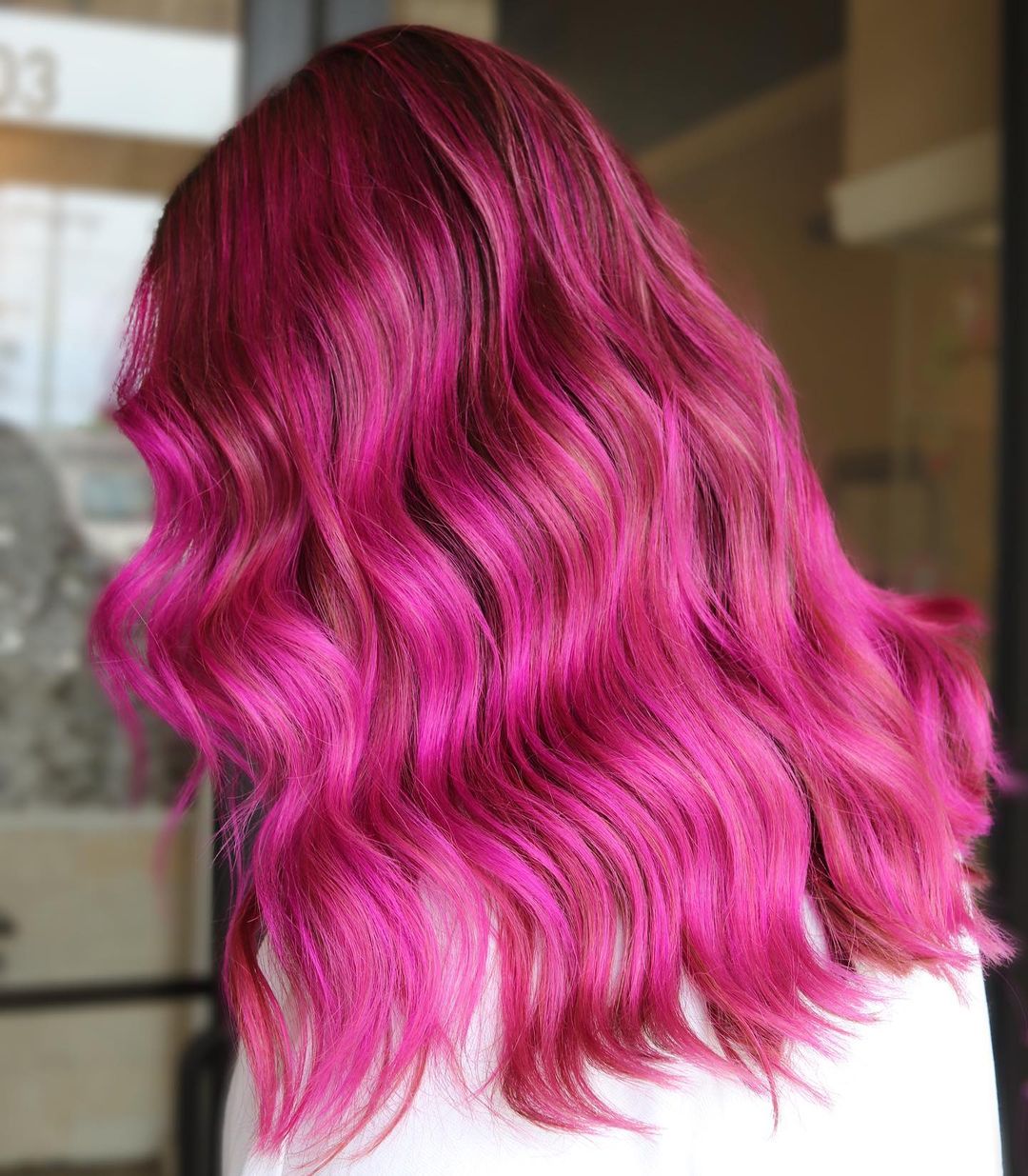 via @brandonspalette
Pink Ombre Hair Makes You Stunning In All The Way
Pink ombre hair features a gorgeous progressive color change from blonde hair to pink roots throughout. The ombre technique gives stunning looks when combined with a base of brown, blonde, black, or even ginger shade. It's a great way to enhance your natural hair texture. This hair look makes a statement, gets people talking, and increases heart rates.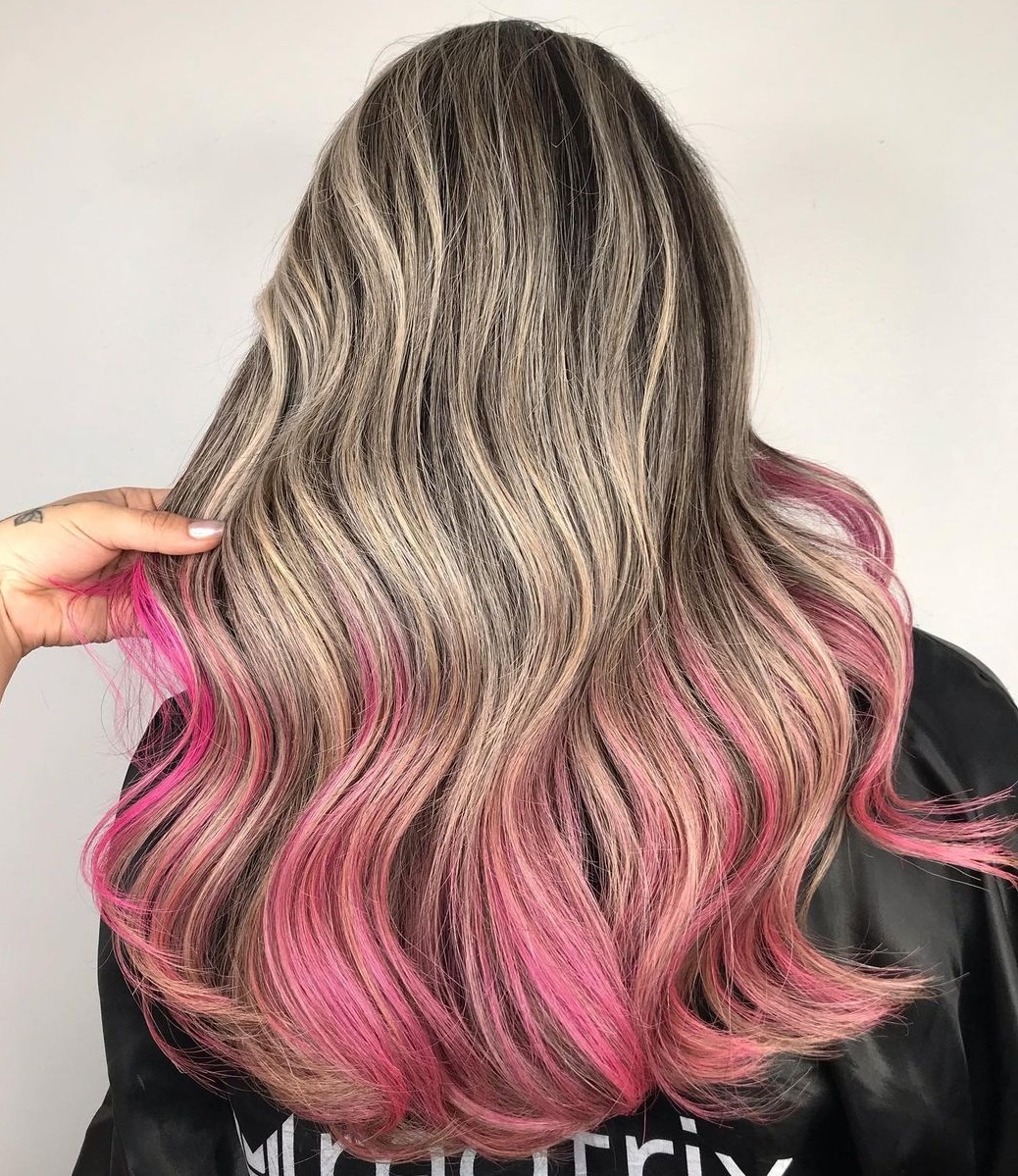 via @ninasbeauty.cl
Pink With Purple Hair Looks Unique
The violet-tinged pink hue for hair often showcases your openness and versatility and is one of the beautiful pink hair color ideas. For a unique look, you can try pastel ombre with vibrant pink or a striking lavender tint. It communicates that you are unique, creative, and unafraid to explore yourself.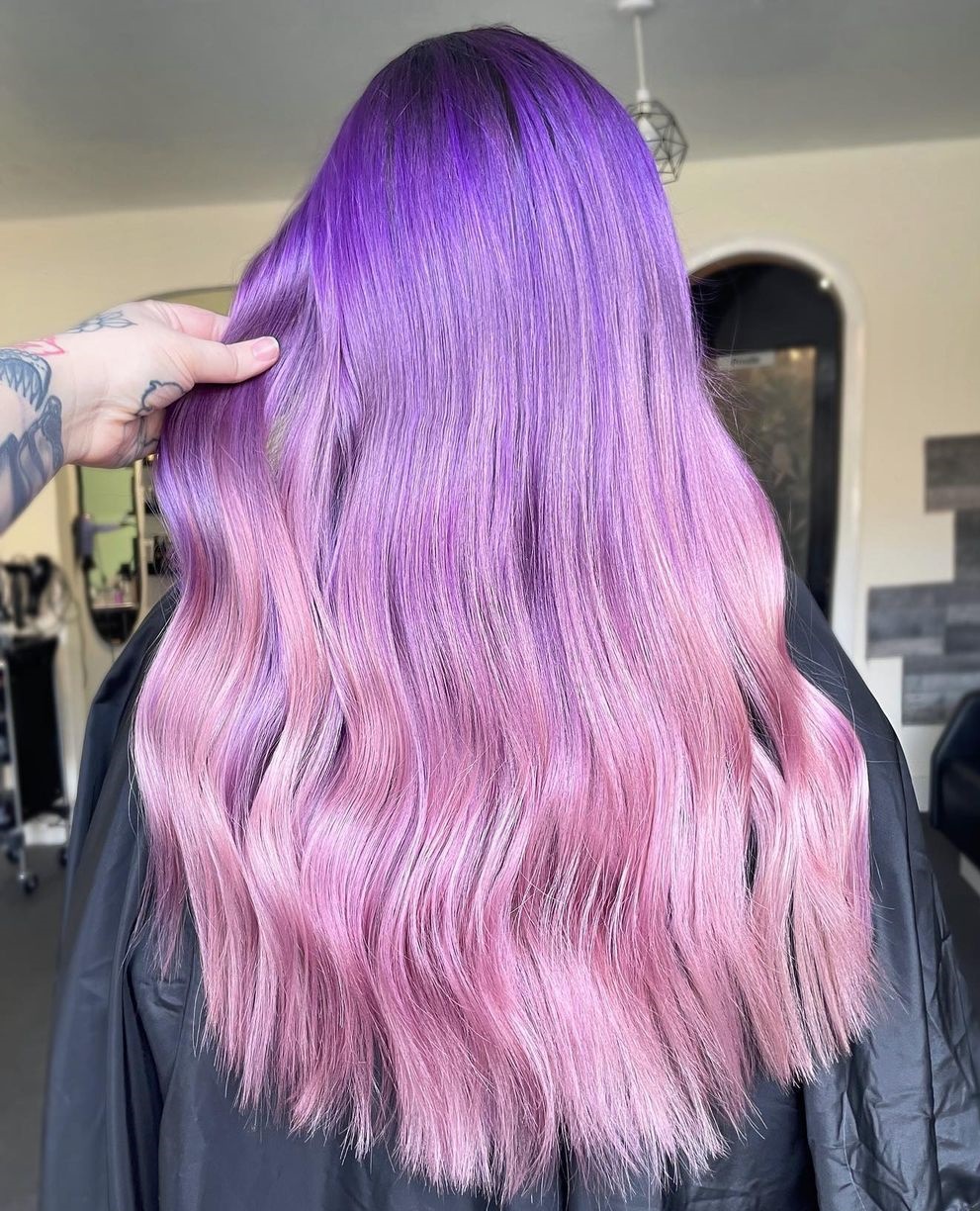 via @jesdoeshair_
Go for Pink and Black Hair Colors for a Striking Look
Try a striking combination of black and pink hair dye to make a statement. If you keep your roots black and have a lovely pink color on the strands, you will have a more lively and natural appearance.
Alternatively, pink highlights can be done for a more modest look. If you have other styling ideas for pink color on a long hairstyle, ask your stylist to do the same, and you'll be ready to rock!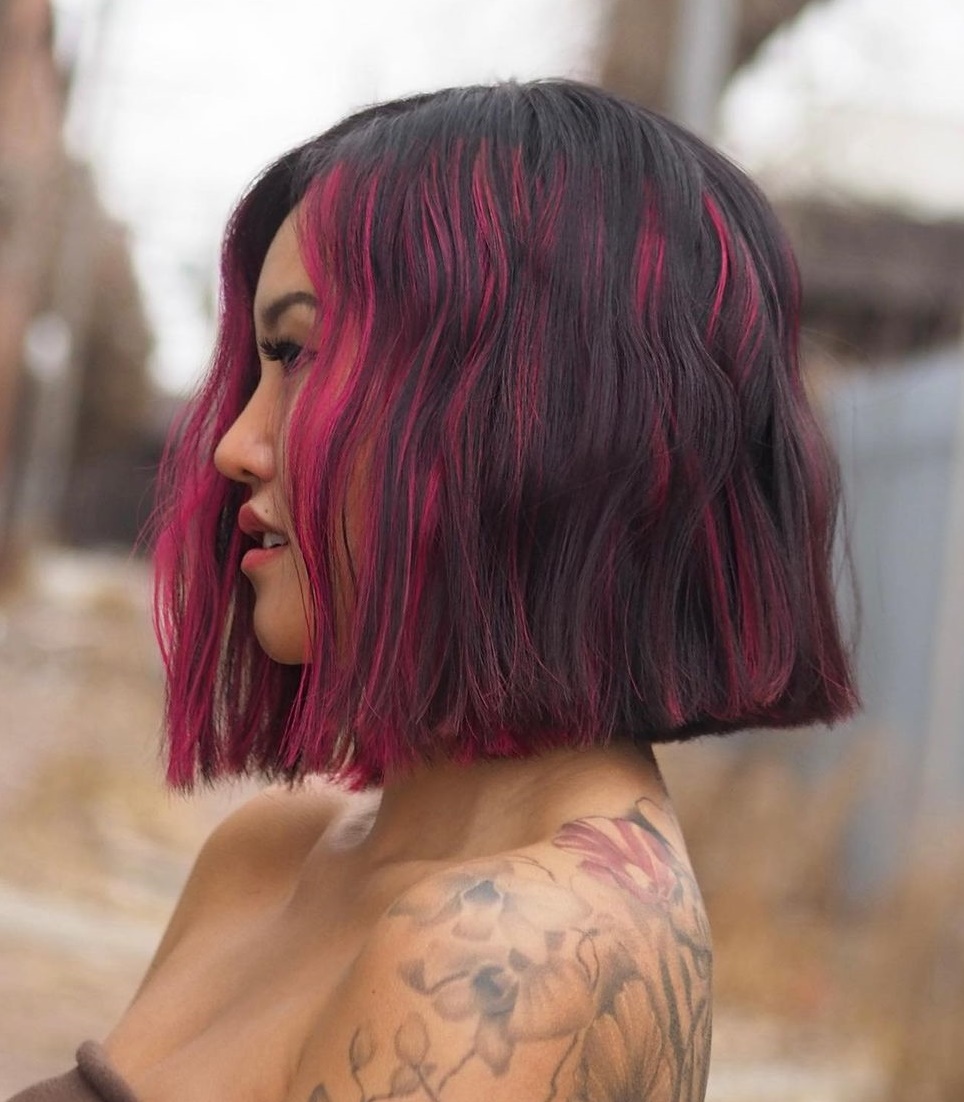 via @qynnes_canvas
Look Pretty in Pink and Blue Hair
Another unique pink hair idea is a blue and pink combo that complements one another while still providing diversity. Dark hair's blue and pink highlights are just great for this season. You can achieve more statement results by combining the pale pastel hues for both pink and blue for a gentle and blended effect.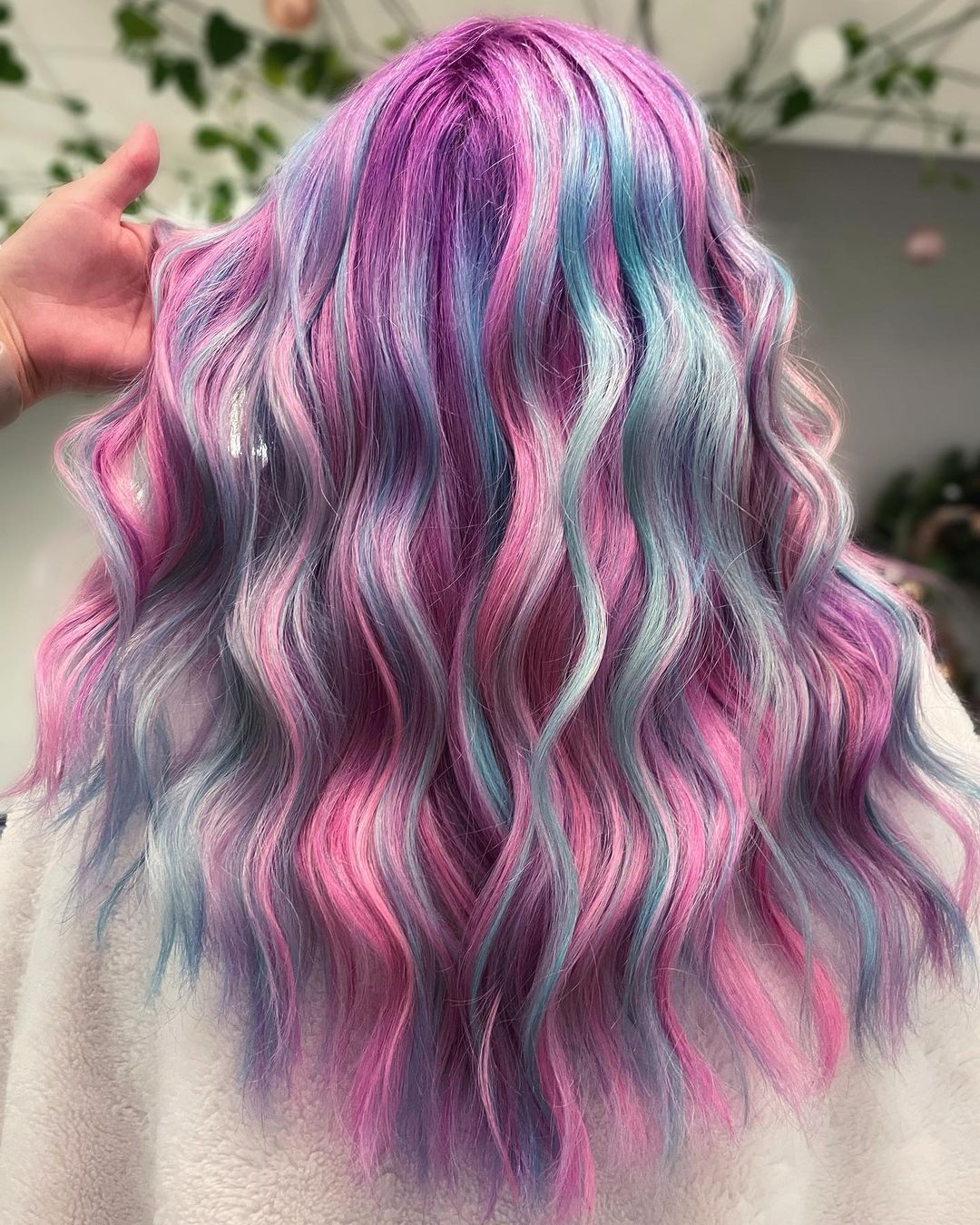 Take Your Look To The Next Level With Dusty Pink Hair
Dusty pink hair color has a gray undertone, which gives it a far moodier vibe on the curly bob cut than its candy-inspired counterparts.
Pink balayage works well with all dark skin tones because it melds seamlessly into medium or dark brown hair.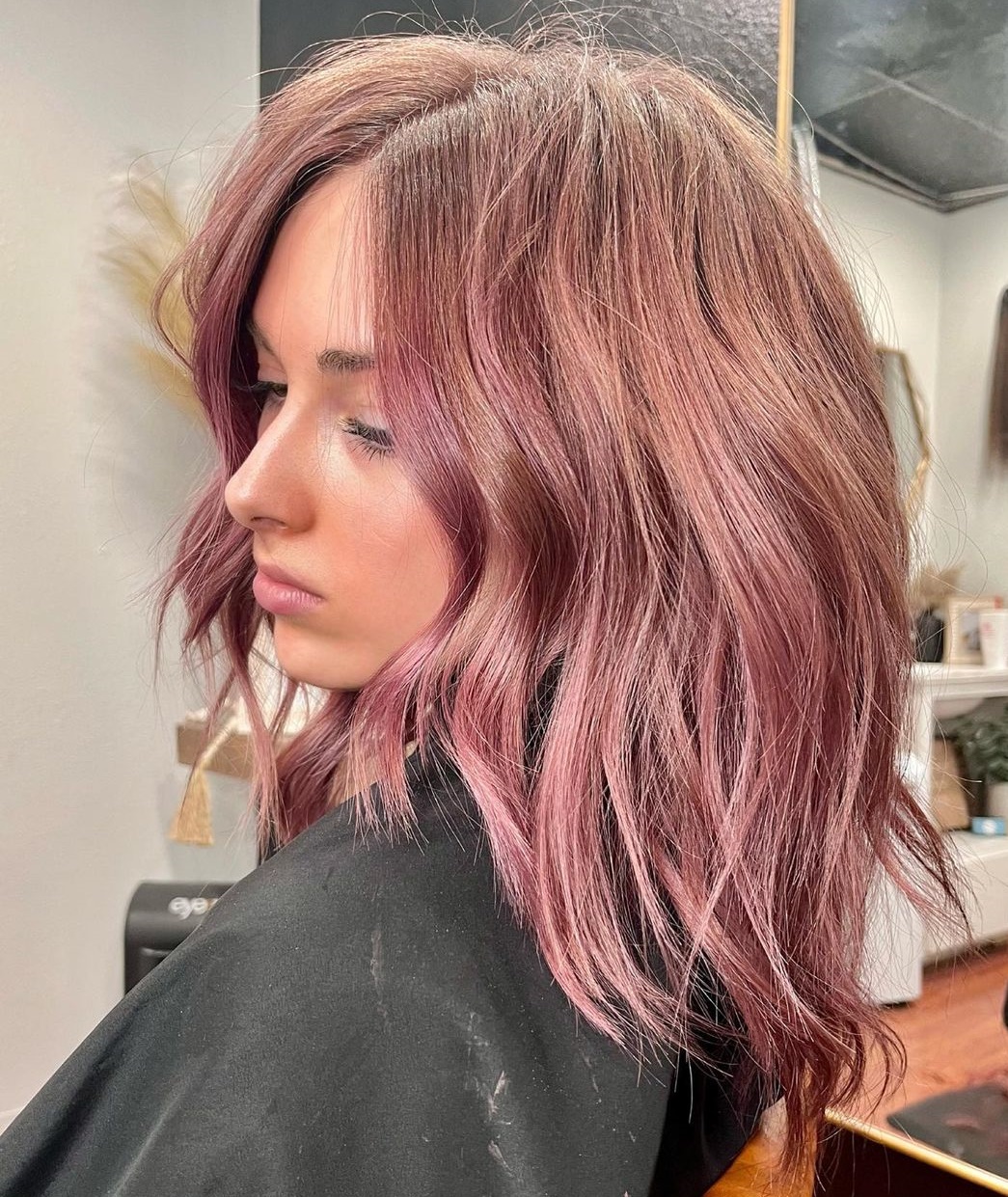 via @brelarsonbeauty
Go Crazy With Strawberry Pink Hair
If you want to discover yourself as a new one, try the light pink hair dye or rose gold hair color. It is less outrageous but still has an edgy vibe. It is a fabulous, vibrant hue for fair hair. It can be warm or cool and flatters fair and medium skin tones.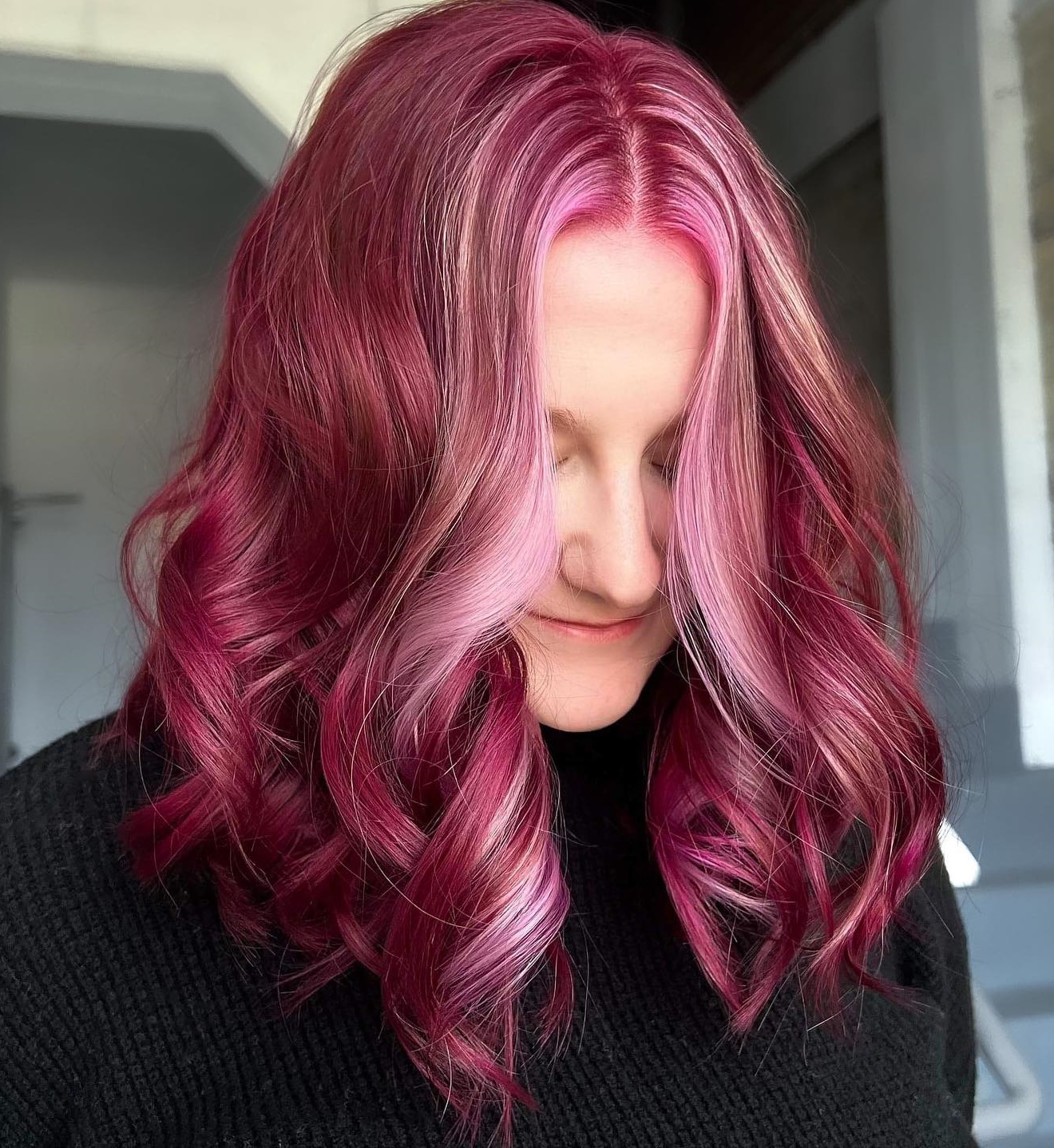 via @vix.hair.pix
Pink and Green Hair – A Flattering Color Combination To Rock
Combining pink with other bright hair colors, such as green, will make your hair stand out even more. Color your dark hair with green and pink highlights for a flattering look. If you prefer a softer hair look, you can go for pastel green and pink colors. This way, you can flaunt your messy pixie haircut more beautifully.
Pastel greens and pinks on messy pixie haircuts offer a soft, soothing complement to more vibrant colors.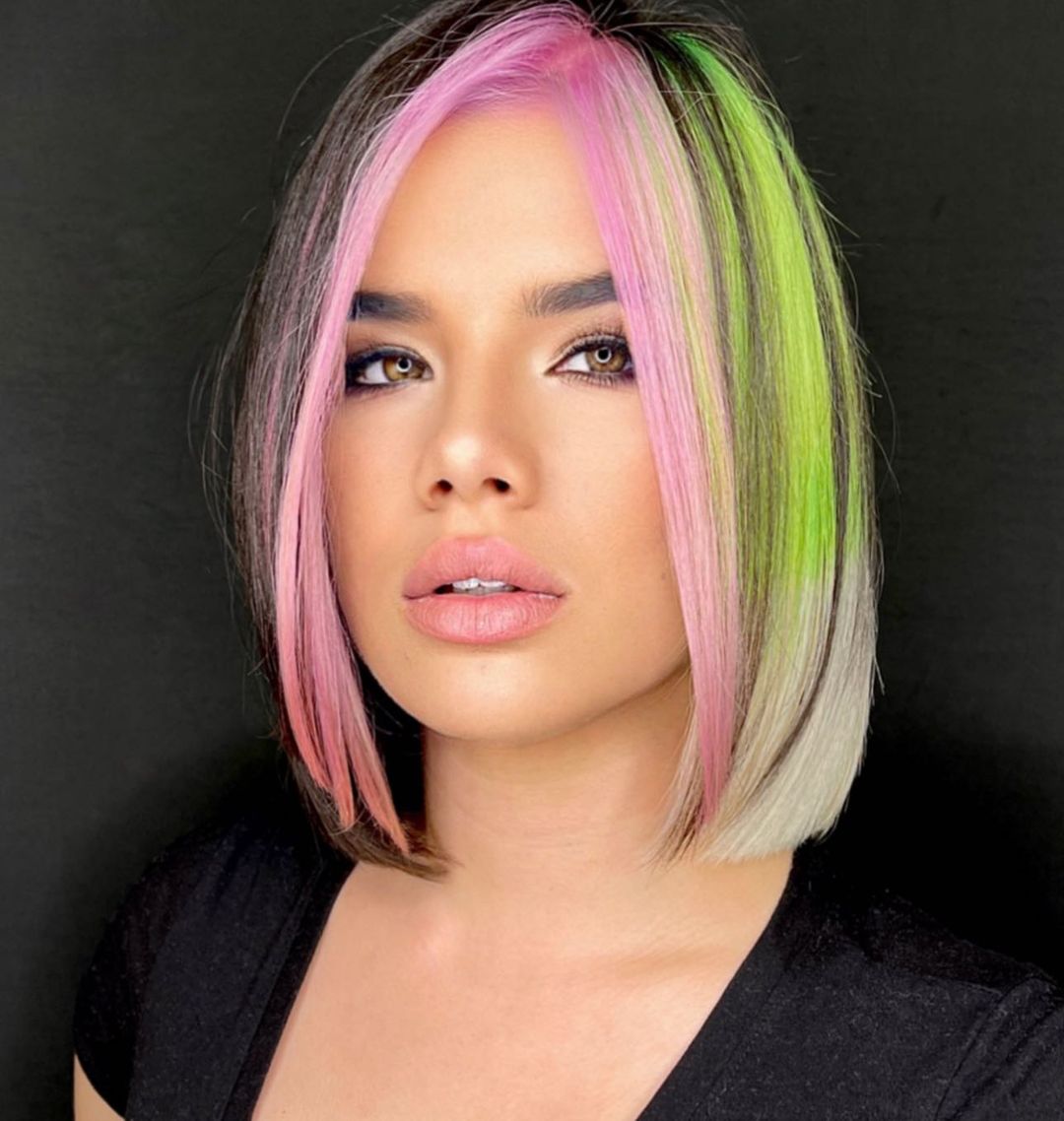 via @john.n1115
Get an Adorable Look with Cute Cotton Candy Pink Hair
The light pink shade looks faultless and incredibly attractive on every hairstyle, even for women over 50. Everybody will be gushing over her cotton candy shade.
It is usually suggested to go for this cute hair color on medium-length hair because it's easier to maintain as recoloring the full head becomes quick and convenient.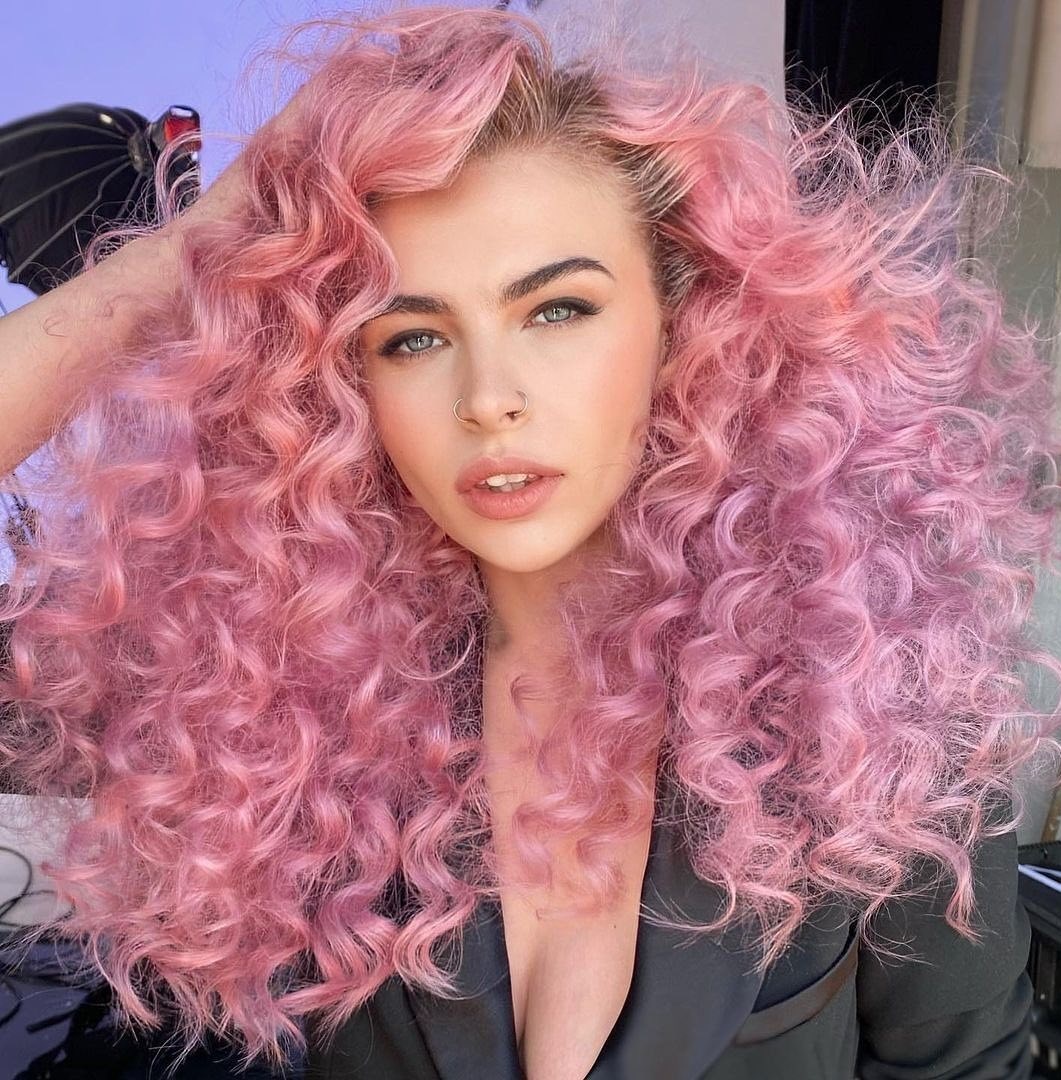 via @jhair_stylist
Magenta Shade Makes You Look Gorgeous
Magenta pink hair color is a gorgeous shade that you can experiment with on your long glossy hair. It adds a unique characteristic to your hair and makes them look energizingly sensual.
Women with dark brown hair will love this less vibrant version of red hair color even more. Keep the roots dark so they would dazzle in the strong sunlight. The magenta-pink hair color is one shade that complements many complexions.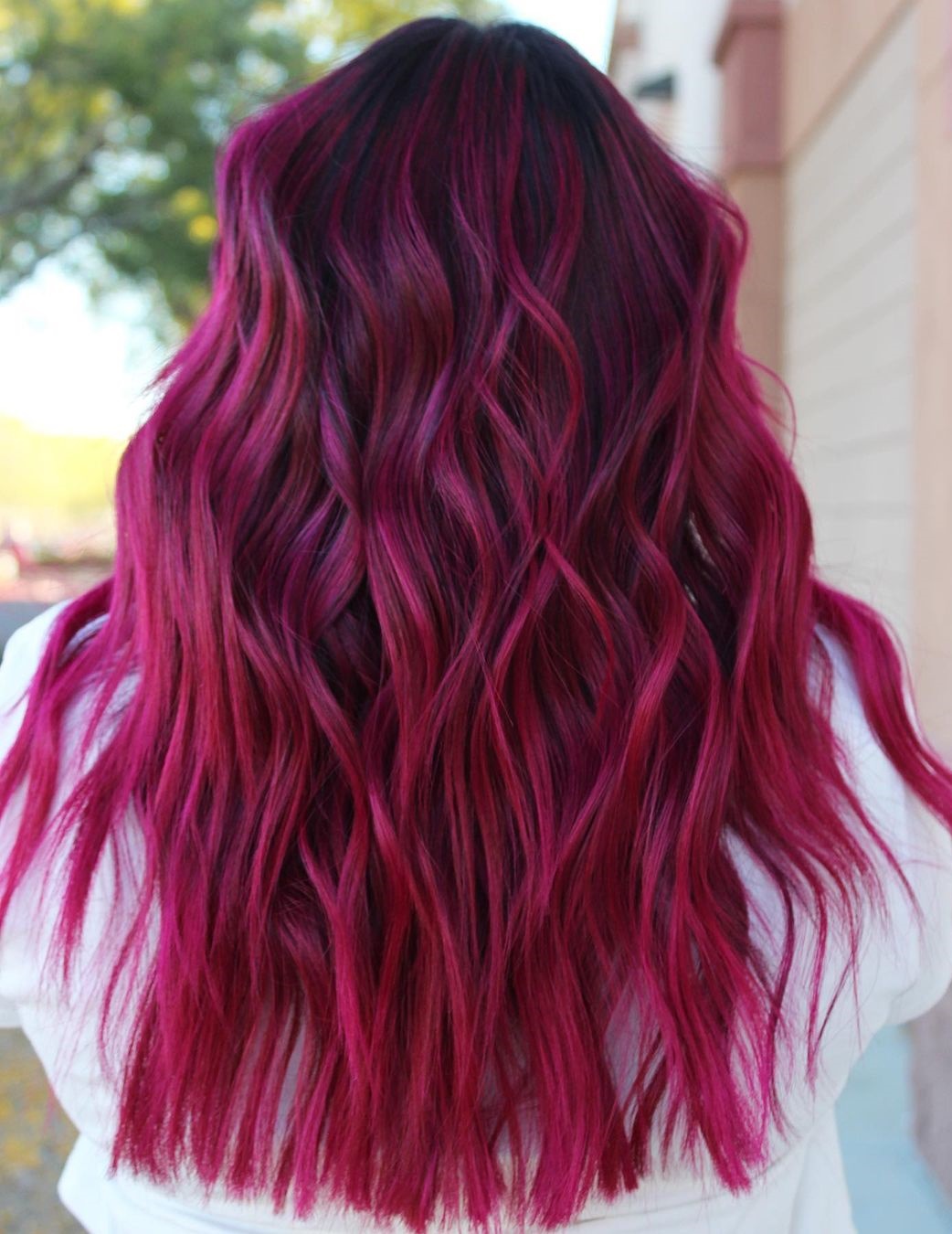 via @colorbycromer
Bubblegum Pink Hair Gives You The Hottest Look
Bubblegum pink is a mid-tone, dusty rose-purple color with a floral touch and is one of the best new pink hair color ideas. Blonde hair with purple highlights is fully versatile, letting you style it however you like, whether you want it to be showy or subtle, seamless or contrasting to many pink colors.
Pink hair extensions look great on everyone and have the softest yet most "vibrant" tone.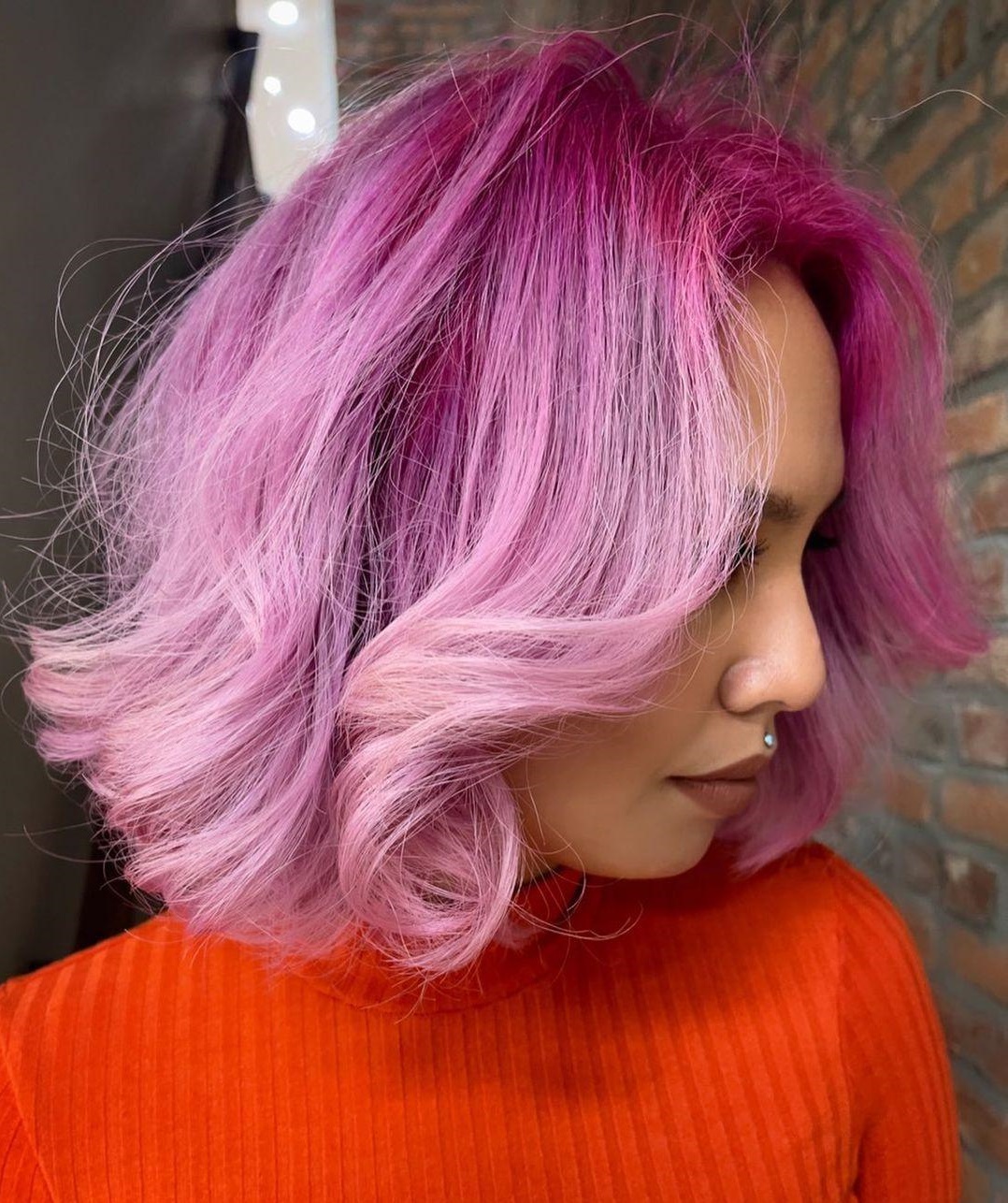 via @ajjaonyourmane
Be More Vibrant With Brown And Pink Hair
Brown hair can be an excellent foundation for experimenting with pink. Pink hair is associated with affection and elegance and looks creative and vibrant.
As per famous hair colorists, it can be used to add depth to your natural hair with highlights in various ways. You can also add deep pink hues on the tips of your hair for a more delicate finish that will brighten your skin.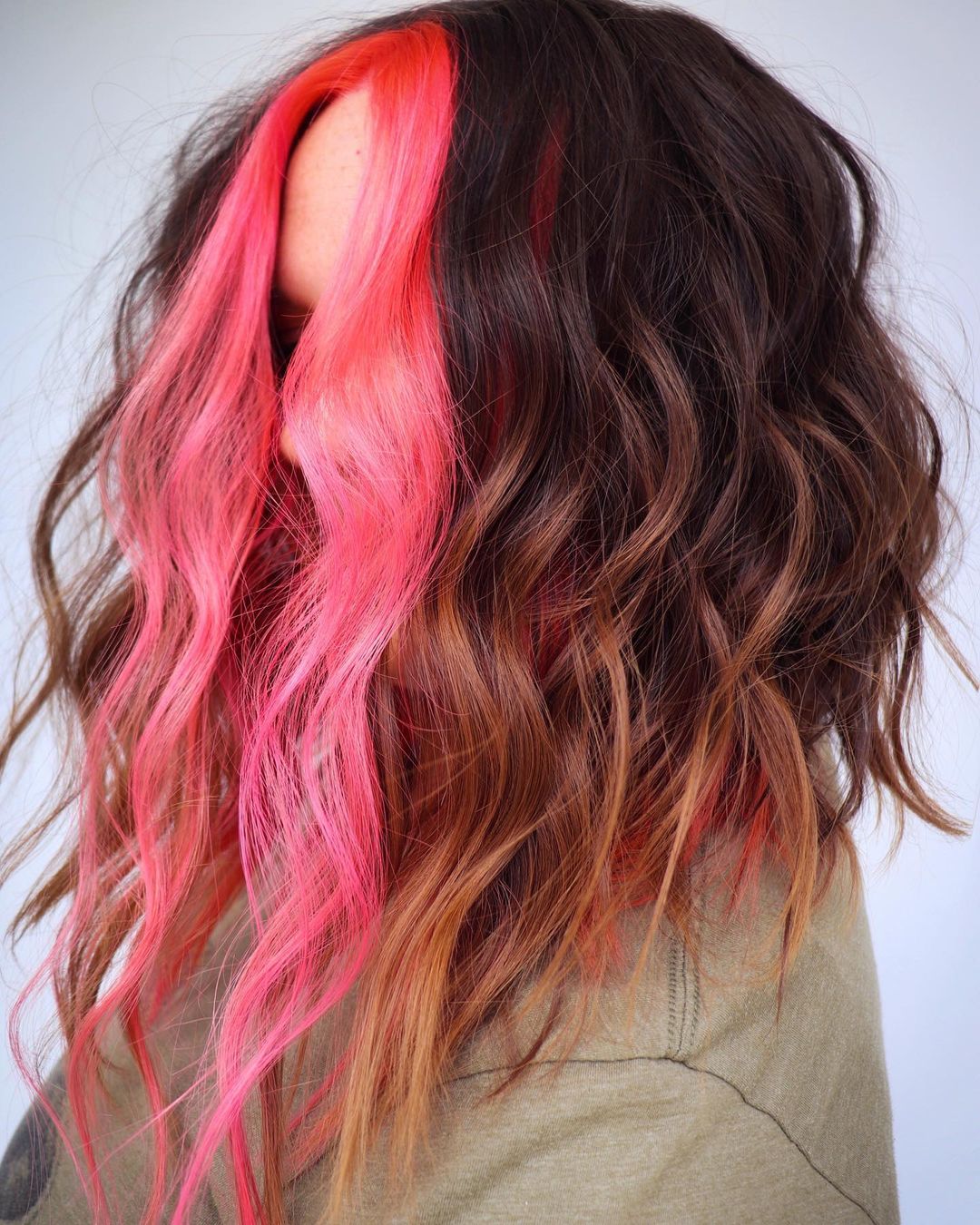 Platinum Blonde with Pink Tones Define Your Personality
If you have golden blonde hair, platinum blonde hair color will enhance its beauty. Cool-toned cotton candy pink shades look best on blondes, notably those with fair skin and long, straight hair.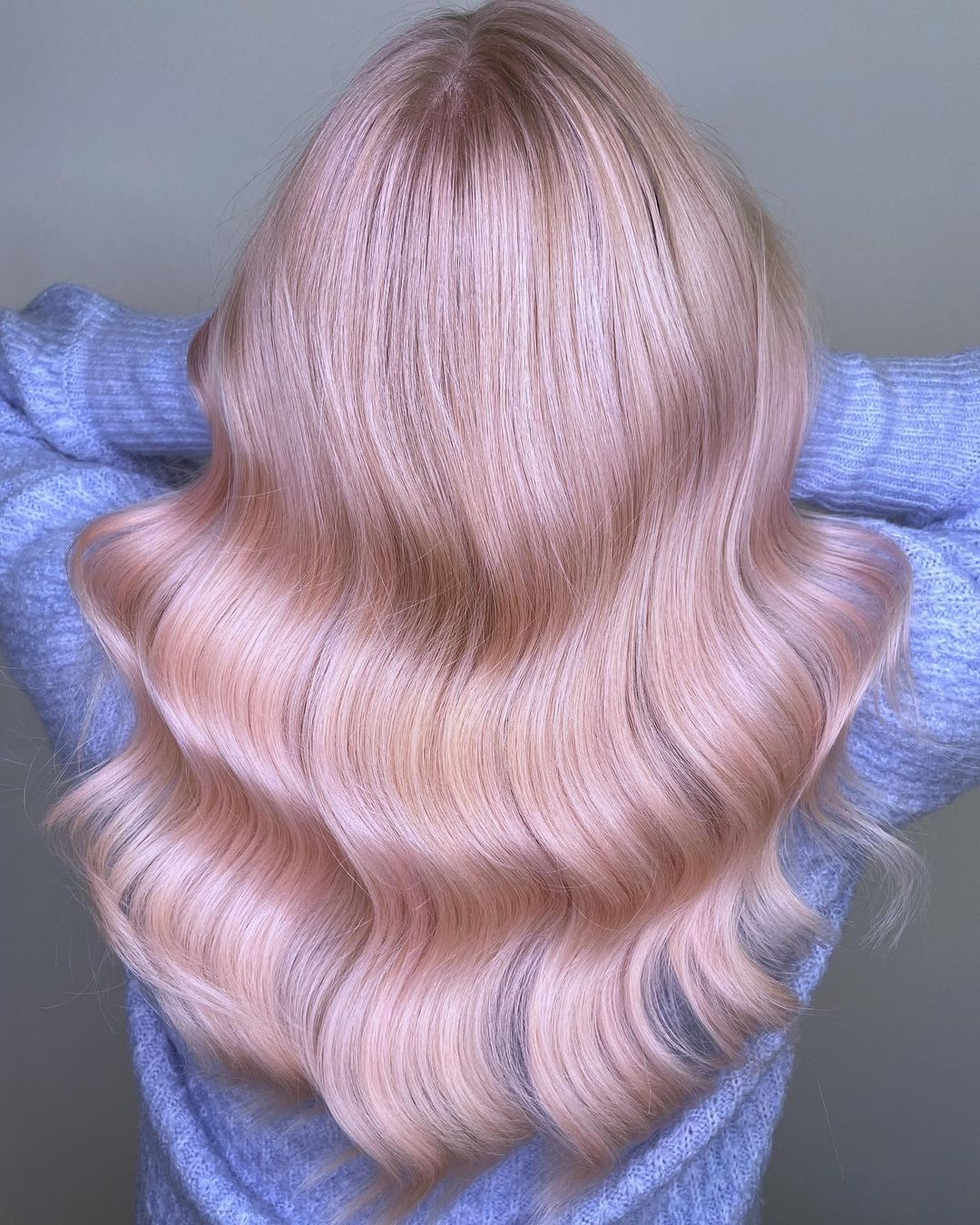 via @hairlekiini
Embrace Your Neon Pink Hair
Neon pink hair is fun to wear but is only for some. It takes a lot of courage to feel confident about such bright pink hair color. It can be braided, bunned, or left open.
It also looks so gorgeous on a short pixie or long curly bob. You should be aware that it's a high-maintenance hair color. Therefore, you need regular salon hair-coloring sessions to keep your neon flamingo pink colors.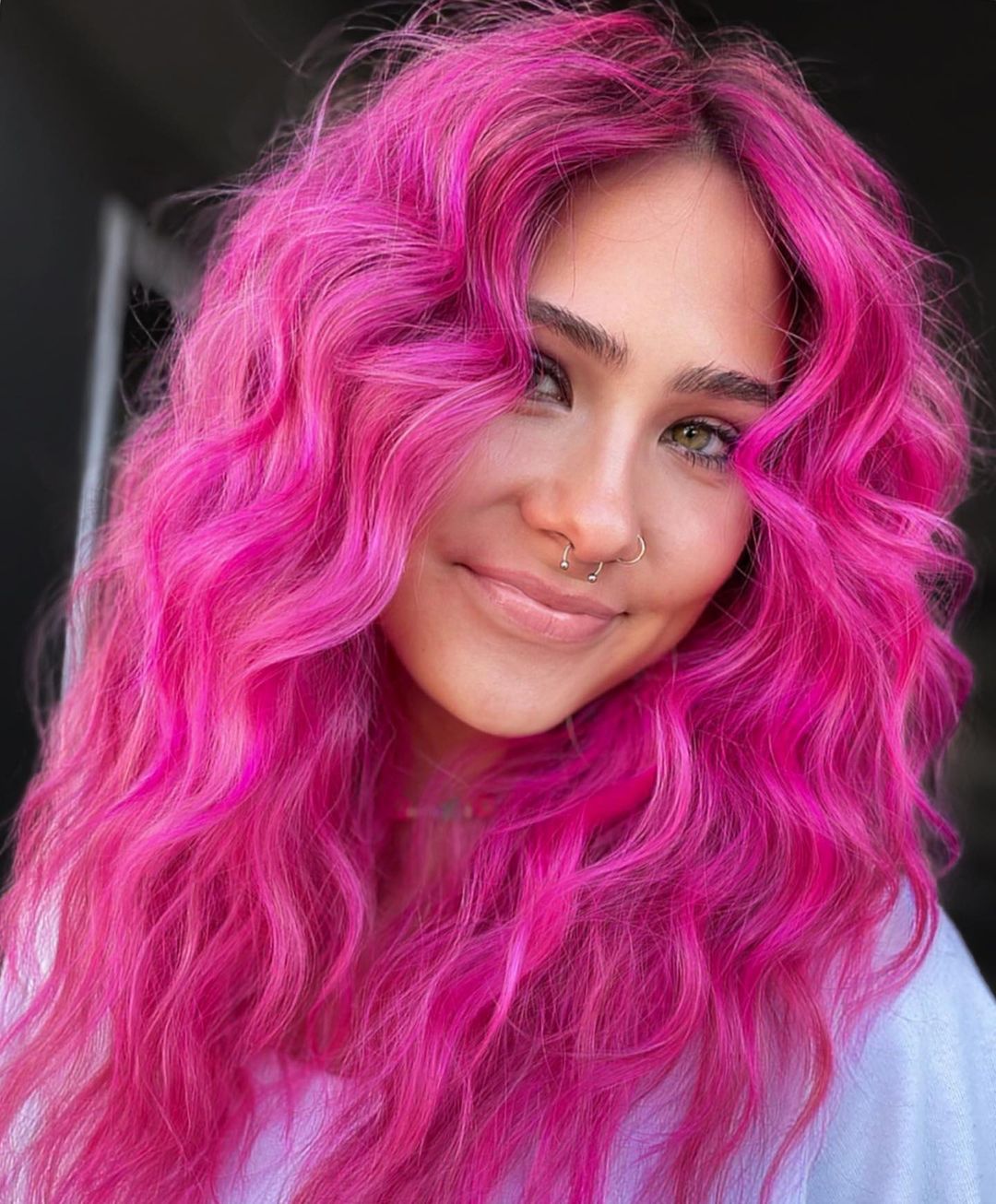 Pink Peekaboo Hair Makes You Trendy
If you want a pretty and low-maintenance hair color then pink peekaboo is the best choice. This is one of the vivid colors that immediately gathers the attention of people watching you.
Furthermore, you can show off your hidden pink layer with a center partition on your long hair.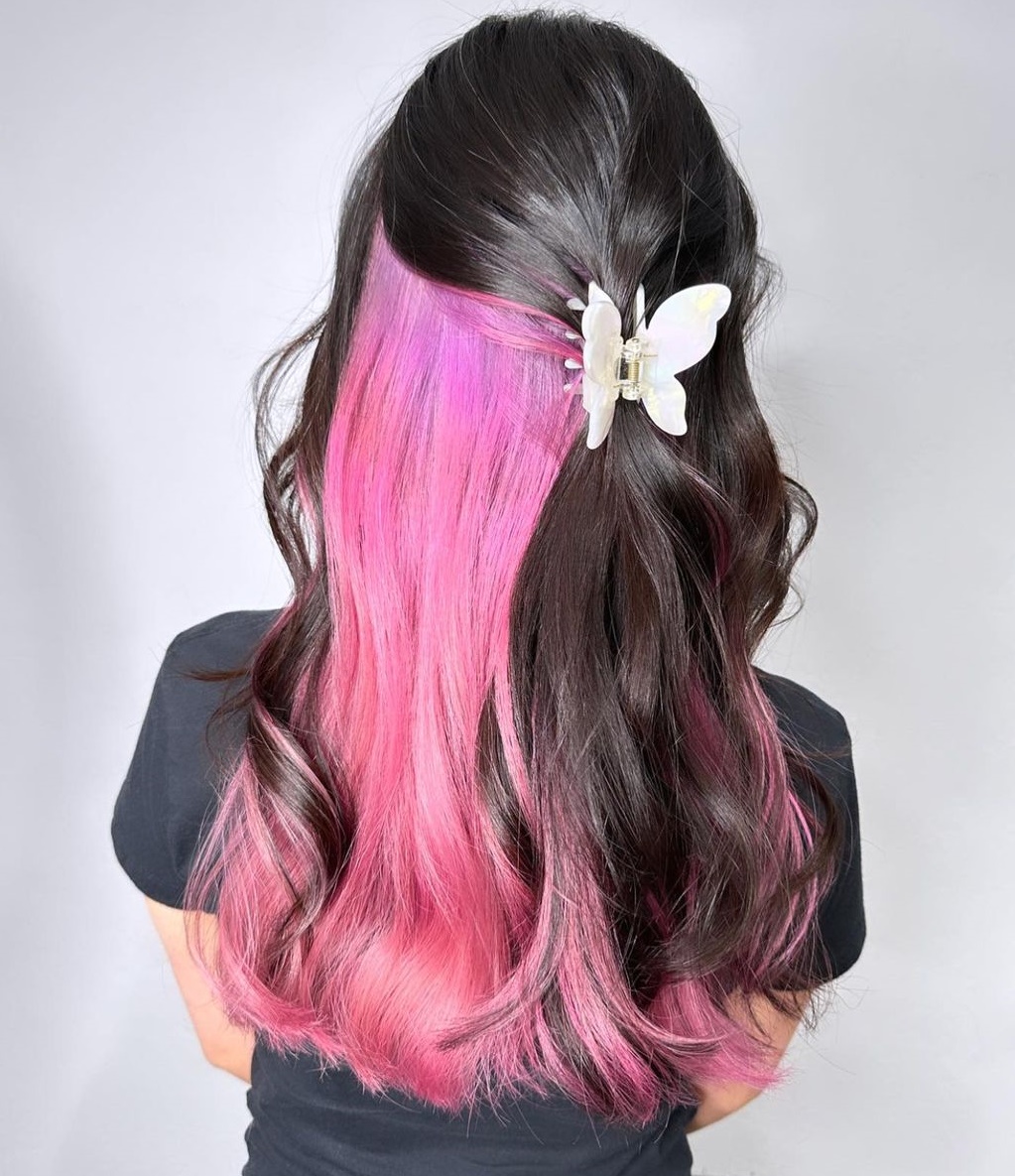 via @chris0712
Fall in Love With Yourself Once Again In Red and Pink Color Combination
Try pink and red highlights if you want a hair look that shows off your outgoing personality. It looks like rose gold hair, a blend of pink, red, and blonde shades. This pink look is not just hot; it's lively and appealing. People with medium neutral skin tones look charming in this hair color.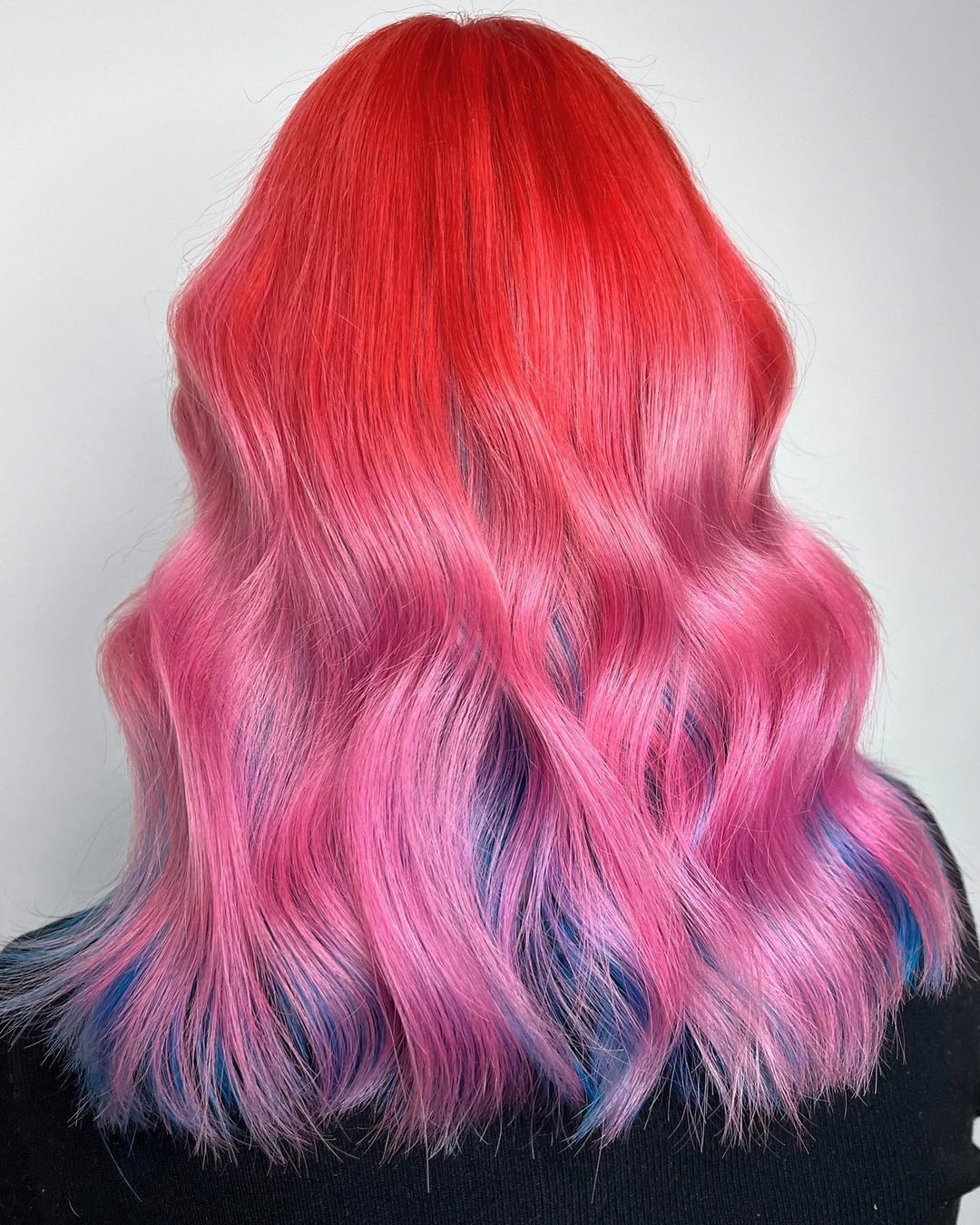 via @kelsey.mtl
Say Hello To New Hair Trend with Icy Pink Hair
The icy pink color is a contemporary trend that flatters fair skin and naturally blonde hair the most. It is one of the cute pink shades women are trying a lot these days.
However, it requires significantly more upkeep. You can lock the icy texture of your new hair shade by using dry shampoo, texture powder, and hairspray.
via @melodyandmike
Pink and Orange Hair Offers You a Distinct Look & Feel
Pink and orange are vibrant color mixes that draw attention to your hair. The orange hair dye contrasts effectively while still providing distinction. Pink hues can be a great way to play with your hair color; darker colors produce excellent contrast, while lighter shades appear more integrated on long bob cuts.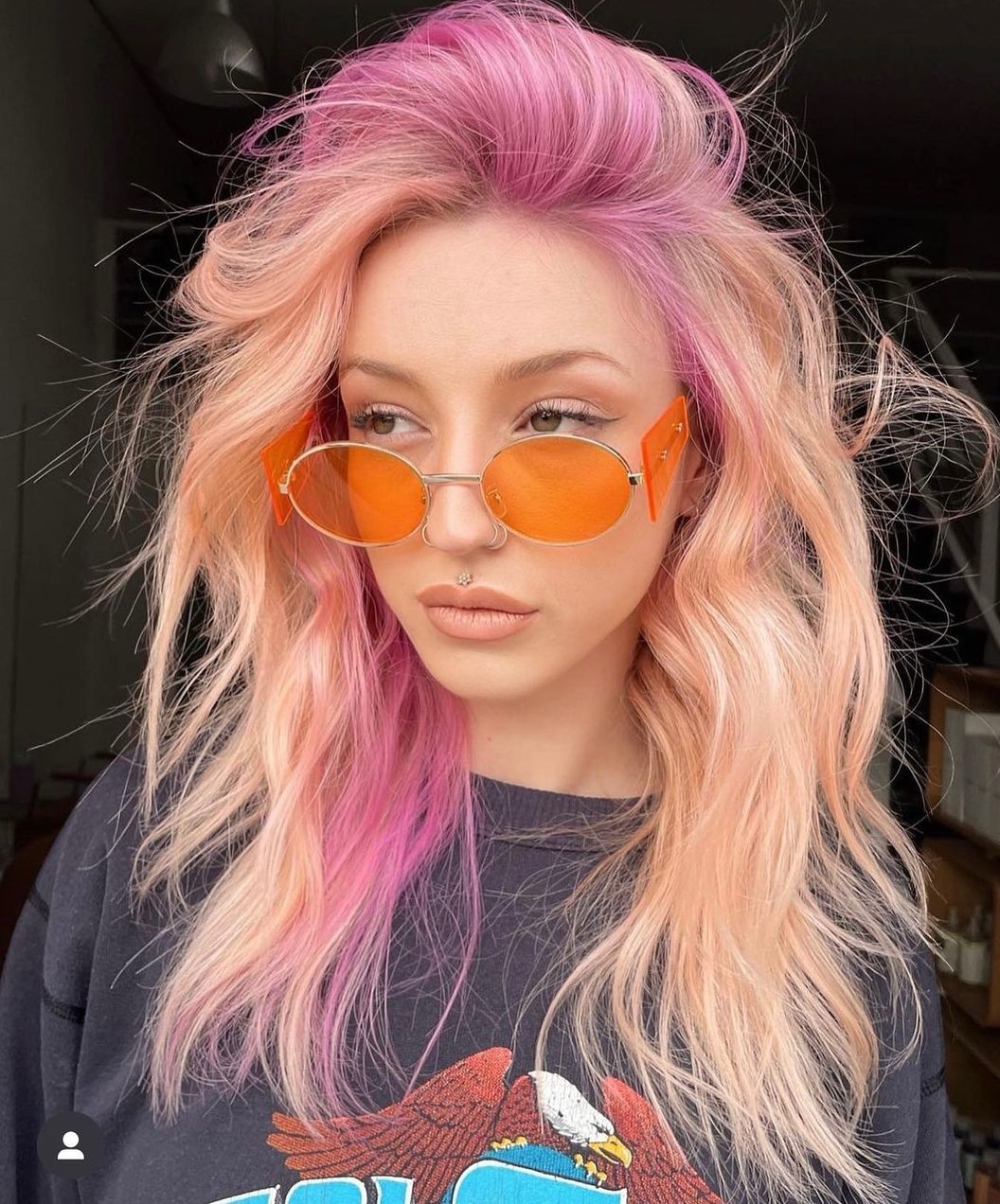 Feel Brand-New In No Time After Getting Pink Lemon Hair
Changing your hair color to pink lemonade makes you feel like an entirely different person. If you consider making a significant change to your overall look, ask your stylist for pink lemonade hair. It is the latest hair color fad that is going viral on social media.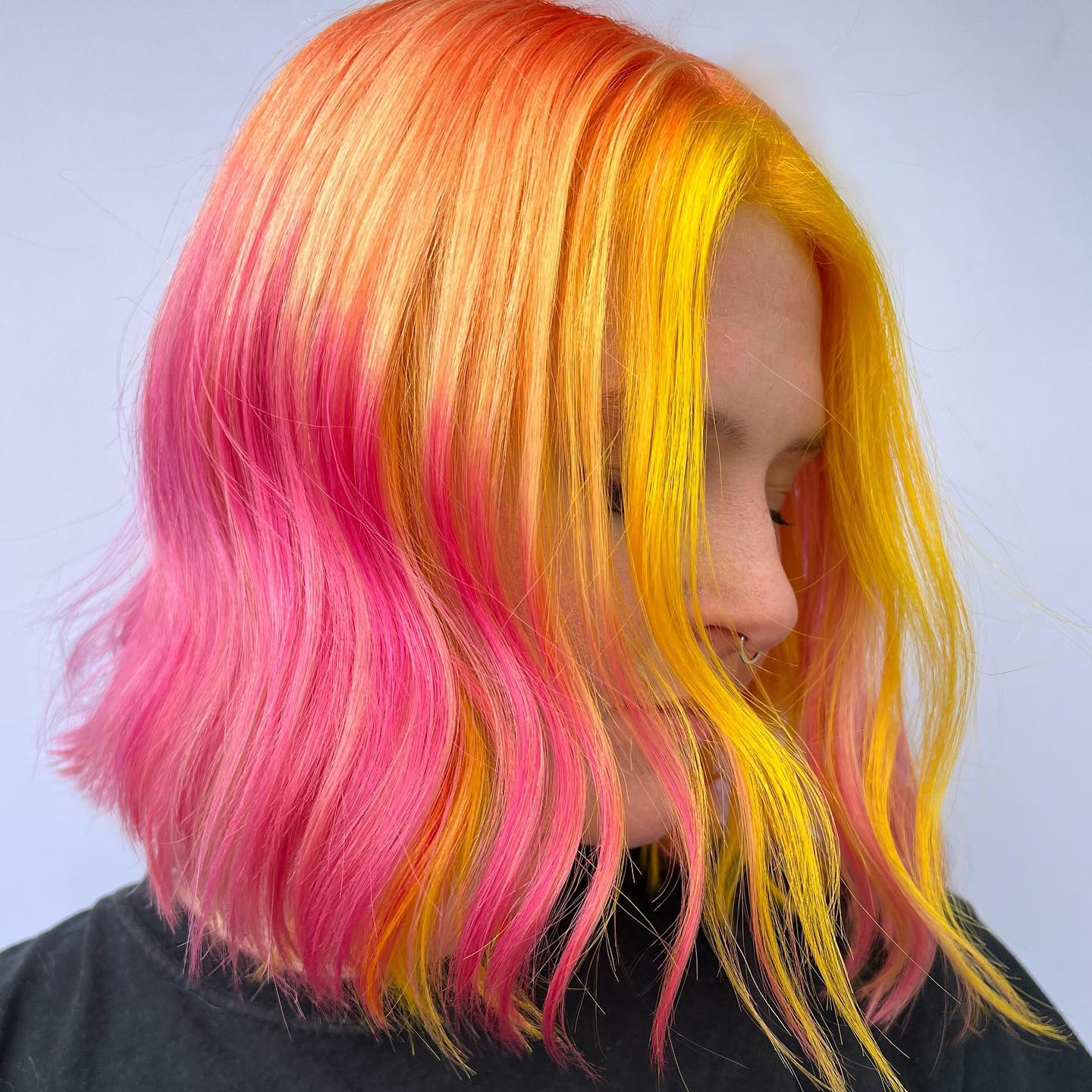 via @jdoblehair
Delightful Marshmallow Pink Hair
Marshmallow is a delicate pink that will give you a weightless hairstyle and looks extremely delightful. Marshmallow hair is a blend of sweet pink hair color and ivory tones that lighten the hair. It goes well with a short bob cut and makes you sparkle whatever space you enter.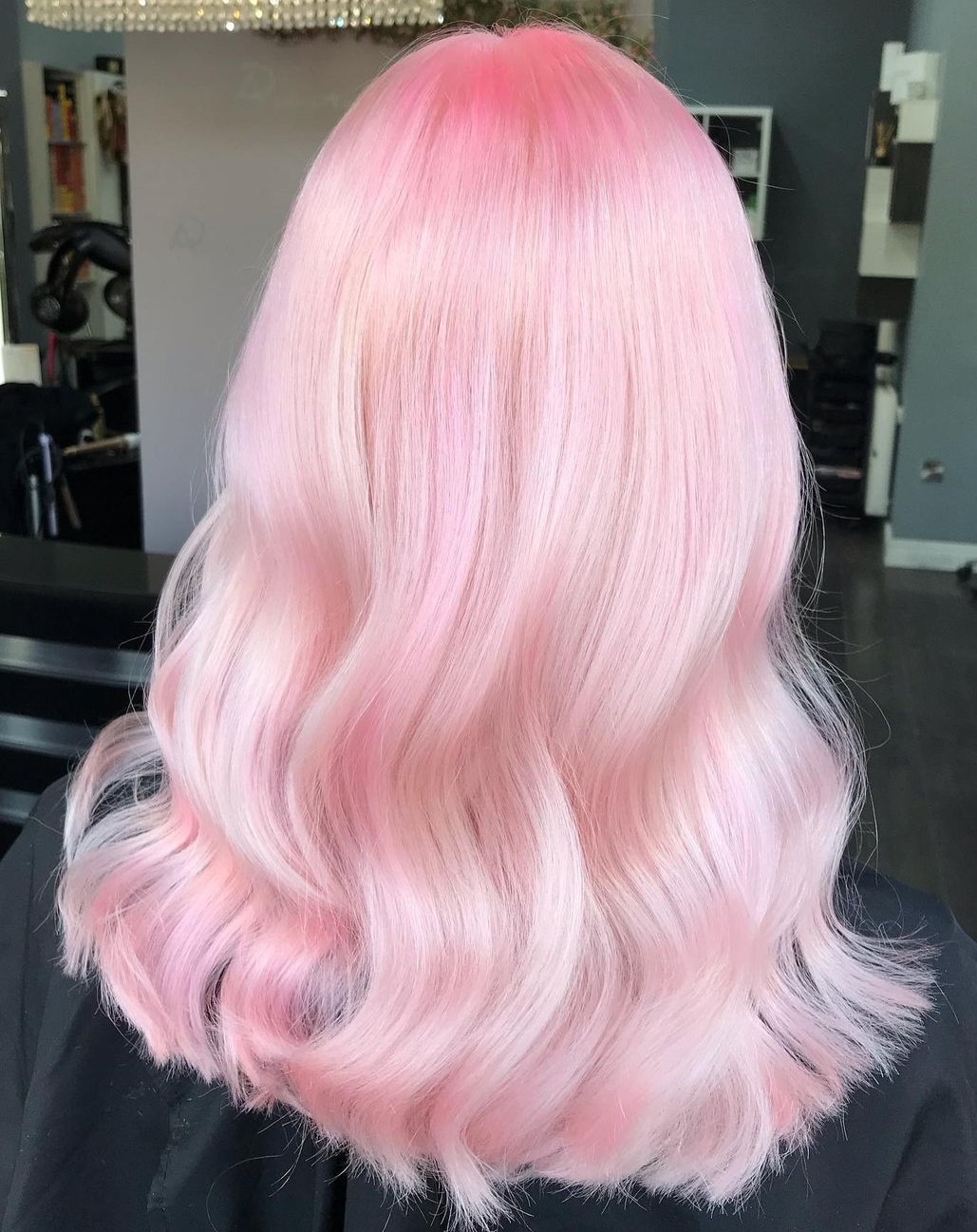 FAQs
How do you maintain your pink hair?
Pink hair can fade quickly if you don't take care of them. For long-lasting pink hair, you should always use shampoos and conditioners that are specifically formulated for colored hair.
Secondly, avoid hot showers as they can open up your hair cuticles and leads to loss of color. It would help if you used a color top-up for at-home maintenance sessions.
Lastly, focus on the hair wash frequency – more washes mean more color loss.
How do you refresh your pink hair color at home?
You can ask your hair colorist for some color pots to use as a glaze at shower time to keep your pink color fresh. It's the best solution to refresh your colored hair at home.