Different shades of brown color create timeless, natural, and adaptable looks that suit almost every girl. Their numerous advantages include:
Versatility. Brown hair has a wide range of shades, from light to dark, warm to cool. It allows you to successfully create an individual look that matches your preferences and skin tone.
Natural attractiveness. Brown color is widespread among many nationalities and is ideal for women who prefer the most natural hair color possible.
Affordable prices for hair care products. Brown hair requires lower maintenance than lighter shades. It combines with natural growth, so you can visit the salon less often for coloring and optimize costs.
Perfect elegance. Brown strands can be safely called an unrivaled classic. They are easy to style in numerous ways, from casual to formal, making the coloring suitable for any occasion.
Focus on facial features. Rich dark strands will emphasize the depth and expressiveness of the eyes, and light brown highlights will provide the hair with additional volume and airiness.
Adaptability to trends. Brown hair color ideas go well with fashion trends. For example, they can be styled in balayage, ombre, or other modern techniques to keep up with changing styles.
Which brown colors should you not pass up this season? Let's find out together!
Ash Brown Hair Color
Ash brown hair is popular due to the coolness and sophistication the color adds to an outfit. It is especially suitable for girls with a flattering brunette shade and cool or neutral skin tone, highlighting the expressiveness of their facial features.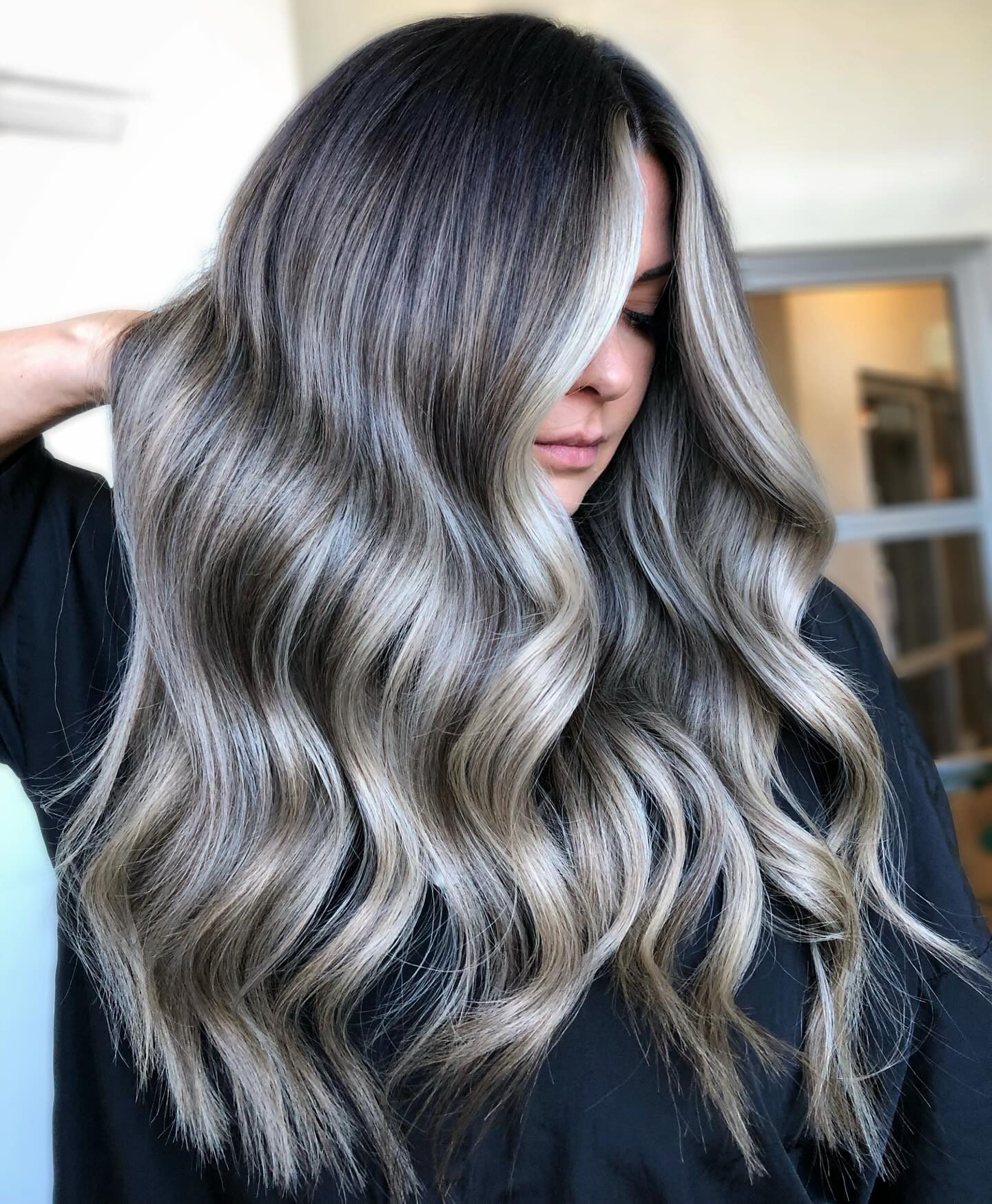 via @colorbymarina
Soft waves in an ash-brown shade add extra depth and volume to the hair. This versatile and discreet color will suit women who want to look stylish in any situation. In addition, it blends seamlessly with various styles and fashion trends.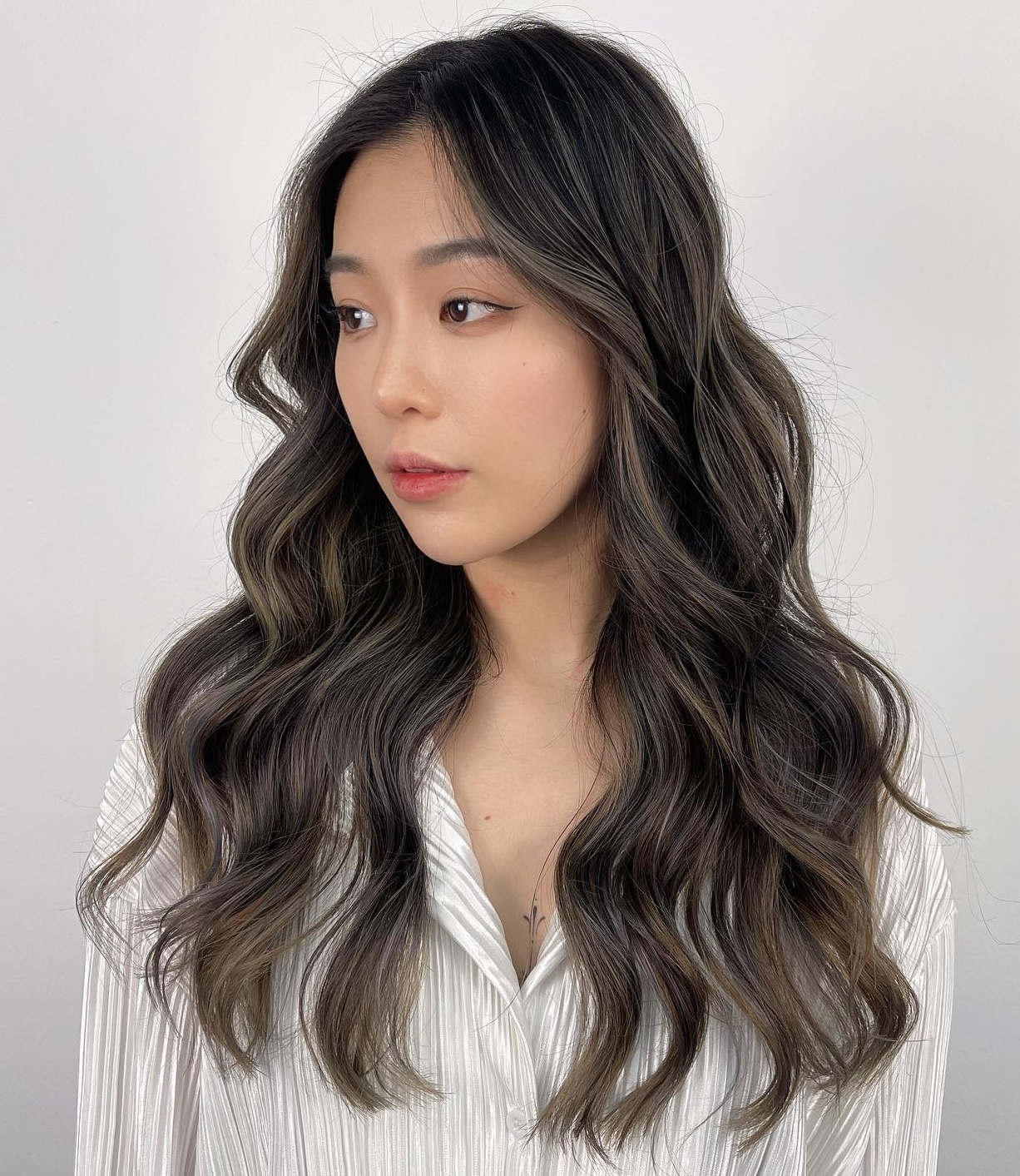 via @glenhew
Chocolate Brown Hair
Connoisseurs of rich shades will surely love chocolate brown hair. The deep and charismatic color complements a wide range of skin tones, making it suitable for many girls.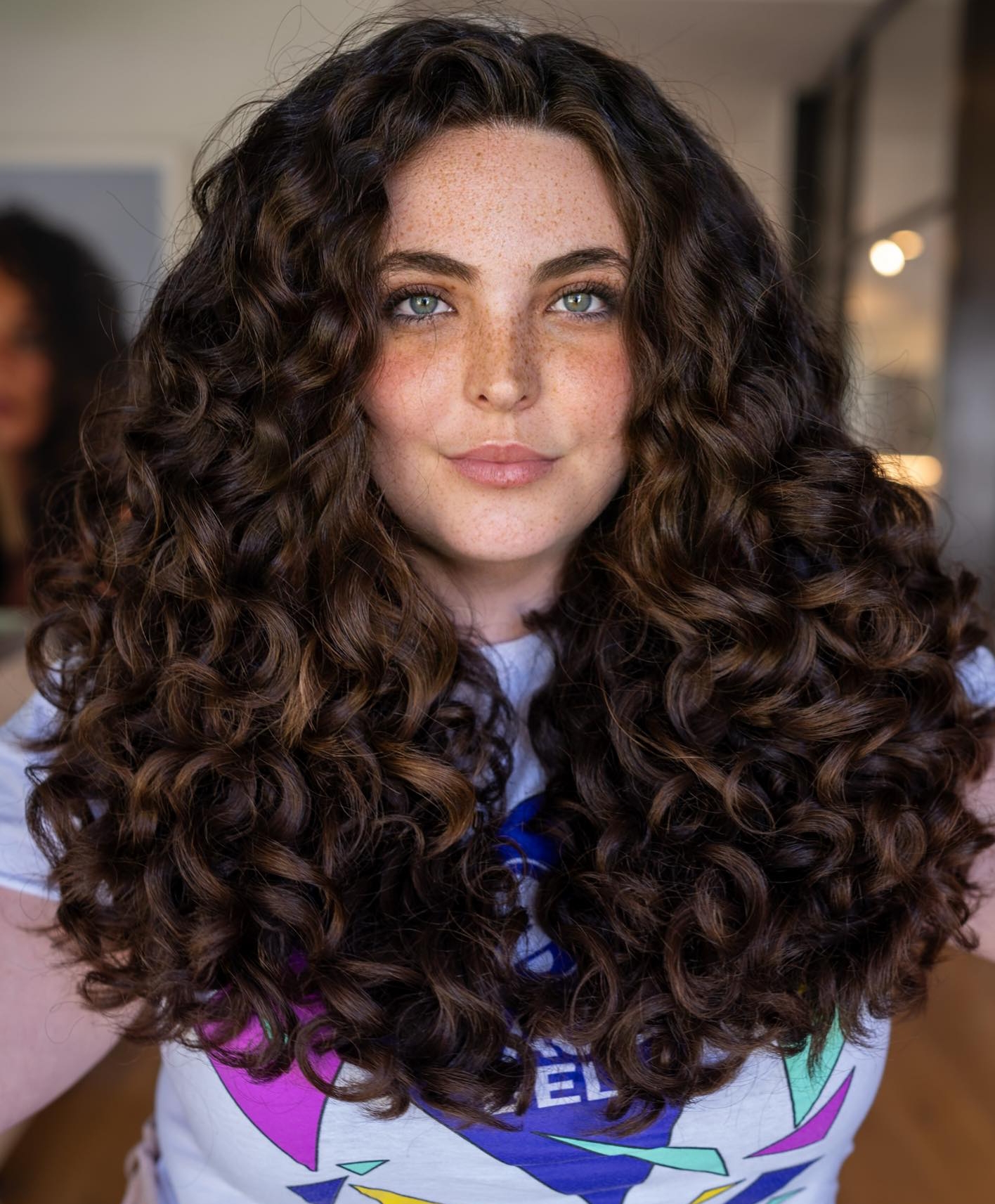 Warm brown hair shades add a touch of luxury and refinement. Despite a small amount of glamor, this coloring is considered universal and natural. Make sure of this by choosing light or dark chocolate brown hair!
Dark Brown Hair Color
The dark brown base is a fantastic space for the wildest experiments! It will help bring any ideas to life for both short and long hair.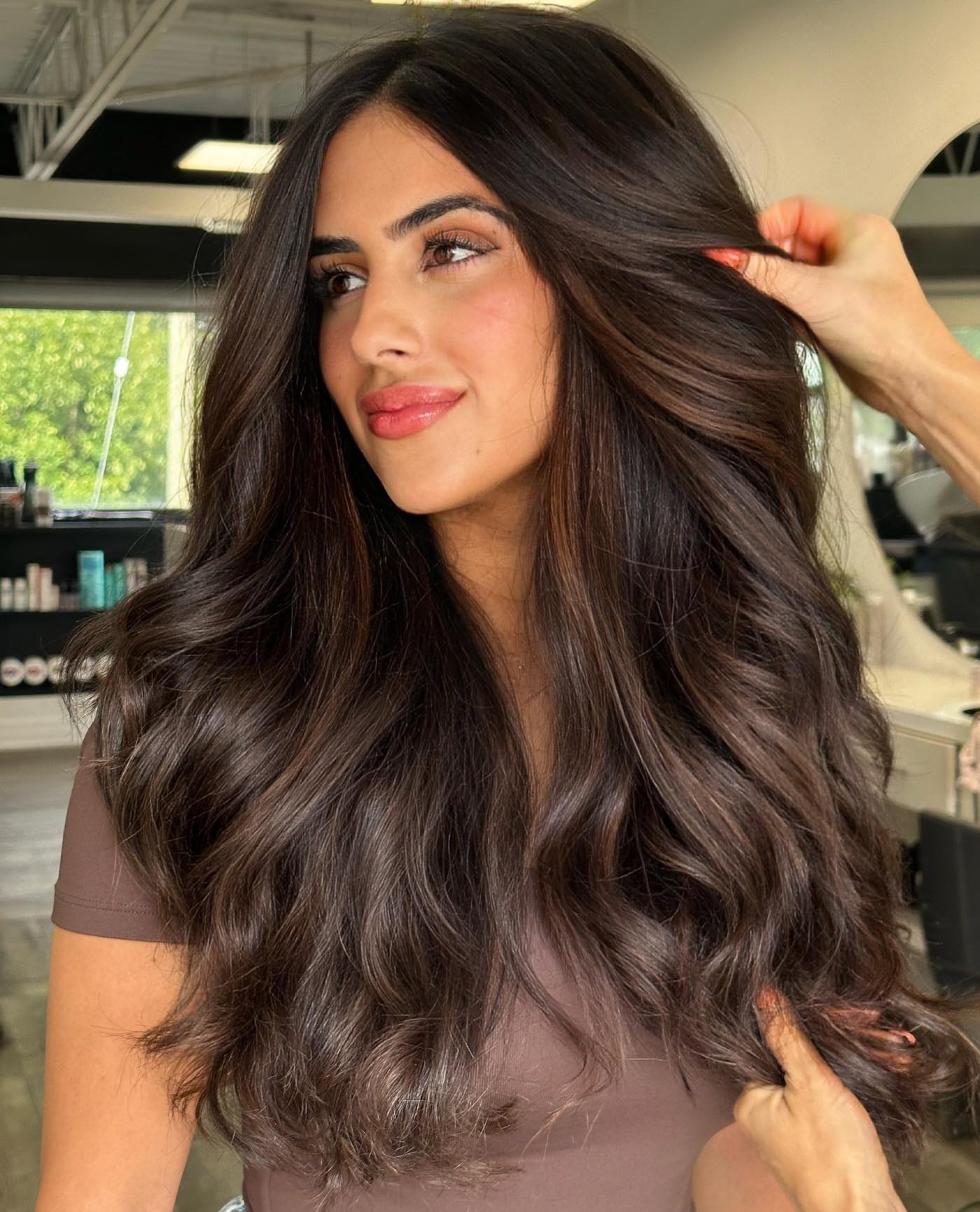 via @dvcolour
Is it time for a dramatic and eye-catching look? Or, on the contrary, do you want to see timeless elegance in the mirror, which is perfect for a businesswoman? With dark brunette hair, you will achieve the look you dream of.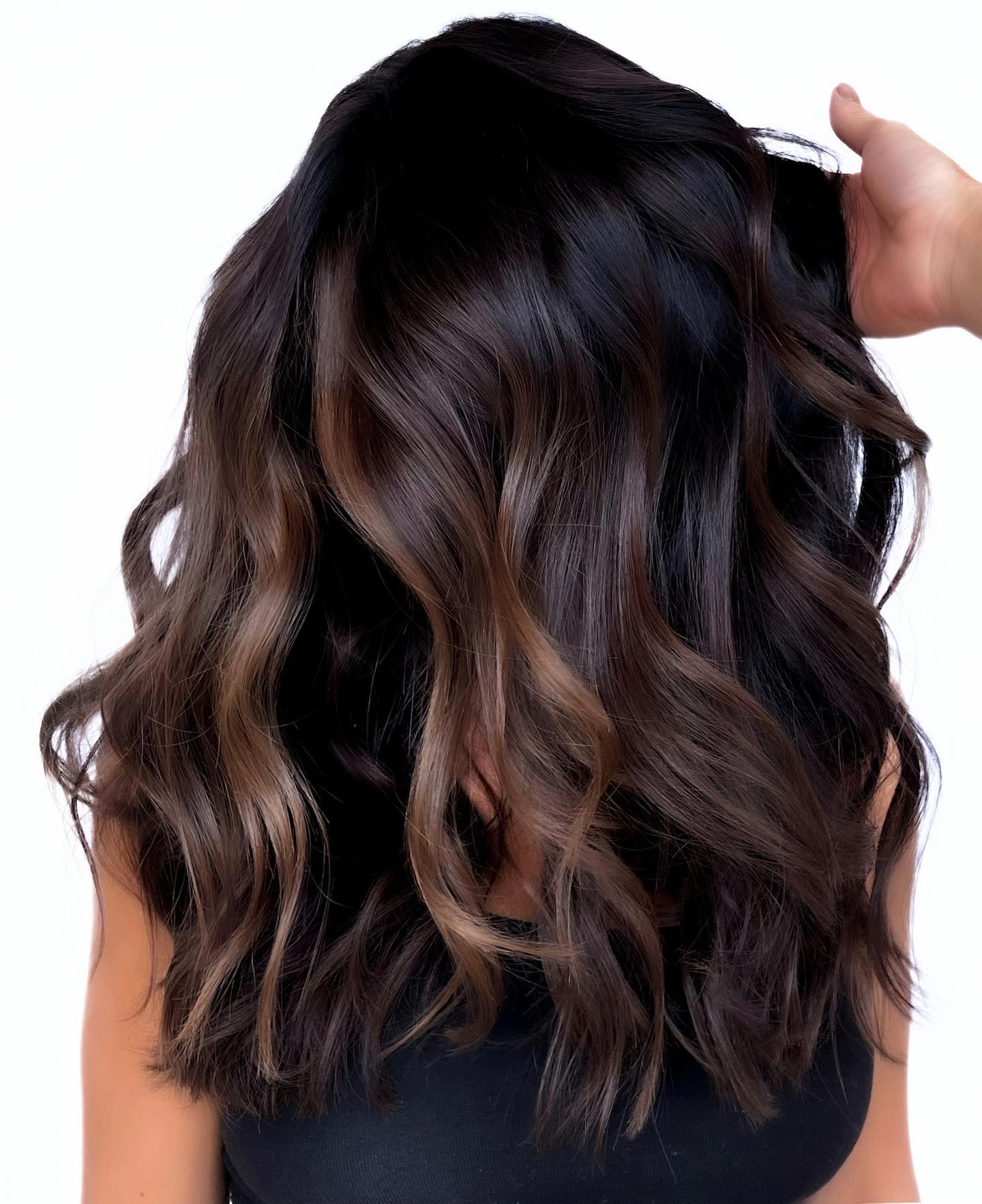 Honey Brown Hair
Among the warm tones of honey-brown hair, honey-chestnut shades deserve special attention. They not only resemble sweet and rich honey but also give your hair a fantastic shine.
Do you have a brunette base and hazel eyes? Add honey highlights, and you will be surprised by how they can transform your appearance!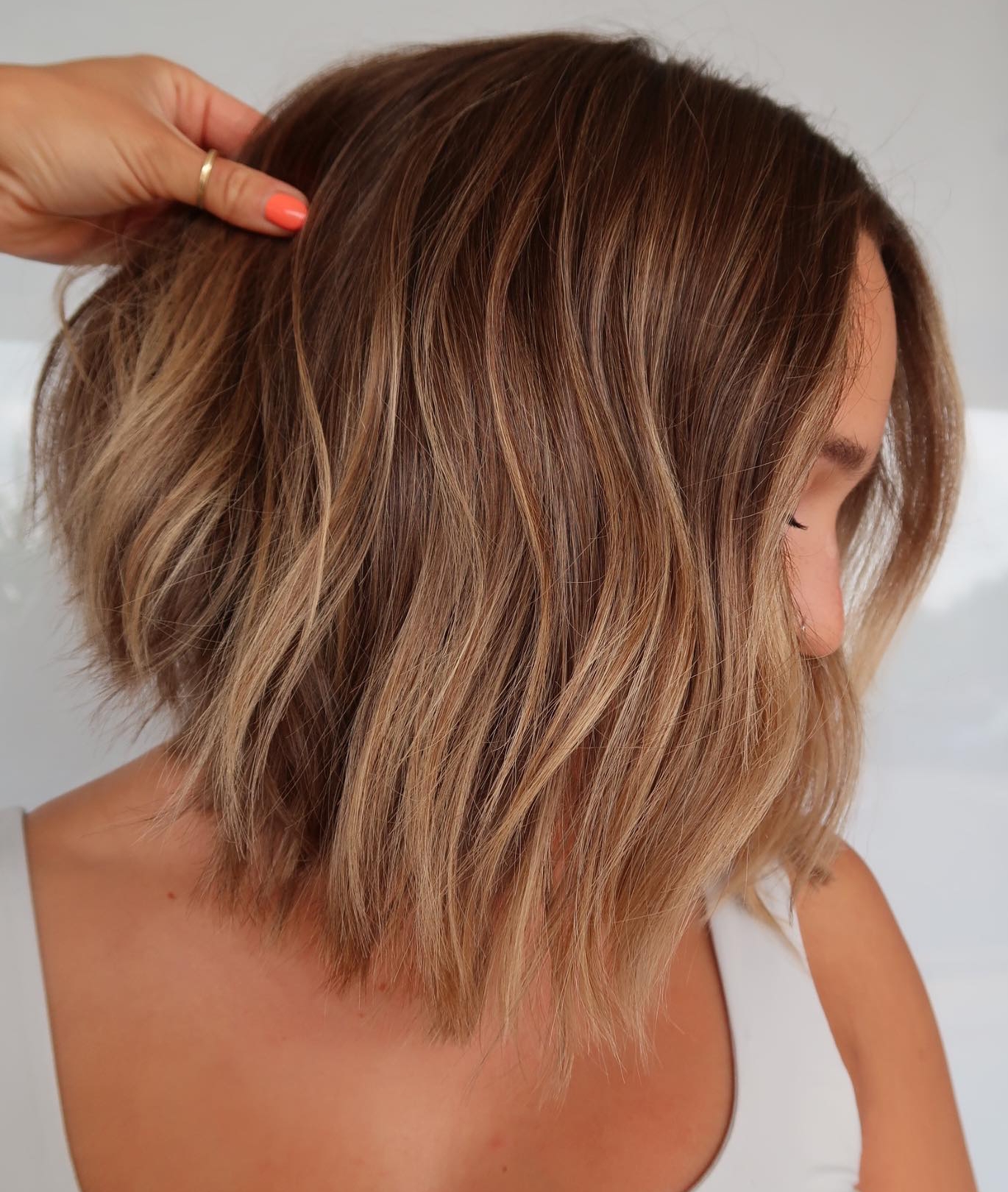 via @alex.mercedesss
Medium Brown Hair
What color will be a lifesaver for most skin tones? It's medium brown hair, of course!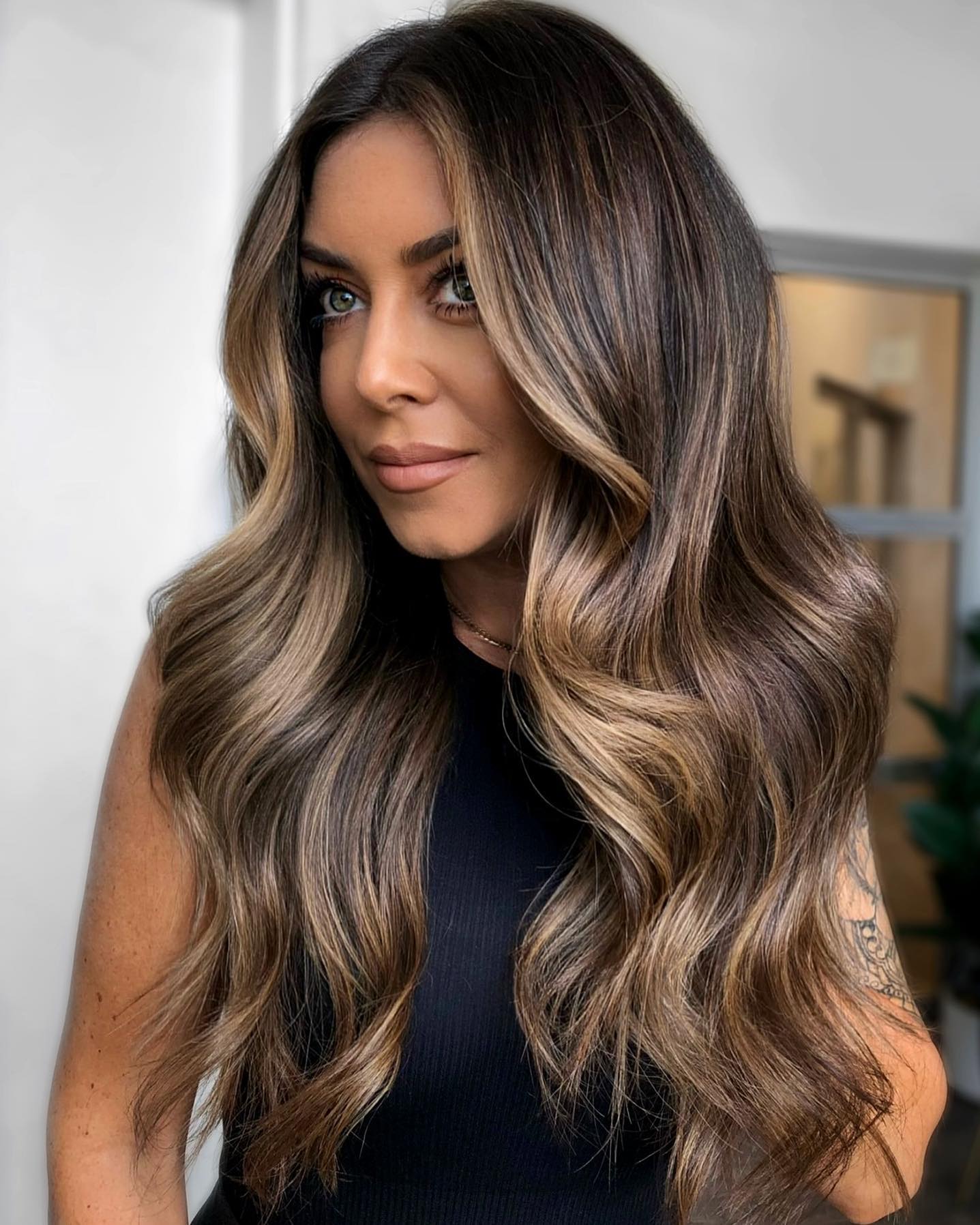 via @colorbymarina
They look as natural as possible and are a universal solution. Depending on your preferences, brown hair color can range between light and dark brown shades.
Thanks to this coloring, you can look stylish regardless of the season and trends. Try a perfect shade of brown at least once, and you will remain a fan for a long time!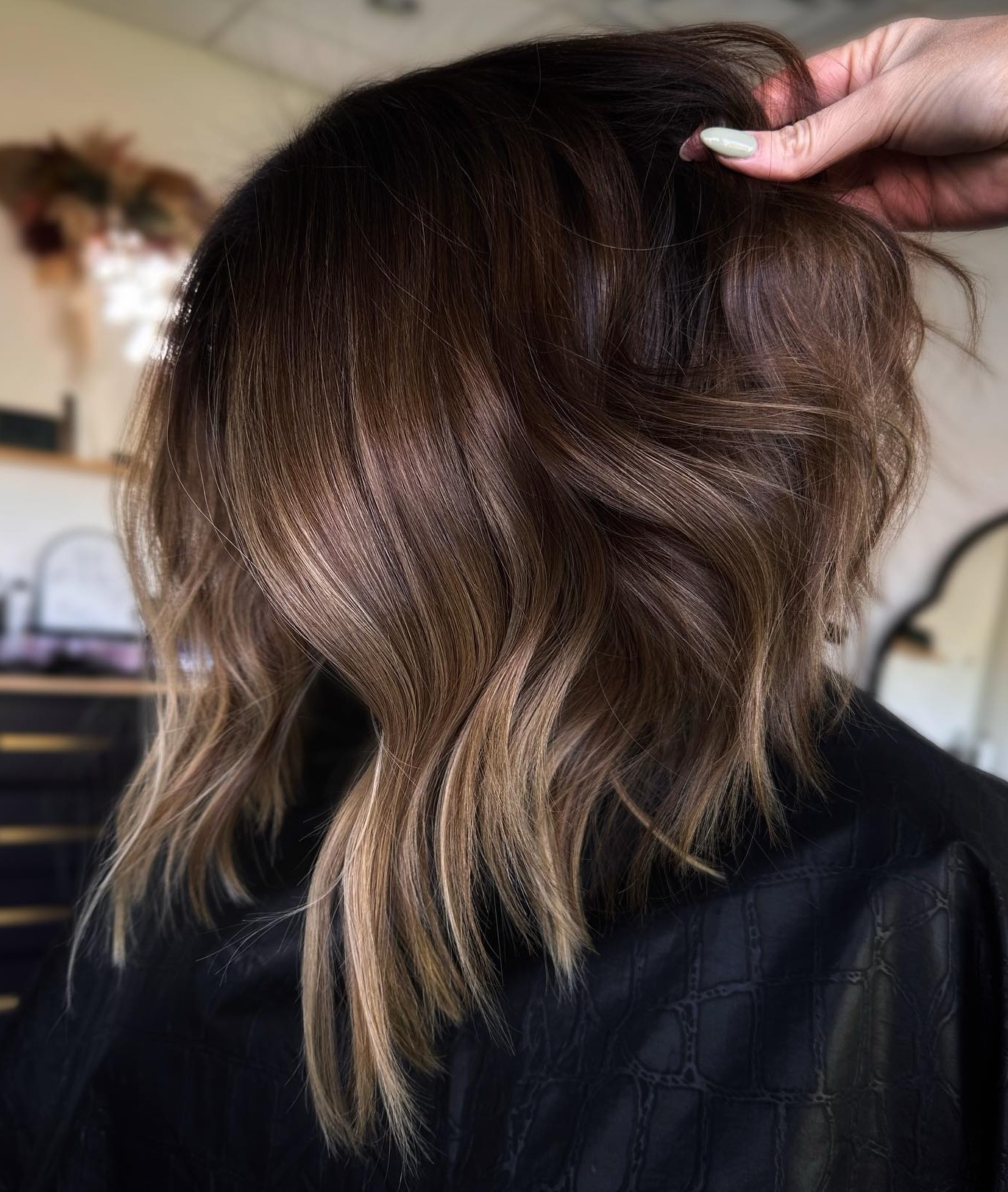 via @ pipsyhair_
Light Brown Hair Shades
Sophistication, sparkle, charisma — it's all about light brown hair. This color is known for its ability to complement different skin tones, making it extremely popular.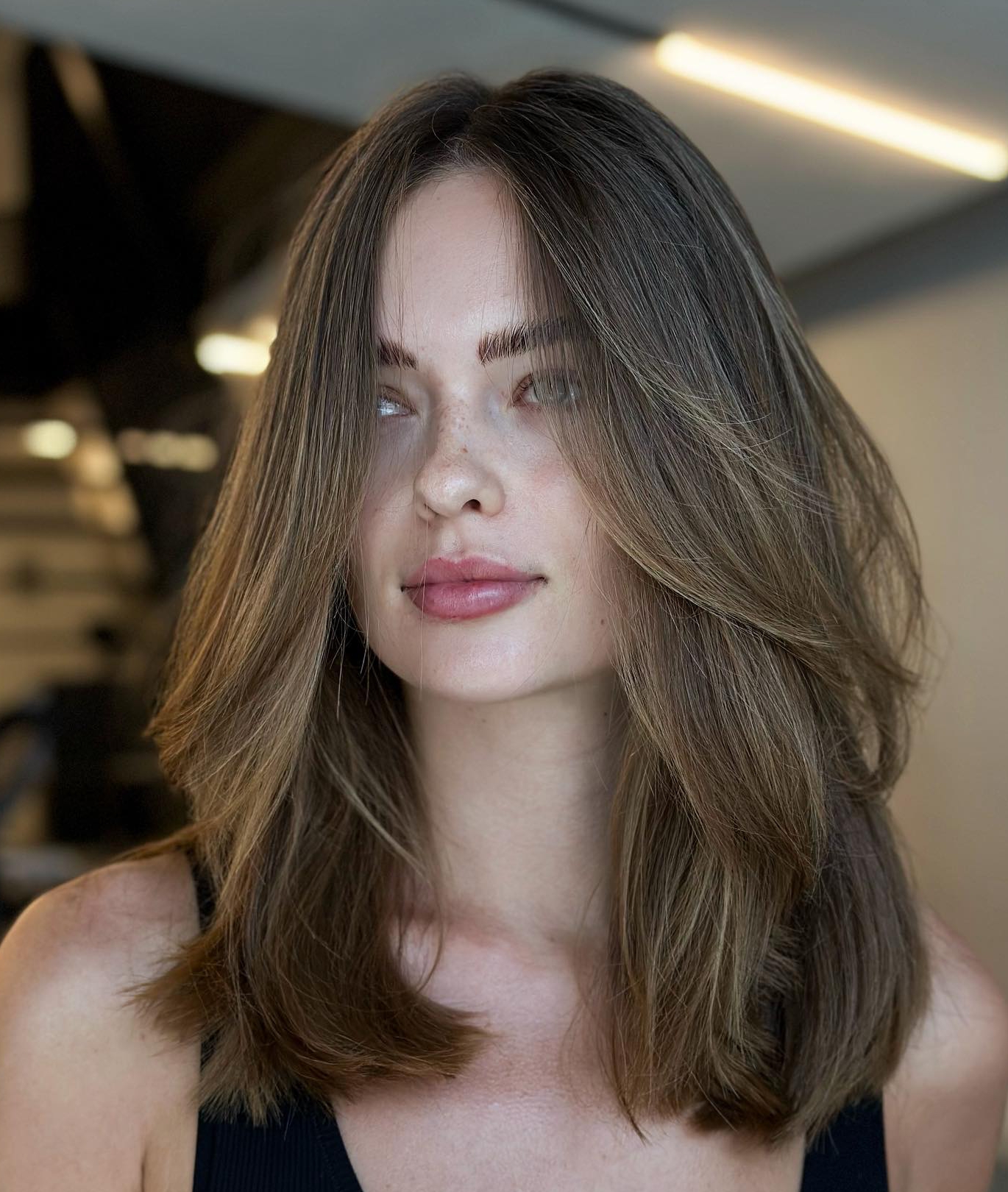 via @omiezee
Light golden brown hair has incredible warmth and brightness. Its gentle and effortless charm with simple care cannot leave fashionistas indifferent. But at the same time, the iced coffee hair color idea also does not give way, attracting girls with a cold color type.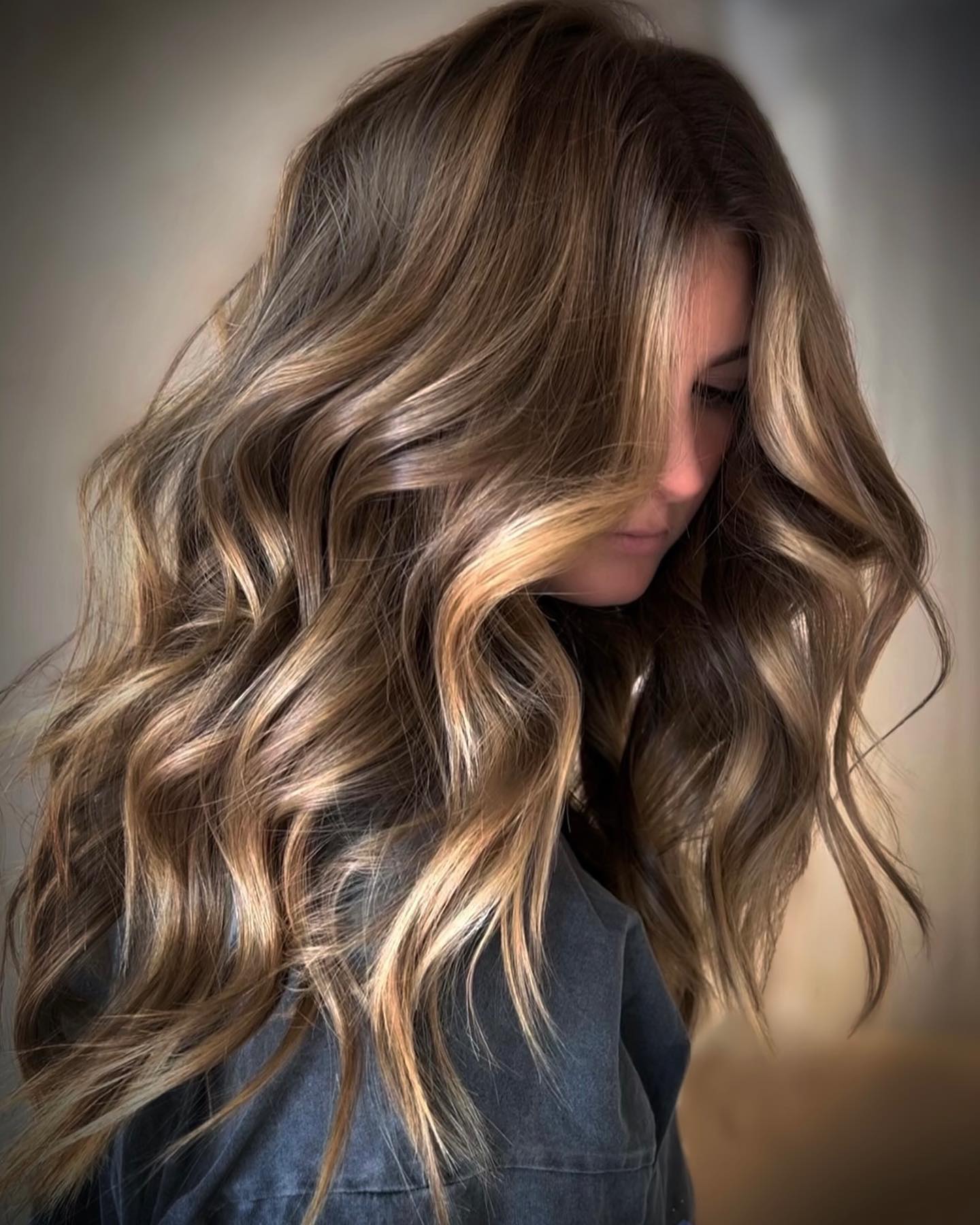 via @annahaldanehair
Reddish Brown Hair Color
A brown hair with red highlights attracts the attention of others at any time of the year! The warm brown and red tones will become the basis for an unusually dynamic and spectacular image.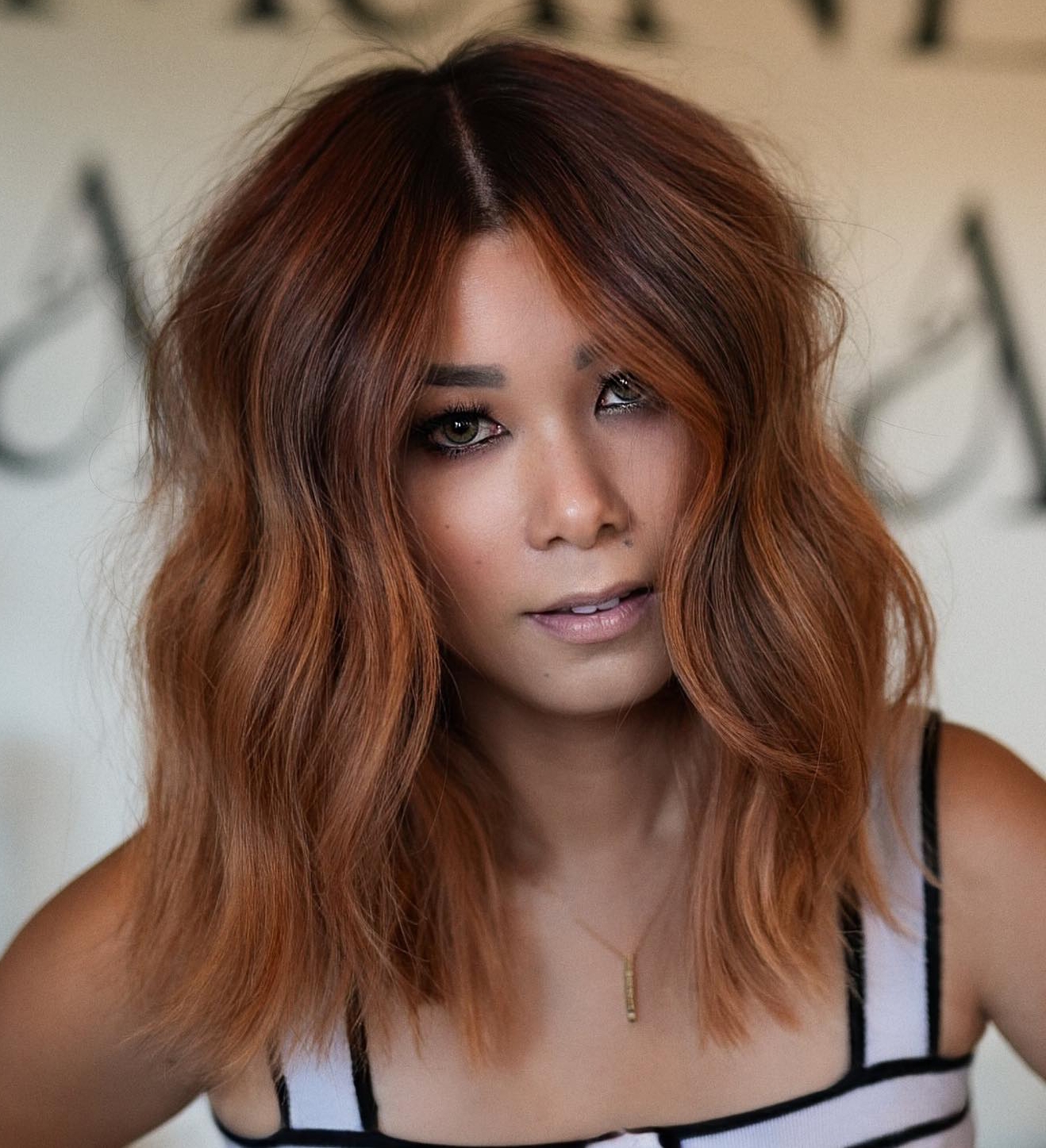 via @elijahvane_
Please note that not only medium copper brown can be used as colorful accents. Don't be afraid to experiment and follow hair color trends that offer scarlet, fiery, or deep wine shades.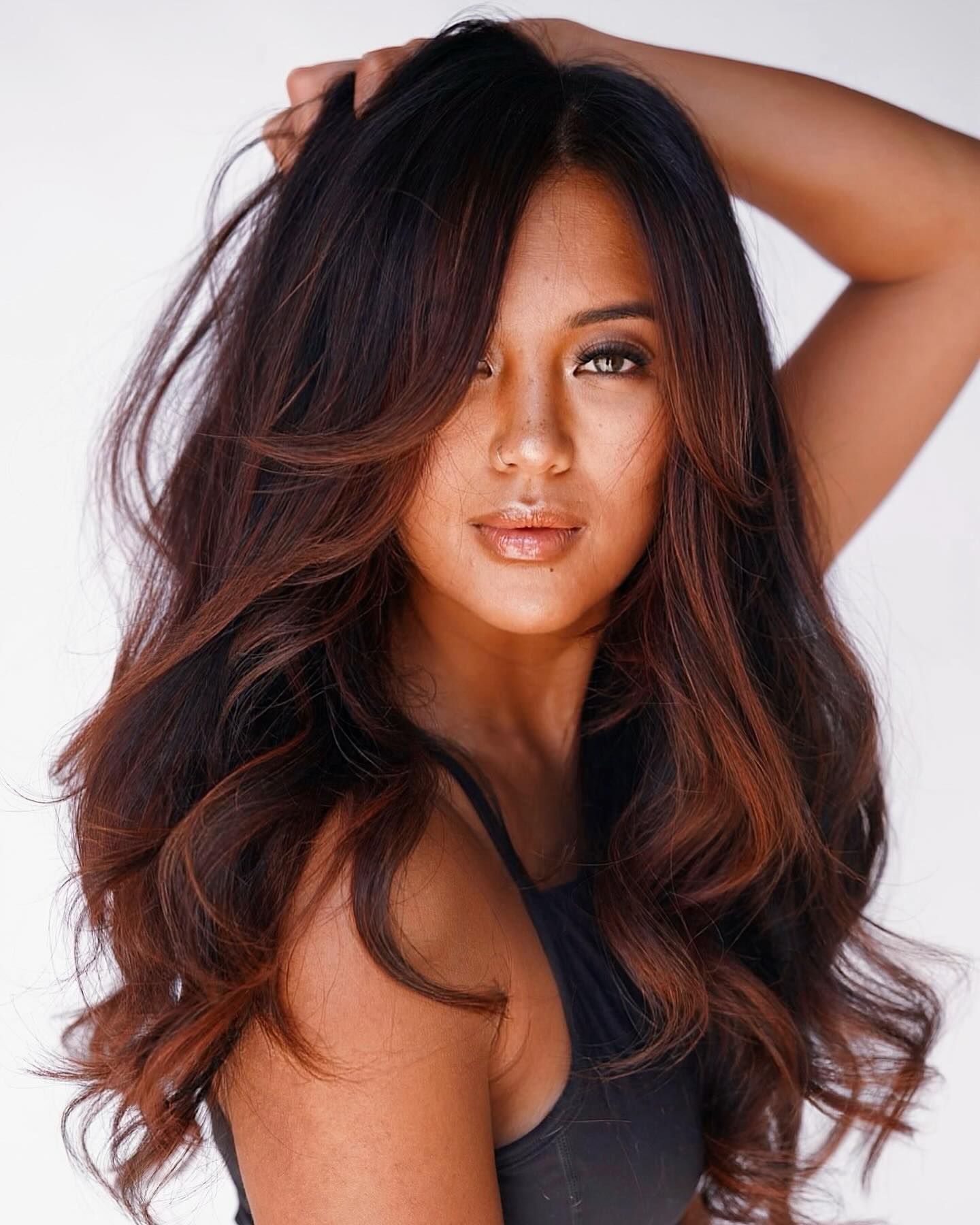 Chestnut Brown Hair Color
A chestnut hair color is a universal addition to all skin tones. It is perfect for owners of cold and warm colors, giving curls depth and volume.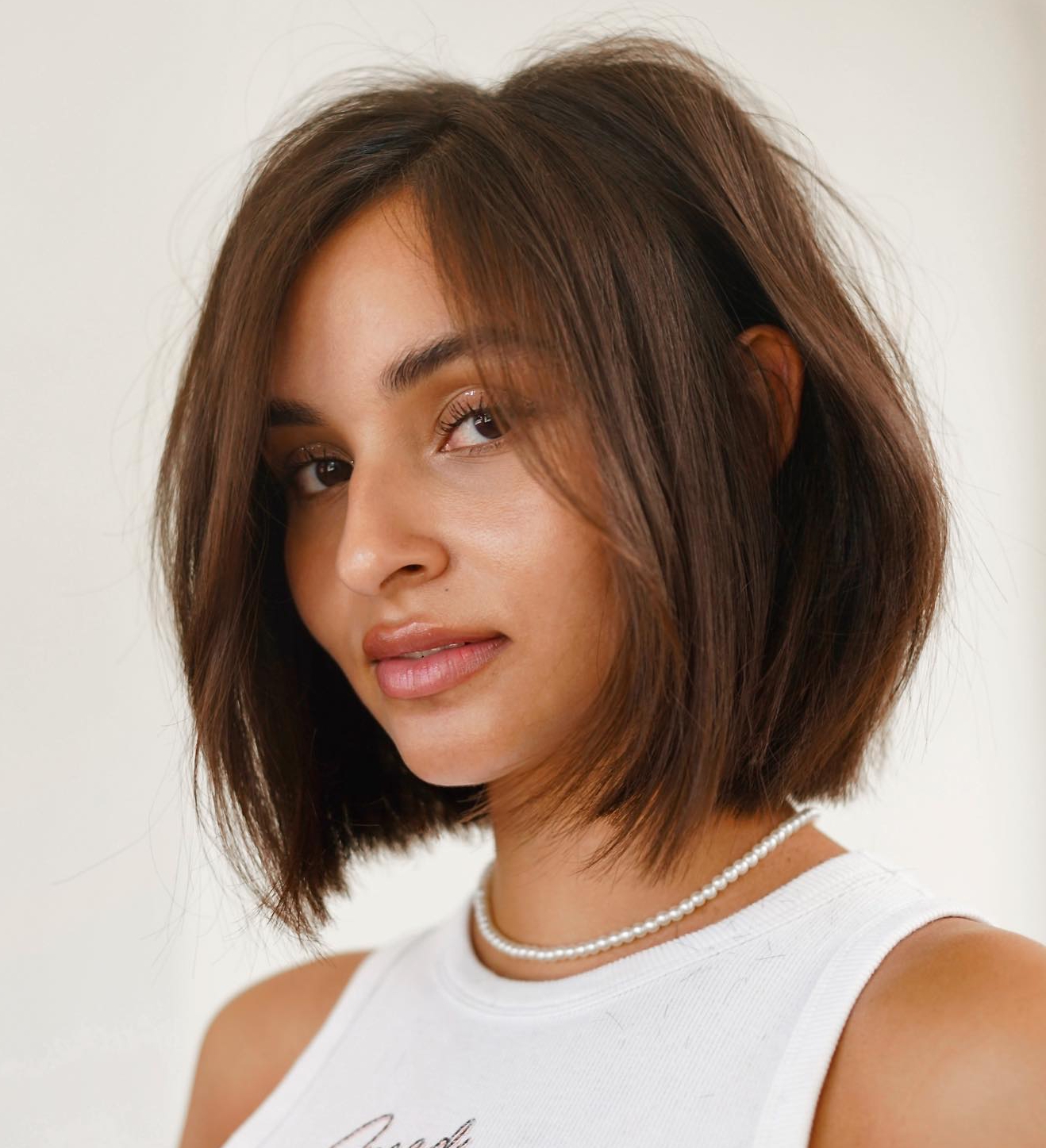 via @yukistylist
Numerous brown shades can be used as a base or as contrasting additions to brunette hair. Chestnut shades will add natural shine to your hair, playing the role of stylish accents.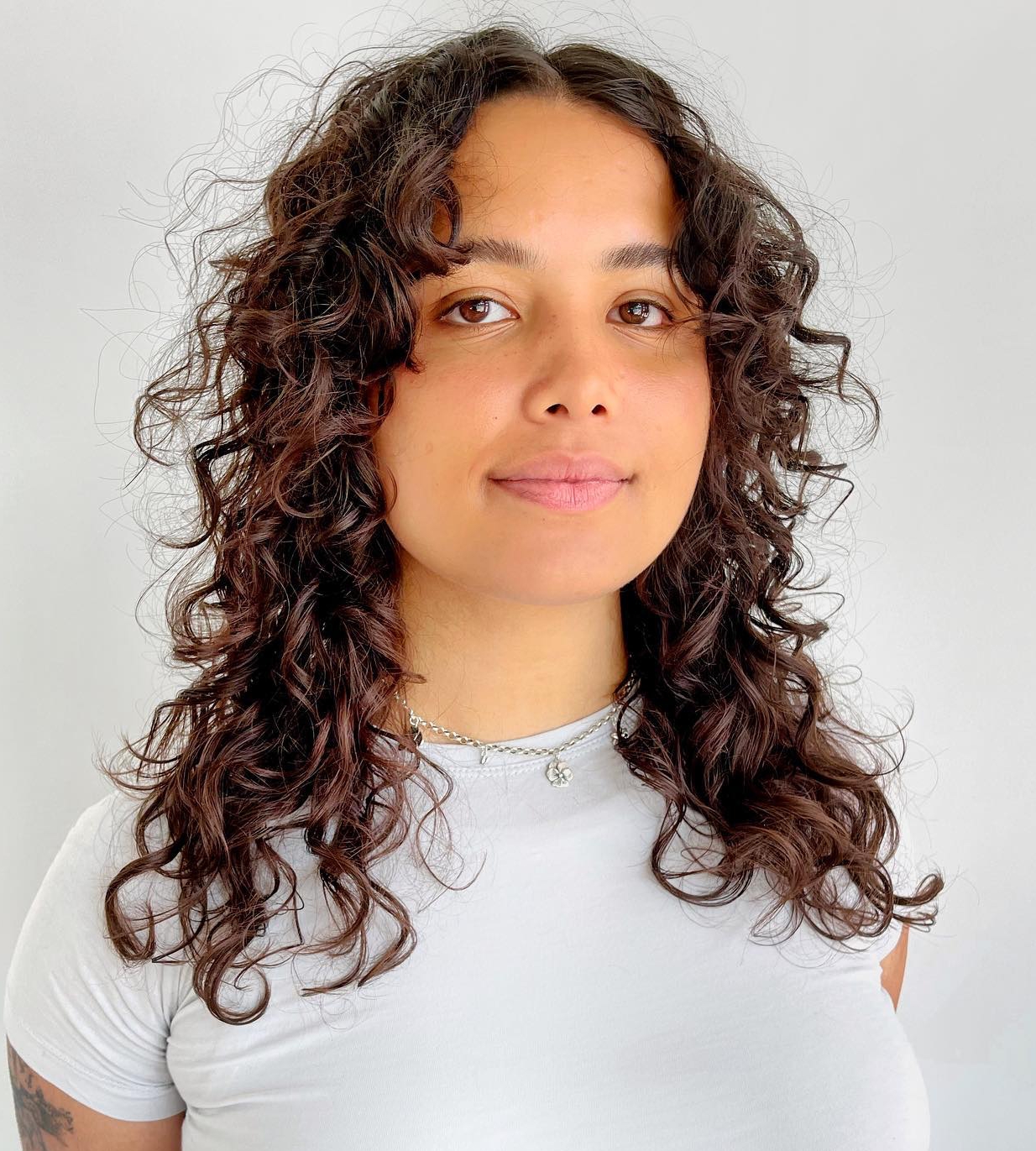 via @__k_vu__
Golden Brown Hair
The secret of a shiny and magnetic look is golden brown hues on natural hair!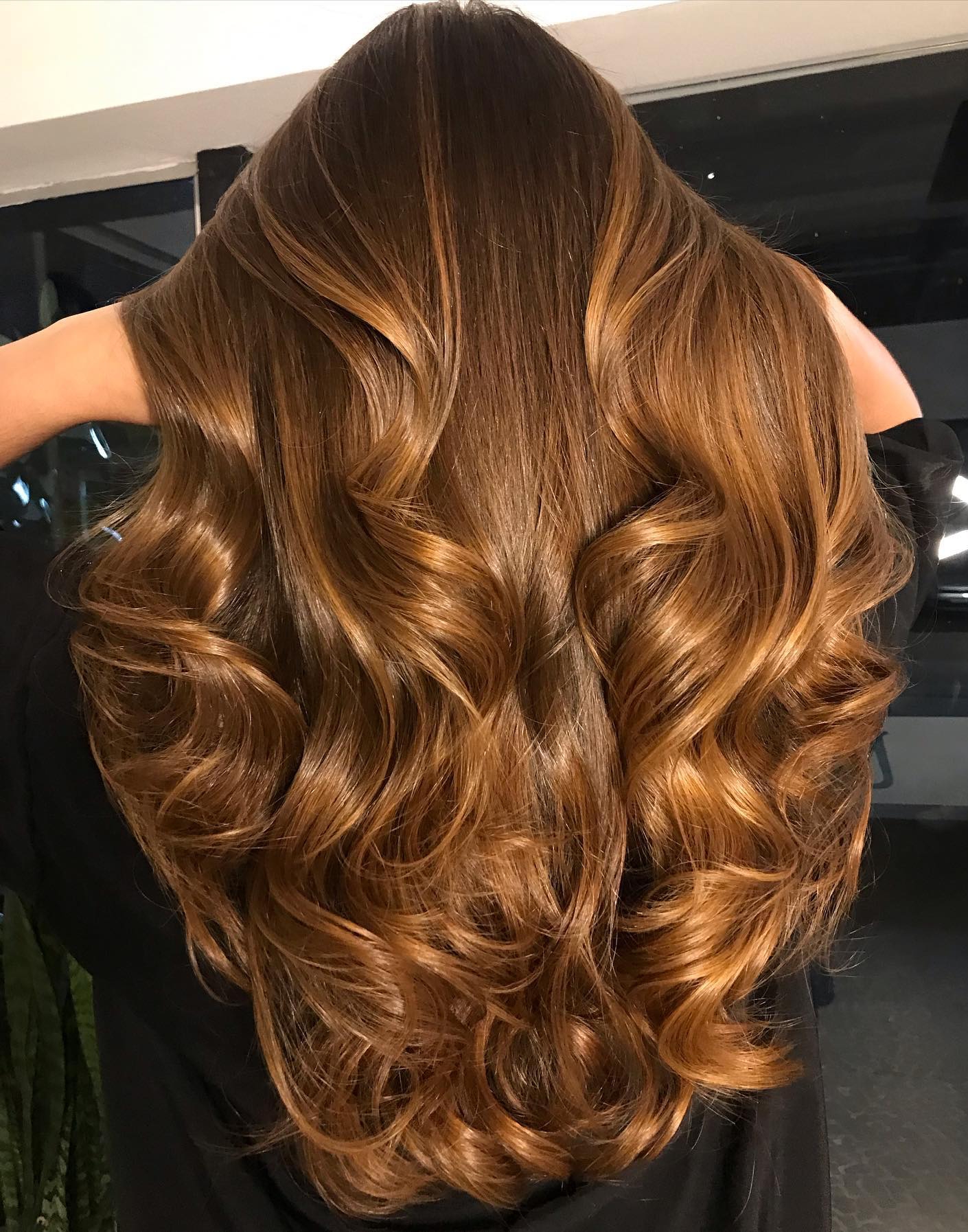 via @tatisantosbcg
Golden, warm brown hair complements various skin tones, highlighting facial features with a subtle glow. Whether highlighting or full-on coloring, honey brown will 100% give you an unforgettable experience!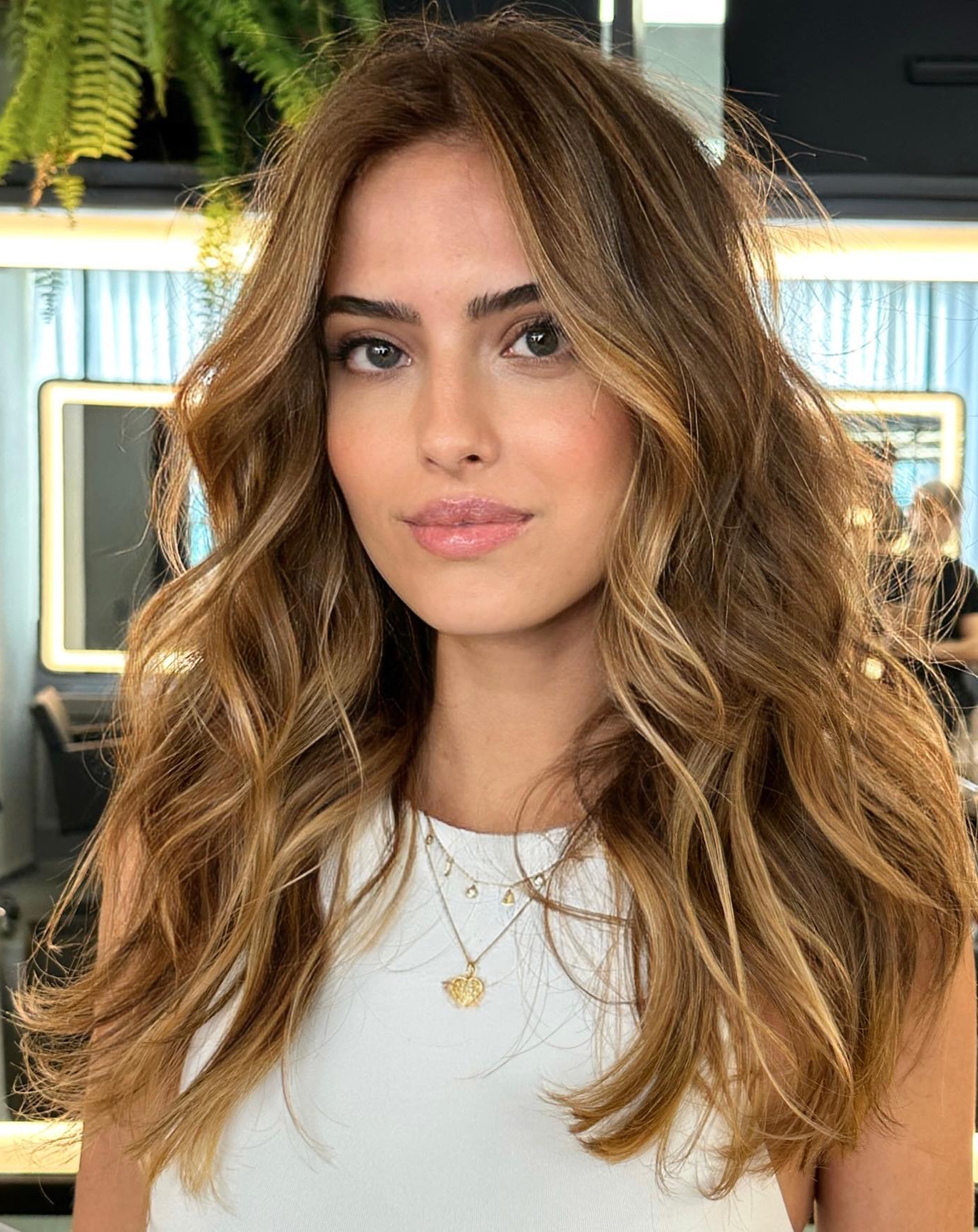 via @brunohfnunes
Brown Hair for Brown Skin
Are you looking for a trendy hair color idea for Ark women? One of the best ideas this season will be espresso brown hair!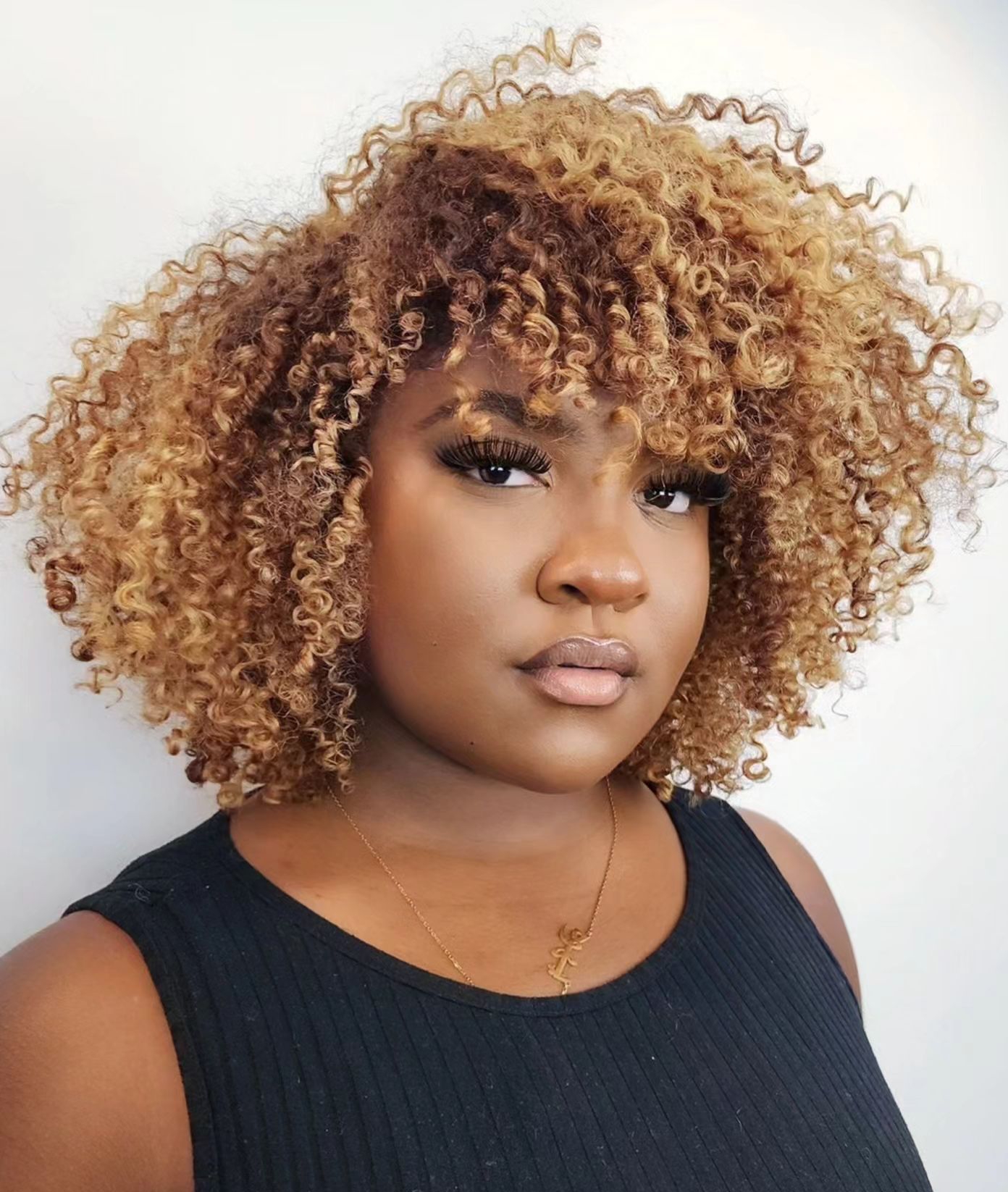 via @haircolorkilla
Chestnut shades complement brown skin harmoniously, creating the most natural combination. Dark chocolate brown strands enhance the warmth and richness of your appearance. At the same time, you can always experiment with undertones, choosing both warm chestnut shades and cooler ash-brown colors.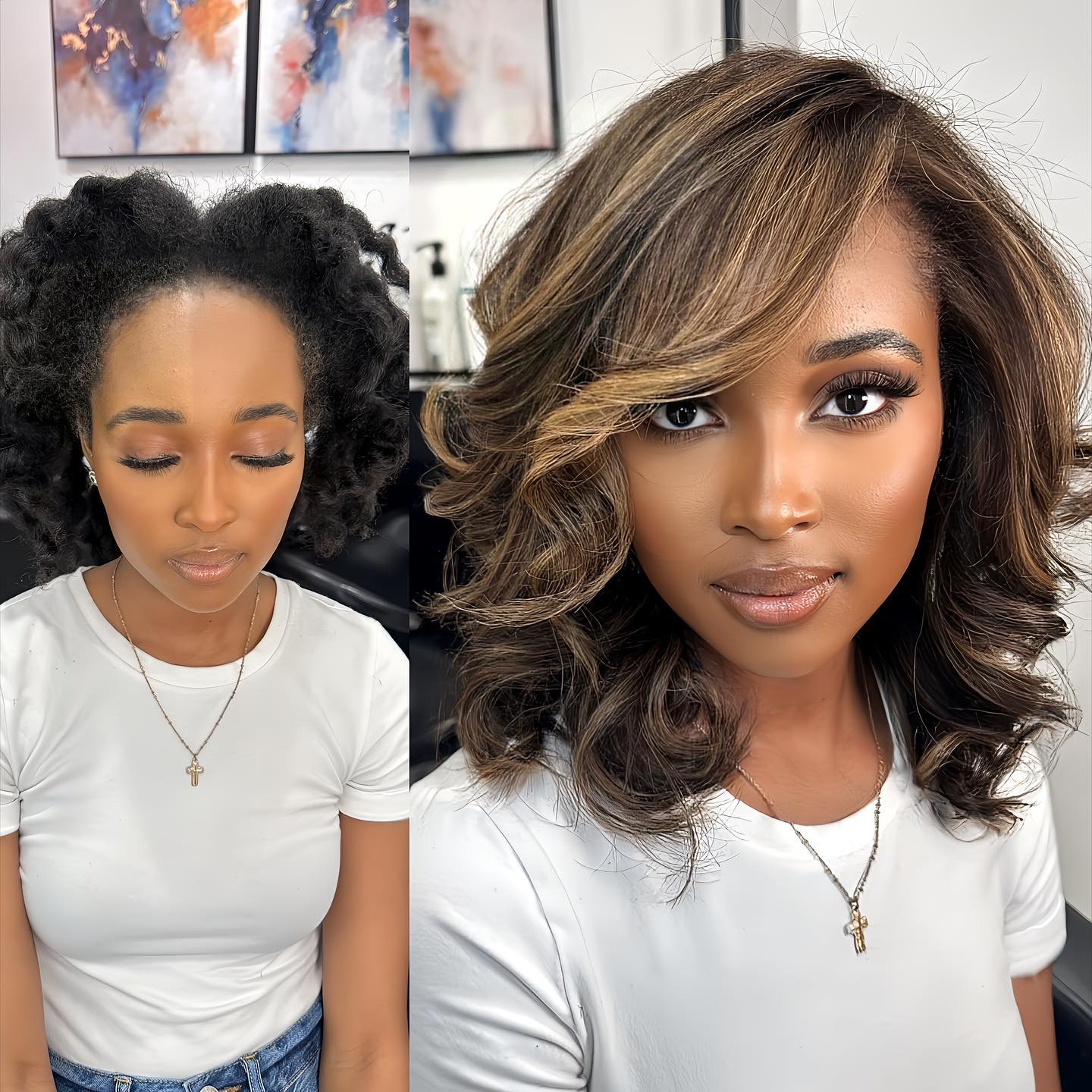 via @kelleyscanvas
Caramel Brown Hair
How about adding variety to medium brown hair? Caramel notes, and a cinnamon brown shade will do the job perfectly!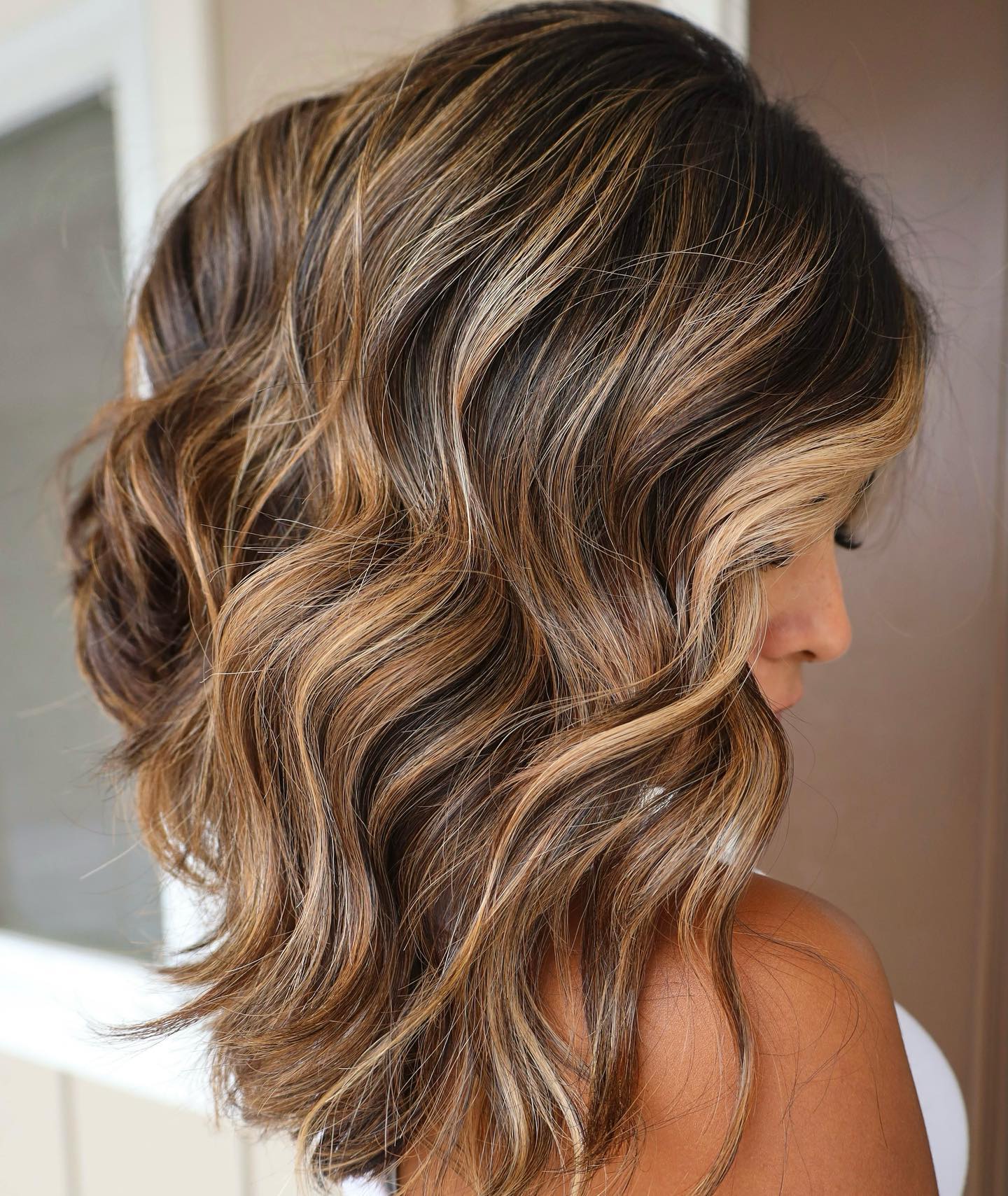 They ideally complement warm and neutral skin tones, emphasizing the individuality of their owner with golden colors. Trust us; these light brown shades will win your heart!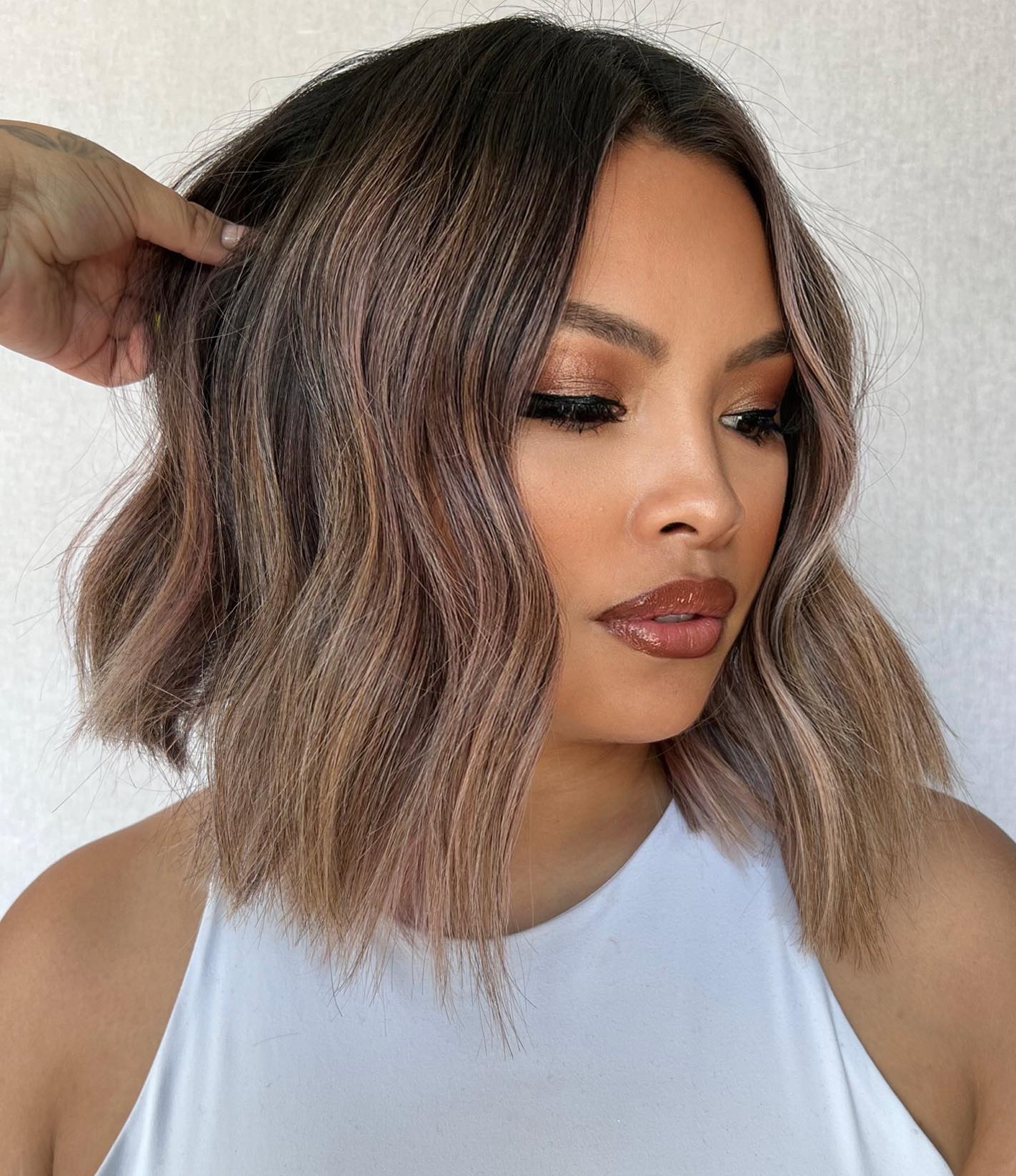 via @paintedbyanavel
Mushroom Brown Hair
Mushroom chestnut dark hair features unique earthy tones inspired by the muted tones of mushrooms.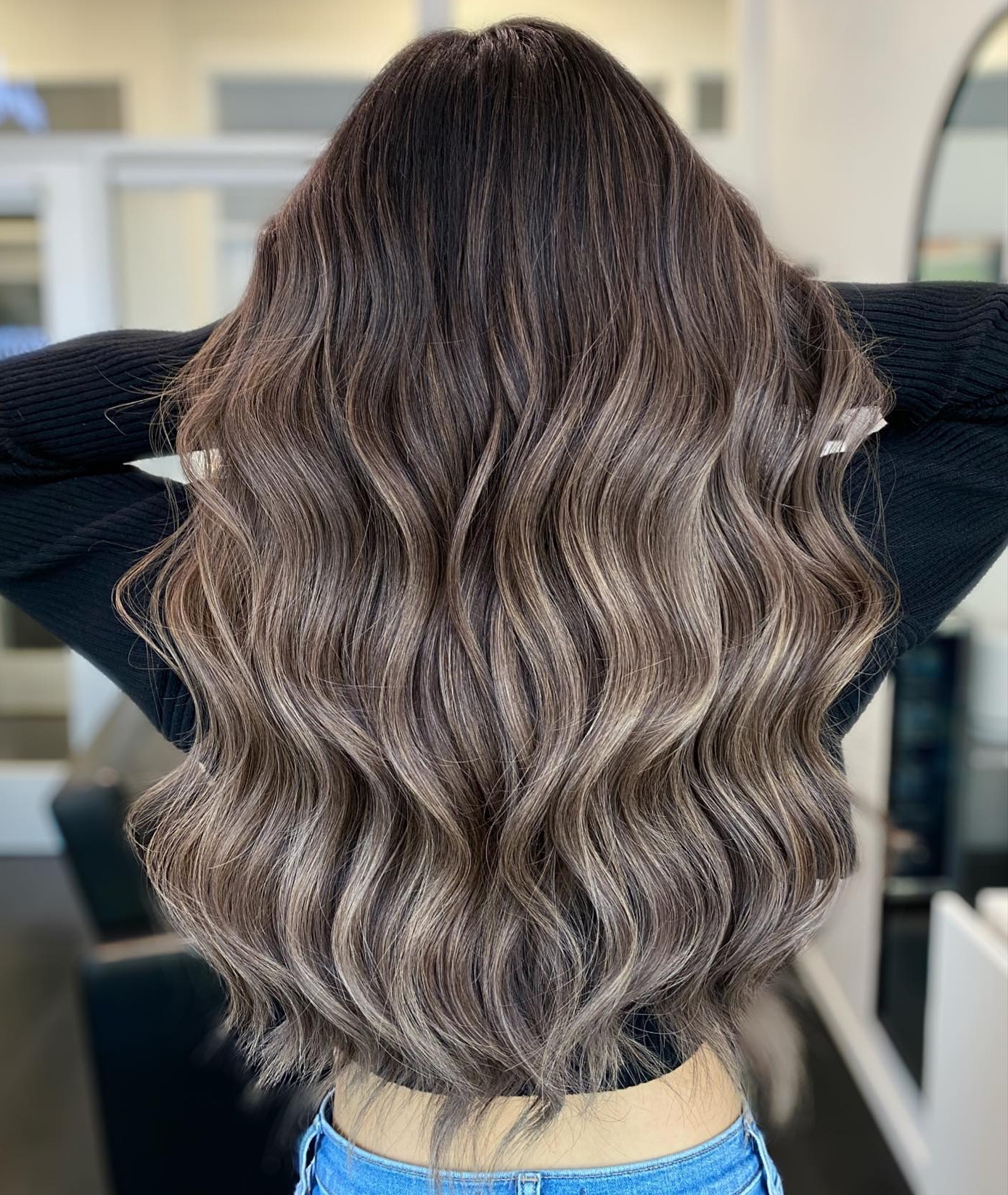 via @coloredbyphuong
This trend creates a cool and neutral palette for brunette hair that provides a natural aesthetic. If you like cool tones and are fearless in standing out from the crowd, add mushroom highlights to a deep brunette shade.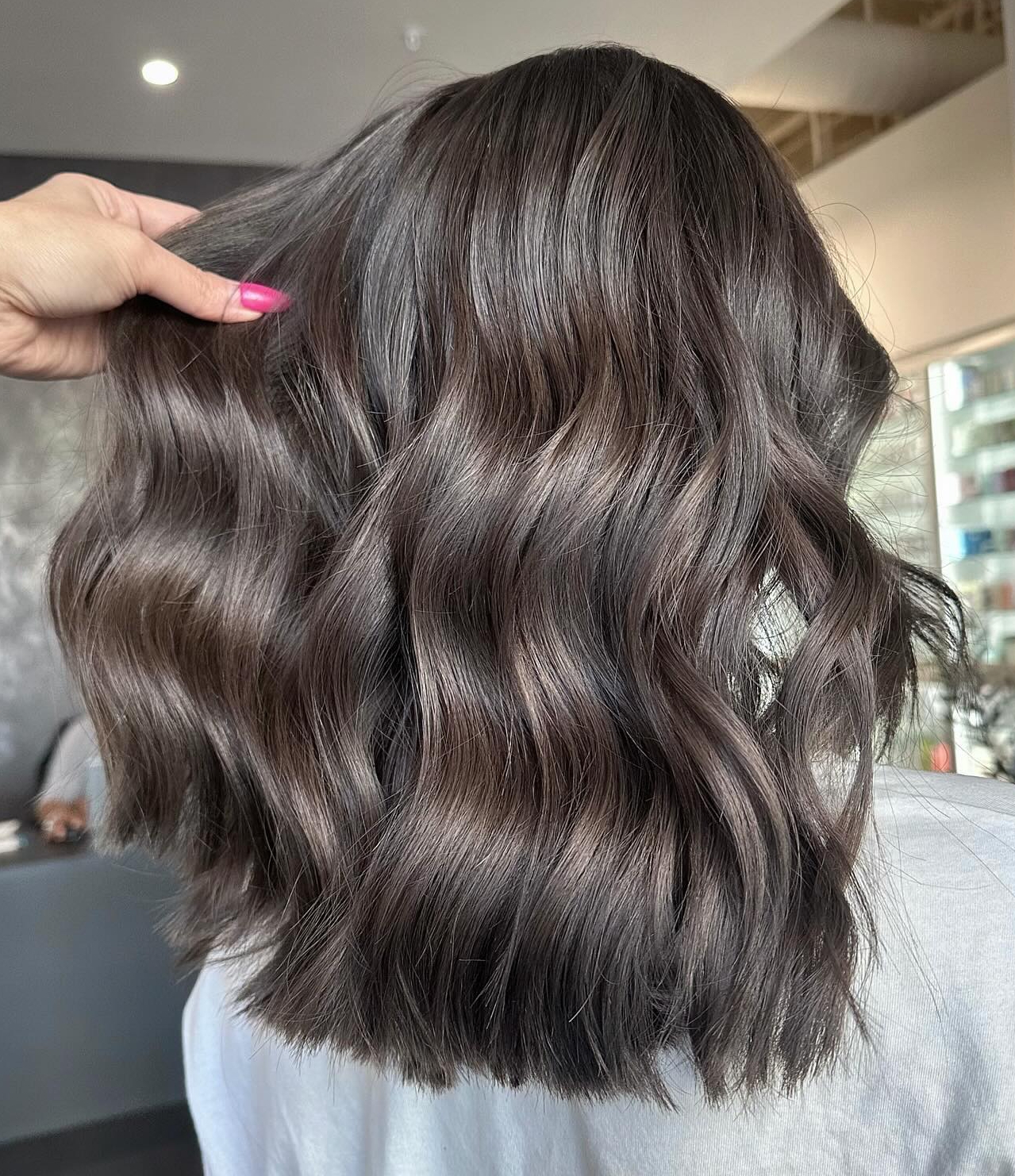 via @hairbymoly
Ginger Brown Hair
It's impossible to look away from ginger hair color! This shade will surely appeal to self-confident and bright women who like to show their individuality.
via @camyhairstylist
Red-brown complements skin of different shades, offering a universal choice for fans of dynamic solutions. If this coloring is too bright, dilute the rich colors with airy blonde highlights.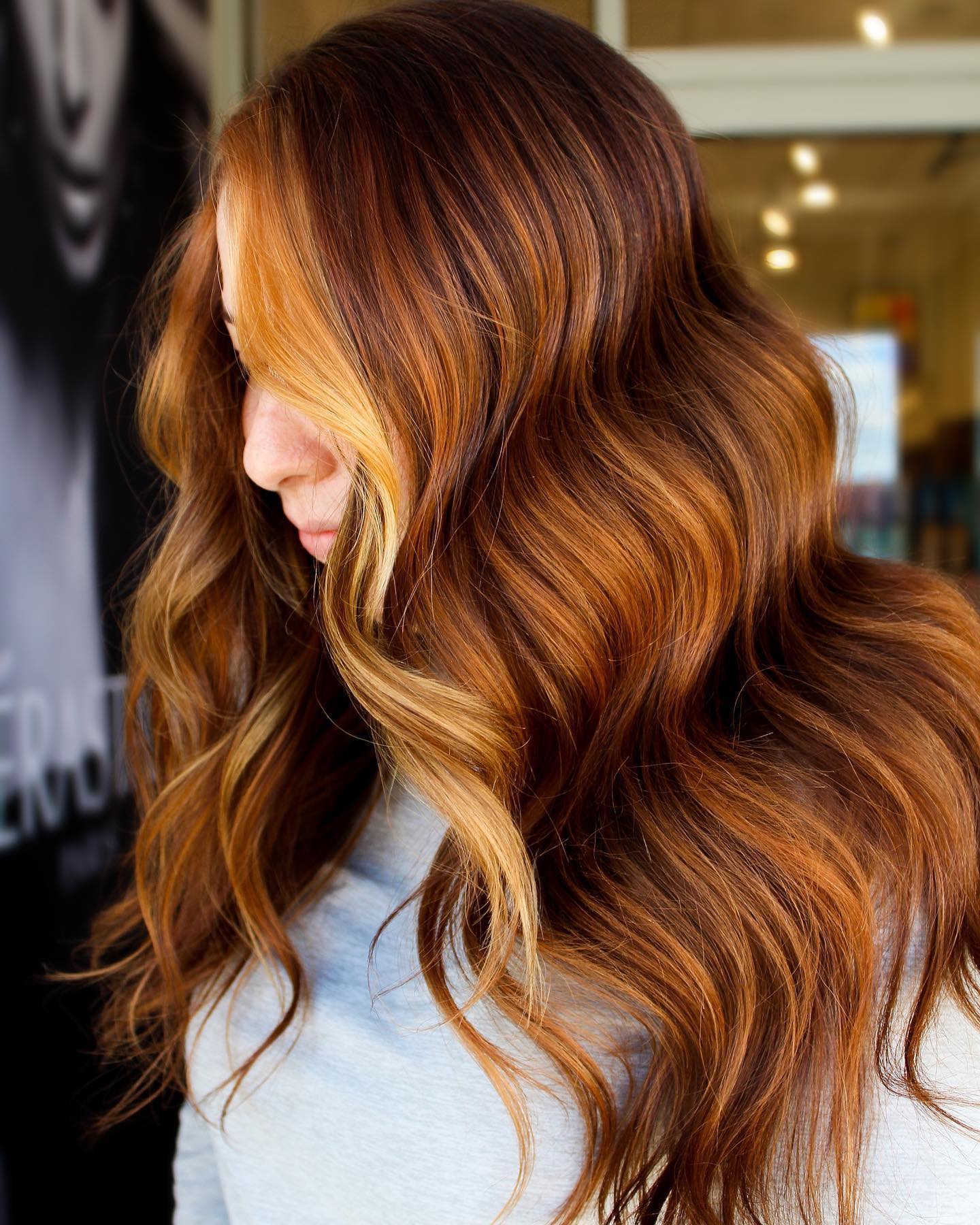 via @hair.by.jessv
Mocha Brown Hair Color
How to turn fine hair into a luxurious and elegant hairstyle? It's simple — use coffee neutral brown hair color!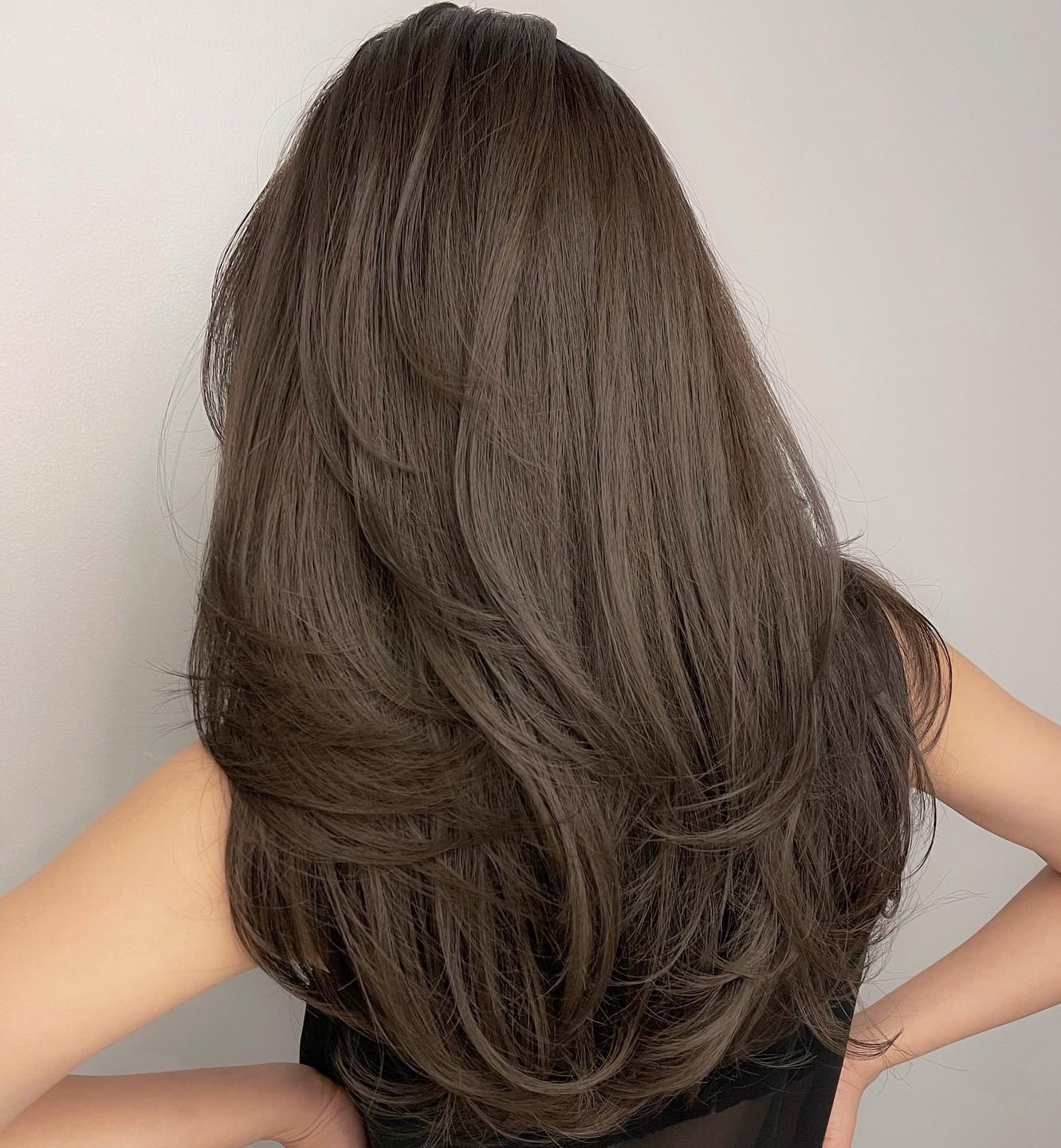 via @shokoxiaolei
For example, light brown hair in mocha color is a universal coloring that gives shine and volume to the strands. It is easy to care for and use as a basis for other color experiments.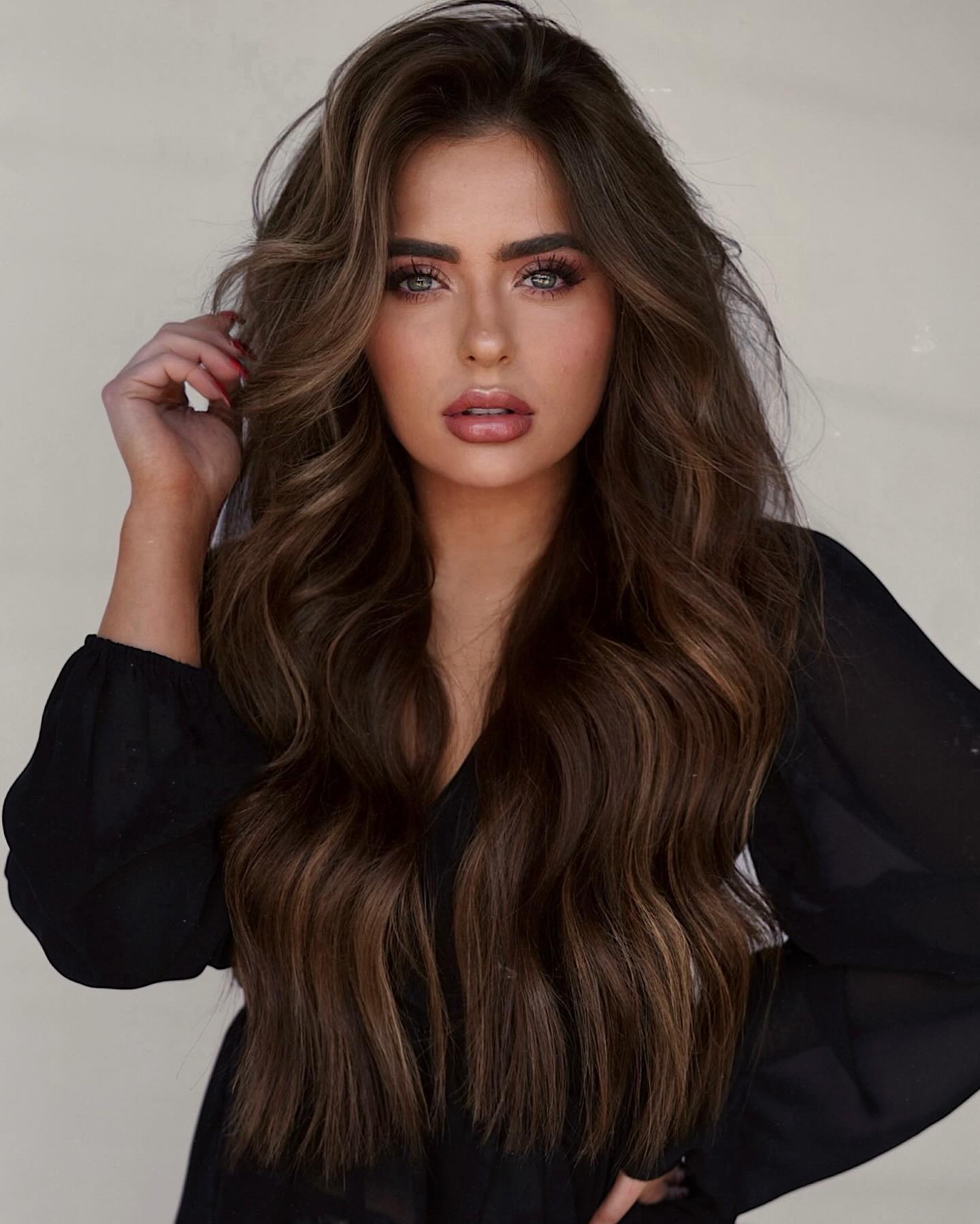 via @hairbymickk
Autumn Brown Hair
Darker shades of brown hair with warm undertones are the perfect solution for the fall season!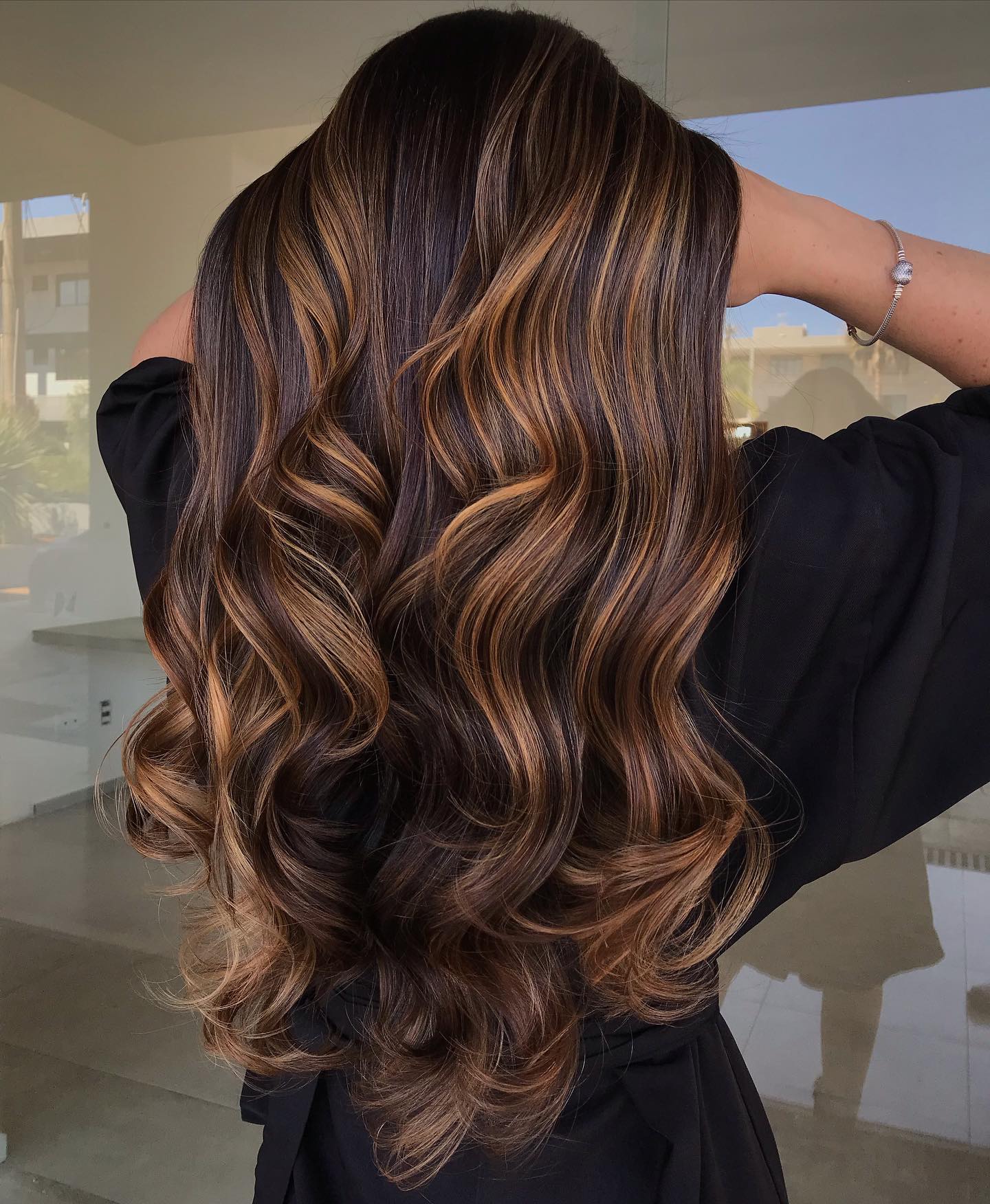 via @tatisantosbcg
The aesthetics of this time of year will not leave you indifferent. It means it's excellent to use warm hair colors that reflect light to create a thematic look.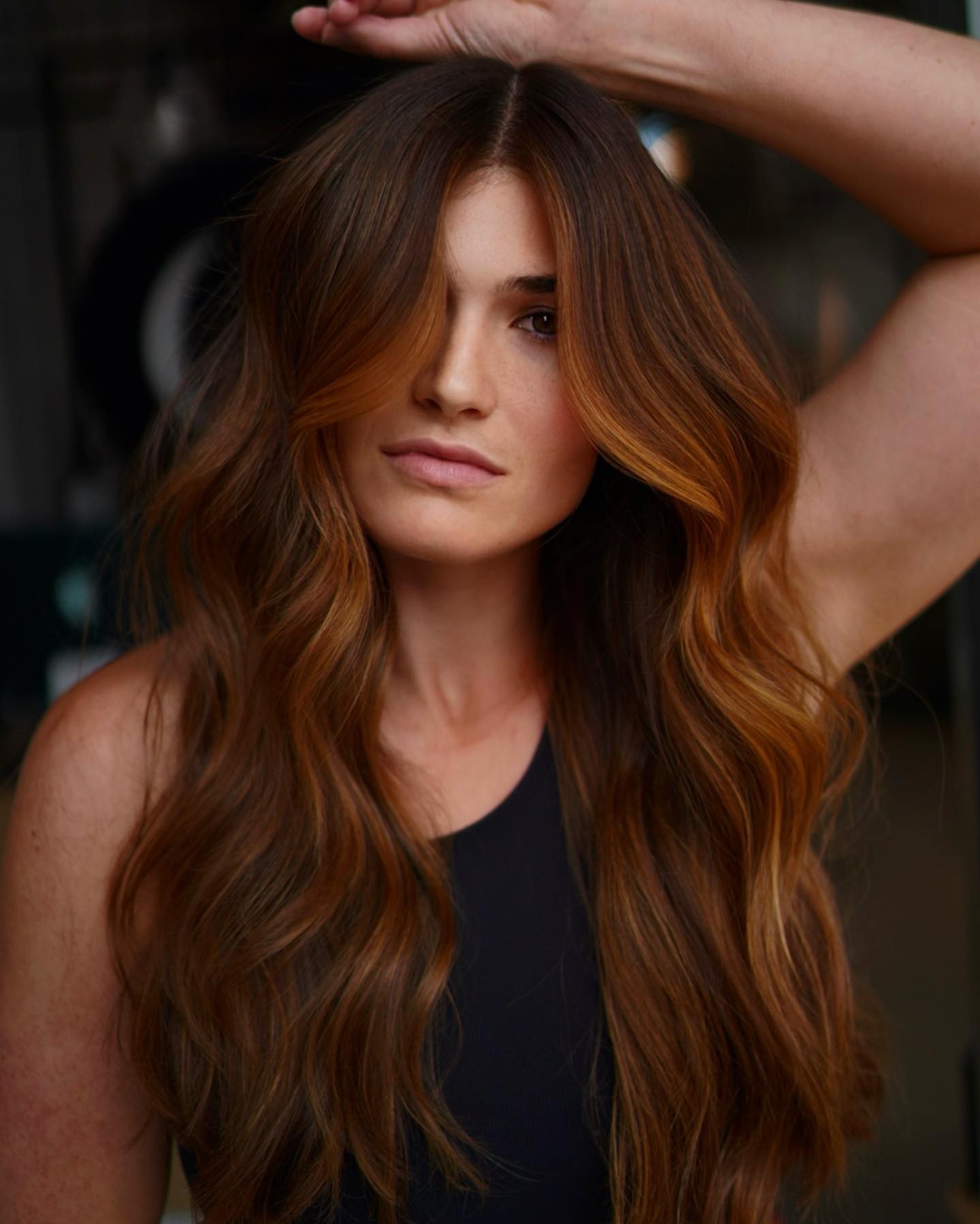 Burgundy Brown Hair
A burgundy highlight on brown hair amazes with deep wine shades, filling strands with sophistication and luxury. It is the epitome of elegance that perfectly complements contemporary style.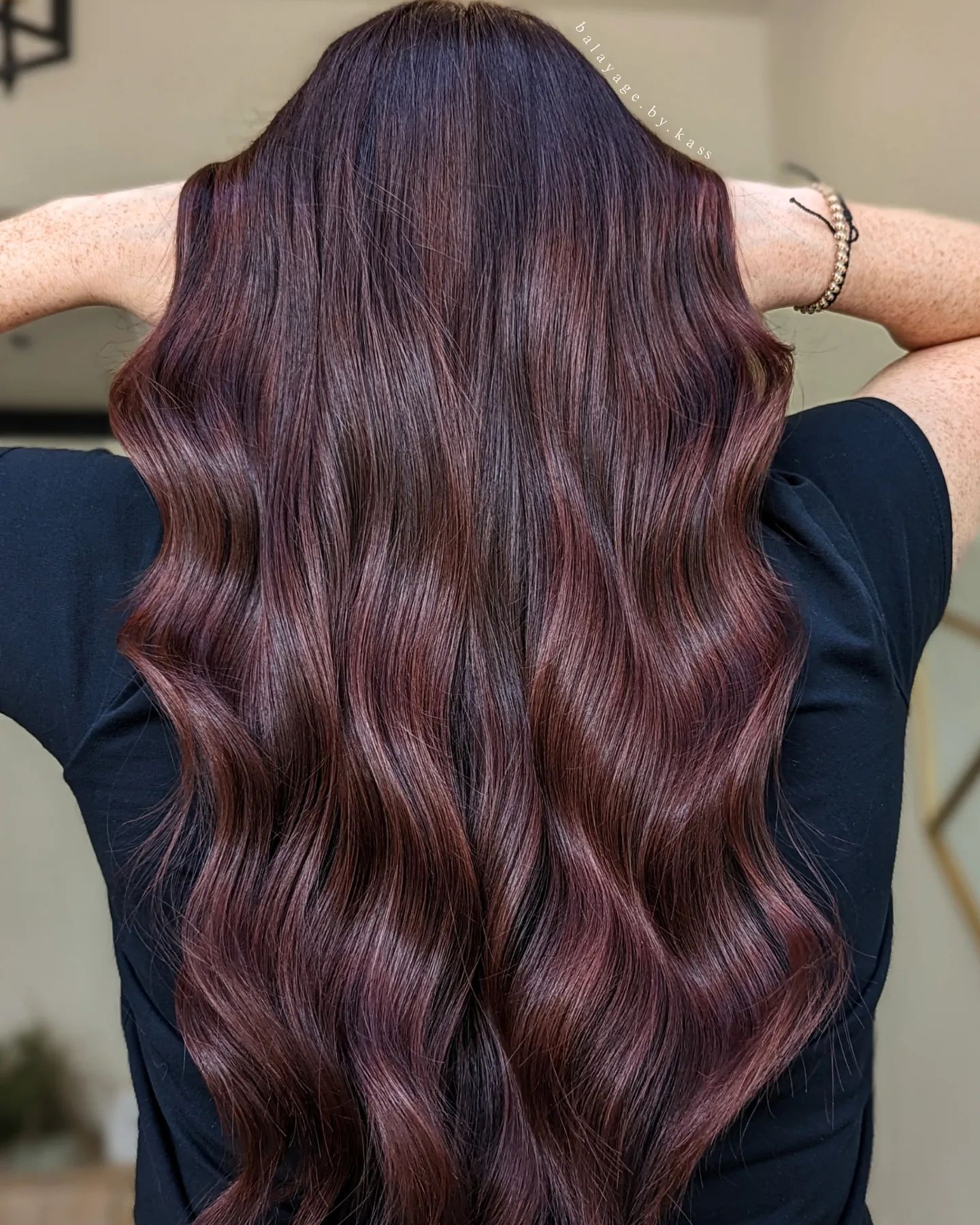 If you are a spectacular owner of brunette color, do not miss the chance to make your hair even brighter with wine accents.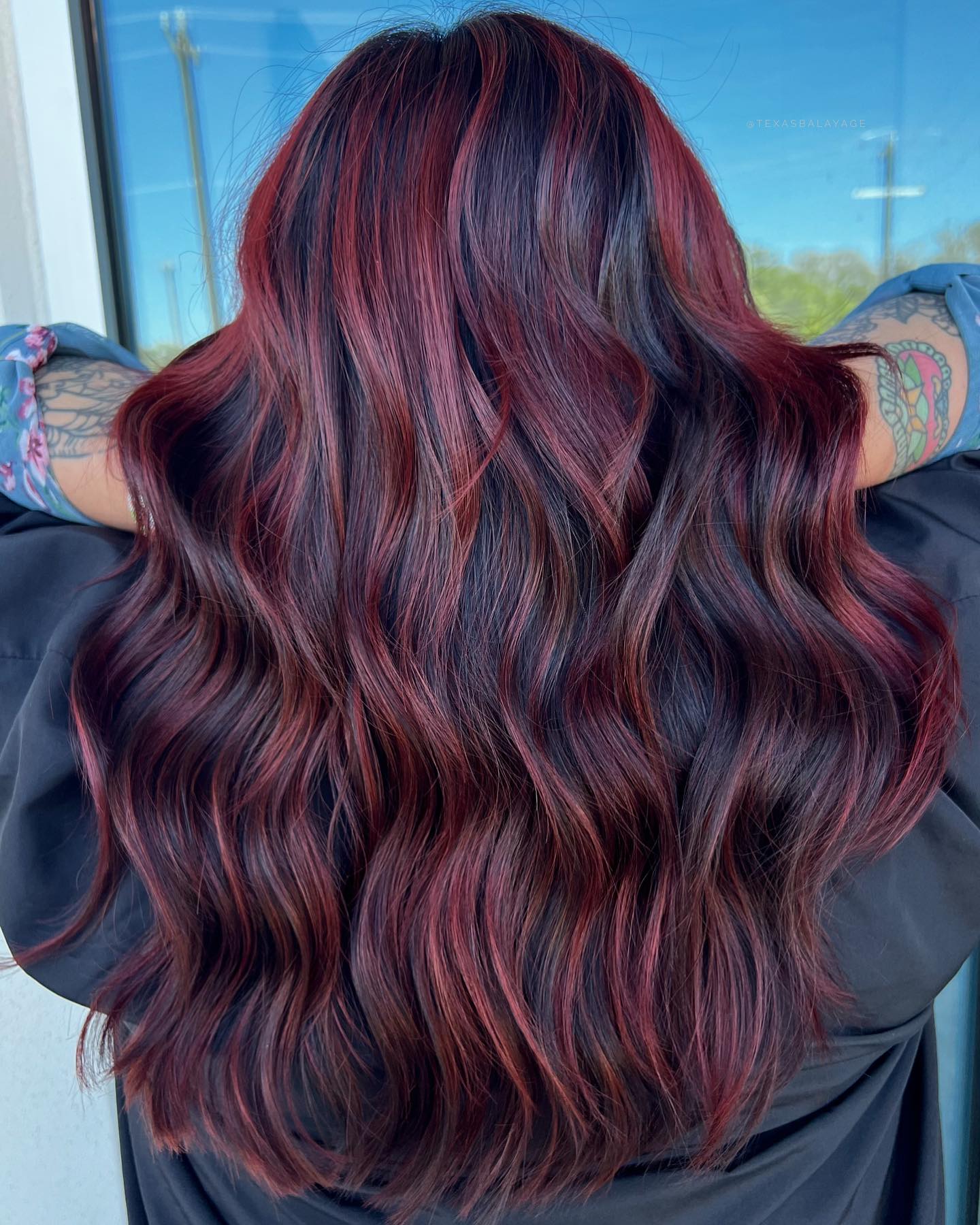 via @texasbalayage
Dark Ash Brown Hair
Are you interested in restrained and laconic shades? Then dark brown hair with ash highlights is just what you need!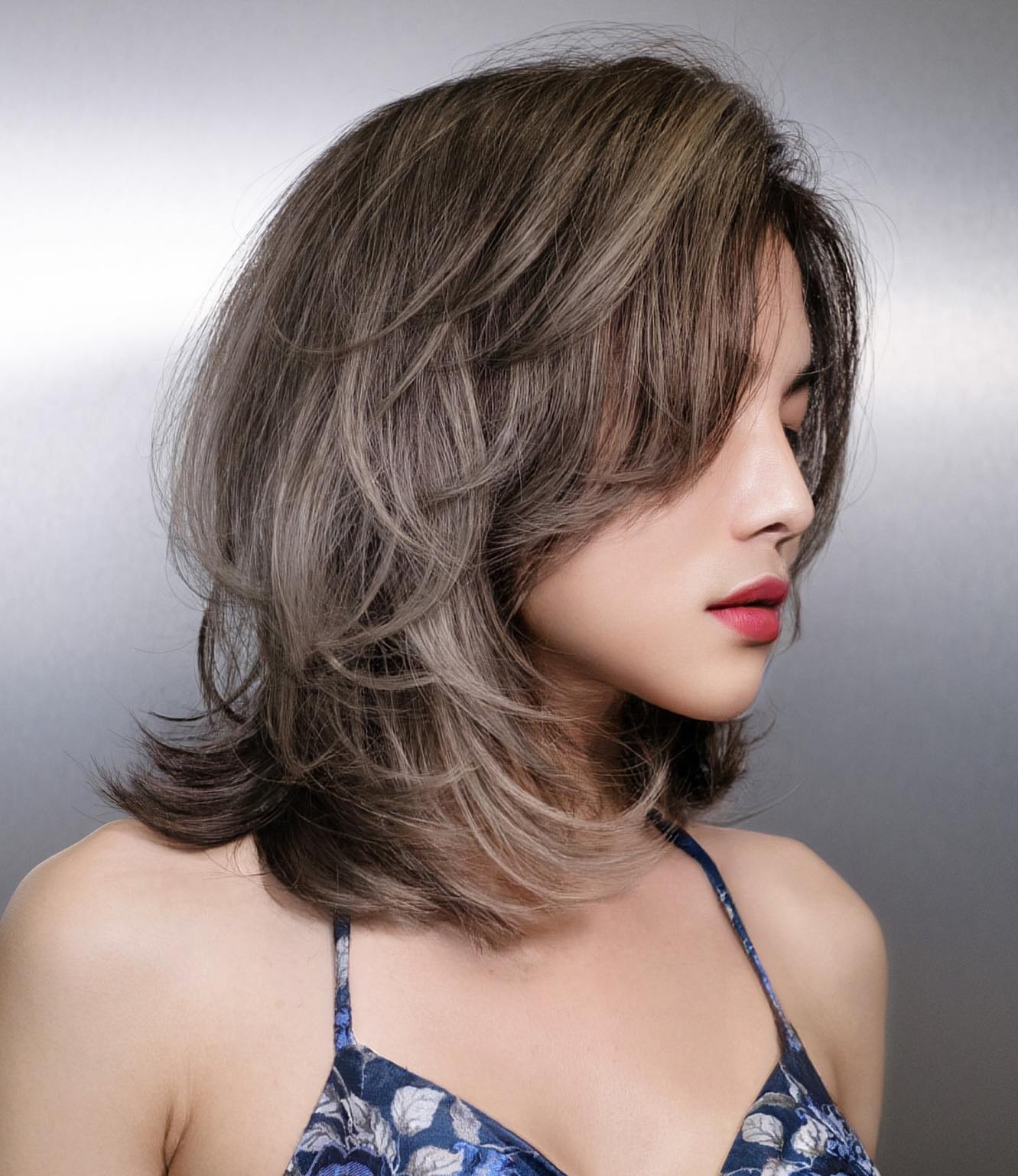 Thanks to its neutrality, it will suit different shades of brown hair and skin tones. Minimal care and perfect results are what sets ash hair apart!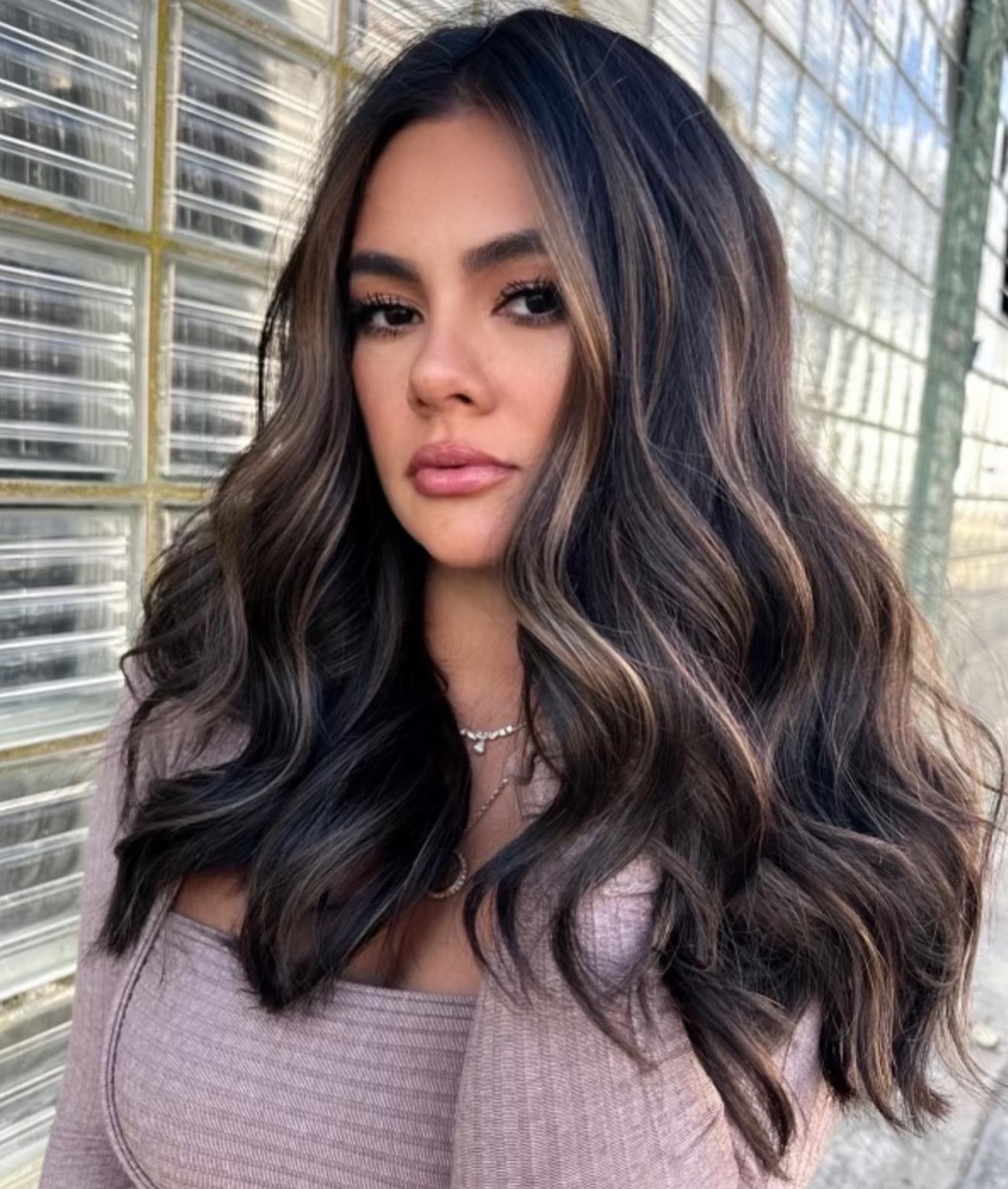 via @mikaatbhc
Copper Brown Hair
When collecting trendy brown hair color ideas, one cannot help but mention copper strands. Rich and fiery shades can transform the classic medium brown, especially on long, wavy hair.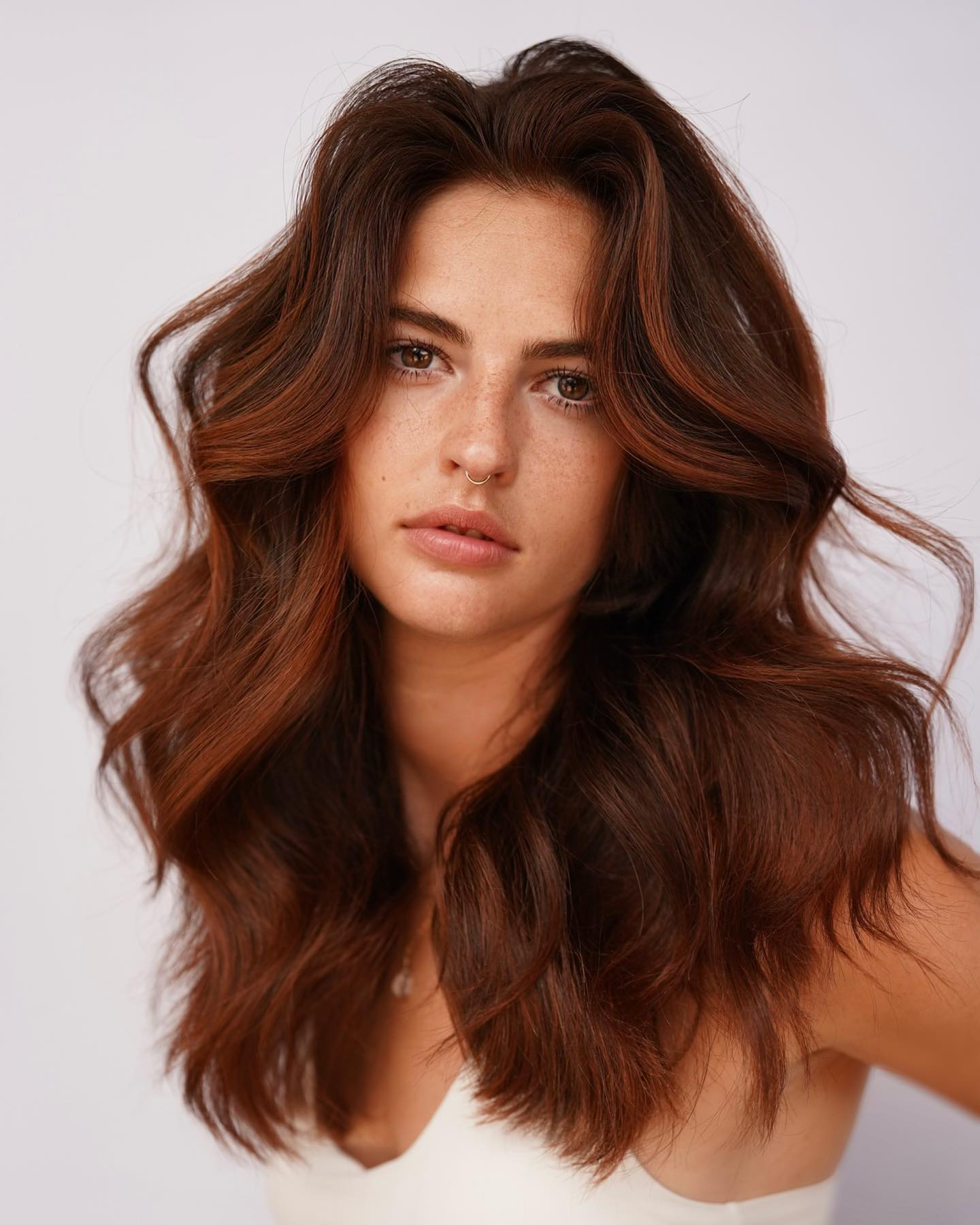 via @daniloherbert
Natural Brown Hair Color
The universal solution for bob cut is a natural brown hair color. It is a classic that goes well with different skin tones.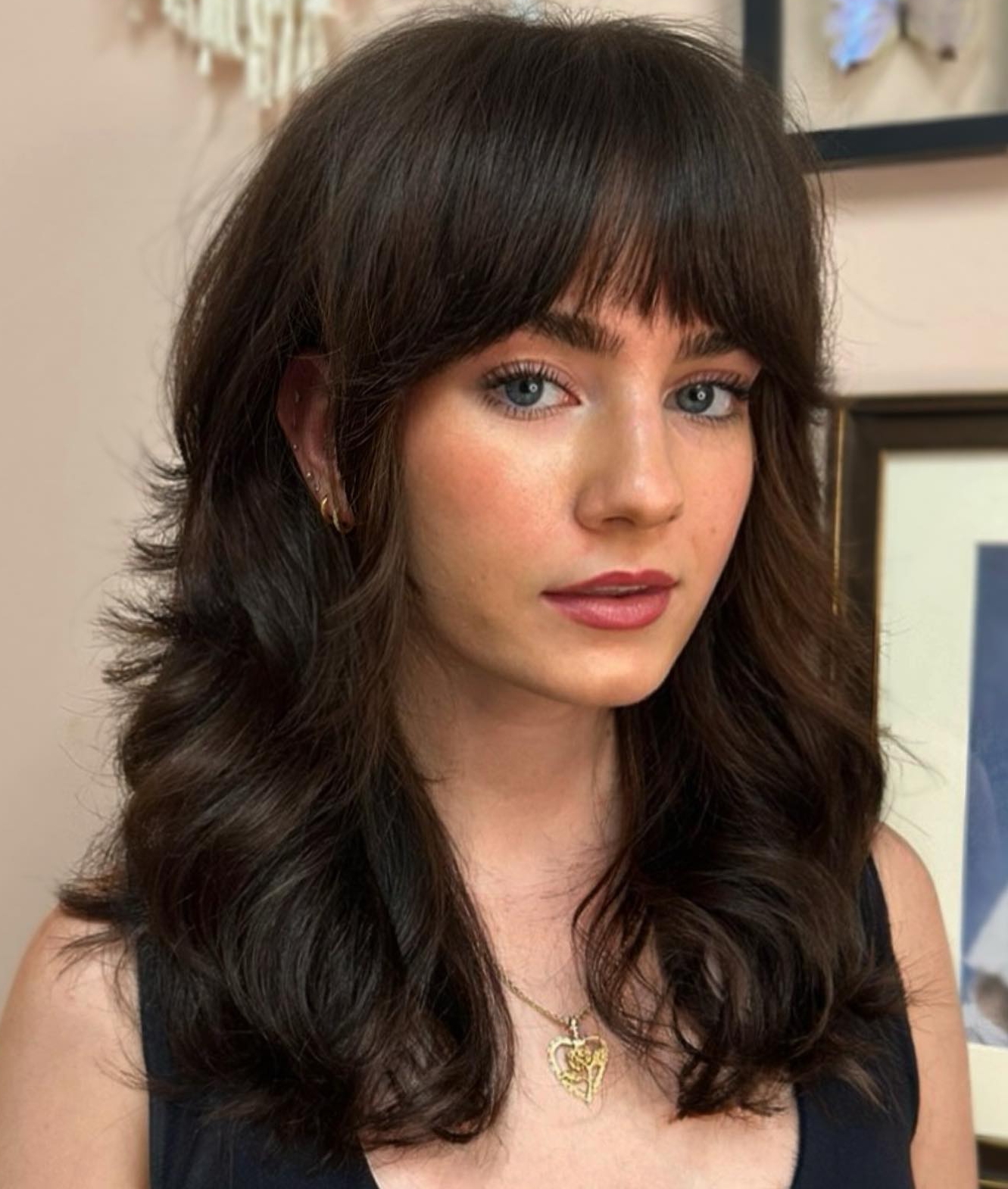 If you want to add shine and lightness to your look, use a warm brown hair color. As for chocolate brown hair, this more profound and richer shade is perfect for those with brown eyes and will make them even more expressive.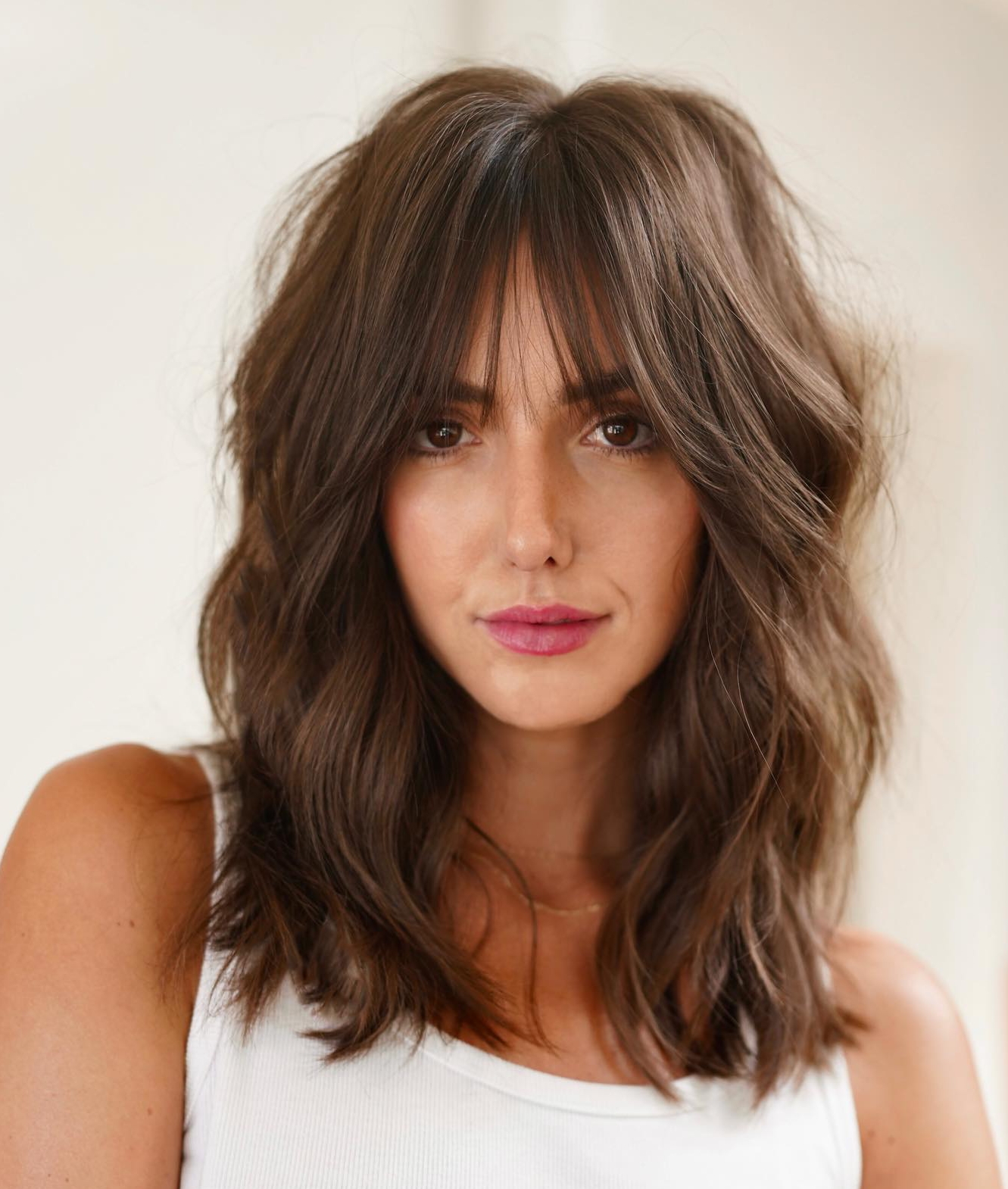 via @yukistylist
Sandy Brown Hair
Soft golden tones on long, straight hair are the cherished dream of many women. They help create a casual look that complements a nautical look exceptionally well.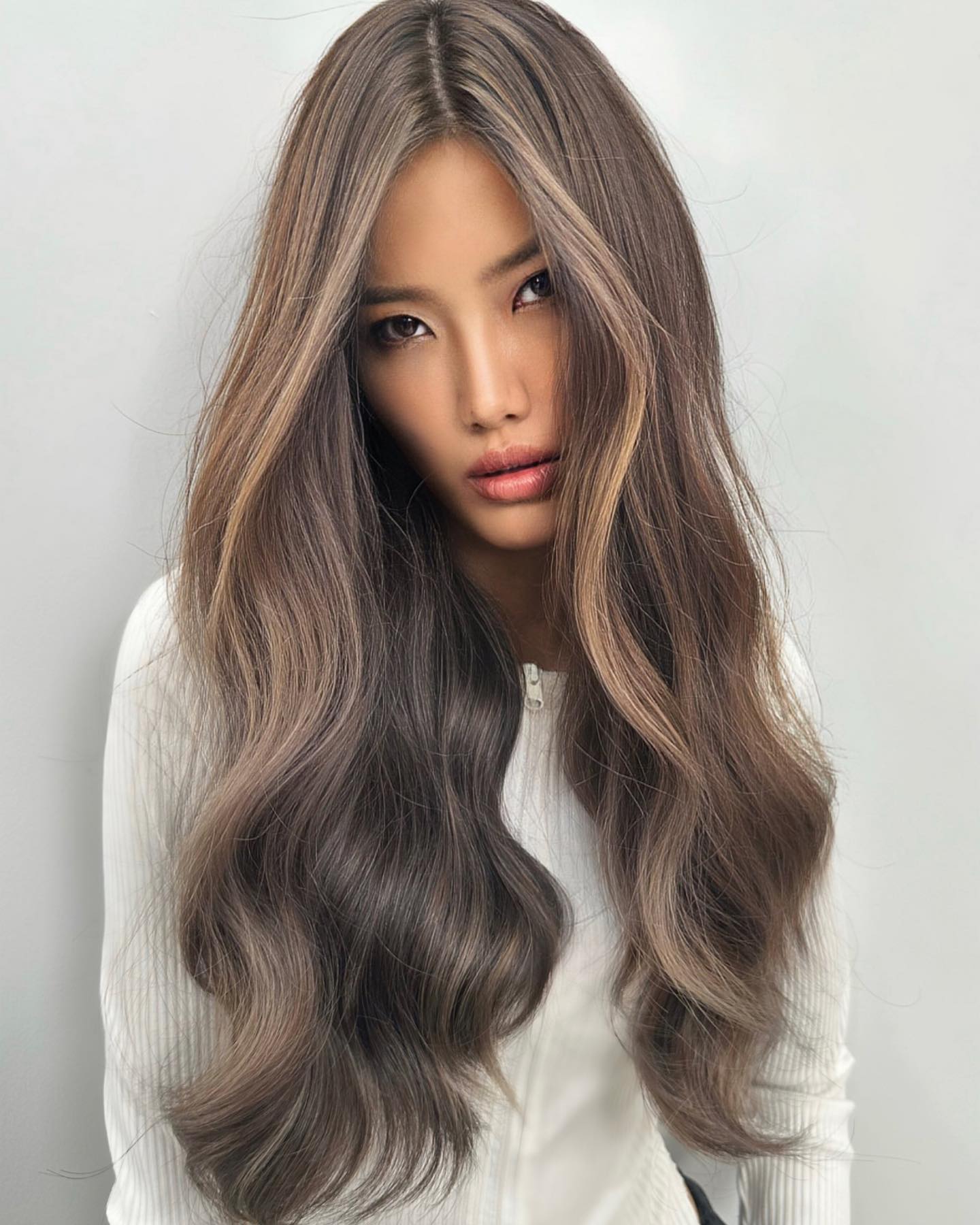 via @berniottjes
But there is no need to be tied to the time of year when choosing light brown hair! Messy sandy strands will also look great in autumn and winter, reminiscent of sunny and warm days.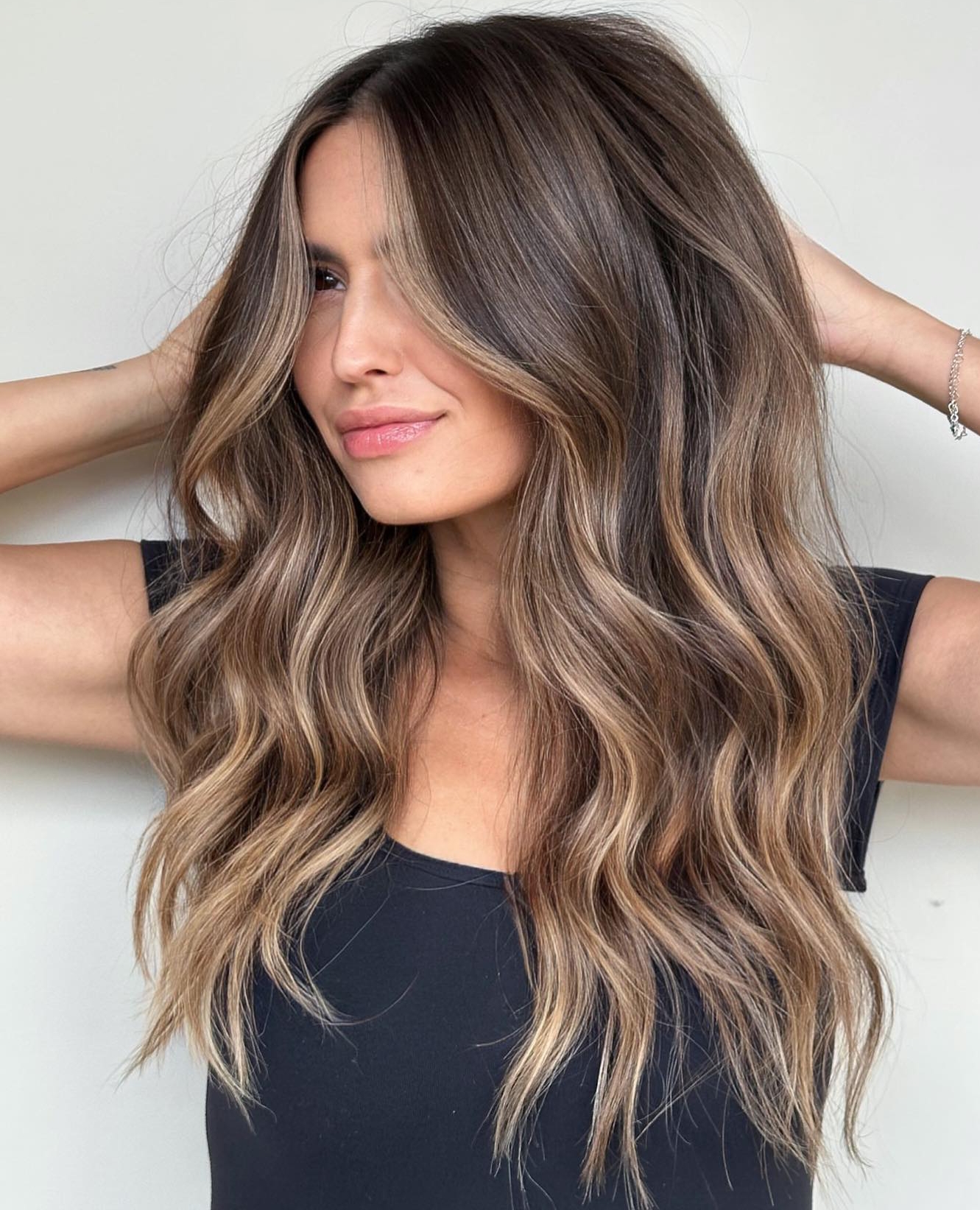 via @dvcolour
Plum Brown Hair Color
Is your goal to emphasize individuality? Dark hair with plum hues will help achieve the desired result.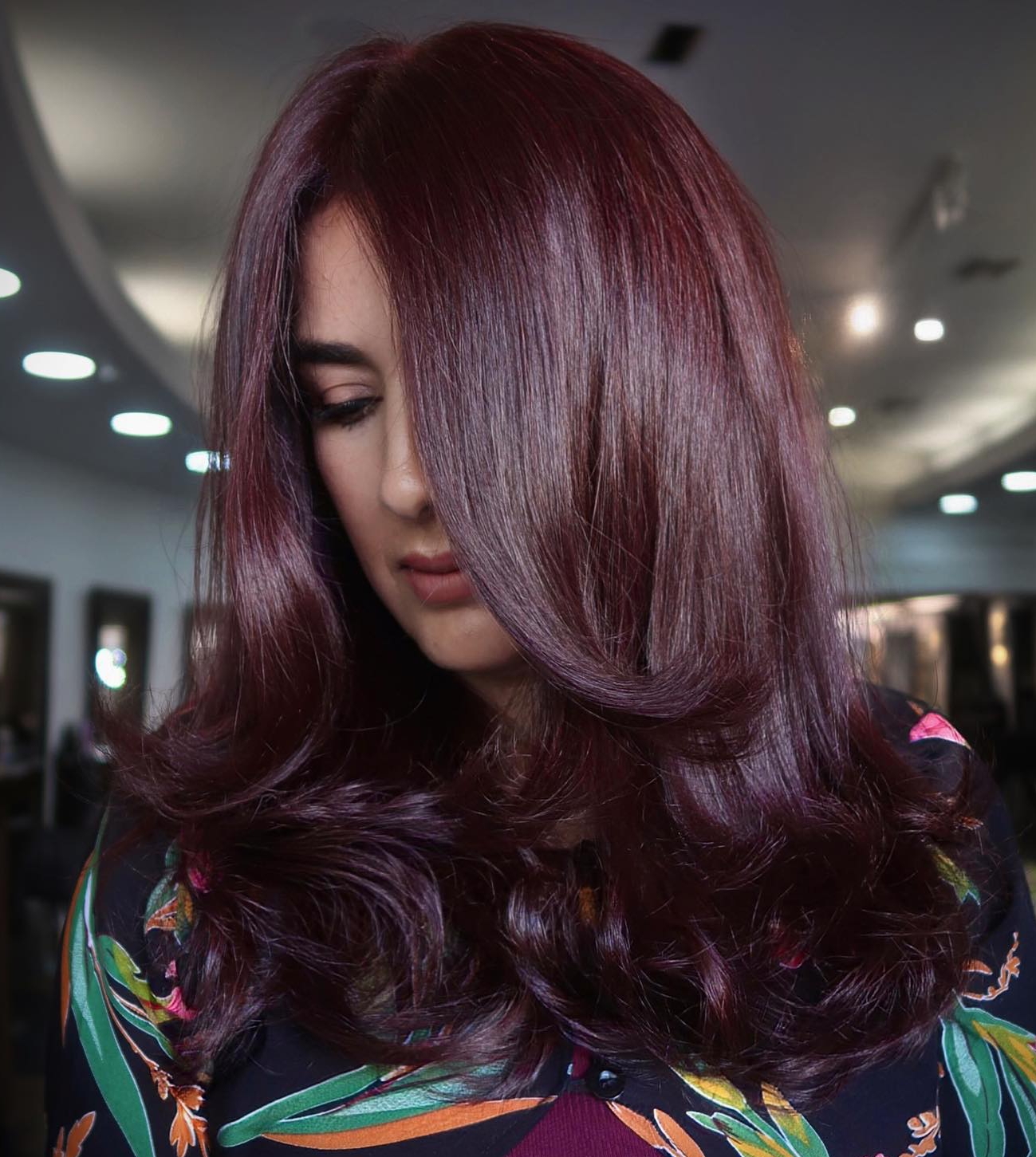 A rich combination of purple and brown creates a surprisingly luxurious and sophisticated look. On a dark brown base, plum strands look as dynamic and intriguing as possible, attracting attention and causing numerous compliments.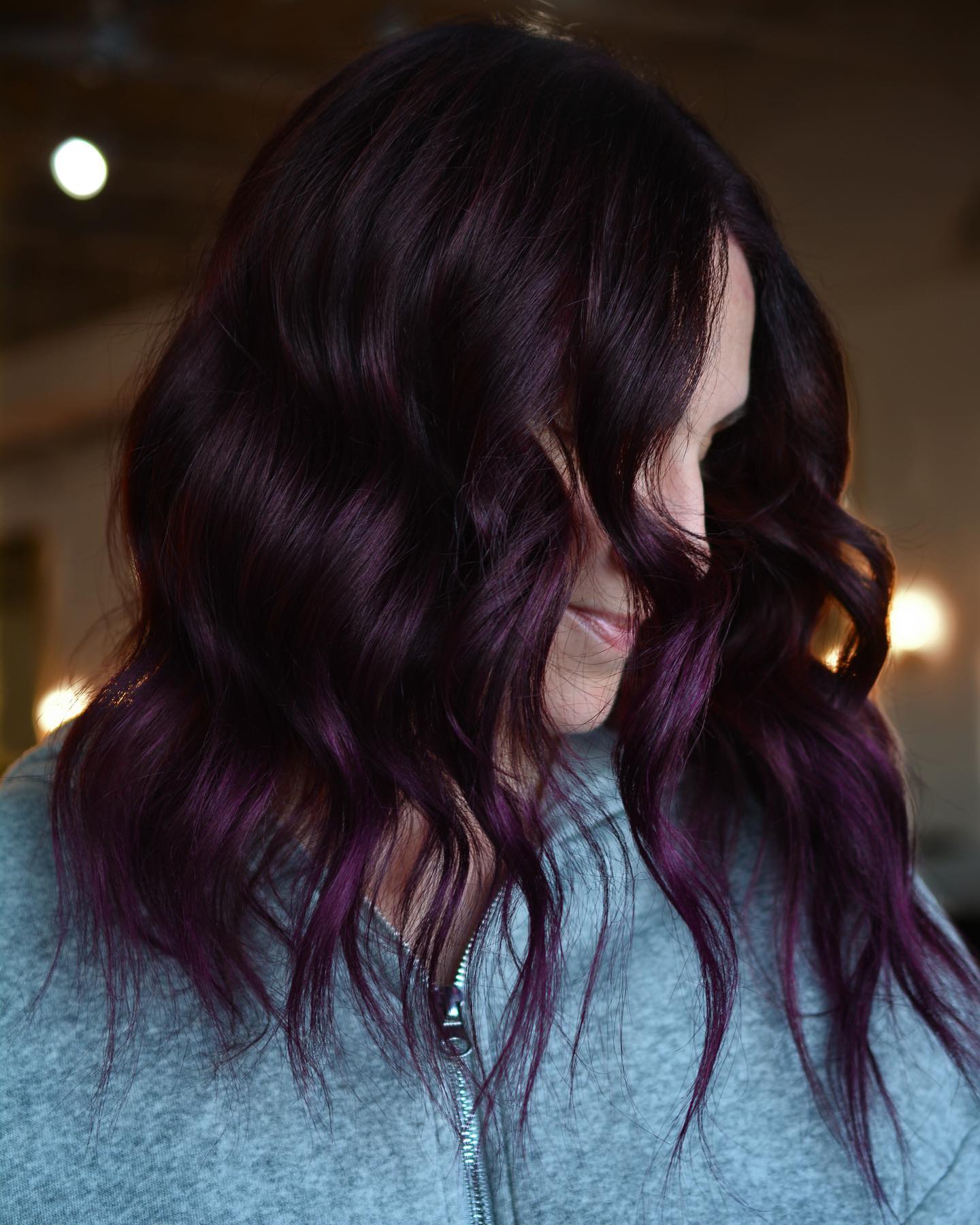 Cherry Brown Hair
Dark chocolate brown hair with reddish shades creates an incredible color combination that will appeal to brave and charismatic girls. It perfectly complements outfits for special events or parties, especially with a spectacular manicure and black and red makeup.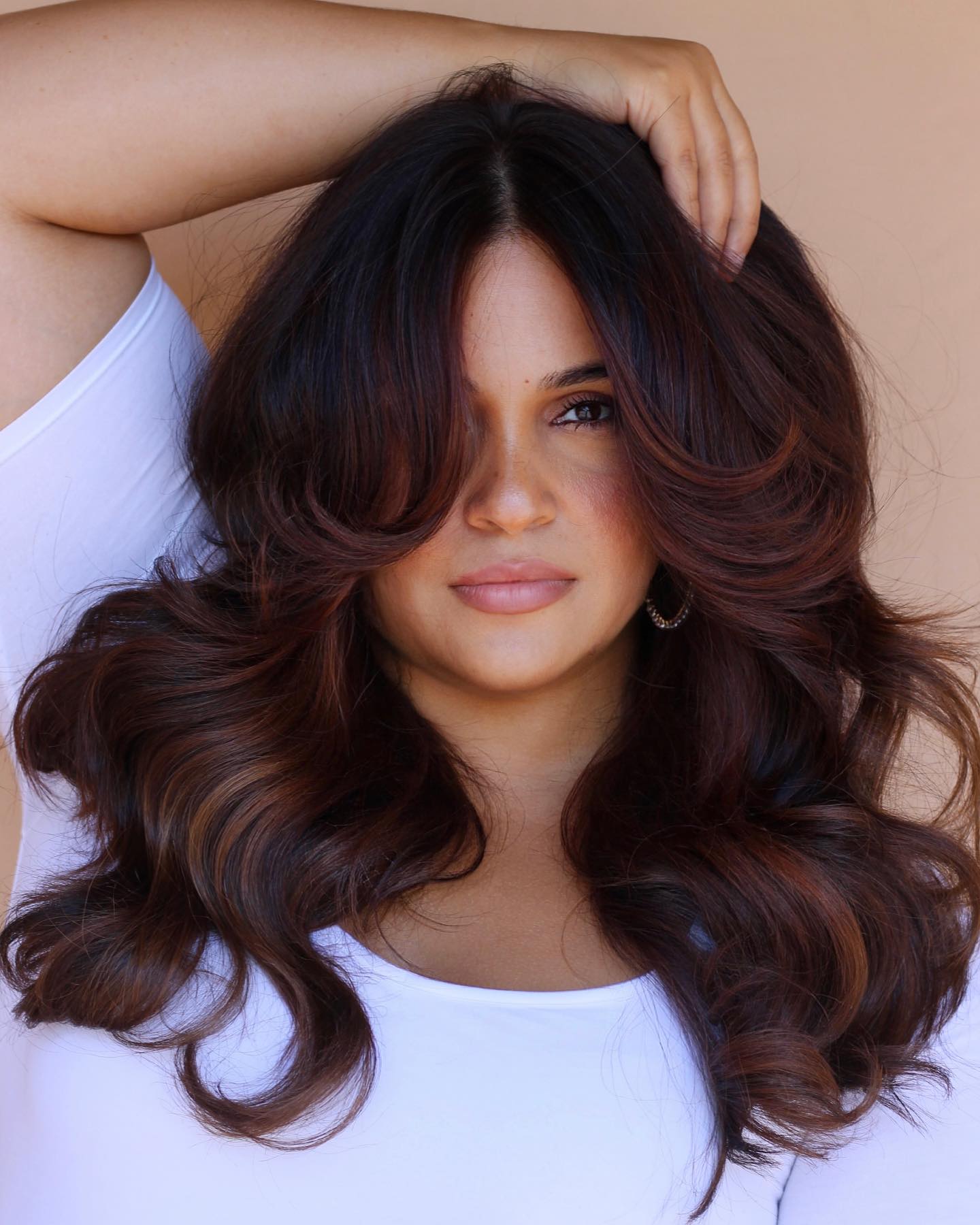 Are you still determining if you are ready for dark red-brown hair? This coloring will be ideal for fashionistas who want the most vibrant, expressive, and uncompromising look!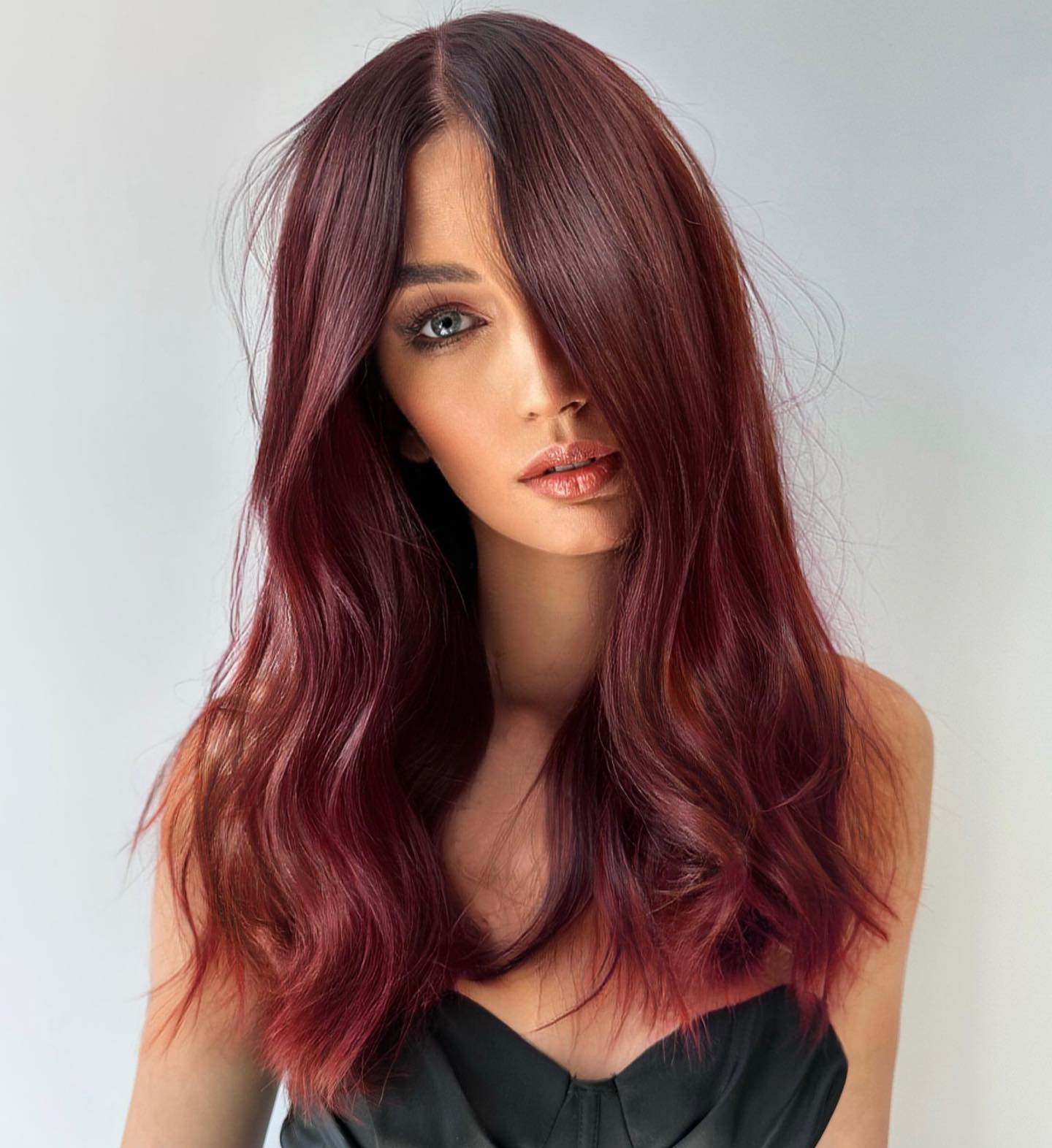 via @berniottjes
Cinnamon Brown Hair
It's hard to find a girl indifferent to cinnamon! It is not only a universal and, at the same time, memorable spice but also an ideal addition to numerous shades of brown hair.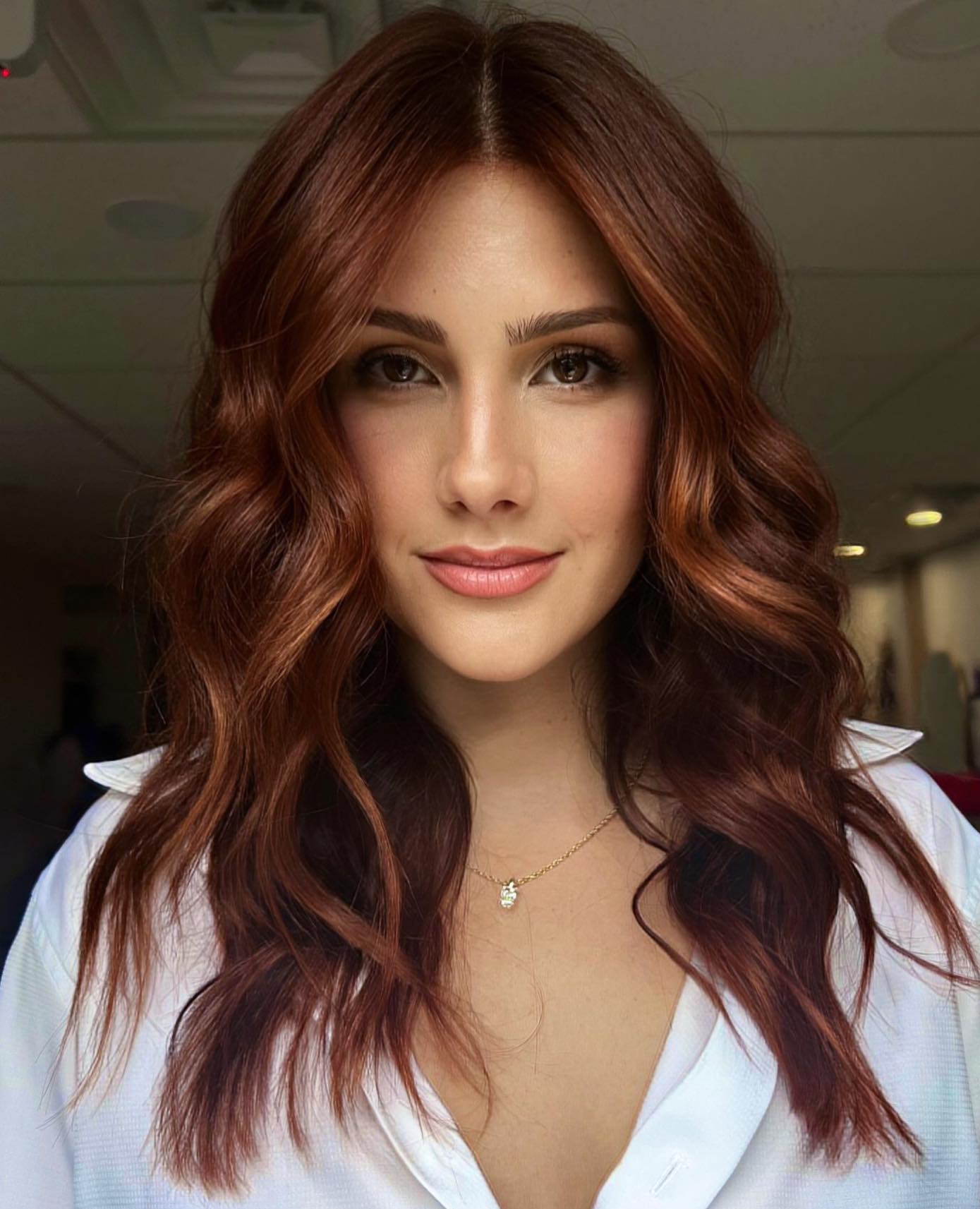 via @ryleeheyzahair
Cinnamon-brown hair has fullness and depth, creating an attractive and incredibly cozy look. This coloring will be a real find for the fall and winter seasons, warming its owner even in cold weather.
Sparkling golden brown with notes of cinnamon is a stylish and popular solution that others will appreciate. It's easy to fill your life with warmth and joy, even with the help of a few accent strands. Remember this!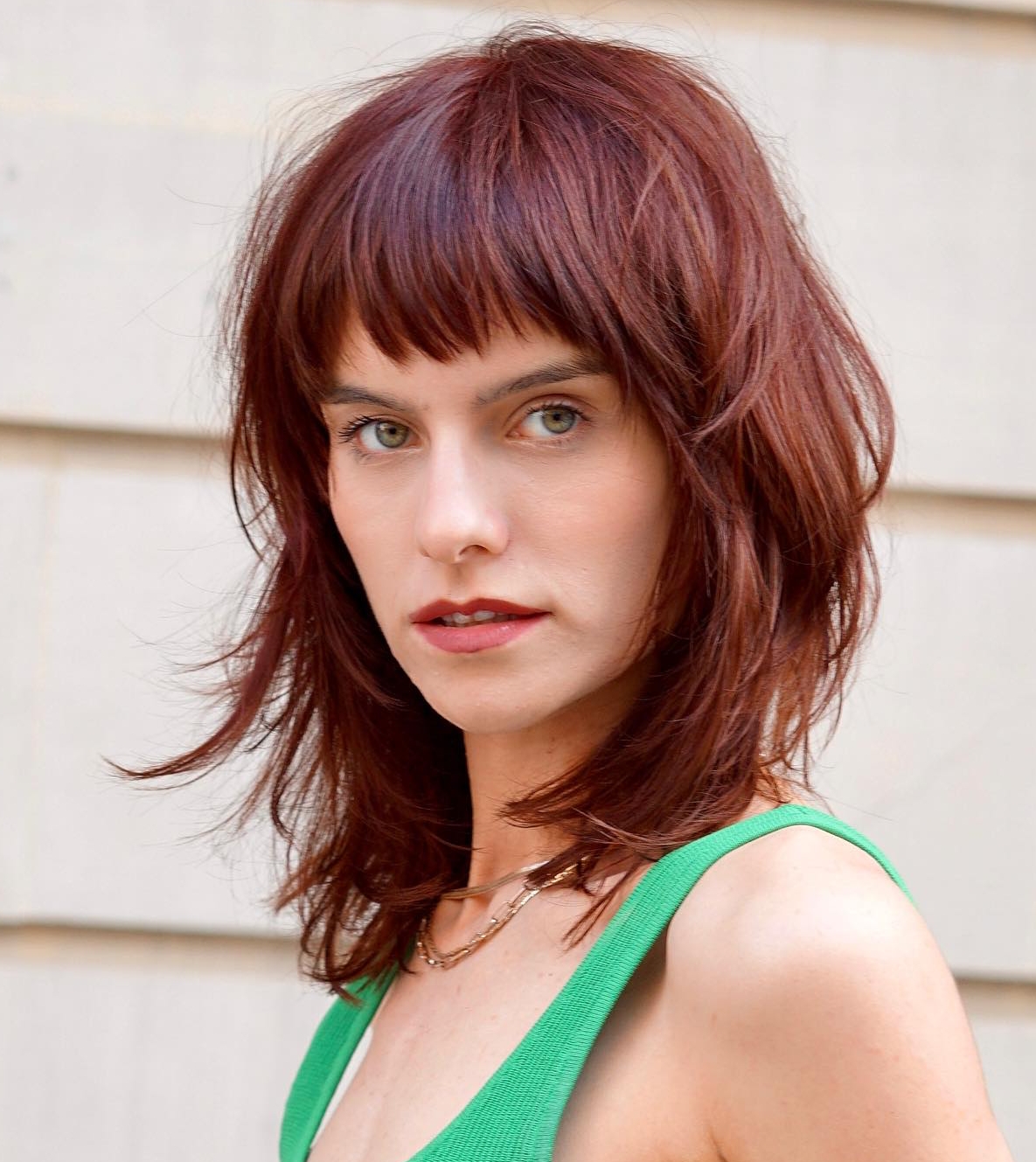 via @nunzio_nyc1
FAQ
What color highlights are the best for brown hair?
When choosing a highlight color for brown hair, consider your natural hair color and skin tone. Of course, remember your personal preferences!
So, we offer several trendy highlights for brown hair.
Delicate caramel. Warm caramel highlights add volume and warmth to brown hair. They perfectly complement any shades of brown, from light to rich dark, and are suitable for owners of different color types.
Honey blond. An unostentatious, gentle shade creates a tanning effect on chestnut strands, making them brighter and more voluminous. If you have warm undertones, check this one out!
Stylish bronze. Highlighting with the simultaneous use of brown and light tones can be safely chosen by girls with warm and cool skin tones. This coloring is natural and helps to neatly complement the appearance without looking provocative or too bold.
Warm chocolate. Chocolate brown notes add extra depth and richness to dark brown hair. Given the specifics of the shade, it is recommended for owners of neutral and warm skin tones.
Spectacular copper. Copper highlights can transform your daily hairstyle, adding boldness and bright colors to your look. If you are the lucky owner of an autumn color type, feel free to try this experiment!
Laconic ash brown. Cool ash-brown strands are ideal for women who prefer contrasting colors. They are effectively combined with warm chestnut curls, complementing the image with calm and regularity.
Bold burgundy. Reddish highlights guarantee your uniqueness! In those moments when you want something new and non-standard, choose red shades for highlighting — from barely noticeable light to rich scarlet or wine.
Spicy cinnamon. Want even more warmth and richness? Decorate your brown strands with cinnamon highlights! It is ideal for those with warm or neutral undertones, highlighting the depth of natural hair color.
Before experimenting, consult a professional colorist who can evaluate your hair color, skin tone, and personal style to create the most flattering look. In addition, the specialist will give care recommendations to ensure that highlighted brown hair remains bright and healthy for as long as possible!