Red is a vivid, warm hair color. If you have natural crimson glowing hair, these ombre hair ideas are for you. If you plan to get your hair colored in scarlet tones, we have some fantastic ombre red dye ideas to experiment with.
Whether you are trying to gain attention, showcase your bolder side, or be adventurous with your hair, we have you covered.
Ombre is hot and training. Instead of simple highlights, give your hair more character with red ombre colors. Suiting all skin tones, here are some magical tips for flaunting this style.
Radiant Blonde and Red Hair
Red hues are bold and eye-catching. Combined with blonde hair, it looks gorgeous and suits skin tones of all types, ranging from warm to excellent.
This ombre effect on light hair can be successfully done on hair of any length. All you need to do is ensure that your hair's texture is good.
Experiment with strawberry highlights. Similarly, golden and red ombre make your mane look platinum blonde. It makes your tresses look healthier and thicker.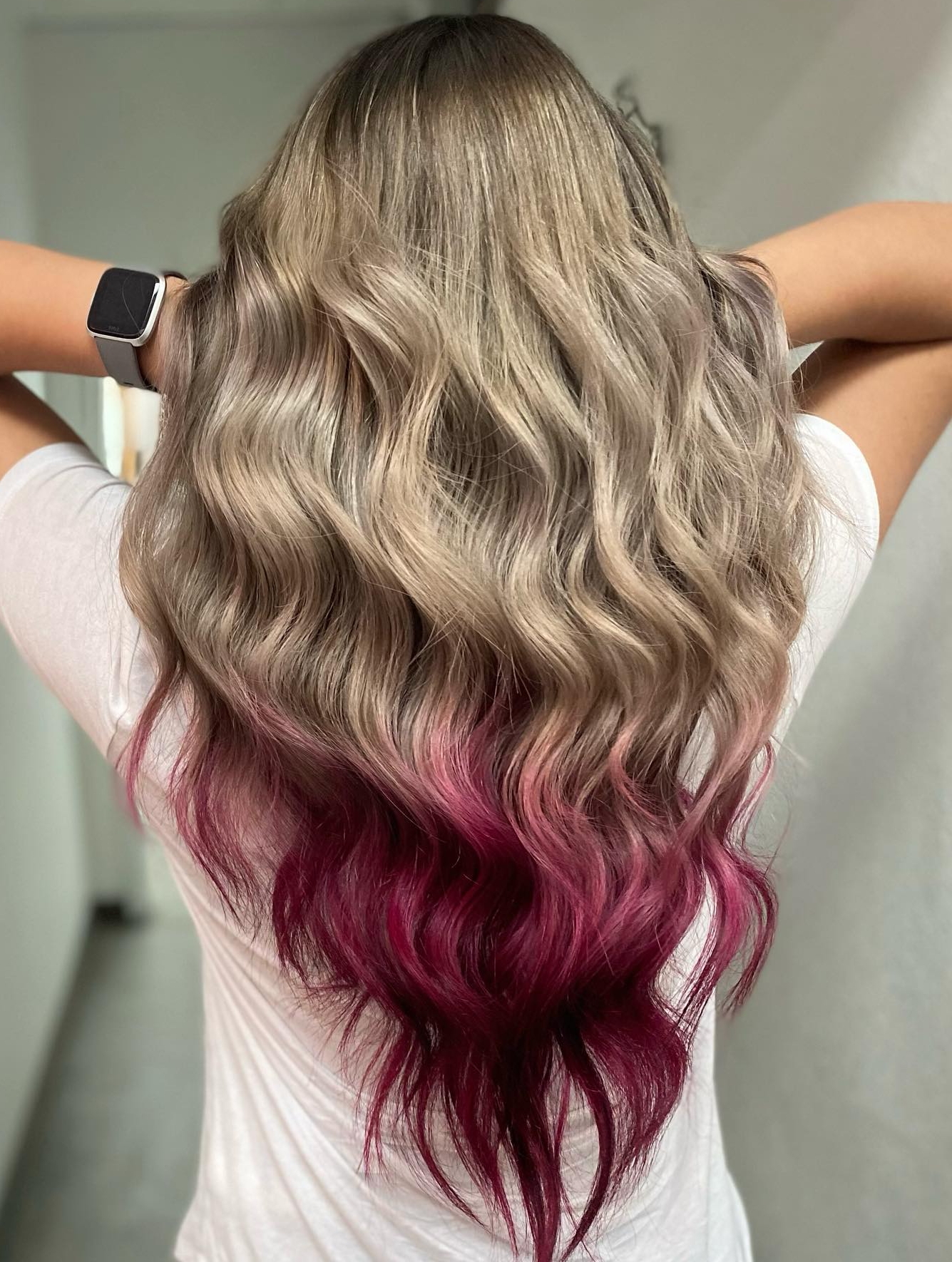 via @georgeeblancoo
Fiery Black to Red Ombre Hair
Have natural, dark, straight hair? A black-to-dark-red ombre is an idea that's easy to wear, low maintenance, and comfortable. Black hair with pops of crimson looks unparalleled.
If you have thick hair, use the ombre effect on the waves so that the style is electrifying whether you leave your hair open or braid it. Add a tint of bright color, purple or orange, for a softer and more feminine look. For a stunning effect of black to red ombre hair, you can braid your hair overnight and then open it in the morning.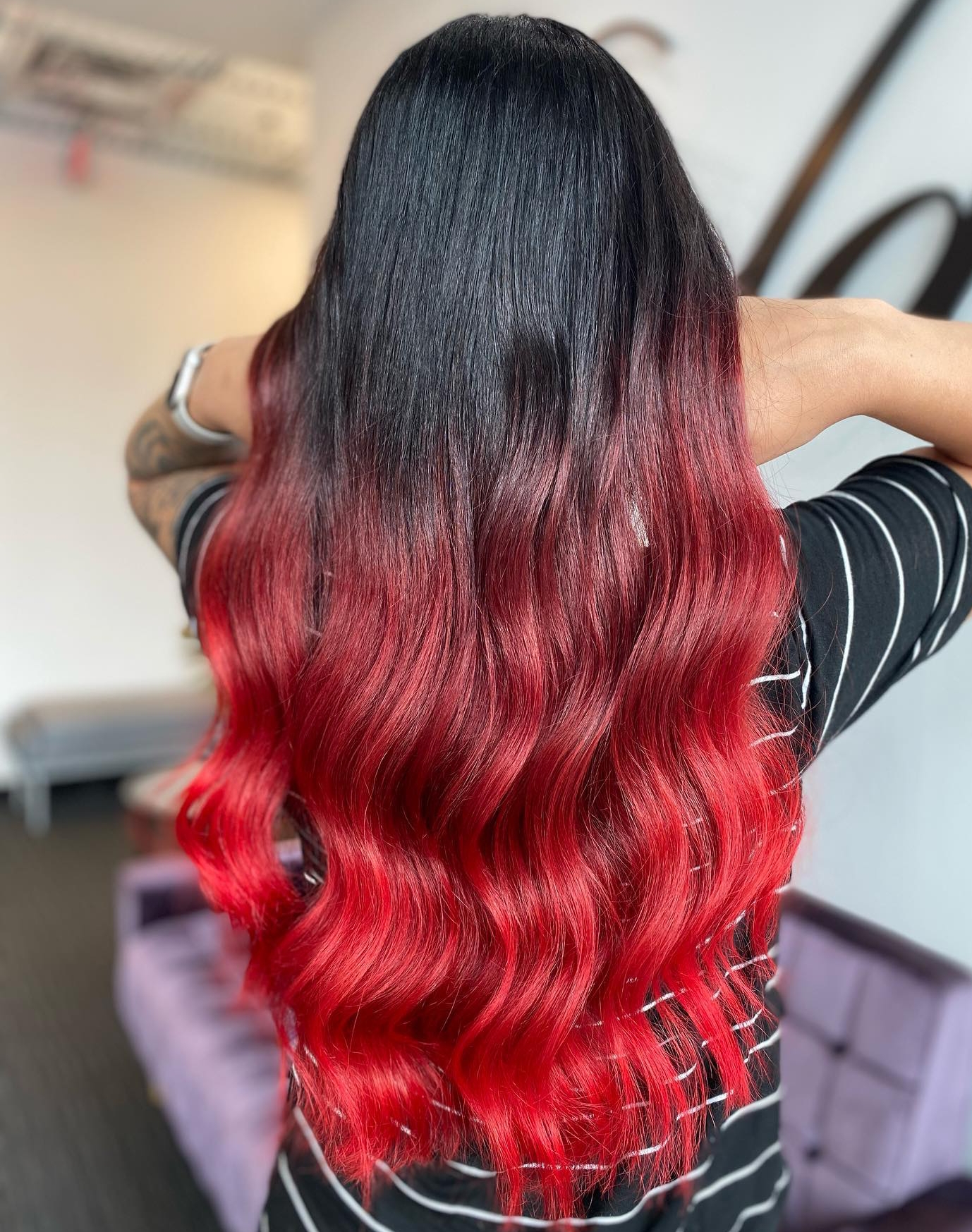 via @hairbyaliciacal
Cute Short Red Hair
Want to spice up the look of your hair? Get chopped cuts and short hair with red ombre, just like many celebrities on the red carpet. It truly gets fiery but looks good on all kinds of skin tones.
Try a bright red pixie if you have a deep or dark skin tone. A strawberry color suits you if you have a fair complexion. With dark roots, try a dark red balayage.
You can also wear crimson locks. A stacked bob, or add a cherry-red to accentuate your facial features.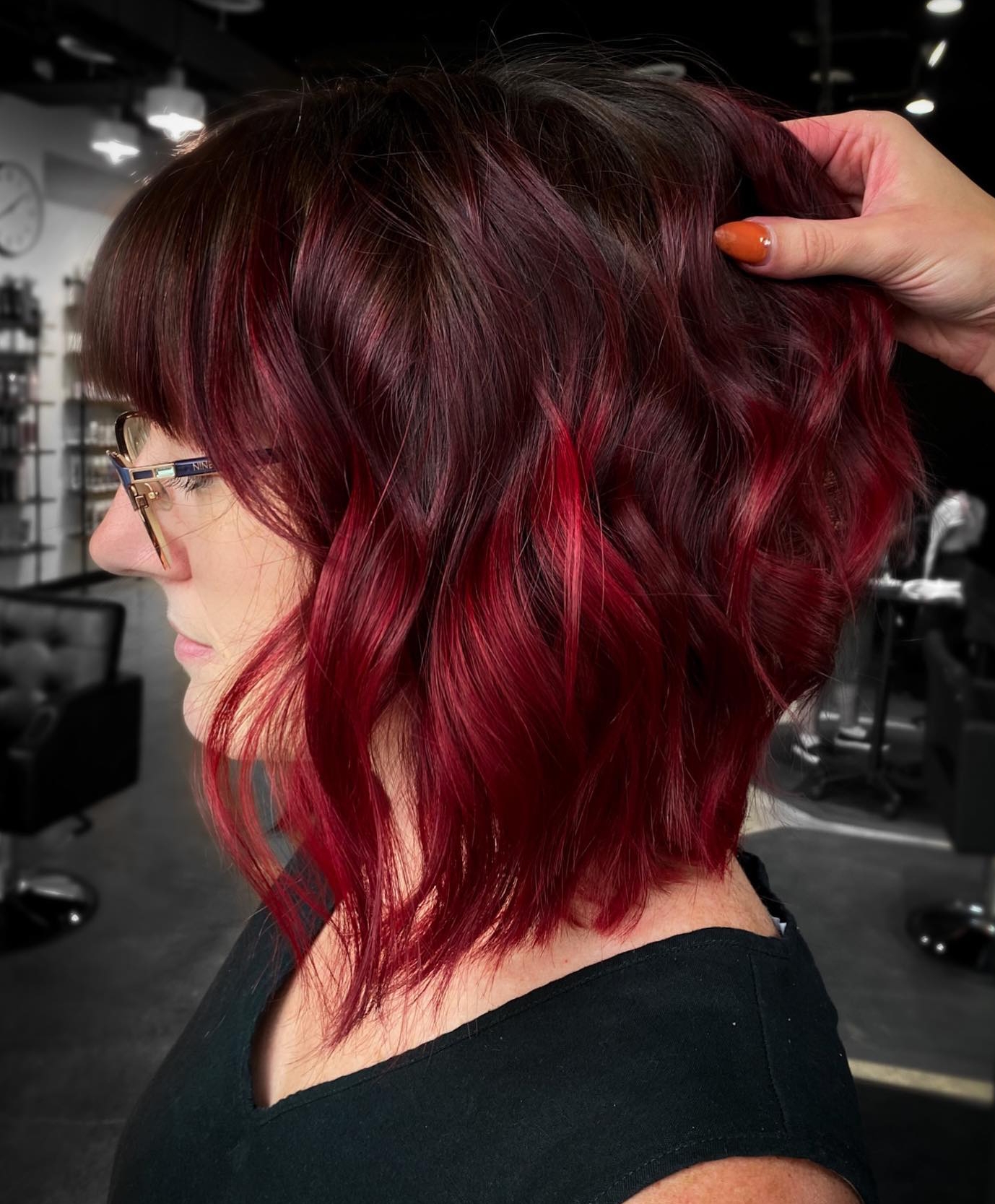 via @aaashleee
Defining Red Ombre on Curly Hair
Love colored hair? Your natural curls with red ombre color can feature a dark shade at the roots and then get lighter as you go towards the end. Your hair colorist can get creative and treat your curls innovatively.
The ombre technique makes your soft curls look naturally voluminous and move. Take a cue from a few of the celebrities that flaunt their curls, and the ombre looks with confidence. Remember, it is a low-maintenance technique, especially if your natural hair color is dark.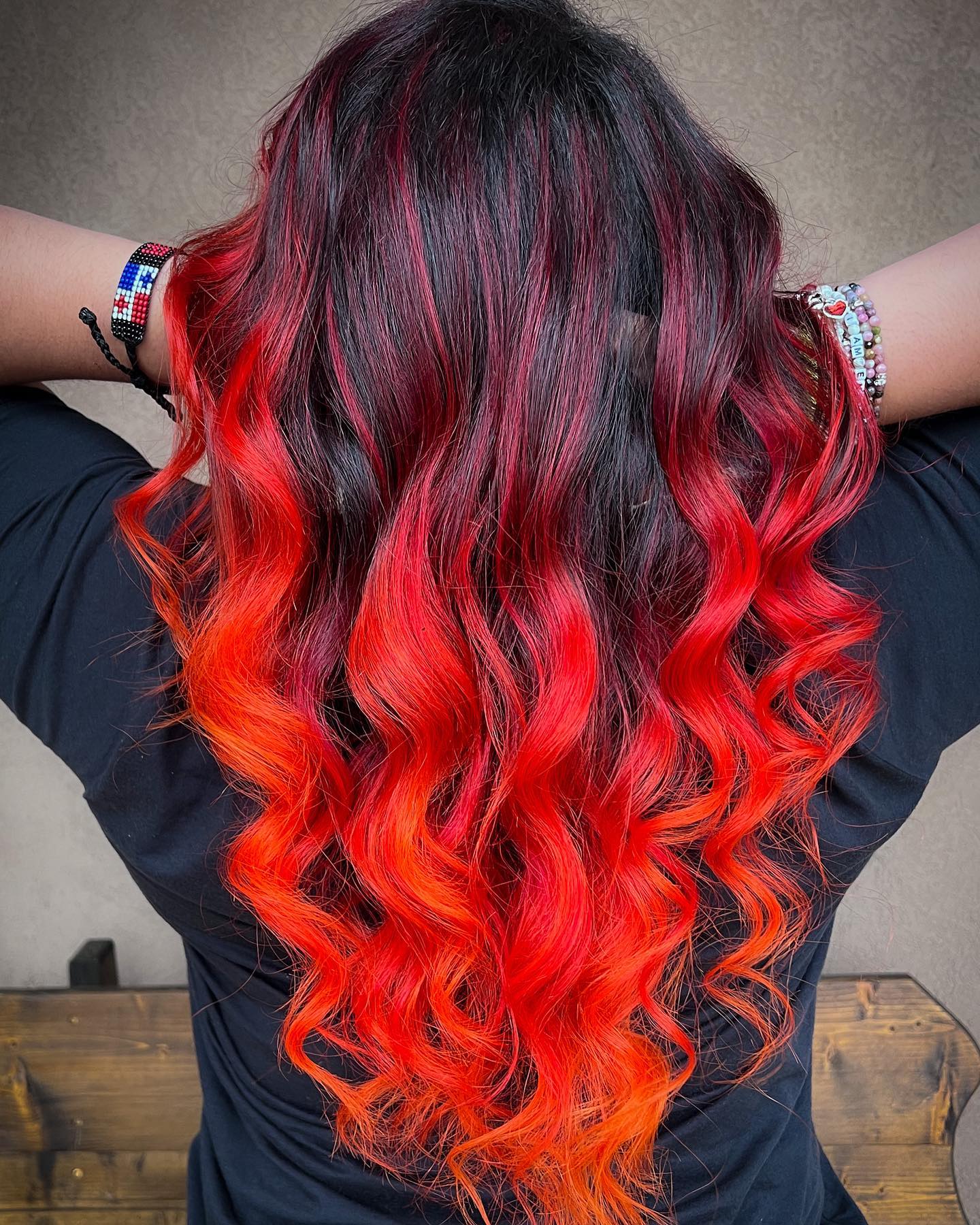 via @kai.creates
Pretty Red to Pink Ombre Hair Color
One great red hair ombre idea is to try the transition from red to pink. It's dramatic! A pop of pink on red works well whether you wish to keep it hot and vibrant or subtle and subdued. Red and pink ombre hair with lavender or purple ends looks vibrant and eye-catching.
Try a red to hot pink ombre on your long hair, or get a pastel ombre look. Start with deep crimson roots, and let them transition into bubblegum pink halfway through. Finally, let the color end as a deep pink towards the end.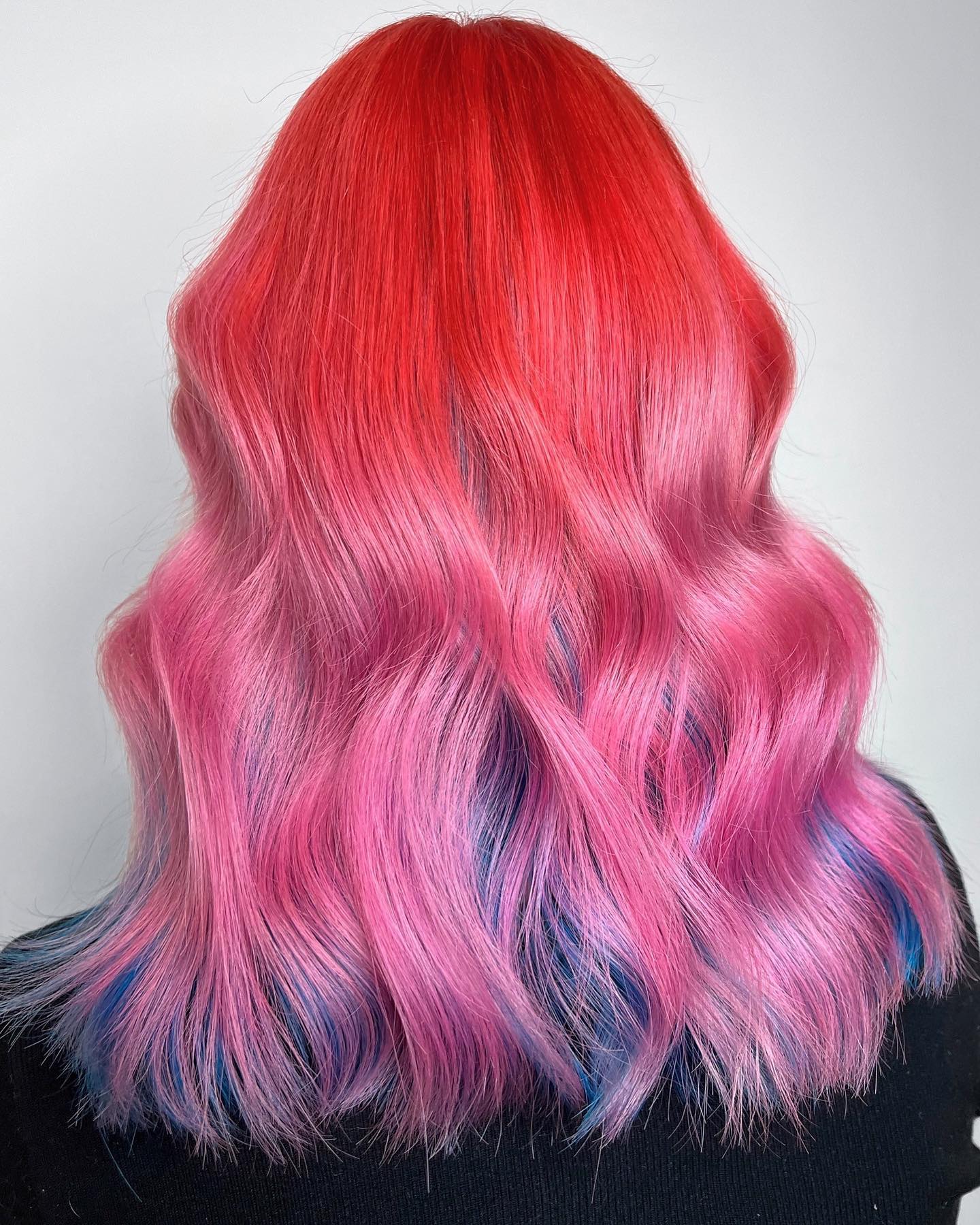 via @kelsey.mtl
Inspirational Brown to Red Hair
Reddish brown hair is a combination of red ombre on brown hair. So many shades are available – from red wine, vibrant copper, deep auburn, or golden brown. A deep burgundy is a tremendous red-brown hair color idea. It gives volume to your long dark hair.
Similarly, a burgundy ombre effect on your light brown hair creates a gorgeous color, making your tresses look lush and heavy. That's what wine-red highlights do to your hair. An auburn red tone gives your hair an appealing feel.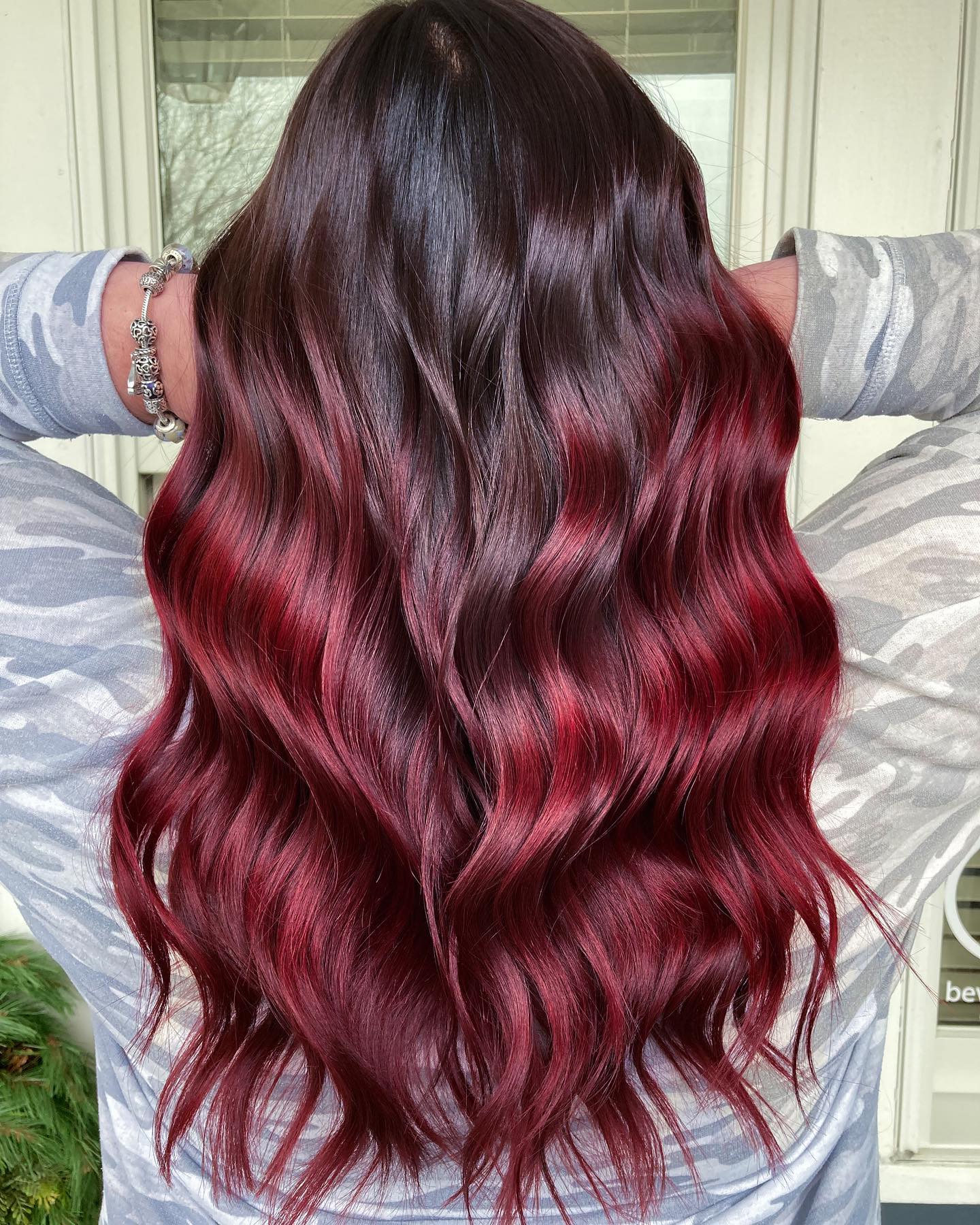 via @hairbykatierose
Exciting Mermaid Red Ombre Hair
One of the ombre shades that is exciting is the mermaid effect. It is so colorful that it's sure to attract attention anywhere, anytime. To master the mermaid effect with red ombre, you can use red highlights with vibrant rainbow shades or pastel colors for a shiny subtler look.
The essential colors are from the shimmering sea, like blues, purples, and greens. These cooler undertones, like ashy browns, gel well with warm undertones like reds and coppers for a surprising effect. Ask your hair colorist to choose the right shades to suit your skin tones.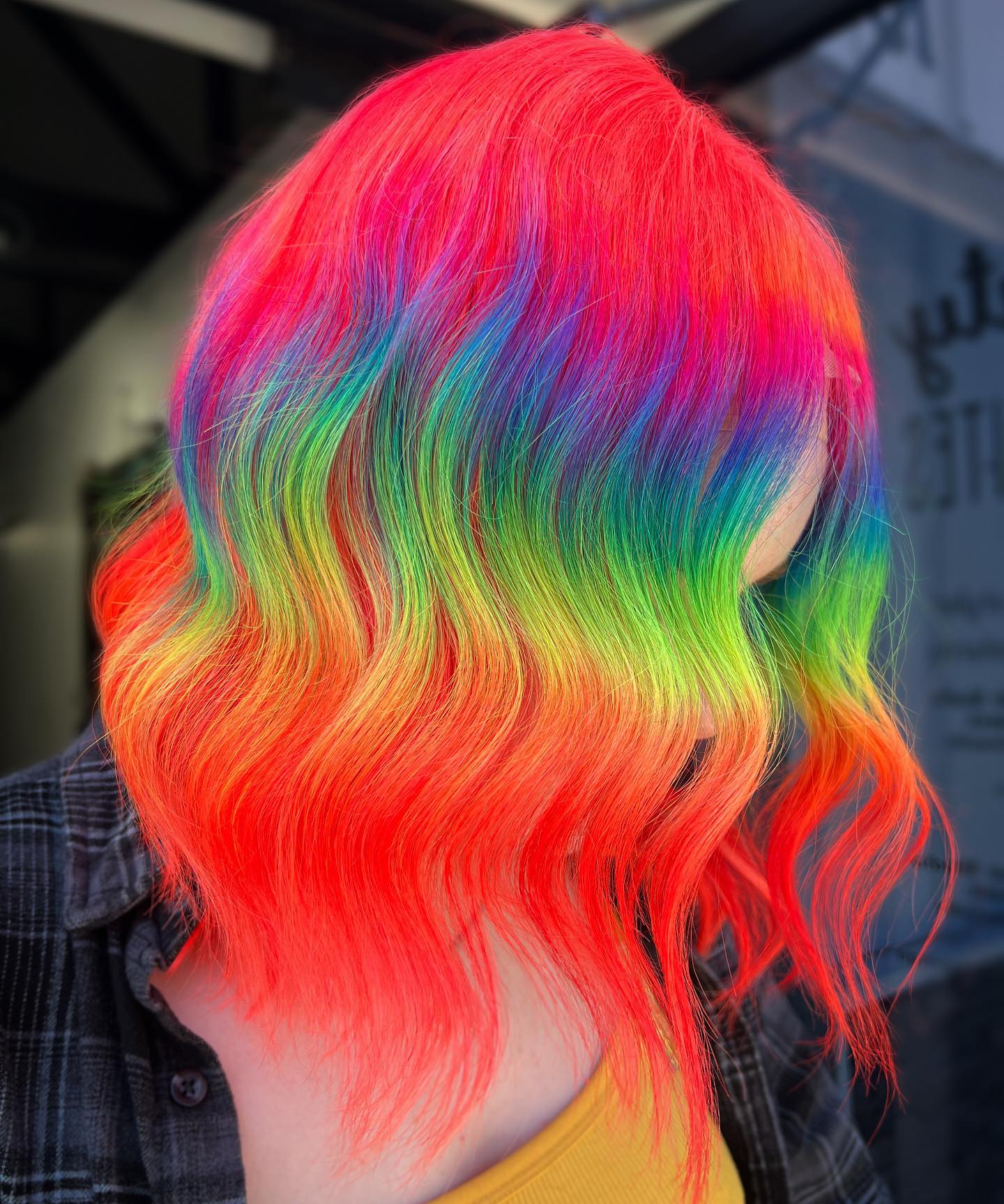 Gorgeous Lavender & Red Ombre Hair
A lavender tint adds so much spark to your dull dark hair. When the ombre technique is used with crimson or dark red, it definitely will have some heads turning your way. This is a great hair colour idea if you have dark, natural hair.
If you are blonde, try experimenting with platinum blonde hair and shades of purple. Even if it seems to be an unusual combination, the fact that red and lavender have rich tones makes this aesthetic.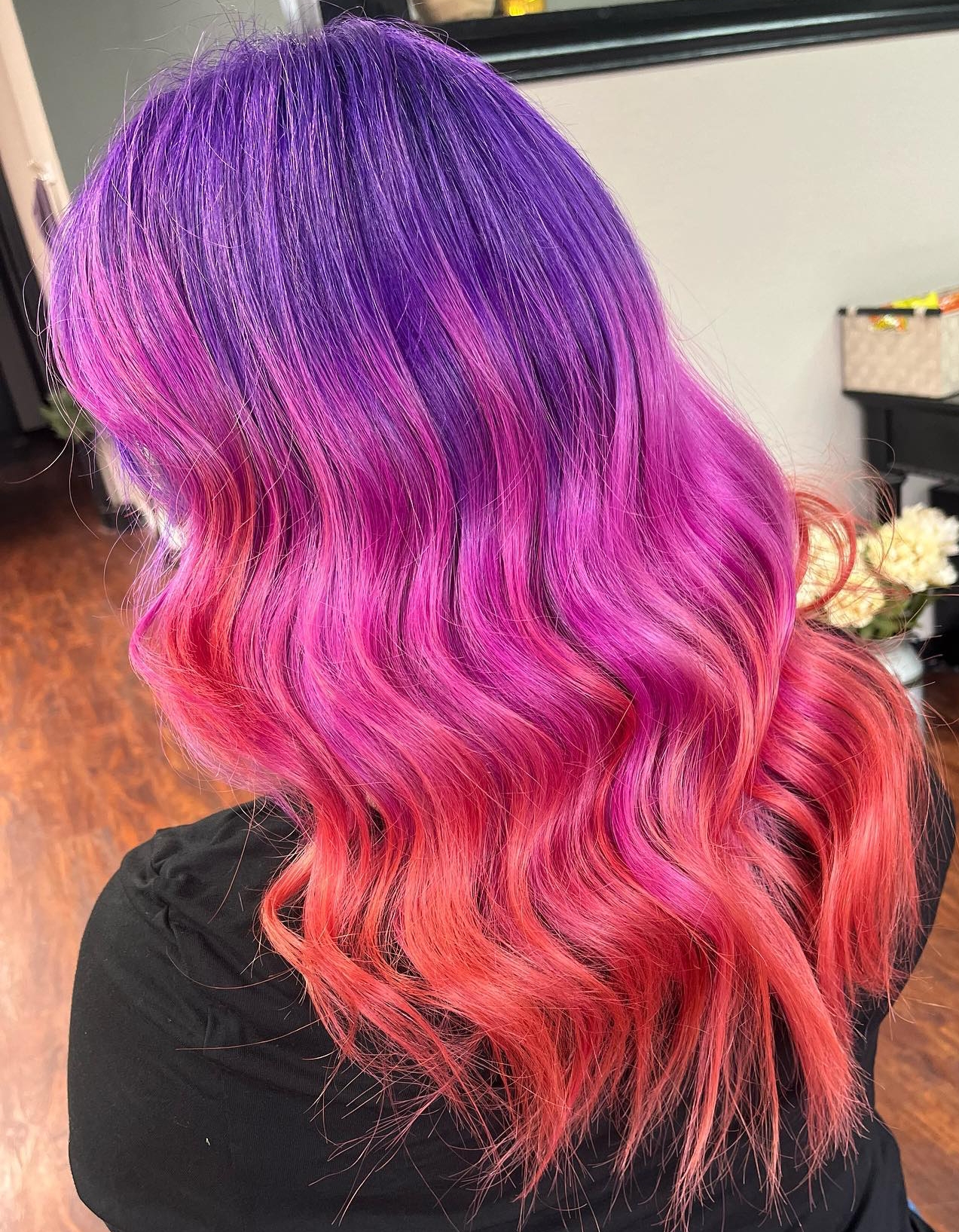 via @hairdid_bycourt
Fashionable Light Red Ombre
You can try this ombre hairstyle idea if deep and rich red is bold. Go in for the softer red shade. There are multiple ways to achieve this look. Get chunky waves colored gradient in crimson hues.
Try lavender ombre ends to your light red tresses to go over the edge. That will keep things subtle but also give a new dimension to your mane. Light red hair colors suit all occasions and all skin tones.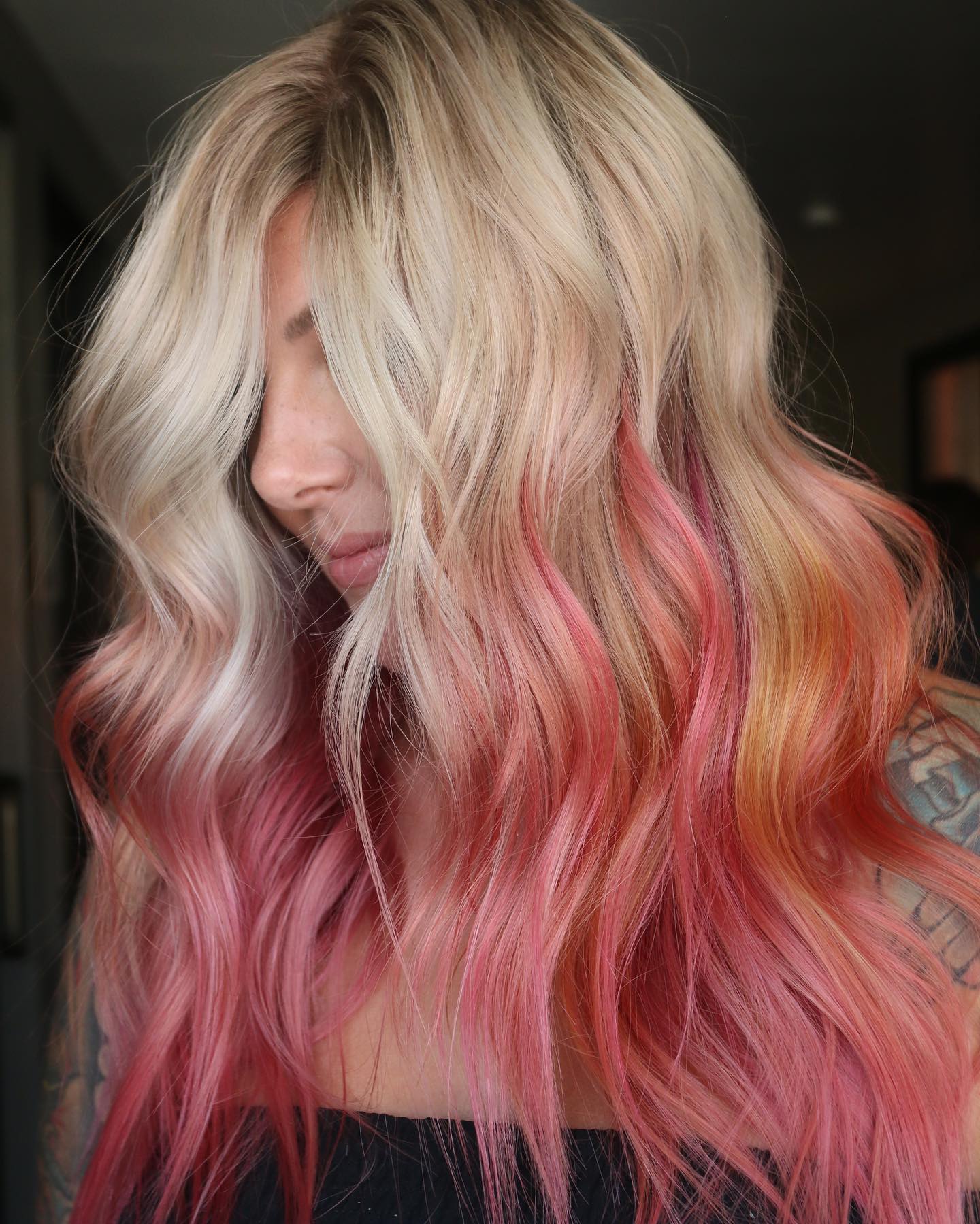 via @makeupbyfrances
Foilayage Violet & Red Ombre
The hints of violet and crimson look impressive on women with naturally blonde or dark hair colors. So, this one's for you if you are a blonde or brunette. A deep red ombre hair can be done up in red violets, creating a balance of cool violet undertones and warm red tones.
Girls with dark-skinned tones look great in this ombre style. Short hair further complements your look. Red tips and violet roots are the perfect examples of sophistication.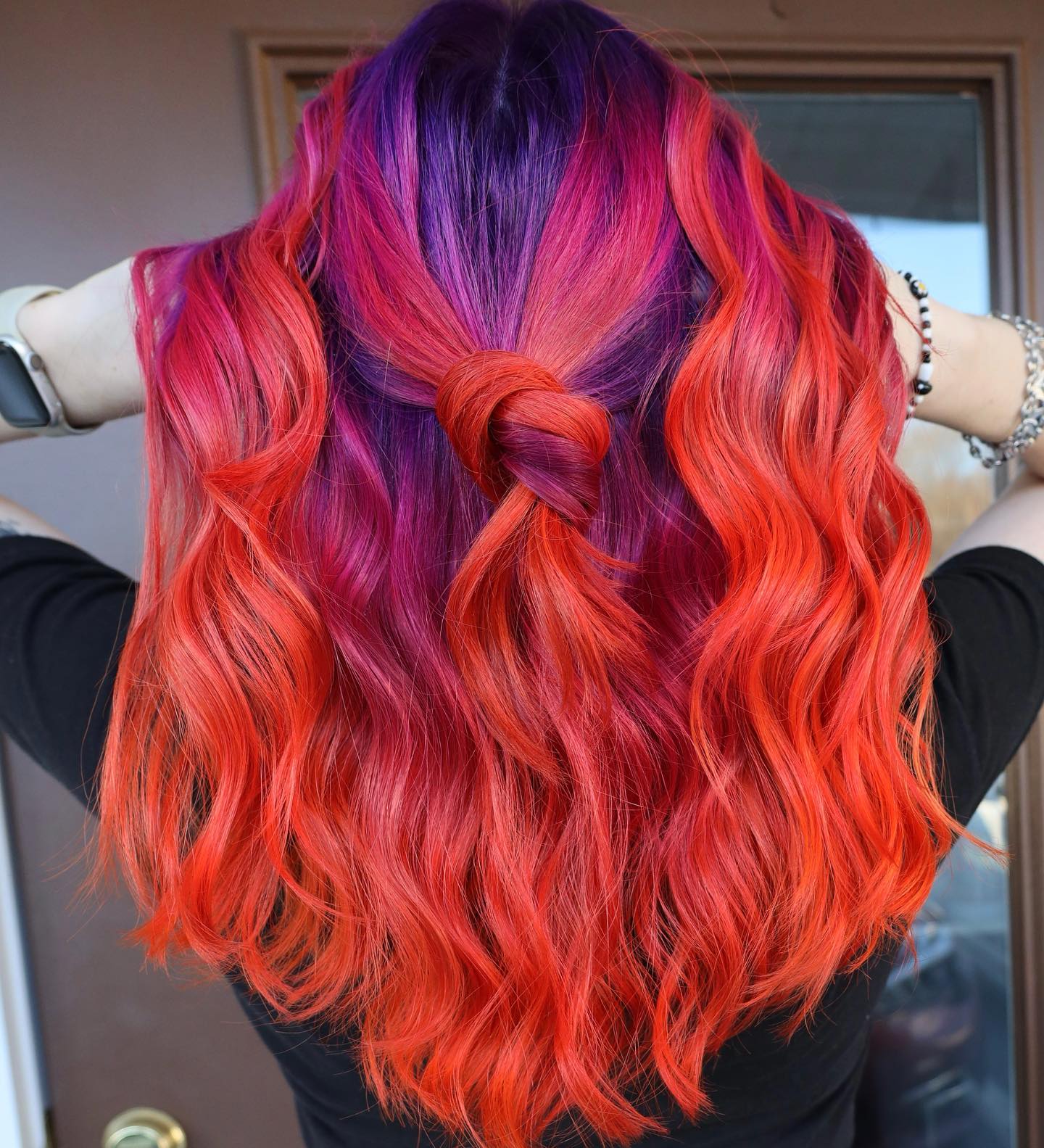 Stylish Pastel and Red Ombre
Do you love pastel shades? The good news is that pastel reds are in vogue. Pastel ombre is a beautiful combination of the deep, dark crimson color intertwined with blonde ombre strands. If done well with curly or straight hair, pastel red ombre can be mesmerizing.
One perfect combination is an ombre using burgundy red and pastel pink. The dark red is towards the roots, and the lighter pink is towards the end. Fuchsia is the color in between. The ombre effect suits natural shades.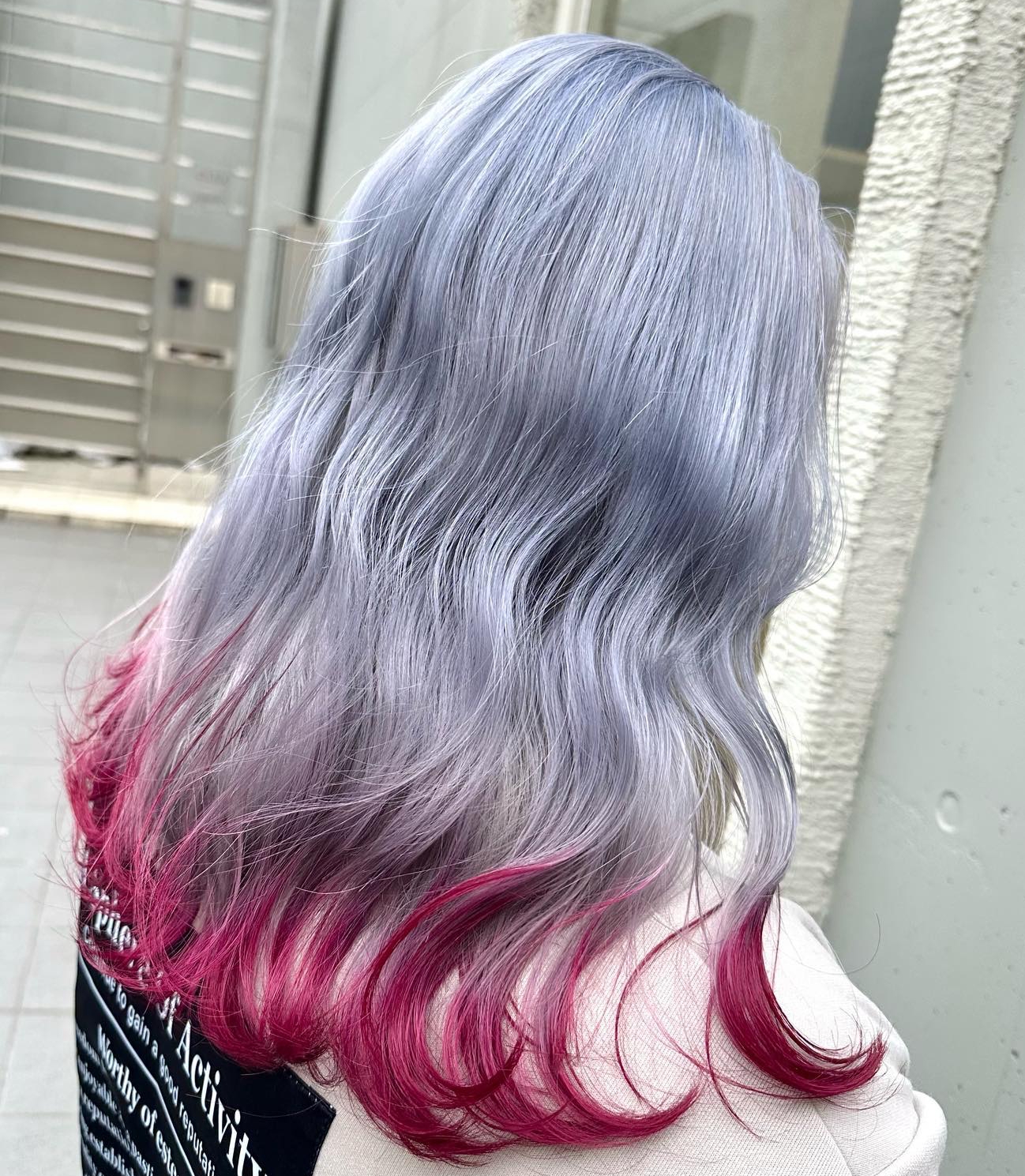 via @saakaai
Dreamy Red and Blue Ombre
An instant transition to your tresses, light or thick, long or small, is to try a combo of red and blue. As an ombre technique, the bright red graces the roots while gradually blending with the blue towards the ends.
To have more fun with these colors from opposite color spectrums, you can blend in white in between with your rich red ombre hair. This red, blue, and white mix looks cool on hot summer days. The good news is that it suits all skin tones.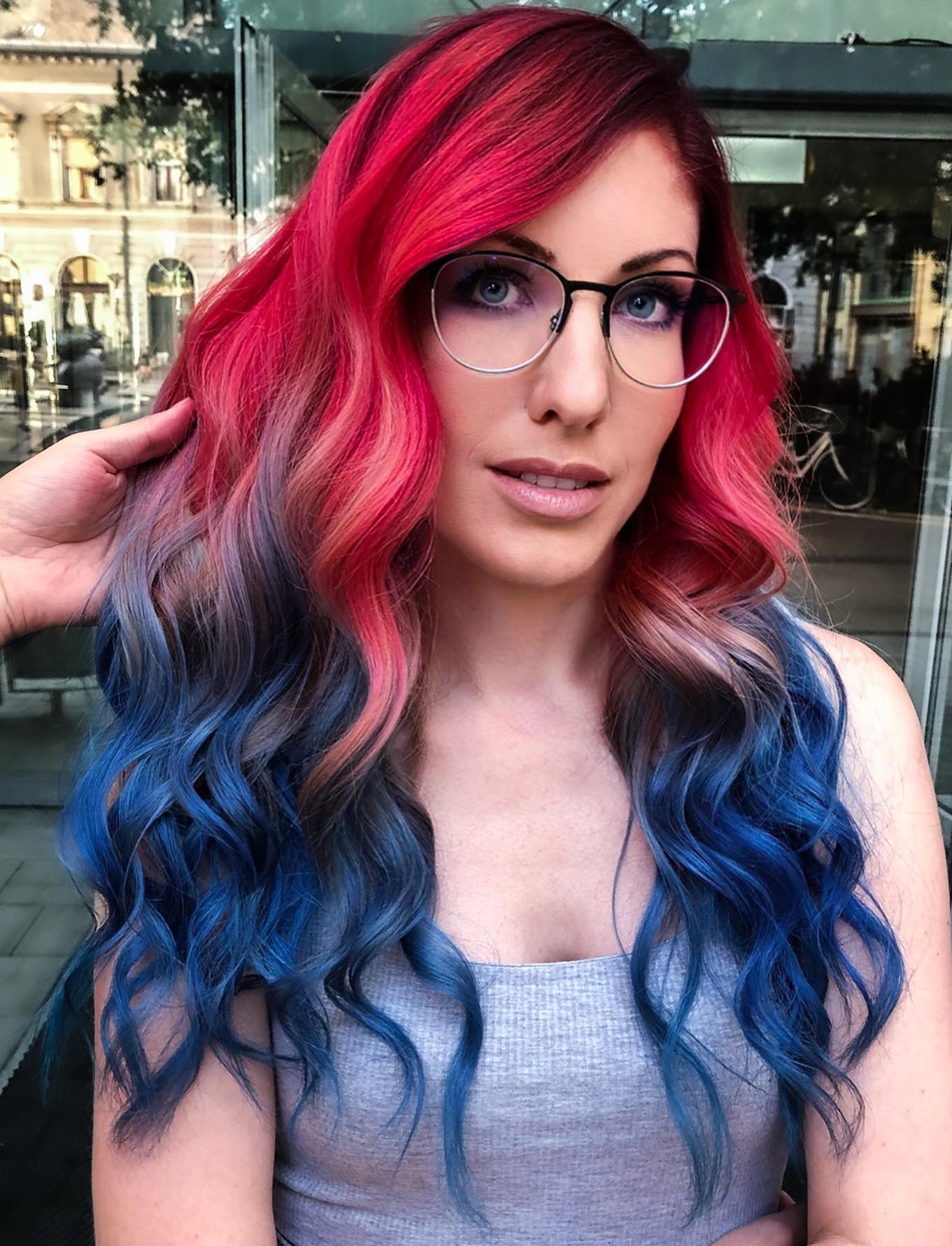 via @zoliloveshair
Incredible Ash Gray Hair with Red Ombre
The magical thing about ash gray and red is that both belong to the opposite ends of the color spectrum. That's why they look so cool together.
Silver tones like ash gray bring much light to your monochromatic tresses. Red highlights add the fun factor! So, if your hair is light-colored or turning gray, use this ombre effect on the ash-gray hair. If you love the silverish tones, you can get your tresses colored in this hair color and add red undertones to the roots using the ombre technique.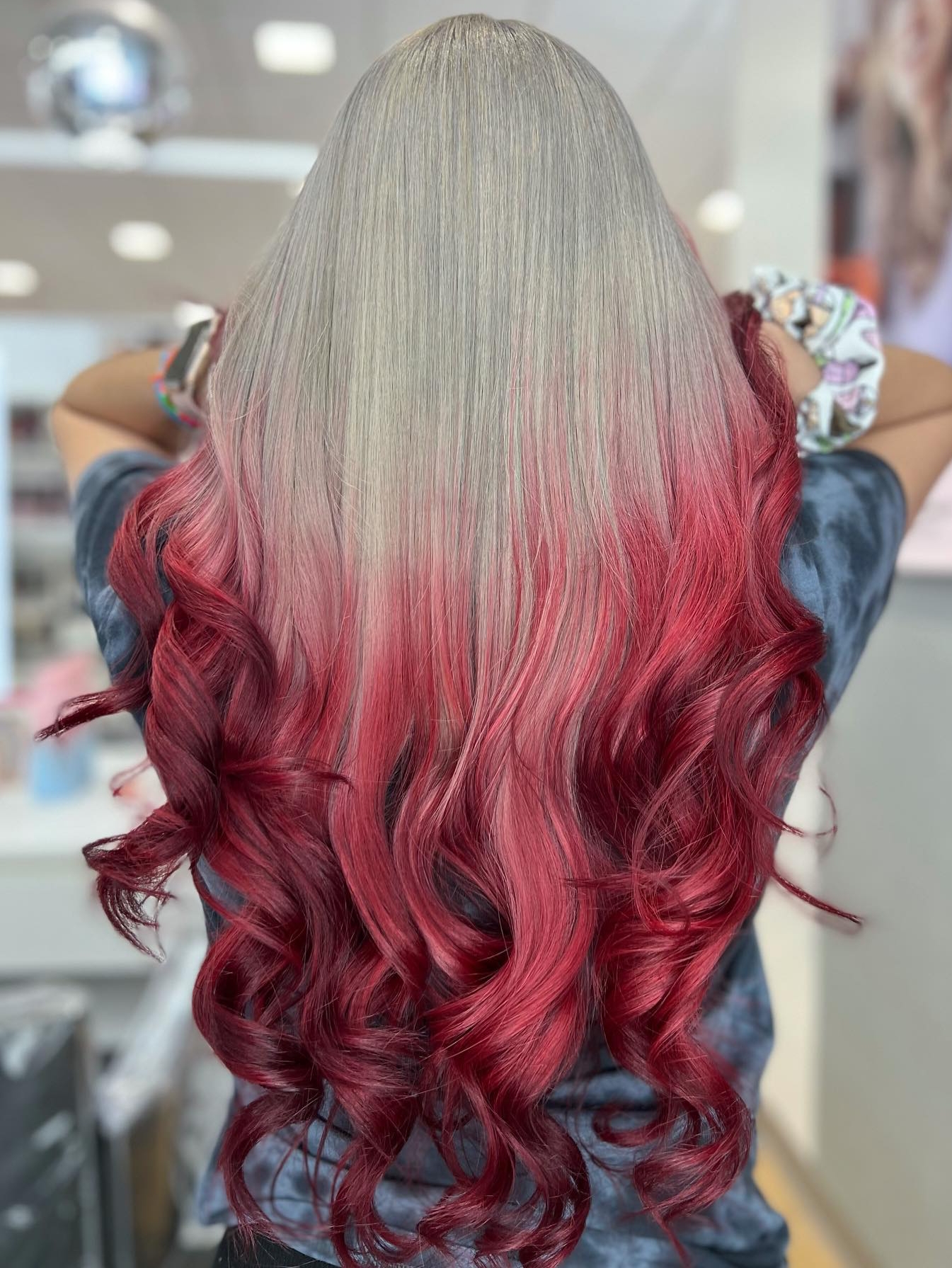 via @belibeautyyy
Rich Dark Brown Hair with Dark Red Hues
Women with deep brown hair can naturally choose darker red highlights for an eye-popping effect. Even if your hair is not naturally brown, try this ombre style. Have your mane colored, or go in for dark brown locks.
Since red and brown have multiple variations, you must speak to an expert to get the right mix. The options range from light browns to dark shades and then reds from burgundy to copper, chestnuts, rosewood, mahogany, black cherry, and auburn.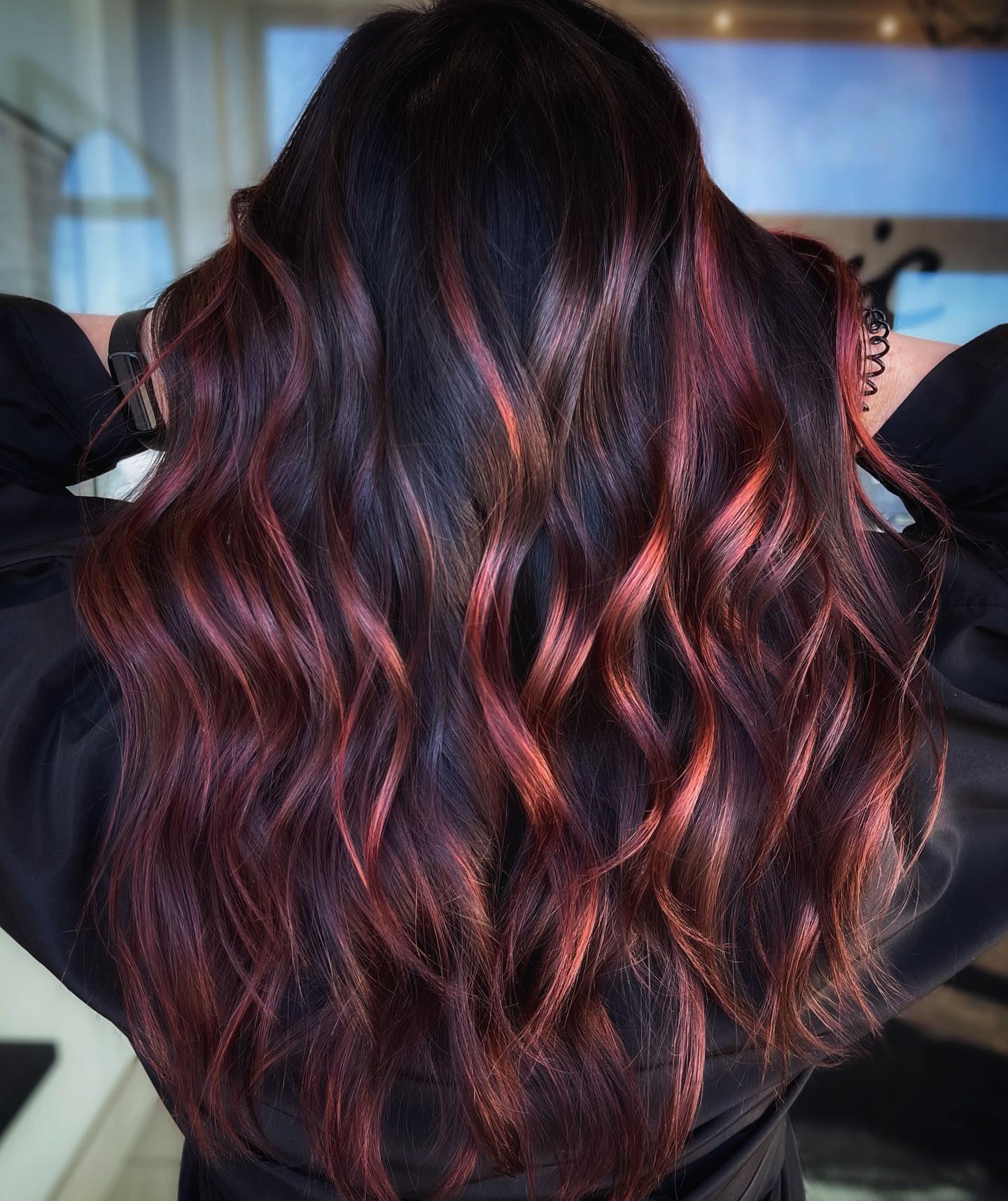 Daring Reverse Red Ombre Hair
Traditionally, the ombre effect means going from dark to light. The roots are the darkest, and the ends are the lightest. With the reverse ombre style, this changes. When red is the color, you get red on the root tips.
It is bold and vibrant, and you need an attitude to carry this style. Speak to your hairstylist to create a dramatic effect with red ombre hair color. Try lighter shades at the roots, like white or light orange. Even blonde and red hair looks great in reverse ombre.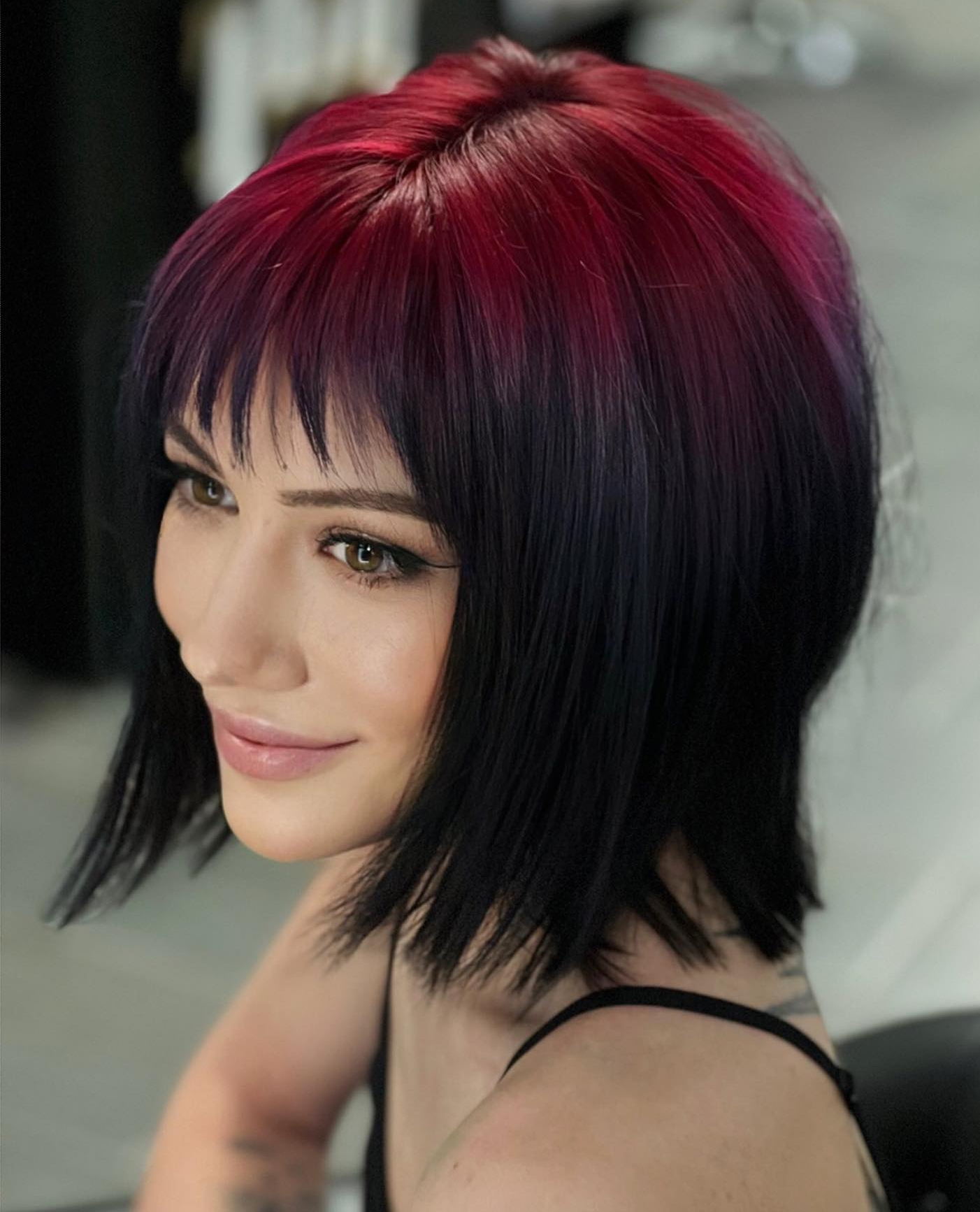 via @kayla.must.dye
Breathtaking Silver to Red Ombre Hair
Silver is a unique color, and since red and silver belong to different color spectrums, combining these hues can be magical. With platinum blonde hair, ask your hair colorist to create a stylish transition from silver to red.
The bluish tone of silver on the roots creates an attractive hairstyle for women with dark hair. The red highlights towards the middle or end make it worthwhile. Remember, silver is an excellent color, and red is a hot one. So ensure that you have the work done right for the best effect.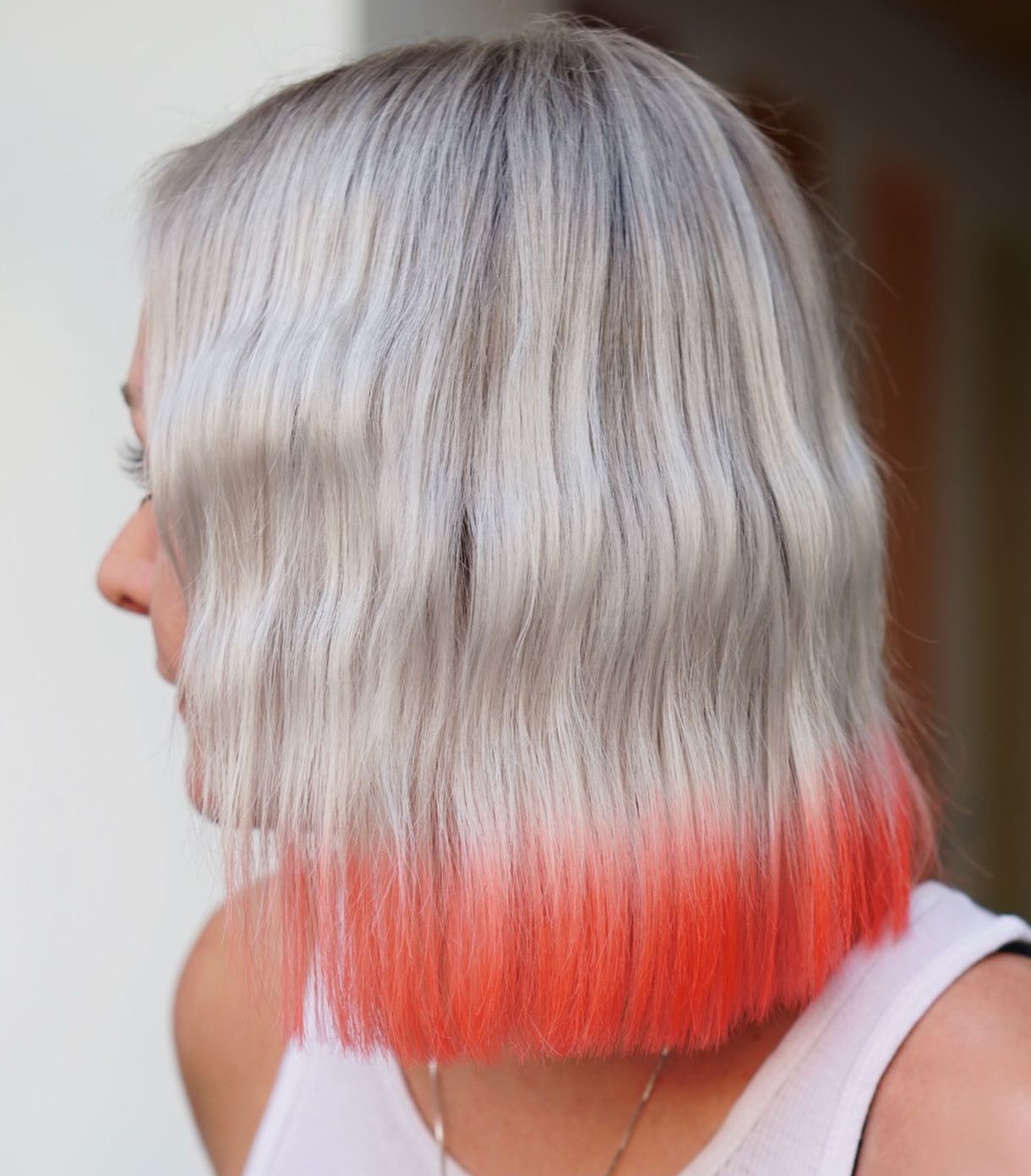 via @hairhecker
Out-of-the-World Metallic Red Ombre
A metallic look to your tresses involves using bright red ombre ideas. Copper brown is the go-to color for the shiny, vibrant look and feel. What you get is a sleek mane with red ombre highlights. This is universally appealing; you can also flaunt it at the office.
When dressing up for parties, this is one of the shades of red hair that might need a bit of twist and turn. Curl your tresses, and this daring ombre look will set the mood.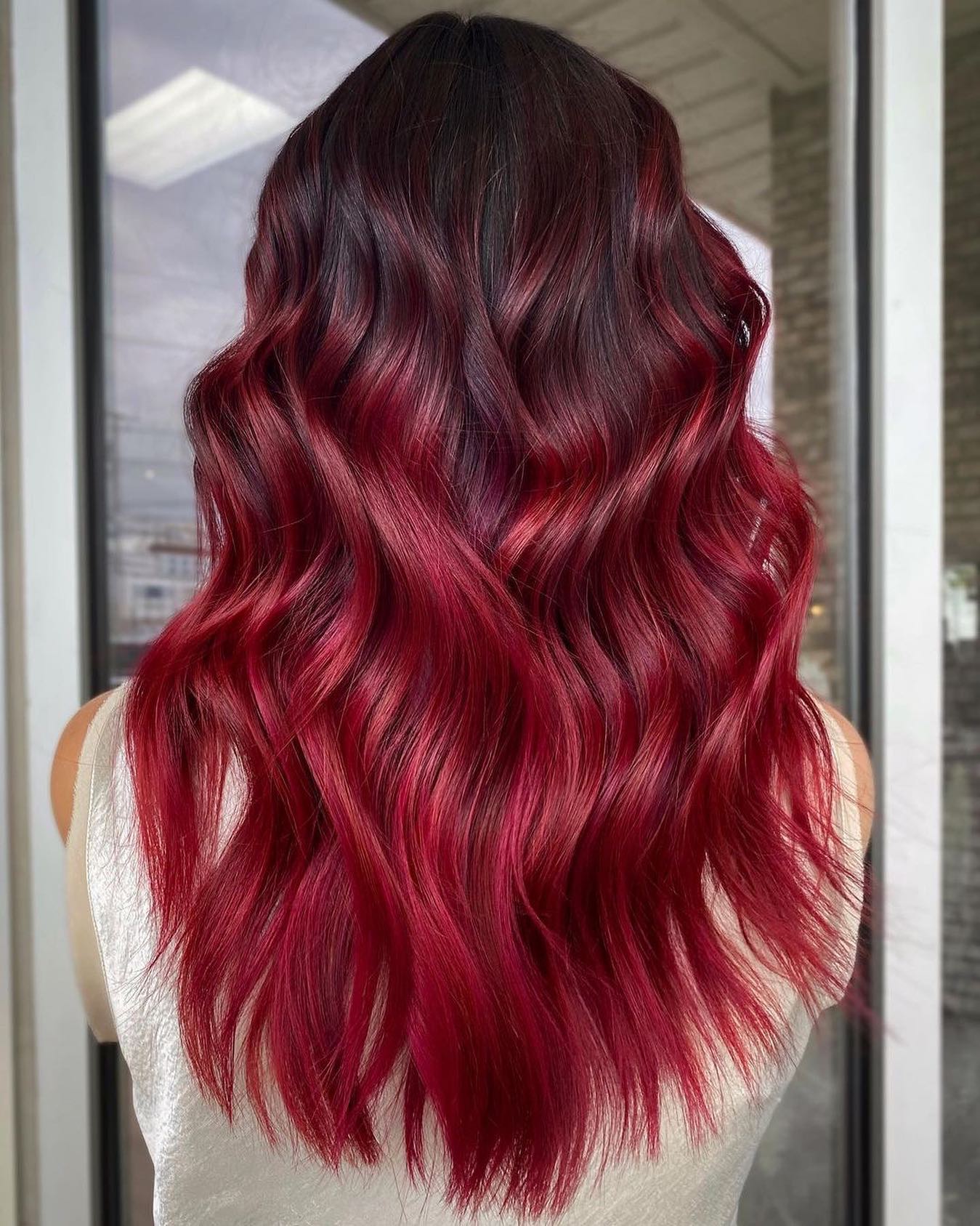 via @joico
Flaming Neon Red Ombre Hair
A neon shade creates a mesmerizing look when combined with deep red ombre hair. It is like a traditional ombre. Whether you flaunt long dark hair or have an undercut, the ombre technique works fabulously with your natural hair color and a neon crimson shade.
Fire-red ombre hair with a neon overtone is a beautiful way to give the ombre look a pleasant vibe minus the harsh lines. Remember, this is a flame-inspired ombre with a heavy color of neon red; you will need the confidence to carry the style!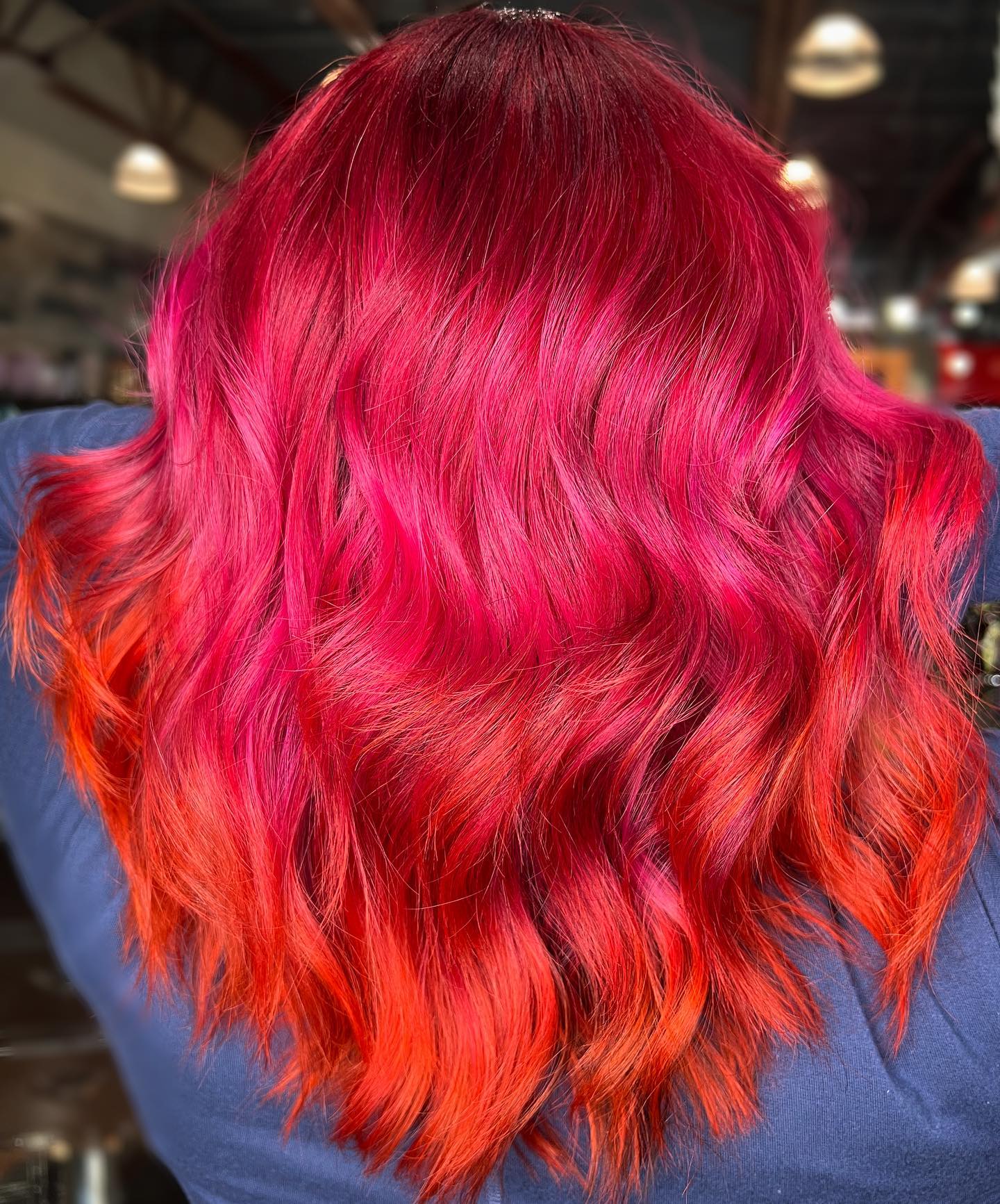 Vibrant Reddish Purple Ombre Hair
One of the fantastic red hair color ideas is to try the red-purple ombre look. It is eloquently rich and vivid, with a mix of red and purple with more tints of red. It is Instagram-worthy, with the red shades indeed becoming envy-worthy.
This red tone suits almost all skin tones. The dark roots, where the red showups and the blend with blue base colors, have a balanced undertone, brightening up your tresses like never before.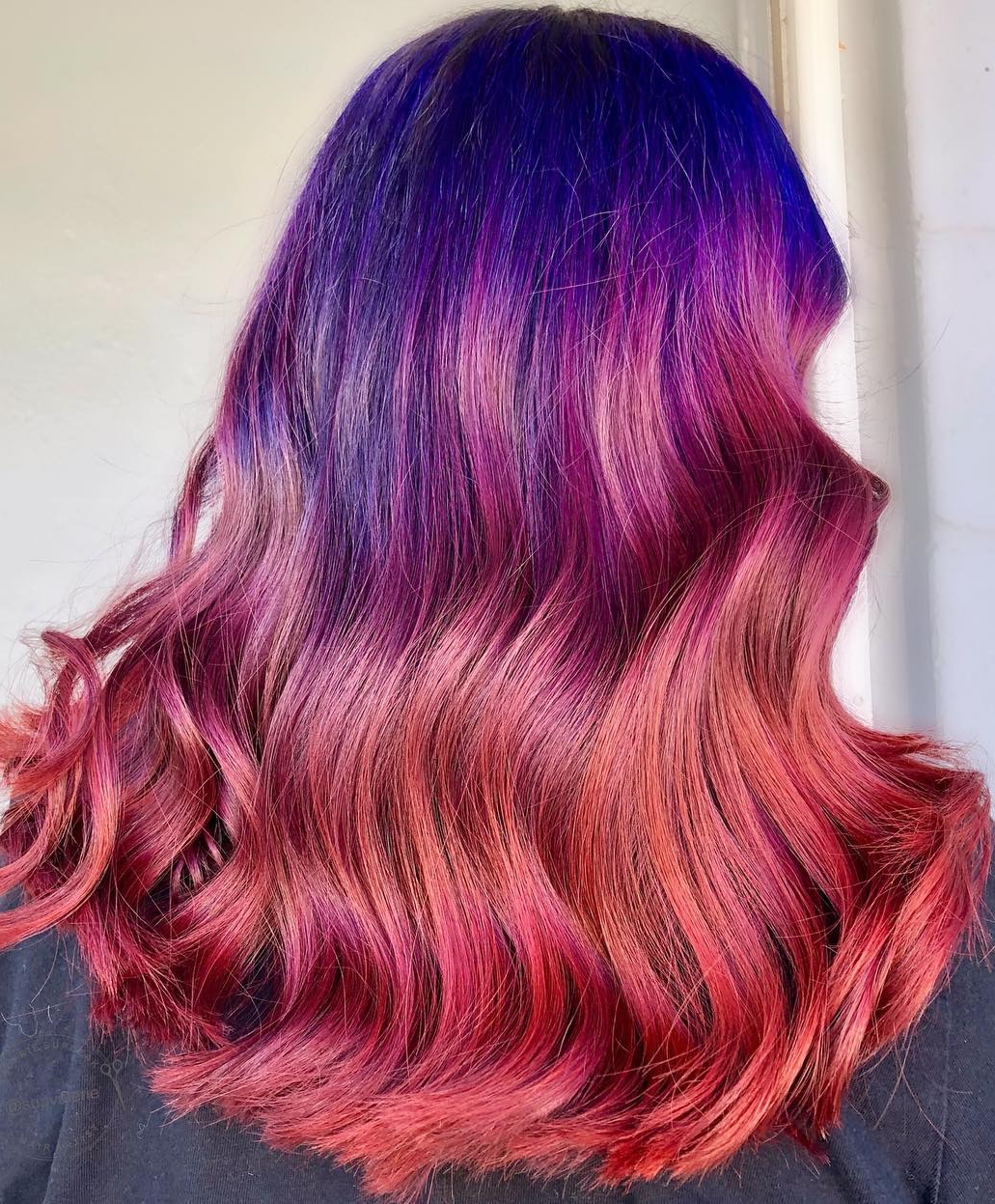 via @supvalerie
Rich Dark Burgundy Ombre Hair
Use a cherry red ombre on your hair to create an unmatched dimension. The dark burgundy hair color has a more purplish tint with a maroon undertone. Thus, you have a great mix of two rich royal colors – purple and maroon.
Try burgundy plum waves if you have dark red hair color. You can also try a deep burgundy brown bob. Use this color on your loose waves for a more pronounced effect. A chestnut burgundy is a mix of purple and brown and is an excellent ombre choice.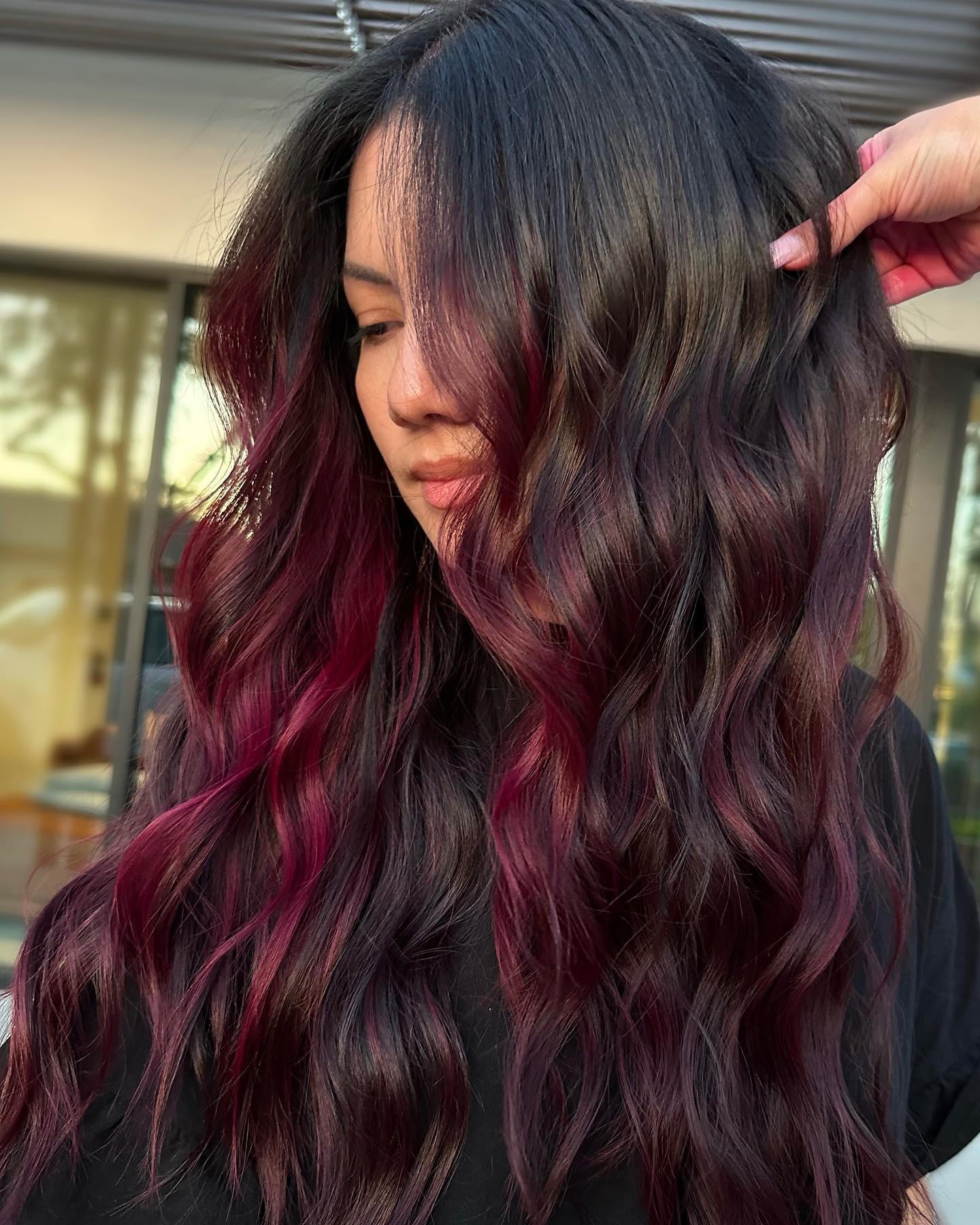 FAQ
What hair type is best for the ombre technique?
Your hair's length and color determine the ombre color choices and techniques. Long tresses give this technique the most total interpretation, as the more the length, the better the quality. This gradient technique looks great on dark, thick hair.