Red hair colour concepts are a fantastic choice if you're searching for a bold and fiery new hairstyle. Not only does red hair stand out, but there are many different hues available that can work with various skin tones and personal tastes.
Red hair colour concepts are a fantastic choice if you're searching for a bold and fiery new hairstyle. Not only does red hair stand out, but there are many different hues available that can work with various skin tones and personal tastes.
It is a highly flattering hair color for medium skin tones, as it instantly adds warmth to the individual's appearance. Red hair dyes can improve your hairstyle if you have short, medium or long tresses.
Here are 25 stunning red hair color ideas to motivate you for your upcoming hair color change.
Bold and Classy Dark Red Hair
Dark red hair is a rich and bold color choice that can add depth and dimension to any hairstyle. It is a darker red hair dye; remember to consult your stylist to choose the right shade from various red hair shades for different hairstyles and lengths.
Get this new color on dark brown hair to achieve a luxurious look. Try dark red hair on a curly bob cut to make a statement.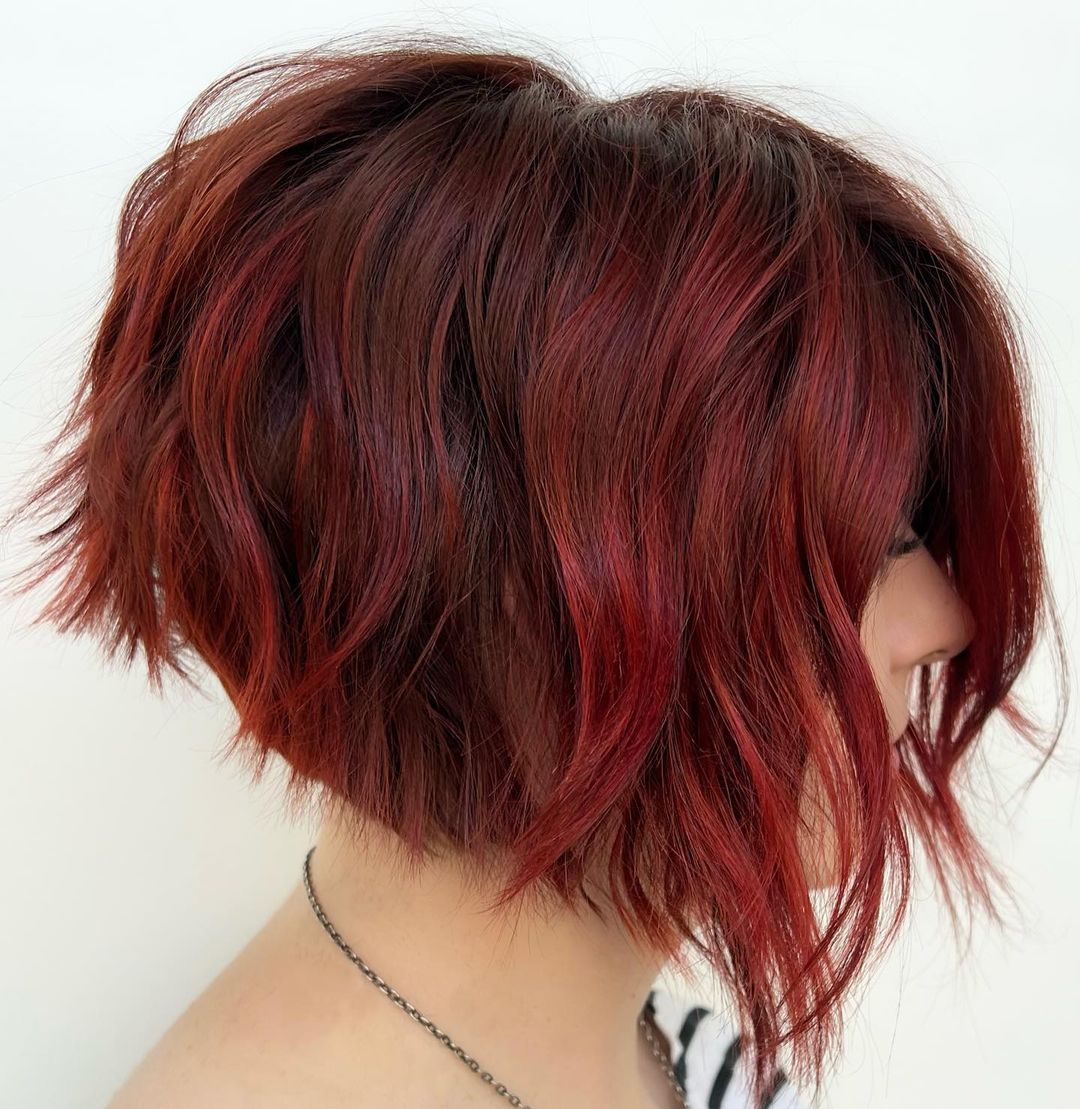 via @shmoakin_hair
Black and Red Hair: An All-Time Favorite Color Combo
Black and red hair is an evergreen color idea with a blend of black and red tones. You can achieve this hair color through various techniques, such as black and red ombre or red highlights on black hair.
The red tones can range from brighter, fiery shades to deeper wine shades, depending on the desired level of intensity. It can create a dramatic and edgy look in no time!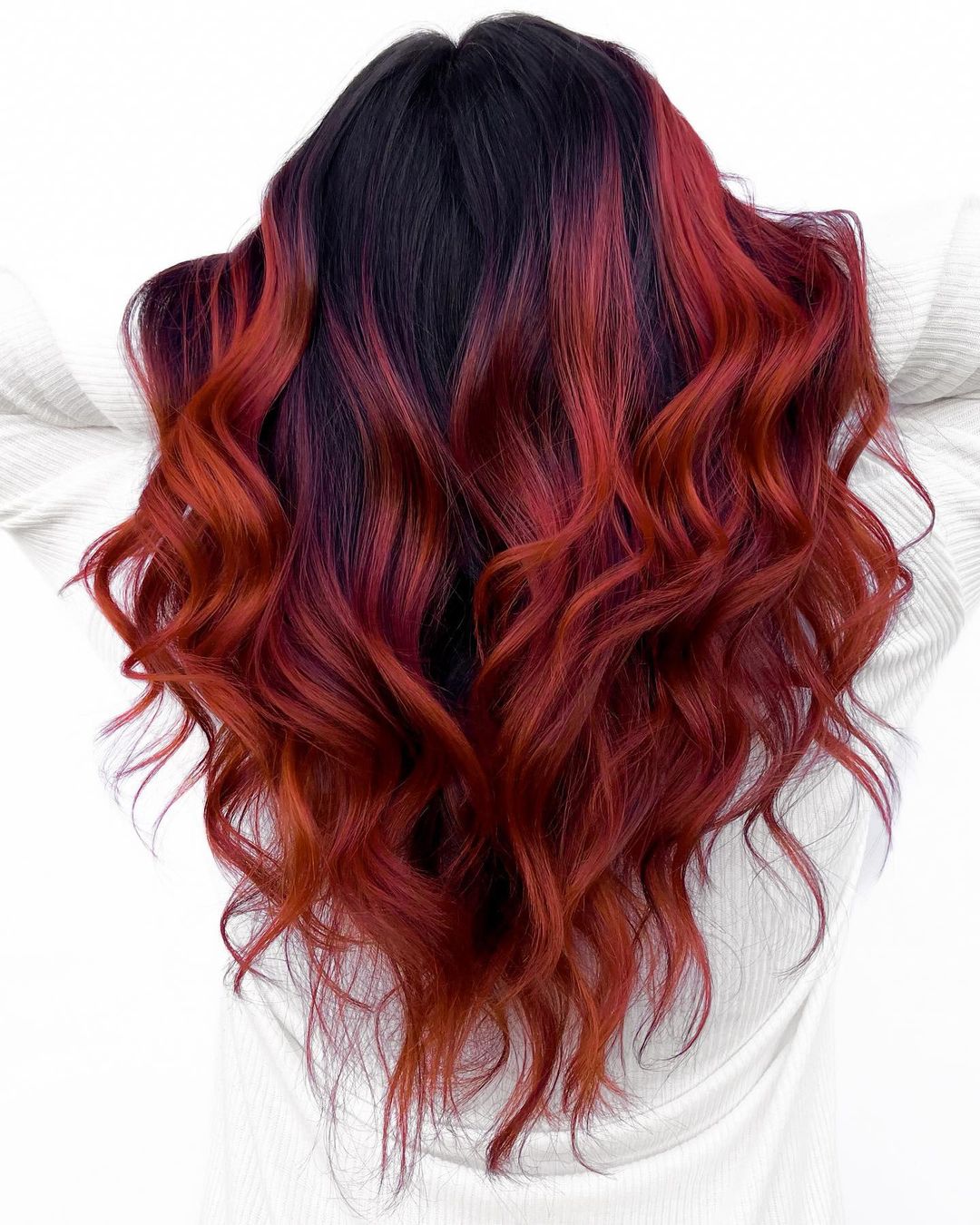 Copper Red hair: The Perfect Blend of Passion & Playfulness
Copper red hair is a beautiful & vibrant hair color that falls somewhere between auburn hair color and other red hair color shades. This unique shade of red hair is characterized by its rich and warm tones, reminiscent of a fiery sunset.
It can be attained through different methods, including adding copper hair color with red highlights to create depth and dimension. Perfect for fair to the deeper complexion, this hair hue can be flattering for your next hair color change.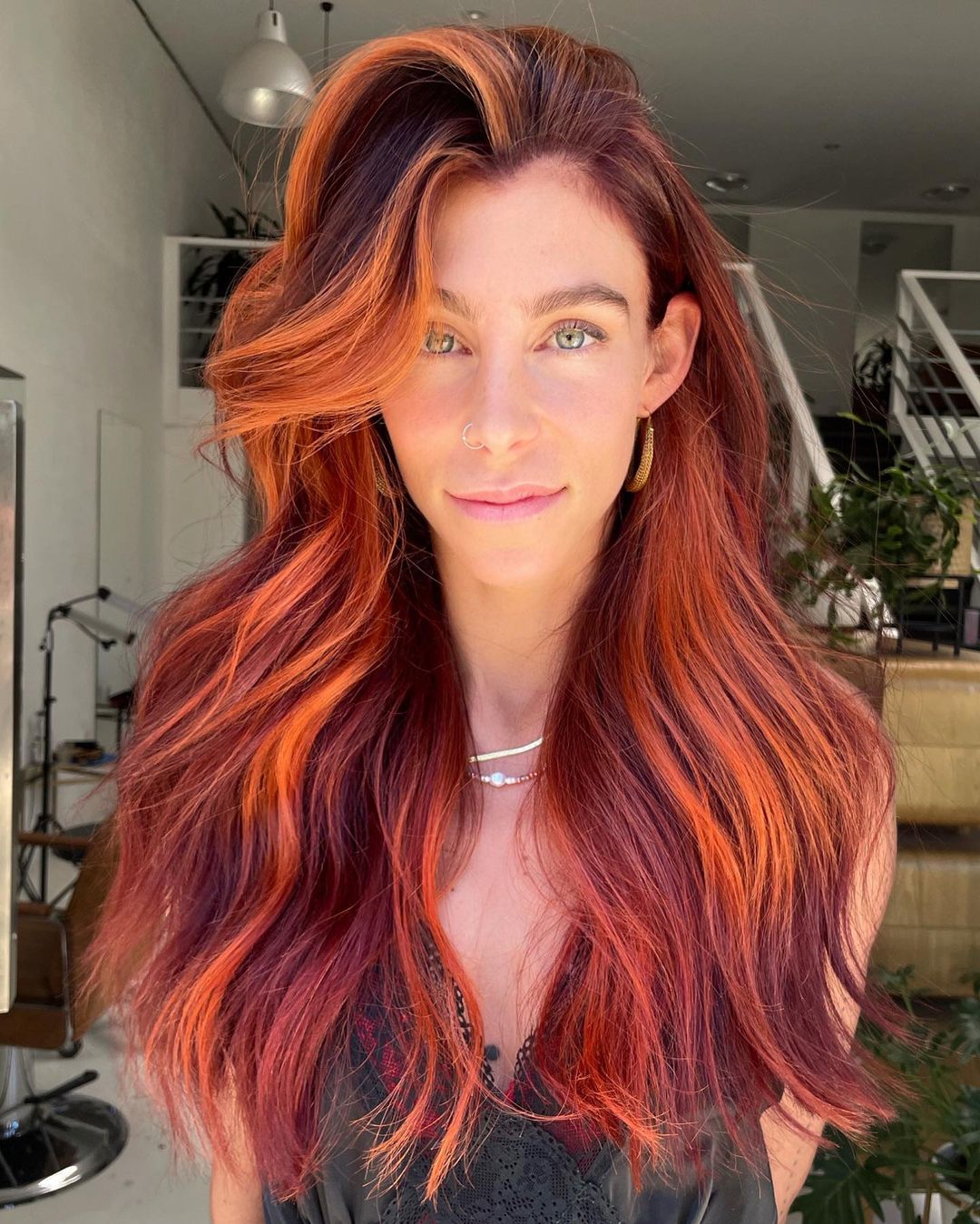 Red Hair With Blonde Highlights Add Vibrancy to Your Look
Red hair with blonde highlights is a popular hair color idea that features a blend of red and blonde tones. The stylists can attain this shade through multiple techniques, such as natural red hair with blonde highlights or warm red hair with blonde balayage. The result is a stunning and multidimensional hair color that complements warm skin tones and adds a touch of brightness and dimension to any hairstyle.
Some red hair colors also have peachy pink undertones, enhancing the overall look's warmth and vibrancy.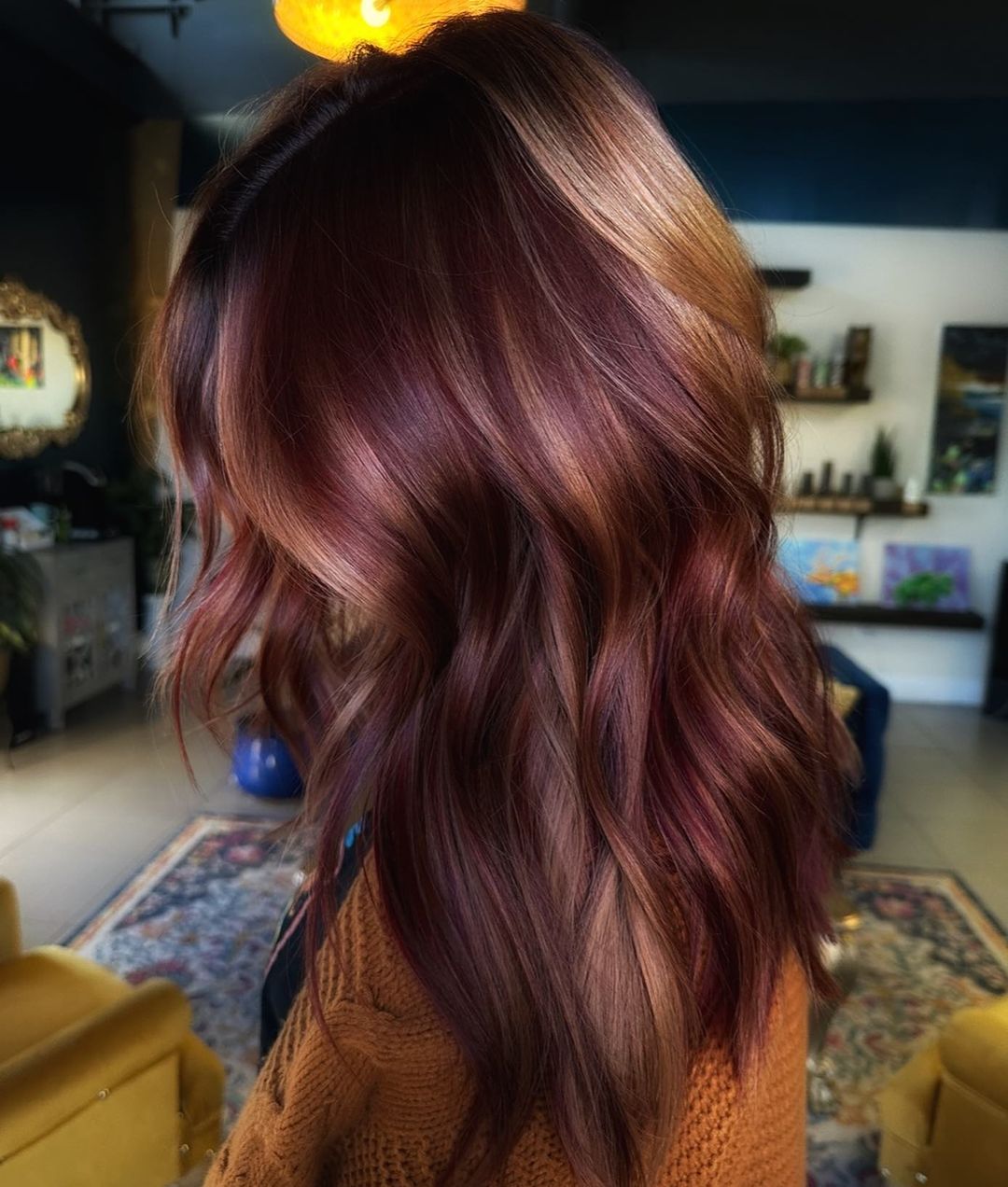 via @samihairmagic
Red Ombre Hair Are Vivid & Impressive
Ombre red hair is a hair coloring technique where the hair gradually transitions from dark to light red shades or vice-versa. It creates a bold and dramatic look that can be customized to suit individual preferences.
Mermaid ombre hair is trending; you should try it for a new look. It involves blending different shades of blue, green, and purple to create a multidimensional and vivid look that resembles the colors of the ocean. It's essential to properly care for your new color-treated hair to maintain its health and vibrancy.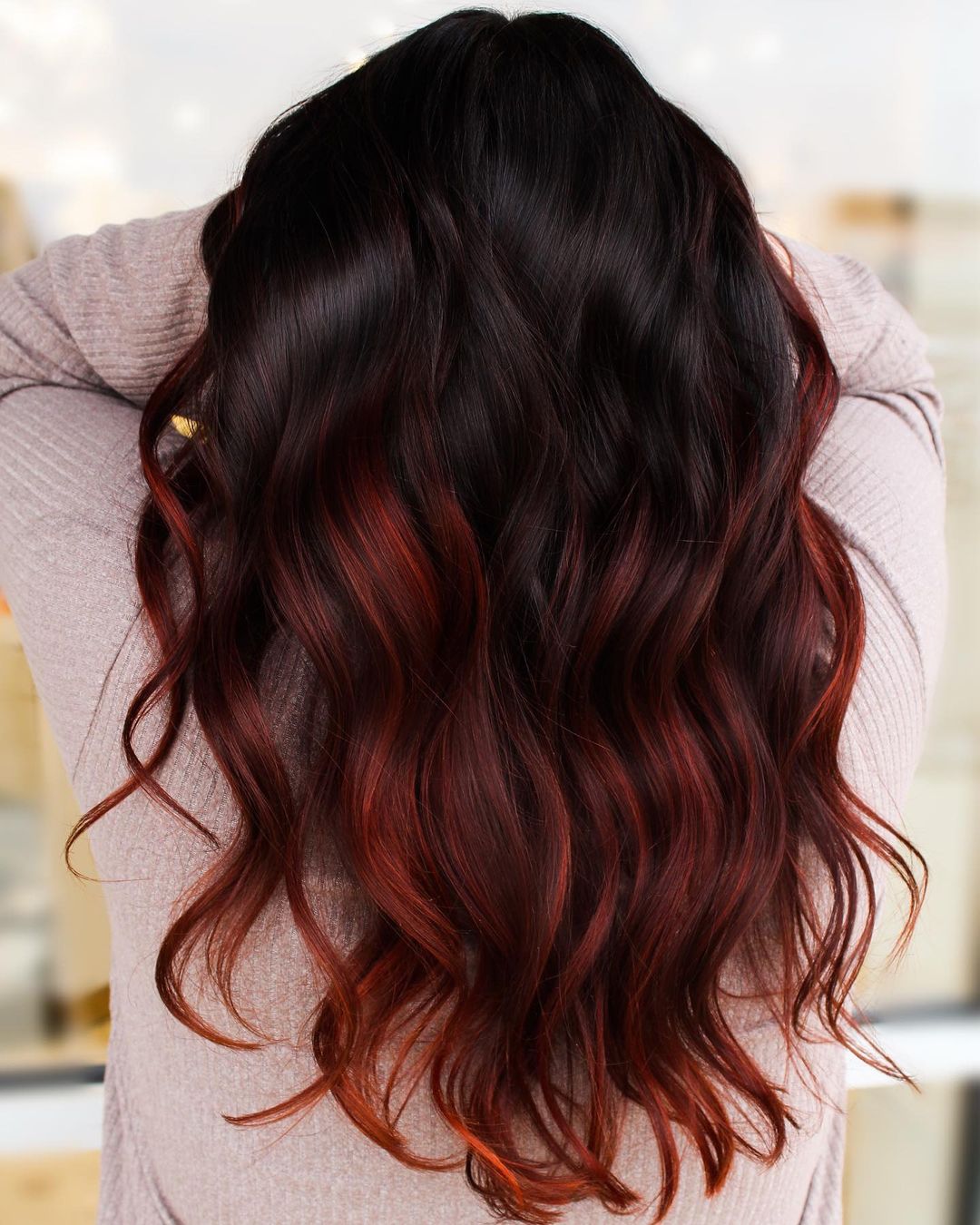 via @hair.by.jessv
Burgundy Red Hair: A Wearable & Flattering Hair Shade
Burgundy red is a rich and deep shade of red with tinges of brown or purple, often associated with elegance and sophistication. It is a versatile hair color ranging from a dark, almost black red to a bright and vibrant red.
Stylists can use dark red hair dye to achieve a deep burgundy hue while adding a brown-red hair shade to give the color more depth and warmth.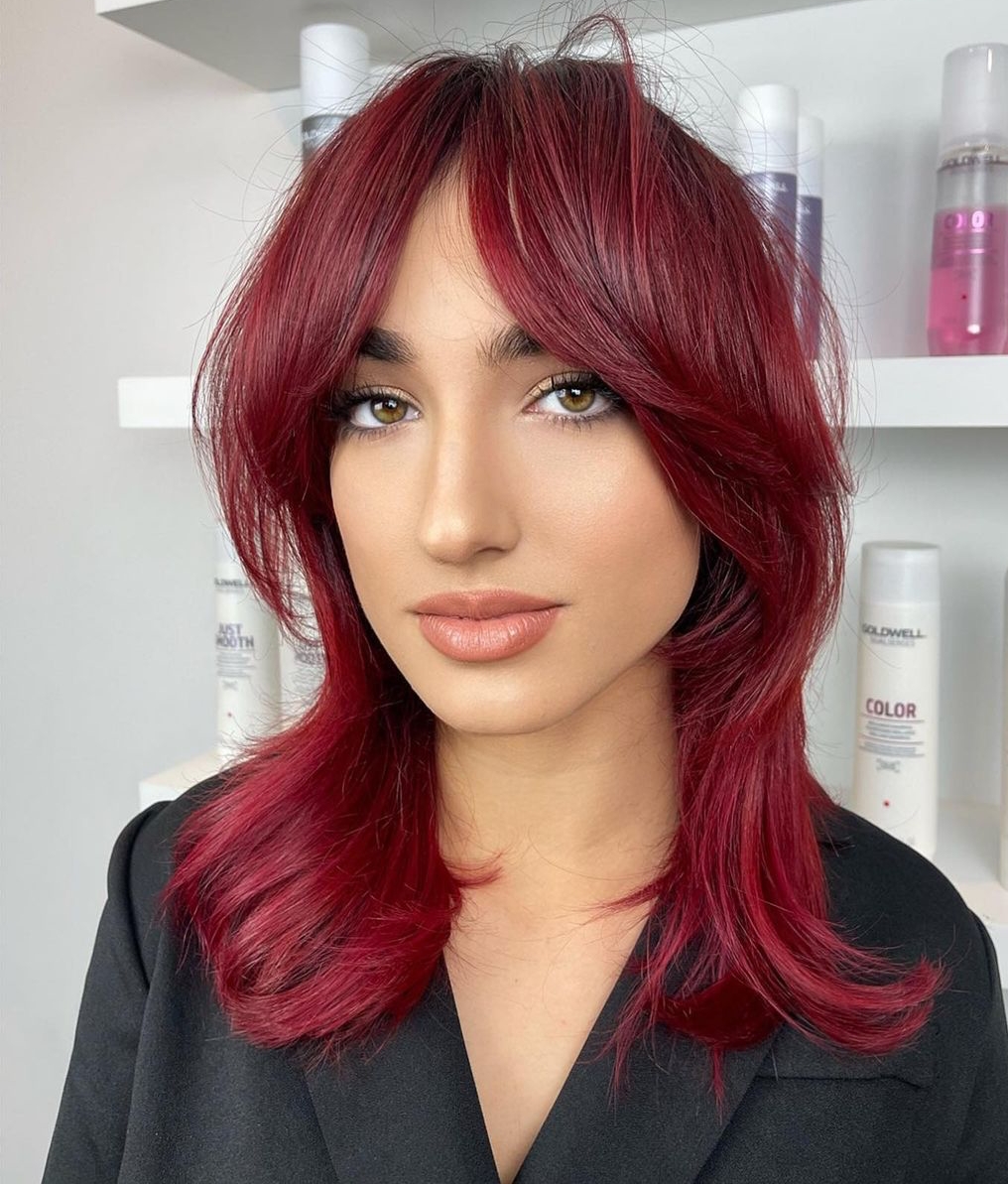 Light Auburn Hair Color is Truly Eye-Catching
Light auburn hair color is a combination of warm & vibrant shades of red and hints of brown and blonde.
Long brown curls can add volume and dimension to the hair, giving it a fuller and more textured look. Adding cherry red highlights can create a bold, eye-catching look that complements the light auburn base color. For those with cool-toned skin, opting for a more muted light auburn shade to avoid clashing with the skin's undertones is best.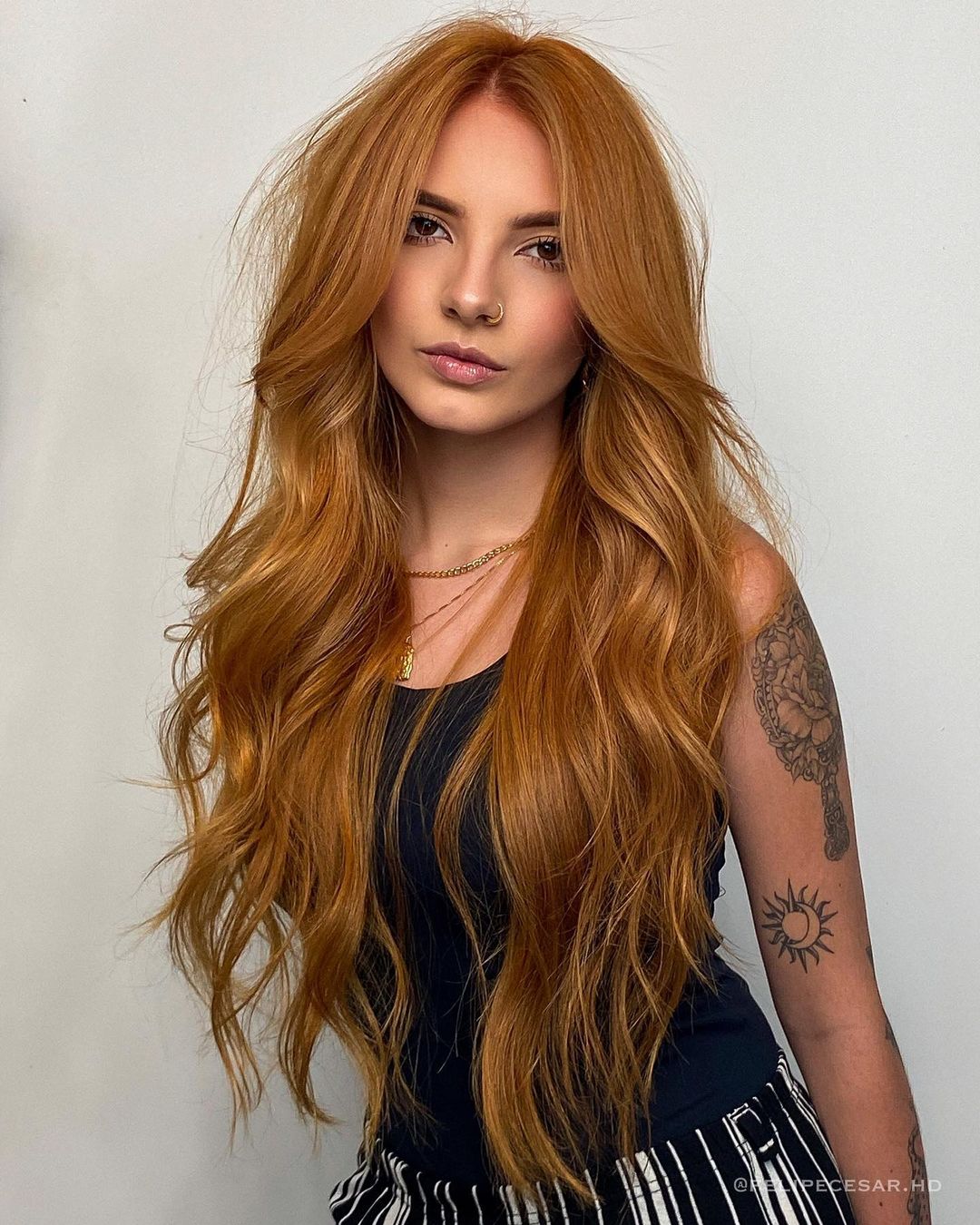 via @felipecesar.hd
Brown Hair With Red Highlights: An Easy Way to Flaunt Your New Hair Look
The Brown hair and red hair combination is an extraordinary hair color idea for straight or wavy hair. The highlights range from subtle, coppery tones to bold, cherry red hues, depending on the desired contrast level.
A shoulder-length haircut can beautifully show off the highlights while providing enough length for the desired styling.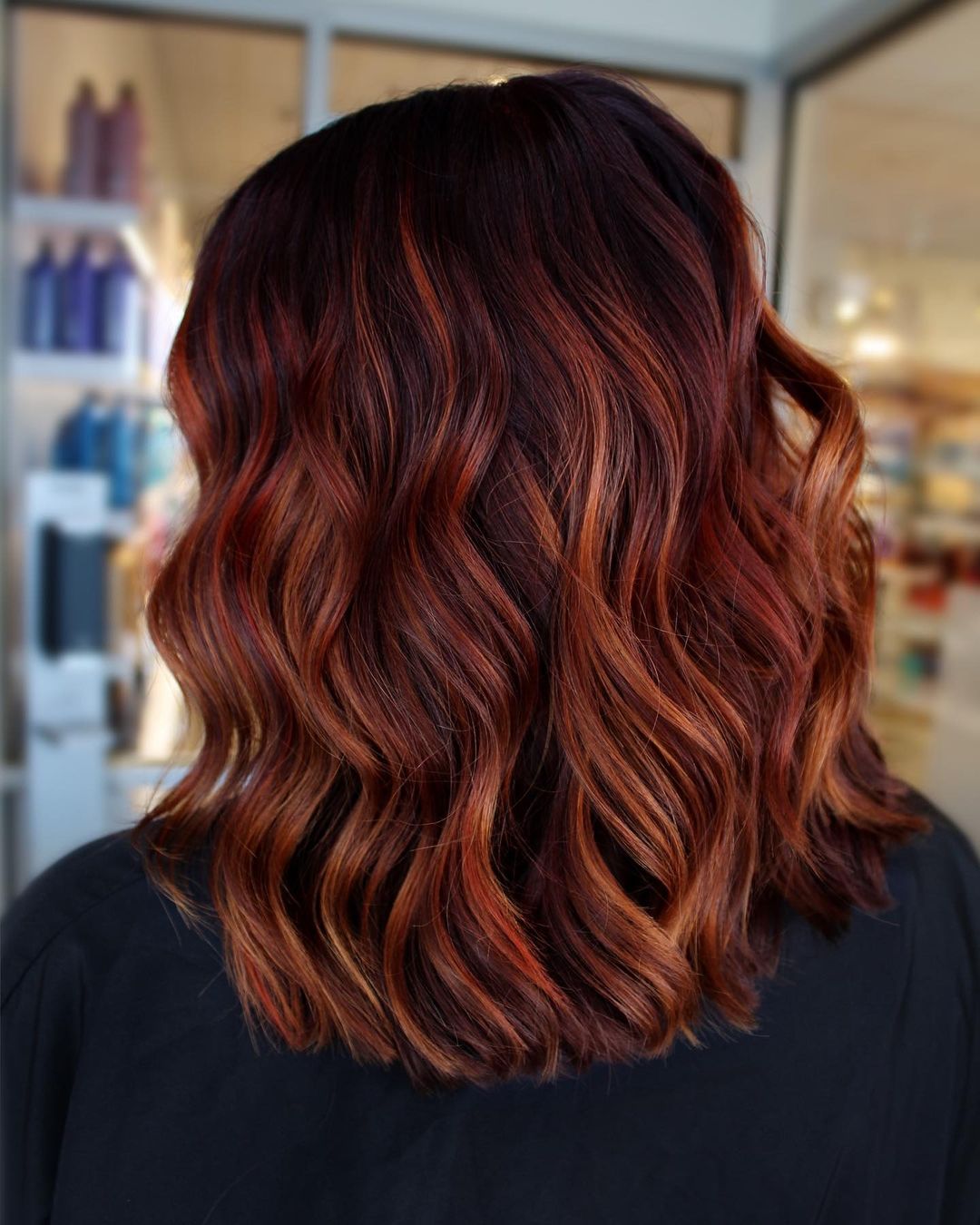 via @hair.by.jessv
Raspberry Red Hair Shade is Always Pleasing
Raspberry red hair is a vibrant and striking red shade reminiscent of ripe raspberries' rich, bold color. This hair color looks stunning on long wavy hair, as the waves' movement and texture can enhance the color's multidimensional look.
Ask your stylist for dark roots and bright red tips to add boldness to your overall look.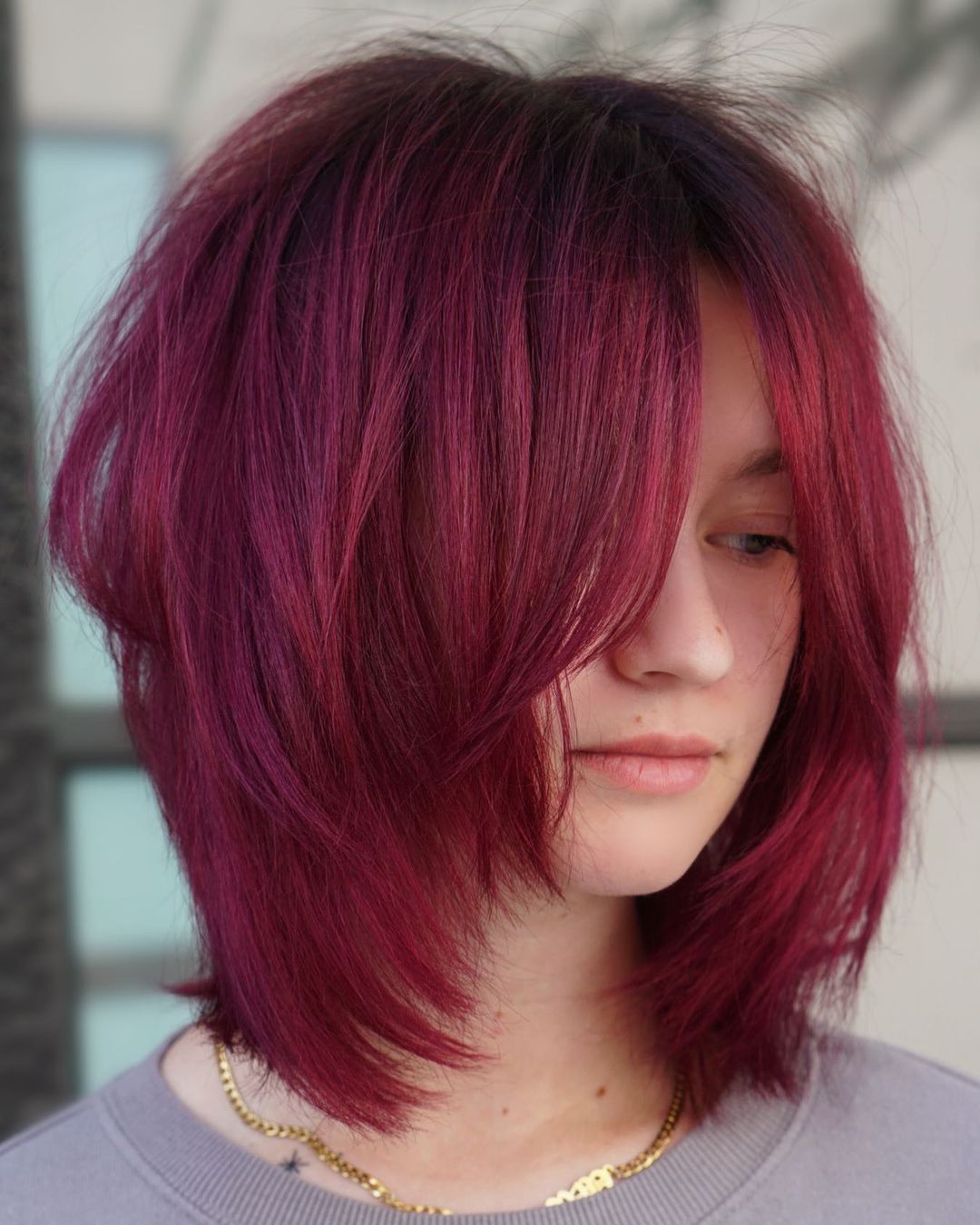 via @hairhecker
Long Red Hair Can Boost Your Confidence
Long red hair is a unique and eye-catching hairstyle ranging from auburn to bright copper. Natural redheads can enhance their hair's natural shade with hair care products designed for red hair.
For those looking to try out a rich shade of red hair, a stylist consultation is necessary to ensure you rock this new hair shade. Warm skin tones typically look best with coppery, golden, or reddish-brown shades of red hair.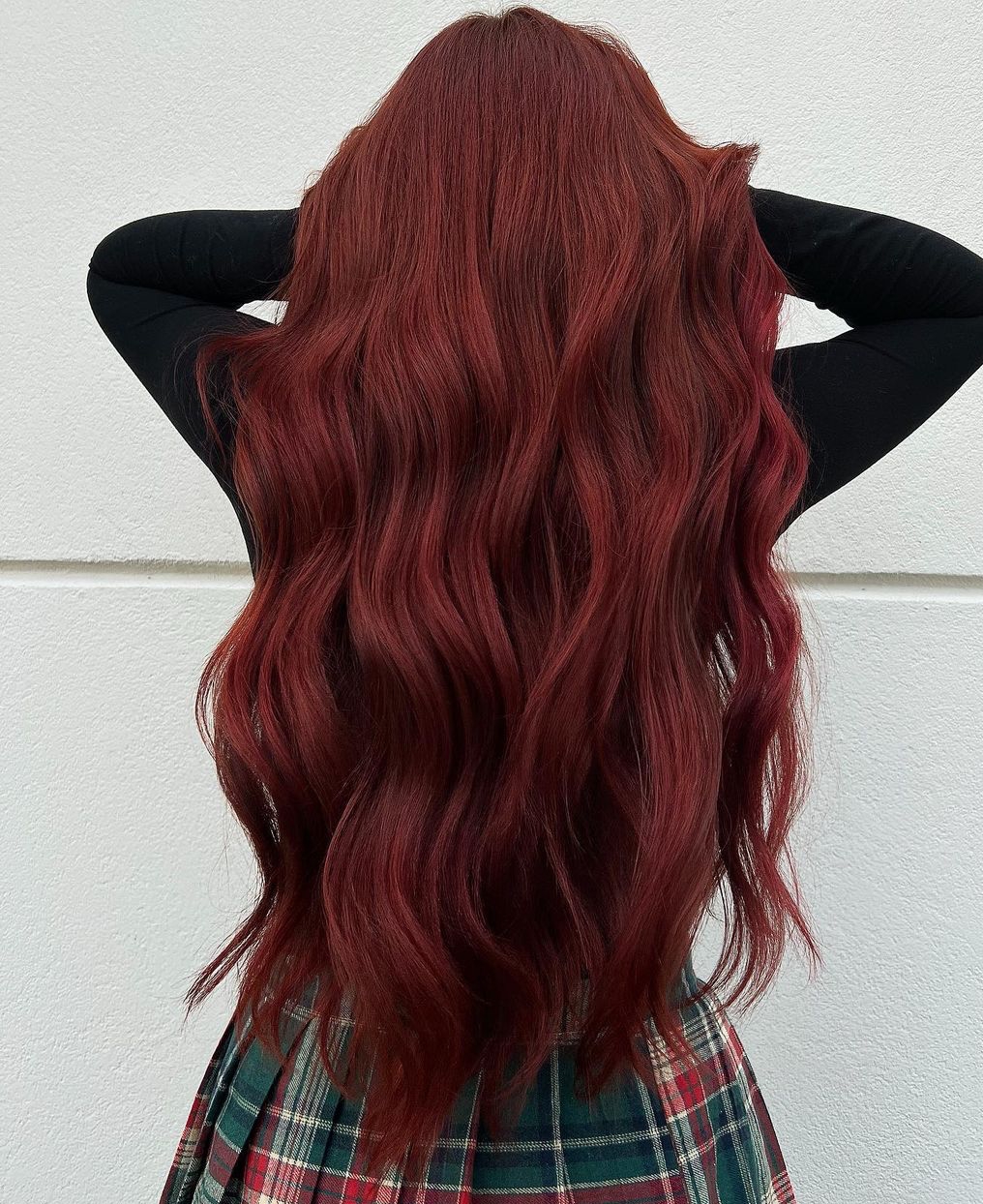 Neon Red Ombre Hair: Express Your Individuality
Neon Red Ombre Hair is a bold color choice incorporating fire engine red hair with vivid red highlights, blending into vibrant pink hair tips. This dramatic ombre effect creates a striking, eye-catching look that will turn heads. The intense and bright shades of red and pink create a fiery and edgy vibe, perfect for those who love to stand out.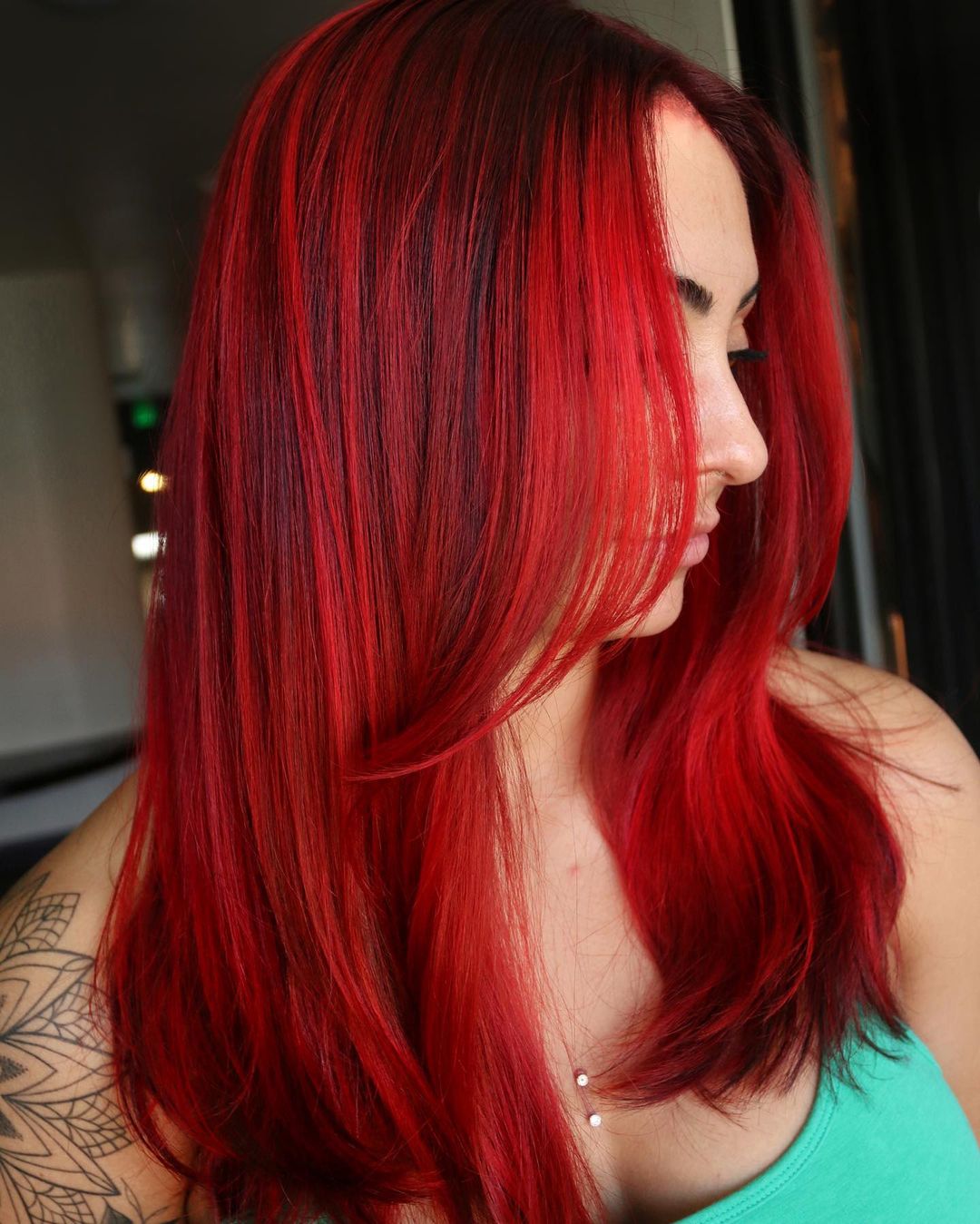 via @makeupbyfrances
Ginger Red Hair: Beautify Your Hair with Ease
Ginger red hair is a warm, inviting color that creates a vibrant look that complements various skin tones. The subtle blend of cool shades of red hair with the natural warmth of ginger hair color makes a perfect combination of boldness & sophistication.
It's a perfect shade to beautify your natural hair color. Ginger red hair can be achieved through various coloring techniques, from highlights to an all-over dye job.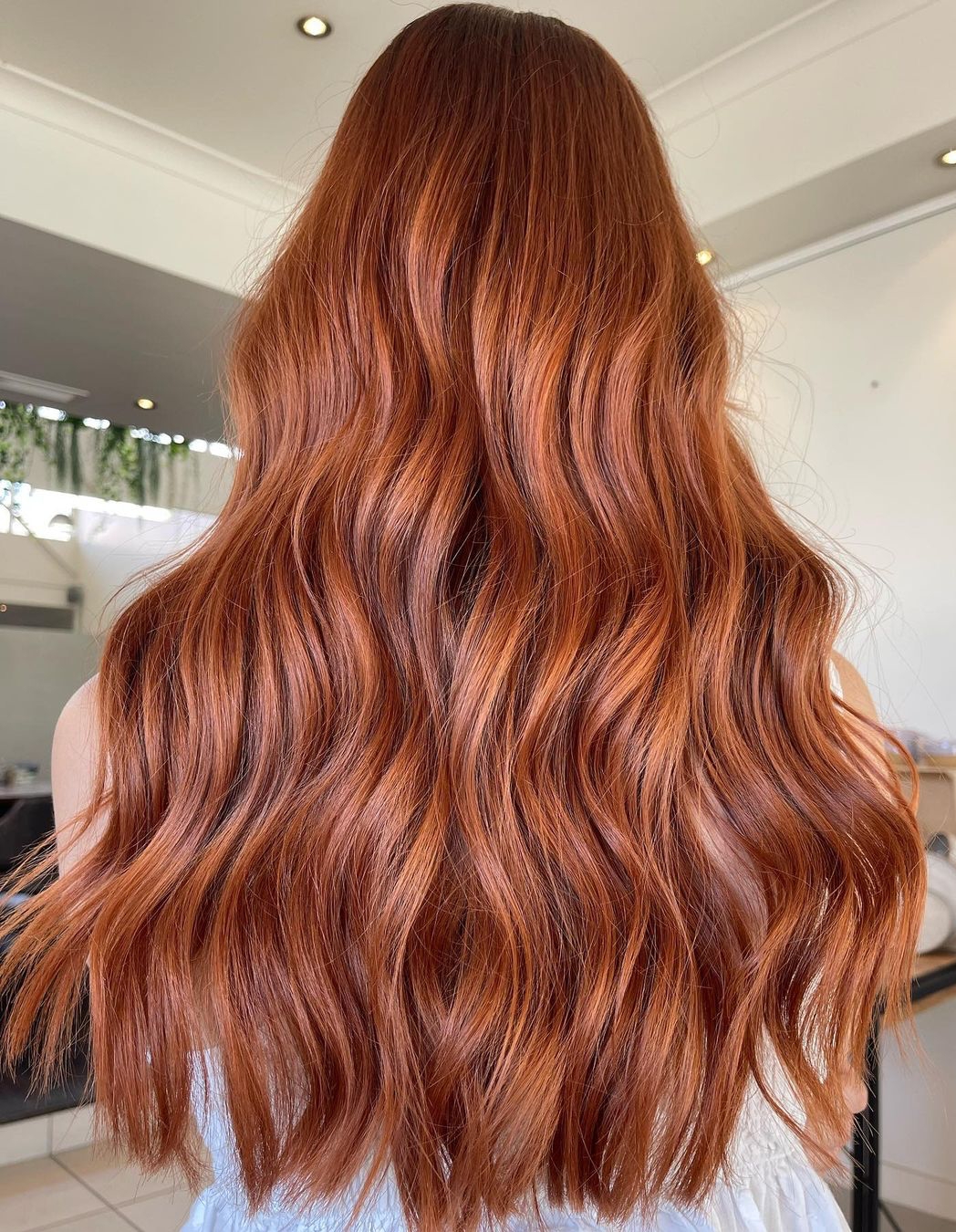 via @hairbymilenka
Orange Balayage with Dark Brown Roots: A Trendy Hair Color Idea
Orange balayage with dark brown roots is a pretty and trendy hair color idea. It features strands in burnt orange hues and roots in a dark brown shade.
This hair color creates a striking contrast and adds depth & dimension to the hair. Vibrant shades of red hair, such as blood orange hair shade, can be used to create the orange balayage effect.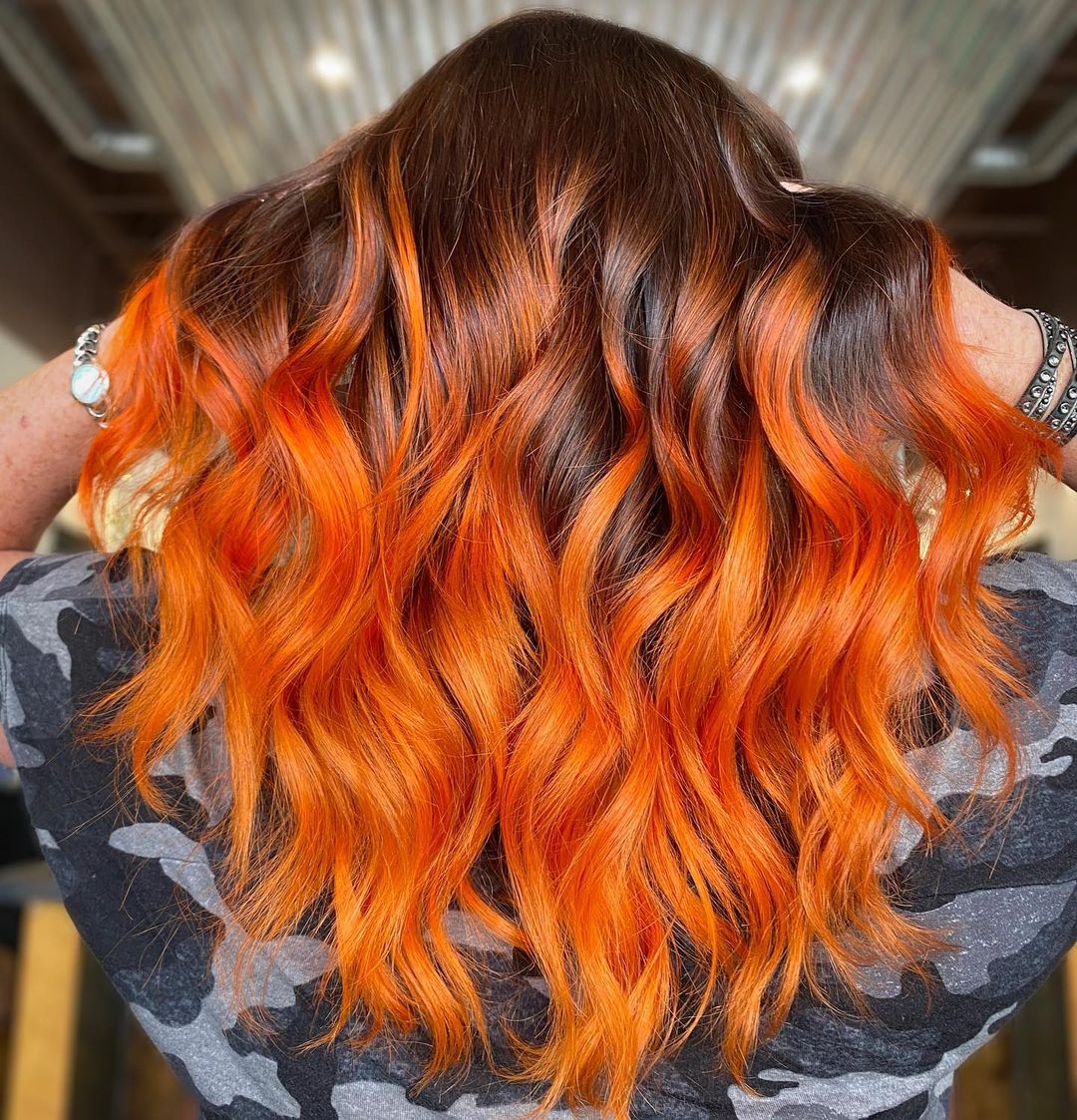 via @shell.vega
Brown Red Hair with Bangs Can Level Up Your Hair Game
Brown red hair with bangs is a stylish and modern hair color idea that combines brown hair's richness with cherry red hair's vibrancy.
This hair color looks stunning with a bob cut with a bang, as it frames the face beautifully and creates a bold and edgy look.
A wavy lob with curtain bangs can also be an excellent choice for those who want to add texture & movement to their hair.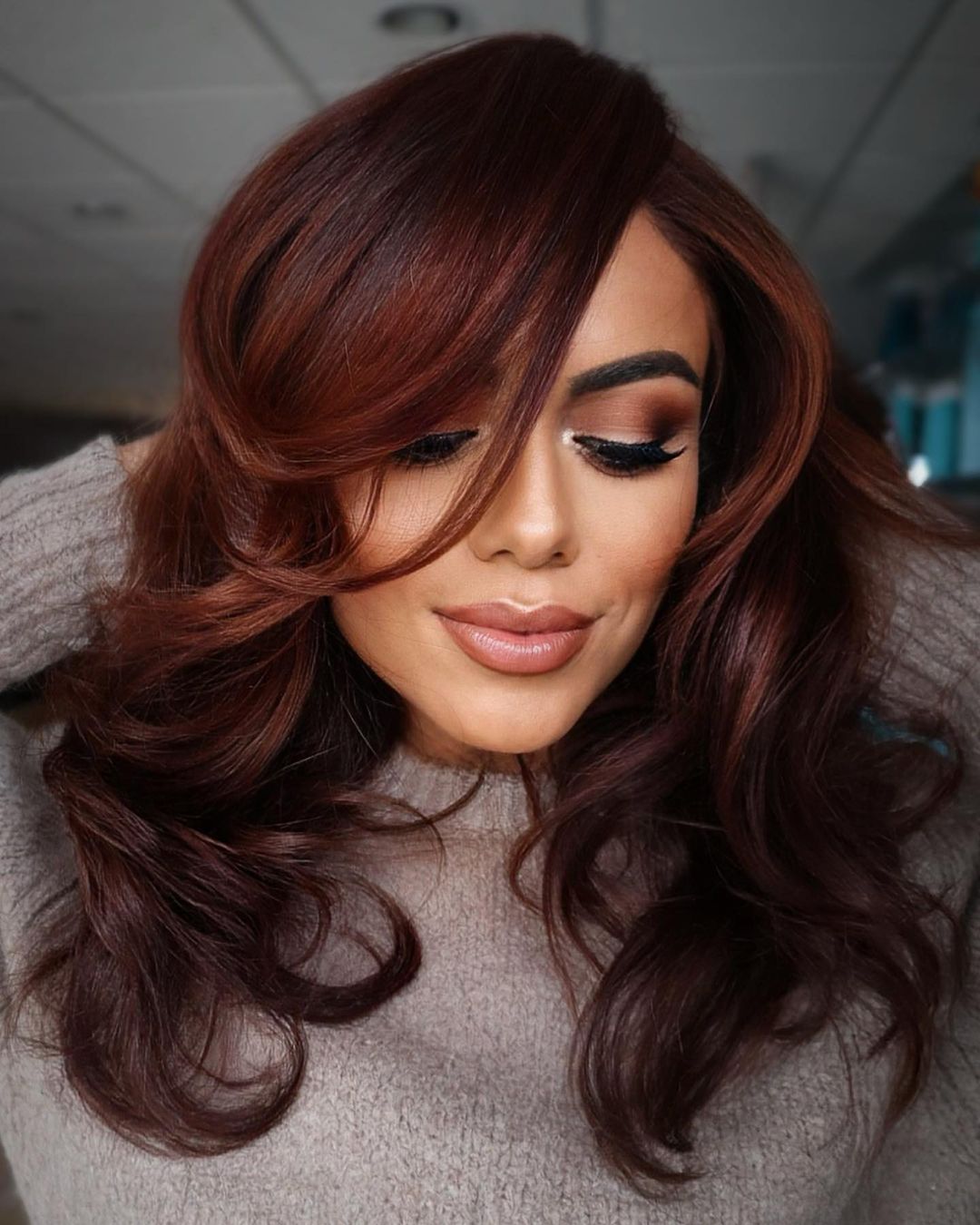 via @paintedbyanavel
Chestnut and Red Hair for a Noticeable Appearance
Chestnut and red hair is a stunning hair color combination that features dark brown hair with red shades, complementing various skin tones & hair textures.
This hair color is perfect for those who want to beautify their natural brunette hair elegantly without going too bold or dramatic. The reddish hues can range from subtle highlights to more noticeable chunks of color, according to the desired contrast level.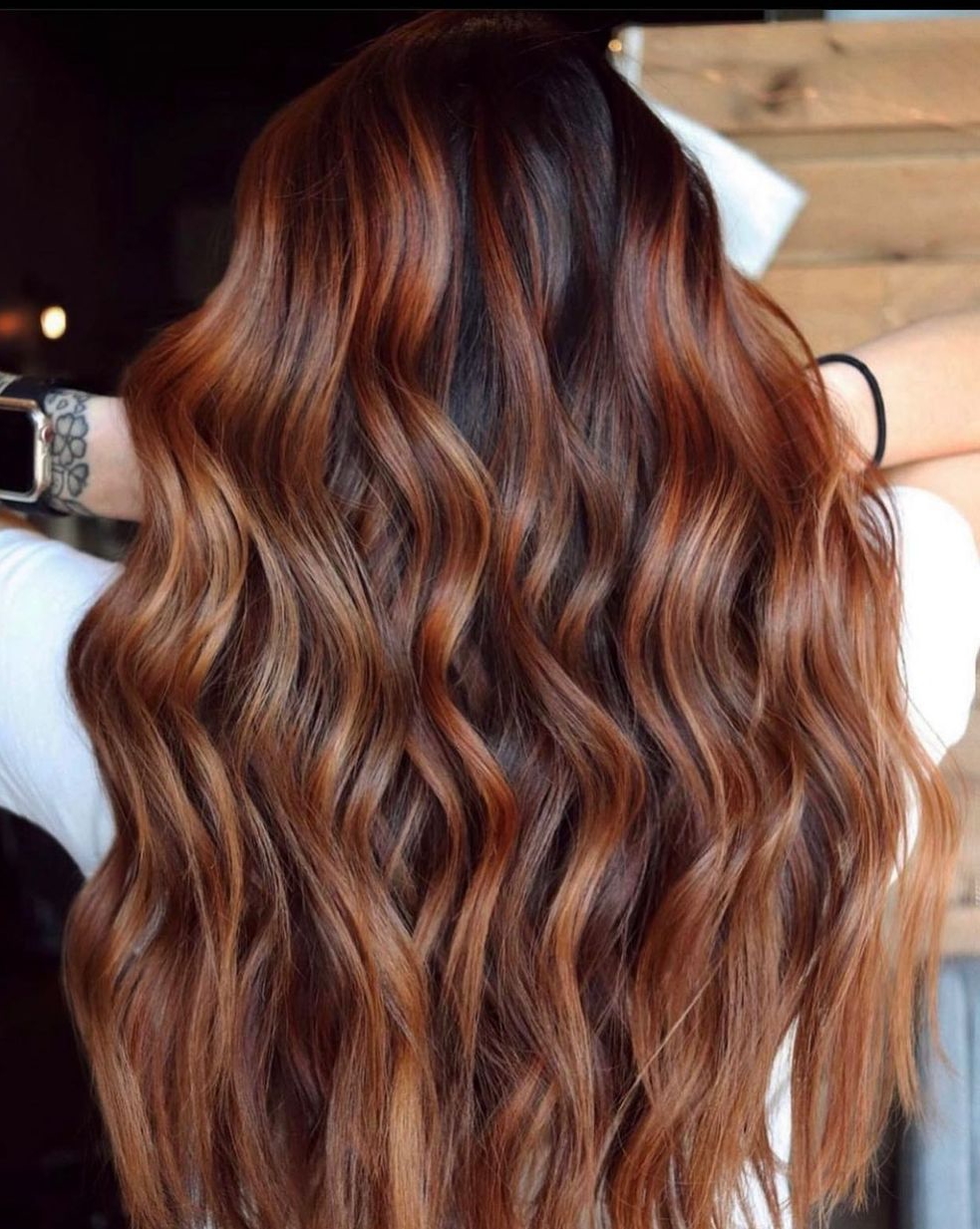 via @kl.hairartist
Strawberry Blonde with Red Hues Looks Ravishing
Strawberry blonde hair is a gorgeous hair color idea that combines red shades with blonde highlights. The red hues can range from coppery to reddish-brown; you can adjust the shade vibrancy according to your preference.
This hair color idea looks incredibly flattering on those with neutral skin tones.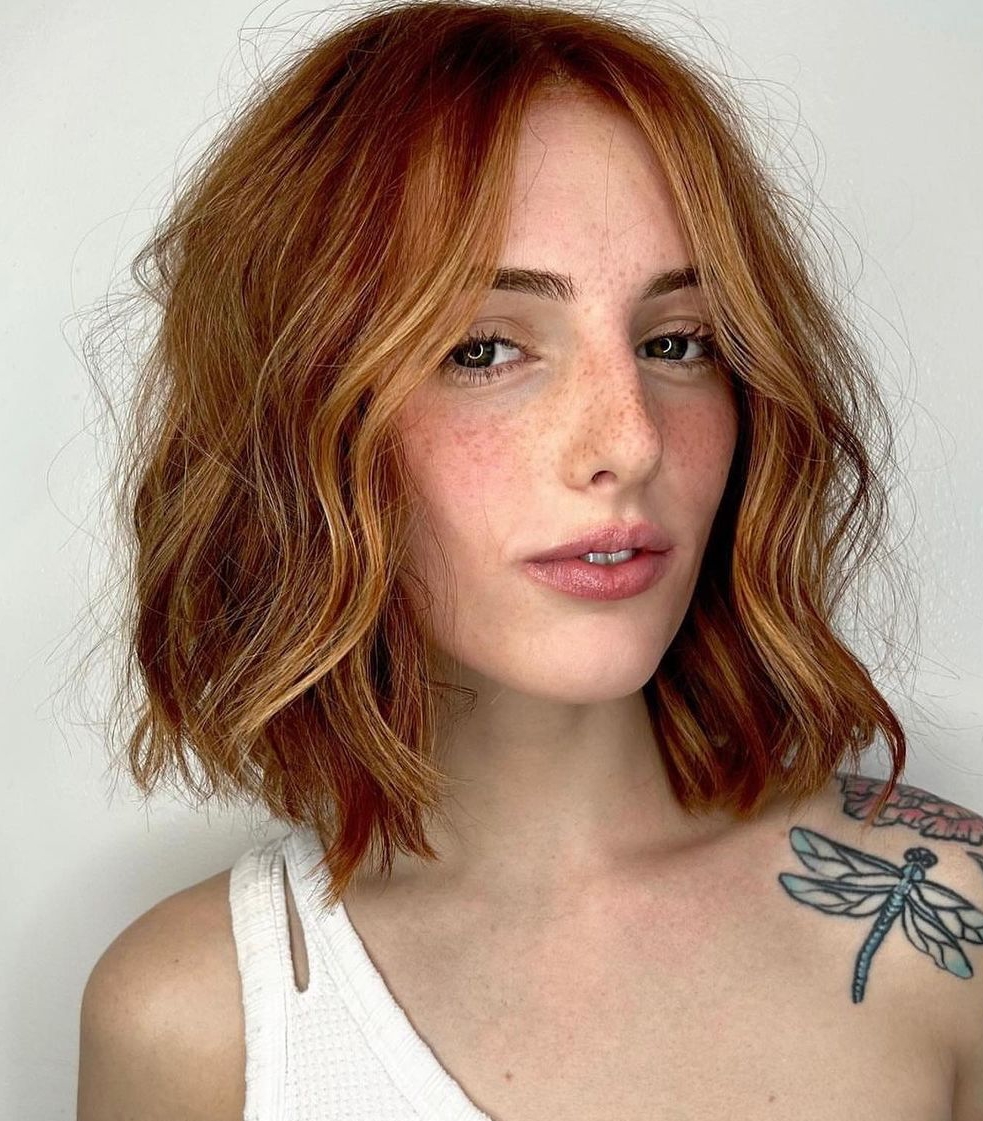 via @suzylama04
Ruby Red Hair Color Accentuates Brown Eyes
Ruby red hair is a charming color for brown eyes, as it can create a beautiful contrast and make their eyes pop. It looks incredibly stunning on natural redheads, enhancing their natural shade and adding depth and dimension. The ruby red hair color is a bold and daring choice that will turn heads.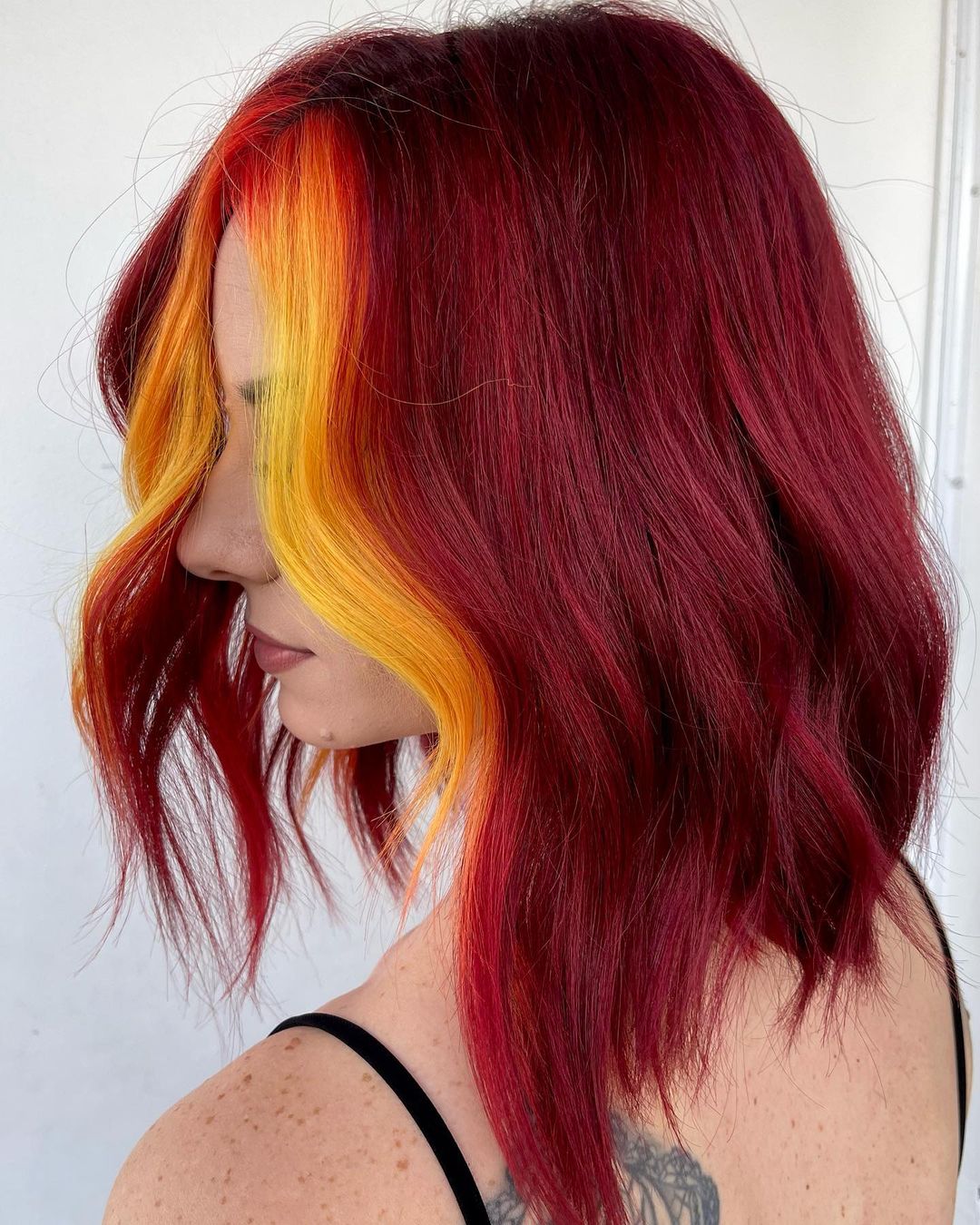 Rose Gold Hair with Red Highlights Are Simply Beautiful
It is a unique hair color idea combining the soft, pinkish tones of rose gold highlights and the vivid red hue.
The red shade can range from light red hair color to a more intense burgundy hue, as per the desired level of intensity & contrast. If you have a yellowish skin tone and dark eyes, you can flaunt it extraordinarily.
via @reineleech
Sweet & Sassy Dark Strawberry Red with Blonde Highlights
Strawberry blonde hair color is a lovely hair color idea that includes a subtle, reddish-brown base with soft, blonde highlights.
This hair color idea looks more flattering on those with long, light brown hair. The blonde colored long hair can range from a subtle, honey-toned hue to a brighter, platinum blonde shade; the level of intensity can differ as per your choice.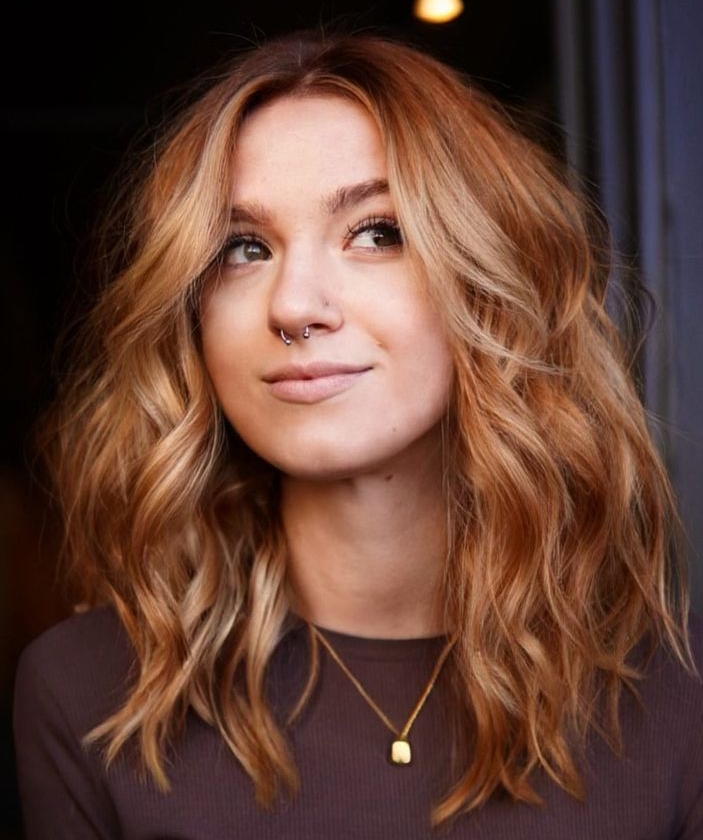 via @taydyez
Orange Hair with Red Highlights: A Fiery Fusion
It is an exciting hair color idea from the red hair color palette, having a bright orange base with bold red highlights.
Short bob cuts are already eye-catching, but adding orange hair with red highlights takes it to the next level. This bold and daring look works exceptionally well with fair skin tones.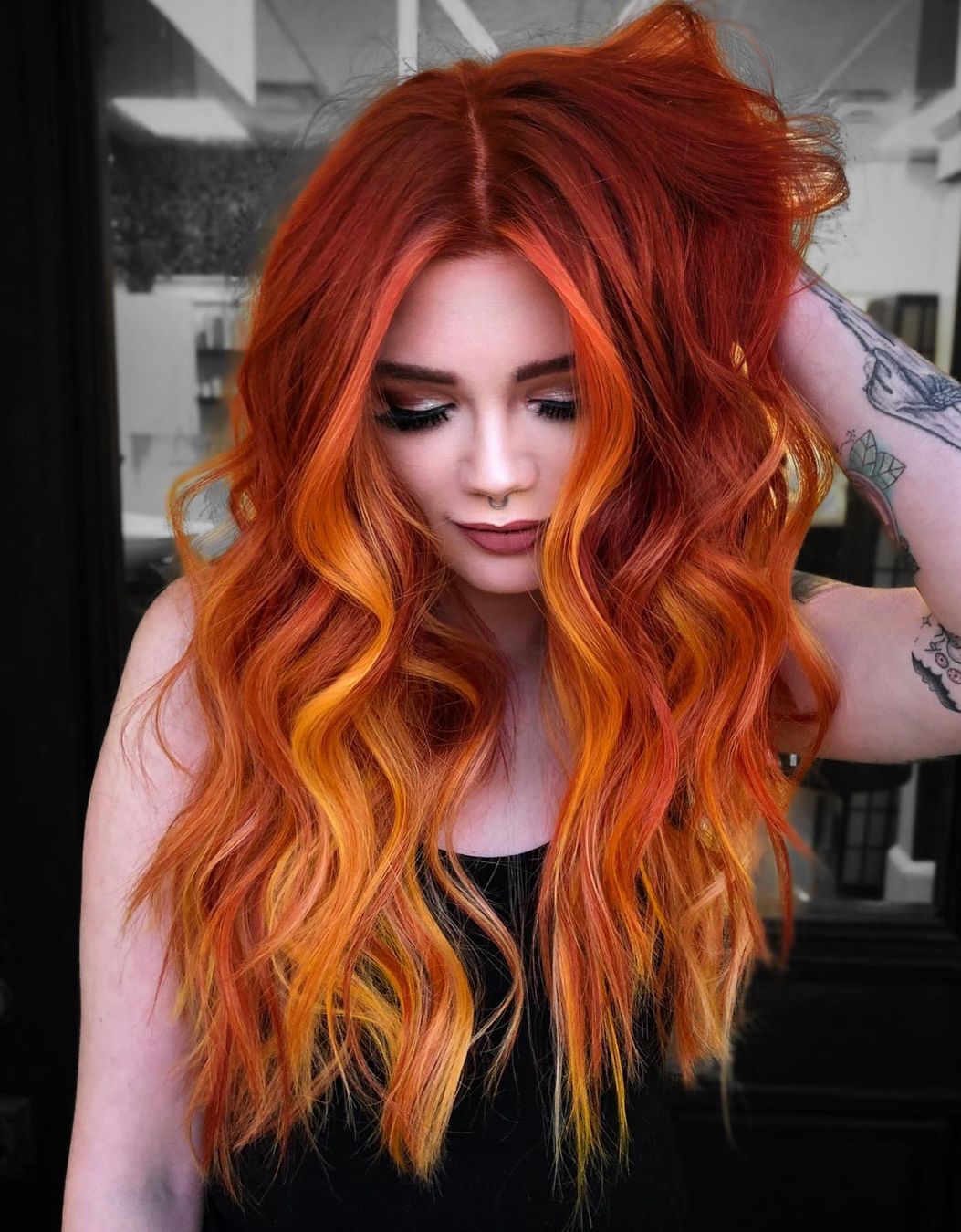 via @aaashleee
Unleash Your Inner Rebel with Red and Purple Hair
This charming hair color features a deep cherry red hair color with purple hues. It creates a dramatic and edgy look on both long and short haircuts. Dark locks with shades of red & purple indeed look boldly beautiful!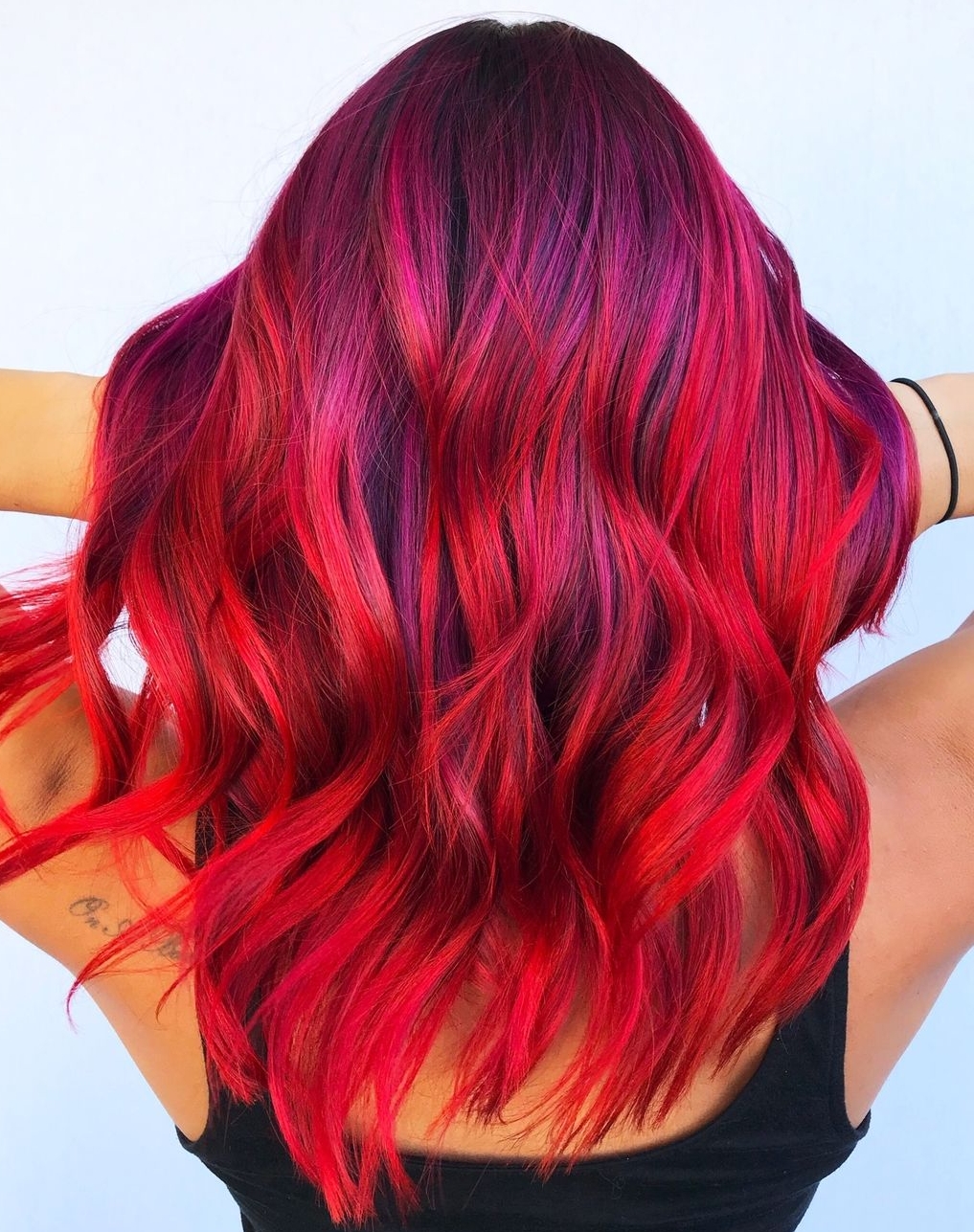 via @robindeltoro
Embrace Your Edgy Side with Light Red with Darker Roots
Use the classic balayage to elevate your style with light red hair color and darker roots. This head-turning look is perfect for fair skin tones, bringing a sophisticated spin on the traditional balayage that will make you stand out!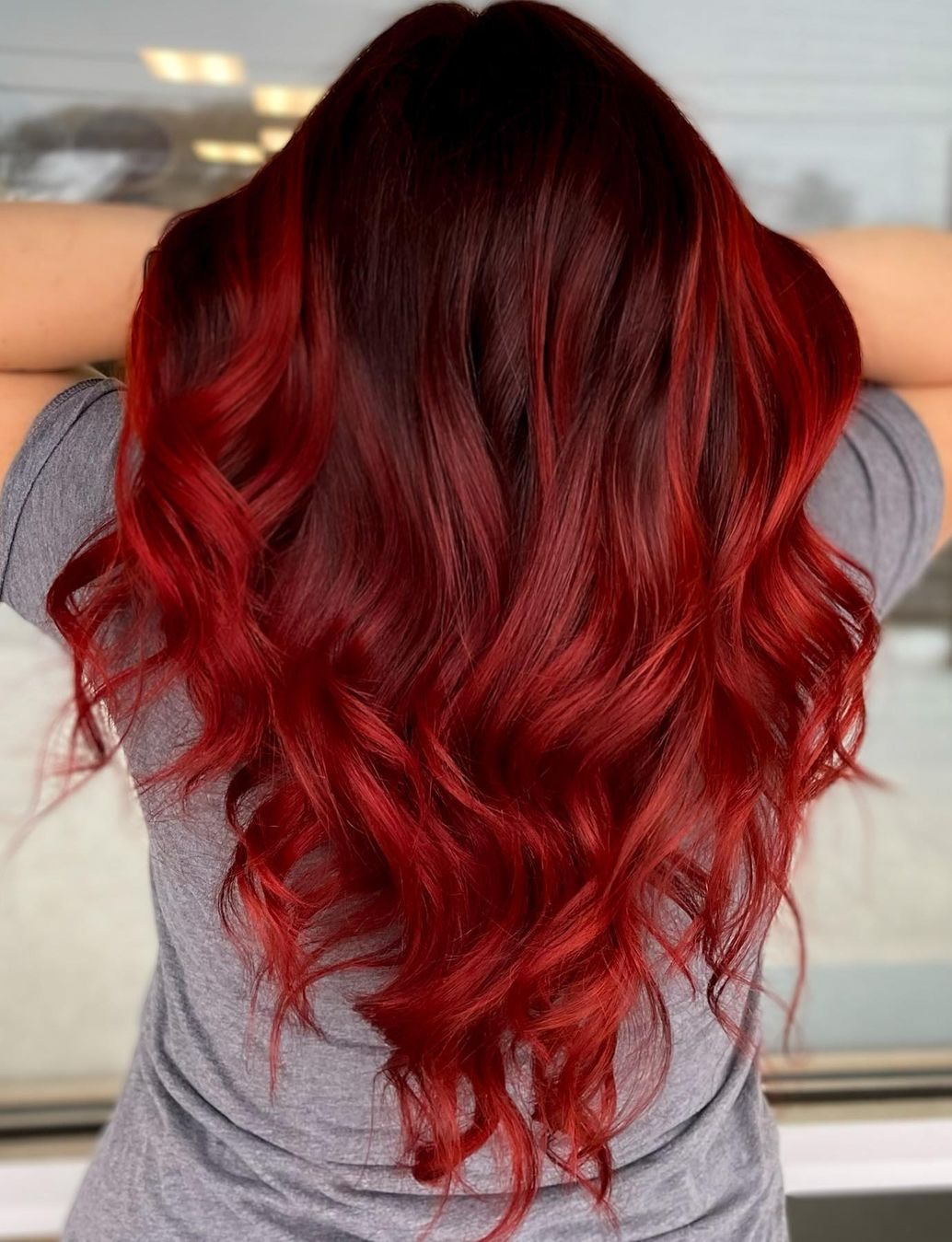 Ignite Your Look with Black Hair with Ruby Red Highlights
Elevate the classic short bob on black hair with a bold twist – ruby red highlights. The intense ruby red hair color creates a stunning contrast against the black base, giving you a daring and captivating look. Unleash your inner fire and make a statement with this head-turning style.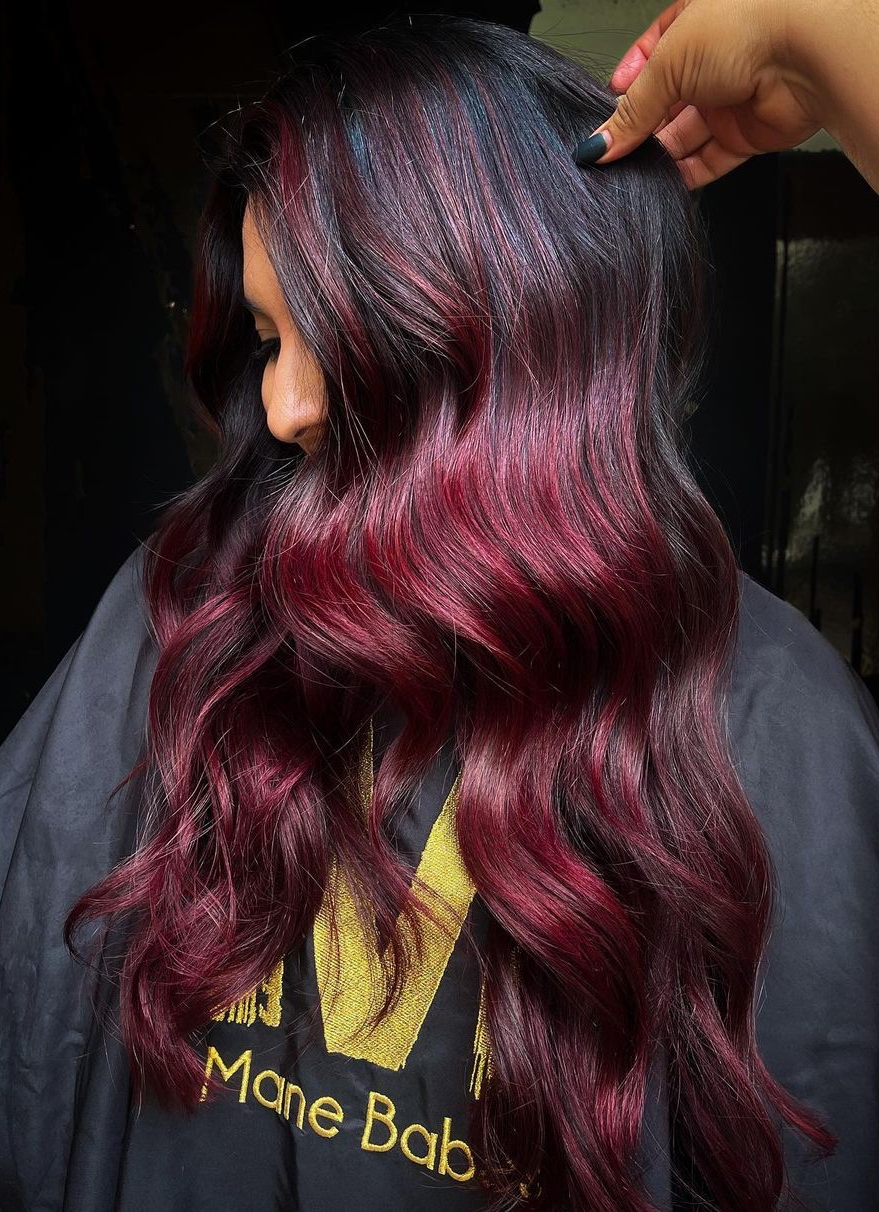 via @astridbalayages
Indulge in a Deliciously Bold Style with Caramel Red Hair
Caramel red hair combines the warmth of light auburn hair with the shimmering allure of rose gold hair. The addition of coppery pink shades on the hair tips creates a playful yet sophisticated look that's great for those who want to experiment with their style.
The result is a stunning, unique color combination that will start a conversation.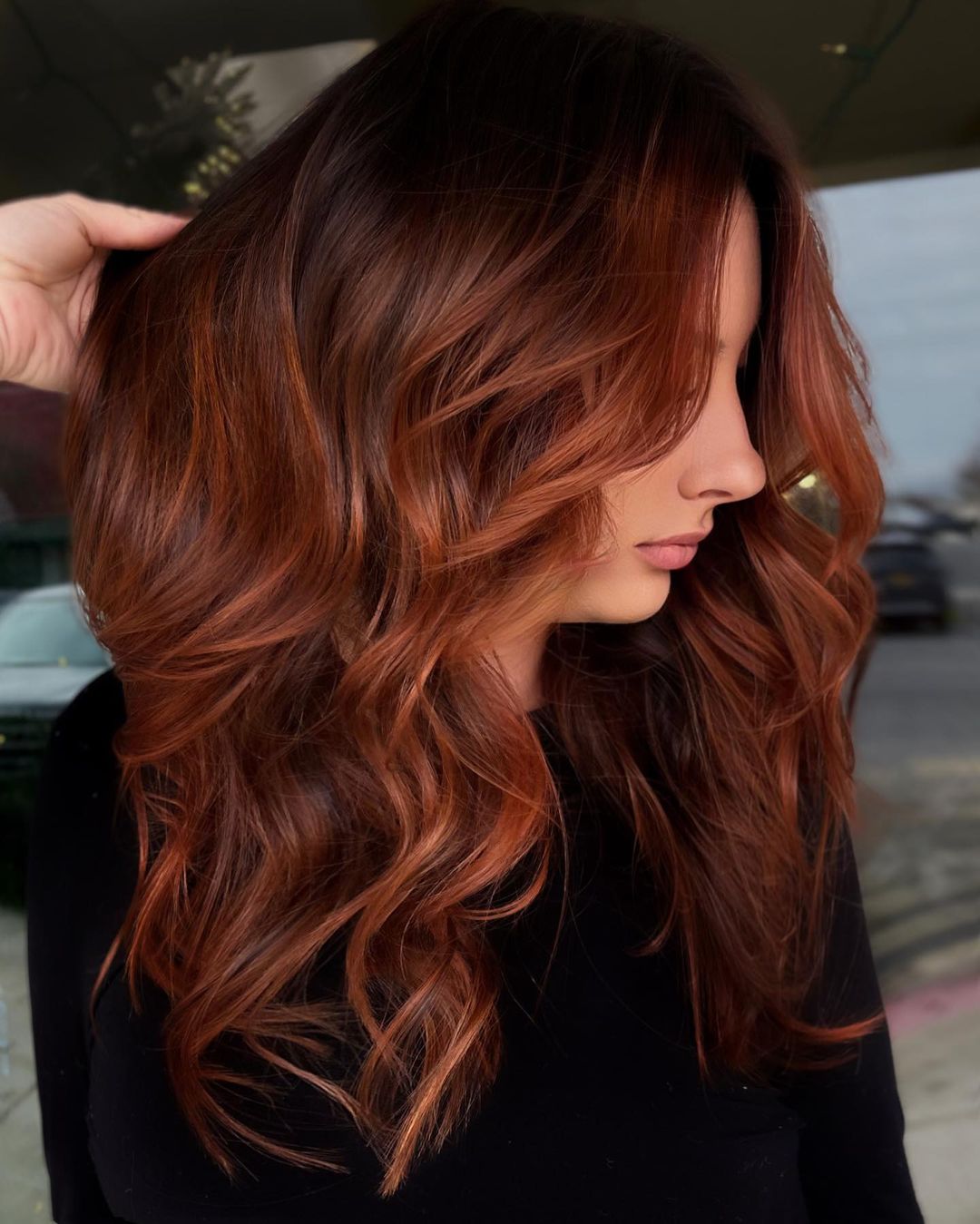 Rosewood Balayage: The Perfect Mix of Softness and Boldness
Rosewood balayage is a versatile & stylish choice for those looking for a unique twist on brownish-red hair. This dark hair idea incorporates a cool red shade that adds dimension to any hairstyle.
The result is a stunning and eye-catching look perfect for anyone wanting to stand out.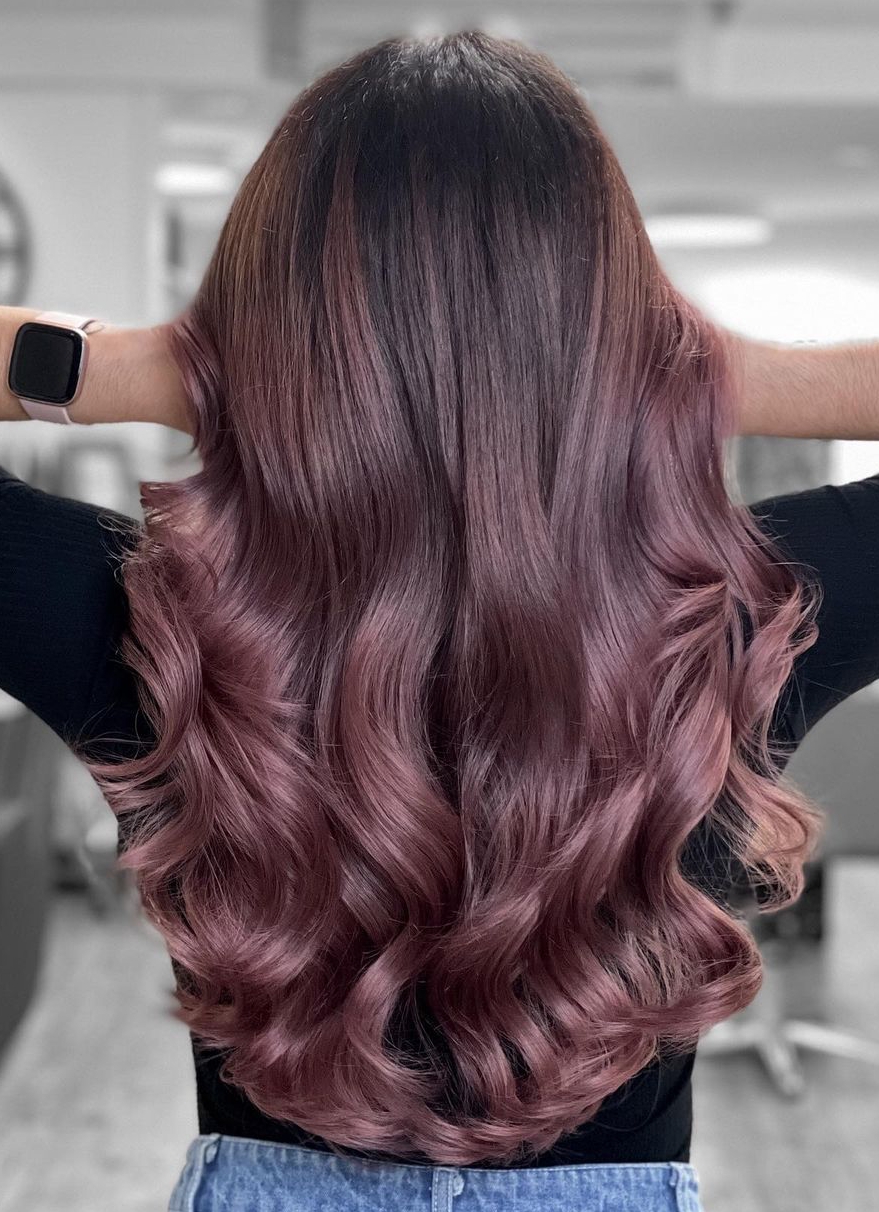 via @thecolorist.ch
FAQ
Which hair dye brands are the best and long-lasting?
Many hair dye brands claim to be long-lasting and high-quality. Some popular options include L'Oreal Paris, Schwarzkopf, Wella, Clairol, and Garnier.
Researching and reading reviews is essential to determine which brand may work best for your hair type and desired color. Additionally, proper hair care and maintenance can help prolong the longevity of your hair color.