One ombre style that is catching up pretty fast in 2023 is the lavender hair color or purple ombre shades. It's vibrant & cool and gives your tresses a unique personality. The broad spectrum of purple hair color gives your mane a pop of colors, from the subtle lavender to the funky purple styles.
If you have been looking to pep up your locks and wish to experiment with novel styles, here are a few purple ombre hair color ideas for any hair type and skin tone.
Ravishing Brown Purple Ombre Hair
Some specks of violet on your straight brown hair make your locks look gorgeous. If your hair is light brown, try lavender ends. You can try light violet to a dark plum color on naturally brunette hair.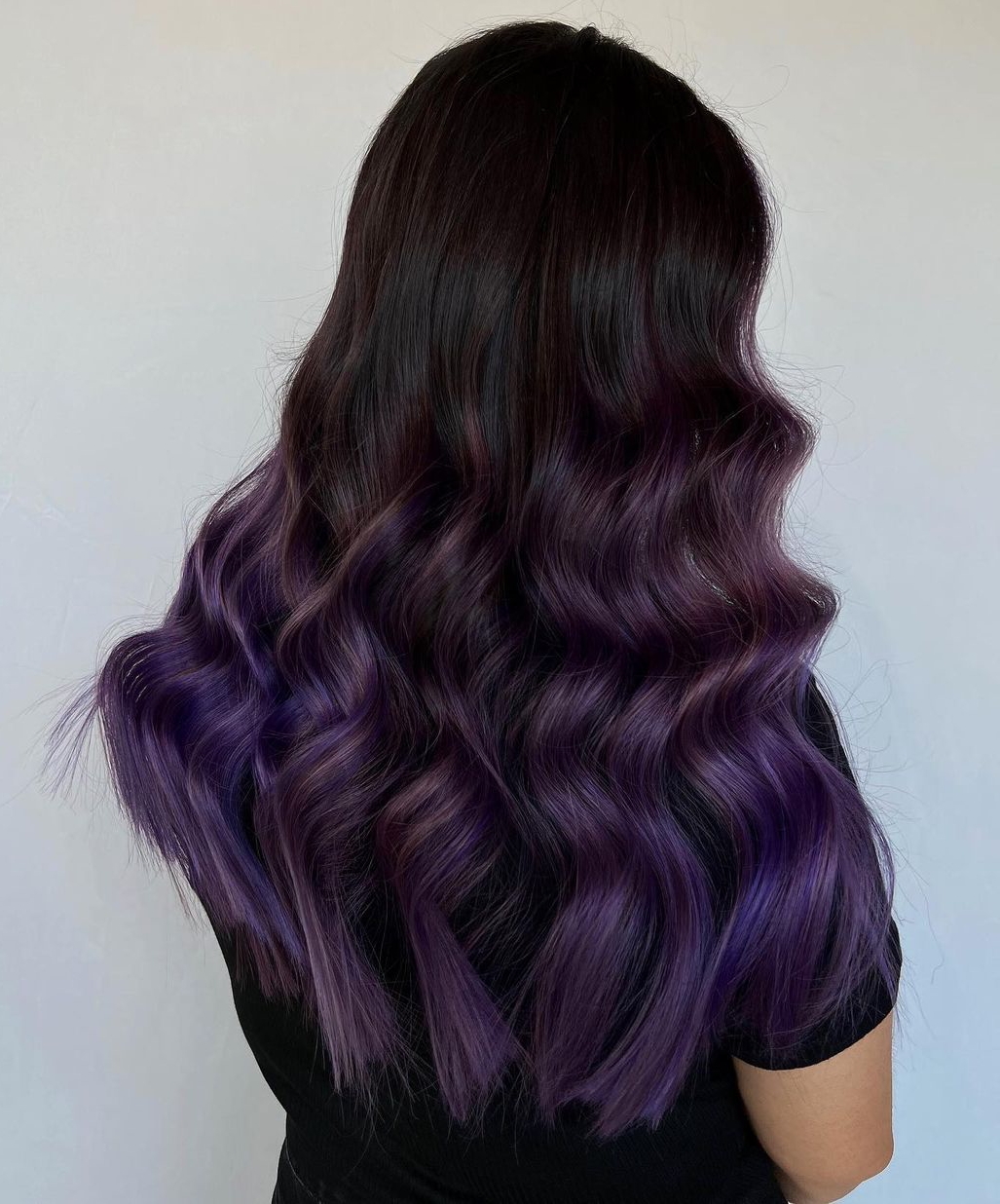 via @thundercat.hair
The ombre technique on brown hair works because brown and purple complement each other amazingly. The ombre effect on your natural hair with purple ends gives it depth and dimension.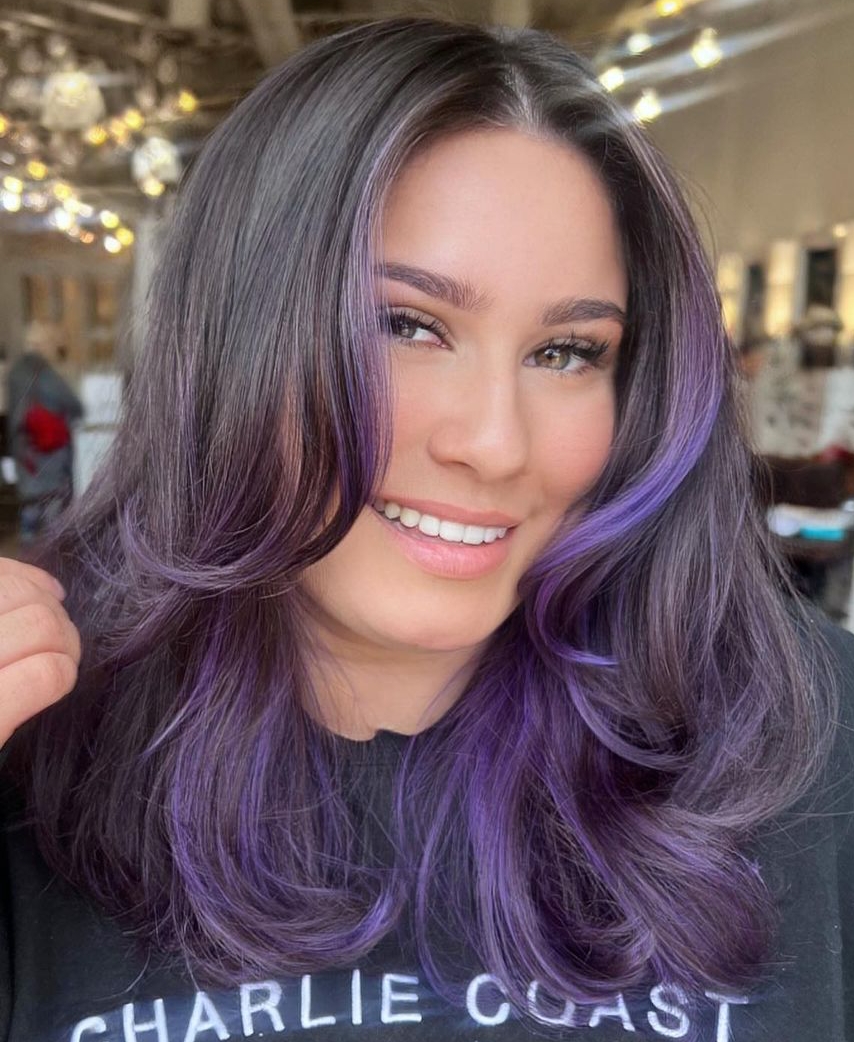 via @paintitblonde
A Touch of Femininity with Lavender Purple Ombre Hair
The lavender ombre hairstyle is subtle and works great with long and short hair. The color provides a softer edge to the tresses and is an excellent option for women with fair skin tones.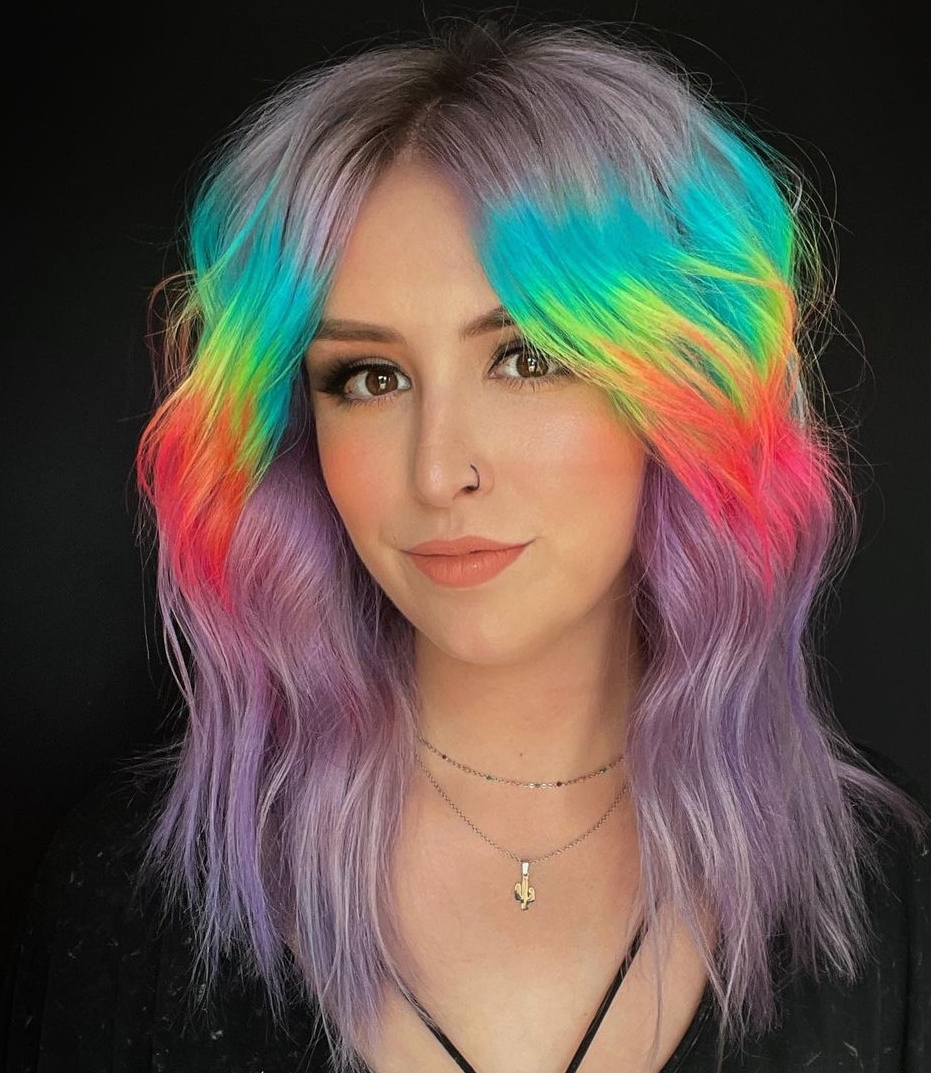 Use the combo of dark purple and more soothing lavender to create a stylish purple ombre look. Go for a gradient style with lavender in the middle and darker shades on the curls.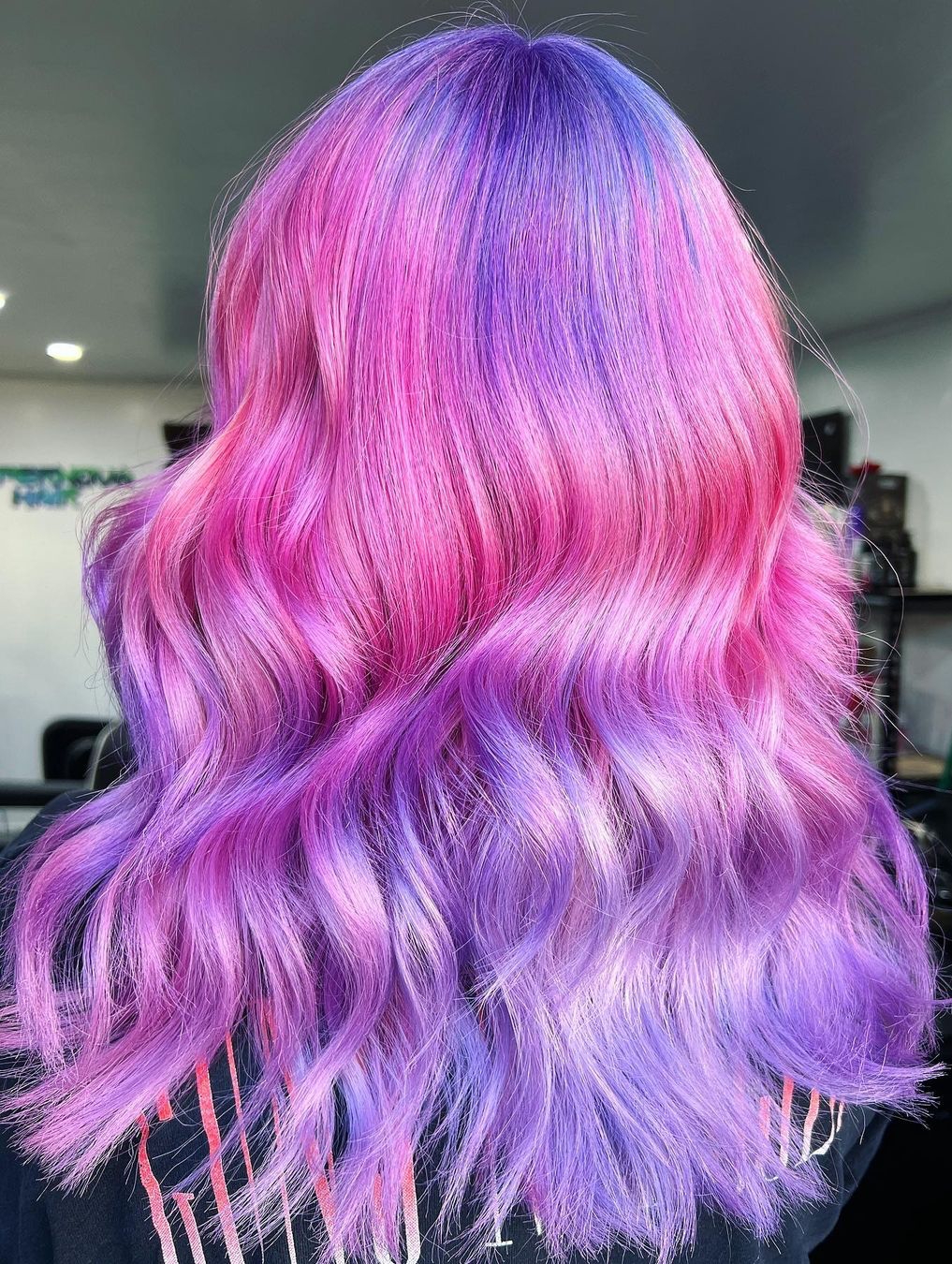 via @supernovahairnz
Ombre Red and Purple Hair: Make it Fiery
The combo of red and light purple hair color can be jaw-dropping. This is because, in the combo of reddish-purple shade, red adds dimension to purple, creating a fiery look.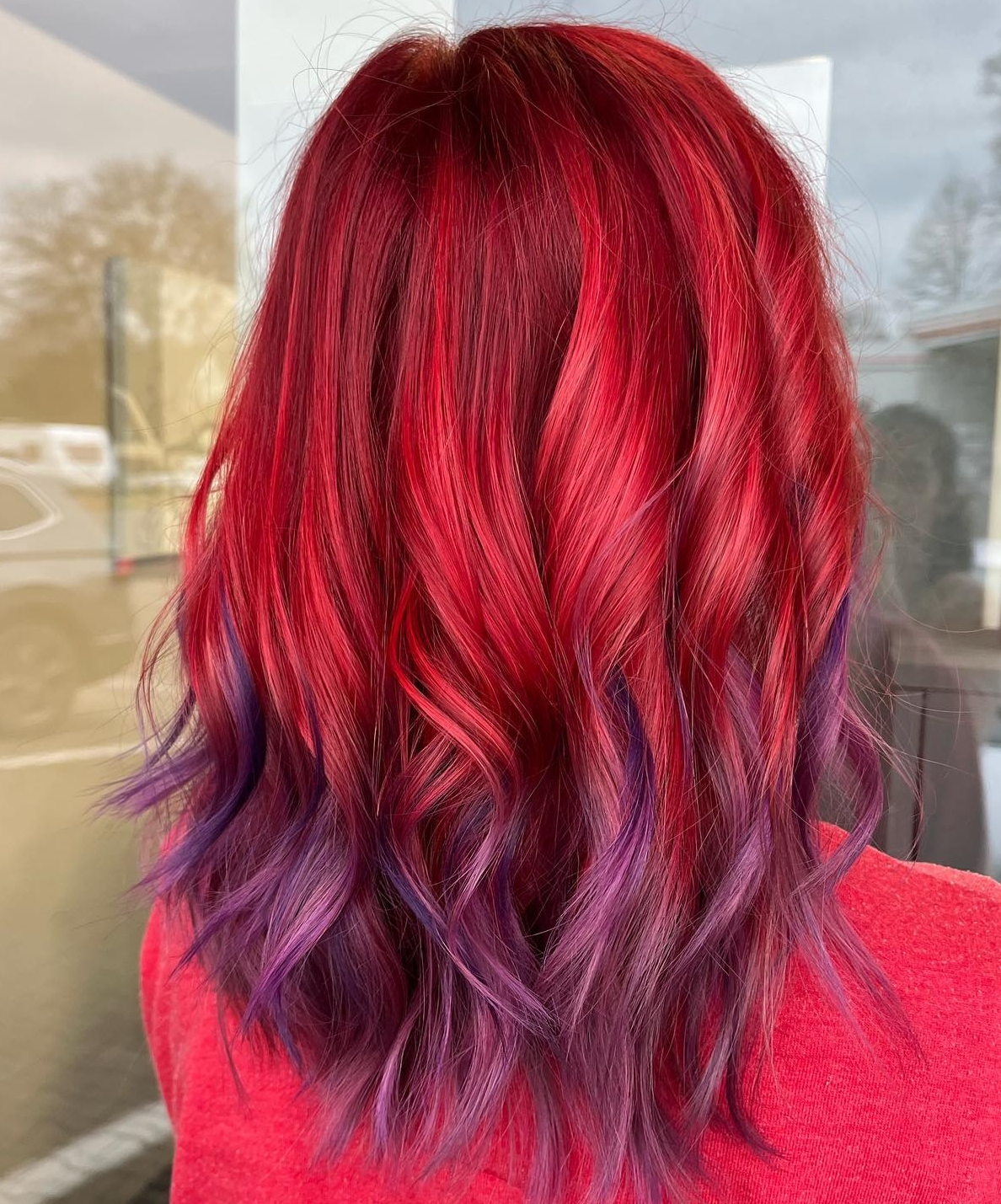 via @haardrei
Everyone notices your tresses with the ombre on your natural hair color. So, if you want to dye your hair red, pair it up with a purple ombre style for a significant effect.
via @k.s.colors
Bold Black and Purple Ombre
Purple ombre on black hair is vibrant because the royal purple color looks appealing on your dark black tresses. To make it multidimensional, you can add more colors.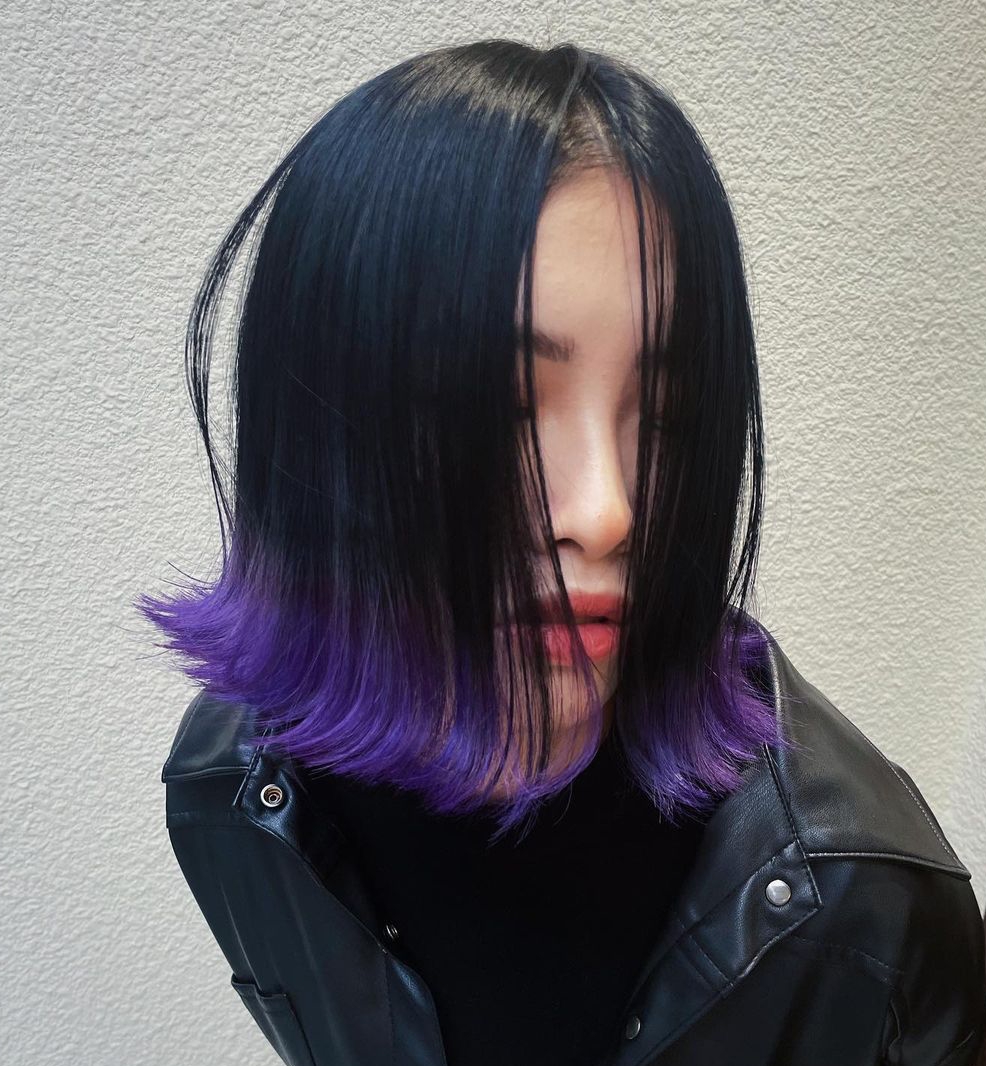 via @chubechou_705
Add highlights to the dark roots or at the ends, and let the natural hair peek in between. The darker purple ombre hair with a dishevelled look comes with a playful touch. It suits all skin tones!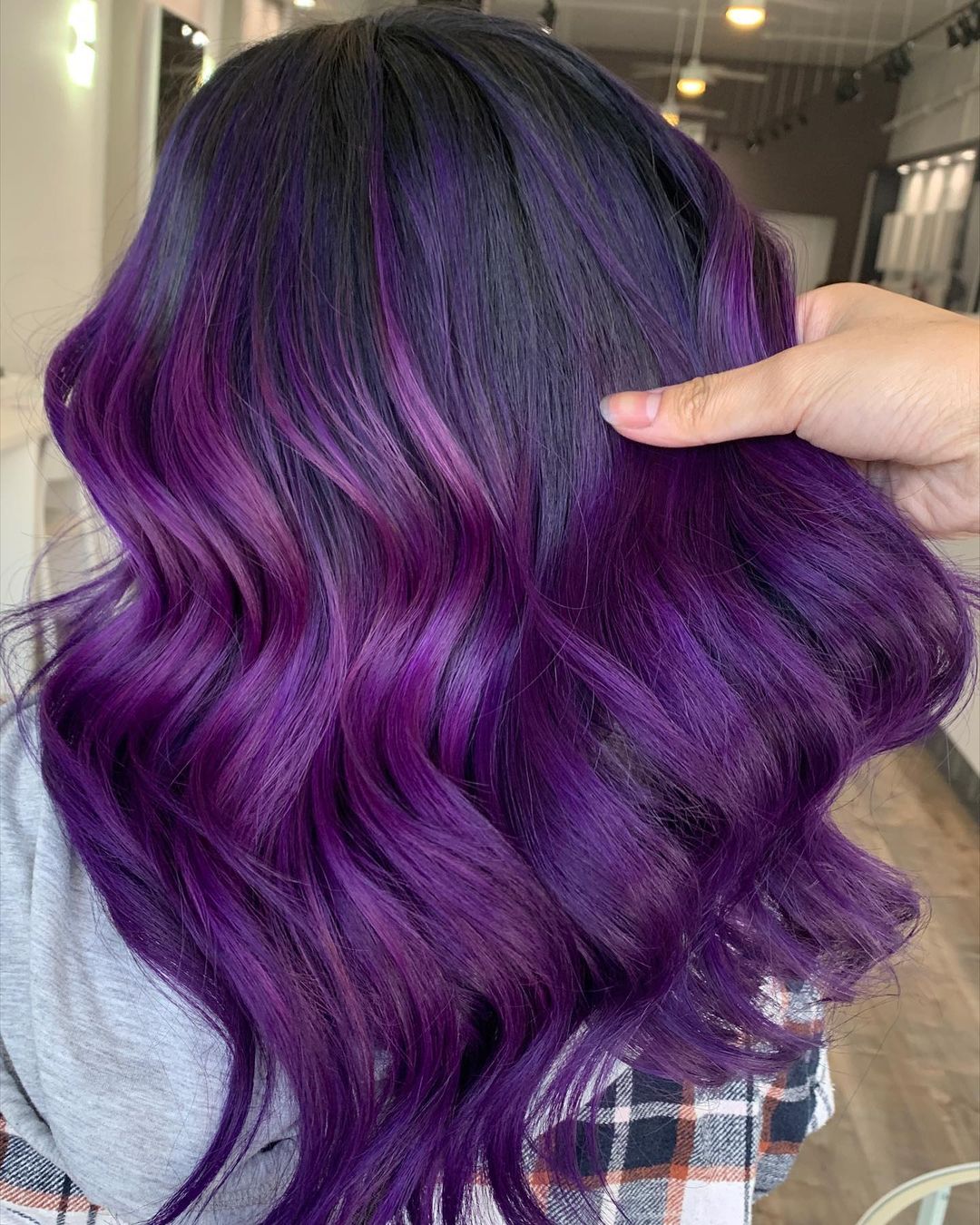 via @hairbykellan
Magical Mermaid Purple Hair
Rainbow hair color ideas are a must-try, and the mermaid style is quite popular these days. Reddish-purple and turquoise gel so well on blonde hair.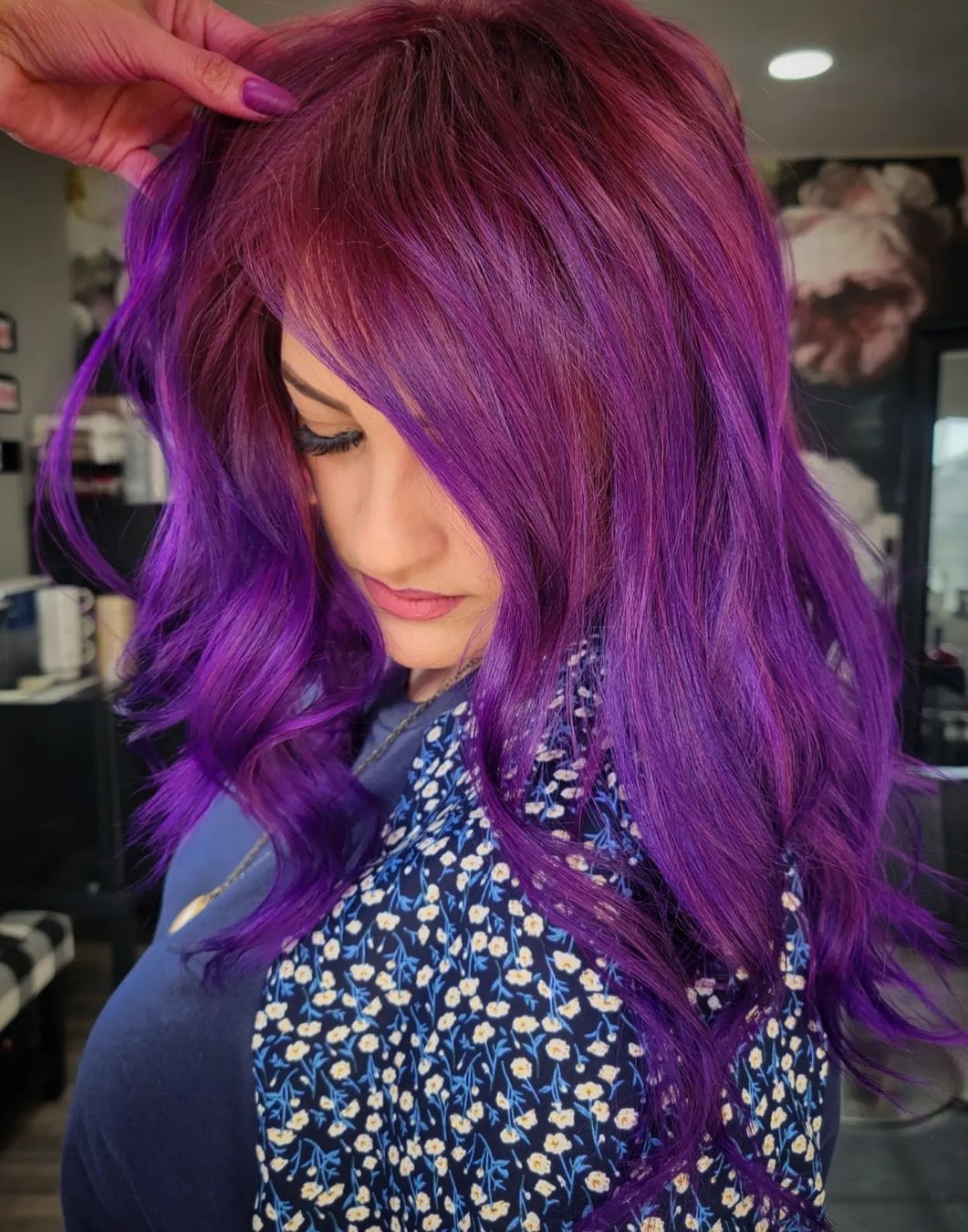 via @scillabeauty_2
A purple ombre style that gives your hair a cute touch and a feminine look. If you have curls, try the rainbow purple shades on your hair for a cascade of waves around you.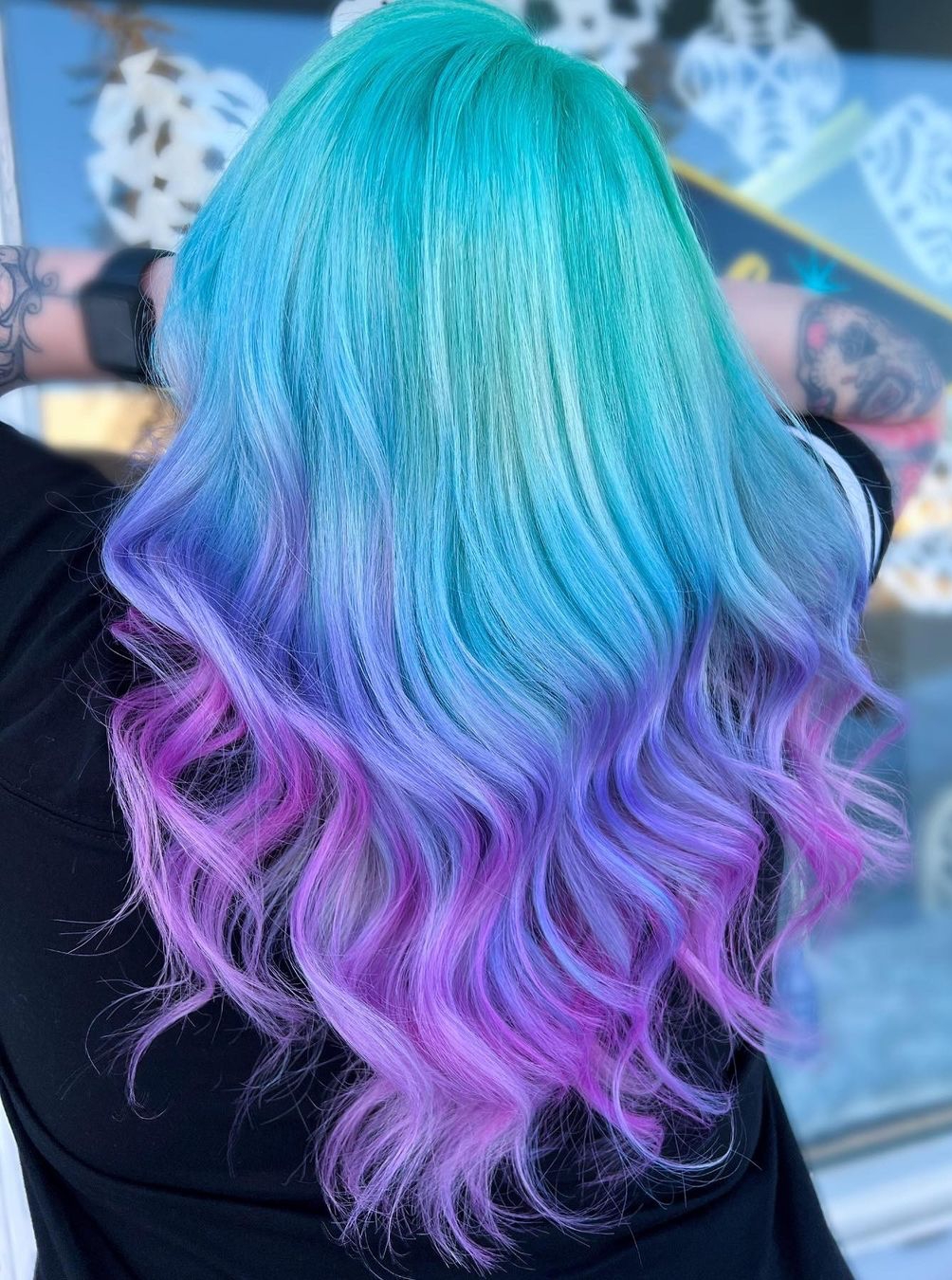 Harmonious Blue and Purple Ombre
Blue and purple highlights sync beautifully, even though both are cold hues. If you have long curly hair with curls falling in a cascade, go for a purple hair ombre.
via @nellieduclos
The colors balance off each other well since they originate at almost the same place on the color wheel. Blue and purple hues on dark brown hair look gorgeous, especially with curls and braids!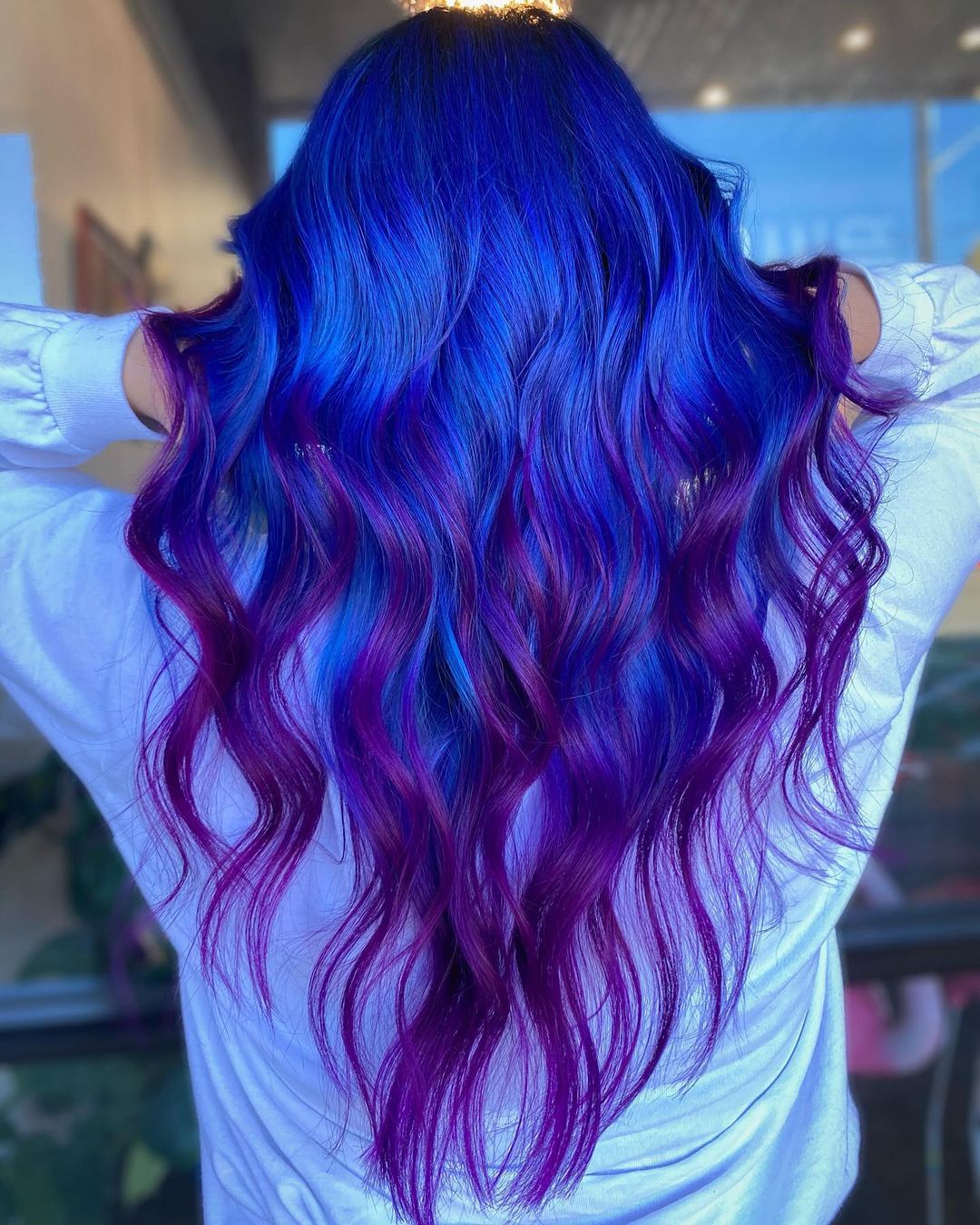 via @shell.vega
Cohesive Pink and Purple Ombre Hair
A pink and purple hair combo can be worked in numerous ways. For example, you can apply purple as an undercolor and let light pink dominate. Or, you can choose a hot pink hair color because purple and pink pair amazingly for rich purple ombre hair.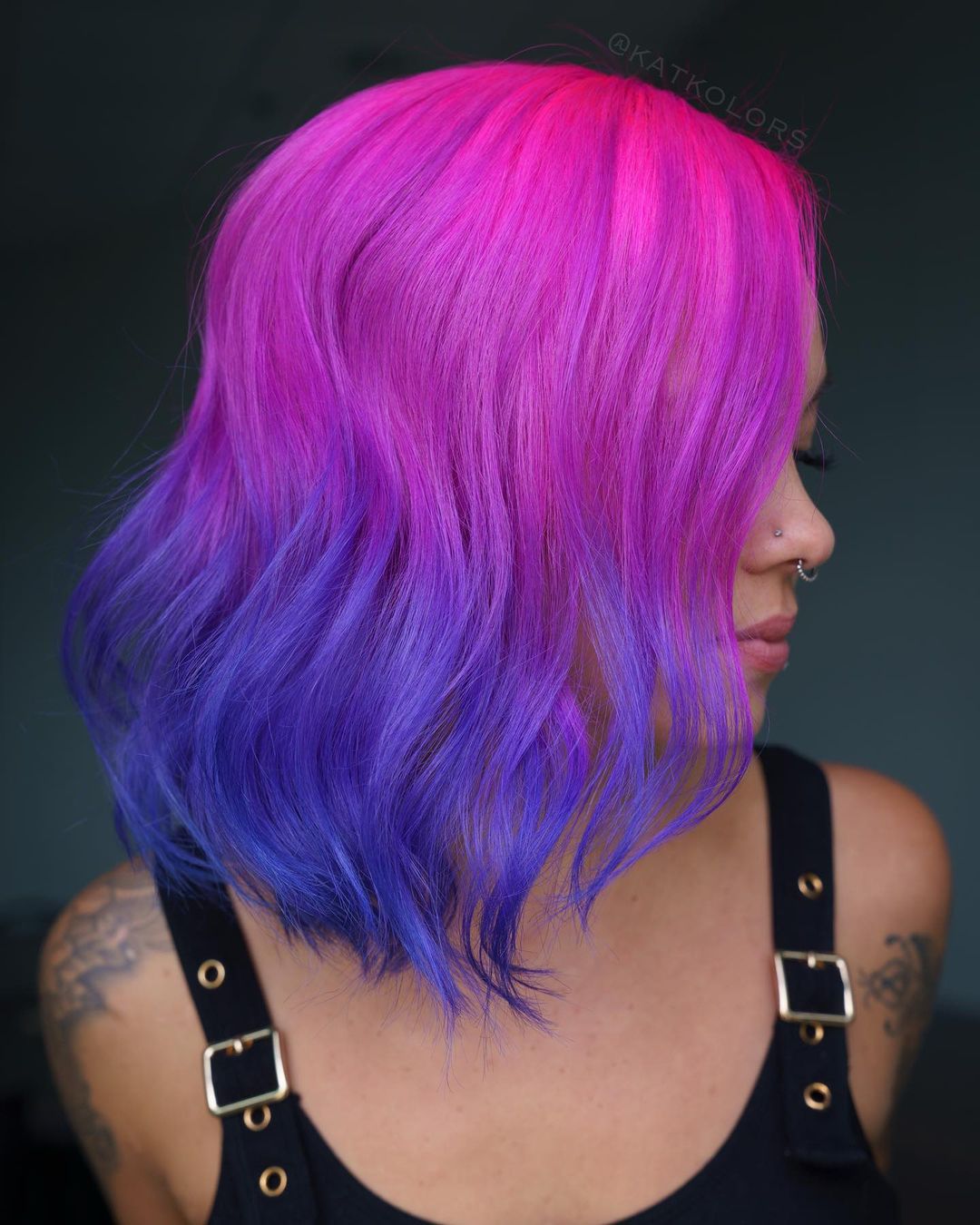 via @katkolors
Pink and purple belong to the same part of the color spectrum, and a balance is created. For straight hair, this combo is the most striking.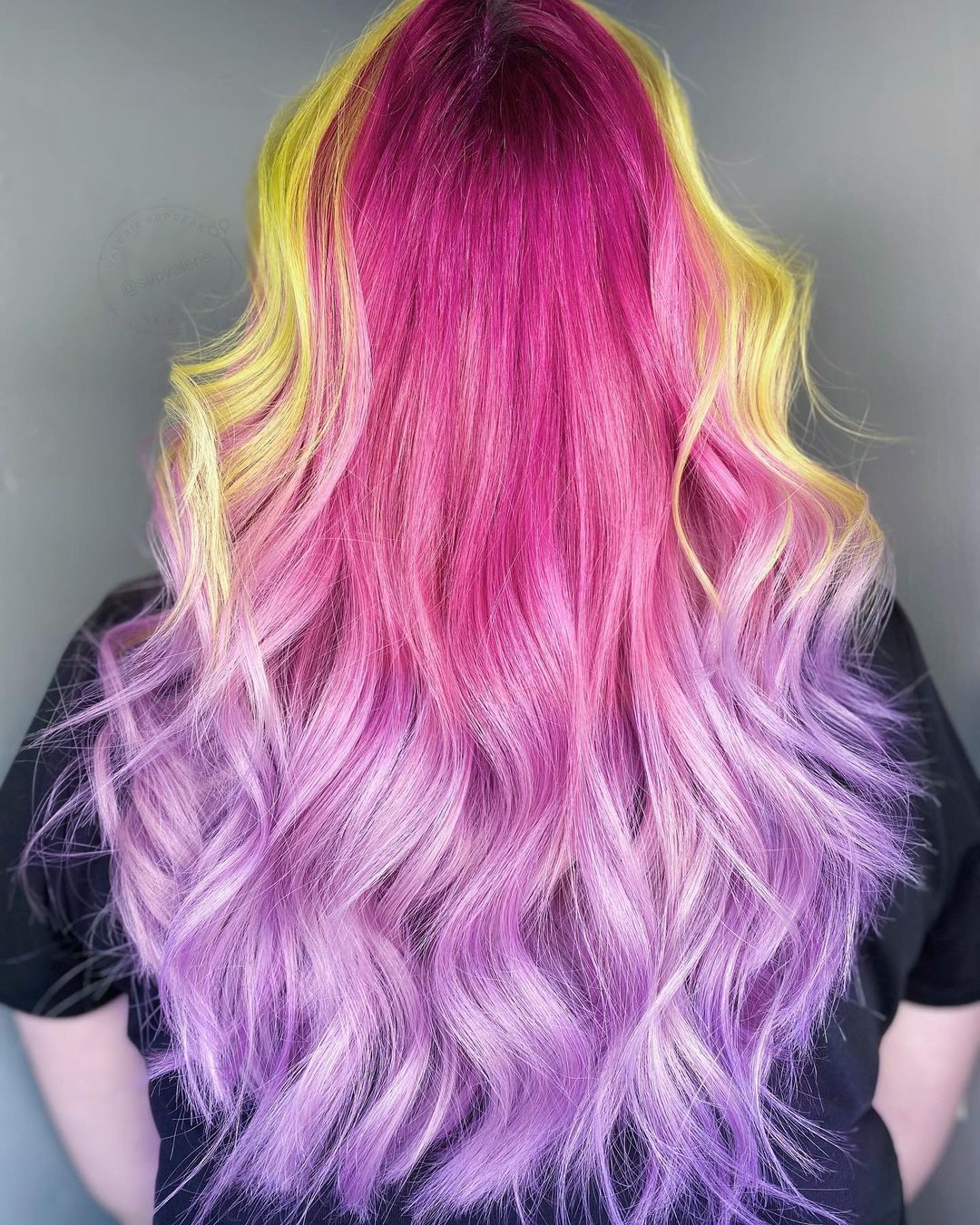 via @supvalerie
Subdued Pastel Ombre Hair
A pastel ombre with a lavender tint comes with a soft look; pastel pink and lilac should be your go-to colors. This style is suitable for a purple pixie cut as the color play help highlight your small locks. Pastel shades with light purple hues look best when applied in feathered layers.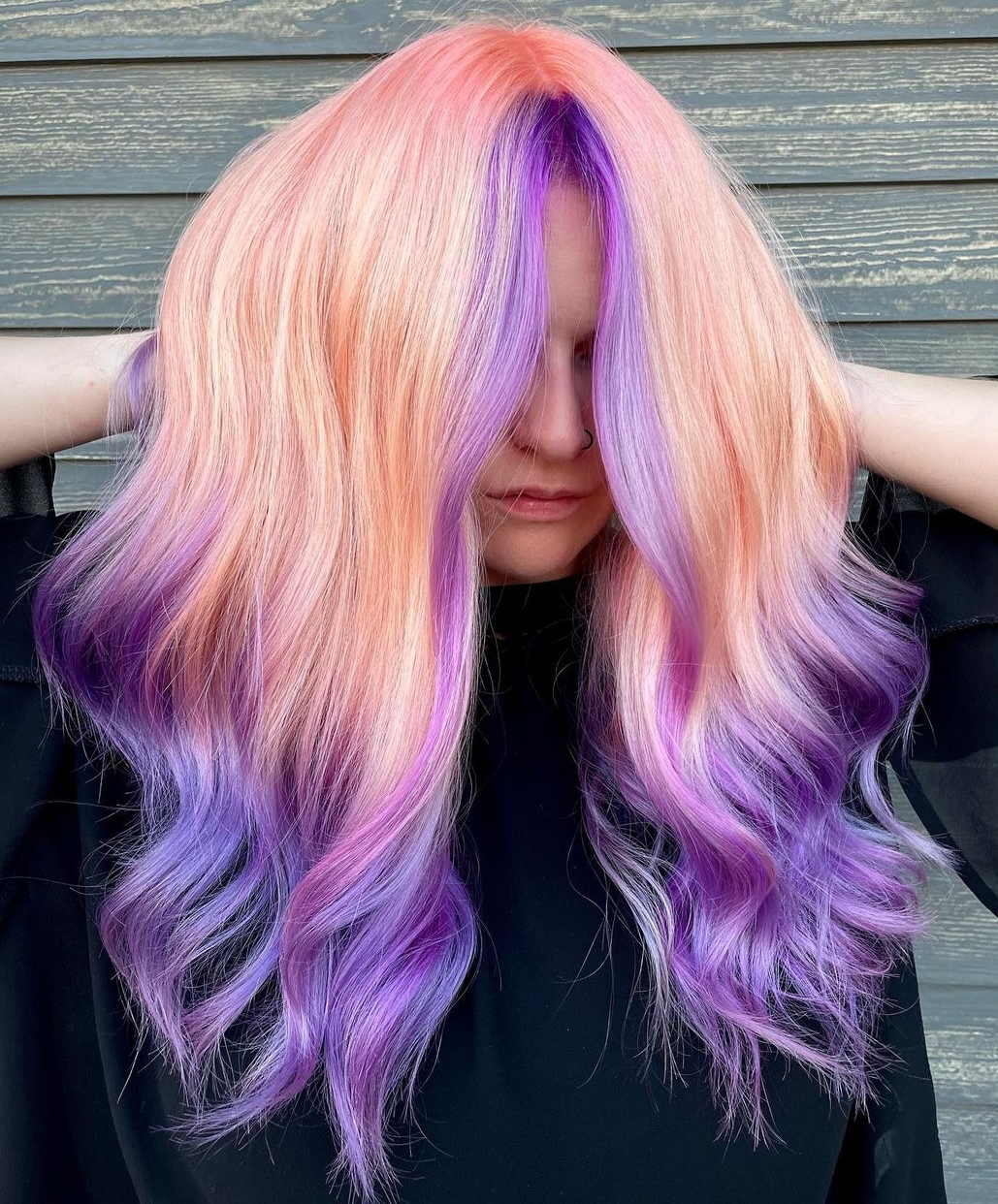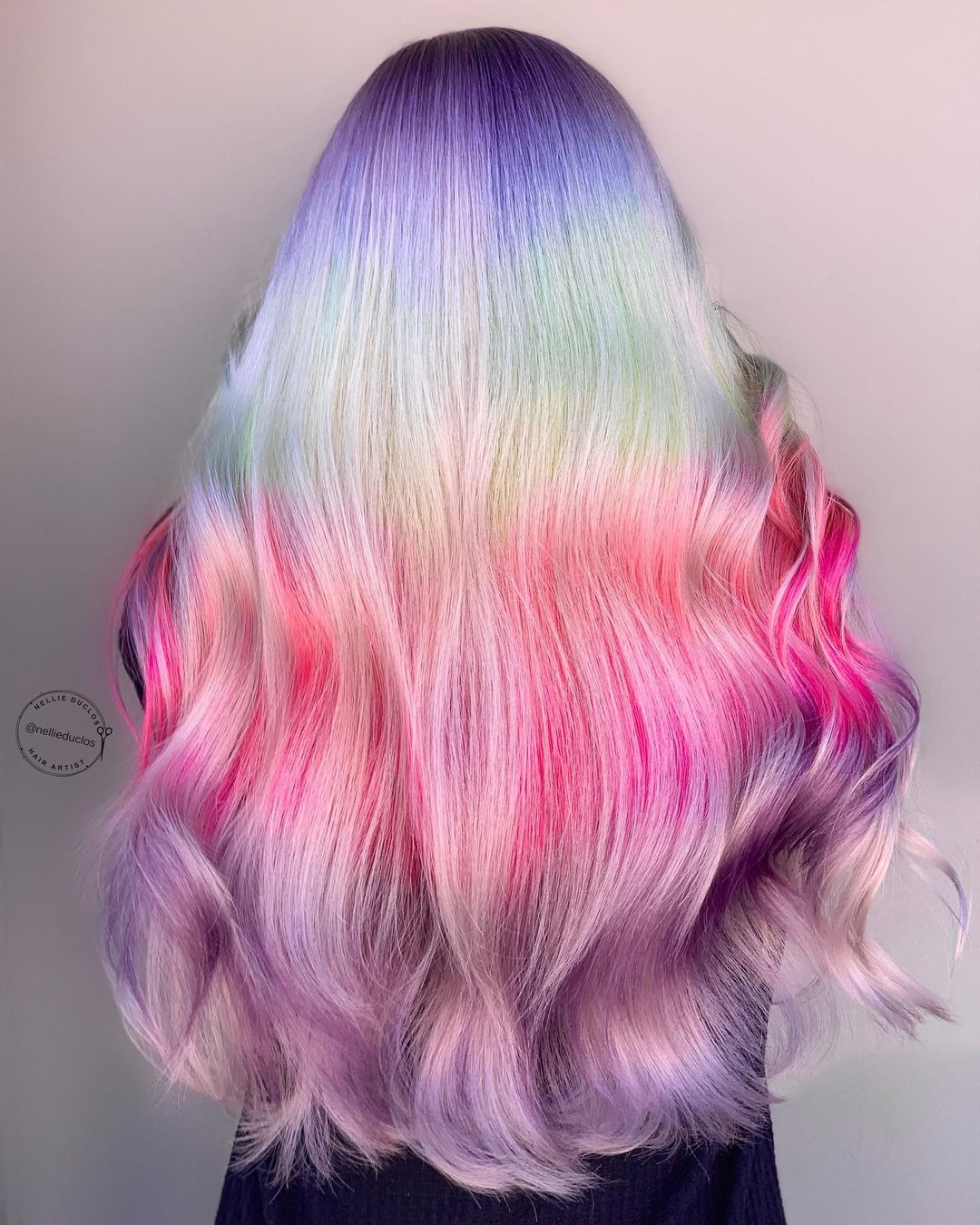 via @nellieduclos
Funky Purple Ombre on Platinum Blonde Hair
Platinum blonde and purple hues on long hair are another style worth trying. It's pure fun, as your natural curls look fabulous. You can try the indigo lavender color at the ends of your bob cut for an impressive transformation. Your platinum blonde colored hair with light purple ombre never stops making the statement look you aspire to get.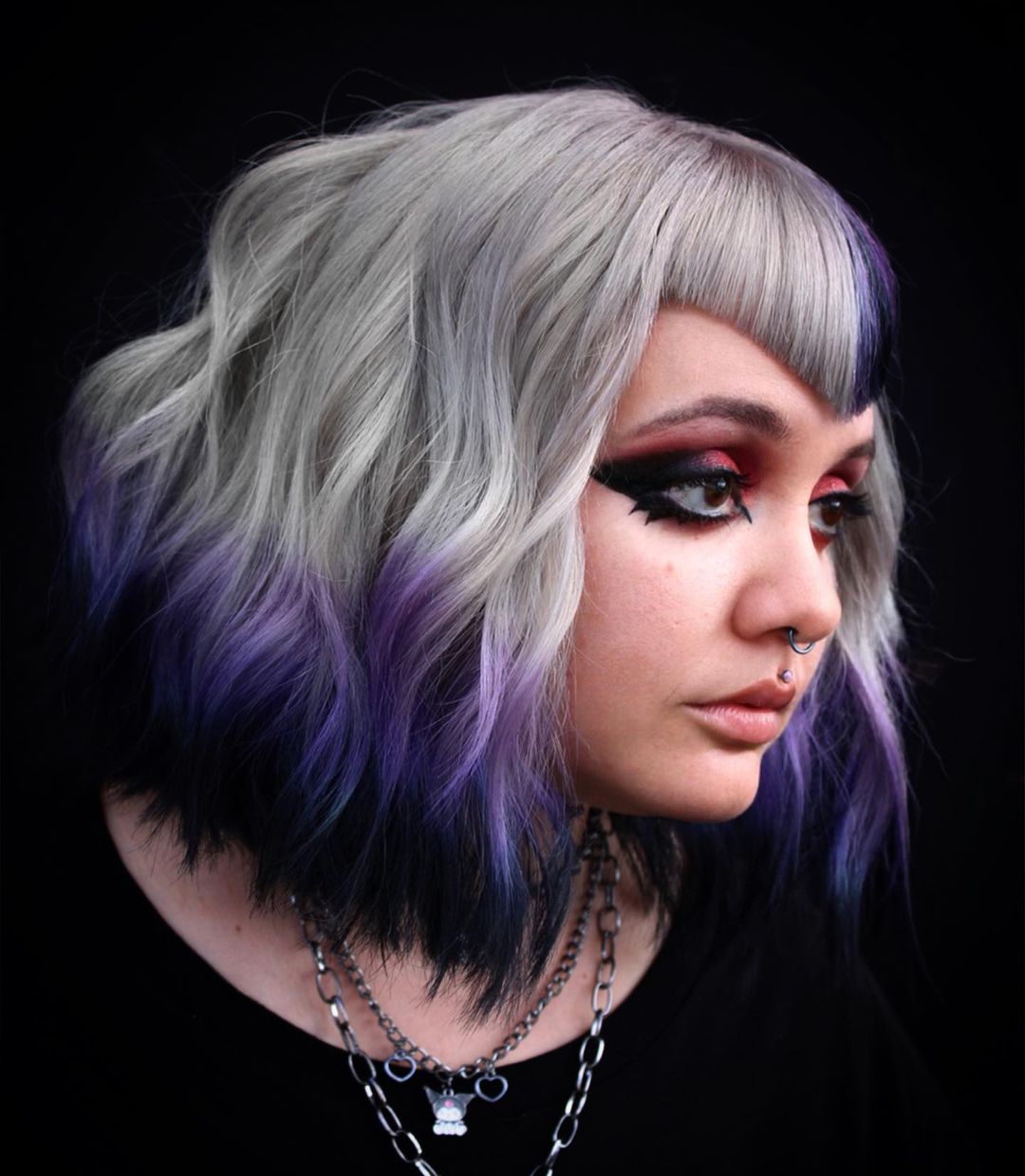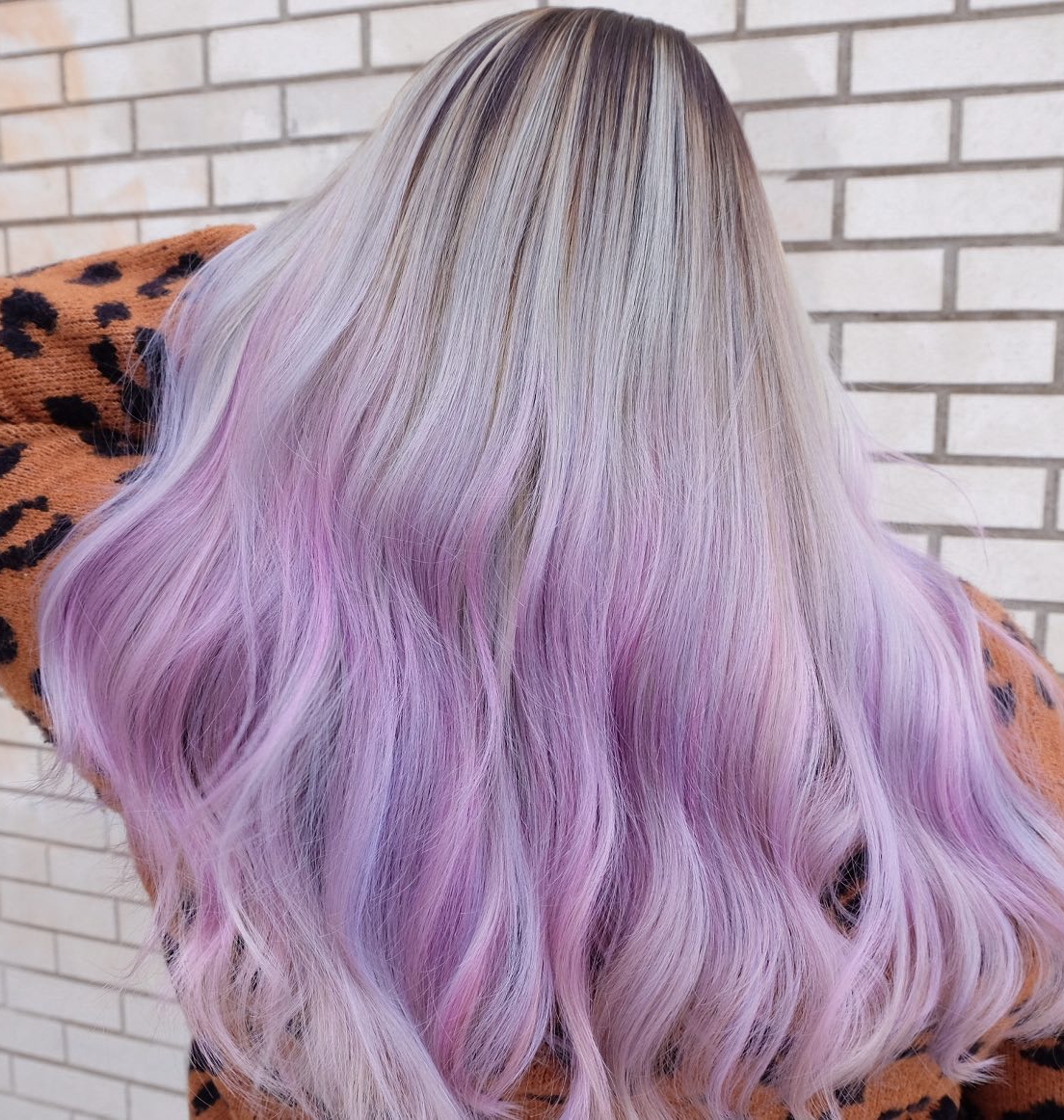 via @kayla.blkhrt
Tone-Down With Lilac Ombre
Lilac pixie ombre can be recreated by your hair colorist to display a range of shades from brighter blue to lavender.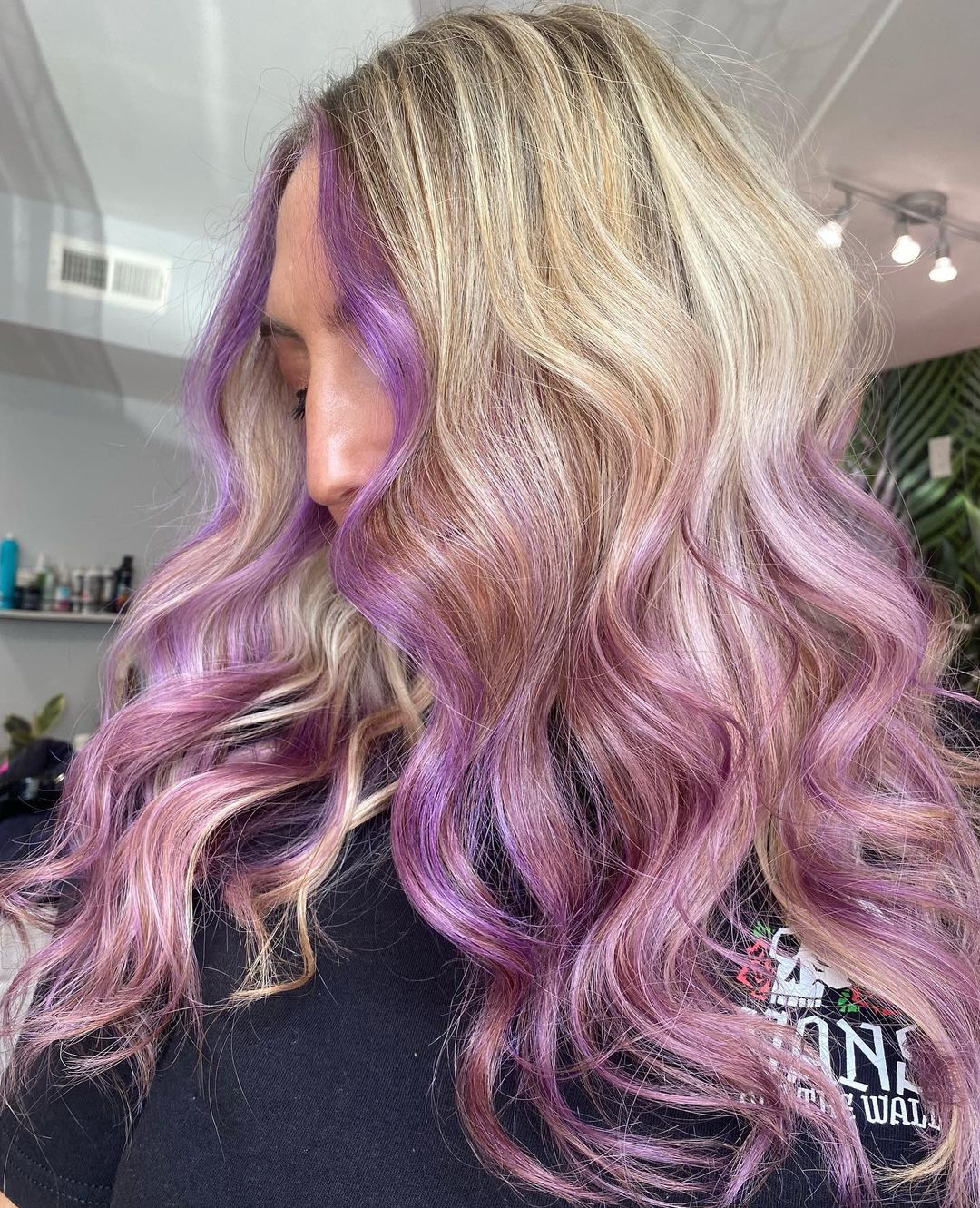 via @vanity_byrose
Naturally, your side bangs get special attention. Light purple hues work as subtle highlights for longer tresses with soft curls. Finally, you can wear an intricate braid in purple ombre on platinum-blonde hair for an aesthetic look.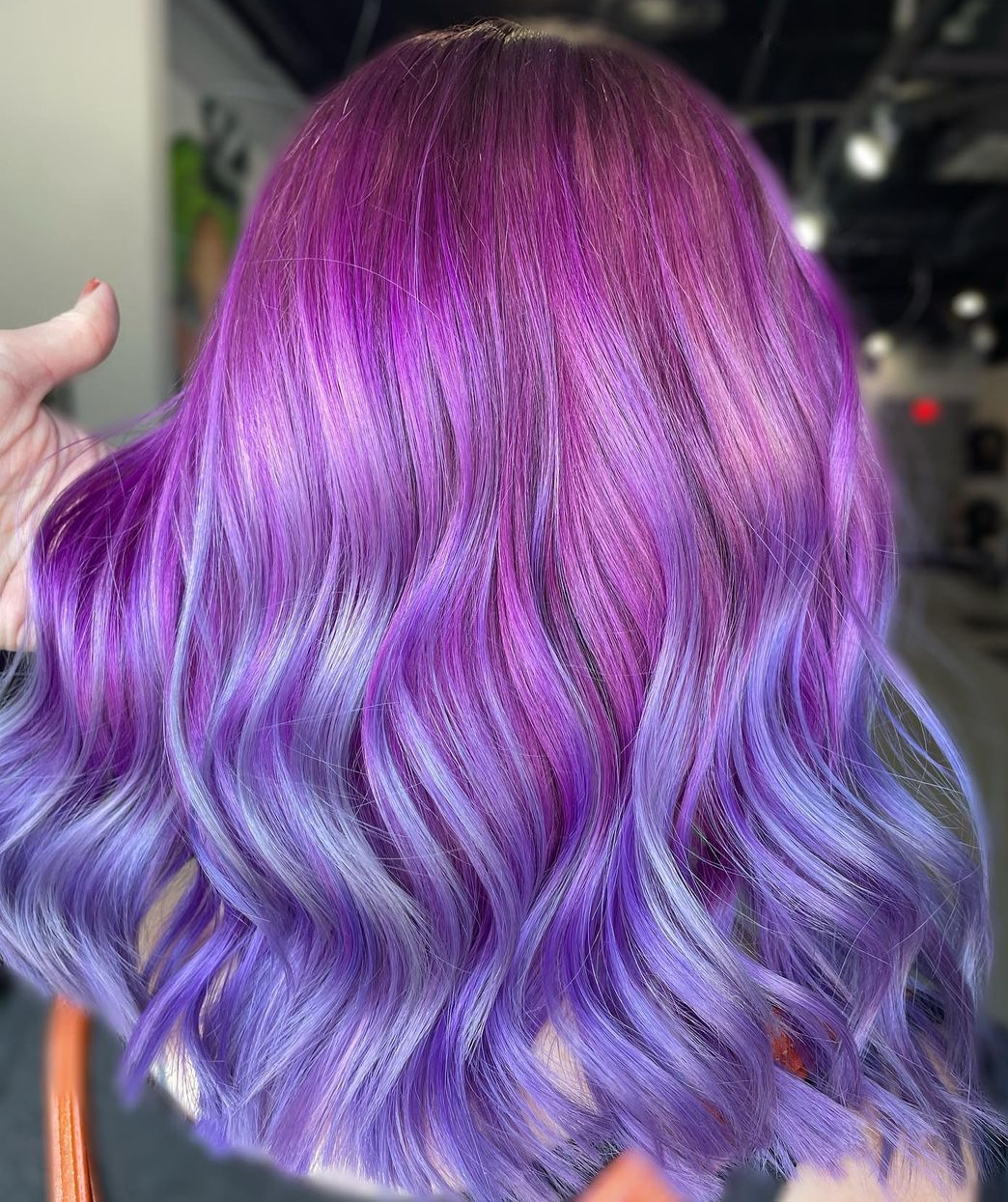 Experiment With Blue Violet Ombre Hair
Blue and violet are colors that work well together to give a jazzy appearance to your mane. For shoulder-length hair, try the blue-violet combo with purple tips.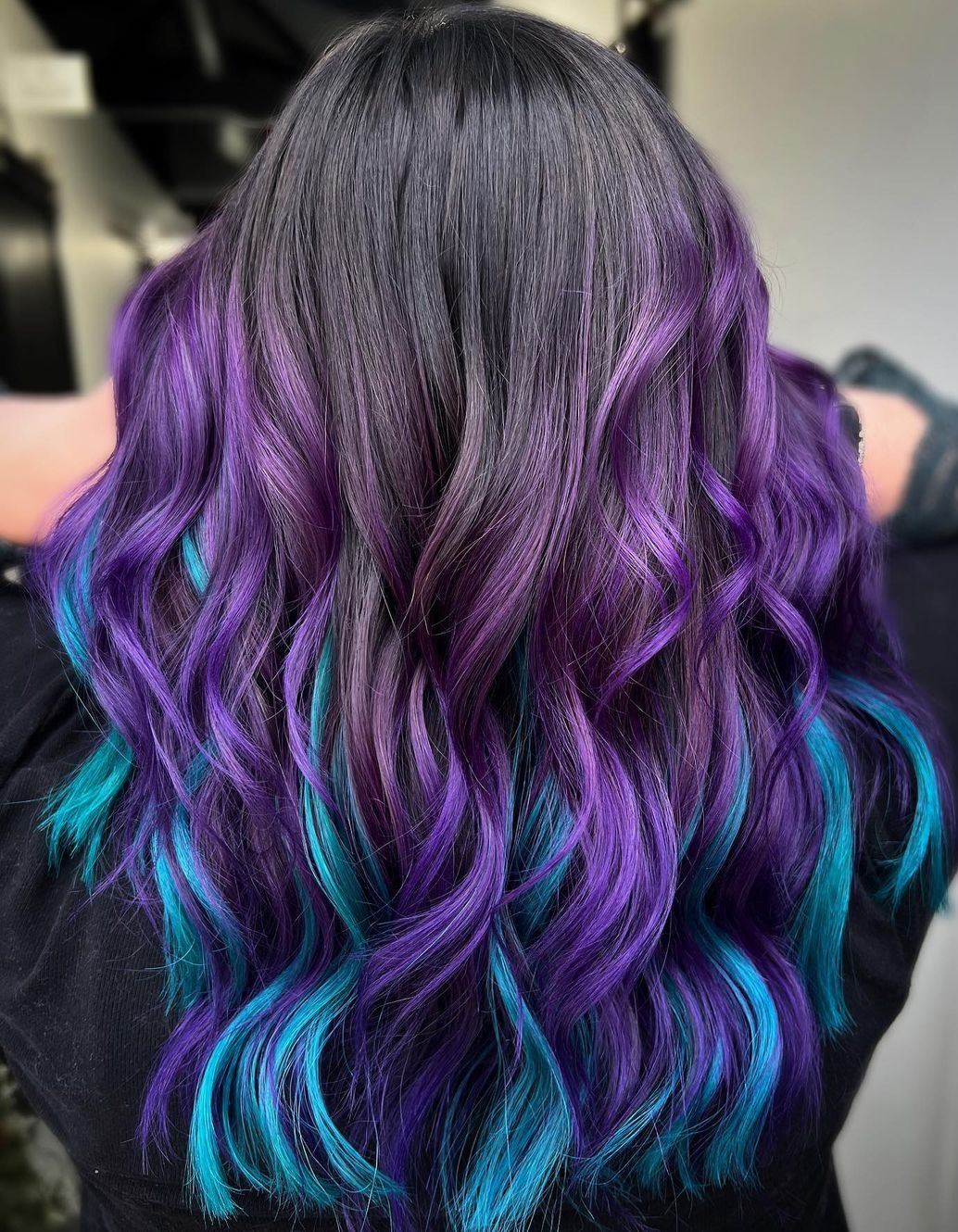 Opt for the blue and violet color transition to experiment with more than one shade when in the mood. For example, blue and violet hues can be electrifying for a natural shade of chocolate brown mane.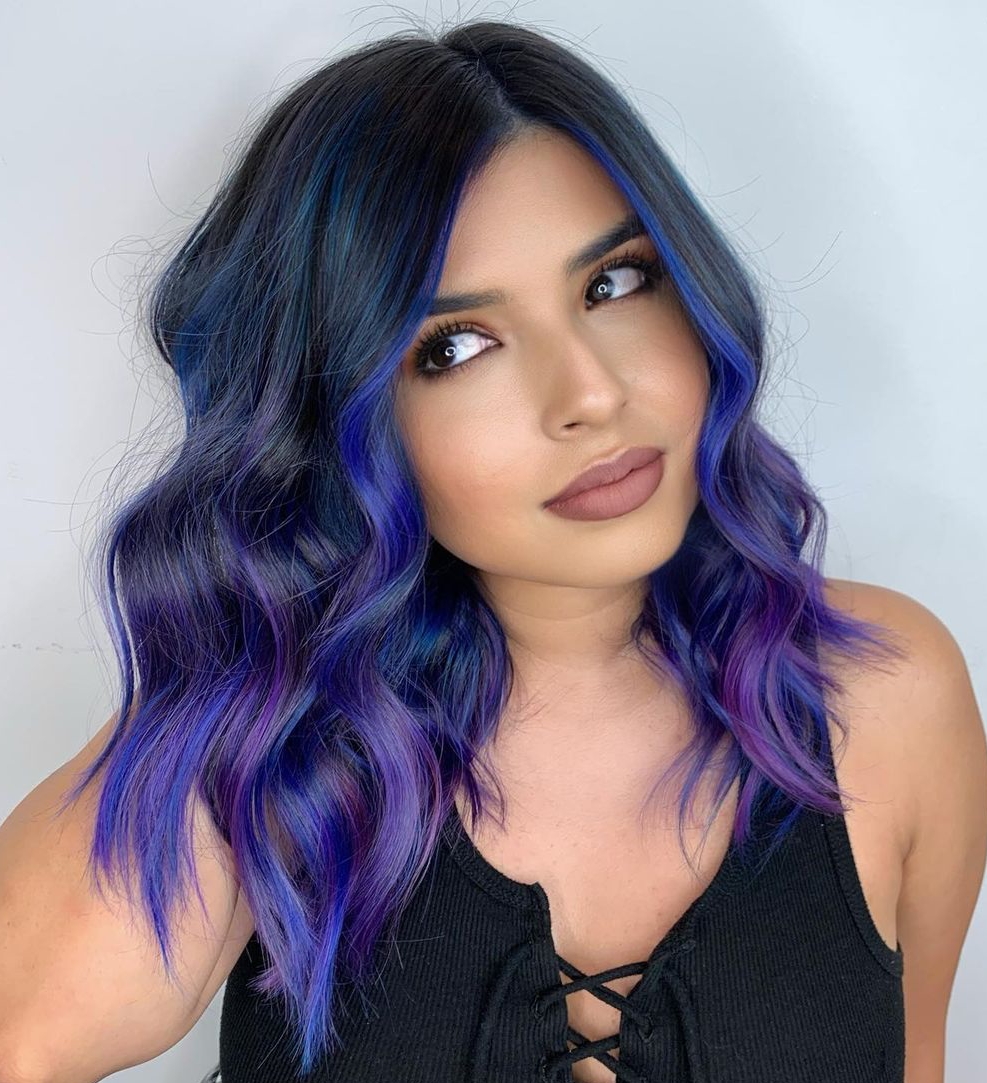 via @paintitblonde
Classical Dark Purple Ombre Hair
Use deep purple to create a cascading look when you have long dark hair. The chunky waves come to life with purple streaks. Not just black, if you have dark brown natural hair, deep tones of purple can do wonders, even if this is one of the classical ombre styles. The color should be on a few strands, closer to the hair ends.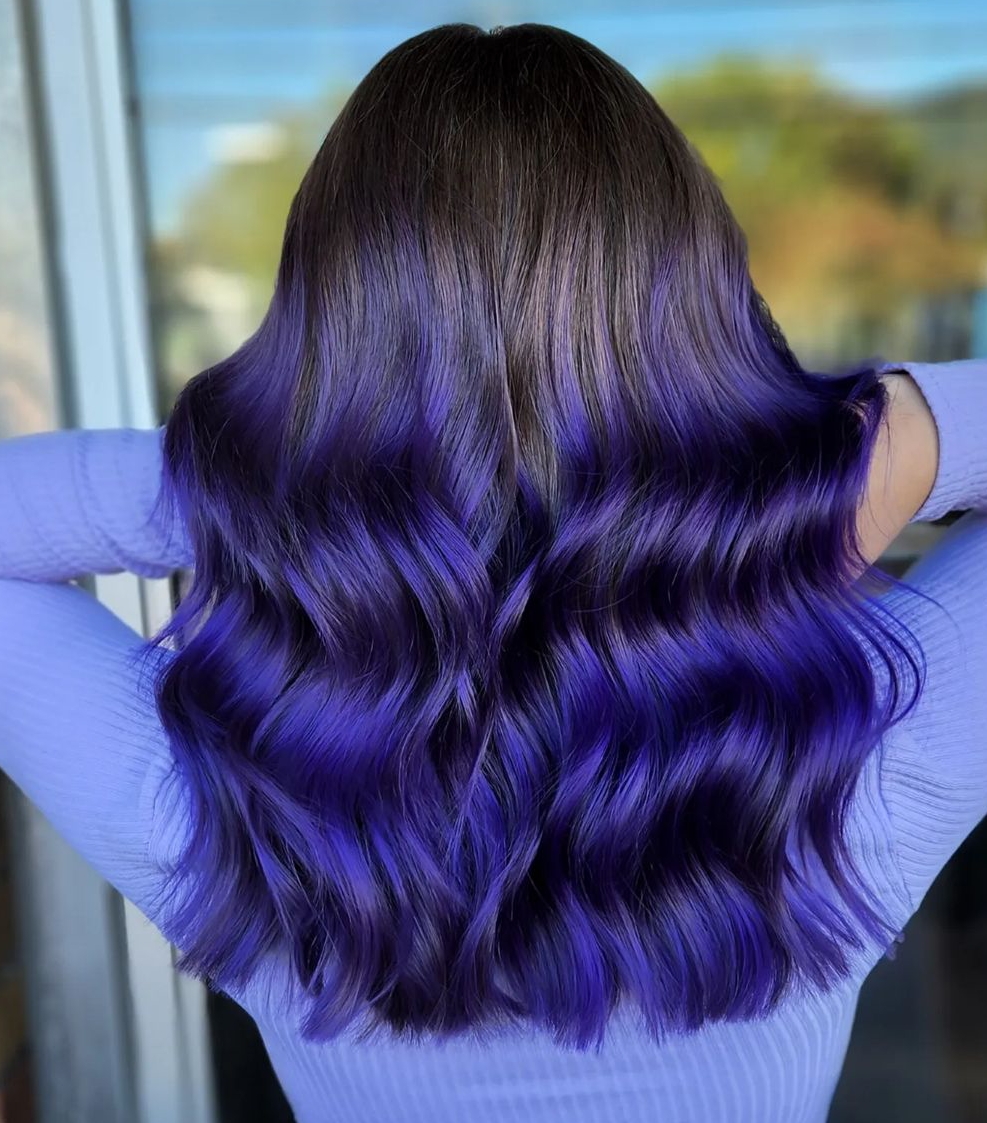 via @joanieboheme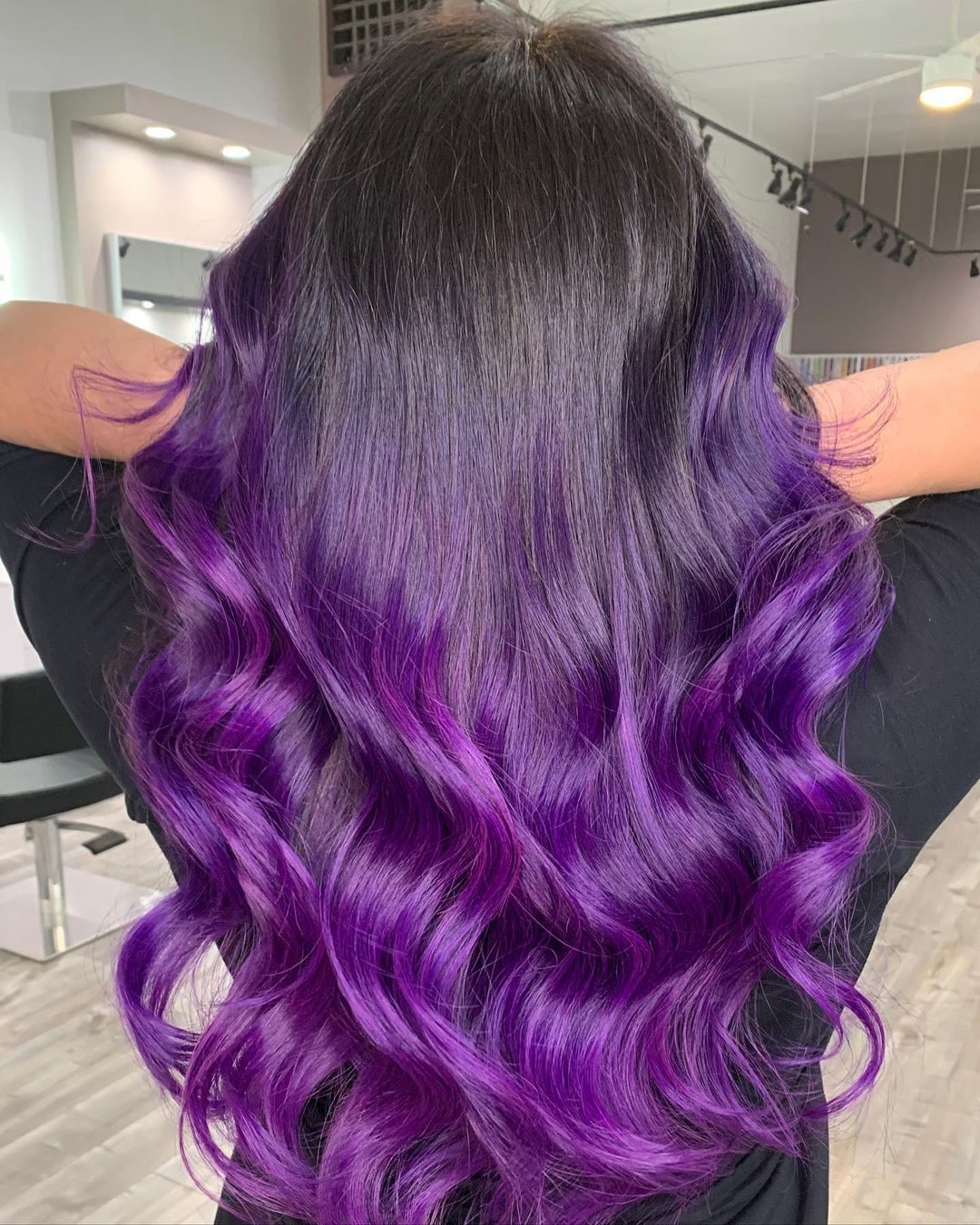 via @hairbykellan
Graceful Ash Purple Ombre Hair
Ash blonde hair color with a purplish tint has a delicate look and feel. Purple hues on dirty blonde or ash-gray hair are a brilliant way of getting a unique look. This ombre idea should be your first choice if you have a warm face tone. The touch of purple makes the monochrome shade vibrant and spruced up.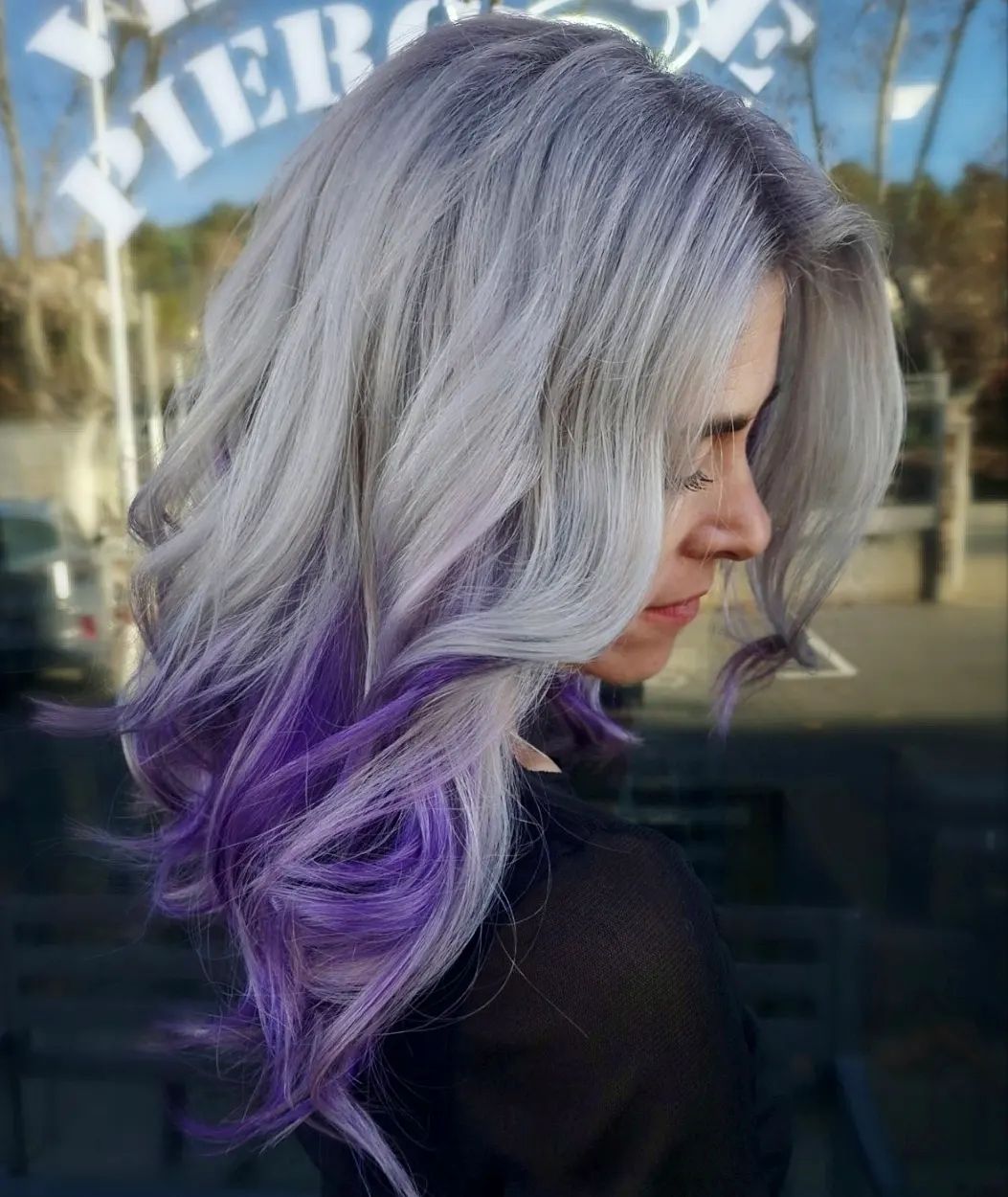 via @psyhair_studio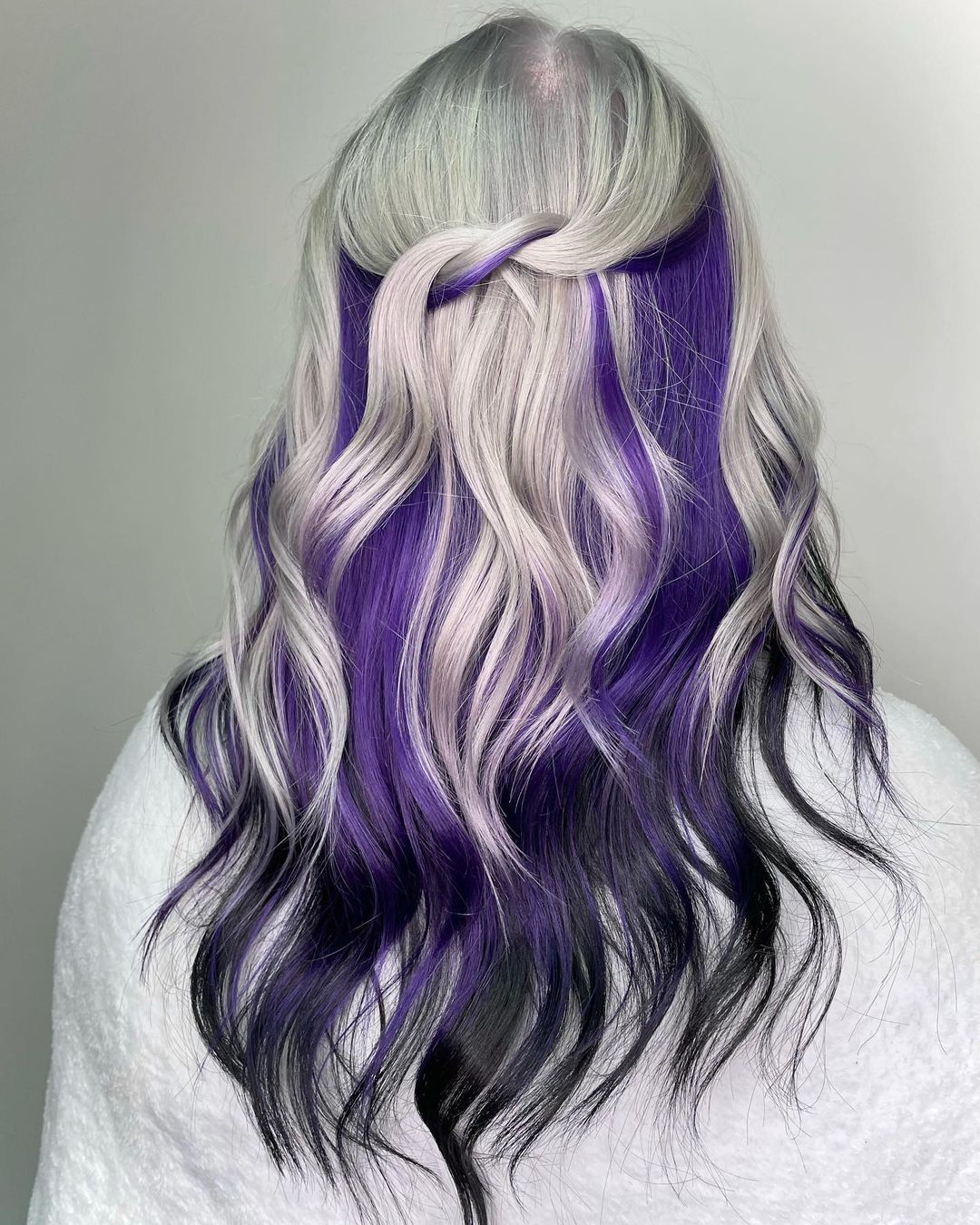 via @meganrosecolors
Spirited Light Brown to Light Purple
This ombre technique is advised for women with blonde and light brown hair. With a purple dye, your colorist can create a range of looks.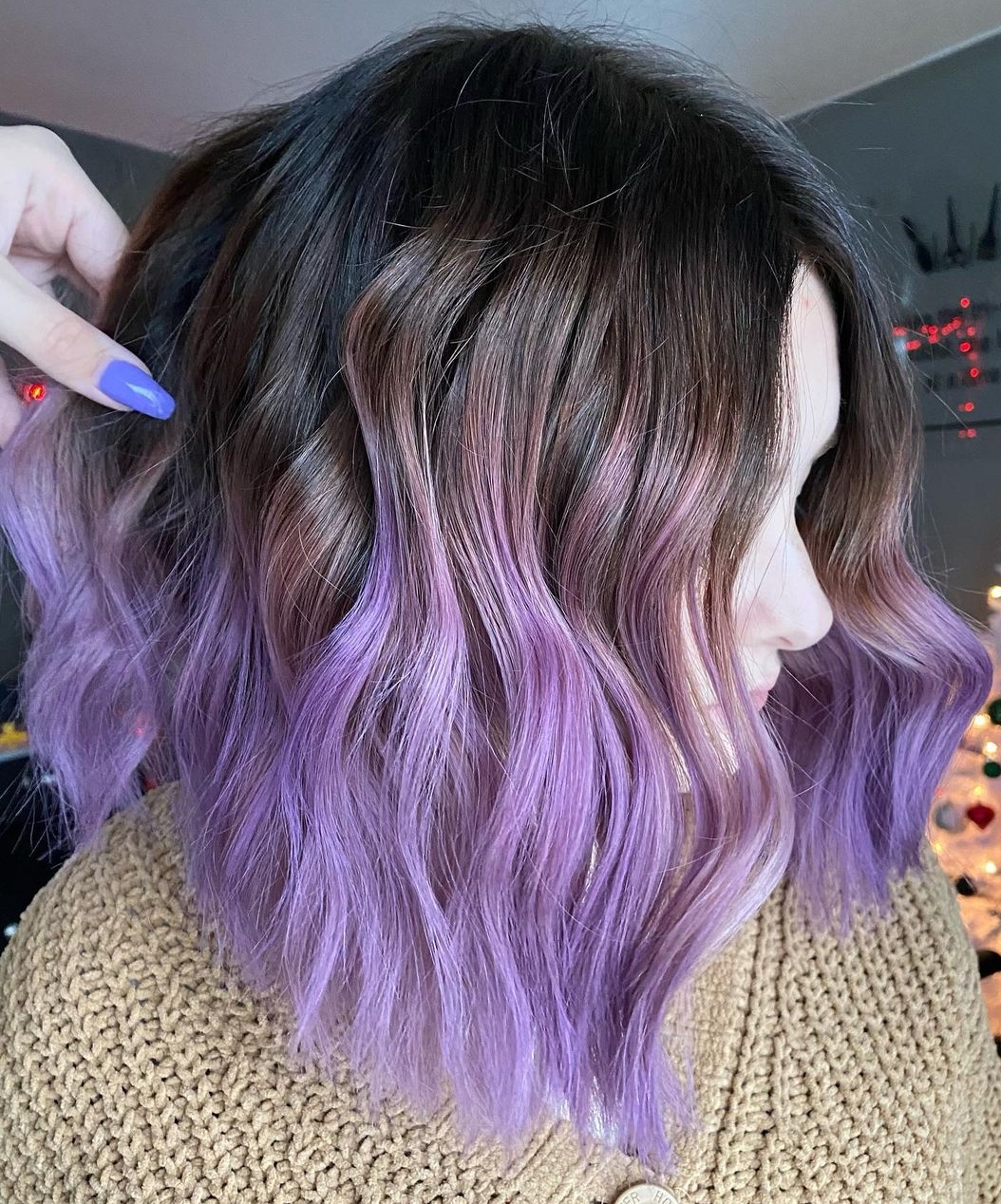 via @ha1r.by.tay
A darker shade of purple creates an exciting look, while a mellowed purple shade creates a refined look. Women with a fair skin tone and brown hair must try this ombre style.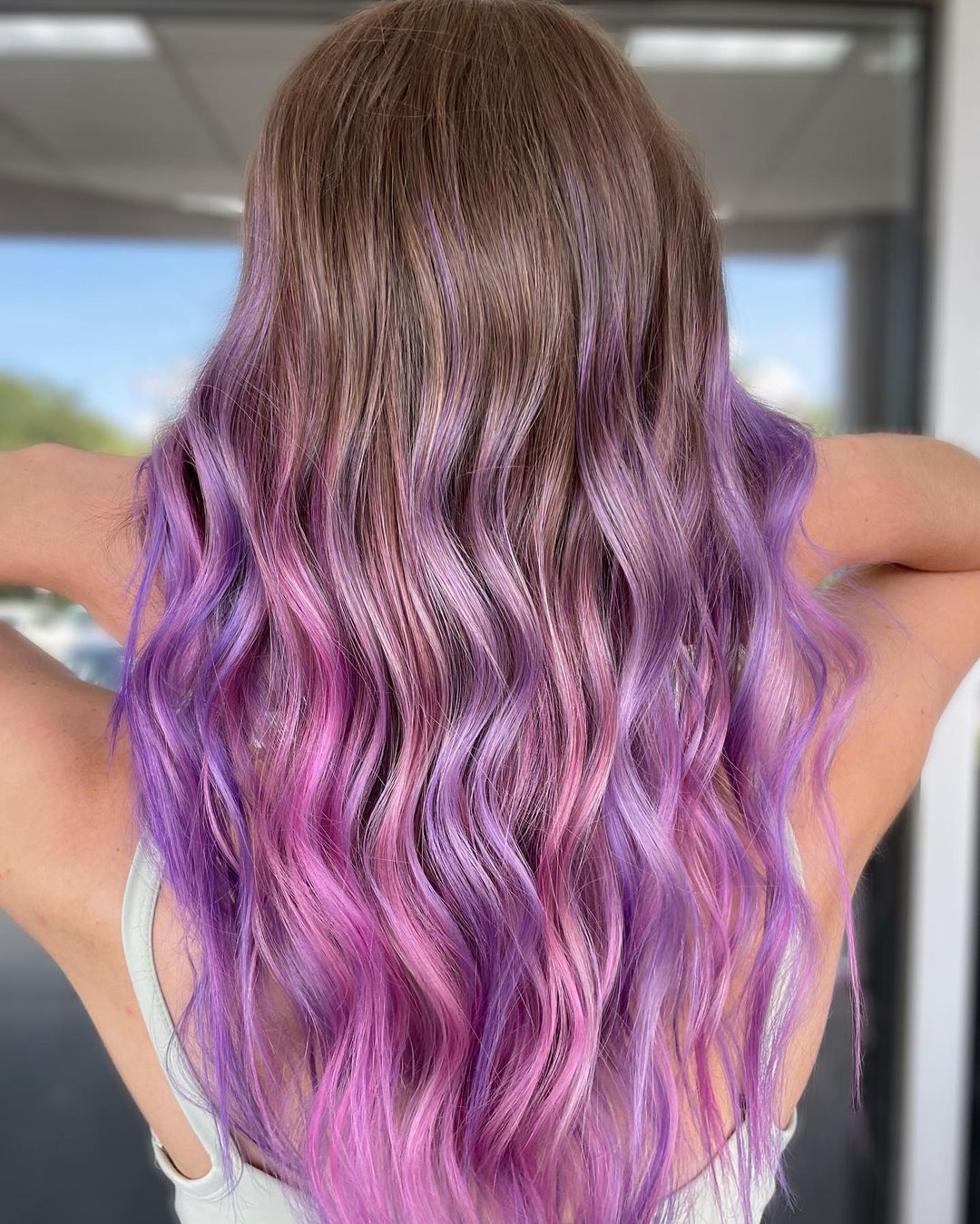 via @jesswoodhair
Glowing Burgundy Ombre Hair
Go simple or embrace a bold look with a deep purple dye, burgundy ombre hair is a hot trend that you must try this year.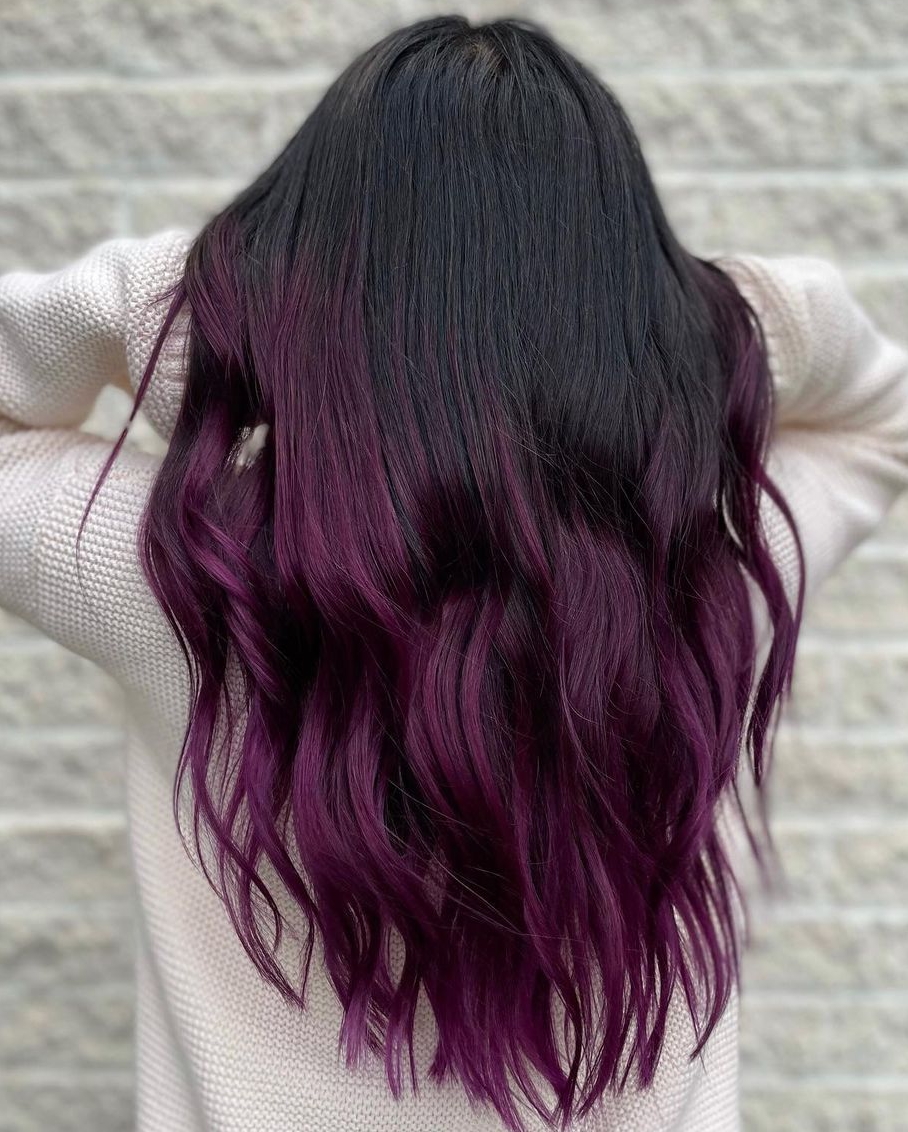 via @manes.by.meadow
A brunette with chocolate brown hair can try this visually appealing style that energizes the hair strands. Purple as dark red hair highlights dazzle up as both are warm tones.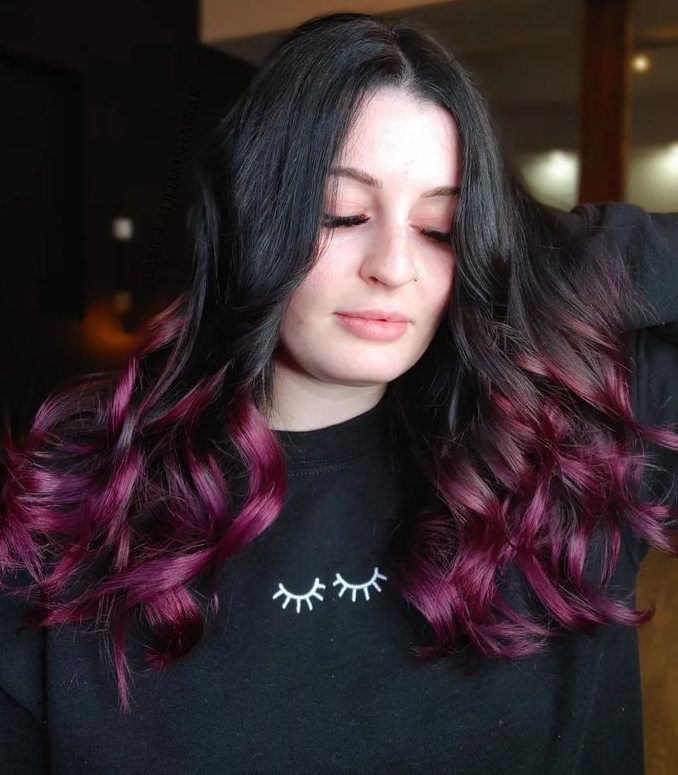 Plum Ombre Hair for a Vivid Outlook
Another ombre idea for dark hair is the purple and plum style. Plum and purple are warm tones and work hand-in-hand to give your hair a vivid array of colors. The purple hair ombre eloquently highlights the reddish tints of your plum-red hair. Get bold with the plum-blue ombre effect!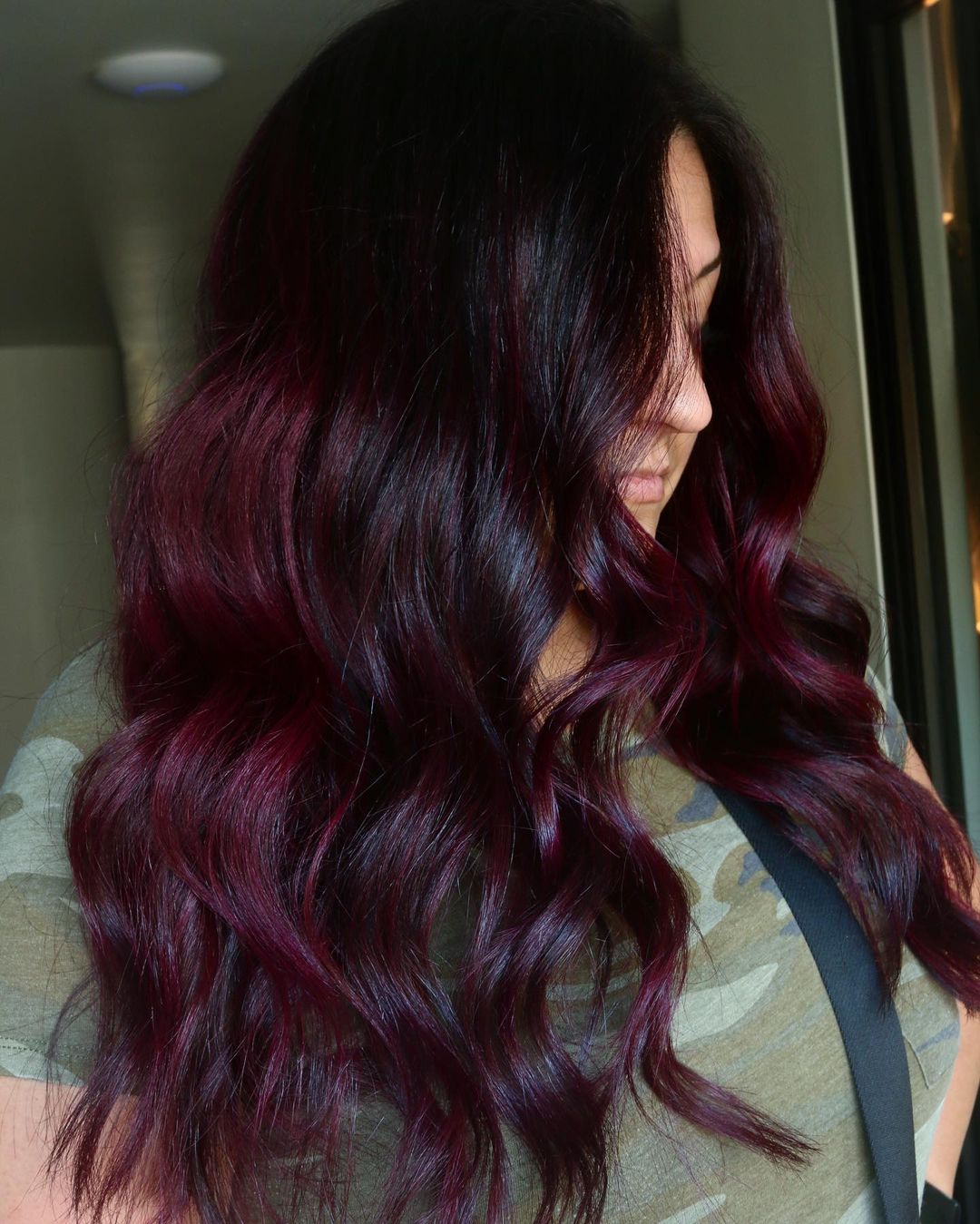 via @makeupbyfrances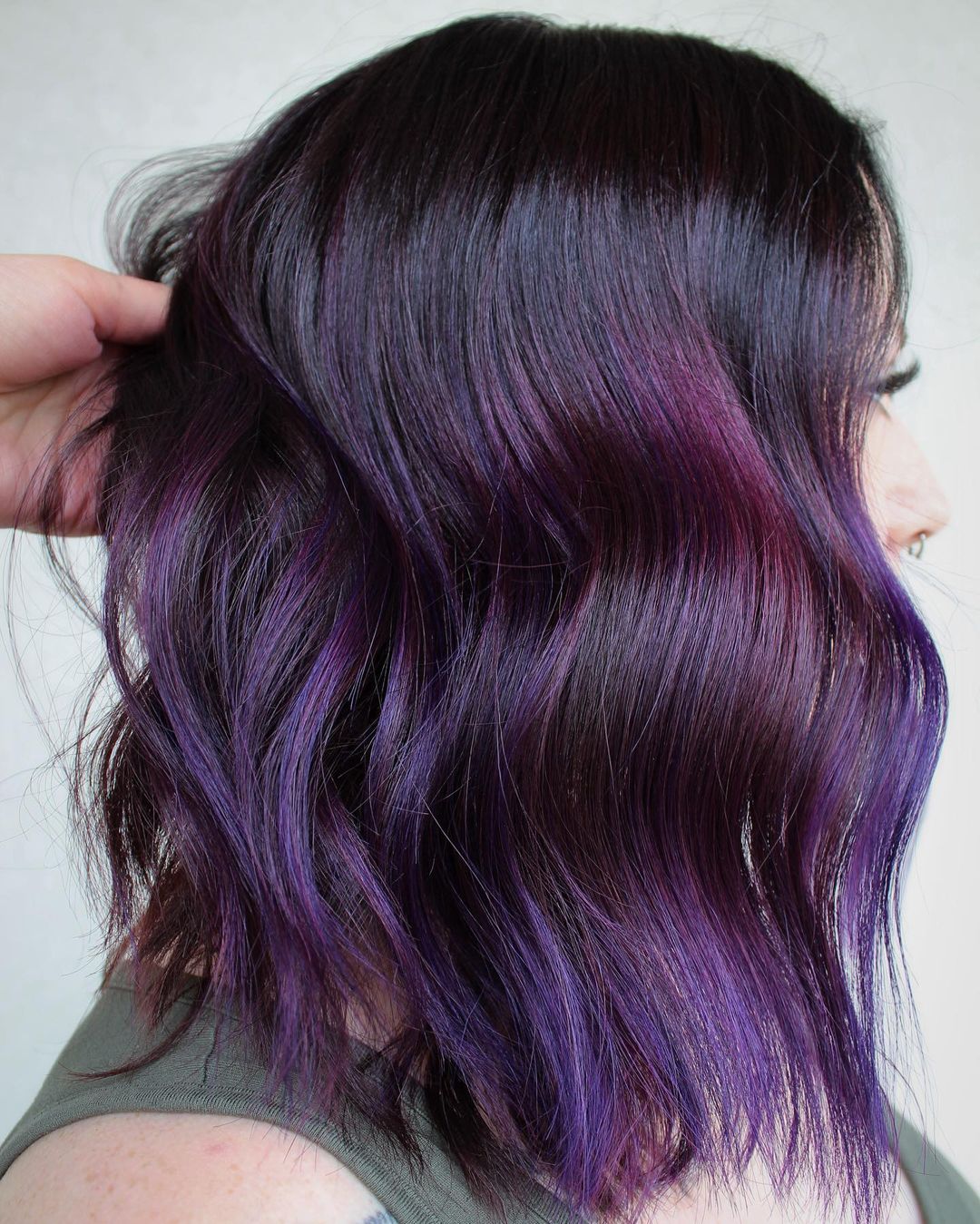 via @serene7salon
A Different Approach: Metallic Purple Ombre
For your black hair, the metallic violet ombre looks fantastic. The appeal is highlighted in longer tresses. If you have shorter hair, try the lavender pixie ombre look for a surprise.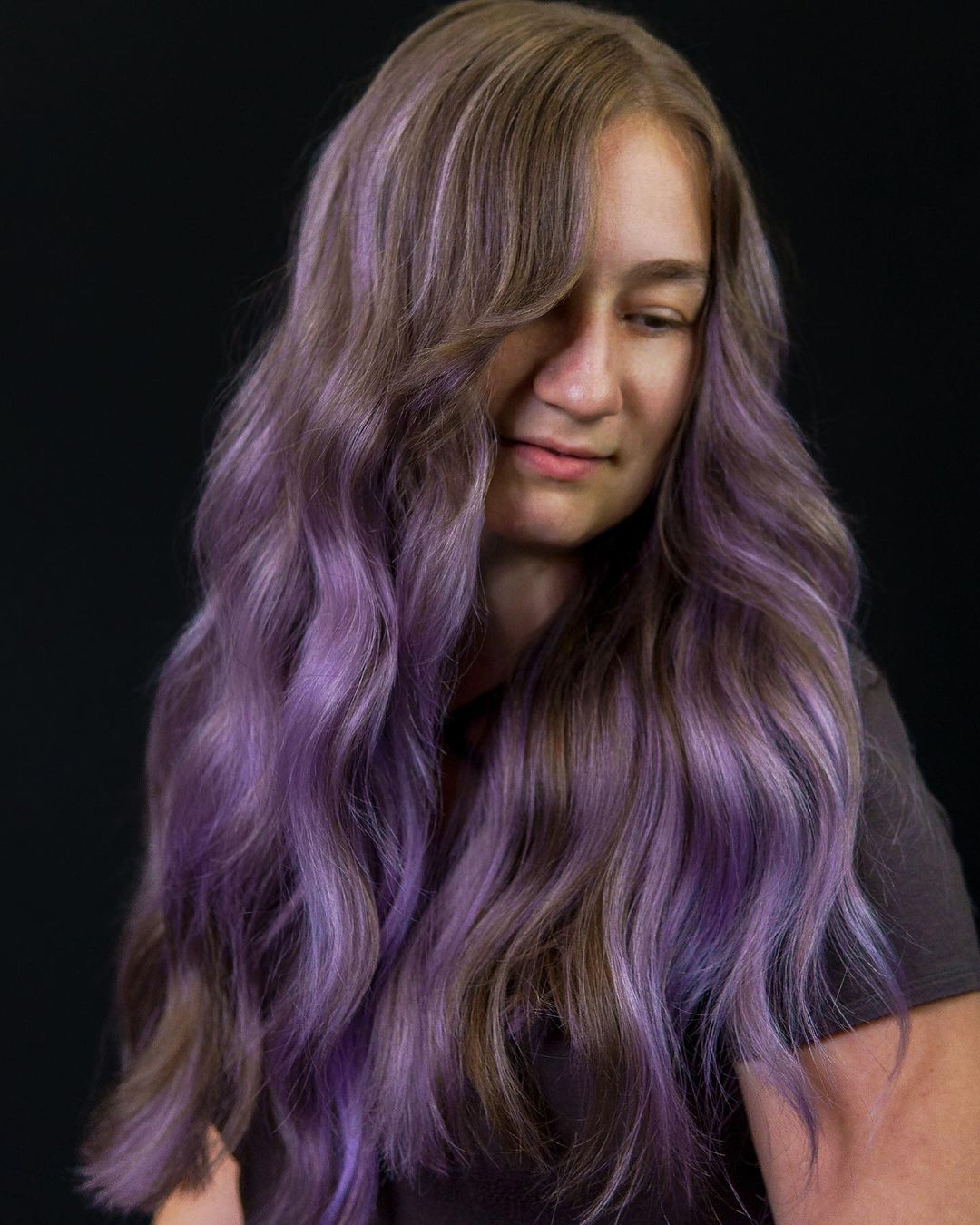 You can mix metallic purple shades and pastel colors for your brunette tresses. The long purple locks with darker roots complement one another blissfully.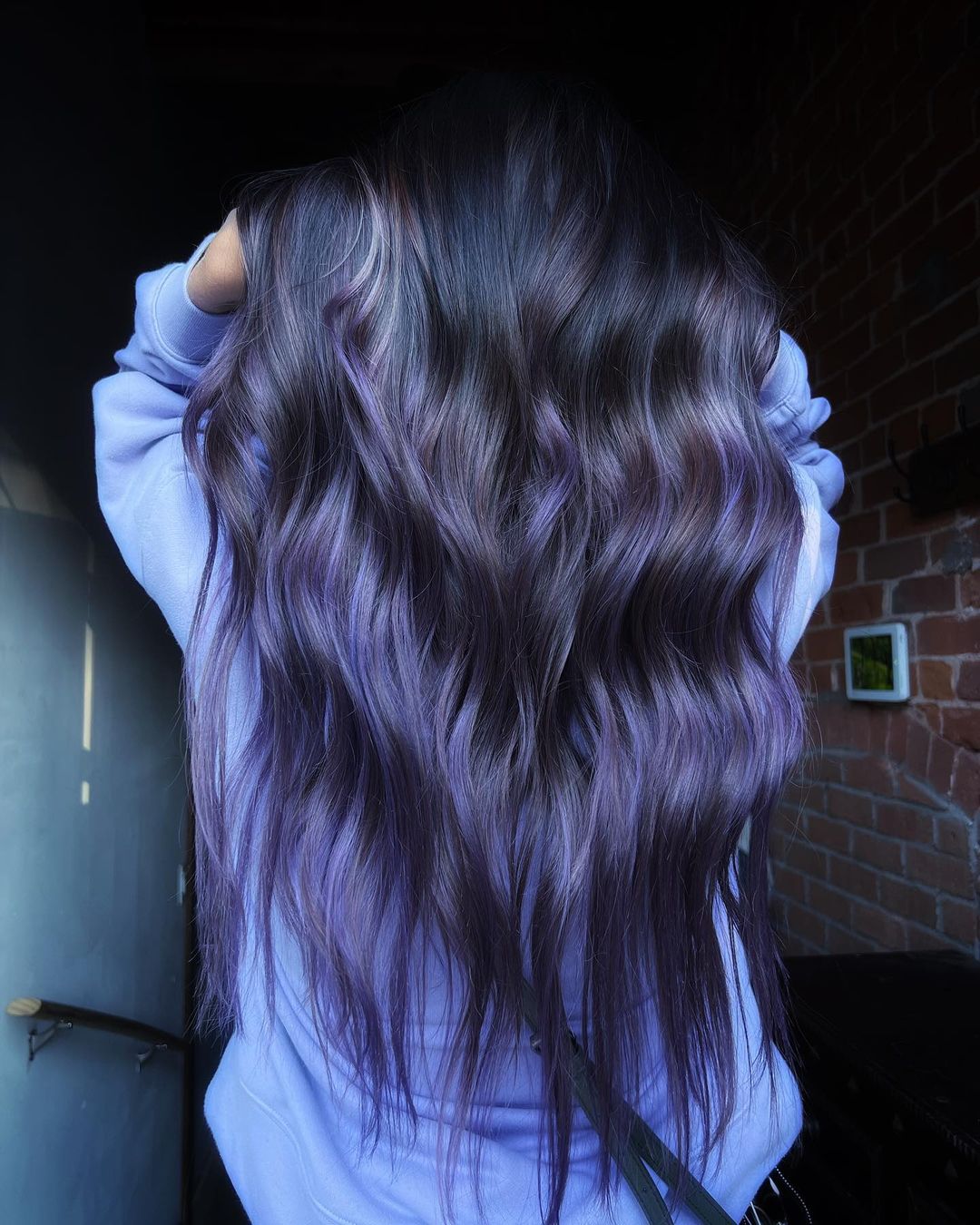 via @dakotajameshair
Breathtaking Green and Purple Ombre Hair
Green and purple hair create a rainbow effect as there is a depth with green and purple side-by-side.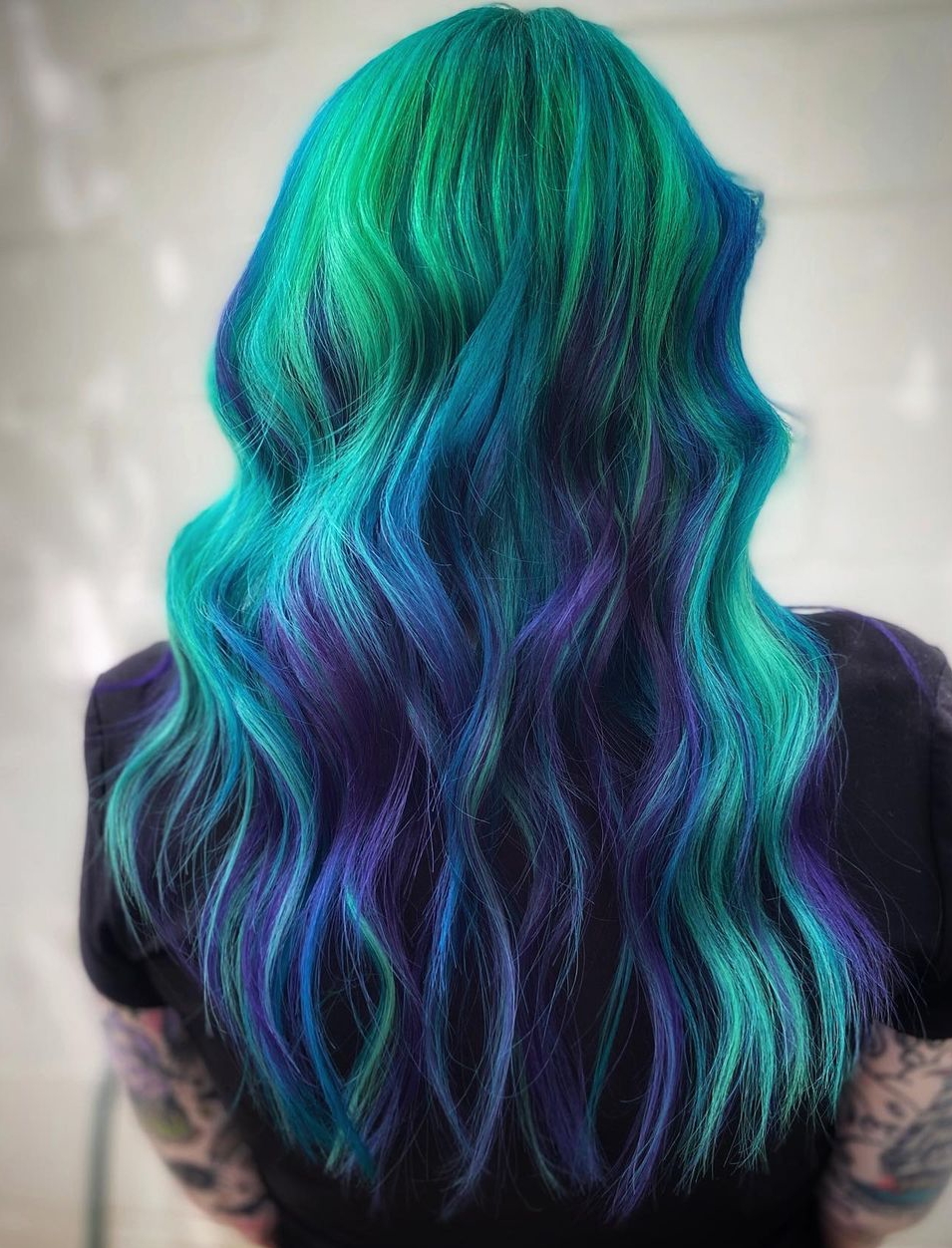 Go for more colors with blues and oranges and your neon green, dark roots to purple ombre strands. A hairstyle with the ombre effect of purple and green shades looks good on short or long, dark, and blonde hair.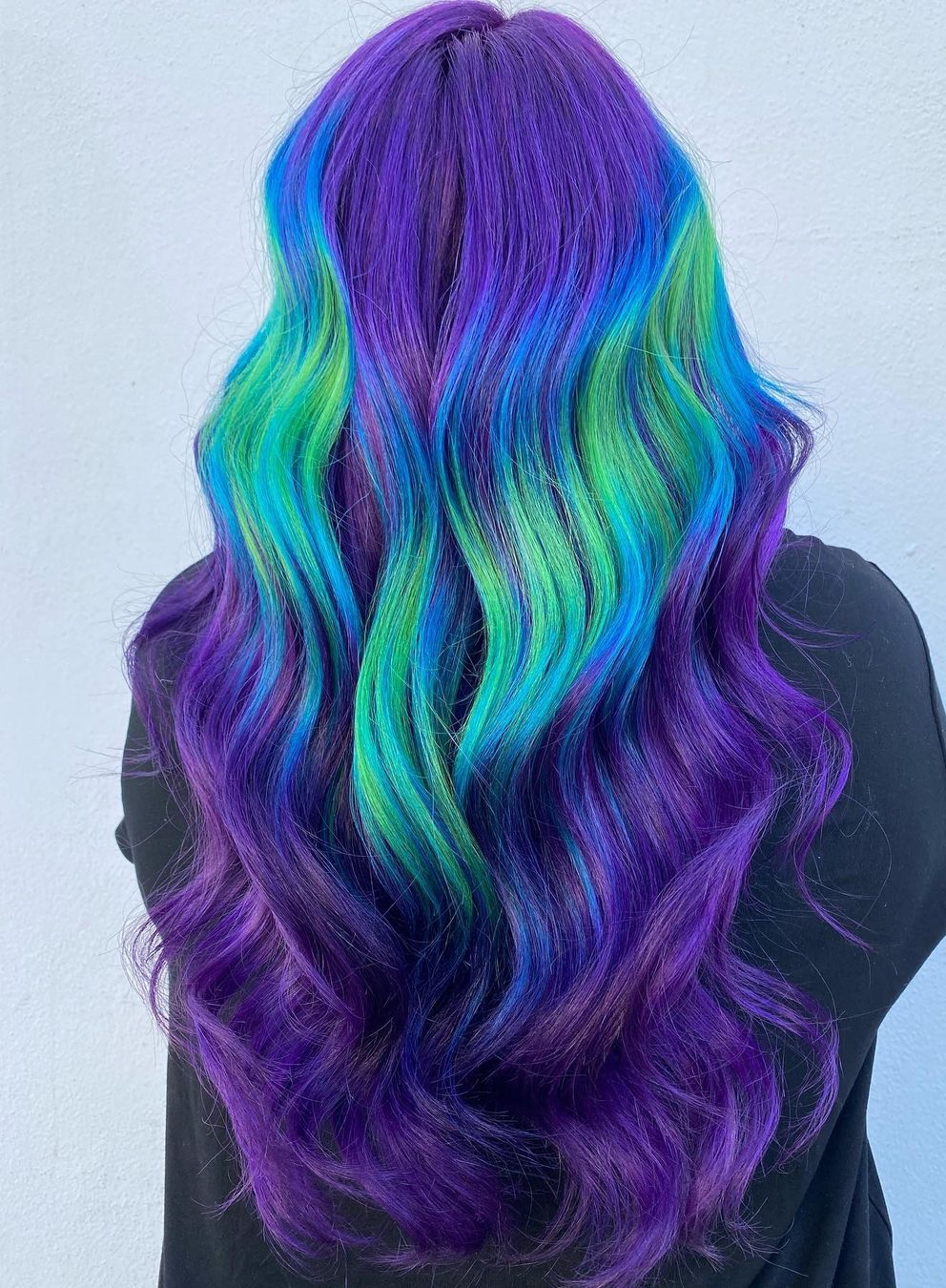 Mesmerize With Reverse Purple Ombre
Bored of the typical ombre look with blonde to purple tips? Try the reverse ombre style. Start with a darker shade of purple and go lighter to a violet or lavender shade for a stunning look.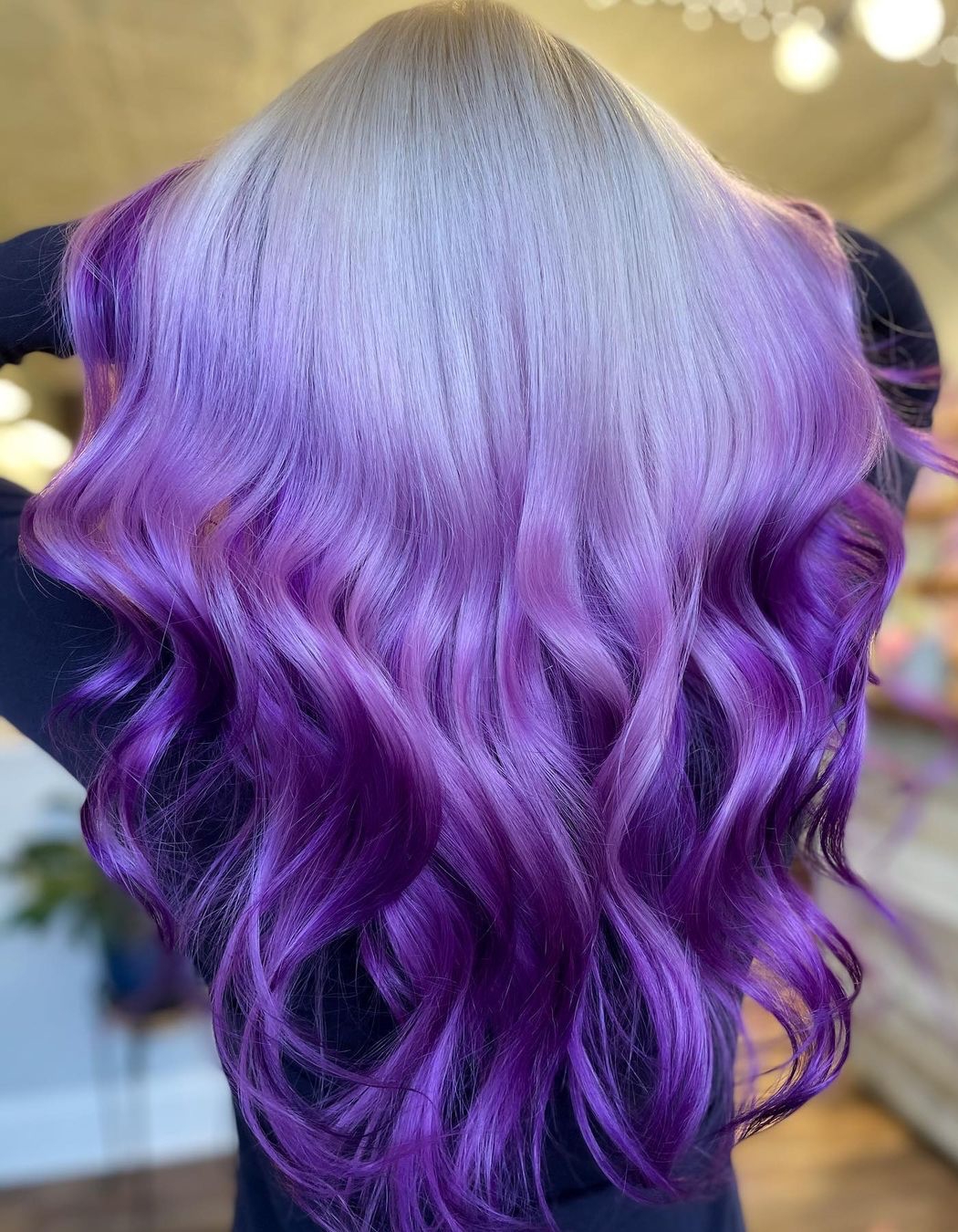 The roots have a lighter color on different shades of blonde. This purple ombre infuses life to your short and long tresses with purple locks.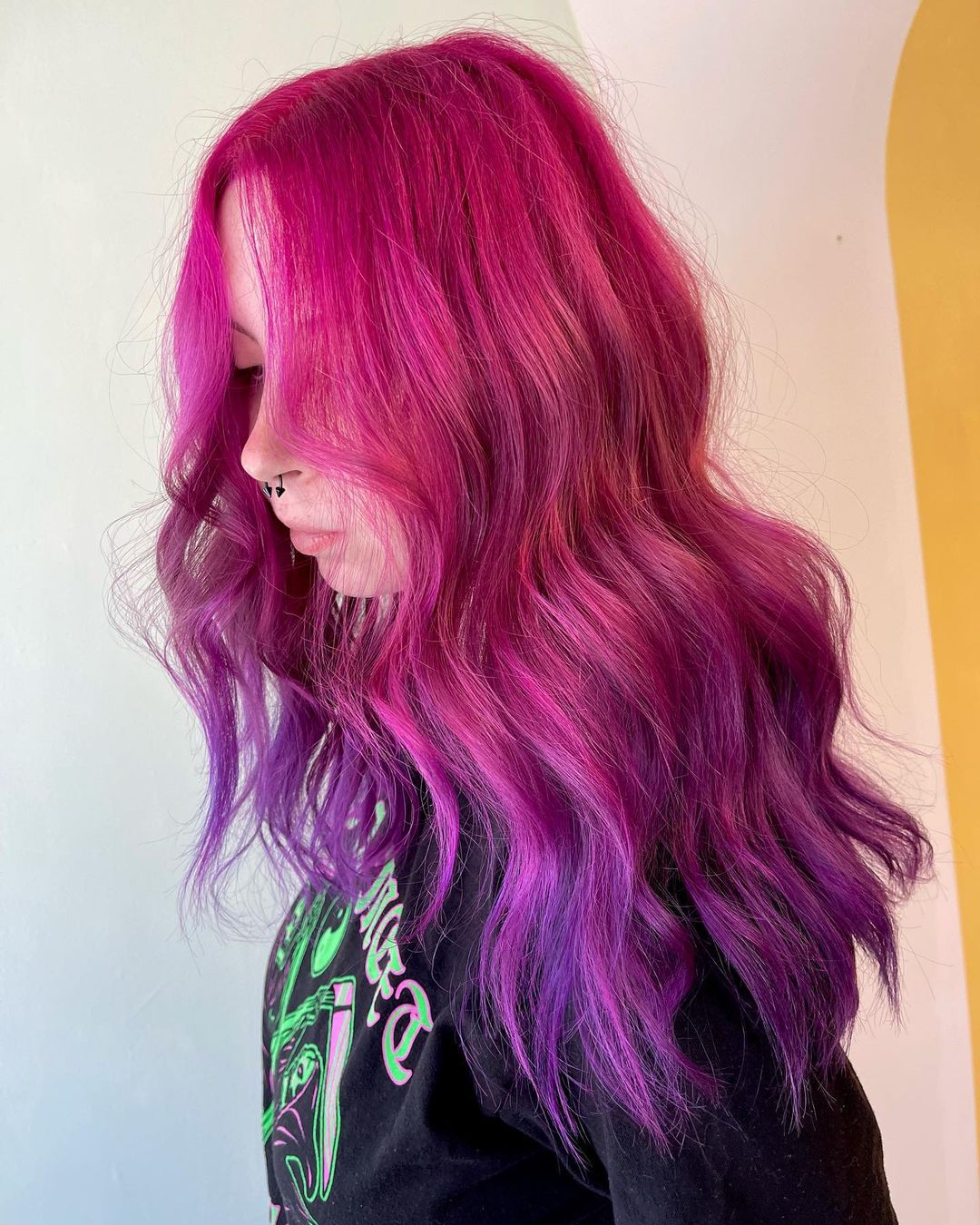 via @catecutdye
Light Up With Short Purple Hair
A short bob or pixie haircut doesn't mean you cannot try this bold ombre look. Lavender ombre ends with a pinkish undertone on the edges, giving your short hairstyle a vibe unparalleled. Another hot look that you can try is purple and blue hair shades with peekaboo roots. Be ready to have your mane light up instantly.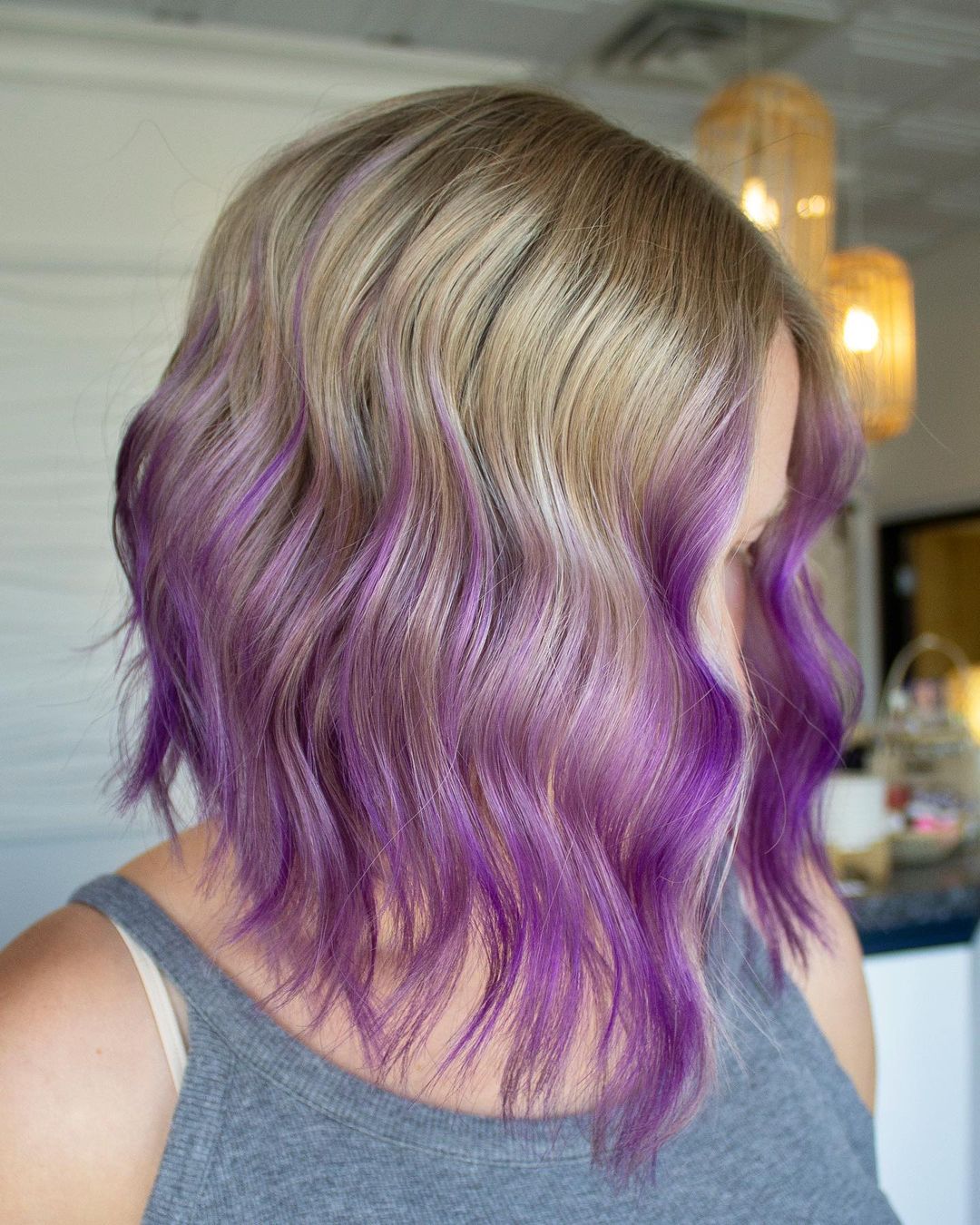 via @steph.p.hair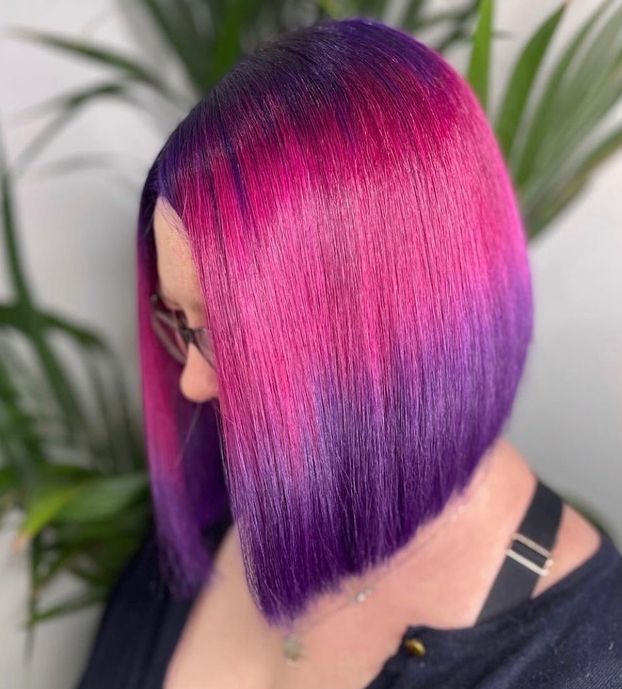 via @cheekybleach
FAQ
How long does ombre hair last?
Madison Rae Garrett, a hair colorist working with Spoke & Weal, NYC, mentions that the ombre effect easily lasts from 4 to 5 months.
What are the best shampoos for purple hair?
UNITE stylist working with Ken Paves Salon, Graham Nation, says that for lighter and pastel shades, UNITE Blonda Toning Shampoo is good. Use a sulfate-free shampoo like Living Proof Color Care for darker purple shades.