Many people will wonder what galaxy hair is. It sounds unusual, and we are confident that numerous women have yet to hear about this trend. By the way, galaxy hair has not lost its position for several seasons, and all fashionistas adore it. Of course, such a hairstyle is only for some.
If you prefer remaining conservative concerning your hairstyle, the best option is to pick a plain shade that suits your color type and face shape.
As a rule, such coiffure implies vibrant hues, but you can choose the pastel colors that suit your skin tone. If you have yet to try this trend but are excited about changing your appearance, you can find plenty of useful details here. We have gathered the most impressive galaxy hair color ideas for every woman. Stay tuned!
Purple Galaxy Hair
It may seem obvious, but purple hair colors are the most common in galaxy hairstyles. Such cosmic hair resembles pictures from space, making your hairstyle bright and attractive.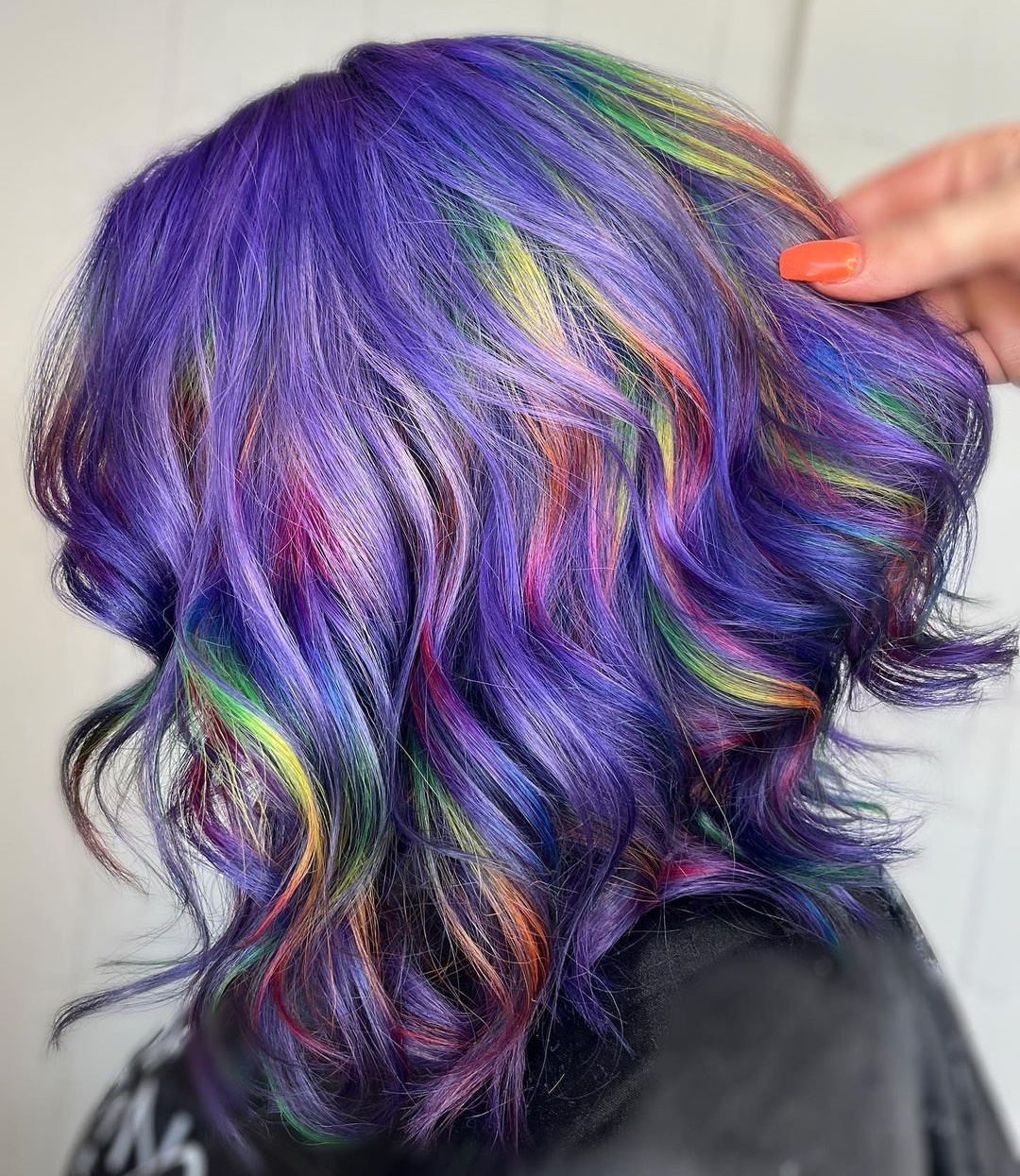 via @zenityhair
Saturated purple colors will look perfect on dark hair, but blondes can also find a suitable shade.
via @catecutdye
Blue and Green Galaxy Tones
This gorgeous blue-green combination of bright colors is reminiscent of the Northern Lights. Can you imagine such beauty in your hair? This fantastic choice for ladies of all hair and skin colors will be a great addition to your look. Northern lights on your hair will attract a lot of attention from people surrounding you.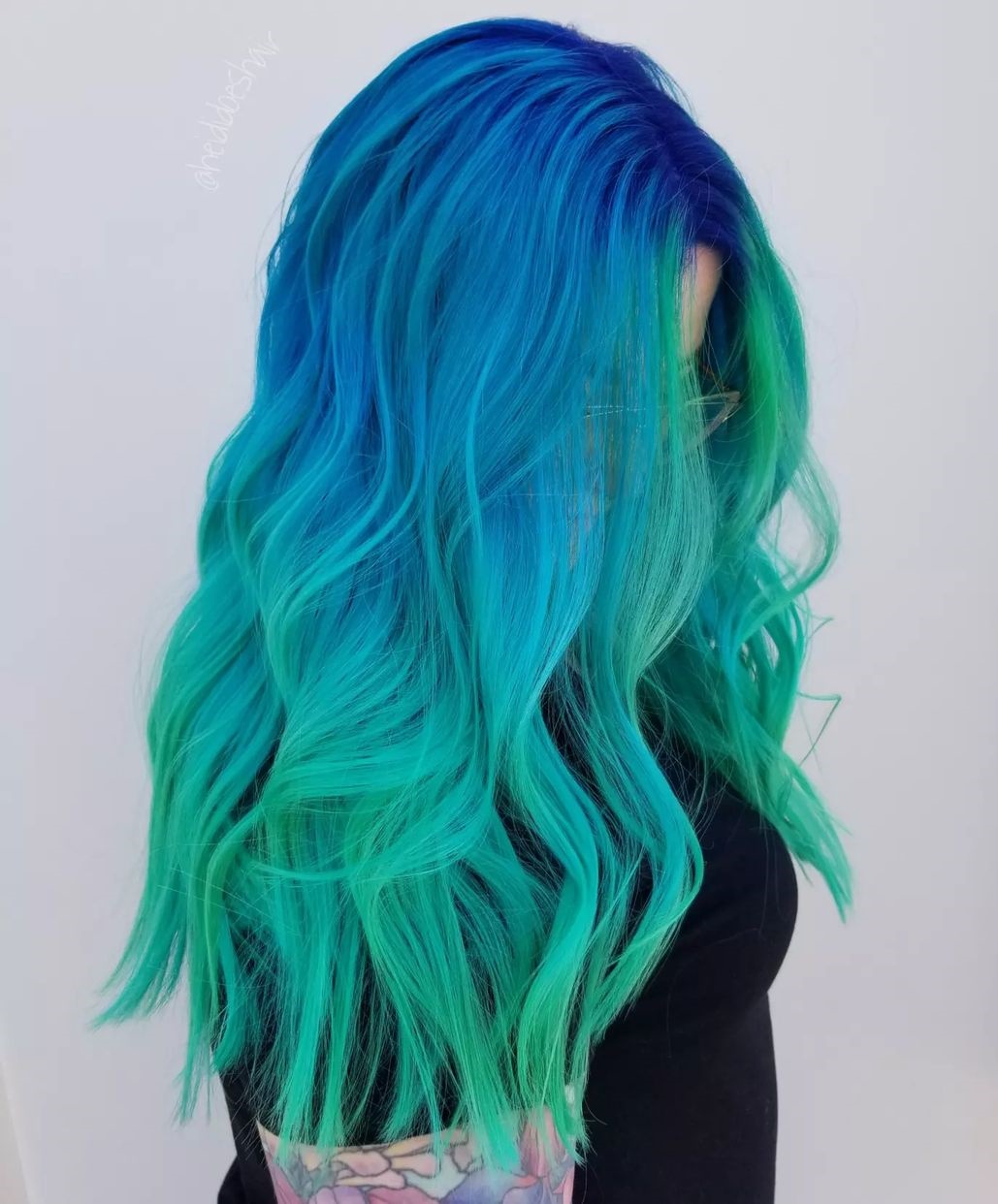 via @heididoeshair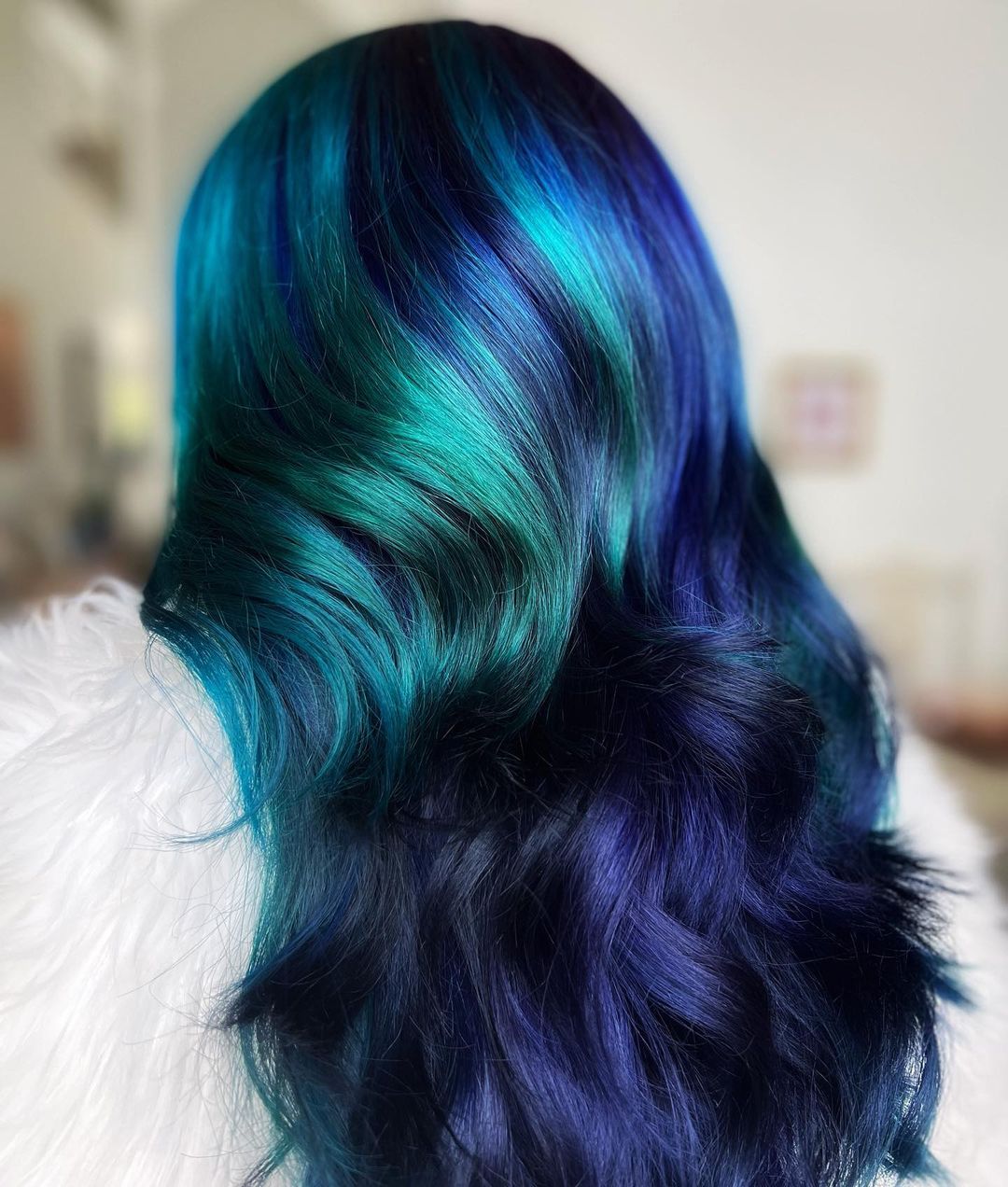 via @hairbylunabelle
Multi Tonal Hair Colors
Remember to ask your hairdresser to use at least six colors. This way, your hair will look really cosmic! As a rule, such a galaxy style implies using purple, blue, red, pink, and others.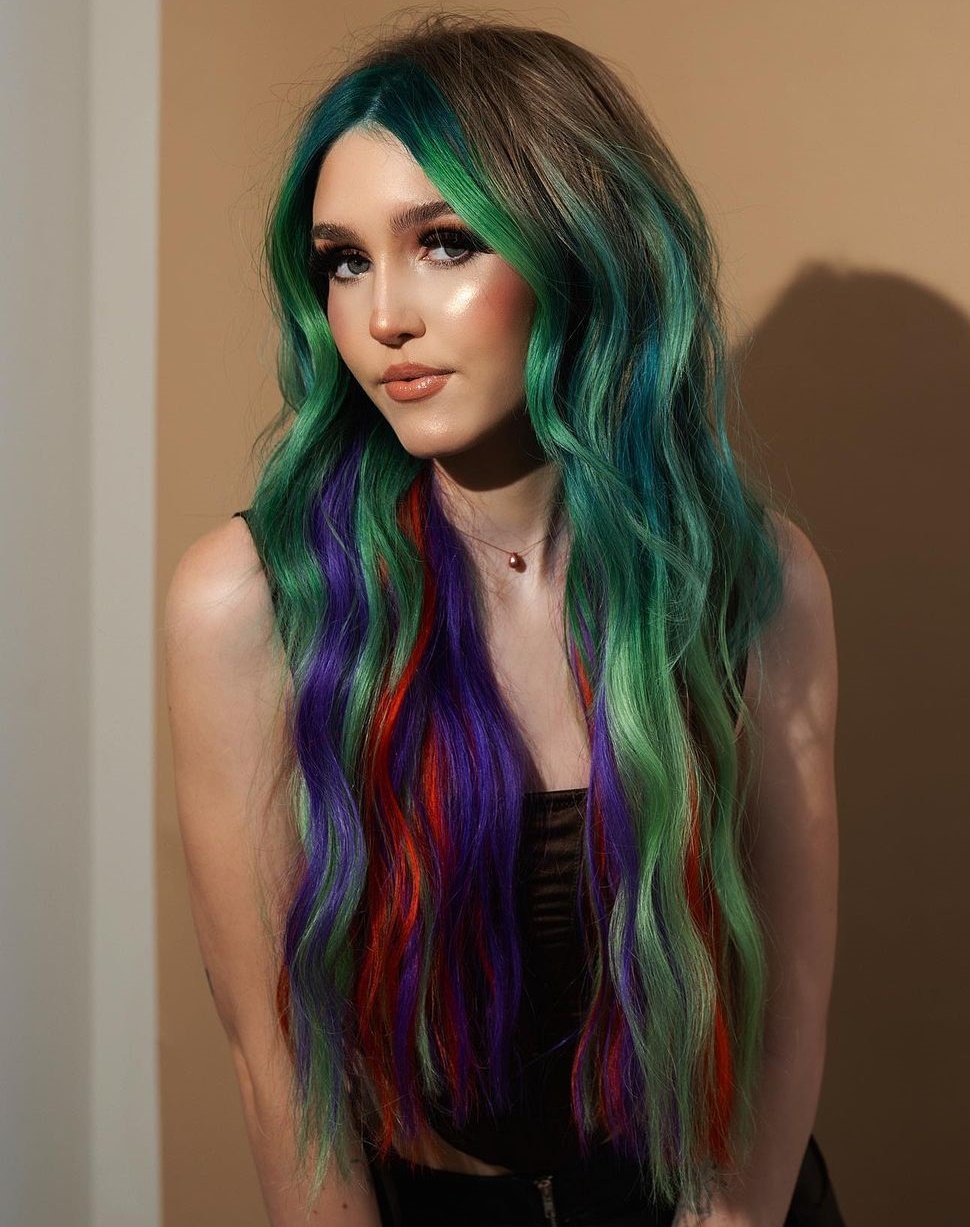 However, you can choose any shades that suit your skin color type. The dying technique looks like a color melt and fully resembles space.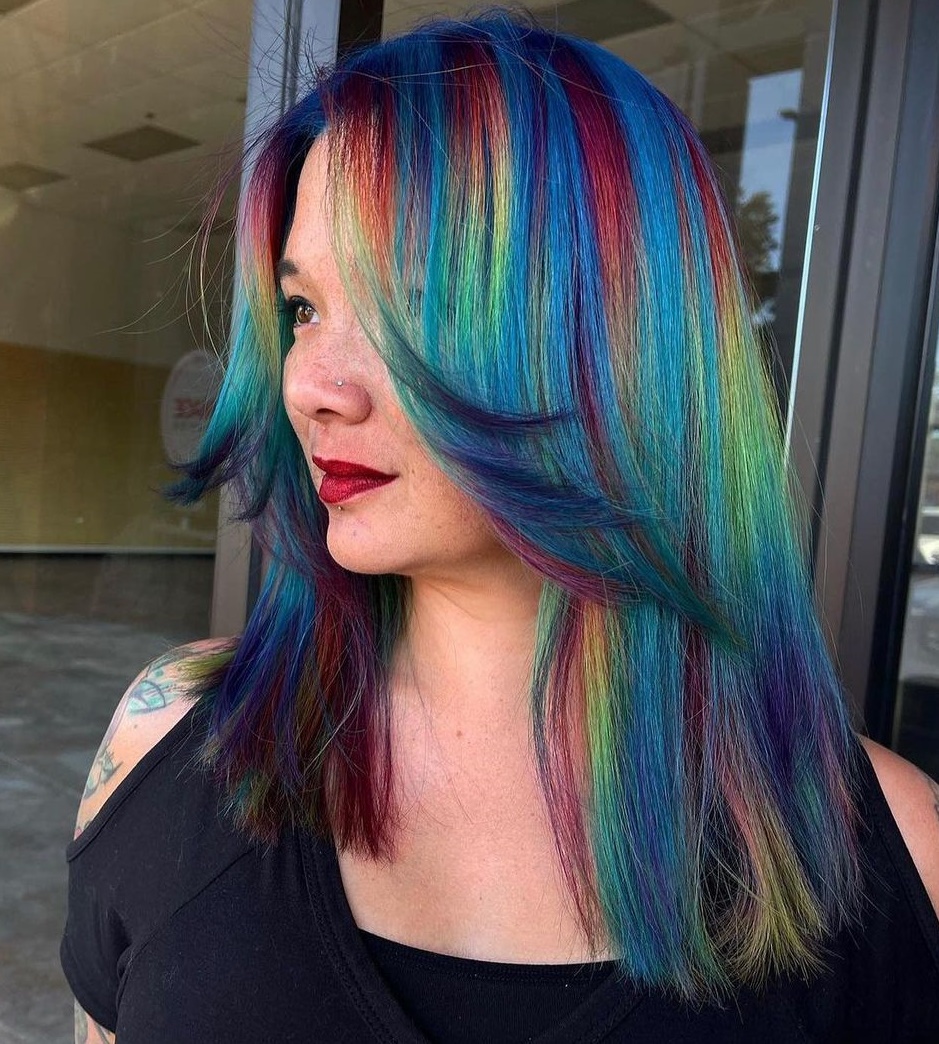 via @alexnaylorhair
Vivid Galaxy Hair Color
Are you in the mood to create a fantastic cosmic look that people will remember for many years? Consider a vivid hairstyle, undeniably one of the best galaxy hair color ideas.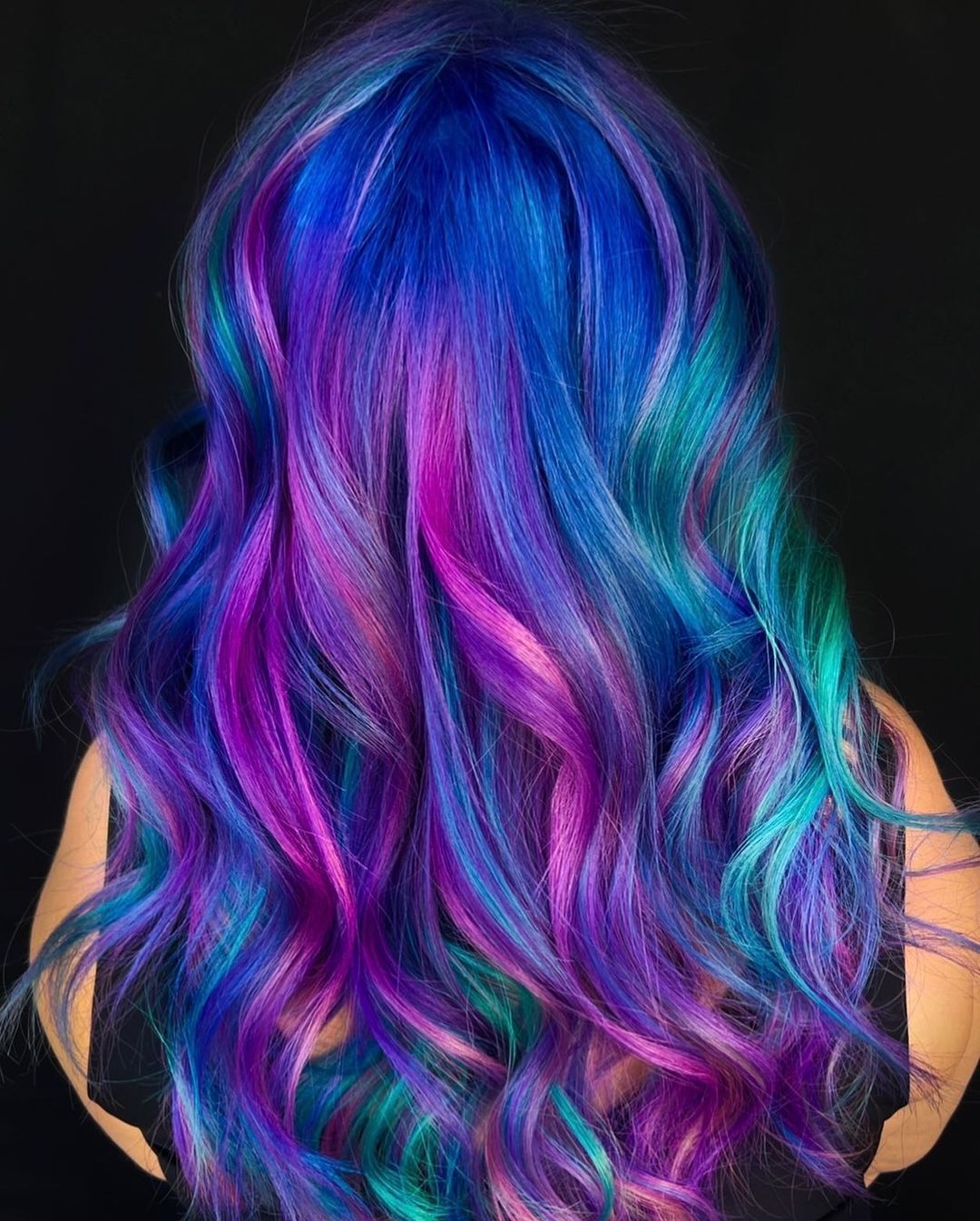 via @meilings_chair
This technique implies an impressive blend, usually including pink color mixed with blue. This option can suit young and older women who want to make their appearance more engaging.
The magenta color is fantastic for people with dark hair, while blondes should better pick pastel light colors.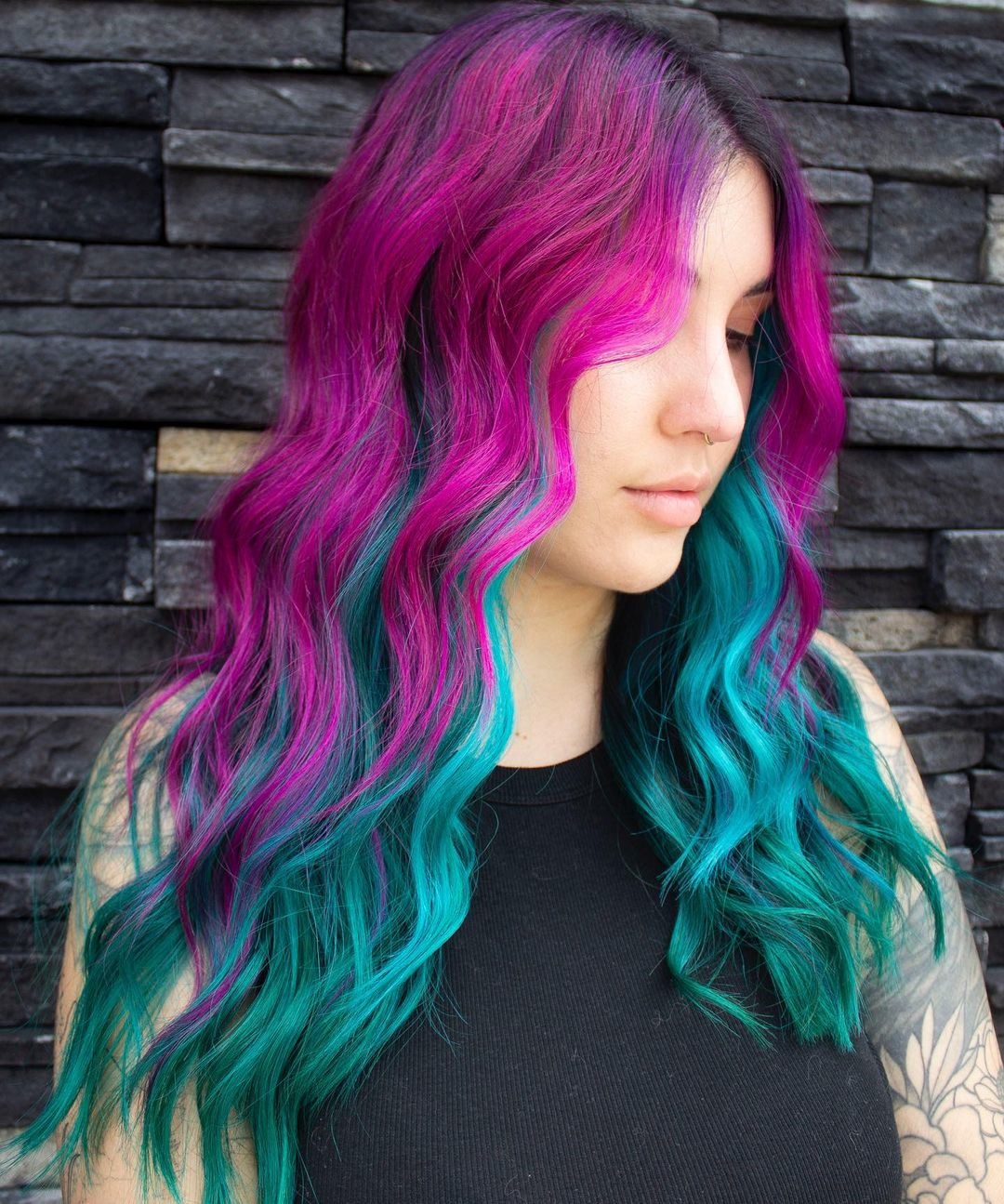 via @steph.p.hair
Rainbow Galaxy Hair
Can't decide which color to put on your hair? Add all the colors of the rainbow at once and shine. This fun hairstyle is a unique solution for extravagant ladies and implies a combination of 7-8 colors in your hairstyle.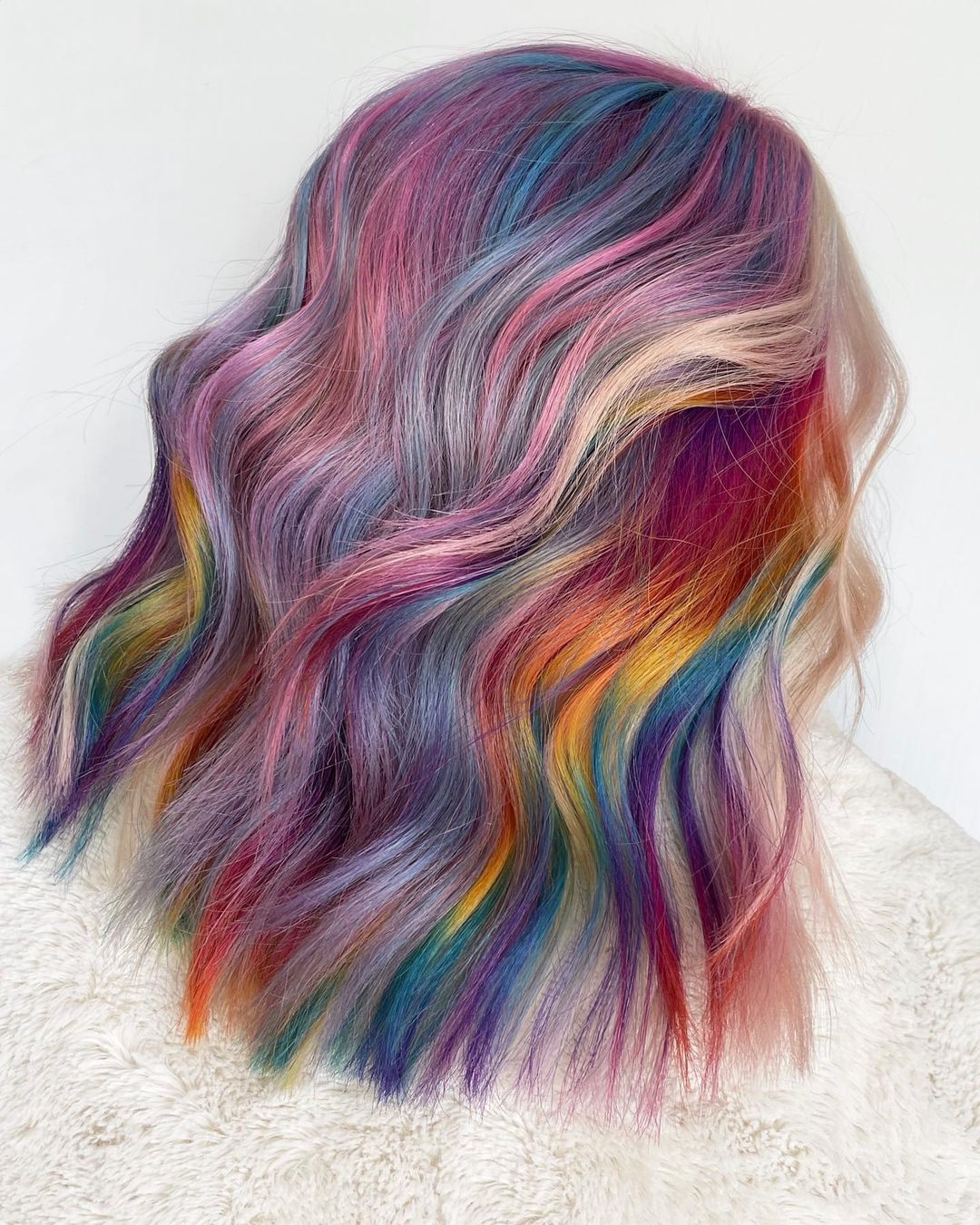 The main thing concerning the rainbow hair color trend is picking the best colors that favorably shade your skin.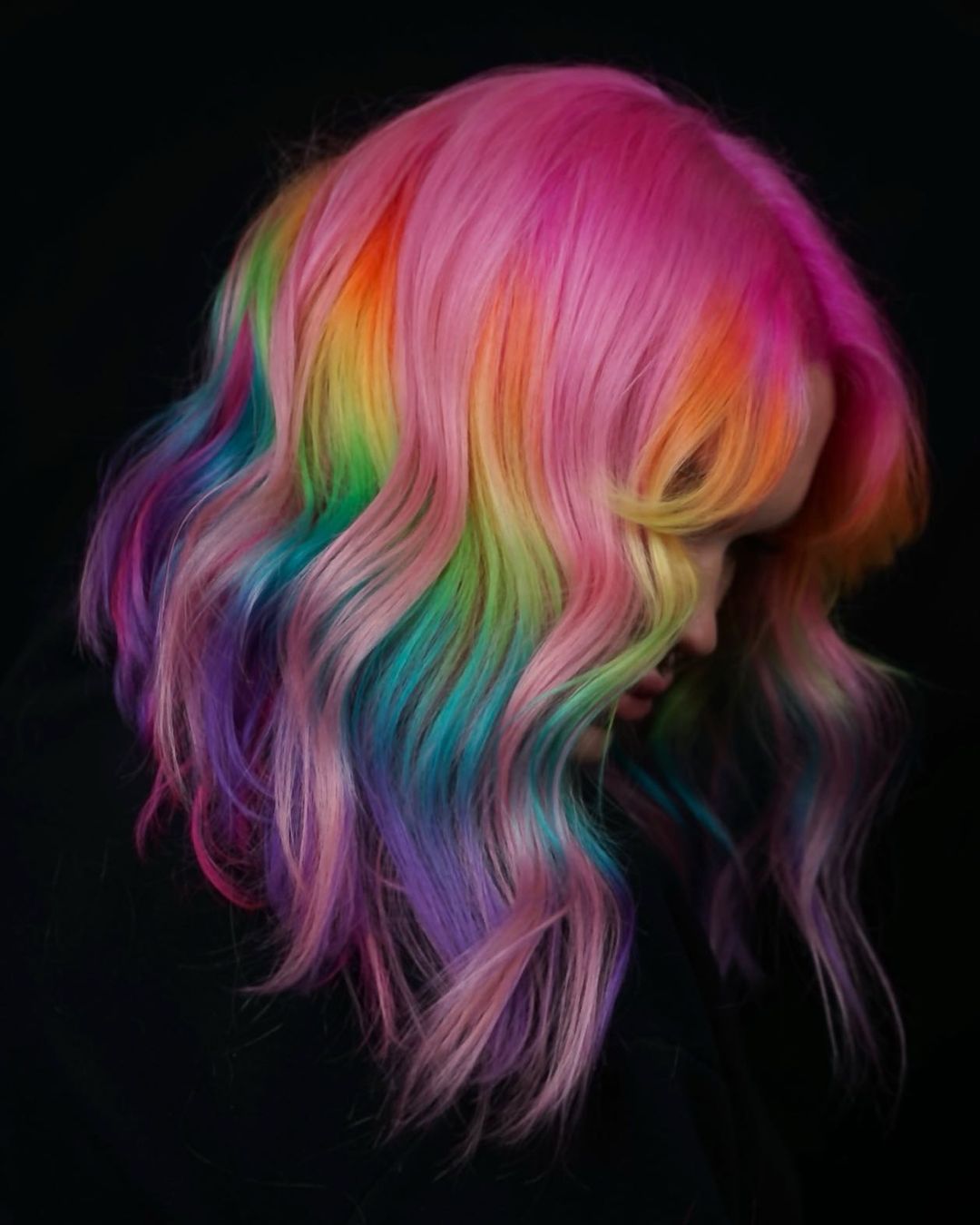 via @vividlyliv
Mermaid Galaxy Hair
This hair color trend looks magical as it artistically infuses two or three shades of fashion colors, preferably vibrant pastel shades, into your shiny wavy tresses.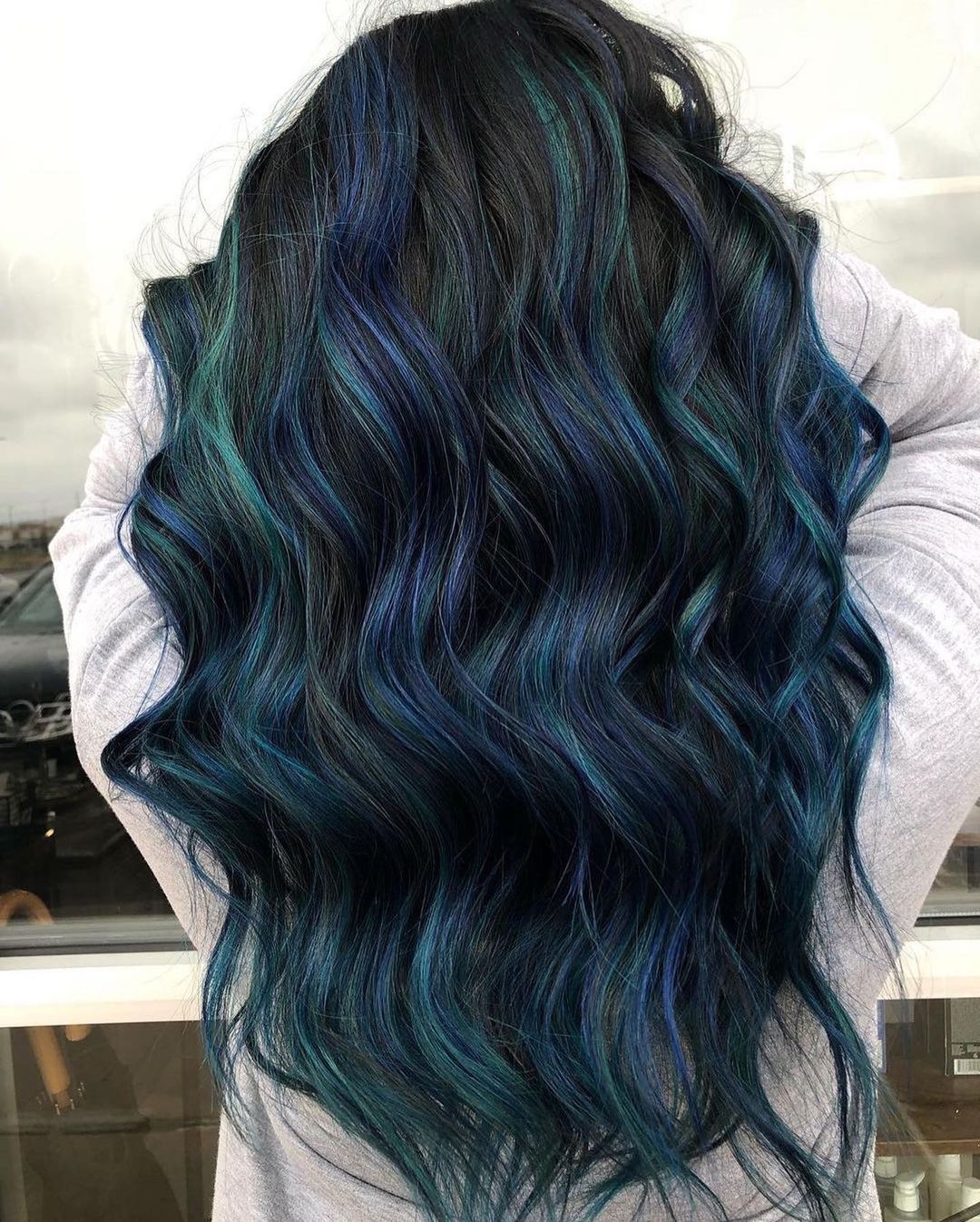 via @joicointensity
Get galaxy hair in this sea-green shade, best suited for fair or olive skin with warm undertones. Let the green shade be deeper or metallic if you want a chic look. For a high-spirited woman, neon hues create the perfect look.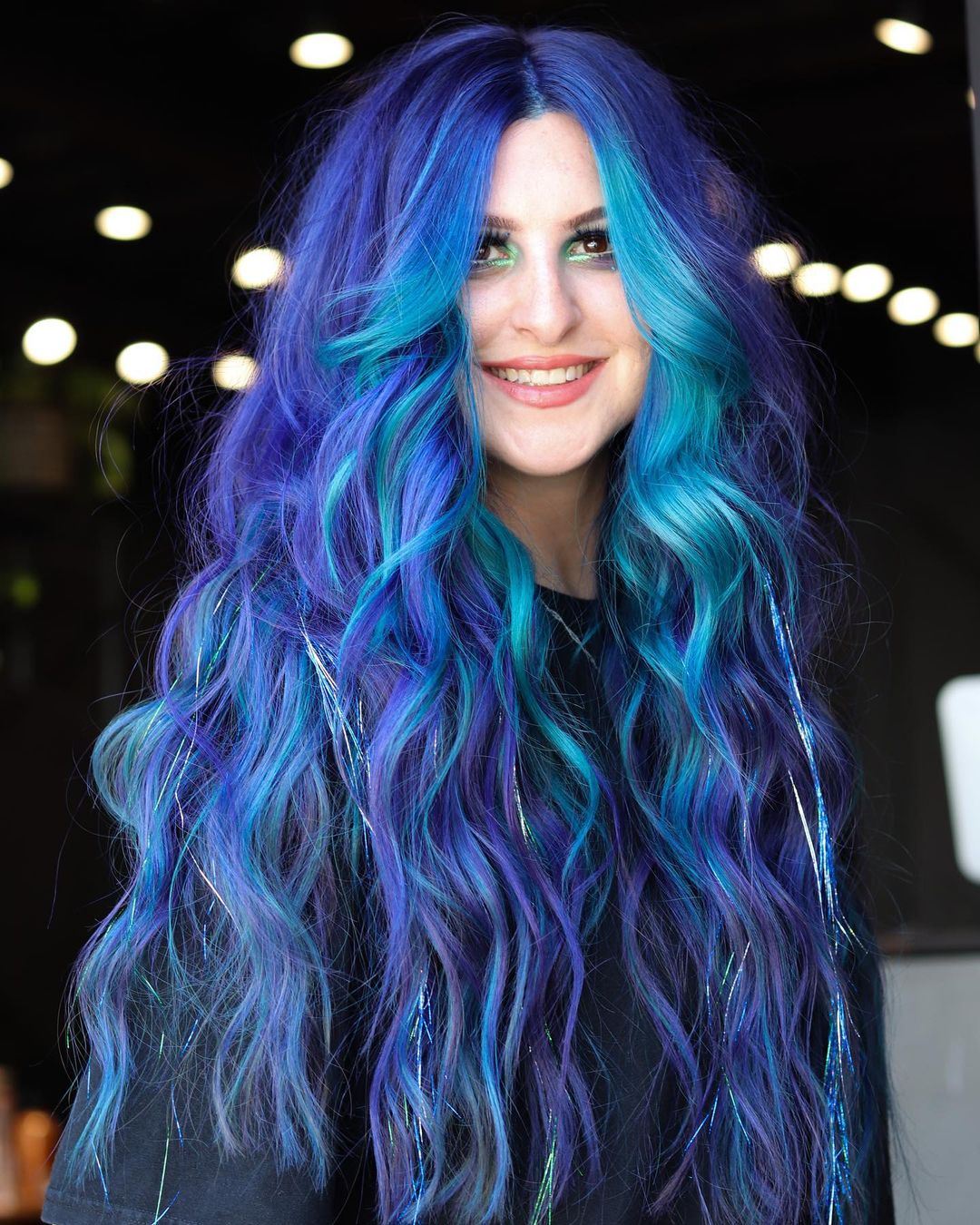 via @mermeghair
Blue and Purple Galaxy Hair
Purple and blue tones are the most common colors in galaxy hair trends. Your purple swirls will not be unnoticed! Styling such a hairstyle is easy since you should only blow dry it, but remember heat protection.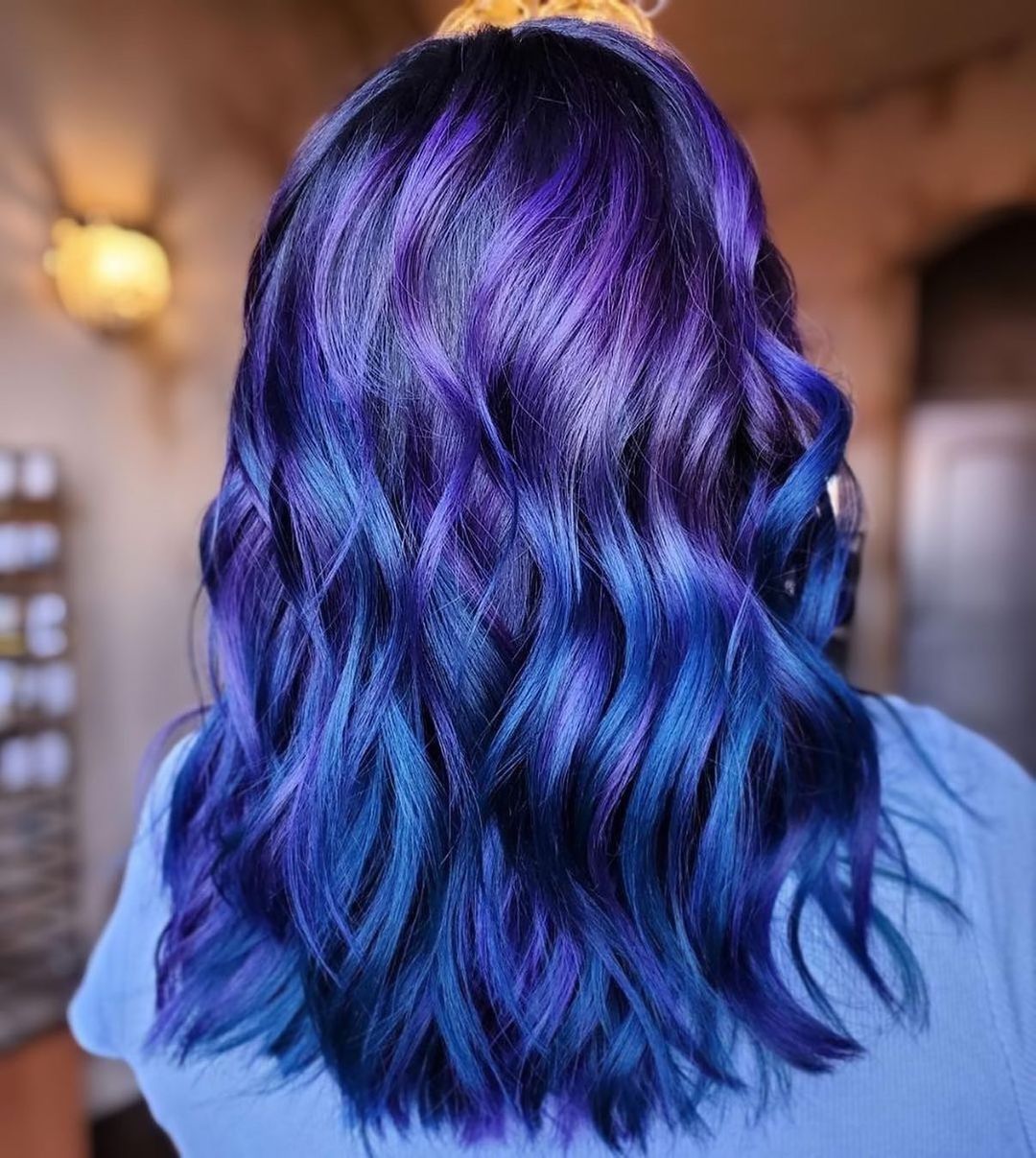 via @joicointensity
These popular galaxy shades have an intense look and feel, giving you confidence. You can go in for subdued shades or use cyan-colored highlights for your purple galaxy hair, as per your mood.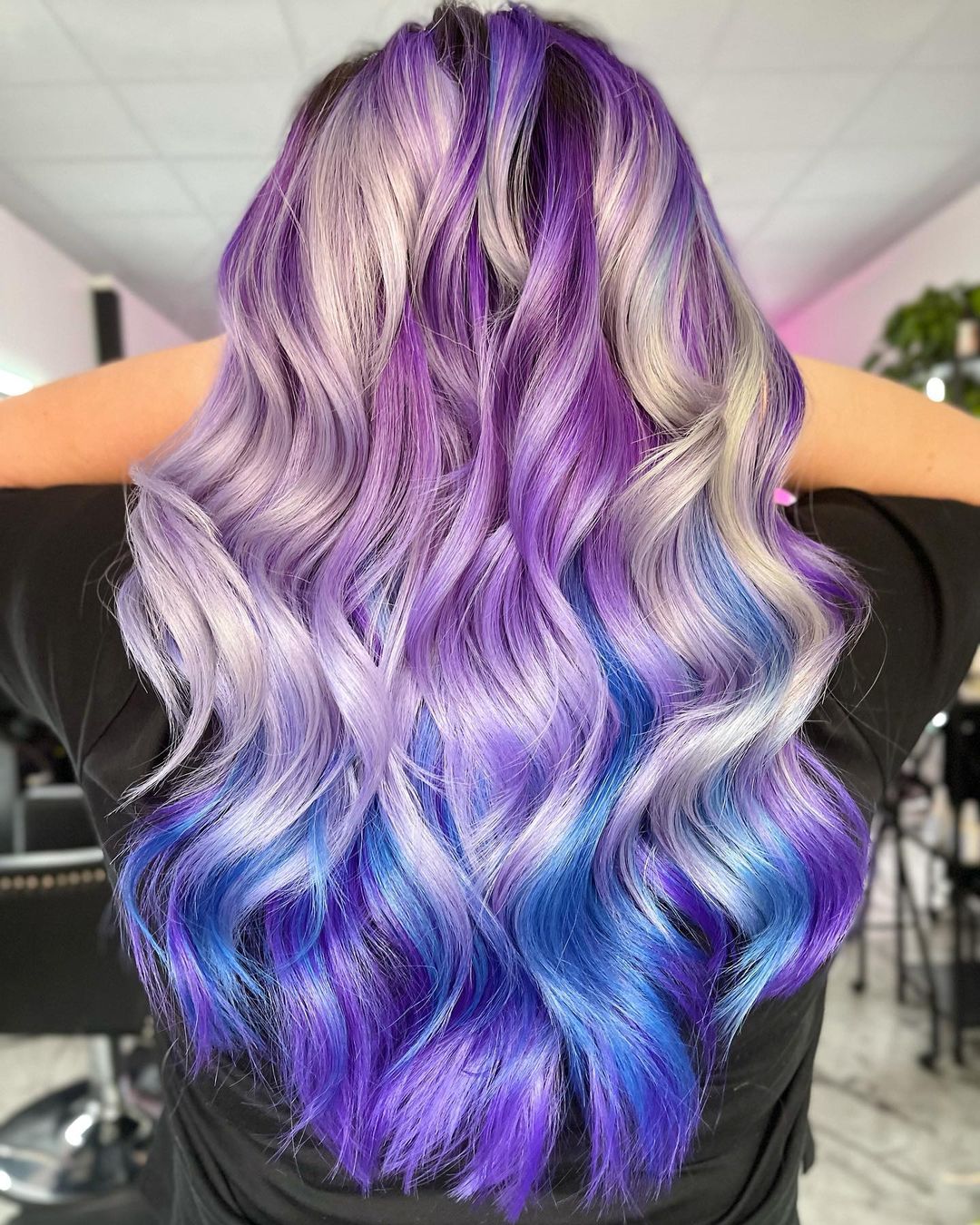 Galaxy Pink and Purple Hair
We are confident that each girl has at least once dreamed about a Barbie hairstyle. And it's time to make it a reality. Nowadays, the pink and purple combination is in top trends and is a great solution both for blondes and brunettes.
If you wish to go for a delicate look, try pink galaxy hair that suits all skin tones. To create eye-catching bright galaxy hairstyles, you can use a deeper purple base, like violet or lavender, with pink streaks. The contrasting colors have a mesmerizing effect!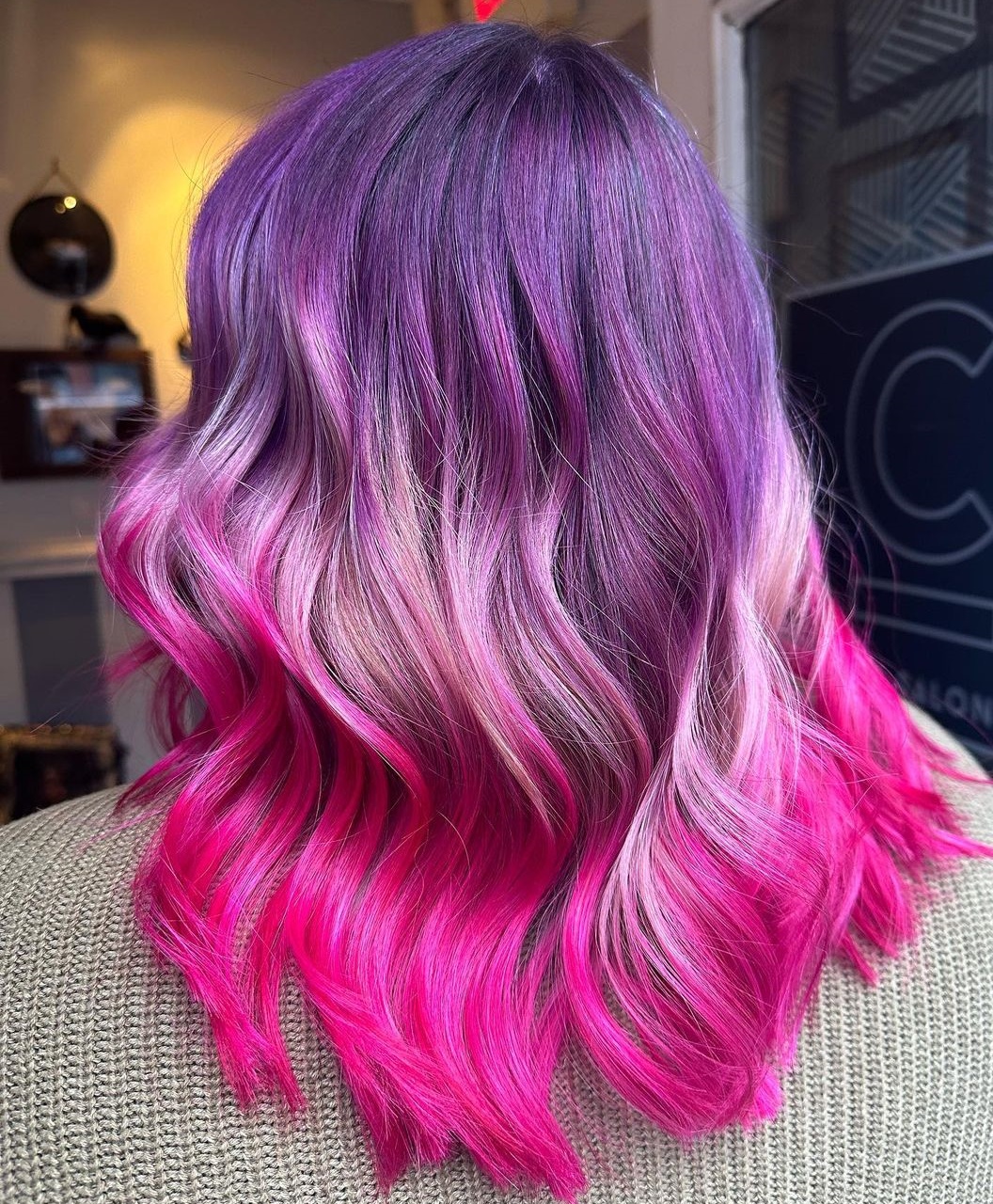 via @paulaademitriaa
Galaxy Sunset Ombre Hair
The galaxy ombre hair trend is an excellent way to color your hair uniquely because of the subtleness of the colors, moving from a dark color to a lighter one.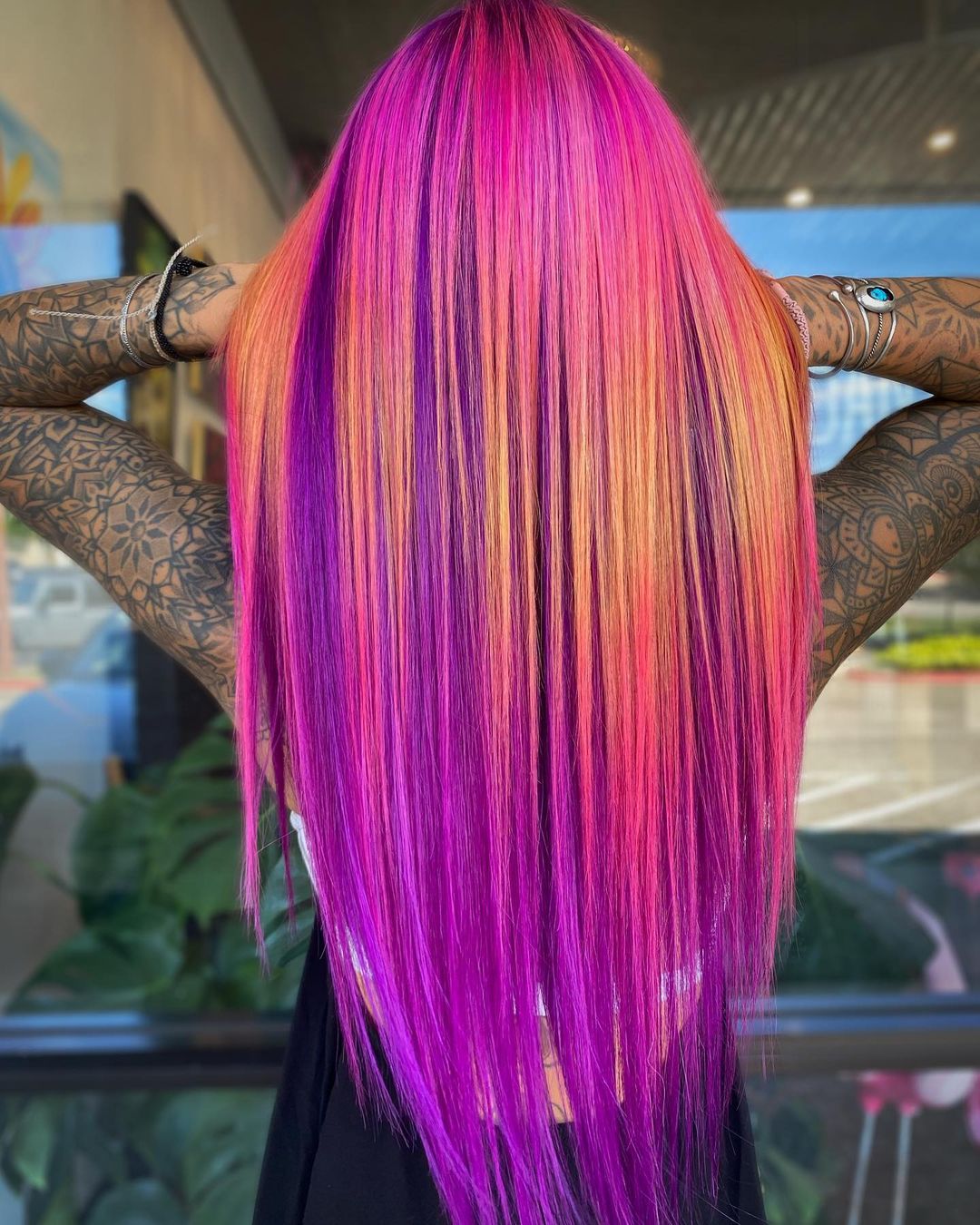 via @shell.vega
Choose the fiery pastel shades representing the sun – orange, red, brown, and yellow for a sunset ombre style. Your colorist can create a stunning ombre galaxy hair dye effect for a charming you.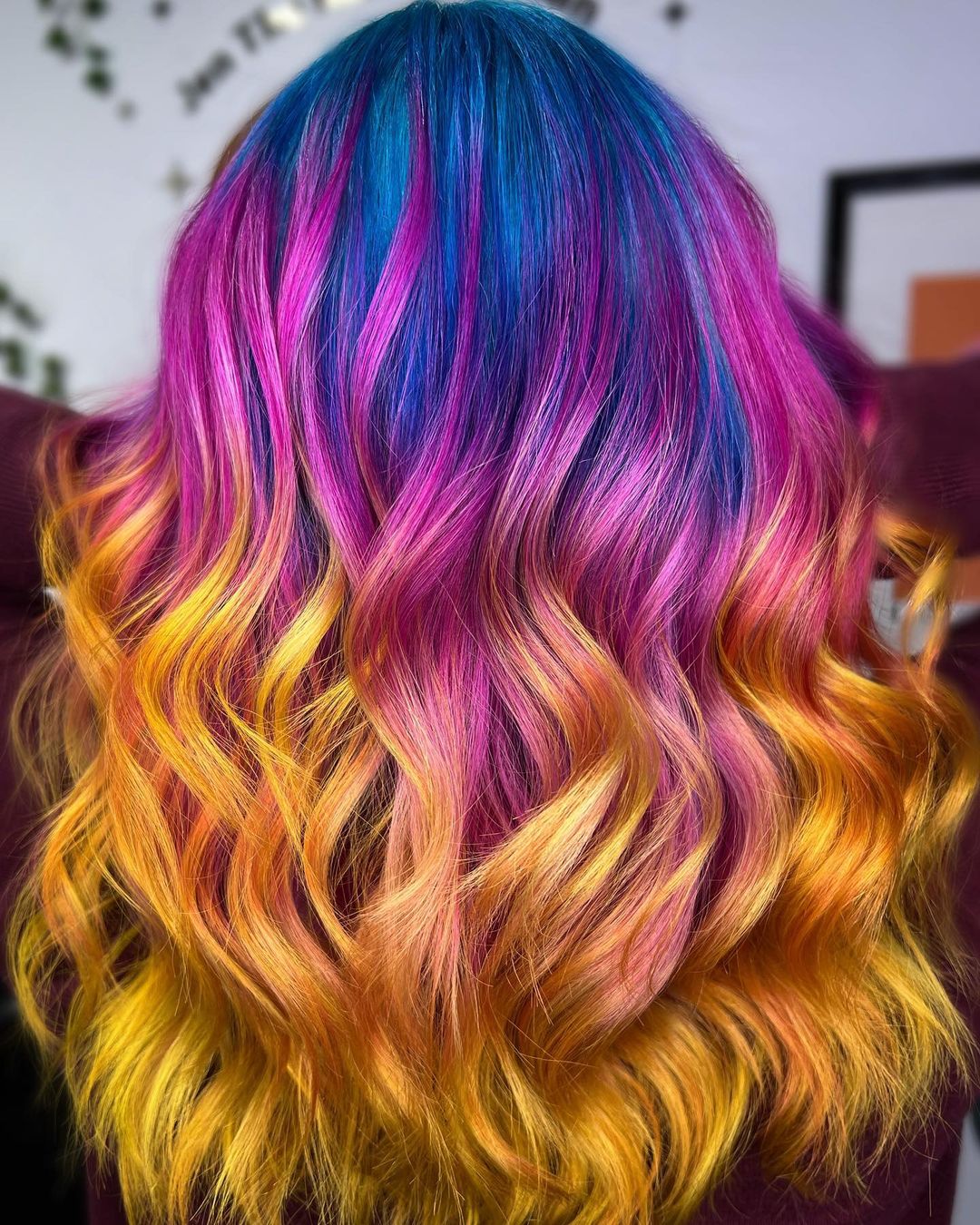 Galaxy Hair Balayage
Galaxy balayage is a stylish option for an elusive and subtle look. Using the balayage hair technique, your hair stylist will use baby blues and delicate pinks for the right impact. The technique involves using highlights that are swept on random hair strands.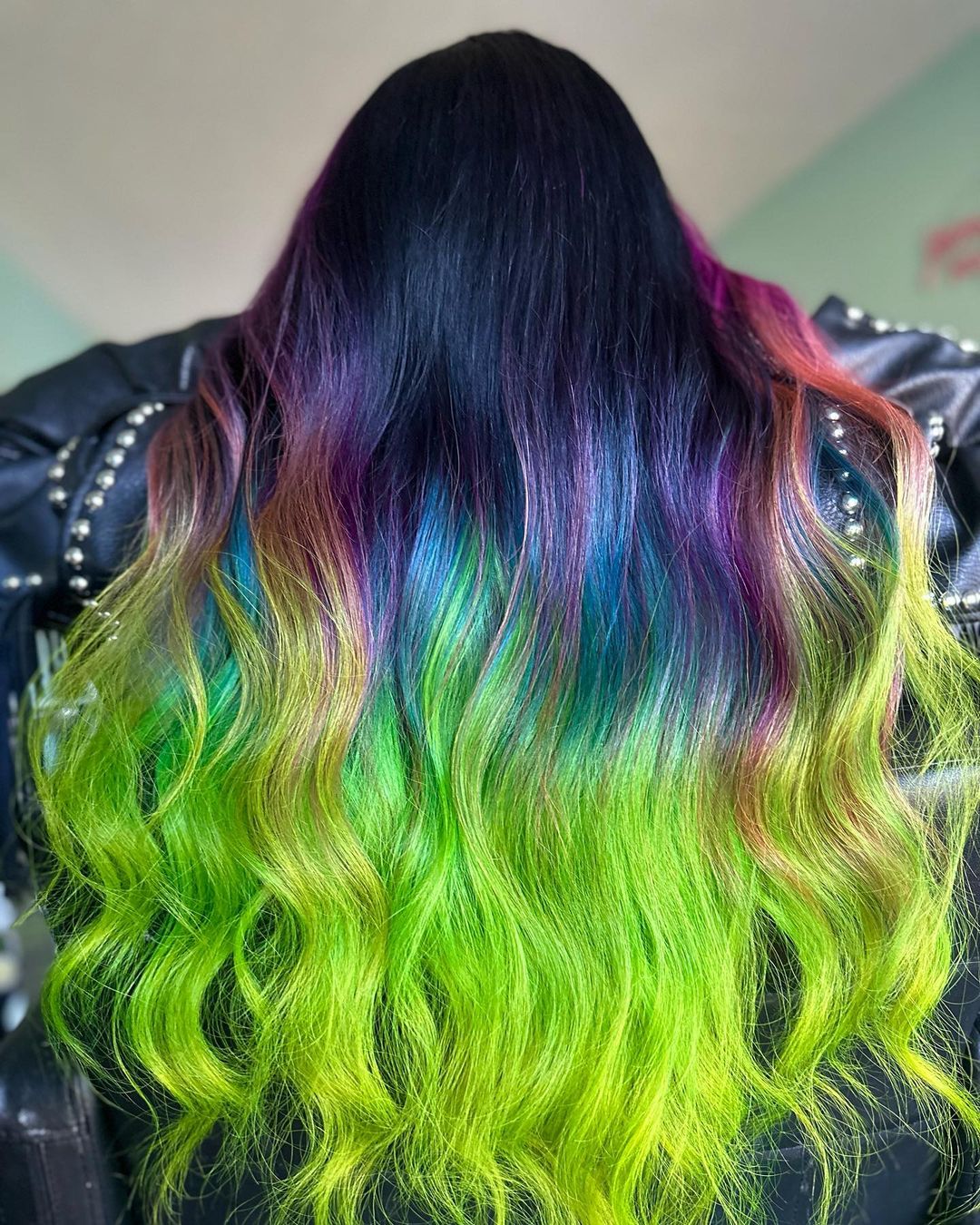 via @hairbylunabelle
This creative galaxy blend can get even more interesting with brighter and more vivid colors like Fuschia, sun colors, or vibrant purple. Wear a silver base with white accents if you have a cool skin tone.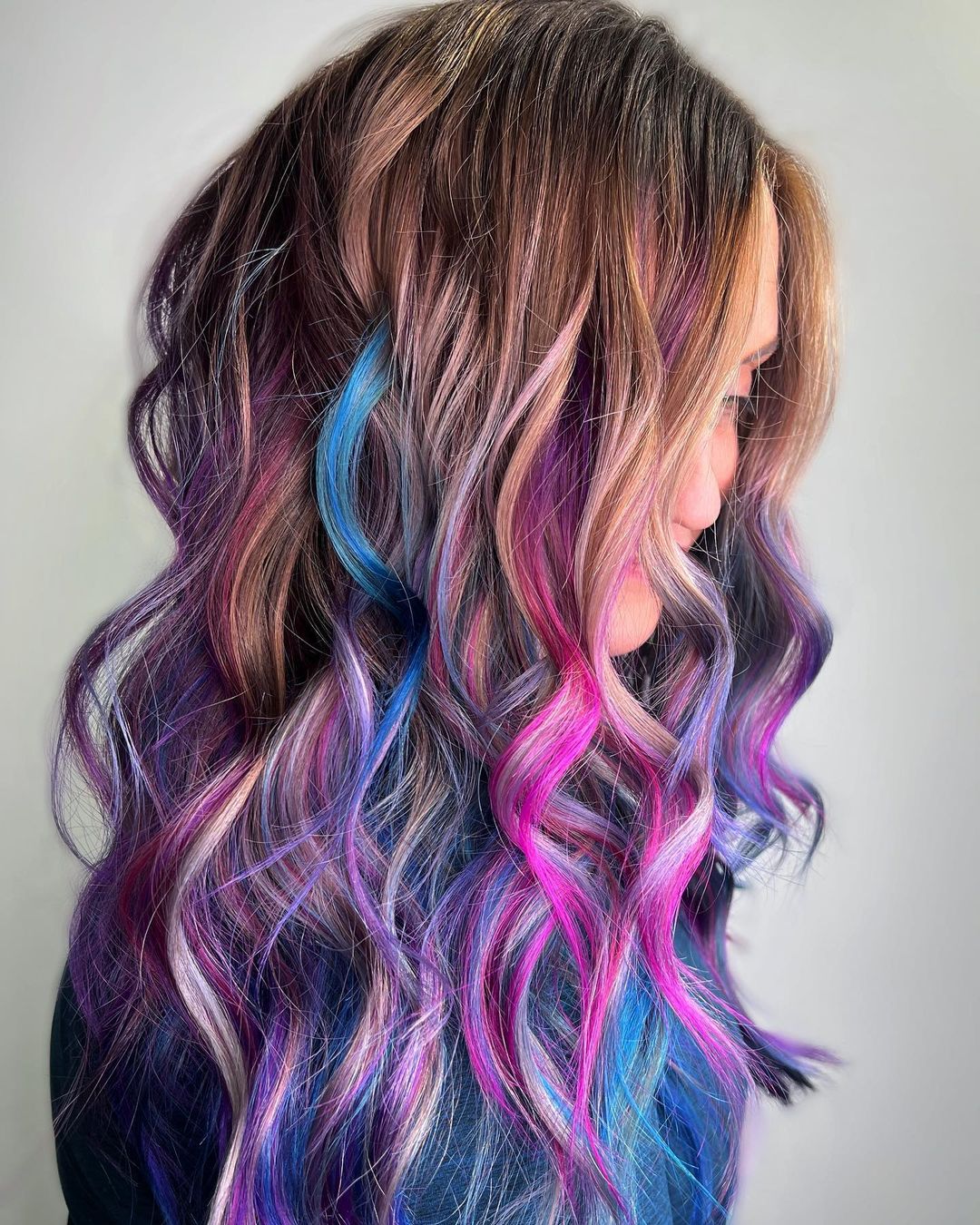 Rainbow Galaxy with Natural Roots
The most significant advantage of a rainbow hairstyle is that it can be done without needing to dye hair too often. Make sure to leave natural roots and not mix bright hair colors on them.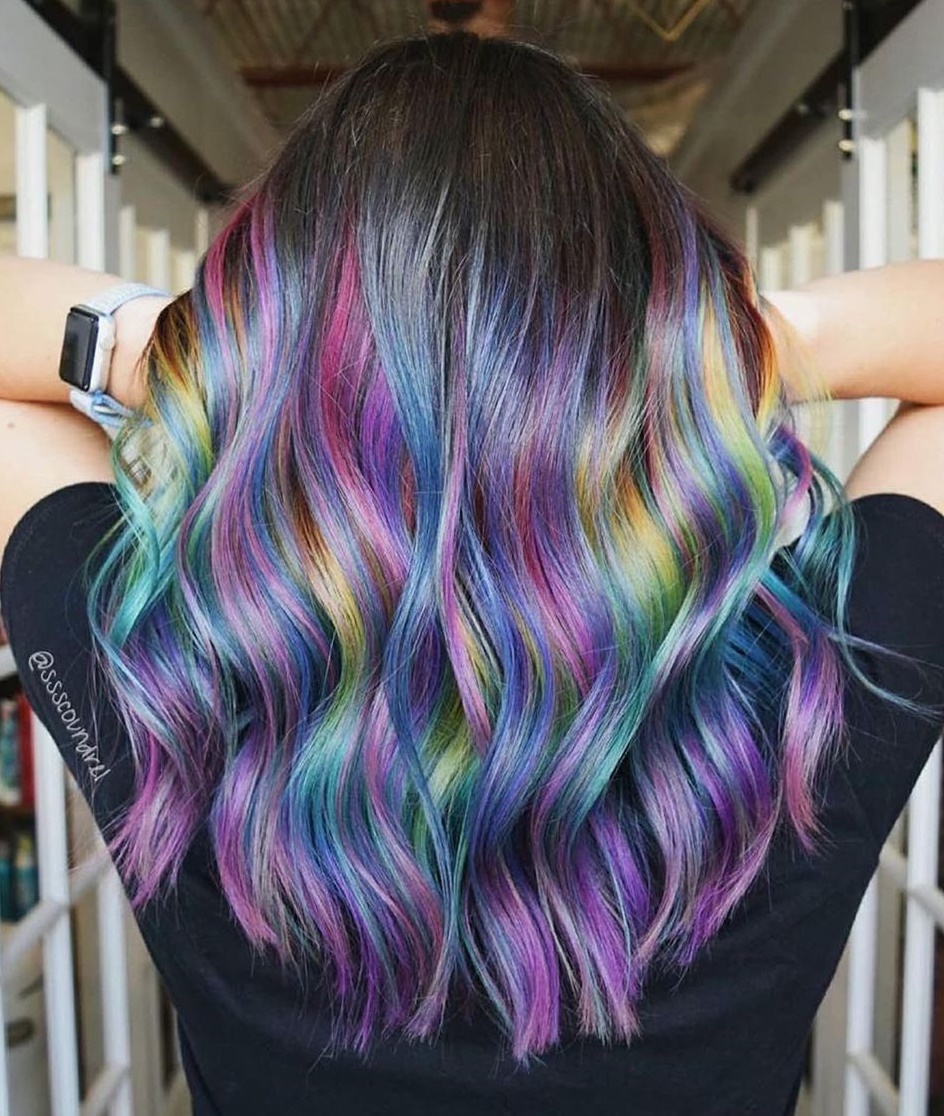 via @joicointensity
The most common variant of the rainbow galaxy hairstyle is blue hair with numerous shades of purple hair. Such a combination will suit all women independently of their skin color.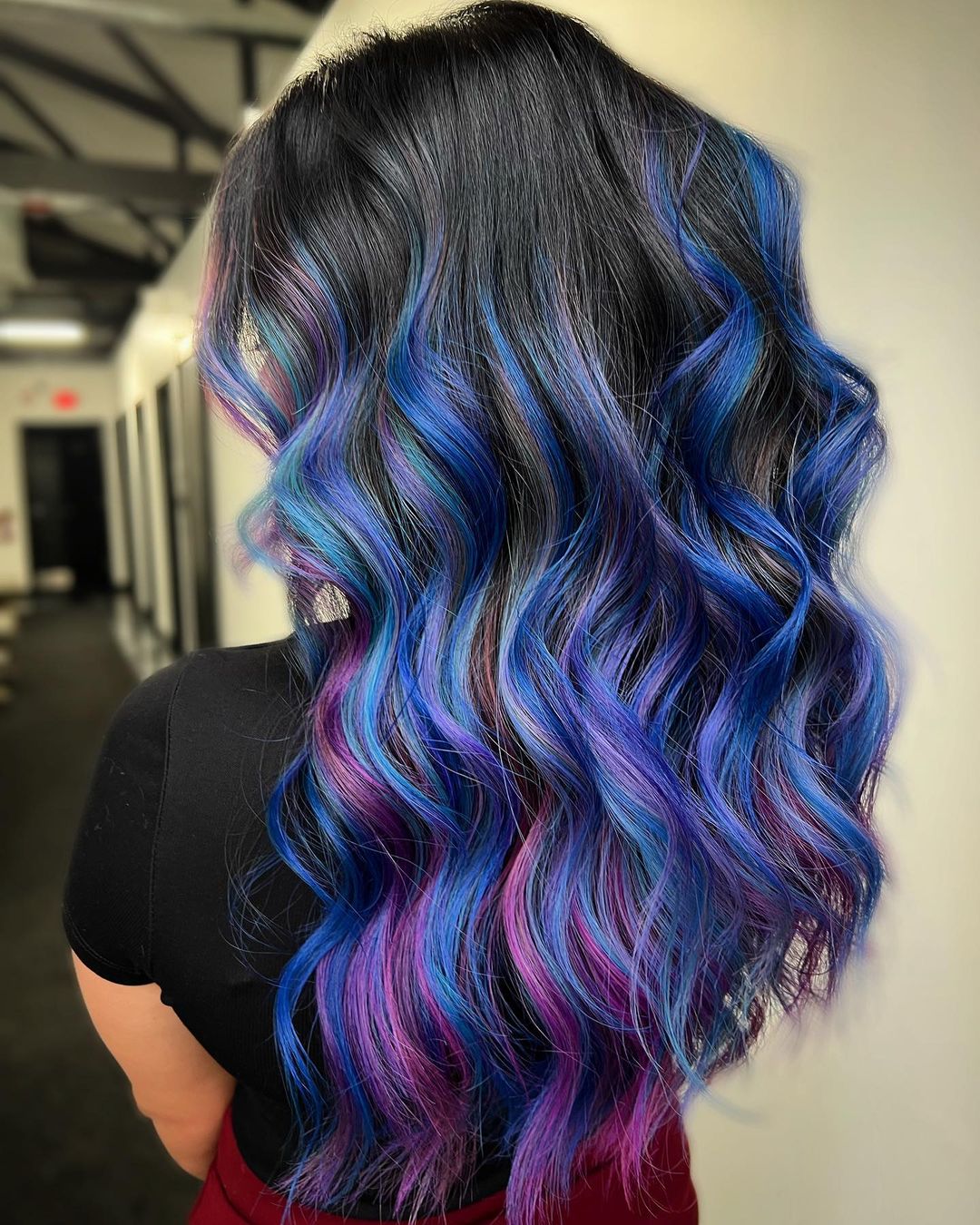 Short and Medium Galaxy Hair
If you have short hair like a bob cut, don't worry! Short galaxy hair looks equally charming and impressive on short or medium hair as long as the hues are right. Try a gradient look, starting with dark purple and fading into light blue.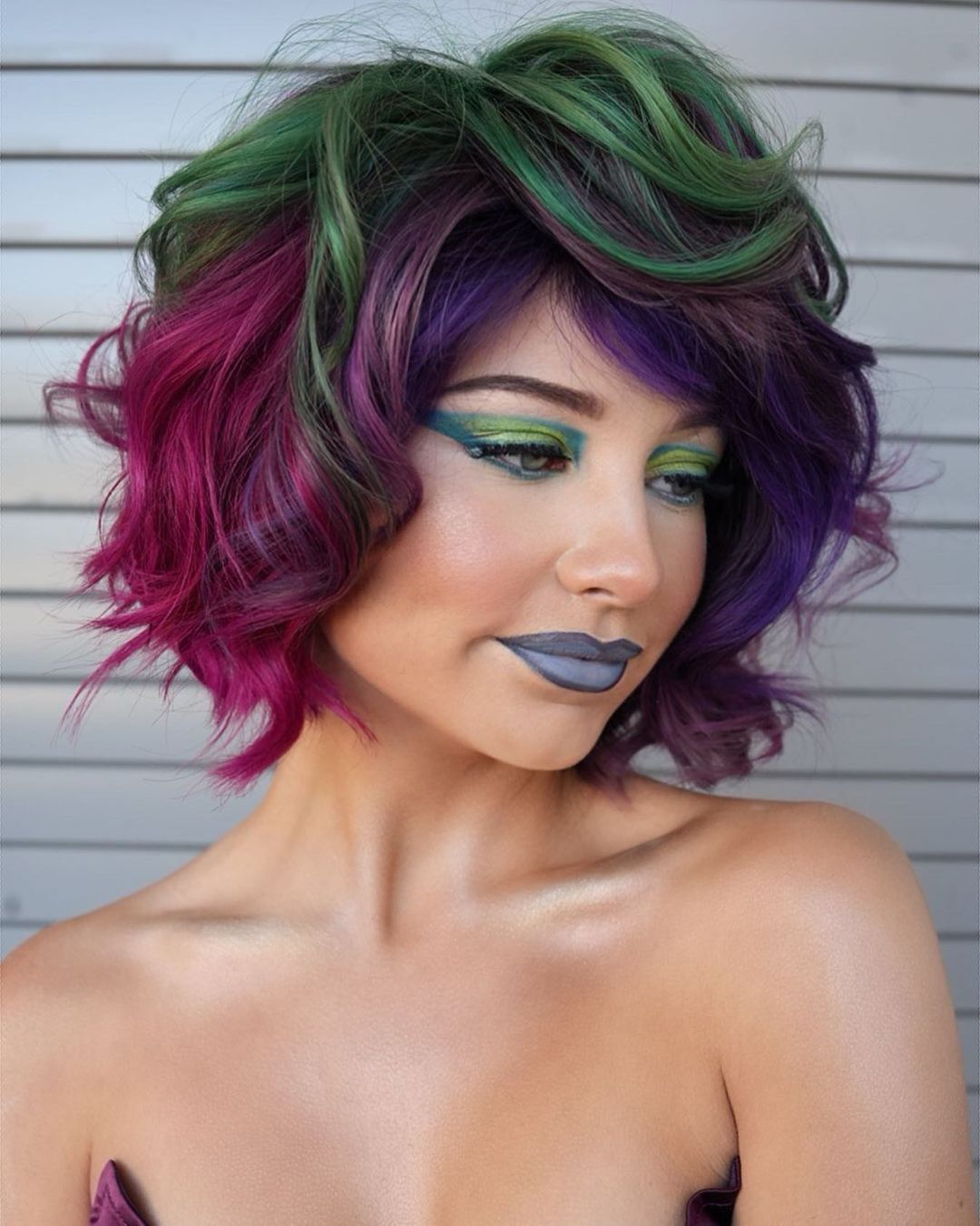 Purple galaxy on bob cut is another style that is fashionable these days. It looks good on fair-skinned people. For more texture and dimension, try lighter shades of purple galaxy colors on dark hair and match them with vibrant blue.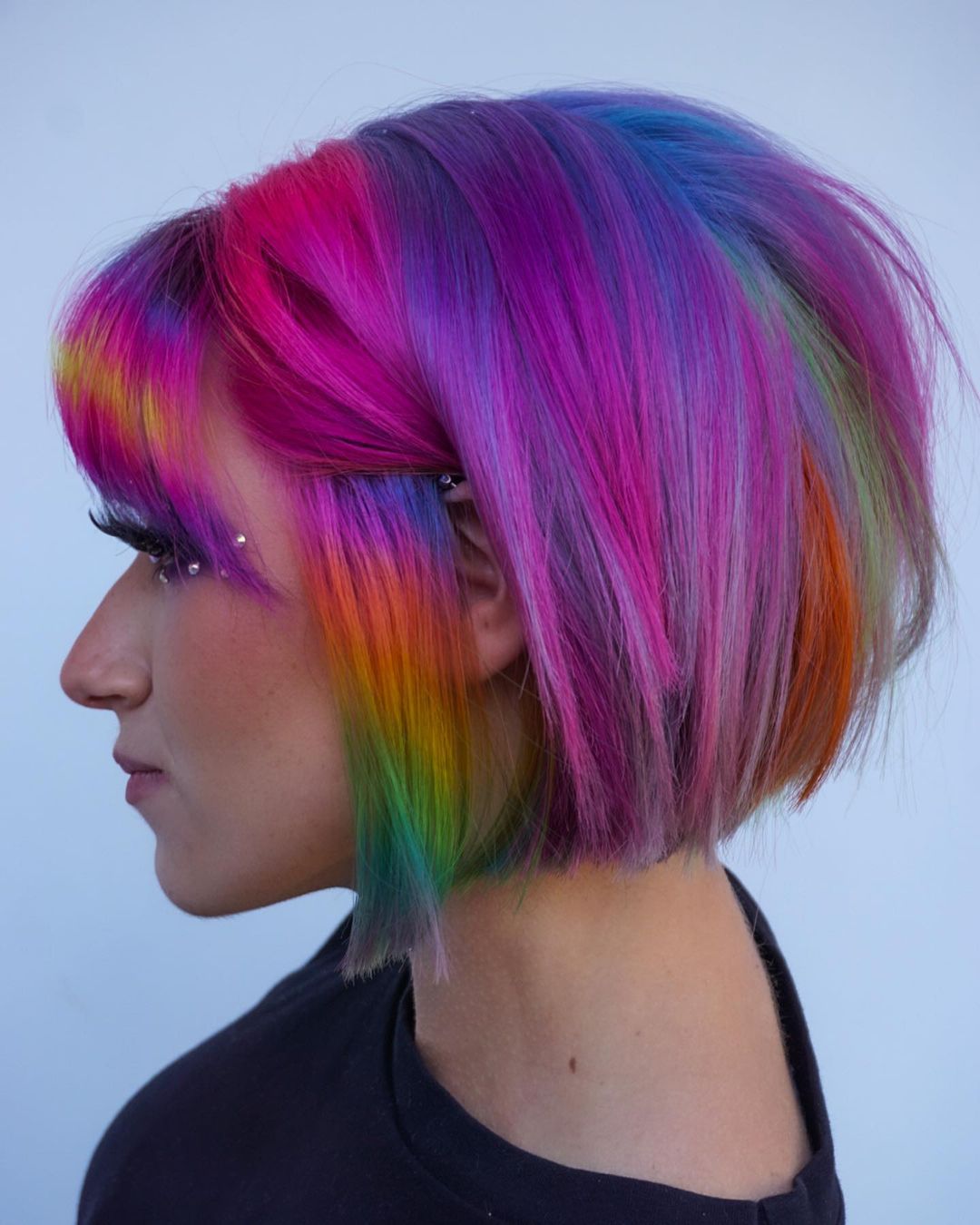 via @lyndadidit
Galaxy Warm Tones
Try the beautiful cosmic rainbow hair trend if you are warm-toned. A panorama of pastel shades, subtle in tone, can dramatically transform your tresses. Very summerish, use the color combos during the hot season and catch the eyes of every passerby. The warm colors from the space create a pleasant warm texture to the hair.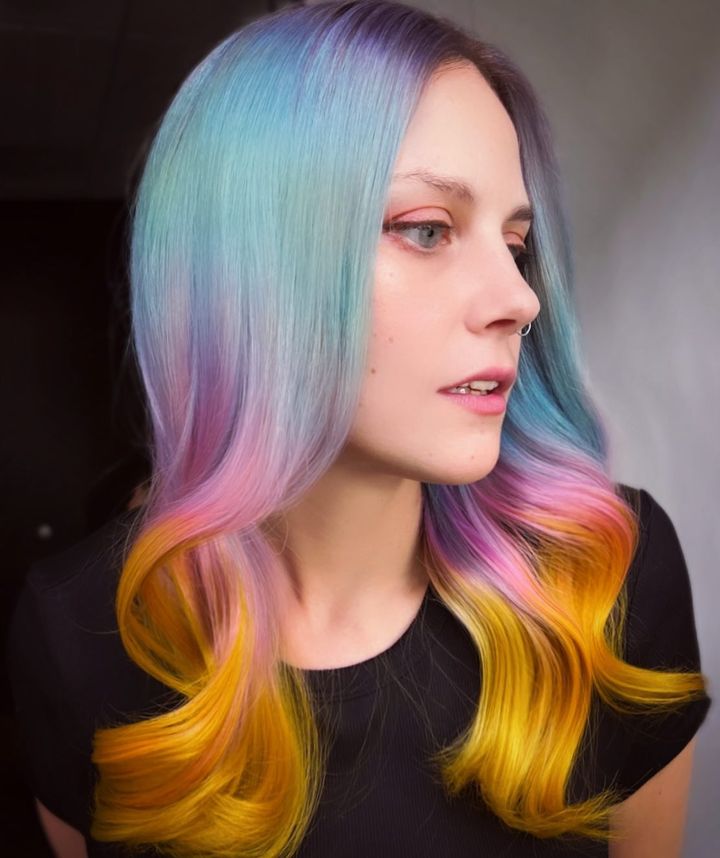 via @theneonblonde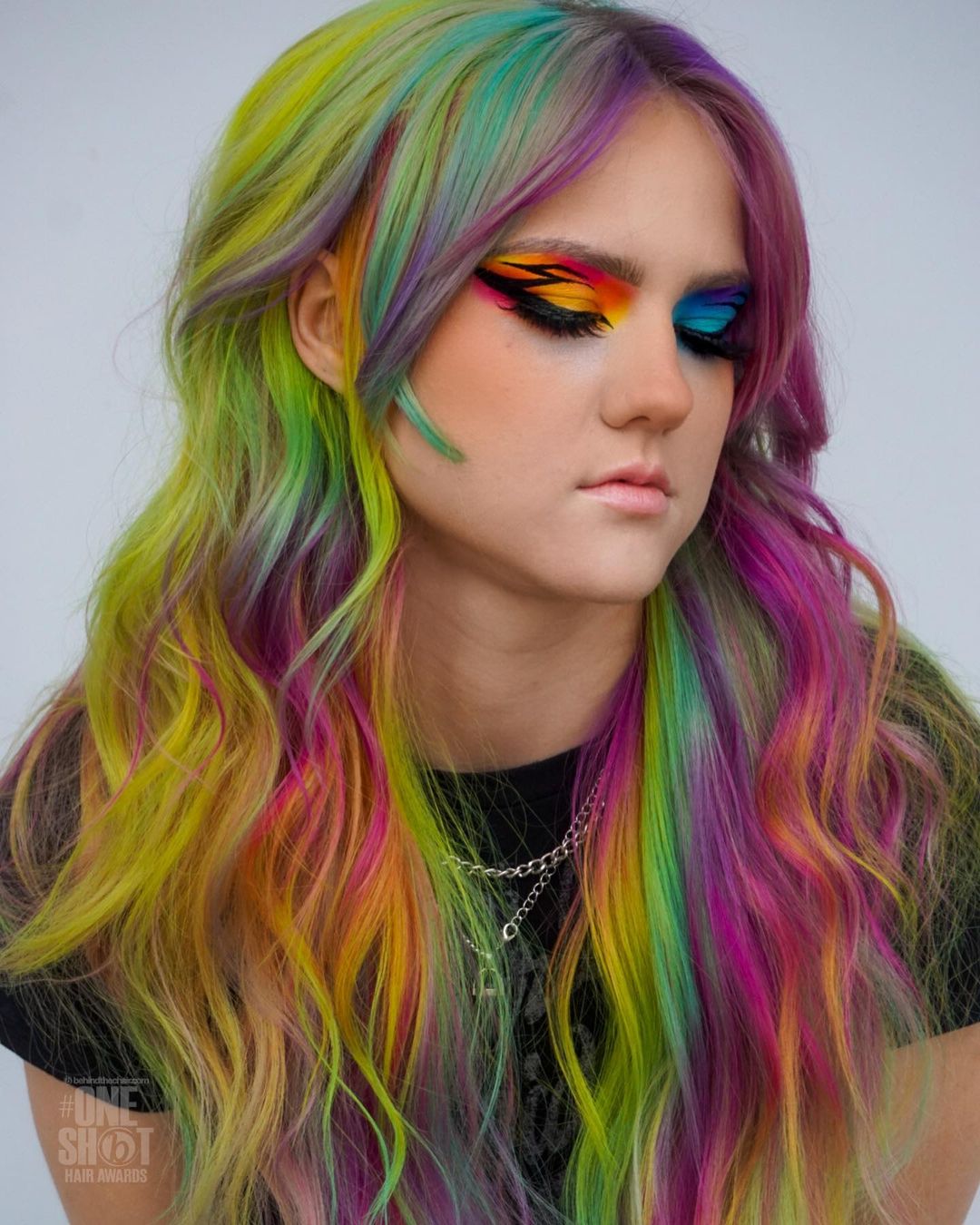 via @lyndadidit
Red Galaxy Hair
The red galaxy hairstyle is a trendy red hair color idea. If you want an intense red galaxy color on your tresses, go for the coral reef hue primarily saturated with strawberry color.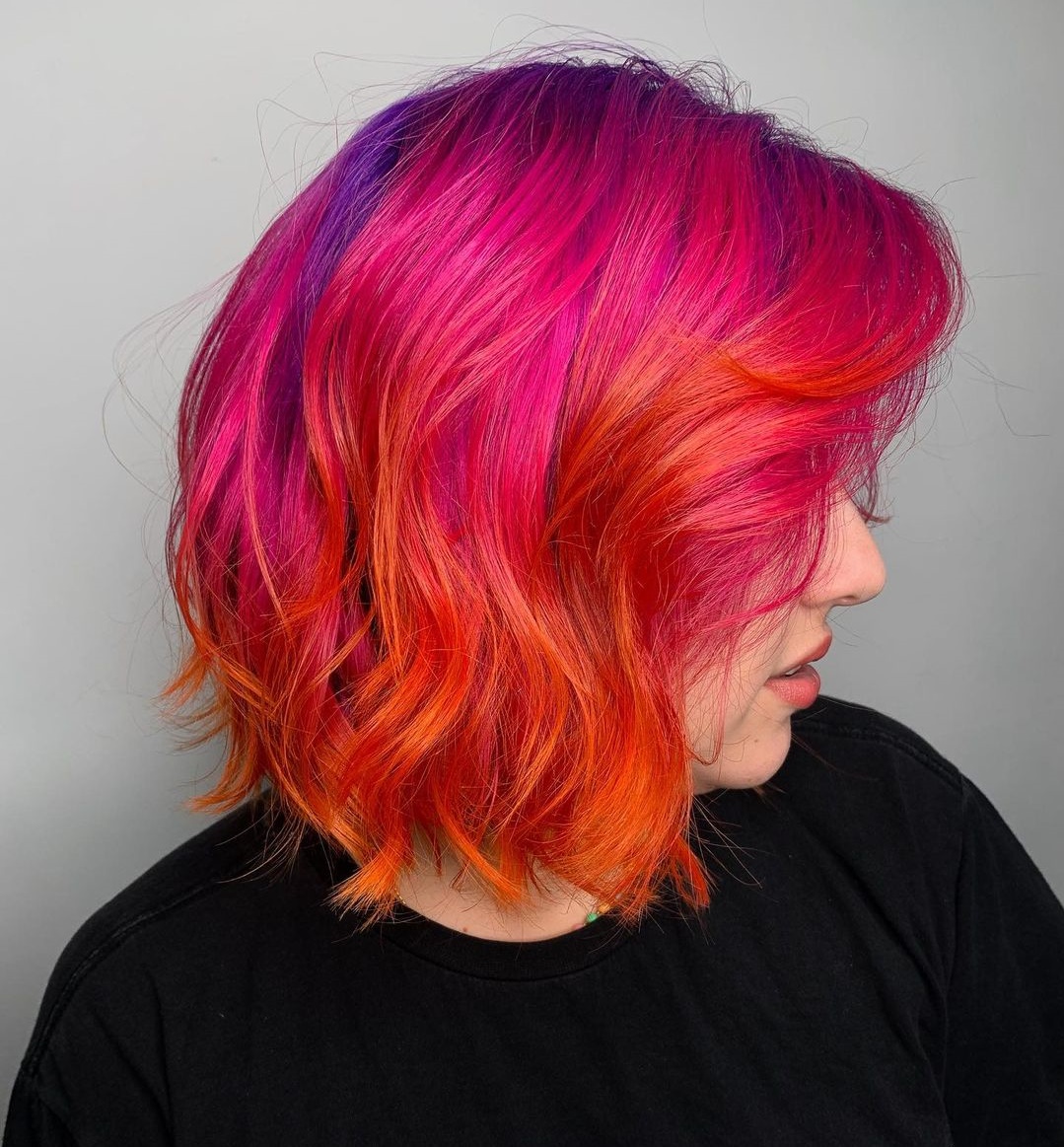 via @sabrayna_
Of all the different shades of galaxy hair that suit an olive skin tone, this is the shade that makes your hair look bright and beautiful. Ask your hairstylist to give a creative blend with a dark base and then highlight with teal at the ends. This is a bright shade; meant for the bolder you!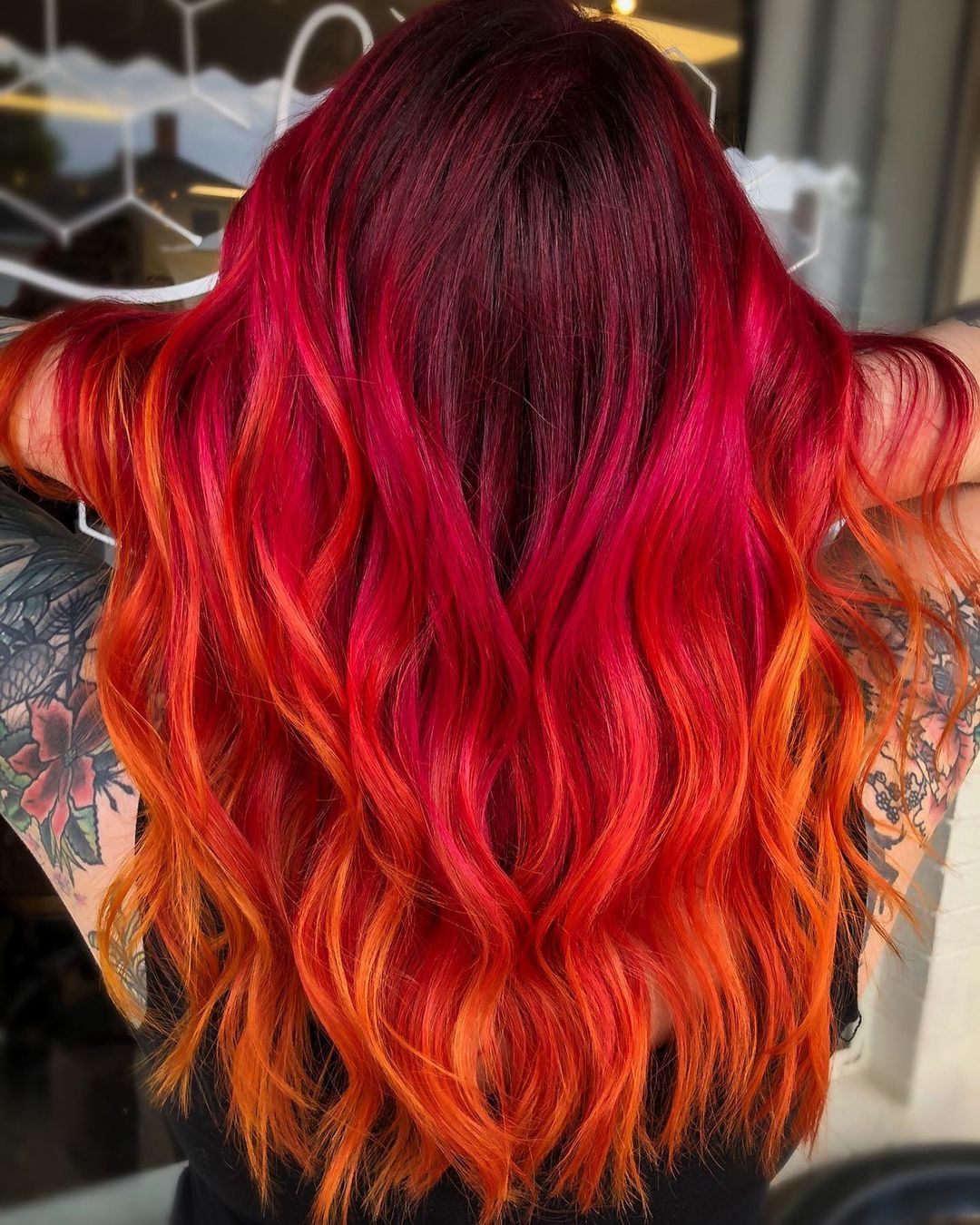 Blue and Green Galaxy Hair
All trend hunters know that galaxy coiffure's most impressive color blend implies blue and green shades. Those who want to get an unusually bright hairstyle should try this option.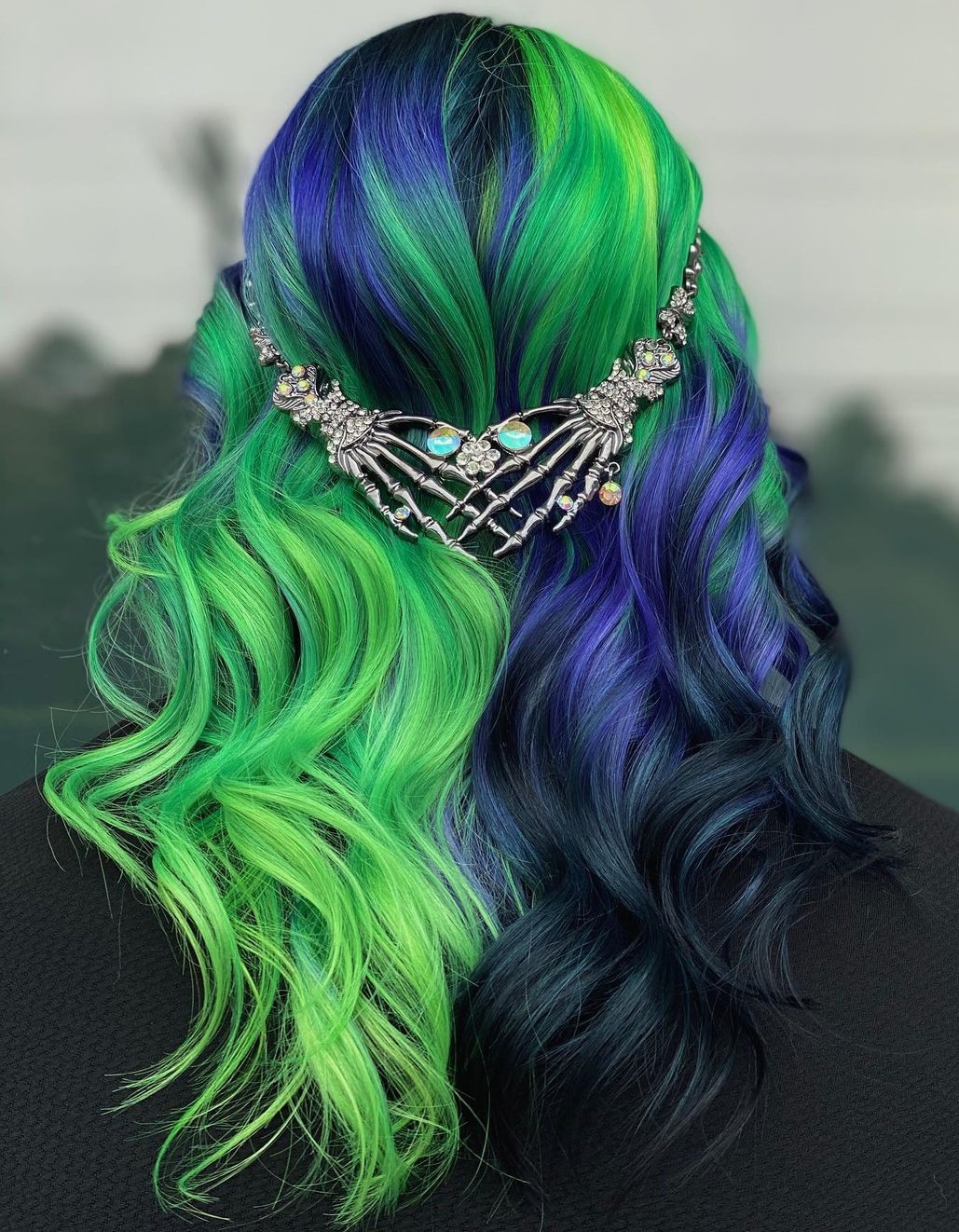 We assure you that aqua and green hair suit both blondes and brunettes. You should pick the appropriate tone. And it's up to you whether to add more blue or green layers – it depends on your preferences!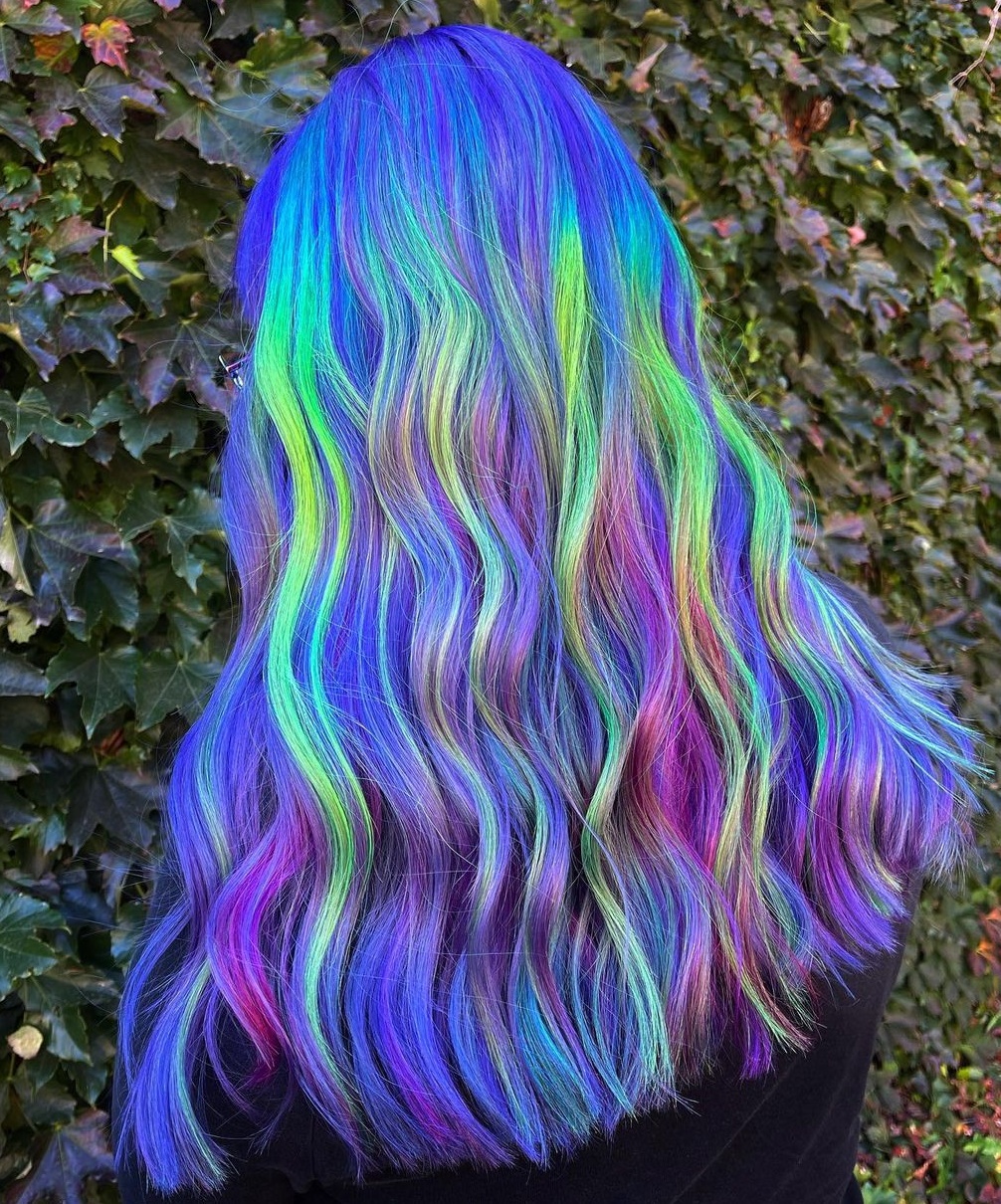 via @kayla_boyer
Cosmic Dark Blue Galaxy Hair
If you have dark hair and pale skin, galaxy hair will look magic. It doesn't matter whether you have short or long hair since this hairstyle suits everybody.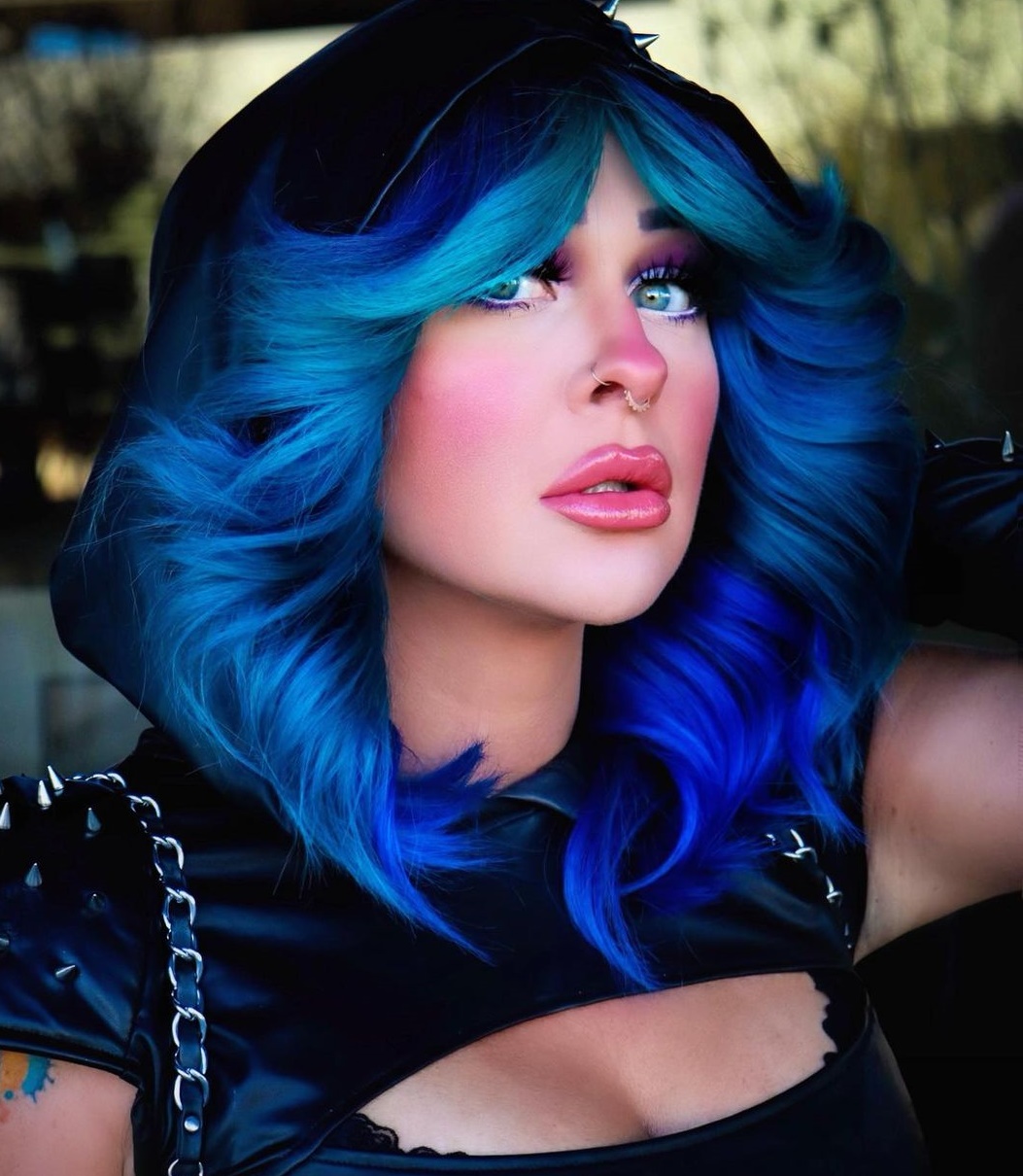 Purple ends will add an impressive highlight to your image and make you feel like a celebrity. Keep in mind that a blend of blue and pink also looks amazing.
If you have already decided to make such a hairstyle, plan your hair appointment with a hairdresser in advance since it can take quite a lot of time.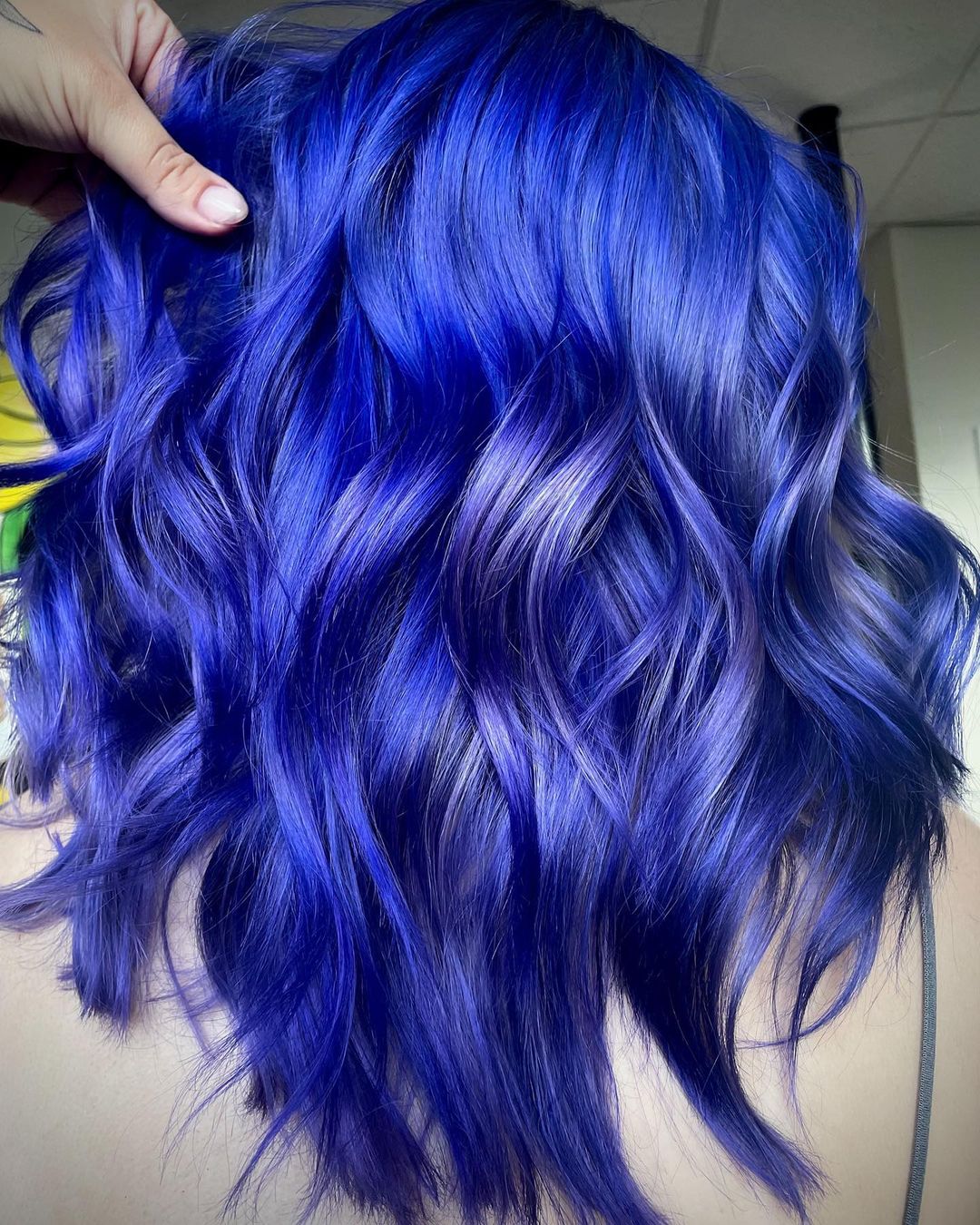 Burning Orange Galaxy Hair
Try this unusual trend if you are ready for significant changes in your life! Orange hair is for self-confident women who are used to attracting attention.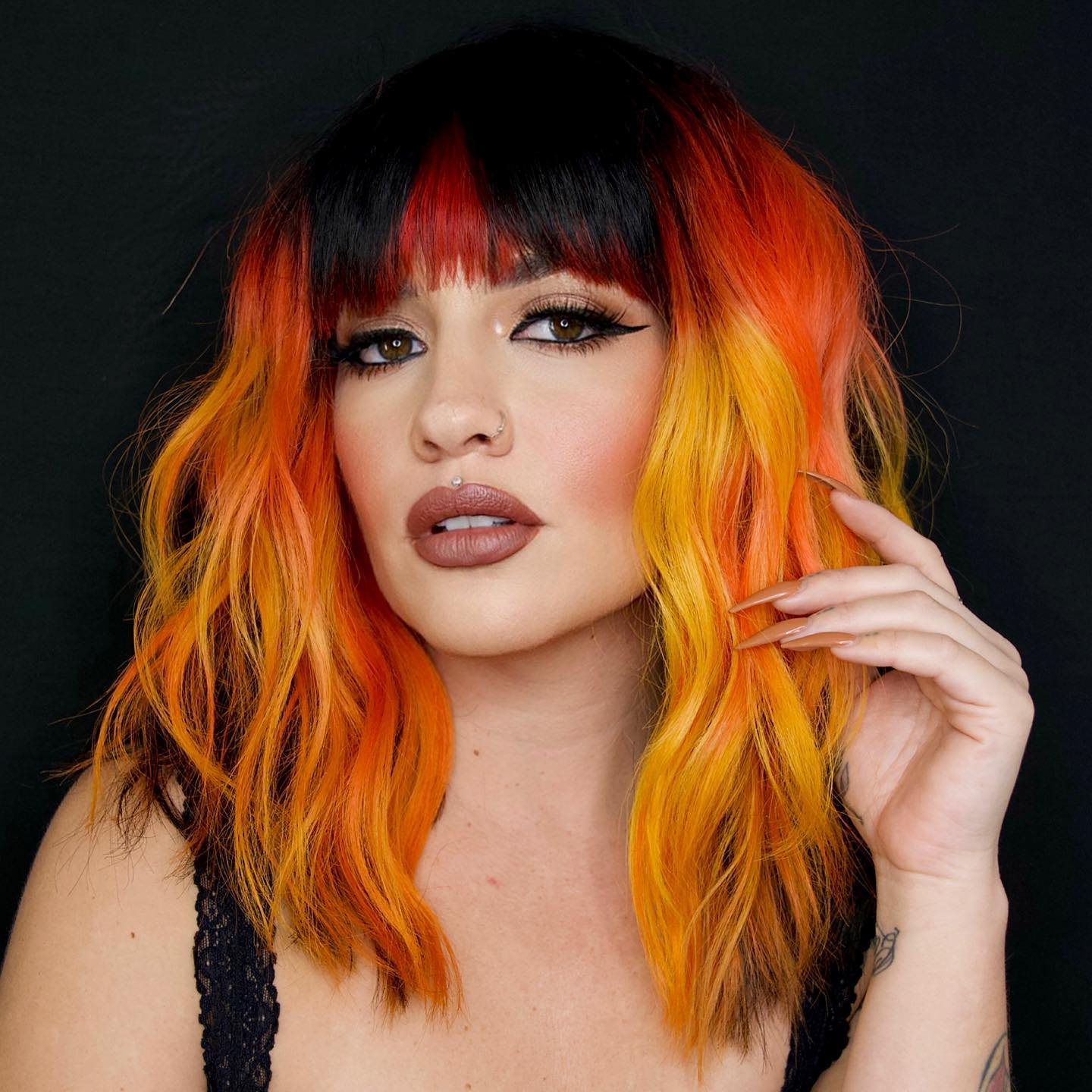 via @john.n1115
Although galaxy hair color ideas usually include blue, green, or purple, ladies often underestimate orange shades. Moreover, you can leave your natural roots and make a smooth transition. Those who want a rainbow dying can leave space for other colors, such as yellow or red, or even add some contrasting shades!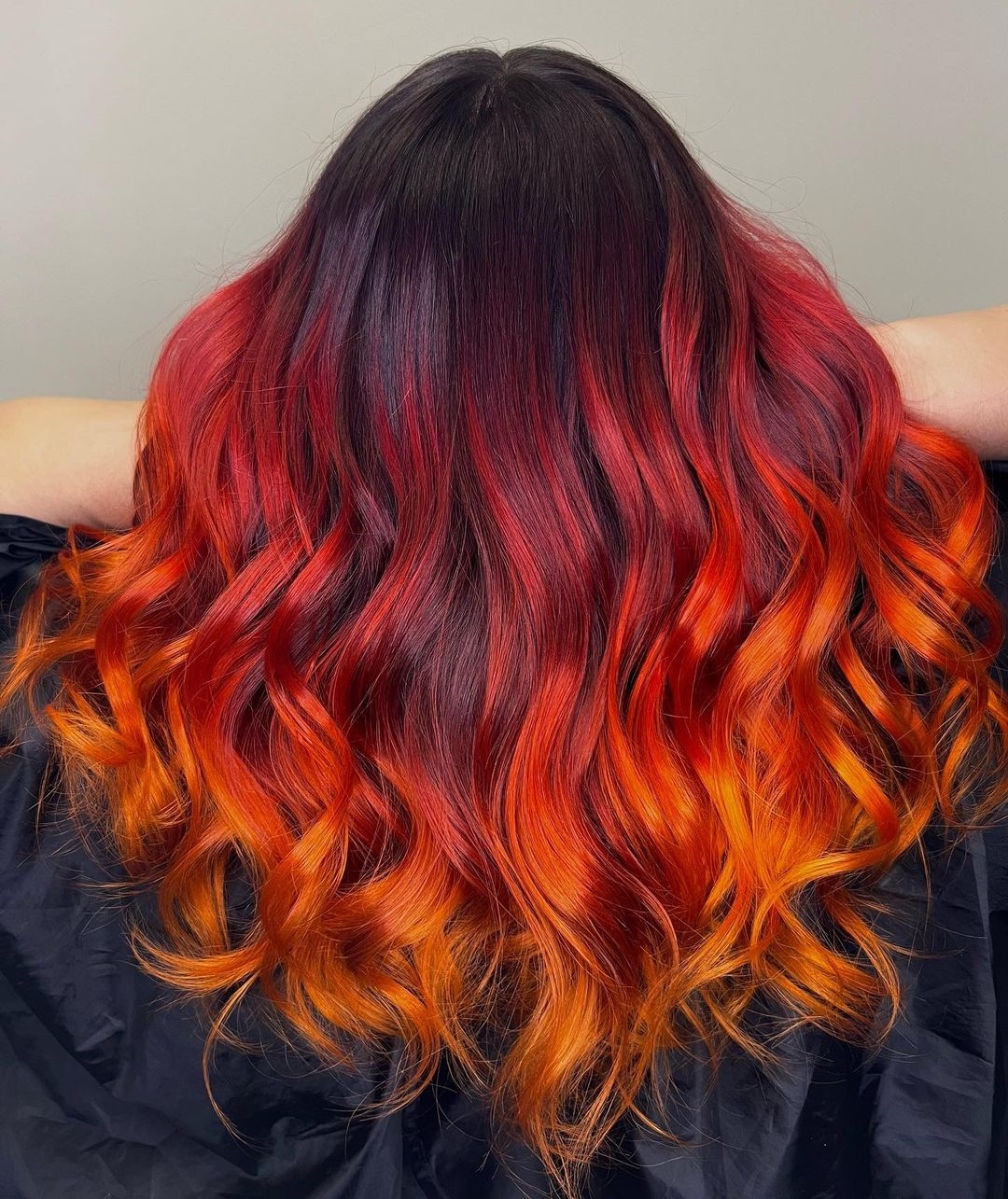 Lavender and Magenta Galaxy Hair
A mixture of magenta and lavender galaxy hair color suits any appearance and is a perfect choice for bright and attractive personalities. This two-color blend is typically performed in popular techniques: balayage and ombre.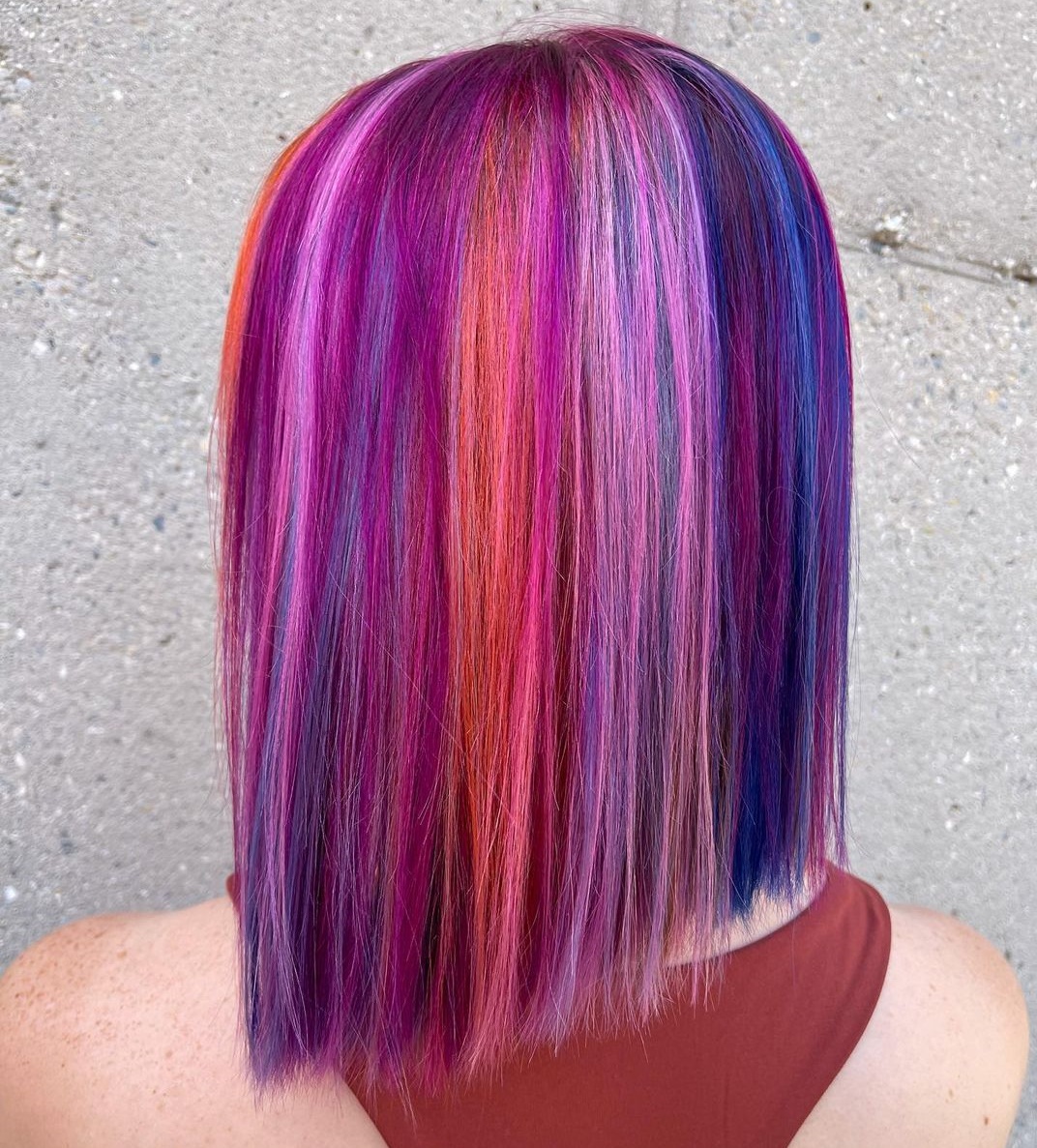 They are considered complicated, so make sure to select a professional hairdresser to avoid any unpleasant situations. The dying process can take much time, but you will eventually receive an impressive galaxy hairstyle, which will delight you every day.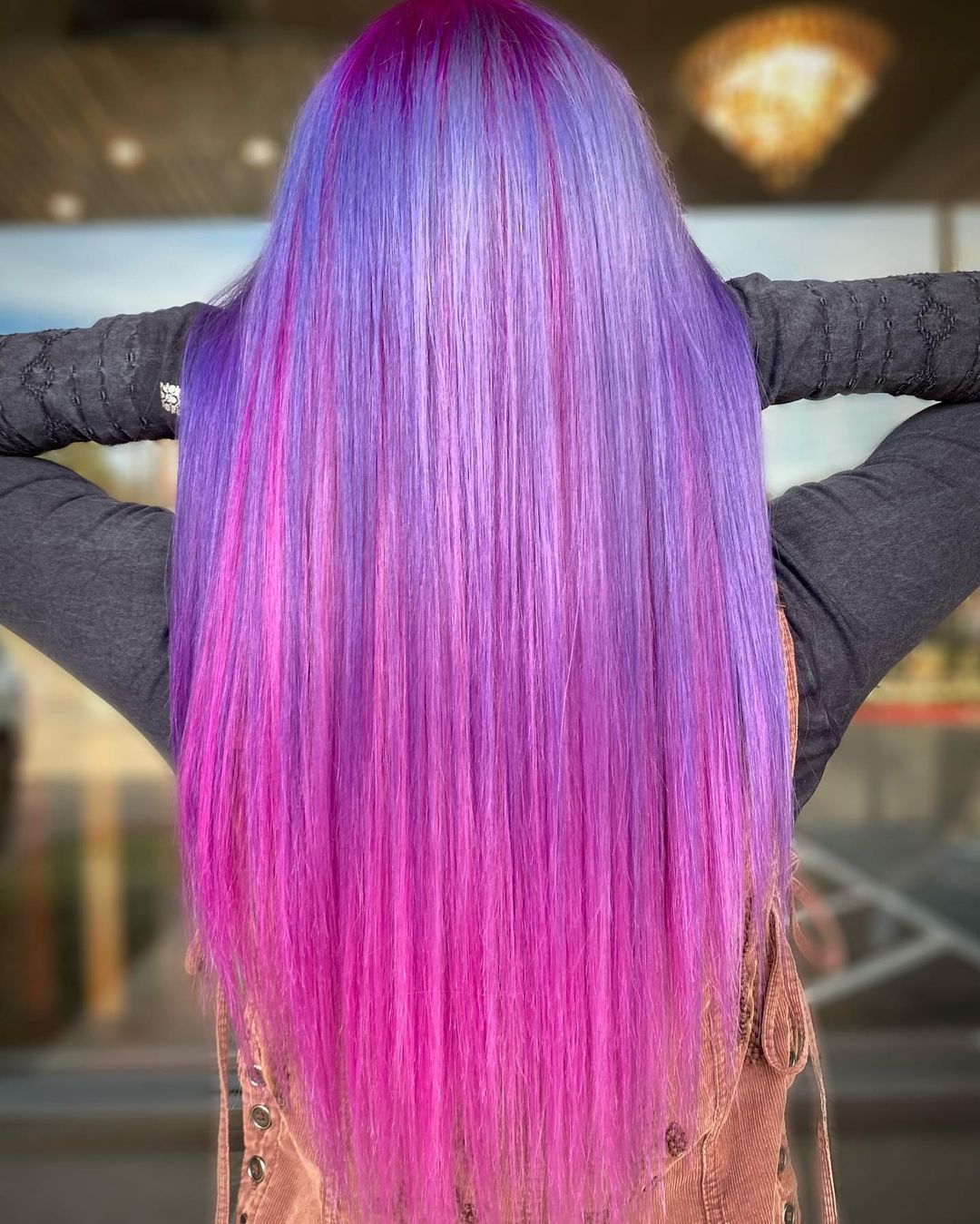 via @shell.vega
Galaxy Peekaboo Highlights
This hairstyle does not involve the use of bright colors; its main feature is that the shades are close to your natural hair color. For this reason, you can receive impressive hidden highlights while leaving your coiffure strict and non-provocative. Such peekaboo galaxy hues with proper shades are considered relevant for any occasion, for instance, going to the office.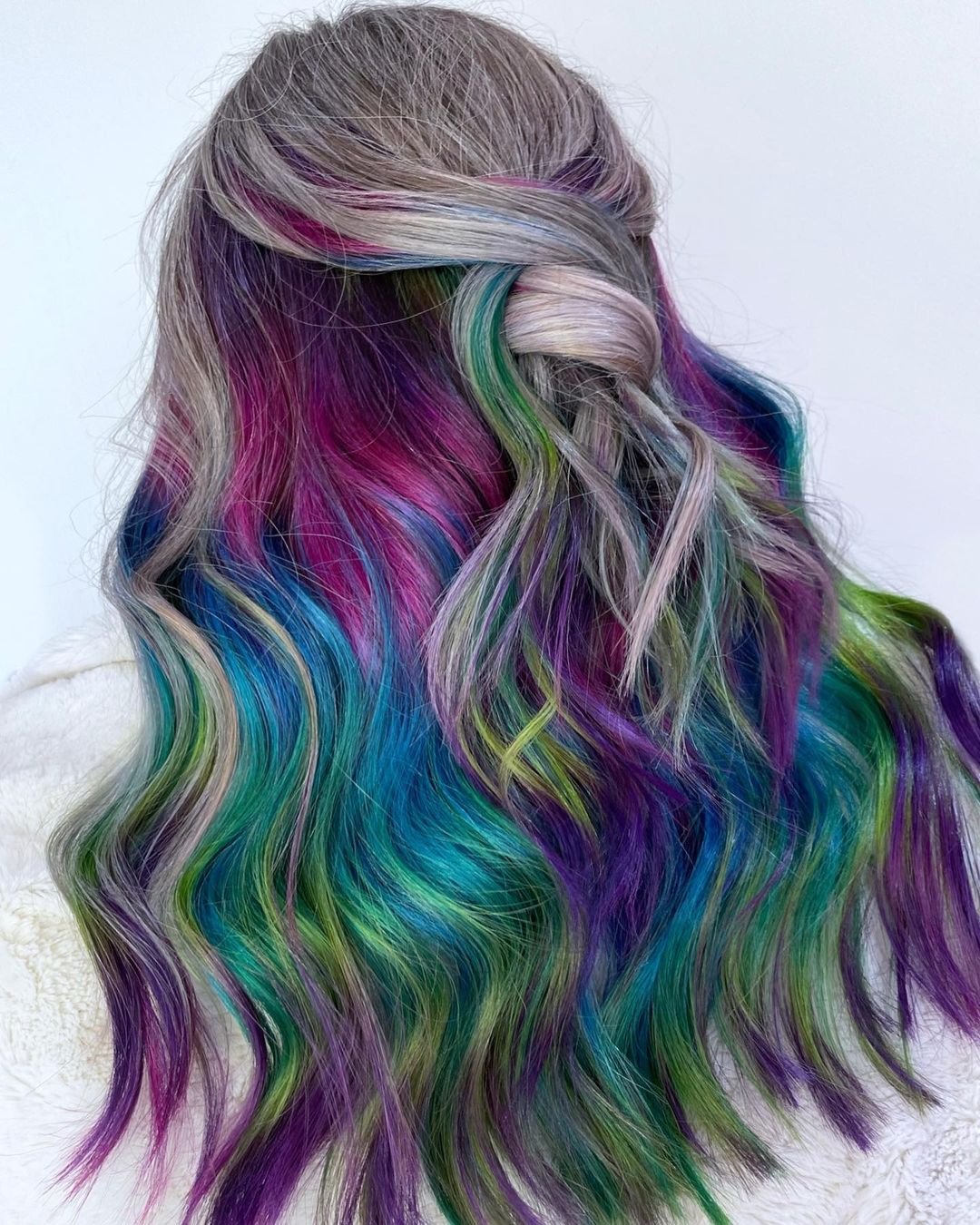 Another option for a similar hairstyle is to color only the lower part of the hair, highlighting your unique style.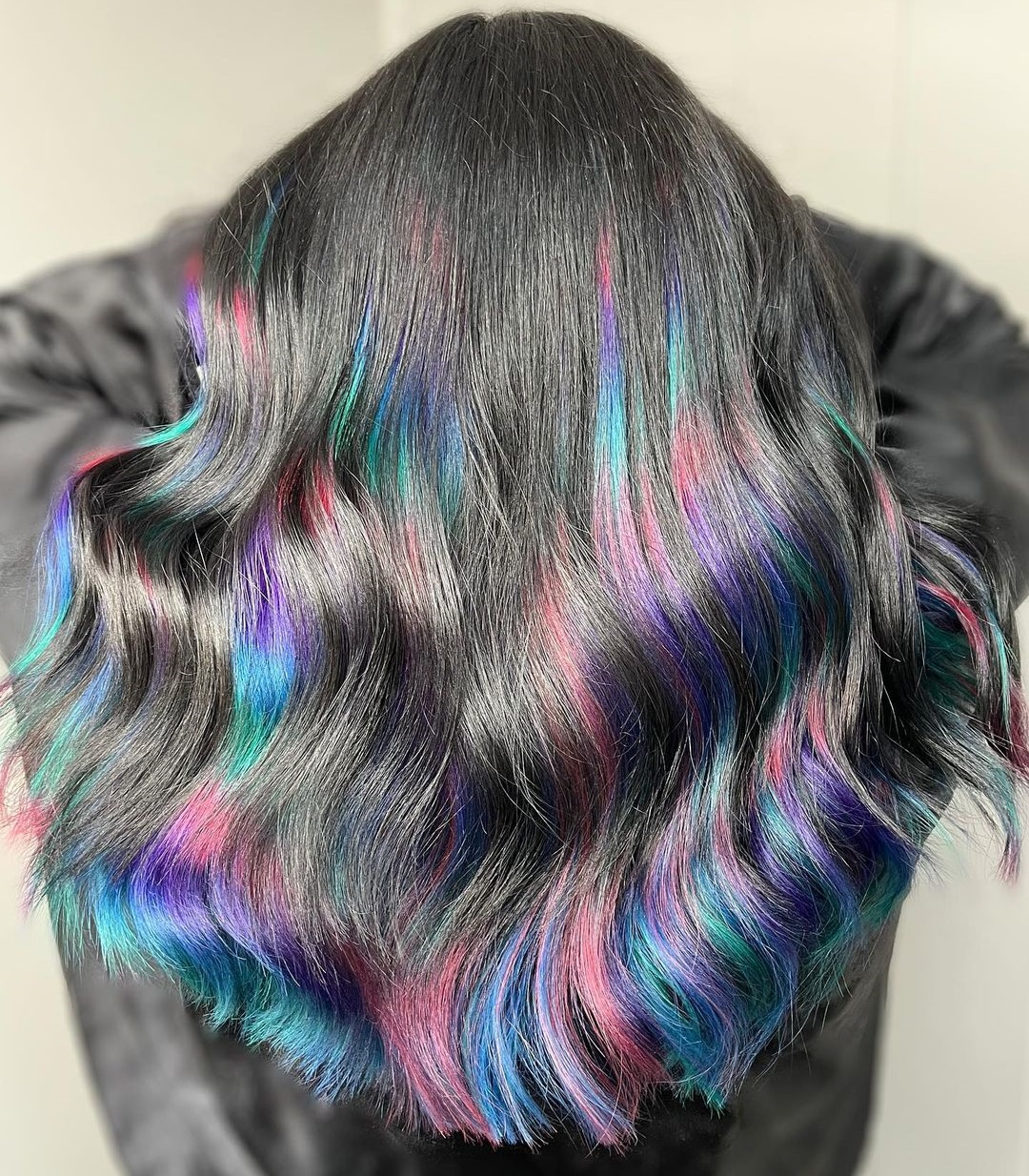 via @zenityhair
FAQ
How to Prevent Rainbow Hair from Fading?
It would help if you first considered selecting the best cosmetics for colored hair. Of course, picking products suitable for your hair and skin type is necessary. There are better options than just shampoo since your hair will fade too quickly. So, make sure you use a good balm, mask, or both. To choose all cosmetics correctly, consult your hairdresser, who will help you select.
Moreover, washing your hair too frequently is also not the best idea. If the hair type does not allow this, select sulfate-free shampoos that guarantee the preservation of color. Go to any specialized store, and the consultant will choose the most suitable cosmetics for you.