Classic French bob is timeless elegance and casual chic. A popular haircut with a short length (usually down to the level of the chin) goes well with any face shape and hair texture.
In addition, the low-maintenance French bob is the perfect solution for women who want to look stylish and spend less time on it.
What is a French Bob?
The French bob haircut is a sleek and versatile hairstyle. Its distinguishing features are chin-length, blunt ends, and minimal layers.
The french style haircut originated in the early 20th century as a symbol of modernity and independence. It is distinguished from other hairstyles by its minimalism, elegance, and possibilities for personalization, which makes it the choice of French actresses and women who appreciate charisma and sophistication.
Gentle Wavy French Bob
This haircut combines a classic chin-length bob with a wavy hair texture. It differs from the traditional hairstyle with loose, wavy curls that give a laid-back, creative look.
The disheveled jaw-length French bob suits owners of fine hair and any face shape. If you like experimenting with classics and adding modern touches to them, this haircut is what you should try!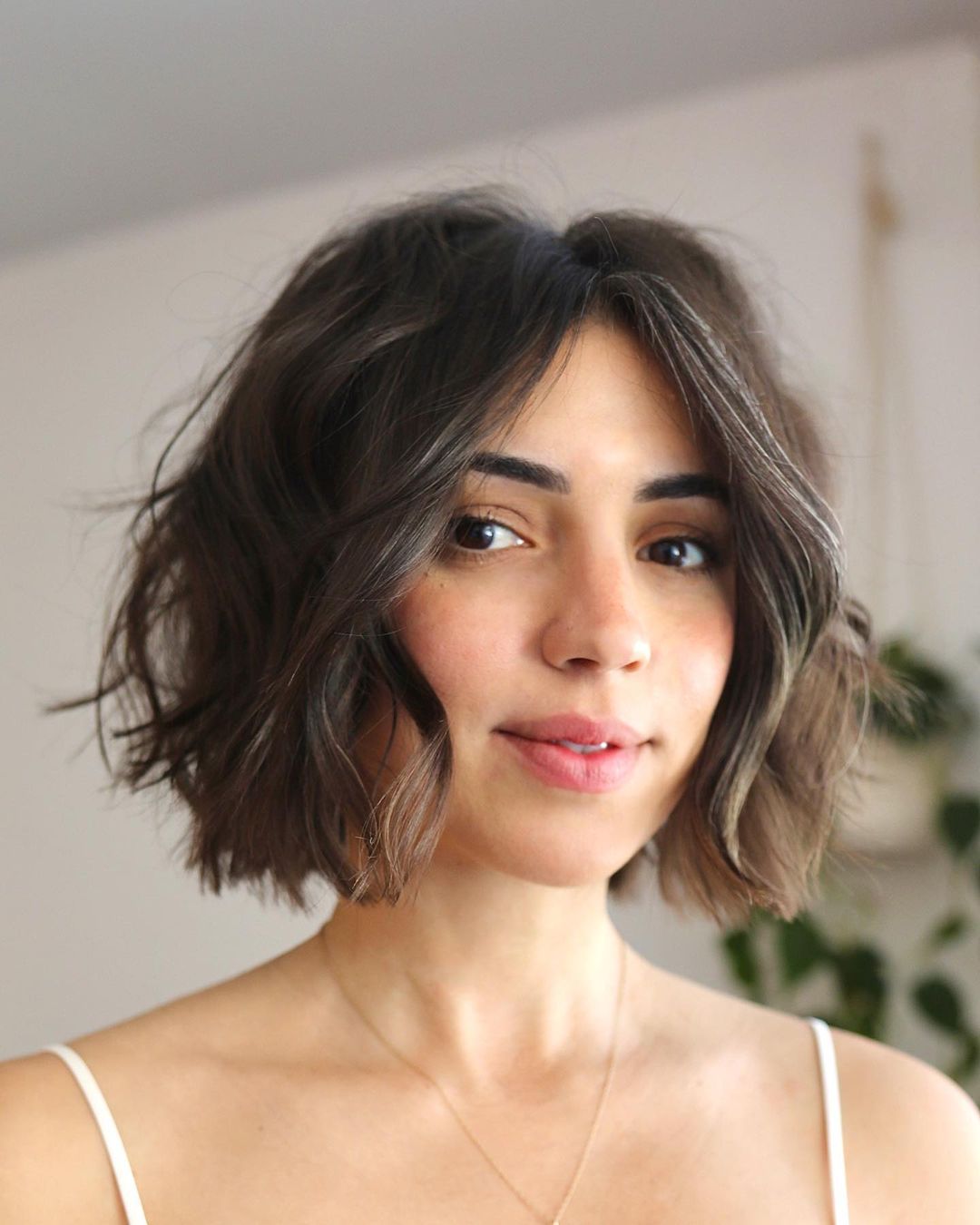 via @hirohair
French Bob Haircut with Bangs
It's hard to underestimate the charm of a French bob with bangs. The bangs addition, whose length and style are adjustable, is the undeniable highlight for a classic look!
This haircut suits different face shapes and hair textures, bringing the familiar bob to life. Which types of bangs are better to choose? Only you can decide! Among year's favorites are eye-catching curtain bangs that can be adapted to any outfit.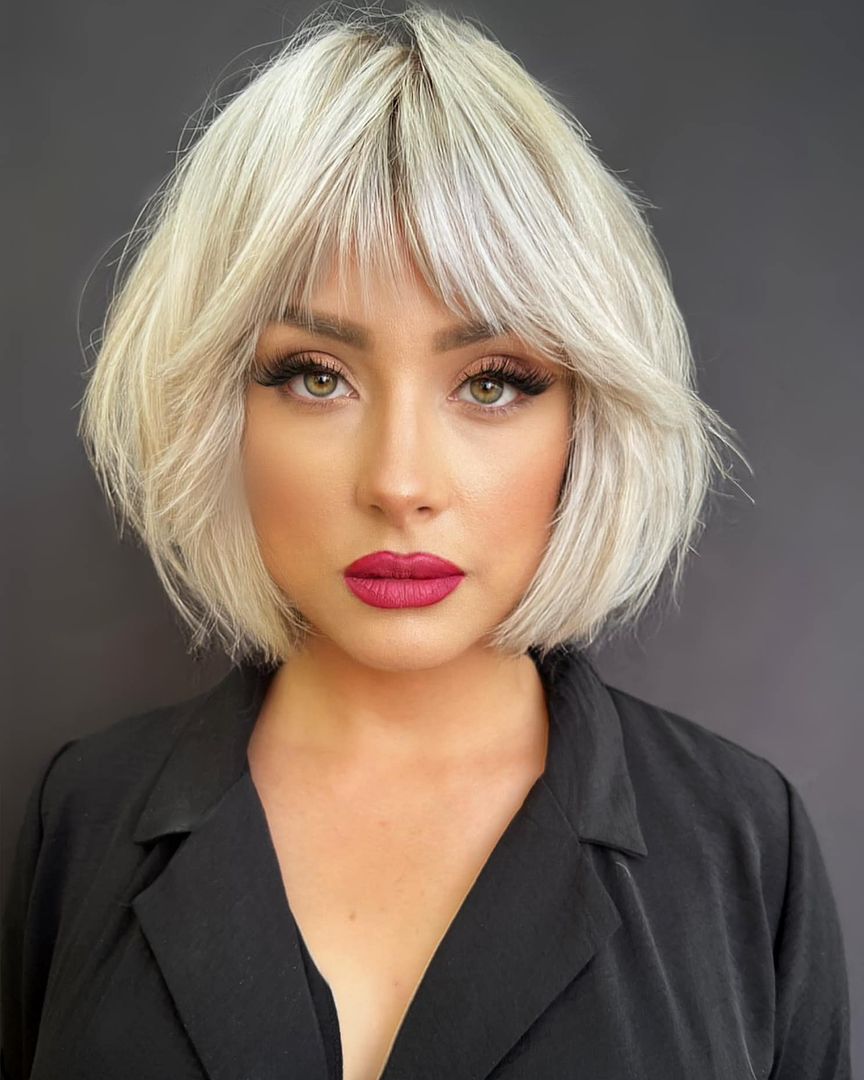 French Bob Cut Without Bangs
The French bob cut without bangs retains the classic bob shape and chin length. Girls who prefer to leave their forehead open can safely choose it.
Use a volumizing mousse or texturizing spray for French bob on straight hair to enhance its shape and movement. Remember to update the blunt cut regularly. It is essential to maintain smooth lines and a stylish look.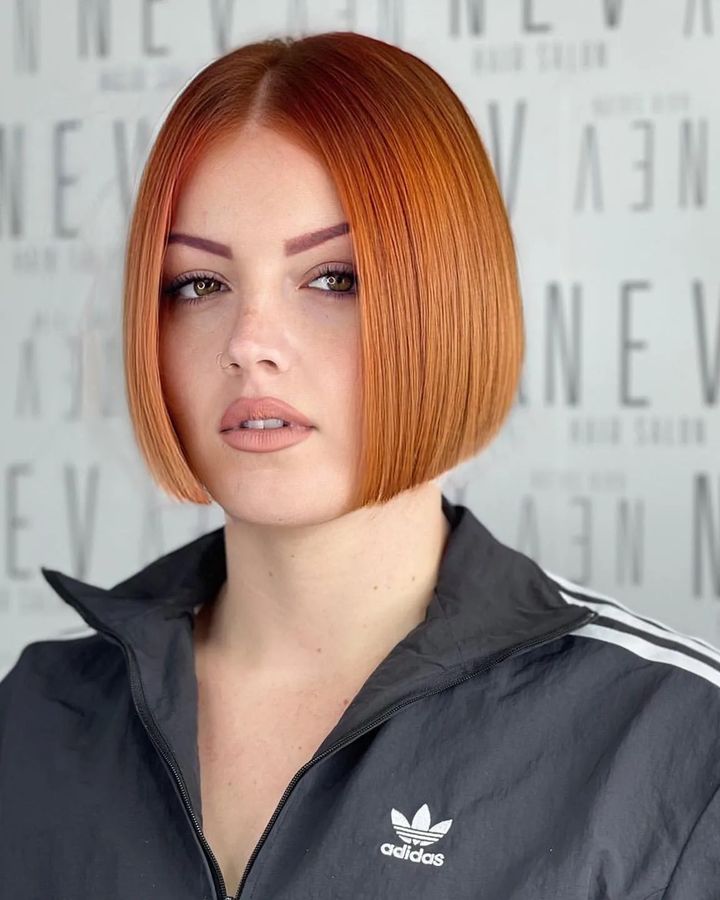 via @kratkovlasky.cz
Playful Curly French Bob
Are you a happy owner of curly hair texture? We know how to tame perky and reckless curls! We invite you to try a charismatic hairstyle like the curly French bob!
This hairstyle, restrained at first glance, can also be like that. A chin-length cut in combination with curls is suitable for curly girls who want to keep care to a minimum.
All you need for a stylish look is a moisturizing shampoo, conditioner, and regular trims to keep your hair in shape.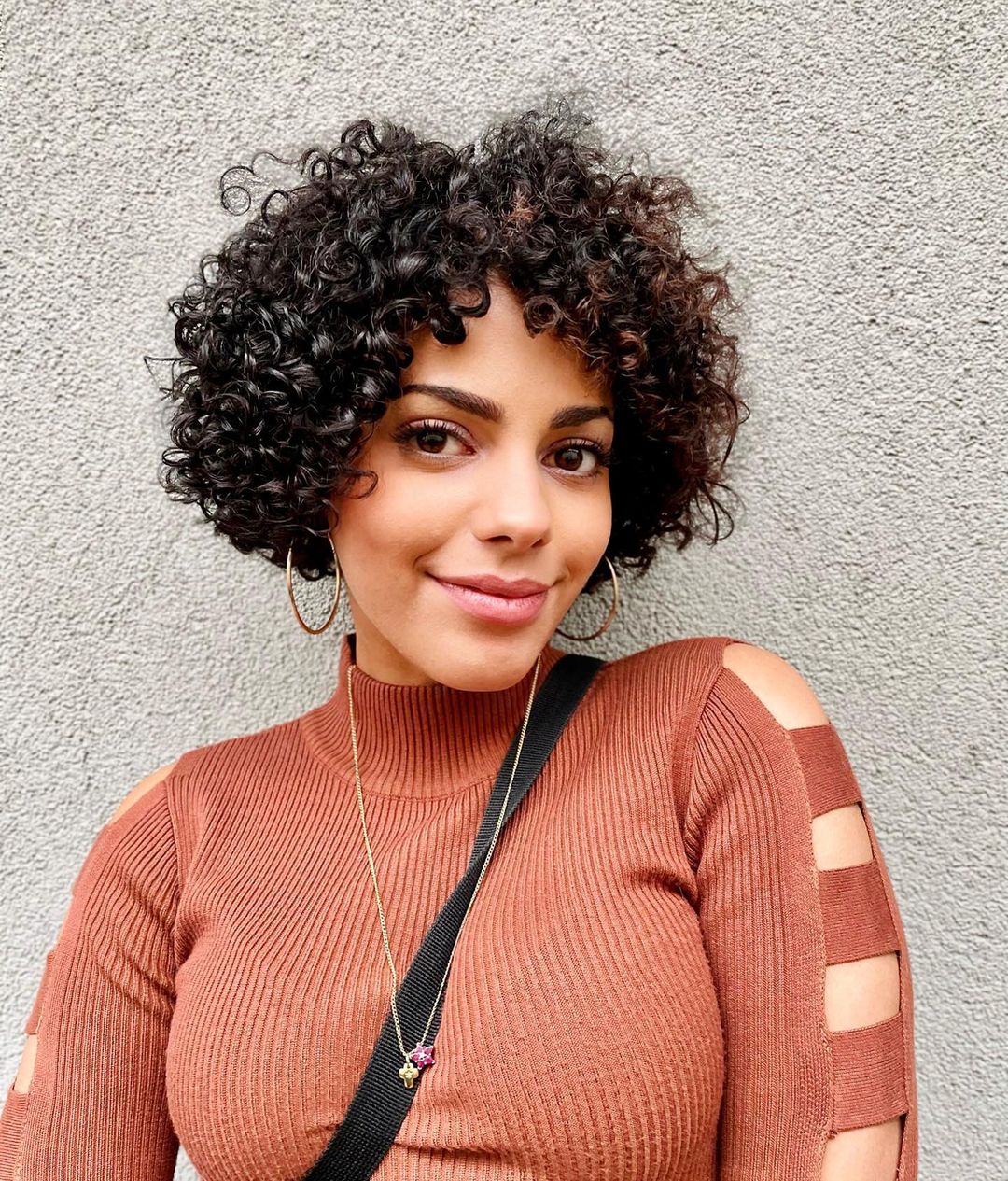 Bold Choppy French Bob
The messy bob has a textured, layered look and jagged ends. It will appeal to fashionistas who want to diversify the classic bob and add bright accents like micro bangs.
Owners of an oval face shape can safely choose a hairstyle that complements any look. Add volume and airiness with the help of texturizing styling products.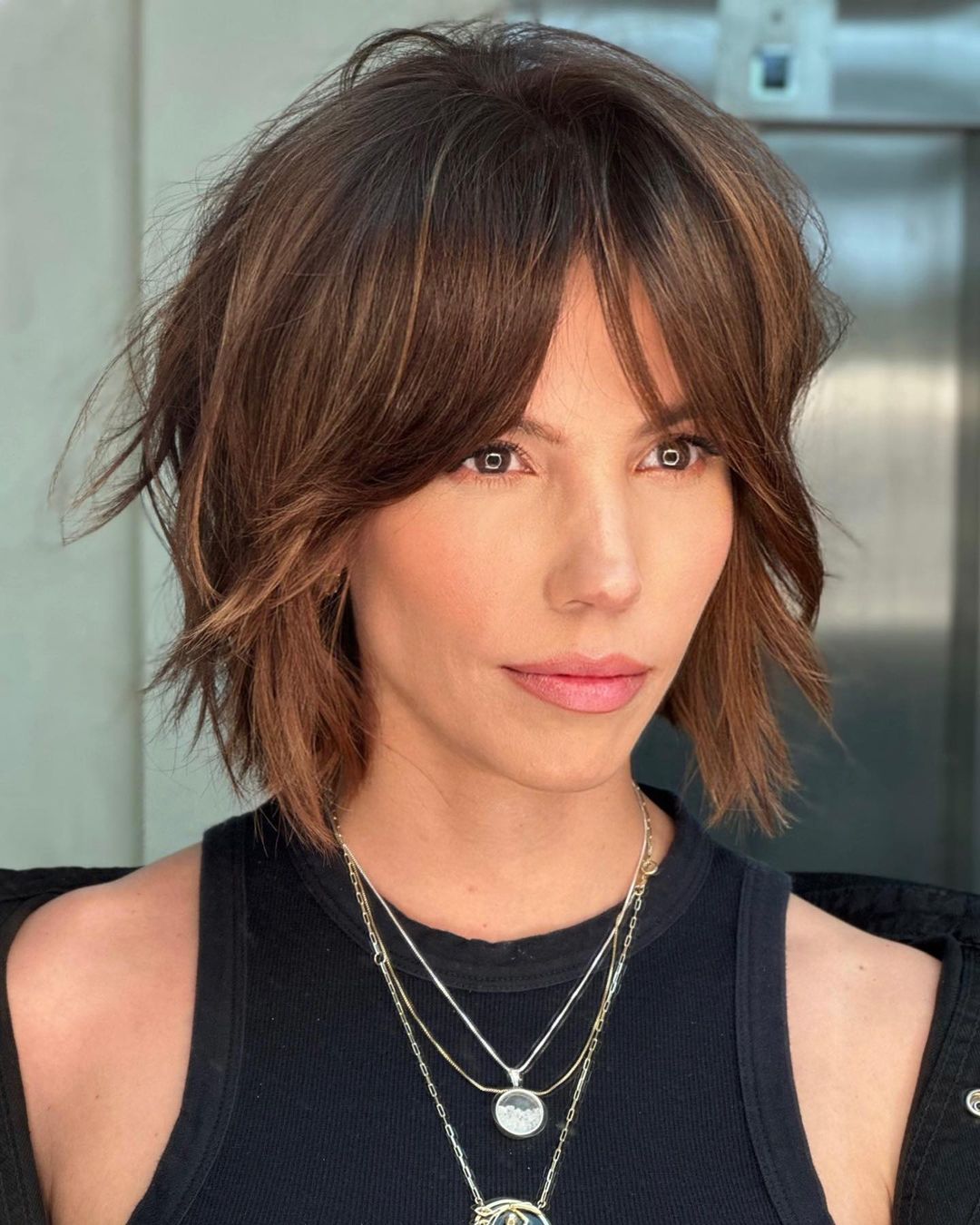 via @romeufelipe
French Bob with Blunt Ends
French bobs with blunt cut vary from the traditional chin-length bob with straight ends. This haircut is both laconic and elegant. If desired, you can add micro bangs to make the look more charismatic.
Straight ends are a great way to make thin hair look thicker.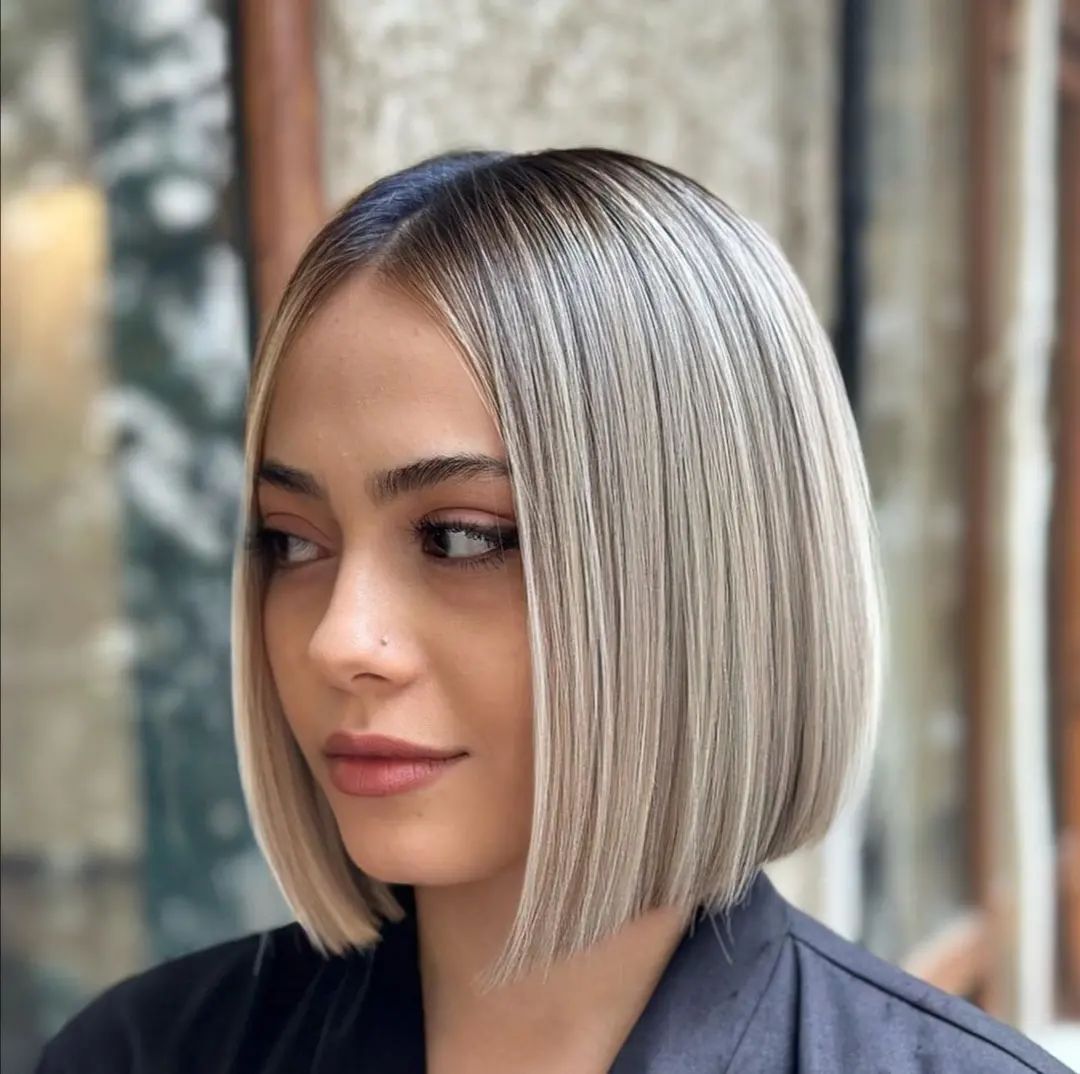 via @the_bob_haircut
Mini French Bob Cut
The short French bob is shorter in length while retaining the characteristic curved ends of the bob. This haircut has gained incredible popularity due to its laid-back chic look and unpretentious care. For example, among the celebrities seen with such a haircut are Taylor Swift and Emma Watson.
Chin-length French bob elegantly frames the face, accentuates facial features, and blends well with various natural textures of hair.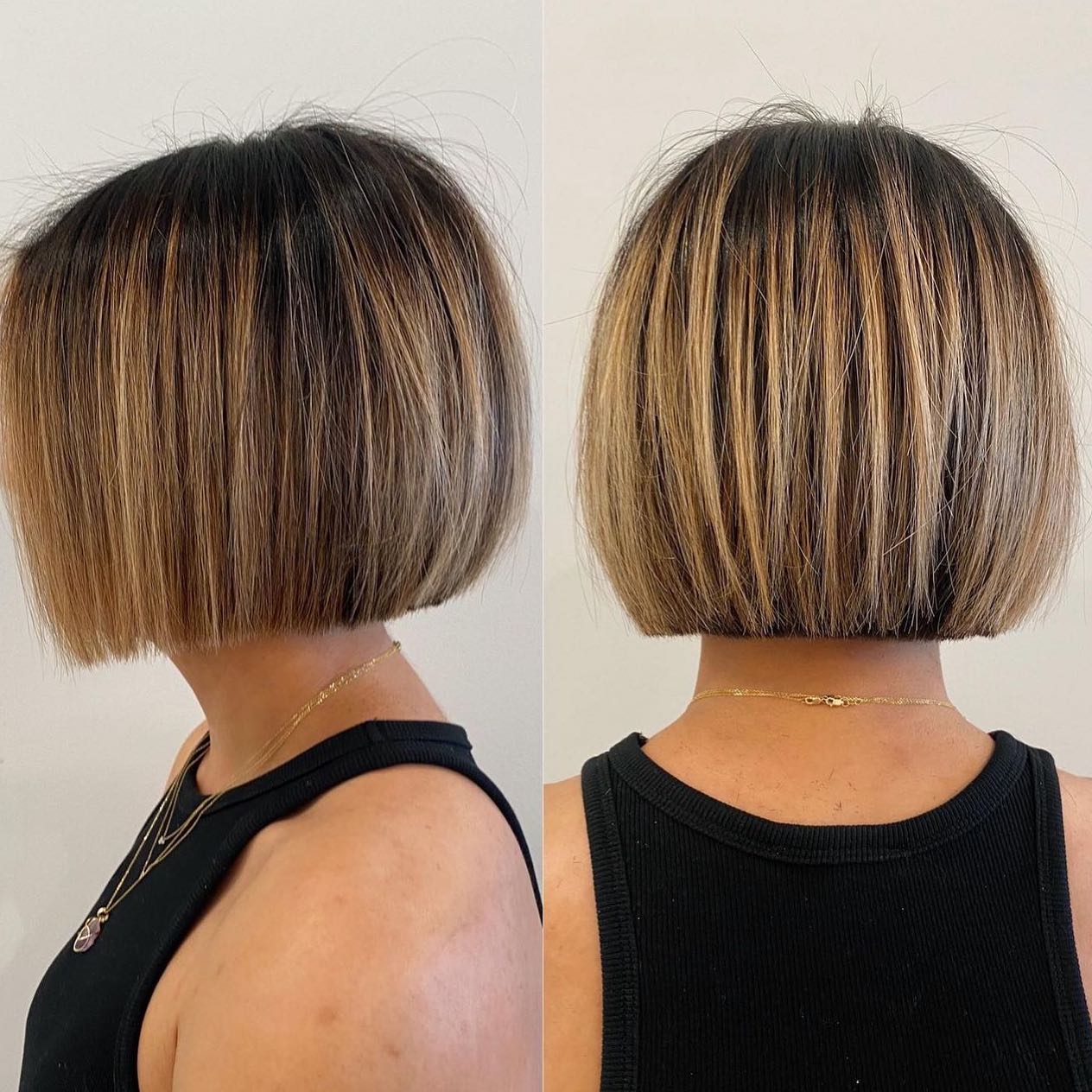 via @whiteopalhairco
Vintage French Bob Haircut
What is a vintage and playful French bob? This legendary hairstyle appeared at the beginning of the last century and still needs to yield its position. Among her ambassadors are legends such as Coco Chanel and Louise Brooks.
A cropped bob has such characteristic features as length to the jawline, slightly shorter strands at the back of the head, and sharp ends. It emphasizes the chin line and neatly stacks any natural hair texture.
This style is the courage and audacity embodiment of the Roaring Twenties, which is relevant in our time.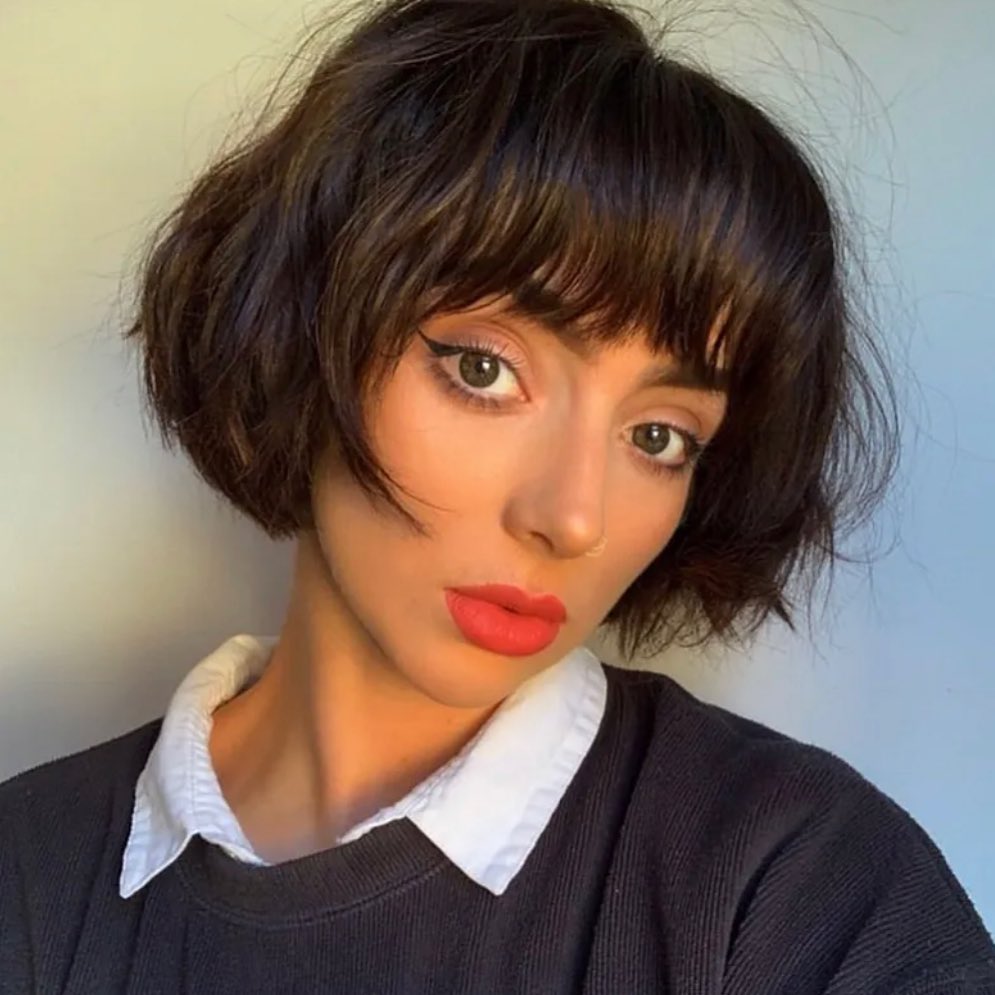 via @kabukiadelaide
Layered French Bob Cut
Are you looking for an original and striking French bob? Try a layered French bob! It is another modern interpretation of a classic hairstyle that suits all face shapes.
The multi-layered long French bob gives the hair pronounced texture, lightness, and volume. With it, you can easily create a dynamic look that will attract the attention of others!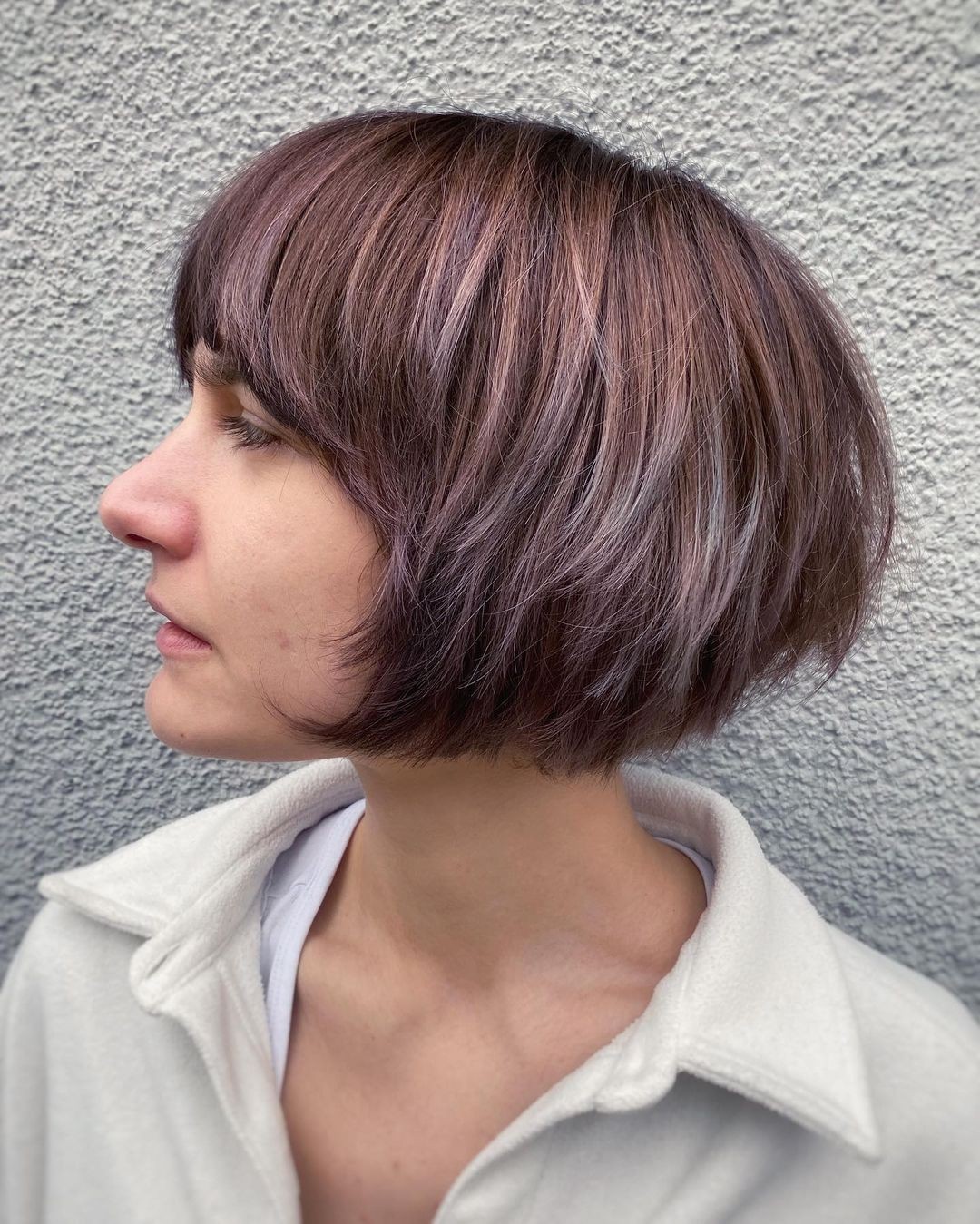 via @waystodye
Exquisite Long French Bob
Unlike a traditional haircut, a long bob usually reaches the shoulders or collarbones. However, it retains the angular cut and curled ends characteristic of the French bob.
This haircut will appeal to girls who do not want to part with long curls but want to add elegance to their look. Thanks to the saved length, you get a balance between ease of care and the ability to experiment with different styling options, including for thick hair with a wavy texture.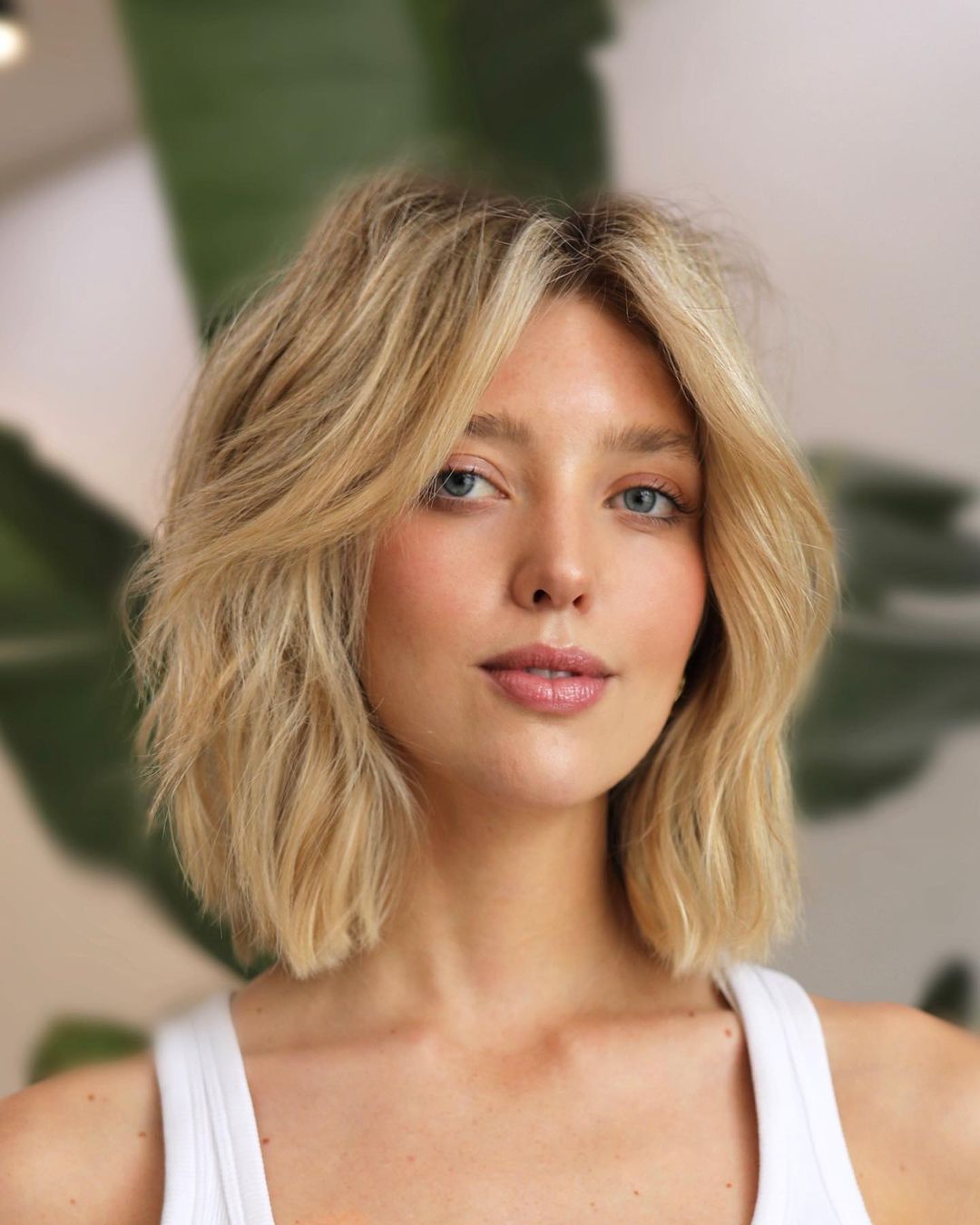 via @hirohair
Lived-in French Bob
Do you need a haircut that requires a minimum of care? Be sure to check out the lived-in short-stacked bob!
It's a laid-back, tousled take on the classic French bob. It provides the lightness and carelessness of the hair's natural texture, achieved by thin layering. The focus is on the elegant styling of the jaw-length French bob.
This haircut is versatile and allows you to create numerous stylings easily.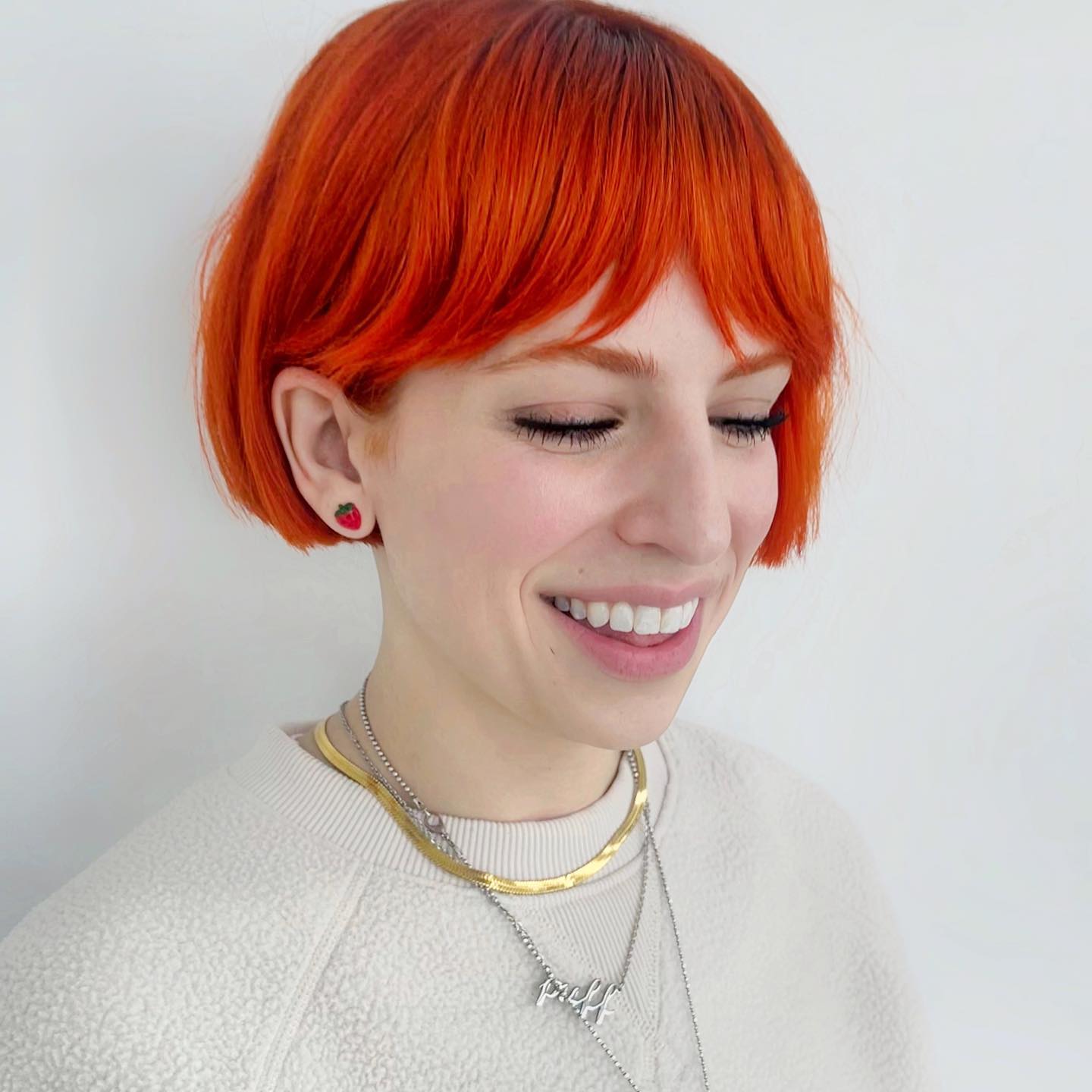 via @__k_vu__
French Bob with Undercut
A short French bob is among the most popular undercut hair ideas. It harmoniously combines elegance and audacity, which is a guarantee of a fantastic visual effect.
Opt for a tousled and layered bob if you want to stay feminine but still show off your personality and rebelliousness.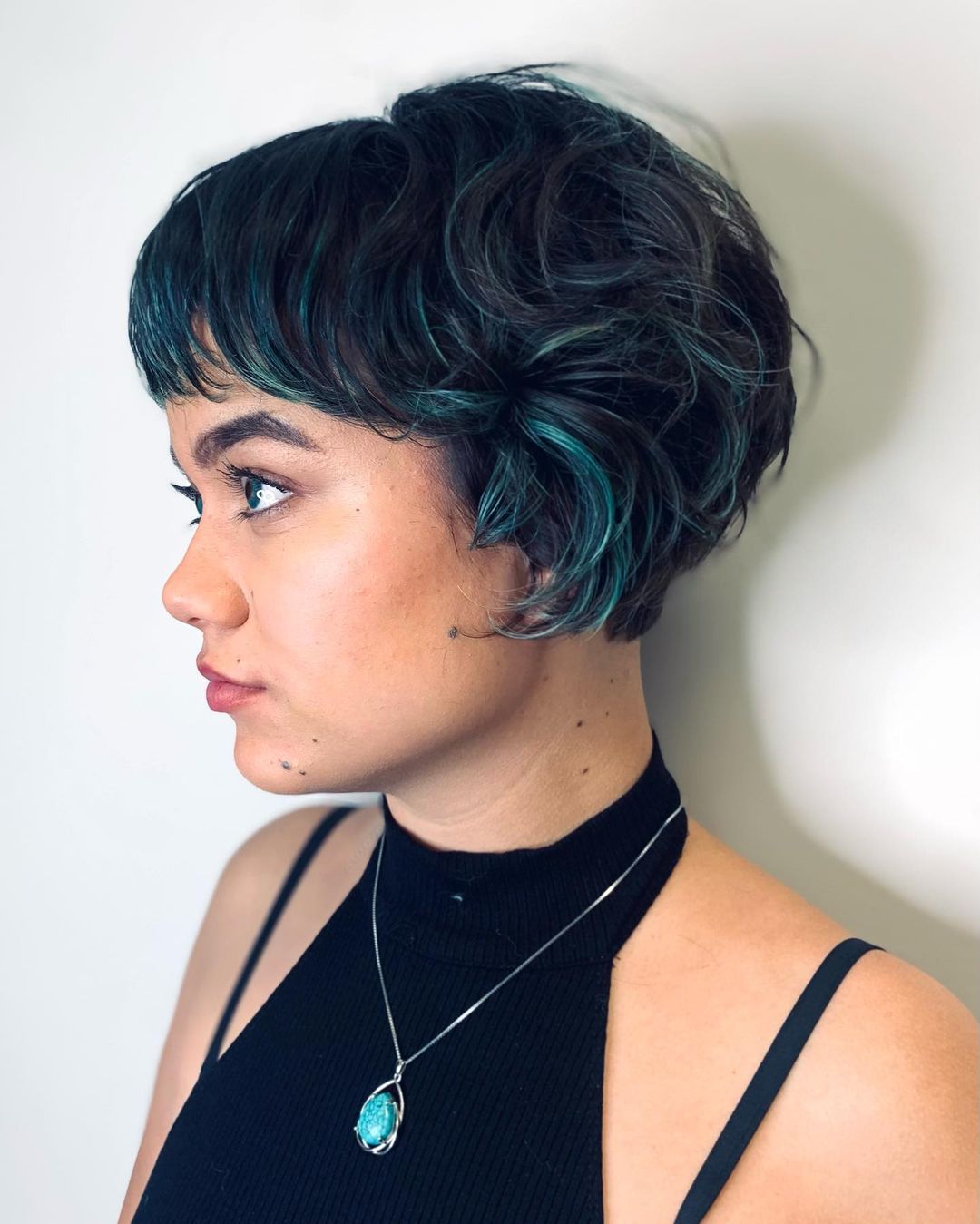 via @thecirclesalon
Wispy French Bob Haircut
The thin French bob is another highly requested interpretation of the French bob with curtain bangs or without it. It retains its signature shape and chin length but features delicate, feathered edges for an airy and romantic look. Such a haircut did not pass by celebrities: Margot Robbie became one of the stars who supported the fashion trend.
This bob is especially relevant for owners of thin hair types. It is easy to care for. You will need a regular round brush and styling products to achieve the desired volume and lightness.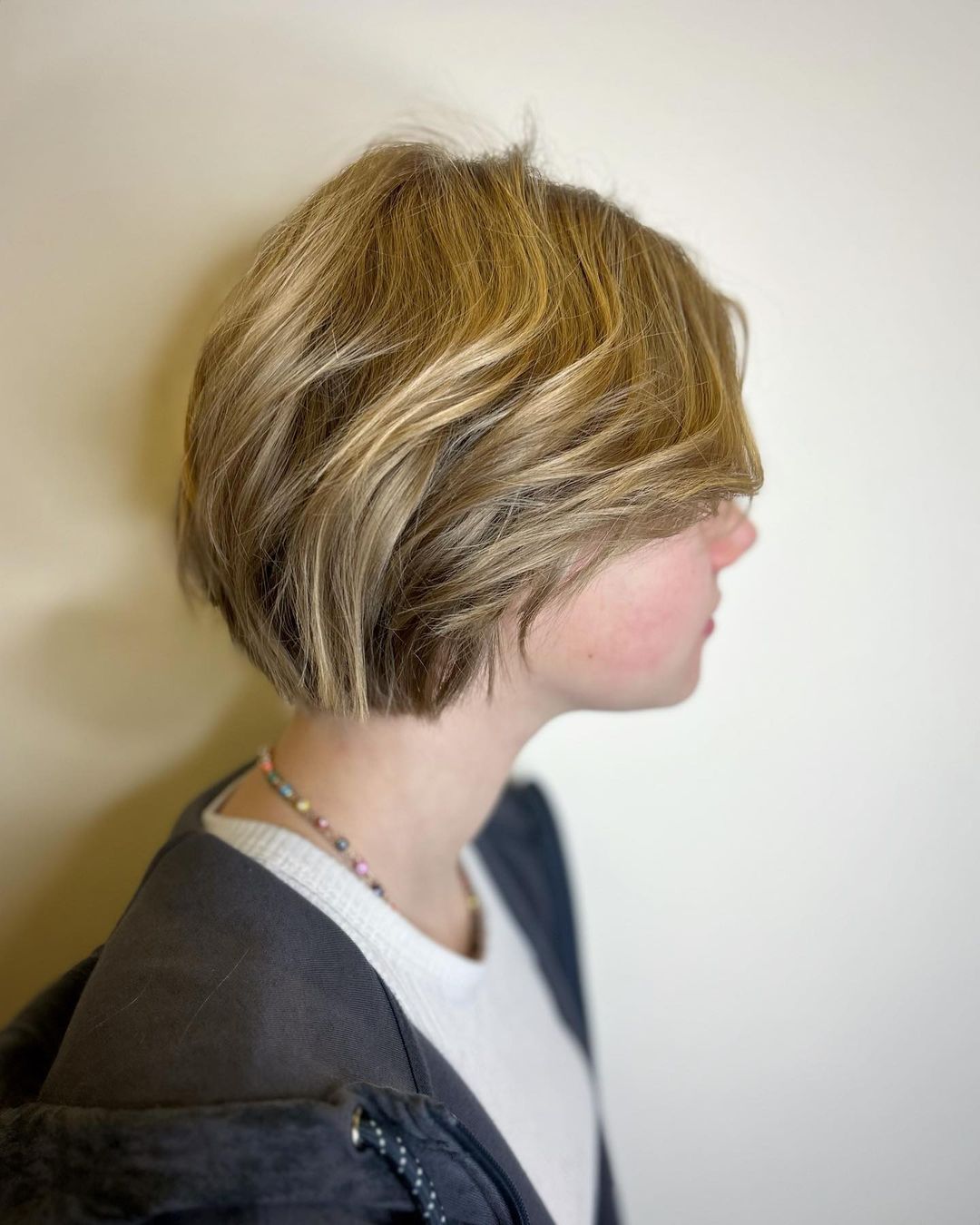 French Bob for Women Over 50
The French tousled bob haircut for mature women is an age-defying and trendy solution. The chin-length bob often adapts to the face shape and the hair texture, creating elegant natural waves that require little maintenance.
This haircut will help you feel more confident at any age. If you're looking for an easy way to "lose" 5-10 years, French bobs are here to help!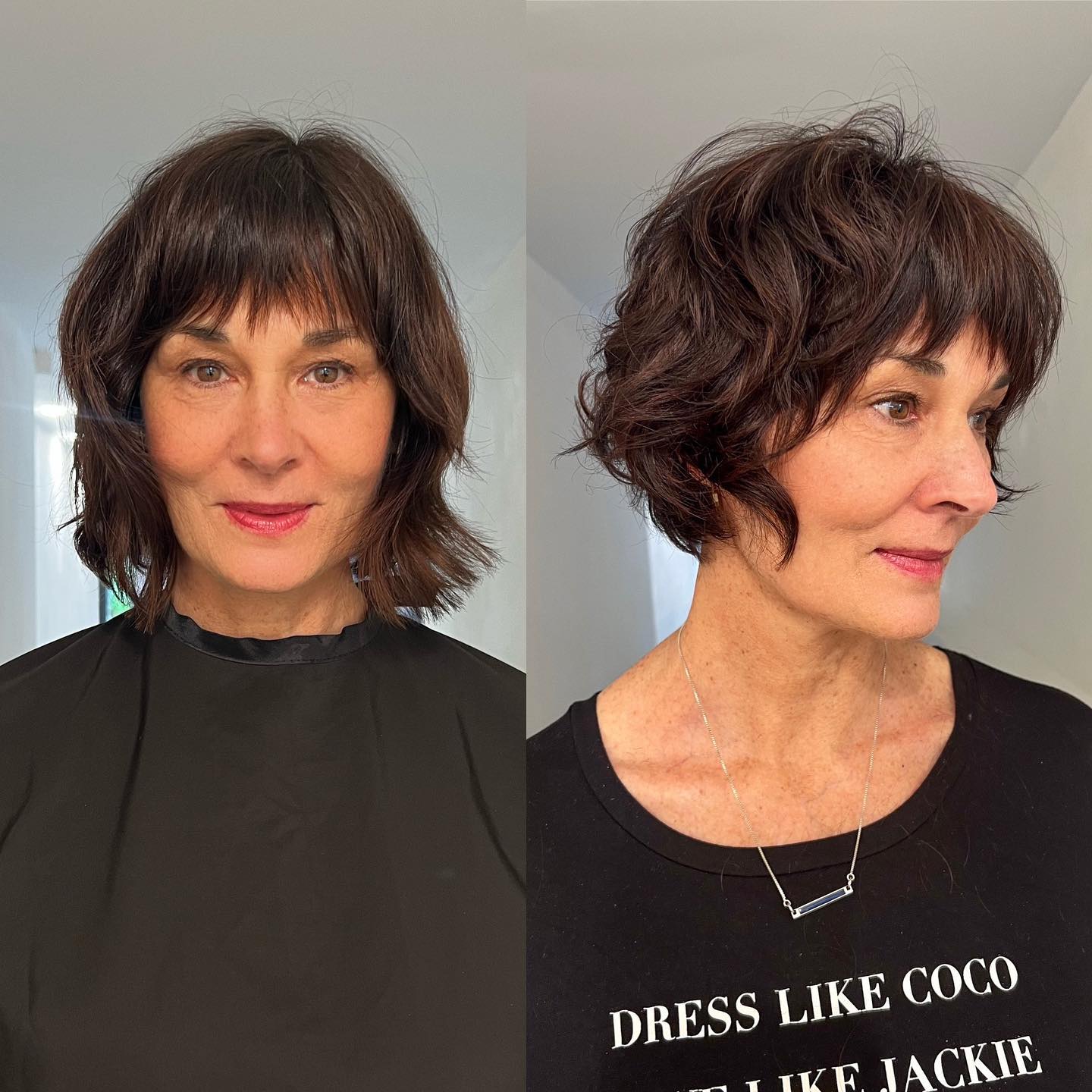 via @un.rooted
Classic French Bob with a Straight Bang
It's impossible to resist the classic French style bob haircut! This sophisticated and iconic hairstyle elegantly frames the face and enhances the features.
A straight bang up to the brow line is perfect for girls with any face shape and adds laconic chic to the look.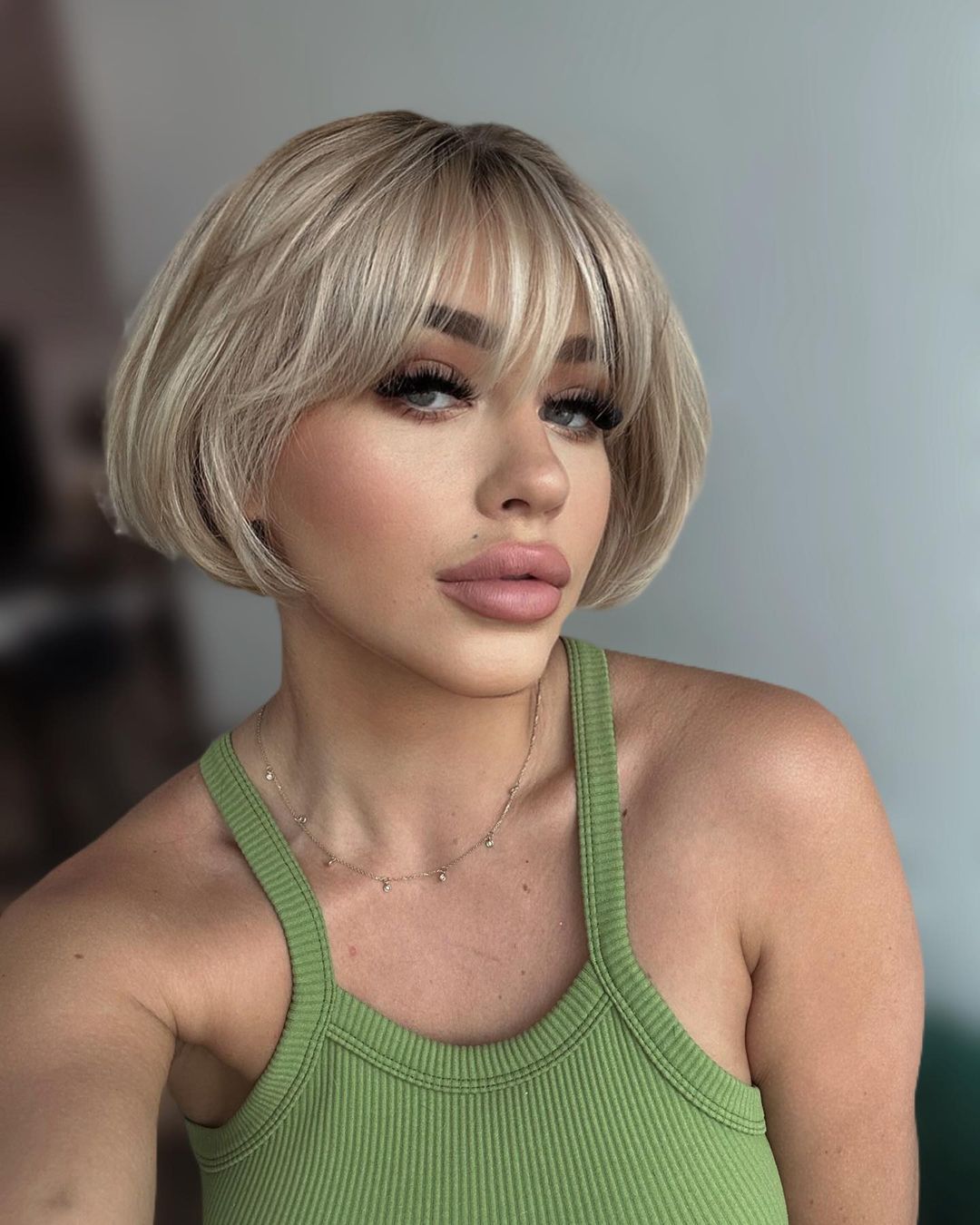 via @autumnhartt
Low Maintenance French Bob
Do you prefer short hair, which can be practically not styled? If so, this hairstyle is for you!
The low-maintenance French bob with bangs is made for those who value style and precious time. It is the most practical, thanks to the simplicity of the form and textured tips.
No more hours of hair styling! A messy bob haircut looks chic under any circumstances and requires no effort from you!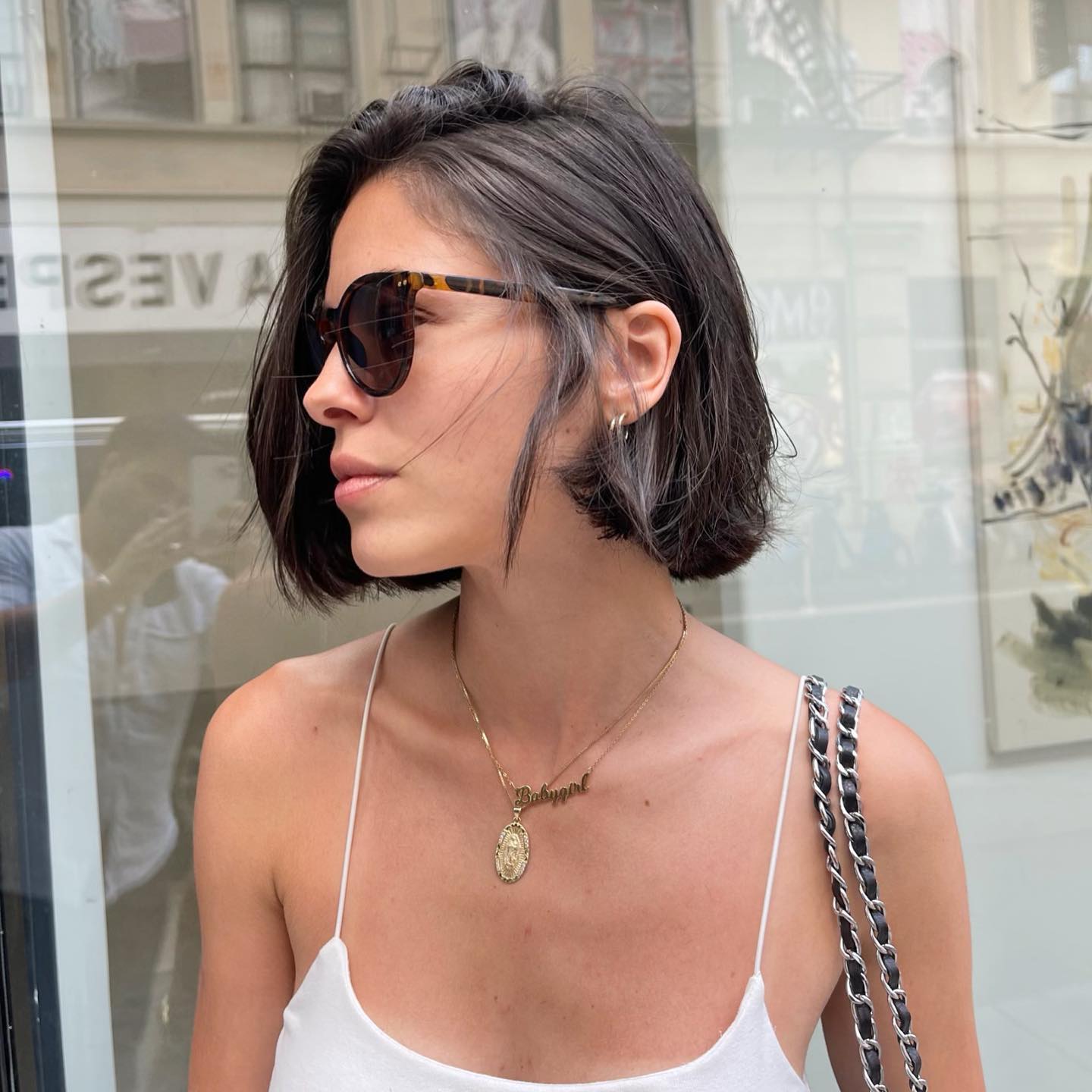 via @kaiquevieiranyc
Textured French Bob for Thin Hair
Such a classic cut is a real magic wand for thin hair! A textured bob with choppy bangs will create the effect of volume, lightness, and mobility. The traditional chin length keeps the strands in a graceful shape, while the loose ends keep them from looking flat.
This haircut can transform even the most unprepossessing curls into a dynamic hairstyle that retains the elegance of a French bob. To keep the result as long as possible, trim the ends in time and use texturizing spray for styling.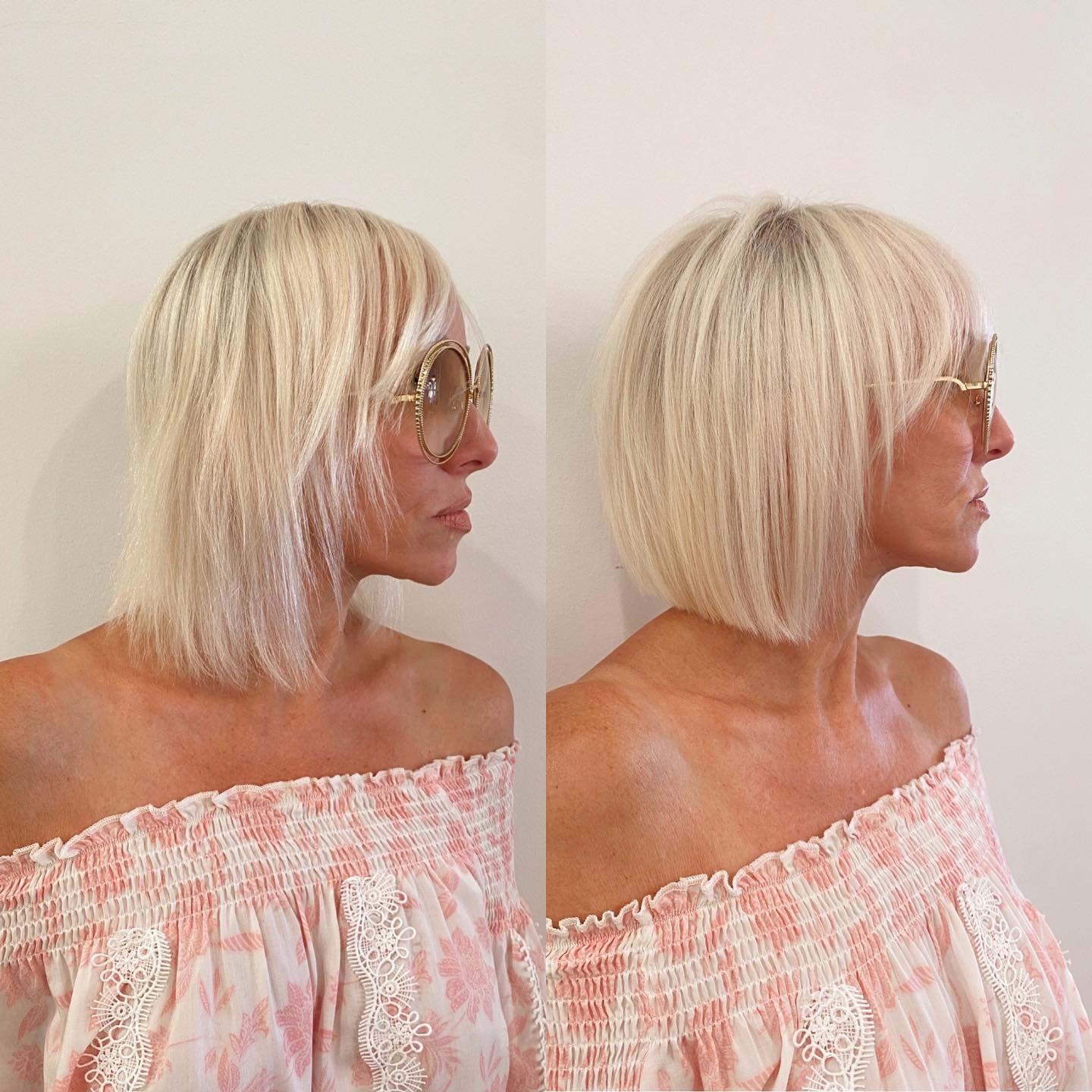 Cheekbone Length French Bob
What is a very short French bob cut? It is a unique take on the classic bob that ends right at the cheekbones. The haircut draws attention to the cheekbones and jawline, creating a harmonious balance between them.
This variety of French bobs is an excellent solution for daring girls who love experimenting. If you are 100% ready for the constant attention of others, add a few colored loose waves to the defiant image.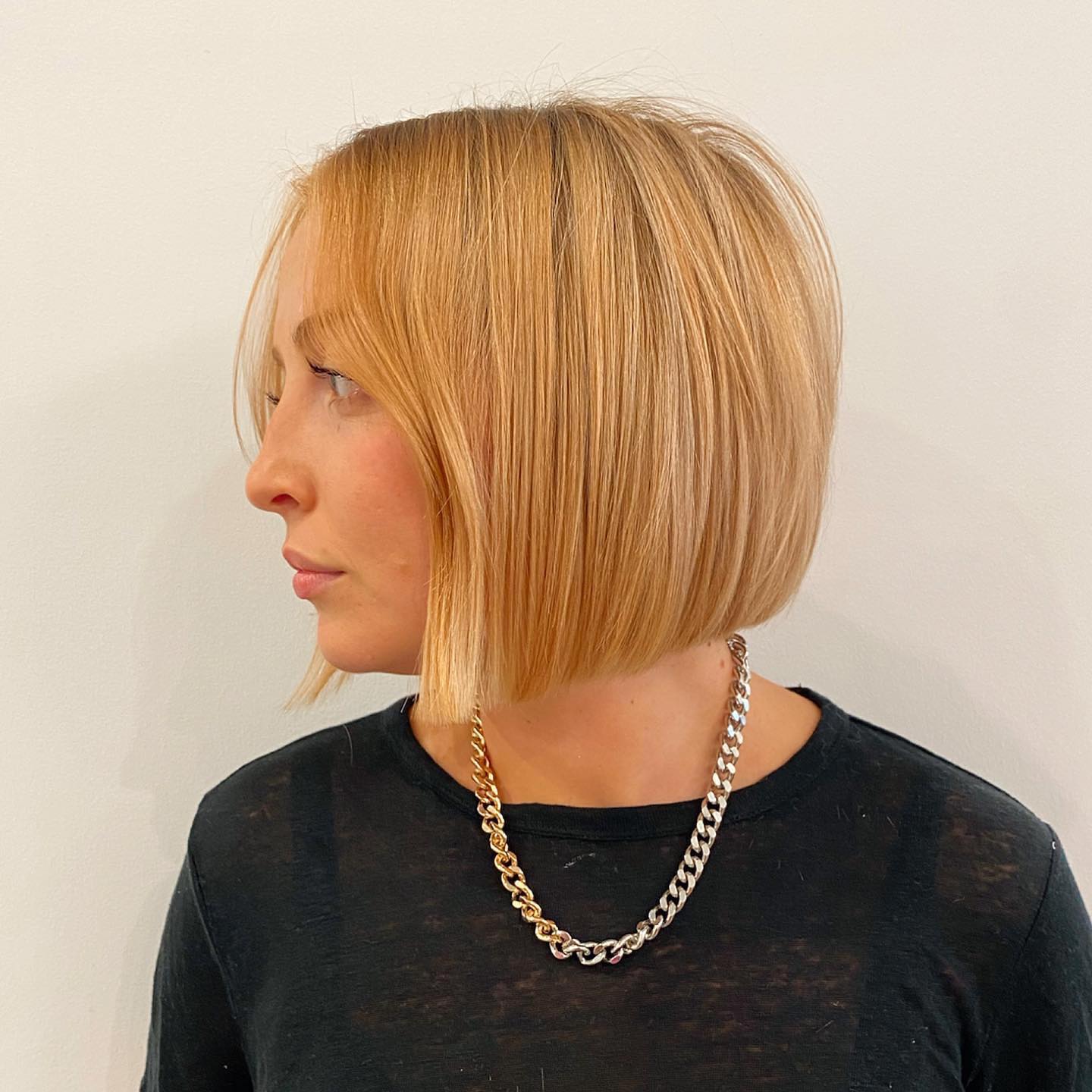 French Bob for Round Face Shape
The French bob for a round face shape is a strategic haircut that can make a face look slimmer. The characteristic length and layering of such a hairstyle help to balance and lengthen the proportions, achieving more expressive features and a deep look.
A messy French bob is a good choice for short hair of any texture. Customize your haircut (add bangs, layers, etc.) and enjoy an instant transformation!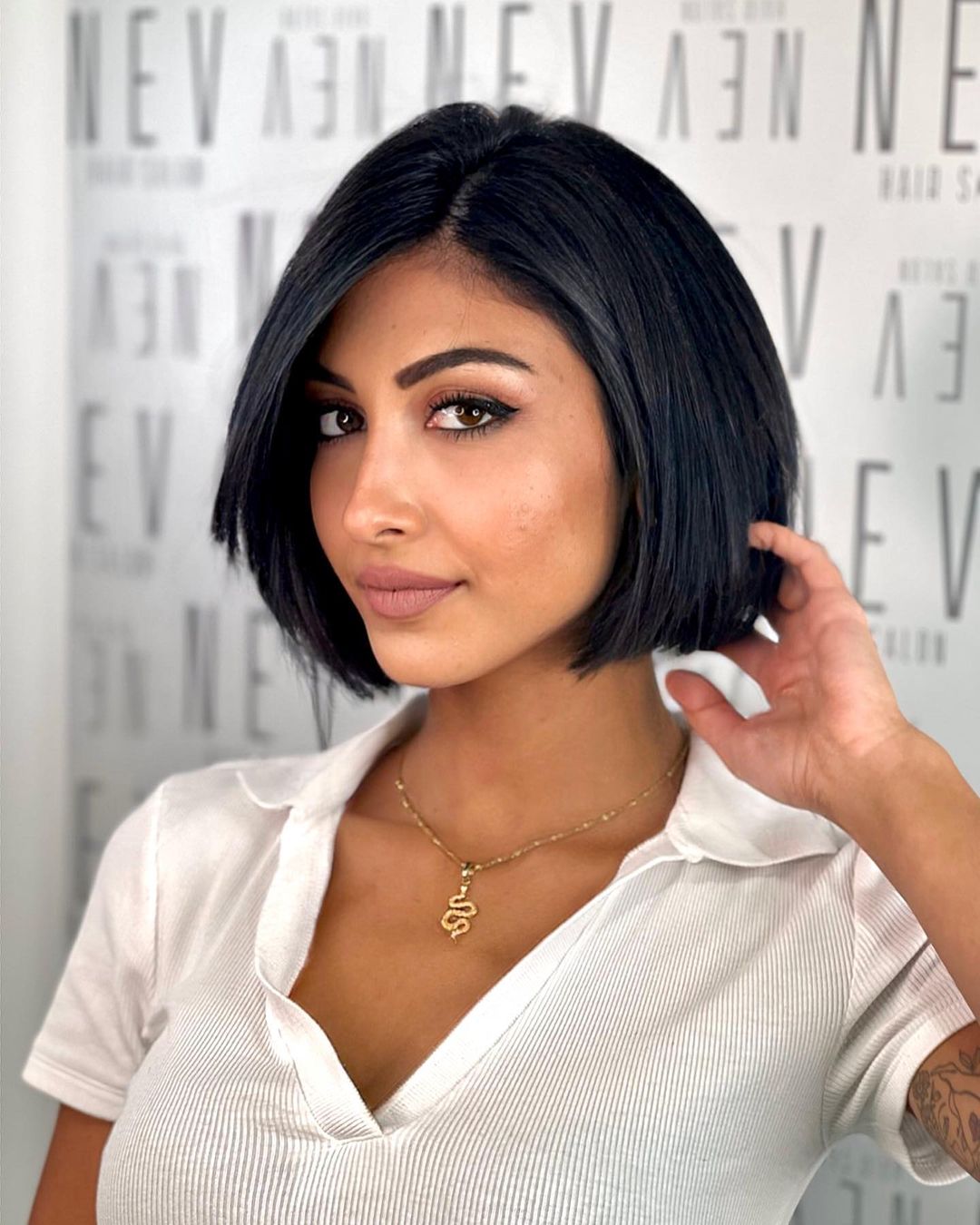 Extra Short French Bob
The original short French bob is a challenge to fashion and hairdressing. Unlike the classic haircut, its length is much shorter and barely reaches the cheekbones. It can often be found in the company of a thin fringe, which effectively sets off the eyes.
An extra-short French bob opens up the face and neck, making the image of its owner particularly sophisticated and sexy. In addition, it becomes an ideal base for additional experiments with color, braids, or numerous hair accessories.
Catch French bob inspiration and create the best image for yourself of all possible!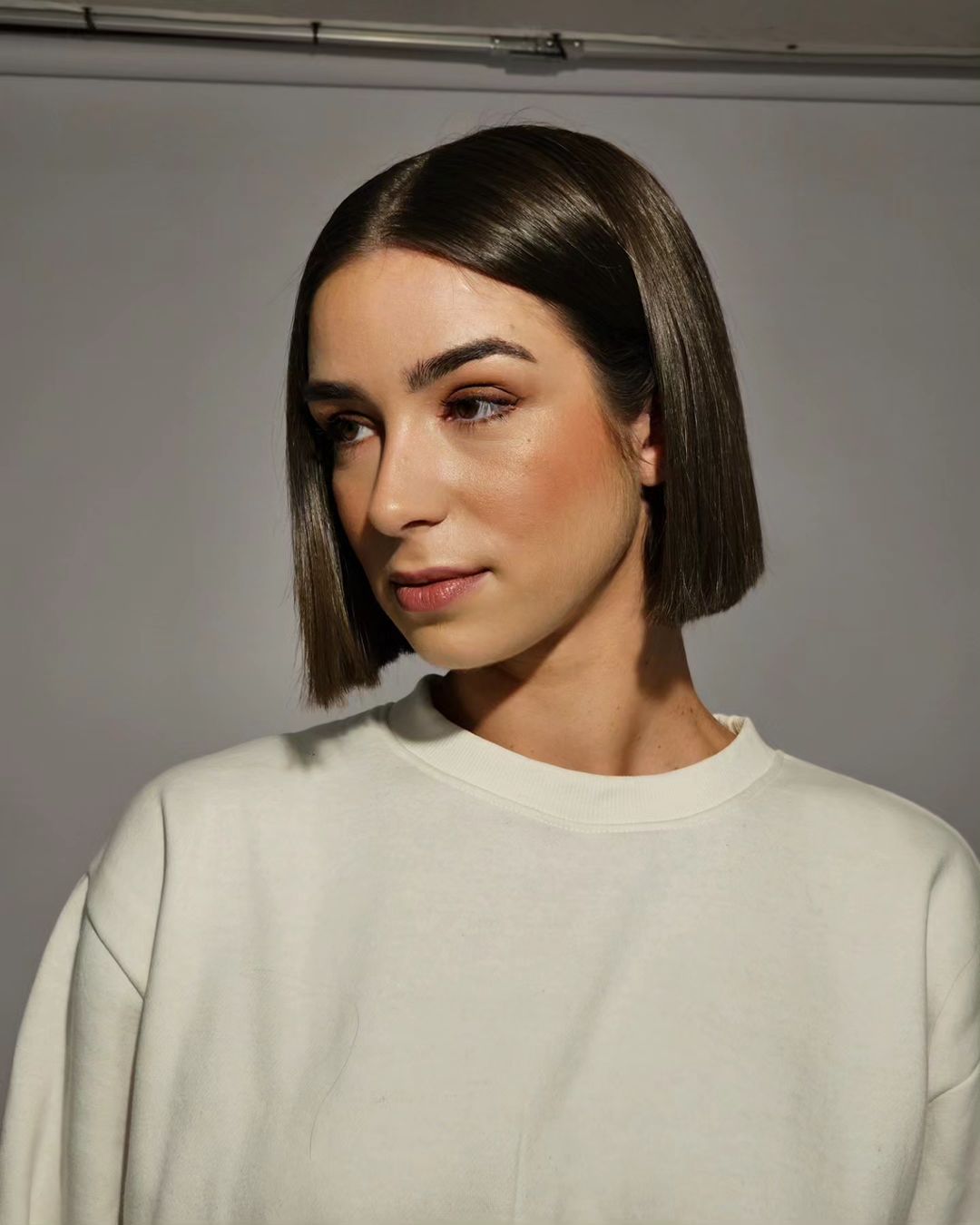 via @emmalucianohmua
FAQ
How to style a French bob haircut?
Styling a French bob haircut is easy! Even if this is your first time doing such a hairstyle, do not worry: we have prepared a brief instruction for you that will help make daily care simple and quick.
Step 1. Wash your hair.
Wash your scalp and hair well with shampoo and apply conditioner to the strands. Then, wrap the curls in a towel to remove excess water and move on to the next step.
Step 2. Apply styling product.
Use specialized styling products like volumizing mousse or salt spray. They add volume and texture to your hair.
Step 3. Blow dry your hair.
Blow drying with a round brush will make curls manageable and voluminous. Please pay attention to the ends: slightly curl them inward to create a signature curve.
Step 4. Make soft waves.
Use a curling iron with a large body to add texture and dynamism. Pay special attention to the middle length and ends of the hair, leaving the roots natural.
Step 5. Accentuate the tips.
If you prefer a textured look, use a spray or wax to define the ends. Gently squeeze or twist small sections and get the desired tousled effect.
Step 6. Apply a finishing spray.
Use hairspray to set your hair. It will keep the shape and volume of the French bob all day long. Remember to spray the varnish at a sufficient distance from the head. It will help you avoid feeling stiff.
Step 7. Get your hair cut regularly.
A French bob will look fresh if you cut the ends of your hair regularly (about every 6-8 weeks). Thus, you will keep the shape of the hairstyle and its volume.
Step 8. Prefer natural texture (if desired).
If you're the lucky owner of curly hair, consider letting it air dry for a laid-back look.
Step 9. Experiment with accessories (if desired).
Feel free to experiment with hair accessories! Choose from headbands, clips, barrettes, rings, and more to personalize your French Bob and add a touch of playfulness.
Step 10. Enjoy the stylish French bob!
By following these steps, you have the perfect French bob. In practice, this instruction is simple, and styling your hair will take a little time. Go on business and enjoy the elegant hairstyle and the endless compliments of others!