Playfulness, showiness, versatility — all this is about the mega-popular bubble braid style! Such braids have a segmented structure resembling bubbles and do not leave others indifferent.
Original and low-maintenance hairstyles add volume and texture to the strands while emphasizing their owner's individuality and attention to fashion trends. Bubble braids can be adapted into different styles, such as ponytails, half-up hairstyles, or full braids, making them optimal hairstyles for various occasions.
Who will win in this confrontation between bubble braids and regular braids? It's up to you. But be prepared for the charm and spontaneity of bubble braids to be impossible to resist!
How to do bubble braids?
Every woman can create an unusual and super easy hairstyle in a few minutes! Follow these simple instructions for bubble braids on any hair length.
Wash and dry your hair.
Carefully comb the strands, making them perfectly smooth and ready for braiding.
Pull your hair into a high ponytail and secure it with an elastic band.
Divide the tail into equal sections. The number of sections will depend on how many bubbles you want to get in cute bubble braid hairstyles.
Tie hair ties into the strands at regular intervals.
Neatly push and loosen each section between the hair ties to create a bubble effect.
Continue braiding your hair below the last elastic and secure the end of the braid with another elastic.
Fix the hairstyle with hairspray.
The undeniable benefit of these fun hair trends is personalization. You can independently adjust the location and size of the bubbles, as well as the braid type — full or half-up, etc. Use the basic bubble braid tutorial, and don't be afraid to experiment!
Most Popular Bubble Braids
Are you going to the party or want a chic everyday hairstyle? The most fun hair trends — cute bubble braids — will help you with this!
Lush, voluminous braids can complement round and oval face shapes, making features more expressive. They look stylish on lengthy strands, which allow you to create beautiful bubbles and wavy hair, adding a touch of carelessness and playfulness to the hairstyle.
Of course, this hairstyle for any occasion and age will appeal to lovers of freedom, dynamics, and vivid impressions. Don't limit yourself; choose one of the most stylish braids this season!
Bubble Braids for Long Hair
Are you looking for long hairstyle ideas that highlight the beauty of your luxurious curls? Bubble braids will do the job perfectly!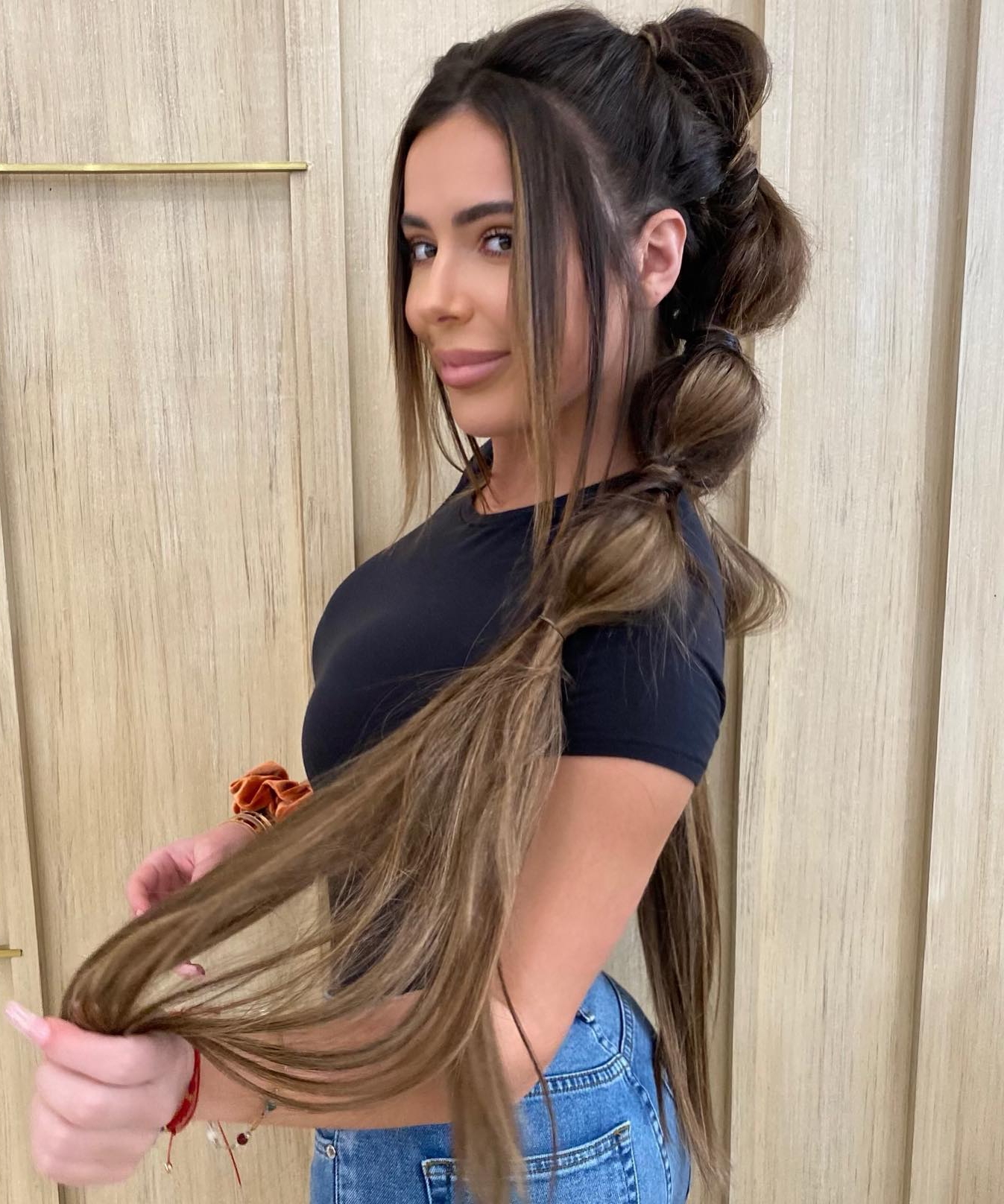 via @hairby_chrissy
They highlight the natural beauty of long hair, adding a carefree and bohemian look. This style is perfect for any hair color and effortlessly helps you stand out.
Pair full braids on long hair with accessories such as hair ties, flowers, or ribbons to highlight the boho chic aesthetic. With this hairstyle, you can safely go for a walk, a music festival, or a beach party!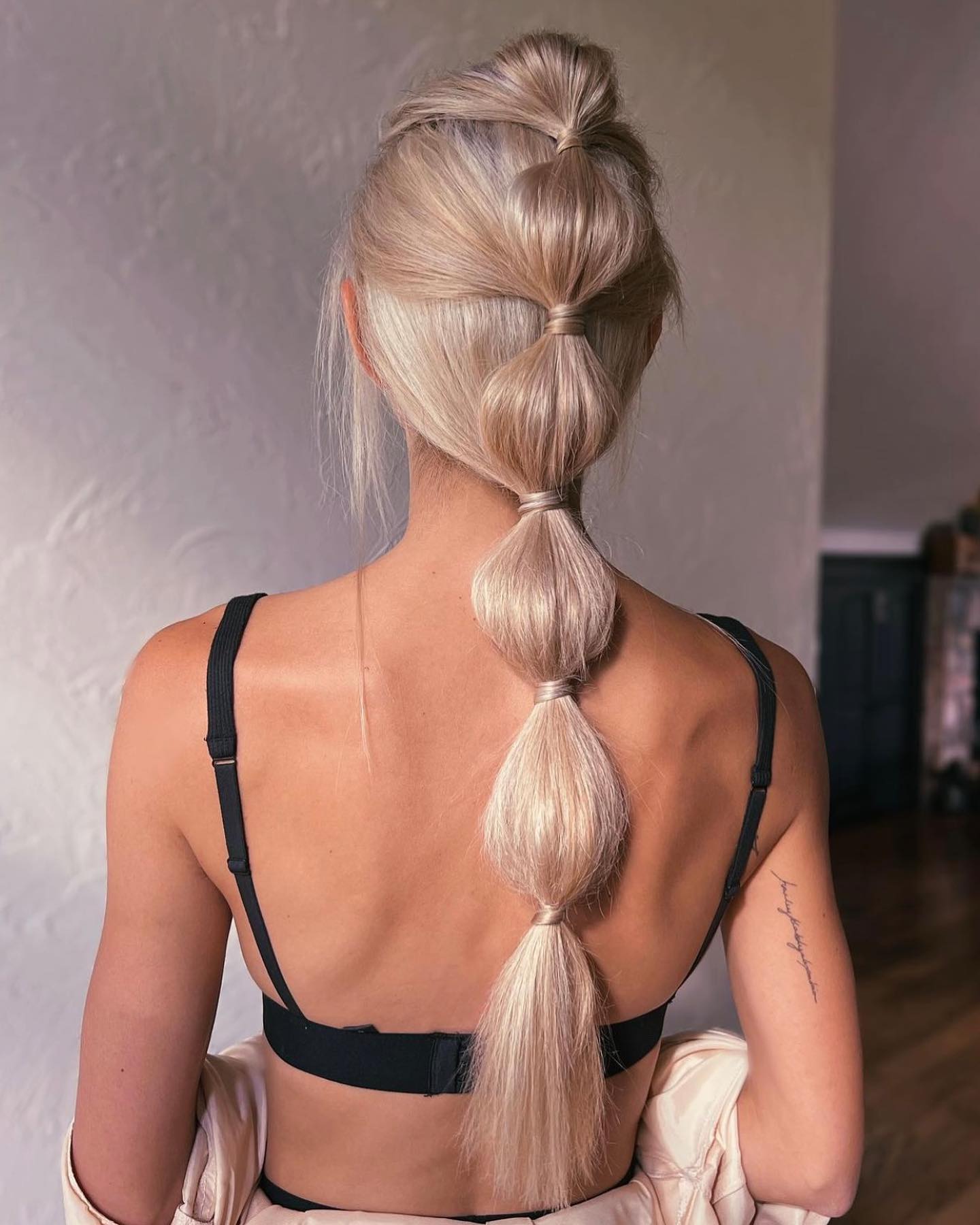 Bubble Braids for Short Hair
Do you dream of bubbles on braids but prefer short haircuts? It's okay! You can create a cheerful and charismatic hairstyle on short hair.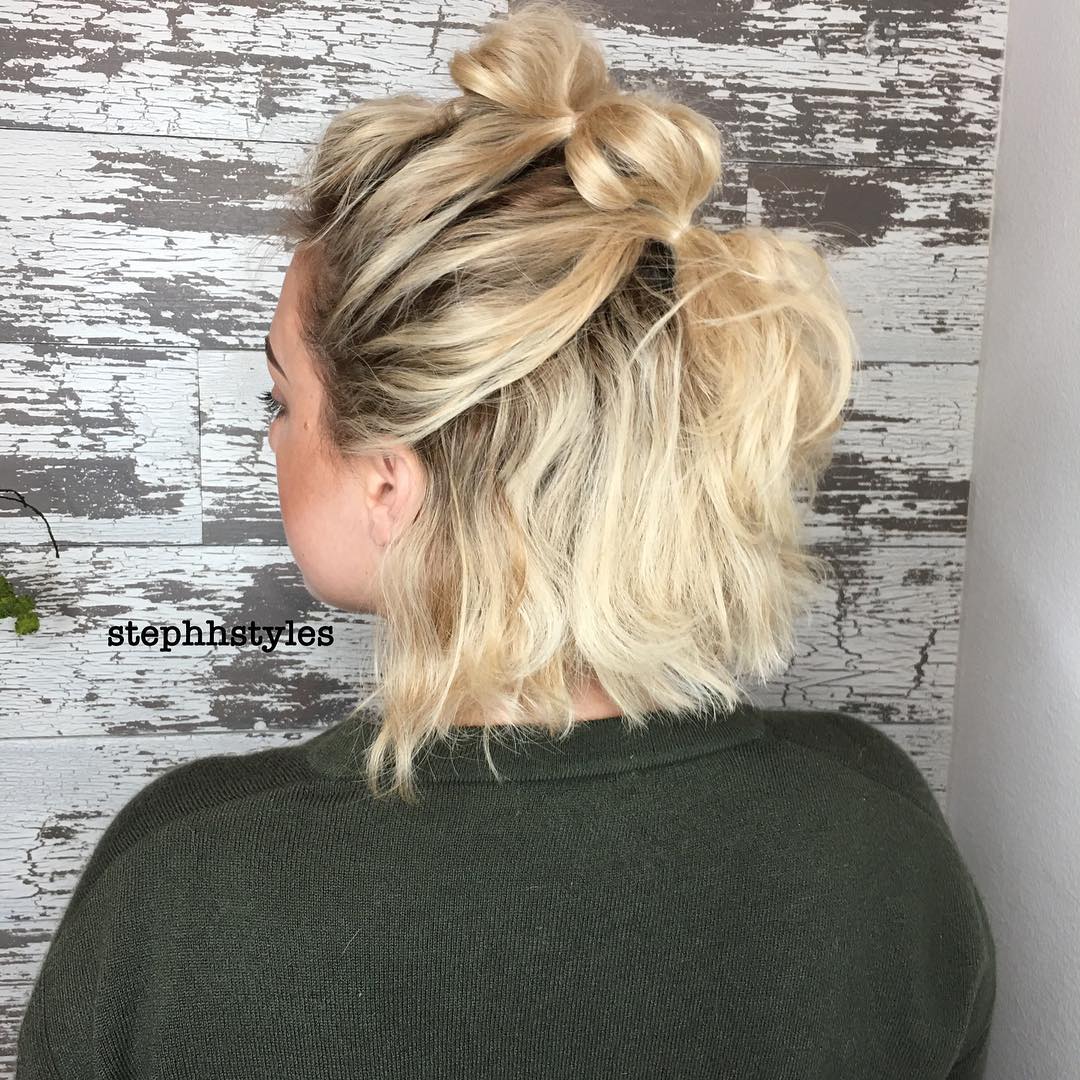 via @stephhstyles
Bubble braids do not require special skills or complex care. Only a few minutes are enough to make a cute style for your short hair. Do you want to enhance the charm and add bright accents? Use a variety of accessories — hairpins, rhinestones, or headbands.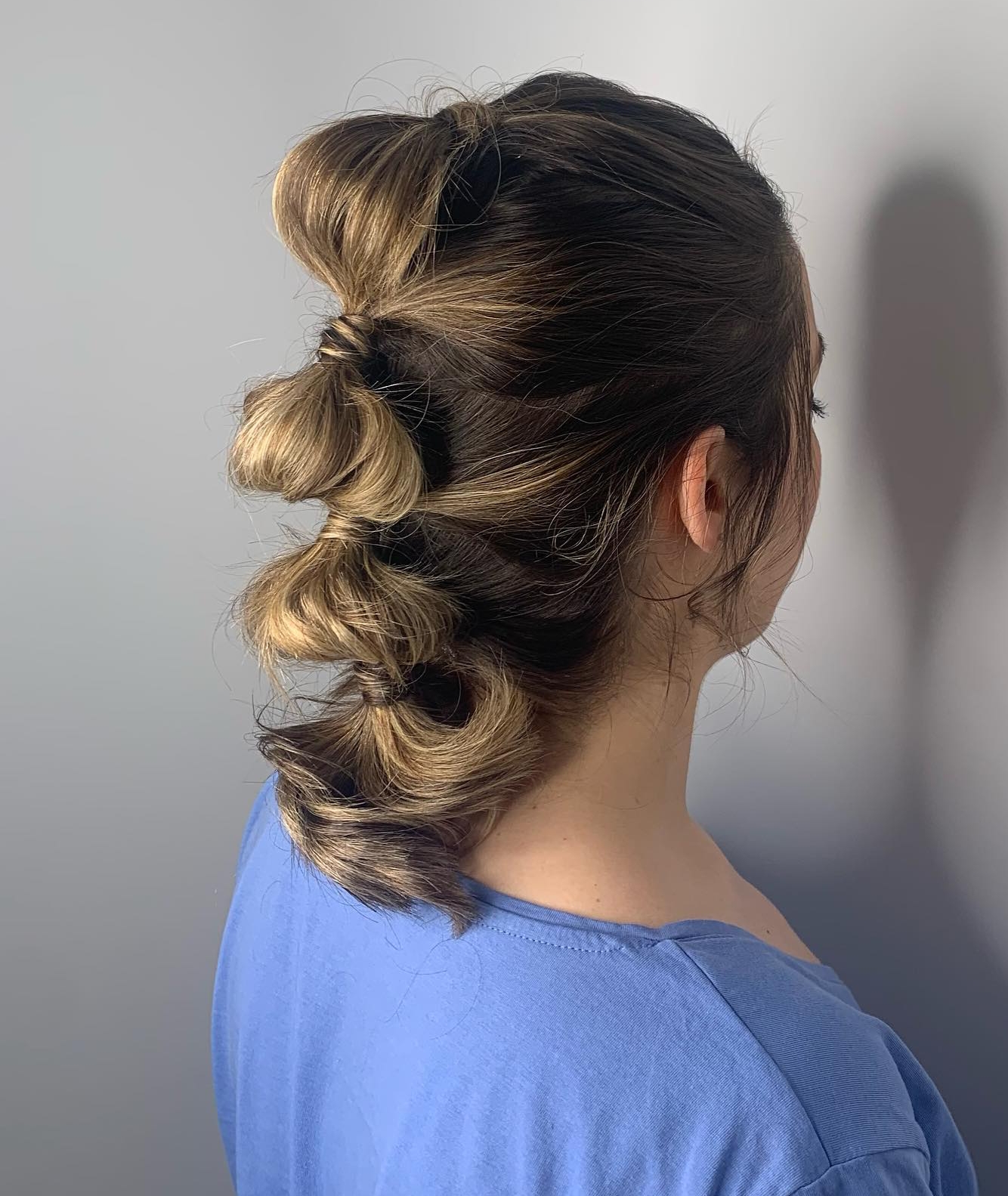 via @rakelgarre
Half Up Half Down Bubble Braids
The bubble pigtail half up, half down is a hairstyle that will be 100% appreciated by fans of boho chic, casual elegance, and enchanting parties. Relaxed yet quite elegant, it has the perfect balance.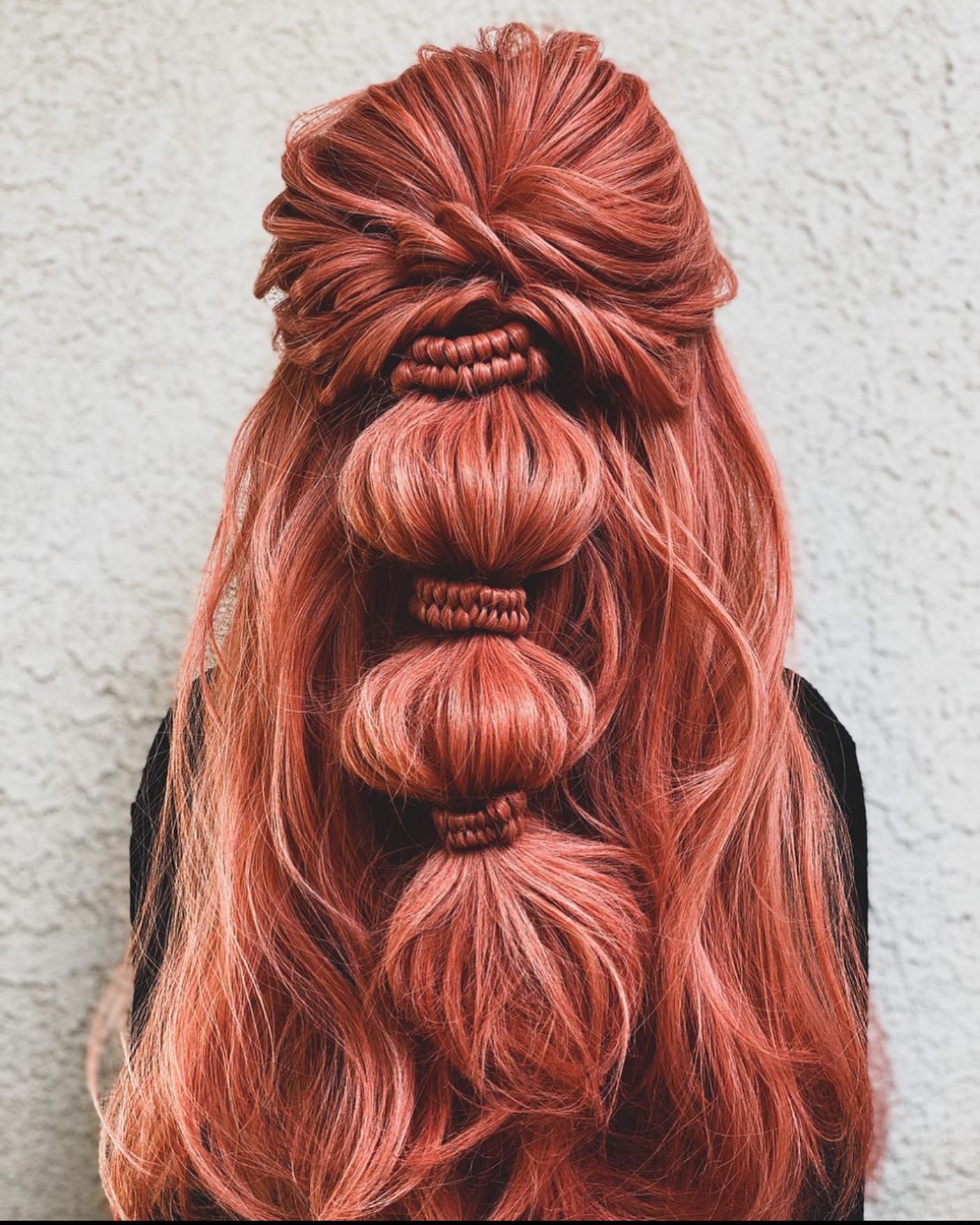 via @jennymitchhair
Add some loose bubbles of originality with branch decorations or bright ribbons if you're going to a festival. This bubble pigtail half up, half down will deserve dozens of compliments!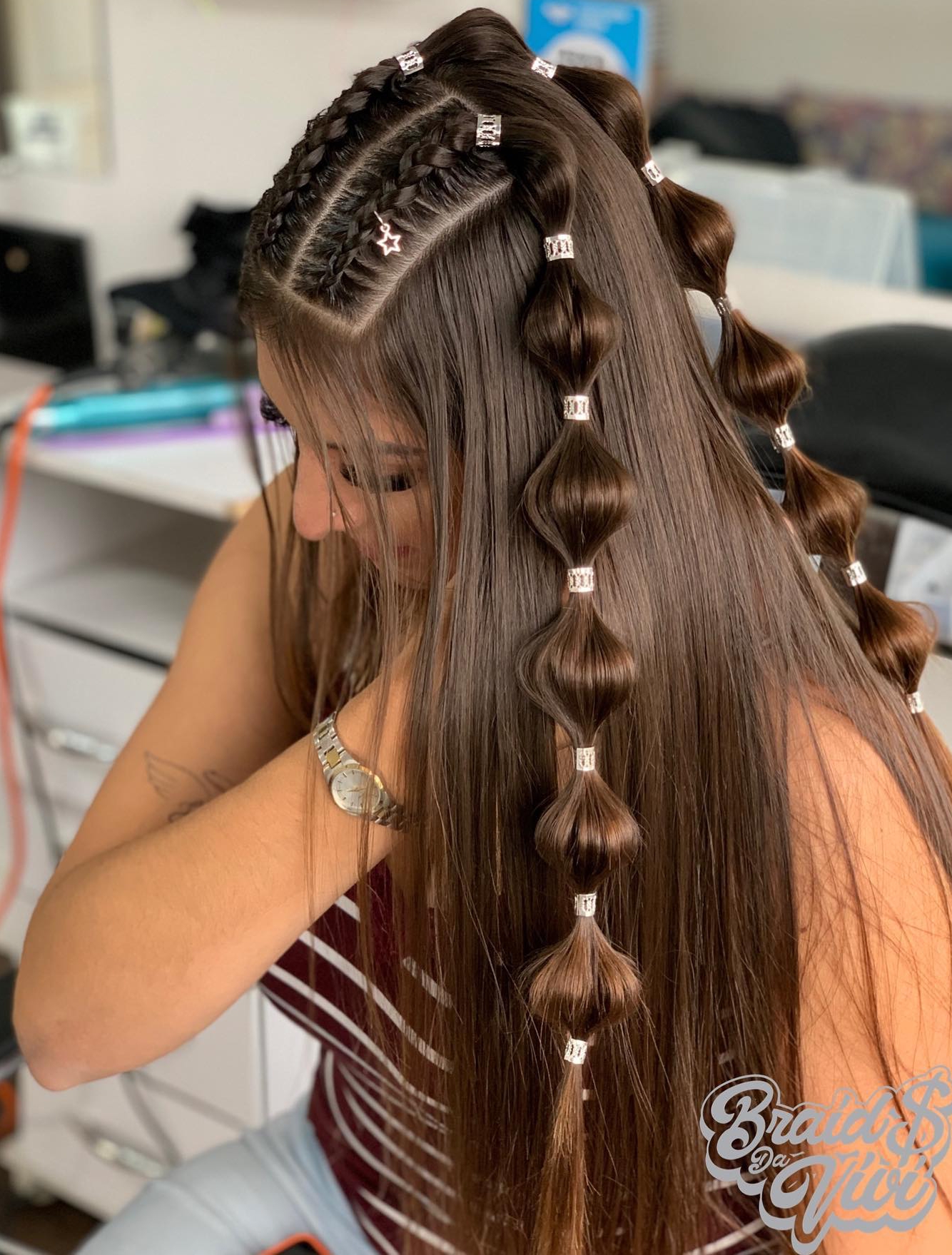 via @braidsdavivi
French Bubble Braids
French bubble braids on long hair with their intricate look will appeal to women who value sophistication. They will harmoniously complement your look with any hair color at business and special events, romantic dates, or theme parties.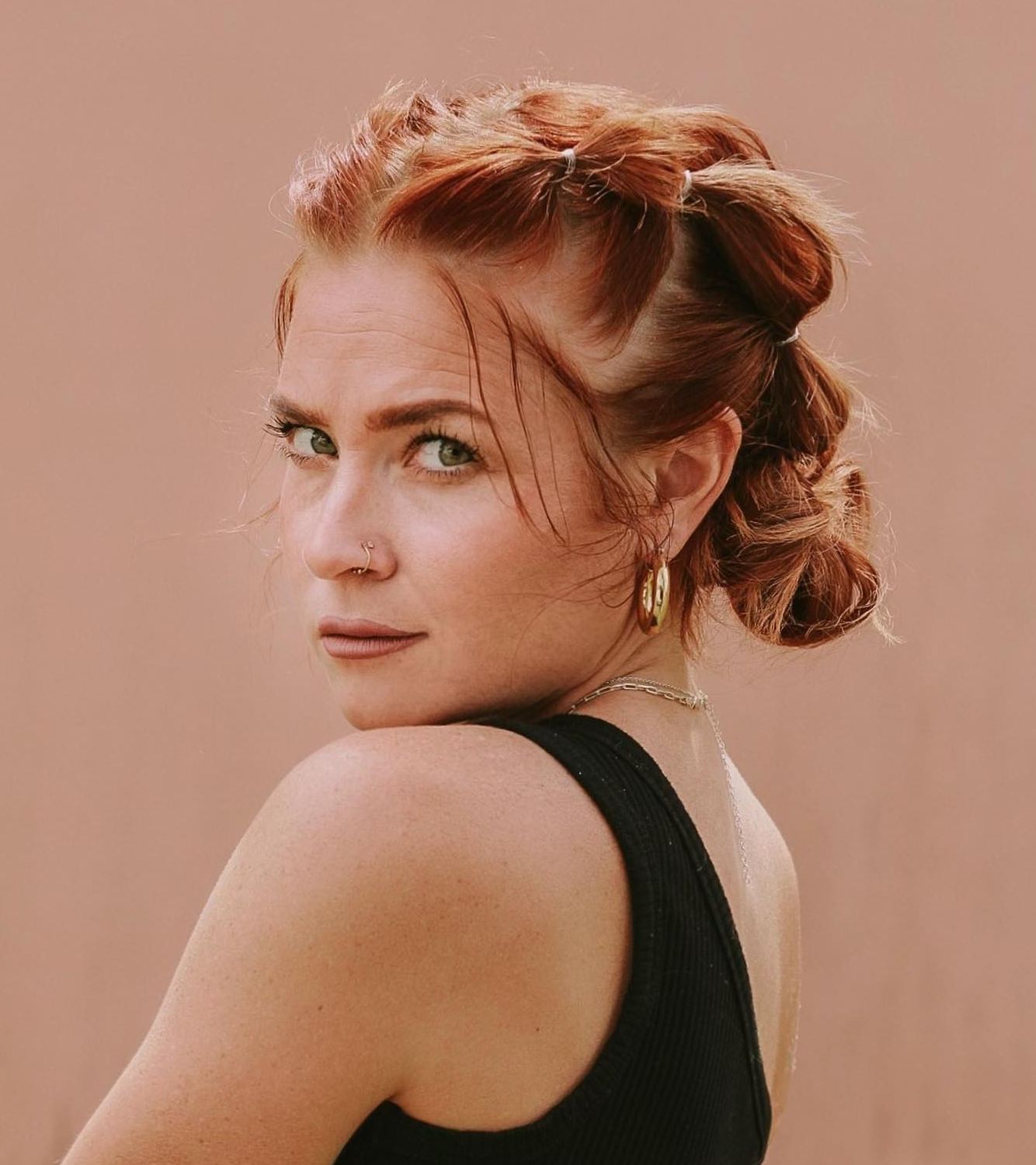 via @jbraidsandbows
Moreover, this hairstyle will be a worthy alternative to normal braids, even for a wedding!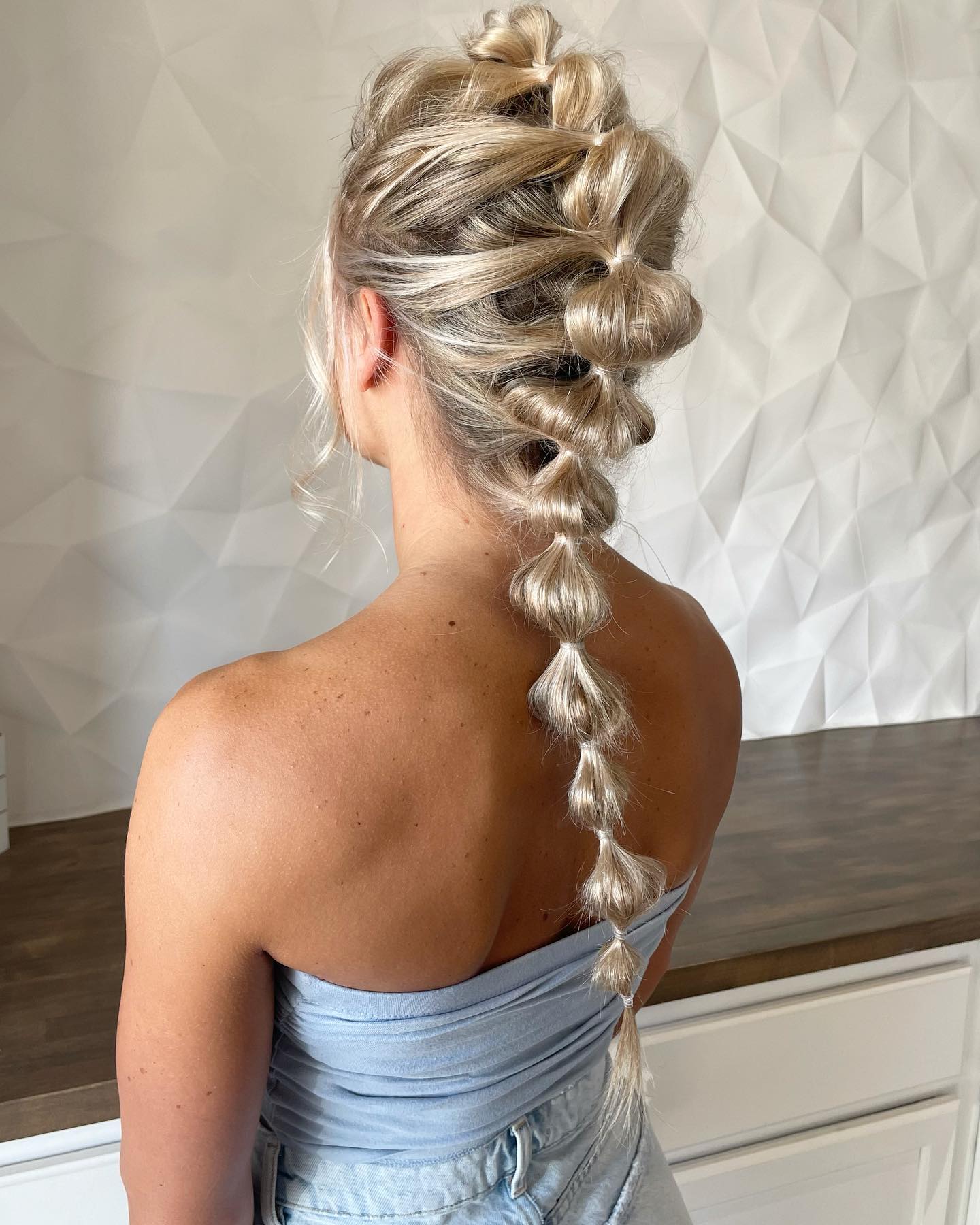 via @jessica.valdezz
Two Bubble Braids
Trendy two-bubble braids will instantly transform your appearance! Do you want to show a little sass and rebellion or emphasize light-heartedness? Choose double bubble braids and enjoy yourself in the mirror!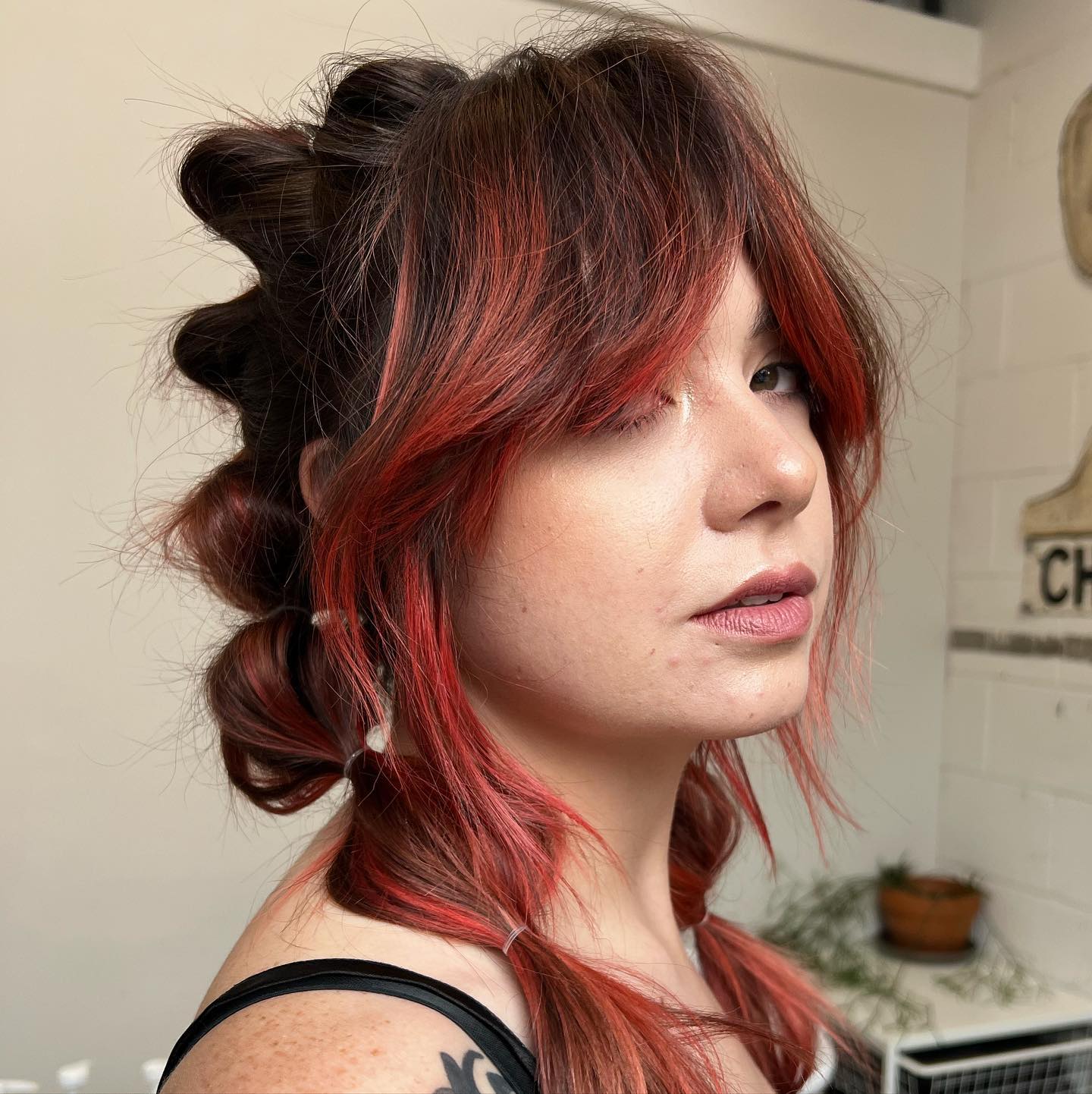 via @lib_george
You can braid to the end of the strands or leave ponytails, decorating them with ribbons or colored beads.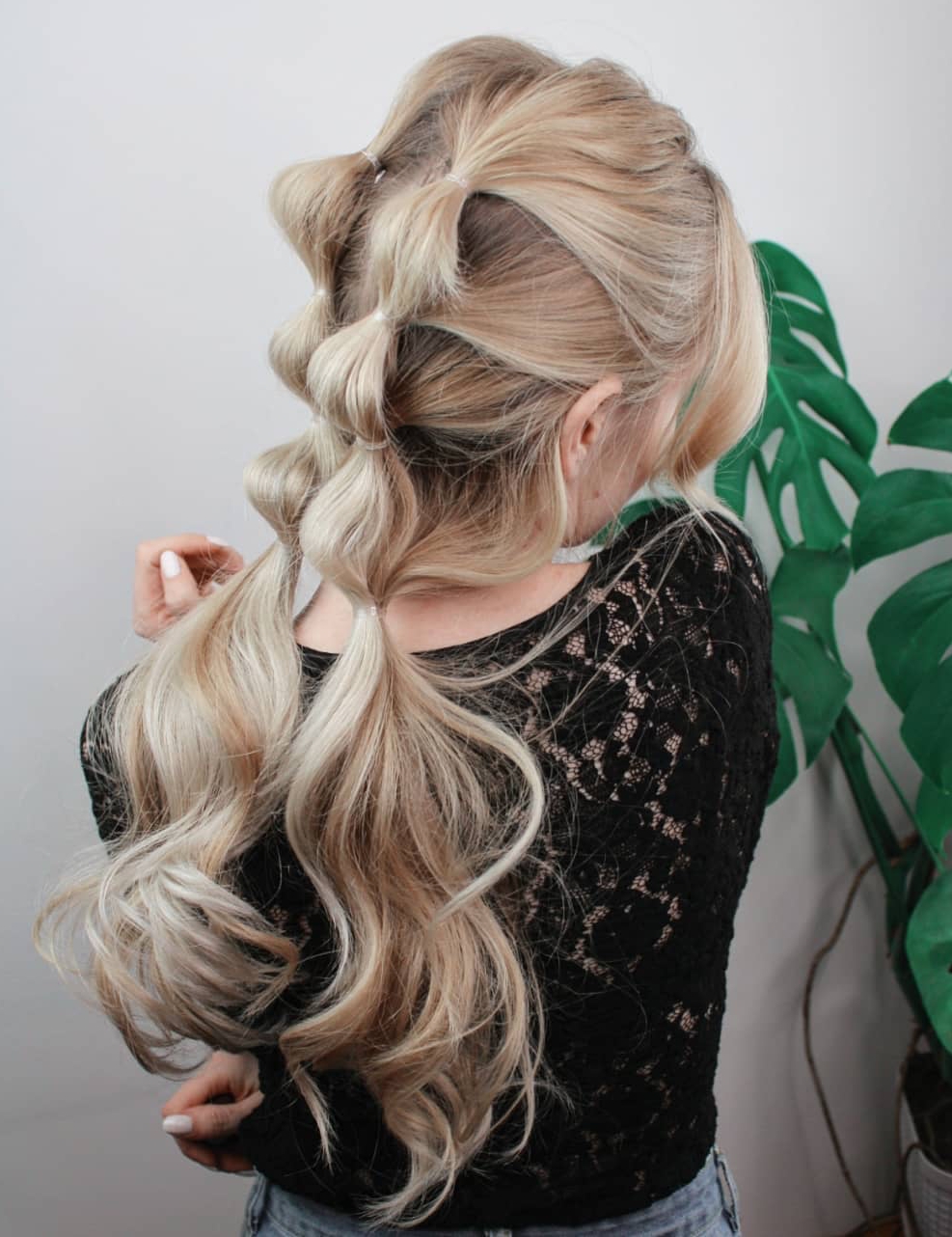 via @nia_hairstyles_
Bubble Braids on Curly Hair
Do you want to braid your hair but retain its unique natural texture? Fortunately, bubble braids for natural curls allow you to experiment with your appearance without problems!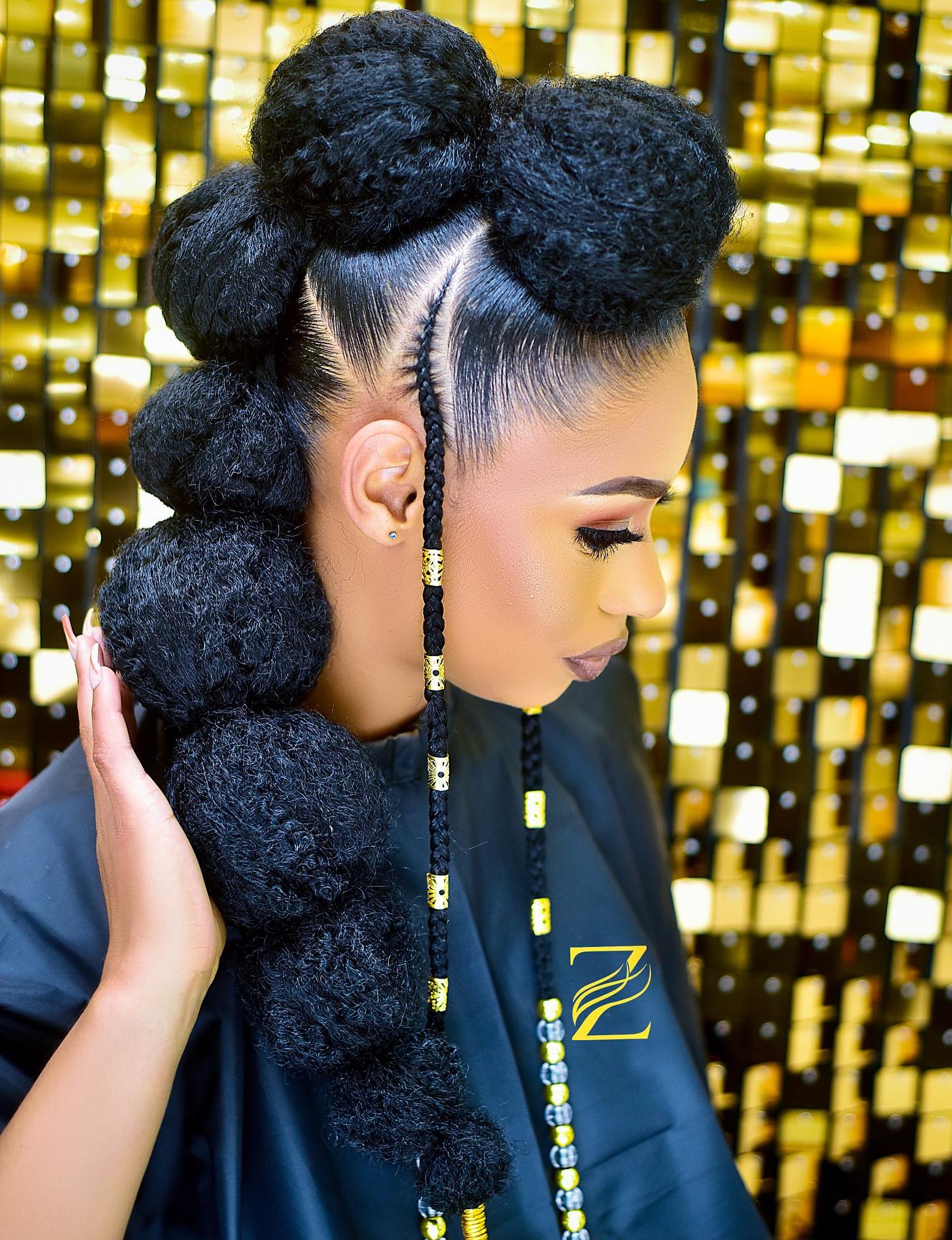 via @zumbahairbeauty
Starting with a high ponytail will give you a dynamic and voluminous hairstyle, highlighting your hair pattern. Please note that this long curly hairstyle idea is perfect for everyday wear. It is a stylish and convenient option for curly beauties who dream of a practical hairstyle.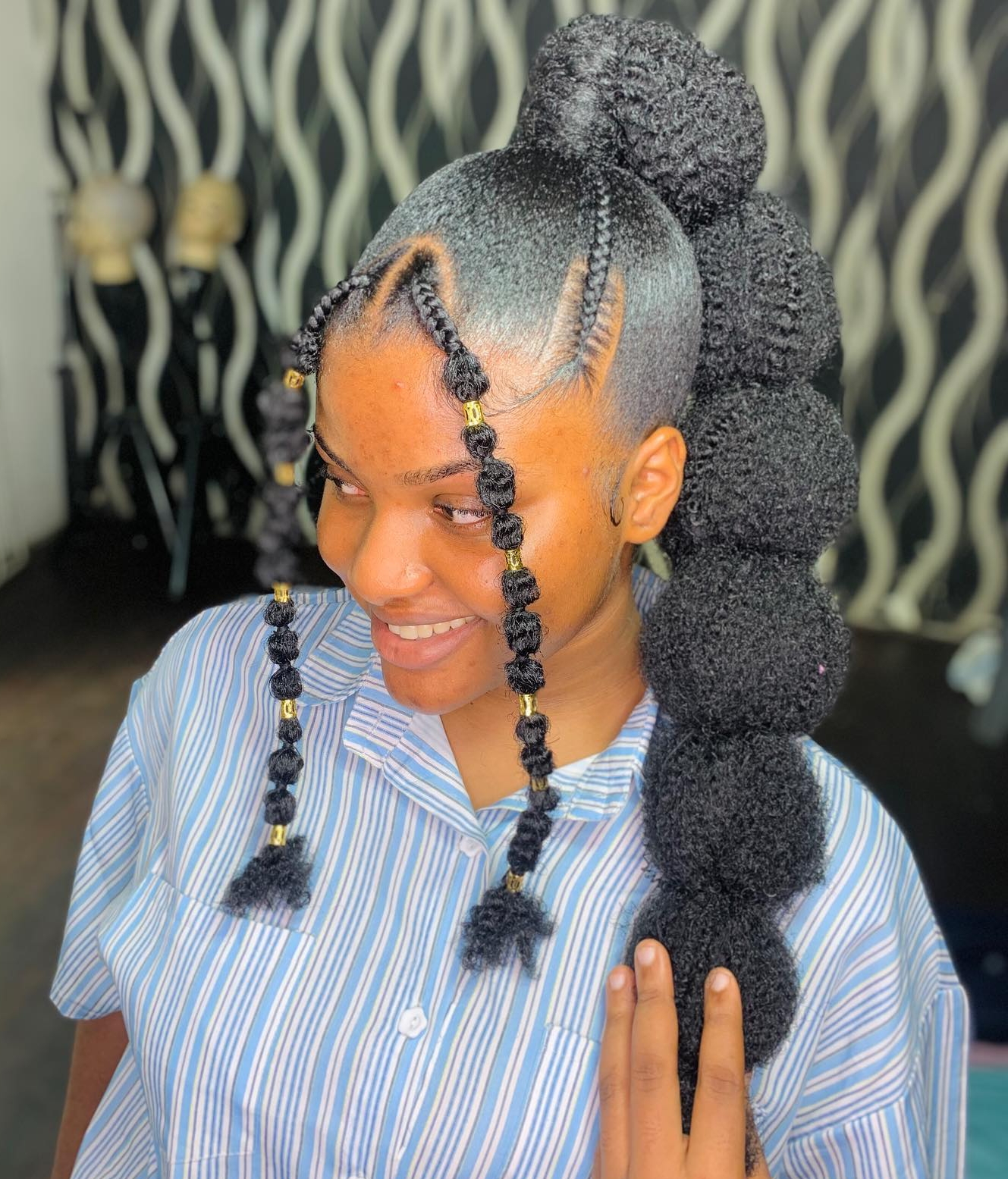 via @gladzbraidhouse
Bubble Braids for a Messy Style
Among the numerous bubble braid hairstyles, the casual style deserves special attention. Let's face it: a messy aesthetic has its charm!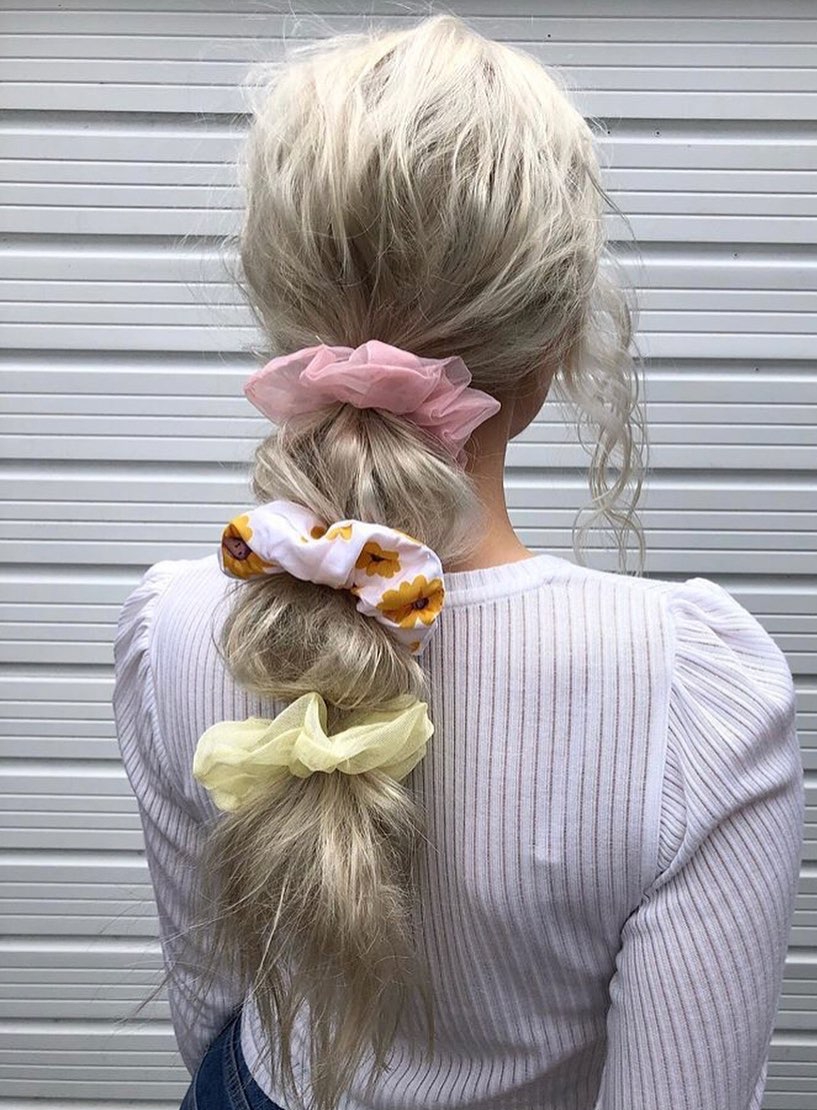 via @michaelgrayhair
What could be a casual hairstyle? You can go for half-up bibble braids or even an impressive mohawk hairstyle. The choice depends only on your desire!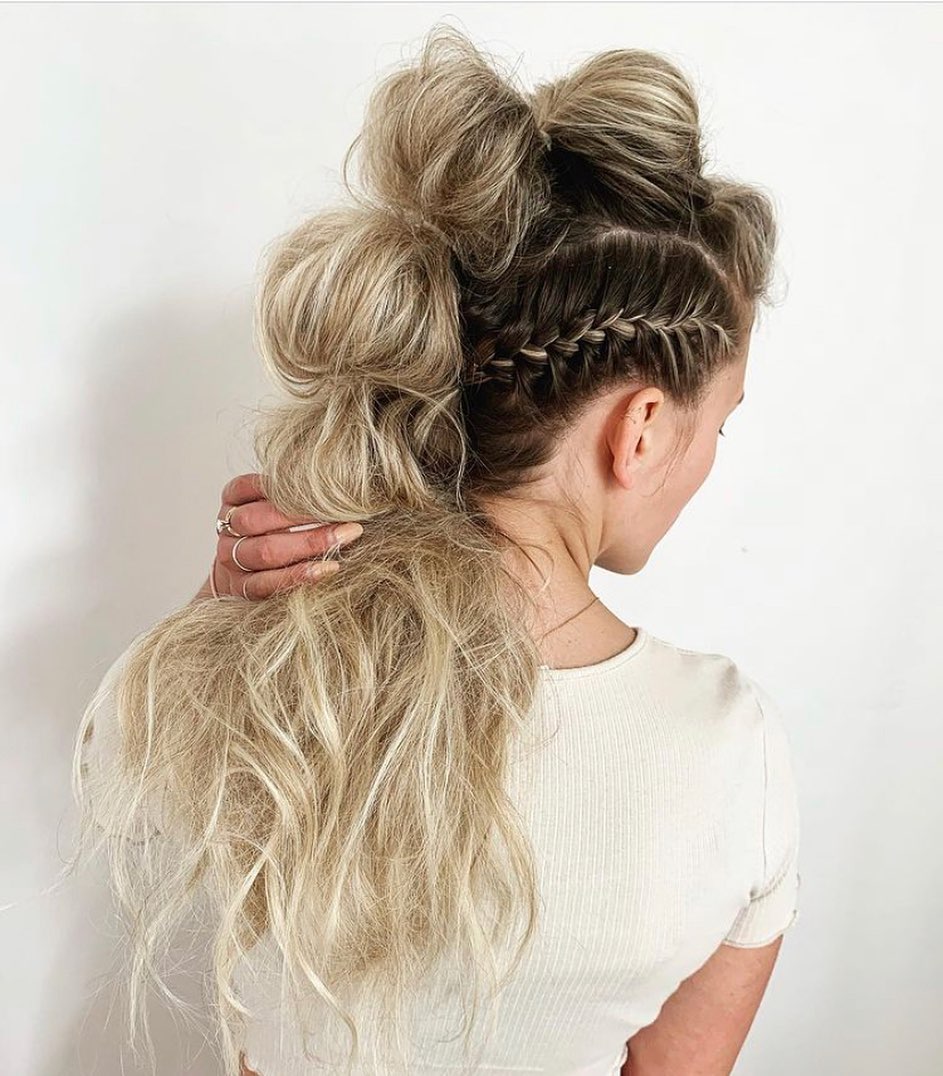 Bubble Braids with Colored Hair
Creating a stylish look with bubble braids on different hair types couldn't be easier! Especially if you like to experiment with different shades.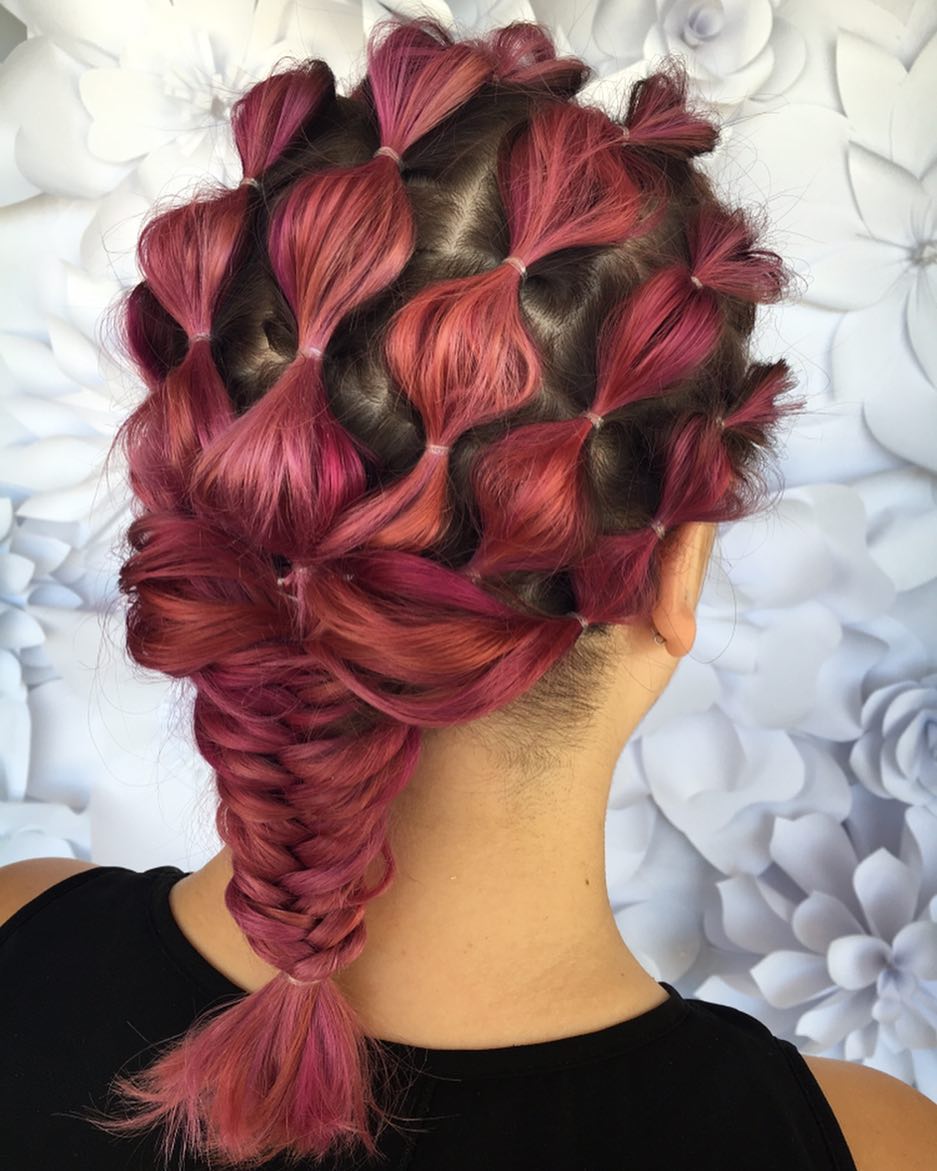 via @califormiahair
Whether you choose a rich, solid color or an ombre effect, this hairstyle with bright hair colors will earn numerous admiring glances!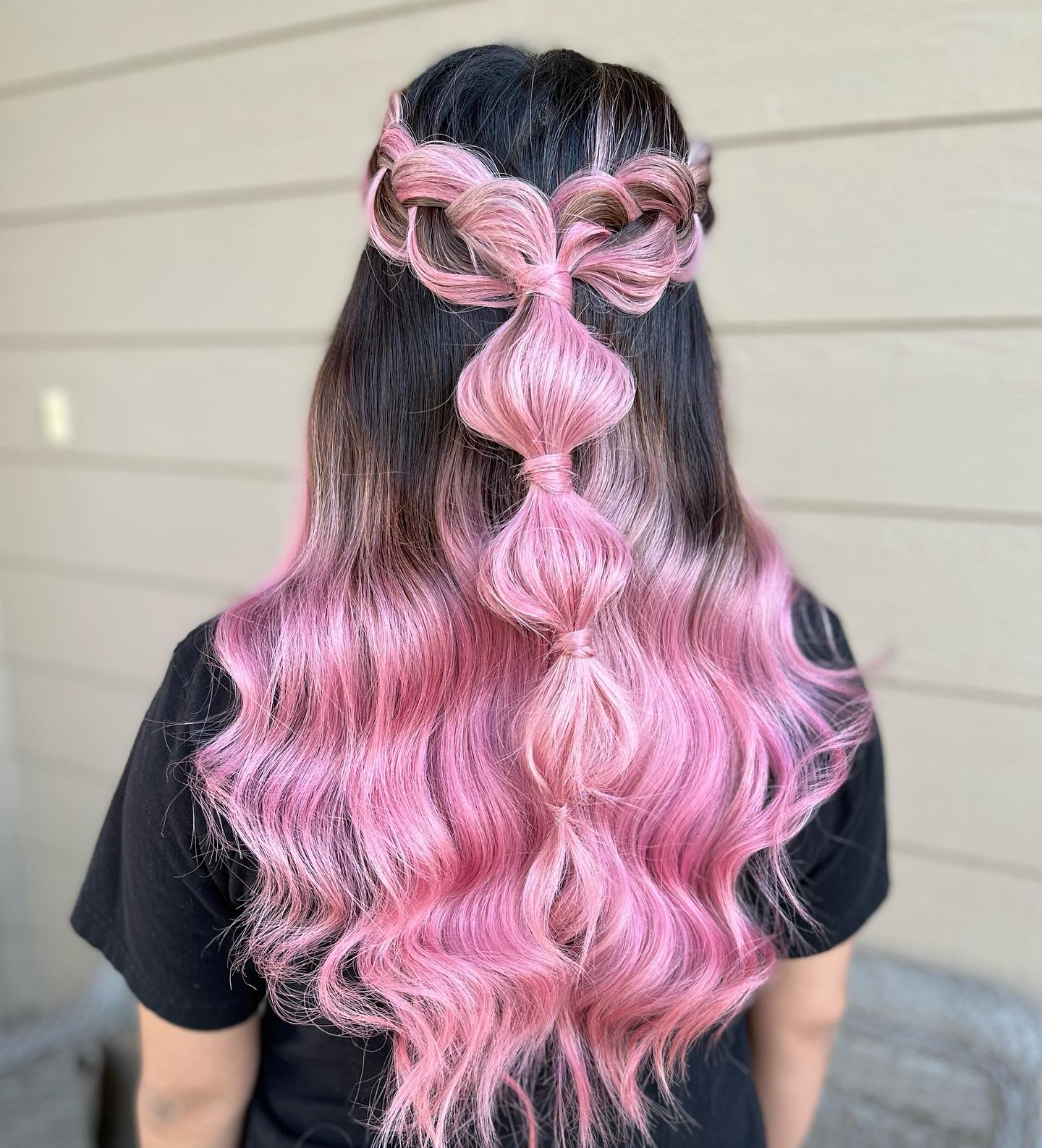 Bubble Braids for Thin Hair
How to make long and fine hair texture more voluminous and dynamic? Try adding bubble hairstyles to your everyday looks!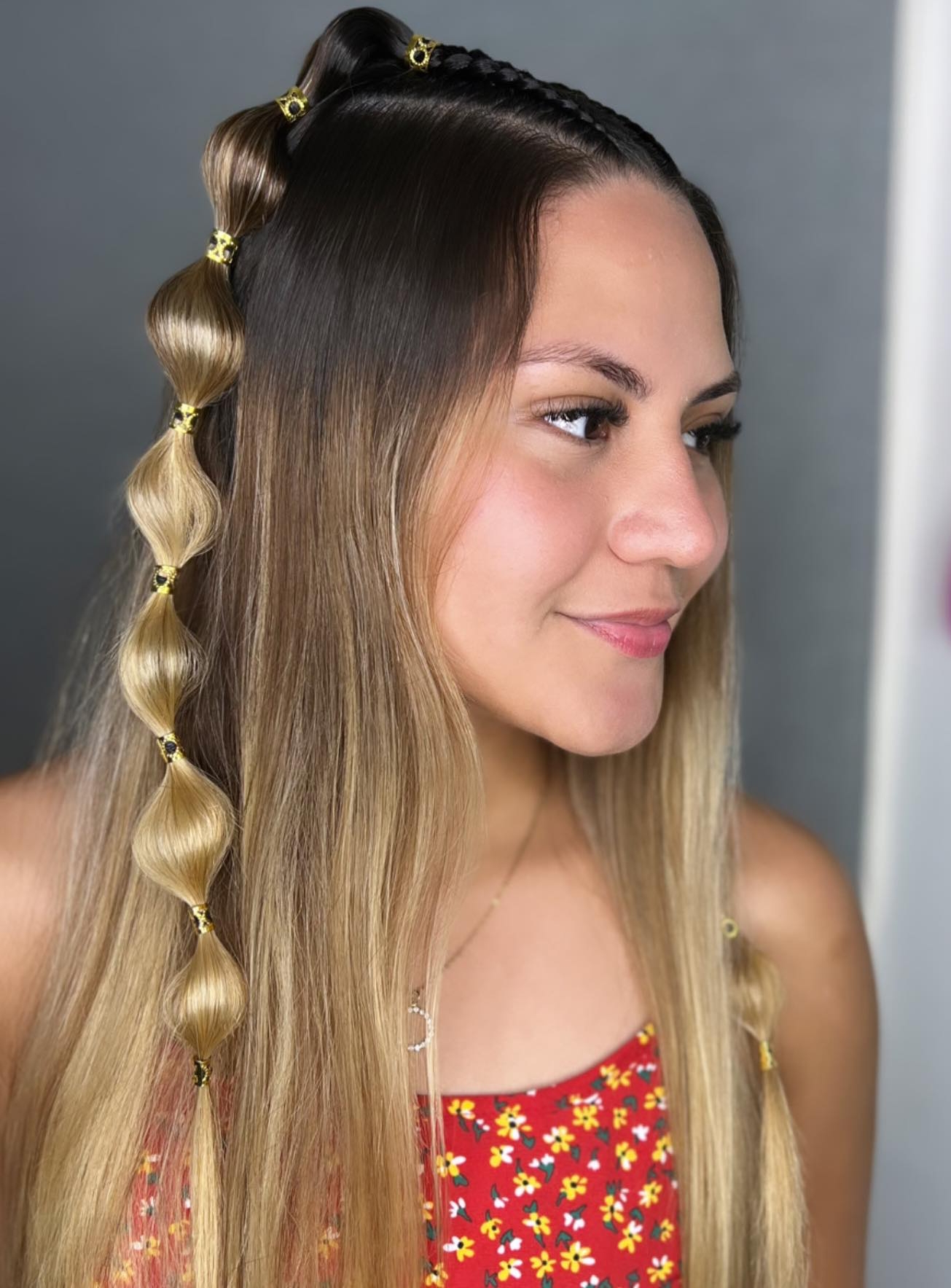 via @trenzas_ldg
Bubble braids add volume and enhance the texture of fine hair, creating a desired look. In addition, styling with minimal tension and using hair-friendly accessories makes this hairstyle even more attractive and popular.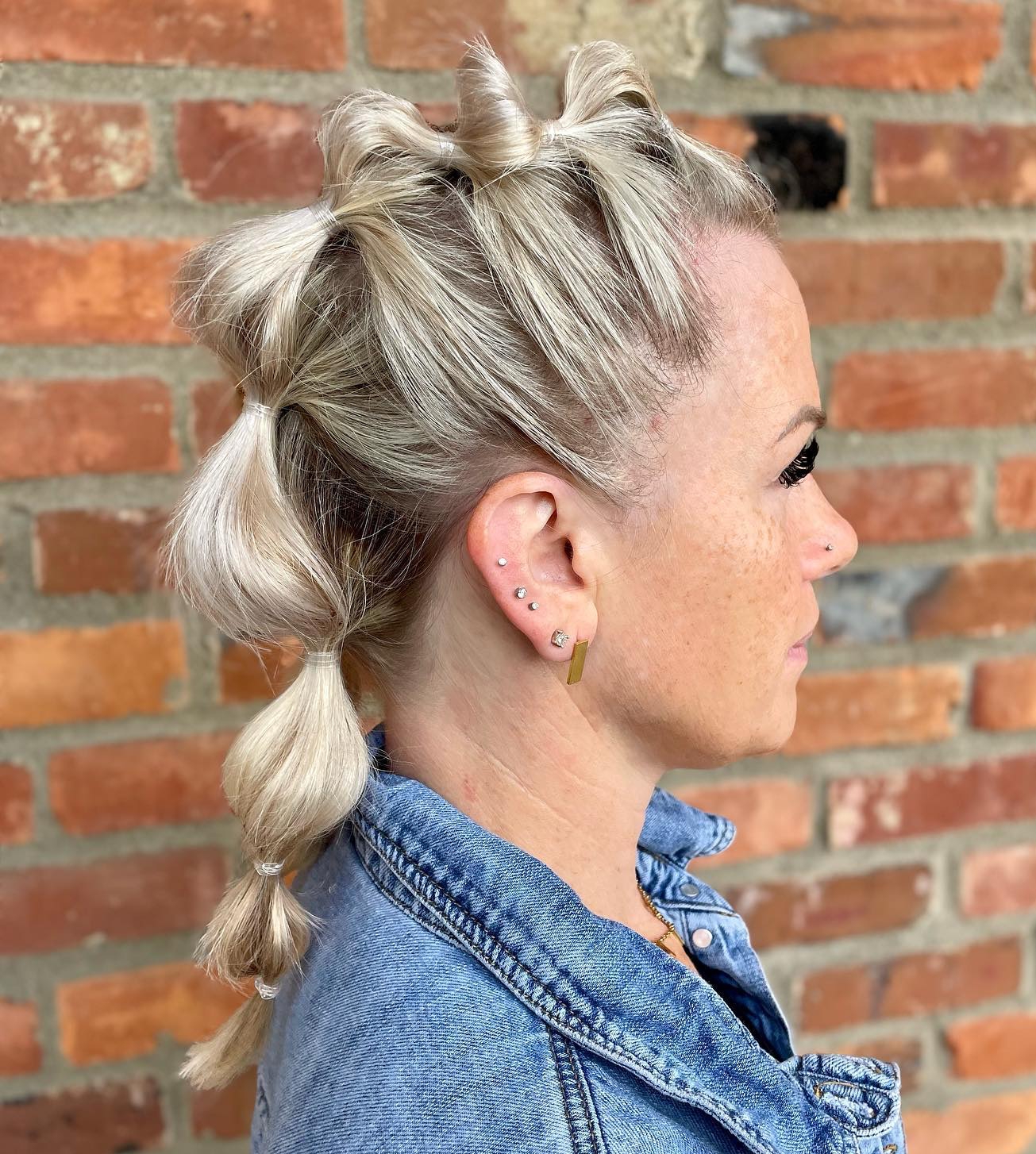 Easy Side Bubble Braid
The easy side bubble braid is a comfortable hairstyle that combines simplicity and a playful vibe. It combines a traditional side braid with adding bubble sections along the length of long black hair.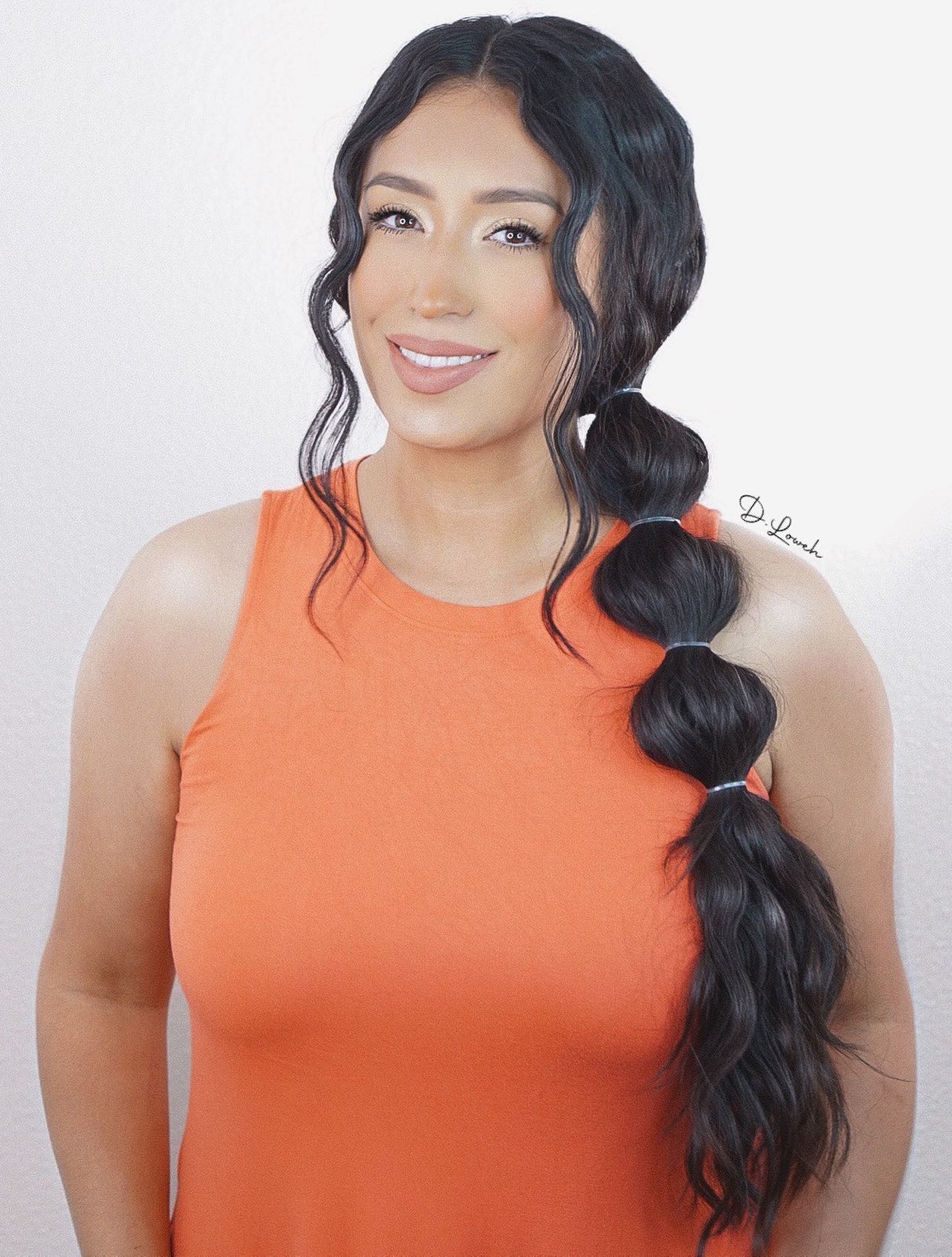 via @d.loweh
You can independently determine the size and location of the bubbles, making the image unique. For formal events, choose invisible hair bands, and when preparing for parties, you can safely experiment with contrasting and shiny accessories. For reliable fixation, use styling cream or hairspray.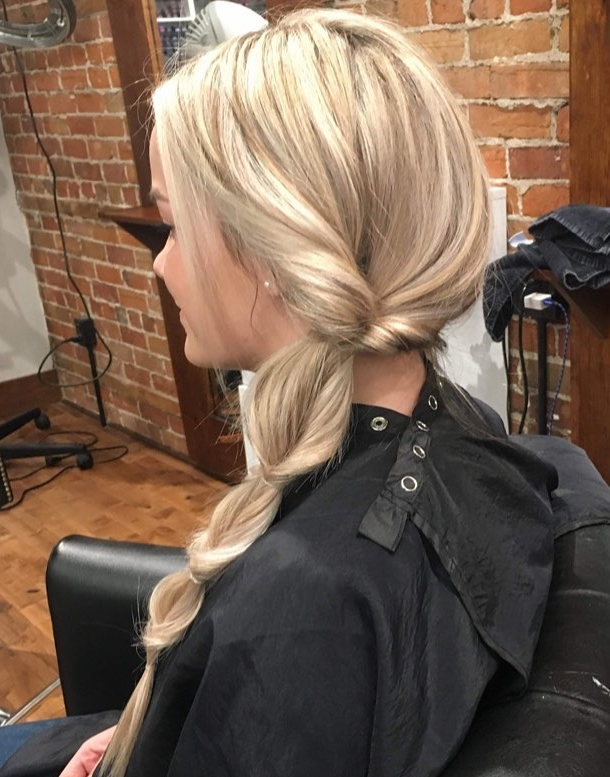 High Bubble Ponytail
An elegant and discreet high ponytail can become more exciting and dynamic with the addition of bubble braid hairstyles. The updated and modern ponytail will become your faithful assistant in any situation, from walking and sports training to business meetings.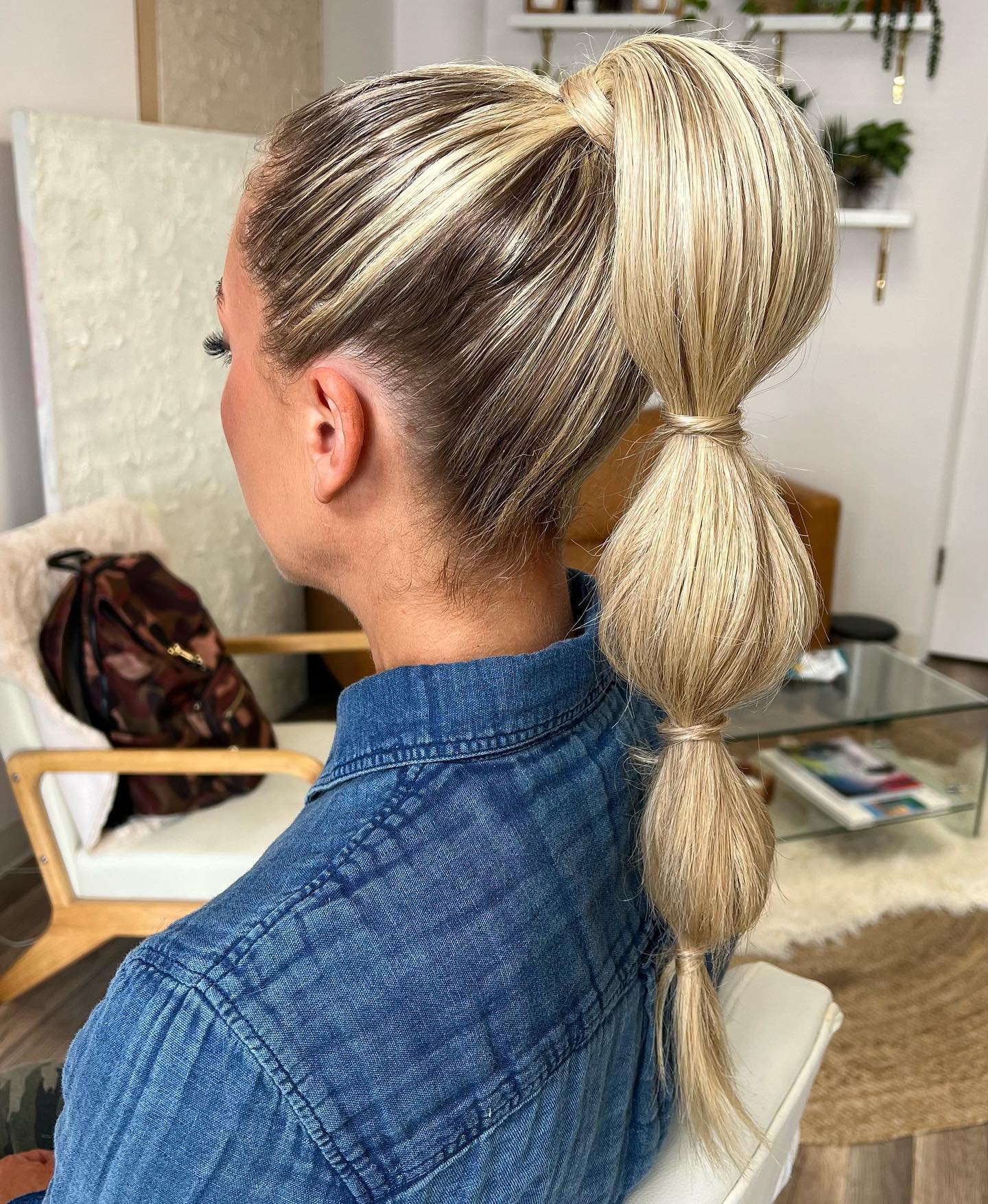 Creating sections or "bubbles" will make you take a fresh look at your childhood hairstyle, which becomes both sophisticated and slightly rebellious. The result of this hairstyle for a party or everyday wear is a youthful and cheerful look that can conquer more than one heart!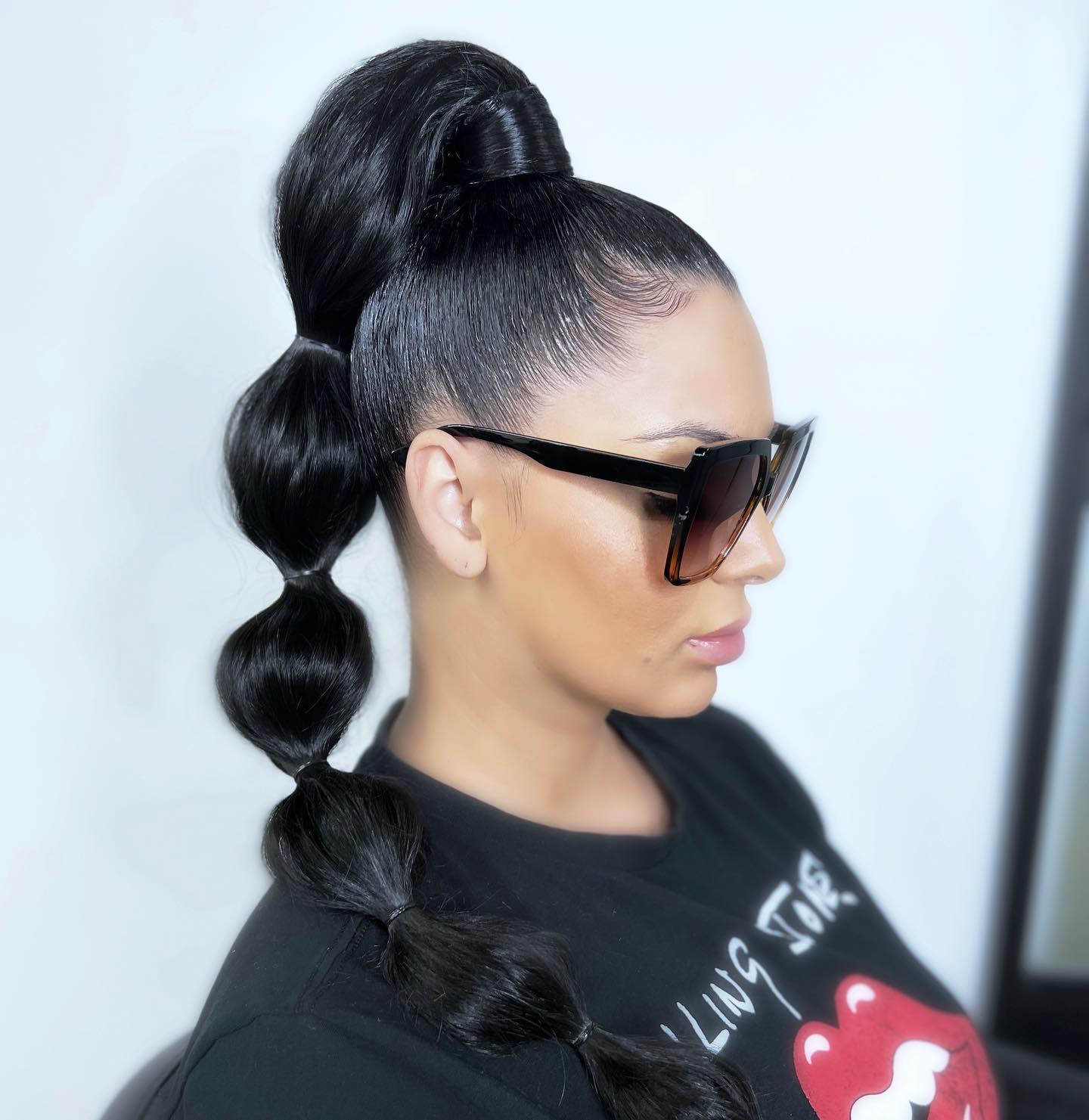 via @pure_dolly_hair
Pigtail Bubble Braids
Adorably playful, pigtail bubble braids are a whimsical and youthful take on classic braids. They will appeal to girls with short haircuts who want to try something new and turn trendy ideas into reality.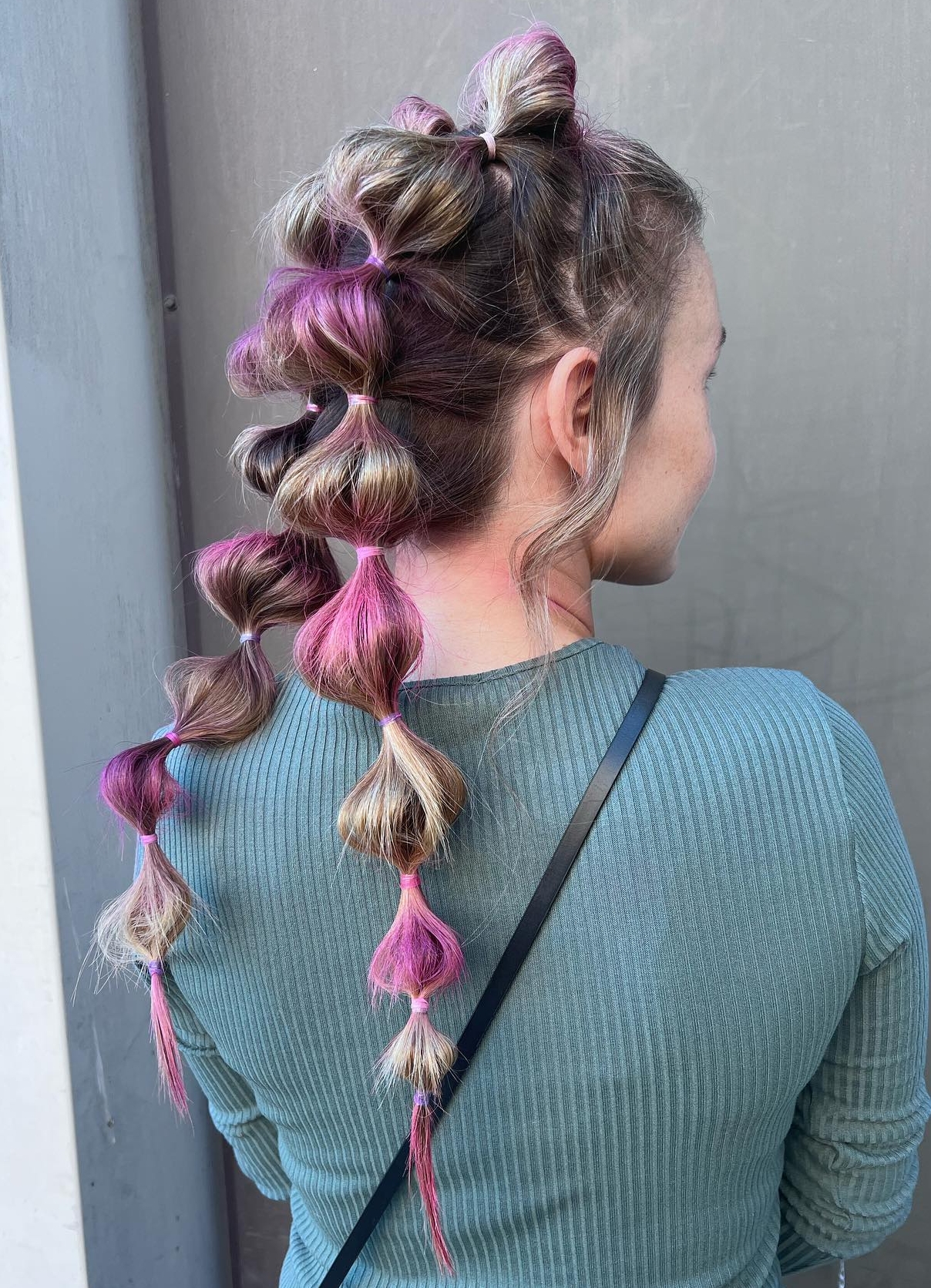 via @hair.byronja
This easy-to-do-it-yourself hairstyle combines delicacy with a modern aesthetic. Short hair with bubble braids looks feminine and slightly daring regardless of texture and color. Without a doubt, this combination will suit every fashionista!