Short hair with bangs has gained popularity among women worldwide for several reasons.
Firstly, they add youthfulness and freshness to the look, making them ideal for all ages. Secondly, hair with bangs beautifully frames the face emphasizes the features, and adds expressiveness.
Numerous classic short hair ideas with bangs are suitable for different textures and require a minimum of time for styling.
What haircuts are super trending this season? Read on!
Short Hair with Curtain Bangs
Curtain bangs on short hair are a fashionable and versatile solution for curly and straight hair. This hairstyle combines vintage charm and daring modernity, which are impossible to resist!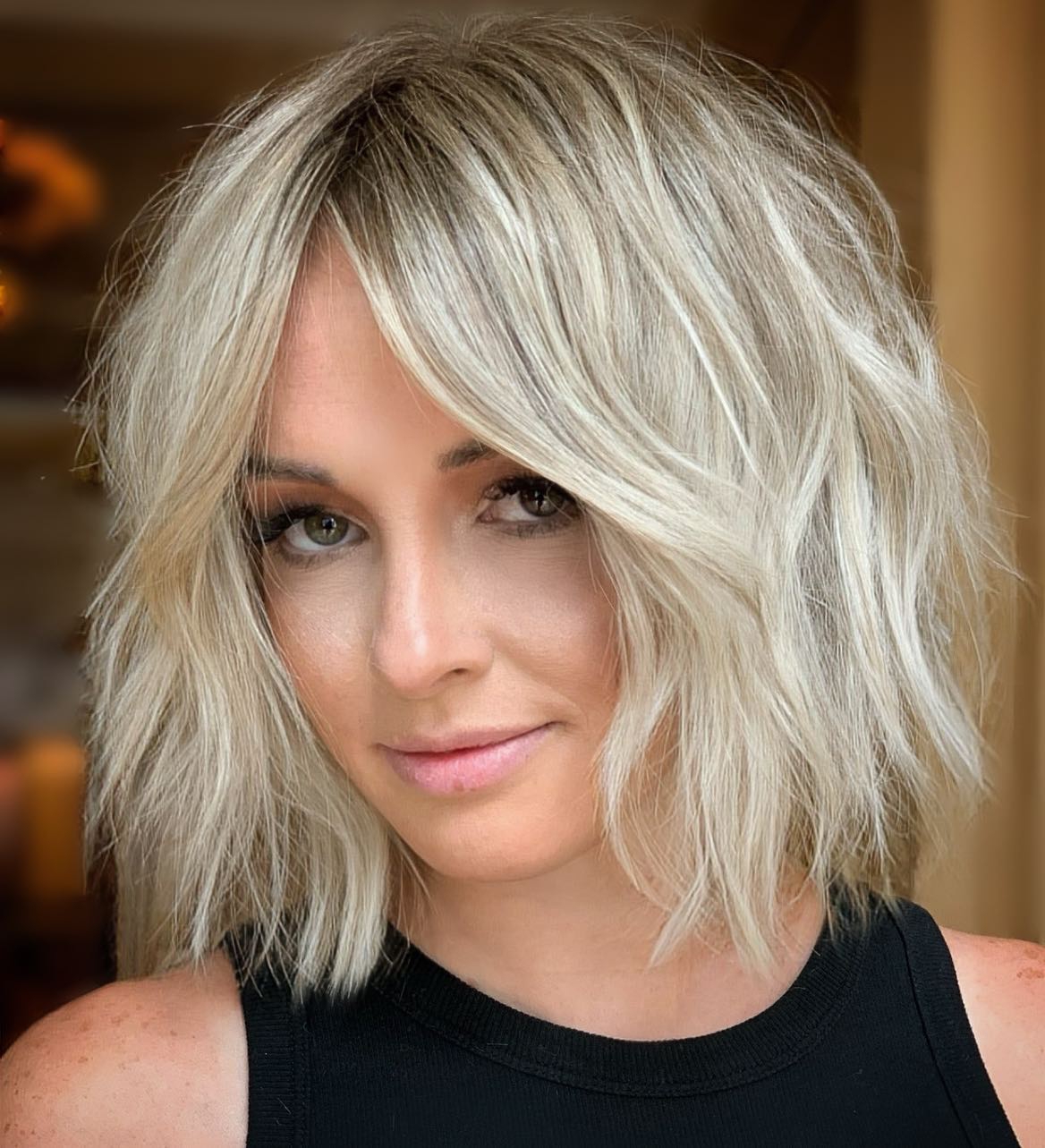 How do you wear short hair in this case? Opt for a classic chin-length bob with curtain bangs for an elegant look or a charismatic pixie cut with long bangs for a bolder twist.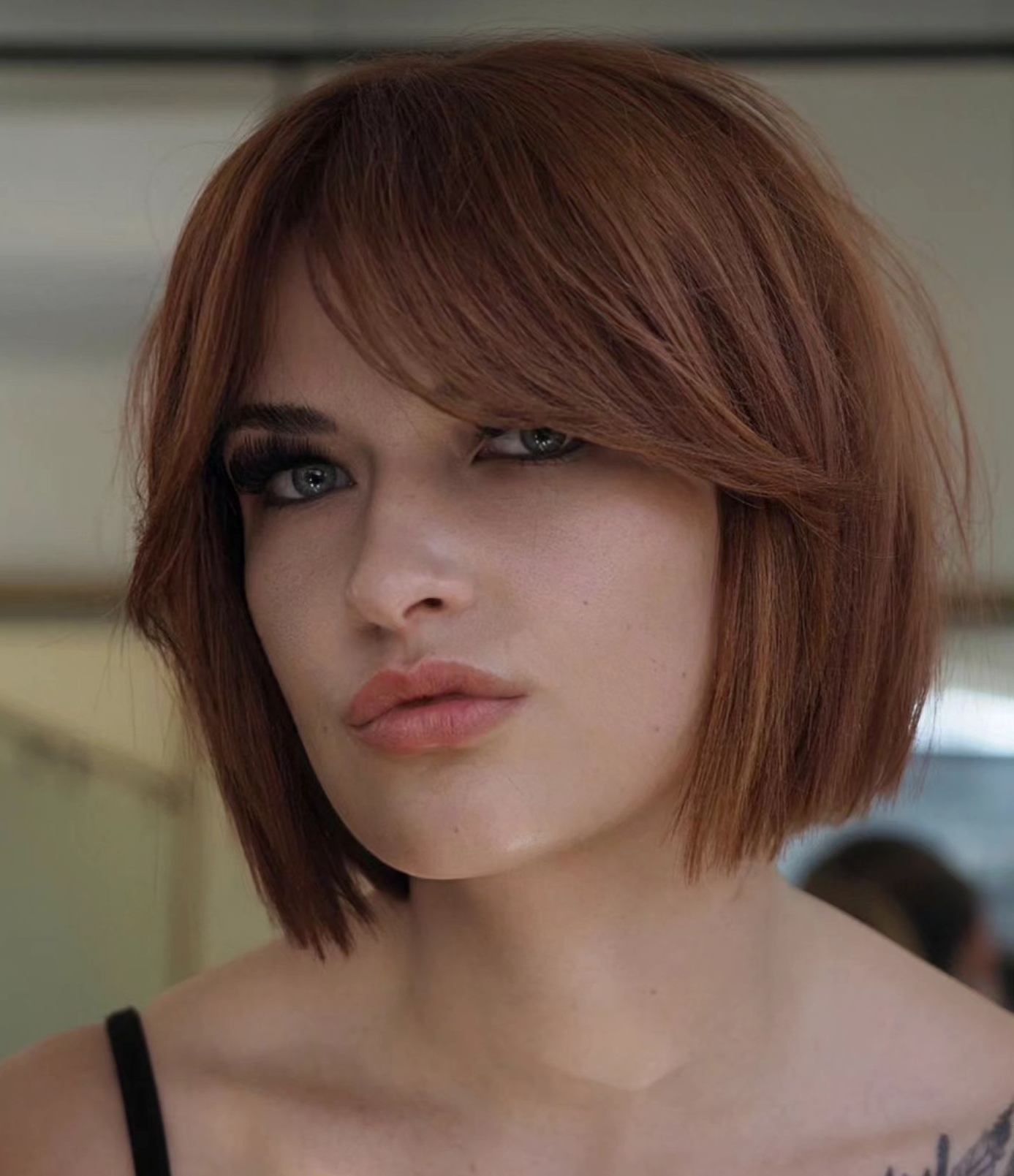 Medium Short Hair with Bangs for Every Day
Do not want to part with curls, but are you not ready to care for long, luxurious hair? There is a solution: medium-length haircuts with trendy curtain bangs!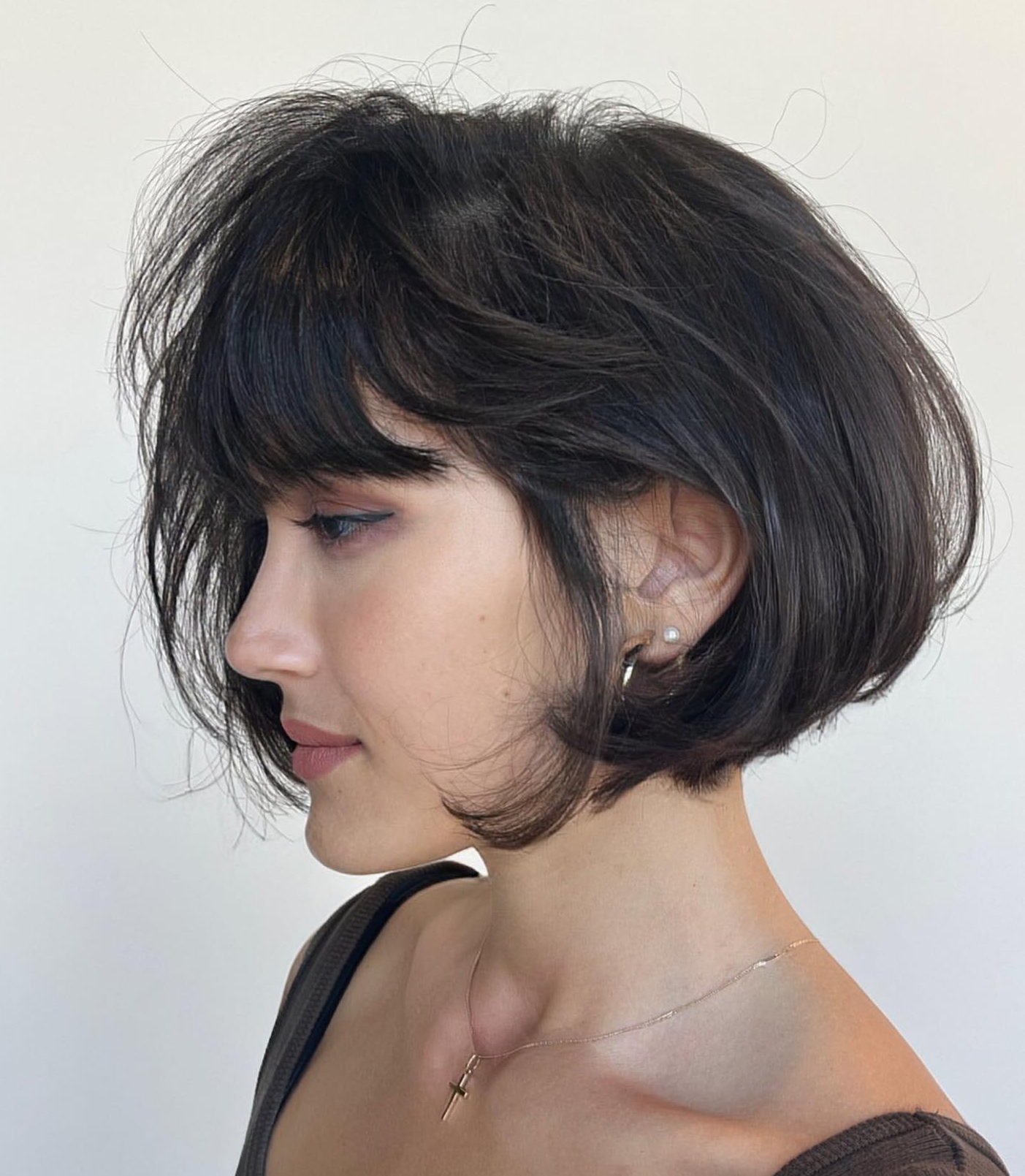 via @scissor.hair
They successfully balance between two extremes and open up ample opportunities for experimentation. For example, women of all ages have been into chin-length bob for years.
If the classics are not your thing, pay attention to medium-short hair with side-swept bangs. This style allows for various interpretations — from flawlessly smooth to tousled and carefree, which means you will find what you want!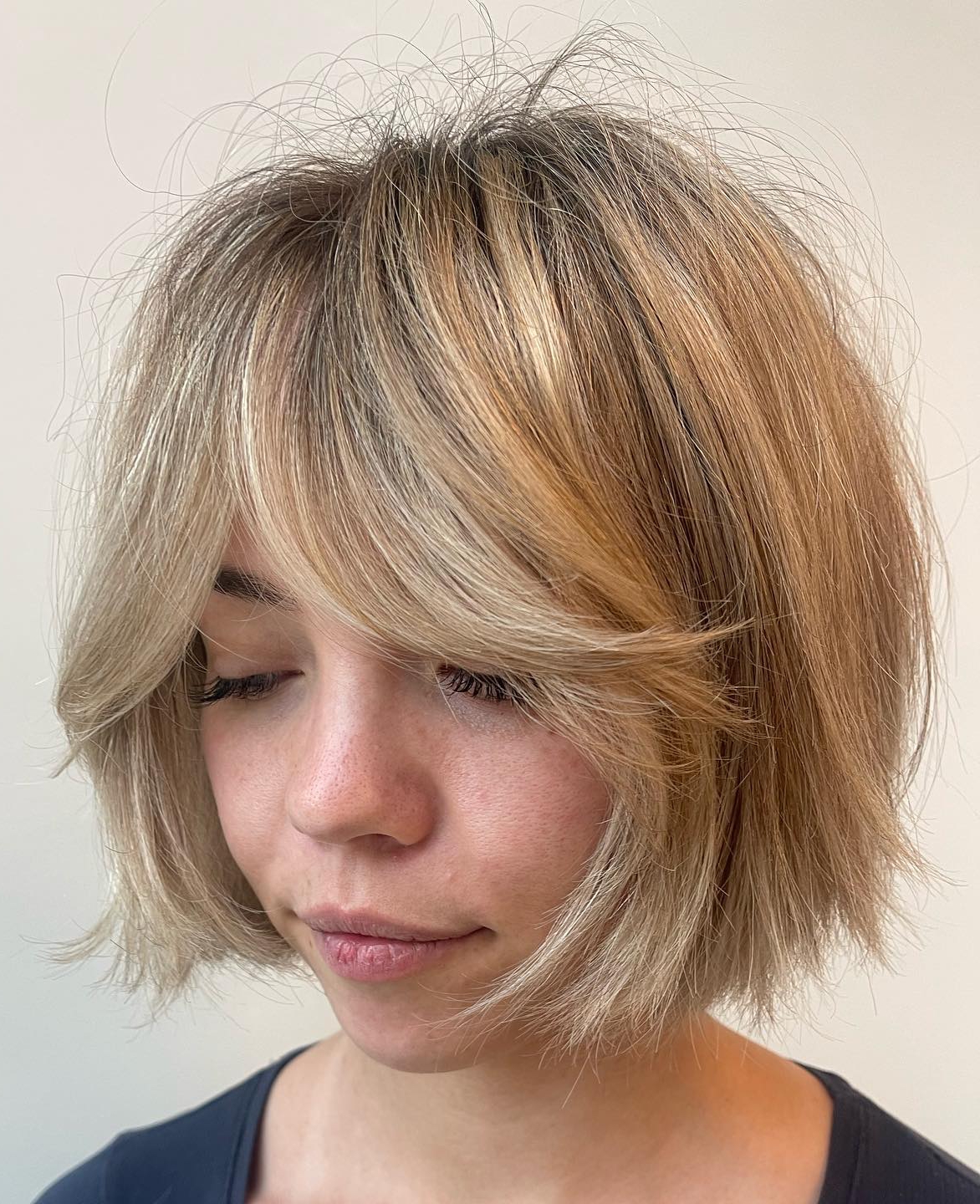 via @joycemariehair
Stylish Short Hair with Side Bangs
A short hairstyle with side bangs is a stylish solution for any occasion. Thanks to the versatility of such hairstyles, you can experiment with numerous variations, from concise to original and spectacular.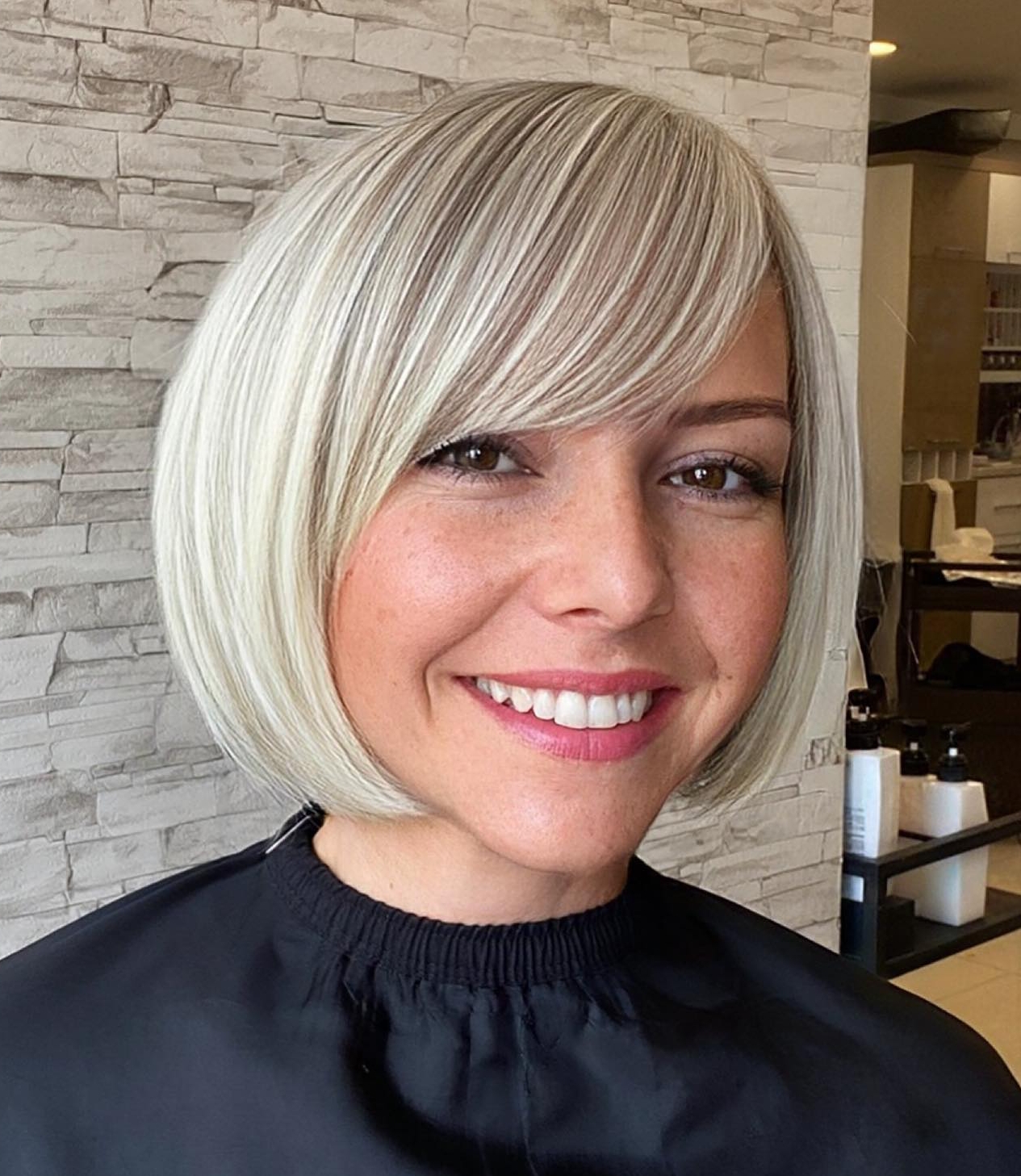 via @tamer_goksu
Fashionista favorites include the pixie cut with long side swept bangs for a bold yet feminine look and the short bob with asymmetrical side bangs full of intrigue and elegance.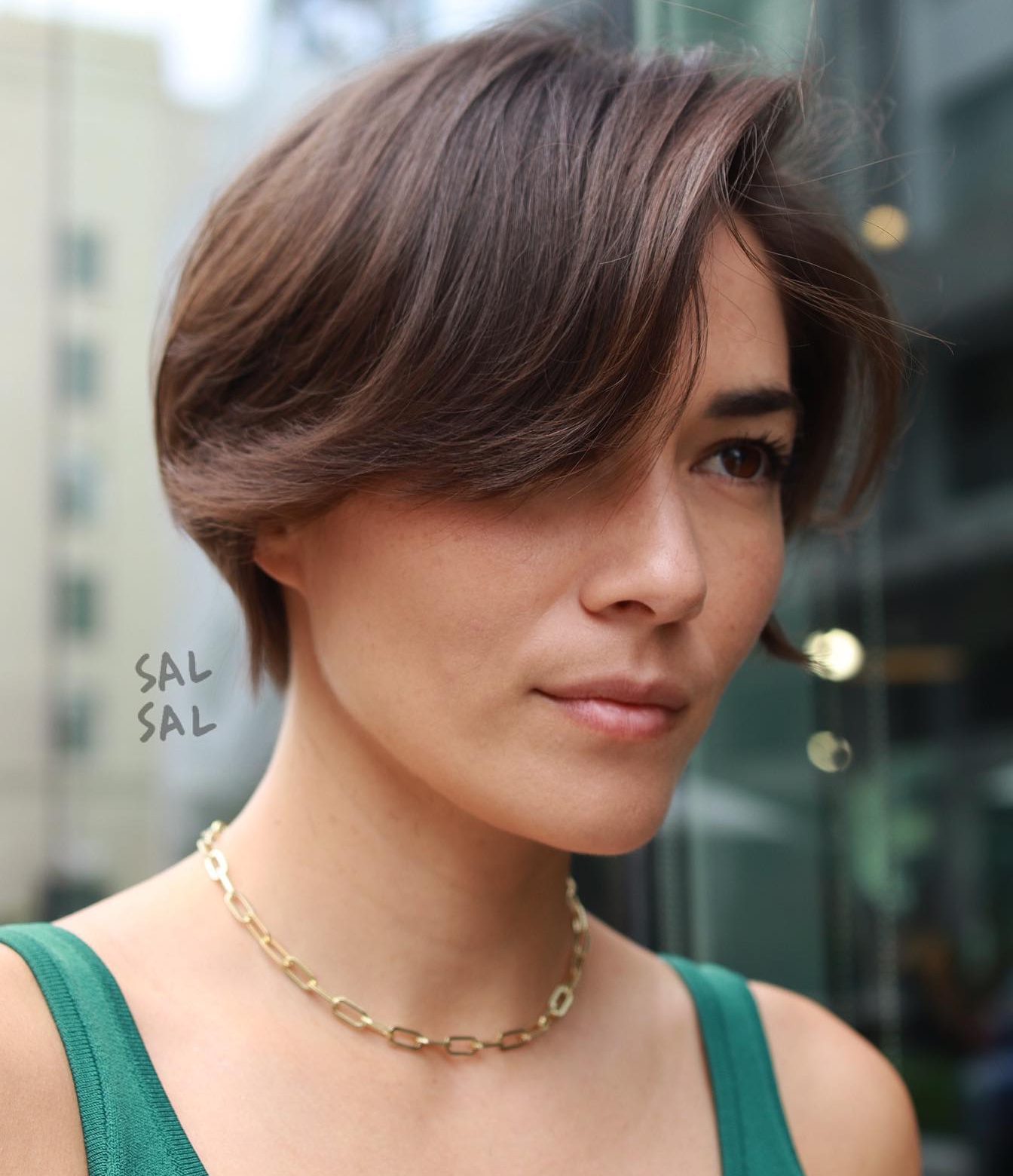 via @salsalhair
Short Hair with Long Bangs for Exciting Experiments
Short hair with bangs allows you to maintain femininity and sophistication even with the minimum length of curls. The spectacular contrast between the strands will attract the views of others and help create creative styling options, from aristocratic to rebellious.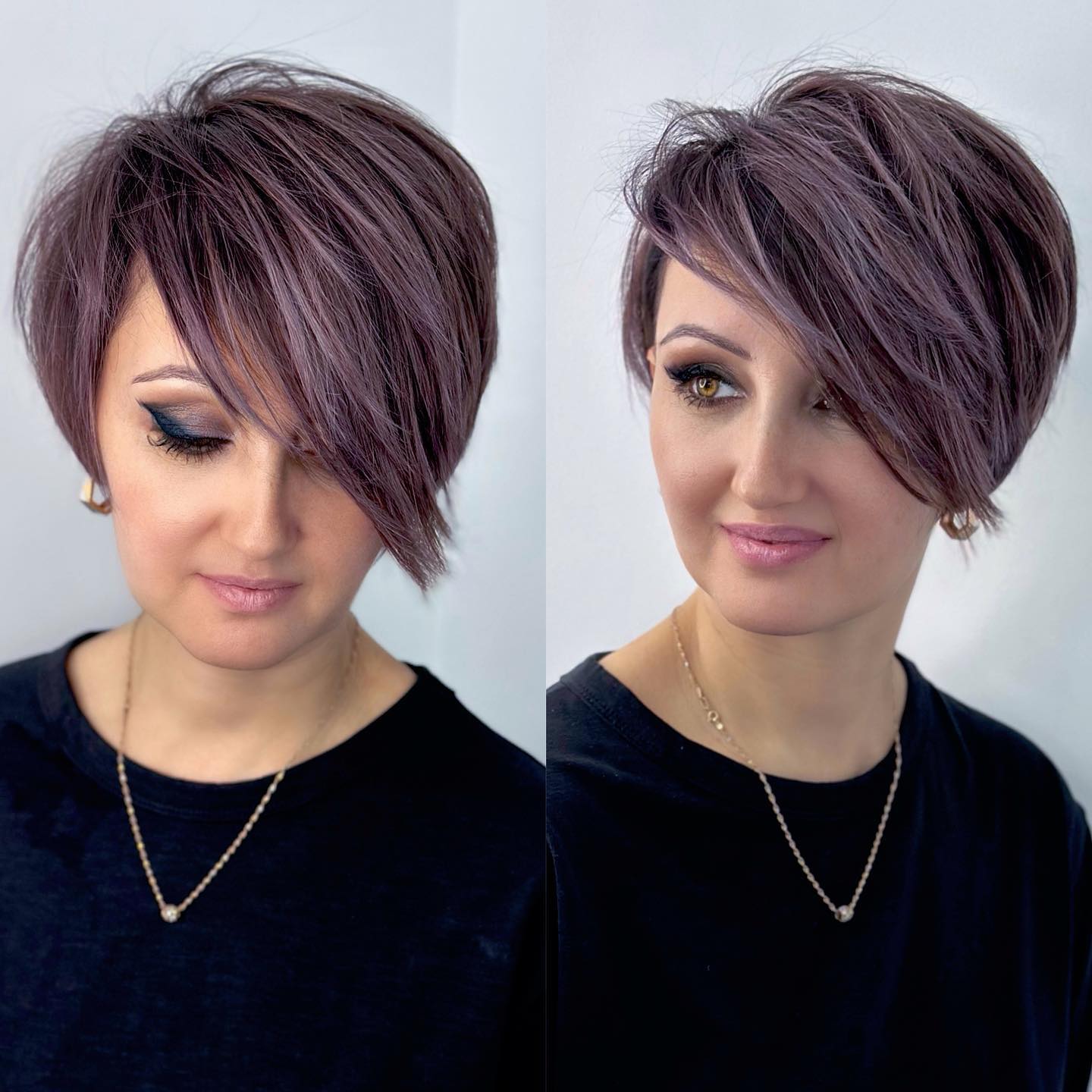 via @zinoveva_elena
If you're going for this hairstyle, start with the classic bob with bangs. Having got used to the length and methods of care, you can proceed to more radical experiments. It may be an ultra-short pixie with long feathered bangs.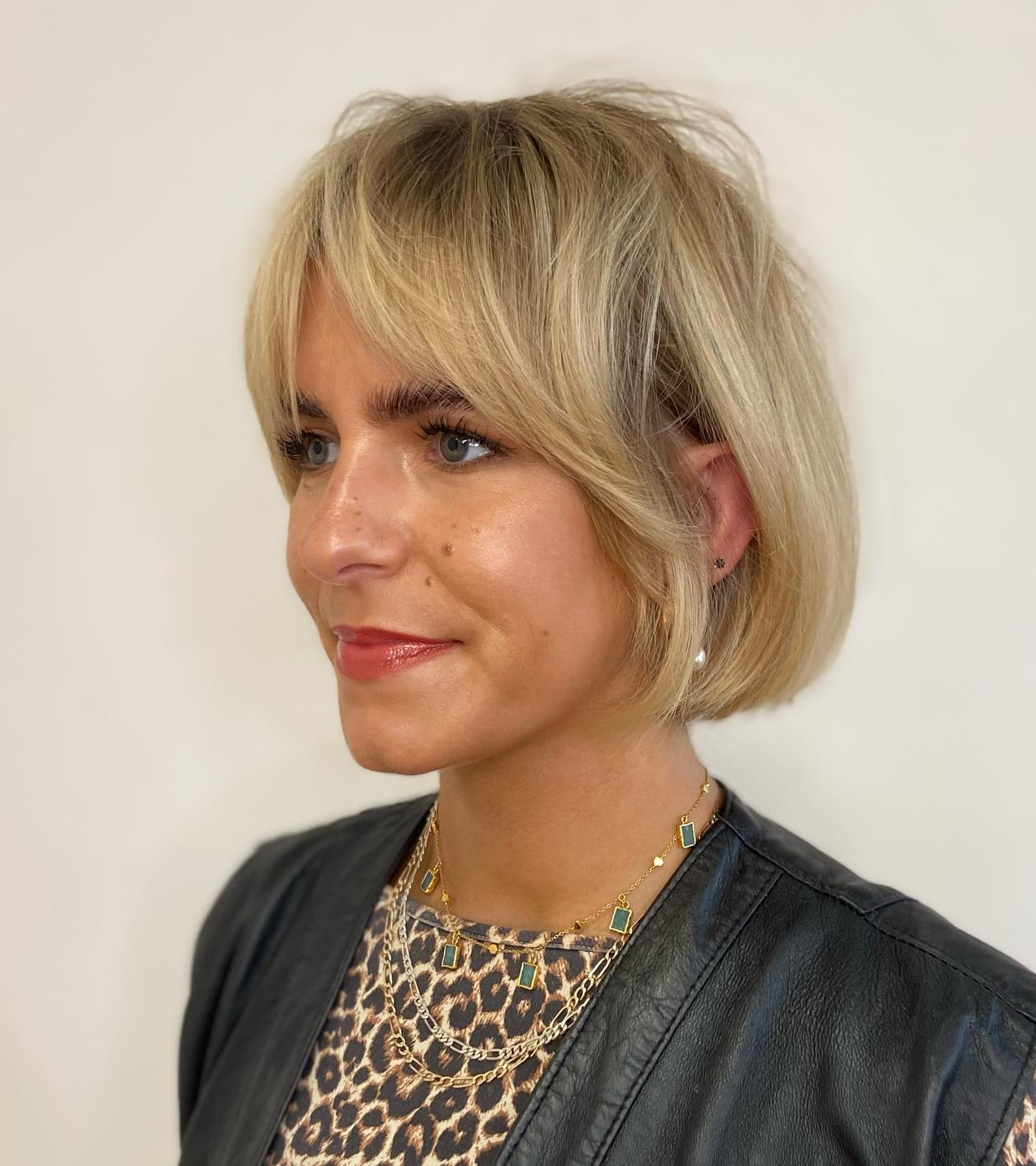 Short Hair with Bangs for Round Face
Short hair with layered bangs for a round face is a reliable tool for balancing proportions and even contours.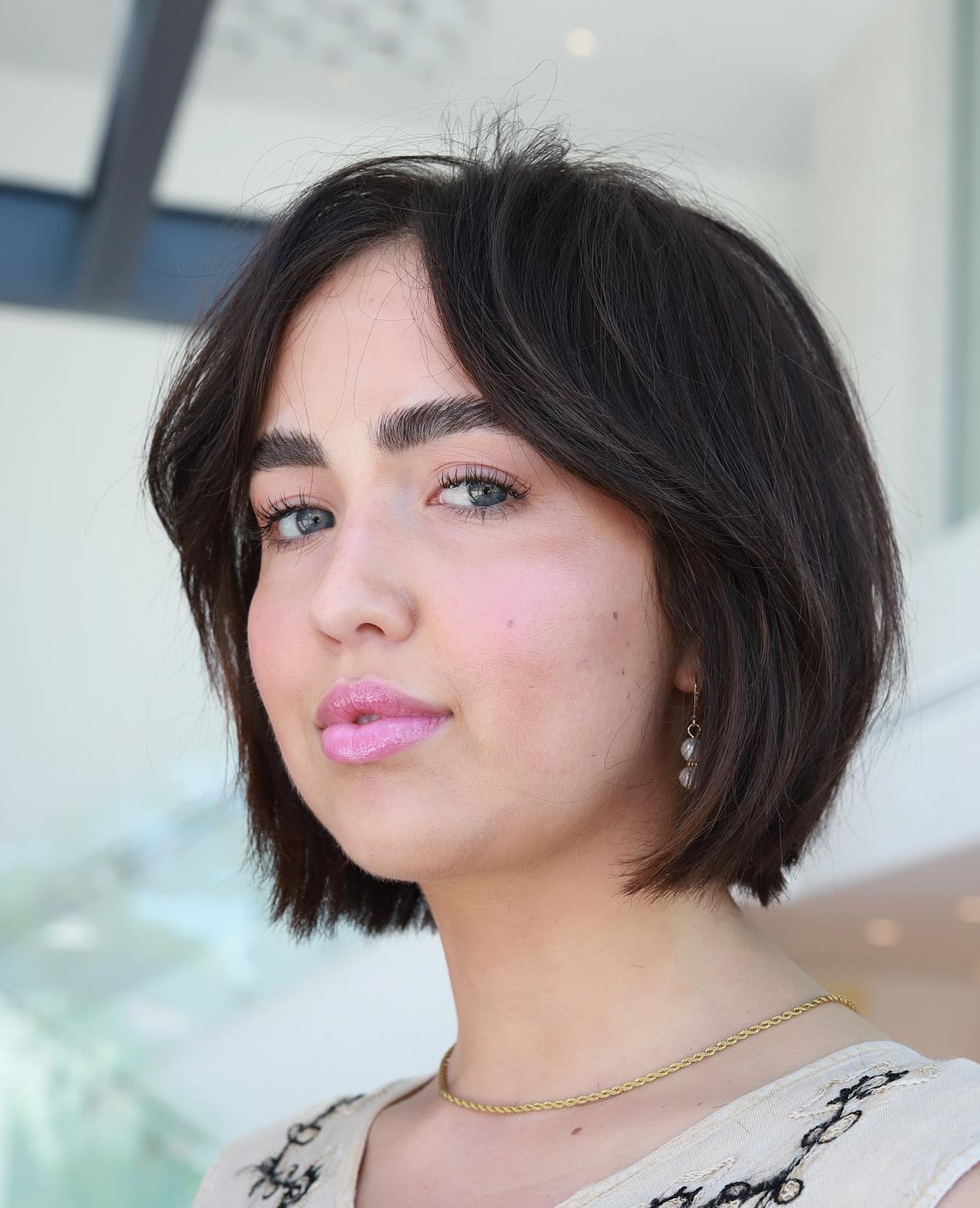 via @eastonhair
Do you doubt it? Try a short bob with long bangs swept that reaches the brows and creates vertical lines that elongate the face. Another versatile option for owners of a round face shape is a pixie haircut with side-swept bangs. It creates angles and draws attention to the cheekbones, making the face look slimmer.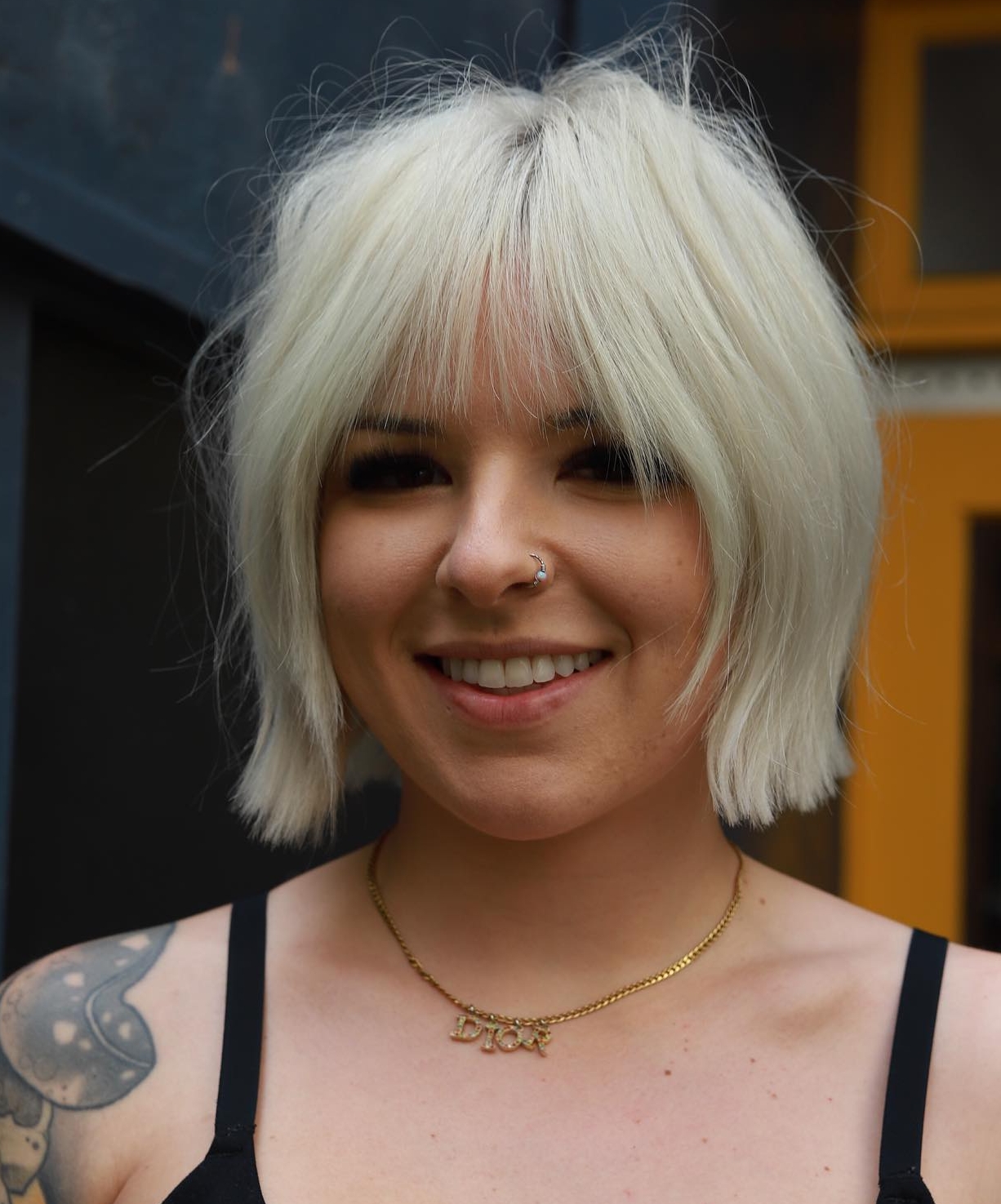 via @eastonhair
Trendy Korean Short Hair with Bangs
Korean hairstyle is an extremely fashionable trend, especially among young people. How are these hairstyles different?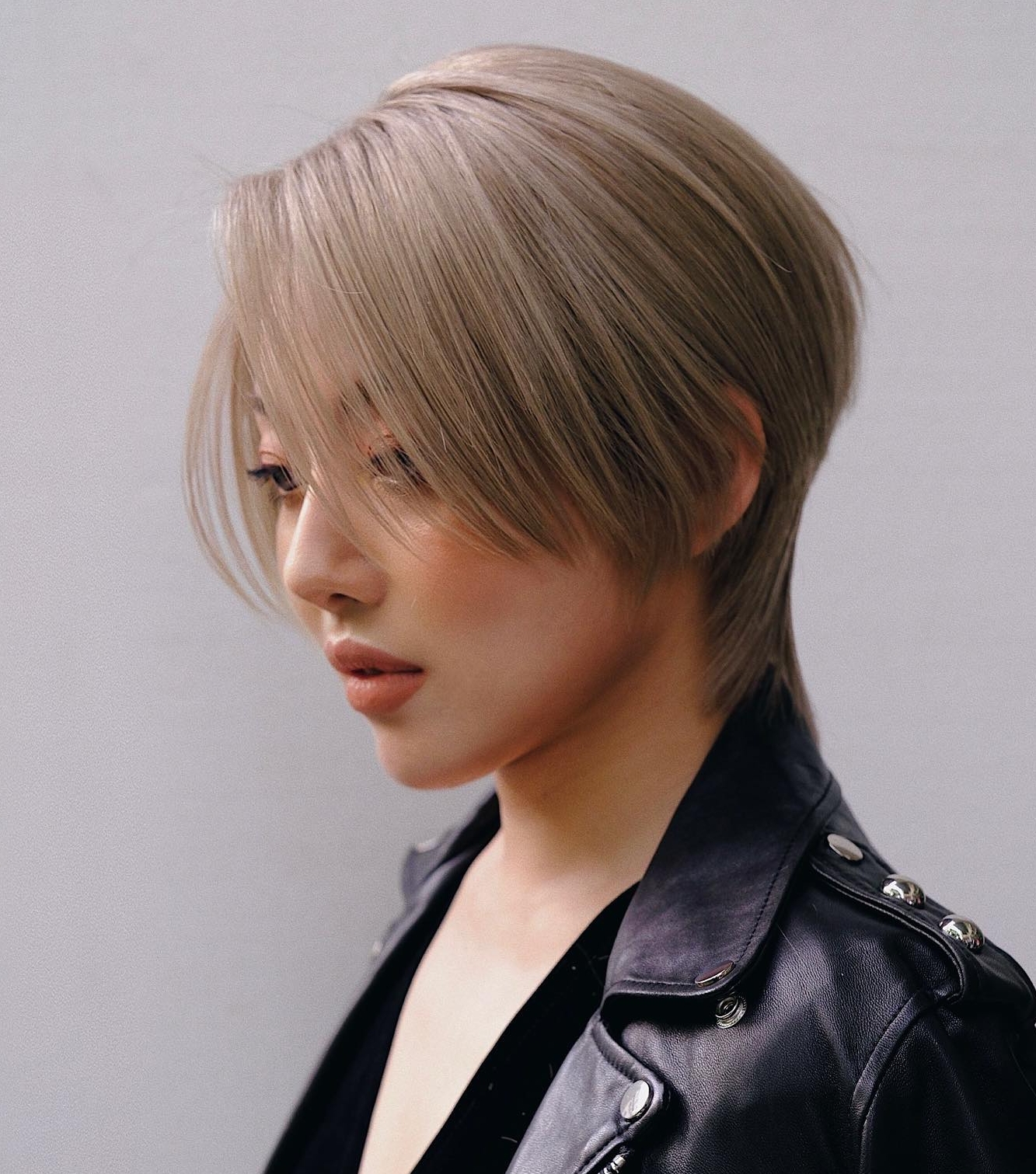 via @stanleyman001
Typically, layered Korean short hair with bangs is a bob or pixie paired with straight or slightly thin bangs that casually frame the face.
If you want to follow this trend, opt for natural straight hair for a casual look.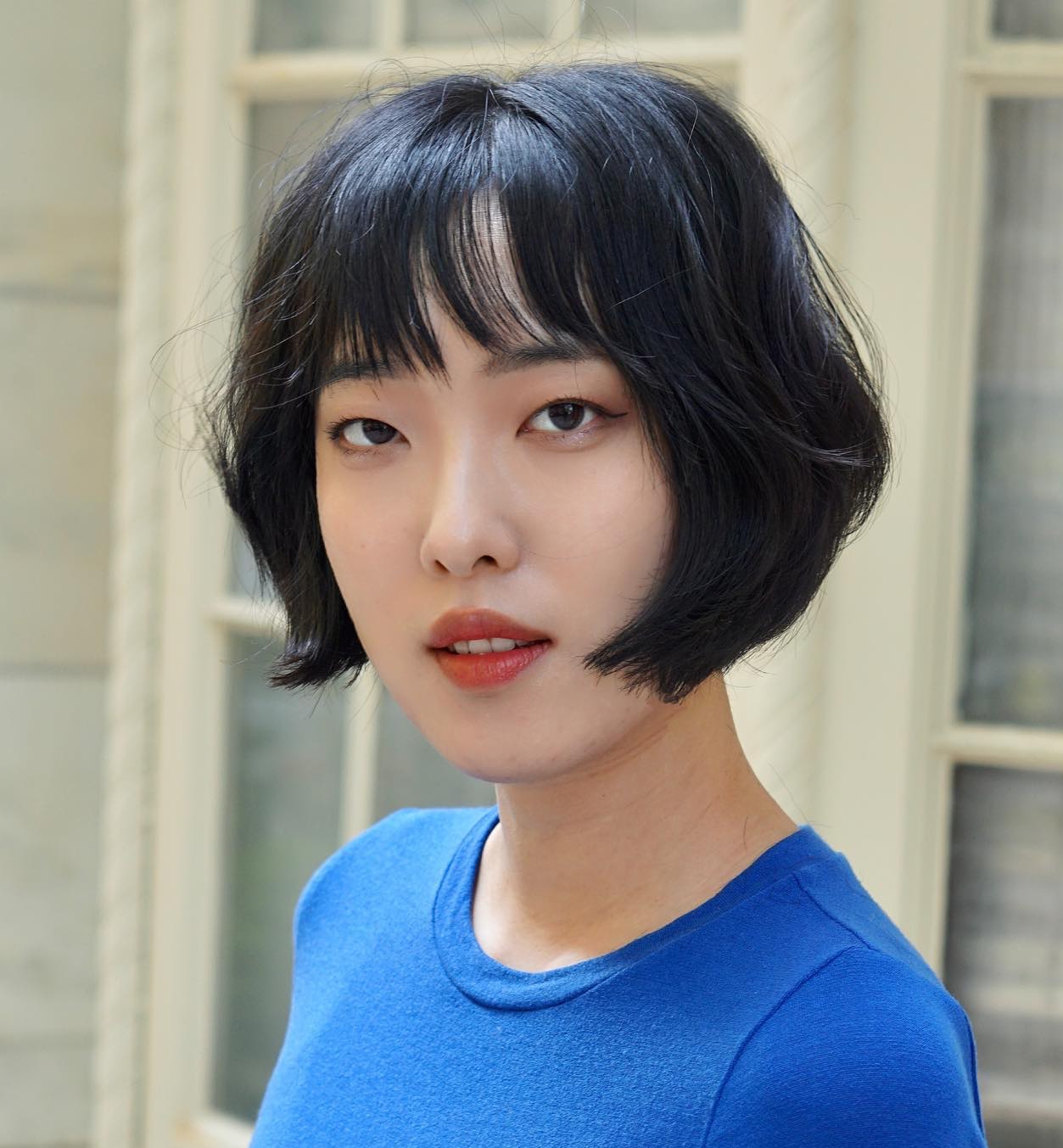 via @nunzio_nyc1
Aesthetic Short Hair with Bangs
Why do girls of different ages like short hair with bangs so much? When choosing these hairstyles, you can be inspired by non-traditional styles and add your wishes to the look.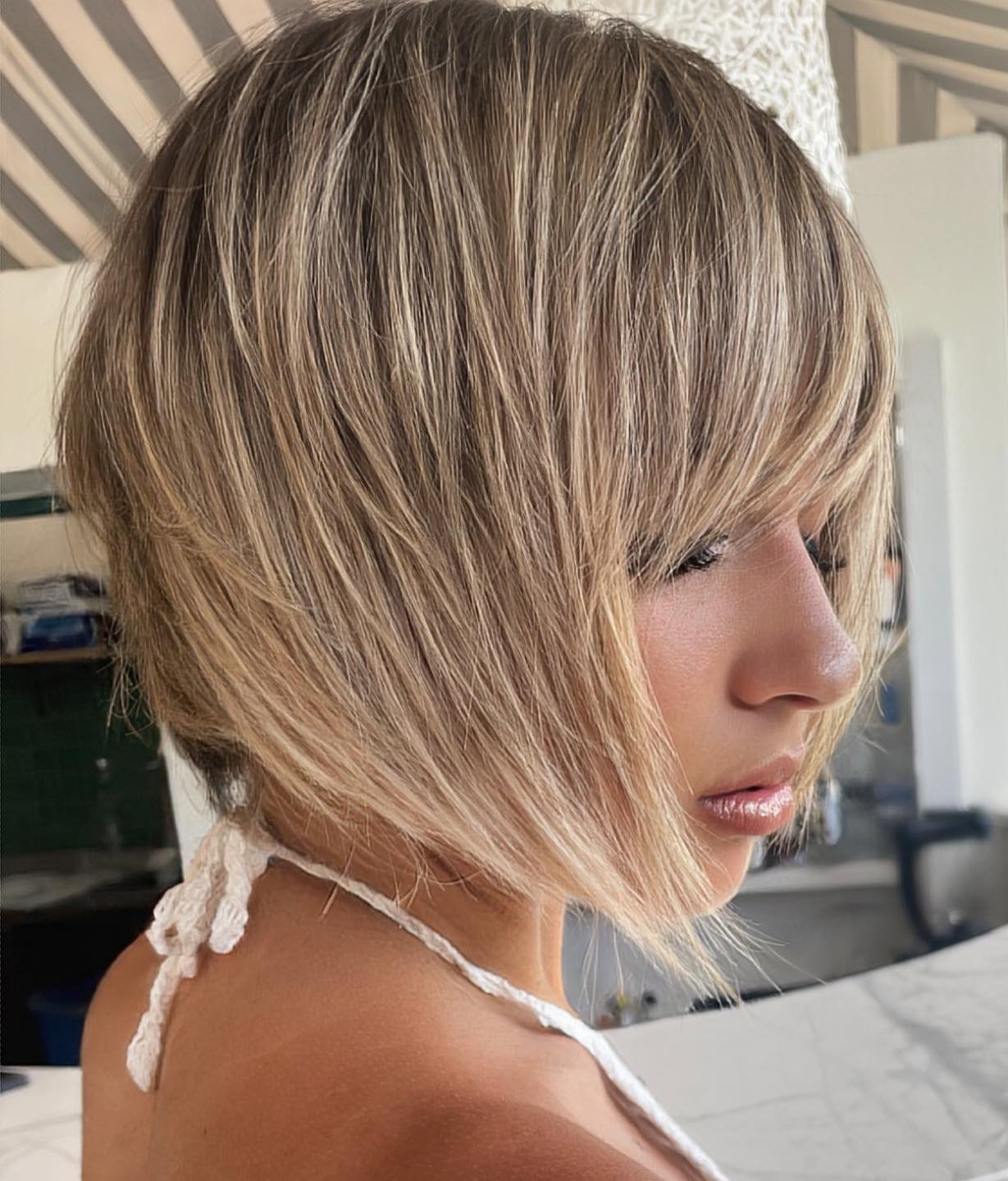 via @gennydauria
Want a textured pixie with long asymmetrical bangs? Easily! Do you dream of thin bangs in bright colors? Why not! Find "your" master and embody the most daring ideas for maximum self-expression!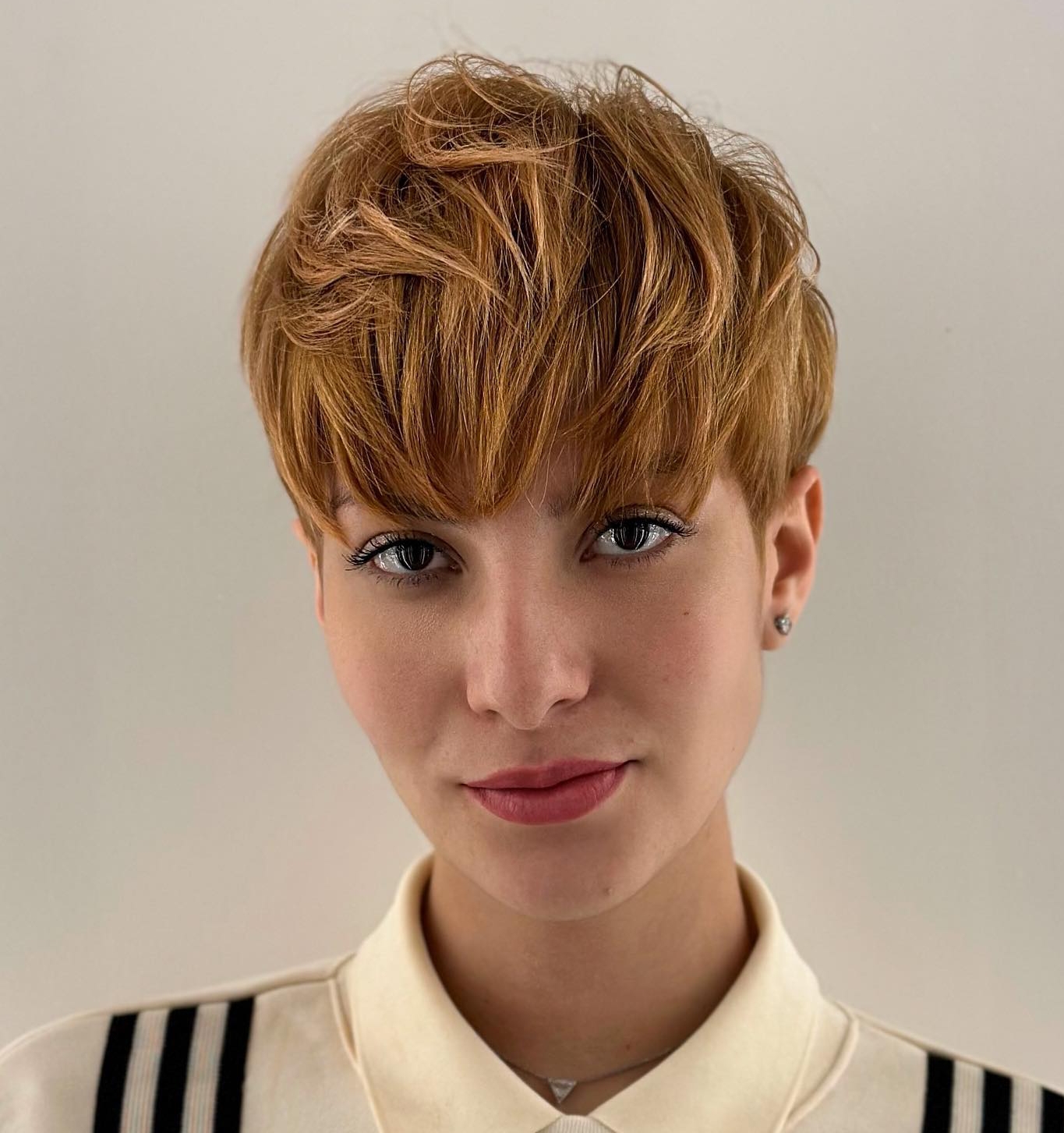 via @omiezee
Short Hair with Wispy Bangs
Short blonde hair with thin bangs is the embodiment of romance. For extra volume, you can opt for a layered bob or pixie. This hairstyle format is light and airy, necessary for feminine images.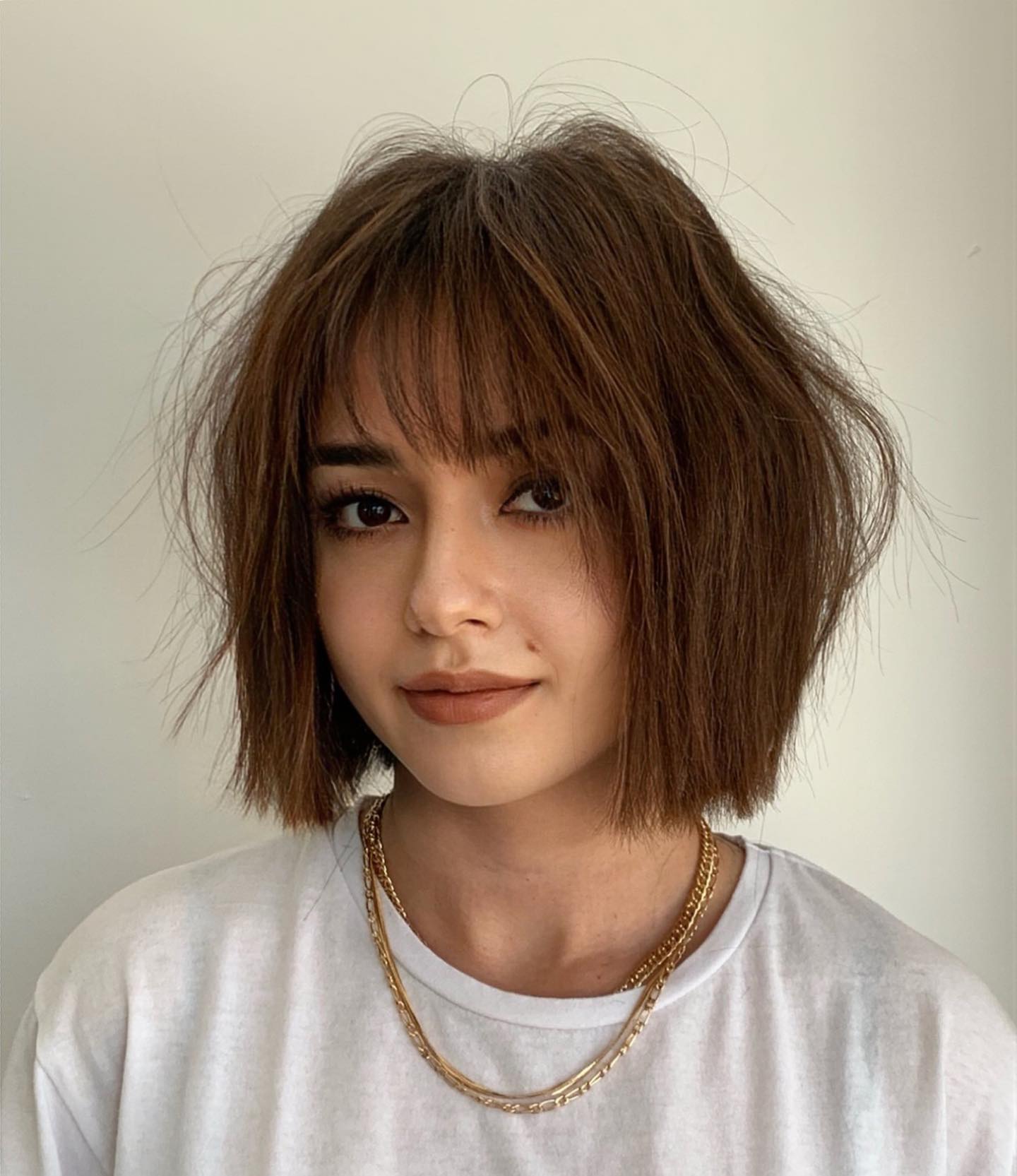 via @leventkilic0
Wispy bangs on short hair are versatile and a win-win. They will look harmonious both in everyday life and on special occasions.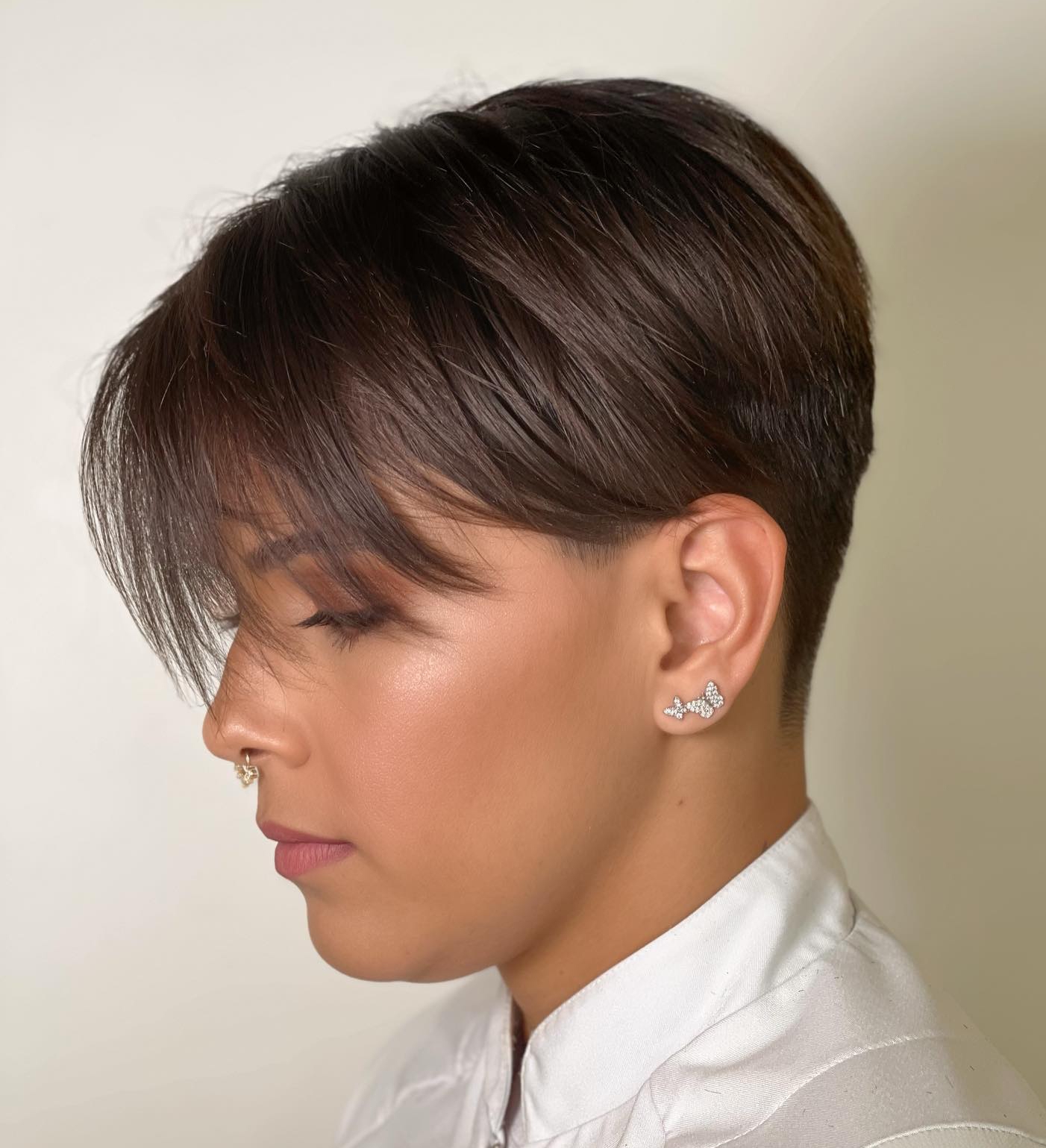 via @diegomarcsant
Short Hair with Bangs for Women Over 50
What are the hairstyles for women over 50? Short hair with bangs is a stylish and practical choice for mature fashionistas who want to keep their hair fine and spectacular.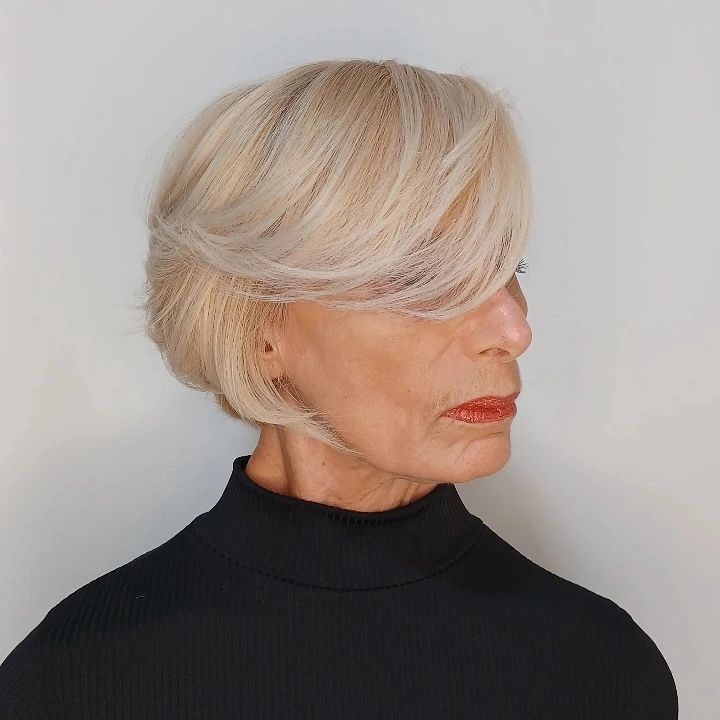 via @bruno_ilan_
A striking example of timeless styling is a classic bob or a multi-layered short pixie bob with bangs. They have enough volume and make facial features more expressive.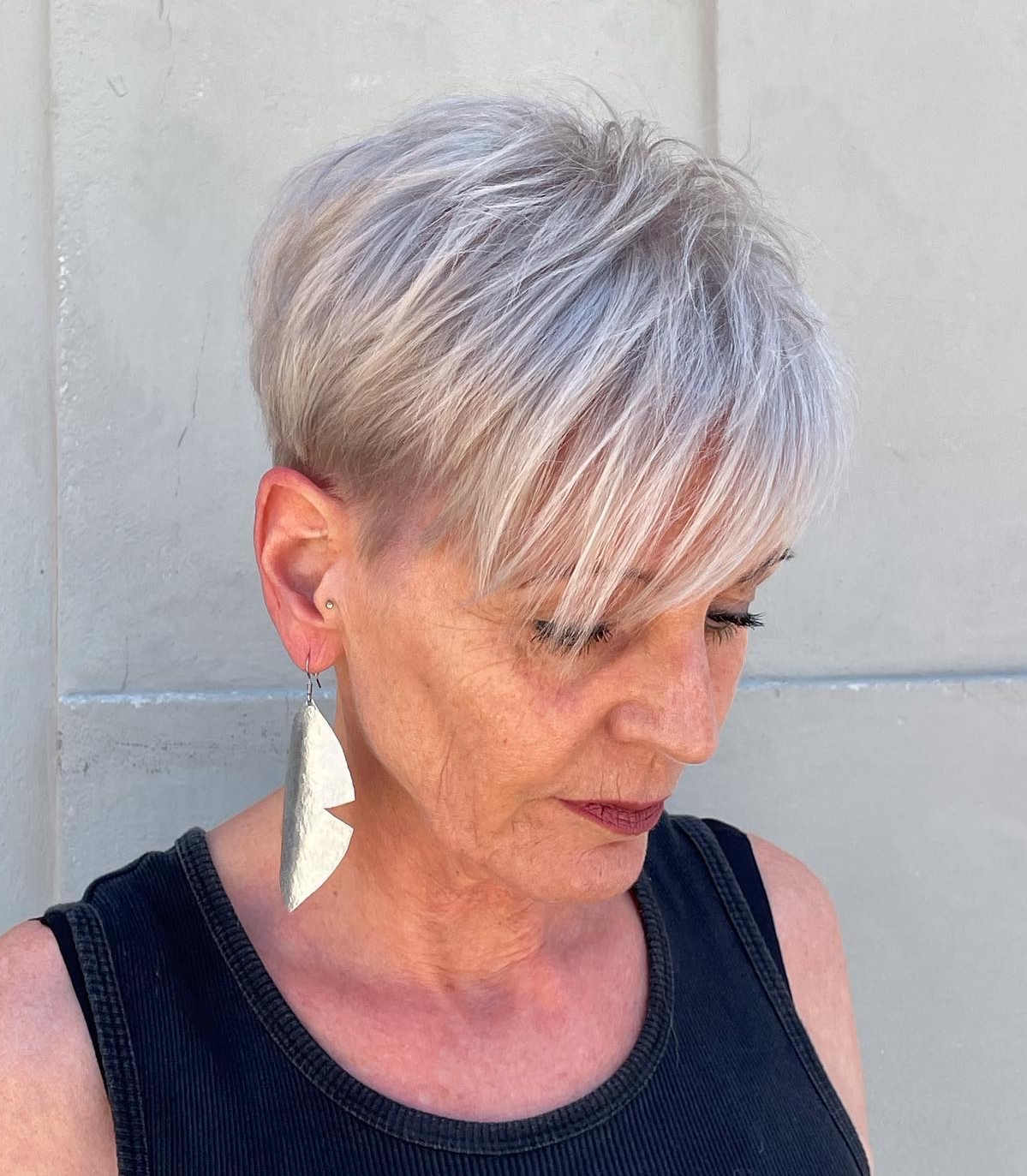 Daring Short Hair with Choppy Bangs
Among the varieties of short bangs, choppy bangs on thick hair deserve special attention. They look dynamic and relaxed, which undoubtedly attracts lovers of trendy haircuts.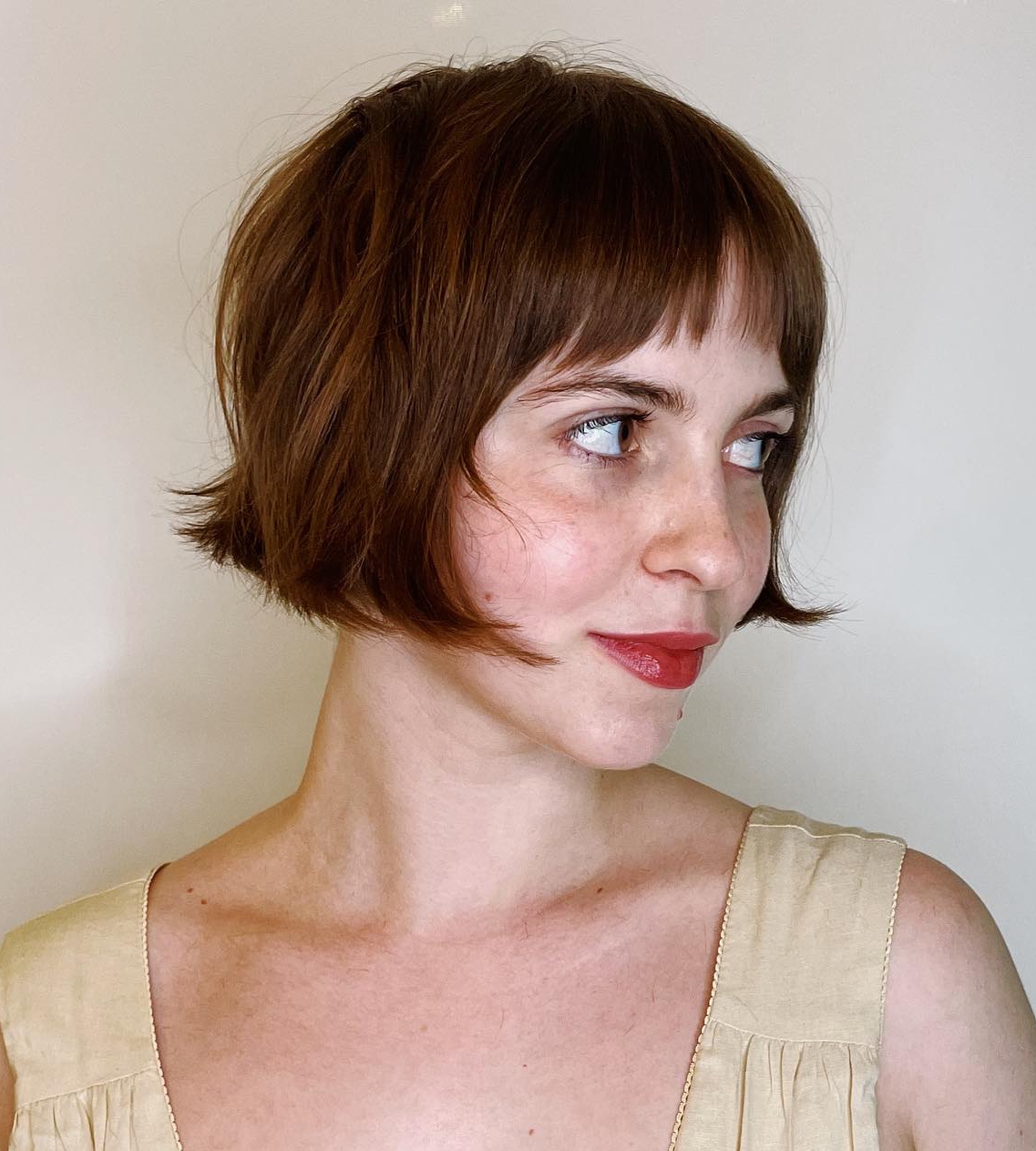 via @mikayladruhan
What hairstyles are best to combine such bangs? Try a chin-length bob or textured pixie haircut. Non-standard choppy bangs will quickly turn the usual hairstyles into bold and rebellious!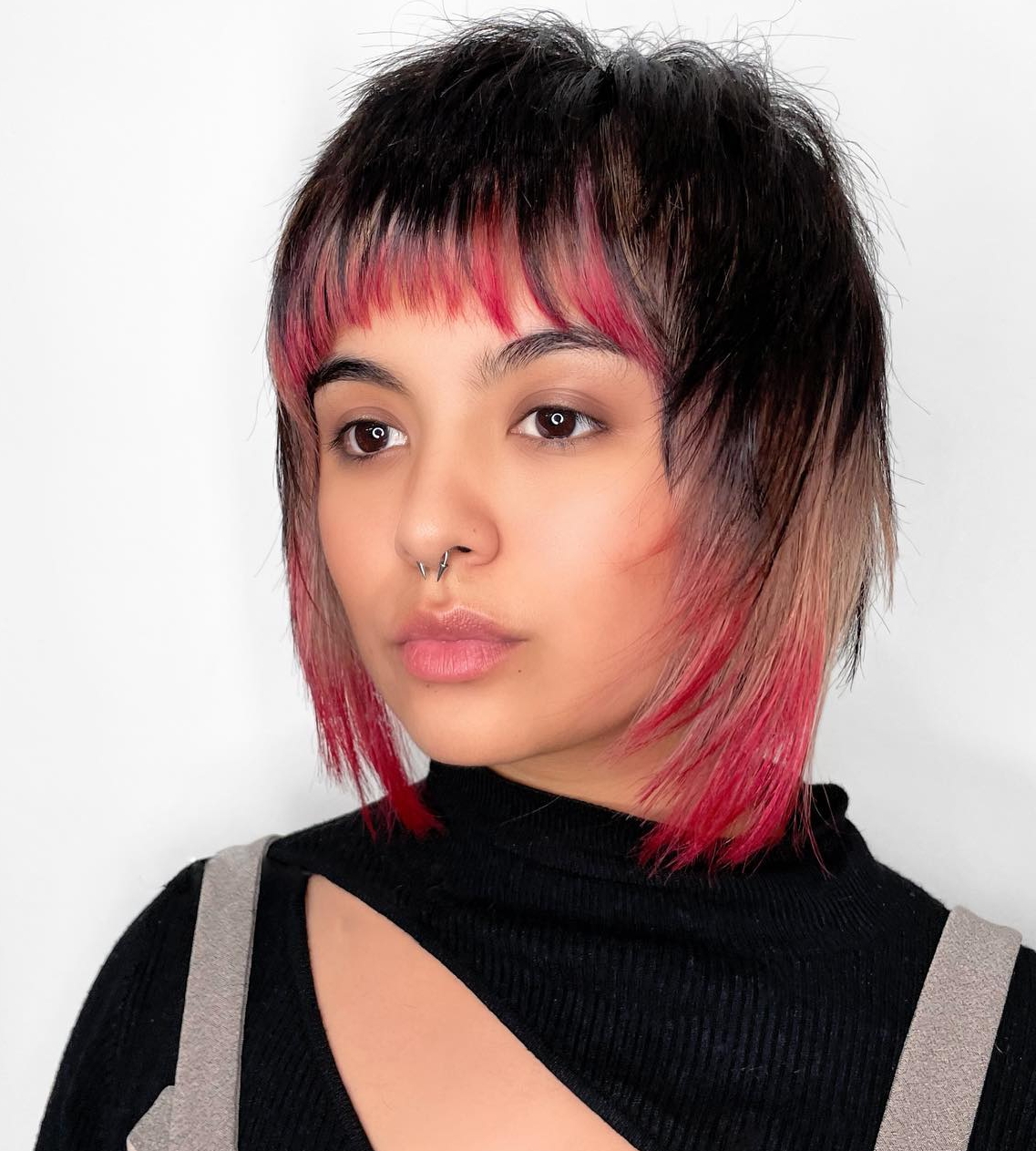 via @studmuffinken
Eye-catching Short Hair with Blunt Bangs
A short blunt bob is an elegant haircut that has stood the test of time. Its characteristic features are minimalism and sophistication. That is why girls who want a concise and fashionable haircut choose a bob with bangs.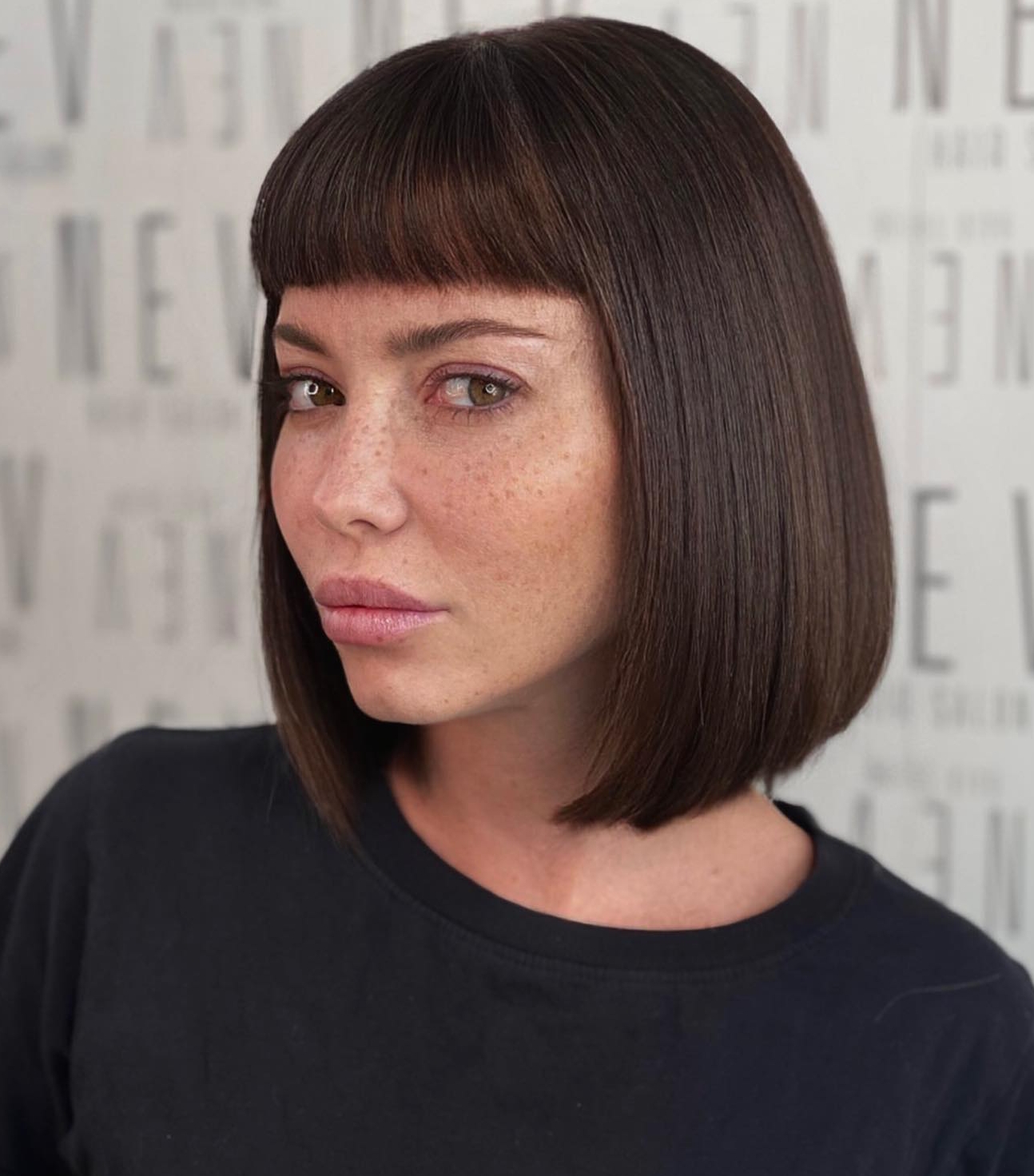 If you want something more original, complete the blunt bangs with a playful pixie cut. The result will surely delight you!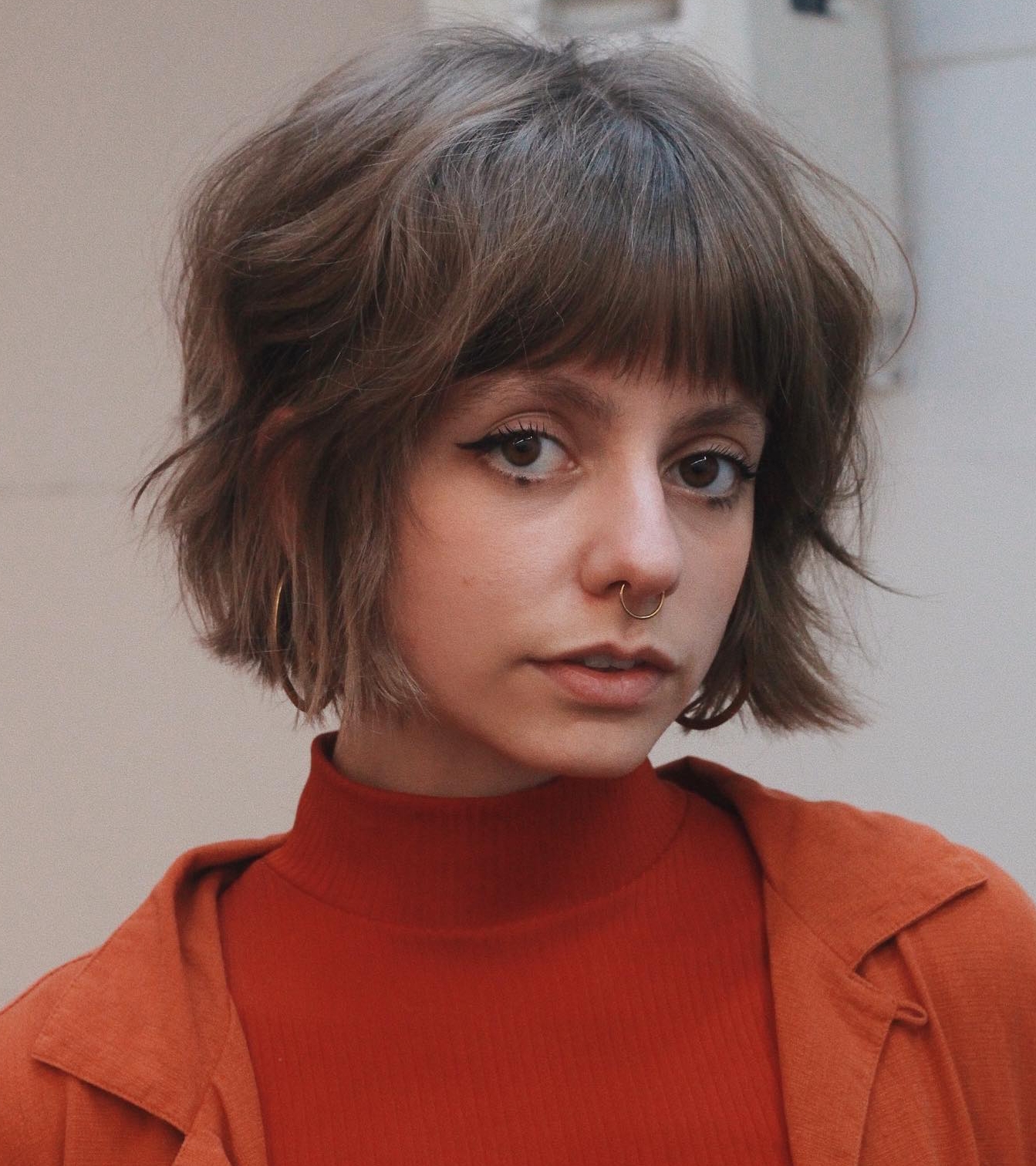 via @nataliarok
Short Hairstyle with Asymmetrical Bangs
Do you prefer dynamic and original hairstyles? In that case, trendy short hair with asymmetrical bangs might be your favorite!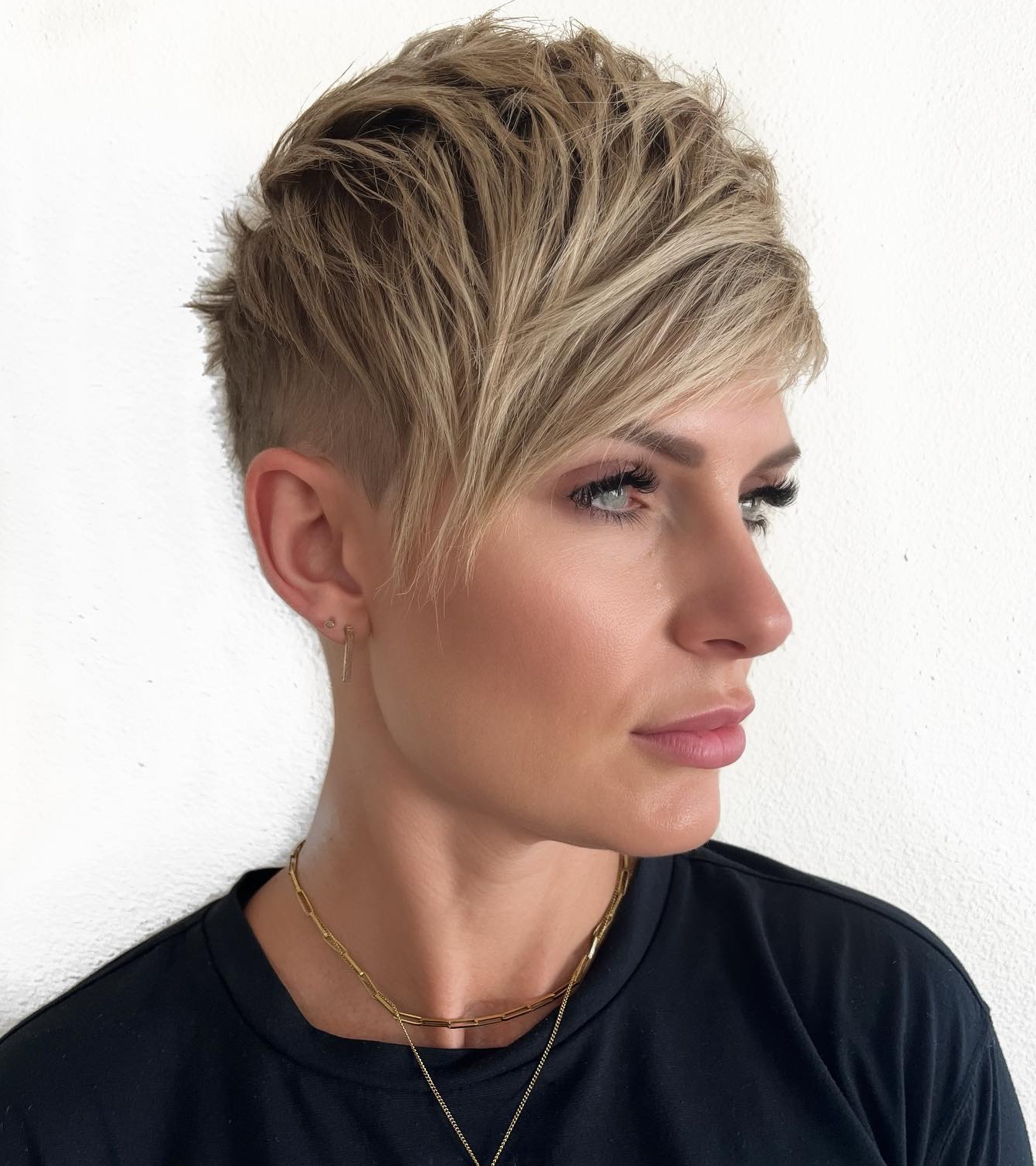 via @roshan_hairlove
A pixie or bob with angled bangs, which is longer on one side and gradually narrows on the other, is the epitome of sharpness and intrigue. If you must always feel 100%, this short hair idea will be the best solution.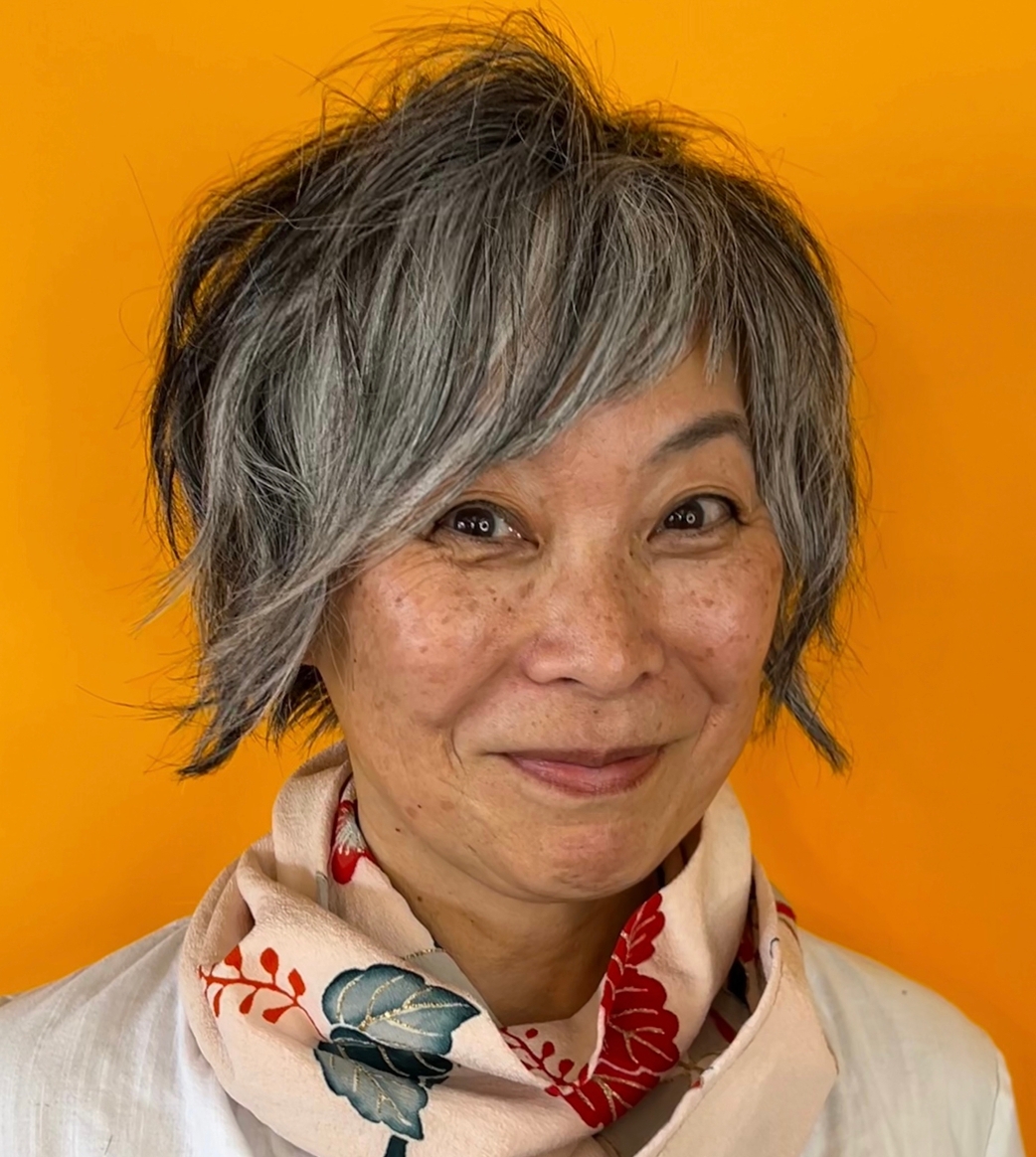 Romantic Wavy Bob with Bangs
The wavy bob cut with bangs is a hairstyle that perfectly combines elegance and playfulness.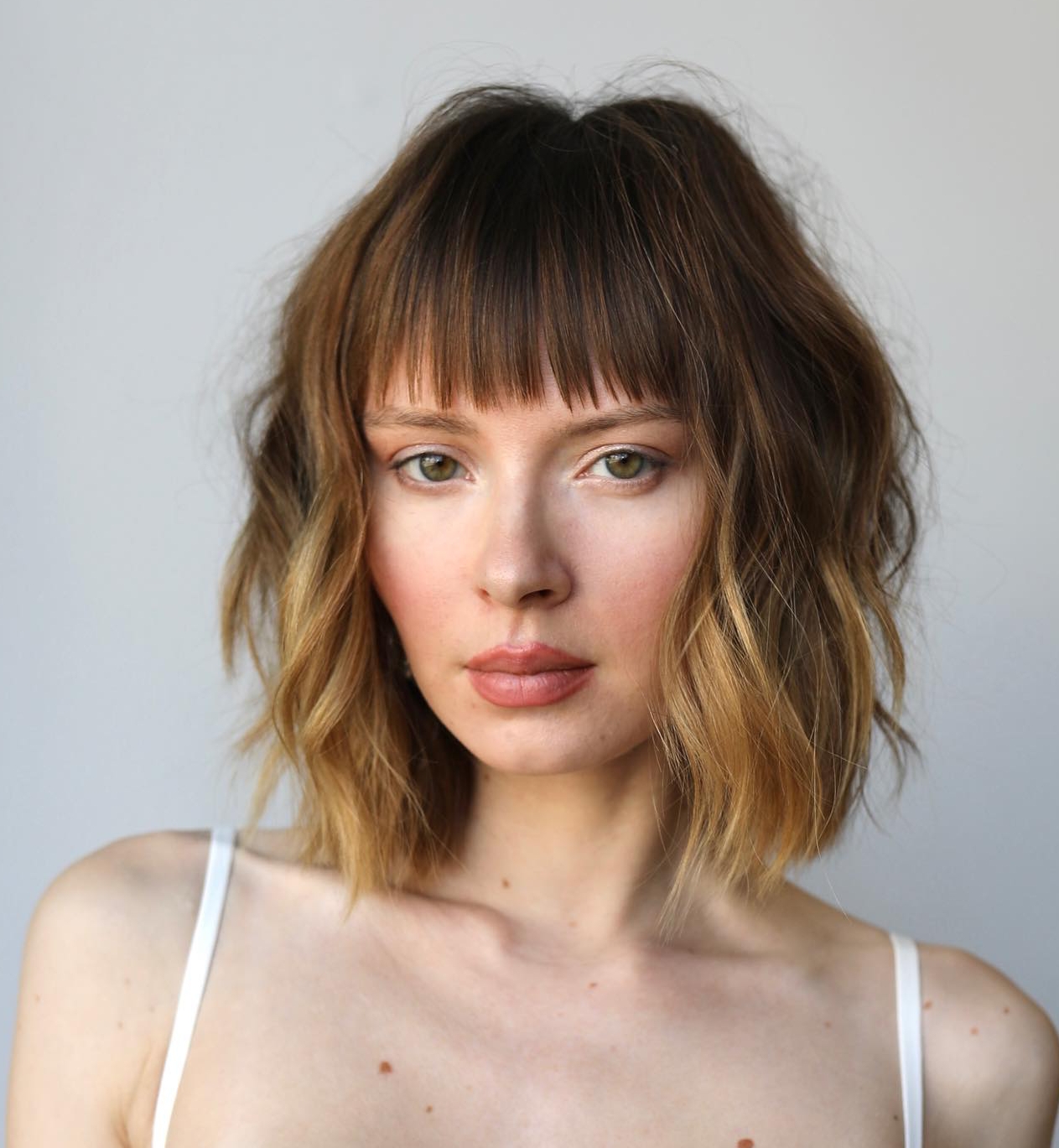 via @hirohair
This style with loose curls is favored by many celebrities as curly short hair with bangs strikes a balance between understated elegance and casual vibes.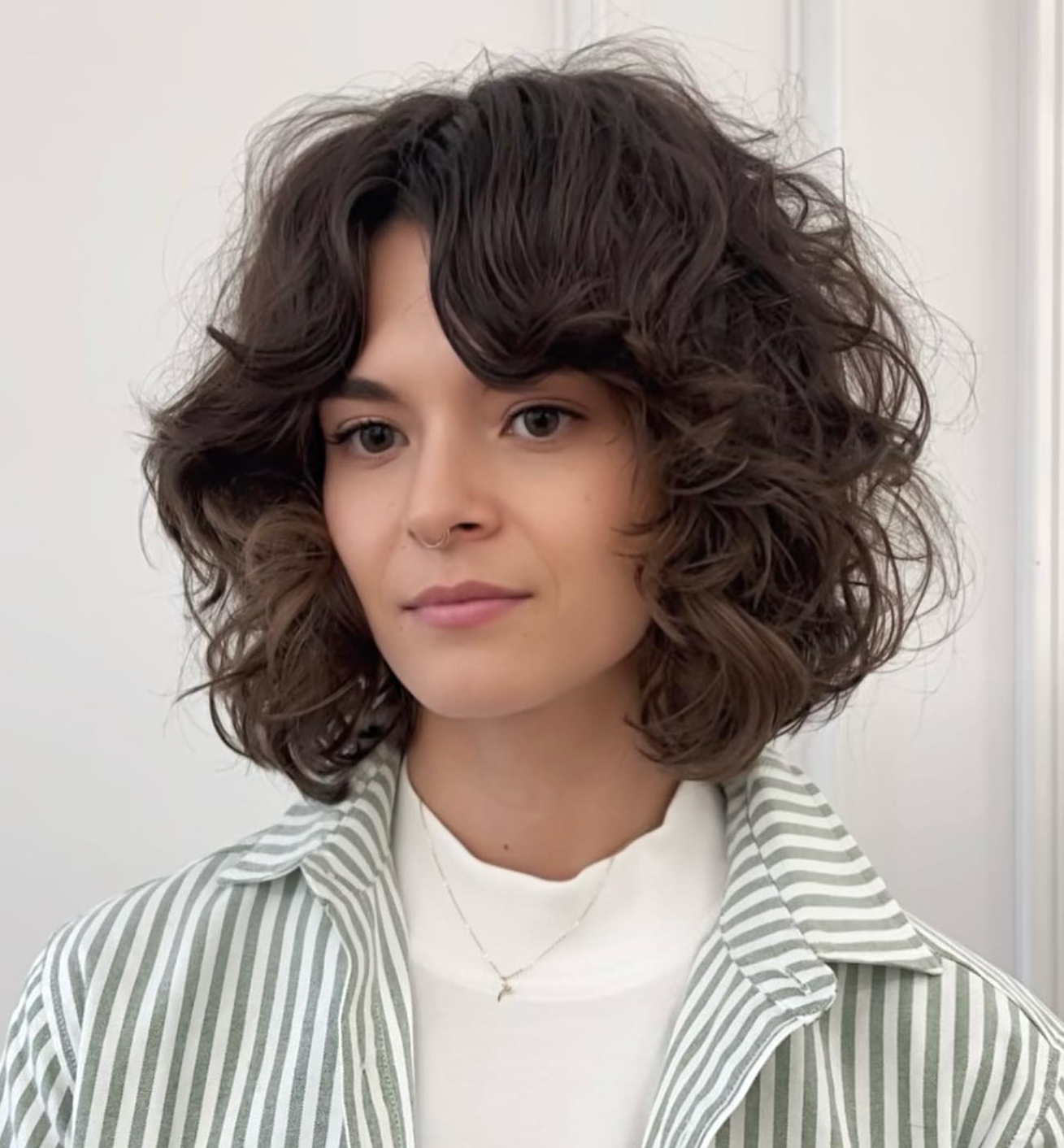 via @soullovey
Short Hair with Micro Bangs
Micro bangs with short hairstyles — a permanent hit of recent years!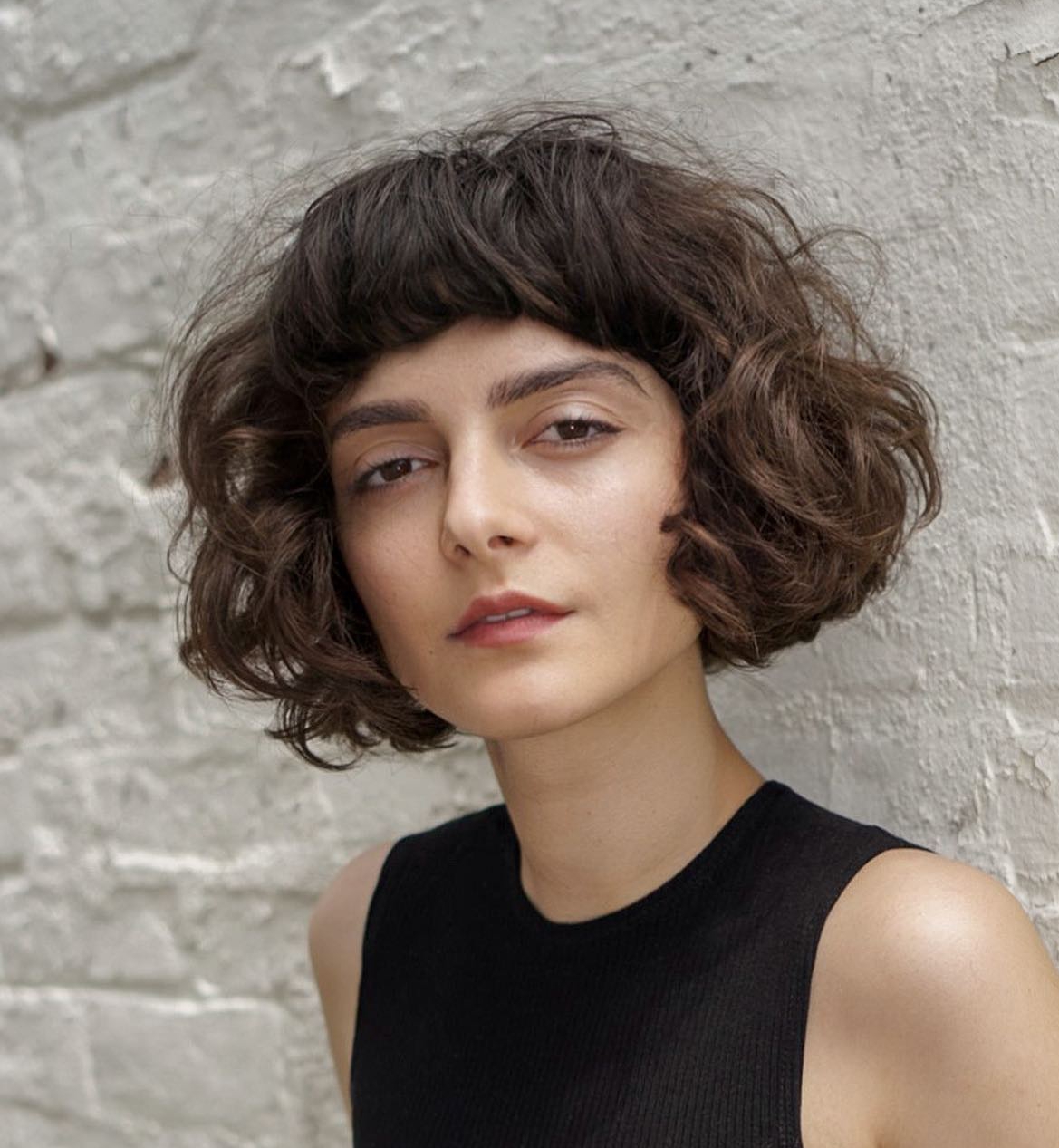 via @joeprofita
Micro-bangs are cut much shorter than the traditional ones. Usually, it is located above or along the hairline. Often, you can find thick bangs, making them look unusually expressive.
Short blunt bob with bangs, also known as baby bangs or micro fringe, is a bold and flamboyant style that won't go unnoticed!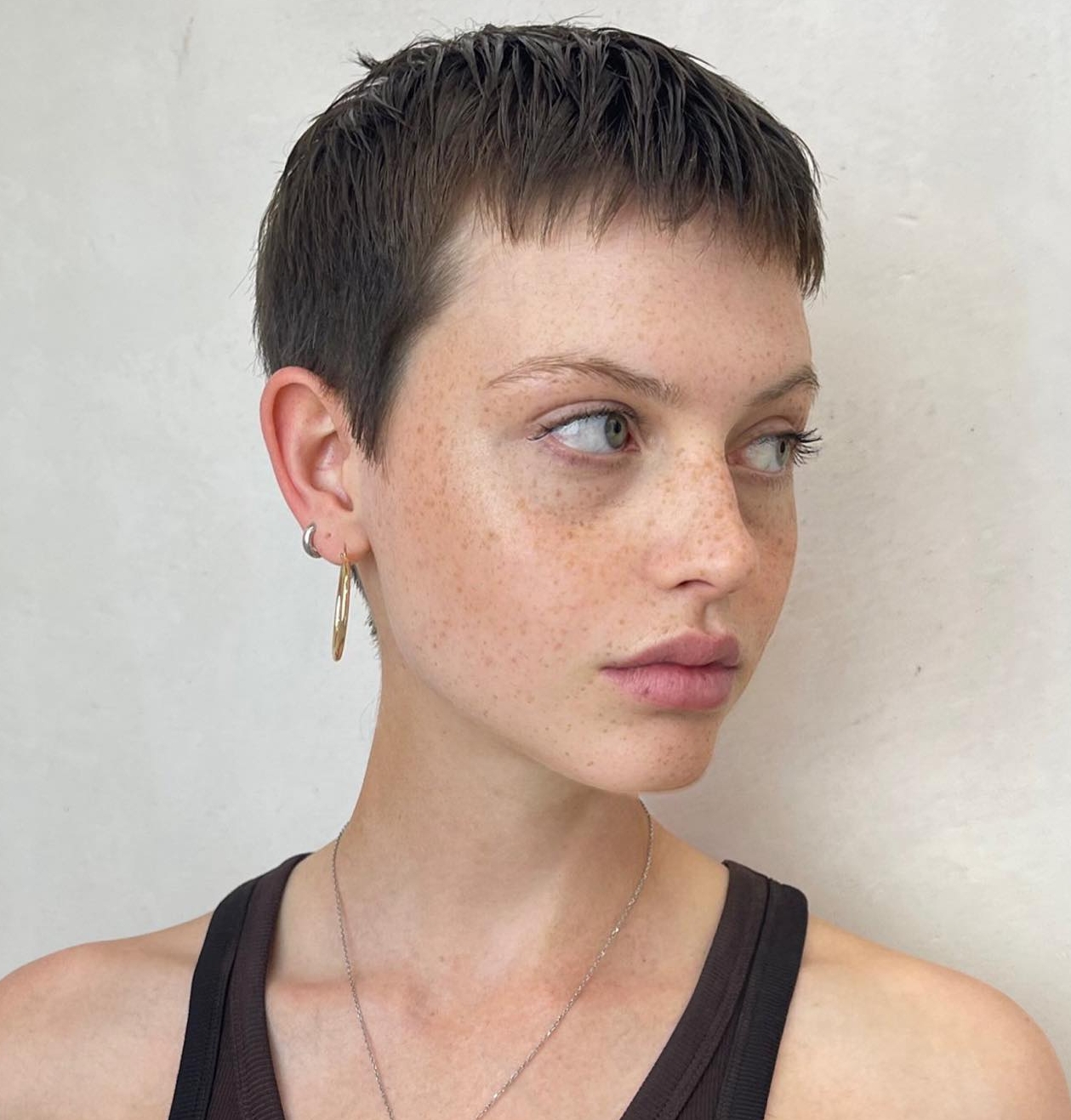 via @vstudiobyvolkan
Short Straight Hair with Straight Bangs
Do you love timeless classics? Choose straight hair with bangs for a flawless and versatile look.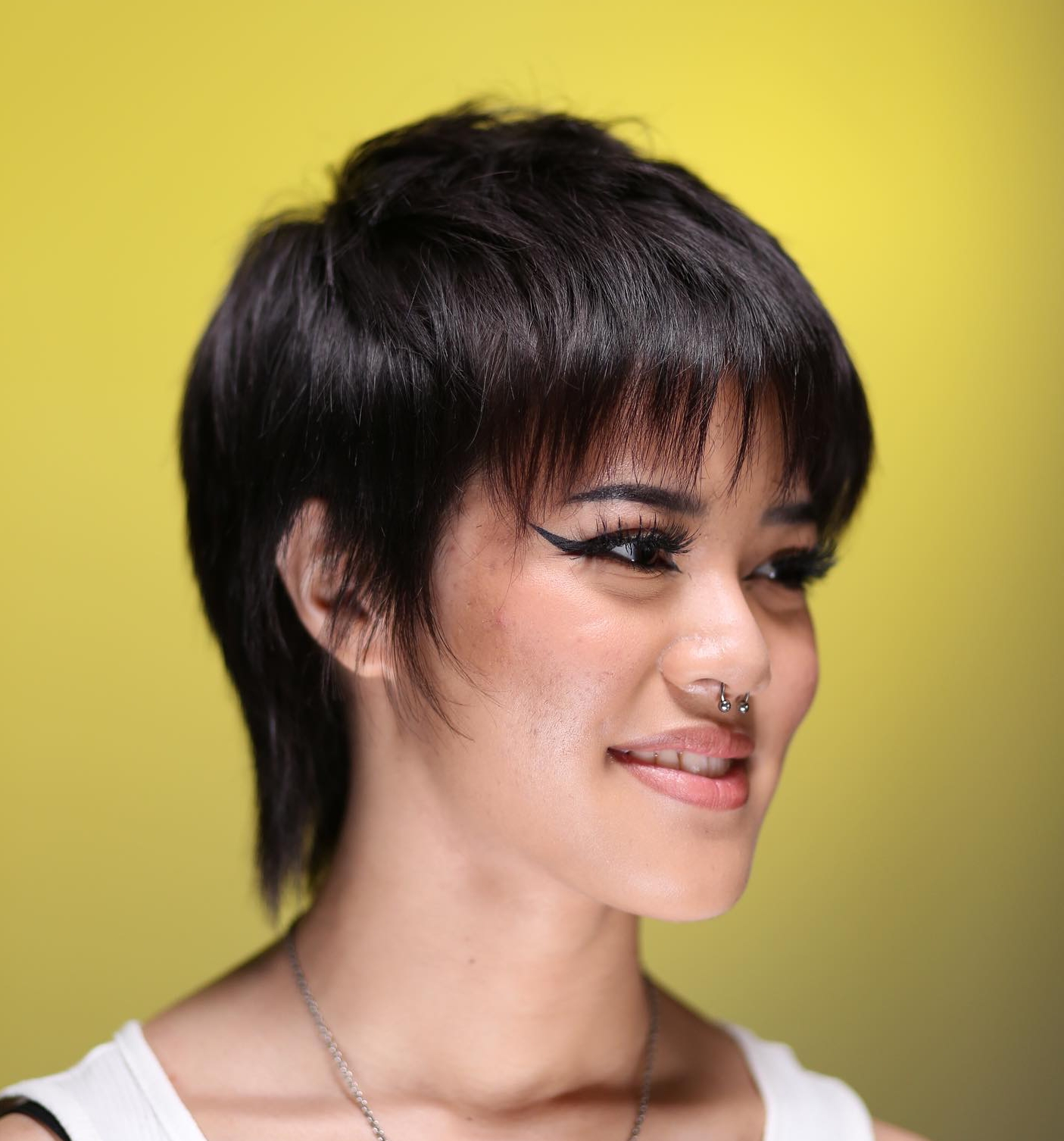 This style's simplicity of short haircuts allows it to pair flawlessly with a wide range of clothing and accessories, making it appropriate for numerous occasions. In addition, this styling looks good on strands of any texture, including thin hair.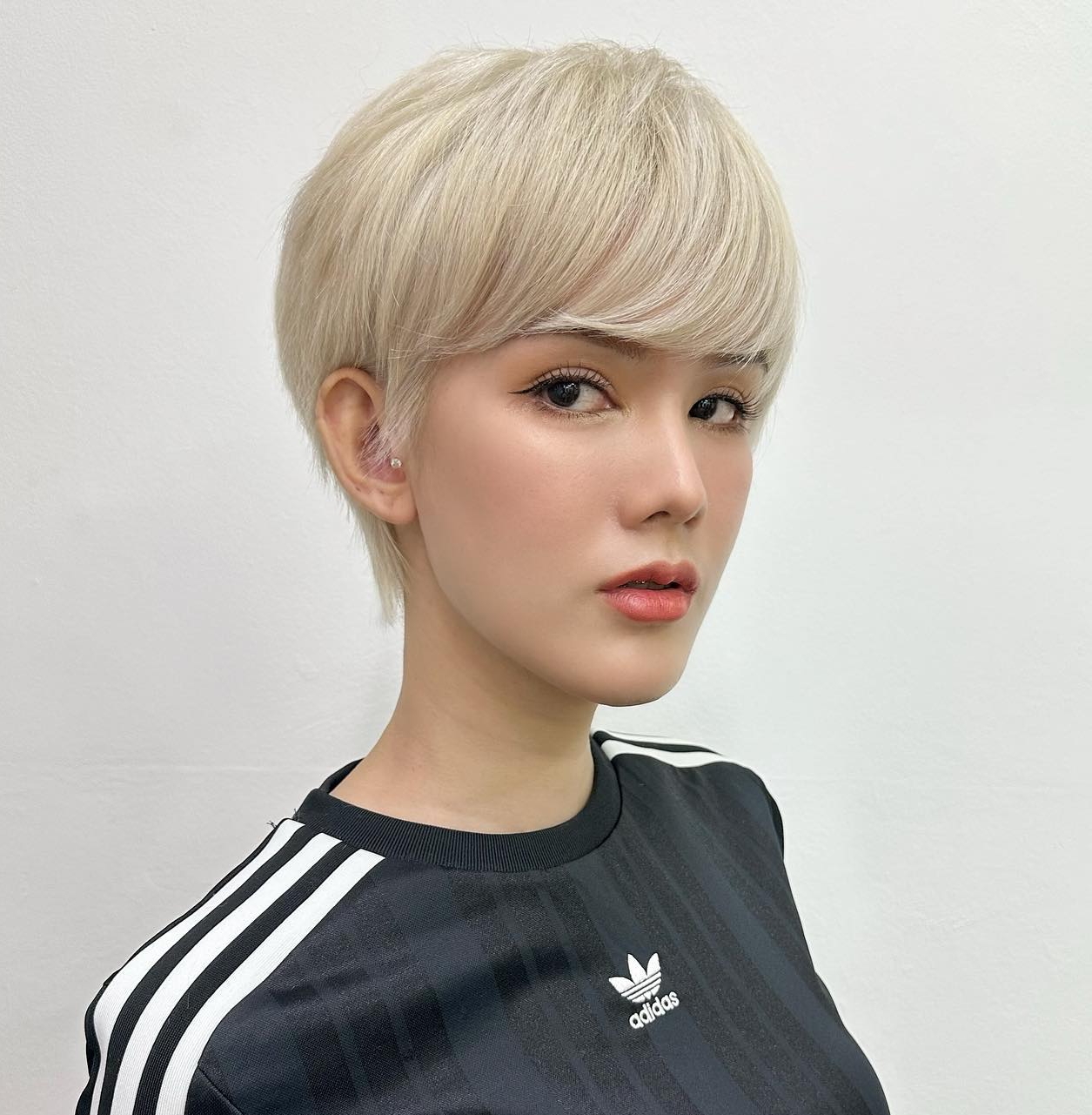 Bohemian Wolf Cut with Bangs
The wolf cut with bang hairstyle is an original hairstyle. It is characterized by shaggy layers and loose bangs, creating a wild and untamed look resembling a wolf's mane.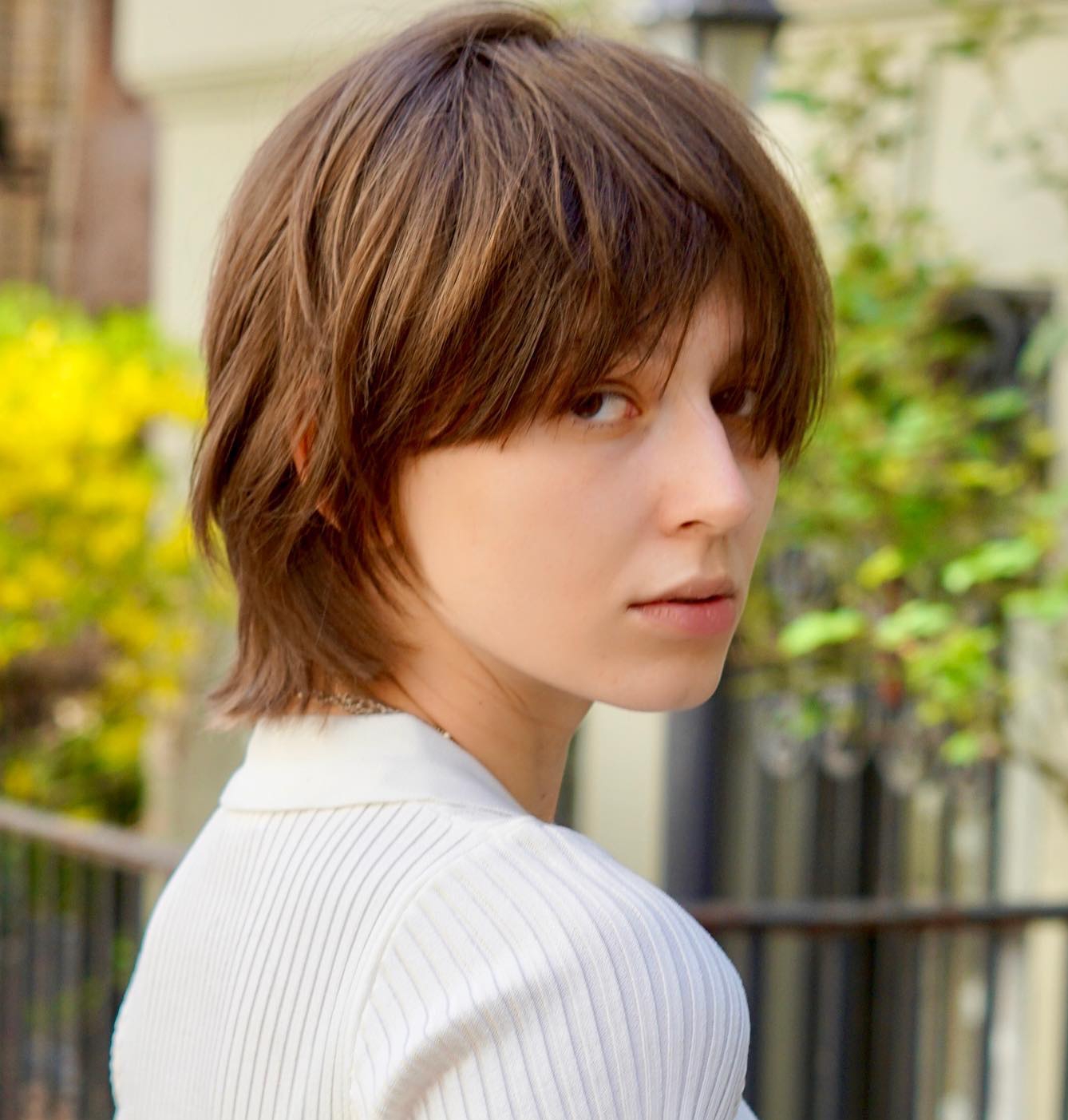 via @nunzio_nyc1
This style allows for creative and personalized variations. For example, owners of perfectly straight strands or short curly hair with bangs can safely choose it.
How to wear bangs? Give it a deliberately careless look, and enjoy the result!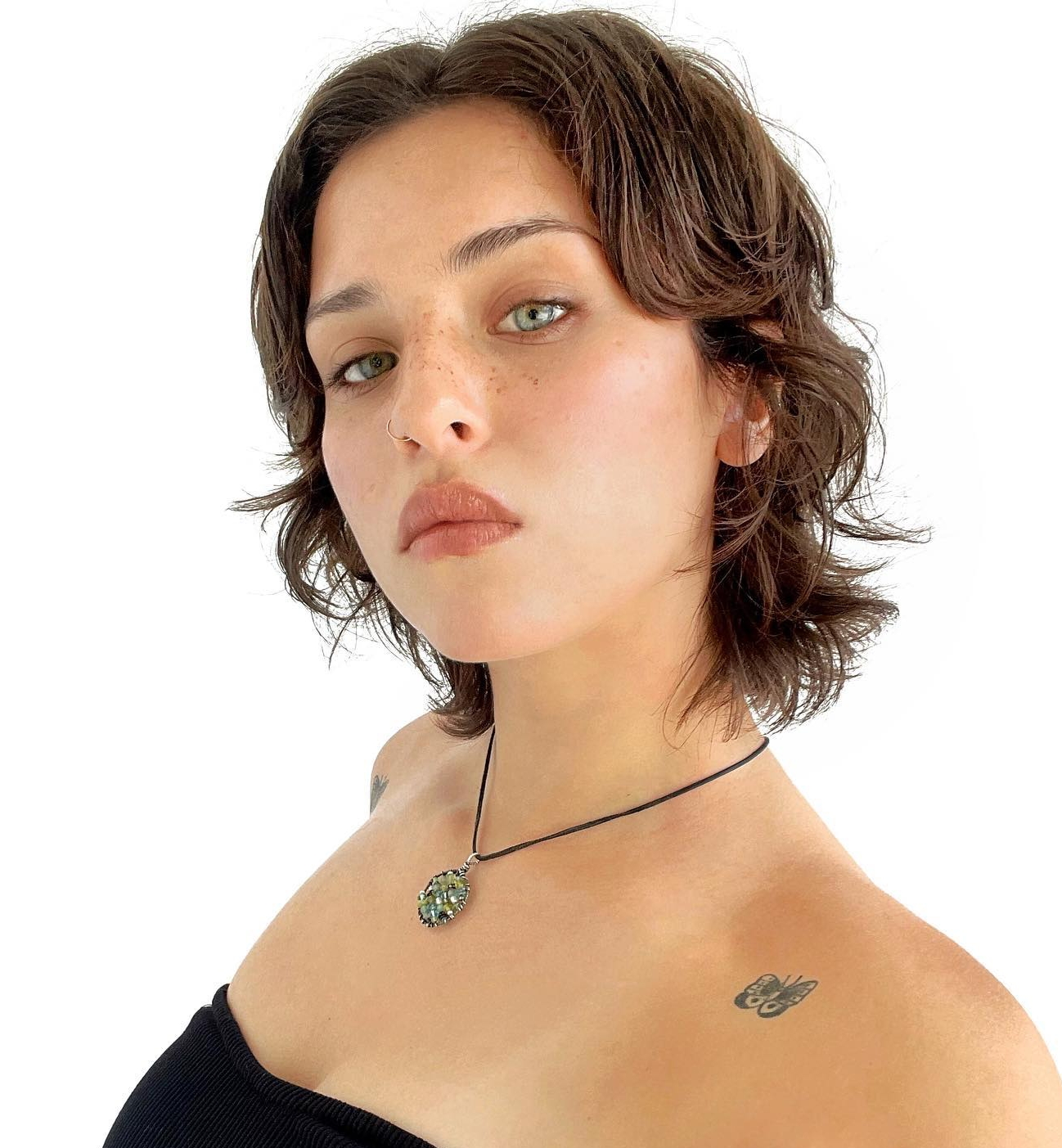 via @__k_vu__
Long Pixie with Side Swept Bangs
Another good solution for women seeking to combine femininity and audacity is sided bangs on long pixie. The hairstyle creates a comfortable balance between short and long hair, adding a dramatic accent with asymmetrical bangs.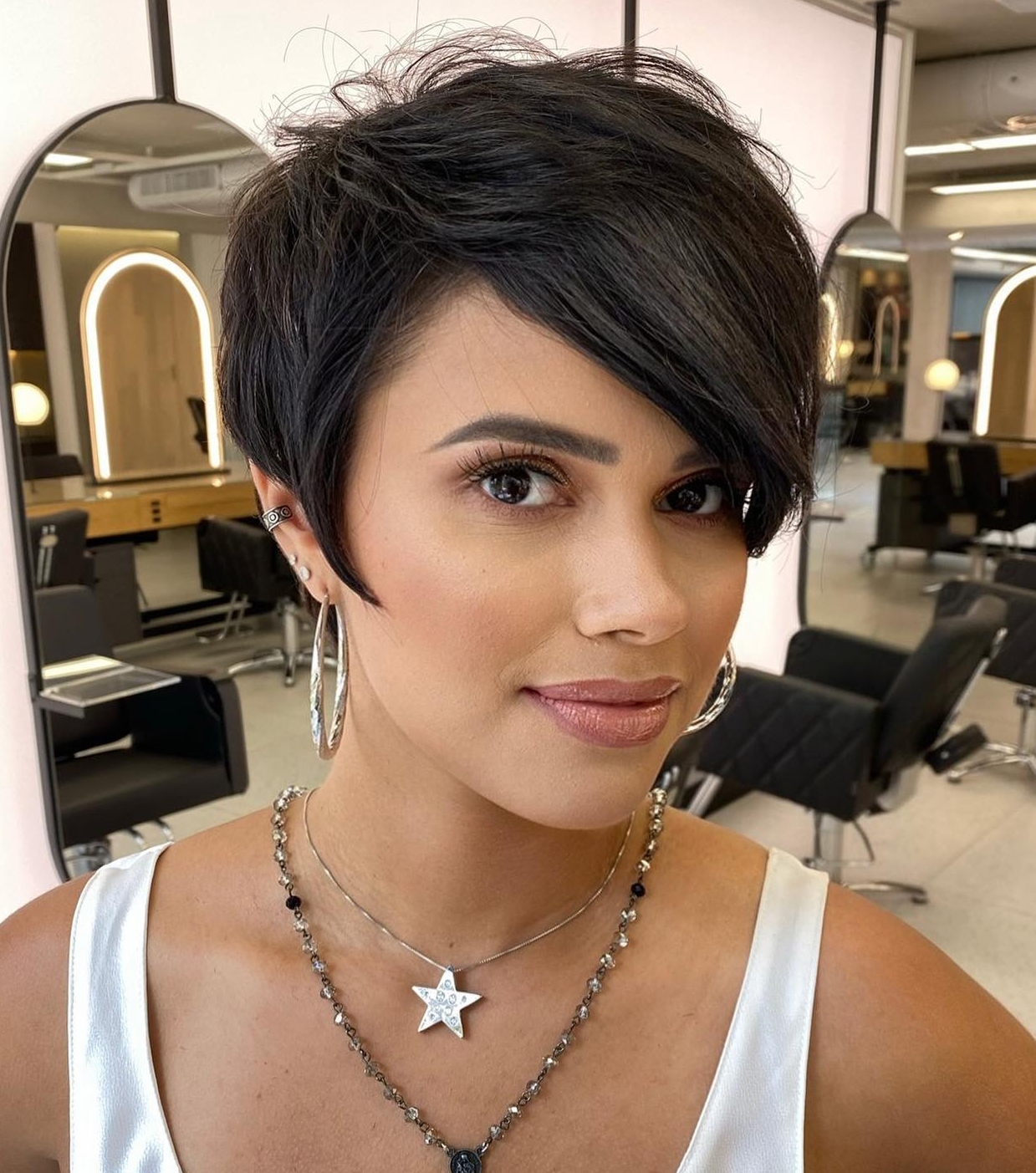 via @rodrigocintra
For example, blonde pixie cuts and soft bangs for different hair textures will create an incredibly light and romantic look, while dark shades of curls will bring you closer to glam-rock catchy.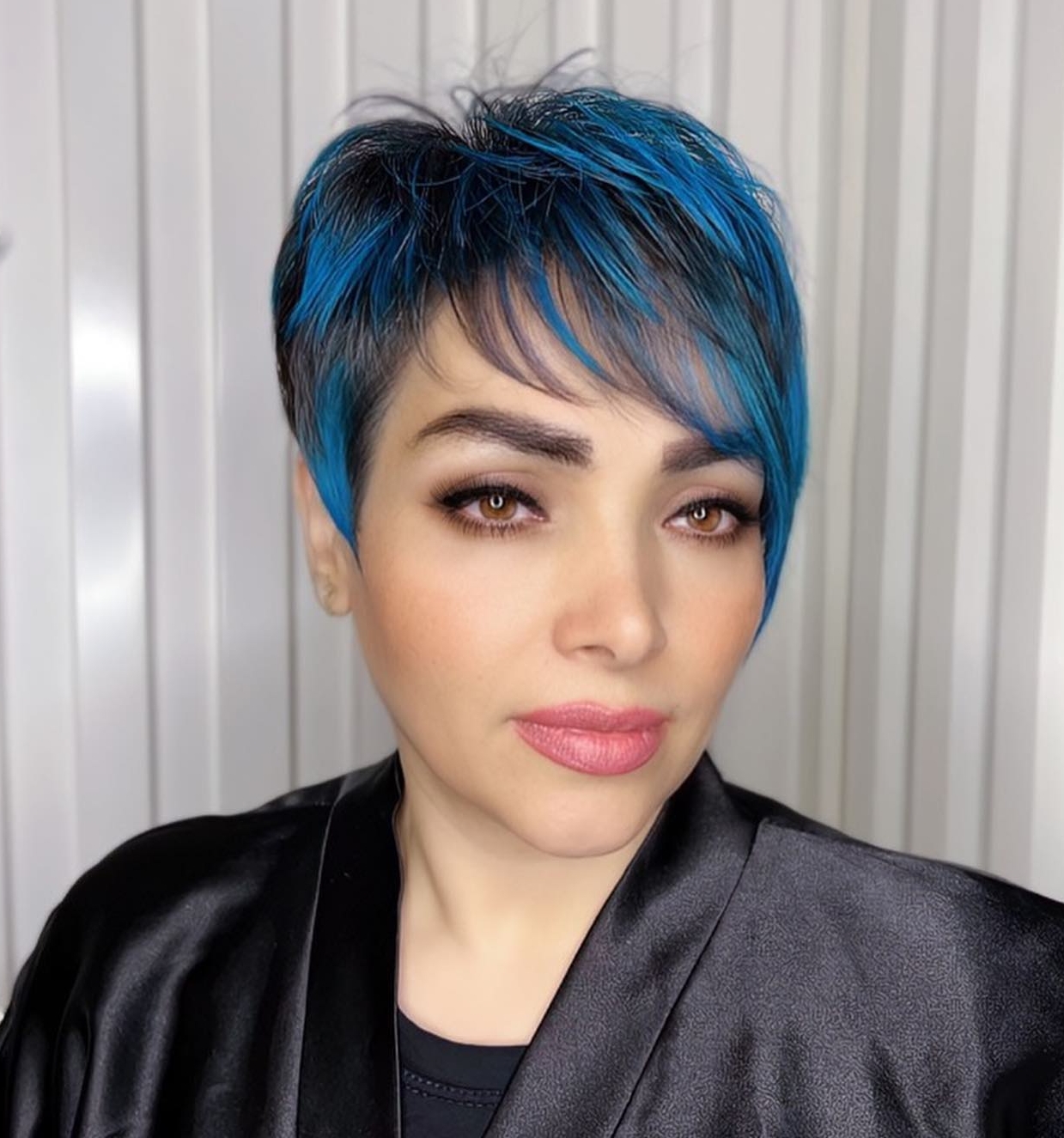 via @saharkarimi1986
Short Bob with Feminine Bangs
The classic bob is beautiful in any variation, and this is one of them. Feminine bangs, often soft and slightly curved, gently frame the face and add a touch of sophistication to the haircut.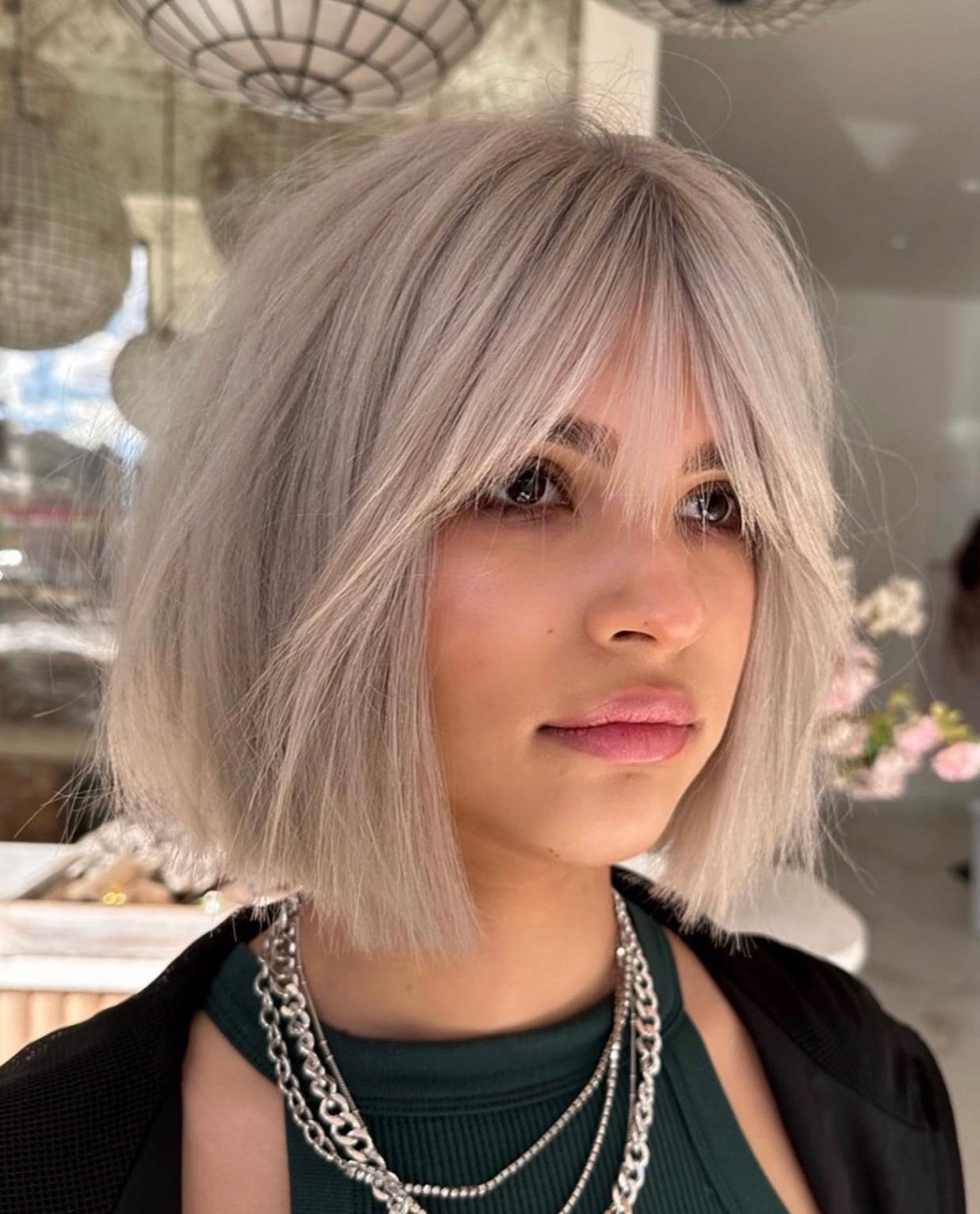 via @bescene
You can create a versatile look and experiment for special occasions by choosing a bob with bangs. Add colored strands, style bangs differently, and use different accessories — many options! Thanks to hair with bangs, your possibilities are endless.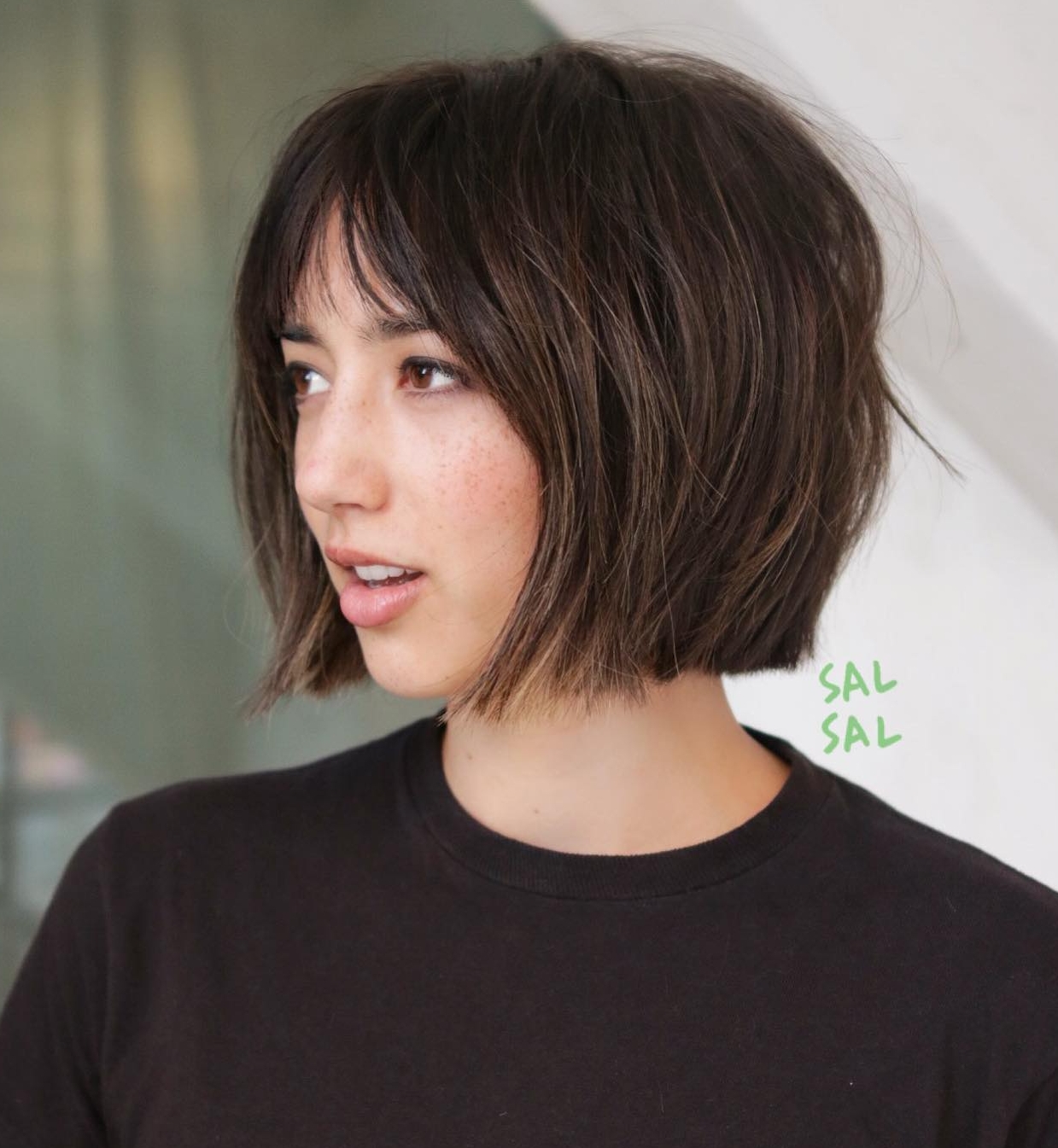 via @salsalhair
Pixie Cut with Baby Bangs
Are you looking for something extravagant? At your service, baby bangs on very short hair — an avant-garde hairstyle emphasizing the forehead and facial features.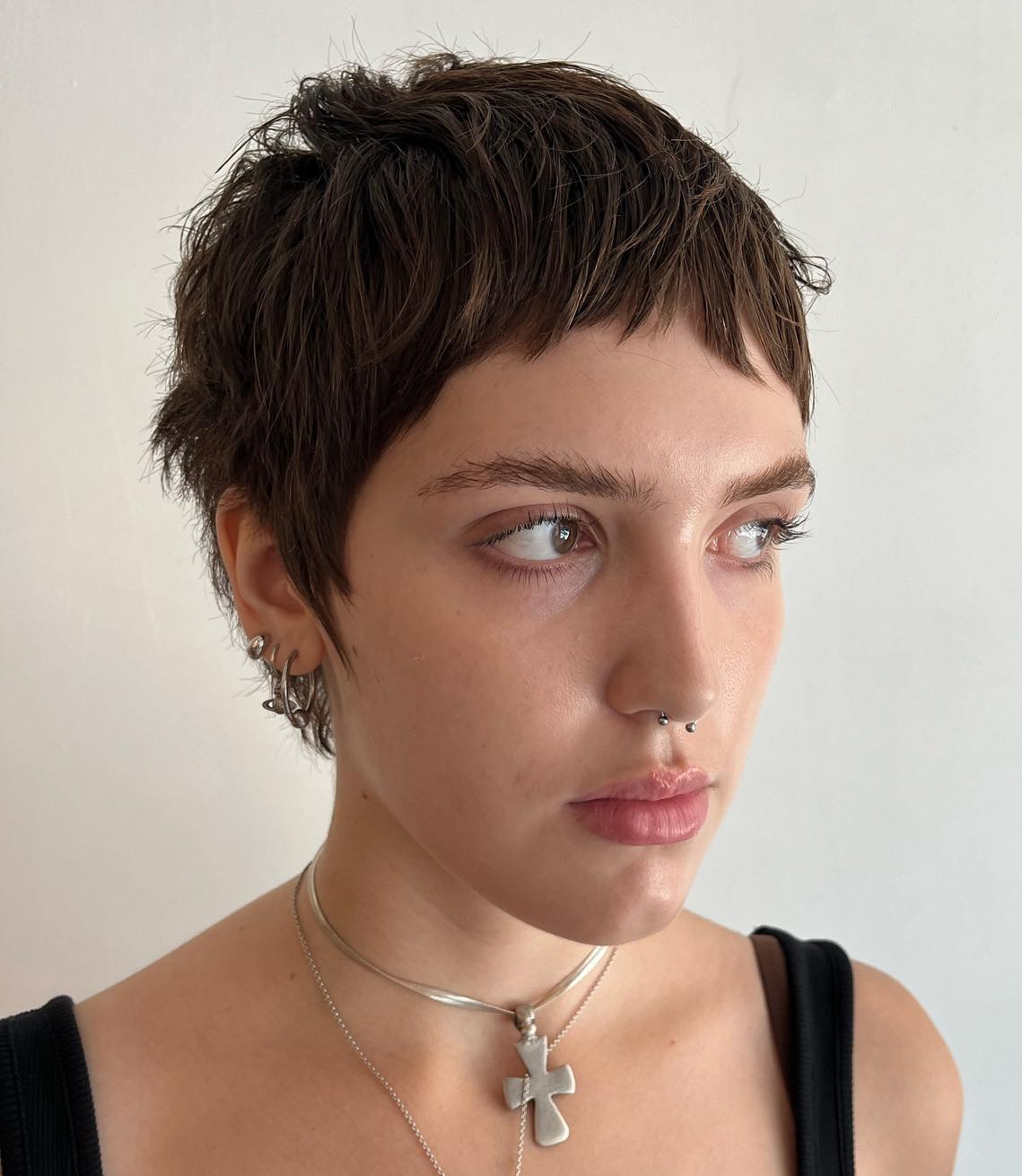 Depending on the location features, stylists distinguish different types of blunt bangs. Choose with a professional the one that best suits your face shape and curly or straight hair texture.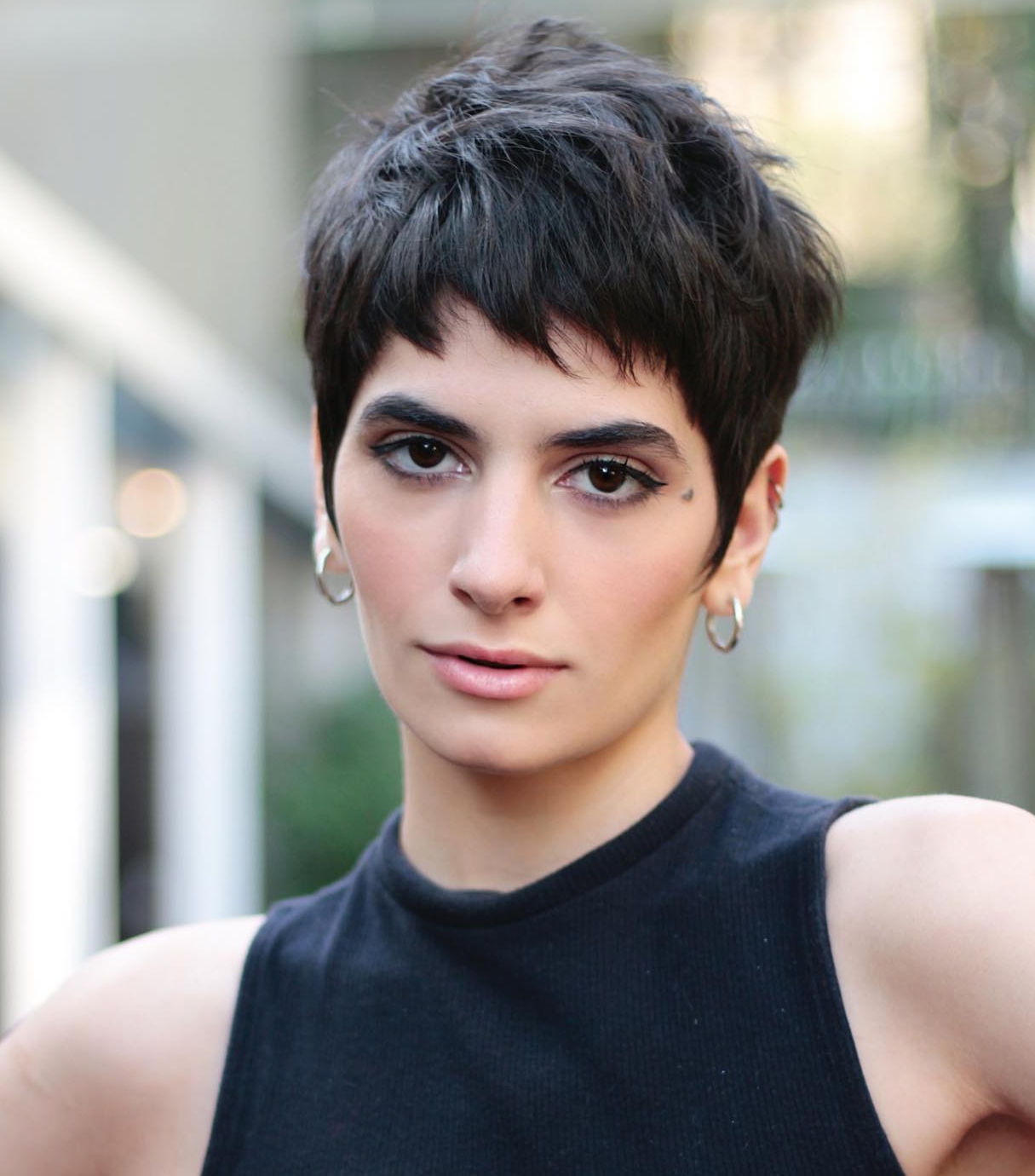 Elegant Bob Cut with Feathered Bangs
Why not combine the traditional chin-length bob with long feathered bangs? This hairstyle will help you look both sophisticated and modern.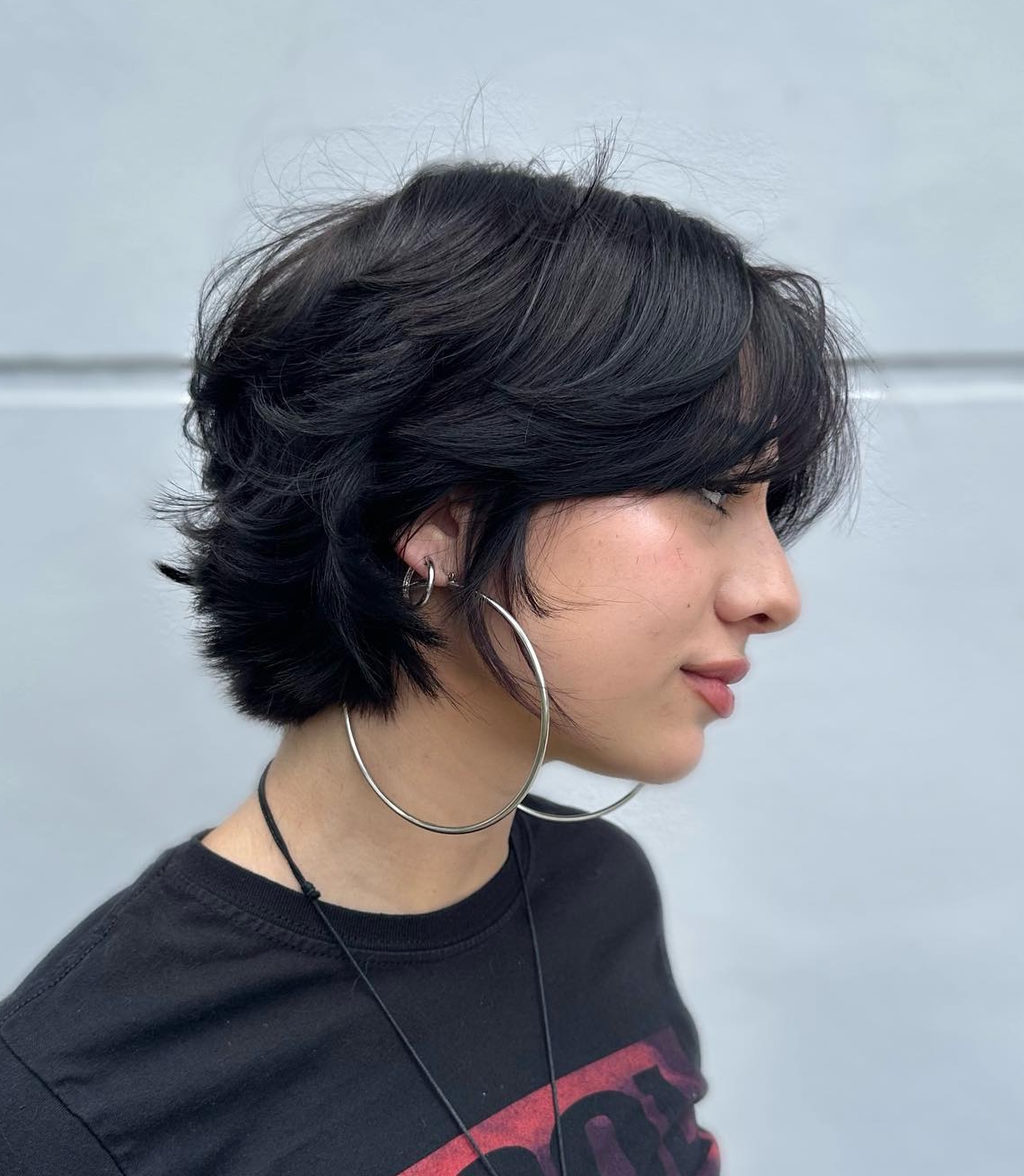 via @gabbypvhair
Soft, thin layers of bangs gracefully frame the face, making the image more feminine and original. Plus, short hair with bangs is easy to care for! Consider this option if you want to have an attractive and flawless haircut.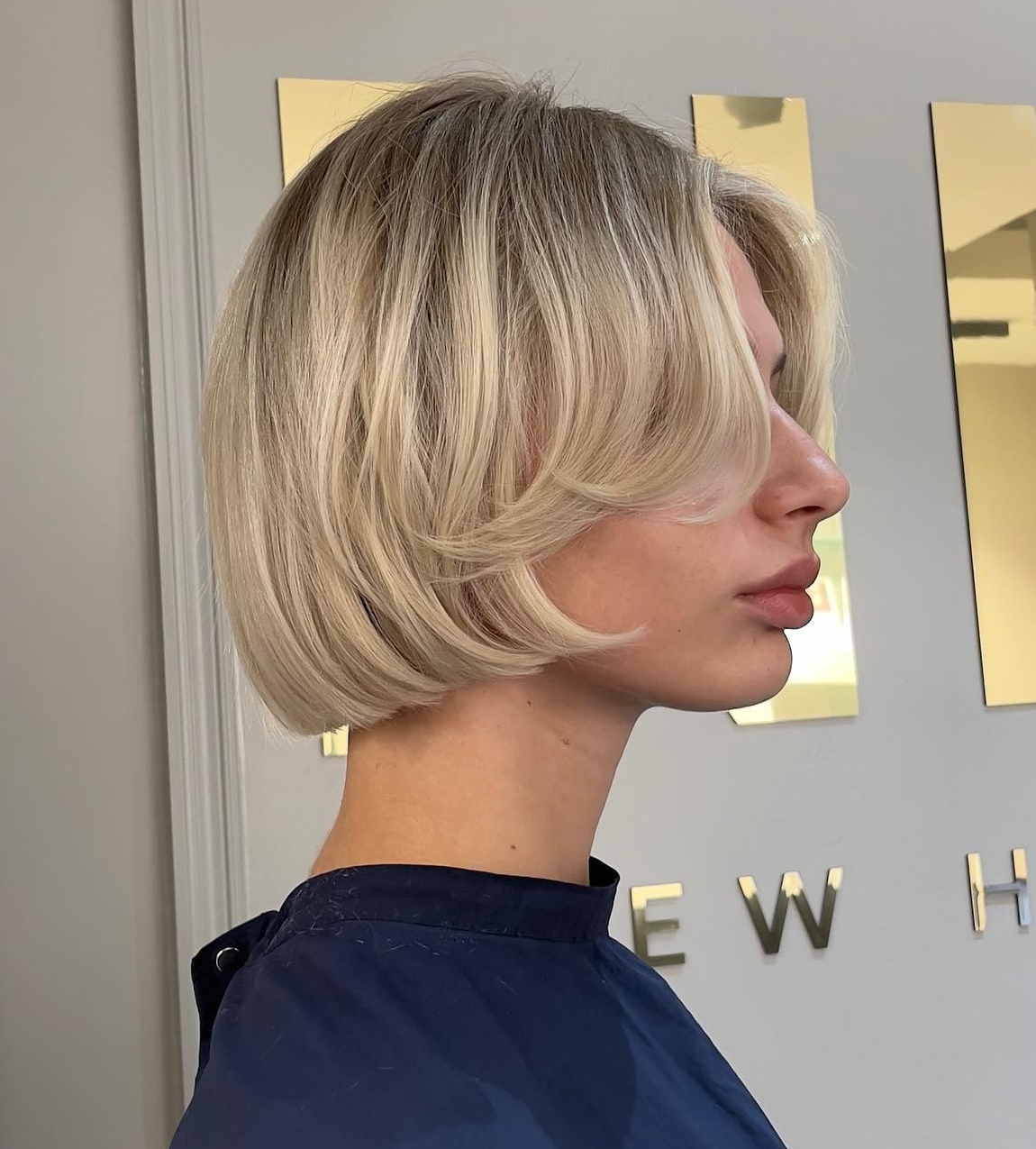 via @_nho_ie
Asymmetrical Pixie with Extra Long Bangs
Do you dream of rock-short hair? The asymmetrical pixie with side swept bang is a bold and creative hairstyle that mixes short and long pieces for a dynamic look.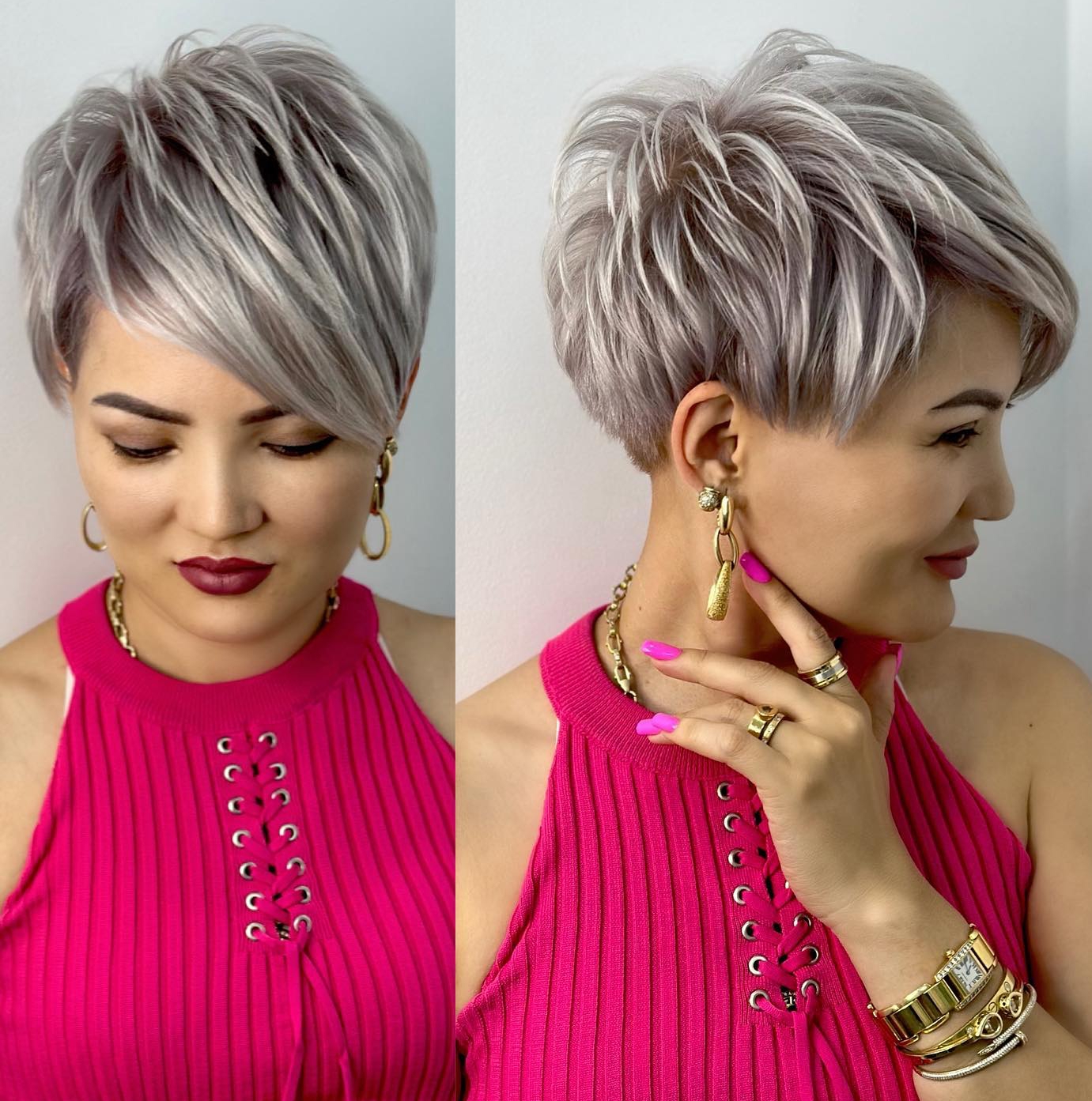 via @zinoveva_elena
As the name implies, this style involves a shorter haircut on one side of the head, and on the other side, the bangs are much longer. These straight hair ideas are for girls who prefer dramatic haircuts with styling options ranging from sleek and elegant to tousled and rebellious.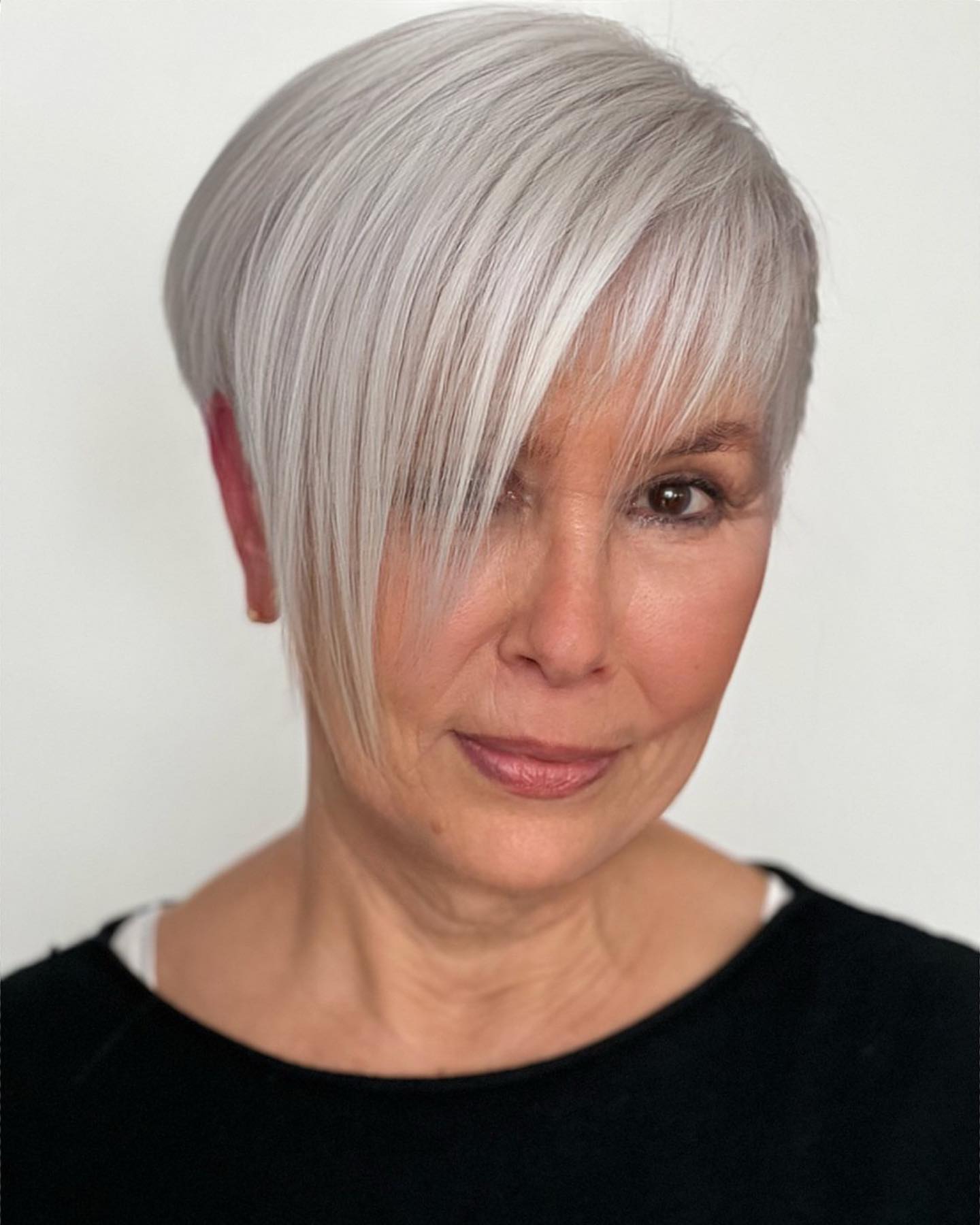 Undercut Bob With Bangs for Fans of Experiments
The hairstyle with undercut and bangs is a modern haircut known for its striking contrast between a shaved nape and longer, often straight bangs. This style draws attention to the face and emphasizes the expressiveness of the features.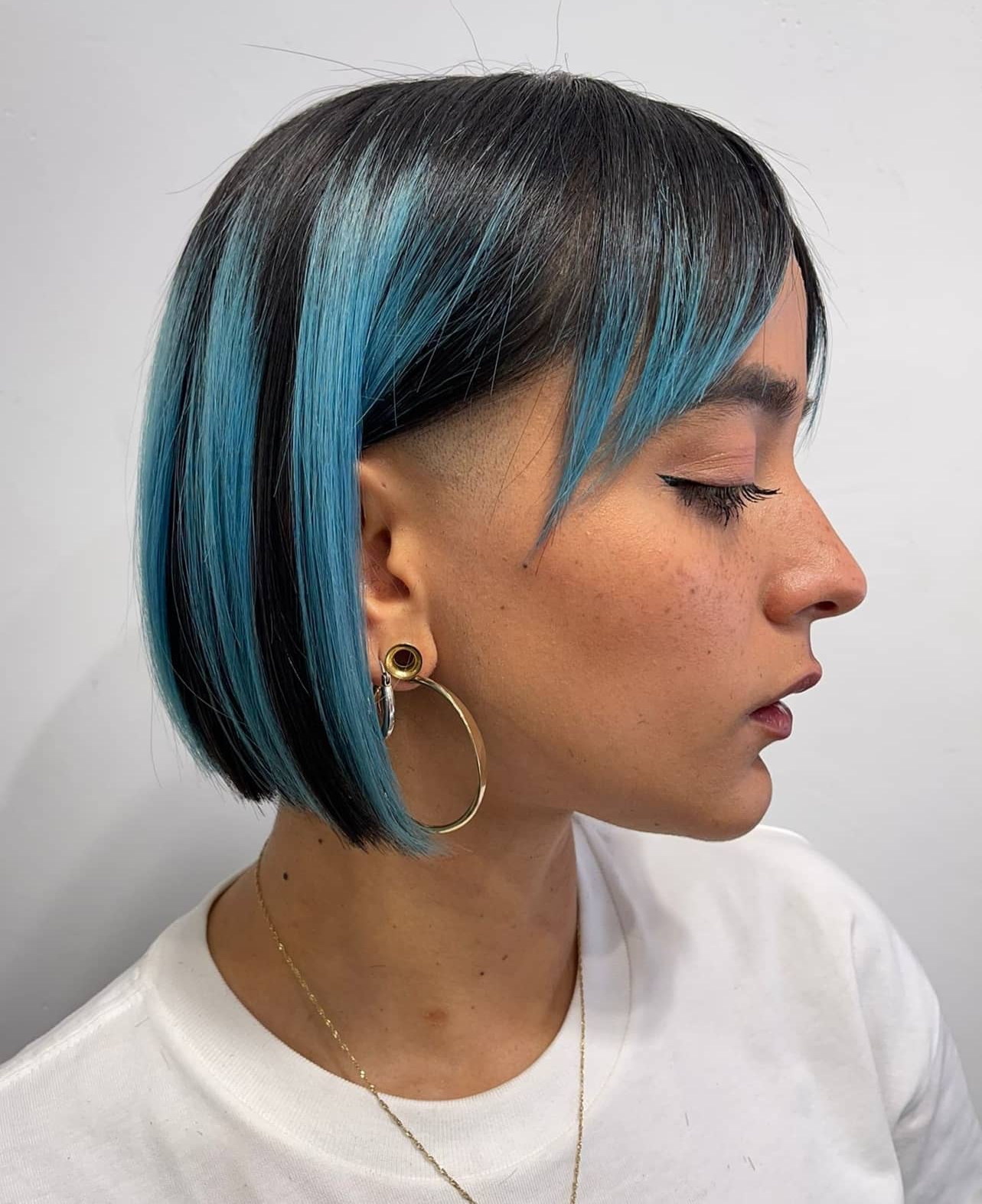 If you are tired of long pixie hairstyles, the original bob with layered bangs will help you achieve a new, non-standard look.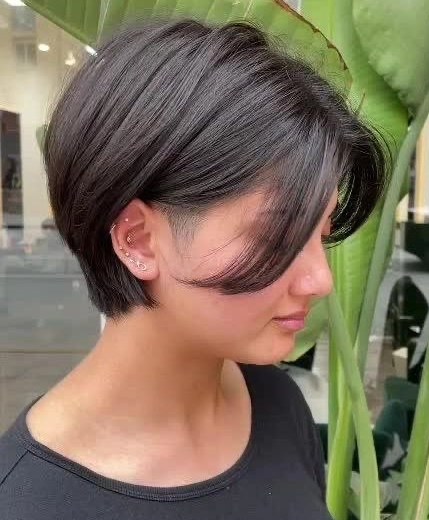 Tousled Bob with Wispy Bangs
A tousled bob with thin bangs is a relaxed, airy hairstyle representing freedom and carelessness. Wispy bangs for any hair texture casually frame the face, while short layered hair creates a bohemian effect.
via @hairbyelvisp
This combo creates a casual yet chic look that will appeal to fans of natural, easy-care, and sexy hairstyles.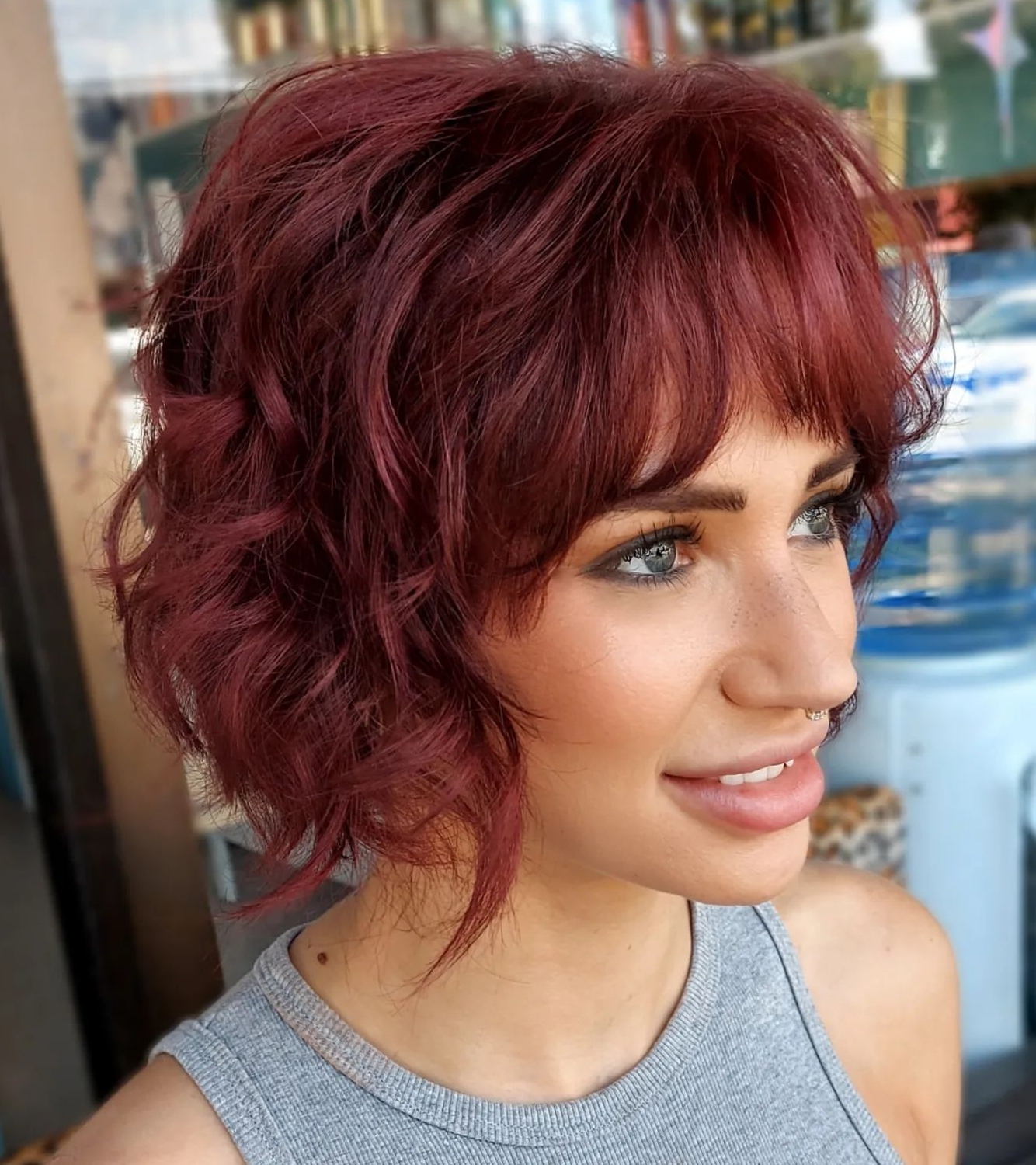 FAQ
How to style short hair with bangs?
Want to keep your hairstyle looking great all day long? Use our recommendations and enjoy your reflection in the mirror!
Wash your hair and blow dry it with a round brush. High-quality styling is possible only on clean and dry strands.
Protect your hair. Apply a heat protectant spray. The fact is that high temperature negatively affects the condition of the hair. Special cosmetics will help protect them and avoid damage.
Part your hair. If your bangs are longer than the rest of the strands, separate them and start styling them first.
Use an iron (if desired). Are you looking for a sleek and flawless hairdo? Use a flat iron! Swipe it through the bangs, starting from the roots and moving to the tips. Leave the tool in one place for a short time so the hair does not overheat.
Create waves (if desired). For a wavy, textured look, you can use a curling iron. Work with small strands and hold them for a few seconds, then release them.
Apply styling product. Depending on your look, you can use a small amount of hair wax, foam, or styling cream to add texture and hold to your bangs. Do not use too much product, as it will weigh down the curls.
Finish the bangs. Use your fingers or a comb to shape your bangs into the desired shape. For example, move your hair to the side, part it, or lift your bangs a little for extra volume.
Apply hairspray to keep your bangs in shape throughout the day.
Lay the rest of the strands. Once your bangs are perfect, you move on to styling curls.
Last check. Examine your hair in front of a mirror to make sure it's flawless.
With these steps, you can style short hair with bangs and achieve the desired look in any texture!