Mega-popular curtain bangs are a bangs type that is parted in the center and frames the face on both sides, resembling curtains. They captivate women's hearts with their versatility and effortless look, which harmoniously complements any hair texture and length.
The advantages of face-framing fringe include ease of care and numerous styling methods. Rest assured, it suits different face shapes and creates a stylish, elegant look in no time!
1 Curtain Bangs with Layers
Multi-layered curtain bangs emphasize the hair texture, making the hairstyle more voluminous and dynamic. Benefits of this haircut include:
Naturalness and effectiveness. The layered haircuts allow bangs to look deliberately careless but very stylish.
Versatility. With face-framing layers, you can create numerous looks, from tousled and rebellious to restrained and elegant.
This haircut suits a wide range of face shapes and hair types. Do you want to make your image more expressive and freedom-loving? Try multi-layering, and you won't regret it!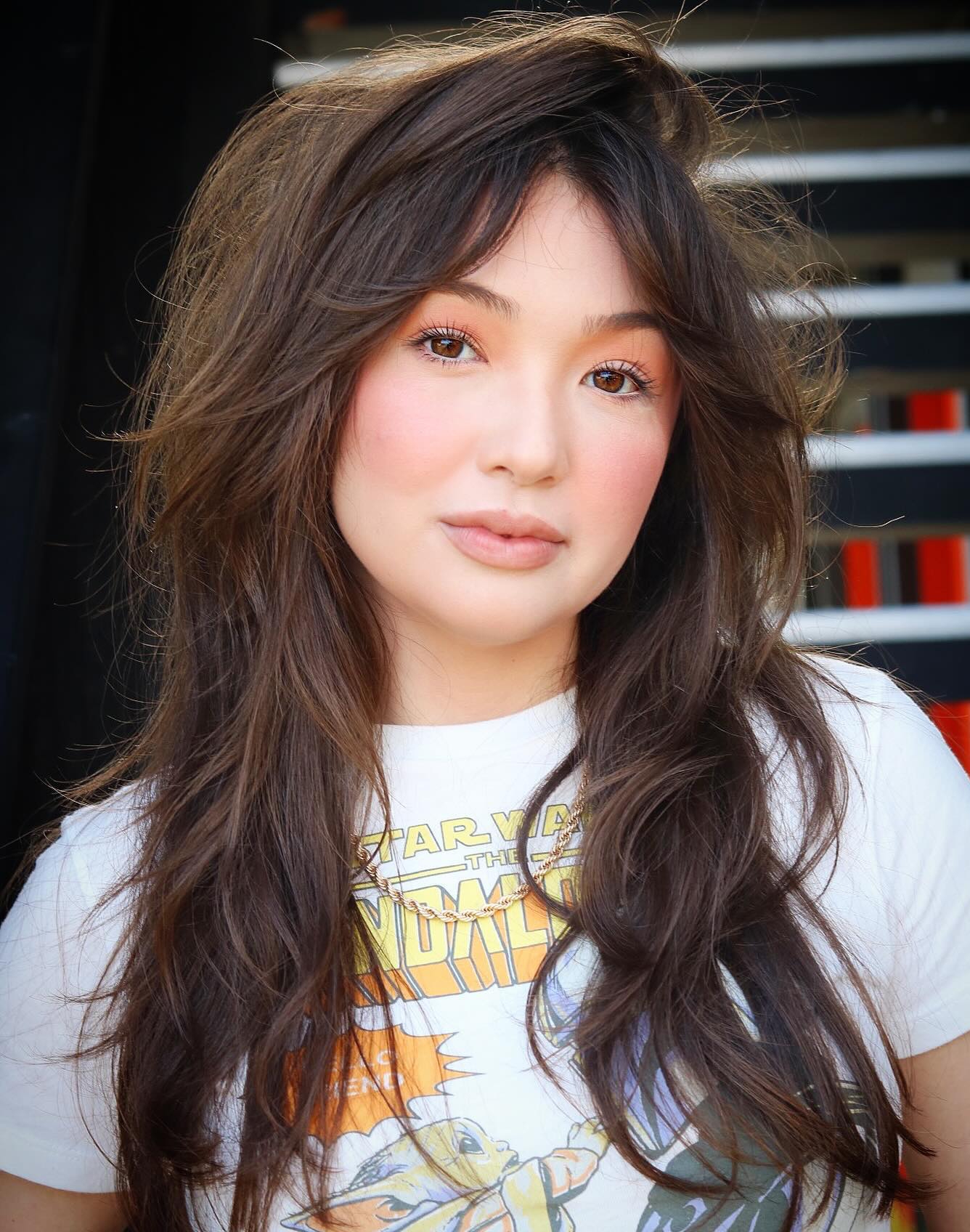 via @hairbyelvisp
2 Long Curtain Bangs
Chic and simultaneously versatile long curtain bangs look — the reason for hundreds of compliments addressed to you!
Such bangs neatly and unobtrusively frame the face, gently emphasizing the features and giving them expressiveness. You can follow the timeless classic and wear it straight or tossed to the side, divided in the center, etc.
Unlike shorter hairstyles, long, straight hair with bangs does not require special care and frequent cutting. This option will 100% appeal to women looking for a simple and multifaceted addition to everyday and formal looks.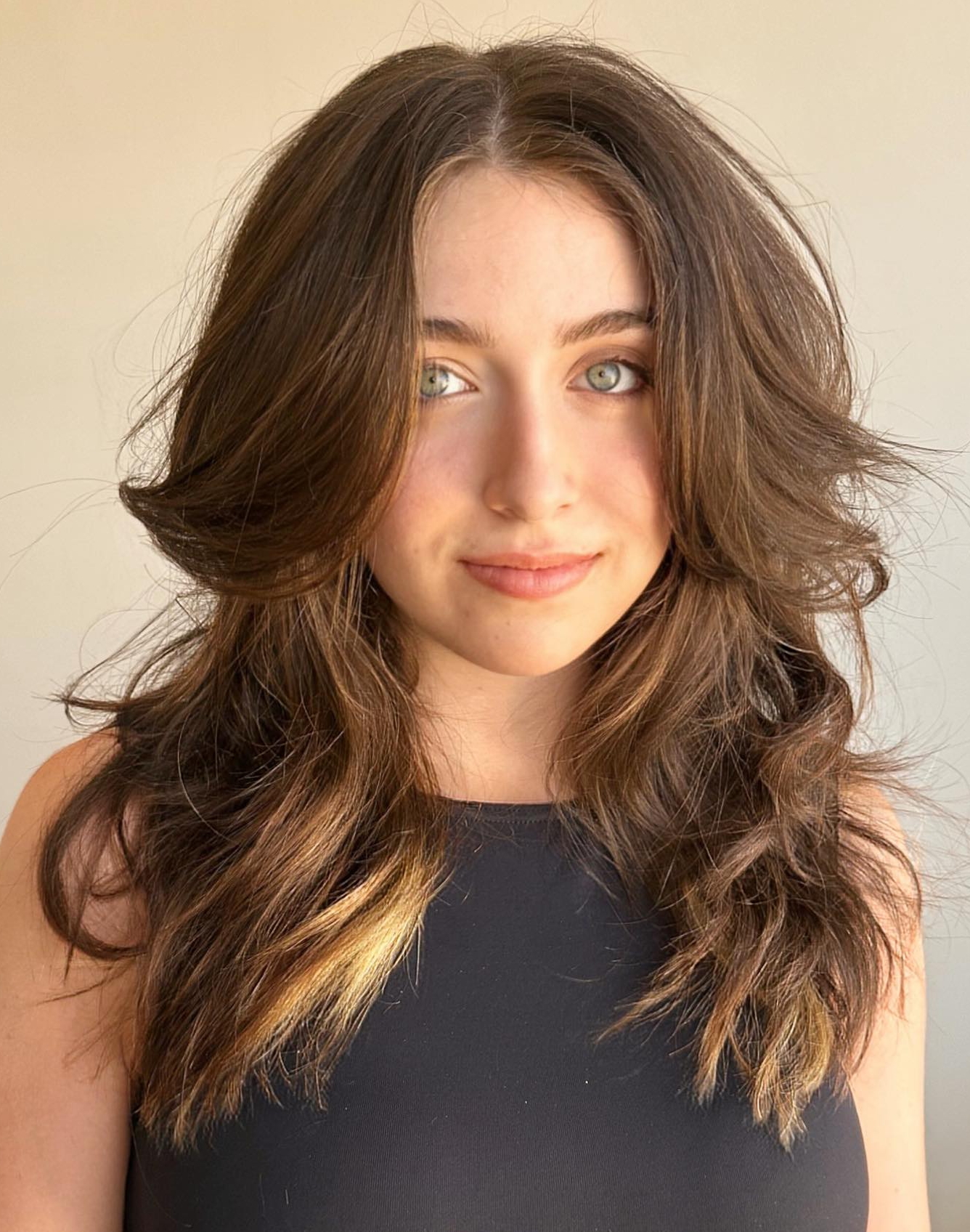 via @bruna.alvesa
3 Straight Hair with Curtain Bangs
Thanks to the curtain bangs trend, every fashionista can choose the perfect bangs for herself. Don't you believe it? Experiment with this charming combination that exudes sophistication and retro charm!
Adding straight hair ideas with curtain bangs gives you an elegant, classic look that will never go out of style. The soft frame will make your eyes and facial features more expressive.
Why is it convenient to wear long hair with curtain bangs? It does not overload the strands and requires complex styling. All you need to do in the morning is decide if you want a sleek and polished look or a more tousled and airy look!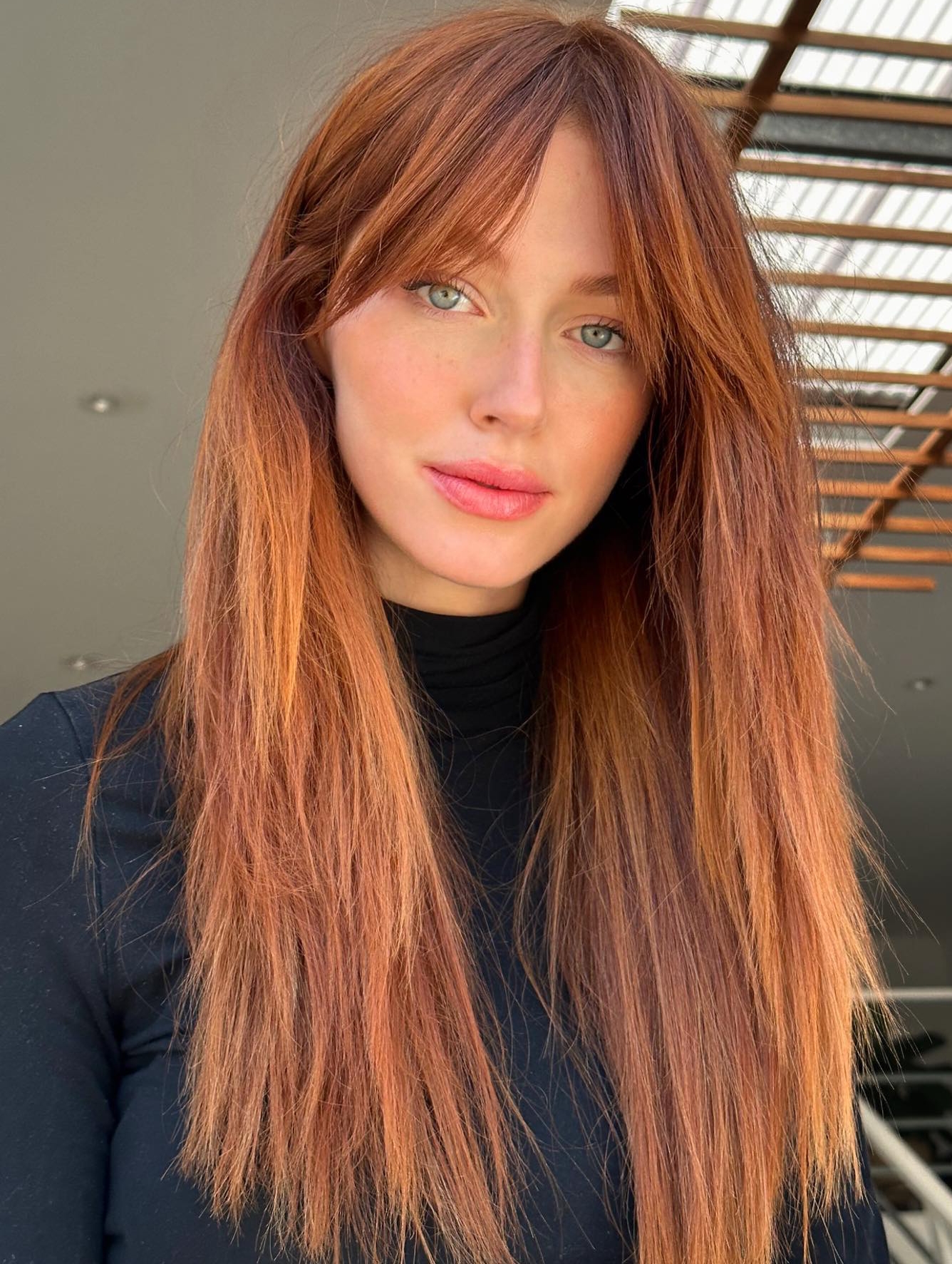 4 Curly Hair with Curtain Bangs
The curtain bangs for curly hairstyles are an excellent choice for girls who appreciate dynamism and charisma. Such a contrasting and playful combination will emphasize the hair texture and help create a structured frame for the face.
A variety of curly curtain bangs are a guarantee of a certain balance in a tousled and careless look. Depending on your preferences and circumstances, you can use a variety of styles—natural loose curls, defined waves, and more—giving you the flexibility to achieve different looks.
Trendy curly hair ideas with curtain bangs suit girls who value their unique natural hair texture and want to achieve flawless expression.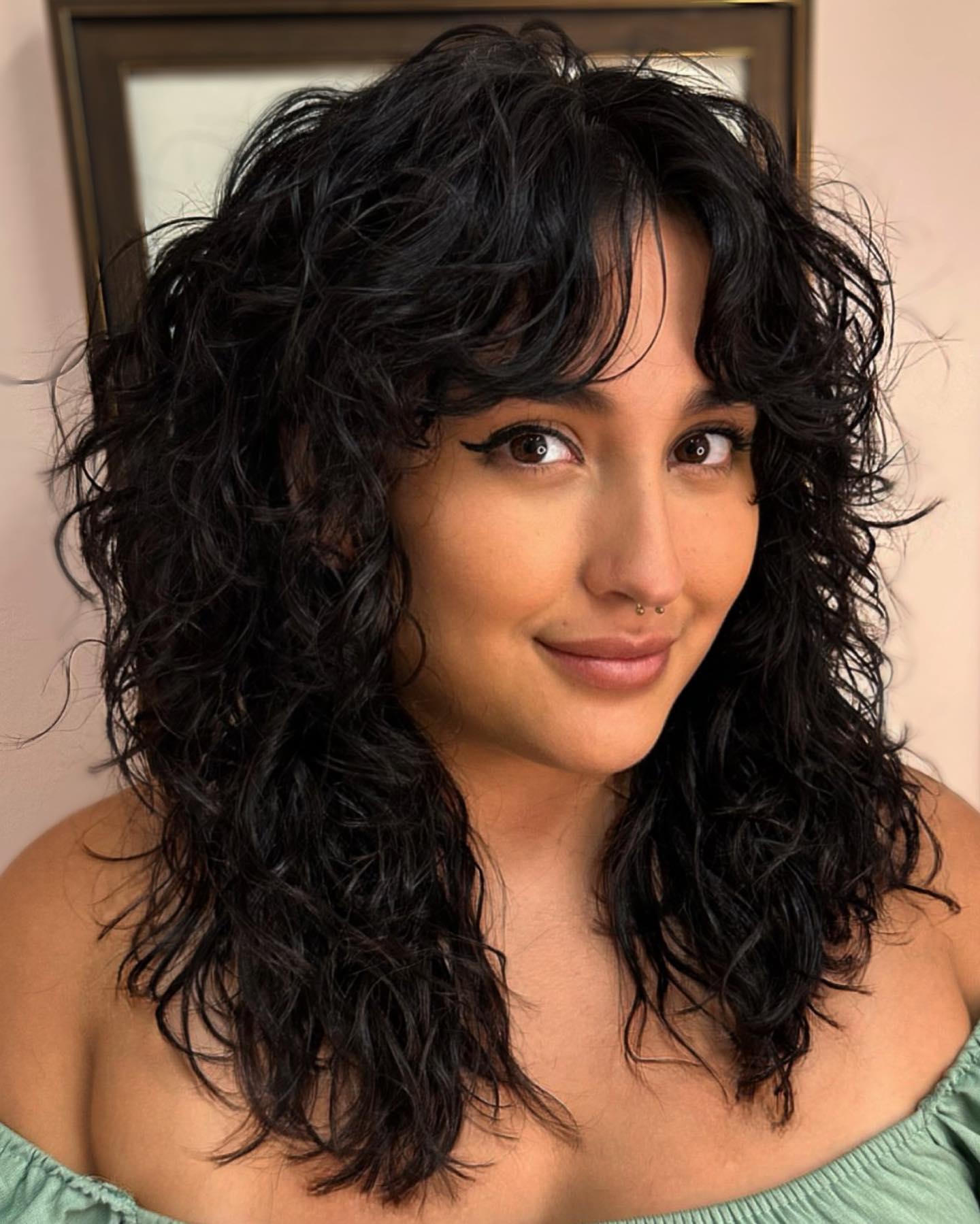 5 Wispy Curtain Bangs
Are you going to give your look a gentle and romantic touch? It's simple — frame your face with a wispy curtain bang!
This bang is perfect for different face shapes because its main feature is a delicacy. It enhances your appearance without looking too pretentious or bold.
Thin bangs are versatile and easily match hair of different lengths and textures. Using numerous expensive products, you can easily maintain their original look without frequent haircuts and complex styling.
The aesthetic of feathered edges that give a gorgeous hairstyle with bangs a whimsical touch deserves your attention!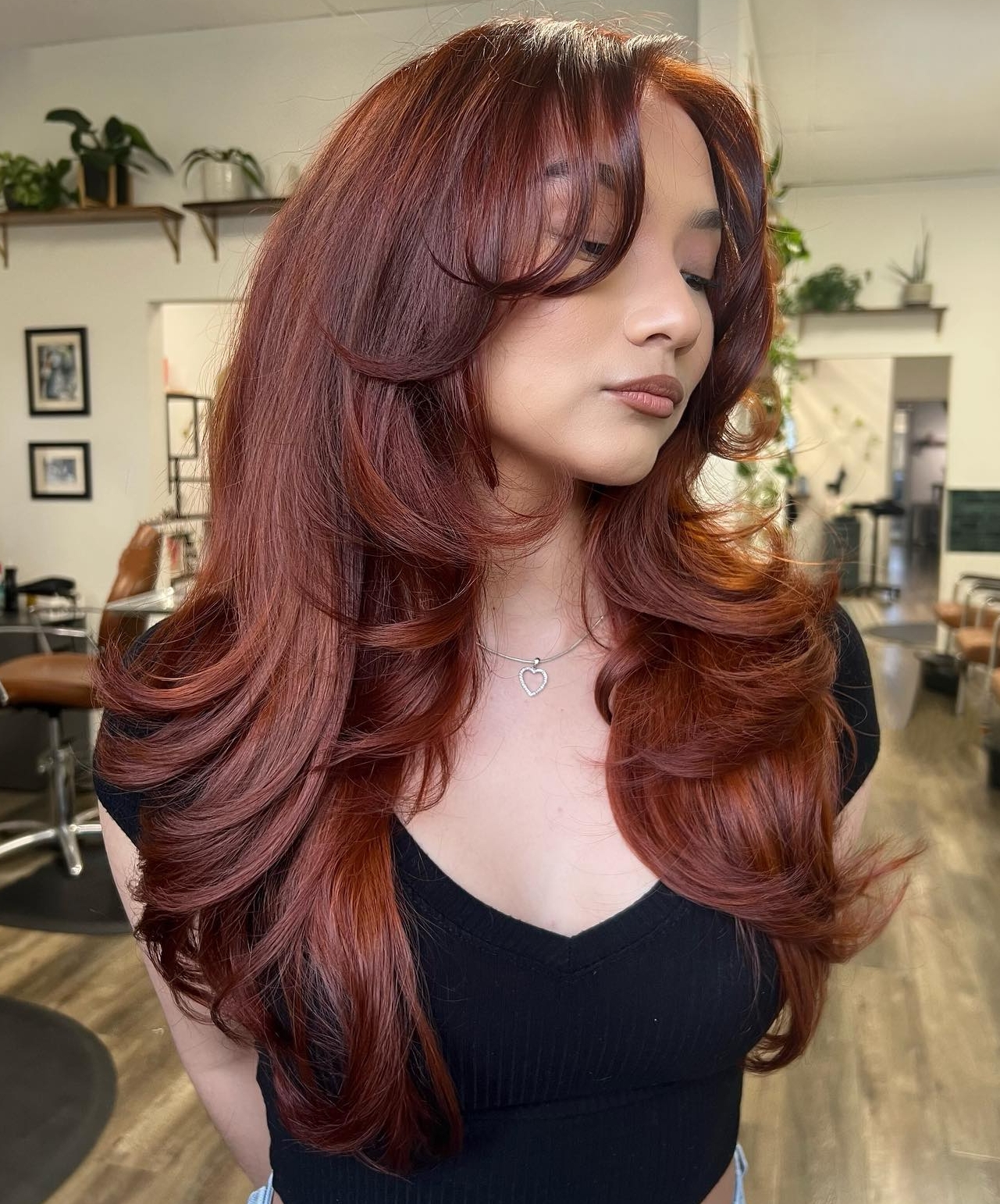 via @ryennesnow
6 Short Curtain Bangs
It is impossible to ignore such a bright highlight as short bangs! They will add a little sass to your hairstyle and make you enjoy the reflection in the mirror.
To wear curtain bangs, you don't need any special skills or the help of a hairdresser. The shorter it is, the easier and faster it is to care for these strands. By the way, this bang will become a lifesaver for fine hair textures, creating additional volume and a playful mood.
7 Wolf Cut with Curtain Bangs
The original wolf cut with bangs is a trendy hairstyle known for its edgy appeal and textured layers. The tousled and natural look it creates will suit those with straight and wavy hair of any length.
Are you looking for the best hair trends this season? The wolf for short hair with curtain bang will become the basis for spectacular and multifaceted looks, from tousled and rebellious waves to straightened and smooth but voluminous strands.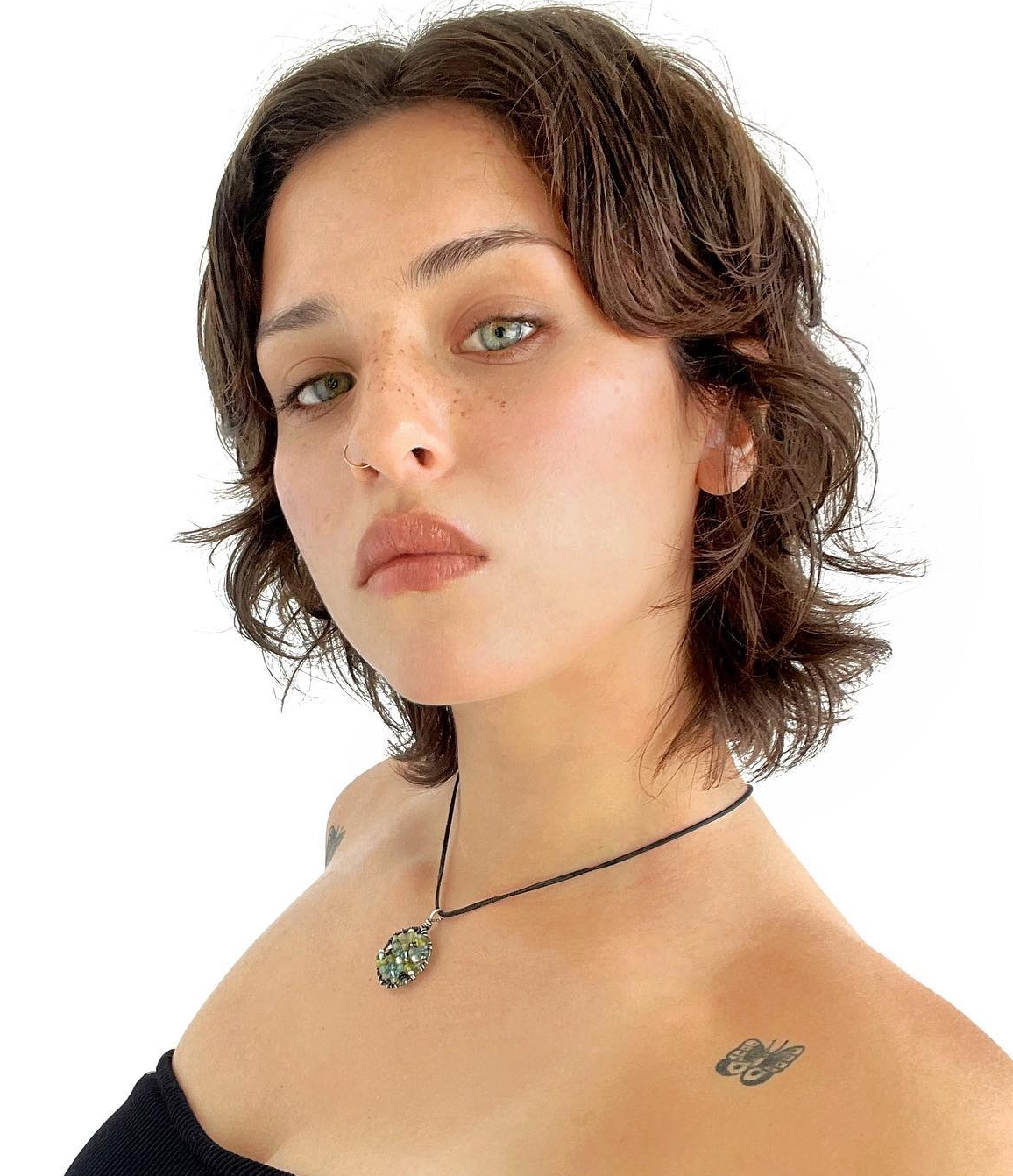 via @__k_vu__
8 Medium Length Hair with Curtain Bangs
Medium-length hair with soft curtain bangs is the most comfortable and stylish hairstyle for different occasions. With it, you can realize any creative idea! These could be careless beach waves, perfectly straight strands, or other intricate stylist suggestions.
Why do many women like exactly these hair lengths? It strikes a balance between affordable care and versatile styling options.
A wavy hair with bangs can be adapted to various looks. Beautiful, stylish, practical — what else can you add?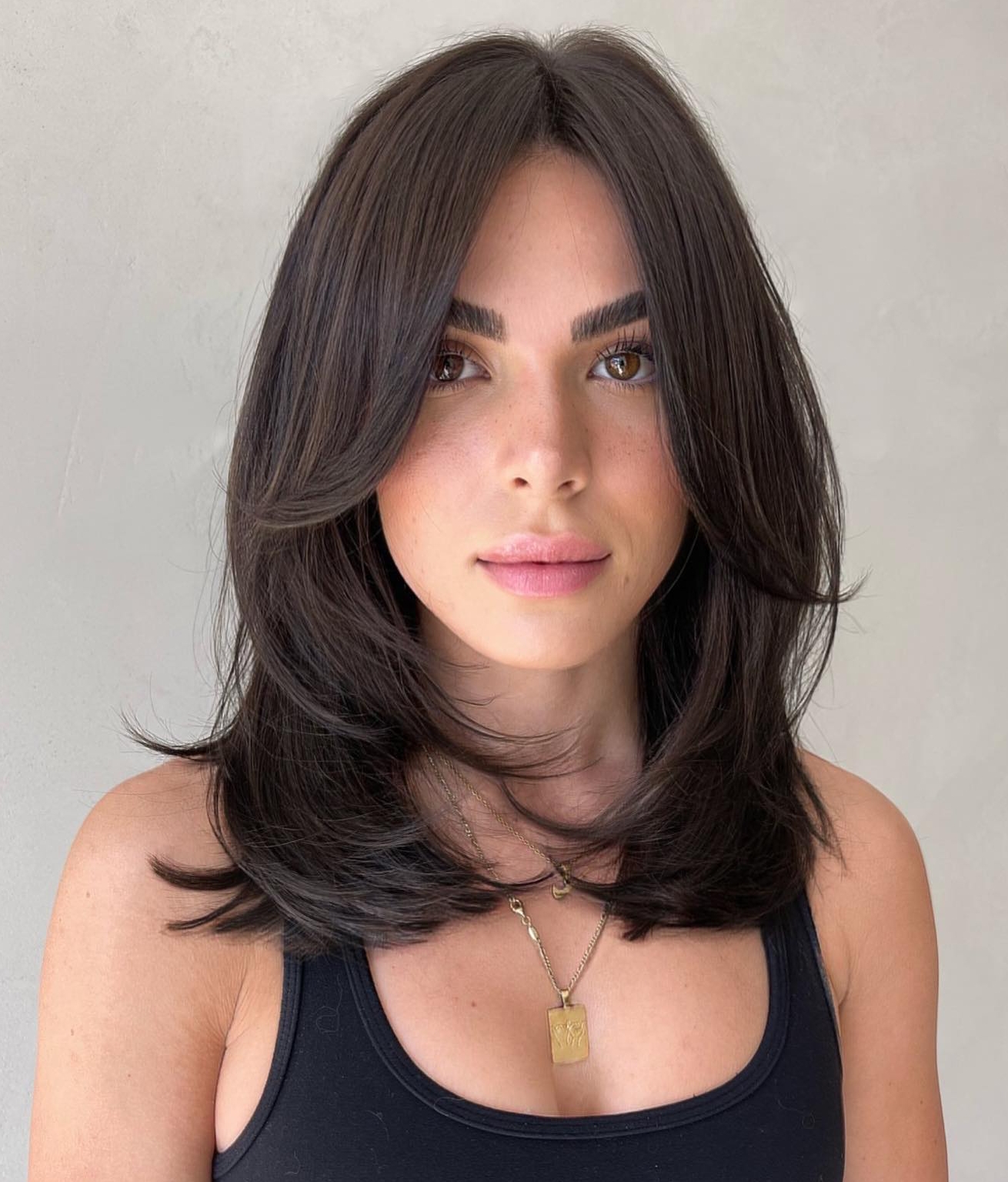 via @taya.hair
9 Bob Cut with Curtain Bangs
Modern and wildly popular, the bob with curtain bang is a chic hairstyle combining timeless classics and trendy accents.
With straight hair, Bob frames the face, harmoniously complementing any appearance type. Soft lines and a wide choice of styles are always popular among women of all ages.
The indisputable advantage of the bob is the minimum care. Adding a curtain fringe will make your daily styling routine easier and more convenient!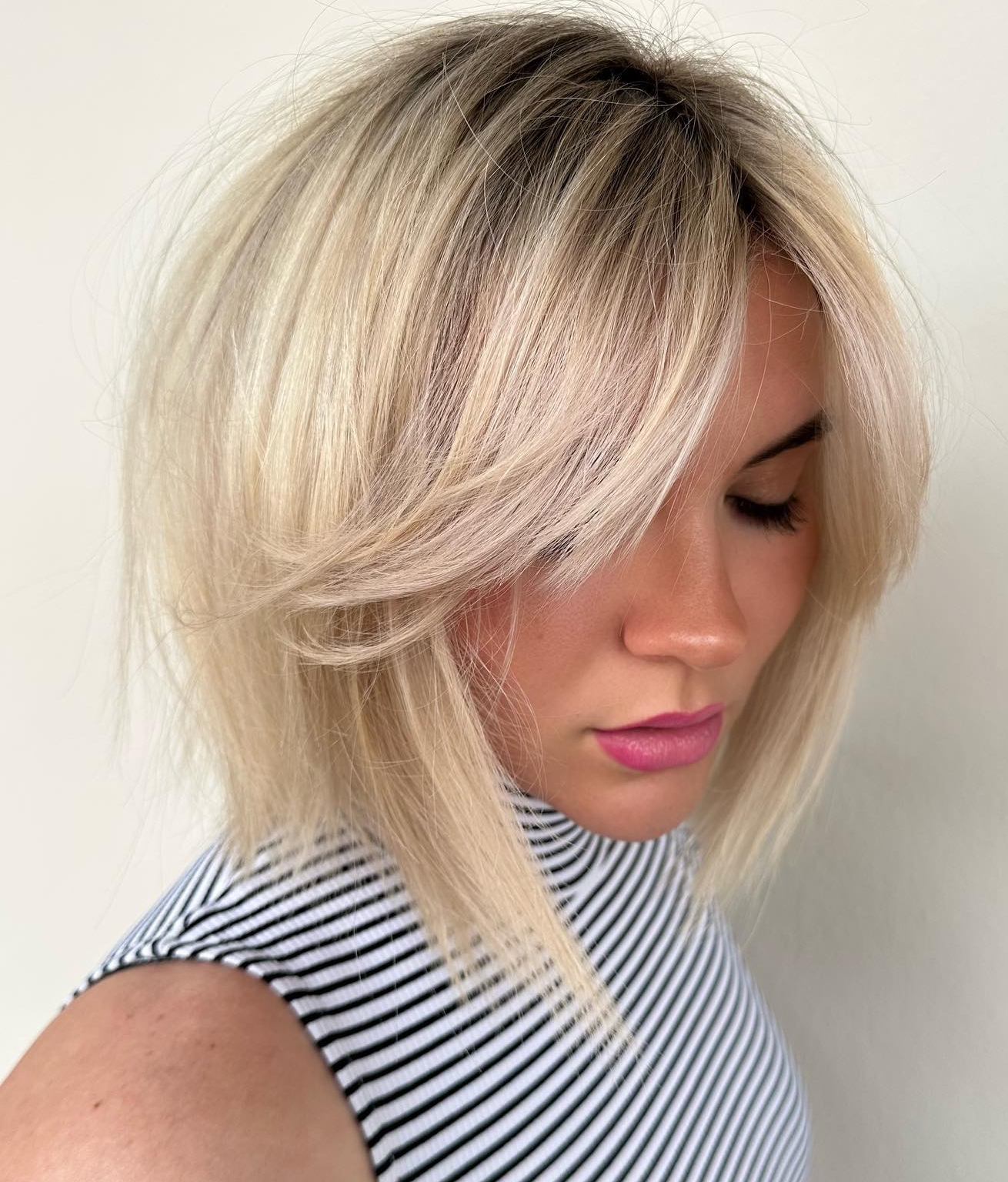 via @prymebeautyhair
10 Wavy Hair with Curtain Bangs
Carefree aesthetics, hints of boho style, bohemian charm — it's all about face-framing bangs on wavy hair. This dynamic and textured hairstyle will give your look a playful and casual feel.
Natural beach waves enhance the dynamics of medium hair, while curtain bangs add a little expressiveness and intrigue. Choose this hairstyle if you want the perfect base for creating casual and more sophisticated looks.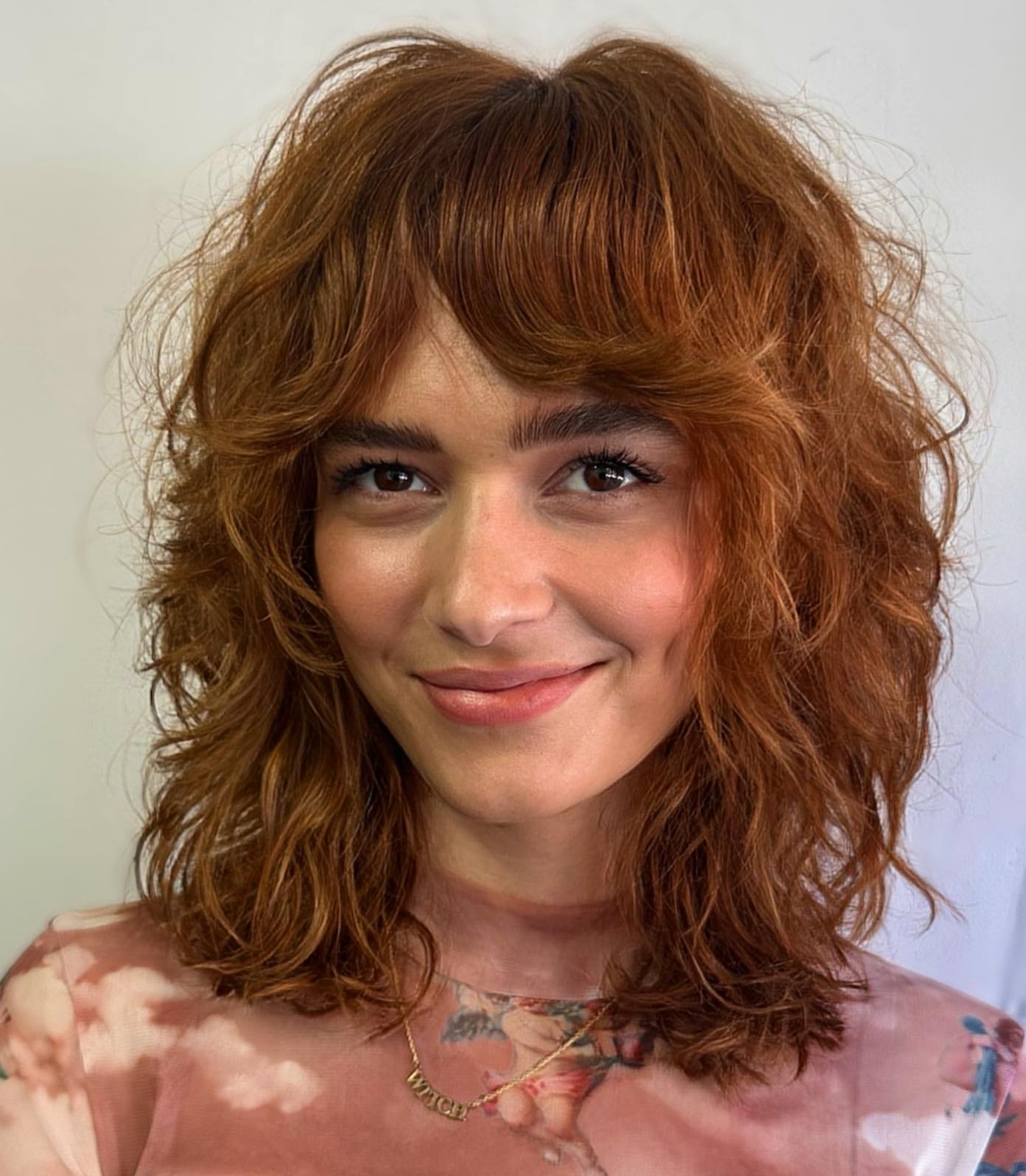 11 Curtain Bang with a Centre Part
Curtain bangs with a center part are one of the most widespread long hair ideas. It has perfect symmetry, which creates an elegant frame for the face on both sides.
Long layers of curtain bang are universal, as the parting provides fantastic style flexibility. In addition, it becomes a source of femininity and harmoniously combines with various face shapes.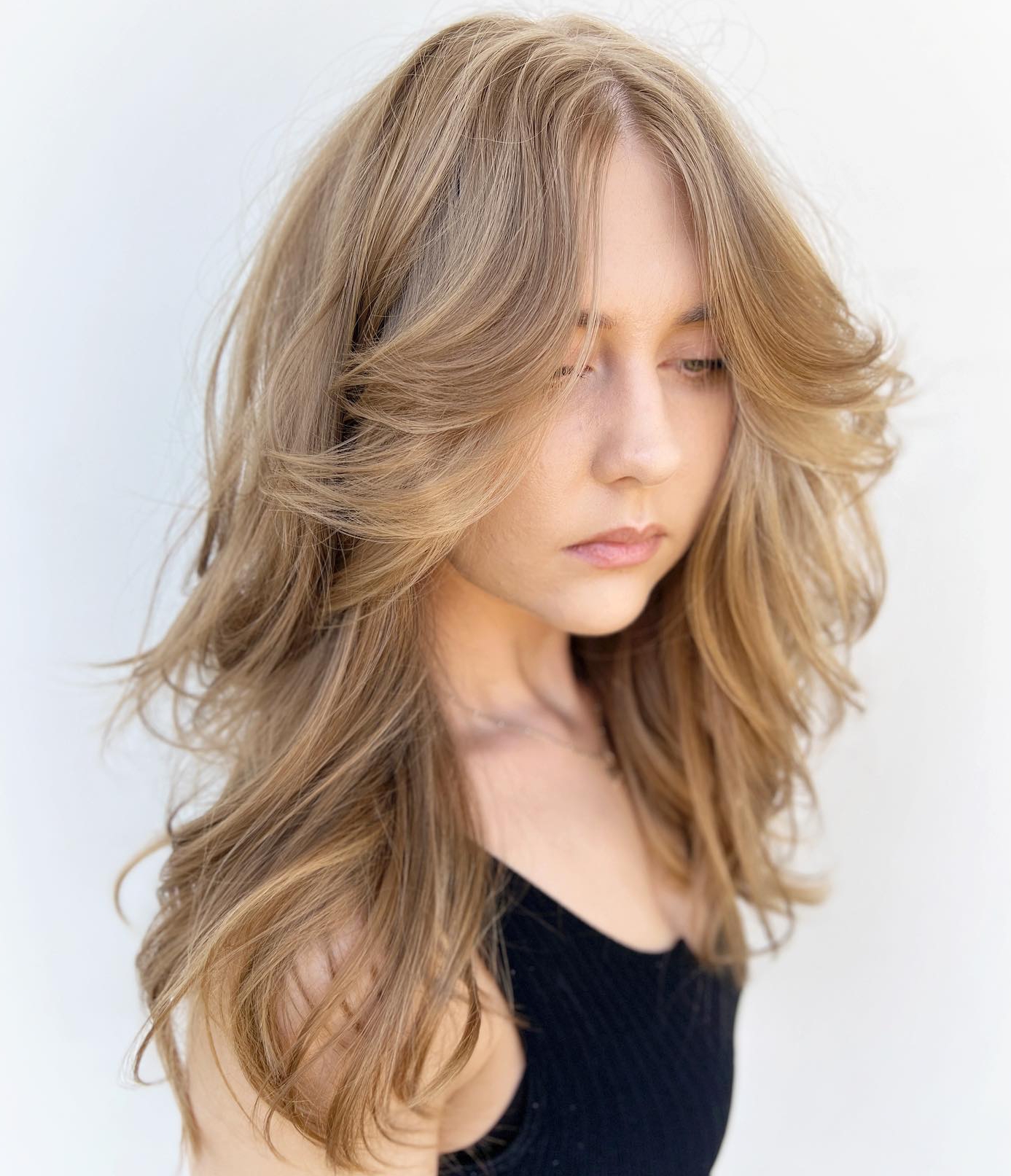 via @hairbydamaris
12 Choppy Curtain Bang on Medium Hair
Do you want some thrills? Then it's time to experiment! Replace the classic long curtain bangs with torn ones and appreciate the benefits of this trendy and charismatic solution.
There's no denying the textured appeal that hairstyles so often lack. The slightly daring, choppy bang adds extra volume and the desired dynamism required for a relaxed and natural look.
And the main bonus: numerous loose layers make styling easy and unpretentious. No more hassling with a hair dryer or straightening iron in the morning. Your chic, casual hairstyle is ready to win hearts in just a few moments!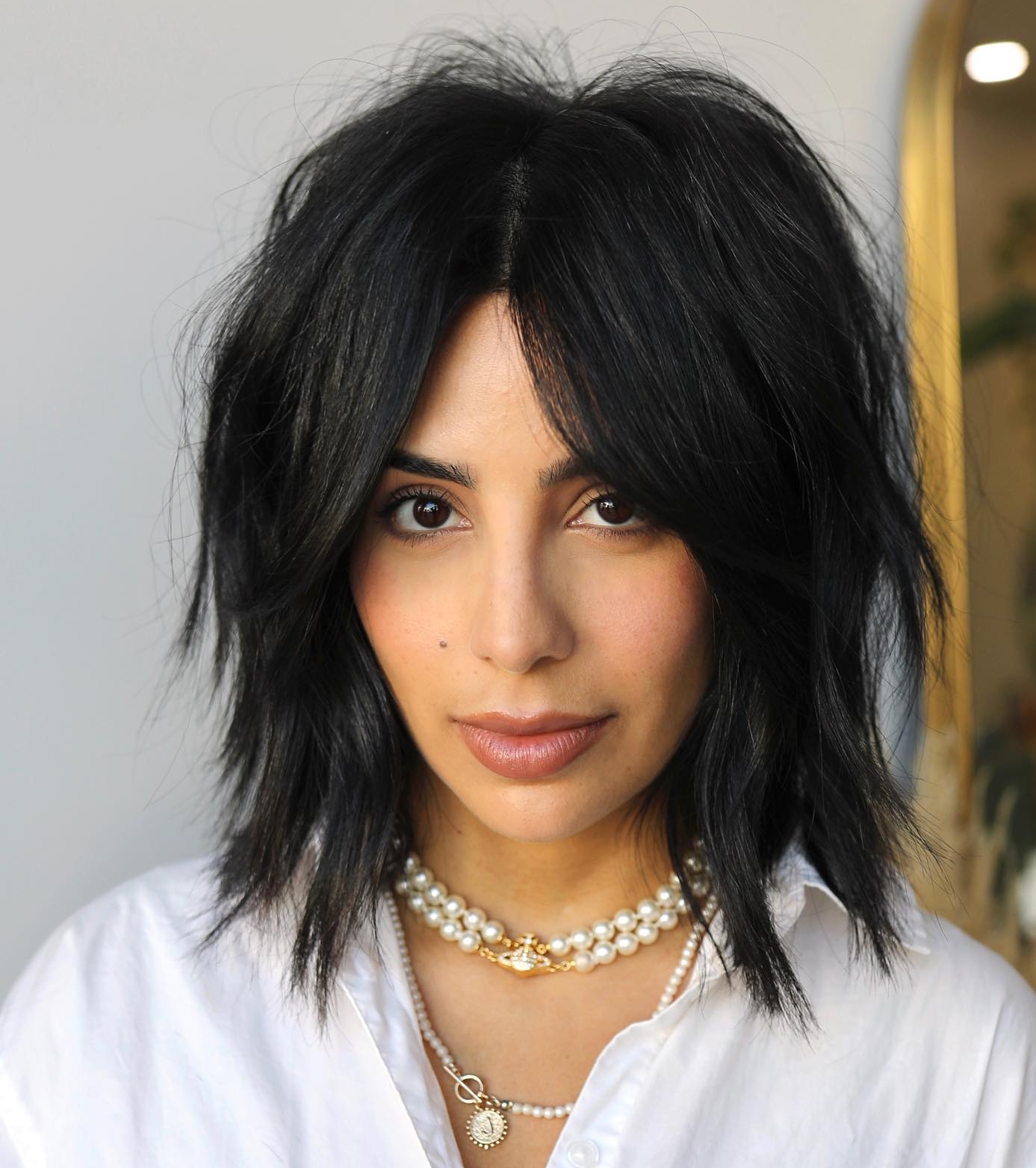 via @hirohair
13 Long Feathered Curtain Bang
Are you the happy owner of thick hair texture? Long curtain bangs with feathers will help revitalize such strands and make them airy!
The unconventional texture gives the hairstyle softness and femininity. Light curls will casually frame the face, emphasizing the features and look. Undoubtedly, such an elegant and low-maintenance hairstyle will become your faithful companion!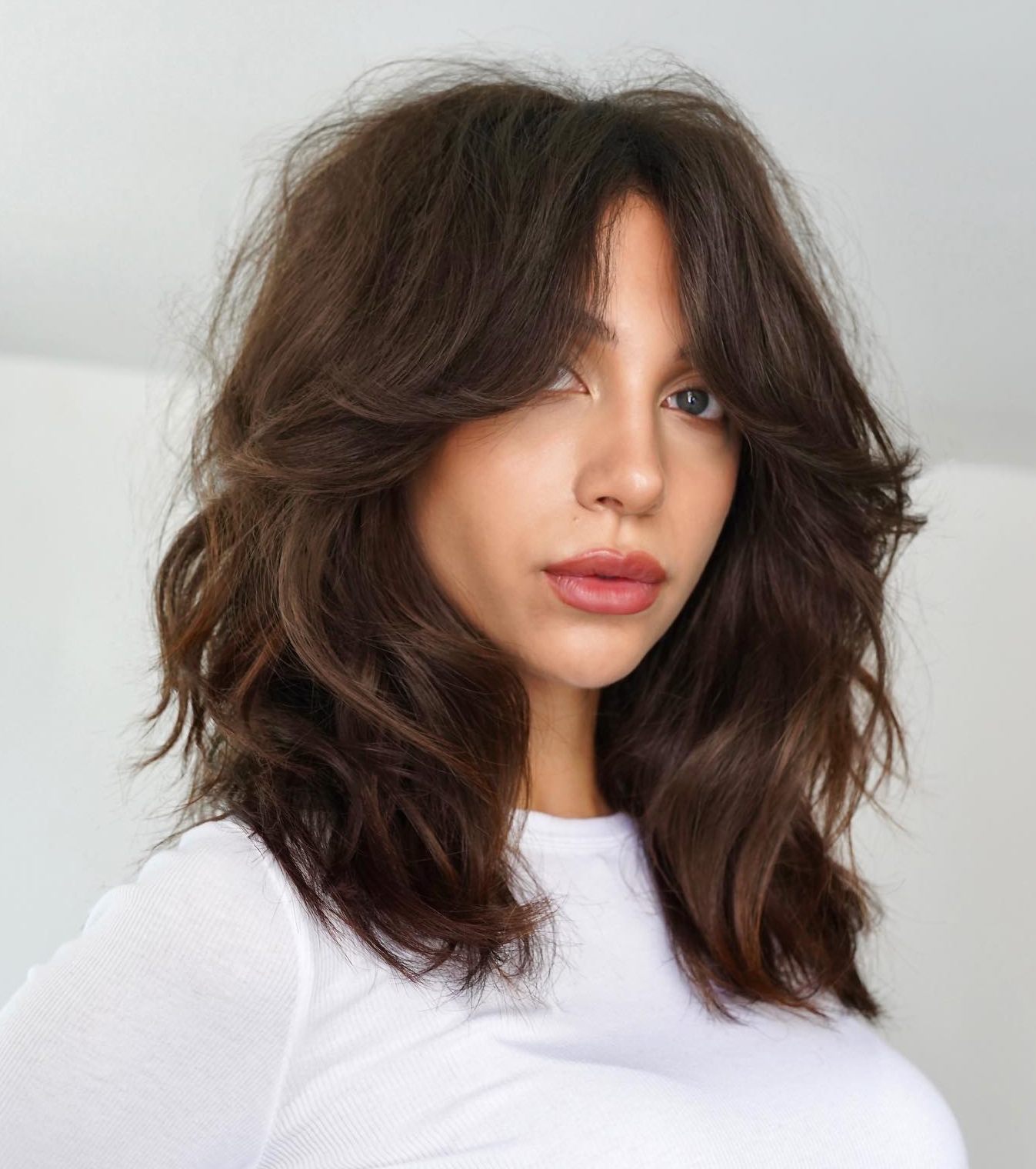 via @yukistylist
14 Long Flipped Curtain Bang
A long curtain bangs, although not striking, captivates with its playfulness and retro notes. It provides more volume and makes the hairstyle more dynamic and attractive overall.
These bangs make facial features more expressive and sophisticated so you can expect admiration for your natural beauty. If you love vintage style and want to try something new, this haircut will be an interesting solution for medium-length hair.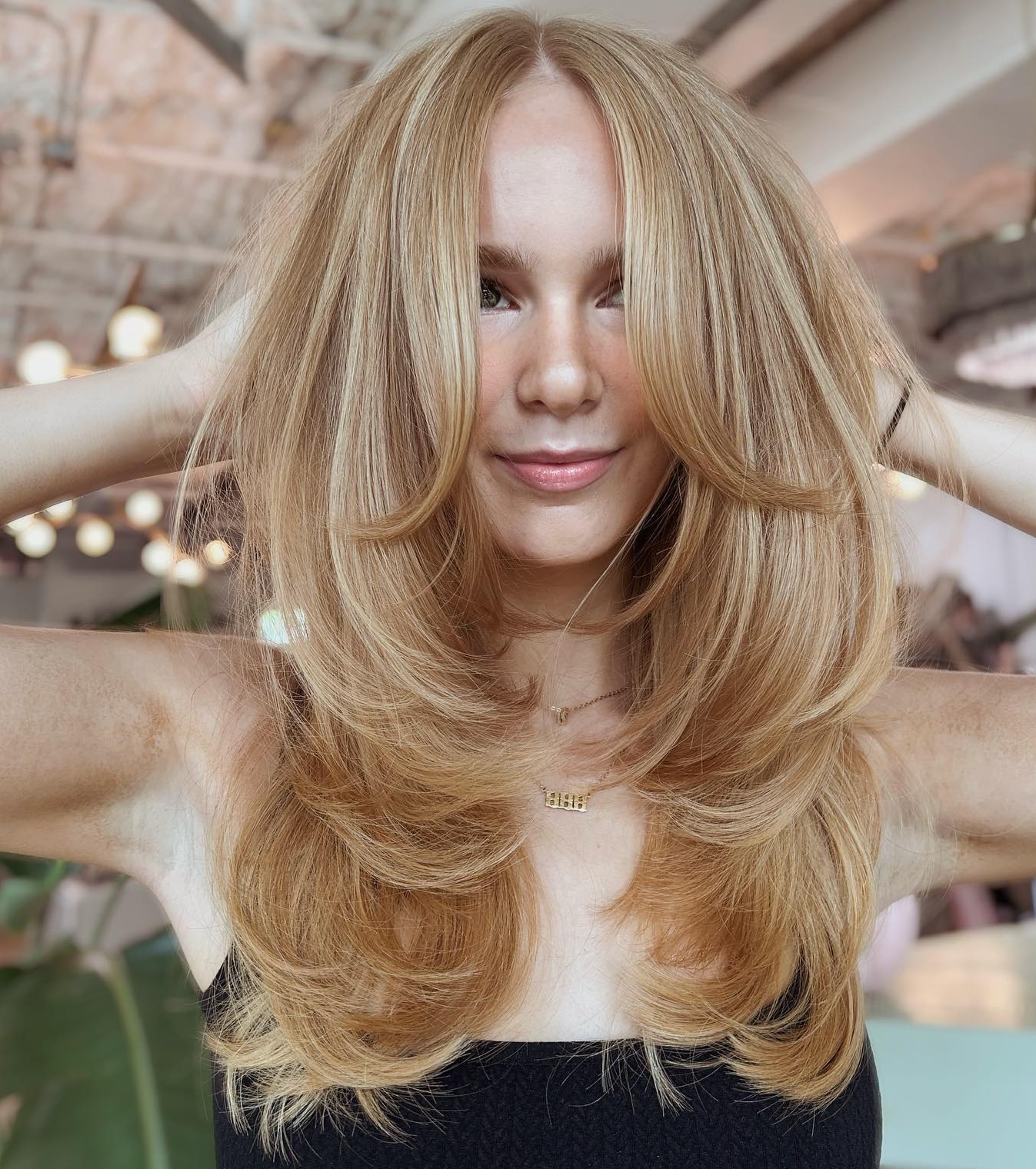 via @bellaluxbeautyy
15 Korean Curtain Bang
Asian curtain bang has many benefits:
Soft and feminine appearance. Korean curtain bangs' gentle, subtle nature is the basis of a romantic look.
Face framing effect. The bangs elegantly frame the face, emphasizing the eyes and cheekbones. It will help you say goodbye to 5-10 years without extra effort.
Minimum care. These bangs' airy and effortless nature requires the simplest and easiest styling.
Korean straight hairstyle with a bang is versatile and can be adapted to different looks. See it for yourself!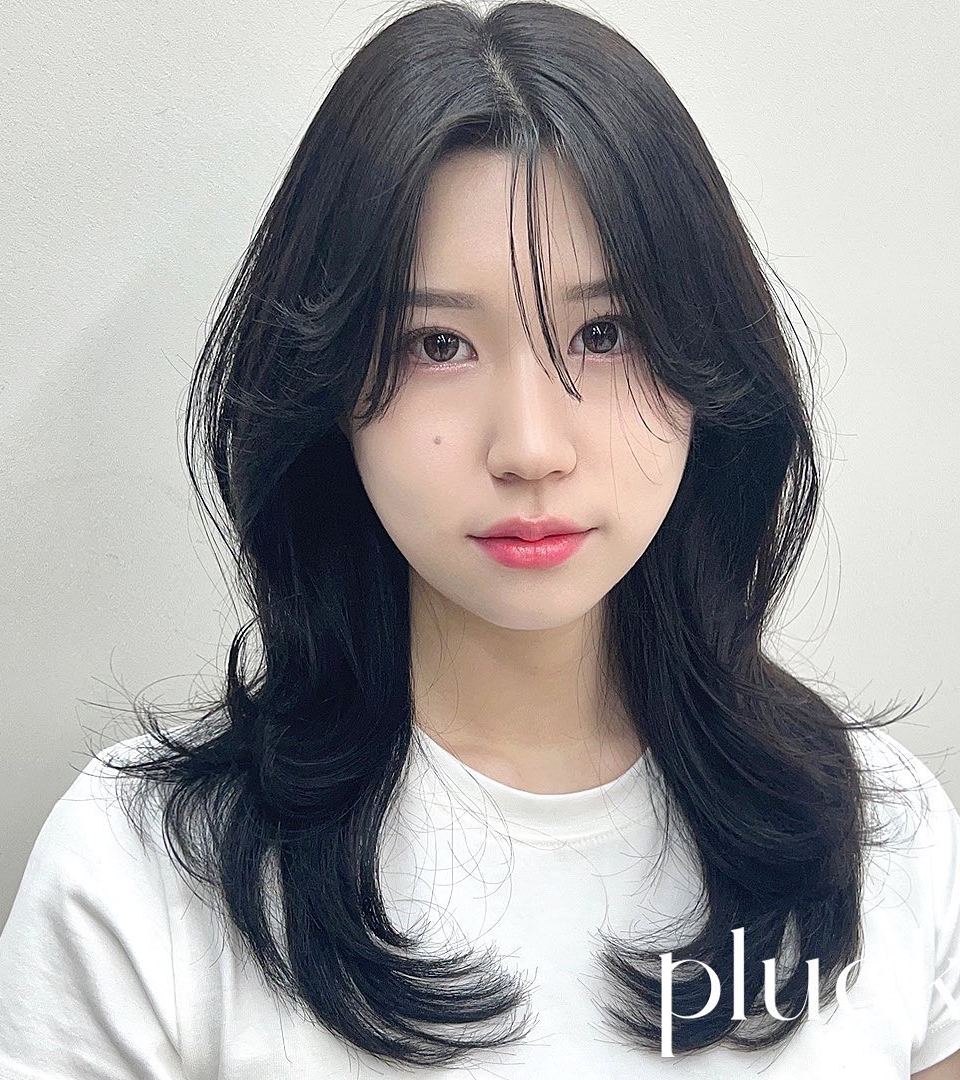 via @pluck_official
16 Curtain Bang for Round Face
Choosing the perfect hairstyle for a round face is easier than it might seem at first glance!
Your main goal is to elongate a round face, creating the illusion of more defined angles. To this end, use versatile curtain bangs that can be personalized according to your wishes. For example, change their length and style, or even choose a super trendy coloring, turning the curtain bang with money piece into reality!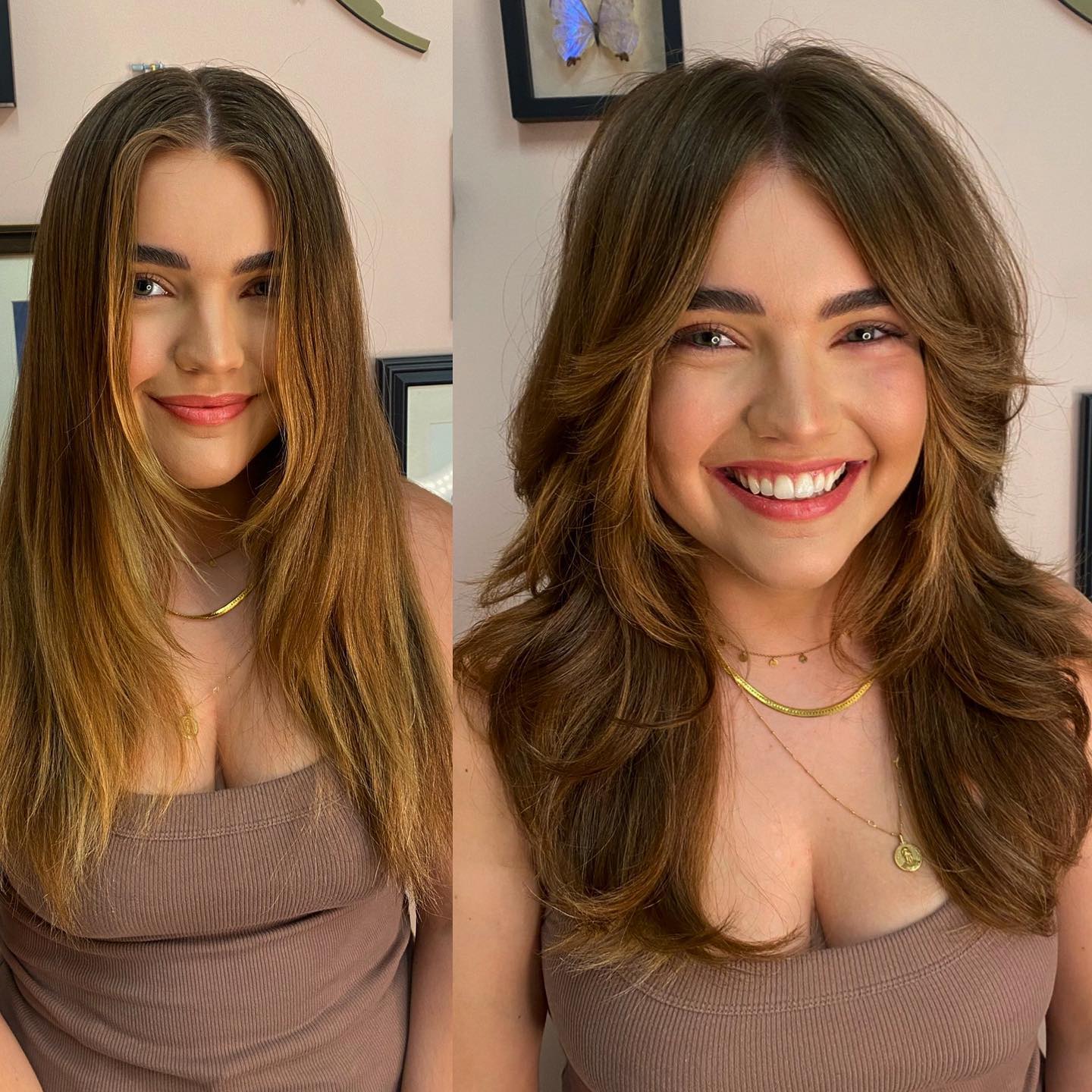 17 Messy Curtain Bangs
This haircut is suitable for connoisseurs of a creative look, combining the charm of imperfection and natural, messy waves.
It is сonsiderable to understand that messy style is not just a lack of impeccable styling but everyday chic. Moreover, it will be appropriate in real life and at various events.
A long curtain fringe, as a rule, requires minimal precision in styling. With this haircut, you don't have to hone skills to give the hair shape and volume properly. There is only carefree aesthetics here!
via @joeltorresstyle
18 Ponytail with Curtain Bangs
If you like a ponytail hairstyle, try enhancing the hairstyle and frame your face with curtain bangs!
This casual style suits numerous occasions, from walking or playing sports to more formal events. It opens up ample opportunities for experimentation. So, you can choose different options for the placement of ponytails, from high for a playful look to low for more festive or romantic situations.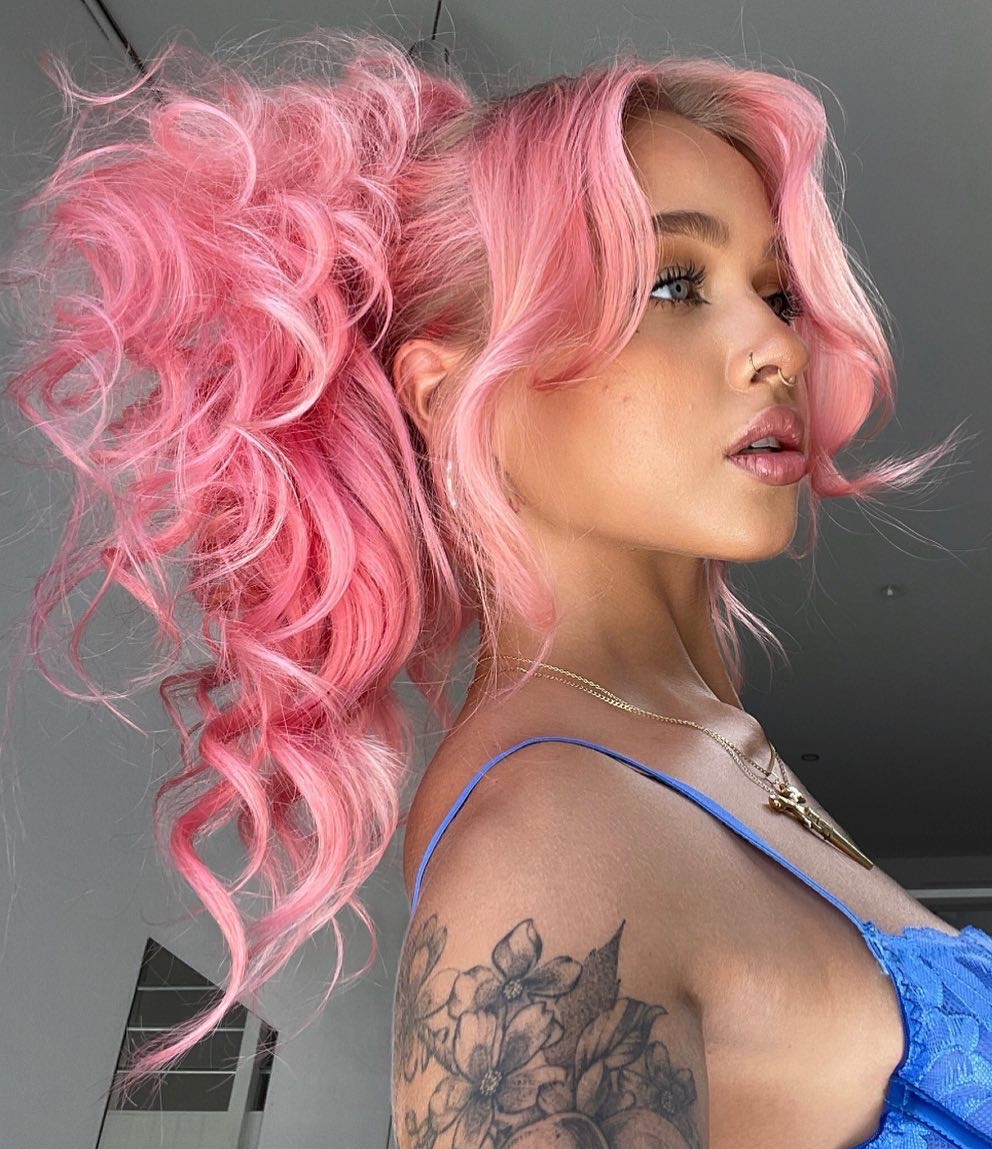 19 Curtain Bangs with Flipped Ends
One of the universal hairstyles that has remained in the top fashionistas for many years is curtain fringes with flipped ends. It significantly revitalizes classic styles by adding volume, texture, and movement.
Are these curved longer layers suited for you? Probably yes. This hairstyle is universal and can be adapted to different hair lengths and textures. Consult your stylist, and feel free to embody the most unusual ideas filled with youth and audacity!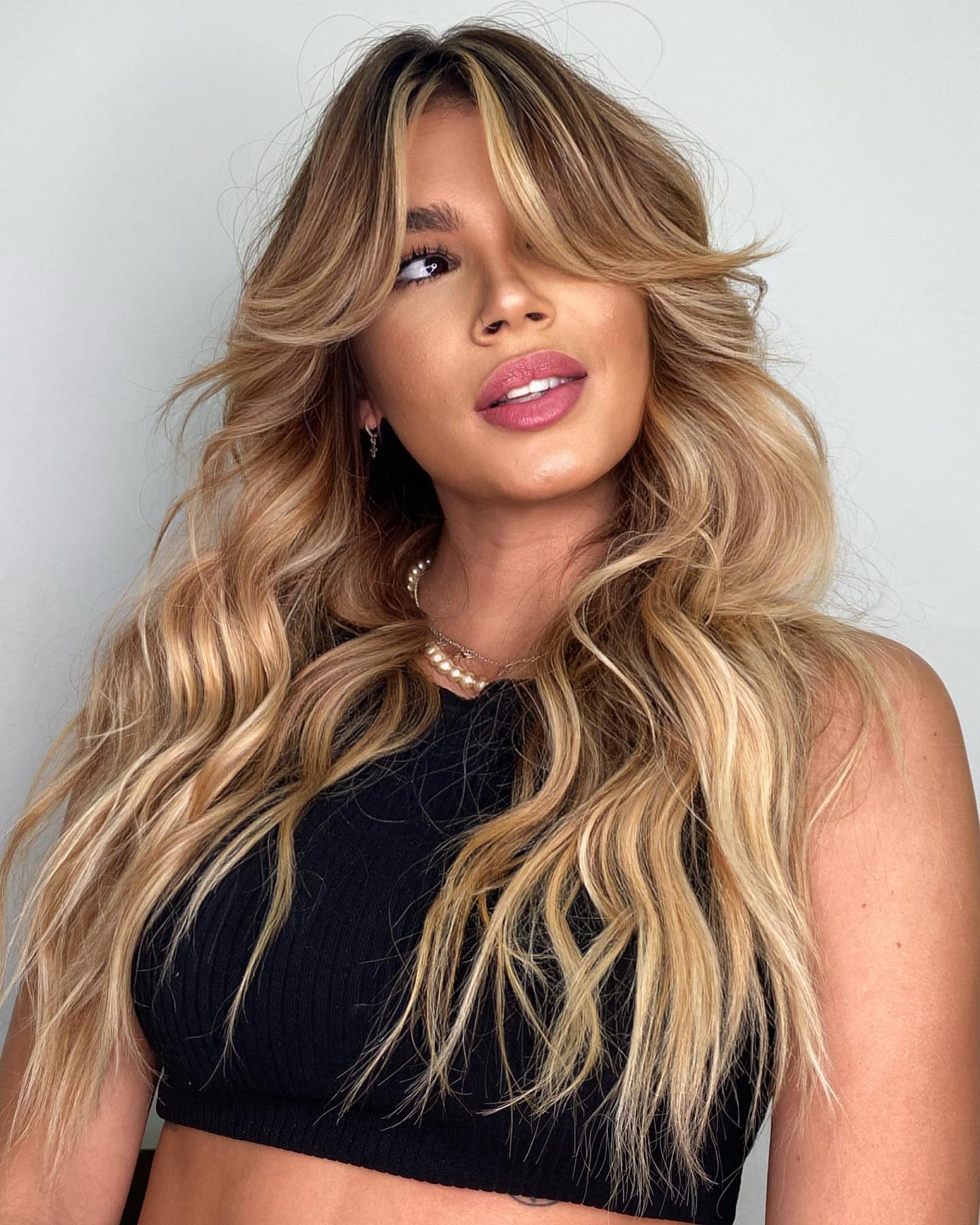 via @regismelo__
20 Curtain Bangs with Side Part
Side-parted bangs are charming. They effectively frame the face, emphasize the cheekbones, and make the eyes more expressive.
Do you want to create the image of a femme fatale? Choose exactly these bangs! It looks great on fine hair and adds mystery to its owner's appearance.
Relaxed and intriguing long curtain bangs are ideal for women with asymmetrical facial features. There is something magical about it because you still have to be able to transform a look like that!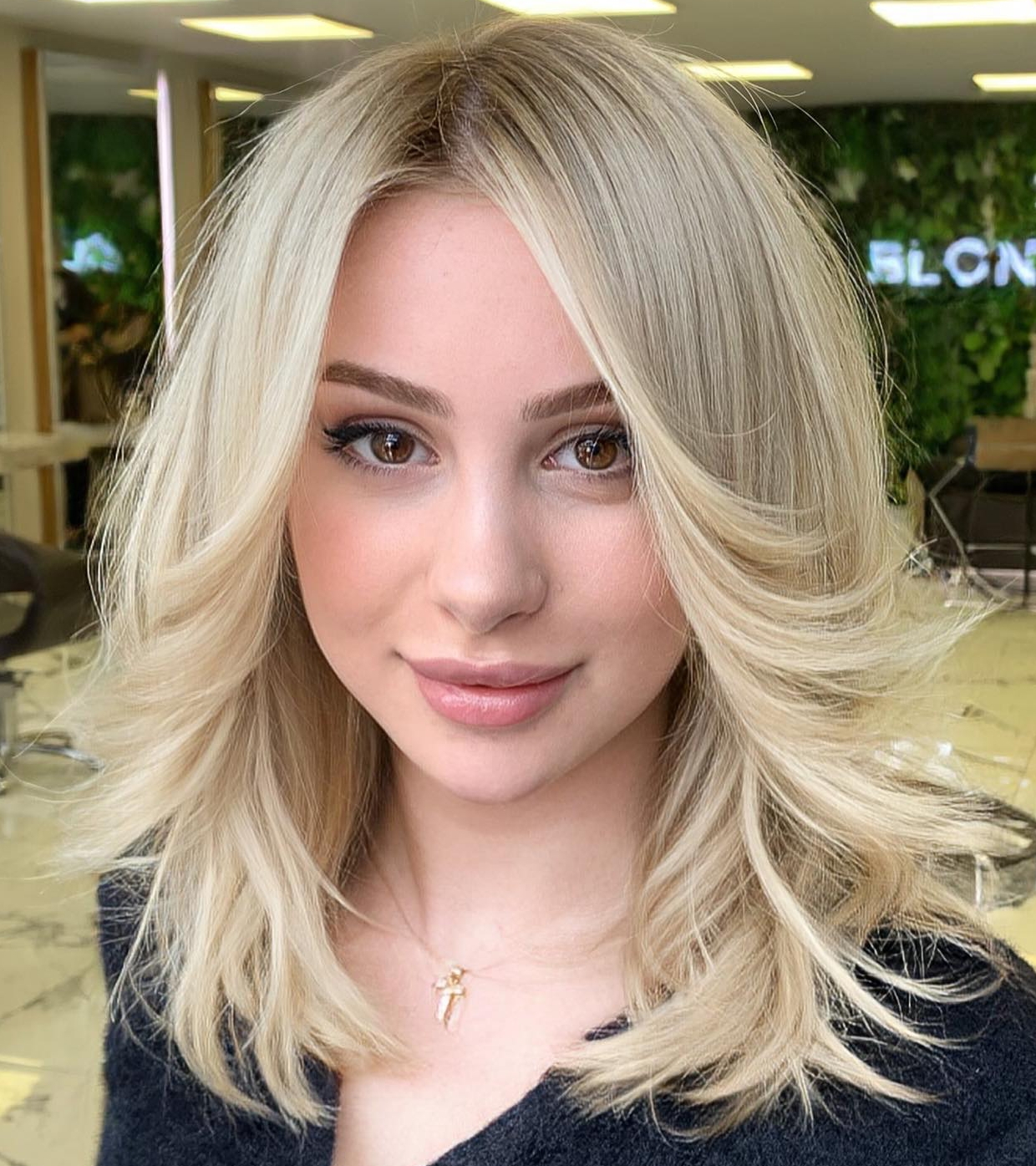 21 Curtain Bangs with Money Piece
Make your traditional face-framing hairstyle more vibrant and original with blonde highlights!
The part of the strands near the face dyed in a lighter color creates a modern and stylish look. This design is universal and helps every woman express her personality.
Curtain bangs with a money piece that needs to be bolder for you. Try coloring the framing strands in brighter shades — honey, red, or even pink!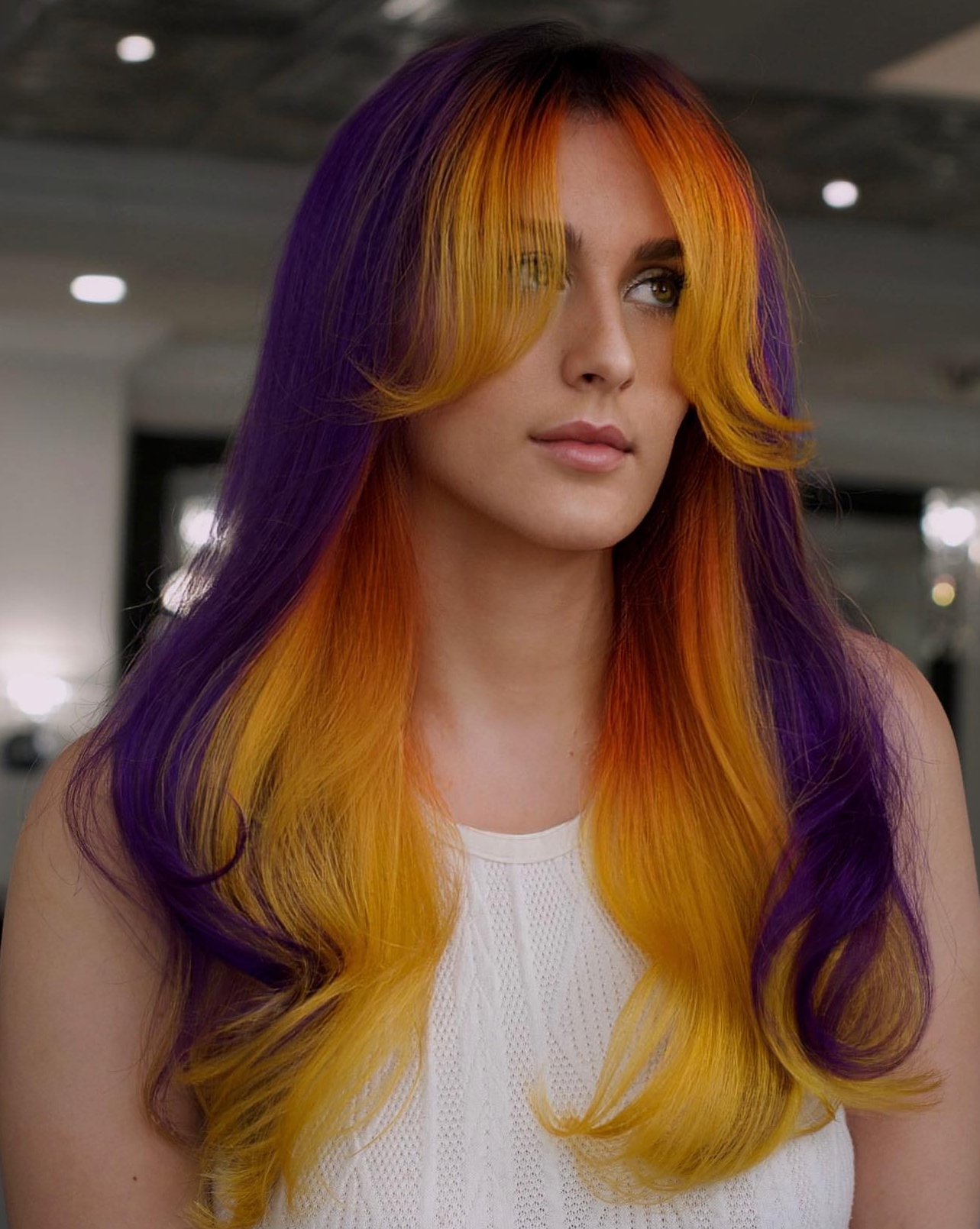 22 Blunt Bob Cut with Curtain Bangs
The blunt haircuts, with bangs or textured waves, are another way to update your usual hairstyle. Most importantly, they are easy to style.
If you prefer to save time on your daily routine, curtain fringe on a bob cut can help you out. Pair this hairstyle with a business or casual look, or go to a party with it — in any case, you will look great!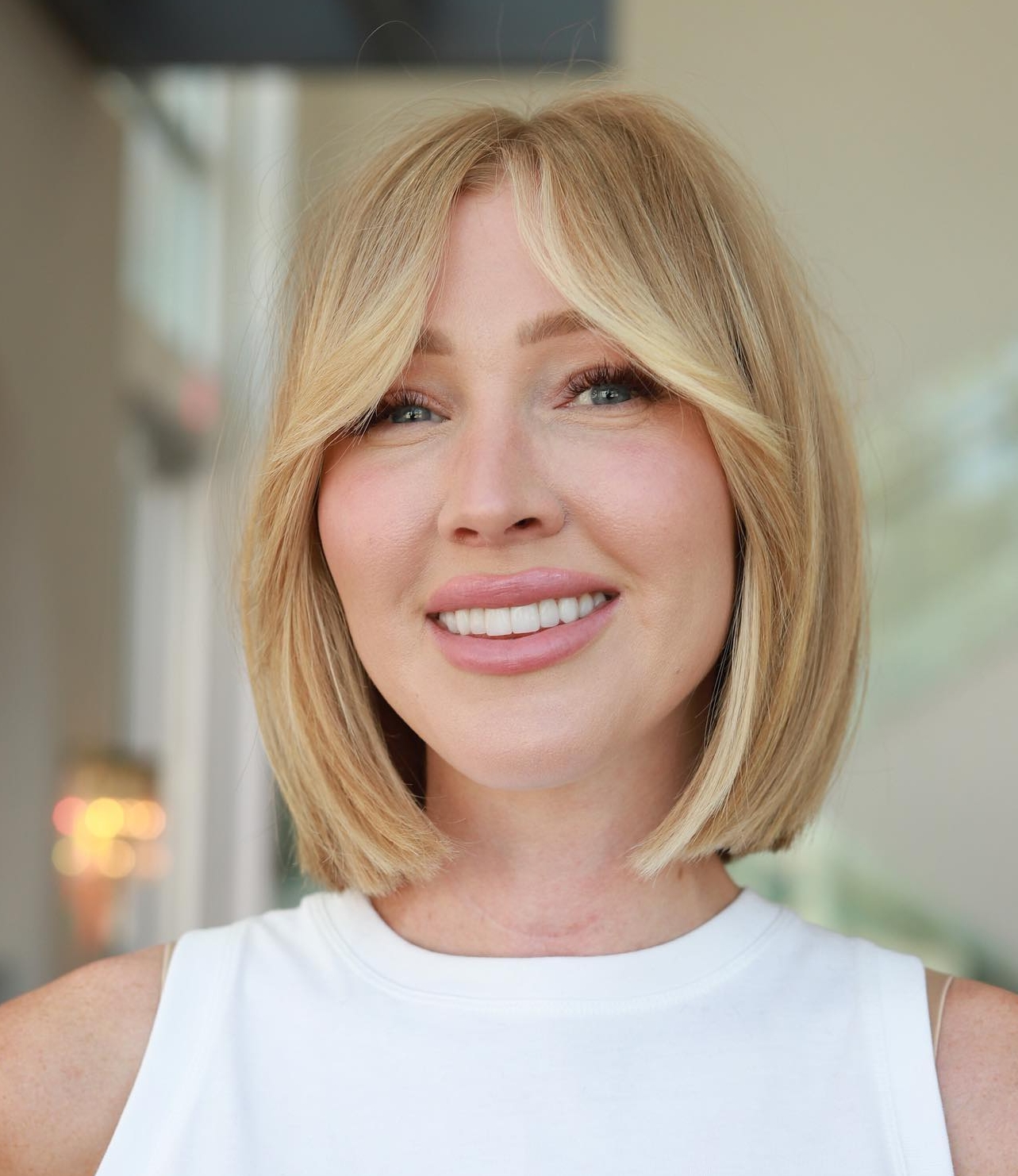 via @eastonhair
FAQ
How to style curtain bangs?
Fortunately, you can maintain curtain bangs without assistance. For a flawless appearance, follow a couple of simple rules:
Wash or spritz your hair with water to make it more manageable.
Apply styling products like light mousse or foam to add texture and hold.
Blow-dry your bangs with a round brush. Direct the strands to create a parting.
Depending on your preference, style your bangs into soft waves using a curling iron or straighten them with a flat iron.
Fix your bangs with hairspray or spray for extra styling.
Remember that curtain bangs should look natural and relaxed. Feel free to experiment with different styling methods to find the best for you!