The ponytail is the most fabulous hairstyle for everyday wear that suits all women and makes them look nice in any situation. Girls often do it in turmoil so that loose hair does not interfere with them. However, it can also be a gorgeous hairstyle thought out to the smallest detail, emphasizing the oval of the face, the natural hair, and the girl's grace.
There are numerous hairstyle ideas for different face shapes and hair lengths. A ponytail is a usual idea, and it seems that nothing exciting can be invented. However, there are numerous alternatives to the classic ponytail. Sit back and learn more options to make a coiffure that will attract attention.
Gorgeous Ponytail Hairstyle Ideas
This hairstyle is mostly common among women with long hair since those with a pixie or bob can hardly gather their hair with a band. Shorter hair for ponytail styles doesn't look attractive for many ladies, but it's worth noting that there are some exciting ideas. They are suitable for any occasion, whether a walk with kids in the park or formal meetings. Let's look at the best ponytail hairstyles adored by women worldwide!
1. Classic High Ponytail Styles
A classic high ponytail is an excellent option for daily routine and any special events. It is most suitable for women with long hair since it's almost impossible to make a tight ponytail with a shorter length. To make a chic hairstyle, comb your hair, tilt your head down, and tie your hair with an elastic band. This ponytail for straight hair suits all faces shapes, making it a versatile option for each lady. High ponytail hairstyles will always remain relevant and stylish.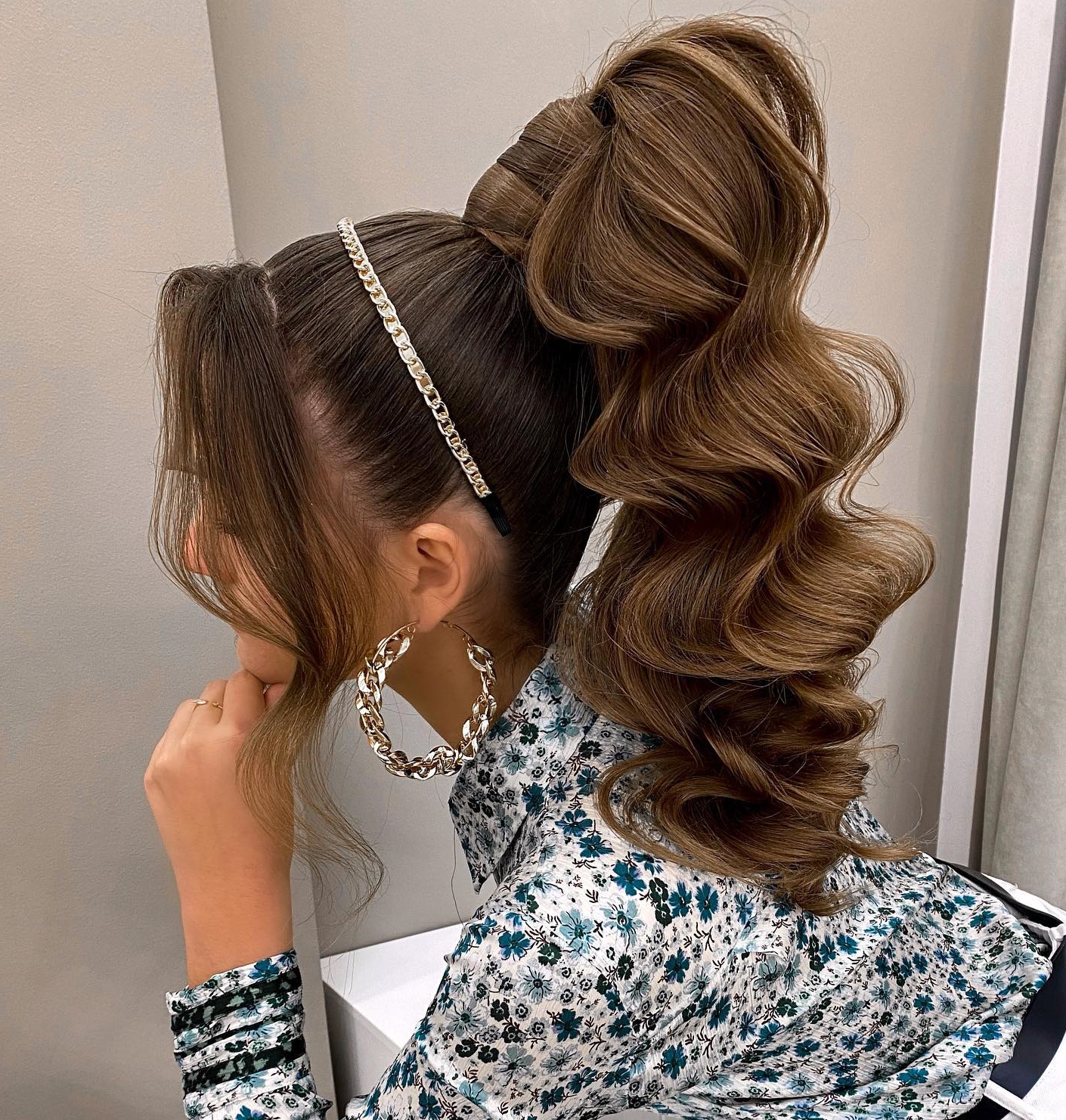 2. Elegant Braided Ponytail Hairstyles
Do you want to make your hairstyle more unusual? Consider a long braided ponytail hairstyle that will help you look amazing, providing a unique style. It's suitable for women with any hair texture and all hair lengths, except for short haircuts. Gather braids into a ponytail and enjoy an unusual coiffure, always in style.
Many ladies think that the long braided ponytail hairstyle is suitable only for children, but this is far from the case. Many Hollywood celebrities even wear a long braided ponytail hairstyle to the red carpet, and you will also look stunning with it.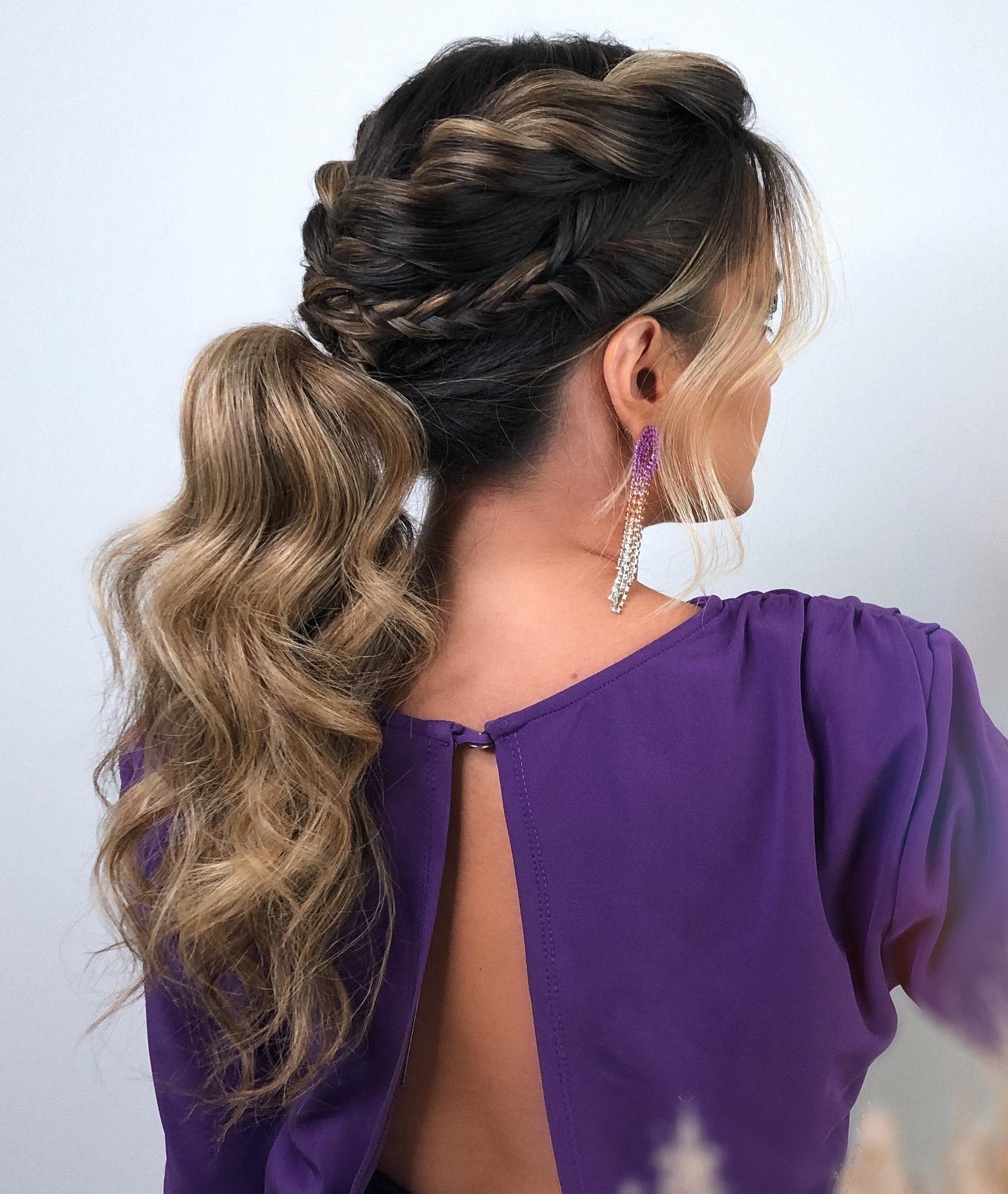 via @mateusgibertone
3. Slicked Back Ponytail Style for All Occasions
A perfect slicked back ponytail with weave is a classic hairstyle with an exciting minimalistic element. Add a little braid and make your coiffure unique, attracting dozens of admiring glances. It cannot be considered one of the most popular everyday ponytail hairstyles, but it will make your mood good in the morning.
Slicked back braided hairstyles can be made with little weaves or bigger braids since it all depends on your preferences. Choose the style that suits your hair textures, and feel irresistible every day!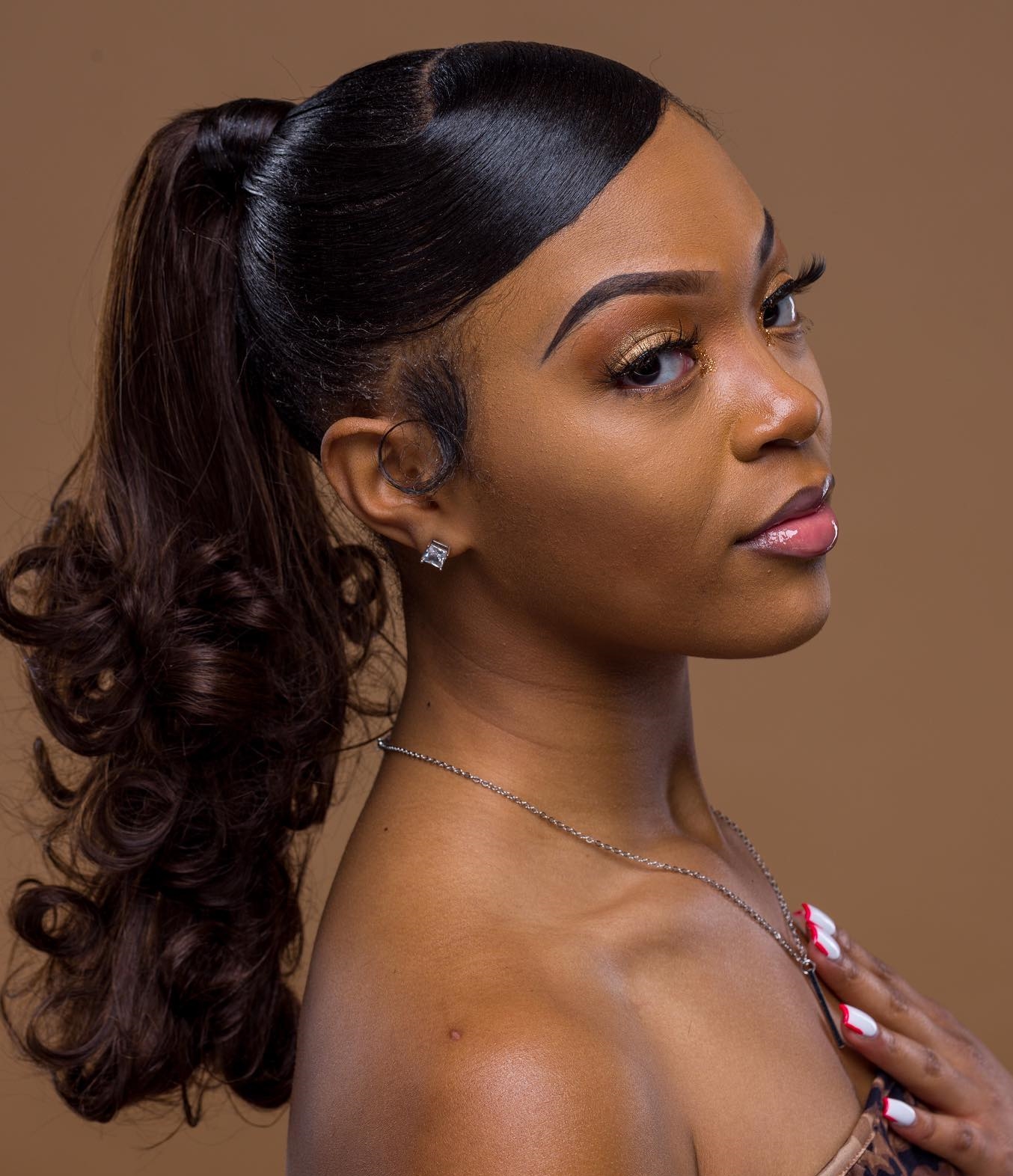 via @stylesbyholls
4. Stylish and Attractive African Ponytail Braids
Ponytail braids are a classic hairstyle in the modern interpretation. It implies that you should make small braids throughout your head and then gather them into a braided ponytail. Such an idea will immediately add more volume to your hair.
African ponytails are extremely common among women of all ages, and even children often choose this stylish option. Ponytail hairstyles for black women have spread worldwide and are now popular in different countries!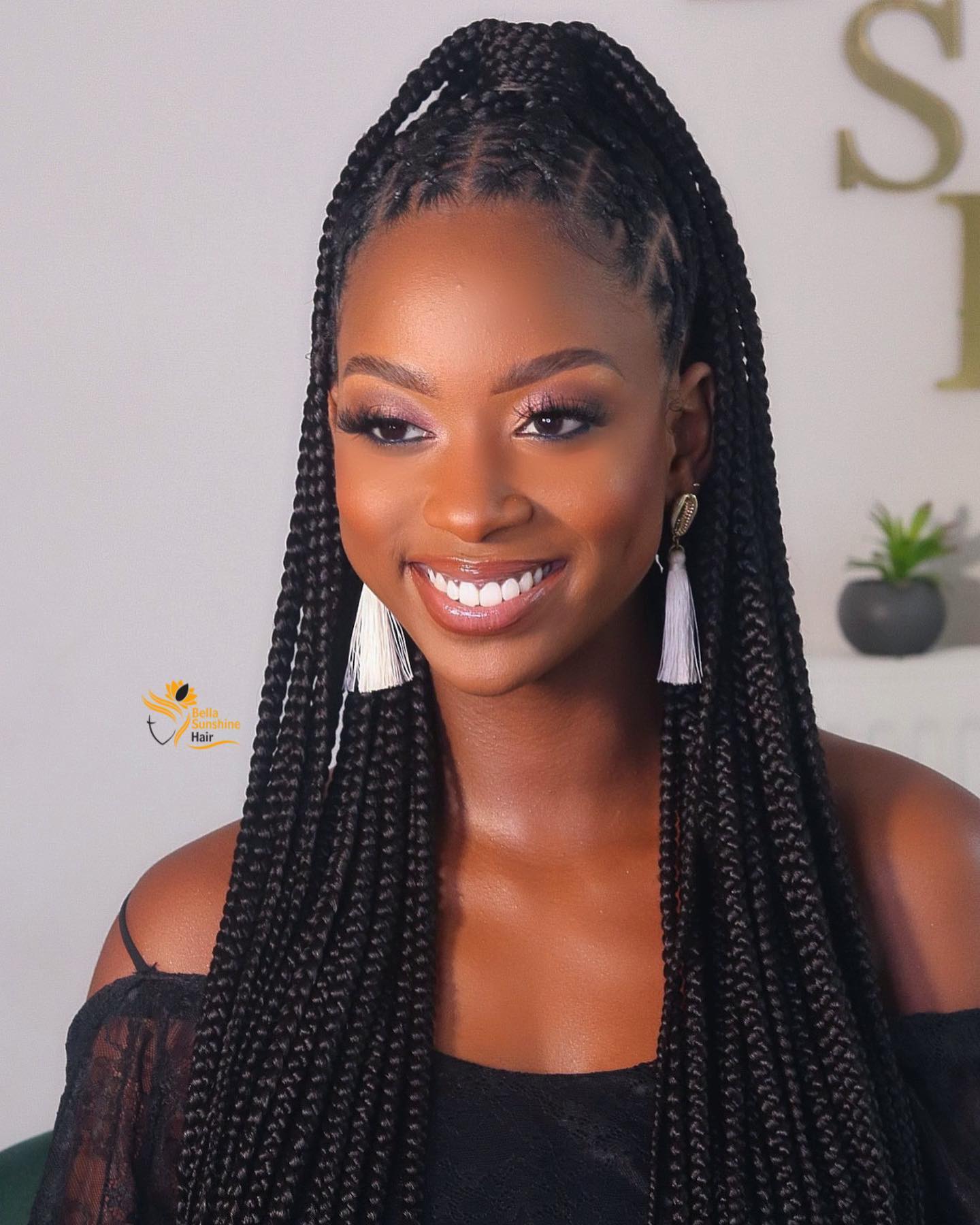 5. Asymmetric Swoop Ponytail for Bright Personalities
This low ponytail implies that you need to make an uneven parting and tie your hair with an elastic band, as in a regular ponytail. Put a part of the hair in a semicircle on the forehead and fix it with a hairpin. This option is more convenient if you are used to wearing bangs. In this case, you just need to pin it up and get a natural hairstyle in a few seconds.
Sleek ponytail hairstyles are a great solution for your daily routine or special events where you will look like a queen. Such easy ponytail hairstyles do not require time but look elegant and attractive in any situation.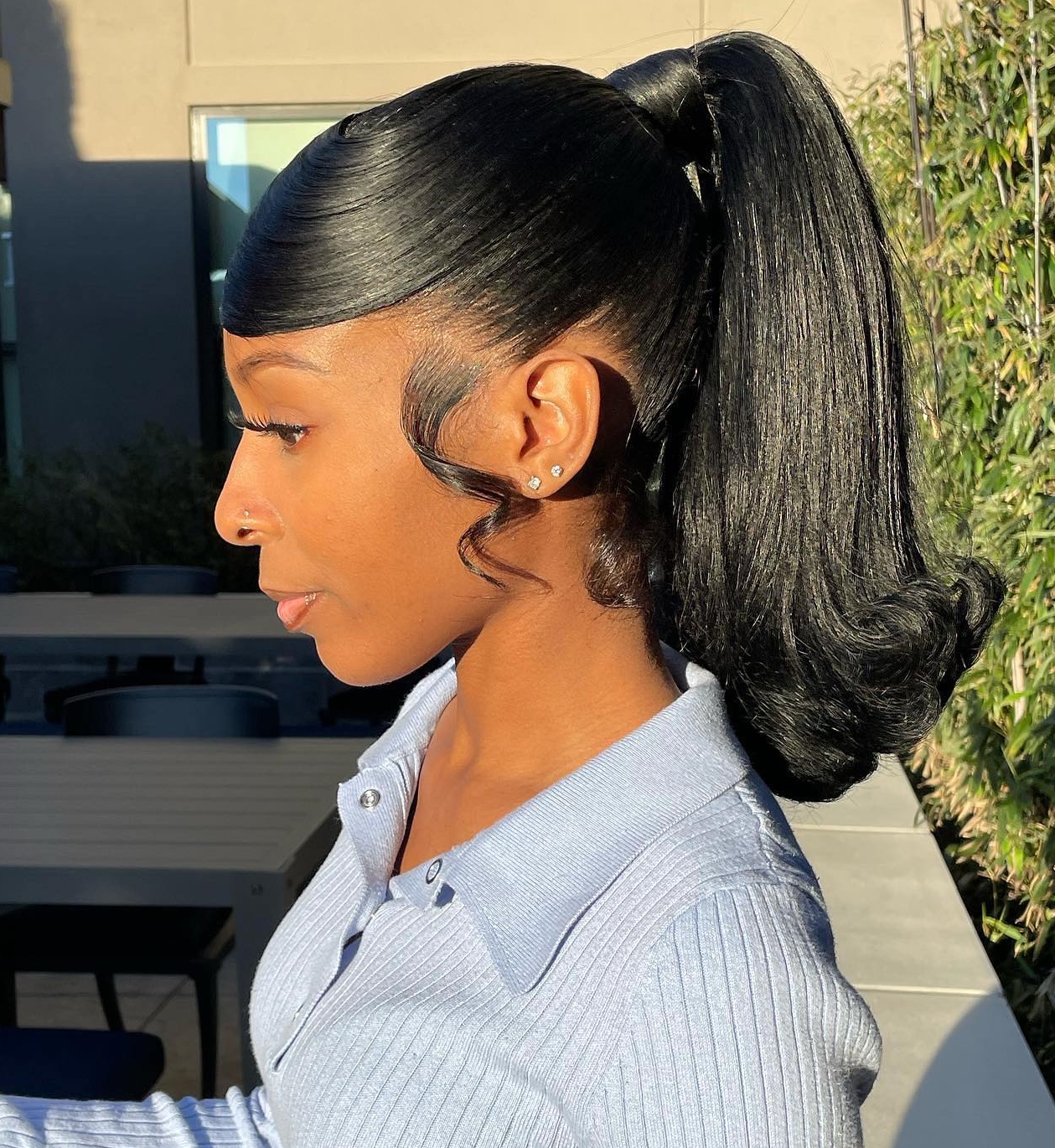 via @vixenhairchick
6. Sleek Braided Ponytail for Women of All Ages
This tight ponytail hairstyle has already become classic, and ladies of all ages adore it. To make such a hairdo, you should make a high ponytail and fix it with a band. After that, make braids along the entire hair length and get a perfect ponytail look.
This classic ponytail hairstyle is ideal for different hair textures and lengths. Remember that a loosely braided ponytail may not be the best idea since it often looks messy.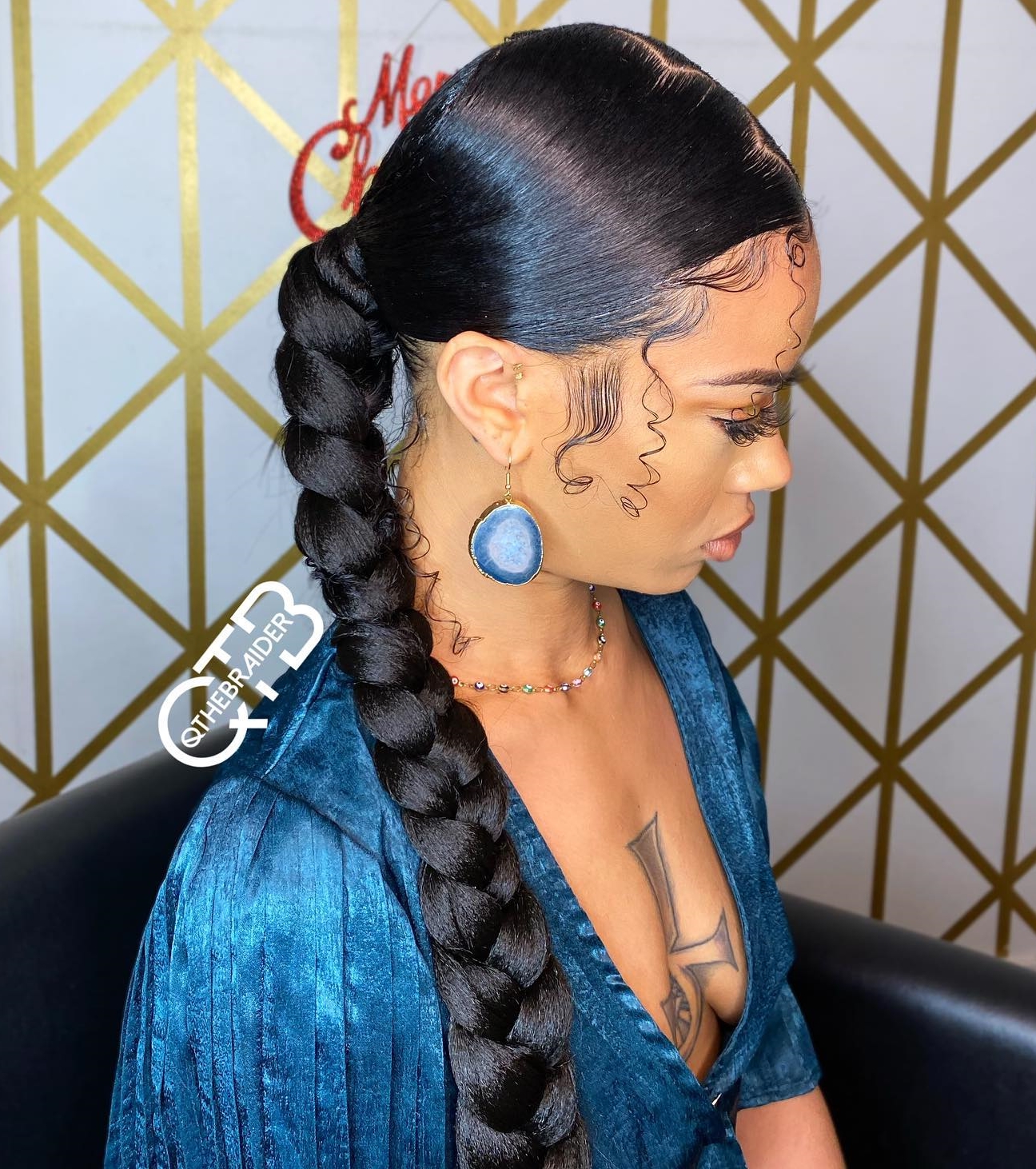 via @qthebraider
7. Elegant Curly Ponytail
Many think that a perfect ponytail can be made only on straight hair, but this is far from the case. And we have something interesting for your natural curls. Wavy hair can help you make an impressive voluminous ponytail, suitable for any situation and event. You can easily proceed with a simple ponytail, just pull your hair up and tie it with a band. Hair does not have to be perfectly styled; you will also look stunning if your hairstyle is a little messy.
Ladies with defined curls can also make braids and put them into a ponytail. It will provide even more volume to their coiffure. You shouldn't spend the whole morning creating a perfect hairstyle since it will take only several minutes!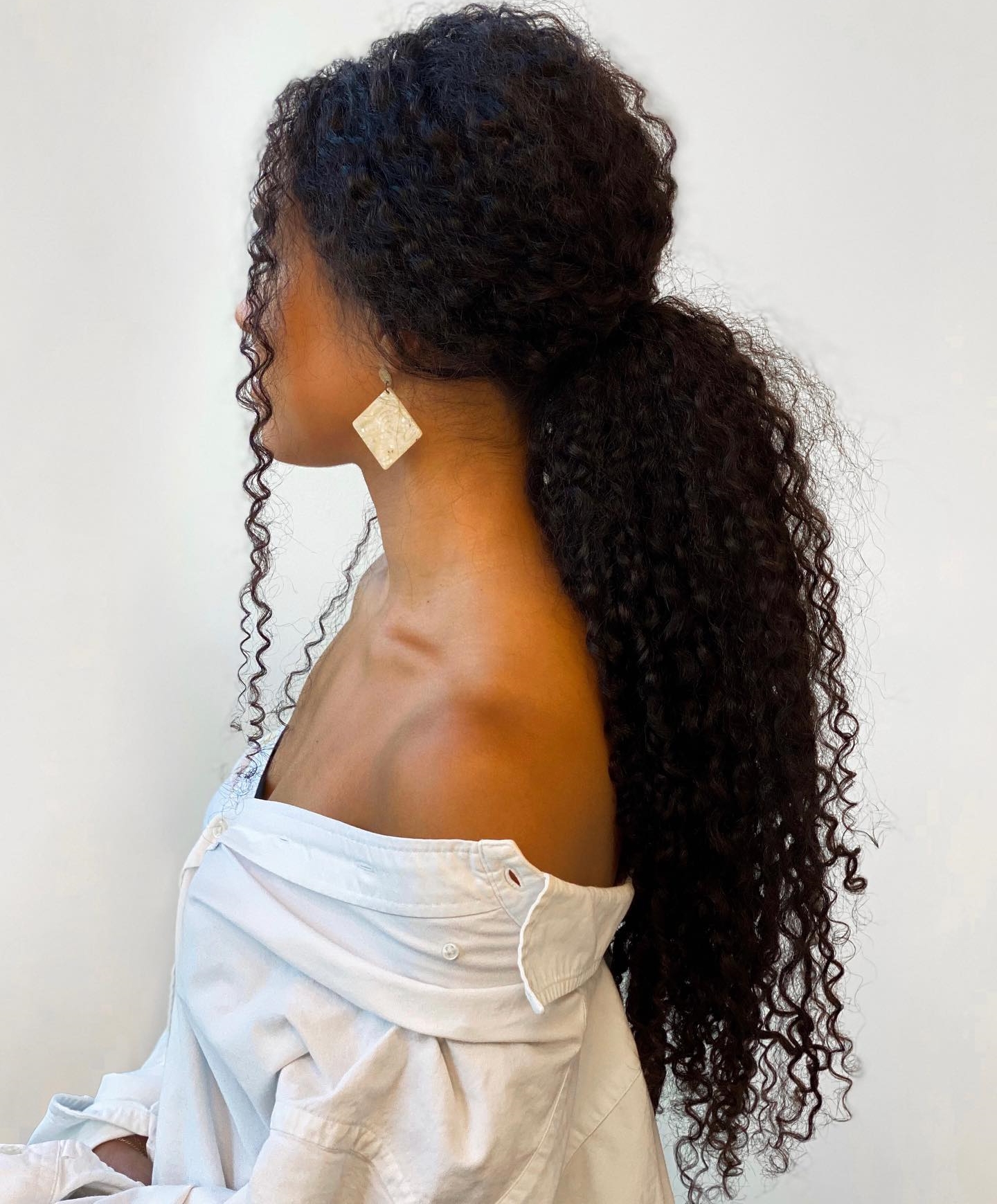 8. Nice and Cute Weave Ponytail
Light waves are always a great idea to create an elegant and romantic look. And even if you have shoulder-length hair, making a classic ponytail is a versatile option that will help you look amazing on any occasion.
Proceed with a sleek ponytail that is a great solution for all face shapes and appearances, and be ready to get dozens of compliments. If you have smooth hair, use a curling iron to twist the ends and get a wonderful wavy ponytail in ten minutes.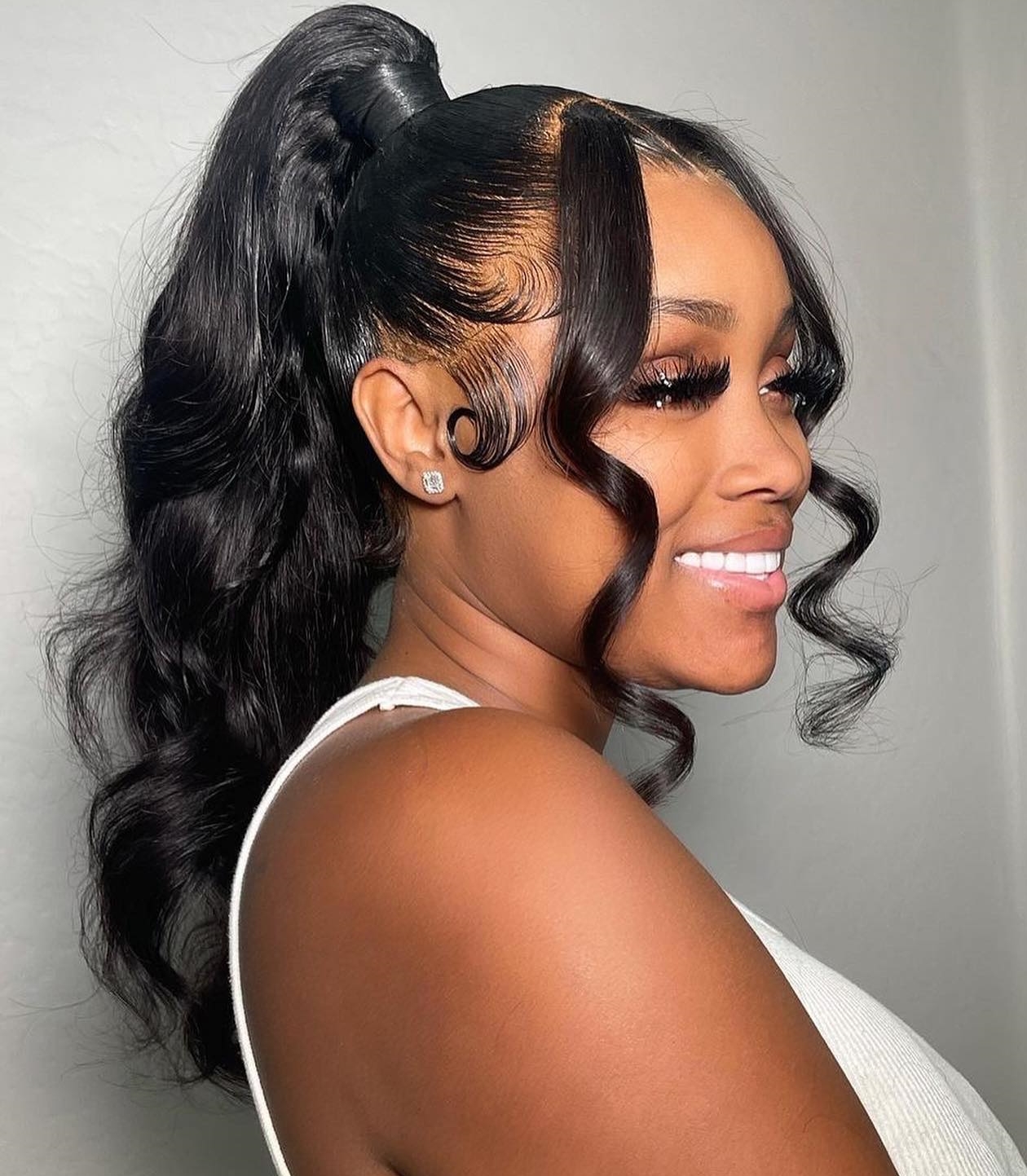 via @megalookhair
9. Half Up Half Down Ponytail
This hairstyle is incredibly common among modern fashionistas since it's stylish and elementary. It implies that you should take the upper half of your hair and make a half ponytail. Half up half down ponytail styles are perfect for formal meetings and going on a date, so this hairstyle is truly universal.
The classic hairstyle suits any length and texture, and it doesn't matter what hair type you have. This lovely coiffure can frame your face and highlight the shape. Add light makeup, and be ready to win hearts!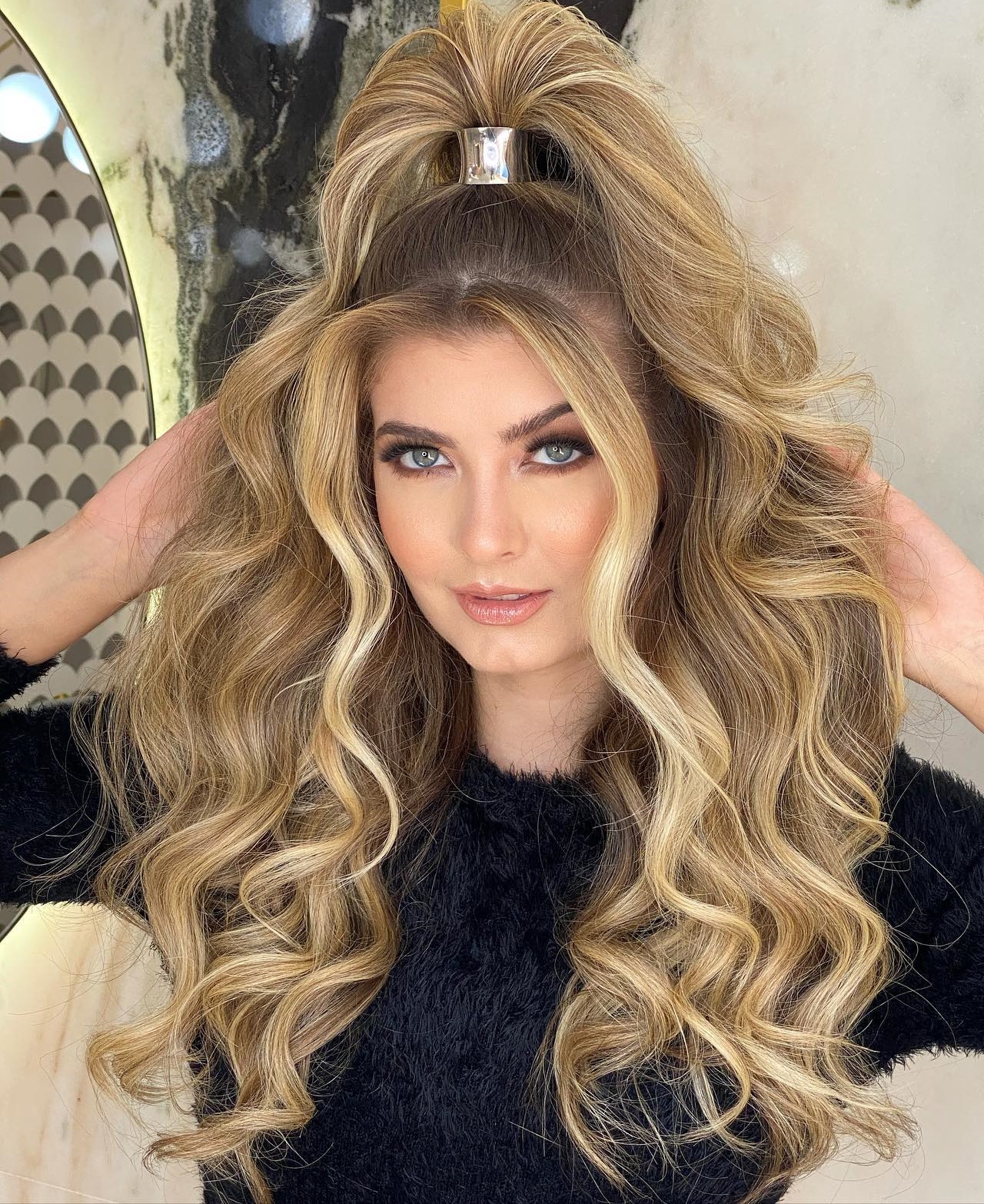 via @adnomoreira
10. Medium Ponytail Hairstyles for Romantic Looks
A medium ponytail is a fantastic solution for strict looks, such as going to the office or formal meetings. Such a hairdo looks laconic on oval and heart-shaped faces, making it one of those chic hairstyles for elegant ladies. Remember that having messy hair will add charm to your image. You can make a professional hairstyle at home, just stock up on styling mousse and go on!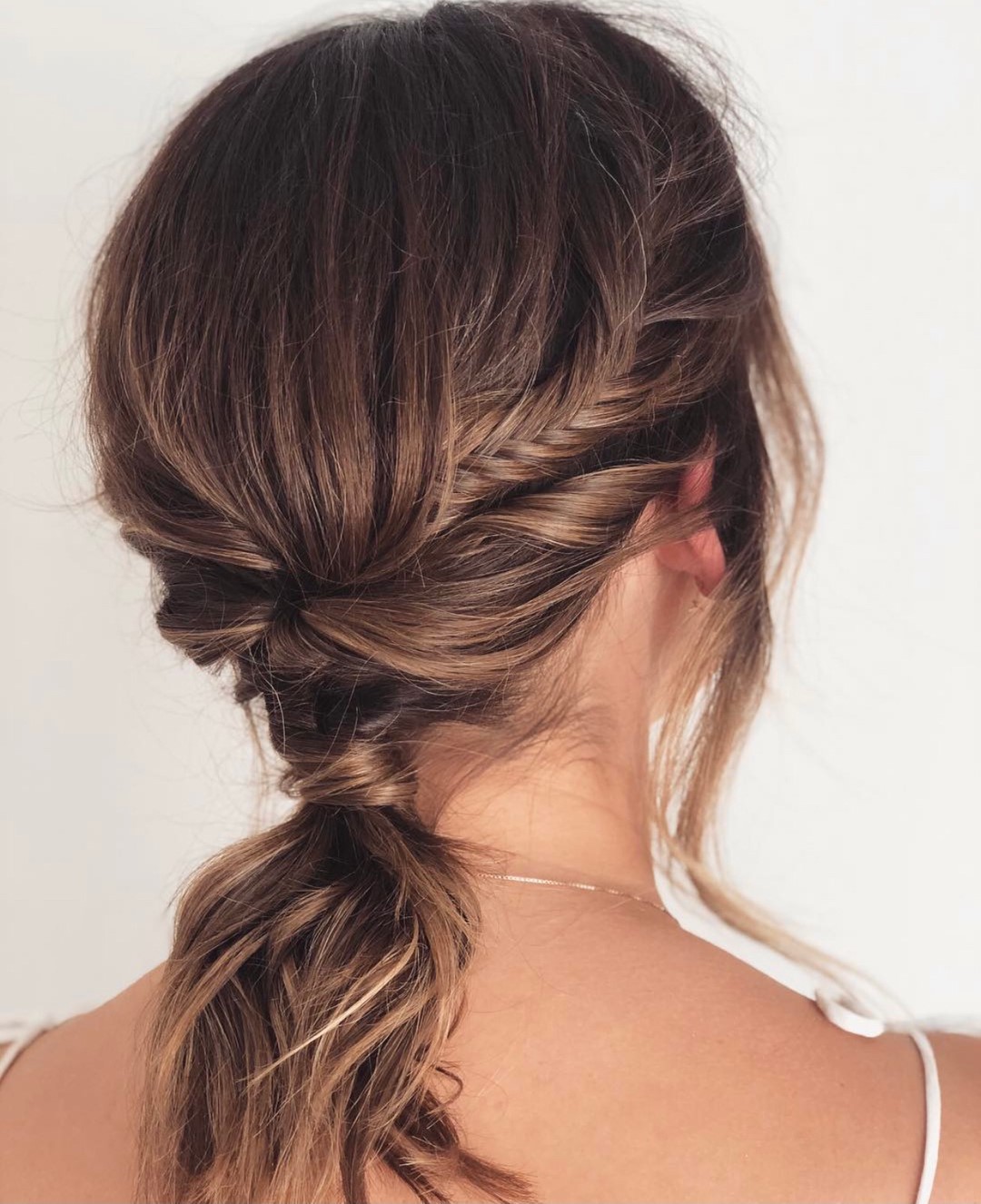 11. Low Ponytail Hairstyles for Every Day
A low ponytail seems outdated for many ladies, but sometimes such a hairstyle is a convenient and elegant option. Those with naturally straight and fine hair can casually tie up their hair and get a stylish hairstyle in a few seconds. It will help you make a discreet look for business meetings, especially if you have shoulder-length hair that doesn't allow you to make a stunning high ponytail.
And if you want to make a more romantic and feminine look for your fine hair, use colored ribbons instead of regular bands.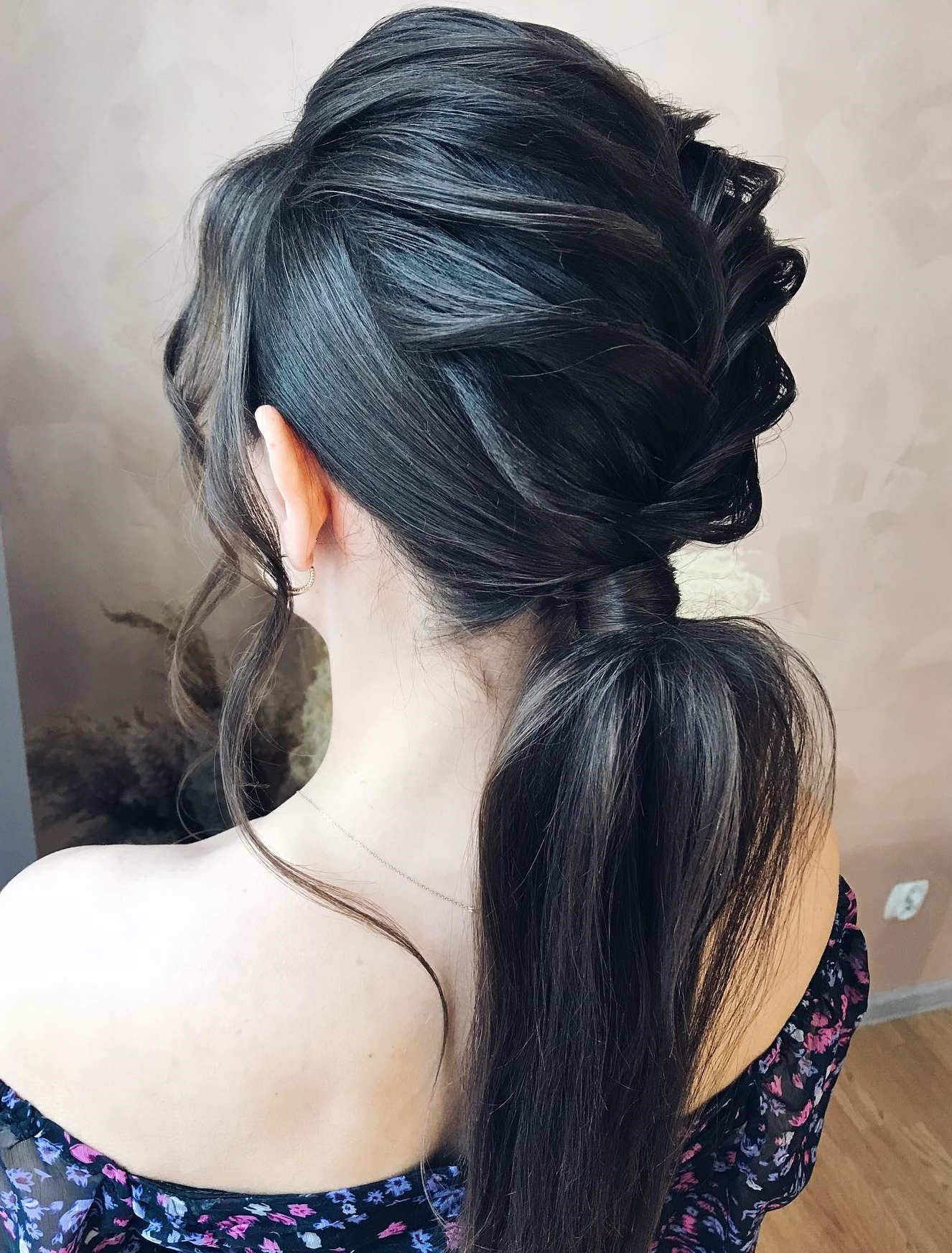 via @enika_hairstyle
12. Unusual Side Ponytail for Bright Women
A side low ponytail is an elegant hairstyle for cute romantic ladies. It suits all hair types, and it doesn't matter whether you have a short or long ponytail. Flip your hair to one side and tie it into a loose ponytail, making your hairstyle messy.
This idea looks wonderful on blonde or black hair. And if you want to make your coiffure more unique, add a tiny braid or weave ribbons to your side part ponytail. Search for more exciting side ponytail hairstyles and choose the option you like most!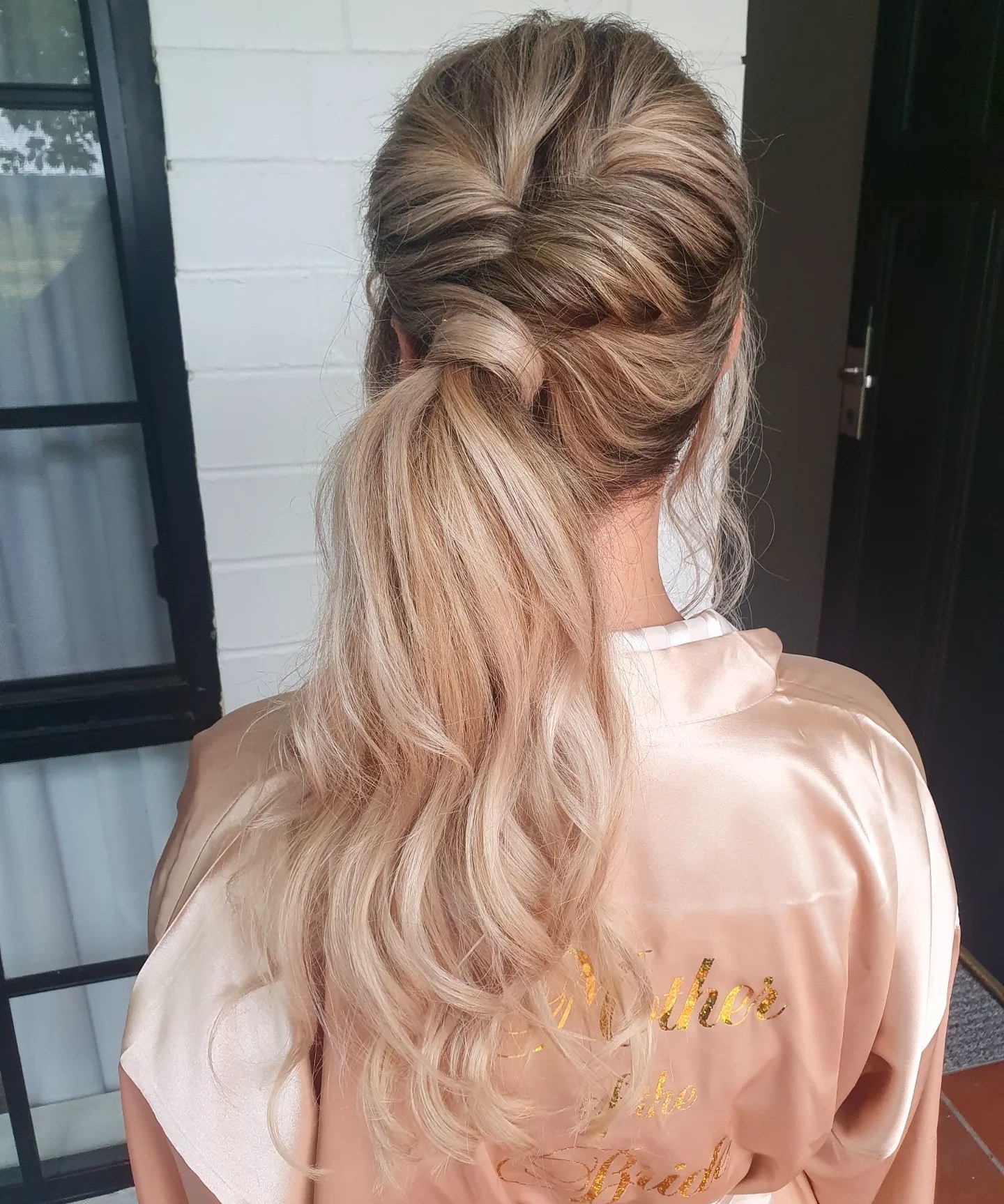 13. Ponytail Hairstyle for Special Occasions
Is a ponytail considered a hairstyle for daily routine? No, it can also be a perfect hairdo for special occasions. For instance, you can make an ideal prom ponytail with loose waves, and you won't have to spend a lot of time and effort to look brilliant.
Many women also select this option for their wedding ponytail style. Take a texturizing spray suiting your hair type and proceed with a nice ponytail yourself since you don't need to be a professional for this.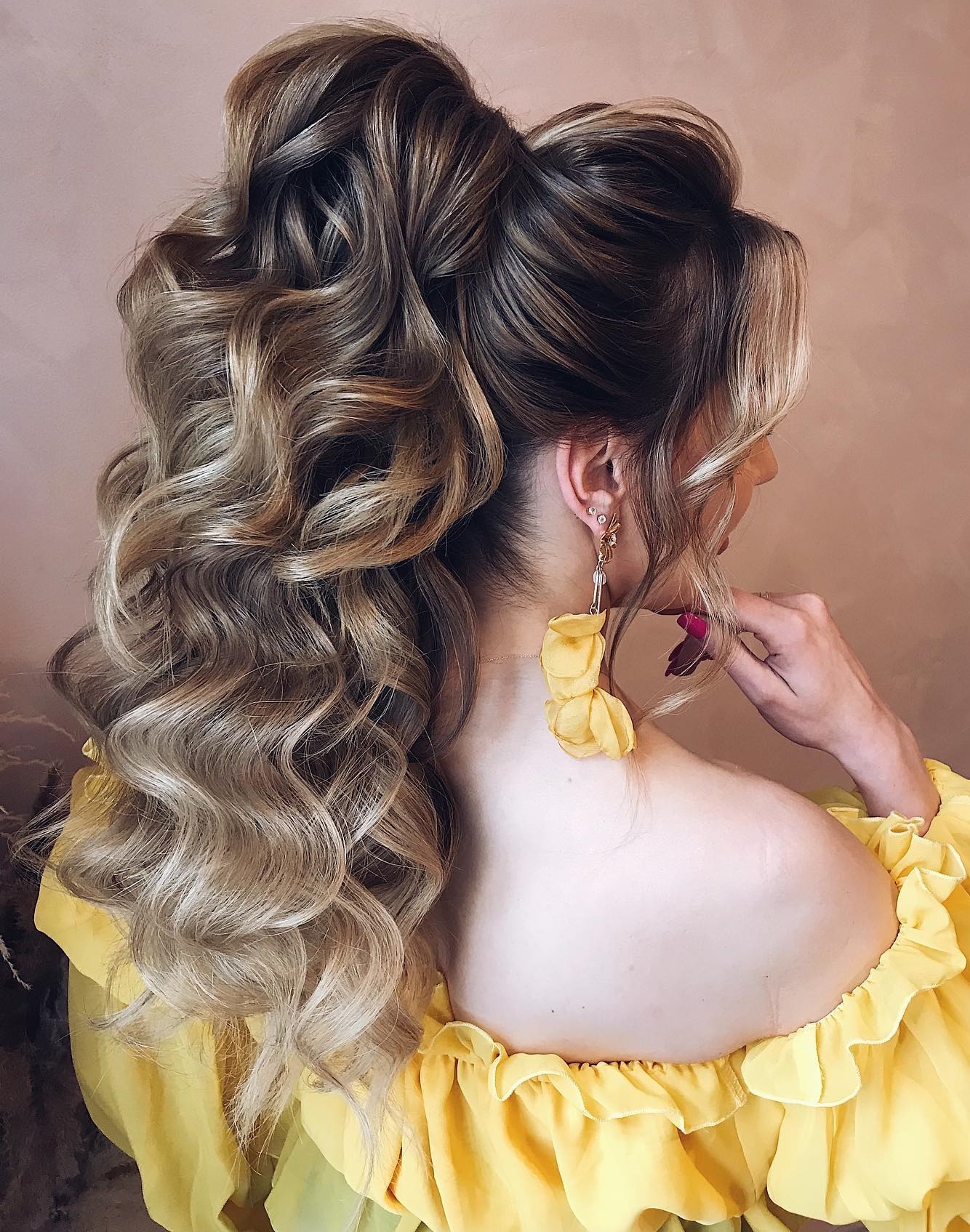 via @enika_hairstyle
14. Two Ponytails: Childish or Stylish
Two ponytails are, in most cases, suitable for kids, but some women still prefer this option to create a childish and bold look. You can make a loose ponytail of any hair color and proceed with a bit of messy hairstyle for every day, which is especially relevant if you prefer a casual clothing style.
And if you have a special occasion, make a loose ponytail and fix it with a hair spray for more volume. Add a velvet ribbon to make the hairstyle more colorful and unusual and get numerous admiring glances.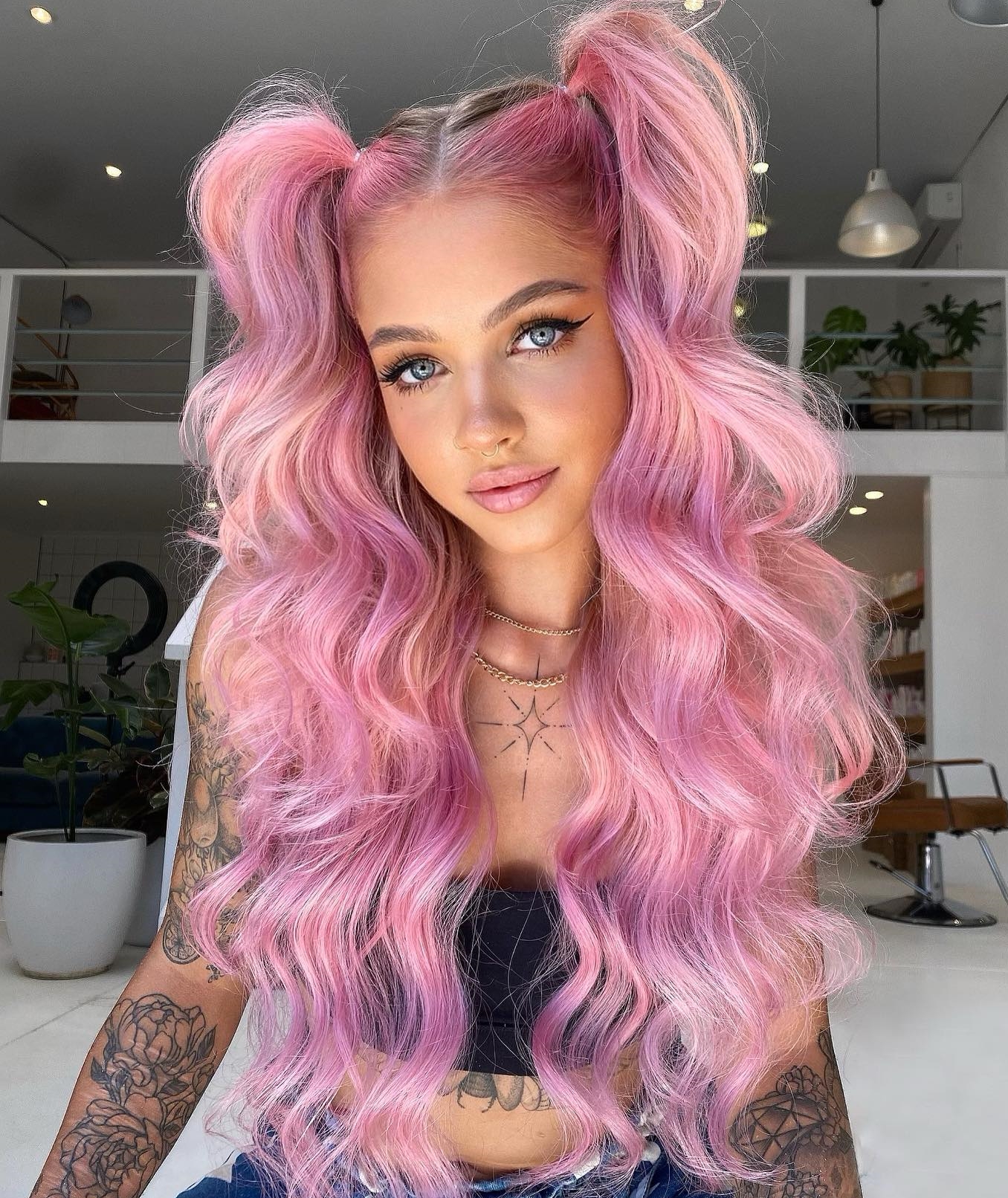 15. Extremely Attractive Short Ponytail
Ladies with short hair also like making ponytails since it's a convenient and elegant option. Of course, if you have a bob or a pixie, you won't be able to proceed with such a hairstyle, but a shoulder-length ponytail will look nice. Those with medium length can get an attractive tight pony right after combing their hair. It may not be the best idea for curly hair since the hairdo may look sloppy. But a sleek ponytail is a hairstyle for all occasions!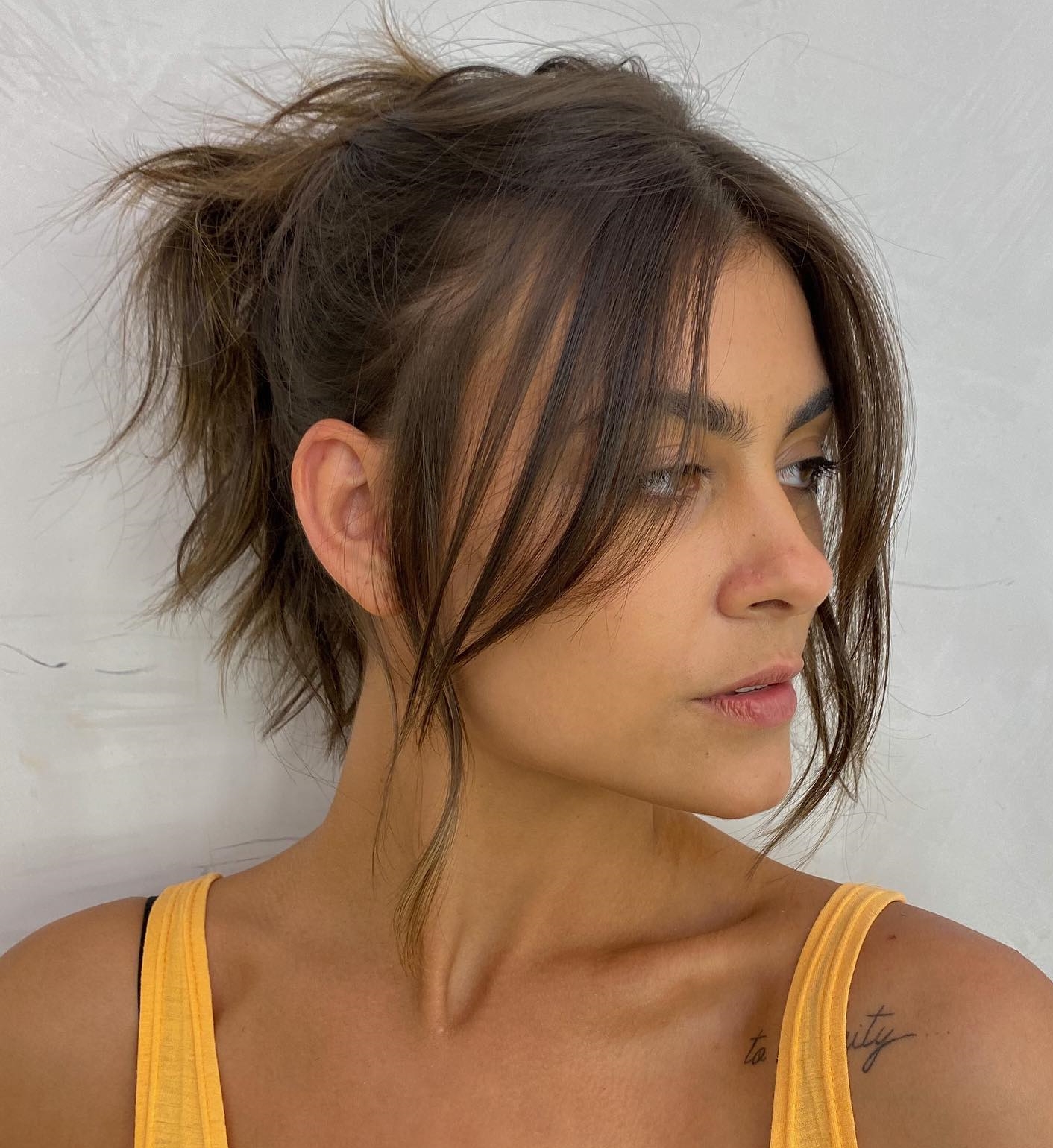 via @nikcabral
16. Unusual Twisted High Ponytail
Are you in the mood to make an unusual coiffure? Then you should consider twisted ponytail hairstyles. Any braiding type that you like tied in a ponytail is a great solution for a light and elegant look. It suits any hair color and facial features, so it's a universal and easy hairstyle for every lady. And if you want to look even more unique and original, make two twisted ponytails and enjoy your cute look.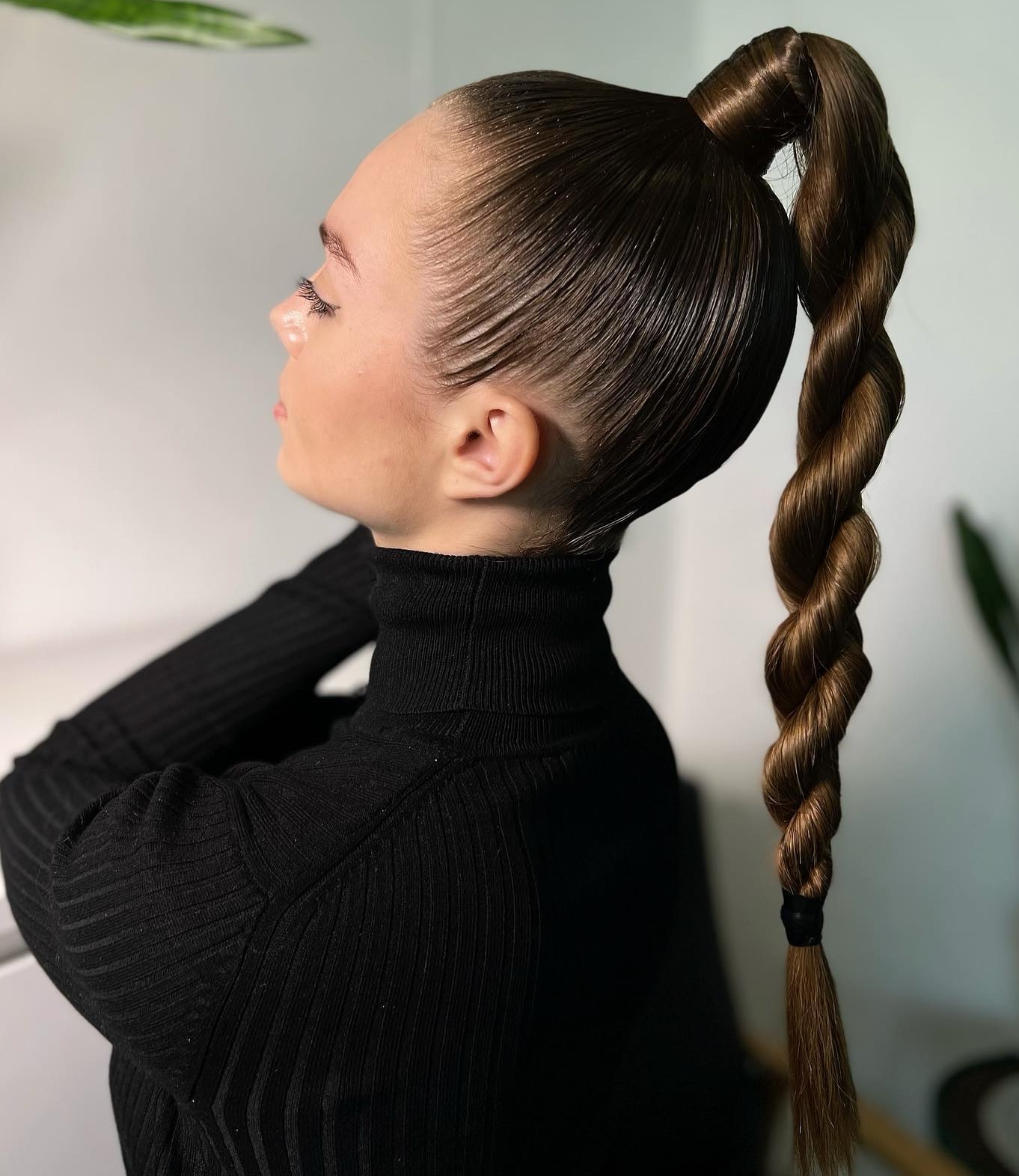 via @sveta_hair_nn
17. Bright and Trendy Bubble Ponytail
A bubble pony is effortless to make, and it looks exquisite and unusual. First, make a regular high ponytail. After that, arm yourself with several bands and tie them evenly along the entire length. You can also use ribbons or other suitable accessories instead of bands. A perfect bubble ponytail is ready!
It's worth noting that such a hairstyle is excellent only for long hair. And it doesn't matter whether you have blonde or black hair since this idea is amazing for everybody!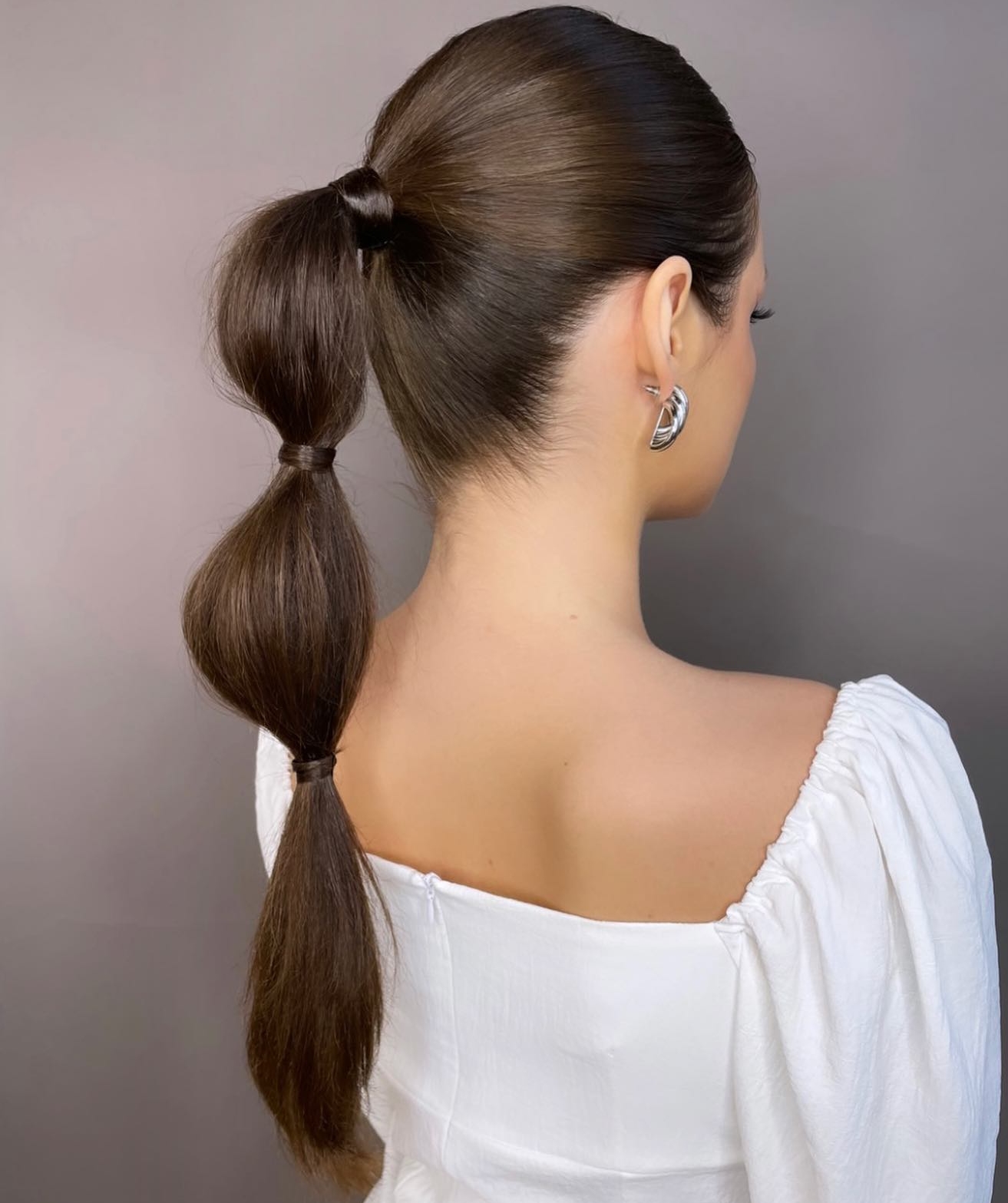 via @tani_choice
18. Nice Crochet Ponytail Hairstyle for All Ladies
African women invented crochet braids, which imply small curls tied in a ponytail. Your hair looks like it's made with a crochet hook, which is attractive and sexy. You can do an easy crochet ponytail perfectly in a couple of minutes if you have naturally curly hair, but ladies with straight hair will have to spend more time styling the coiffure.
First, you should make cornrows on wet hair and leave them overnight to get curly hair. After that, do not comb your hair and immediately gather it in a ponytail. Hair extensions are the best solution if you have a short haircut but would like to try this idea.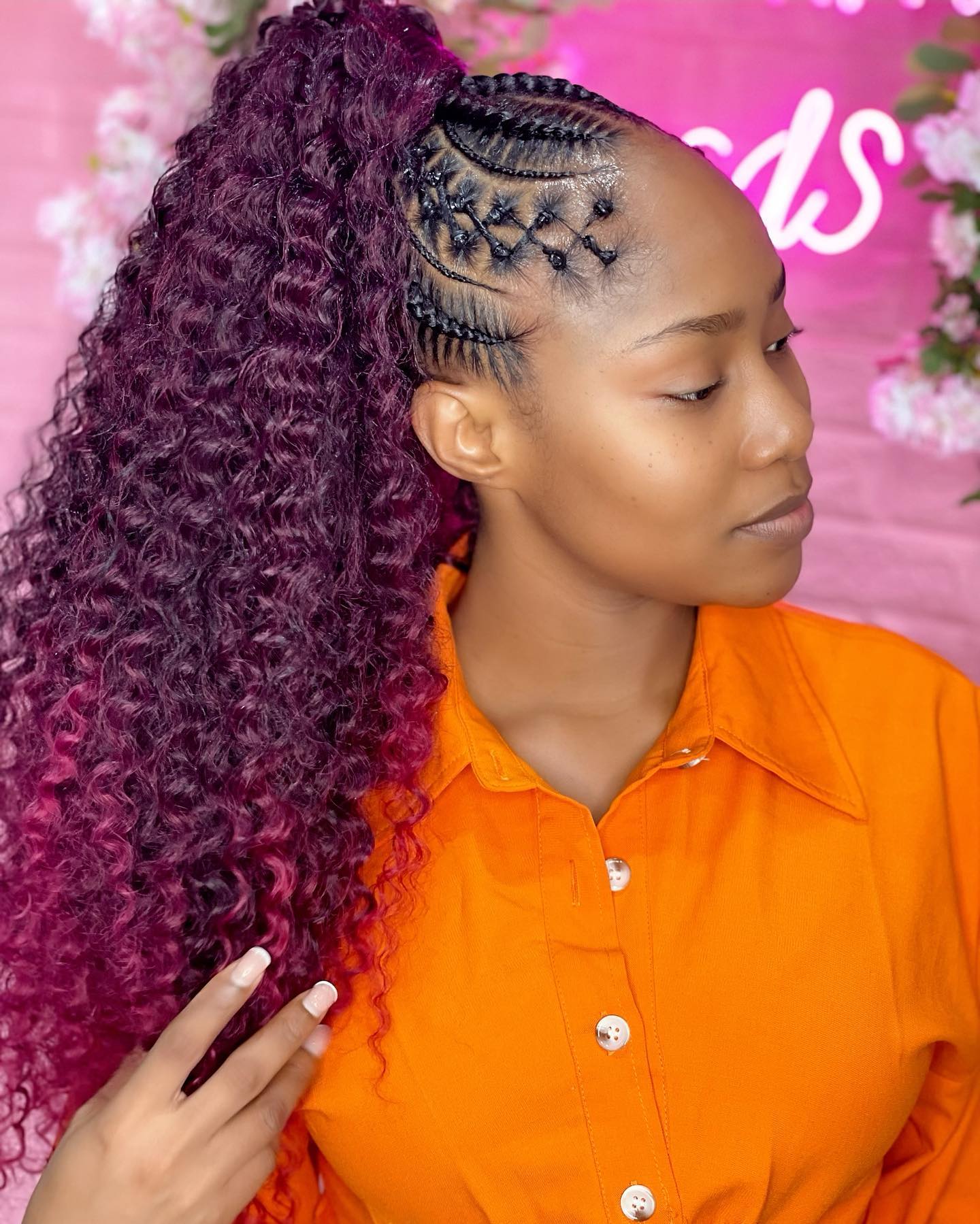 19. The Trendiest Ponytail with Bangs
Many ladies consider bangs something childish, but we hasten to assure you that you can find numerous stylish options nowadays. For instance, layered curtain bangs are a wonderful solution for women with all face shapes, and mixing them with a low ponytail will look amazing. If you want to proceed with significant changes, make blunt bangs, but consult your hairdresser since such a haircut is not for everybody.
A long black ponytail can be perfectly combined with loose bangs, which looks extremely stylish and attractive. If you would like to make some changes to your appearance, making bangs is the best solution. Just make sure to select those suiting your facial features and go on!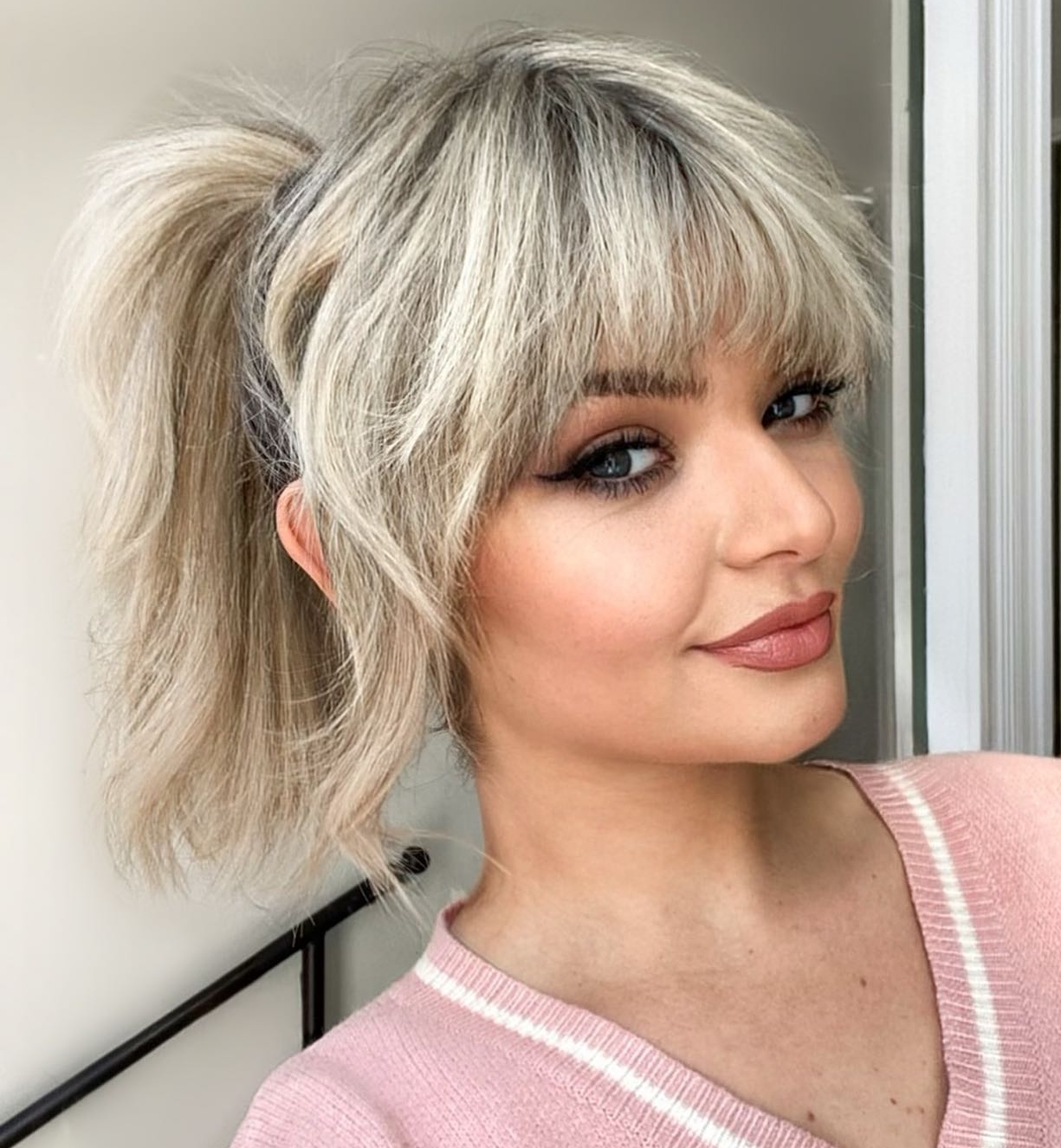 20. Messy Ponytails for a Perfect Office Style
A little sloppy hairstyle is now the most stylish option since nothing is perfect. For instance, if you have naturally long hair, you can avoid combing it and make a messy ponytail. Low loose ponytail hairstyles are a nice solution for any occasion, and you can add some accessories to make you look more attractive.
Older ladies can make a messy gray ponytail, highlighting their style and personality. However, remember that even natural hair requires high-quality care with appropriate cosmetic products. Wave messy ponytails suit all women with any hair color and appearance.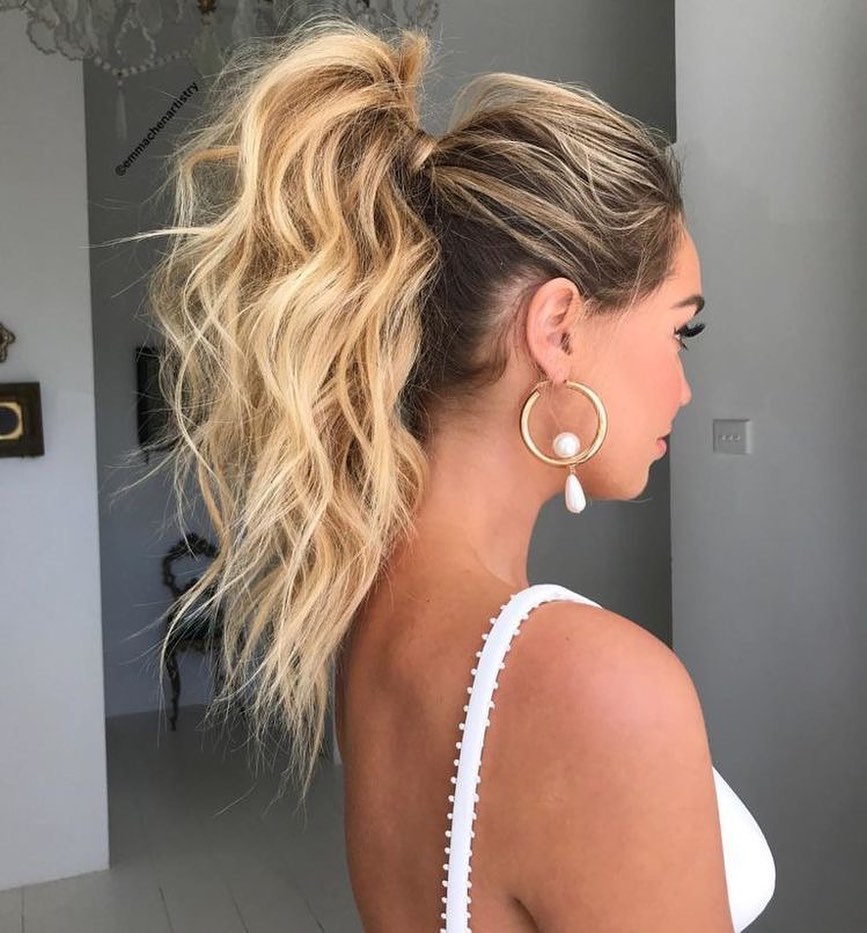 via @thaispanosso
21. Two Braided Ponytail Styles
Two braided ponytails for black women are common hairstyles among African females. And while their curly hair is a natural texture, many ladies have to spend much time striving to get attractive curls. However, it's worth it! High ponytails are at the peak of popularity, and it's up to you to decide whether to make one or two.
To make a braided pony, leave cornrows overnight. After that, do not comb your hair so that the curls don't fall apart. Make tight ponytails and fix the hairstyle with a spray or mousse.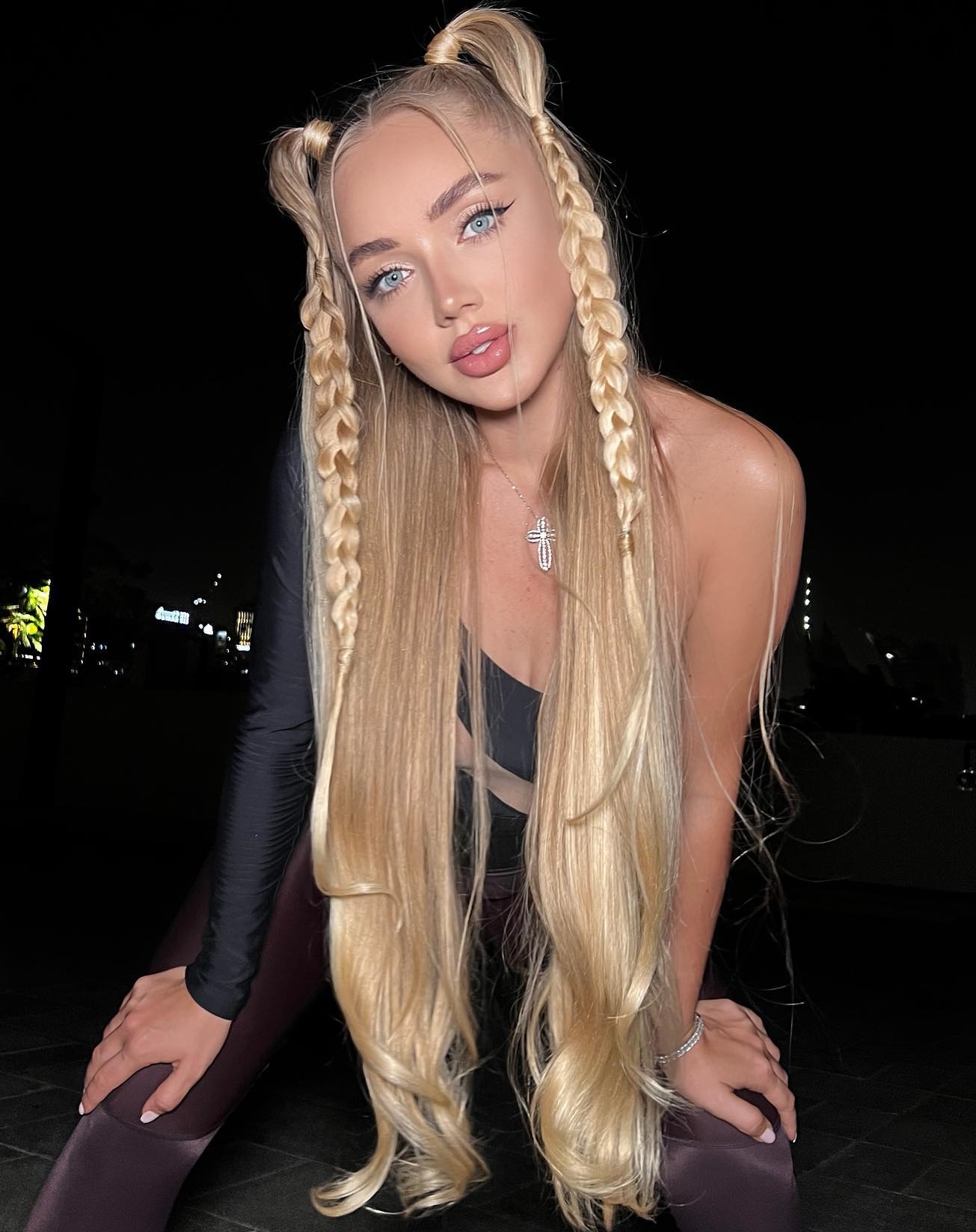 22. Unusual Wrapped Ponytail for Elegant Ladies
Ponytails with wrap around may seem complicated to make, but this is far from the case. The main feature of this hairstyle is that you use your hair instead of a band. Make a usual high pony and fix it with a hairband. After that, take a strand, wrap around the ponytail, and pull it tight. A natural cute hair look is ready! You can also curl the ends of your hair with an iron to get a perfect wavy ponytail.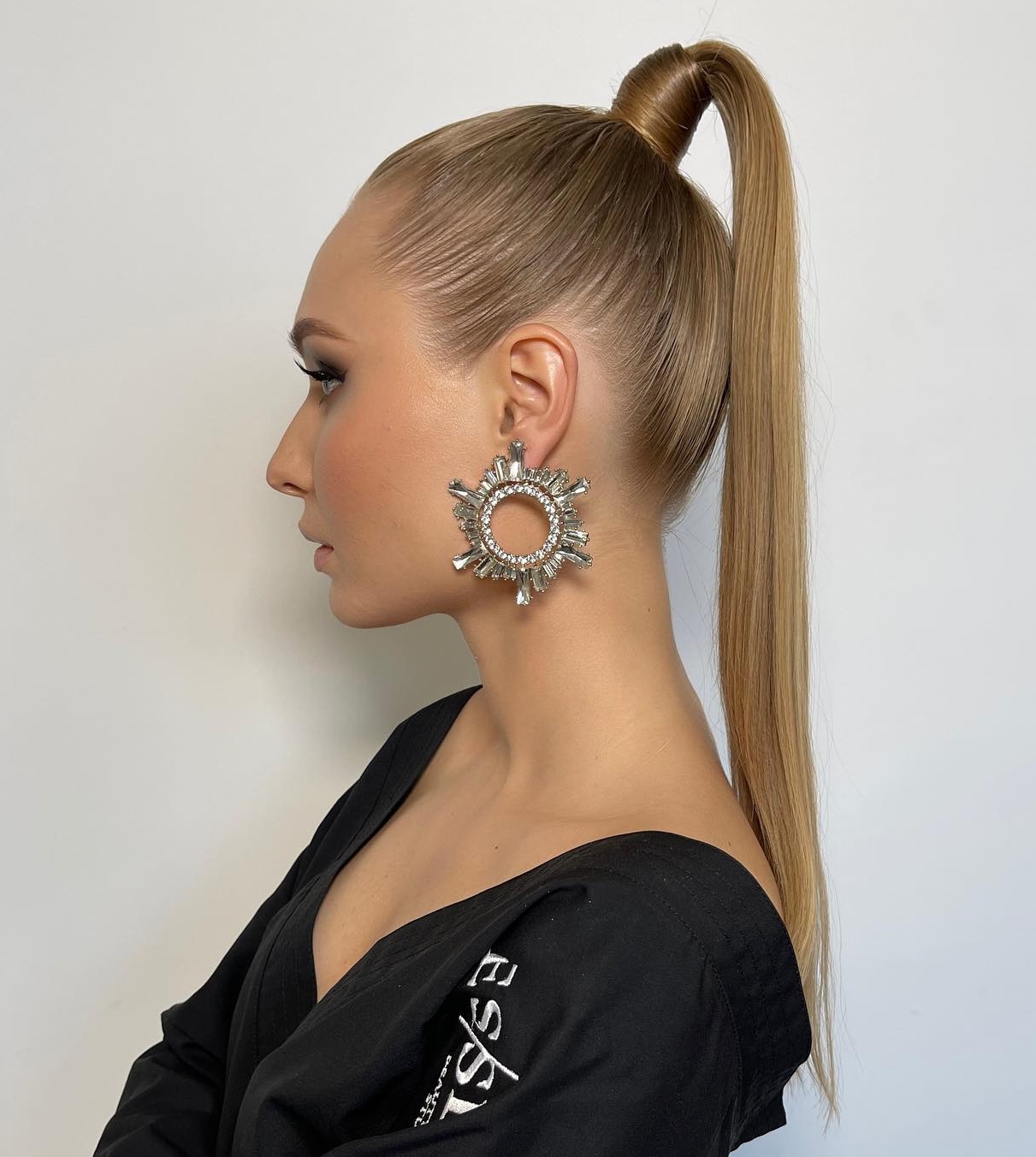 23. Laconic and Strict Ponytail with Bobby Pins
There is one little secret if you want to make a high ponytail on your wavy or straight hair, but the hair does not hold. Use bobby pins to fix the hair where needed, and it will be completely invisible. Or you can make a cute low ponytail with hairpins of different colors to make your hairstyle more unusual. If your natural curls are hard to style, use an appropriate texture spray.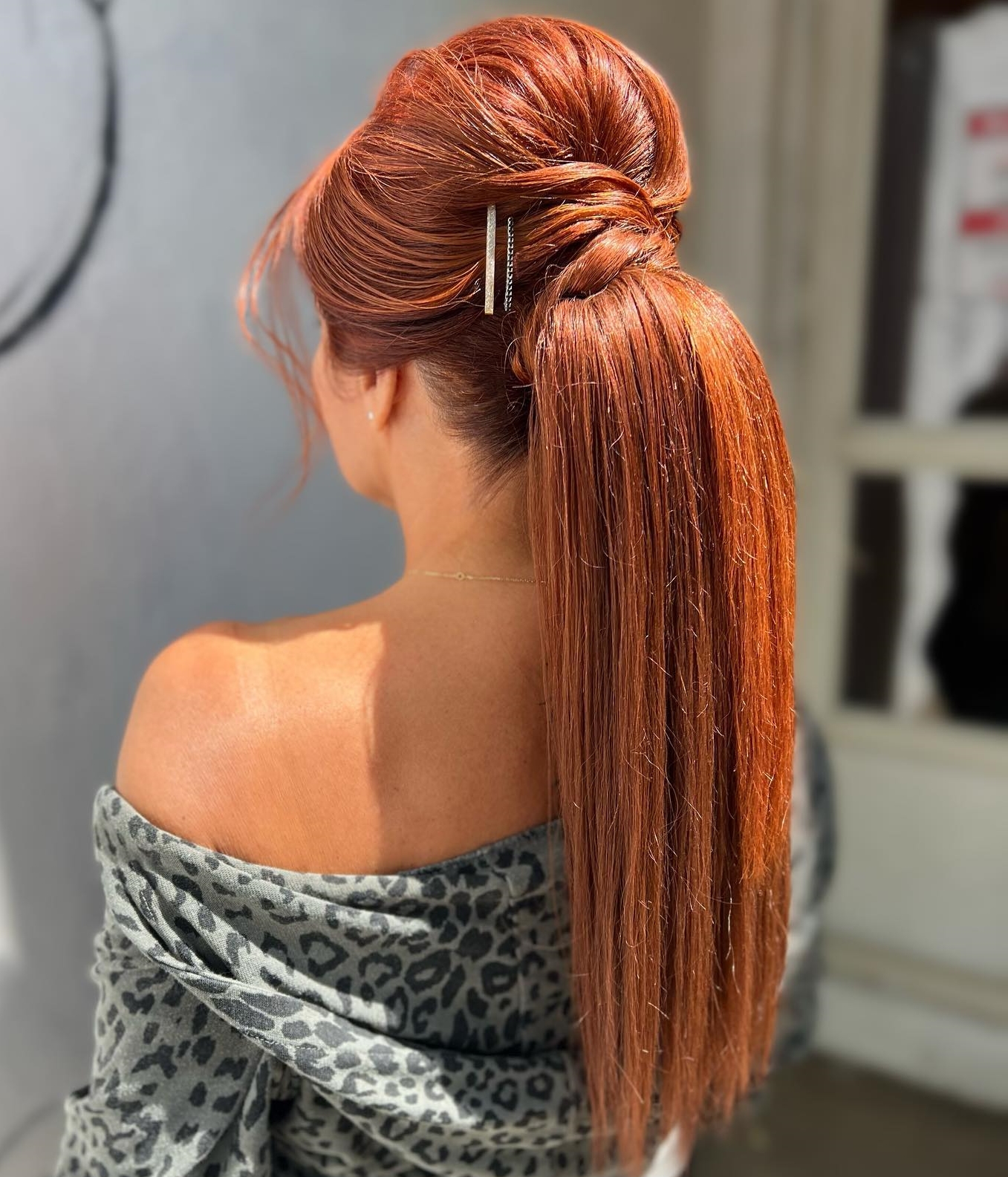 24. Knotted Ponytail: Turn on Your Imagination
This low ponytail hairstyle will allow you to show your imagination, as each is truly unique. You can make one big messy knot or multiple small ones – both alternatives are stylish and exciting. Search for inspiration in your favorite trendsetters' blogs and enjoy an easy knotted ponytail every day!
It is an especially great idea if you have naturally long hair. Moreover, you can use a curling iron for the hair ends to make you look even more elegant.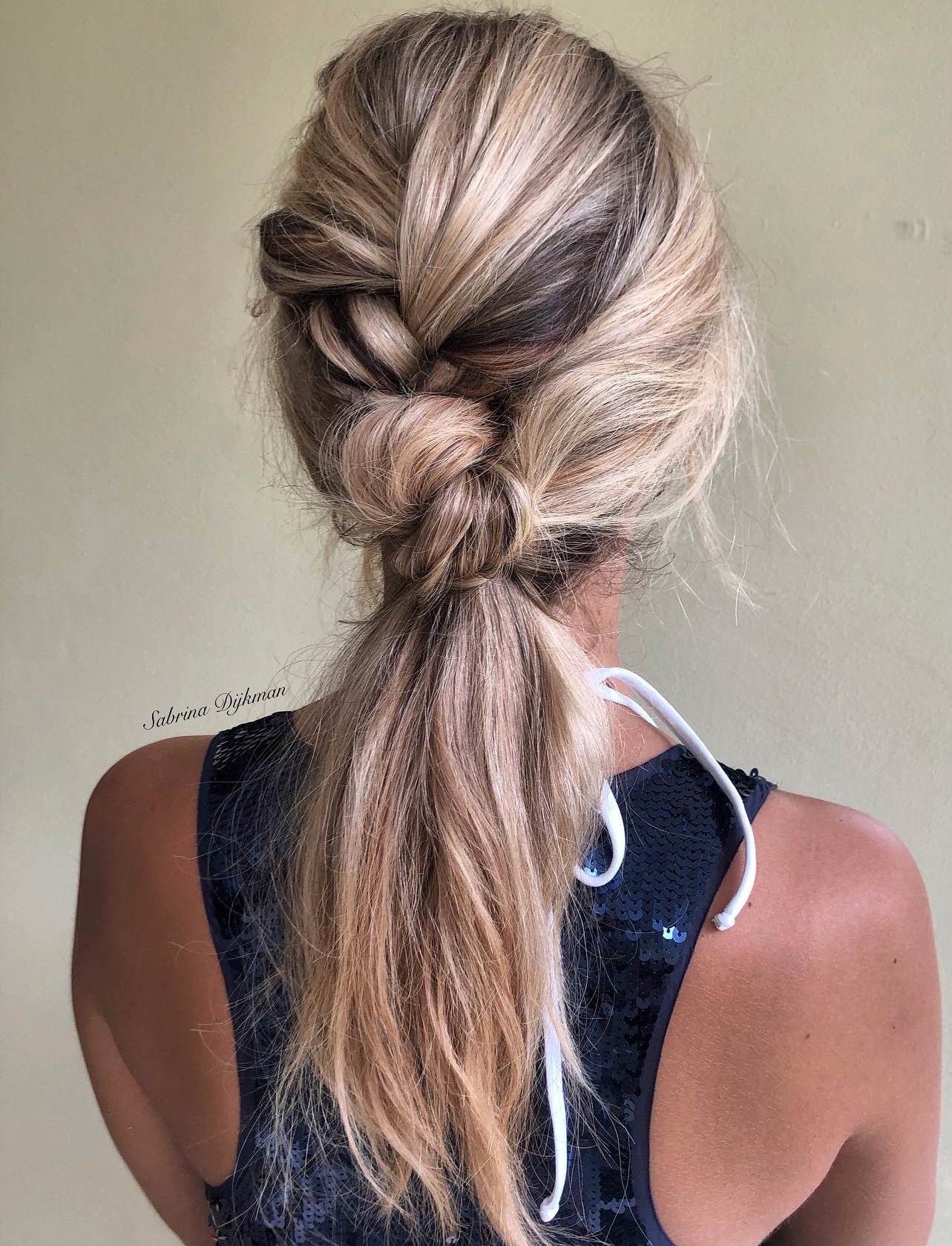 via @sabrinadijkman
25. Bohemian Curly Ponytail: Noble Hairstyle for Elegant Ladies
A curly ponytail is a perfect solution for any occasion, and it doesn't matter whether you are planning to spend a day in the office or going for a date. If you have straight hair, add volume with the curling iron, and if your hair is wavy, just make a messy ponytail. Such an option doesn't require a lot of time styling long hair, so you will spend only several minutes making an attractive look.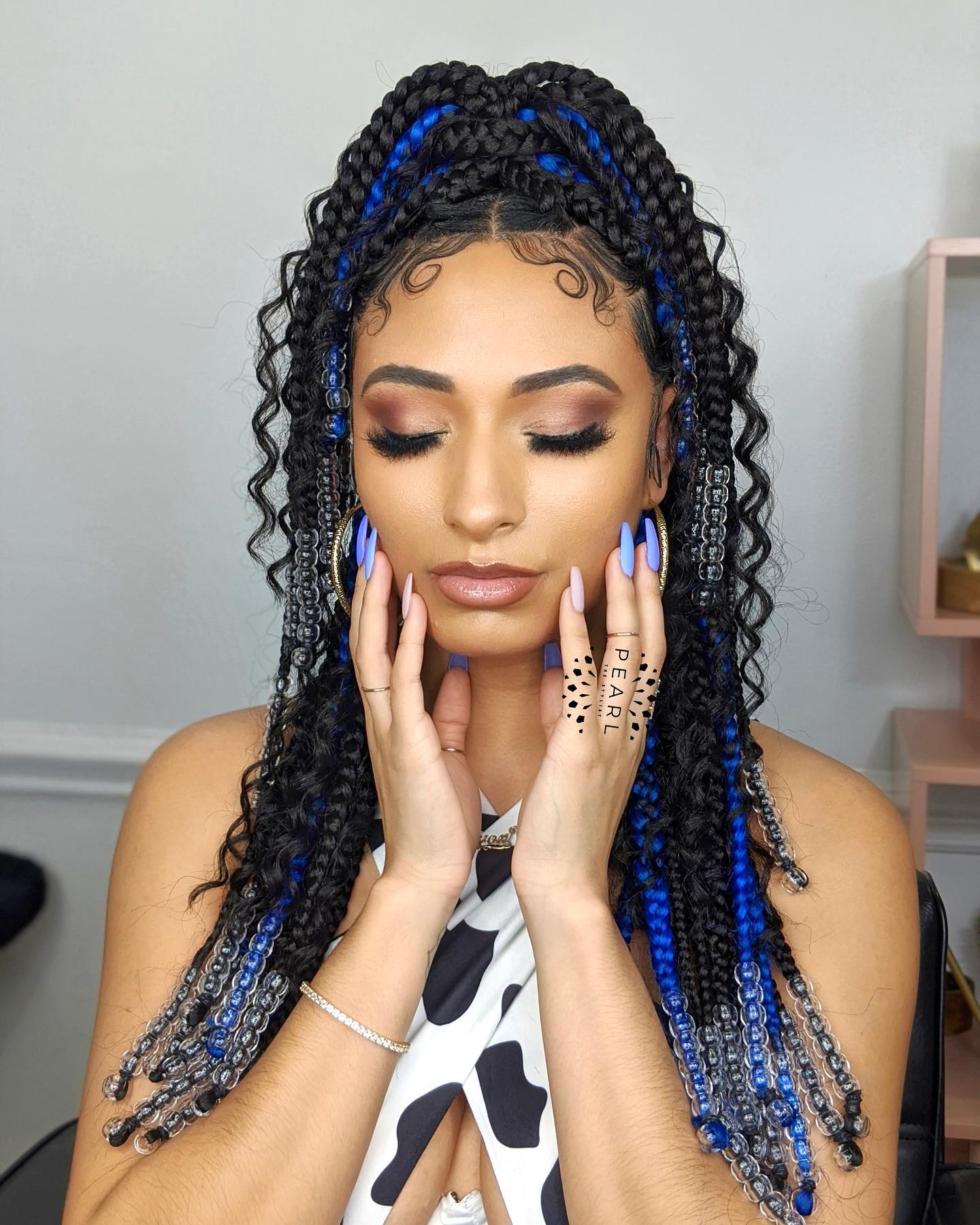 26. Cute Pineapple Hairstyle for Your Extravagant Style
Each girl had a pineapple ponytail hairstyle in her childhood, but is it relevant for adult girls? Yes, if you like dozens of glances and a lot of attention. It's a perfect hairstyle for short hair. Just make sure to style it properly. If you don't have straight hair, a naturally curly ponytail can be done in a few seconds.
A high ponytail is a great option for walking or meeting with friends, but remember that it may be too extravagant for formal meetings.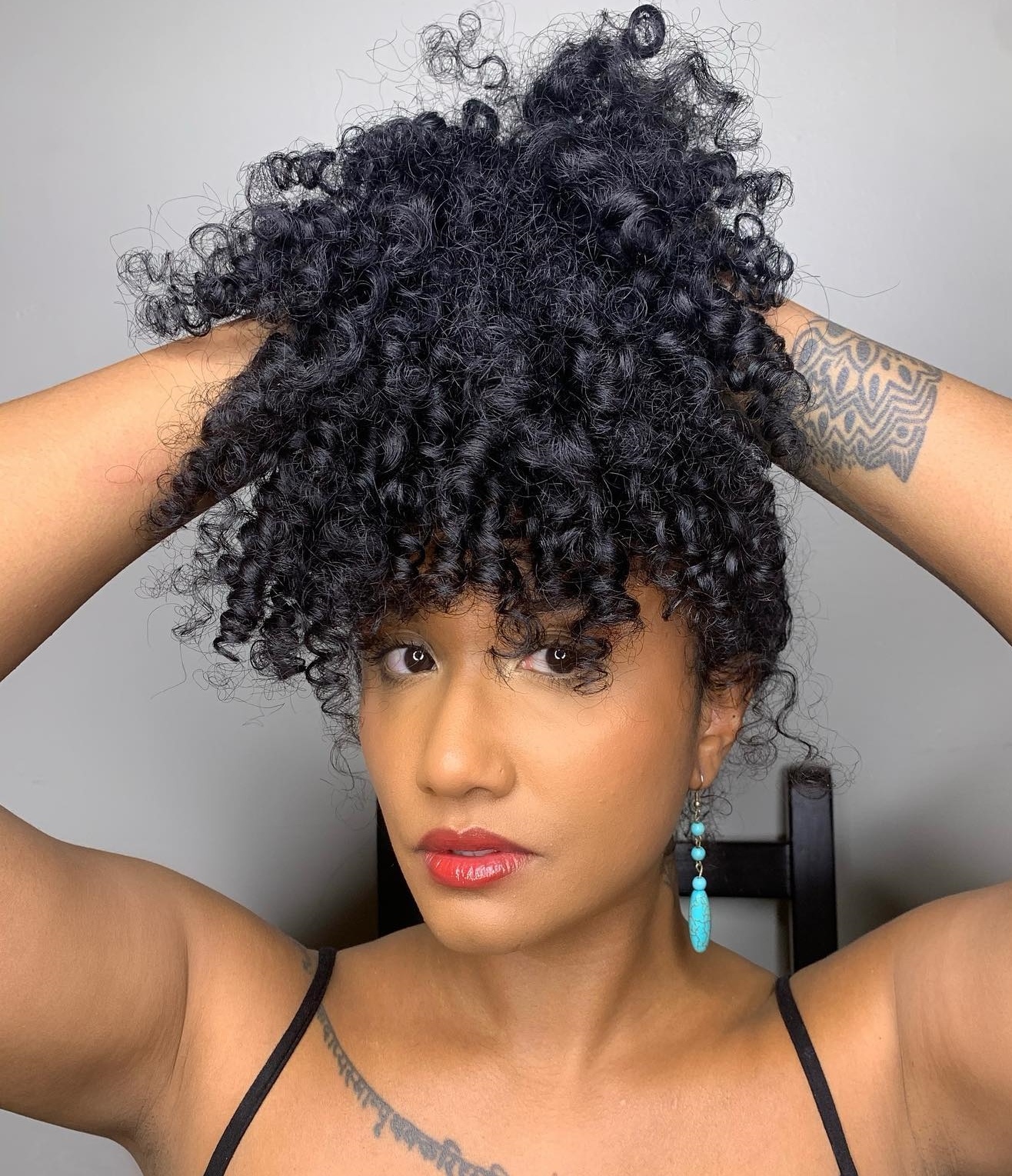 via @curlsbymarina
27. Formal Ponytail Suiting Any Strict Dress Code
A classic ponytail is an excellent solution if you need to make office-style hair. Such hairstyle is considered classic and is suitable for ladies with any hair length and facial features.
Low ponytail hairstyles suit all ladies and make them look elegant and feminine. Moreover, consider oversized bows if you want to add interesting detail.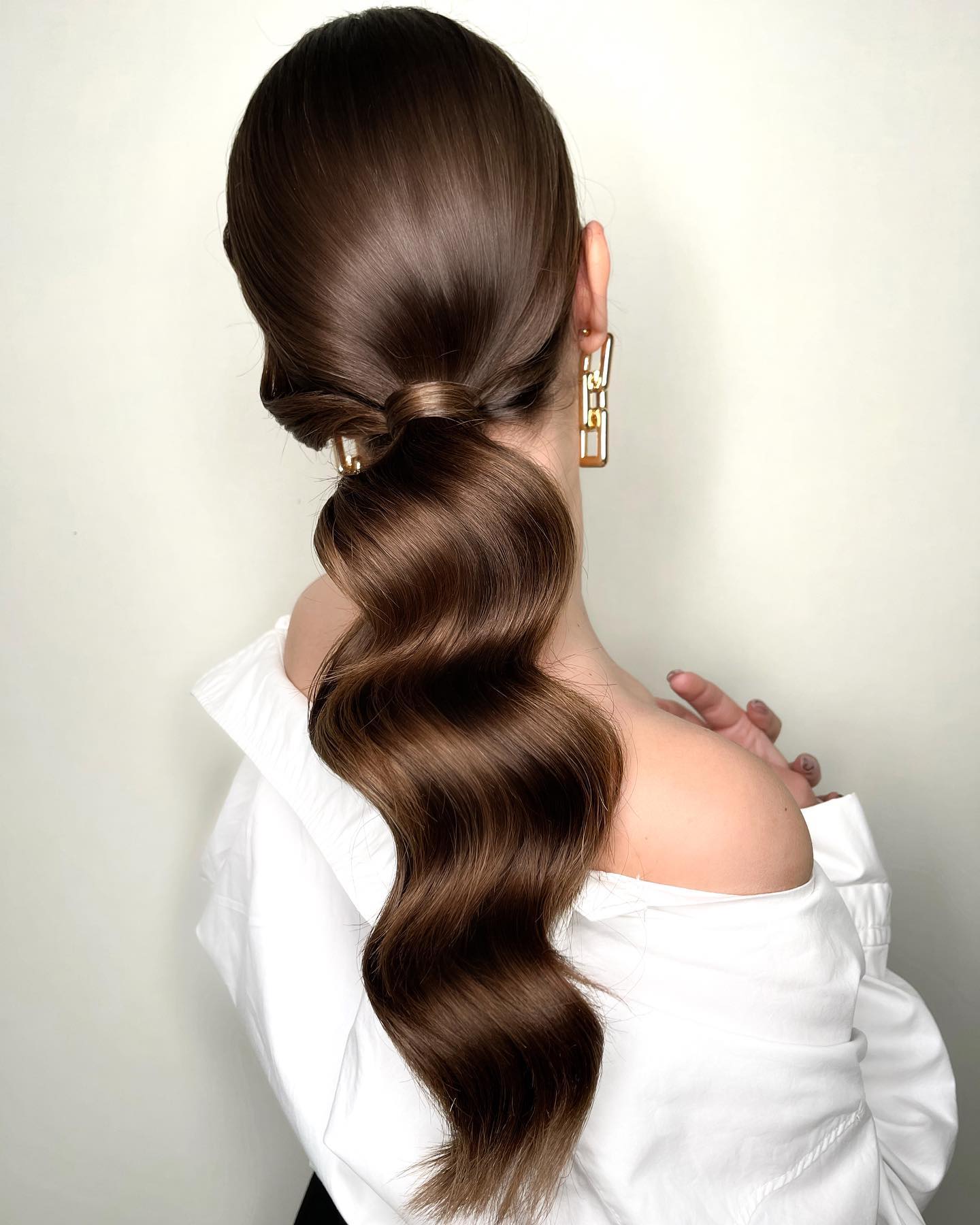 28. Classic Retro Ponytail for Your Elegant Looks
Such a pumped-up ponytail implies a high tail with bangs combed to the side. If you don't wear bangs, it's okay; just release one strand and pin it with a bobby pin. You should also consider a braided side ponytail, which looks unusual and laconic. A ponytail updo is an outstanding option for ladies of all ages and hair colors.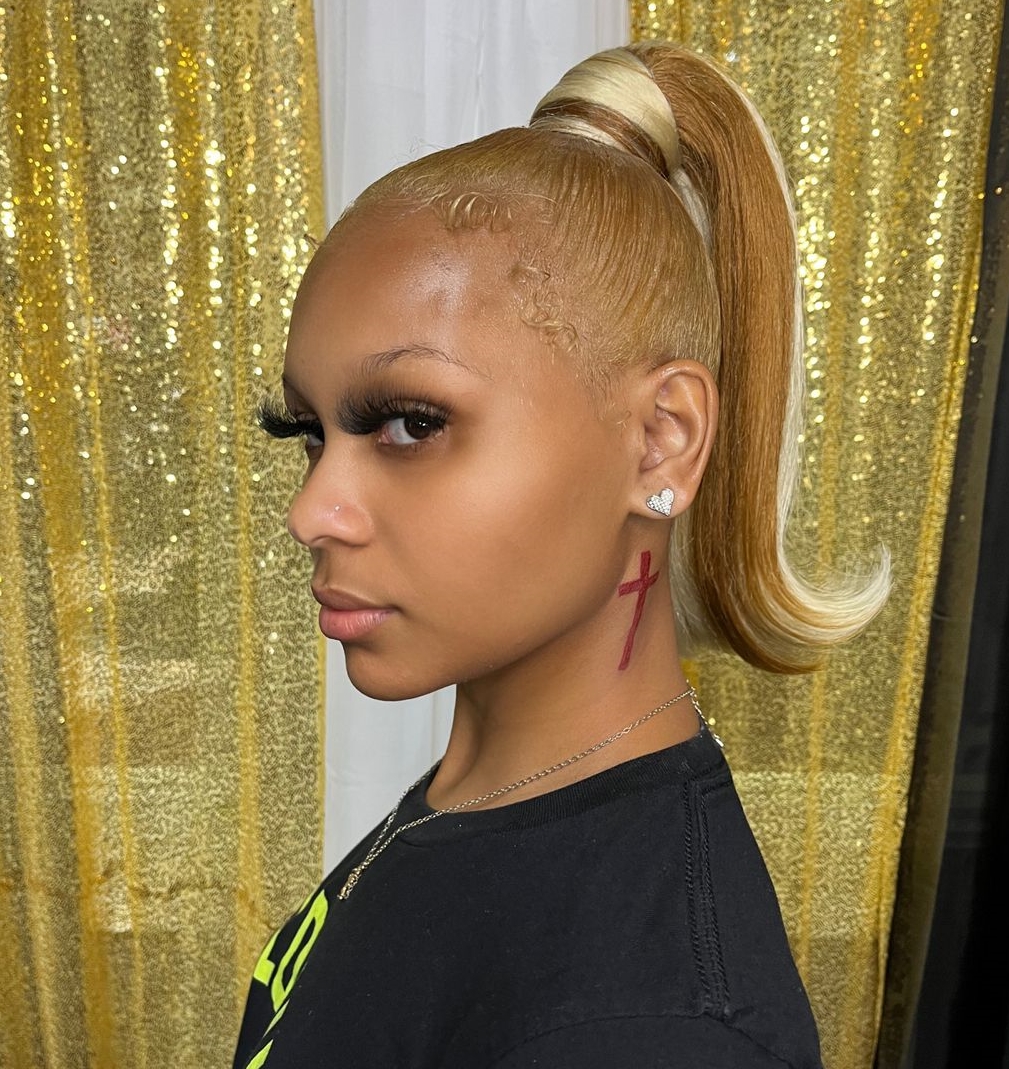 29. Dutch Braided Ponytail
This stylish and unusual messy hairstyle will interest those who like to weave braids and interesting hairstyles. To start, weave a few braids and wrap them around your head like a wreath or crown, gathering the ends of the hair into a loose braid ponytail.
There is no explicit instruction – come up with an image yourself, inspired by ideas. A side braided ponytail suits all occasions and will help you get tons of compliments.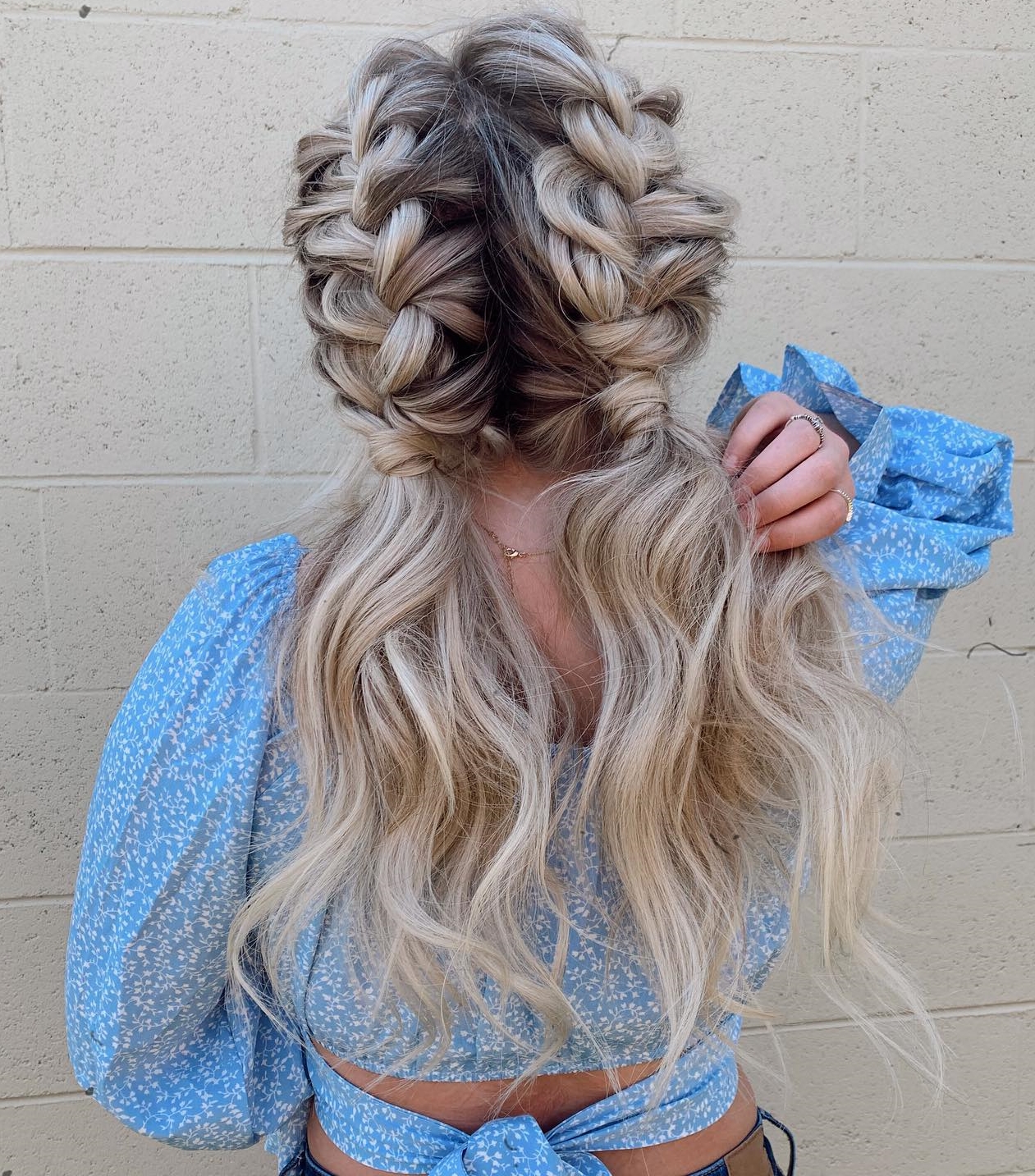 via @theebohoblonde
30. Impressive Fishtail Braid
If you are tired of making a classic high ponytail, you will be interested in some new ideas. A twisted fishtail braid is a remarkable hairstyle for long hair, suiting all styles and occasions. It is done in the same way as a regular braid, just do not tighten it, making a slight mess on the hair. Such a coiffure is a fun twist for everyday wear, which will also suit some special occasions.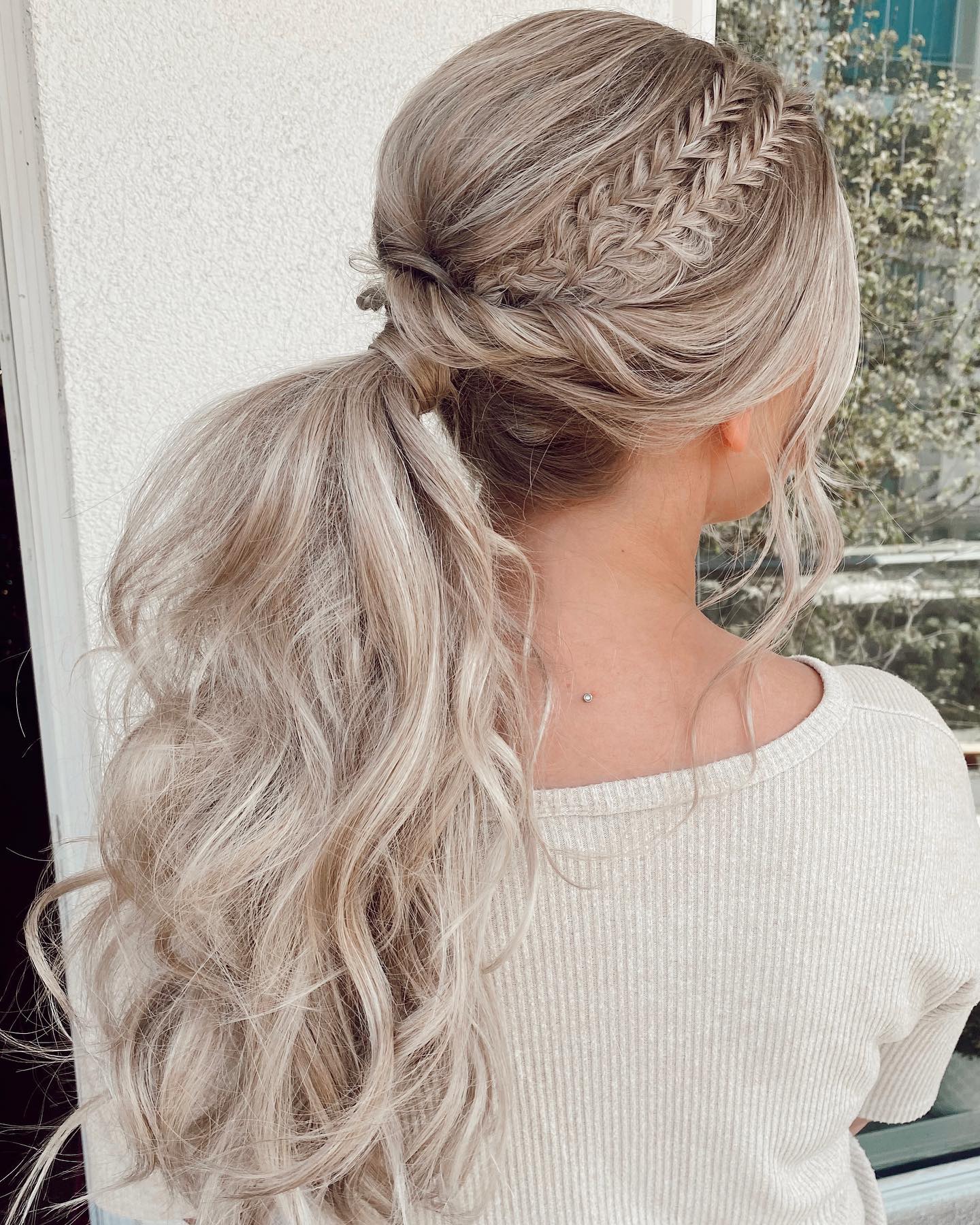 via @hairbykayti
FAQ
How Do I Style My Curly Ponytail?
Styling a ponytail is not difficult, but the main thing is proper hair care. You should choose a shampoo according to your skin type and get a suitable conditioner or hair mask. Moreover, do not forget about heat protectants if you use a blow-dryer regularly.
If you have naturally curly hair, you can just make a ponytail and leave it as it is. Ladies with straight hair should use a curling iron and get some sprays or styling mousses to make a beautiful hairstyle last longer.
What Are the Best Styling Products for Ponytails?
The hair cosmetics market is now enormous, and many ladies feel confused about what to choose. As a rule, a ponytail is a low-maintenance hairstyle​​. Most women don't even require anything except for shampoo and balm.
However, if you have unruly hair, get a proper mousse or gel suitable for your hair type. With their help, your hairstyle will look more well-groomed and last longer.