We know that fine hair is no piece of cake. It doesn't hold volume, gets greasy in a twinkle and looks poor when pulled into a pony or braid. And yes, styling products can help, but many of them (like the much-vaunted dry shampoos) just make your locks feel stringy. Well, our fresh collection of hairstyles for fine hair will prove that it's not all that bad.
Choosing Styles for Different Hair Lengths
Since short tresses tend to look thicker and they are more likely to hold a lift at the roots because of the lighter weight, crops are among favorites for fine hair, including adorable pixie cuts. "Without much effort at all, it creates the look of dense, full hair. There are endless variations to pixies — when cutting them, I love for my clients to remain their most feminine, sexy self," celeb hairstylist Adir Abergel, who gave Charlize Theron her Oscars 2019 look, says to Allure. Bobs are hot on pixies' heels with their endless variations from blunt and short cuts to choppy and mid-length ones. That said, long hairstyles can also work for fine strands as long as they look healthy or you have plenty of them. Here are some good examples for various lengths.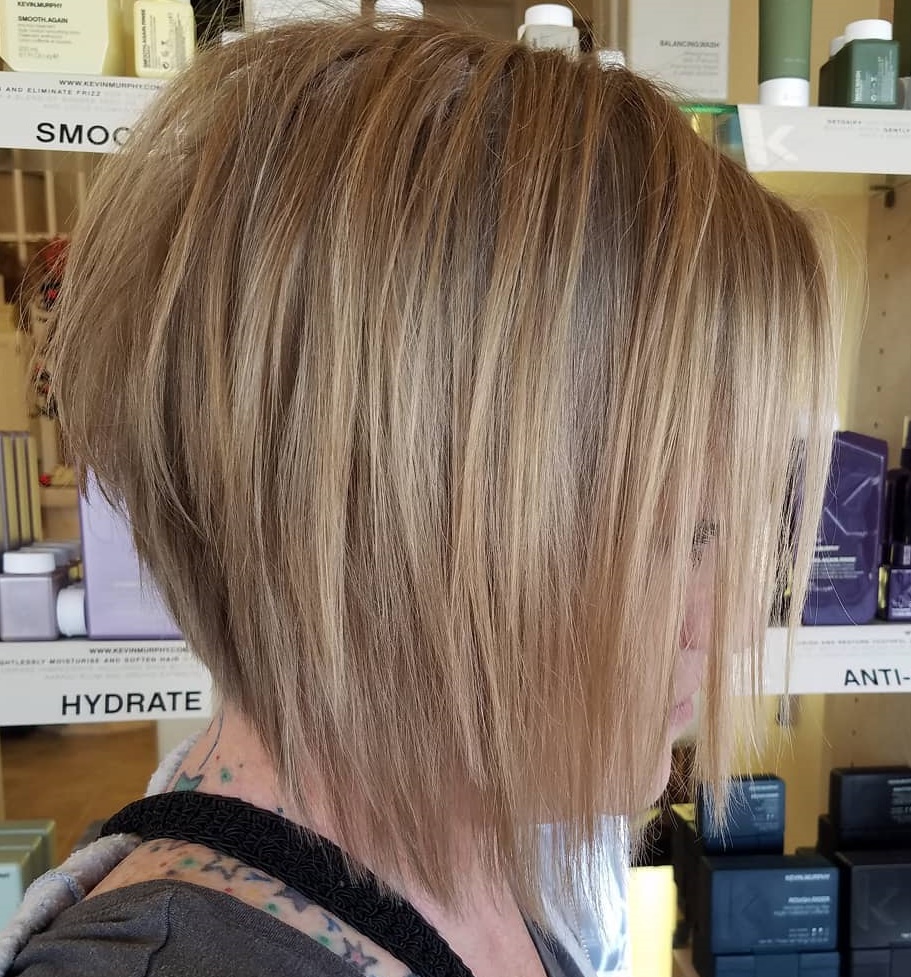 via @hairandmakeupbykaylarenae
This short bob is angled to the front to enhance a lift on the crown with lighter strands, while the cool choppy texture is created through razor-cut tips.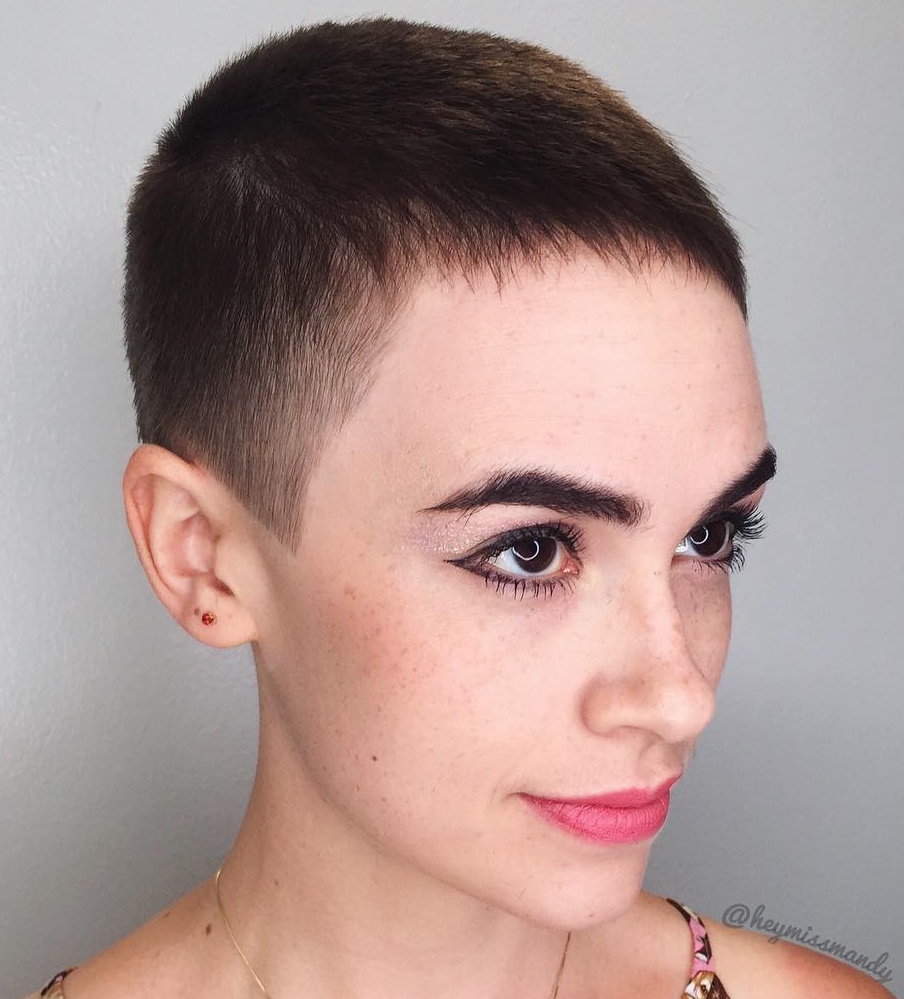 via @heymissmandy
Daring girls will adore this very short cut, done using the scissor-over-comb technique for a softer touch. The crop pops with its clean lines and bold androgynous feel.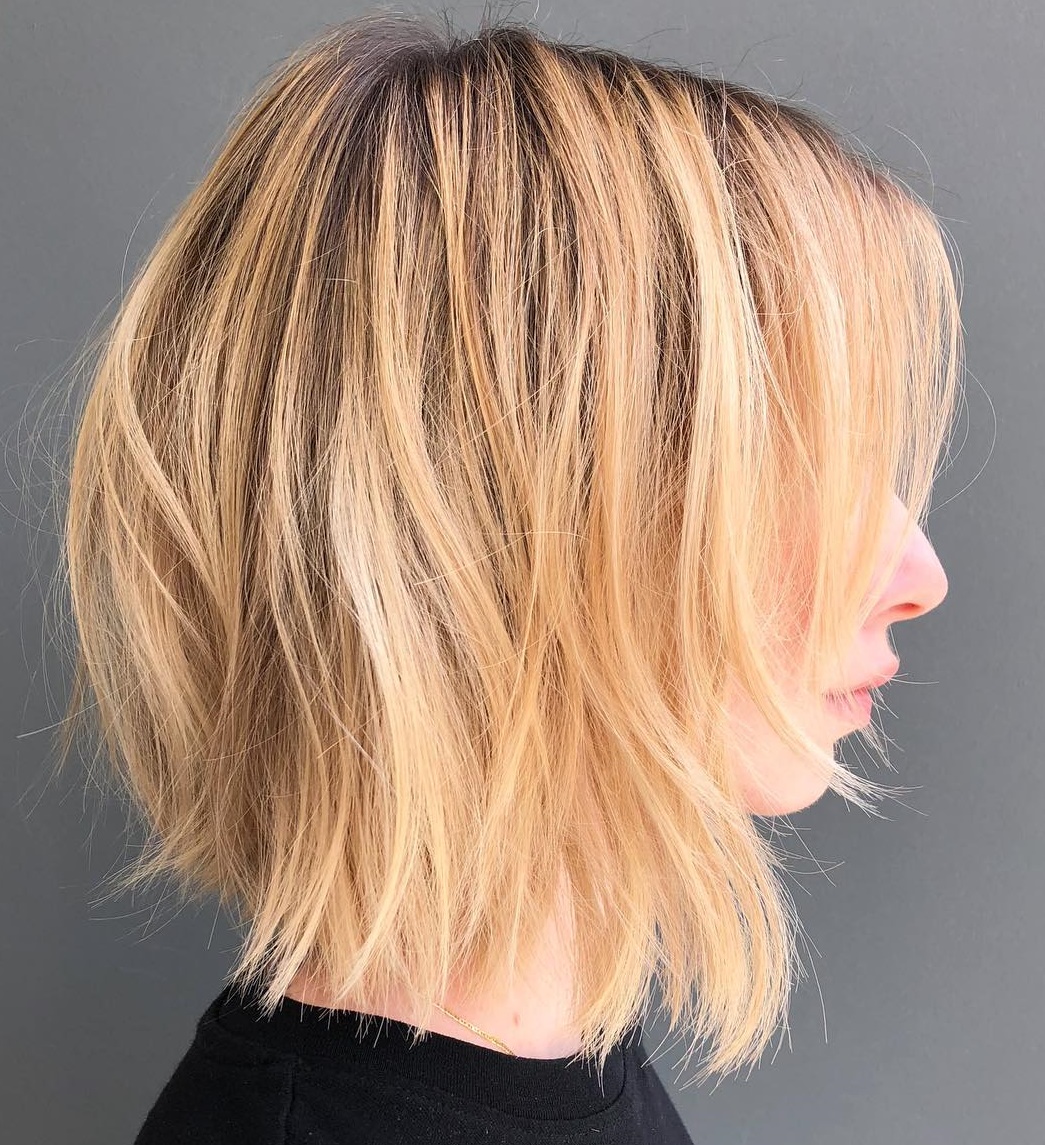 via @anhcotran
This lovely bob falls into the short to medium category, giving more freedom in styling and sparkling with movement and texture gained through subtle layers and sliced ends.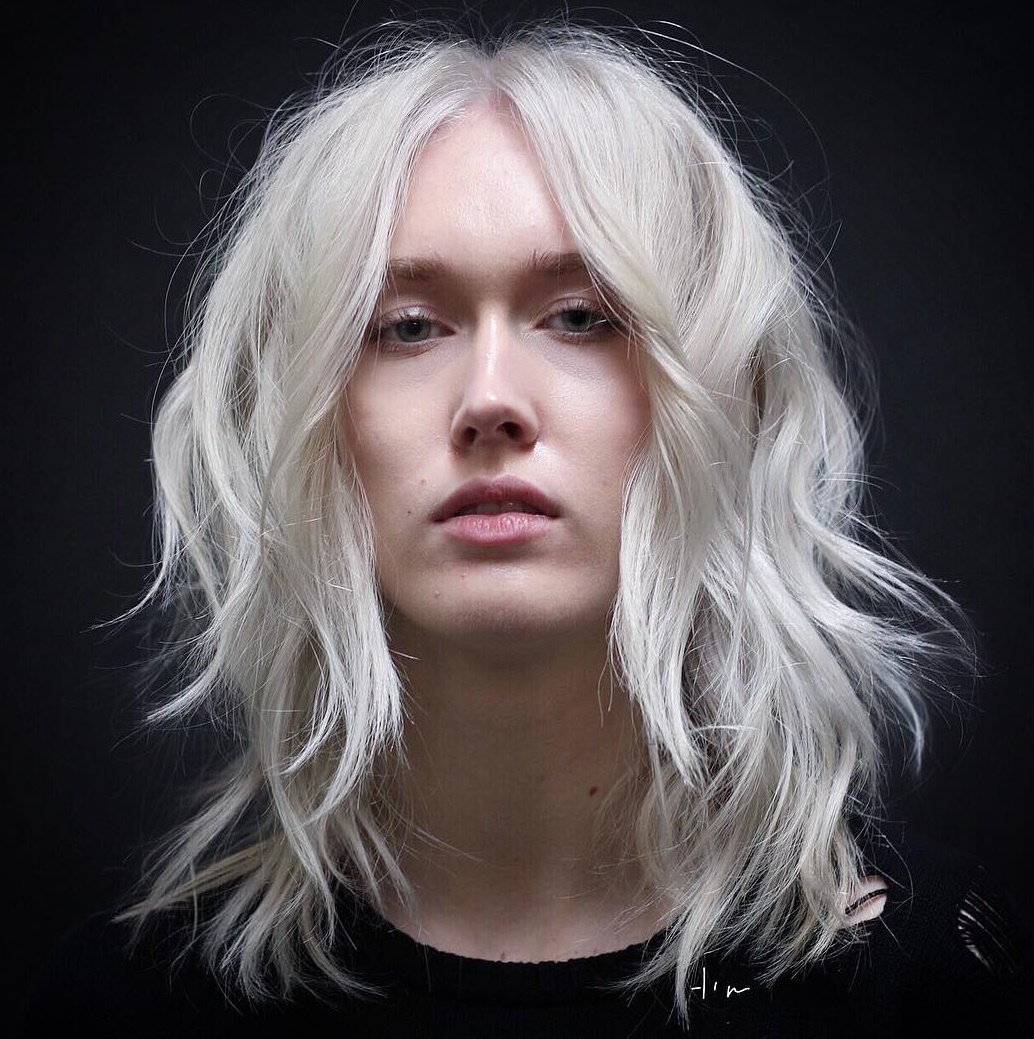 via @timm.morrison
Coming in a frosty shade of blonde, this medium length shag boasts much disconnection, emphasized by a messy finish.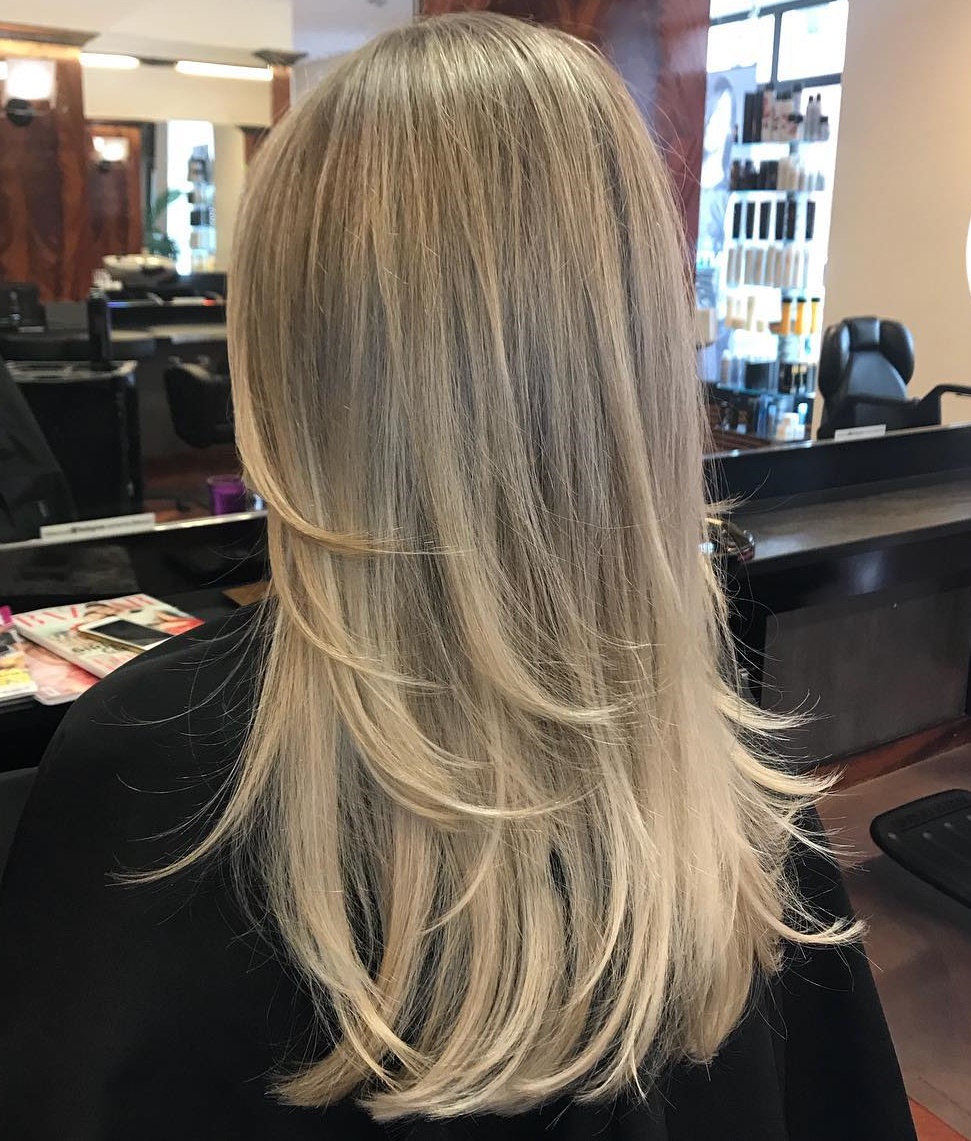 via @berylcoiffure
If you have long fine hair, it's a good idea to make it bounce through layering towards the bottom. Upgrade with feathered tips.
Adapting Cuts According to Your Face Shape
"Women with fine or thinning hair tend to default to styles that are almost non-styles. They often grow out their hair and refrain from ever cutting it – even the slightest trim," Jill Crosby, celebrity stylist who worked with Dianne Keaton and Lucy Liu, tells Today and adds that cutting can take away the breakage and damage, also enhancing the woman's face. How? Flattering hairstyles for women with fine thin hair can be customized to their facial features in many ways – through the length, shape, layering, texture, bangs and so on. We have a couple of pictures to showcase the balancing power of cuts tailored to different face shapes.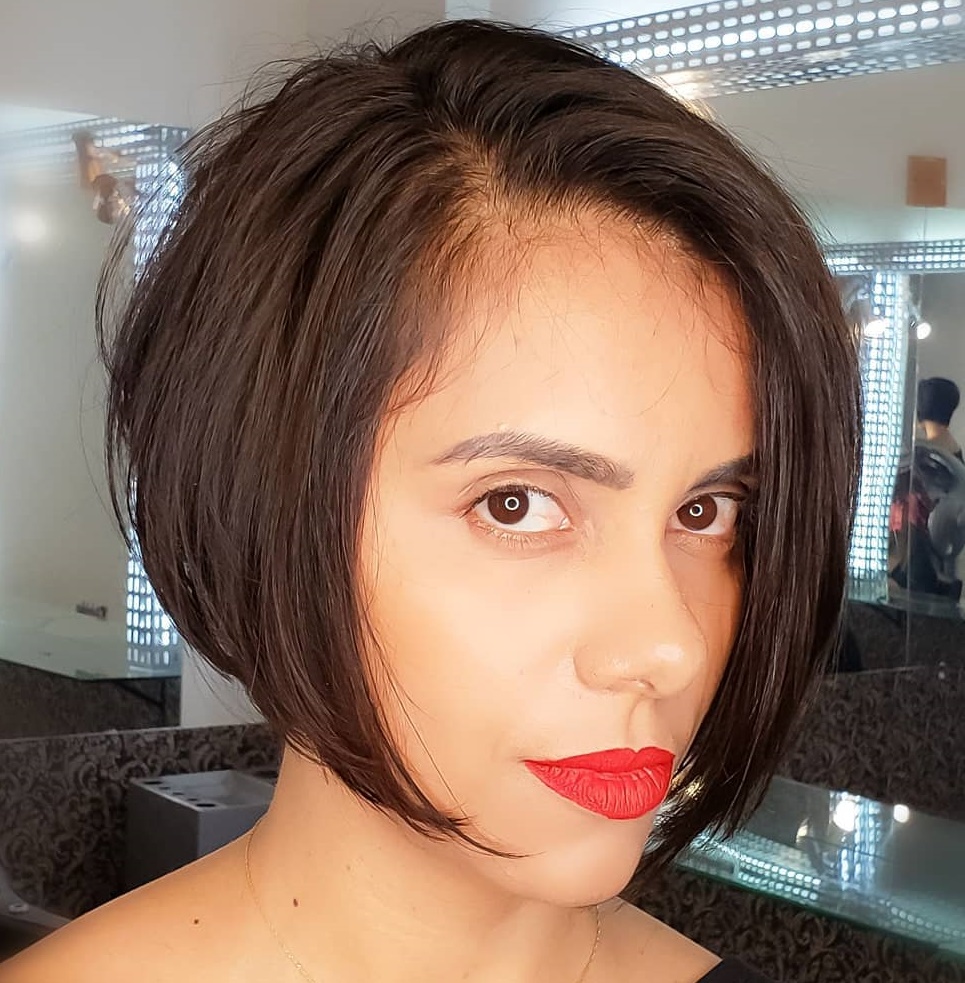 via @thximenes
Having a long face, this smart girl got a round-shaped bob with a volumizing flip to one side and a width-adding texture.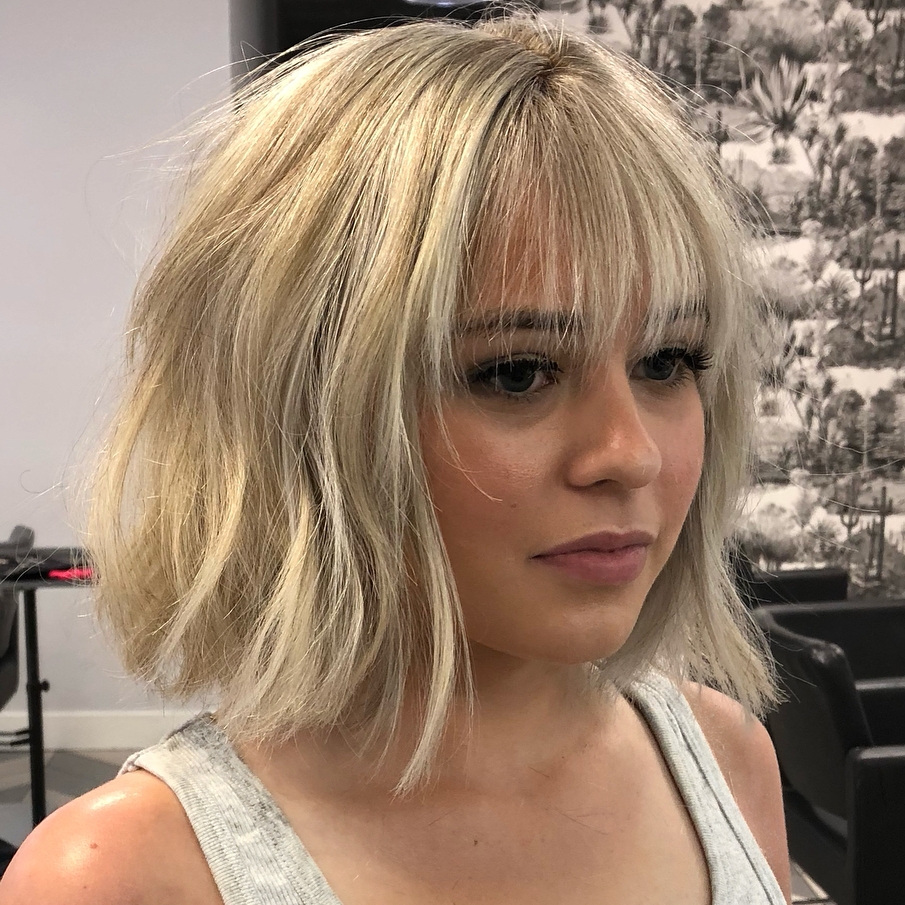 via @hairby_casss
For round faces, angles and a structured shape are the best friends, adding the required sharpness, like these straight bangs and a geometric cut do.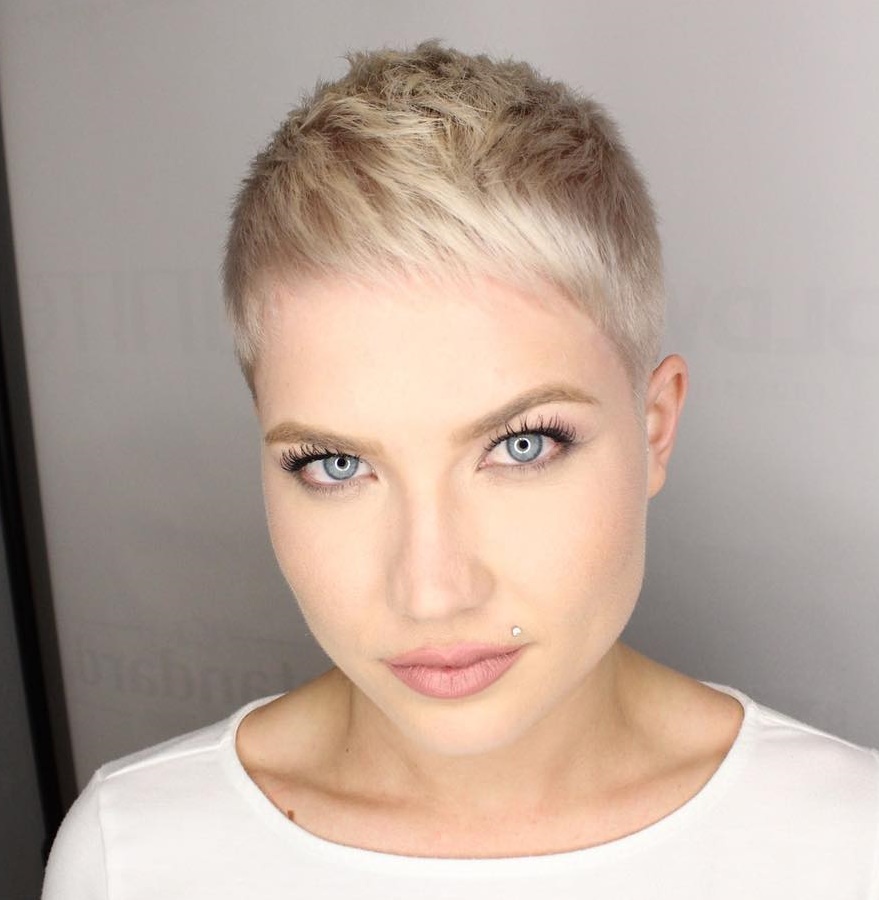 via @dillahajhair
Look how this stunning pixie shifts attention away from the strong jaw line of the square face! The shape is rounded, the baby bangs are softened, and the top is textured for added height.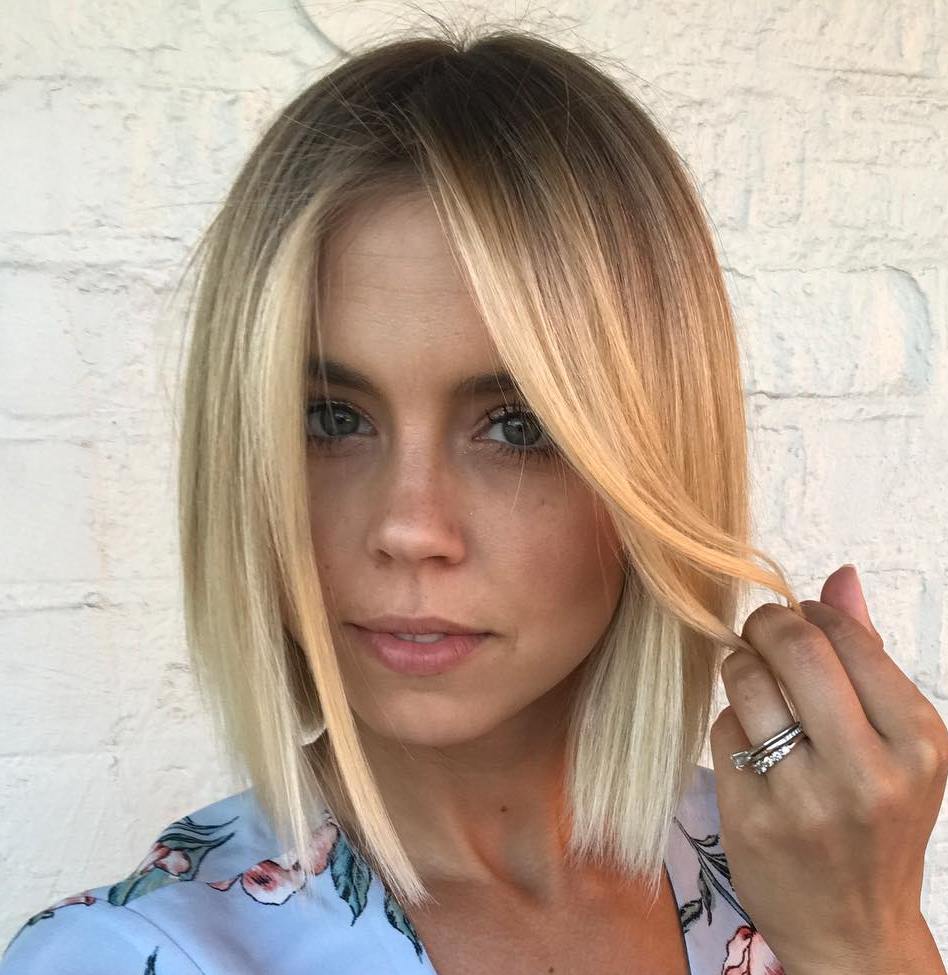 via @maggiegarciacolor
While oval faces can pull off almost any cut, this one is blunt to create density on the bottom and rooty to gain depth on the crown.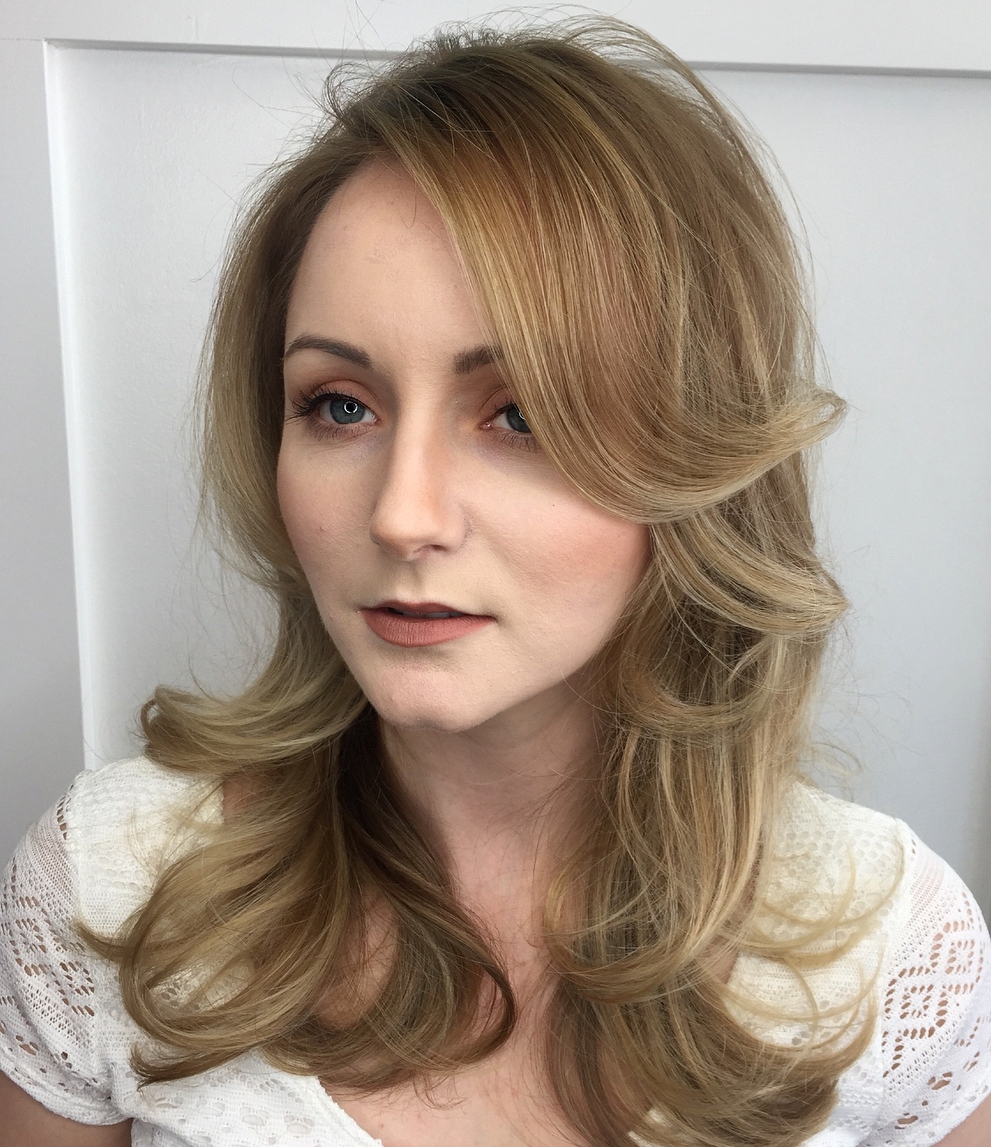 via @sarzmahal
Heart faces are flattered by a longer length and a gorgeous blowout, balancing the pointed chin, while a lavish side-swept fringe can visually narrow the forehead down.
Considering Bob Hairstyles
Bobs are easy-care and versatile to suit every taste and face shape, so you just need to choose one based on your hair goals. Are you growing out your hair? "There are different densities of fine hair that contribute to what you can or cannot do, but a blunt cut is typically best if you are going to grow it long," Juan Carlos Maciques, who created many looks for Jennifer Lopez and Priyanka Chopra, says to InStyle. However, when you are going longer from a pixie cut, layered messy hairstyles will help you to live through the process. On the other hand, if you want to get rid of long layered hair, chop off the longest layers and leave the shortest ones for a soft A-line bob. Scroll through our photo gallery for more bobs.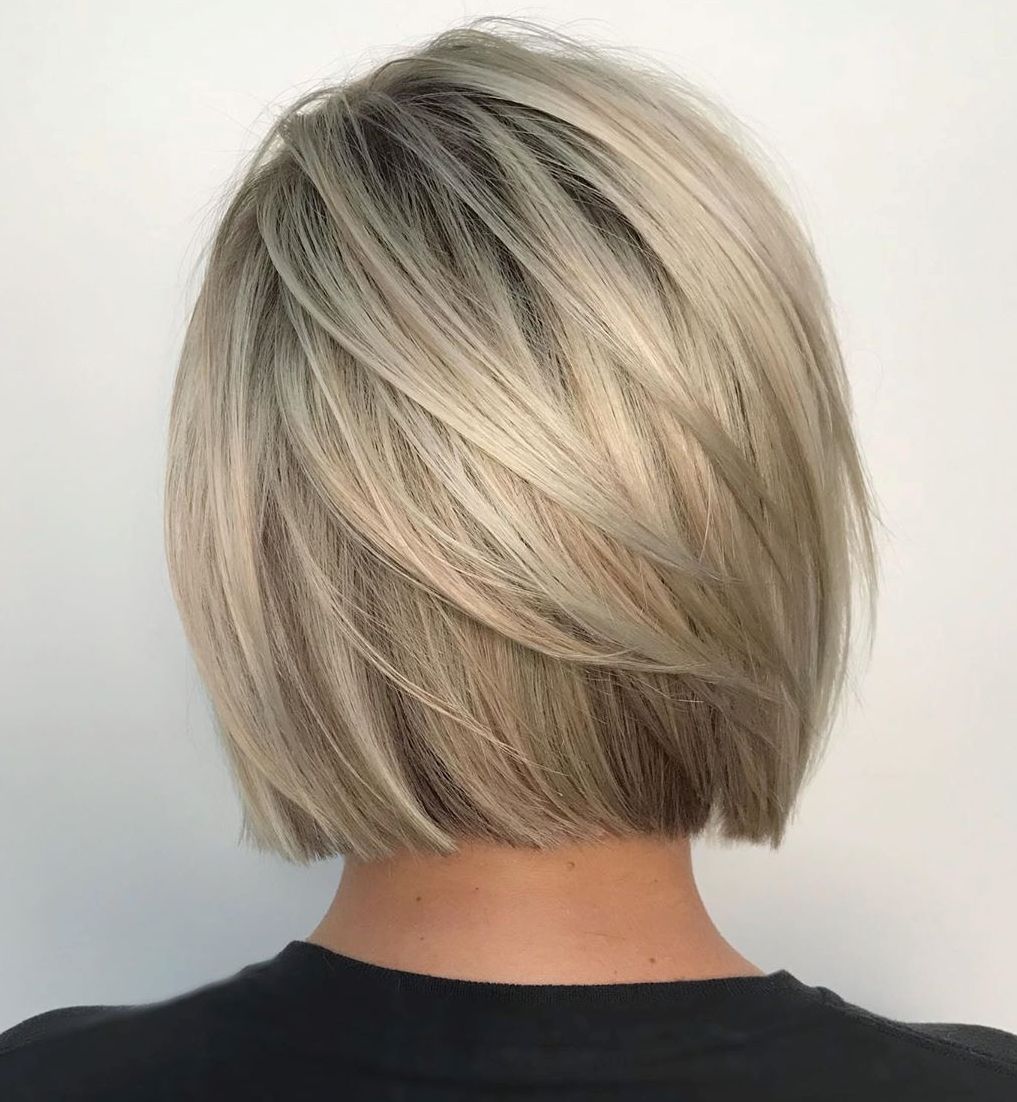 via @styled_by_carolynn
Short blunt bobs work fine for fine hair, adding it density and lightness for a better lift at the roots. But don't forget about movement created with subtle layers!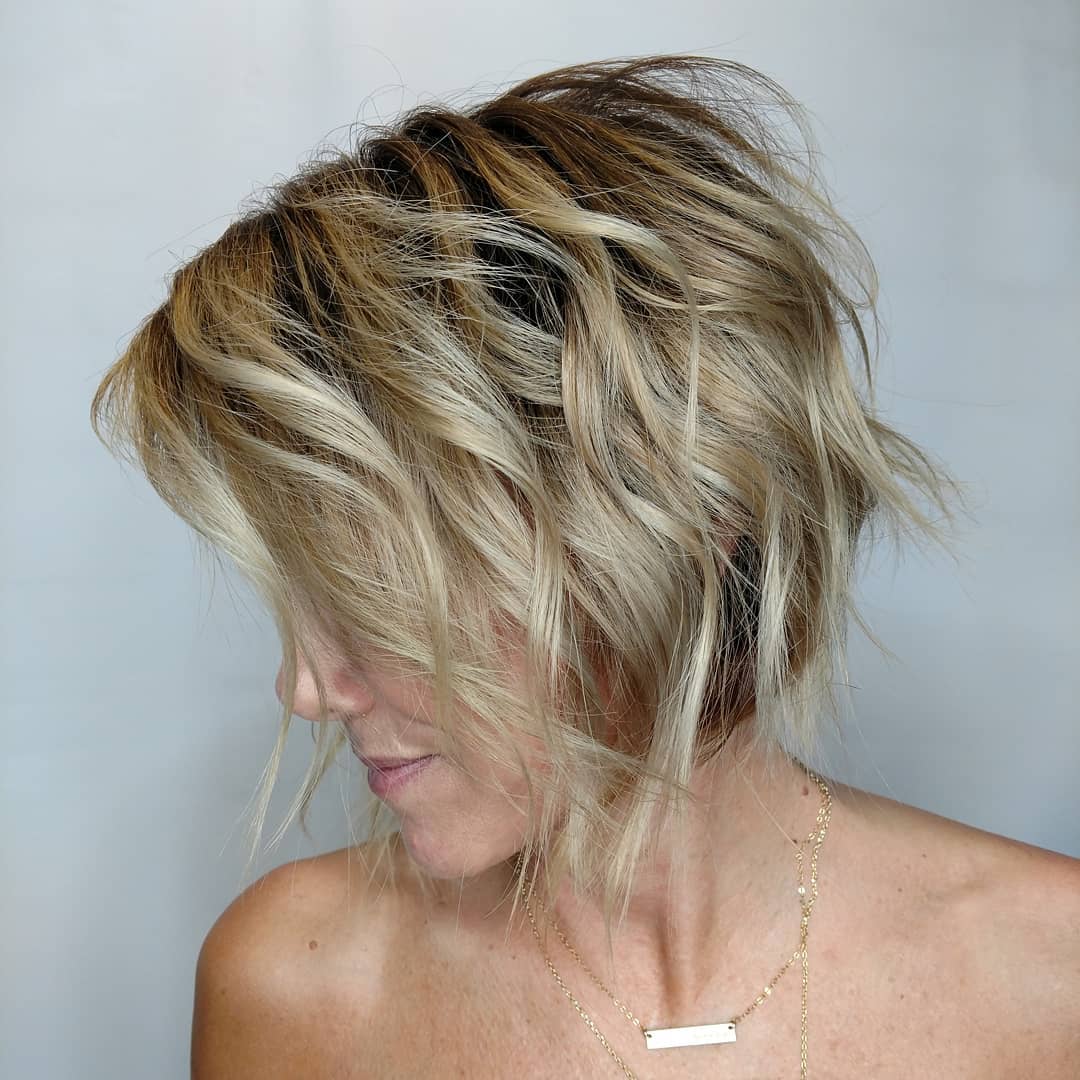 via @stylesbyamyjo
This jaw-length bob combines an undercut and messy waves to bring out the max volume and body, texture and dynamics.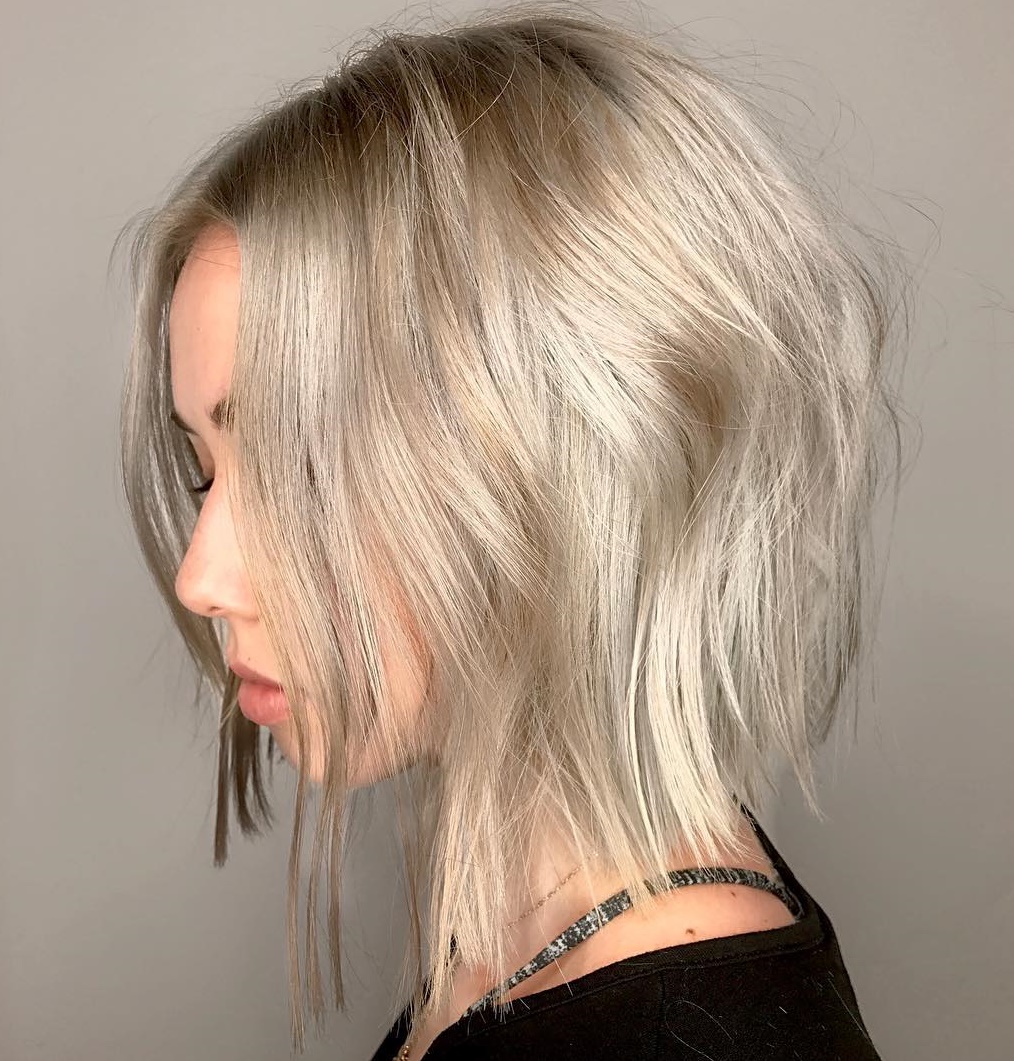 via @carriepurserhair
However, you can choose this longer and straighter version, coupled with a glossy platinum blonde shade and shadow roots.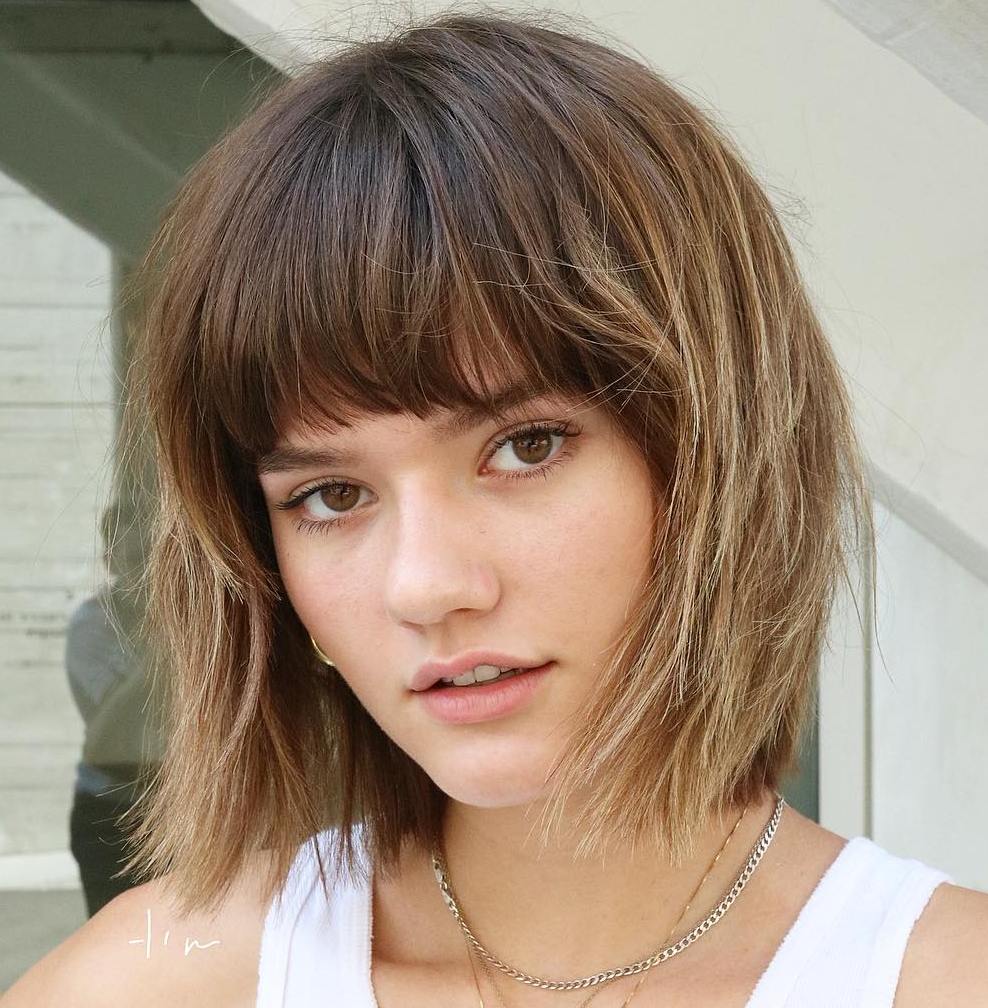 via @timm.morrison
This textured bob is one-length on the bottom, yet layered externally to get a crisp shaggy look. Note the full fringe that creates plenty of thickness in the front!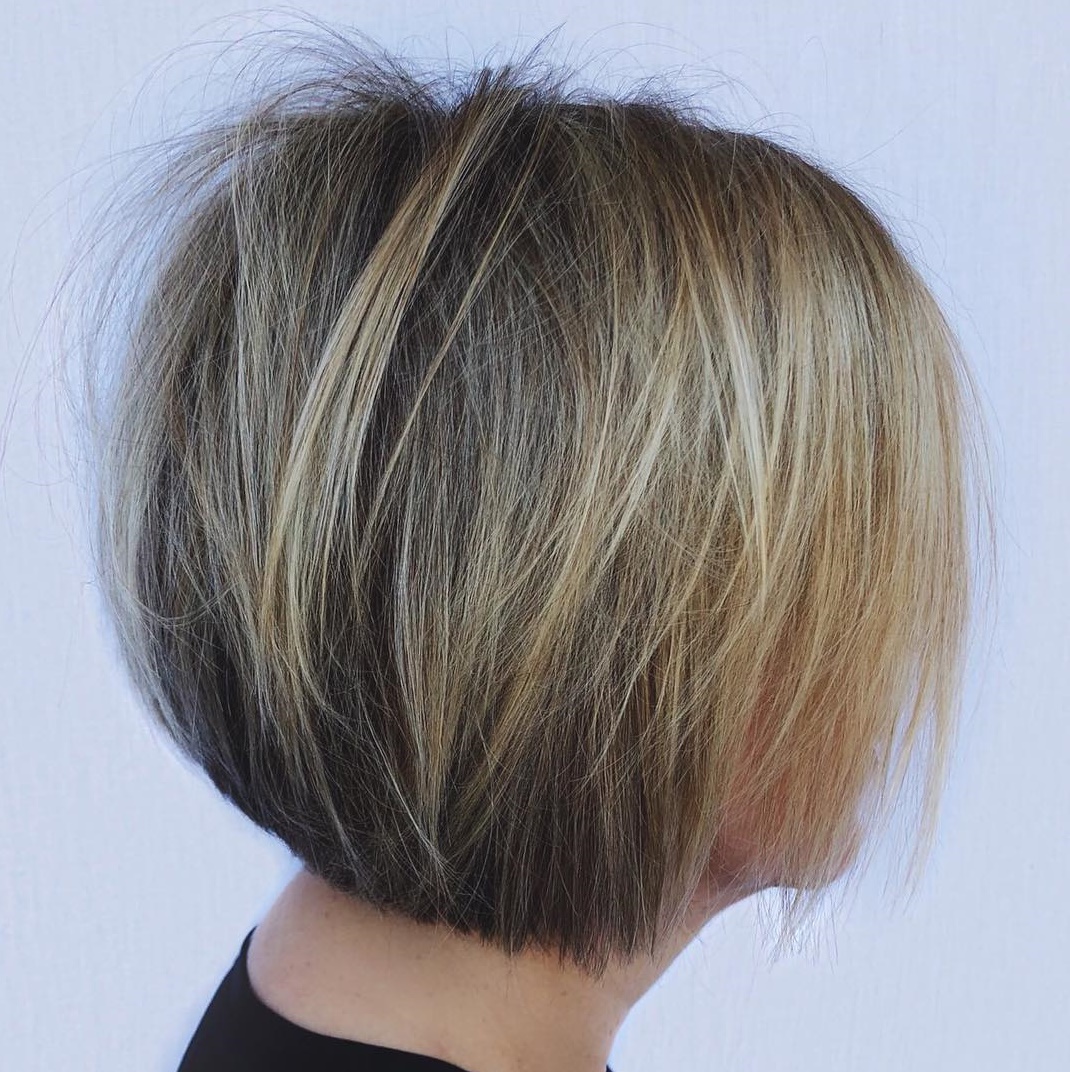 via @chrisjones_hair
Slightly graduated and softly shaped, this bob retains most of the hair density in spite of its upper layers added for movement.
Finding 'Dos for Ladies Over 50 with Fine Hair
Older ladies often face the problem of weak, frayed and thinning hair due to age-related changes in their bodies. Are there any ways to make the locks look fuller? "Height is the perfect way to create the illusion of fuller hair – it also helps keep your structure. Teasing multiple sections that are stacked on top of one another builds a foundation and gives fine hair something to lean on so it doesn't fall flat," says Cash Lawless, who styles Bella Hadid and Kylie Jenner, to Cosmopolitan. Sure, you can achieve the same results through other means like lifting your roots with blowouts, using volumizing products, creating waves and curls – or getting the right cut. Some of them are shown below.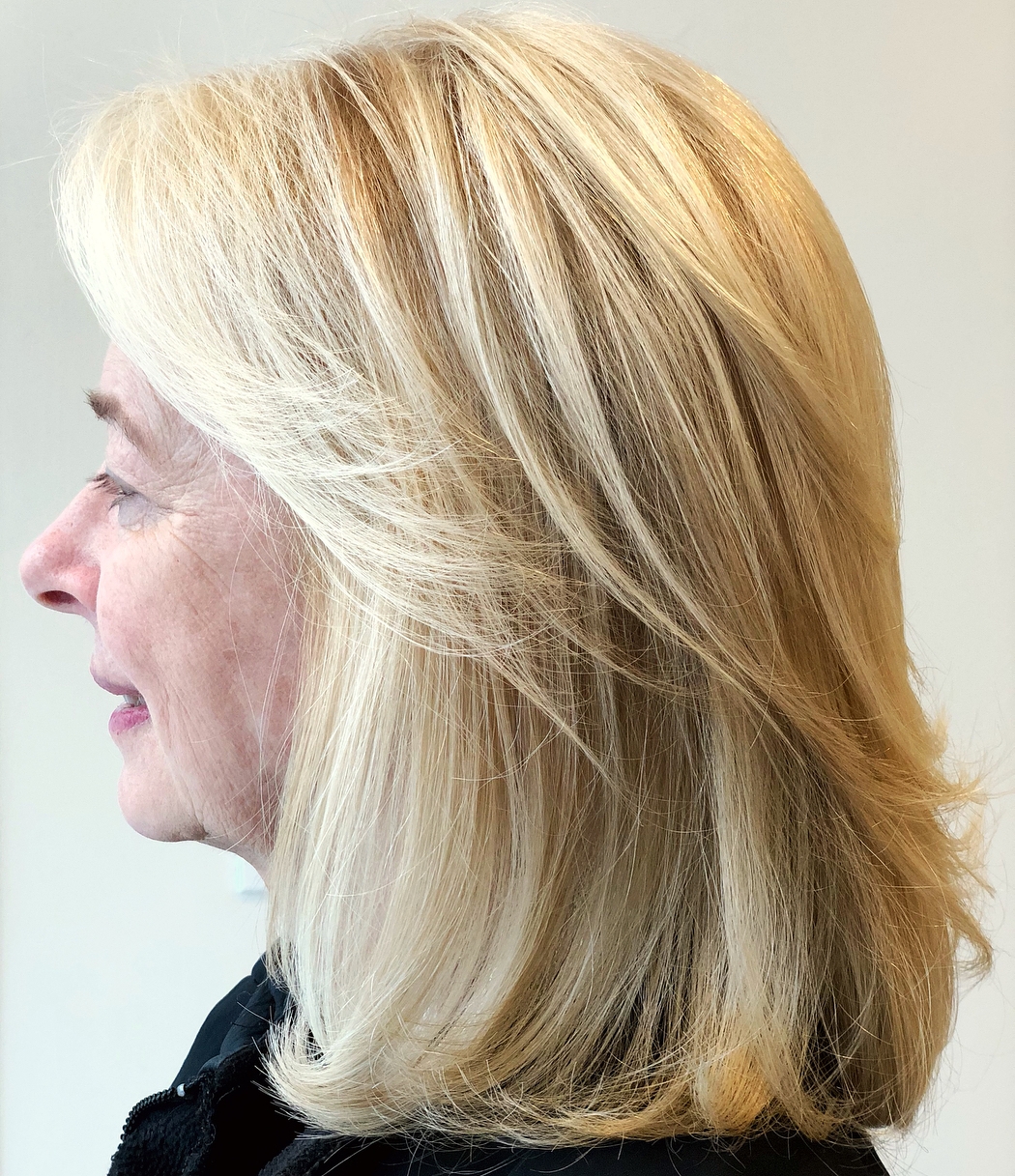 via @aphroditek00
Bouncy shoulder-skimming blowouts are perfect for older women, especially when they are supplemented with vibrant layering and softening side-swept bangs.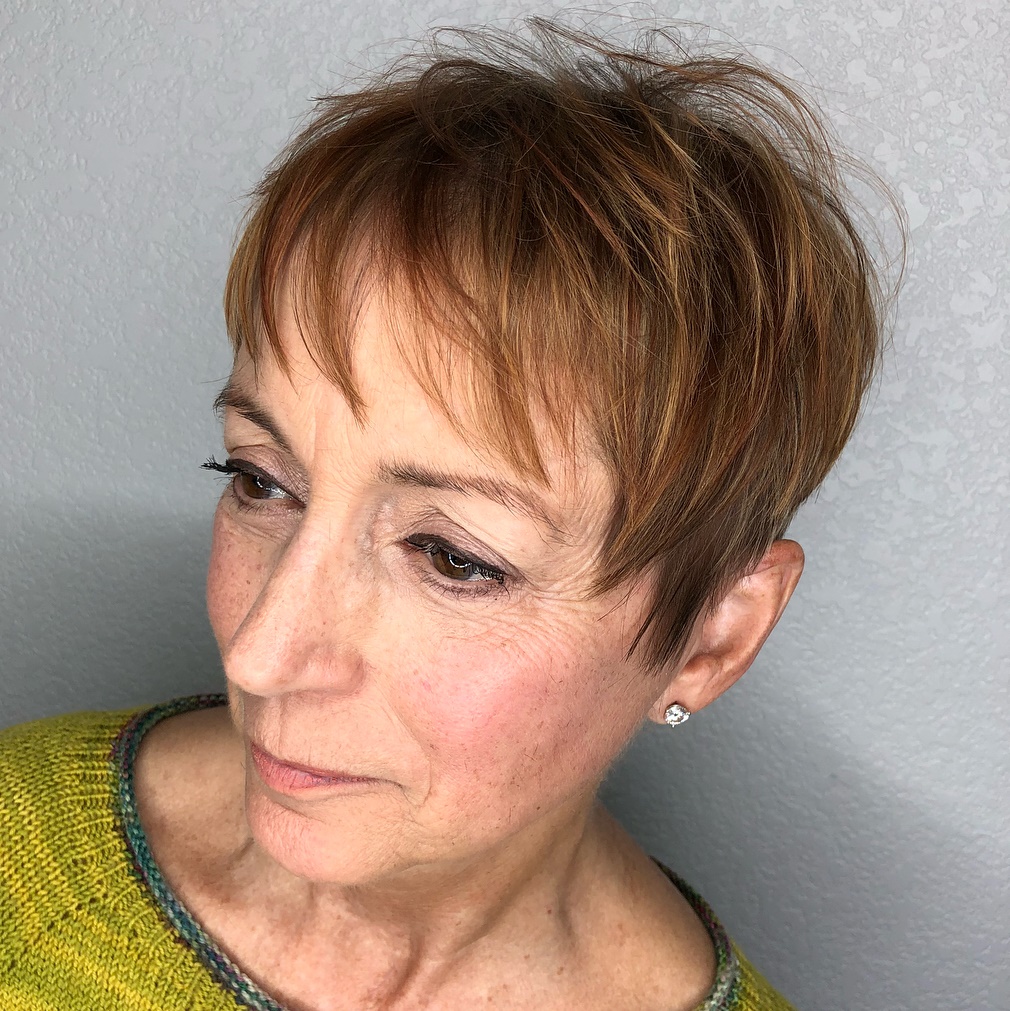 via @theparlorlv_niviana
Short pixie cuts are quite on par with their bold flare and stylish feel. Look at those feathered pieces of the bangs and an eye-catching texture galore.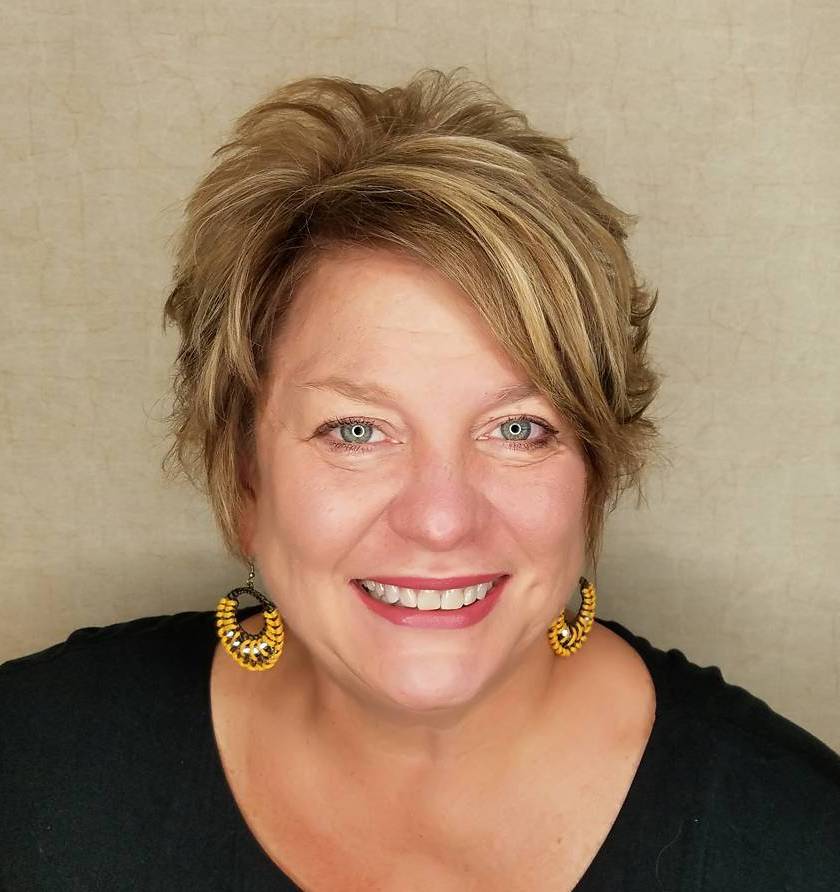 via @elainedoes_hair
This is an elegant take on the shaggy pixie, accentuated with multiple color streaks. You should make a note of the long side-swept bangs, which can be easily tucked behind the ear.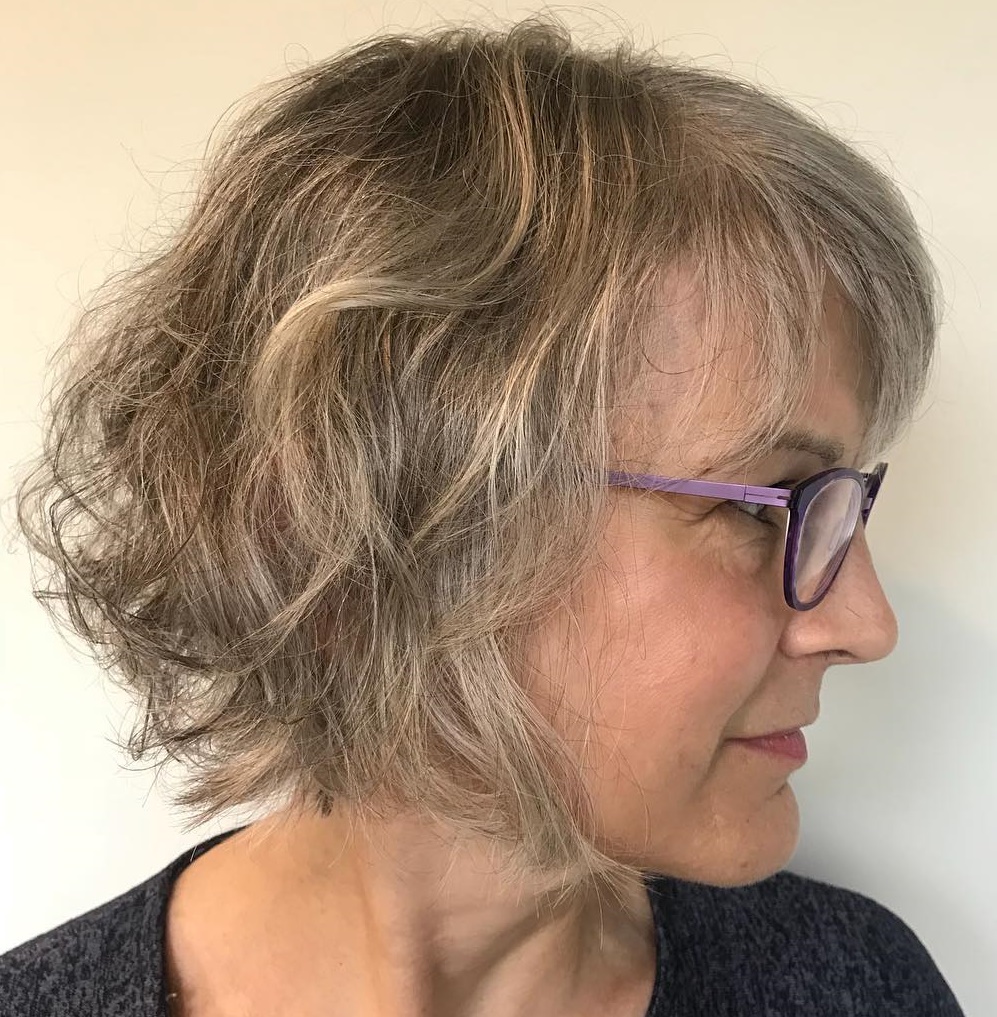 via @amber.the.hairapist
This wavy bob is a nice example of embracing your inborn texture and natural graying. It's soft and touchable, while juiced up with handsomely separated bangs.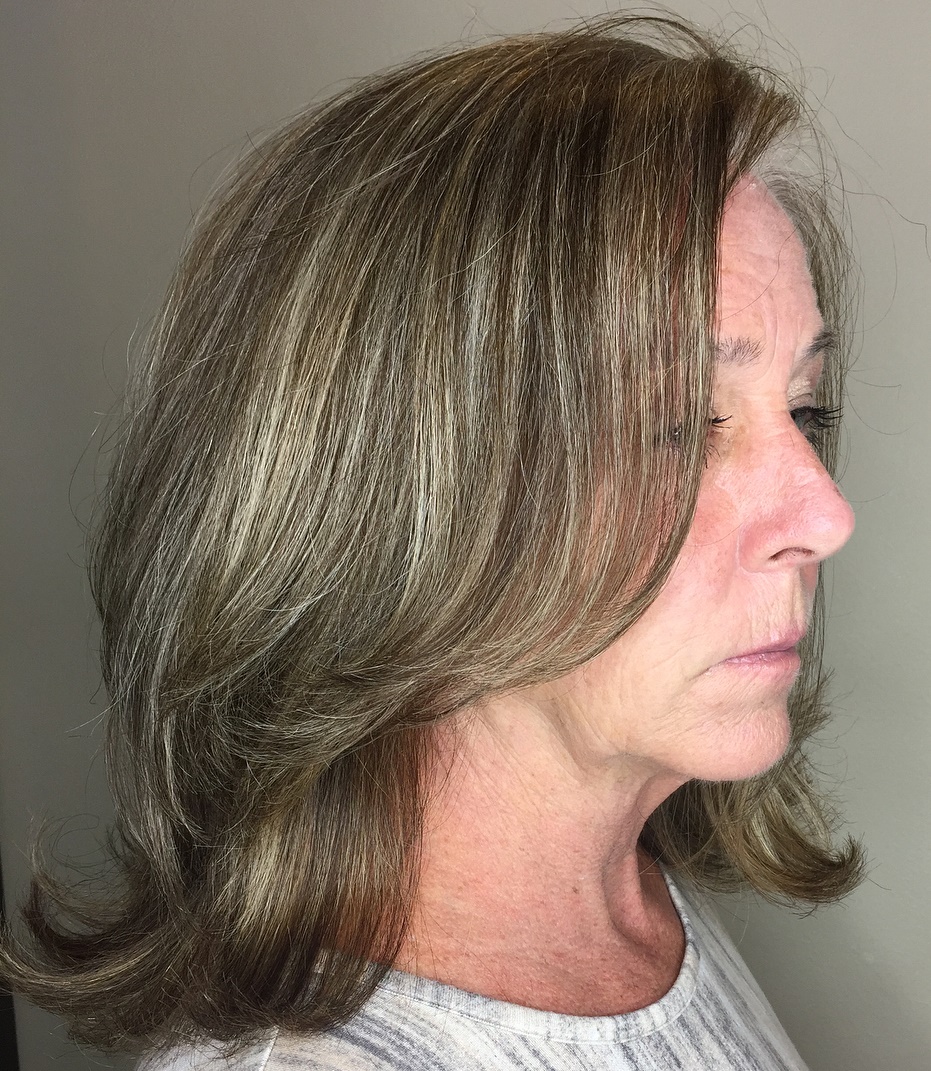 via @salonmarshanadalin
We love this medium length hairstyle for its soft face-framing layers, flipped out styling and a side parting lending a volumizing swoop to the front.
10 Best Haircuts for Fine Hair to Try Right Now
Some fine-haired women prefer wearing their locks long, as they can easily hide them into various ponytails, braids and updos. Though the low-maintenance approach is quite understandable, they really miss the point. "The key thing to remember with long hair is that it needs to look healthy. There is no point in having long unhealthy hair as the condition will always determine the length. If you have fine hair, keep layers longer as over layering will only make the hair appear thinner and sparser," Sam Burnett, award-winning founder of UK-based Hare and Bone salon with Dua Lipa and Erin O'Conner among his clients, tells Marie Claire. If you are not sure your hair is healthy-looking enough to pull off long 'dos, take the plunge and go for a shorter wash and wear hairstyle. Some of them are shown in our gallery along with more sophisticated options.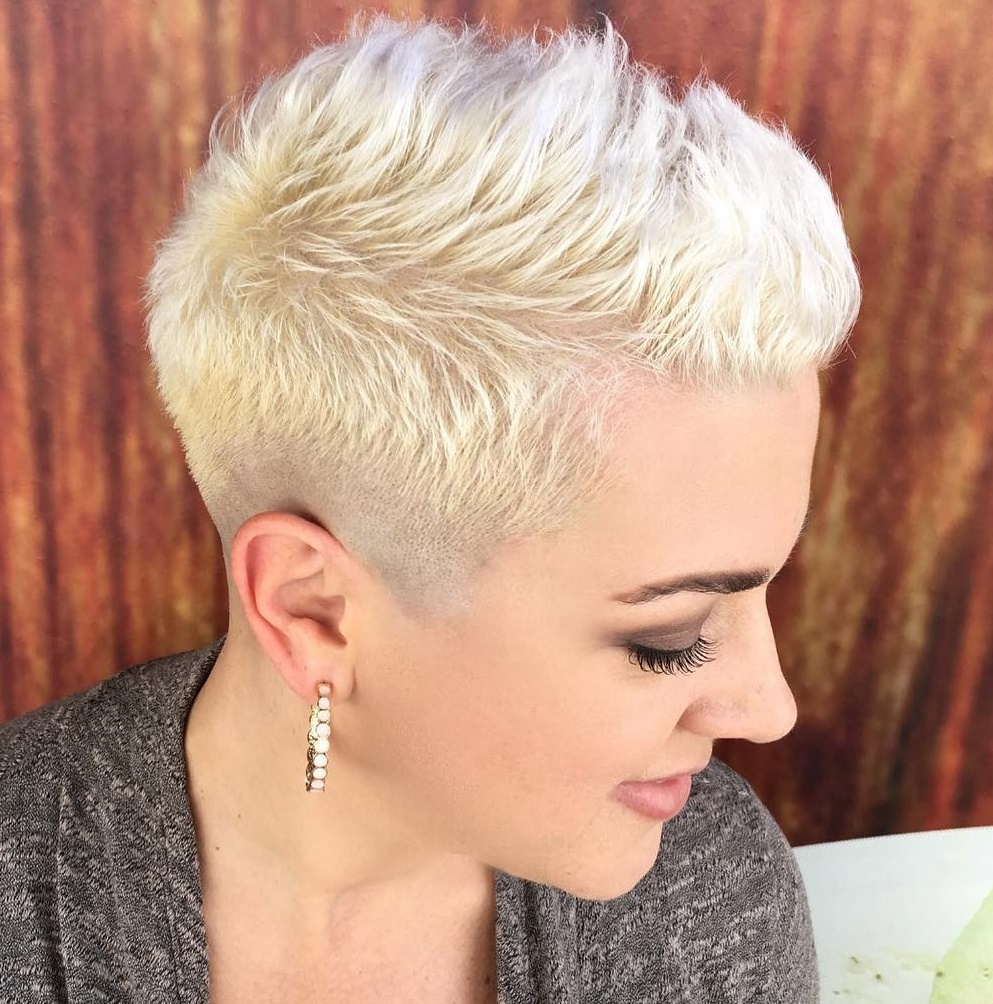 via @sm_lawless
This awesome pixie features both a bold fade and spiky pieces, creating a sharp contrast, while hiding the hair scarcity safely.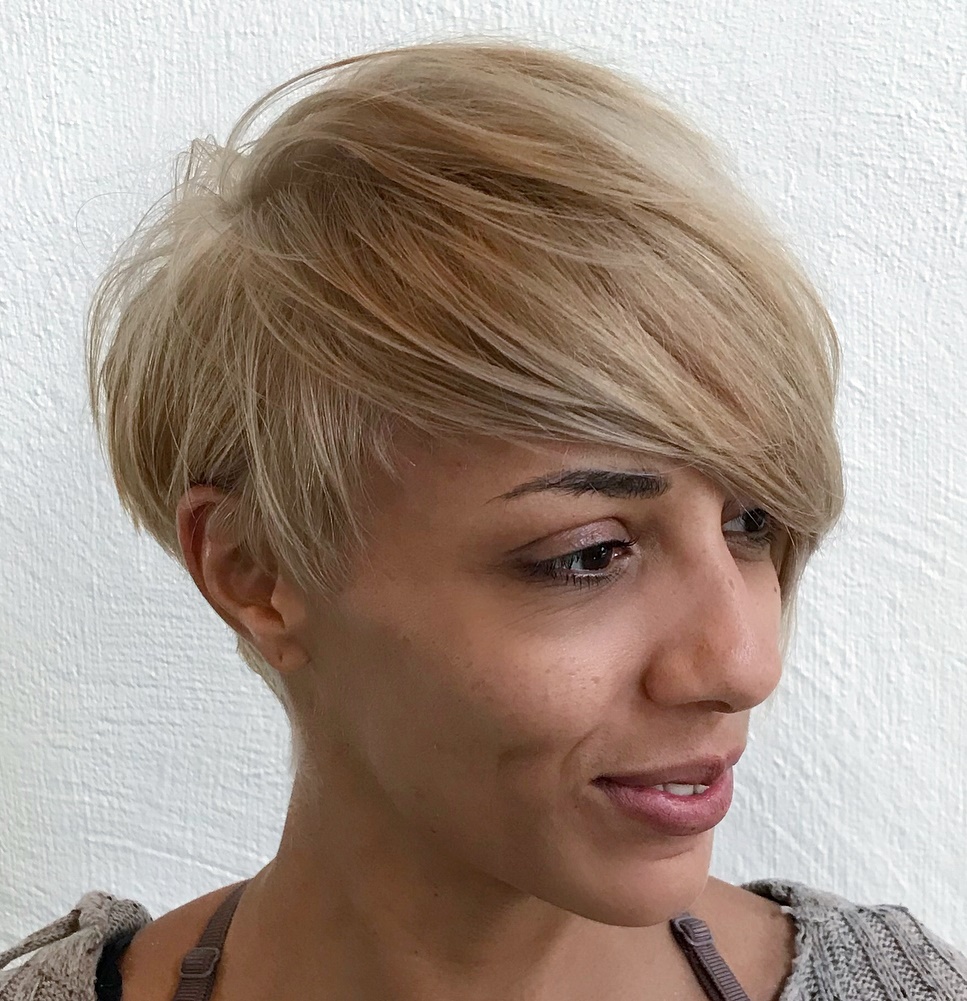 via @moefitz
However, you can opt for a longer pixie cut, like this one, having the top tresses pulled forward and then blended with a fringe for greater body.
via @thehairdude
This girl rocks fine straight hair blunt on the bottom, yet nicely layered all throughout the length for some texture and vibe.
via @hairbytory
Beachy waves are still on-trend, so this wavy lob is all the rage with its shiny color transition, which is just perfect for fine hair.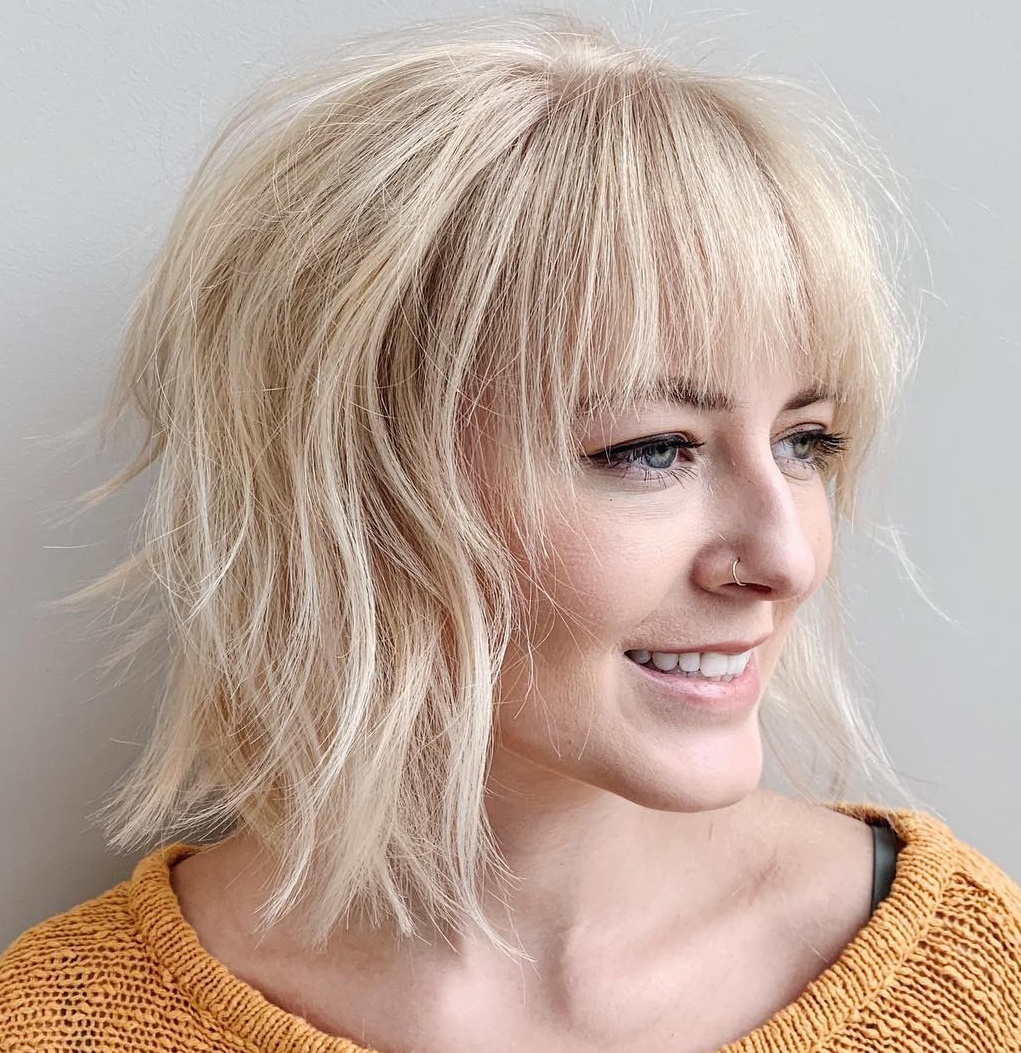 via @jmcintyrehair
The blonde shag below is one-color, but it's no less dimensional thanks to a lift at the roots, messy styling and a full textured fringe we can't but adore.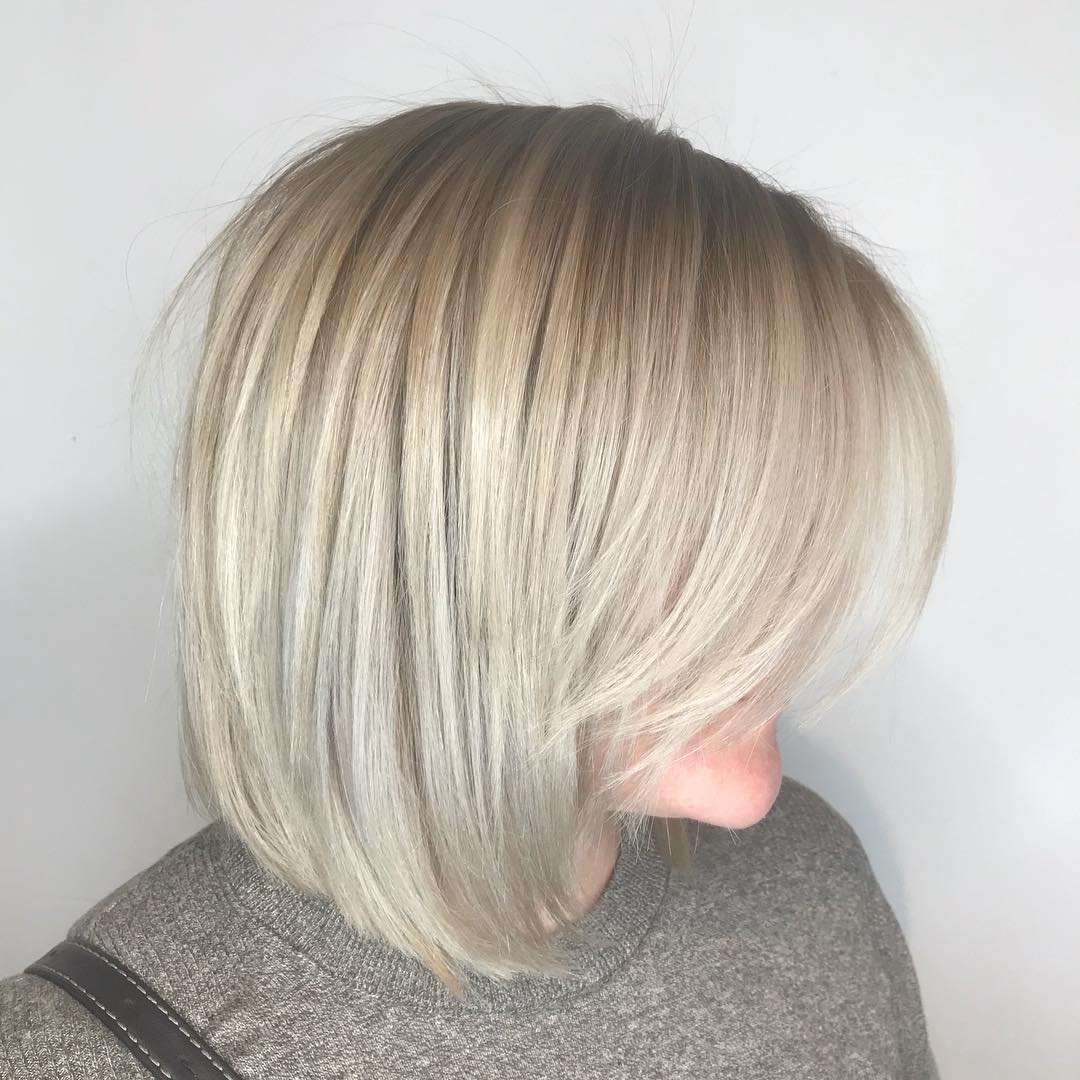 via @monicafab_hair
A blunt bob can come with blended layers that are almost invisible, still creating some texture. Pair it with a long side fringe like this girl does.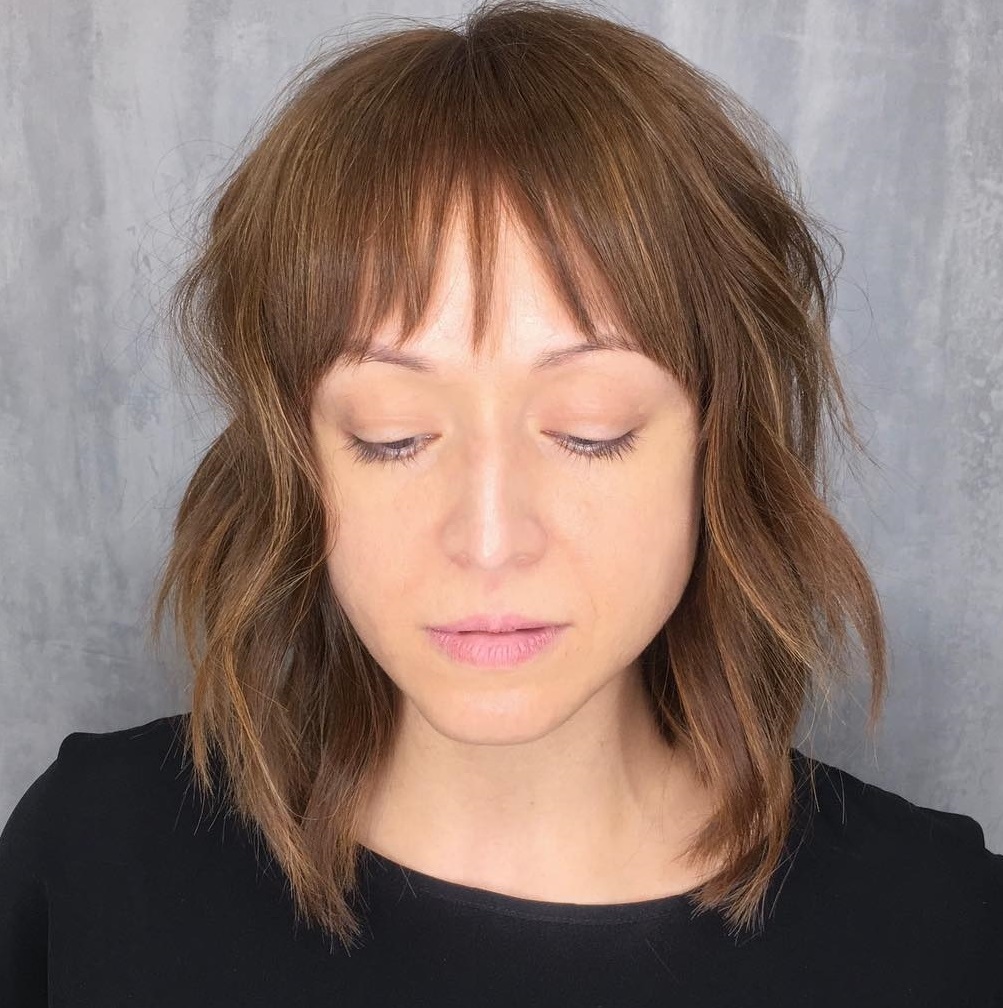 via @s.gallitelli
Yet, when choosing cut with bangs, why not to steal this arresting jagged fringe hitting the eyebrows? It's cool, and it chimes with the pieceyness of the cut.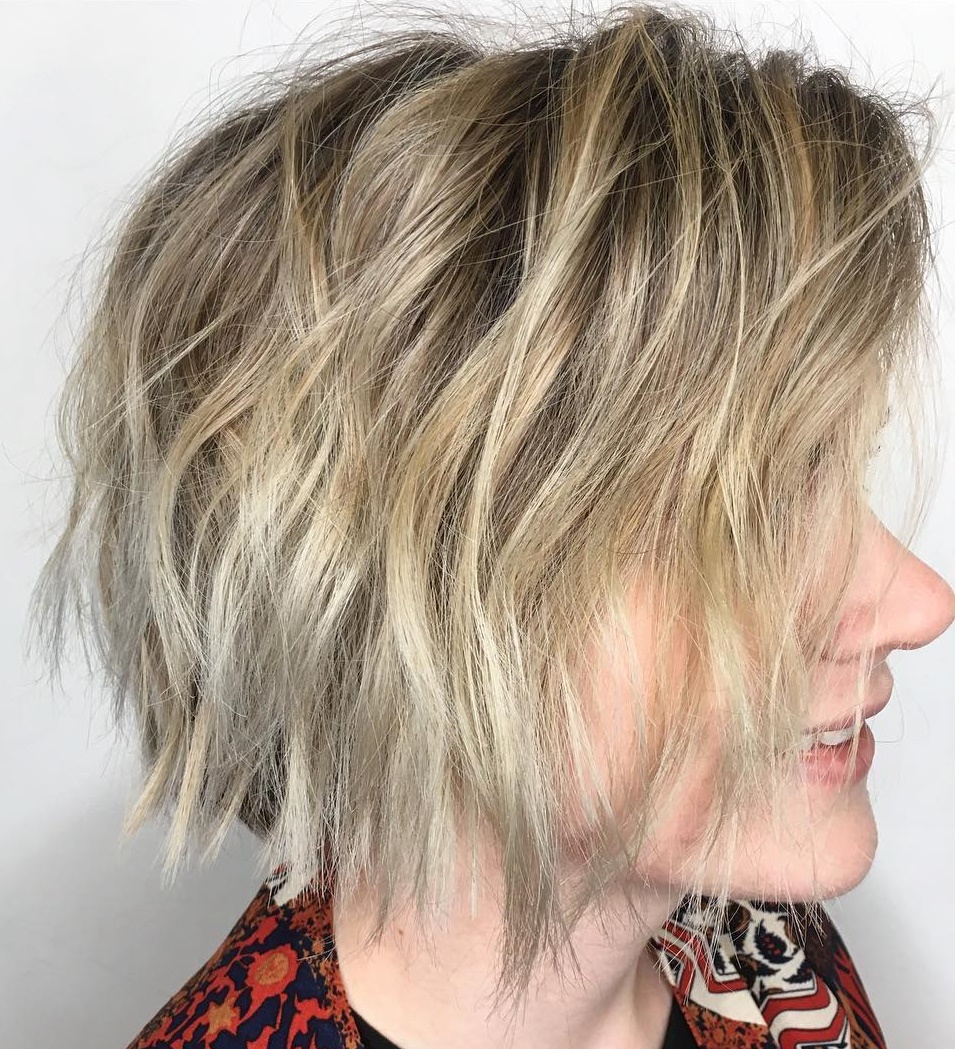 via @ashleec615
This chin length bob gives a clue to those growing out their crops. It's masterfully disheveled and colored to hide the awkward stage.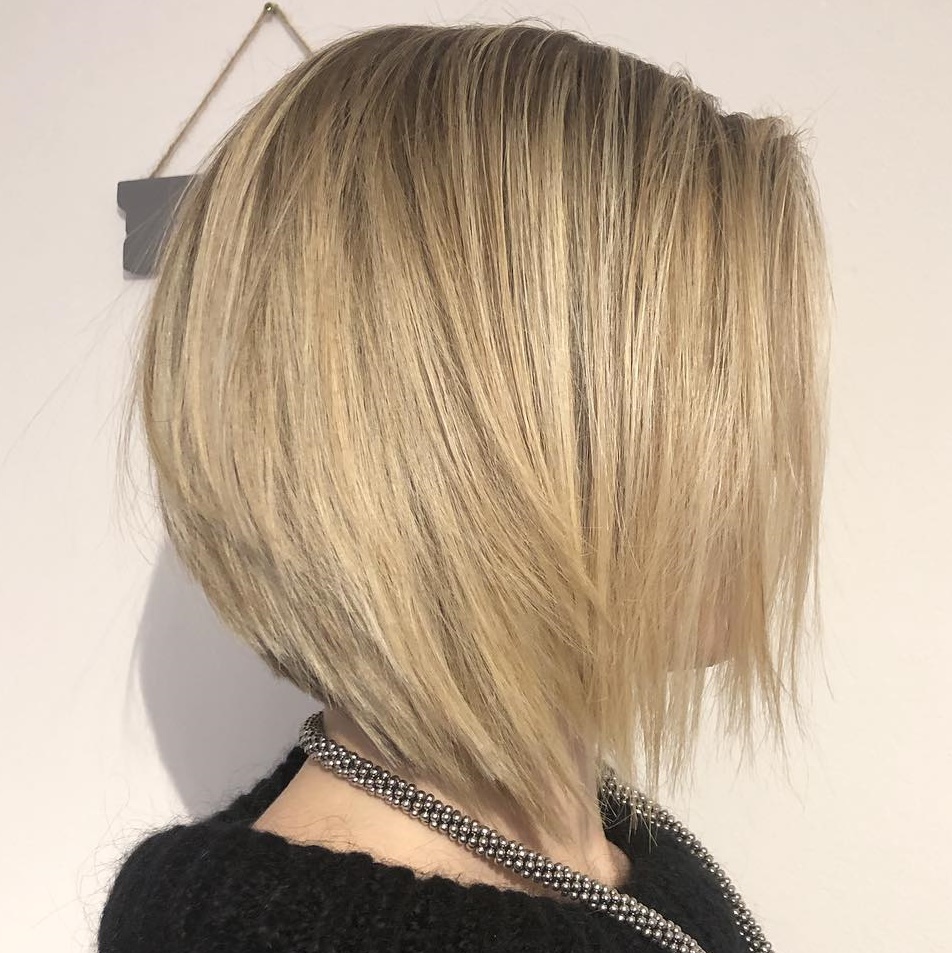 via @dorothea_84
Ladies with stick-straight hair should red-flag this bob, which is nicely layered on the back to emphasize its graduated shape.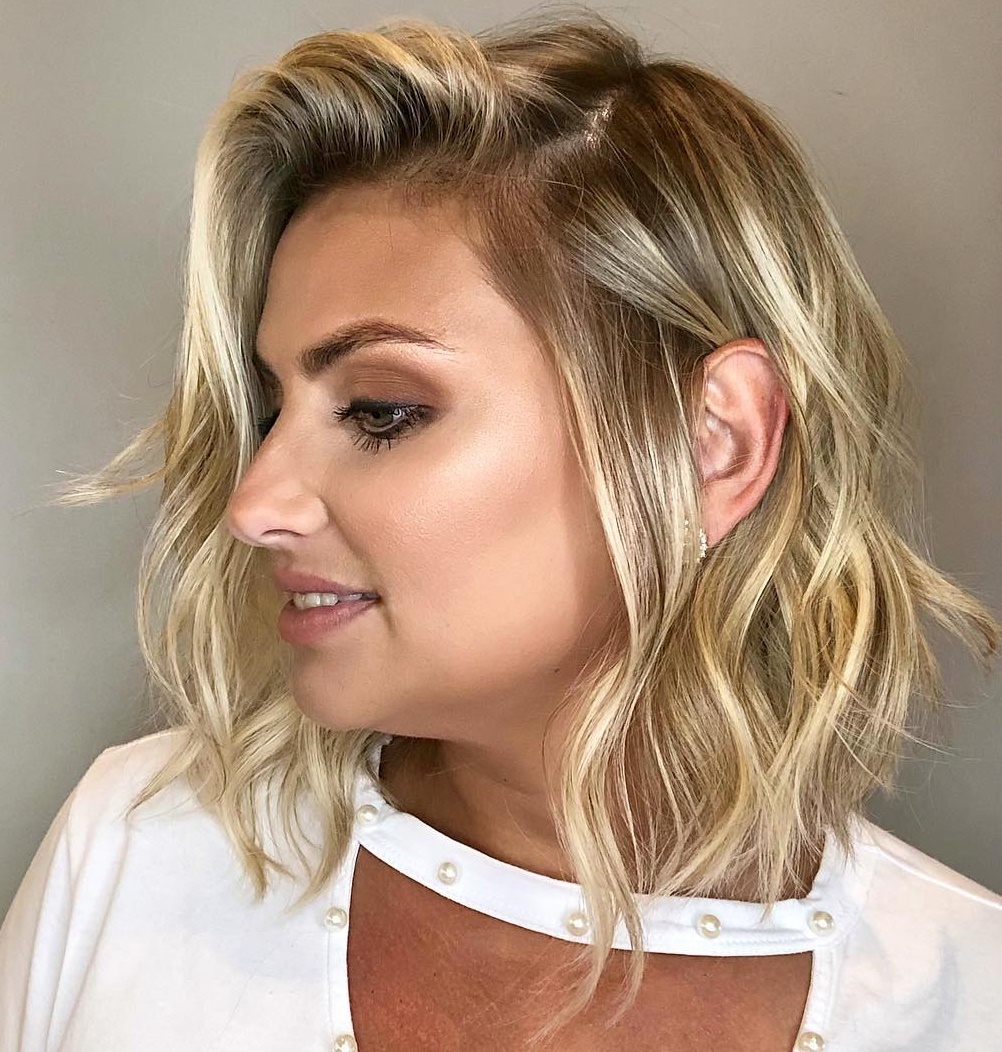 via @rafaelbertolucci1
The playful lob here is all joy with its glowing balayage, messy waves, a strand tucked behind the ear and dimensional locks flipped to the side.
Summarizing the abovesaid, piece-y pixies and blunt bob cuts are the safest choices for fine-haired girls, who want to make their hair look thicker. Obviously, there are plenty of other volume-boosting styles you can try, but it's better to discuss them with your hairdresser based on your hair density, face shape, styling abilities and personal preferences. If all is aligned, Instagrammable pictures are guaranteed!