Tattooing is perhaps one of the best and most creative ways to express yourself. When it comes to tattoos (especially minimal ones), your hands are a good spot to showcase your style and creativity. Hand tattoos may be painful, but they're definitely eye-catching. You can also show them off along with your beautifully-polished nails and chic bracelets. 
If you've finally decided to get yourself a hand tattoo, you might be faced with another dilemma—what design to get. Worry not as we've listed 50 hand tattoo ideas you can copy or get inspiration from. Minimal or complicated designs, you'll find everything here!
1. Skull Hand Tattoo Design
Do you want to be edgy with your hand tattoo? You can never go wrong with the classic skull tattoo design. The skull's intricate details are a sight to behold, especially if the artist can execute the design well. Make sure the artist is also an expert when it comes to shading and creating shadows because it can make or break your entire skull hand tattoo design.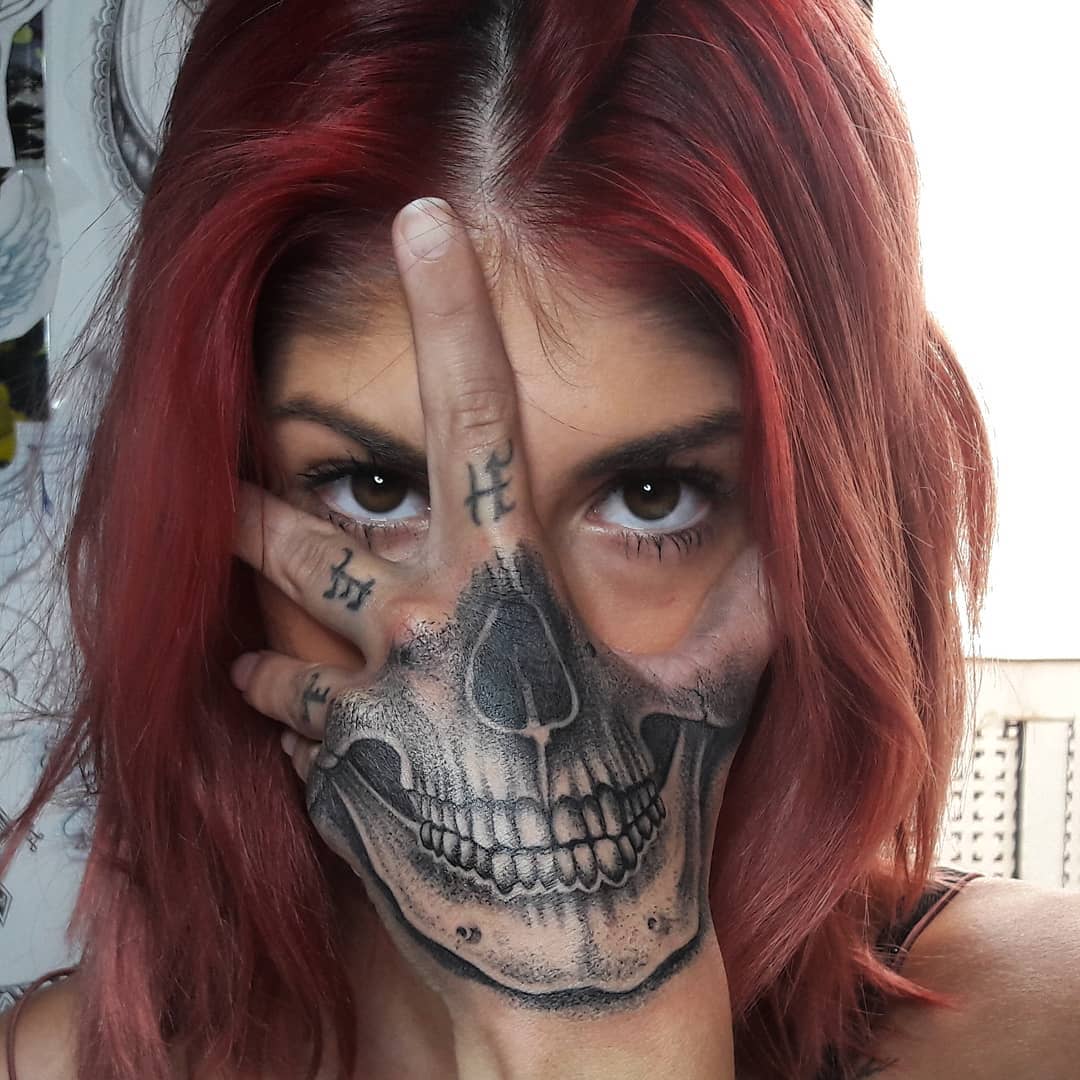 2. Praying Hands Tattoo Idea
If you have a strong grip on your faith, try showcasing it with a praying hand tattoo design. You can go big with this one as you can stretch it up to your forearm. This design also looks best if it has clean and thin lines (or bold lines), representing minimalism, humility, and peace.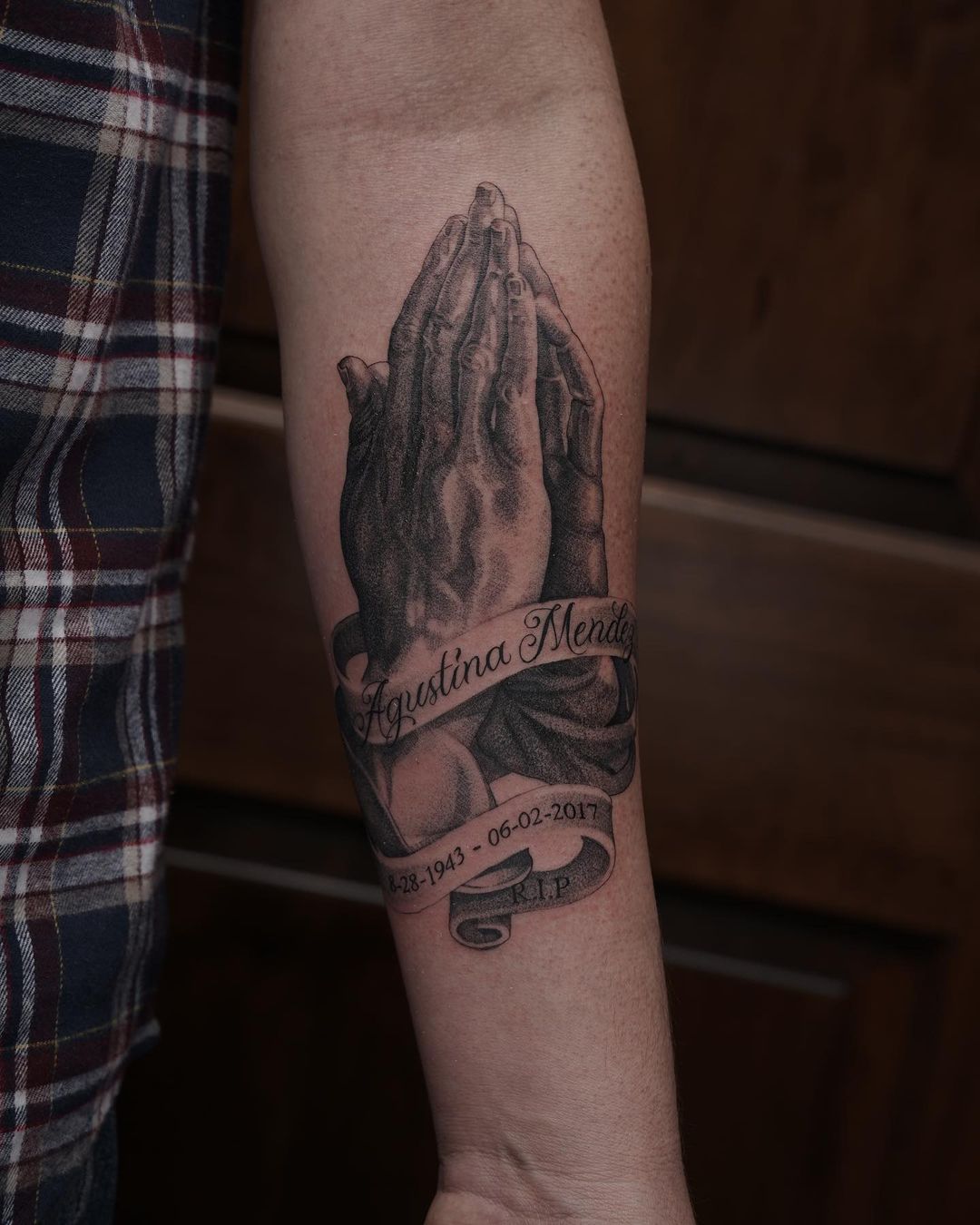 3. Rose Hand Tattoo Layout
Another traditional hand tattoo design is this rose hand tattoo. They may be cliché, but roses represent beauty, romance, and love. You may opt for a rose with an all-black ink or play with different colors. Some people would also pair the rose hand tattoo layout with aesthetic drawings, such as an outline of a woman biting or holding a rose.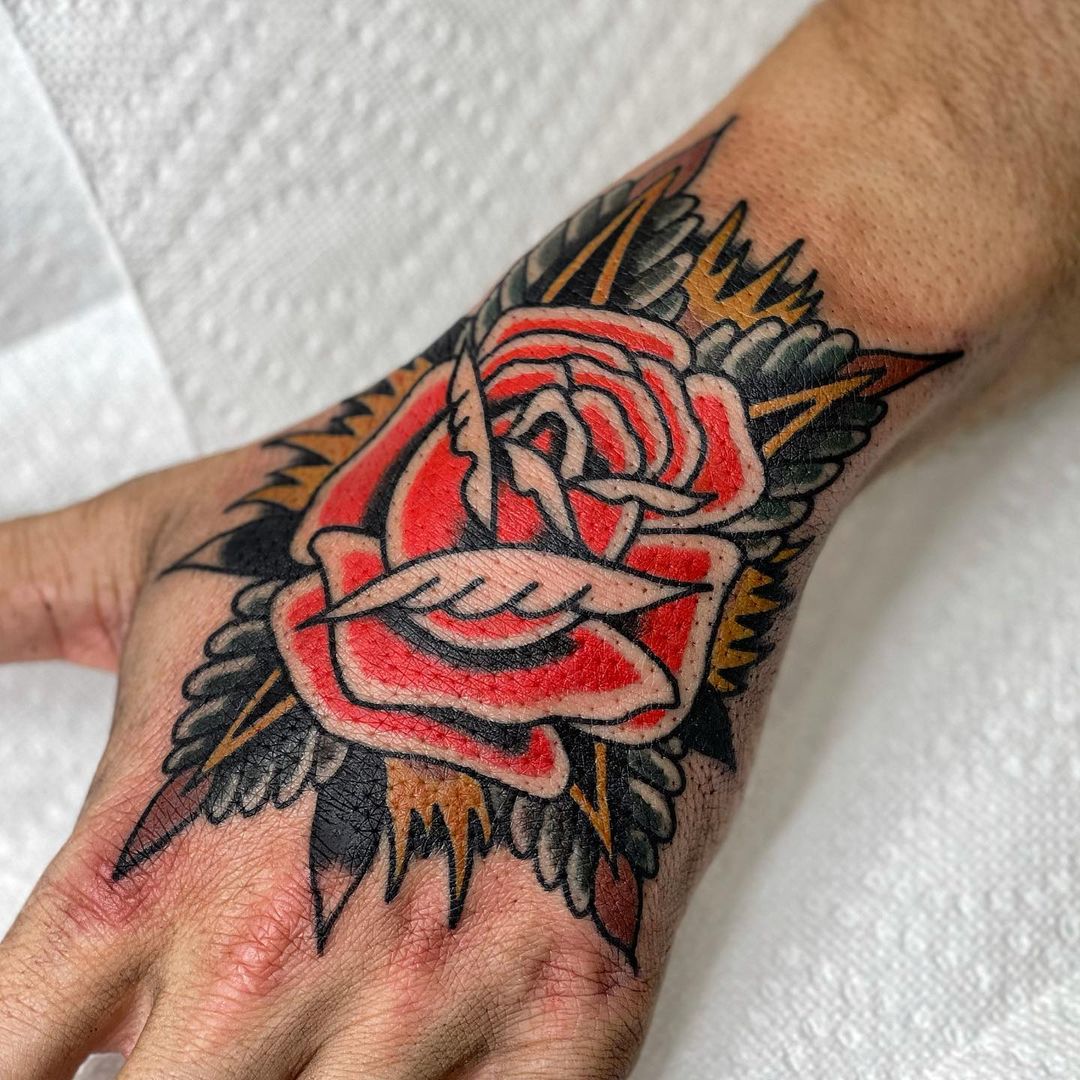 4. Butterfly Hand Tattoo Pattern
Add a few butterfly patterns on your hand, and you already have an impressive butterfly hand tattoo! You can choose between butterflies with colorful wings or go for the minimalist route, such as a single-lined butterfly or a black, shaded one. While having a single butterfly design is cute, small butterflies spread across your hand can look magical!
5. Pretty Hand Tattoo Style
The pretty hand tattoo style is fairly easy to achieve if you have any beautiful tattoo concept in mind. All it needs is effective execution on behalf of the tattoo artists. When choosing your pretty hand tattoo design, you can opt for any significant object or a combination of words and objects. The example above features a pretty artwork of a plane, which is popular among travelers.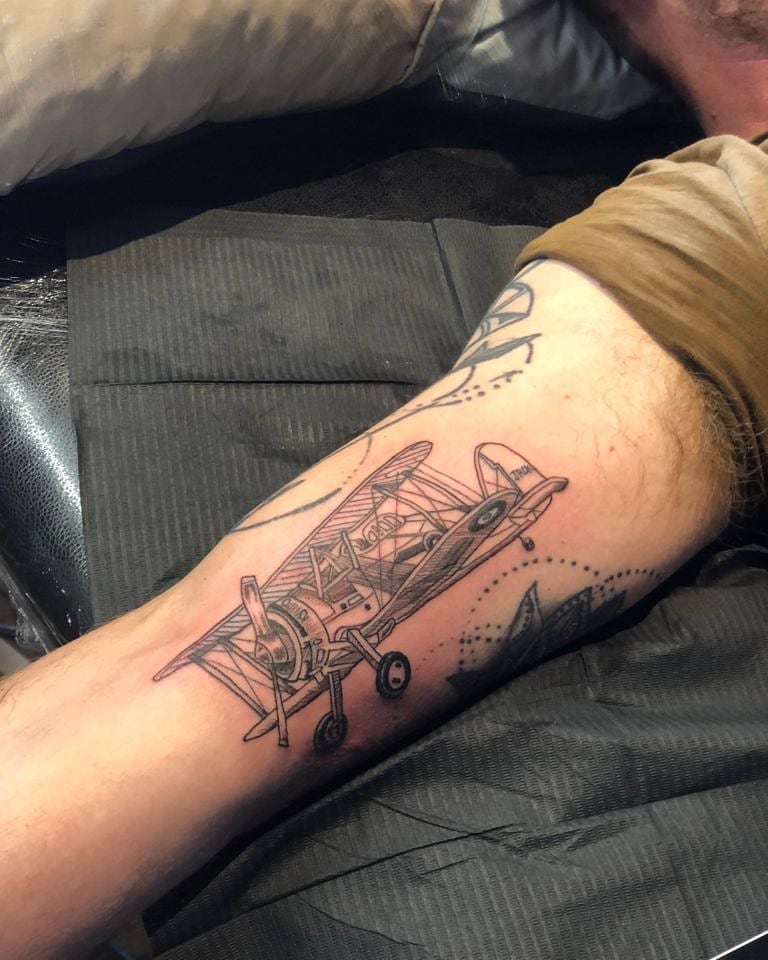 6. Henna Design Hand Tattoo
If you don't want to commit yet to a permanent tattoo, you can temporarily have a henna design. The good thing about this tattoo is that it can look realistic without long-lasting commitment. If you're not pleased with your initial design, you can constantly change it without having to go through the painful process of tattoo removals or cover-ups.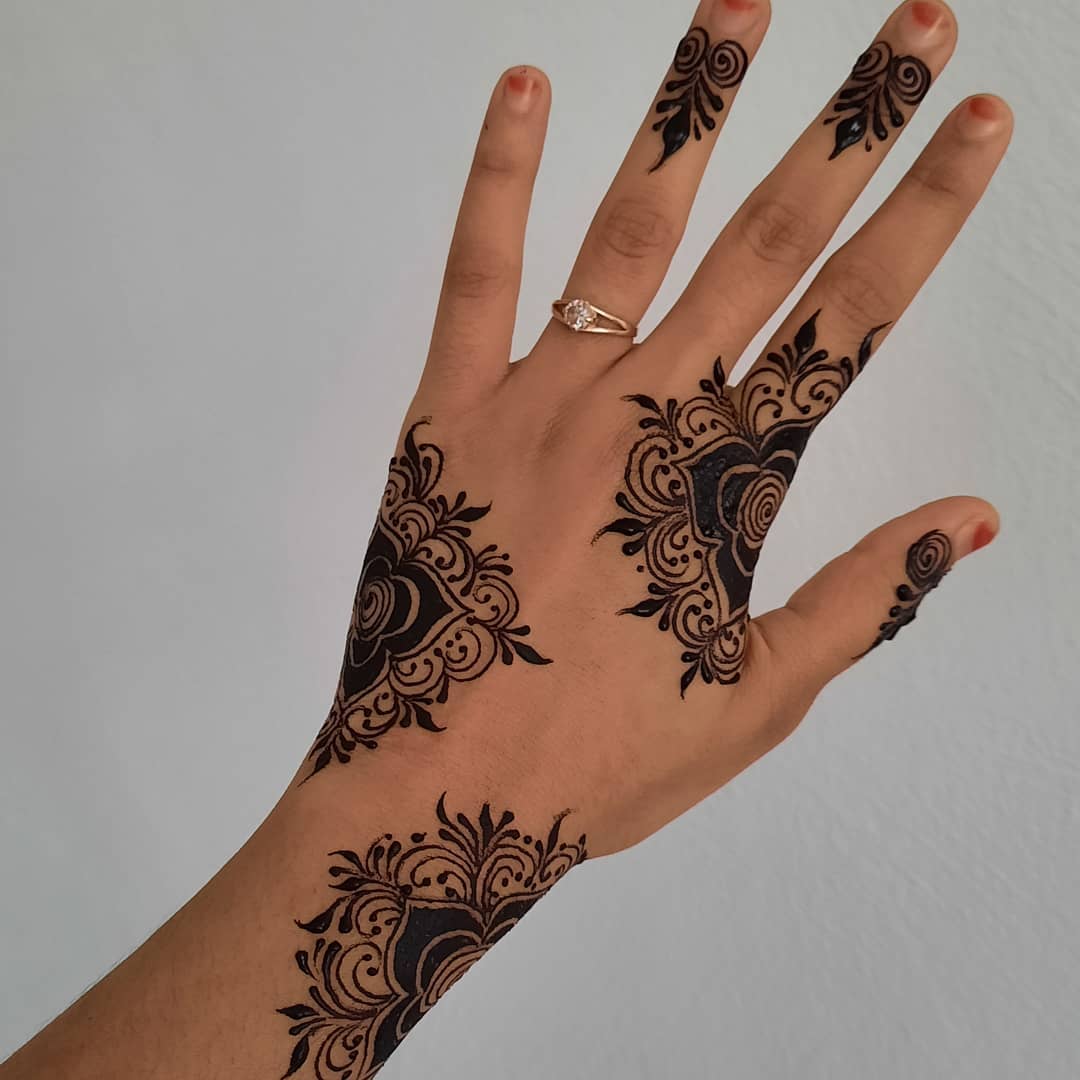 7. Cross Tattoo On Hand
Another way to display and showcase your faith is by having a cross tattoo on your hand. The common designs feature a plain illustration of a cross, but the image above shows a unique way of having cross tattoo patterns on your hand. Who knew inspirational and religious quotes can be shaped like a cross? Truly creative!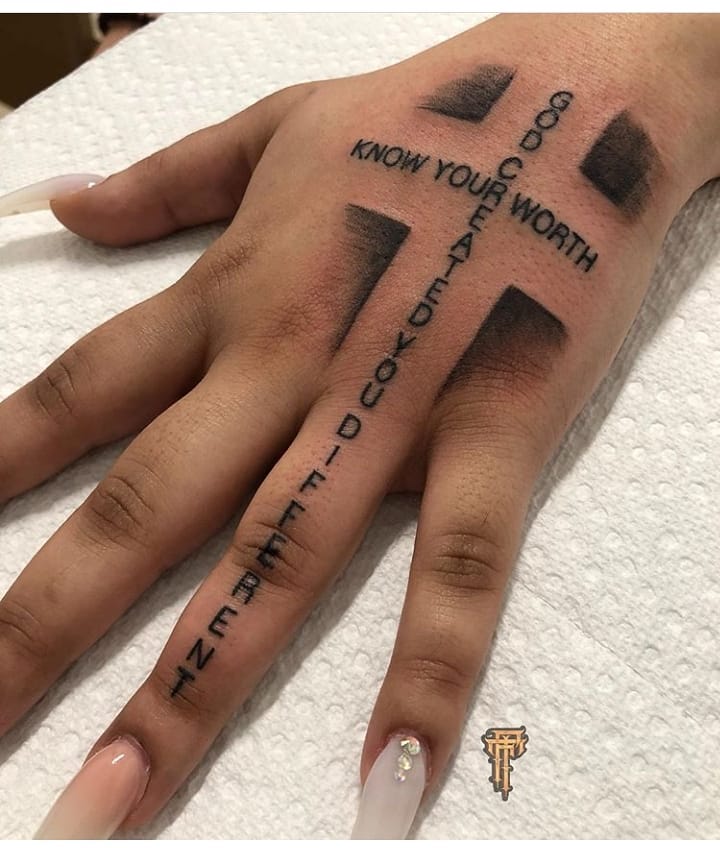 8. Lion Hand Tattoo Idea
Are you a fan of the famous Lion King movie? Why not put Mufasa and Simba in your hands? Lions are one of the most beautiful animals to feature as an art, especially on your skin. They represent strength and courage and if that's what you believe in life, the lion hand tattoo is a perfect design for your beliefs.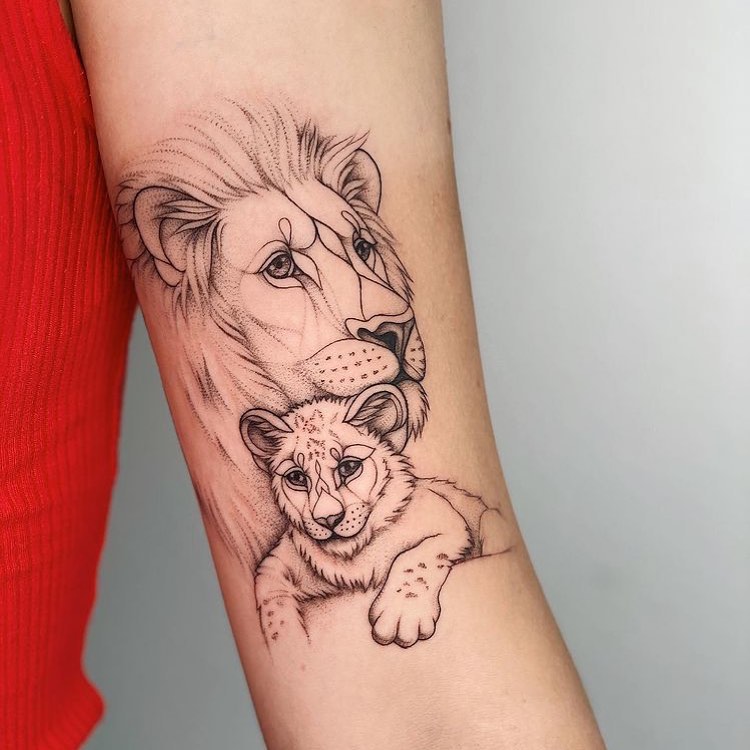 9. Joker Hand Tattoo Layout
Another iconic movie character that you can incorporate into your style and creativity is Joker. In the hand tattoo layout above, we've highlighted his unforgettable wicked grin paired with a violet flower. You may also want to change the color of his lips for a more artistic look. If you love Joker and his villainous smile, this tattoo will be an amazing statement.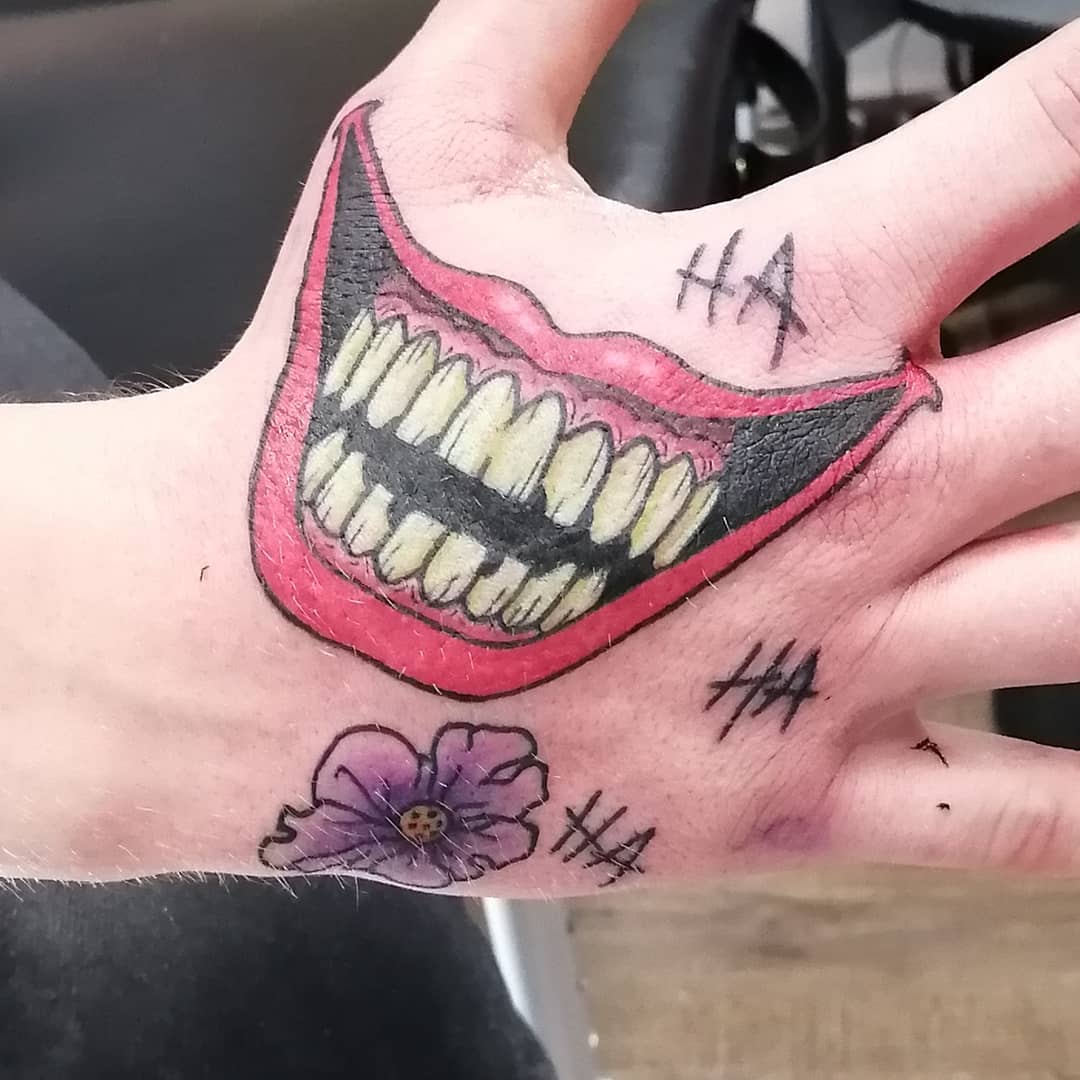 10. Rihanna-Inspired Hand Tattoo
Are you a hardcore Rihanna fan? Show your love for the "Umbrella" singer by stealing her hand tattoo design! As depicted from the photo above, Rihanna has a henna-style tribal dragon claw in her hand. It's specifically a geometric dragon claw with intricate details, such as a hibiscus flower that continues up to her wrist. While Rihanna has tons of body tattoos, her hand tattoo is a must-try!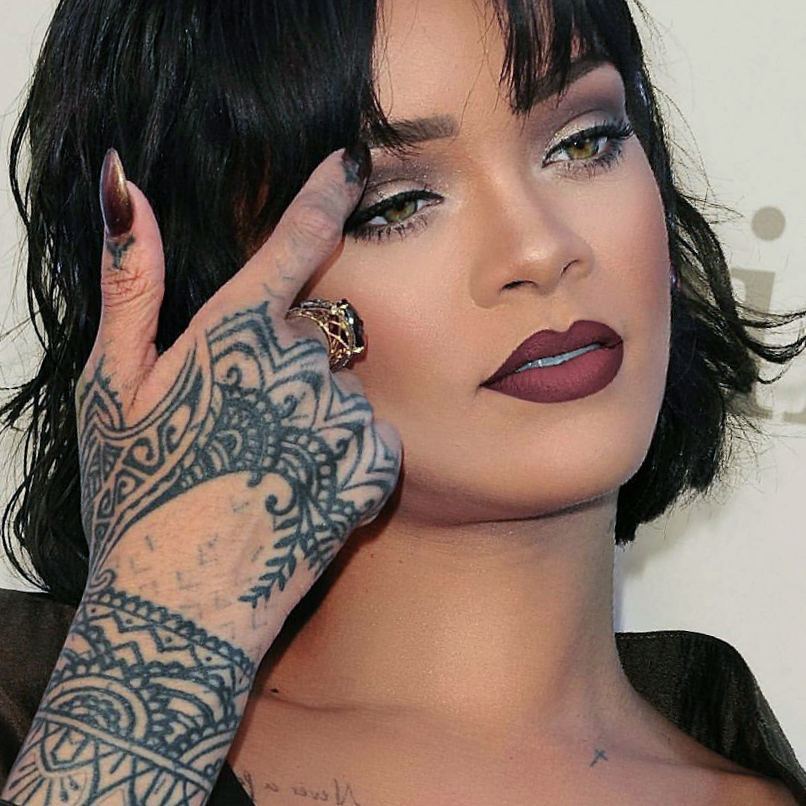 11. Side Hand Tattoos
If you like side finger tattoos, you'll definitely love side hand tattoos! Side hand tattoo designs are amazing if you want something subtle and less distracting. It can be more subtle if you choose the side facing towards you. Side hand tattoos are typically for the minimalists, and some celebrities who nailed this design are Kelly Osbourne, Chiara Ferragni, and Bea Miller.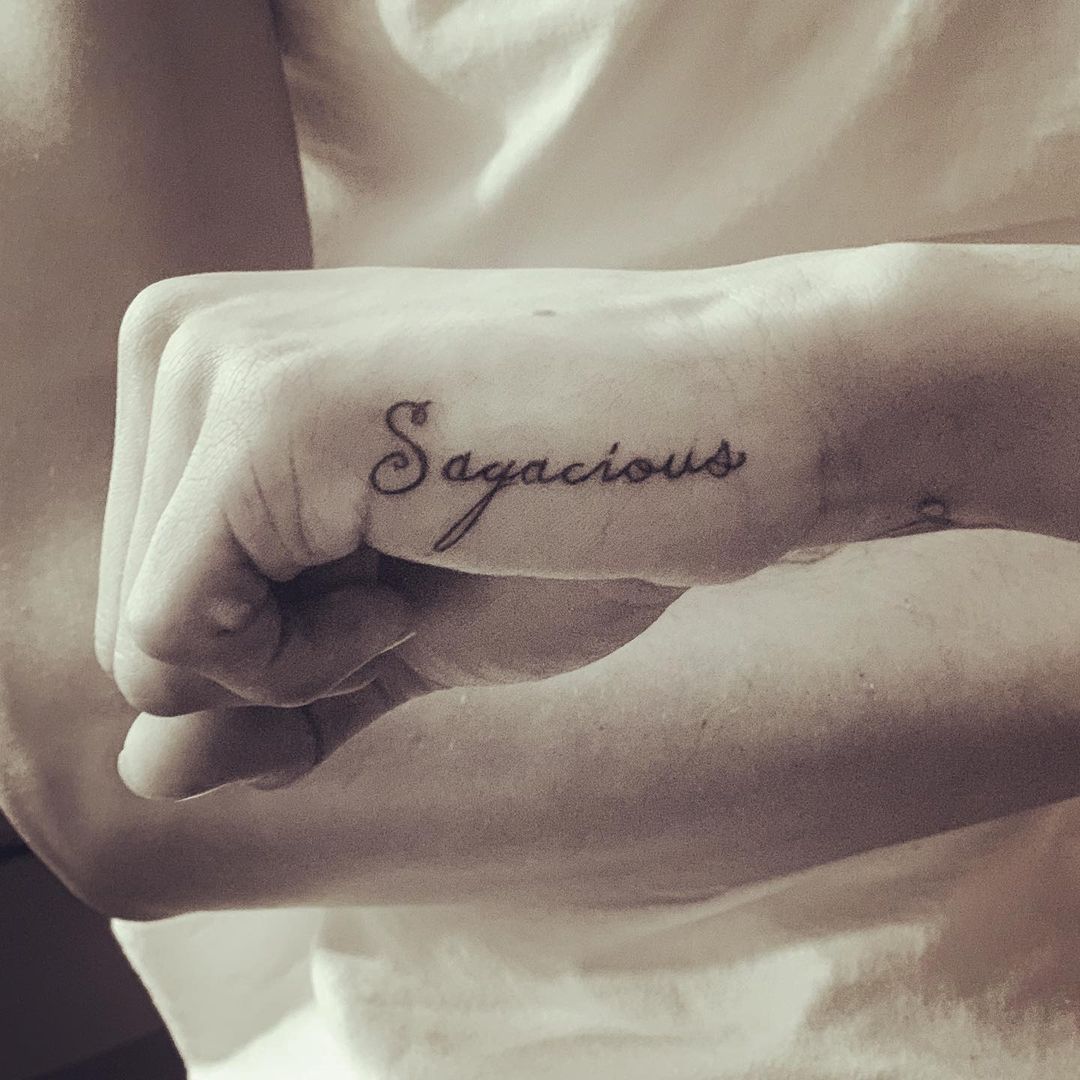 12. Hamsa Pattern Hand Tattoo
Hamsa hand tattoos represent or symbolize the "Hand of God." The usual design features two symmetrical thumbs that are believed to bring happiness, good health, and fortune. But in our design above, we played up with a bird having a colorful hamsa pattern. Some religions would consider getting a hamsa tattoo disrespectful, but if it would be discreet, it's absolutely worth trying.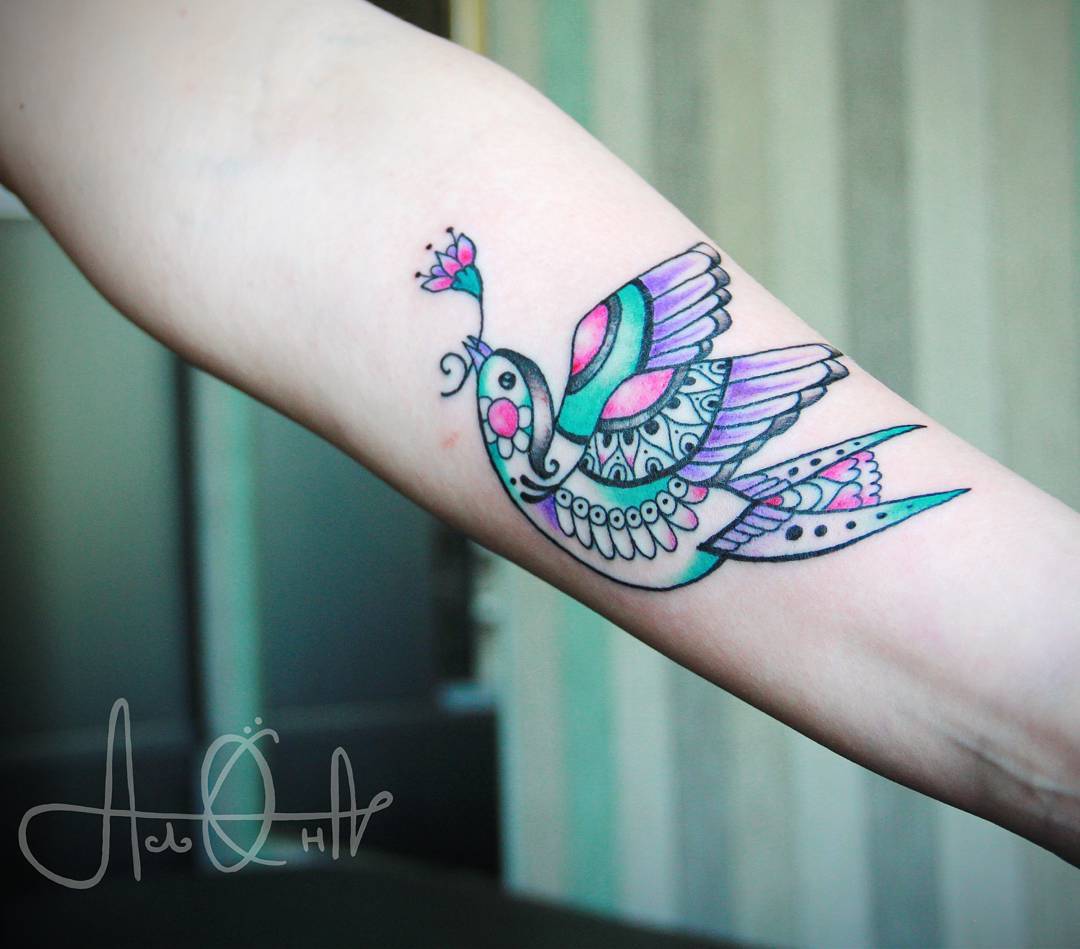 13. Snake-Styled Hand Tattoo
Choosing a snake design for your hand tattoo doesn't necessarily portray wickedness or betrayal. Do you know that this design can actually be about rebirth or fertility? It may also be attached to the fact that when snakes shed their skin, it represents transformation. Design-wise, snakes have beautiful figures, and this creature will look best on your hands.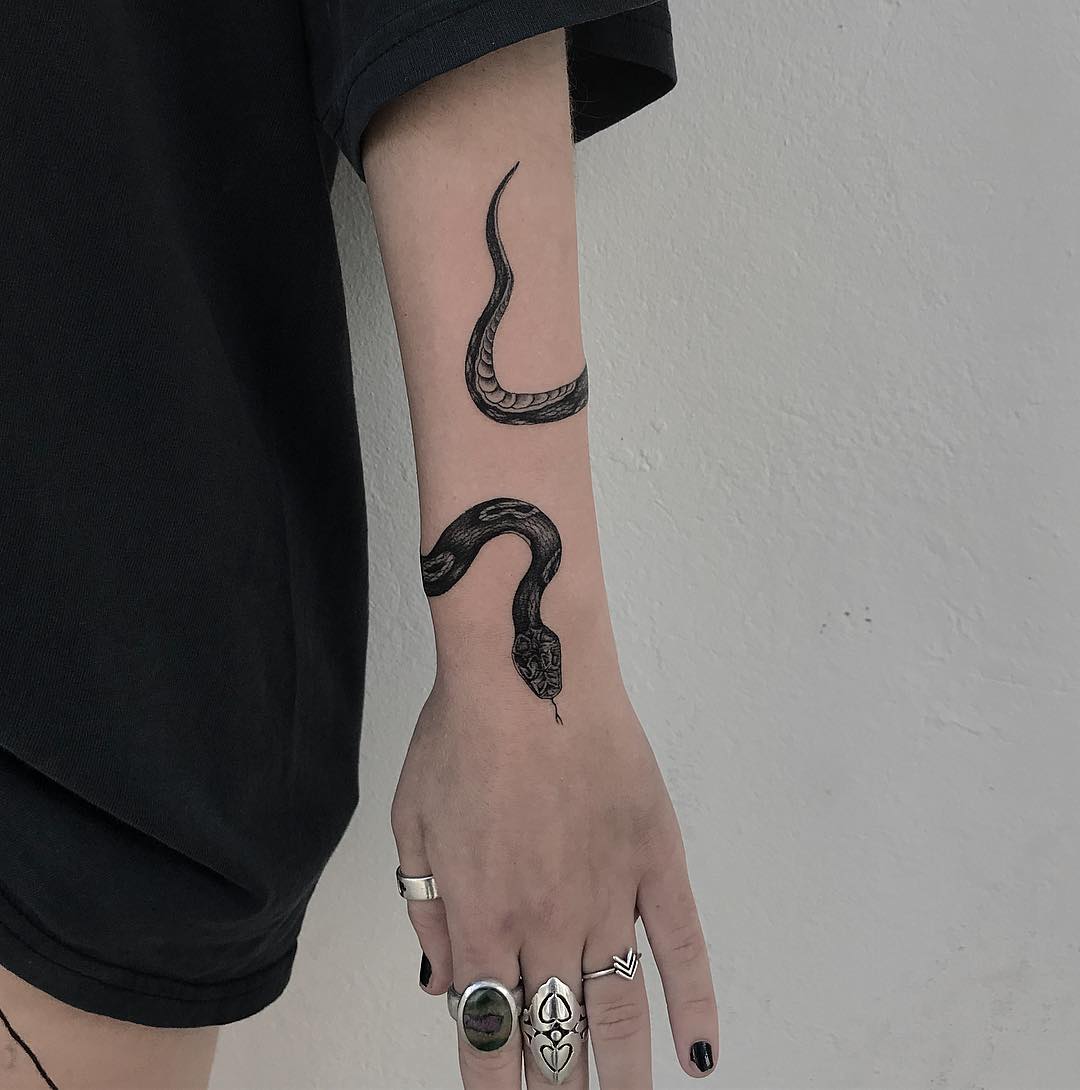 14. Wolf-Shaped Hand Tattoo
A wolf-shaped hand tattoo can be similar to a lion tattoo. Both are striking, especially if the designer will use effective lining and shading. Wolves signify wildness and curiosity, and they'll look more attractive on your hand if their jaws are slightly open, bearing their teeth. The artist can also play on their eye expressions for a more intense effect.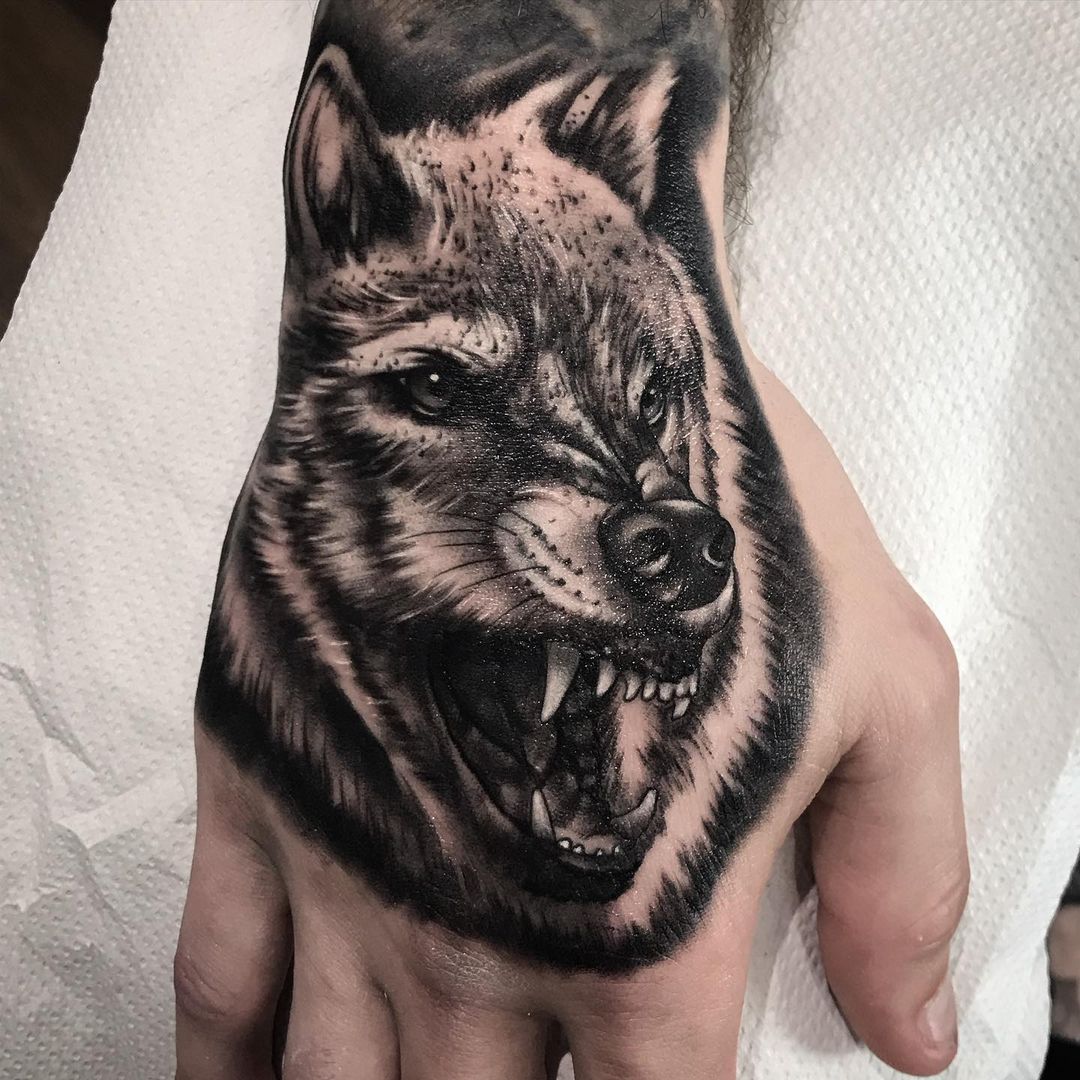 15. Elephant Hand Tattoo
Another animal that you can feature in your hand tattoo design is an elephant. In the African and Indian cultures, elephants represent divinity. Meanwhile, Thai culture commemorates the elephant as a symbol of fortune, making it their national animal. If you love elephants but haven't got the chance to see them in person yet, you can paint them on your hands in the meantime.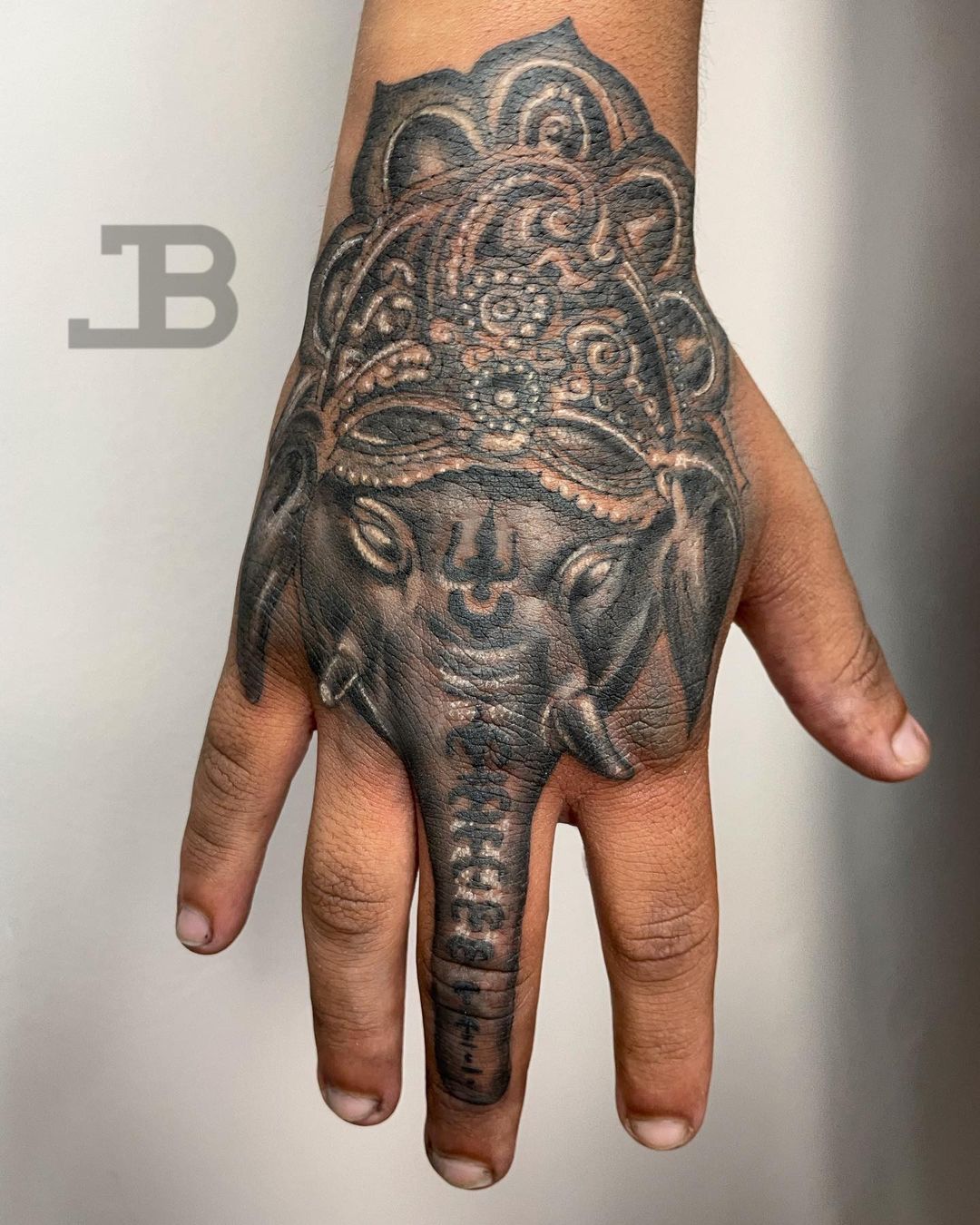 16. Dragon Hand Tattoo Design
Dragons may be mythical creatures, but they're undeniably captivating. They're known to be fiery and fierce, and their features are worth showing off on your hands as tattoos. This mythical creature represents various meanings in Asian cultures. For example, dragons represent good luck and strength in China. On the other hand, a colorful Japanese dragon symbolizes balance and freedom. Whatever your beliefs about dragons are, they're classic hand tattoo ideas you shouldn't miss.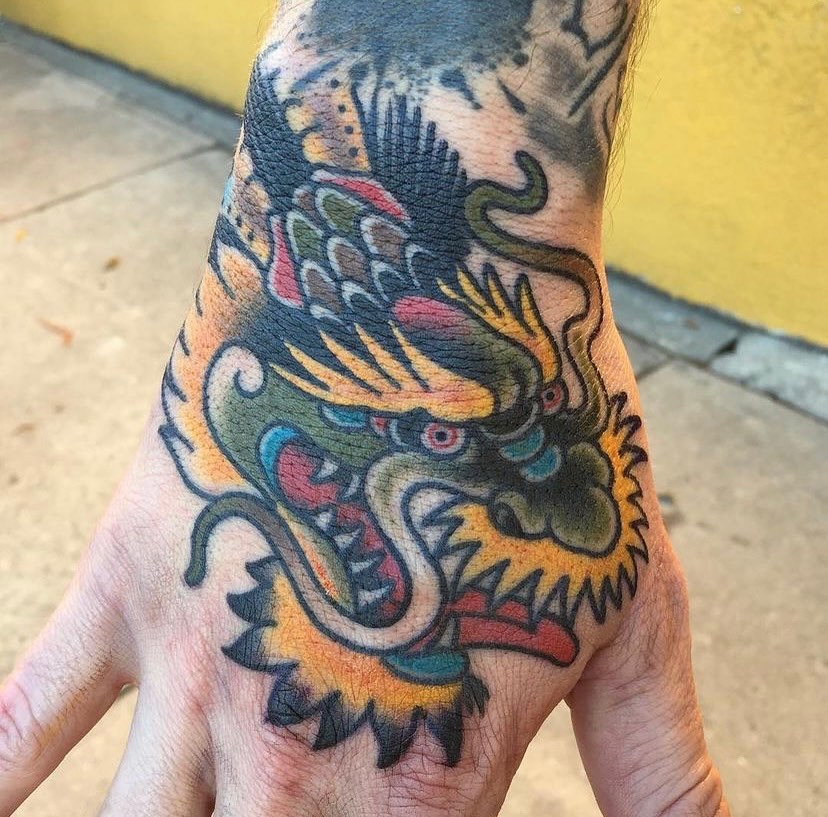 17. Eye Tattoo On Hand
Eyes are windows to your soul, but they can also be an adornment to your hand like this eye tattoo design! Eyes, in themselves, are one of the most mysterious and beautiful body parts. They best reflect emotion more than any of your body parts can do. If you're in for drama and mystery, you can never go wrong with this hand tattoo design. You may also feature the eyes of someone you love for a romantic feel.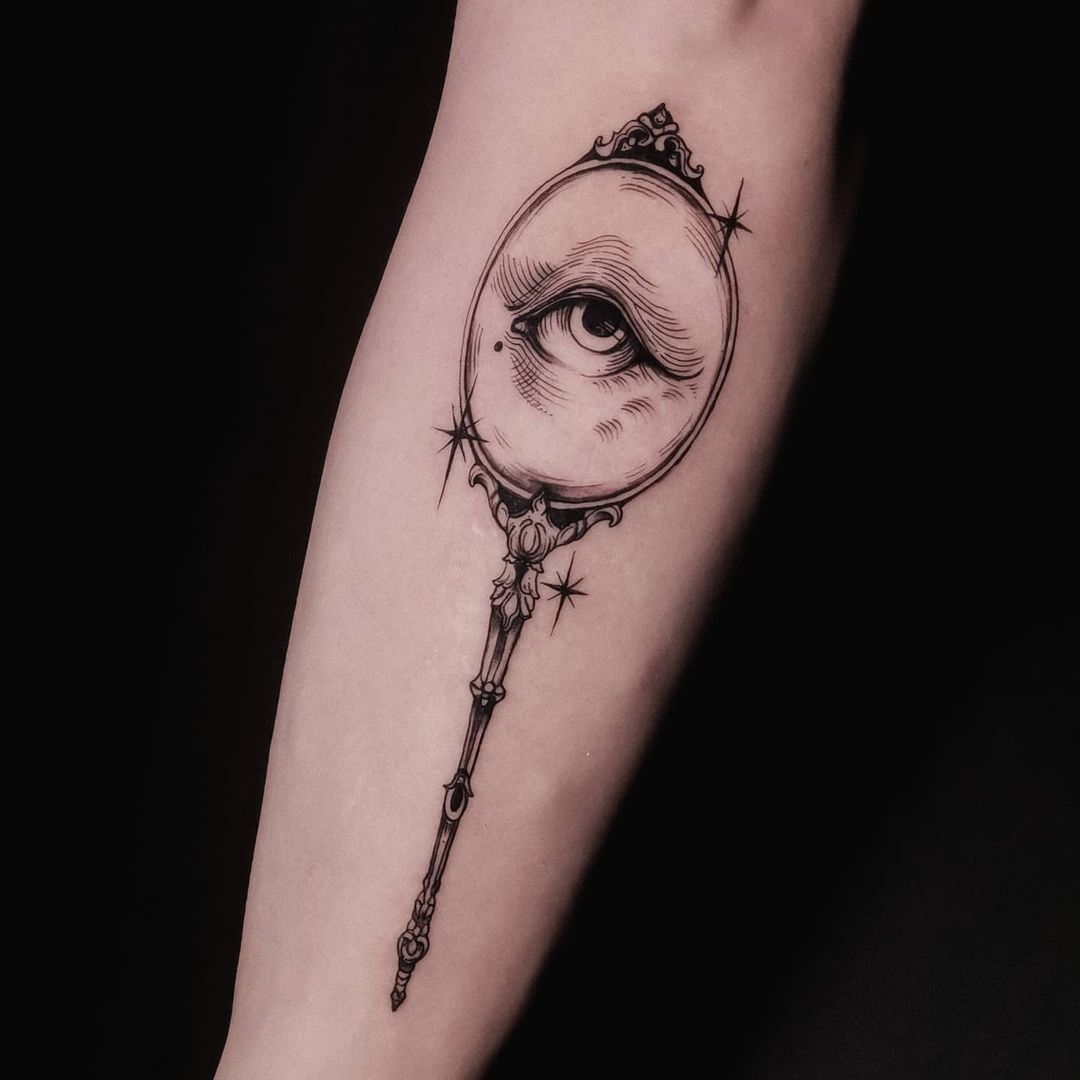 18. Gun Tattoo On Hand
Alright, eyes are for drama and mystery. But if you're in an angsty mood, you may want to go far as having a gun tattoo on your hand. Try a gun art with a simple design or you may pair it with other tattoo styles, such as roses, cigarette smokes, and even skulls. You can also include messages like the picture above. A gun tattoo is definitely one of the best hand tattoos for men!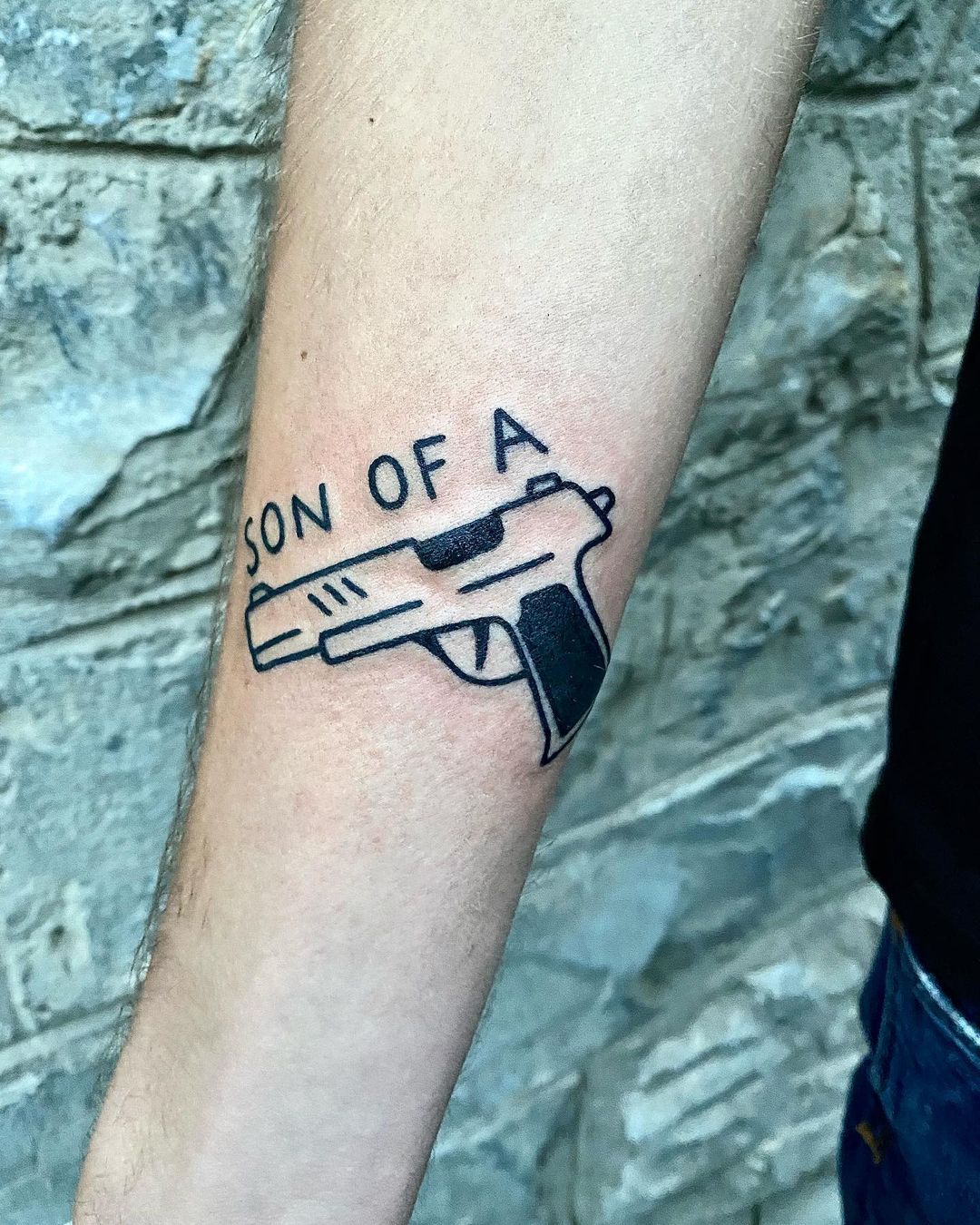 19. Jesus Hand Tattoo Design
Here's another hand tattoo design that may go against the belief of Catholics. As believed by many, using religious symbols as a tattoo can be disrespectful, but being a devout Catholic means being someone who's not afraid to profess their faith through creativity. After all, there's no harm in showing your faith through art.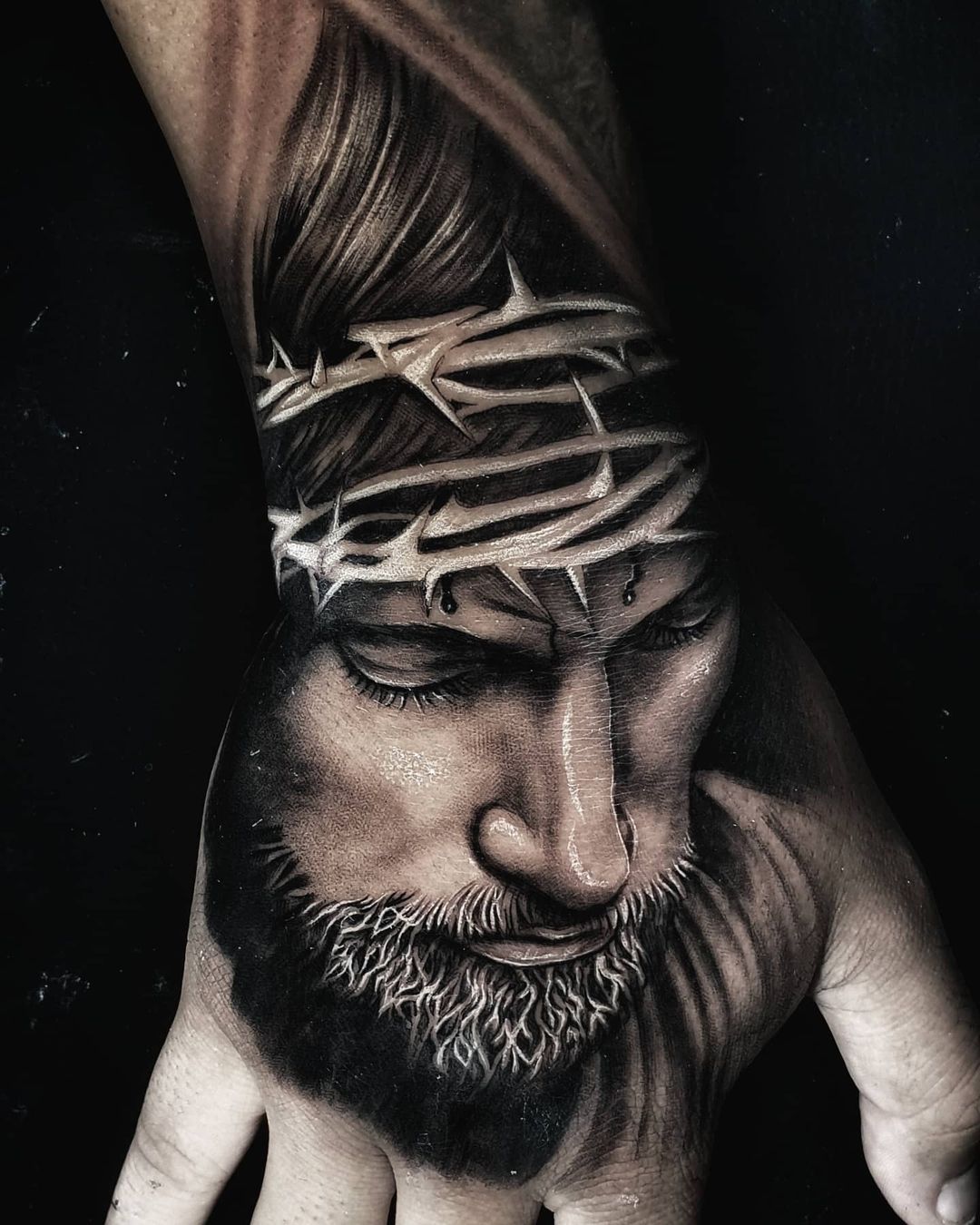 20. Lil Peep Hand Tattoo Inspo
Like most rappers, Lil Peep was one of the many artists who had tattoos adorned across his body, including his hands. The rapper specifically put each letter of his song "Wavy Baby" into the back of his fingers, and it's lowkey stunning! If you have a favorite song with an eight-letter title, feel free to follow Lil Peep's hand tattoo idea.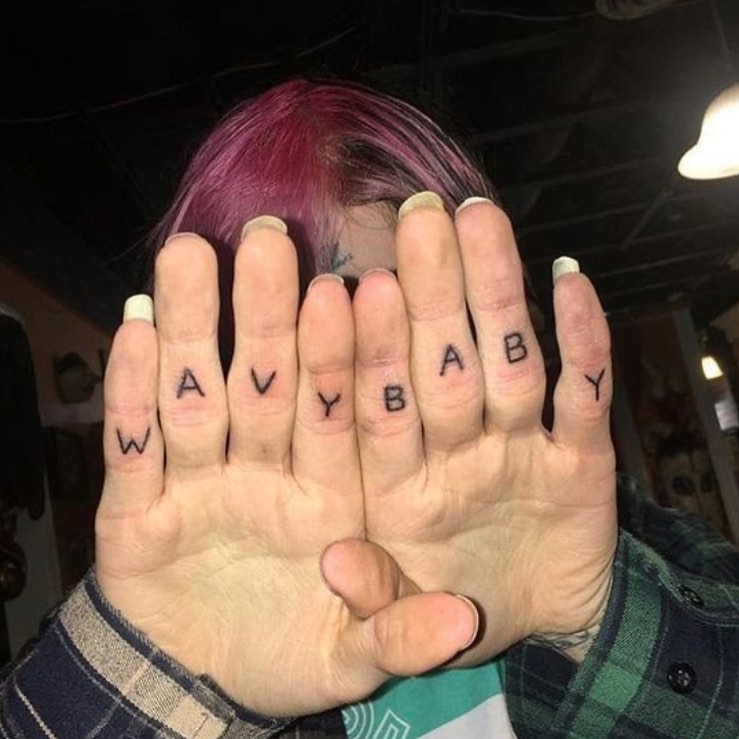 21. Mandala Hand Tattoo Idea
Who says mandalas can only be seen in adult coloring books? This art can look good on your hands, too! Mandalas are known to be intricate designs, but having them as a hand tattoo will definitely slay. The mandala design is also similar to hennas. If you're ready for permanent ink, you can have the mandala art as your first tattoo.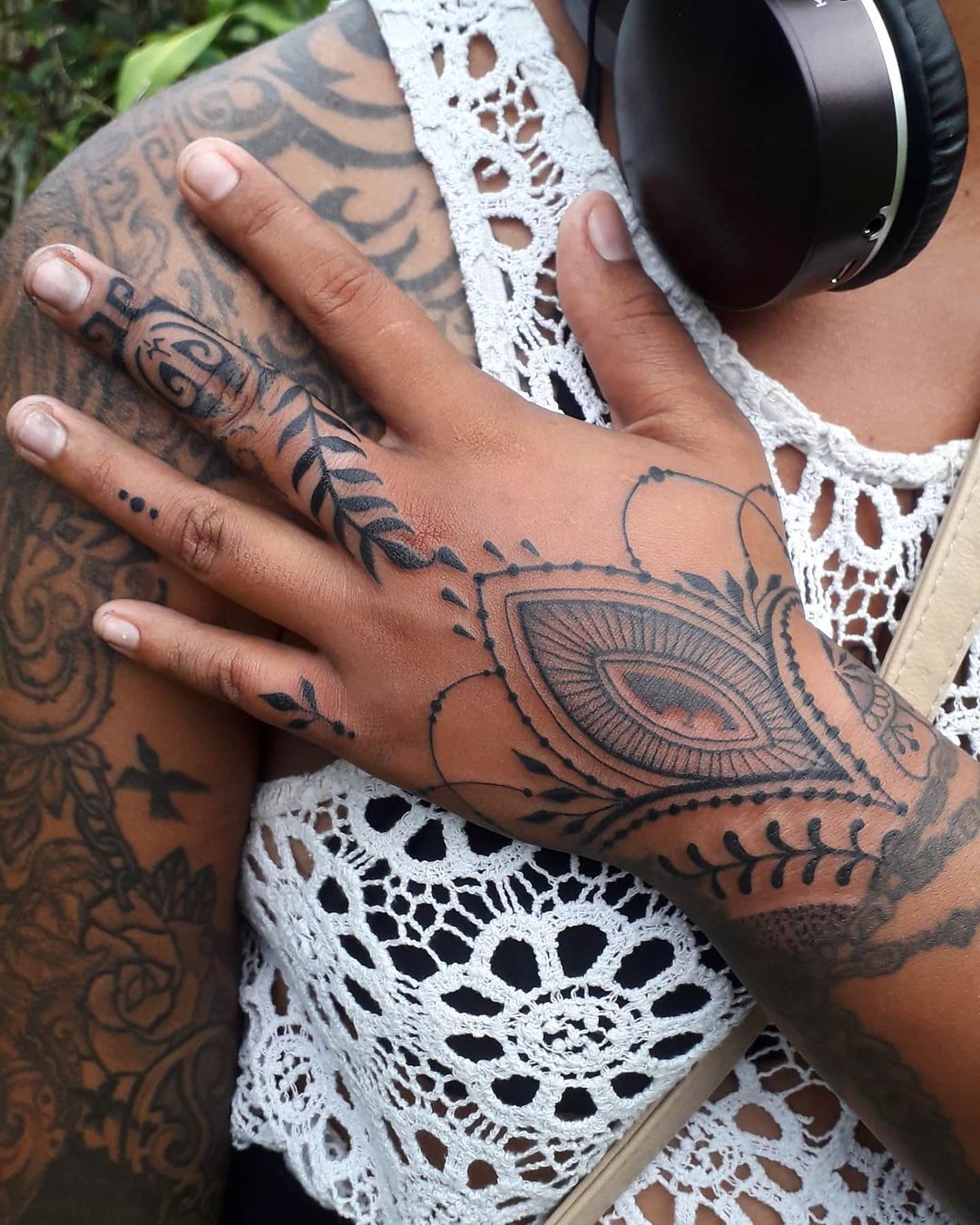 22. Small Rose Tattoo On Hand Layout
Perhaps you're someone who doesn't like big, colorful rose tattoos. Keep things subtle by getting yourself this small hand tattoo rose layout. You can create your own design or let your tattoo artist do all the creative work. If you're a June baby, the rose small hand tattoo is a wise option as it's your birth month flower. It's also great for people who love The Beauty and the Beast and The Little Prince.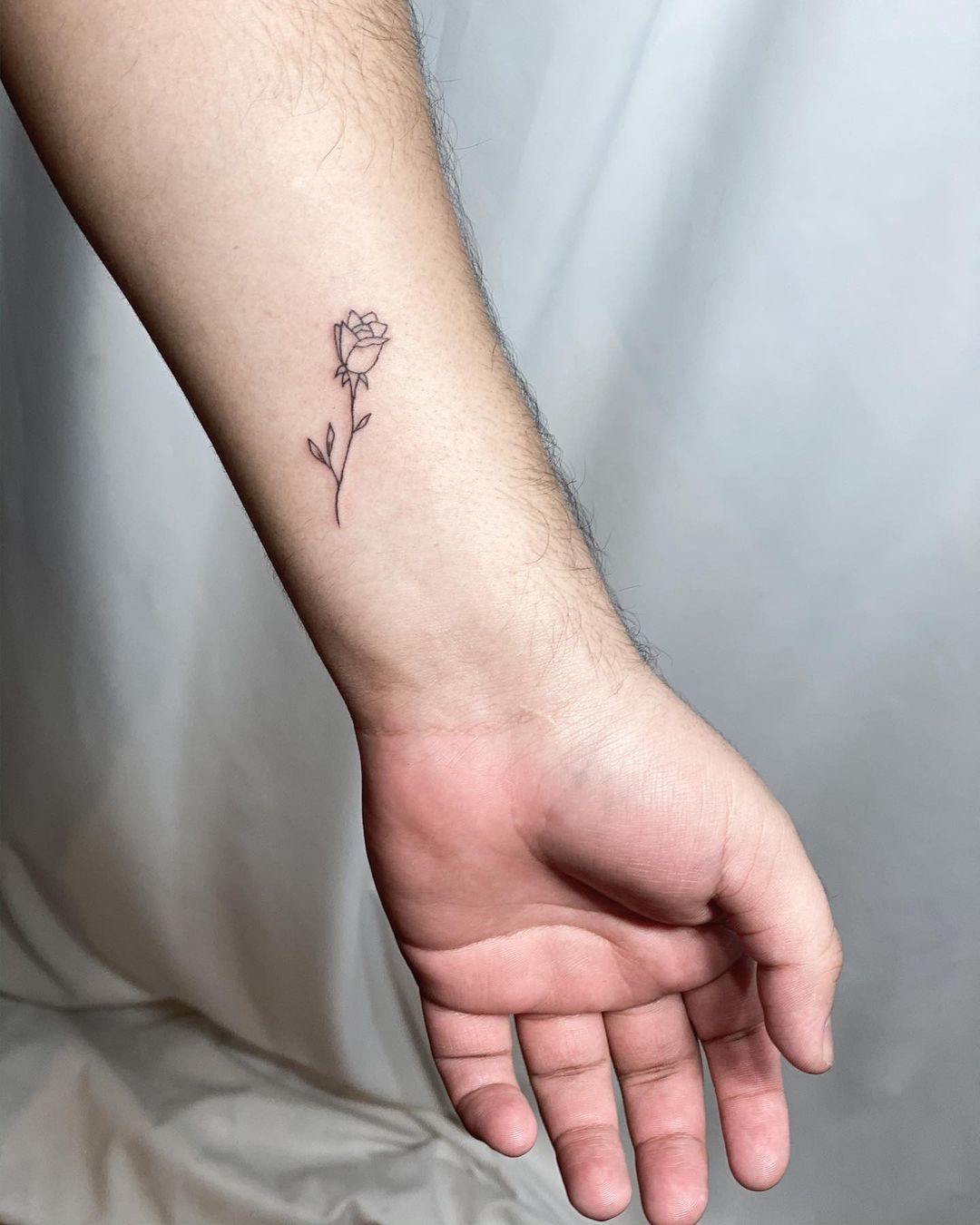 23. Heart Pattern Tattoo On Hand
Wearing your heart on your sleeve? Why not wear your heart in your hand? The typical heart pattern hand tattoo features all-black ink design or just a simple heart with bold lines. But the picture above shows a more artistic look—a red-blue heart tattoo with an eye on the center and small stars as rays. Again, you can feature your eyes or the eyes of someone you love for a more personalized vibe.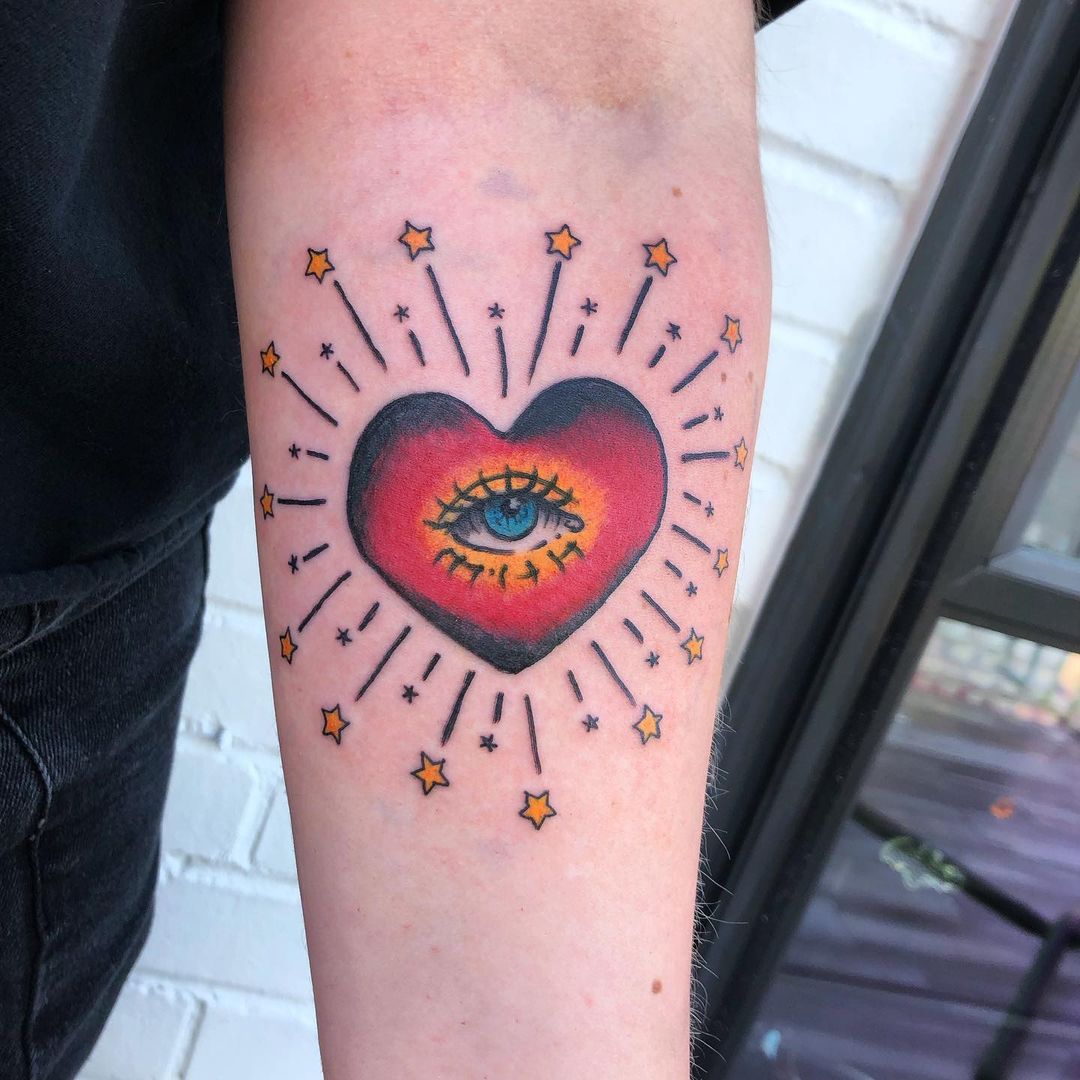 24. Tiger Hand Tattoo Style
So, we're done with lions and wolves. How about going for a fiercer look with a tiger hand tattoo style? Like lions and wolves, tigers represent strength and fearlessness. In Buddhism and Hinduism religions, they're considered instruments of various divinities. If you exude courage and fortitude, you can definitely pull off this hand tattoo design. Don't forget to let the tiger bare its teeth!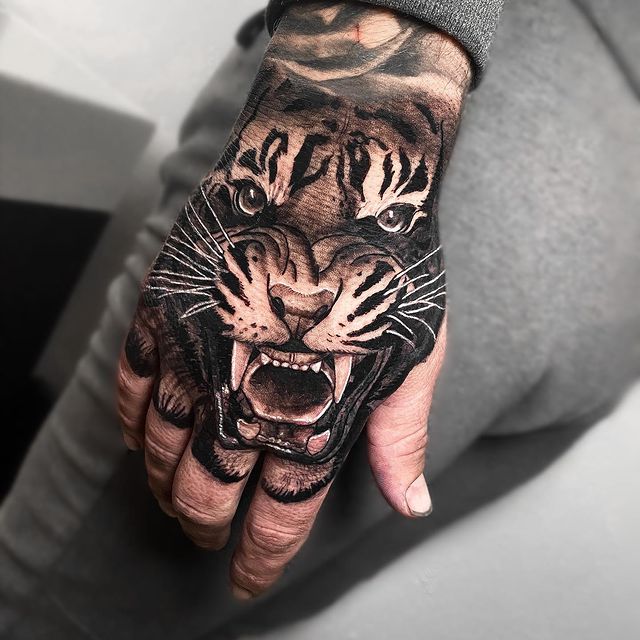 25. Clock Hand Tattoo Design
The clock tells time but it can also symbolize life and death, which makes this tattoo design incredibly meaningful. As you can see from the photo above, the clock is surrounded by big roses and the word "family" in the center. If you're going to translate its meaning, it could signify that your family is one of the most beautiful things you can have on Earth, and you should value each time you have with them.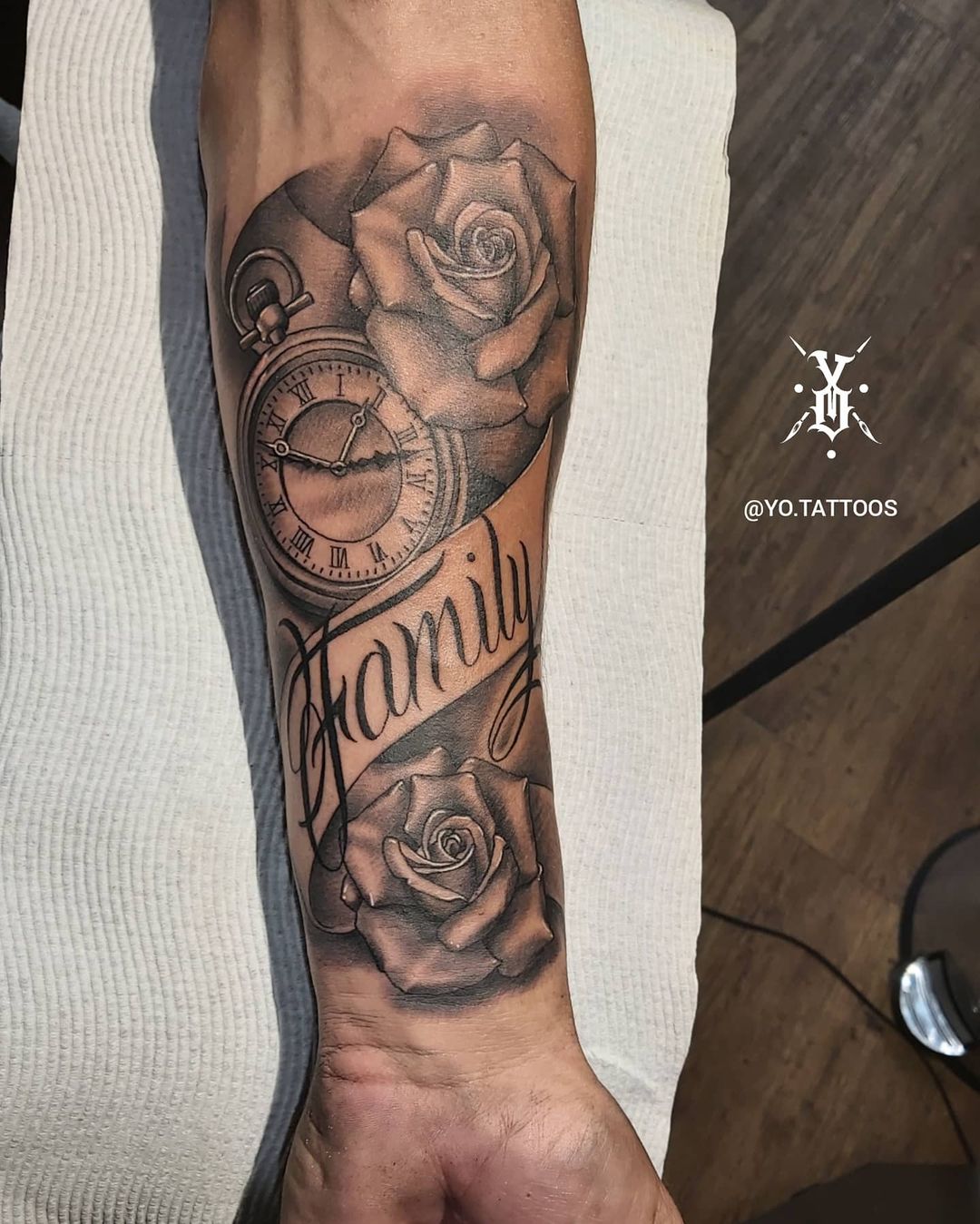 26. Japanese Hand Tattoo Idea
What more creative way to show off a Japanese hand tattoo than choosing the cherry blossoms design! In ancient times, Japanese tattoos were used to convey a Japanese individual's social status. But in the modern generation, they're already used as a creative expression or charm to protect yourself. Japanese hand tattoos can also be a way to show devotion.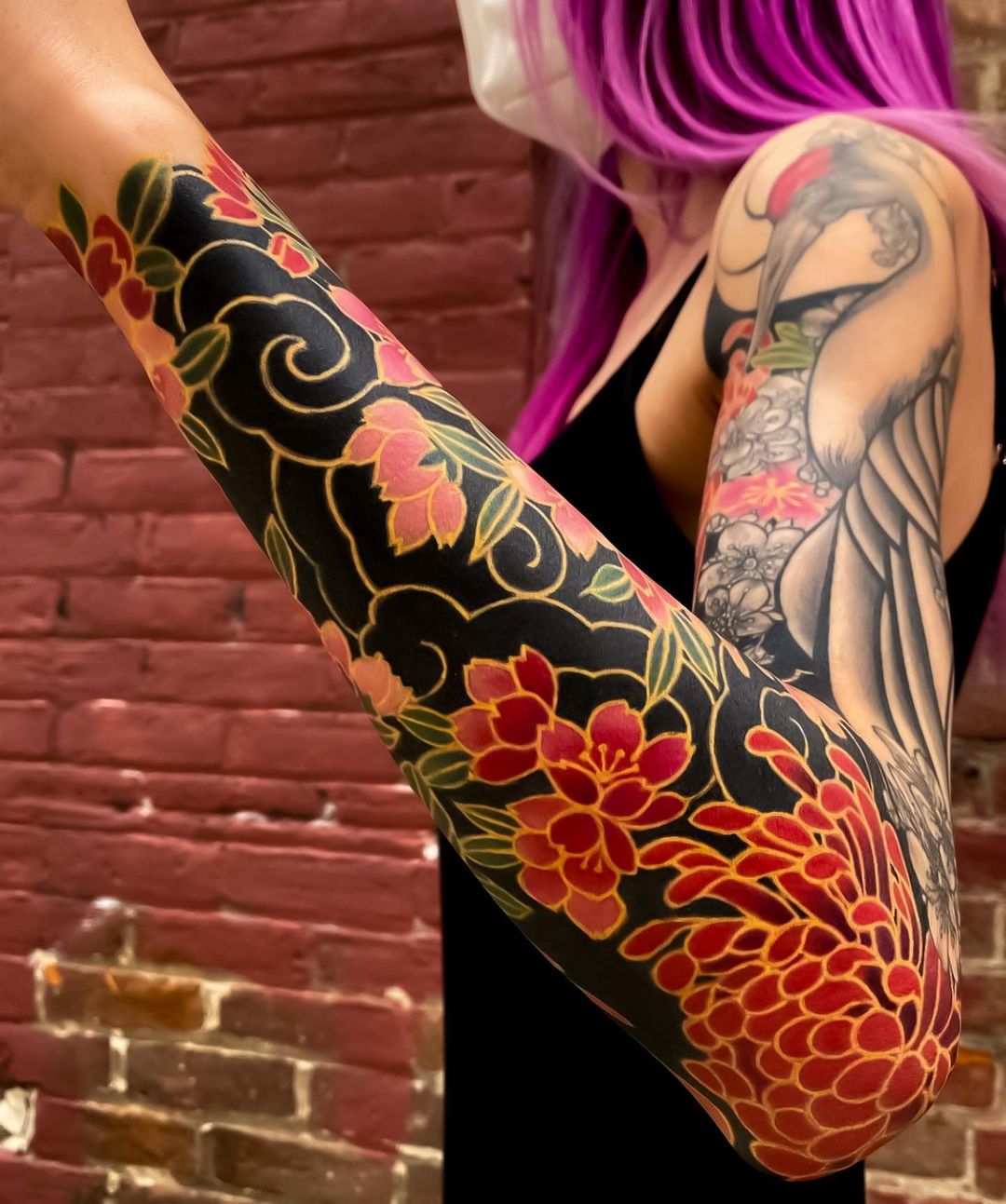 Fun Fact: Japanese tattoos are referred to as 'Irezumi,' which simply means tattooing in Japanese.
27. Kevin Gates Hand Tattoo Inspiration
Another rapper on the list is Kevin Gates. Like Lil Peep, the "Big Gangsta" rapper has many tattoos across his body and hands. Specifically, he has two different guns inked on his two hands. One of his signature poses is making a gun sign and pointing his hands on his head. Of course, no real guns were used here—just gun hand tattoo designs on each of his hands.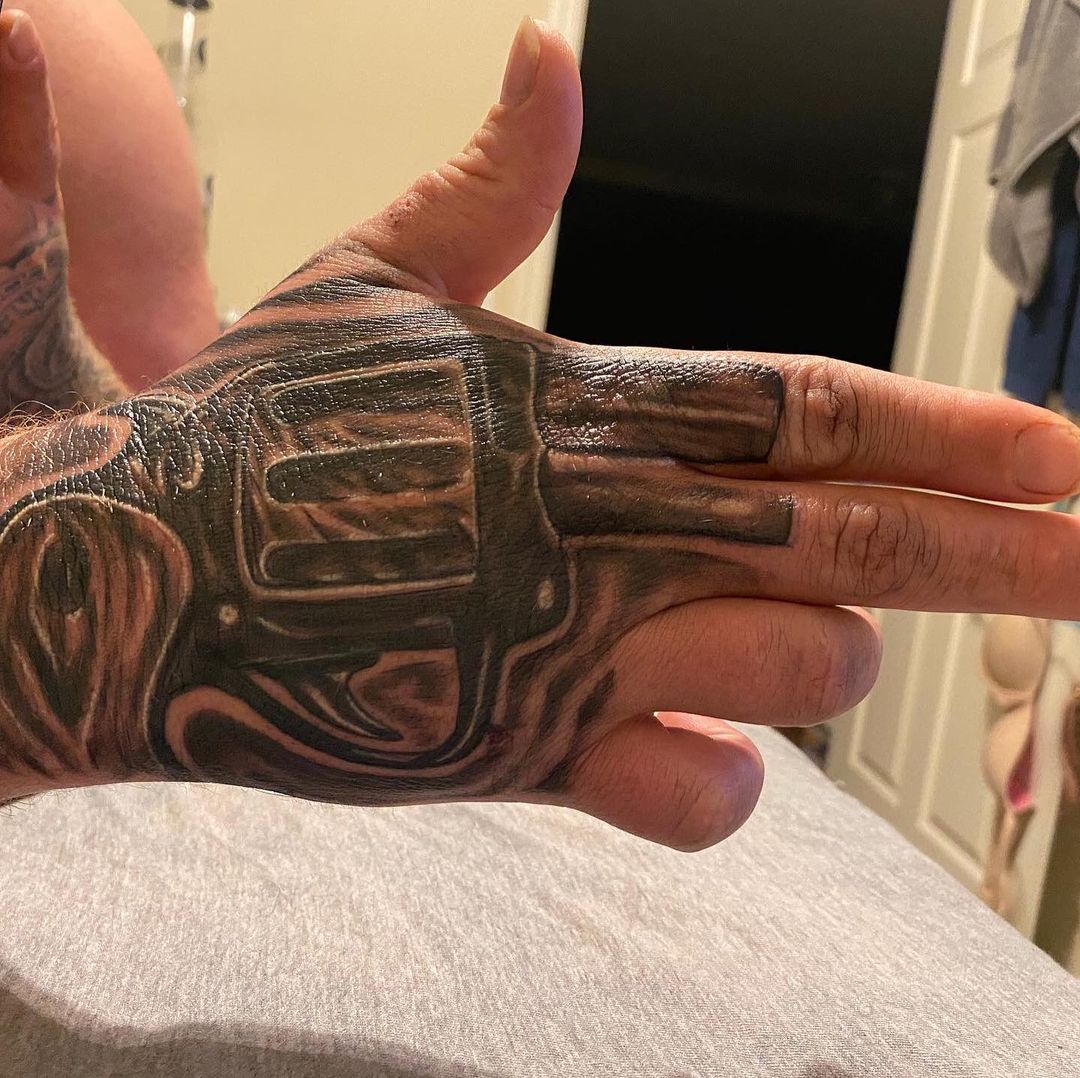 28. Scorpion Hand Tattoo Layout
Add more creepy creatures to your tattoo ideas list with this scorpion hand tattoo layout. Scorpions can come in small sizes and what better place to put them as tattoos than with your hand? Having this as your hand tattoo design can symbolize strength and fatality, but it can also represent communion and friendliness. So, if you revere these traits, you can go ahead and get this tattoo design.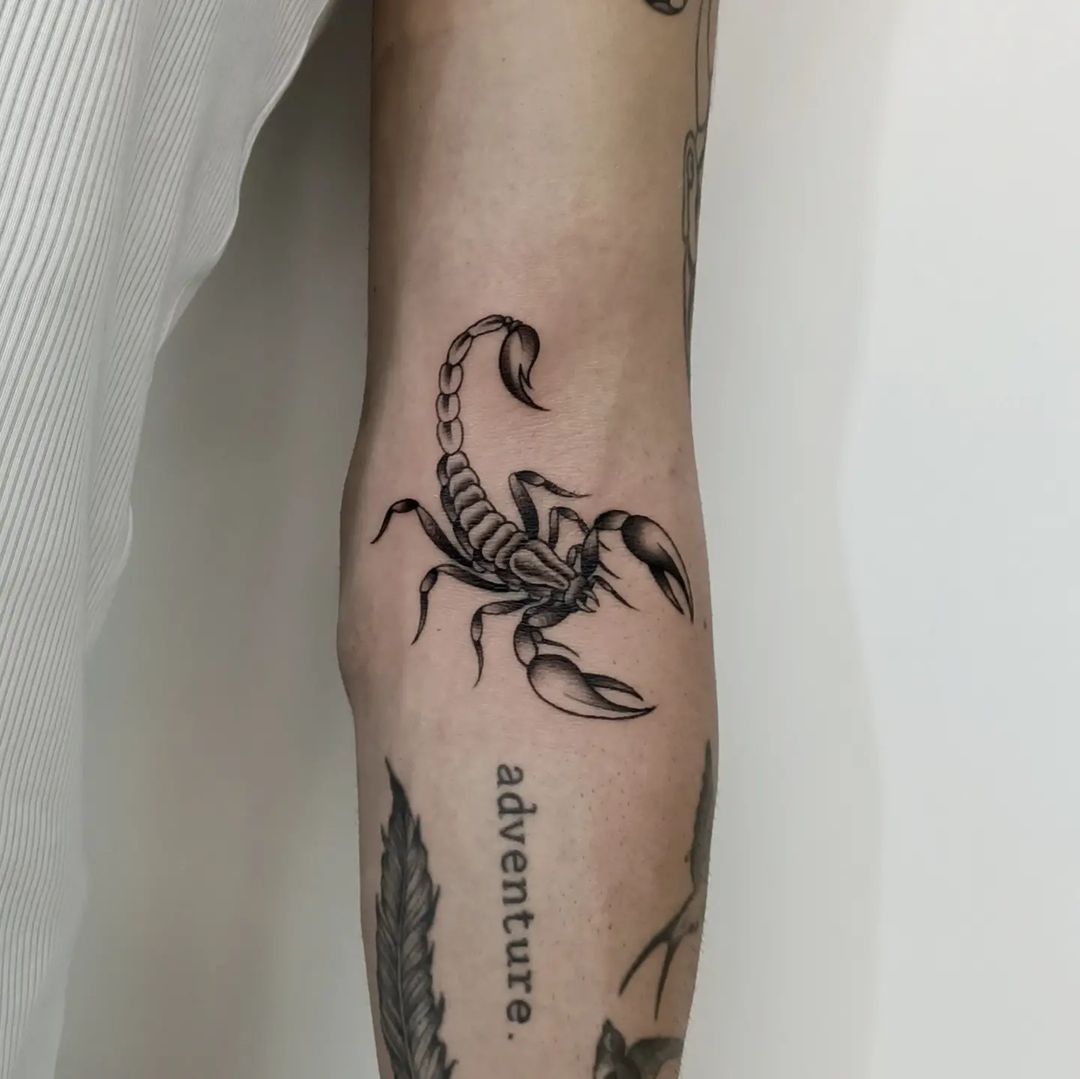 29. Crown Tattoo On Hand Pattern
Show them who's king or queen with this crown design idea for your hand tattoo. In itself, crowns are beautiful objects to behold. What more now that you'll use them as a hand tattoo design? You can follow the inspiration above or try having an entire crown at the top part of your wrist and see how good it would look.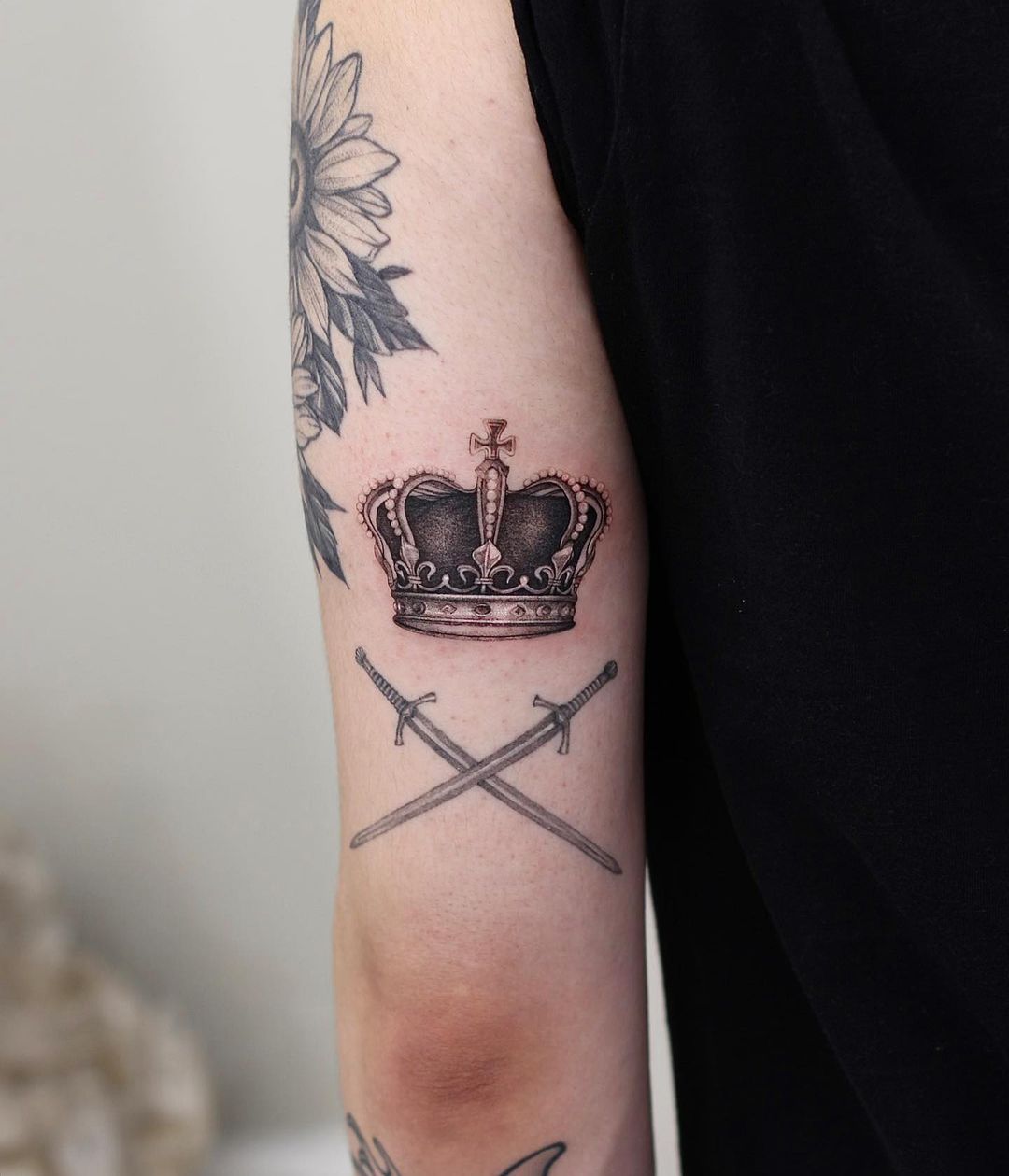 30. Money Hand Tattoo Style
The people who say that money can't bring happiness are those who haven't seen it as a hand tattoo. Be it a single image of a bill or a wad of cash, having money as a tattoo style can be fun to have. You can also feature a different face on the bill instead of going for the original one. Want to go for a fun, playful design? Draw your face on the bills!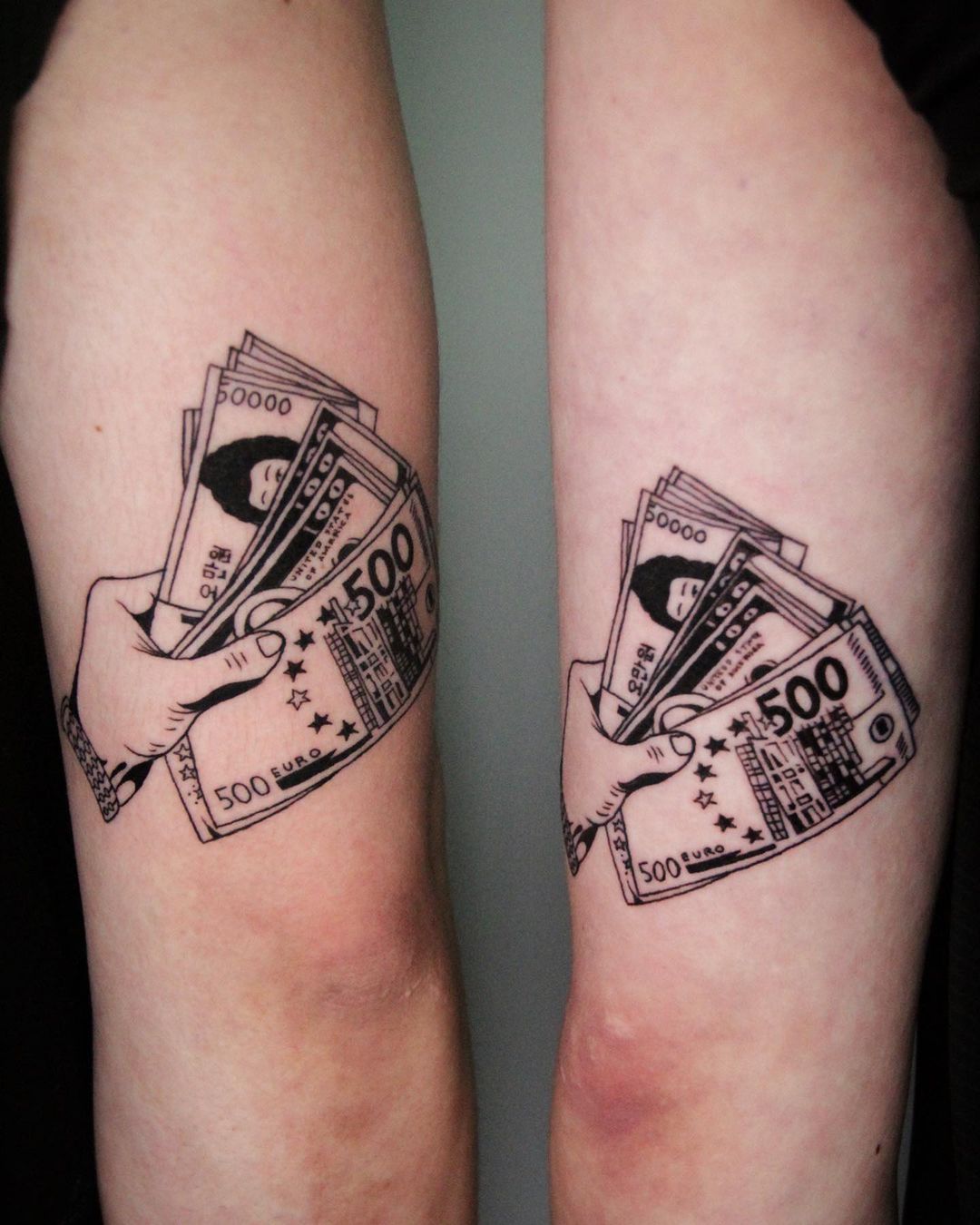 31. Spider-Shaped Tattoo On Hand
Spiders are cool creatures—not just as an insect but as a hand tattoo design. You can just have yourself inked of the spider alone, along with its intricate features or you can include the spider's web to complete the look. When it comes to having a spider tattoo on your hand, do whatever floats your boat!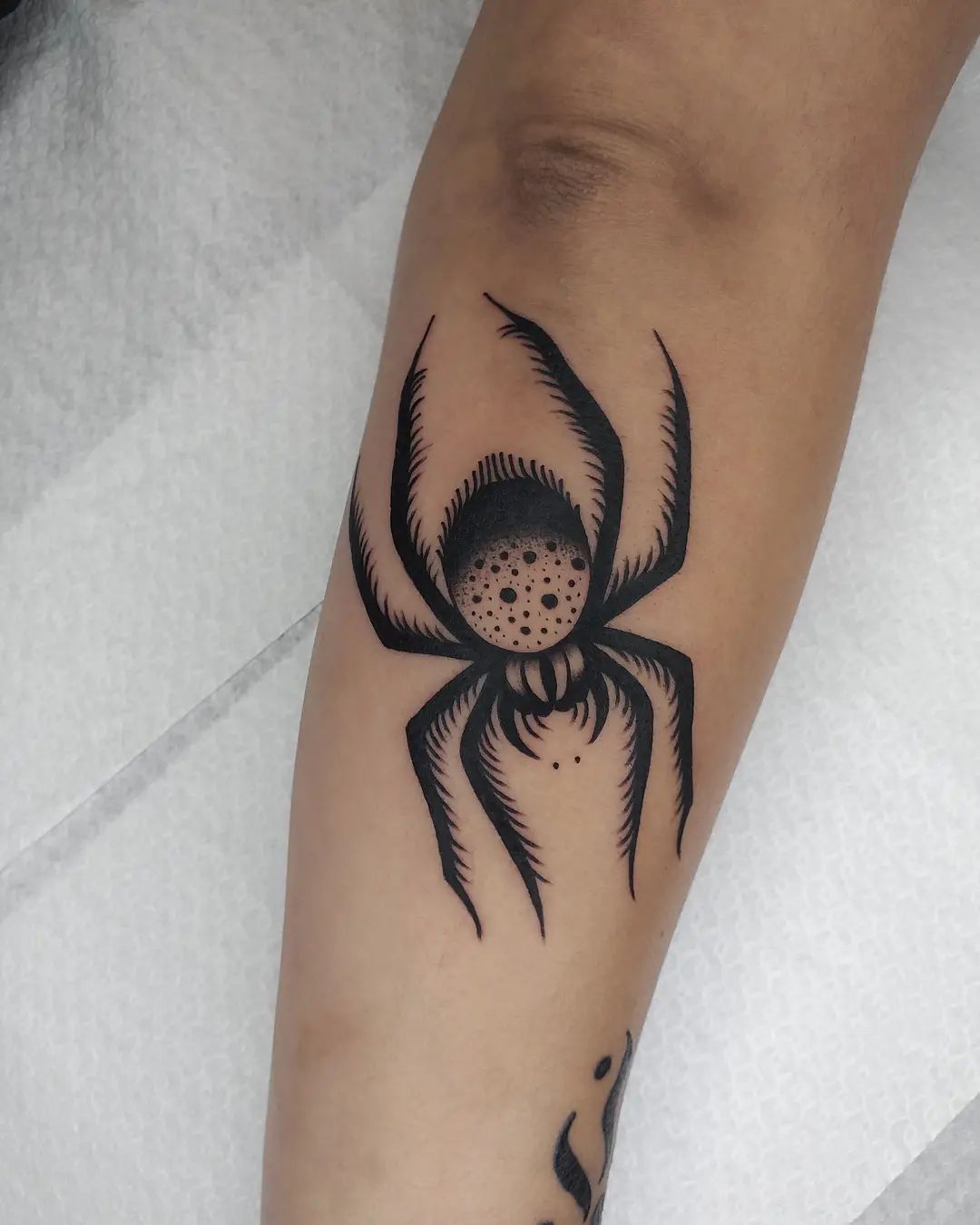 32. Bird Picture Tattoo On Hand
Whatever type of bird you wish to have as a hand tattoo, know that you can never go wrong with these creatures as they're marvelous and colorful. The most iconic bird tattoos are doves, sparrows, eagles, and hummingbirds. Some of the celebrities who hopped with the bird hand tattoo trend include Noah Cyrus, Yovanna Ventura, and Yasmine Yousaf.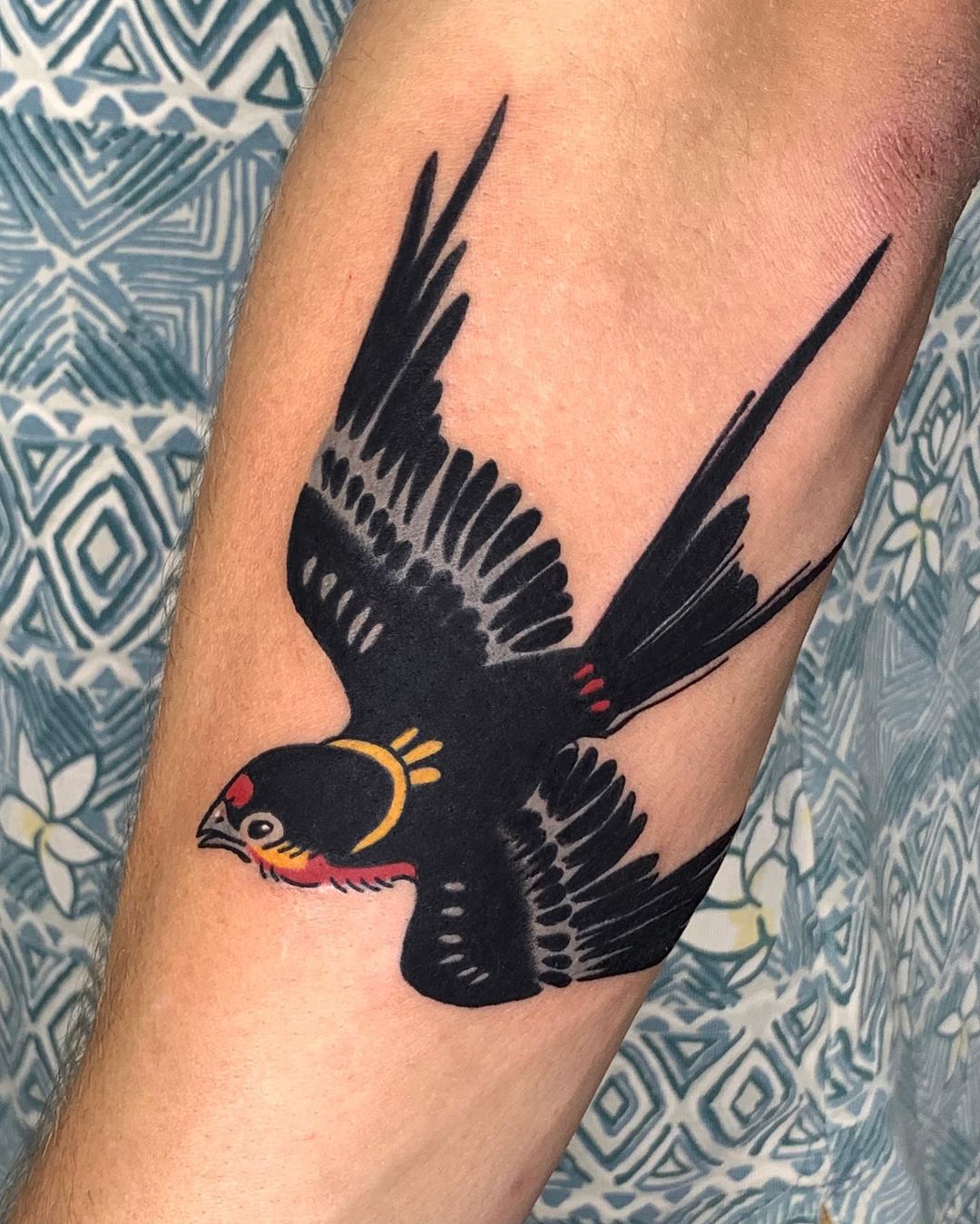 33. Hand Wrist Tattoo
A hand tattoo that stretches across the wrist? Sounds like a dreamy design to have! As shown in the inspiration above, you can choose a vine design that starts at the base of your fingers and stretches up to curl around your wrists. This hand wrist tattoo style would look even better and more stunning if it's the only tattoo on your hand.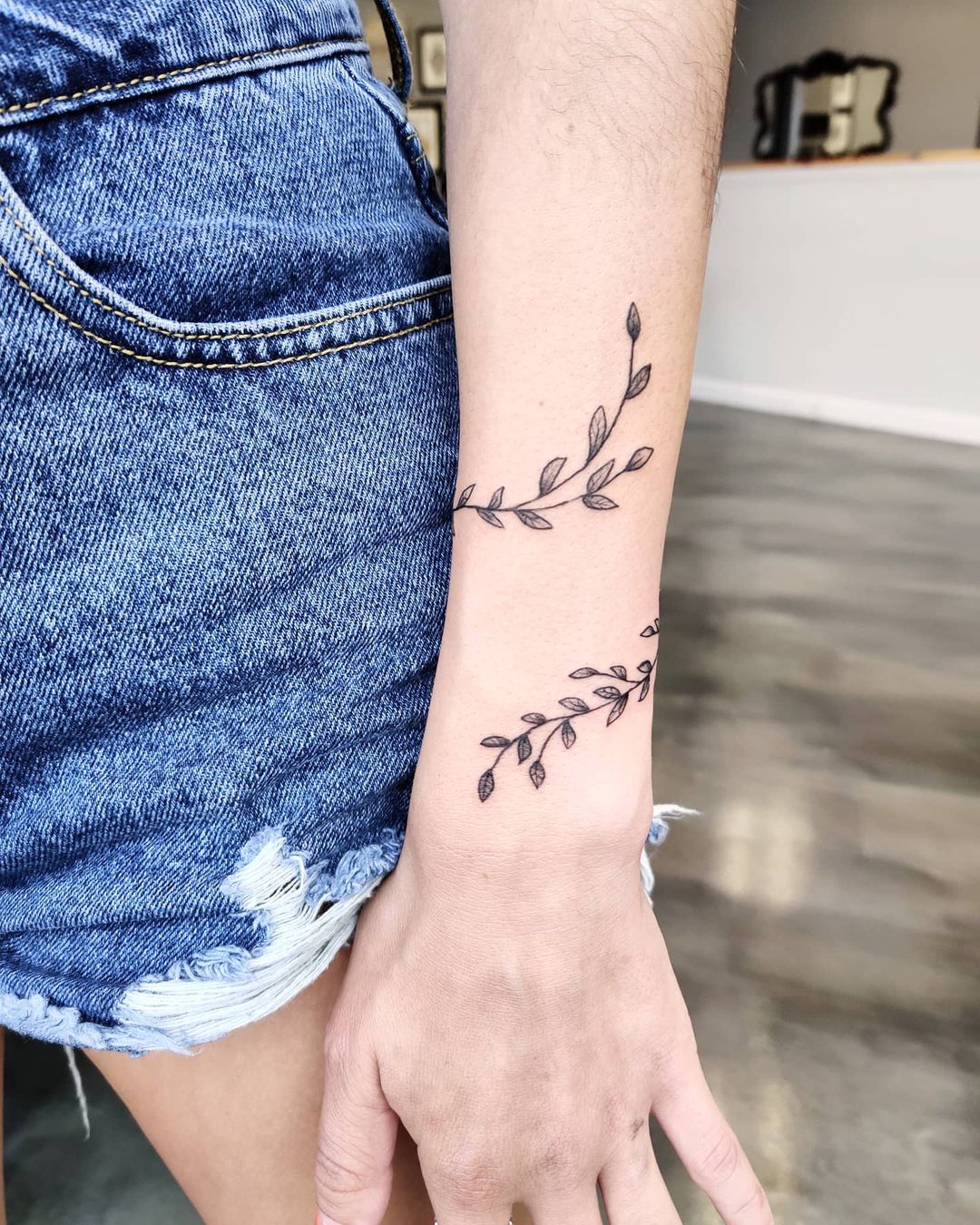 34. Hand and Finger Tattoo Designs
Hand and finger tattoos should be an "in" thing now, shouldn't they? If you don't think that a hand tattoo is enough to express yourself, don't hesitate to include your fingers right away. Sure, it can even be more painful, but if you get to express yourself fully, it's definitely a risk worth taking. Some of the best designs you can adorn your fingers with are a diamond, infinity symbol, gothic flower, or the yin-yang symbol.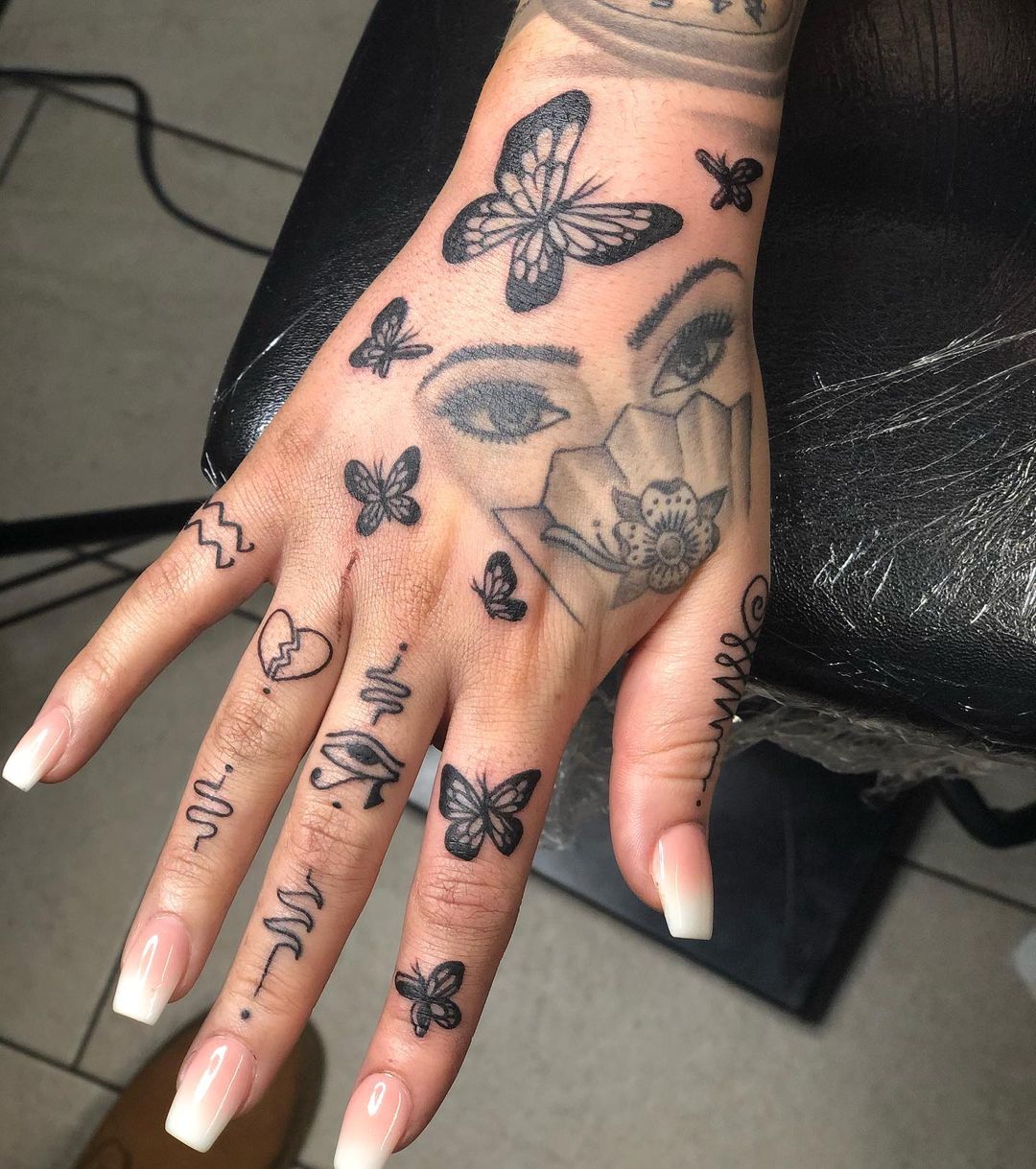 35. Viking Hand Tattoo Ideas
The Vikings have a colorful past and culture. If you fancy these seafaring warriors, you can depict your interest with a hand tattoo. For Vikings, having a tattoo symbolizes power, strength, and ode to their gods. It can also be a way to express their love and devotion to their families and to the overall Viking way of living.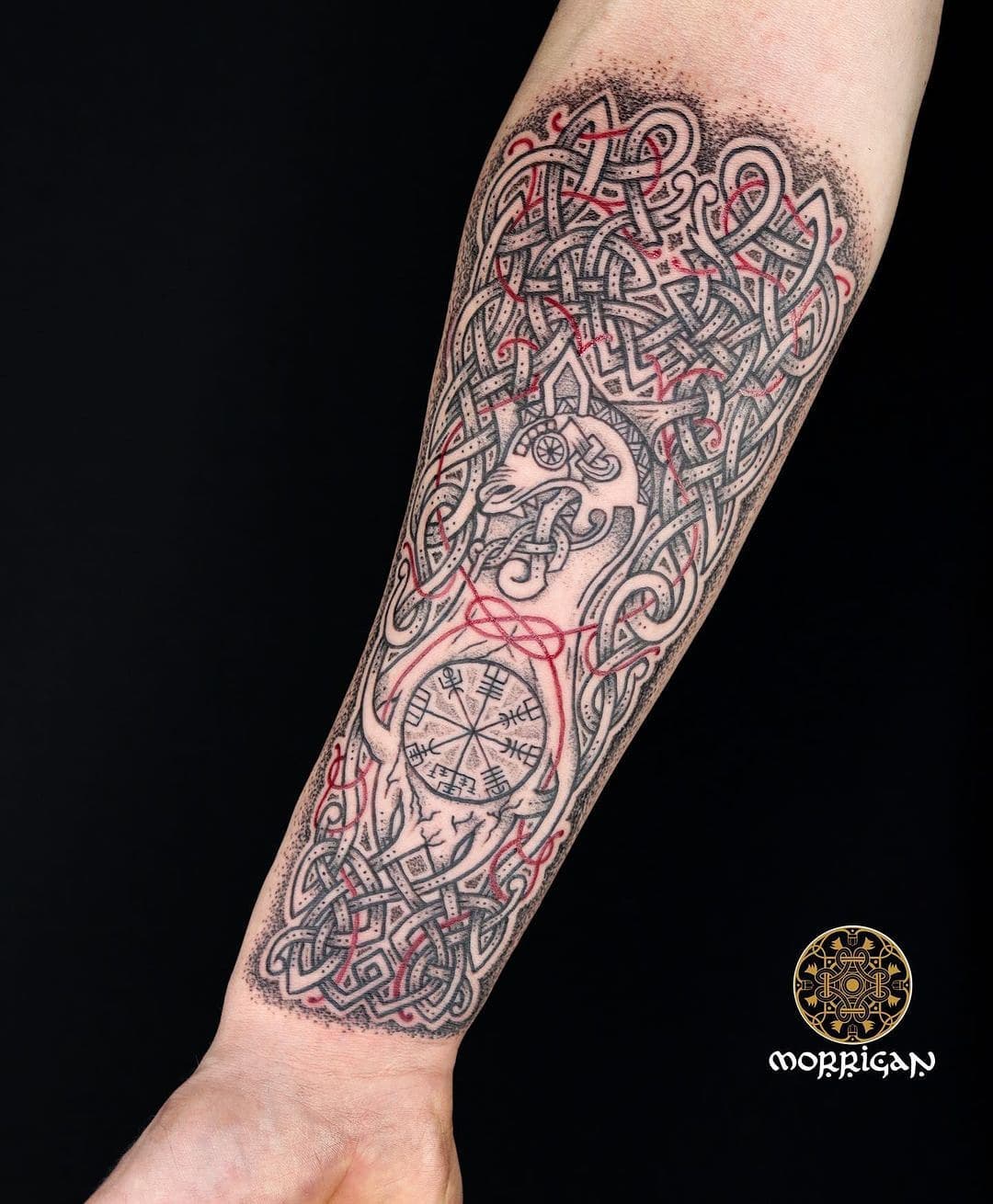 36. Angel Hand Tattoo Layout
Angels are depicted in the bible as fearsome creatures. In fact, they're aware that whenever they present themselves to anyone, they would always say "Do not be afraid." However, there's this way of depicting angels that look adorable. If this is the kind of representation you want, go for it!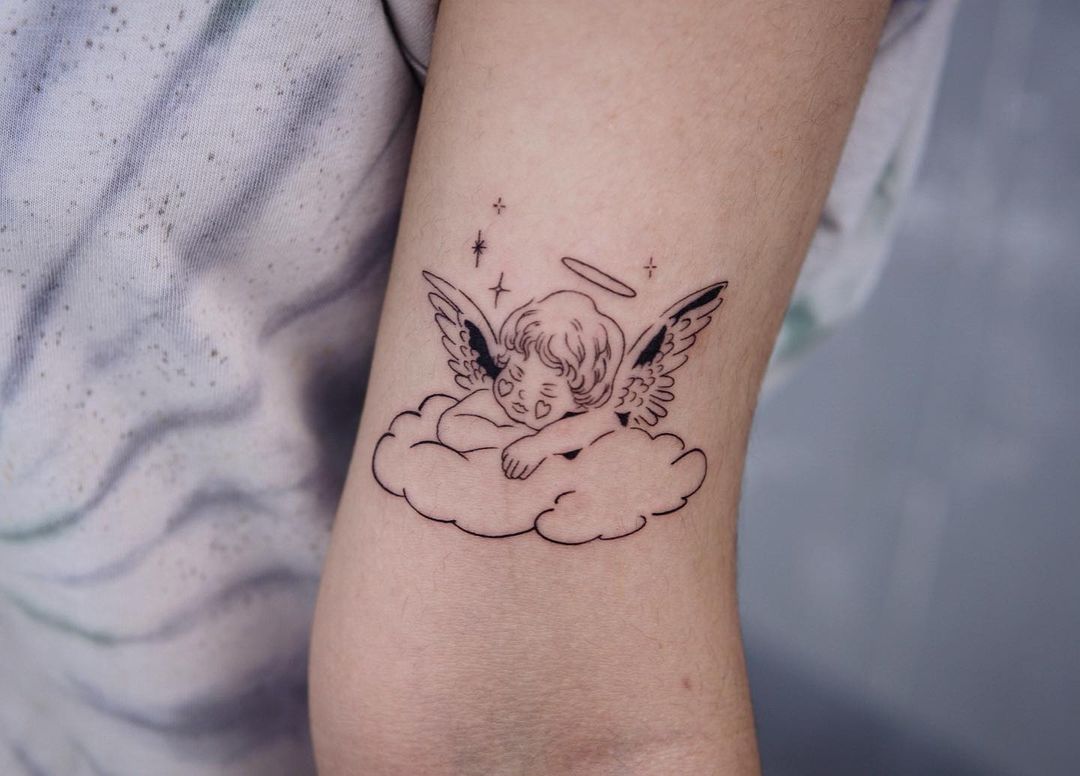 37. Bear Hand Tattoo Pattern
Bears are scary, big, and wild creatures feared by many. But if you see them as soft, adorable, and cuddly animals, you can have them as a hand tattoo design. This art style is ideal if you used to have a teddy bear in your childhood and you want to keep it as a dear memento through a tattoo design.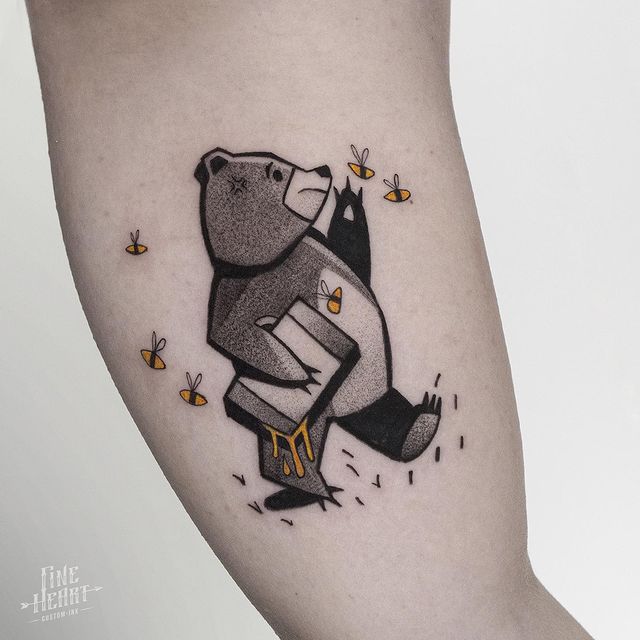 38. Buddha Hand Tattoo Style
Feature Buddha or any of his insightful words to live by like a hand tattoo! The best thing about Buddha is that a tattoo of him represents love and devotion to Buddhism. It can be similar to Catholics getting a cross or a Jesus hand tattoo. Show your prolific faith by getting this design!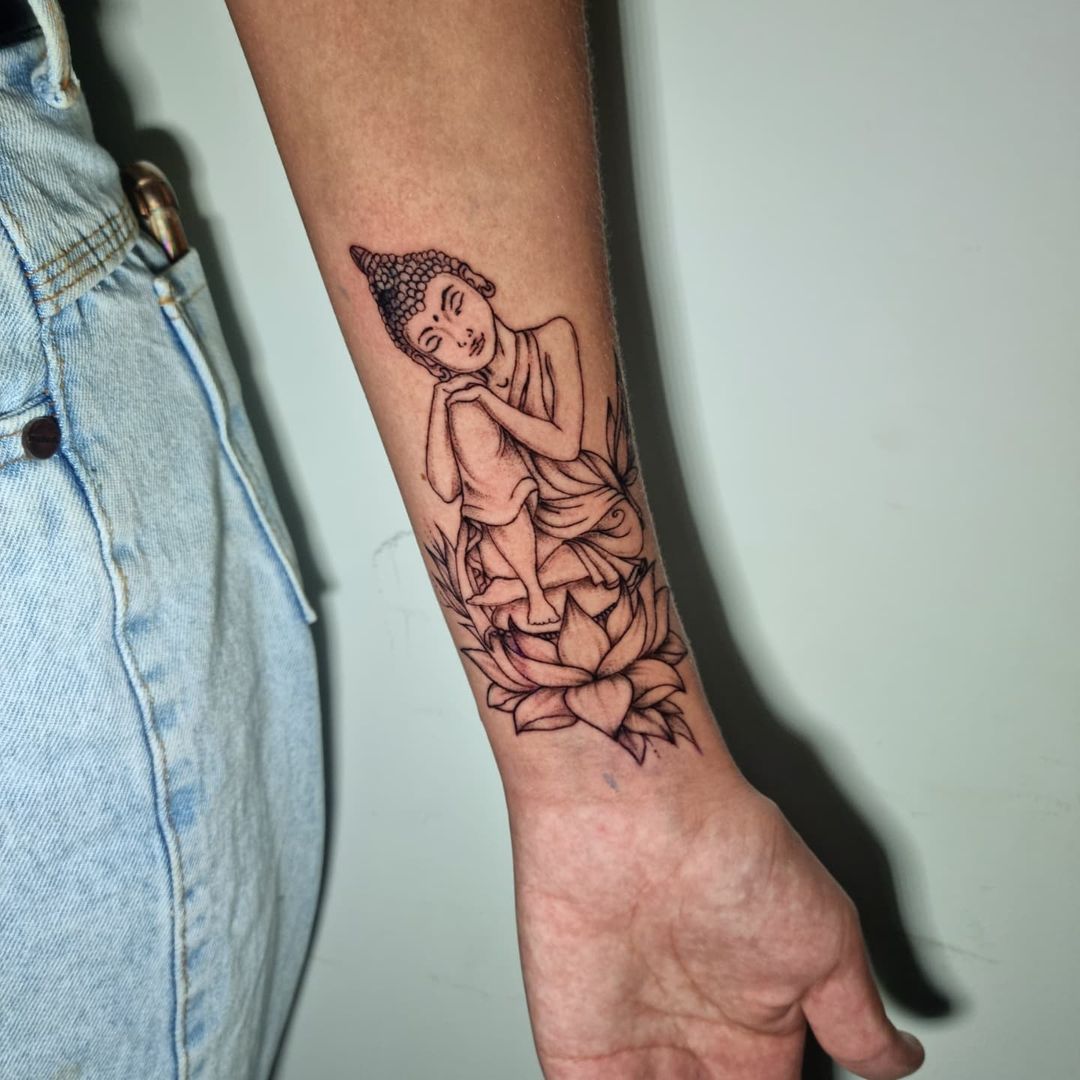 39. Inspirational Couple Hand Tattoos
Couple tattoos are one of the most popular pieces of ink for couples. Today, it isn't just for sweethearts or married couples—best friends can also have couple tattoos! Whether you want to celebrate your love or friendship, having couple tattoos is cute and memorable. Well, there may be regrets when you break up but worry not, you can always have a tattoo removal.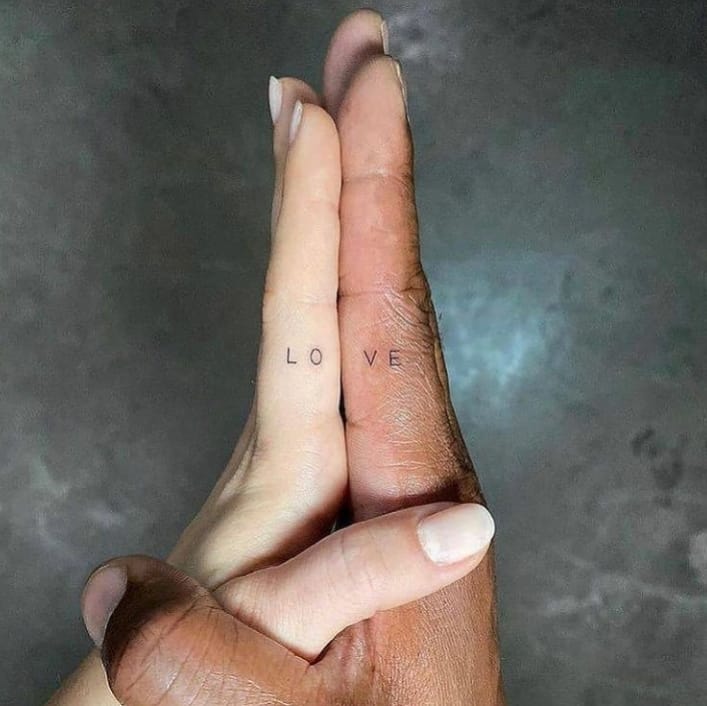 40. Octopus-Shaped Hand Tattoo
Have each of your fingers feature a tentacle of this majestic sea creature—the octopus. This design will surely look good on your hand especially if you utilize the entire space as a canvas for the fluid body of an octopus. In Christian art, this sea creature symbolizes flexibility, intelligence, and unpredictability.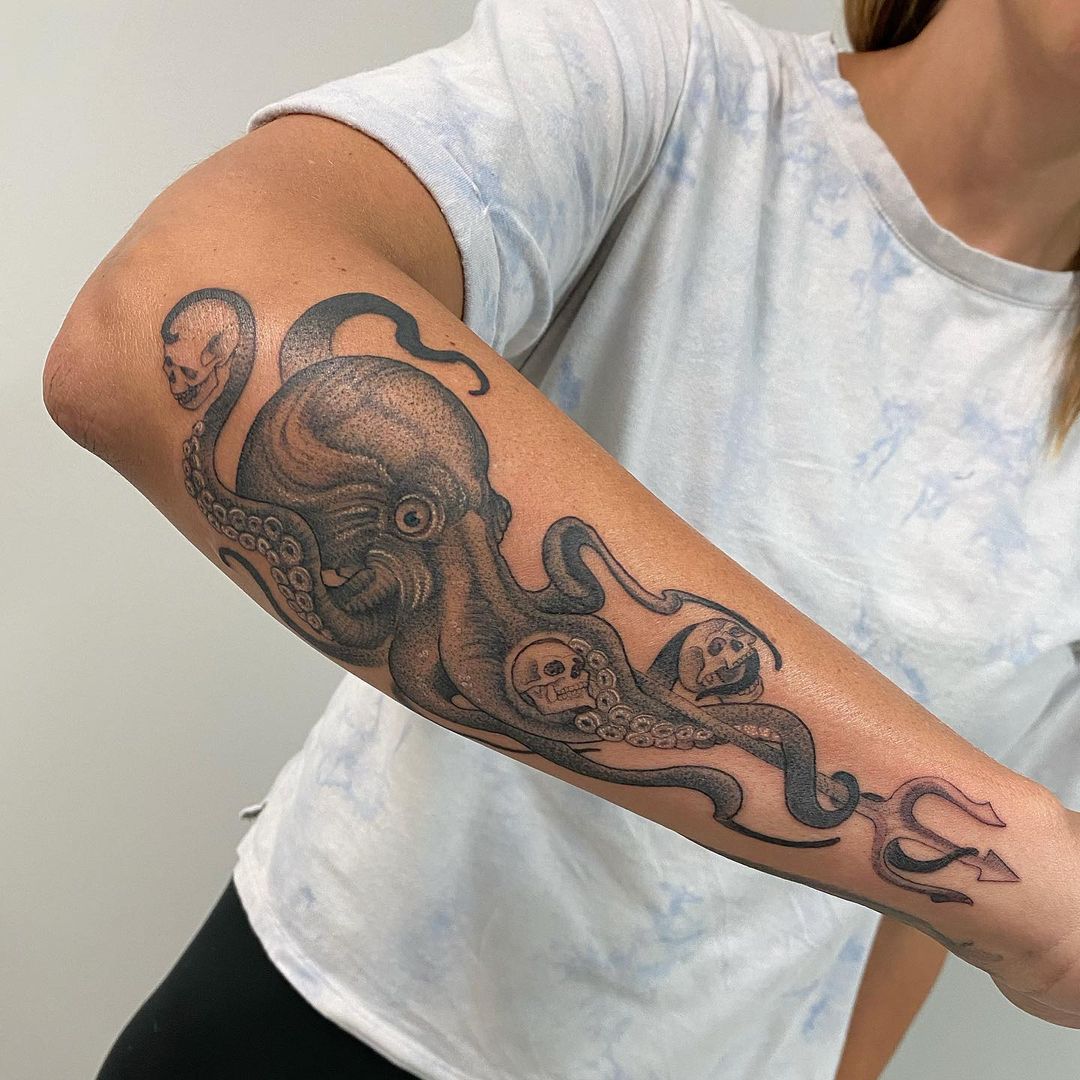 41. Owl Hand Tattoo
If you want a cute hand tattoo design to begin your tattoo inking journey, you'll surely find this owl hand tattoo charming and refreshing to look at. Normally, owls have big, wide eyes. But the irony of having them with beautiful, closed eyes is one for the looks. You may also want to emphasize the beauty of their wings and add other adorable features like flowers and tiny moons.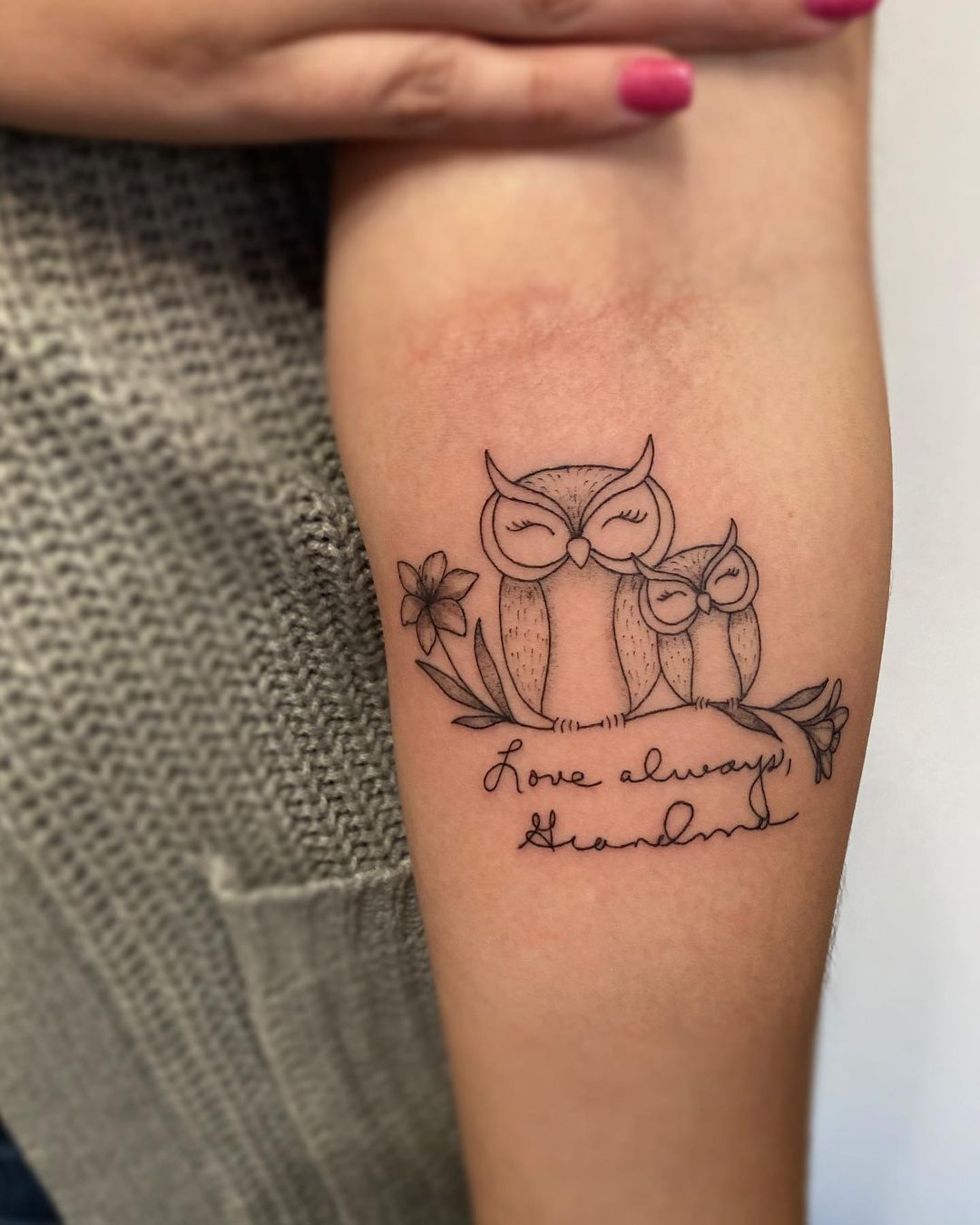 42. Demon Hand Tattoo Art
Demons are and can look scary. But if you don't really see them as something you should be fearful of, why not have a go at this demon hand tattoo art? This design idea may look sinister but if you look at it closely, it's actually fun to have on your hands. A demon manipulating puppets for a hand tattoo? Go ahead and try!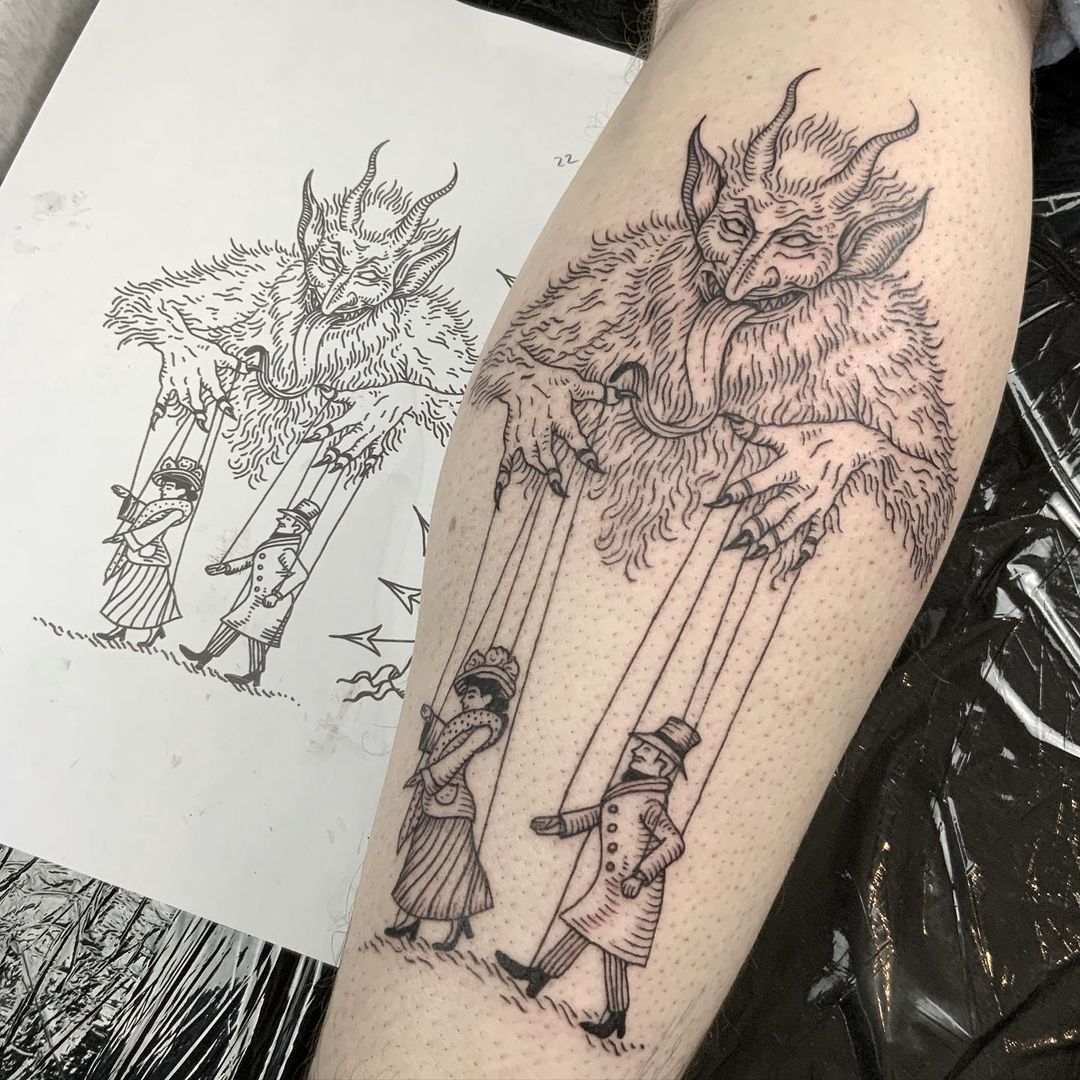 43. Diamond Hand Tattoo Idea
Diamonds will indeed become forever if you'll get this diamond hand tattoo. This may rather look  like a simple design but if it's inked along with other elements that could highlight its intricacies, you can truly say that diamonds can be one of your best friends. Some of the art ideas that you can pair with diamonds are roses, quotes, and a crown for a more elegant look.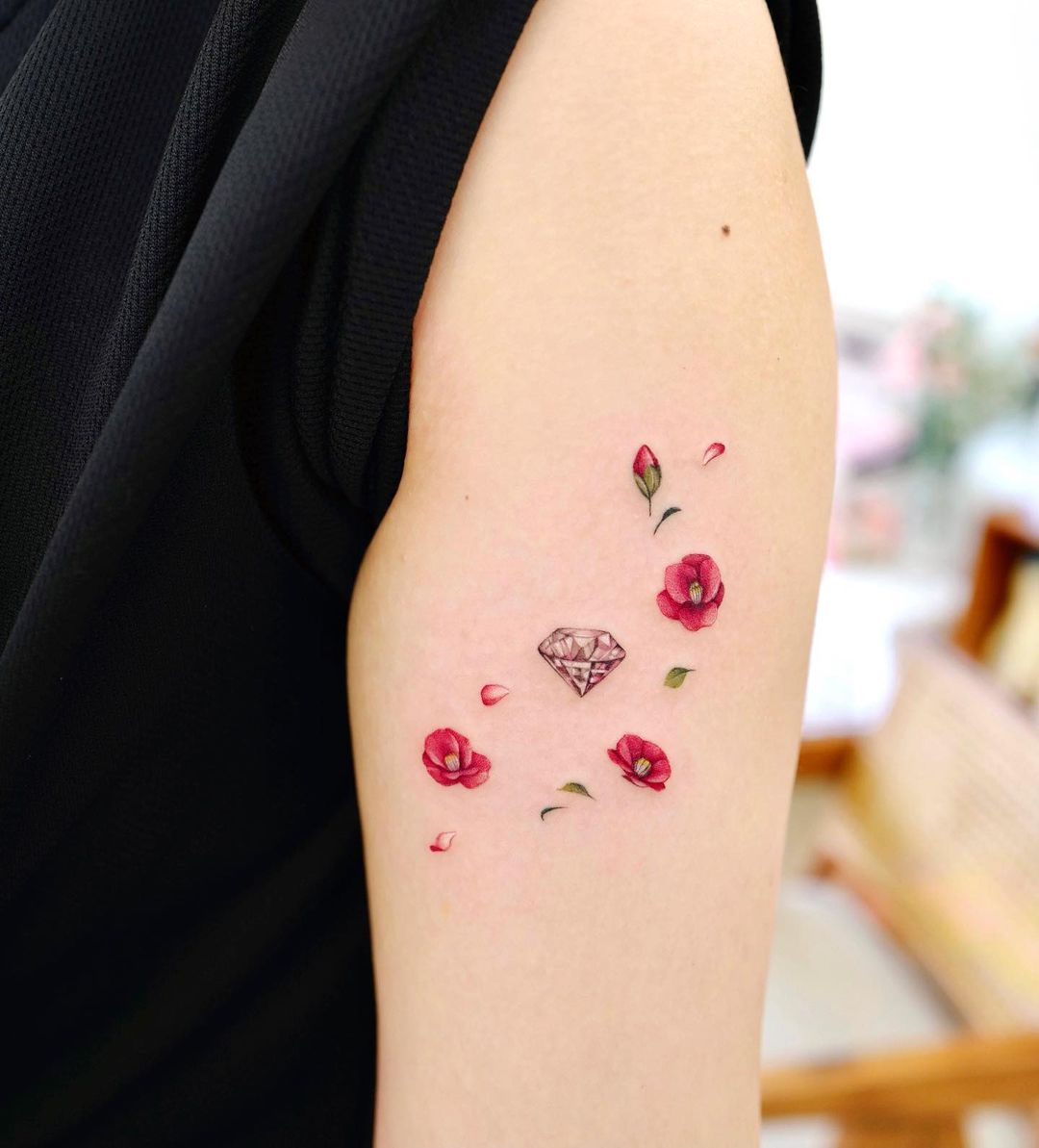 44. Anchor Hand Tattoo Layout
One of the most beautiful words is "anchor." The term itself could mean that you should stay grounded no matter how high up life can take you. If you're in this state, you may want to remind yourself to remain steady in life with this anchor hand tattoo design.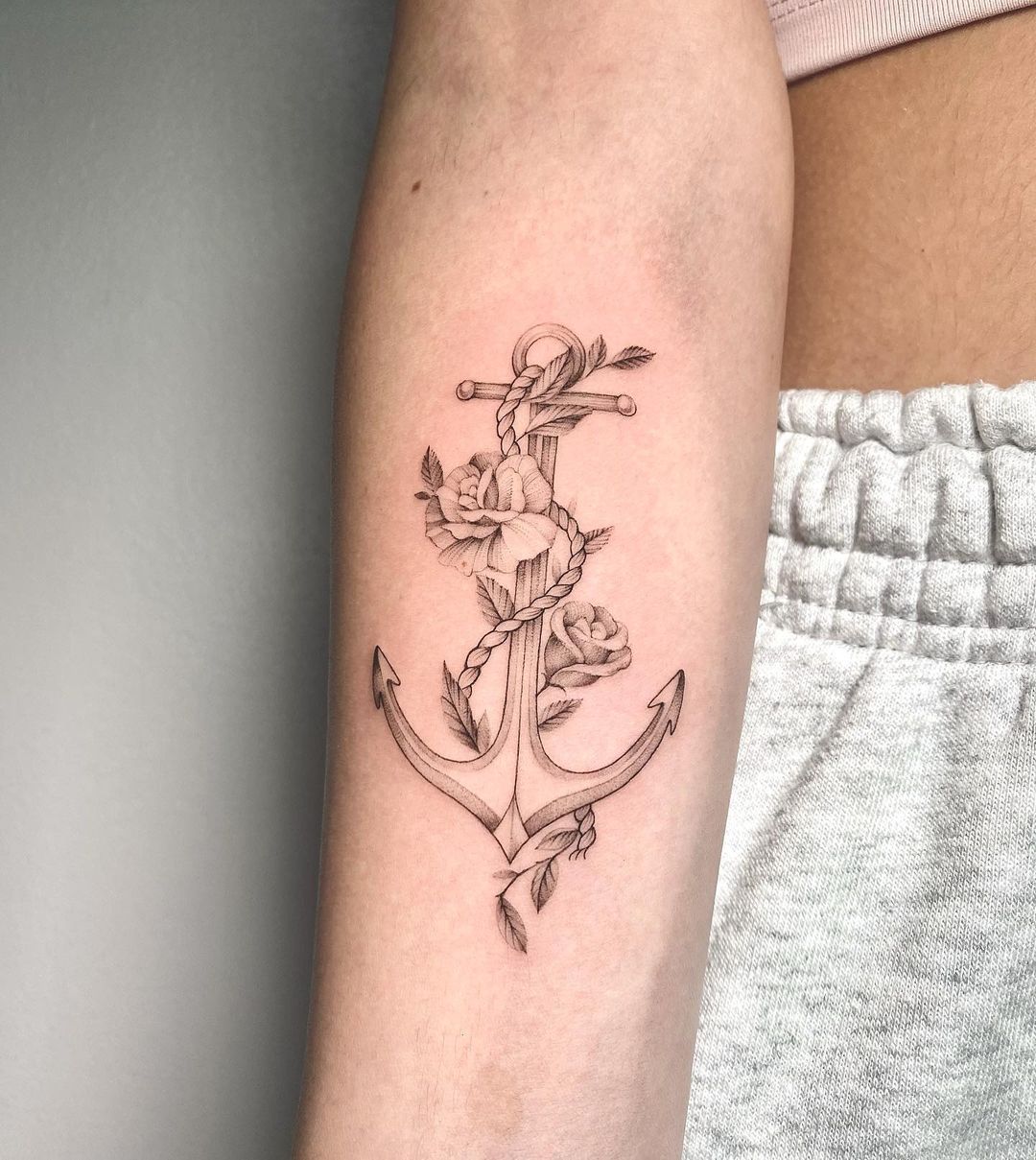 45. Ariana Hand Tattoo Inspo
Are you fond of Ariana Grande and her styles? Have a go at any of her hand tattoo designs. The "Positions" singer has tons of tattoos, including a celestial design of the sun, moon, and stars on her left hand, the planet Saturn at the back of her hand, the light-conjuring spell "Lumos" from Harry Potter, and the Japanese kanji letters for her song "7 Rings."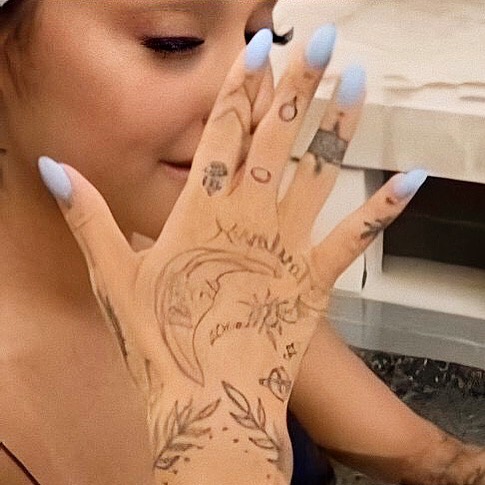 46. Trendy Geometric Hand Tattoo
Mesmerizing—this word would best describe any geometric hand tattoo design, such as the design inspiration you see here. You don't necessarily have to follow what's in the picture as there are vast geometric designs you can achieve. Geometric shapes carry different meanings. Straight lines and angles represent order and structure, while curves usually symbolize community and connection.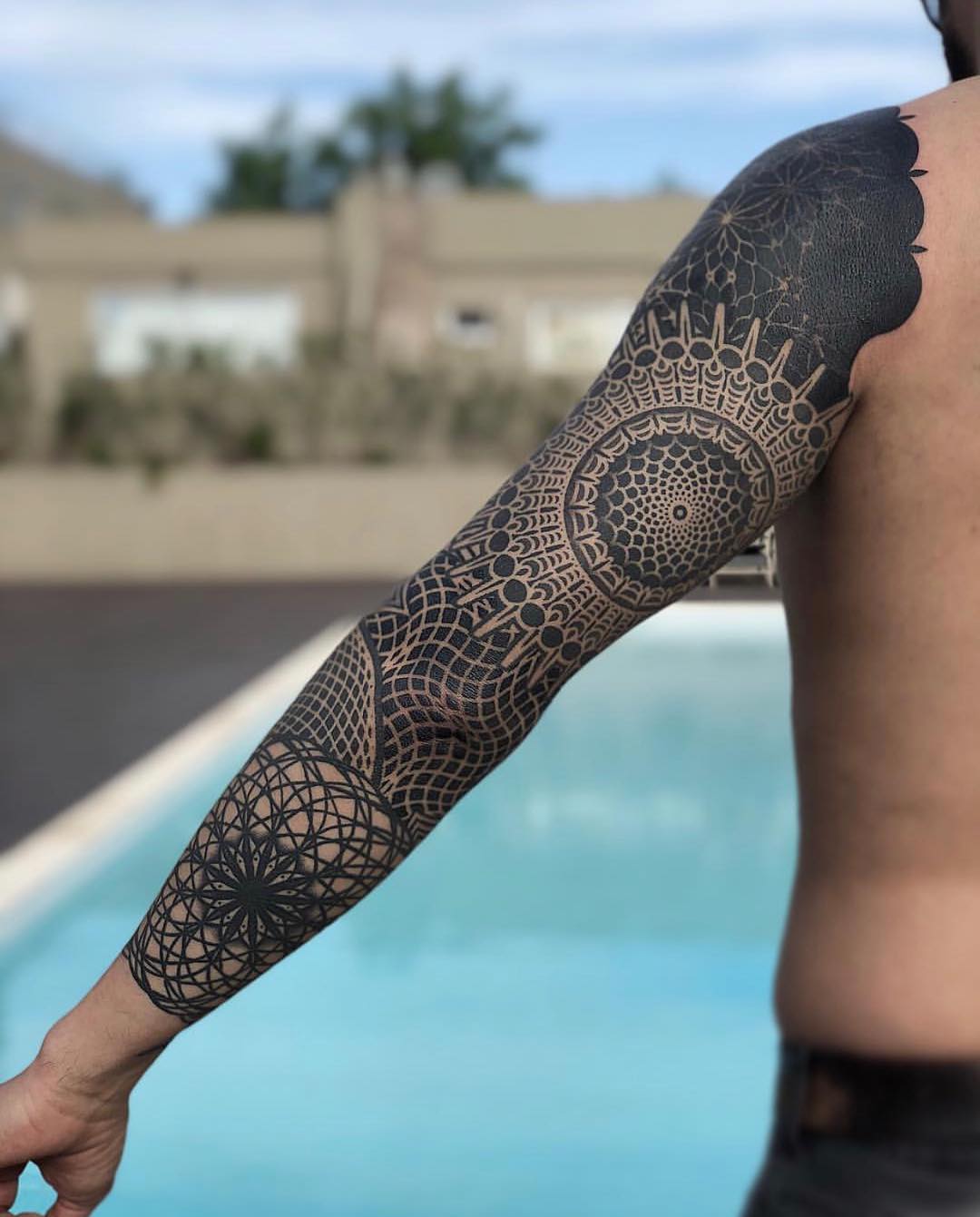 47. Lotus-Shaped Hand Tattoo
If there's one kind of flower you can dub as beautiful, the lotus flower is certainly among the top choices. For a hand tattoo, lotus flowers are also among the best designs you can get. This type of flower can be a simple design and can depict an elegant look at the same time. If you think that you represent this, don't hesitate to get yourself a lotus-shaped hand tattoo.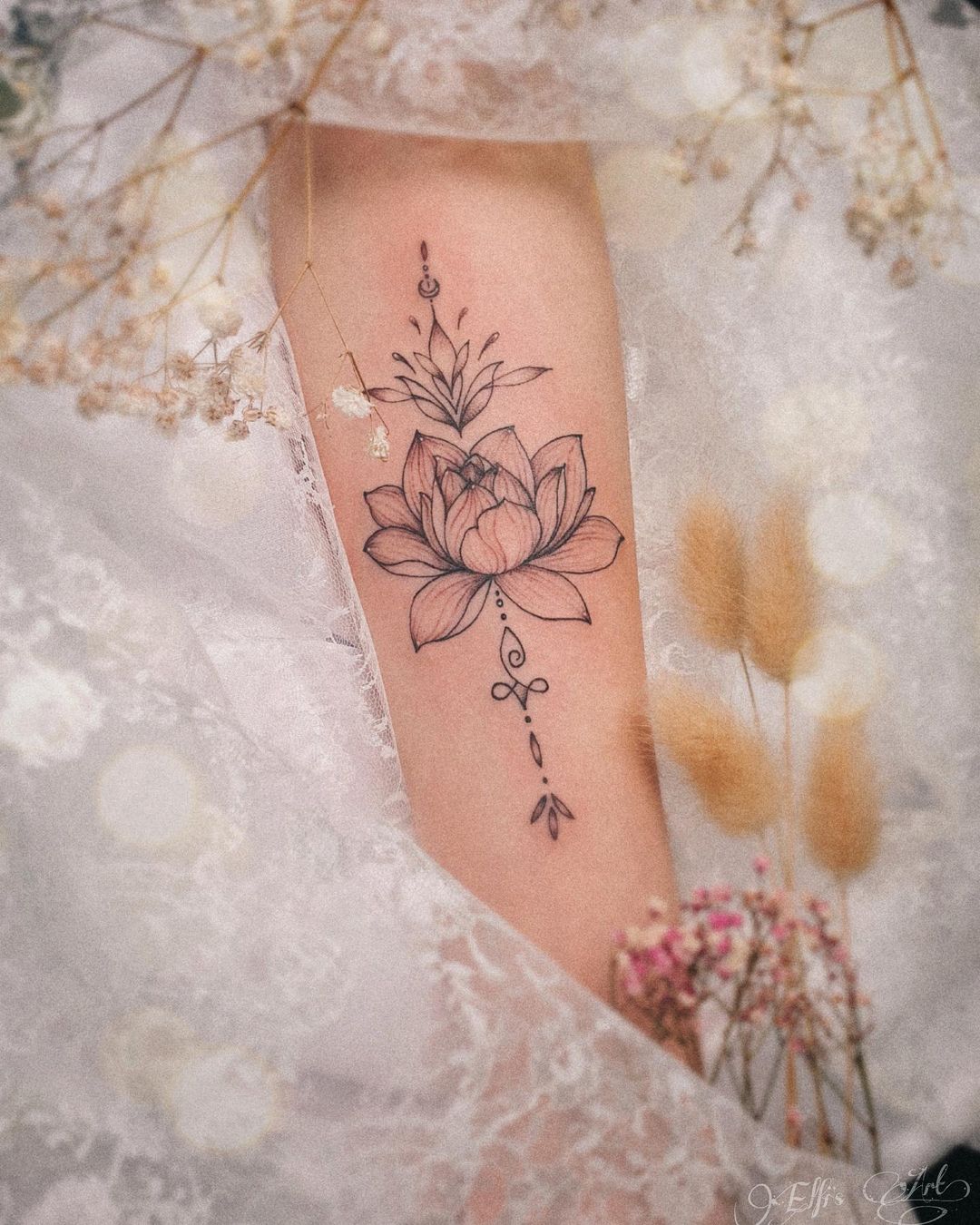 48. Peace Sign Hand Tattoo
Preach and practice peace with this peace sign hand tattoo. You can have this hand tattoo design in plain black ink, but it will also look good if it's similar to the hand tattoo design inspiration above. That art uses a pop of color that gives the wearer positive and playful vibes.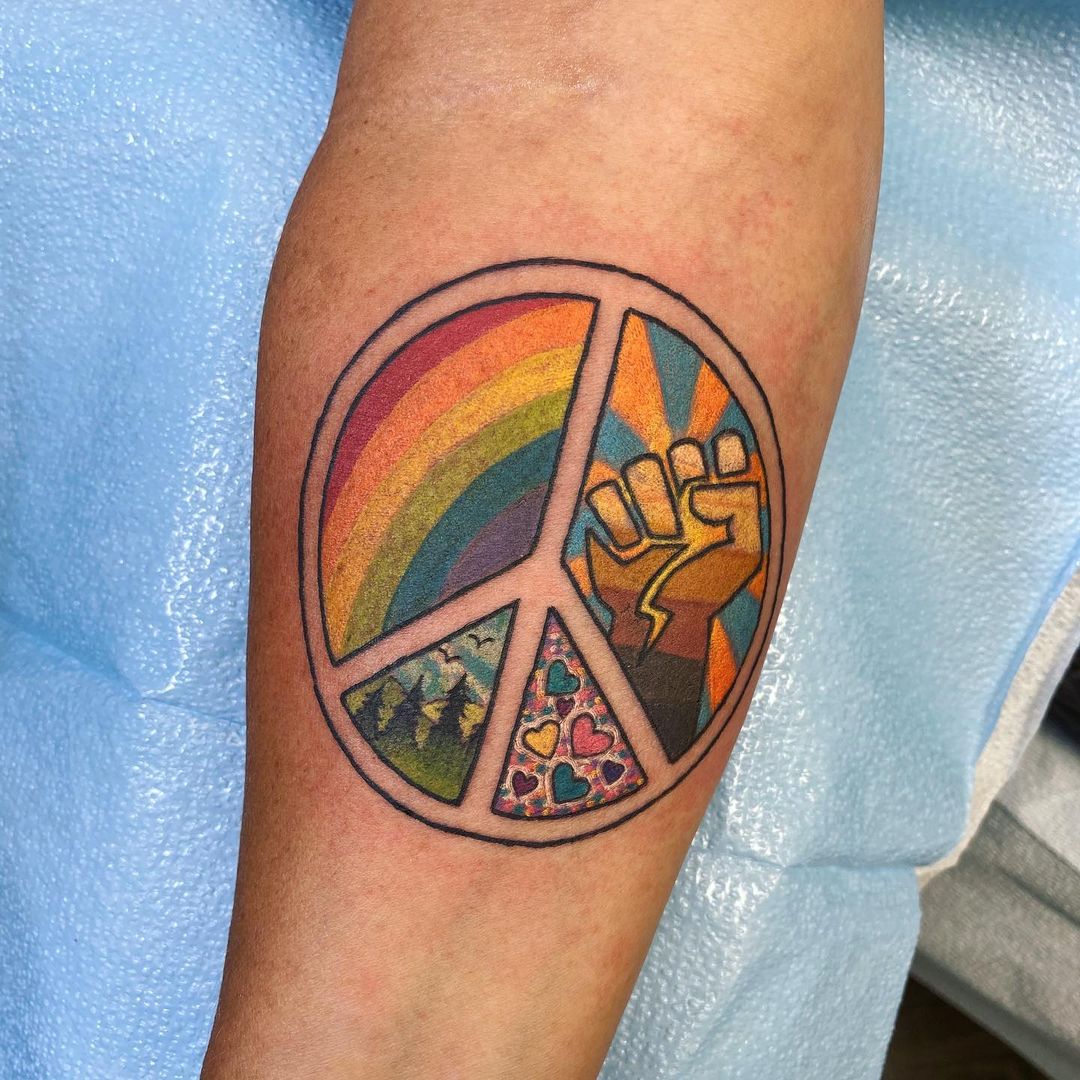 49. Sun Hand Tattoo Pattern
Reflect the sun's majestic features by getting this sun hand tattoo for yourself! Plus points if your tattoo artist can showcase a design that emphasizes the sun's rays, making it more appealing. For the sun hand tattoo pattern, you may choose warm colors like what you can see on this design inspiration.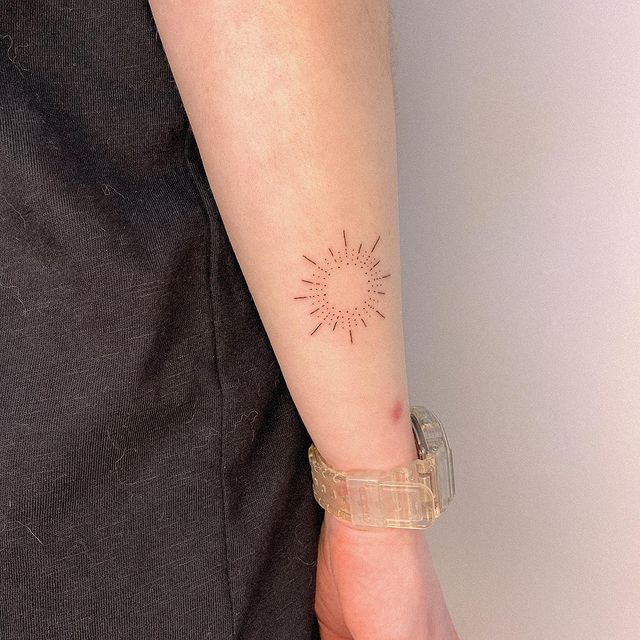 50. Love Tattoo On Hand Style
Love makes the world go round, and why not twirl it around with this love tattoo design on your hand? This minimalist hand tattoo is a perfect design when you prefer to keep things simple and subtle. If this will be your first ink, you're making a safe and beautiful tattoo choice.