Numerous symbols of mother and daughter tattoos are popular in the work of modern tattoo artists. They are chosen by the closest people who want to feel each other's love and support anywhere and anytime.
You can choose a meaningful quote, favorite images, symbols, or initials as a tattoo. Regardless of the format, this is a beautiful way to express your bond, which is timeless.
Mother and Daughter Symbol Tattoos
How to express your feelings? It just depends on your personal preferences!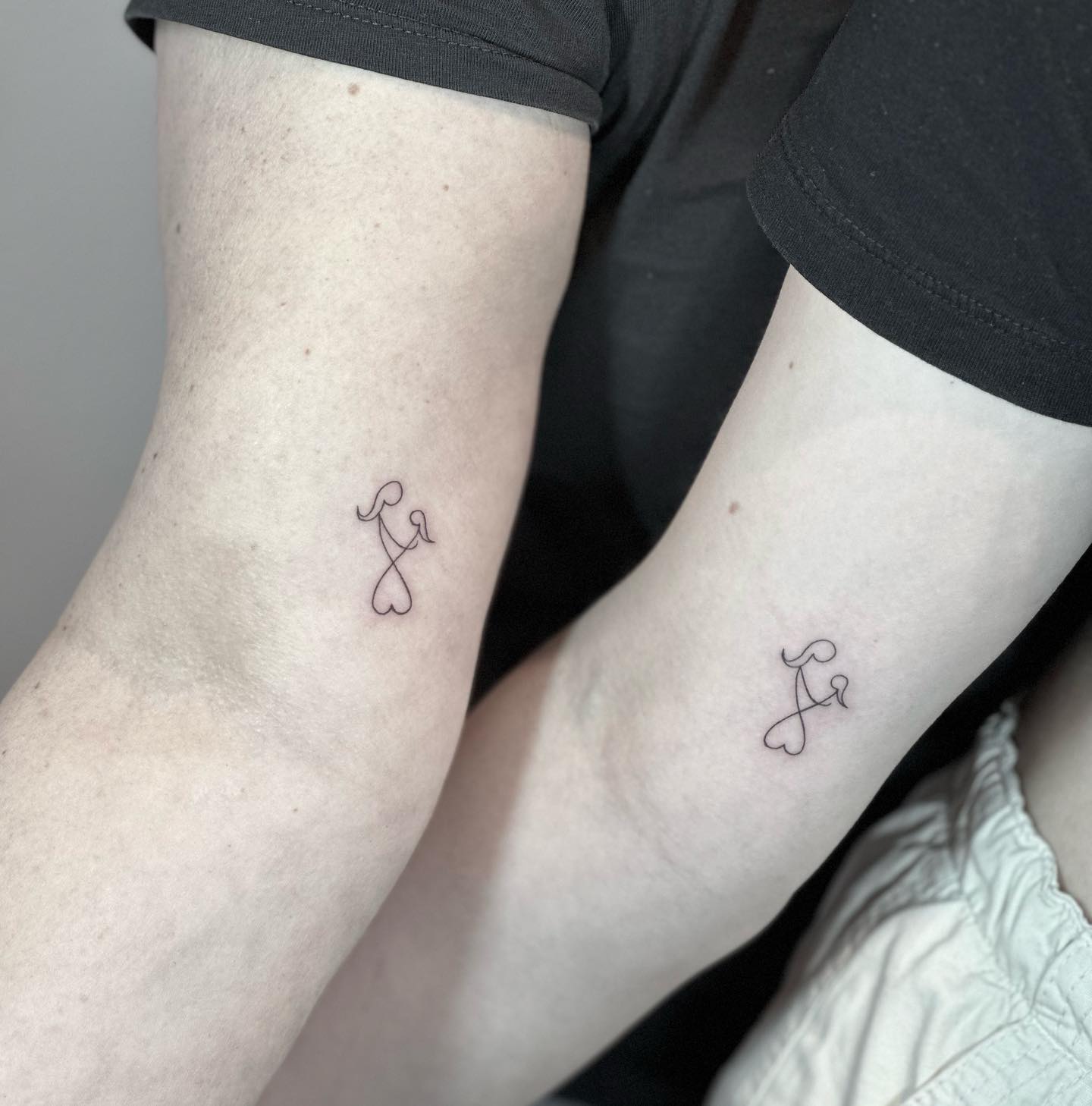 via @annetattooart
These can be laconic simple tattoos with meaningful symbols, invisible to others, or luxurious works of art that attract the eye. In this case, only your wishes matter, reflecting a touching and close bond.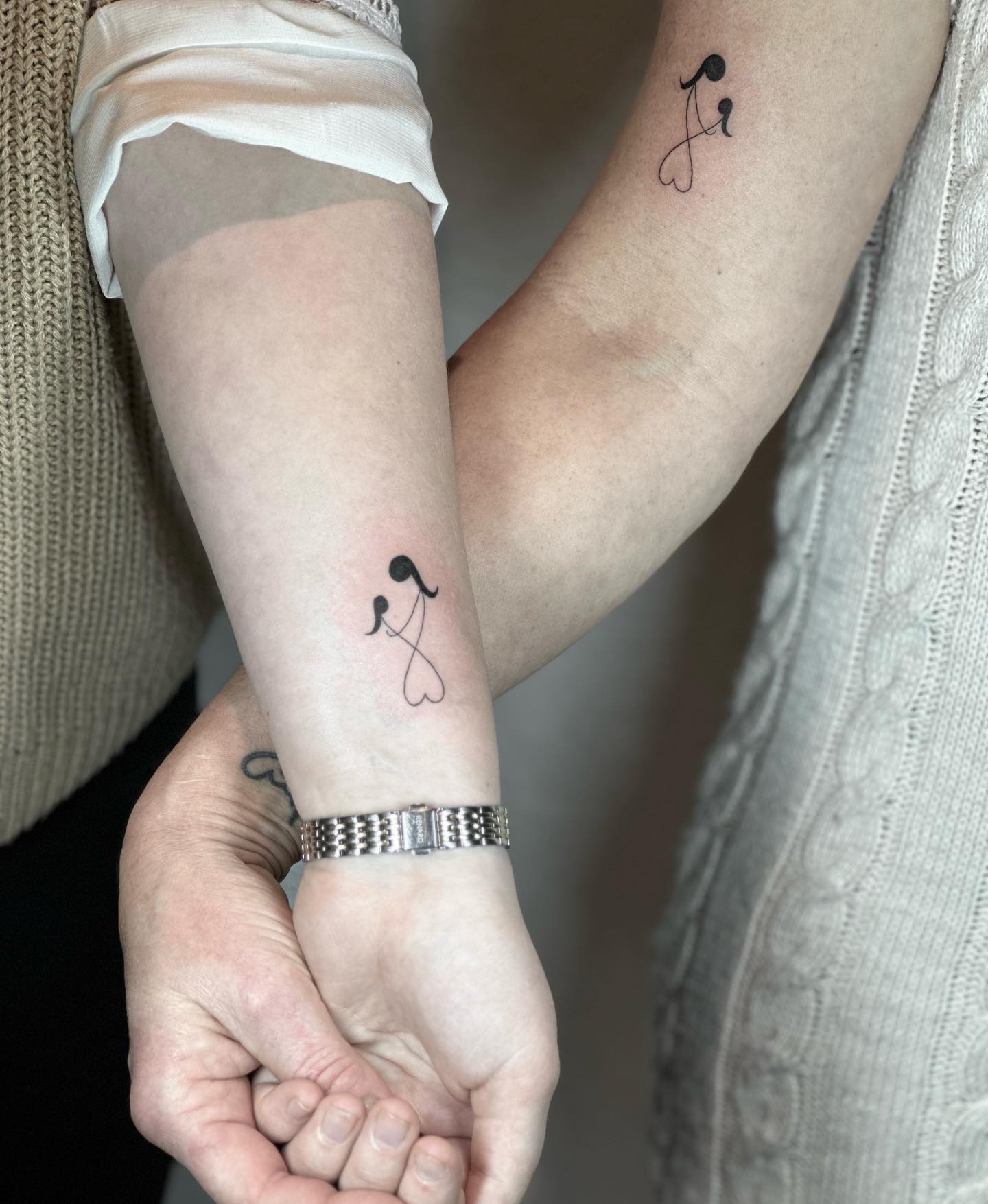 via @annetattooart
Matching Mother-Daughter Tattoos
One of the most widespread solutions is a matching tattoo. They are the best way to keep your warm and happy memories for life.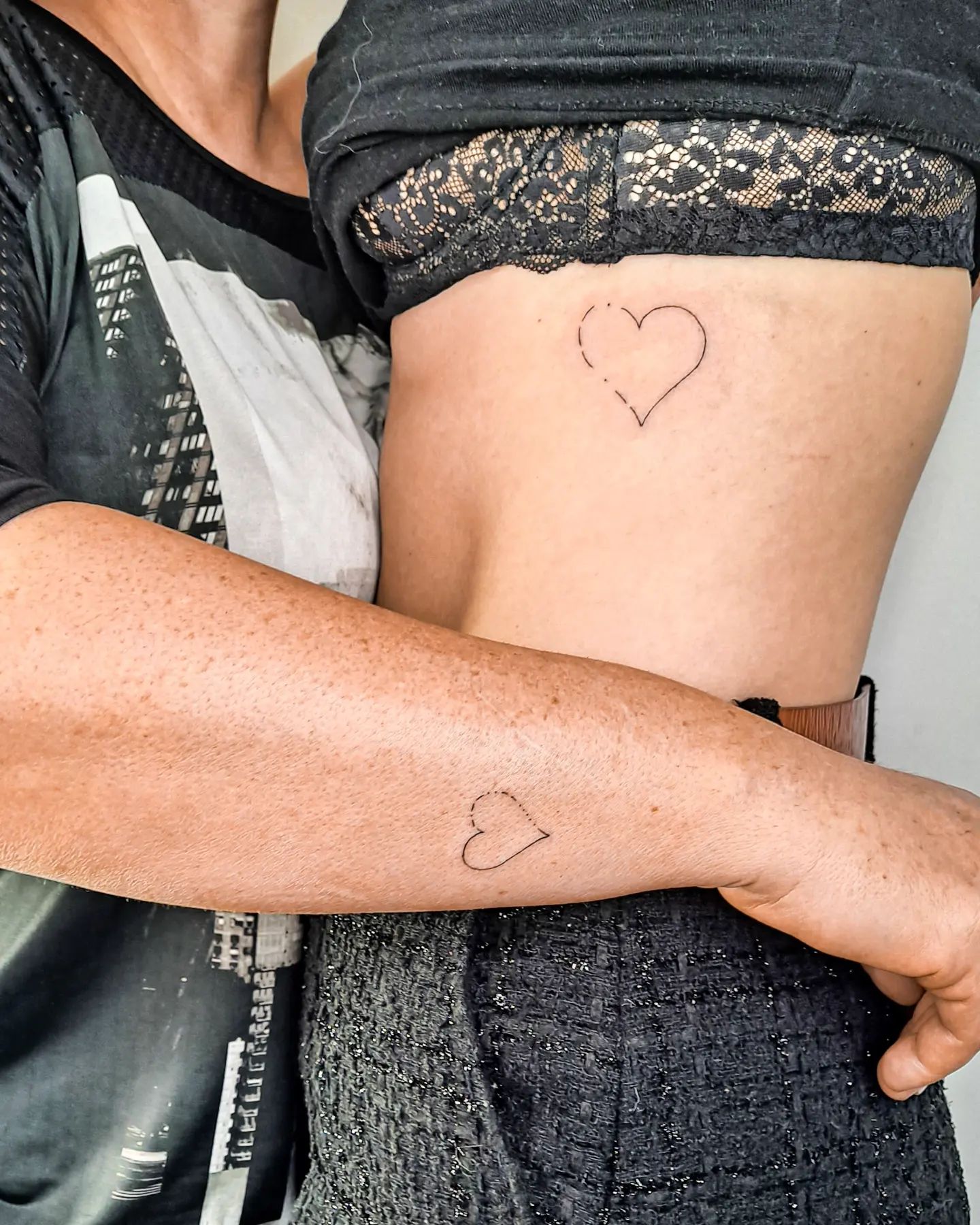 via @kasperekoliwia.tattooandart
The infinity symbol is special in the ideal designs that reflect the tender mother-daughter relationship. It is created to demonstrate the mother's eternal love for a child and the affection of a child for a mother.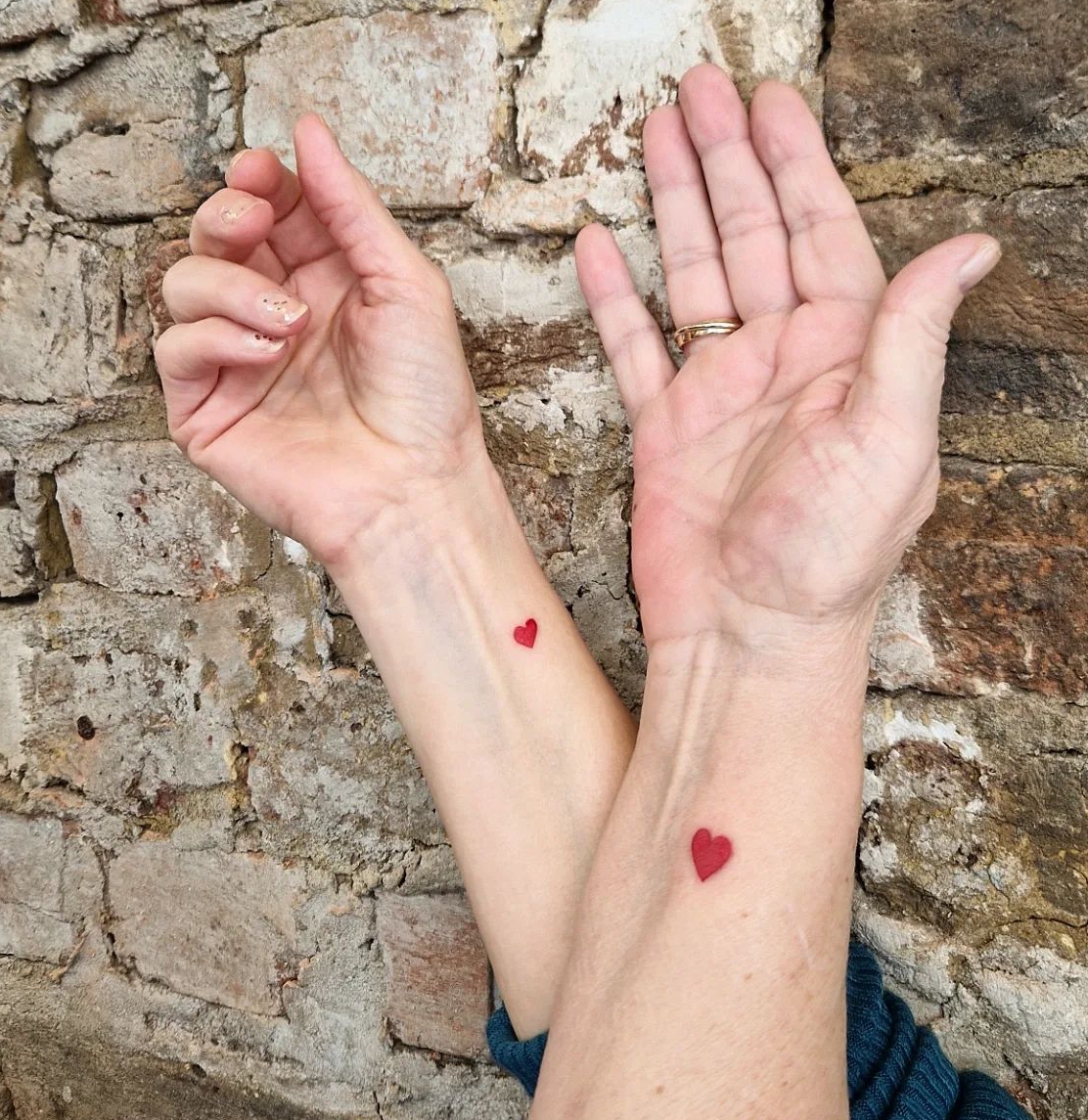 Small Mother & Daughter Tattoos
Are you looking for cute small tattoo designs? A safe bet would be puzzle pieces symbolizing the perfect match between mother and daughter's personalities or classic infinity symbols showing their eternal inseparable bond.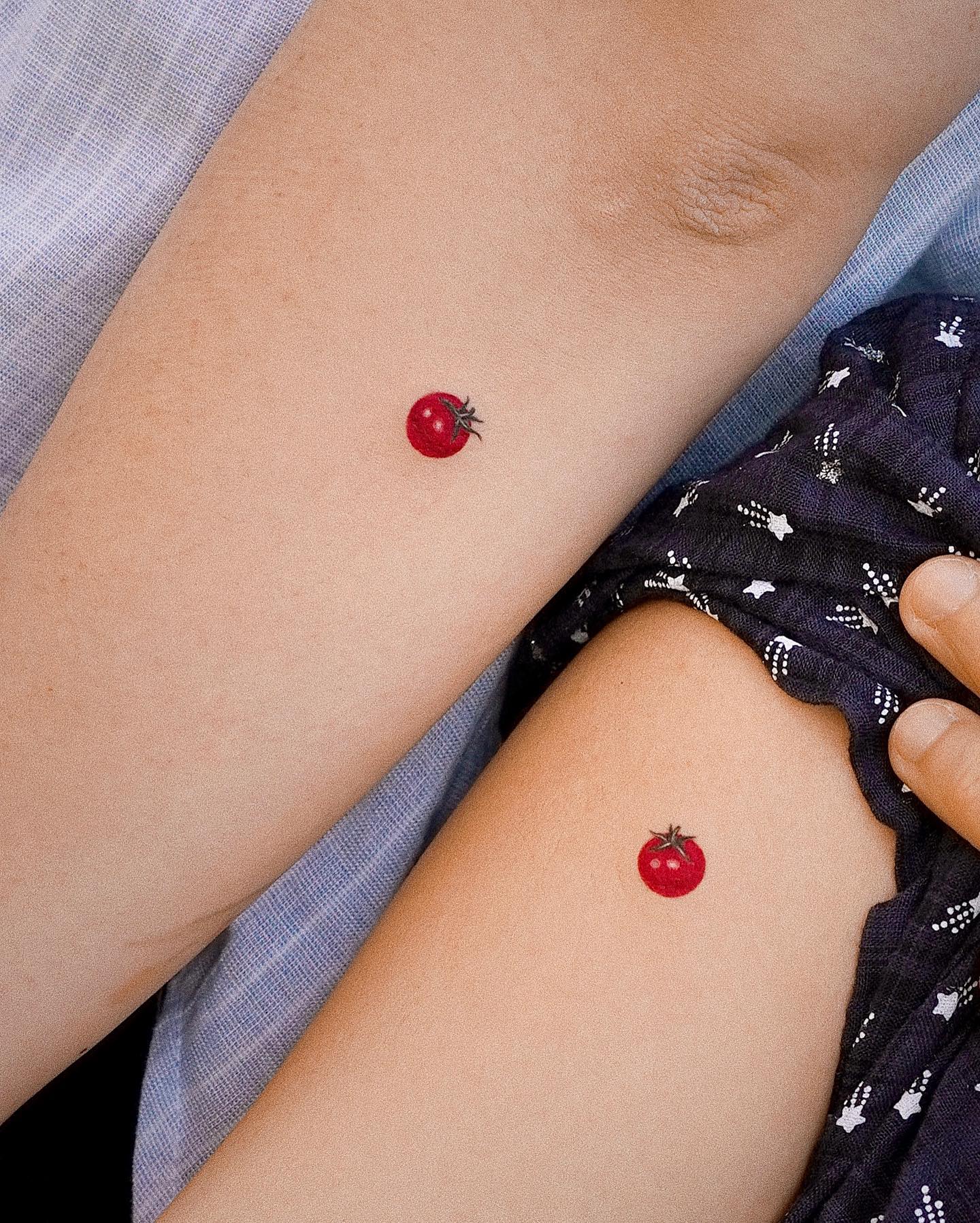 via @vismstudio
Also, bright and eloquent will be the matching heart symbol tattoo placed in the same places. Whatever family image tattoo you choose should not only please you but also tell your personal story.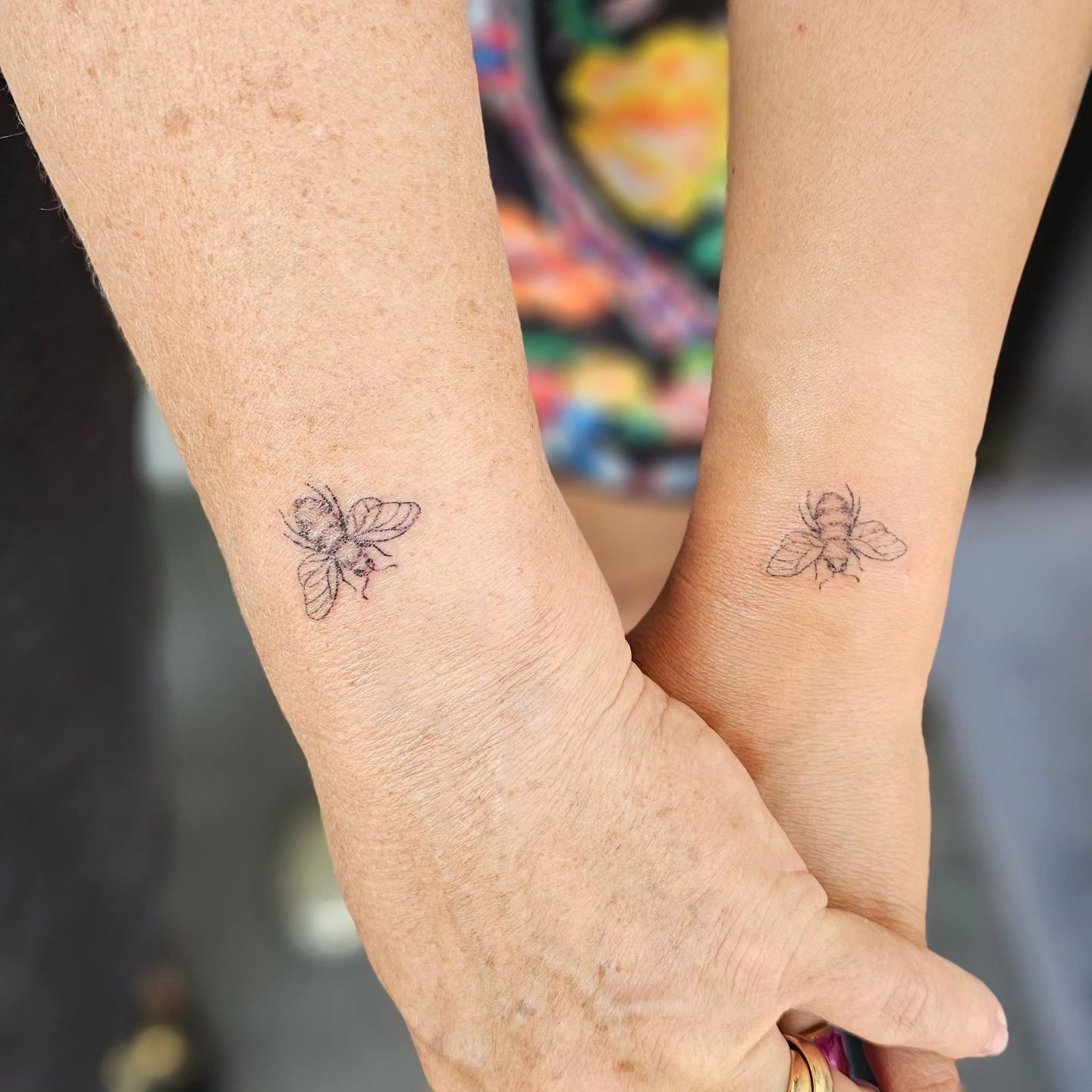 via @sweetinkdelft
Wrist Mother Daughter Tattoos
Many wrist tattoo ideas feature the words "Mother" and "Daughter" written in a subtle, beautiful font. Additional elements symbolizing their special relationship are selected individually.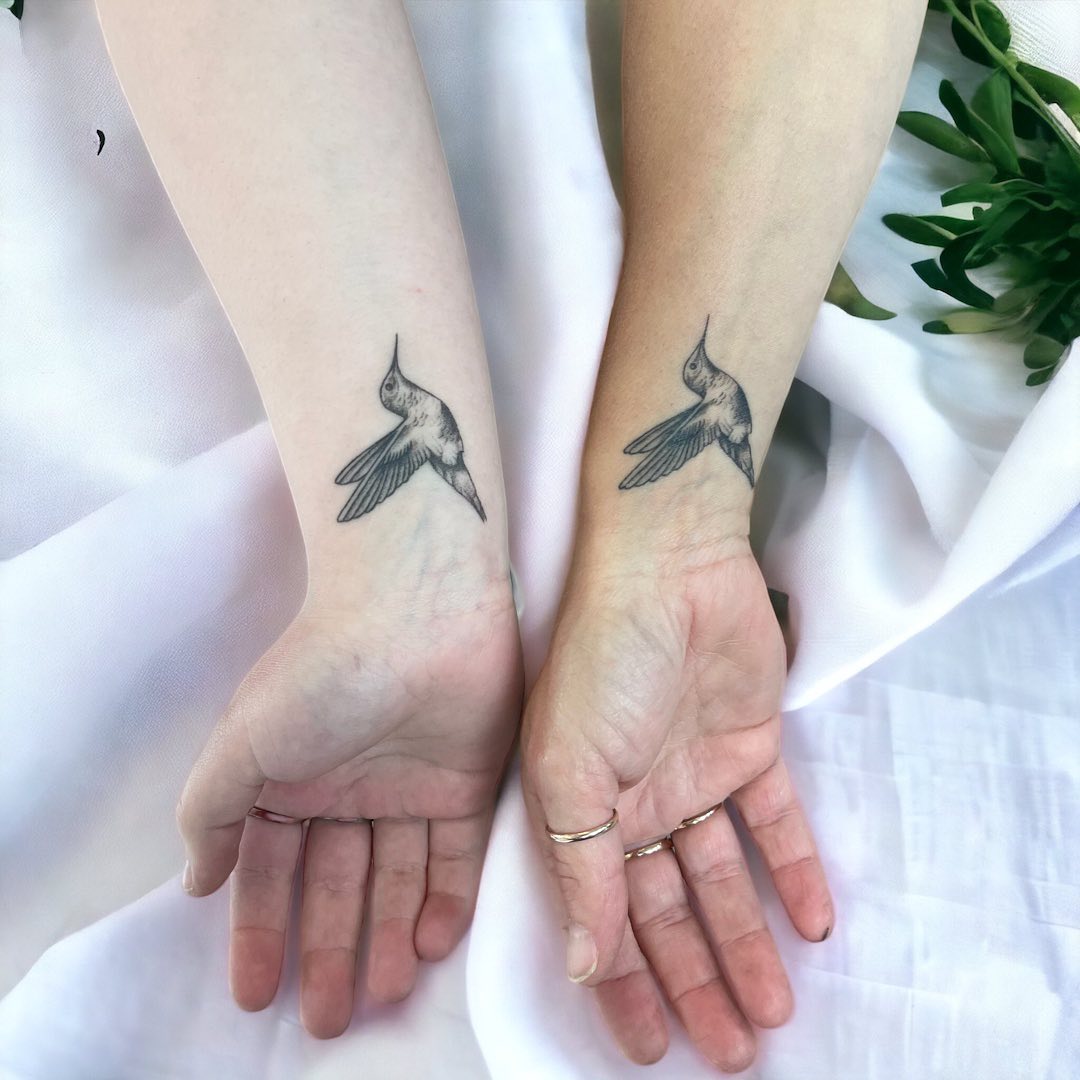 via @z.averi
Another popular variation is the tiny heart. It is a tattoo that symbolizes a mother's love and is made for mom and daughter with matching ink. It can be intertwined with their initials or symbolic objects and images for each.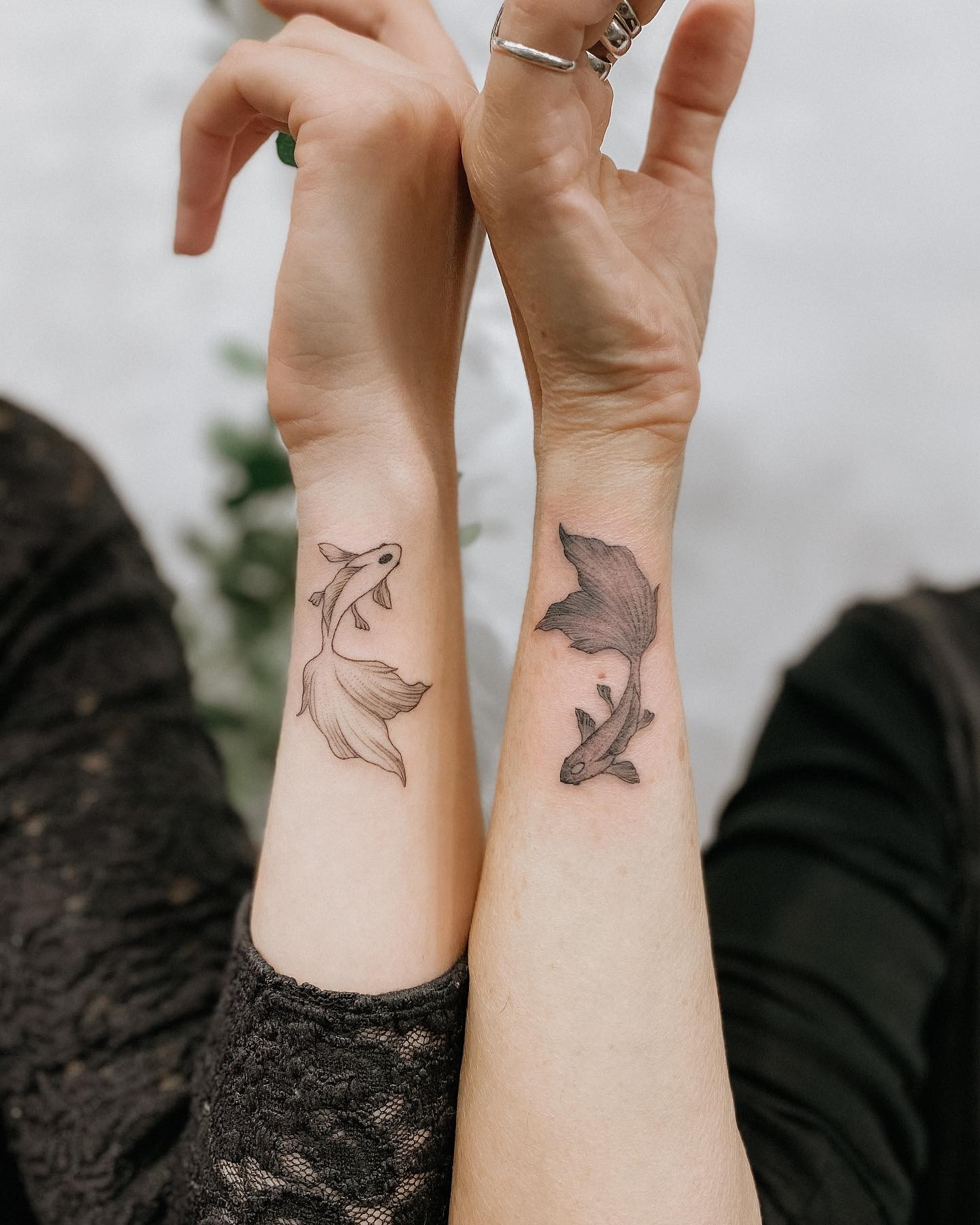 via @embajkowska
Mother & Daughter Quotes Tattoos
The original way to stand out from the crowd is quote tattoo ideas. For design, use your favorite phrases and sentences from songs or films and your family phrases. You can be sure that these will be unique and meaningful tattoos!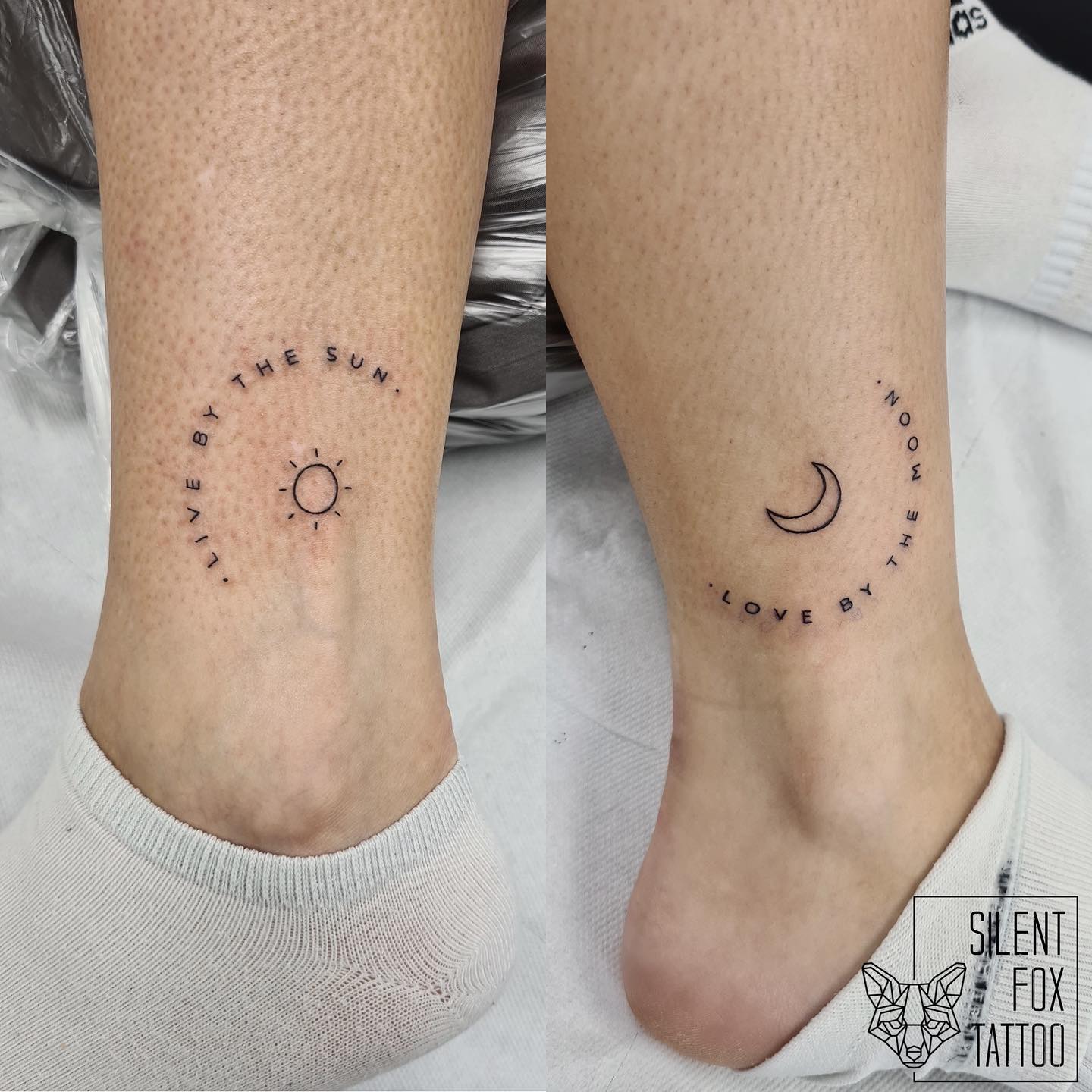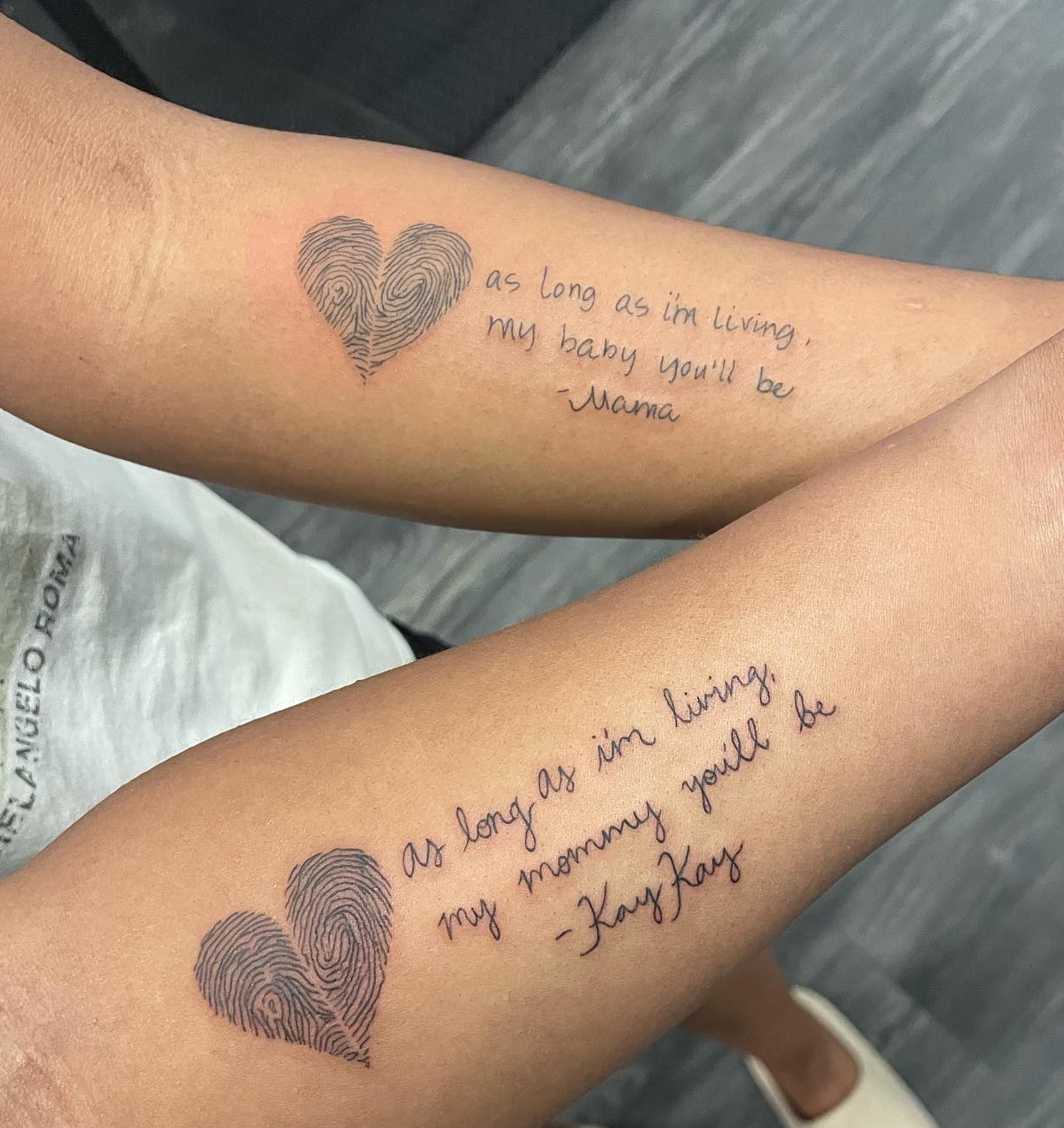 via @inkxmadison
Mother and Daughter Elephants Tattoo
Such a tattoo symbolizes the inextricable special bond between a mother and her child, reflecting maternal instincts and a desire to protect her daughter.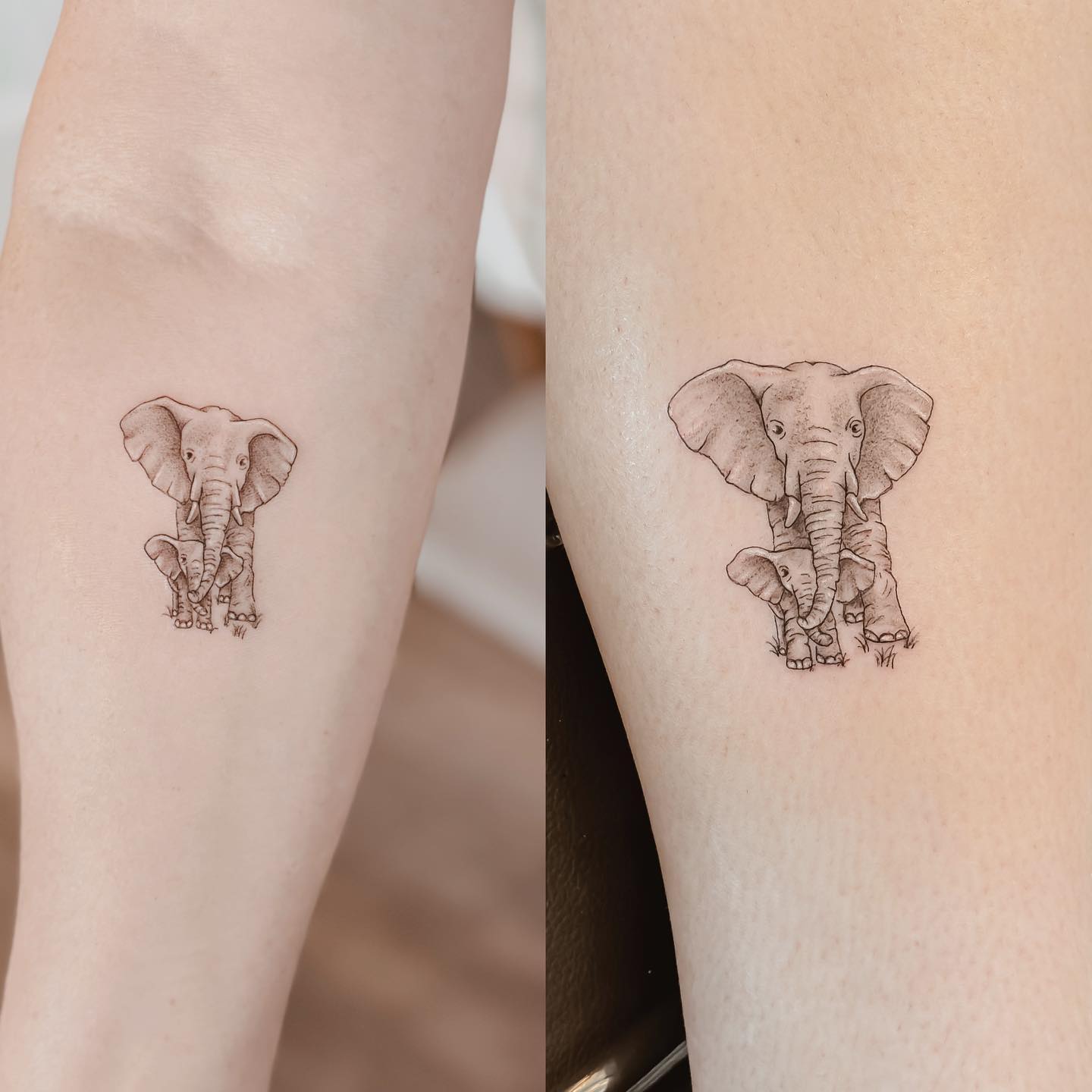 via @blush.and.brow
It is a meaningful design demonstrating the caring and trusting relationship between tattoo owners. It makes bonds similar to their favourite animal's trembling and united family ties.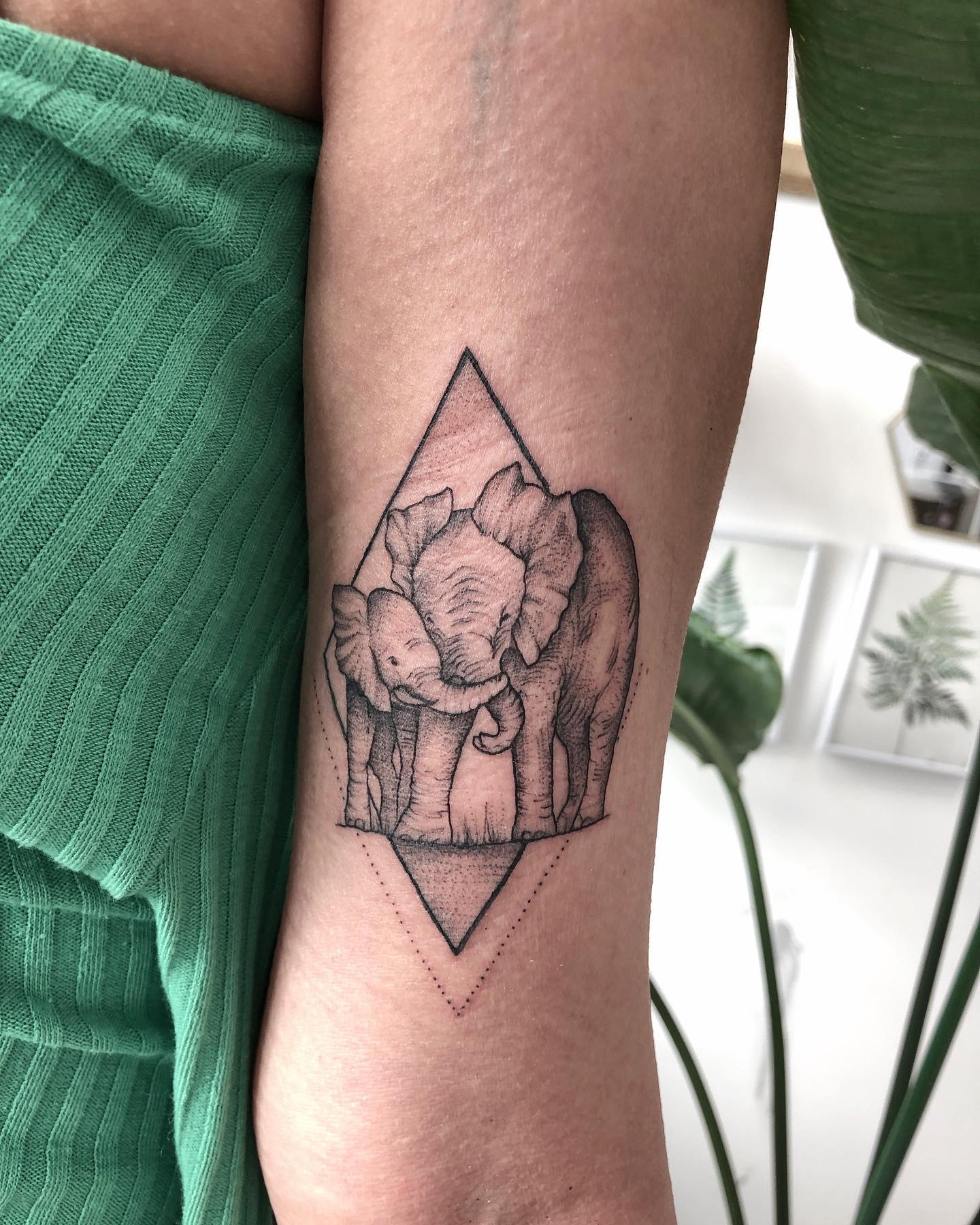 via @tyna_tattoo
Mom & Daughter's Favorite Flower Tattoo
A charming small flower tattoo is a beautiful choice for a mother and daughter. It can be an elegant bouquet of their choice, intertwined with each other's initials as a love and affection symbol.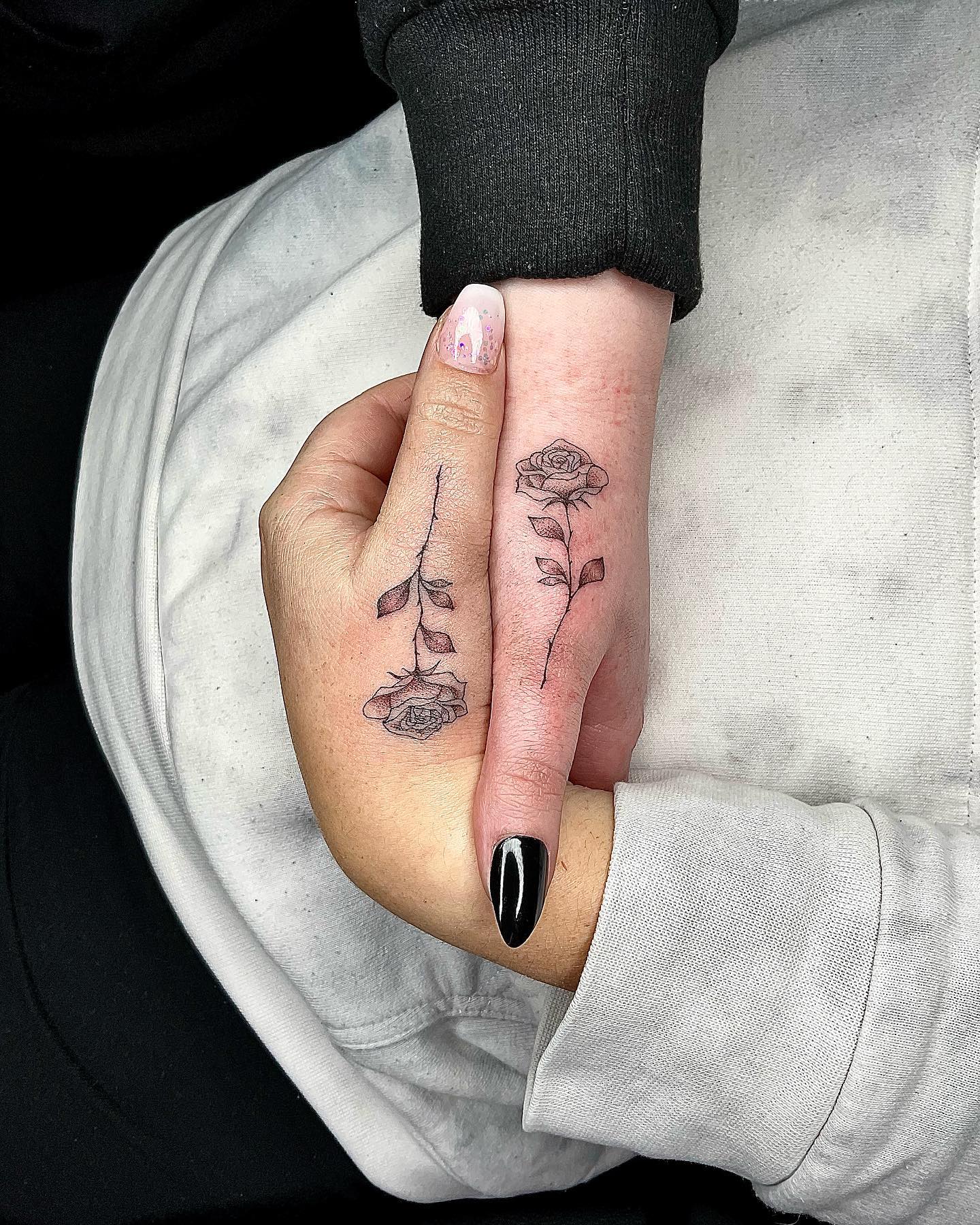 via @tattoonium
Another option for matching tattoos could be two tender stems of their favorite flowers hugging each other. Such a flower tattoo symbolizes a strong connection and unity between its owners.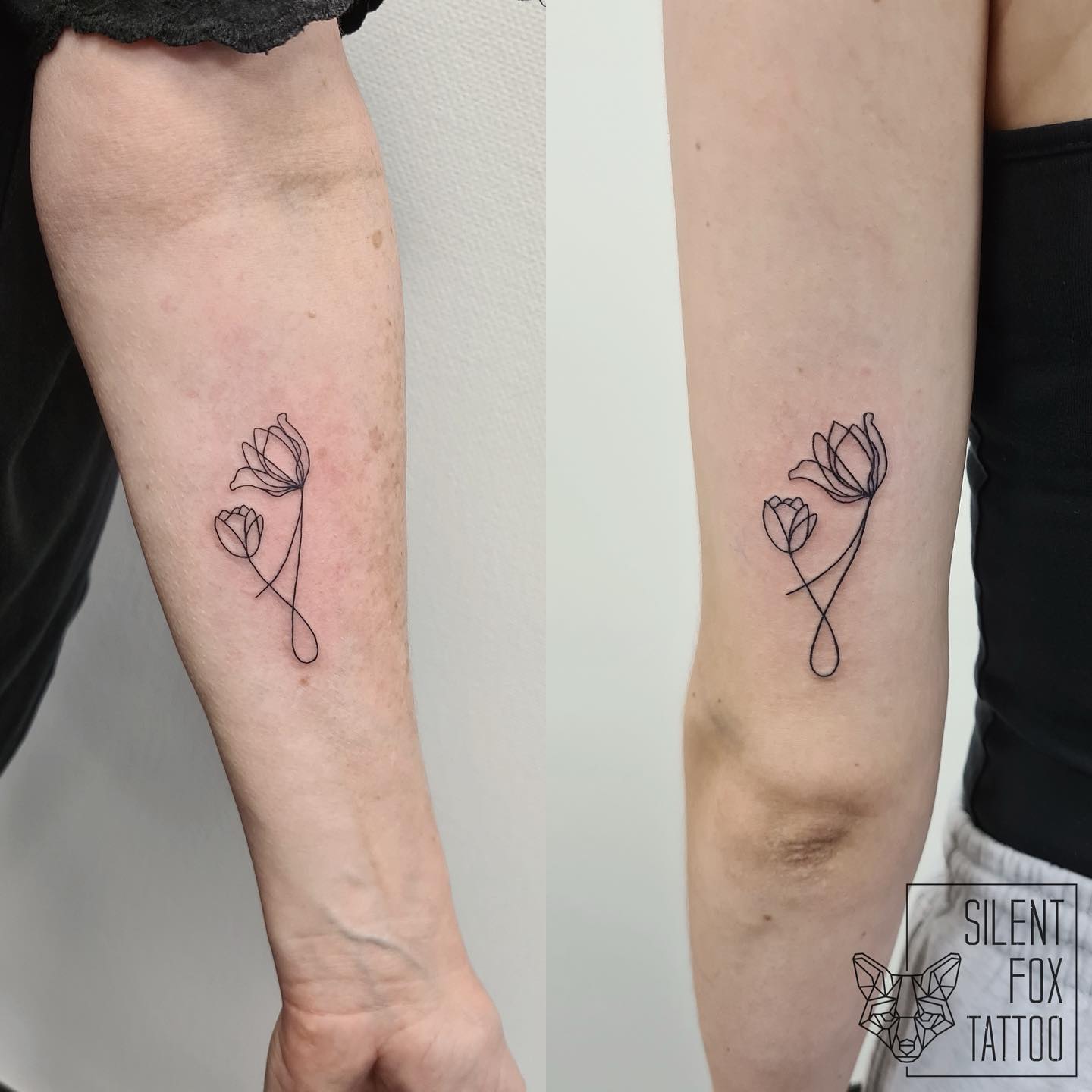 Mother & Daughter Bond Tattoo
Another sophisticated and feminine tattooed symbol of bond is two flying birds. They symbolize the daughter and mom's unconditional love, journey together, and the freedom to support each other's dreams.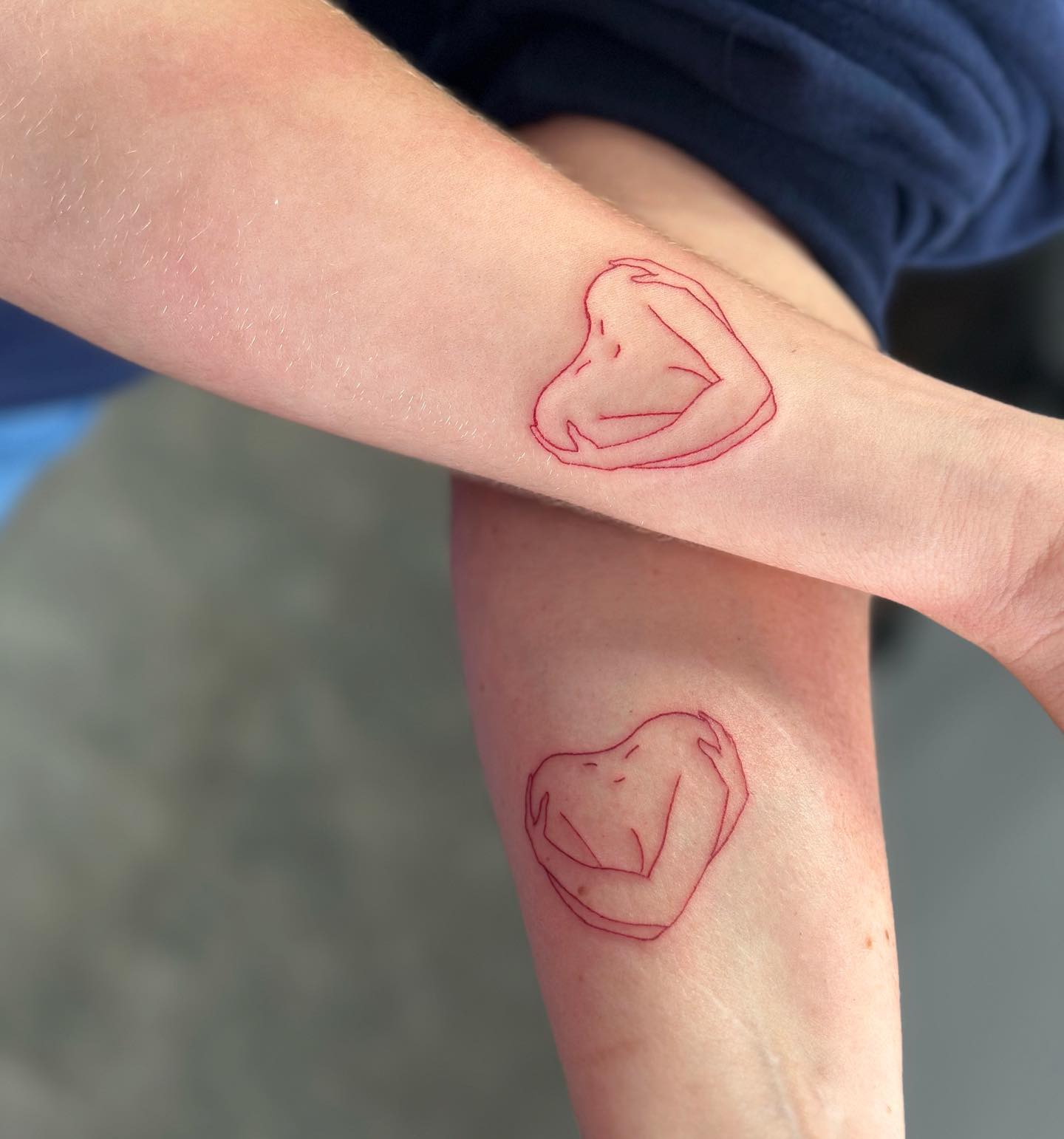 via @tattoosbybabes
A gentle and touching design idea is a mother bird and her chick sitting in an embrace. Such a tattoo speaks without words about care and protection.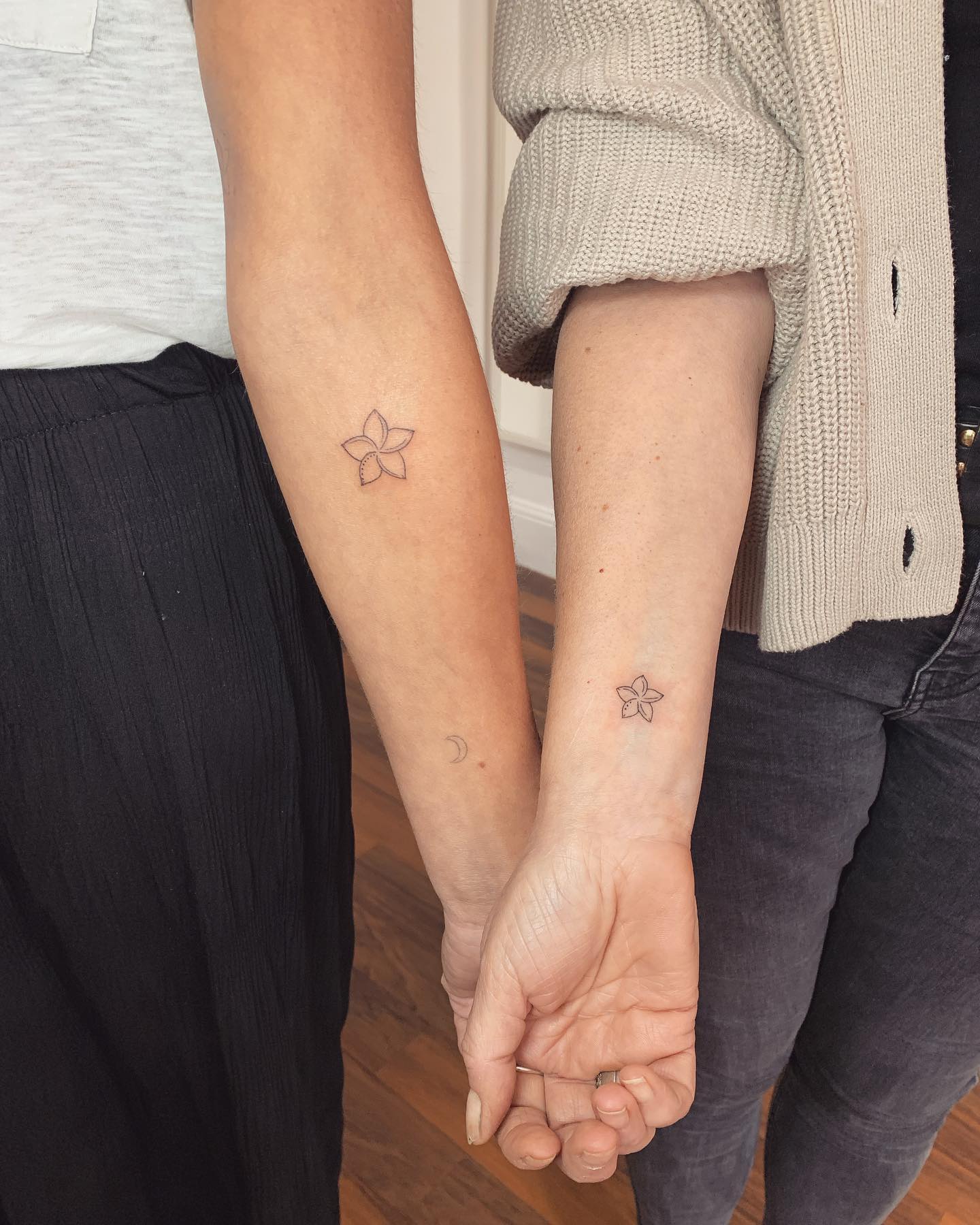 via @skyxfyre
Mother and Daughter Chinese Tattoo
If you want to make a themed Chinese tattoo for a mother and daughter, the easiest option is to choose the characters "Mother" and "Daughter." This composition indicates mutual tenderness and reliable family ties.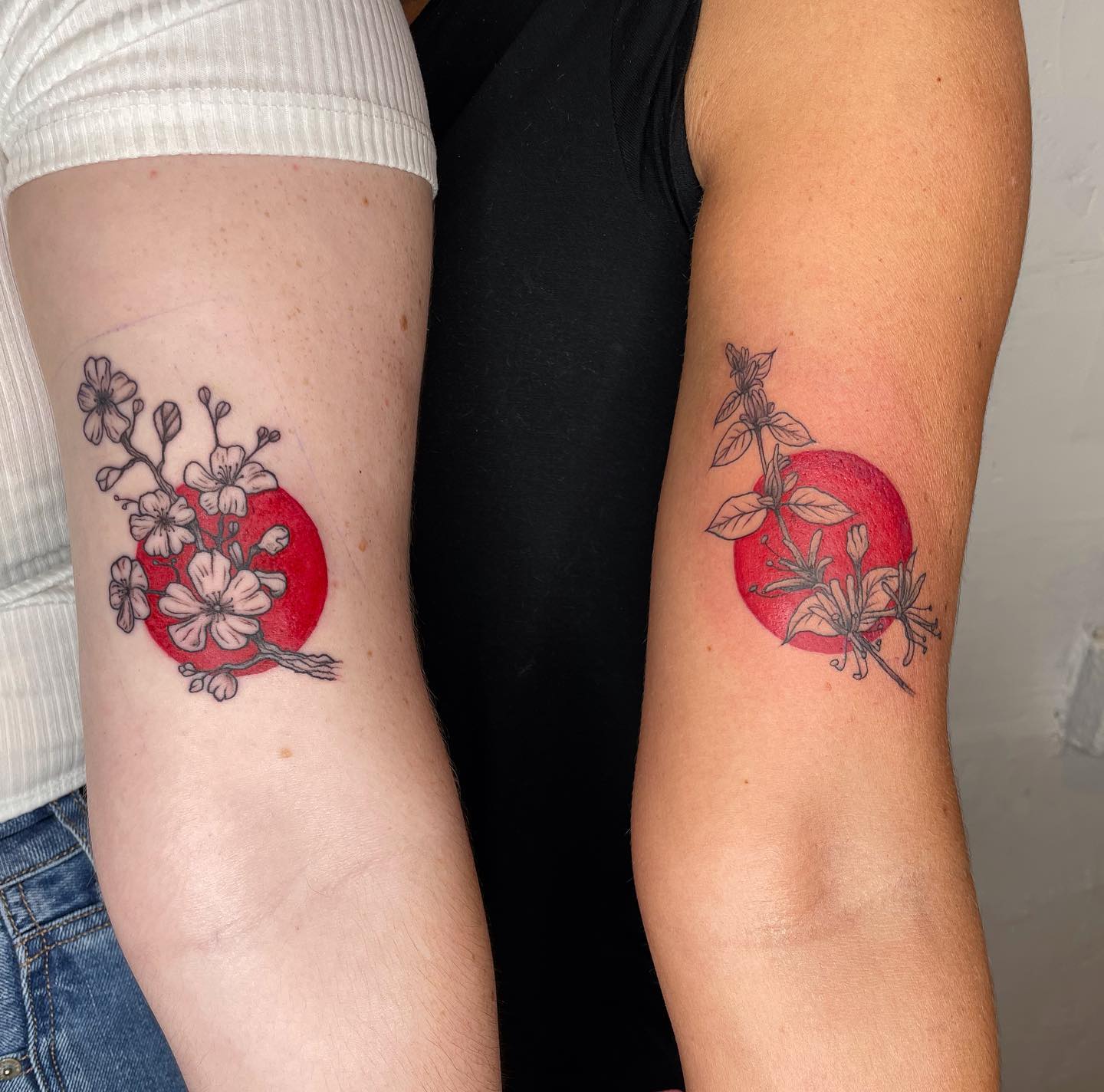 via @dhb_tattoos
Another matching tattoo is the Chinese calligraphy "Eternal Love." This drawing is the perfect symbol of eternal love between mother and daughter, emphasizing the timeless nature of their relationship.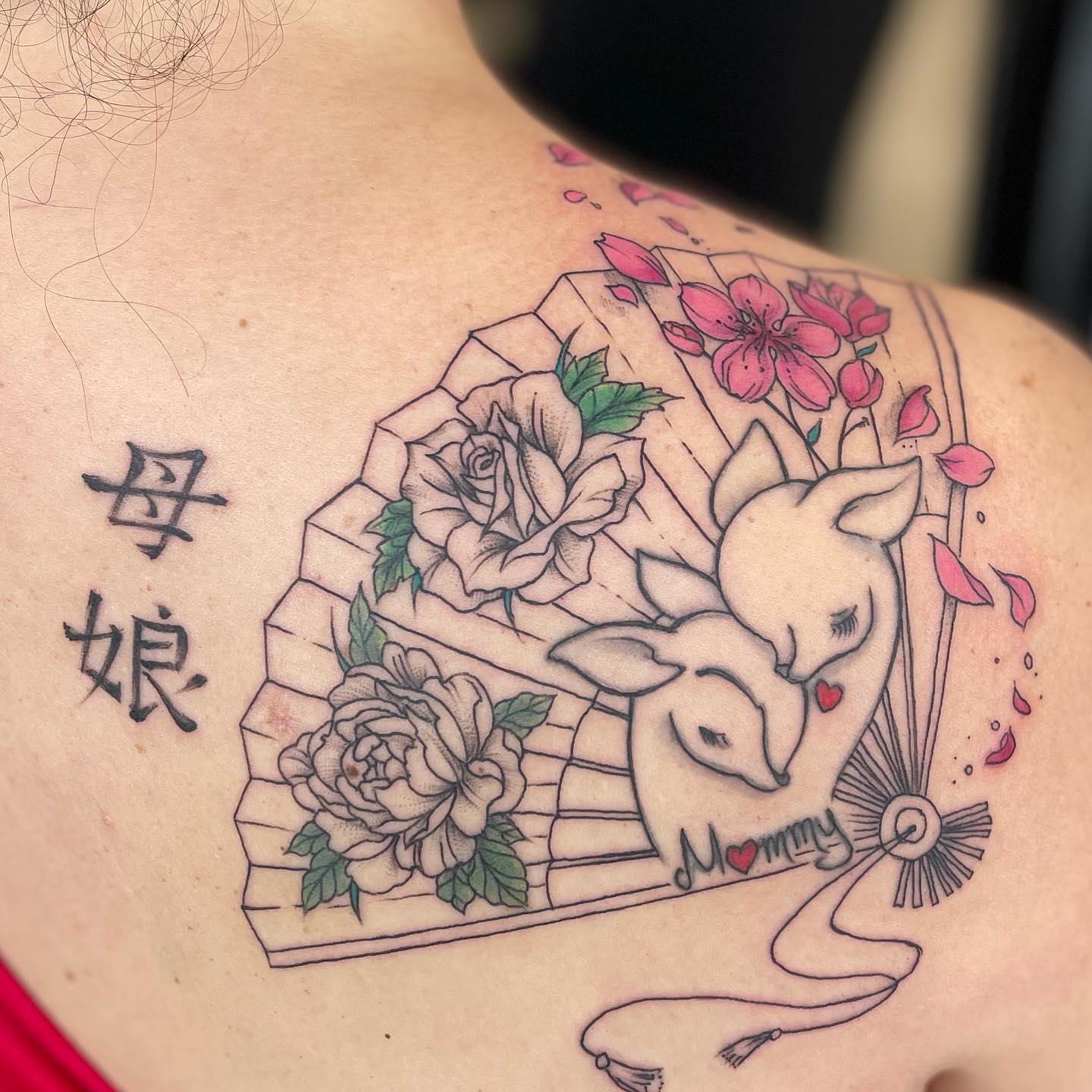 via @vanhooktattoos
Mom & Daughter Celtic Tattoo
Celtic traditions for many centuries retain their relevance. For example, the Celtic knot tattoo symbolizes eternal love and an unbreakable bond between a mom and a child.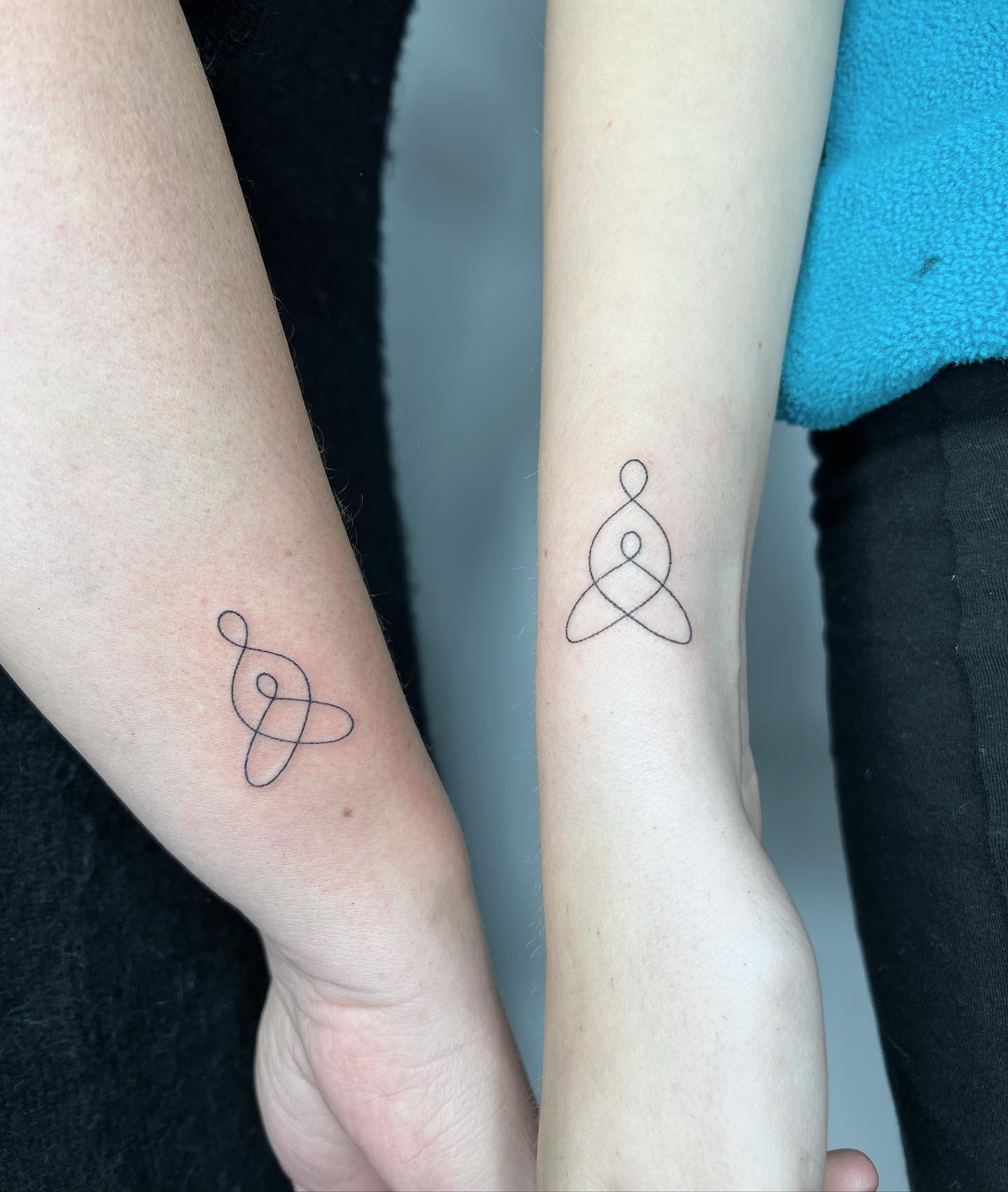 via @tattoo_prik
The Trinity Knot is also popular among thematic Celtic matching tattoos. Triquetra means the threefold nature of the relationship between mother, daughter and the unifying force of their love and faith. This design represents their unbreakable unity and devotion to each other.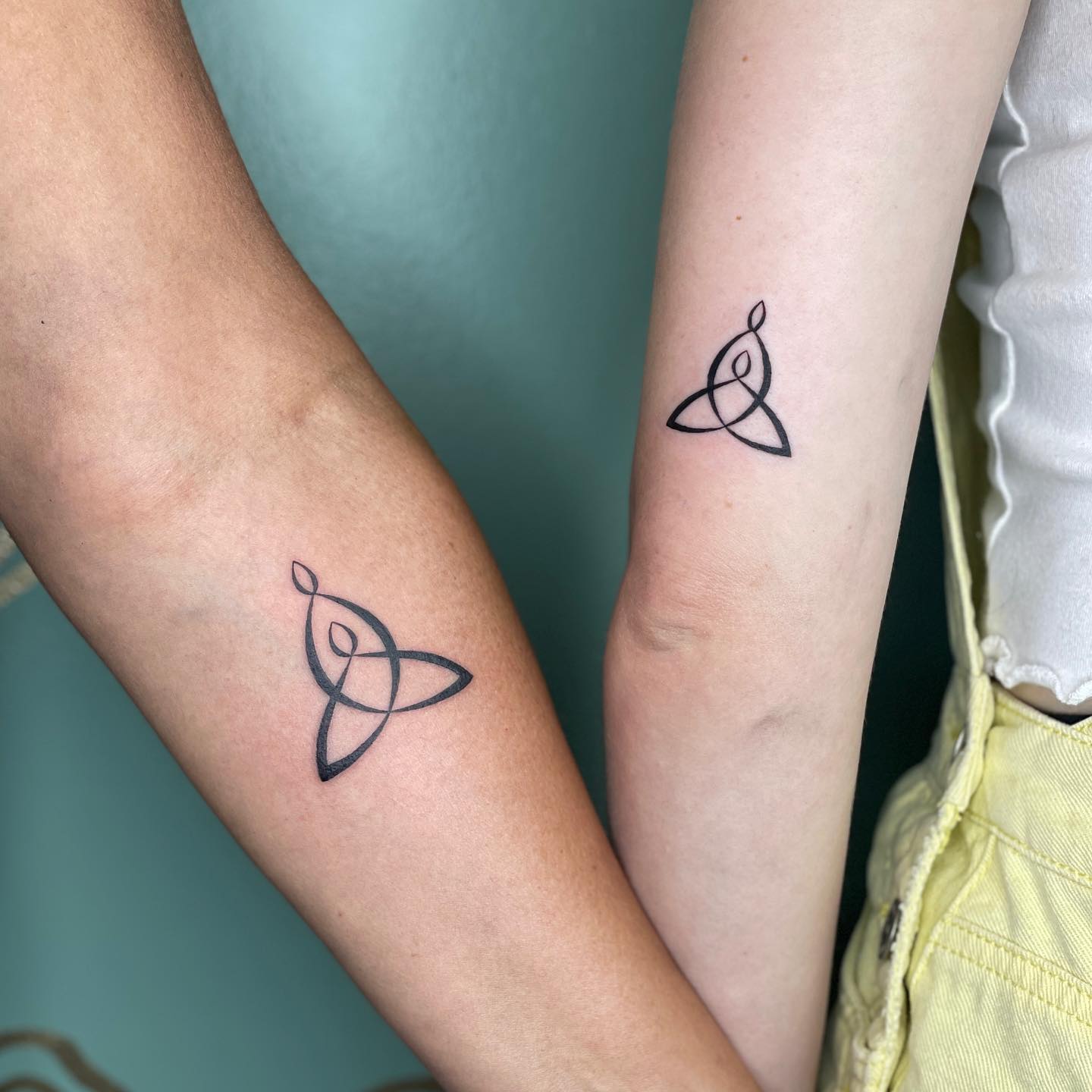 Matching Heart Tattoos for Mom and Daughter
Mother-daughter tattoos are often two separate hearts, one for each, with a connecting element. As it, a tattoo artist can depict a heartbeat line or an infinity symbol.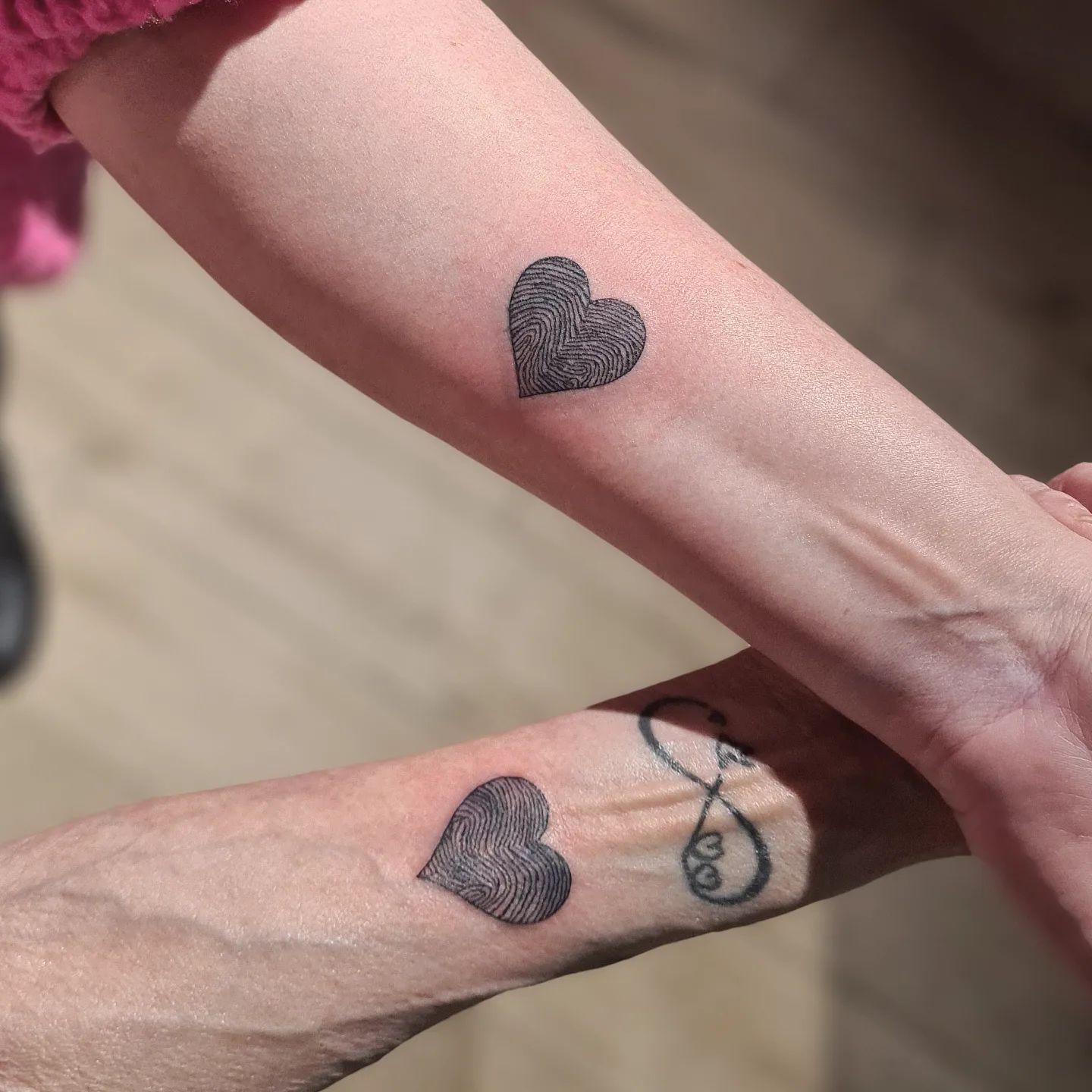 Another option for cute heart tattoo designs can be a single heart split in two. One will be with mom, the second — with the daughter. Such a heart means their inextricable connection and unity.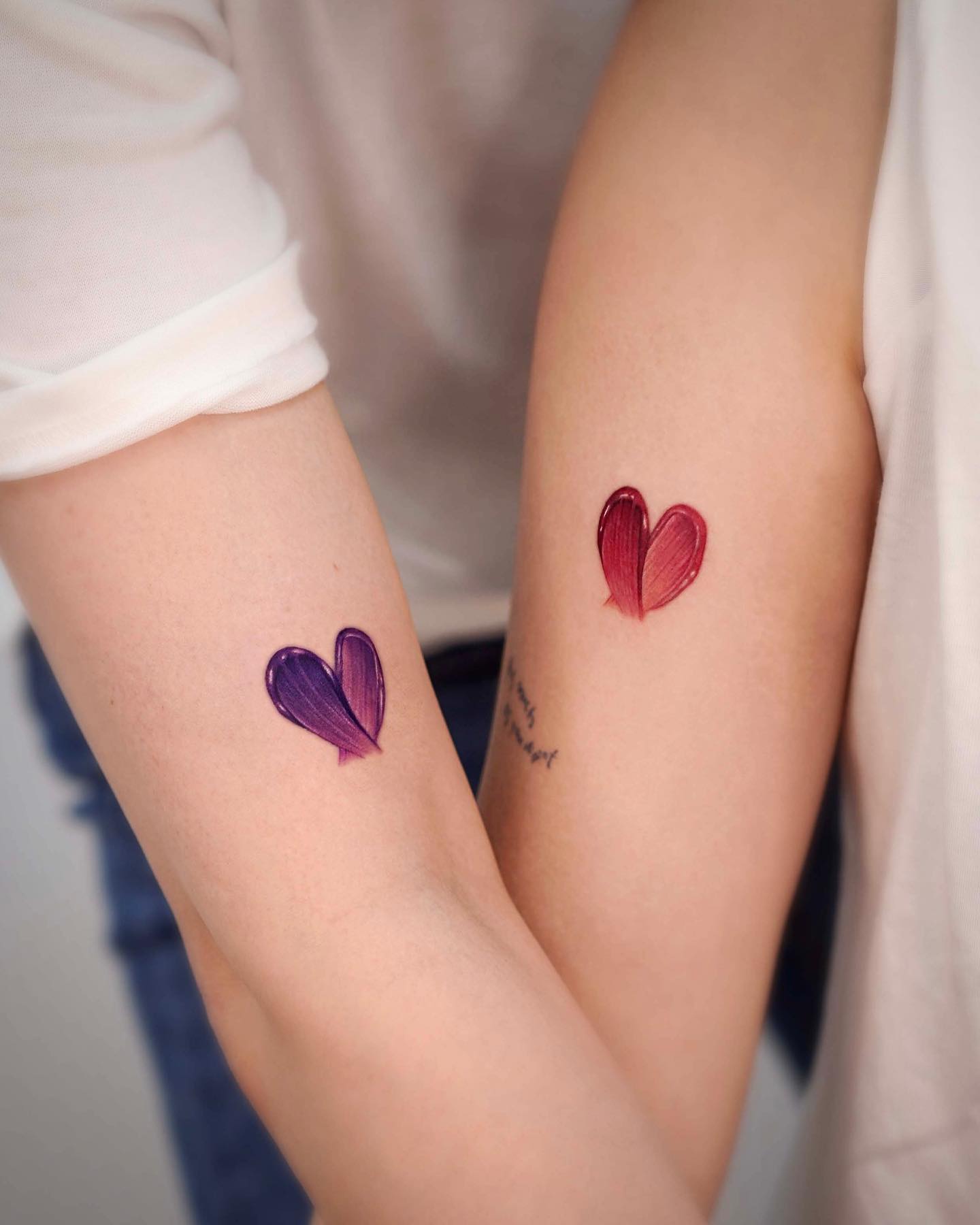 via @o.ri_tattoo
Mother and Daughter Butterfly Tattoo
Spectacular butterfly tattoo ideas for mother and daughter can include two delicate butterflies — a large one representing the mother and a smaller one representing the daughter.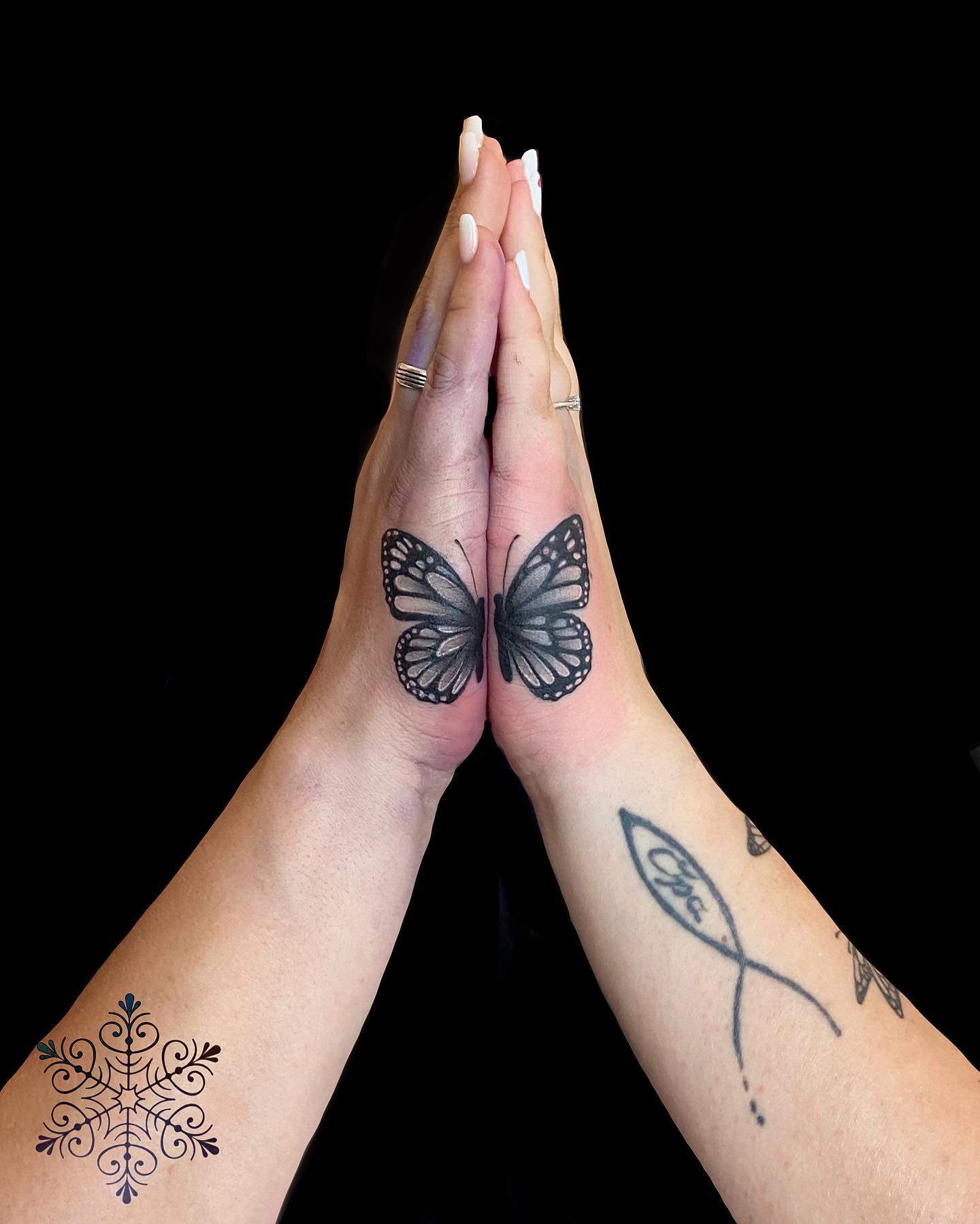 These cute designs signify their growth and transformation throughout their life together and the journey of a daughter guided by motherly love.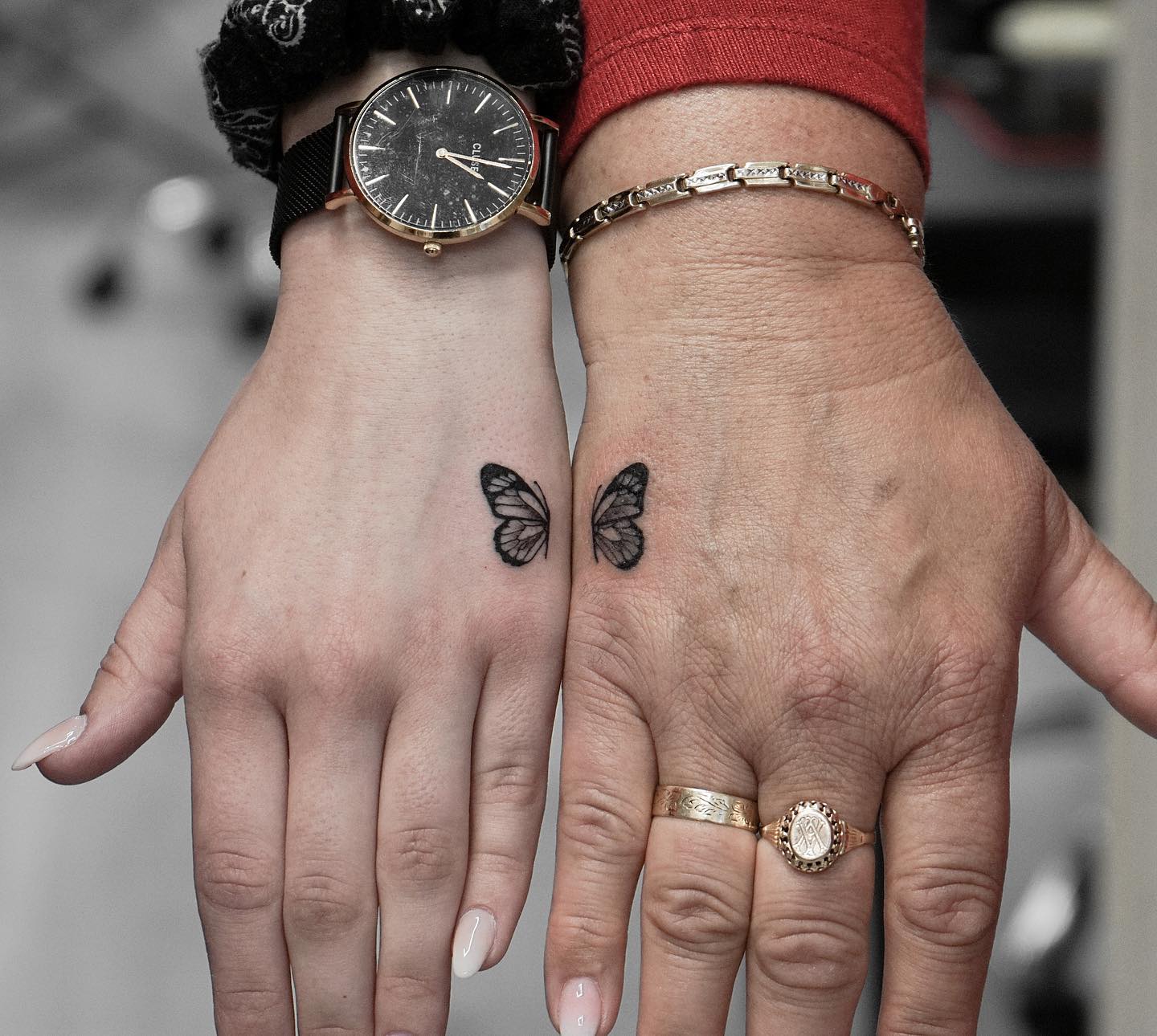 via @denczborso
Holding Hands Tattoo for Mom and Daughter
One of the best tattoos that represents closeness is a mother holding her daughter's hand. They are often adorned with blooming flowers and other elements that symbolize eternal love and connection.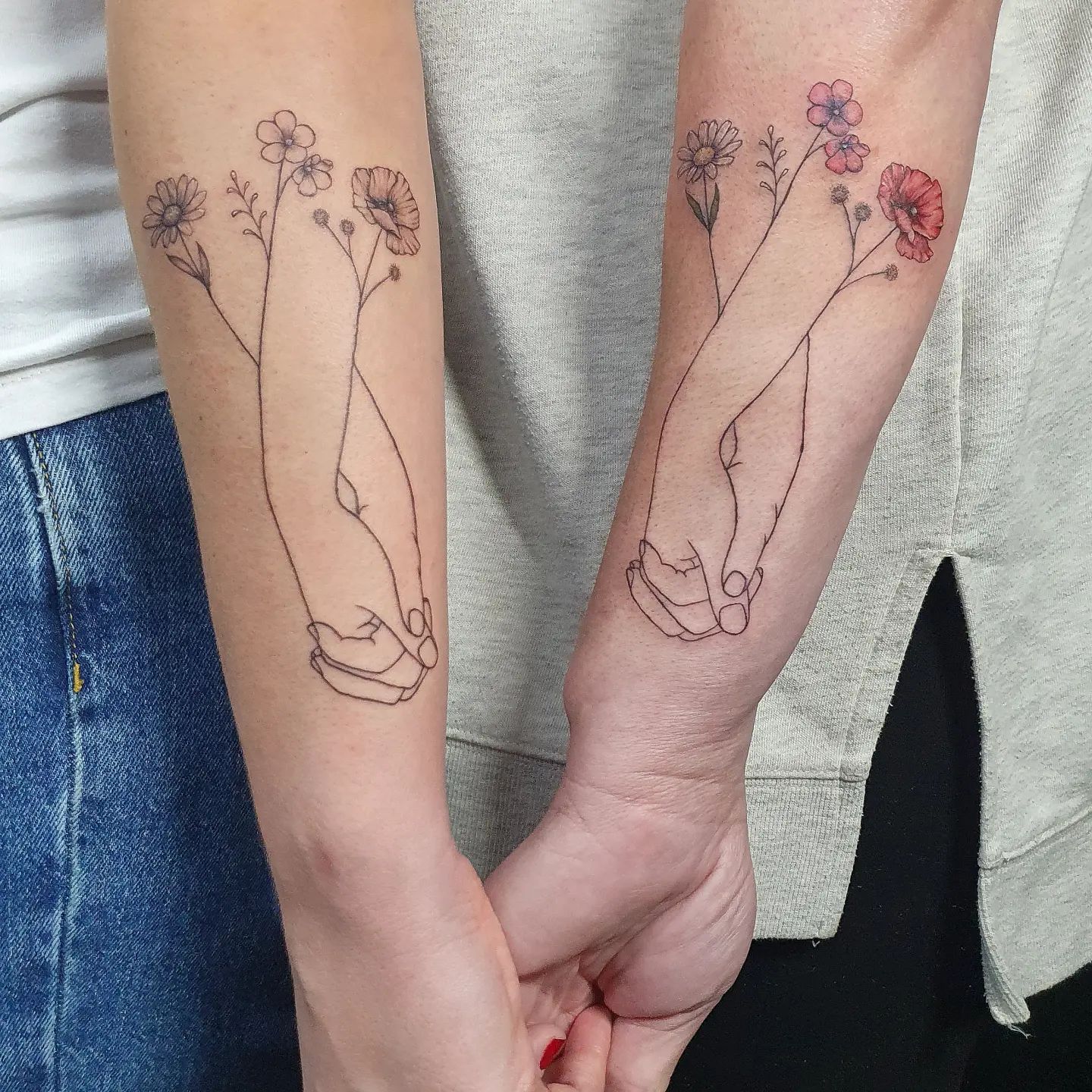 via @dip.dip.draw
The bright colors and intricate details of the best friend's tattoo reflect those invisible bonds, stronger than what there is in the world.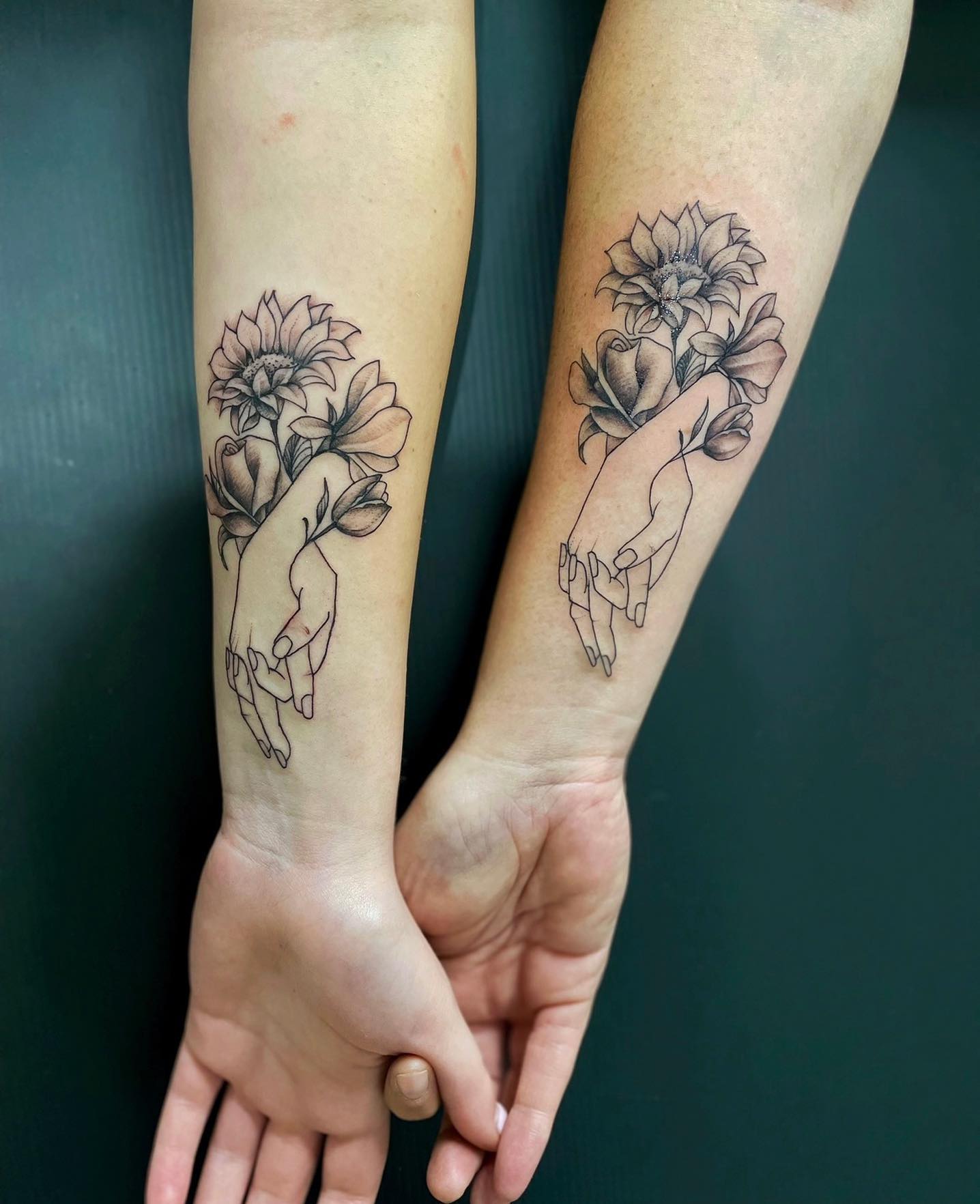 via @tattoojulia
Badass Mother Daughter Tattoos
Are you not afraid of experiments and want to demonstrate the true power of your feelings? Then boldly implement the most daring badass tattoo ideas!
via @barbielongfox
So, mama and child tattoos are not only tender flowers and hearts. It can be colorful ferocious eagles or owls on the forearms or backs, personifying strength, protection, and determination.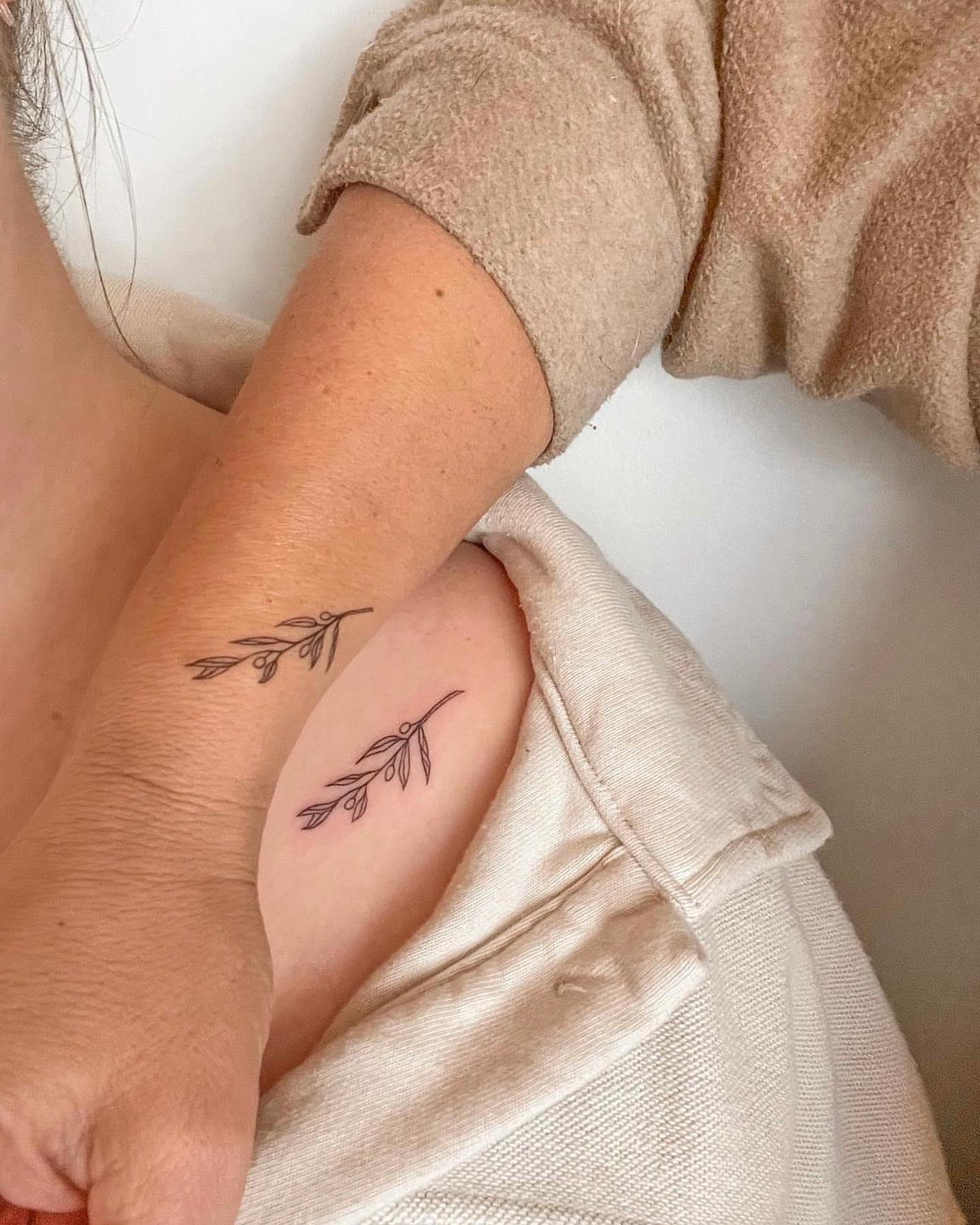 via @blush.and.brow
Mother-Daughter Initials Tattoos
The elegant design for mother and daughter features their initials, which the tattoo artist does in dainty handwriting. It means an inextricable connection and helps to stay connected even in different parts of the world.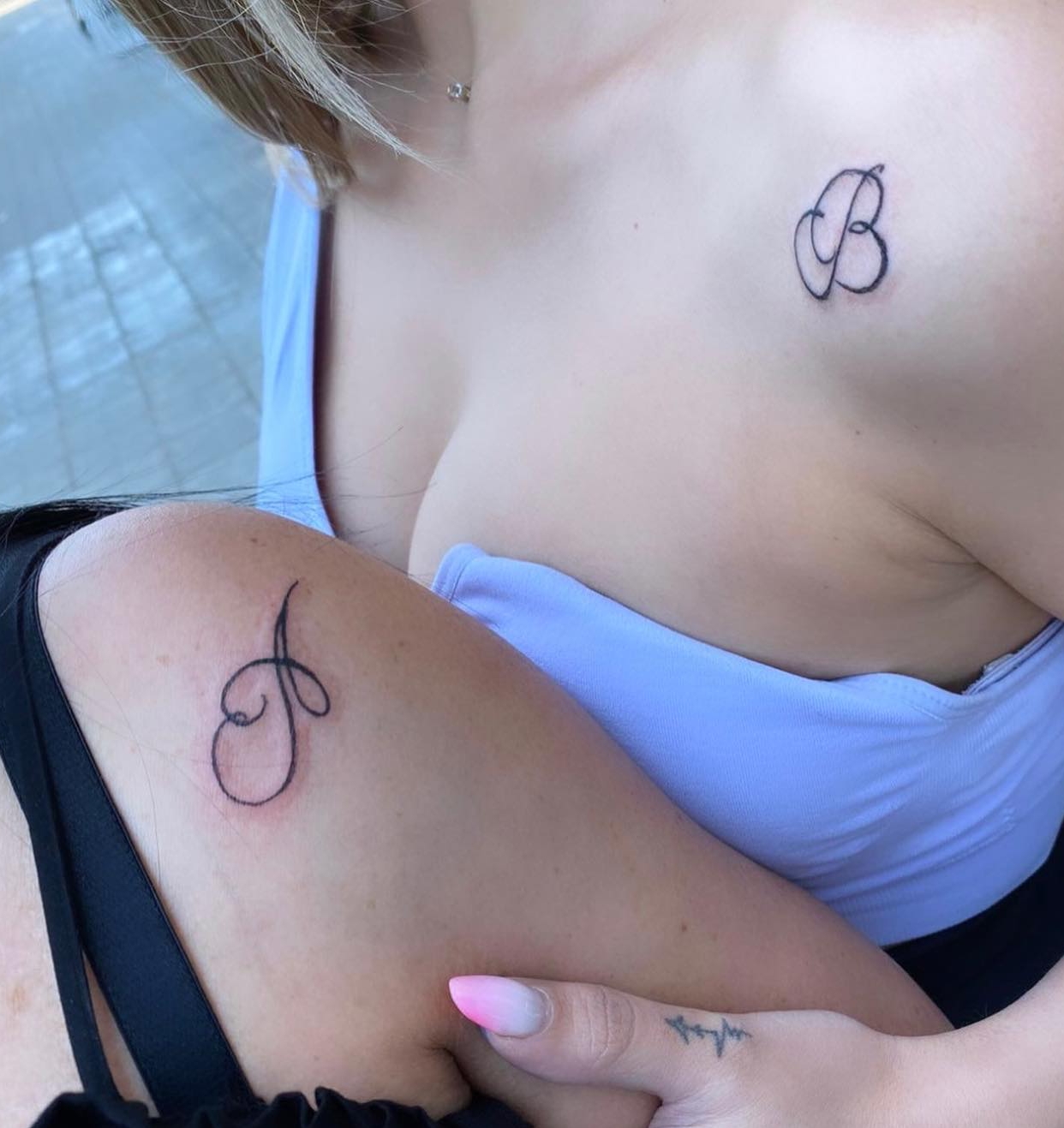 Minimalist and timeless, the initials tattoo represents eternal love and the special connection that hearts create.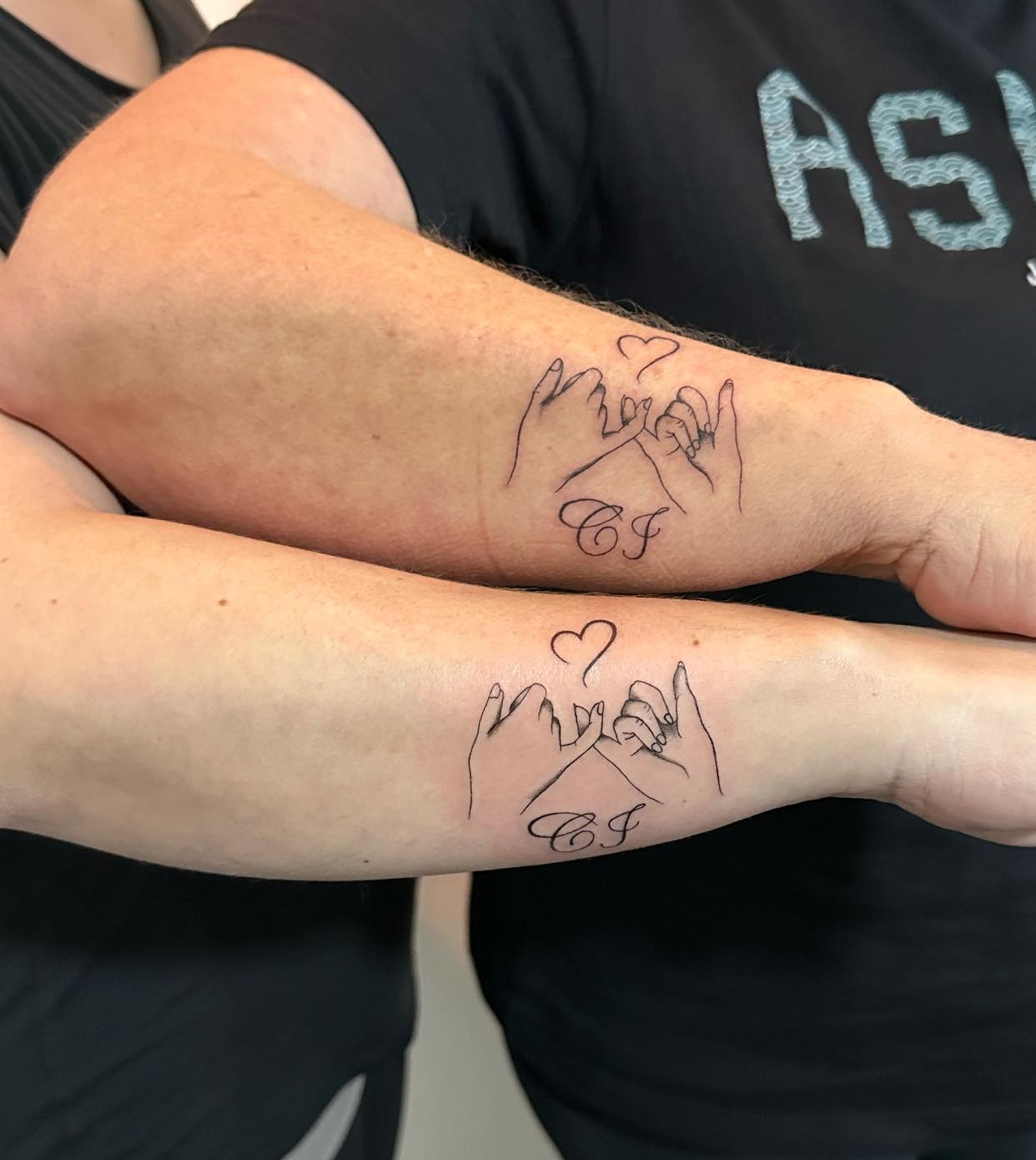 FAQ
Where is the best place for a mother-daughter tattoo?
Often, mothers and daughters get a tattoo on the inside of the wrist. There, it is visible to both of them and is a constant reminder of their love and connection. Another great option is the shoulder or forearm area, suitable for more detailed designs.