Inspirational quote tattoos deserve special attention among the many directions of body art. This is not a banal decoration devoid of symbolism. Diverse, meaningful tattoos emphasize a person's individuality, allowing him/her to forever keep memories of a specific moment.
What designs are popular? In what cases do women and men get such tattoos? We'll talk about it right now!
1. Spine Quote Tattoos
A spine tattoo is an original and elegant solution for those who do not want to constantly show them to others.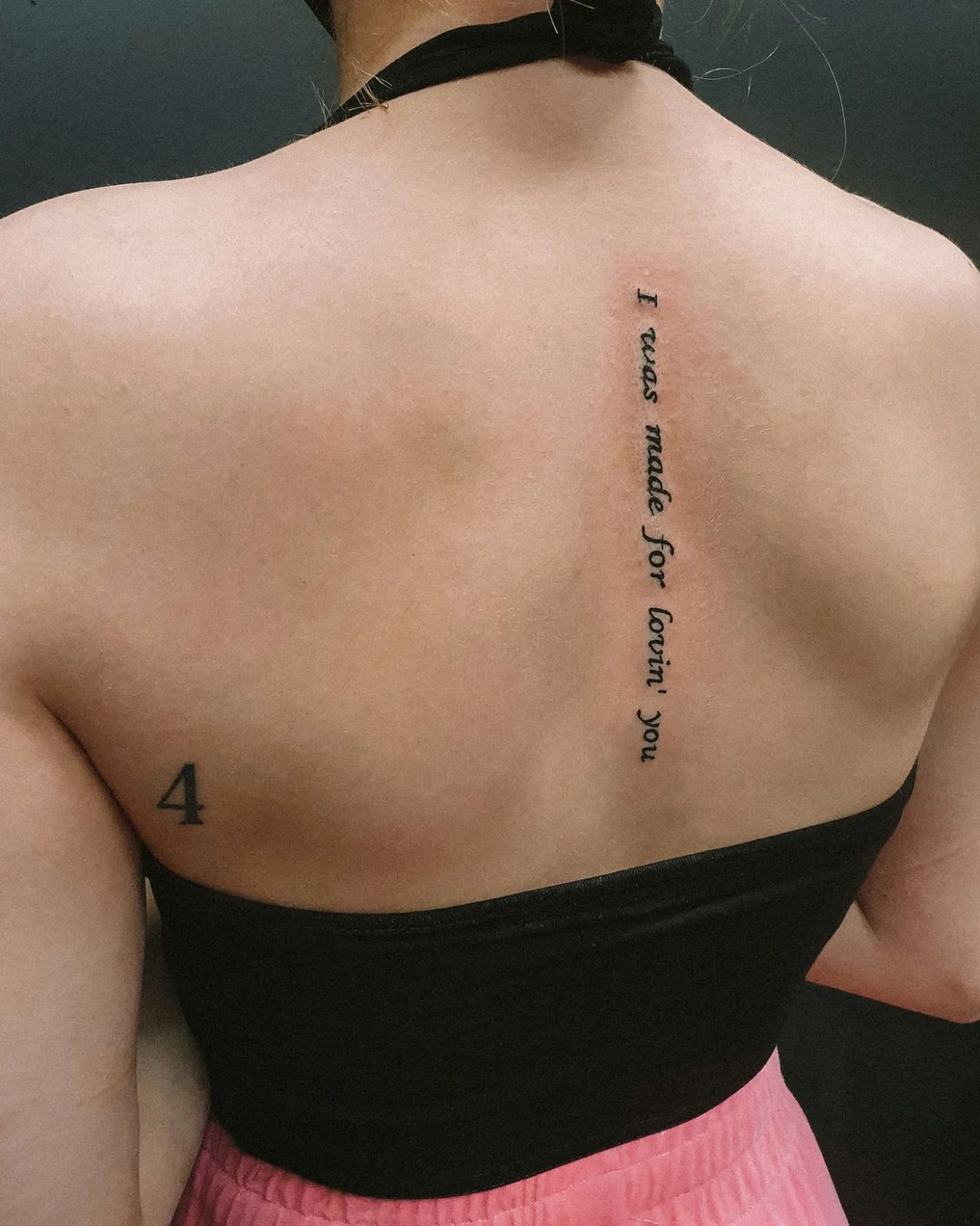 The indisputable advantage of this design is the ability to successfully place a long quote. If desired, it can be supplemented with other elements. For example, the text is decorated with flowers or various symbols.
Among the many quote tattoo ideas are well-known aphorisms, poems by poets, or your compositions. When going to the master, remember that the neck and spine are characterized by high sensitivity. But a back tattoo for women is 100% worth a little patience.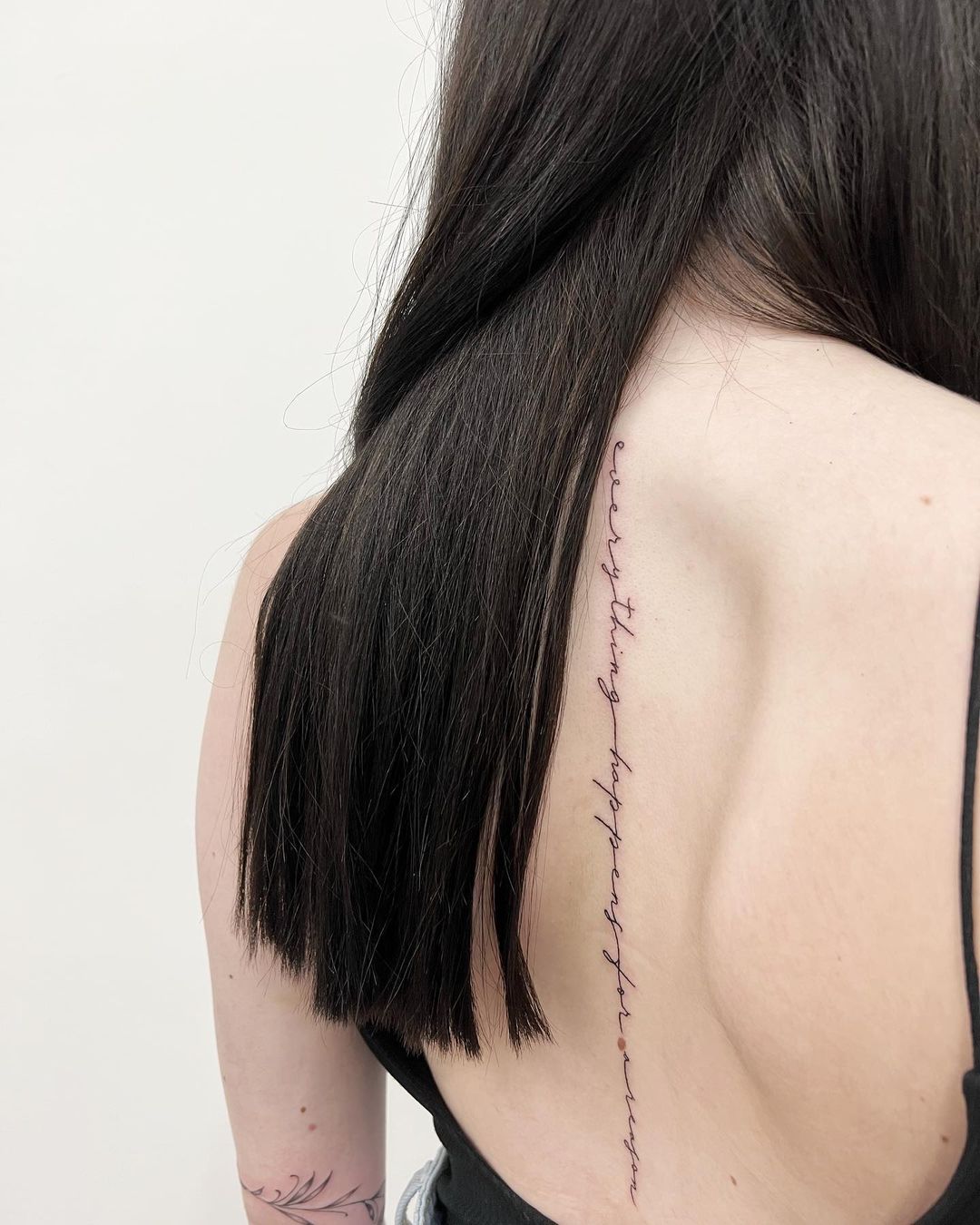 via @j.k.tattooing
2. Meaningful Thigh Tattoo Quotes
Another popular place for inspirational tattoo quotes is the thigh. Masters recommend it for the realization of many creative ideas.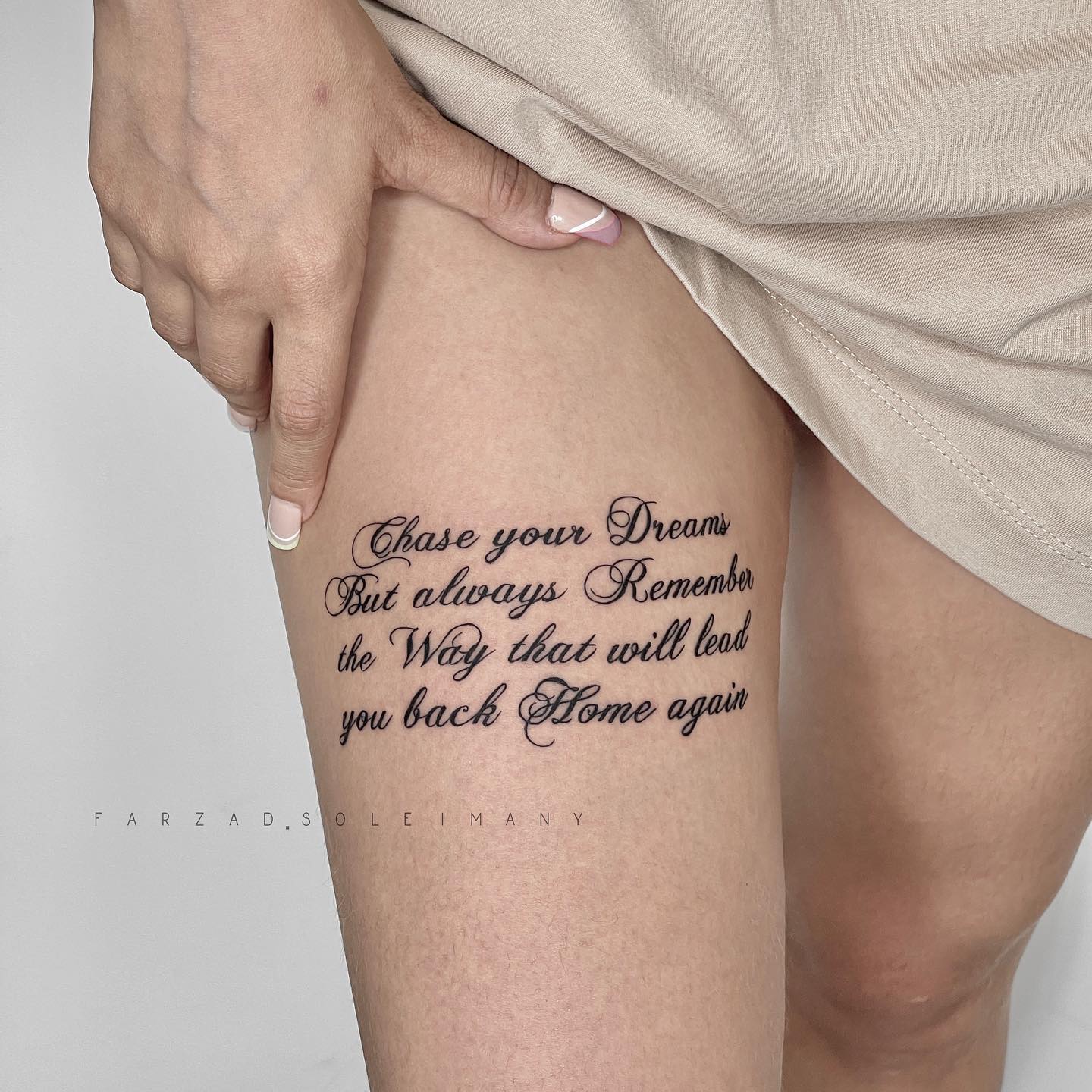 via @tattoofarzadart
What are the advantages of this area? It is a fairly large and relatively flat surface. You can easily place your favorite quote or a full-fledged realistic picture on the hip.
What are the most popular tattoo ideas? As a design, you can use excerpts from songs, quotes from films, or literary works of any size. Often, people ask to capture the words of loved ones; it looks especially sentimental.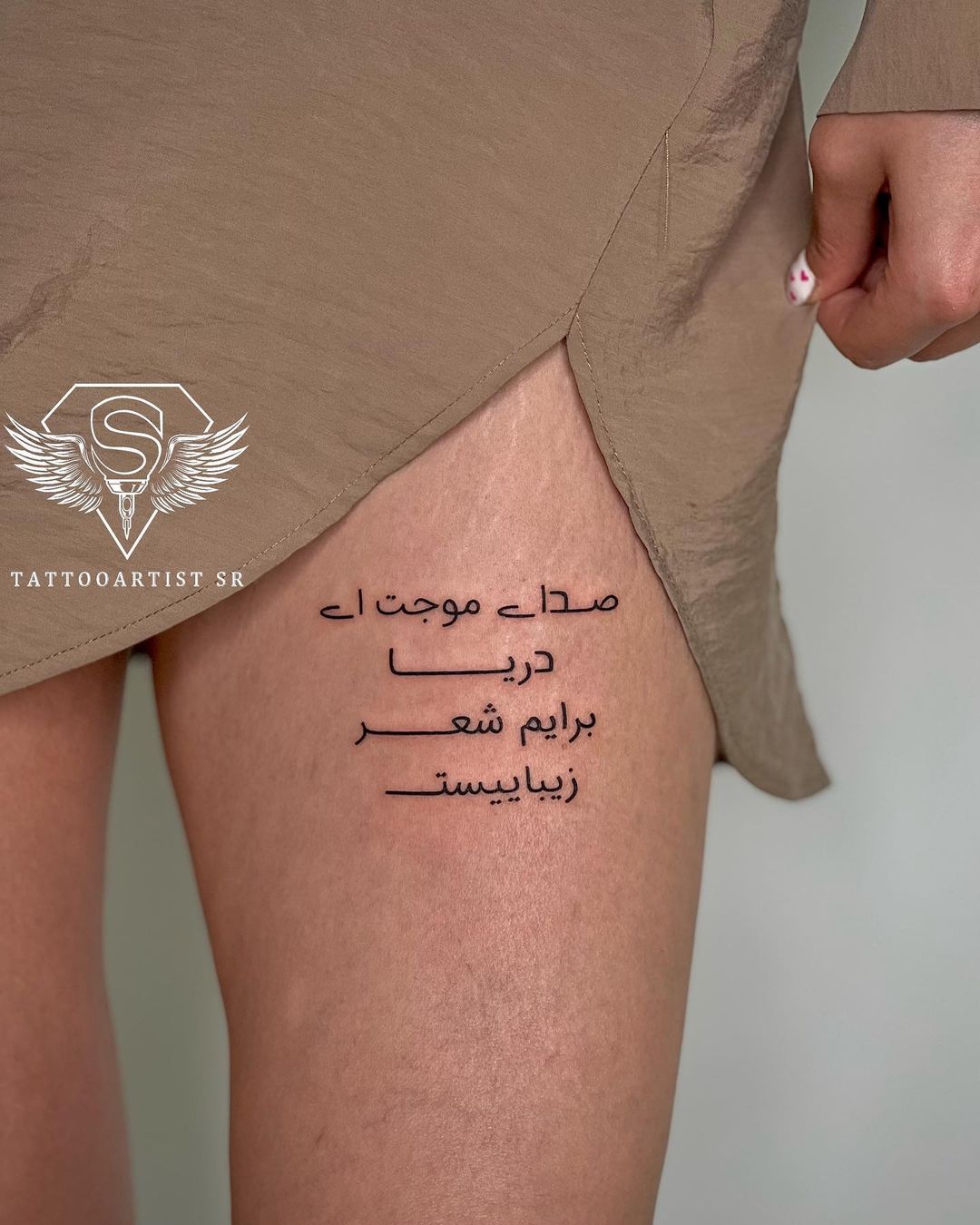 via @tattooartist_sr
3. Forearm Quote Tattoos
Want to add more meaning to your body art? Get a tattoo on your forearm with words close to your heart!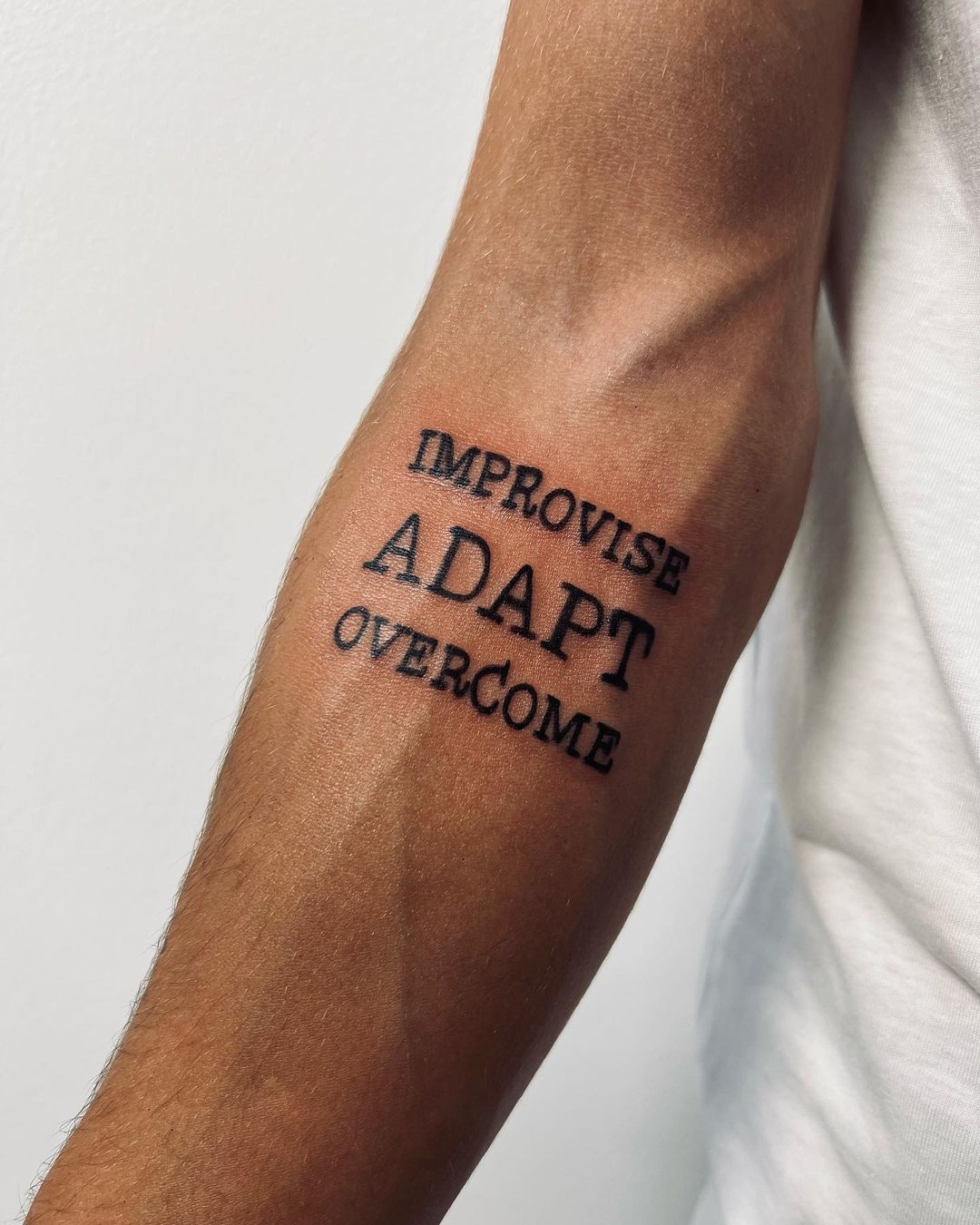 via @relyontattoo
This is a great place to hide designs during work hours and show them off to other people on weekends. In addition, the creation of the right words tattoo here is practically not accompanied by severe pain.
Another important point: the skin on the forearm does not change much over time. Best tattoo quotes made in youth will retain their original appearance for many years.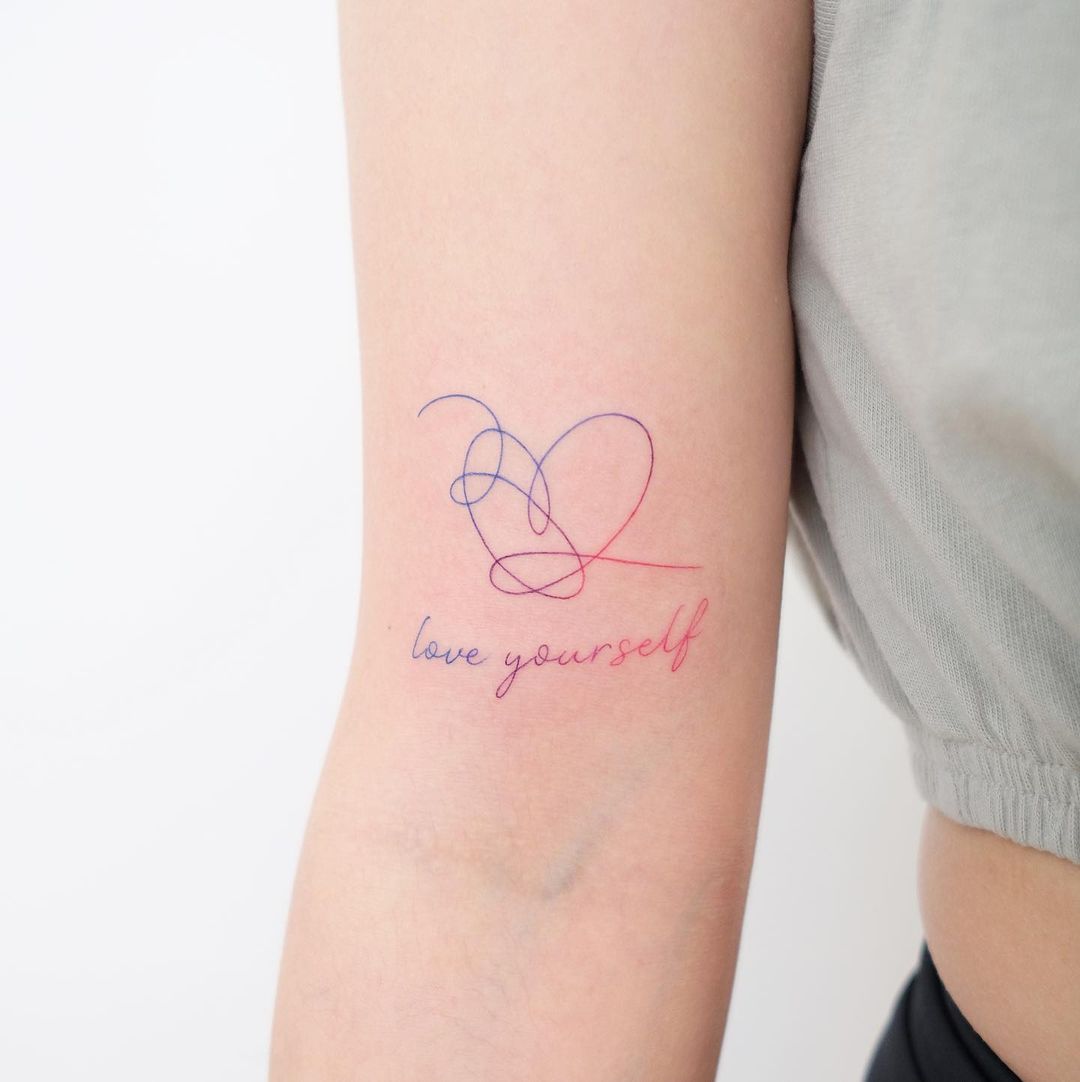 via @hktattoo_tina
4. Quote Tattoos for Men
Don't forget: quote ideas are popular not only among women but also among men. A symbolic black ink tattoo can be placed on the forearm, wrist, torso, or along the spine. The design also looks spectacular on a pumped-up bicep.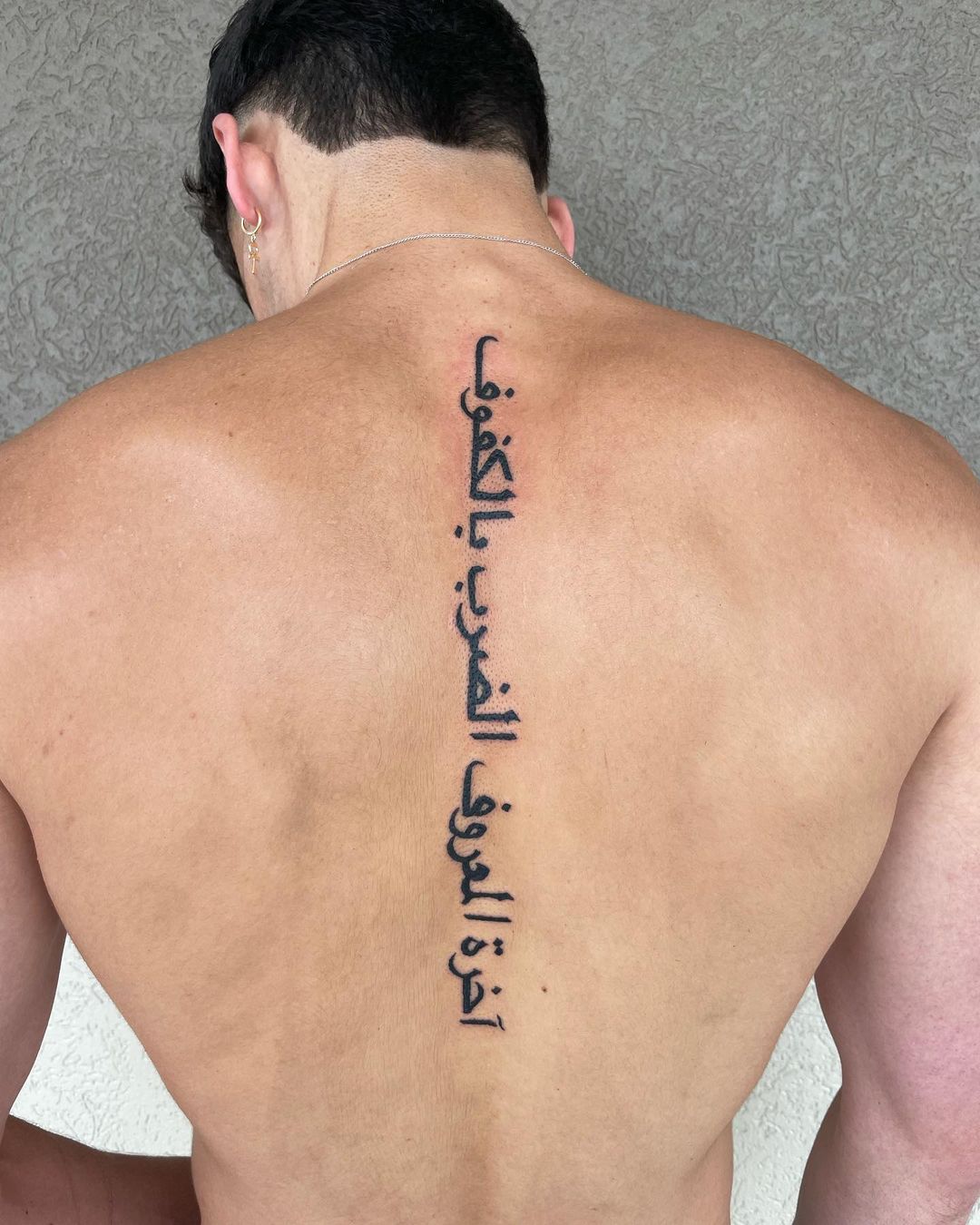 Looking for inspirational tattoo quotes for men? Think about which phrases have special meaning to you. They will become a reflection of your soul for others.
Choose a short phrase for a couple of words or a whole verse of your favorite song. It's up to you to decide!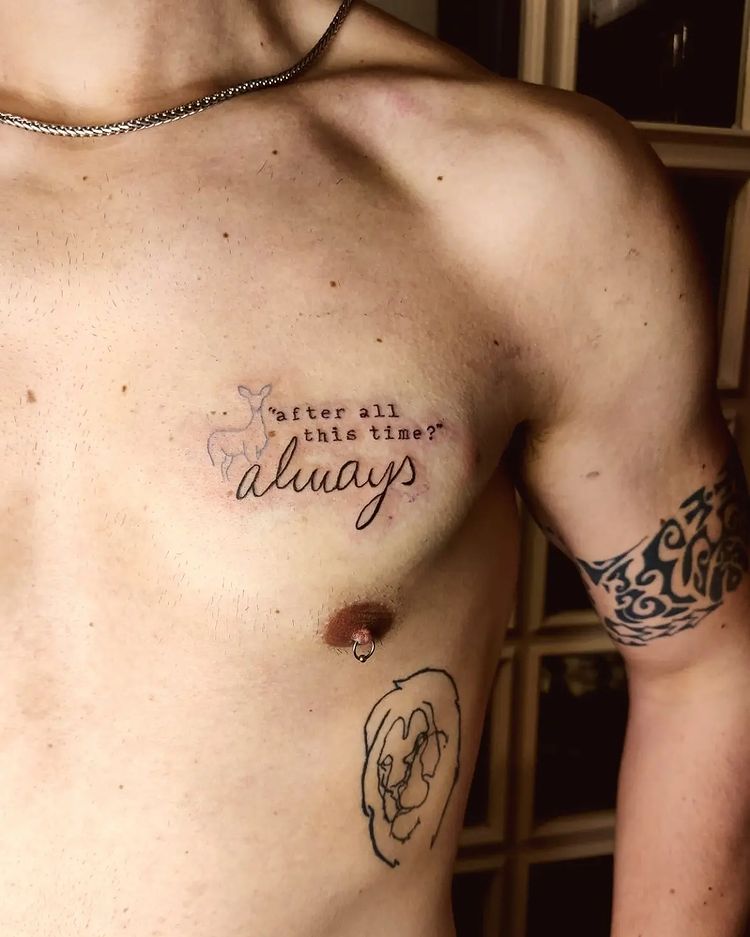 5. Bible Quote Tattoos
Among the best motivational tattoos, a special place belongs to quotes from the Bible. Indeed, you have favorite passages from poetry endowed with a special meaning. Why not turn them into an excellent idea for your next tattoo?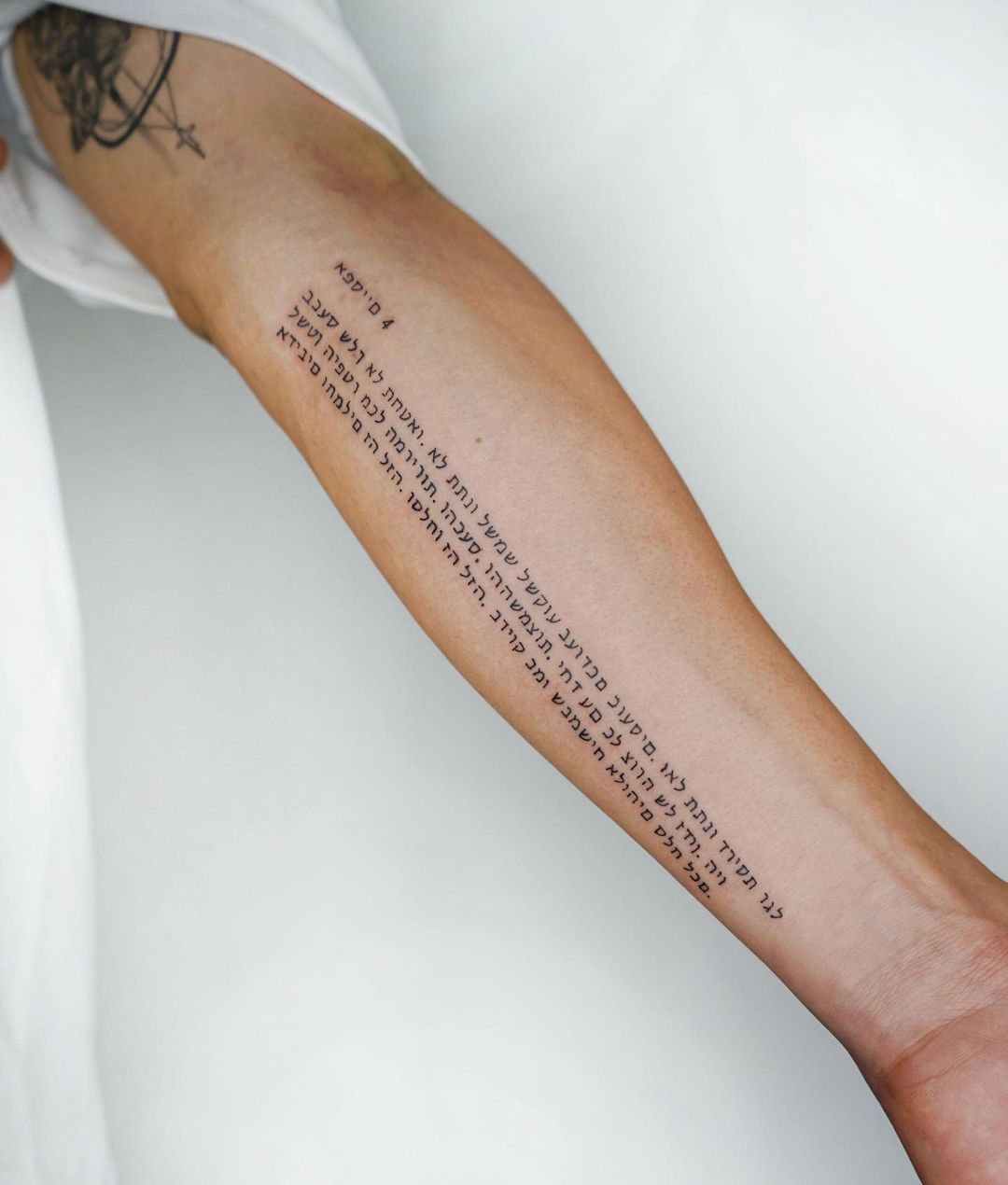 via @sui_hontattoo
What quotes are most often applied by a tattoo artist? It will sound funny, but Leviticus 19:28 is especially in demand among clients. Ironically enough, its meaning comes down to not harming oneself, including the application of various symbols and marks on the skin.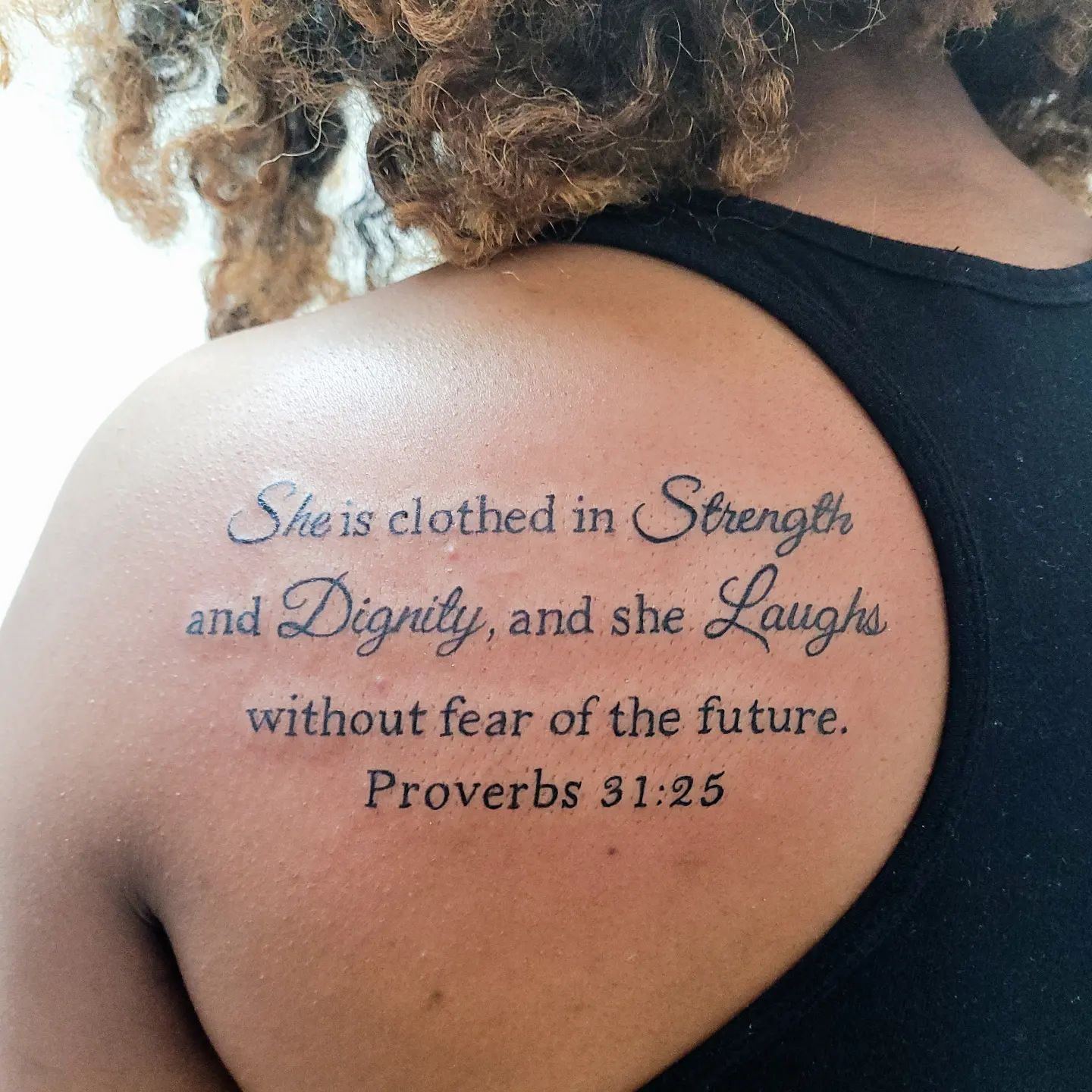 via @bitchthattattss
6. Mother-Daughter Tattoo Quotes
Often, mothers with adult daughters turn to the tattoo shop. They want to keep their connection and make the same or pair designs. What can be offered as a unique tattoo design in this case?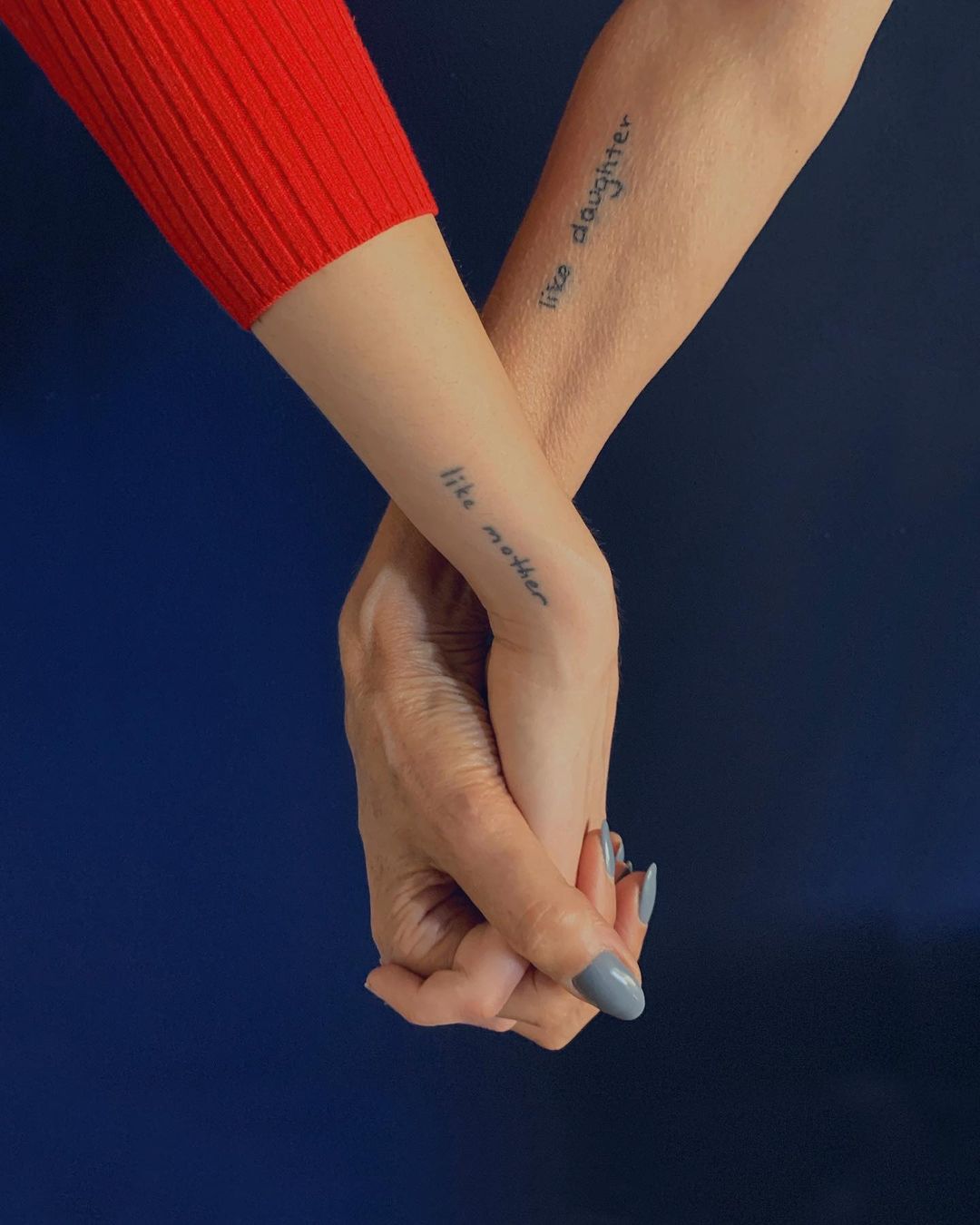 via @smilesfornicole
Quotes about maternal and daughter love are best suited. They can be decorated with watercolor flowers, the sun and moon, birds, or stars.
There are no universal matching tattoo quotes. Each pair of mothers and daughters has their words that fully reveal love and intimacy.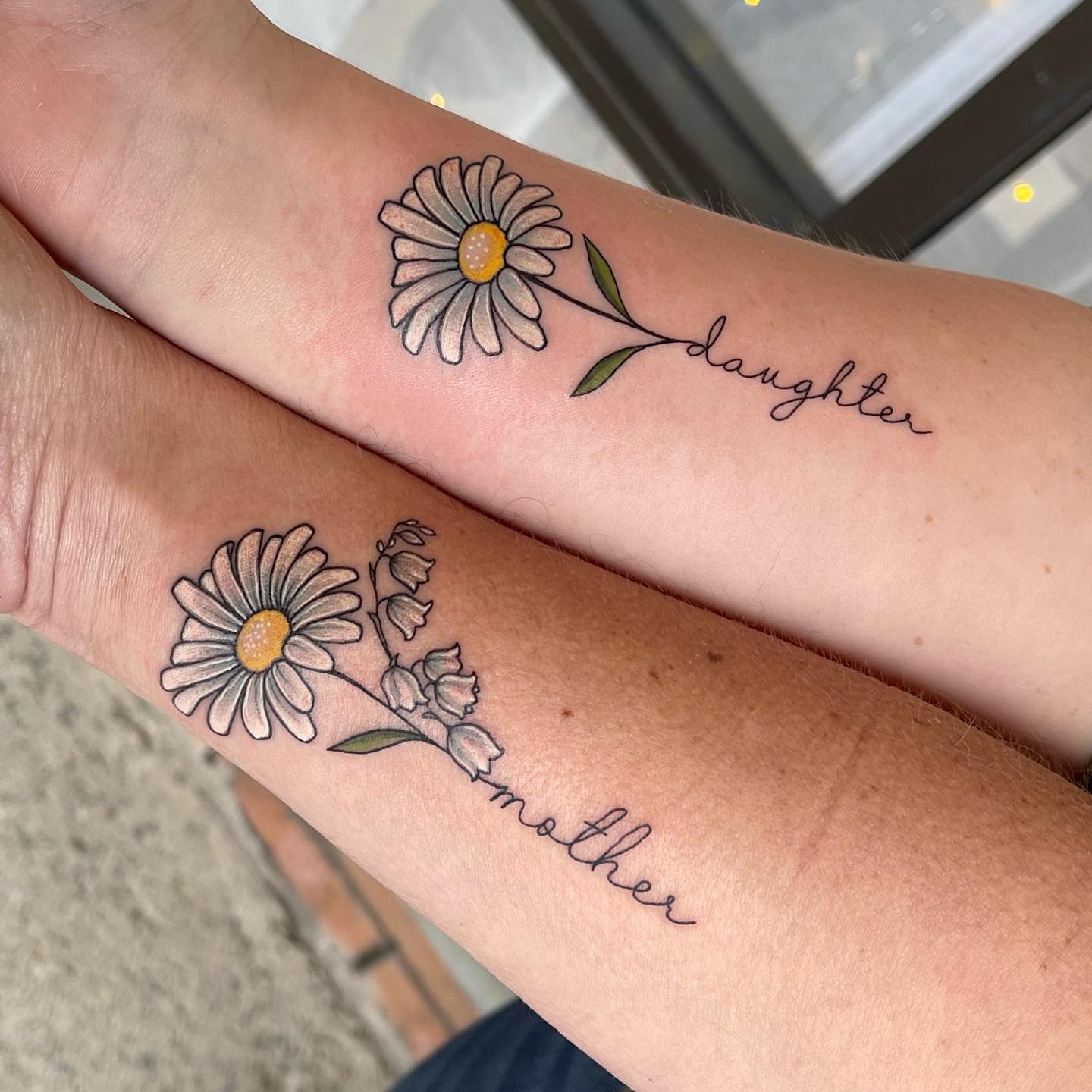 via @cascourt
7. Mother-Son Tattoos Quotes
Tender trusting relationships and close bonds are possible between mother and daughter and mother and son. Are you planning to keep these incredible emotions?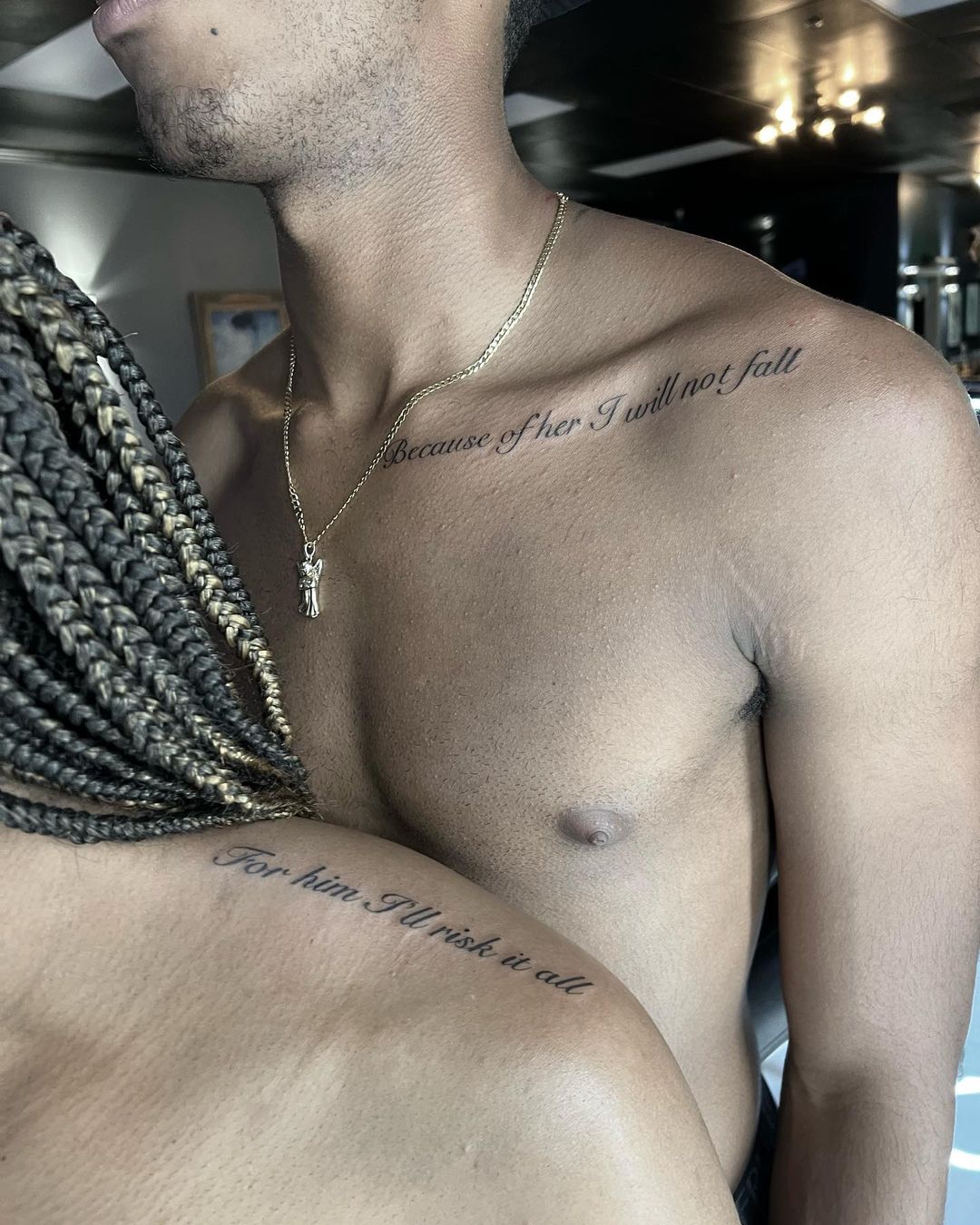 Consider getting a quote tattoo! An experienced craftsman will help you convey them in a unique design!
What can mother and son tattoos look like? Trinity Knot and its various modifications with quotes are often used for this purpose. There are also paired hearts, signs of infinity, yin and yang, sun and moon, etc.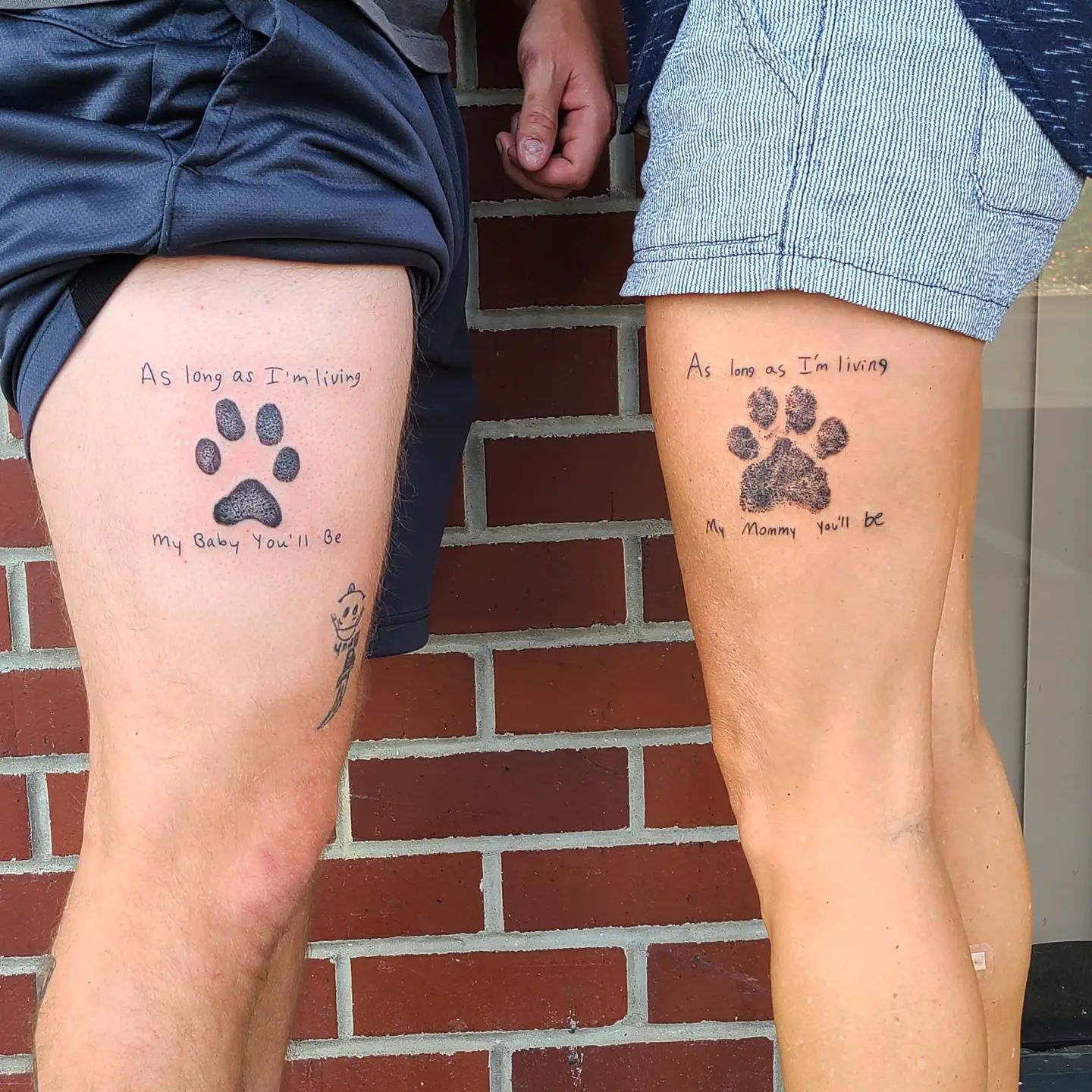 via @drmyk122
8. Father-Daughter Tattoos
Do you have a cool daddy? Then be sure to make symbolic matching tattoos with him!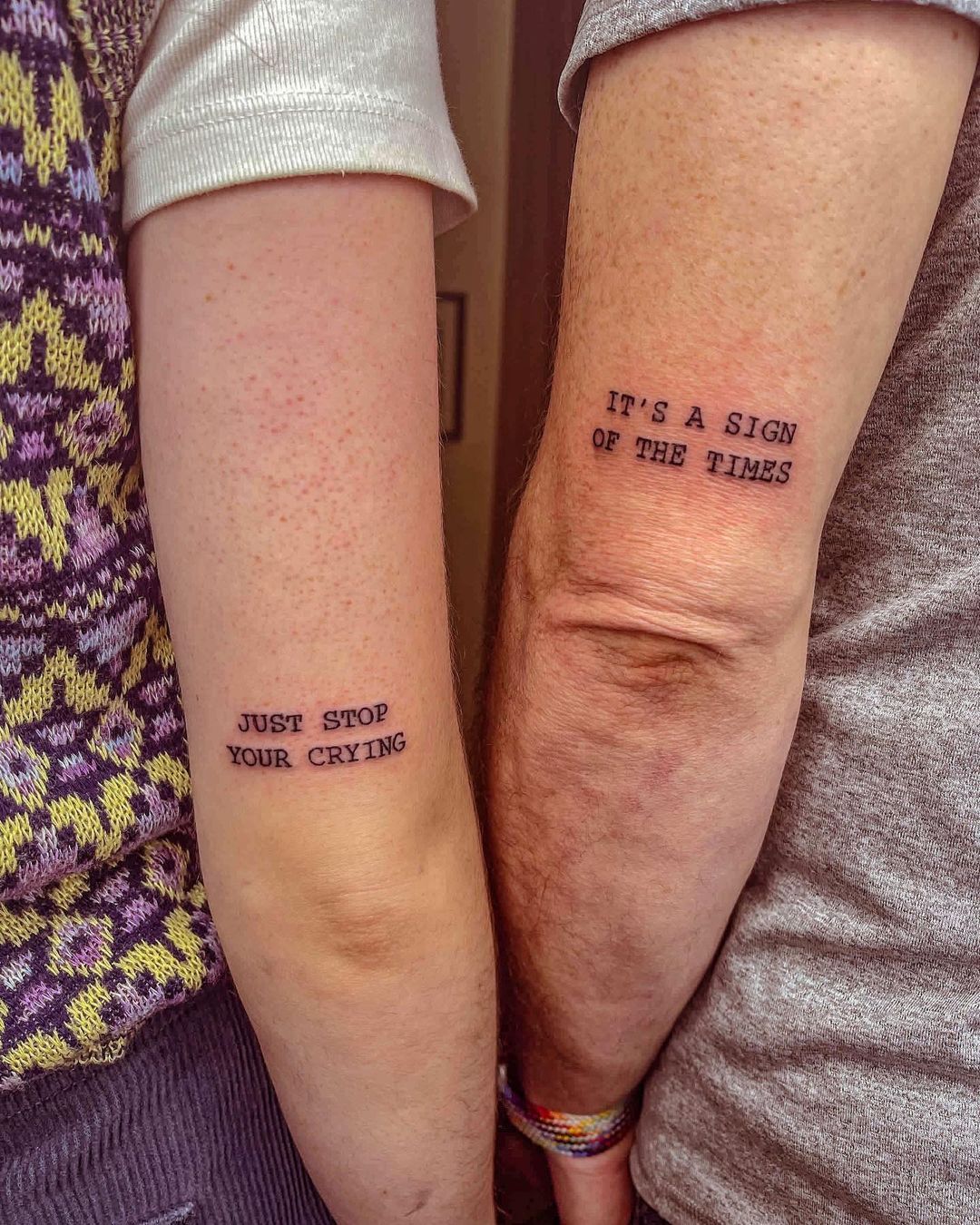 via @sorrymominkoly
The simplest and, at the same time, the original option is to choose a favorite saying of your dad as a design. No one else will have such a tattoo!
However, the experiments do not end there. Quote tattoos with excerpts from your favorite movies and songs look just as good. You probably have a lot of them.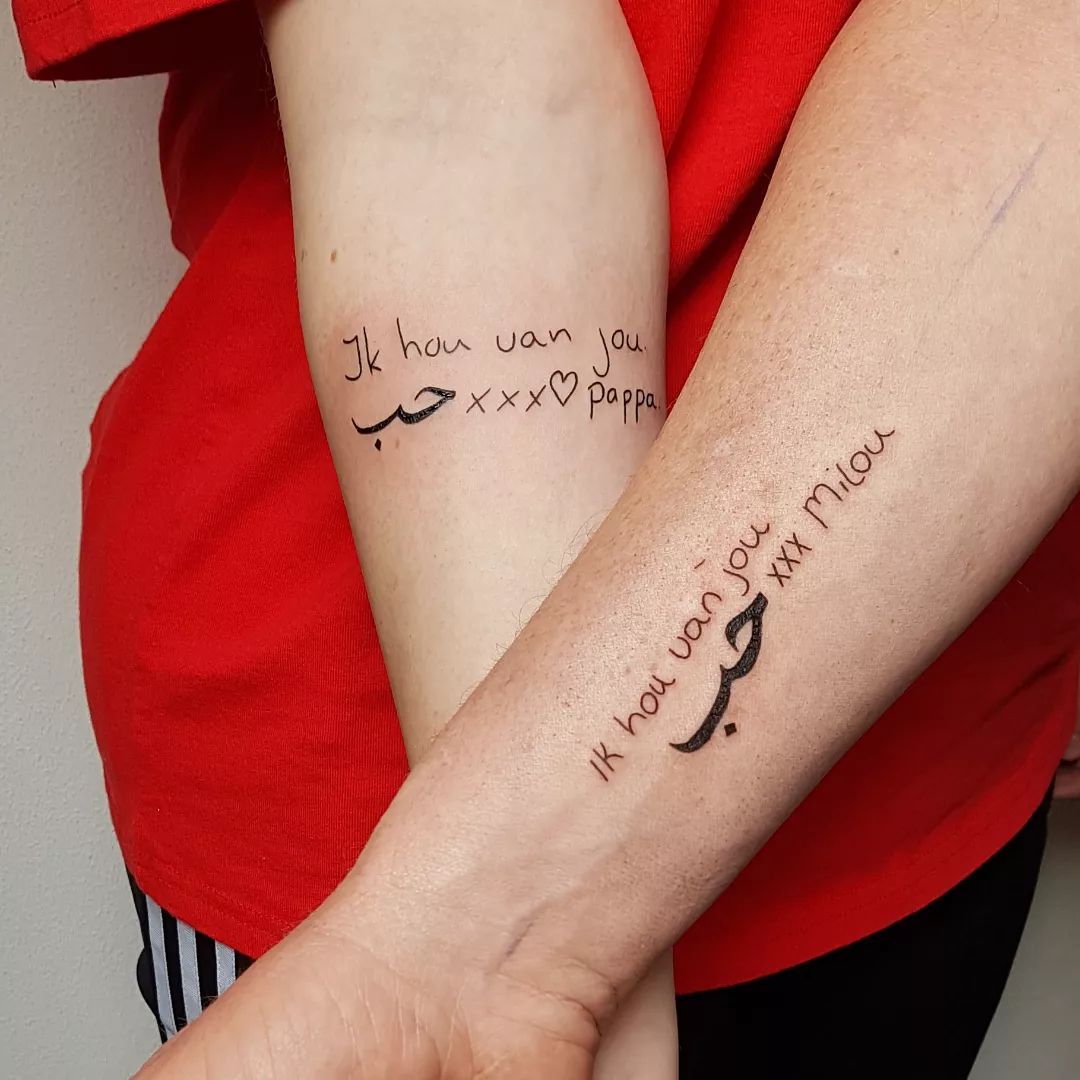 via @martine_tattoo
9. Side Tattoo Quotes
One of the indisputable trends of recent years is the rib quote tattoo. Such designs are distinguished by accuracy and elegance. In addition, it is convenient that they are practically invisible under everyday office clothes.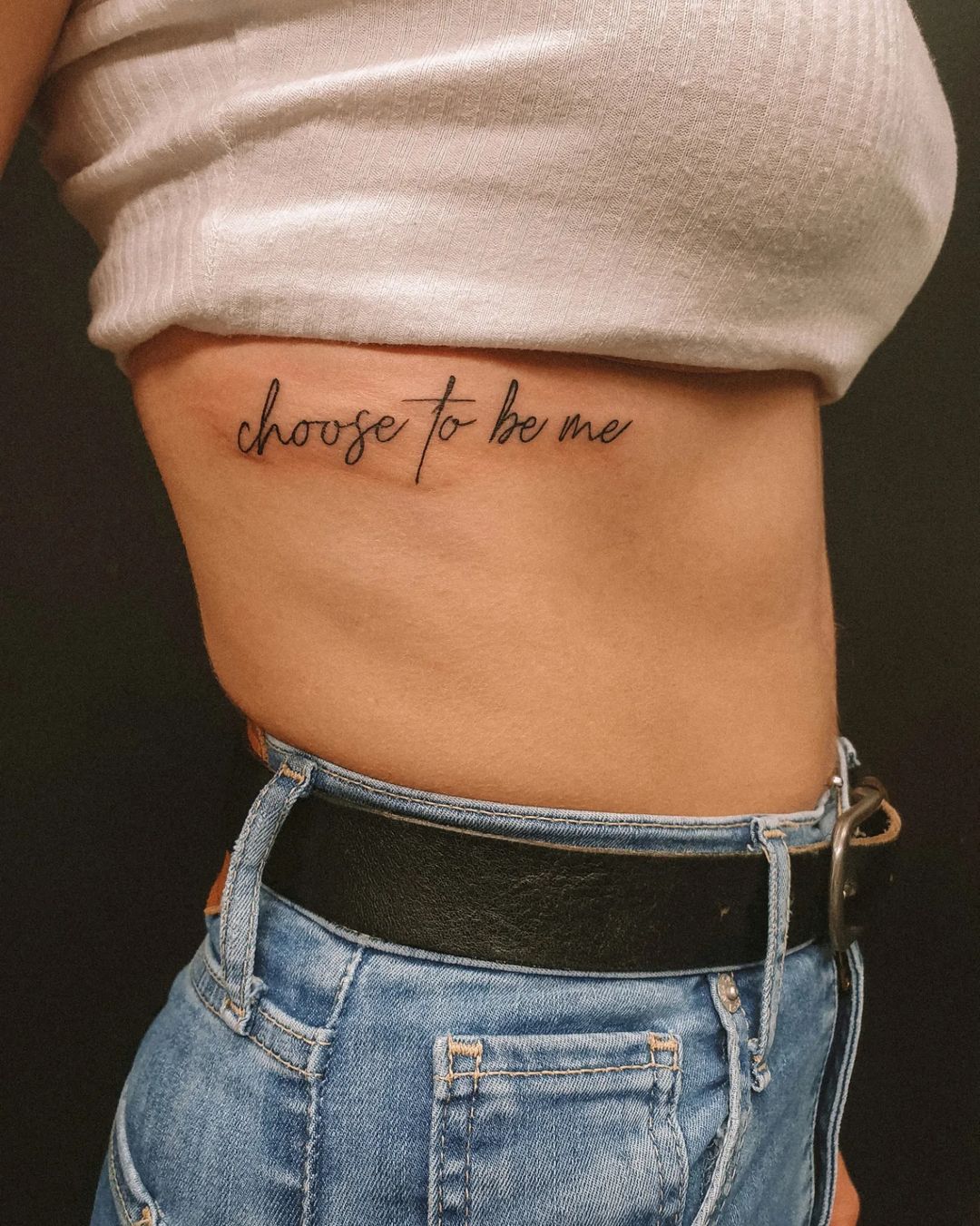 Why is this a trendy tattoo idea? The chest area is large enough, and even; it is convenient to work on it. The skin here ages very slowly, thanks to which the tattoo retains its original appearance.
The only drawback is moderate soreness. The skin around the ribs is very thin. But inner strength will help you adequately endure pain!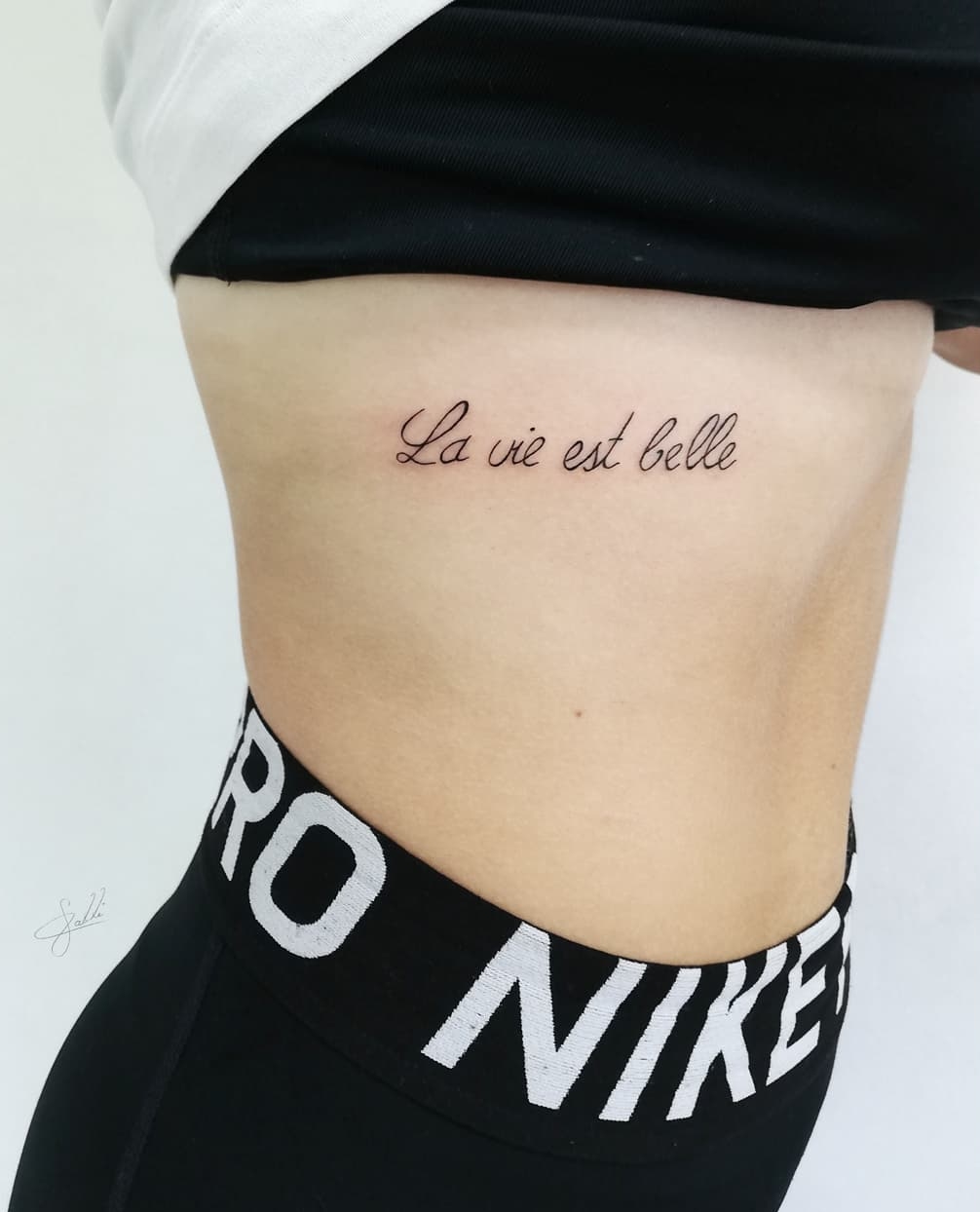 via @calli_tattoo
10. Back Tattoo Ideas
Another type of inspiring tattoo is on the back. Here, you can realize any creative ideas without restrictions!
via @ze.lines
To make the design unique, use different tattoo fonts and complement the text with abstract ornaments or themed symbols.
The skin on the back is moderately thick, with few nerve endings. This makes the work of the master almost painless. You can not only apply favorite quotes on your back but even decorate it with whole couplets of poems or songs!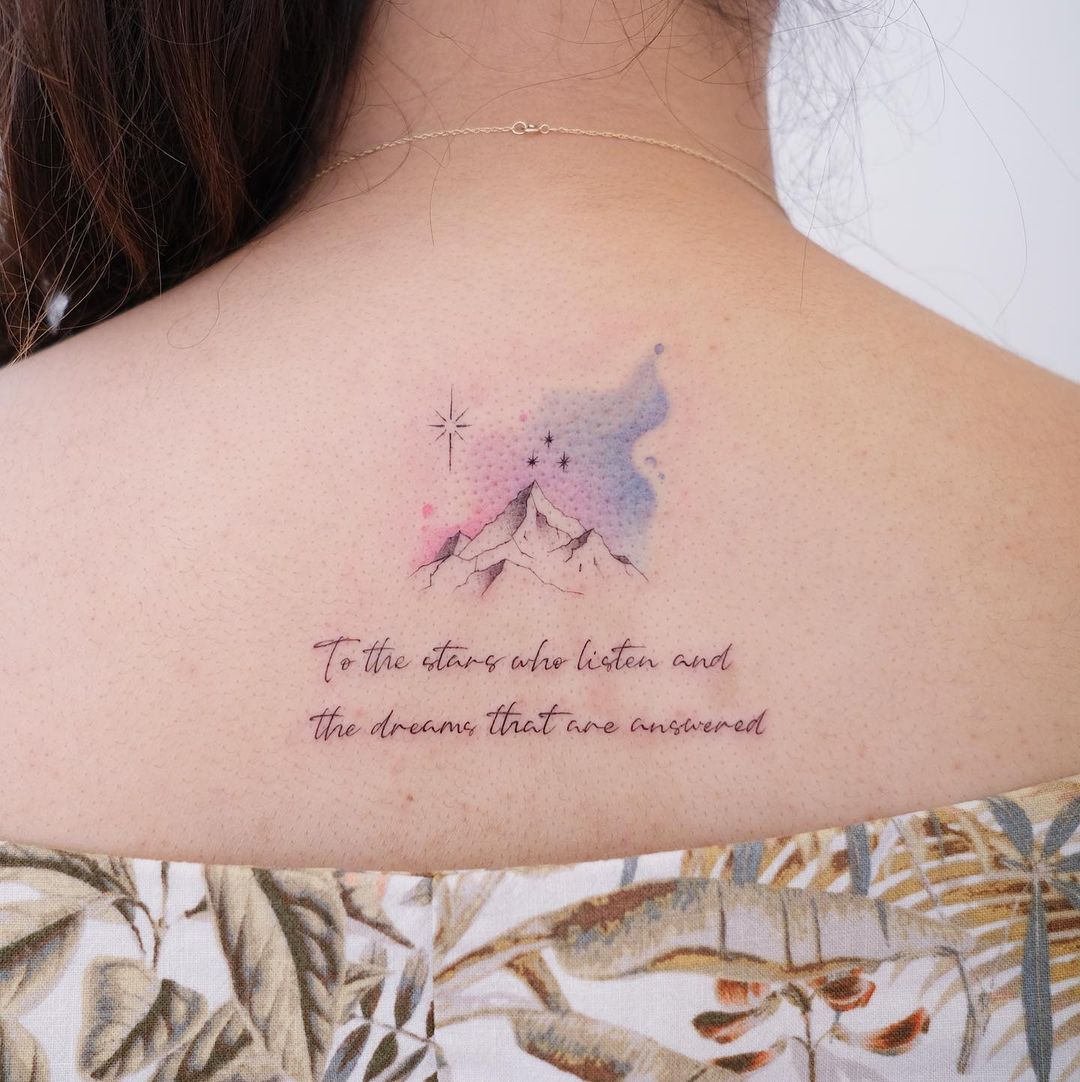 via @hktattoo_tina
11. Female Tattoo Quotes About Strength
What can be meaningful tattoo quotes for women? Girls who want to apply meaningful words of power to their skin often turn to masters.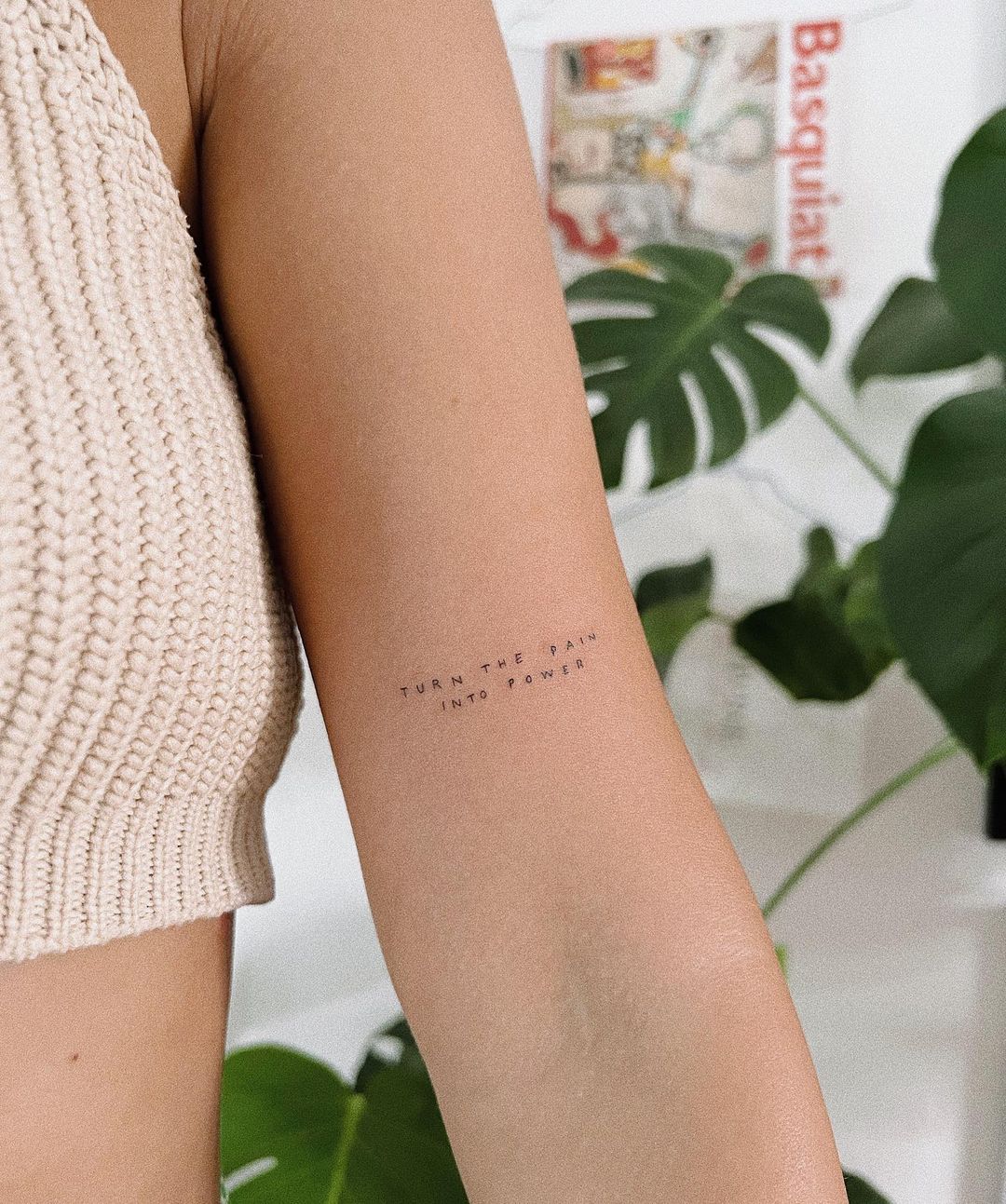 via @ynnssteiakakis
Inspiring tattoo quotes in different languages become a real talisman. They help not to lose heart on difficult days and to get a portion of inspiration.
Often, quotes that give strength are accompanied by images of birds, leaves, and cardiograms.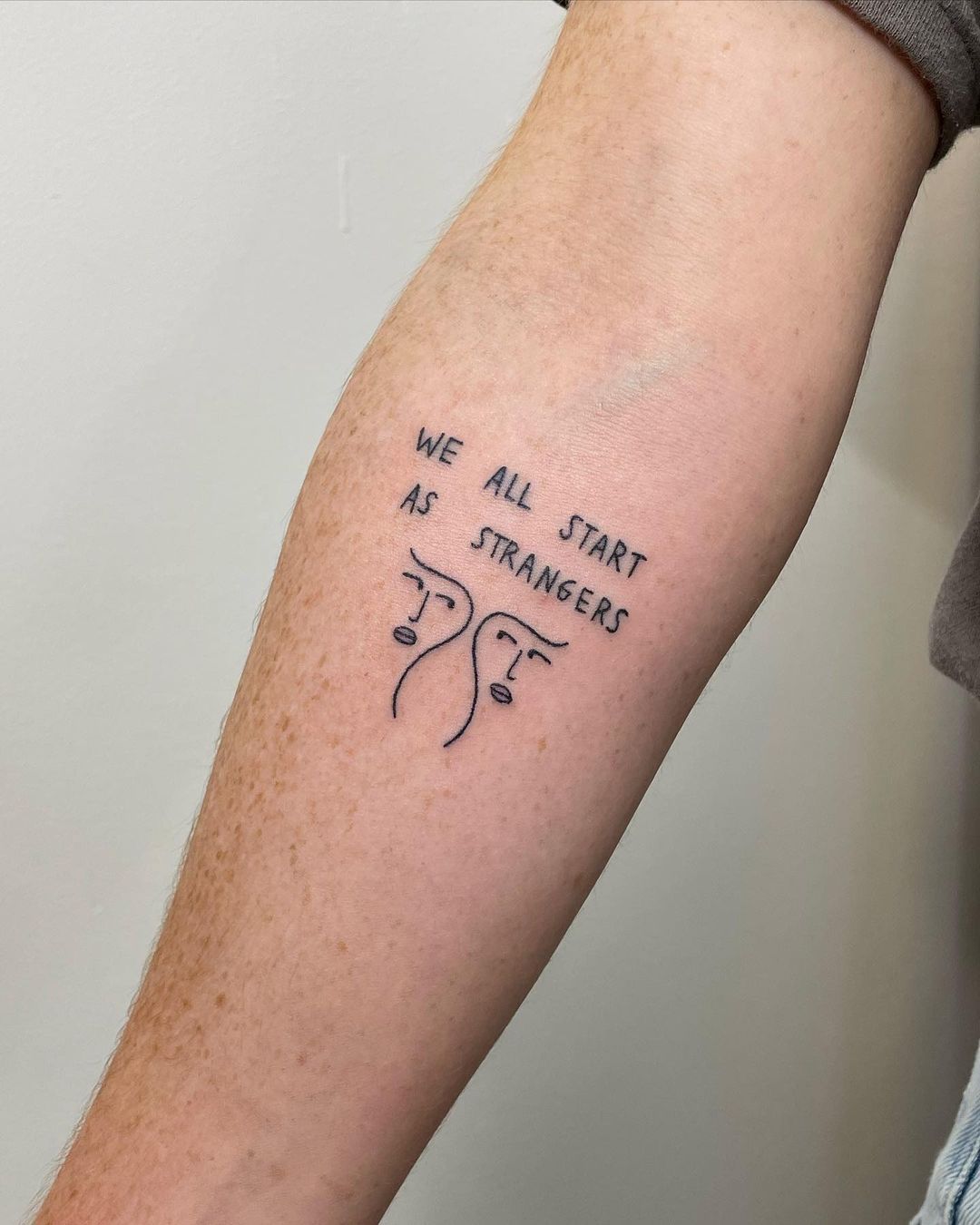 via @titsfortatt
12. Sister Tattoos
Unique quote tattoos for sisters are steadily gaining popularity. They can be minimalistic and large, monochrome or colorful, with or without additional decor.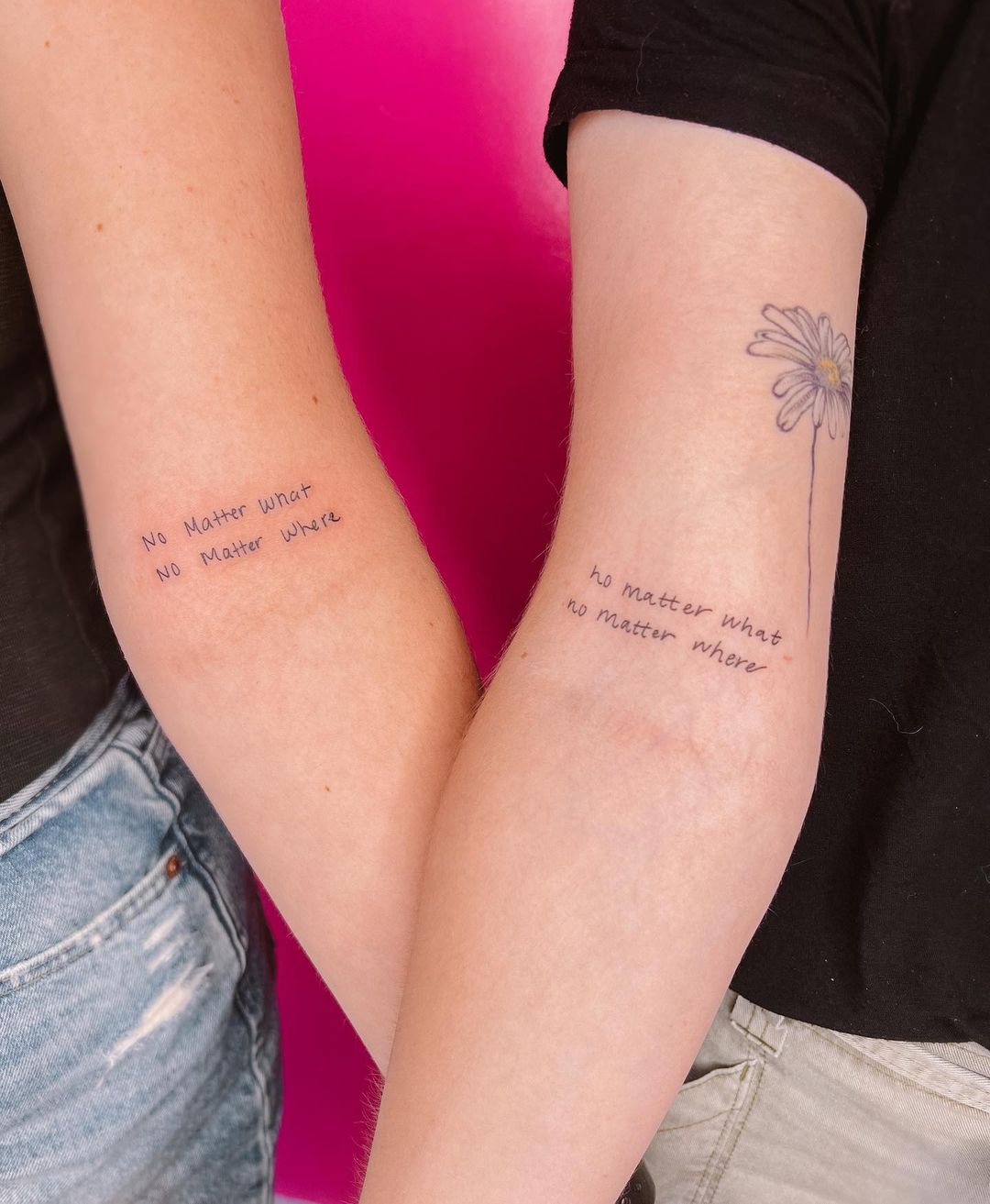 The most famous variation of small matching tattoos is the Celtic knot. It is rooted in Irish tradition. But it is important to remember that the Celtic knot has many interpretations. As a sister tattoo, it is preferable to use a triple helix, which is intertwined with the image of a heart.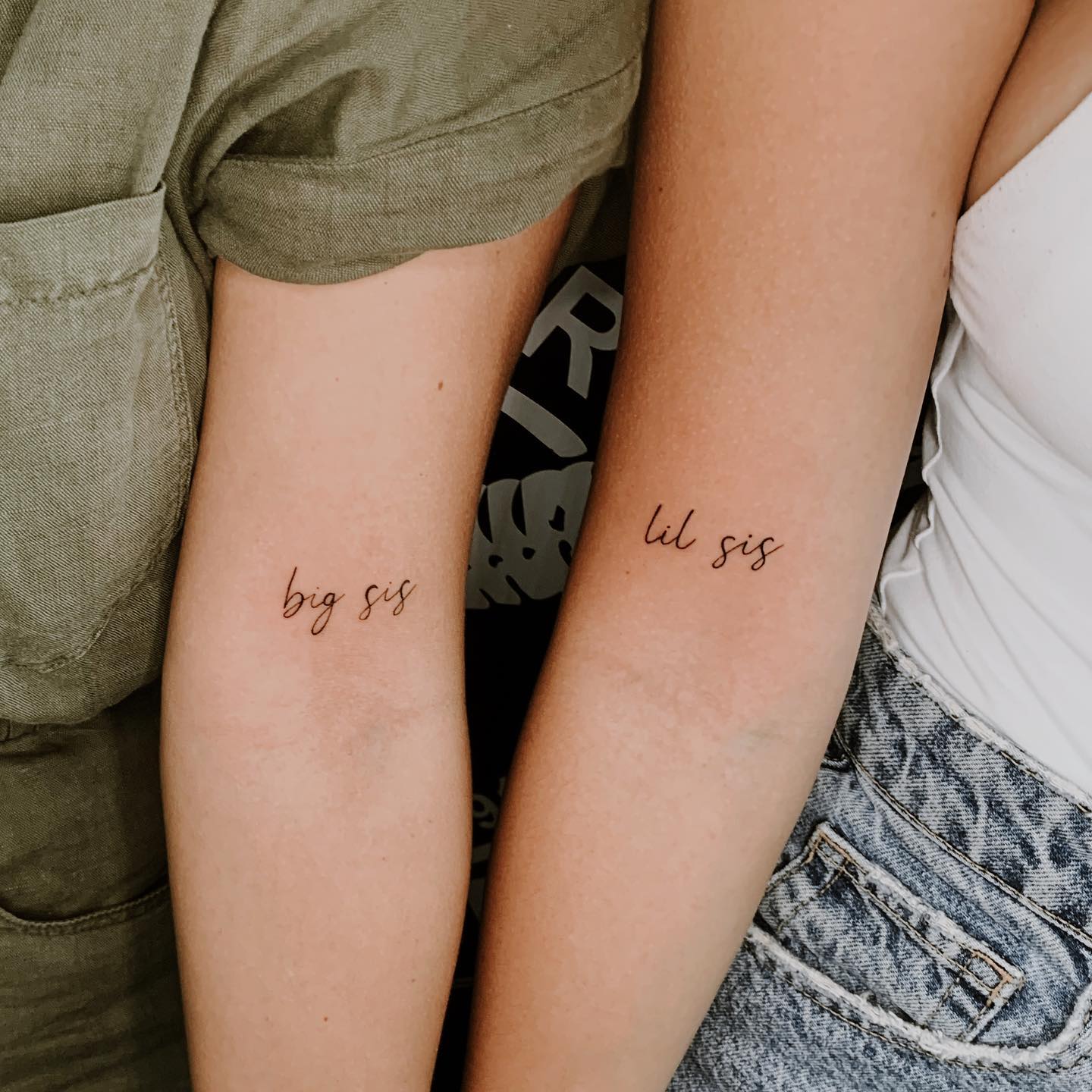 13. Quote Tattoos on Arm
A graceful arm tattoo is a great choice for first body art. It practically does not hurt and heals quickly. Many have quote tattoos as a reminder. They are constantly in sight, which means it will not be possible to forget what was written.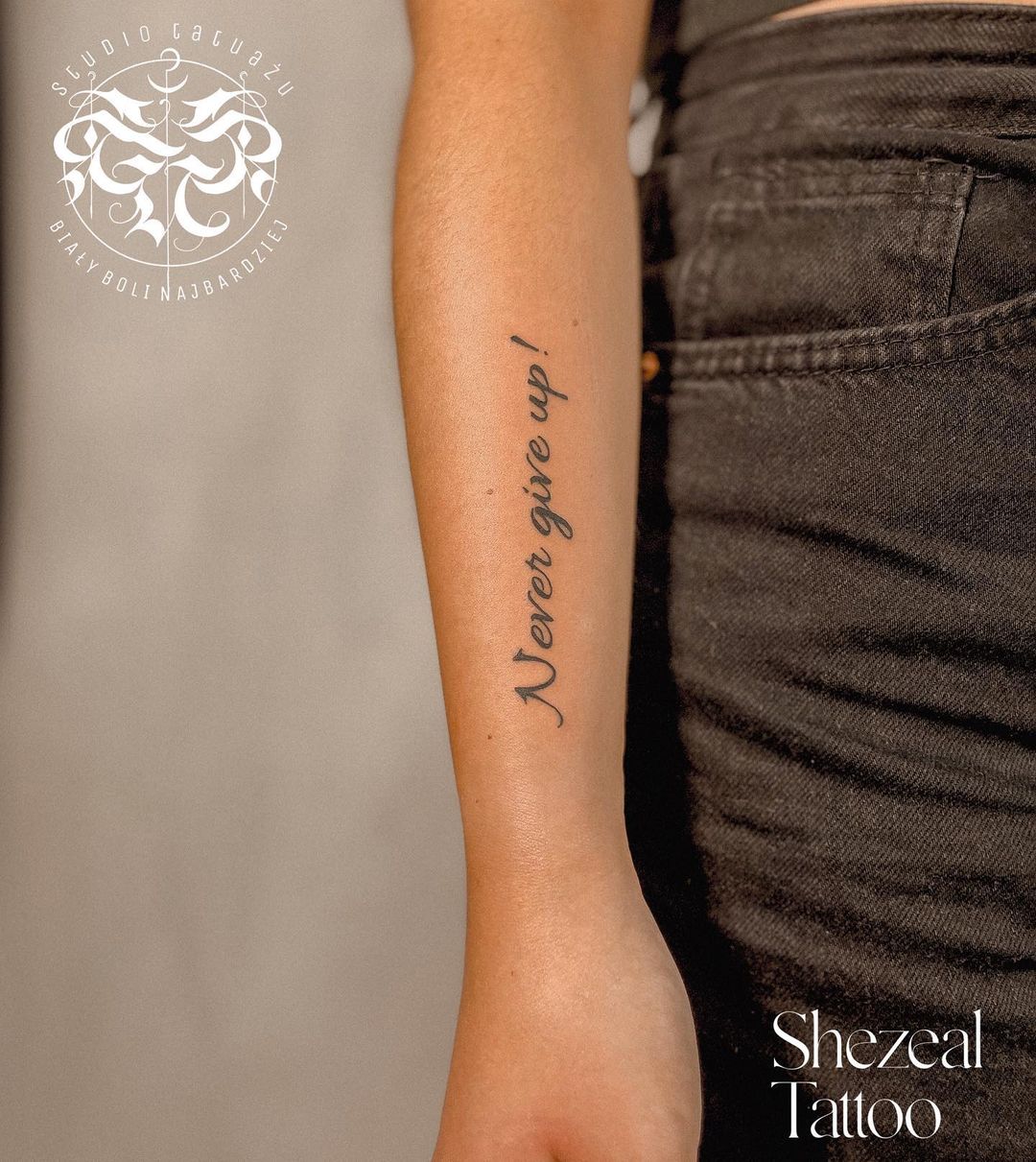 via @shezeal__tattoo
Such positive vibes and tattoos are popular among both women and men. You can choose to design a few words of power or entire long phrases. Some options are "Free Soul," "Strength and Courage," "Eternal Love," oriental quotes, or words from your favorite song.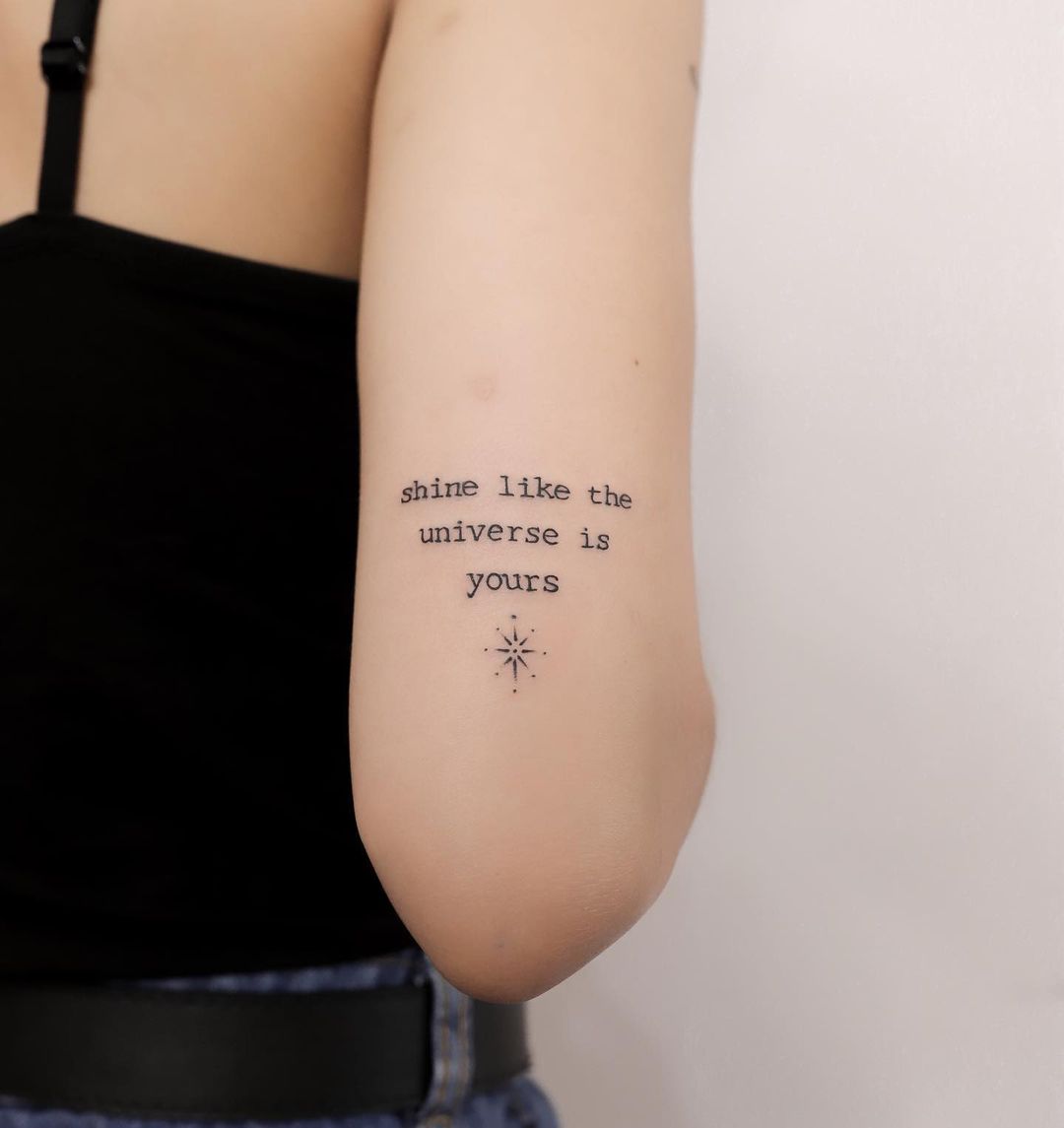 via @nghe.tattooists
14. Leg Quote Tattoos
Refined leg tattoos are perfect for the first session for people who do not tolerate pain well. The pain scale chart shows body art in the lower leg and outer thigh area is considered the least painful.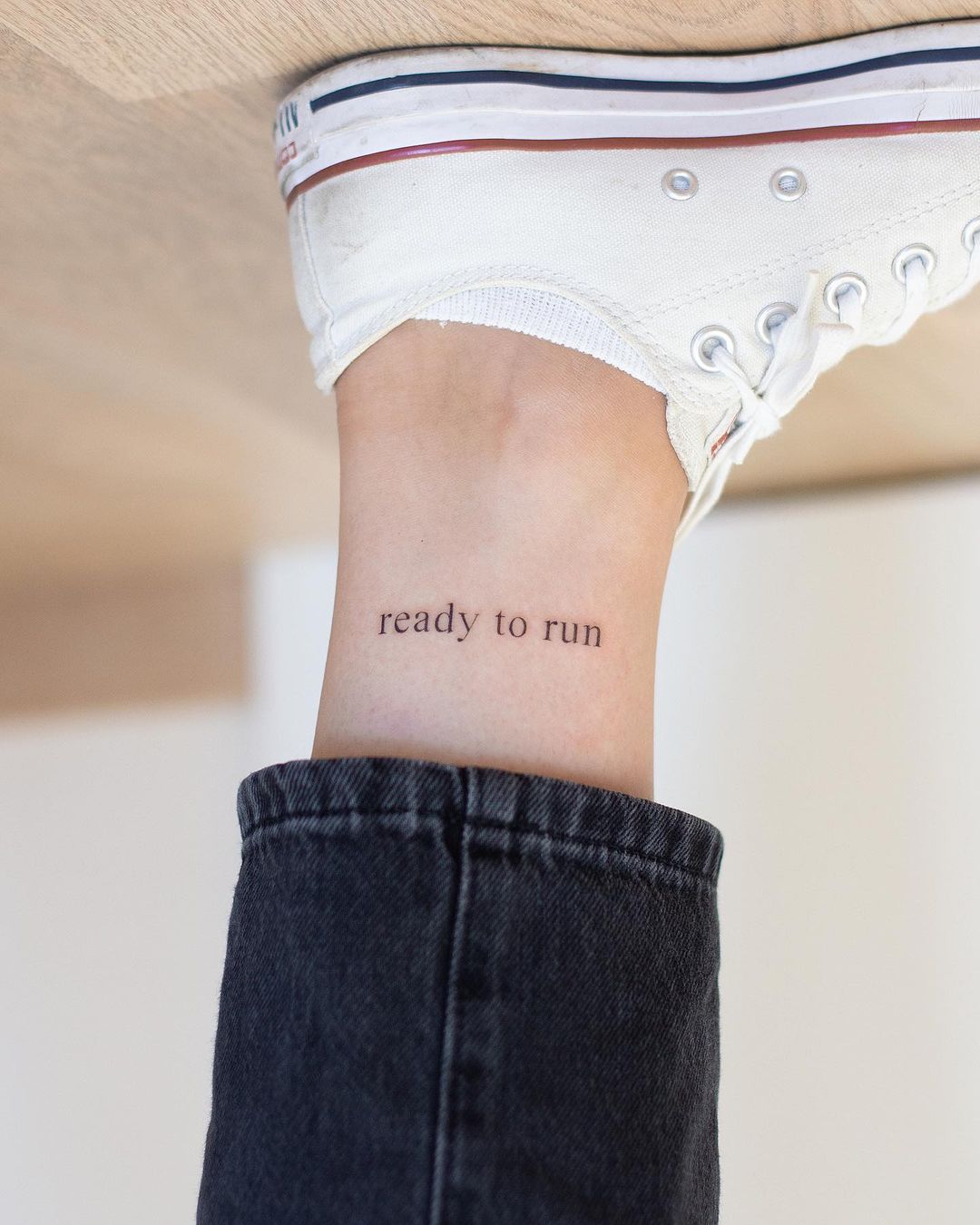 via @daf647.ink
Numerous best friend tattoos with quotes and images are often made here. Do you want to strengthen the connection with a loved one quickly and without discomfort and apply inspiring words to the skin? This option will suit you 100%!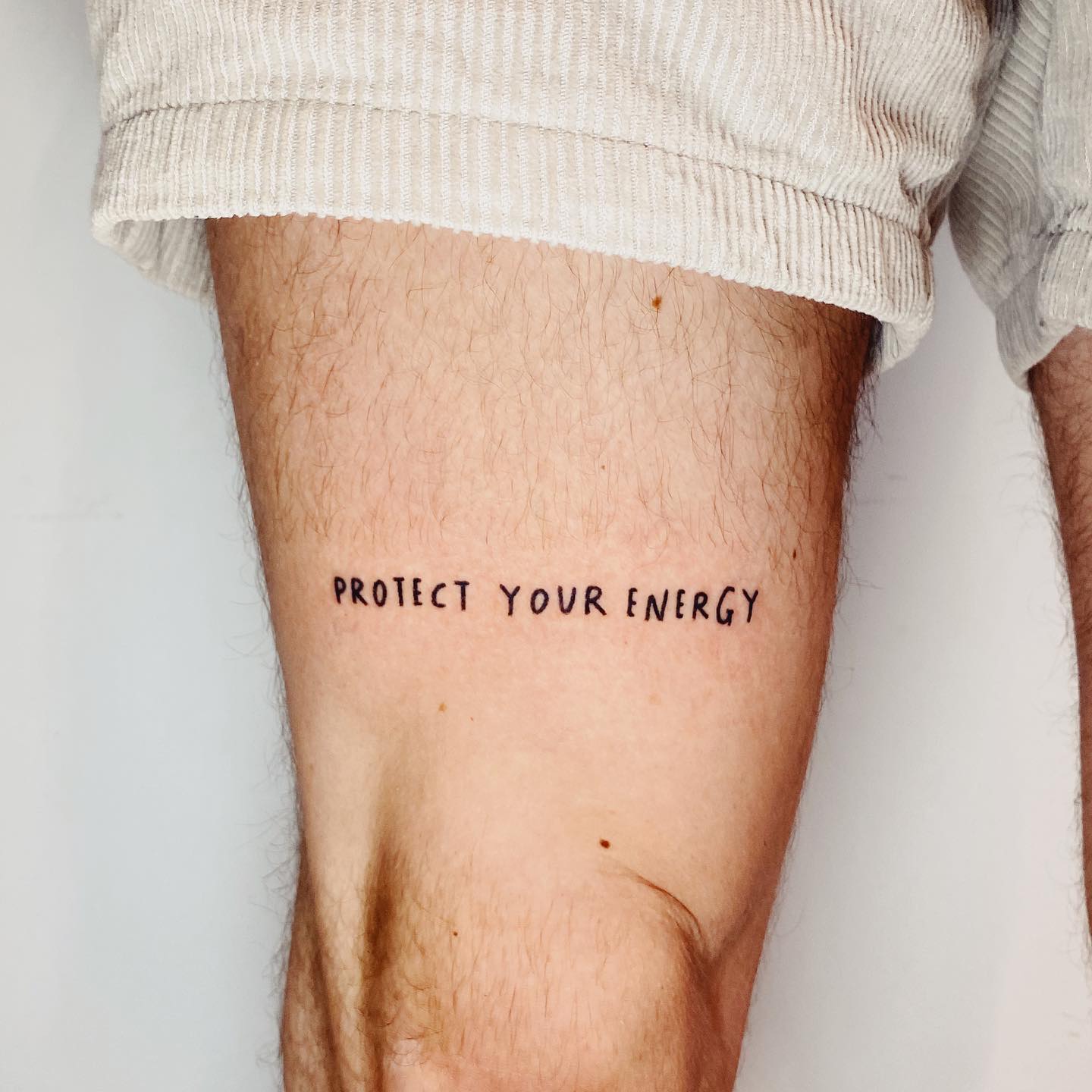 via @beodwski.tattoo
15. Neck Quote Tattoos
Spectacular inspirational quotes on your neck are the dream of many men and women. They can be almost invisible or decorate almost all the skin in this area.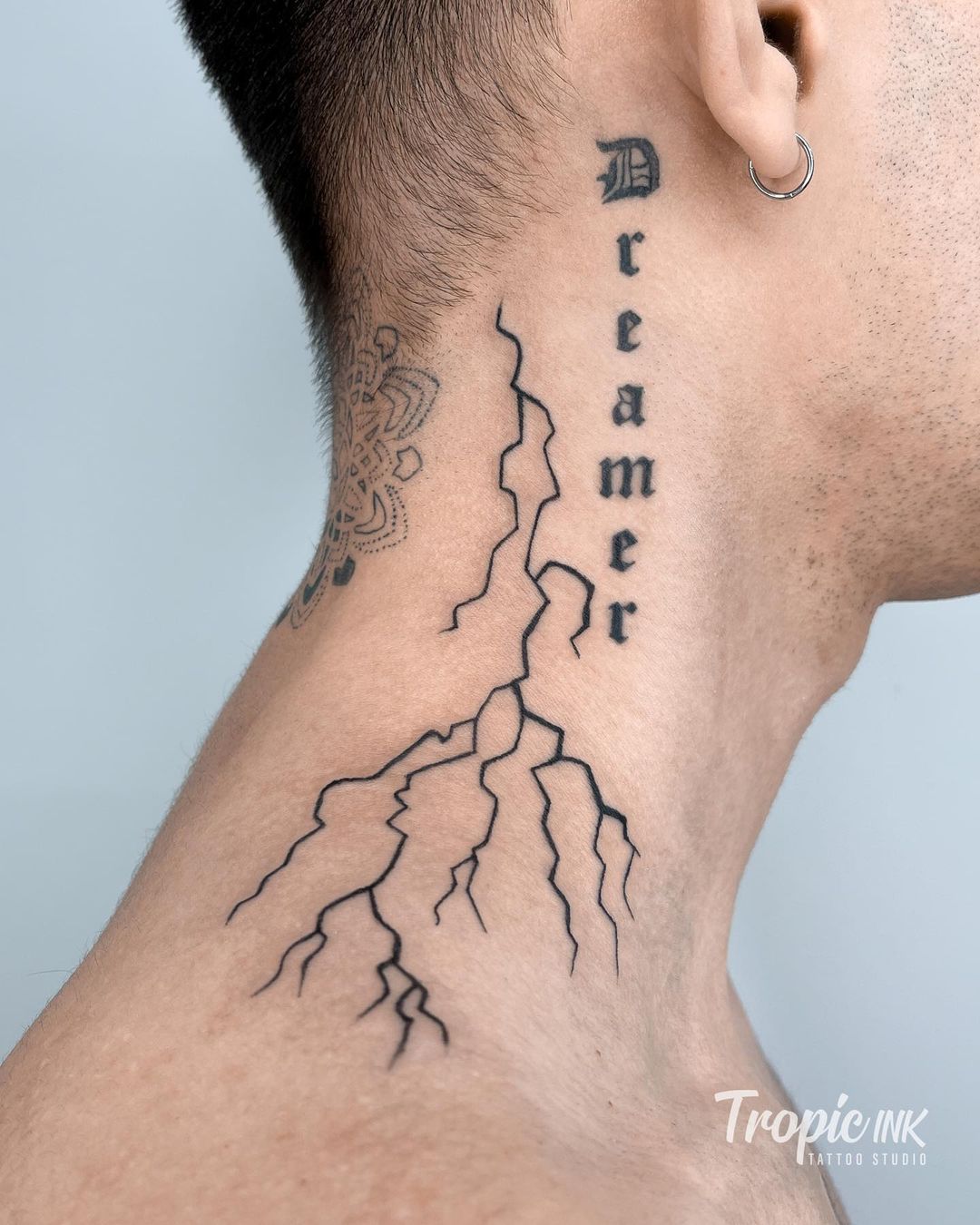 via @tropic.ink
Looking for unusual neck tattoo ideas? Try to experiment not only with phrases but also with fonts! They can be classic, gothic, or fantasy. The choice of tattoo fonts depends only on your style and the characteristics of the quote.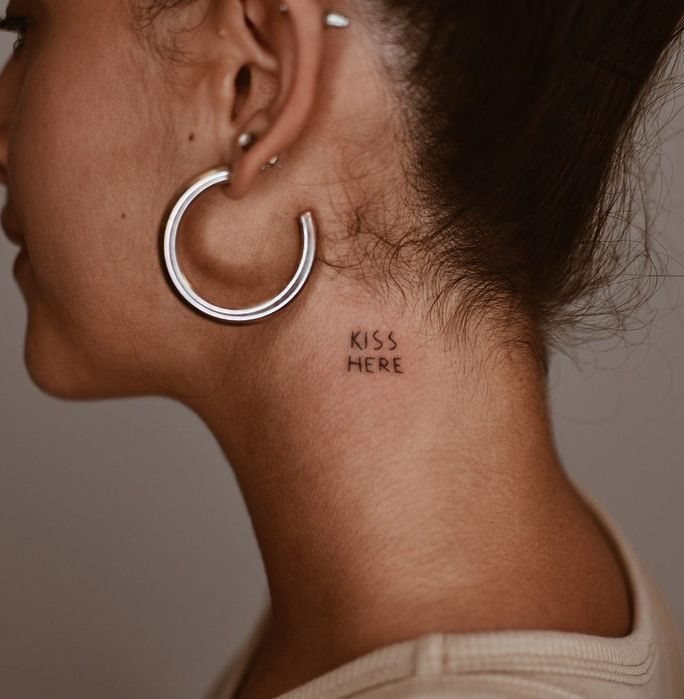 via @matt.vesta
16. One Word Tattoos
Which tattoo for men and women will suit any look? One-word design!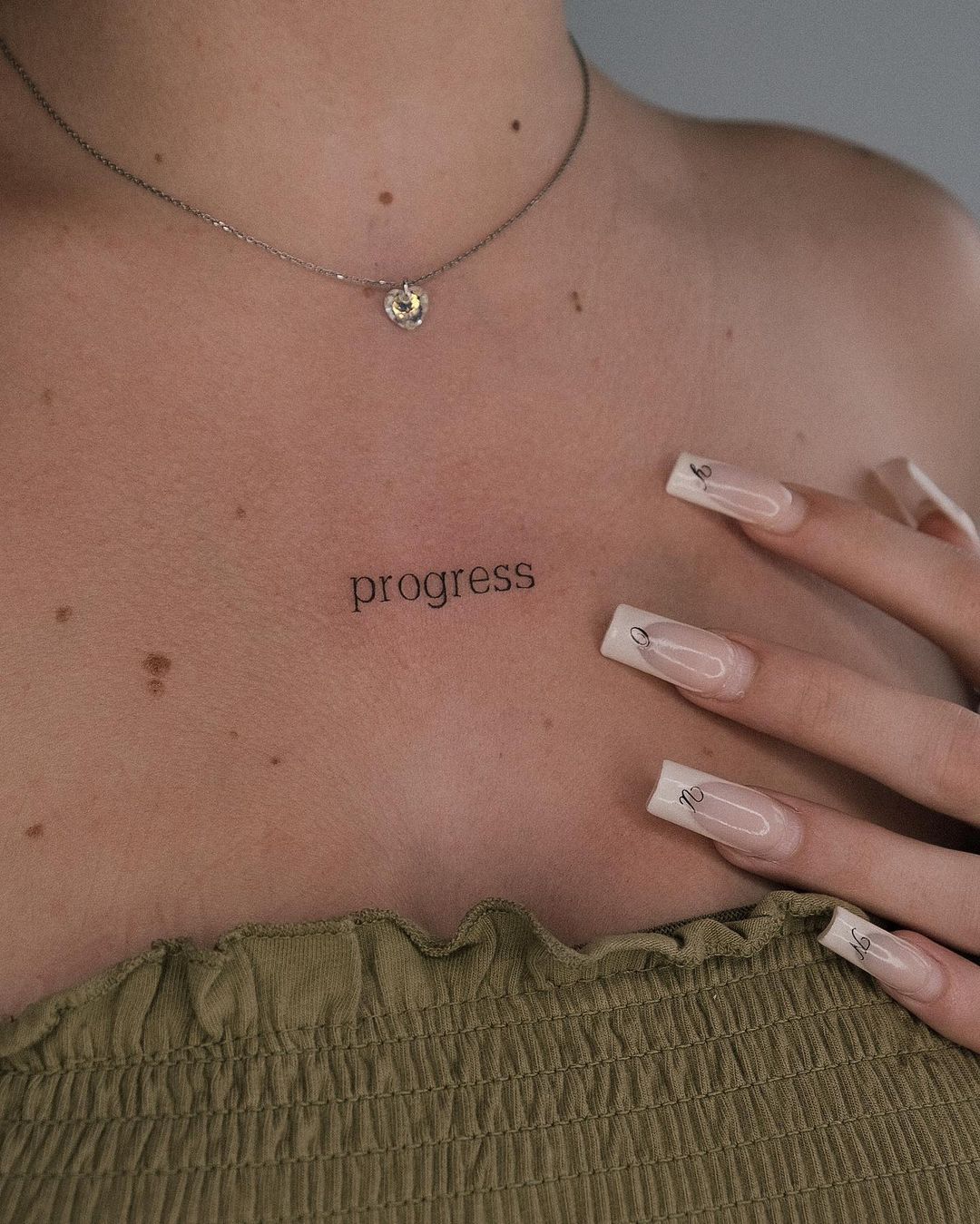 via @naomink_.tattoo
Universal body art will not take up much space but will have a special meaning for you. What is better to choose as a single word tattoo idea?
Make a list of words that are important to you, motivate, or, conversely, soothe. For example, "Angel," "Bliss," "Courage," "Tenderness," "Love," "Energy," etc. You can make such a black and white or color tattoo in different fonts.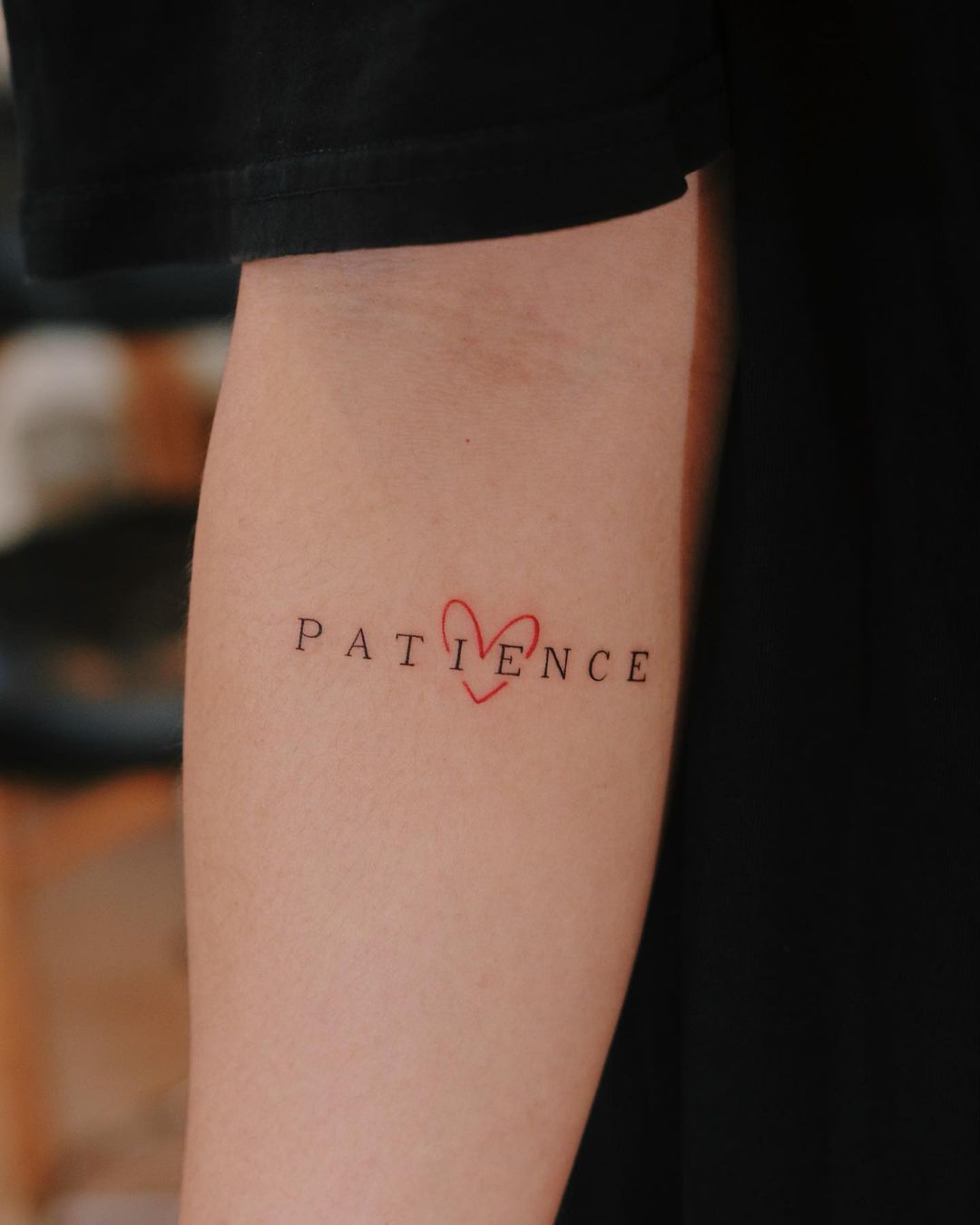 via @nhi.ink
17. Family Quote Tattoos
Family is priceless. No wonder so many people want to keep the feeling of being cared for and loved with shared body art. Individual family tattoo is becoming more and more popular every year.
via @vira.s.tattoo
What designs can be used in this case? Among the perfect quote, tattoos are statements from relatives, common favorite phrases and movies or songs, family mottos, etc.
You can design such body art not only in the form of plain text. Make complete family tree tattoos! It certainly won't go unnoticed by others.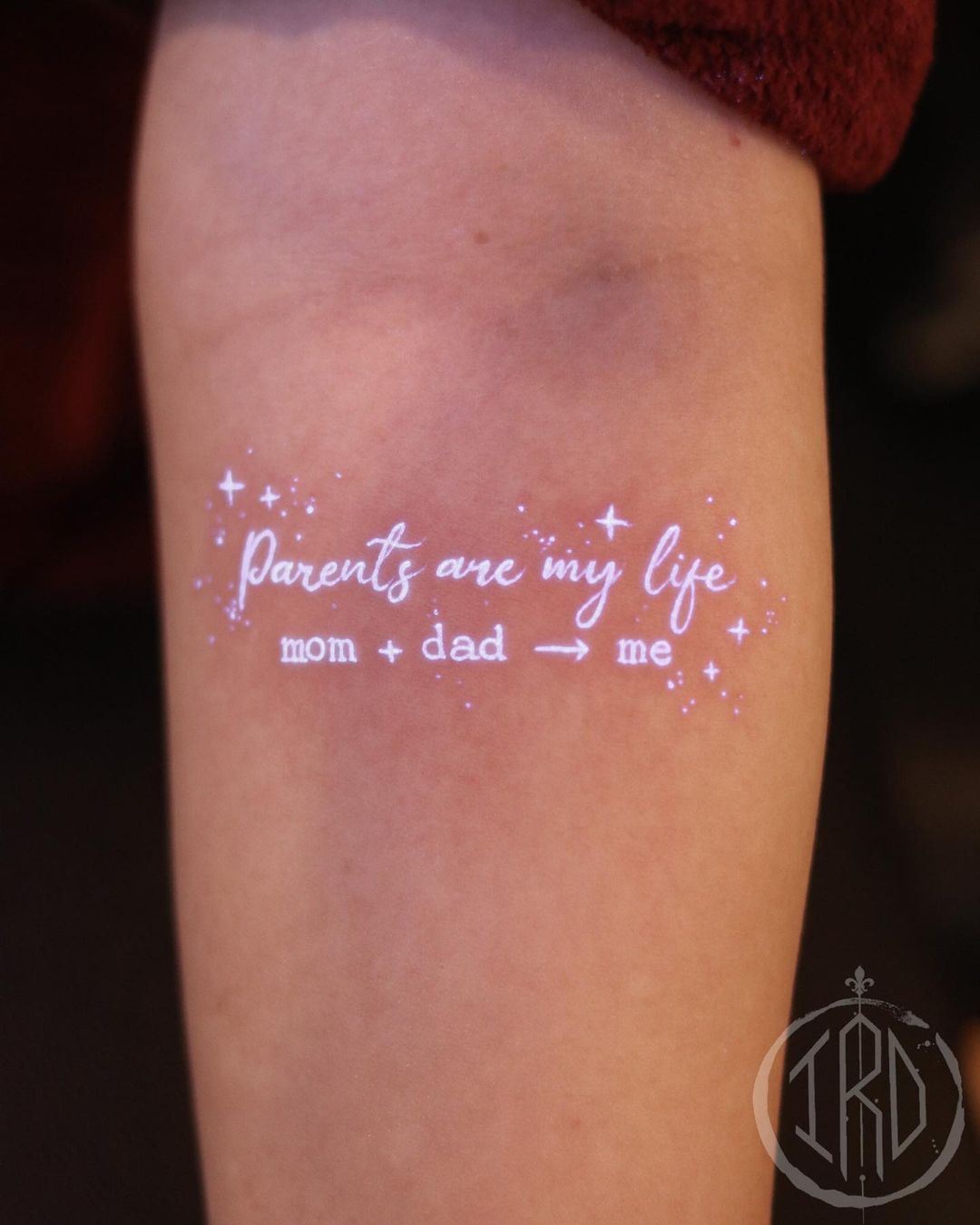 via @nhi.ink
18. Best Friend Tattoo Quotes
It's hard to imagine modern body art without a best friend tattoo. They are popular among all ages in all countries!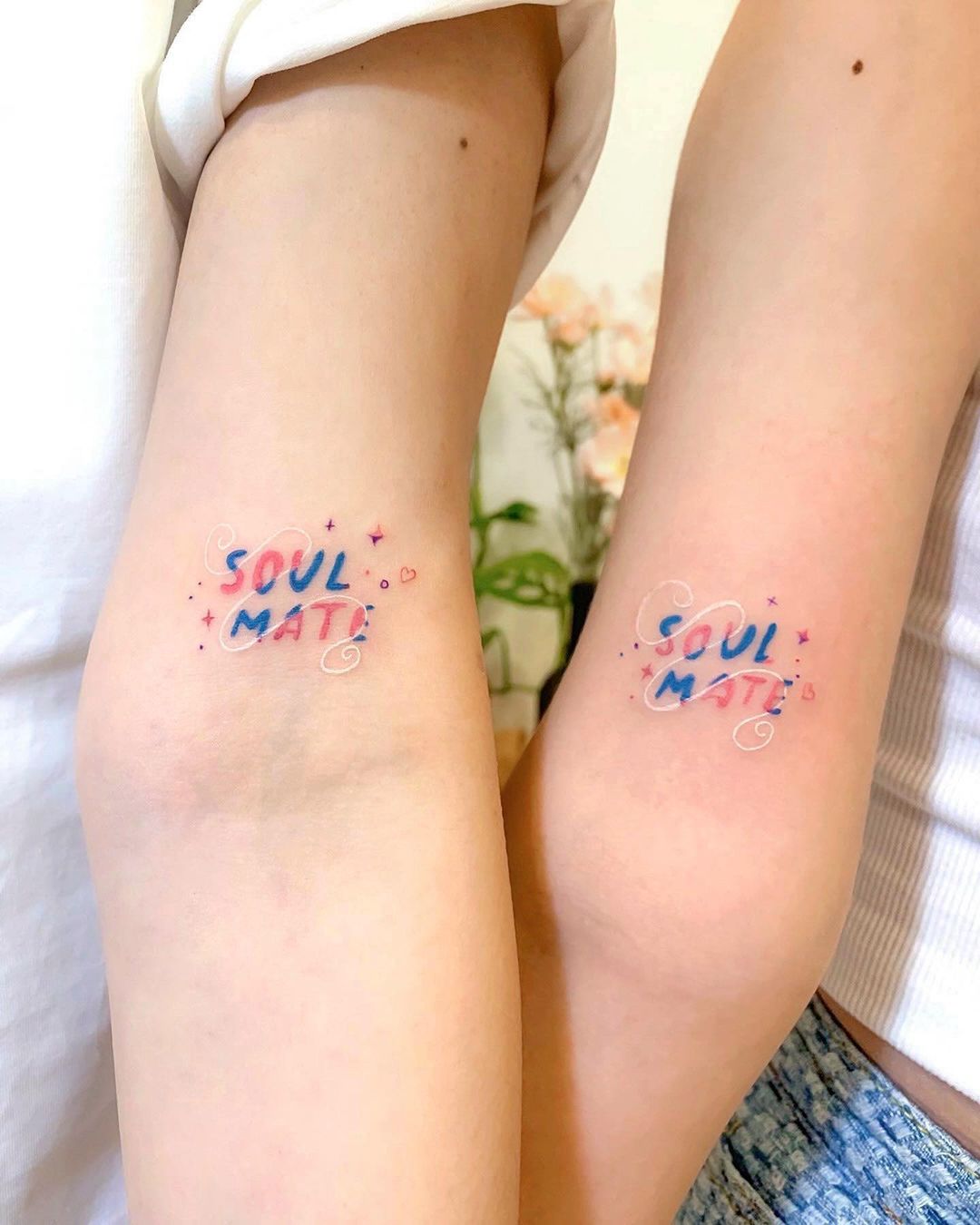 via @naodikim
What to remember when choosing matching tattoo designs? It is desirable to make them the same in the same places. But no one forbids you and your friend to apply tattoo quotes on the skin in different areas! Having one of your designs on your arm and the other on your neck will add some originality to your idea.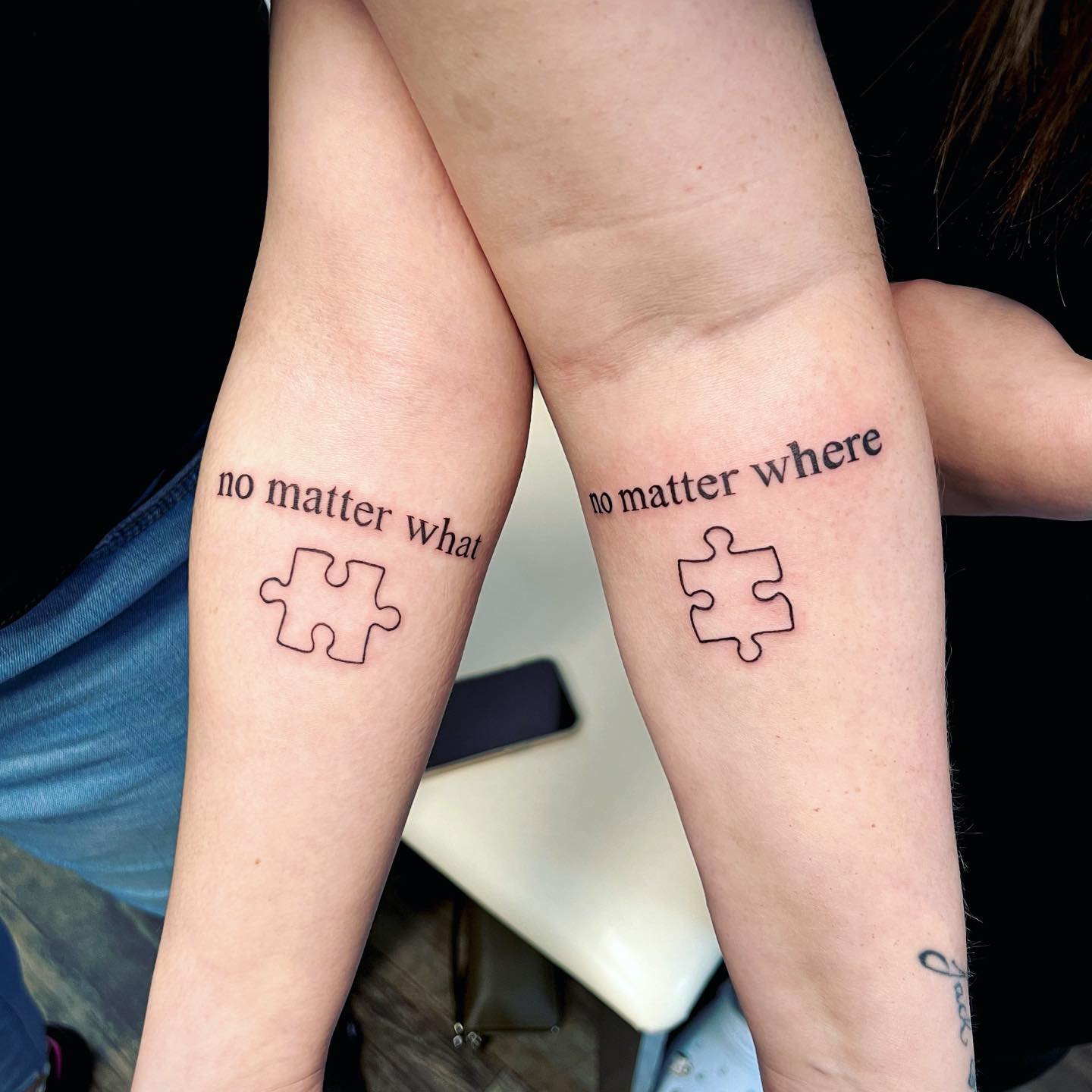 via @annie_tattoos
19. Tattoo Latin Quotes
A win-win option for body art is a tattoo in Latin. You can choose the best meaningful reminder depending on your worldview and lifestyle.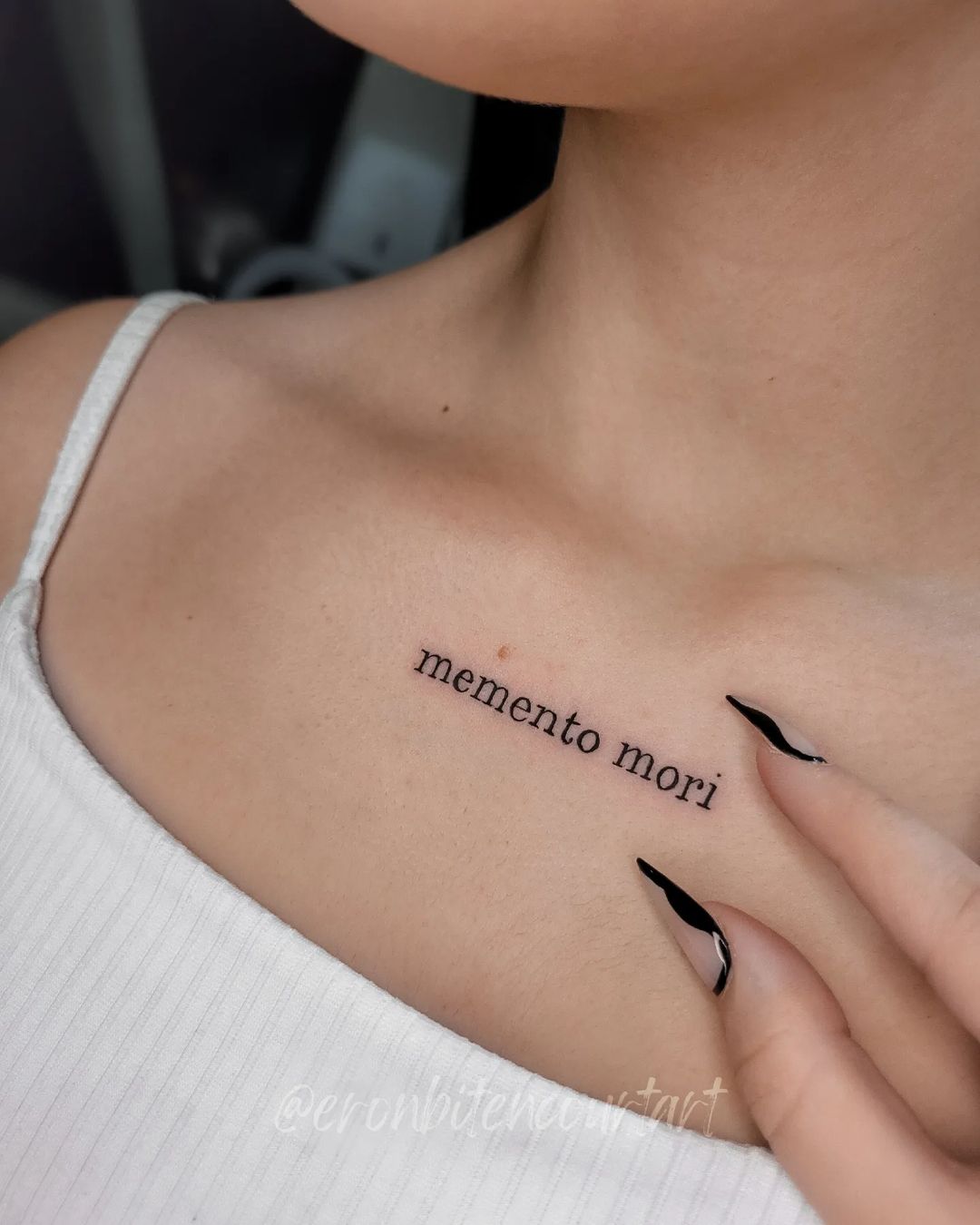 "Carpe diem," "Veni, vidi, vici," "Acta, non verbal," "Dum spiro, spero." You have likely seen these and many other famous Latin sayings as tattoos. If you want, you can choose a more compact design. For example, a one-word quote tattoo in Latin looks stylish.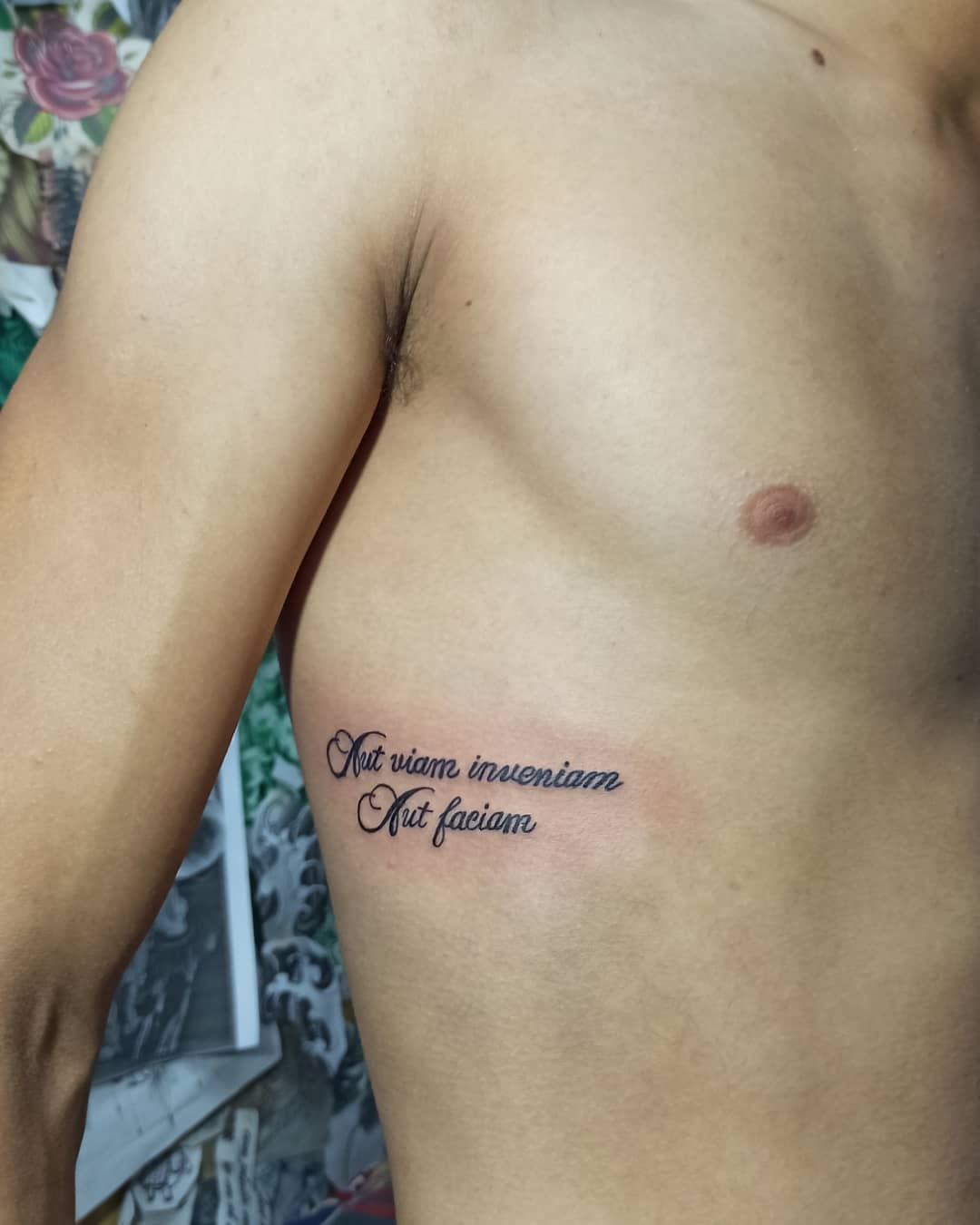 via @tattooapoha
20. Quote Japanese Tattoos Words
Japanese symbol tattoos have confidently entered the TOP of recent years. A few hieroglyphs can hide a whole phrase reflecting your inner world!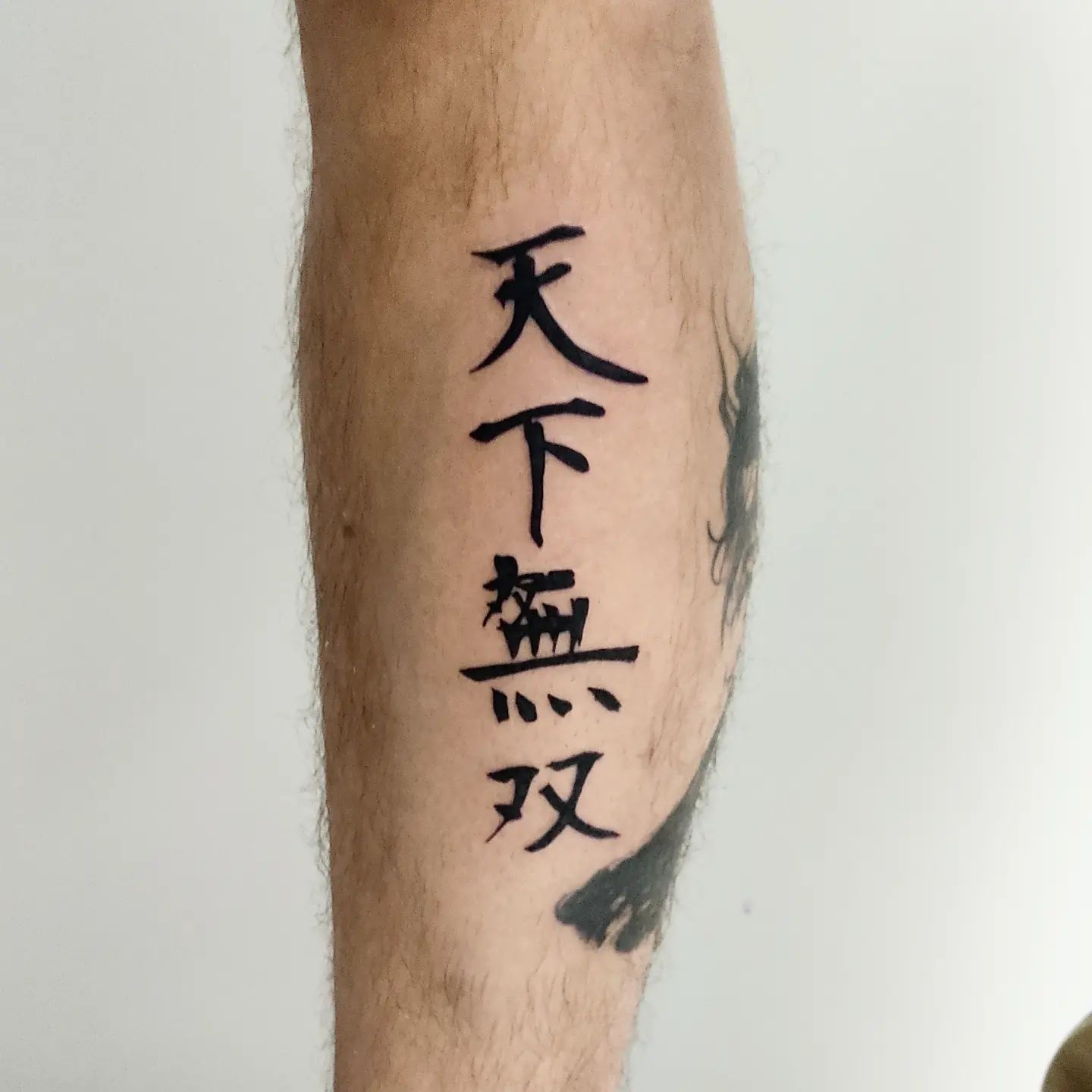 via @montanar.ink
When considering tattoo ideas in different languages, make sure the translation and spelling are correct. One wrong line can completely change what is written. Before applying this or that phrase to the skin, it is better to clarify the meaning of your tattoo from a native speaker or an experienced translator.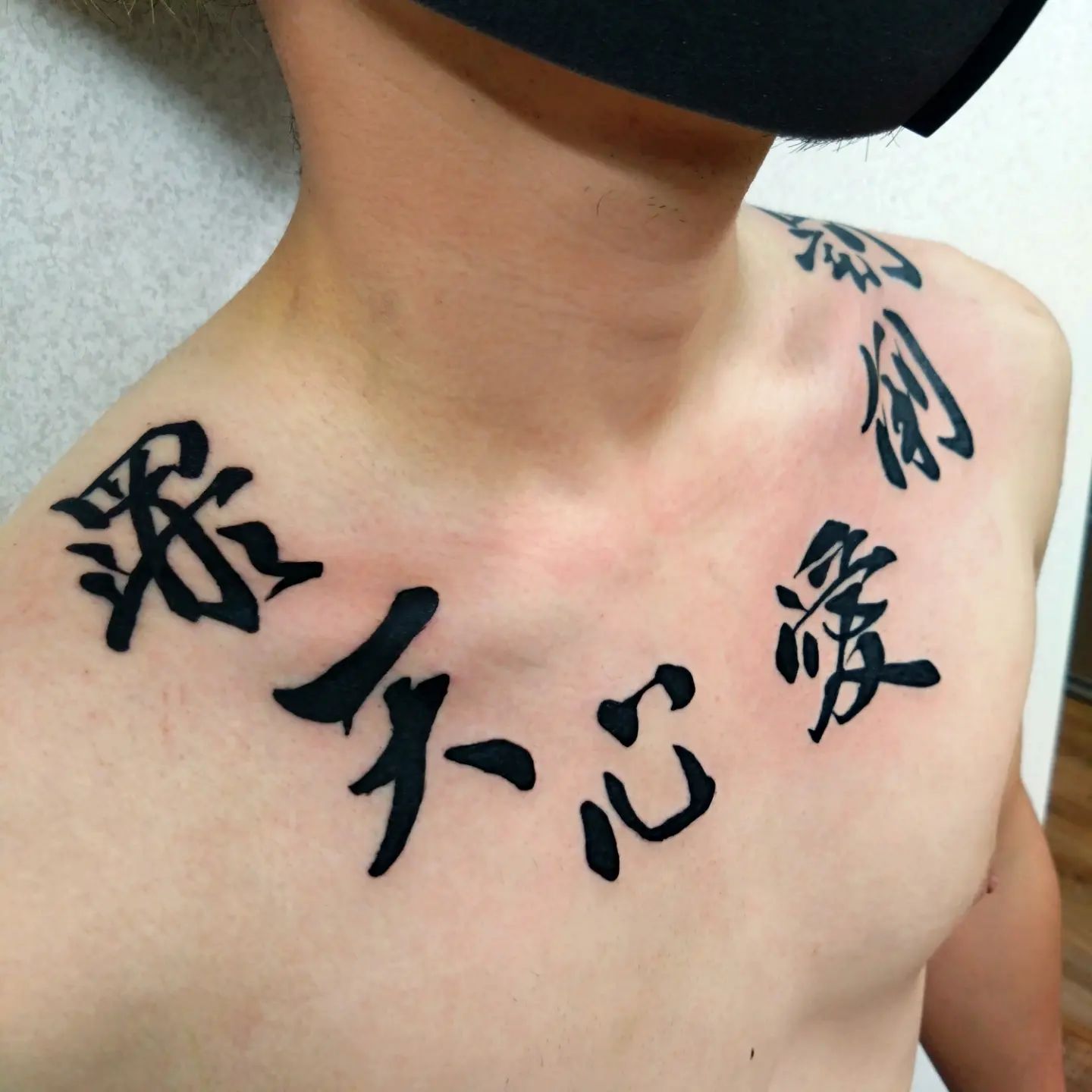 via @ryuko009
21. Compass Tattoo with Quote
What tattoo to add inspiration can you choose? Compass!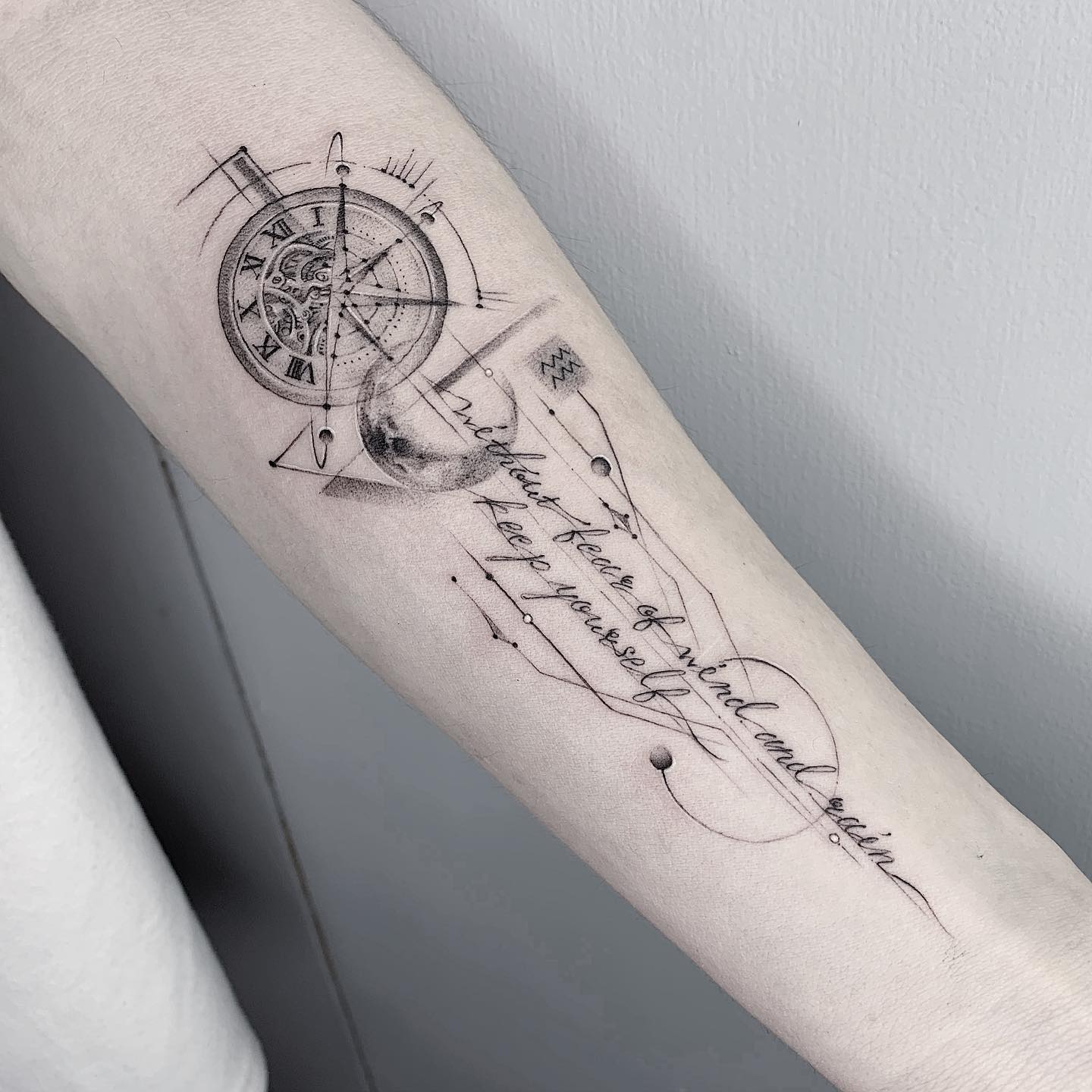 via @min_tattoo
This device hides so much in itself. It symbolises travellers, rebellious, creative souls, and adventurers. If you belong to these categories of people, compass tattoo ideas will perfectly complement your image!
There are many options for the image of the compass. Planar and three-dimensional, monochrome and color tattoo, with or without text. Among them, you will find the best one for you.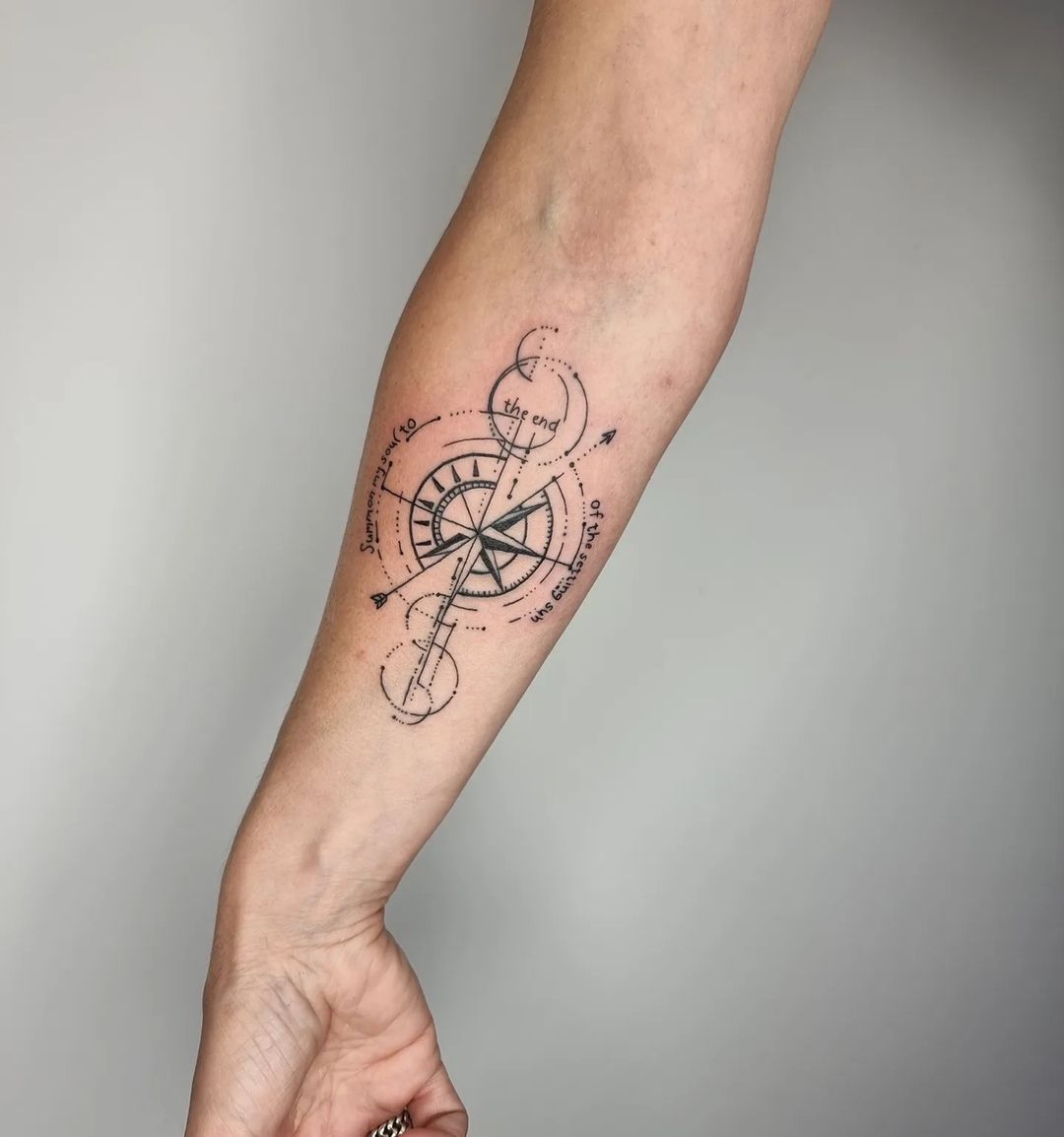 22. Quote Tattoos for Couples
A separate line of work of the master of body art is a tattoo for couples.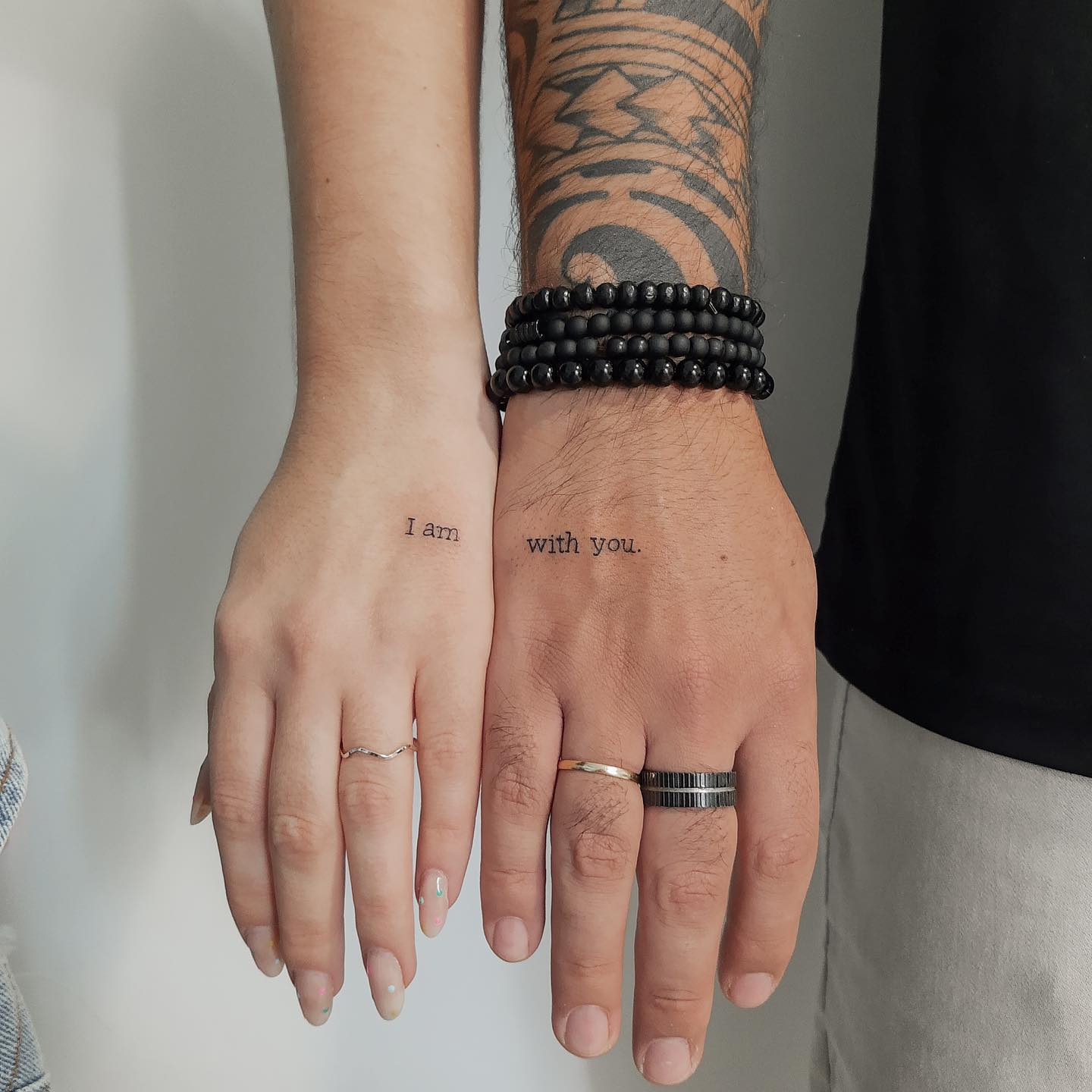 via @duanabalbinot_
This category includes not only the same images or phrases about feelings. Often, love tattoo quotes are divided into two parts for each partner and are supplemented only in the presence of each other.
Which matching tattoo quotes to choose? The possibilities for experimentation are endless: from the name of a partner and their initials to important personal phrases for a couple or excerpts from songs, films, and books.
FAQ
What are the most creative quote tattoos?
It is difficult to answer this question unambiguously. For each person, such a tattoo will be memorable.
Popular designs include "Dream. Plan. Do," "Do it anyway," "Never back down," "Don't dream it, be it," "Be your own sun," etc.