Rose tattoo designs captivate representatives of various audiences, from romantics and creative individuals to fans of glam rock and grunge. They also have meaning in different cultural contexts.
You can get a unique or traditional rose tattoo by experimenting with design, style, and placement. Let's take a look at the most exciting tattoo options right now!
What does a rose tattoo mean?
Numerous rose tattoo ideas allow you to bring to life various emotions and meanings, including love, transformation, mystery, or even grief for a deceased loved one. The interpretation of the design depends on the type and color of the flower, additional elements, and the person's ideas.
Most often, rose tattoos are a reflection of such feelings:
Passionate love and appreciation. Red roses can be chosen for a couple's tattoos.
Beauty and grace. A rose tattoo can symbolize aesthetics, grace, or the timeless beauty of nature.
Transformation and growth. Flowering from bud to full blossom can be a metaphor for personal growth. This tattoo personifies the transformation and development of its owner.
Mystery and intrigue. Dark-colored roses, such as black or deep purple, often convey secrets and mysteries. They are frequently chosen by people who want to create an intriguing image.
Balance and harmony. Sophisticated roses with a balanced and symmetrical pattern are the perfect reminder to find a golden means and peace of mind among life problems.
Tattoo meanings may vary depending on the rose color chosen.
What they say is:
White — purity, innocence, or new beginnings;
Red — love, passion;
Yellow — friendship, joy;
Pink — admiration, gratitude, and tenderness;
Orange — enthusiasm, energy;
Blue, purple — mysteries, intrigue.
While roses are often associated with femininity, this design can communicate strength and masculinity. To do this, add more powerful thorny stems or dark colors.
A rose tattoo can preserve the memory of a deceased loved one. For example, a drooping or falling petal can symbolize love that overcomes death and continues even after loss.
Black Rose Tattoo
Black rose tattoos for women intrigued. They are associated with feelings of elegance, sophistication, and uniqueness.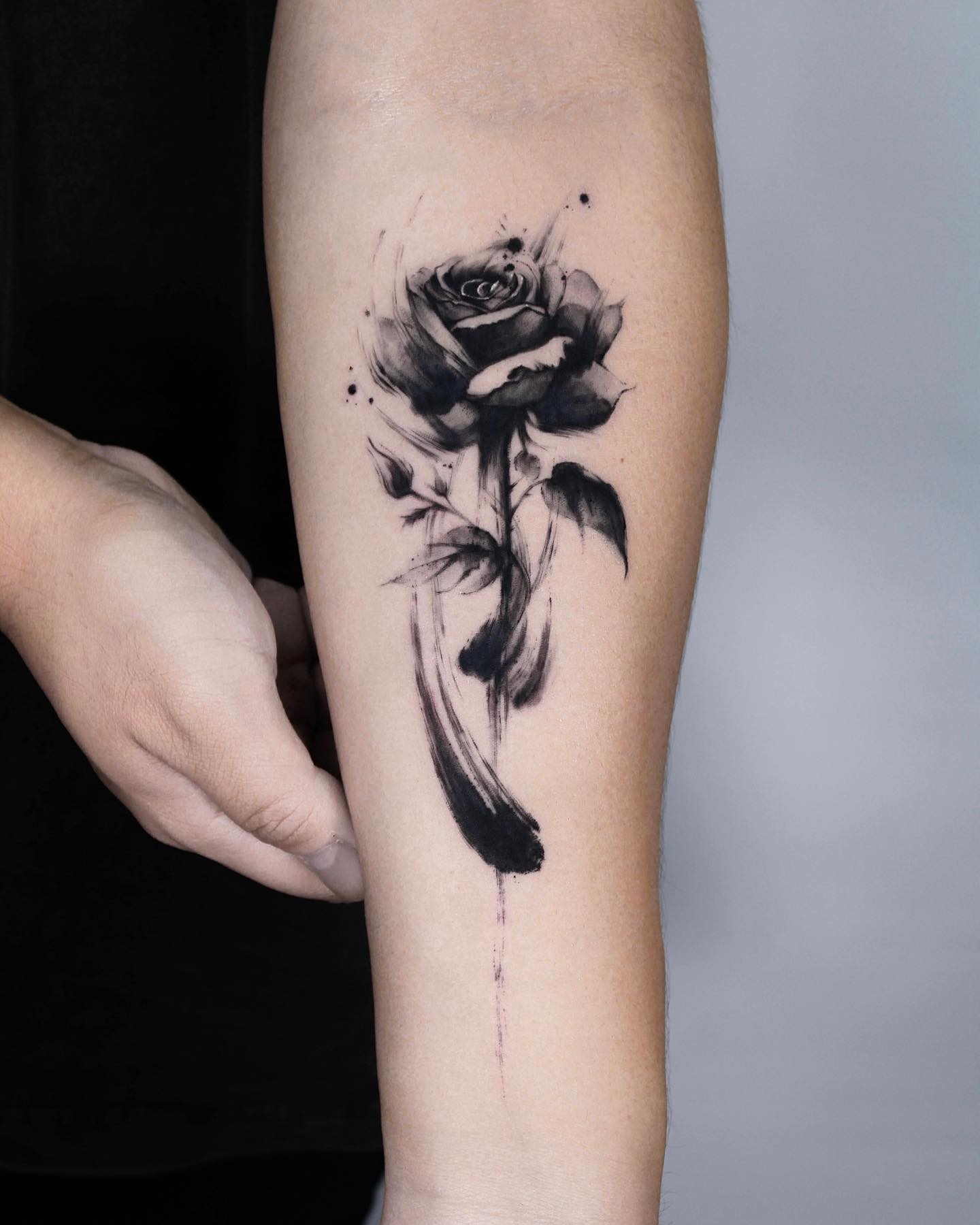 via @baronarttattoo
In addition to the desire for difference and individuality, there are the following options for black rose tattoo meaning:
Internal strength and resistance to any adversity;
Unrequited love, broken heart;
Rebirth and transformation;
Farewell, end of the chapter.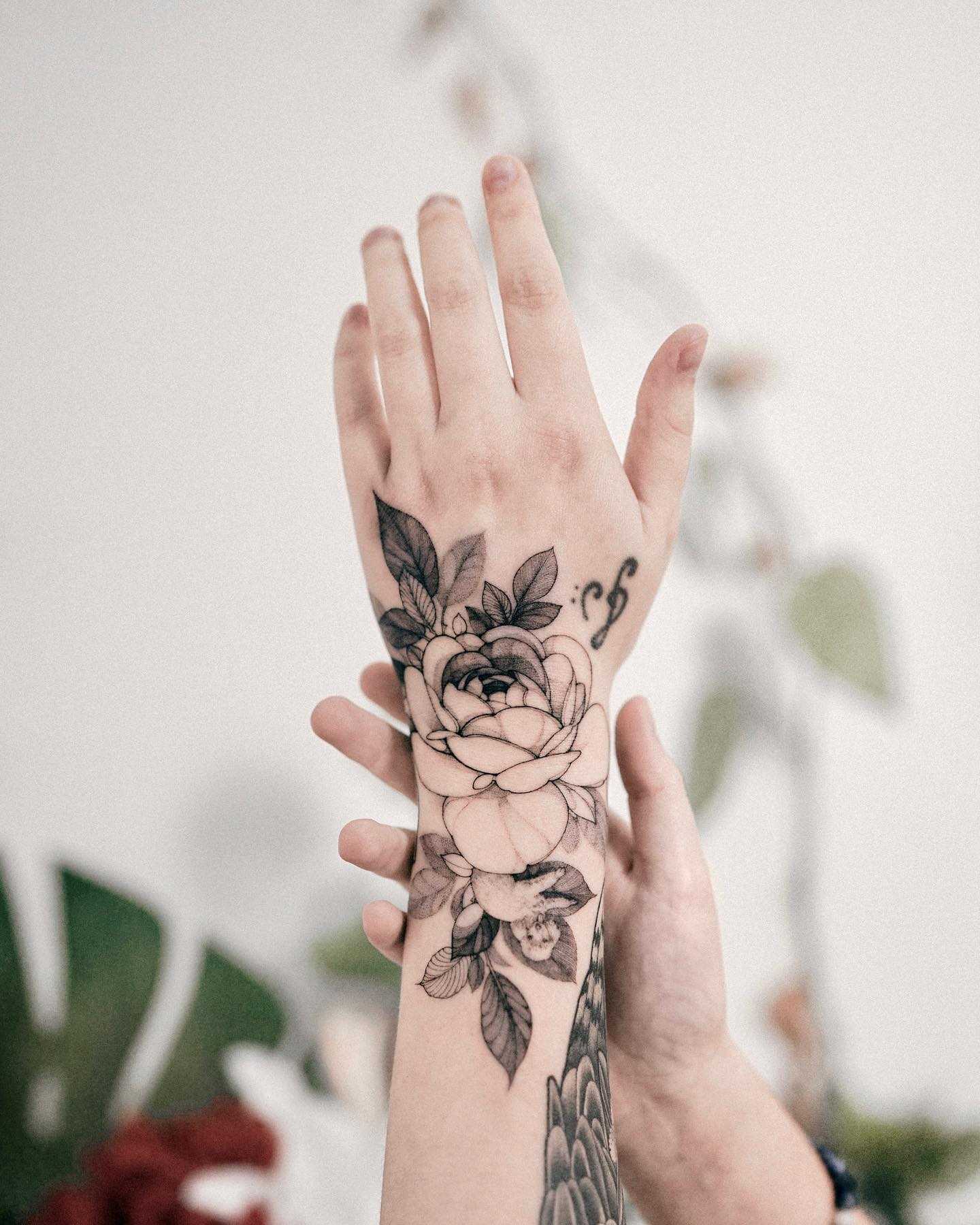 via @goyotattooart
Make laconic and barely noticeable designs or a luxurious, provocative sleeve tattoo if you like black roses. Enhance the flower with mandala designs, skulls, thorns, and other elements to bring out the full potential of these tattoos.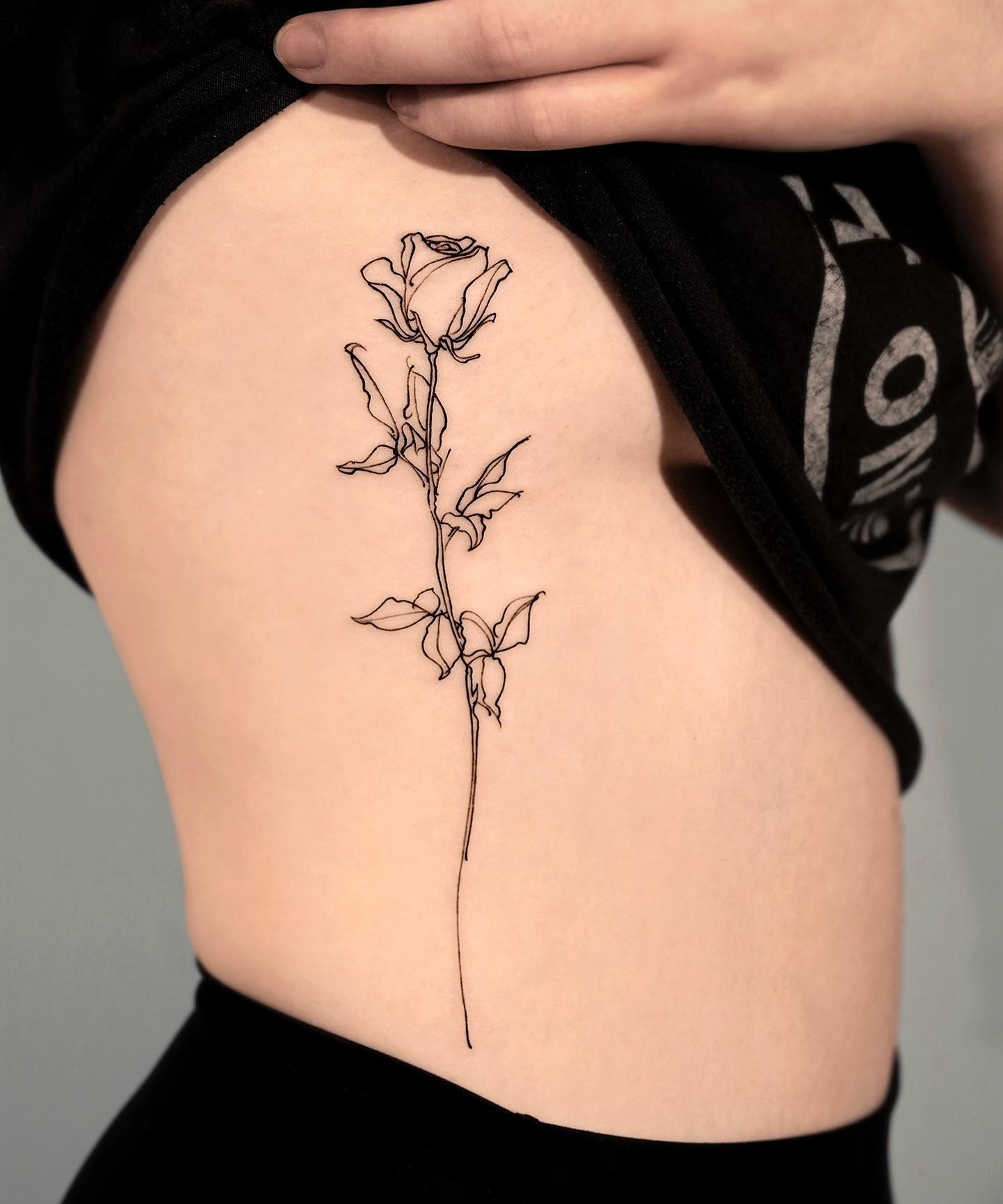 via @pauline.son
Yellow Rose Tattoo
Yellow is the color of joy, friendship, and optimism. These flower tattoos are often chosen to express positive emotions.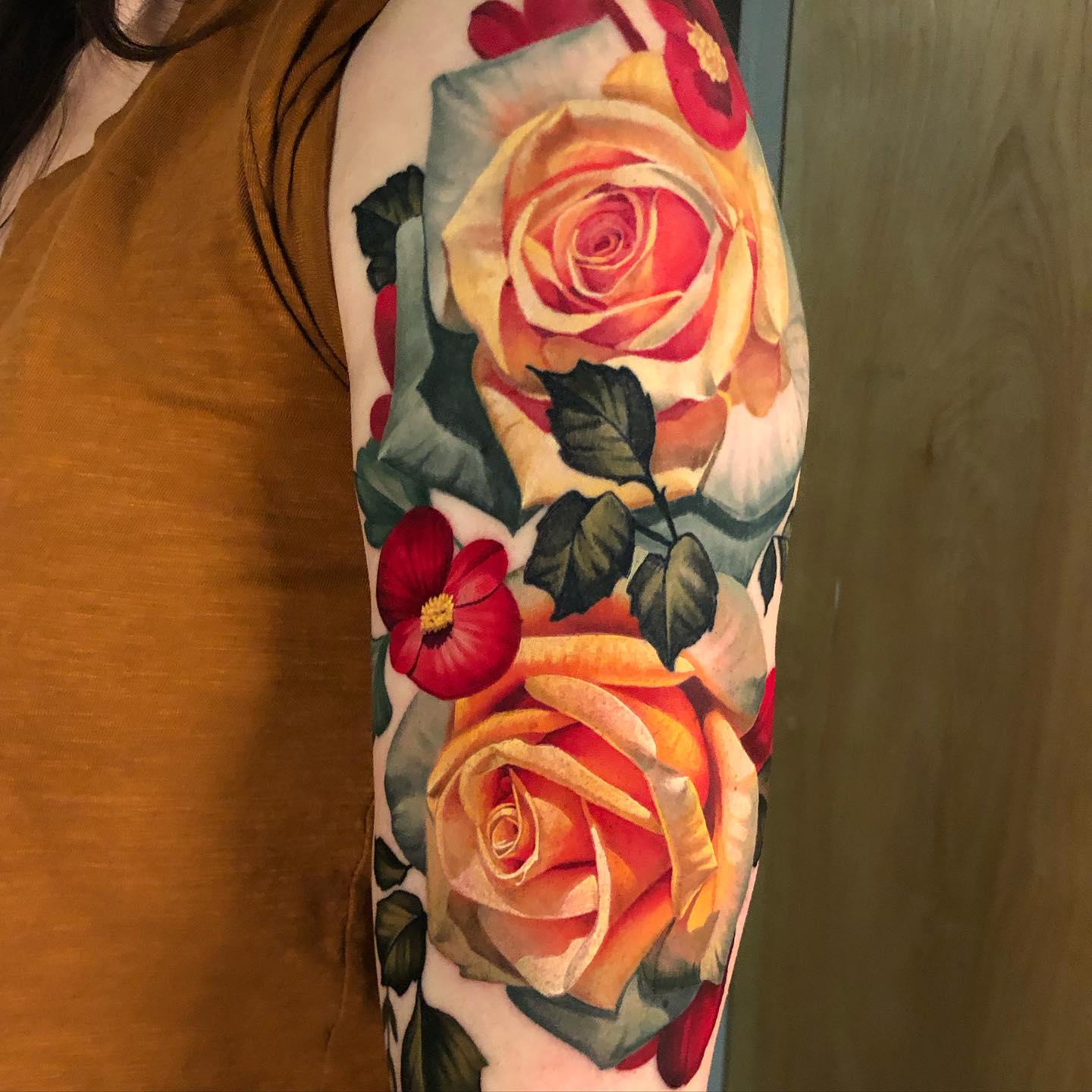 via @allisintattoos
Popular designs include realistic roses, often accompanied by green leaves, highlighting the natural aesthetic. Rose arm tattoo in a watercolor style with bright and mixed hues adds an original artistic effect to the classic floral aesthetic.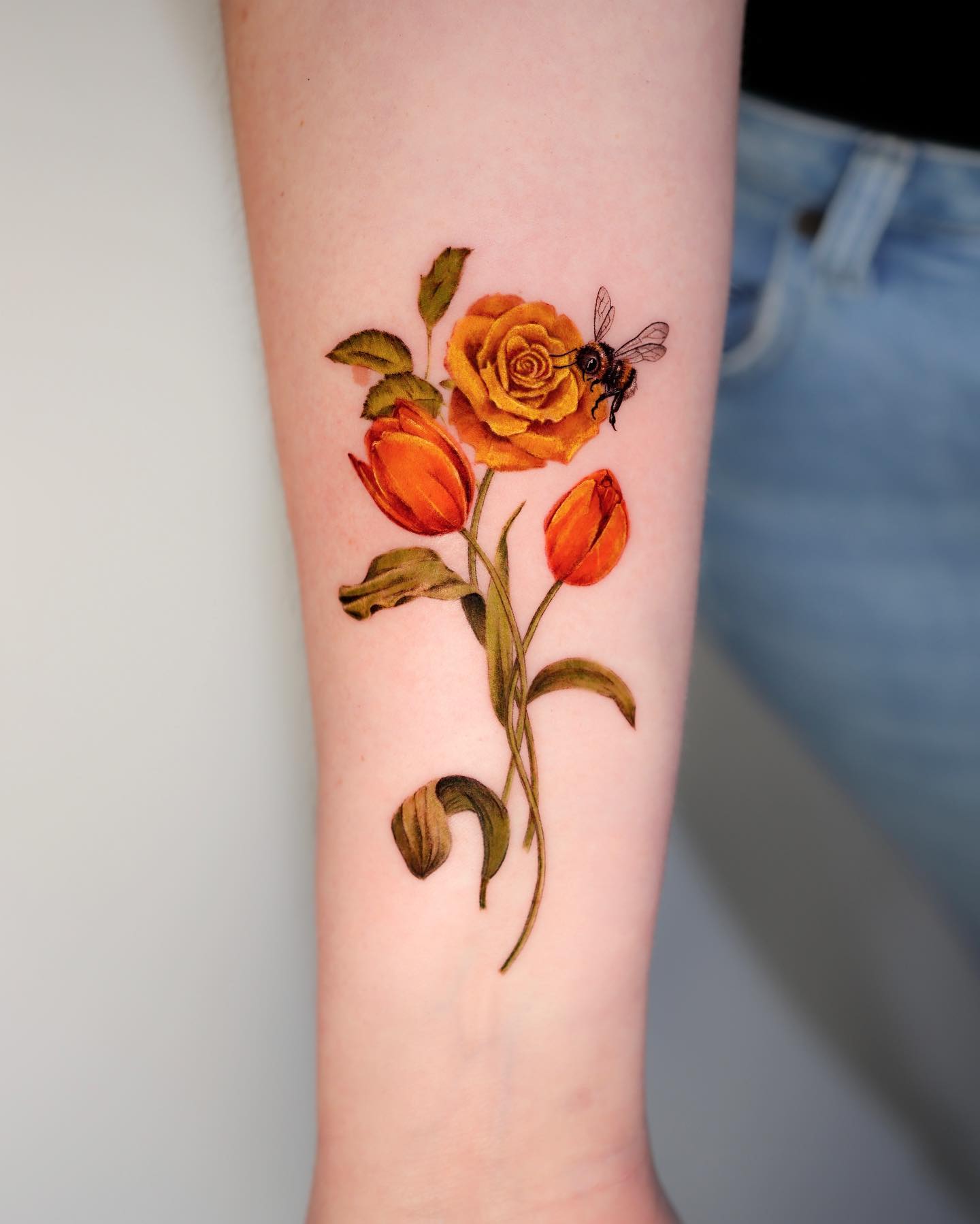 via @_rony_tattoo
Themed amber rose tattoo designs, such as musical notes or motivational quotes, will add extra personalization to the tattoo.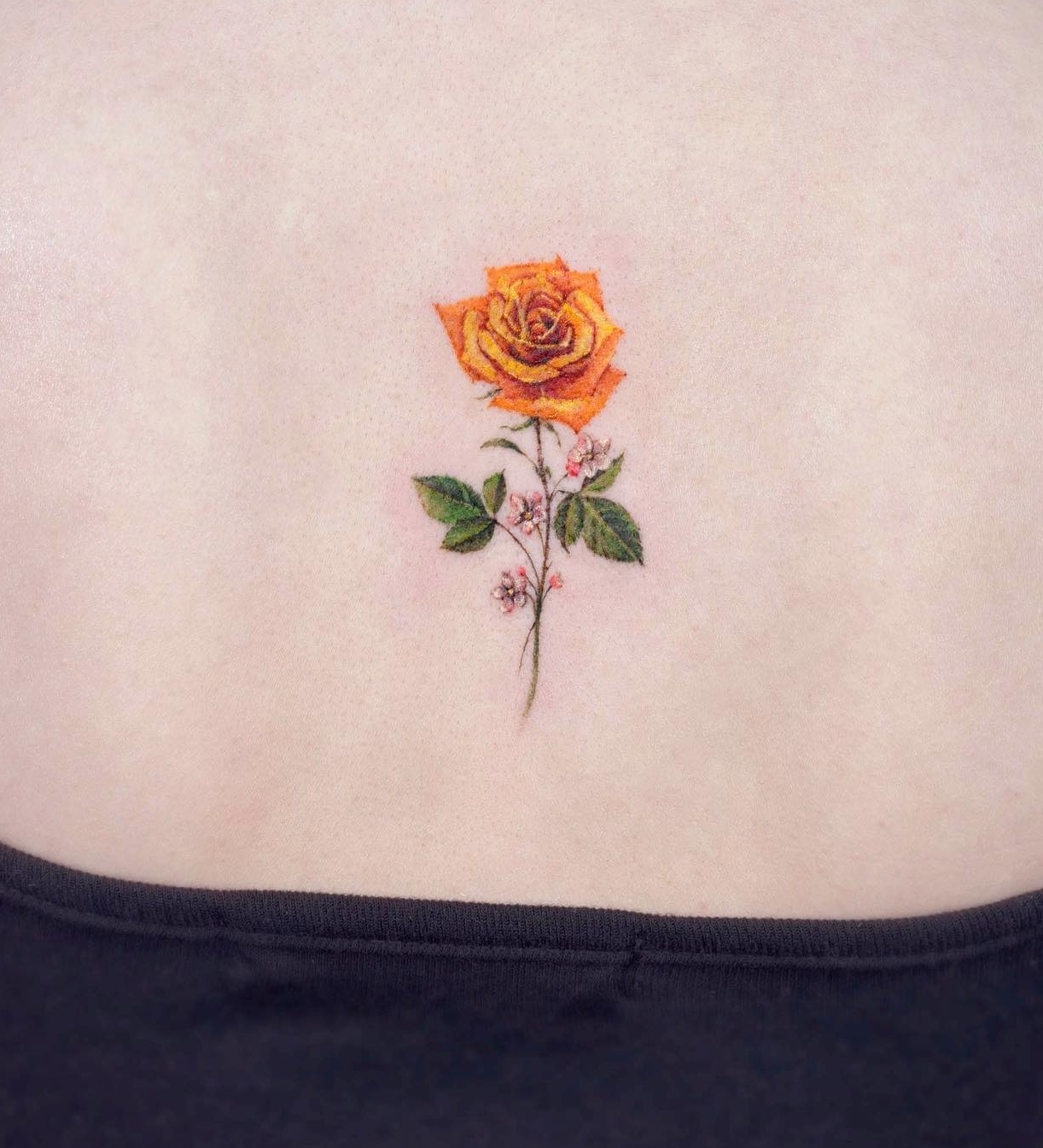 via @tilda_tattoo
Small Rose Tattoos
The undeniable advantages of the delicate design of the rose tattoo are simplicity, elegance, and versatility. They symbolize love, beauty, or the transience of life, encapsulating deep feelings in a compact design.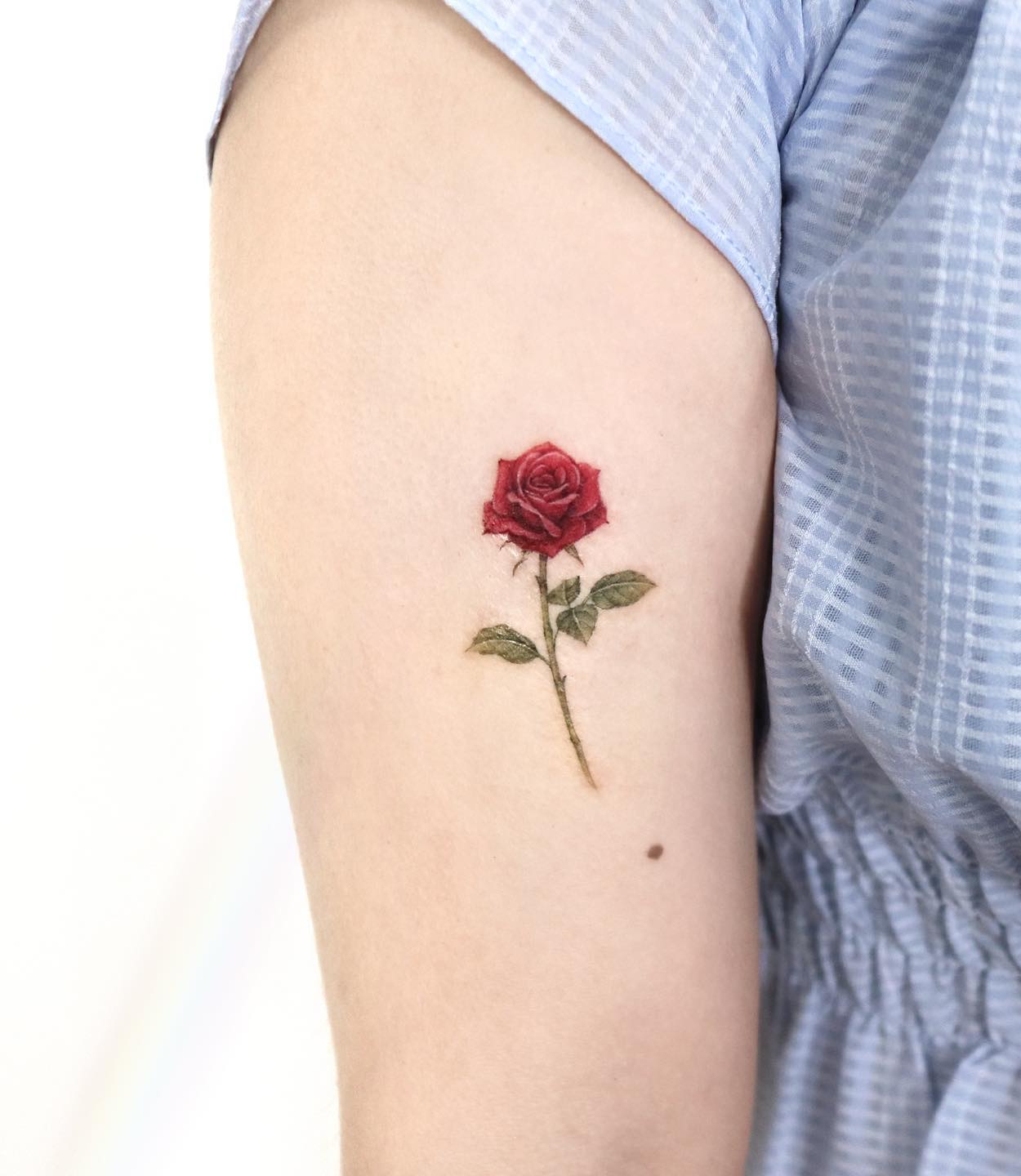 via @palette.tt
Popular small rose body art includes single roses, tiny rosebuds, or minimalist outlines that exude delicacy and sophistication. They are typically placed on the wrist, ankle, or behind the ear as a subtle yet meaningful feature.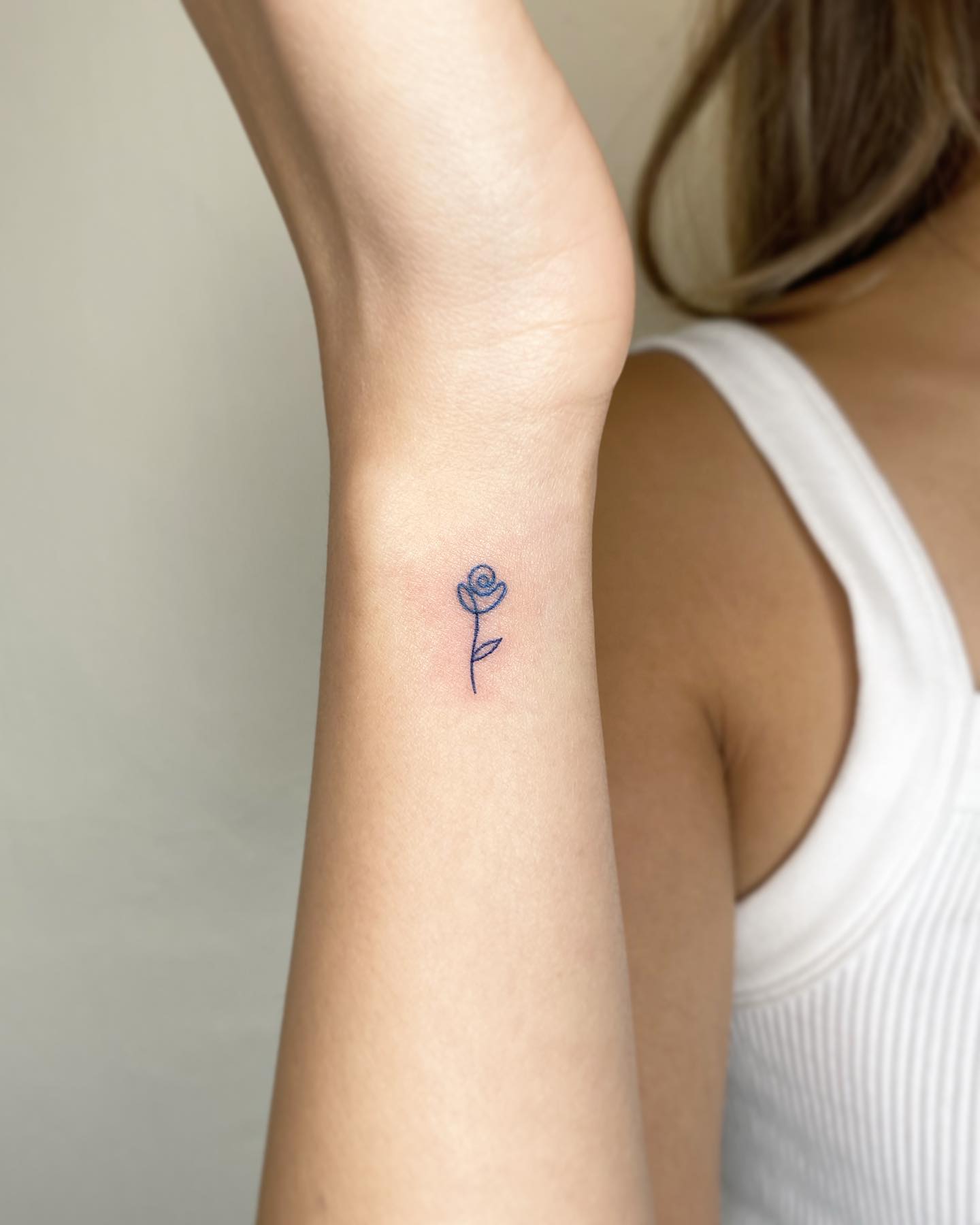 via @nieun_tat2
Small rose tattoos for women are ideal if you are looking for a laconic and discreet expression of love, beauty, or unbridled energy.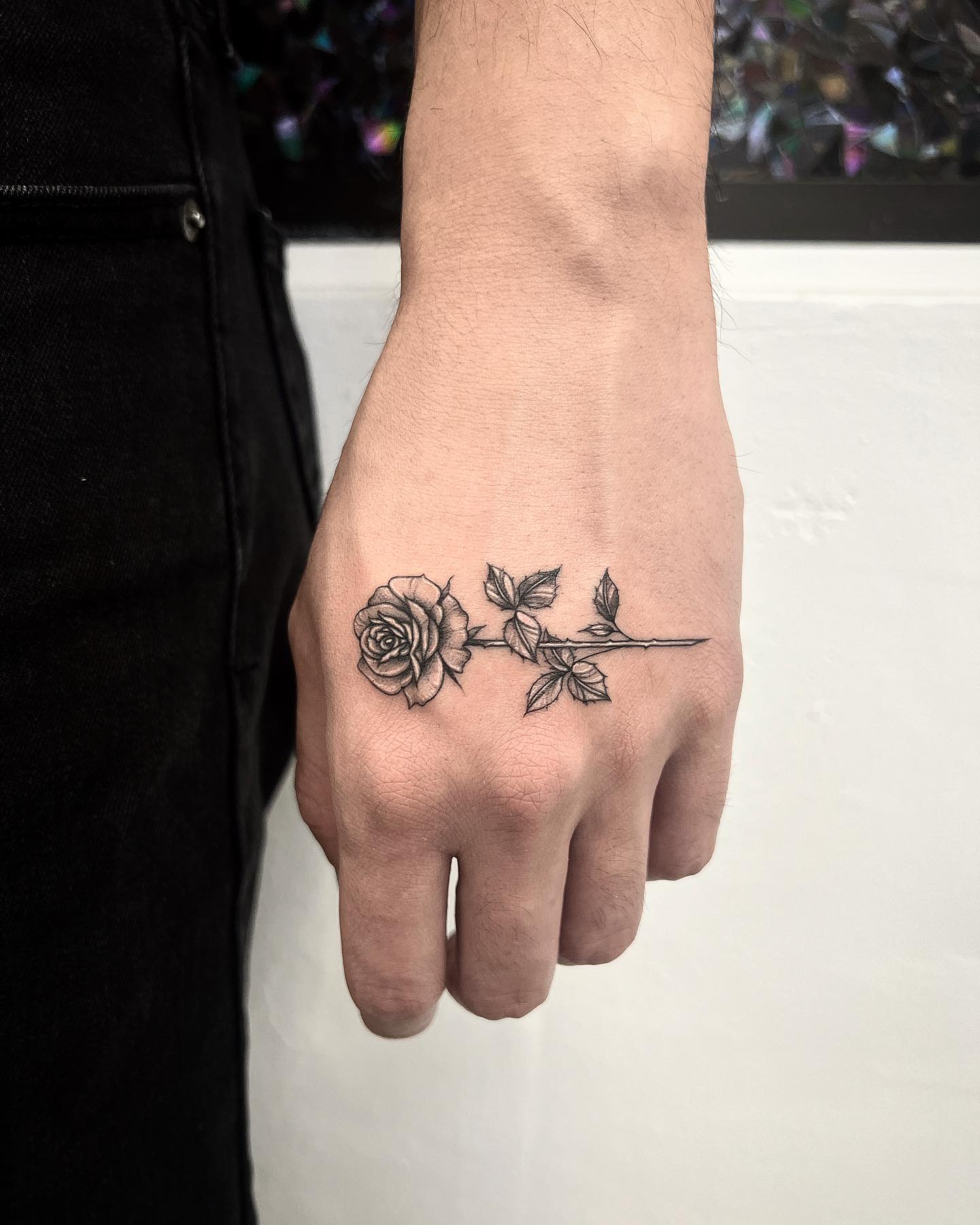 via @kameenstudio
Money Rose Tattoo
The money rose tattoo meaning is prosperity, wealth, and financial abundance.
via @dolce_guevara
The original design combines the elegance of a rose with banknotes or gold coins, creating a visual representation of the pursuit of financial success. Some hand rose tattoo designs intertwine a realistic-looking flower with monetary elements, emphasizing the connection between natural beauty and material wealth.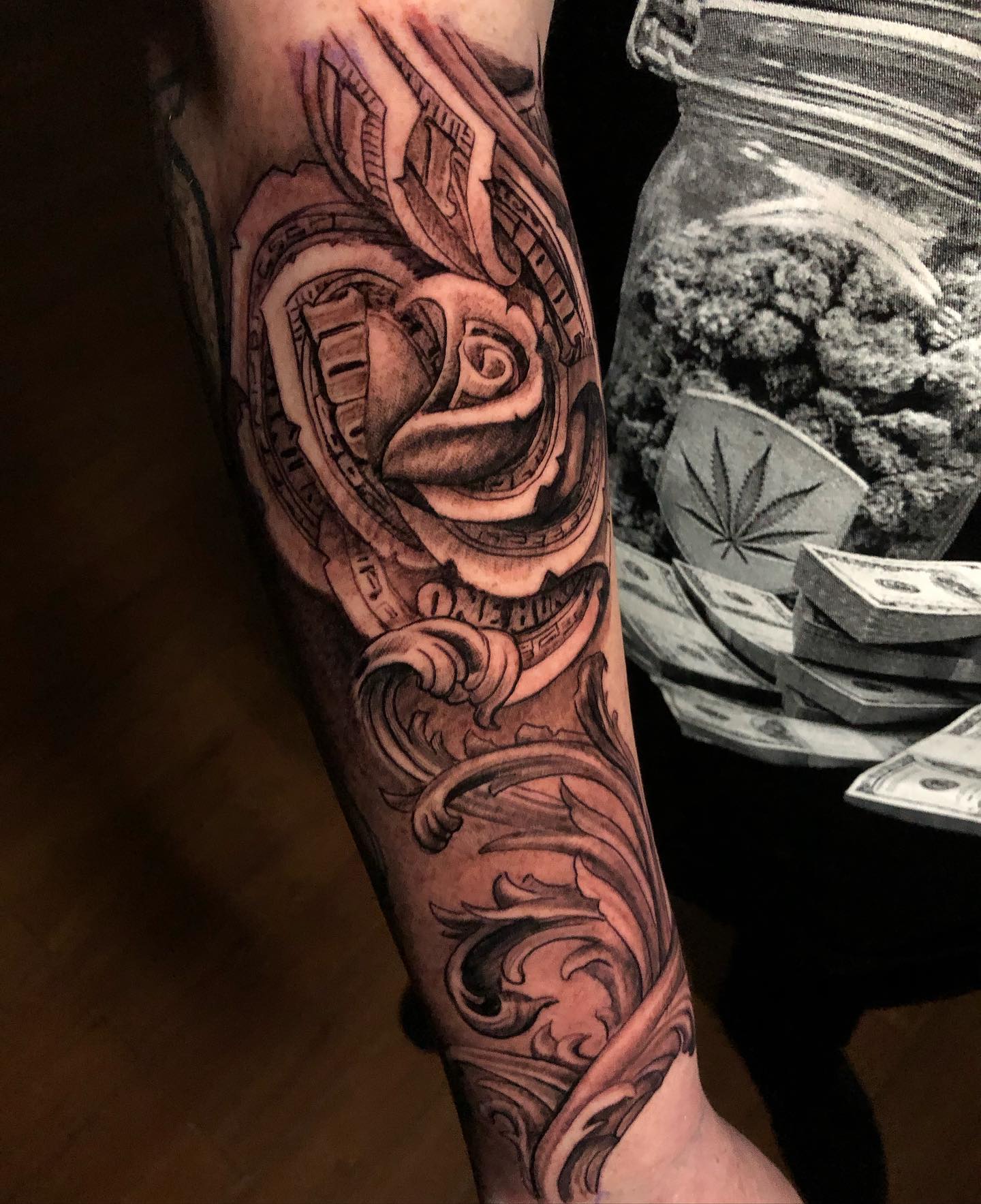 Money black rose tattoo is chosen by purposeful and ambitious people who want to demonstrate financial success or celebrate career achievements.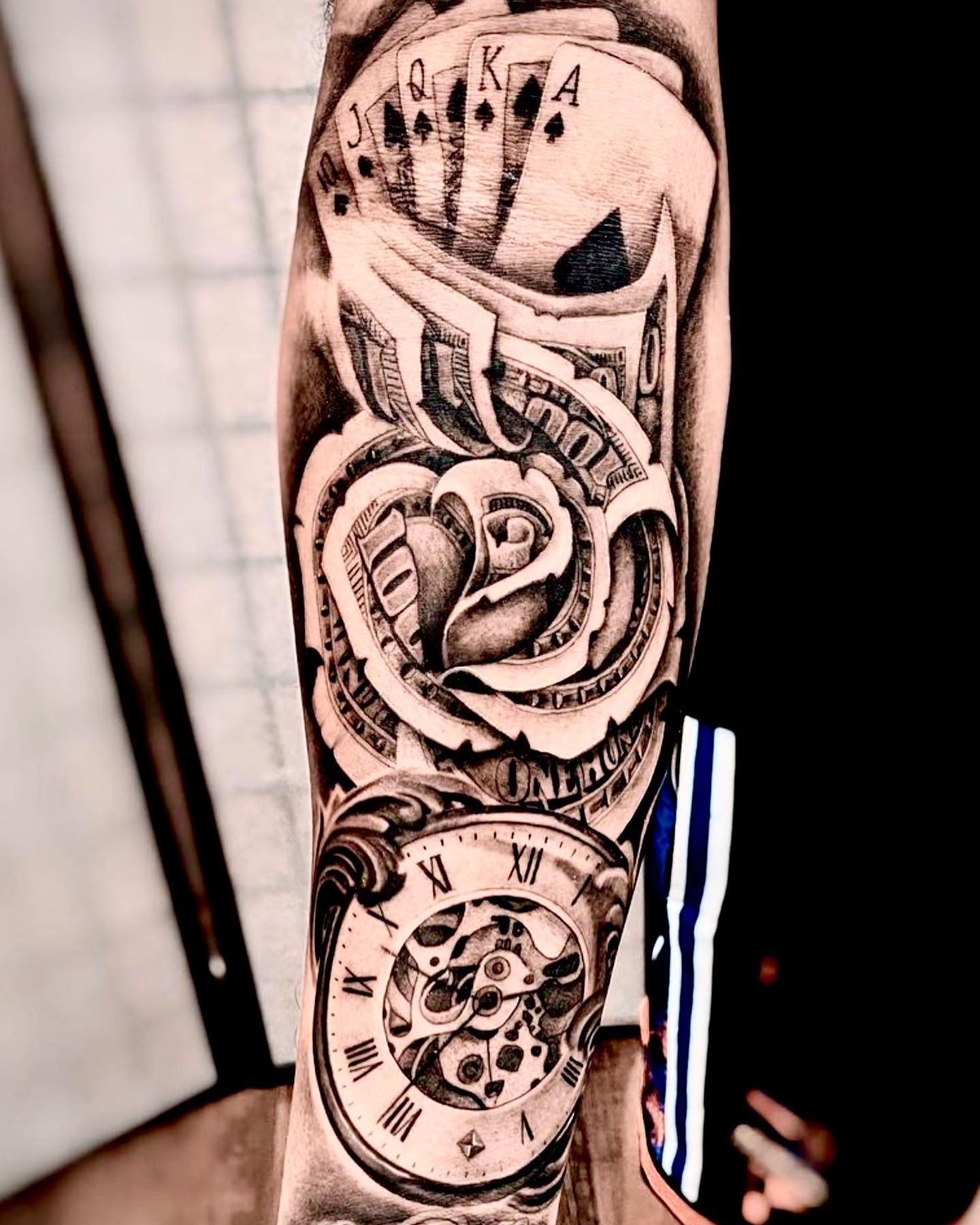 via @heavyhandtran
Rose Vine Tattoo
Rose on vine tattoos symbolize passion, beauty, or development and overcoming problems.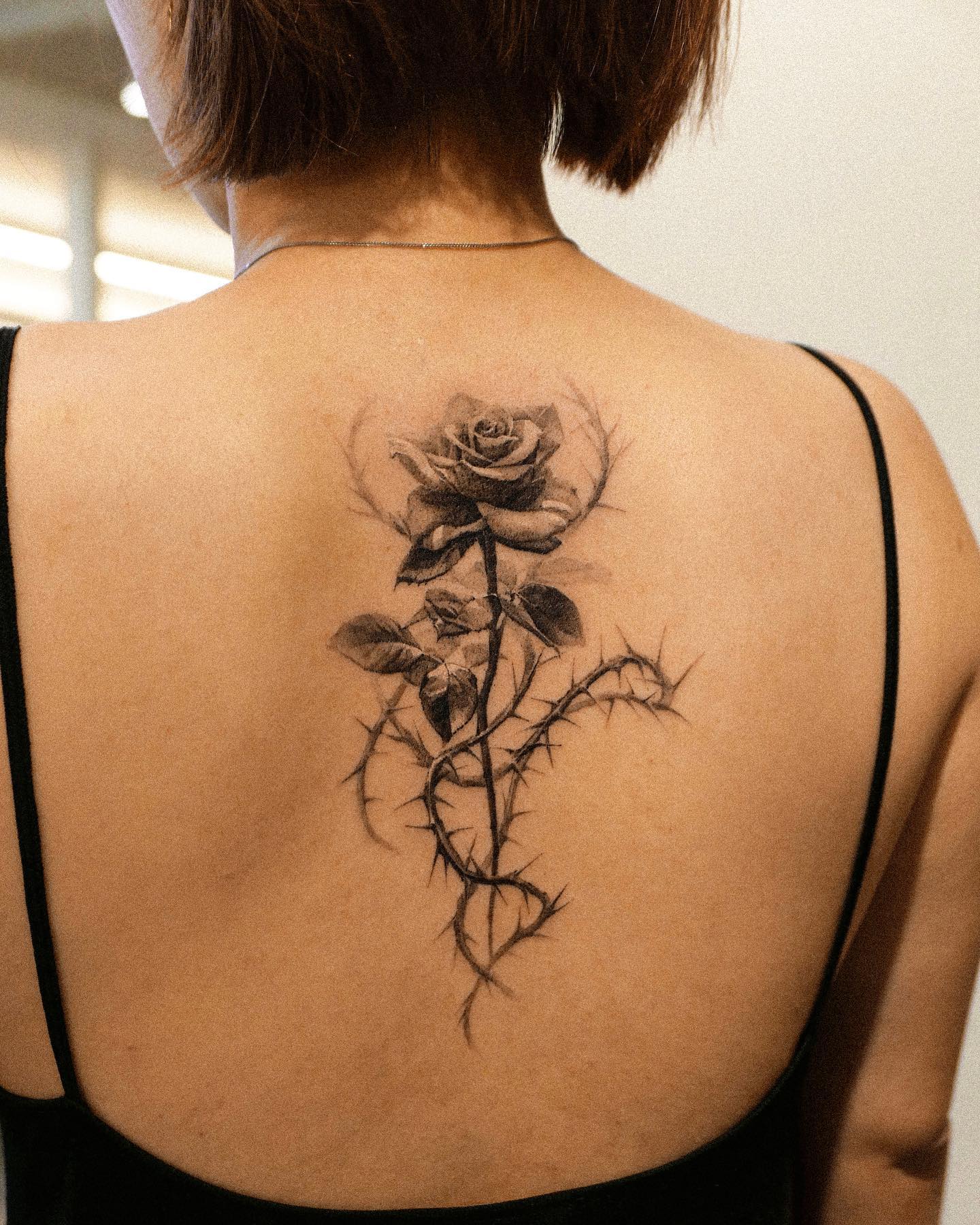 via @tattooist_hosu
Intricately detailed vines entwining the flowers highlight the intertwining of natural beauty and life's journey. The vines on a red rose tattoo can be decorated with thorns, which add depth and symbolize resilience in the pursuit of love and achievement.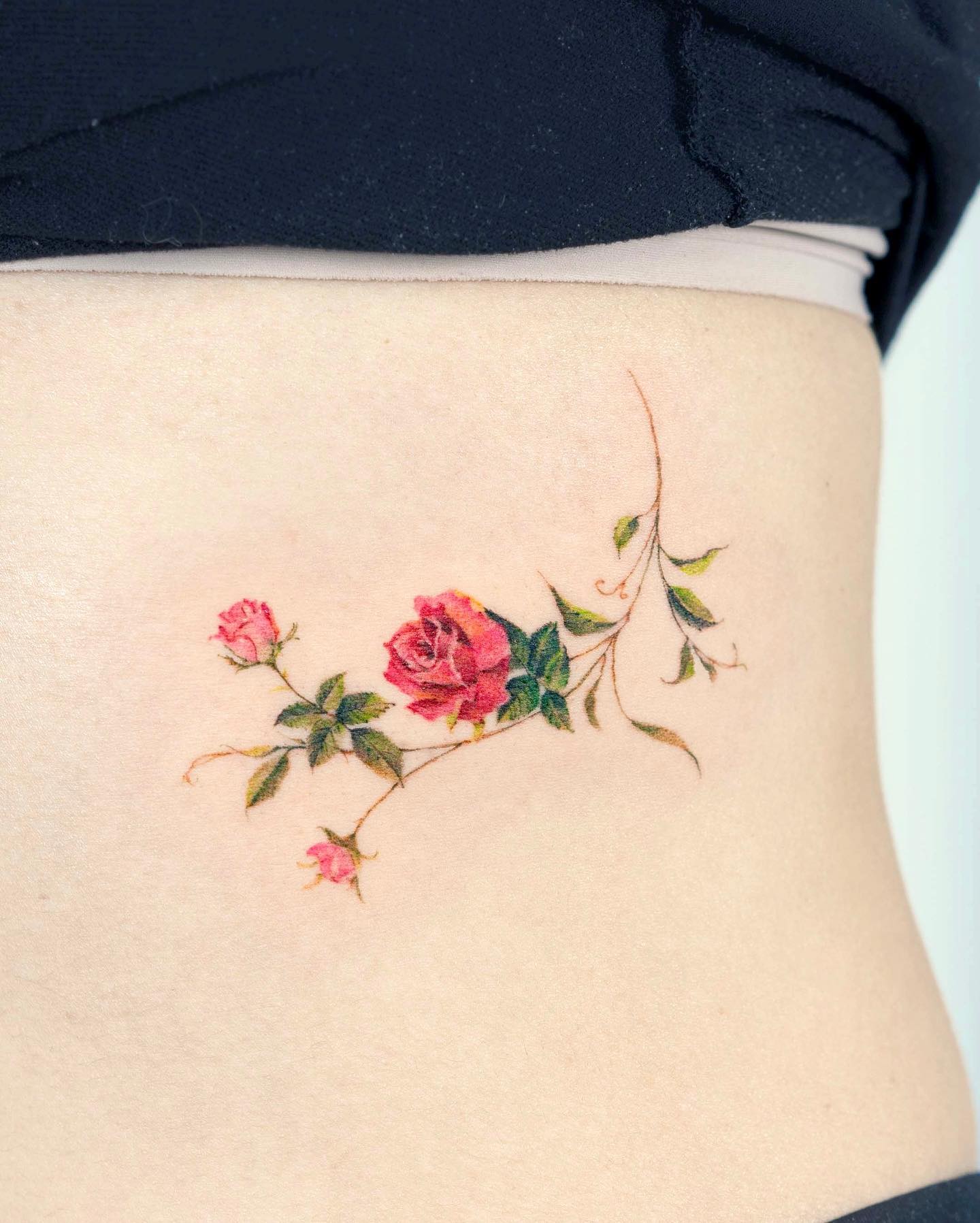 via @tilda_tattoo
Some girls choose a realistic depiction of buds or prefer a more stylized and abstract approach to design. Depending on the desired size, it can be placed on the arms and thigh or made into an elegant and compact back shoulder tattoo.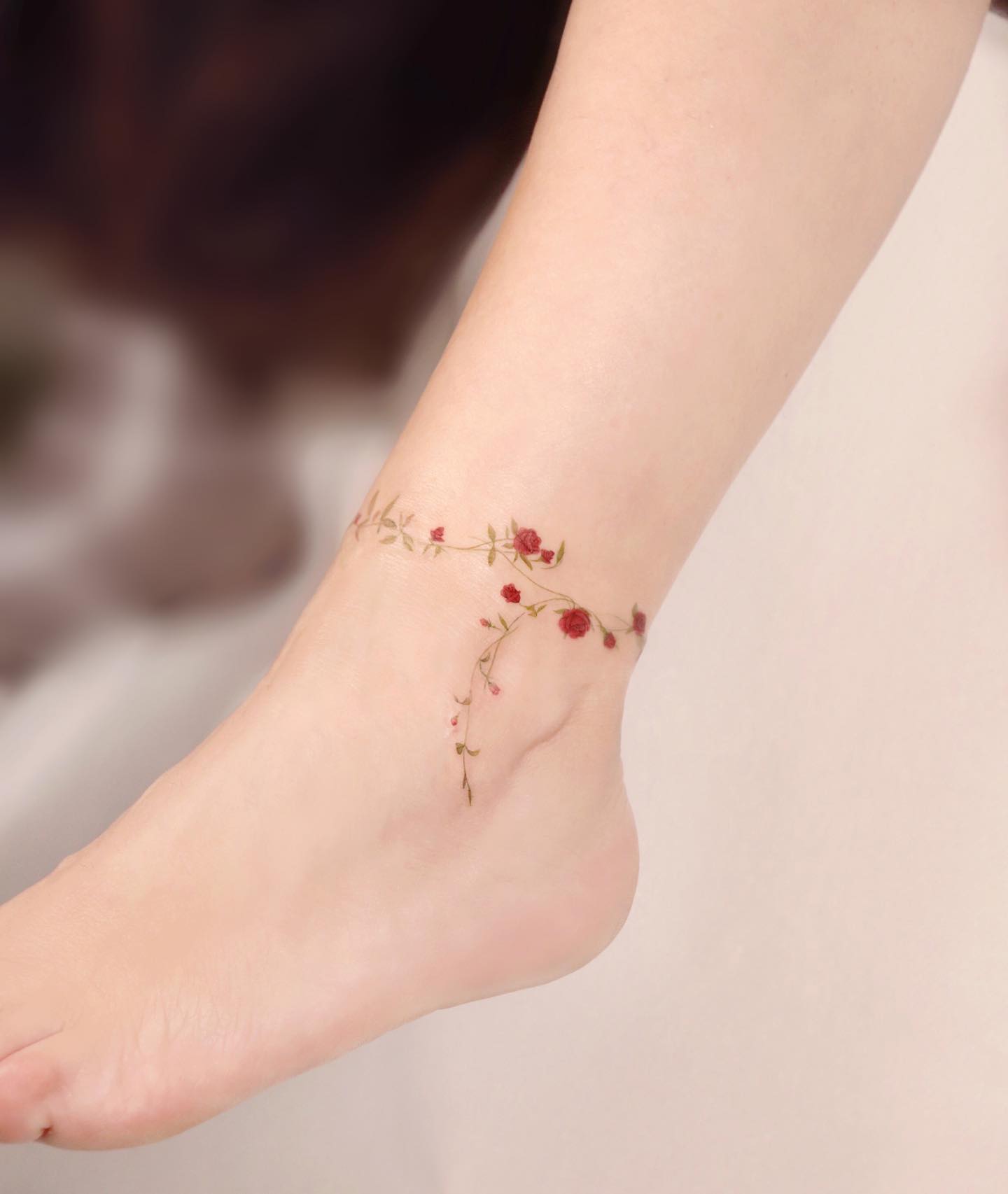 via @peria_tattoo
Traditional Rose Tattoo
A classic of floral designs is the red rose tattoo. Their meaning is well-known and prominent: such tattoos, without further ado, speak of love, passion, and affection.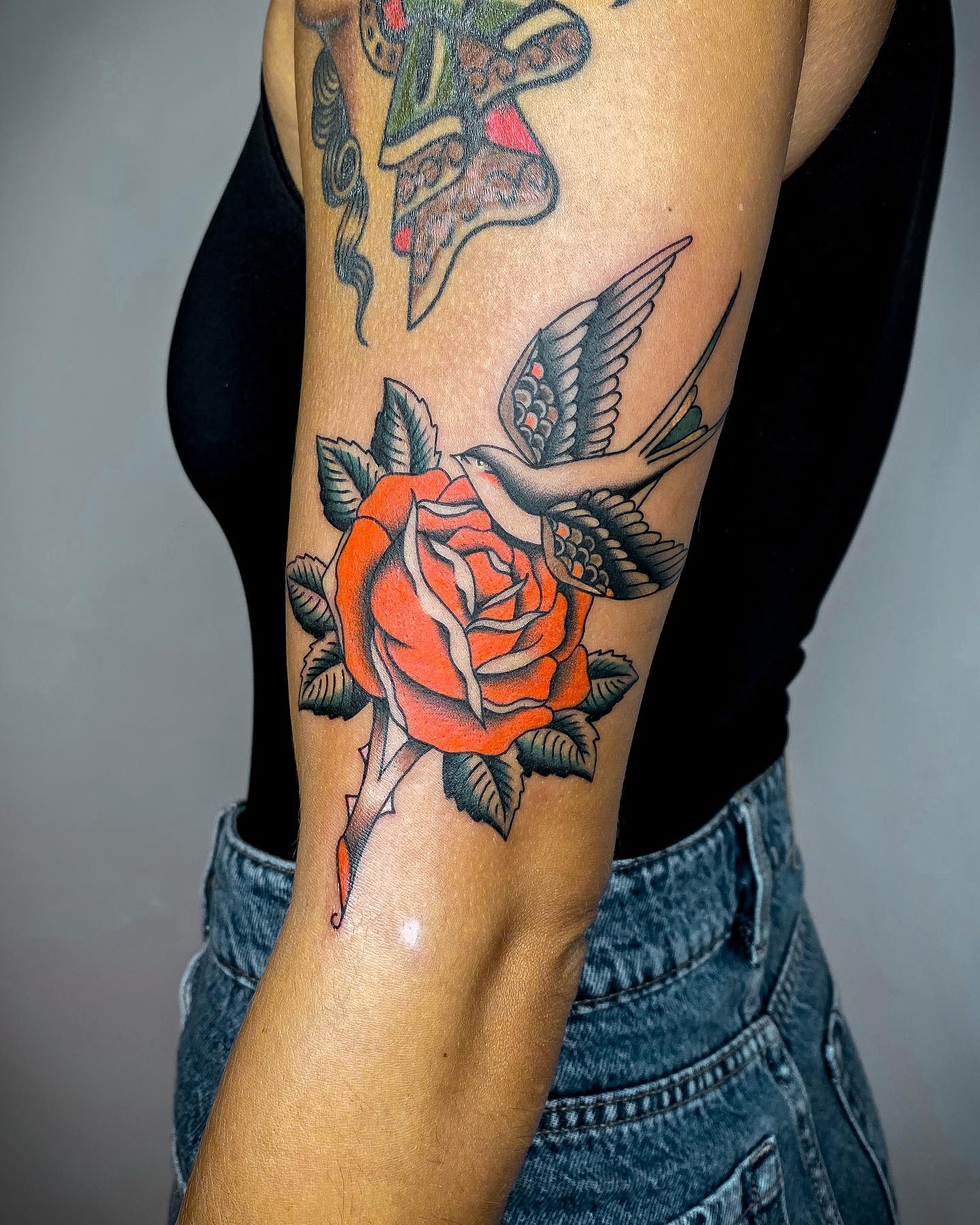 via @heyheybitches
Popular rose hand tattoos usually have bold, bright colors (red, green, and yellow) and a distinctive style with clear outlines and no subtlety.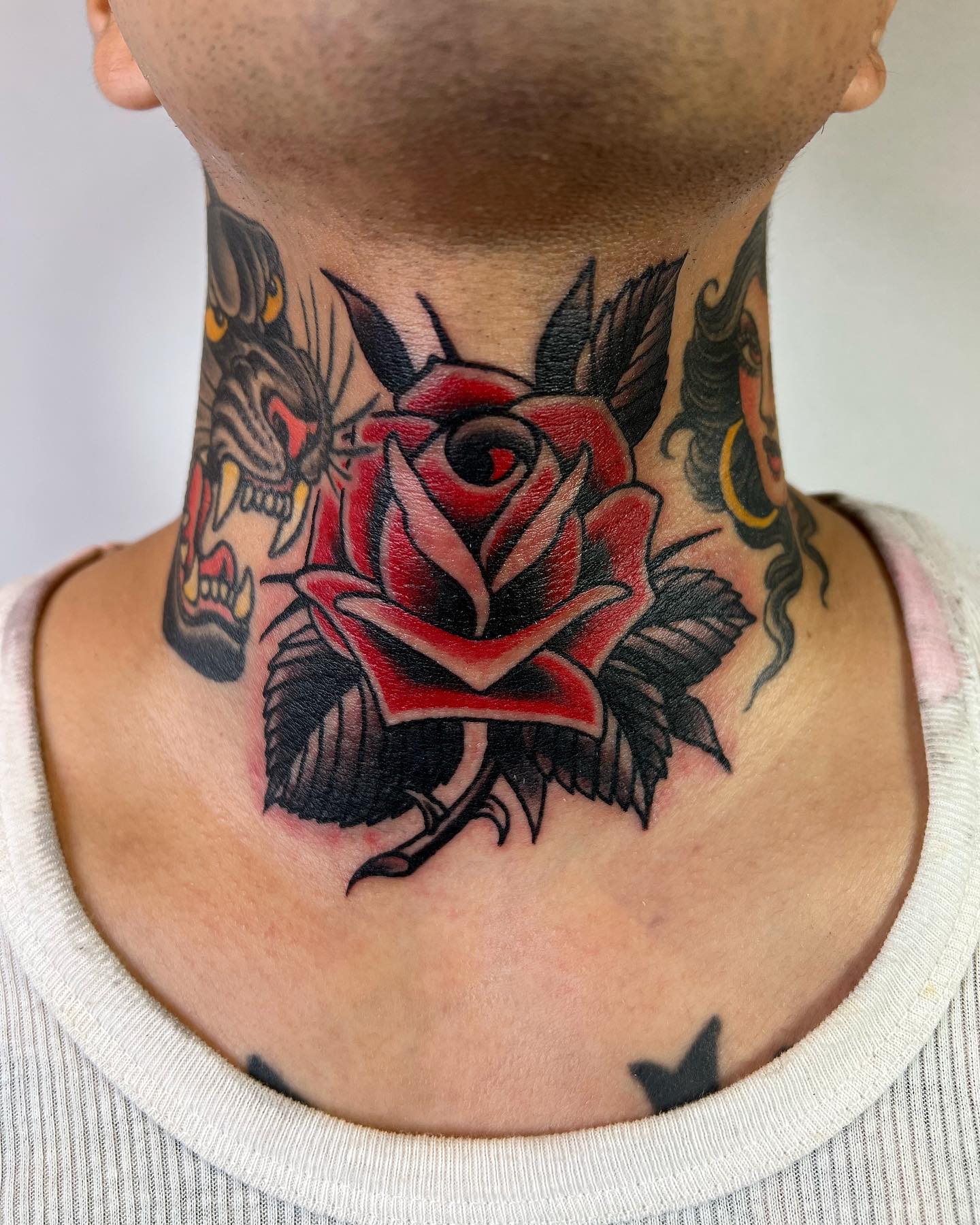 via @death_cloak
Are you planning to get a tattoo of true love? Versatile designs include the iconic red rose with green leaves and thorns. Your favorite elements or characteristic tattoo style will help to emphasize your individuality or add additional symbolism.
via @j.r.smith____
Rose Shoulder Tattoo
Do you want to emphasize femininity and elegance? Shoulder tattoo ideas with roses will perfectly cope with this task!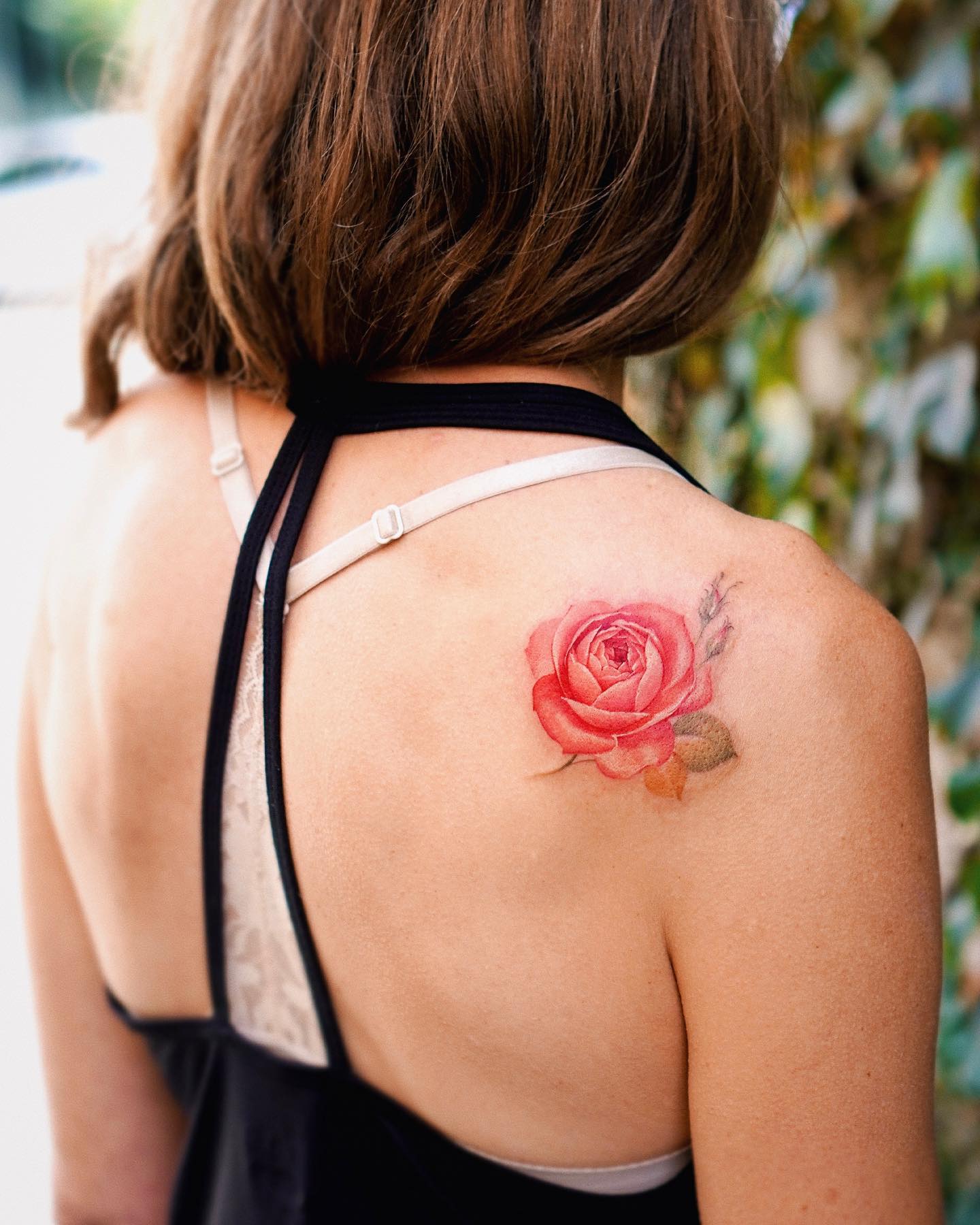 via @abii_tattoo
These designs are full of personal or romantic meanings. Eye-catching red or black rose tattoos express passionate emotions or bring back treasured memories.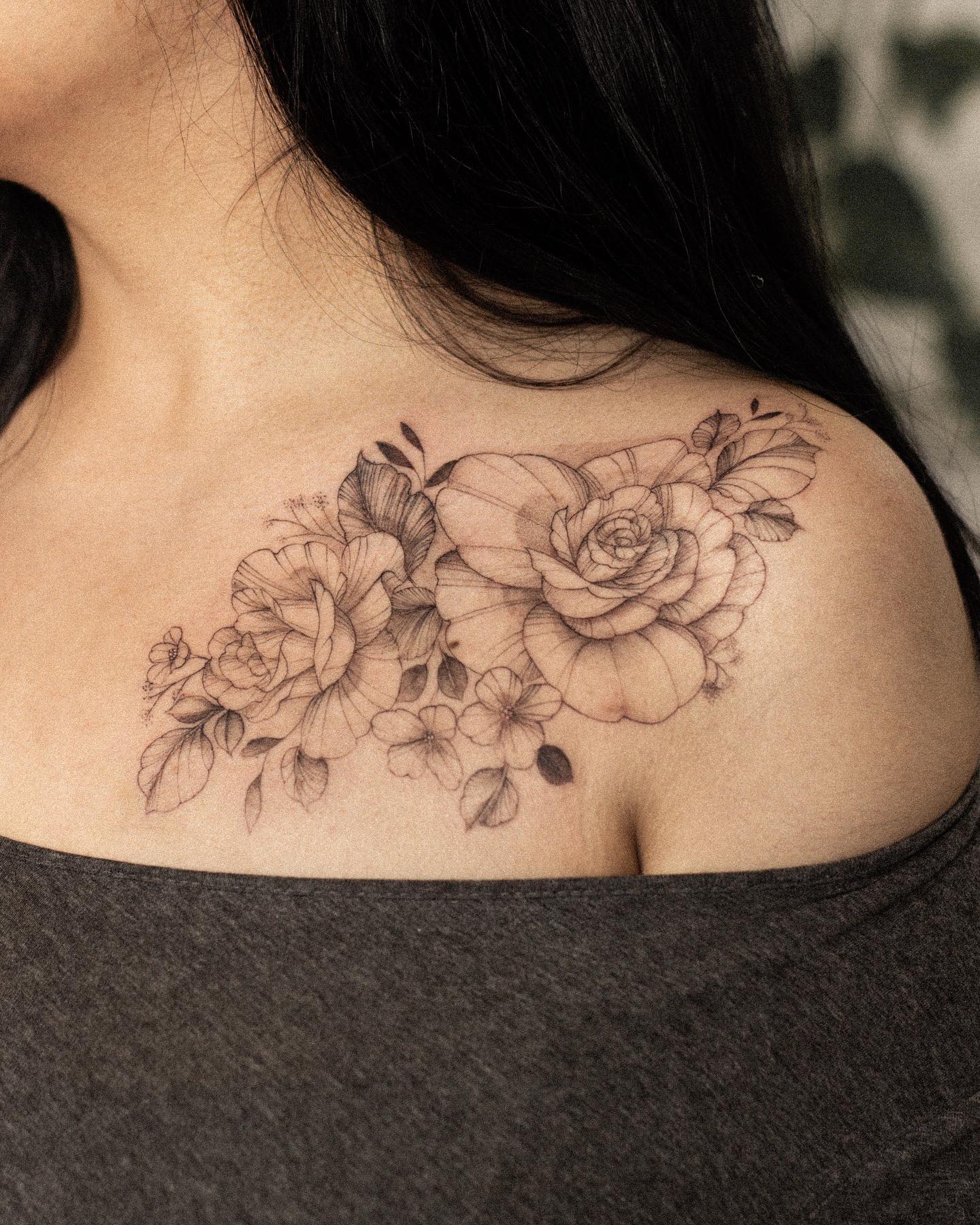 via @danycruztattoo
Which rose design to choose for placement on the shoulder? These can be single roses or clusters of roses with intricate details that showcase the natural beauty of the flower. A rose, curling along the arm, and other non-standard body art options look impressive because the shoulder is a universal canvas for a tattoo artist.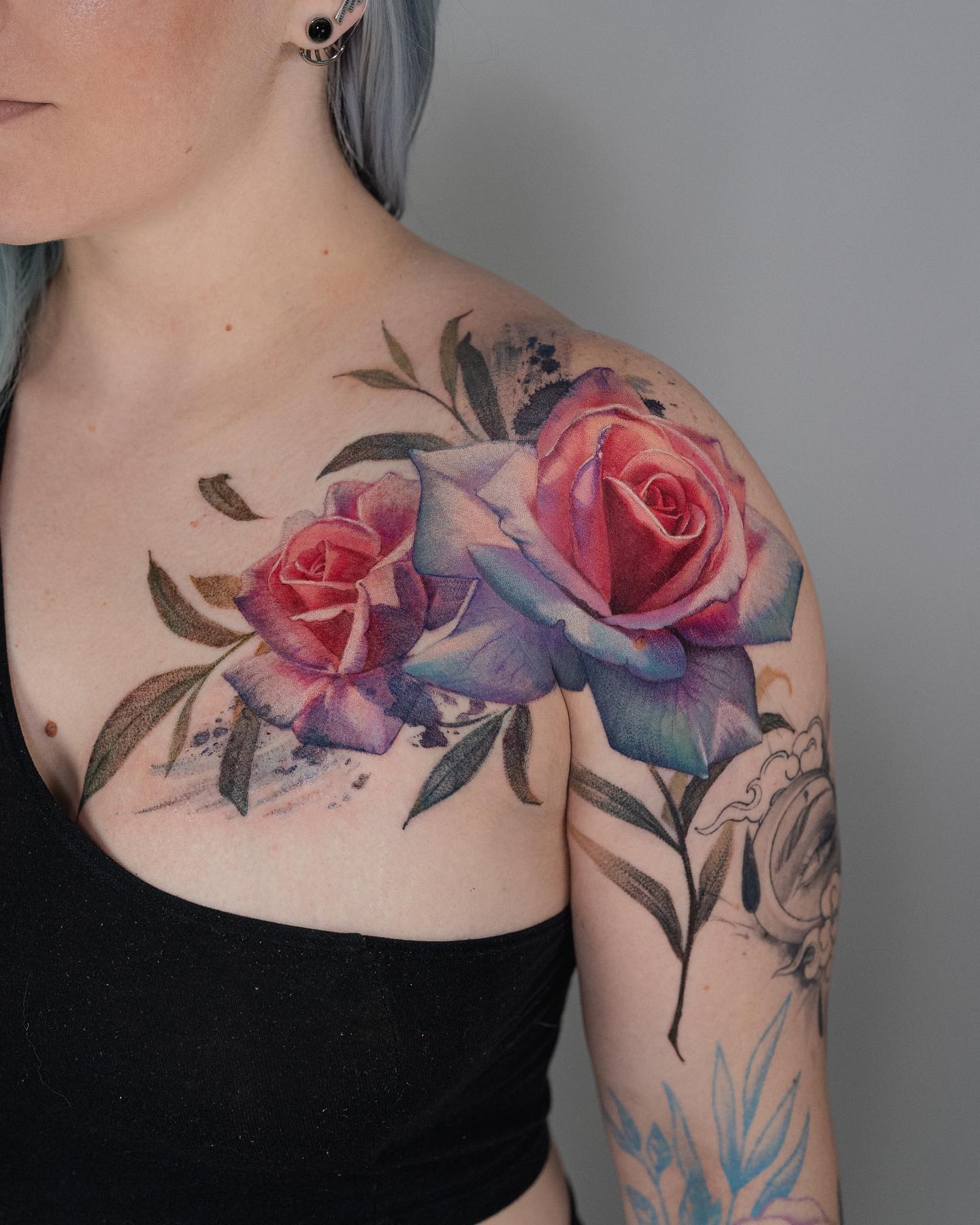 Skull and Rose Tattoo
The rose and skull tattoo is a powerful and symbolic design representing the contrast between life and death, beauty and decay. This combination can signify the transience of life, a reminder to appreciate the present moment.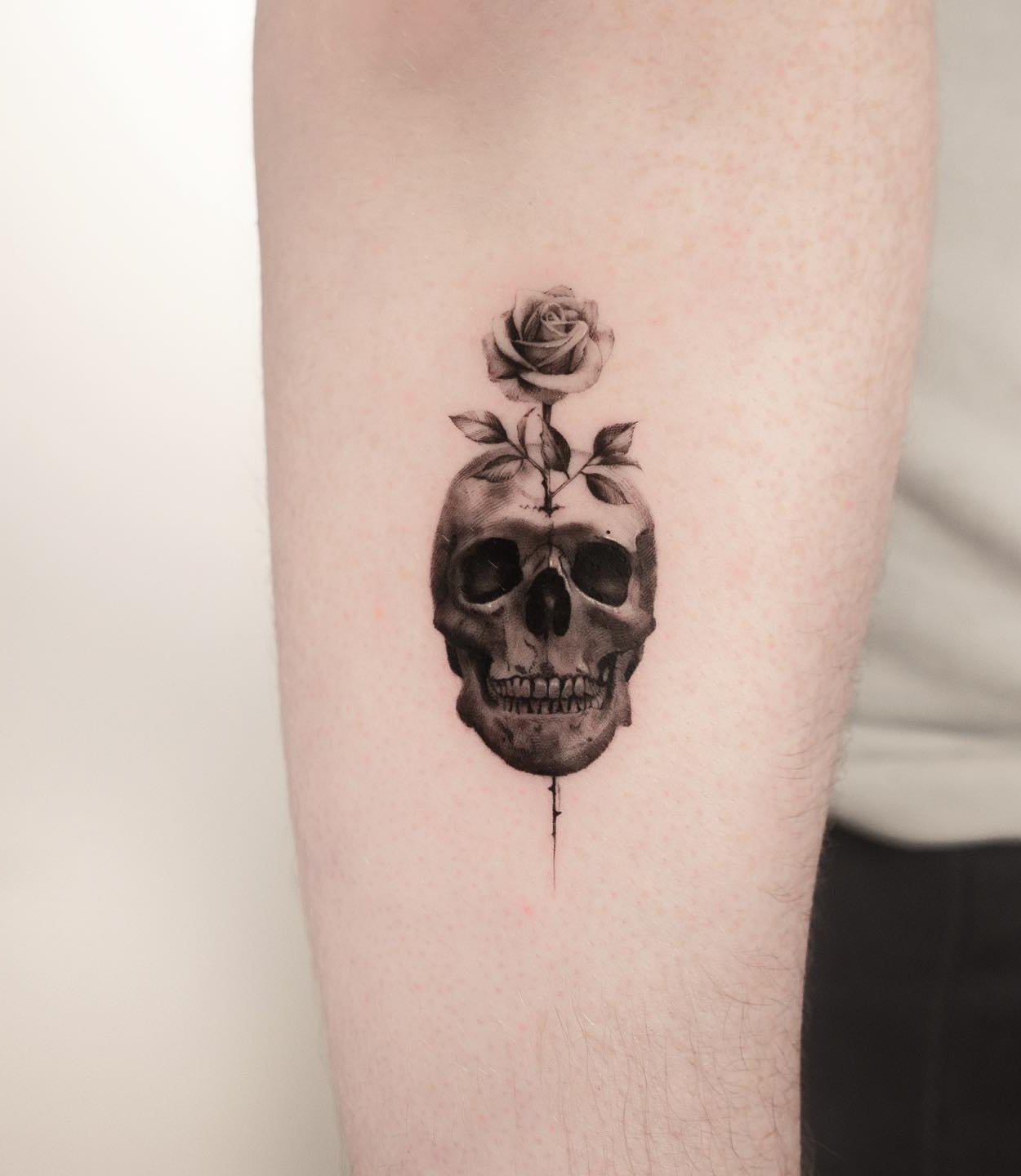 via @violatattoos
The spectacular sleeve tattoo combines a skull with a bright, blooming rose, creating a visual contrast between the inevitability of death and the eternal beauty of nature. This design carries a deep philosophical and emotional meaning.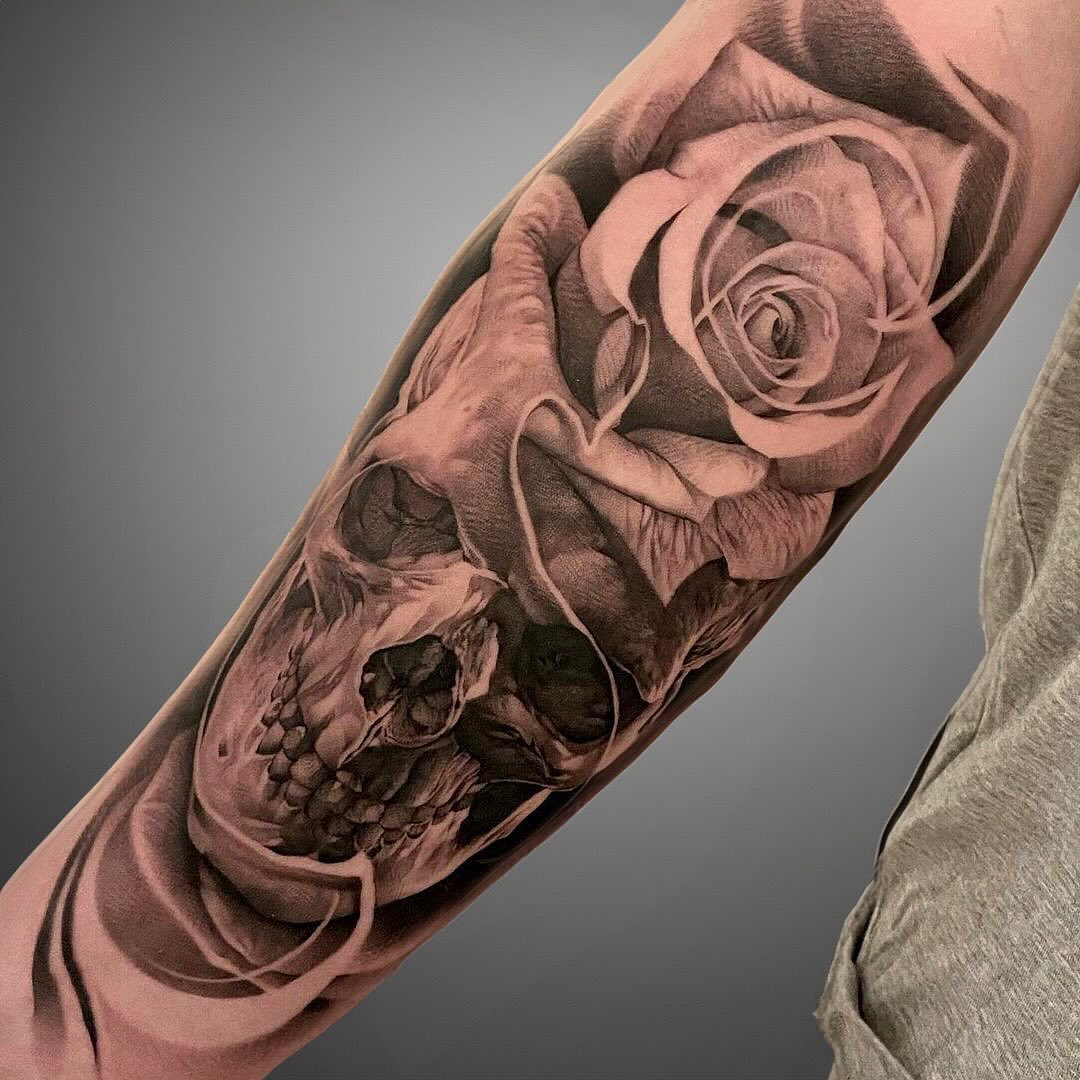 Artistic interpretations of skull and rose tattoos are varied: they can be as realistic as possible or abstract fantasy images created with subtle or bold black ink.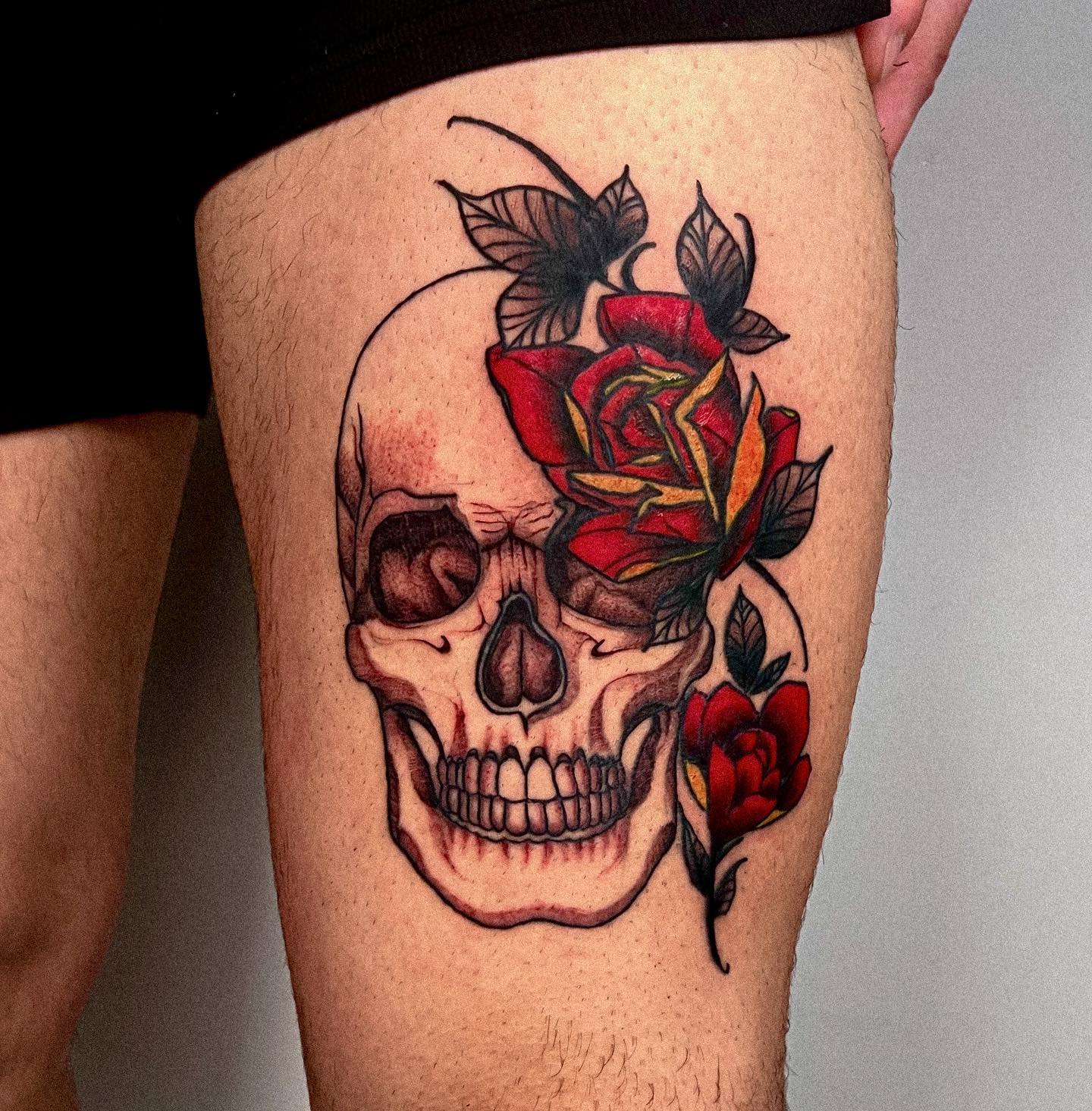 via @flapjacktattoos
Gypsy Rose Tattoo
The gypsy rose tattoo is inextricably linked with the freedom-loving and nomadic lifestyle of the gypsies. This forearm tattoo symbolizes a passion for travel, independence, and mysticism.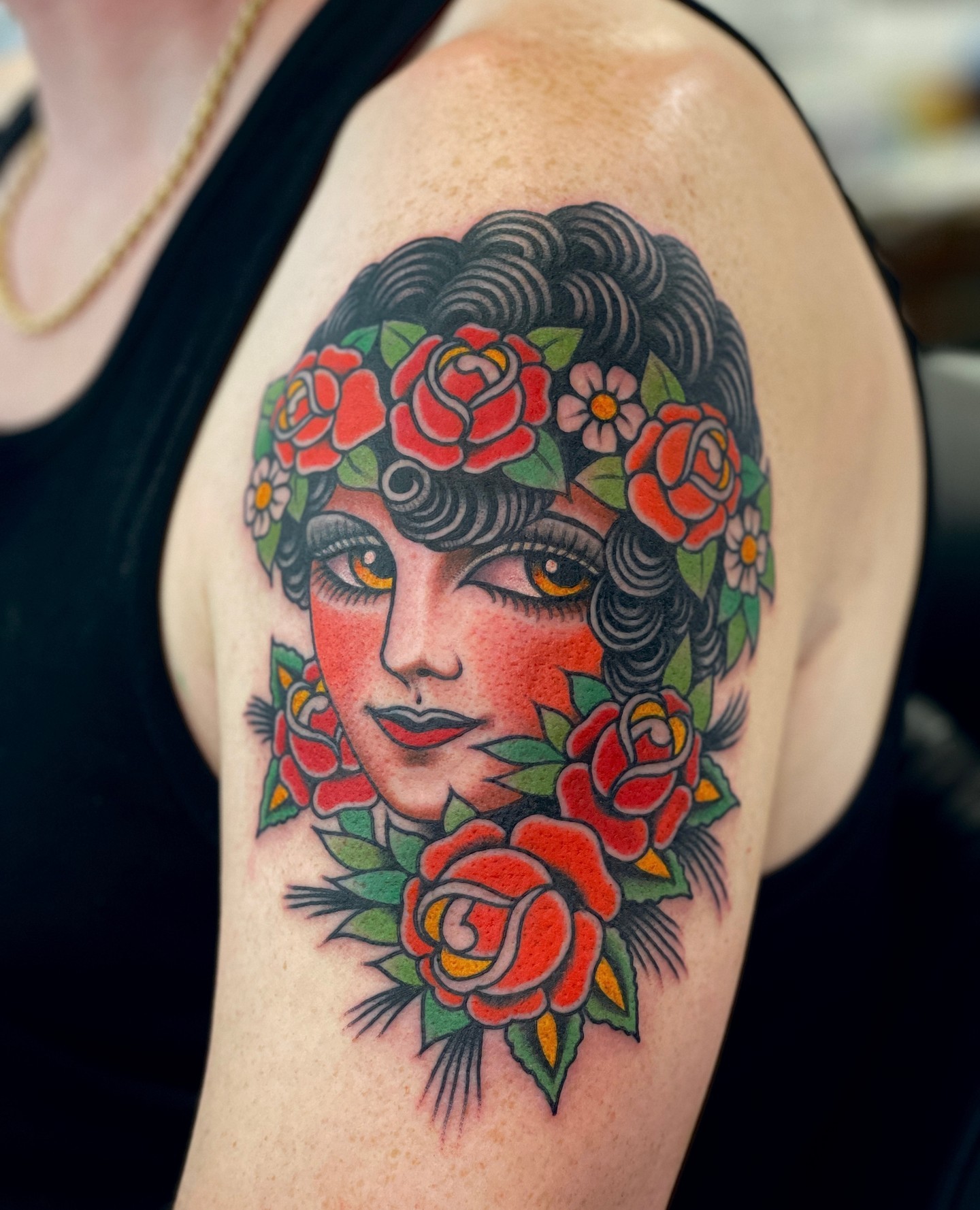 Widespread rose tattoo designs include a gypsy with bright roses, reflecting the essence of beauty and unpredictability. They may also include themed elements such as crystal balls, tarot cards, or caravans.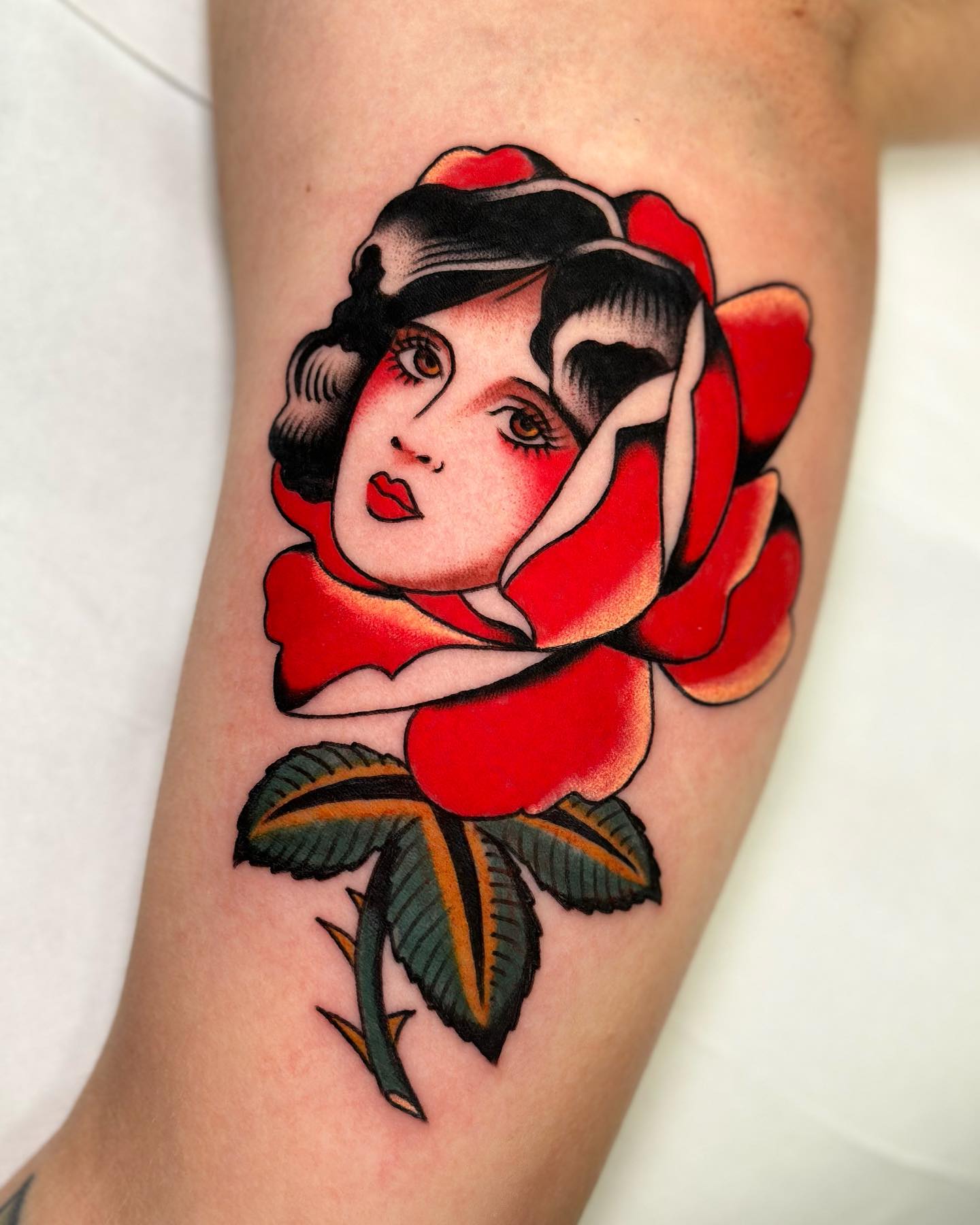 The gypsy full-sleeve tattoo perfectly conveys a sense of mystery and impermanence, which contributes to the popularity of this unique and symbolic type of body art.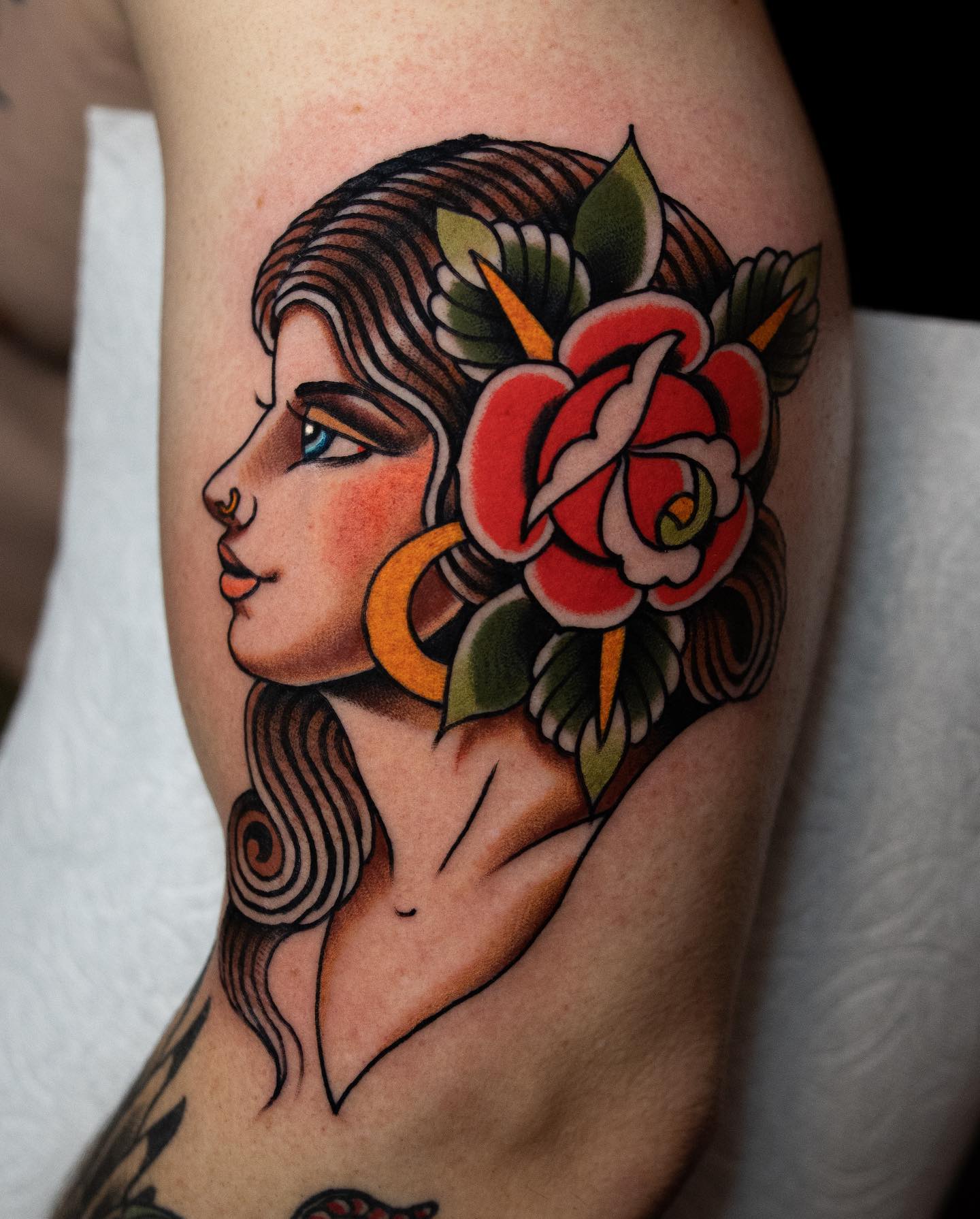 via @dannyderrick
Rose Skeleton Hand Tattoo
It's hard to go unnoticed in a crowd with such a hand tattoo. It simultaneously demonstrates femininity and fatalism, life and death.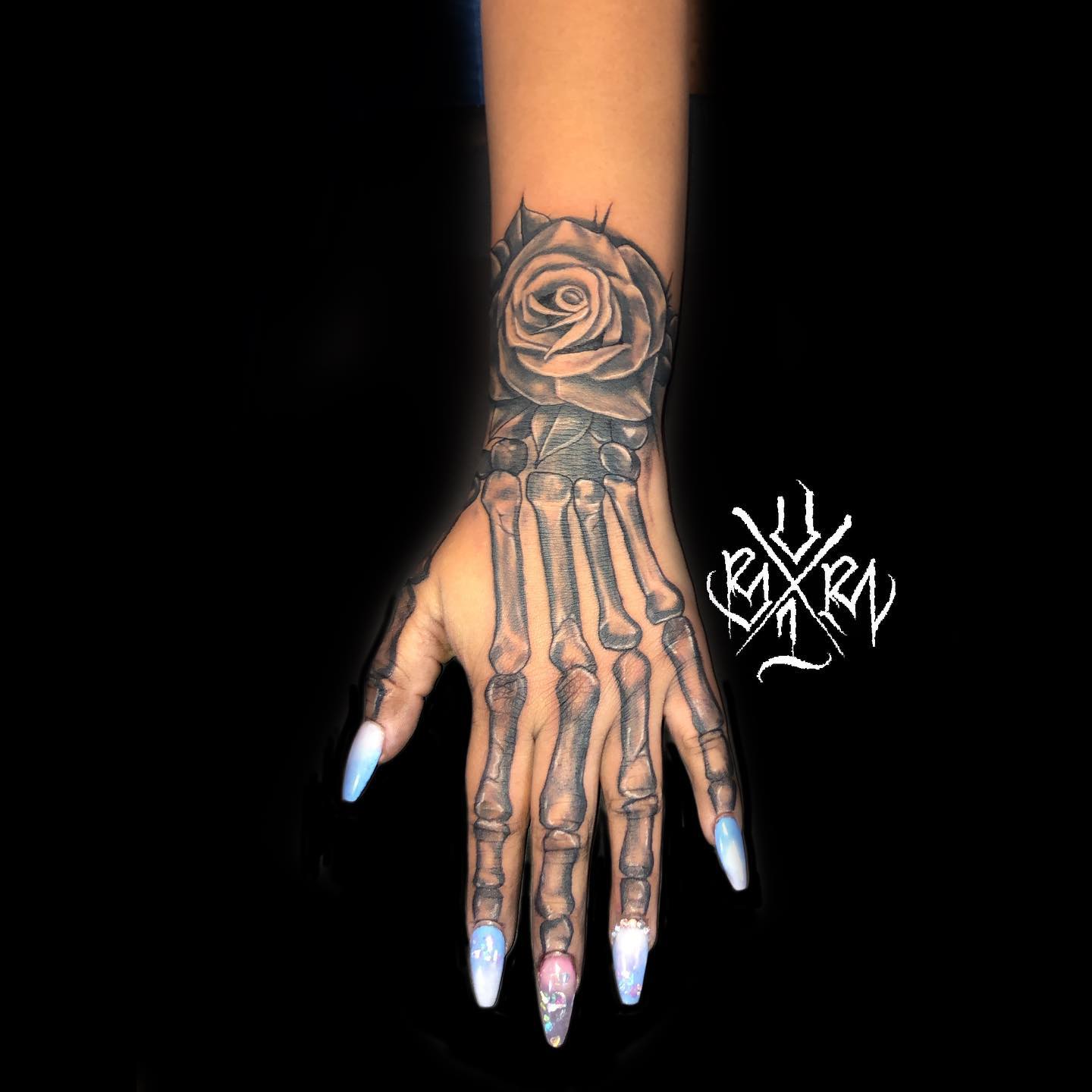 via @charliebosquez
In addition to the classic black rose tattoo on hand, you can choose a skeleton hand neatly holding a blooming rose or reaching toward it. This design emphasizes the contrast between the life fragility and the mortality inevitability.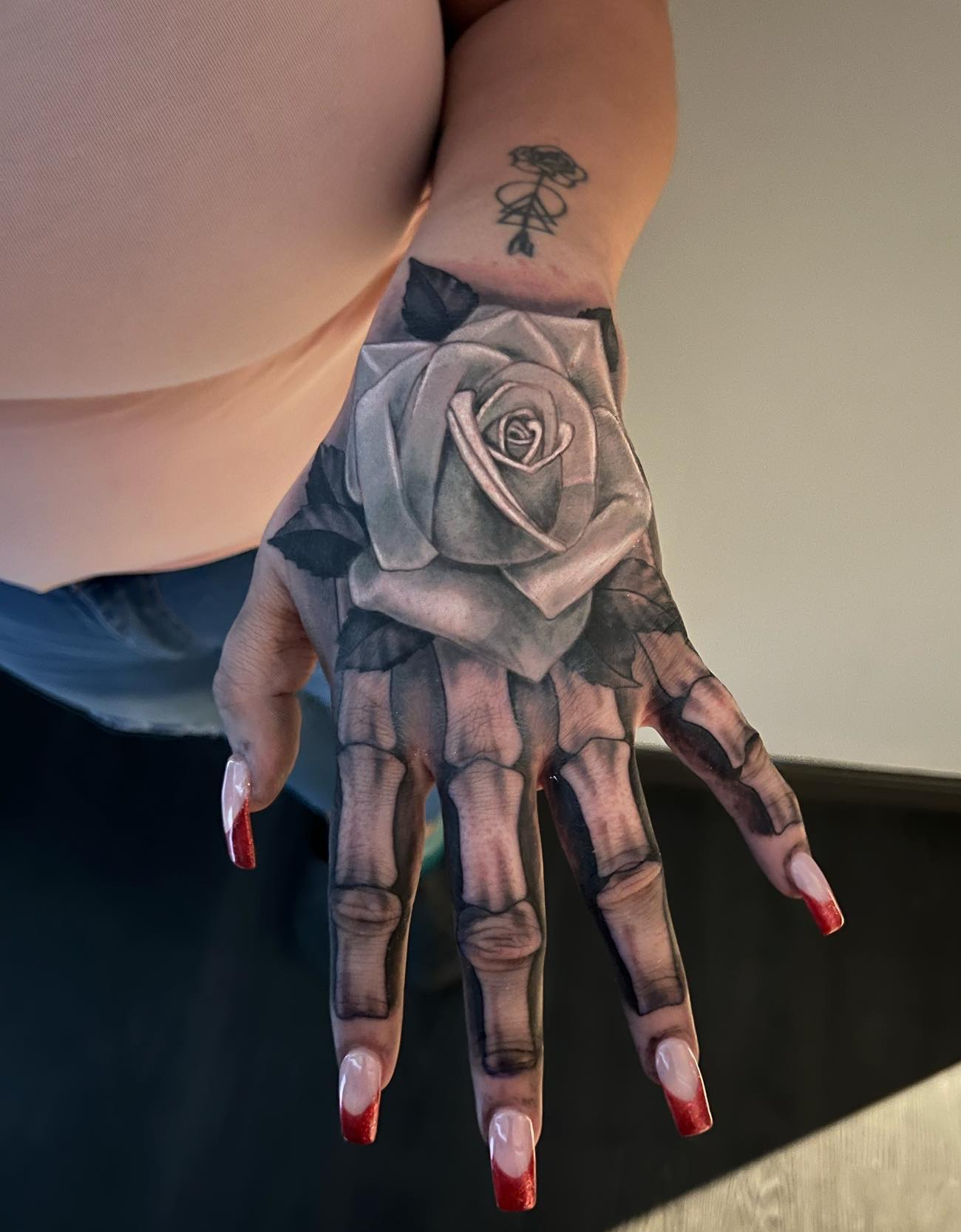 via @tatsbyjohn999
The intricate details of these tattoos, such as the black ink skeletal structure and vibrant rose colors, are the reason for their incredible popularity.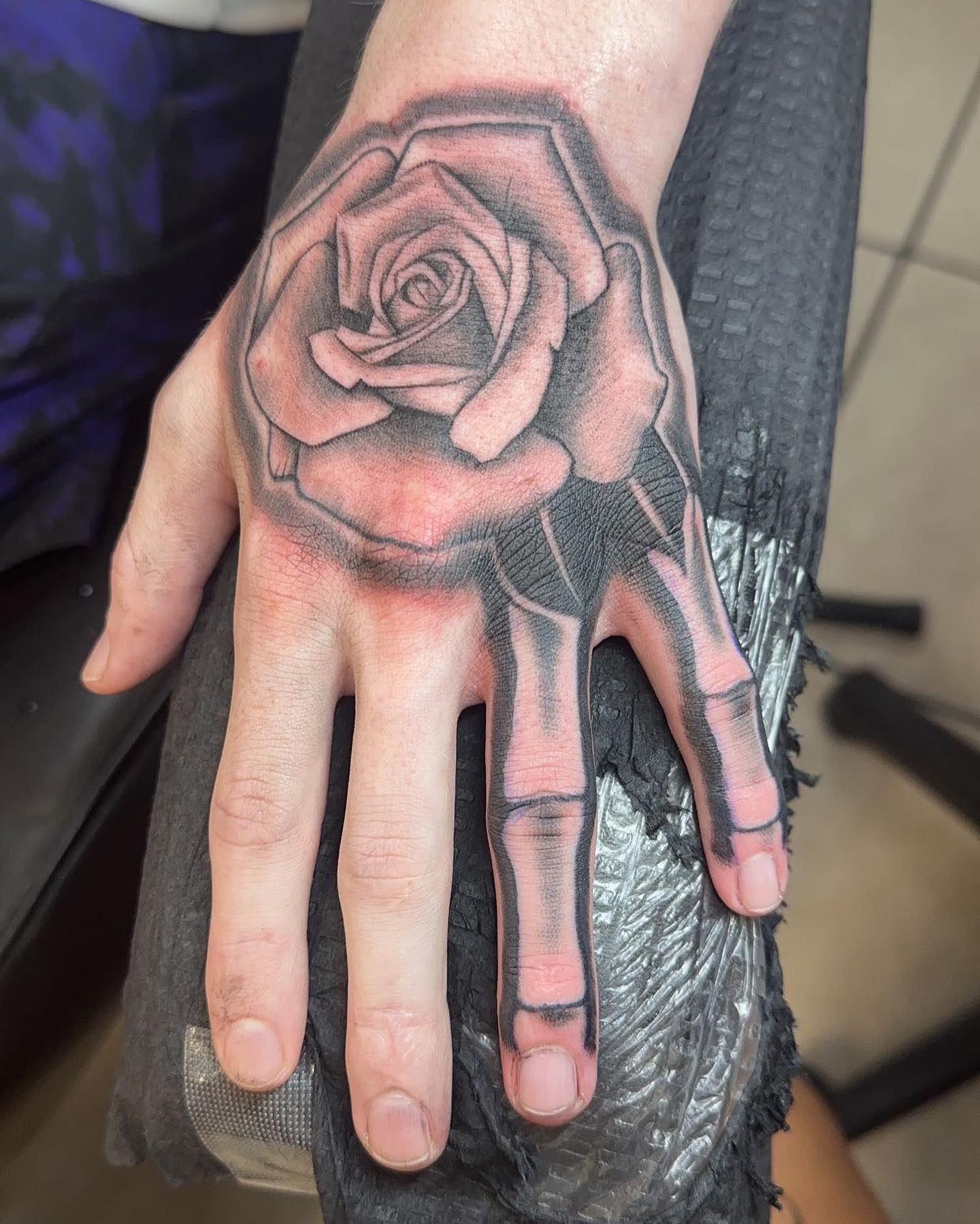 Purple Rose Tattoo
The purple rose on the hand tattoo carries unique symbolism associated with mysticism, mystery, and a sense of magic. These flowers can signify admiration and adoration, making them ideal for expressing deep affection and gratitude.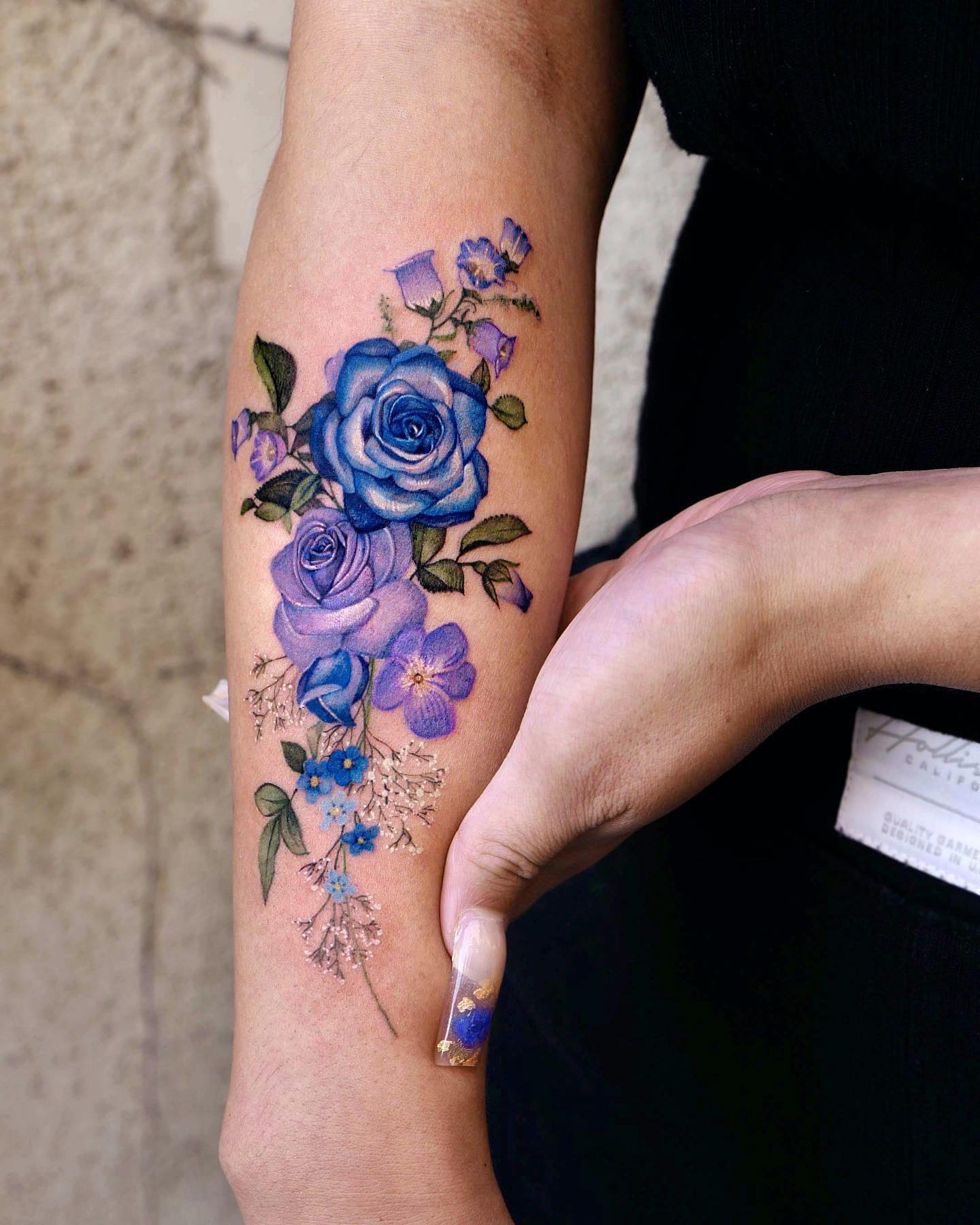 via @vismstudio
Purple or blue roses are often depicted with intricate details that convey a richness of rich, dark hues. Some designs (for example, neck tattoos) contain additional elements — vines, a flock of birds, or butterflies.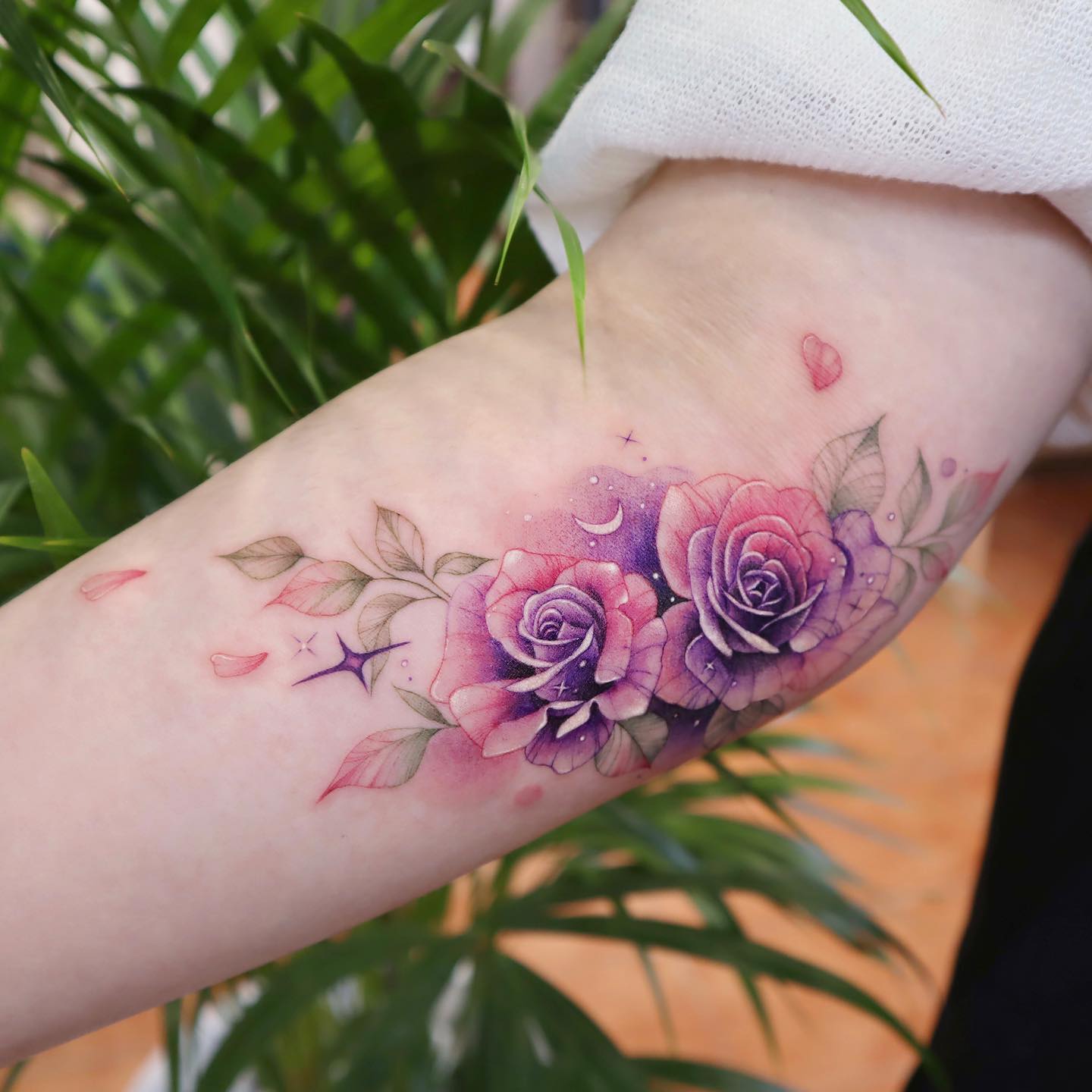 via @siren_ink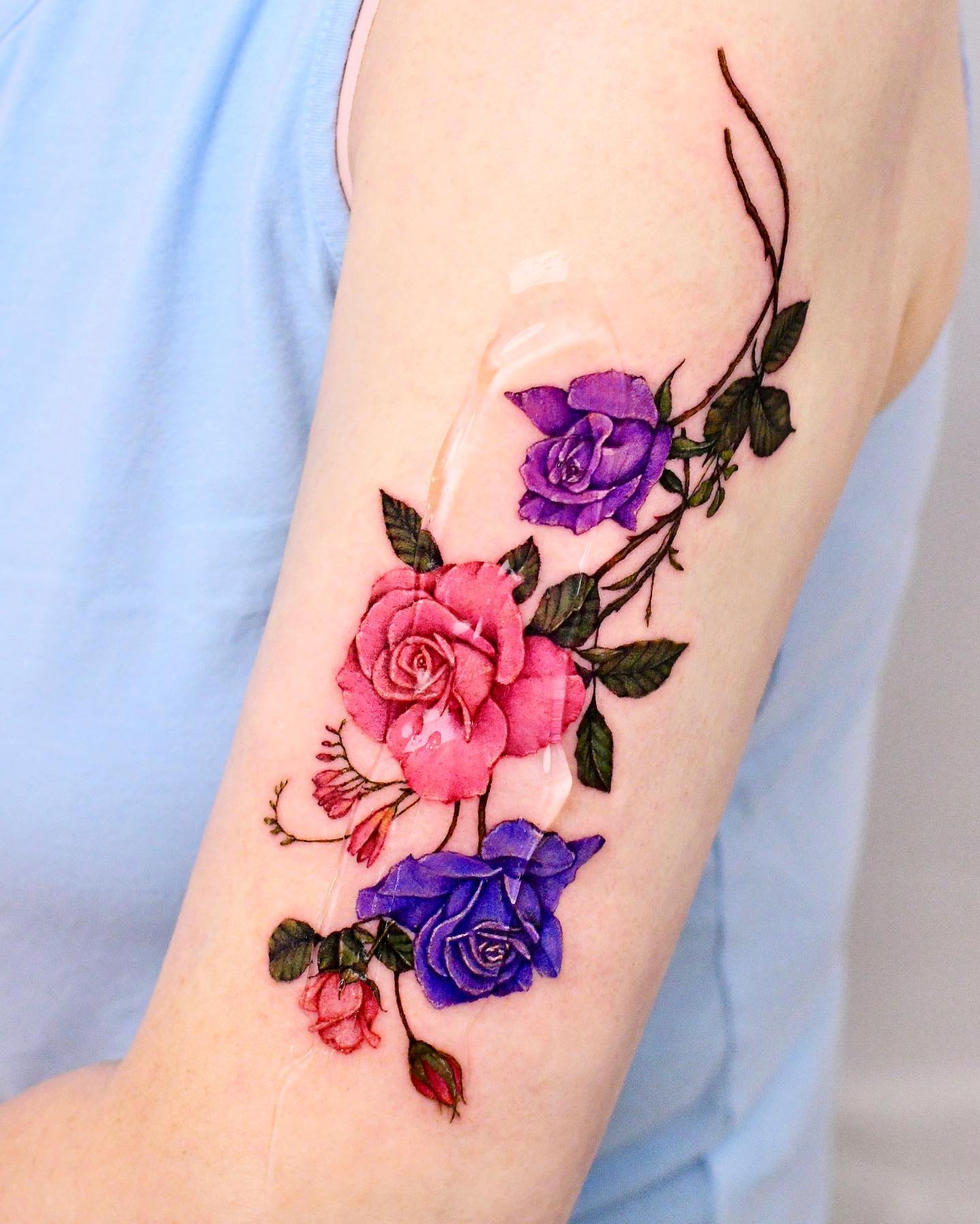 via @b yerae_tt
Rose Tattoo with Name Inside
The rose name tattoo is a deeply personal and sentimental choice. A sophisticated and graceful flower with the name of a loved one on the petals or stem shows sincere feelings and touching affection.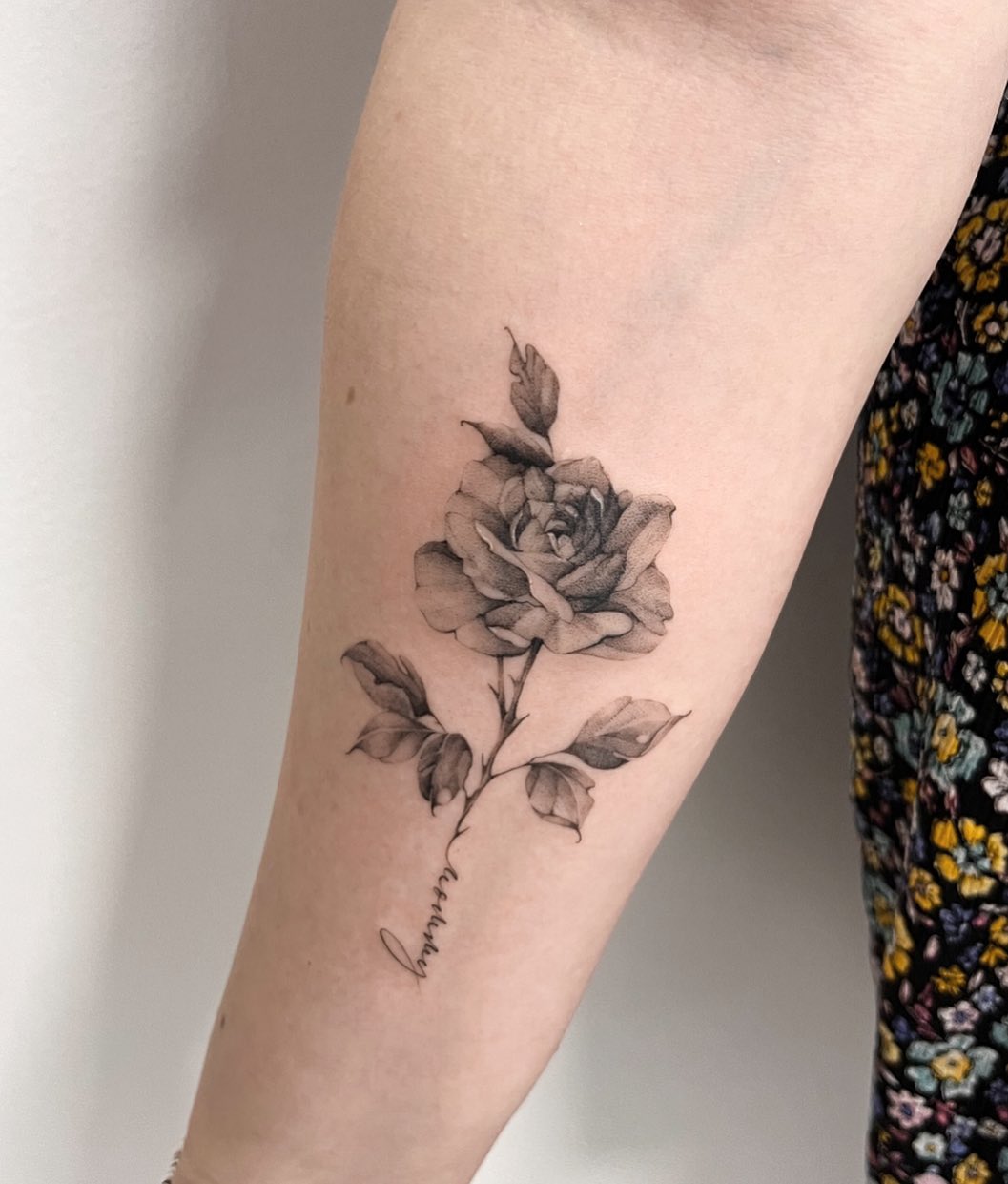 The simple rose tattoos need additional details and decorations. More complex designs may contain a variety of abstract patterns, floral arrangements, and other elements that only two people can understand. They will perfectly reflect your strong bond in a rose ankle tattoo.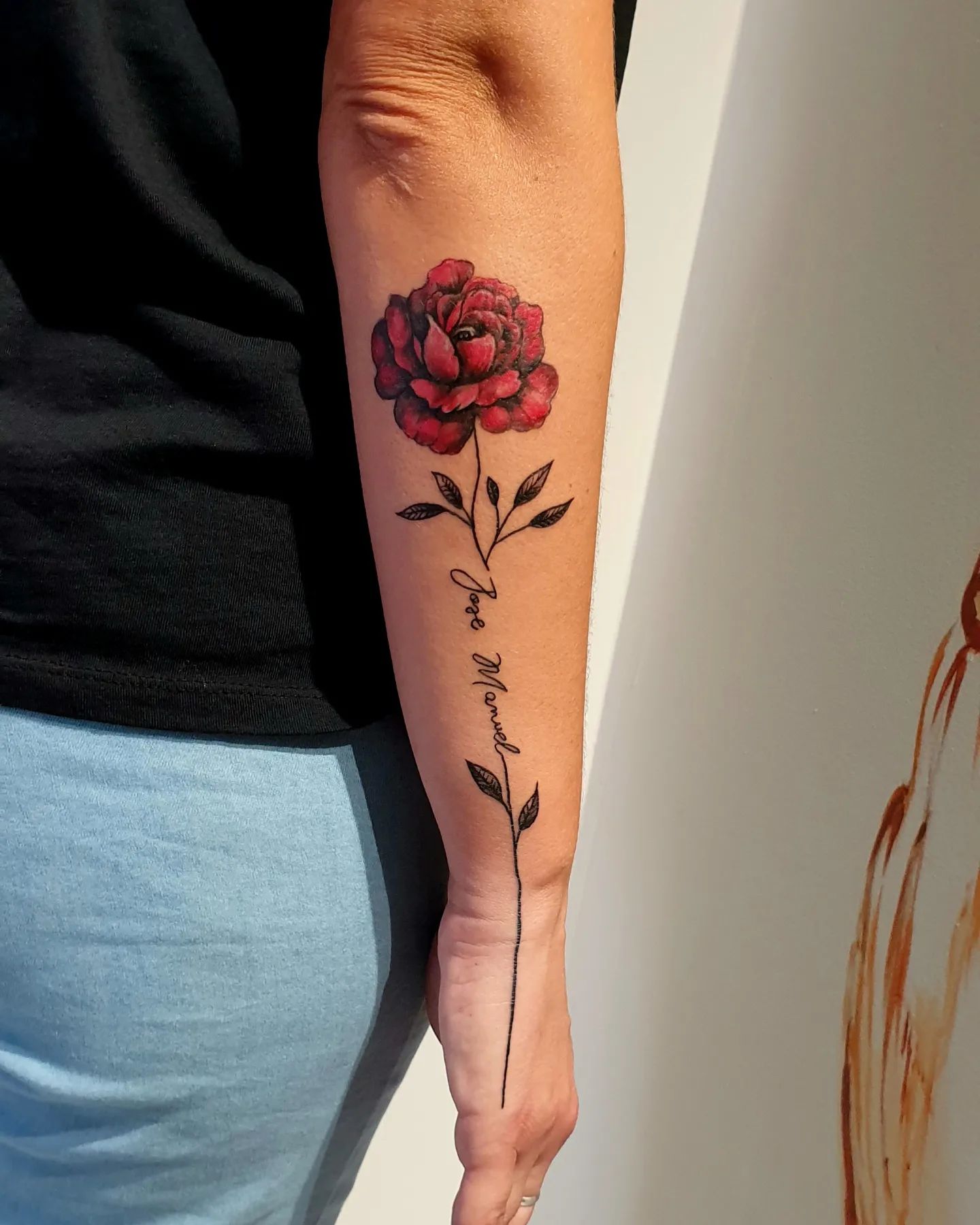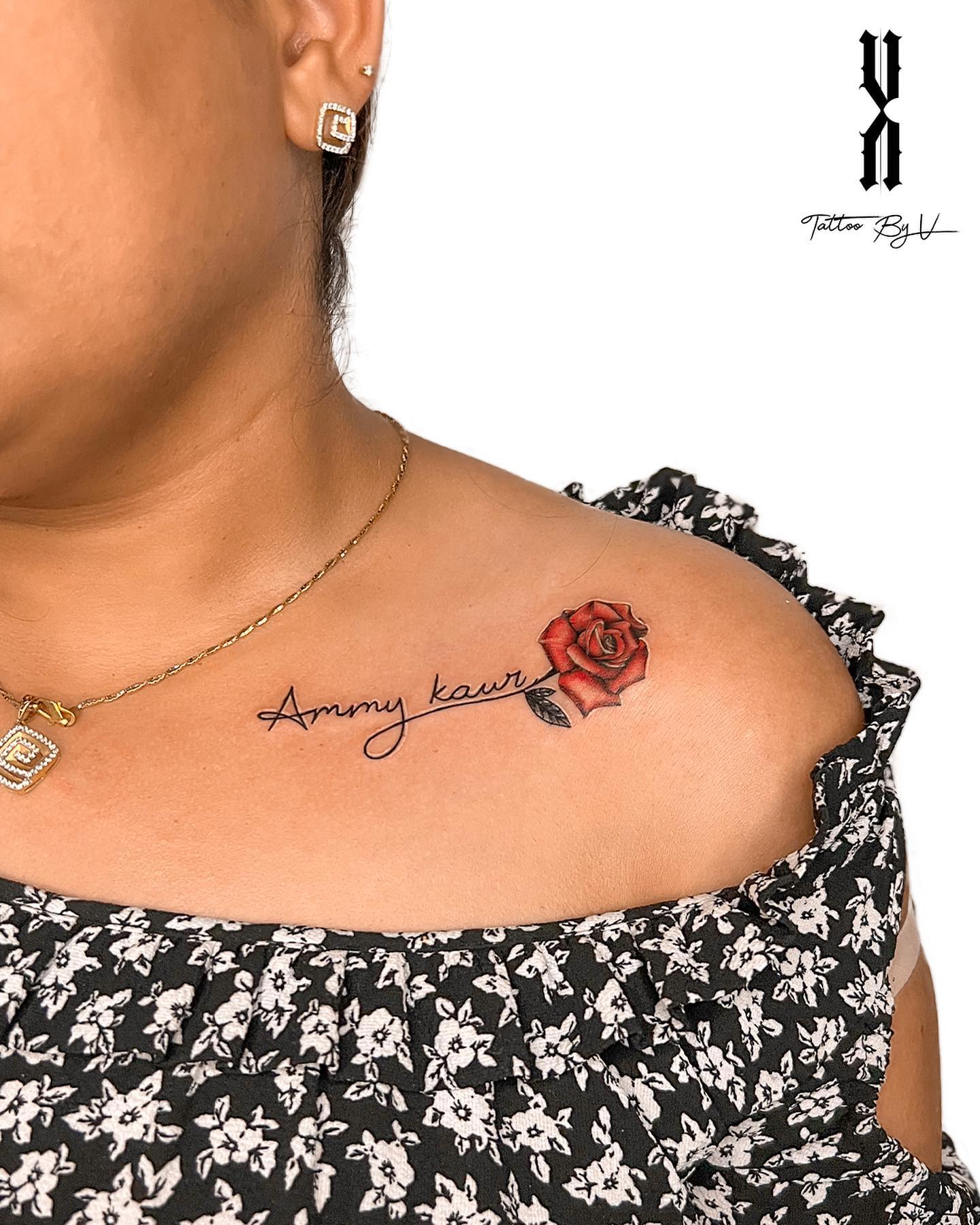 via @tattoosbyvinay
Snake and Rose Tattoo
The red rose tattoo with a snake is a striking symbolic design that represents the duality of life, transformation, and the balance between danger and beauty.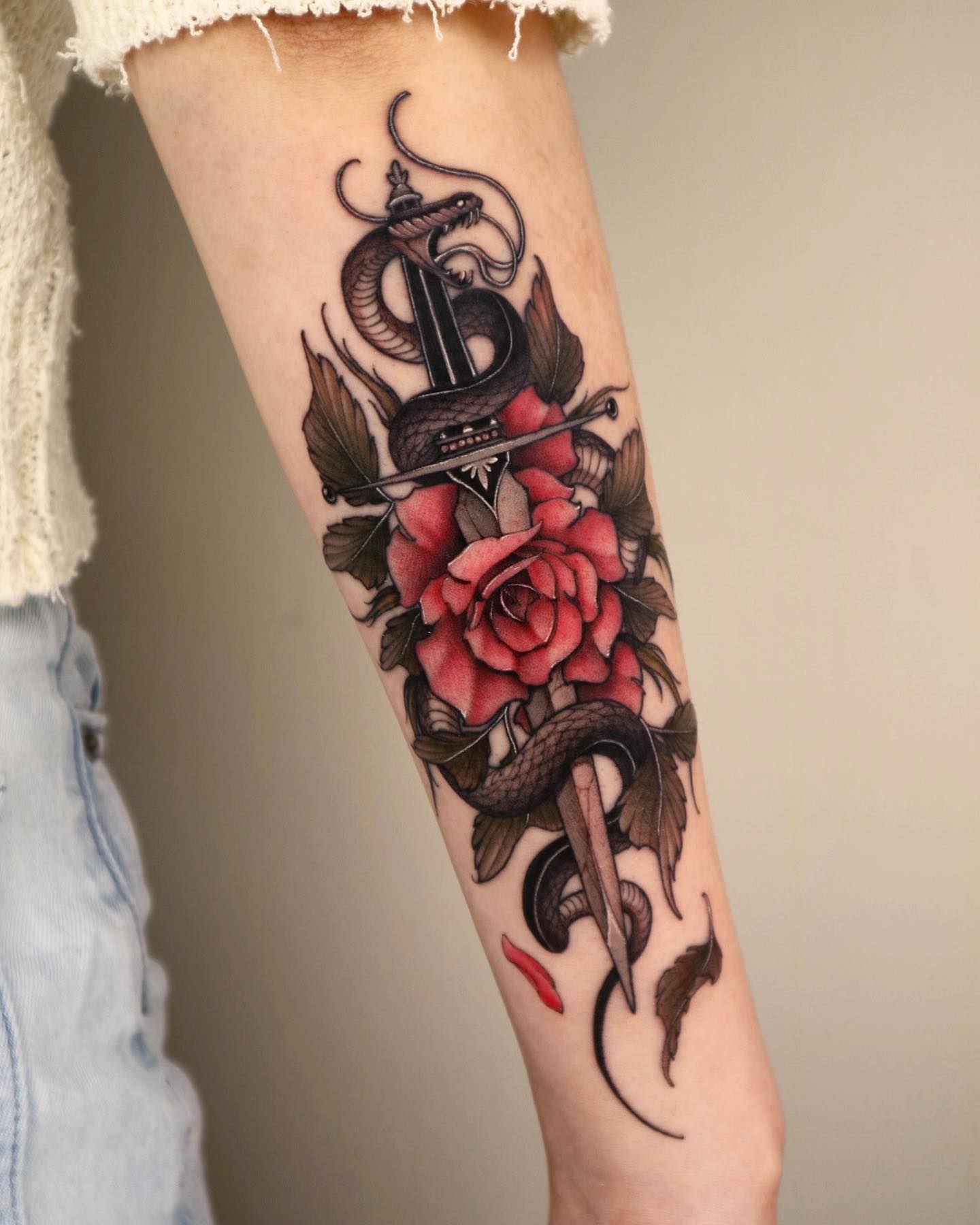 via @swan_tattooer
The snake, a symbol of transformation and rebirth, with a rose symbolizing love and beauty, is perfect for an upper arm tattoo. You can use realistic or artistic images to bring your idea to life. The choice depends only on your preferences and idea of what small rose tattoos should look like.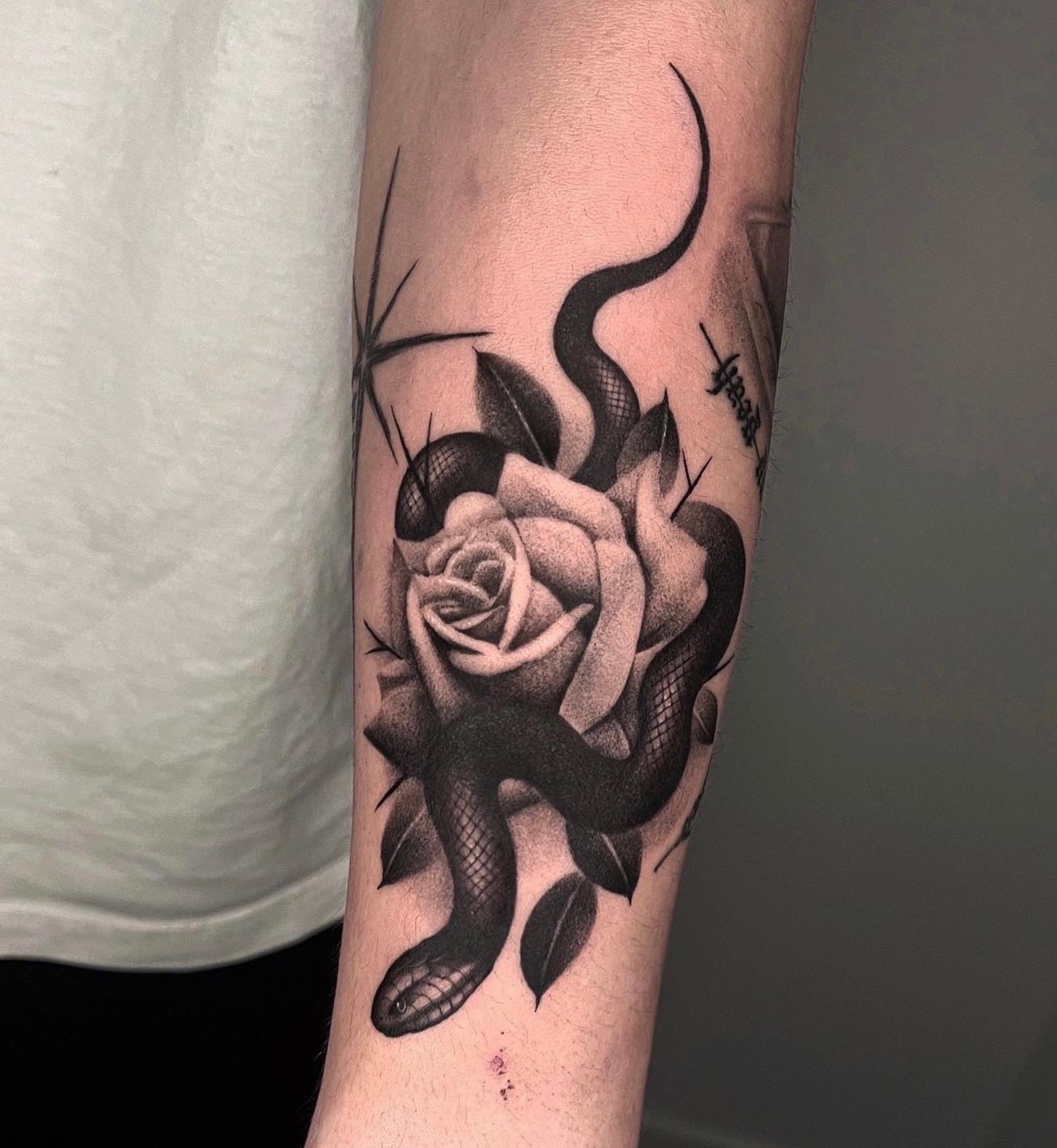 via @zakssal_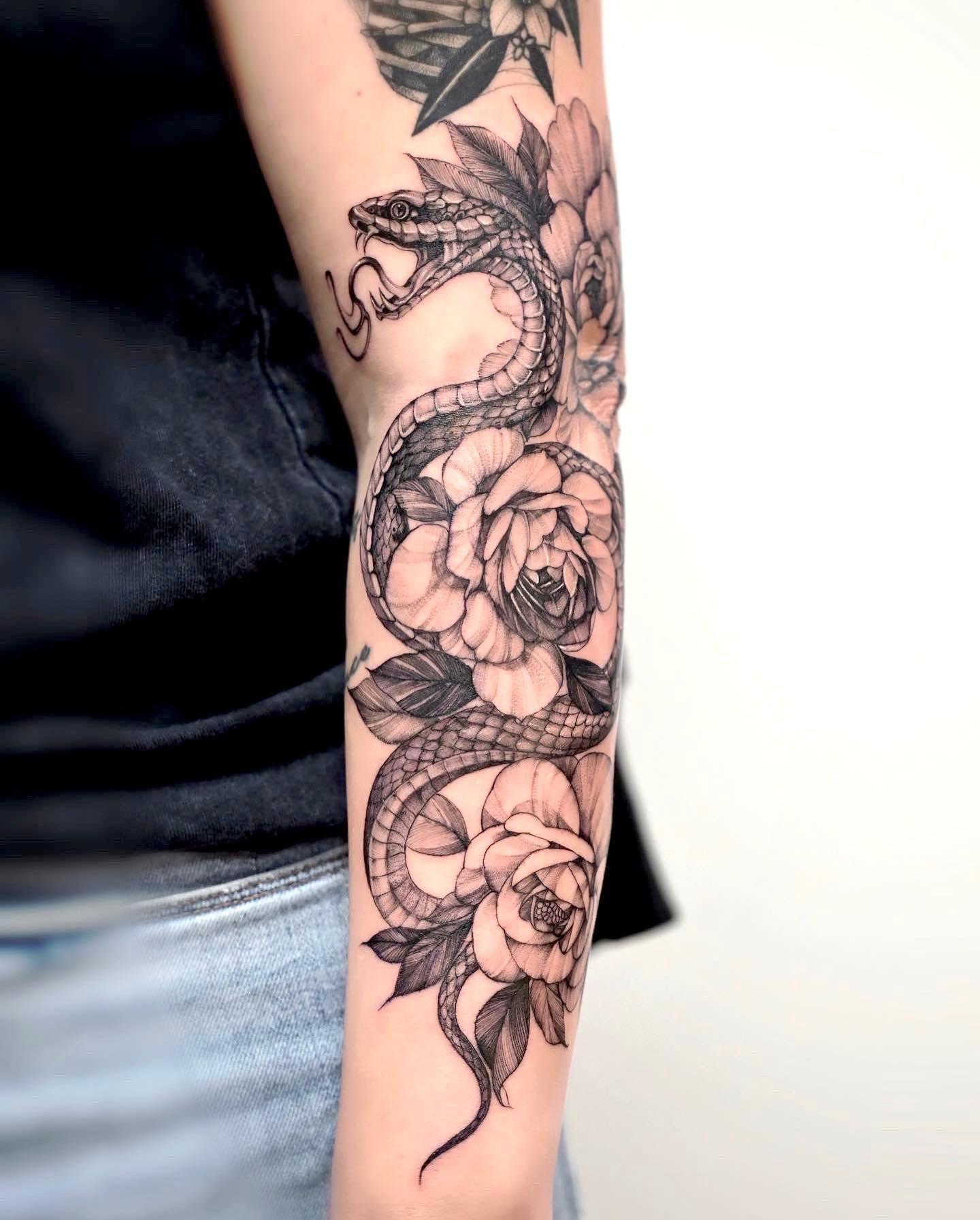 via @modoink_calvin
Dead Rose Tattoo
Fans of poignant and sad designs will not remain indifferent to the dead rose tattoo. It demonstrates the inevitability of end, loss, and the transitory nature of beauty.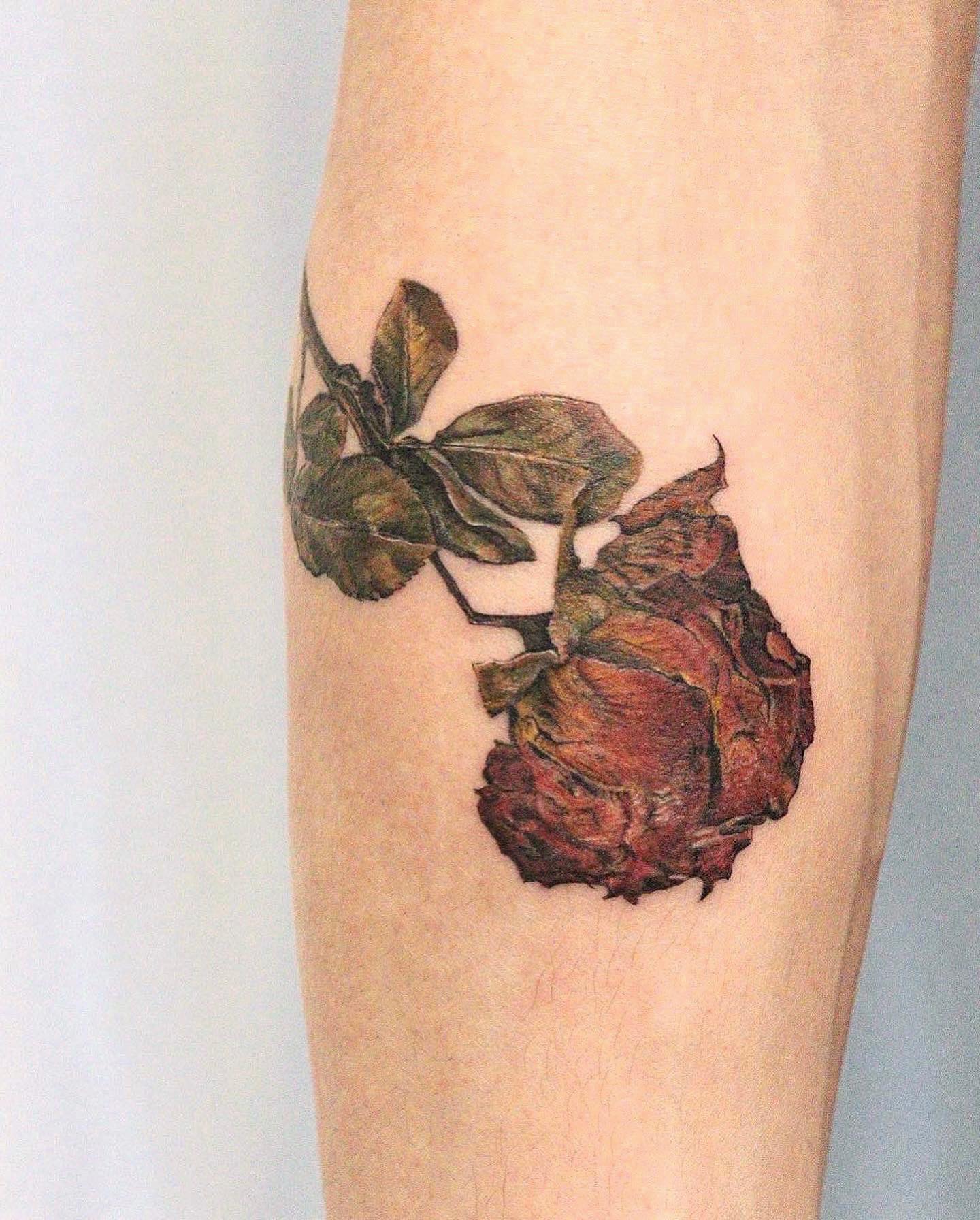 via @hongzo.tt
What kind of small rose tattoo can be made in this style? The most popular option is a withered or decaying flower, reflecting the essence of past love or passing time. The drooping rose petals create a visual metaphor for the fragility of relationships and accepting impermanence.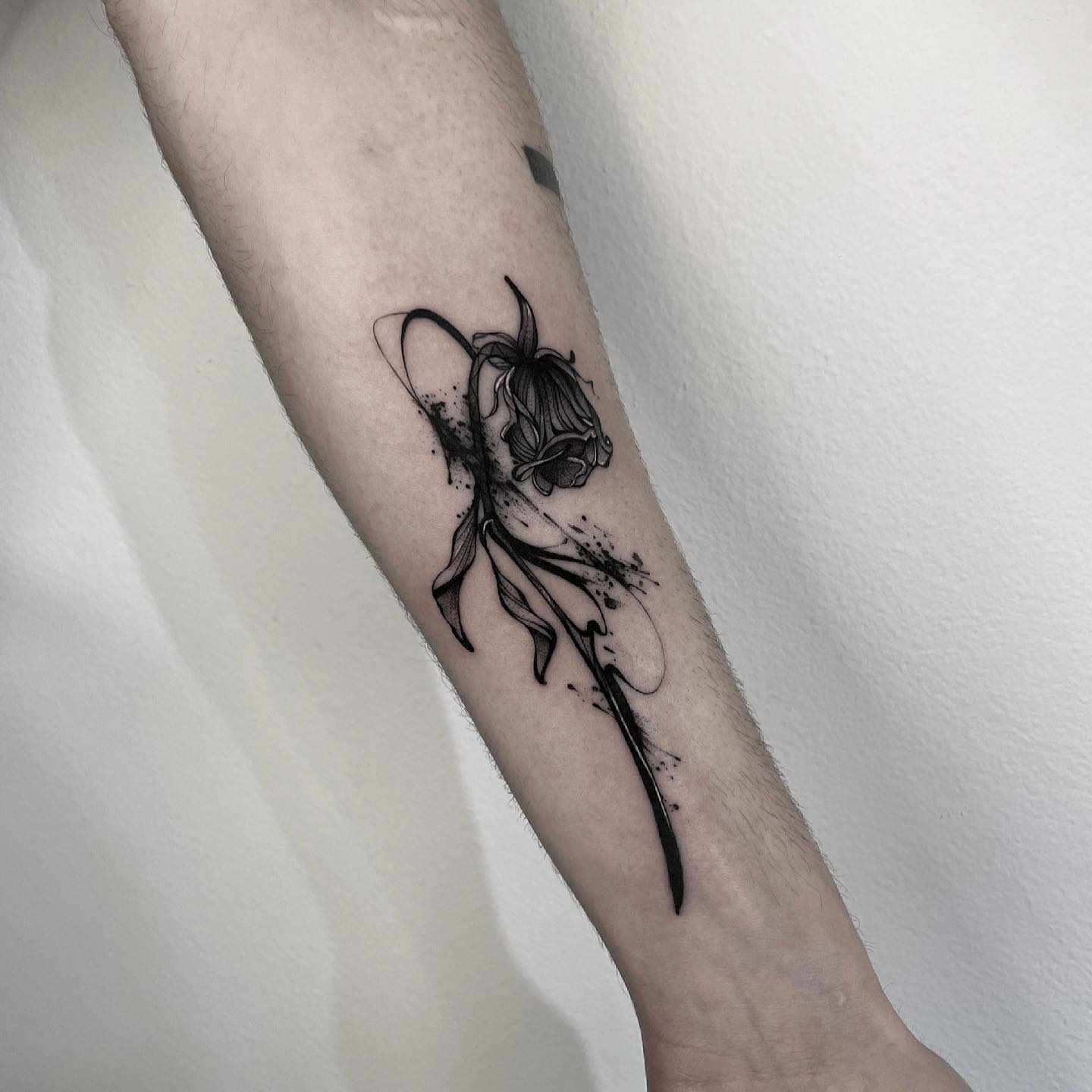 via @marni_tattoo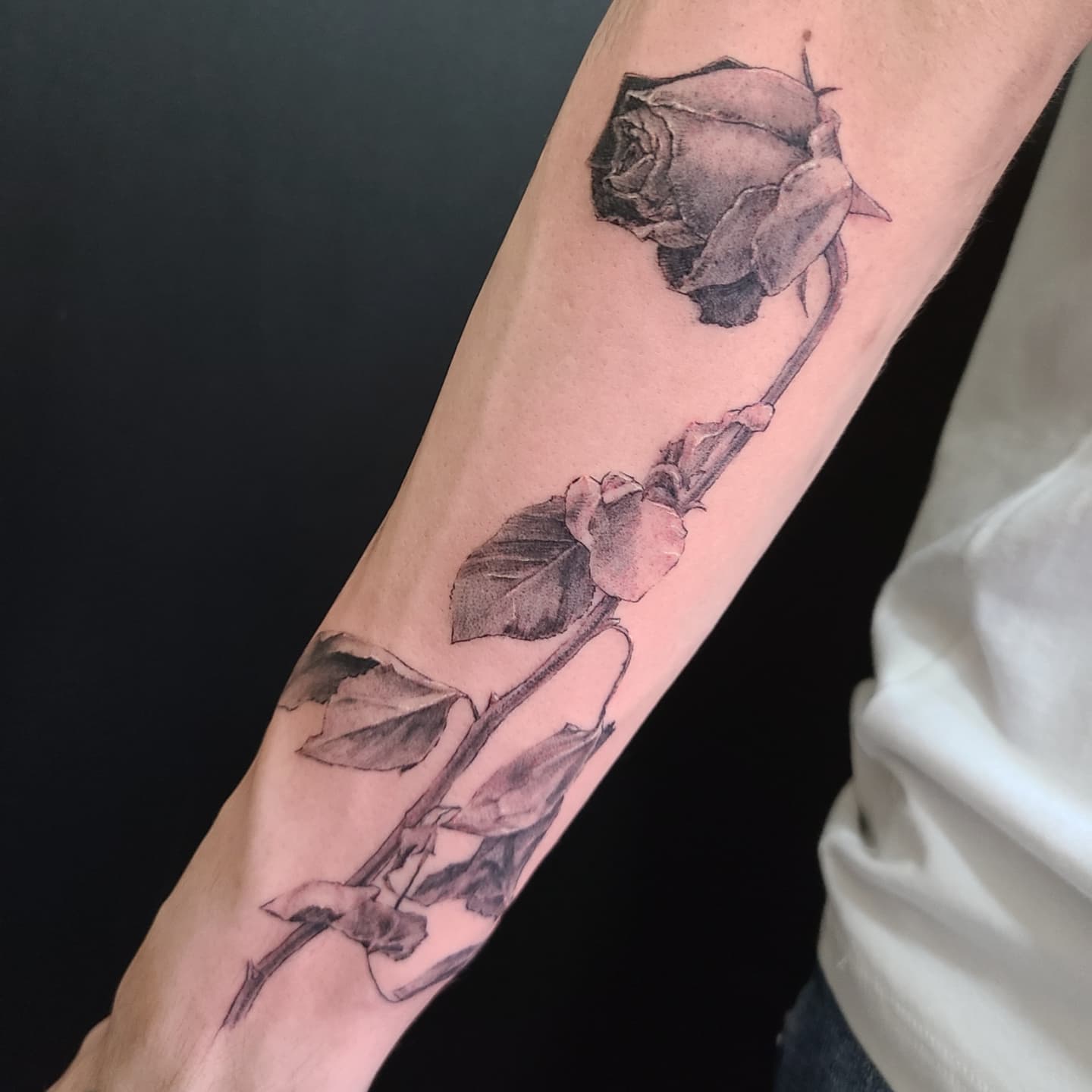 via @diabloart_aki
Butterfly and Rose Tattoo
The rose and butterfly tattoo is unique among harmonious and symbolic designs. It perfectly embodies the transformation, beauty, and fleetingness of life.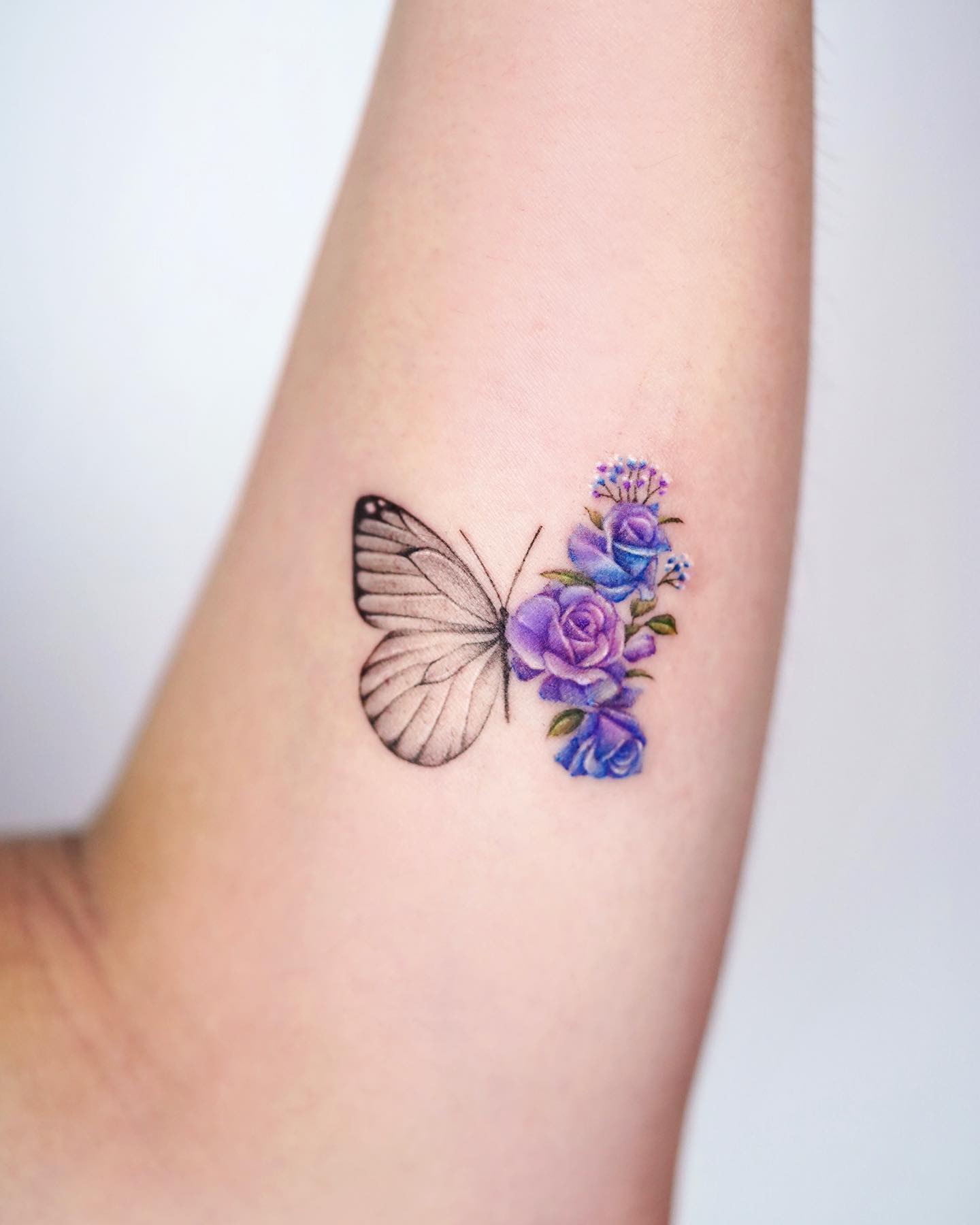 via @coy.tattoo
An elegant butterfly tattoo symbolizes change and metamorphosis, while a rose evokes the eternal beauty of nature. Where to place such a design? The choice depends on its size. If you want to create a real work of art, go for a large and detailed thigh tattoo.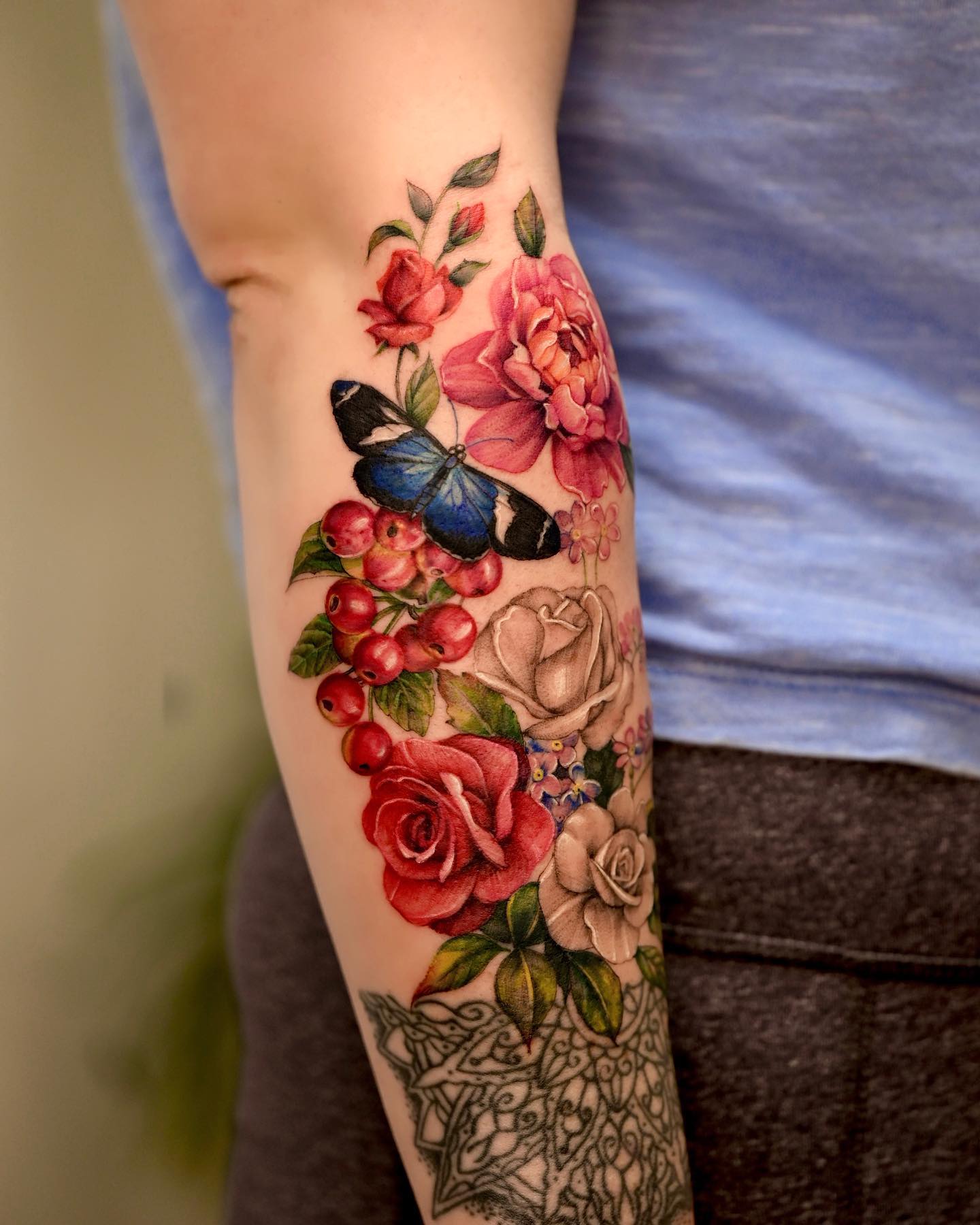 via @modoink_calvin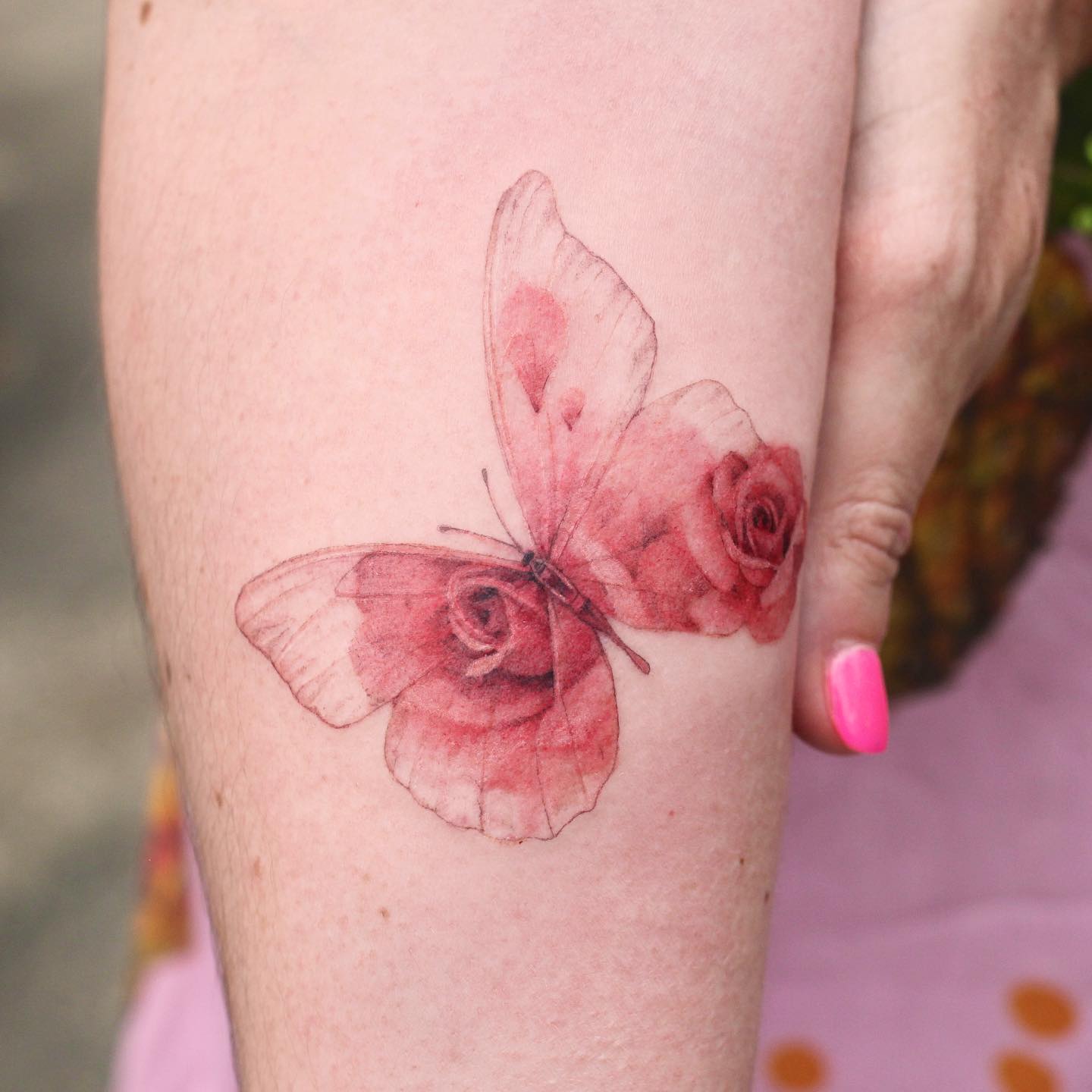 via @vandal_tattoo
Rose and Sunflower Tattoo
The sunflower and roses tattoo is a vibrant combination that represents inspiration, passion, and joy.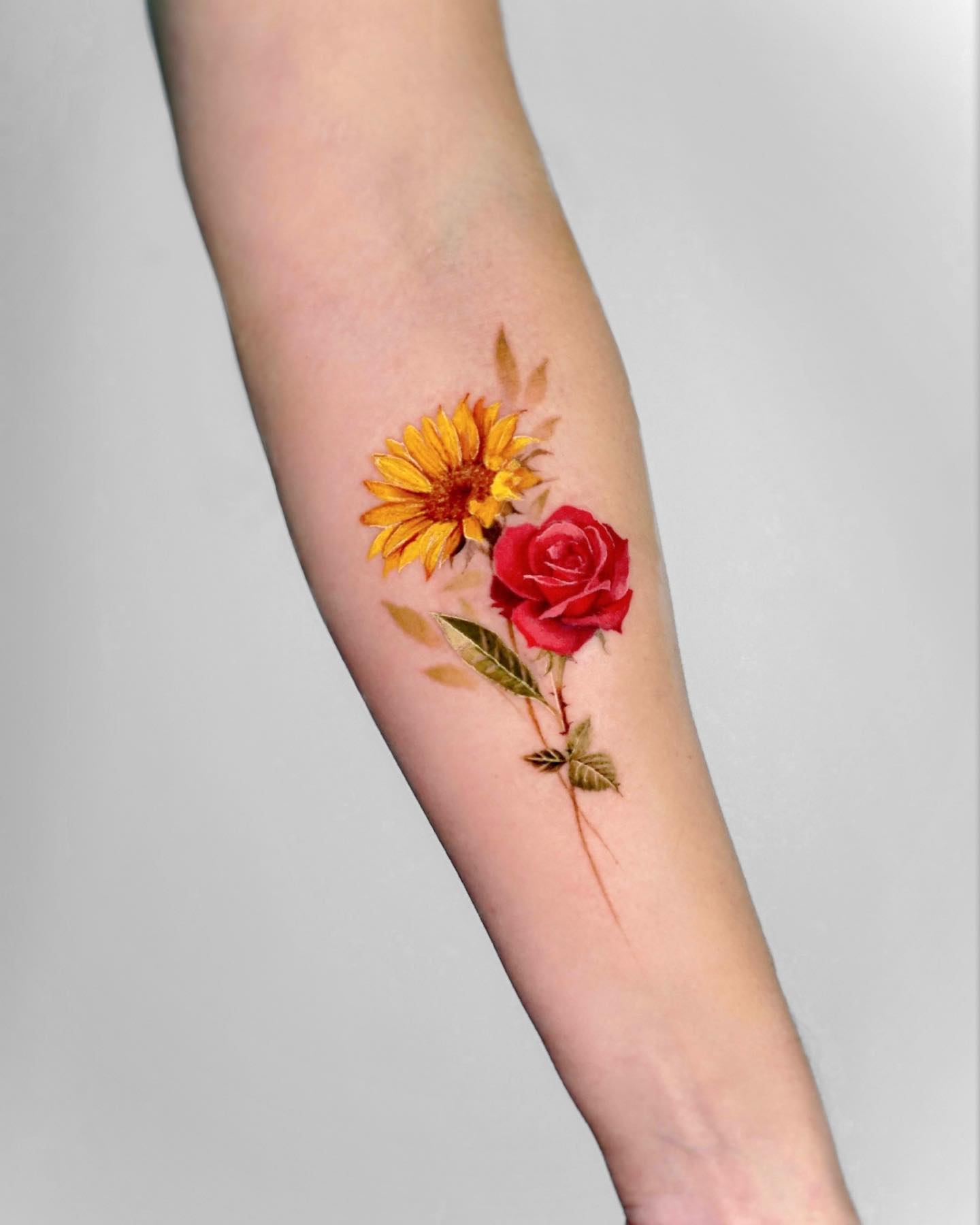 via @danmujica__
As a forearm rose tattoo, dynamic composition with an interweaving of both colors can be used, reflecting the harmony between various aspects of life. This design expresses balance and optimism.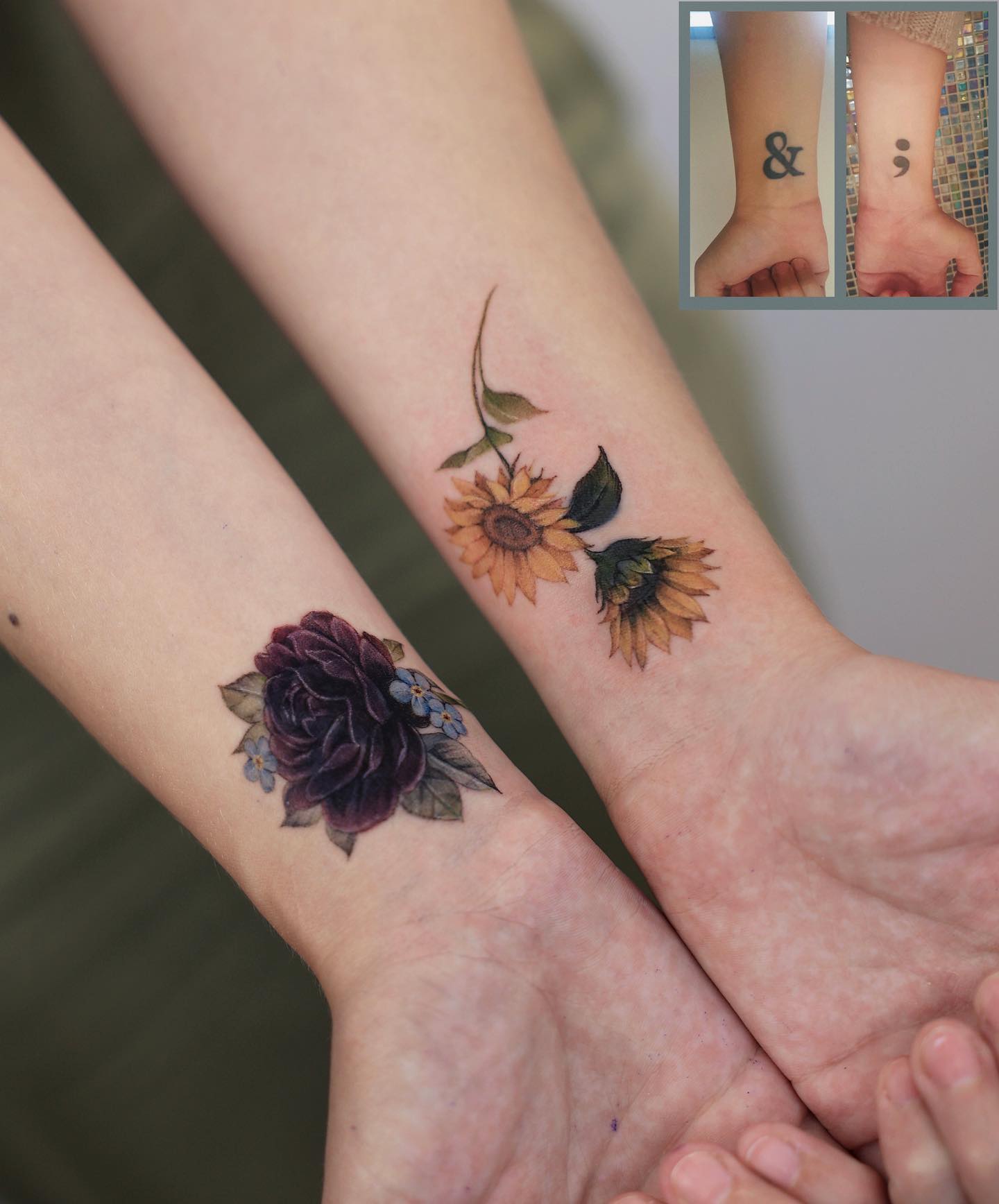 via @vandal_tattoo
A simple rose tattoo has a minimum of details. This interpretation features only tiny flowers, occasionally accompanied by motivational quotes.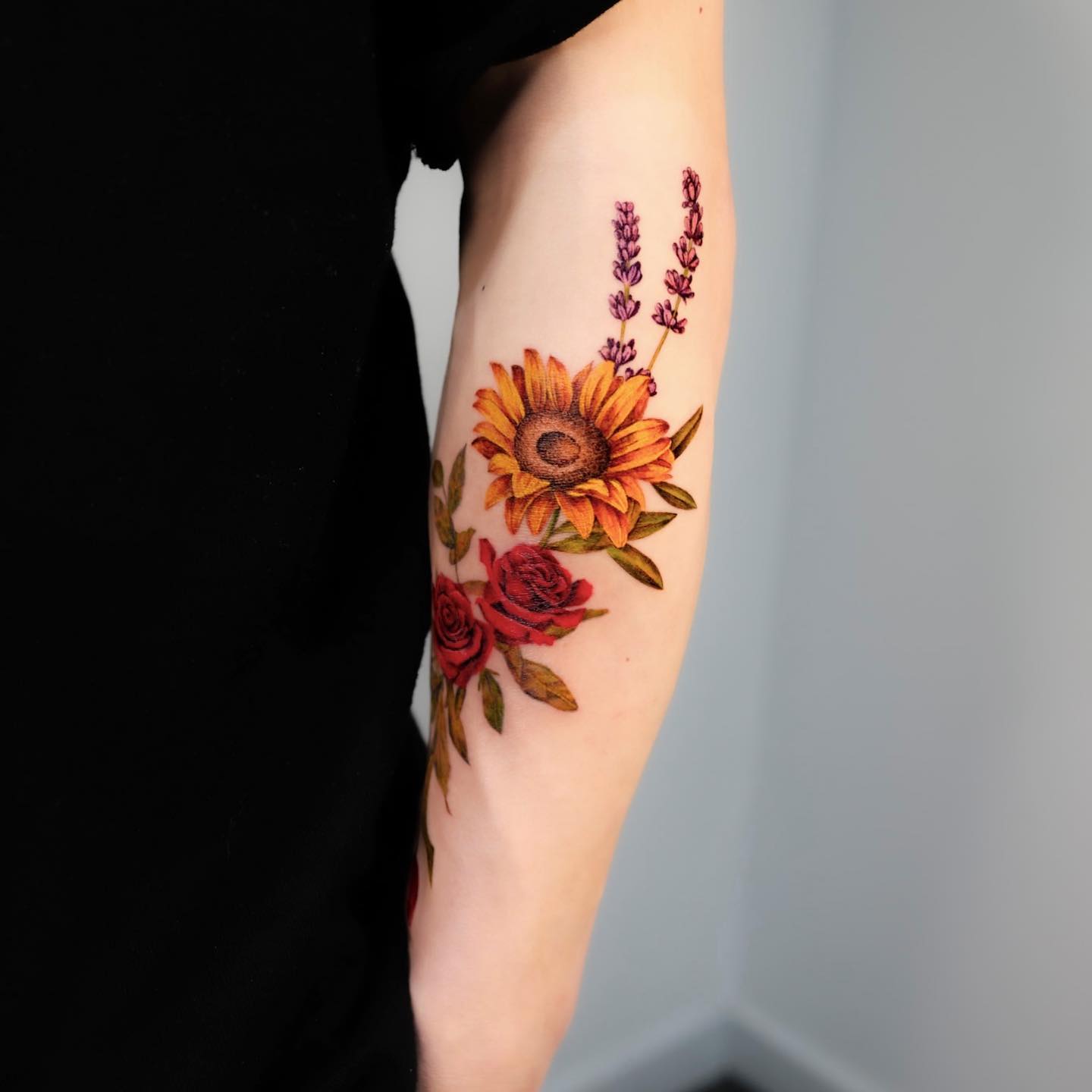 via @_rony_tattoo
Geometric Rose Tattoo
Geometric rose hand tattoo is the choice of connoisseurs of classic floral arrangements with modern, laconic aesthetics.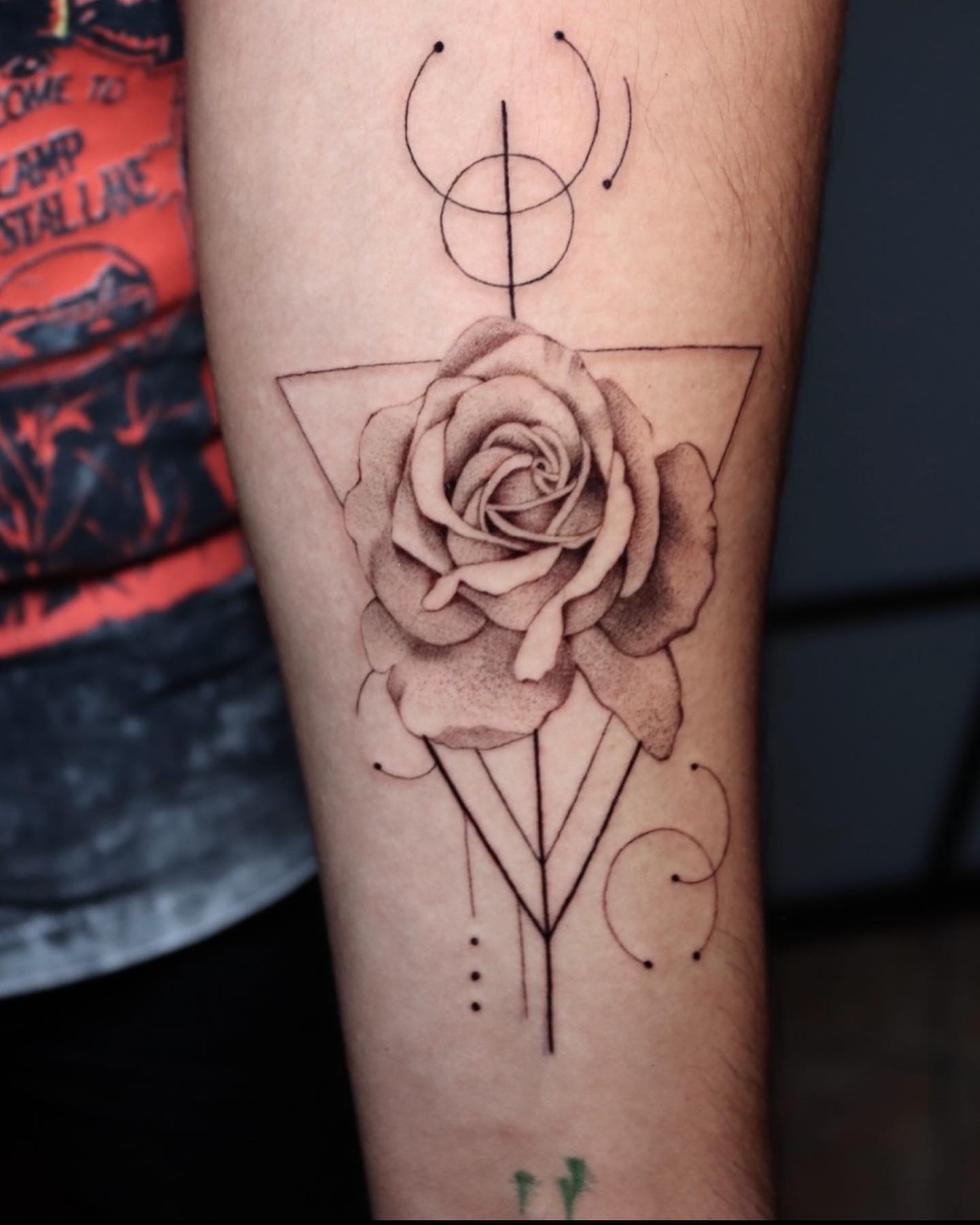 via @uli_castillo241
Geometric patterns such as triangles, hexagons, or lines integrated into the rose add structure and determination to traditional rose tattoo ideas.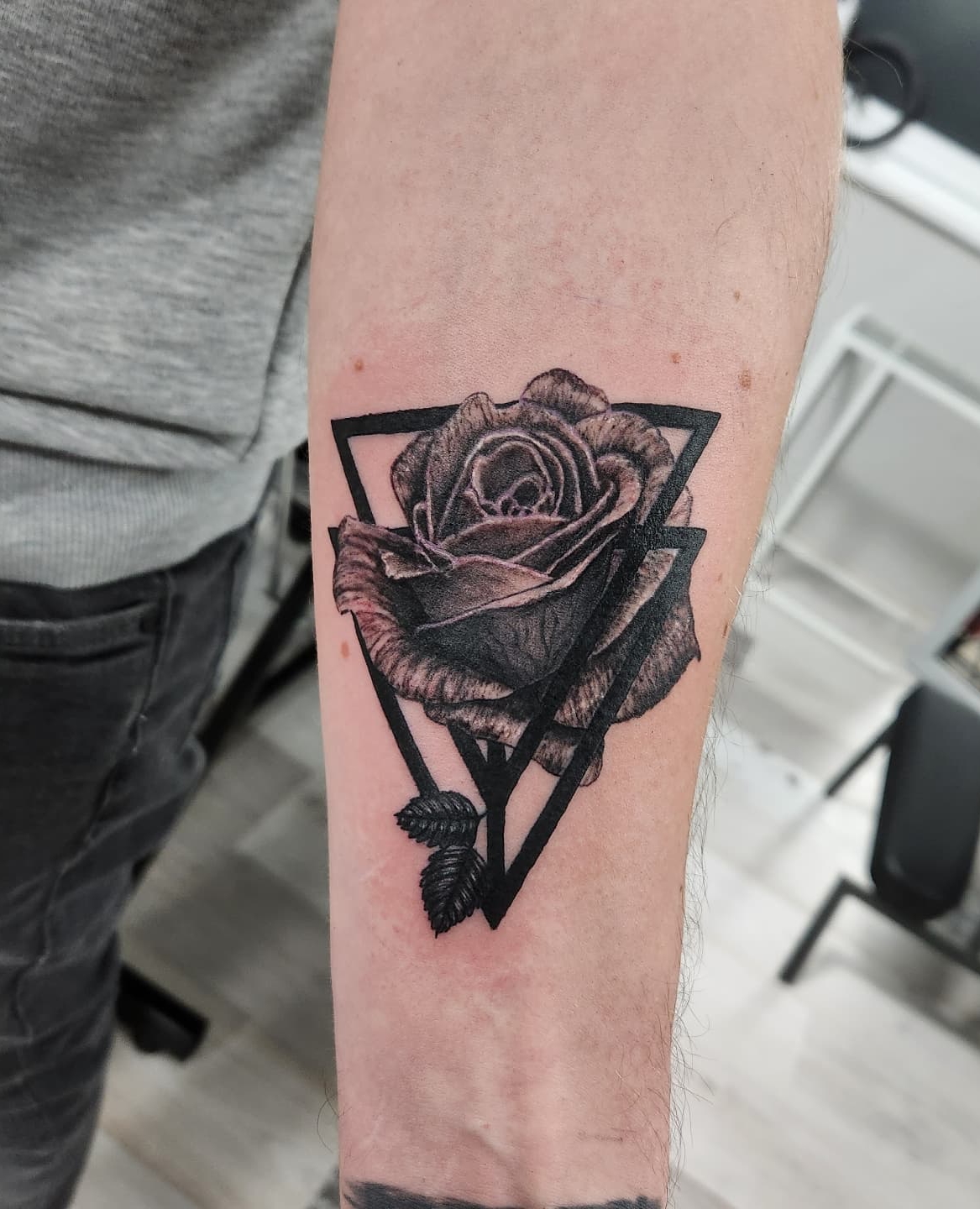 Check out these precise black lines if you're looking for abstract designs that symbolize love.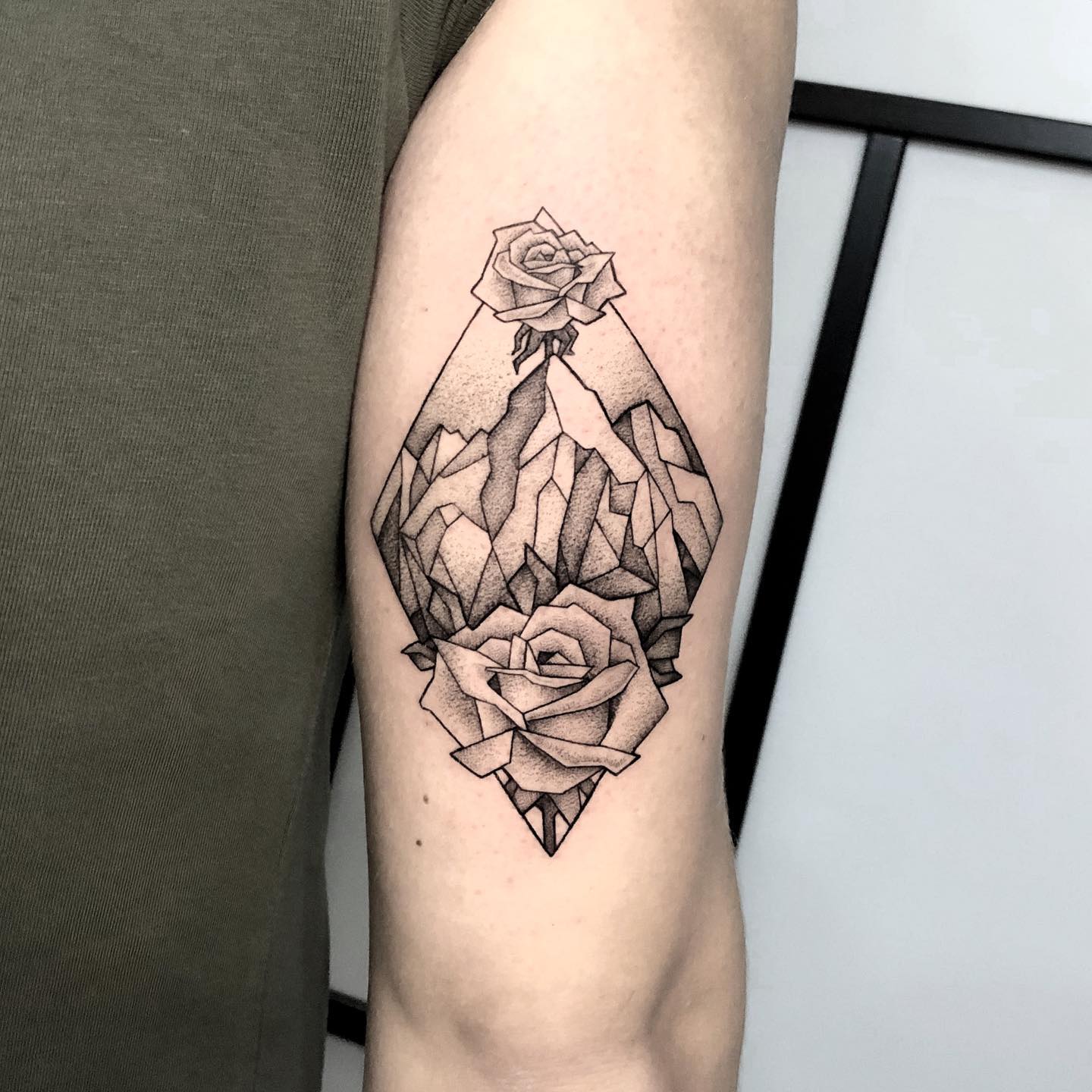 via @isaarttattoo
White Rose Tattoo
Perhaps one of the best designs emphasizing the feminine feel is the white rose hand tattoo. It represents purity, tenderness, and the desire for new things.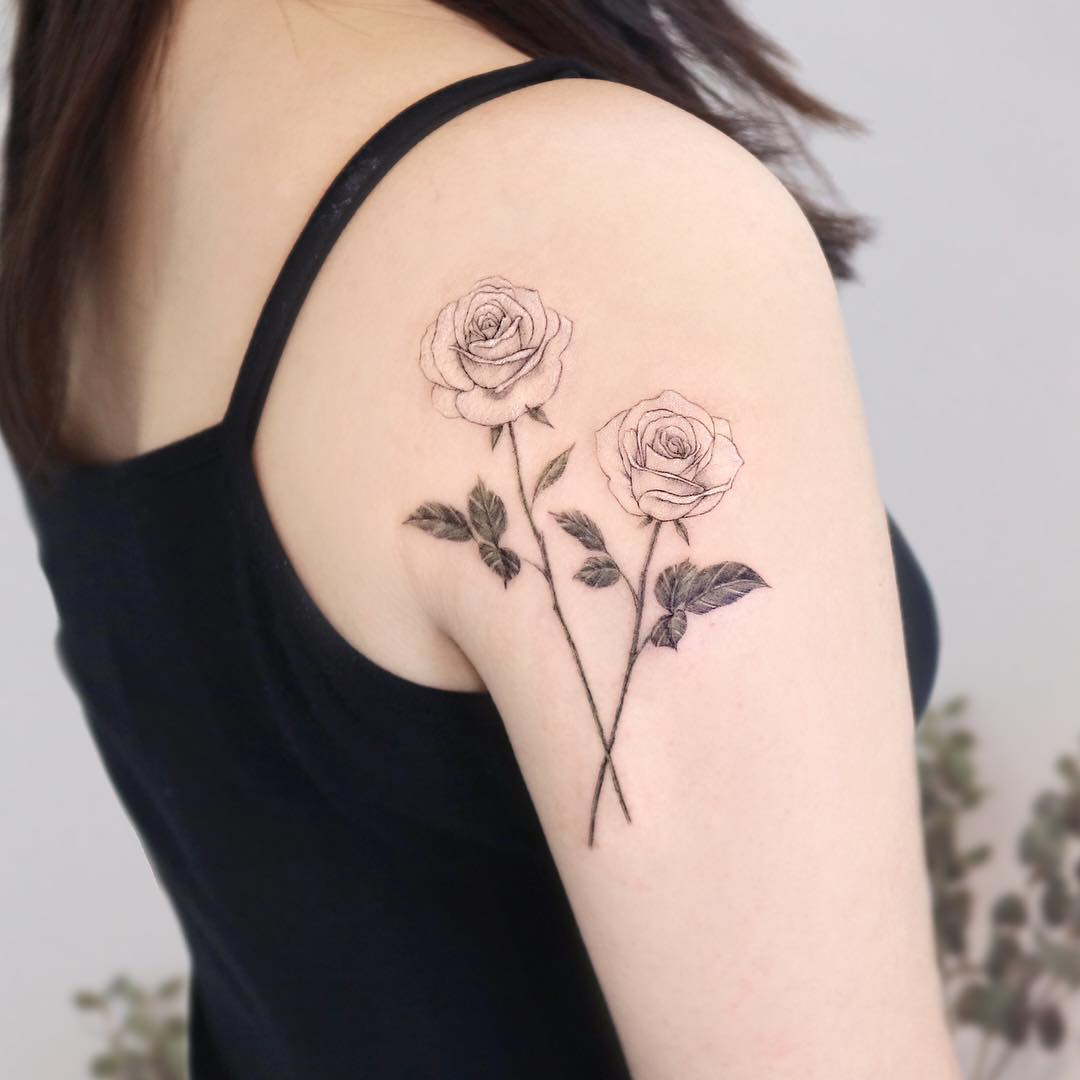 via @palette.tt
You can get a single white rose body art, choose an intertwined two roses tattoo, or create a fantastic bouquet of white flowers with intricate details highlighting their sophistication and elegance.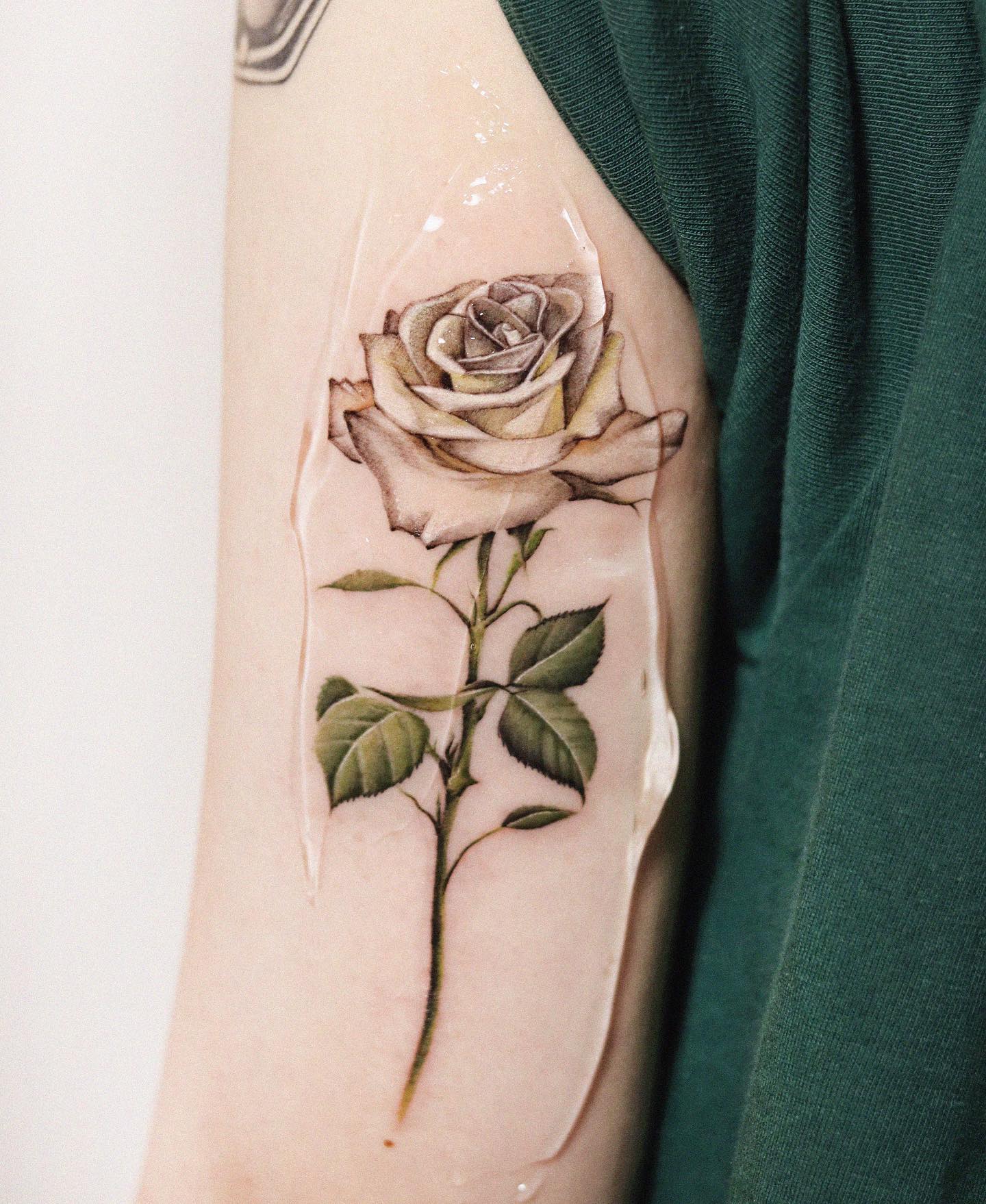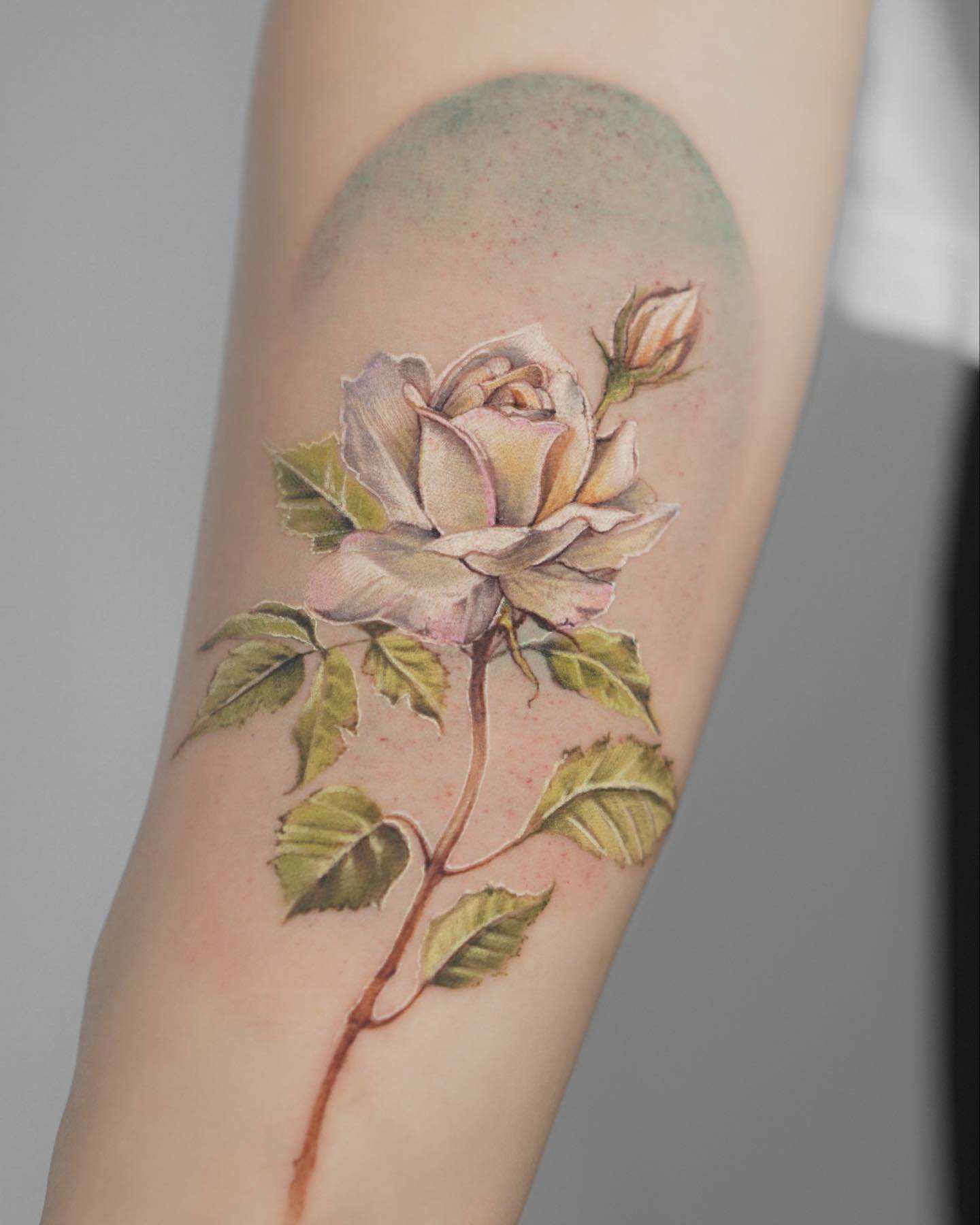 via @danmujica__
Rose Behind Ear Tattoo
Are you looking for charming tattoo ideas behind the ear? For such a placement, a flower tattoo is perfect.
via @vandal_tattoo
These are intimate designs displaying or hiding from others as you wish. Like a rose neck tattoo, a rose in front of the ear can look like a closed bud or one elegant blooming flower.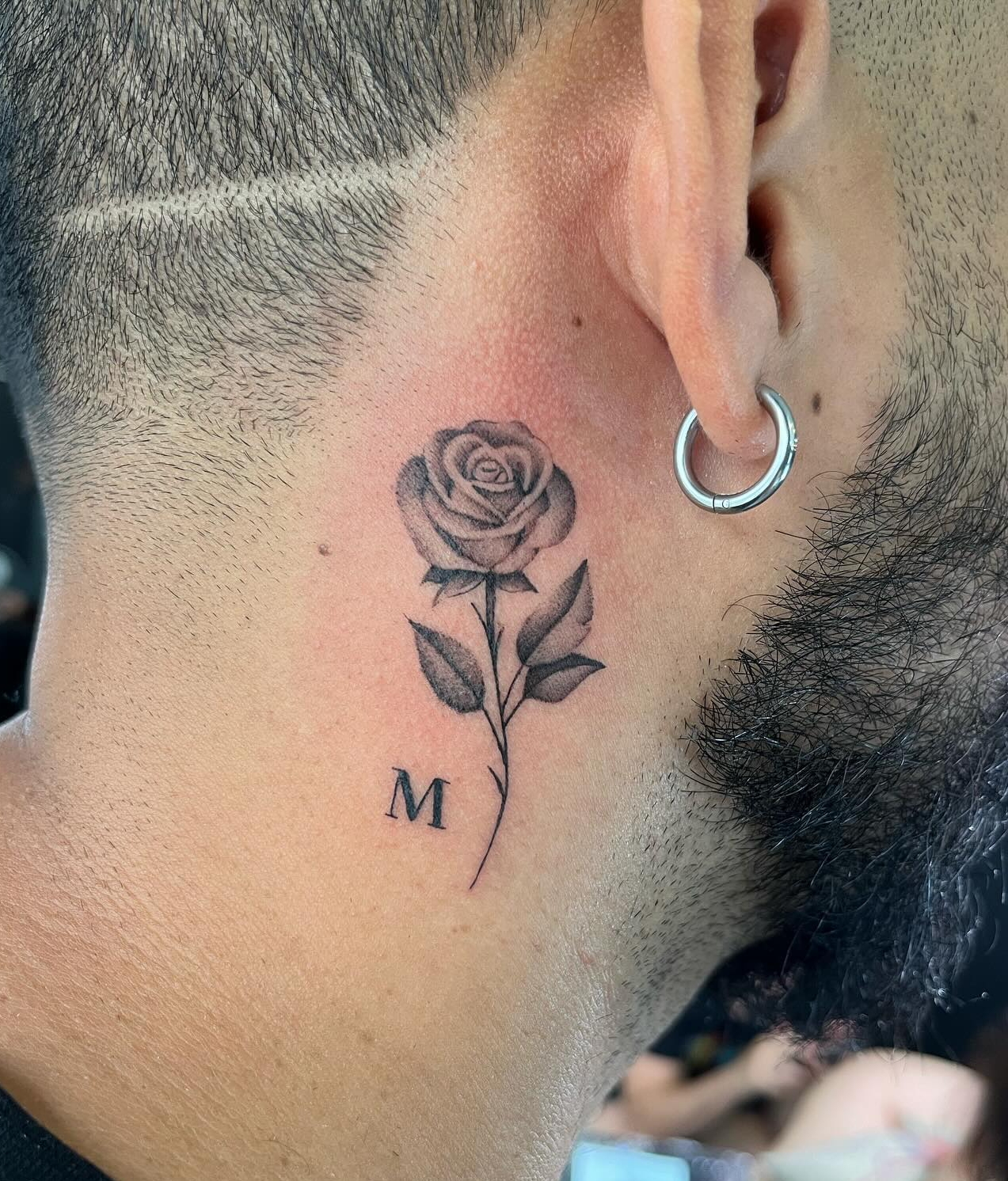 via @kvrt.tattoo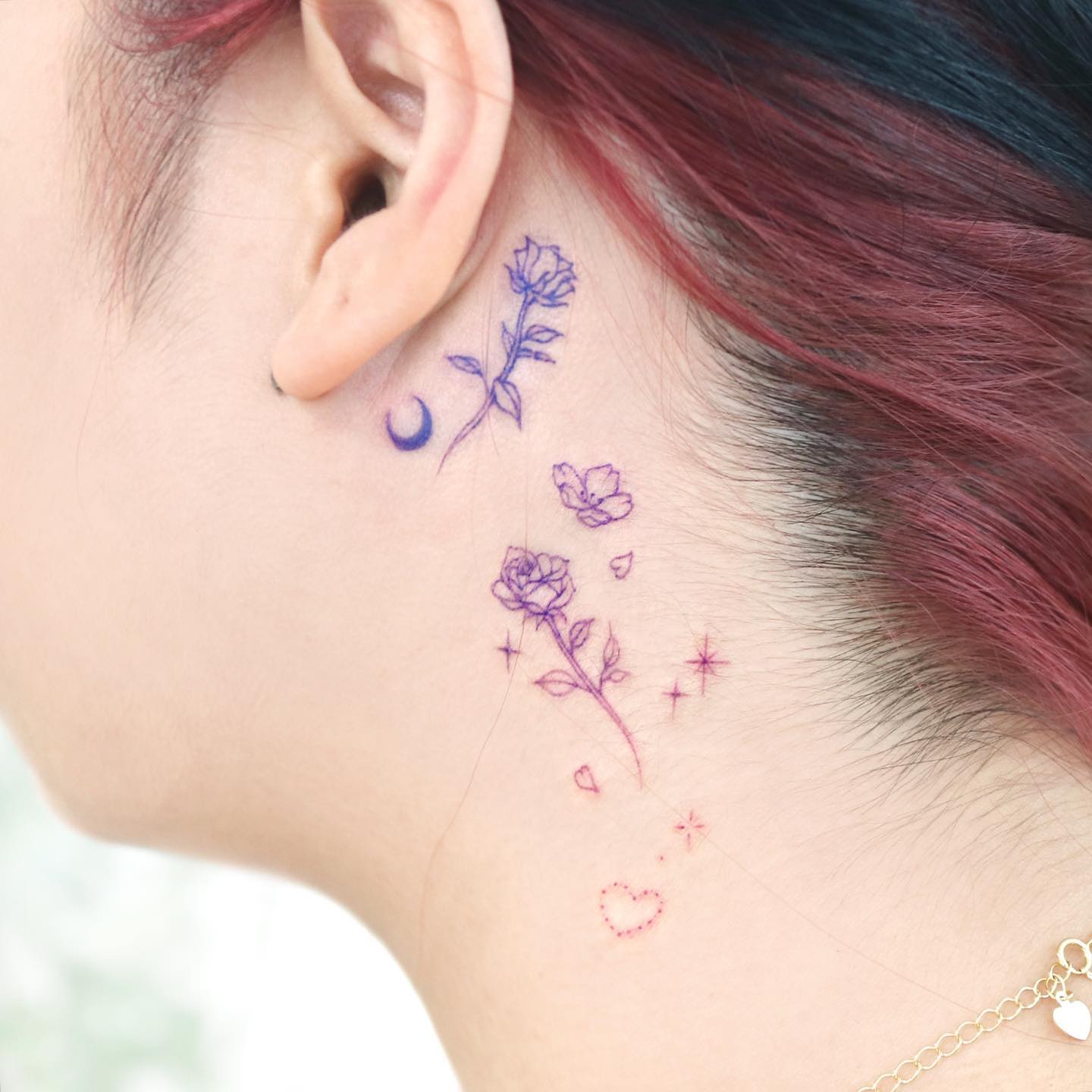 via @palette.tt
Realistic Rose Tattoo
3D tattoo designs with realistic red roses convey the natural beauty of flowers with fantastic accuracy.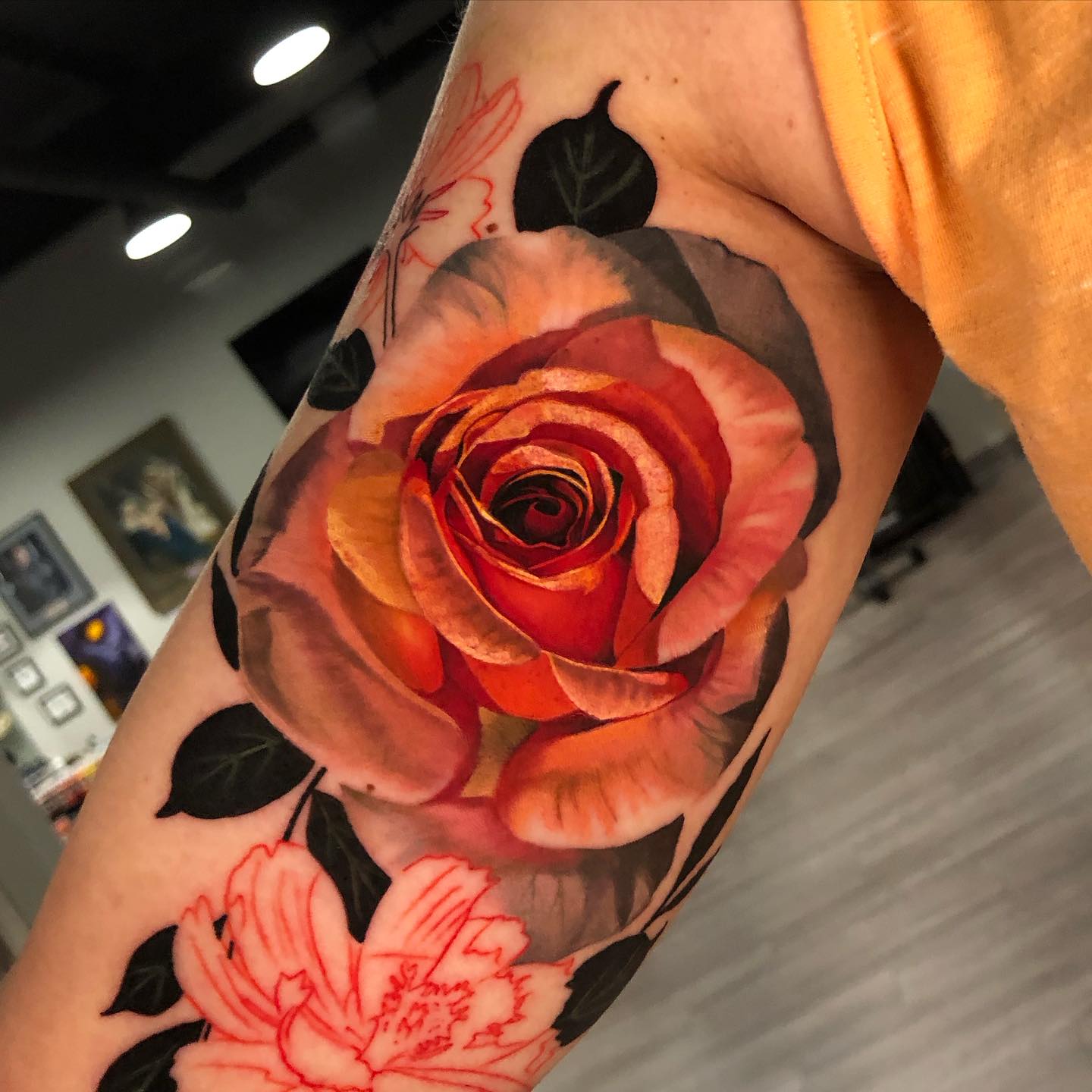 via @allisintattoos
The distinctive features of such designs include precise contours, careful shading, and bright colors that create a three-dimensional effect. If you love visually stunning and emotionally charged images, contact a tattoo artist with this idea.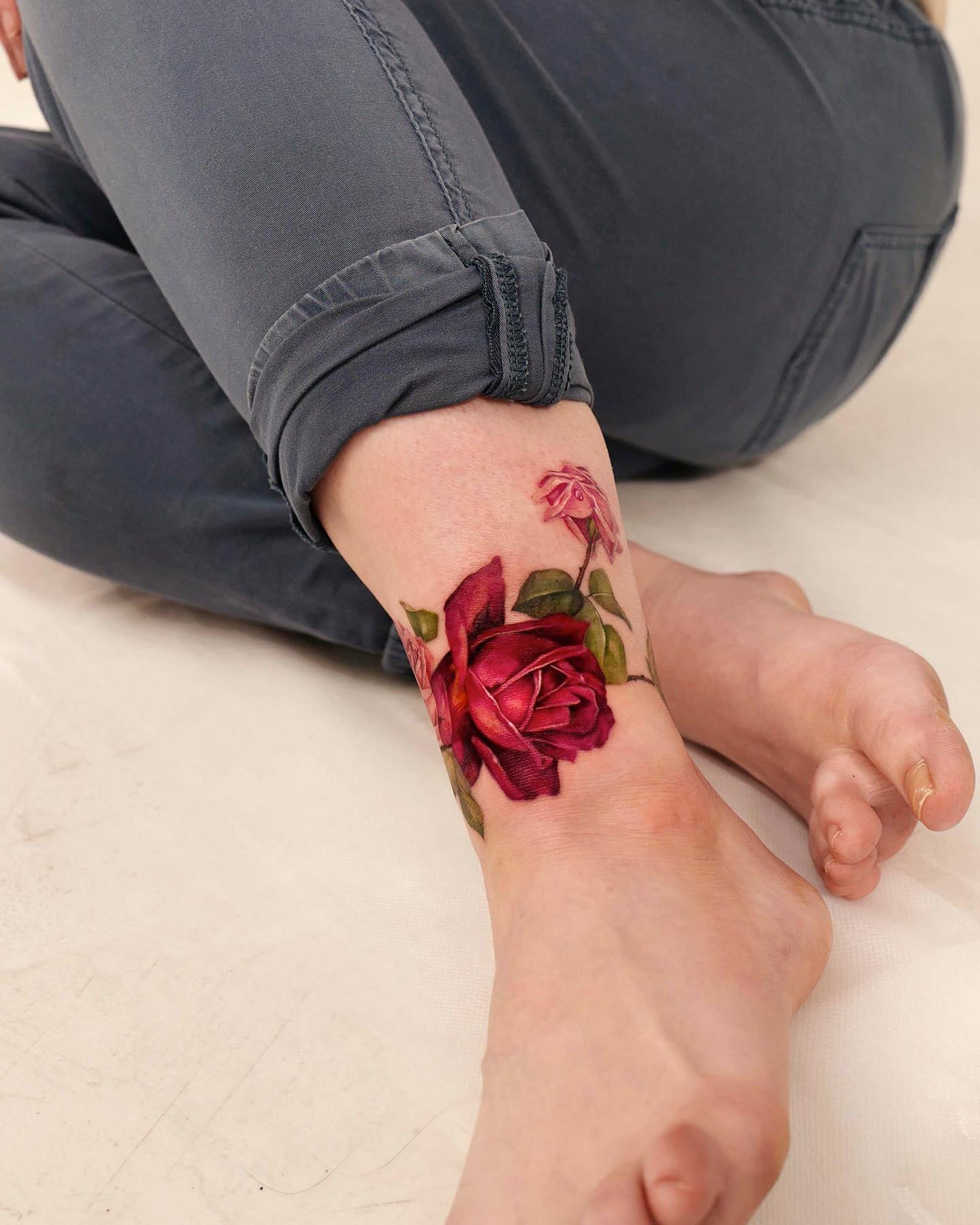 via @song.e_tattoo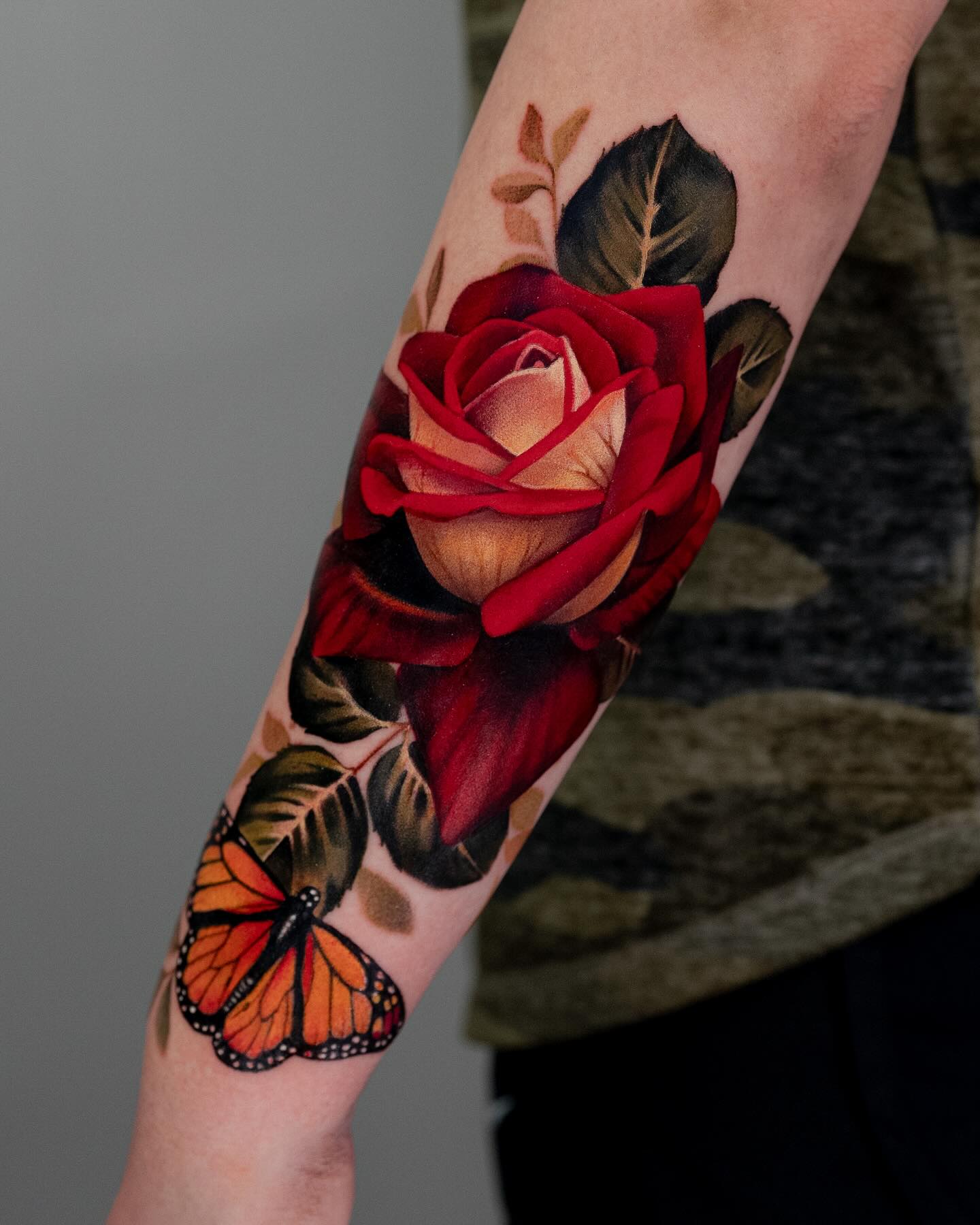 Clock and Rose Tattoo
The clock and rose tattoo represents love and the complex dance between the time passage and life's beauty. It's a wonderfully poignant and meaningful design that encourages reflection on the present and future.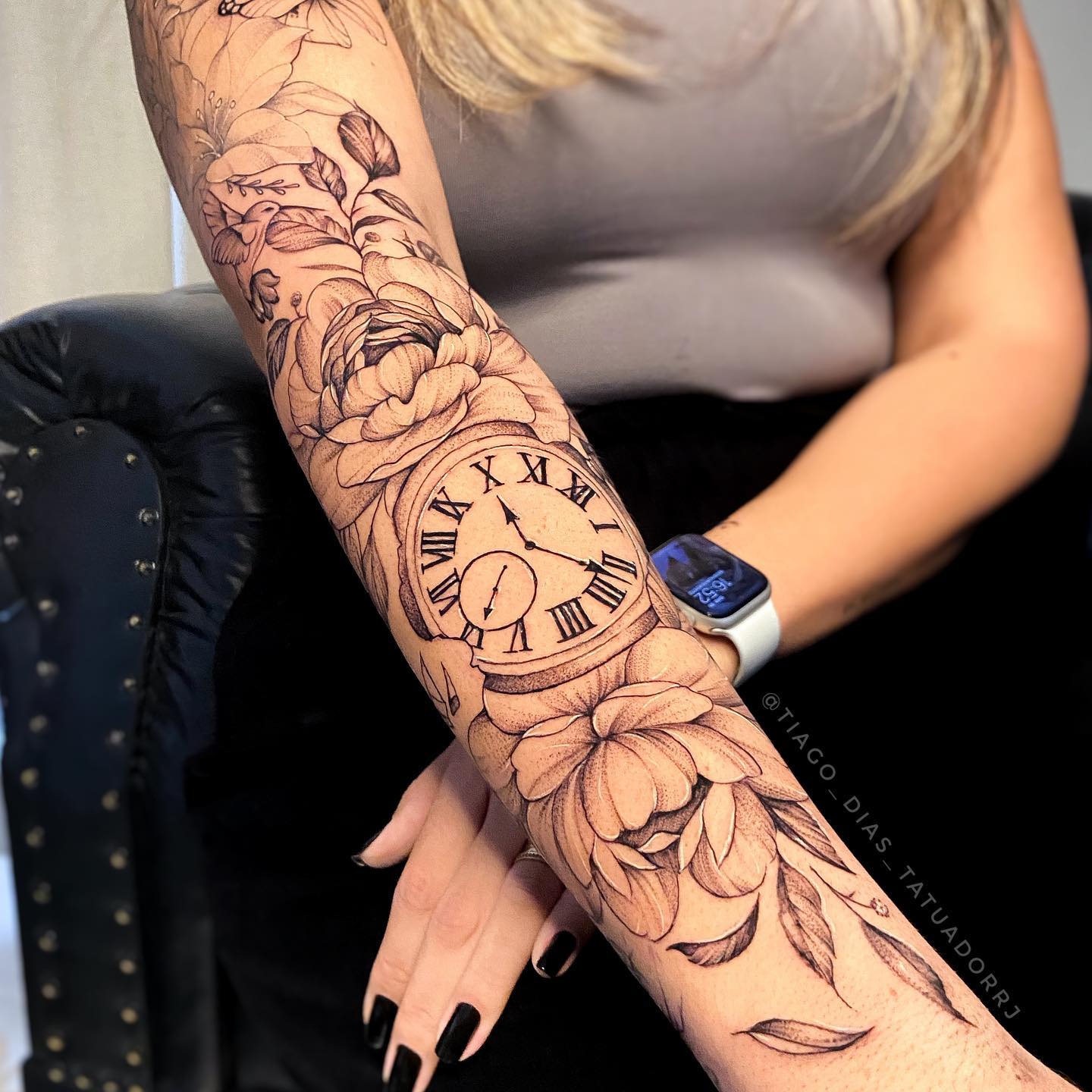 Various interpretations of a rose tattoo on the sleeve or larger thigh tattoos will 100% appeal to women who prefer a combination of aesthetics and powerful symbolism.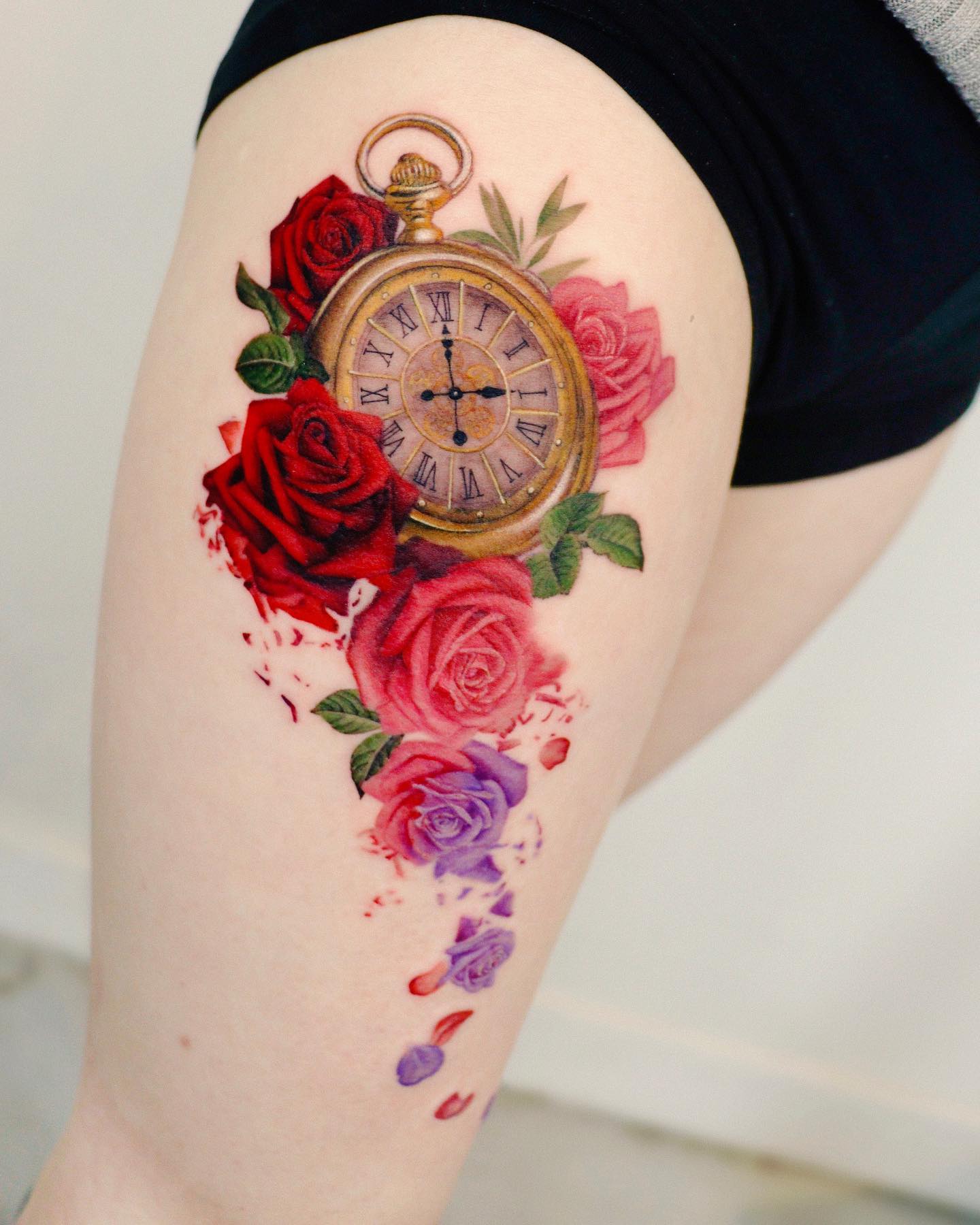 via @peria_tattoo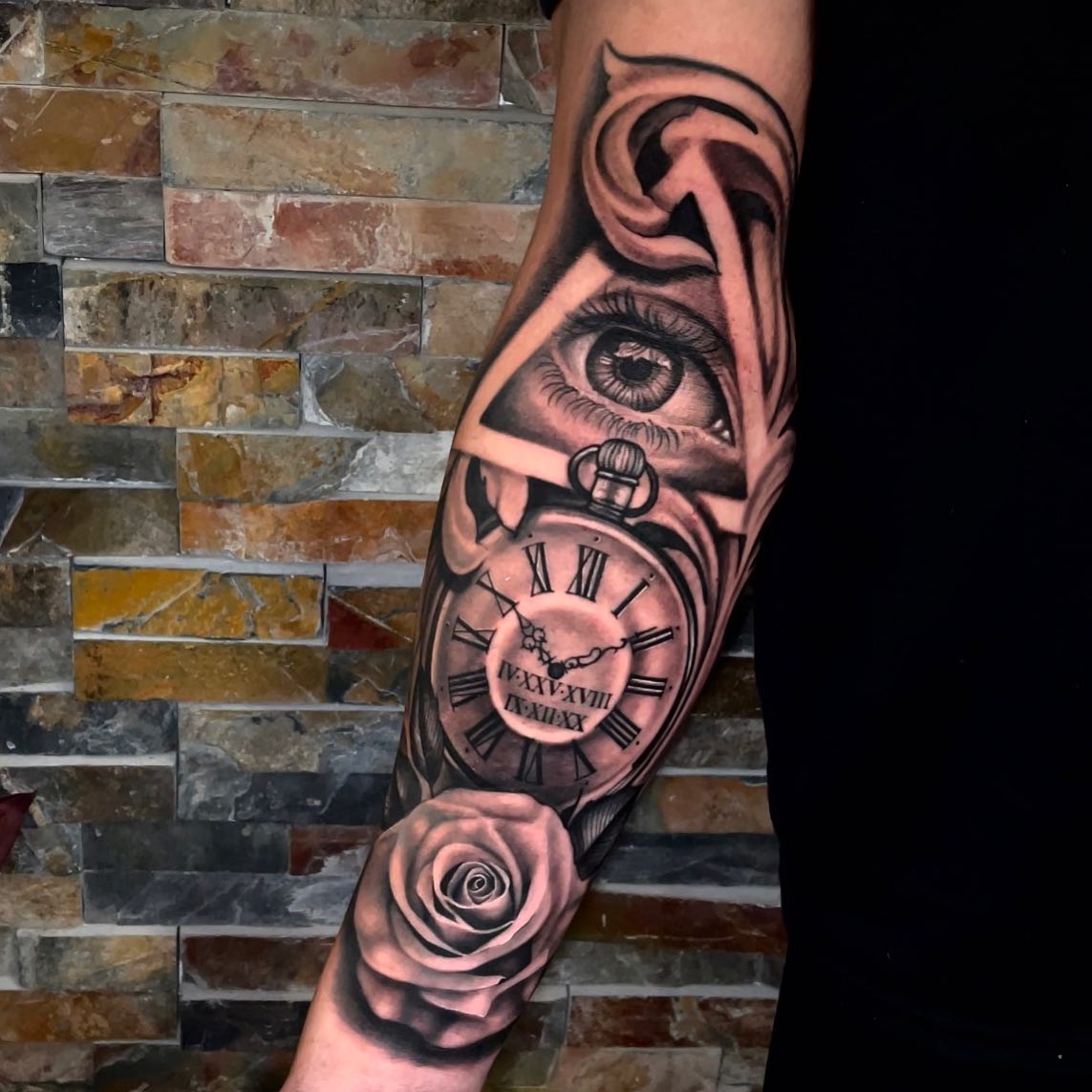 via @flamure_tattoo
Gold Rose Tattoo
One of the symbols of wealth, prosperity, and a surprisingly strong relationship is a gold rose with thorns tattoos.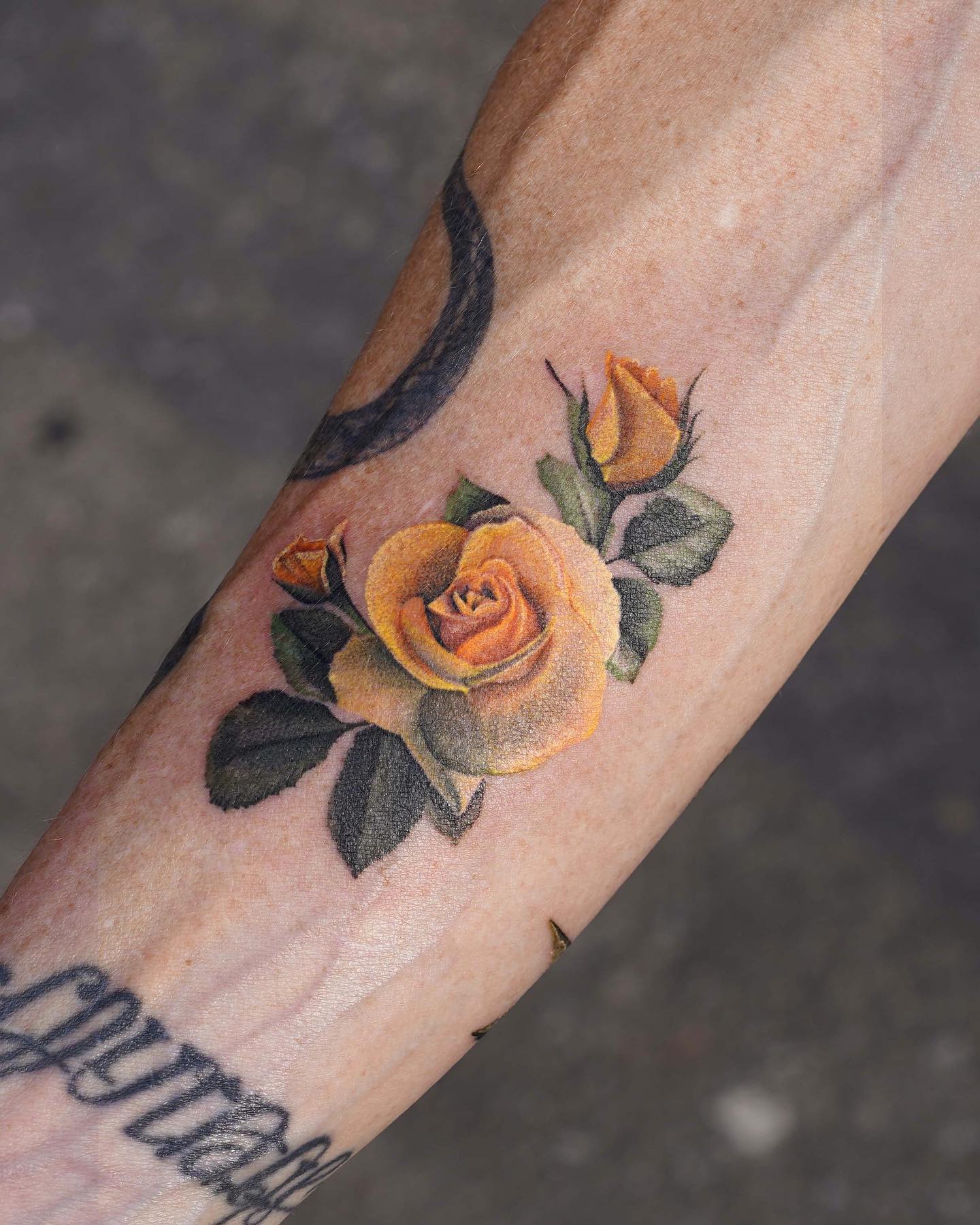 via @myungdo___
The golden color adds luxury and elegance to the classic rose, while the thorns remind us of the difficulties experienced and obstacles on the path to success. Popular rose tattoo ideas can show one laconic gilded rose on the inner arm or a bouquet of golden roses with additional elements on larger areas (back, shoulder, thigh, etc.).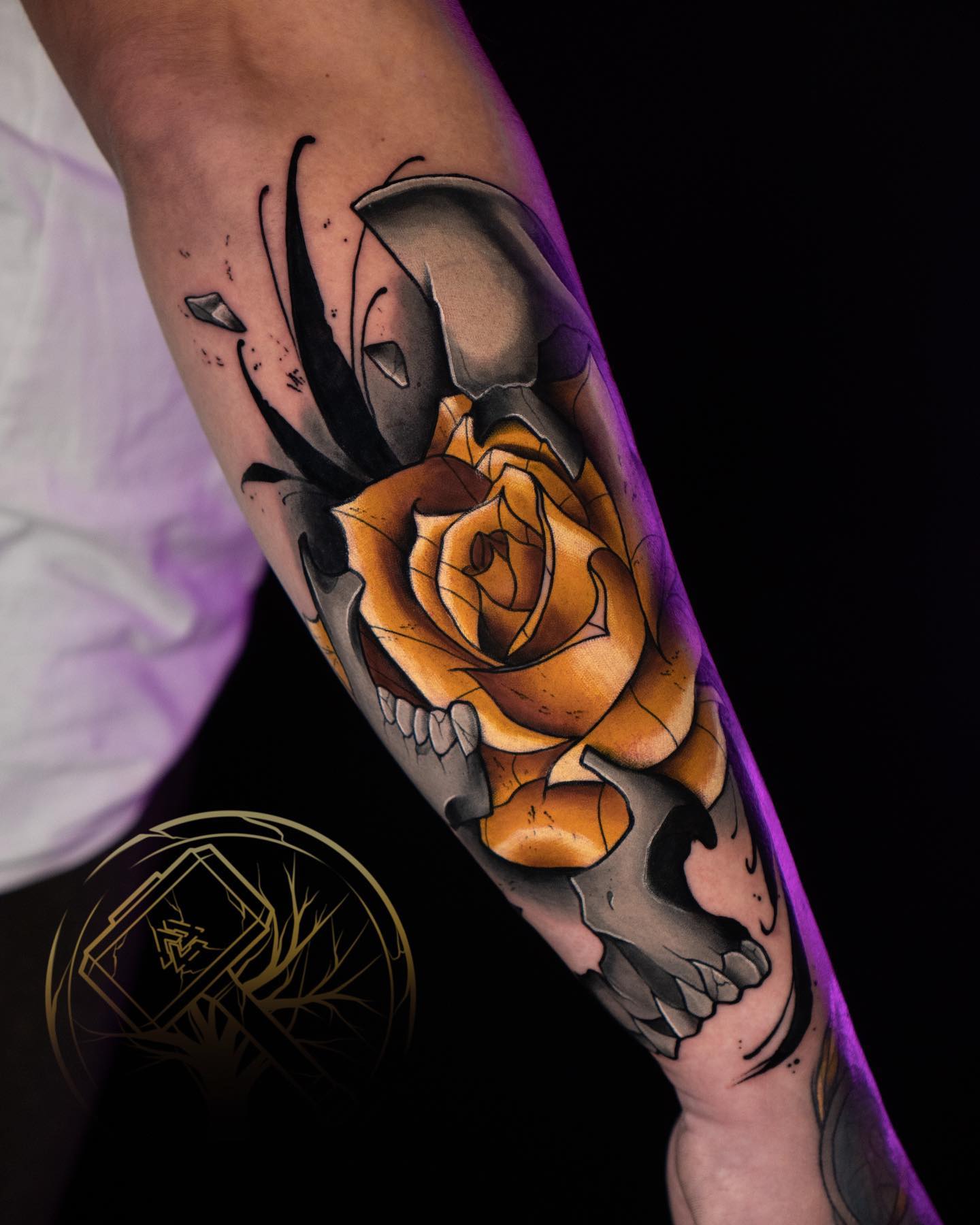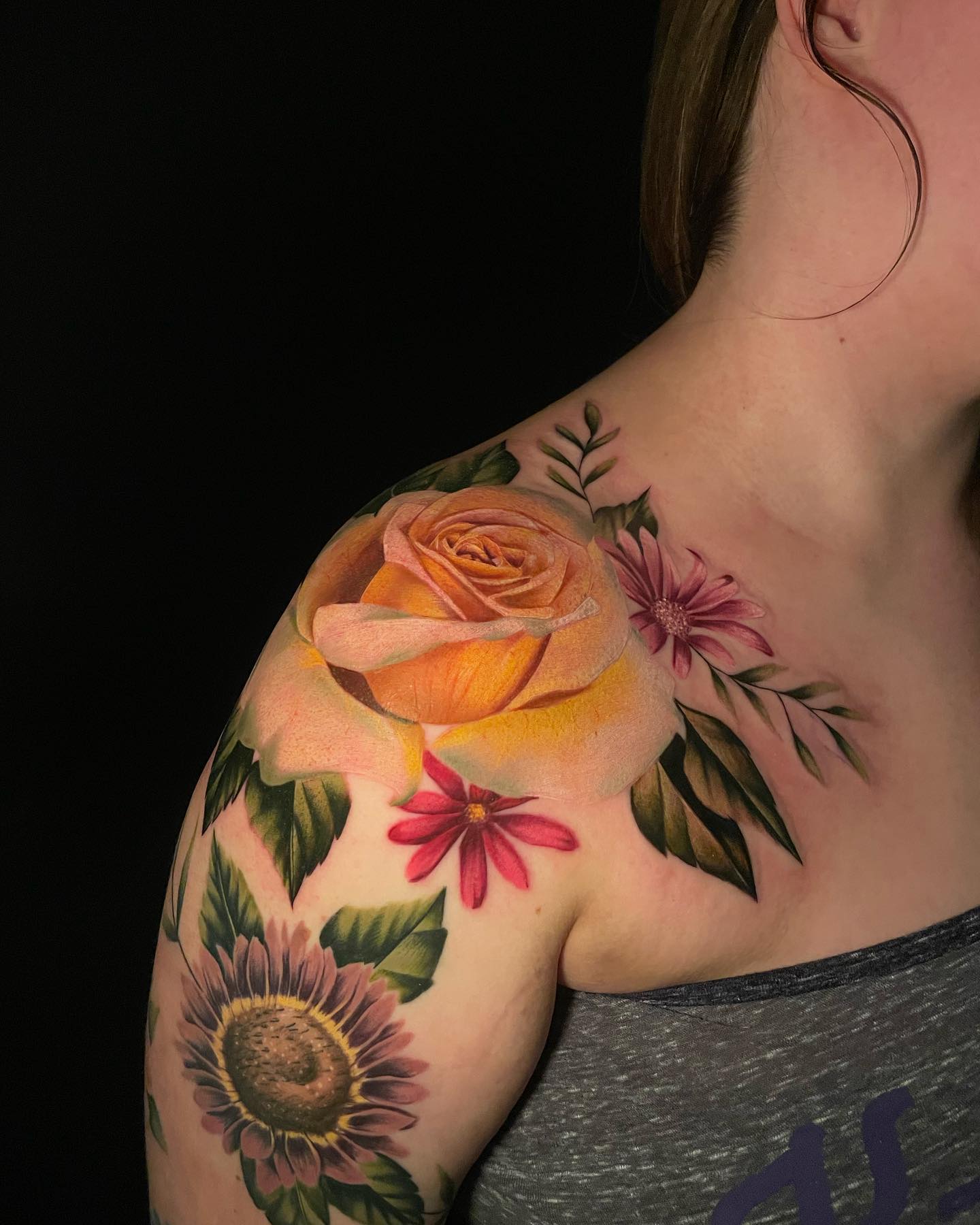 via @inkbydevv