The butterfly is a small colorful insect representing exquisite beauty and innocence. With body art trends catching up fast, a butterfly tattoo is definitely a great choice, especially if you want a design with a feminine ethos. Luckily innumerable choices range from black and white to colorful butterfly tattoos.
Butterfly Tattoo Meaning
The diminutive creature essays a journey filled with hope in the stunning metamorphosis of a dull-colored caterpillar to a multi-colored vivid winged being. Its journey represents life after death – rebirth or resurrection. The creation also is a metaphor for transformation and new beginnings in life.
Here are a few eye-catching tattoo ideas that are worth considering.
Minimalist Small Butterfly Tattoos
Experiment with a realistic butterfly tattoo that's dainty and petite. Tiny butterfly tattoos look good on your arms and forearms, considering that the pain is low in these body parts.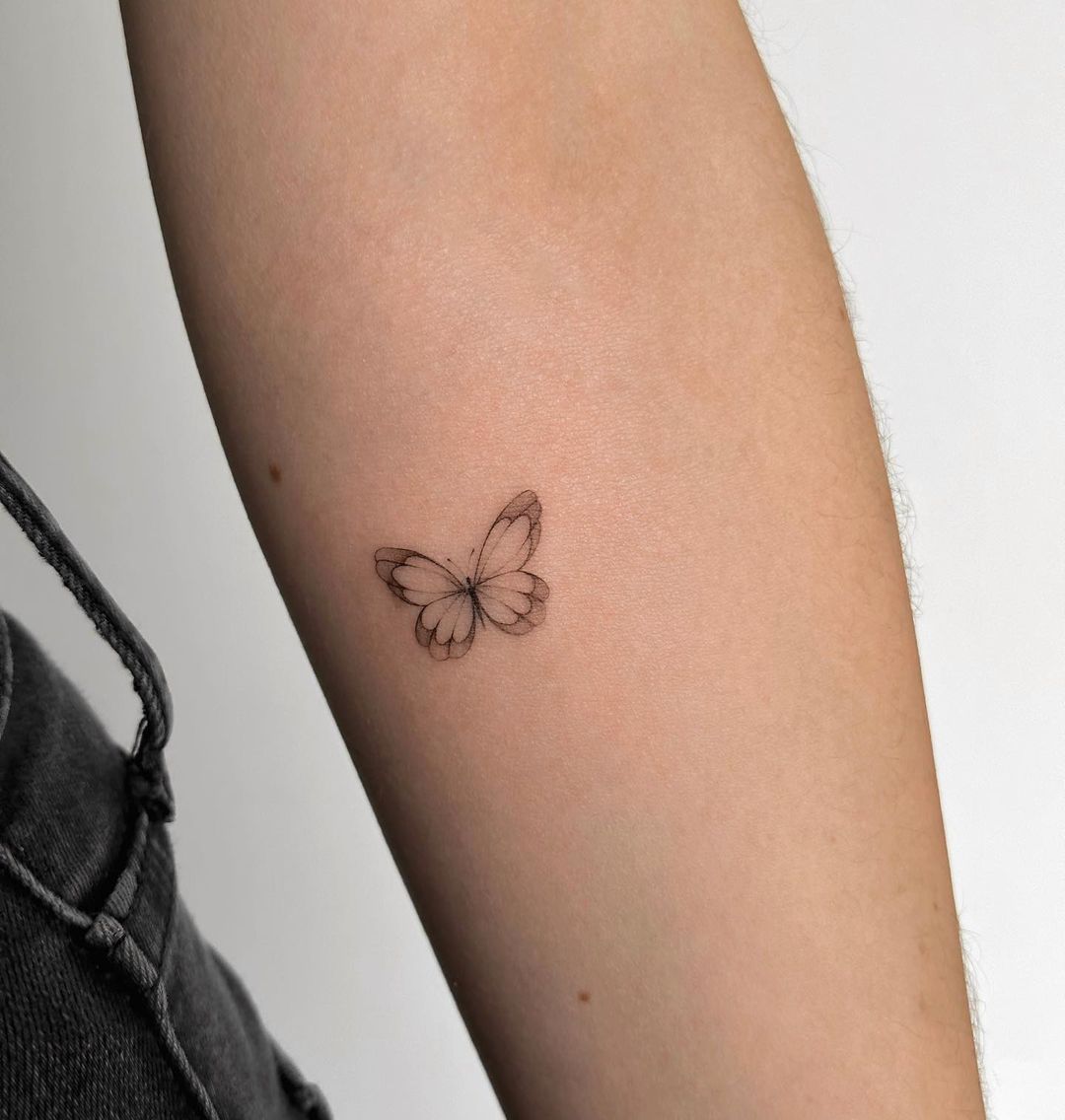 via @mrs.tattoo_
A minimal tattoo of a cute little colored butterfly looks good on all skin tones. If you are fair, have it colored in pastel colors or lighter hues like light blue or light green.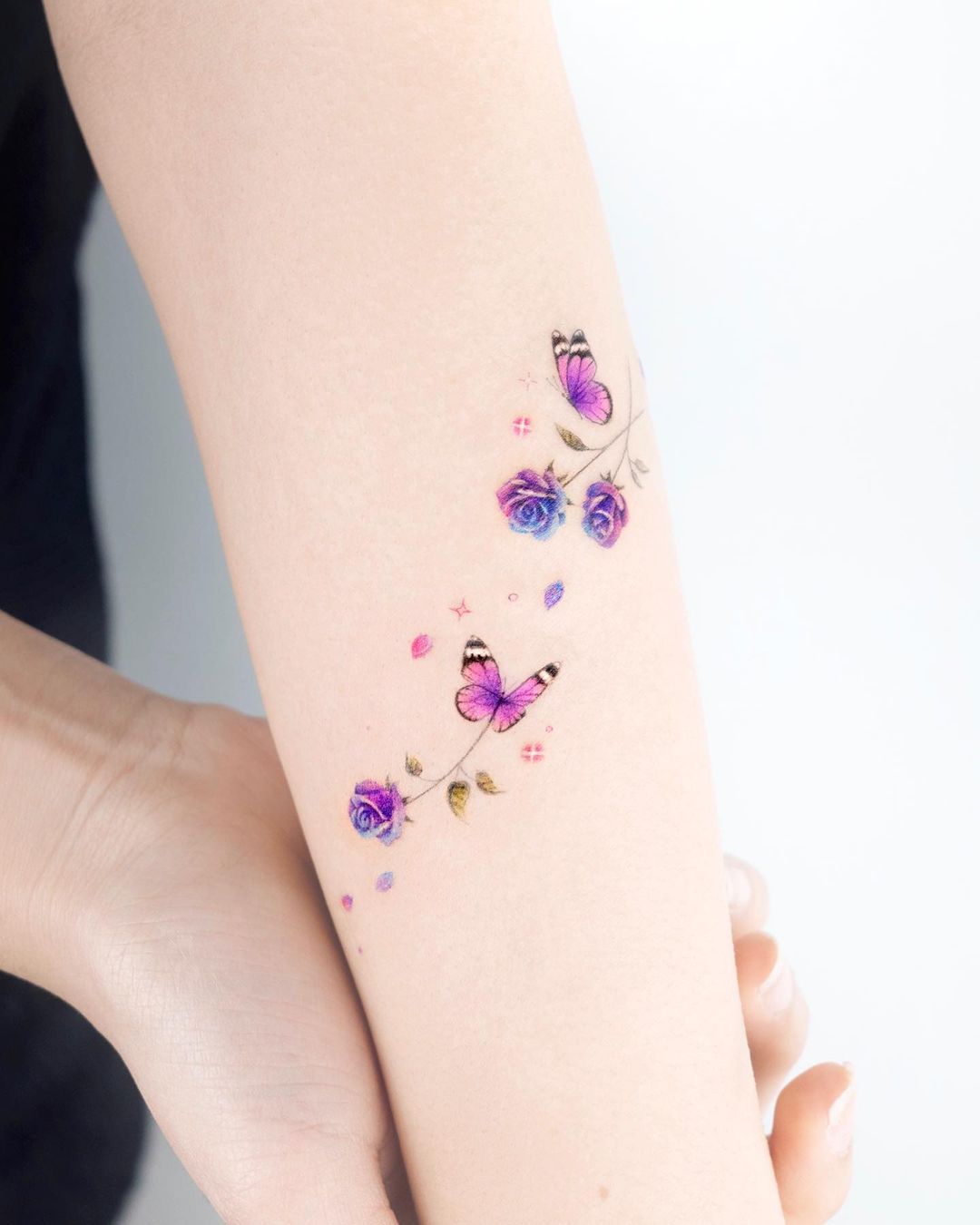 via @coy.tattoo
Aim to Fly High with Butterfly Hand Tattoo
A medium-sized colored butterfly is a great tattoo idea for men or women. While it's okay to ink these pretty living beings on any part of the body, a butterfly tattoo on hand for girls look extra lovely.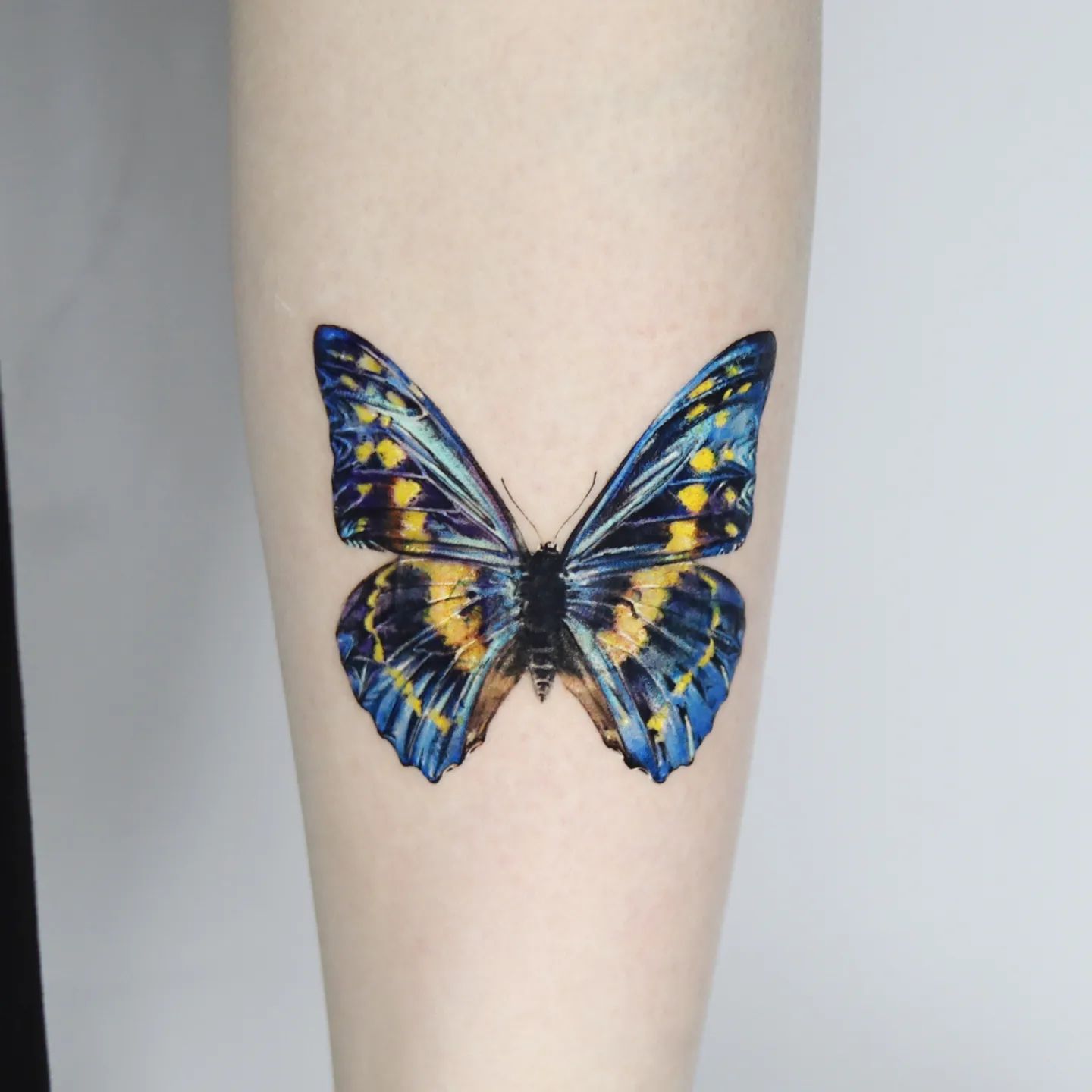 via @ziho_gallery
One of the dramatic body part tattoo ideas is to make it look ready for a flight of freedom from your hand.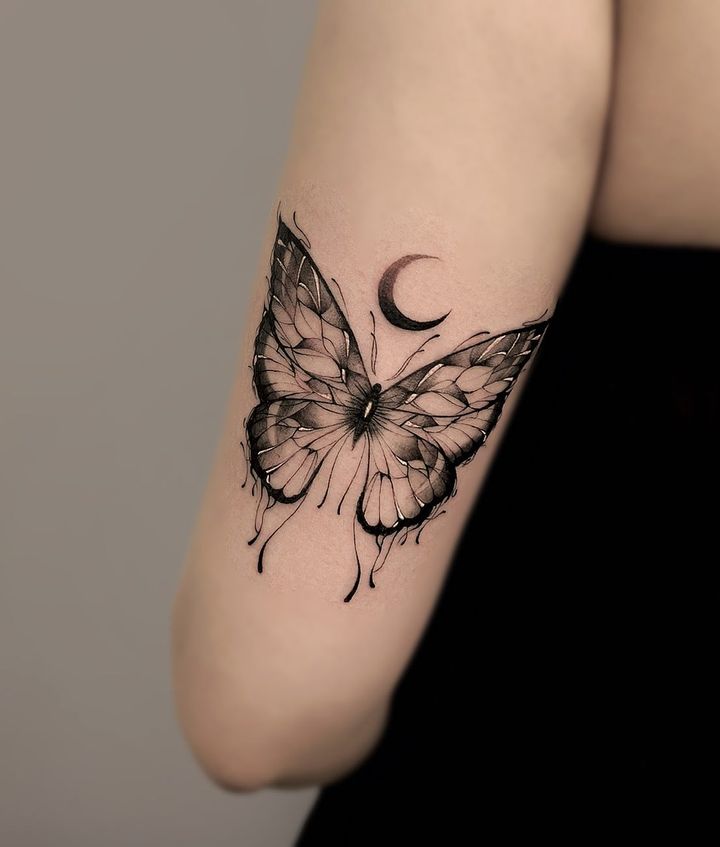 via @tattooist_hoji
Symbolic Colorful Butterfly Tattoo
Embrace hope represented by this beautiful creature with an intricate butterfly tattoo on your ankle or collarbone.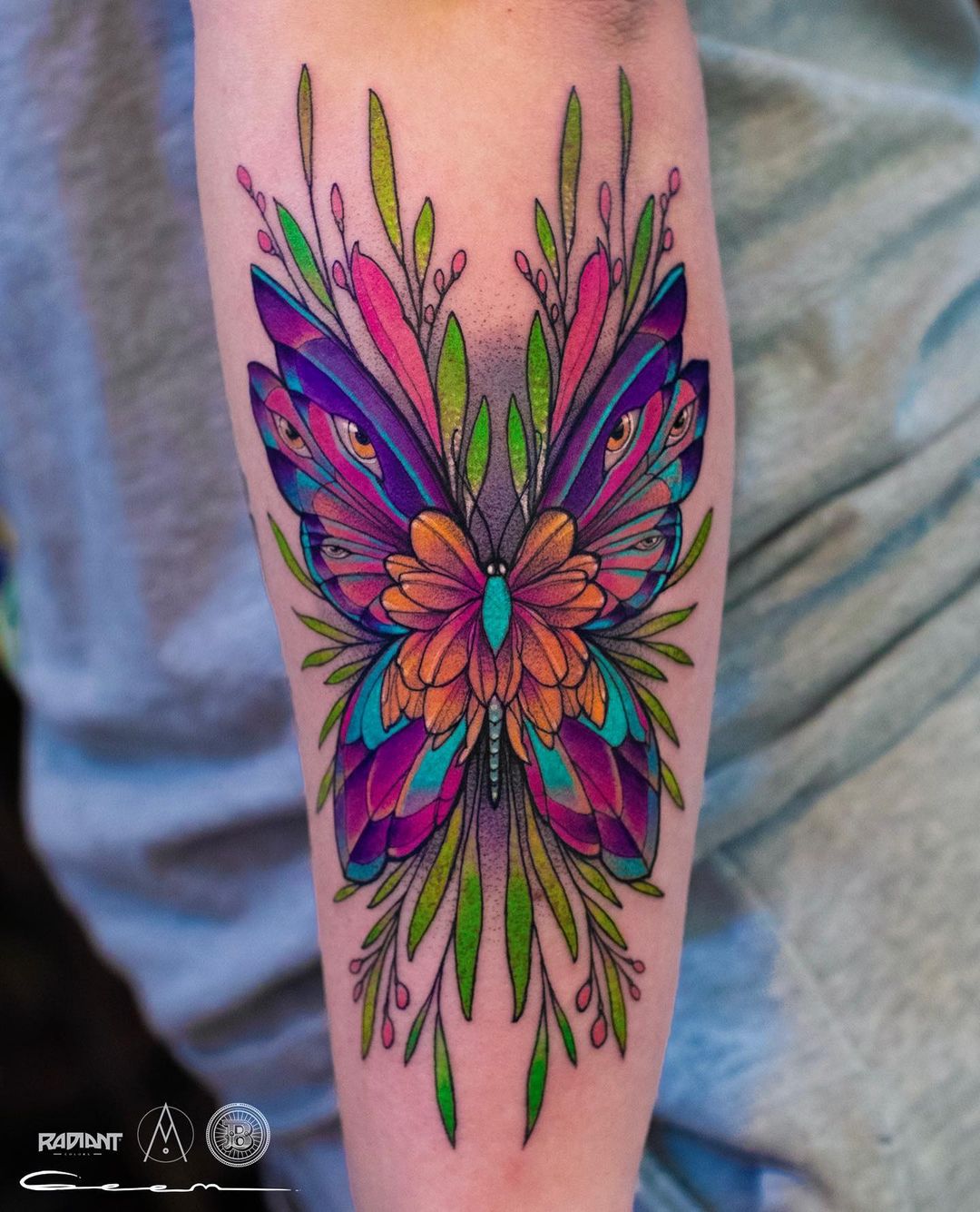 via @geem_tattoo
Different hues have different meanings. A blue butterfly tattoo represents good fortune. White butterflies mean peace. Both colors look good on fair-skinned people.
Red butterfly tattoos go well with tanned skin tones. These represent good luck, love, and passion.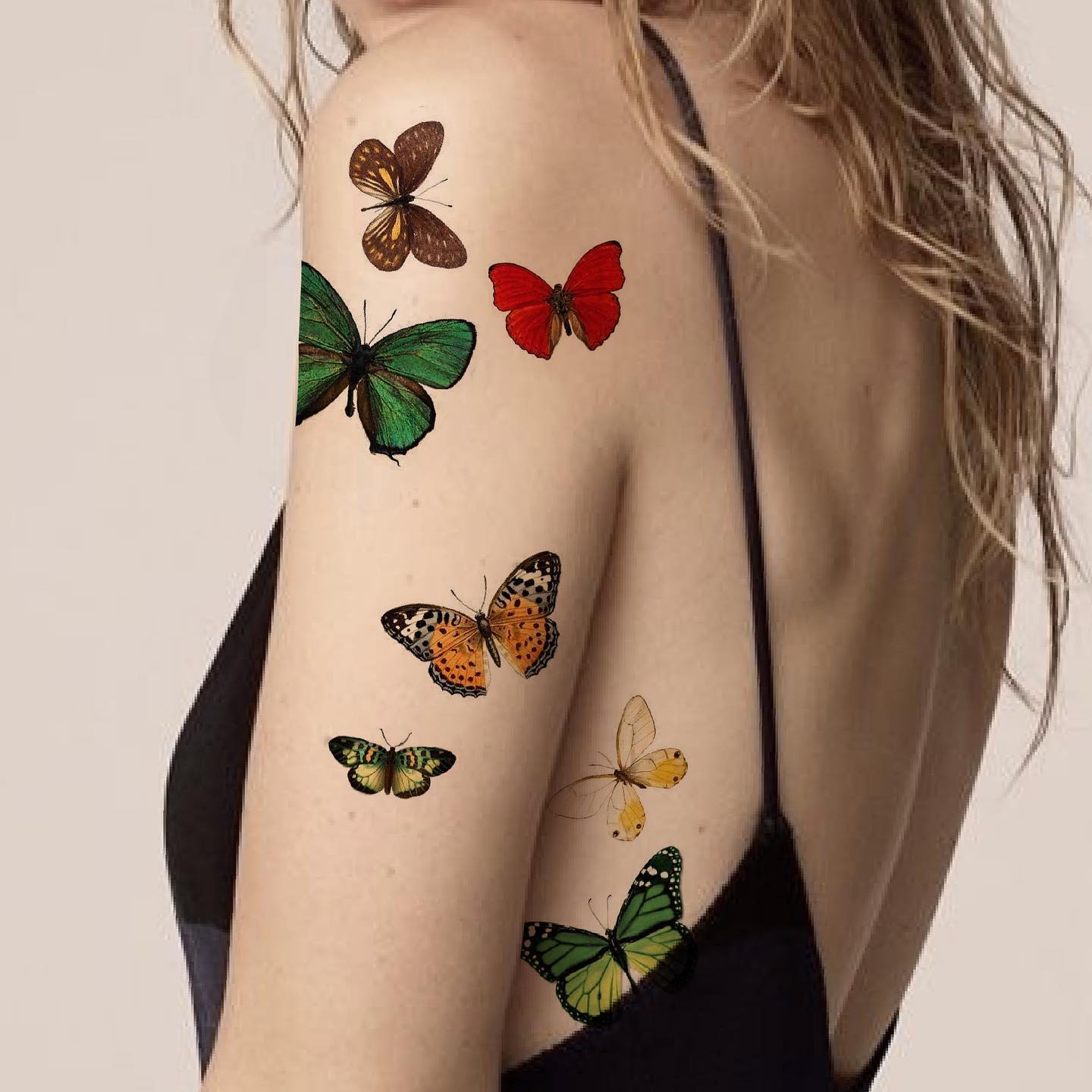 via @pokhy_tattoo
Elite Monarch Butterfly Tattoo
The monarch butterfly is the king of the species. This is a royal butterfly design, which is beautiful and symbolic. Characterized by bright colors, the wings' vivid orange and detailed black outline make it unique.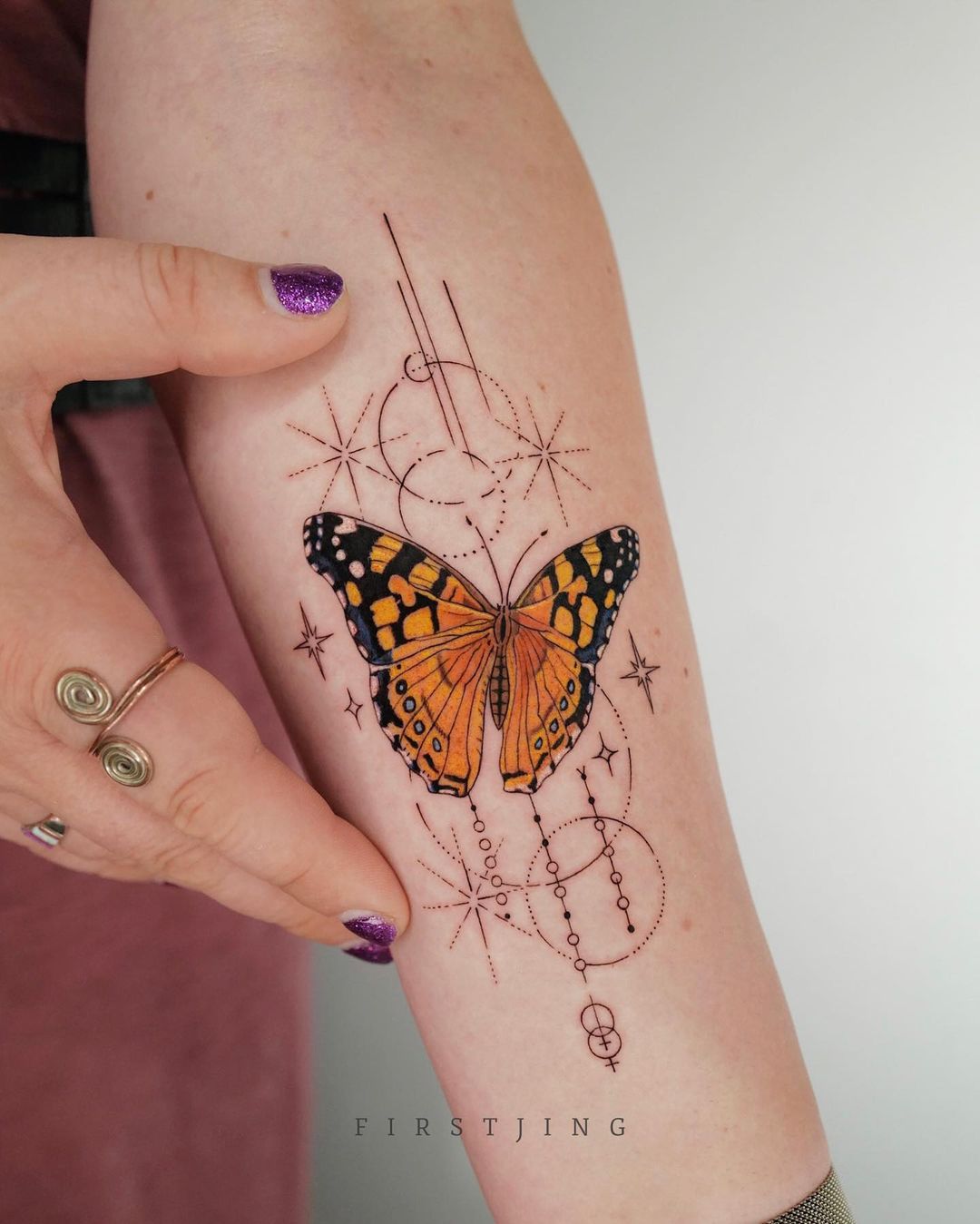 via @firstjing
One of the delicate tattoo ideas represents a spiritual reawakening, endurance, life and death, metamorphosis, and transformation.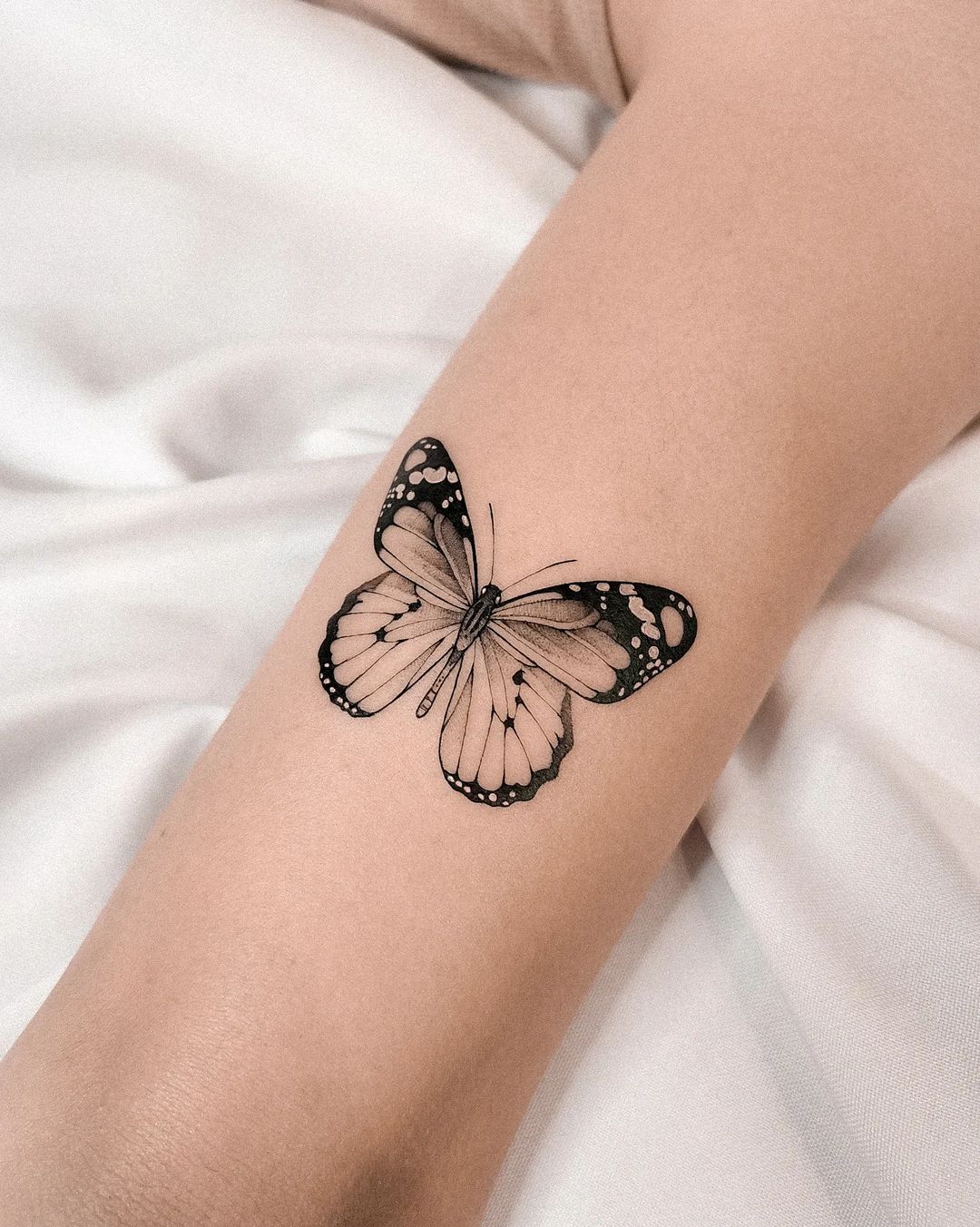 via @muhn.tattoo
Inspirational Harry Styles Butterfly Tattoo
Of the 56 tattoos that Harry Styles has got inked on his entire body, he gives inspirational goals for large butterfly tattoos. Right on his sternum, in the center of his torso, he has a butterfly in black and white ink. Believed to be about transformative symbolism and based on a French film called Papillon, it's one of the most talked about chest tattoo ideas online.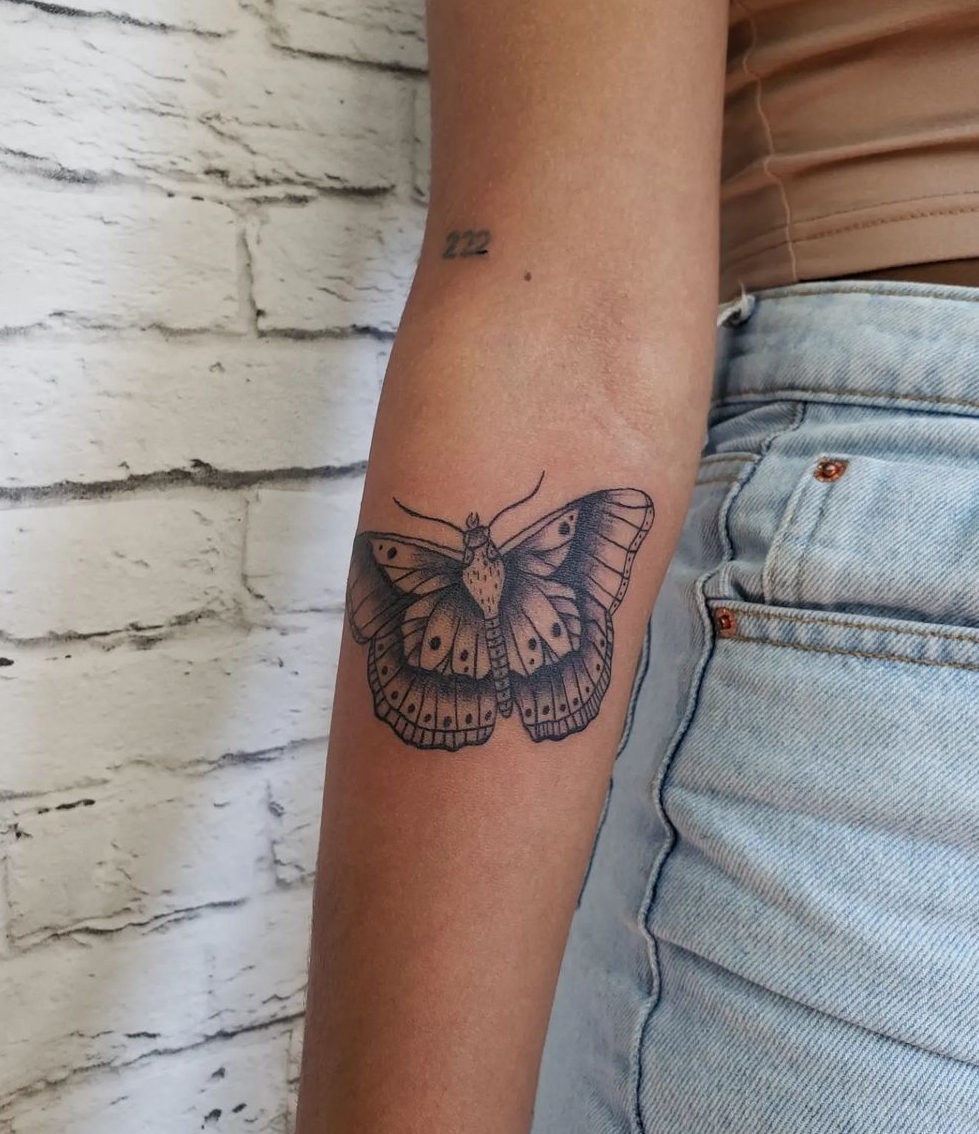 via @acsa.ink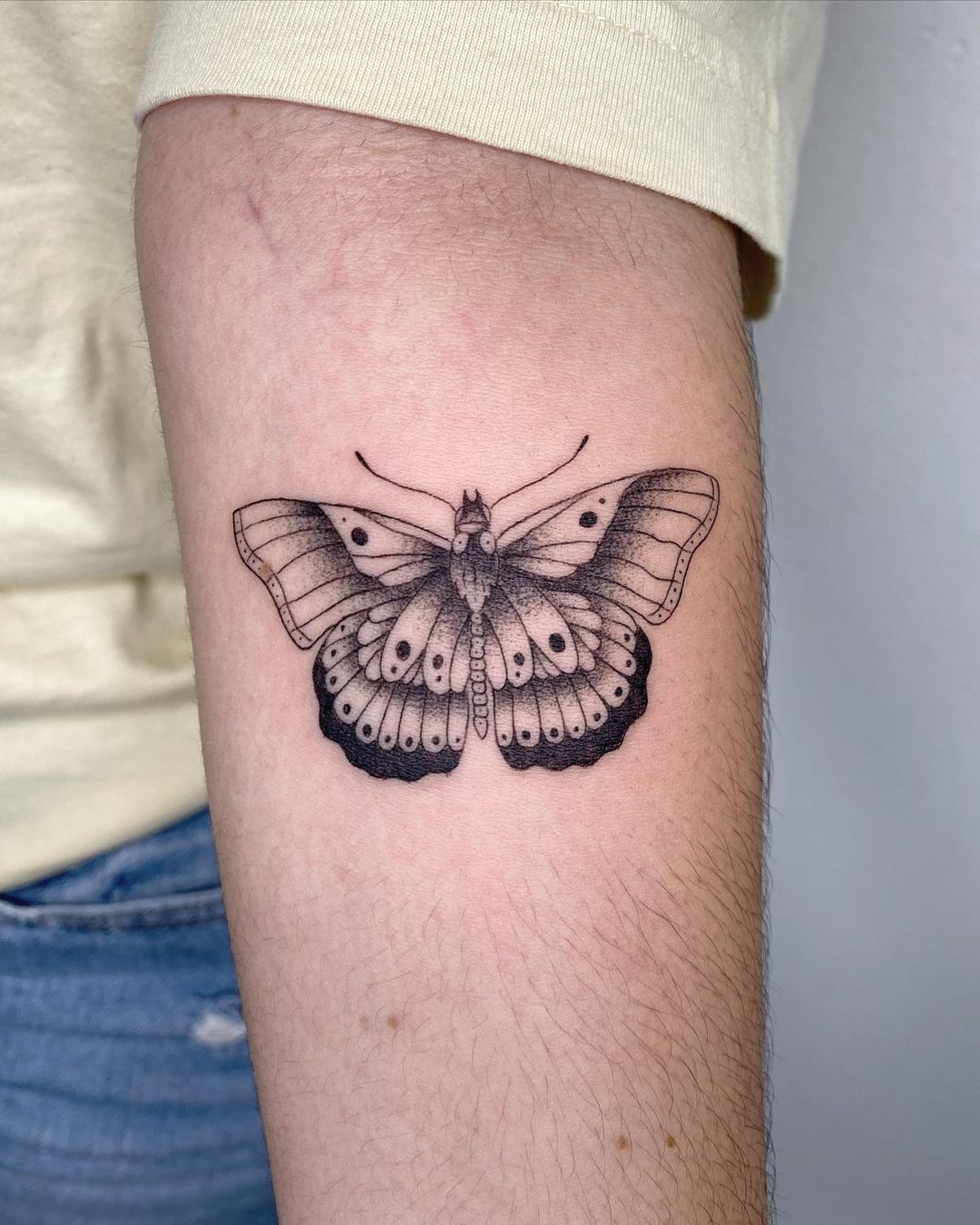 Semicolon Butterfly Tattoo Stands for Hope
Your tattoo artist can give a symbolic meaning to your survival instincts and hope to start back life again with a semicolon butterfly image. Butterflies are a metaphor for resurrection and transformation.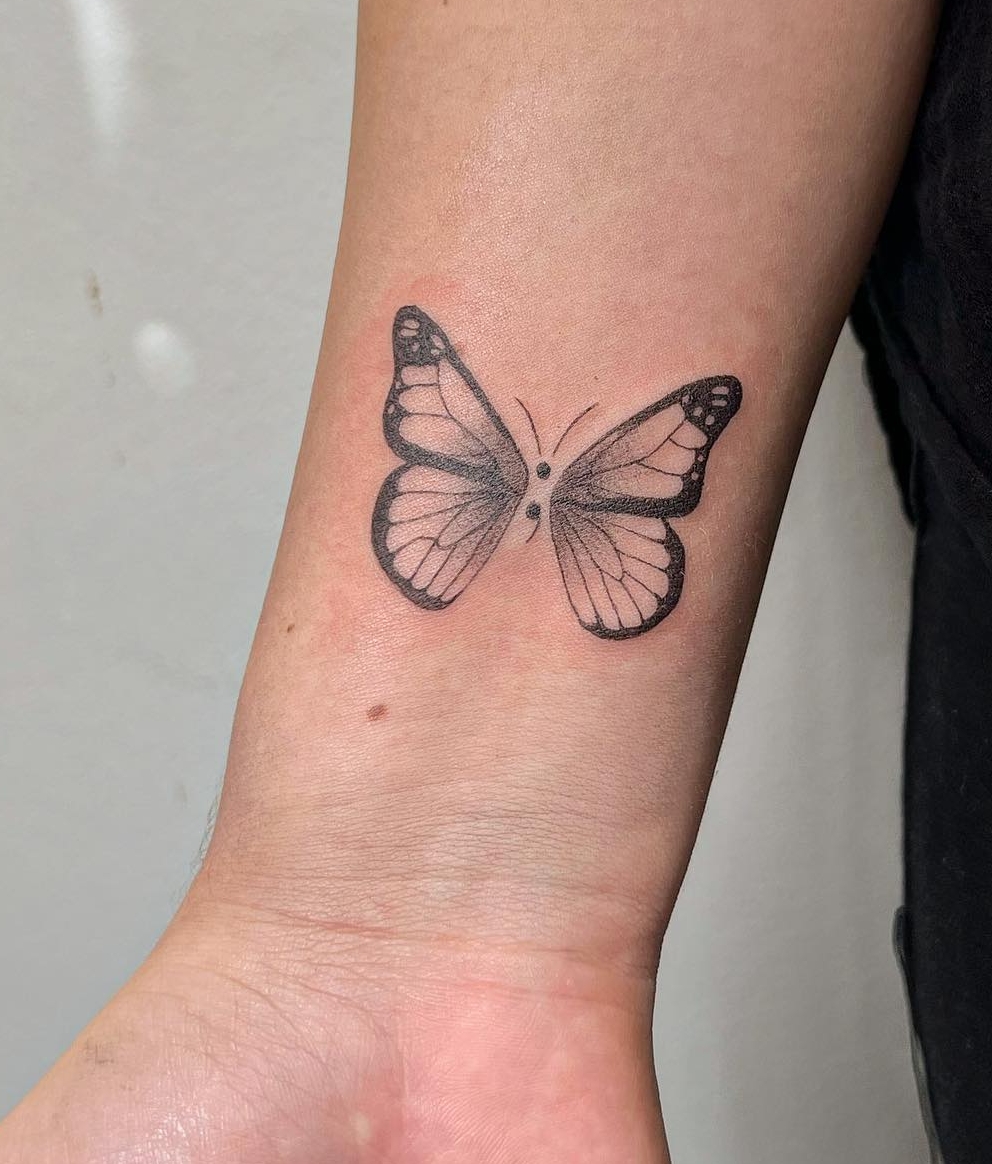 via @thatgirlnamedgg
Those survivors who were once in depression and are winners now choose to ink a dot and coma followed by a butterfly's wing tattoo to represent evolution.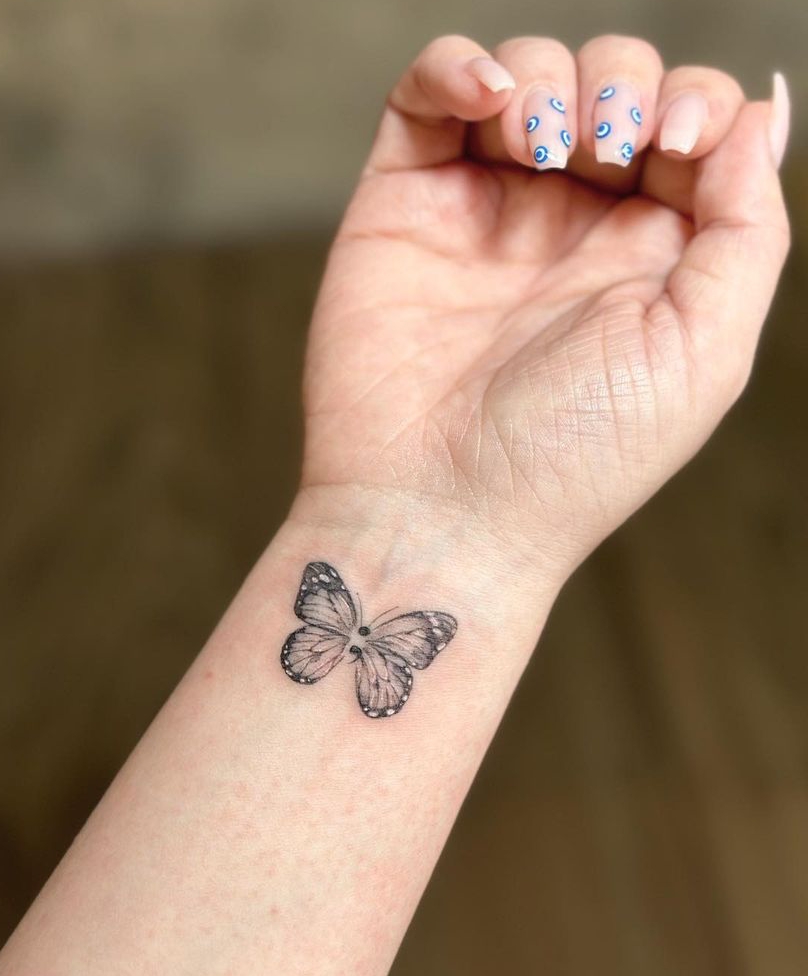 via @jaime.ink
Lifelike 3D Butterfly Tattoo
One of the most popular and unique butterfly tattoos is the 3D design. The winged creatures representing life and death seem as if they are ready to fly off your body part.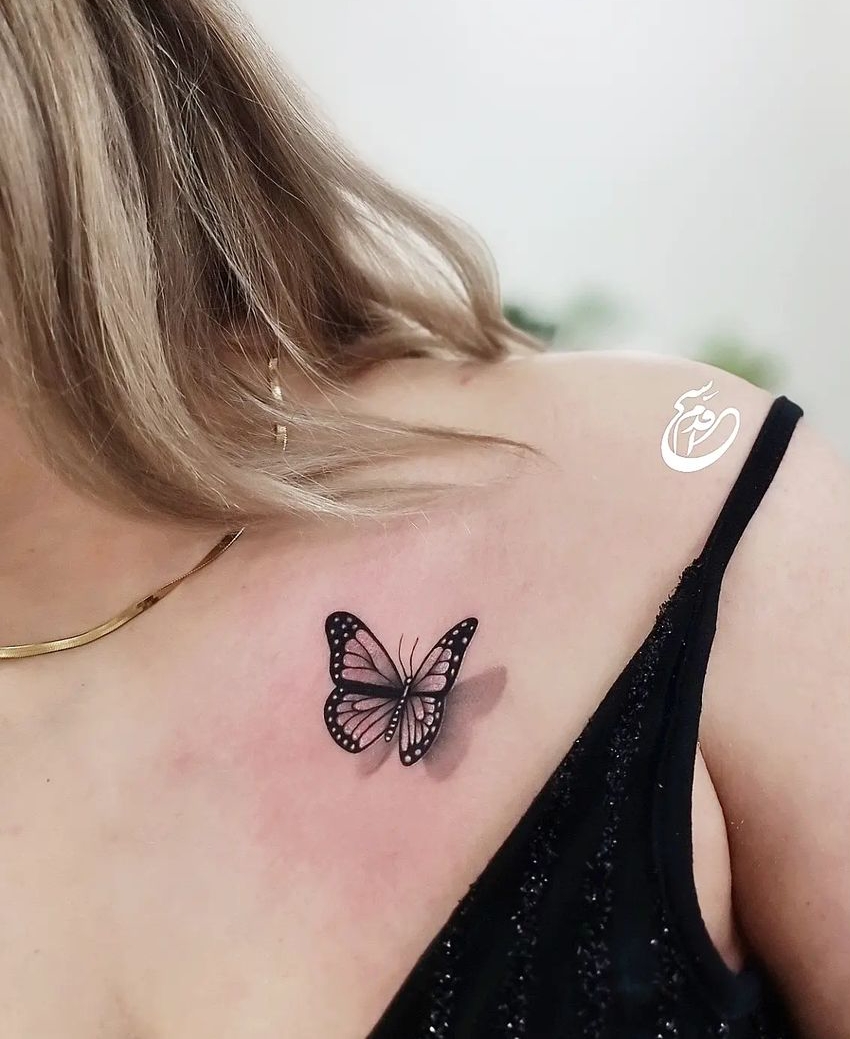 via @saharaghdam.tat
The three-dimensional shadowing of the butterfly's wings gives the visual feel of the insect gently resting. A blue or yellow butterfly is perfect for good fortune.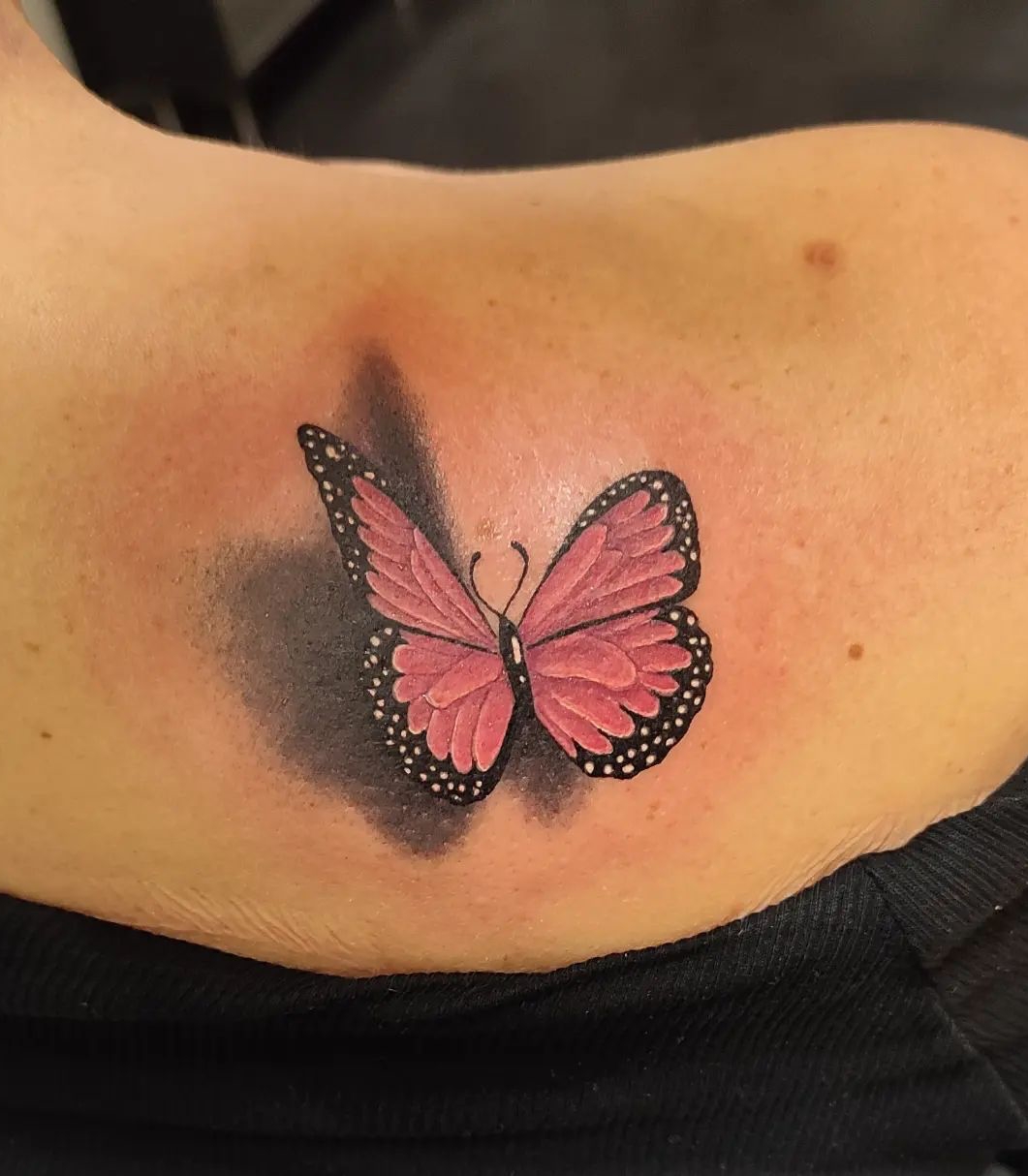 via @br.eistatt
Pretty Tattoos of Flowers and Butterfly With Deeper Meaning
A floral butterfly tattoo is an interesting way of showcasing your love for natural beauty. This one looks great on any skin type and tone. There are some exciting design options, too—for example, a half-butterfly half-flower tattoo or expressing your joys with vibrant colors of butterfly tattoos with flowers. The delicate feminine beauty of the tattoo is unmissable!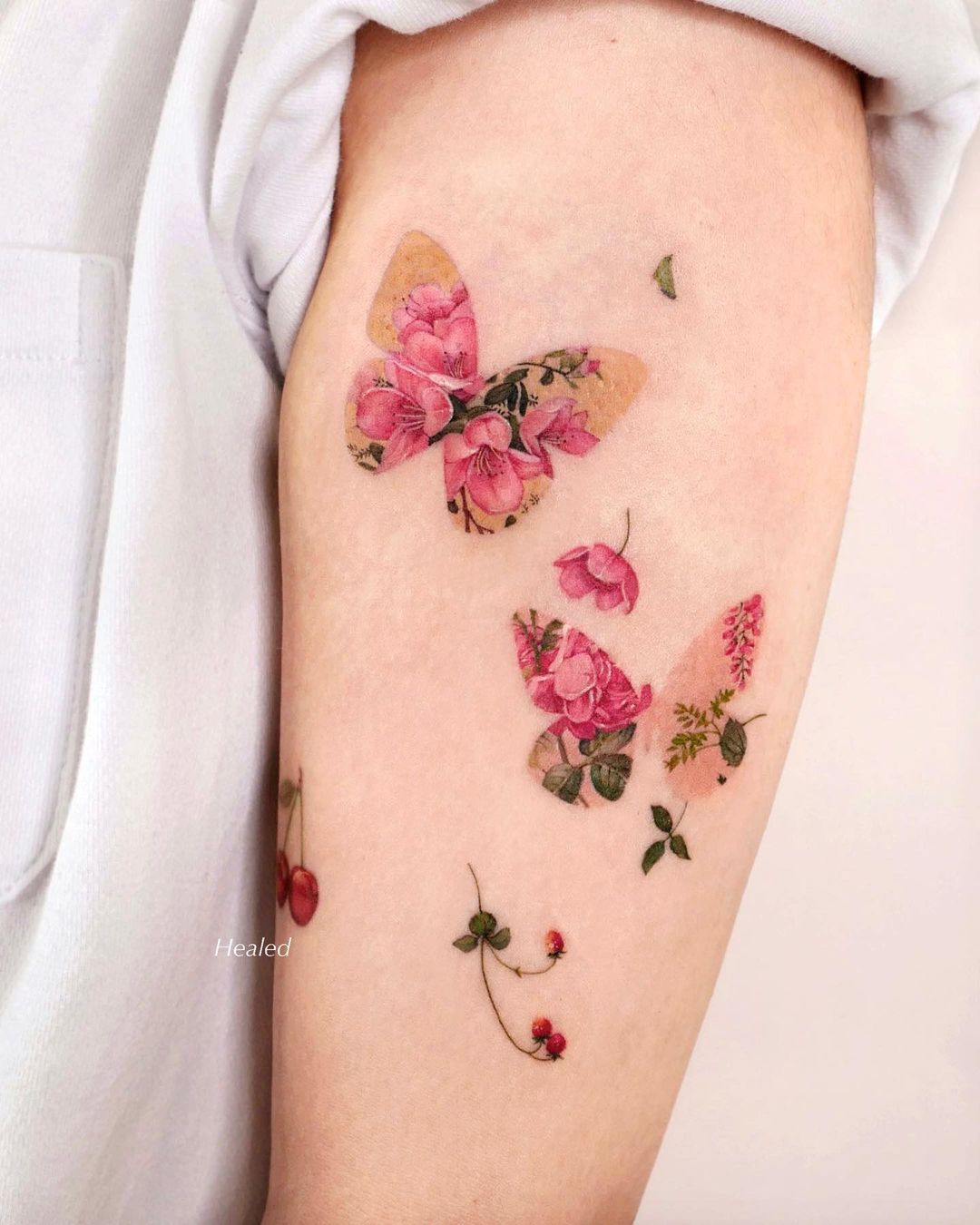 via @songe.tattoo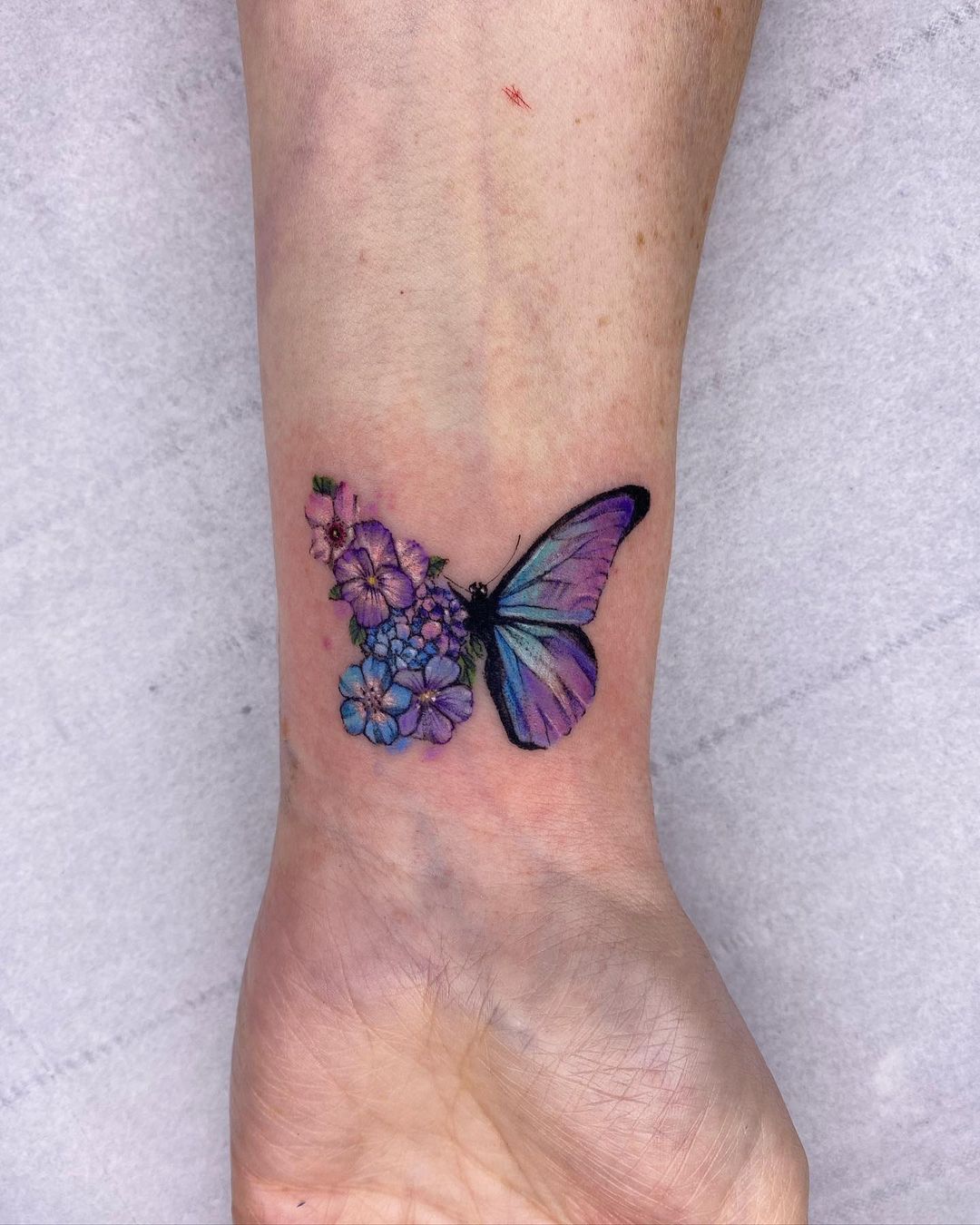 Ethereal Butterfly Tattoo Behind Ear
Two butterflies in vivid colors behind the ear represent heavenly beauty. It is an excellent idea for your next ink.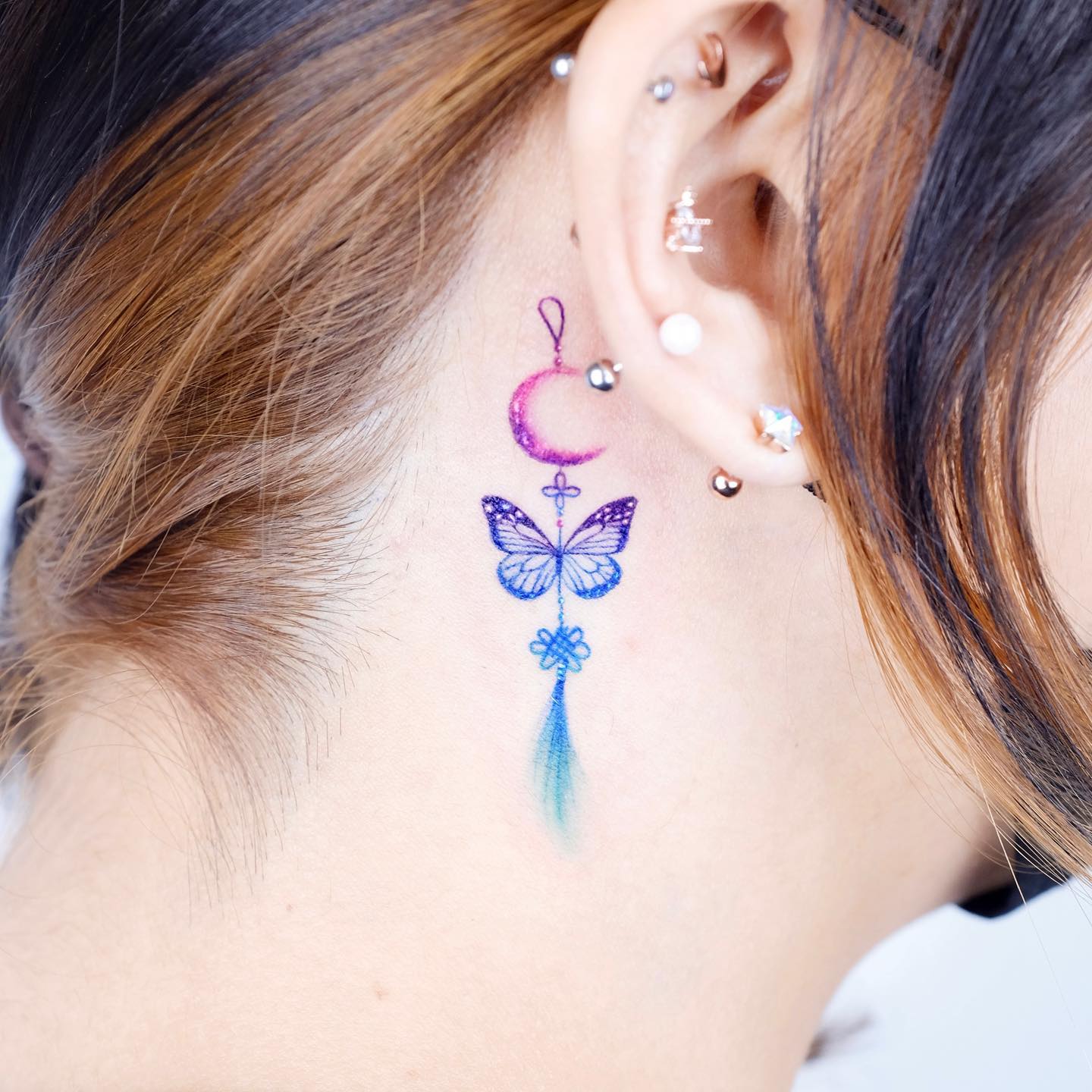 via @coy.tattoo
The metamorphosis of the insects from mere caterpillars to adorable beauties represents more ideas for women's tattoos. Ink them in lighter blue if you are fair-skinned and in darker blue in the case of an olive-skinned tone.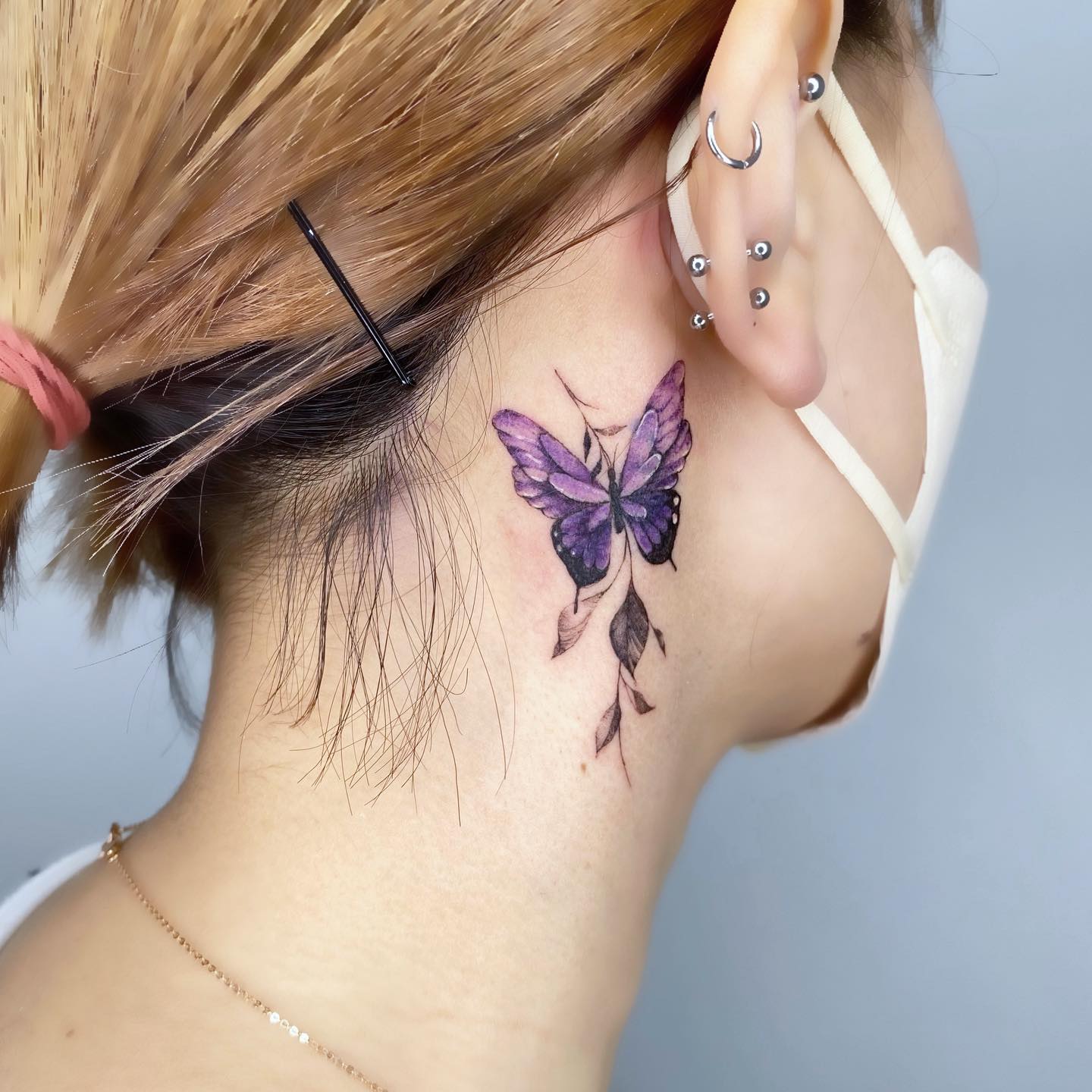 via @_tattoo_gj
Bespoke Traditional Butterfly Tattoos
Get a personalized feel with a butterfly design that represents spiritual transformation. Some even consider their tattoos as winged angelic messengers.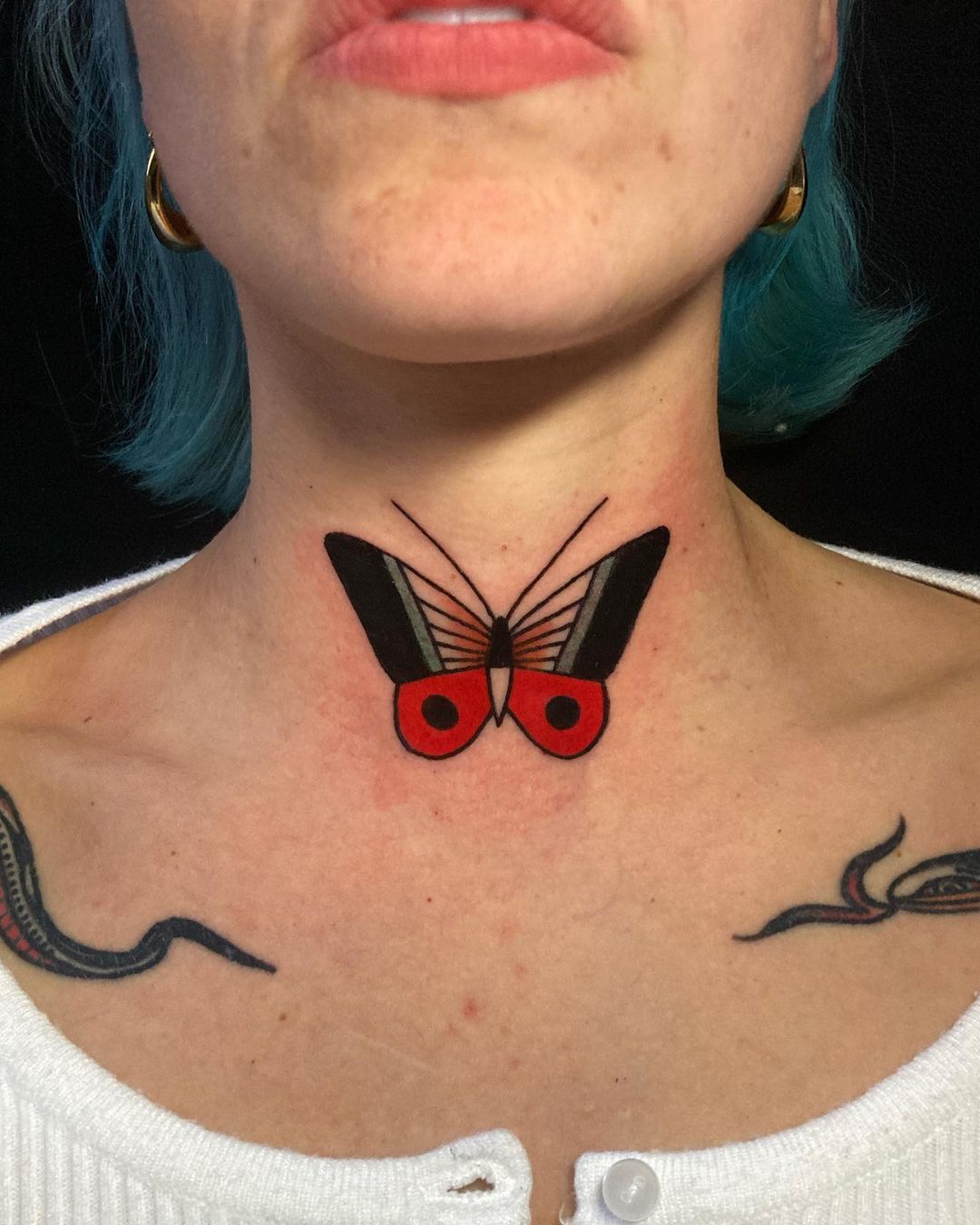 via @gm_spanu
The black and white tattoos of the insect look amazing on people with all skin tones – black is the color for darker people, while white is for lighter skin tones.
The tattoo style is for anyone who believes in celebrating life and the ongoing struggles of the journey.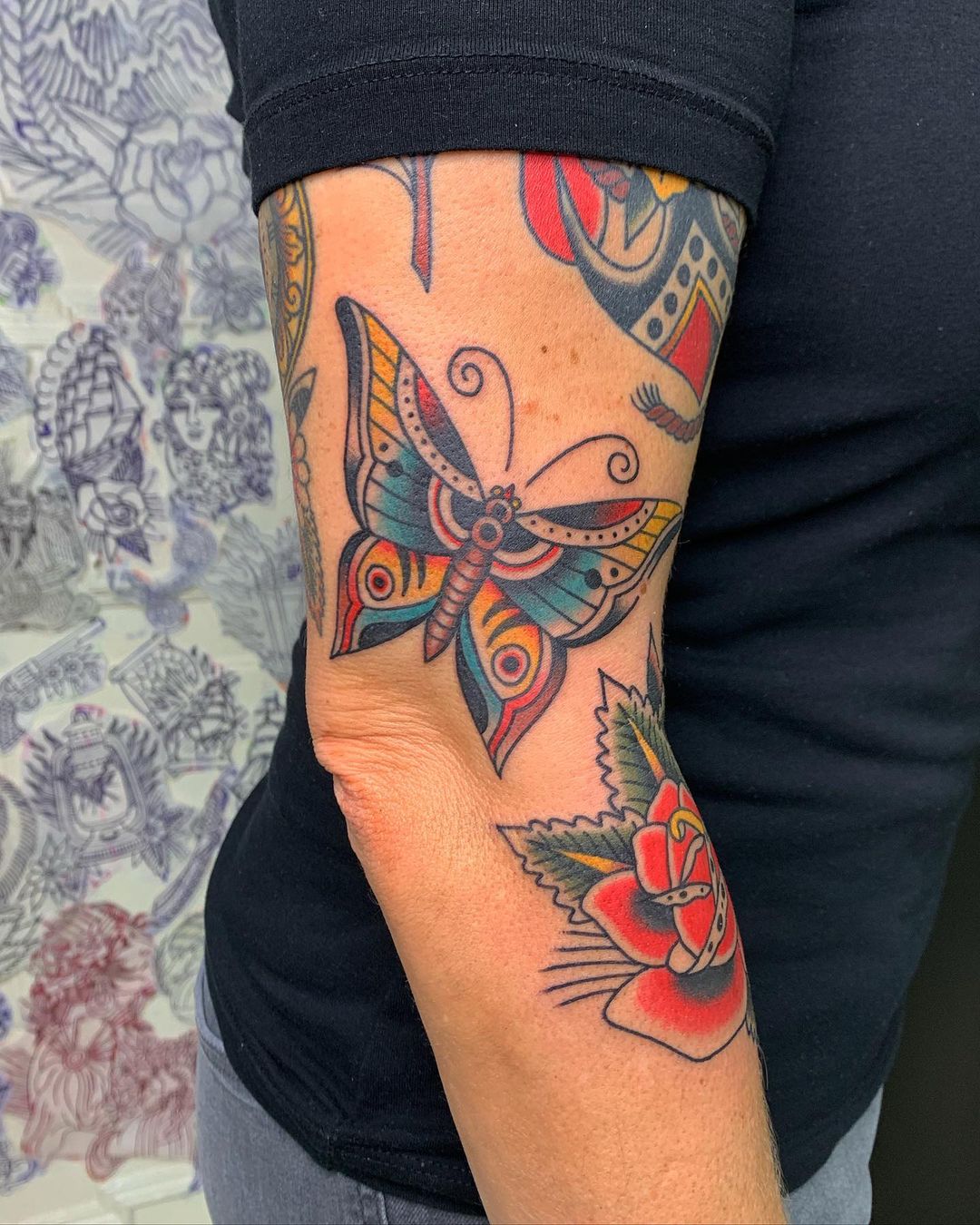 via @danhof.tattoos
Two Opposites: Butterfly Tattoo on Skull
A great tattoo idea for men is the skull 3d butterfly tattoo. It looks mystical on the chest, forearms, and back. The hidden meaning is symbolic too.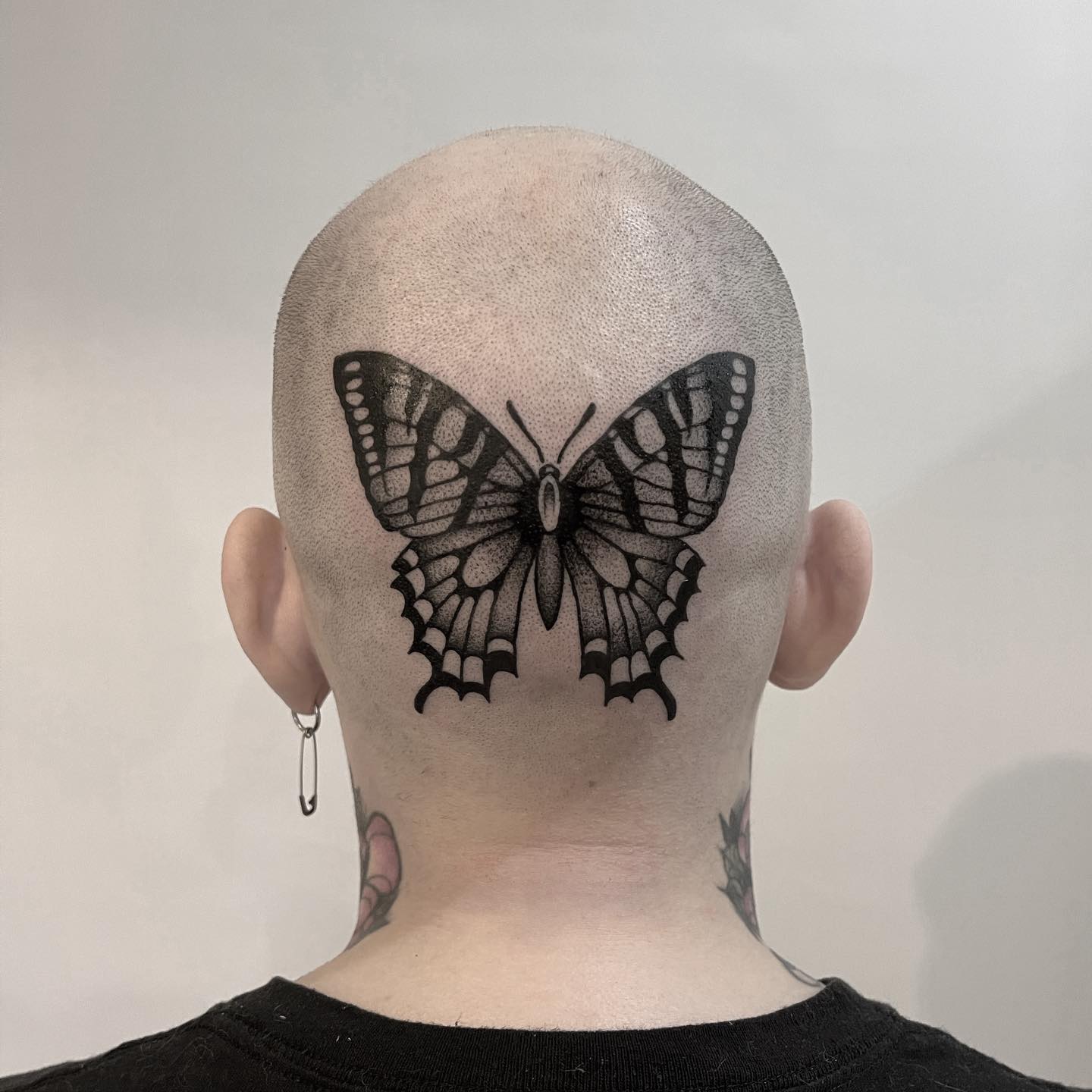 via @three.tears
The insect's timeless beauty and the skull's spookiness blend as do life and death. A black butterfly tattoo on a head stands for hope against sorrow and is a perfect combo of feminine and masculine energies.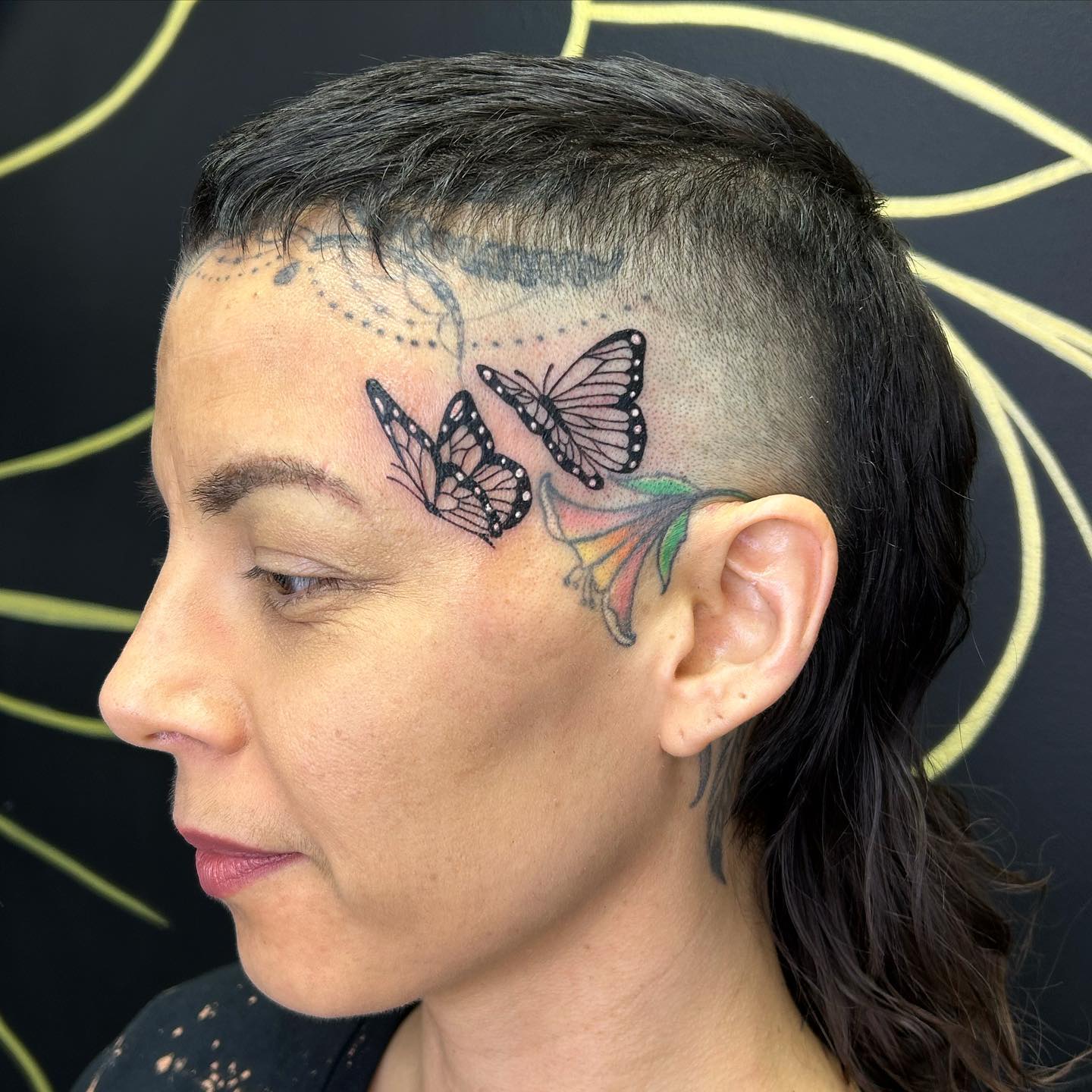 via @dmagalditattoos
The epitome of Beauty: Rose and Butterfly Tattoo
Add power to your red rose tattoo by inking a butterfly, and subtly flirting with it. The two entities represent eternal love and magical beauty, lending meaning to the endless cycle of birth, death, and rebirth.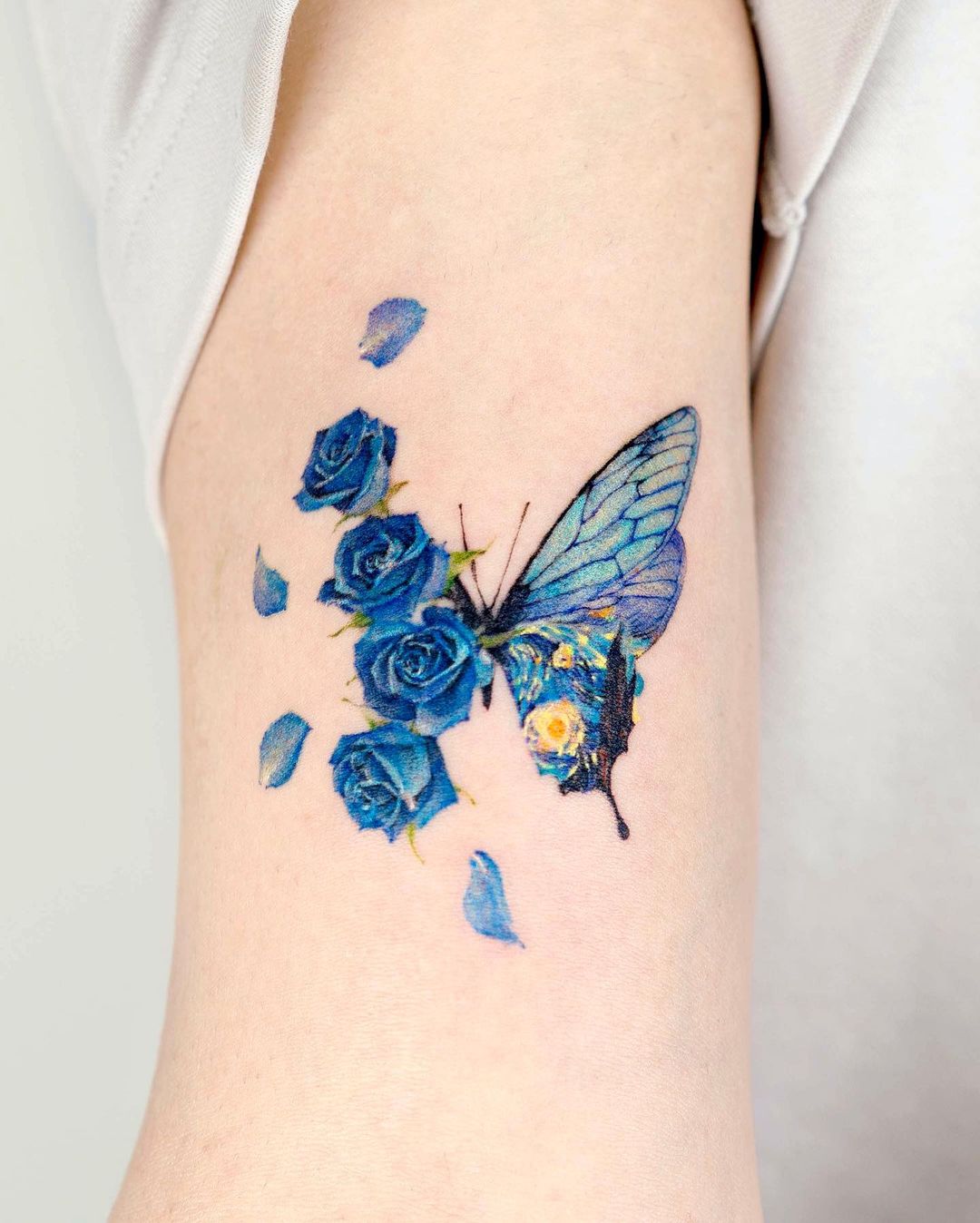 via @tilda_tattoo
The natural beauty of the rose and insect looks adorable on the arms. Keep lighter hues of the minimal tattoo for pale skin and brighter for darker skin.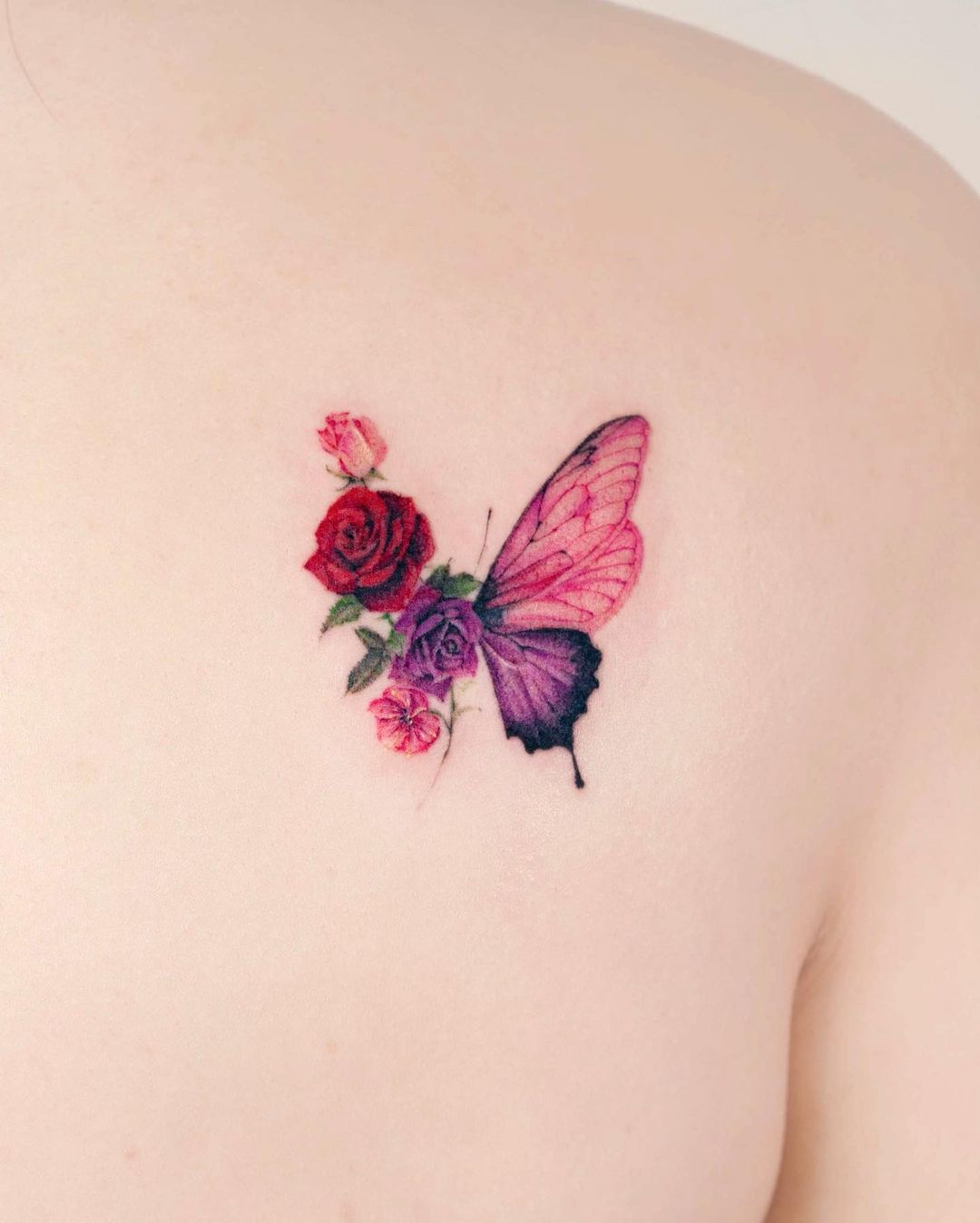 via @tilda_tattoo
Fly High with Arm Butterfly Tattoo
Get a blue butterfly tattoo on your arms and highlight personal traits like freedom and liberty. Lighter shades of blue of butterfly design are recommended for fair-skinned people, while dark blue suits darker skin tones.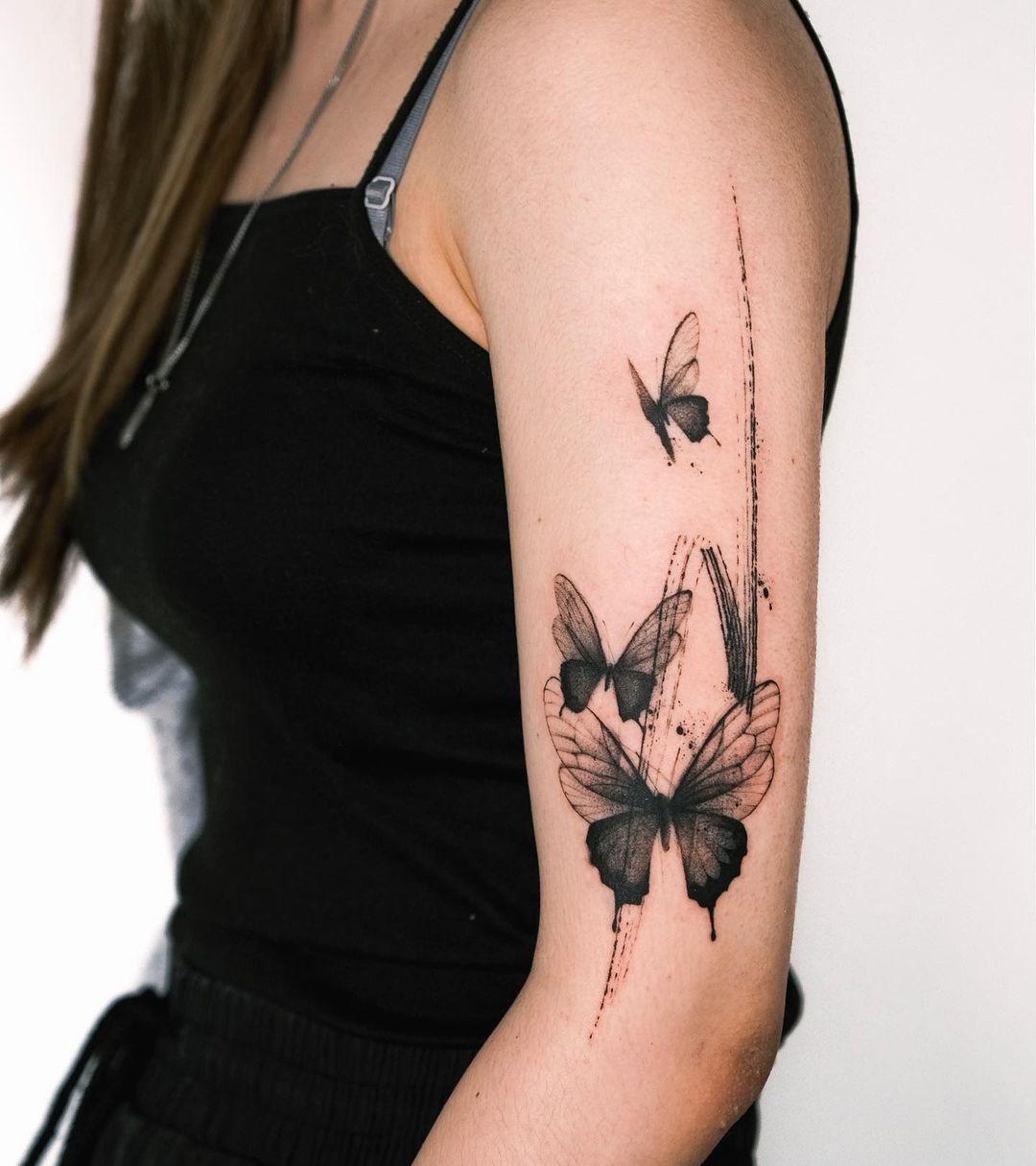 via @who_is_ryu
A perfect sleeve tattoo idea of the winged creature denotes your choice of travelling and moving with complete freedom.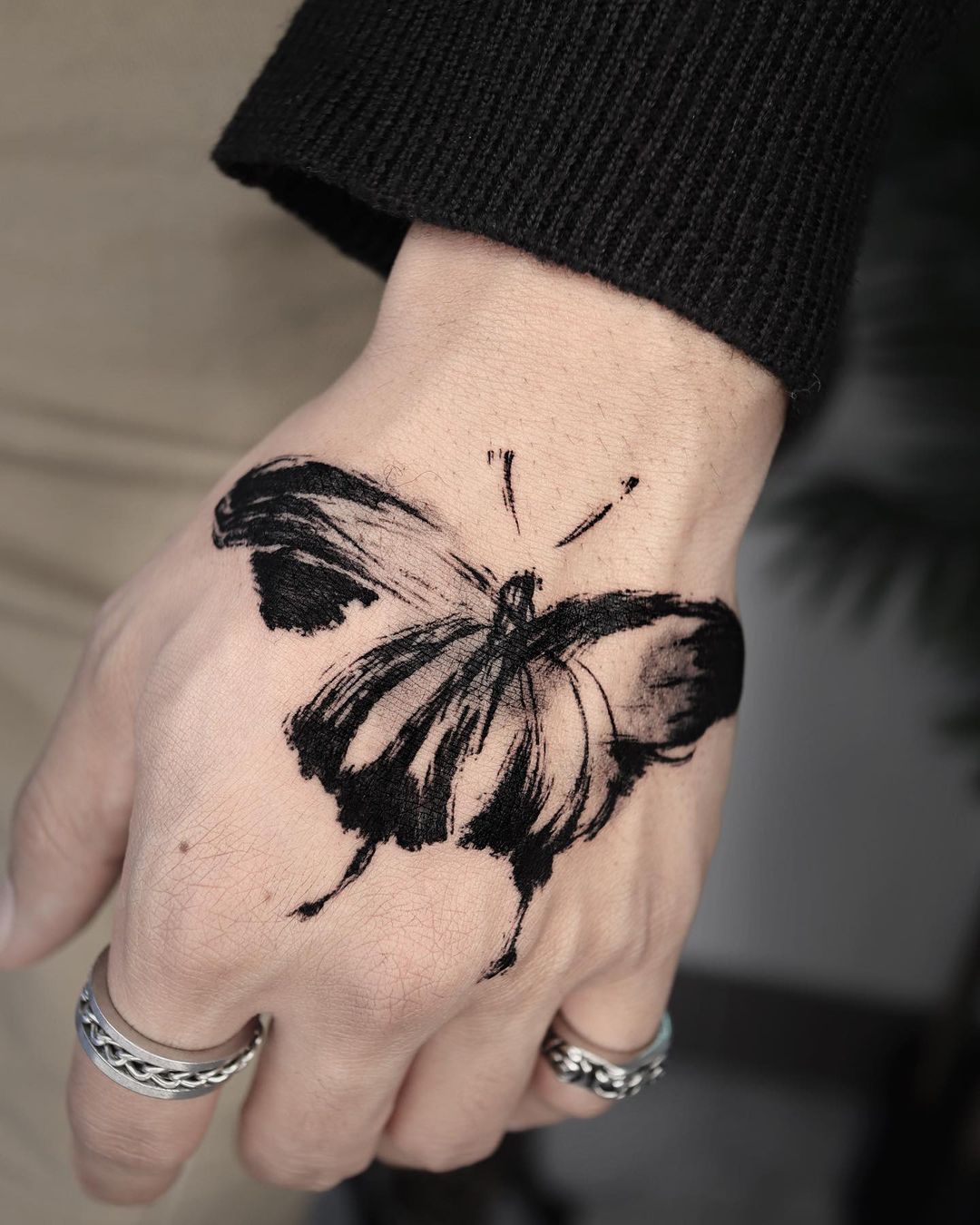 via @tattoo_chamsae
Finger Butterfly Tattoo: A Ring Tattoo
Finger tattoos are not common because the inked design is likely to lose its charm due to continuous exposure to sun and water. However, tiny butterfly tattoos on your fingers have the aura of a finger ring.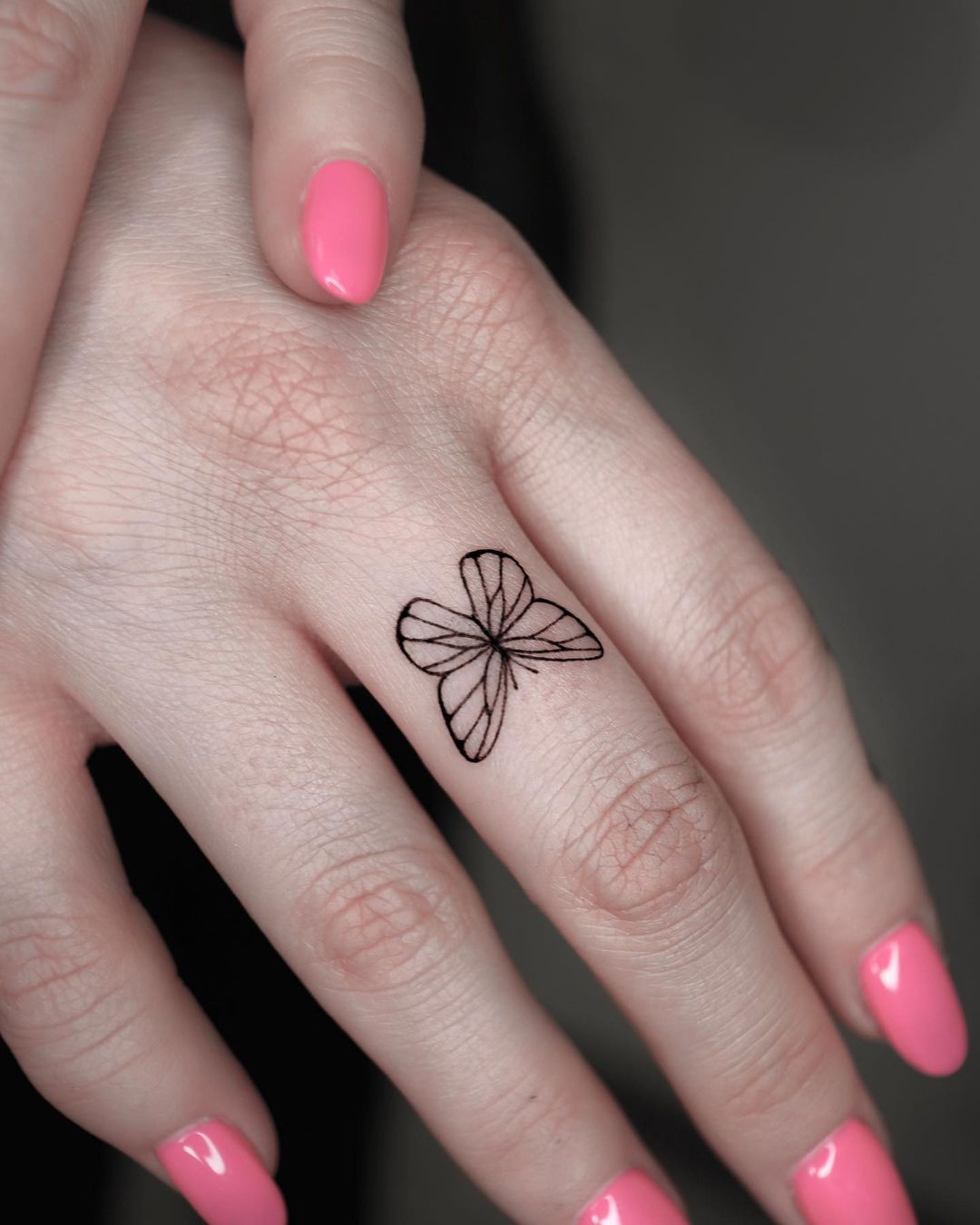 via @tattoo_chamsae
One of the interesting finger tattoo ideas is to sketch butterfly wings on the thumbs of both hands. When you put them together, it appears like the insect is about to fly.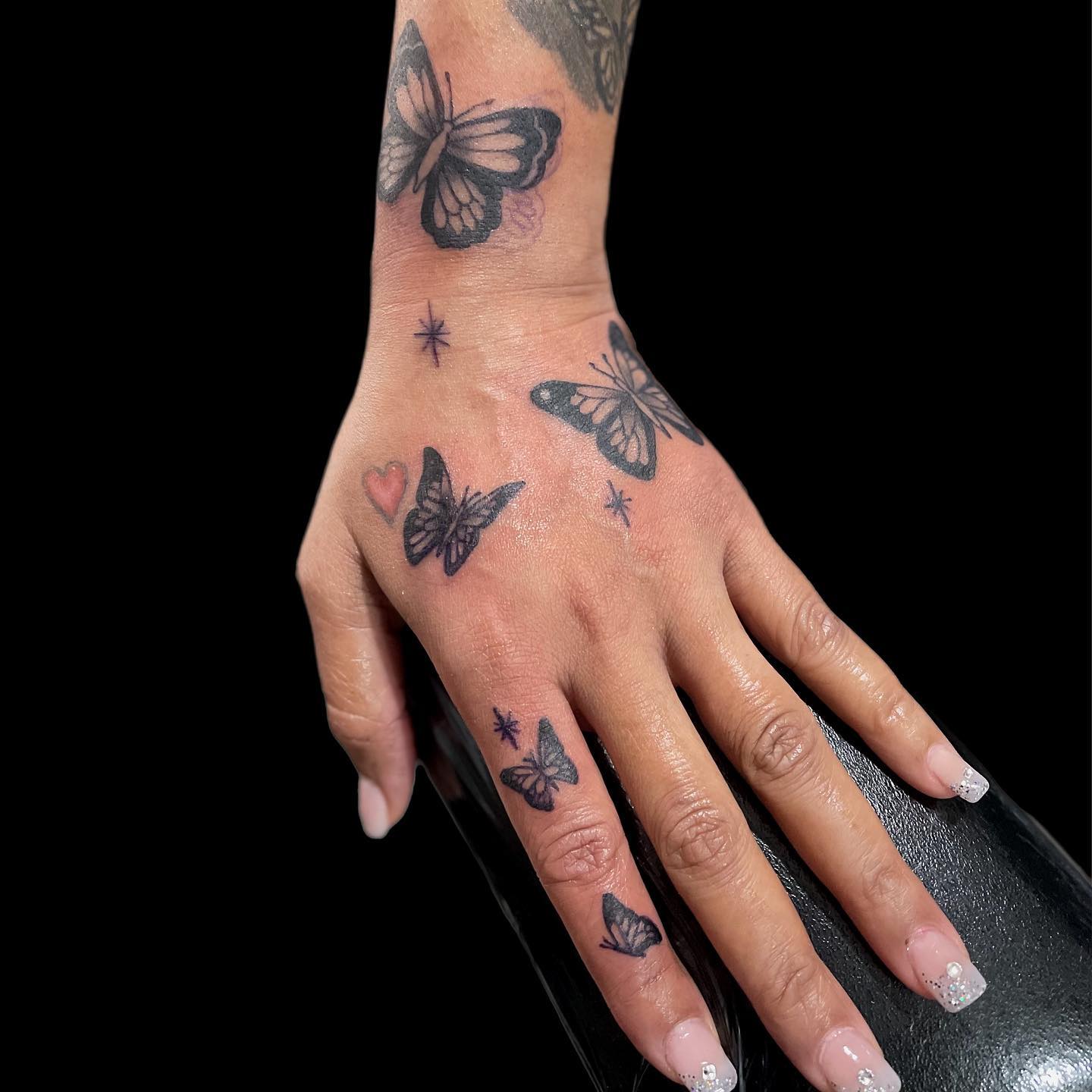 via @thornsdelrosas
Romantic Butterfly Tattoo on Neck
Neck tattoo ideas are not as popular as other parts because the area is sensitive and is identified as 'the most painful' body part for tattoos. The result, however, is breathtaking.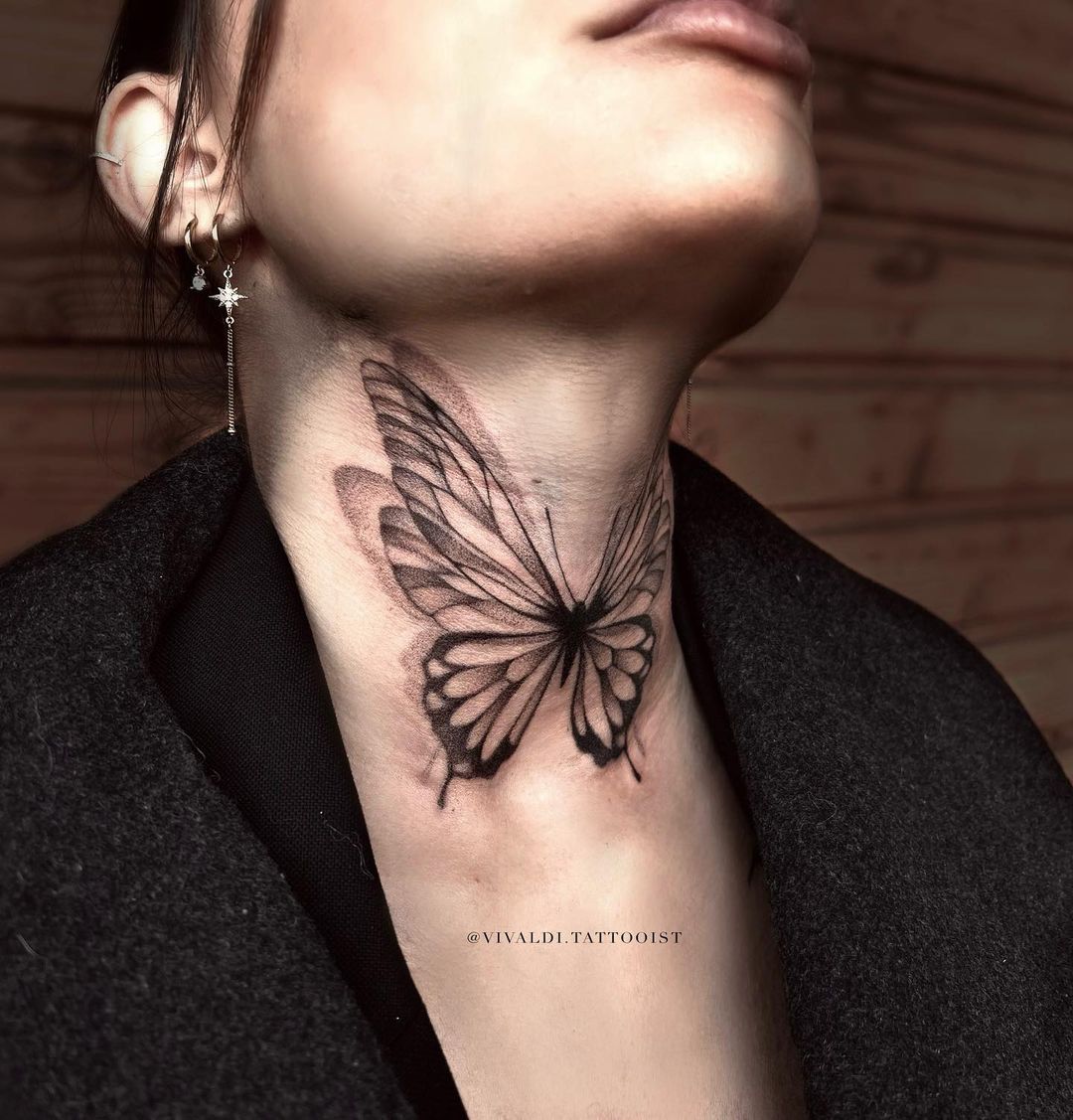 Butterfly's wings tattooed on the neck region symbolize a metamorphosis that you have undergone. A red butterfly tattoo on the neck indicates a newfound love and romance.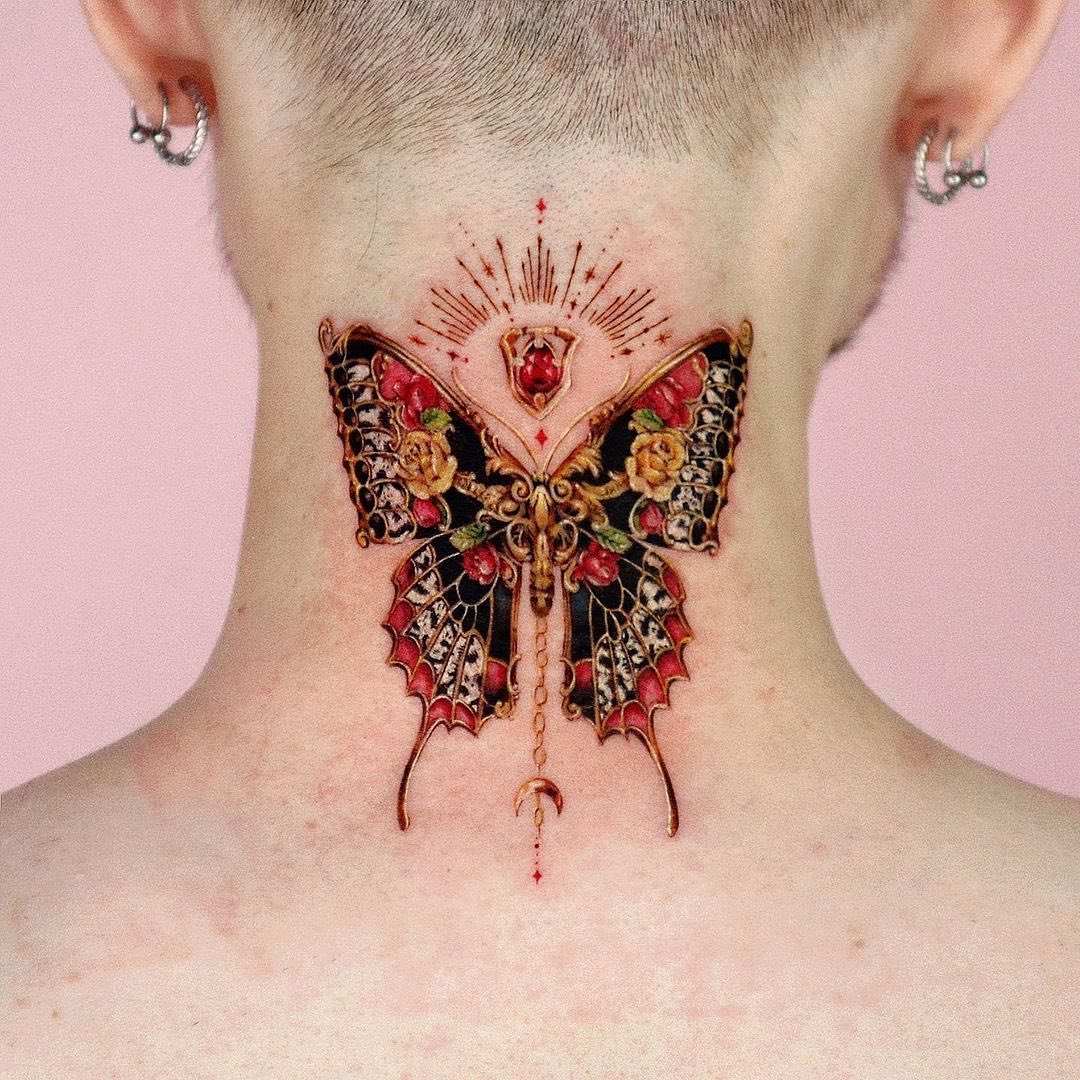 via @369.inkstudio
Watercolor Tattoos: Visual Delights
Ink the petite winged-created on your body part as a watercolor butterfly tattoo. Of course, it does not involve painting or brushes. An experienced tattoo artist will give an organic form with bold and strong lines. It's an exciting shoulder tattoo idea.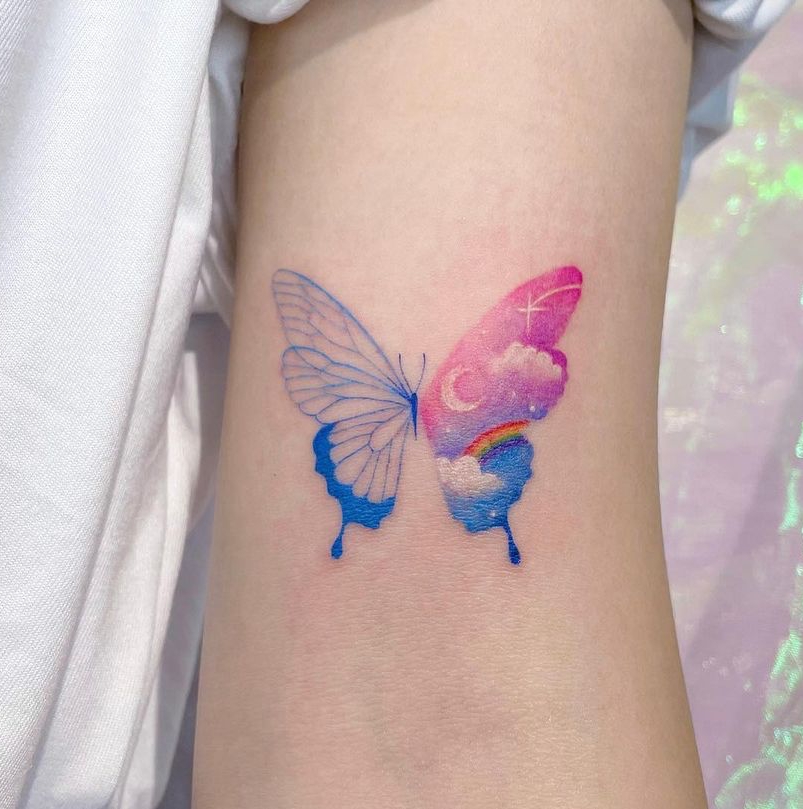 via @plastic_tattoo
Choose a blue butterfly tattoo, a bright blue that is aesthetically beautiful and looks like a free-form painting.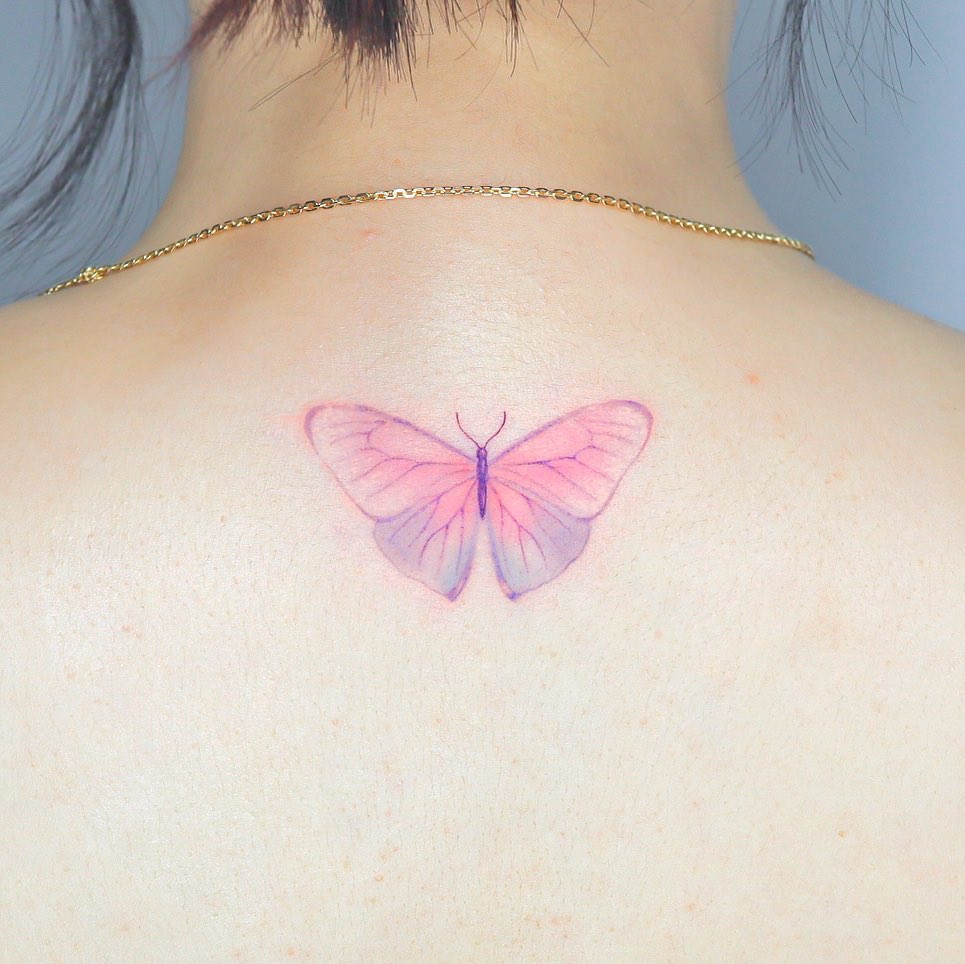 via @dali_tattooer
Symmetrical Matching Butterfly Tattoos
Matching tattoos are fun and can be done with your family, friends, spouse, soul mate, etc. One of the best is colored or black-and-white butterfly tattoos for couples.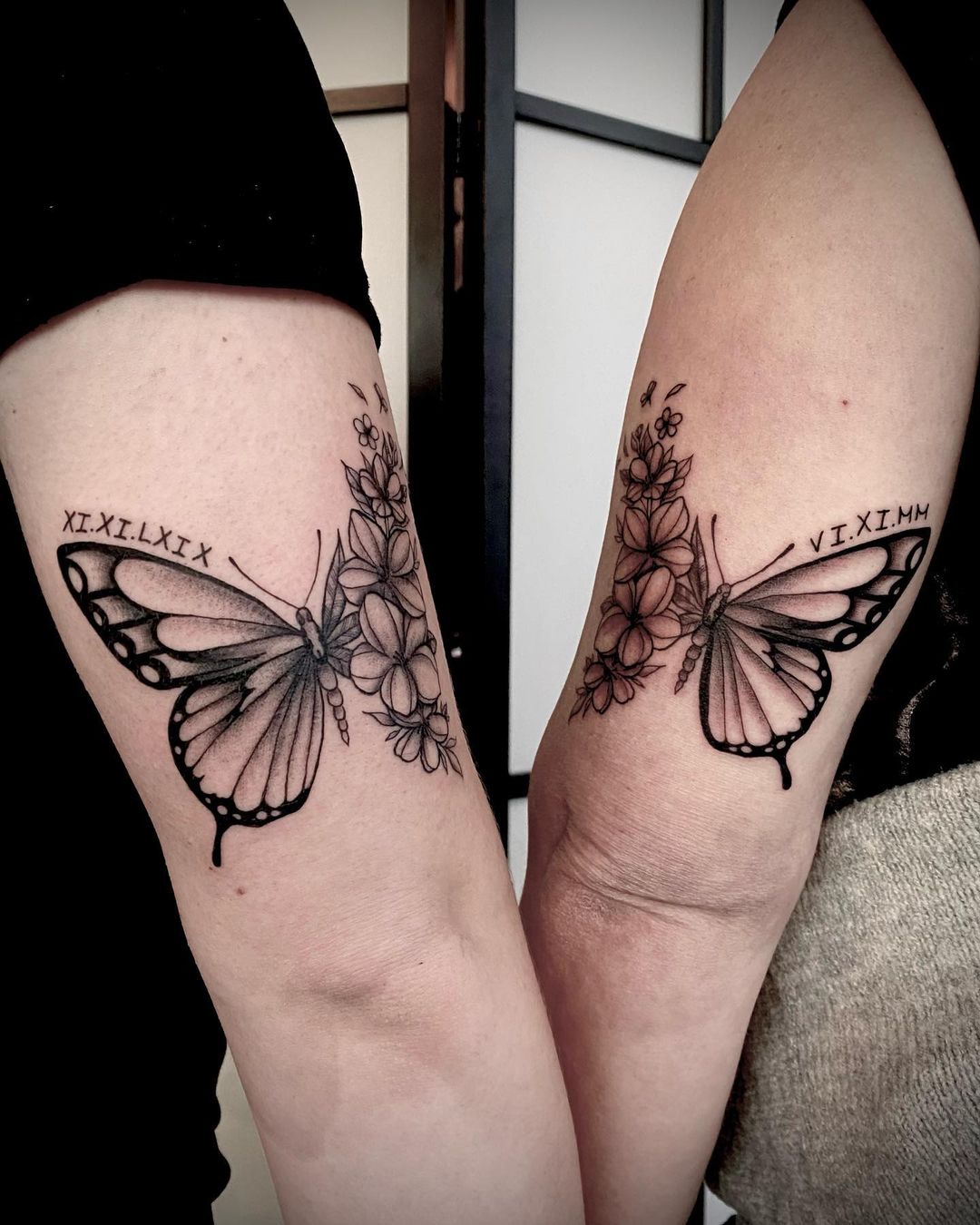 via @inkkat.b
Why it works with butterflies because of the symmetry of the insect's body – the matching butterflies twin beautifully. Customizable shapes and styles make it a unique idea. After all, the winged insects are a symbol of new life.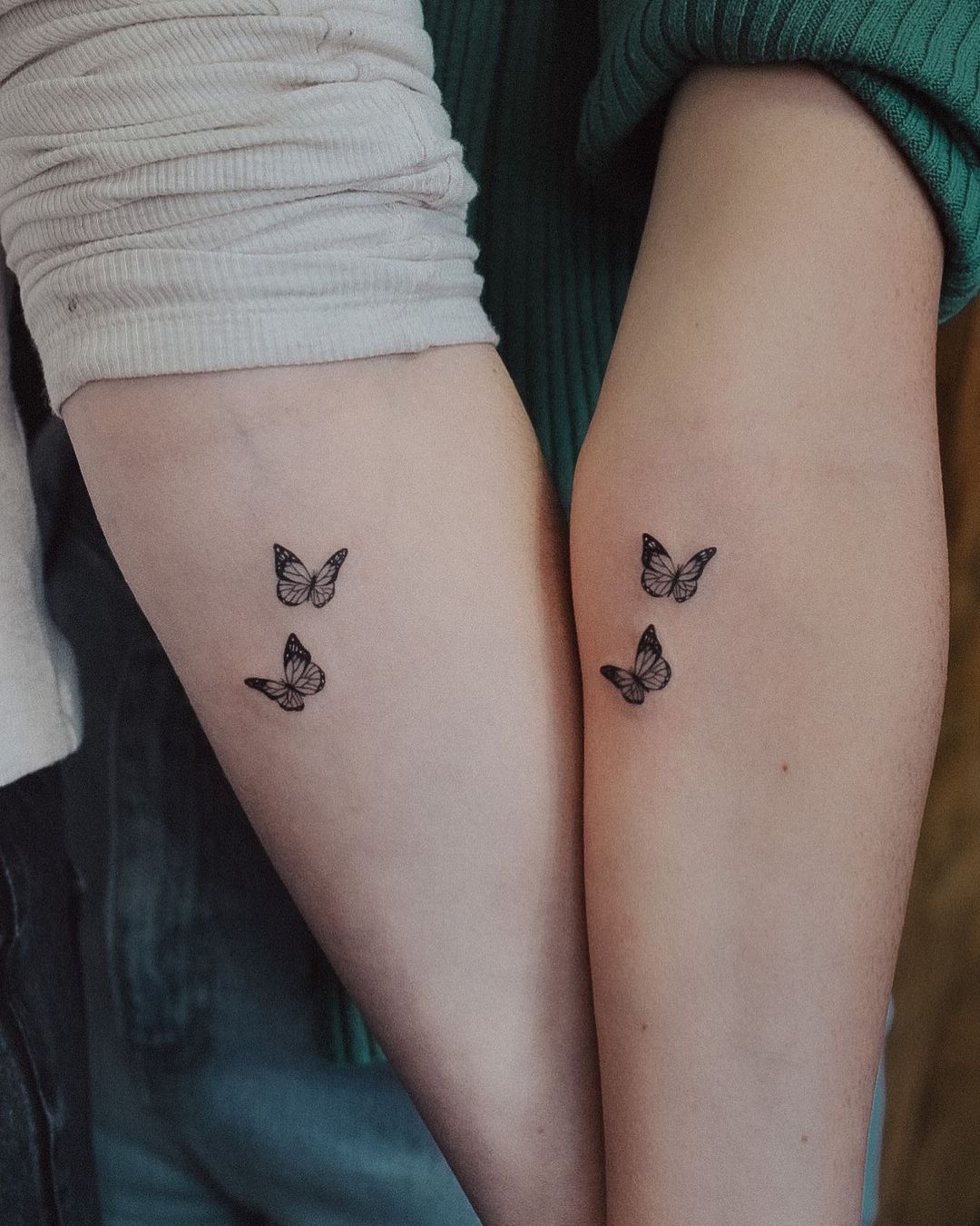 via @tavi_tattoo
Vivid & Eye-Catching Sunflower and Butterfly Tattoo
Love bright colors? Go in for a colorful tattoo. A sunflower and butterfly design is a meaningful tattoo symbolizing hope, freedom, and life.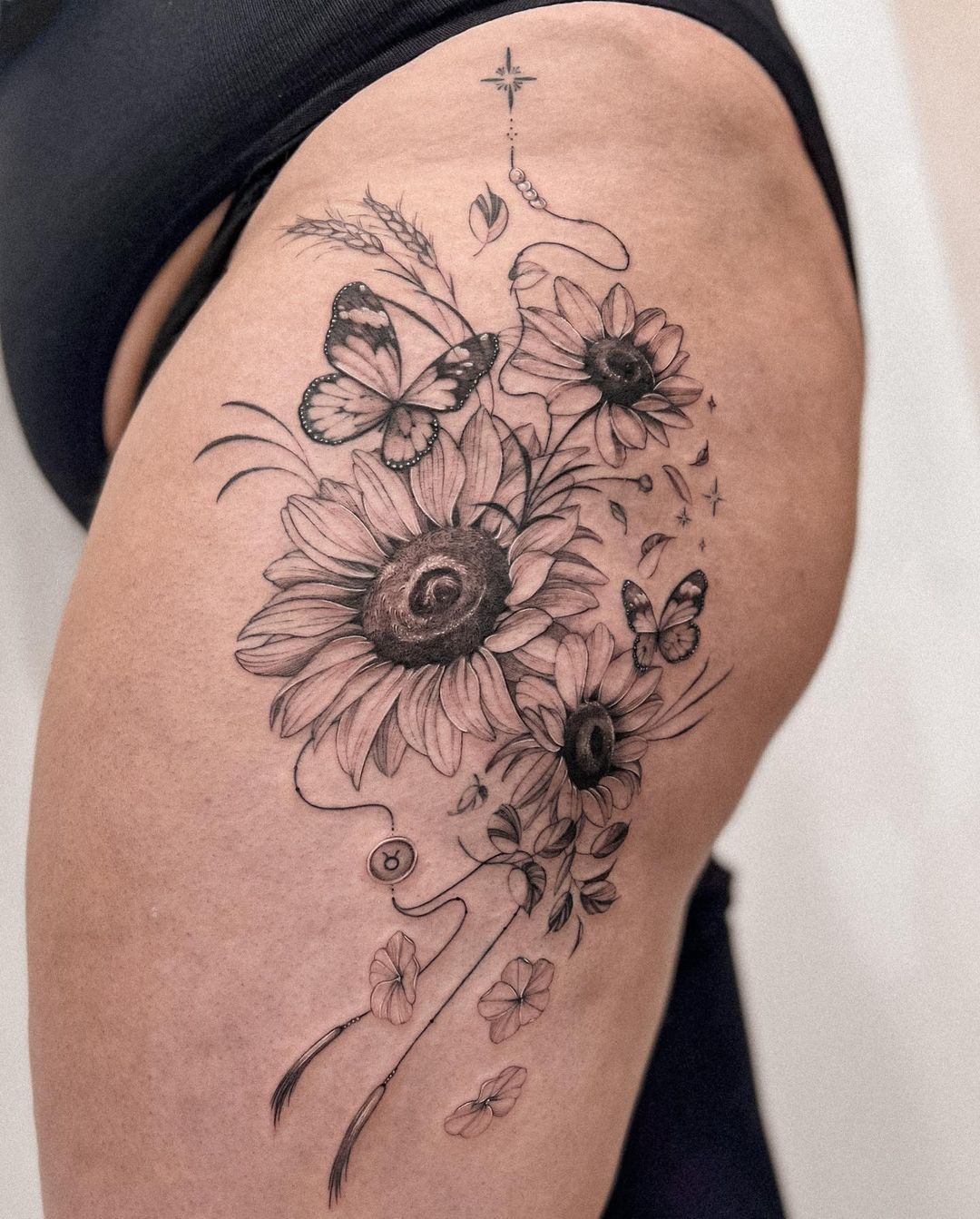 via @acaldeira.ink
This butterfly tattoo design has a serene angle to it, showing the beautiful natural relation between flowers and insects, where the former provides food and the latter helps in pollination. Yellow looks good on pale and dark skin.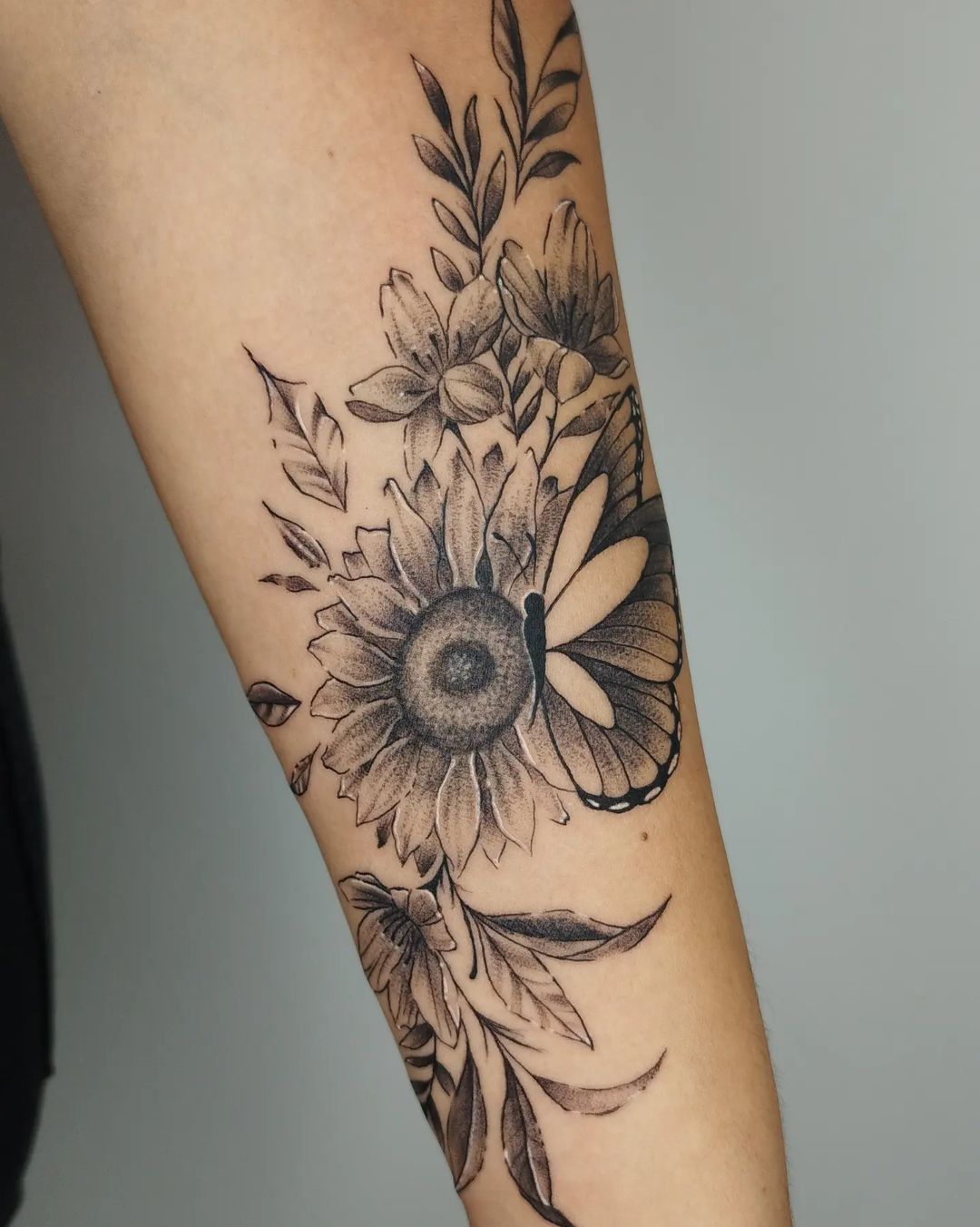 via @gallo.navarro
Exemplary Cover-up Butterfly Tattoo
Wish to remove an existing tattoo? Replace it with an exquisite butterfly tattoo design. Tattoo designs cover up the old body art that's fading or doesn't appeal to you anymore.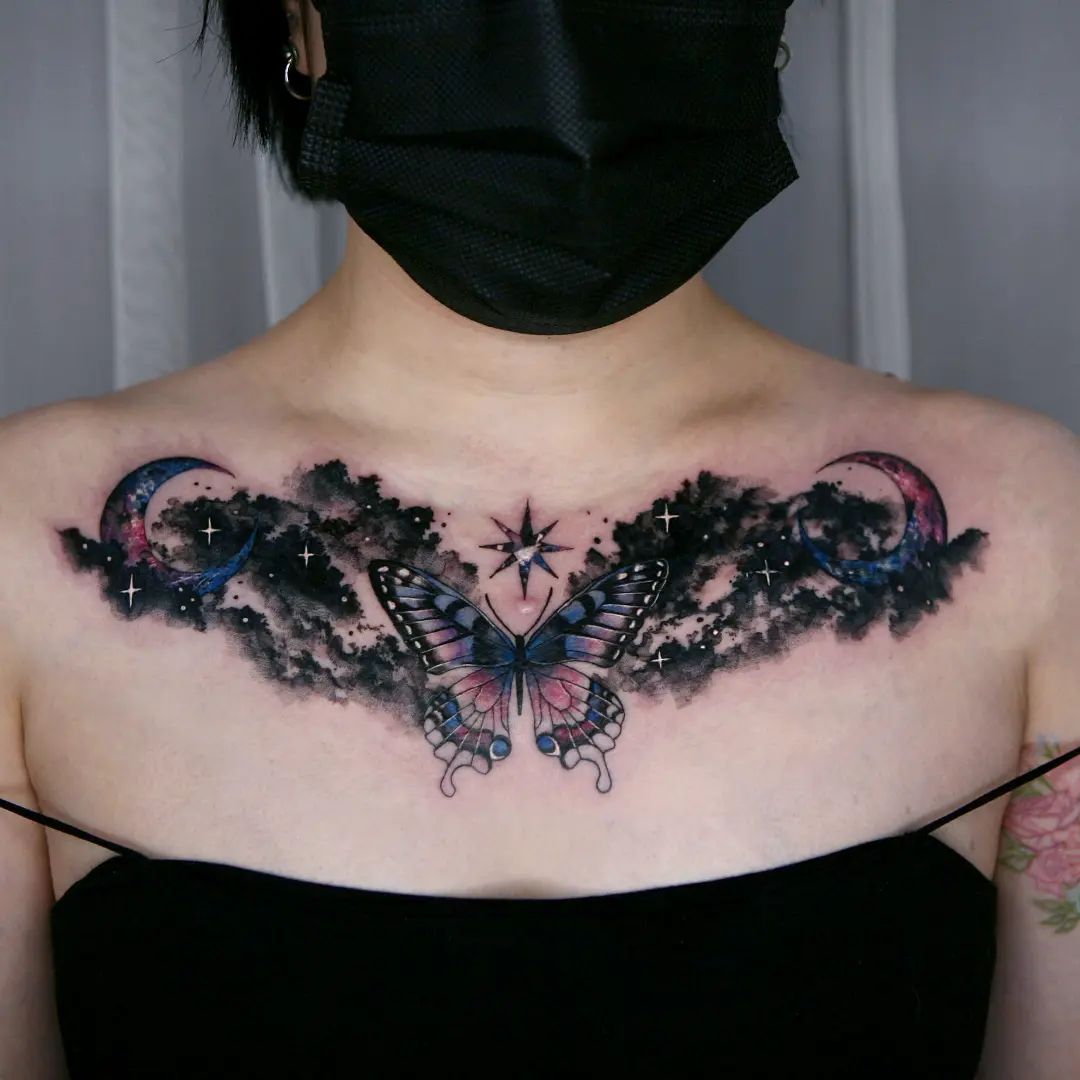 via @tattooist_danha
Petite black and white butterflies are the perfect cover-up. Coincidentally, butterflies denote newness and life, giving your tattoo a symbolic meaning. For colored insects, stick to pastel colors for fair skin tone and darker shades for tanned skin.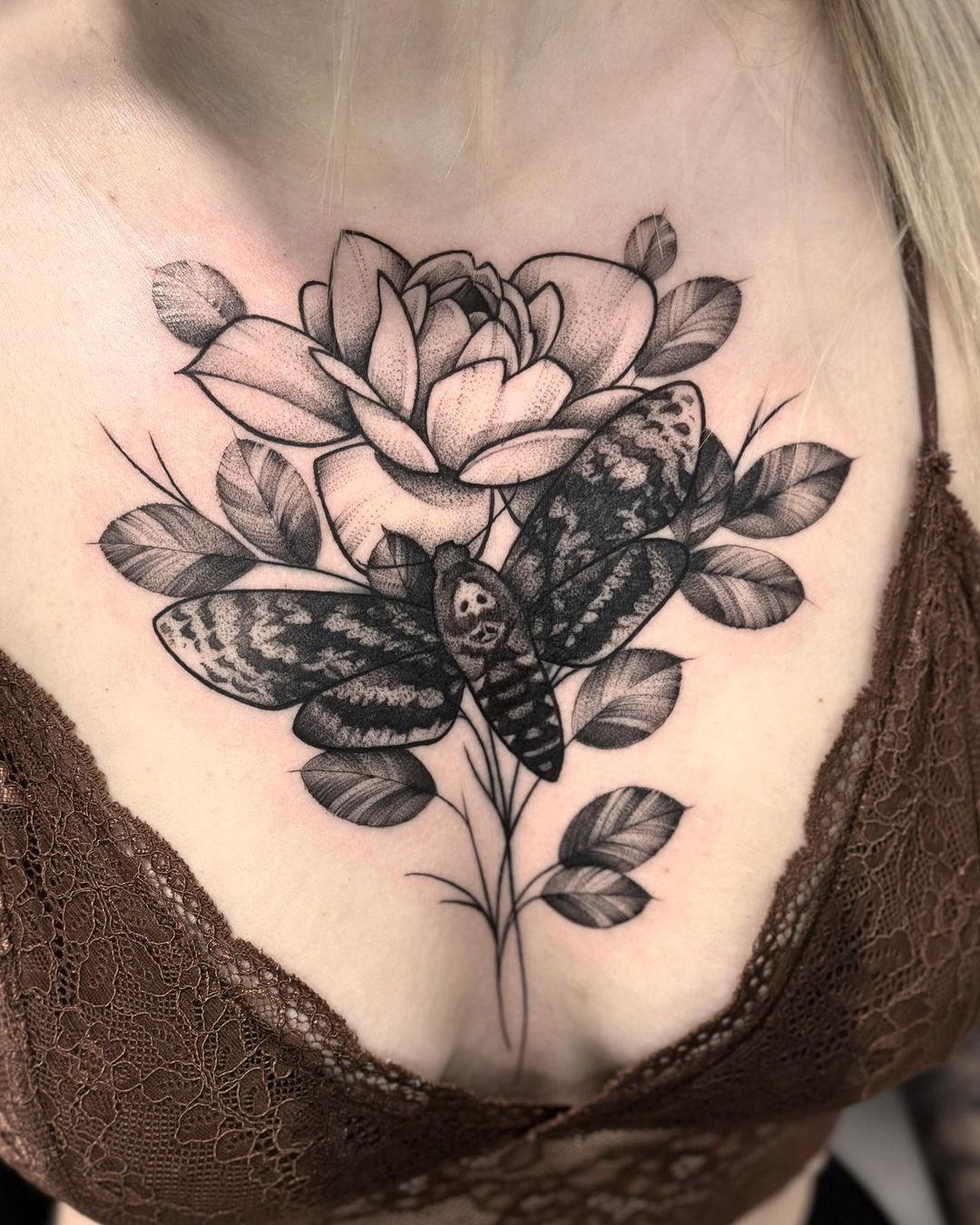 In Memory Butterfly Tattoos: Pay Tribute to a Special One
Memorial or passed-away memory tattoos are a loving way of remembering a special one who's gone and no longer there. A good choice is to go for black butterfly tattoos, as butterflies denote life and rebirth.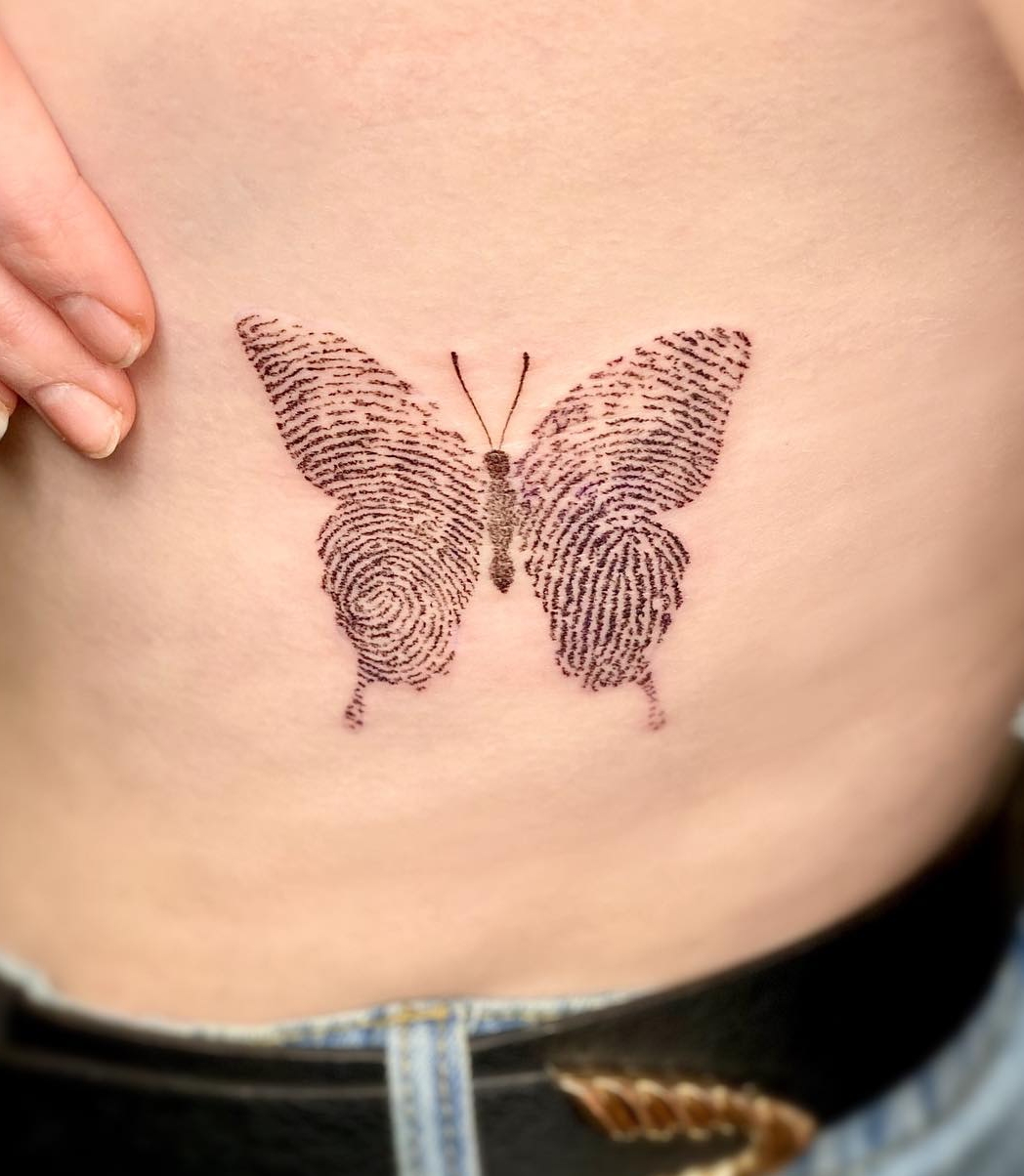 via @tartine_ttt
You can also go in for a colored design with a tattoo with light shading that complements your skin tone and personality.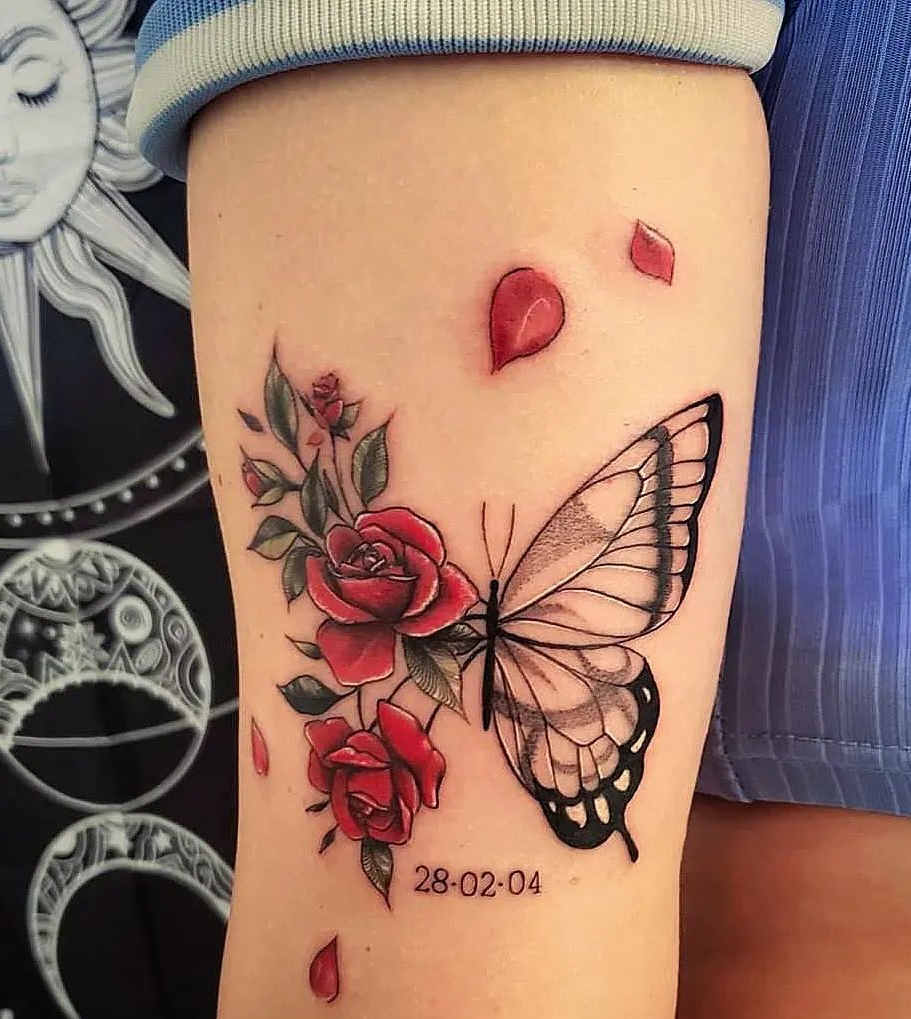 FAQ
What is the best place to get a butterfly tattoo?
Butterfly tattoos look good on all body parts, but these pieces of artwork are stunners on your collarbone, chest, upper arm, lower back, and neck. You can also try inking one or a couple of butterflies on the shoulders.