Probably, fingers are not the very first place to jump to mind when thinking of where to insert a stylish tattoo design. But what other body parts are more visible at any time of year to make a bold statement? When you scroll through our choice of stunning finger tattoos for women and men, you will surely like the idea of taking the plunge.
We have collected black and white tattoos, simple and sophisticated patterns, color tattoo designs, and symbols from various cultures to get you ultimately inspired and assist in finding the best inking to reveal your personality.
Cute Tiny Finger Tattoos
Small finger tattoos are not meant to attract much attention, but we can expect them to be fun at the very least. It doesn't take a genius to get a simply outlined star tattoo on a finger, with many other shapes available for placement either on the tops or inner parts of your fingers. But we'd like to point out less frequent cute finger designs like funny animals, detailed florals, creatively styled emojis, weather signs, and abstract patterns.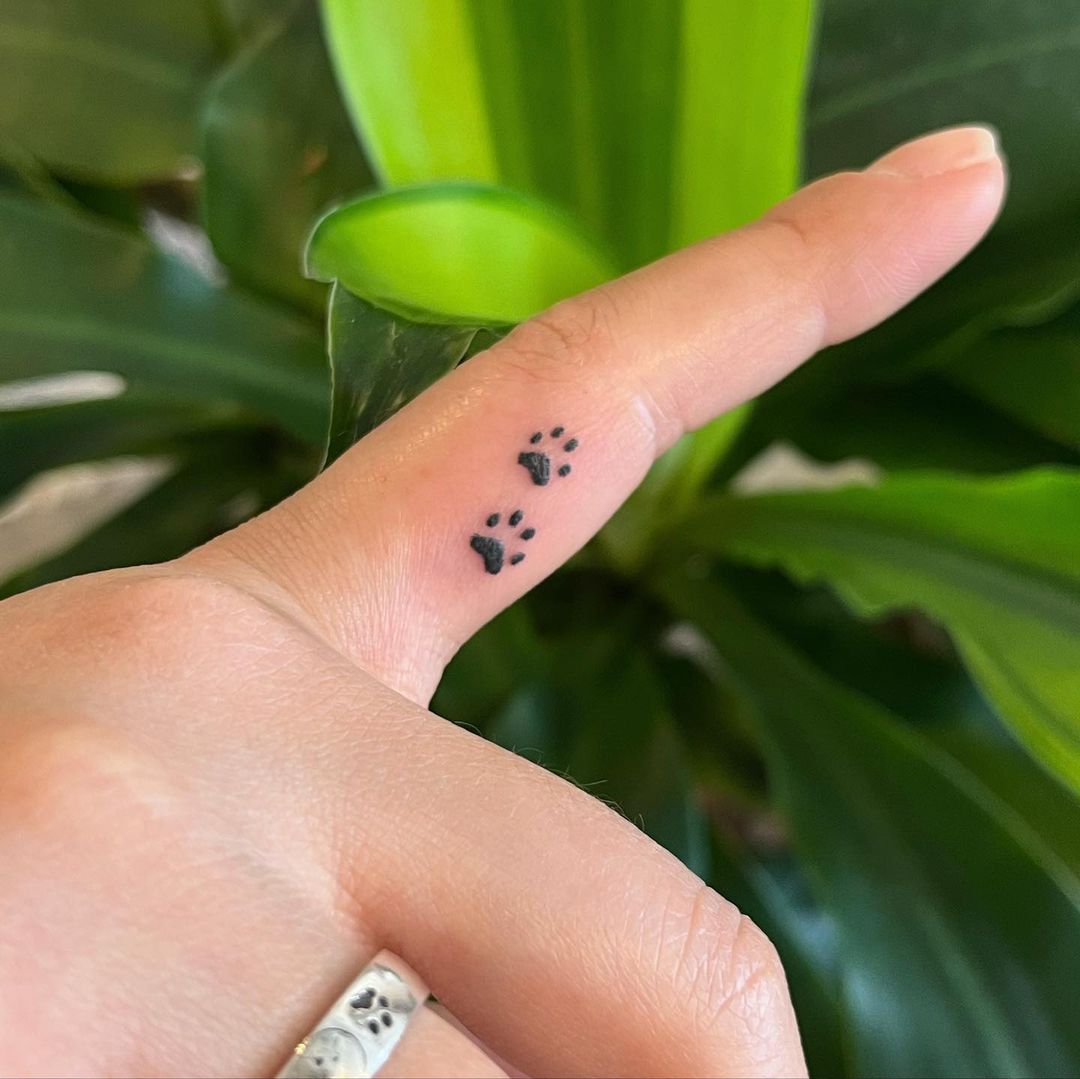 via @hihi_poke
Ask your tattoo artist for a smiling Diplodocus or a tiny dandelion with its parachutes flying across a finger, and get a boost of good mood every time you look at the inking.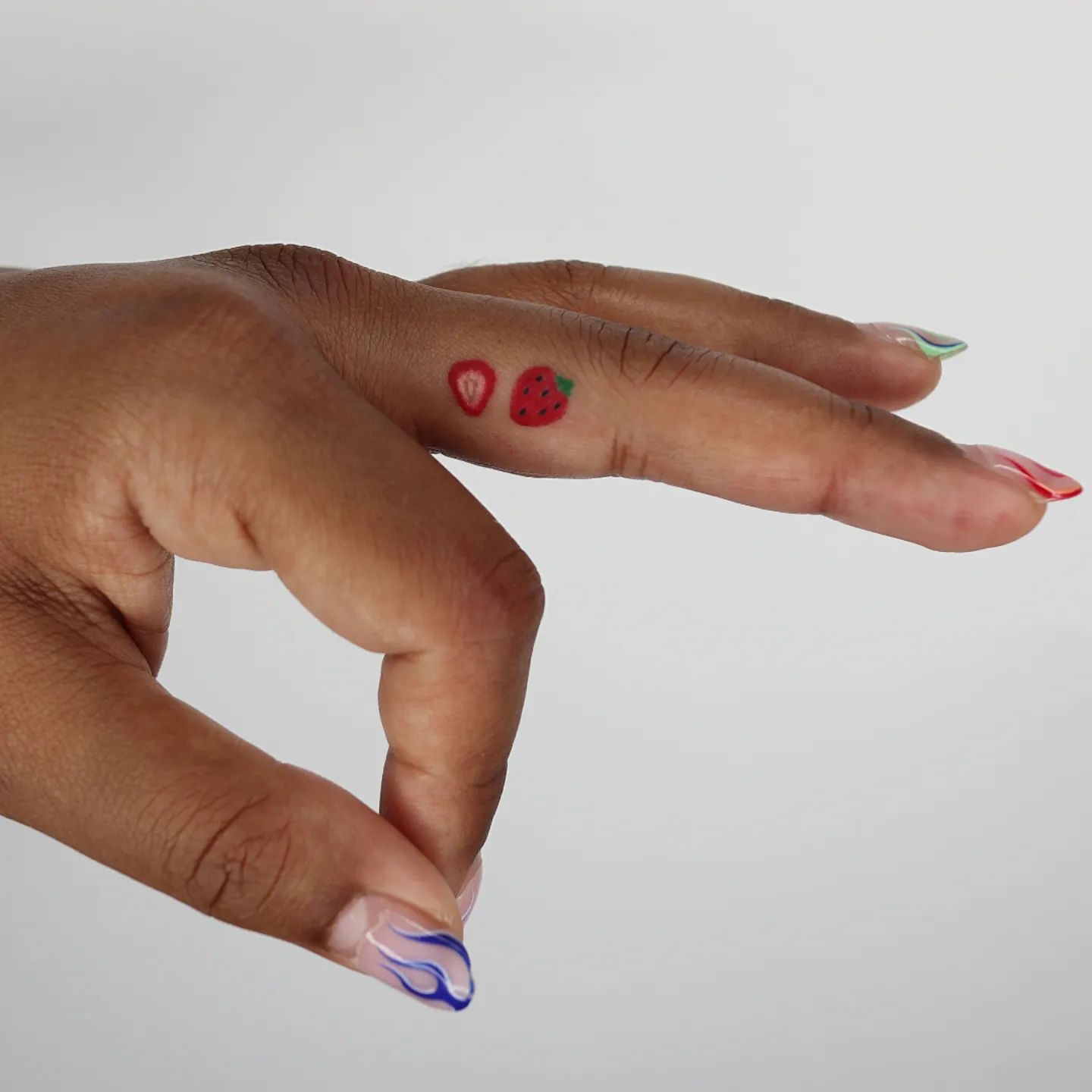 via @cocoa._.jam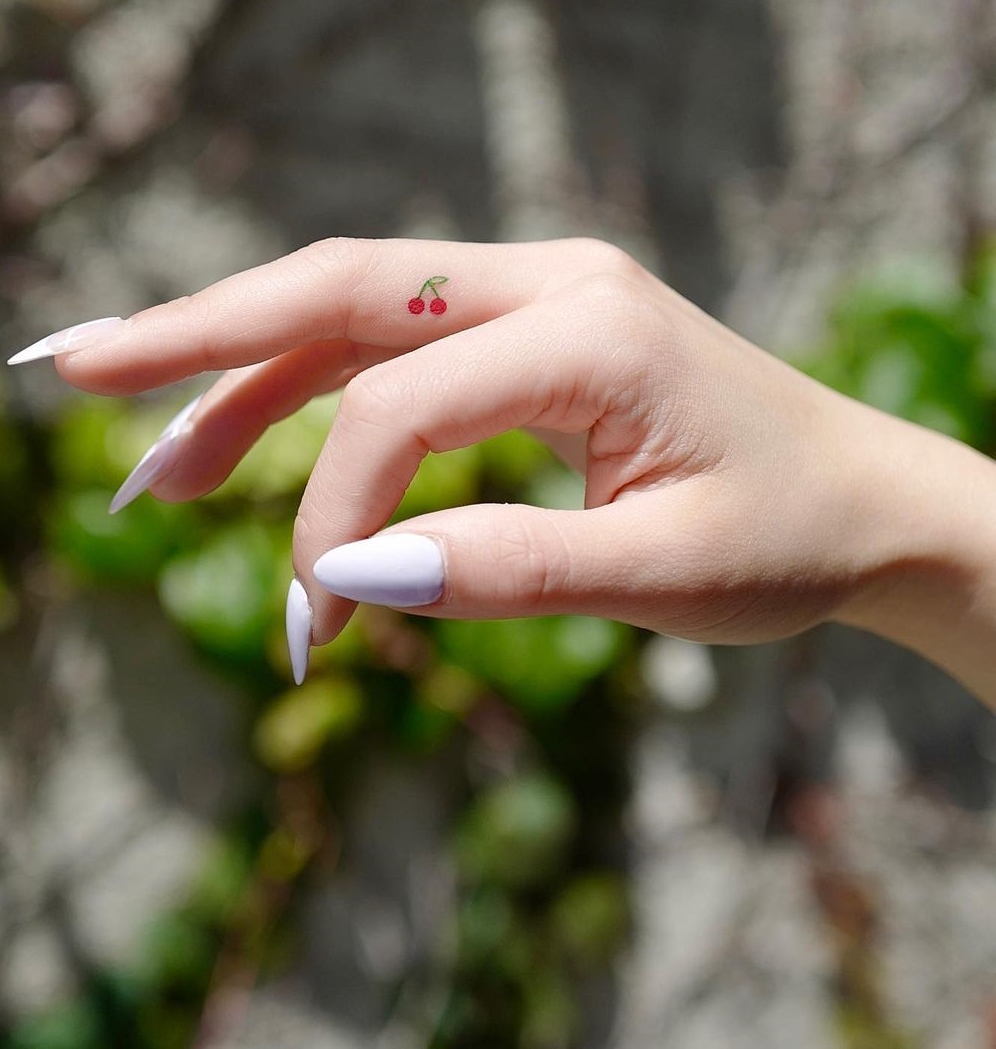 via @qbin_tattoo
Meaningful Finger Tattoos
When it comes to conveying a message, nothing can equal symbols in their power to stuff a deep meaning into a limited space with just black ink at hand. Meaningful symbol finger tattoos include universally recognizable images, such as crosses, infinity signs, or yin and yang patterns, and more intricate symbolic representations, often sourced from different cultures and historical eras.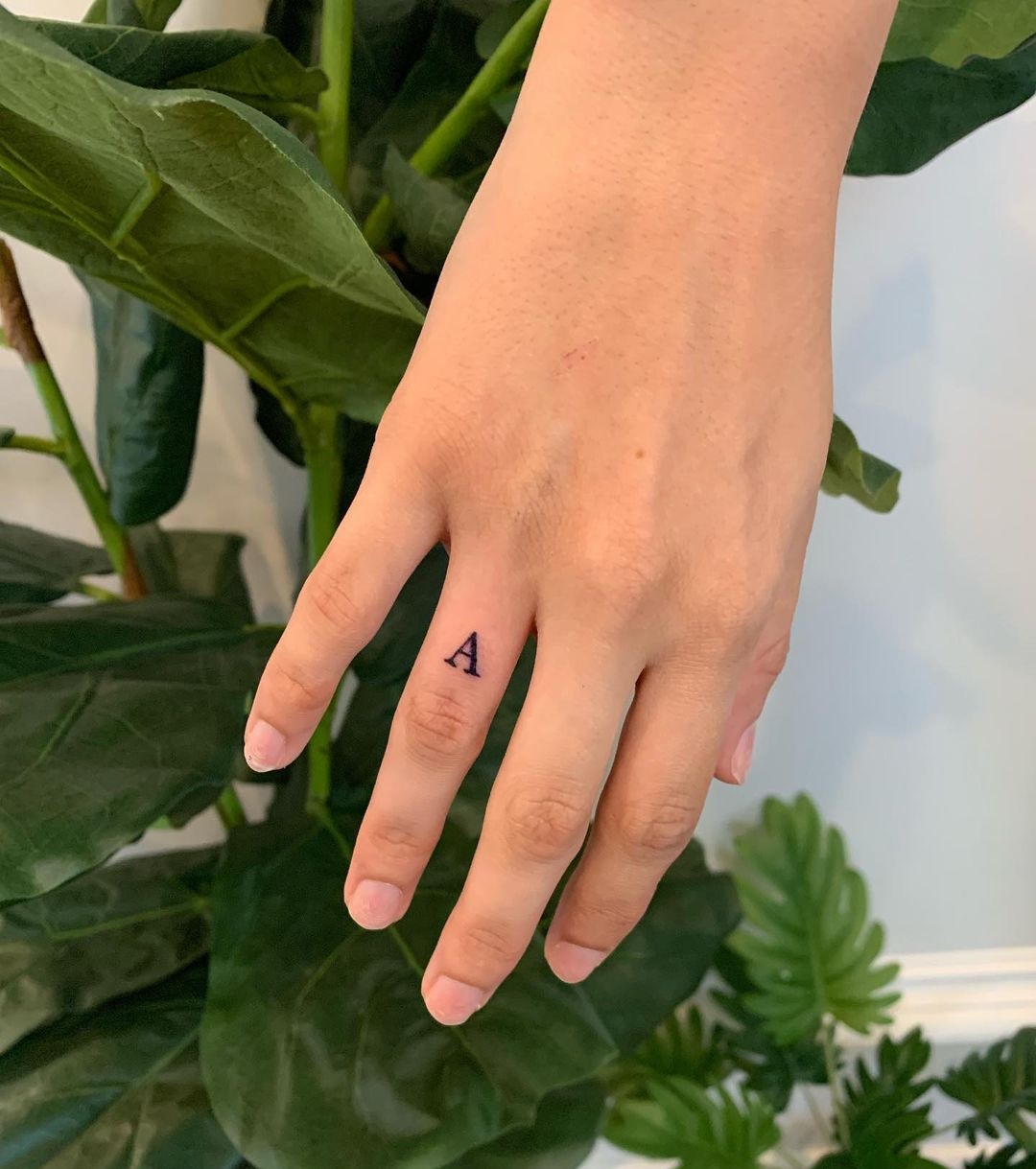 All kinds of lettering and dates grant us further options to fill a tattoo with some sense. However, it is you who actually decide what resonates with your inner self, so even an adorable finger tattoo depicting your cat may have a meaning.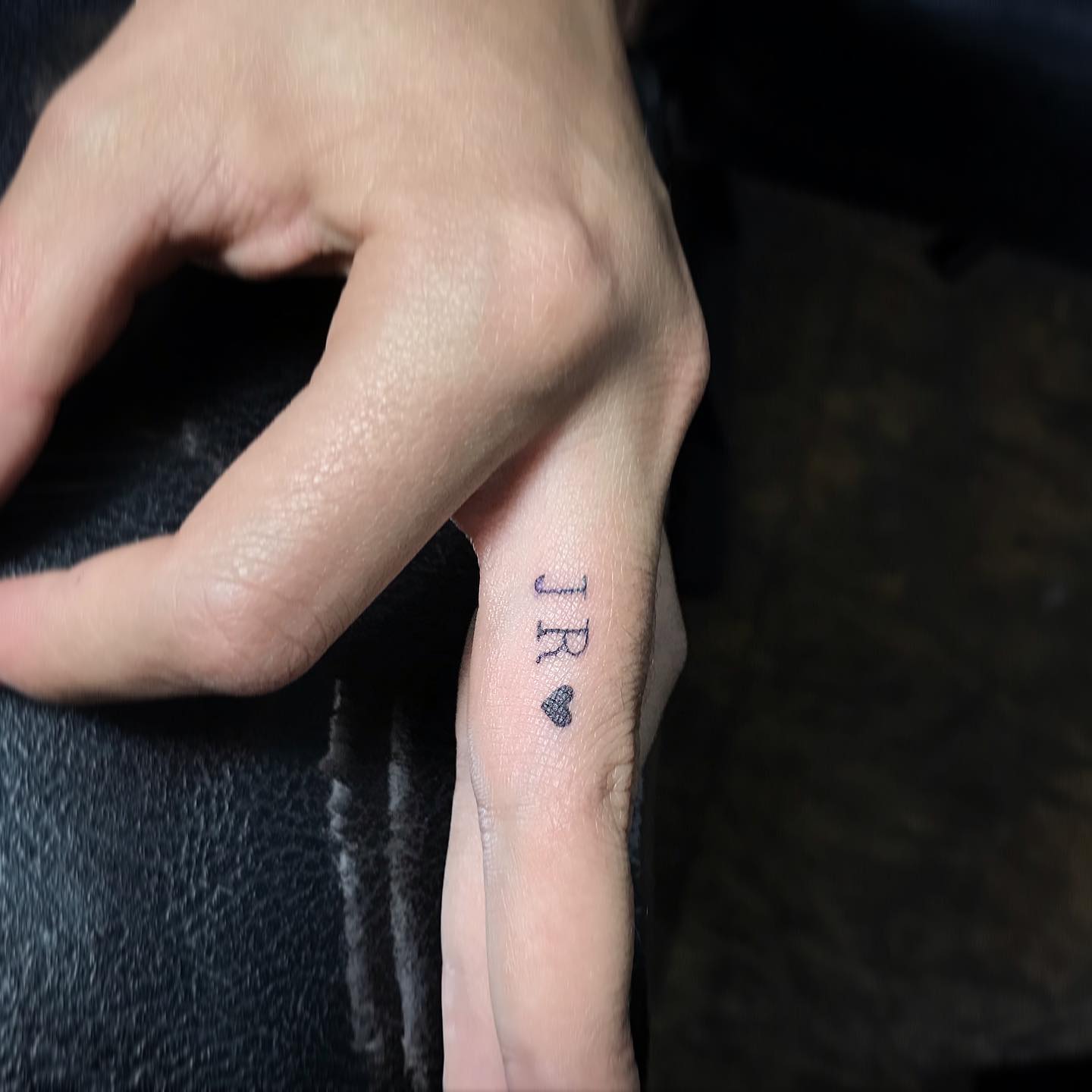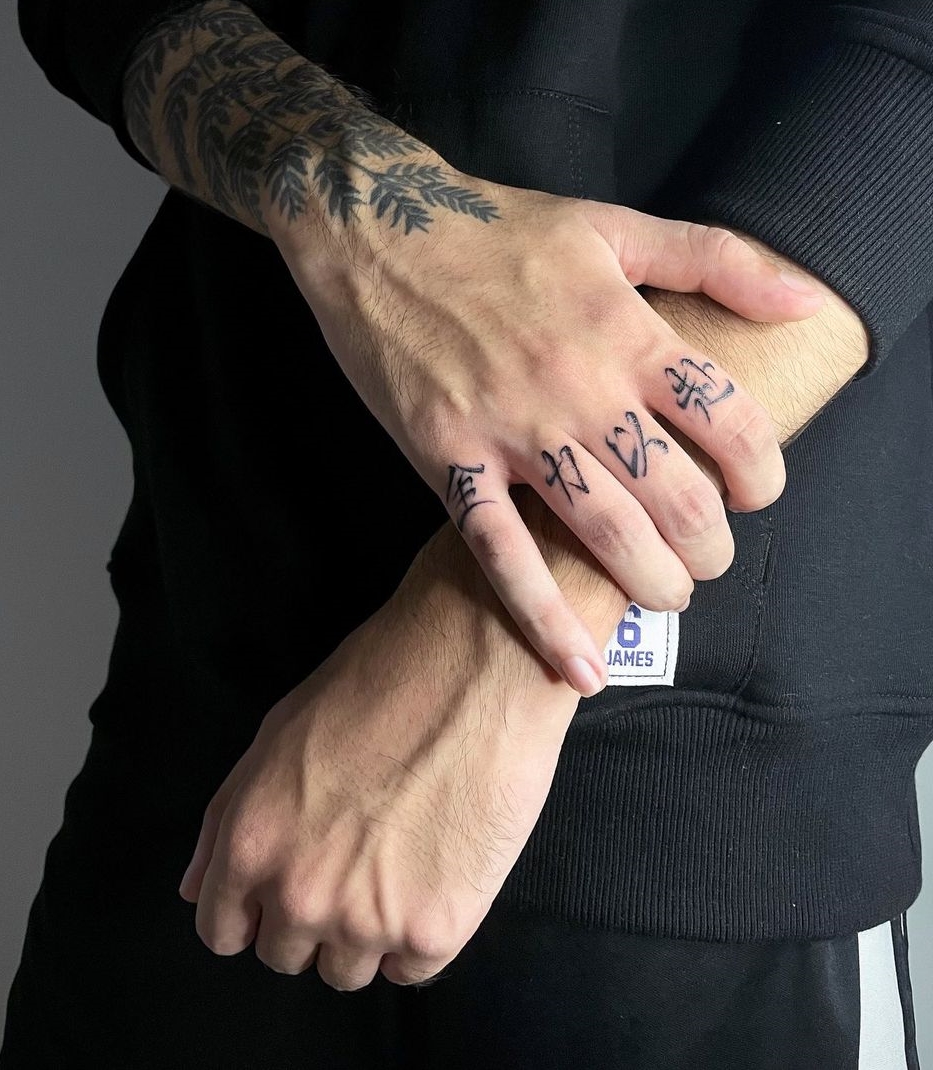 via @nathanlobo
Classy Finger Tattoos for Women
If you like some finger tattoo ideas, yet they seem too simple to get a place on your beautiful hands, we know one trick that can elevate any plain pattern — paint it with colored ink. Even a dotted ring or a fine-line heart will look fancier if done with a color or two.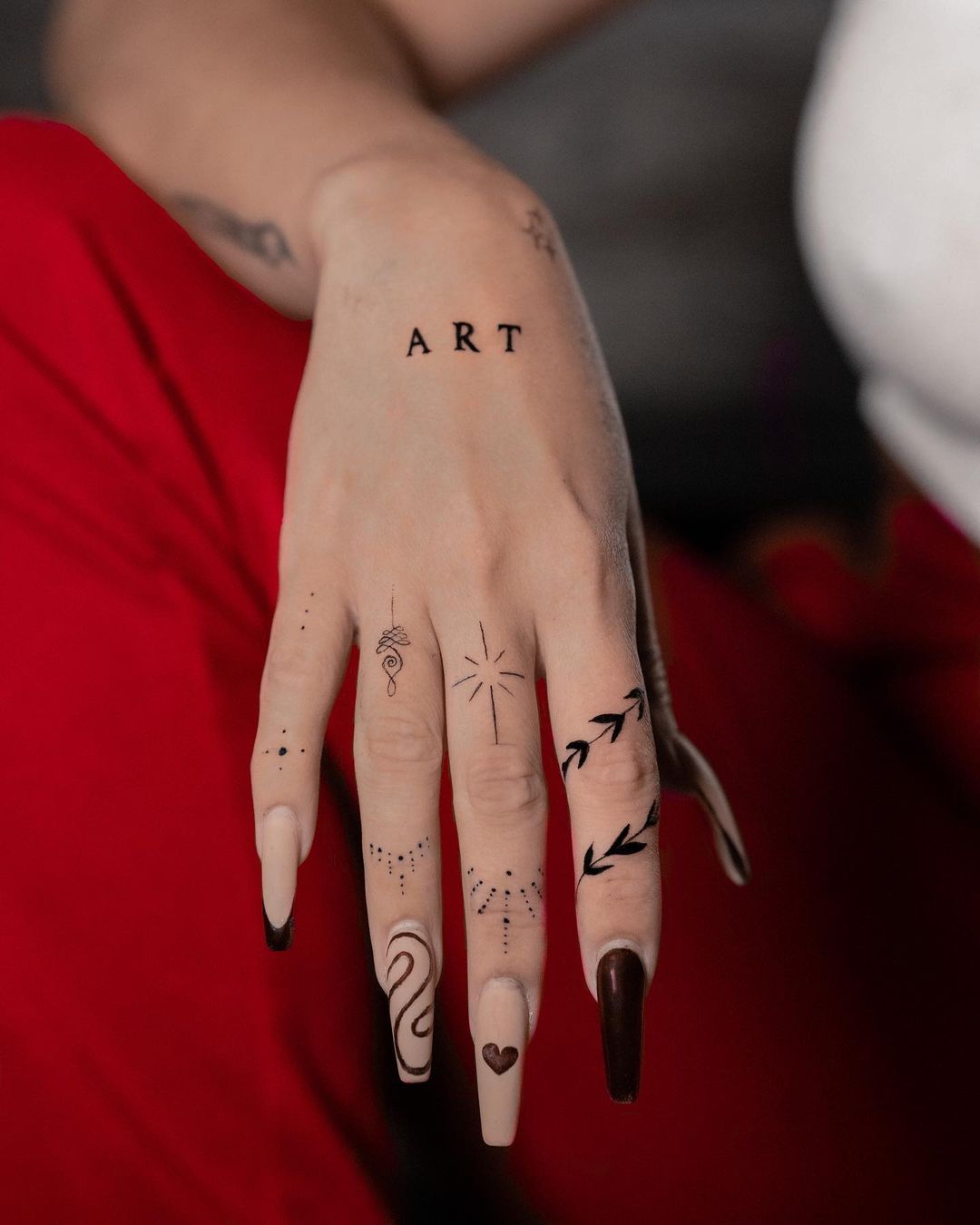 Also, much depends on the level of detailing, so you can upgrade popular tattoo designs by asking for a more detailed and realistic version (finding a good tattooist is crucial in this case). Those who prefer deep-meaning finger tattoos should consider accommodating wise words wrapped in a nice calligraphic type.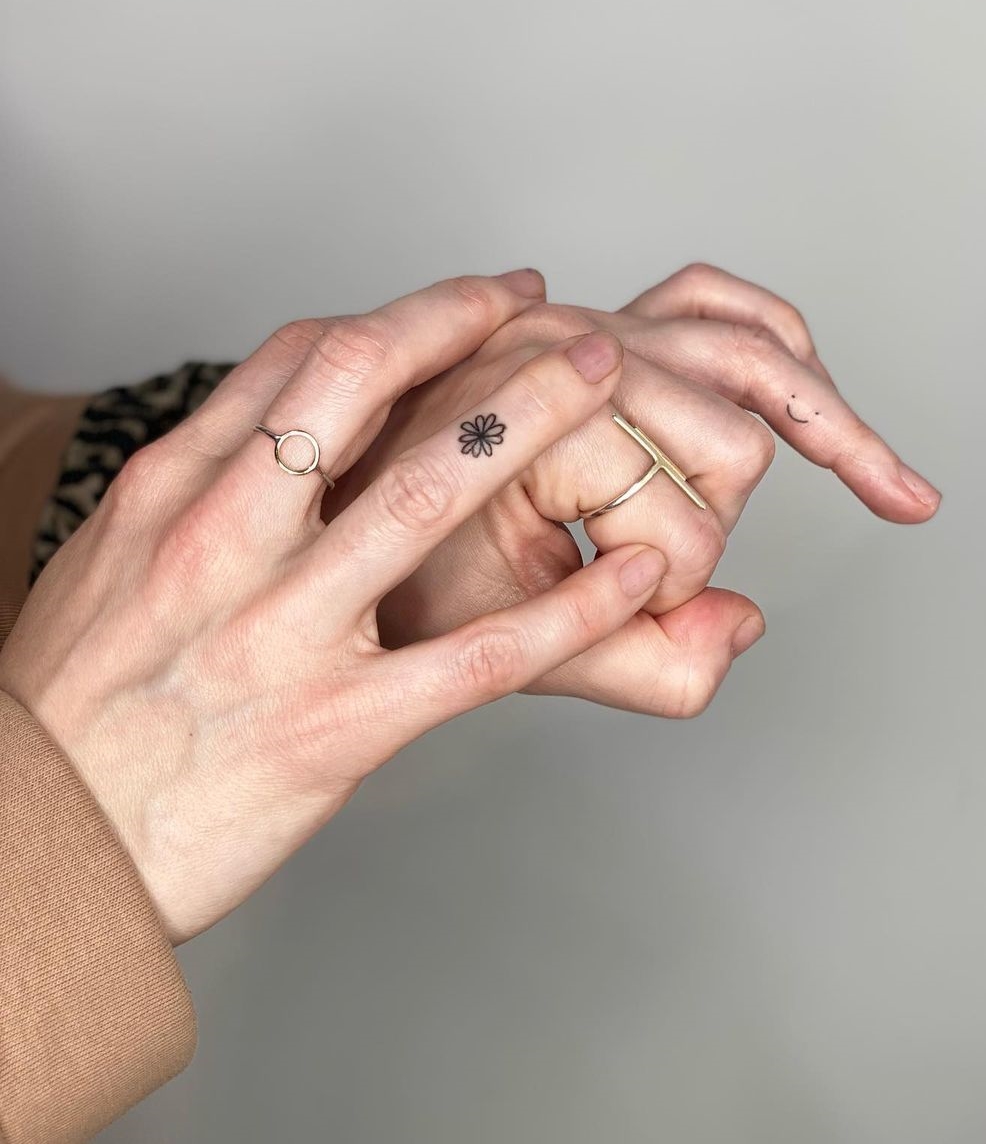 via @tesspokes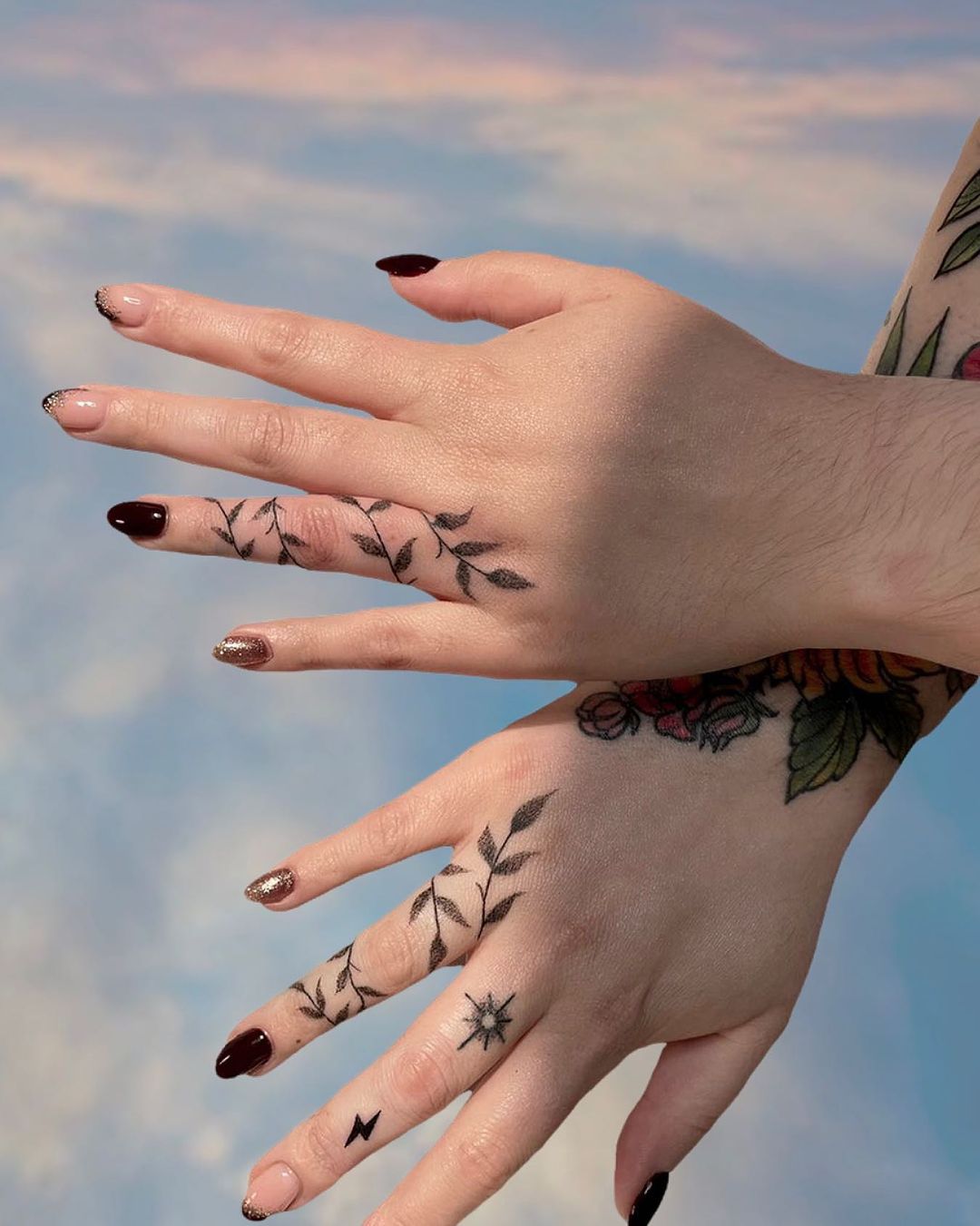 via @noirpink.tattoo
Inside Finger Tattoos
As the space available for inking is even more limited on the sides of our fingers than on the tops, it is a perfect location for tiny cute tattoos like a pair of swallows. It will give just a glimpse of your tattoo art to others and allow you to sport an arrow or rose tattoo on the fingers without striking the eye and stirring an unwanted debate.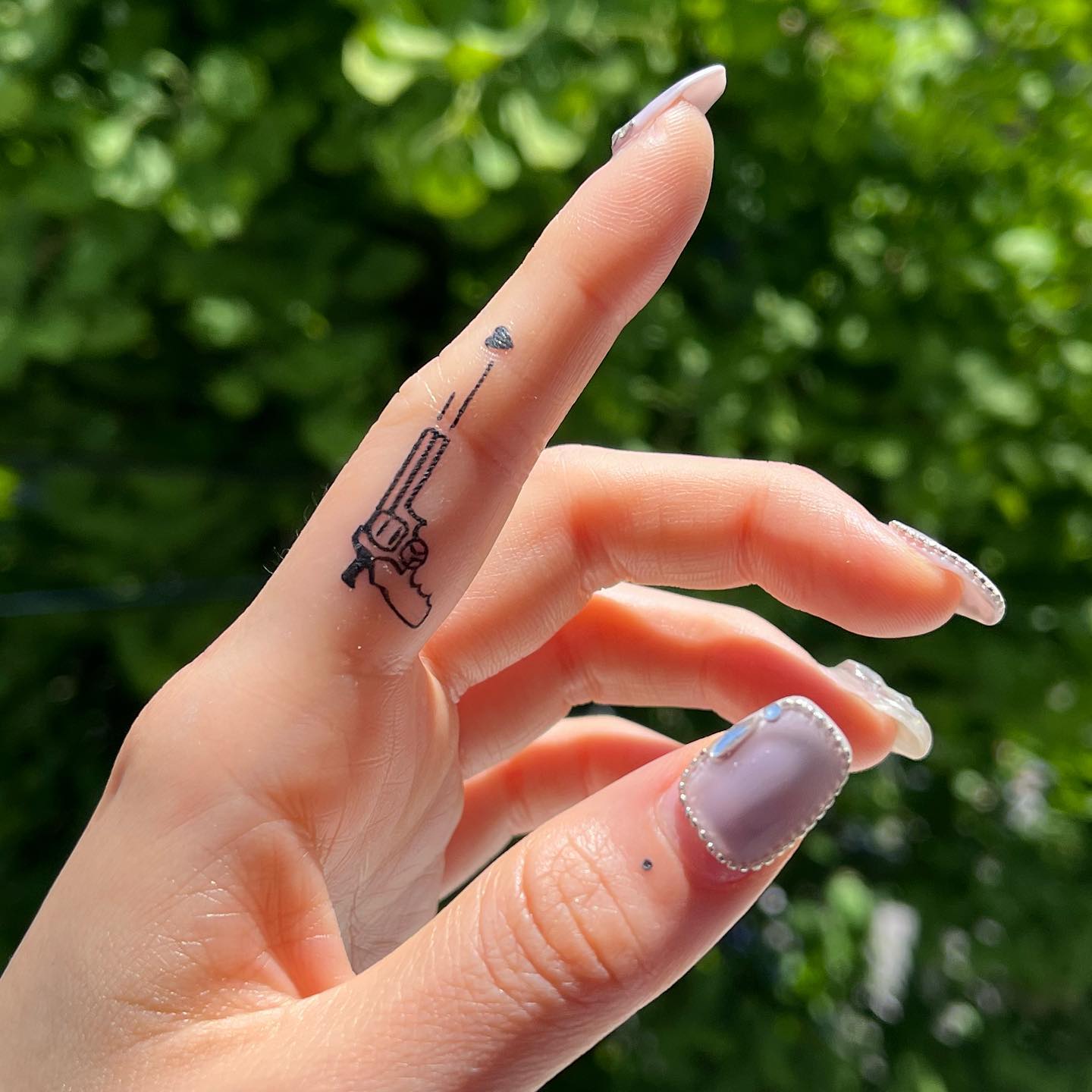 via @wannabe_tattoo
It is also a suitable place for a meaningful tattoo that you don't want to show to everyone, and it gives enough room for a whole bunch of interconnected words or images that can be placed on the inside of each finger.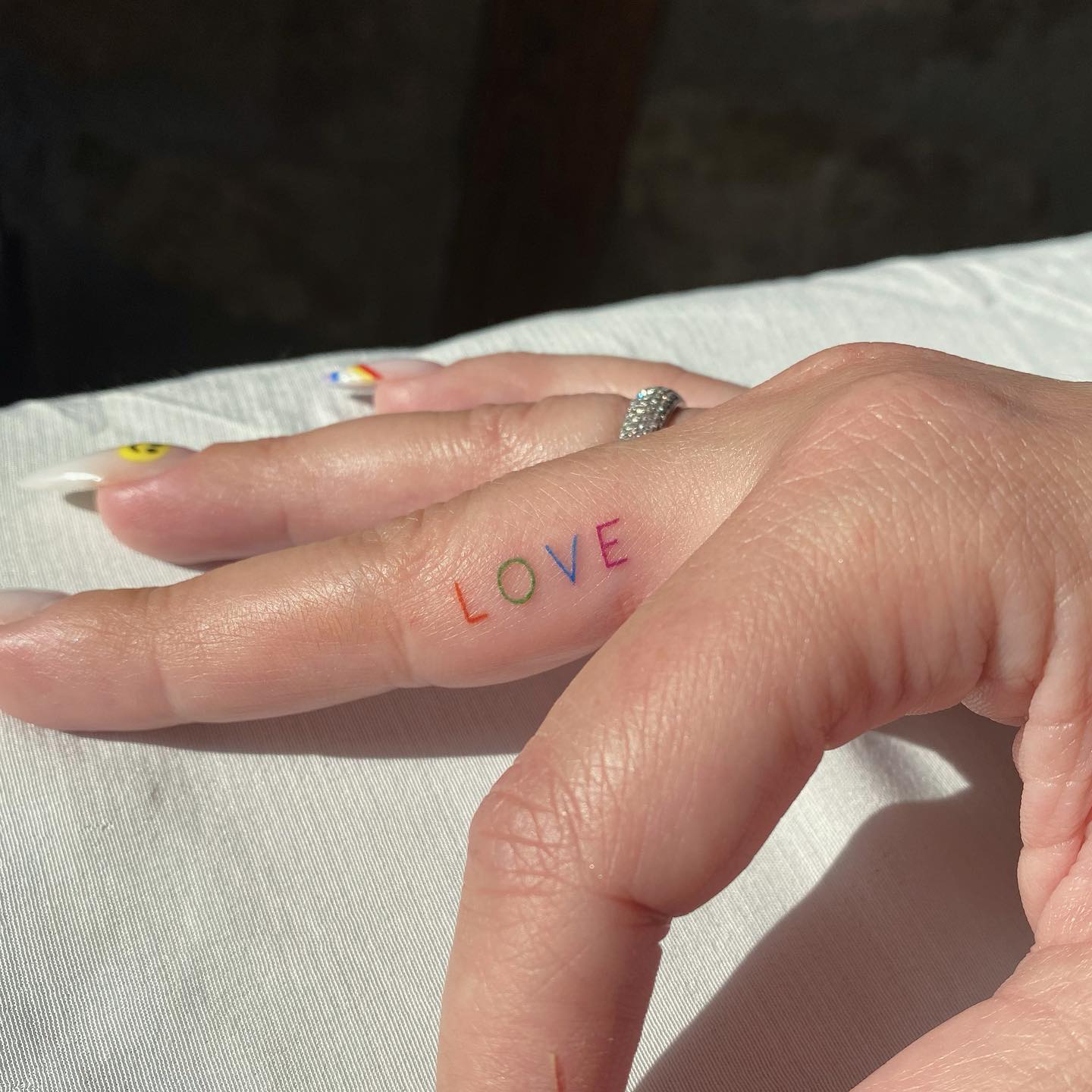 via @gulcessavran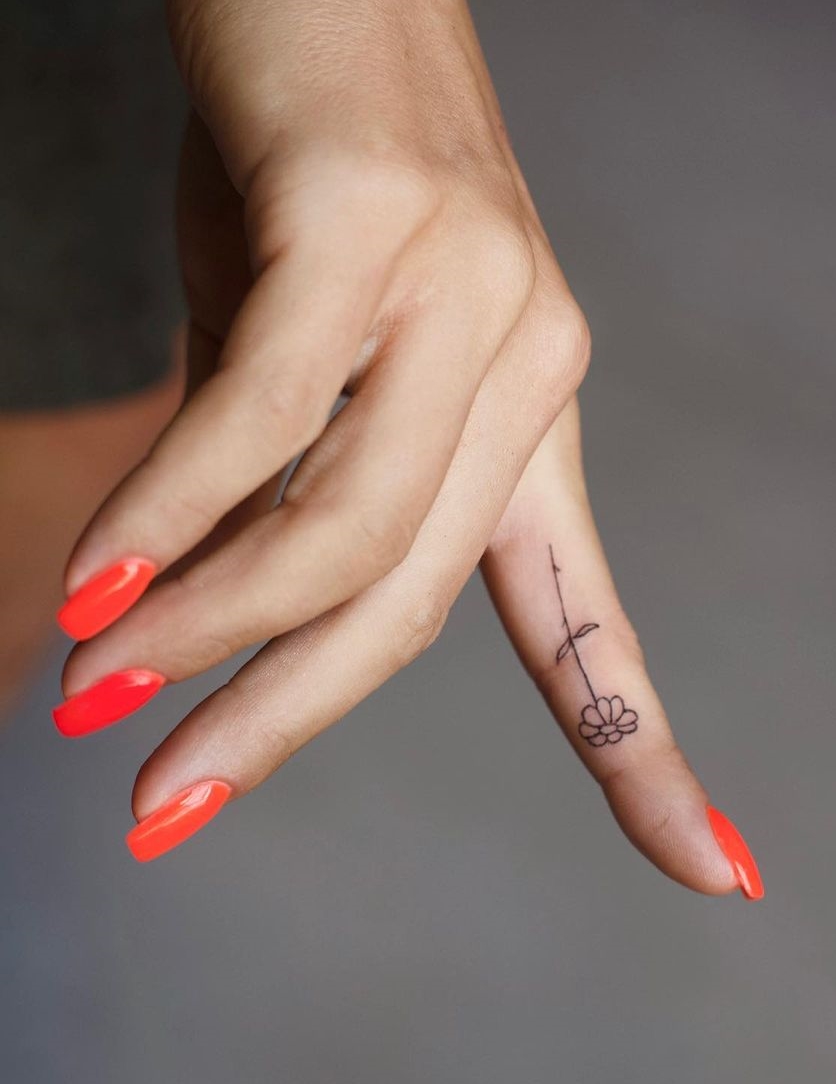 via @he.art.tattoo
Middle Finger Tattoos for Men and Women
This finger offers the amplest canvas for different finger tattoo designs, covering one-piece statement images and handsome sets of smaller inkings. The former option can be illustrated with a snake tattoo design winding around the finger from the knuckles up to wherever you want.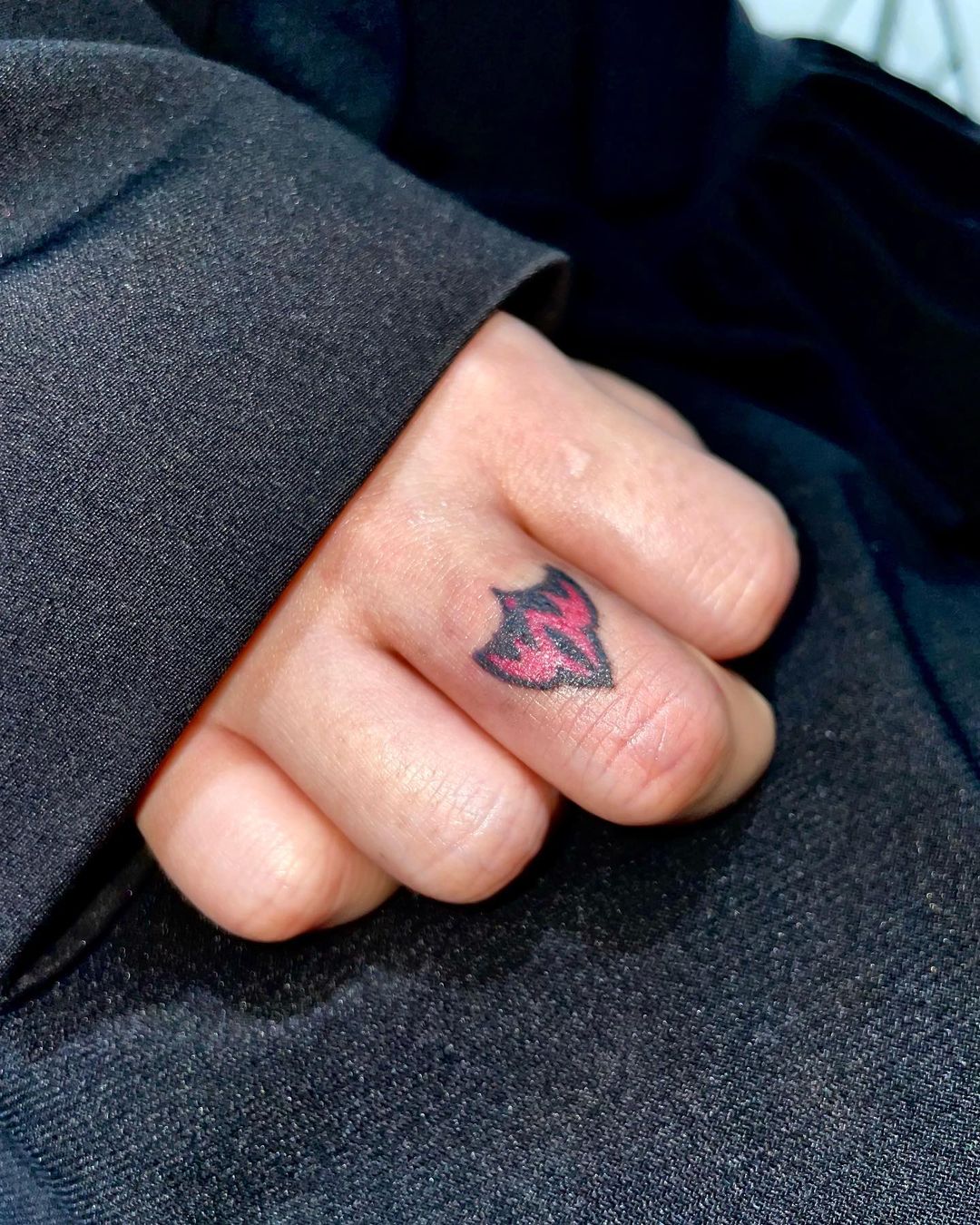 via @minkin.tt
The alternative approach to the middle-finger tattoo implies selecting associated patterns, for example, an ornamental band at the knuckles and similarly styled dots or lines towards the nail. But, of course, you are not limited to these options and can choose a slim rosary or a sweeping floral finger and hand tattoo as you see fit.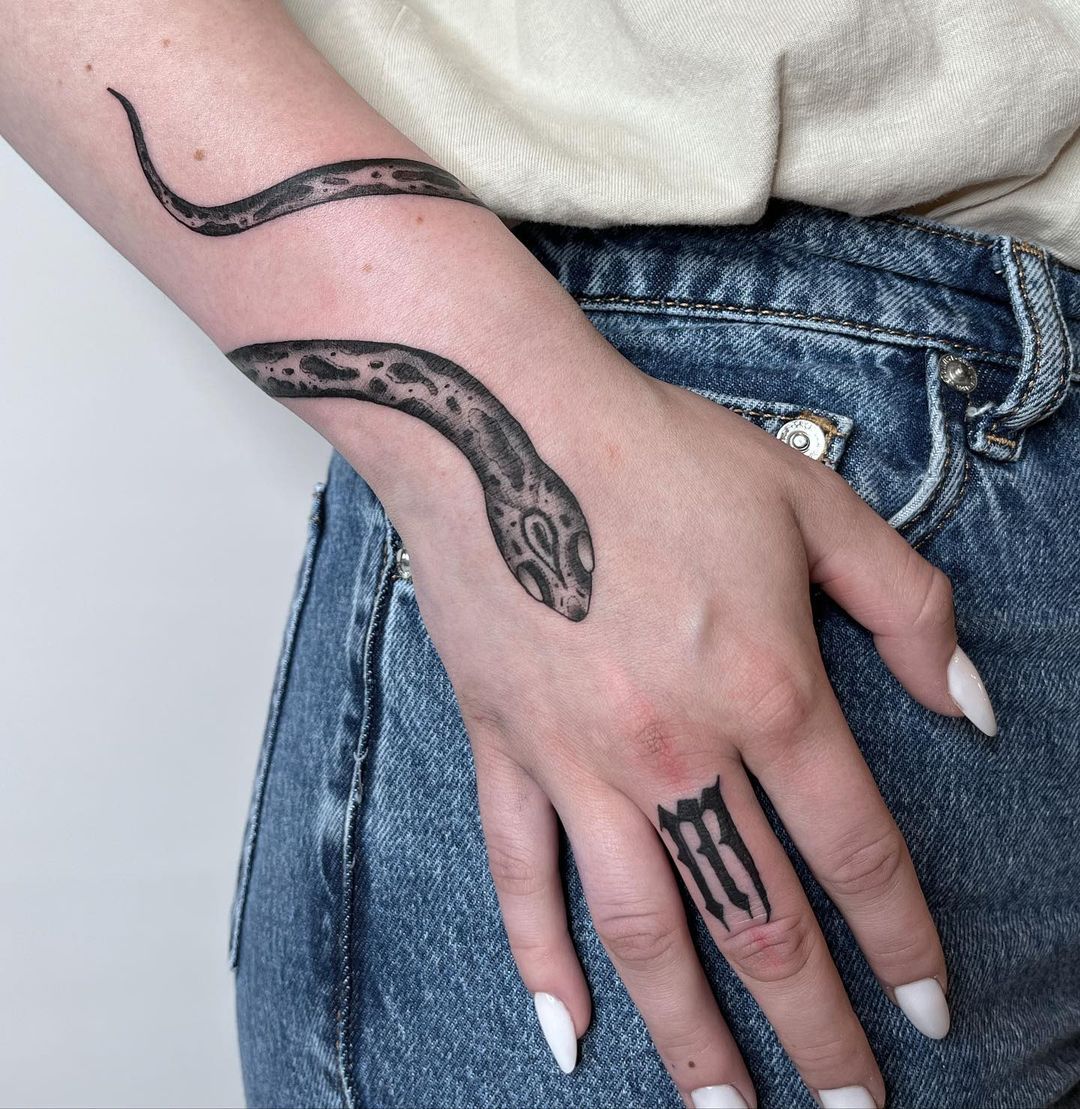 via @helle.l.i.p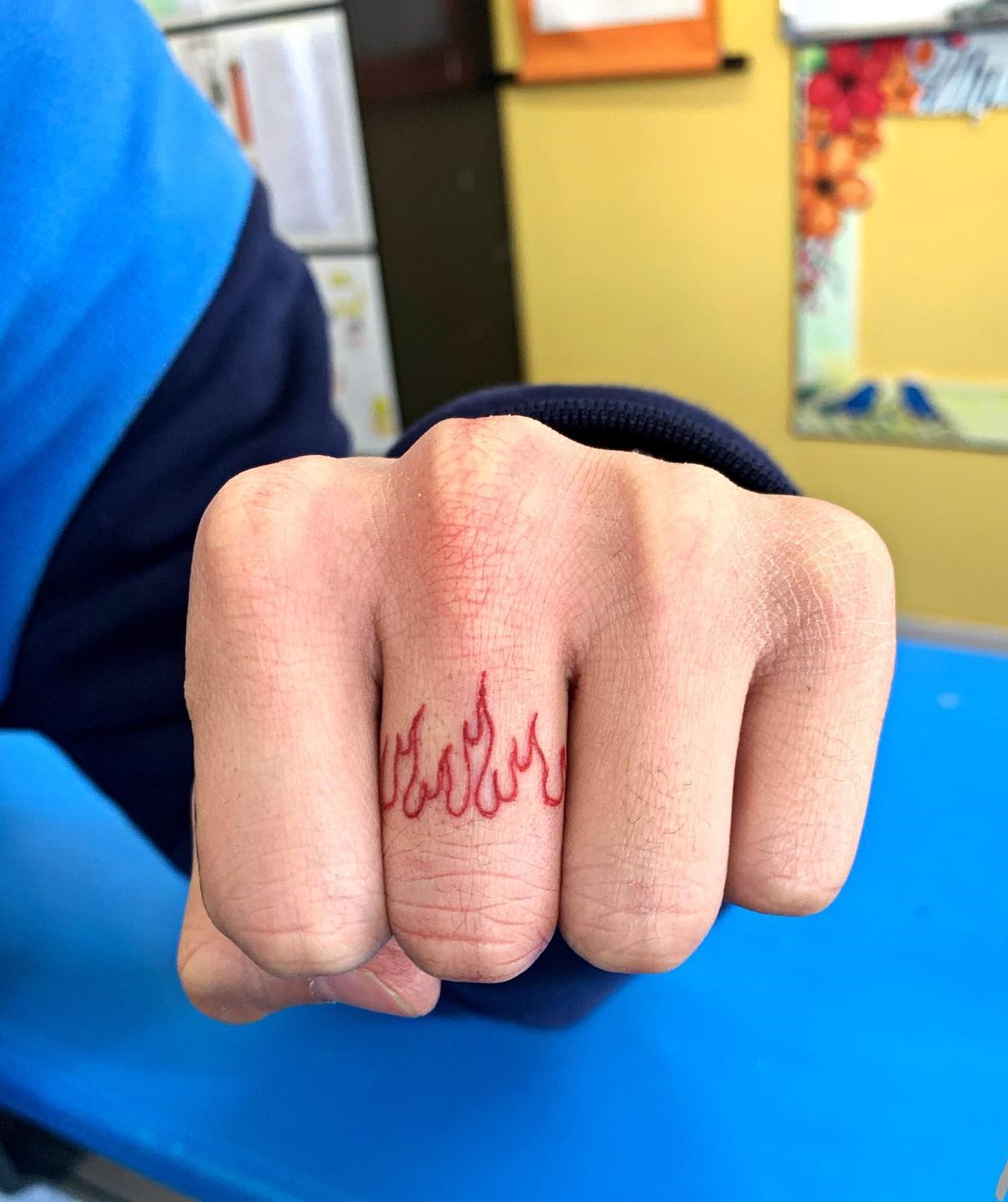 via @18tattoo.bar
Classy Ring Finger Tattoos
As the name suggests, this finger calls for inking something resembling a ring, and no, you don't have to be married or engaged to rock this design. Ring finger tattoo ideas of this type are vast, ranging from minimalist dotted and linework-styled strips to colored vines and negative space ornaments running around the finger.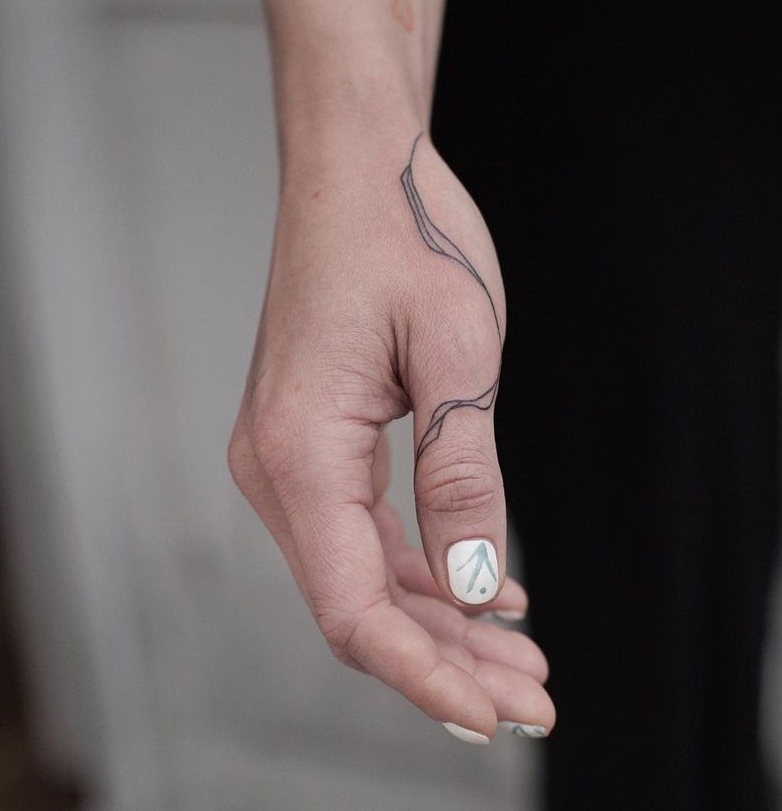 via @imitacja_sztuki
However, the band design is not a must, and you can opt for stylish ring finger tattoo initials to honor a special person in your life. By the way, the letters can be shaped in a band to give you the best of two worlds or placed as an inner finger tattoo for a more exquisite feel.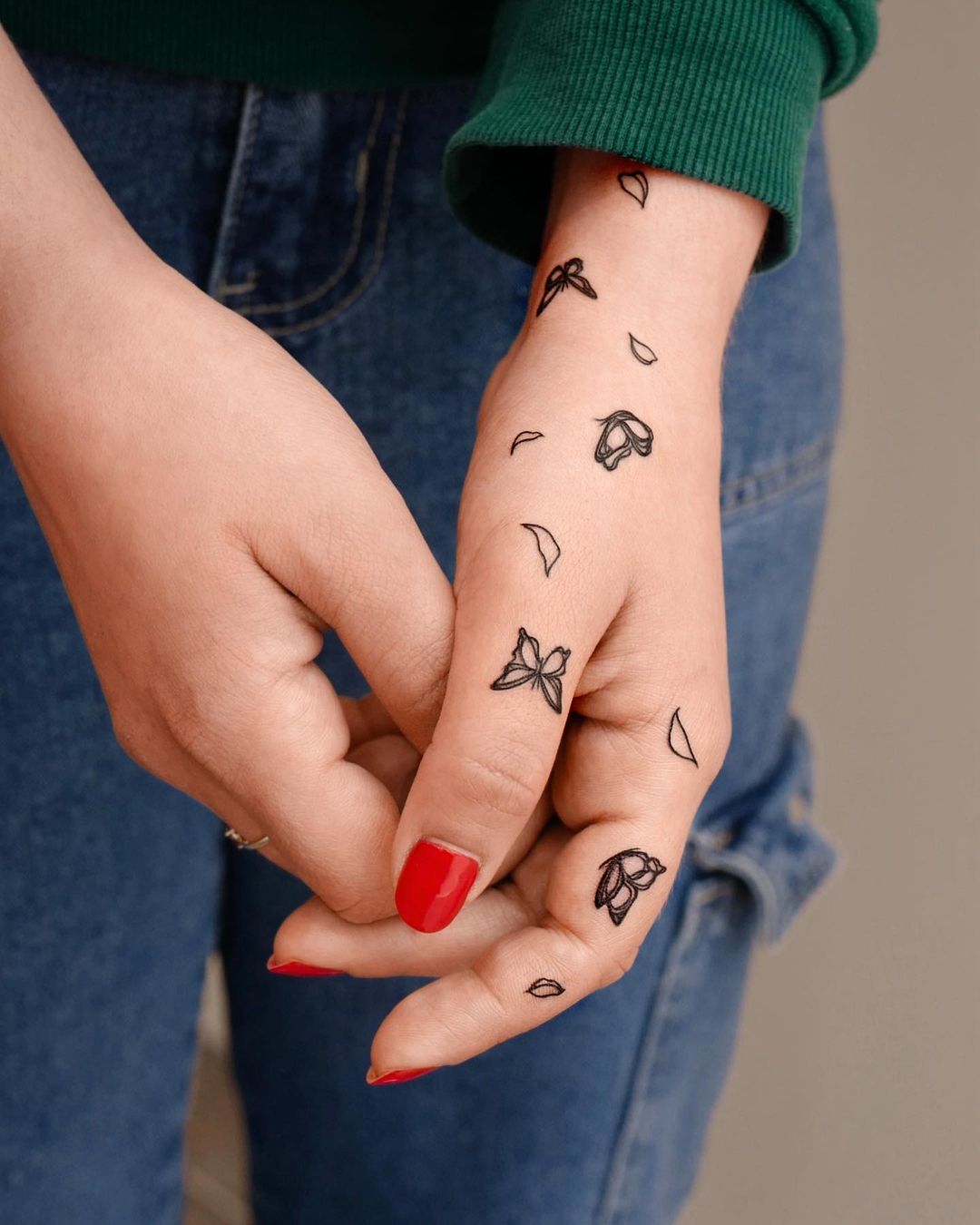 via @pauline.son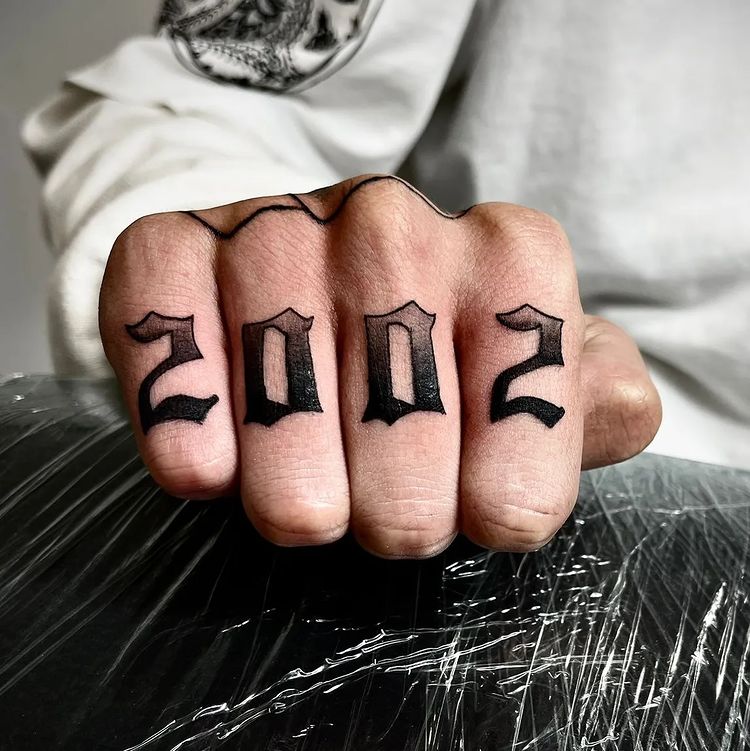 Matching Finger Tattoos
We don't know why matching tattoos are widely attributed to couples only, as we believe best friend finger tattoos are no less cool and appropriate. After all, if both you and your buddy/sis have made up your mind to get inked, you can share the finger tattoos' cost and the inking experience while arriving at a result having a special value. Surely, romantic designs won't be suitable in this case, but a sailor's knot, a bow, an arrow, avocado halves, or a glass of wine/beer will work for friends of all genders.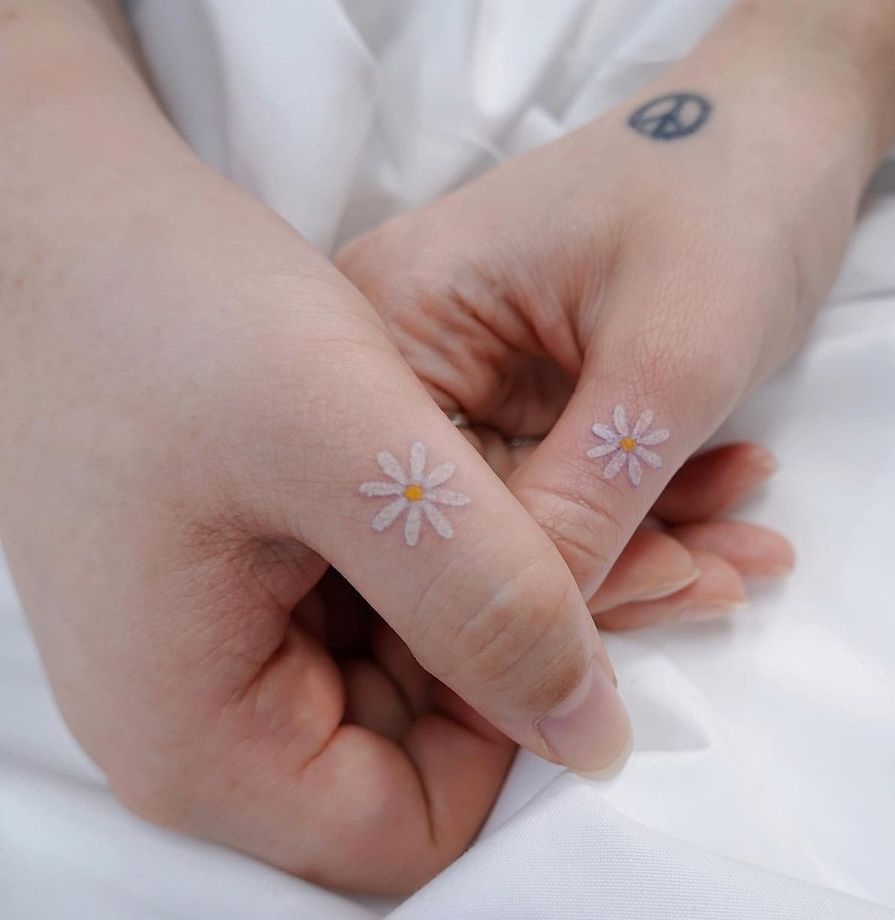 via @sinbar_tattoo
And although matching finger tattoos for couples usually come with some romance attached, you can opt for quite neutral images, for example, king & queen or lock & key tattoos.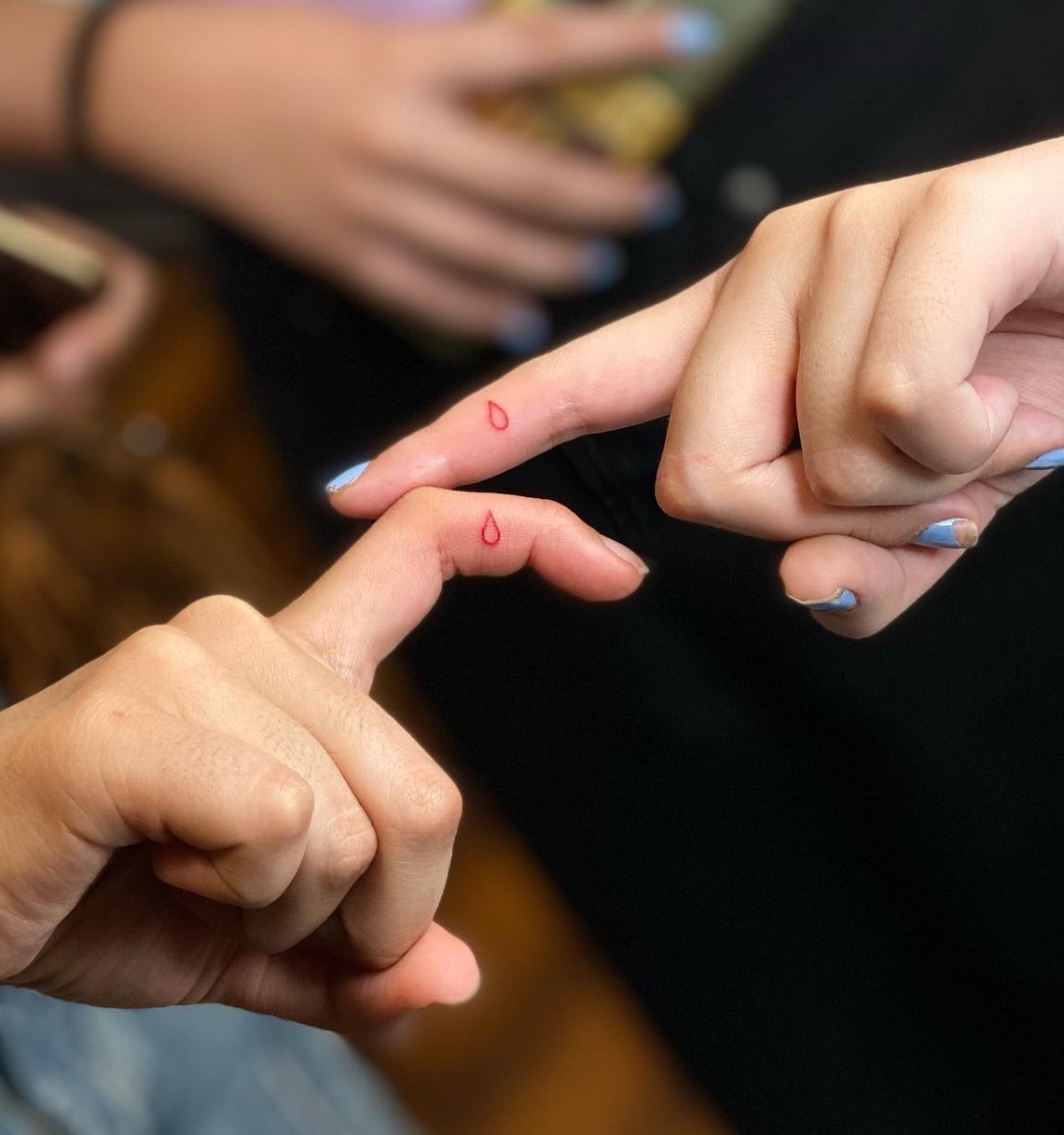 via @ng.ringvean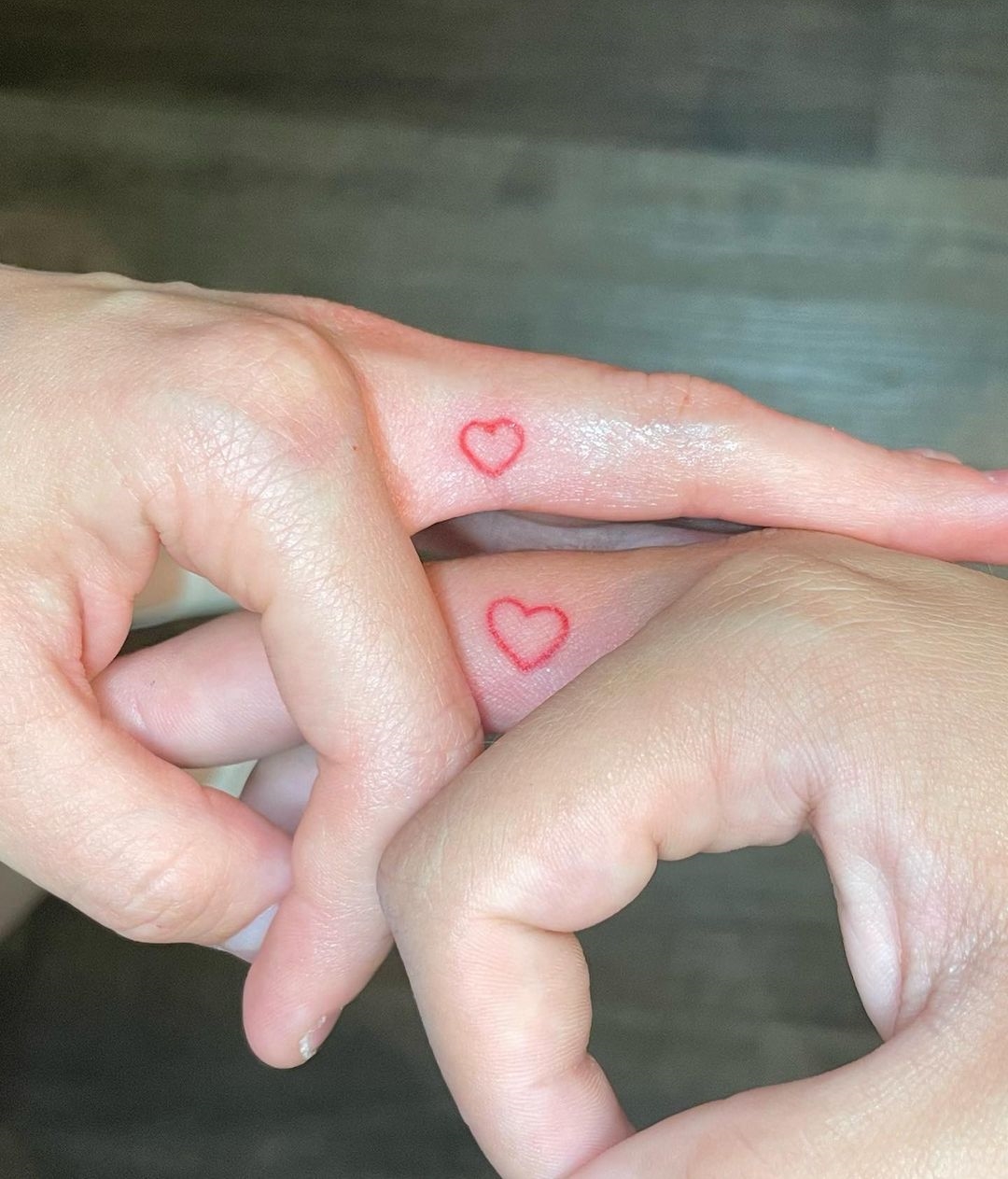 via @ka.ren.z
Girly Finger Tattoos
While we often encounter a vine or rose finger tattoo on individuals of both sexes, we can hardly imagine a man with a unicorn or a hair bow on his hands. If feminists don't mind us saying so, some designs remain more of girl stuff, including lovely butterflies and sexy lips.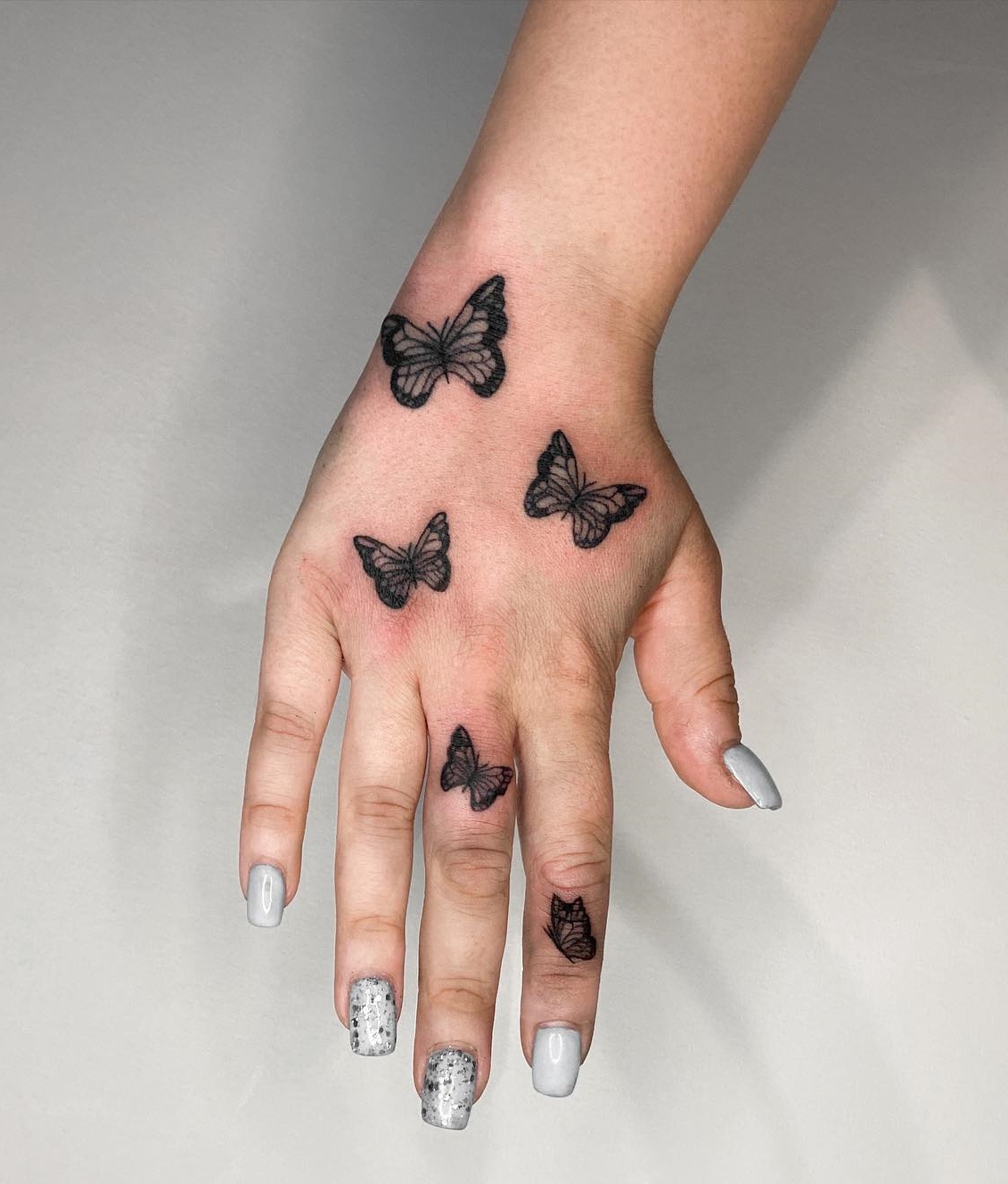 via @annija.tattoo
Simple shapes done in the linework style look airy on slim females' hands and are good for a small finger tattoo. Getting a dainty color tattoo is another way to go, with floral designs topping the list of all girls' favorites. And we also adore girly classy finger tattoos with meaningful words inked in neat handwriting.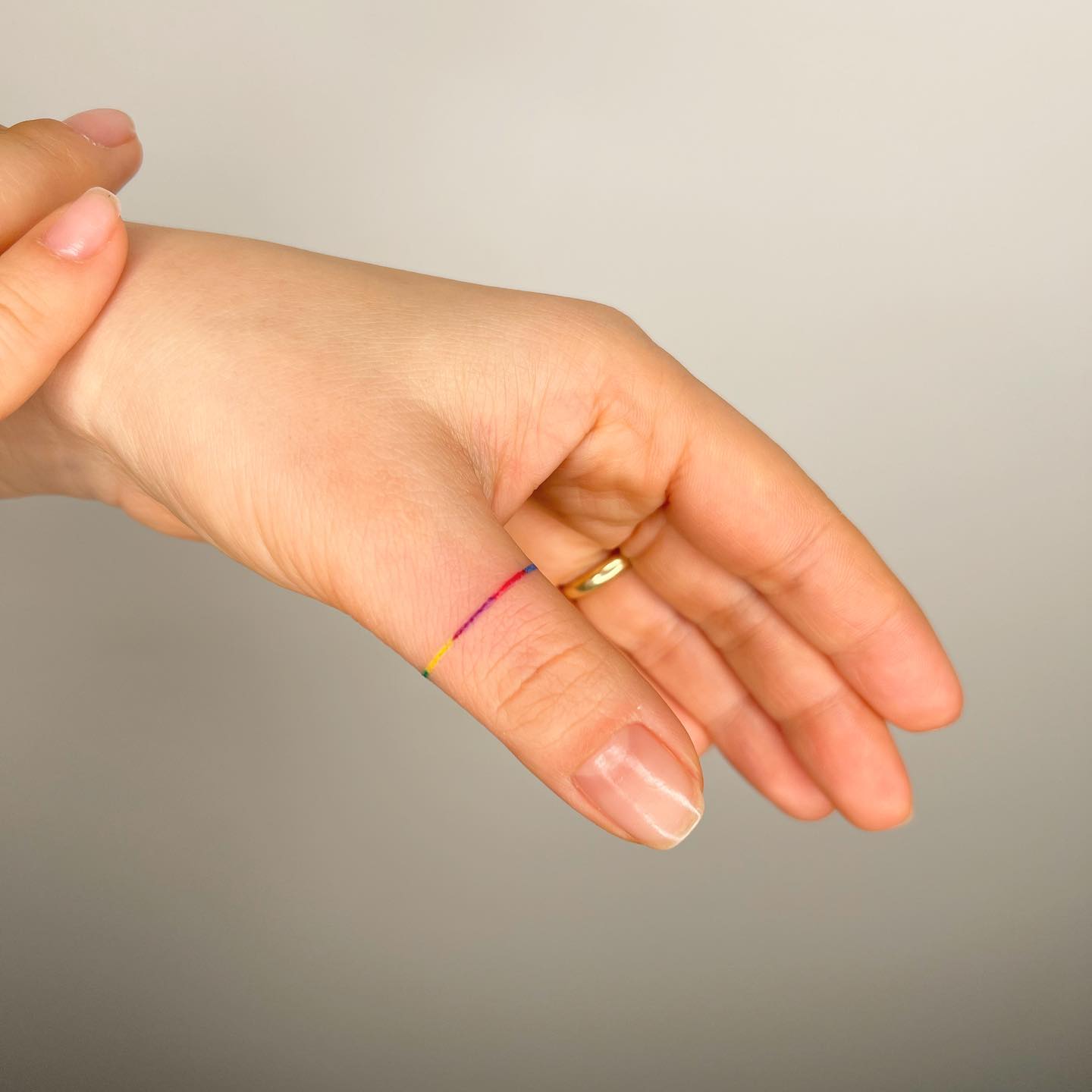 via @roy_ta2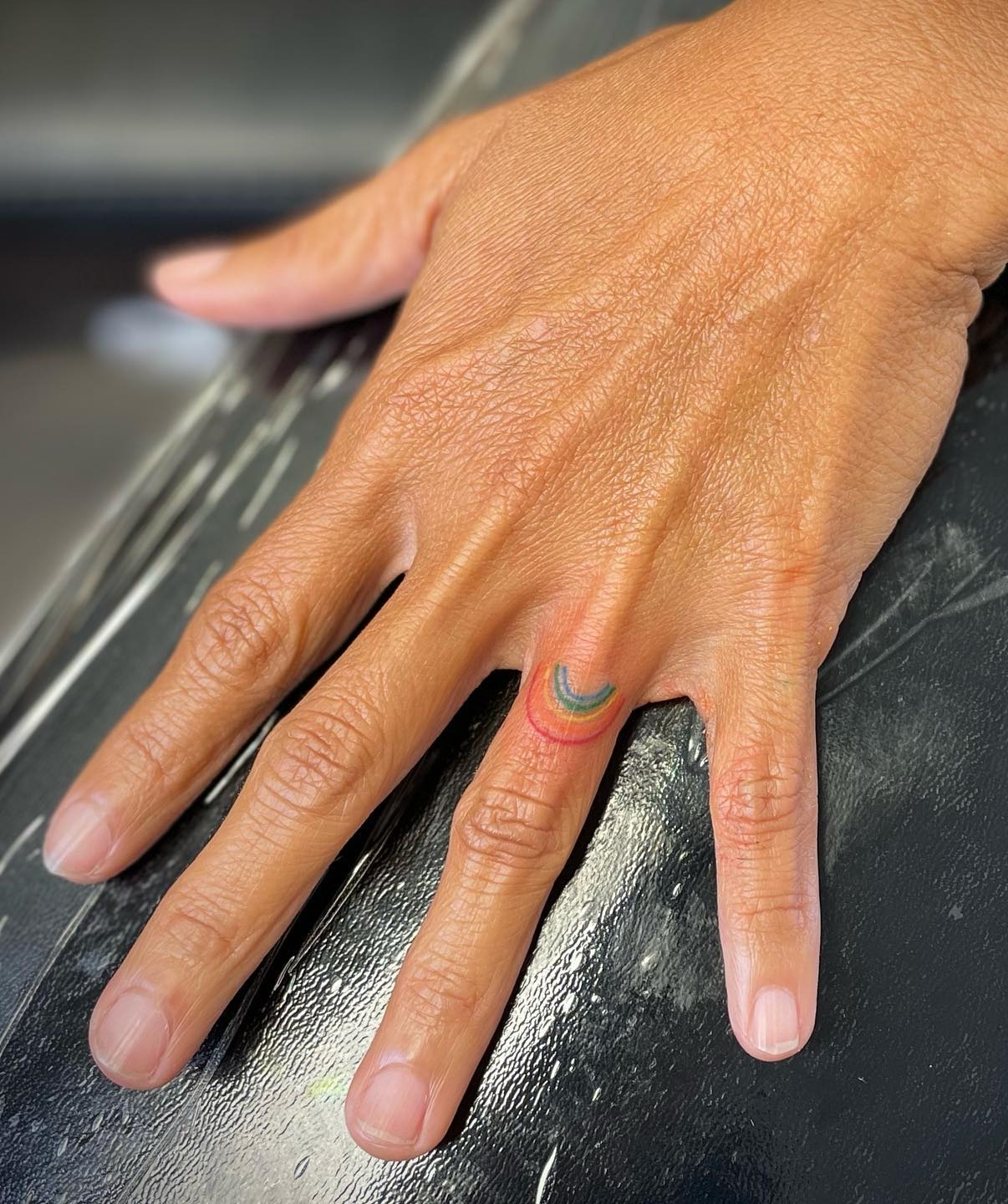 via @browtiqueandink
Finger Tattoos for Couples
We can conveniently classify matching finger tattoos into three common types.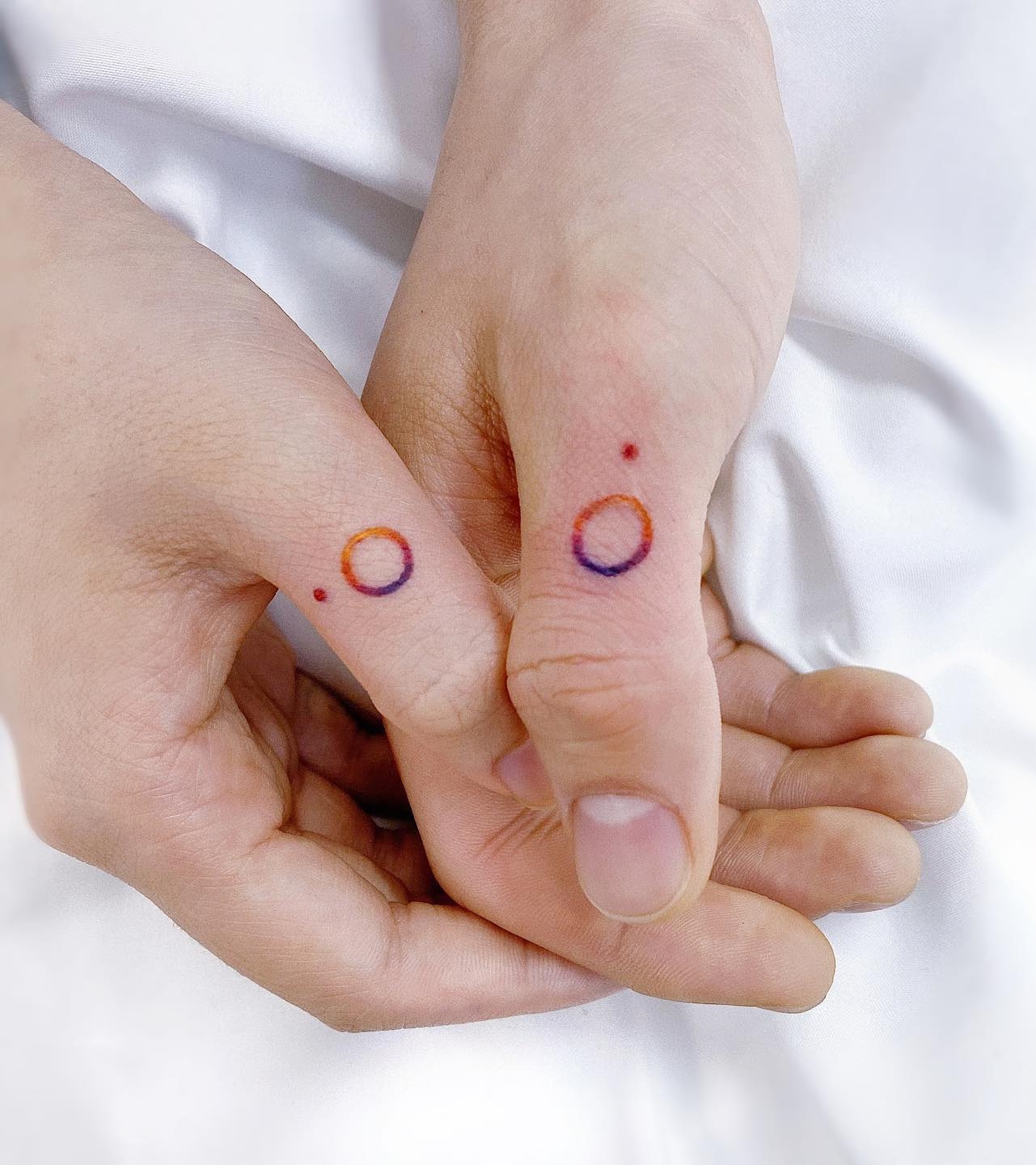 via @sinbar_tattoo
The first one is represented by paired images that serve as an extension of each other. A cage and a bird, puzzle pieces, or parts of one phrase divided between soul-mates are all good examples of this sort.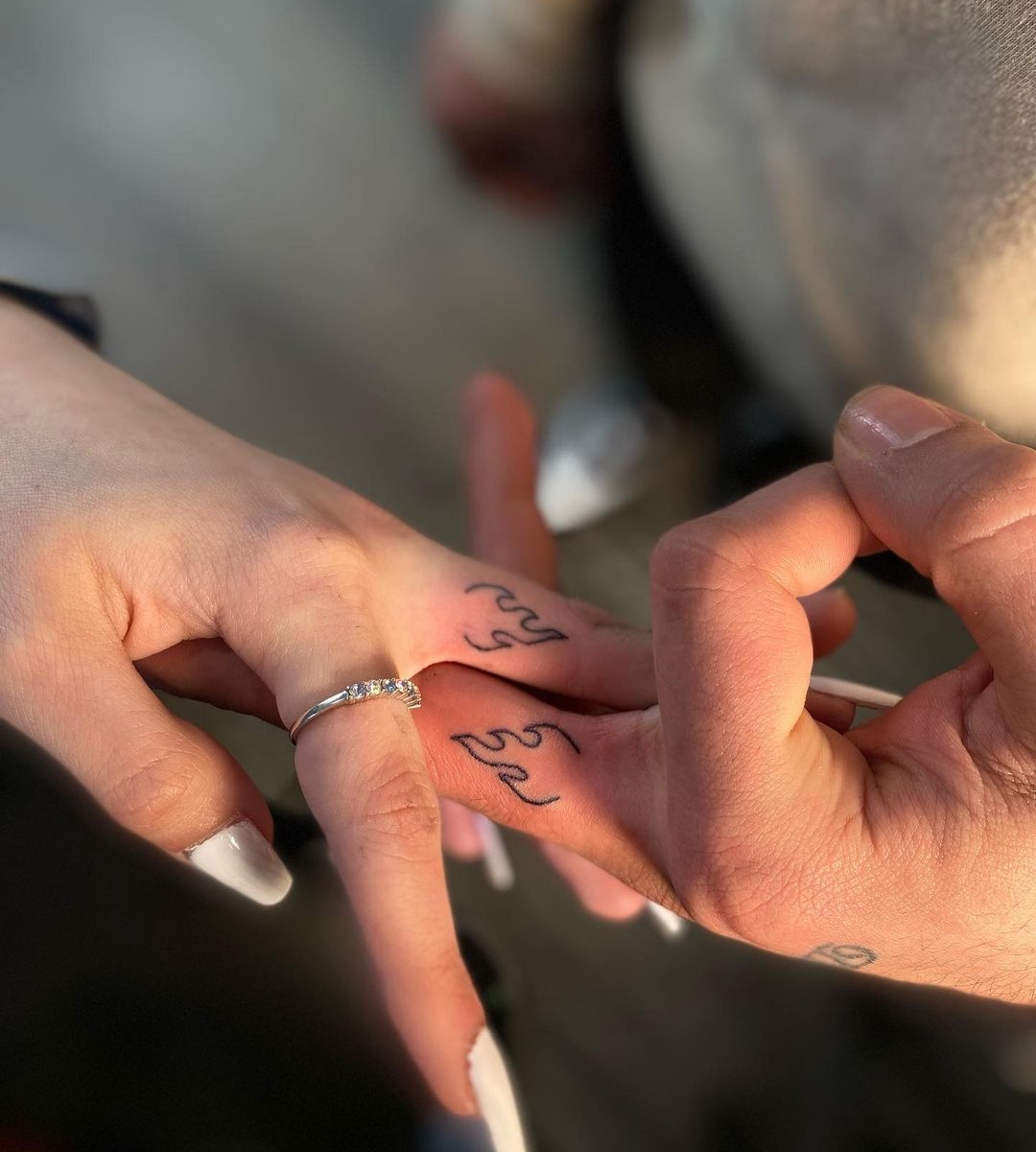 via @bazzink__
The second type of matching body art for couples is built around one theme yet depicts oppositions, such as a mountain and a wave or a sun and a moon.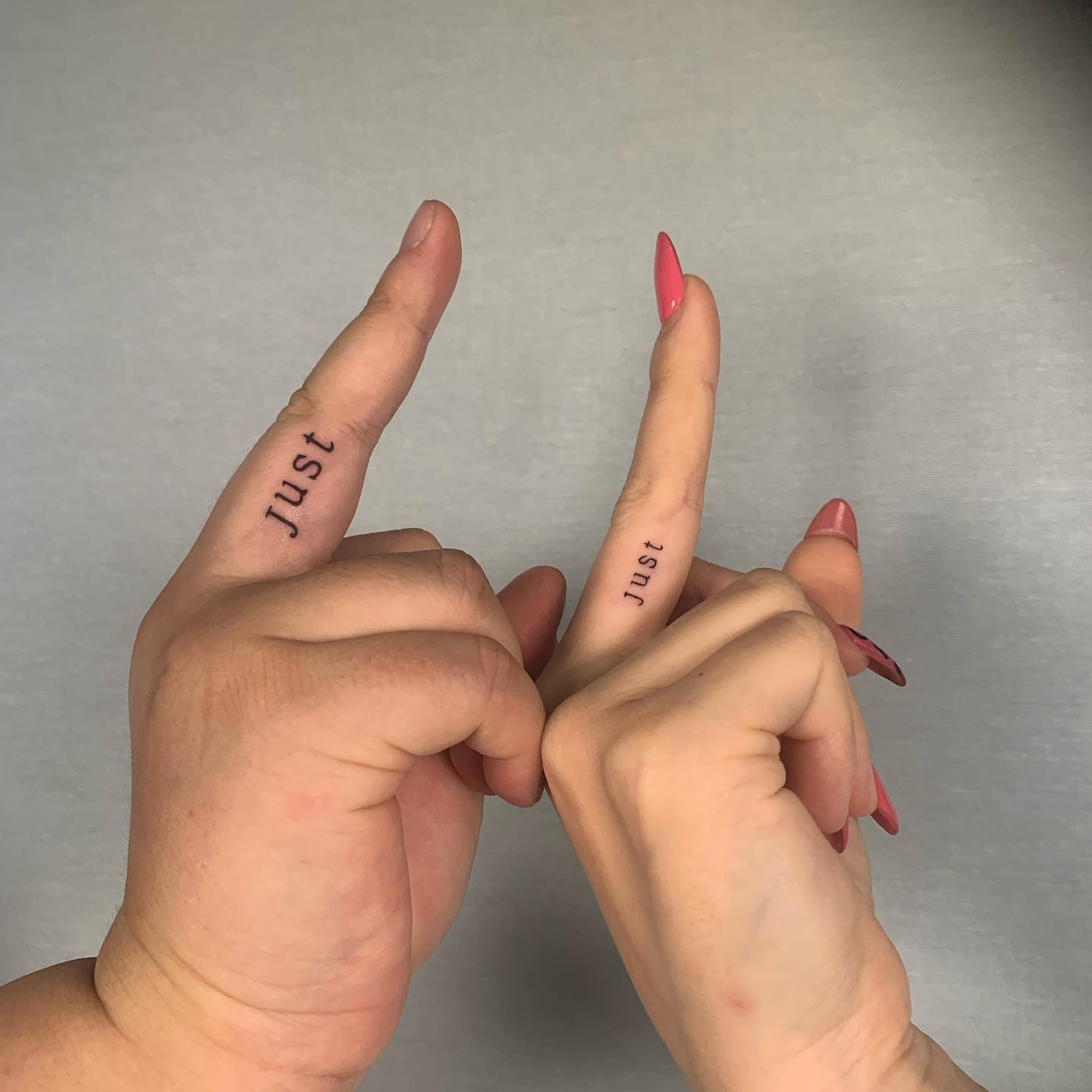 via @jundo_tattoo
The last type includes the same design for both partners, usually associated with love and romance, such as an eternal love symbol tattoo or digits that symbolize the first date.
Wedding Finger Tattoos
The first thing that comes to mind when thinking about a wedding is a stylish tattoo mimicking a real ring. After all, many jobs prohibit wearing rings for safety reasons, or you may just find it cooler to replace a standard accessory with a ring-themed inking.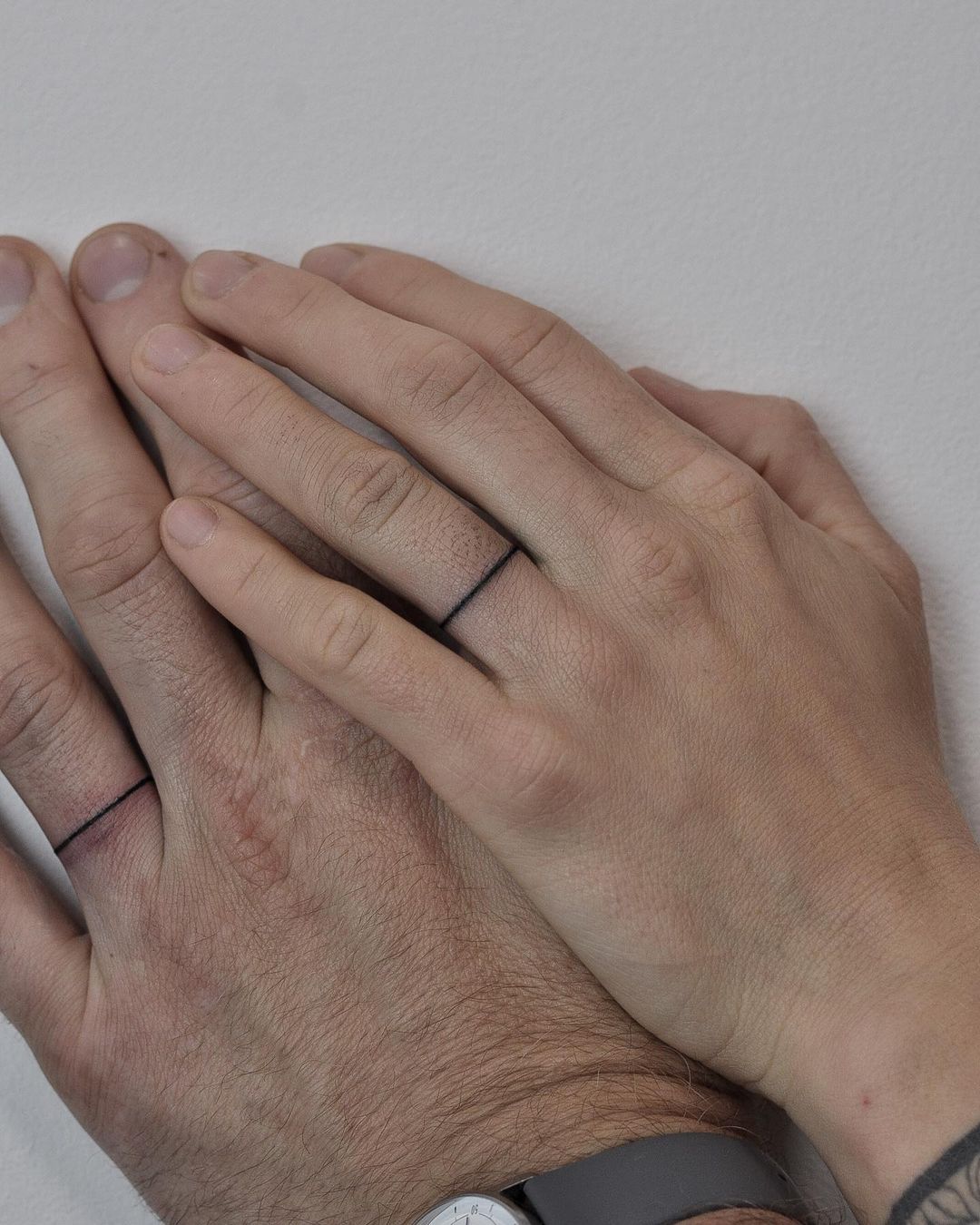 via @b.poked
Anyway, wedding ring tattoos are truly versatile and can include your names, the Big Day date, wedding vows, and Mr. & Mrs. labeling. Apart from band-shaped designs, matching finger tattoos for a bride and groom with romantic symbols received widespread appreciation. Keep them simple with monochrome inking, or go for elaborated color tattoos on fingers — the main thing is to accept commitment delivered through the aesthetics.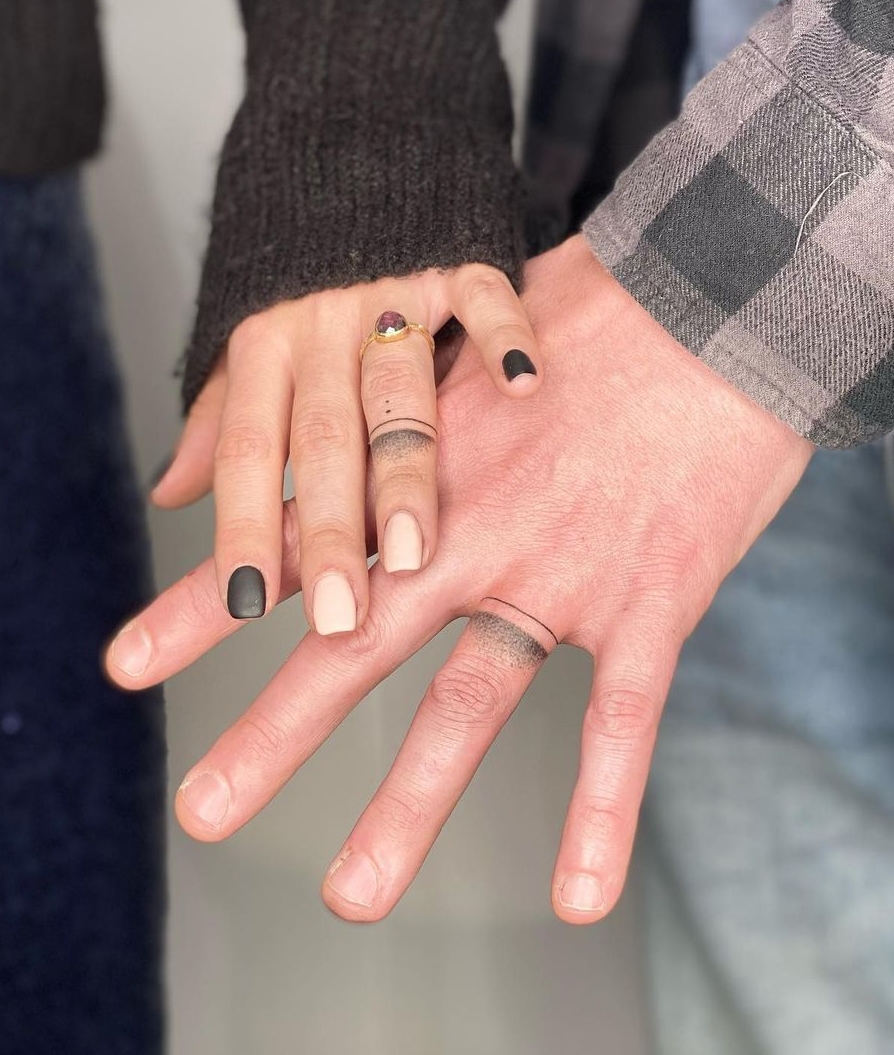 via @tesspokes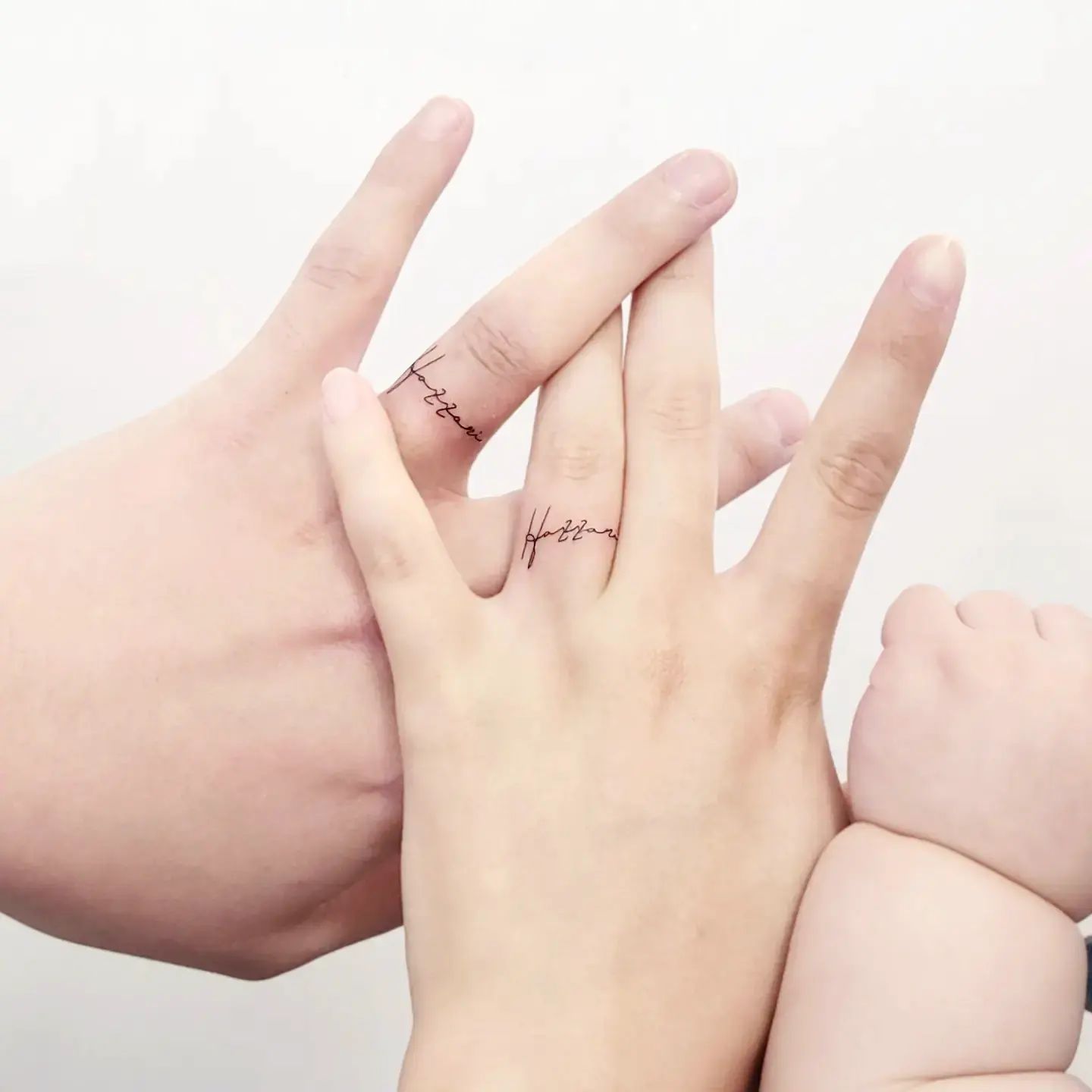 via @onhwa_tattoo
Word Tattoos
Carefully picked words and phrases turn your design into a great tattoo reminder to comfort or inspire you in times of despair. Obviously, the limited space won't let you play with lengthy quotes, but a short motto or a one-word tattoo on the fingers can lift your spirits no less effectively. The lettering can be placed around a finger or on its inner part, while some fans manage to accommodate longer messages by inking them on all the fives.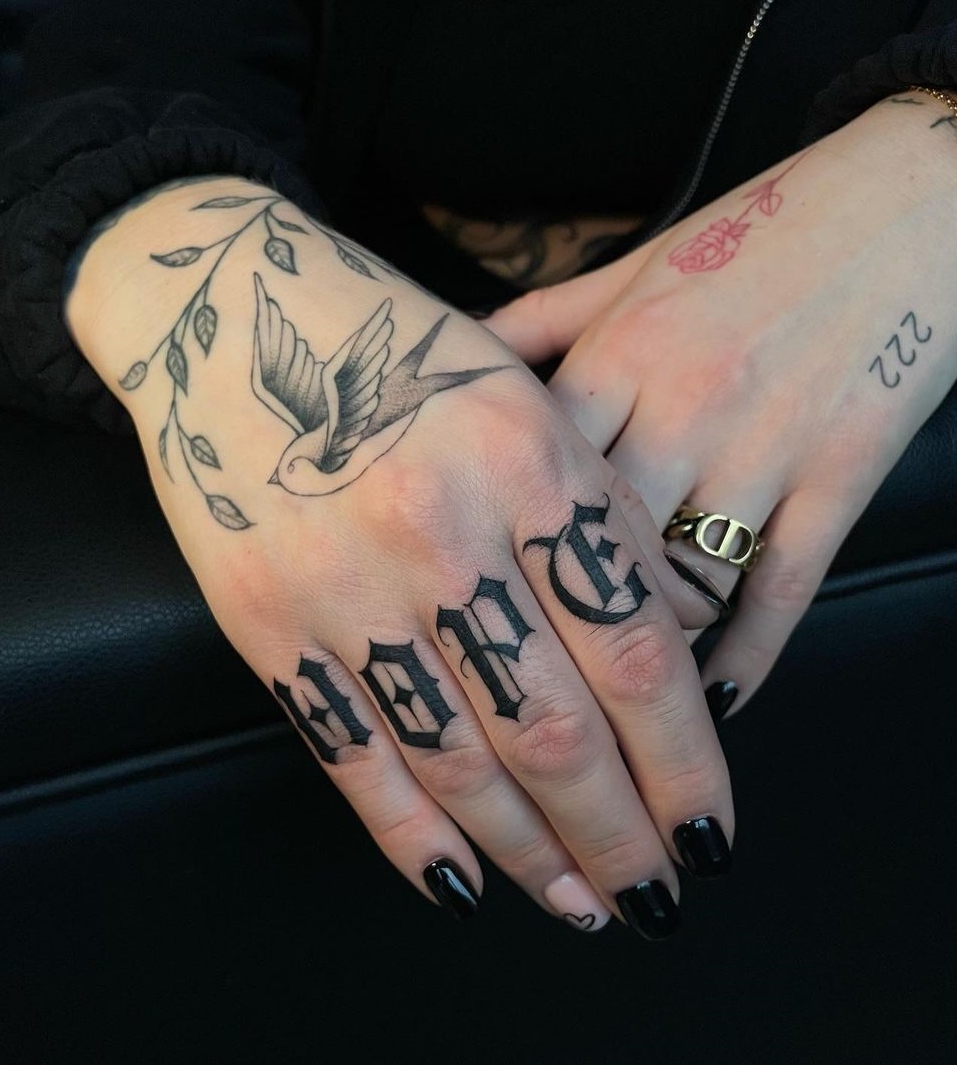 via @potstattoo
Popular word tattoos for men are often inked in gothic or Celtic fonts, and ladies typically give preference to fancy styles.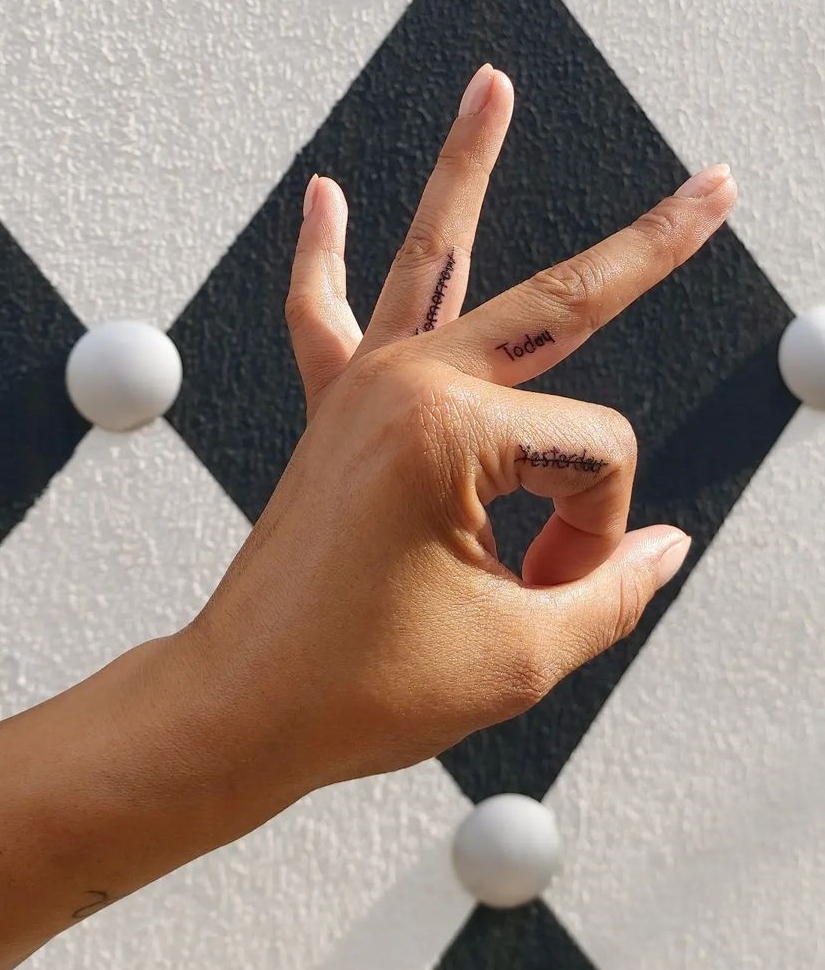 via @ozcanartgallery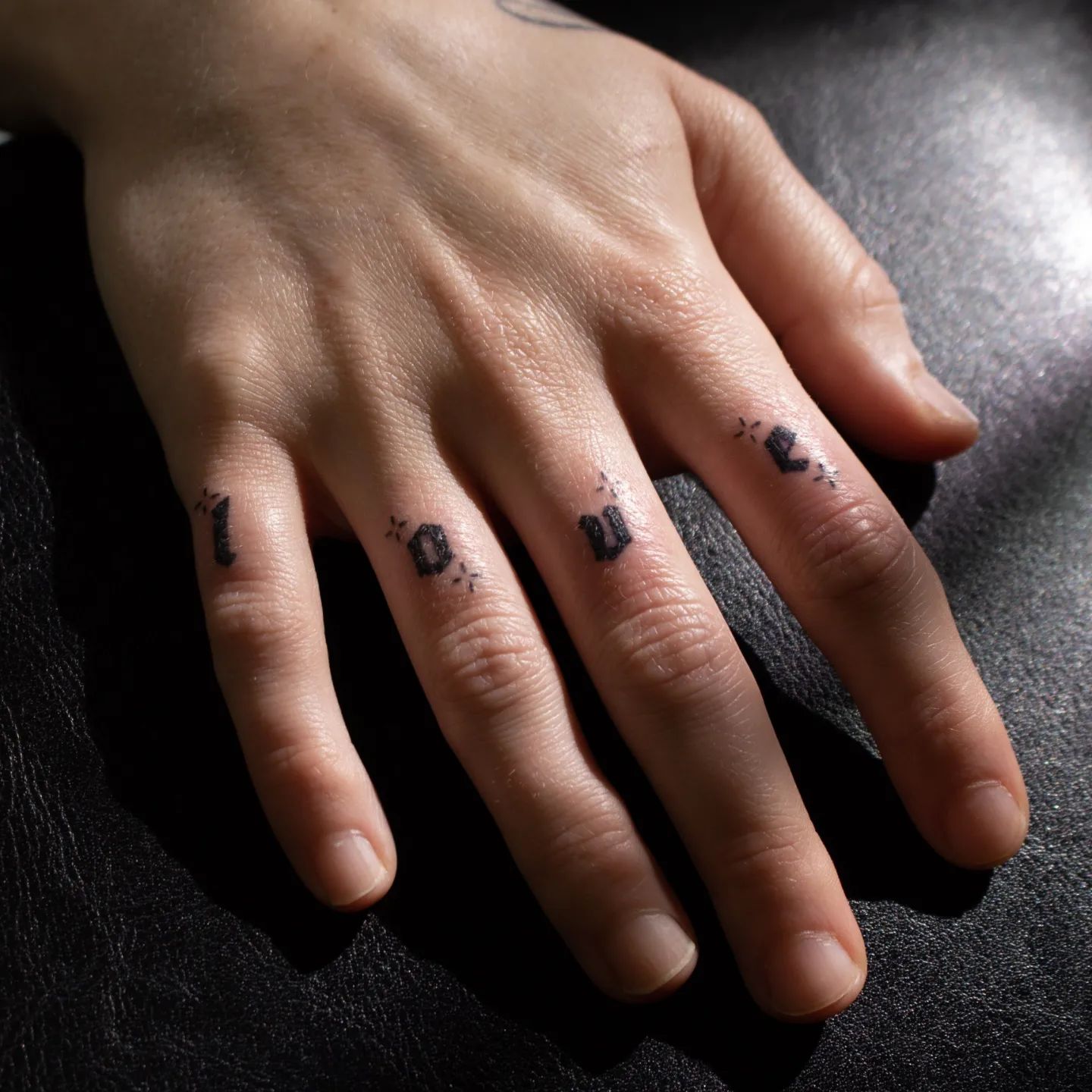 via @jazz.ink
Heart Tattoo
Paired hearts, broken hearts, emoji-styled hearts, anatomical hearts, pixelized hearts, hearts made of words, hearts with arrows piercing through them — is it enough to prove that the heart-themed design is a great idea for a finger tattoo? And you don't need a super expensive tattoo artist to ink this simple and easily recognizable shape on your index finger. But if you want to spice it with some color, you can get the silhouette painted in red or cover the whole image with the ink of your choice.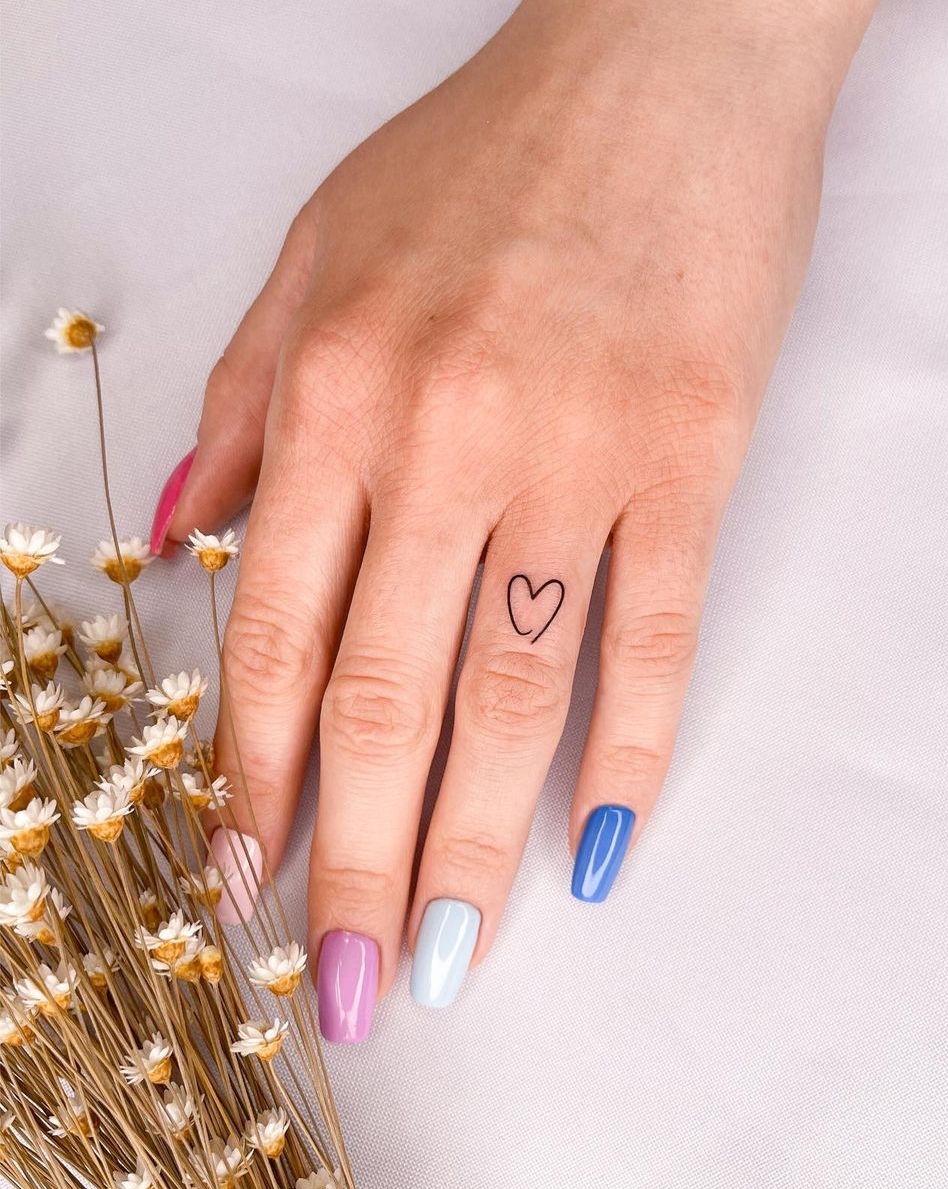 via @ladnie.ink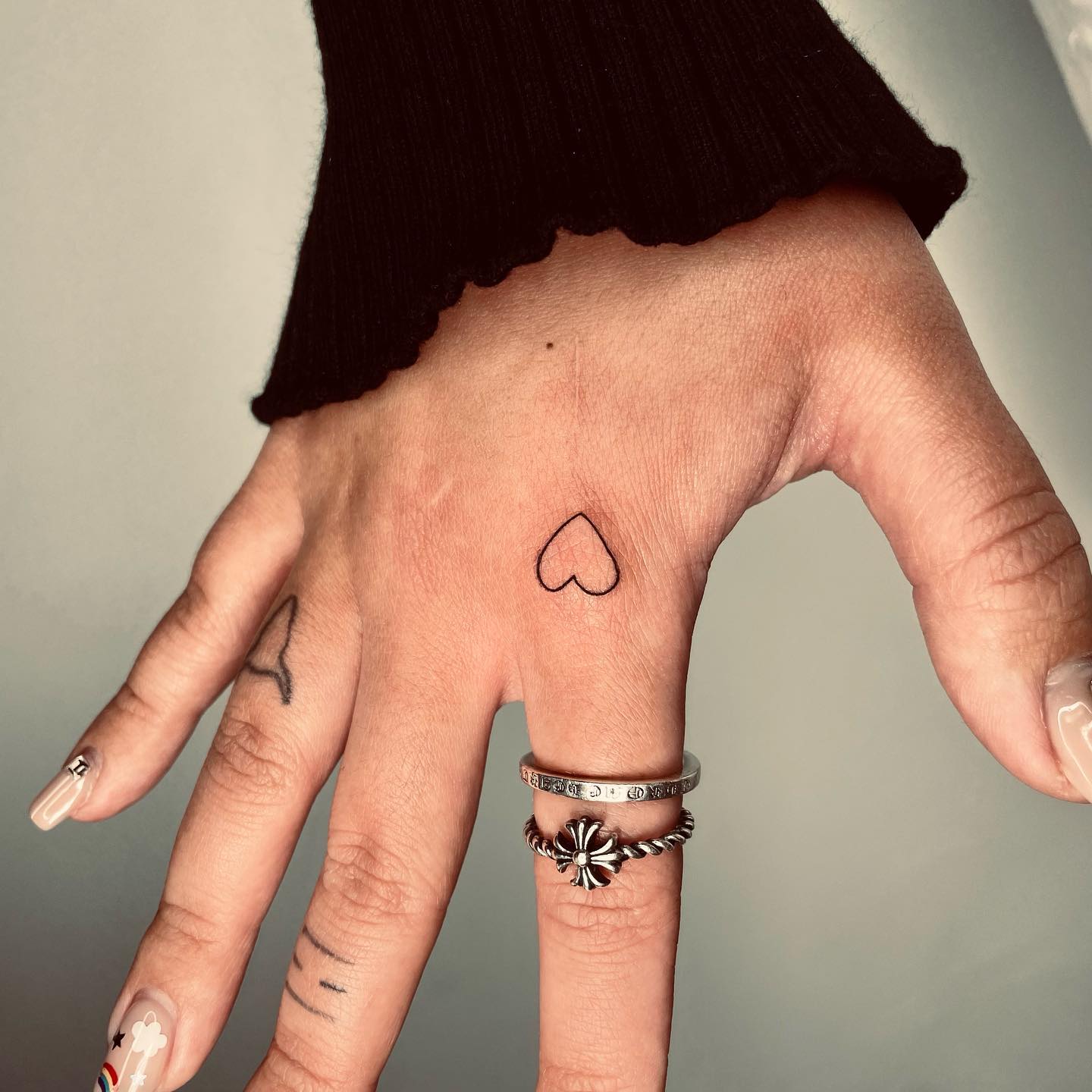 via @tattooer_bro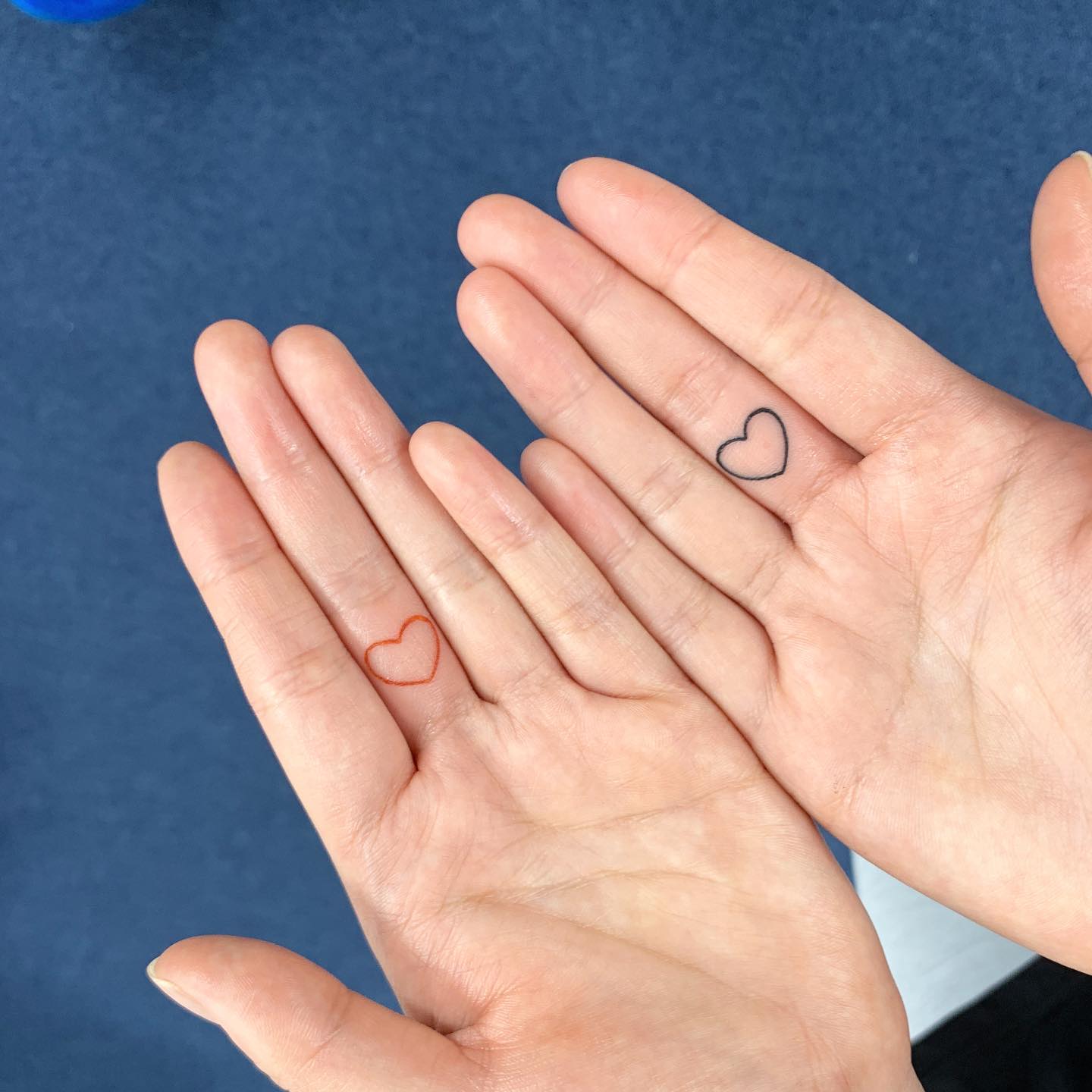 via @bora_tattooer
Butterfly Tattoos
One can take finger butterfly tattoos as just cute animalistic images, which is partially true. However, butterflies also symbolize beauty, femininity, grace, rebirth, joy, and freedom, depending on the culture you associate yourself with.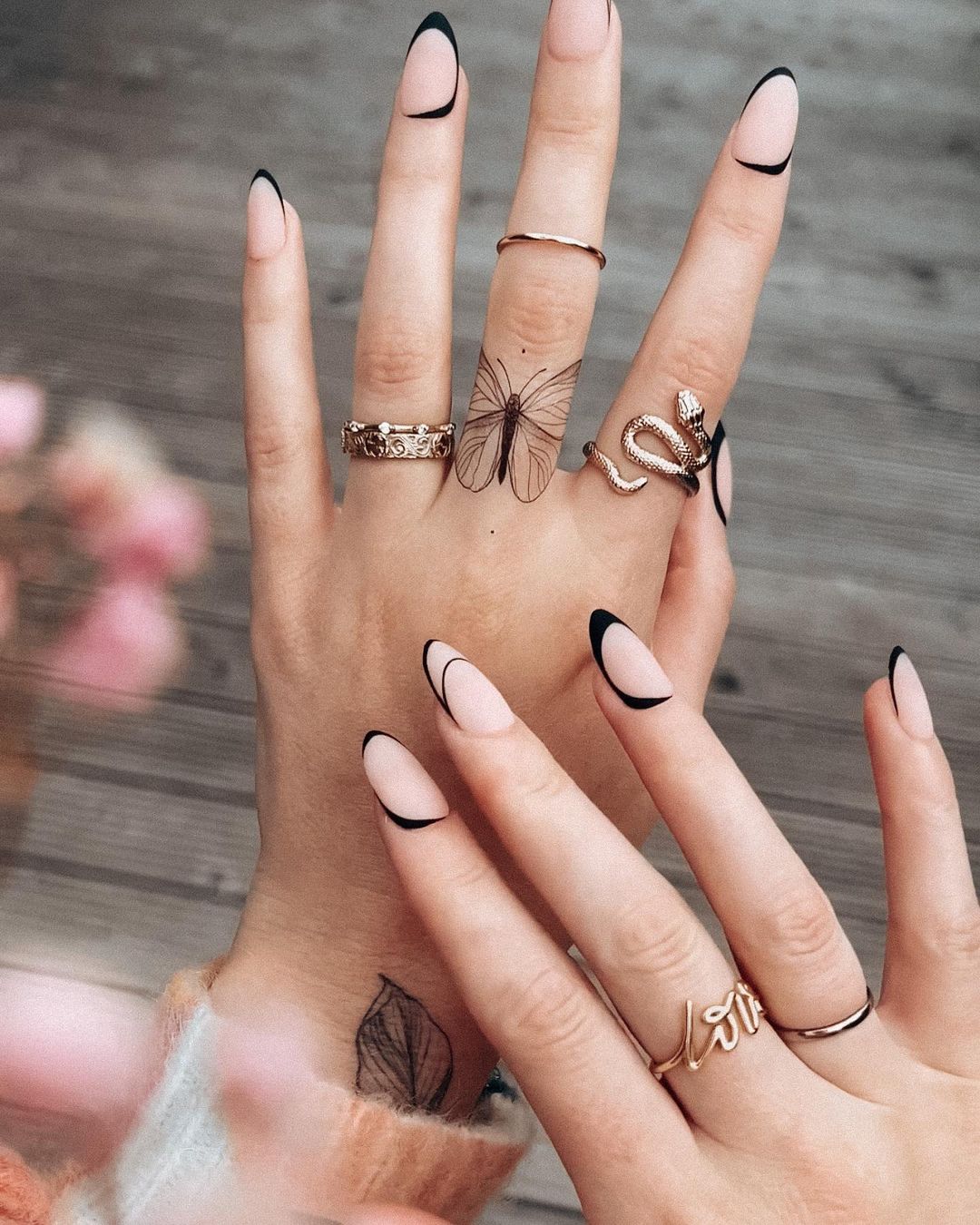 via @bunami.ink
We recommend choosing a butterfly, whether monochrome or colorful, for a middle-finger tattoo: let it sit nicely on your proximal or middle phalanx to draw the most of the public's attention. Otherwise, hide this beauty on the side or inner part of a finger for it to pop up only when you move the fingers or open the palm.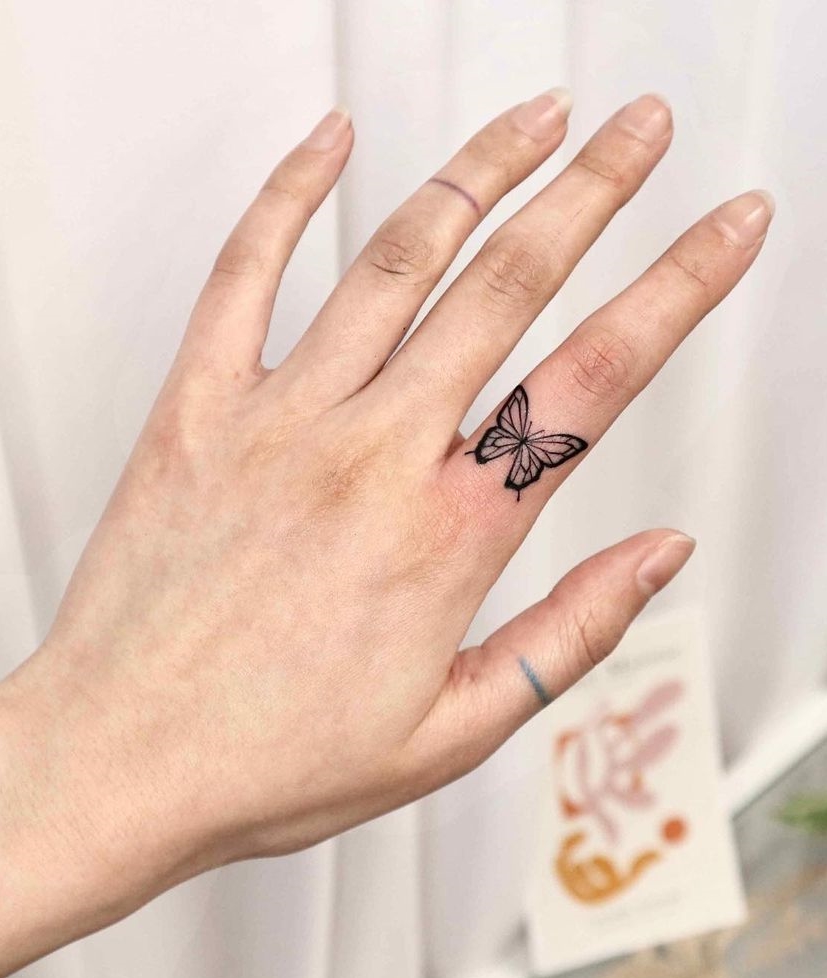 via @d.on_tat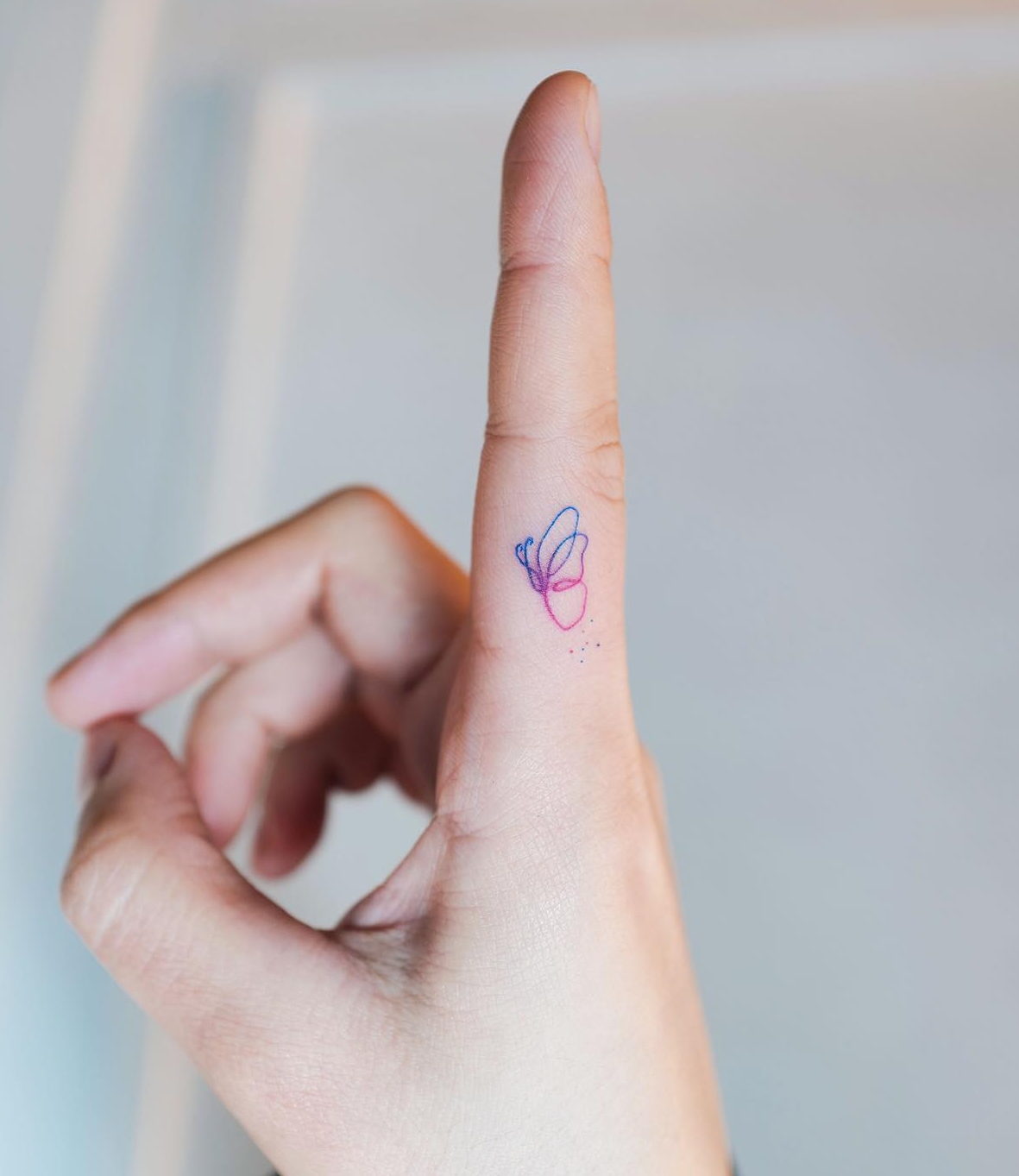 via @free_tattooer
Moon Finger Tattoo
We have already mentioned sun and moon finger tattoos among paired designs, but you don't need a partner to rock this astronomic combo. Instead, dedicate a thumb to each celestial body and enjoy a fitting design when the hands are put together.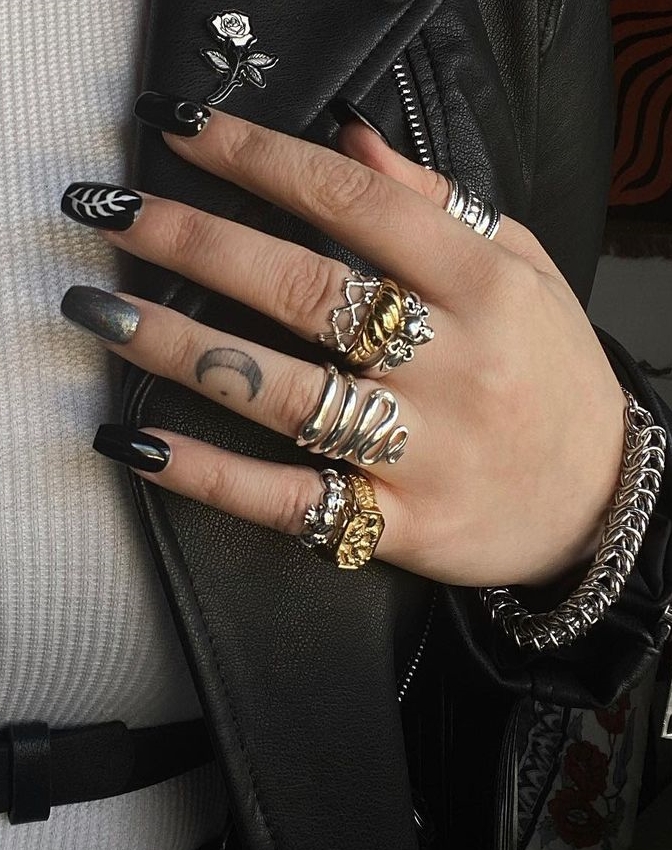 via @lozzii
Adding stars is another option doable on the tops of fingers, while a moon alone will fit into the space for an inner finger tattoo. For obvious reasons, a crescent moon tattoo is the most frequent choice, yet not the only one available for creative people. If you know a tattooist proficient in detailing, you can illustrate moon phases throughout your ten fingers.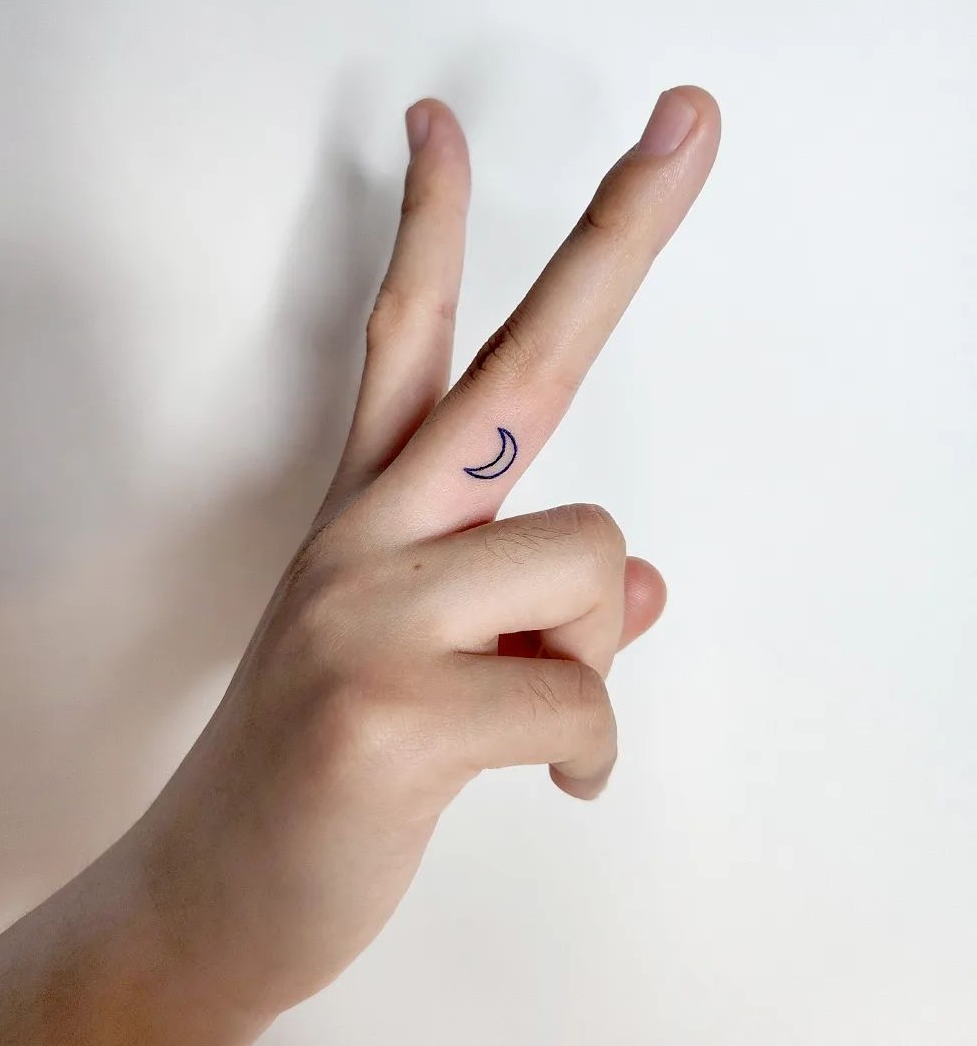 via @tattooist_ssu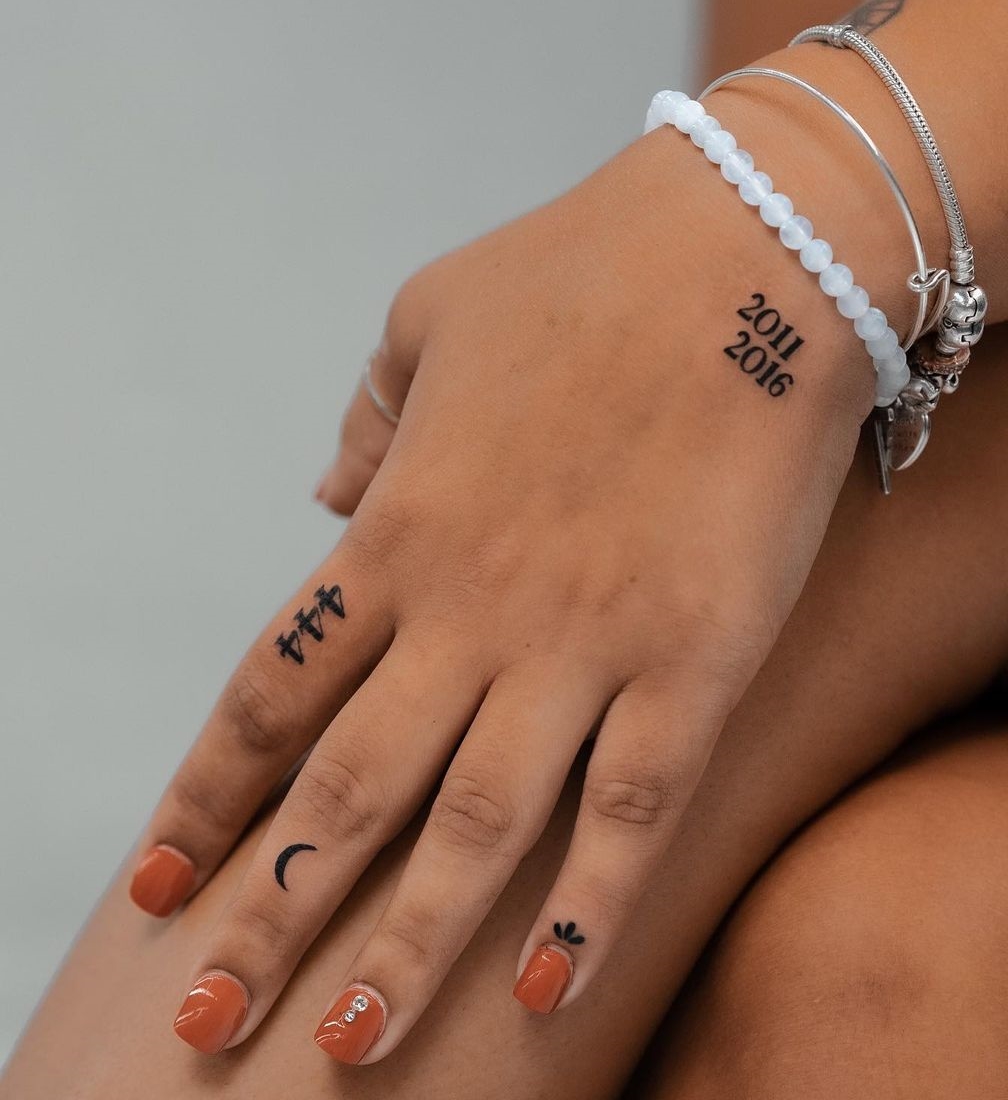 Name Tattoo
You will be surprised to learn that there are so many cool ways to eternalize someone you love. You can inscribe your significant other's name on a ring finger tattoo so that it runs around the finger. As an alternative, you can opt for side or inner placement to give the inking a more intimate feel.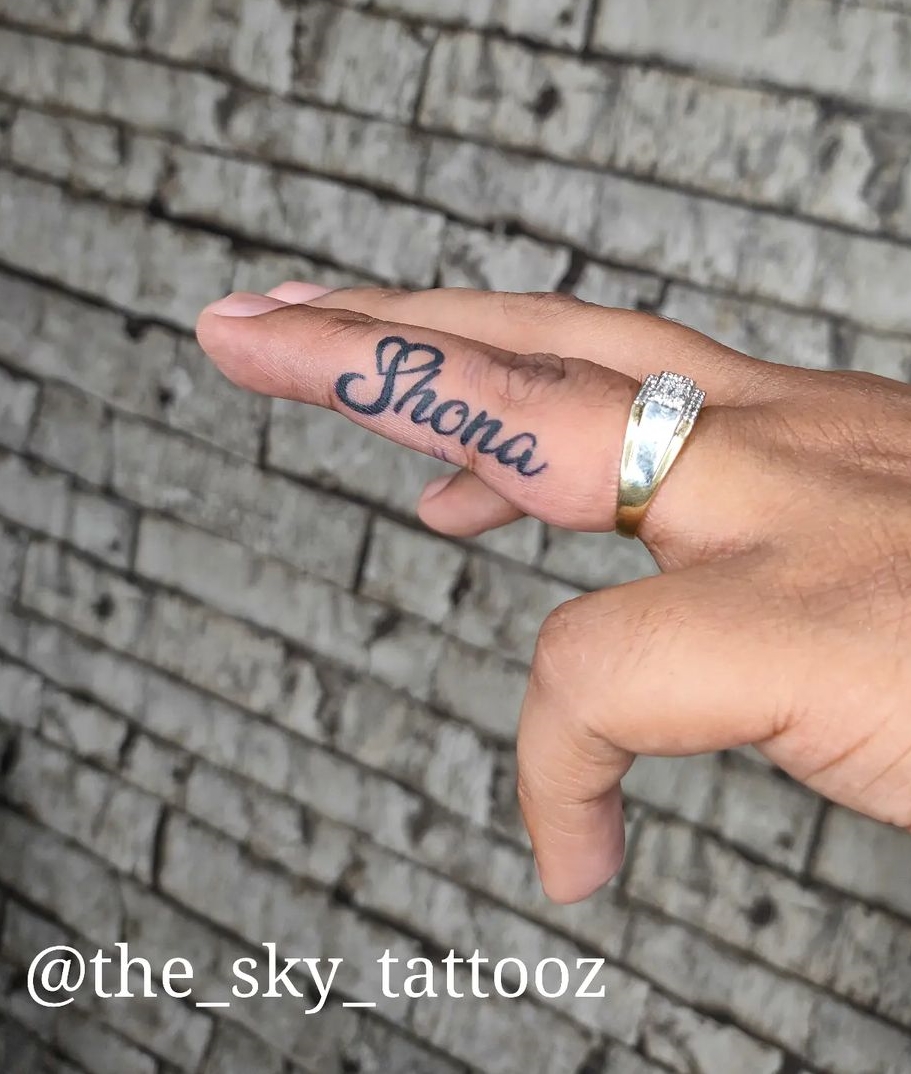 via @the_sky_tattooz
If the name isn't too long and you want to make your statement loud and clear, etch a separate letter on each finger to form the whole word. Although a spouse name tattoo is the most requested option, friends and family members may also deserve our eternal love. Make sure to choose proper tattoo fonts for the name to look stylish and remain readable.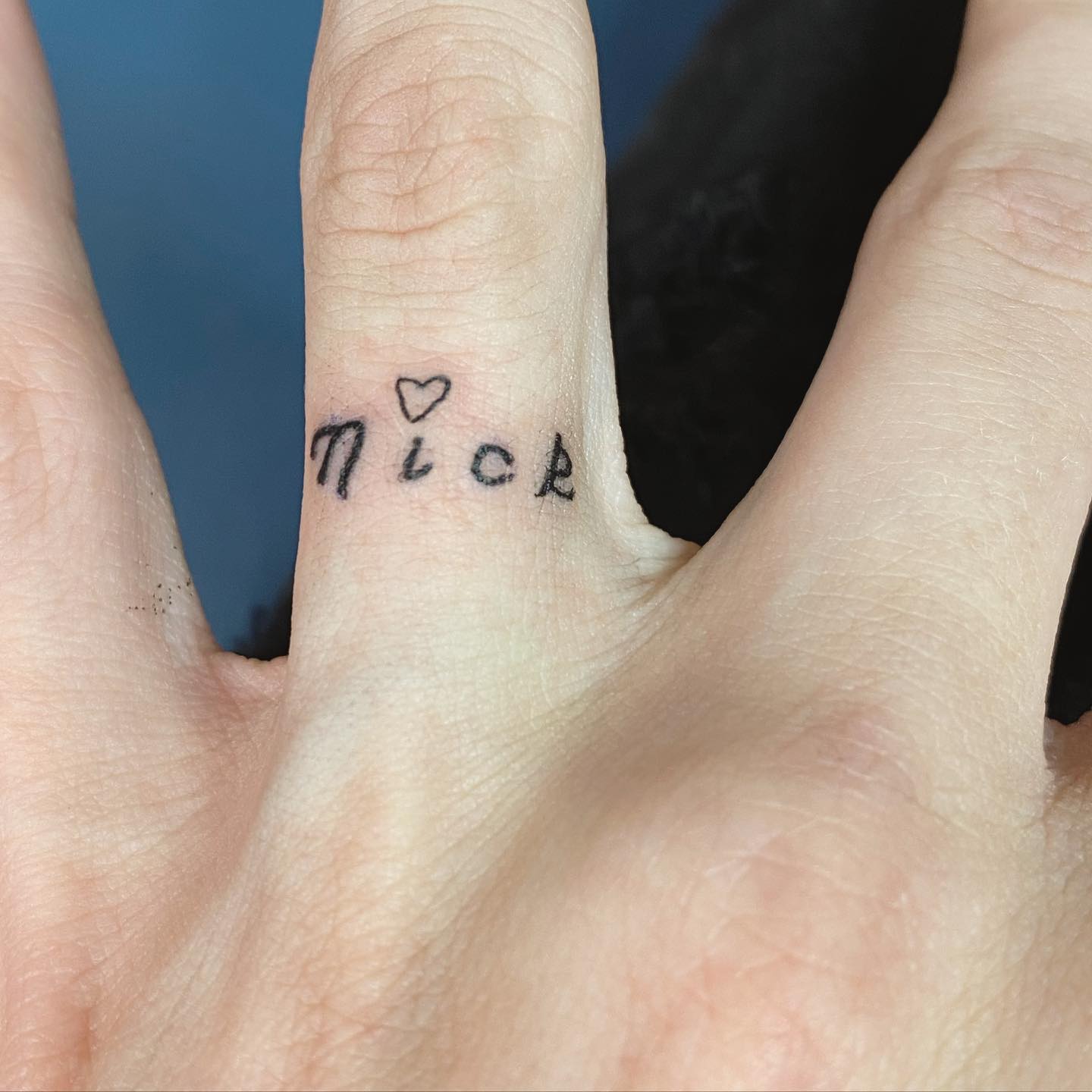 via @miss.jender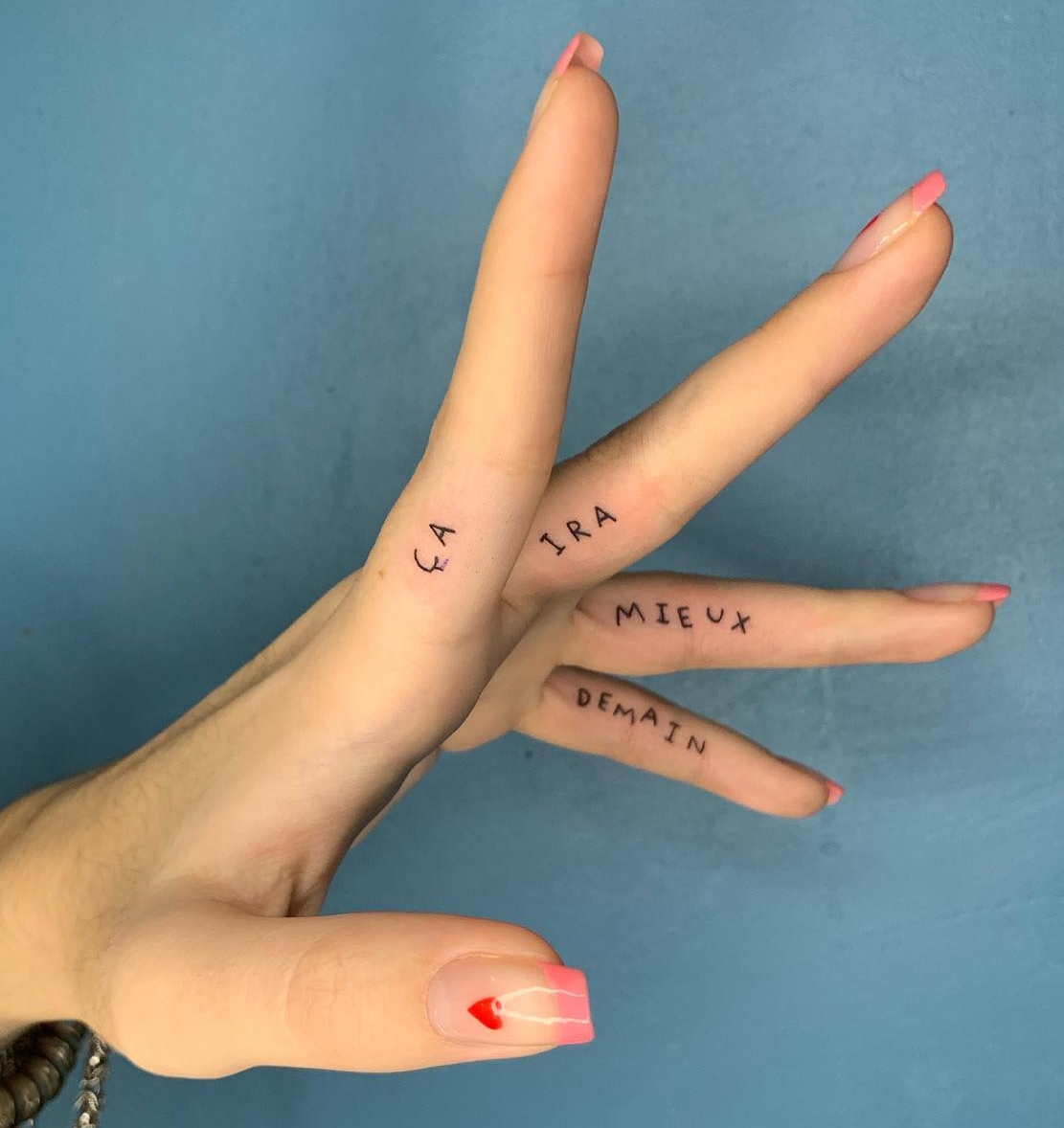 Crown Finger Tattoo
Crowns come in an abundance of designs to let each of us be a king or a queen in our own rights. The royal symbol is perfect for a thumb or middle finger tattoo, as it fits the space and creates a stunning focal point.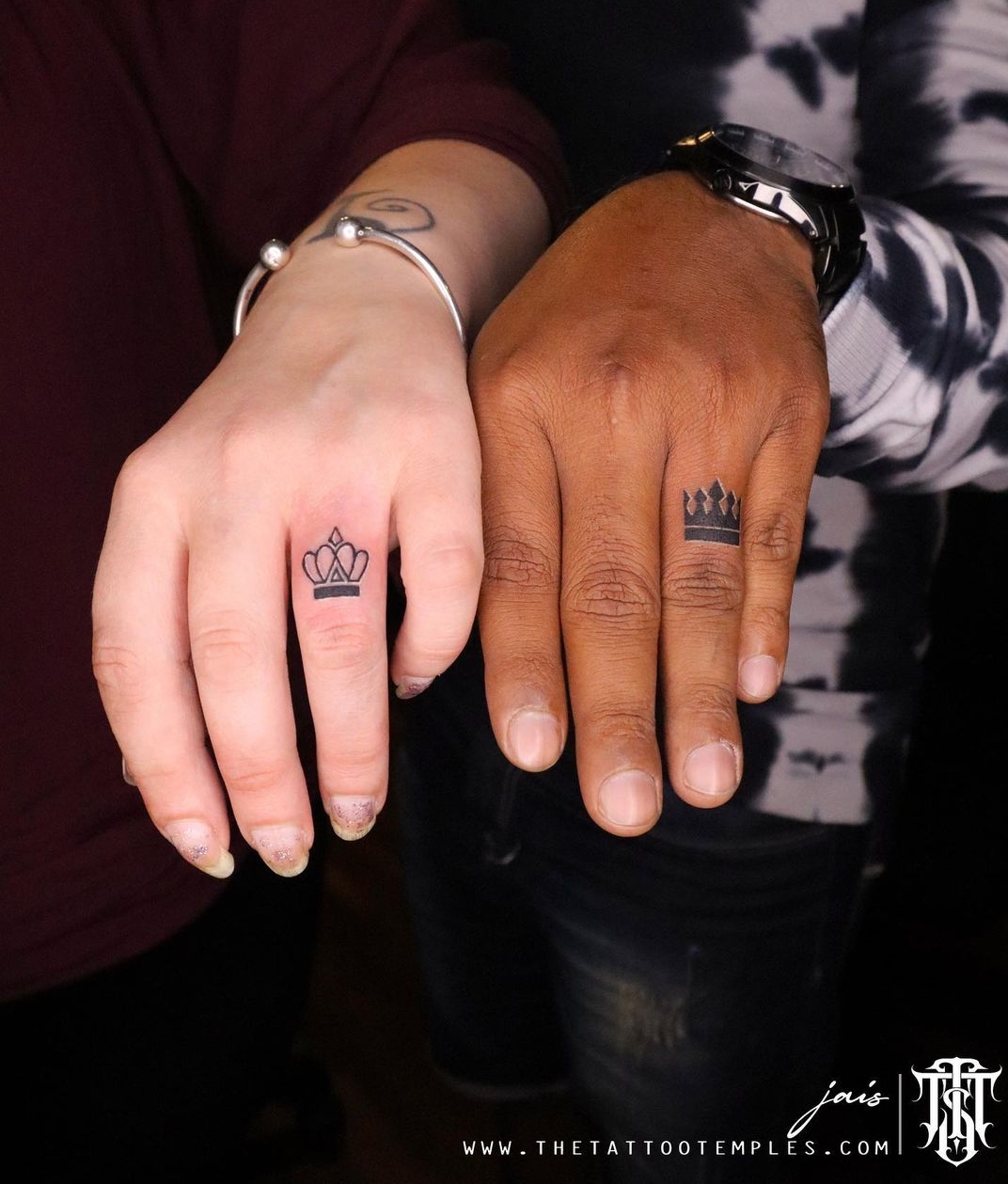 It's gender-neutral, which allows both men and women to wear a crown tattoo on a finger, and it pairs well with luxury diamonds and elegant monograms. Moreover, you can match your crown with your partner's similar design to express your love and loyalty.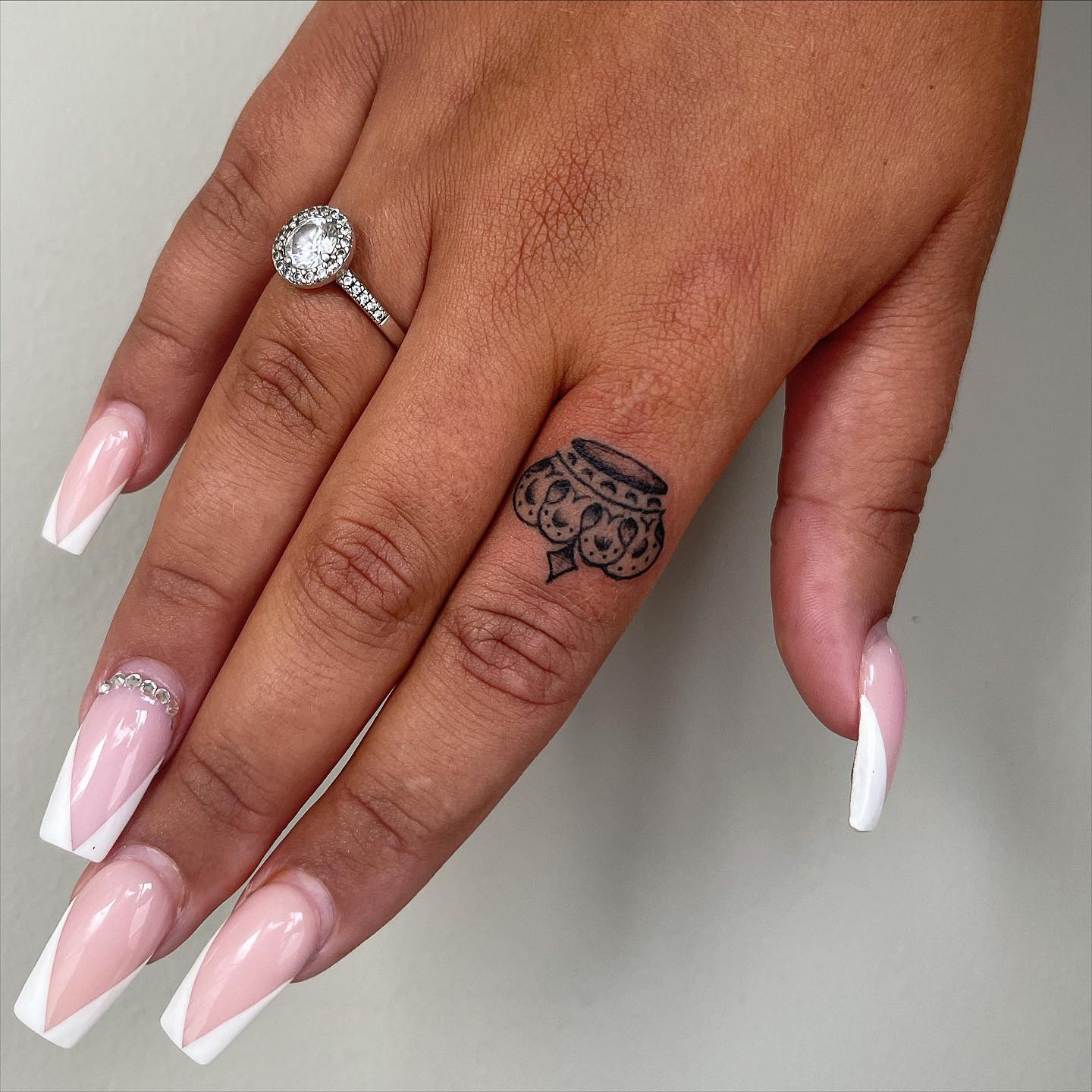 via @becca_tattoo
Crowns look great in black and white tattoos but can be brightened up with a color, so your customization options are virtually endless.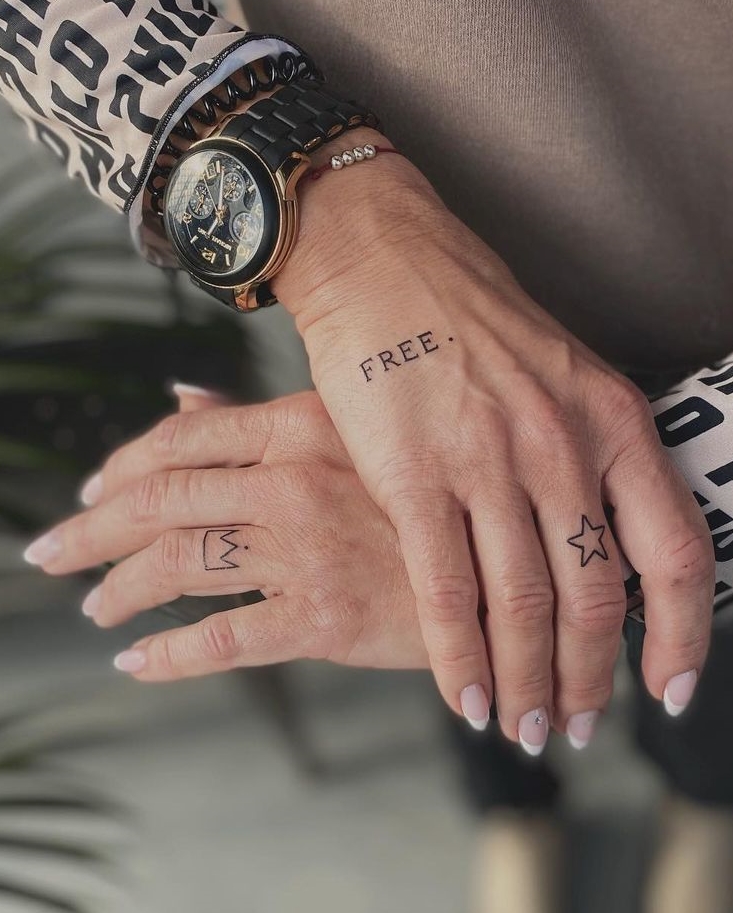 via @mmlnstecko
Lotus Flower Tattoo
According to Hindus, this sacred flower stands for divine perfection and beauty, which inspires many ladies to choose it for a cute small tattoo to adorn their hands. It often sits on a middle finger, complemented with lines and dots to resemble mehndi patterns. But this flower is also strongly associated with spiritual growth and realization of inner potential, which makes gentlemen etch a lotus tattoo on the finger as well. Besides, the lotus is a symbol of immortality, encouraging us to get matching finger tattoos that emblemize eternal love and friendship.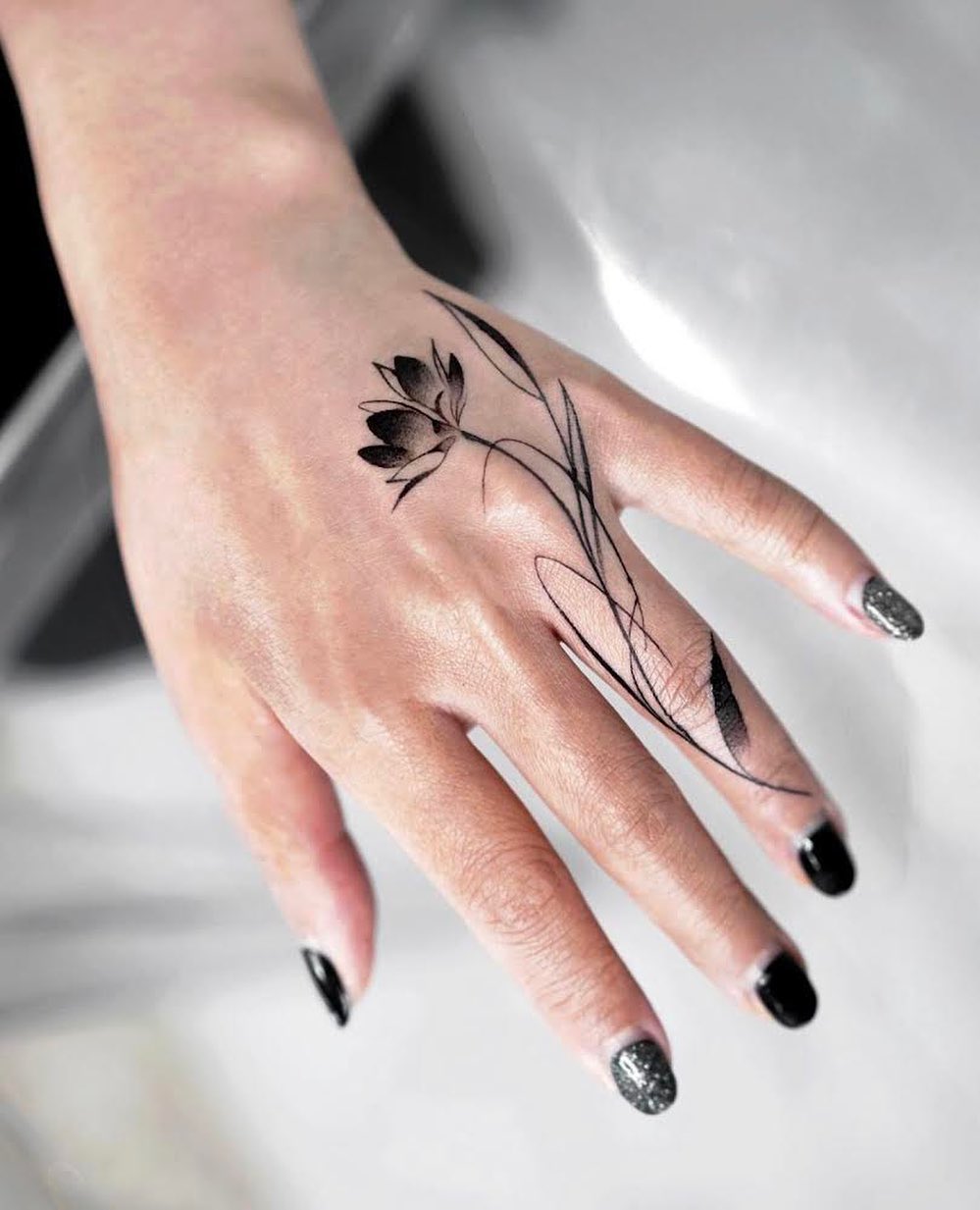 via @exp.haus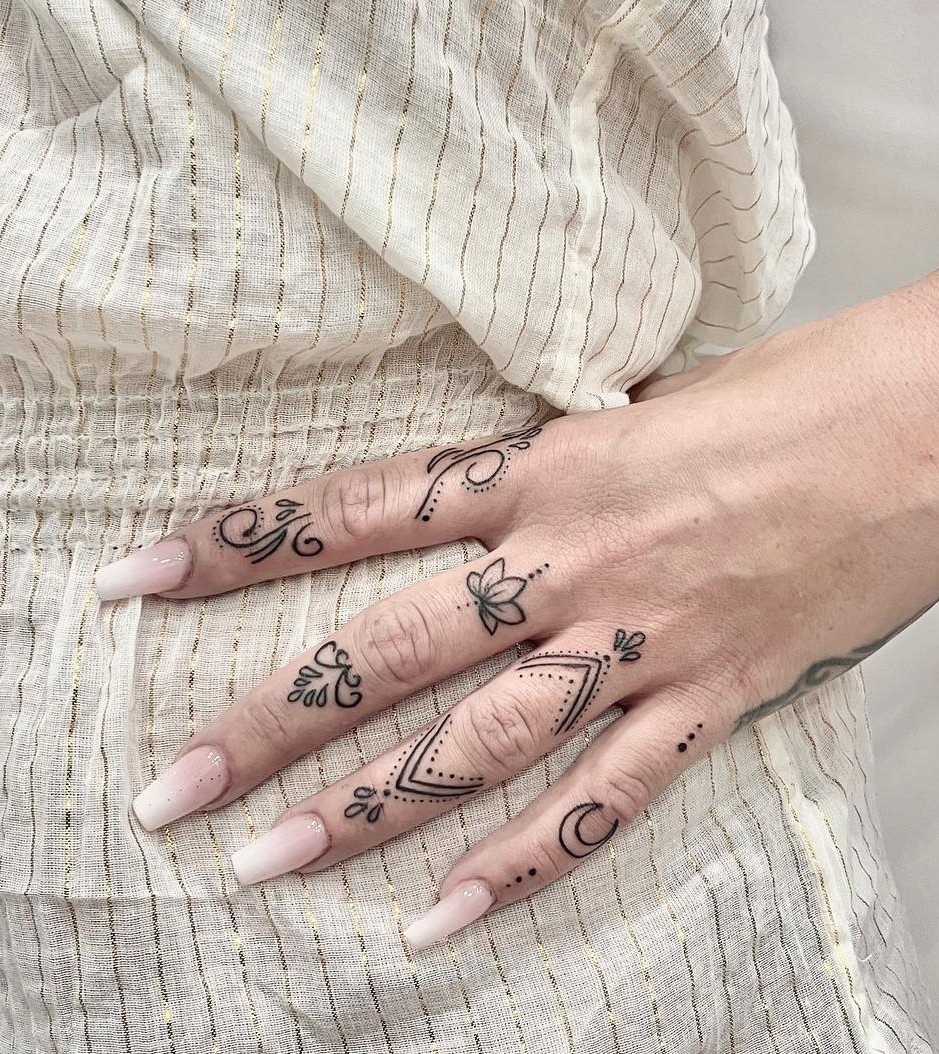 via @burrimato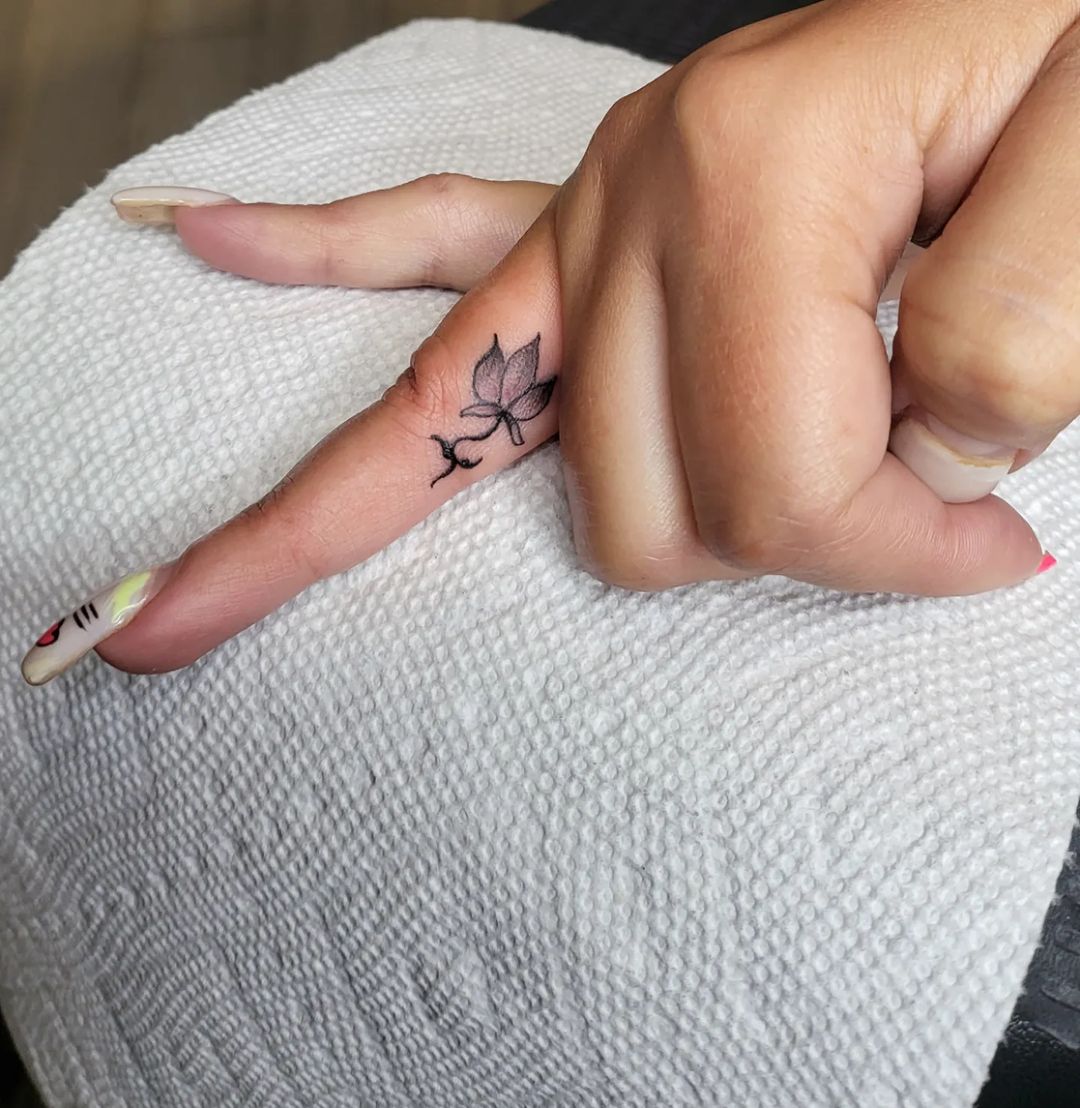 via @titoaguayo85
Rose Finger Tattoo
Don't hesitate to get a cute rose tattoo on a finger since designs built around this flower never go out of style. An experienced tattoo artist will offer a dozen styles to tailor the inking to your aesthetic preferences: abstract, fine-line, realistic, negative space, American style, and what-not. Looking quite dramatic in monochrome inking, this flower can be etched as a color tattoo to add vibrancy or even change the symbolic meaning. While red roses are often seen as symbols of love and passion, pink color represents grace and gratitude, and purple roses are linked to royalty.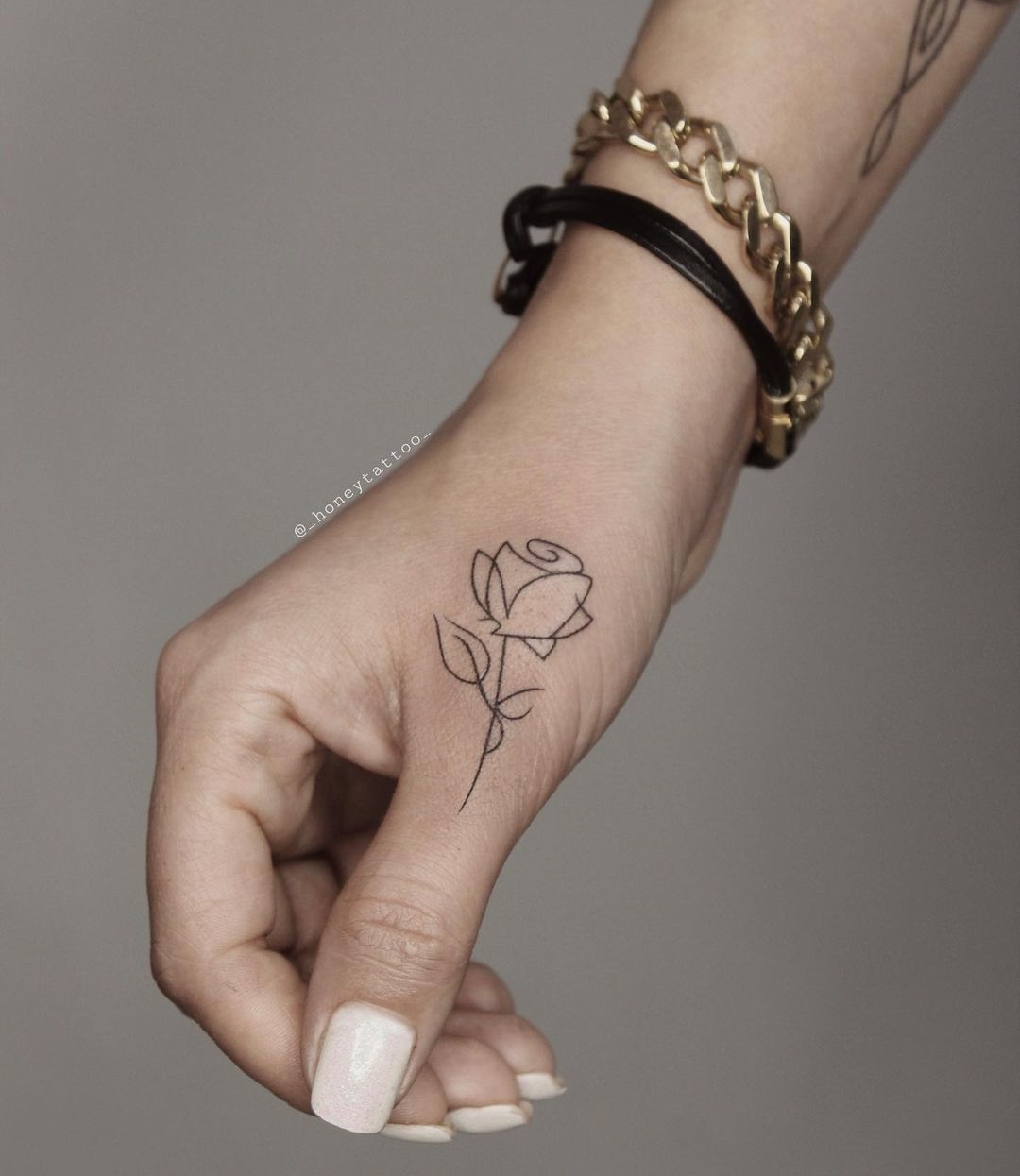 via @_honeytattoo_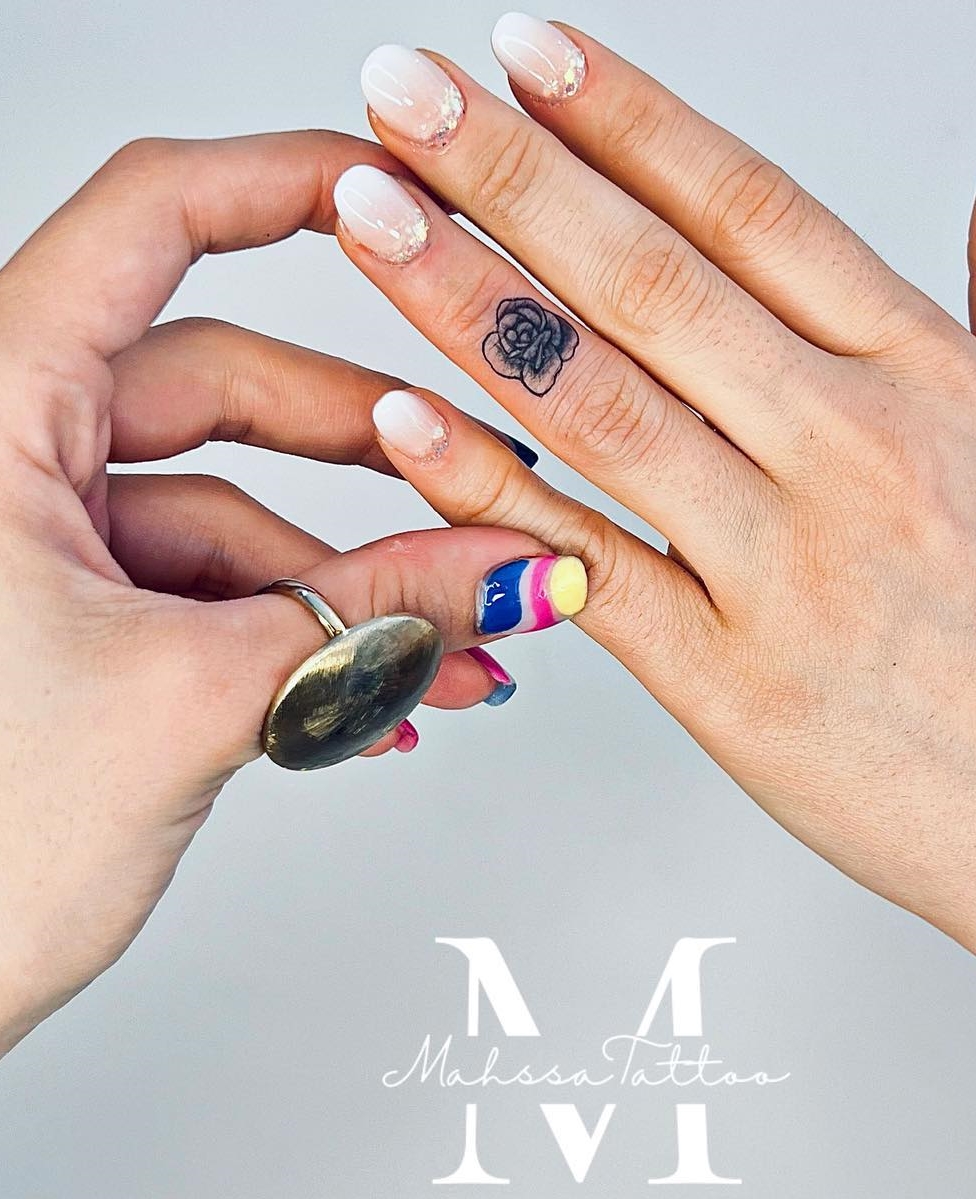 via @mahssatattoo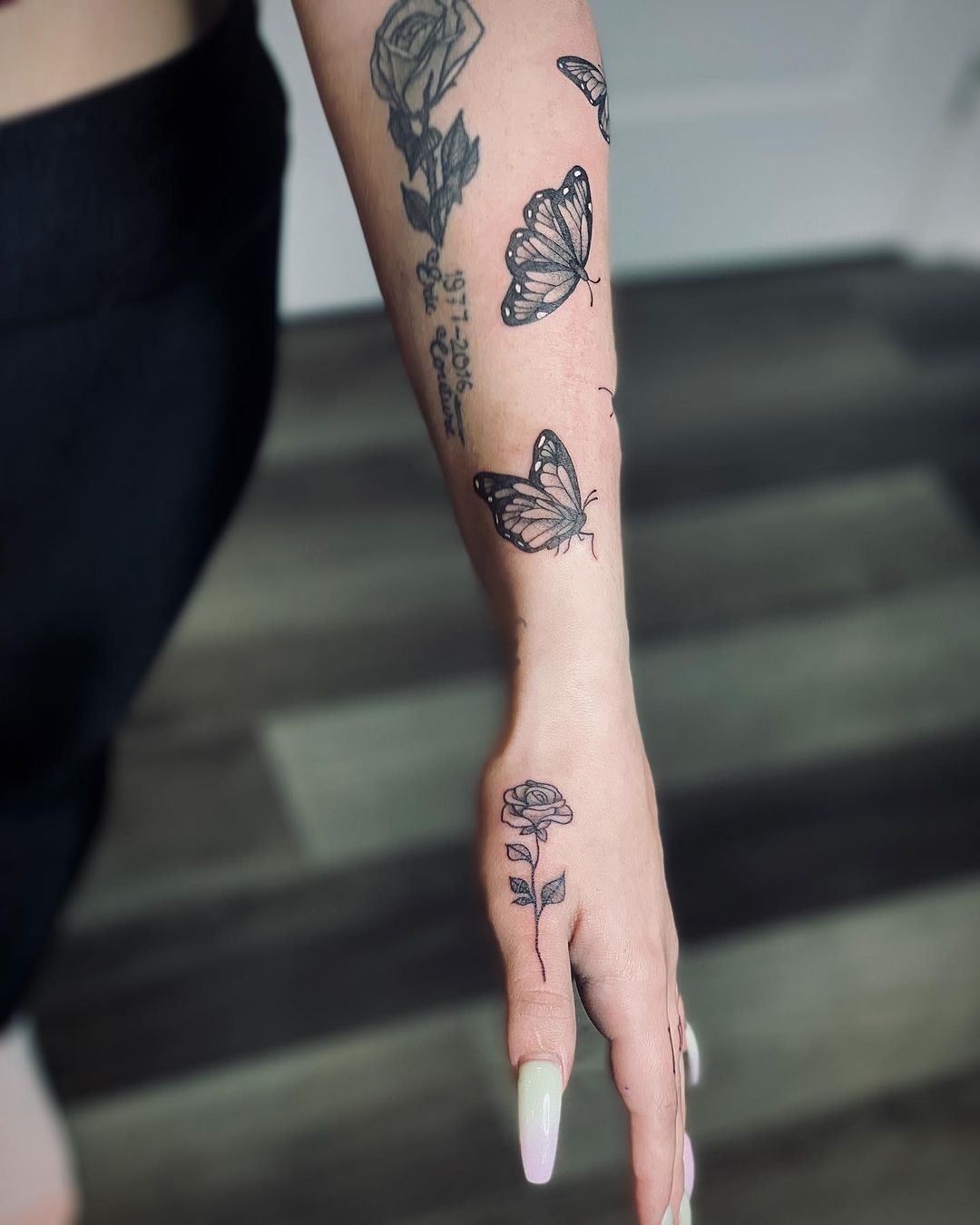 via @jady.tess
FAQ
Does the finger tattoo hurt?
Unfortunately, yes. Although the designs are typically small and subtle, the skin on our fingers is more fragile than on tattoo-friendly parts of the body, and there are not a lot of muscles and fat to mitigate the impact. Quite the contrary, our fingers have plenty of nerve endings, which work towards intensifying the pain.
How much do finger tattoos cost?
The budget is likely to start from $50 in big cities, with a probability of lower prices in rural areas. The cost will be eventually affected by the location, the artist's skills, the design complexity, its placement, and the amount of ink used. For challenging designs, the price can go beyond $200 easily. Also, mind calculating the cost of frequent touch-ups, as finger tattoos tend to fade quicker.