A compelling and socially important tattoo design is the semicolon. It has a particular role in protesting suicide and self-harm.
The semicolon tattoo is a sentence the author could have finished but decided to take a short break, gather his strength, and continue. This body art symbolizes hope and support during mental health struggles.
Various types of these meaningful tattoo ideas have gained particular popularity in society. They are a way to show support, share personal experiences, and raise awareness of mental health issues.
What does a semicolon tattoo mean?
The semicolon tattoo meaning is about hope, resilience, and awareness of mental health instability.
The idea, which received a widespread response around the world, suggests that a person could decide to finish the sentence or rather say goodbye to life and commit suicide. But instead of a tragic ending, they decided to continue living.
A semicolon is an inner strength demonstration that makes it possible to complete own struggles and focus on new beginnings.
Design can be found both in people who have considered committing suicide in the past and in social activists who oppose violence and suicide.
Butterfly Semicolon Tattoo
The semicolon butterfly tattoo is one of the most popular combinations of the essential symbol of mental health resilience, and the butterfly represents transformation and new beginnings.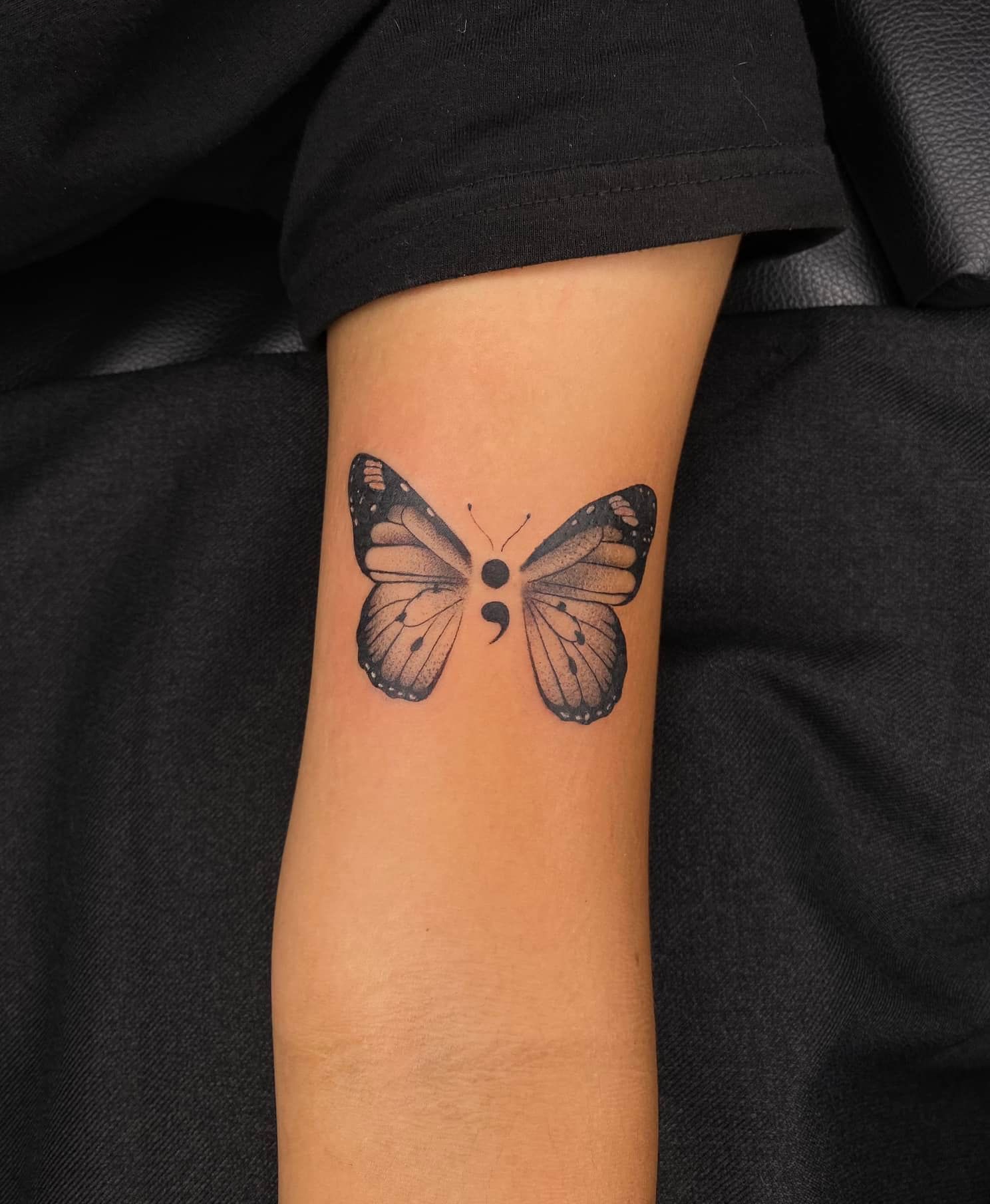 In this, semicolon design is often integrated into the insect's body, creating a harmonious and holistic image. The difficult path of transformation from a cocoon to a butterfly refers to overcoming life's difficulties.
Popular neck tattoo ideas can feature a butterfly with its wings spread, complemented by bright colors and intricate details. They also symbolize determination, personal growth, and positive change.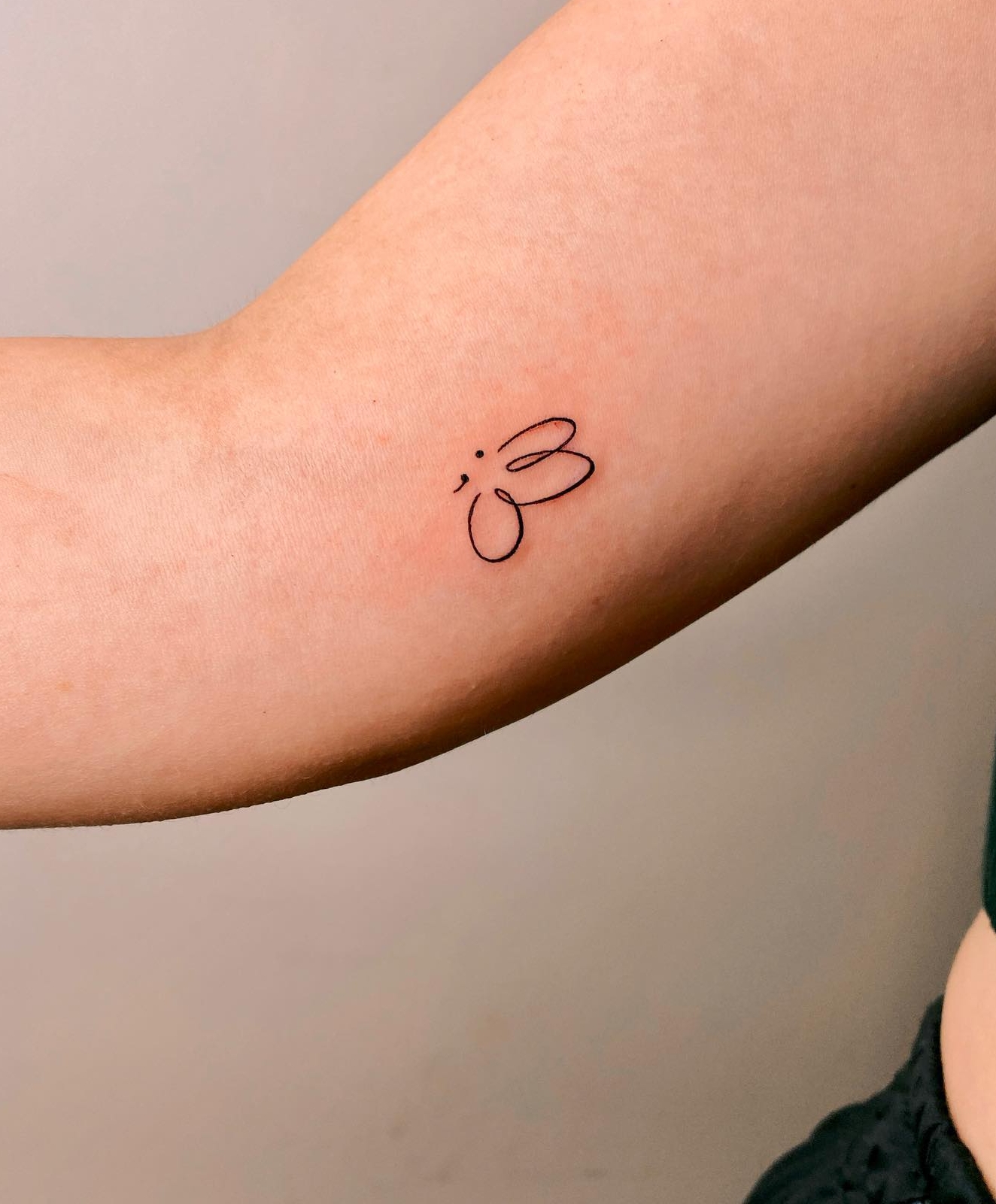 via @deboratatuadora
Tiny Semicolon Tattoo
Do you like small tattoo ideas? Charming minimalist designs really cannot leave indifferent girls who are looking for laconic and barely noticeable body art options. Thanks to their small size, they are versatile and, if desired, can be easily hidden under clothes or accessories.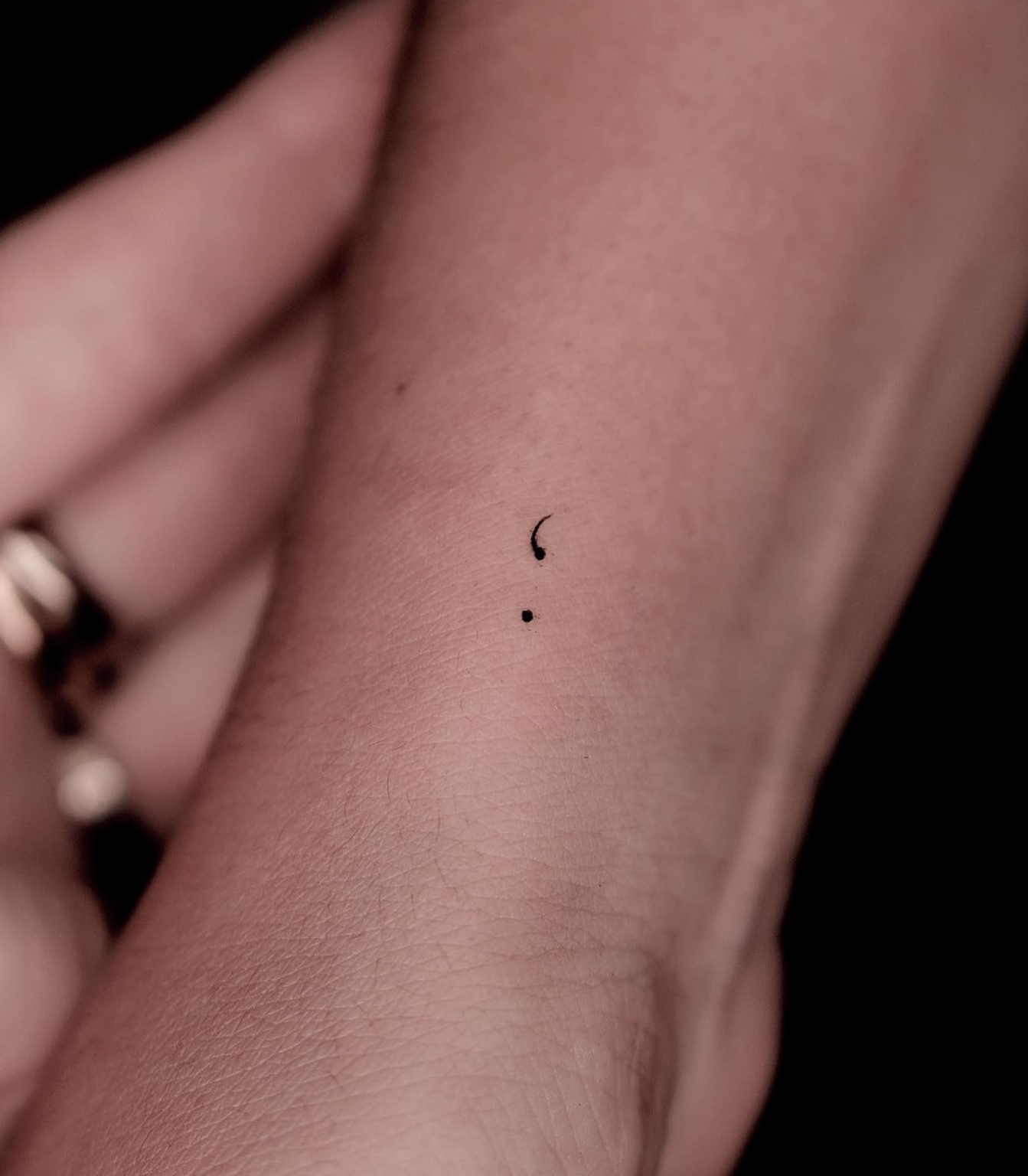 via @isoltattoo
Before choosing a place for body art, decide whether you want to show it off to others. You can place an elegant punctuation mark on your wrist, finger, or behind your ear. For a slightly larger semicolon tattoo design, the neck, shoulder blade, or ankle are perfect.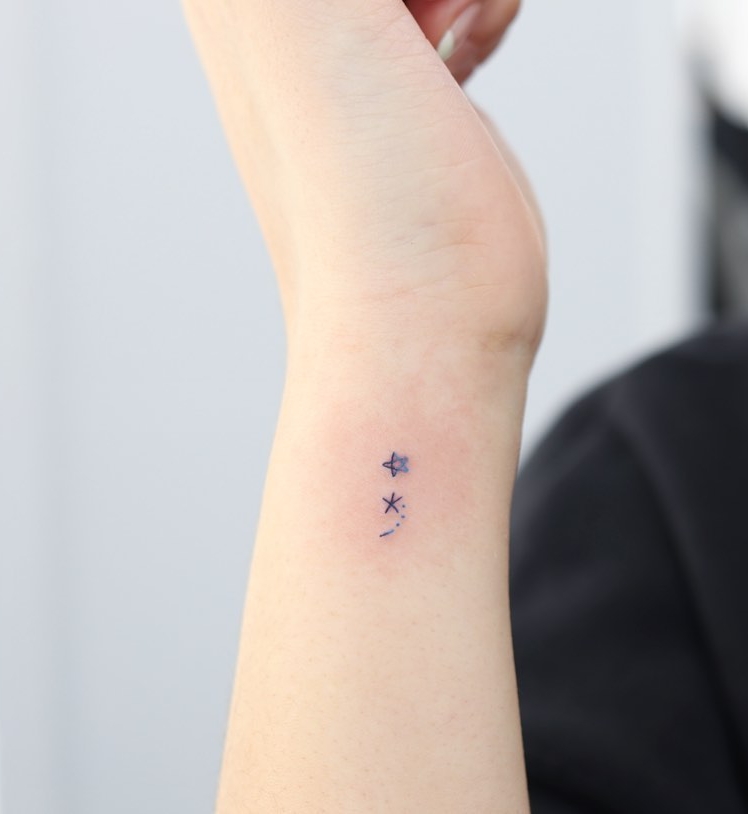 Heart Semicolon Tattoo
Let's remember that the semicolon is a design that symbolizes not only perseverance in the face of adversity but also hope and love. Heart tattoo ideas testify to this perfectly. How do we make them a reality?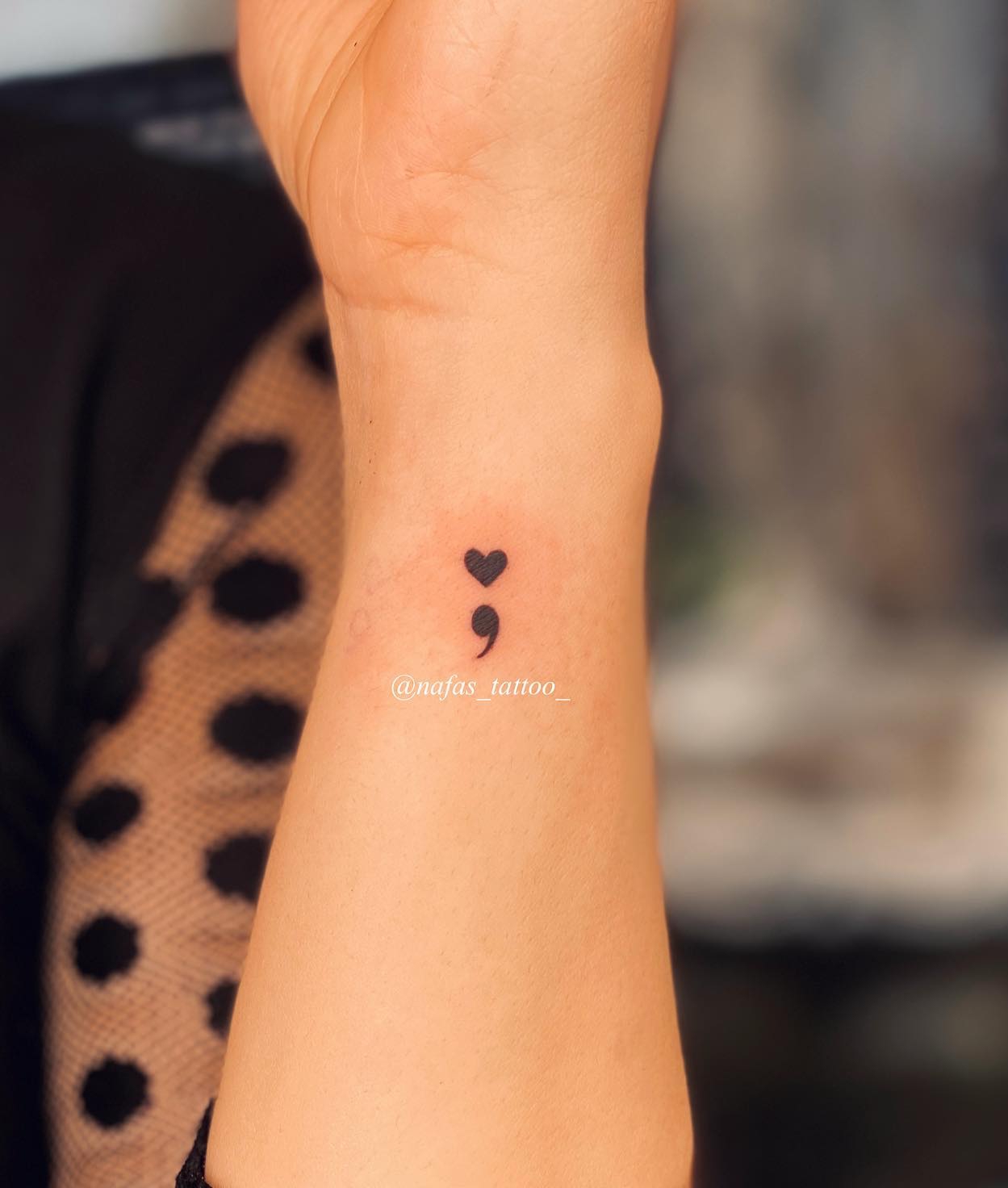 via @nafas_tattoo_
You can draw a heart intertwined with or containing a semicolon. This tattoo inked reflects the importance of unconditional self-love, the basis of resilience to the most complex problems.
Unlike minimalist designs, the heart with a semicolon is often placed in a visible place. For example, this could be an impressive hand tattoo or body art behind the ear or on the neck. In such cases, they become a constant reminder of both self-love and the transformational path.
Traditional Semicolon Tattoo
The traditional simple semicolon tattoo is a classic design that plays a considerable role in raising mental health awareness among the population. If you want to declare your belonging to this movement, use black ink to create a laconic tattoo behind the ear, on the wrist, or the forearm.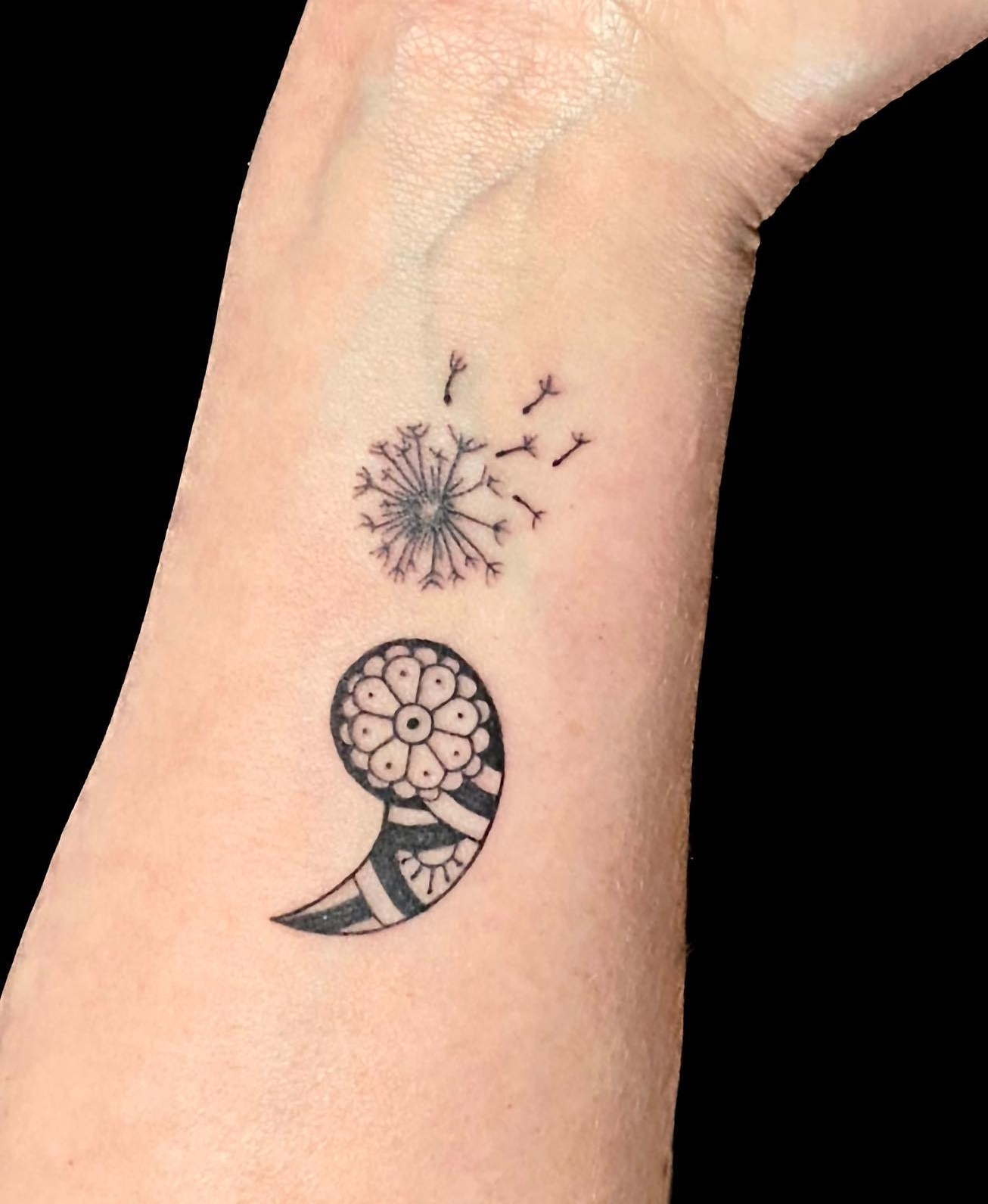 This design is a timeless and universally recognized symbol of perseverance and hope. There are no unnecessary details or intricate ornaments that could distract public attention. The tattoo contains only a key message that everyone should know.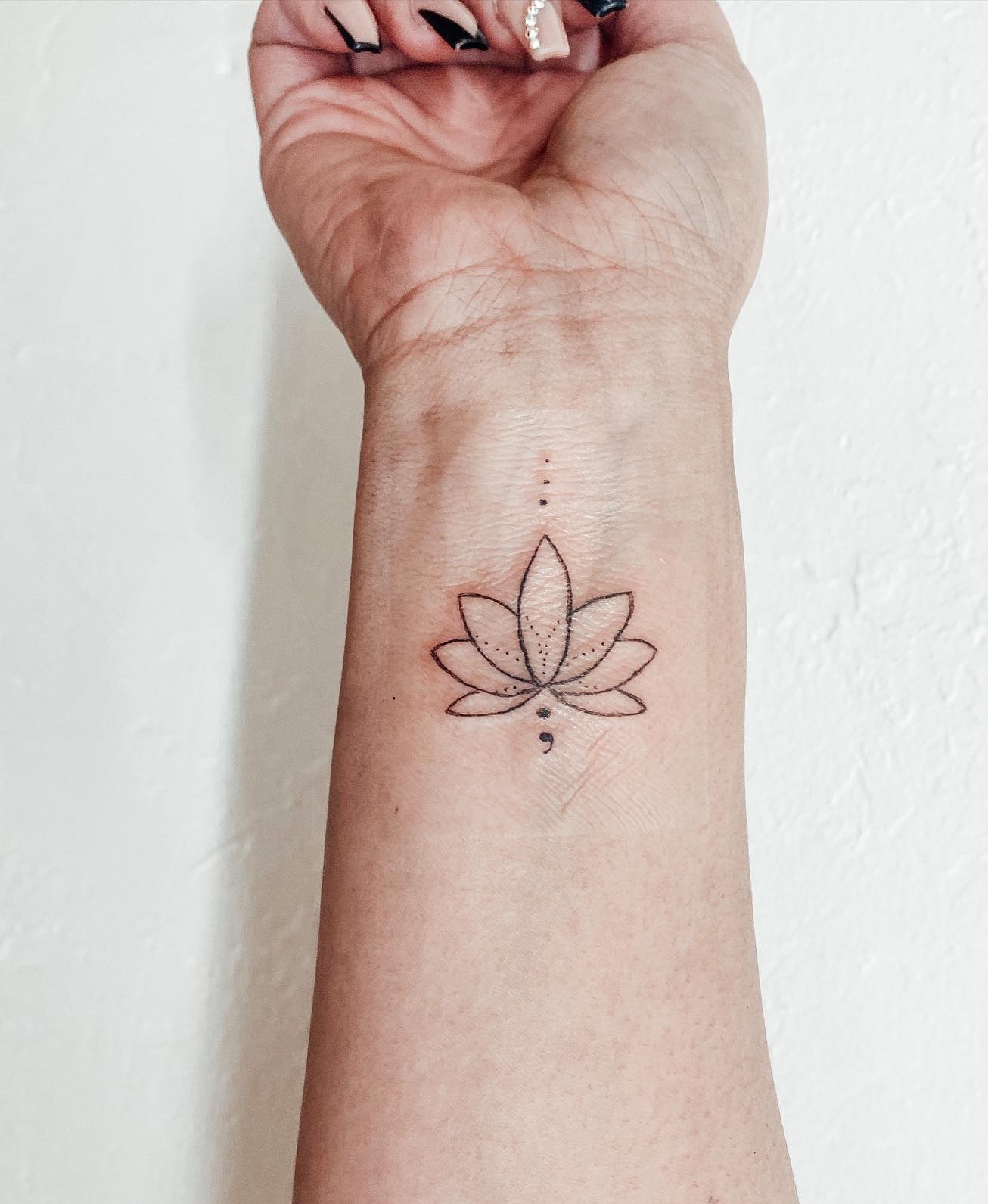 via @inkingproblem
Floral Semicolon Tattoo
Another exciting variation of symbolic body art is a small semicolon with a flower tattoo. Such elements perfectly complement the design, reminding the owner of sustainability, the fantastic beauty of the surrounding world, and personal growth.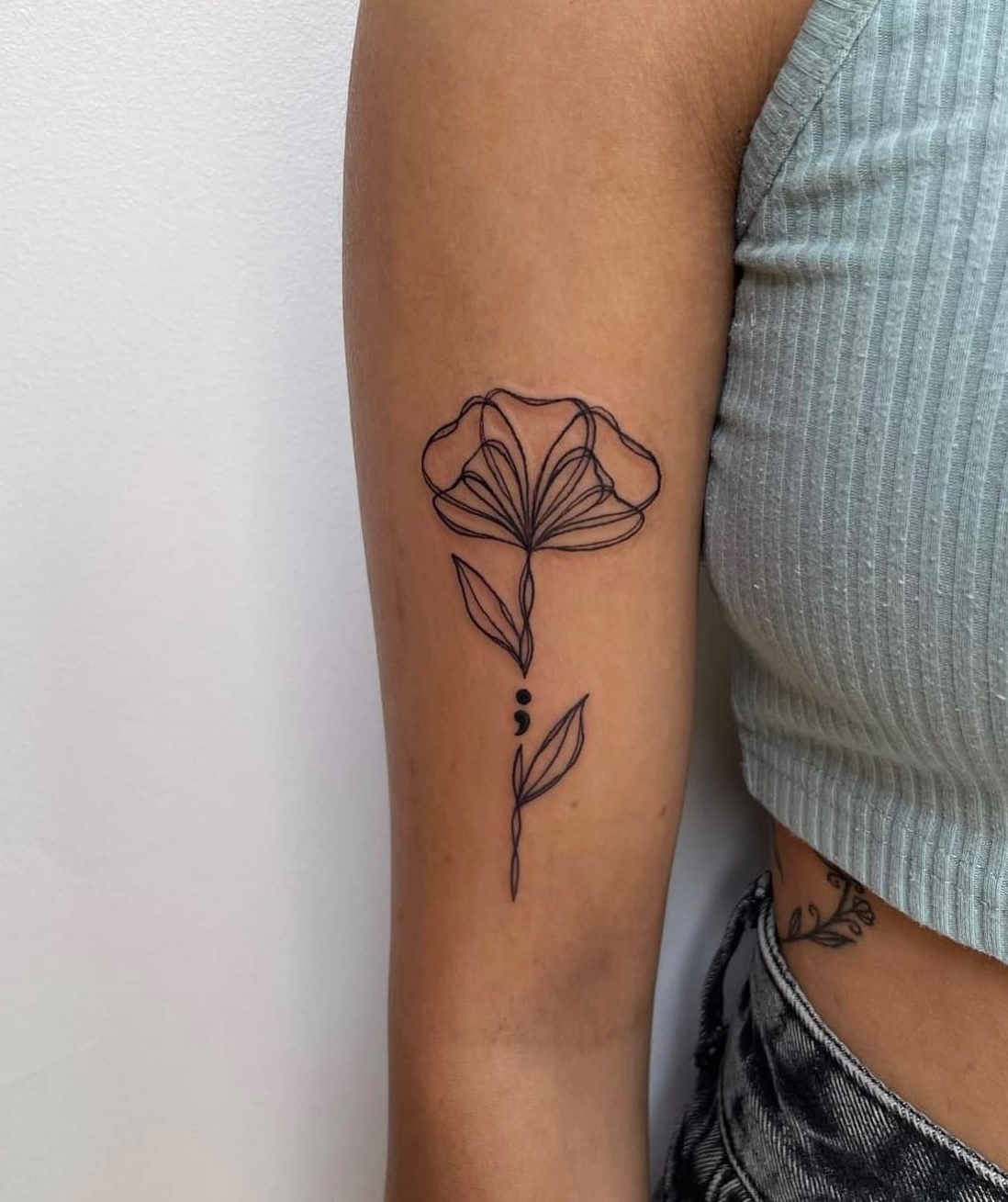 via @thescribbleshed
How, for example, does the lotus flower go together with a semicolon? One of the most popular options is to add a presenting hope sign to a minimalist composition. Instead of lotus, you can also use ornate vines or leaves.
This design often represents the idea of prosperity despite any difficulties. Most often, this tattoo can be found on the forearm, wrist, or thigh, which allows you to reproduce the intricate details of floral elements.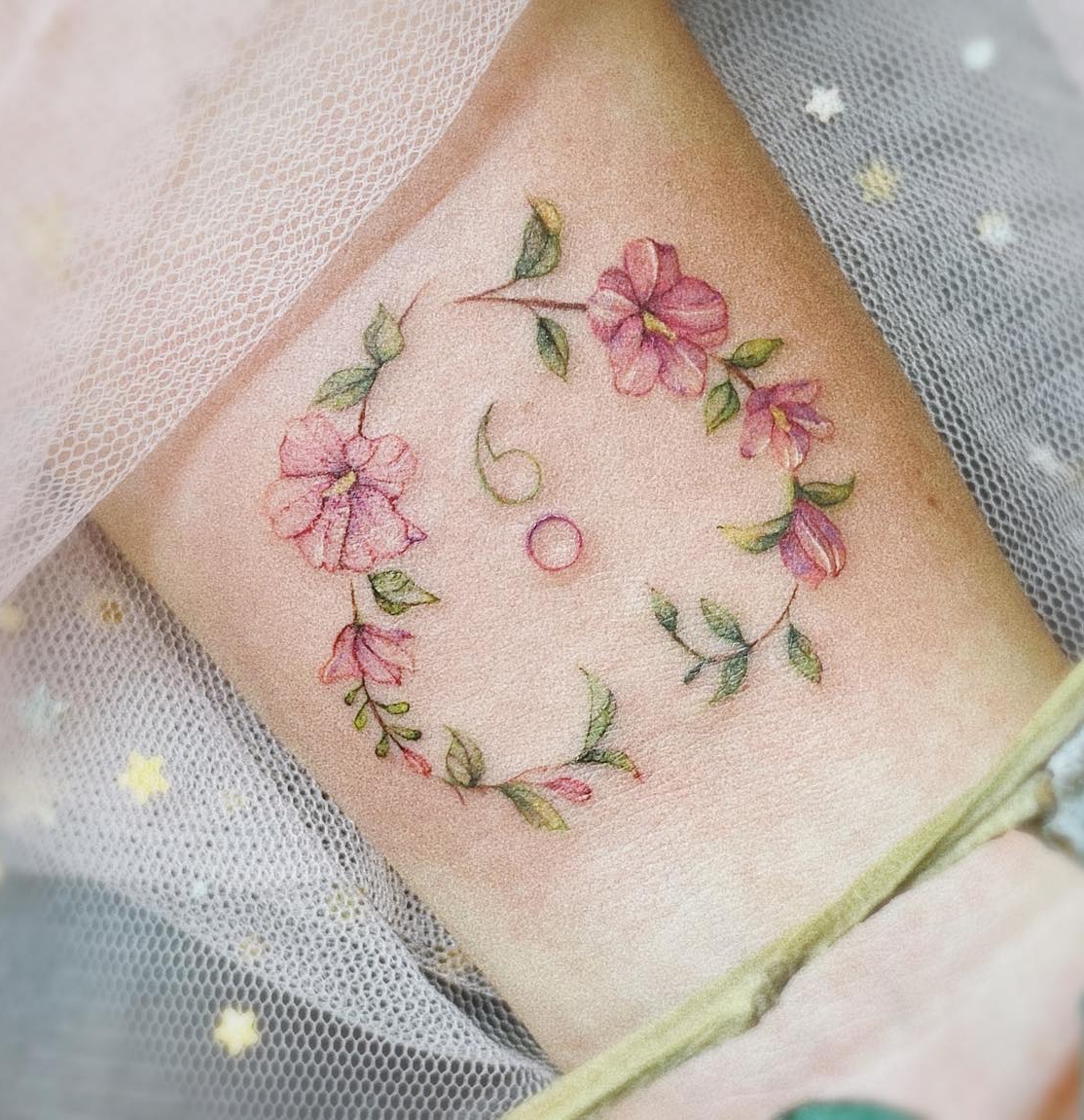 via @yshiww
Sun and Semicolon Tattoo
Why not add brightness and optimism to a traditional meaningful tattoo with a semicolon? The sun will be an ideal companion for the symbol of struggle and perseverance. This combination carries much more than confrontation, namely, hope, warmth, and confidence in the future.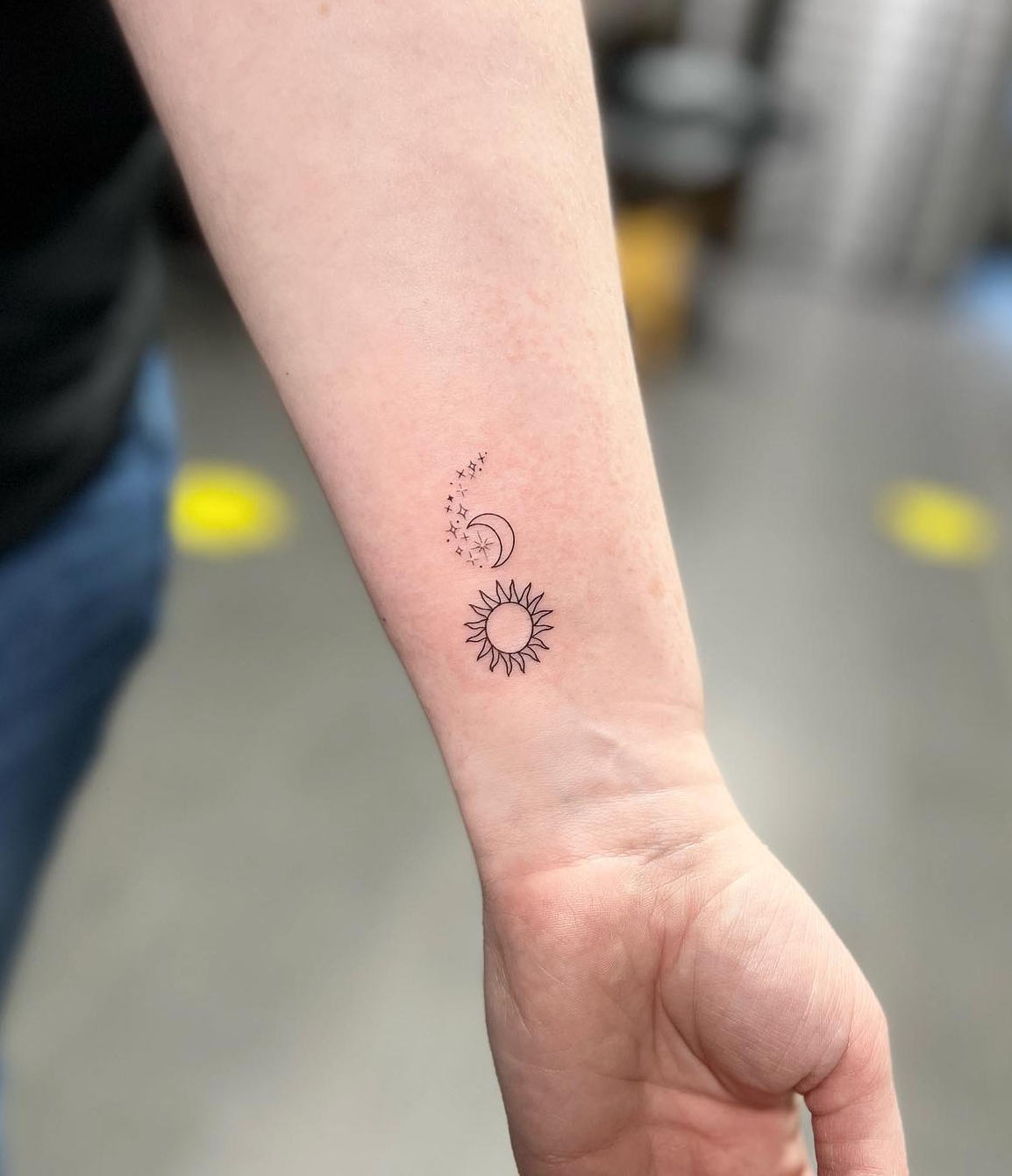 via @jingstattoo
The simplest sun tattoo idea is the integration of a semicolon into a sun with rays. If desired, add other elements to your design that you associate with joy and happiness.
Usual placements for this tattoo include the wrist, forearm, or shoulder, where the design can be visible and serve as a constant reminder of its owner's extraordinary strength. If a hand tattoo needs to be more significant for you, discuss with the artist the possibility of implementing the idea on the entire thigh, shoulder blade, or back.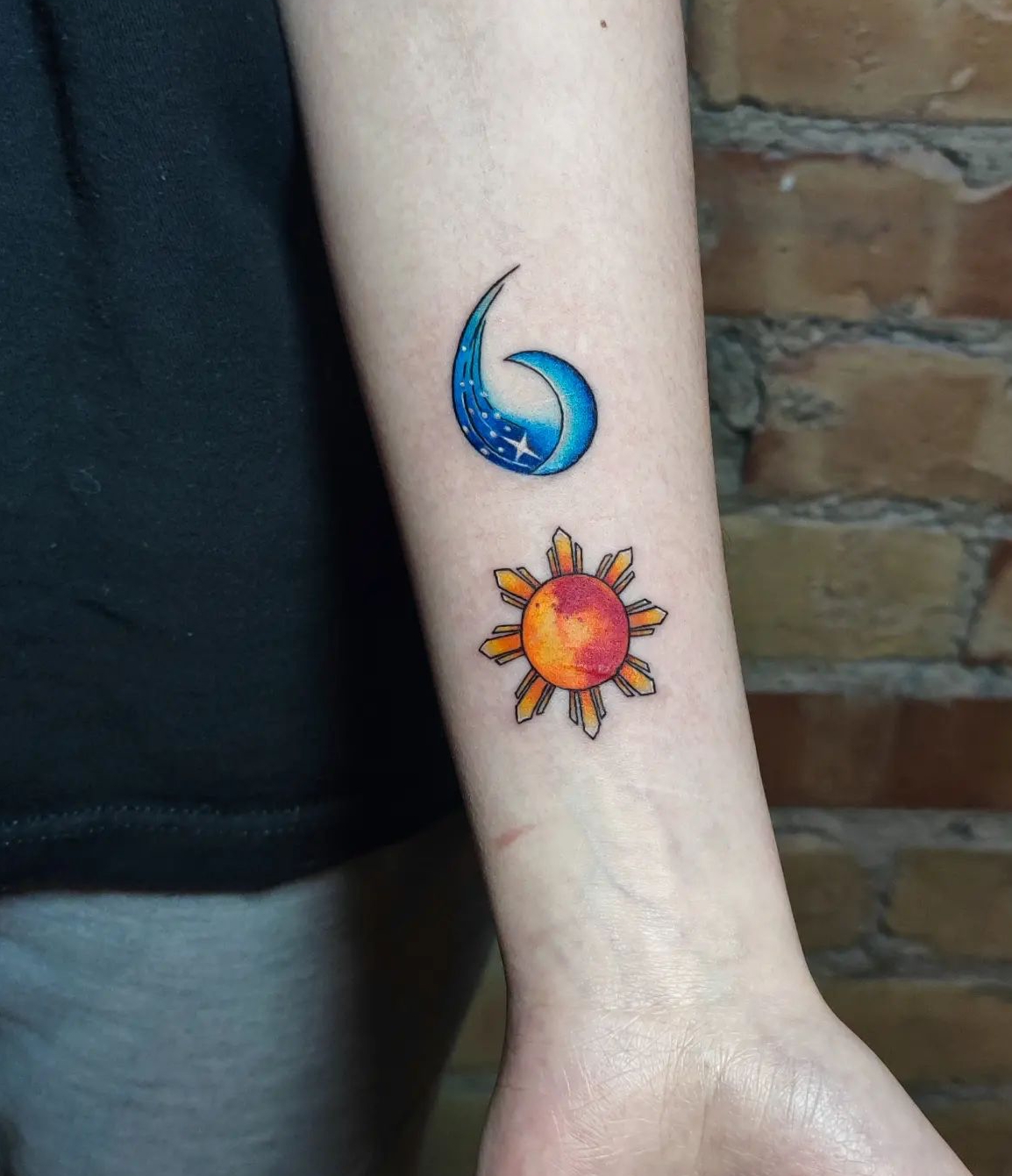 via @_aramoonlight_
Matching Semicolon Tattoos
These matching tattoos are more than just paired designs. It is one effective way to show solidarity and support for mental health issues.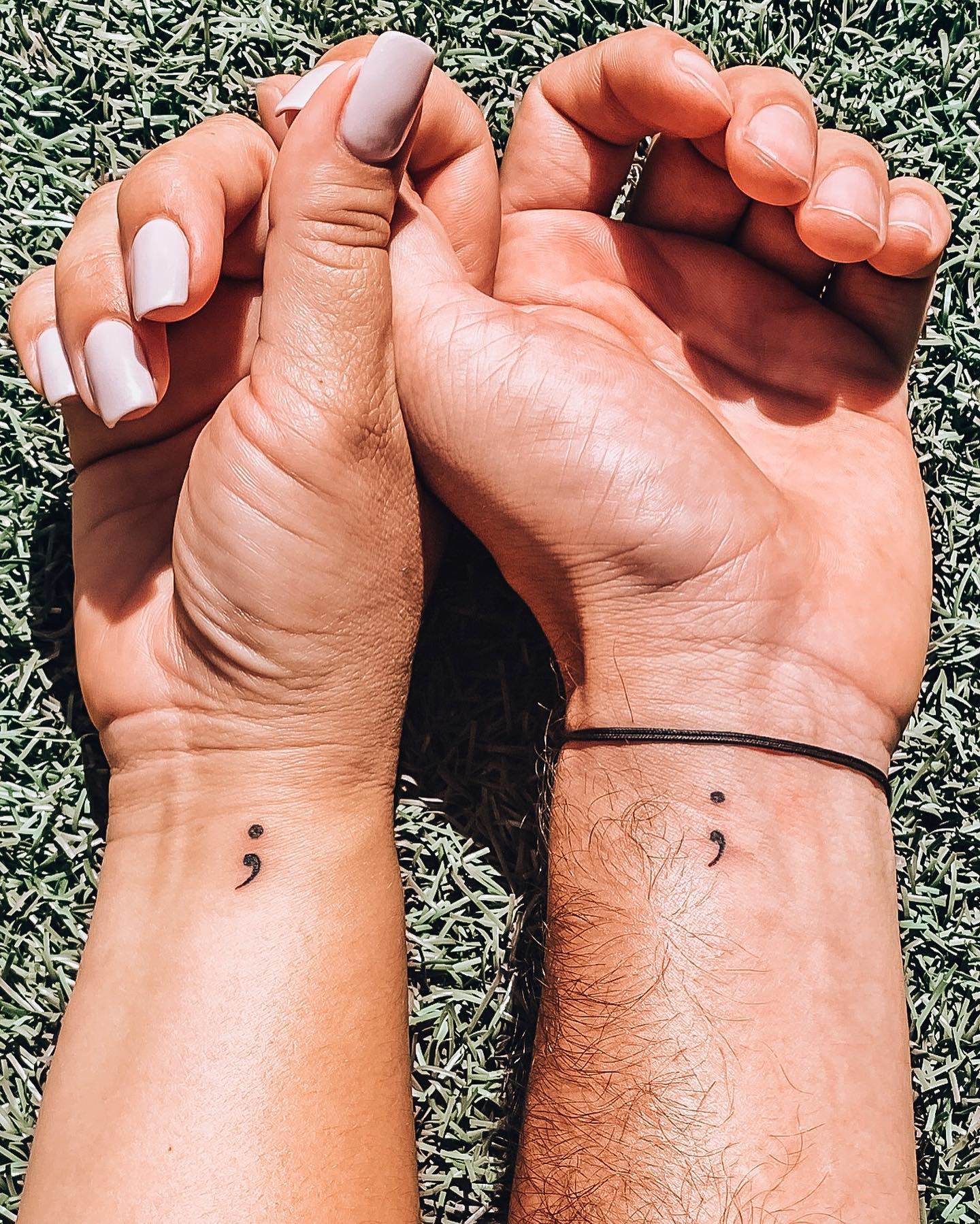 via @__heyyjessie
Popular meaningful semicolon tattoo ideas include identical or complementary punctuation marks, often placed prominently. They symbolize a shared commitment to mental health, violence, and suicide. Couples, friends, or family members can choose semicolon tattoo designs to show their connection and understanding of the importance of mental health.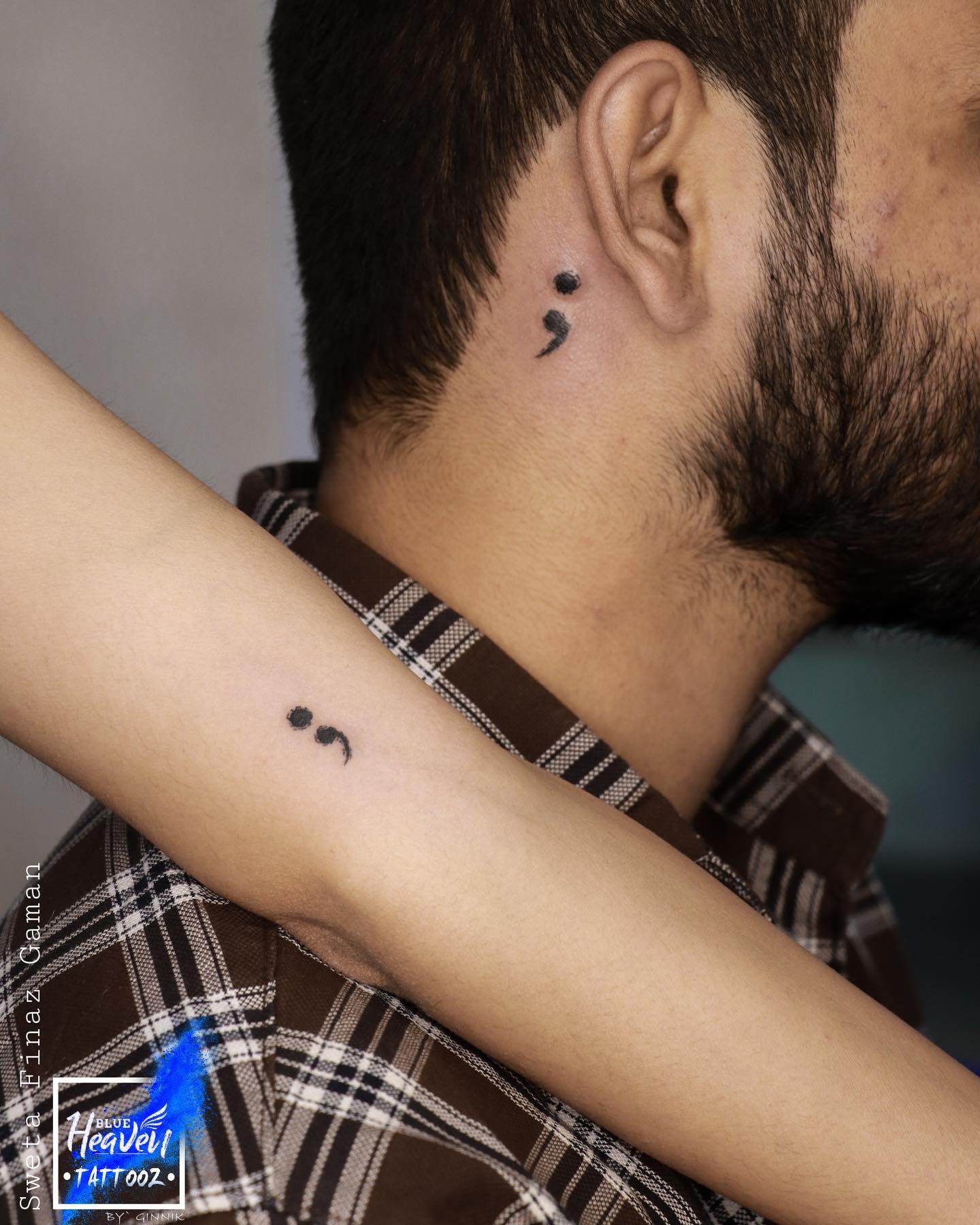 Hidden Semicolon Tattoo
Don't want anyone to know about your personal difficult life experiences or support for people with mental health problems? In this case, the optimal solution for you will be a hidden semicolon punctuation mark.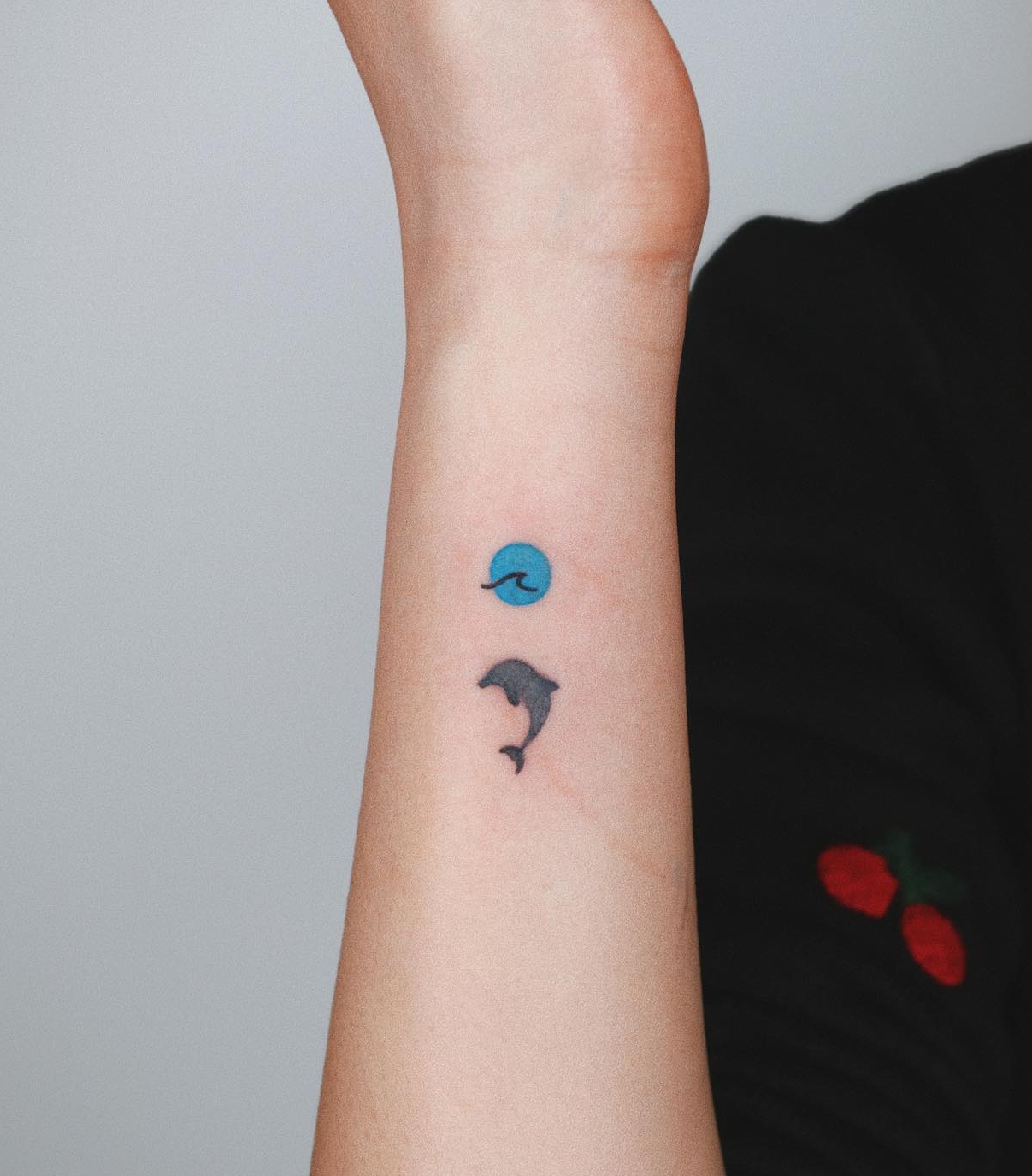 via @takemymuse
No matter what size the body art is or where it is located, the meaning behind the tattoo is preserved. It is the best way to convey the deep meaning of a symbol while protecting it from prying eyes. The easiest way to place such a tattoo is on the arm, especially on the inside of the wrist, behind the ear, or on the ankle.
A hidden semicolon tattoo is a thoughtful choice for those who want to carry the symbolism close to themselves without it being immediately obvious to others.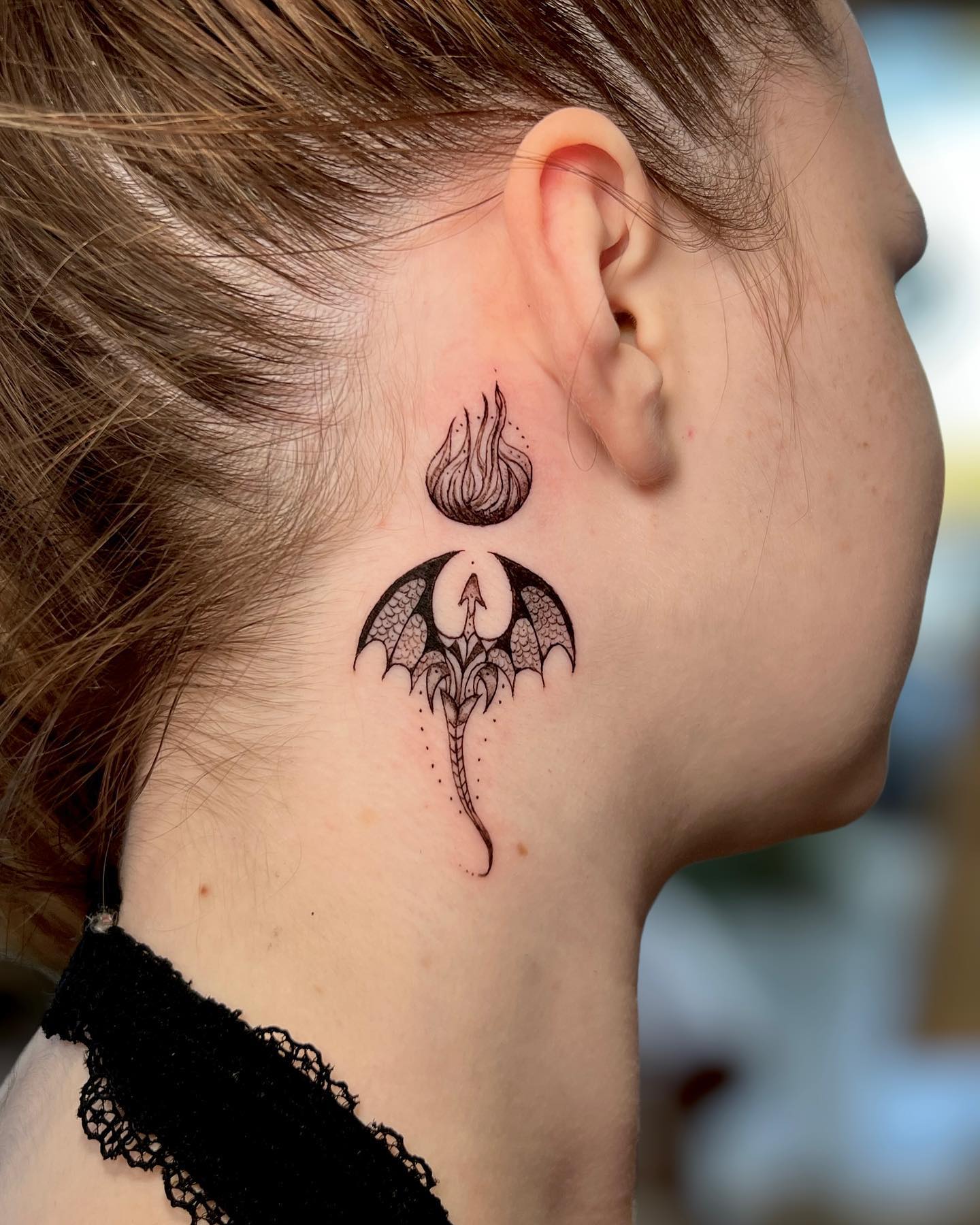 via @melanina.ink
Cat Semicolon Tattoo
If you don't like the butterfly semicolon tattoo, try adding your favorite cats to the design. They perfectly emphasize the uniqueness of body art that demonstrates your individuality.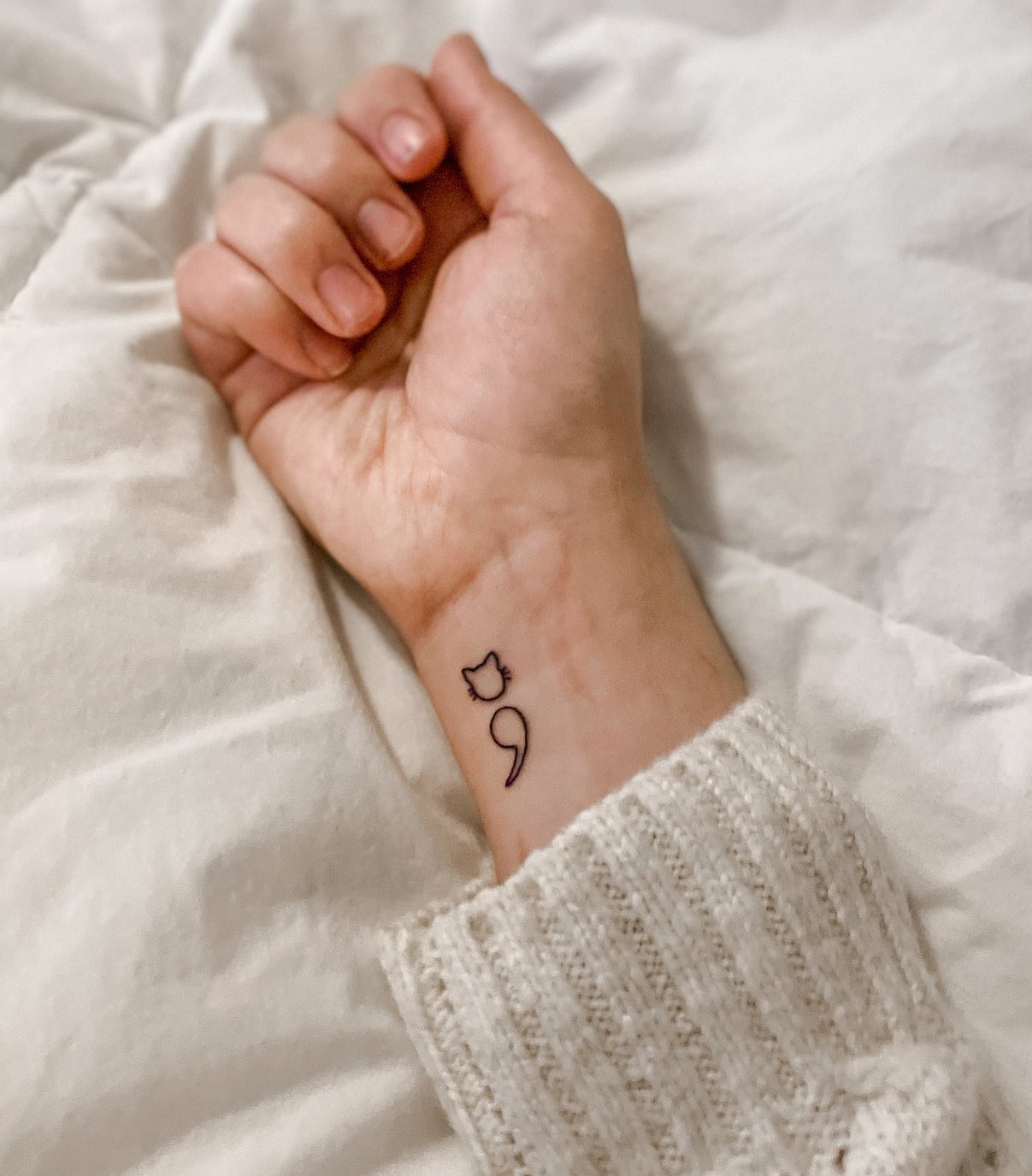 via @kaylinlynett
Cat lovers often choose the cat semicolon tattoo as a symbol of the strength, resilience, and friendliness of their furry friends. But what is the best way to combine four-legged pets and a symbol of overcoming difficulties?
Cat lovers' tattoos are depicted as semicolons incorporated into the cat's silhouette or paw prints. It is best placed on the wrist, forearm, or ankle to show all the necessary details. For girls looking for a creative and symbolic way to express mental health awareness with a touch of personality, these tattoos are a godsend.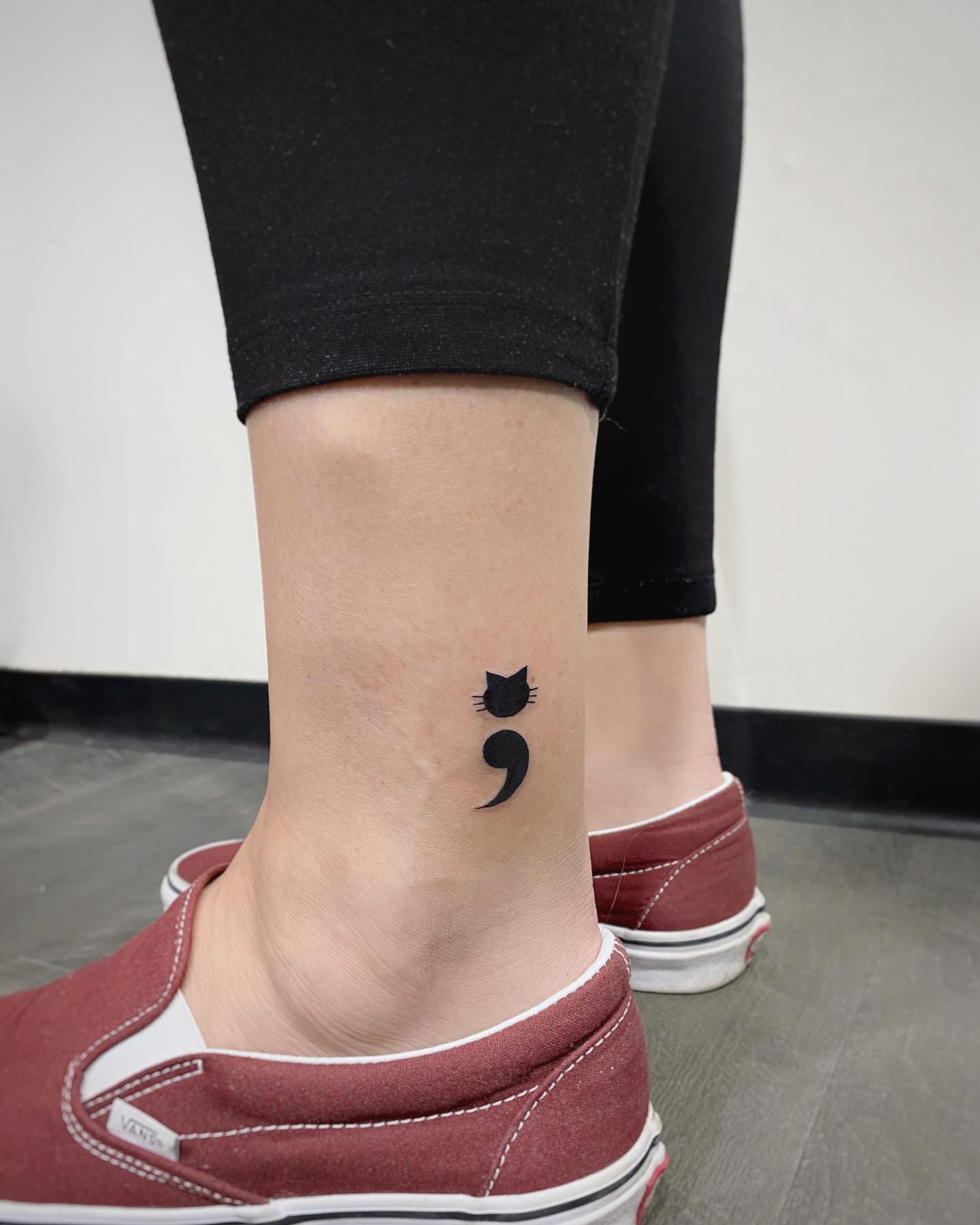 via @naleak_tattoo
Dragonfly Semicolon Tattoo
The dragonfly tattoo designs symbolize hope, resilience, and a desire for change. In this case, you may see parallels between the dragonfly's metamorphosis and personal transformation in overcoming mental health issues. If you are choosing options for an ankle tattoo idea, pay attention to such an artistically expressive design.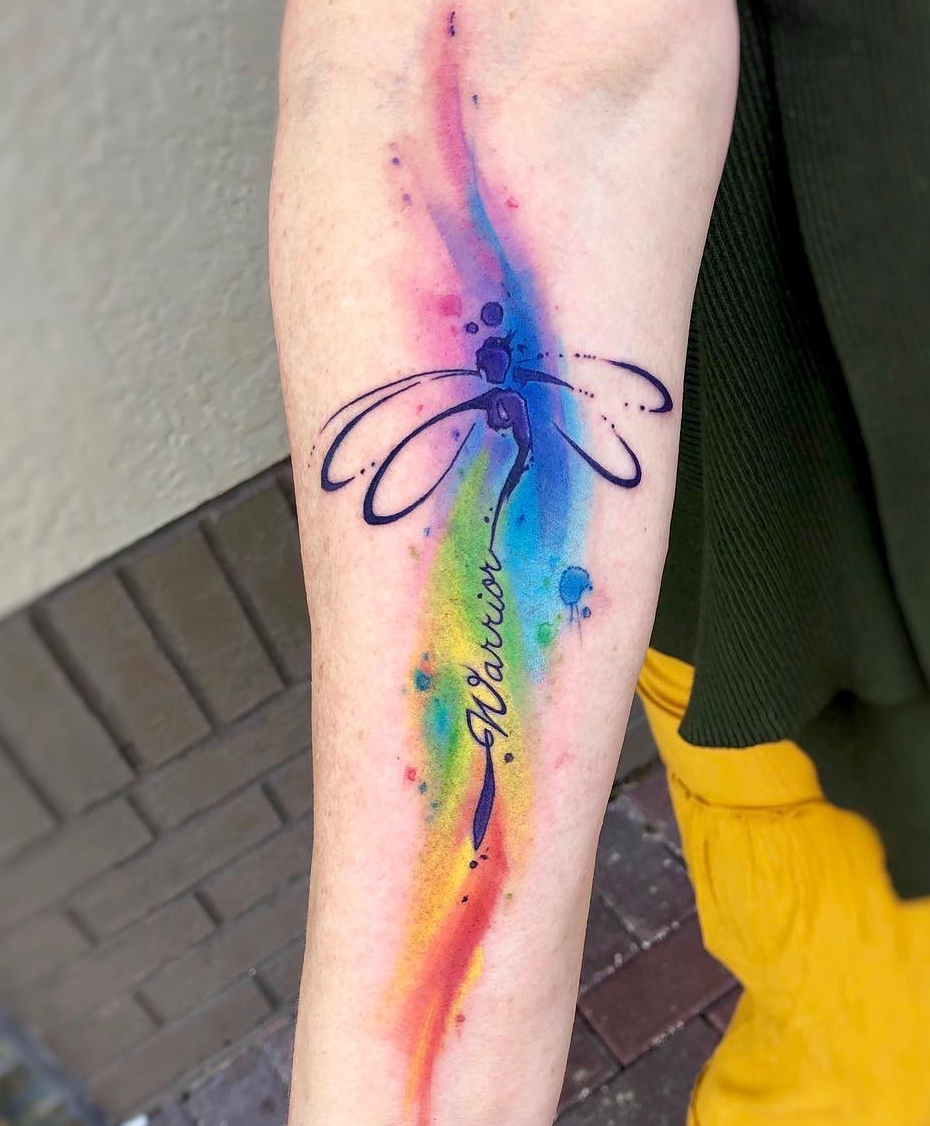 via @shannon_joseph_
Body art in the form of an unusual dragonfly will not go unnoticed by others. Women planning to get a semicolon tattoo will 100% love this elegant design: it goes well with any look and captivates with many elegant, intricate details.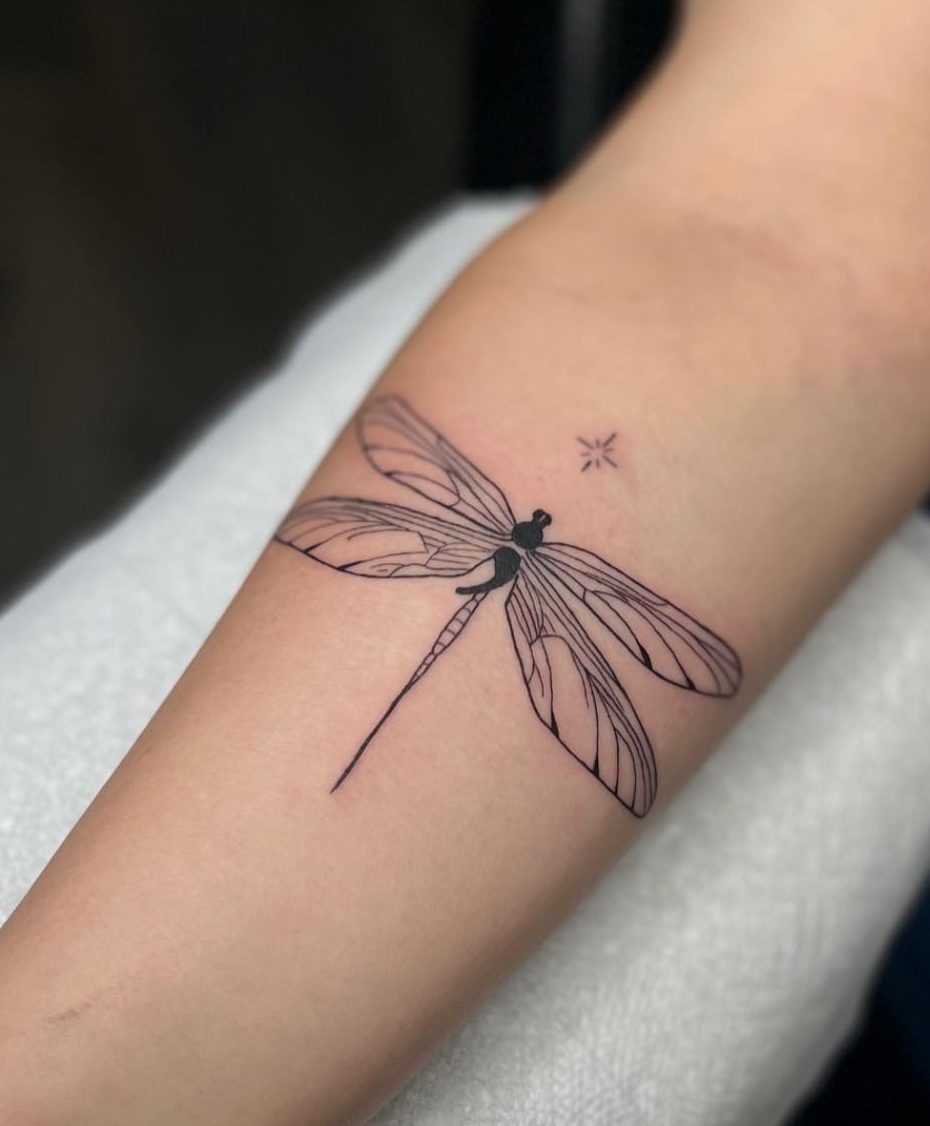 via @bazzinkk
Sunflower Semicolon Tattoo
An example of a symbolic and discreet wrist tattoo idea is a sunflower tattoo with a semicolon. It demonstrates a positive attitude towards, despite all the troubling circumstances in the past.
via @emilia_paw_arts
Like the original semicolon tattoo design, a stylish sunflower tattoo can look as natural and detailed as possible or, conversely, be made in the form of an abstract flower. It symbolizes resilience, self-reliance, and the pursuit of happiness in the face of mental health problems. If you need a tattoo for inspiration and motivation, the sunflower will do the job perfectly.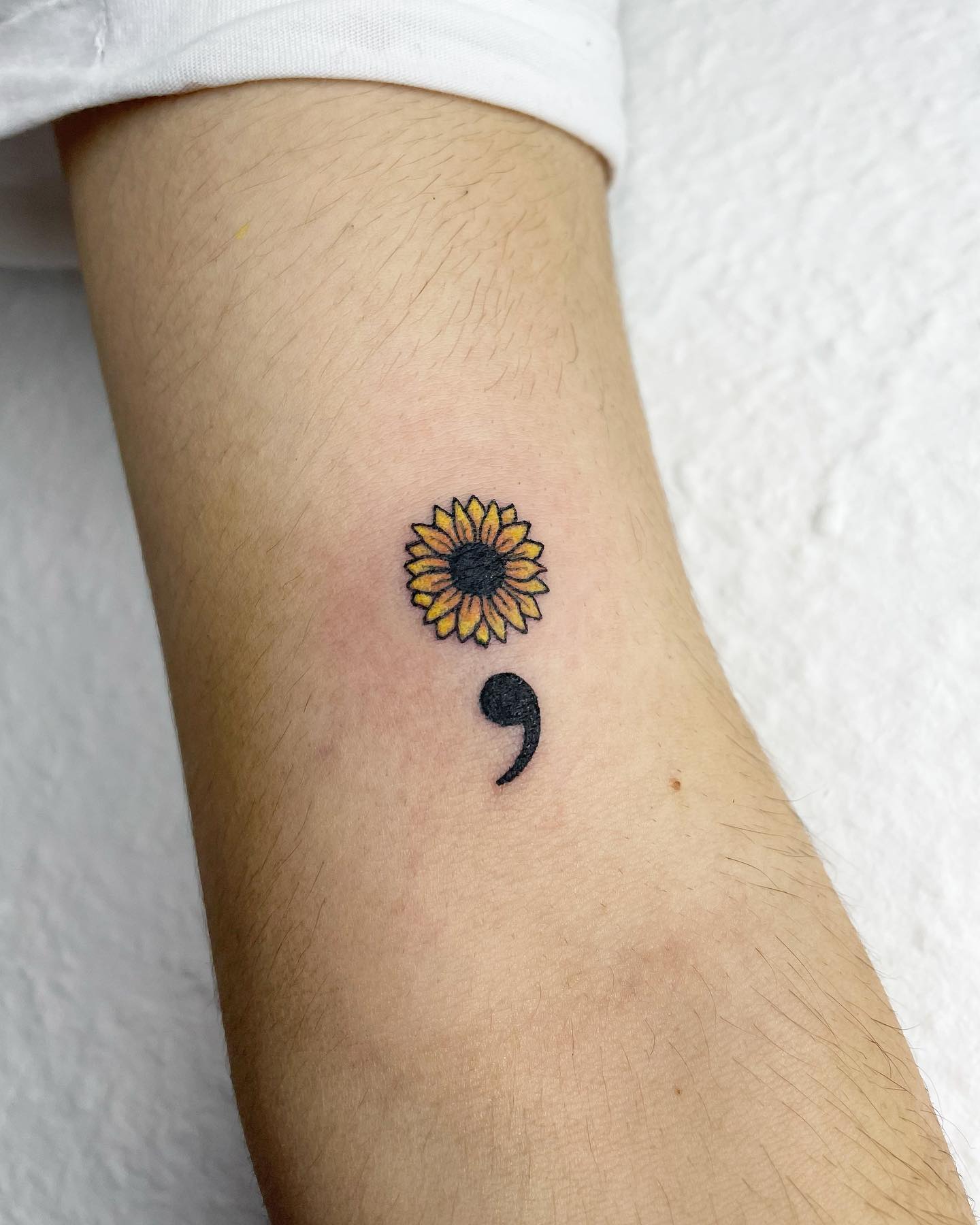 Warrior Semicolon Tattoo
The more well-known and popular mental health tattoos become, the more design options appear. Want to avoid traditional minimalist options? Do solutions with animals, flowers, and butterflies seem too fantasy-like? In this case, for a wrist tattoo, it is better to choose a tattoo filled with determination and courage — a warrior with a semicolon.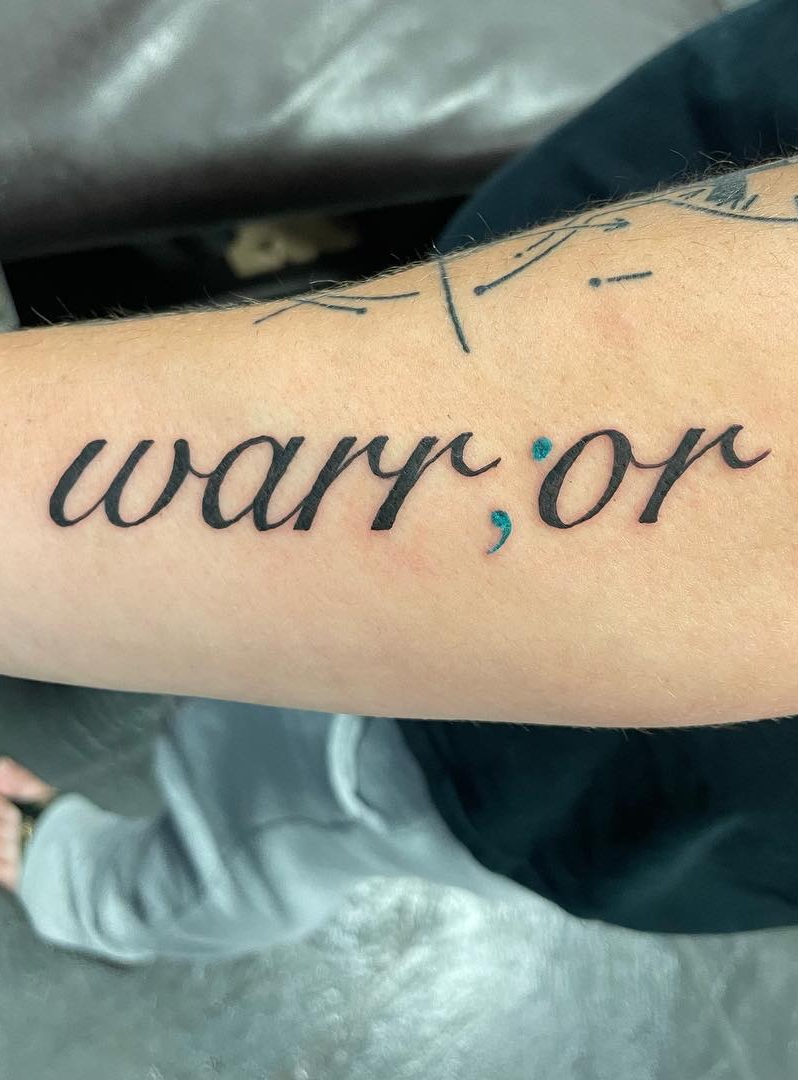 via @_olive_tattoos_
In addition to the punctuation mark, such designs contain numerous integrated or additional elements related to military affairs. For example, semicolon tattoos could include armour, weapons, or shields.
Subtle yet eloquent designs symbolize resilience, courage, and the constant struggle against adversity. Suitable places to place them are the forearm, biceps, or upper back, where they can clearly and effectively display the details. This tattoo serves as a powerful reminder of a person's strength and determination to face and overcome mental health issues. It will help you always remember that there are no hopeless situations.
A personal tattoo that supports you in difficult situations will become a reliable assistant in any situation. It could become your real talisman!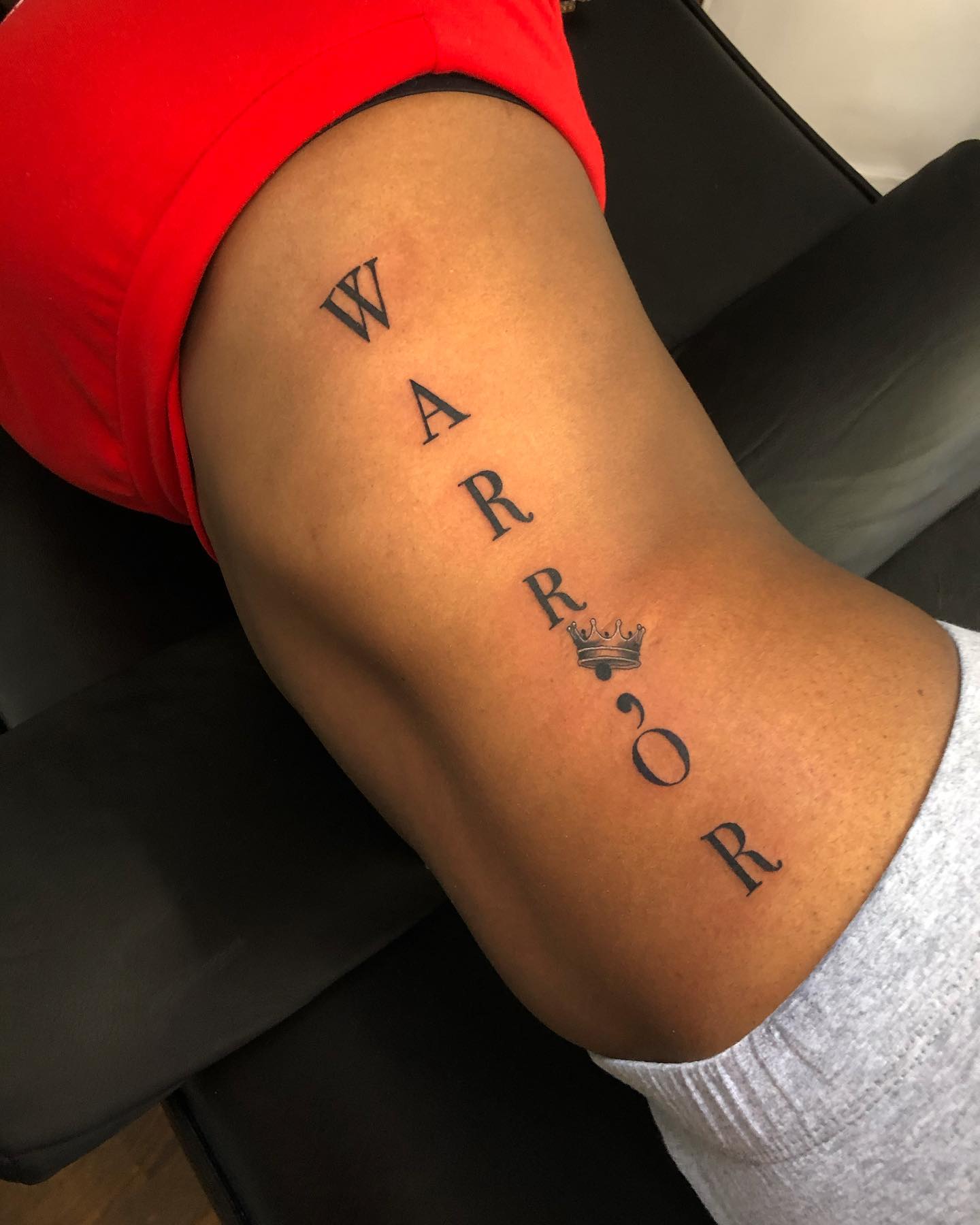 via @allexreddink