One of the unchanging trends of recent years is flower tattoo designs. They attract girls with compactness, conciseness, and graceful lines.
Professional tattoo artists offer a wide range of realistic and abstract images that can complement any look. But how to choose the right ornament so as not to regret it later and not to make a correction?
We want to share with you the most popular tattoo ideas. We are sure that you will find the most suitable for yourself among the listed options. What is each flower tattoo meaning? Read on!
1. Lotus Flower Tattoo
A neat and recognizable lotus tattoo represents the desire to become better. It is believed that this flower symbolizes overcoming various temptations, and reminds a person of the need to improve themselves.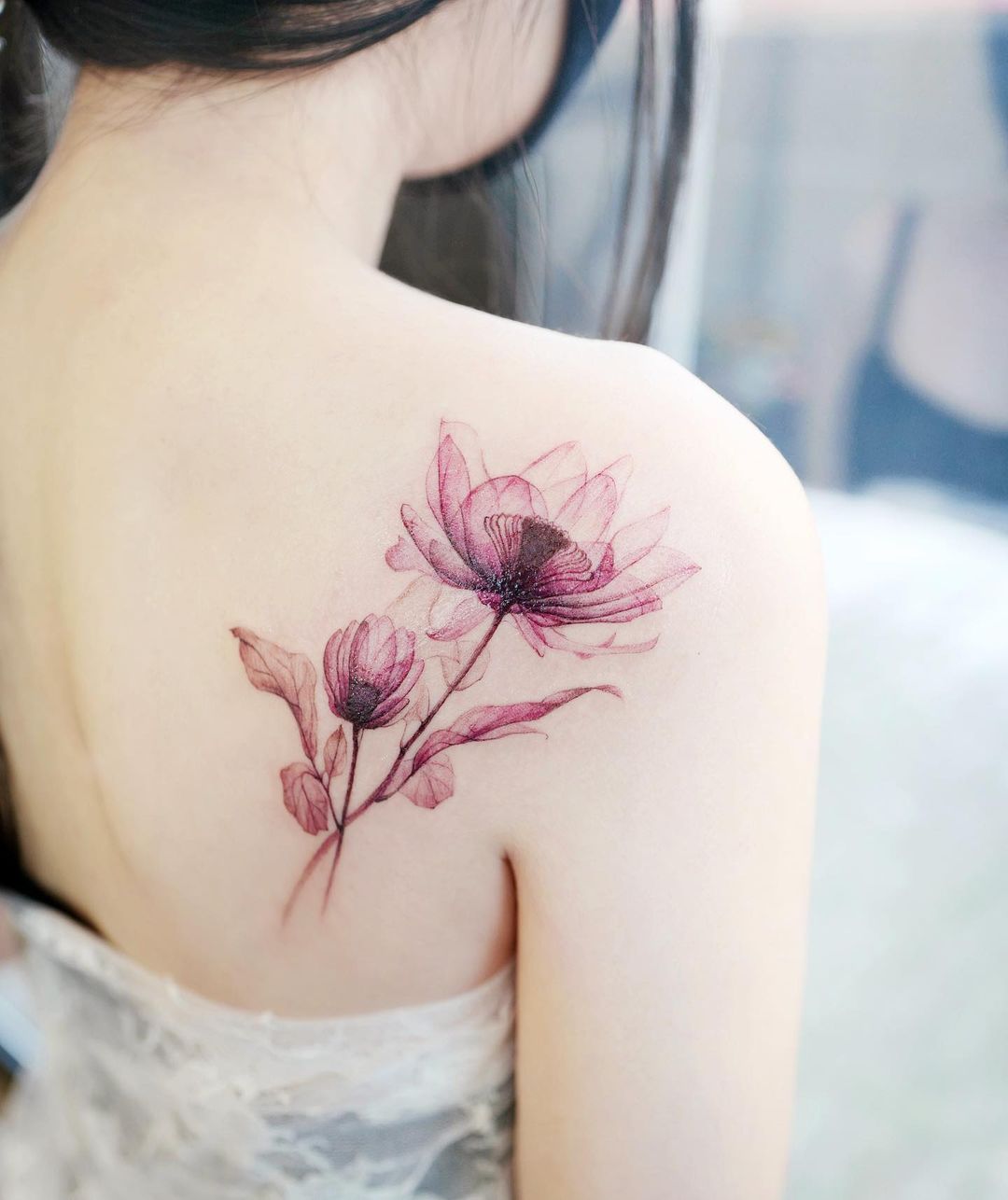 via @tattooist_banul
Such a small flower tattoo is often made by fans of Hindu culture. In Hinduism, the lotus flower is closely associated with spirituality, beauty, and purity. The popular colored flower tattoo can be both compact and exciting in several different areas on the arms, neck, and back.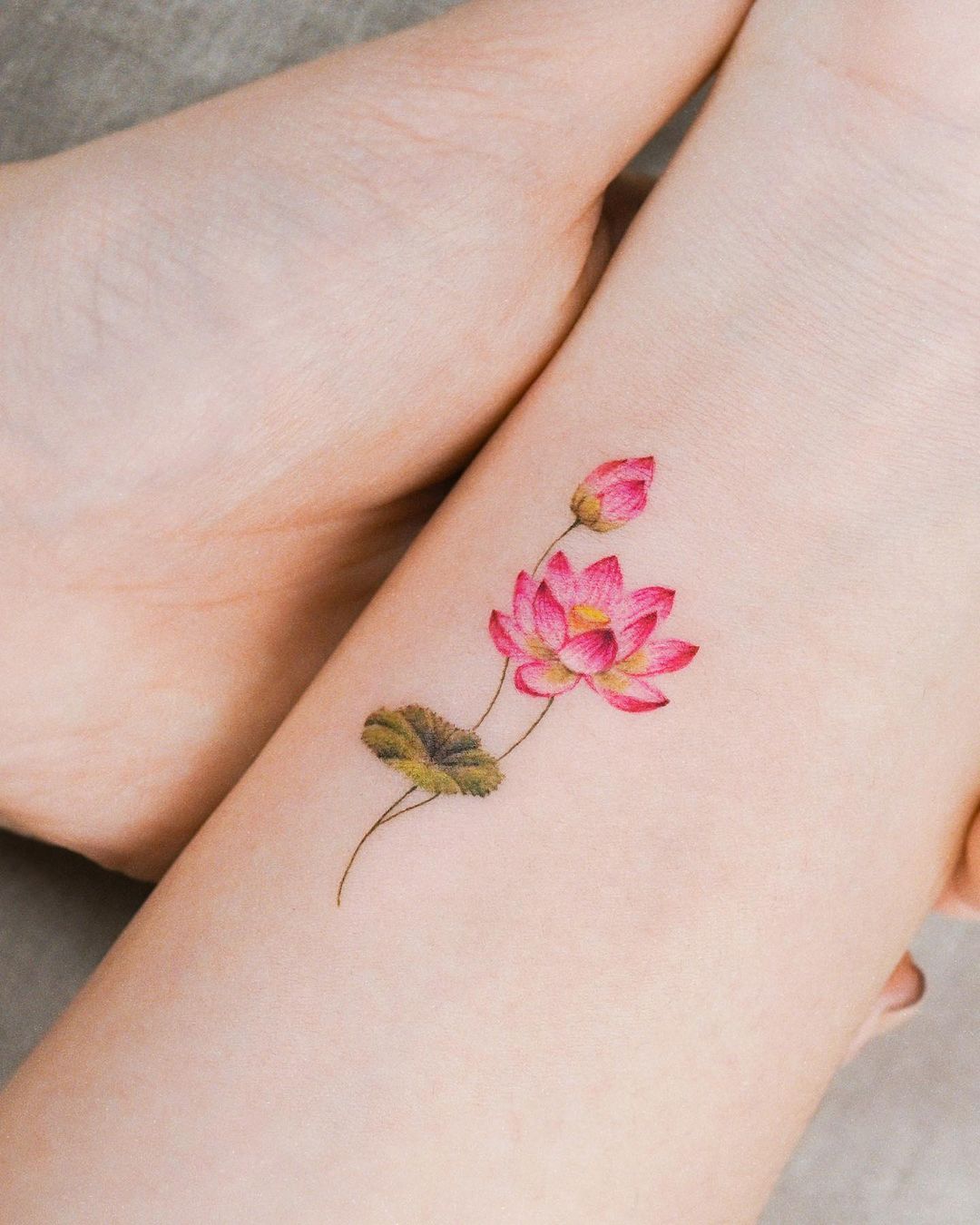 via @zihong_tattoo
2. Poppy Flower Tattoo
Love poppy flowers? In this case, they will harmoniously complement your image.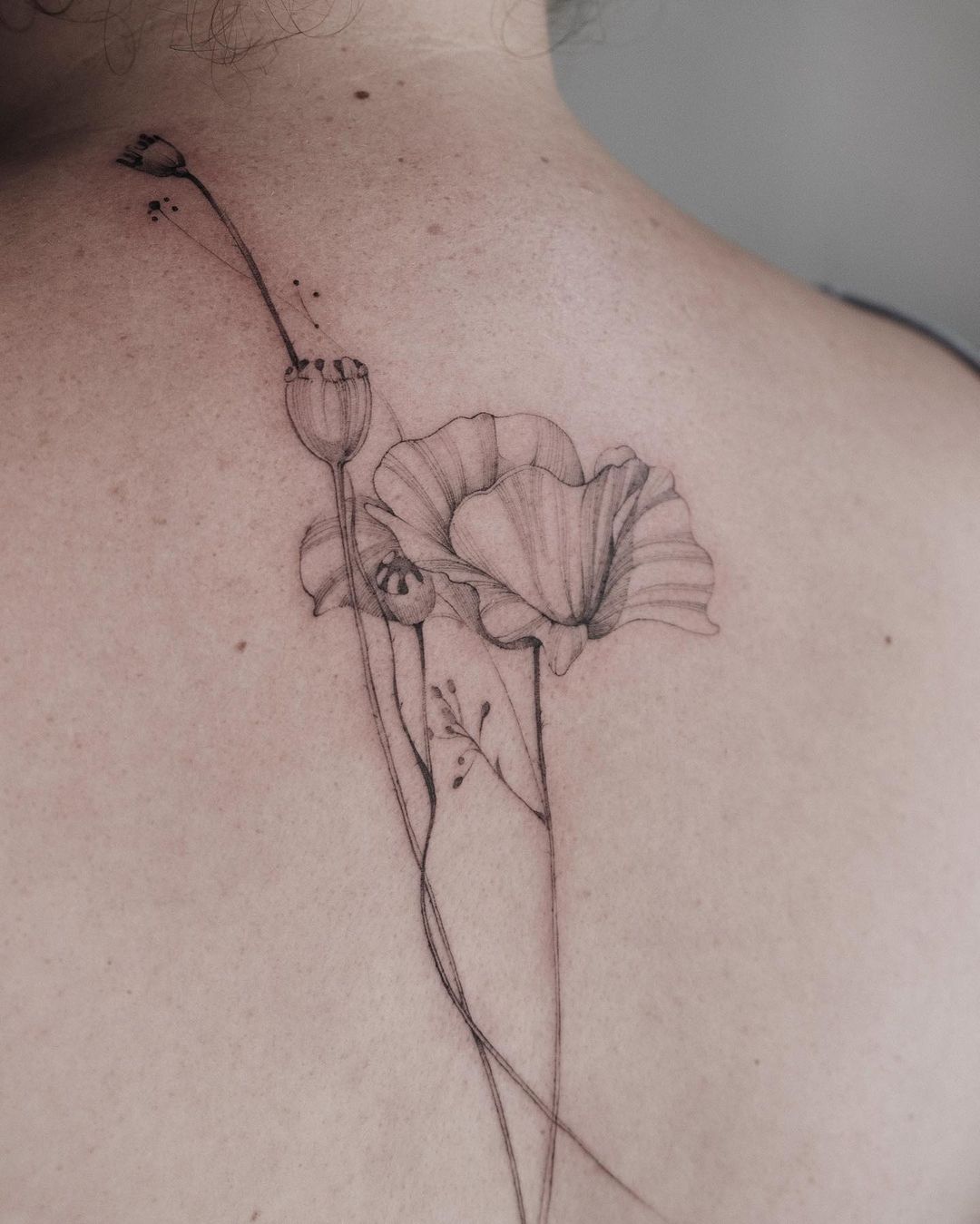 via @beeso_tat
A bright poppy tattoo meaning the independence of its owner also implies self-confidence. However, this is a modern interpretation. In the recent past, the red flower tattoo has been associated with peace, sleep, and death. Often, poppies are used to show respect for deceased loved ones.
However, girls do not always study symbolism so deeply. They often choose such a beautiful flower tattoo because of the spectacular design.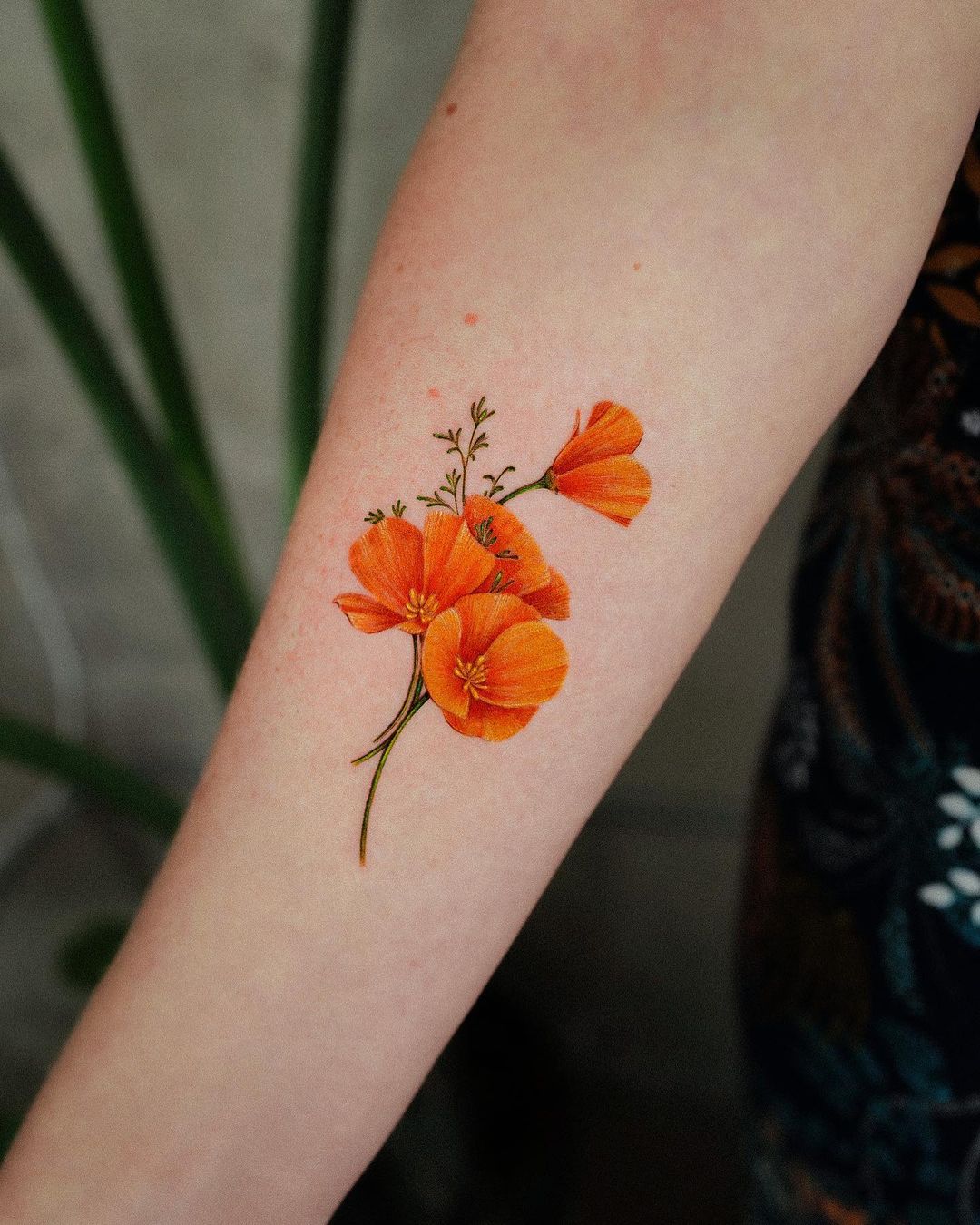 via @frommay_tat
3. Lily Tattoo
Popular areas of body art include black and white tattoos depicting lilies. They not only look stylish but also have a special meaning for their owners.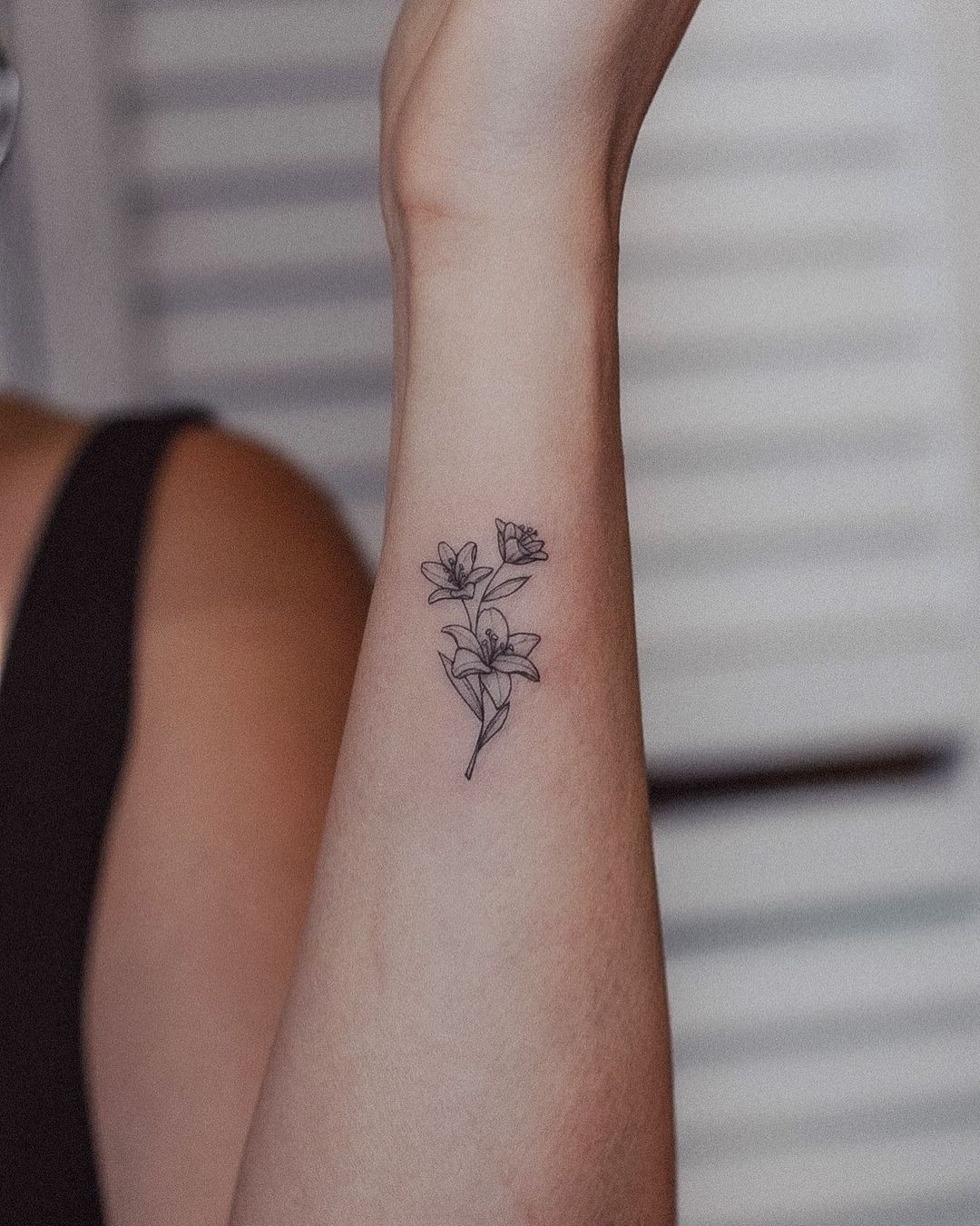 via @tavi_tattoo
A gentle lily tattoo meaning is devotion and purity of thoughts. Often, these flowers are also associated with maternal strength and fidelity. It is not surprising that lilies are so popular among girls who prefer symbolic tattoos.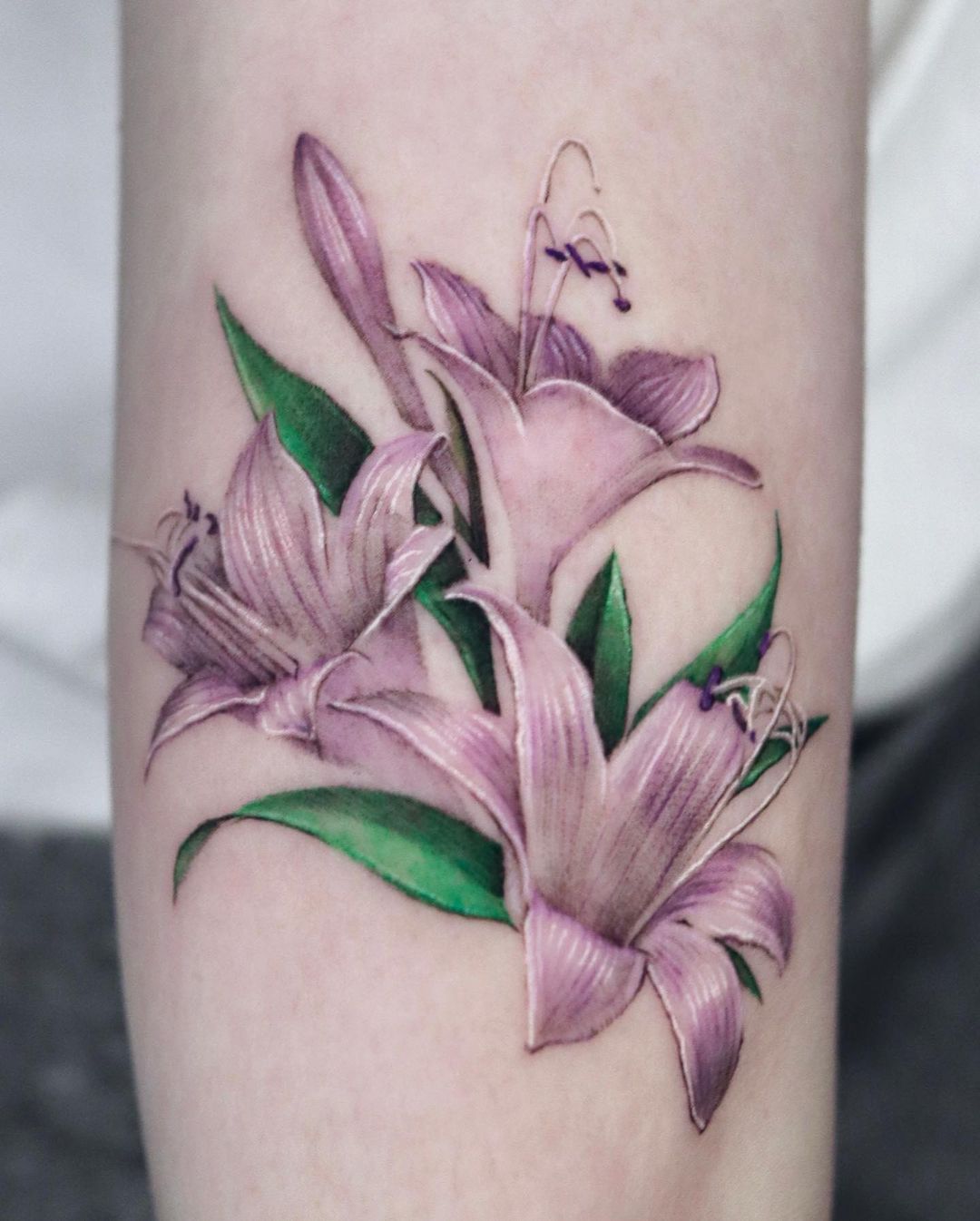 via @tattoo_nyang
4. Japanese Flower Tattoo
In general, a Japanese flower tattoo means a life cycle stage. They are dedicated to birth, death, and resurrection. A unique floral tattoo can also mean trials that each person has to overcome on their way.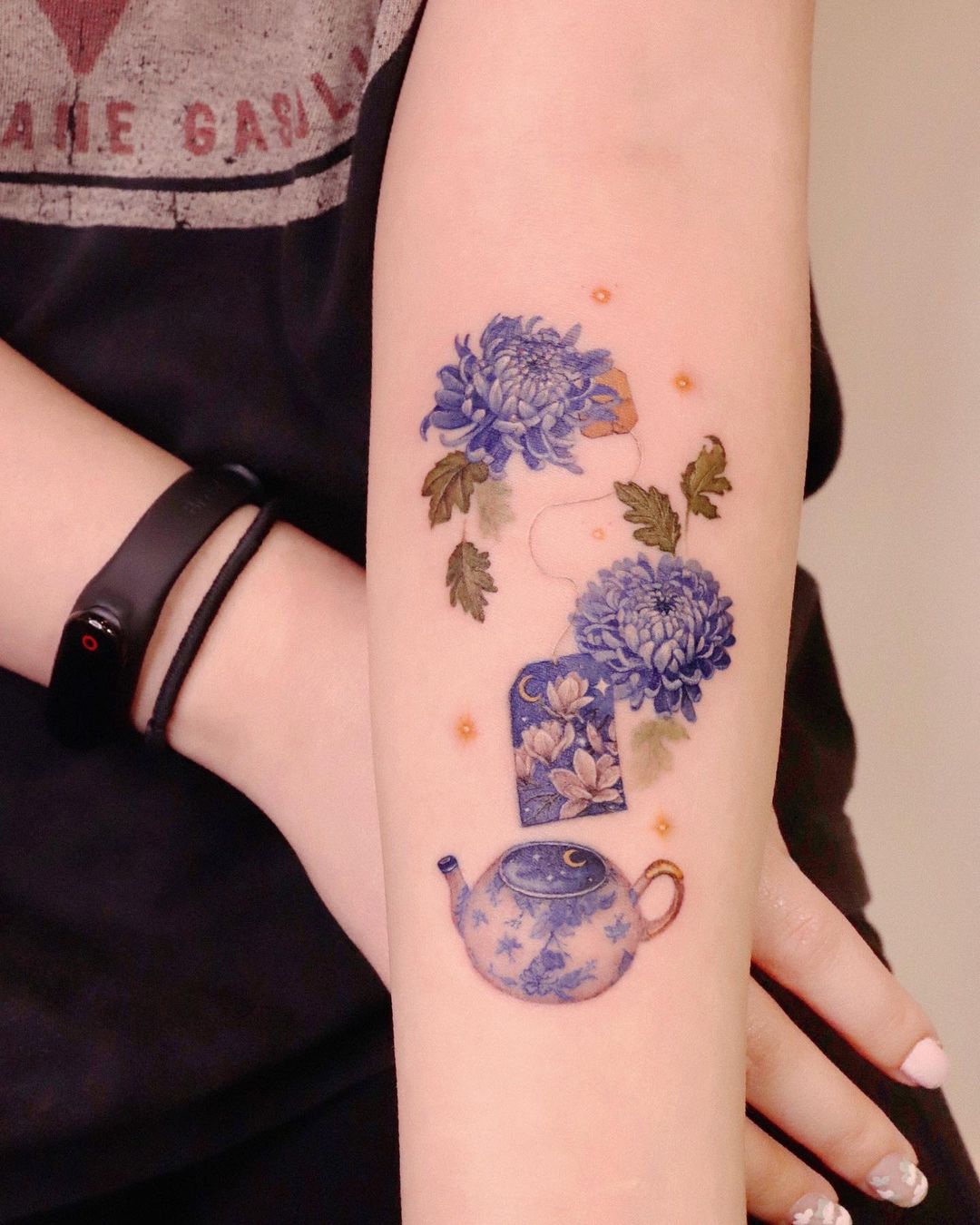 via @peria_tattoo
Philosophical themes present in Japanese culture resonate with many people. That is why tattoo design in this style does not lose its relevance.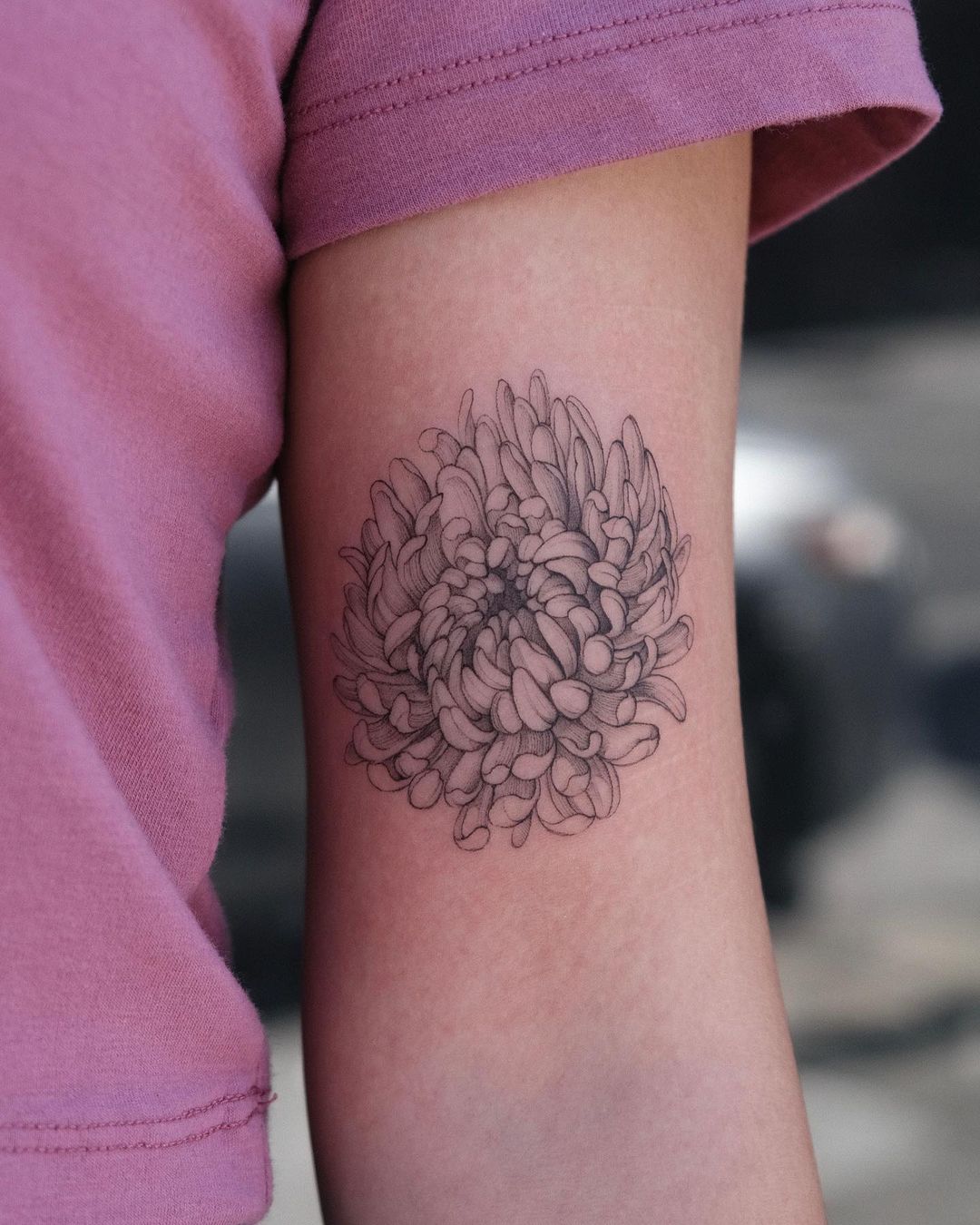 via @beeso_tat
5. Traditional Flower Tattoo
This category includes a simple flower tattoo depicting magnolias, chrysanthemums, daisies, etc. Far from always, such images are endowed with a deep meaning. Many flower tattoo designs are associated with the celebration of life and eternity.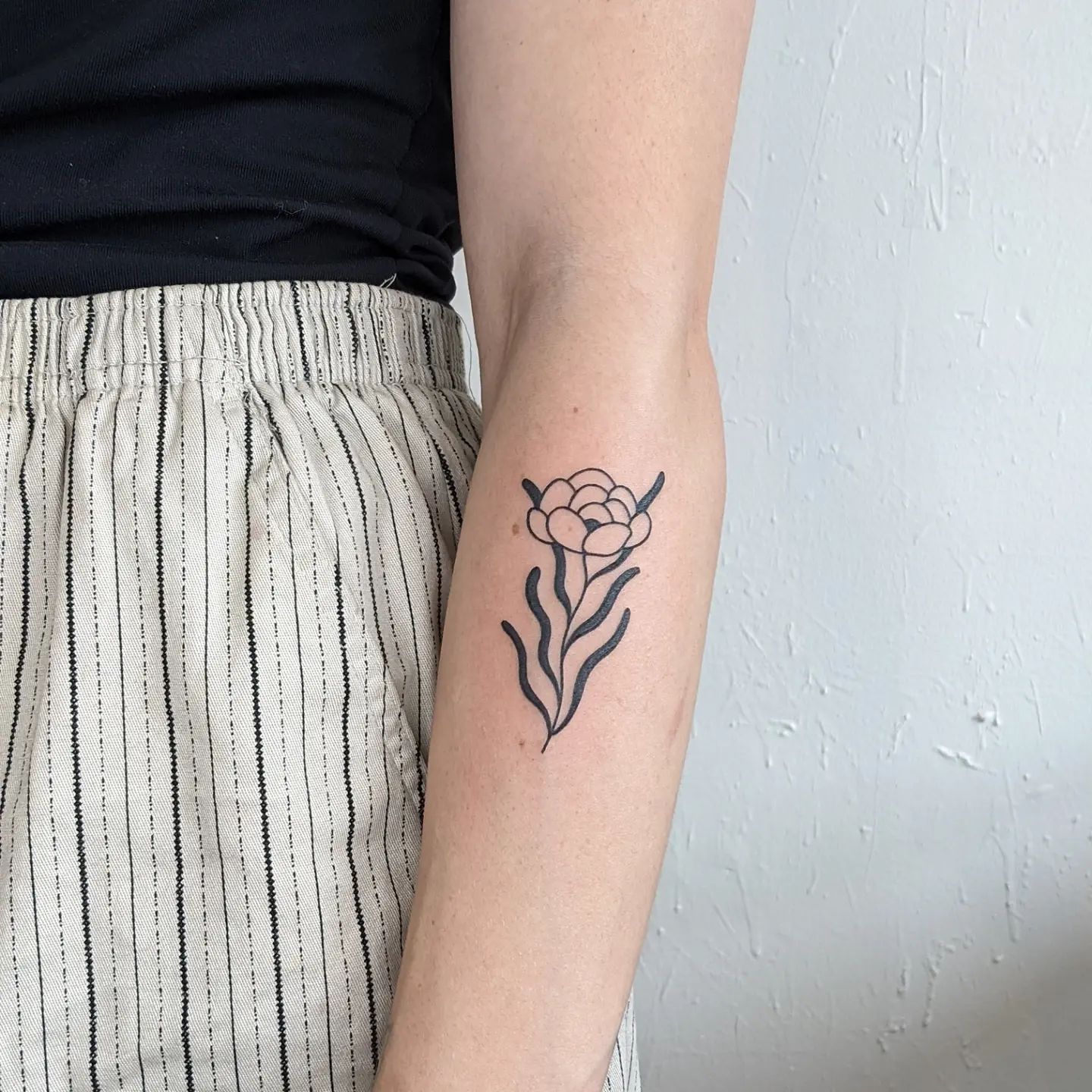 via @molebulle
Don't know where to start? Ask the master to make a concise classic color flower tattoo.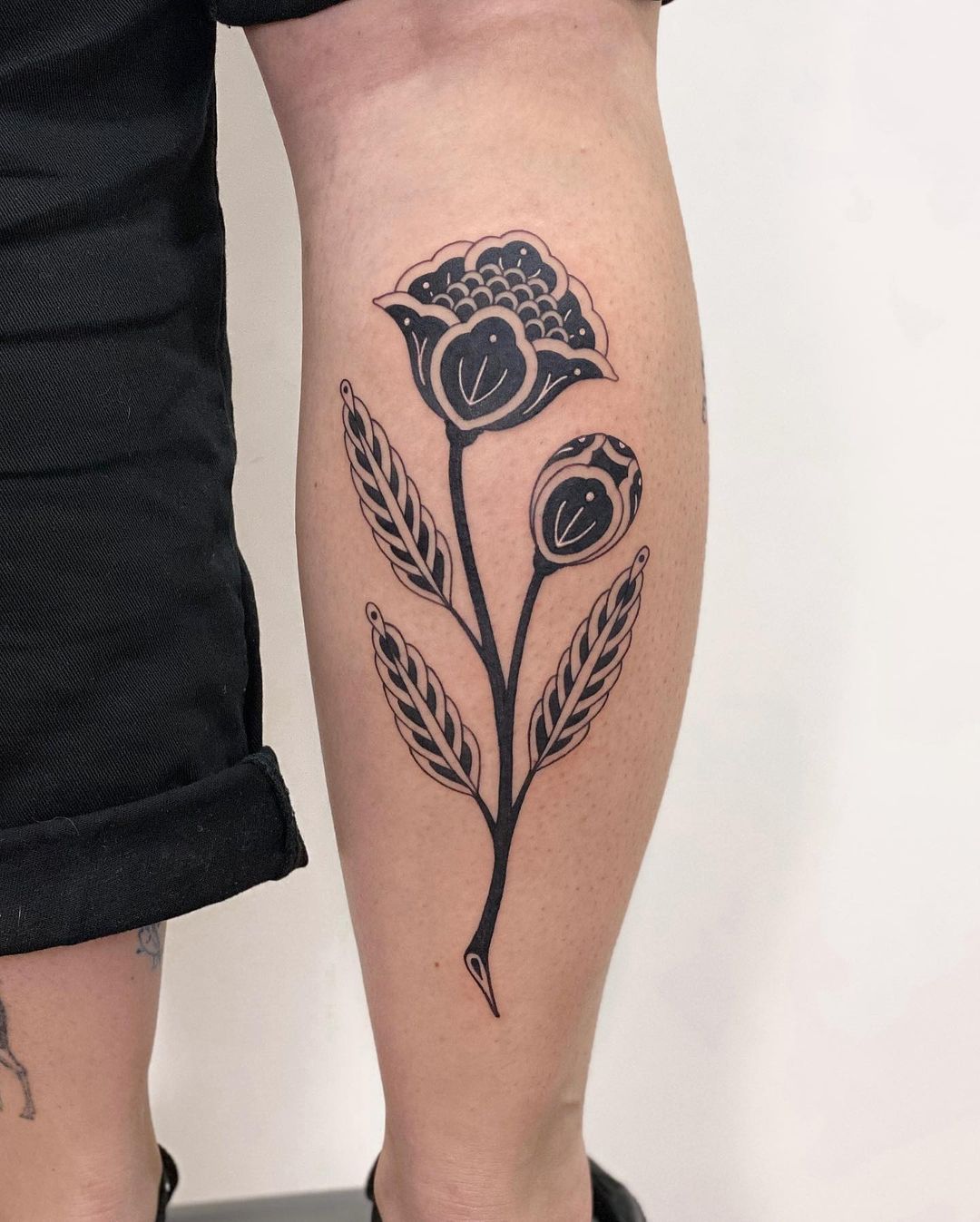 via @aluna.tattoo
6. Flower of Life Tattoo
These are popular and unusual flower tattoos. What is the flower of life tattoo meaning? It speaks of enlightenment, willingness to learn new things, and openness to knowledge. If this position is close to you, such an abstraction will become one of the best flower tattoo designs.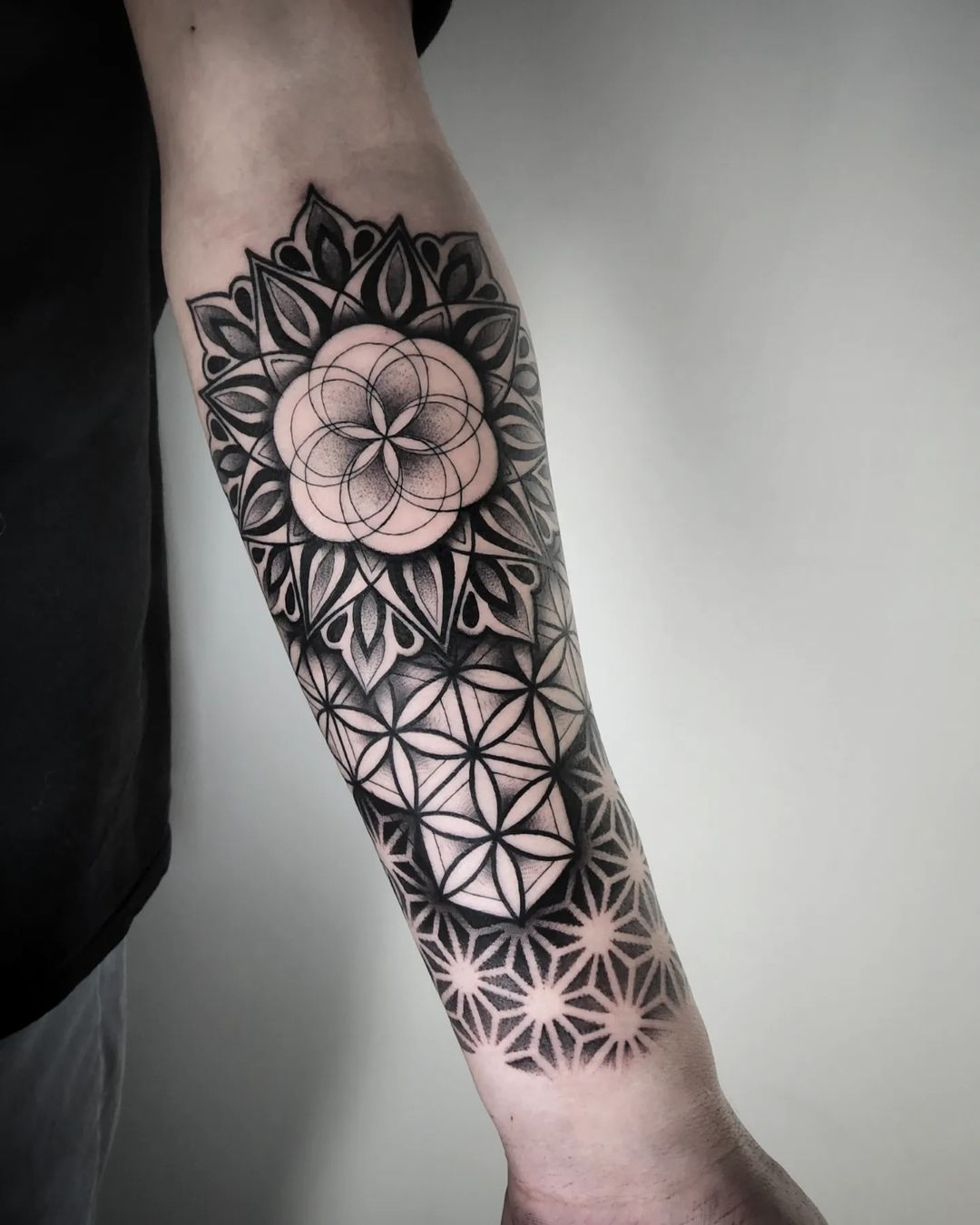 via @ashaferart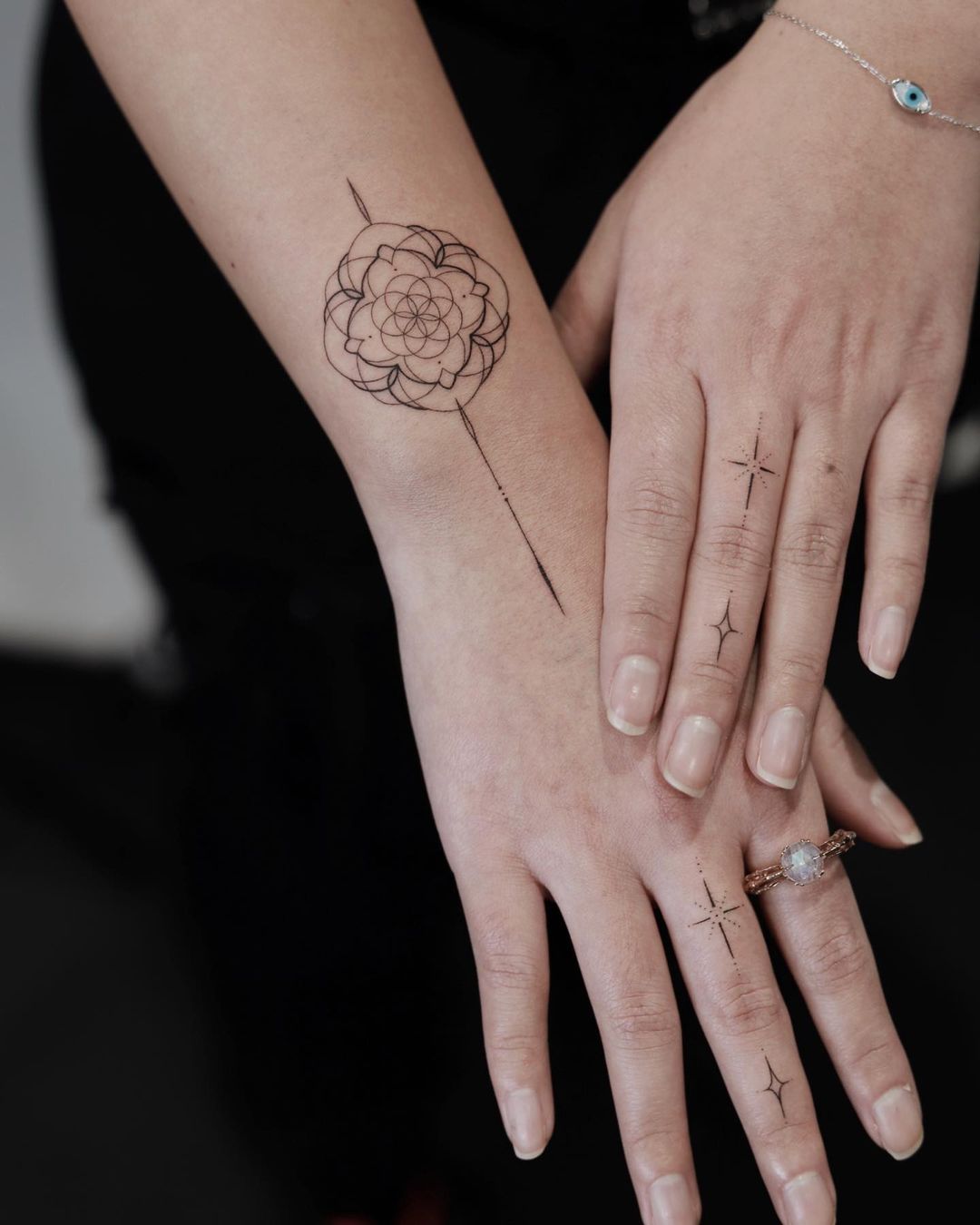 via @slavenavena
7. Mandala Lotus Tattoo
Do you want a large and spectacular back tattoo? Surely, you will like the lotus tattoo.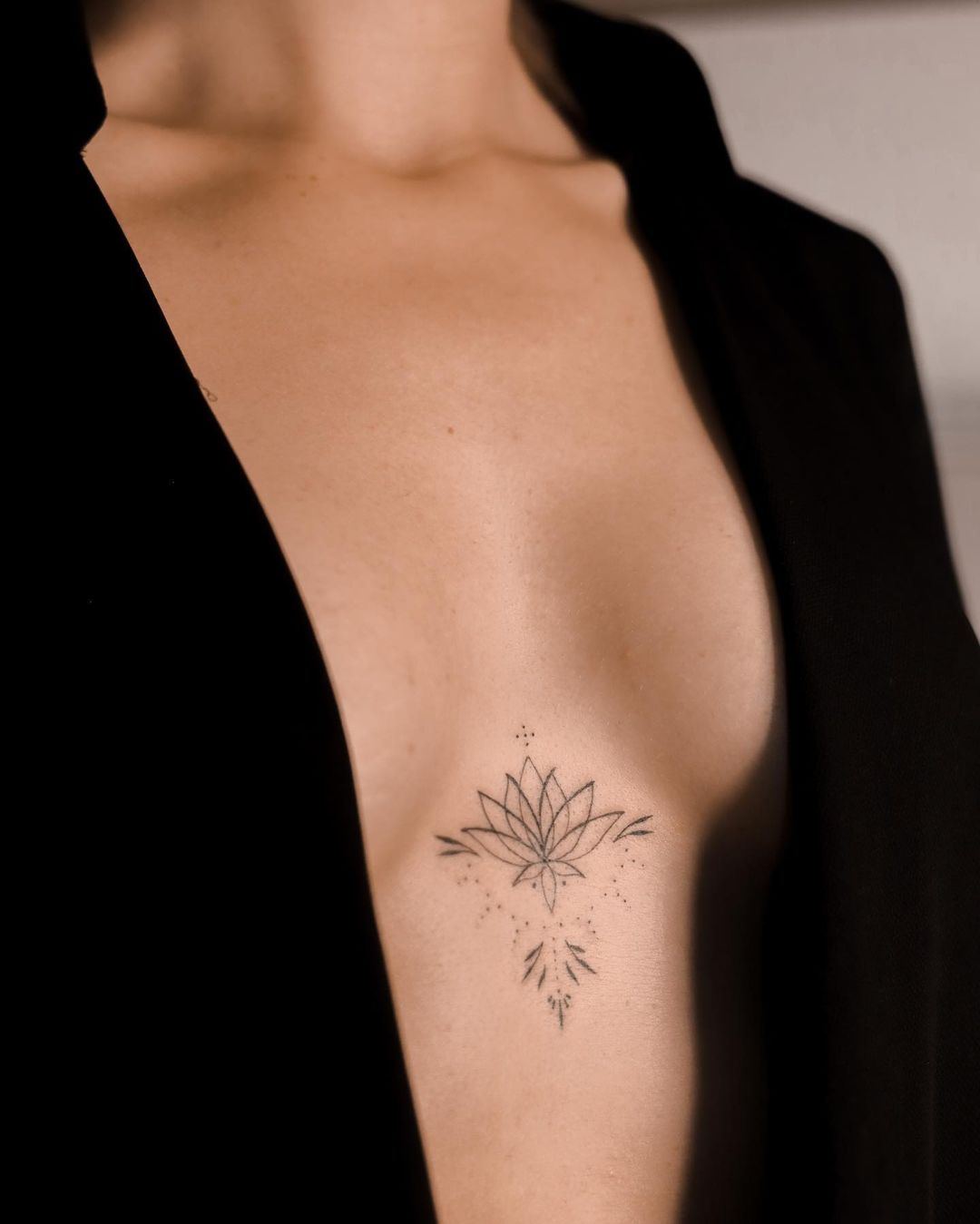 via @the_moderndayhippie_tattoo
It symbolizes purity, energy, fertility, and eternity. Among the many lotus mandala tattoo meaning, you can definitely find your own.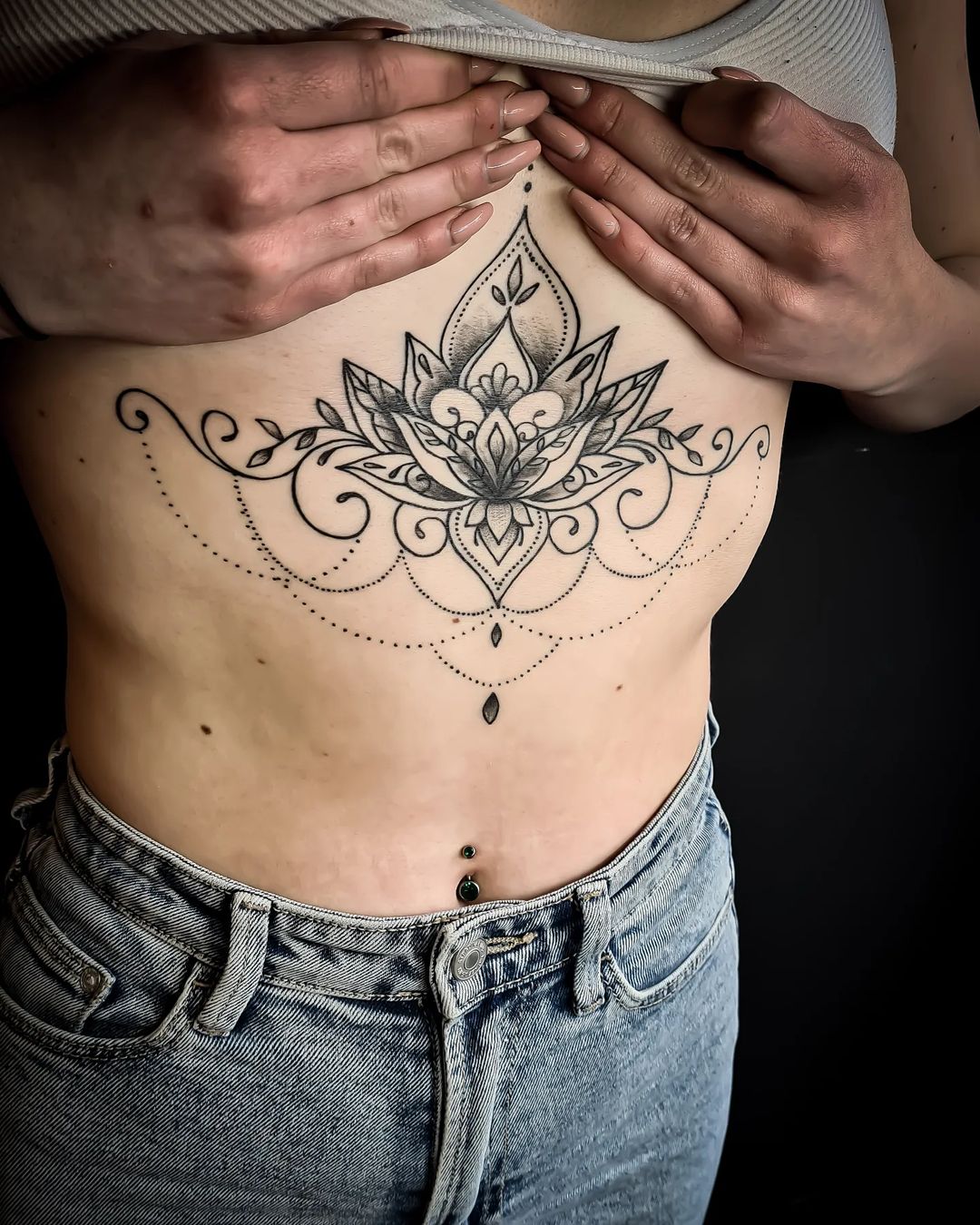 8. Hibiscus Tattoo
It is another popular option in the collections of tattoo artists. A red, pink, black, or yellow hibiscus flower tattoo is often chosen by active and purposeful girls.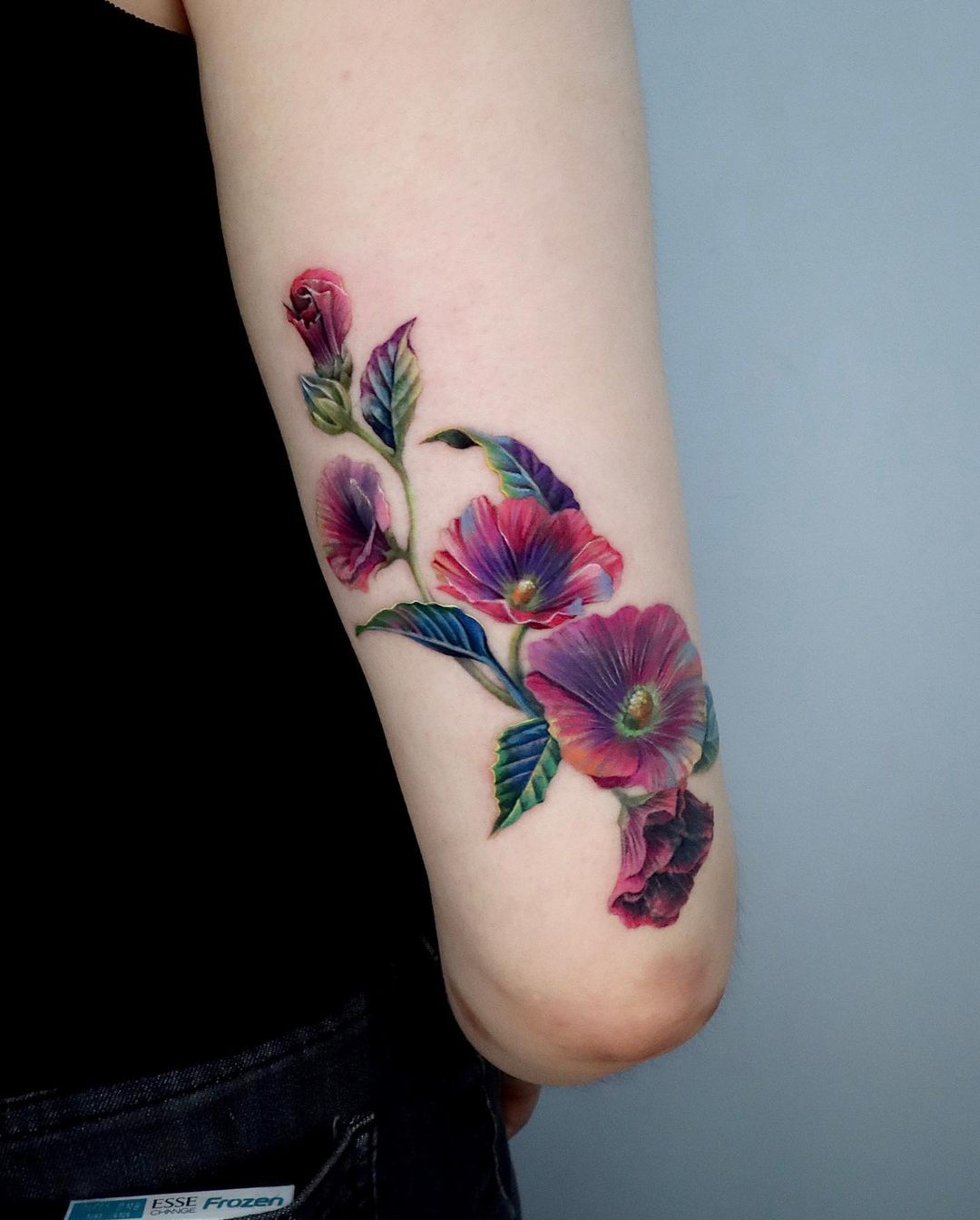 via @non_lee_ink
What is the hibiscus flower tattoo meaning? It is associated with cheerfulness, luck, and vitality. Often such a shoulder tattoo becomes a real talisman.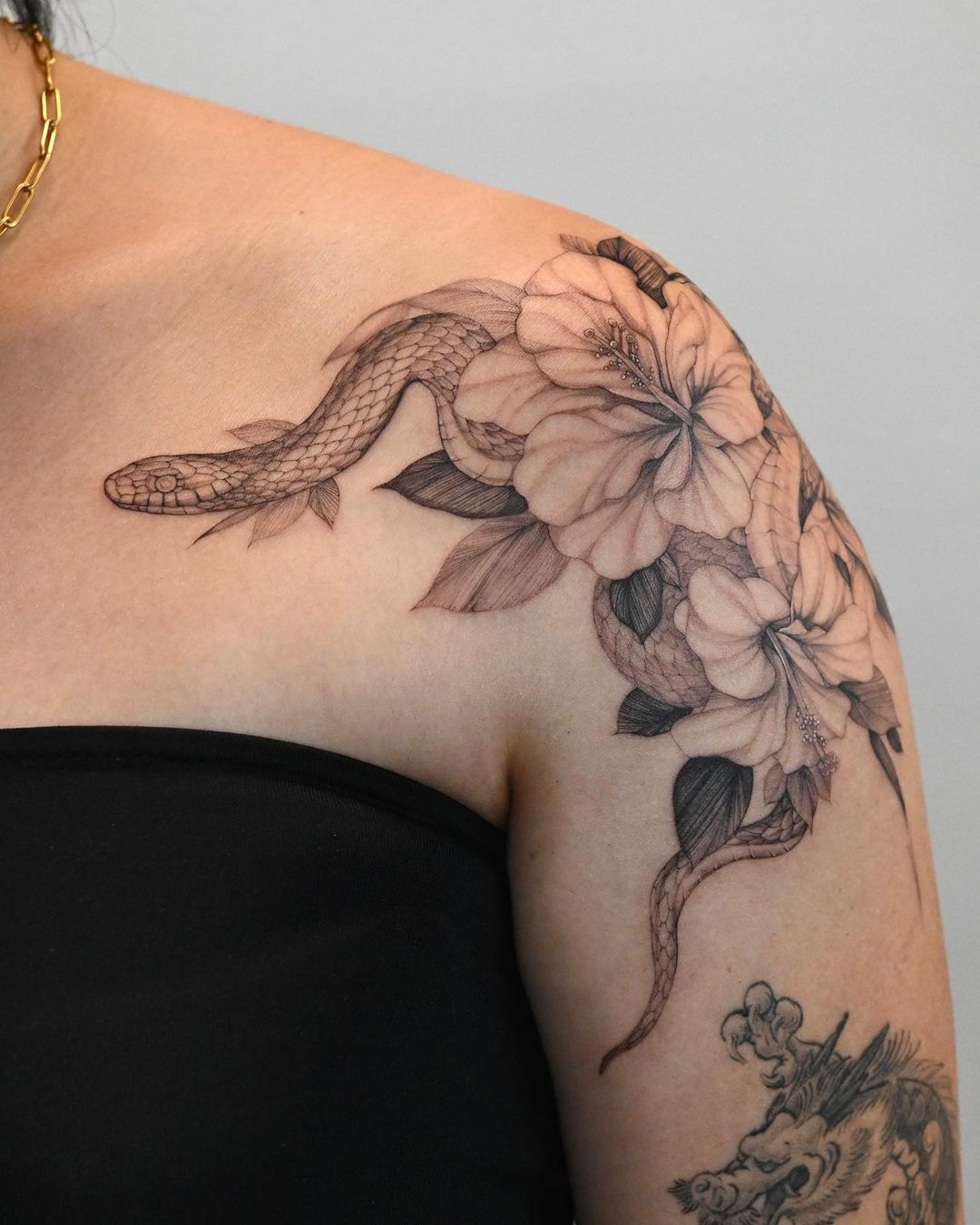 via @vanya.ink
9. Hawaiian Flower Tattoo
Original black and white or color tattoos can be a sign of respect for the legendary islands. Another meaning of the Hawaiian flower tattoo is love, friendship, wealth, energy, etc. It depends on the color of your tattoo.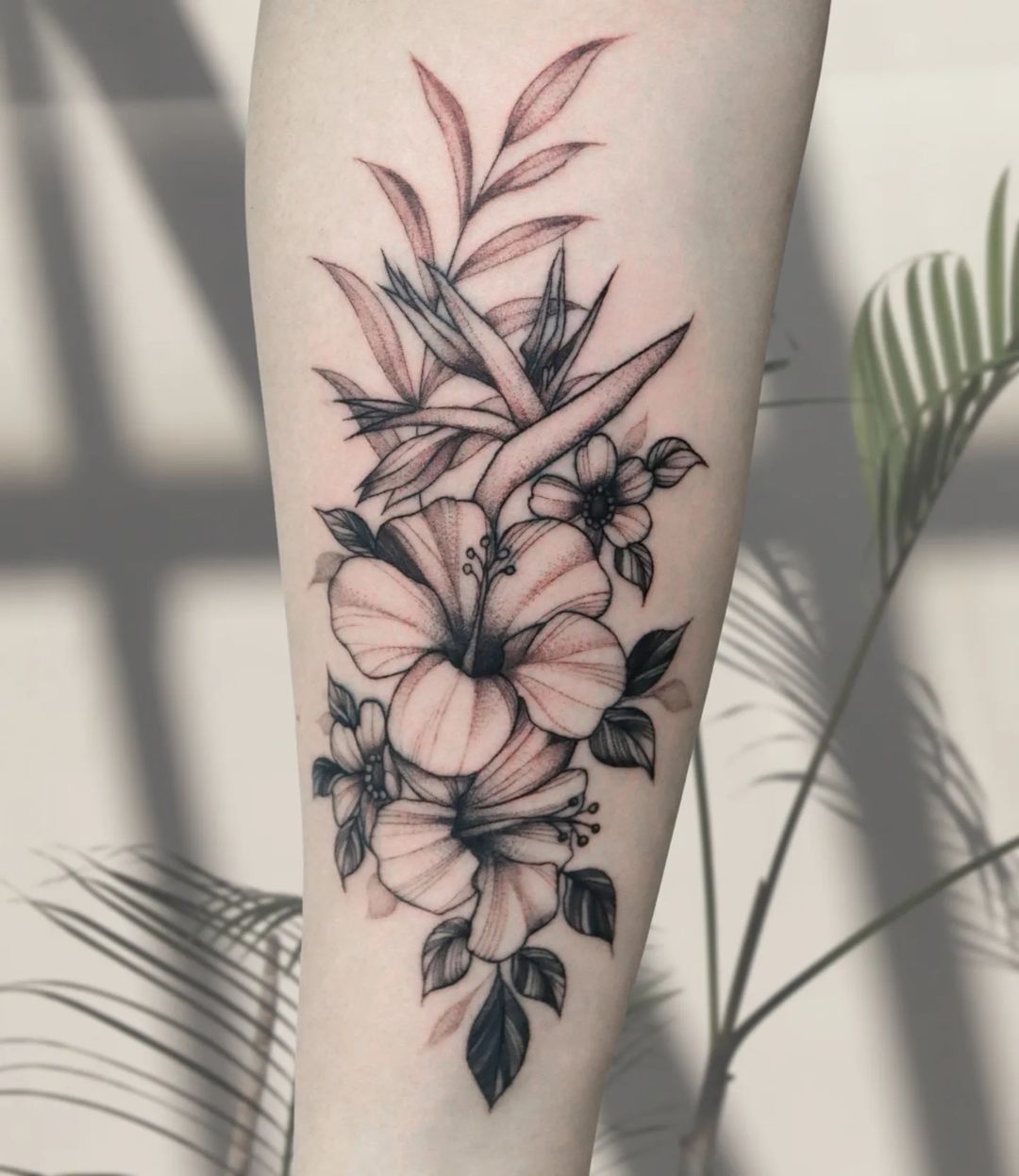 via @cats.inks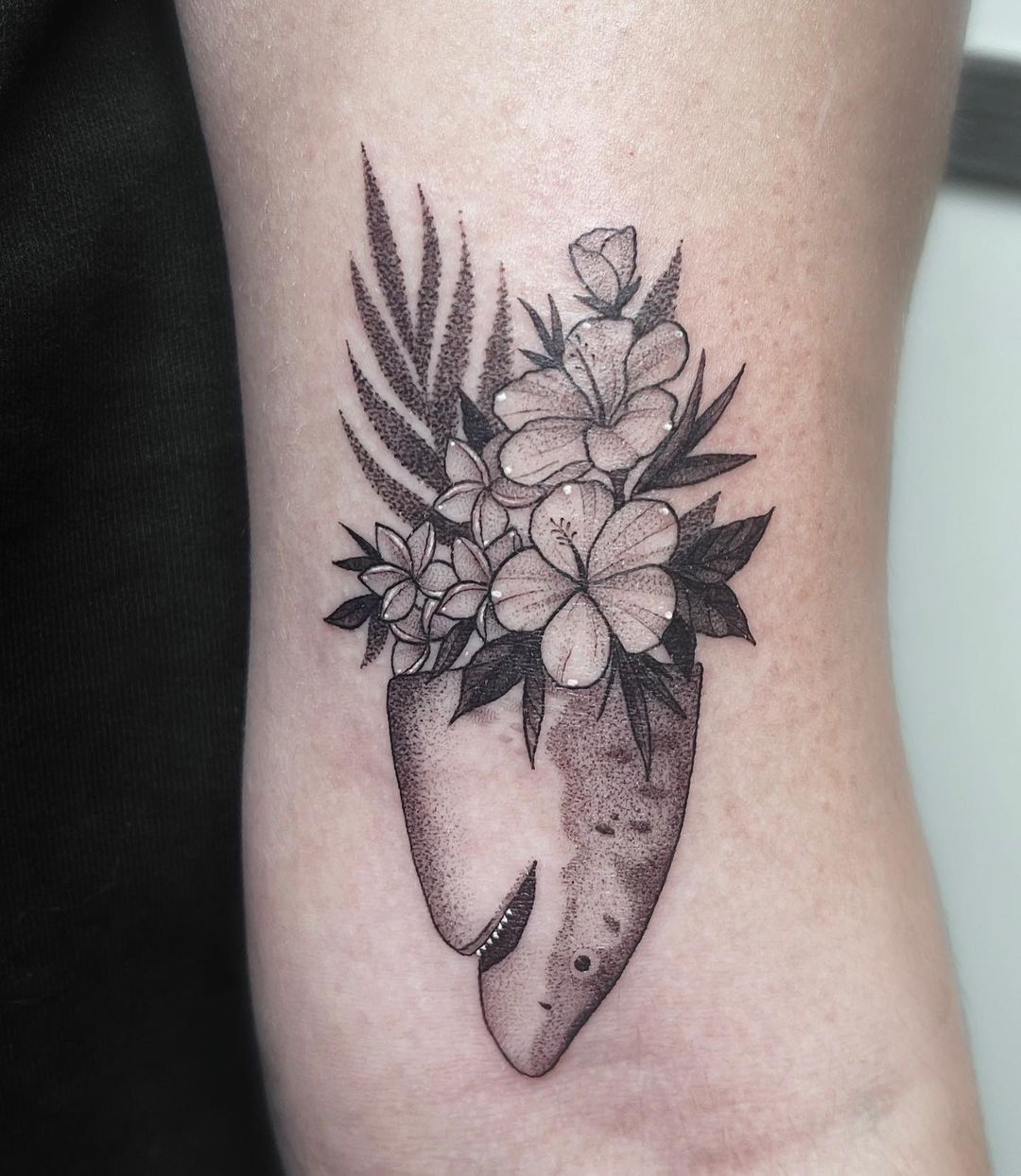 10. Narcissus Flower Tattoo
A graceful daffodil flower tattoo is associated with rebirth, hope, and purification. Such a tattoo design can be different: compact on the wrist or large on the neck and back. If you are looking for the best tattoo ideas, this is 100% one of them.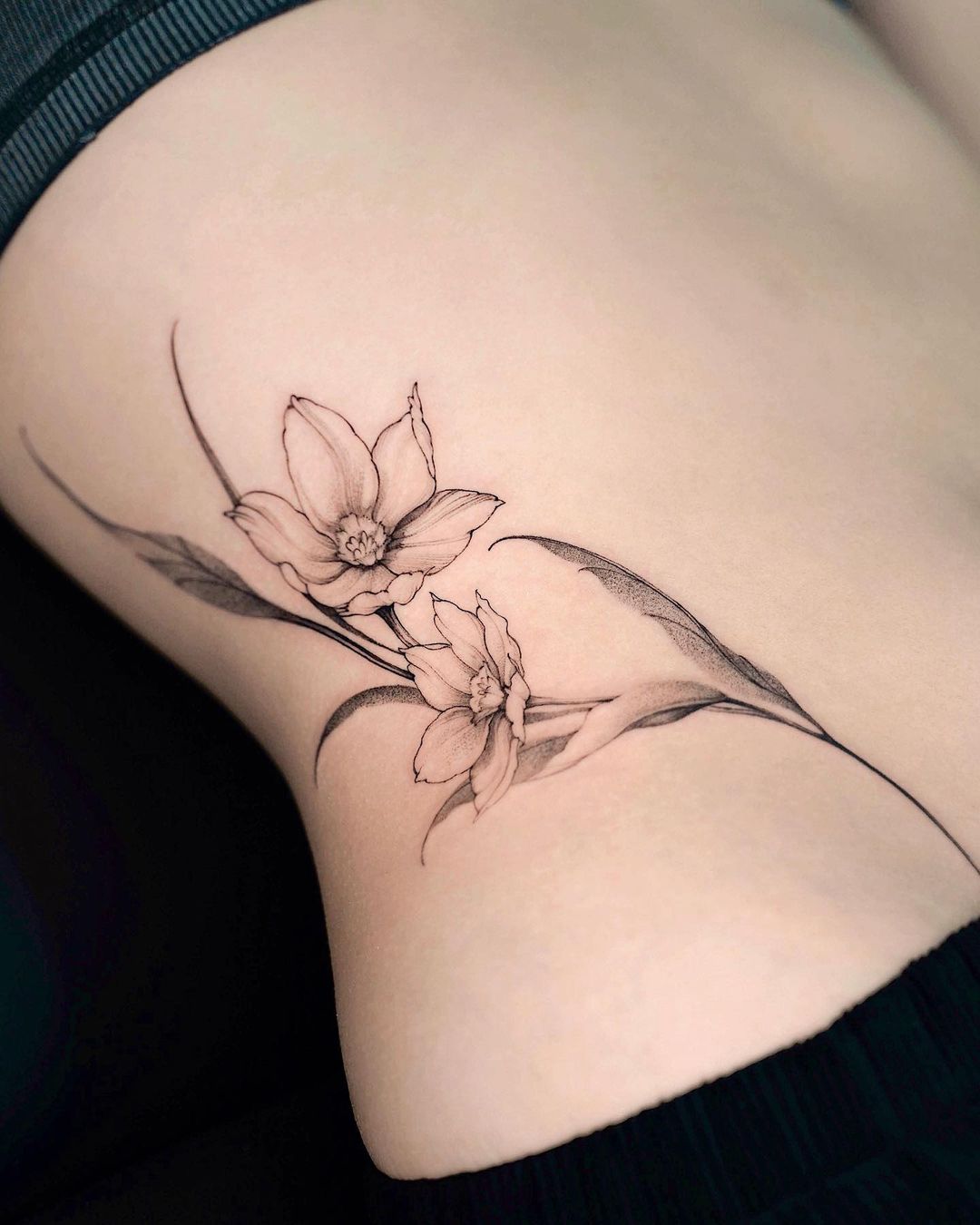 via @uncogrim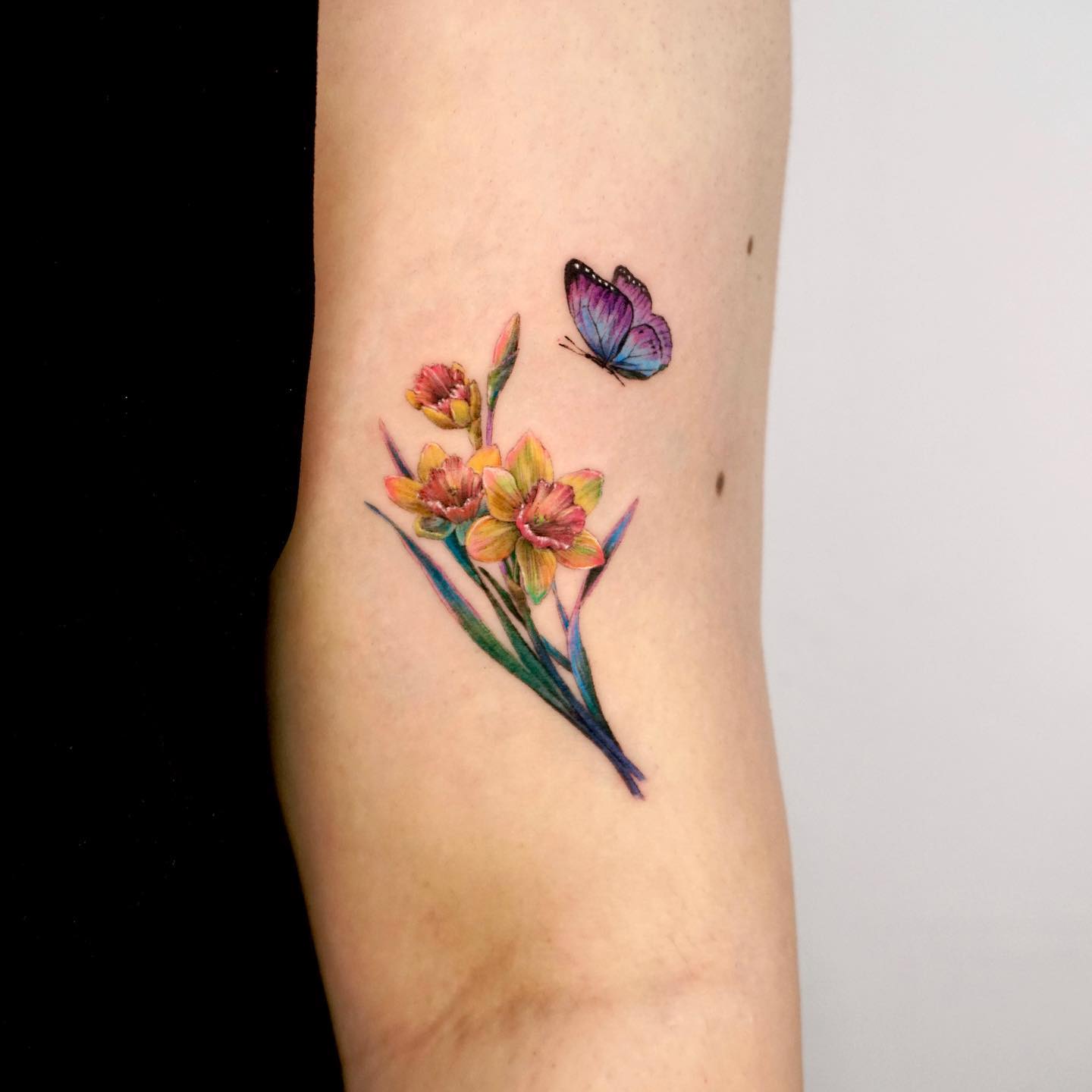 via @non_lee_ink
11. Aster Flower Tattoo
The aster flower tattoo meaning is inner strength, courage, beauty, wisdom, and elegance. Such a wildflower tattoo will suit decisive and self-confident girls. Depending on your desires, you can make a monochrome or color aster tattoo.
via @tattoobyjeein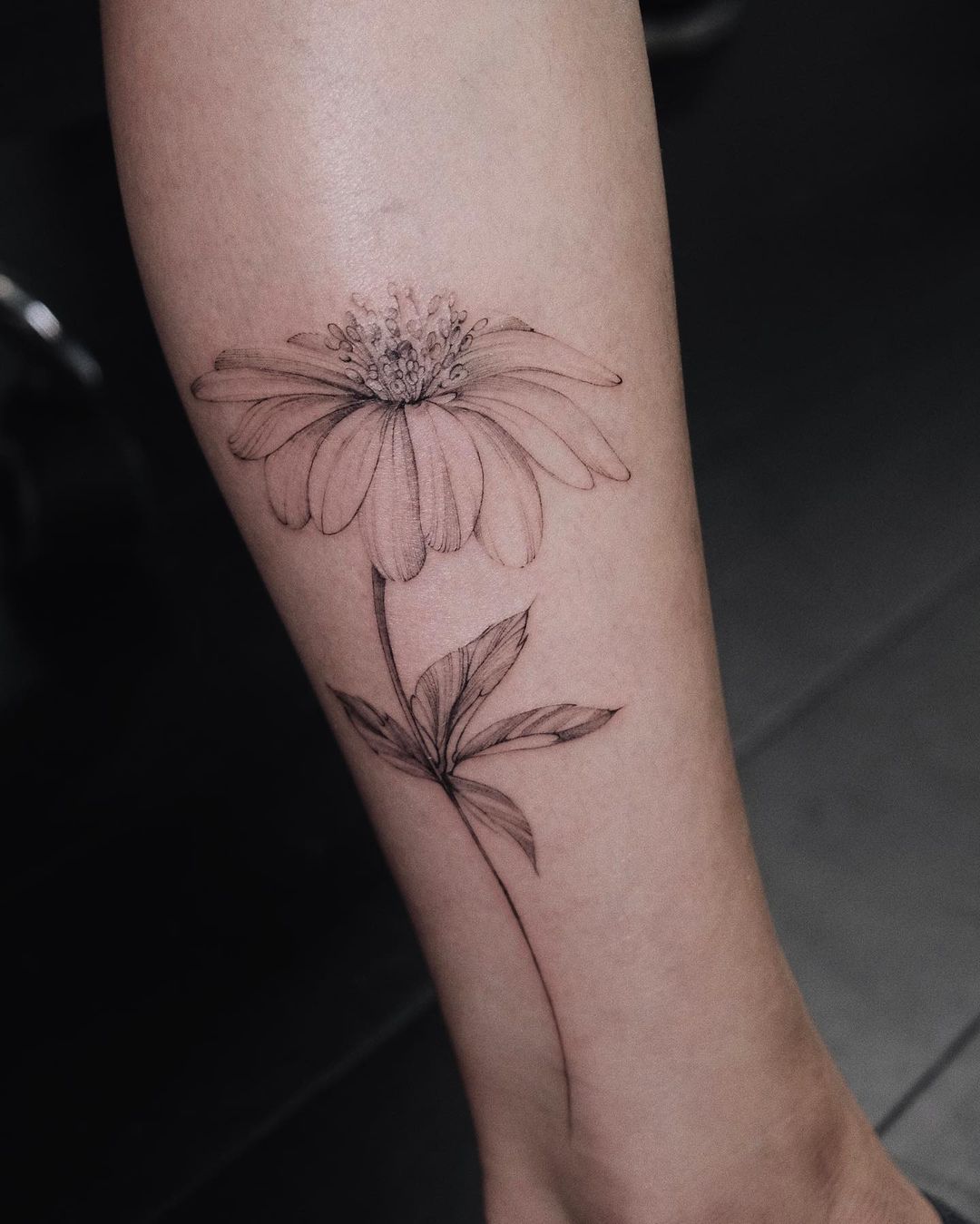 via @beeso_tat
12. Jasmine Flower Tattoo
Emphasize your femininity with a color jasmine flower tattoo! A large or small tattoo will tell about purity, tenderness, and inner harmony. Also, such flower tattoo designs can symbolize overcoming obstacles.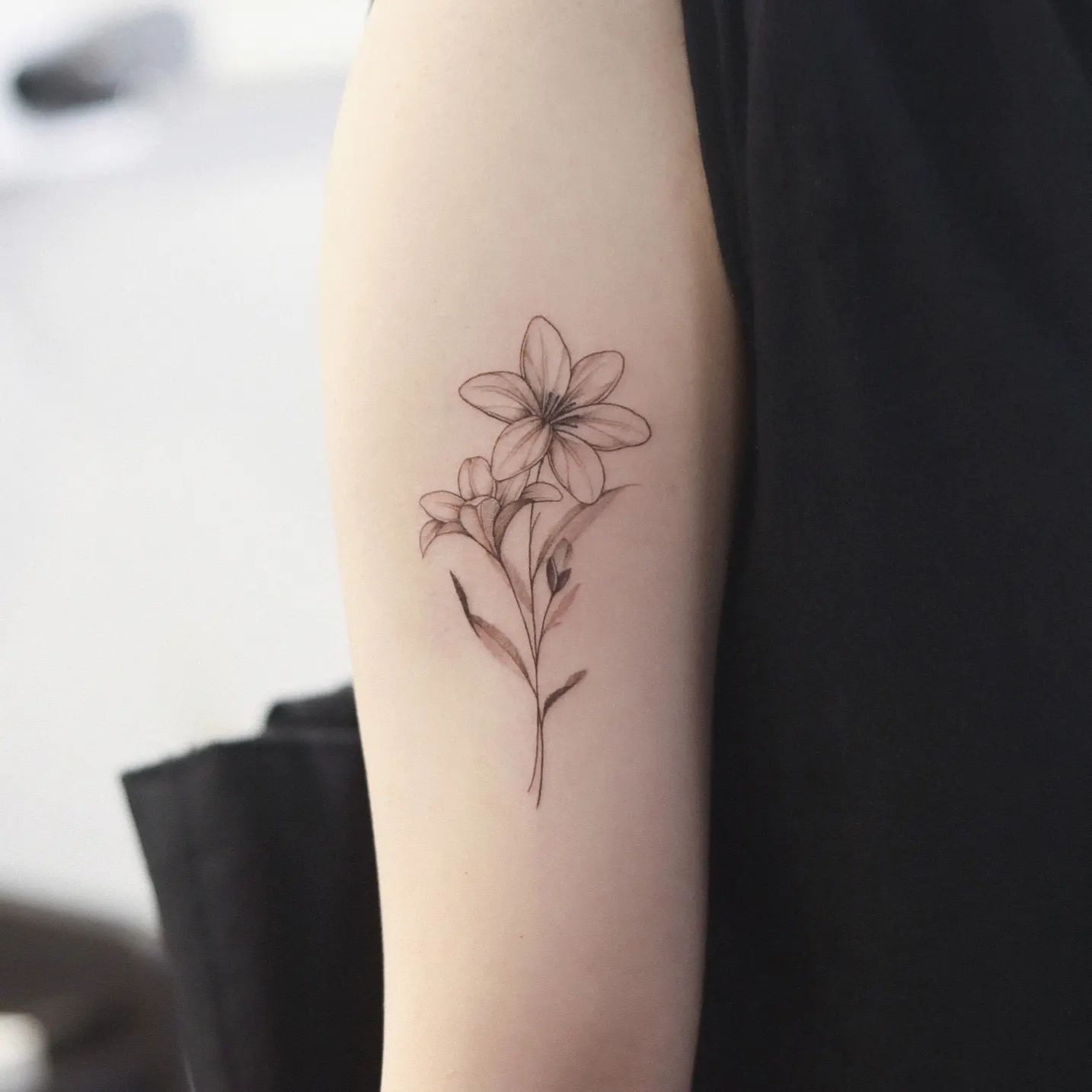 via @yunsu_tattoo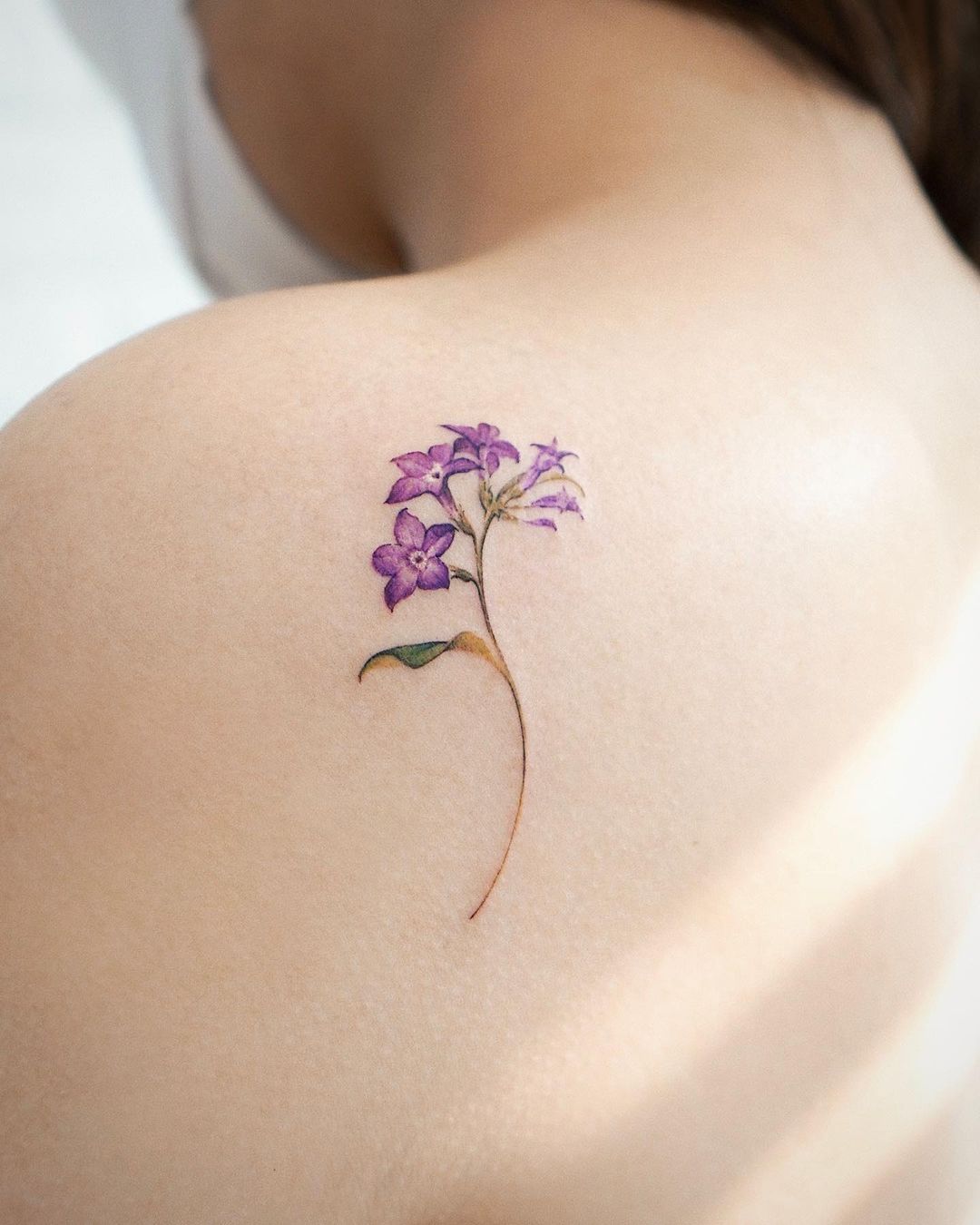 via @abii_tattoo
13. Violet Tattoo
What will the color shoulder violet flower tattoo tell about? It symbolizes love, modesty, care, innocence, and good nature. For girls who want to make tattoo ideas with meaning, a charming flower tattoo will do just fine.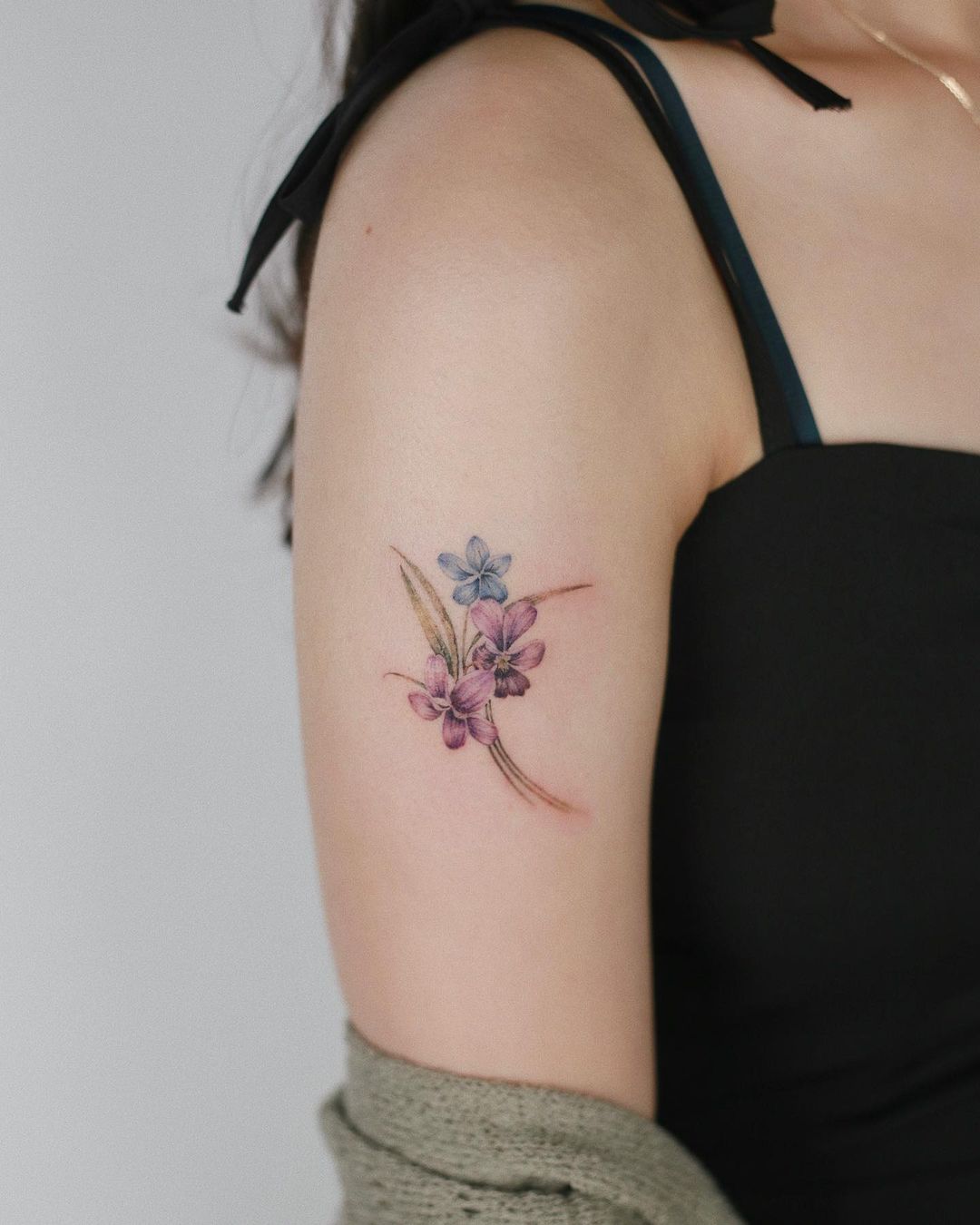 via @tattoois.vitna
14. Gladiolus Tattoo
You can perfectly complement a stylish look with an ankle color gladiolus tattoo. Why is it being chosen more and more often?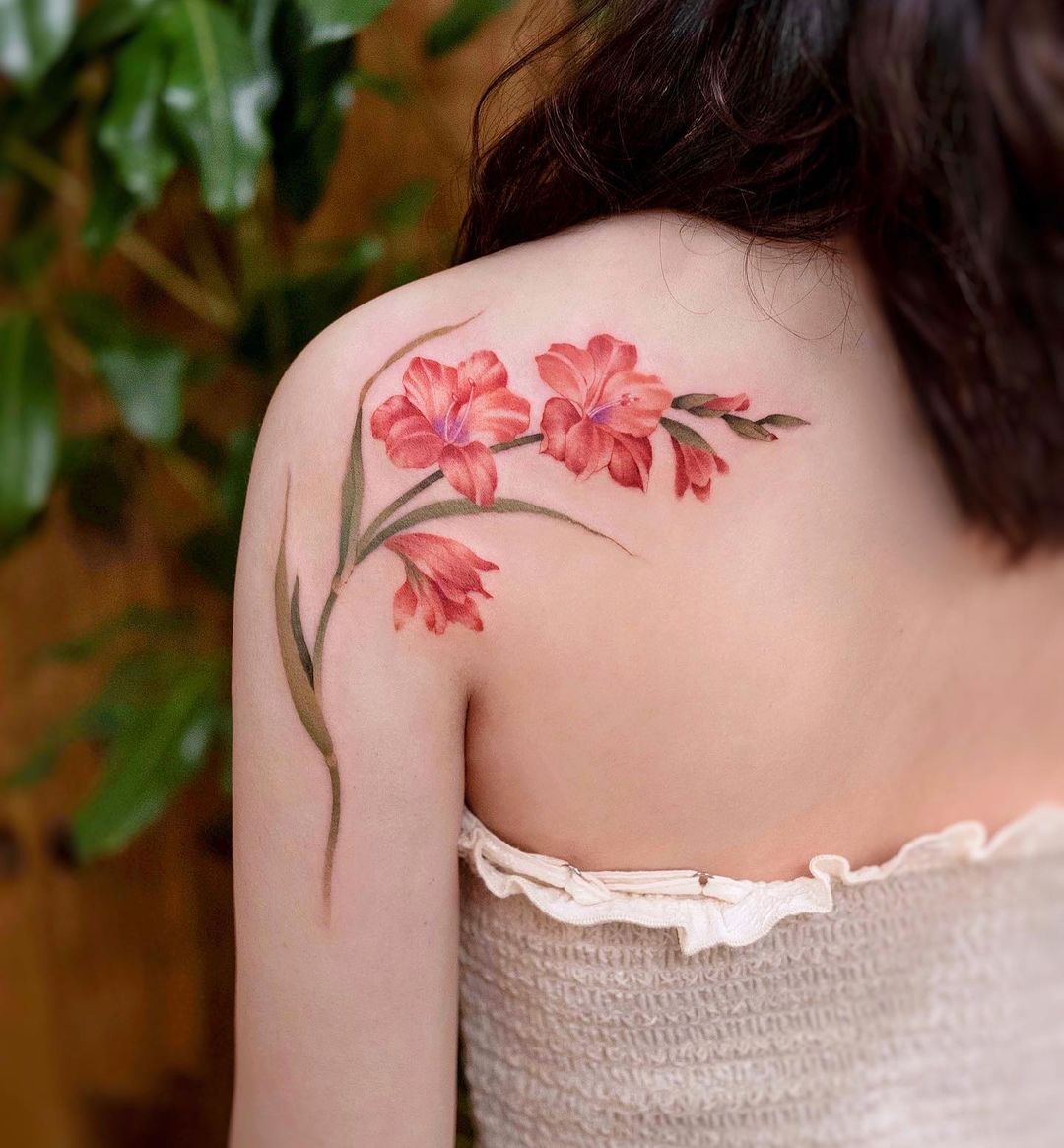 via @newtattoo_qiqi
The gladiolus tattoo meaning is strength, beauty, resilience, and elegance. Do you want to spend summer with a flower tattoo? Think, maybe gladiolus suits you the most.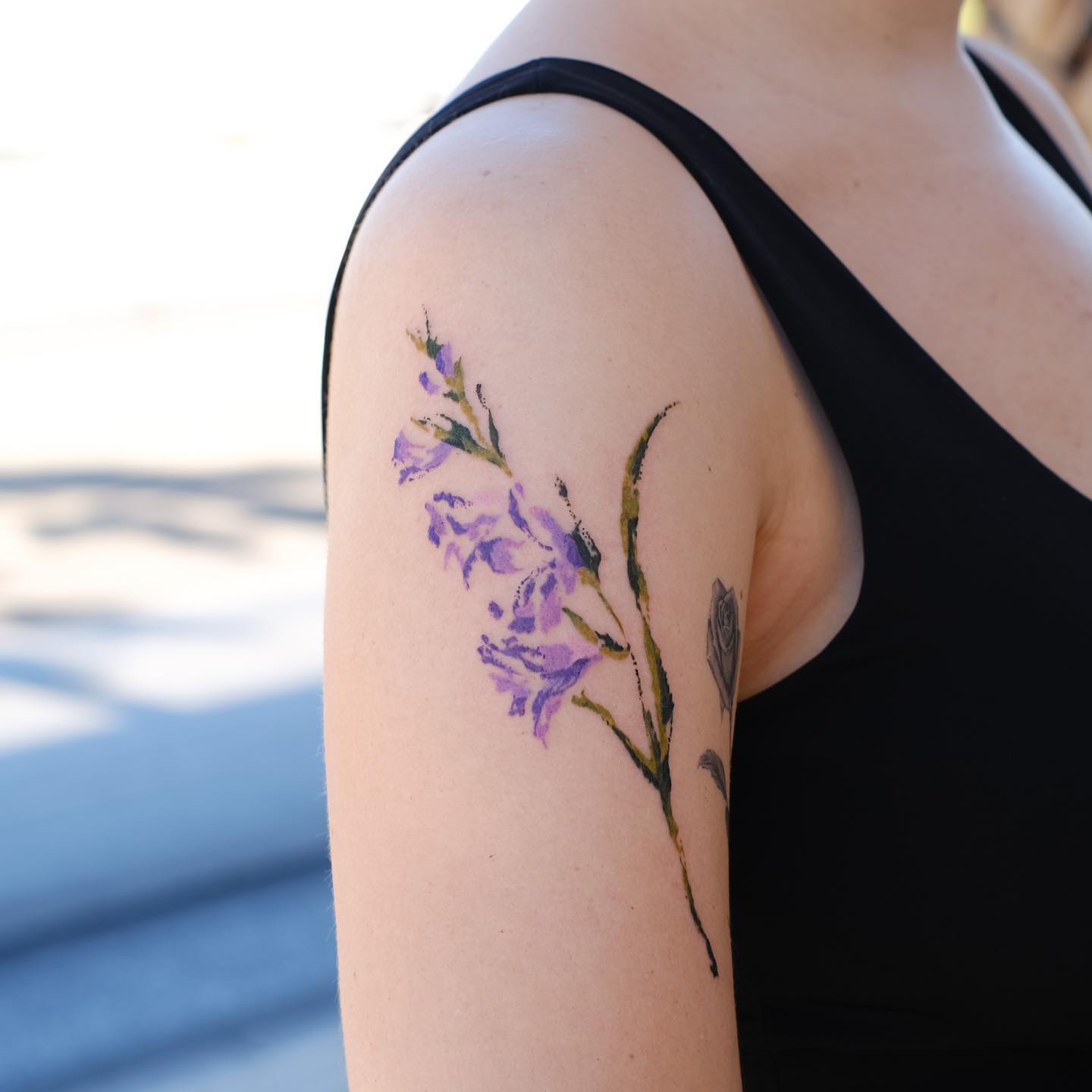 via @oneultattoo
15. Peony Tattoo
A beautiful flower tattoo is associated with wealth, sincere love, passion, and fidelity. Also, the peony tattoo's meaning can be enlightenment, courage, and honor. When choosing a peony tattoo design, be sure to choose the right color on which the interpretation will depend.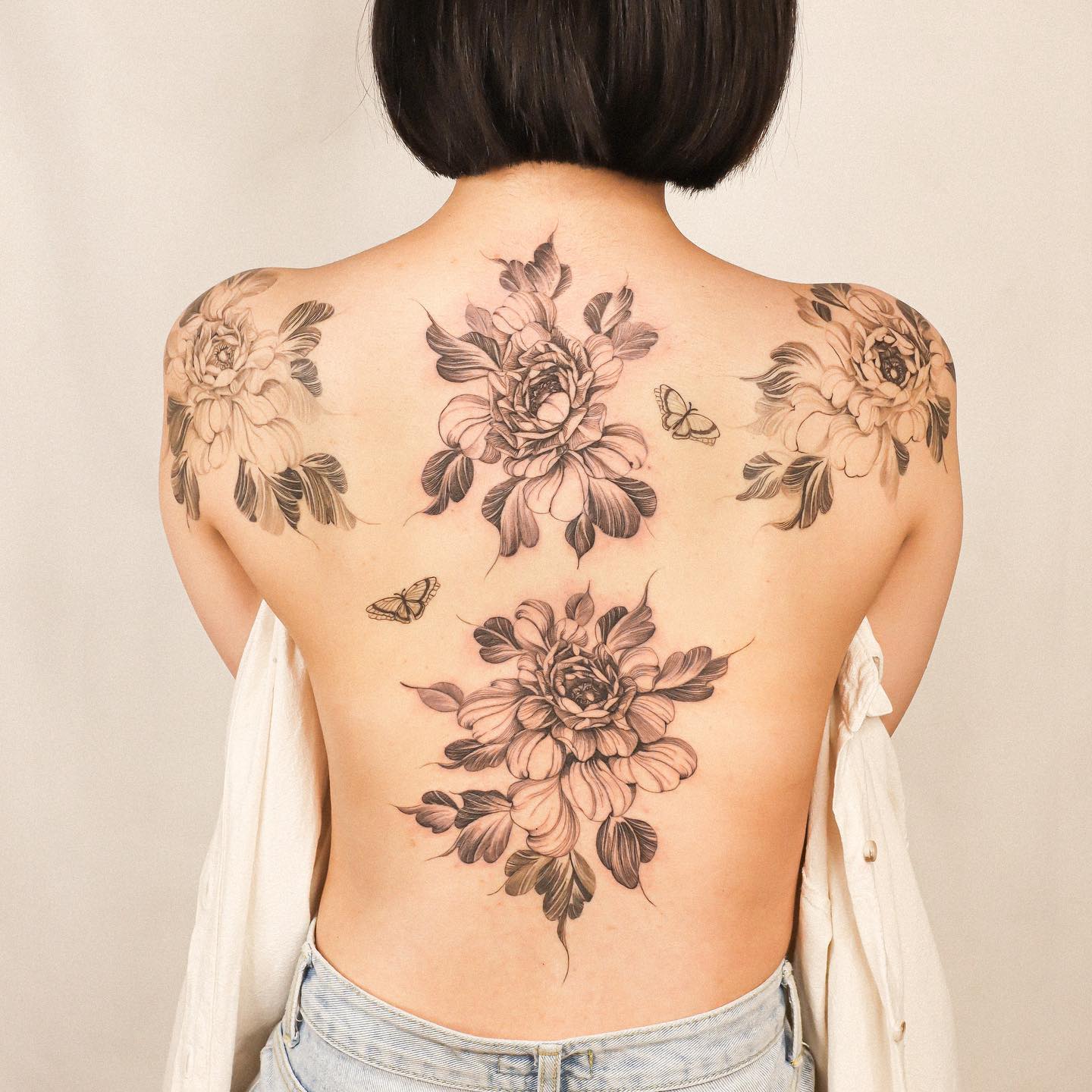 via @seoju_ink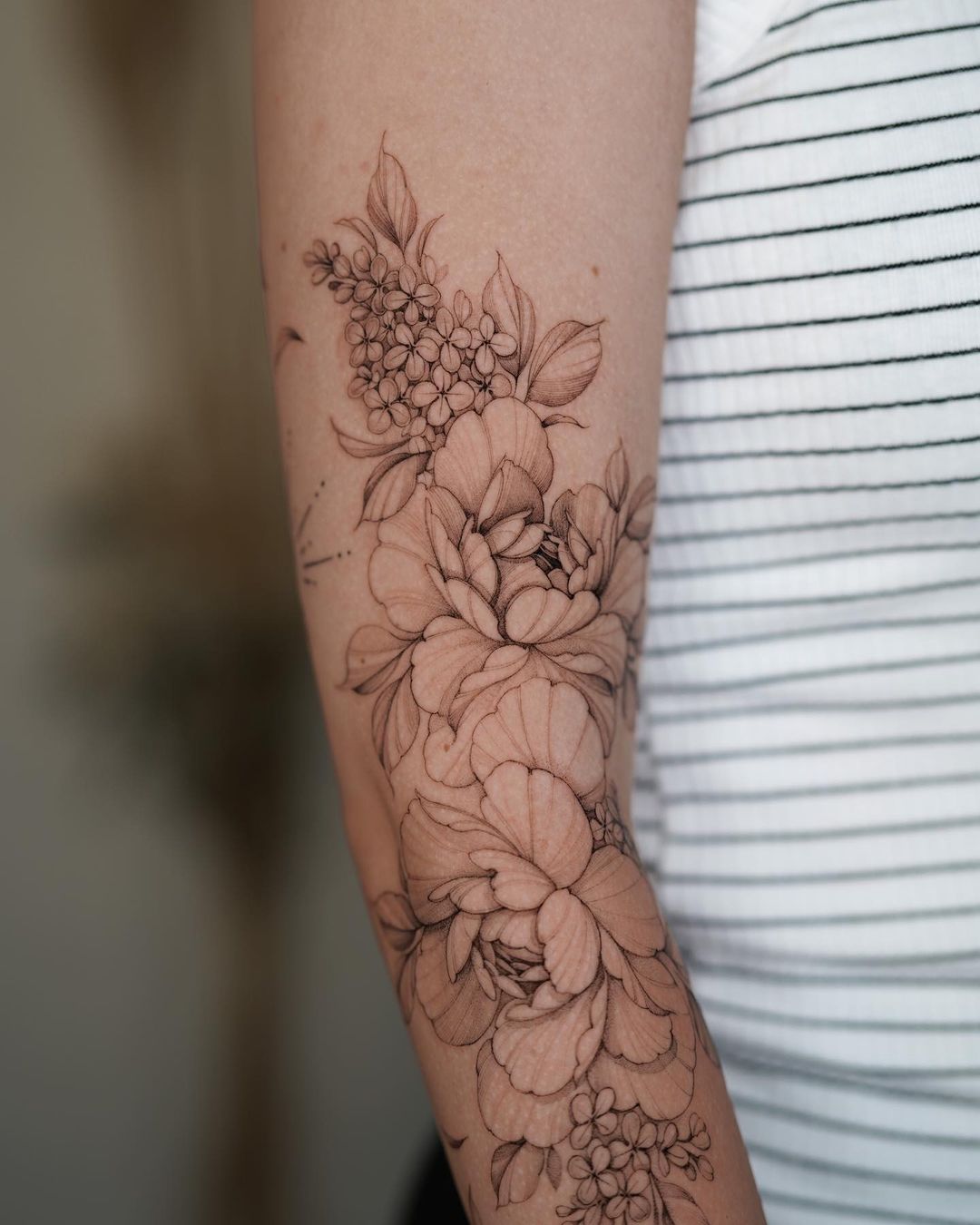 via @comeeealiveee
16. Iris Tattoo
Looking for a minimalist tattoo? Pay attention to the almost invisible but spectacular blue flower tattoo.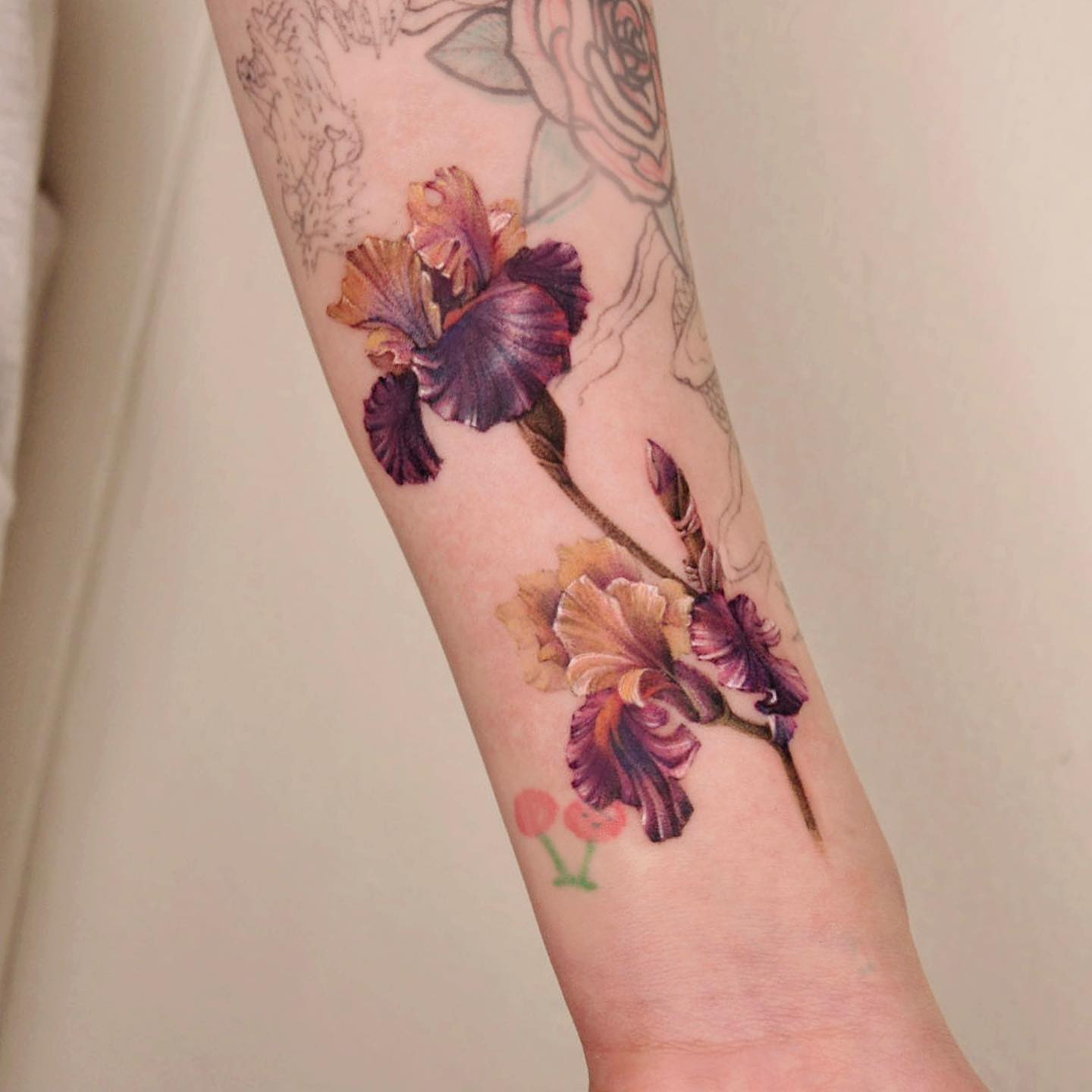 via @chou_ta_1
Speaking of iris tattoo meaning, wisdom, hope, peace, and faith should be noted. A lot is hidden in laconic lines.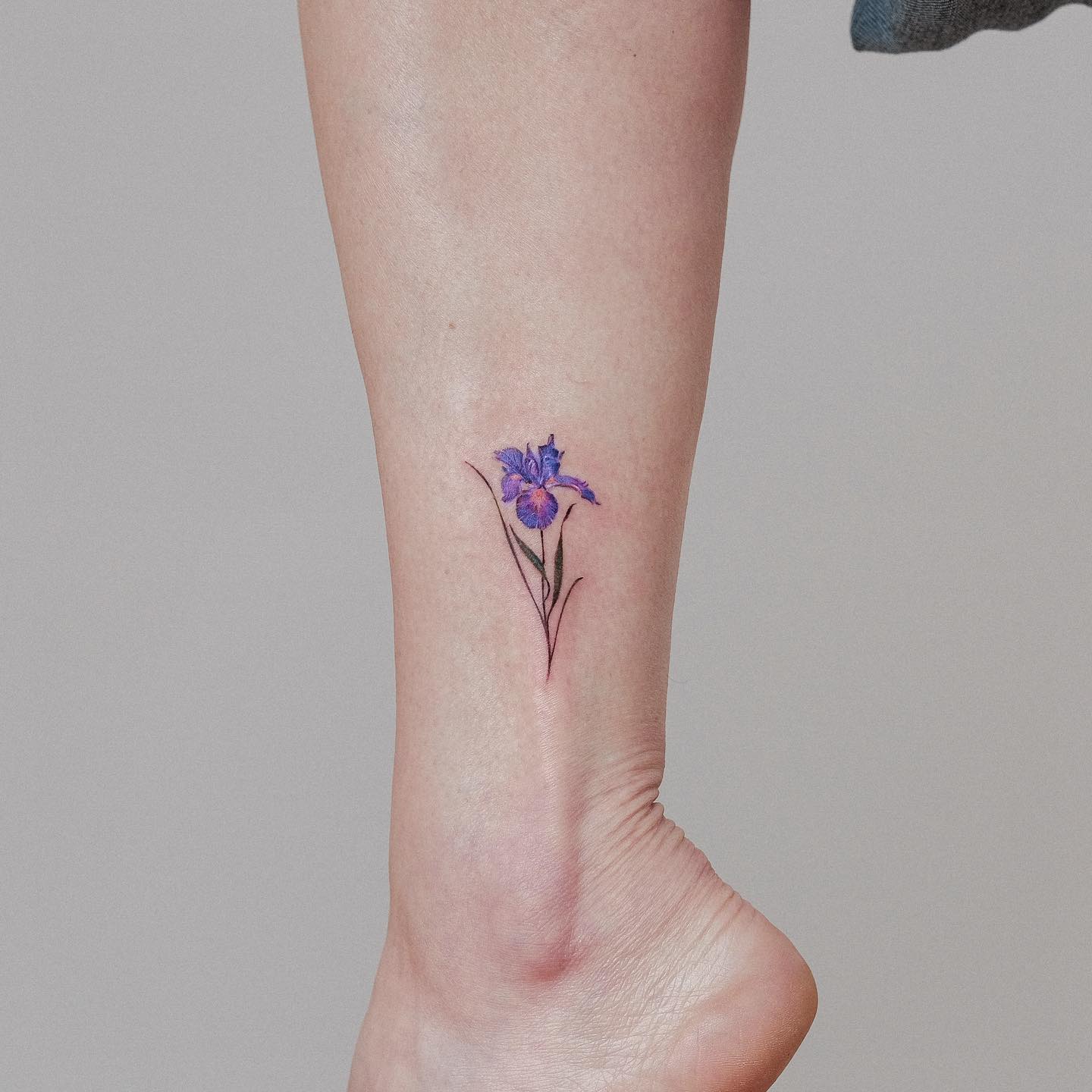 via @mo.no.tattoo
17. Magnolia Tattoo
Elegant white flower tattoos are the favorites of girls all over the world. The Magnolia flower tattoo meaning includes purity, naturalness, health, and beauty. Sometimes, a flower shoulder tattoo is done for good luck.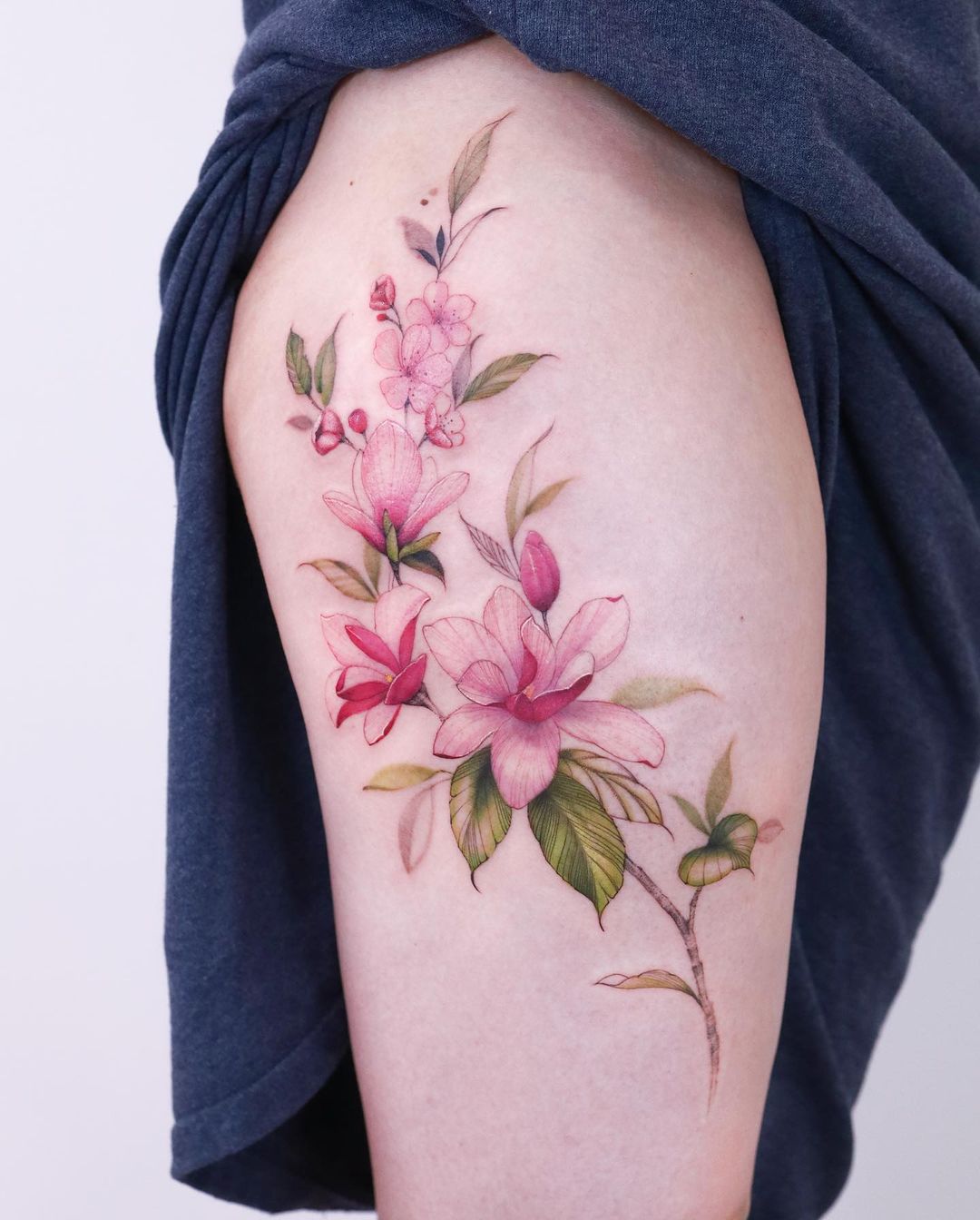 via @tattooist_silo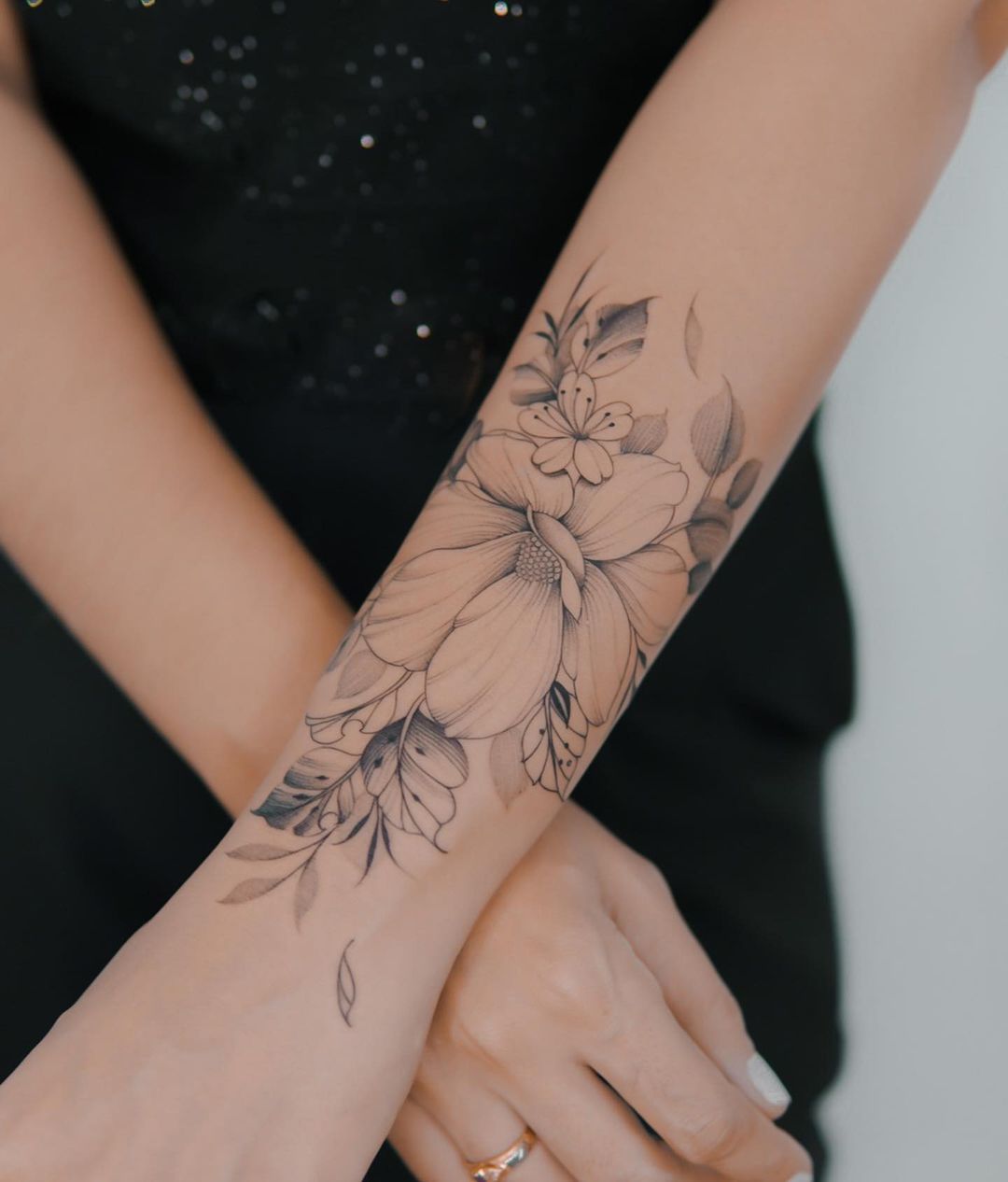 via @alanhartt
18. Carnation Tattoo
You can often find a red carnation flower tattoo. Being a January flower tattoo, it symbolizes love, romance, and sincerity. The carnation tattoo meaning may differ depending on the color of the flower. But in any case, it is associated with bright feelings.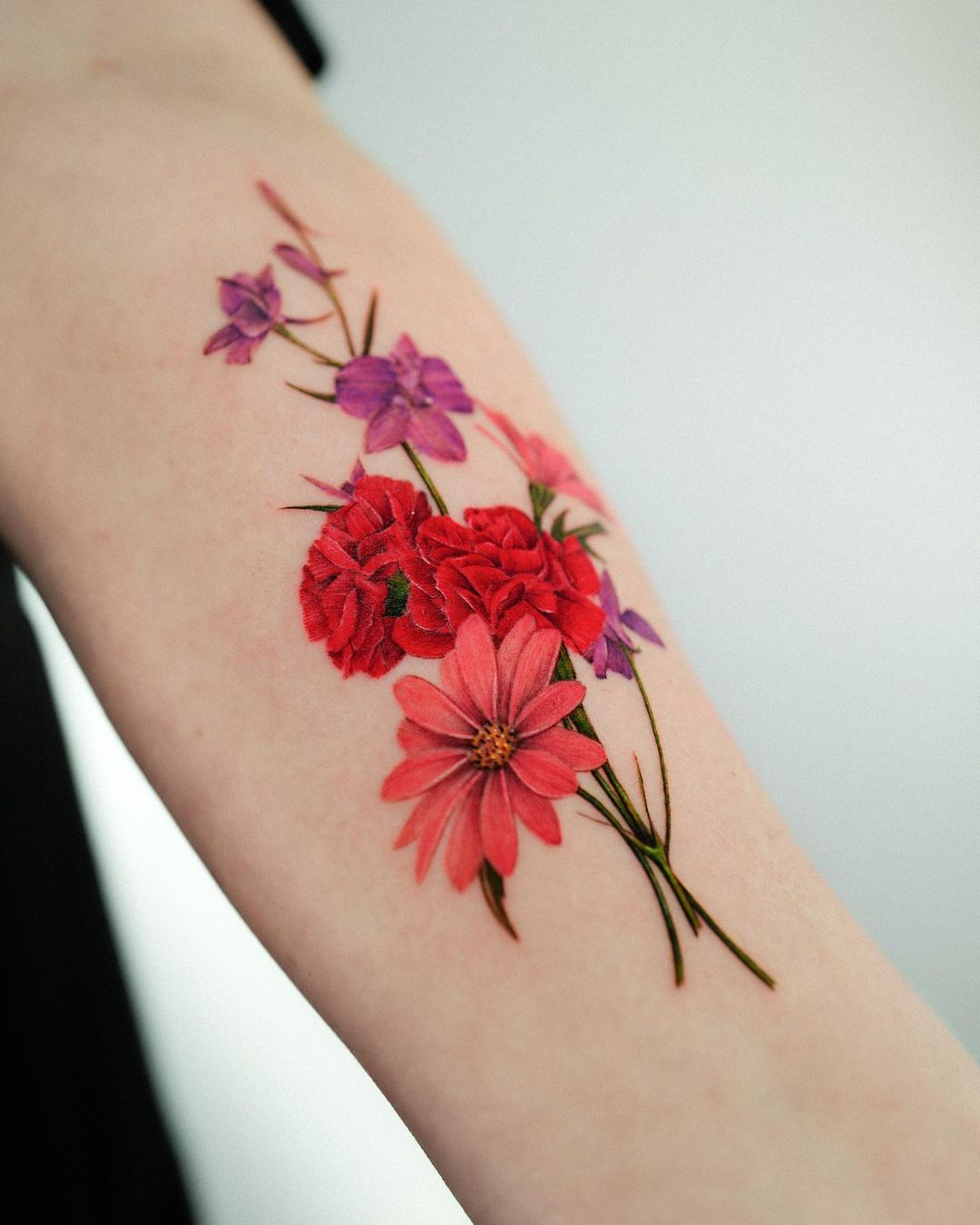 via @frommay_tat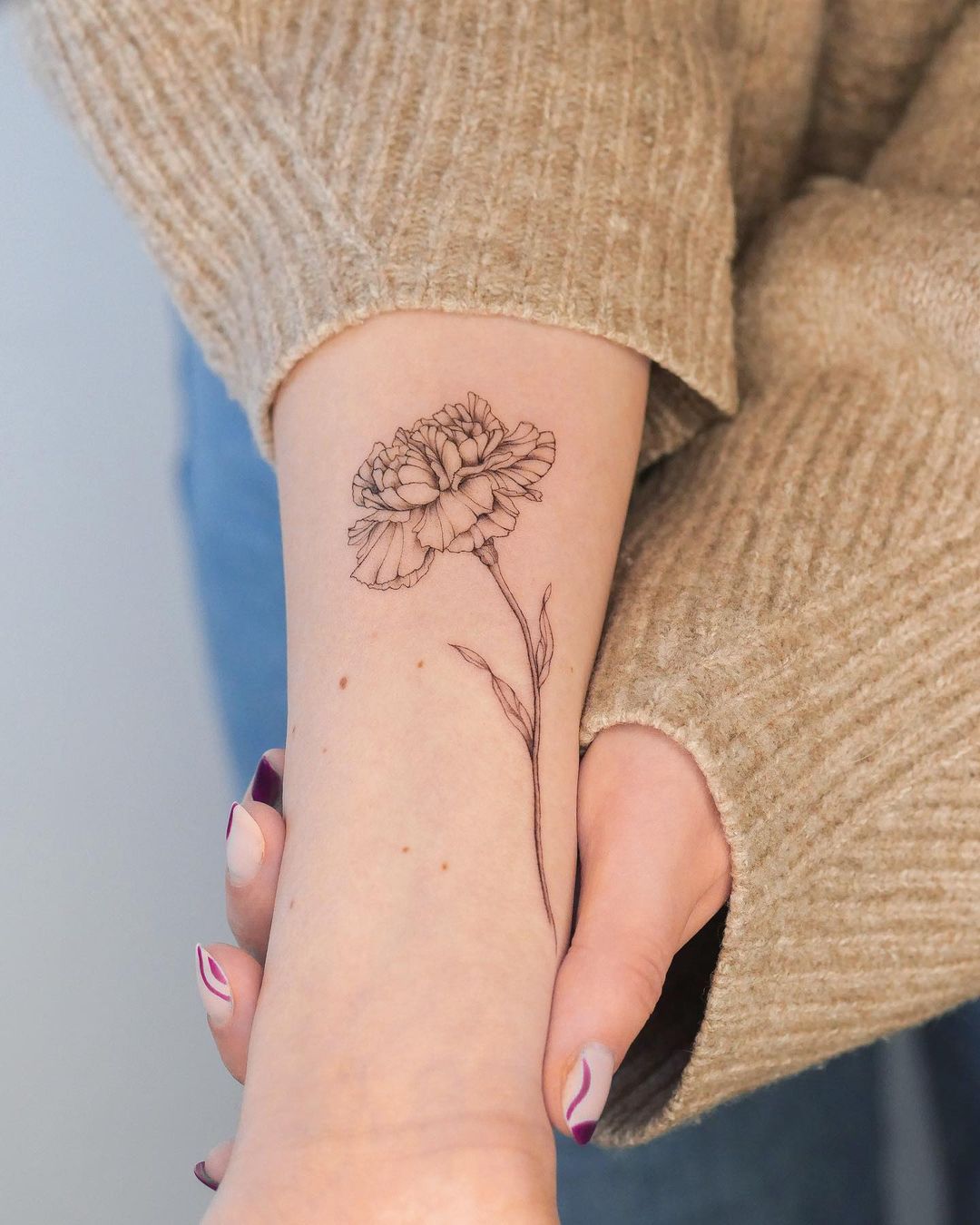 19. Daisy Tattoo
A simple flower tattoo is perfect for any look. The daisy tattoo meaning is associated with sincerity, respect, and love. Such a real flower tattoo will be appropriate in any setting, but it can also emphasize your special relationship with your loved one.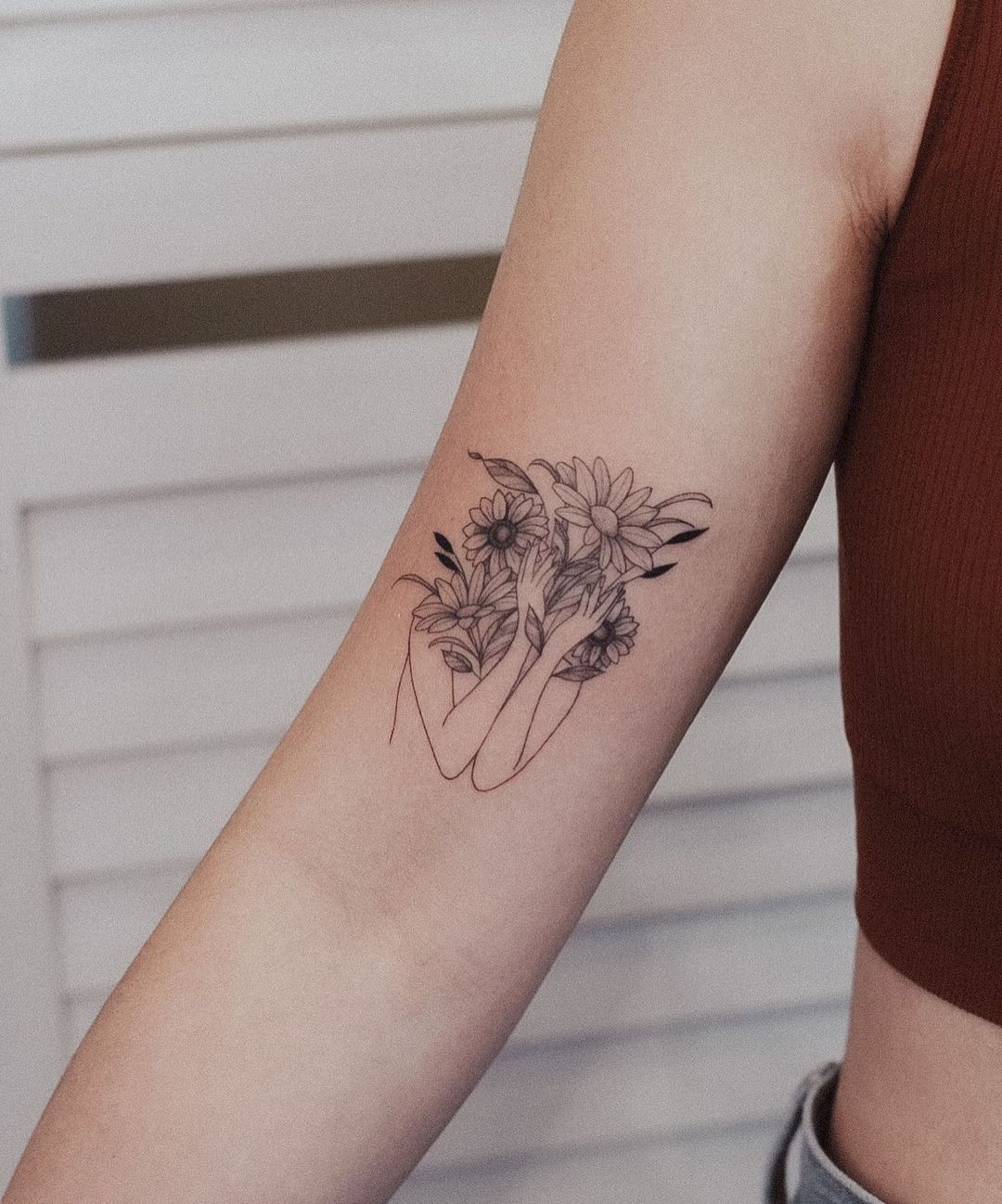 via @tavi_tattoo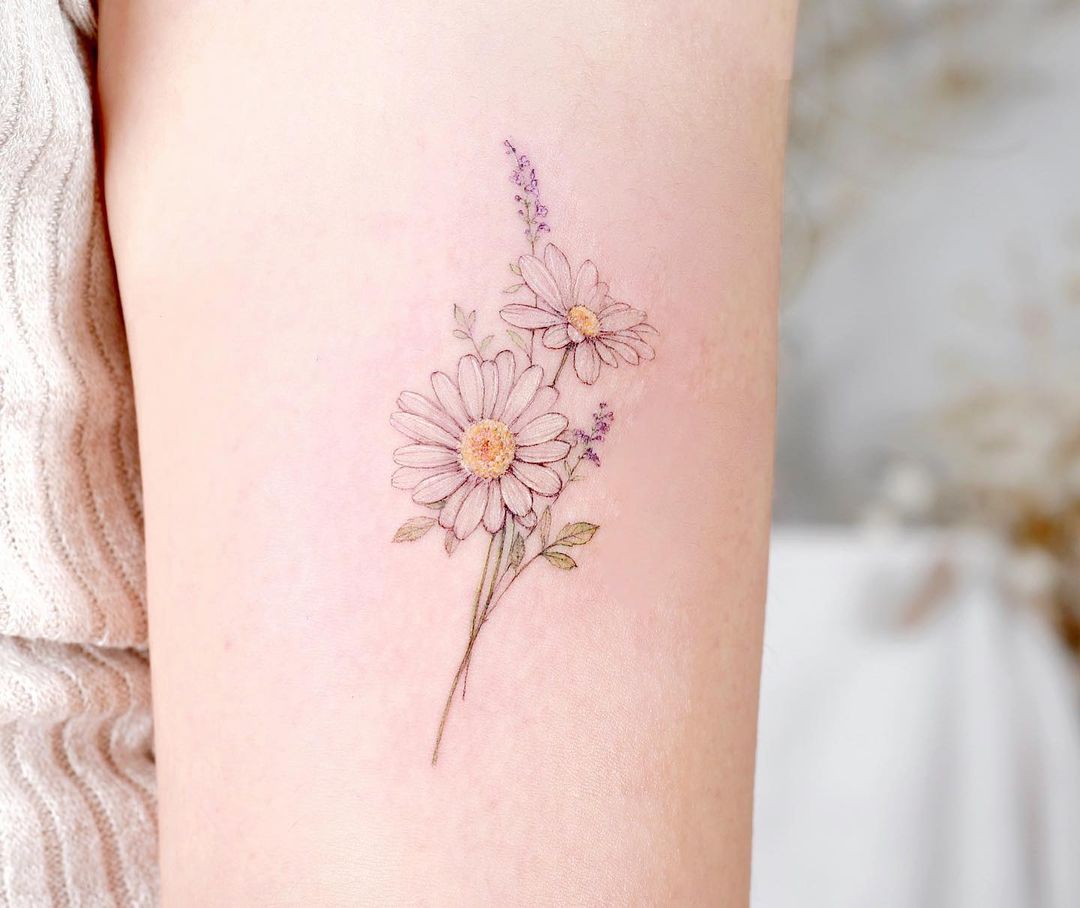 20. Forget Me Not Tattoo
As the name implies, the forget me not flower tattoo meaning is fidelity and absolute love. A small blue flower tattoo hides endless feelings. It is believed that such a tattoo design is best suited for the manifestation of eternal love and will bring good luck.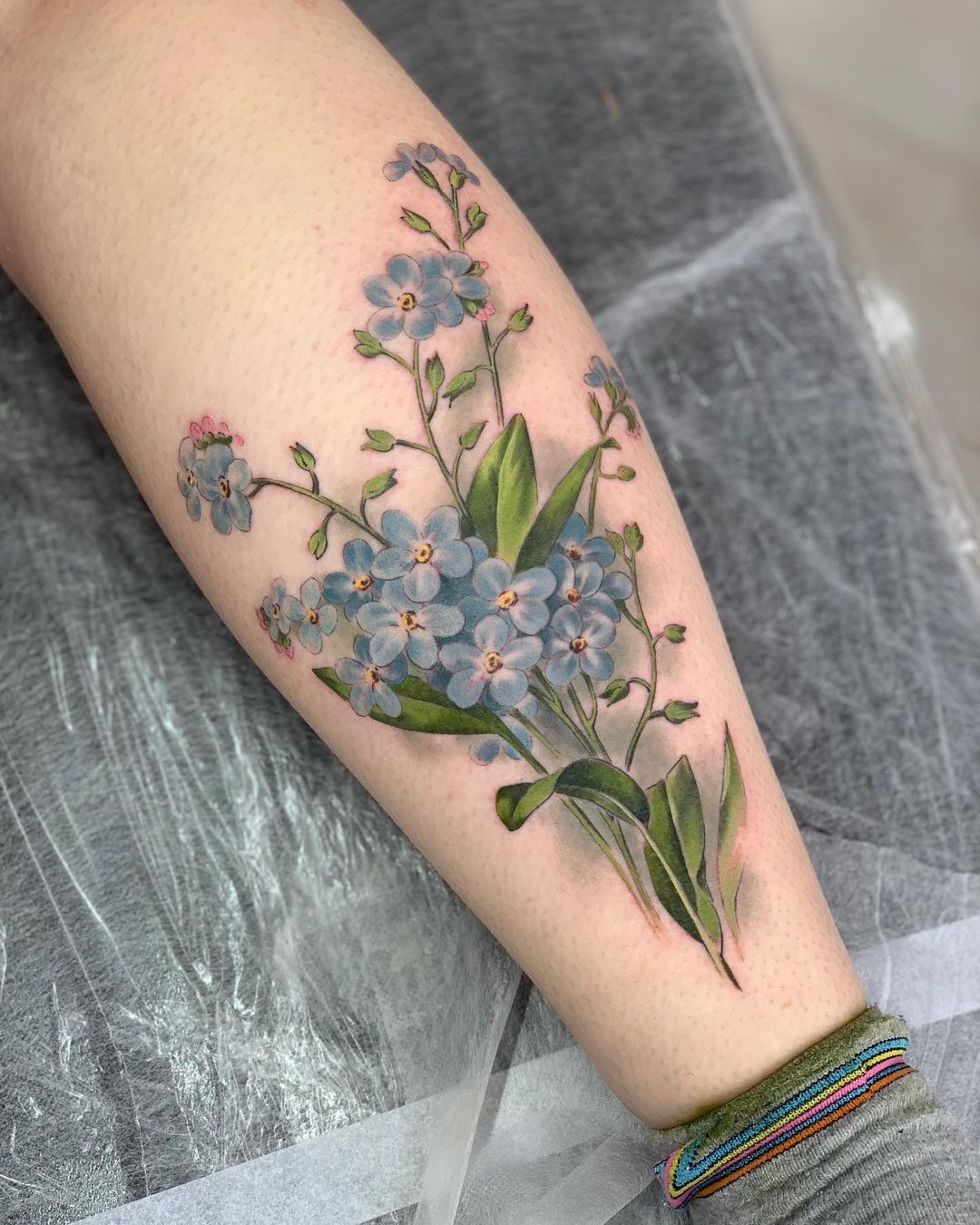 via @eliluciitattoos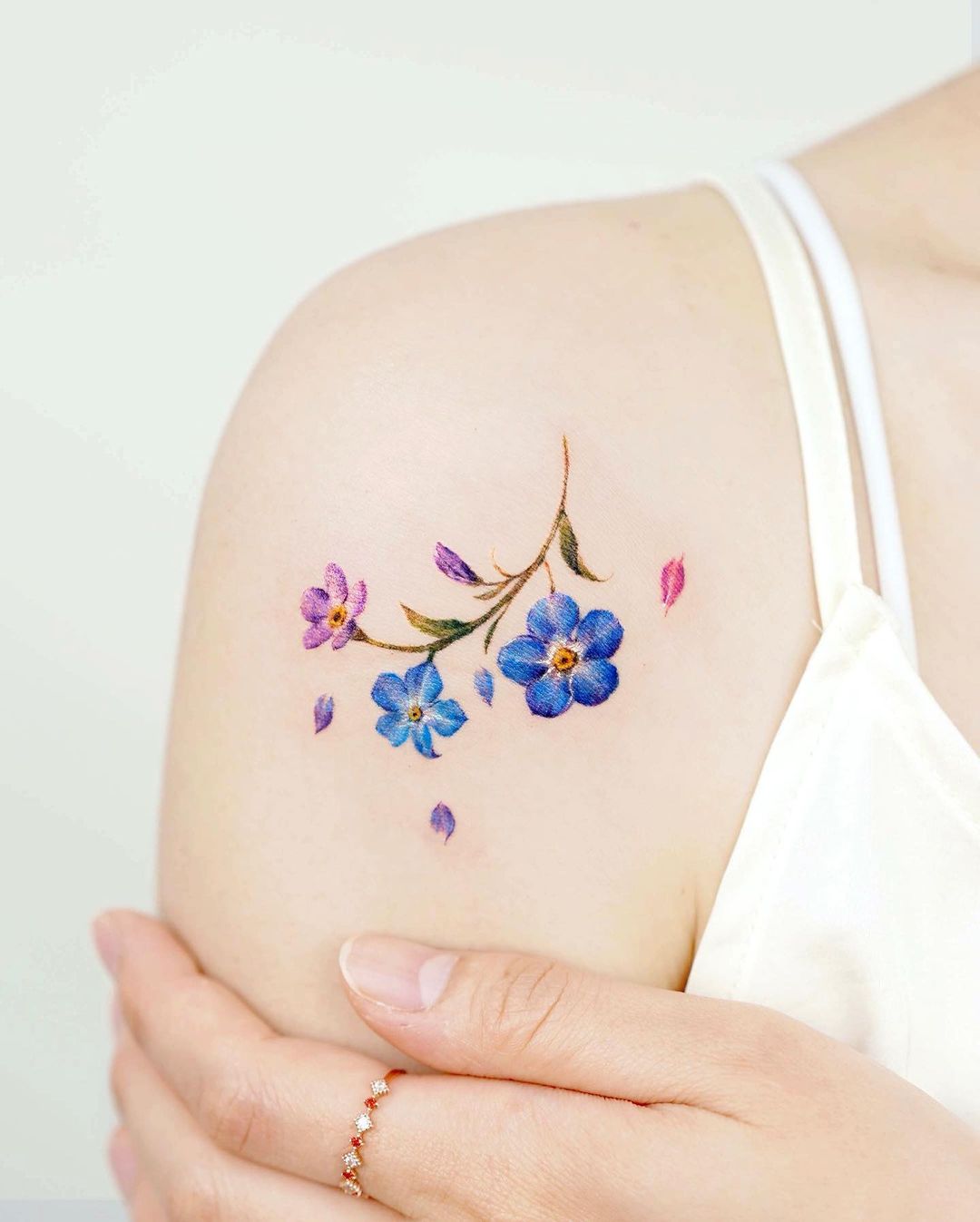 via @tilda_tattoo
21. Snake and Flower Tattoo
Among the diverse floral tattoos, a spectacular snake and flower tattoo stands out. Not all girls decide to make it, but this can also be a great tattoo idea for men.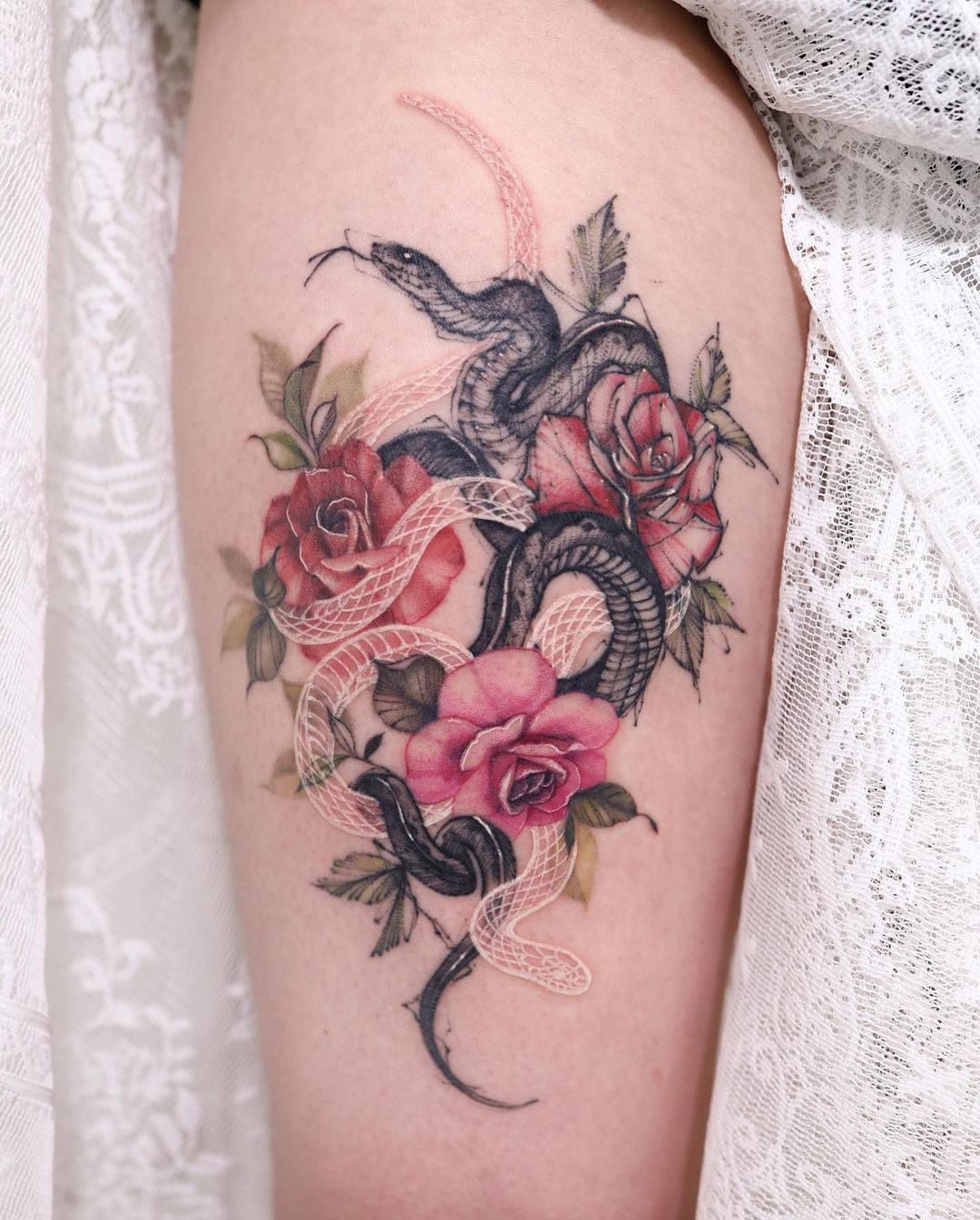 via @Tattooist_silo
In most cases, tattoo masters create rose flower tattoos. They symbolize violent feelings and temptation. But instead of roses, there are other flowers. For example, orchid tattoos with snakes are popular.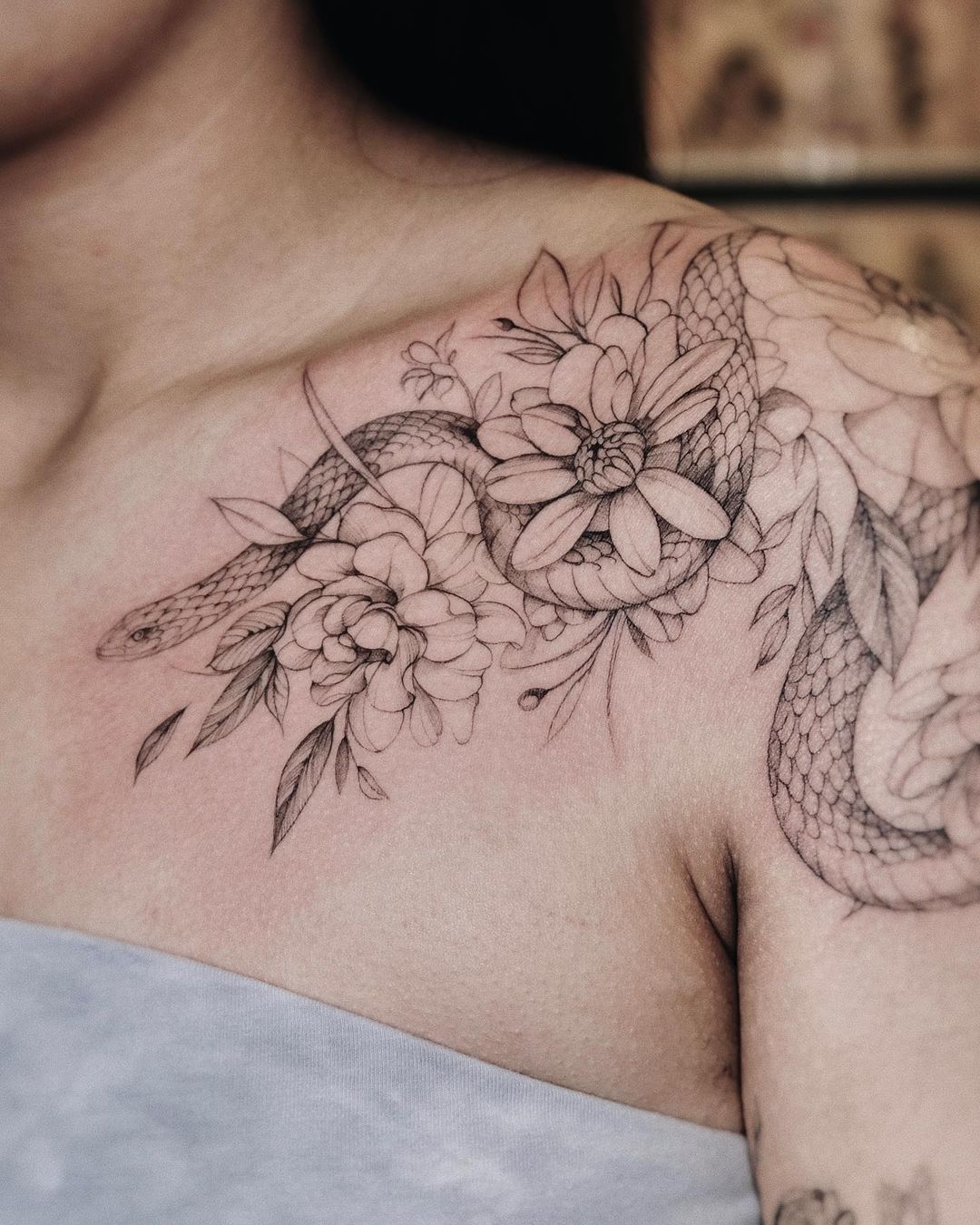 via @beeso_tat
22. Rose Tattoo
Rose tattoo designs are some of the most common ones. A colorful red rose tattoo symbolizes love and passion. The queen of flowers can be an independent element or part of a complex composition. Either way, it looks amazing, like the yellow rose tattoo on the shoulder.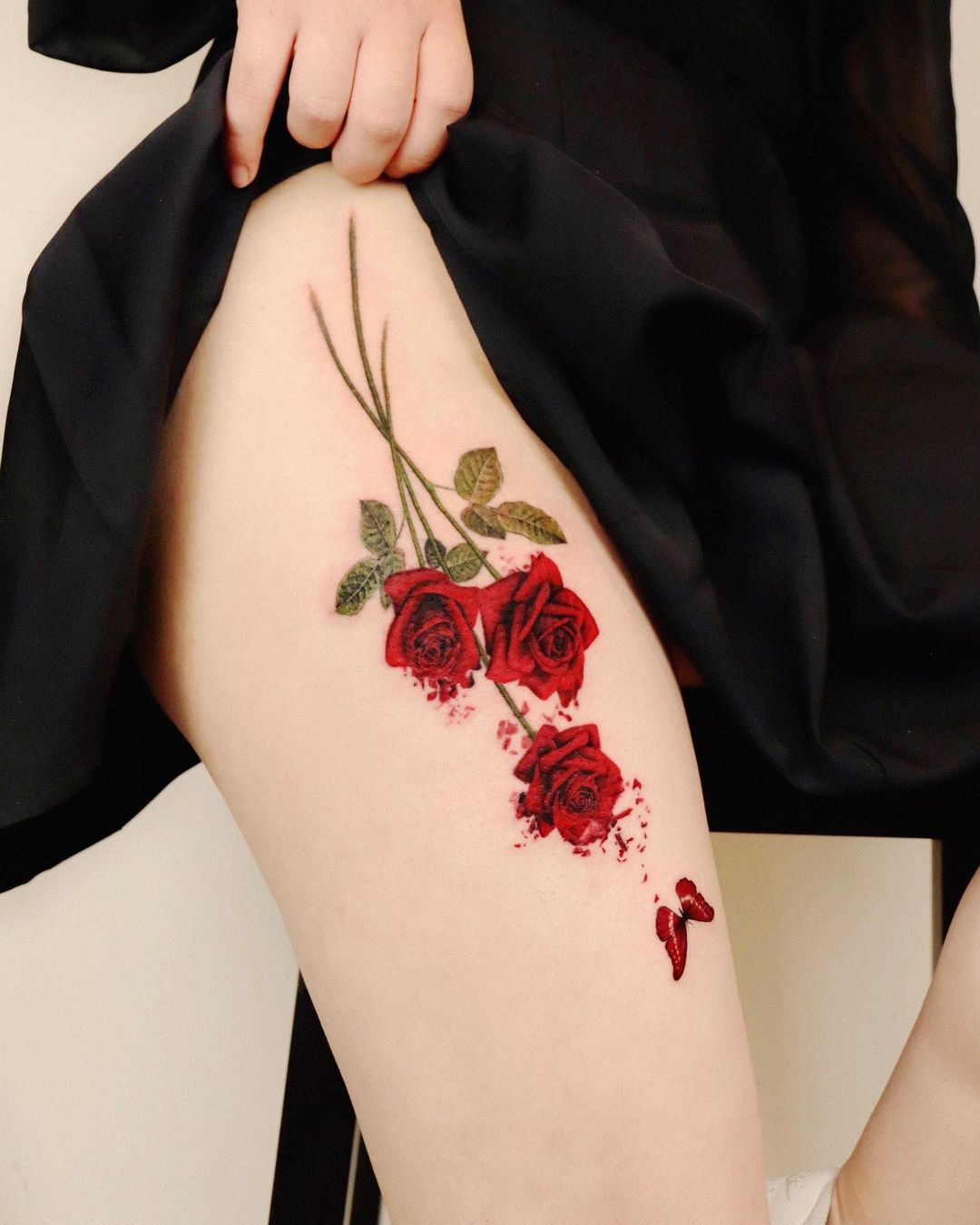 via @peria_tattoo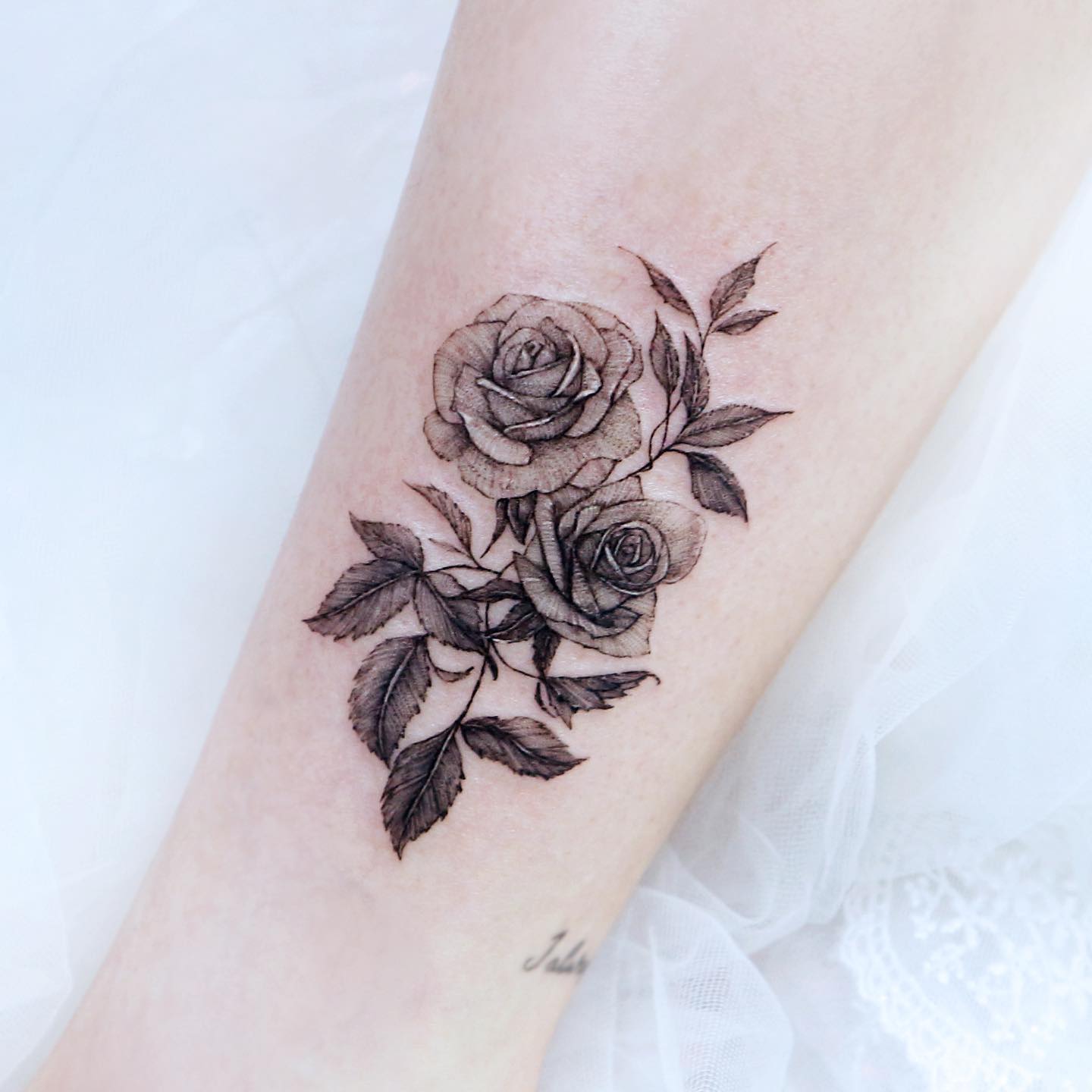 via @tattooist_yeori
23. Sunflower Tattoo
Want a unique flower tattoo? Choose shoulder sunflower tattoos! They are constant companions of cheerful and optimistic girls.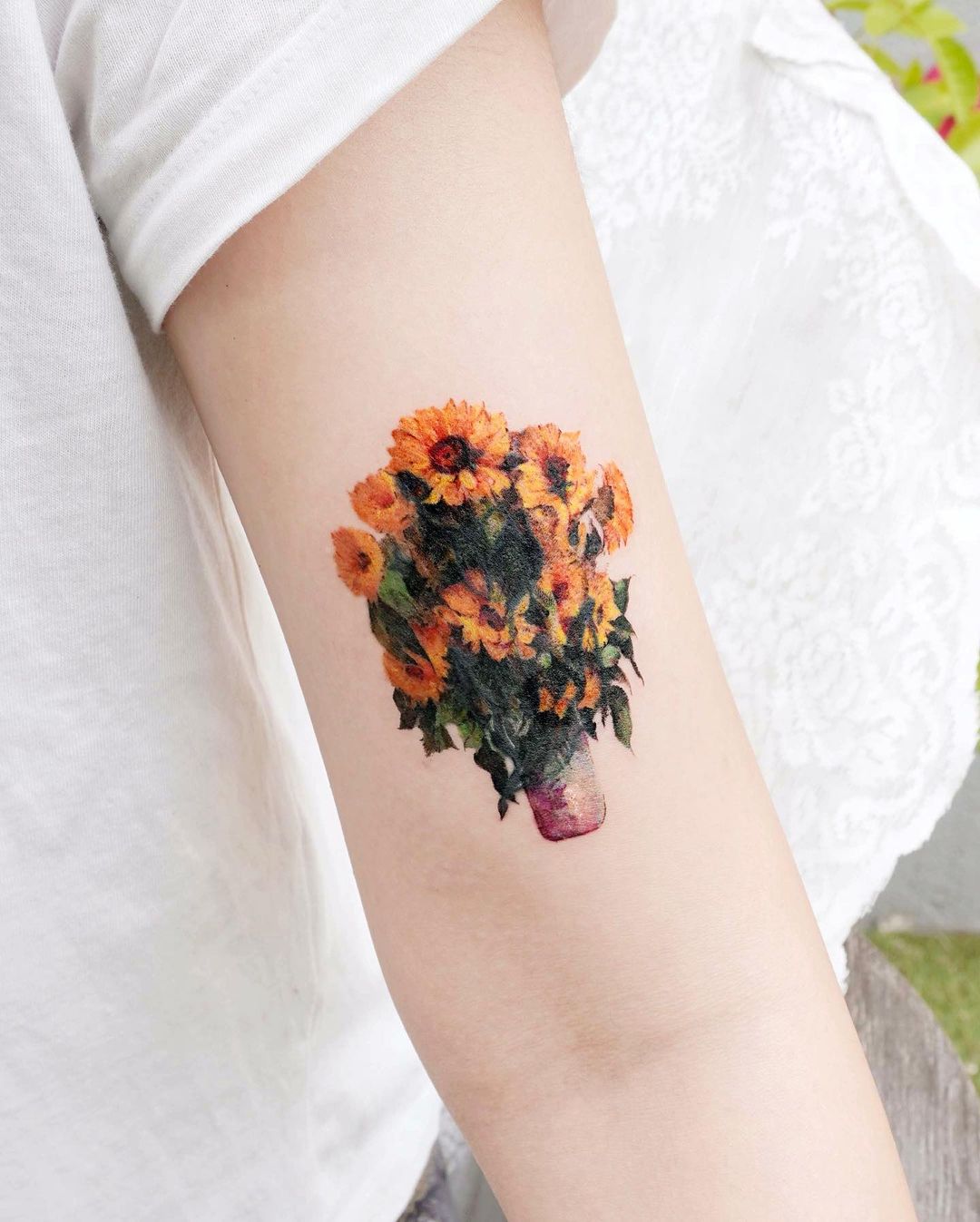 via @tilda_tattoo
The sunflower tattoo meaning is joy, luck, and success. If you want a lucky charm for yourself, don't delay!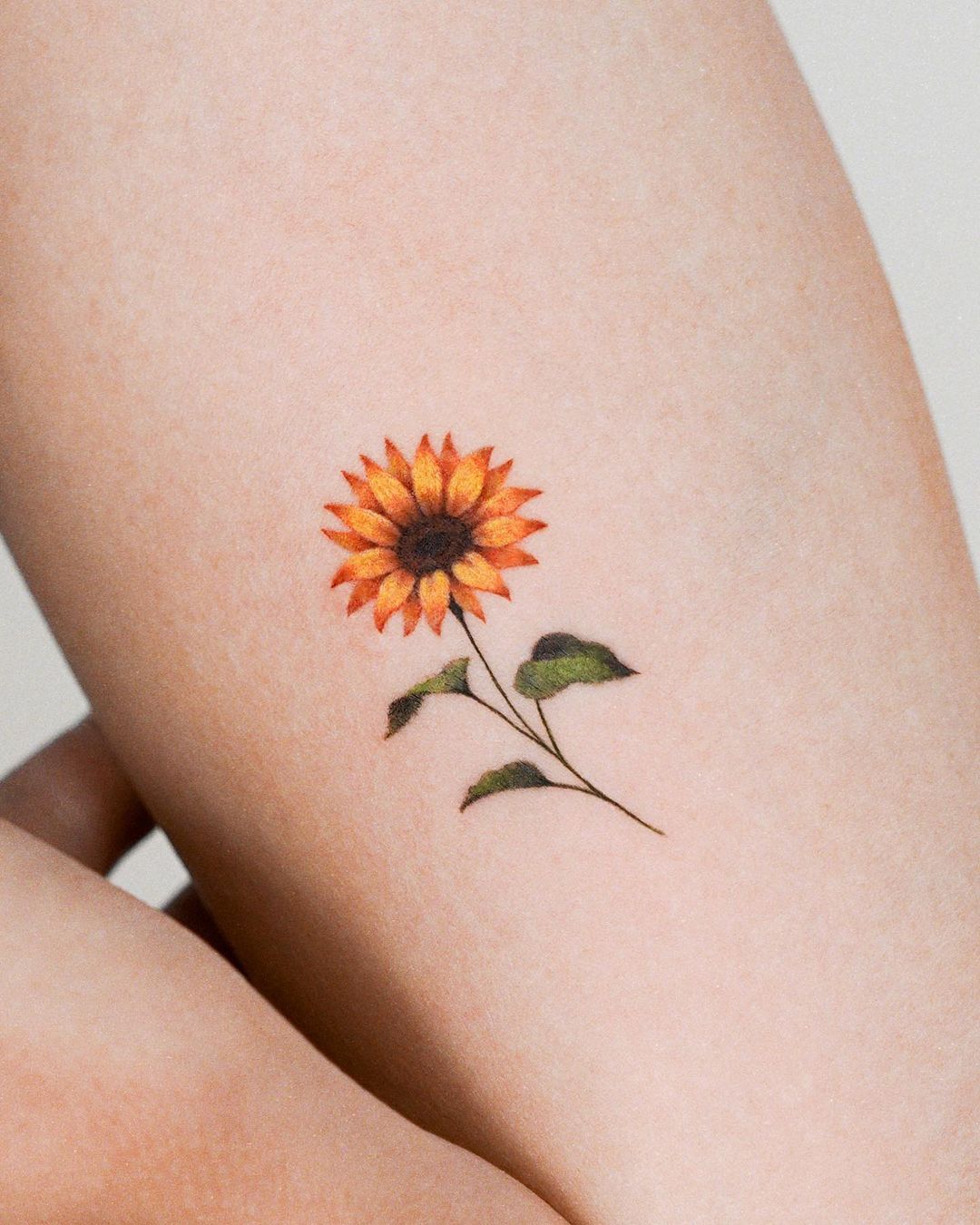 via @zihong_tattoo
24. Cherry Blossom Tattoo
Graceful Japanese cherry blossom tattoos are designed to remind others of the value and transience of life. Such flower tattoo meanings are love, rebirth, kindness, and light. If you are tired of sharp-angled geometric ornaments, stop at a sophisticated flower tattoo design.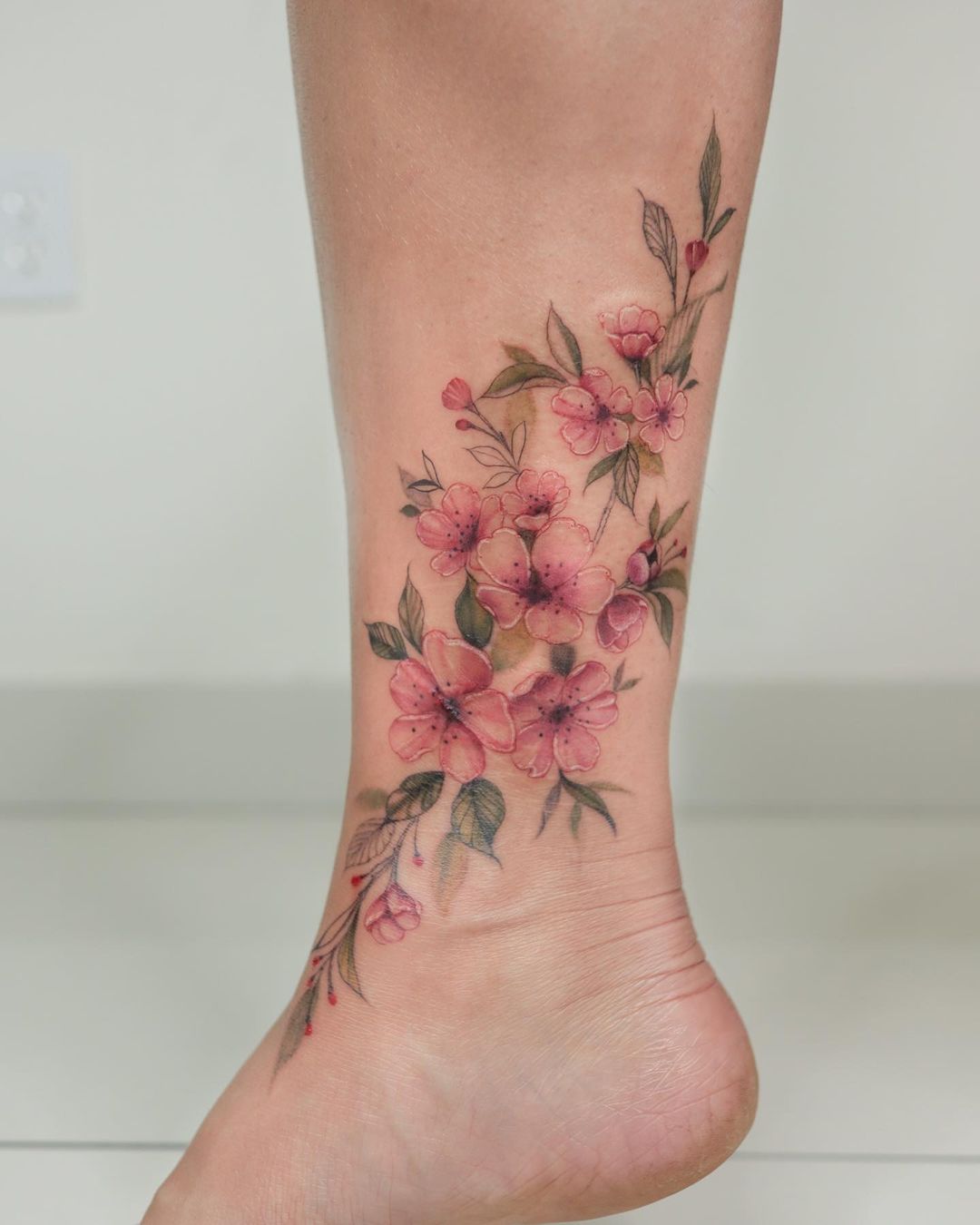 via @Tattooist_silo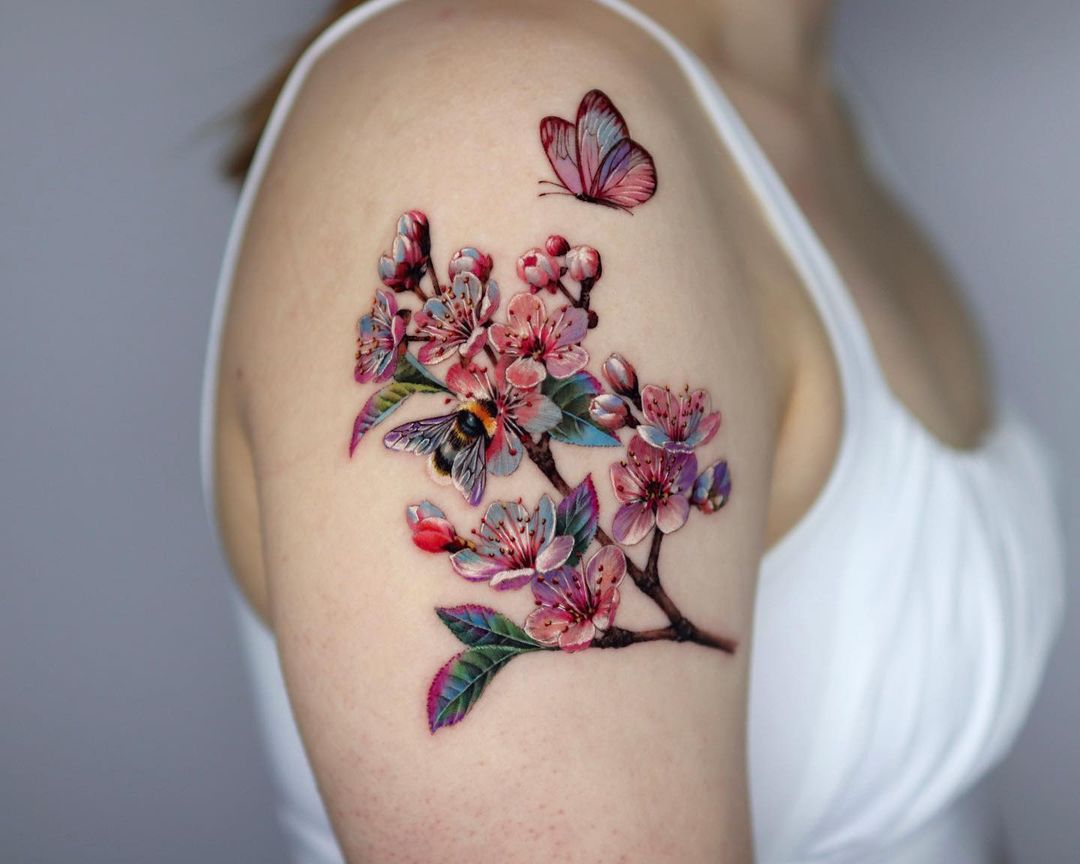 via @non_lee_ink
25. Sweet Pea Tattoo
Looking for the birth flower of April? Pay attention to the charming sweet peas!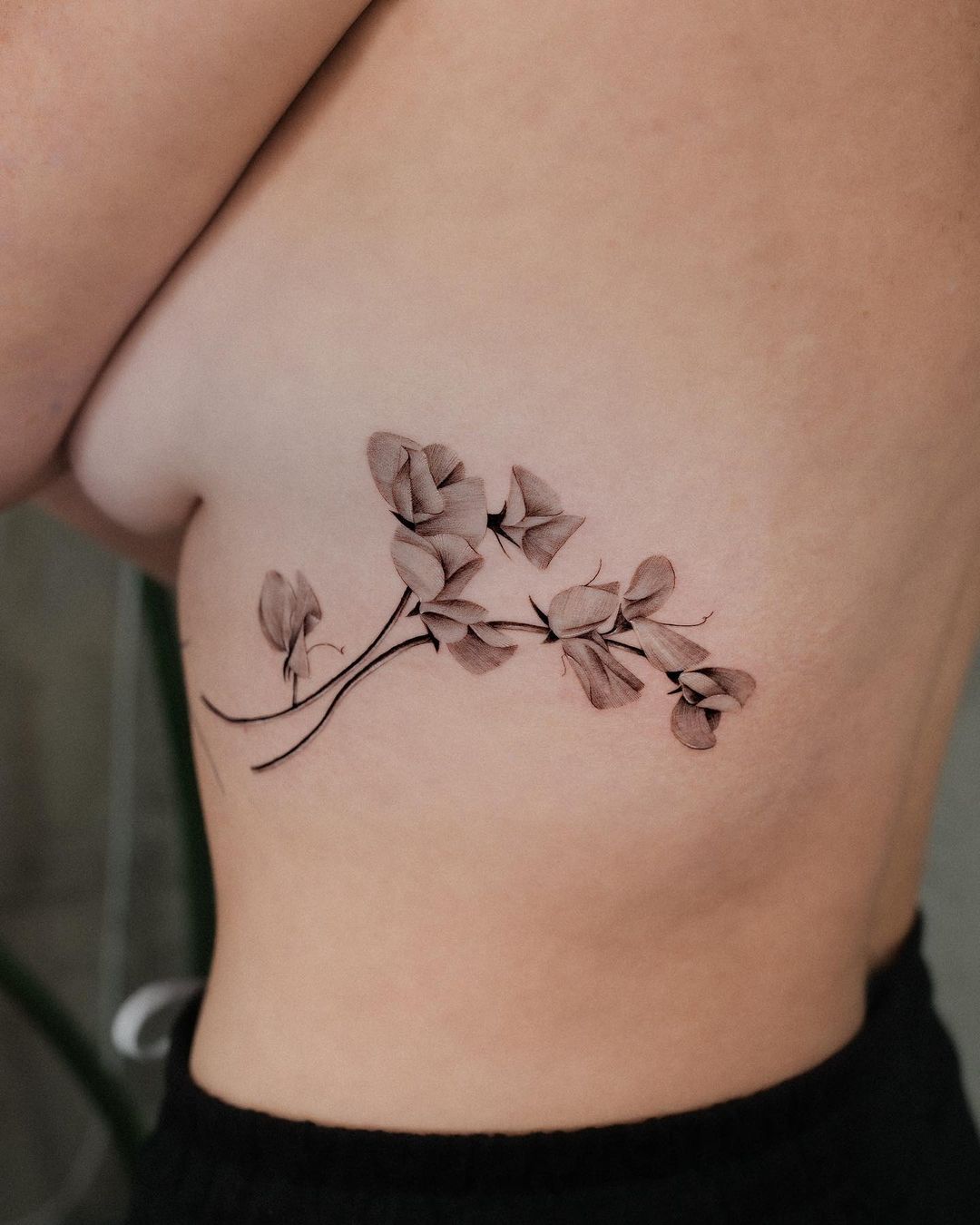 via @frommay_tat
What is a sweet pea flower tattoo meaning? It symbolizes tender relationships, memory, parting, and farewell. Sweet peas are often referred to as the best flower tattoo designs for the memory of loved ones.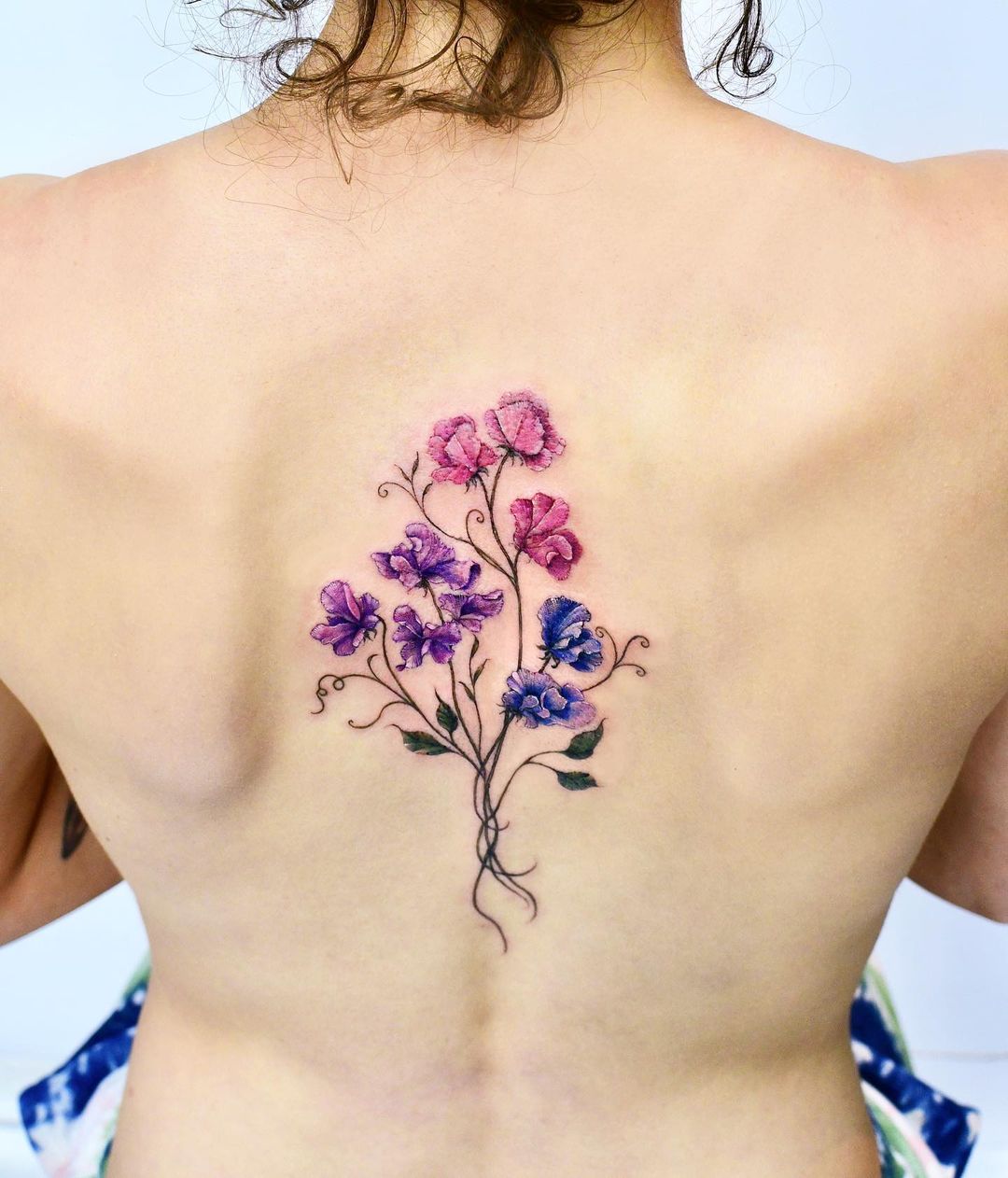 via @yerae_tt
26. Orchid Tattoo
A shoulder tattoo for a female with an orchid is a universal solution. It is believed that it has existed for many years. But after the 19th century, black orchid tattoos are closely associated with the mourning rituals of the Victorian era.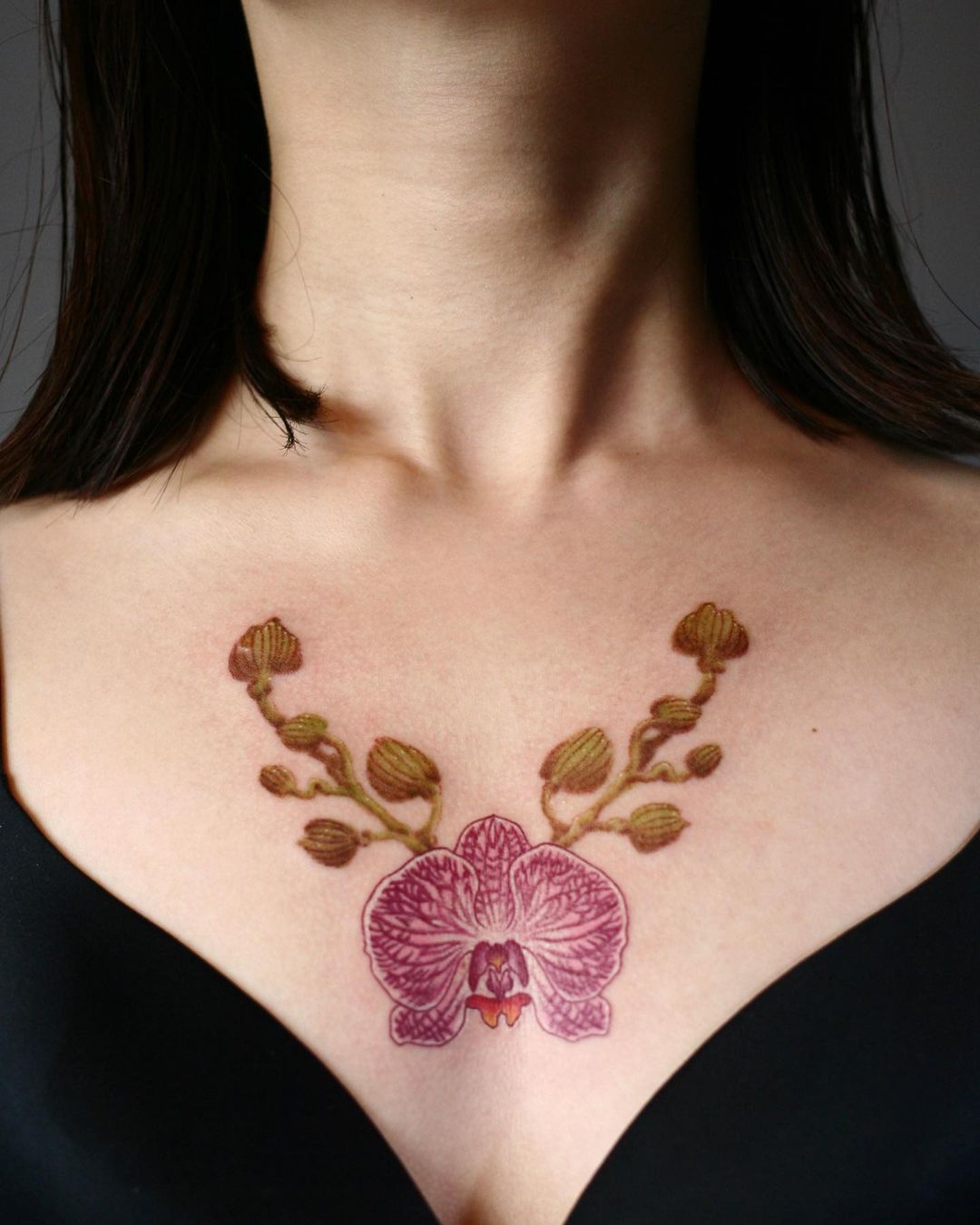 via @noyatattooz
Orchid tattoo meanings are the desire for self-development and freedom. It also reminds us of the value of every moment.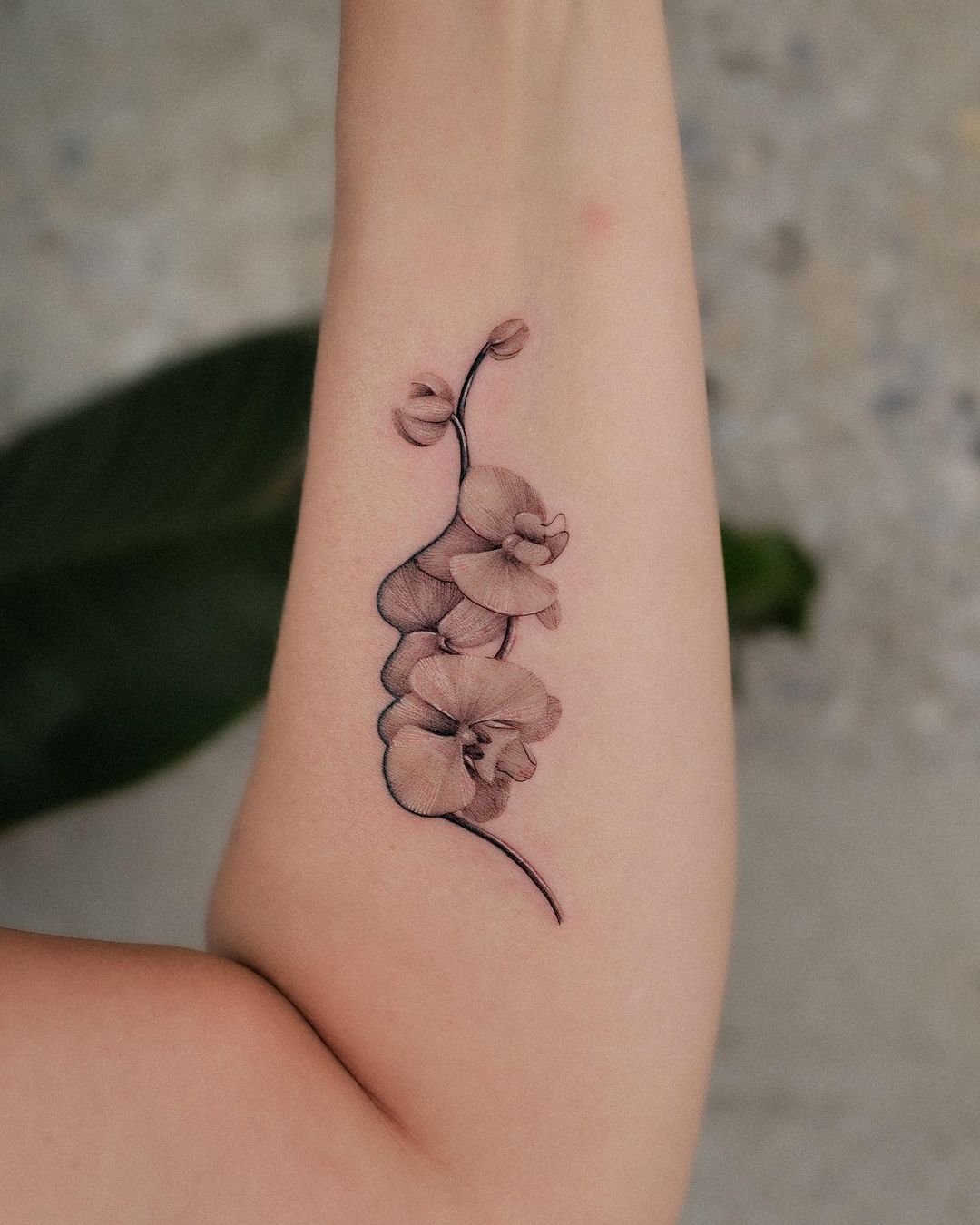 via @frommay_tat
27. Lavender Tattoo
The lavender tattoo is one of the most popular tattoo designs that exude powerful feminine energy. The purple flower tattoo is bright, and this "royal" color is associated with luxury and elegance.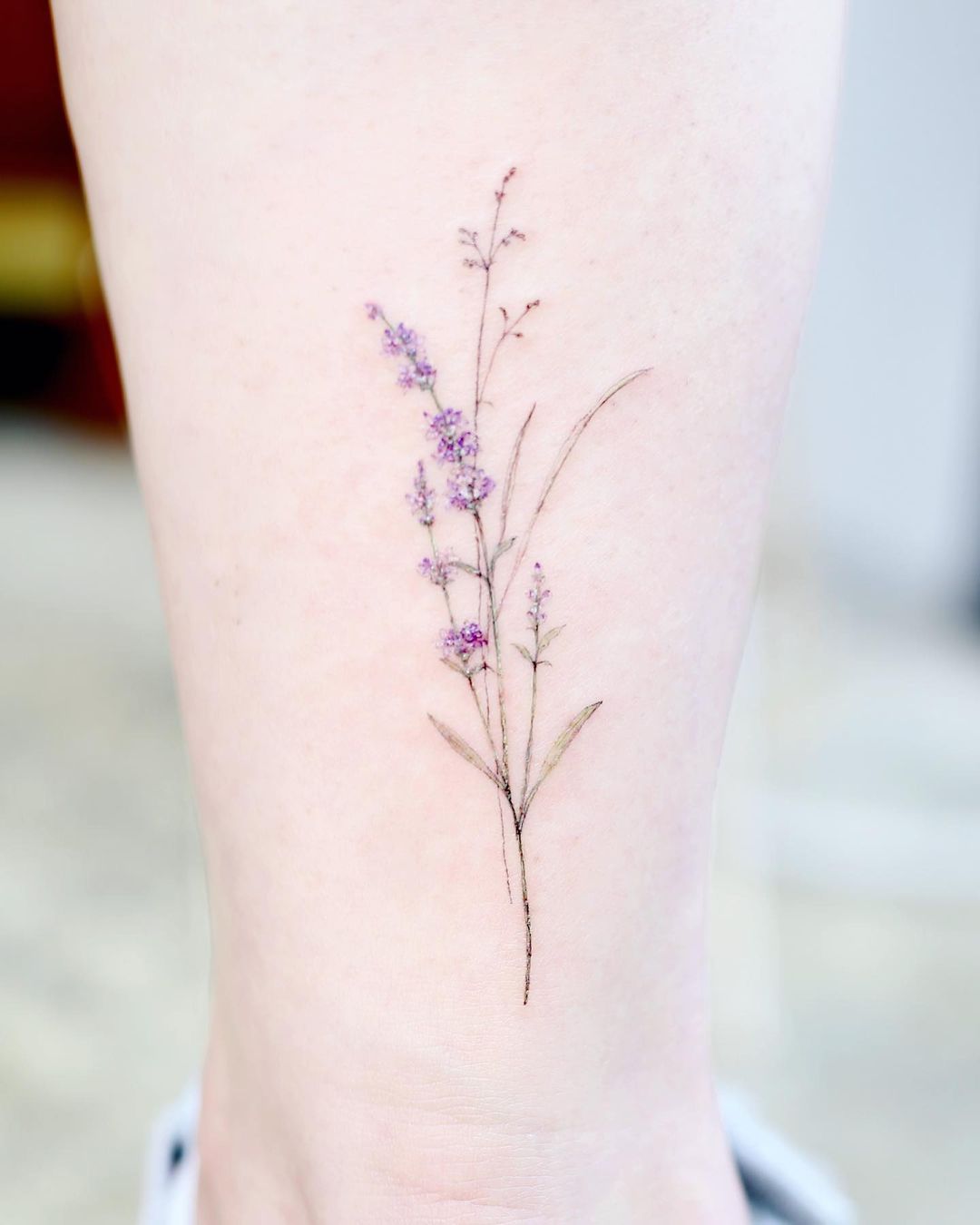 This flower tattoo meaning is refinement, sophistication, and inner strength. Very often, a plant tattoo is used as part of complex compositions.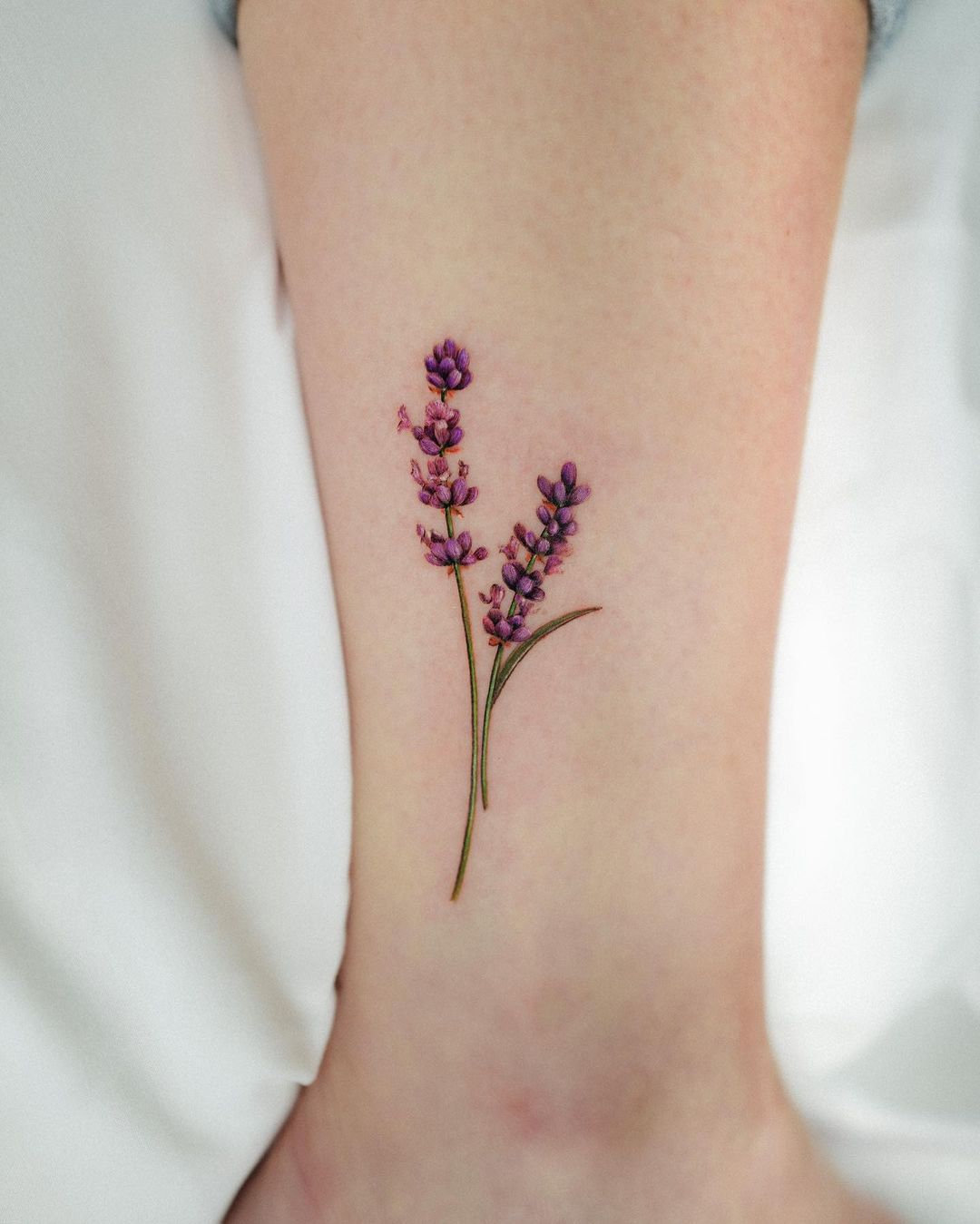 via @frommay_tat
28. Dainty Flower Tattoo
Feminine flower tattoos are distinguished by their sophistication and often complex lines. Laconic drawings are often placed on the neck, shoulder, and wrist. The ankle tattoo design is also growing in popularity.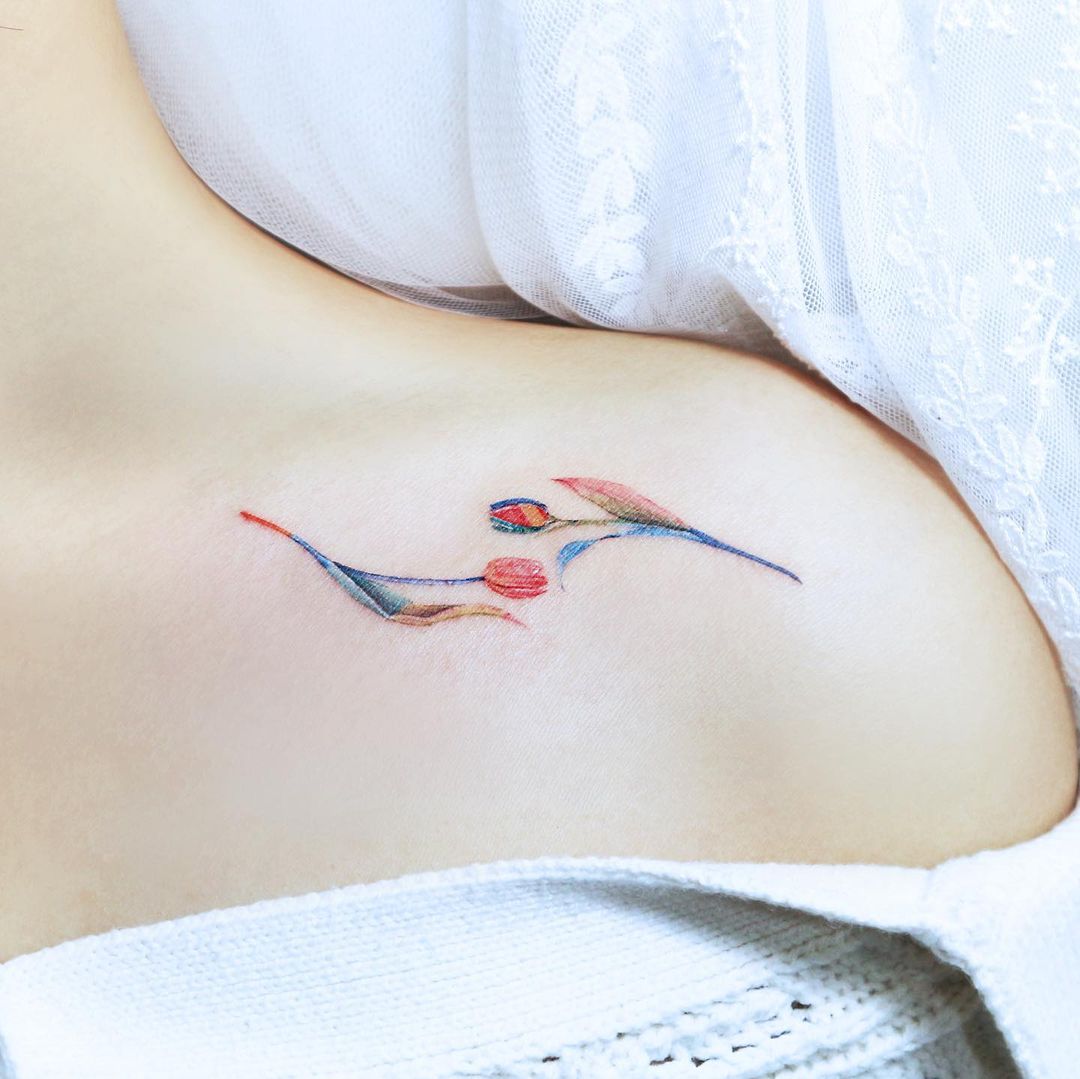 via @tattooist_yeori
The choice of drawing depends only on the desires of the girl and the meaning that she wants to give it. Graceful red, black, and white flower tattoos can complement any image and become its bright accent.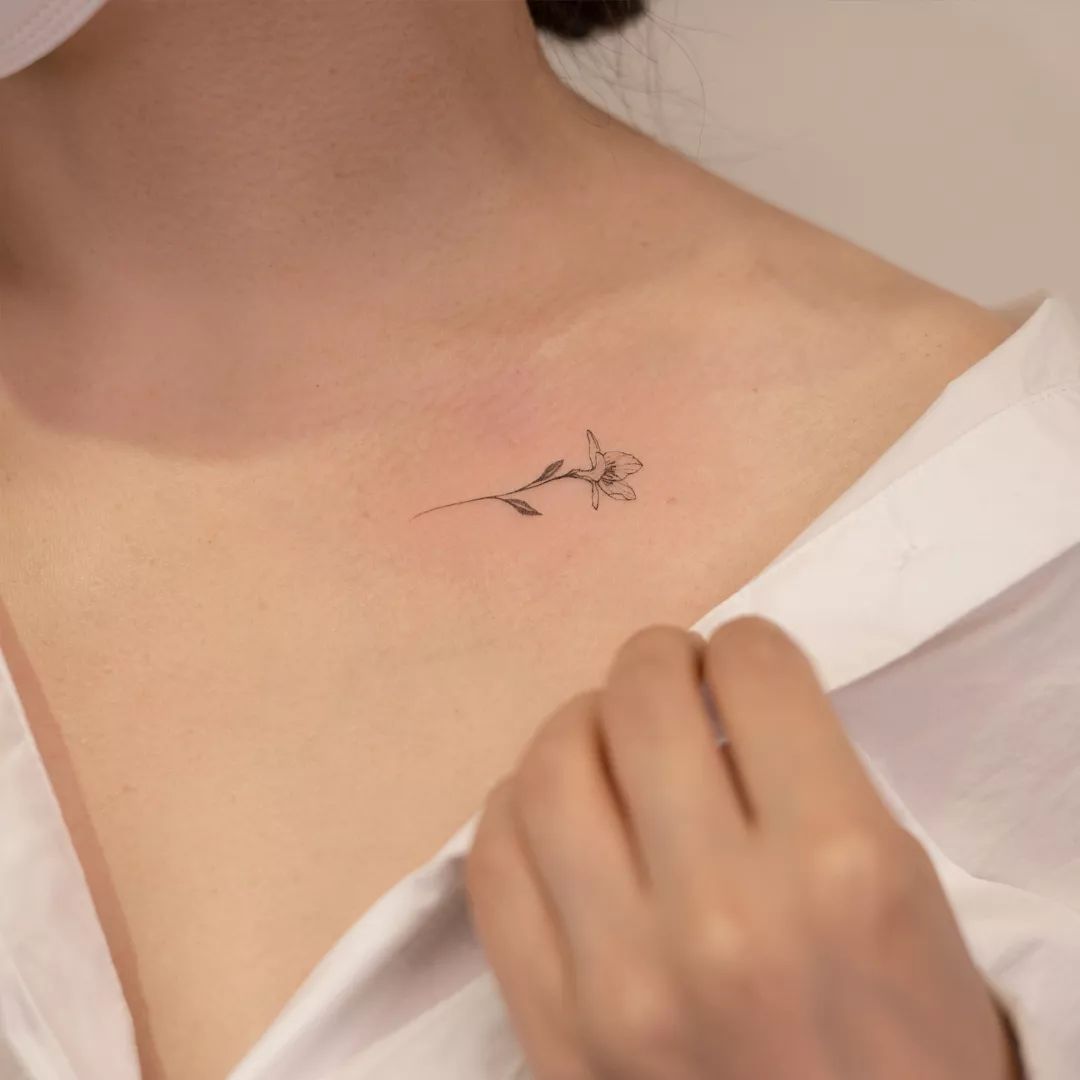 via @handitrip
29. Small Flower Tattoo
Tiny tattoo designs are the best start for girls who are about to do their first drawing. It can be a single flower or a combination of several along with additional elements.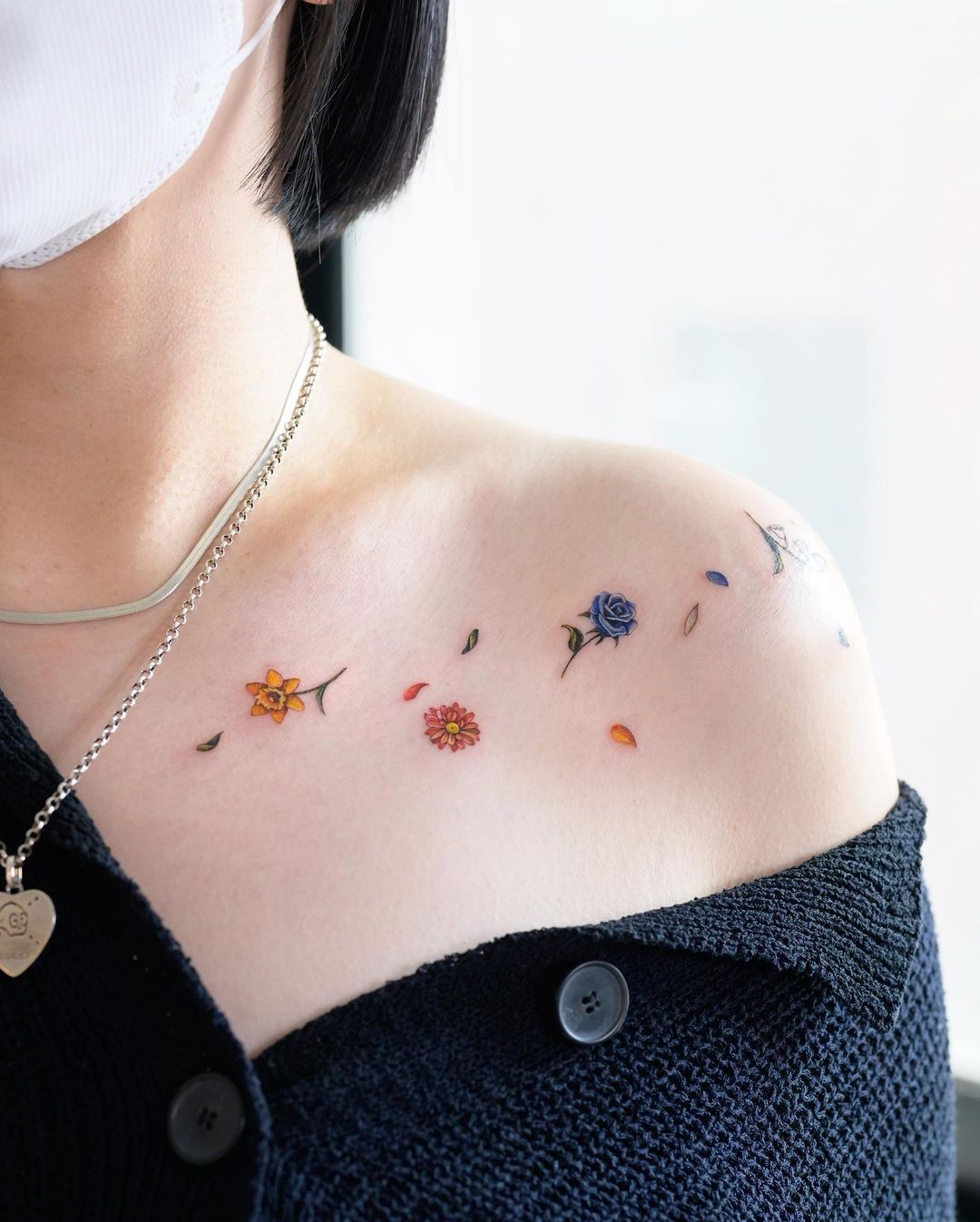 via @jooyoung_tt
Very often, masters are asked for a pink rose tattoo. This flower is associated with love and passion and looks good on any part of the body. The birth flower tattoo, which has a deep meaning, is also considered stylish.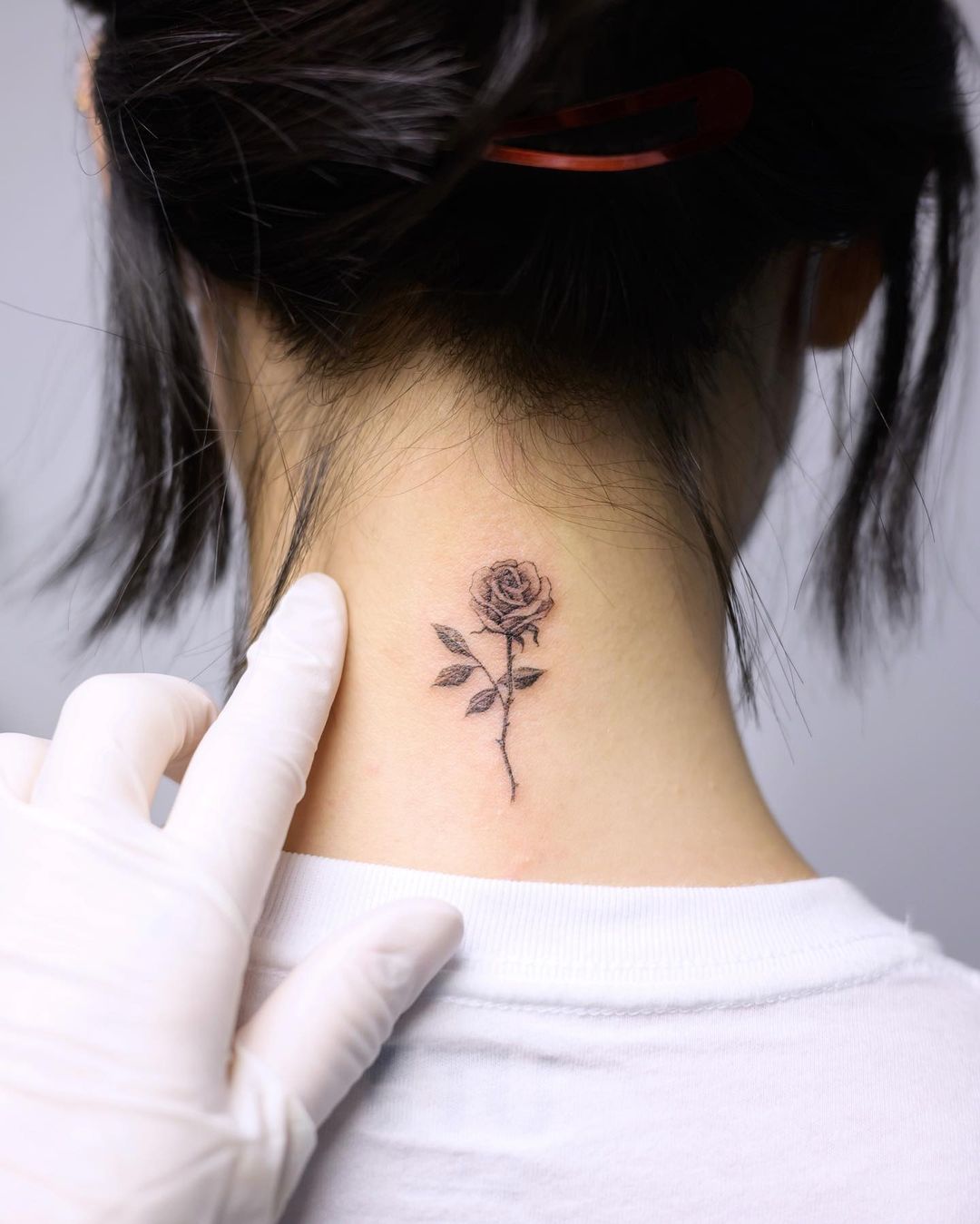 via @jooyoung_tt
30. Butterfly and Flower Tattoo
Among meaningful tattoos, a special place is given to images with butterflies and flowers. This classic combination will suit every girl. A neat butterfly tattoo can be applied on the shoulder or wrist, in the area of ​​the shoulder blade.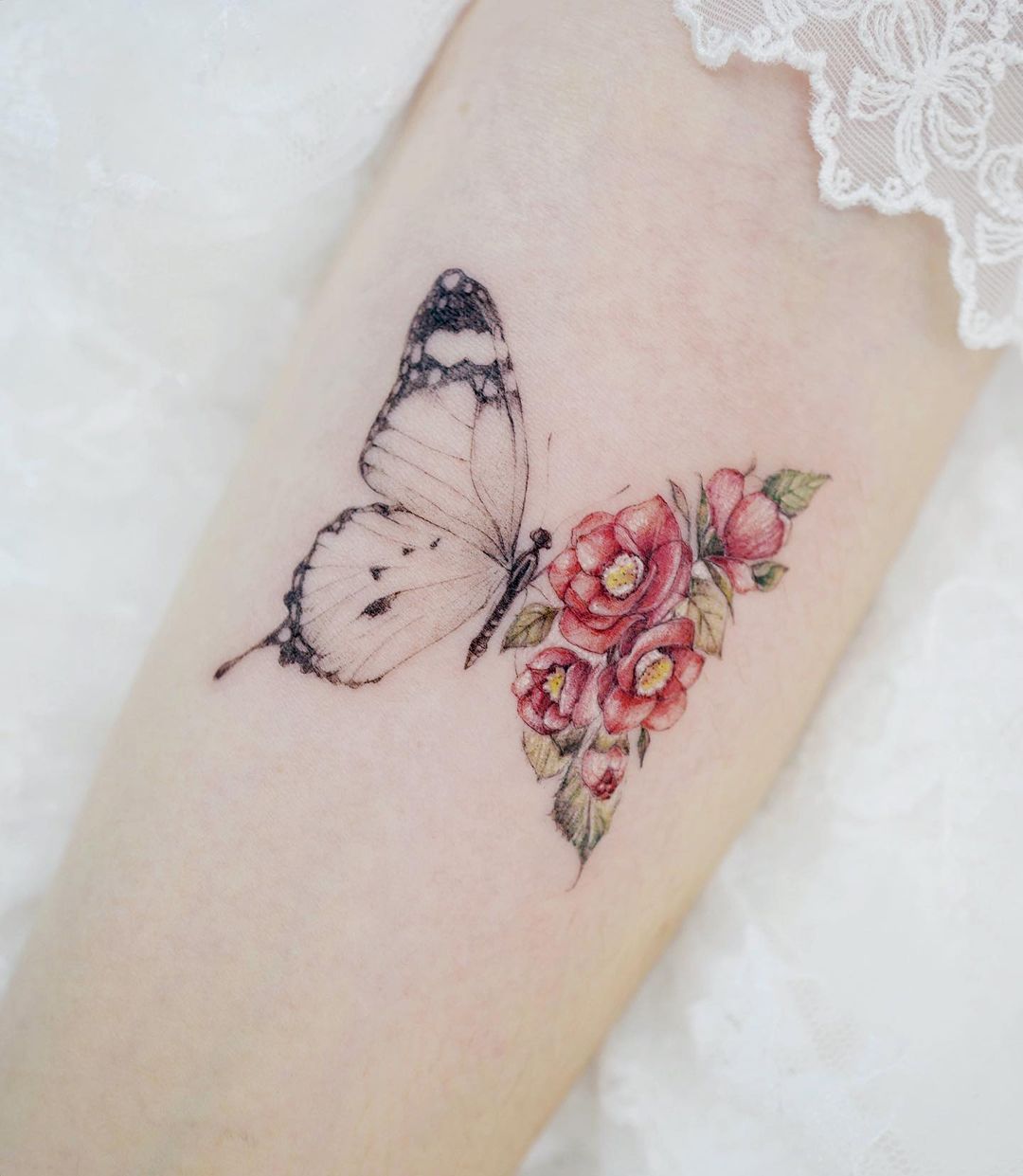 via @tattooist_banul
Floral patterns also have numerous meanings. Popular tattoo designs with flowers and butterflies perfectly emphasize femininity and individuality and speak of tenderness and love for nature.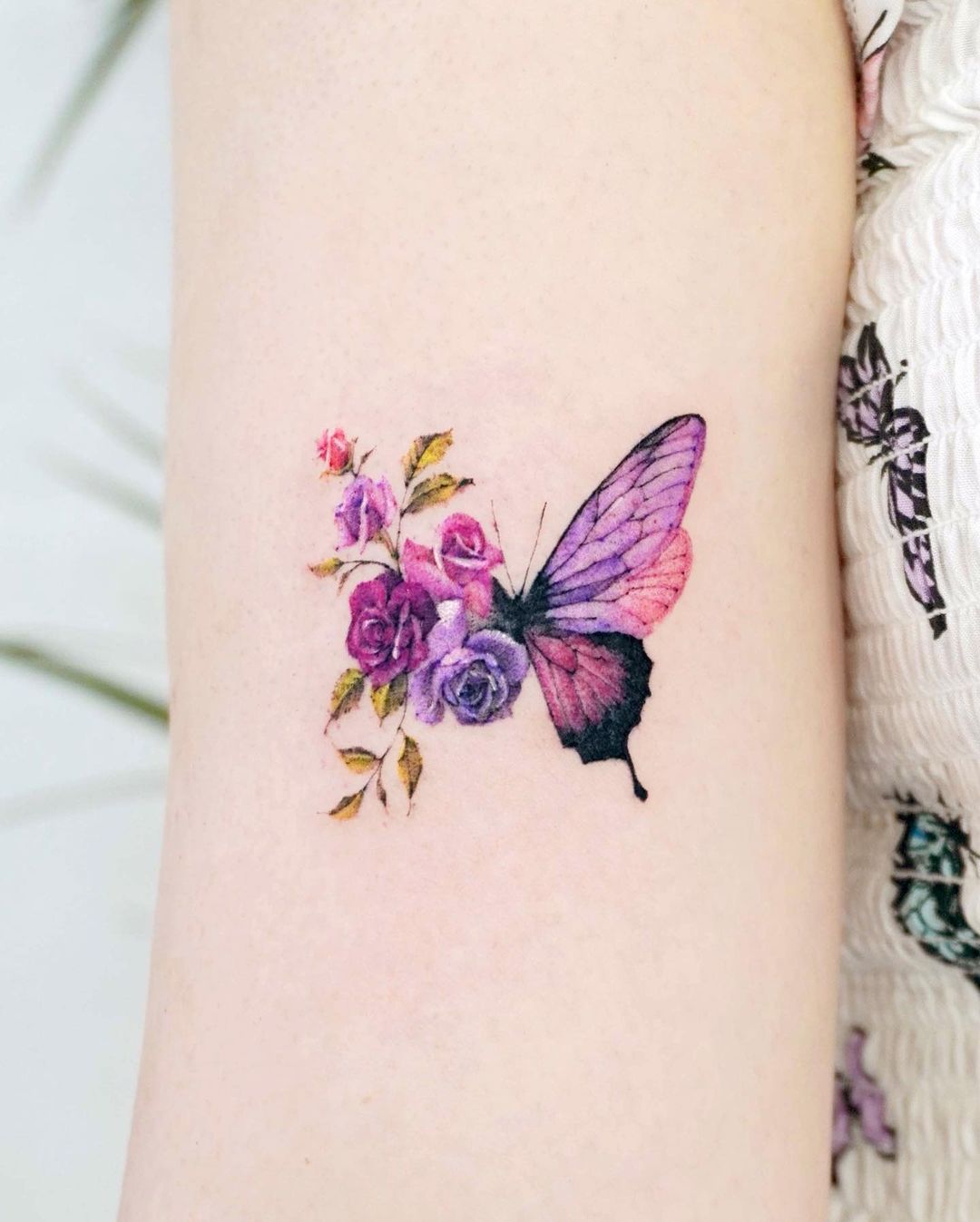 via @tilda_tattoo
31. Geometric Flower Tattoo
An original geometric tattoo can emphasize your individuality. Images of flowers in this format look aesthetically pleasing and can become different symbols.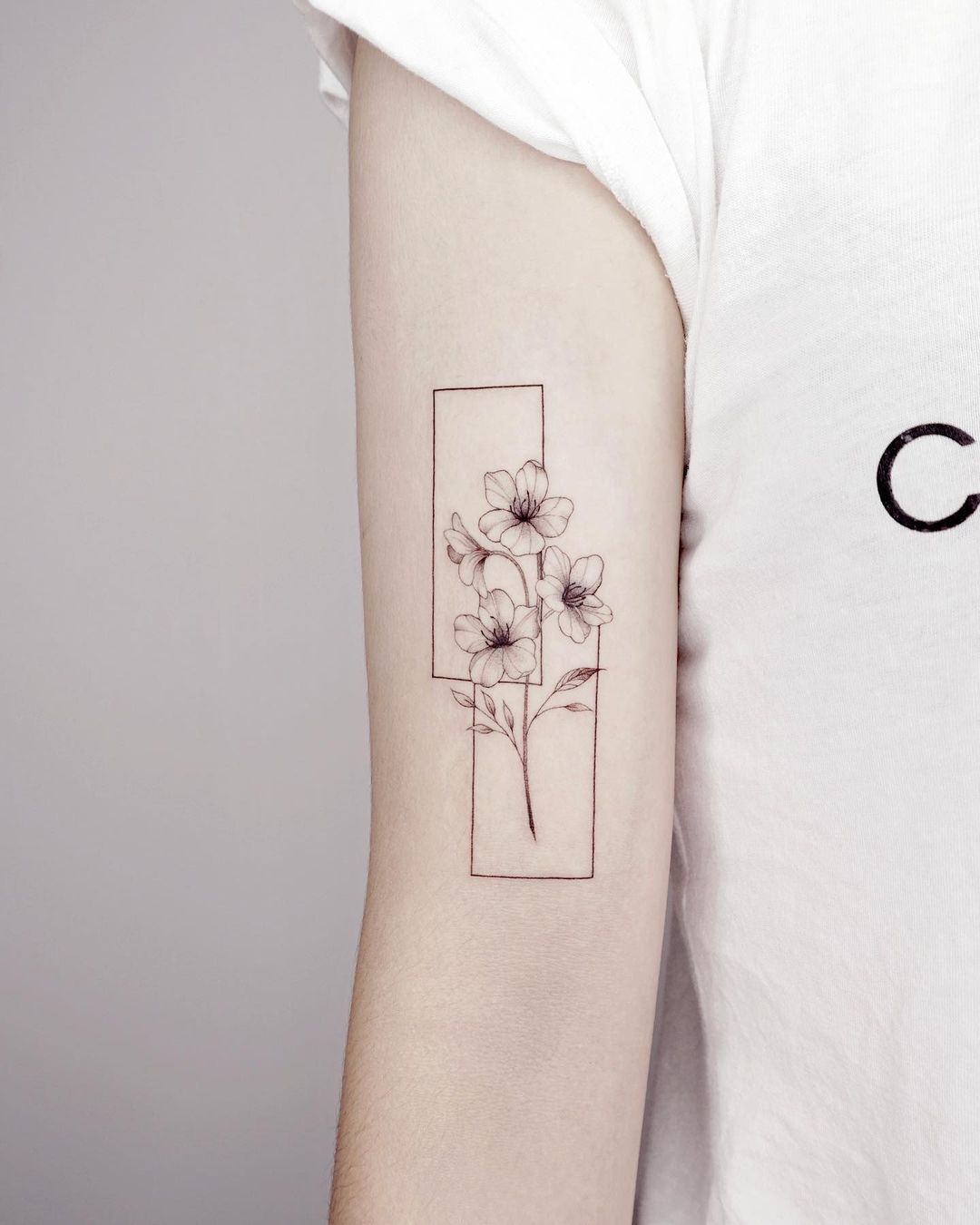 via @tattooist.ly
The most prominent tattoo trends are intricate patterns with circles, squares, and triangles. Combining together, they form interesting color tattoos that adorn girls from around the world.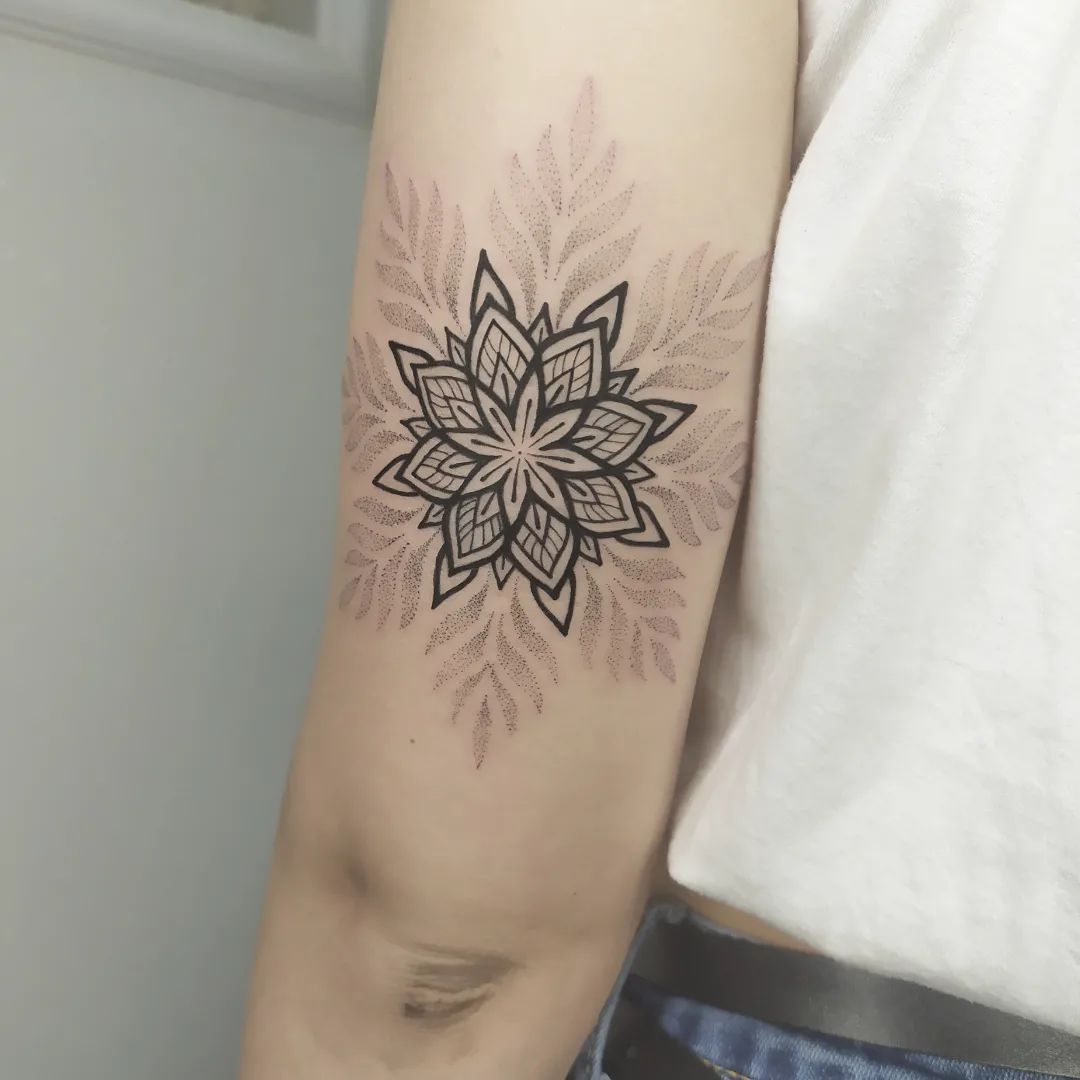 via @lasantatattoogc
32. Flower Heart Tattoo
Beautiful floral designs perfectly complement such an element as a heart. Combining into a single composition, they symbolize love, romance, passion, and unity.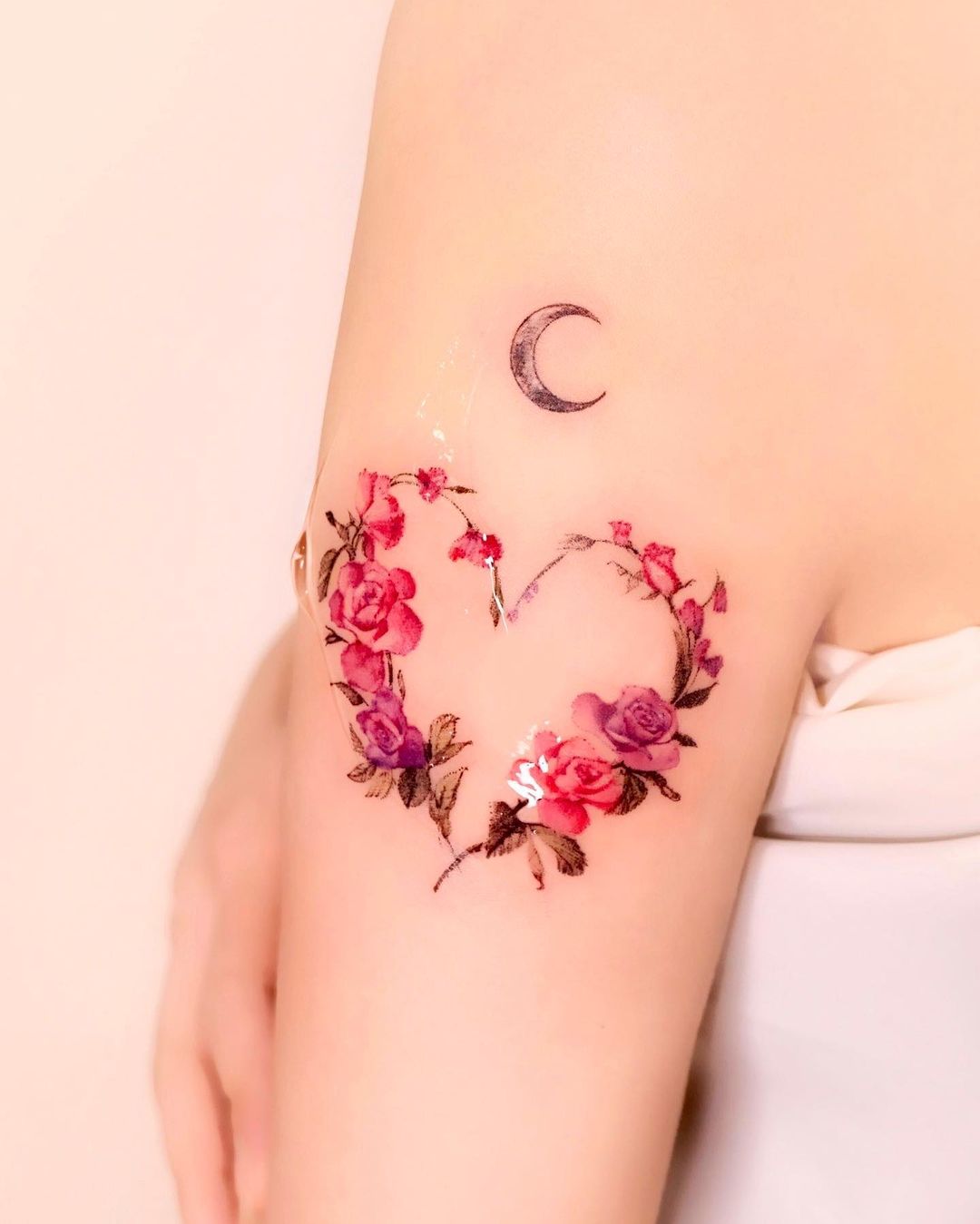 via @seolheetattoo
In some cases, the heart-shaped flower tattoo is pierced with arrows. Such an image is chosen by girls who have experienced a personal drama. Other options for parting ways include a broken heart tattoo or roses with bleeding thorns.
via @jun_tattoo
FAQ
How long does it take for a tattoo to heal?
The outer layer of skin usually heals in two to three weeks. It takes up to six months for the deeper layers to heal after tattooing.
To make the tattoo heal faster, follow these simple rules:
Do not steam the skin. You can swim with a tattoo. But do not use too hot water. Experts recommend completely abandoning visits to the bath, sauna, or swimming pool and taking a hot bath in the first days after the procedure.
Protect your skin from direct sunlight. It can negatively affect both damaged skin and ink.
Do not scratch or rub the tattoo. So you can quickly infect the area, after which there will be a noticeable scar.
Try not to shave the hair in places of the tattoo until the moment of complete healing. So you prevent additional skin injury and inflammation.
If you experience signs of inflammation (itching, redness, swelling, pain), consult a doctor immediately. A qualified specialist will prescribe the appropriate treatment and help avoid serious consequences.
What happens if you don't take care of your tattoo? In fact, it is an open wound. At a minimum, a significant part of the pigment will not hold, and the pattern will turn pale. In the worst case, damaged skin can become a source of infection.
Creating a tattoo is a multi-stage procedure. Be sure to follow all the recommendations of the masters, and the result will please you!