A beast that commands respect within its community, lions are worth every bit of the title "King of the Jungle." It is their majestic presence that is awe-inspiring. Known for their superb hunting skills, ferociousness, and daring strength are qualities we all aspire for. A lion tattoo is one of the best ways to embrace their attitude toward life.
The big cats need more significant areas to get inked on your body, whether their complete profile or just the domineering face. From traditional lion tattoos to modern versions, we list the 40 most impressive must-try tattoo designs of the Leo.
Lion Tattoo Meaning
Lion tattoos are common, with people flaunting different sizes and designs. The big cat symbolizes strength and courage. Their presence also means courage, fearlessness, and wisdom.
Lion signs have been a part of multiple cultures and traditions. Many royal and noble blood have featured the lion on their body or attire to indicate power and top hierarchy.
The lion tattoo has been catching up in the past few years as a new body art trend.
Lion Tattoo on Chest Depicts Masculinity
A lion tattoo on a man's chest indicates leadership and authoritarian qualities. Therefore, the lion tattoo's position beautifully brings out the creature's ferociousness. Firstly, the tattoo is so close to the heart; secondly, there is so much space to ink the animal perfectly.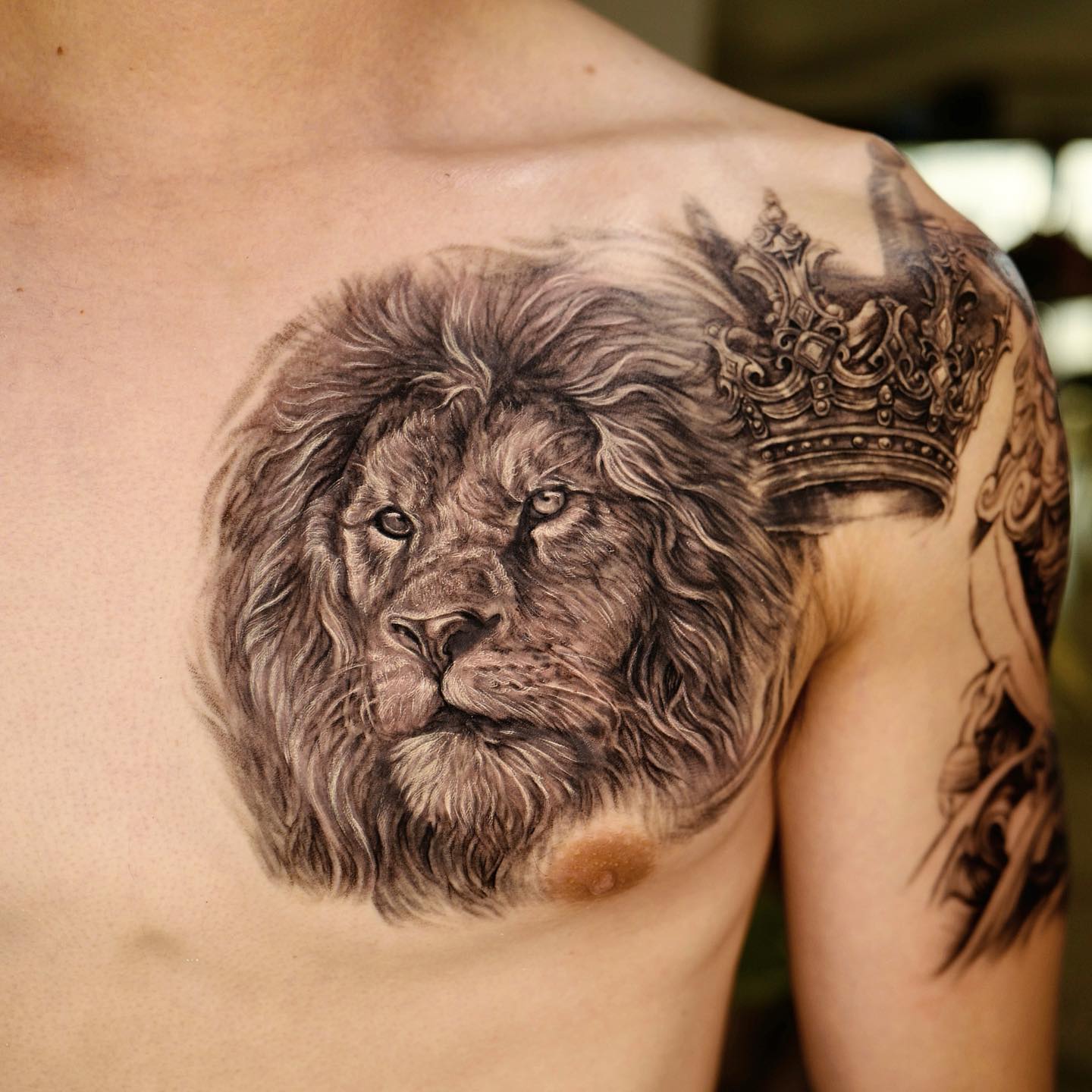 via @zo_gang_tattoo
Some of the chest tattoo ideas to try are a pectoral tattoo spread across the heart, a linework tattoo, a creative big cat tattoo, a lioness tattoo, an illustrative design, a crown lion design, and more.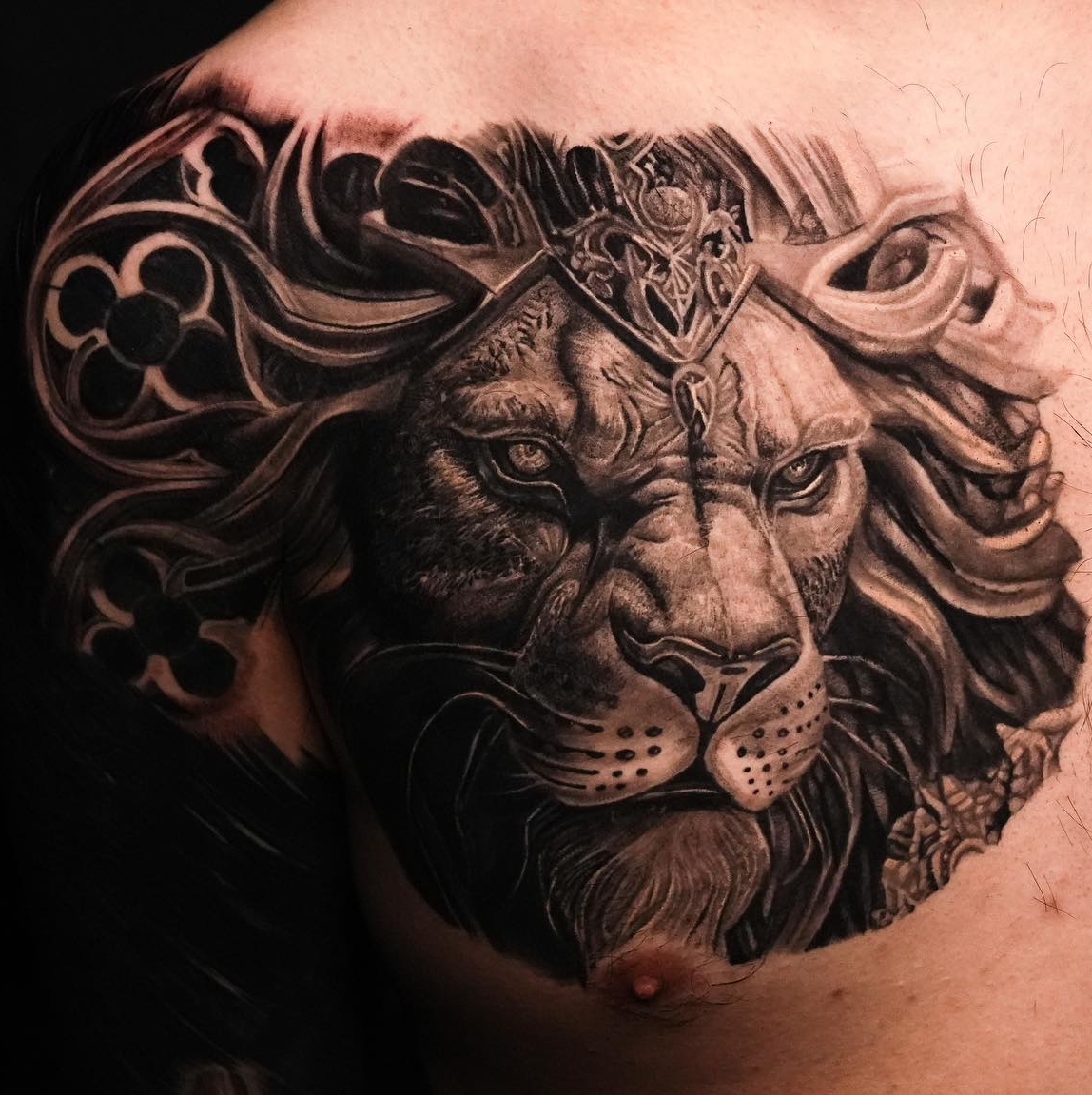 via @kazin_tattooer
Lion Tattoos for Women For a Bolder You
Lion tattoos need not be masculine only. The designs could range from cute to elegant and classy for women, representing feminine power. Not scared of your attitude or opinion, some of the best choices include a small lion tattoo on the shoulder, baby cubs on the hips or shoulders, a lion calf watercolour tattoo, a floral lioness tattoo, a lion mandala on the thighs, a geometric lion tattoo, a design of a fierce lion, a hand tattoo of the big cat, a cute colorful lion on the arms, and more.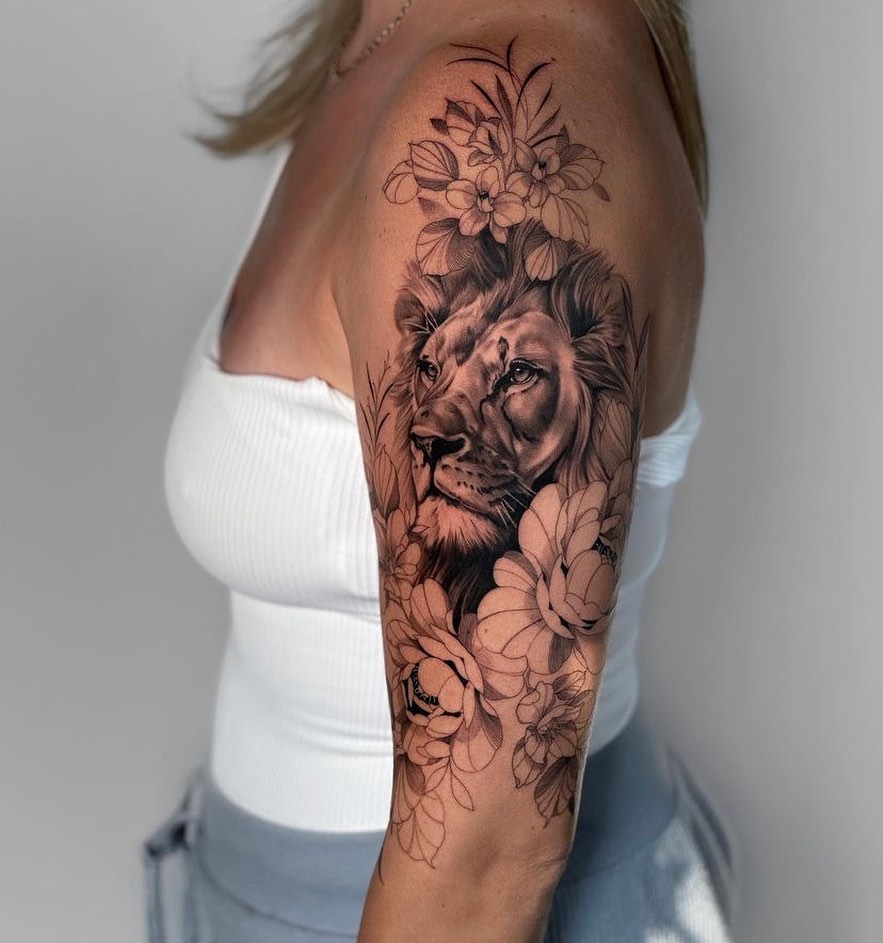 via @studio3cle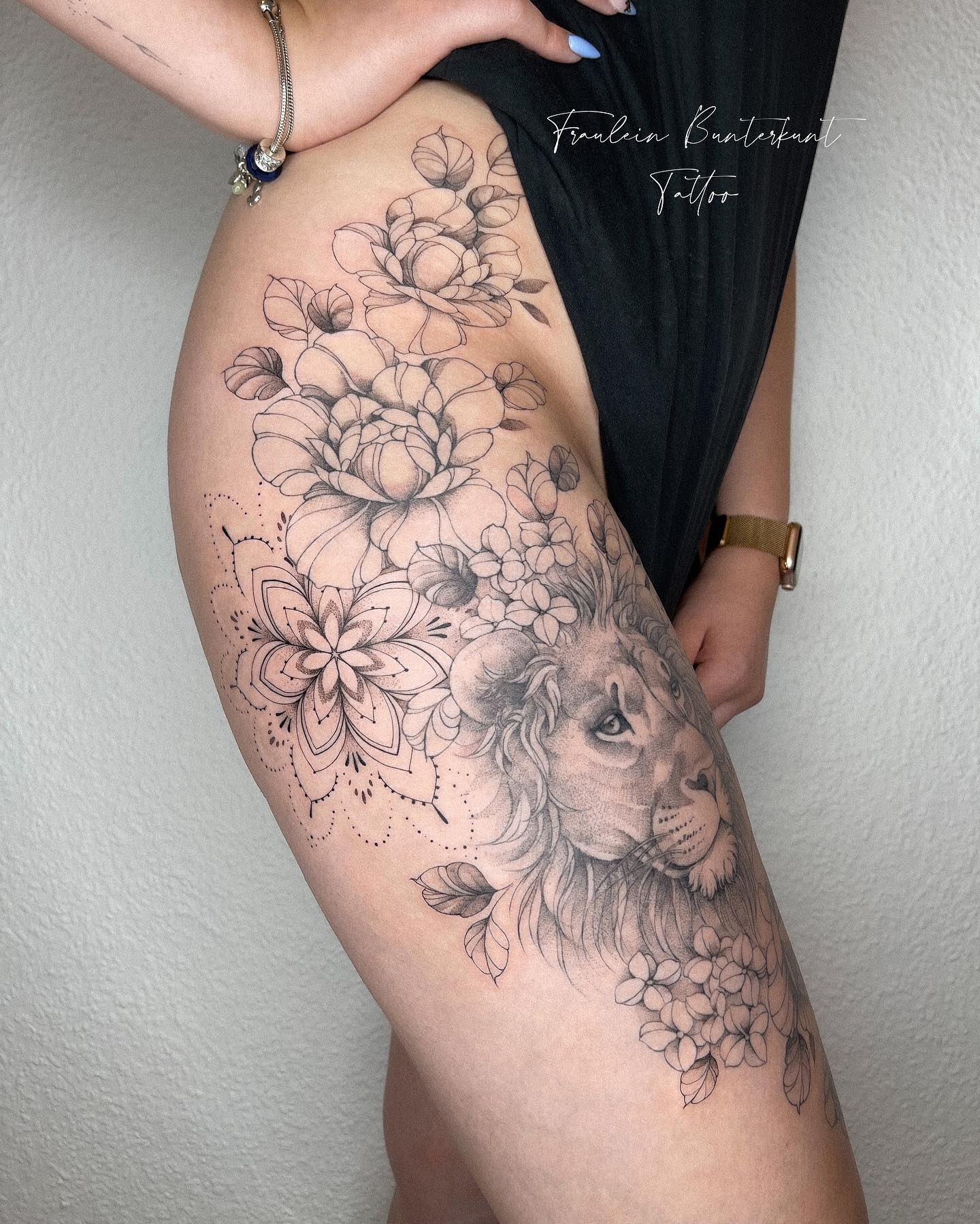 via @fraulein.bunterkunt.tattoo
Lion of Judah Tattoo: A Jewish Symbol
The Lion of Judah is a cultural symbol of the Jews with biblical significance. It symbolizes the Israelite Tribe considered to be Judah's descendants. A lion of Judah tattoo design is inked with black ink and colors on the chest, the back, and the bicep.
via @jeffersonripper
A Judah lion hand tattoo on each of the arms with the animal face is a great idea. The lion on the left arm faces the Judaism emblem, the Star. The other arm has a cross in the middle of the design.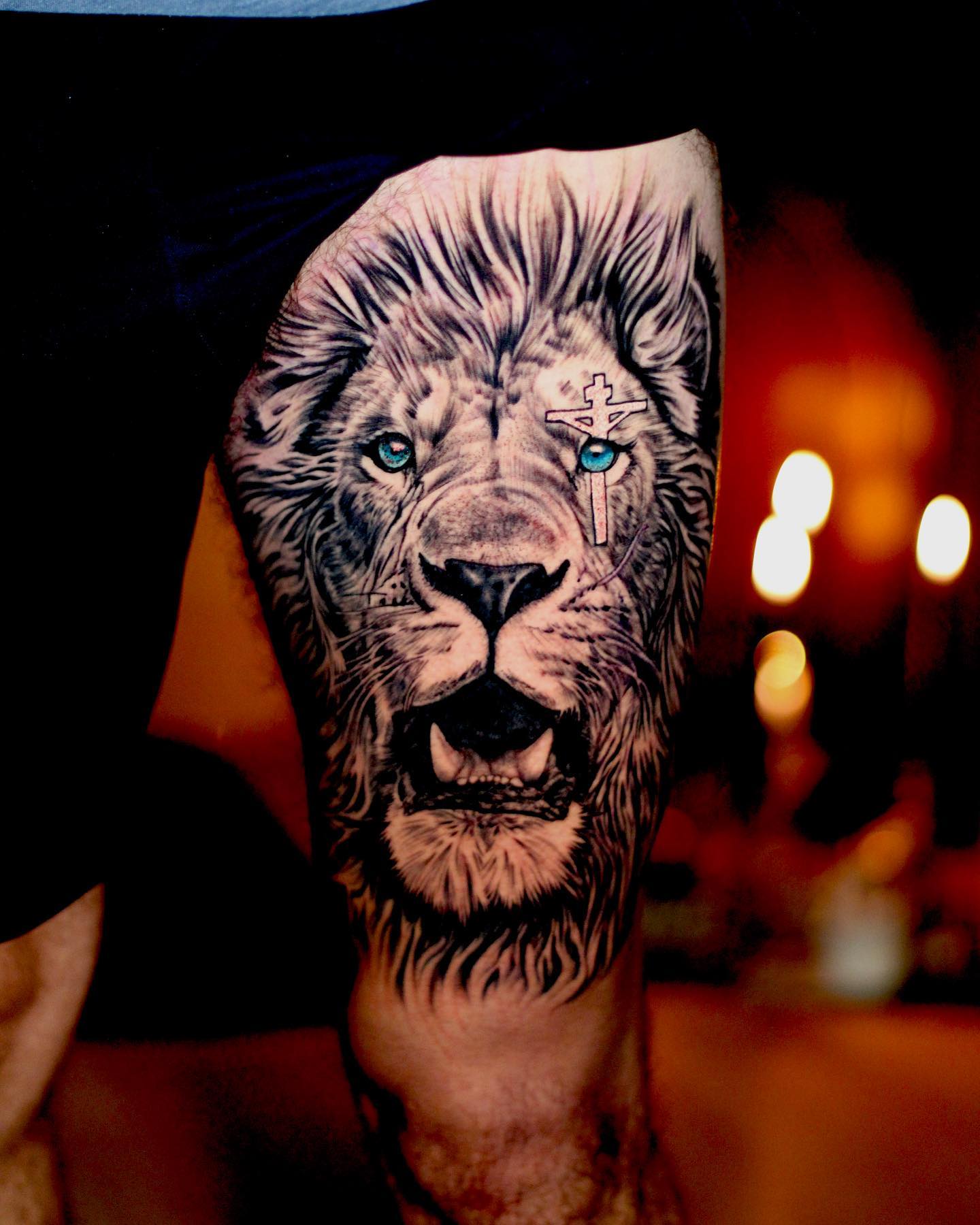 via @ammartattoo
Eye-catching Design Idea of Lion Tattoo on Hand
Here are some fantastic lion hand tattoo ideas. Try a lion face, a ferocious one with its paws and mane highlighted, on your arms. An experienced tattoo artist will bring out the fierceness of the voraciousness of the creature in their artwork.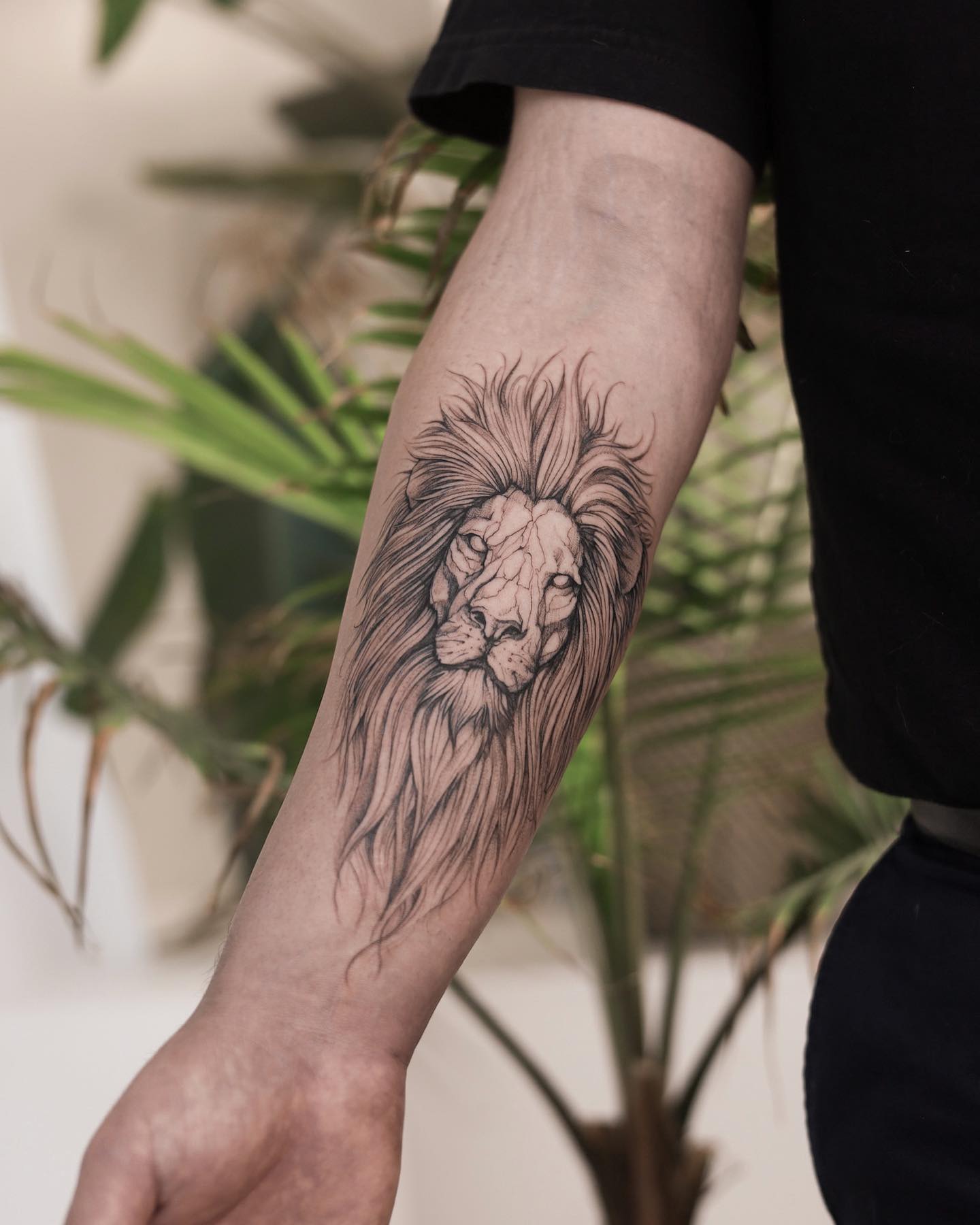 via @juli.tattooing
The tattoo design looks good with a detailed artistic work of the mane, teeth, and nails. To make a realistic lion design, the artist will use a shade of brown and black for a contrast impressive outcome. This idea is best suited for men.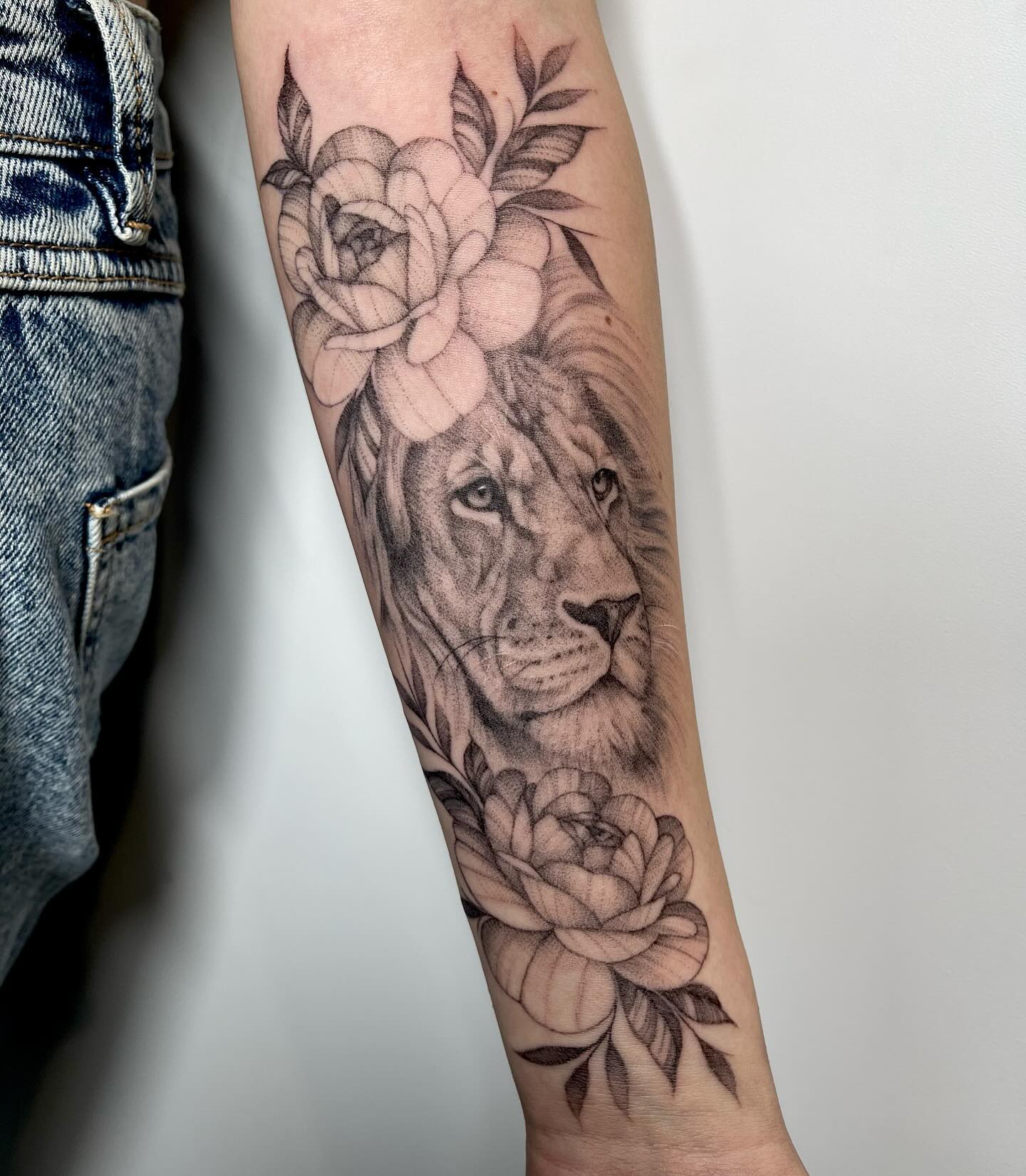 via @natallie.tattoo
Lion King Tattoo Reflects Your Personality
Since the lion is the leader of the animal kingdom, Lion King tattoos are representative of the good and the bad in one's personality. Other than that, for movie buffs who love the movie, 'Lion King,' this tattoo reinforces their love for the 1994 animated story from Disney. You have a range of Lion King tattoo ideas, from the main character, Simba, the king of the jungle, to Mustafa, Simba's father, or Nala, Simba's mother. You can try Scar, Simba's evil uncle, too.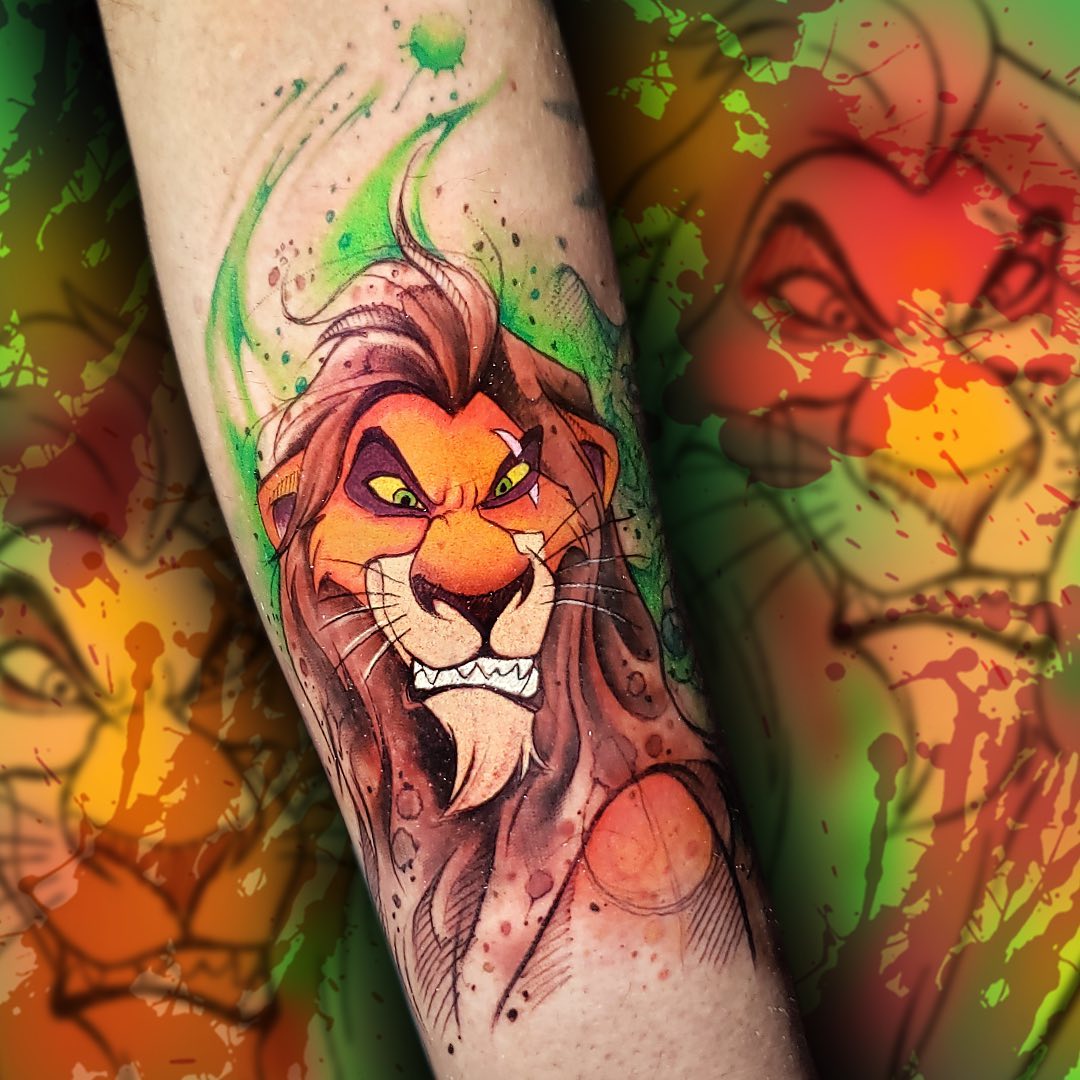 via @baltapaprocki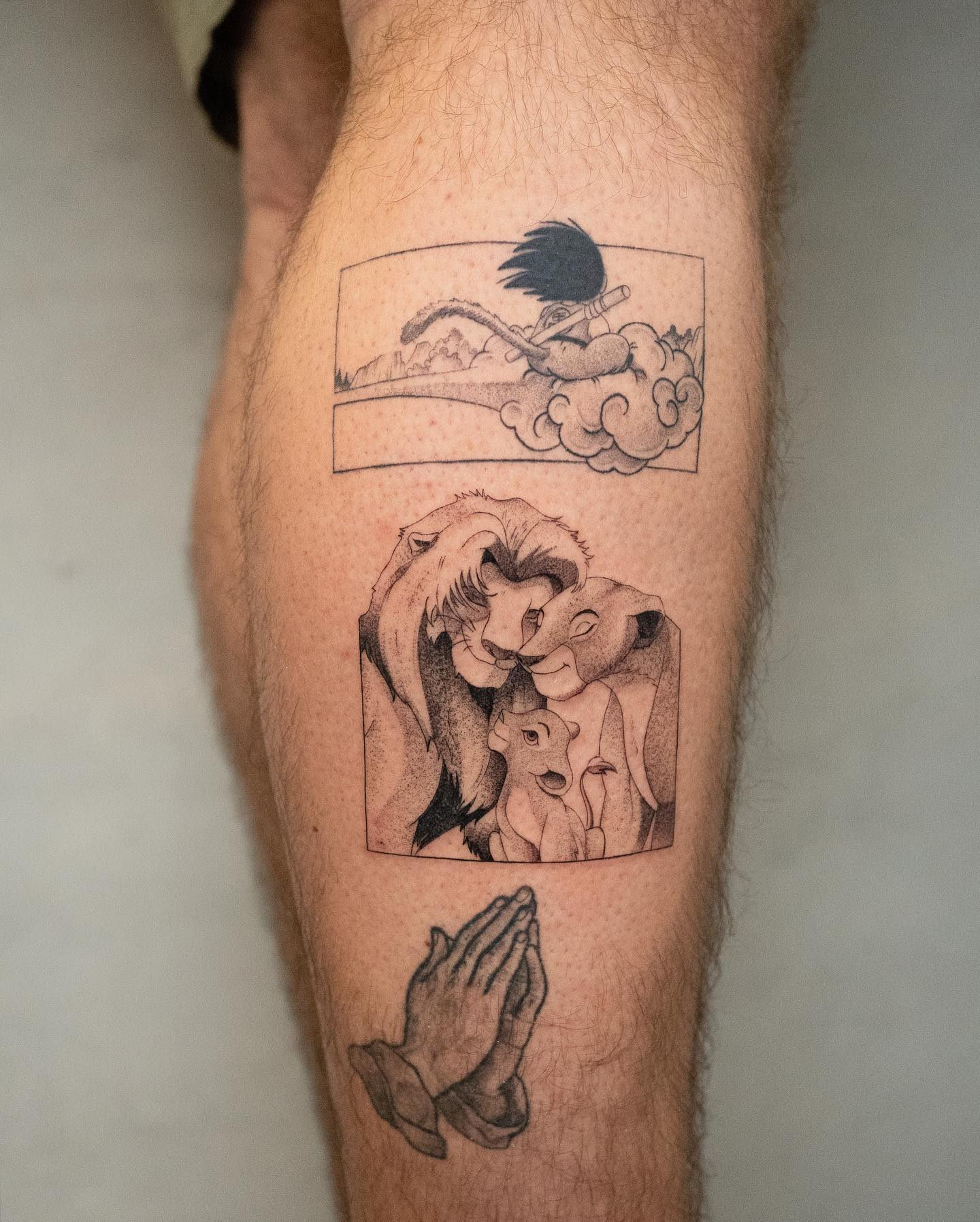 Lion and Lamb Tattoo For Diehard Christians
Lion and lamb tattoo designs are famous and much-loved within the Christian community. The body art design represents Jesus Christ and the resurrection. Religious sentiments aside, it is also a great upper arm tattoo idea.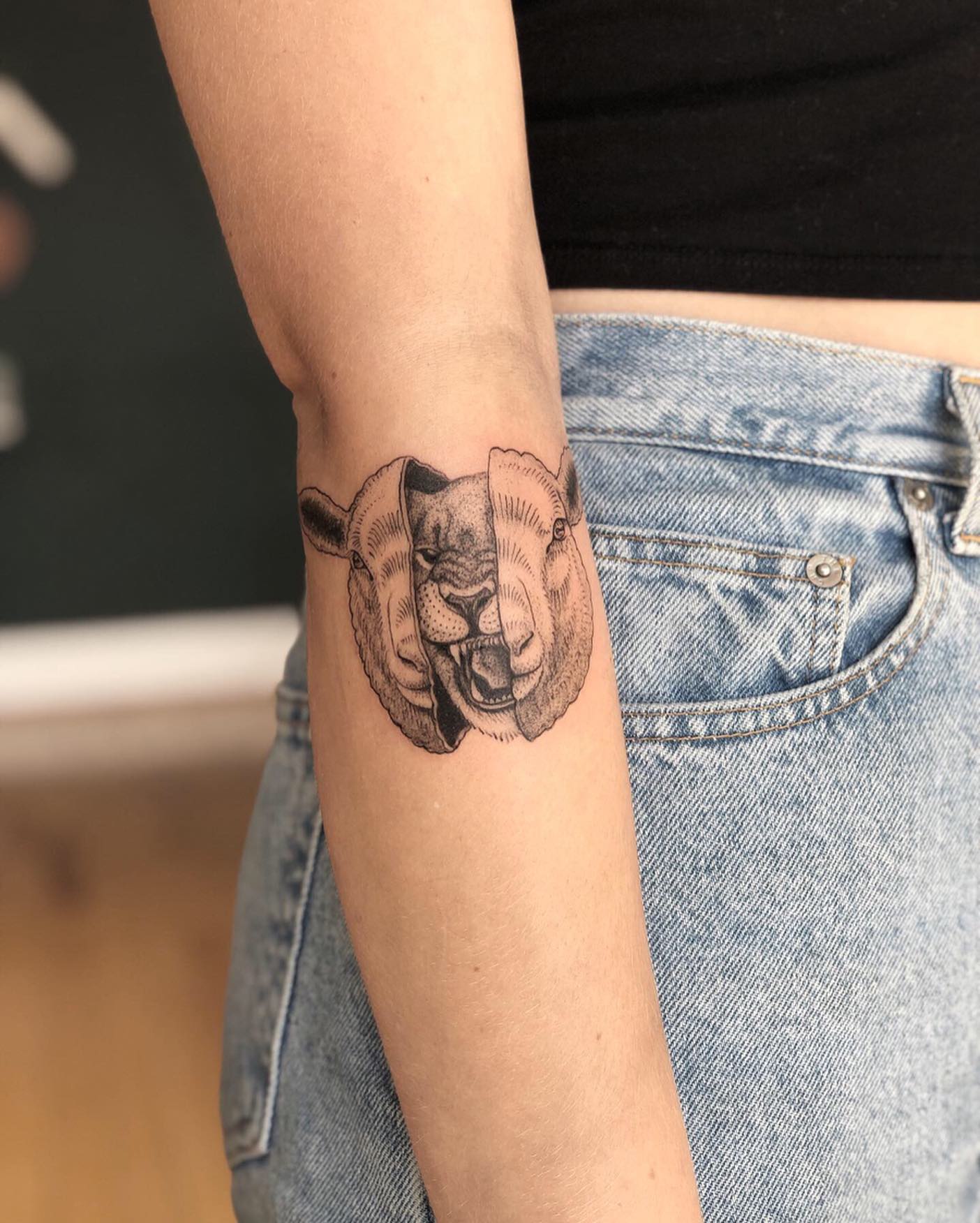 via @knoteyetattoo
Try the picture on your back, covering the entire area or just a part of it. Ask the artist to ink a gradient lion and lamb design on your arms. On the chest, too, this design looks good.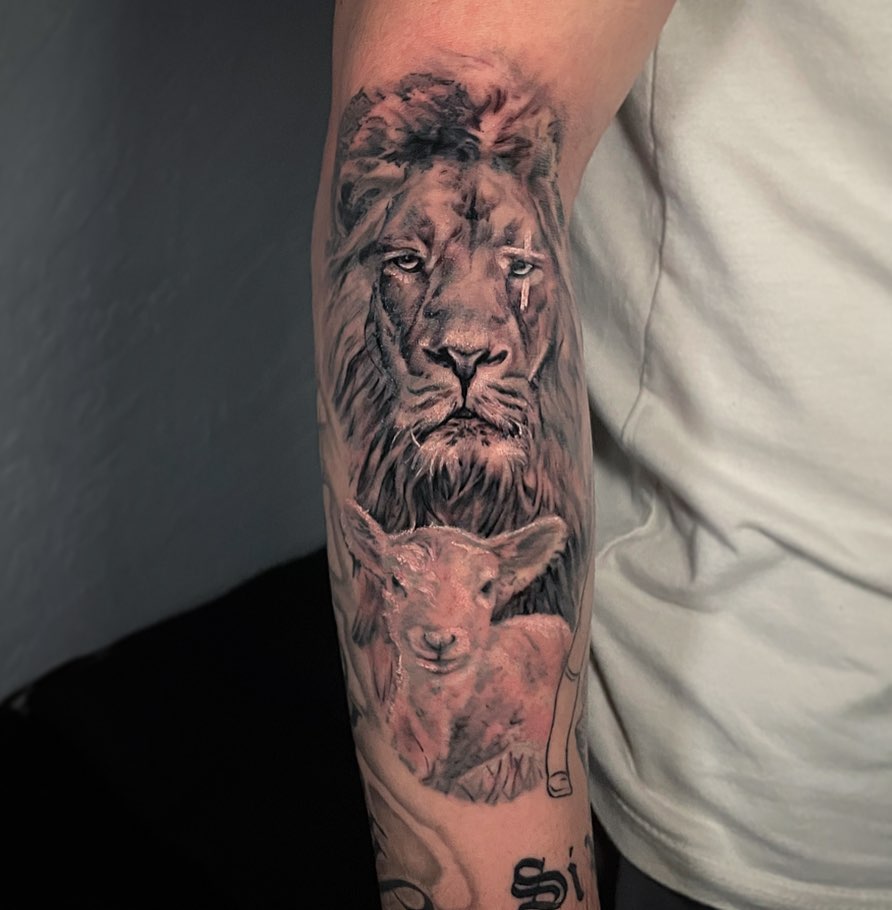 via @botiejedi
Lion Head Tattoo Exhibits Various Emotions
A tattooed lion head, especially in blue, looks magnificent. The tattoo artist can draw and fuse the lion face tattoo with all kinds of emotions, from fierce to loving. In blue, the face of the beast looks royal and immediately grabs attention.
via @tinhostev
Let the artist focus on the mane and do it in the contemporary style or fill it with a funky touch. One of the best lion head tattoo ideas is the lion face with a crown. Both ideas are recommended for men.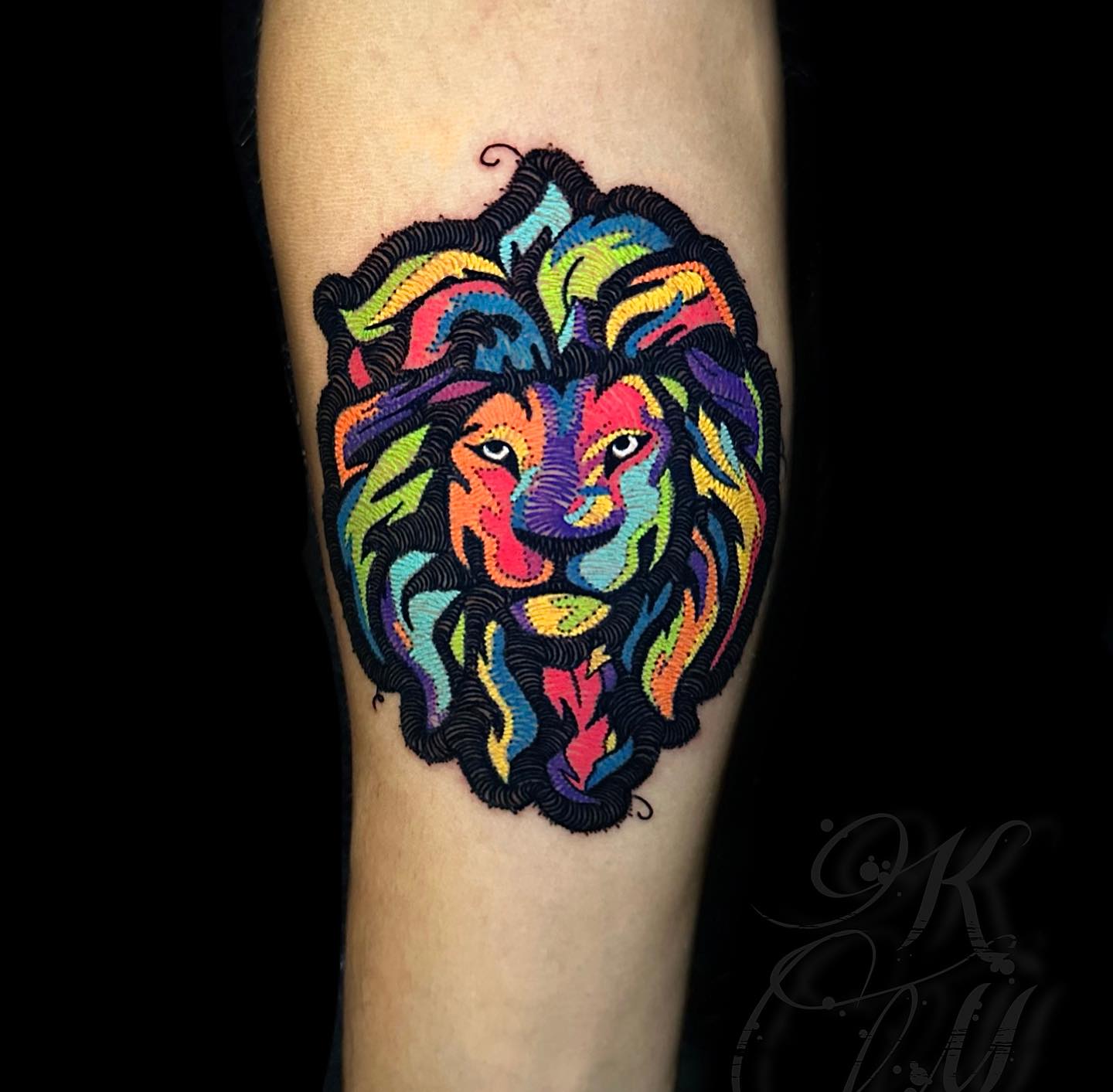 via @kathmich_ink
Small Lion Tattoo Detailing Each Part Minutely
A small, simple lion tattoo shows that the feline animal can be imposing, whether big or small. The ferociousness of the big cat can be detailed even as a small tattoo idea.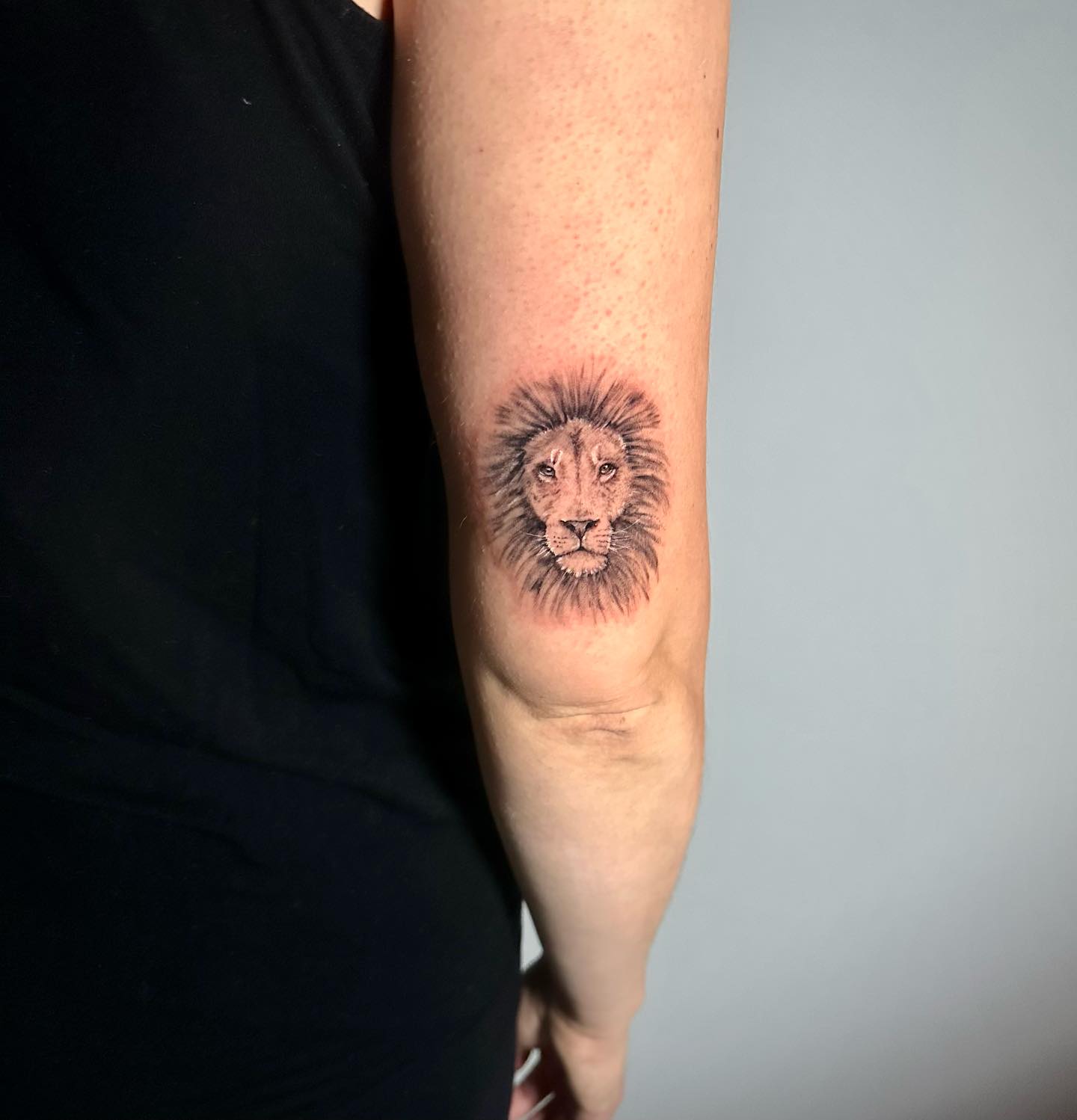 via @artbymeganm
An expert tattoo artist can ink the nobility and honor associated with the animal to do justice to the details of the lion tattoo designs. Talk to your artist to pick from a classic, geometric or realistic design. The designs look good on the shoulders, forearm, nape, wrist, and calves.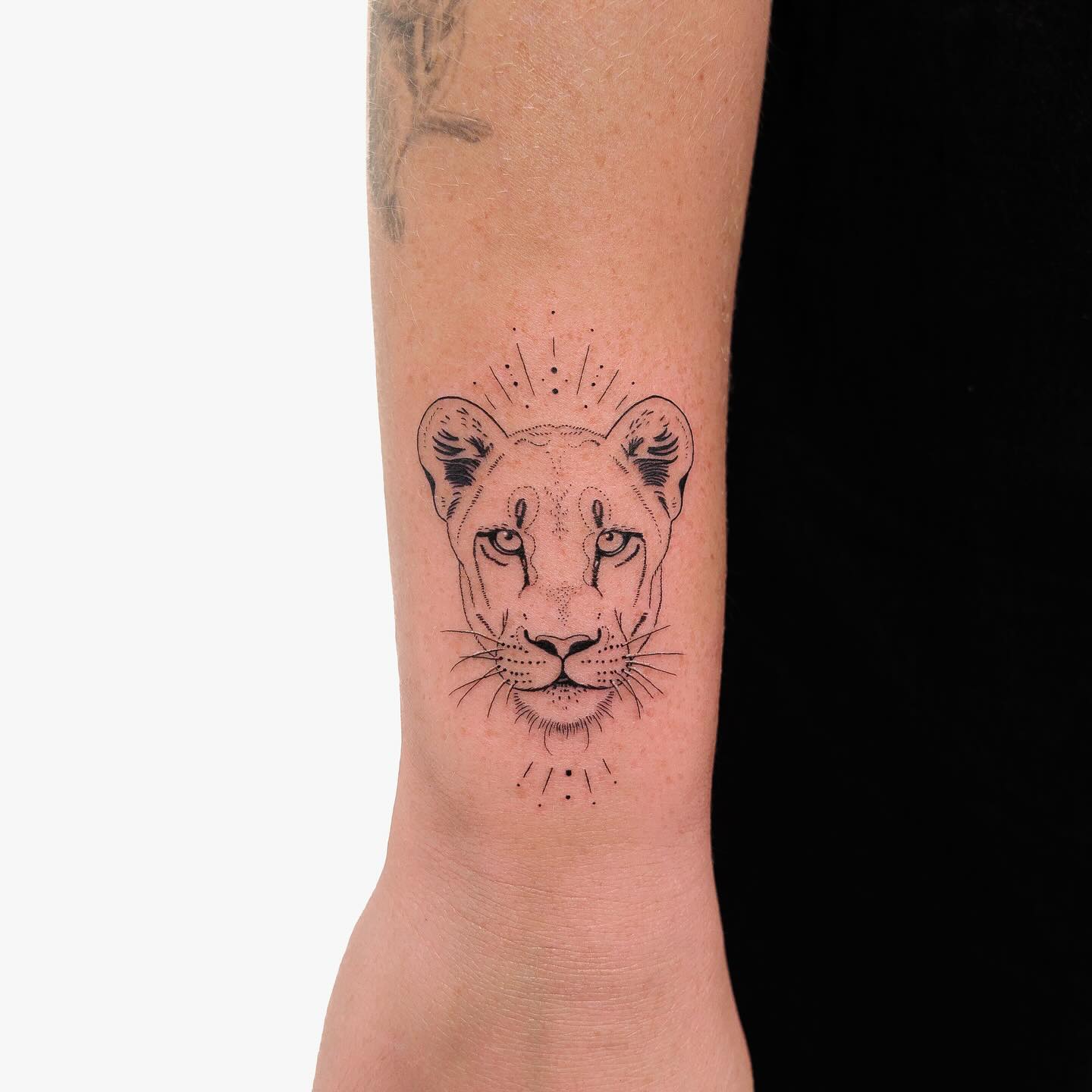 Explore A Robust Lion Back Tattoo
One of the most amazing back tattoo ideas is inking a majestic lion on your back. You can try the winged lion on your back if you are religious and firm in your faith. A Chinese or a Japanese lion is also a good option for those who believe in the upkeep of their cultures.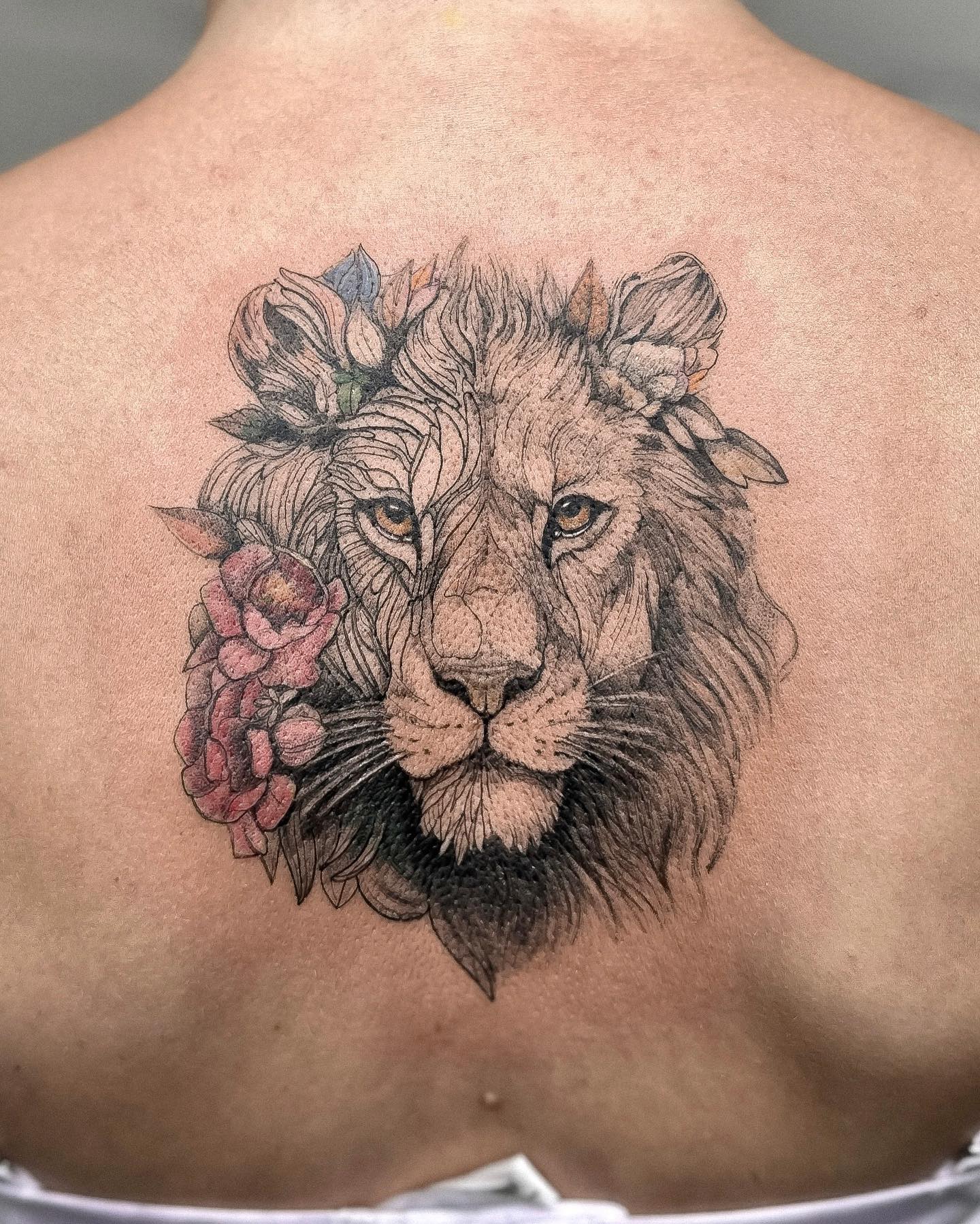 via @_grayink_tattoo
A geometry tribal lion tattoo is also a pleasant addition to your back. You can pair the beast tattoo in black ink with backgrounds like the Pyramids, a temple, a cross, etc.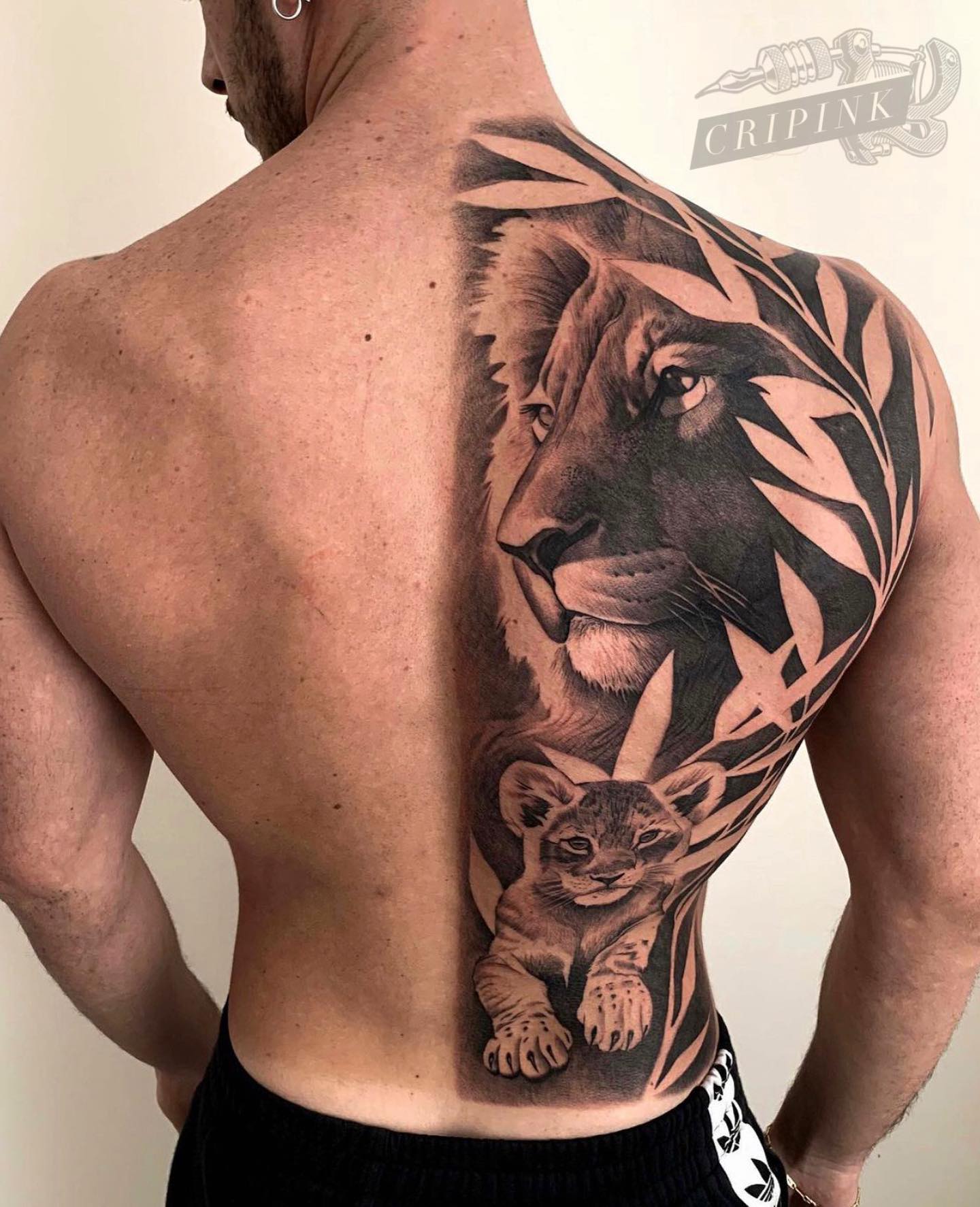 via @k.knipirc
Lion Neck Tattoo Makes a Powerful Statement
One of the most brilliant neck tattoo ideas is a lion neck tattoo garlanding your neck. It is like the lion's mane that becomes a part of you as a lion head tattoo. Because your neck is mainly exposed, you will surely attract admiration from onlookers.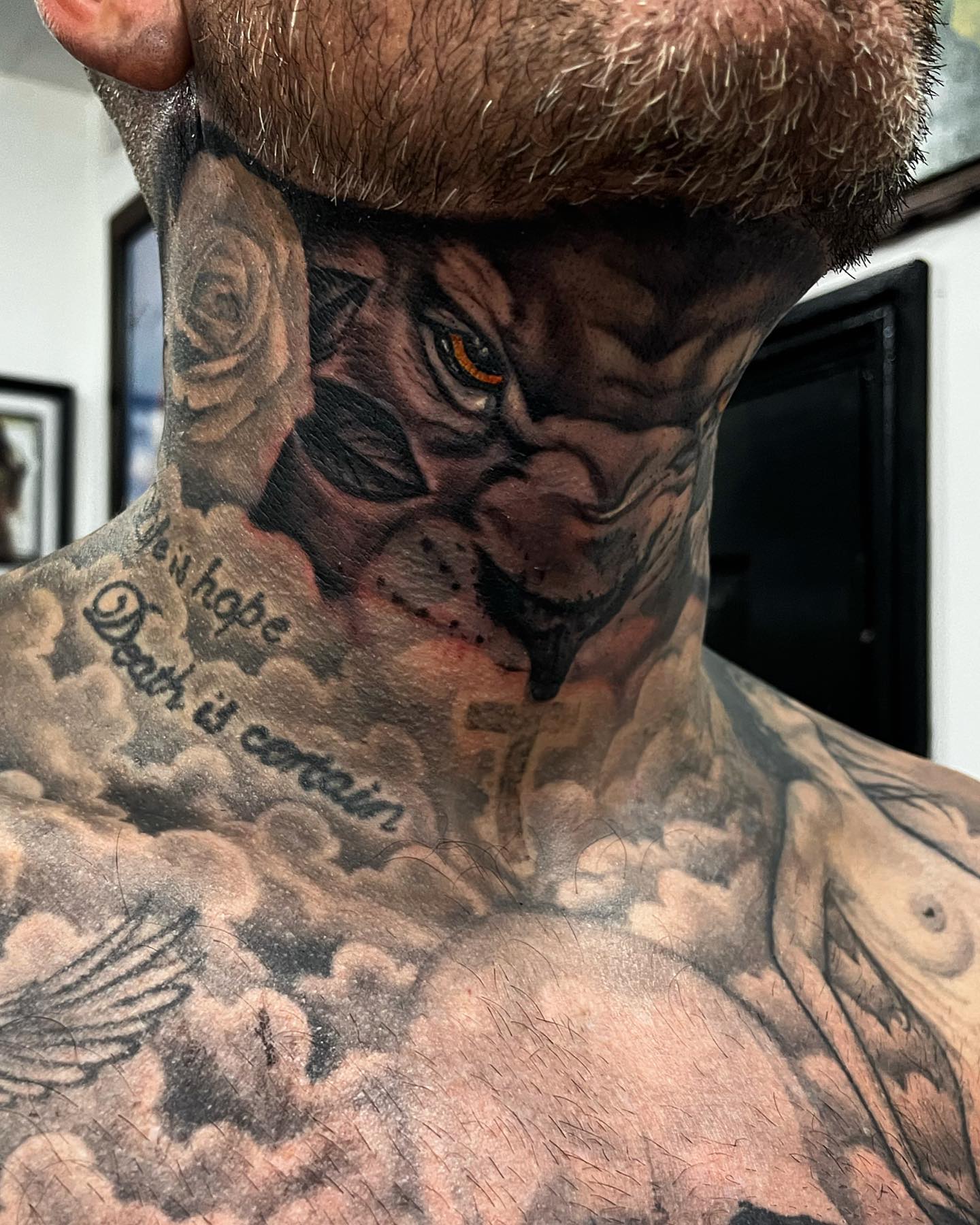 via @kikidee_tattoo
Get a brilliant artist to do the job. The courage and integrity of the lion can catch up to you, too, and increase your confidence, too.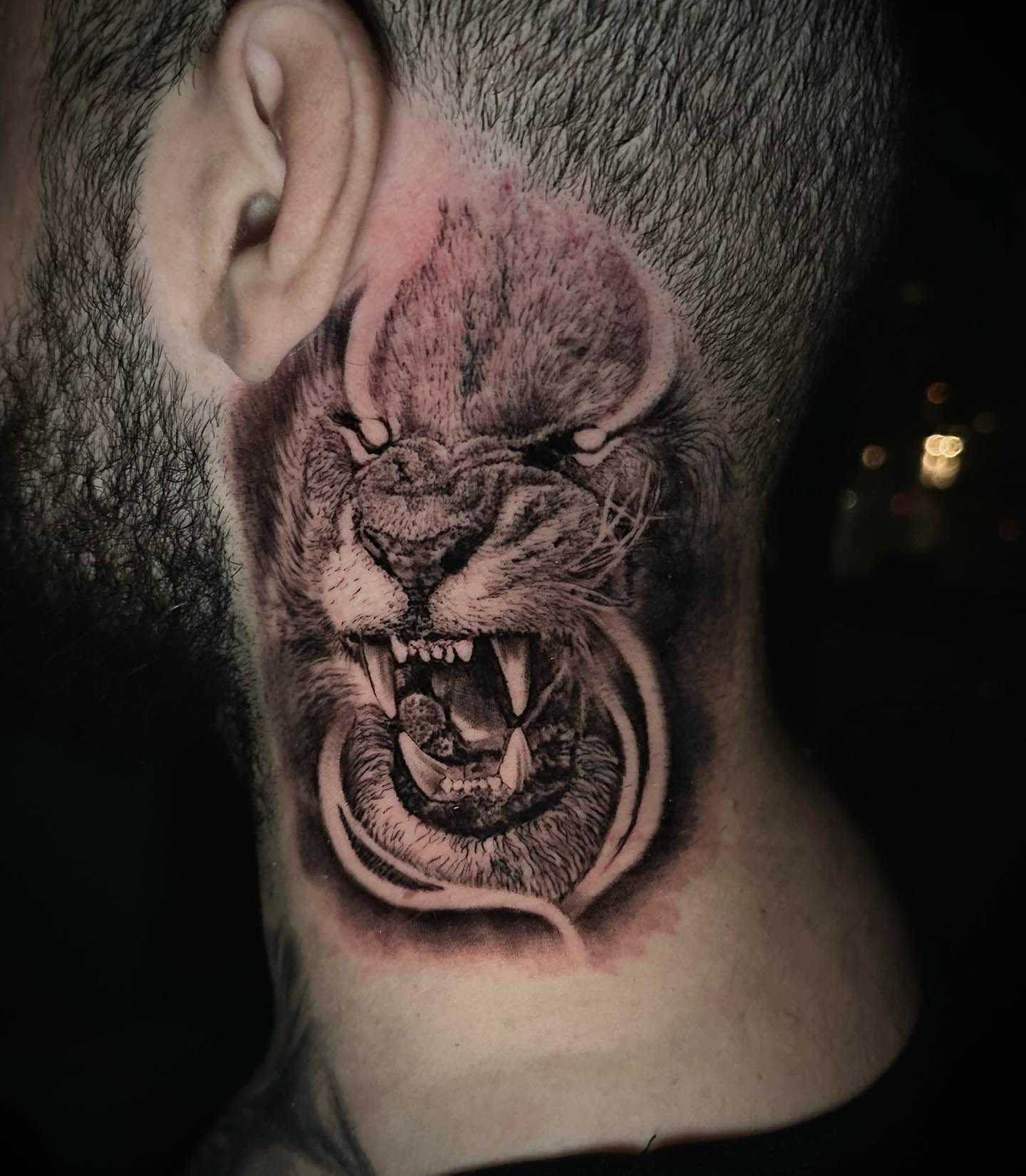 via @hilal.tattoos
Lion Family Tattoo: A Pride to Showoff With Pride
The Family of Lions tattoo is a marvellous artwork, with your body a canvas for the tattoo artist. The lion is a close family animal, and it protects its pride with all power and strength. A Pride of Lion forearm tattoo represents affection and love for one's family.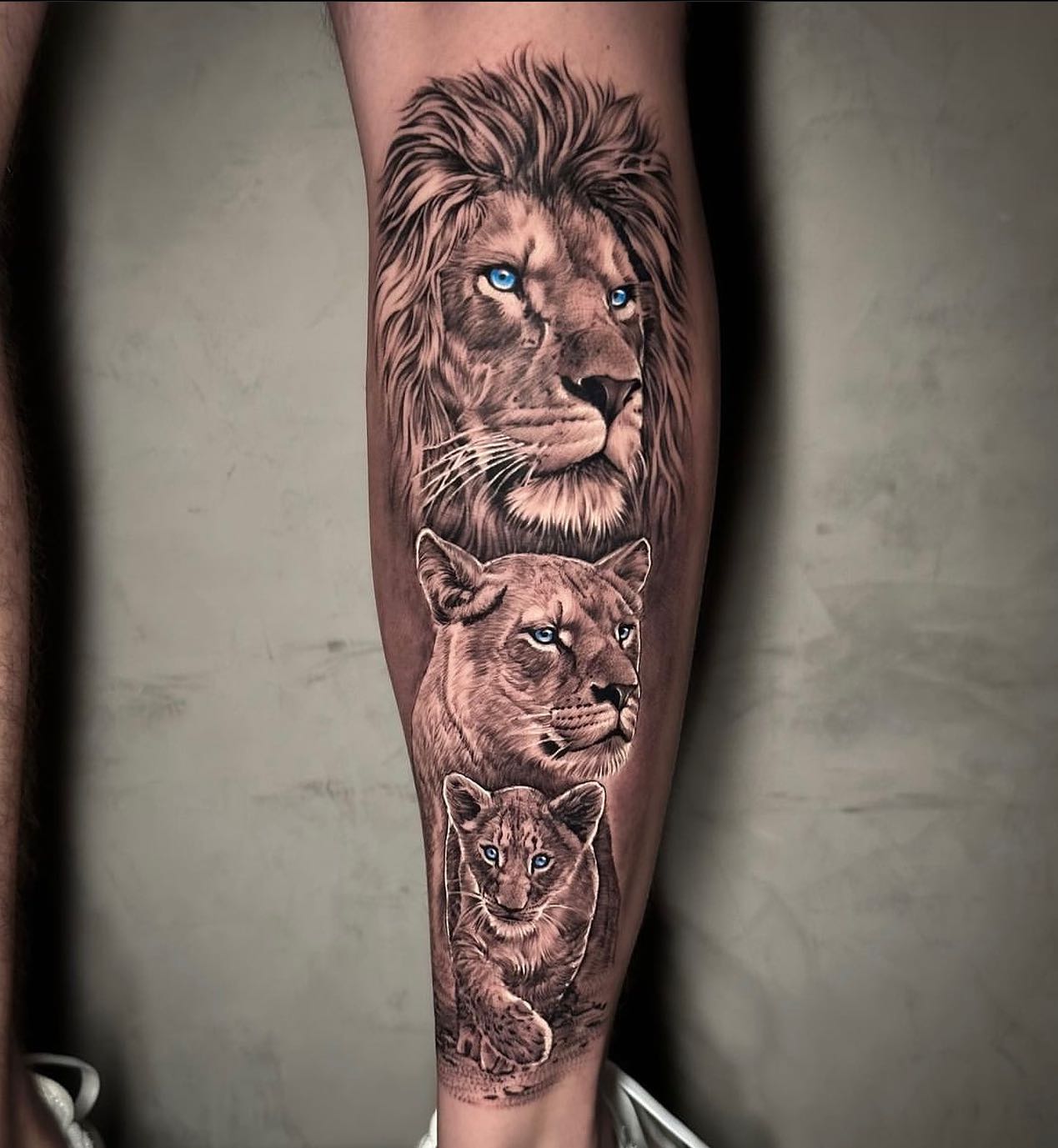 The preferable inking of this tattoo is in black with shading. This oversized design needs a large, extensive area for inking. Both men and women can try this idea, which is suitable for all skin tones.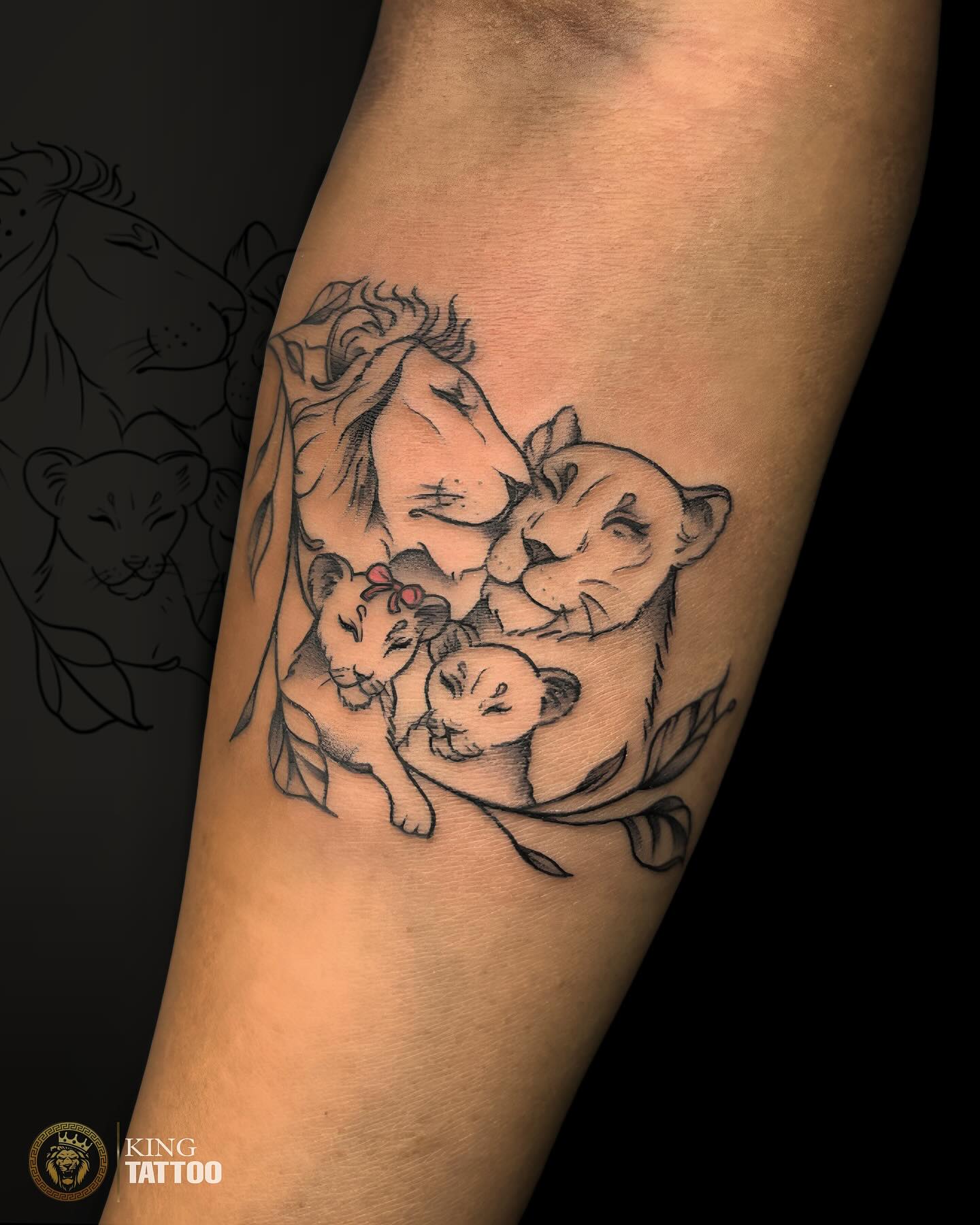 via @kingtattoopune
A Creative Half Lion Half Flowers Tattoo
A traditional lion tattoo looks good, but if you want something more novel, go in for a half lion half flower tattoo. The power and strength of the lion complement well with the innocence of the flower. This is a unisexual design that both women and men can wear. Some ideas to try are – the rose tattoo and lion tattoo, half sunflower and half lion head, a lion head with a flower, and colorful flowers with half lion head tattoo.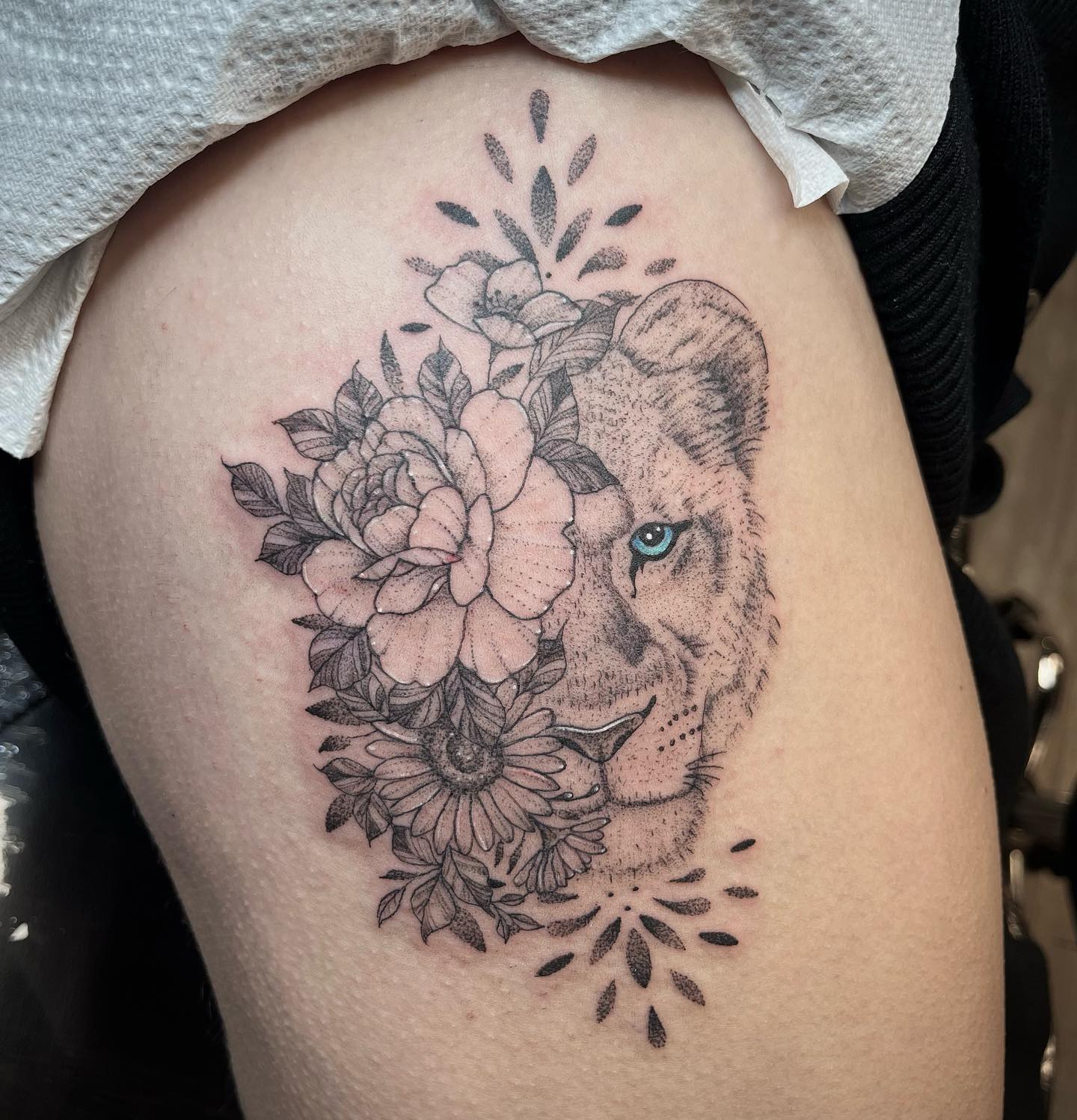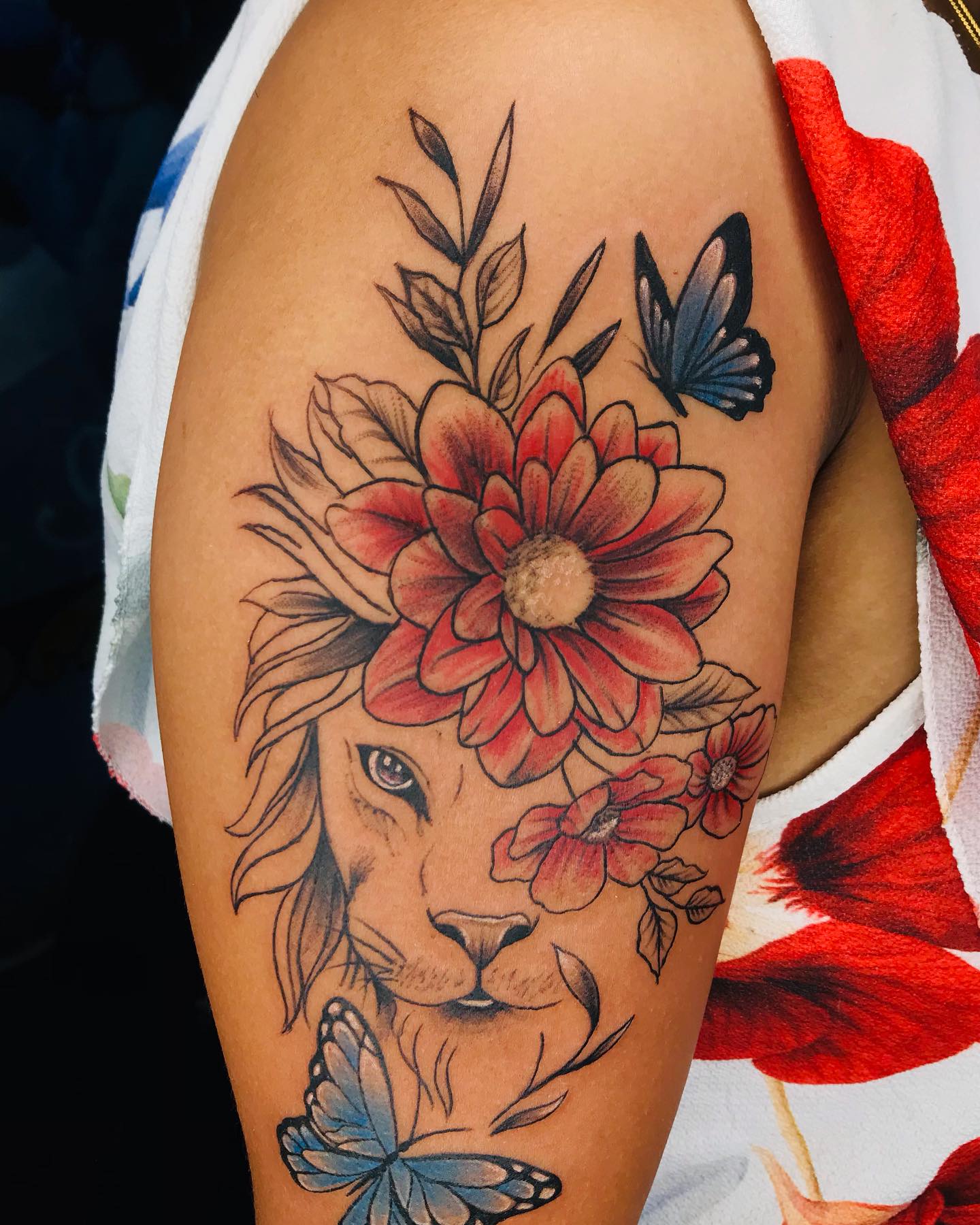 via @sonytattoist
Lion and Cross Tattoo Depicting a Special Connection
One of the lion tattoo ideas is the lion and cross tattoo. With the roots in the Bible, the lion showcases Jesus, and the design highlights his win over death. The cross symbolizes faith and Christ's ultimate sacrifice for humanity. There are different ideas to ink this – the lion as a cross, the Lion of Judah as a cross, the big cat gazing through a cross, or a realistic lion leg tattoo in a cross.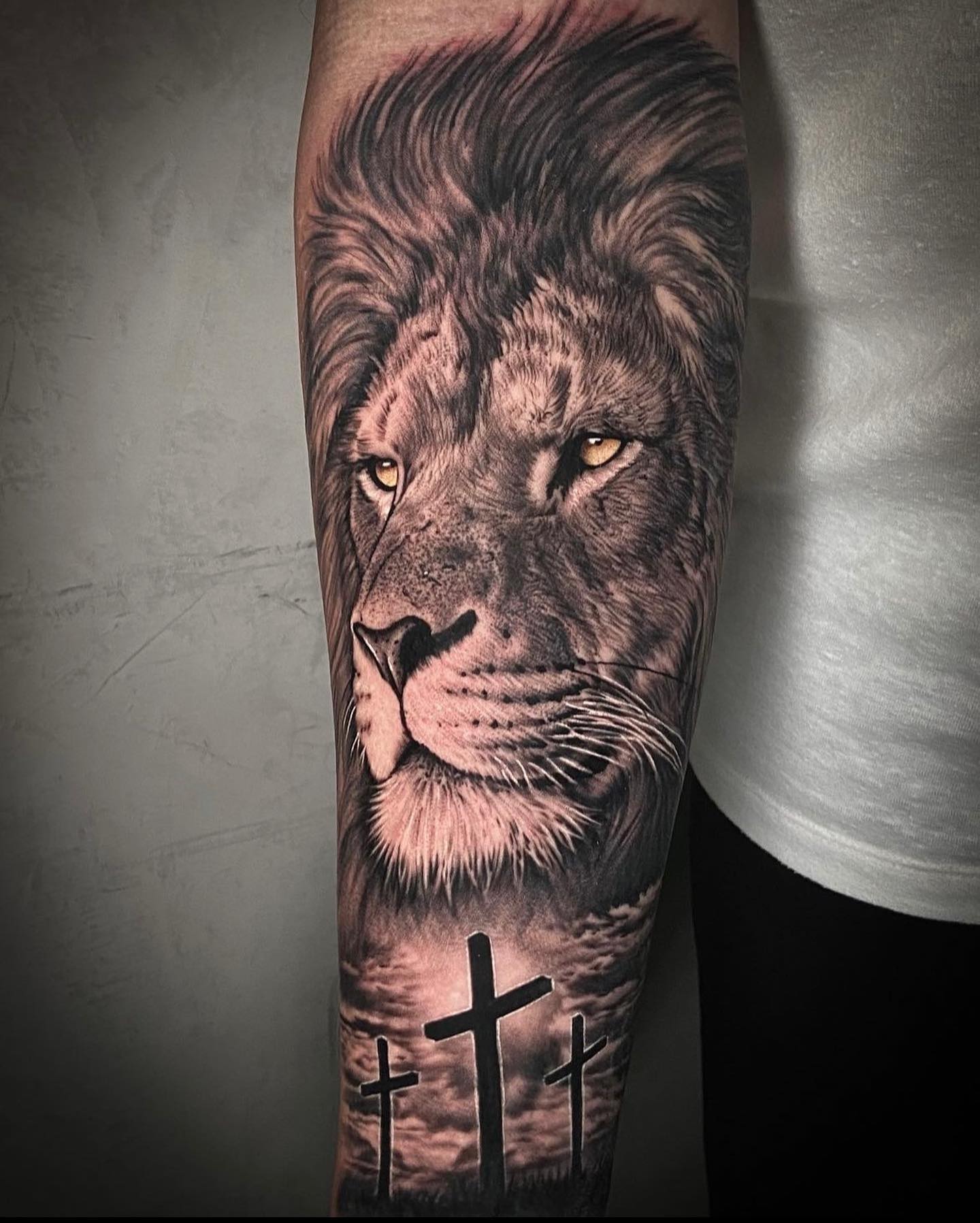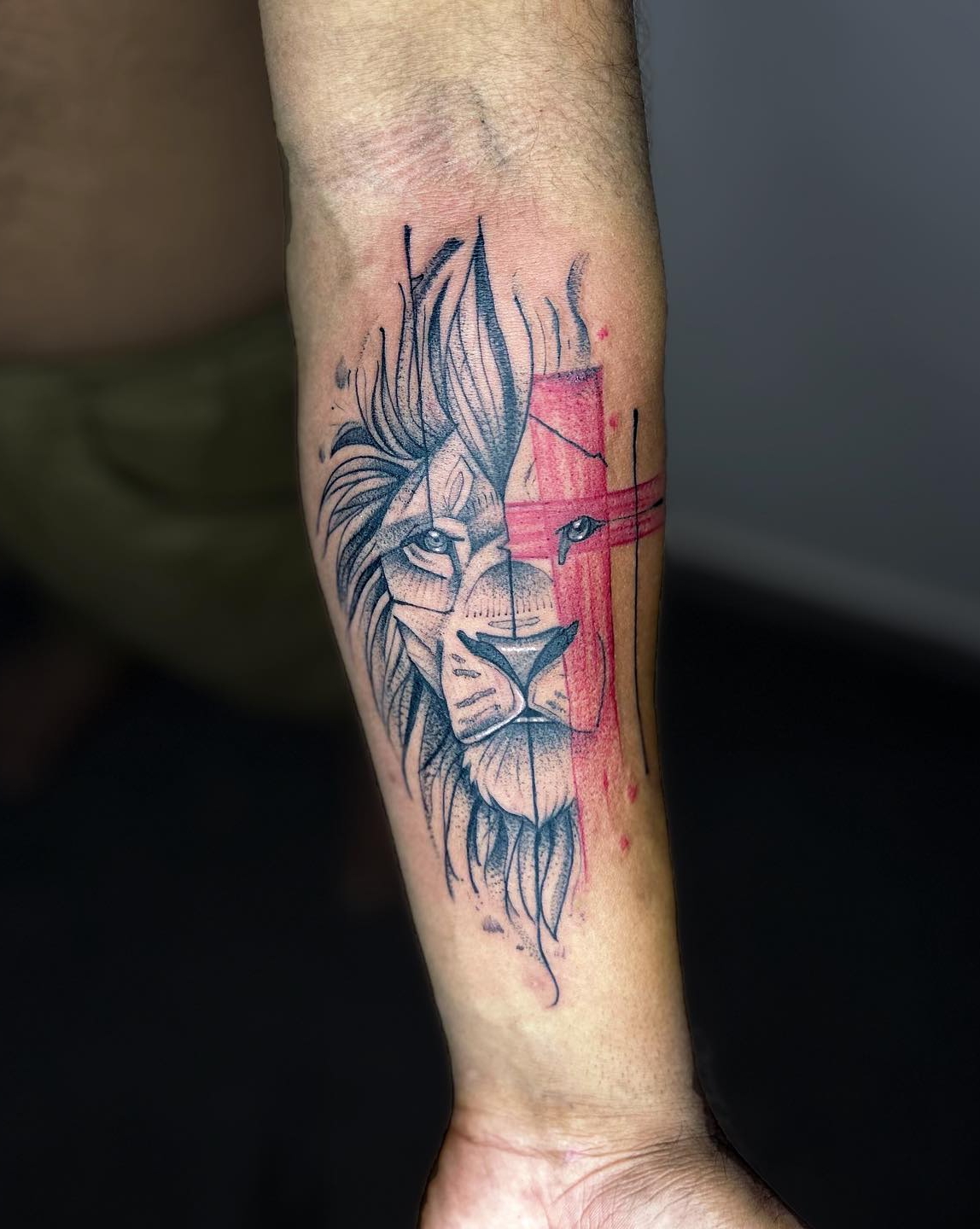 via @kovsky_tattoos
A Work of Art: Geometric Lion Tattoo
A geometric lion tattoo is an artistic piece of work. An artist can ink the revered piece to depict a power center on your body. The geometric style can be drawn on the shoulder, forearm, or even over the heart.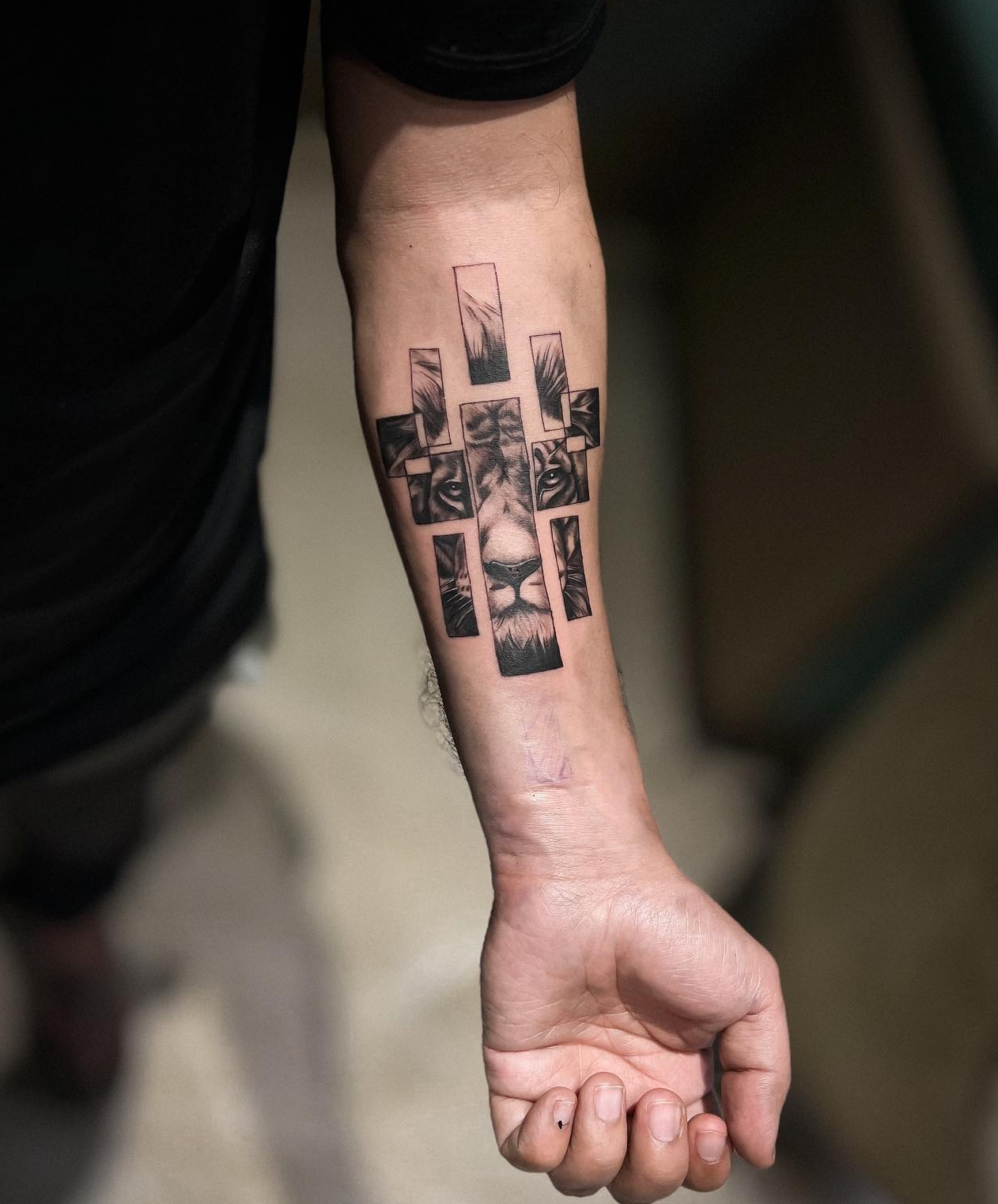 The Leo zodiac sign is a great idea that can be inked in black or other earthly hues. Any part of the feline creature can be drawn, including a lion leg tattoo or a lion face tattoo on your body.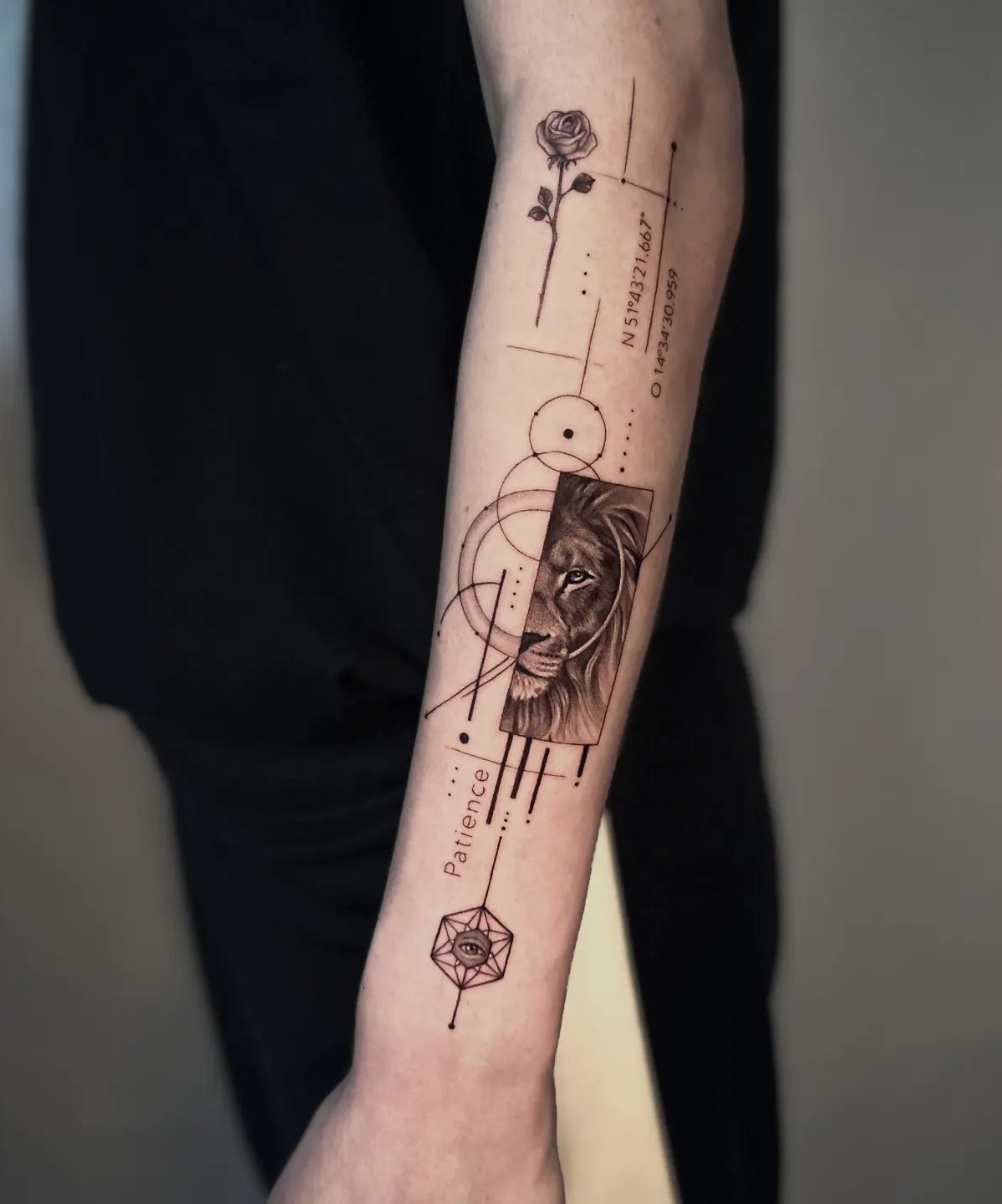 via @michellearto
Roaring Lion Tattoo for Born Leaders
The roaring lion represents a natural leader and is more majestic than a standard lion tattoo. The tattoo idea works fabulously as a realistic lion body art, a shaded or colorful tattoo design. Go for it if you feel feeble or are going through challenging times.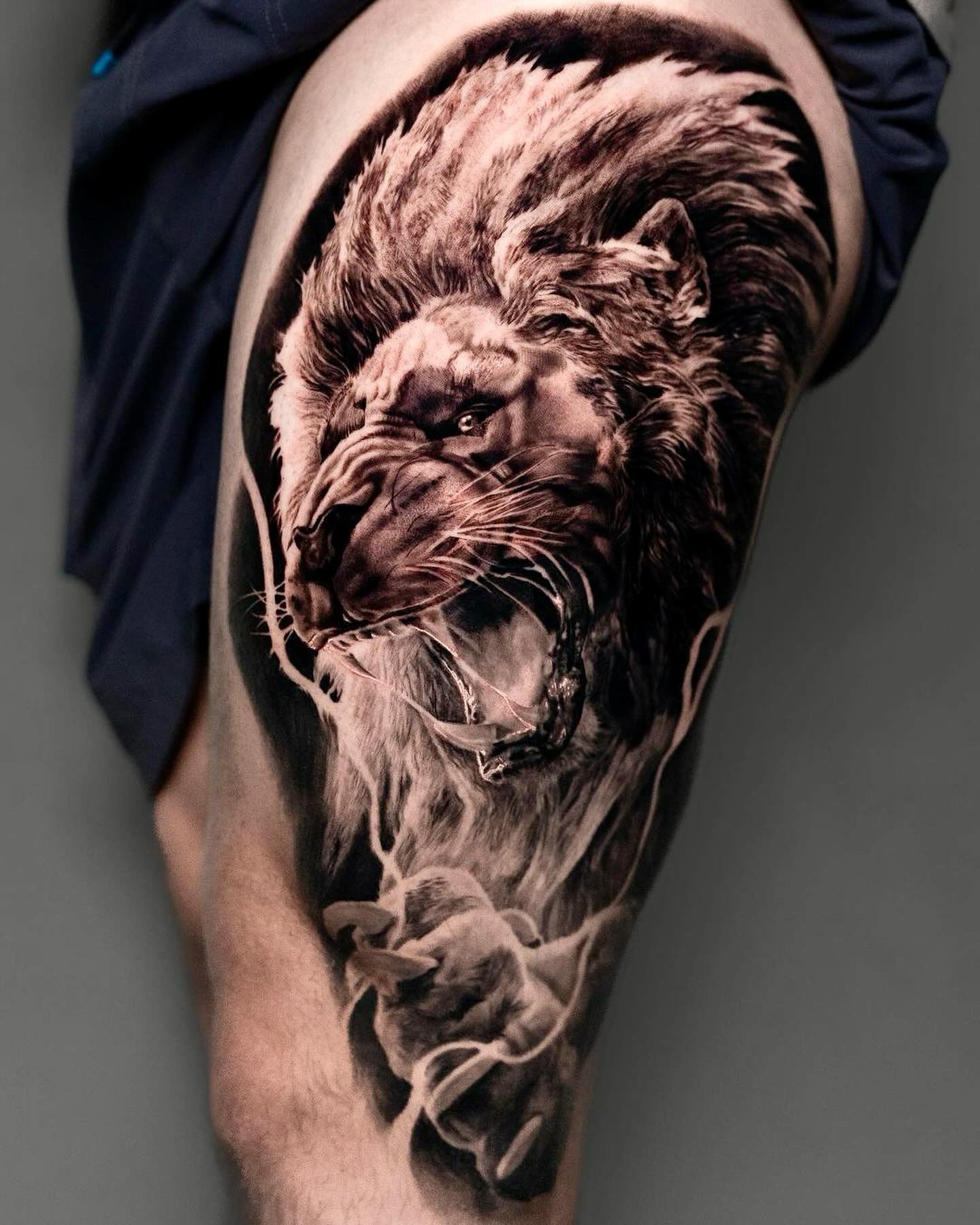 As a half-sleeve tattoo, you can always wear dresses with short sleeves to let the design show and take confidence from the artist's work. Though this looks good on men, it can also be a good idea for a lion tattoo for women.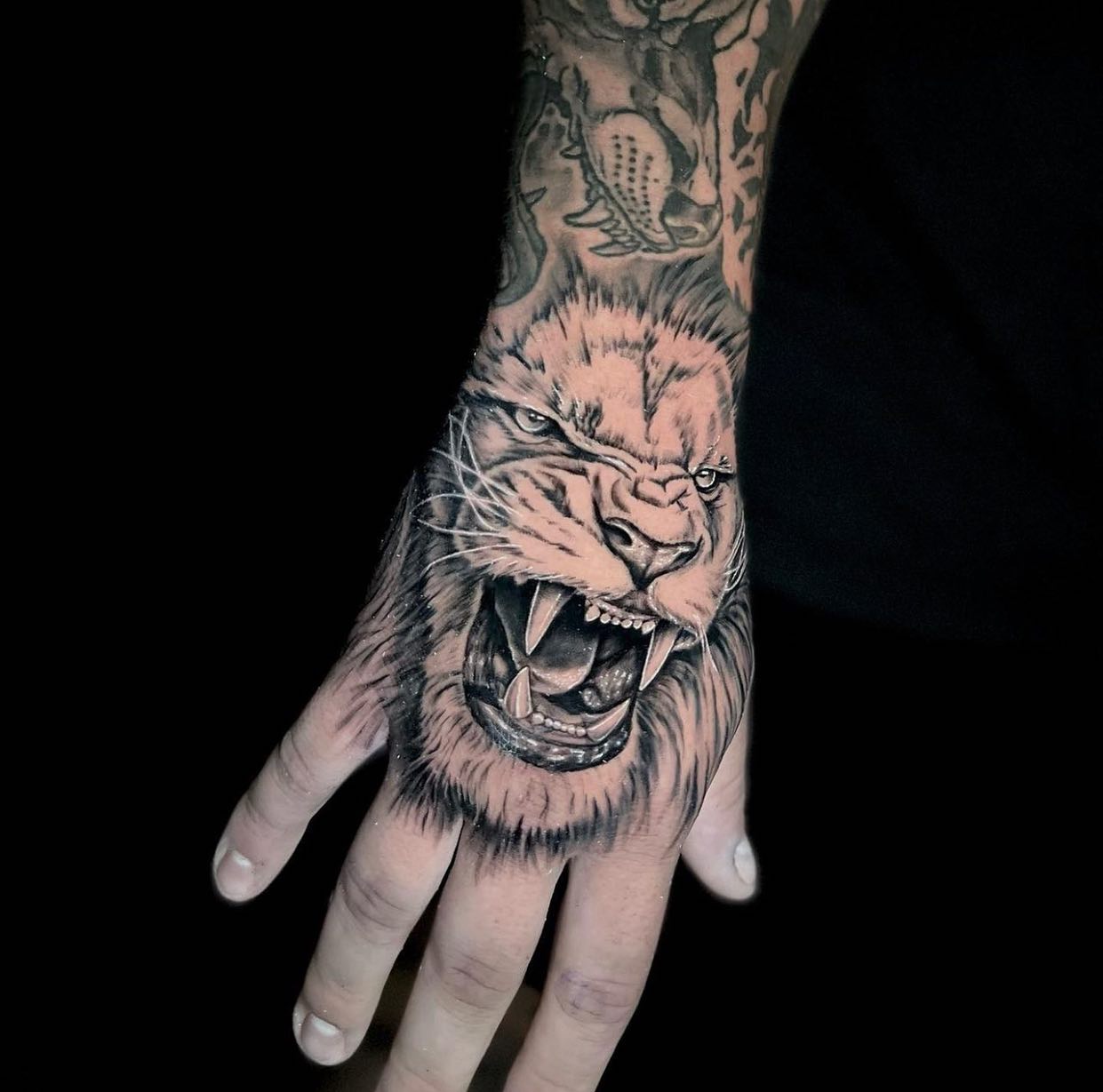 via @relicbodyarts
Lion with the Crown Tattoo Complete Each Other
A lion tattoo symbolizes courage and indomitable spirit. A crown tattoo complements the Leo tattoo, and these two look picture-perfect. They beautifully complete each other. The crown depicts power and dominance.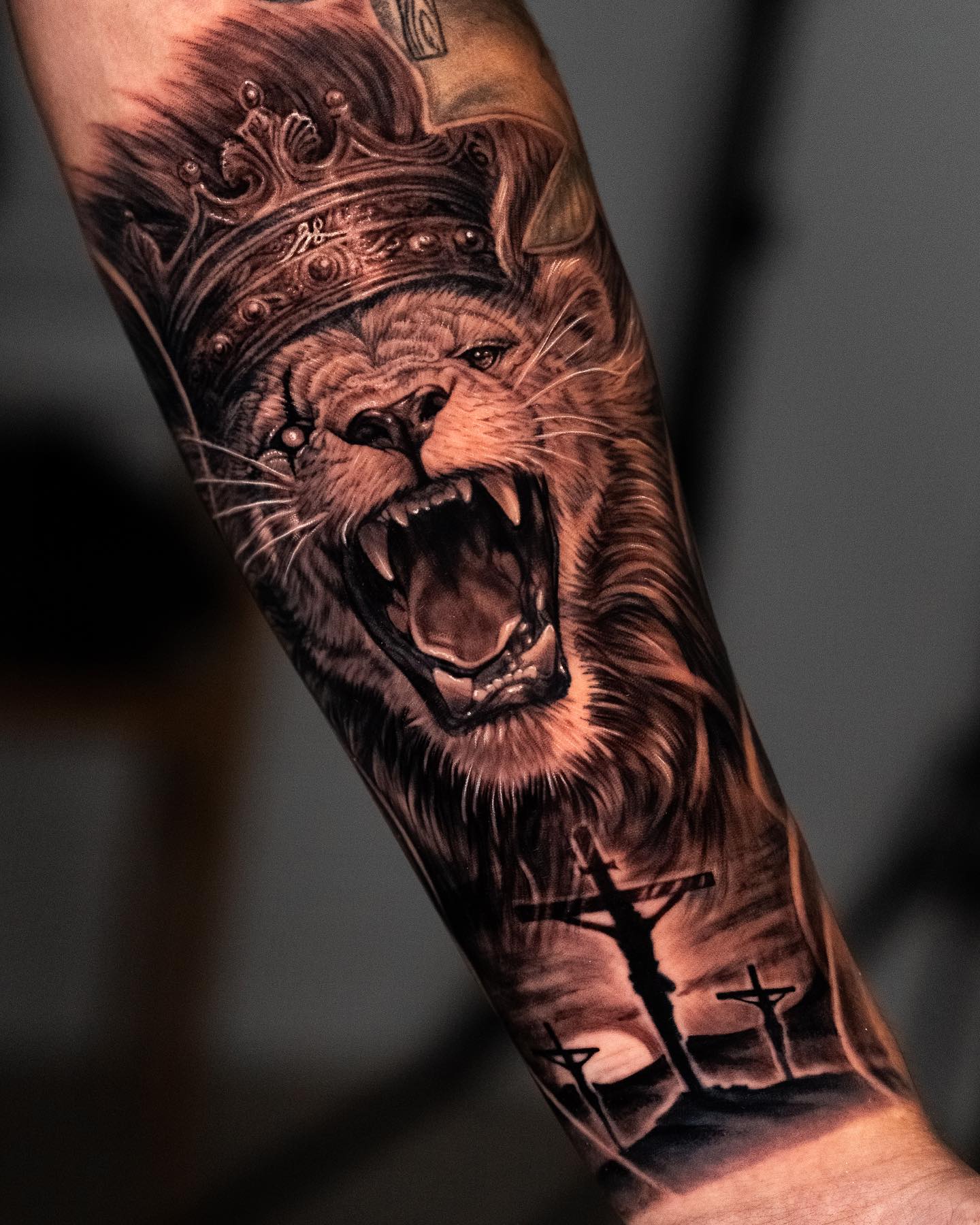 via @dev_tattoo
The feline look of a tribal lion tattoo exemplifies a boisterous ambience, and a tattoo artist can recreate the feline finesse with incomparable skill. The tattoo is awe-inspiring and becomes a crowd-puller. A generic lion tattoo looks impressive, but a tribal variation is breathtakingly beautiful.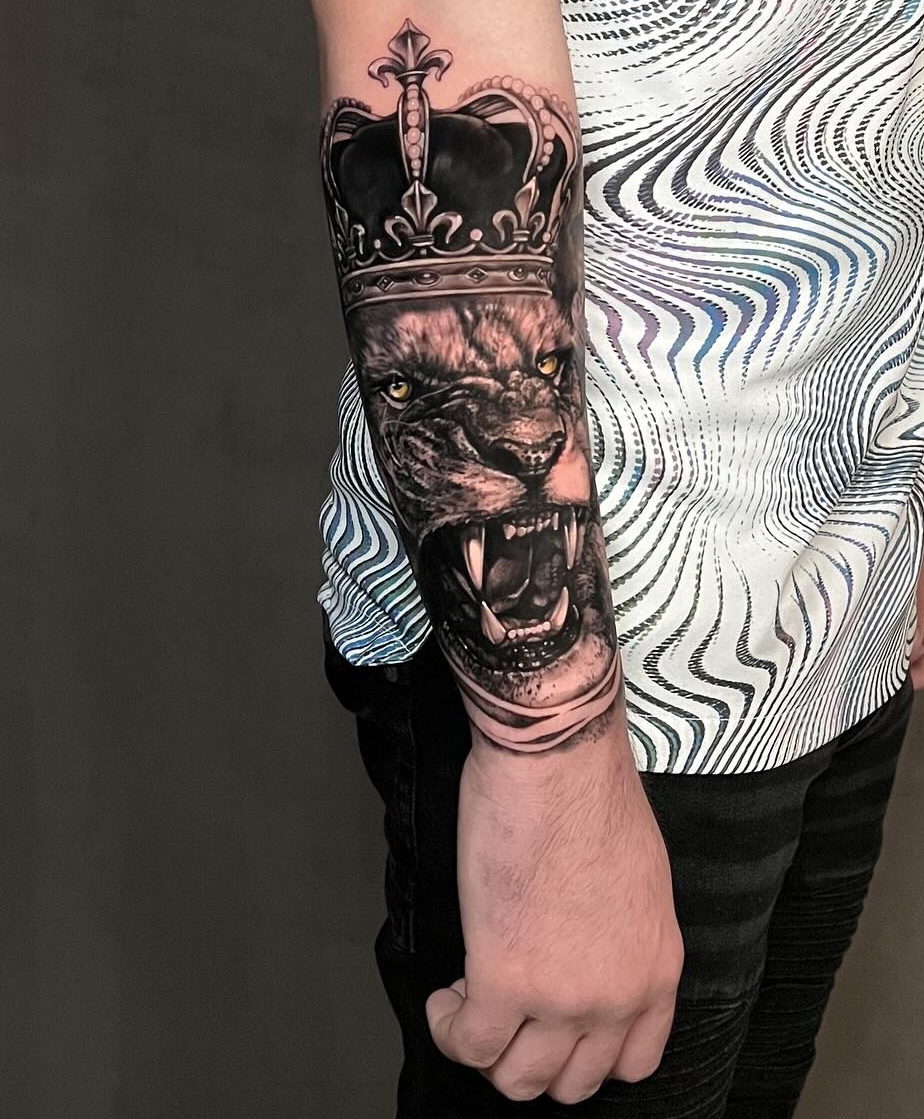 via @peros_tattoo
Cuteness Overloaded with Lion and Cubs Tattoo
The protective instinct between a parent and a child is worth celebrating and applies to the big cat species, too. A female lion tattoo surrounded by her little cubs is a beautiful expression of this feeling.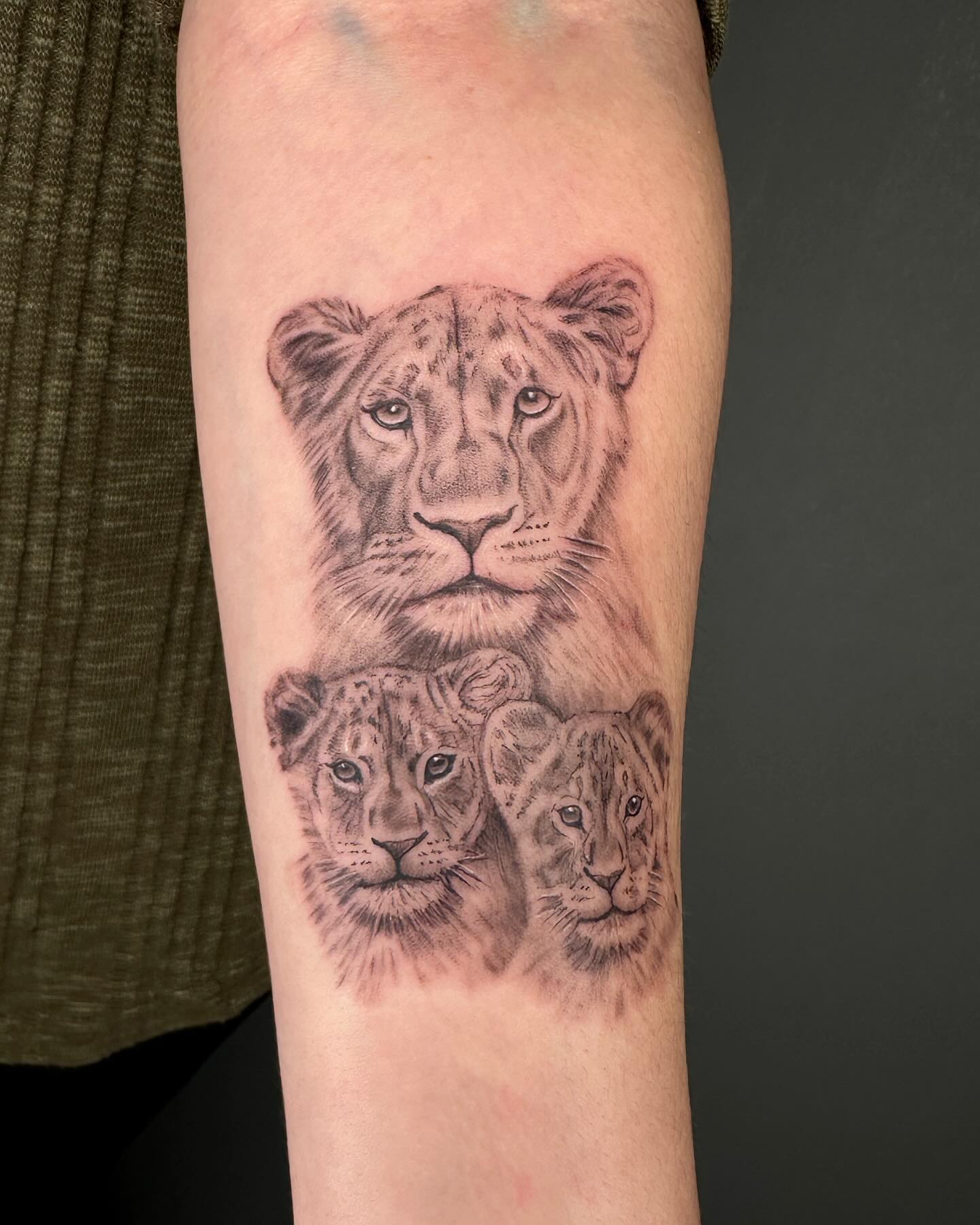 via @juanpacarcamo
These tattoos work fabulously for women or people with tender hearts who prioritize family over all matters. A cub tattoo with a male lion depicts the fatherly-child bond. The lion or lioness tattoos with cubs are highly recommended for the entire arm.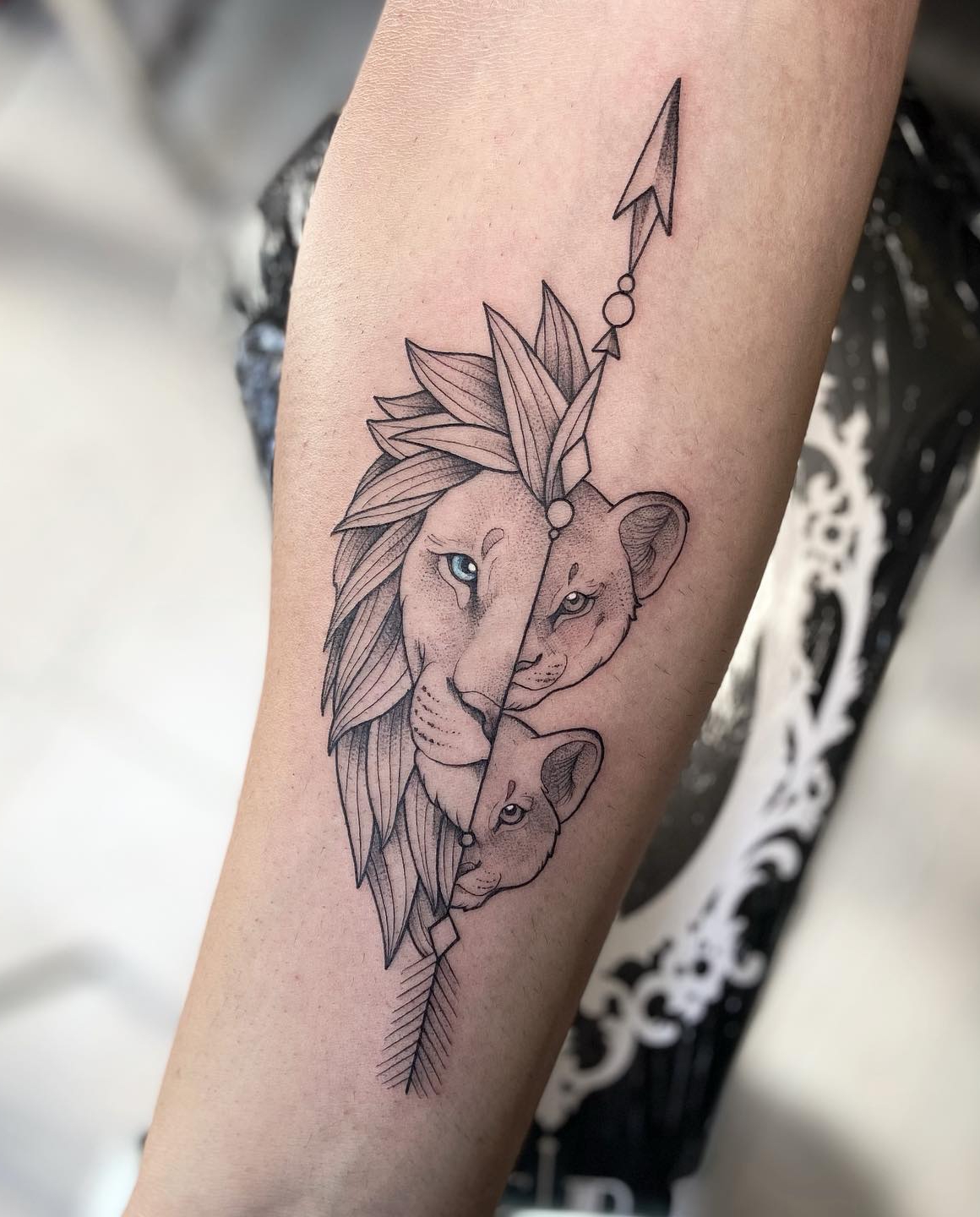 Pride and Majesty of Lion Skull Tattoo
The skull of the lion is a tattoo idea depicting courage, excellence, and strength. The skull additionally has another symbolism. A lion head tattoo represents that every life is a journey and that each journey has an end.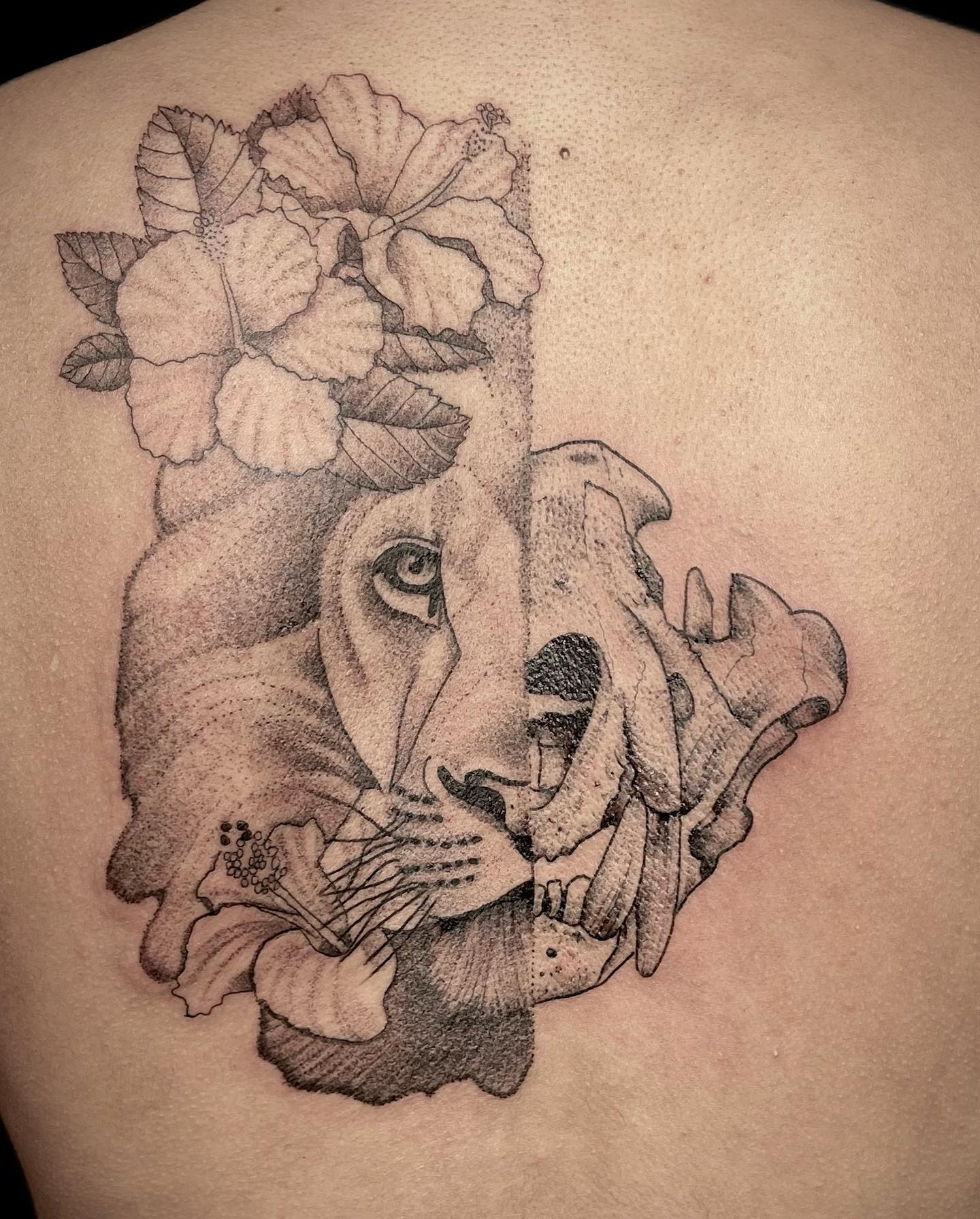 via @marknoeltattoo
Skull tattoo ideas can be inked in various ways – minimalist, geometrical, or realistic. Experiment with these tattoo ideas on shoulders, back, chest, feet, calves, or other parts. Adding a little color makes the tattoos eye-catching or shading for a realistic look.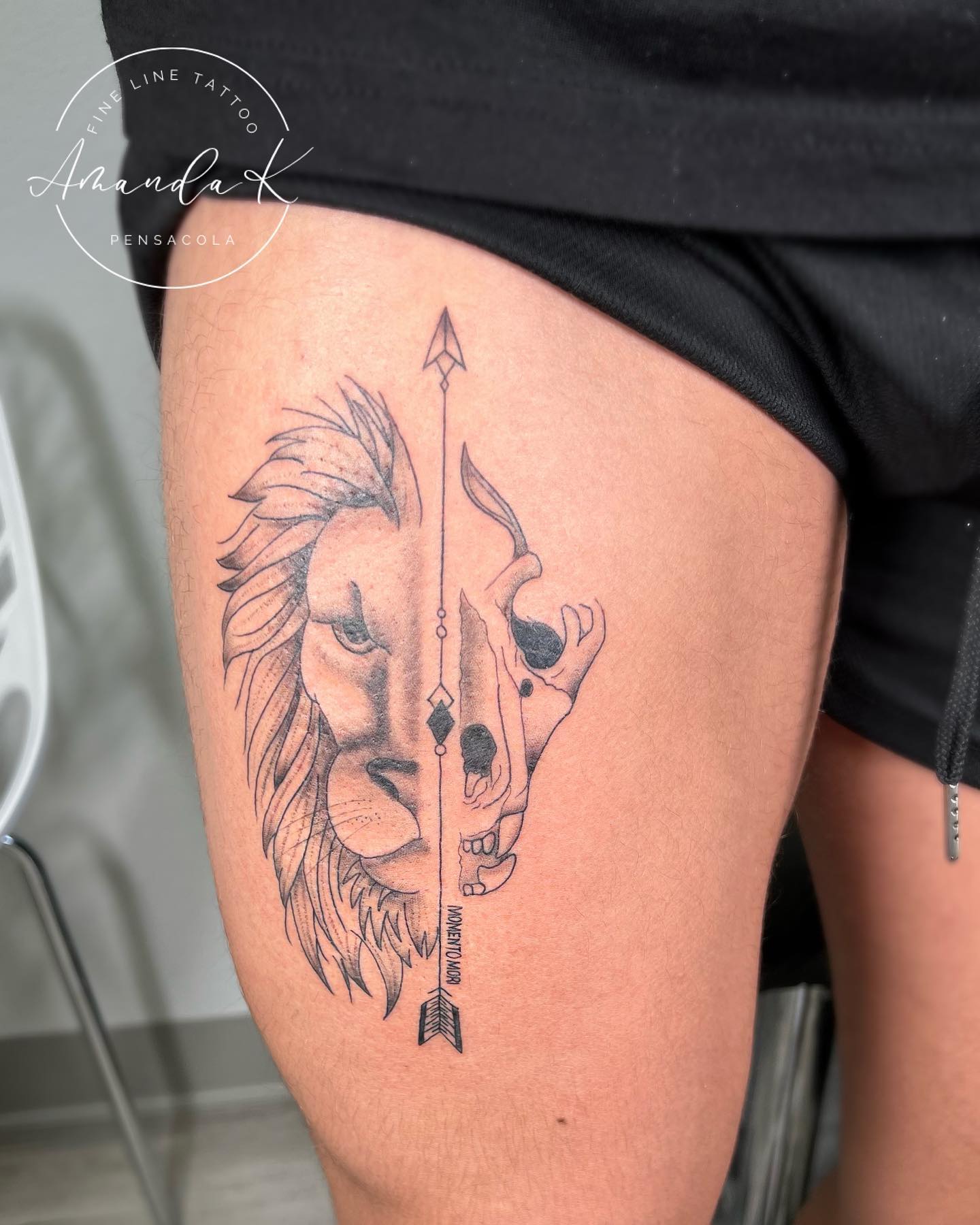 A Realistic Work of Art: 3D Lion Tattoo
An expert tattoo artist can do a three-dimensional lion sleeve tattoo in the best way. Let the artist try their creativity to make a hyper-realistic design on your body part. Tattoo artists will use the right colors and inks to detail the features of the big cat.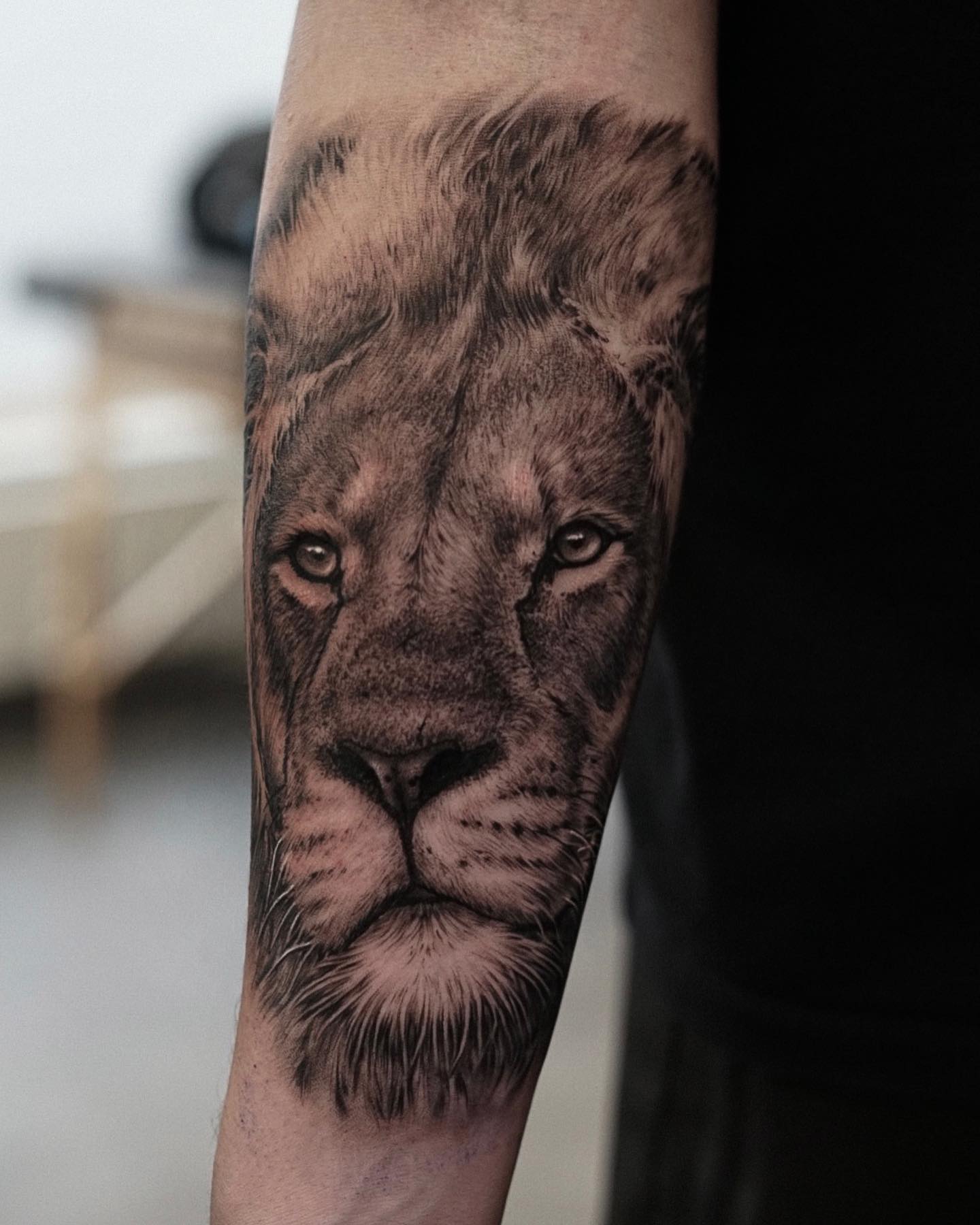 A mountain lion tattoo design looks good on all skin tones and complexions. The tattoo is an excellent idea on your calf, between the knee and ankle. Shades of brown and black are best suited.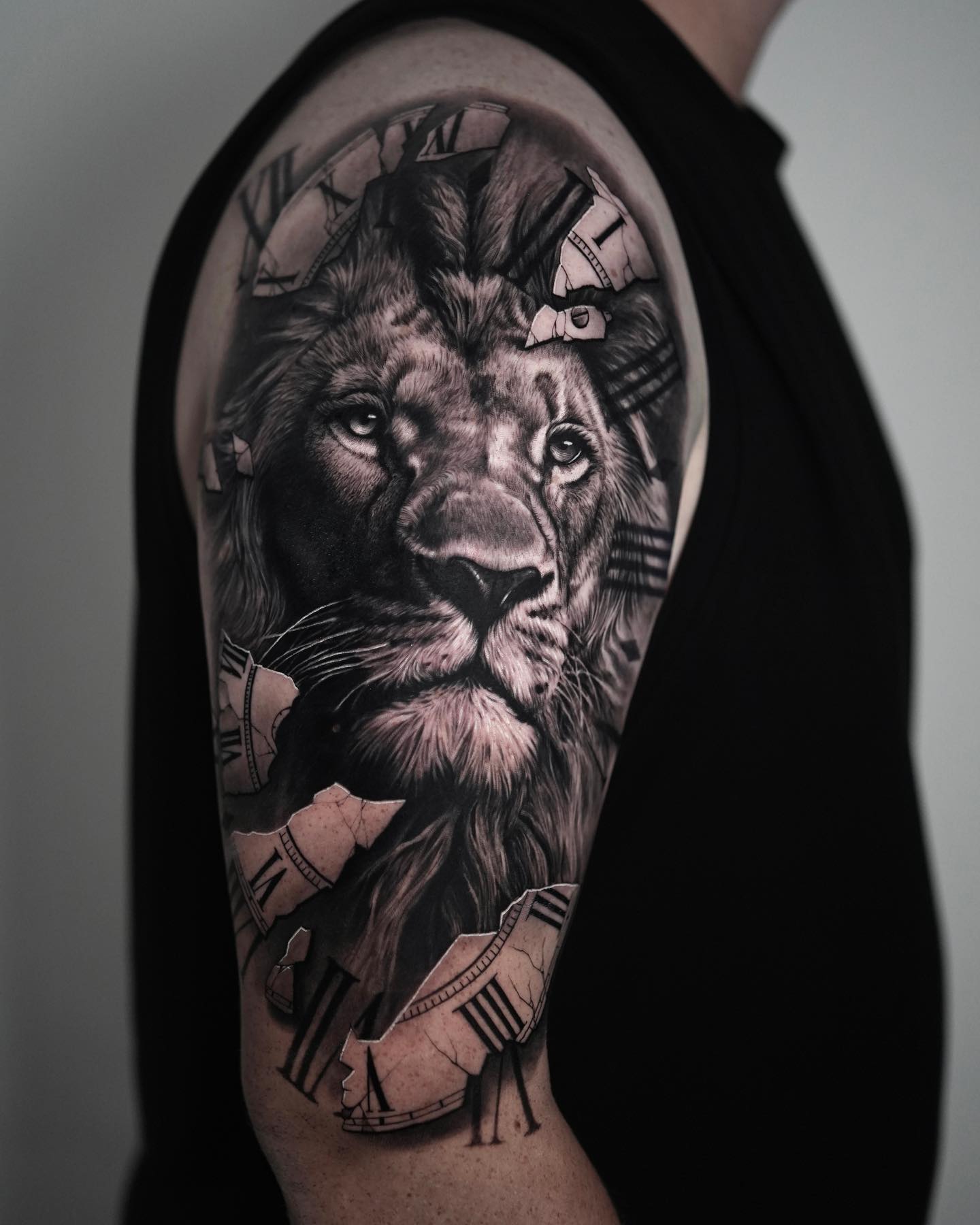 via @vinokurovtattoo
Japanese Lion Tattoo Depicts Religious Sentiments
A Japanese-style lion tattoo represents courage, bravery, honor, and strength. In the community, the lion is believed to safeguard their land and temples and is also the guardian of Buddhism. The lion is drawn out of black ink on the chest or the shoulder, mainly on a man.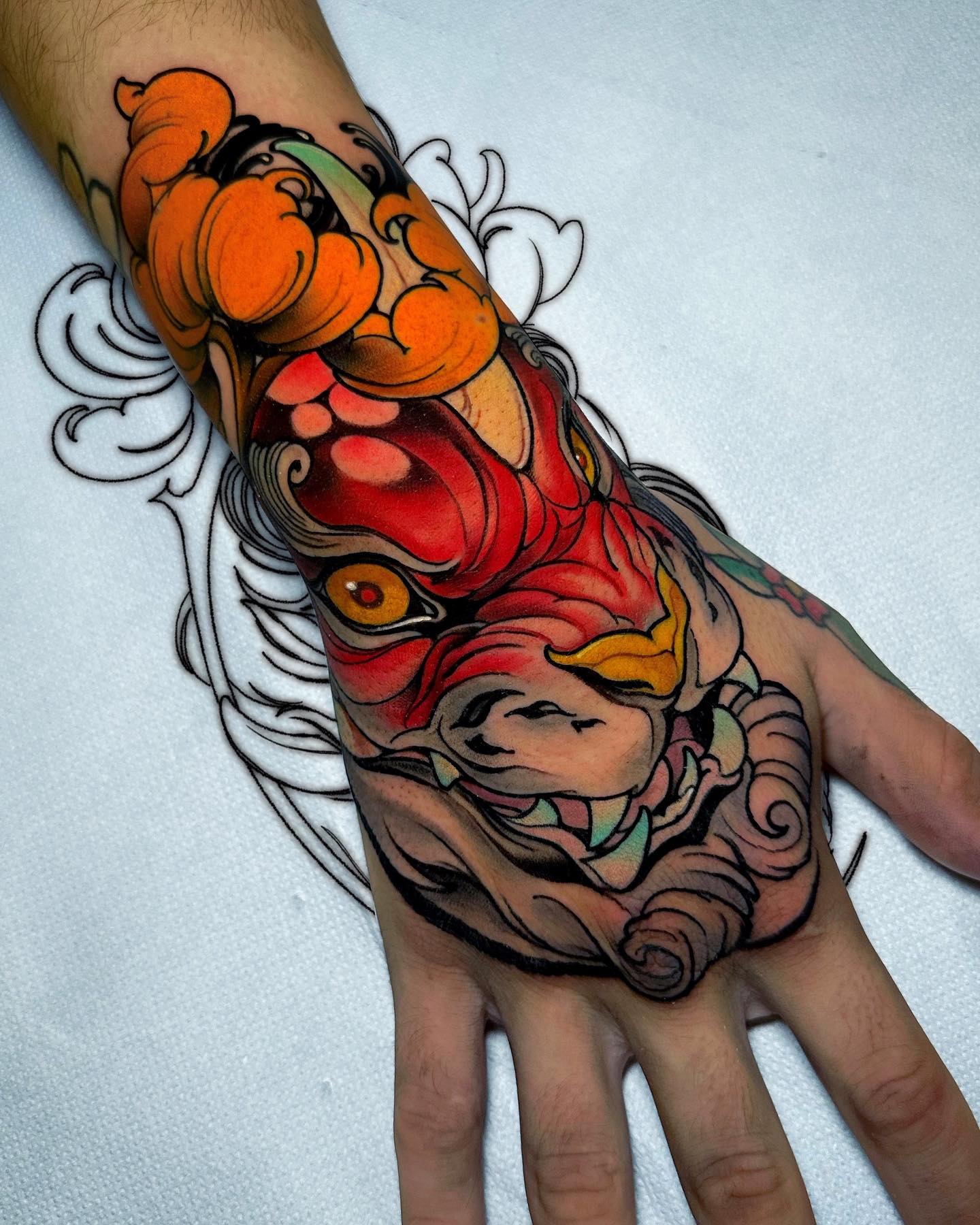 via @matteo_leozappa
The tattoo features a flame-like mane, red lips with fangs, and a Chinese dragon body with whiskers and legs. A roaring lion tattoo is recommended if you have a protective spirit for your loved ones.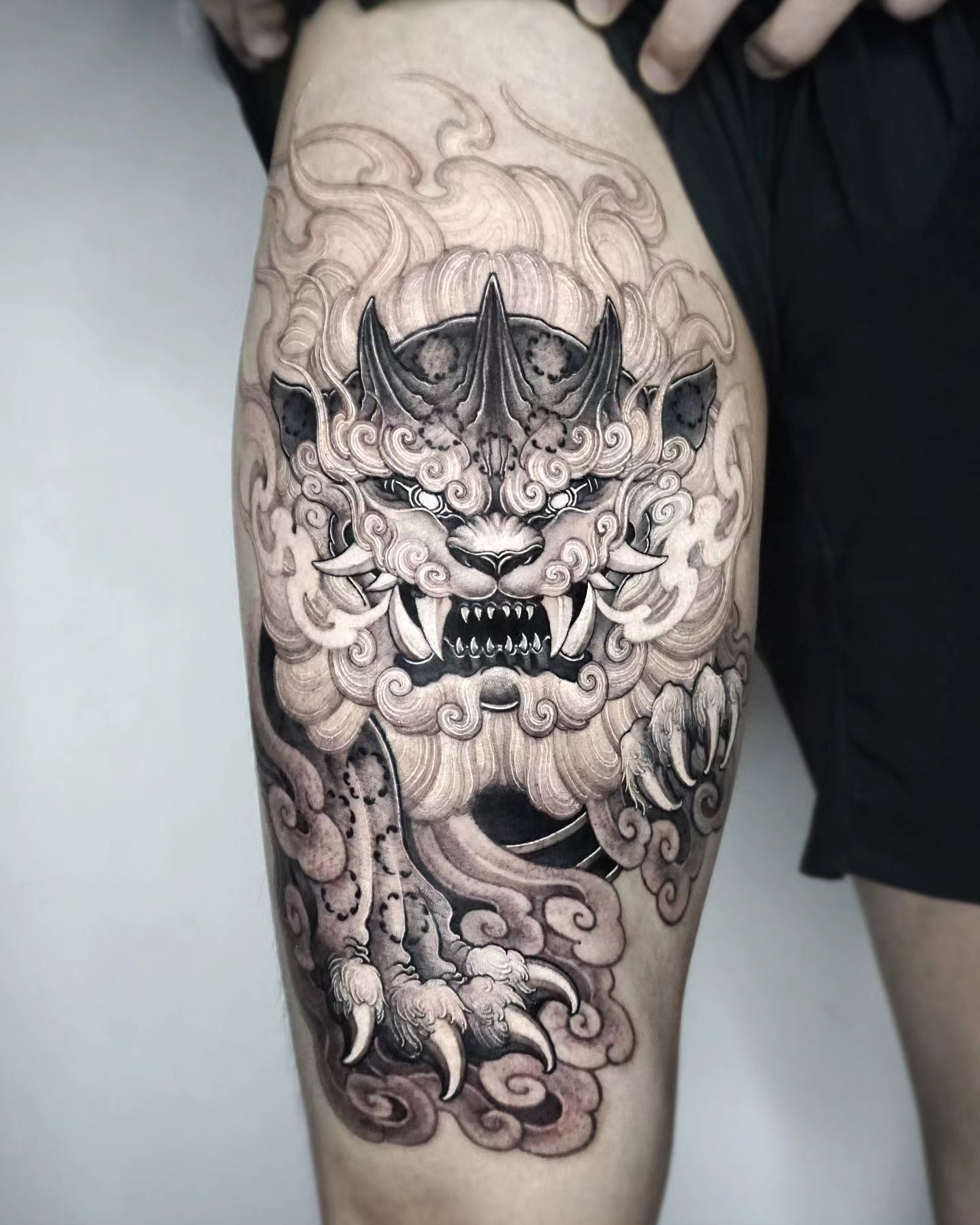 via @pyo_ink