Chinese tattoo designs are unique and quite spectacular. These stand out as the tattoo designs are typically derived from symbols, cartoons, sayings, or even characters.
Chinese tattoo designs are unique and quite spectacular. These stand out as the tattoo designs are typically derived from symbols, cartoons, sayings, or even characters.
If you look at cheating body art that looks and feels different, then Chinese tattoos are worth trying. Additionally, Chinese tattoos have a historical significance and artistic appeal too.
Continue reading to learn about 20 epic Chinese tattoo ideas for men and women.
The Complex Meaning of Chinese Dragon Tattoos
Chinese dragons are considered significant in the Chinese culture. The meaning of the Chinese dragon tattoo is both positive and negative. On the positive front, it represents good fortune and wisdom; on the not-so-good front, it stands for fear and power. The dragon is tattooed snake-like, with tiny legs pointing upwards toward the sky.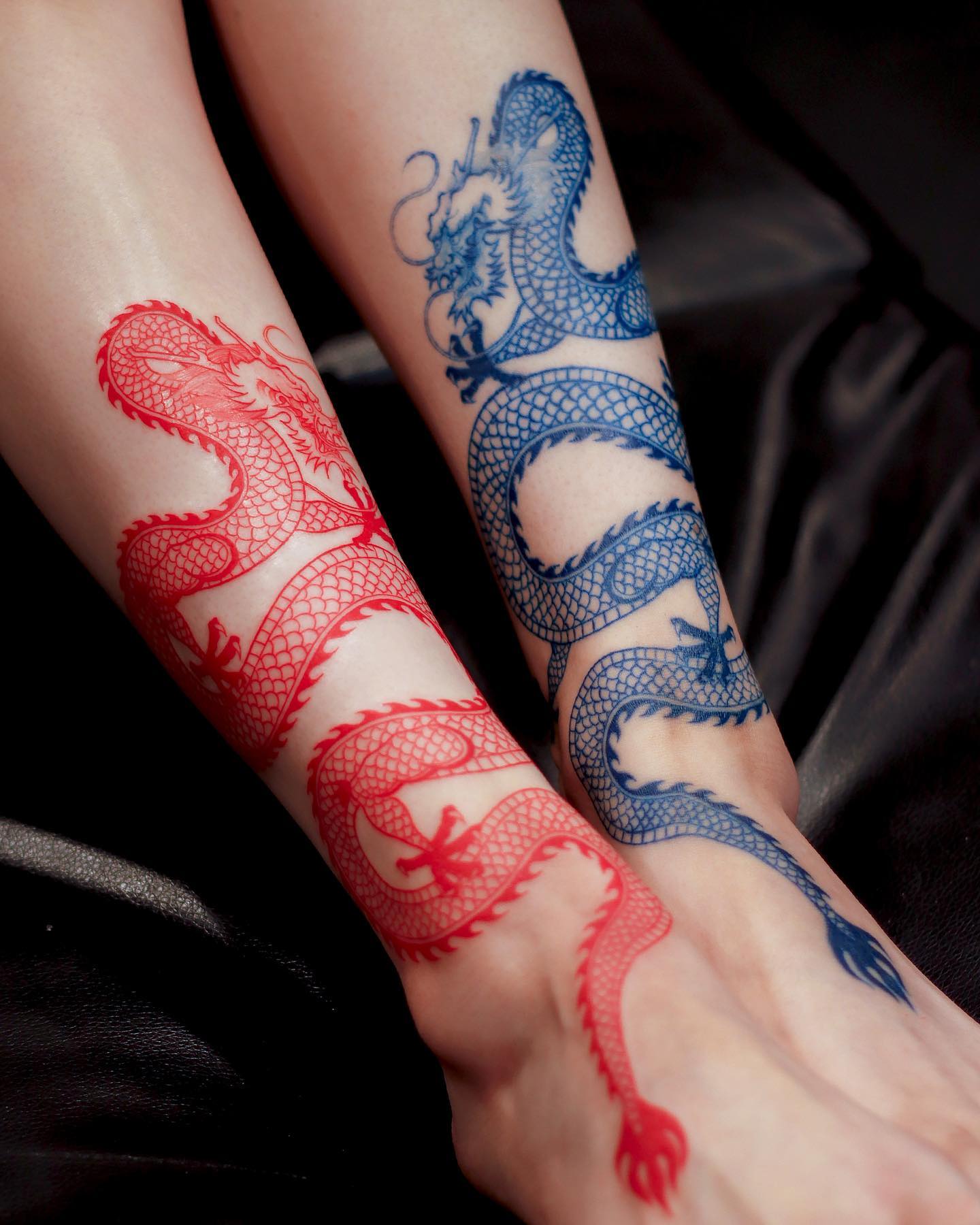 via @saki.lss
Eloquent Chinese Letter Tattoos
Chinese calligraphy tattoos are quite impressive and look beautiful on your skin. You can spread them on a more prominent space, like your back. In this case, traditional Chinese letters like numbers, words, or letters look good, and you can have a narrative associated with them.
The letters are powerful and showcase strong emotions and concepts. Make sure to pick one that represents you.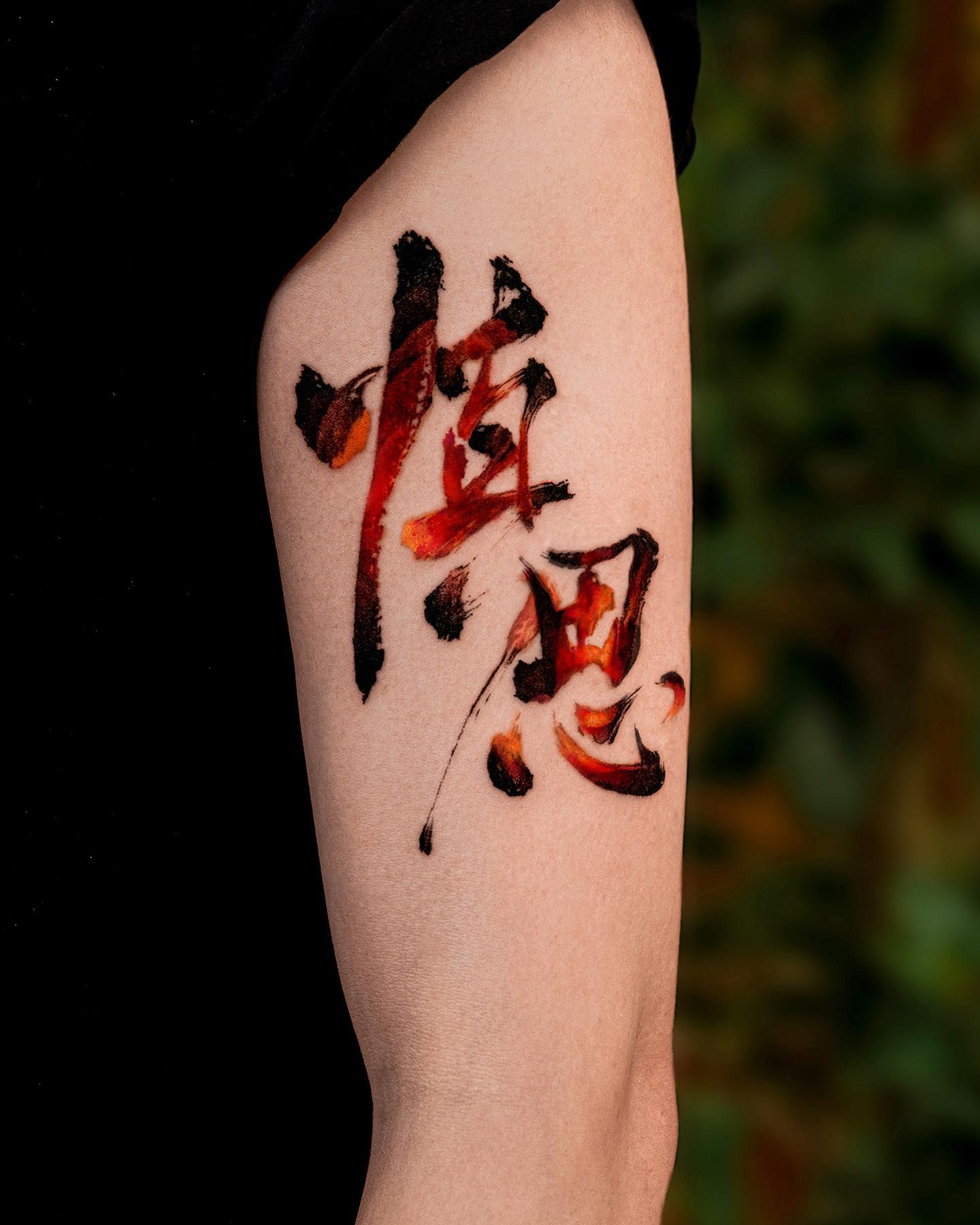 via @inkflow_nako
Personalized Chinese Zodiac Tattoos
The Chinese zodiac follows planet Jupiter's 11.85-year orbit with a 12-year calendar. Each year is represented by an animal. That's the meaning of the zodiac tattoo in Chinese.
The zodiac sign you belong to depends on the year of your birth. This is an impactful body art idea for men and women. You can choose a colorful tattoo for your zodiac sign.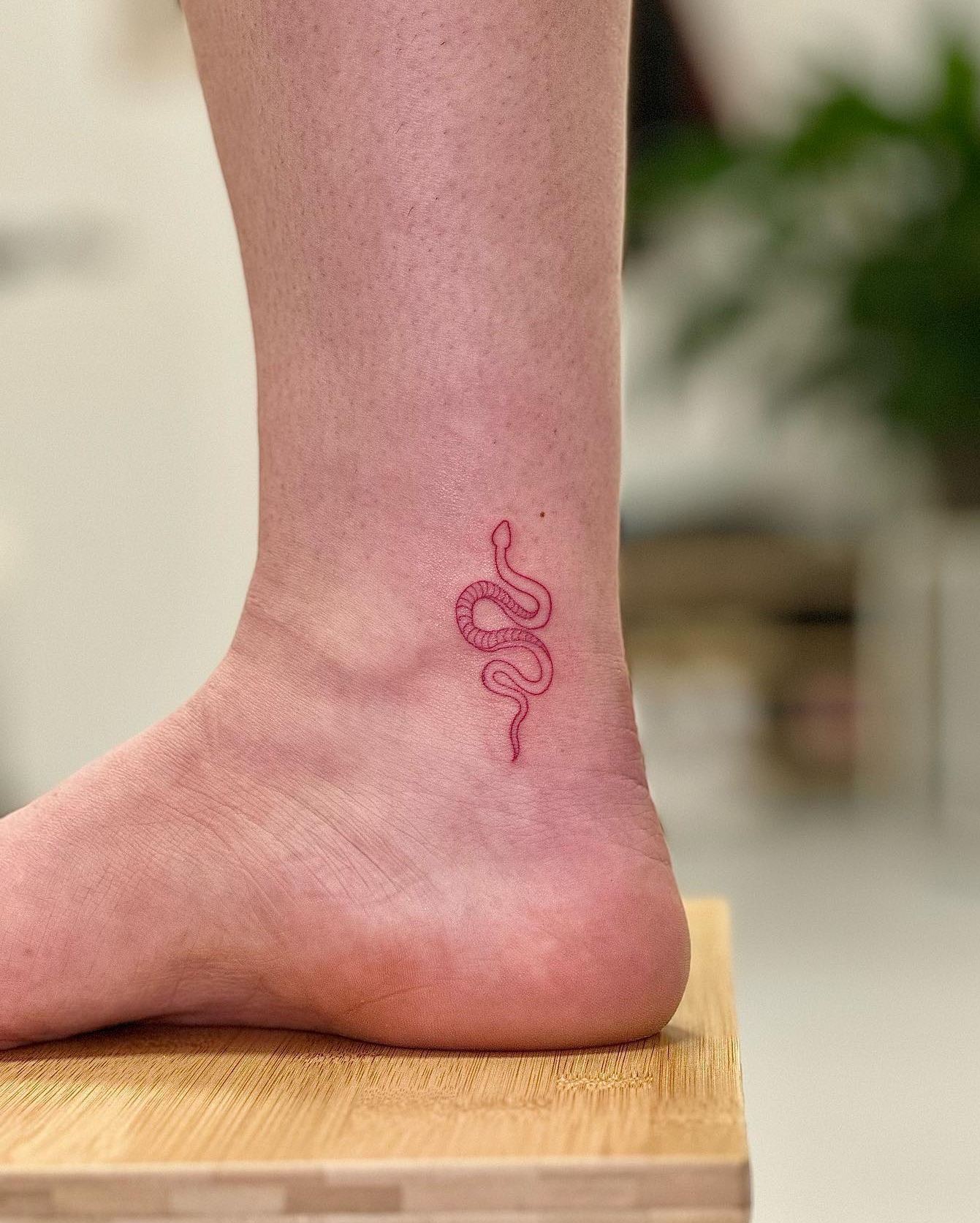 via @misterch_
Awe-Inspiring Chinese Tiger Tattoos
Chinese tiger tattoo is another powerful choice of body art. The tiger is the 'Lord of the Jungle' and symbolizes being the protector of the dead in China.
The meaning of the tiger tattoo is wealth and God. It represents good fortune, prosperity, strength, and wisdom. Go to a trained tattoo artist for the best representation.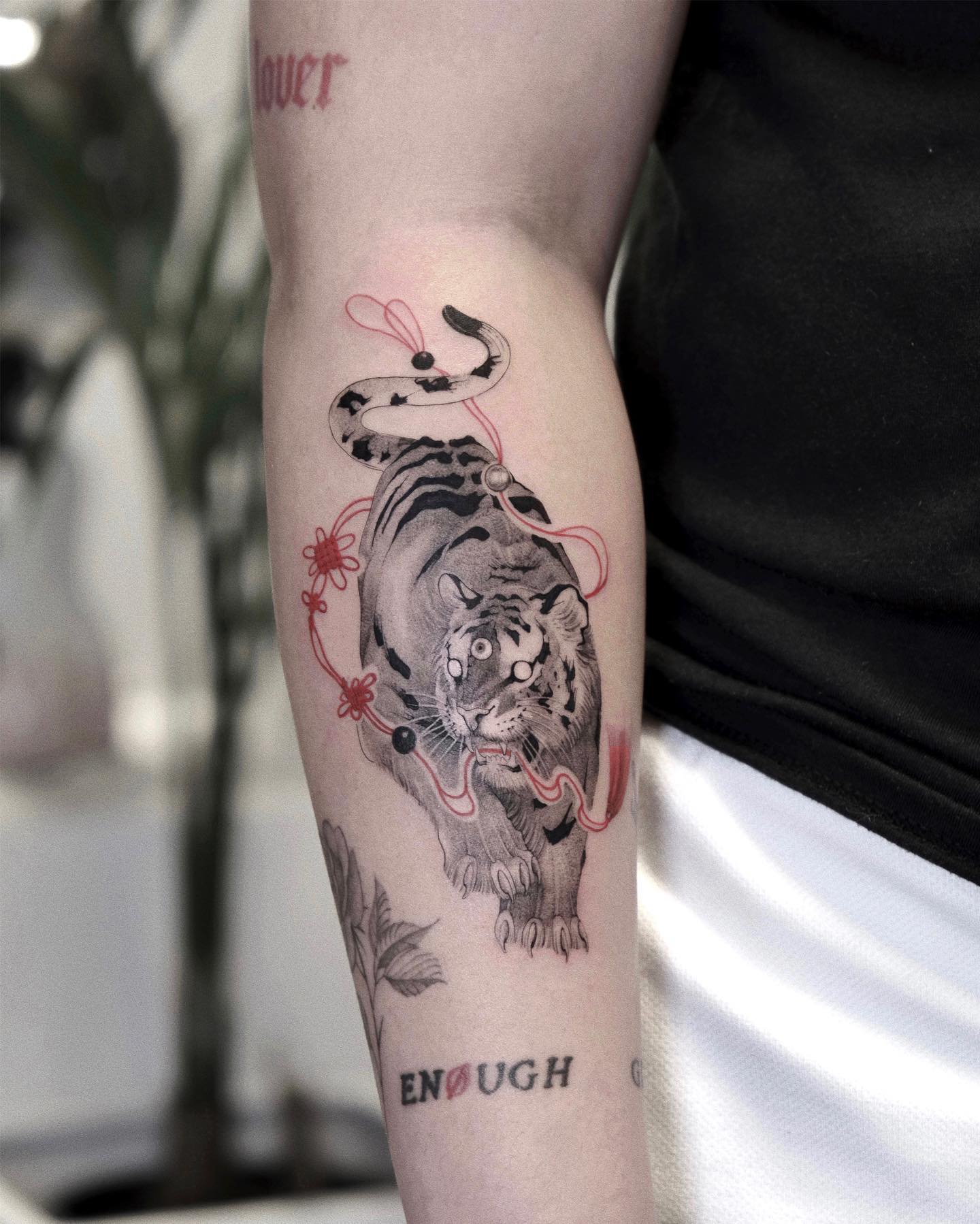 via @wilwang_tatt
Symbolic Chinese Lion Tattoos
Lions are regarded as mythical and have been a part of China's culture for years. An Asian lion tattoo represents success, peace, calmness, and prosperity.
Known as komainu or foo dog, the guardian lions are what the lion tattoo meaning is. Pay your respect to this creature with body art. A great choice as leg tattoos!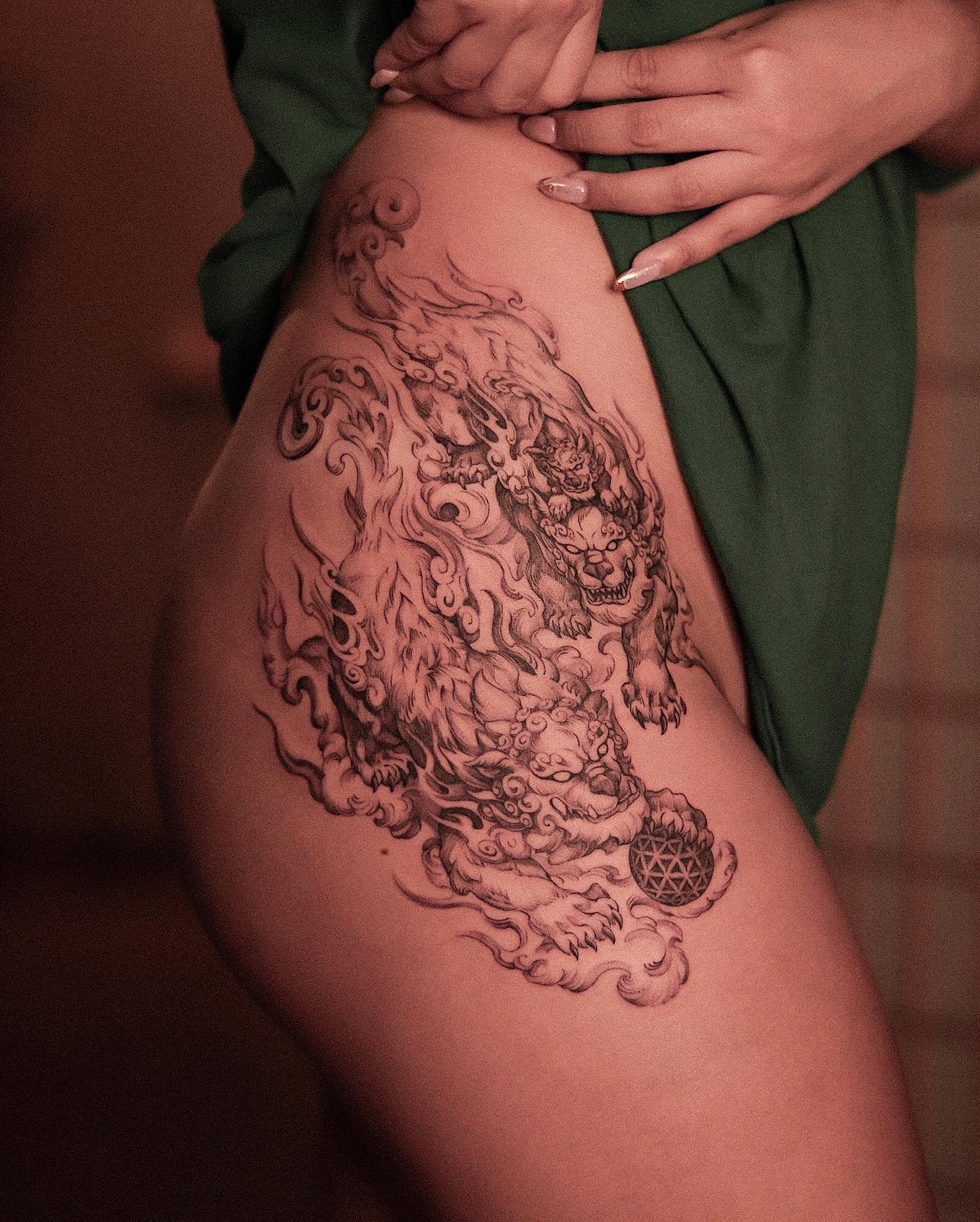 via @oc_tatt
Exquisite Chinese Symbol Tattoo
A form of Chinese tattoo art is symbols made with gracious curves and flowing lines. You can pick a Chinese font tattoo and present it on their wrists, especially the smaller ones. The bigger ones can go on other parts of the body. Chinese symbols need a lot of work, and it's best to go to a credible tattoo artist.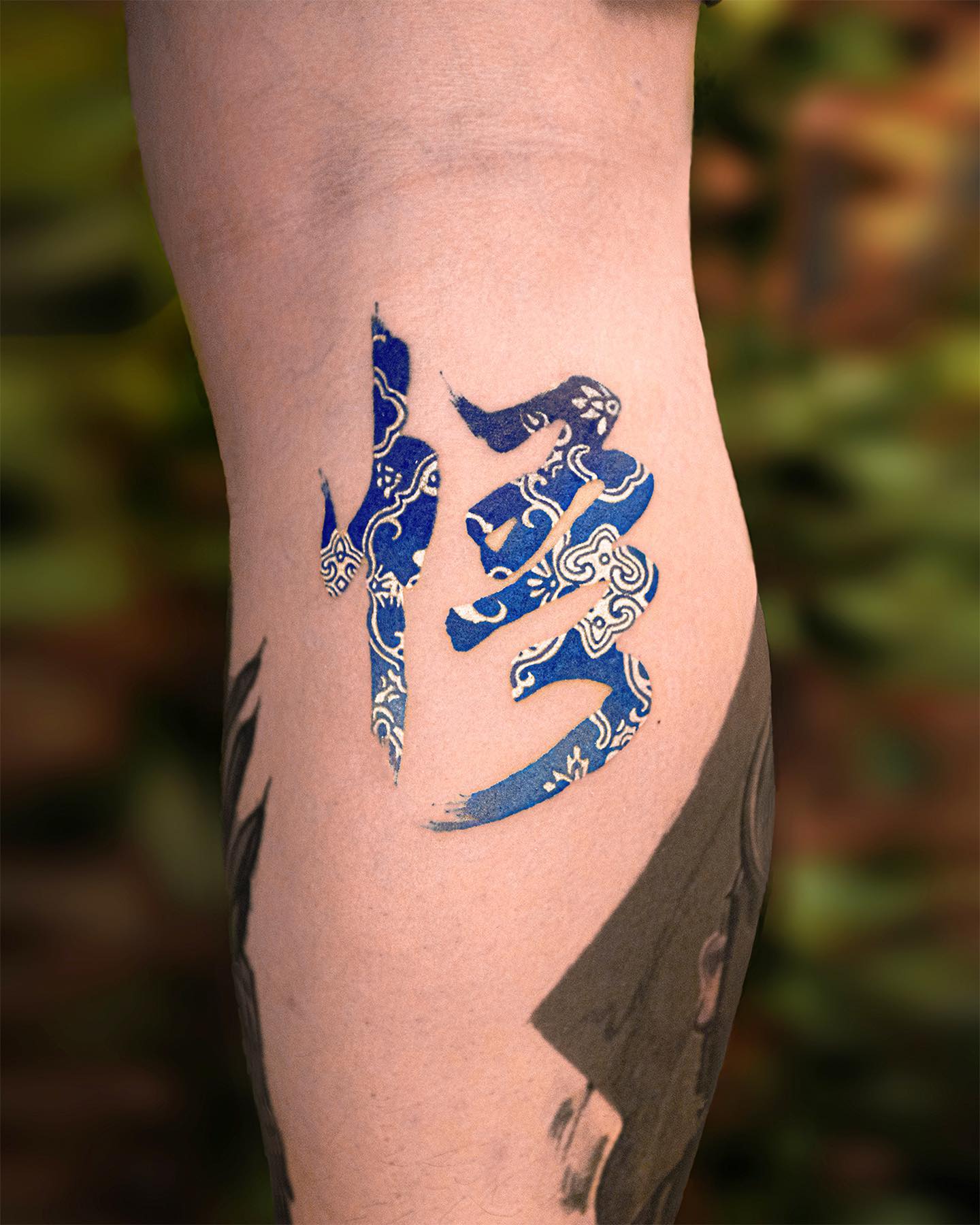 via @inkflow_nako
Traditional Chinese Tattoos For a Vintage Appeal
Be a part of Chinese folklore with traditional tattoos inspired by Chinese history and culture. A good tattoo artist can do full justice to the task. From symbols to mythical characters, you have a range of choices. On the one hand, there are complex art forms like the snake or Phoenix, and on the other calligraphic work.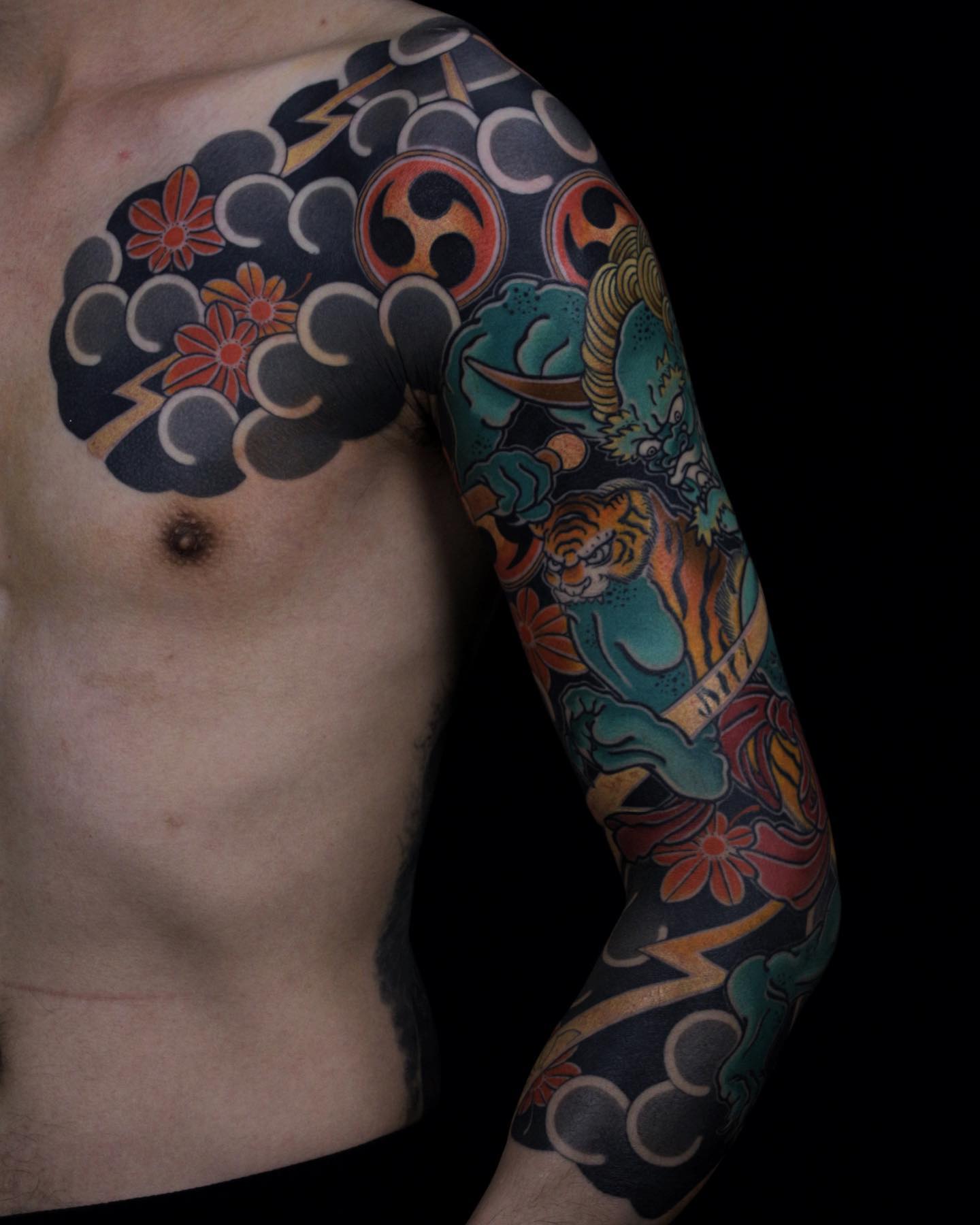 via @yintattoo1414
Exotic Chinese Flower Tattoo
Flower tattoos are also a popular choice among women. Go for a Chinese blossom tattoo or flowers like the Chinese lotus, apple, sakura, or plum. All of these represent femininity and look aesthetically beautiful.
Try them as a stomach tattoo or on the back. Flowers are multi-colored; hence try colorful tattoos of Chinese flowers.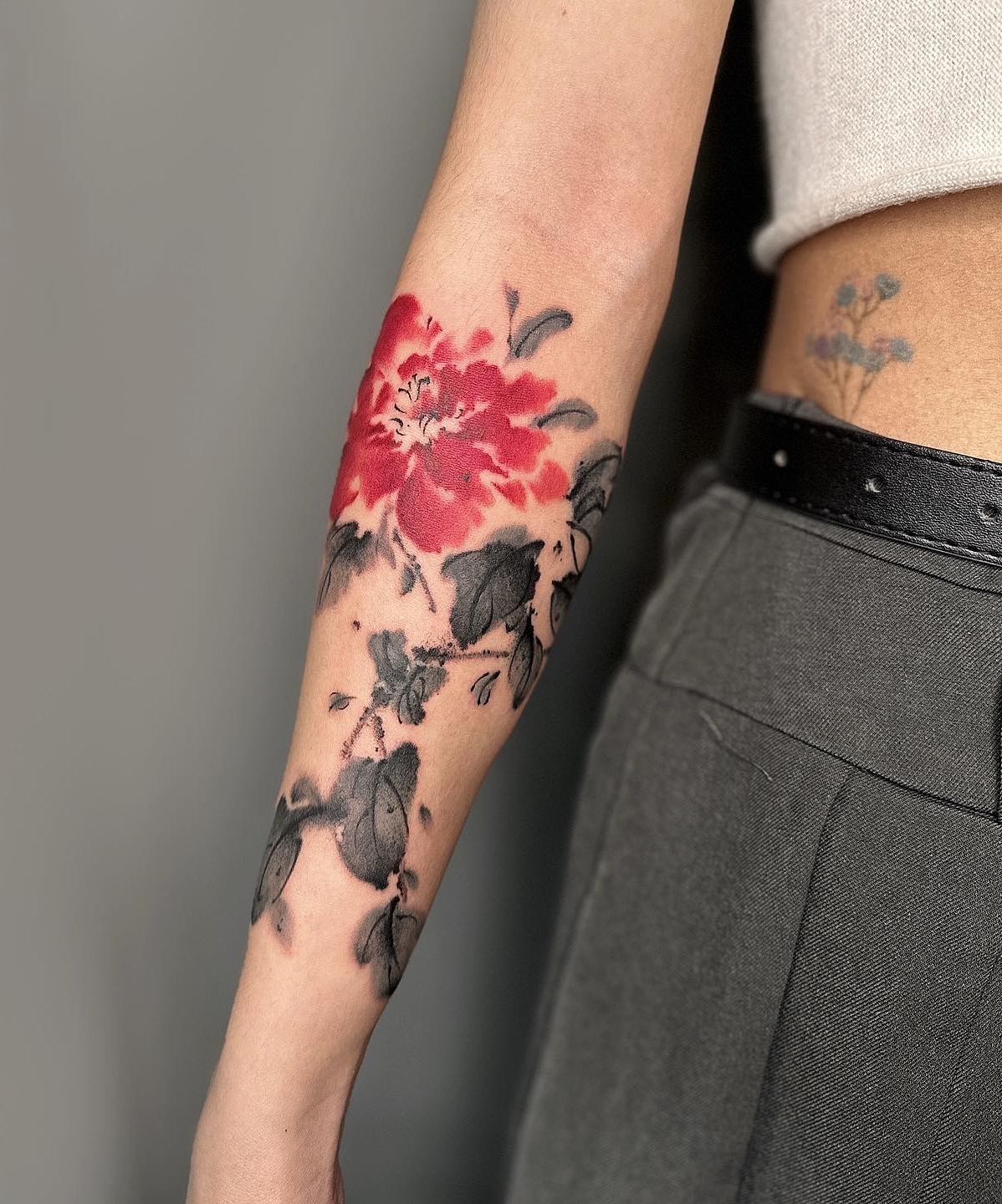 via @winnie__waiyin
Intricately-Created Chinese Tattoos on Neck
The neck is a delicate part and is associated with speech or communication. If you are open to new experiences and people, a neck tattoo is for you. Chinese tattoos are meaningful and come in all sizes.
For the neck, small Chinese tattoos look fantastic. A Chinese word on the neck can be a single-letter word that personifies your personality, or it could be a curvy symbol, the name of a loved one, etc.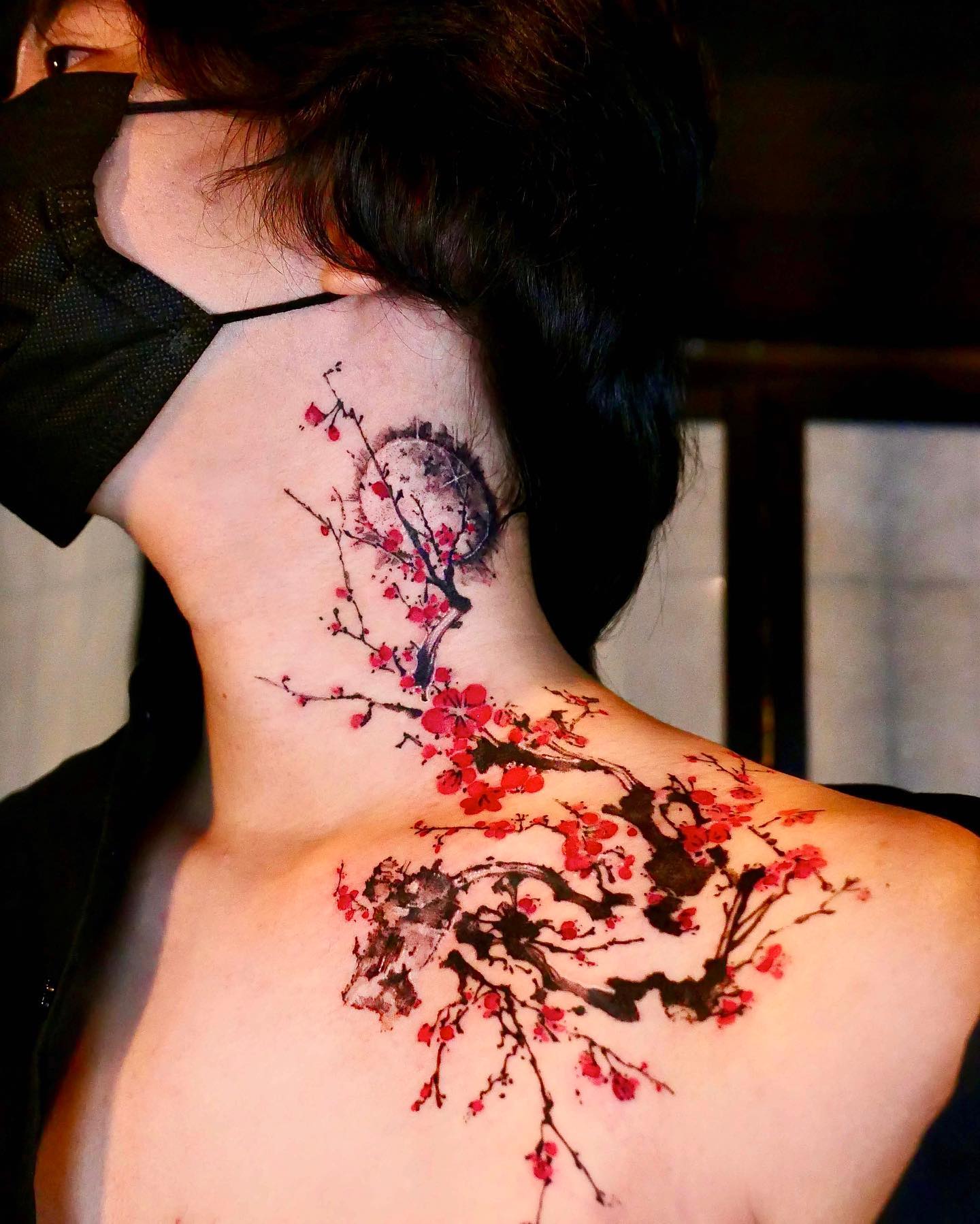 via @seolheetattoo
Chinese Back Tattoos For Extra Fun
Chinese tattoos look exquisite on the back, whether a man or a woman. Try Chinese flower tattoos with unmatched finesse. Make it a fun time, and let the back tattoos represent your story, your evolution.
For example, a Chinese dragon on the back is an excellent choice because the dragon needs space to paint, and the back is the perfect spot. Make colorful tattoos, small or big, animal or mythical creatures; you have endless choices.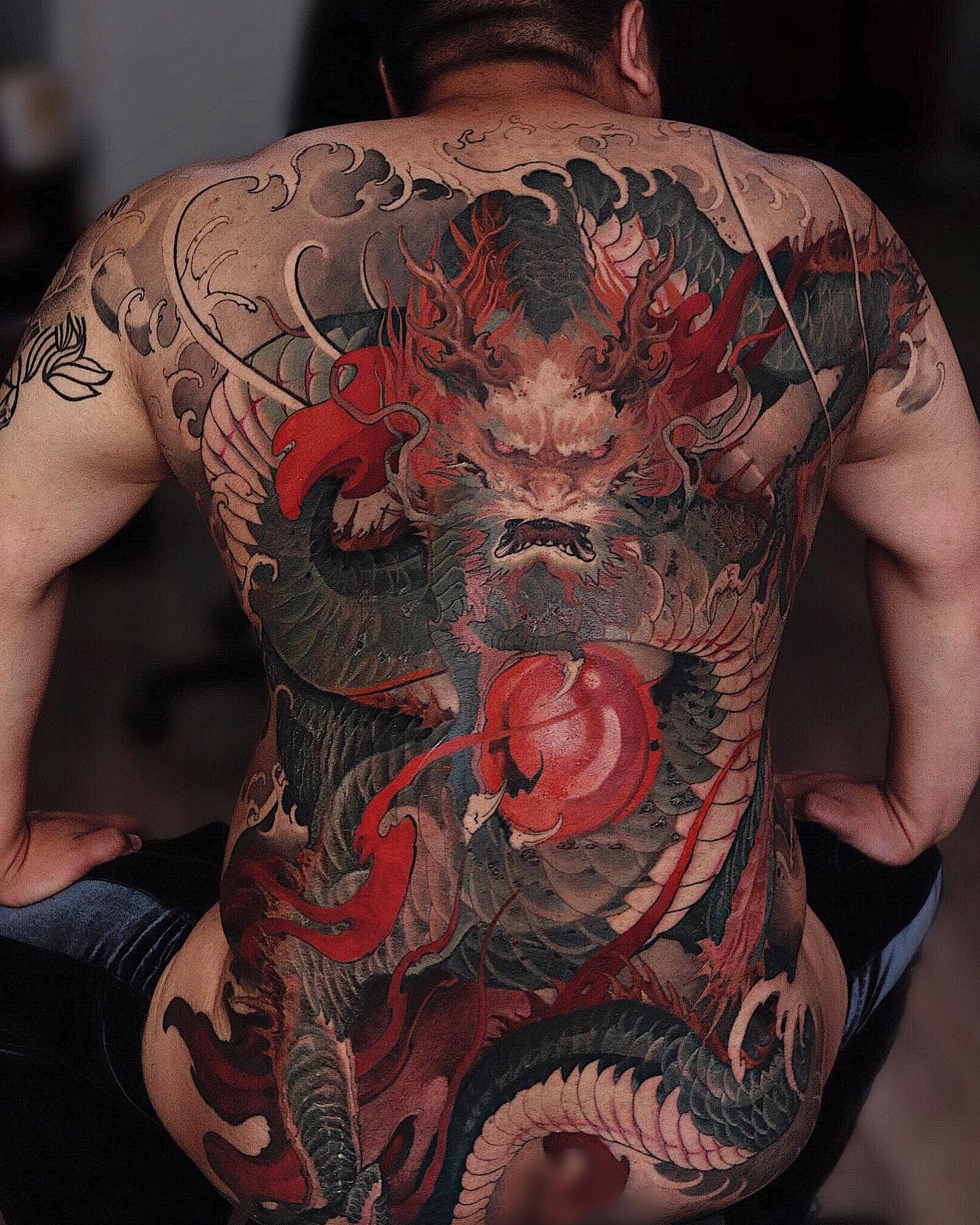 via @skyutattoo
Chinese Fish Tattoo Represents Power & Luck
Koi fish tattoos are quite symbolic in Chinese culture. The fishes are thought to be representatives of good luck charms. These look extremely elegant as tattoo designs.
The koi fish represents prosperity and strength, masculinity, and perseverance. Donn the fish in blue to represent masculinity. It is an excellent choice for men, especially fathers proud of their parenthood.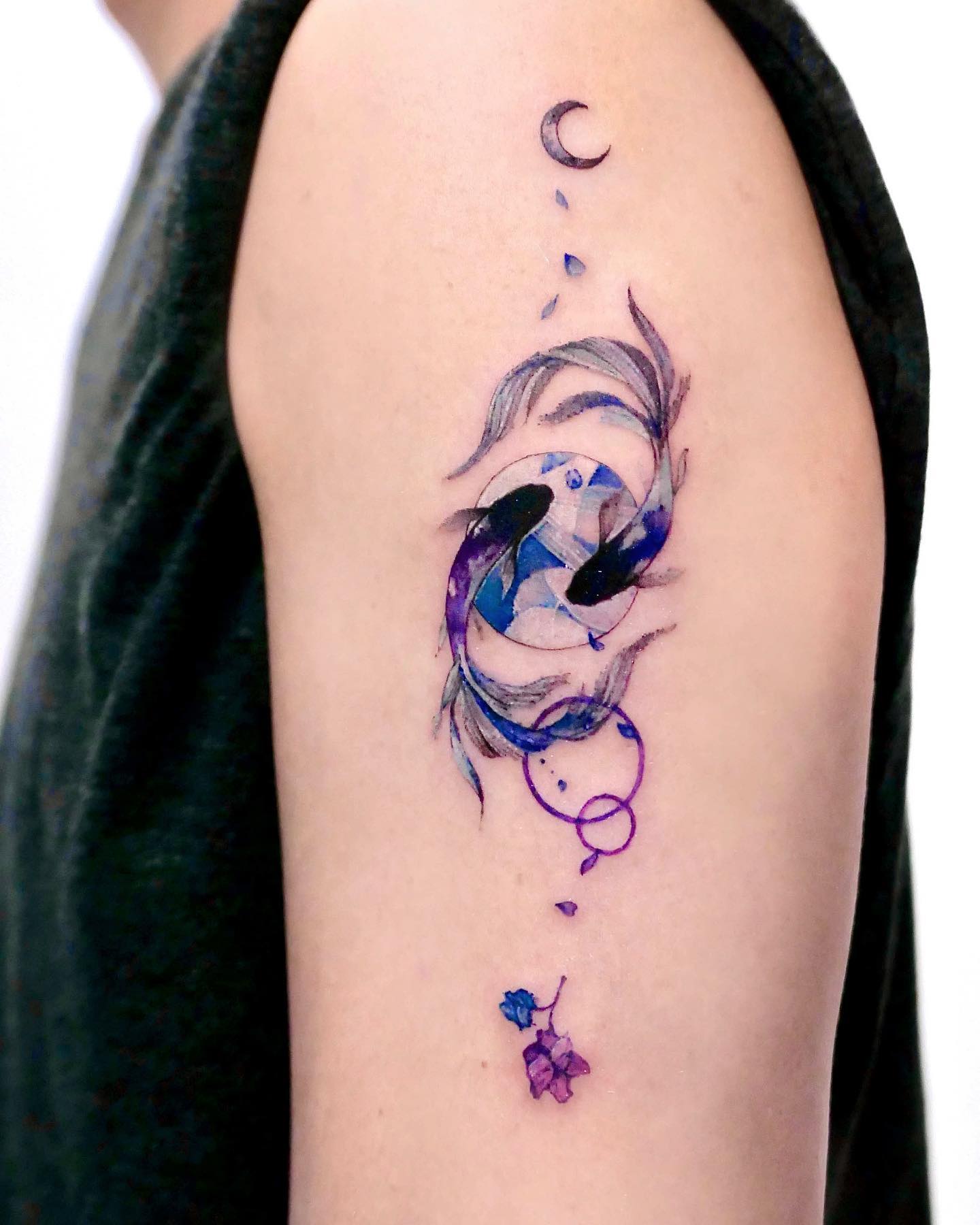 via @seolheetattoo
Meaningful Chinese Tattoo For Deeper Impact
The best thing about Chinese tattoos is that letters can represent a range of emotions, feelings, and mindsets. Tribal tattoos from China representing your personality and traits can be quickly sketched on your body. These are meaningful tattoos because each letter is deeply significant and impacts life. One fabulous idea is to try the names of loved ones tattooed on the arm.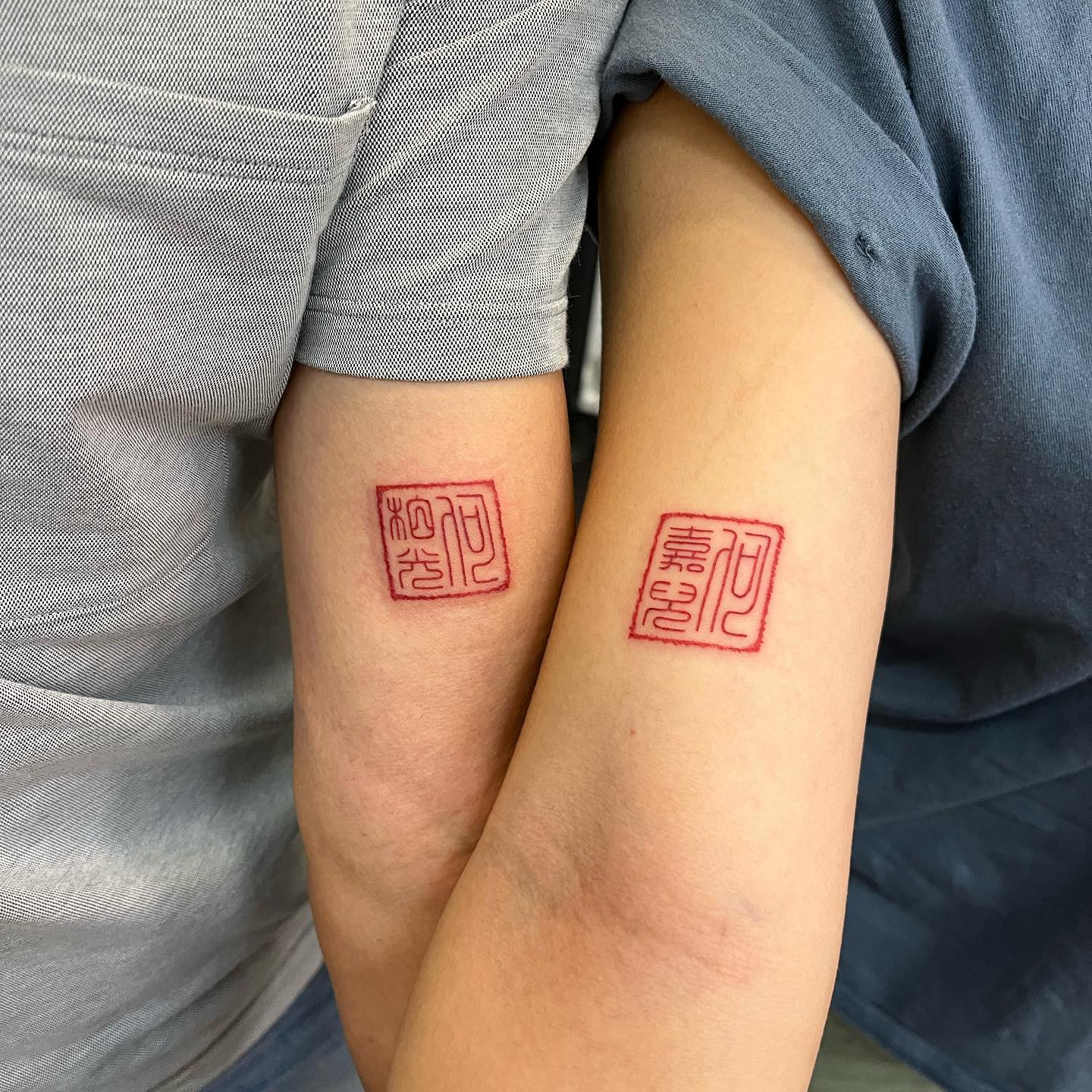 via @sci.ink.tist
Artistic Chinese Painting Tattoo
A unique entire body tattoo is the Chinese painting tattoo. There are innumerable choices, from landscapes to portraits, flower tattoos to still-life paintings.
A professionally skilled Chinese tattoo artist will be the right person to advise you on the best selection and draw it out in black ink. This tattoo idea is best for your back, chest, abdomen, or legs.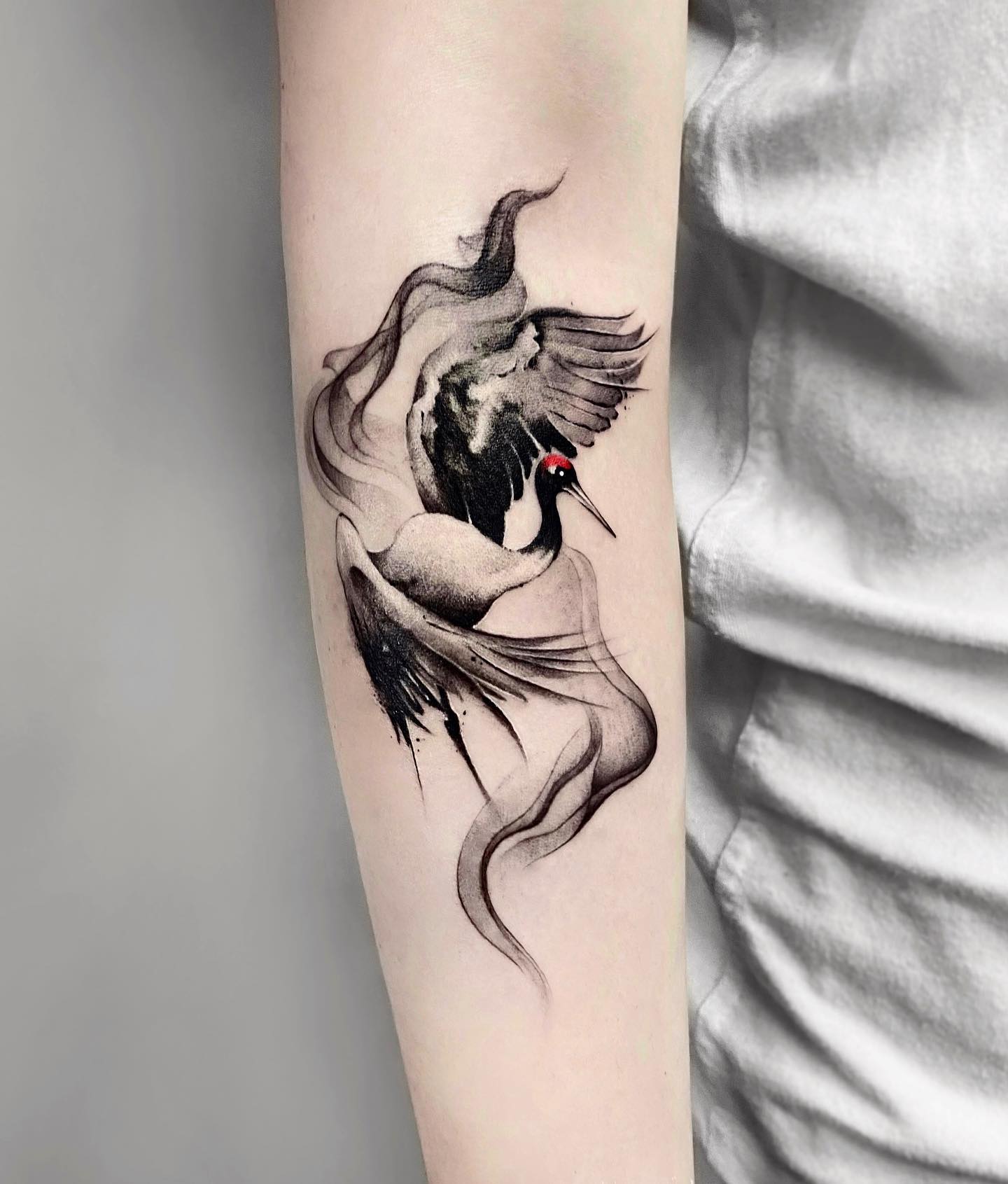 via @jing.ink
Chinese Mask Tattoo From A Bygone Era
From ancient China comes the mask that symbolizes female angst and rage. Be it on your forearm or back, this is a fine leg tattoo idea too. Be a part of the rich Chinese history with the mask tattoo that represents the complex essence of a tormented, sorrowful, angry, and even dangerous woman.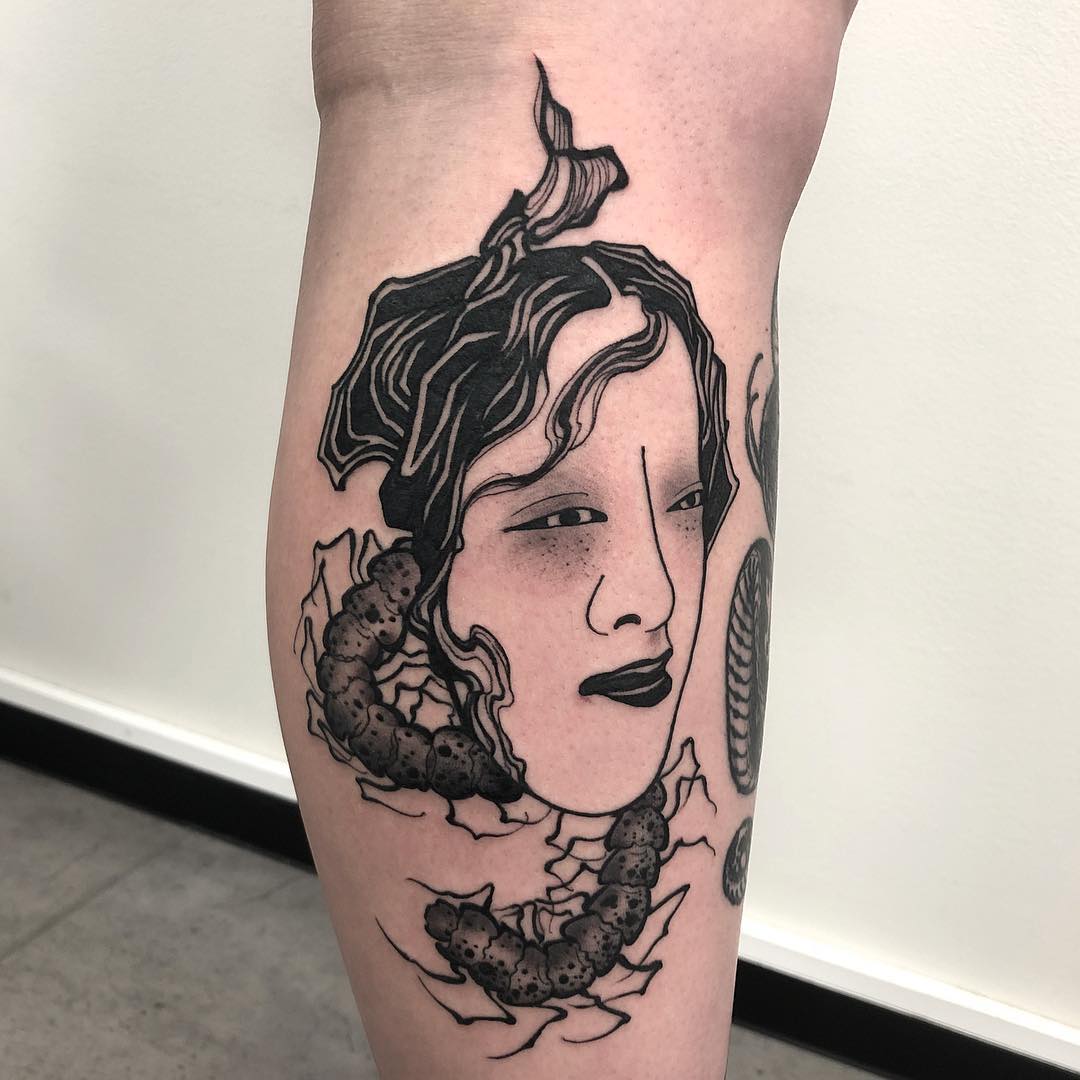 via @evanjtattoo
Mythological Chinese Phoenix Tattoo
A part of tattoo tradition, especially that from China, is the mythological creature Phoenix like the unicorn or the mermaid in the West.
Try the Chinese phoenix tattoo idea, as it symbolizes resurrection, and change. It also represents growth and success. It will remind you of the transformation if you are undergoing a significant phase in your life.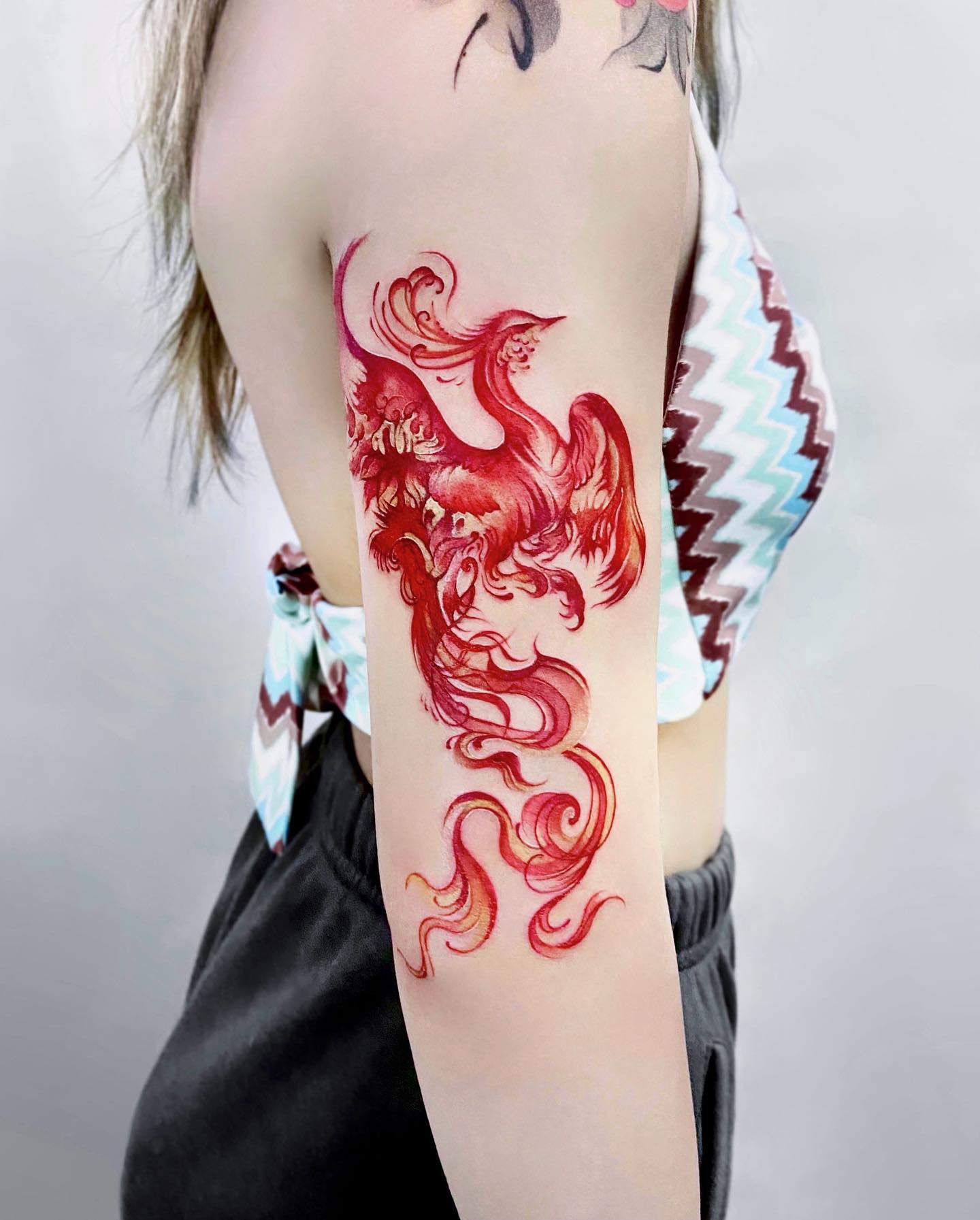 via @jing.ink
Cherry Blossom Tattoos to Appreciate Beauty of Life
One of the famous tattoo ideas is to ink the cherry blossom on your forearms, chest, back, nape, and more. It is a much-loved choice among women. Cherry blossom tattoos represent beauty and symbolize life and its renewal. Known as sakura in Japanese, cherry blossoms come to life in spring but are short-lived.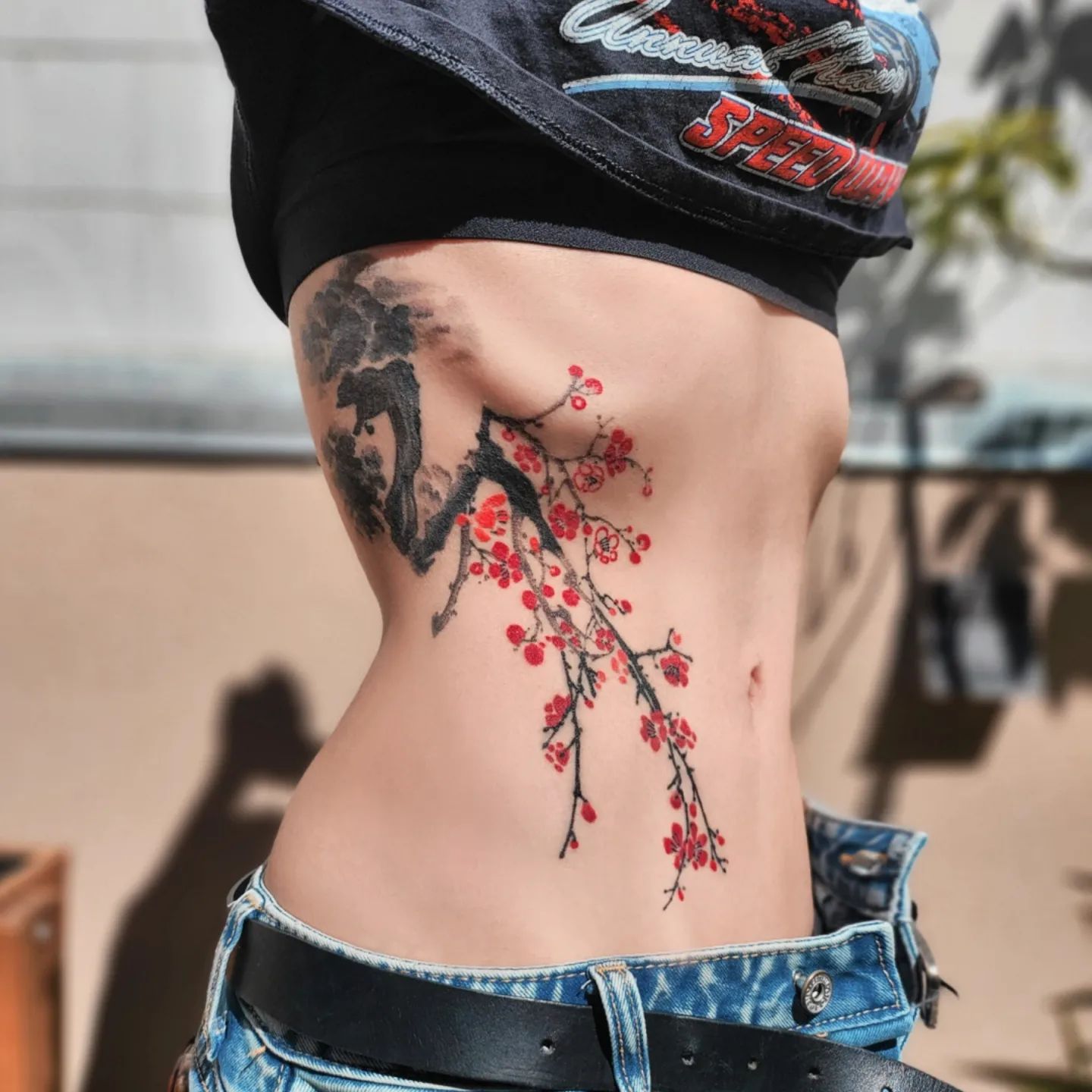 via @ryujin.vivid
Single Letter Tattoos to Represent Who You Are
The language has symbols to represent single-letter words. For example, peace in Chinese is written as 安. If you have a thing for serenity and hope, go in for this symbol in black ink tattoo on your neck. When looking for ideas, search for symbols and words for deep-meaning tattoos.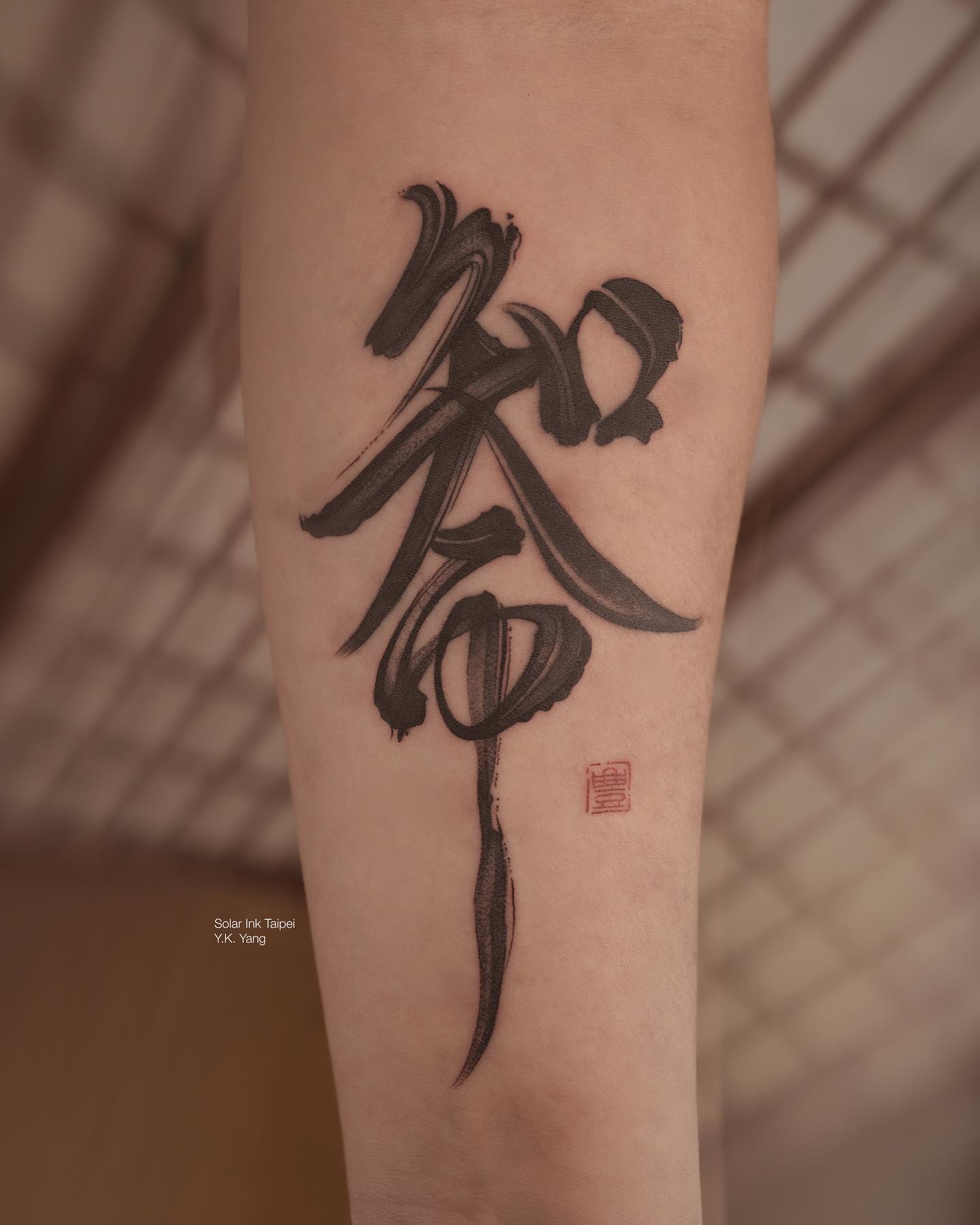 via @yktaipei
Laughing Buddha Tattoo for Wealth
Embracing Chinese culture through tattoos effectively comes from tattooing the Laughing Buddha, also known as Hotei, Pu-Tai, or one of the Gods of Good Fortune.
The tattoo design symbolizes prosperity, wealth, and material happiness. The God with a giant potbelly has a mesmerizing face, roundish in structure, and always smiling.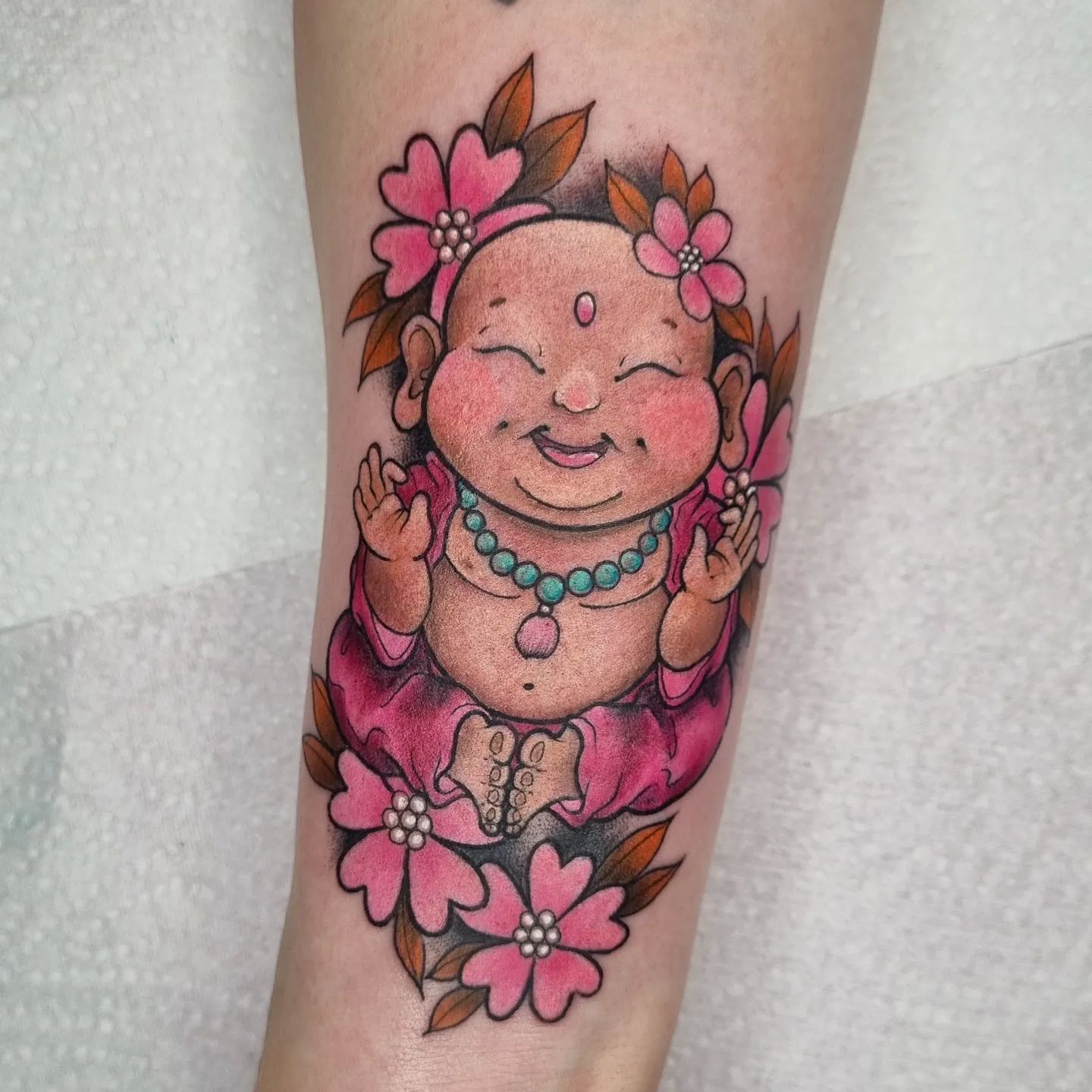 Chinese Love Symbol Tattoo for Lovers
We all need love and affirmations. To express your love for someone in Chinese, you can choose the deep love tattoo symbol, which is 愛 or 爱. It is a brilliant chest tattoo idea, but if you love someone more than your life, you can also get this lovely tattoo on your wrist.
Remember, the wrist has delicate veins, and getting a tattoo here is a painful mission. But anything for love!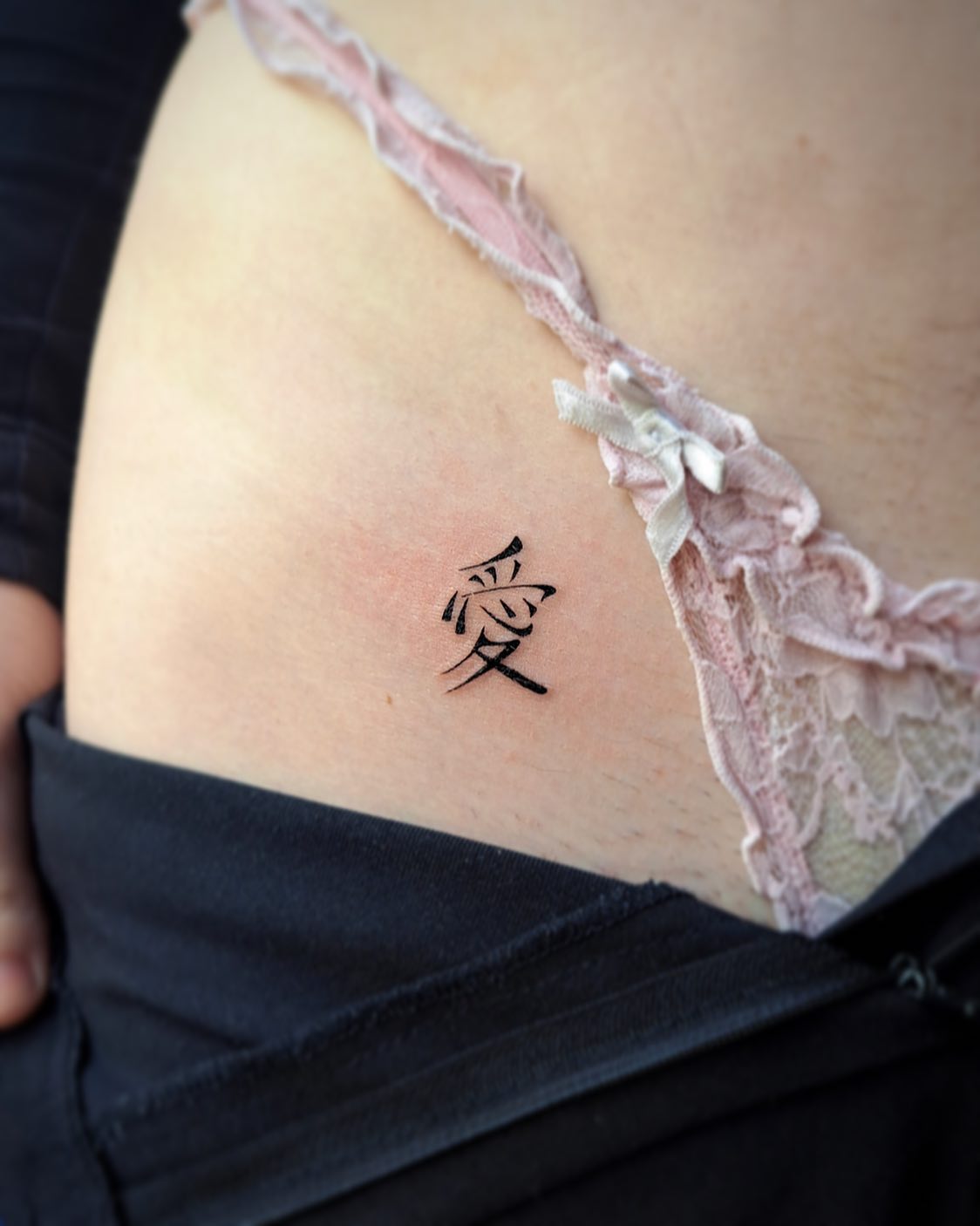 via @wambam_tattoo
Fierce Chinese Dog Tattoo for Protection
Foo dog tattoo ideas are common as they represent the 'Lion of Buddha.' These creatures are lions and not dogs that are perceived to be guardians. Shown in pairs, the meaning of the Chinese dog tattoo is spiritual protection. The Foo Dogs resemble a Chinese dog breed; a male dog symbolizes heaven, and a female represents the earth.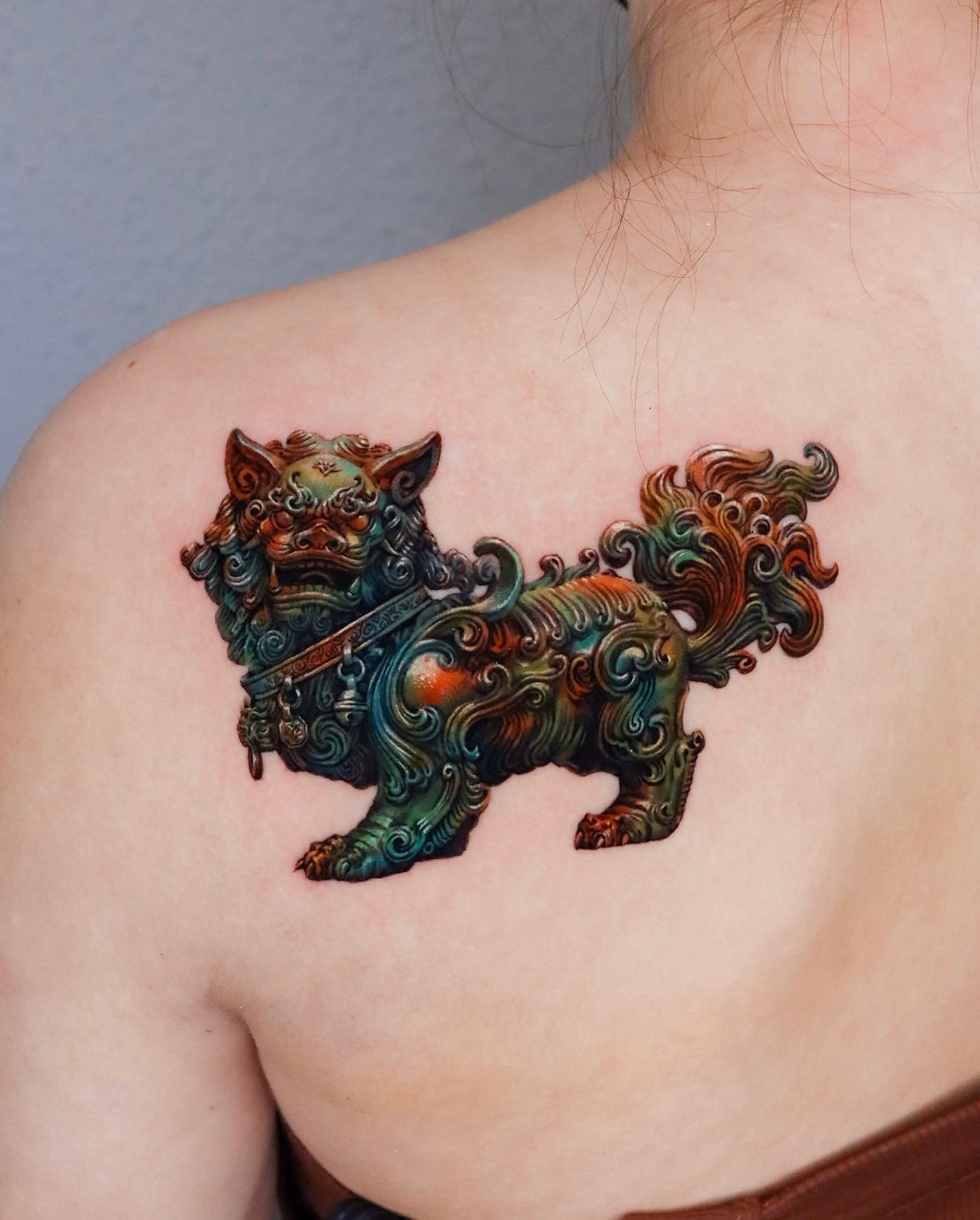 via @non_lee_ink
FAQ
What is the Chinese tattoo style called?
Chinese tattoo is locally known as Ci Shen, pronounced Wen Shen. The term means 'puncturing the body.' Though the Chinese body art style has existed for ages, it has only recently become a rage, especially in the Western world. Some common symbols in Chinese tattoos are the dragon, love, lion, victory, and more.