From a bit below the chin to a collarbone level, mid-length hairstyles are diverse and feminine. Neither too short to have trouble with styling, nor too long to get tired of growing out, medium haircuts for women give freedom to play around with loose, half up/half down and updo styles. They are easy in daily care, and it is no problem to stuff your medium hair into a ponytail when going to the gym, but we really like wearing it loose to show its natural beauty. And which hairstyle will reveal it in the best way? That's the key problem we are going to tackle.
Tips on Choosing Medium Length Haircuts by Hair Type
When choosing hairstyles for medium hair, its density and texture are the crucial factors to take into account. Each hair type has its virtues and shortcomings, and the latter can become even more visible on semi-long hair. Frizzy hair may seem more difficult to tame than when it is styled in heavy long tresses, while thin locks can look flat compared to short voluminous bob hairstyles. However, there is a medium cut for every hair type, and you will find plain evidence in the sliders below.
Adding Volume to Thin Hair
Apparently, medium hairstyles for women with thin hair need to have this volume-enhancing effect that the hair type usually lacks. Elevated roots achieved through backcombing, multiple layers or tousled styling work wonders on fine and thin hair. Don't miss your chance to gain some depth with cool hair colors, including balayage and ombre. Make sure to choose the right styling products for your hair type, specifically designed to deliver hold and texture without overwhelming. "I think that if you have fine hair, you don't want to use something that's really heavy," said Ted Gibson, hair expert behind celebrities like Angelina Jolie and Anne Hathaway, to Allure.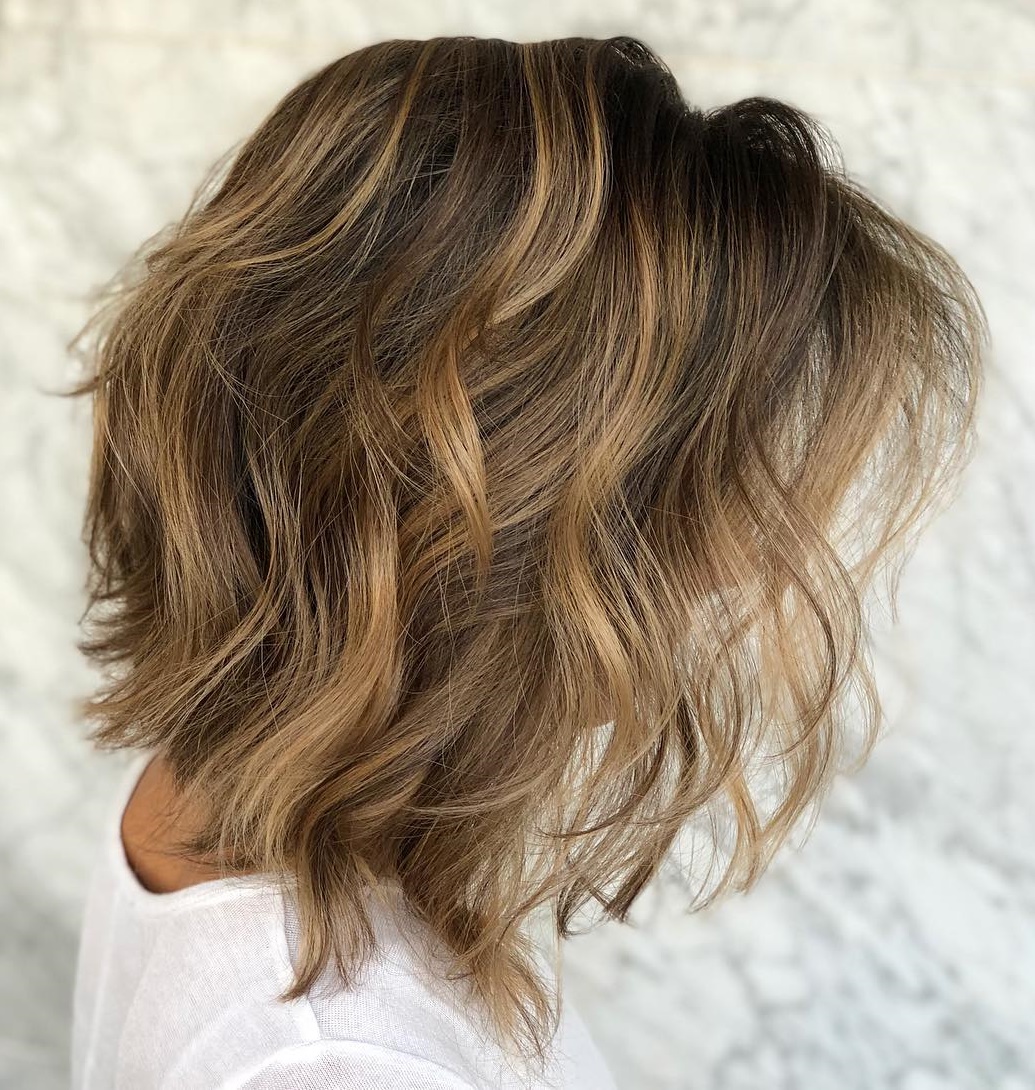 via @maxwellmathson
This fine wavy hair looks fuller and deeper thanks to the textured lob hairstyle and handsome dark-to-light color transition.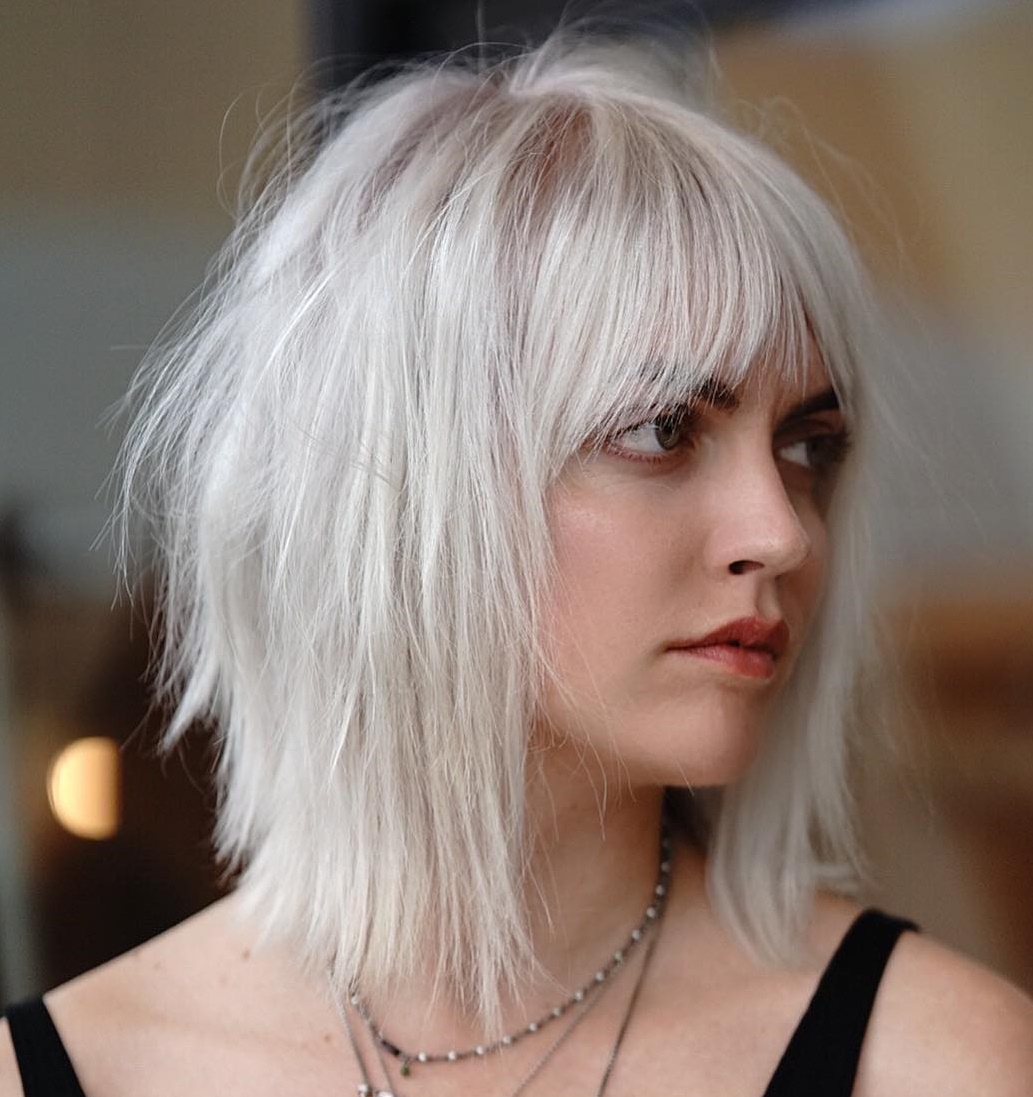 via @brianaguilarhair
Straight hair can obtain the required volume through a cool shag haircut like this one, both layered and tousled, while teamed up with arched bangs.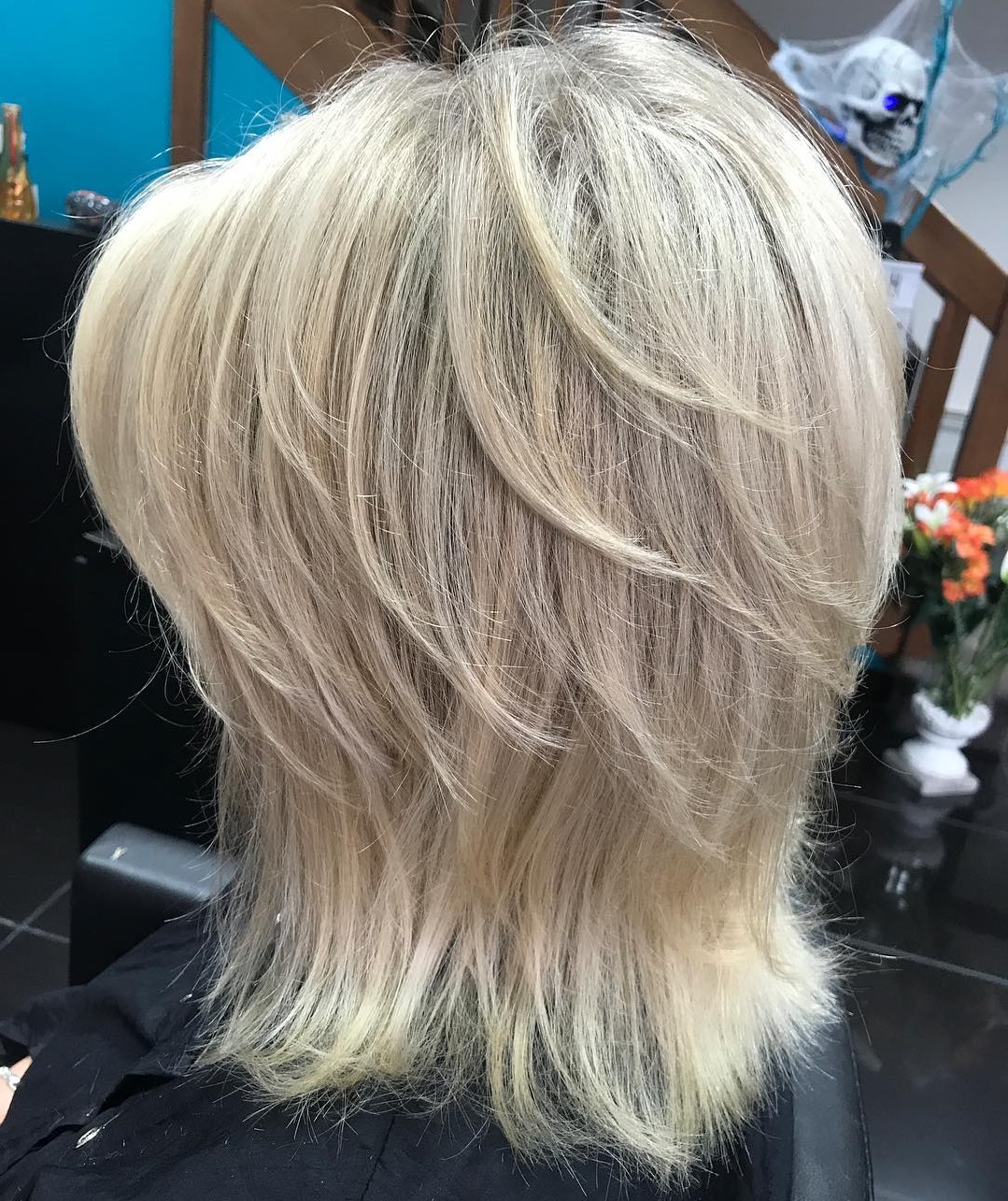 via @silvesthairandbeauty
And this layered hairstyle is feathered and swept back to add movement and texture, also boasting sophisticated highlights.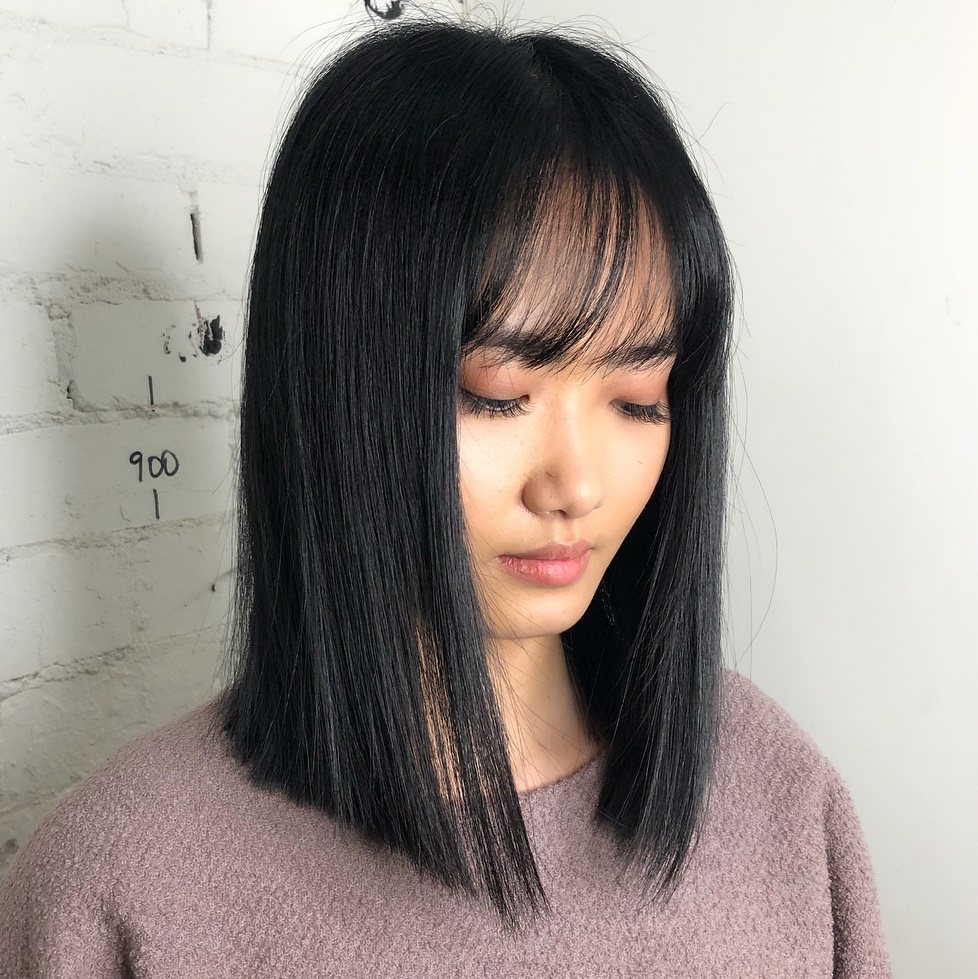 via @jisu_sunny
Blunt ends work great for fine straight hair, giving it some weight and body. Just look at this simple, yet chic lob with a soft wispy bang.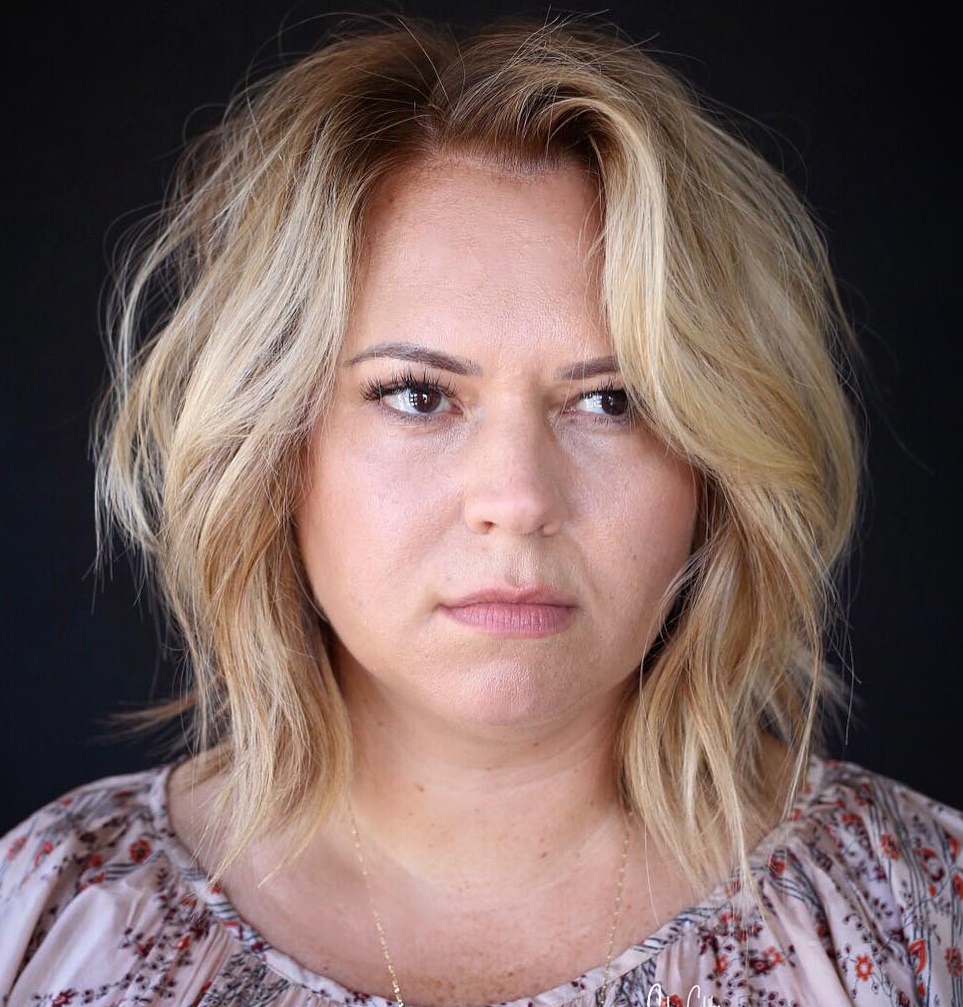 via @carlosacastellanos
This airy bob suits round faces, since it combines the volume-adding and focus-shifting part with the balancing texture on the sides.
Making Thick Hair Lighter
Medium hairstyles for girls with thick hair should retain its terrific body, yet remove some excess weight that makes the look too heavy, shapeless and bushy. Also, we need to keep in mind that thick hair is not easy to style at home, so it would be nice to have something manageable. Choppy ends and layering are among our favorite professional tricks for taking the excess weight out, while feathered hairstyles are super helpful in making the look lighter. Styling products are a must for thick hair, since it is tricky to texturize or curl due to the weight of locks.
via @harleydoeshair_
The choppy bob is just the thing to make thick hair lighter and more touchable. But this bob stands out for its beautiful balayage, creatively incorporated into the hairstyle.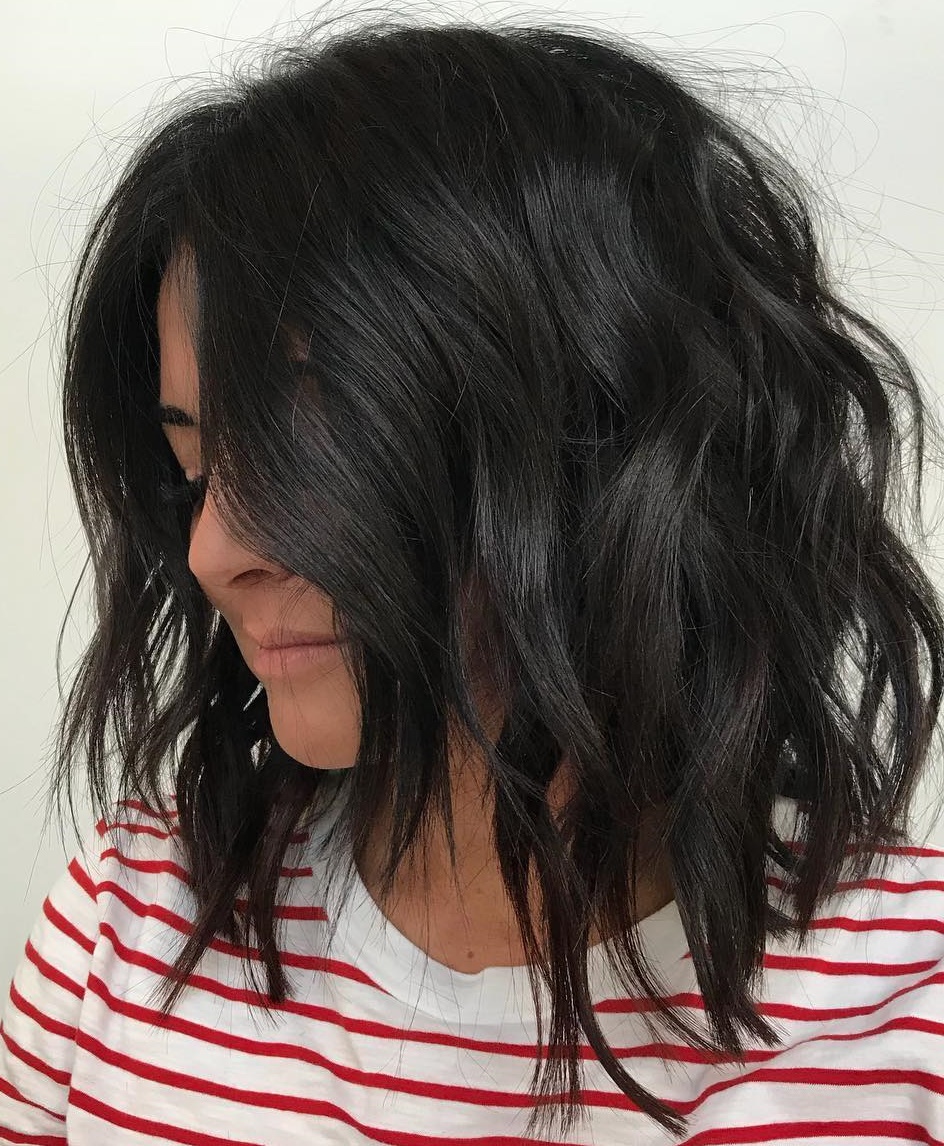 via @styled_by_carolynn
This hairstyle is anything but bulky due to the layered cut, chosen to remove some unnecessary weight, while leaving the most of volume.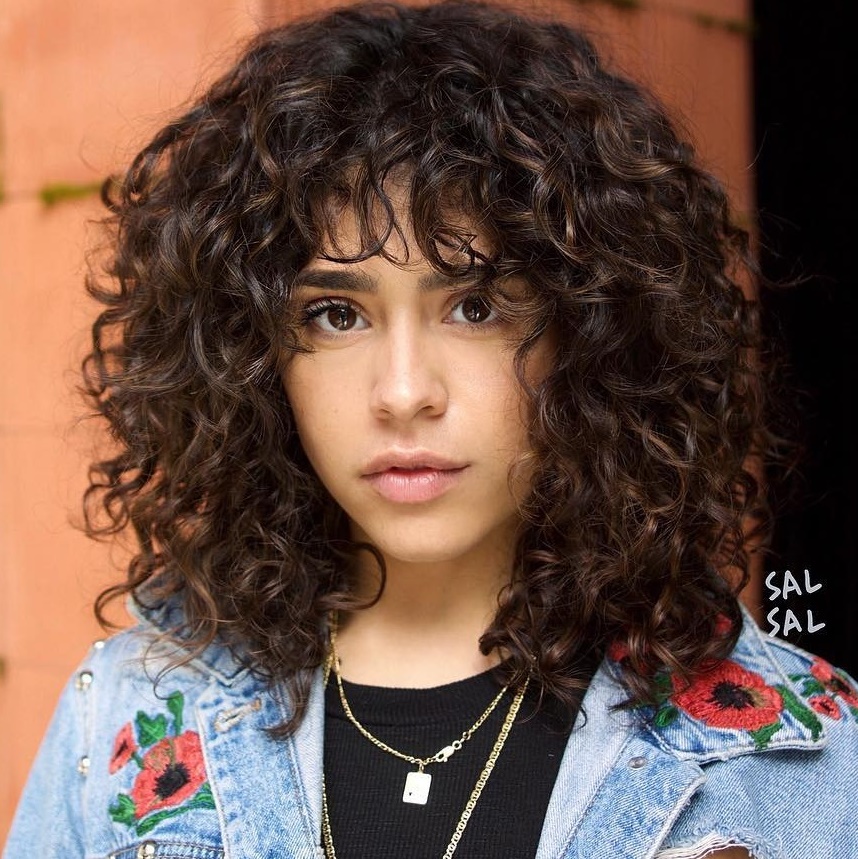 via @salsalhair
Layers help structurize curly hair, which otherwise tends to appear shapeless. This hairstyle is complete awe in the way it frames the face.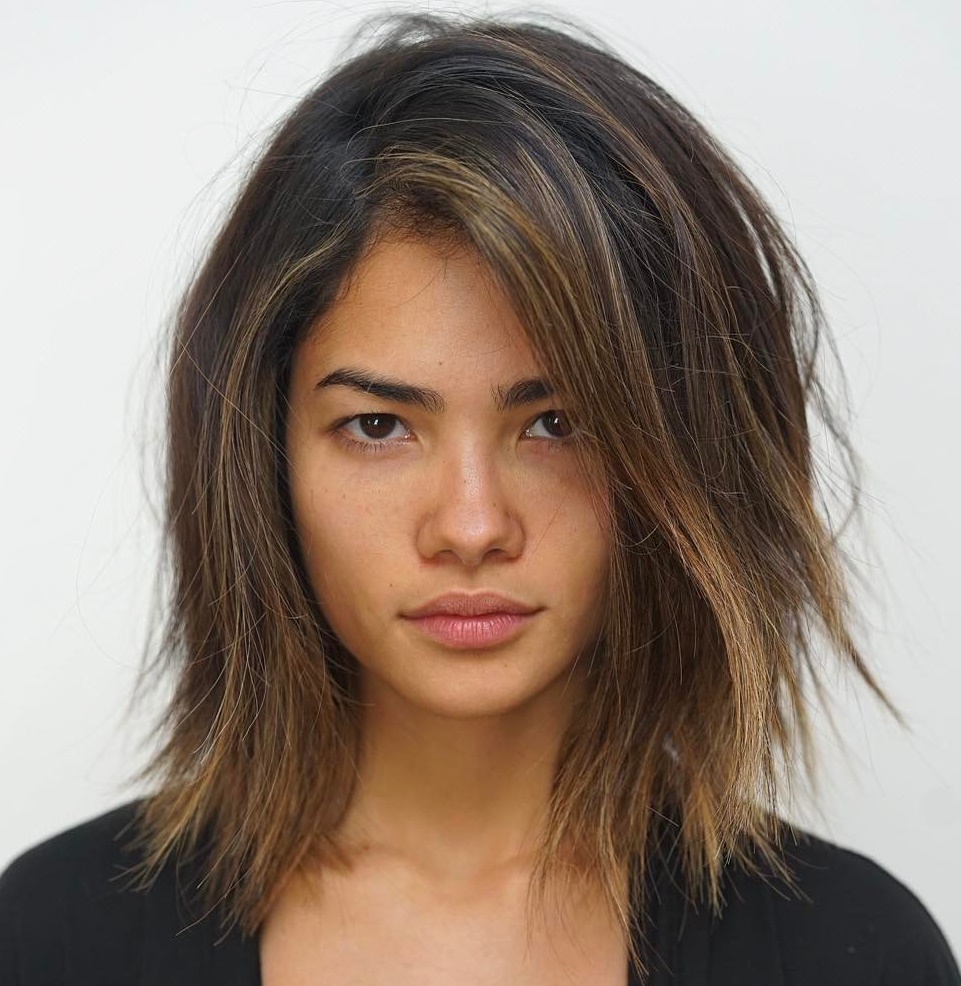 via @timm.morrison
This thick coarse mane is tamed with soft layering that has taken the weight out and disheveled styling that allows the natural texture to pop.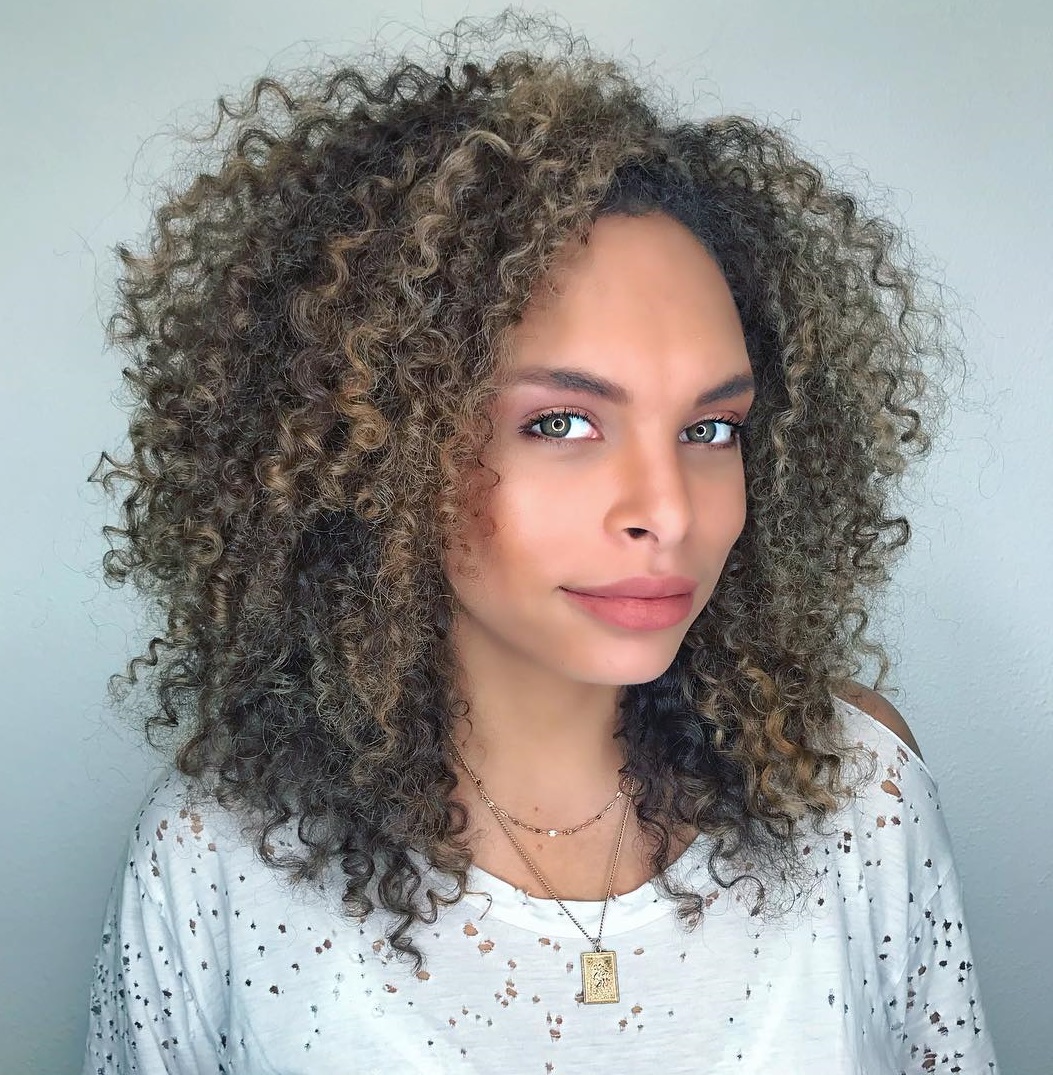 via @thecurlninja
Everyone can enjoy the stunning volume of frizzy hair, when it is smartly textured in tight curls and subtly highlighted.
Shaping Curly Hair
Many girls with curly hair tend to avoid neck length haircuts, as they believe that shorter hair looks frizzier and it is harder to style. It is true to a point, since longer locks are heavier and the weight helps tame bushy hair. Yet, the mid-length is not a forbidden ground for curl-adorned ladies, when haircuts are properly shaped and locks are beautifully structured. Your target is to steer clear of the triangle shape, often formed by shoulder-length cuts, and to get the most out of the texture you are born with. From dry cutting to slicing, today we have a nice choice of techniques aimed to make curly hair bouncy.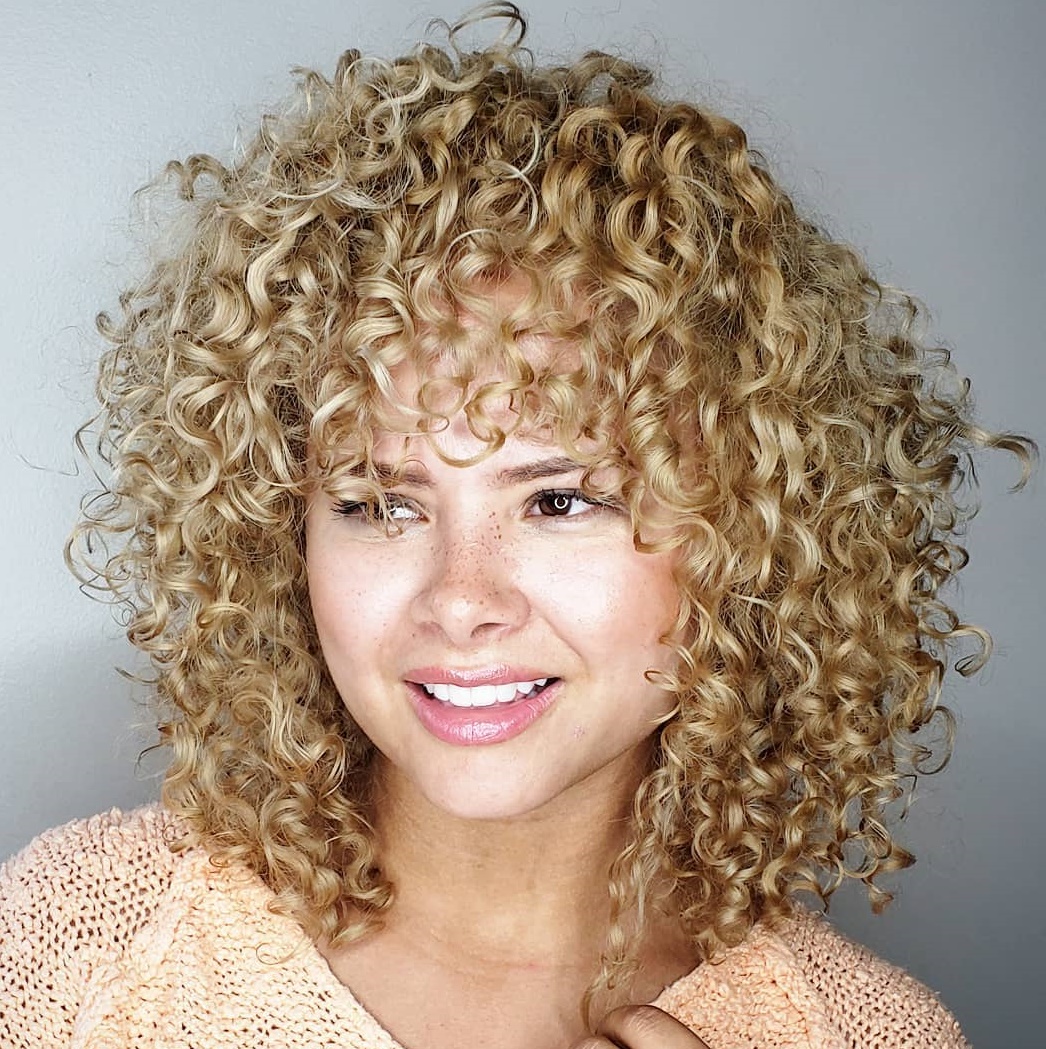 via @hairbycuba
This layered hairstyle lets the tight curls shine, falling down the forehead and framing the face nicely.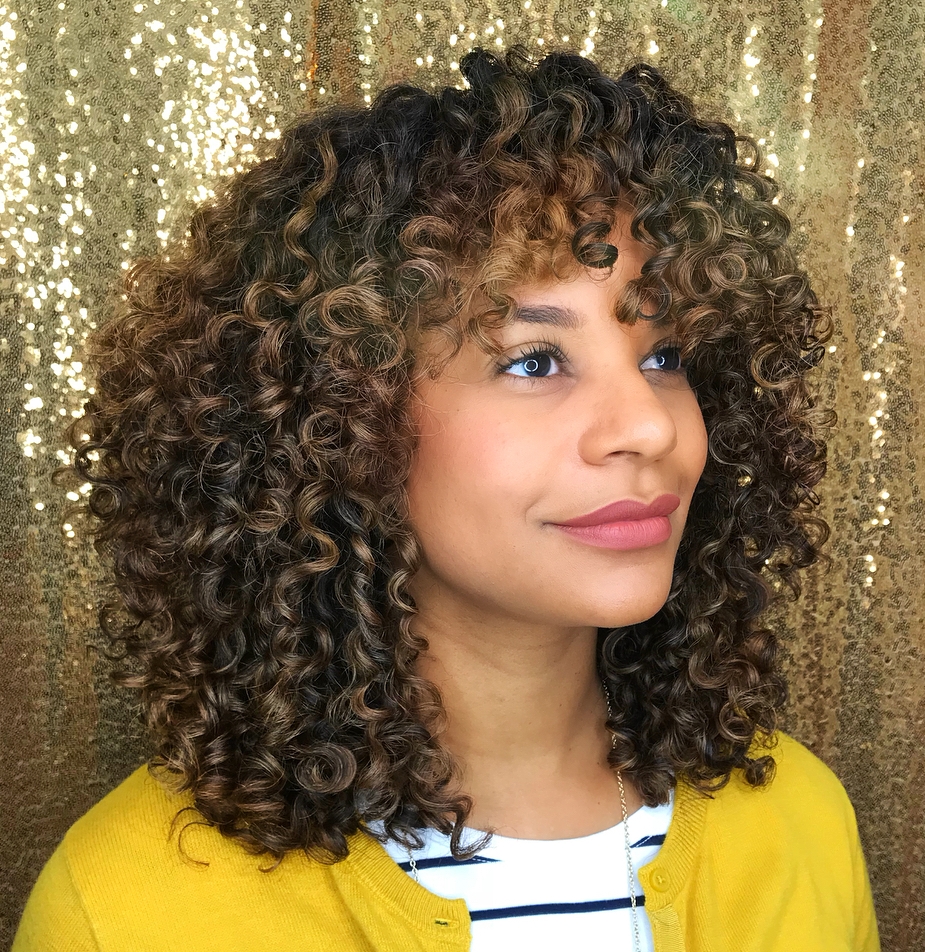 via @faithincurls
When your hair is naturally curly, shaping it is a key to your vibrant look. This hairstyle is dead on target, completely removing any triangle effect.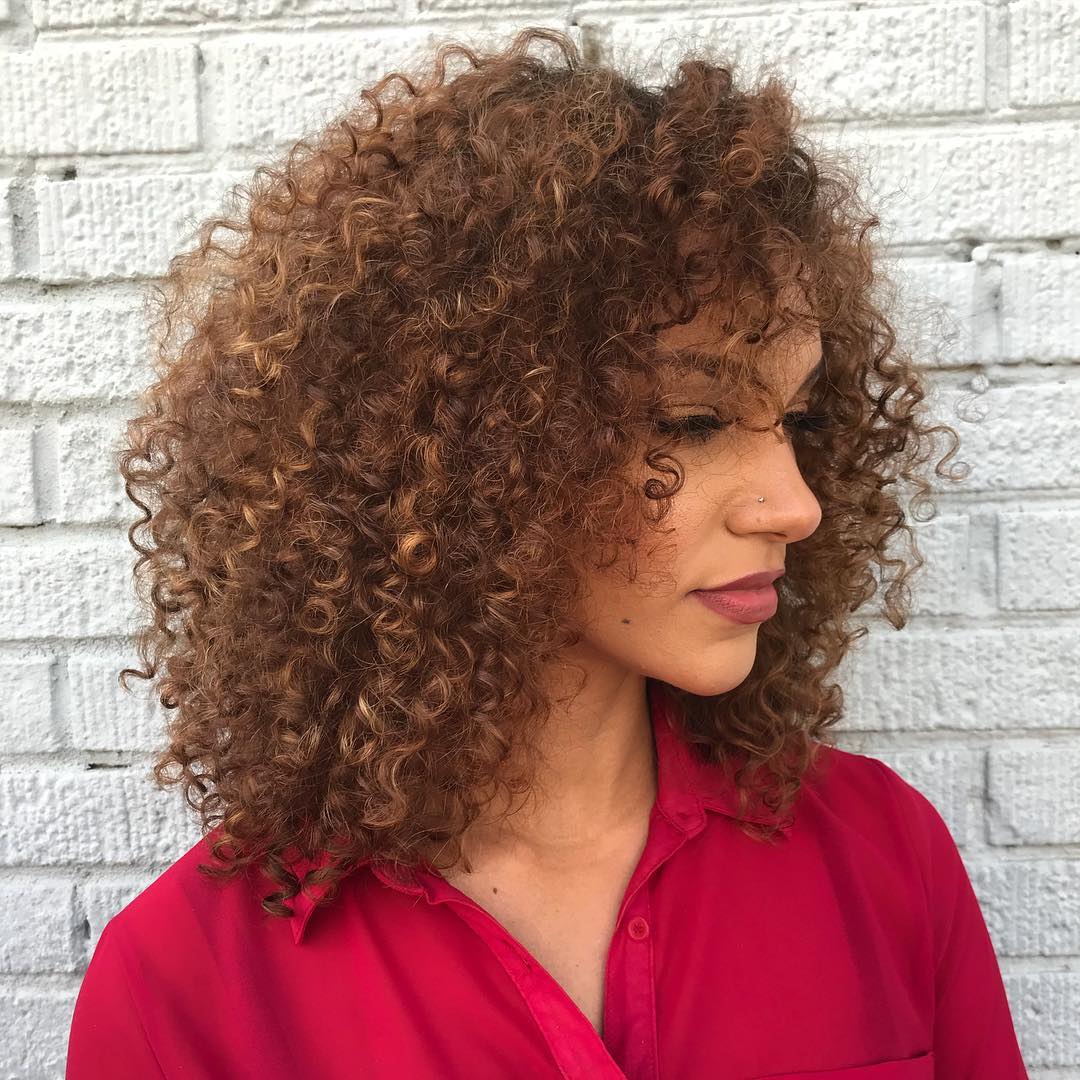 via @sunflowersandscissors
Layered and awesomely shaped, this thick curly mane shows a lot of texture and body, while still feeling airy.
via @iam.maia.studio
The shoulder-length non-ethnic bob takes larger curls well, too. Wear it messy, yet clearly textured with minimal layering.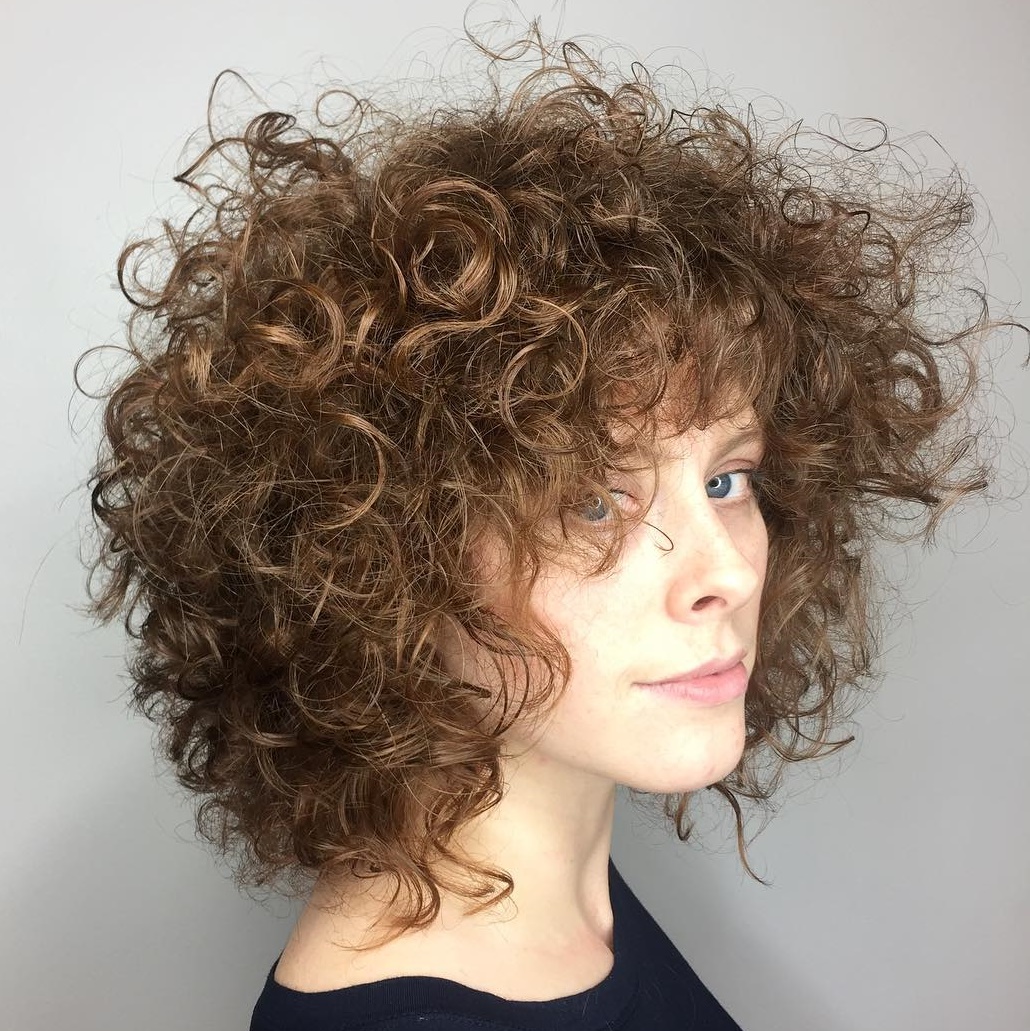 via @stylebystace
However, a rounded haircut with looser ringlets can be a good option for wavy frizzy hair – it is easy to manage and it looks cool.
Spotting Shoulder Hairstyles by Color
Probably, you have already got the idea of color scheme and haircut working together. And here is your chance to steal a ready-made look from our pick of cute midi hairstyles. But first, make allowance for your complexion. How? "Adjectives to describe skin are similar to the adjectives to describe hair color. If you have warm, golden or olive skin undertones, opt for the color tones that have similar hues in them — it's an easy way to find the right shade. If you are cool in skin tone, typically the color you need for your hair will be described that same way on the box: cool or iridescent," celebrity colorist Kari Hill told in her interview to Forbes. And now, go for it!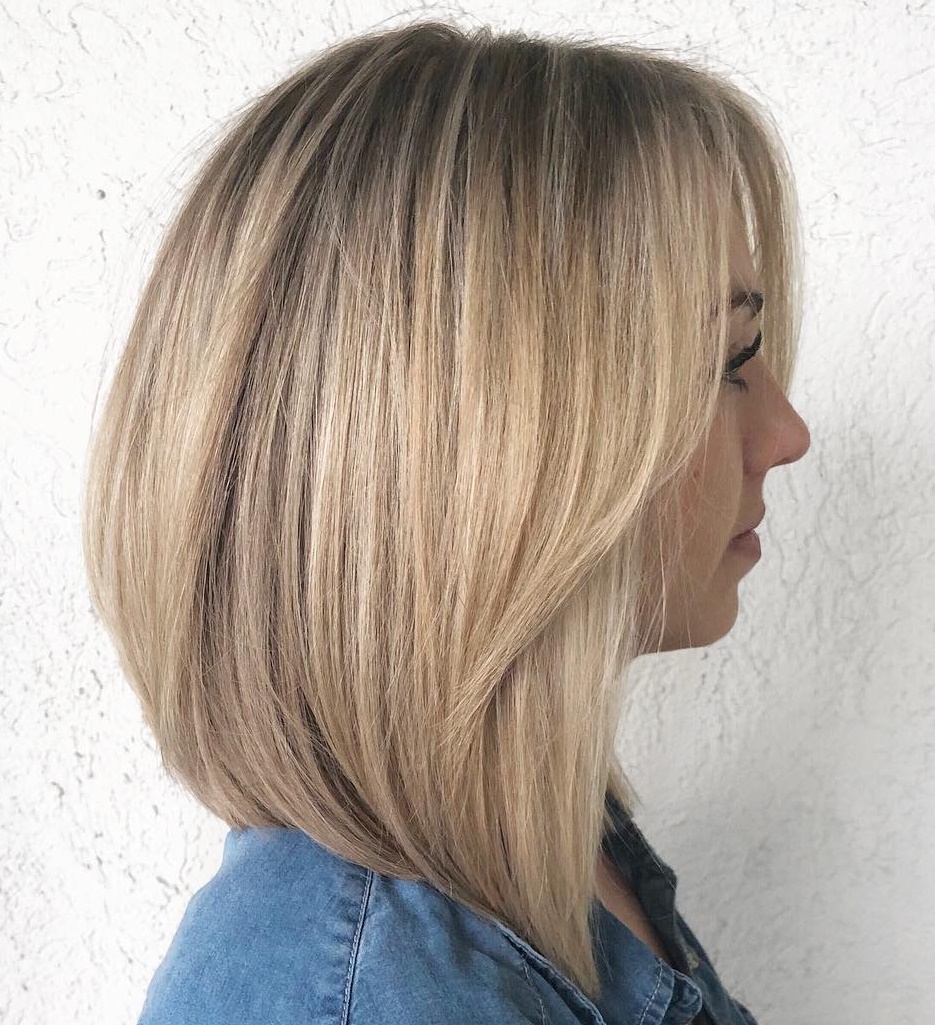 via @hairbyallybarone
Shadow roots, delicate highlights and soft layering around the face make this blonde lob sparkle with elegance.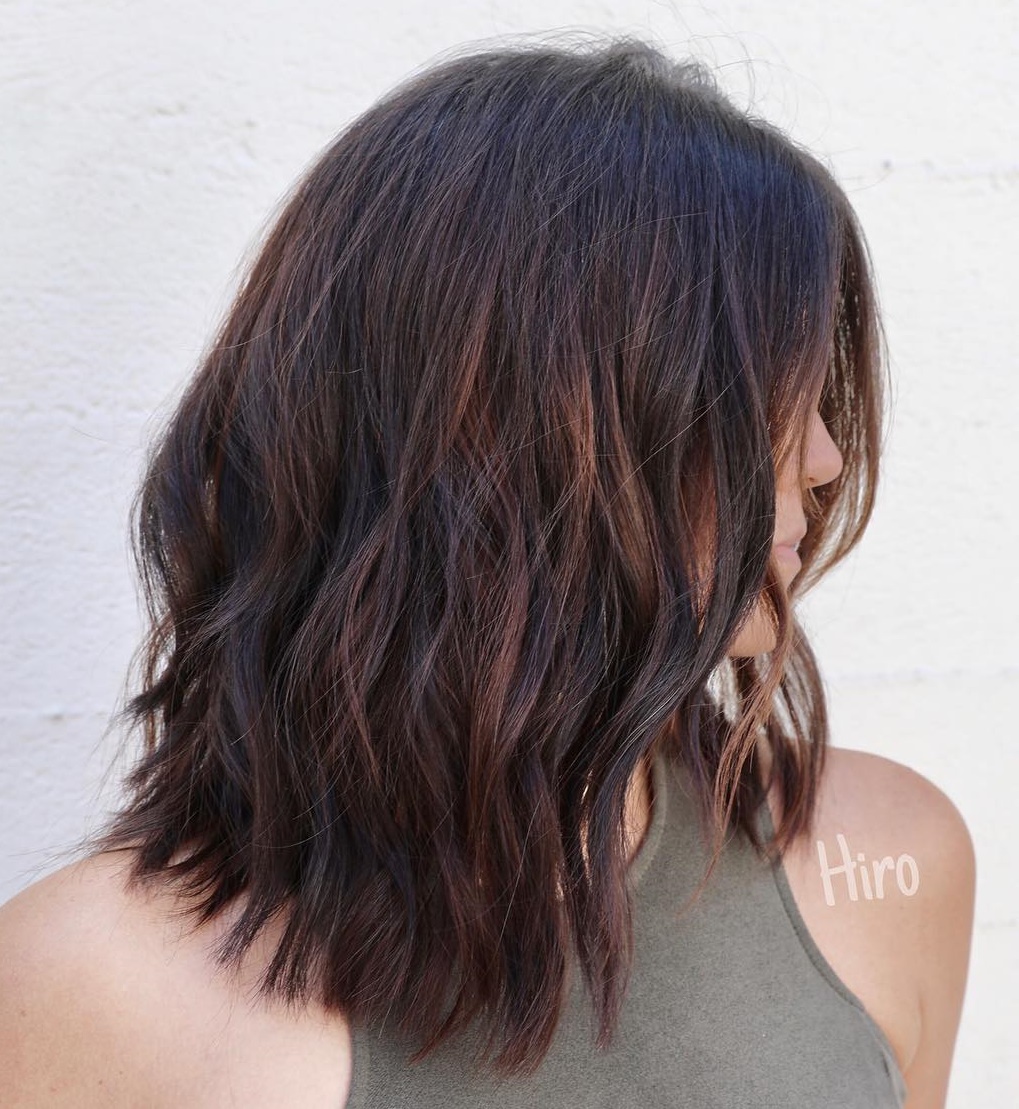 via @hirohair
In contrast, this dark lob looks fashionably undone with its beachy waves, choppy texture and sun-kissed tresses.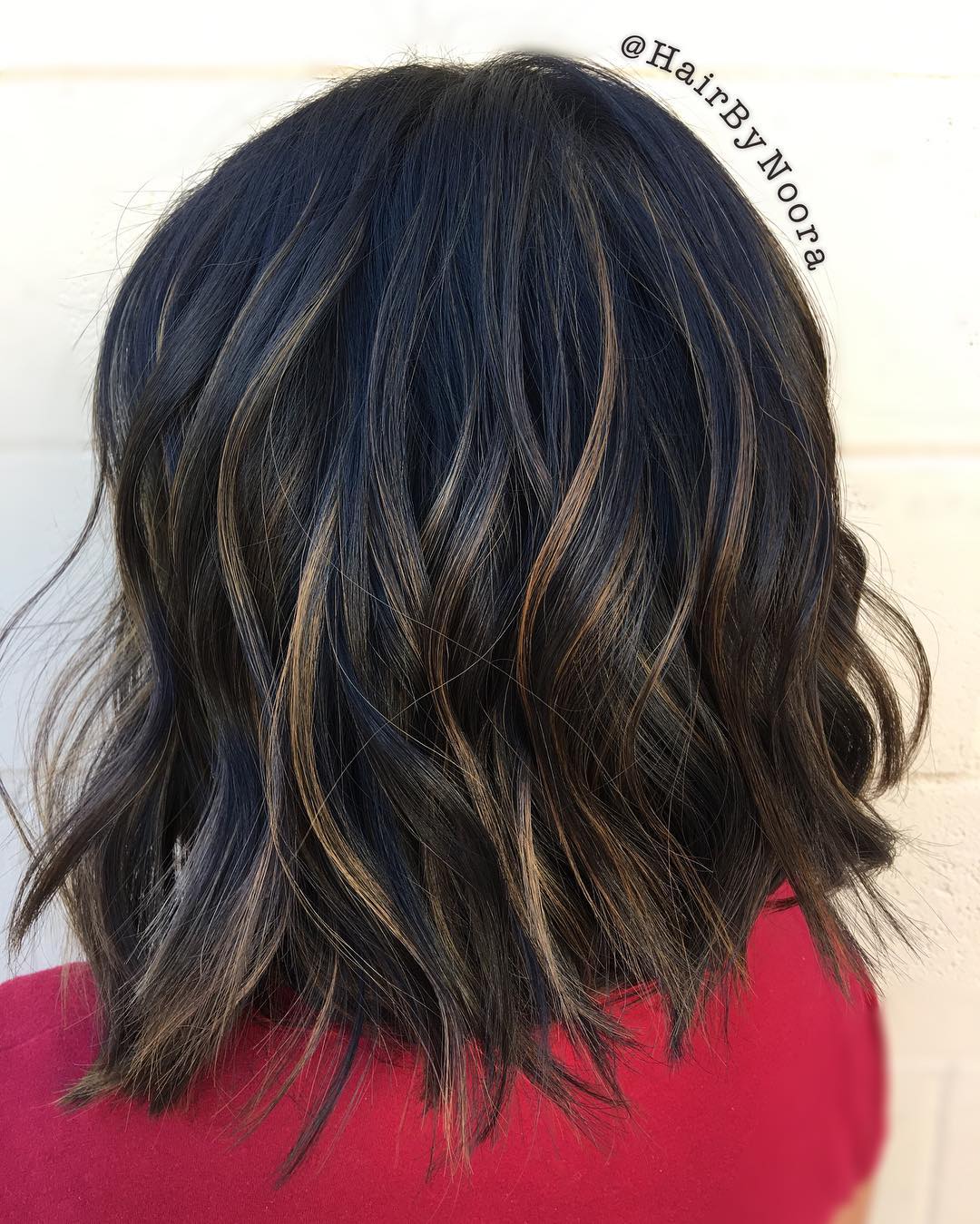 via @hairbynoora
And this is another exciting idea for a textured lob any brunette can bookmark – balayage + toning with a couple of shades.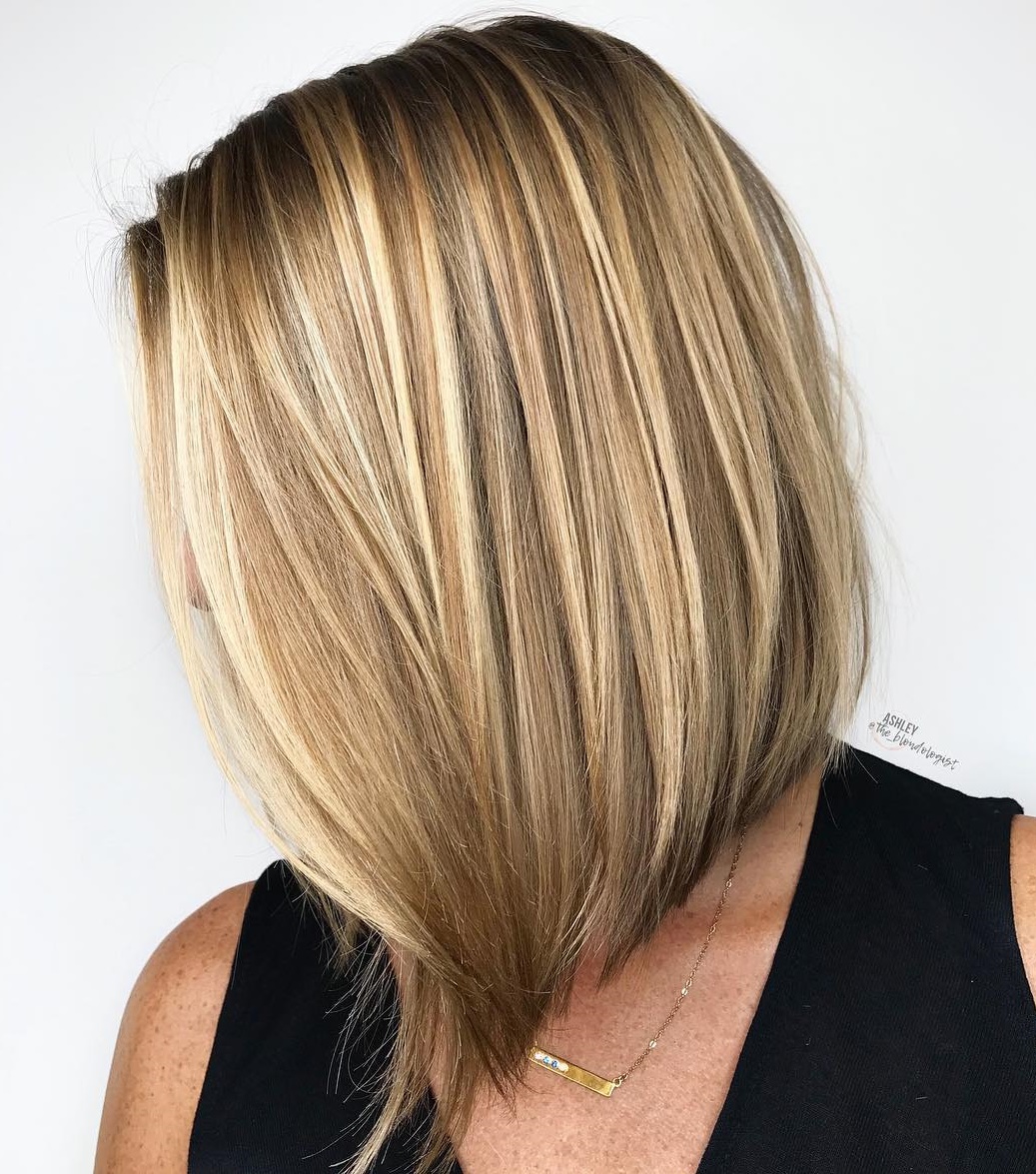 via @the_blondologist
Blondes can also have impressive highlights with this fabulous pick of matching and contrasting hues playing throughout a simple lob cut.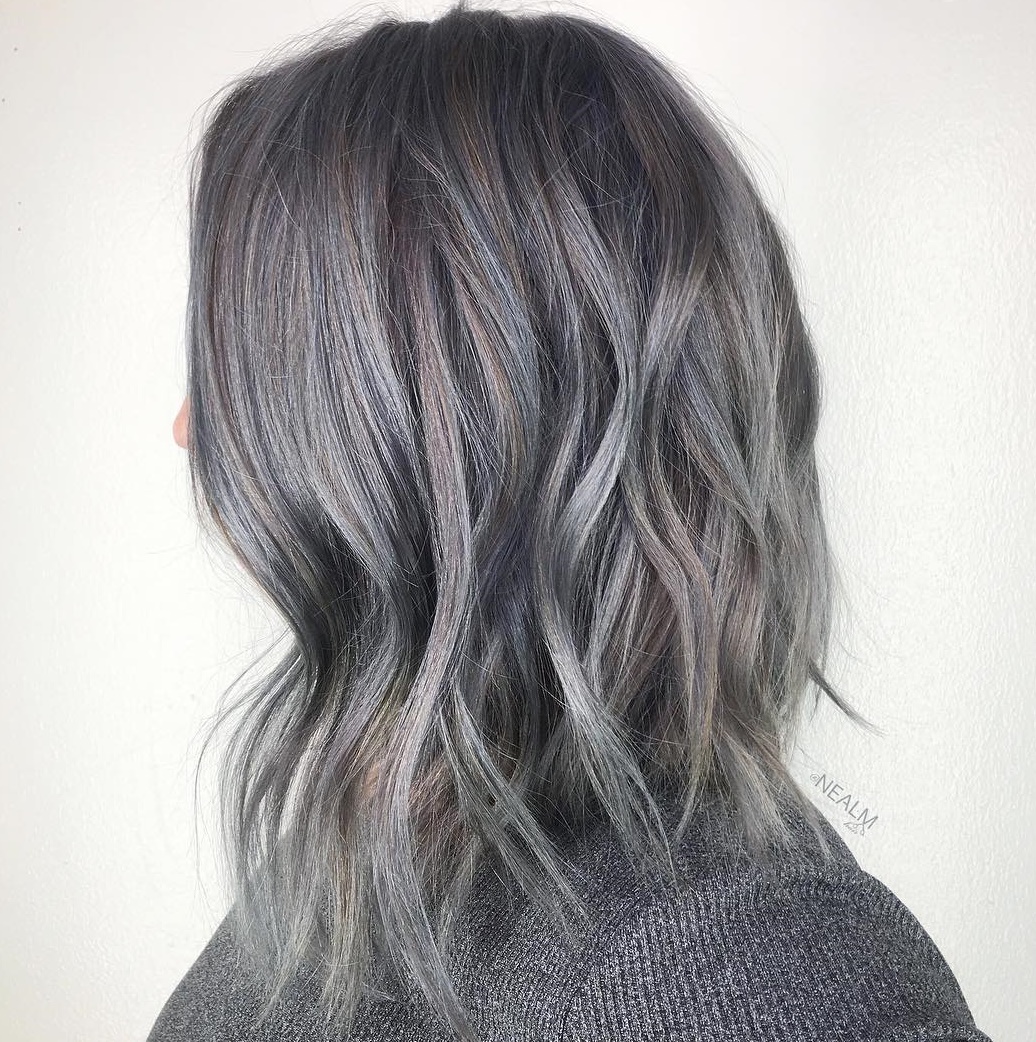 via @nealmhair
Yet, the lob fits the bill for displaying any bold color scheme, including this gunmetal gray blended into the choppy cut.
Guide on Mid-Length Haircuts According to Face Shapes
Hair experts busted many myths about "banned" hairstyles for certain face types. Actually, if you do want some haircut, you can have it, provided that your face-flattering elements are incorporated properly. "Simply adding face-framing chunky-ish layers will soften a long/square face by creating wider points of interest," says Mirza Batanovic, style director at Eufora International, to Refinary29. An asymmetrical haircut or a flipped out bob work fine for heart-shaped faces by shifting focus away from the small chin, especially when paired with diagonal lines of bangs. Shaggy hairstyles and arched or baby bangs help balance wide faces, both round and square ones. And a blunt cut is not forbidden for long faces, when it is a lob with long bangs. There are more secrets to follow!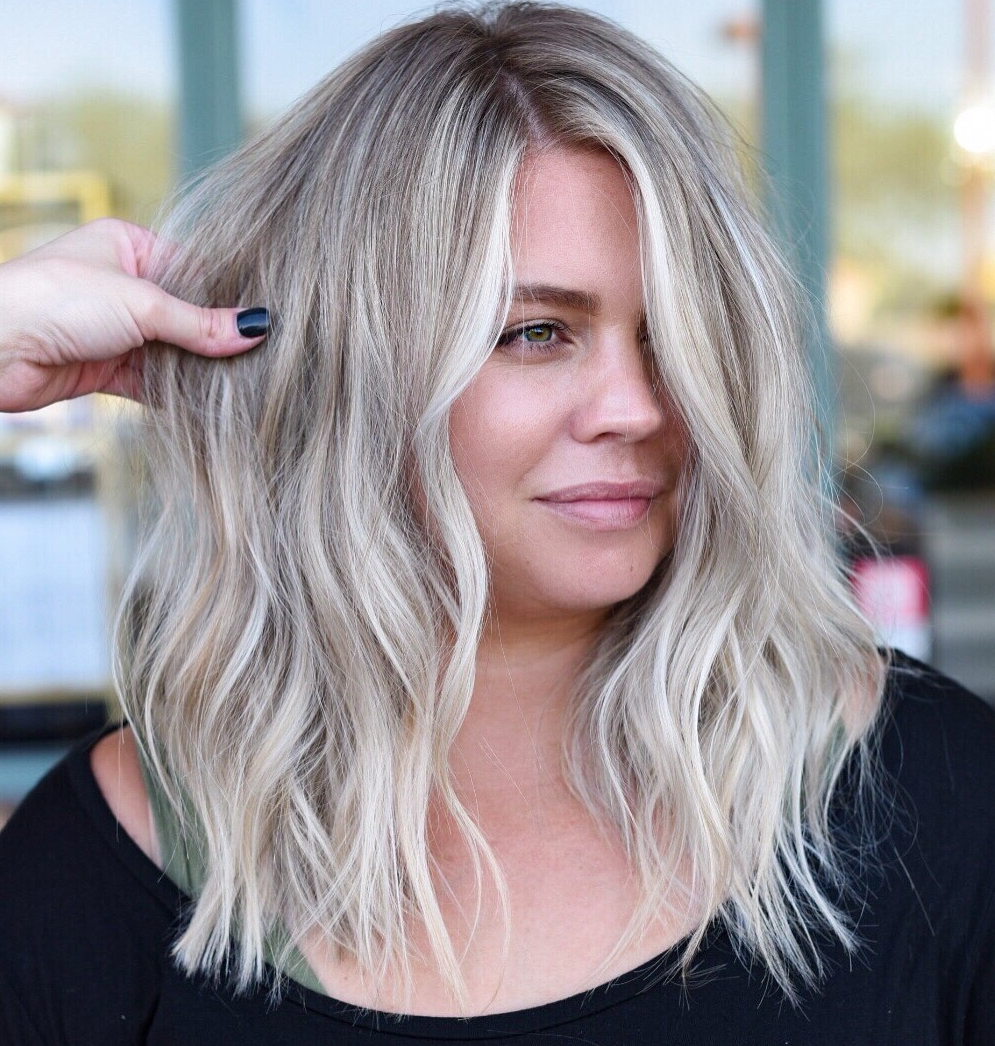 via @beckym_hair
A mid-length cut is a sure-fire way to get an elongating effect for a round face, especially when it is coupled with a side part and texture along the cheeks.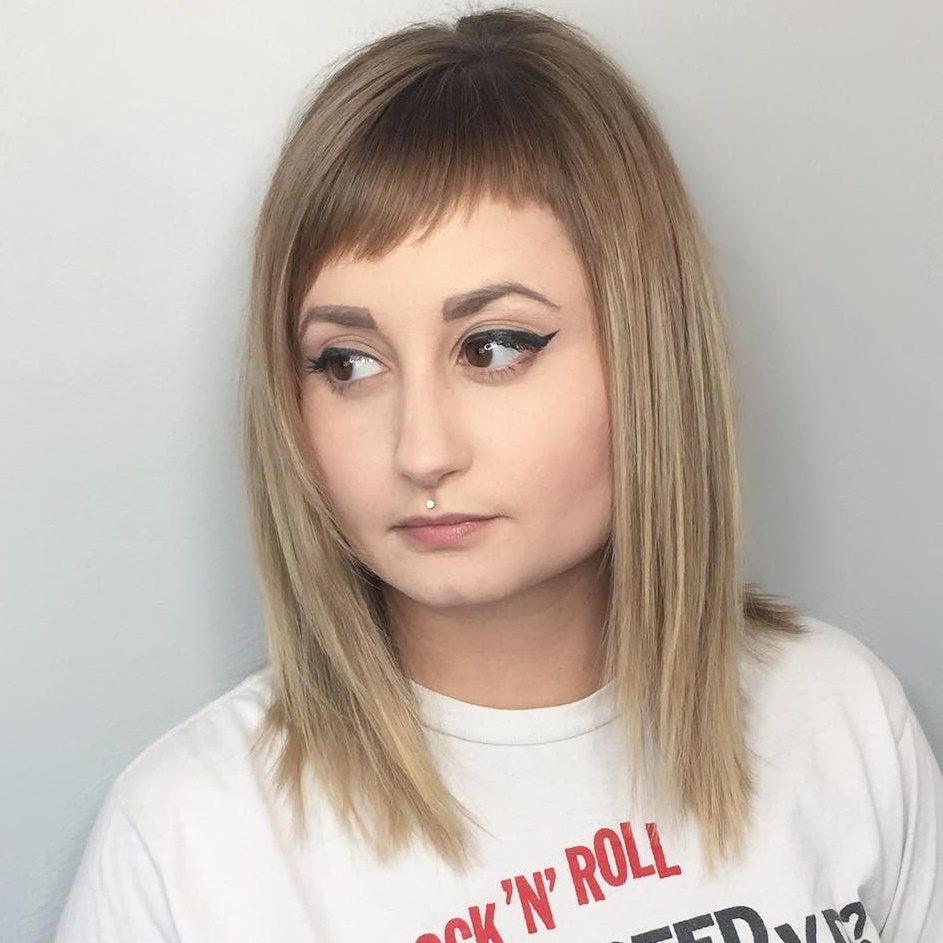 via @stephanyvanstone
The asymmetrical baby bangs add sophisticated geometry to the square face, while the length, straightening and layering serve to hide the heavy jaw-line.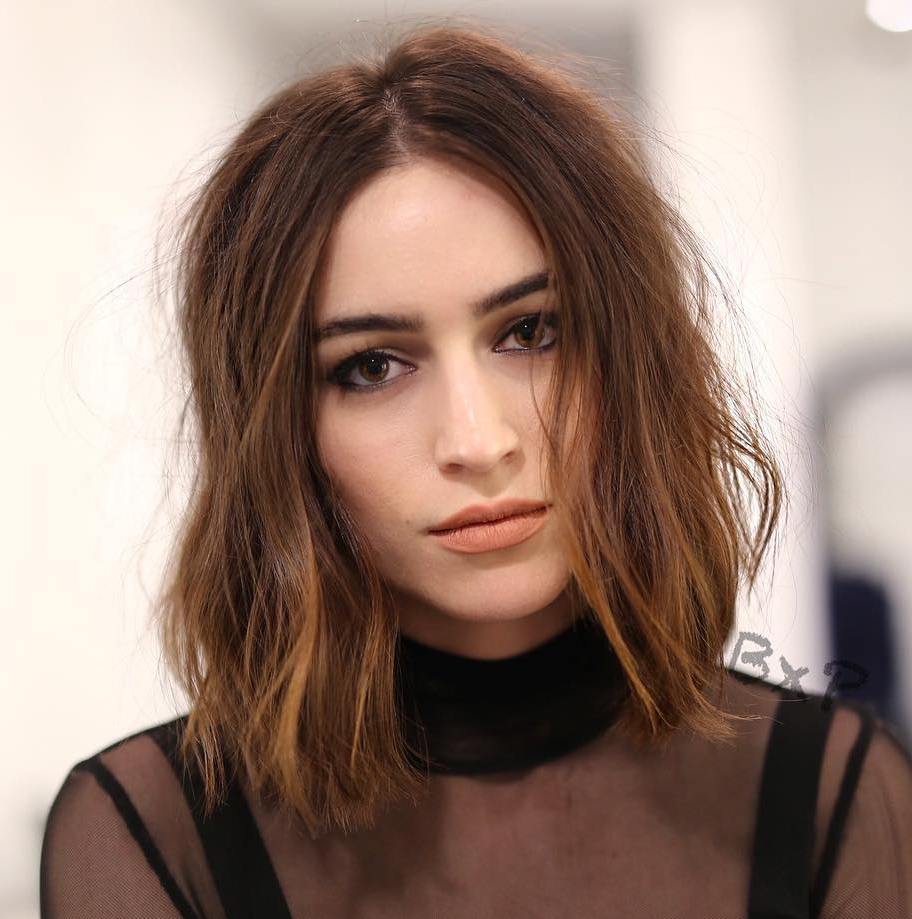 via @buddywporter
Oval faces look great with a middle parting, and the shoulder-grazing bob has just the right length to avoid a misbalance.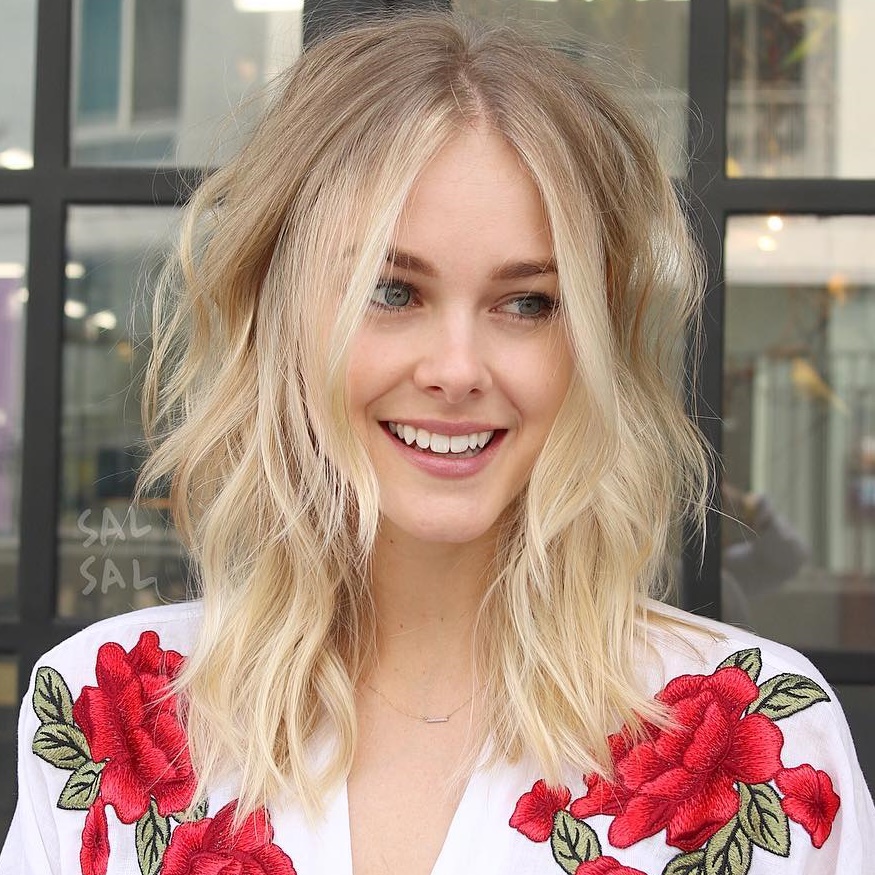 via @salsalhair
This long face doesn't seem too narrow, since the layering and waves give volume on the sides, not to mention the airy feel of the hairstyle.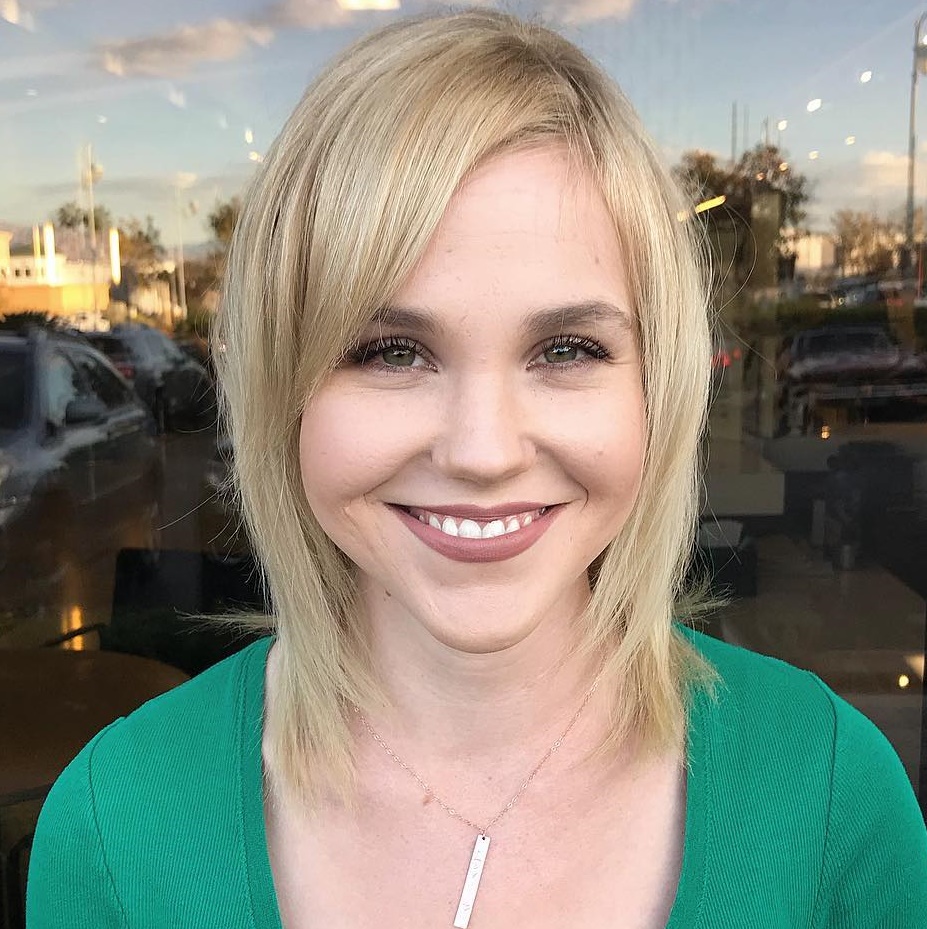 via @geodesic_hair
The long side-swept bang shifts the focus from the pointy chin of this heart-shaped face to its upper part. With this, the layers around the face frame it prettily without dragging it down.
New Trendy Styles for Medium Layered Hair
From fine hair to thick manes, layers are unbeatable when you need to get texture, movement, fullness or an airy feel. They create a stylish shape for ringlets, saving them from looking bottom heavy, and they serve to frame various faces favorably, balancing their features. While in past years we have seen mainly low-key layers to fit the "undone" trend, it seems that in 2020 things are going to change. "Where we have seen undone, messier hair previously, I think now we will see sleeker, smoother, more polished and glossy hair becoming popular again, whether it be through wavy, curly or straight hairstyles," Cheryl Munoz, style director at Daniel Galvin, told to Elle. Well, we have both options in our collection to cater to all needs.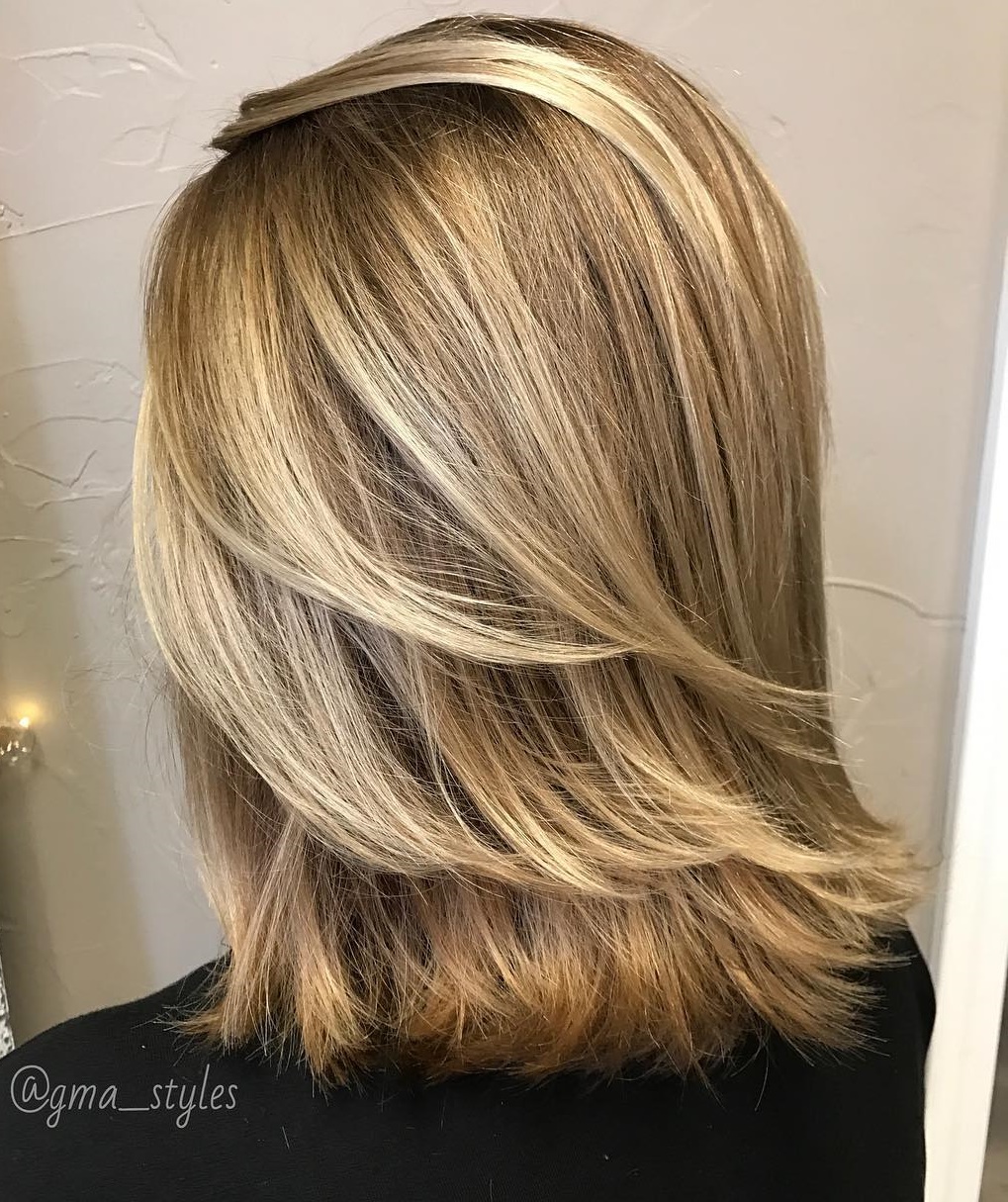 via @gma_styles
These long layers are flipped out to give the lob an awesome twist and to create movement that is very much in line with the crisp color.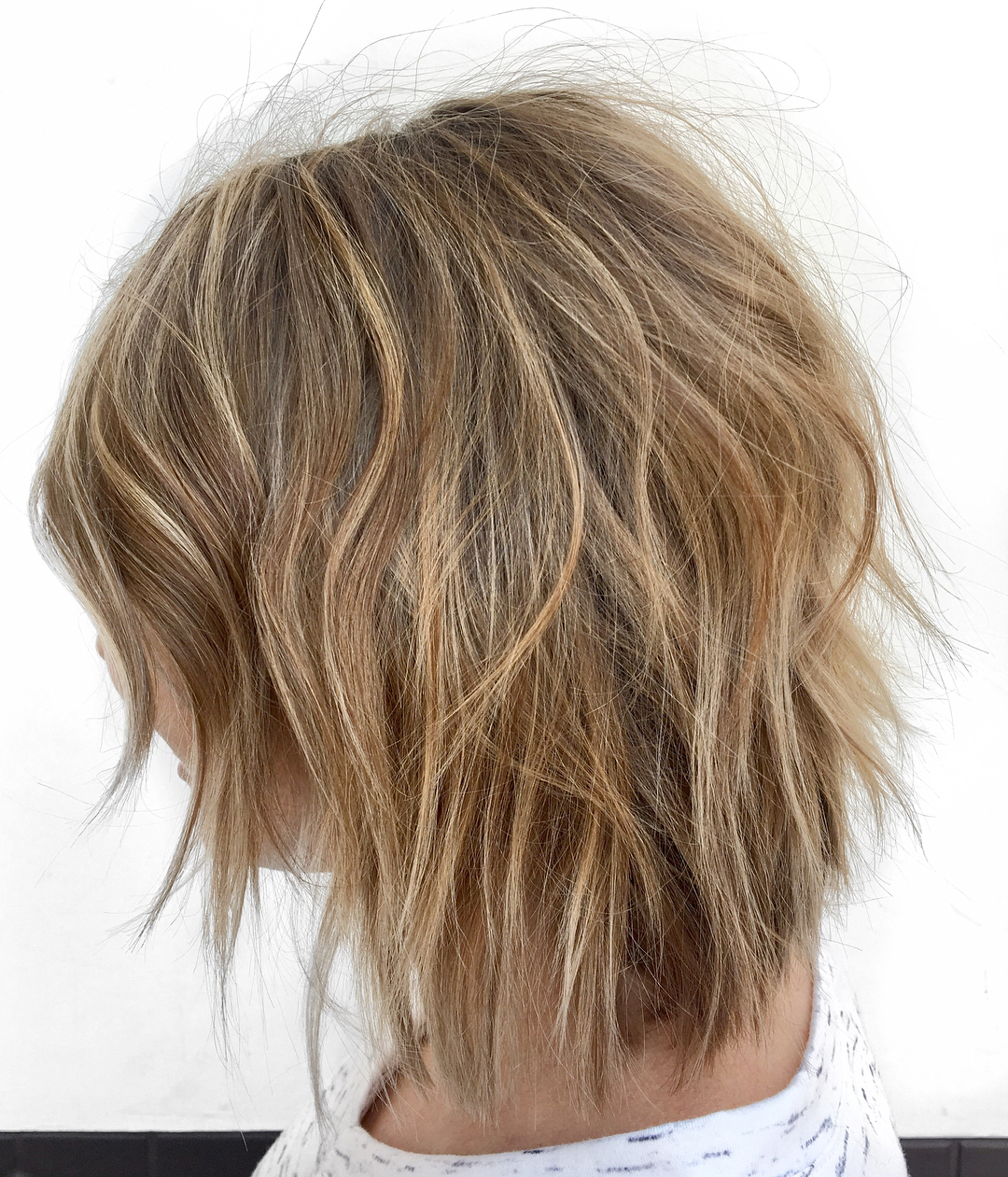 via @manely.molly
Choppy layers are hot-looking and volumizing, and these ones are wonderfully textured, tousled and toned to play with the natural warm hues.
via @donovanmillshair
What an effortless touch one can get with razor-cut short layers, boasting the color scheme rich in contrast!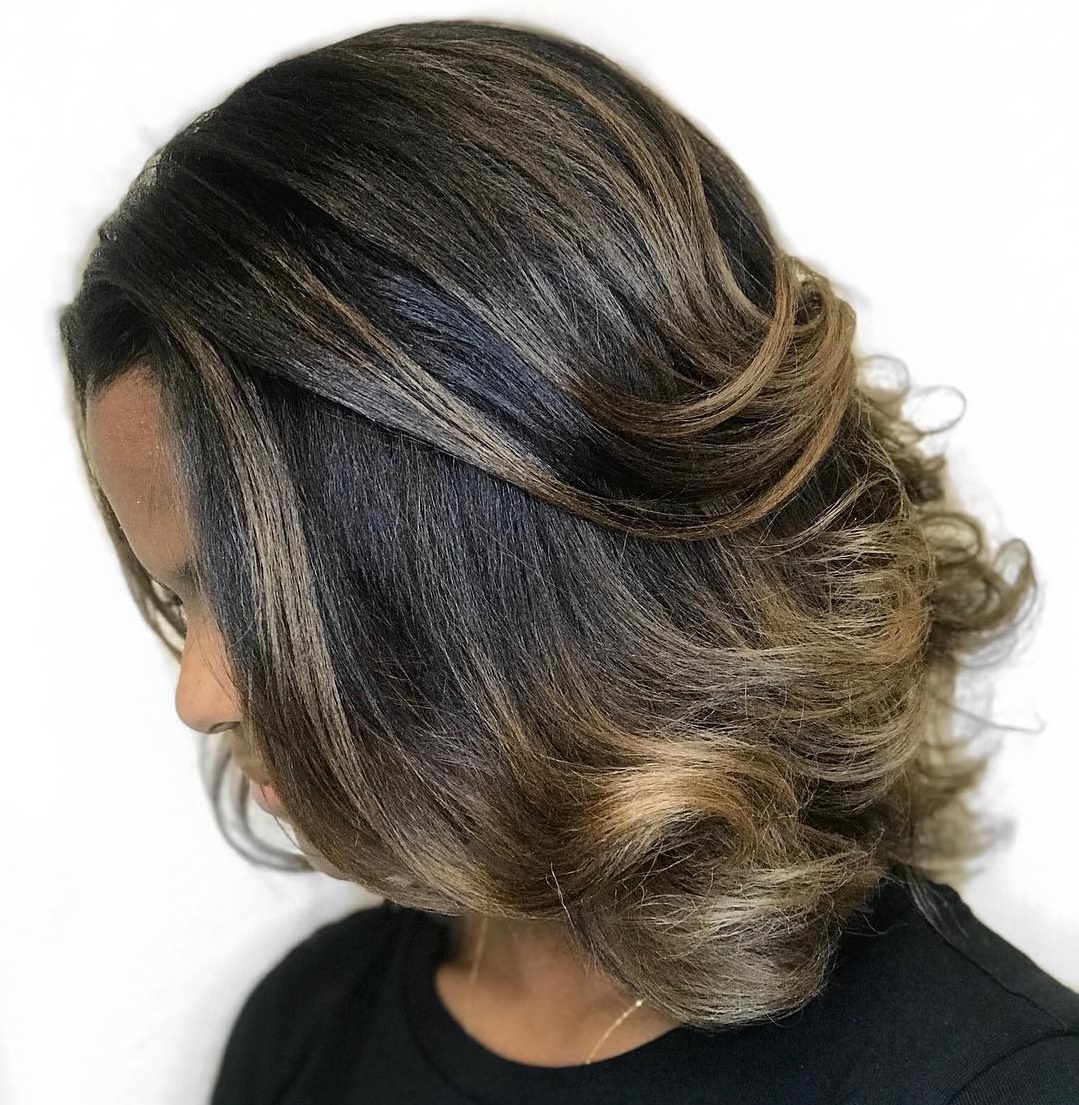 via @huesbygabrielle
Relaxed, layered and curled – this soft wavy hairstyle is not an obvious choice for an African American girl, but both coloring and styling are eye-popping.
via @tomsmithhd
This mid-length haircut reminds us of the gorgeous swoopy effect face framing layers can have. And it is killer, when highlights are properly placed.
Gorgeous Shoulder Length Bob Haircuts for 2020
A shoulder-length bob is a heaven-sent option for those who don't want go longer due to hair damage or demanding maintenance, but still want their tresses long enough for a variety of styling. Since there are different long bob hairstyles to suit any taste, it's a piece of cake to find a trendy cut based on your hair/face type, as well as on your lifestyle. "You get the best of both worlds with a long bob because they look great straightened (like Kate Bosworth's mane), but they also look amazing highly textured (like Bella Hadid's hair), which can resemble beachy waves done differently", says celeb hairstylist Harry Josh to Cosmopolitan.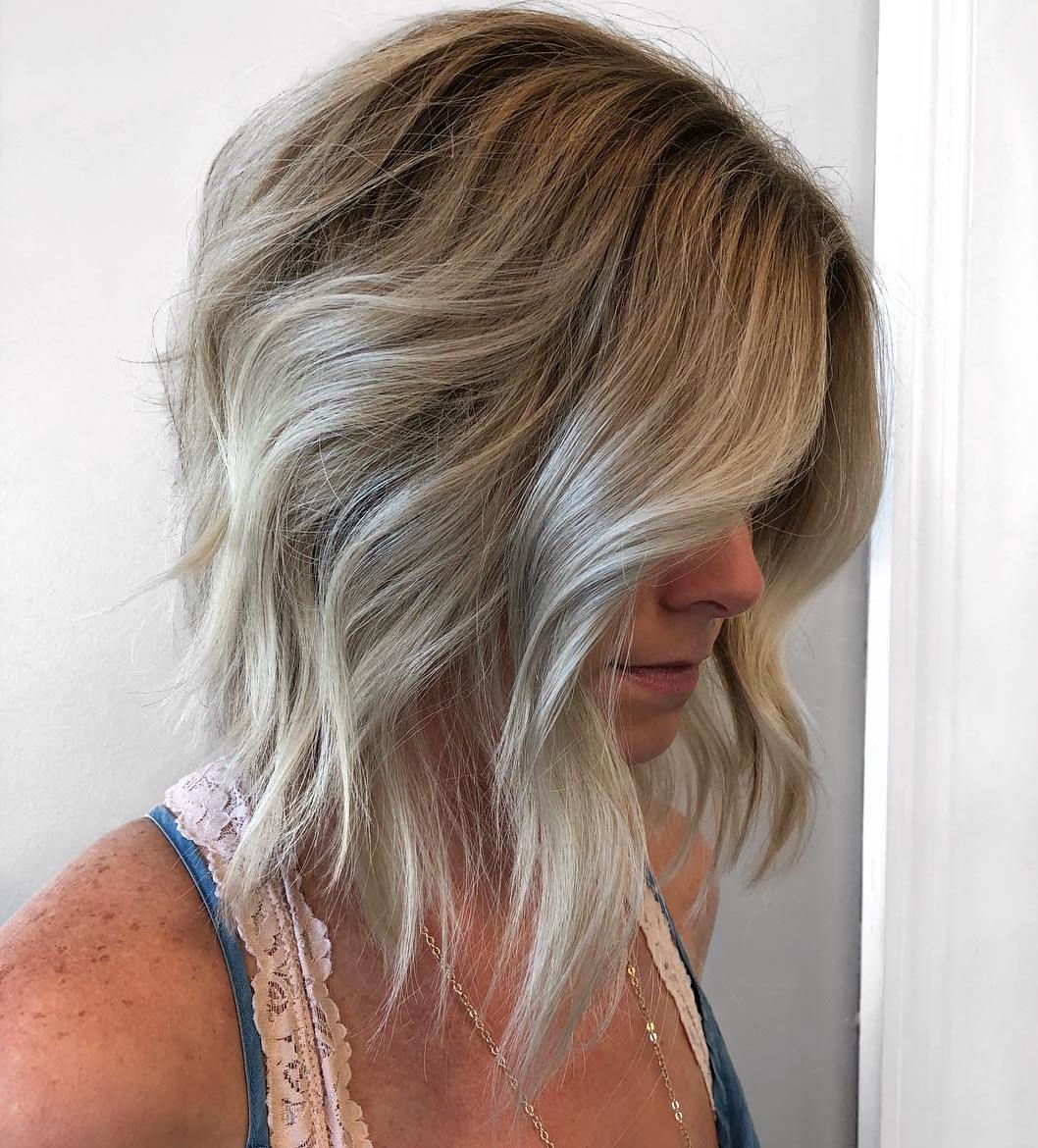 via @hairbyamandablass
This angled bob features a soft shape and stylishly textured tresses that are a bit longer in the front.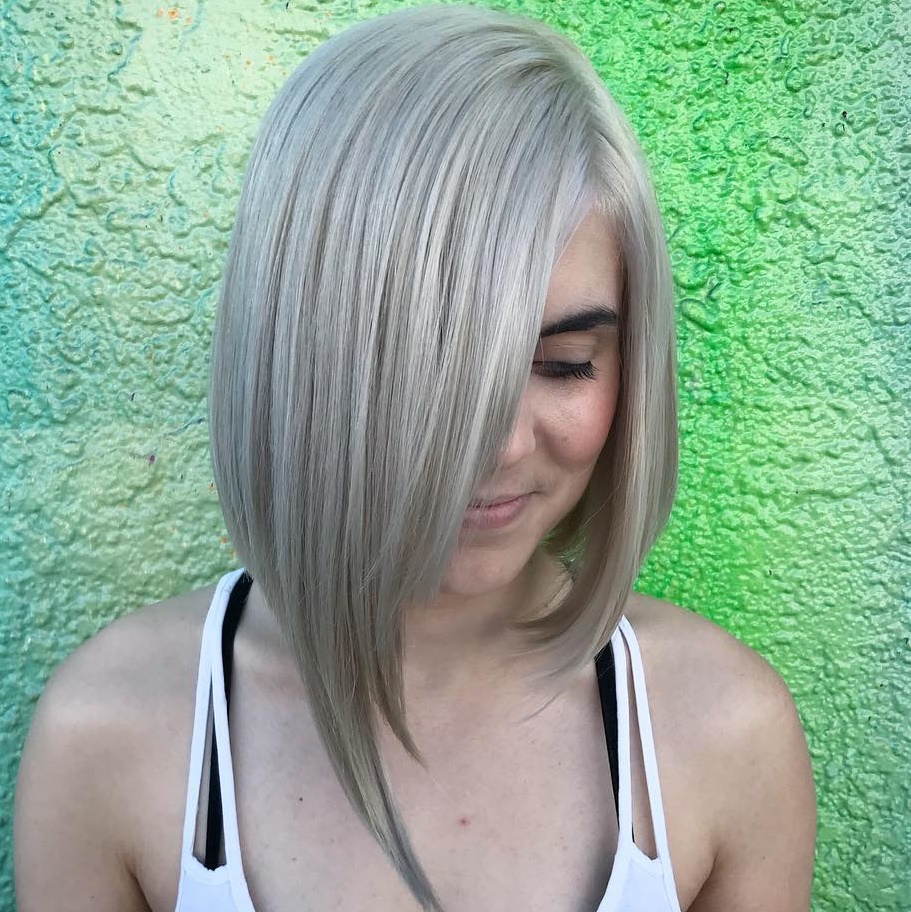 via @juliesomer
To make an asymmetrical bob look sassy, ask for these cool pointed front strands, contrasting with the round-brushed sides.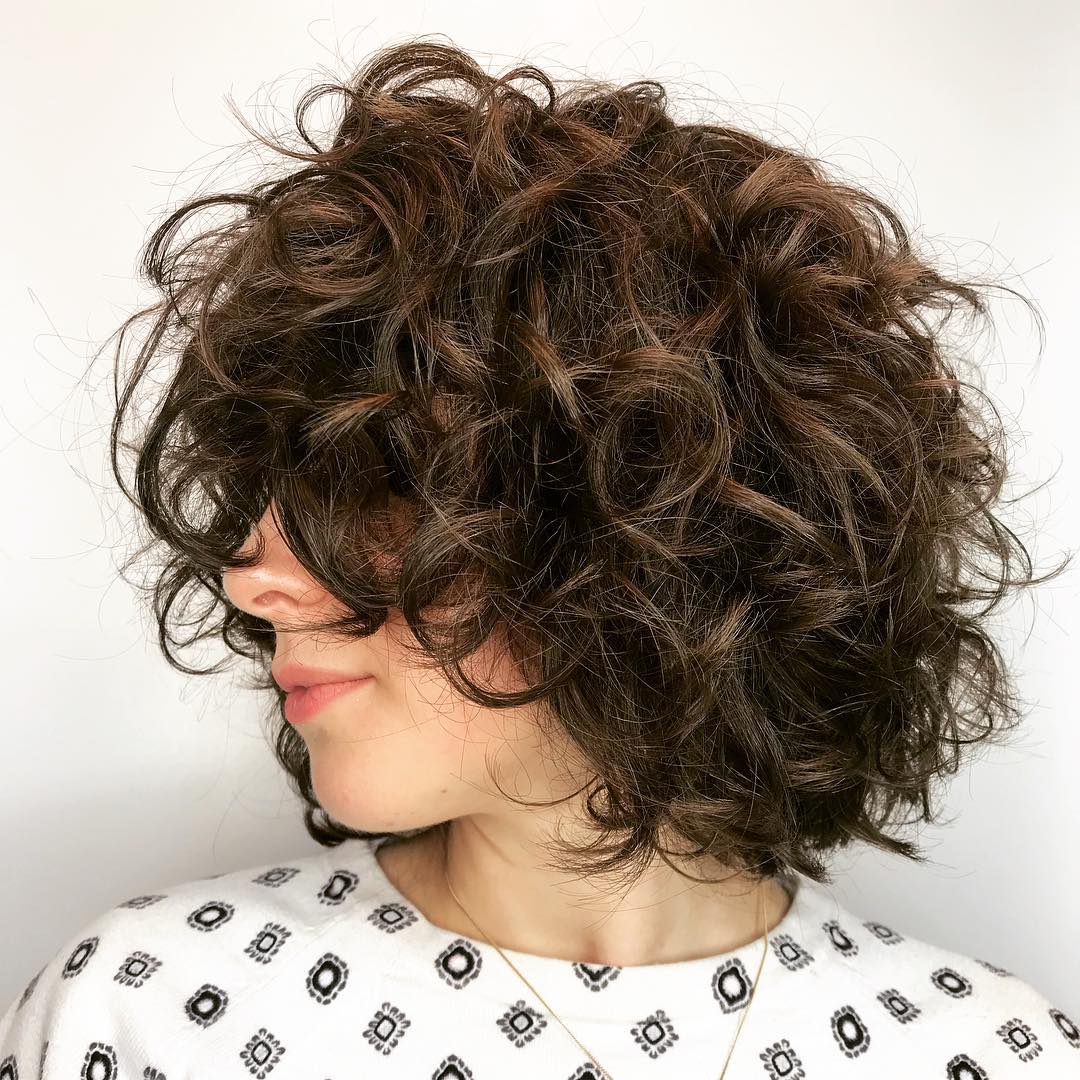 via @curlsbylish
This curly bob is carefully carved to enhance the natural curl and to remove some bulk, and then styled in a messy way to build the floppy look.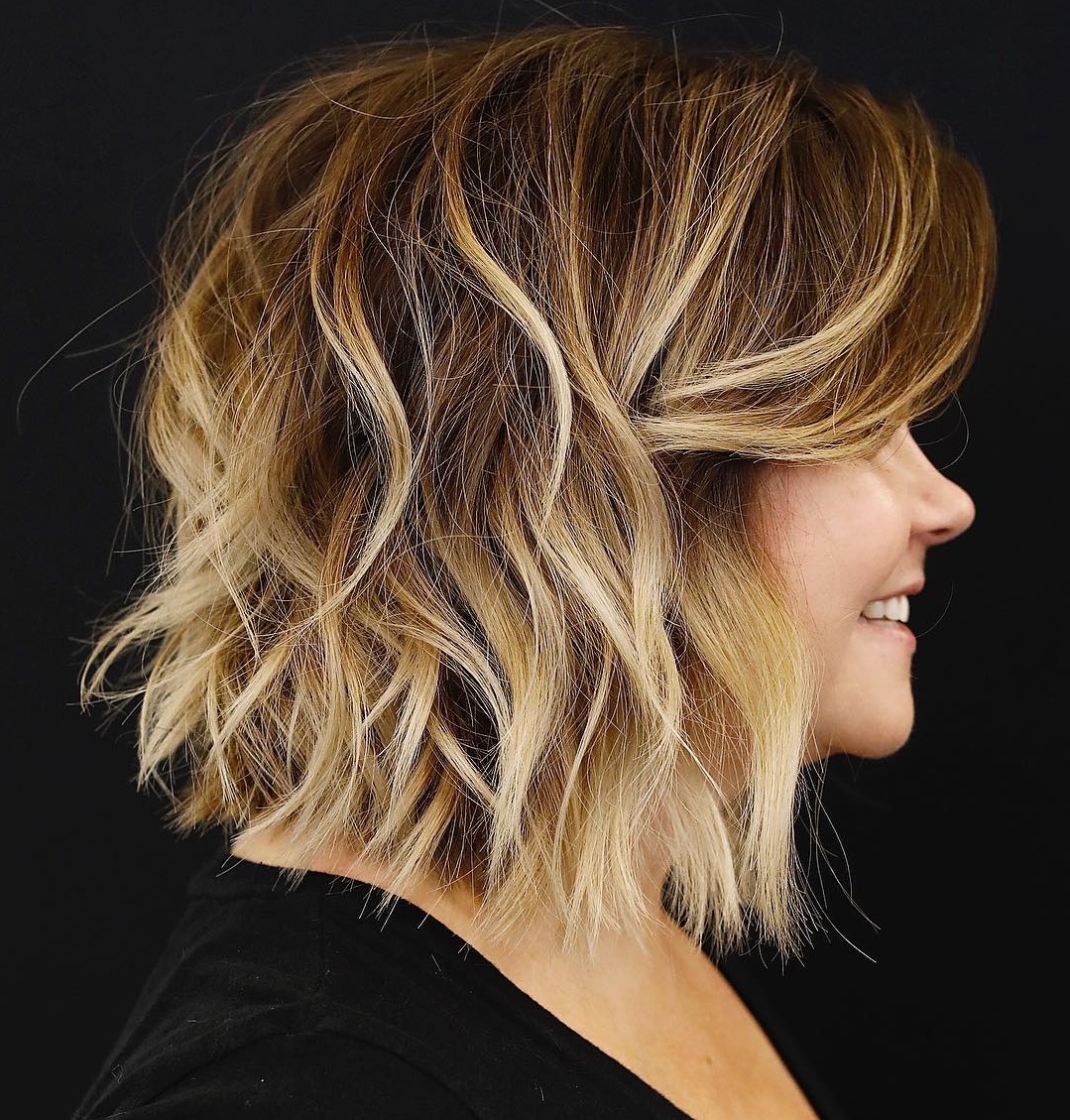 via @anhcotran
Thick hair often requires taking some weight out, and the layered bob hits the target, adding much texture and movement.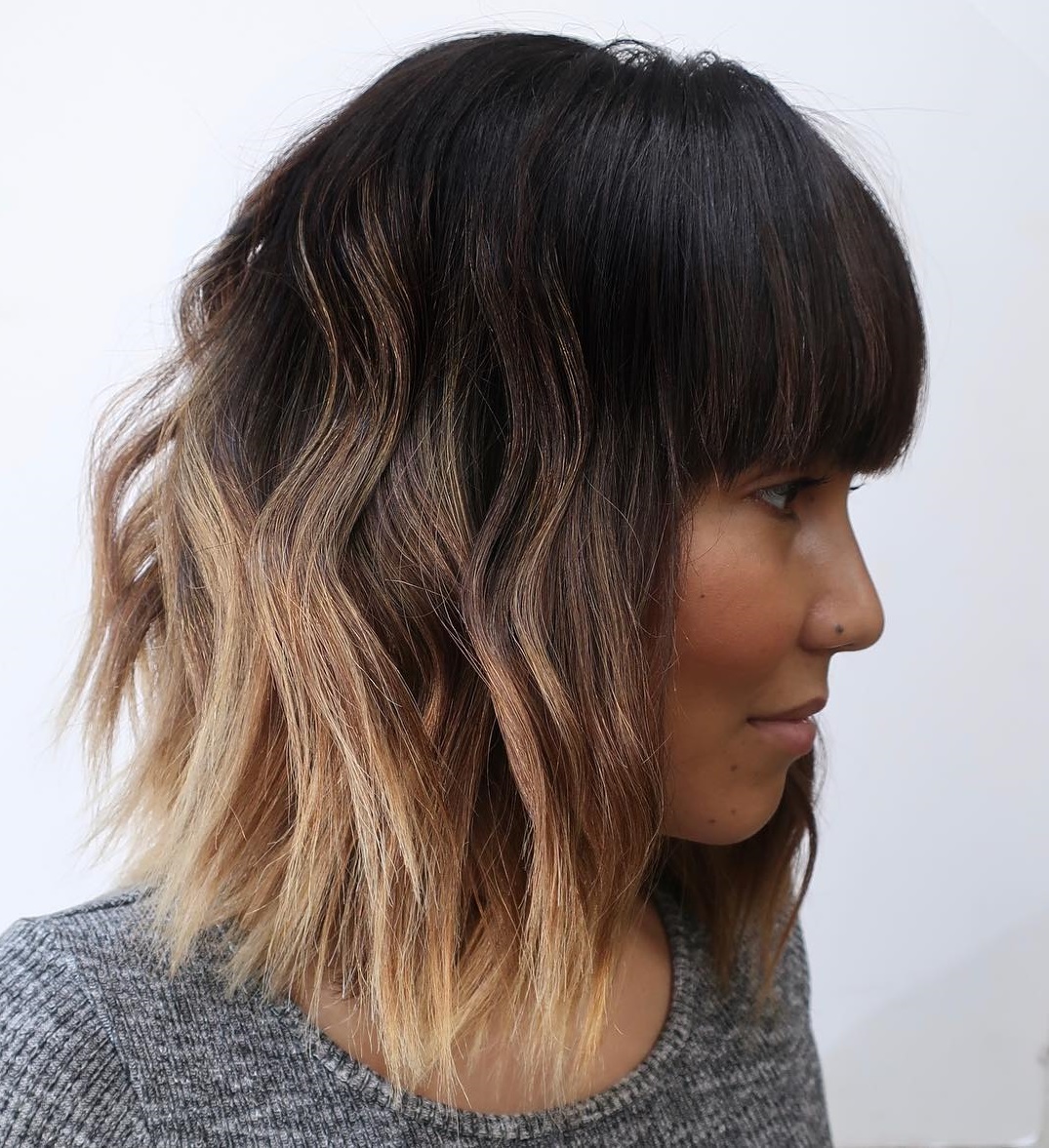 via @tyler_the_hairstylist
This vibrant choppy bob with blunt bangs proves that ombré is quite on par with the balayage from the previous photo and the straight fringe is as good as the side-swept option.
The Most Popular Medium Haircuts with Bangs
Whatever hair texture you have – curly, wavy, straight, thin or thick – bangs can add spice to your hairstyle. Piece-y fringes are great for heart-shaped faces, curtain bangs flatter oval faces, and side-swept strands are one-size-fits-all alternatives. "I'm obsessed with baby/micro fringe," says celebrity hairstylist Christopher Naselli to Harper Bazaar and recommends going for it whenever you want to open your face and give your hairstyle a modern twist. Some hair experts suggest choosing bangs that match the texture of your hairstyle, others opt for contrasting fringes – and we have excellent illustrations for both approaches.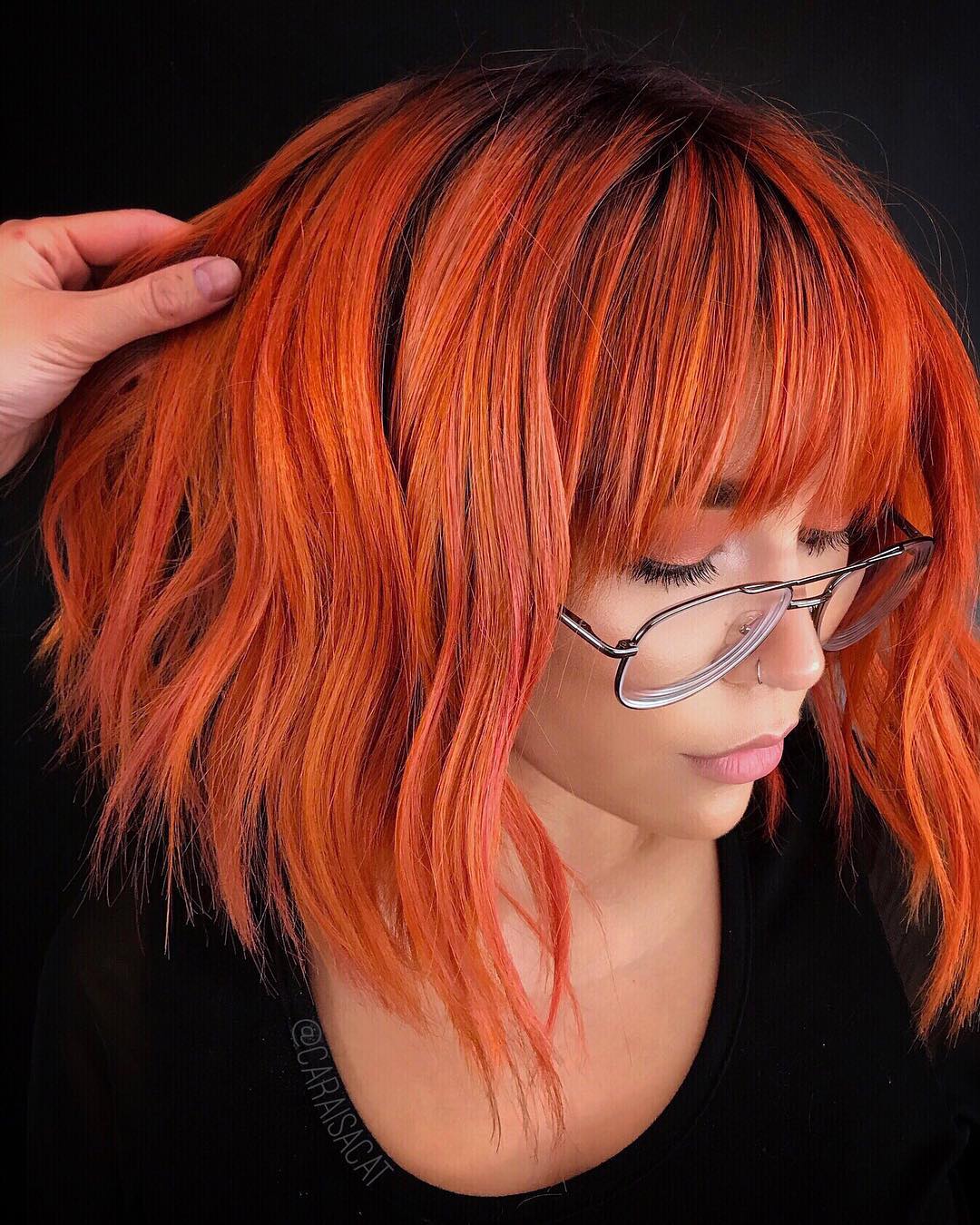 via @caraisacat
This deep straight fringe is lovely textured to compliment the jaw-dropping orange bob with rose blinks.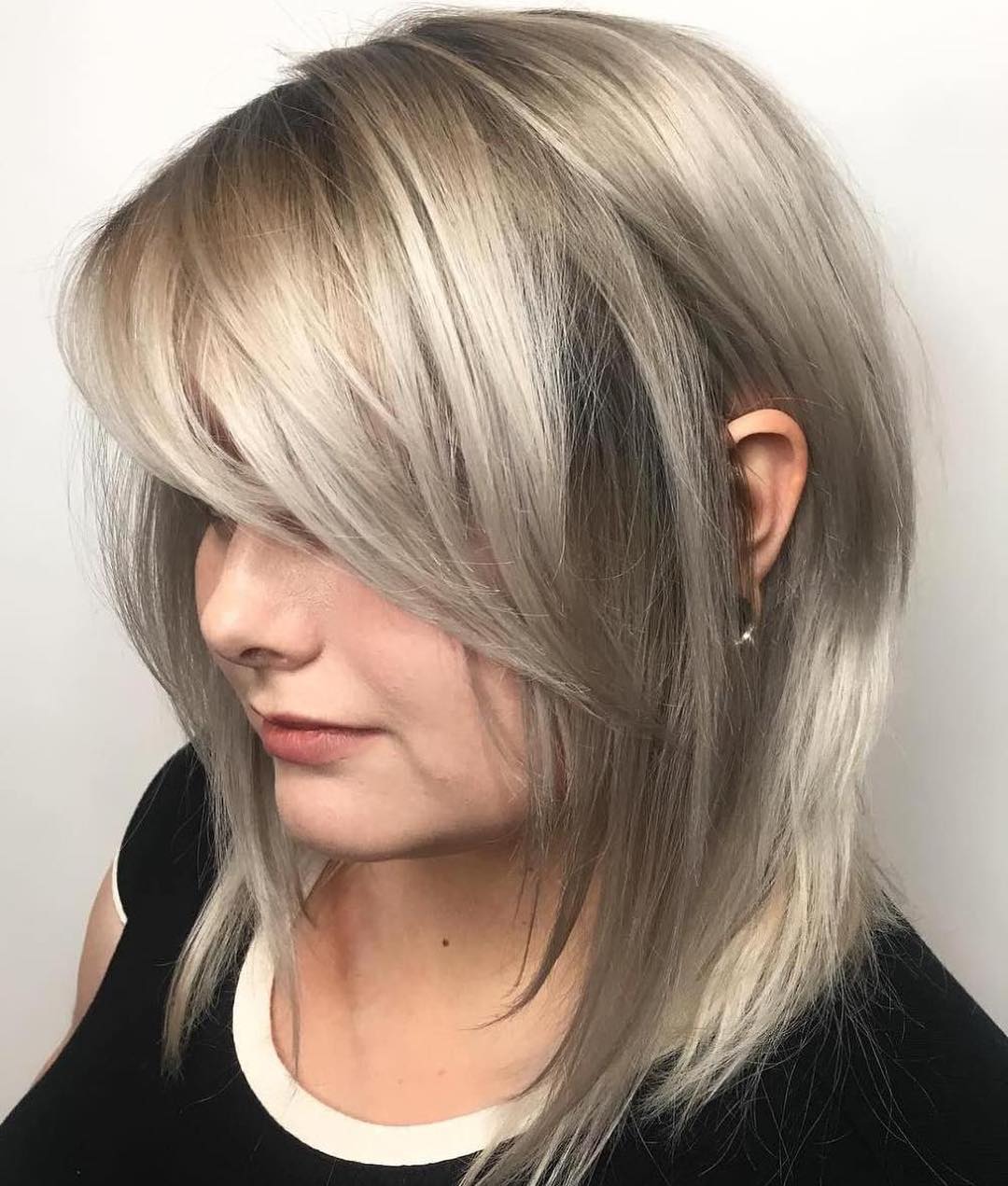 via @youbeautyloungeak
For fine hair, side swept bangs help create volume, especially when teamed up with layering around the face. Just like this ash blonde lob does!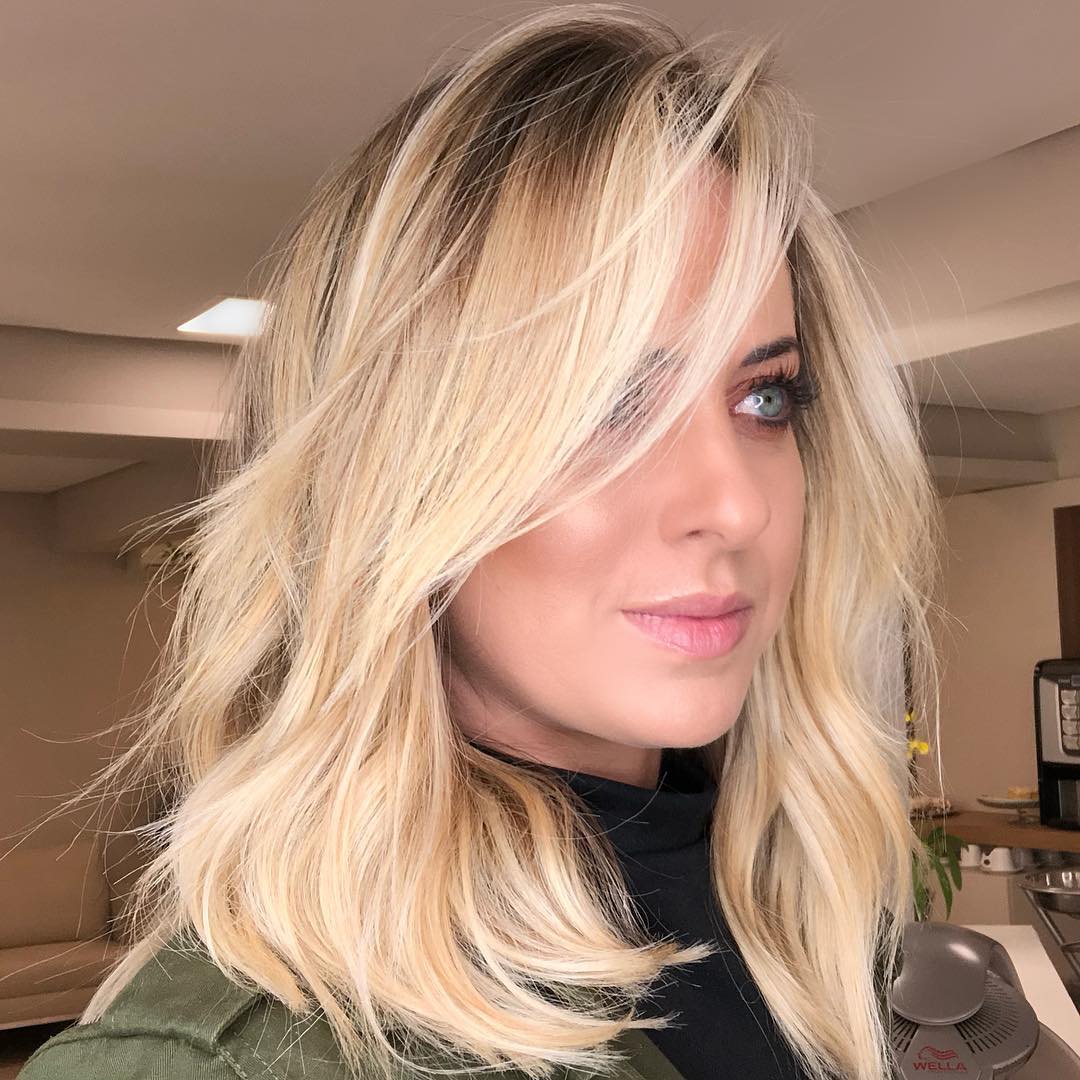 via @mariohenriqueoficial
The mid-length hairstyle embraces airy long bangs to accentuate cheeks, while the side parting contributes to the elevated top.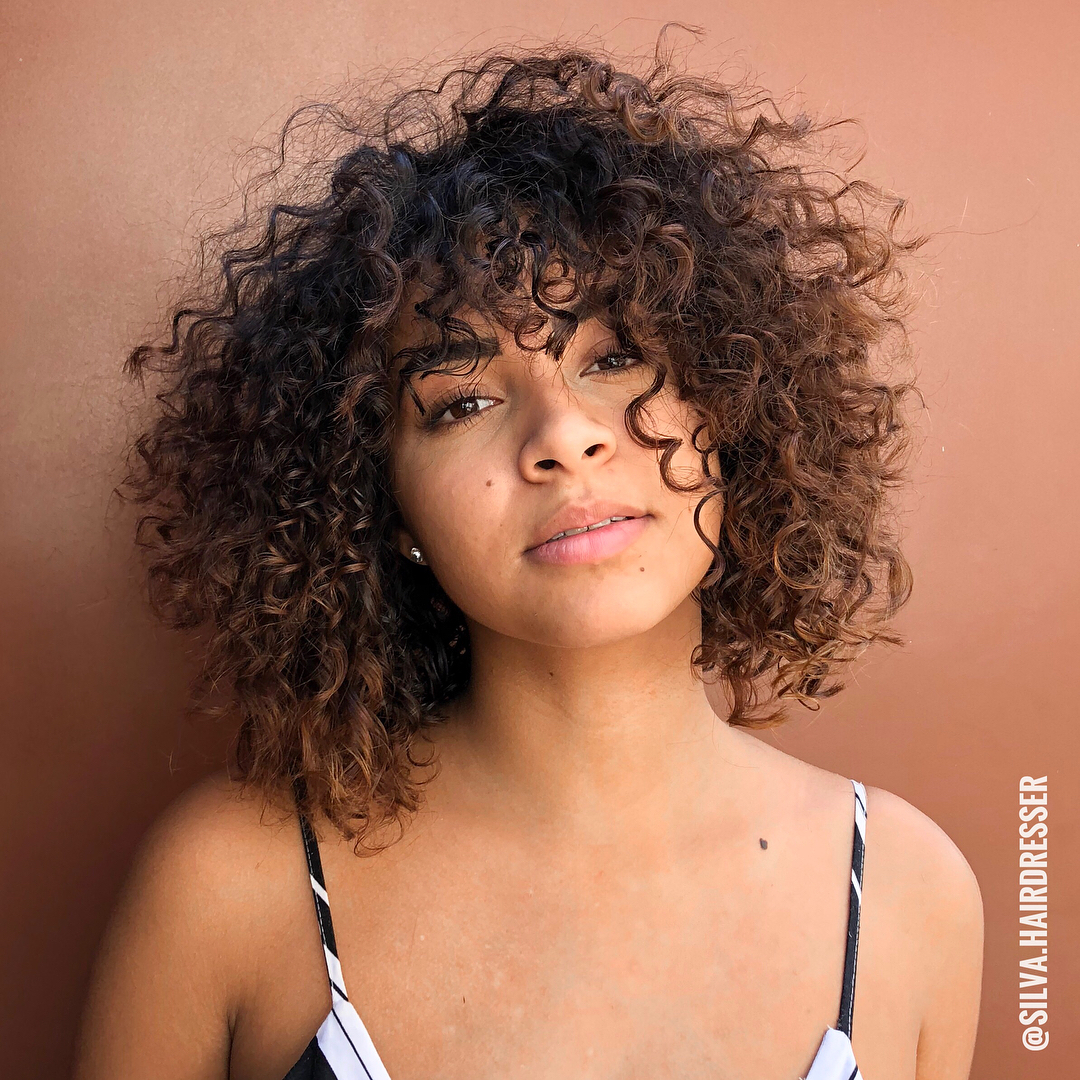 via @silva.hairdresser
This bushy curly hair looks touchable and flirty with its tight ringlets, falling down to the eye lashes.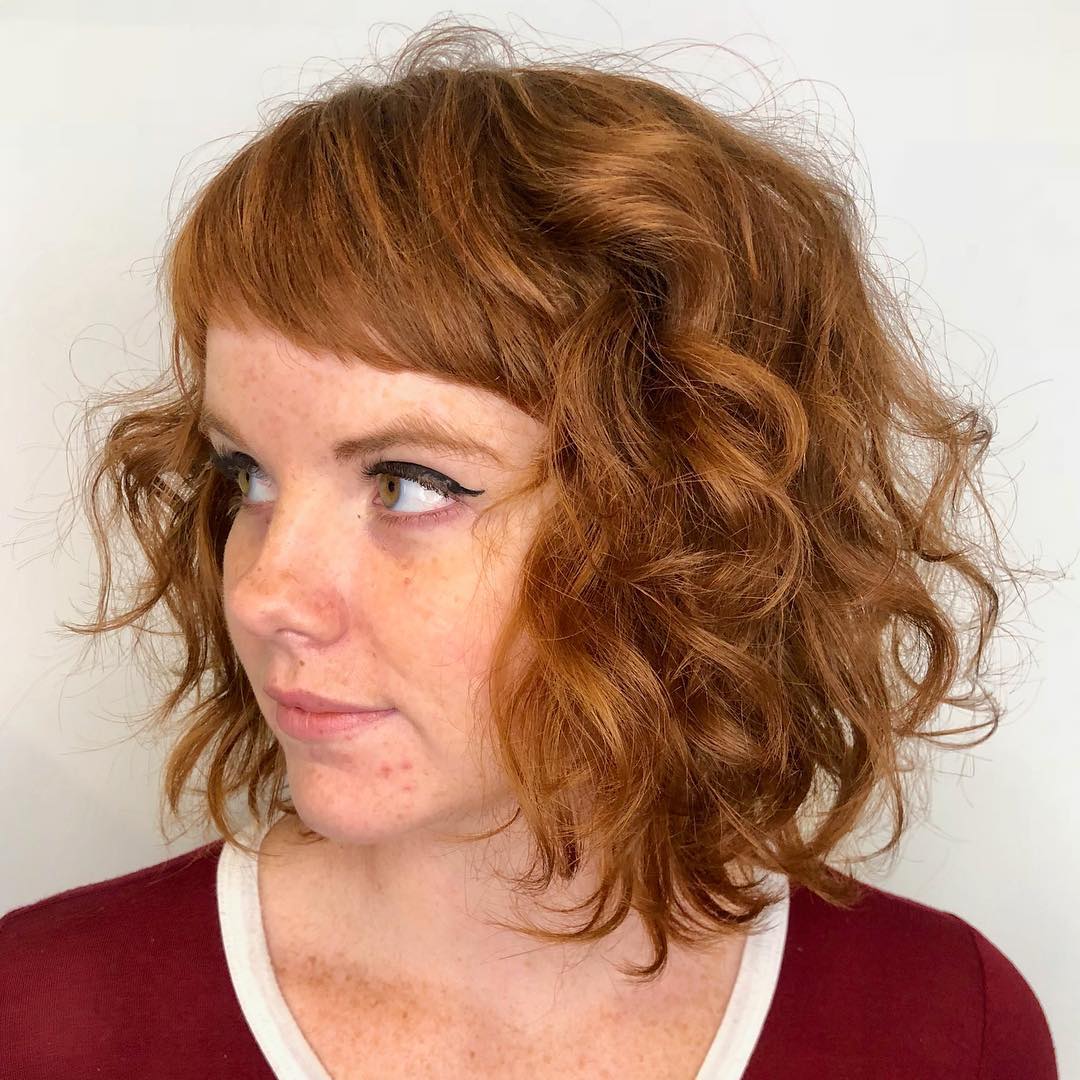 via @alchemyorlando
But who said that a wavy cut cannot come with a straight fringe? Look at this statement baby bangs, making even a more astonishing contrast with messy waves.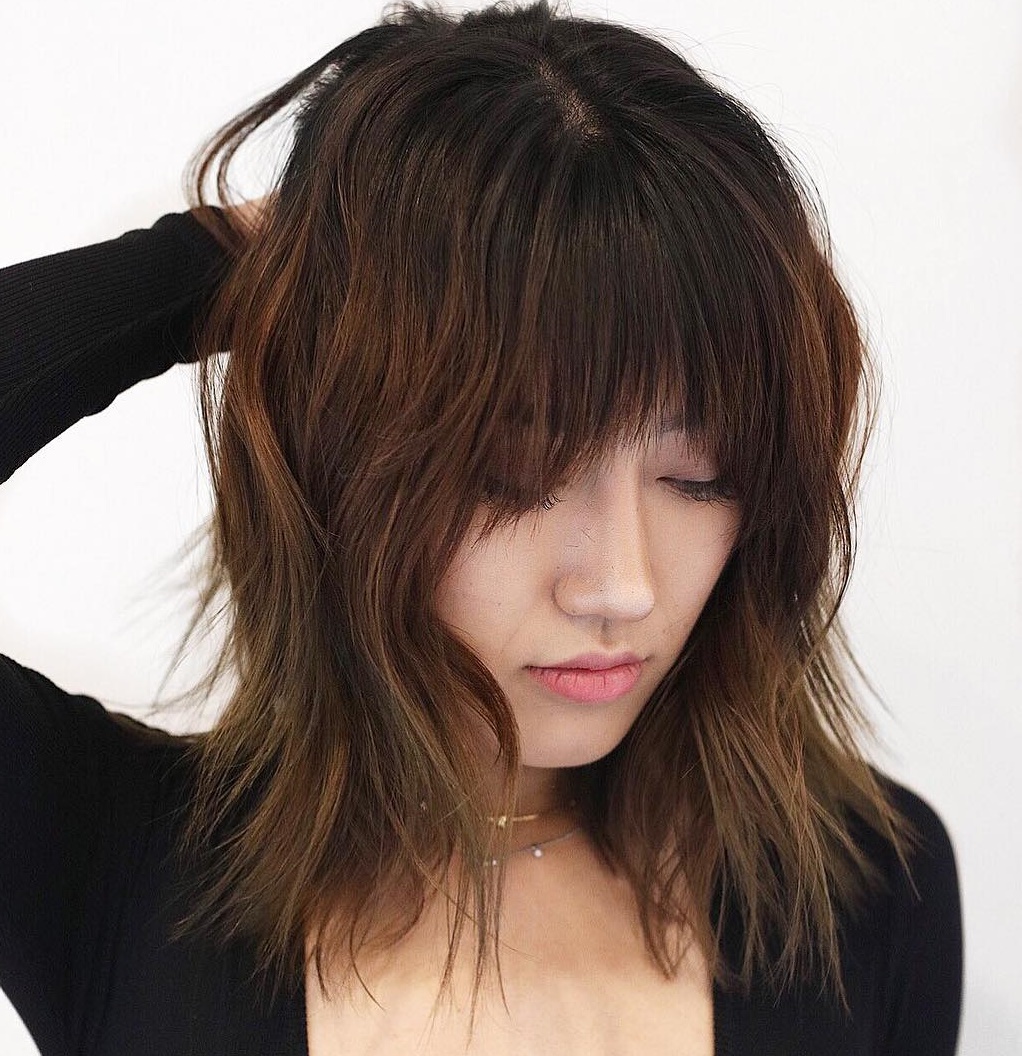 via @timm.morrison
This arched fringe is a perfect fit for the layered razor-cut lob. It mimics the texture completely and melts into the face-framing tresses.
via @nicolekeenen
Here is a fantastic example of game-changing bangs. The dark rounded bob could be dull and out of fashion, but not with this super-short bang and crisp texture.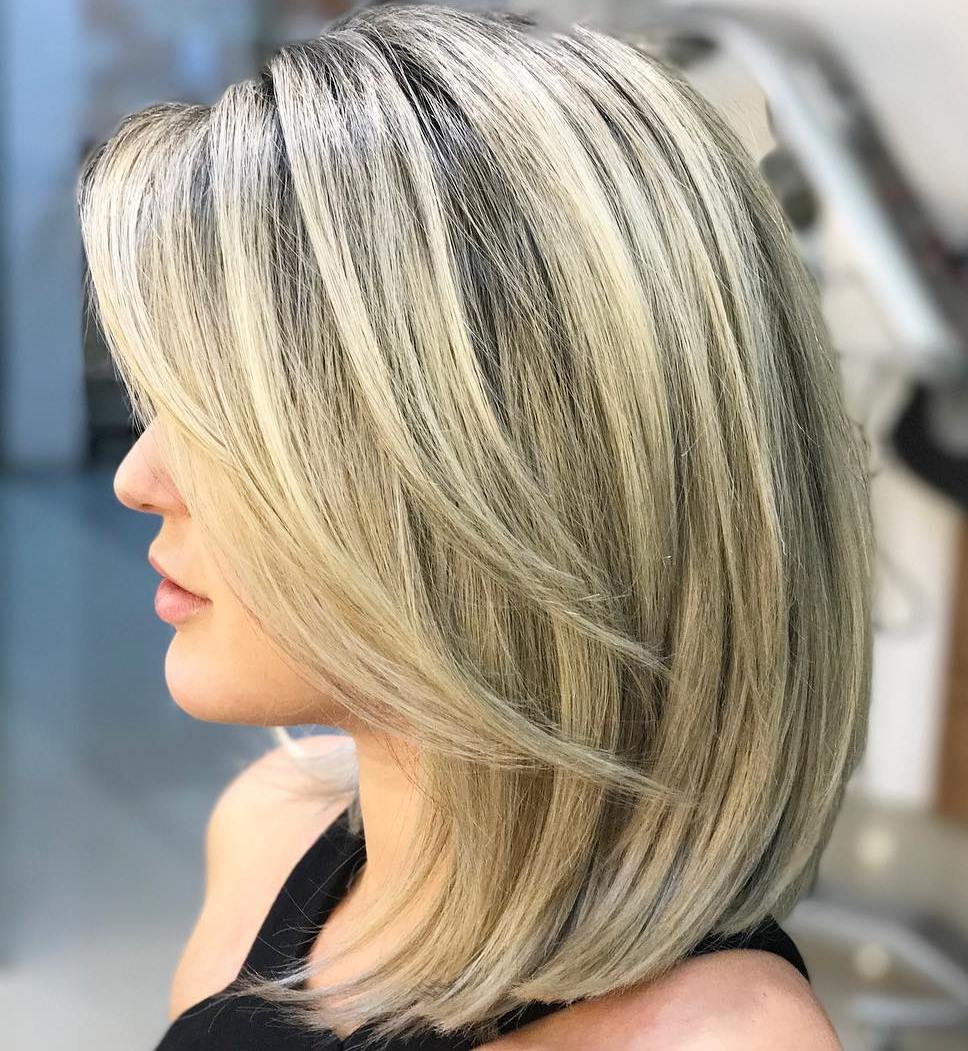 via @sidvisage
And this is where movement comes from – the side-swept fringe, blending with the angled layers that are styled backwards, on the background of the above shoulder bob that curls forward.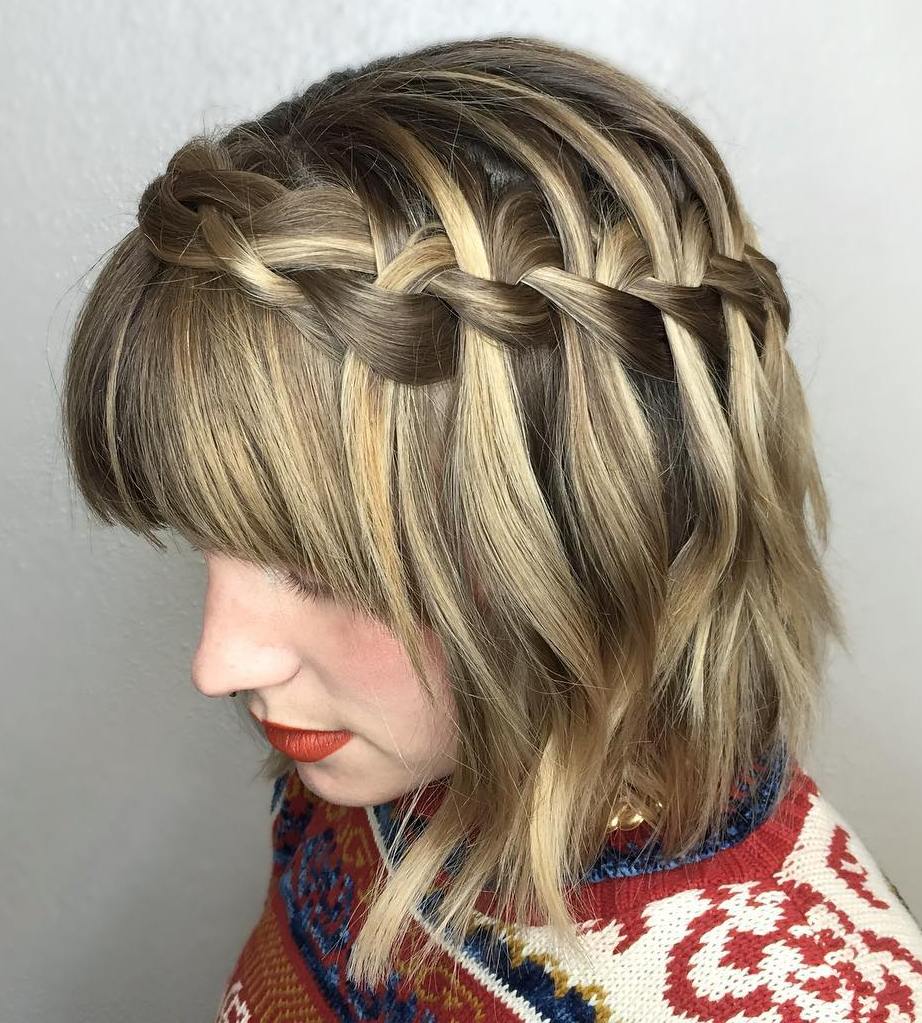 via @jordanraehair
This prom hairstyle delights with an unexpected combination of a thick bang and an exquisite waterfall crown.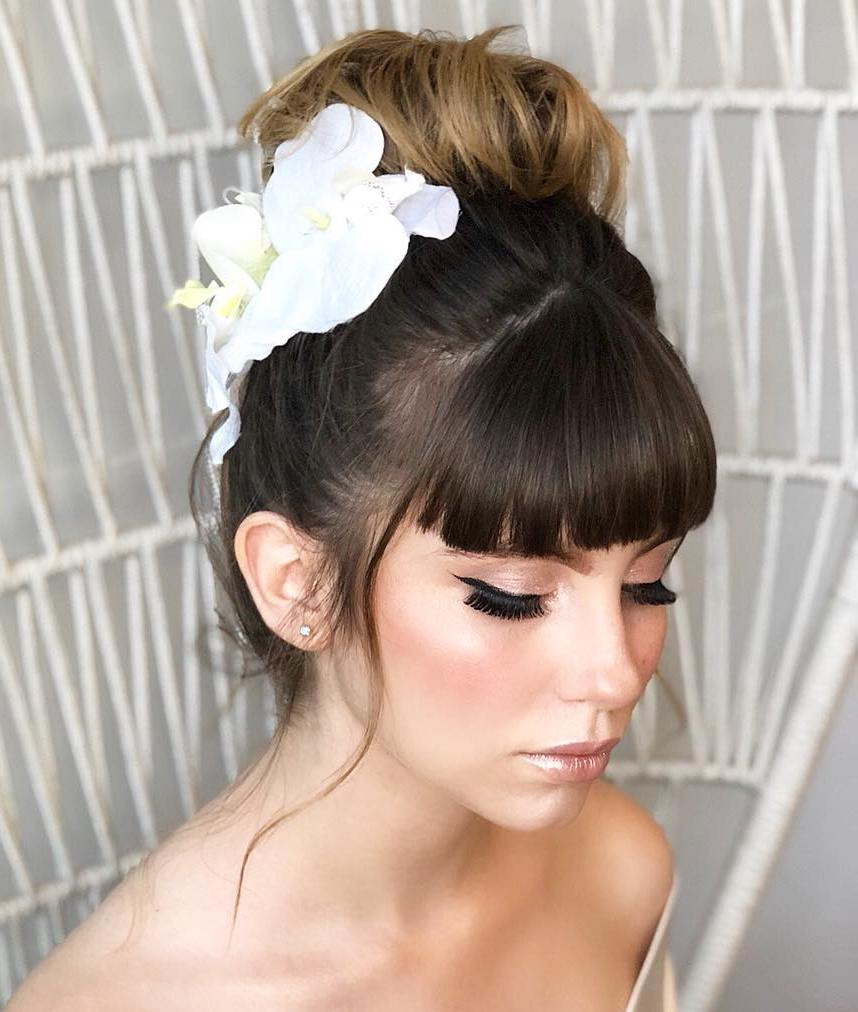 via @studioalessandranunes
Obviously, bangs look nice with various updos, including this heavy straight fringe that draws attention to the eyes and thick eyelashes.
The Best Hairstyle Ideas for Medium Haircuts
When choosing your own perfect hairstyle, don't forget that the "mid-length" is a loose concept. Opt for a cut shorter than the shoulder level when your hair is damaged or fragile, since this will help remove split ends. "If an individuals' hair is prone to frizz then it's best to keep the hair on the longer side of medium. The longer and heavier the hair, the more controlled it will be," recommends Sam Burnett, UK-based celeb hair stylist, in his comments to Marie Claire. And we have a pretty choice of mid-length hairstyles from below the chin to an almost armpit level to guide you through the selection process.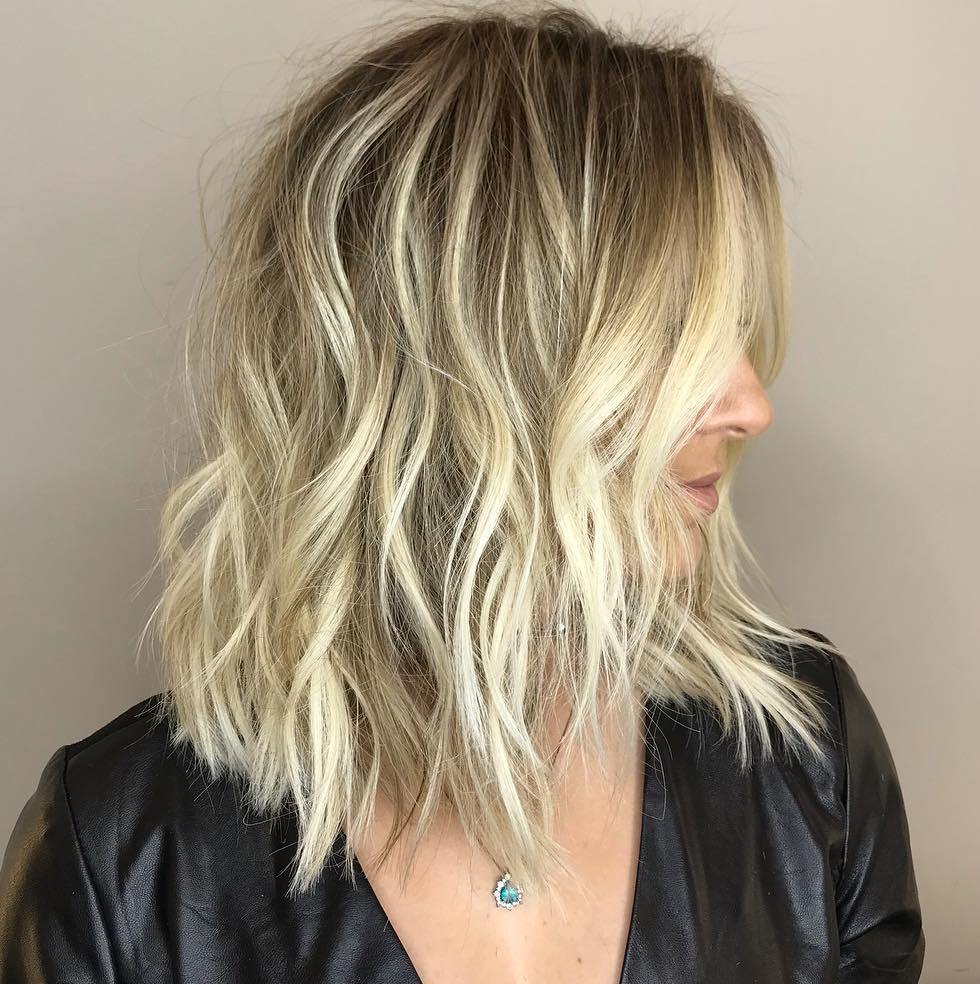 via @mariohenriqueoficial
It's easy to sport an edgy look with this vibrantly textured lob, featuring a cute warm-to-cold balayage.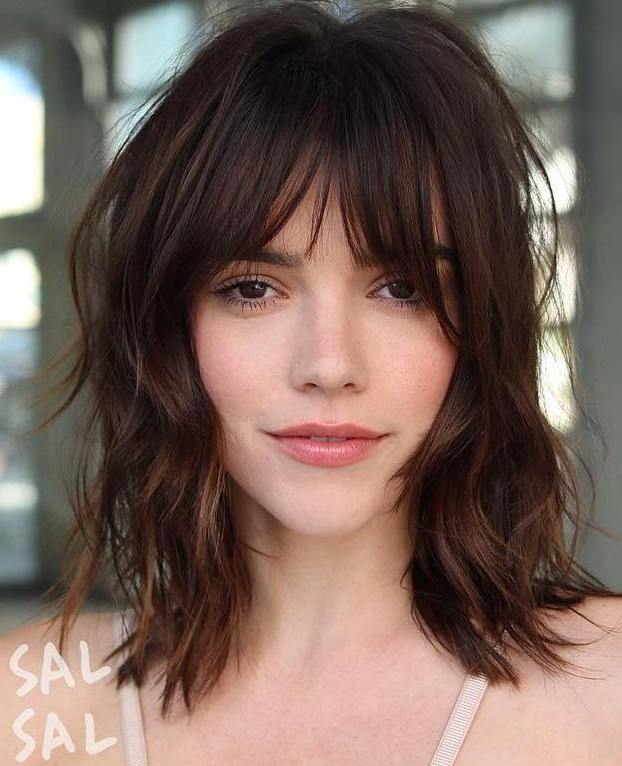 via @salsalhair
Check this shag bob with brow-skimming bangs, getting longer to the sides and melting into face-framing tresses.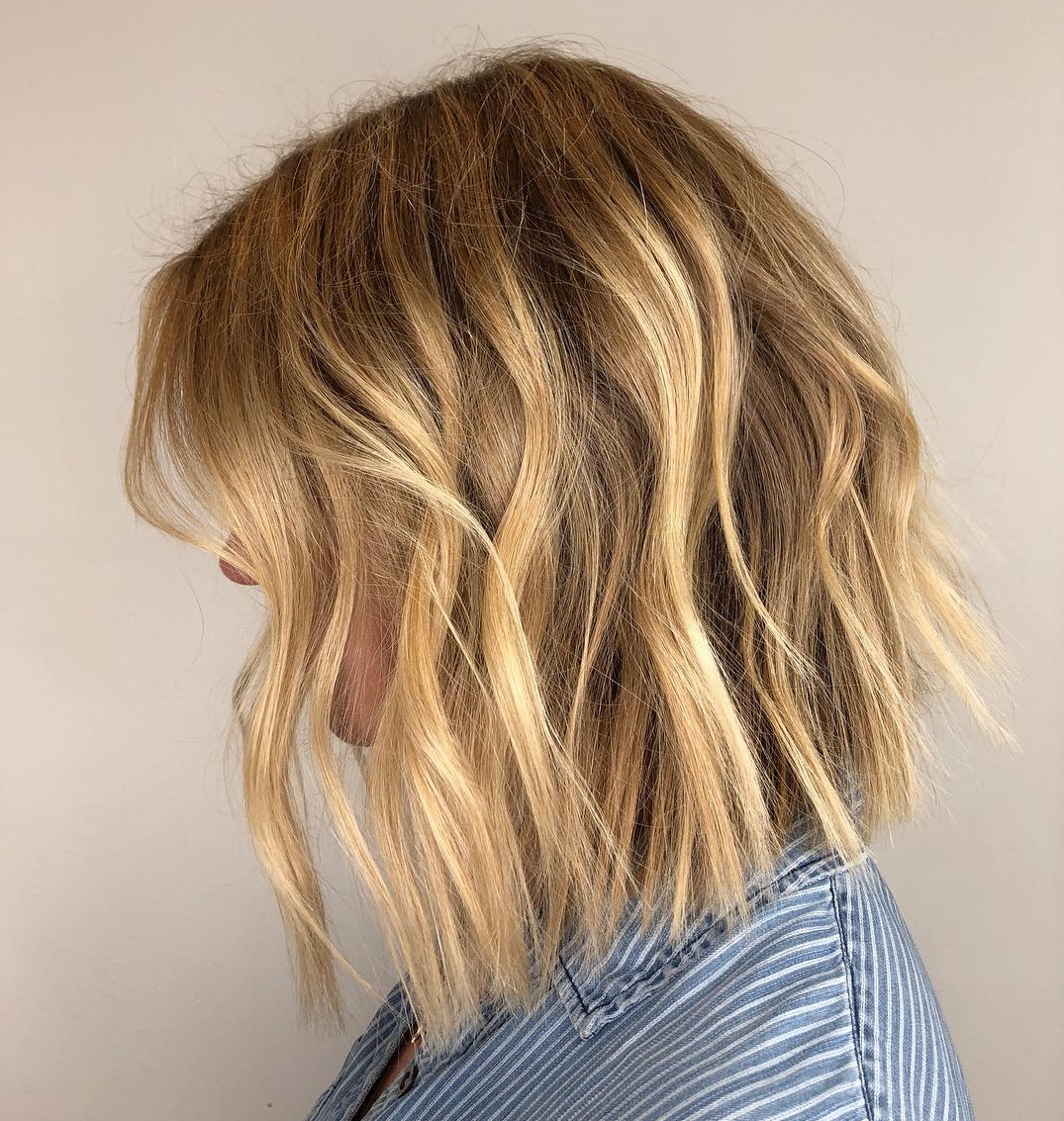 via @dnosalon
This choppy hairstyle is a bit angled to show a geometric shape, while making the thick hair lighter.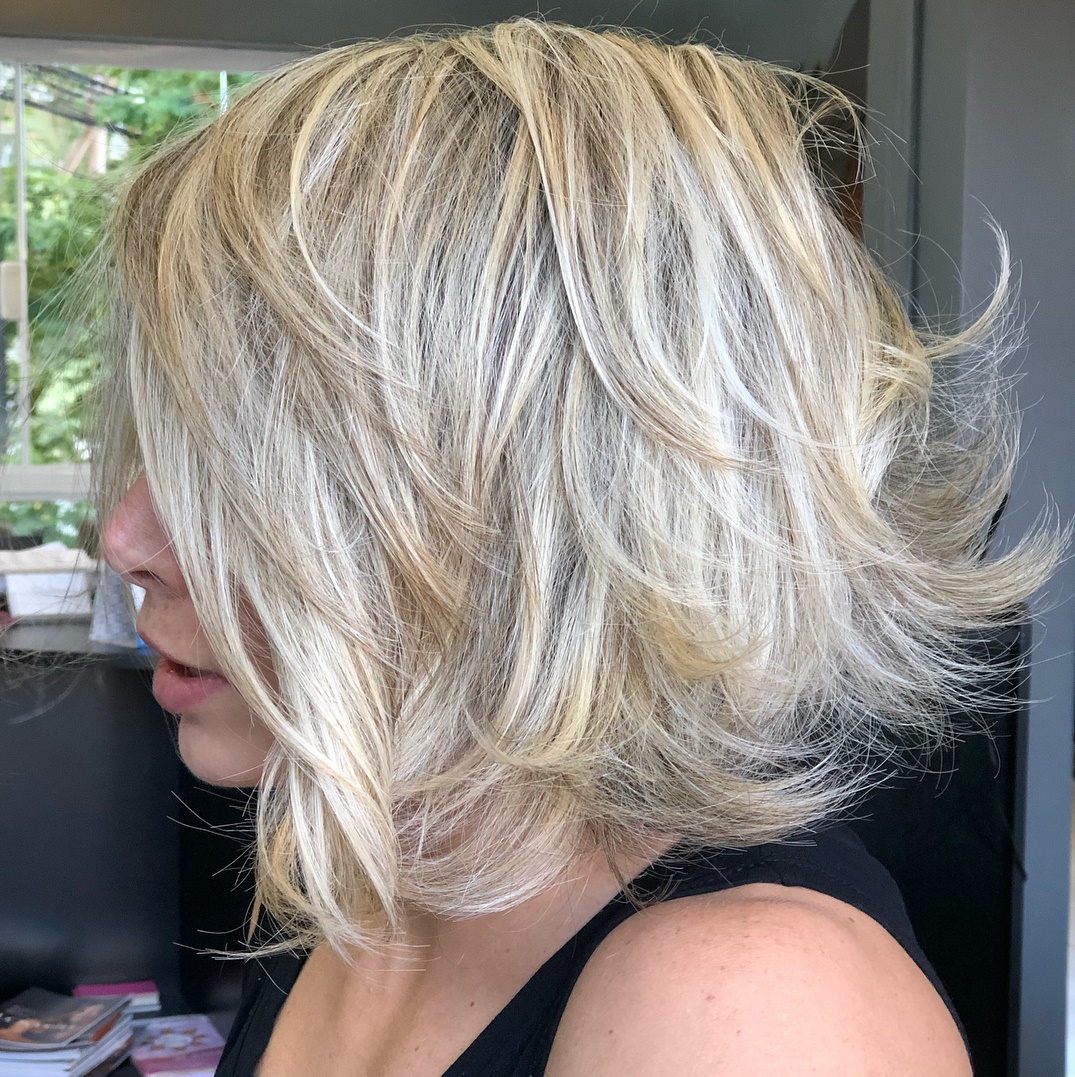 via @andremarins
Searching for a flirty feel? Then what about flip hairstyles similar to this naughtily layered and feathered blonde bob?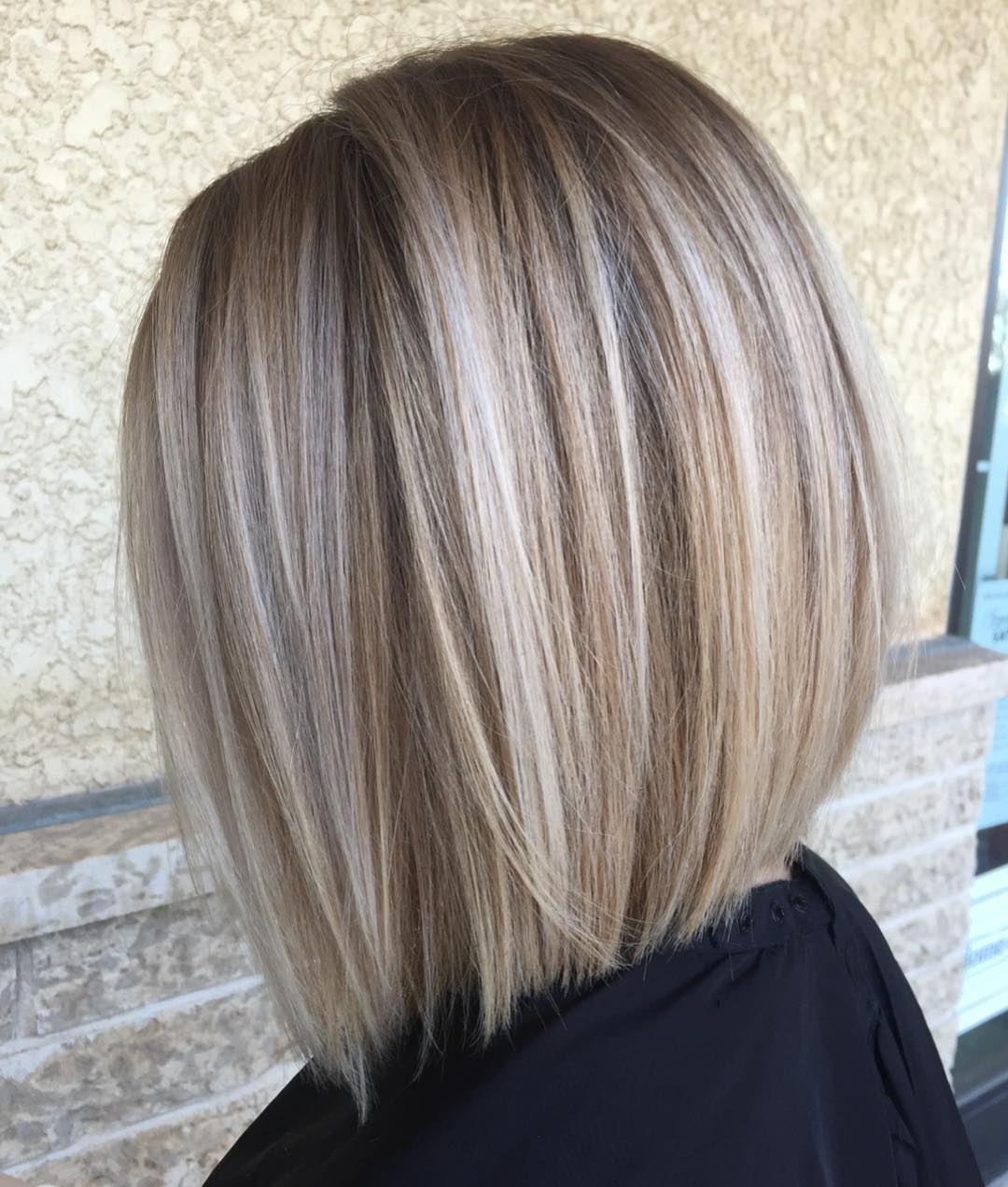 via @styles.by.sarah
However, one length hairstyles are no less hot, while sparkling with elegance and rich in highlights.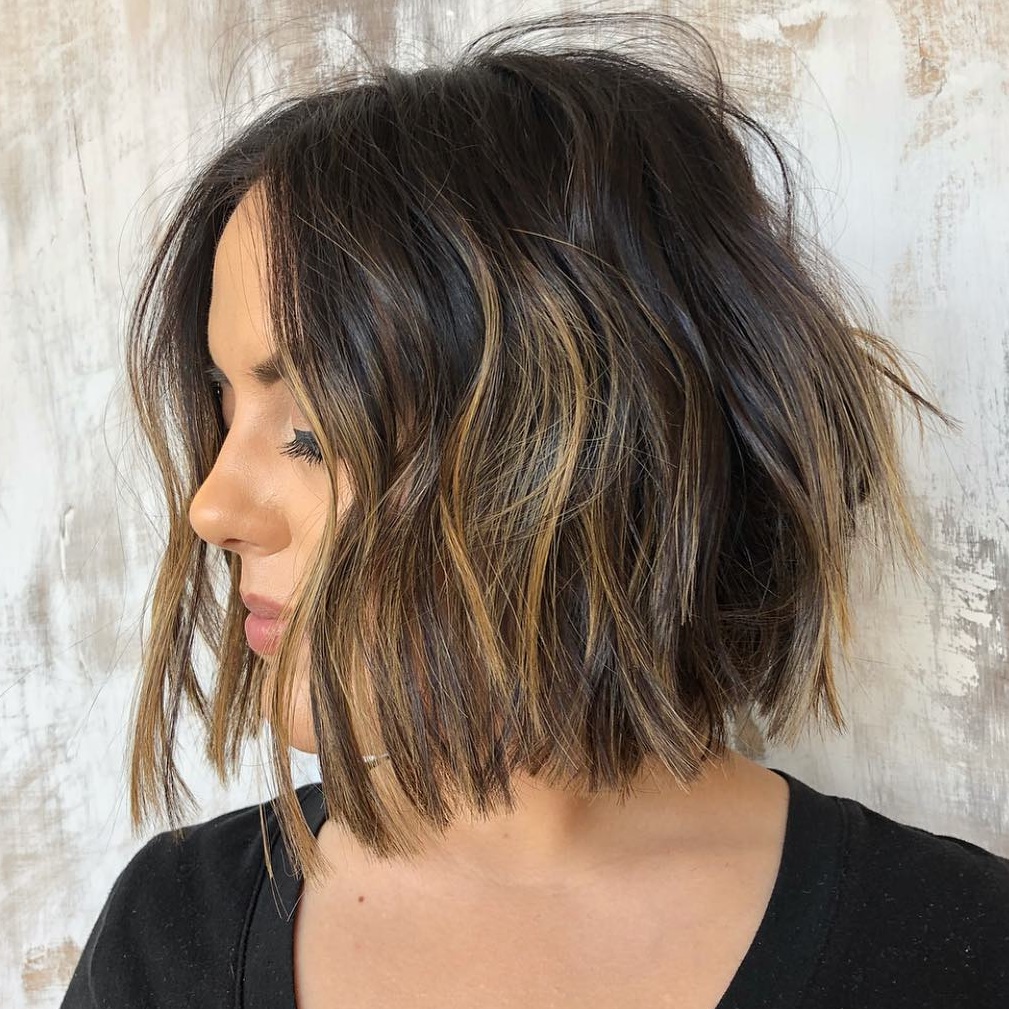 via @hotsaucehair
The choppy bob is fav among short to medium hairstyles, looking great on both blonde and dark hair thanks to its touchable feel.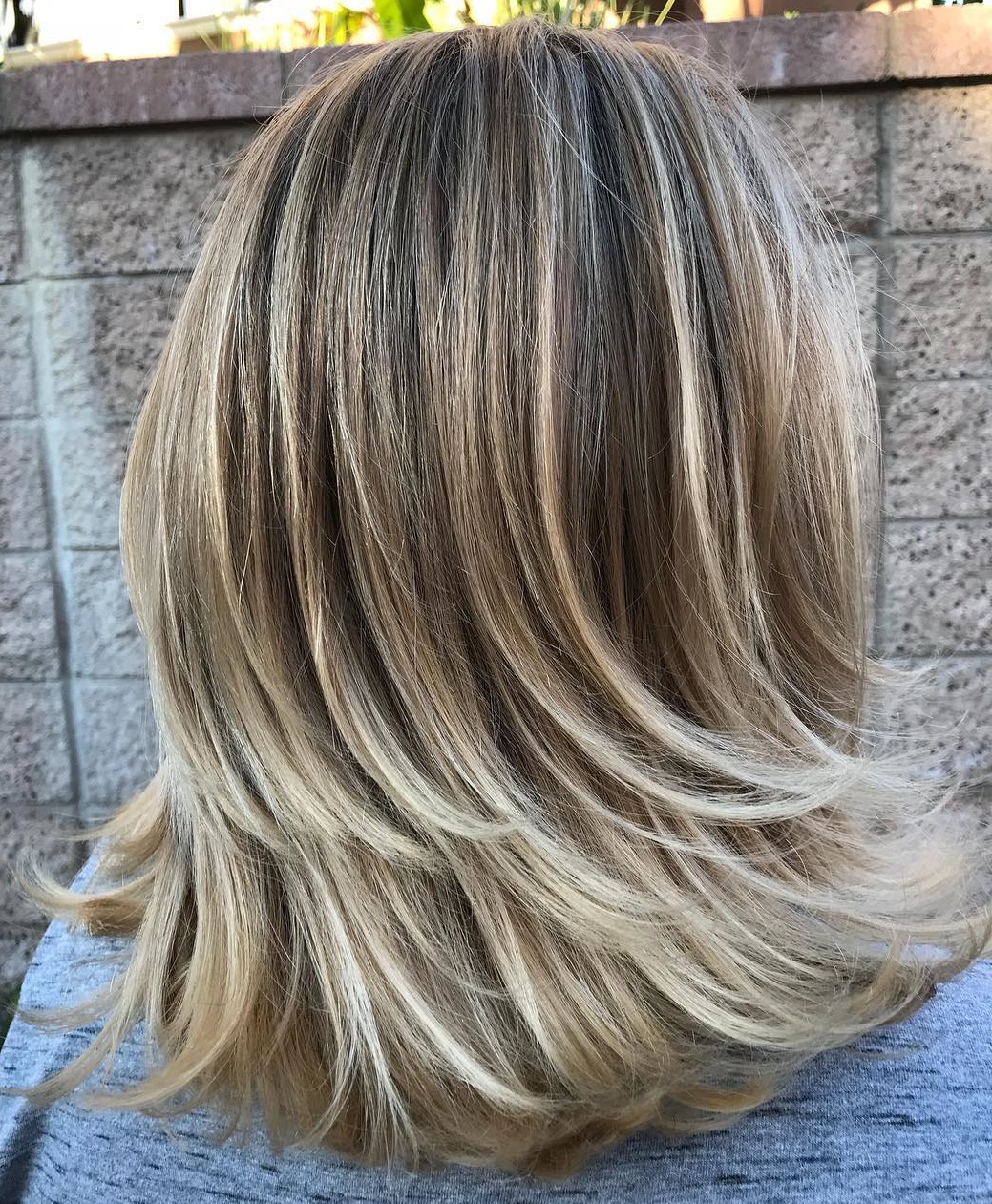 via @colorbystephanie
When choosing among medium to long options, think of this multi dimensional hairstyle with feathered layers to the ends and a natural balayage.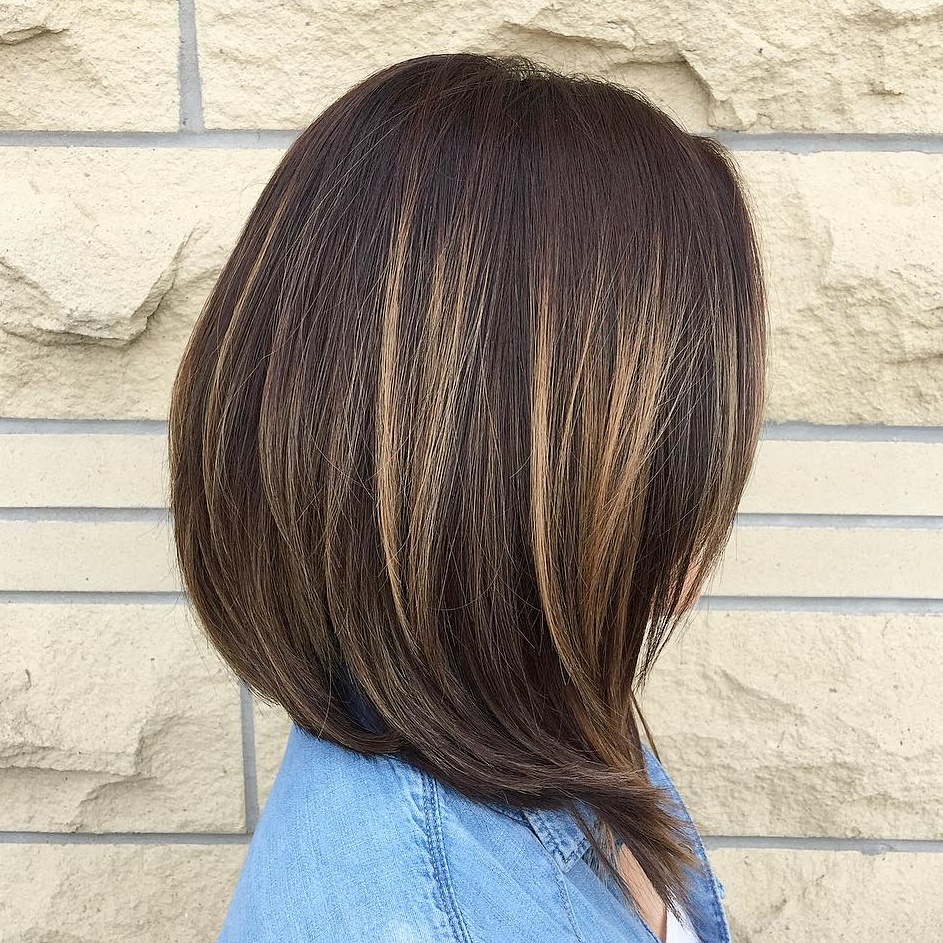 via @dbksalonyorkmills
Opt for a longer version of the A line bob with tapered ends and contrasting highlights for more vibe. We just adore this blowout!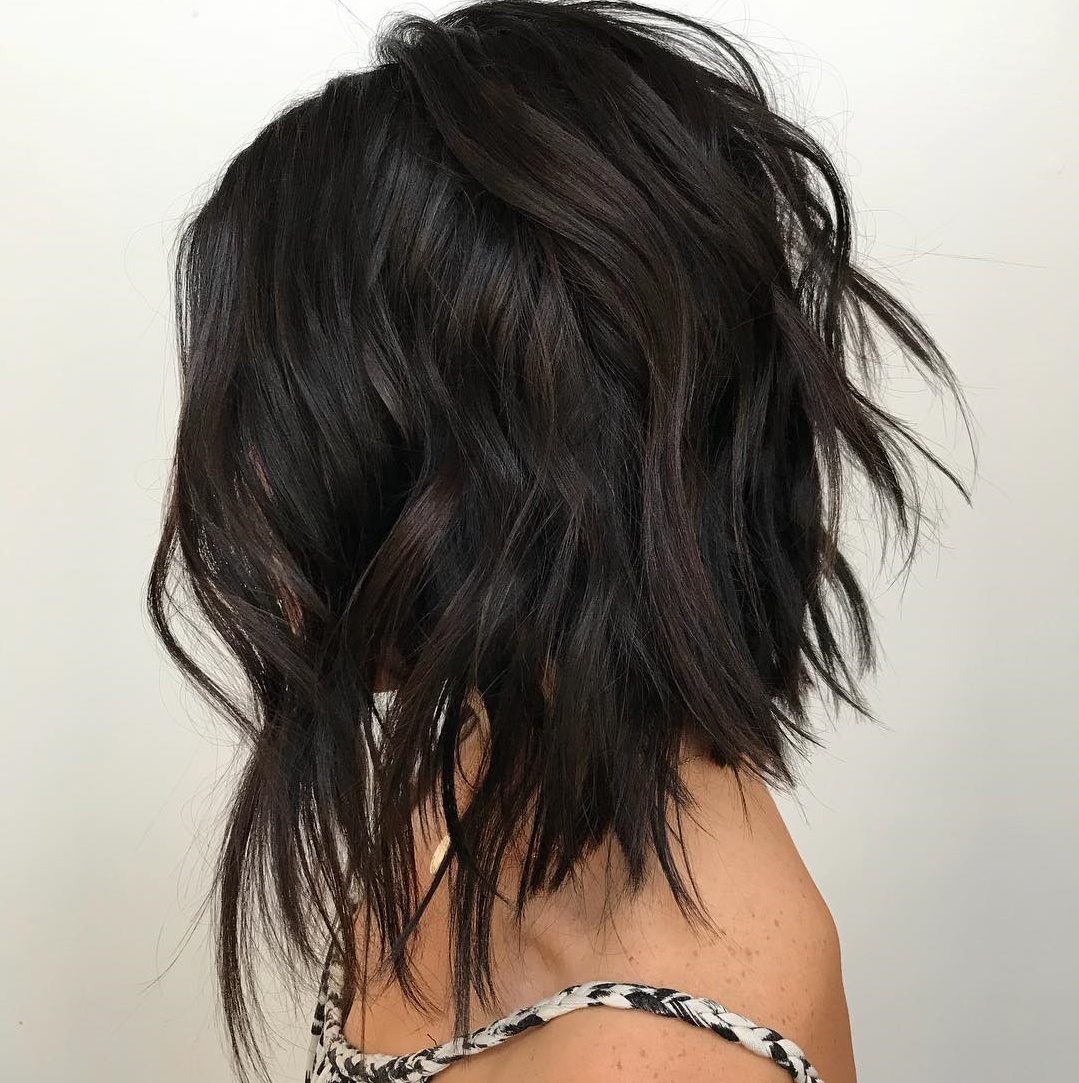 via @styled_by_carolynn
Many of modern wedge-inspired hairstyles have shorter back and longer strands on the top, which are elevated to gain volume.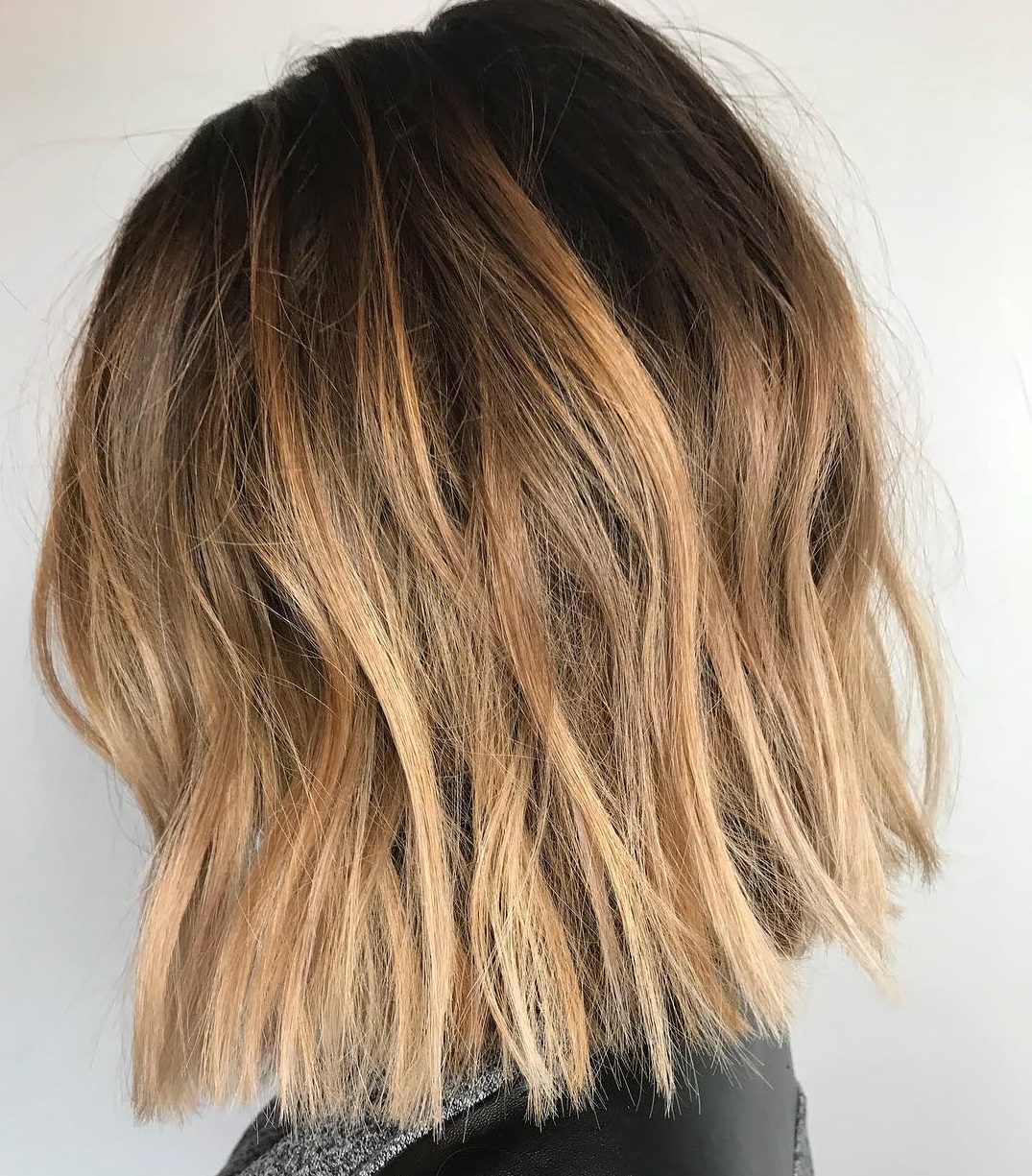 via @hairbymeaganhannon
A bit of waves, some mess and blunt ends? The sky is the limit for mixing lines, shapes, colors and textures when generating a customized bob hairstyle.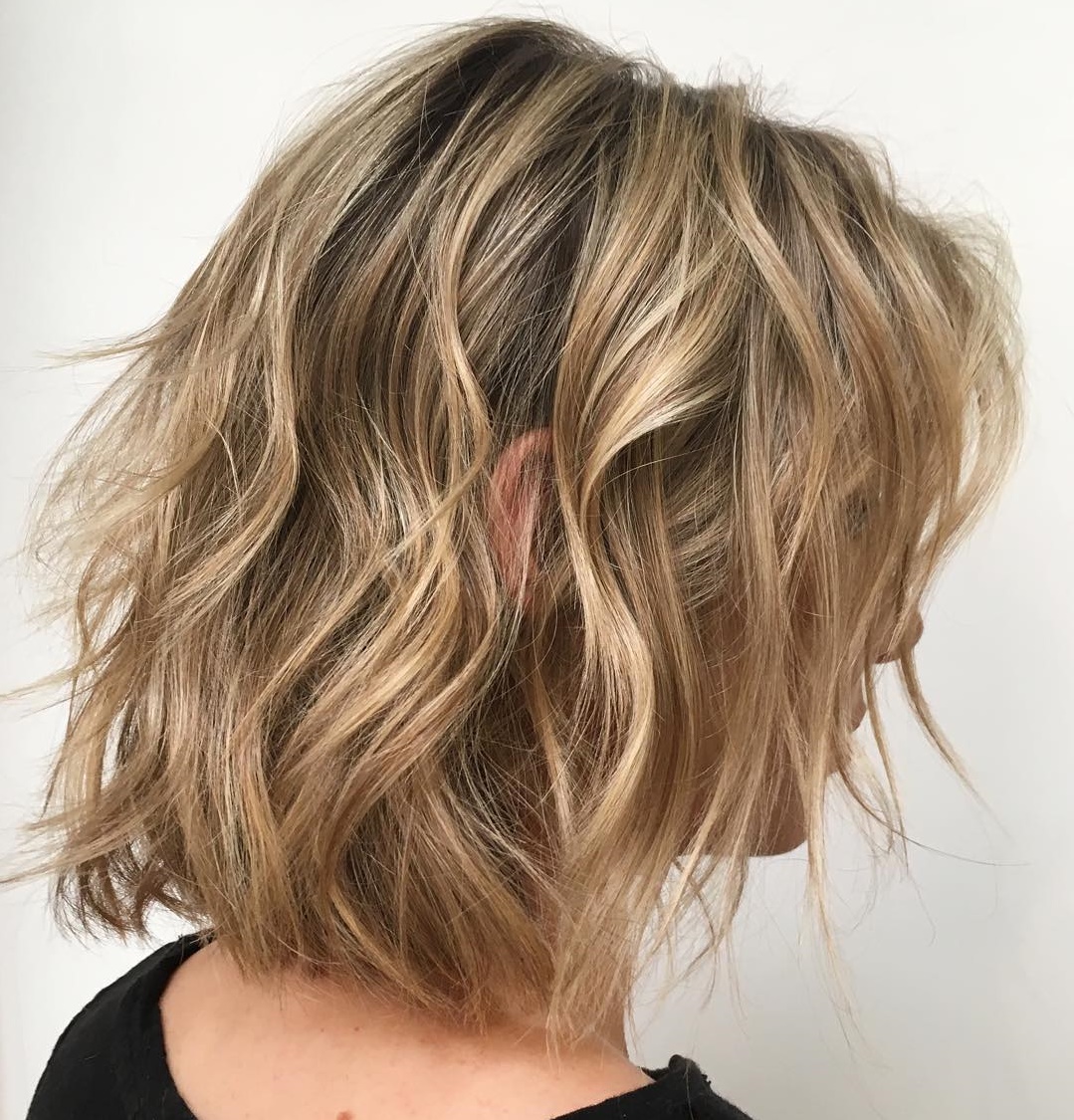 via @styledbylizsustaita
This messy textured bob is a real deal for fine wavy hair, and it's a breeze to maintain.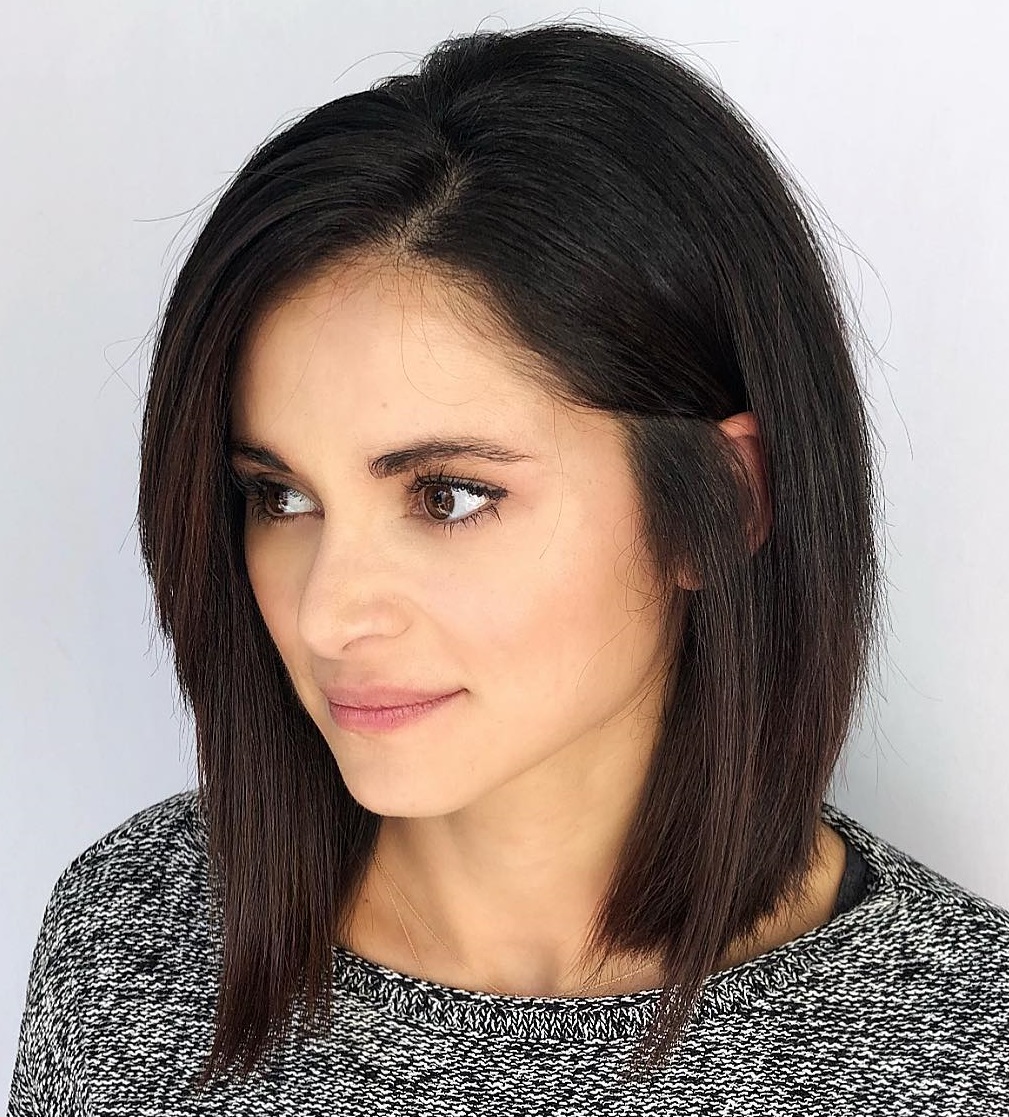 via @accomando
If you are here for a sophisticated look, get inspired by this perfect shape, elevated top and elegant side tresses, halfway loose and halfway tucked behind the ear.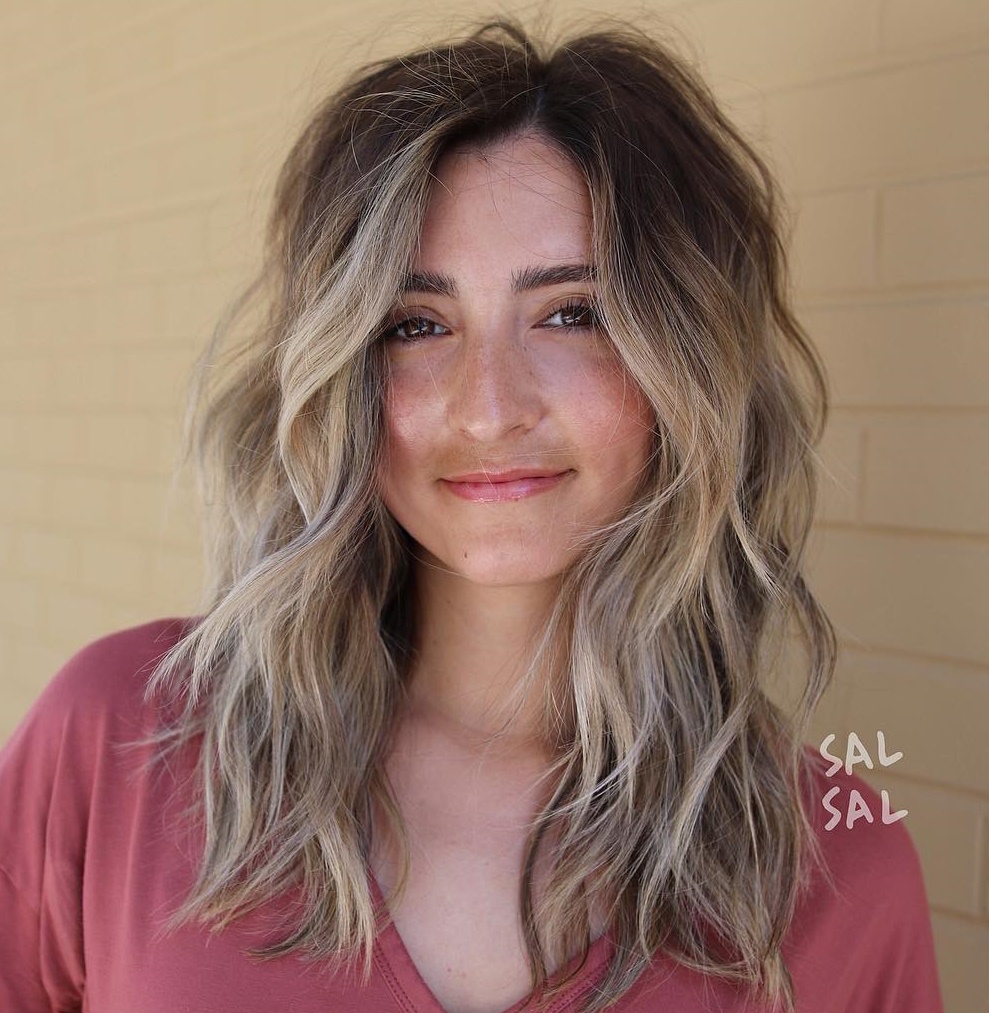 via @salsalhair
This under the shoulder hairdo is effortlessly styled in loose textured waves to reveal its oomph.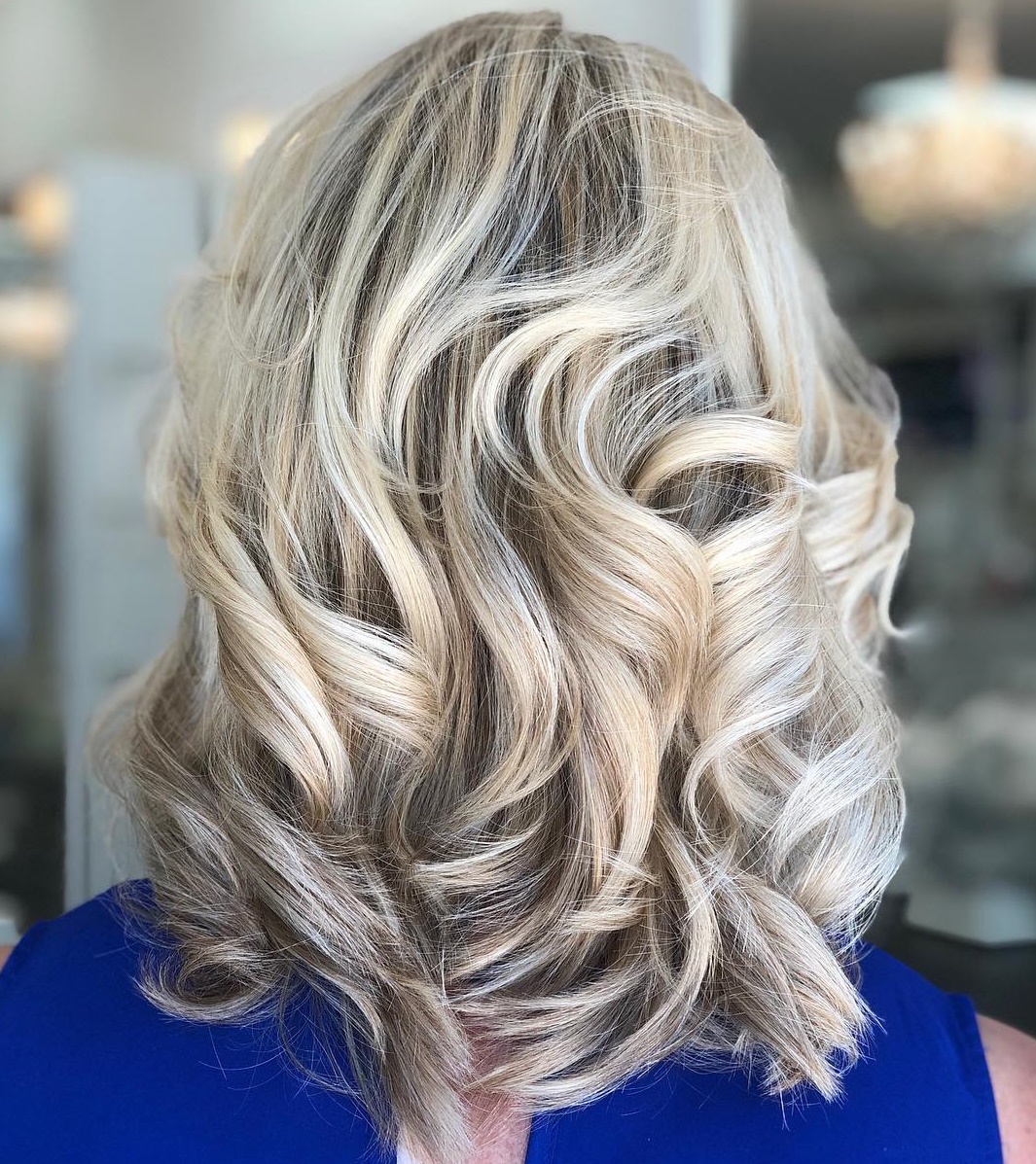 via @avantgardepga
Aiming at a glamorous feel, go for this fancy hairstyle with bouncy curls and striking highlights.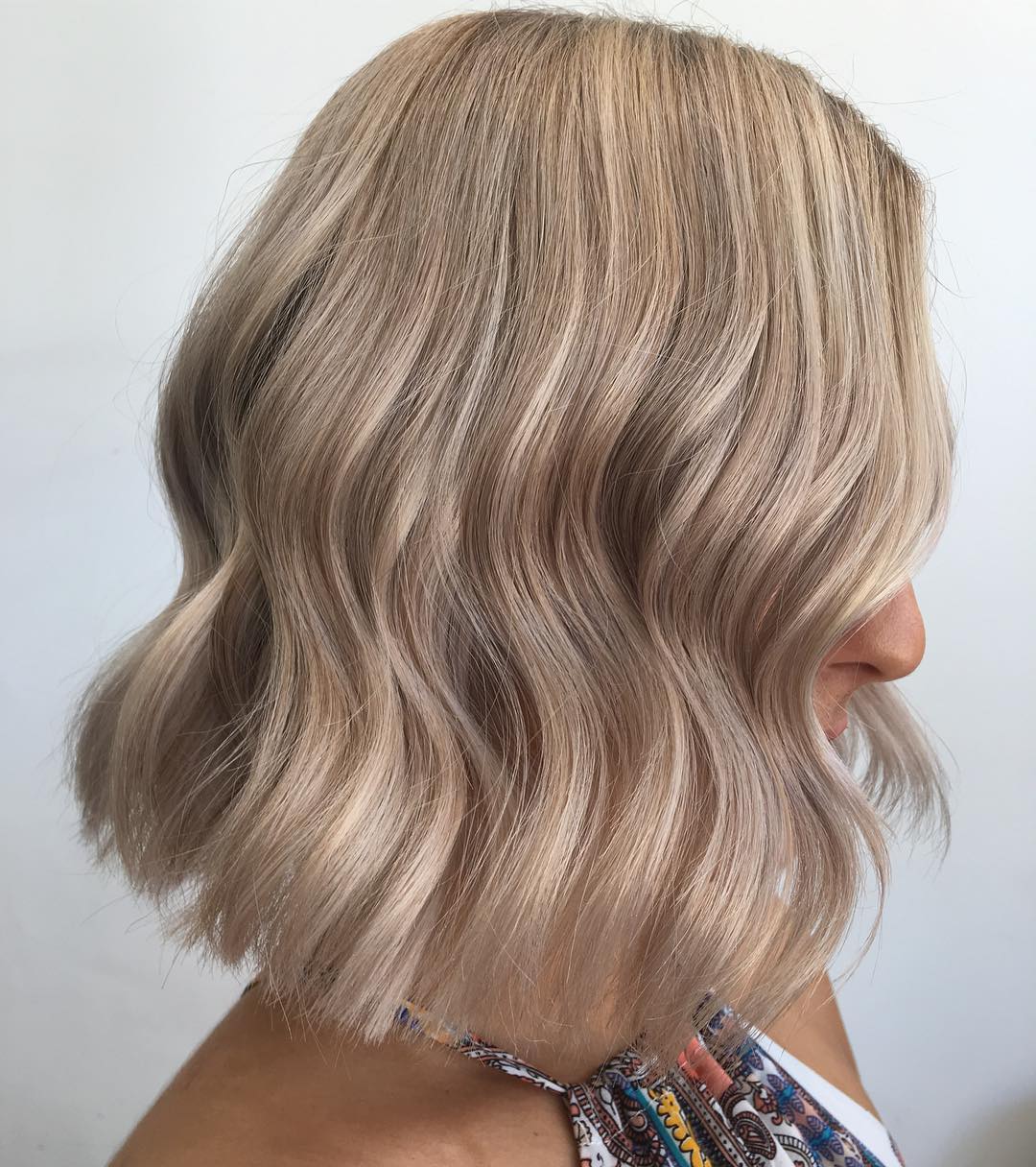 via @hairbymikaylaz
These soft waves set off the delicate color transition nicely, while retaining a sleek and shiny touch.
Hopefully, you've got enough front and back view illustrations of various medium haircuts to make up your mind. Don't miss hair professionals' recommendations, but be bold to experiment with shapes, colors and textures to find your own style. At the end of the day, that's what trendsetters do and how new hairstyles (or blasts from the past) emerge. But if this is not your cup of tea, then take the photo you like to your hairdresser and discuss how to customize the hairstyle to your individuality.