Hundreds of nail trends have come and gone through the years. These trends include the classic French tip manicure, bright marble nails, and the fascinating newspaper technique. Nail colors and styles may have changed over time, but nothing beats the understated nude manicure. Its simplicity and wearability makes it a crowd favorite and remains at the top of the nail art game.
A nude mani isn't all about being plain and simple. What's great about this nail design is its versatility. It's a perfect canvas for embellishments, illustrations, and color combinations. If you're looking for a nude nail design to match your outfit, personality, or simply cheer you up, here are some nude nail design ideas for you to try.
1. Classy Nude Nail Design
This sophisticated nail design is versatile and can be worn anywhere, from day to night. Wear it when you're shopping, on a date night, or even at work. Aside from being easy to apply, it can be a great base when you want to layer another design. A nude shade also goes well with different nail shapes. Almond-shaped nails with a cream polish look tasteful and refined, while stiletto nails paired with a coffee shade give a prim and proper look.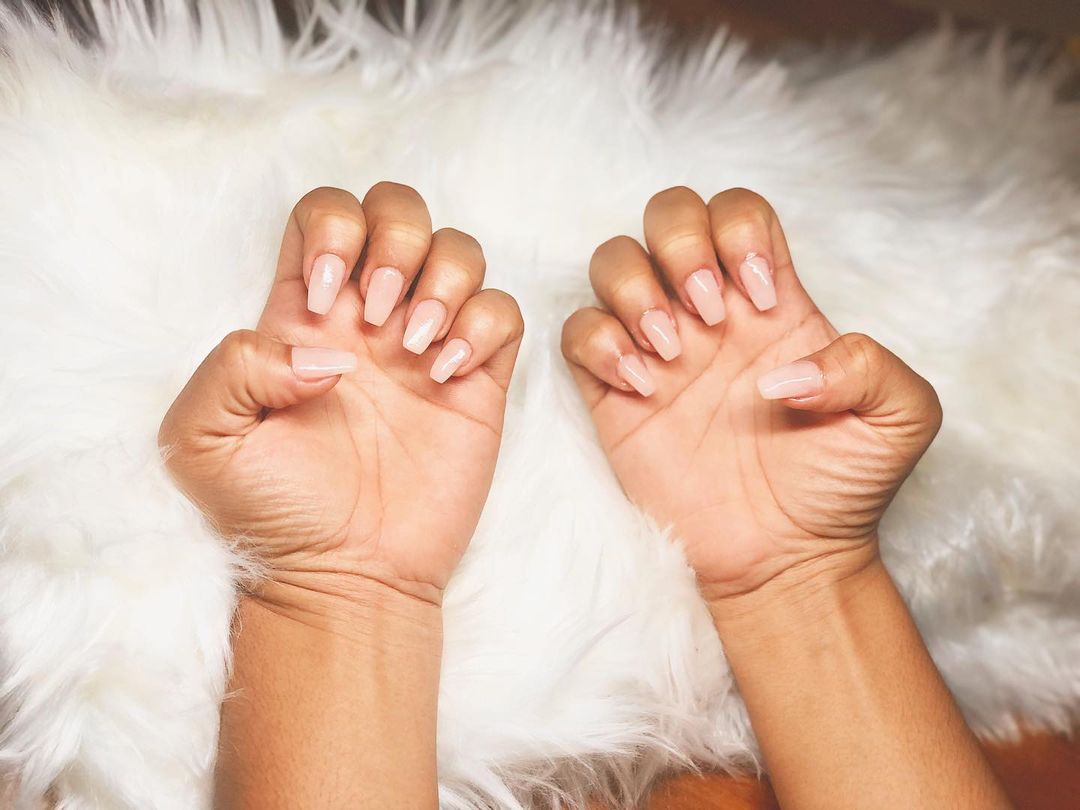 via @__jessdidthat
2. Nude Acrylic Nail Art
If your nails are short, brittle, or you're simply unhappy with how they look, try out acrylic nails. Acrylic nails are a combination of liquid and powder laid over the nail bed. After the mixture is hardened and buffed, you can then have your nails filed to your desired shape. What's good about acrylic nails is that they hold polish longer than natural nails can. Be sure to replace them in between 2-3 weeks. For a sleek everyday look, choose a nude color to go with your acrylic nails.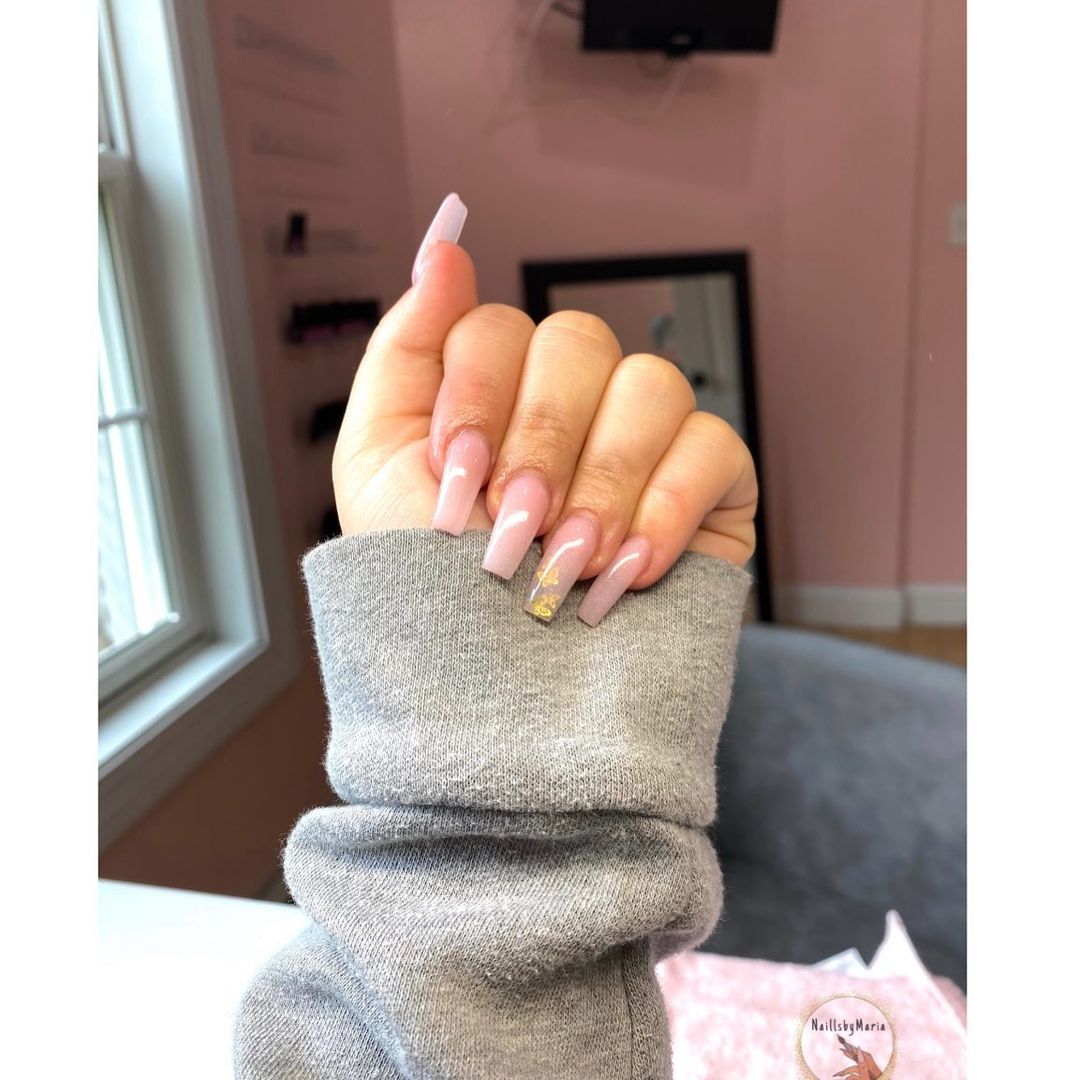 via @thenailloungee_
3. Nude Ombre Nail Style
Can't decide between a light or a dark shade? Ombre is a combination of colors that fade into one another. Usually, this design consists of monochromatic colors that transition from light to dark. To achieve ombre nails, make sure your base is white to make the colors pop. Take a small cosmetic sponge and paint 2-3 different shades of nude polish next to each other. Slightly dap the sponge repeatedly on your nail, and do this until the colors blend seamlessly. You can also paint on a colorless tint to smoothen the texture of the polish.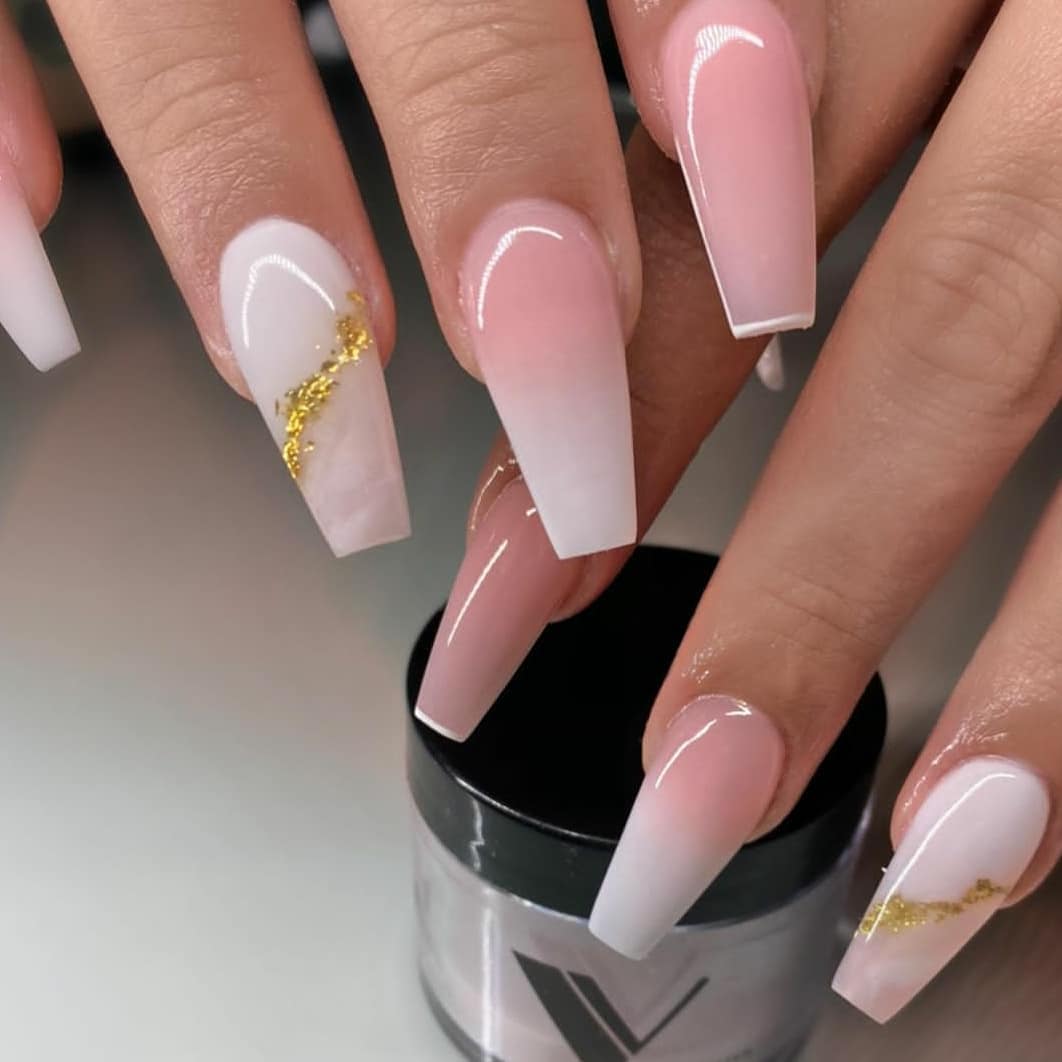 via @nails__dairy
4. Nude Coffin Nail Pattern
The good thing, or perhaps the best thing about nude nail polish, is that it looks good on any nail shape. Whether you have short, clipped nails, regular ones, or sporting long talons, picking a neutral shade is always a good idea. If you're adventurous and take risks for the sake of nail art, try coffin-shaped nails the next time you visit your manicurist. Coffin nails, also known as ballerina nails, are long with a flat top. This shape is well-loved by many celebrities, including Kylie Jenner, Rihanna, and Khloe Kardashian.
5. Nude Pink Nails
Beige, tan, and mocha are a few of the most popular nude nail colors. However, nude nails are more than that, with pink shades joining the spectrum. A delicious pink tint gives off a soft and feminine touch to your whole look. For a soft and light effect, try out a beautiful pale pink shade. When leaning towards a bolder hue, fuchsia can be brilliant and eye-catching. Dusty rose shades have also been gaining a lot of attention recently.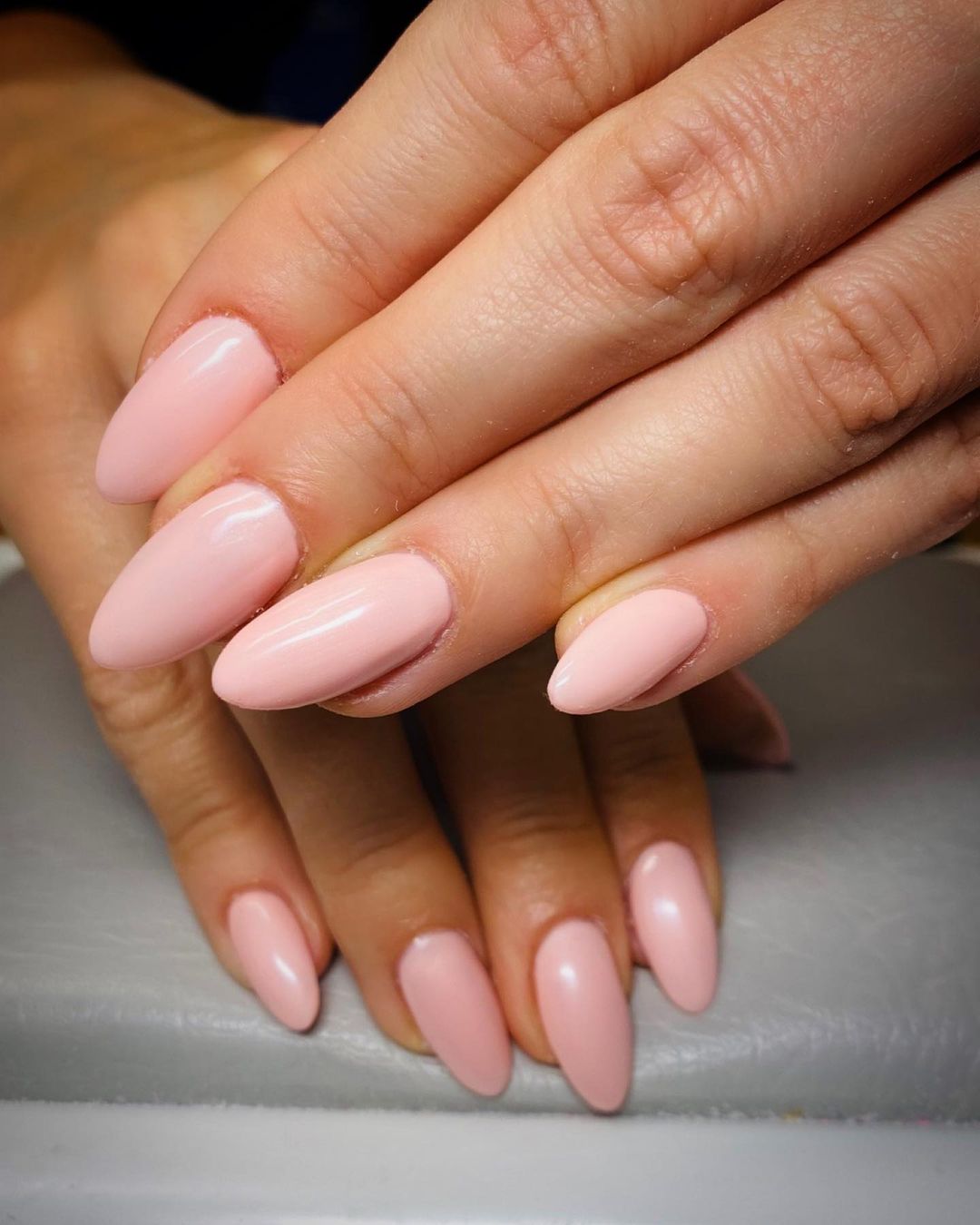 via @rock.n.nails
6. Nude Matte Nail Design
One of the biggest and hottest trends to hit 2009 was matte nails. They trumped the more popular glossy and frosted finish with their solid and satin-like texture. The matte effect adds a modern and chic twist to any nail design. When working with this finish, women opt for darker shades like navy or black. Though, it works perfectly well with light shades like ash and old rose. While many nail brands carry matte nail formulas nowadays, you can simply buy a matte topcoat and lay it on top of regular nail lacquer.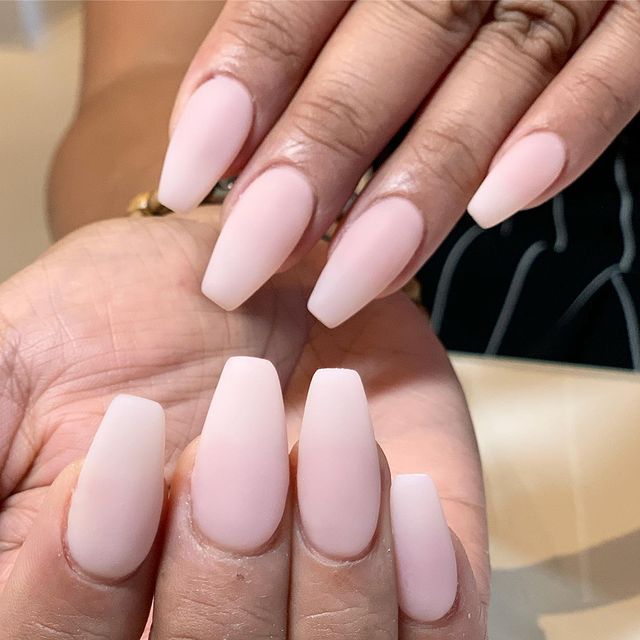 via @blancnailbar
7. Nude Almond Nail Art
Whereas coffin nails are edgy and high maintenance, almond-shaped nails are classic and flattering for everyone. They're the best fit for longer nails, but shorter nails may need the help of extensions. Almond-shaped nails give ample space, making it the ideal canvas for nude nails with accents. Try out different nail designs, such as a timeless French manicure, to enhance this nail shape further.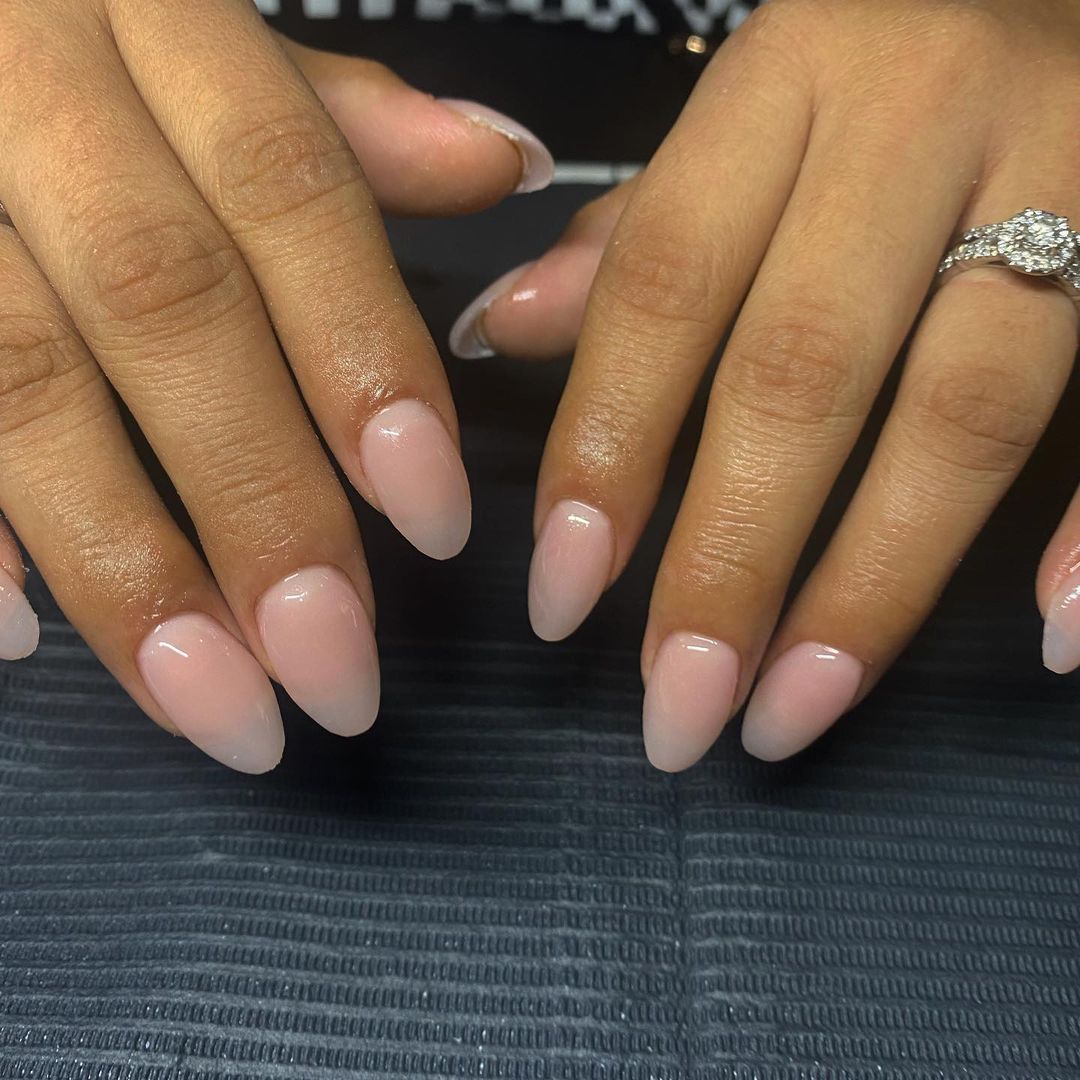 via @nailsbylalys
8. Black and Nude Nail Style
Nothing screams luxurious and posh other than a black and nude nail design. Create many modern nail looks using this deluxe color pairing. In the world of colors, black signifies power and sophistication. It's a staple in many fashion statements and remains to be a high-class shade. On the other hand, nude colors represent modernism. A few of these looks could include a black-tipped French mani or an elaborate marble pattern.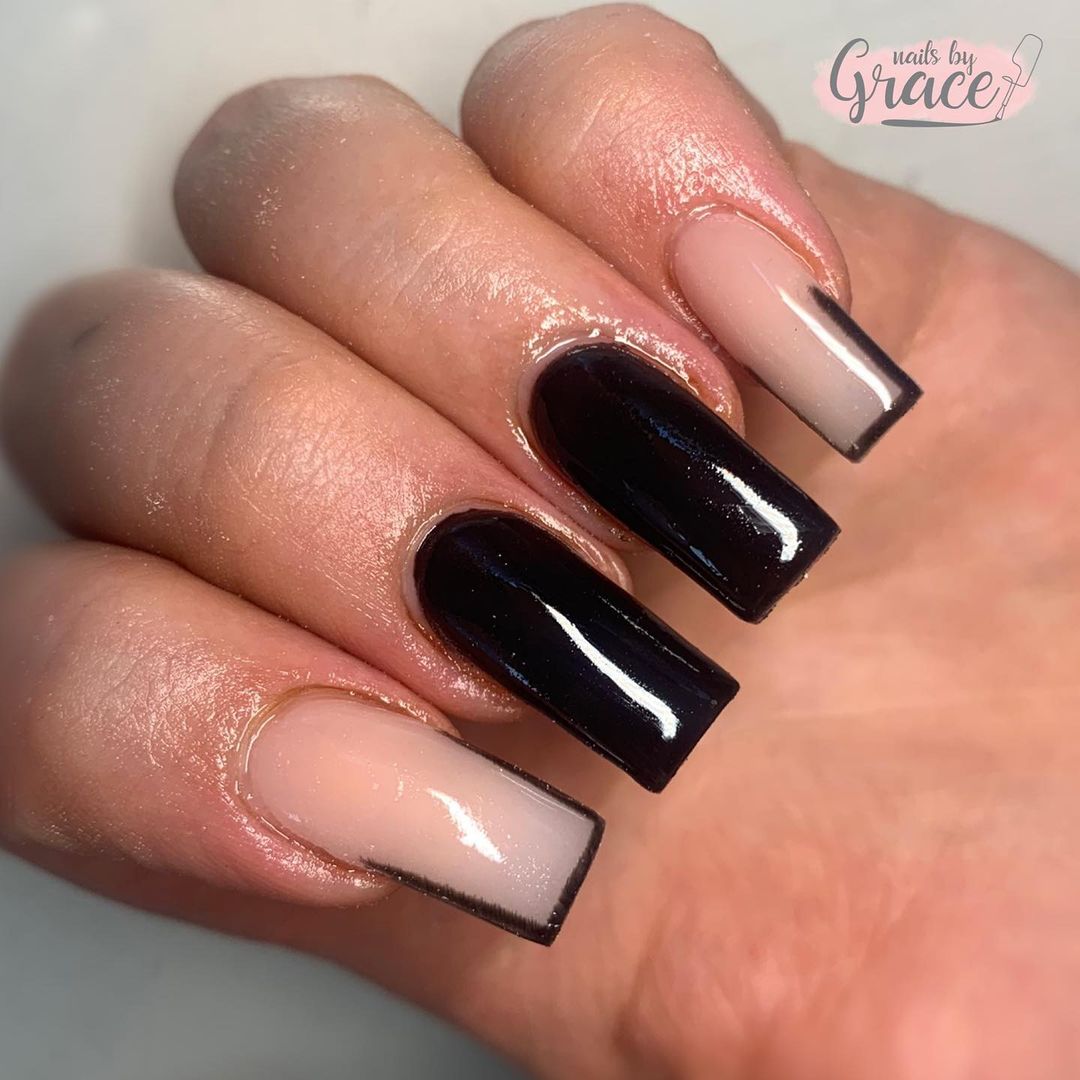 via @bygrace.salon_wolverhampt
9. Nude and White Nail Pattern
Nude and white nail art is a soft and elegant look that's flattering on anyone. It's a classic color combination mostly used for French manicures. However, it doesn't mean you can't put a modern twist on a beloved color pairing. Try an inverted French mani, white florals, or tribal patterns. After all, the versatility of a white and nude nail design is endless.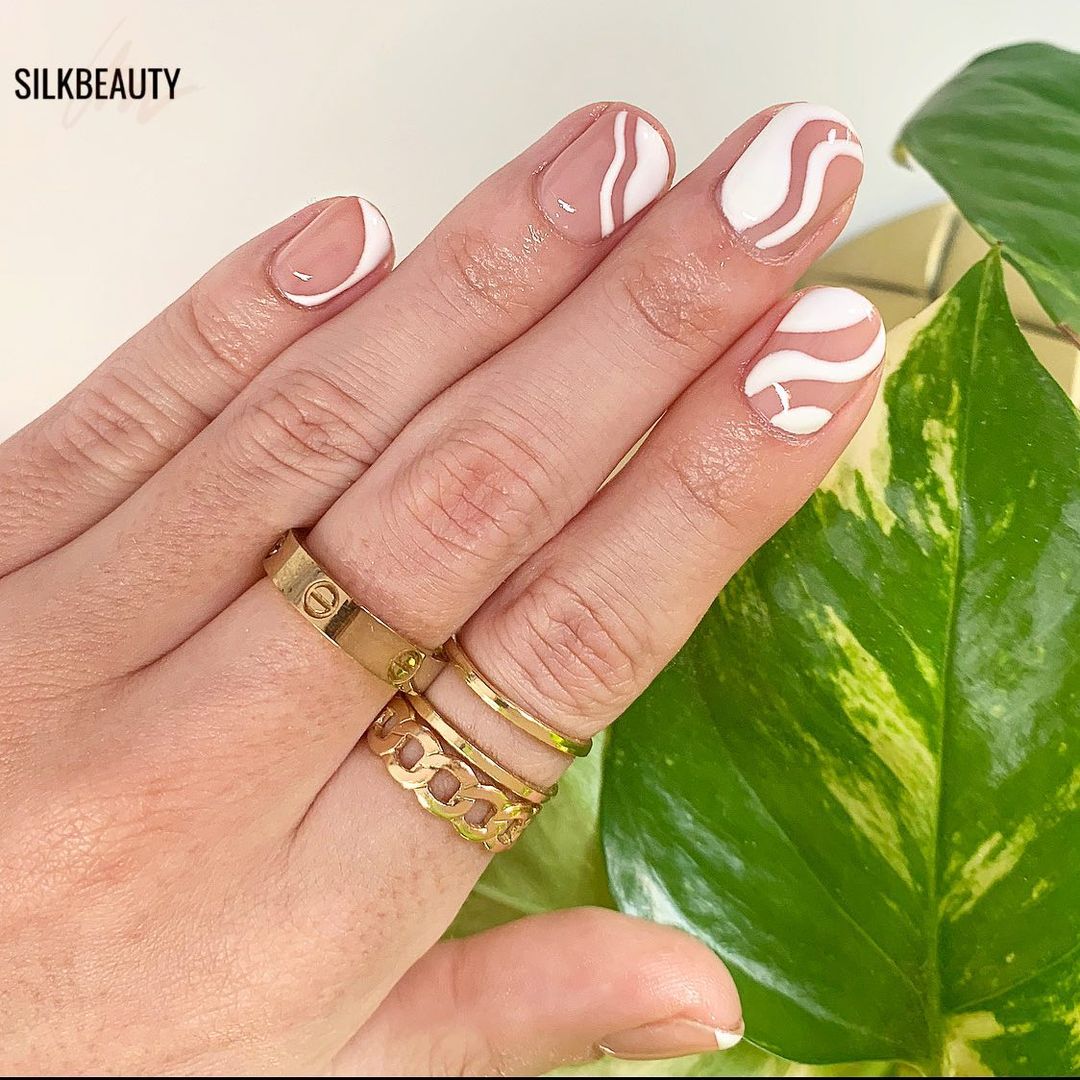 via @silkbeauty.uk
10. Nude Nails and Stars
If you love chilling under the stars, you'll adore a nude manicure with starry designs even more. This cosmic effect will take you to another galaxy with how cool and stunning it looks. There are countless ways to achieve a celestial nail look. You can start with a light base with white stars on top of it or use gilded golden stars for a heavenly effect. There are also nail polish formulas infused with star cut-outs that you can arrange artfully to mimic a sky full of stars.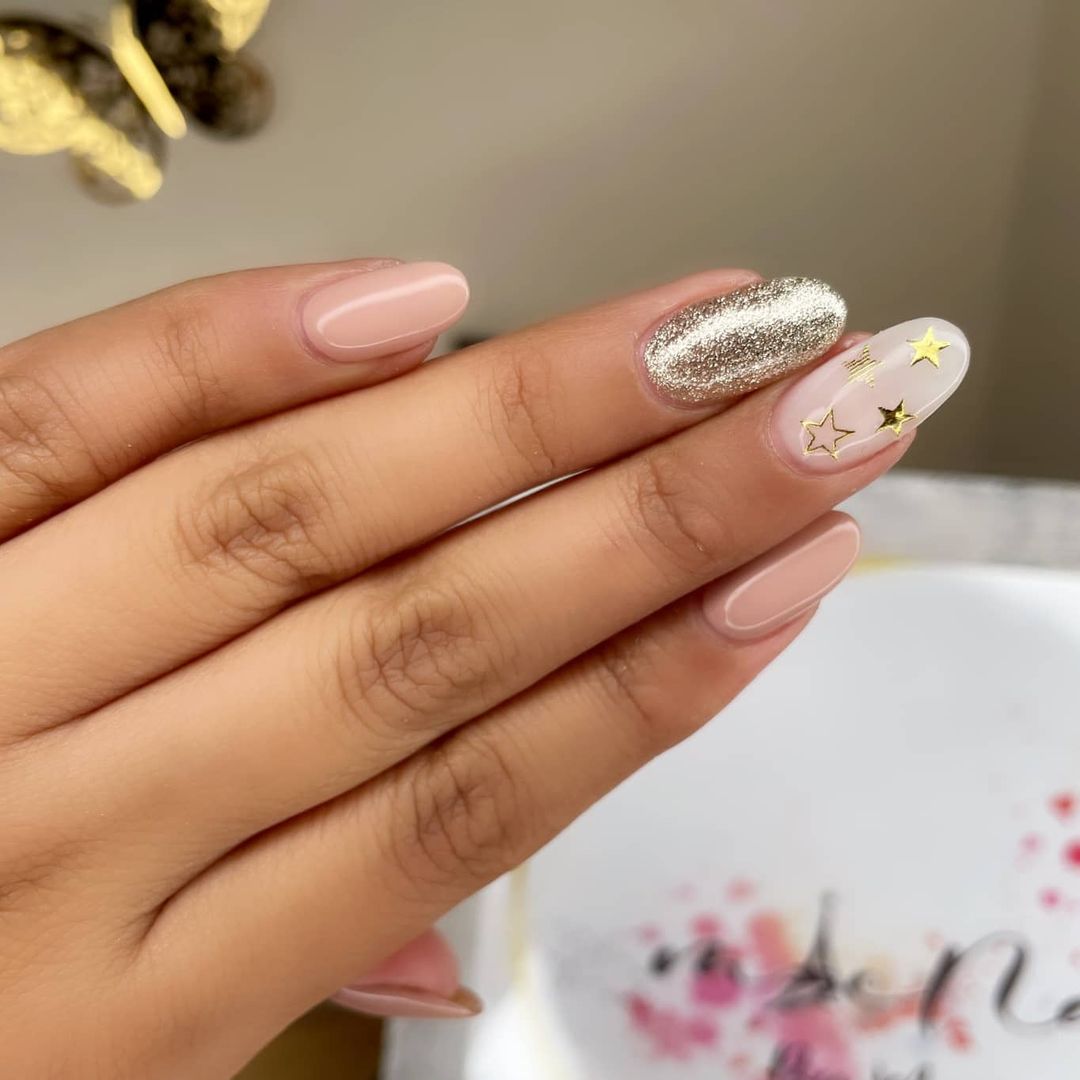 via @macnailscl
11. Nude Nails with Glitter Design
Put a spin on a simple nude mani by infusing glitters. Working with glitter polish can be tricky as they tend to come out patchy. One of the techniques to master glitter nail polish is to start with a nude base. Instead of swiping the polish in a single stroke, dab the brush repeatedly on your nails to get the desired amount of glitter.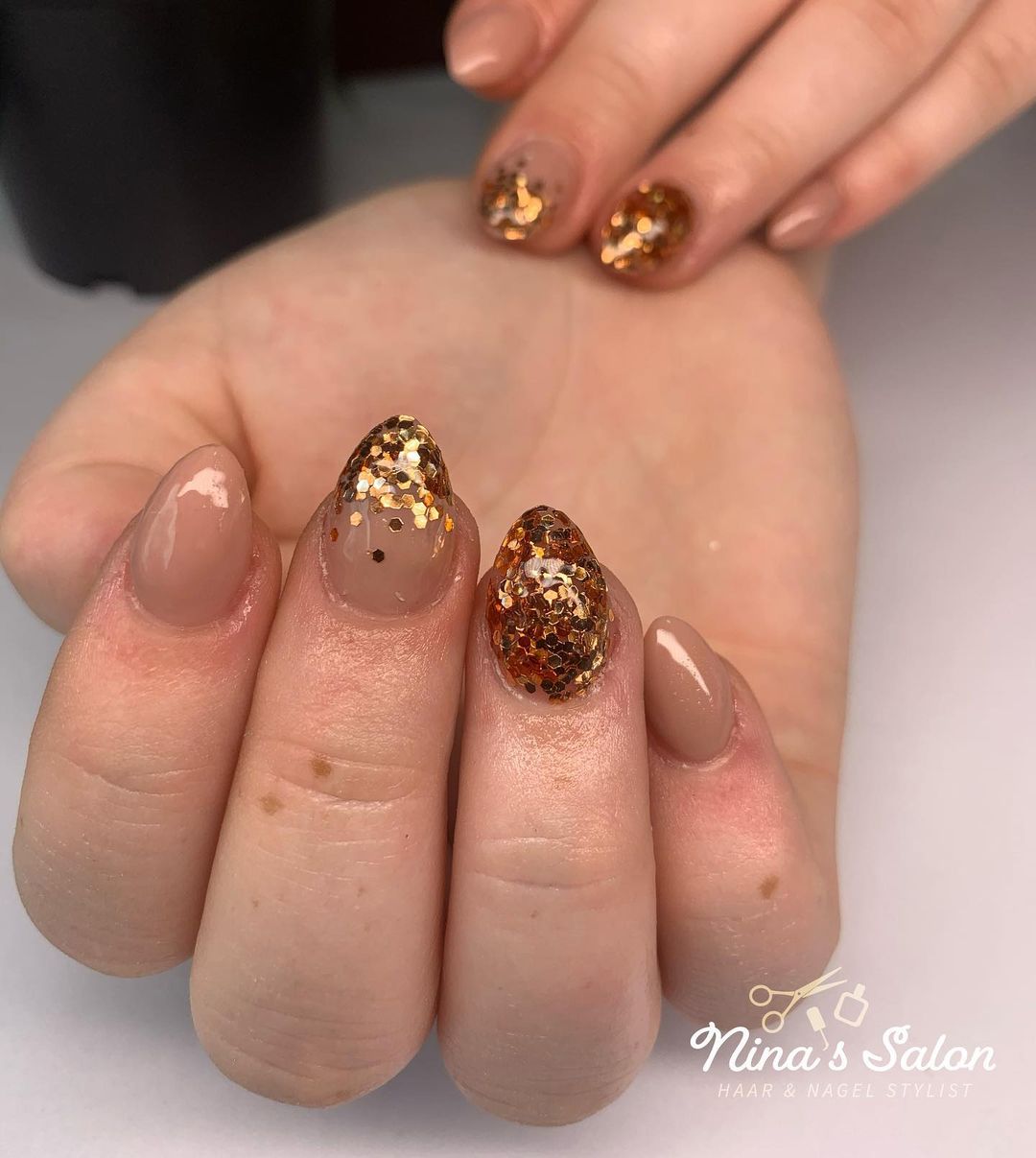 via @ninas_salon_
12. Nude Stiletto Nail Art
Flash talon-like nails by sporting a nude stiletto nail design. It has a sharp tip that resembles the pointy part of a stiletto heel. Handful celebrities admire the stiletto nail shape for its ultra-modern and edgy look. Make sure you have extra long nails to achieve this look. If not, using acrylic nails is the best alternative. Crystal embellishment takes the stiletto nail design to another level.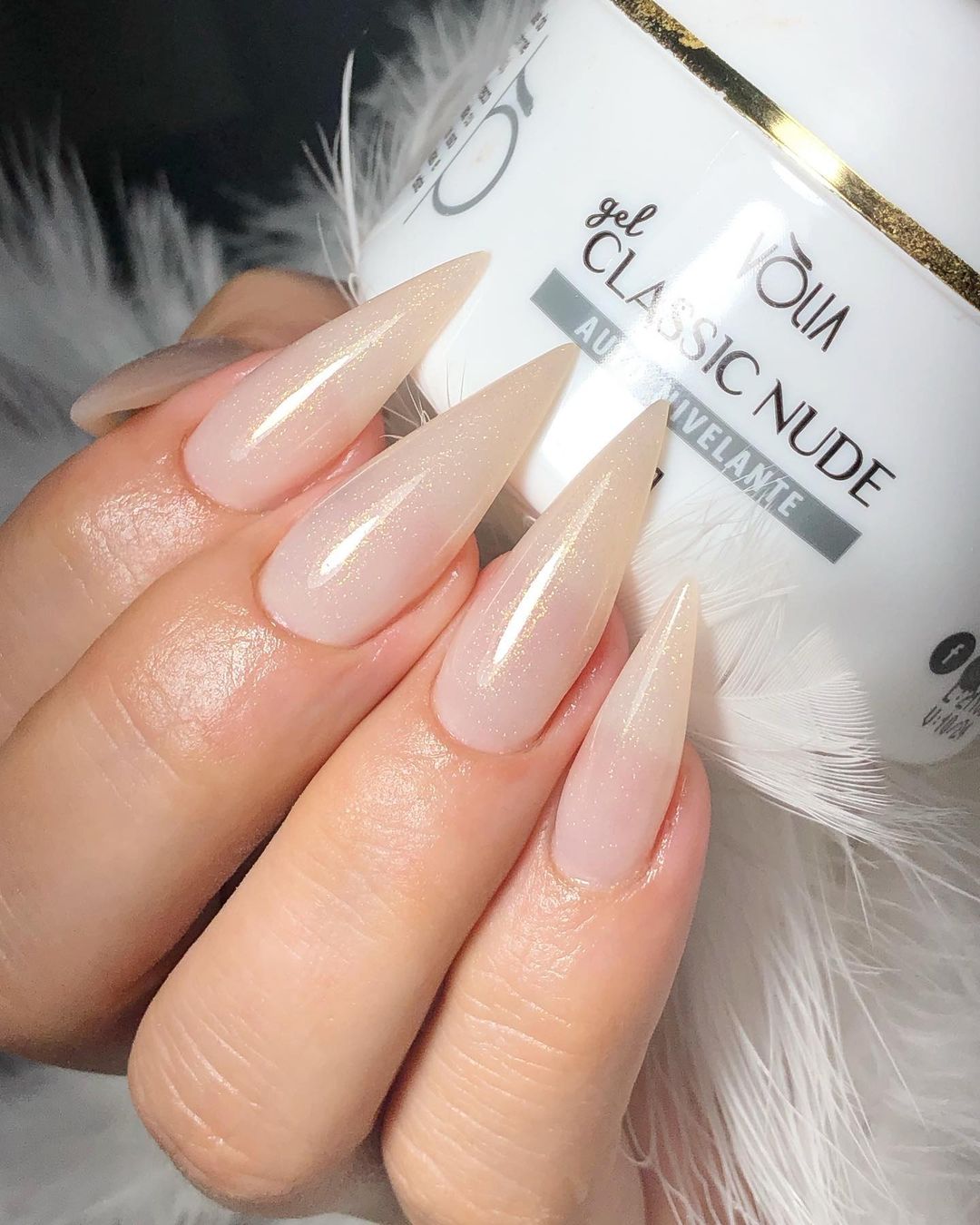 via @mayracostainstrutoranails
13. Short Nude Nail Style
Long nail shapes, such as coffin and stiletto nails, are high-maintenance looks that might not be for everyone. They can easily break and snag against clothes and rough surfaces. Don't worry; underrated short nails are here to save the day. They're uncomplicated and time-saving when you're in a hurry. Short nails also look good with any color under the sun, especially nude shades. So, take out your nail clippers and keep your fingernails clean and short.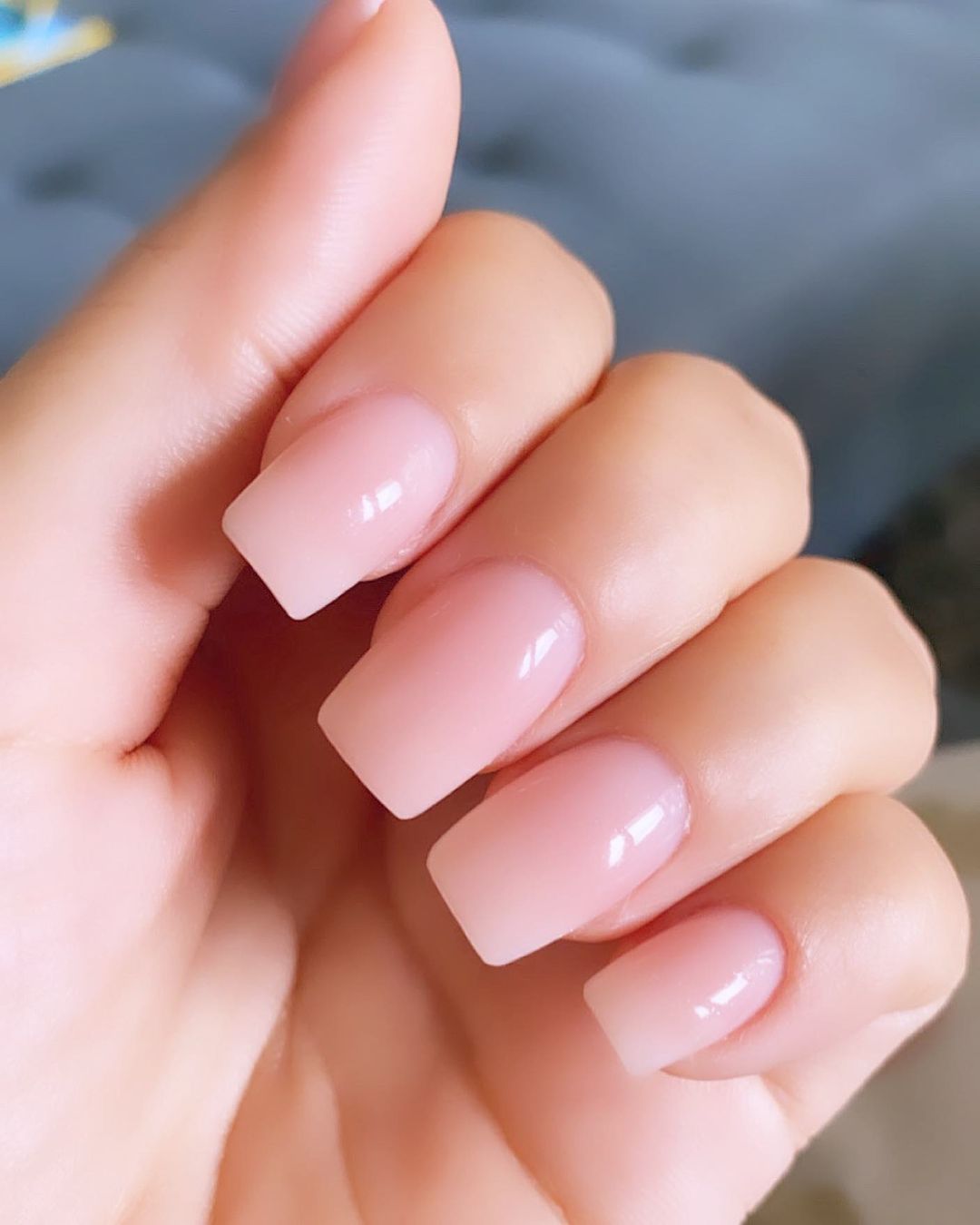 via @anouchkazuel12
14. Cute Nude Nail Pattern
Nude nails aren't only high-class and prim, they can also be cute to look at. Follow cute nail trends like gradient nails, ombre, holo, or a sparkly manicure. Add on quirky patterns or gilded embellishments. You can also explore vibrant color combinations to go with your nude nails. You can never go wrong with exploring different nail art to give a nude nail design a cute and modern twist.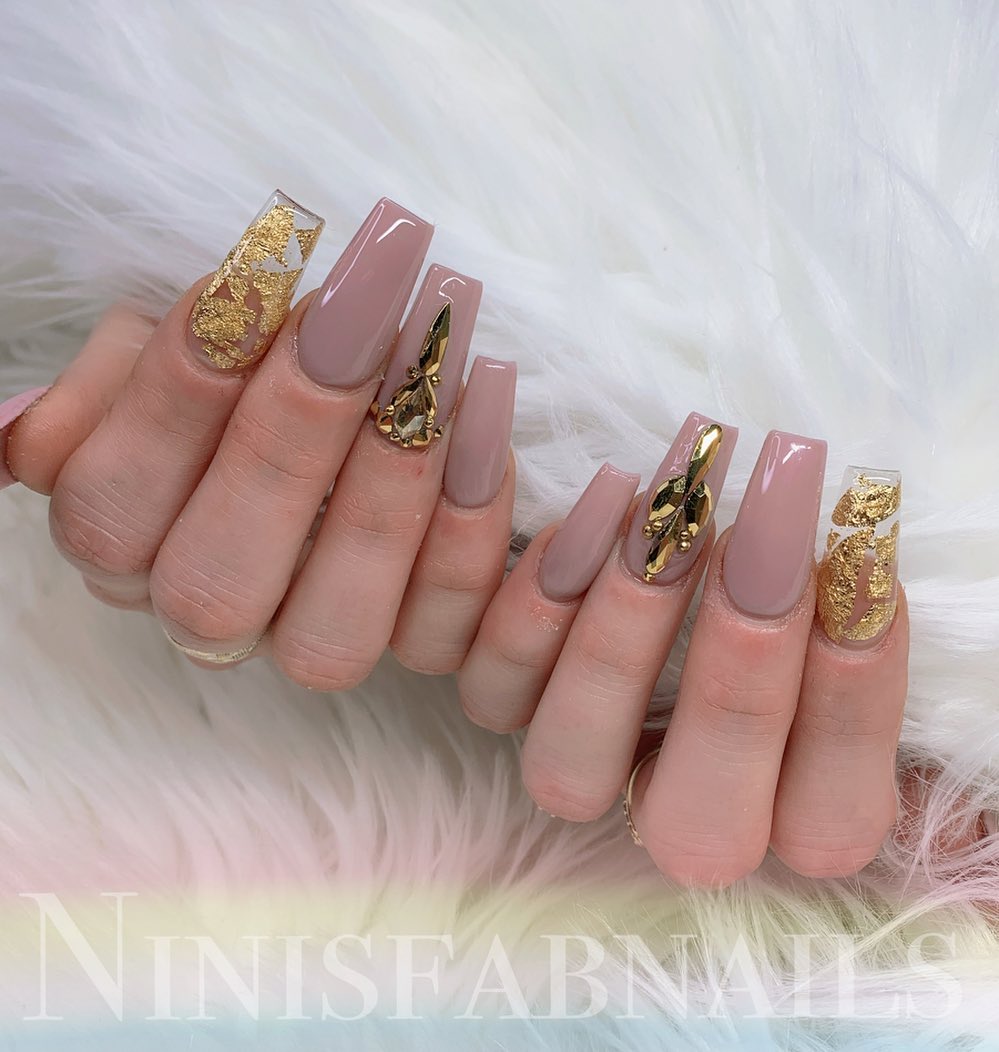 via @ninisfabnails
15. Nude and Gold Nails
Nude and gold is a match made in heaven. This color combination is an undying trend due to its luxe effect. The shimmer that the gold gives off is the perfect balance to the neutrality of the nude shade. Gilded gold adds texture and an air of grace and refinement. On the other hand, a subtle nude color keeps the gold from being too tacky.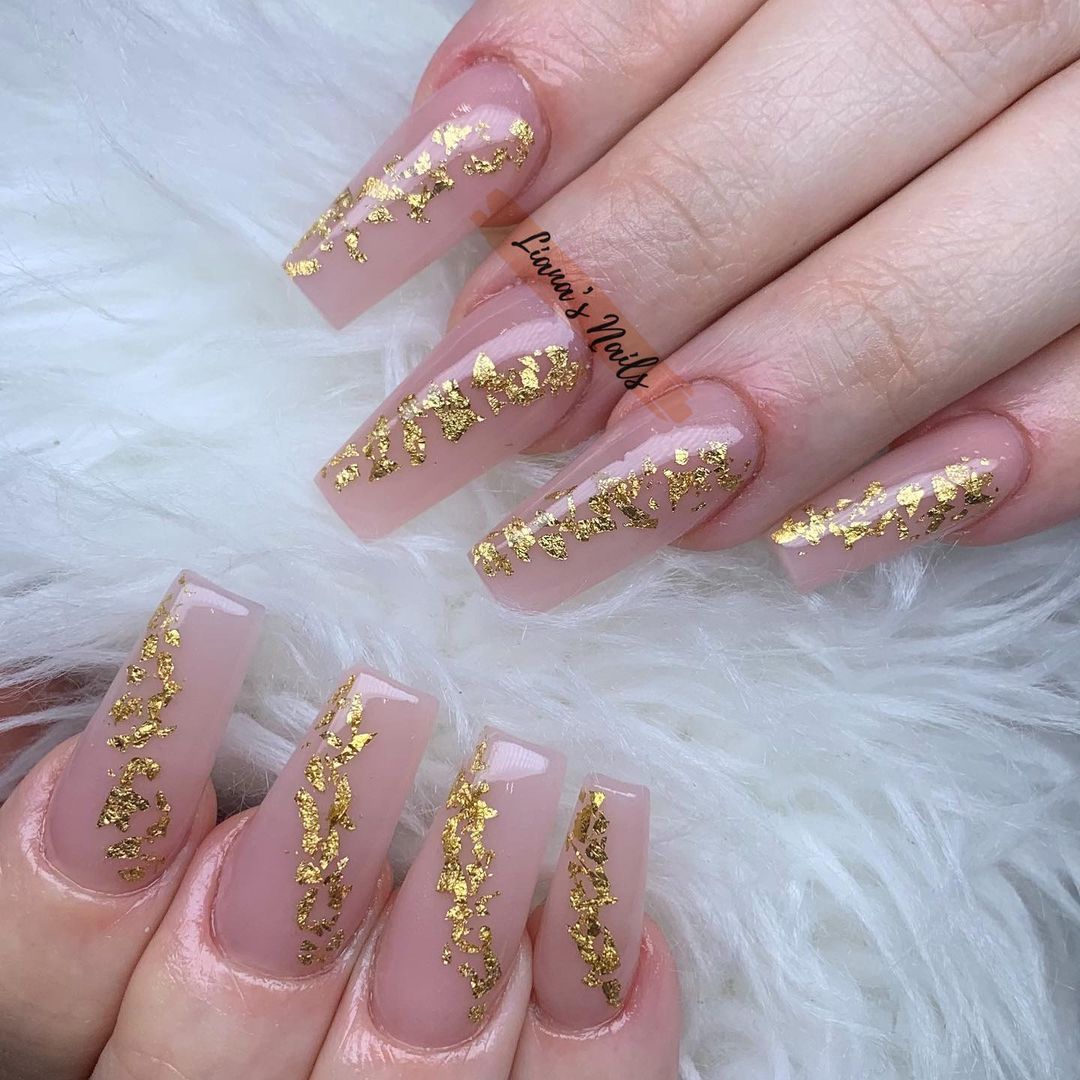 via @lianasnails_10
16. Nude Nails with Jewel Details
Add an extra oomph to your nude nails by putting jewel accents. This stunning nail look is a fabulous accessory at parties. Adding over-the-top rhinestones, microcrystals, gilded gold charms, and pearls instantly upgrades your basic nude manicure. Make the jewels stay longer on your nails by laying them out on a regular top coat, then glaze it with a fast-drying one.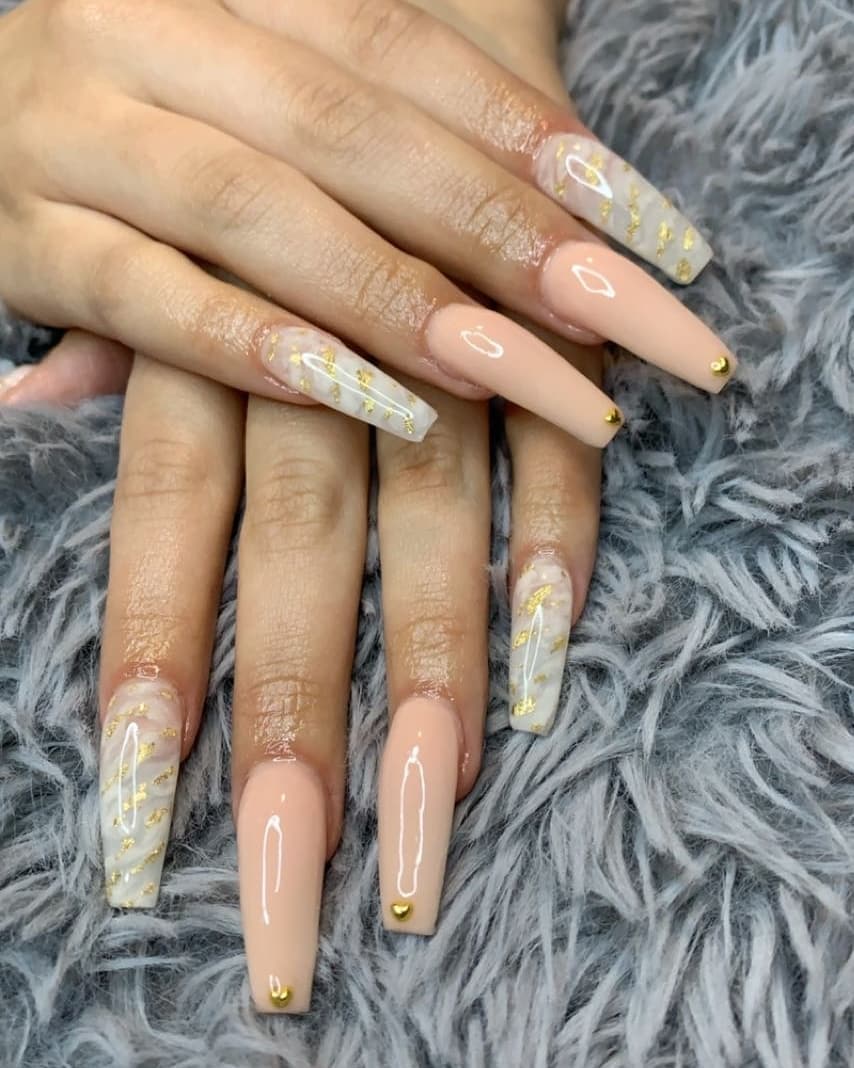 via @nailsxyanet
17. Brown Nude Nail Art
Brown nails are perfect for the fall. Though, it's just as fashionable on any other day. Brown is a versatile color you can match with a lot of nail art methods. If you're leaning towards a lighter shade, a pretty beige shade with a hint of peach would be a perfect choice. On the other hand, if you're craving something chocolate-toned, a trendy midnight brown color would be chic.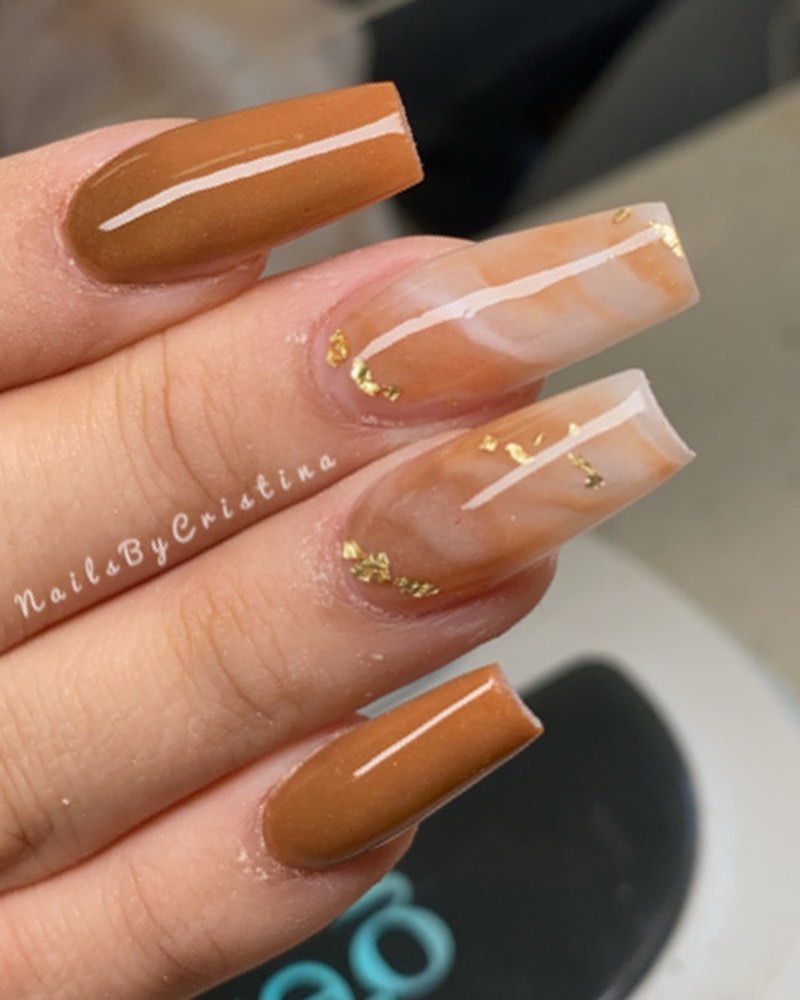 18. Nude French Nail Style
When you ask your nail technician to give you a classic nail art design, the suggestion would most likely be a French manicure. This timeless nail trend started in the '70s and hit the runways of Paris—hence its name, French manicure. Orly's founder, Jeff Pink, is credited as the creator of this look. Since then, the French tip has been a revered nail look due to its elegant and chic feel.
19. Nude Nails with Diamonds Pattern
Instantly give your plain nail nude design a makeover with precious stones. Let diamonds be your best friend to elevate any nail look. If real diamonds sound too expensive for your taste, a cheap alternative is stick-on rhinestones. If you want to splurge on a regular nail visit, try out the most expensive nail polish in the world designed by jeweler Azature, priced at $1 million. Thankfully, they created a collection of nail polishes containing diamonds that you can get at $25.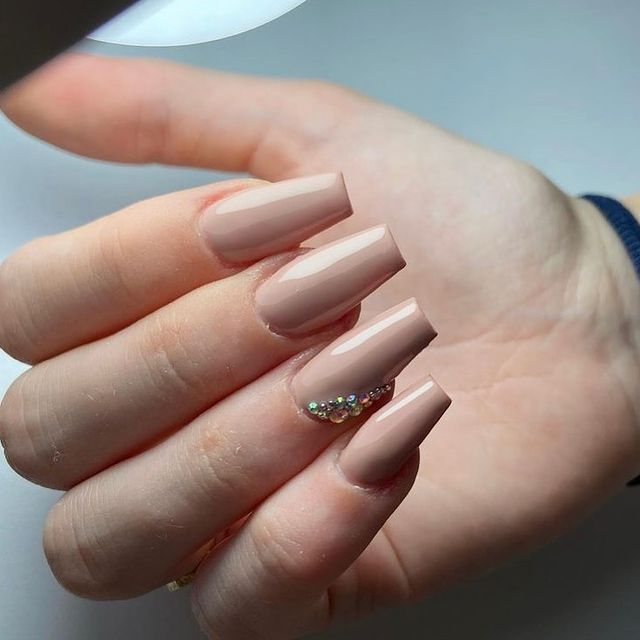 20. Nude Toenail Design
When you're already at the nail salon getting a nude manicure, why not get a matching pedicure as well? Nude colors don't only look good on your hands but your feet as well. After all, your feet should get the same attention and pampering as your hands. It's time to wear your open-toed sandals and show off your dainty nude pedicure.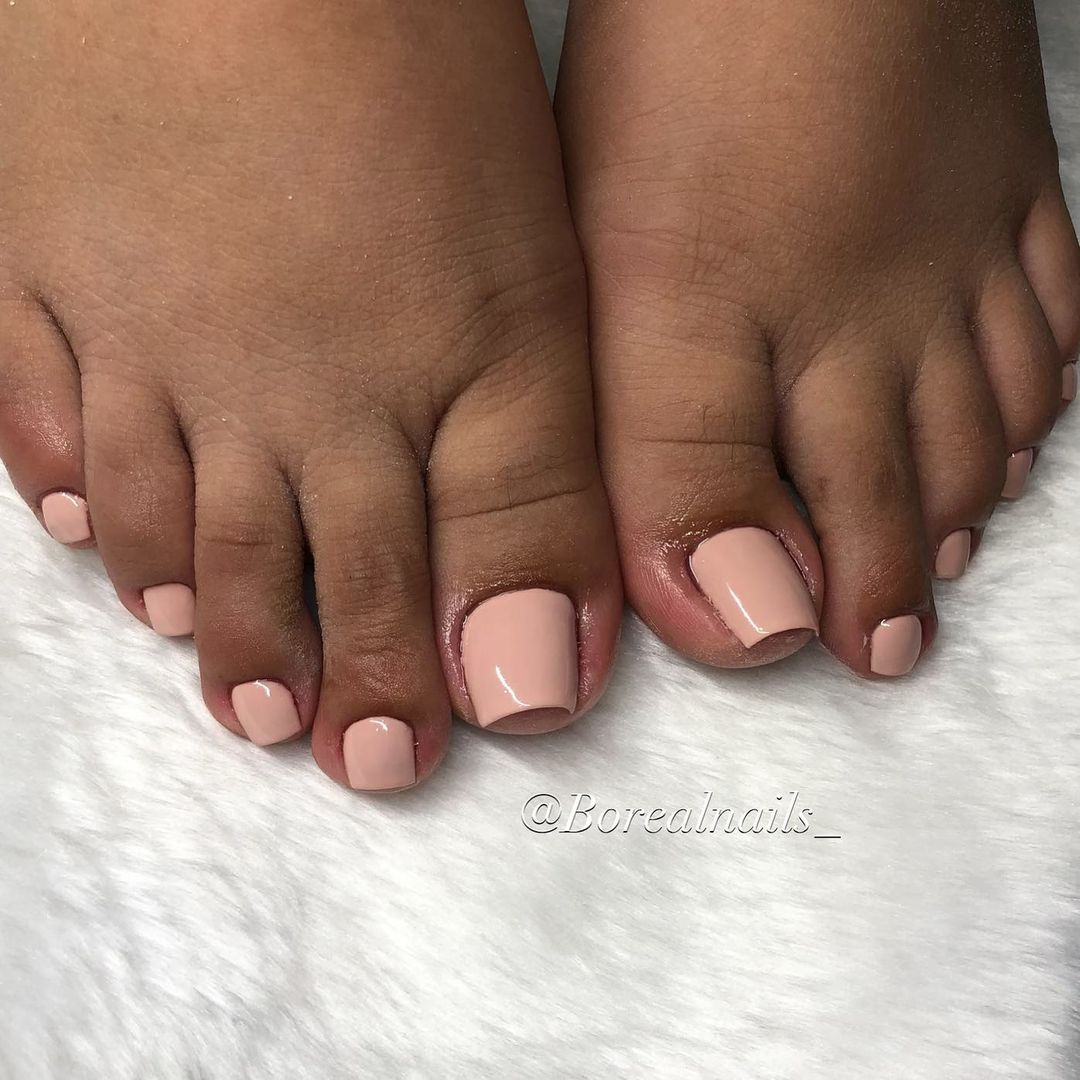 via @borealnails_
21. Nude Marble Nail Design
The marble texture is one of the most in-demand patterns in the world. This motif looks good on almost anything, from your kitchen countertop to high-end fashion pieces. It's time to get your old-fashioned nude nail design revamped with a classy marble look. What's fun about marble is creating different fascinating patterns, textures, and color combinations. Those who love marble nails go for the classic black and white streaks.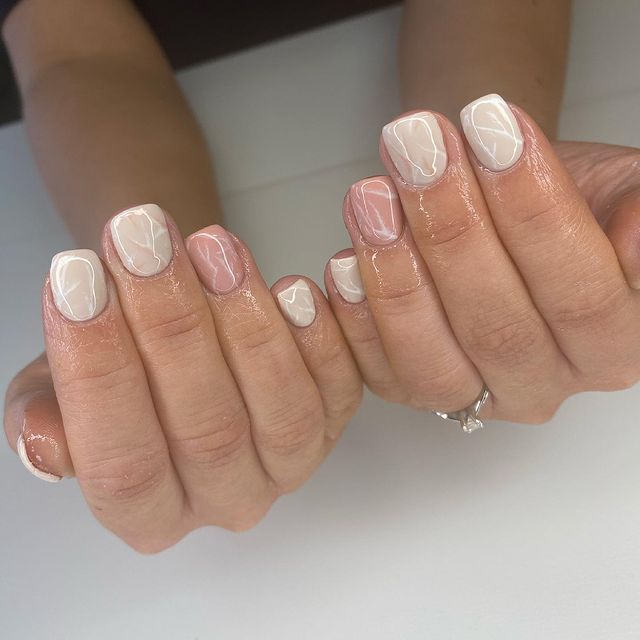 22. Nude Nail Art
Nude nails don't need to be boring. Depart from the typical singular-toned nude color by adding different elements. If complicated designs intimidate you, start with simple shapes. You can also start with metallic lines and specks for a luxurious and expensive vibe. Moreover, flowers can be a cute addition to your nude nails. Nail art designs are limitless, so make sure to choose the ones that reflect your personality and give you the confidence to flaunt your newly painted nails.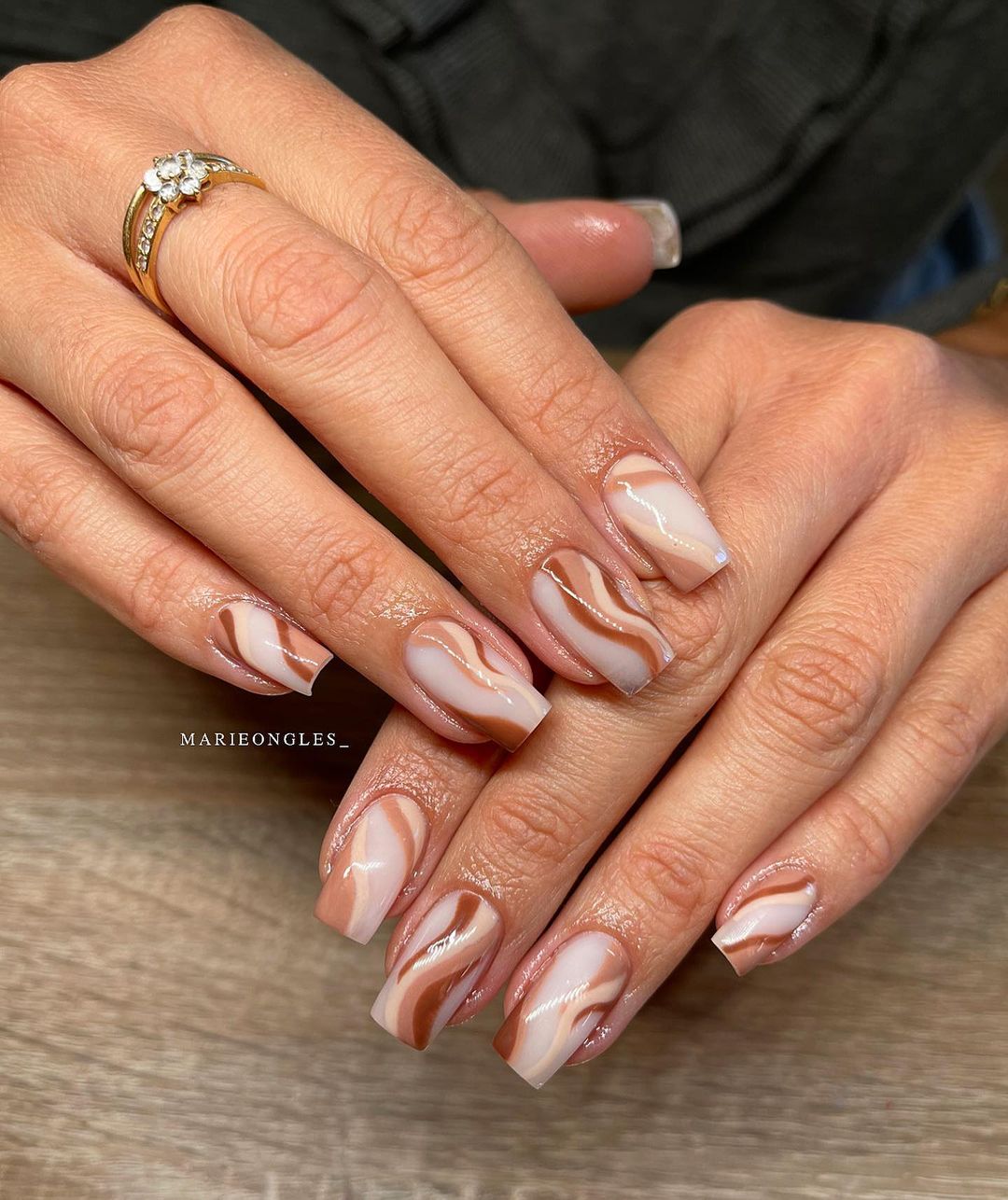 via @marieongles_
23. Nude Nails on Dark Skin Style
Makeup brands are releasing more and more color variations to accommodate every skin type. From face powders to concealers, and of course, nail polish shades. Deep nude shades complement warmer skin tones better than grey tones because they wash out dark skin. As with any other skin tone, choosing the right shade can be quite a journey. There will be hits and misses, but when you discover the perfect color, it will all be worth it.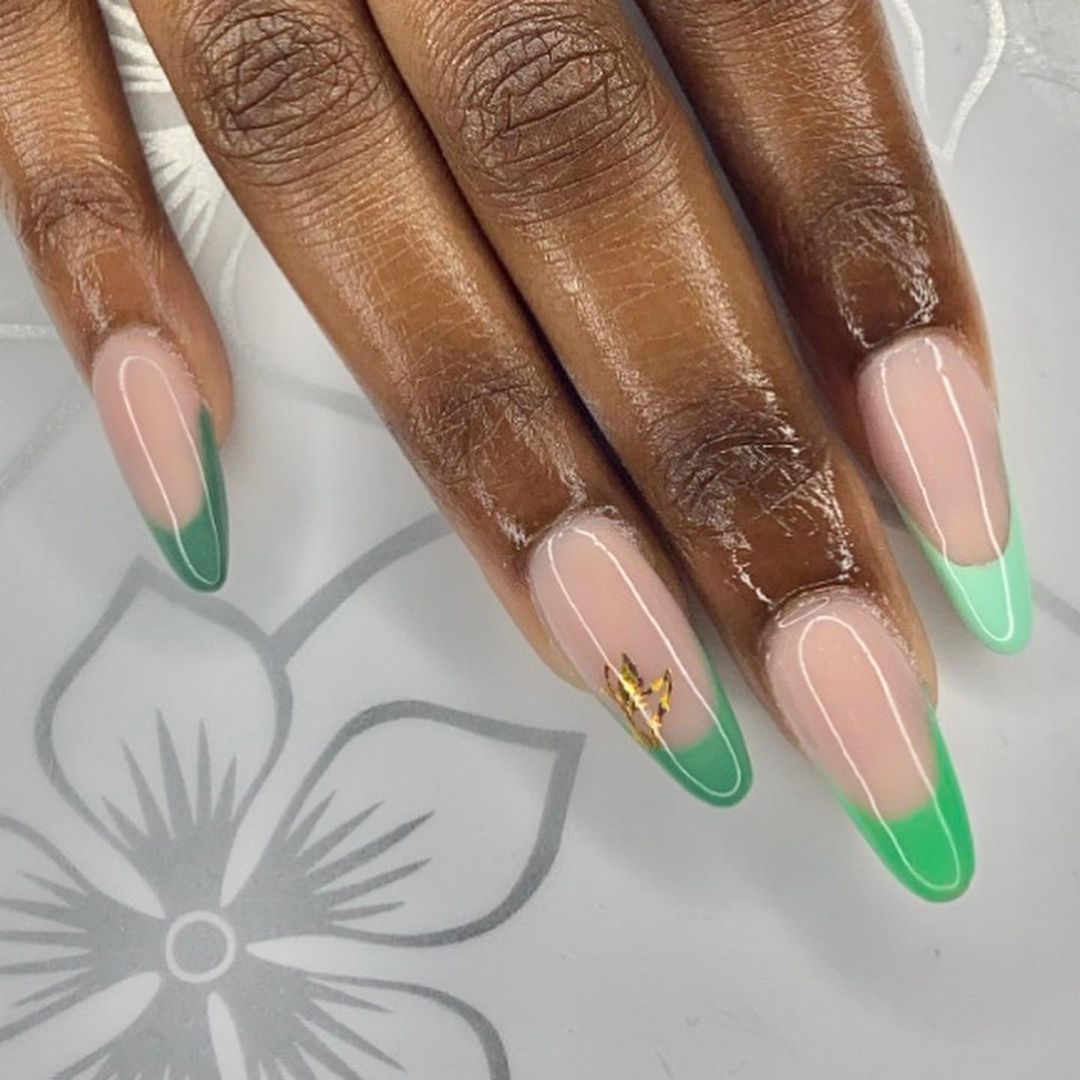 via @atpnailz
24. Nude Ombre Coffin Nail Pattern
Ombre and coffin nails have become viral on their own. They can be seen anywhere, from Instagram to Pinterest. Put the two together, and you've got yourself an ultra-posh nail design. An ombre effect is also easier to do on longer nails, making the coffin nail shape the ideal canvas. It's a sexy nail look that says you're ready to slay the day.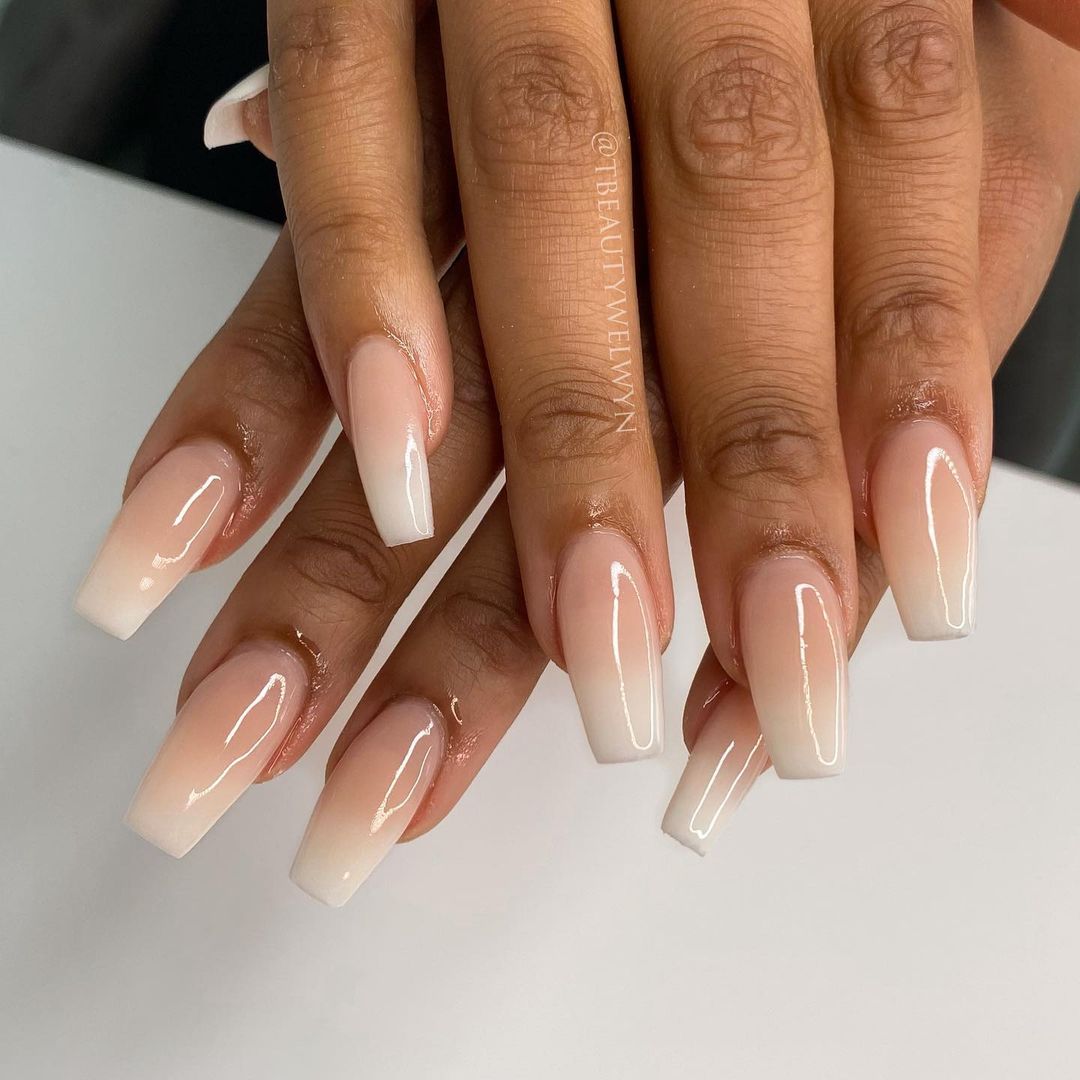 via @tbeautywelwyn
25. Red and Nude Nails
Enhance your simple nude mani with a red-hot polish. Red is a sexy color that gives a burst of confidence. It's an instant mood lifter when you aren't feeling your best. This color also represents a fiery passion that's definitely inside you and is just waiting to be unleashed. Red and nude nails are perfect for an everyday look or a party look staple.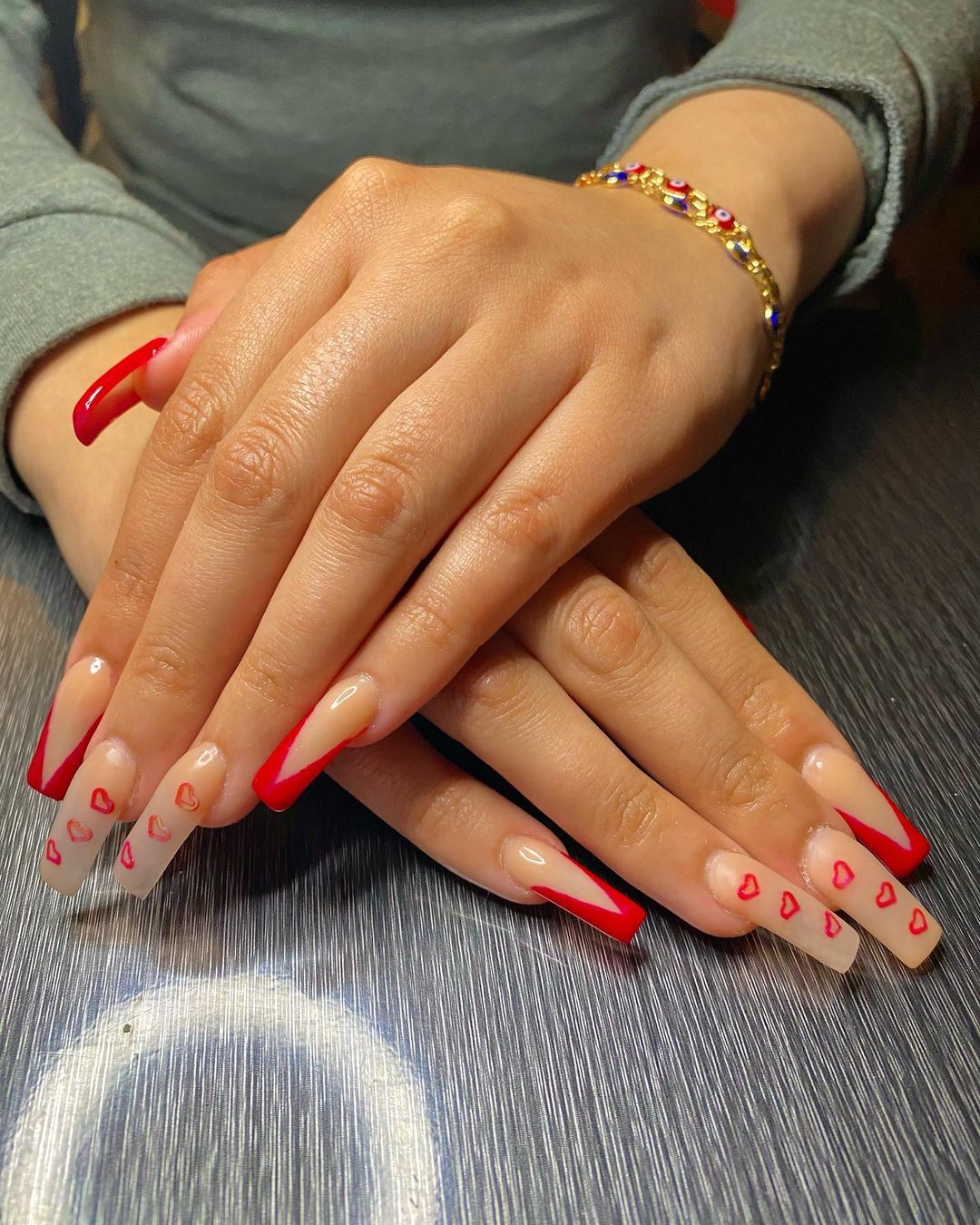 via @nailsbymonix
26. Nude Oval Nail Design
An oval nail shape is one of the most flattering and wearable nail styles there is. It creates an illusion meant to make fingers appear slender and elongated. Due to their tapered edge, oval nails make your hands appear more shapely and feminine. This nail style only gets better when paired with a lovely soft nude color. The square oval or squoval is a good alternative if you want a less arched tip.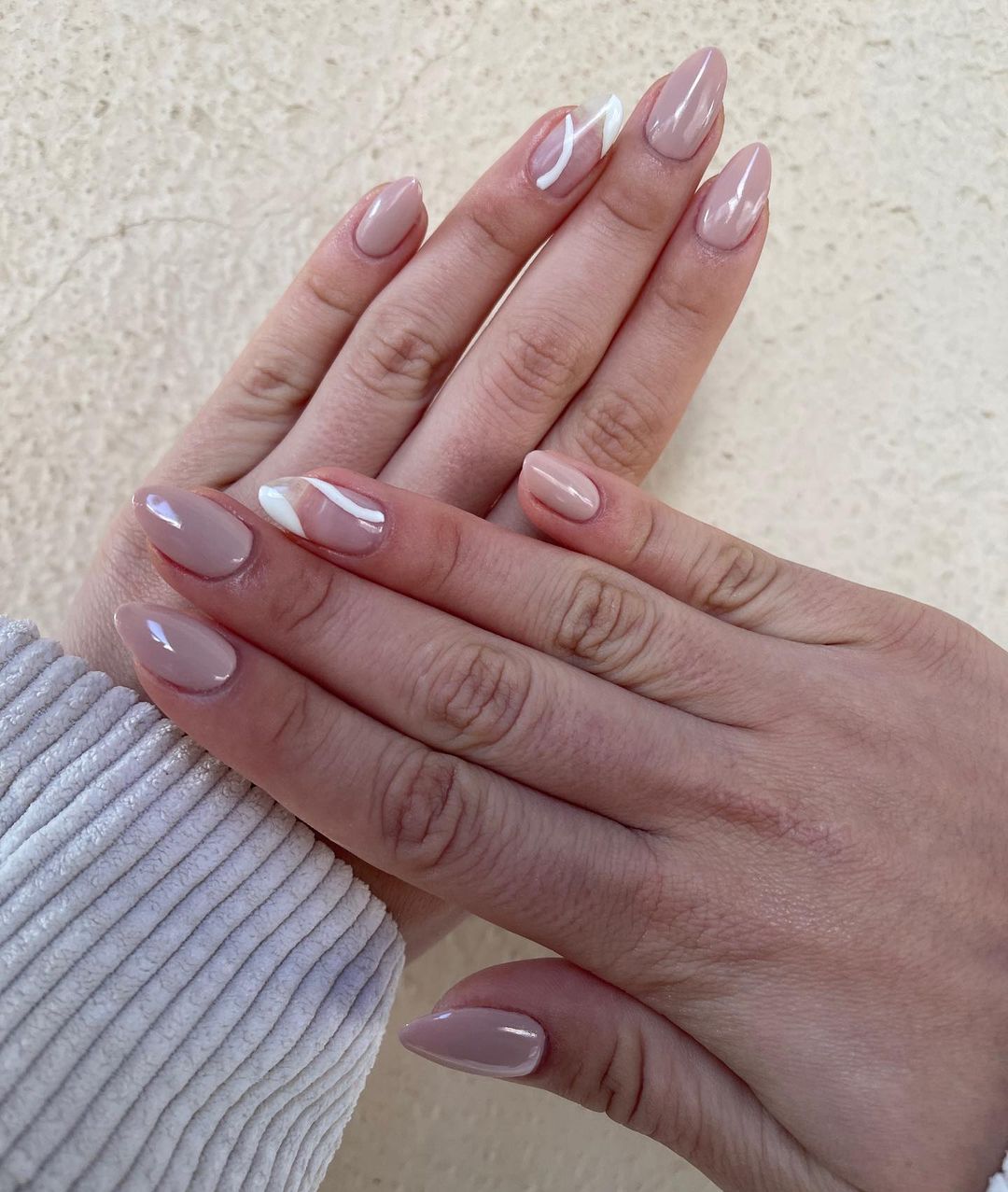 27. Nude Square Nail Art
A square nail shape is a good look for the office. Complement it with nude nail color, and it will guarantee you a seat at the head of the table. Always maintain a medium to long length to give your fingers a slender and graceful appearance. Cropping them short might result in stubby-looking fingers. This nail shape is the most ideal for French manicures due to its flat tip.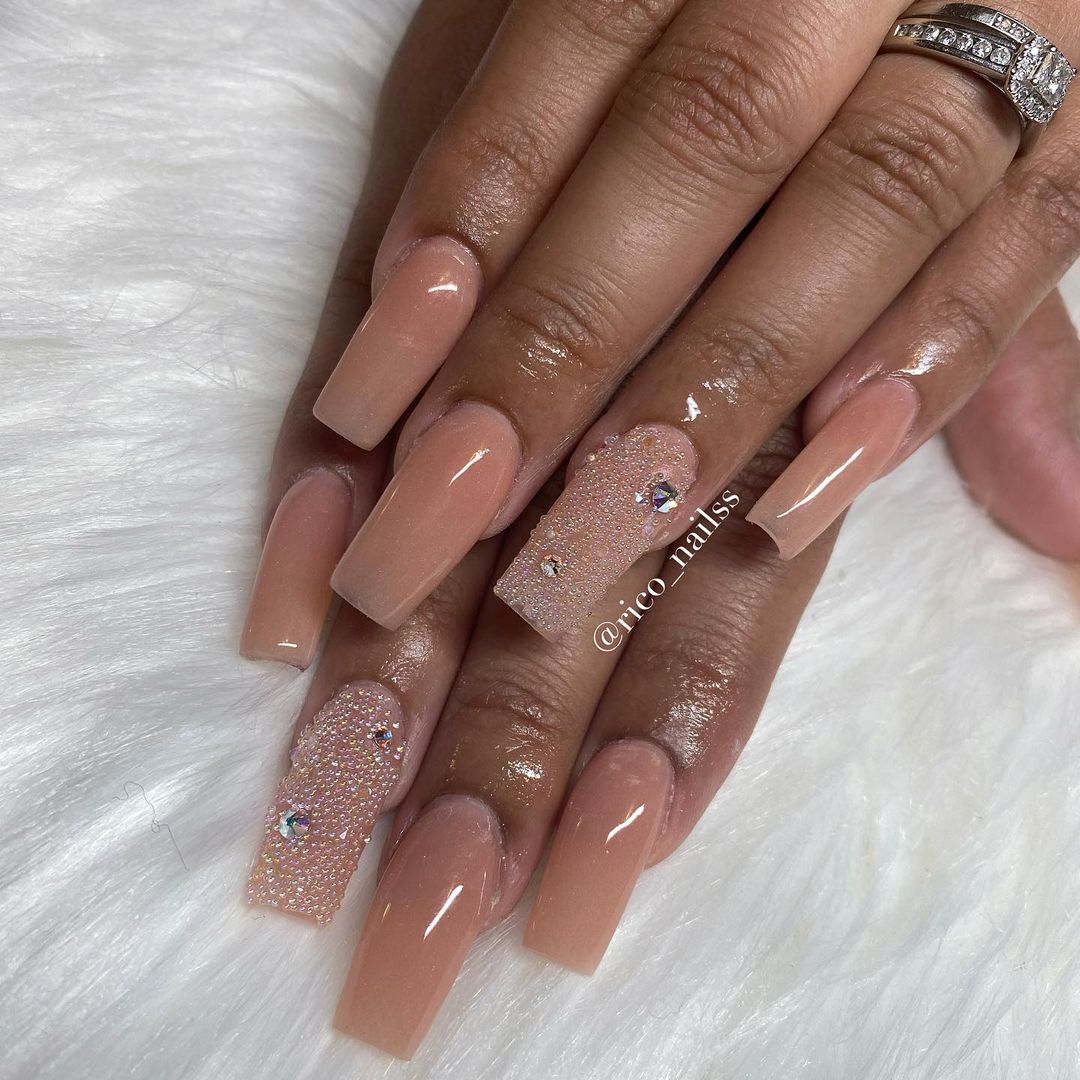 via @rico_nailss
28. Light Nude Nail Style
FLight nude nail design is the quintessential nail look every girl needs. It's a refined and chic style that's flattering and wearable. Many beauty and fashion brands have an entire line of nude nail polishes, so you can switch up your nail colors whenever you like. Some collections include a toasty taupe shade or a baby pink undertone.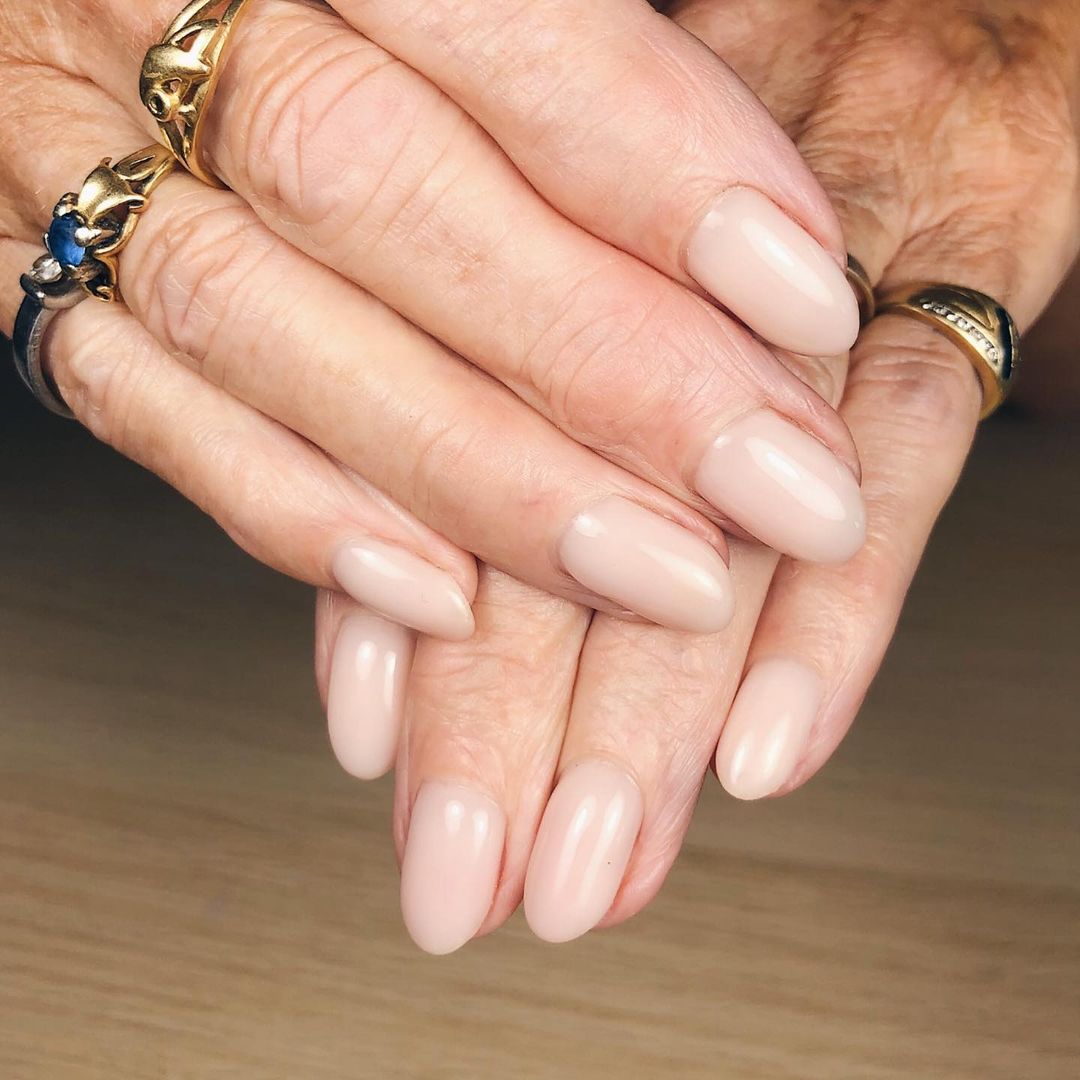 29. Nude Christmas Nail Pattern
Christmas decorations are all about the reds and greens. When you aren't feeling these merry and bright colors, a nude nail design with Christmas elements is a wonderful look for the holidays. Draw on some sparkly snowflake patterns, an adorable snowman, or even an outline of Santa Claus. For a simpler design, opt for silver or translucent gemstones over a nude manicure.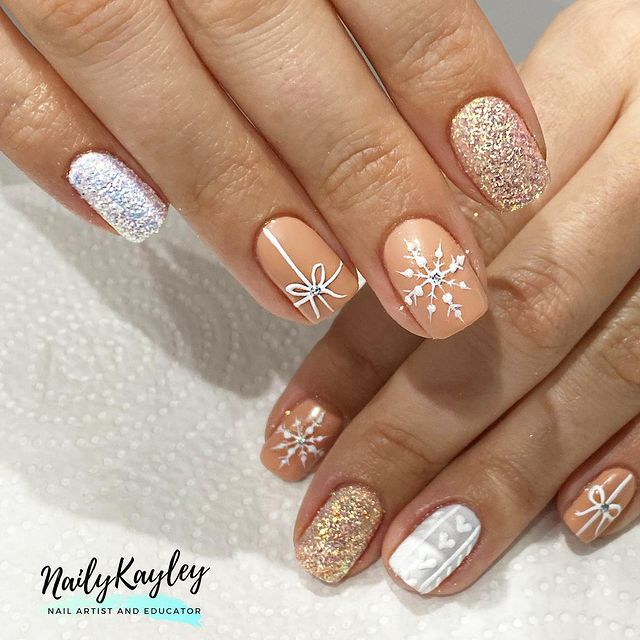 via @nailykayley
30. Nude Sparkly Nails
Elevate an ordinary nude manicure by adding sparkly elements. Always start with a smooth base with a shade akin to the color of a glitter-infused topcoat. Carefully layer this tip of nail polish until you reach your desired thickness and intensity. This nail design looks striking, but taking off stubborn glitter can be a chore. Thankfully, there are peel-off formulas that make the job easier.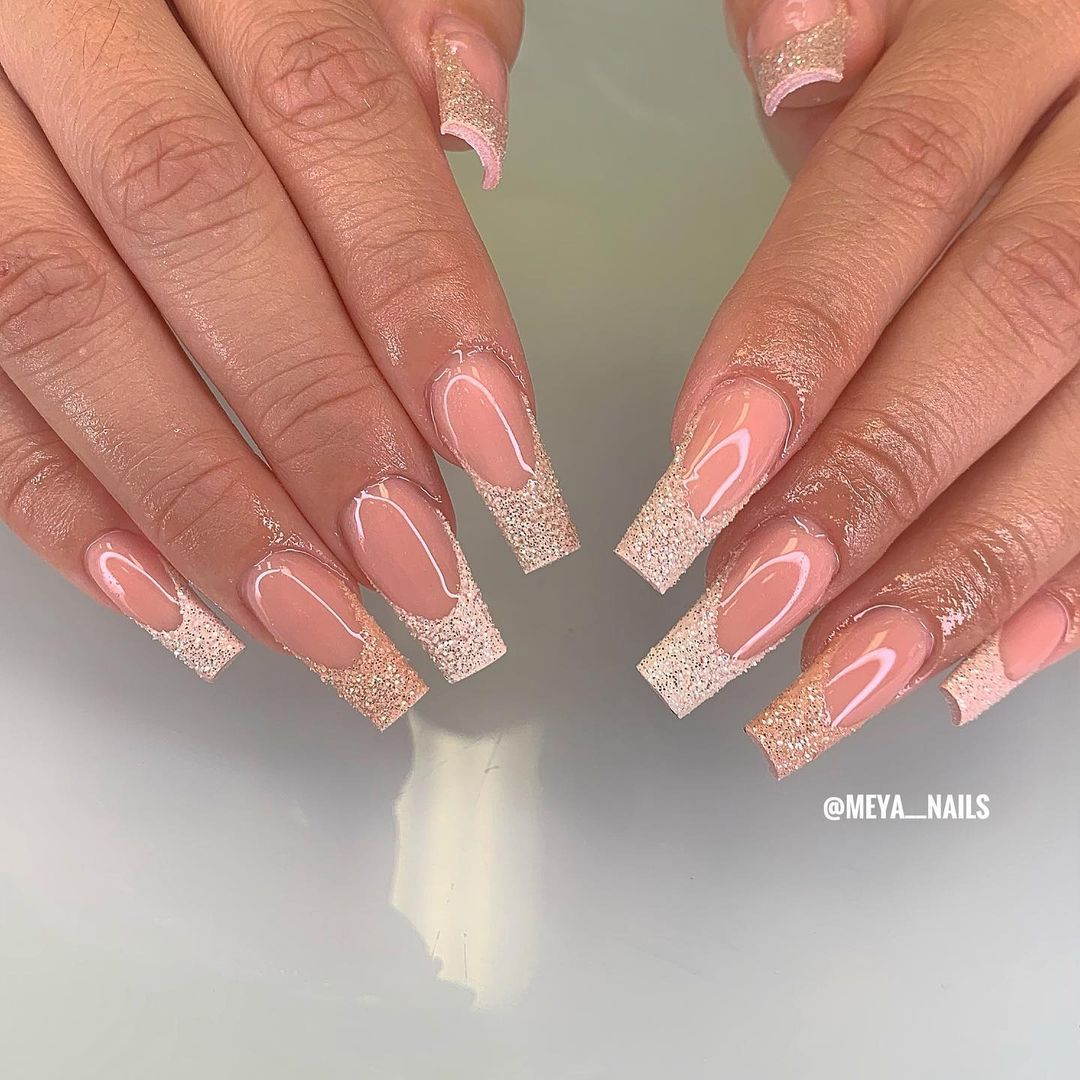 via @meya__nails
31. Sheer Nude Nail Polish
Sport natural-looking nails with sheer nude nail polish. This charming barely-there nail look is elegant, chic, and suitable for any occasion. Sheer nail polish comes out opaque out of the bottle. Put on multiple layers to achieve the coverage you're going for. You can either start with a white base or a tinted base coat for the sheer color to pop.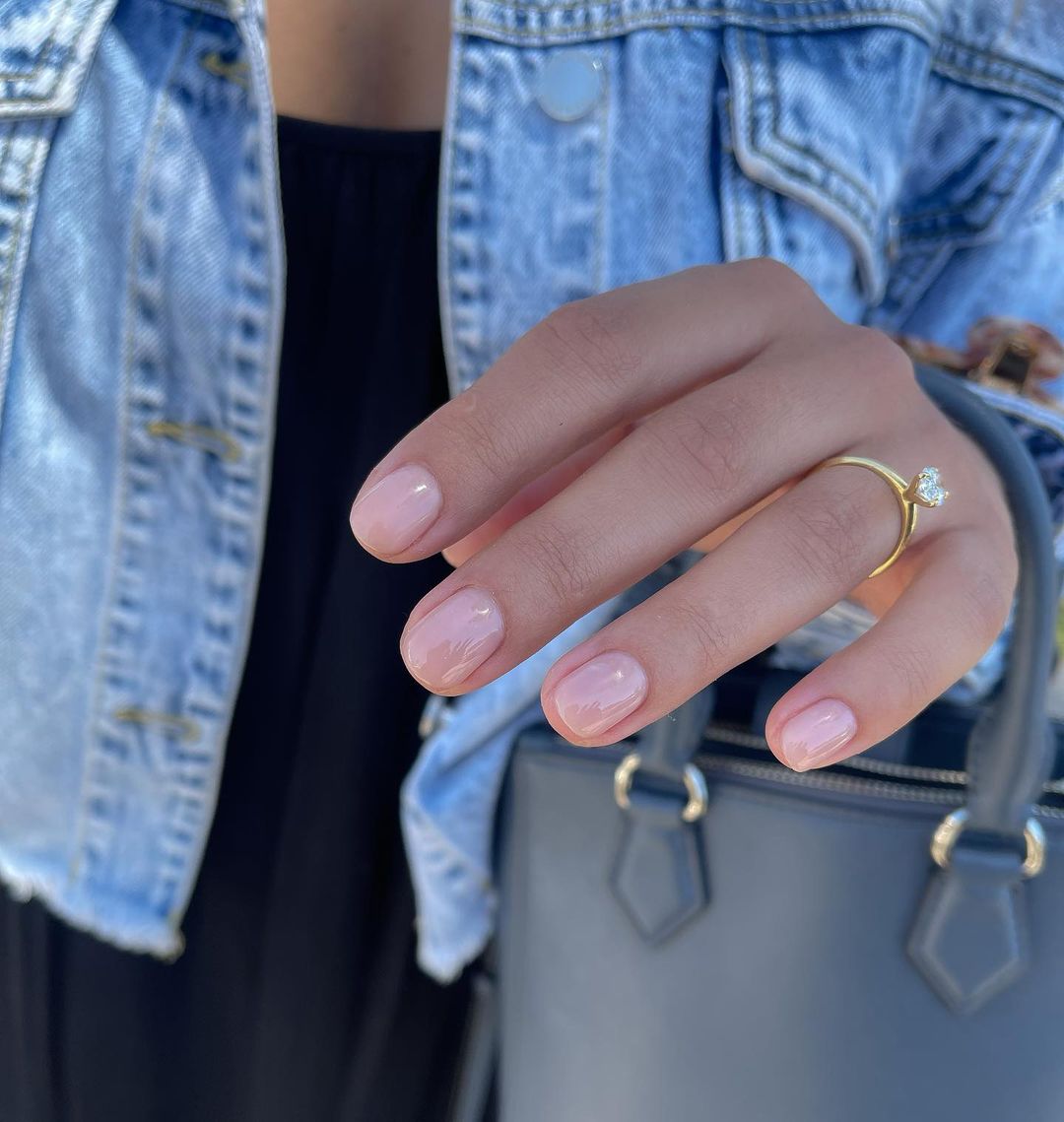 32. Blue and Nude Nail Art
Blue is a refreshing and universal shade that anyone can pull off effortlessly. It comes in different intensities that cater to everybody's taste. This shade inspired by the ocean and the skies represent tranquility and simplicity. When looking for nail art with a blue touch, complement it with a light beige shade. This calming pair is a versatile design that works with different nail art techniques.
33. Fall Nude Nail Style
Russet, terracotta, and ecru embody the colors of autumn. If you're a fan of pumpkin spice, apple spice, and everything about fall that's nice, try out an autumn-themed nail design. Choose vibrant neutral tones to go with your favorite fuzzy cardigan and knee-high boots. Retire from the plain monochrome fall nails and draw on some cute pumpkin and autumn leaves.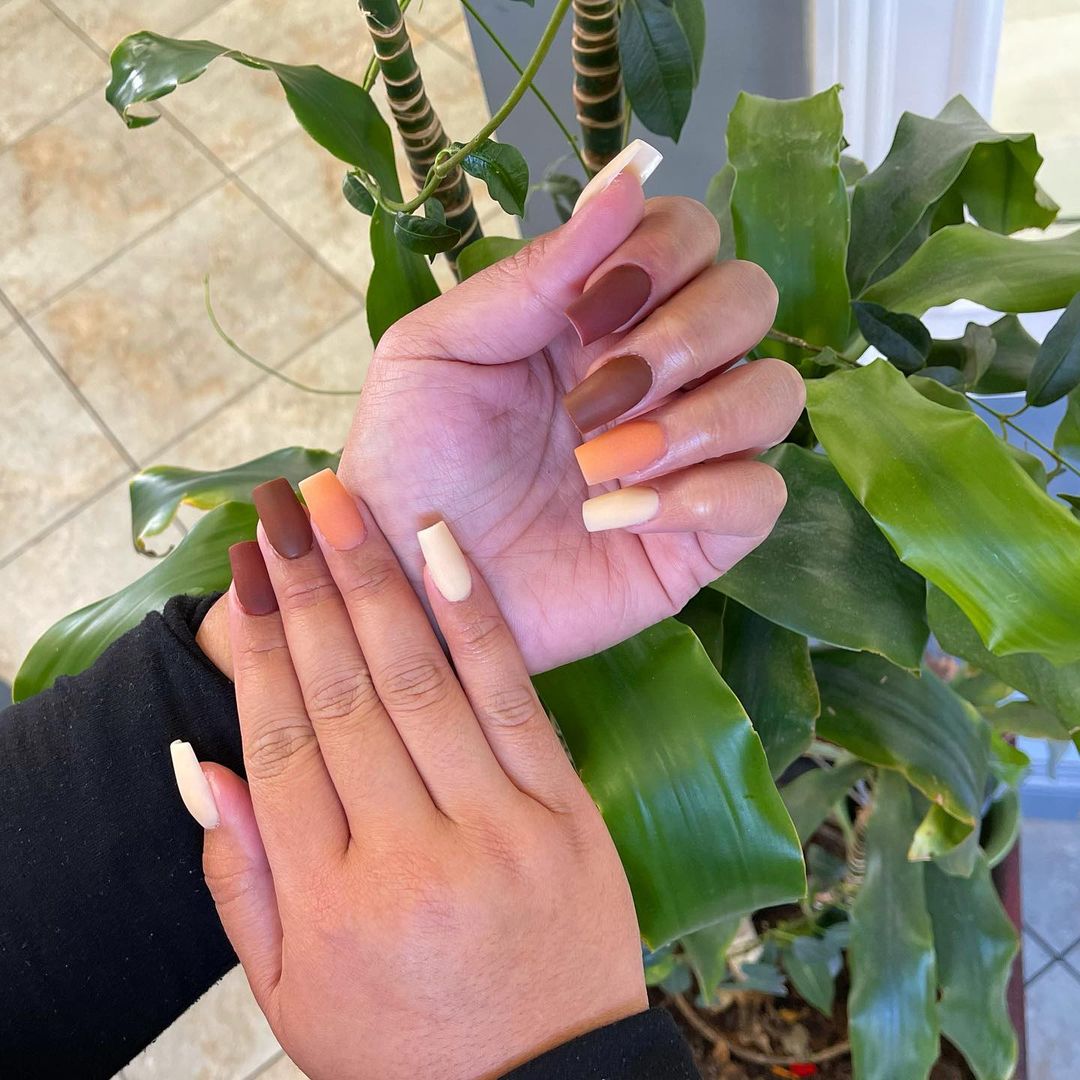 34. Nude and Neon Nail Pattern
See nude nail designs in a different light by giving them a neon twist. A bright neon puts a striking contrast to a neutral base. Nude nails with neon accents are also perfect for the summer. Just add blinding shades of yellow, green, and orange to bring out the fun side of your otherwise plain nude nails. Be sure to pick the right color intensity to accentuate your skin tone.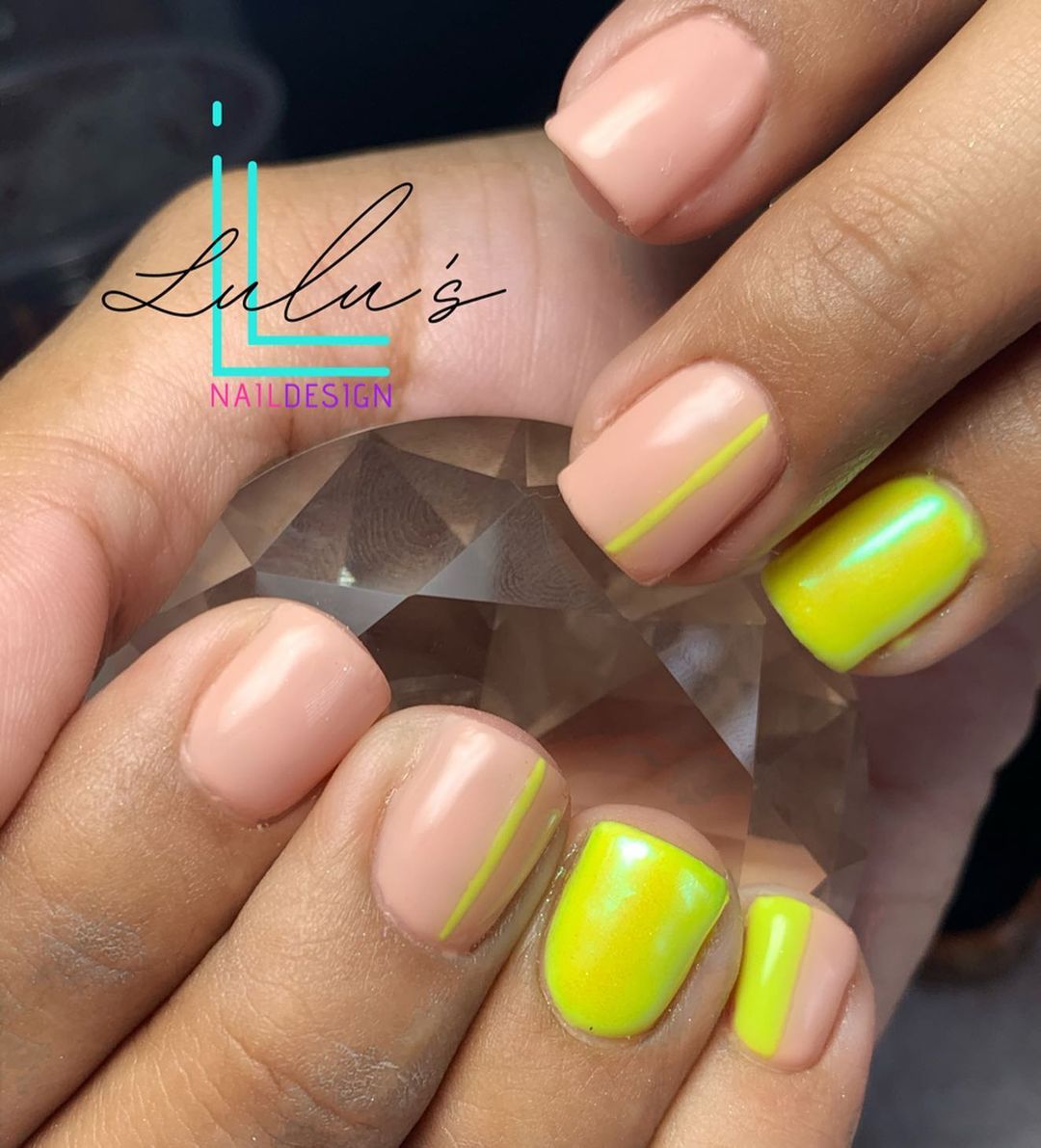 35. Nude Round Nail Design
Round nails are low-maintenance and an effortless nail shape to create. This nail style is suitable for those who have short nails. All you have to do is to follow the natural arch of your cuticles. Gently file your nails until you create a satisfying curve. After that, you can proceed to picking out nude nail polish for a subtle yet graceful nail design.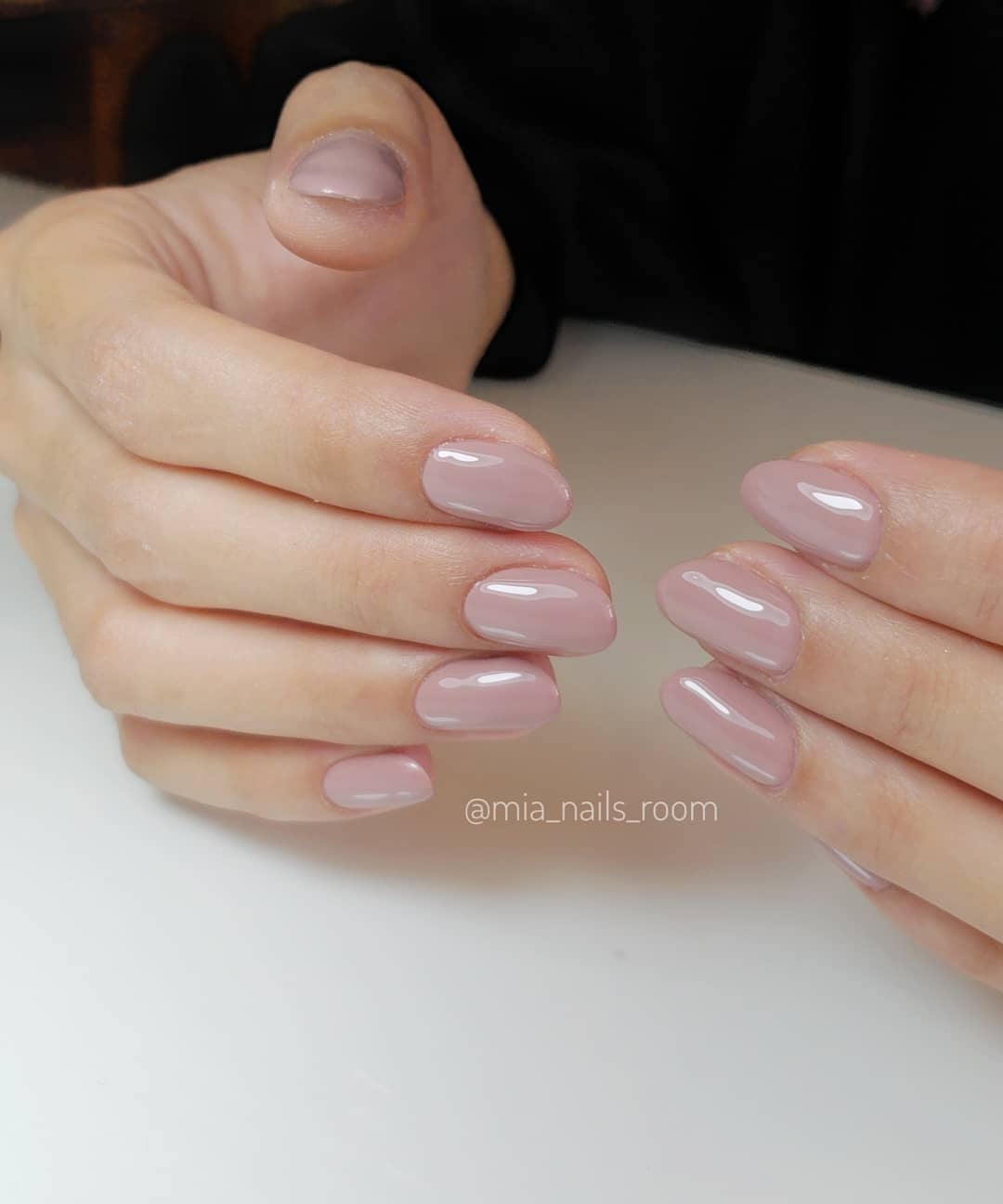 via @mia_nails_room
36. Nude Nails with Black Tips Design
Put a cool and edgy twist on the classic French nail art by opting for black tips instead of the traditional white ones. This modern update of the French manicure proves just how versatile it can be. Choose a light base shade that will complement and not overpower the black accent. You can also wear this high-end look every day or during special occasions.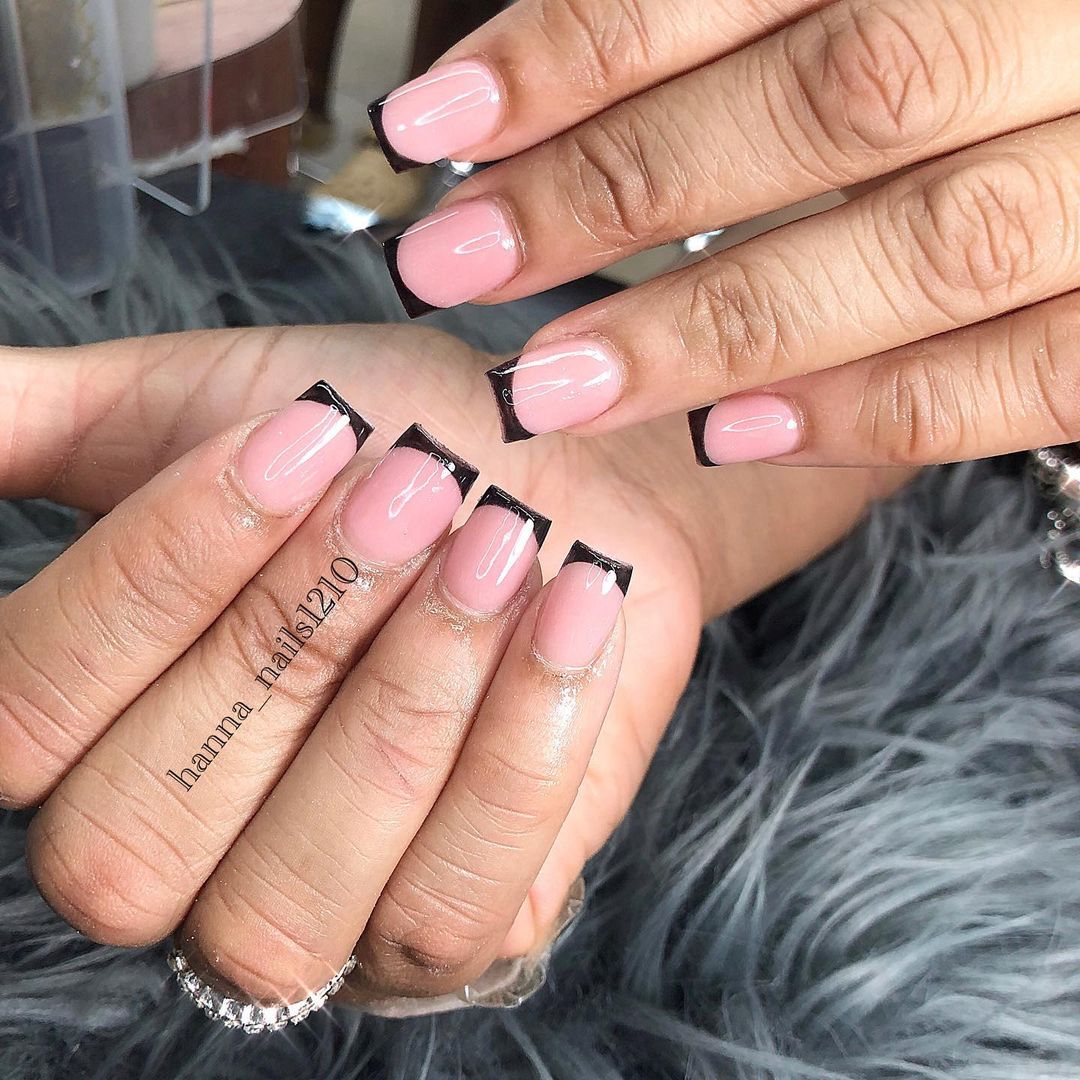 via @hanna_nails1210
37. Nude Purple Nail Art
The color purple represents luxury, royalty, and wealth. Experience being a royal at the tip of your fingers—literally—with a nude and purple nail art. Shades of purple have different meanings and symbolism you can use to reflect your style and personality. Lilac is an uplifting hue that expresses optimism, violet signifies spirituality, while lavender symbolizes femininity and reminds us of springtime.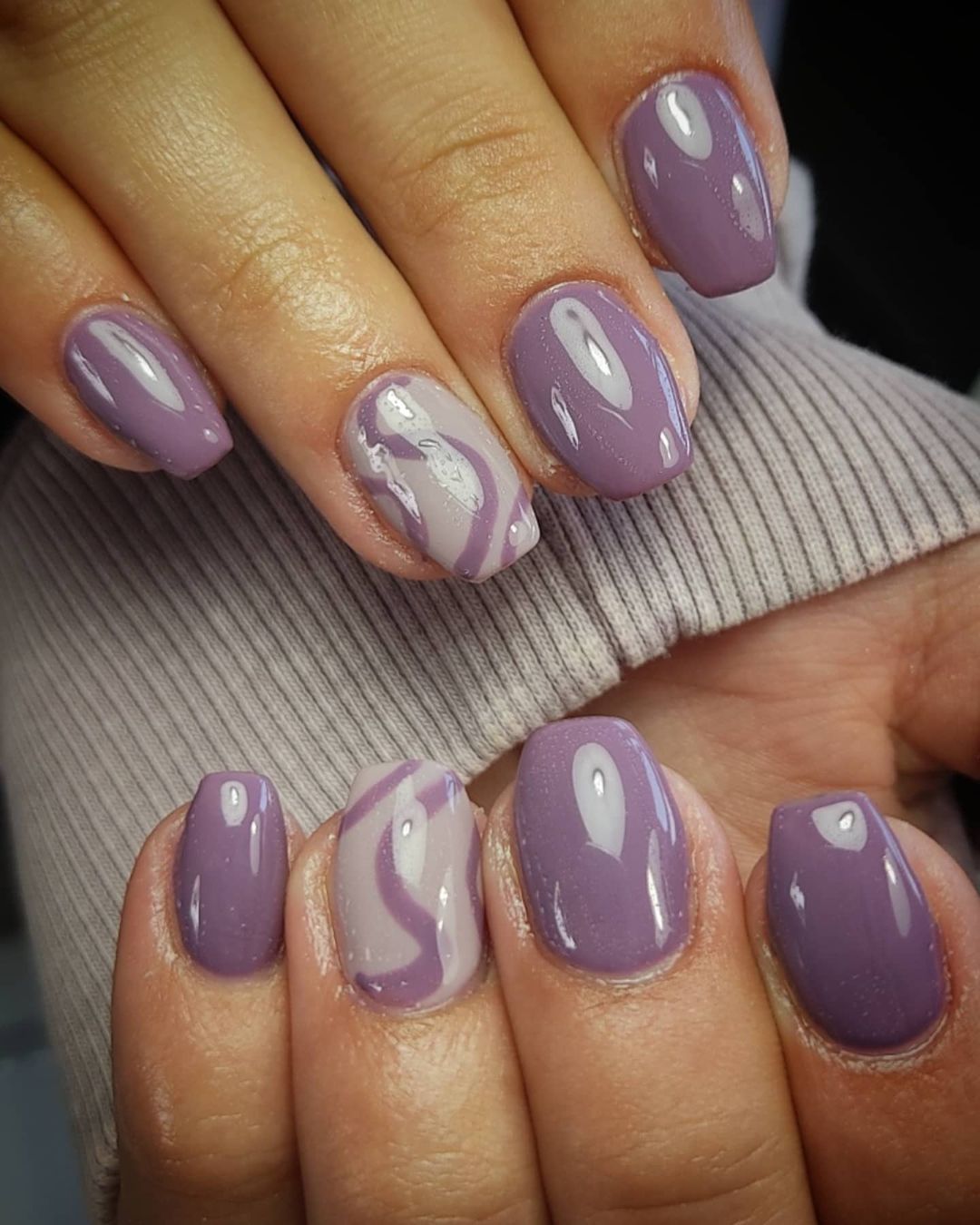 via @thenialartist
38. Nude Wedding Nail Style
A wedding is a fun and stylish event where you can have the excuse to wear your best dress and fancy accessories. It's only befitting that your nails look their best and be the scene-stealer. Subdued and feminine colors like champagne, blush, and pastels are the top choices. One cute idea is to match your nail design to the wedding's theme. Moreover, don't be scared to add shimmer and shine. After all, isn't that what wedding parties are all about?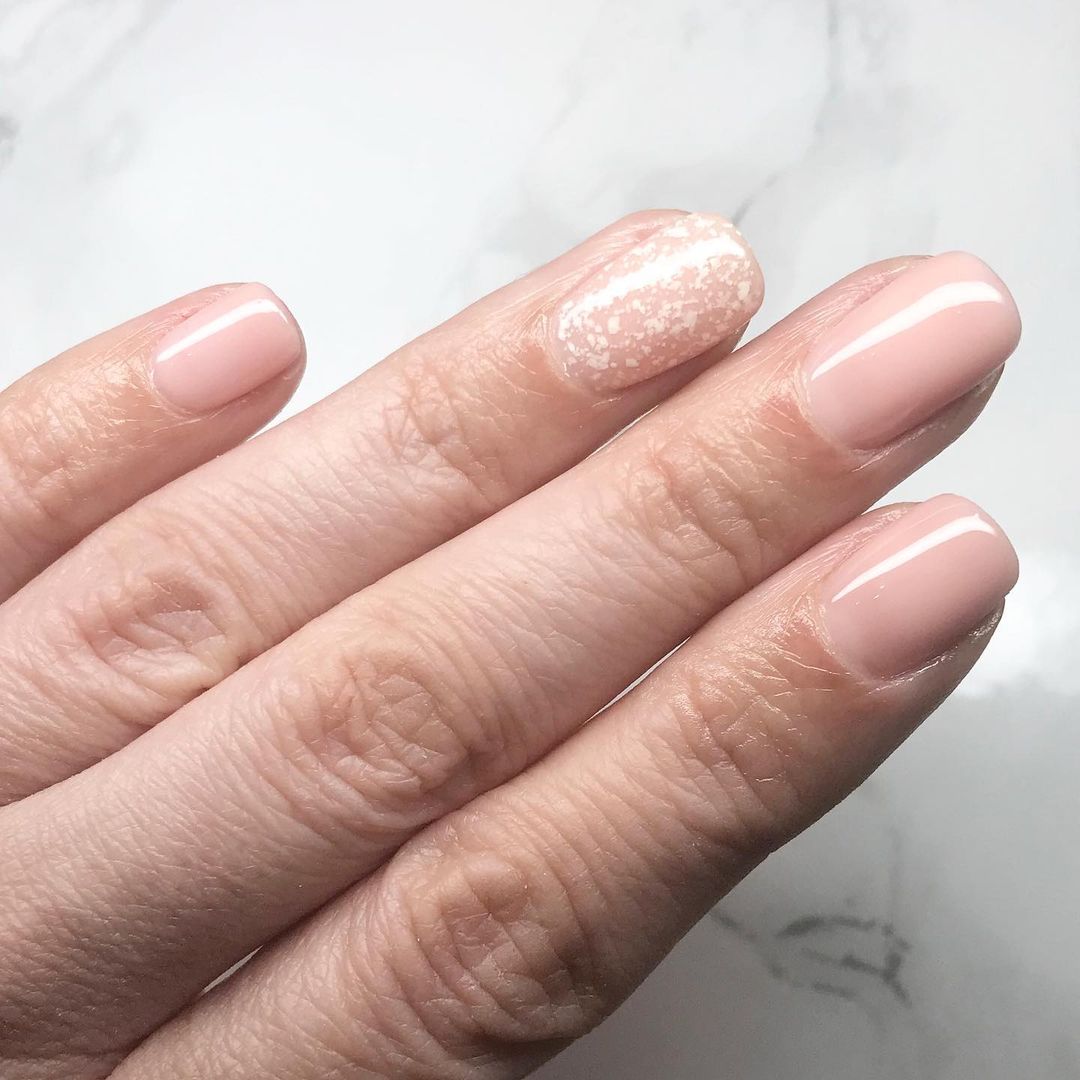 via @beautyatnumber4
39. Nude and Silver Nail Pattern
Nude and silver nude nail design is a fancy color combination fit for special occasions. Wear it to a Christmas party, wedding, or intimate gathering and be the center of attention. There are many options to do nude and silver nail art. Glitter nail polish with a shimmer effect is the easiest way to do it. For an added texture, stick on some gilded silver embellishments.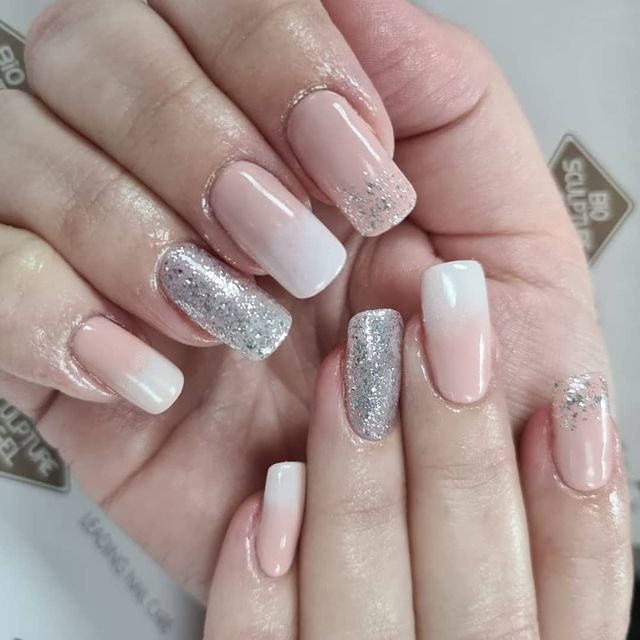 40. Nude Chrome Nails
Paint a futuristic look on your nails with chrome. It's a high gloss finish with a mirror effect. While chrome nails are mesmerizing, you have to put in a little extra effort in doing one. If you're not in the mood to paint your nails, you can always go to your favorite nail technician and let them do the work for you. Chrome nail art is achieved through a special pigment that turns into a smooth tinfoil-like texture. If you're looking for a quicker method, chrome nail stickers are always a good idea.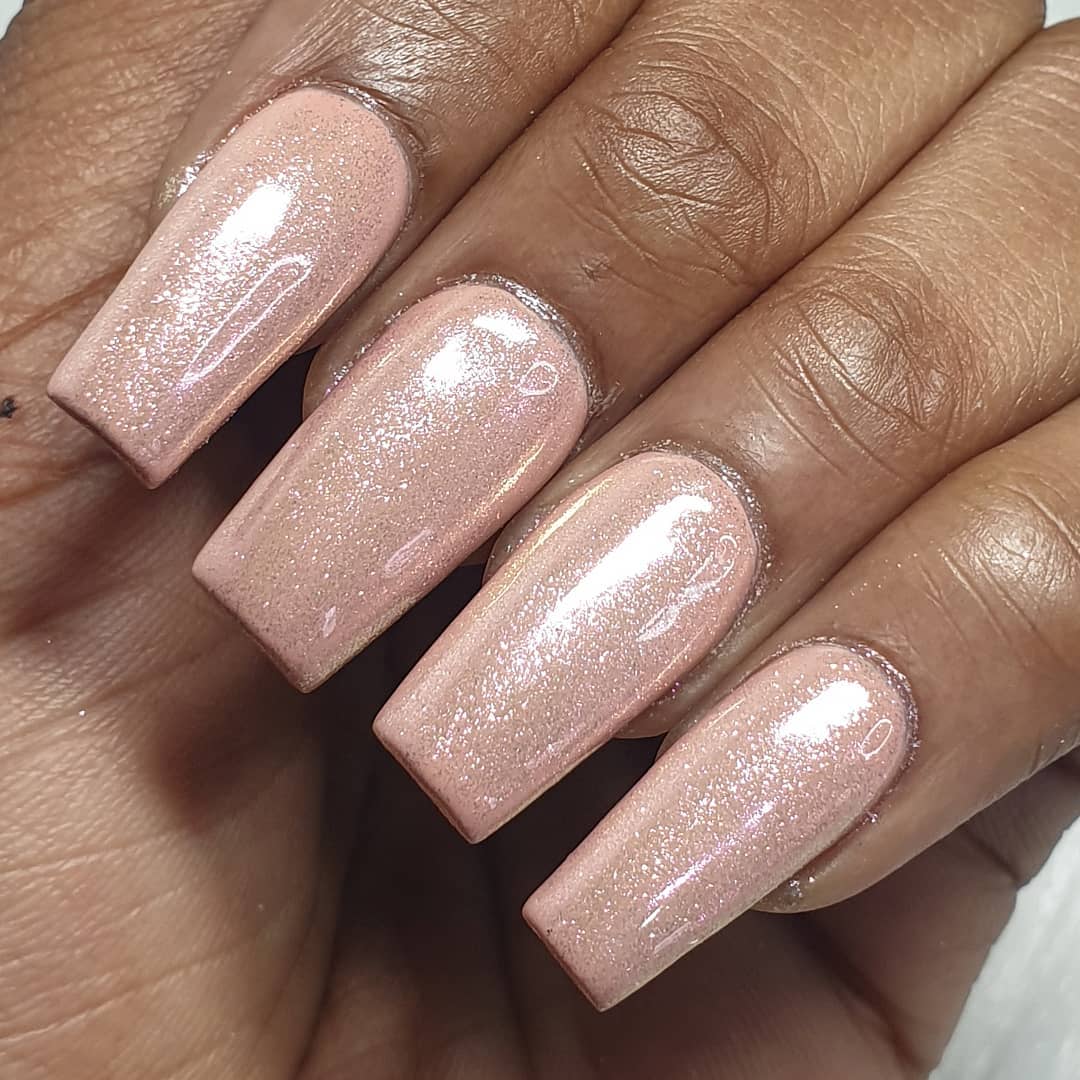 via @island_nailz
41. Peach Nude Nail Design
If you're looking for a girly and vibrant shade for your nails, peach is an excellent choice. This color radiates an energetic and summery vibe that will instantly uplift your mood. Peach is also a welcoming shade said to stimulate great conversations due to its optimistic hue. Get ready to flaunt your peach nail design and attract warmth and positivity.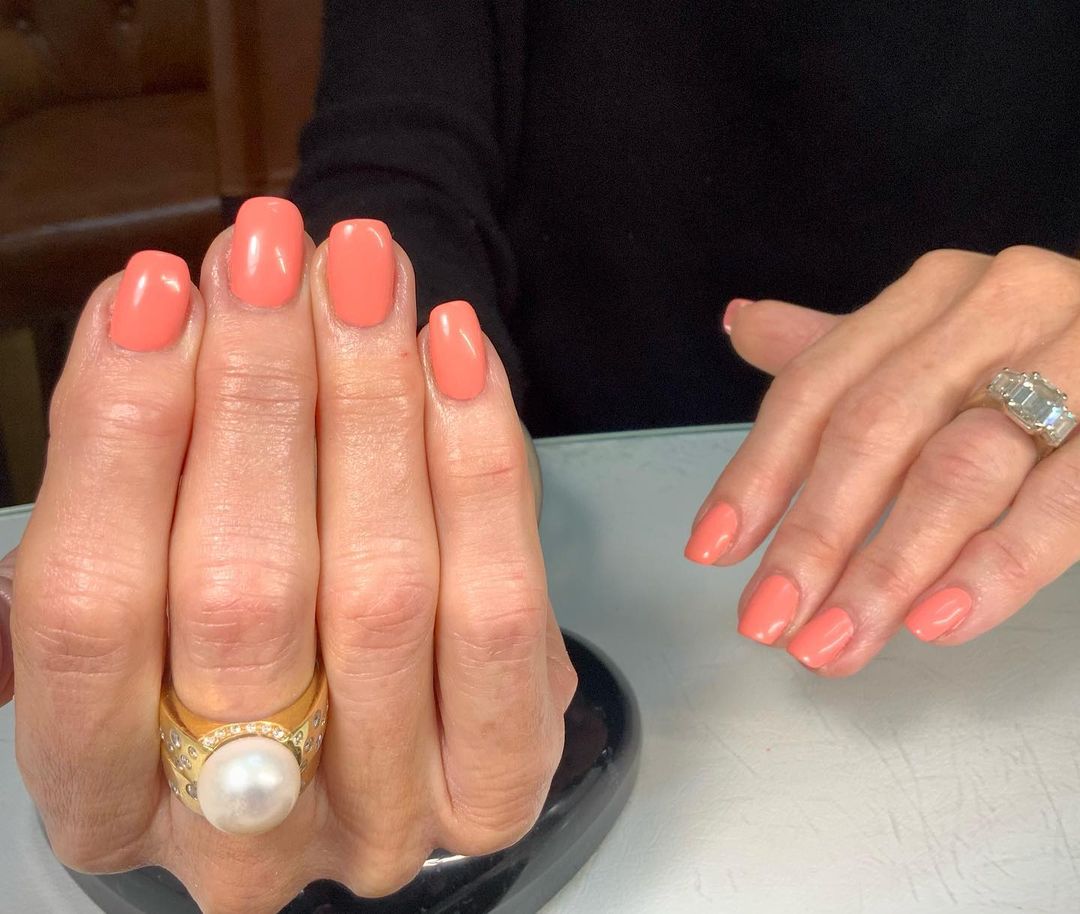 via @nails_at_no.5
42. Summer Nude Nail Art
Are you looking for vivid and lively summer nail colors but not quite ready to part with your nail mani? Worry not; nude shades are in for the summer, too. Incorporate iconic summer elements like florals, sun rays, and ice cream to make your nail art more summery. Other ideas include multicolored tips, ombre, and vibrant patterns. If you prefer a single-colored mani, choose pastels that are easy on the eyes.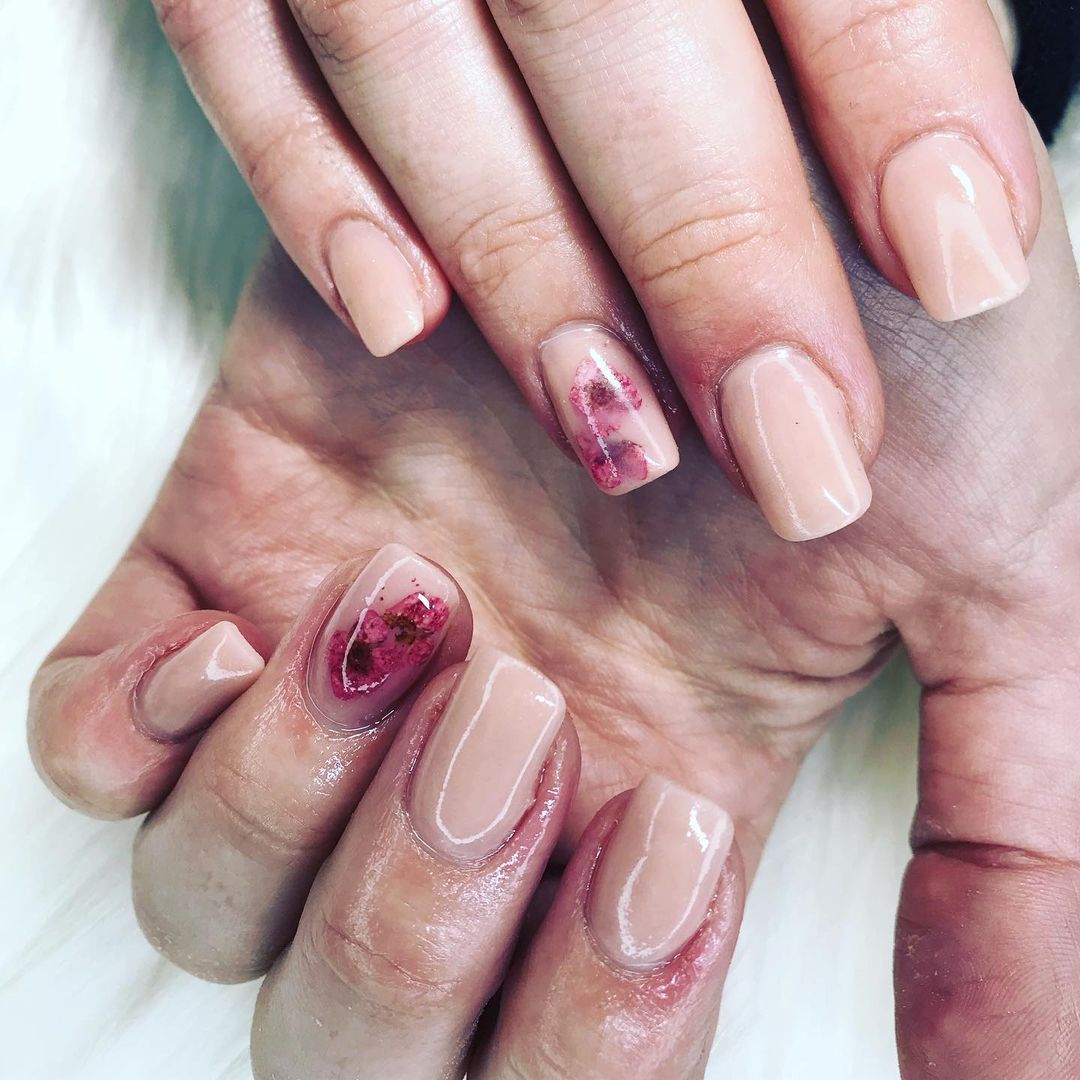 43. Nude Gradient Nail Style
There are way too many nude colors out there. Beige, tan, and cream shades have cemented themselves as staple nude nail colors. They always remain on-trend and stylish. Settling for a single color to put on your nails might be a difficult decision. So, why not have your nail technician paint different shades on each fingernail? Choose colors that look similar to create a coherent gradient effect.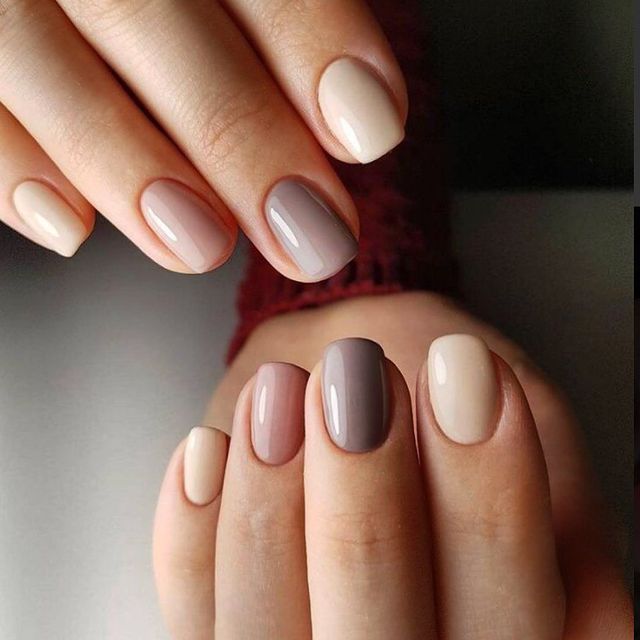 44. Yellow and Nude Nail Pattern
When you have an upbeat and happy personality and want to show it through your nails, a yellow and nude mani might be the one for you. A bright yellow sets a stark contrast to a serious nude shade. Yellow also emanates cheerfulness and spontaneity. It's a great way of saying to the world that you're up for any adventure and won't quit on anything that goes your way.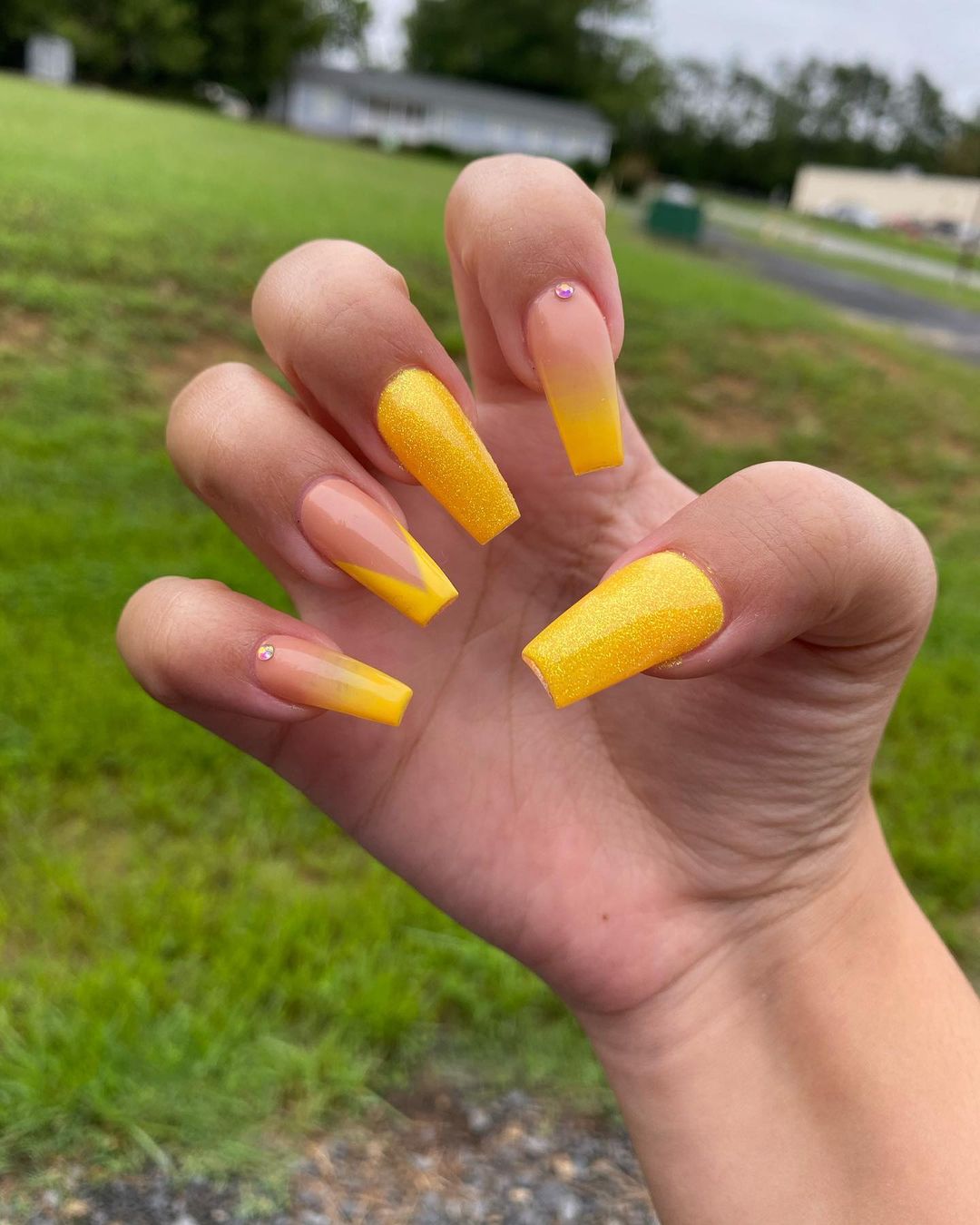 via @ashleyjeannails
45. Nude and Burgundy Nails
Burgundy is such an opulent color expressing individuality and compassion. While it reminds us of wine due to its deep red shade, it can be a sexy nail color as well. Pair it with nude nail polish for an extra class. A little trivia: the deep dark red nail polish first debuted during the 90s at the 1995 Spring/Summer Ready to Wear fashion show.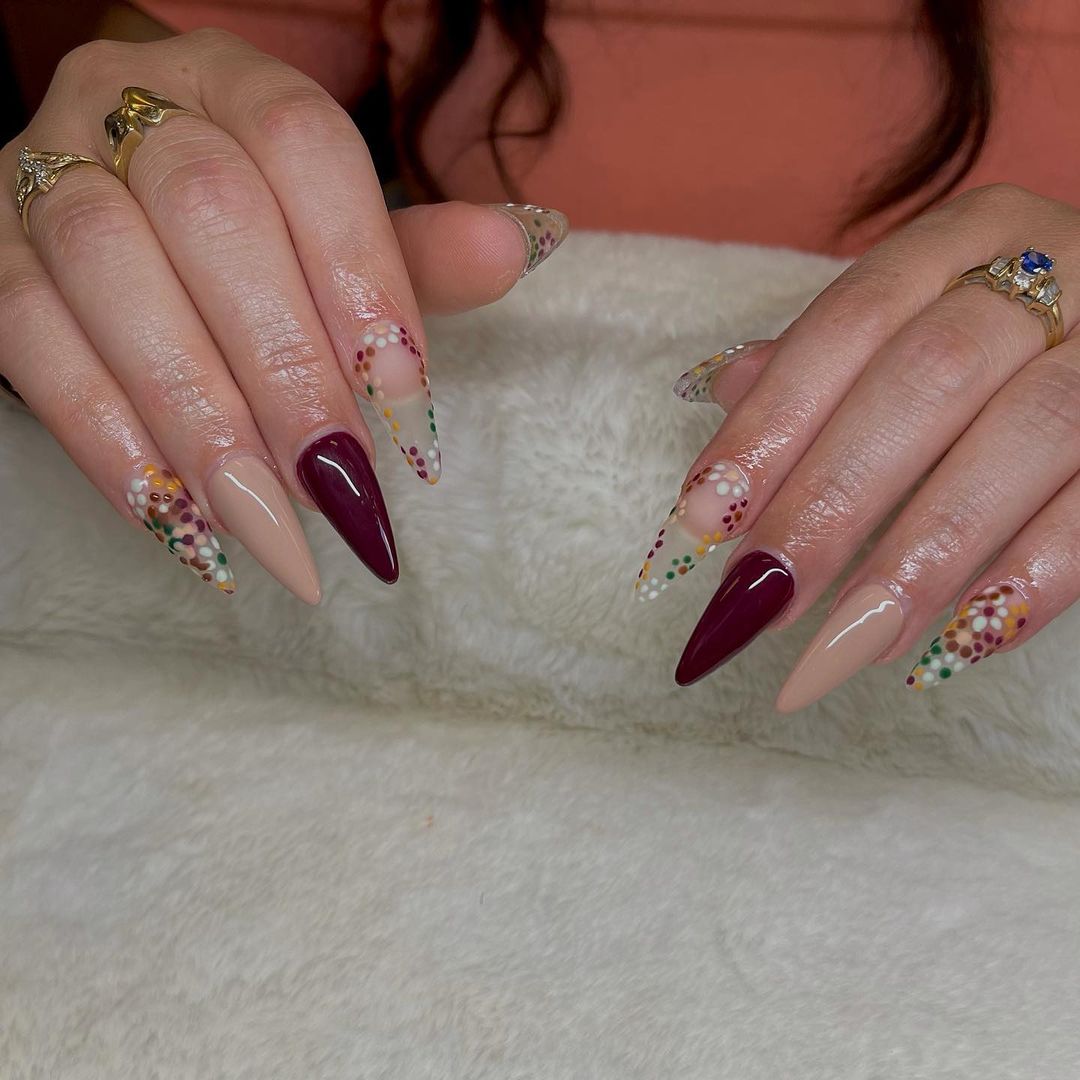 via @kayinailedit
46. Green and Nude Nail Design
Bring out the earth goddess in you by going for nature-inspired nail polish shades like sage and tan. You can also try out a pale beige base with emerald leaves. Apply on some gold flakes for a luxe effect. On the other hand, a tasteful matte pistachio nail design is perfect for those looking for a more subdued look. If you're someone who's enthralled with gemstones, a glassy jade effect on your nails will surely make you fall in love.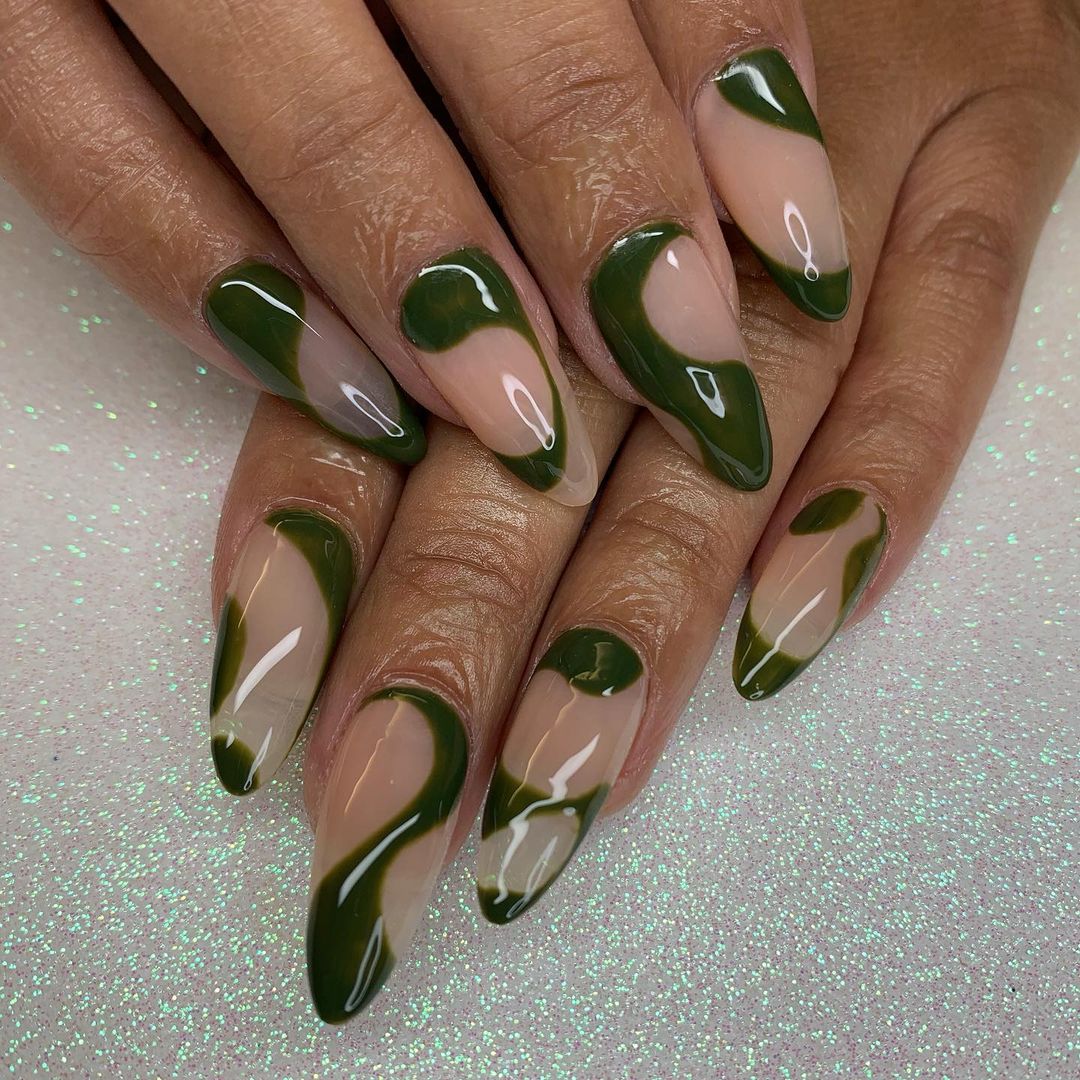 47. Chanel Nude Nail Art
Chanel is one of the most prominent and chicest international fashion brands. Aside from being the producer of avant-garde and high-fashion clothing, they're also known for their impressive makeup line. This powerhouse has also been producing iconic nail polish colors seen on runways all over the world. Some of the coveted nude Chanel nail polish shades are New Dawn, Canotier, and Blanc White.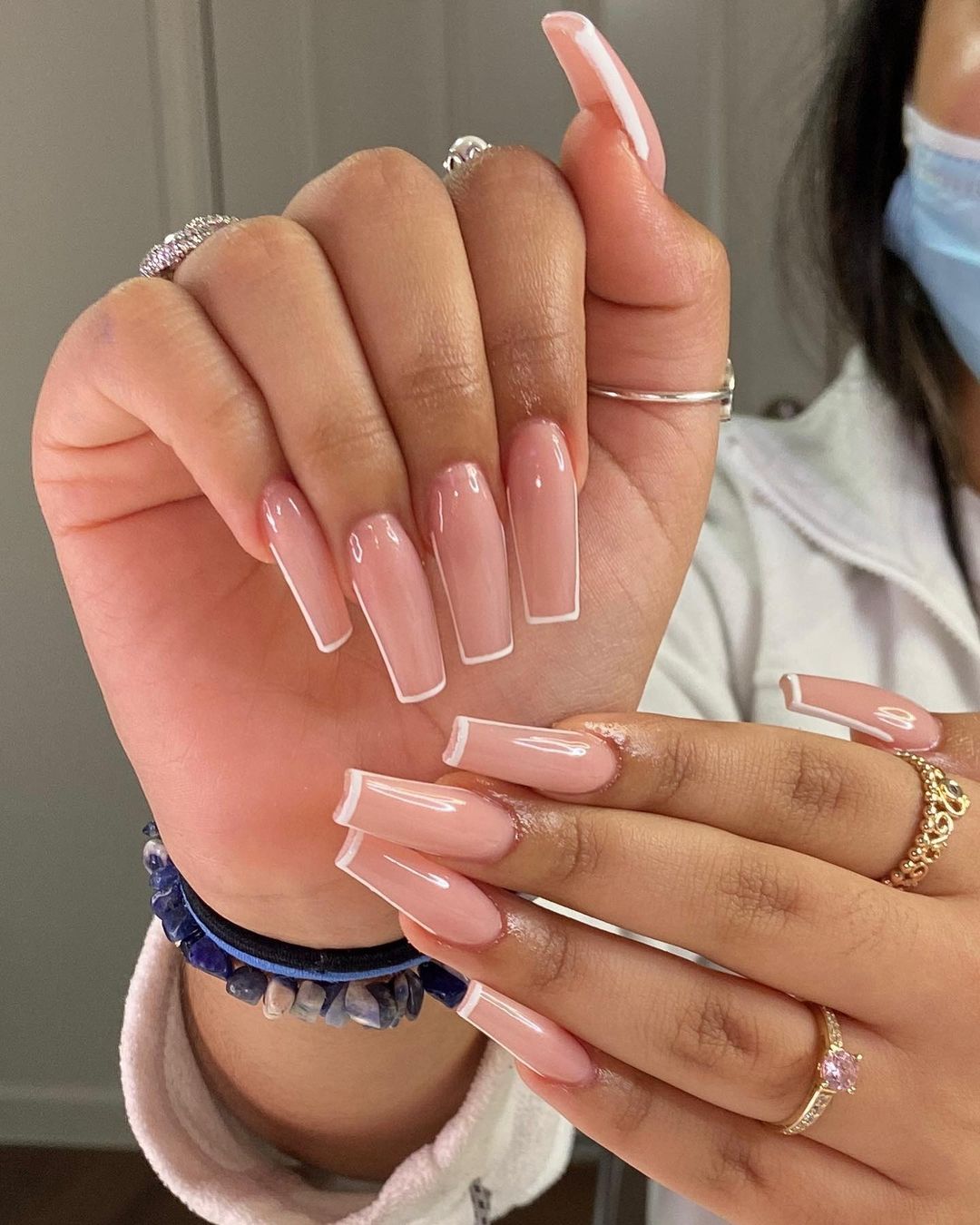 via @lavishnailsxbri
48. Nude Cat Eye Nail Style
The cat-eye nail design is one of the trendiest styles to hit Instagram. You might think of the term cat-eye as the popular eyeliner stroke. In the world of nail art, it's a totally different look. Achieve cat-eye nails by using a blend of shiny metallic and iridescent polishes. A single stripe makes it stand out from other nail designs and is a nod to the striking eyes of cats.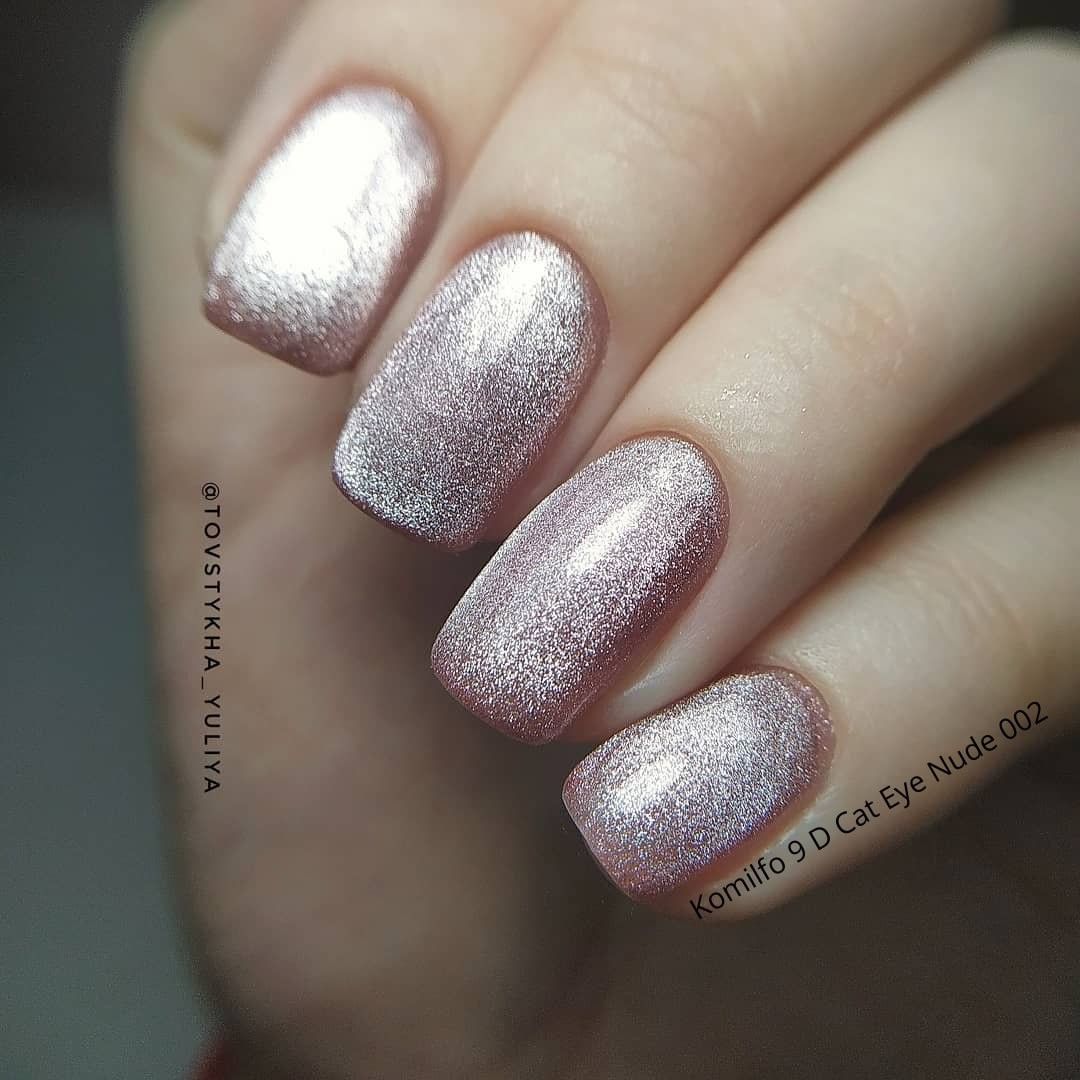 via @nails_hubuae
49. Grey Nude Nail Pattern
Depart from the usual brownish nudes and swap them for grey tones. Grey has a wide range of shades to compliment your style and skin tone. The trendiest ones include ash, stone, and smoke. This neutral color also works splendidly with many nail polish finishes. Whether you're feeling a matte, sheer, or satin effect, you can trust on a grey nail polish for your next manicure visit.
via @susaworks
50. Multicolored Nude Nails
Have you stared at a nail polish chart for too long because you can't decide on what color to choose? Well, don't fret and pick as many colors as you can and have them on your nails. Nail art is all about experimentation and exploring your creativity. Tell your nail technician to go all out in creating a union of colors on top of your nude manicure.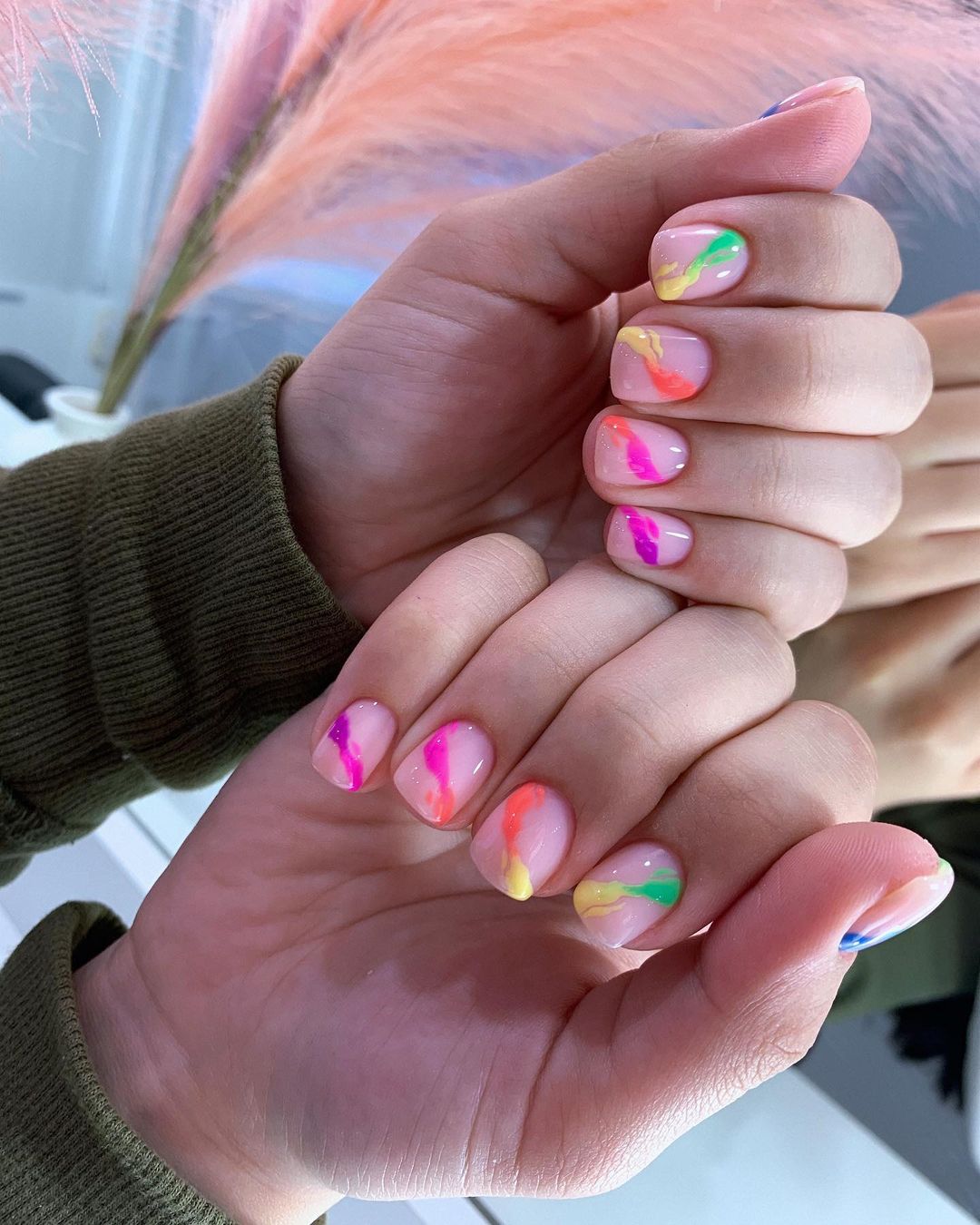 via @nude.nails.rzn
Summary and Takeaways
Nail trends will continue to evolve, but one thing is for sure—nude nails are forever. While waiting for the next big thing to happen to nail art, a nude manicure's familiarity will always make you earn for it continuously. Thanks to its wide applications, nude nail designs will remain a staple in nail salons and at home.