Get ready to add a pop of fruity flair to your fingertips with our 22 cherry nail art collection! If you're a nail enthusiast searching for colorful manicure ideas, you are in the right place! These vibrant and playful cherry nails are here to elevate your style and bring a touch of sweetness to your fingertips. Whether you're into bold statements or subtle accents, we have the perfect nail art inspiration to satisfy your fruity cravings.
Delicate Cherry Blossom Nails
Creating stunning cherry blossom nails is a breeze with the right cherry nail design. To recreate this design, lay the foundation for the delicate beauty of spring cherry blossoms by painting soft pink petals on a neutral base. Use a fine brush to add intricate branches and a touch of white for highlights, bringing your cherry blossom nails to life.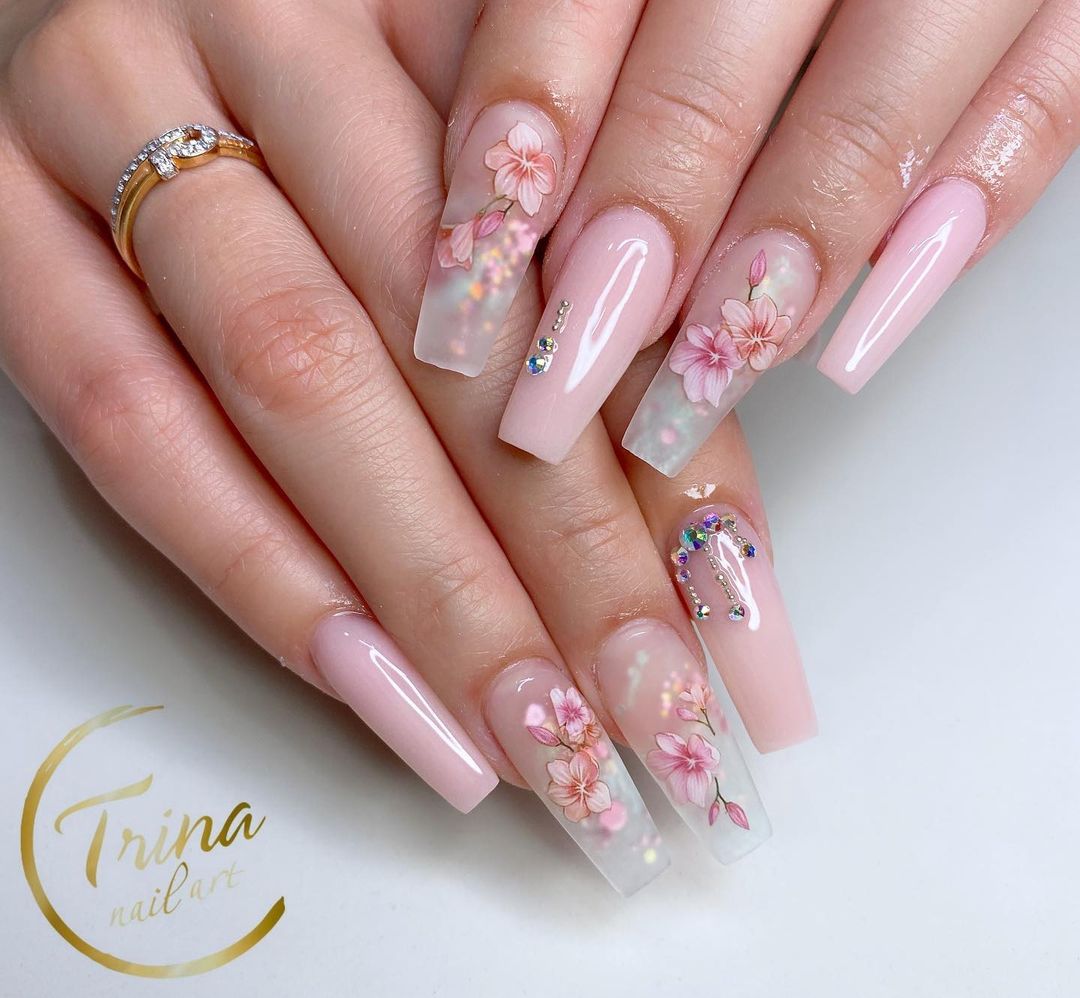 via @trinanailart
This lovely cherry nail art lets you carry the charm of spring blossoms wherever you go, adding a touch of nature's grace to the tips of your nails.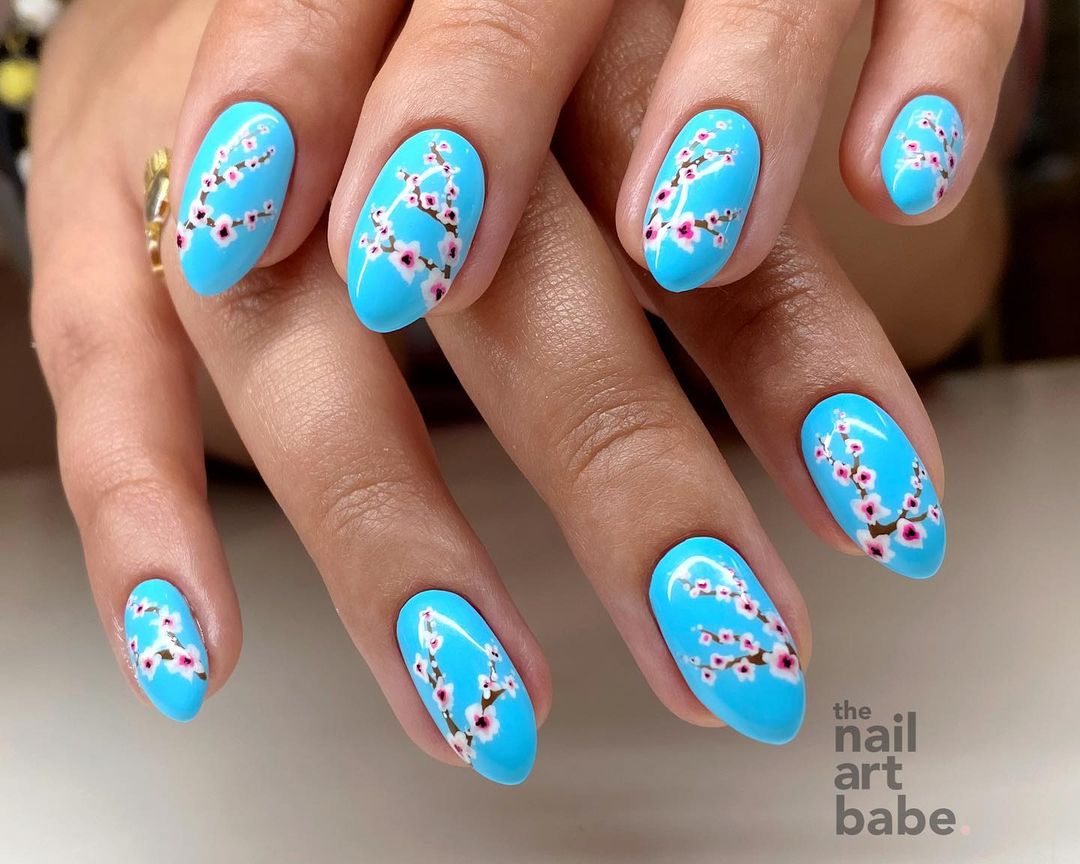 via @thenailartbabe
Vibrant Cherry Red Nails
Upgrade your summer nail designs with vibrant cherry red manicure ideas, perfect for short nails. Infuse energy and color into your fingertips by opting for a fun and fiery shade of red. Whether you're heading to the beach or a backyard barbecue, these lively nails will radiate a summery vibe effortlessly. The bold and fun allure of cherry red will make your short nails pop, adding a sizzling style to your sunny adventures.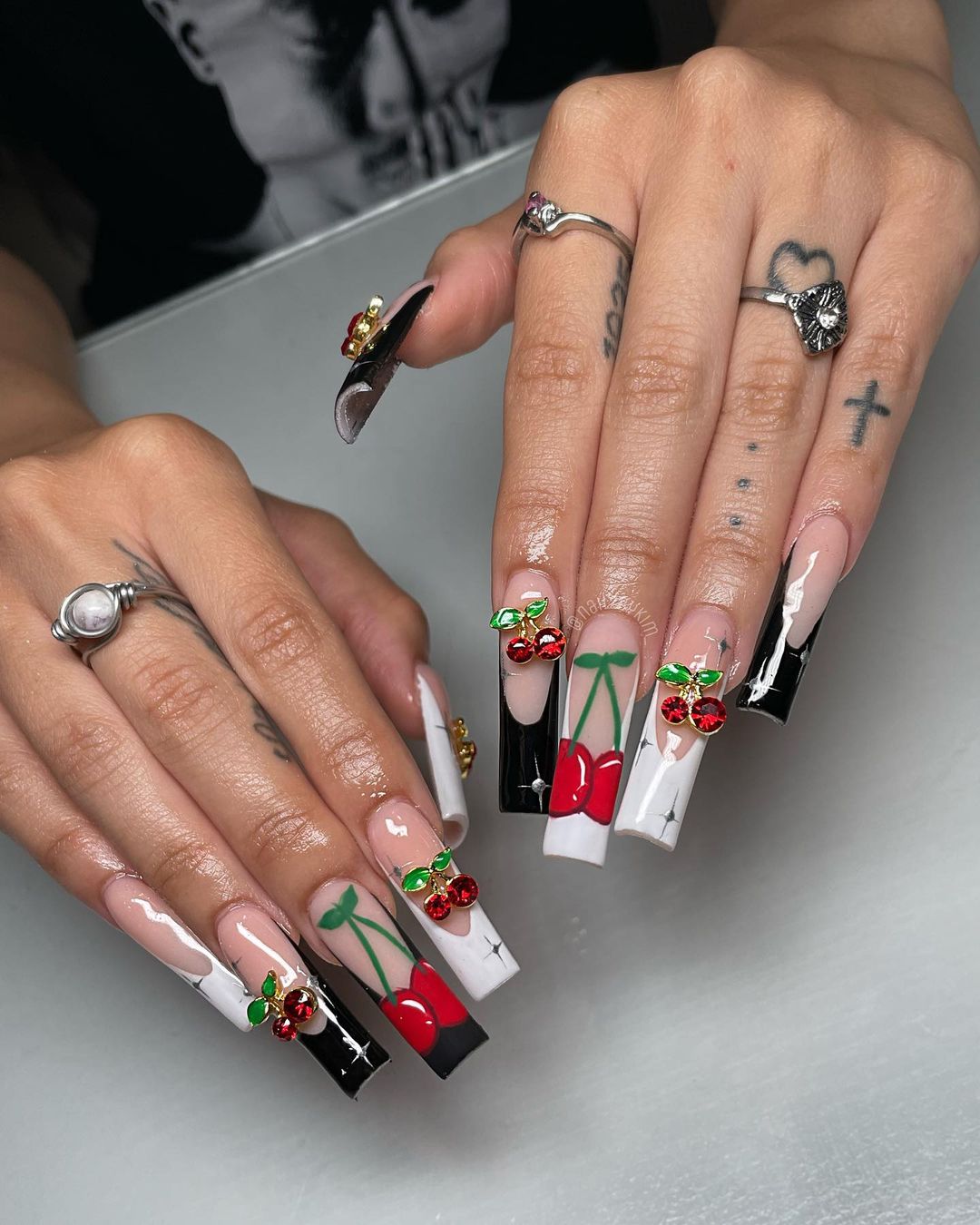 via @nailzbykim_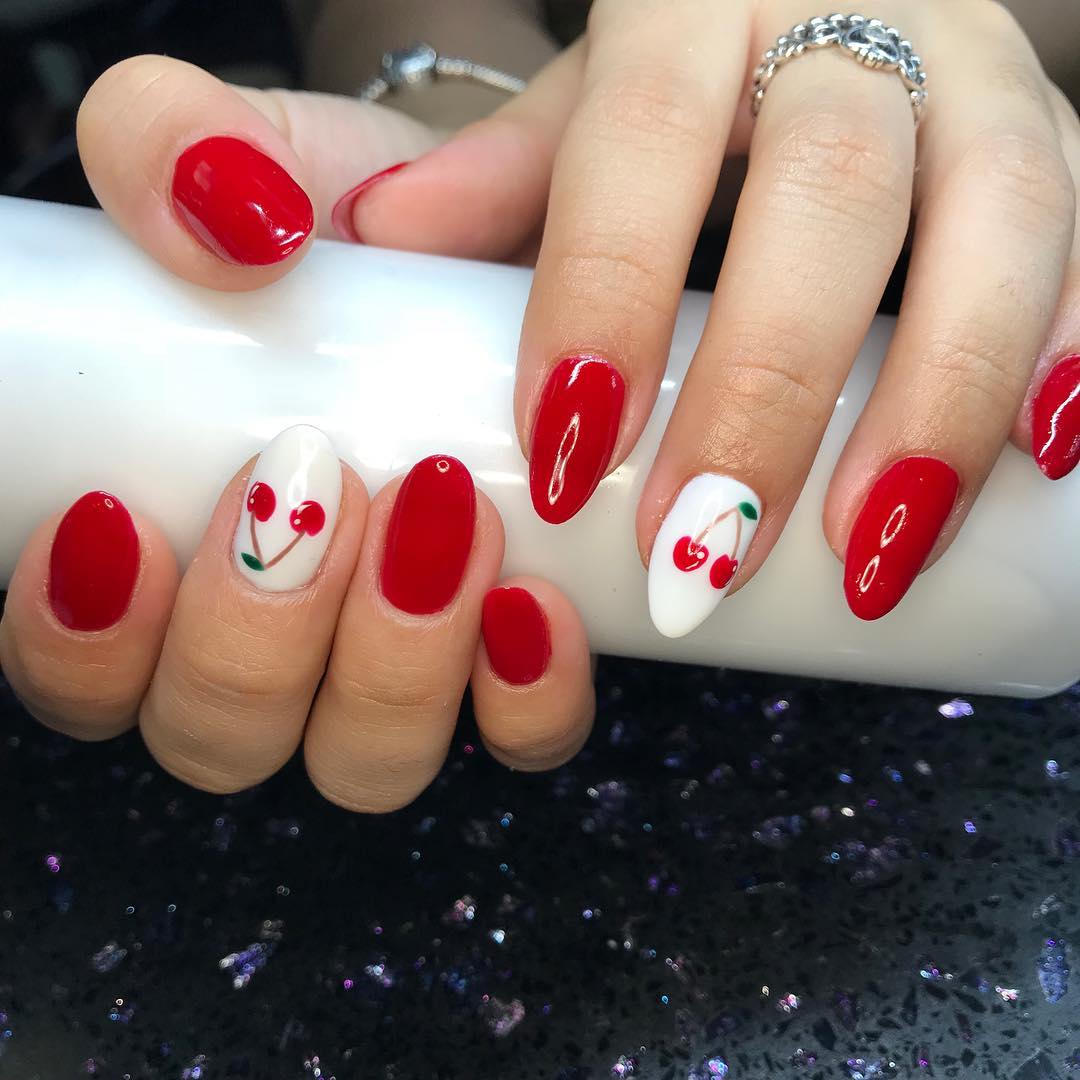 via @nailsbydaisyle
Pastel Pink Cherry Nails
Switch up your summer manicure with a delightful twist – pastel pink cherry nails! Who says cherry nail design must stick to the classic scarlet shade? Add a touch of sweetness to your look by adorning your nails with charming pink cherry accents in soft pastel hues.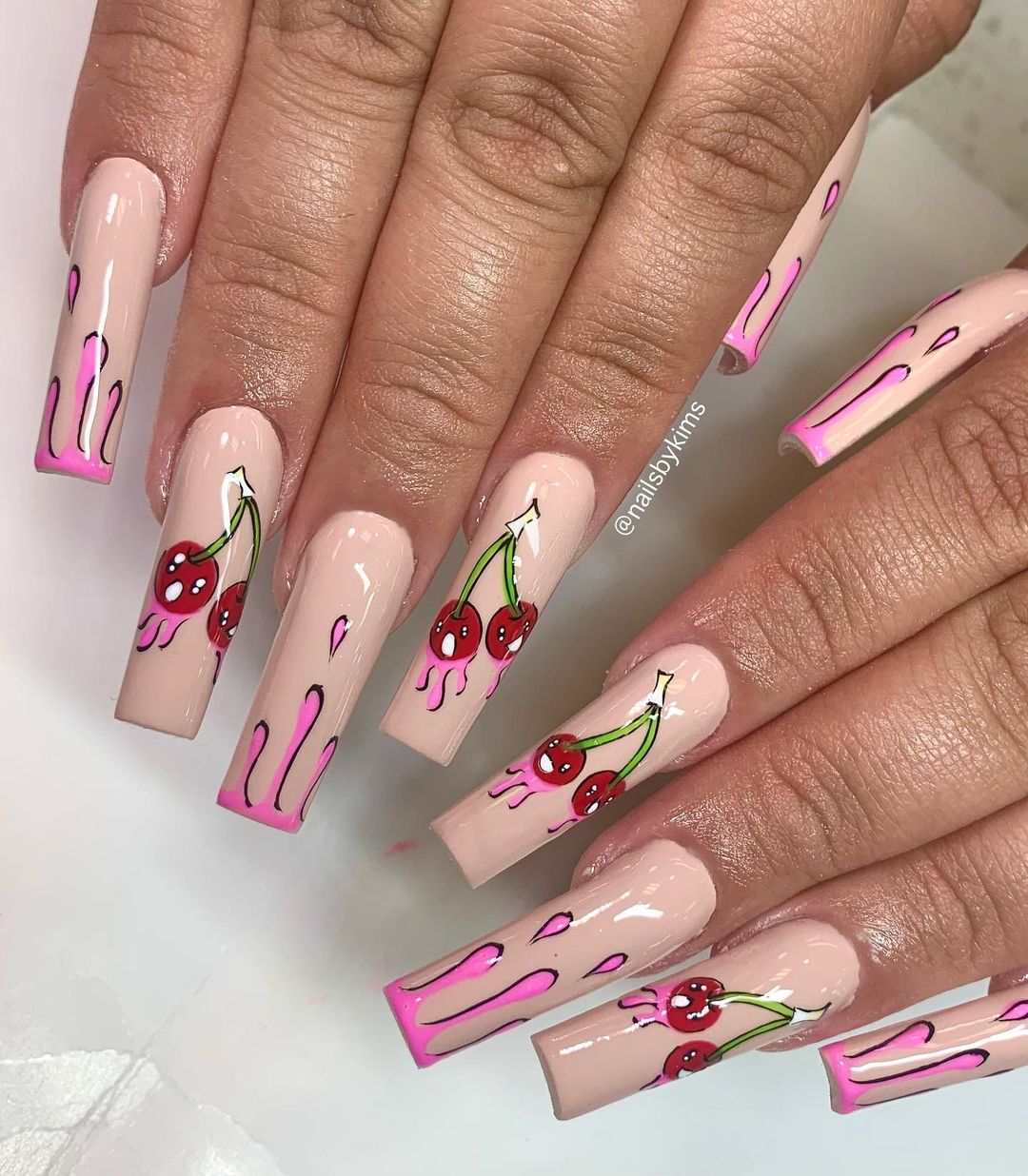 via @nailsbykims
This juicy summer manicure adds a dainty and refreshing vibe to your fingertips, proving that cherries come in a range of delightful colors beyond the traditional reds.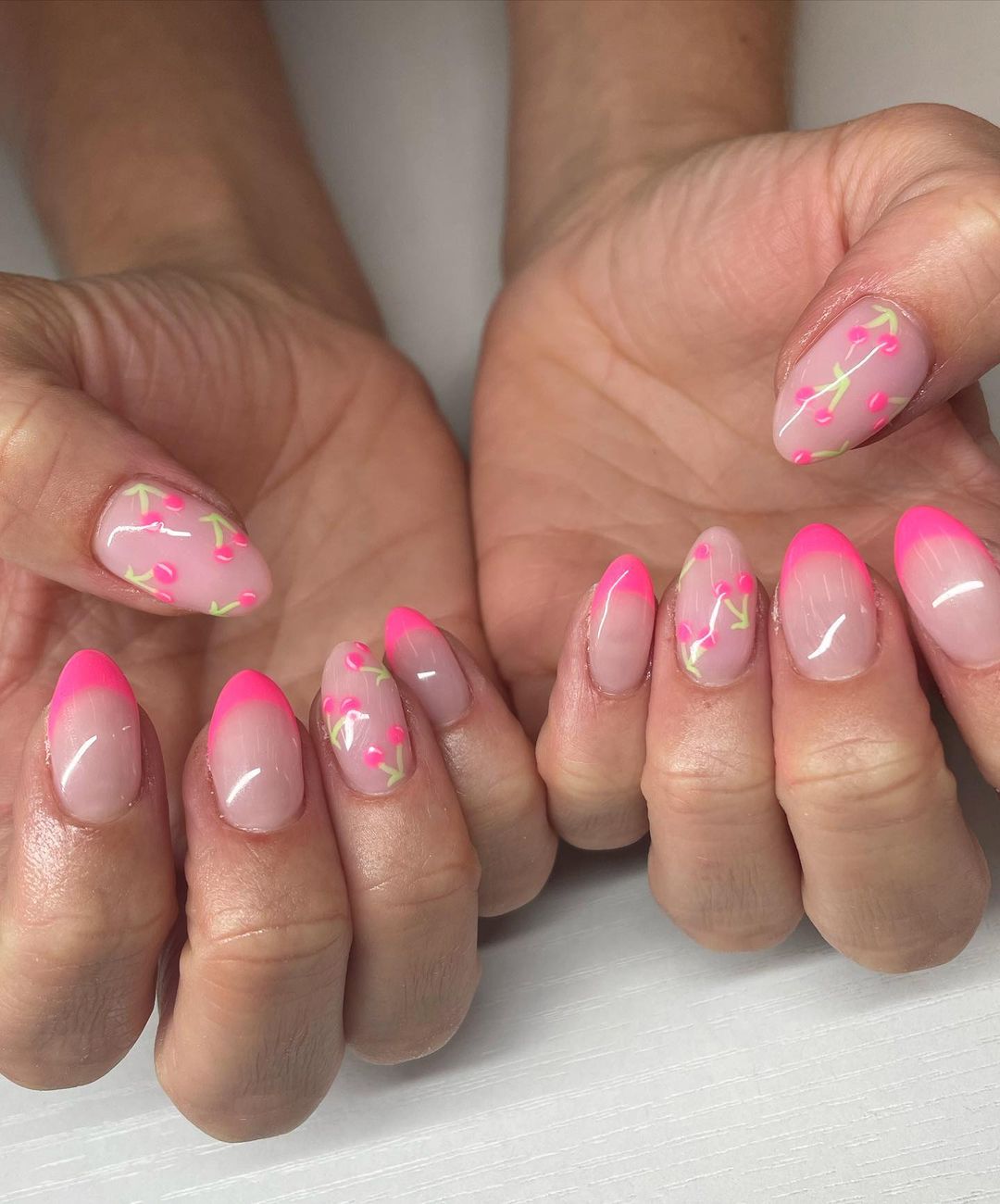 via @han.polished
Bold Black Cherry Blossom Nails
Take your summer nails up a notch with a touch of elegance and edge through stunning black cherry blossom art. Adorning your mani with spellbinding cherry blossoms in striking black will give a bold twist to traditional spring cherry art.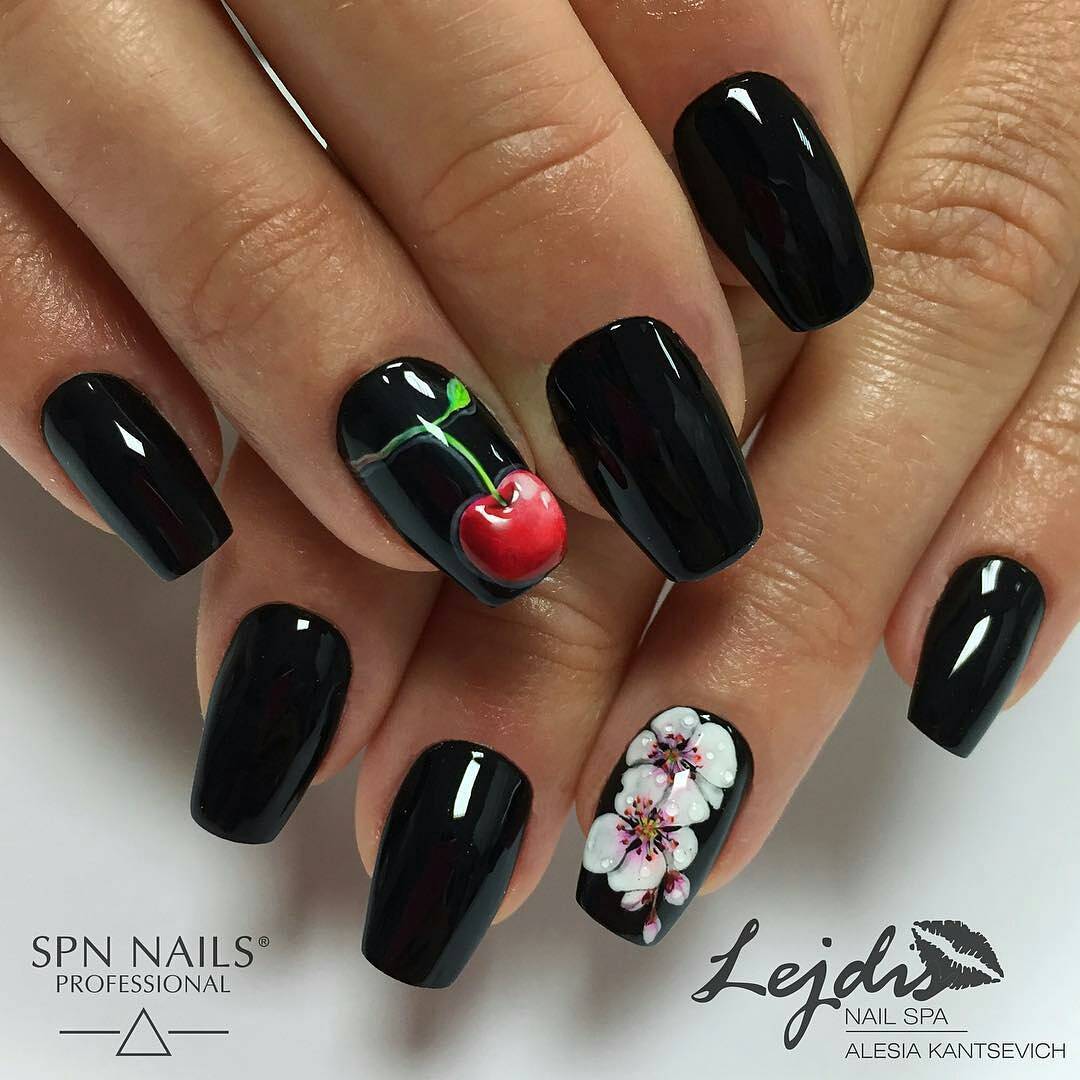 via @slider_like
This unexpected yet magnetic choice will surely make a statement and add a unique flair to your nail game, proving that cherries can be sweet and stylishly edgy.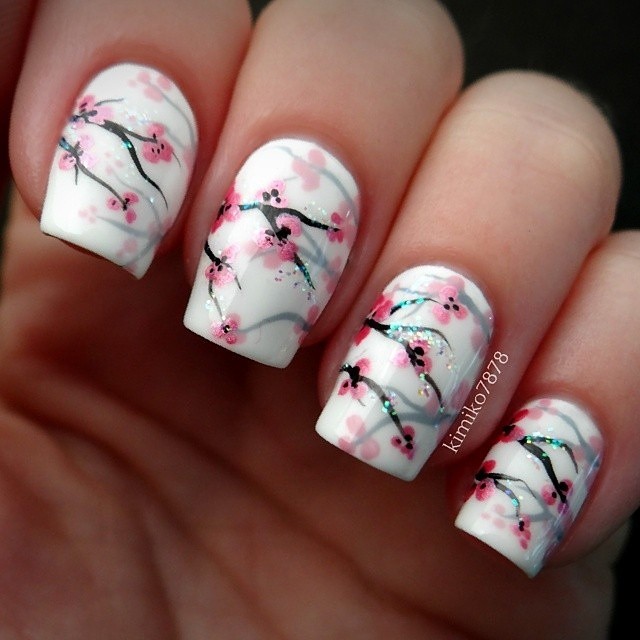 via @whatsupnails
Elegant Cherry Nails with French Tips
While the timeless French mani holds its allure, incorporating trendy motifs like cherry art can give it a delightful spin. Picture delicate cherries adorning the tips of your nails, seamlessly blending the sophistication of classic French tips with a touch of whimsy. This fusion of traditional and trendy designs creates an eye-catching balance worth an A-list celebrity's Instagram!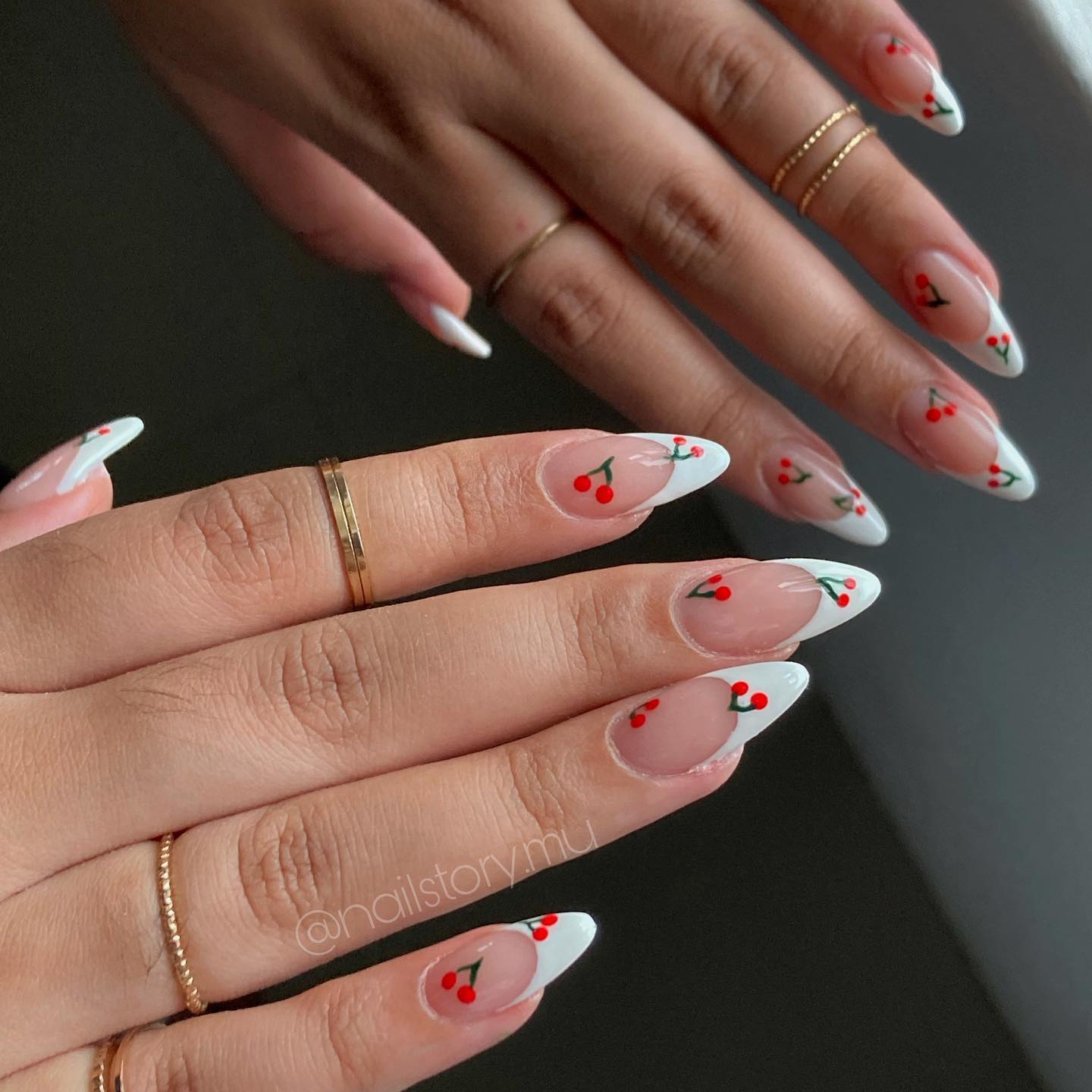 via @nailstory.mu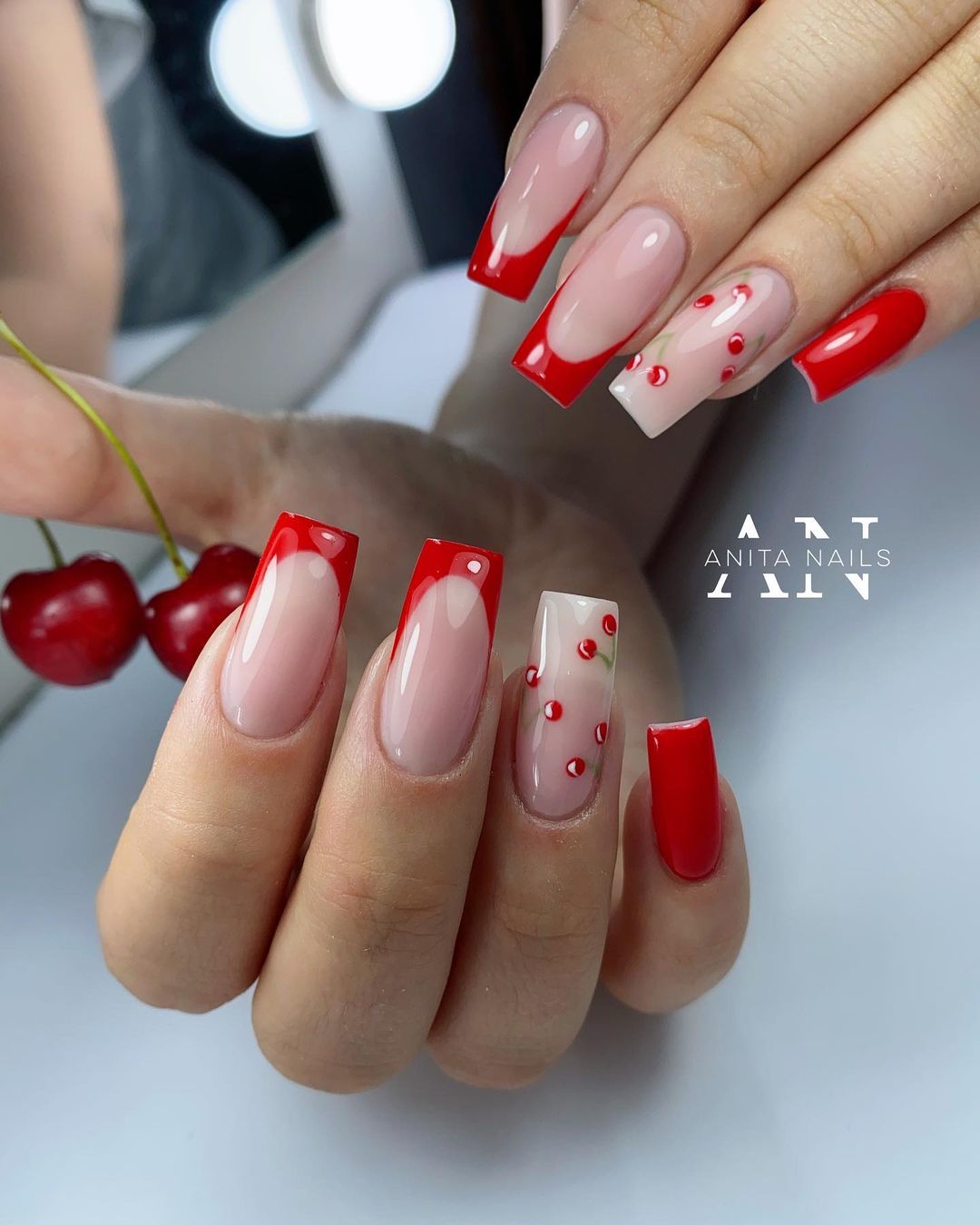 via @anitanailsss
Seamless Cherry Ombre Nails
Opt for seamless ombre nails with a cherry design to achieve nail art perfection. Create a smooth transition from deep hues to lighter shades, serving as the perfect backdrop for cherry art on nails. Let the vibrant cherries delicately adorn your nails, seamlessly merging with the ombre effect for a harmonious look.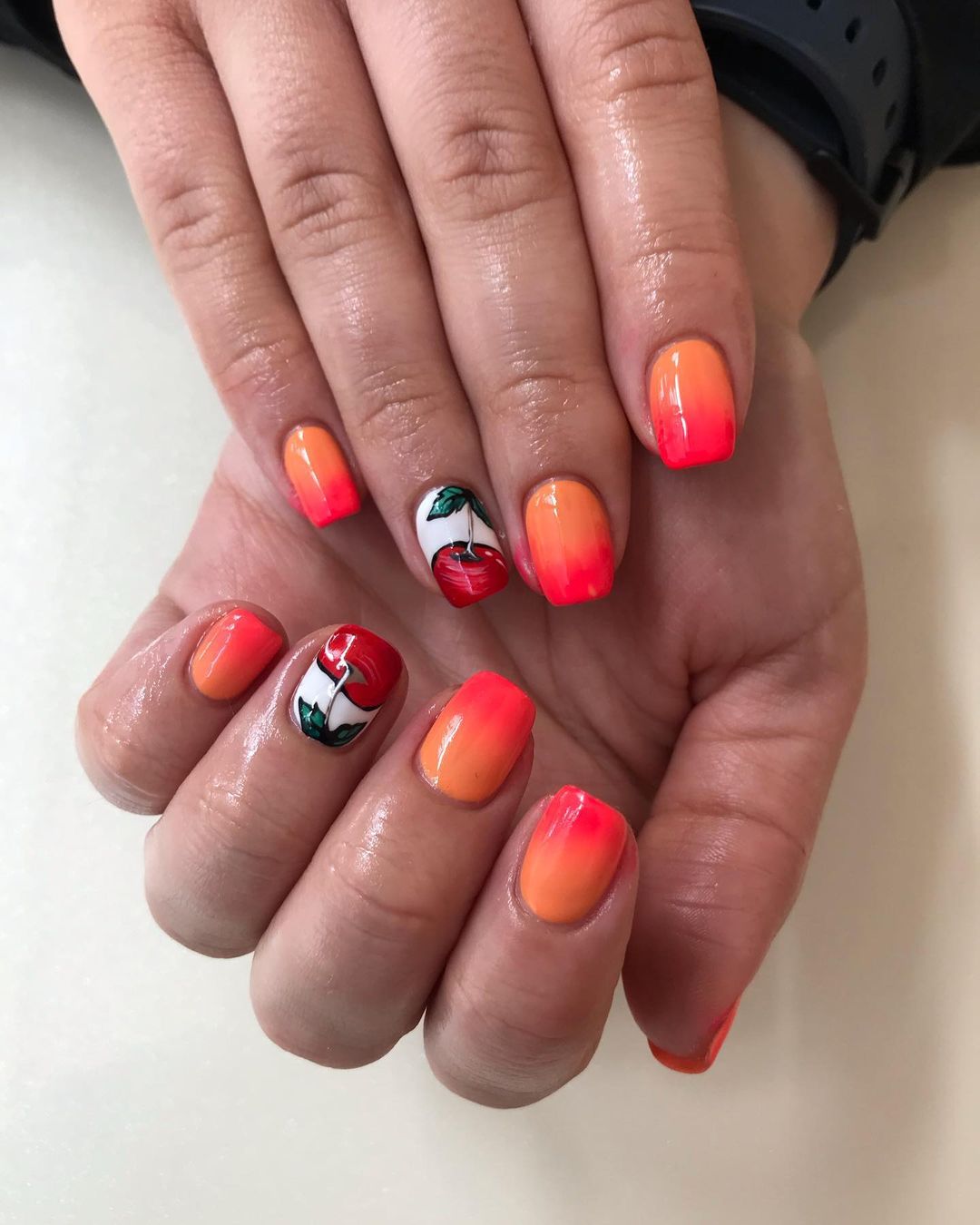 via @tedi_nailss
This combination of artistic techniques ensures your fingertips are transformed into a masterpiece, where the cherry trend meets flawless ombre finesse.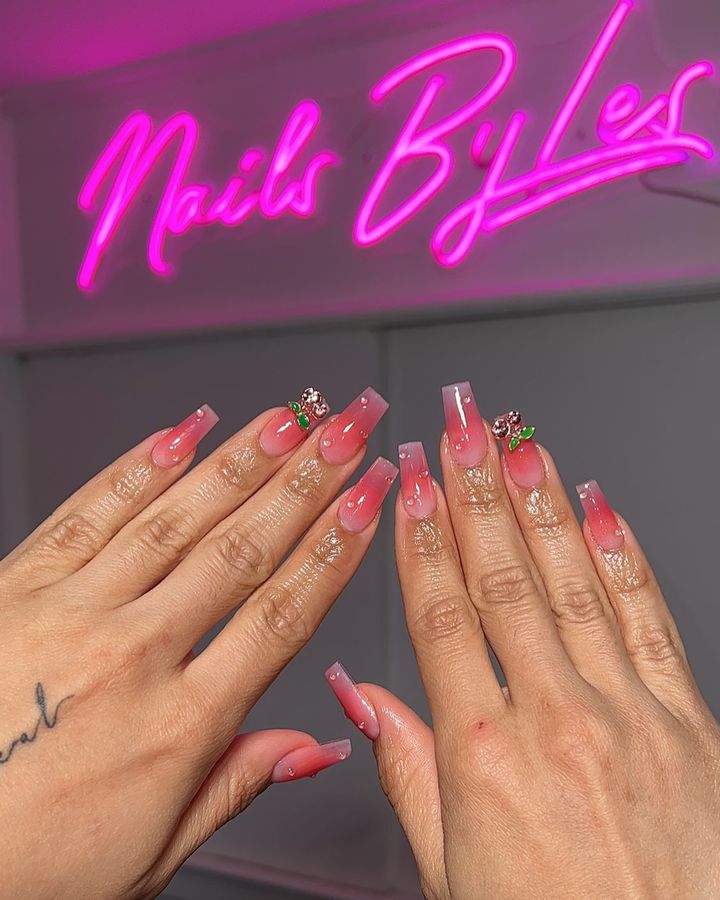 via @nails_byles
Glitzy Cherry Nails with Rhinestones
In the mood for a summer manicure idea with a touch of dazzling glam? Sparkle your manicure with rhinestones to create a striking contrast against the delightful cherry motifs.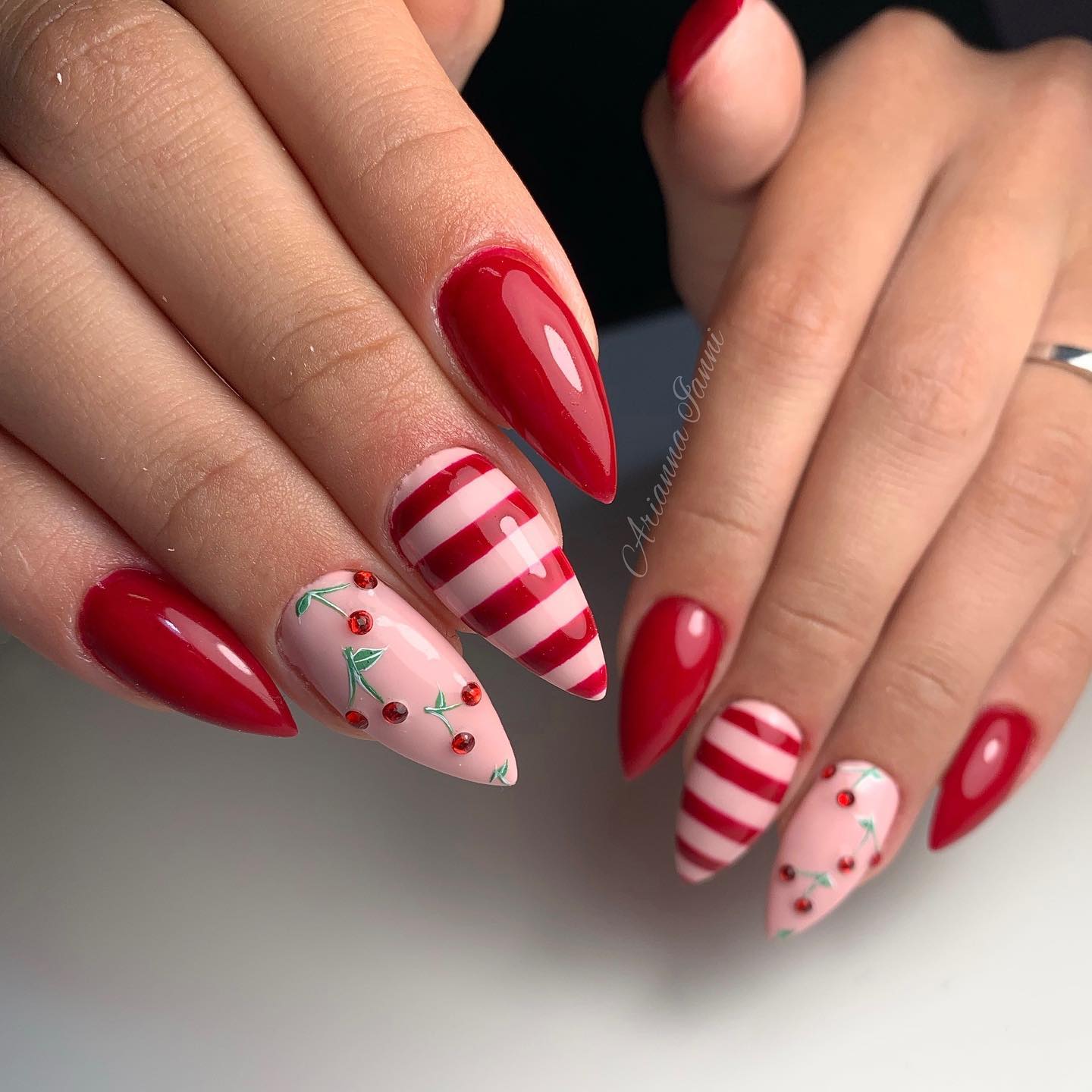 You can discover unique and imaginative 3D cherry designs on platforms like Etsy, offering various artistic possibilities. Picture vibrant cherries vividly embodied in three dimensions, accentuated by the shimmer of rhinestones. Simply irresistible!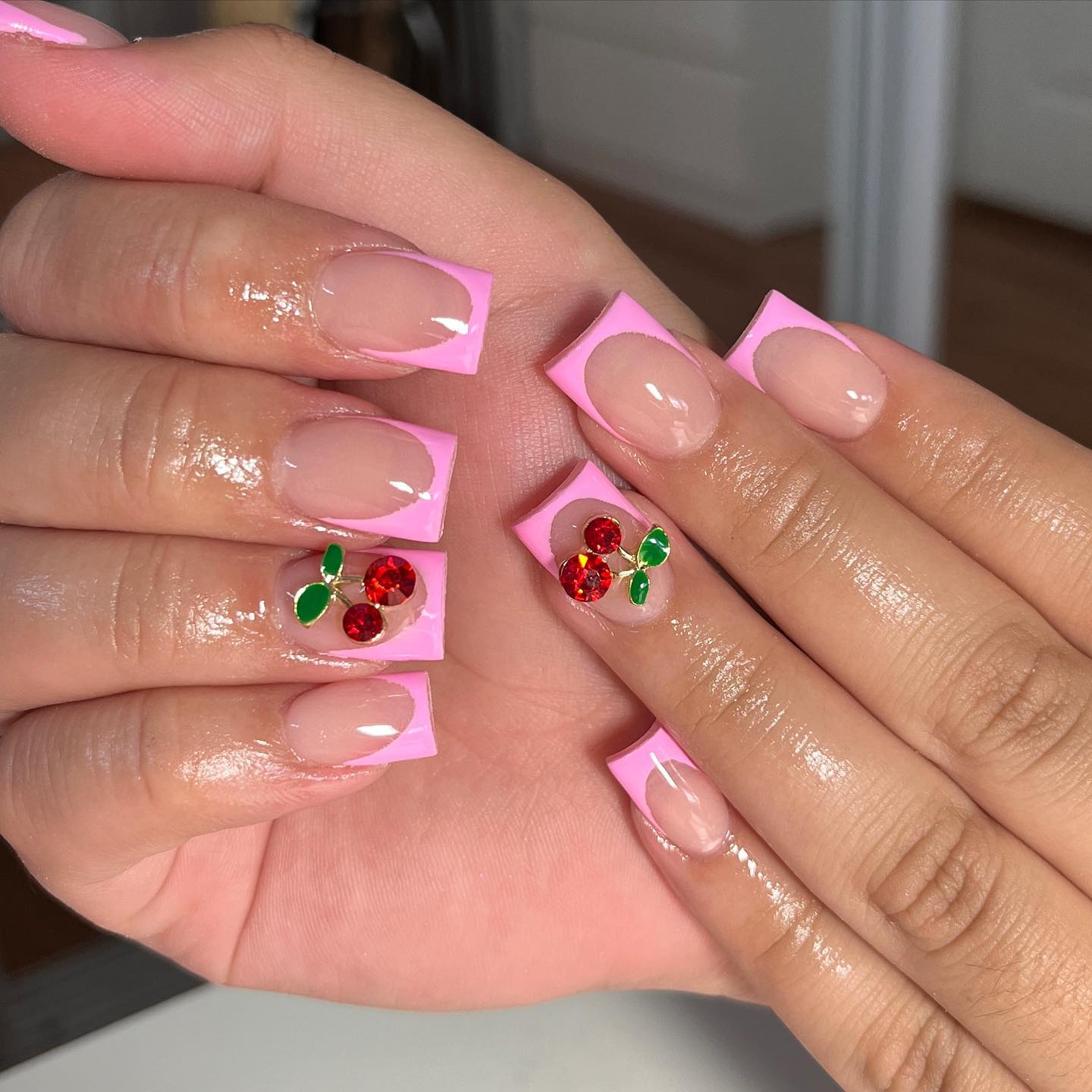 Velvety Matte Cherry Nails
Indulge in the luxurious allure of velvety matte cherry nails! Step away from the glossy norm and explore the uniqueness of matte nail designs. With the charm of cherry nail art and the richness of red nail polish, this combination brings forth a sophisticated yet playful vibe we all love.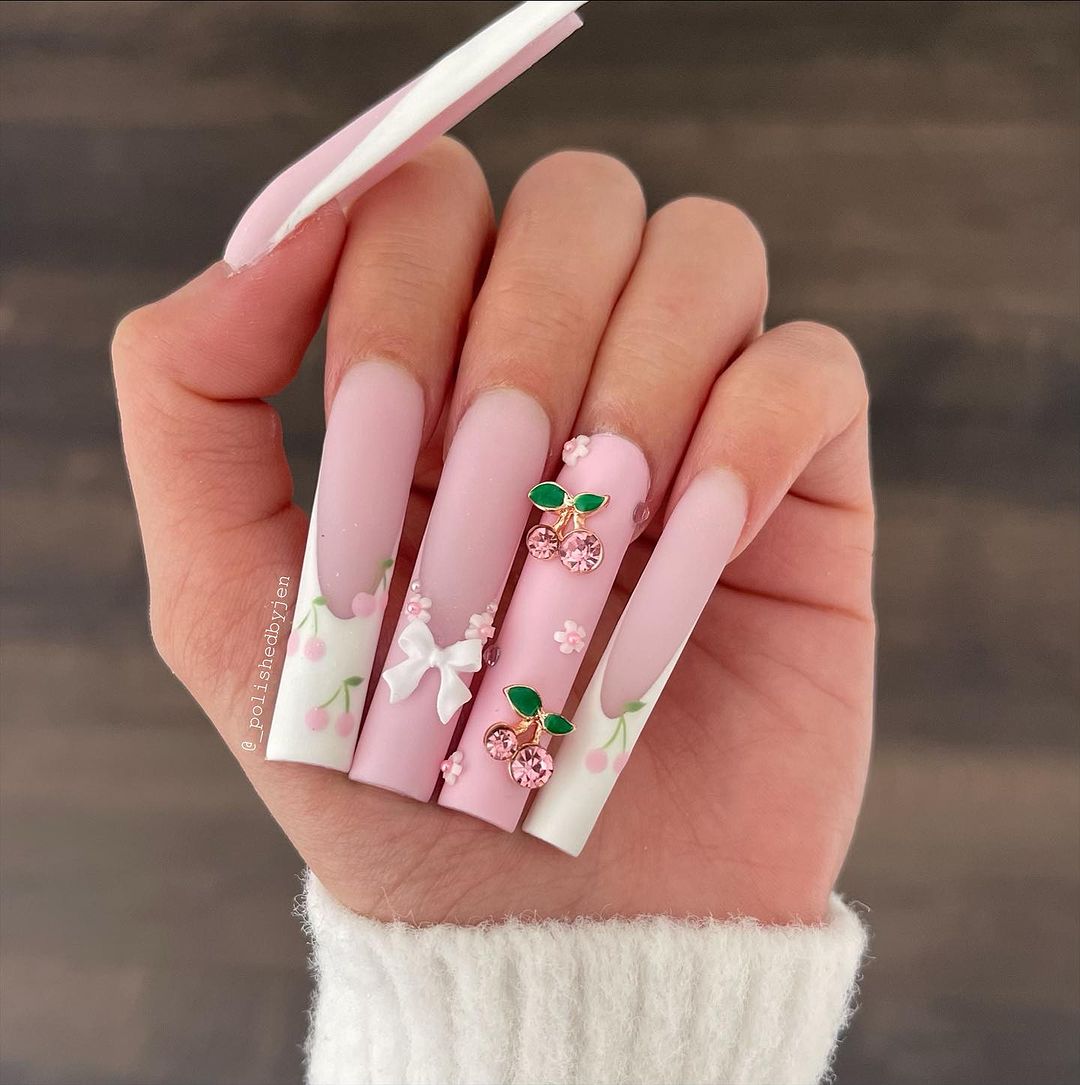 via @_polishedbyjen
Matte finishes not only exude elegance but also offer a subtle twist on traditional shine, allowing your cherry-inspired nails to stand out with a refined flair.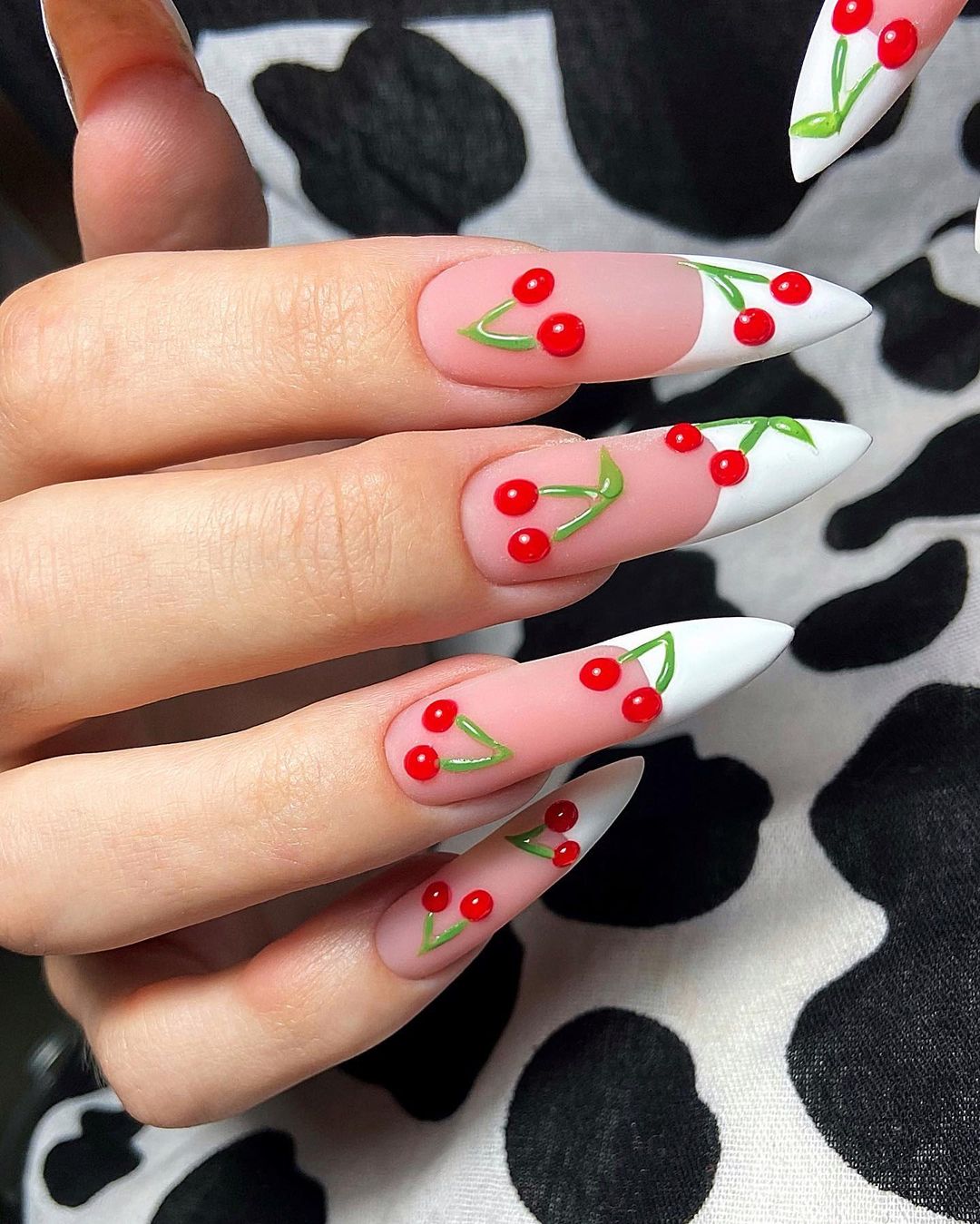 via @krasivo_here
Cute Short Cherry Nails
Short nude nails offer a practical yet stylish advantage, making daily tasks a breeze. The best way to enhance the sweetness is by adding a glossy coat that will bring out the vibrant color of the cherries and create a polished finish. Unveil a world of creativity where size doesn't limit style, showcasing your personality with this cute and dainty cherry nail art.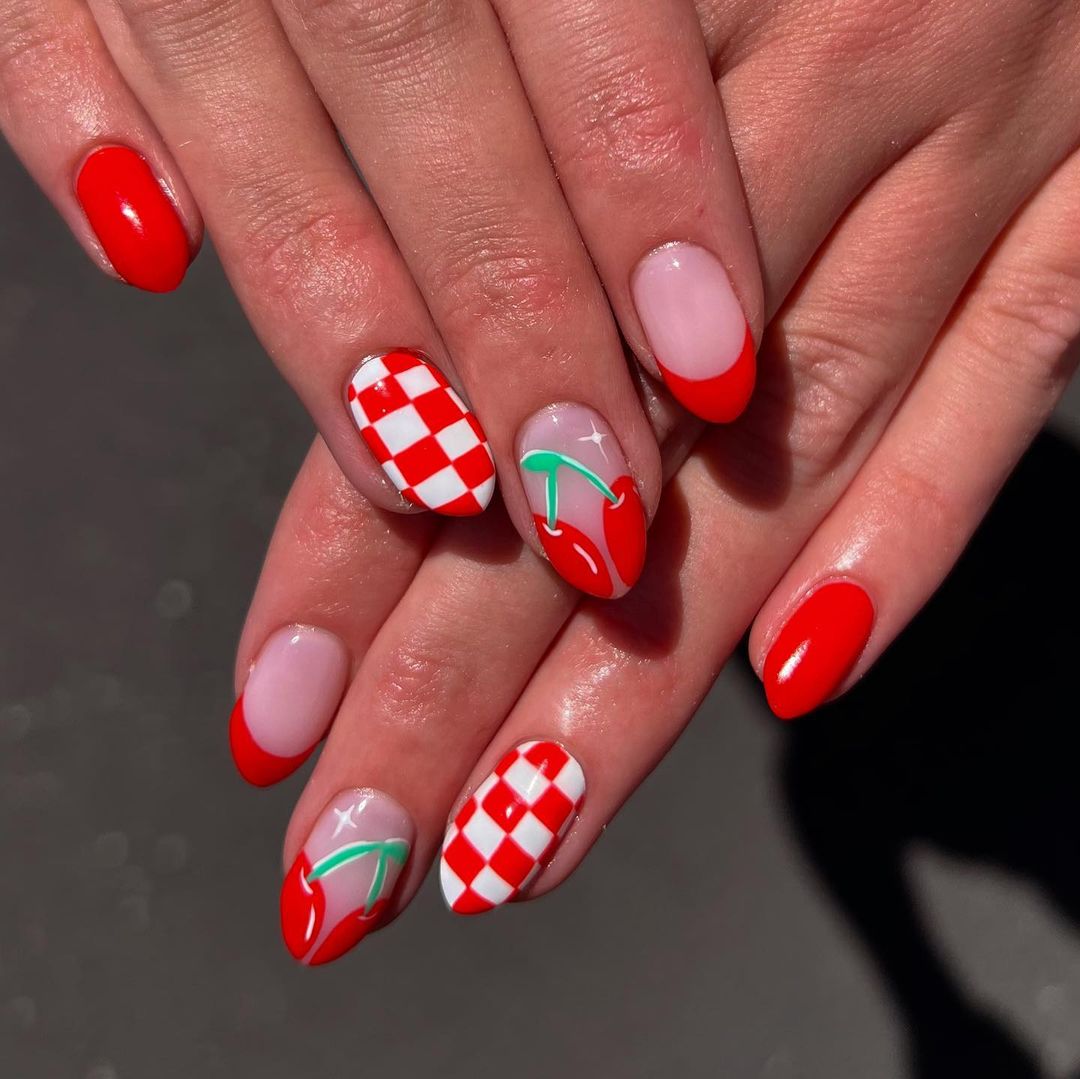 via @mynailgirlness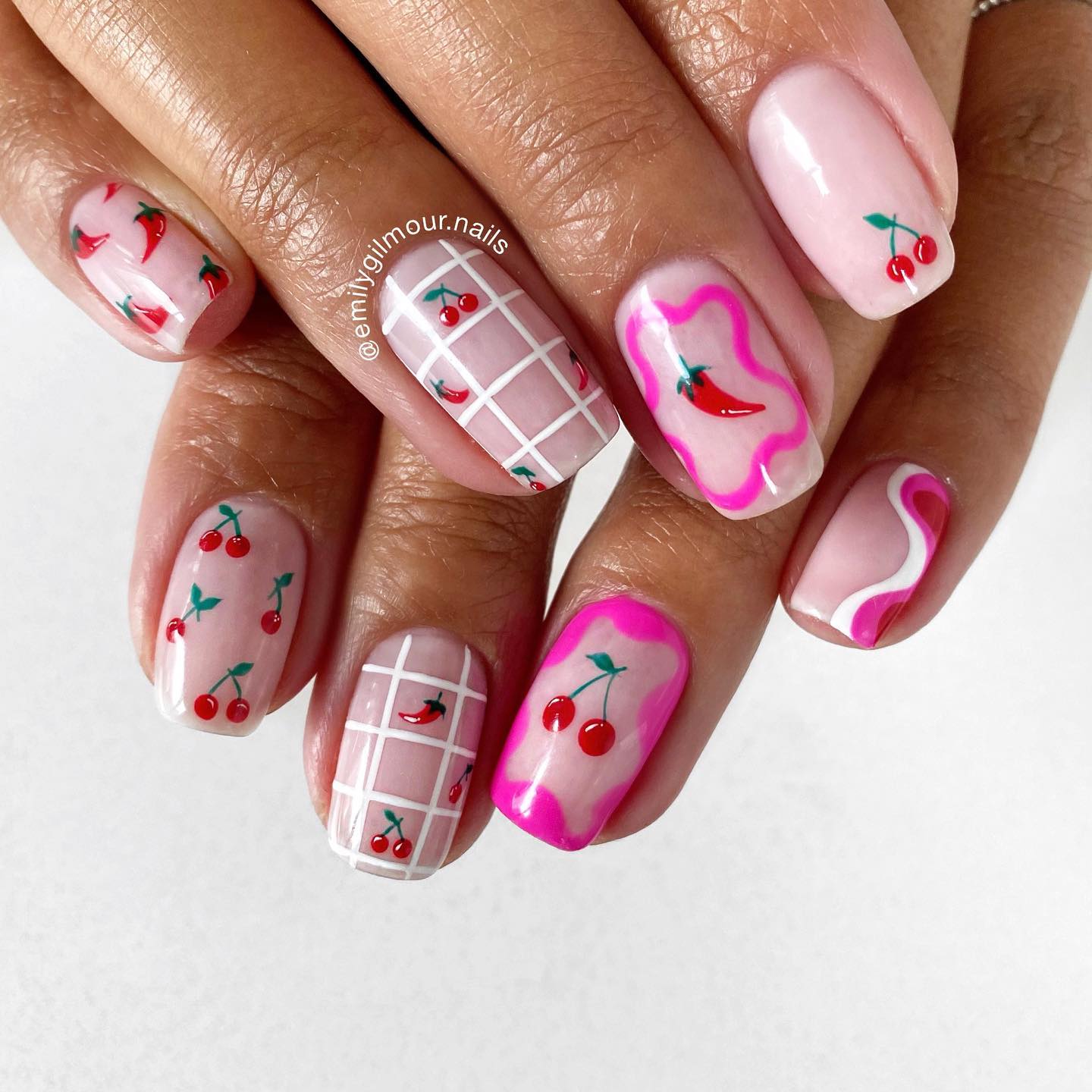 Shiny Chrome Cherry Nails
Achieve head-turning elegance with the shiny chrome nails trend that takes the colour red manicure concept to a new level. The chrome finish adds a touch of mesmerizing brilliance, creating a mirror-like effect that beautifully accentuates the charm of cherry nails.
These luscious ruby cherries shine like neon lights against a gleaming metallic backdrop delivering a startling contrast that commands attention.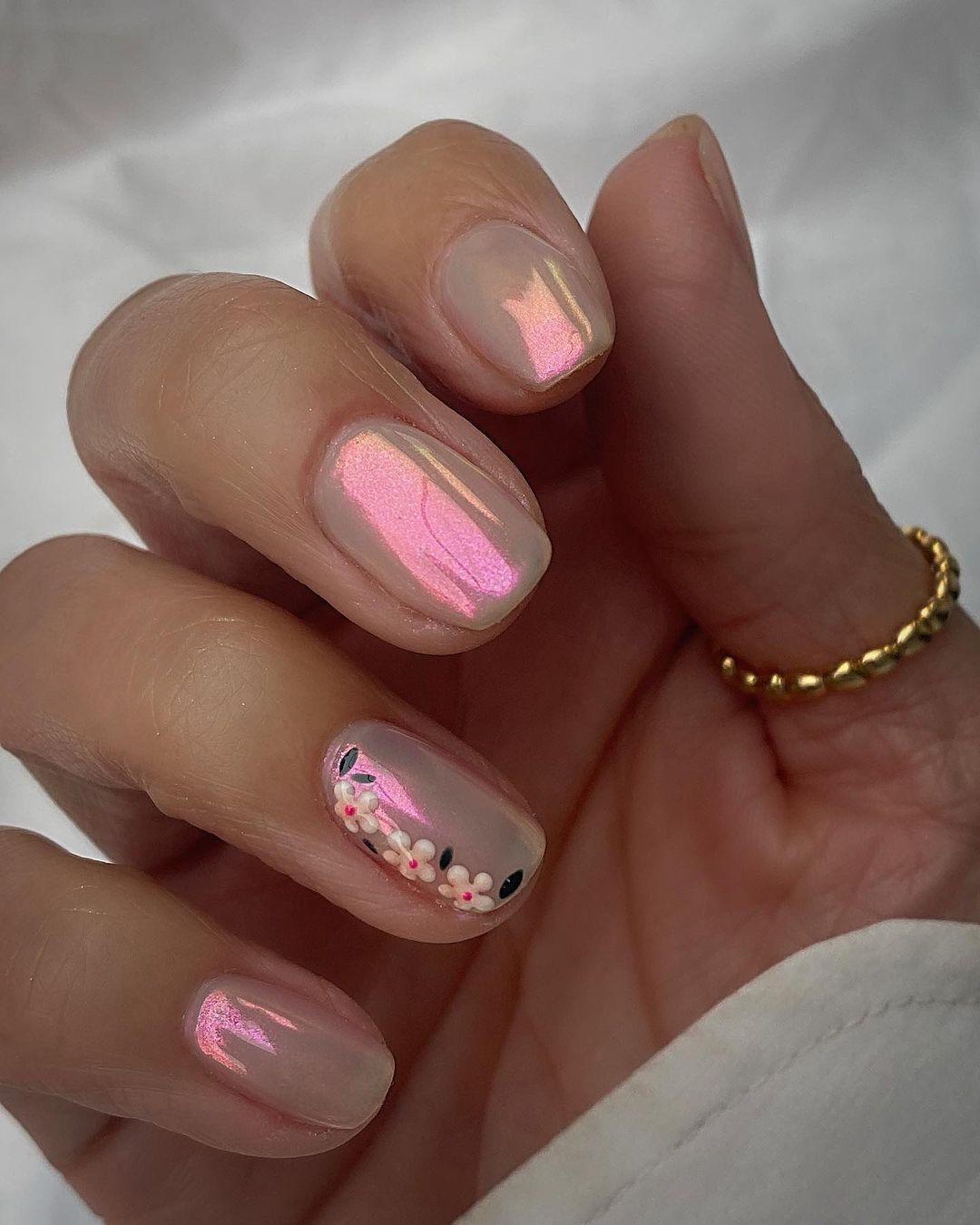 Sparkly Glitter Cherry Nail Designs
Add a touch of whimsy to your cute colorful mani with sparkly glitter cherry nail designs that redefine the classic French tip. Imagine the charm of red cherry nails adorned with a lively twist – delicate French tips dusted with shimmering glitter. This imaginative fusion brings a touch of glamour to your French mani, transforming a timeless favorite into a dazzling work of art.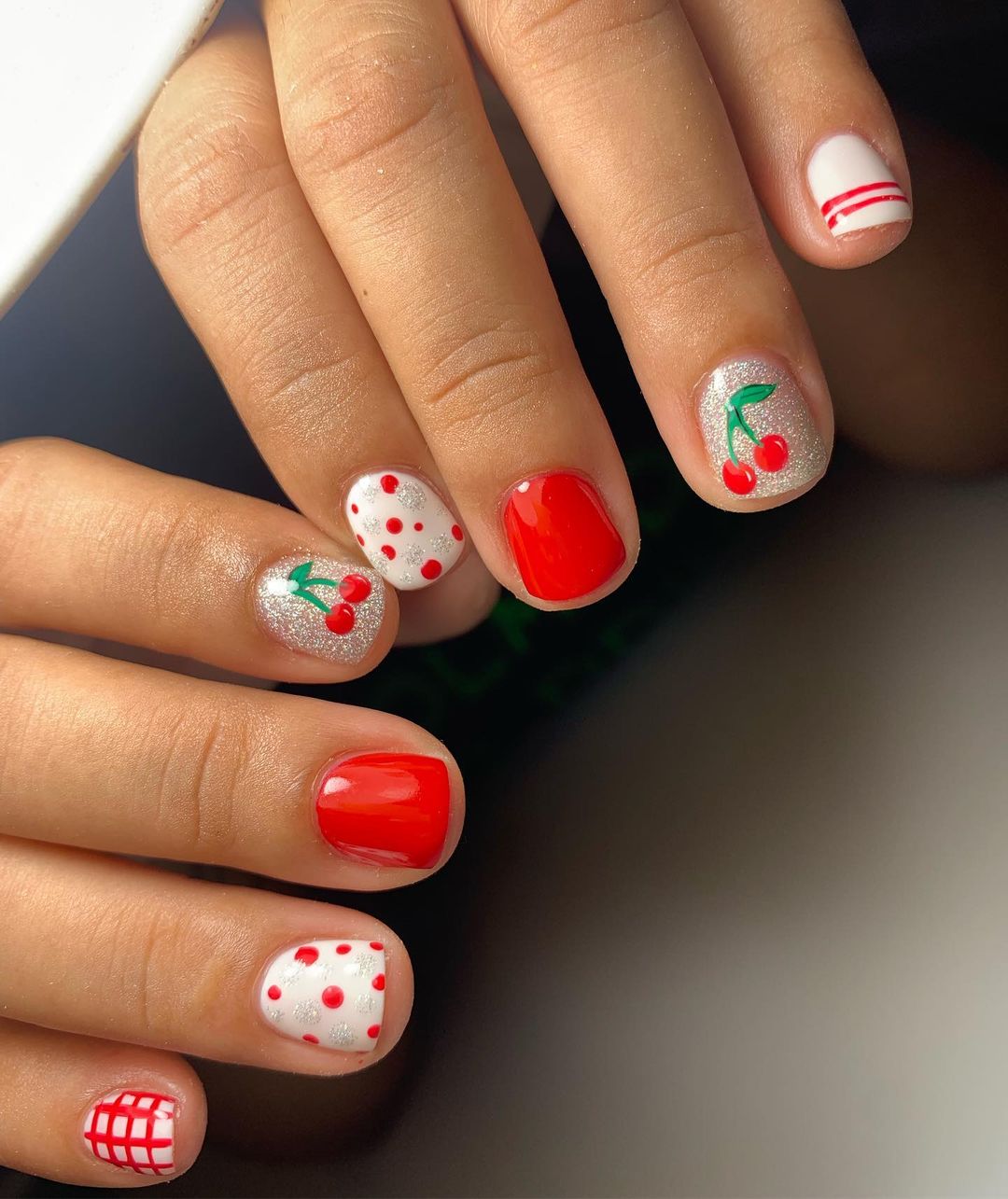 via @natzu_nails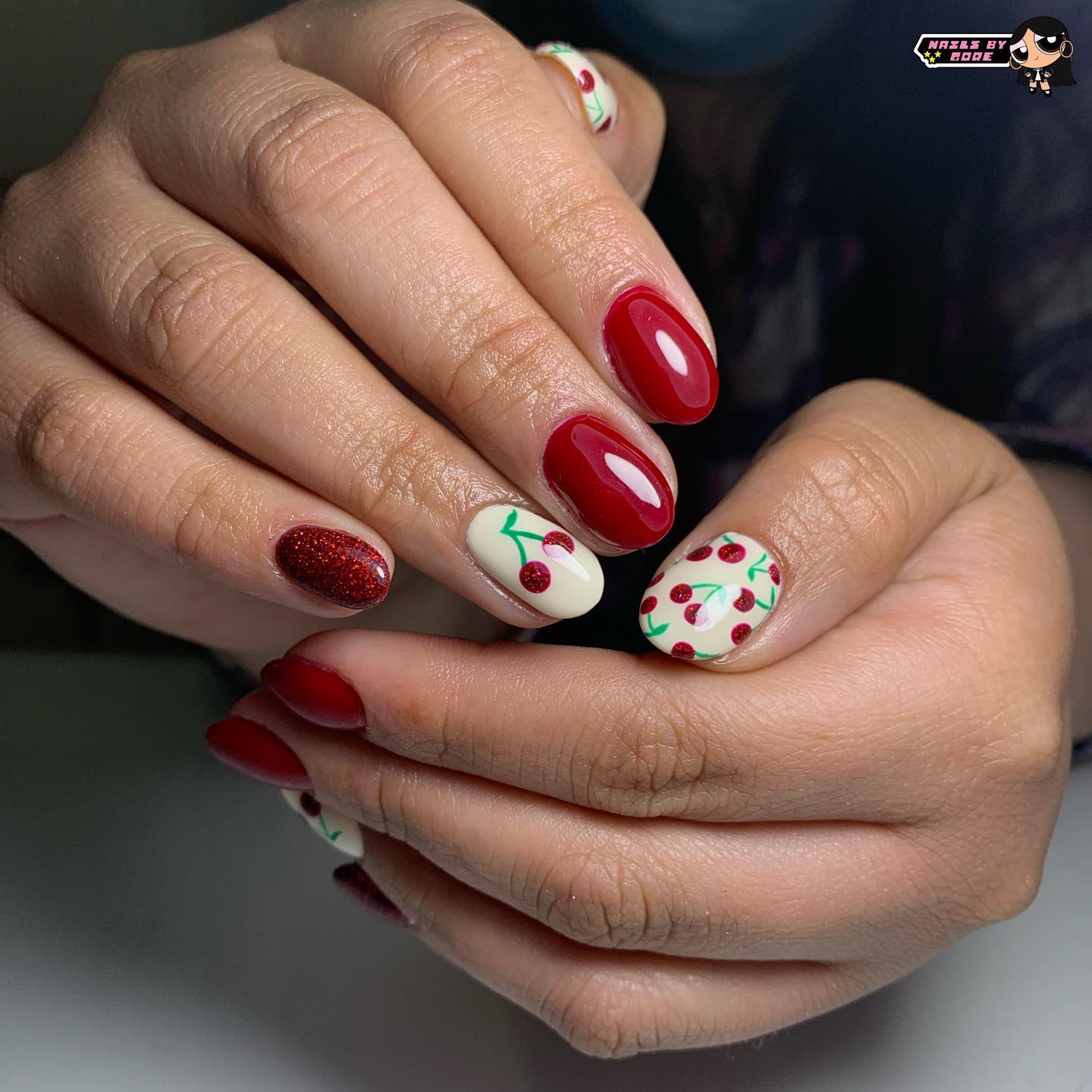 via @nailsbygore
FAQ
How to use cuticle oil?
Using cuticle oil is simple and beneficial for your nails. Gently apply a small amount of the oil onto your cuticles, then massage it using circular motions. This helps moisturize and nourish the cuticles, promoting healthy nail growth and preventing dryness. Regular use, especially before bedtime, can make a noticeable difference in your nails' overall health and appearance. It's a quick, pampering step that adds a touch of self-care to your routine.