Are you fond of painting and polishing your nails? If so, do you use a single color, or are you satisfied with transparent nail polish? Sometimes, it's fun to explore your creativity and do something you've never done before. Guess what? Ombre nail colors are a must-try!
Ombre nails are one of the manicure trends that will never go out of style. You can play with any color combination that suits your style and personality and matches different occasions. Check out our list of beautiful nail color ideas below:
1. French Ombre
Add a twist to the stable French tips with this French ombre nail color. Like the French manicure, this nail design exudes posh and sophistication that works well with any outfit or event. It also looks great on ordinary days, such as your signature look at work or even just going to the mall. You don't need to have tons of glittery embellishments just to look polished—this French ombre nail design is all that you need!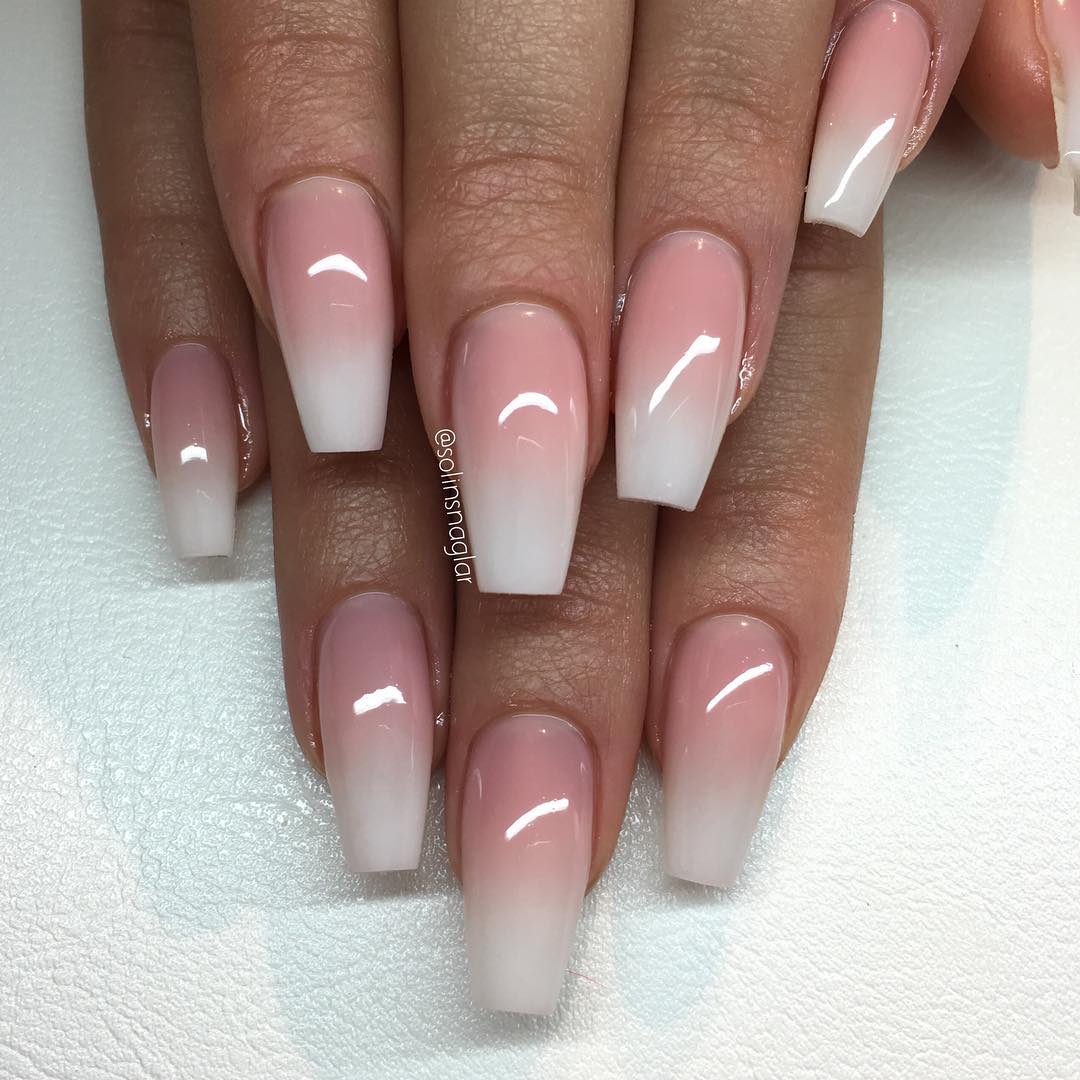 via @solinsnaglar
2. Natural Ombre Nails
If you're not used to flashy nail colors, you can always select the natural-looking ones, such as nail polish with pink or light brown hues. If you want to add more character and style to your natural colored nails, you may create an ombre effect. To do so, you can choose one color and let it blend across your nail using a makeup brush to get the desired ombre effect.
Make your natural nails design more unusual, and enjoy a simple mani with a nice accent. Ombre nail art has already become classic and is relevant for any occasion.
via @tonysnail
3. Coffin Nails Ombre Color
Coffin-shaped nails are already a head-turner in itself. This nail design may be challenging for those who haven't tried it yet, especially that most coffin nails extend longer with their sharp angles. But once you apply an ombre effect on your nails, you'll appreciate its length as you can clearly see the ombre design. Just make sure to choose the right color combination for a perfectly stunning coffin nail ombre look.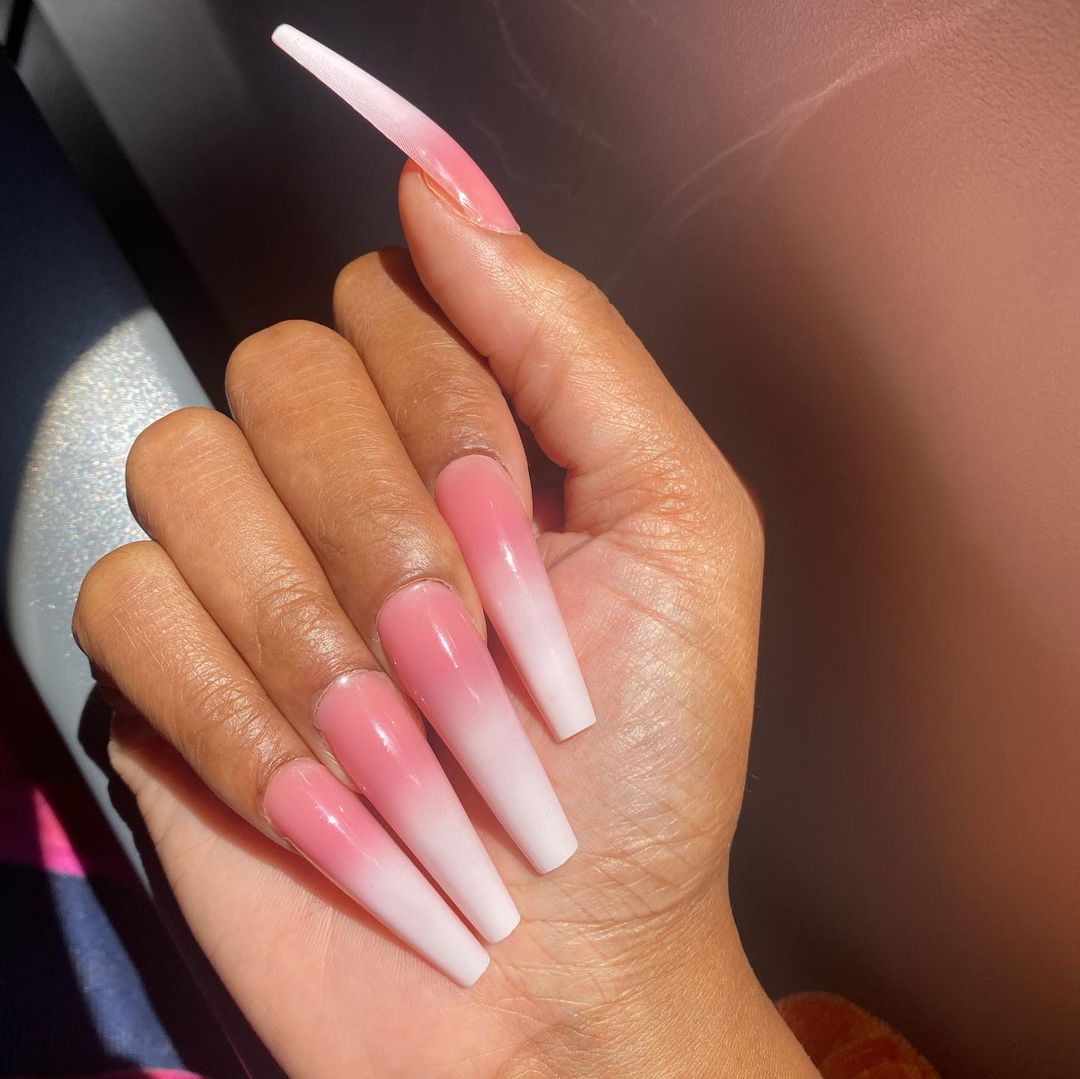 via @andelelara
4. Ombre Nails Winter Colors
Have you tried applying traditional white Christmas colors on your manicure, such as white, silver, and light gray? Not only are these shades minimal, but they perfectly match the cold winter season. Winters are all about coats and thick covers, and you need to beautify the part that's mostly seen by people—your hands! You can further put winter elements like intricate snow or snowflakes nail art, along with textures and embellishments to add depth and sparkle to your winter-inspired ombre nail design.
via @lexelucouture
5. Black Ombre Nails
Light shades may look good for a minimal ombre nail design, but the darker your ombre nail color gets, the more you can see its mesmerizing gradient effect. Dark color ombre nails are striking to behold especially if they're feathered out with white or gray hues. If you want to achieve an edgy but confident look, having dark color ombre nails may just be suitable for you. Not to mention black is one of the minimalists' basic favorites. Coffin or stiletto nails are considered the best option for such a manicure, which always looks attractive and bright.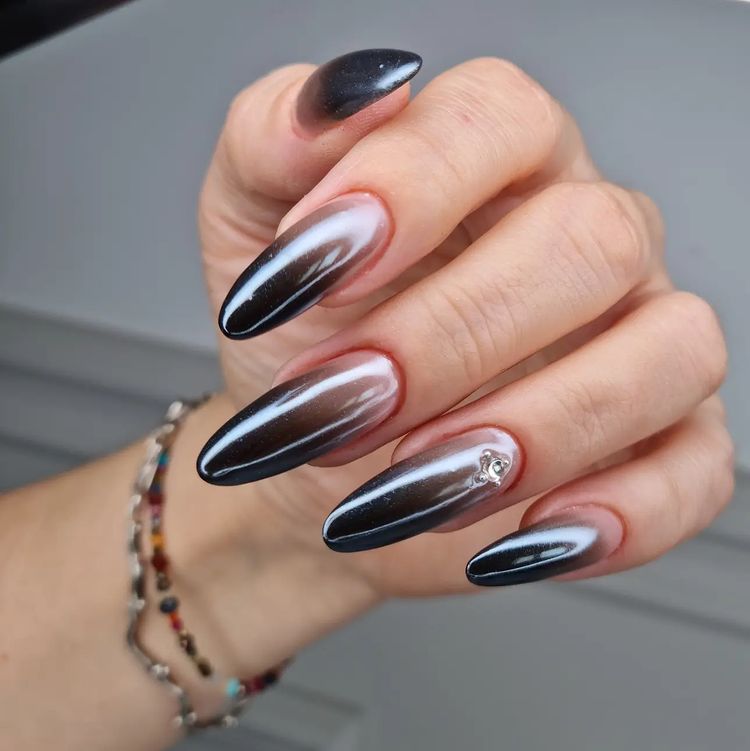 via @pazurantka
6. Glitter Ombre Nails
When spicing up your plain nails, don't just add life—add sparkle and glitter. You can do this with glitter ombre nails. This manicure approach is versatile, cute, and classy—just perfect for any age. You don't necessarily have to go to a nail salon to get this look since you can already buy glitter nail polishes online or in beauty stores. All you need to do is leave a part for any plain nail polish color before blending it with a glitter nail polish, and you're ready to shine!
An ombre manicure with glitters is a great idea for some special occasions or even for every day if your dress code allows bright nail design. Moreover, it's perfect for any nail shape, so pick your favorite art and go on!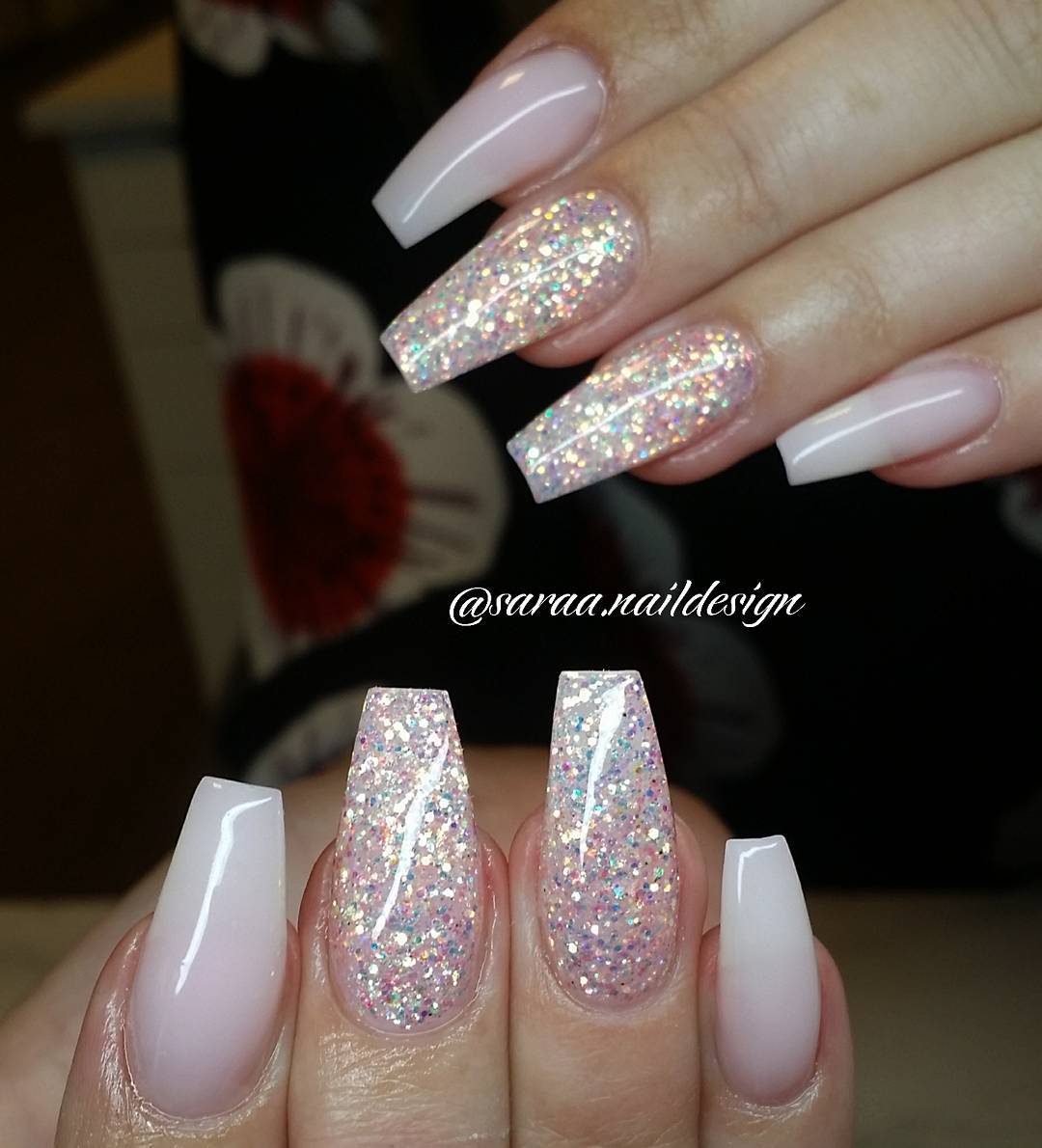 via @pinki_nails_mk
7. Pastel Colors Ombre Nails
For a preppy and more feminine look, go for pastel-colored ombre nails. This nail design is appealing and perfect for younger girls with bubbly and cheerful personalities. But then again, colors have no age assigned to them. So, why not pull off the pastel color ombre nail design in your 40s? Pastel colors—whether clothes or nails—can make you look and feel younger and fresher. They're also perfect for minimalists who prefer lighter shades.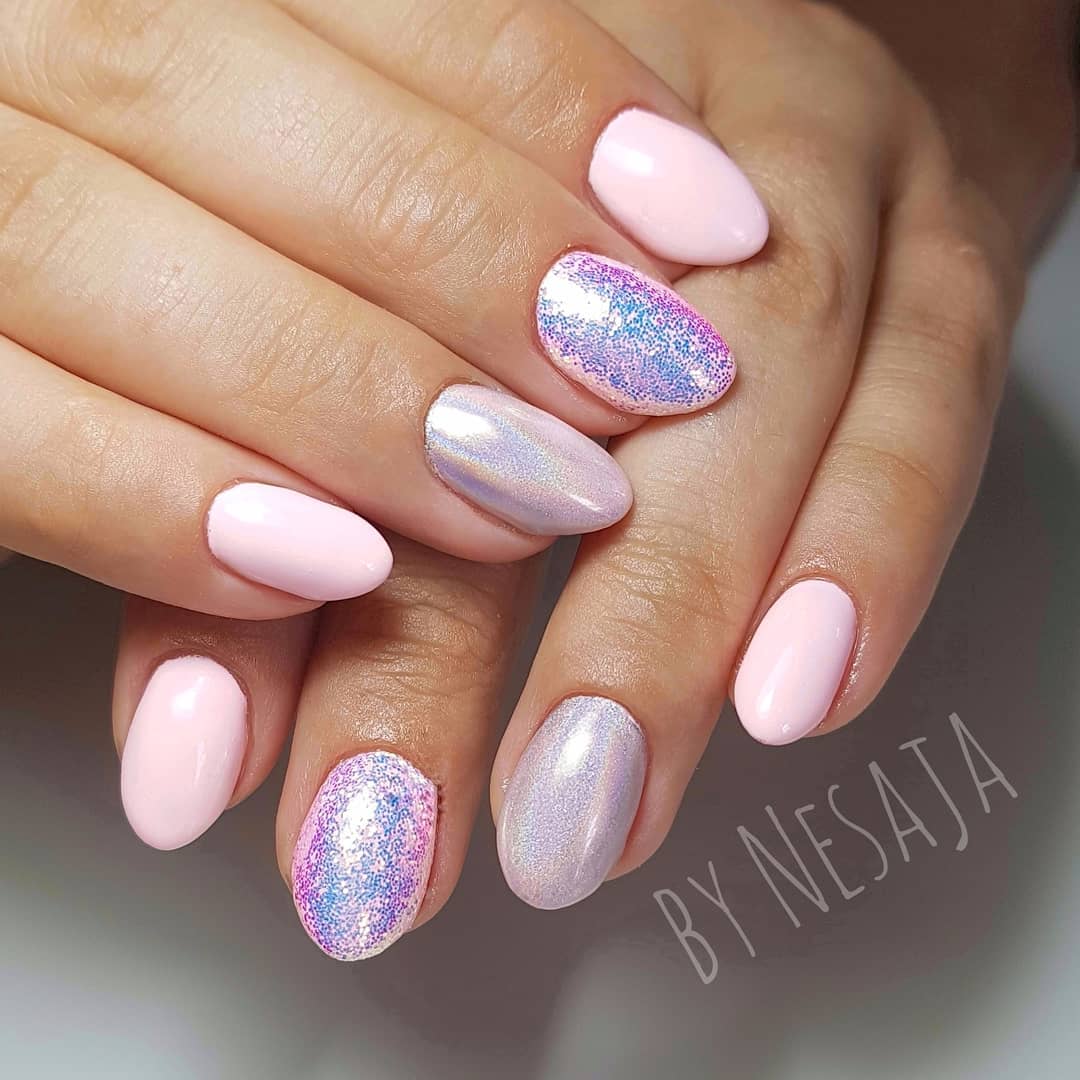 via @by.nesaja.nails
8. Two Tone Ombre Nails
This summer manicure idea is the best way to cheer yourself up and get an impressive nail design. You can make bright ombre nails with any color you like and enjoy your perfect nail design. Such a design is mostly made on almond-shaped nails!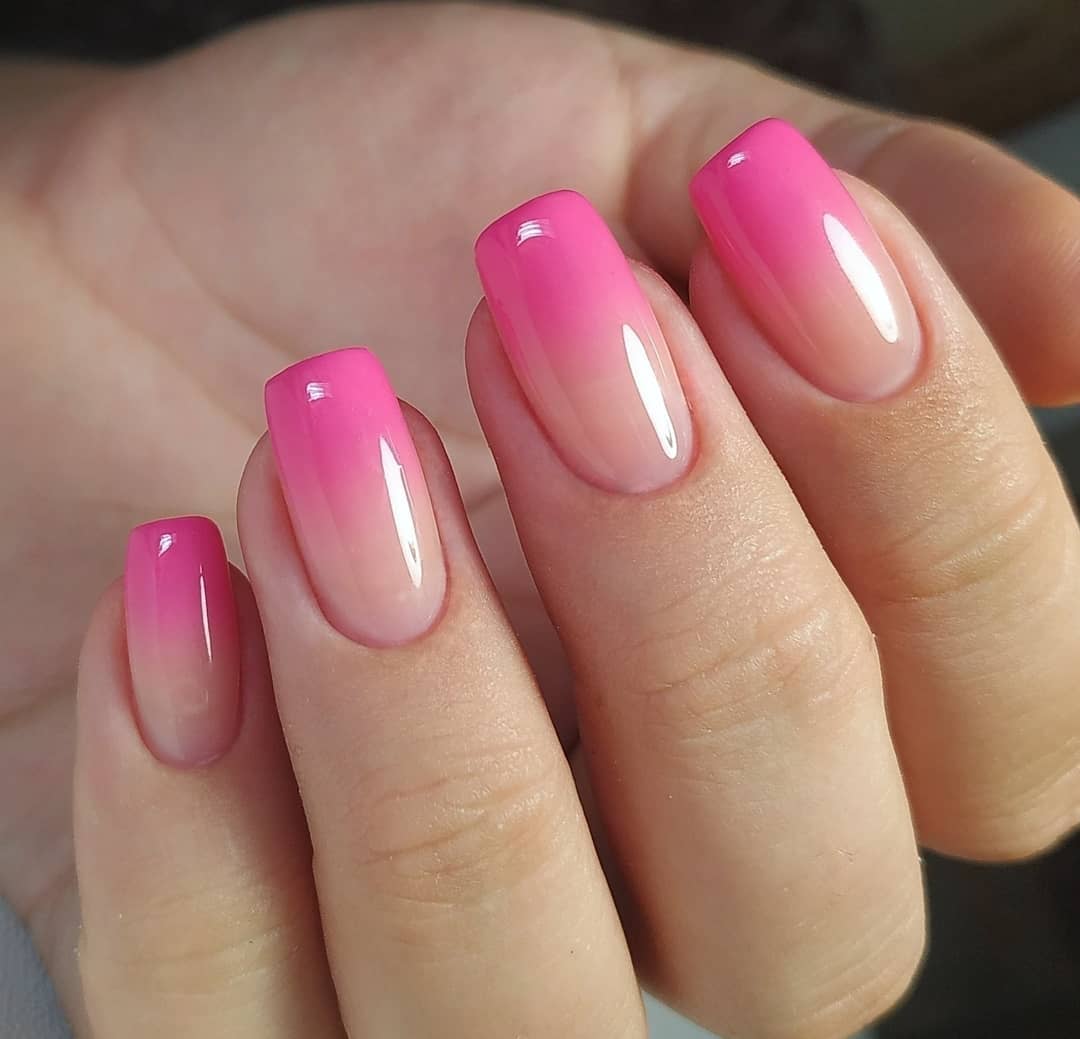 9. Ombre Nails Neon Colors
Who says neon colors are only for electronic dance music parties? Nails with ombre neon shades could be your next everyday look! Making an ombre out of neon colors can be fun, and the best thing about it is that it can suit any skin color. So, whether you're fair or tan-skinned, you can confidently wear ombre neon colors on your nails and rock any party you like!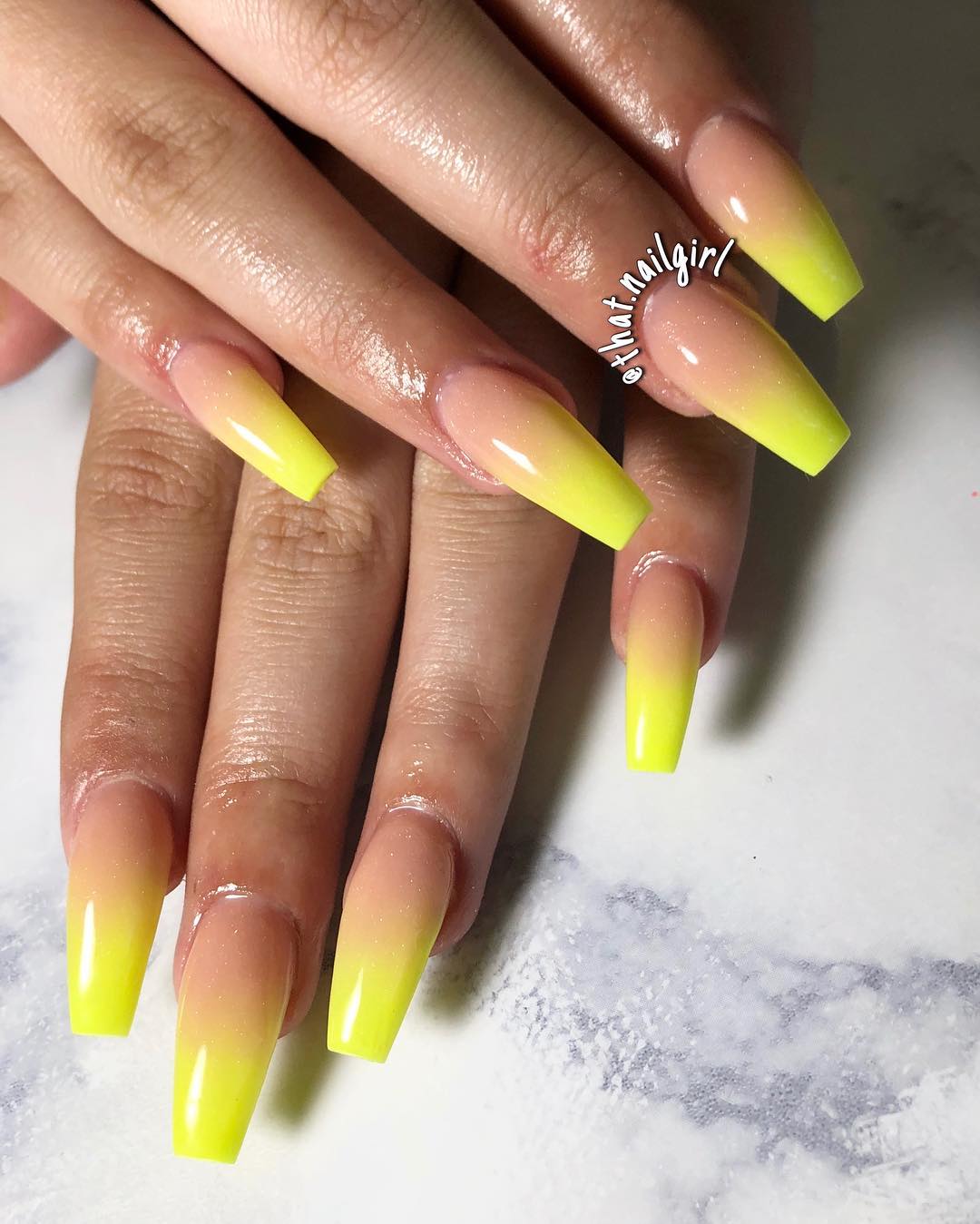 via @that.nailgirl
10. Hot Pink Ombre Nails
If you want to get adventurous and move from natural colors to bolder ones, you can start by switching light pink nail polish colors to hot pink ombre ones. The perfect shade of hot pink and the blend of ombre will make a great character statement for your chic and bold personality. Want to become trendy in the fashion world? Match your ombre nails with hot pink-colored hair and a black or gray suit. Each girl will enjoy pink ombre nail designs since it's a chance to feel like a real Barbie!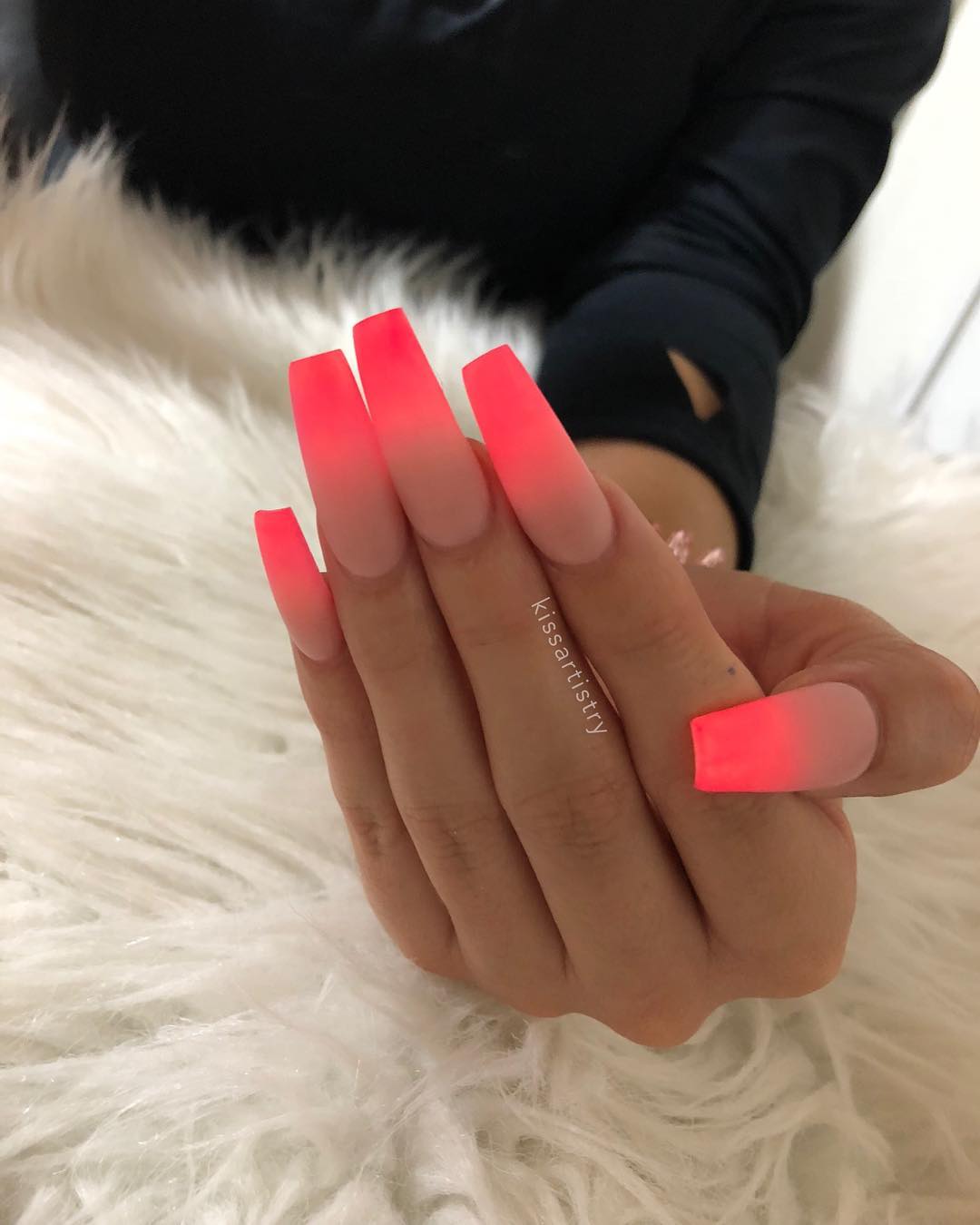 via @kissartistry
11. Red Ombre Nails
If you have a fiery and strong personality, you may want to show that in your nail colors. Red ombre nails are perfect for someone with a sexy and confident character. It's a classic nail color that gives off a high fashion look, especially when you're wearing glitters of gold (rings) in your hands. If you can pull off red lipstick, red dress, or red heels, you can surely stun with red ombre nails. Just release that "lady in red" spirit within you and look beautiful with your naturally sexy charm.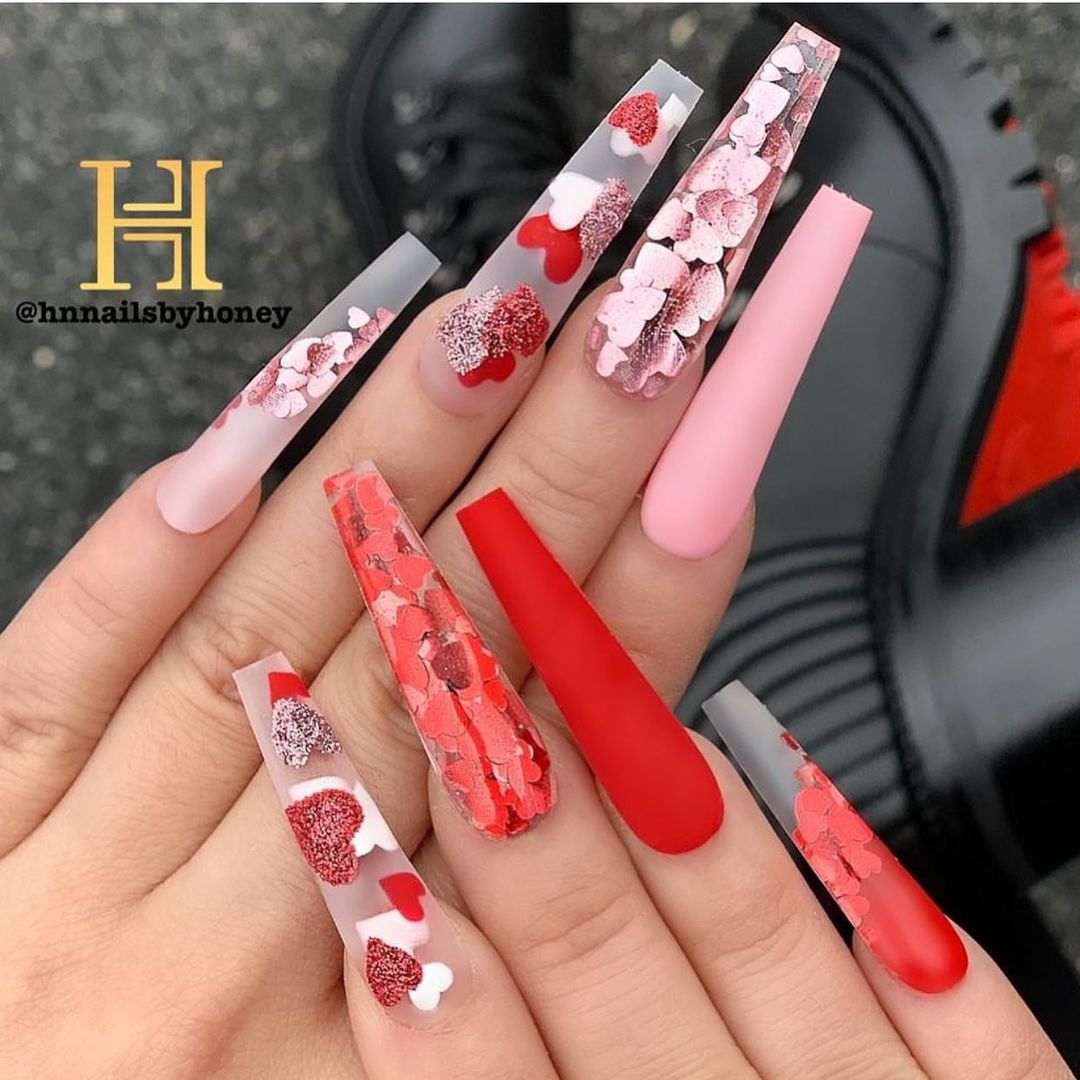 via @bombnailz_
12. Blue Ombre Nails
When you see people wearing blue ombre nails, you'll most likely think of the words elegance and class. For some, blue reminds them of the sky, ocean, and breeze. Others remember the cold winter season where nature shows its blue hues. Whatever the color blue means for you, all its meanings are beautiful. Get such beauty on your fingertips and show that blue ombre nail color with elegance and confidence.
Such gradient nails suit all skin shades, making them a truly universal option for every lady. Moreover, a blue ombre design is a calm and strict option for any occasion, including formal meetings. And if you want to make a more unusual manicure, choose deep blue nails or other shades that you like.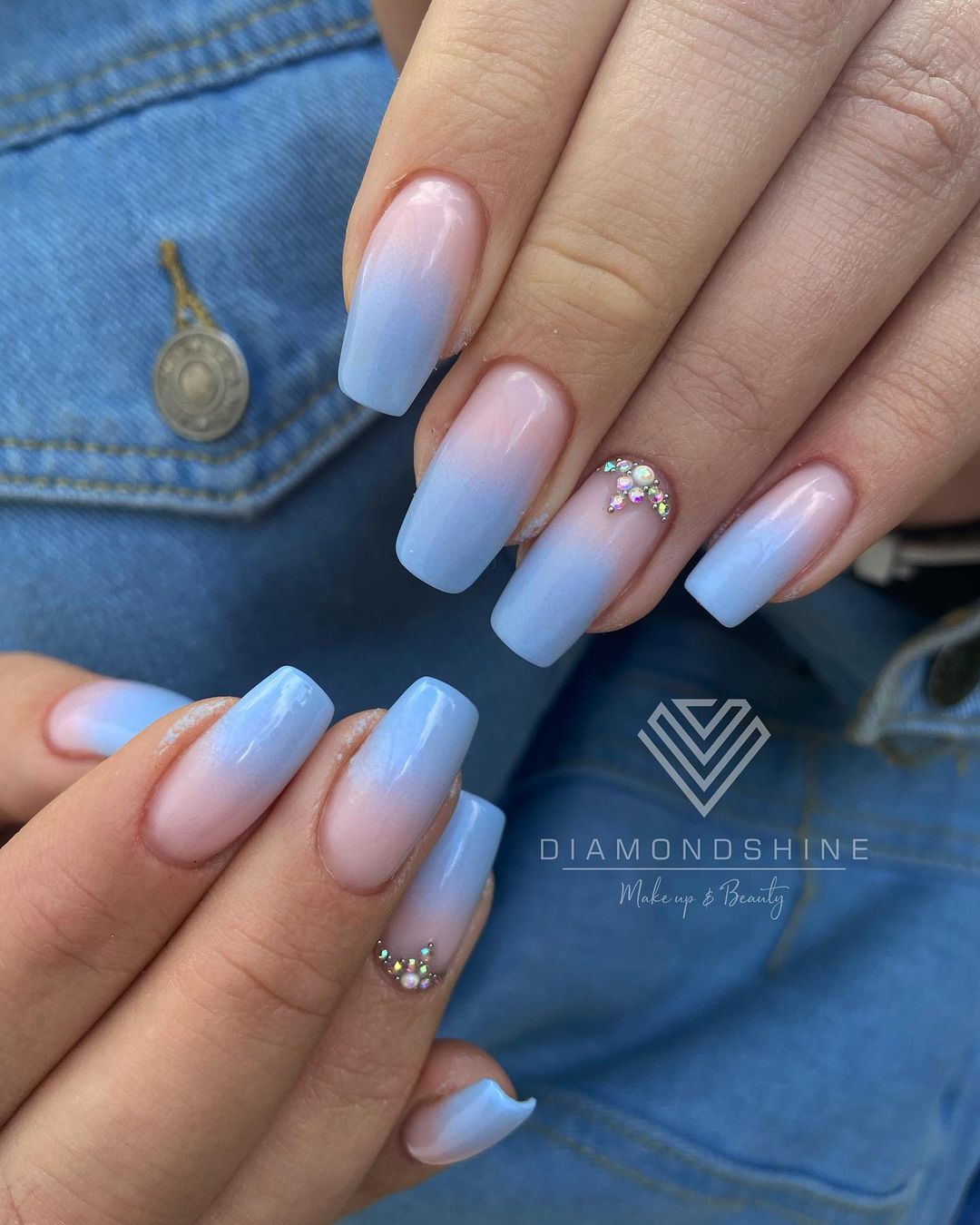 13. Ombre Acrylic Nails
You may not know it, but you can use different types of enhancements to apply ombre on your nails. Some of the best options are gels, dip powders, and acrylics. Creating an ombre effect on acrylic nails only requires liquid and acrylic powder. You can also use a makeup sponge to highlight the gradient effect at the middle part. Choose neutral or lighter shades of ombre nails to make a classic manicure that won't attract too much attention. To ensure that the gradient is protected from getting ruined, top it with clear acrylic.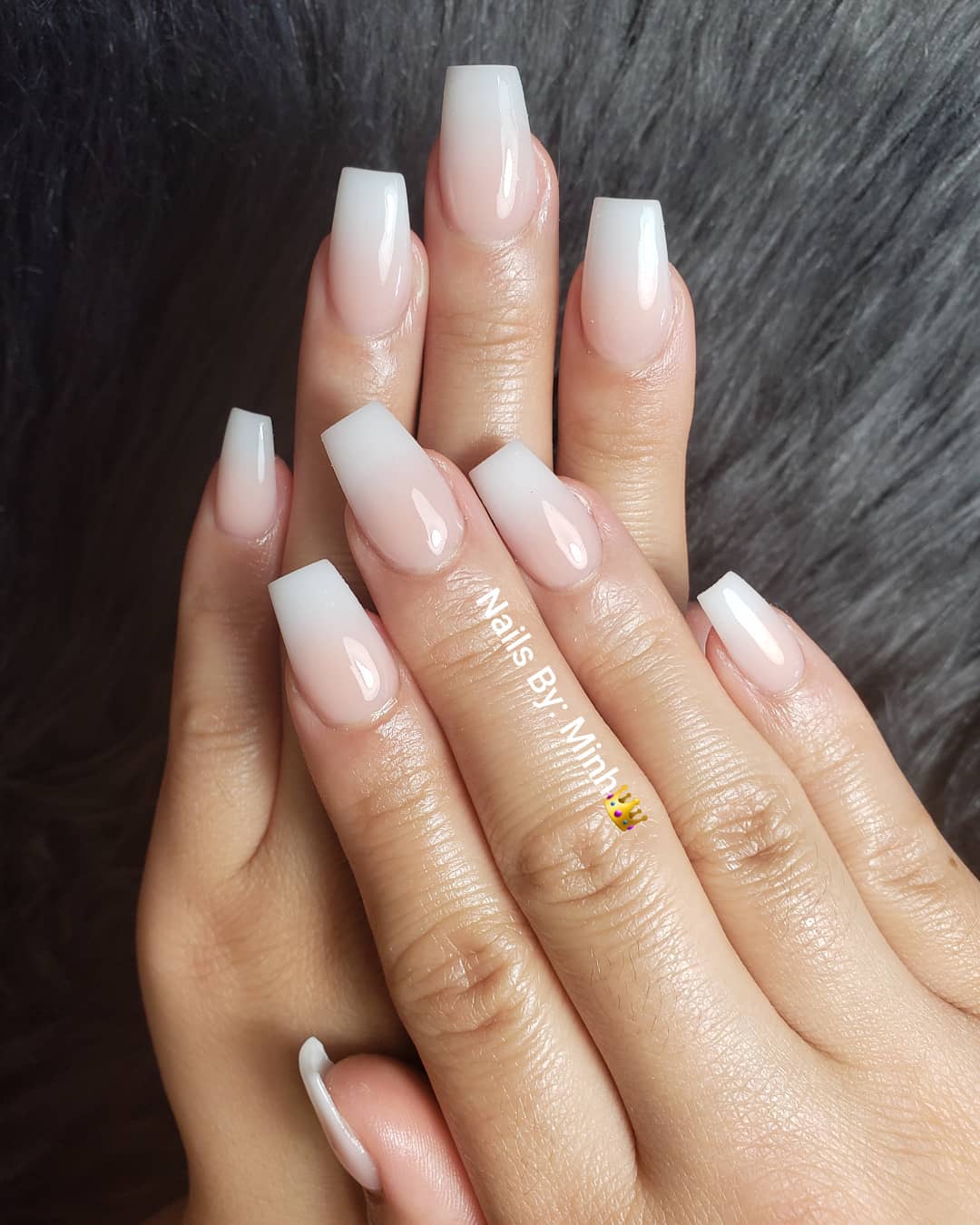 via @chic.hair.nails
14. Pink and White Ombre Nails
Here's another way to celebrate your feminine side—having pink and white ombre nails. Even if both colors are light, they still look fascinating when combined. Pink symbolizes femininity, while white is purity. Pink and white ombre nails are also perfect for your springtime clothes and the spring season, in general. This soft and alluring pairing gives you the charm you never knew you needed, especially if you're into sweet and chic styles.
Light pink nails are always a good idea since this manicure suits all clothing styles and is quite discreet. And if you want to get a brighter trendy summer nail idea, consider an attractive Barbie color, which will add an exciting accent to your look.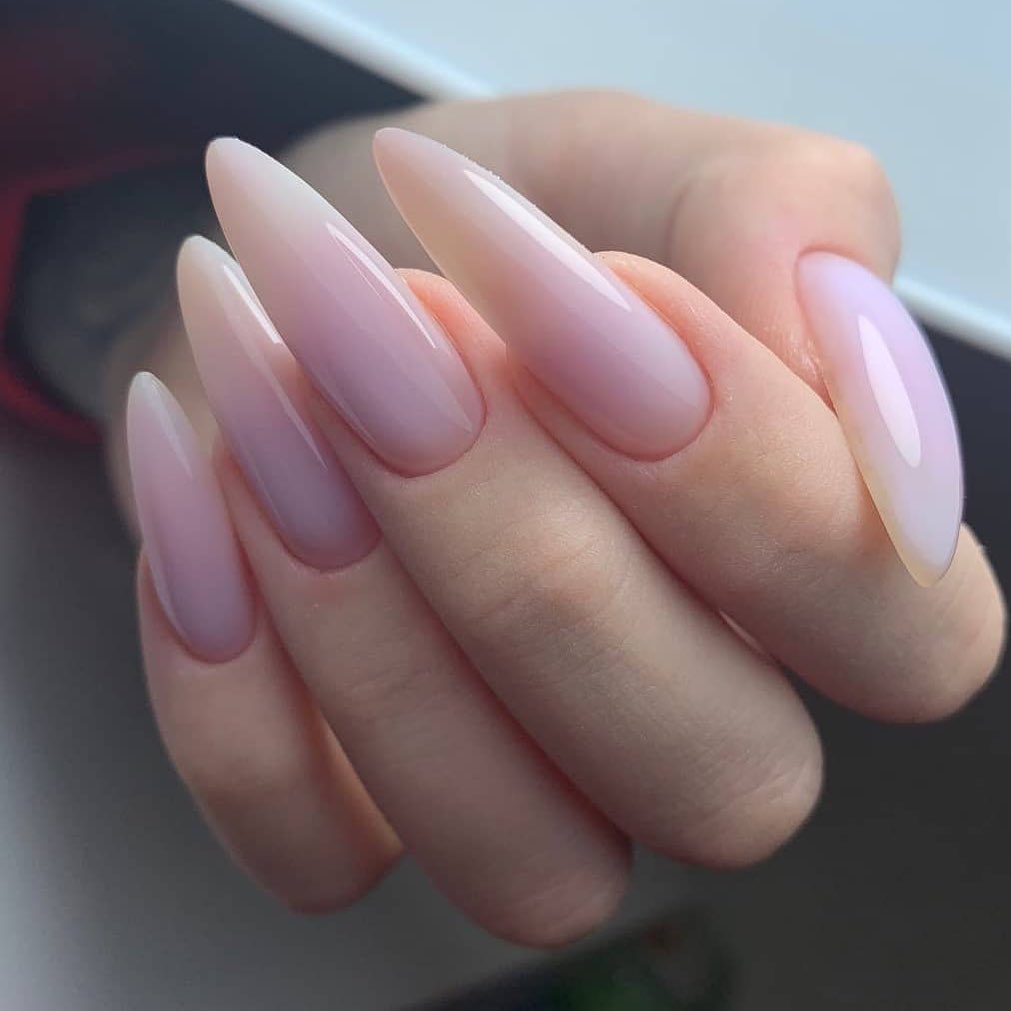 via @pinki_nails_mk
15. Purple Ombre Nails
Like blue, purple is often seen as an elegant and royal color. It was highly associated with the monarchs in the early centuries. This shade also signifies passion and creativity, and having purple ombre nails will strongly speak to your individuality. As Byllye Avery has said, "Purple is the queen in all women, helping us keep our backs straight and heads held high." Don't wait for old age; wear purple ombre nails now.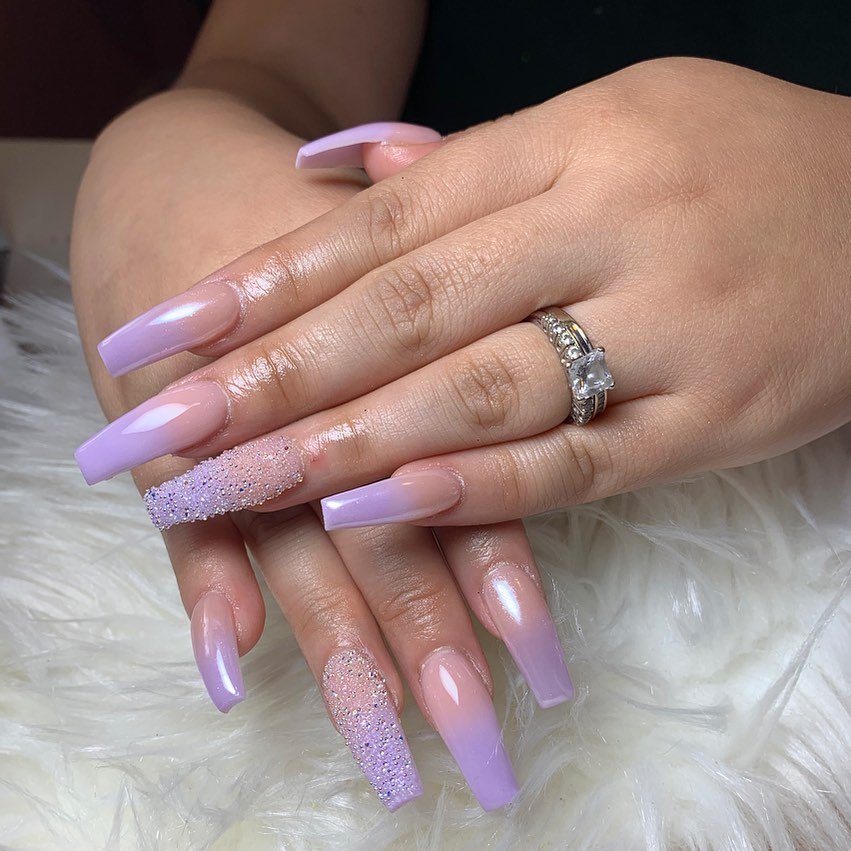 via @nailsbymeloo
16. Nude Ombre Nails
We've mostly tackled dark color ombre nail designs, but it's not wrong to play things safe by opting for nude ombre nails. Light colors are often chosen for short nails, but it's also a great option for a long manicure. If your clothes are mostly in earth tones, such as green, brown, or sepia, nude-colored nails are the safest and simplest shade for you. As the cliché goes, "Simplicity is beauty," and it's not wrong to live by that principle. Besides, nude colors are elegant and classy for any get-up or occasion.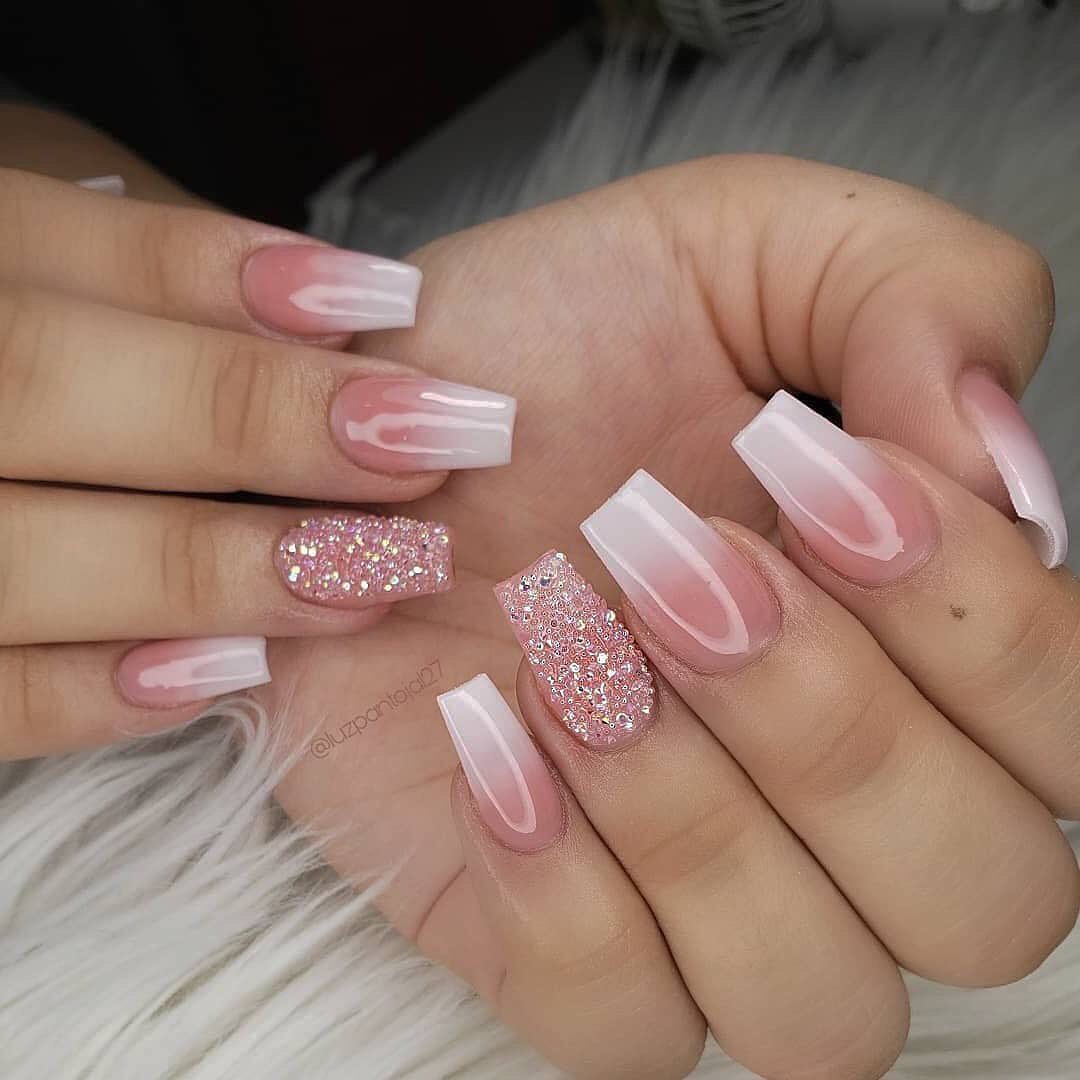 17. Yellow Ombre Nails
Do you have a bubbly and bright personality? Yellow ombre nails might be the best design for you. Yellow is perfect for expressing happiness and positivity in life. It can be designed as a bright and bold color or as a soft pastel aesthetic. You can also wear yellow ombre nails during summer events and cocktail parties. Just add a cute outfit, and off you go outside the world looking bright and stunning!
If you prefer neutral shades with ombre designs, choose lighter yellow tones and combine them with a nude base.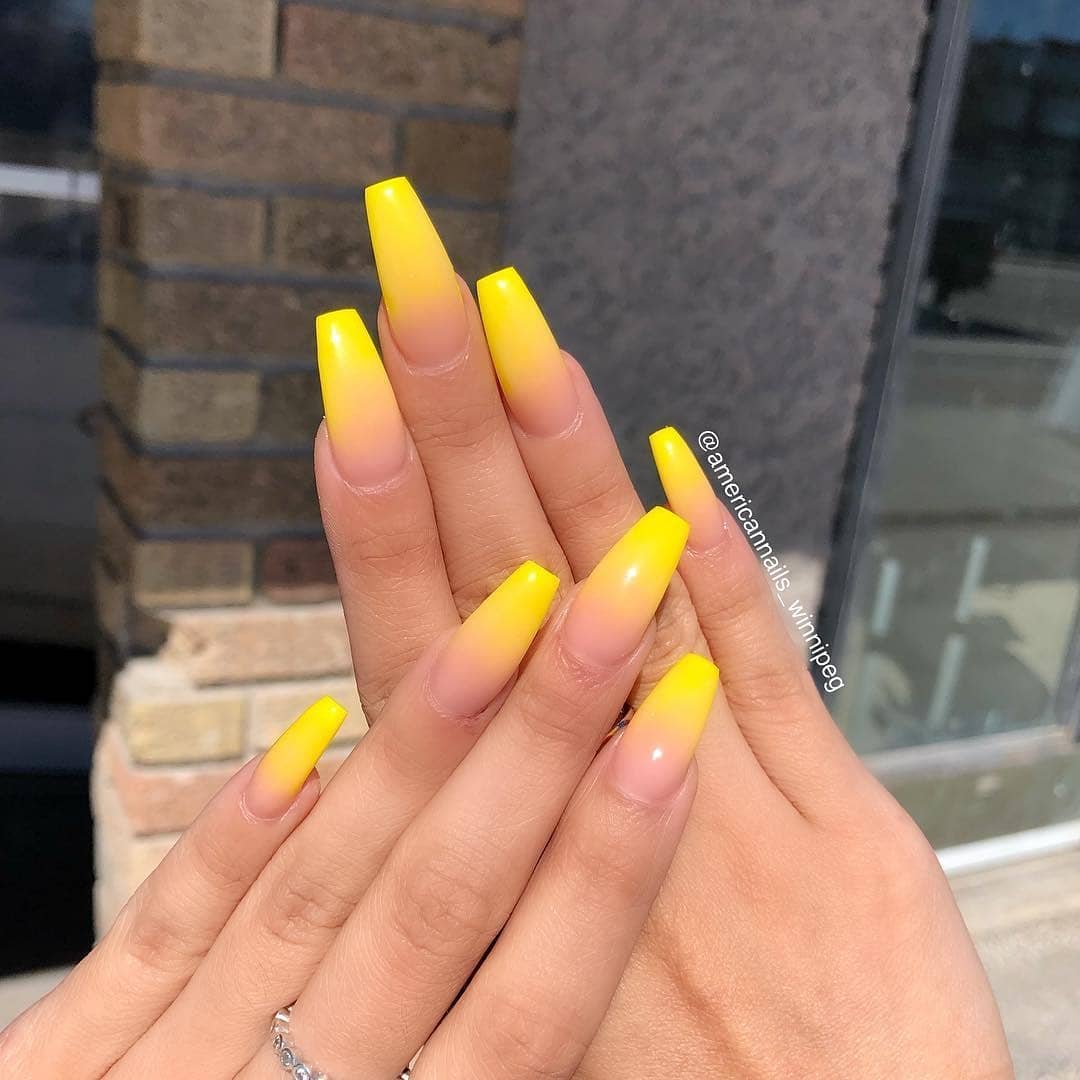 via @stylishtutorial
18. Orange Ombre Nails
Get funky by sporting these orange ombre nails. If you love the tropics and want to literally have it on your fingertips, having this nail design is already a no-brainer. You can also use the orange ombre nail design if you like the colors of the fall and want to be constantly reminded of its elements, such as the bright and orange maple leaves on the ground. Remember, everything is better in orange.
A bright gel nail polish can help you make a trendy manicure, attracting tons of attention and compliments!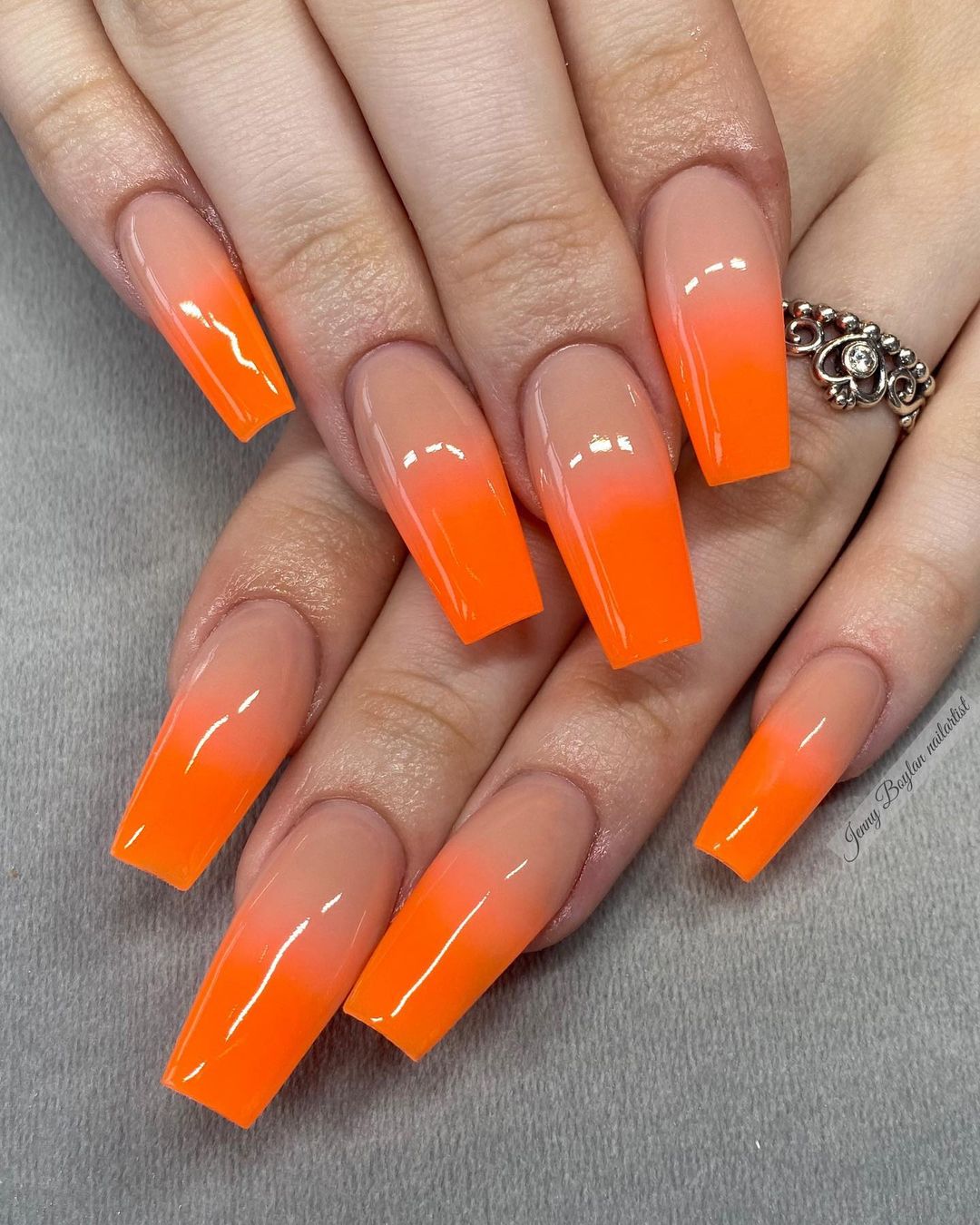 19. Green Ombre Nails
Do you want to achieve a fresh and modern look at your fingertips? Get yourself this luscious green ombre nail design. Green has always been a trendy color that people have been raving about—from hair color to eyes, clothes, and now, nails! Any shade of green will look great on you, especially if your wardrobe is filled with earth-tone colors. But even if you mostly have monochromatic outfits, you'll still stand out with green ombre nails!
Green ombre coffin nails are a great solution for stylish and self-confident ladies. Even though this shade is not the most common one, you will get an amazing manicure with a cute green ombre look.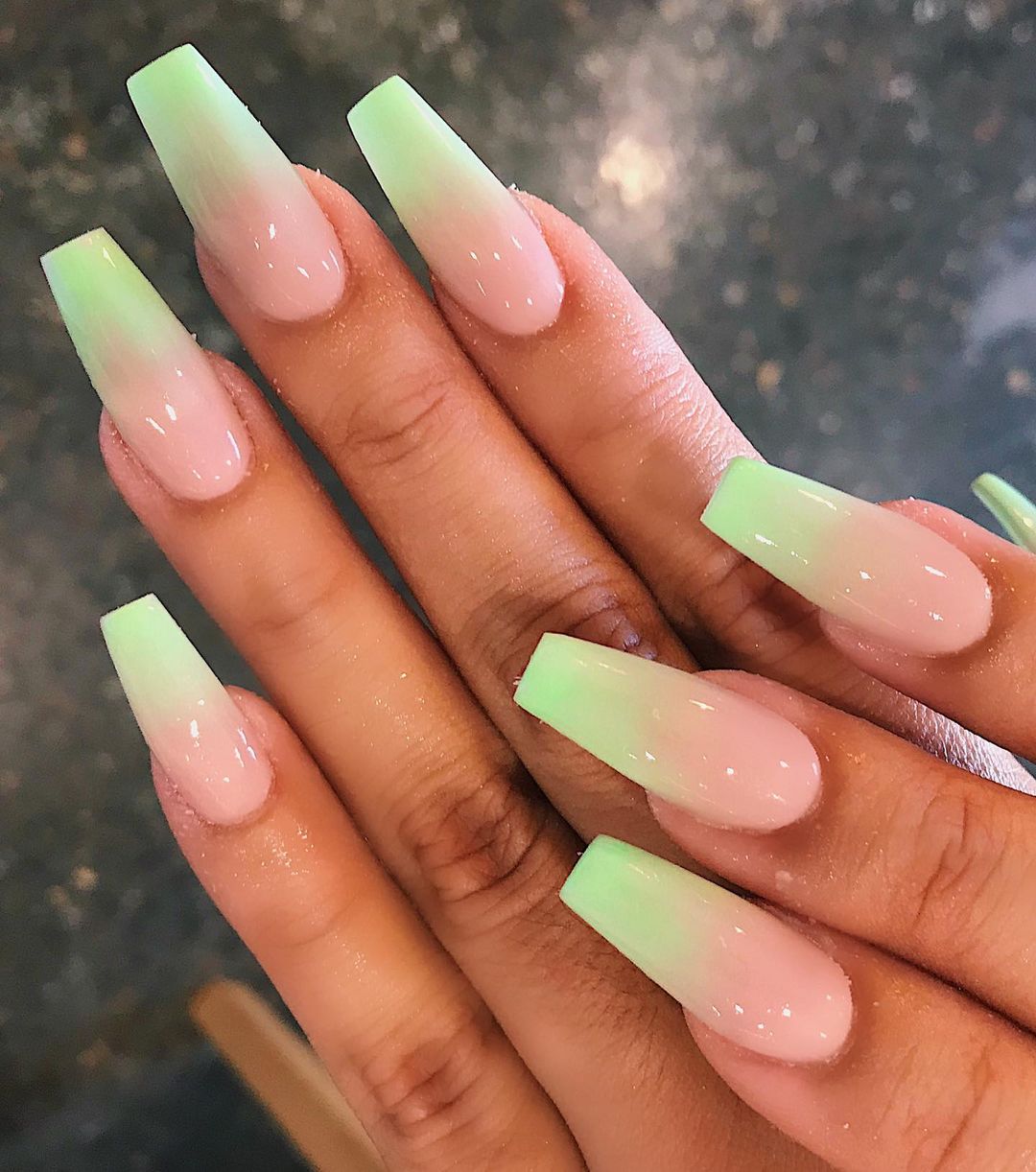 20. Rose Gold Ombre Nails
Hop on the trend and get yourself a rose gold ombre nail color. There's nothing wrong with going along with the trend, especially if it can help you achieve a classy and sophisticated look. The rose gold ombre nail color is best to wear during night events when you want to naturally glow and be the star of the night. Stay golden, and be the rose that everybody wants to pick. And if you have a special occasion or just want to shine, consider adding some gold glitter.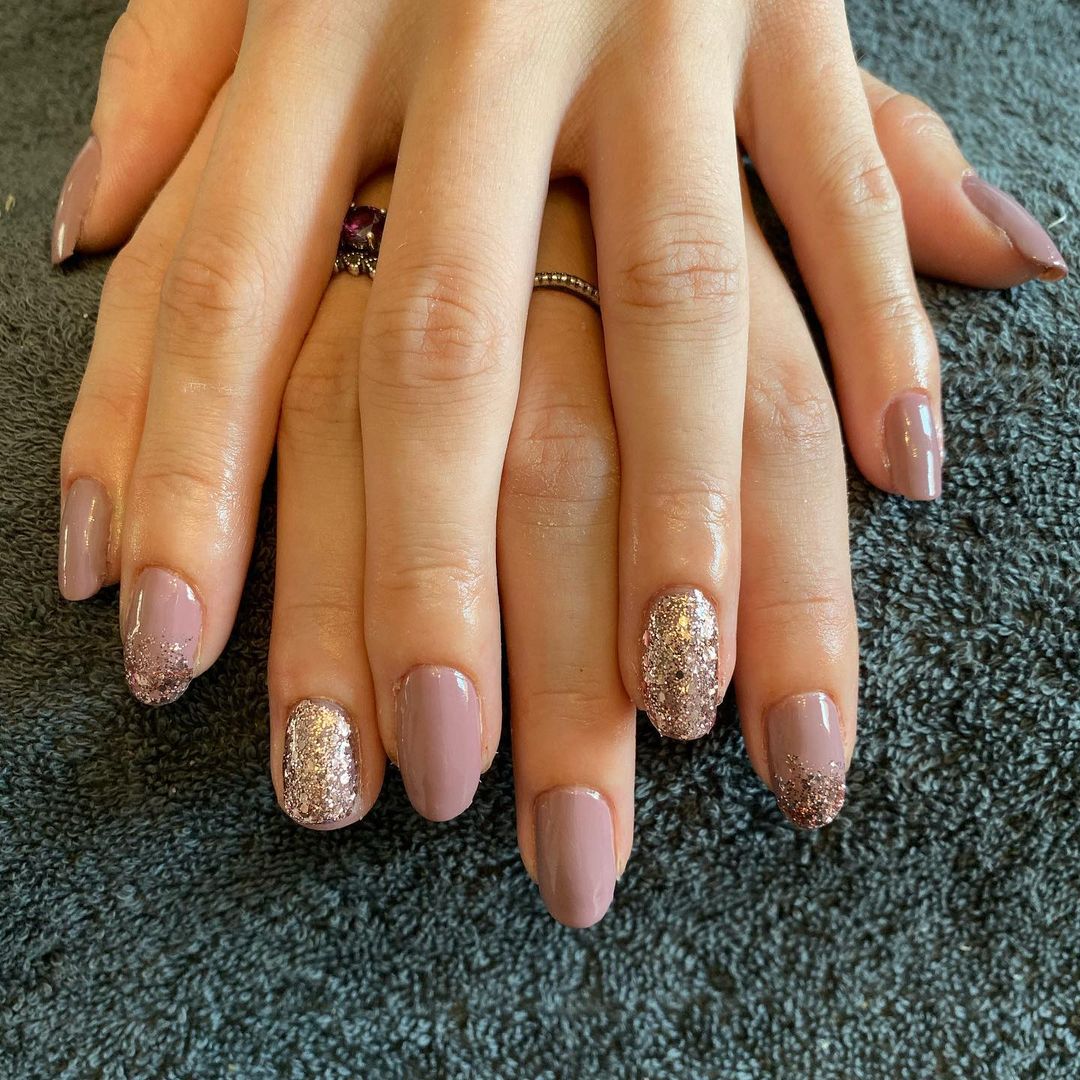 via @nailsby_kerrie
21. Royal Blue Ombre Nails
Feel like royalty with this rich, royal blue ombre nail design. Royal blue, along with red, white, and black, is among the colors that are deemed classics. You can never go wrong if you're seen wearing ombre nails with this rich color mixed with lighter shades of blue or white. If you add decorative elements like embellishments, you'll undoubtedly look like a king or queen—no need for a crown. A deep blue ombre is always the best idea for elegant noble ladies of all ages.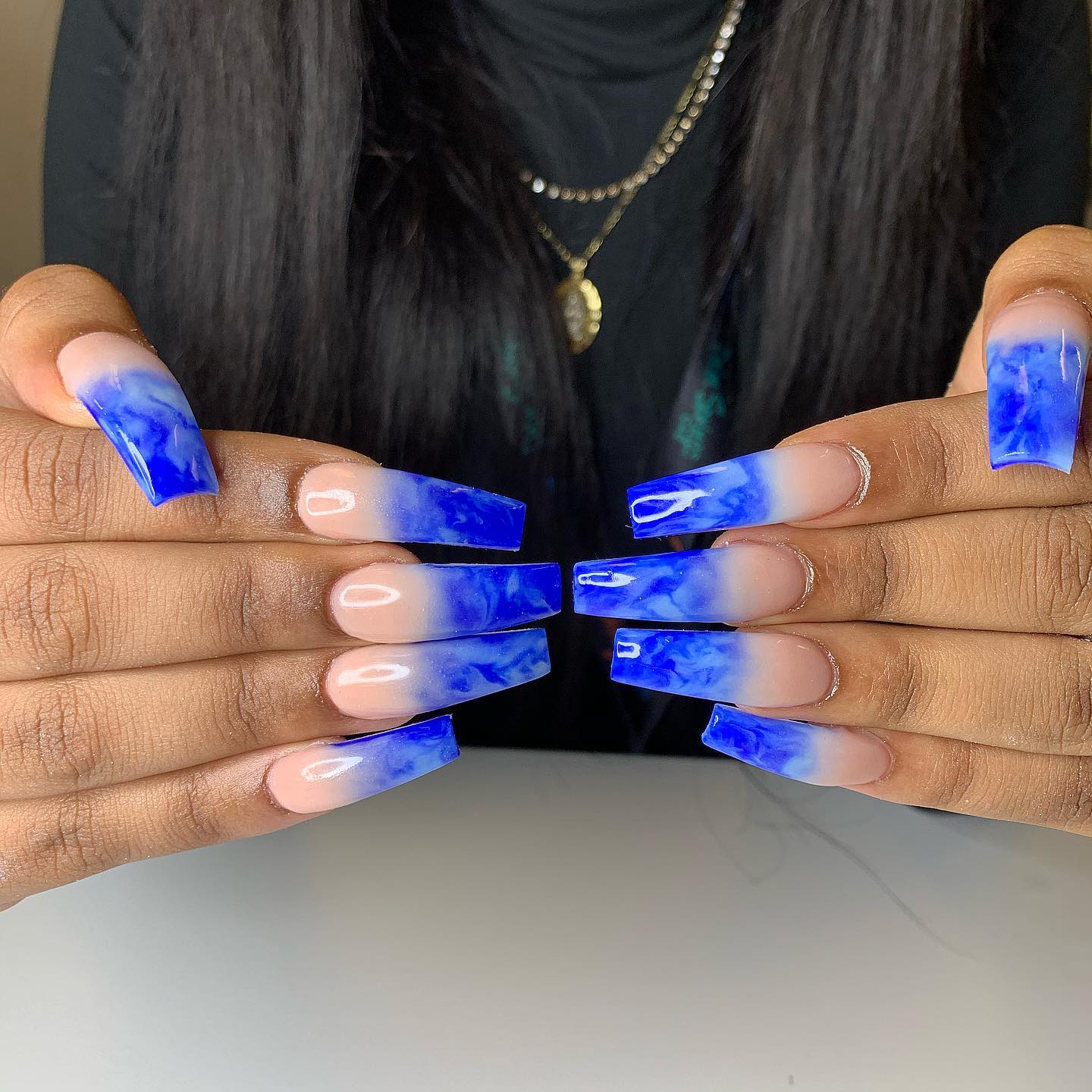 via @nail.chemist
22. Ombre Stiletto Nails
As a form of manicure, stiletto nails are best used if drama is what you're after. It has added false nails on its tips shaped like a pointy stiletto. Stiletto nails become more dramatic when you add an ombre design to them. If chic and fabulous is your branding, this is the most suitable nail design for you. The best part? This nail shape will look good in any color.
Stiletto nails with rhinestones are at the peak of all manicure trends and are not planning to lose their popularity.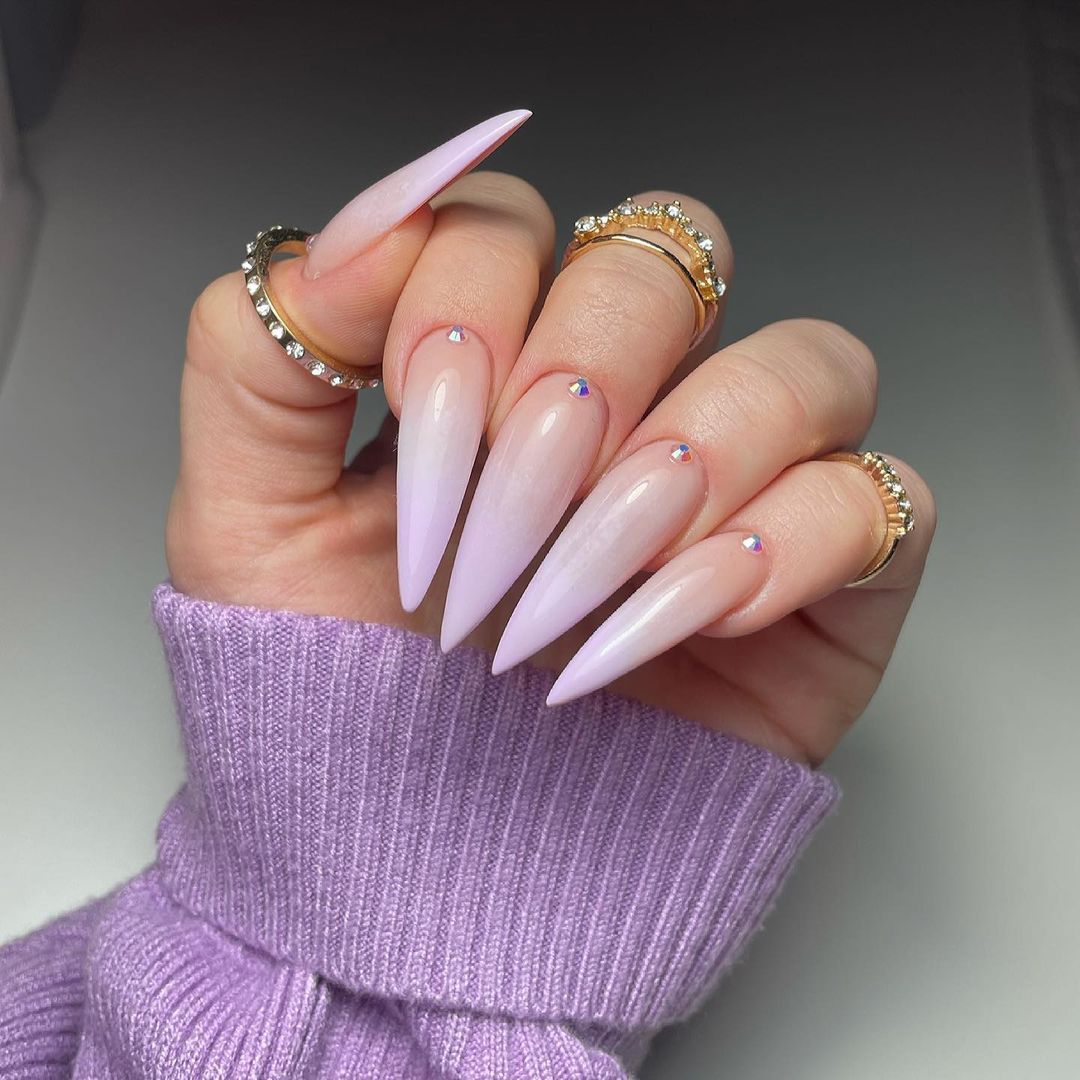 23. Red and Black Ombre Nails
Who says you can't sport two dark colors? Now that you see this red and black ombre nail inspiration, you already have an idea of how you can achieve this nail design. As individual hues, red and black are striking colors. As an ombre color combination, things just even get better. You can also wear this color combination to a party. Finish it with embellishments, and rest assured that you'll be the apple of everyone's eyes. Black nail polish is a timeless classic, suiting all nail shapes and skin tones.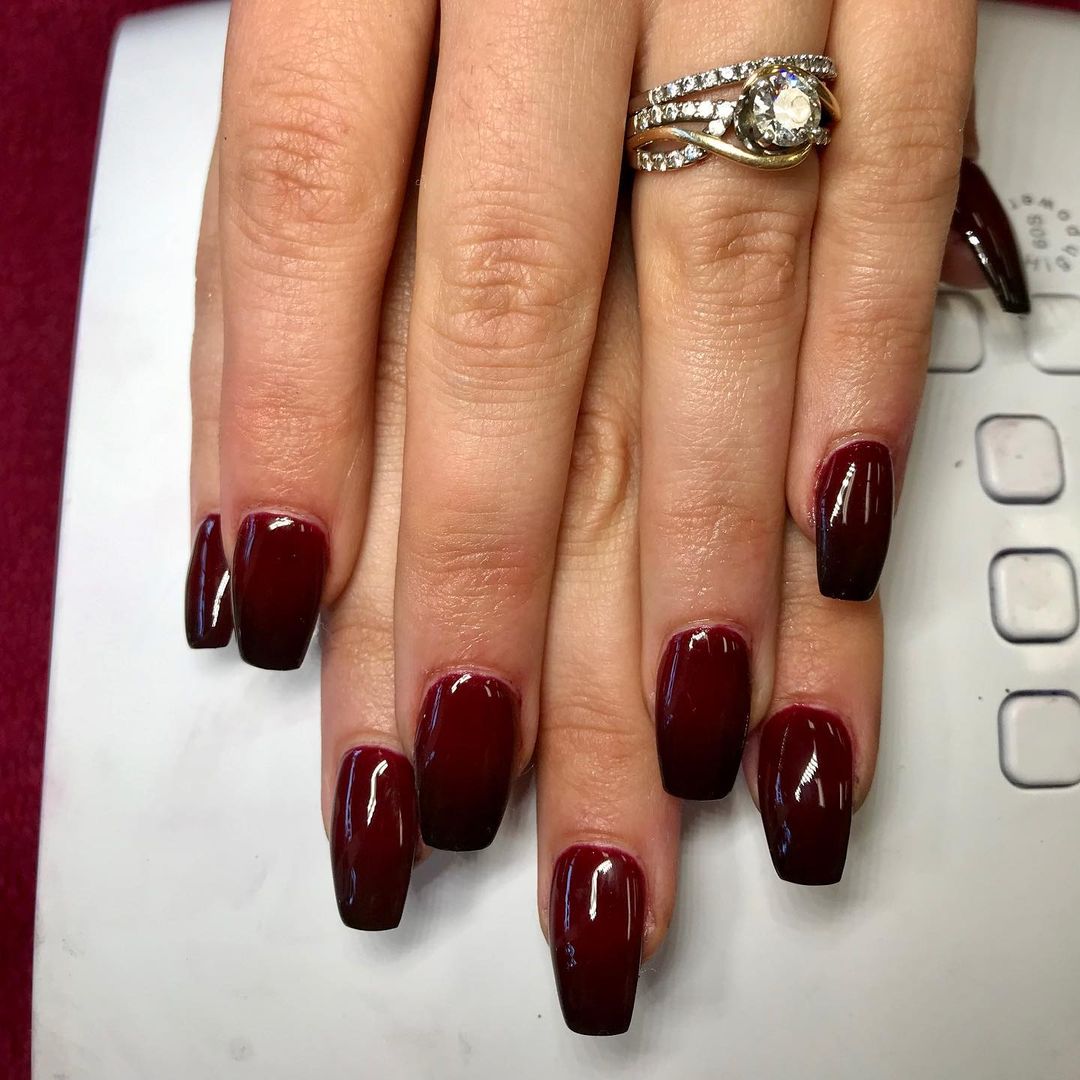 24. Burgundy Ombre Nails
Show your love for wine and deep red hue by following this burgundy ombre nail color inspiration. You can also bring out your inner sexy and sultry self and wear this when you go out for late-night drinks or casual parties. Add a matte finish to make your manicure more unusual and unique!
Even if you're mostly staying indoors, burgundy ombre nails will still give you a sexy and confident vibe. As quoted from Moliere, "If Claret is the king of natural wines, Burgundy is the queen."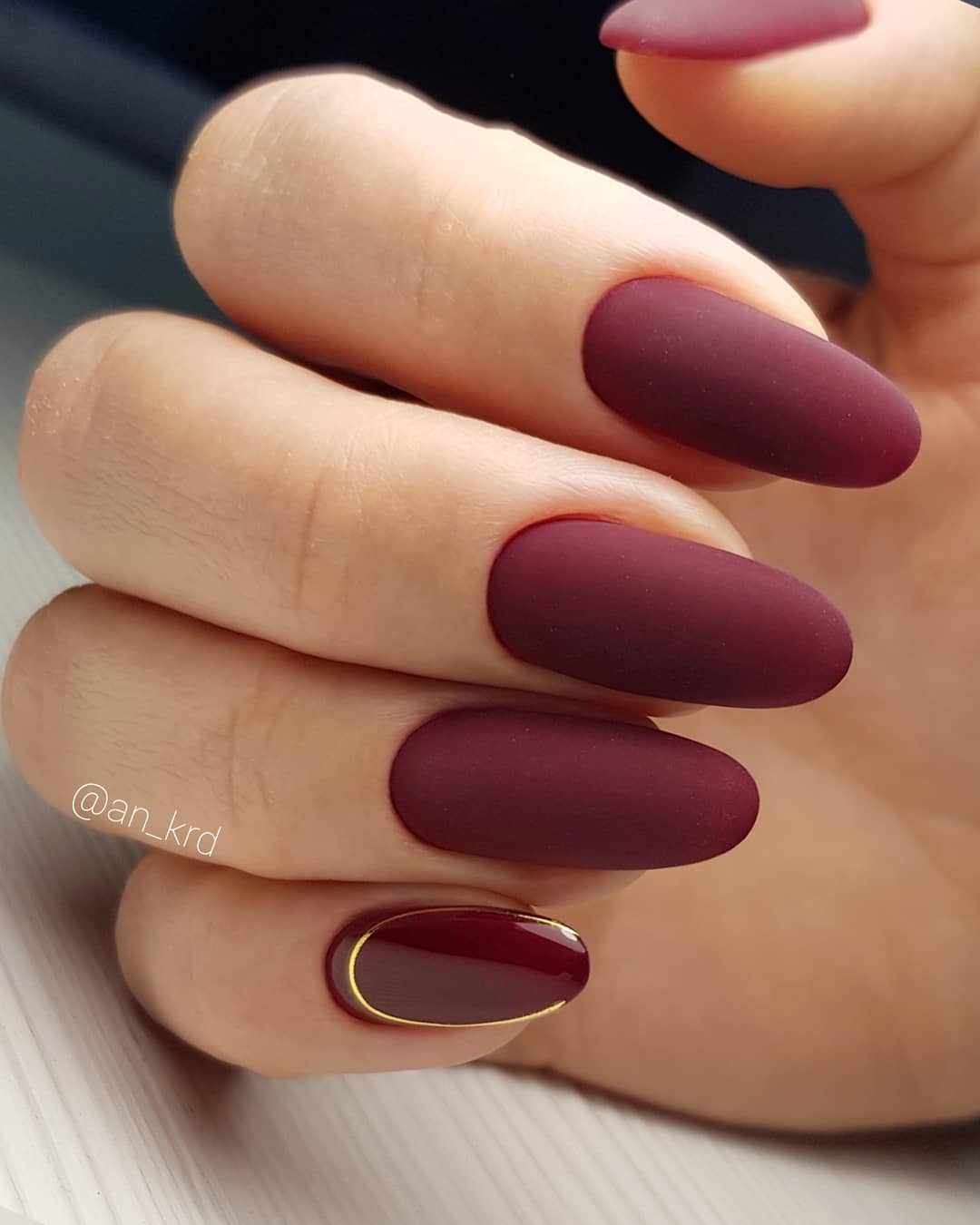 via @an_krd
25. Rainbow Ombre Nails
Do you want to wear your pride? Rainbow is the ombre nail design to go! If you have a cheerful personality with an optimistic outlook on life, this design is perfect as it can undeniably speak and show your true colors. However, achieving the perfect rainbow ombre nail design can be challenging because it involves 7 different colors. But no worries; just trust your nail tech for the perfect effect!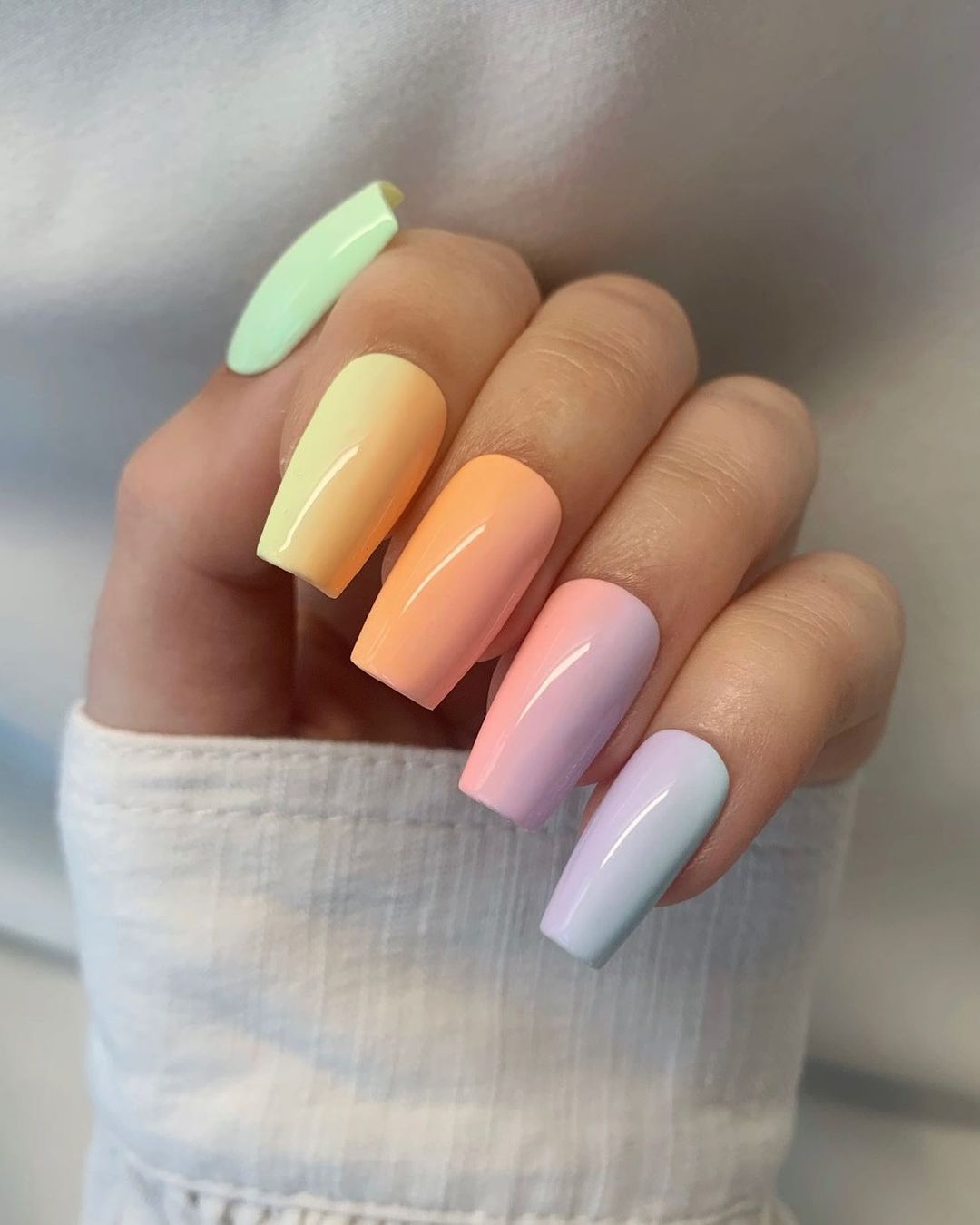 26. Lavender Purple Ombre Nails
Are you a fan of violet hues? You should try getting a lavender purple ombre nail design. As mentioned above, purple exudes elegance and royalty. While it can get pretty tricky to pair purple with any color, you can channel your adventurous soul and go for lavender purple ombre nails. Lavender is the color of relaxation, creativity, and youthfulness, and it gives a perfect balance to the passionate nature of purple. Moreover, according to the Pantone Institute, lighter shades of purple ombre nails are considered the color of the year, so you'll be in trend.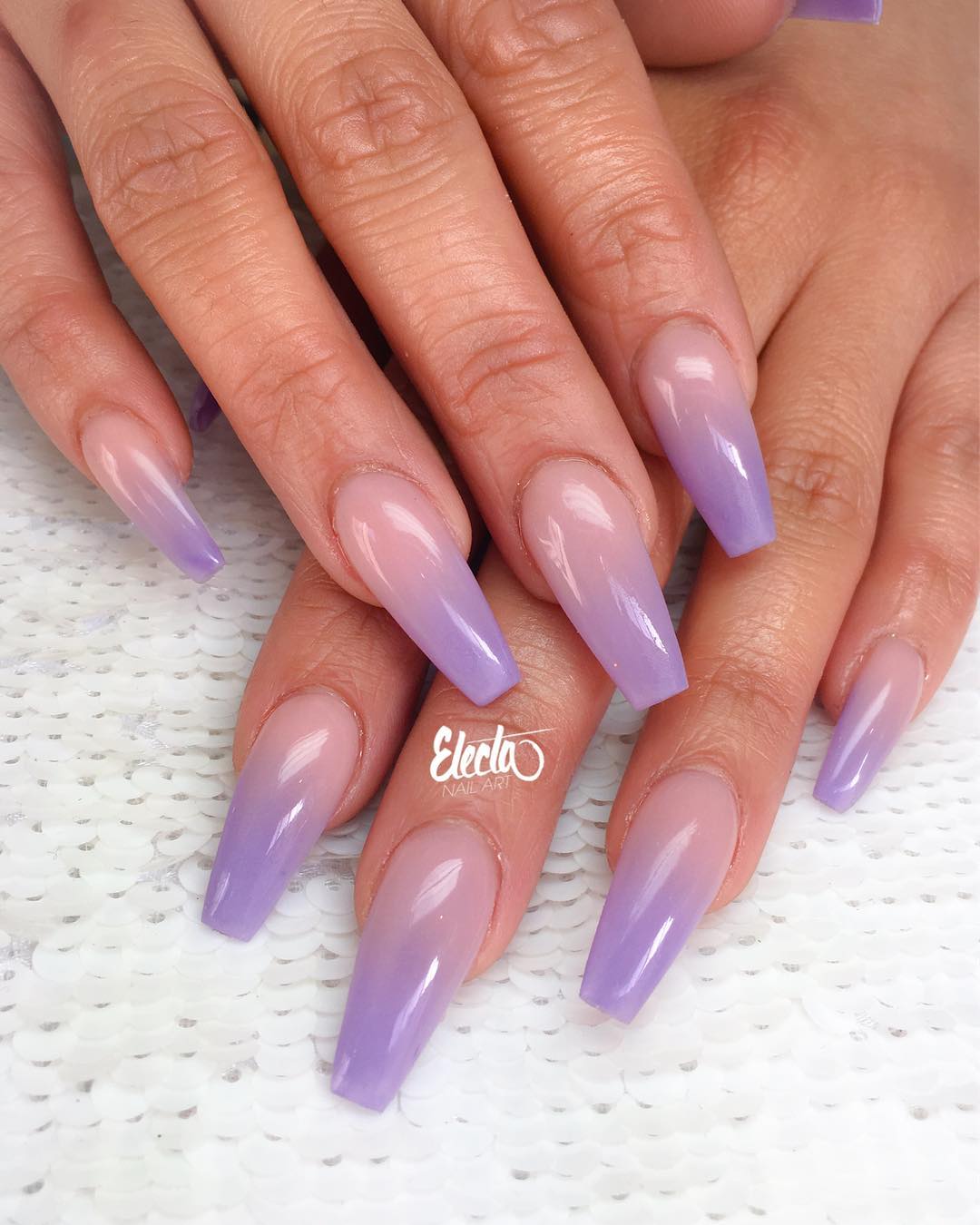 via @electanailart
27. Blue and White Ombre Nails
Just as red and black blend perfectly, you can never go wrong with blue and white ombre nails. As individual colors, each of them is cool to the eyes. Blue is seen as serene and calm, while white symbolizes cleanliness, simplicity, and purity. Together, who would've thought that it can look peaceful to the eyes? It's like it mimics the color of the sky with clouds feathered in the middle part.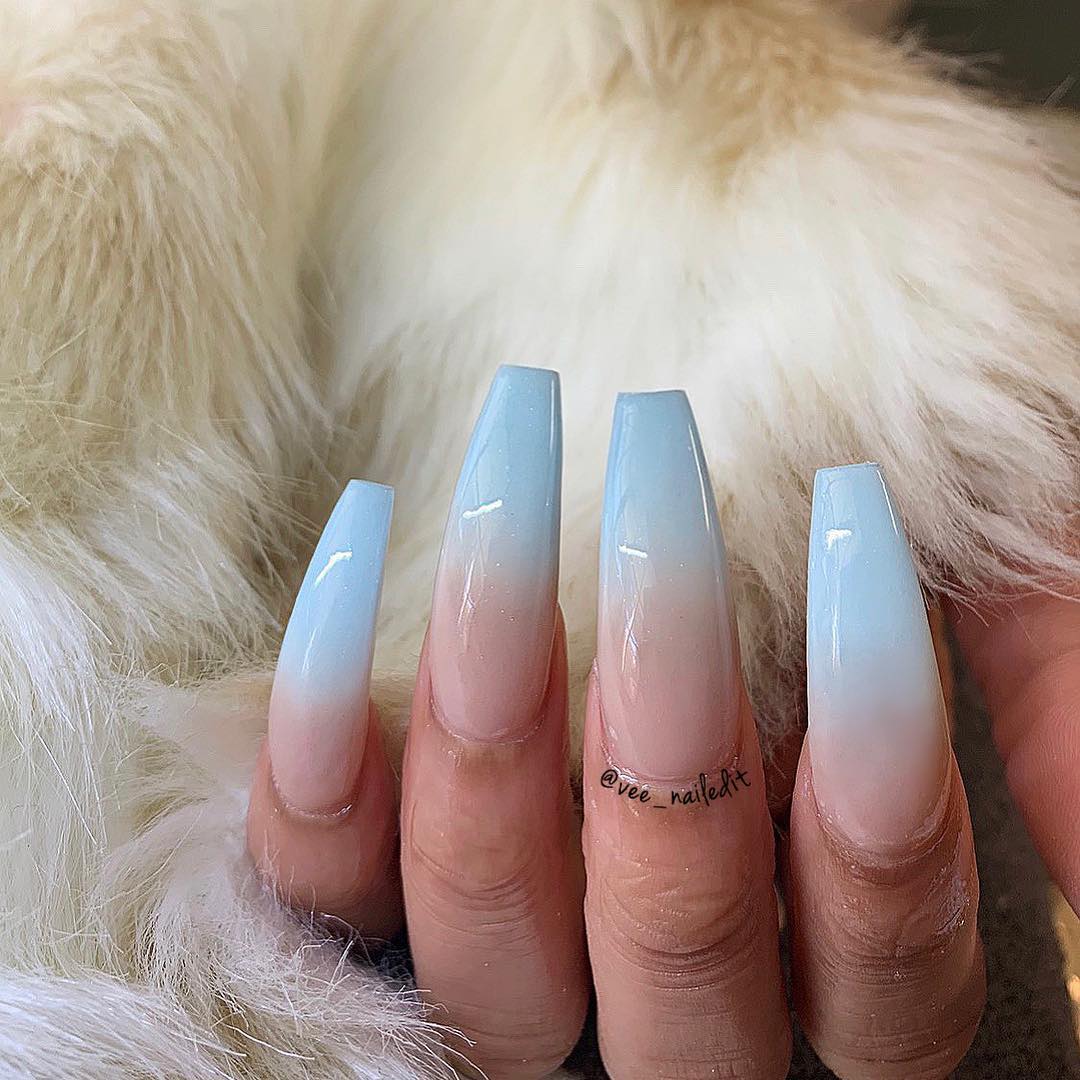 via @vee_nailedit
28. Rose Gold Ombre Glitter Nails
As mentioned above, rose gold has become one of the biggest fashion trends, and this color has been popular even beyond the nail design realm. Jewelry, accessories, clothes—name it all—there's a rose gold color for every fashion item. Even technologies, such as phones and laptops, have hopped into the rose gold trend.
And gold glittered nails have already become a classic option for a noble manicure! With rose gold ombre glitter nails, you can channel out your hidden femme fatale especially that the glitters will give you a sophisticated look. Get your perfect shiny summer nails right now and enjoy a sparkling manicure every day!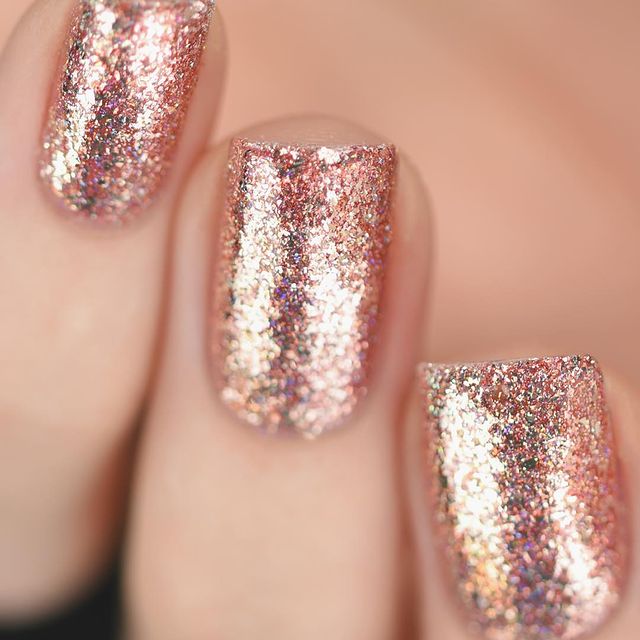 via @lnp
29. Ballerina Short Ombre Nails
There are many ways to style your nails, and one of them includes the ballerina nails that mimic a ballerina's shoes. This nail shape is dubbed chic and strong. Like coffin nails, ballerina-styled nails can be eye-catching in itself. The only difference is ballerina nails can be short, unlike coffin nails that look more attractive when longer. Ombre French nails is a classic manicure suiting all ladies with any nail shape. You can sport any color for your ballerina short ombre nails.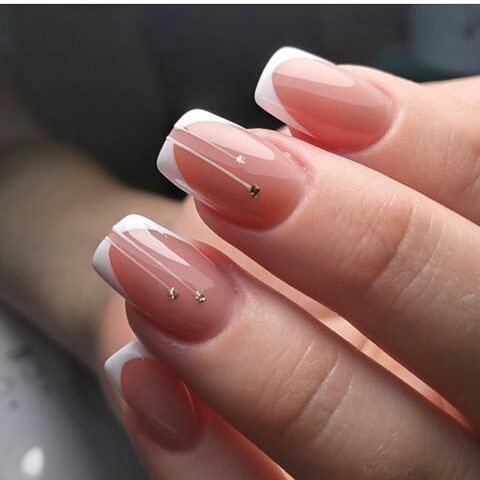 via @manikurniy_mir
30. Beige Ombre Nails
Who says it's impossible to make beige appealing? By making it ombre, you possibly can. Beige is known for being plain to look at. It's also a safe color that can match any outfit you wear. Have you ever noticed that a simple ombre nail design is one of the most attractive manicures available nowadays? But this is exactly beige's charm, and turning it into an ombre simply enhances its natural beauty and charm. You don't necessarily have to break the beige hue; oftentimes, all you need to do is embrace its plainness and simplicity.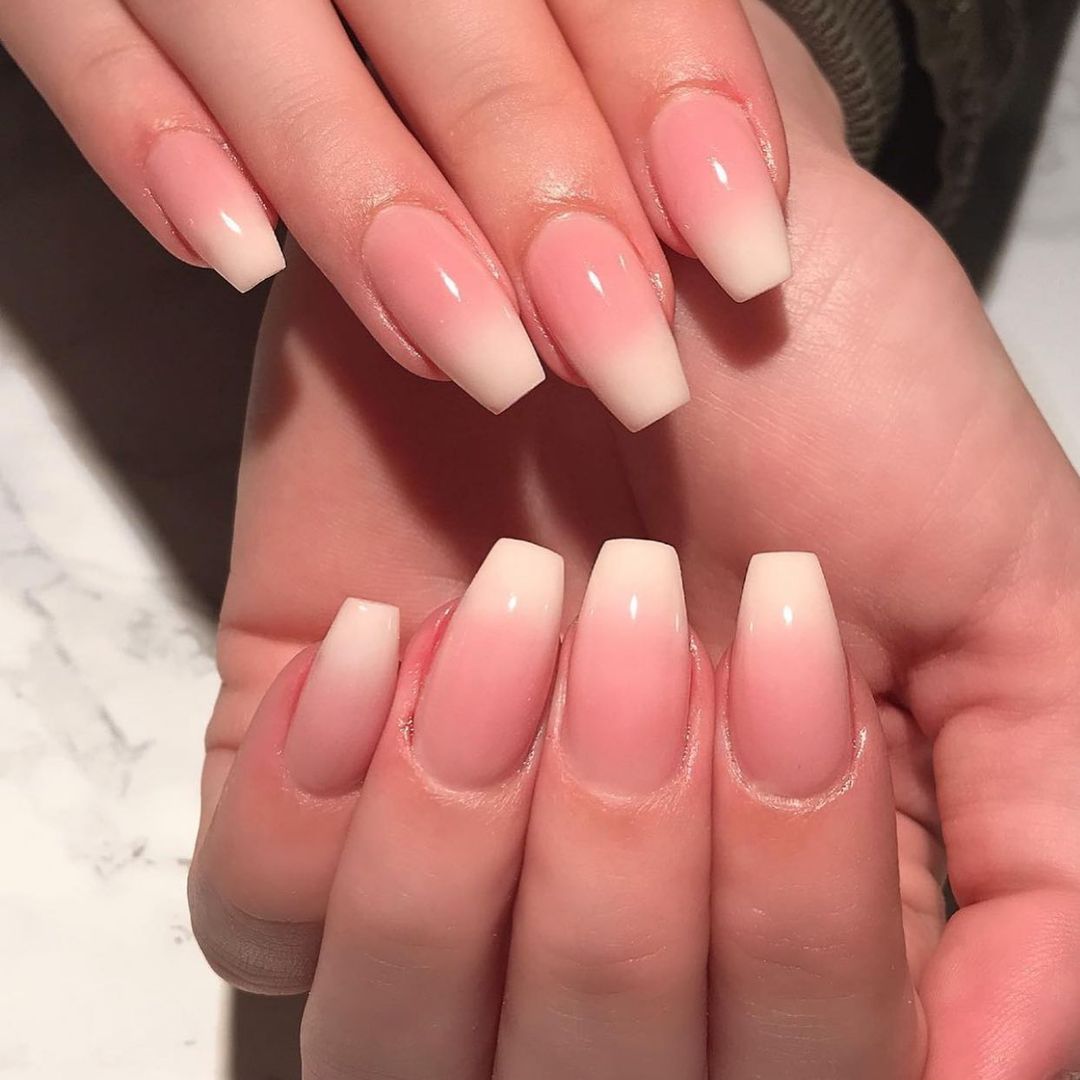 via @totsiee
31. Christmas Ombre Nails
Get festive and feel the holiday spirit with this Christmas ombre nail design! This design is especially perfect if you're living in a place where the winter season exists. But what if you live in a place where you can't enjoy the snow or winter season? Worry not because you can always change things up and choose other Christmas elements to make the design more relatable to you and your preference. For instance, red and white nail designs with some thematic stickers will add a festive mood!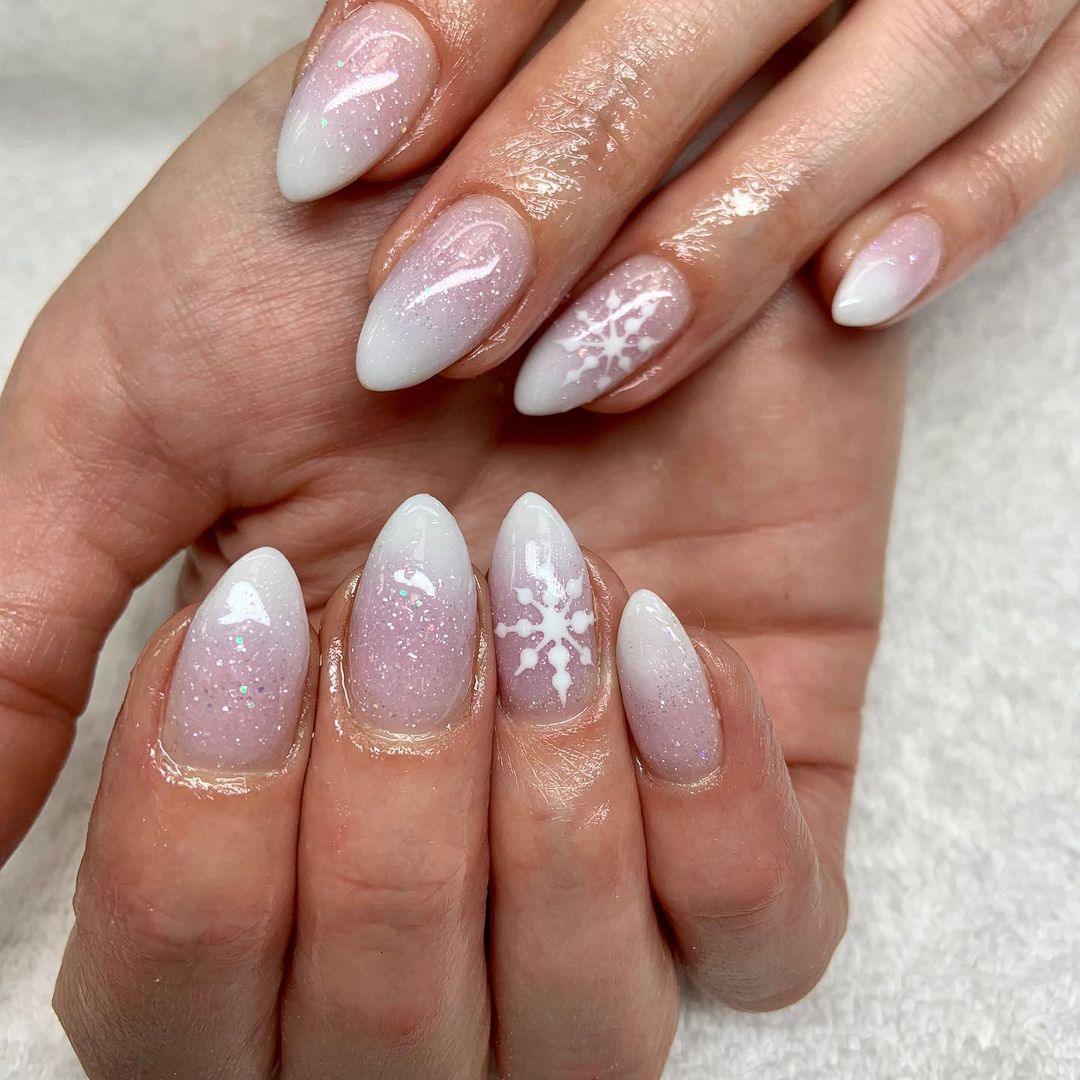 32. Coffin Glitter Ombre Nails
Going after a minimal ballerina or coffin nails? Choose the coffin glitter ombre nail design! If you want to put some twist and taste to your plain-colored ombre nail design, don't hesitate to include glitters to add depth and texture to your nails. With this design, you can be simple and a bit flashy at the same time without going overboard. Sparkly nails are now relevant not only for holidays, and you can enjoy such a manicure every day. As shared by famous fashion gurus, "When in doubt, just add glitter."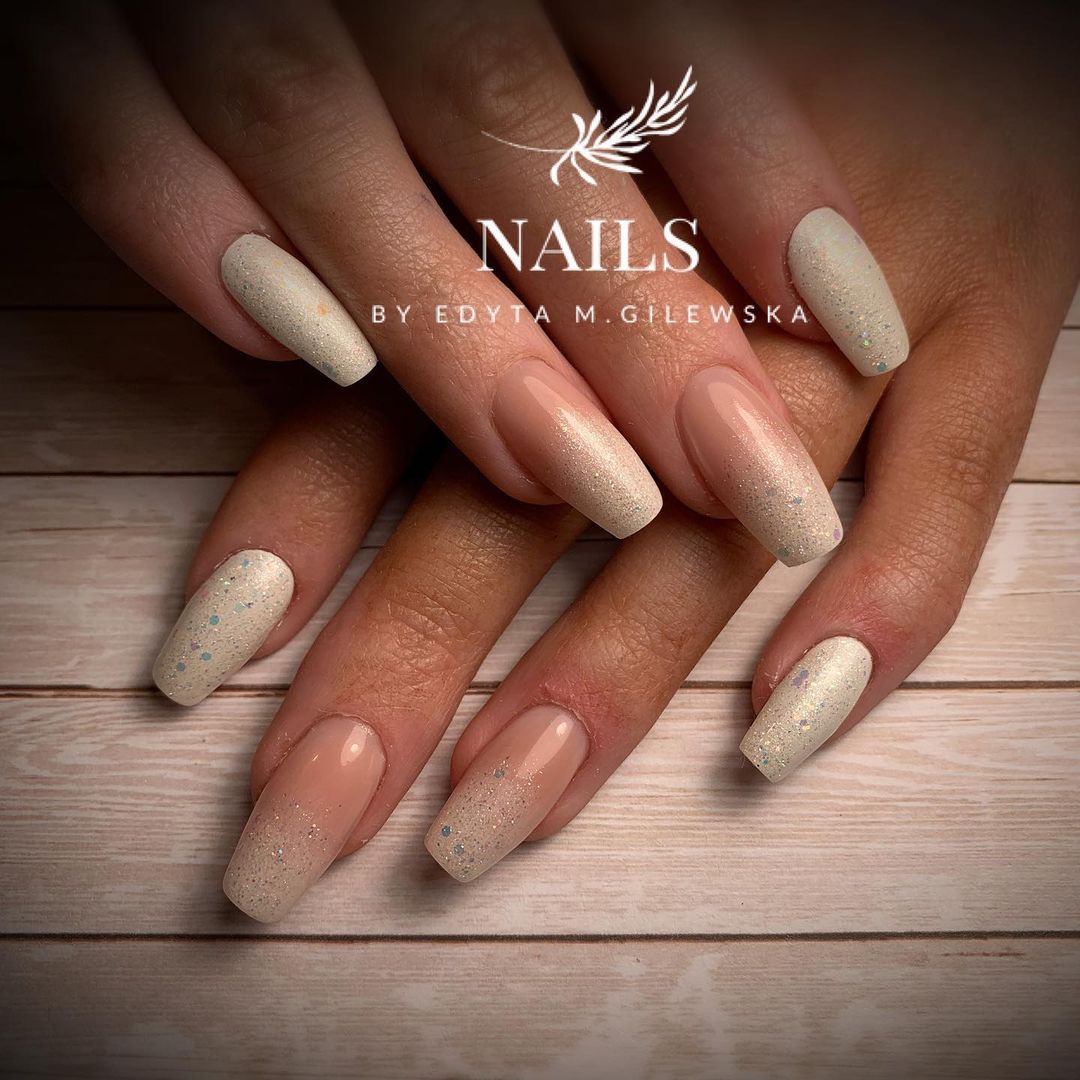 33. Coffin Pink Ombre Nails
In contrast with the coffin glitter ombre nail design, this coffin pink ombre nail color screams nothing but attention. As discussed earlier, coffin nails in themselves are already attention-grabbing. What more if it has a pink and glitter ombre design? You can wear this on Wednesdays, which is a nod to Mean Girls' famous line, "On Wednesdays, we wear pink." But seriously, you can use this any day of the week if you feel fancy and pink every day.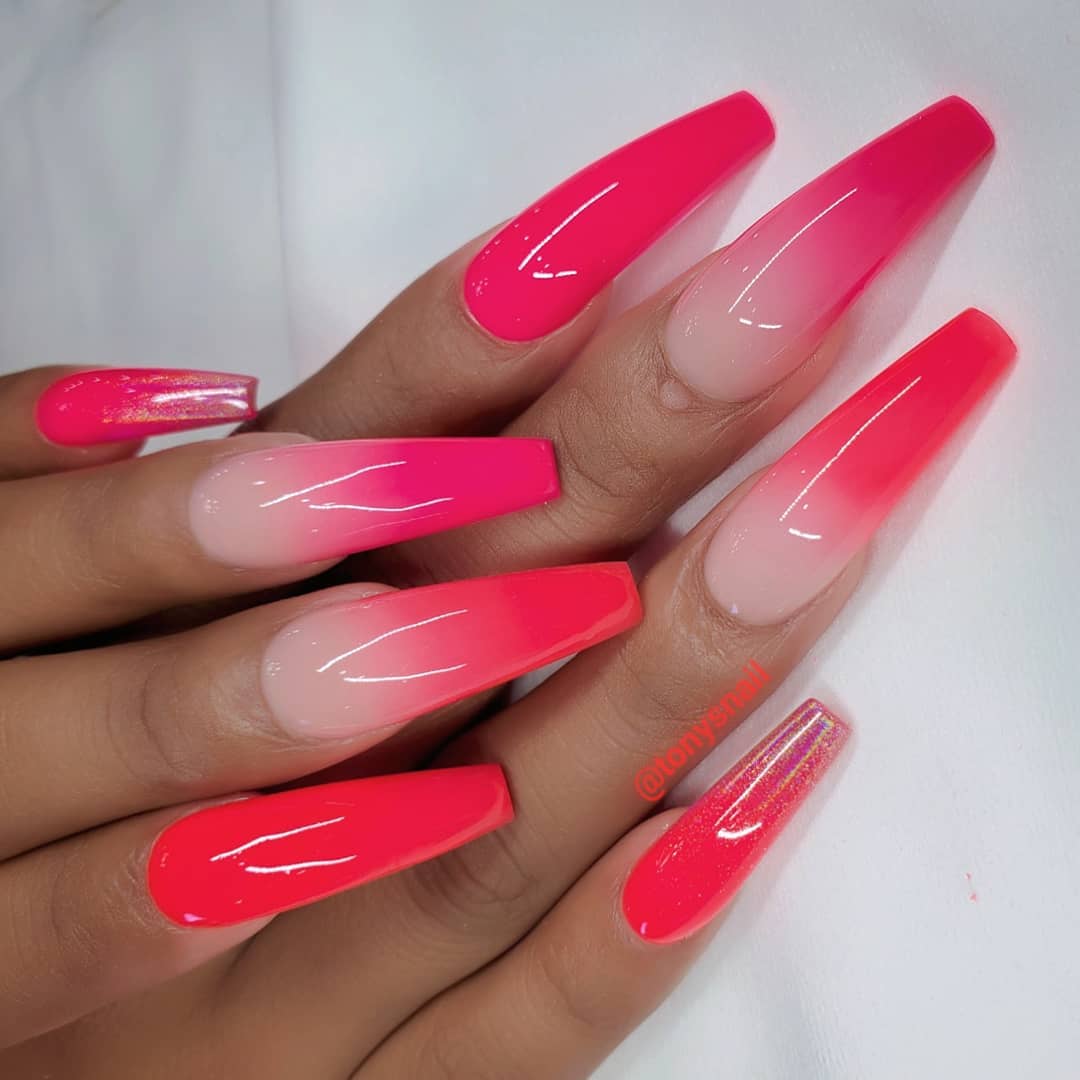 via @tonysnail
34. Ombre Summer Nails
Let your nails tell you that it's already summer with this ombre summer nail design inspiration! This design uses the dominant colors of summer—yellow and orange— and summer is all about good times, tan lines, and cute ombre nail designs. To add life to your ombre craft, you can put a flower design of your choice. You may also adorn your nails with any summer-related elements, such as a silhouette of palm or coconut leaves, seashells, or ocean waves for a complete summer vibe.
via @mbeauty__x
35. Ombre Winter Nails
Celebrate the holiday season and your white Christmas with these ombre winter nails! It comes with snowflake designs that can be tricky if you DIY, but it's nothing your trustworthy nail tech can't do. You can proudly show off your nails during Christmas family gatherings or parties with friends and colleagues. You may also leave one nail sporting a plain but textured look that still matches the ombre winter theme.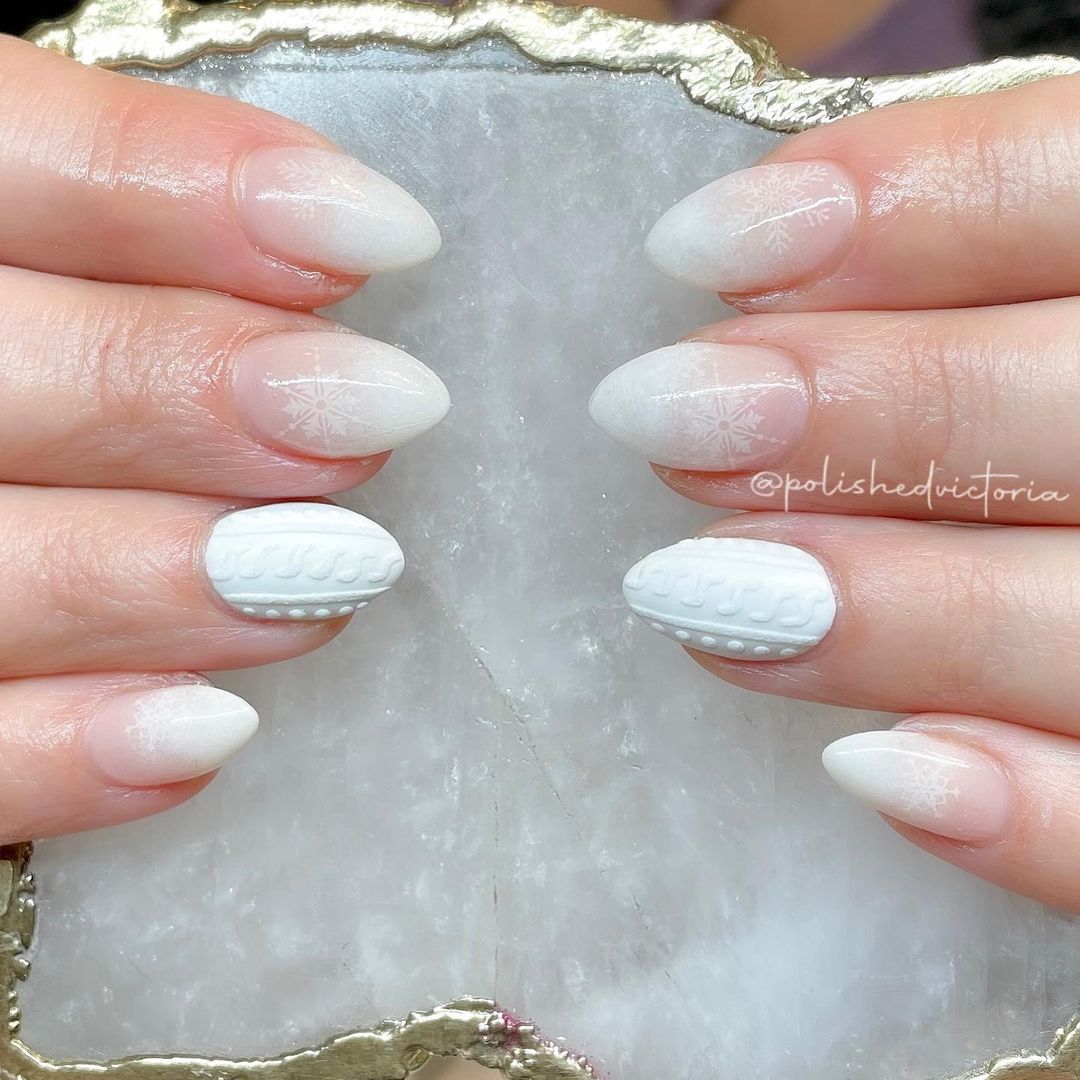 36. Red and White Ombre Nails
If there's a blue and white combo, there's also a red and white combo! Be classy and fancy with this red and white ombre nail design. These two hues are completely different colors, but when combined, they give off an empowering vibe. As classic colors, red and white are usually applied on plain-colored nails. Like the inspiration photo provided, you can put more decorative elements to add character to your ombre nail design.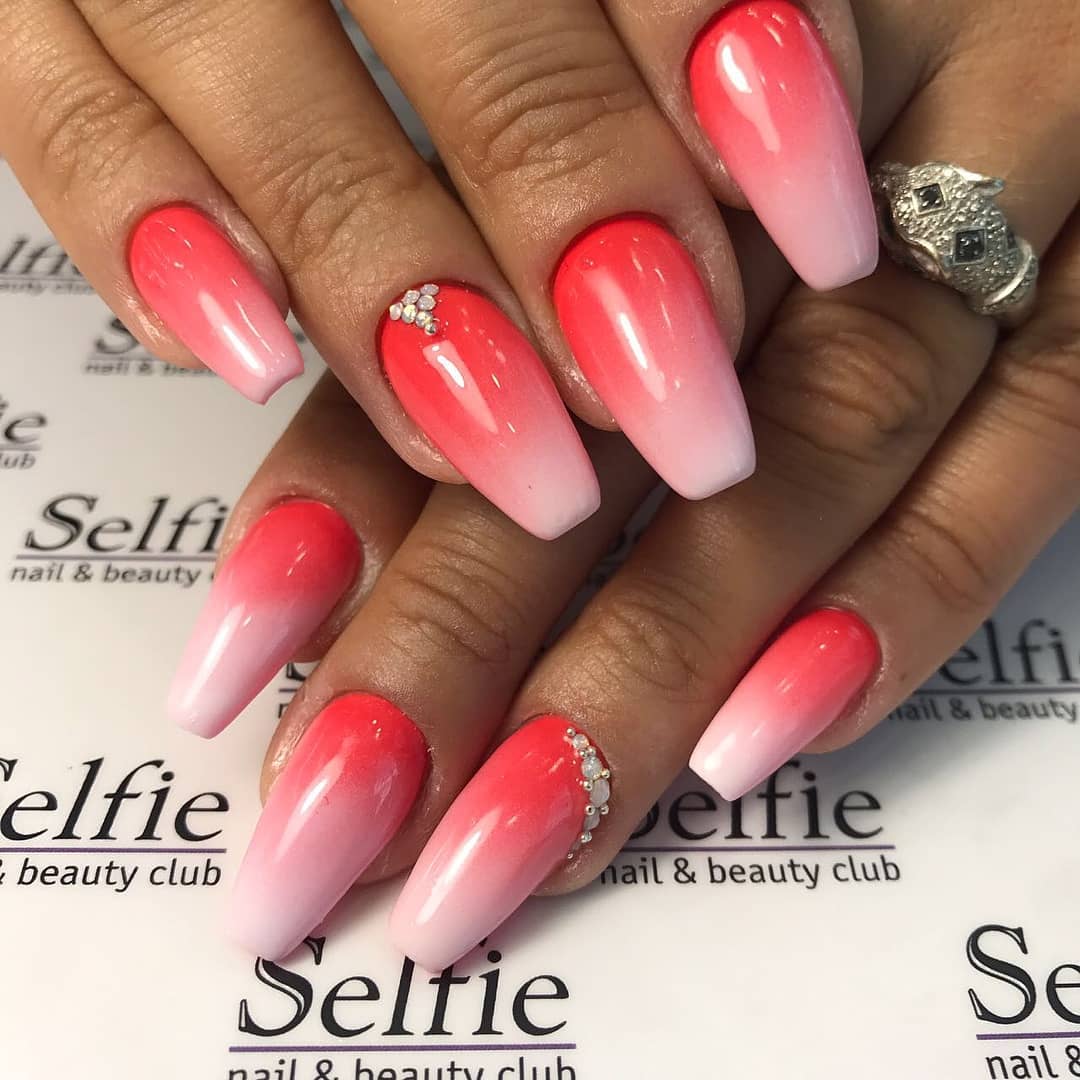 via @vipnailsru
37. Sunset Ombre Nails
Show your love for sunsets with this sunset ombre nail design. Using a lighter and darker shade of orange, you can achieve a nail design that's perfectly reminiscent of the colors of the sky as the sun sets for the day. You can add more designs to make it heavily inspired by the setting of the sun. Among these designs include the silhouette of the setting sun and the birds that fly by at this time of the day.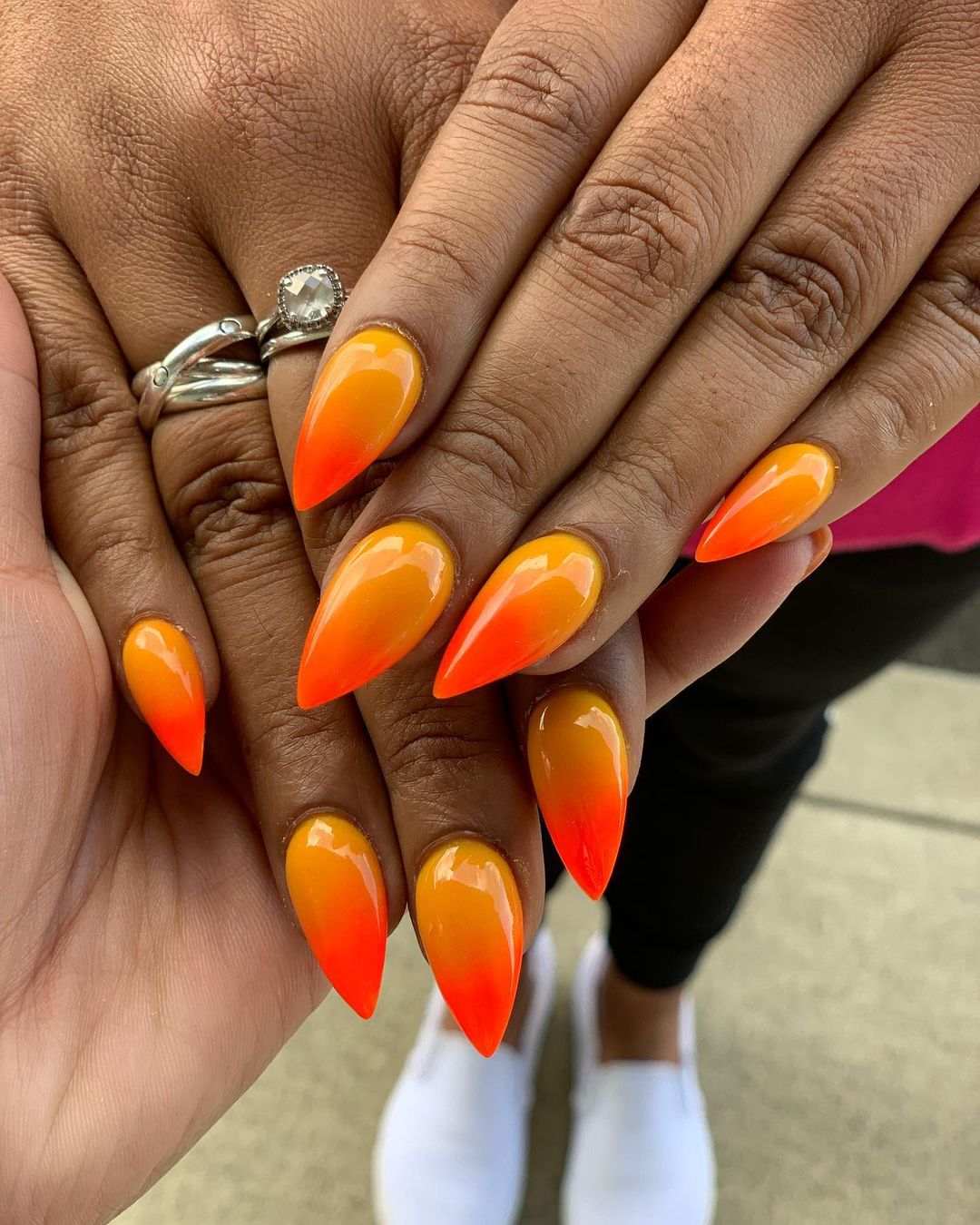 via @beyondnailsus
38. Brown Ombre Nails
For many ladies, brown is the new black. If you would like to pick darker shades for ombre nail design, noble brown or chocolate colors are always a great idea. Choose an ombre style and enjoy a gorgeous manicure that will provide you with numerous compliments.
Brown ombre nails suit any wardrobe and are always relevant. Most ladies pick this color in autumn, but it's a truly universal manicure shade.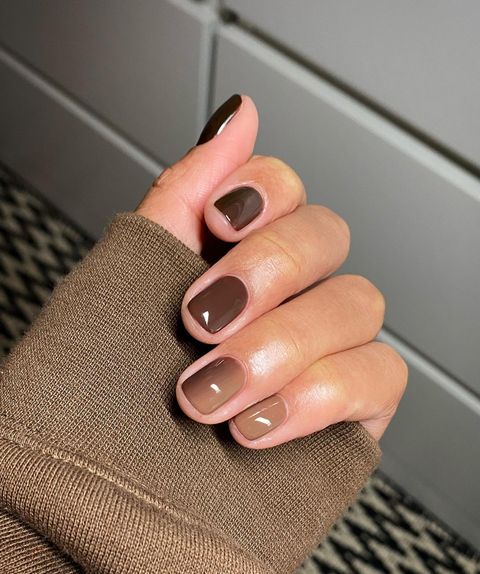 via @thegeledit
39. White Ombre Nails
Ombre white nails are a timeless classic, suiting women with any nail shape. Moreover, many brides choose this trendy wedding manicure to feel irresistible on their special day.
French white ombre nails are the best way to make a simple design with a nice accent, which will attract attention to your well-groomed hands.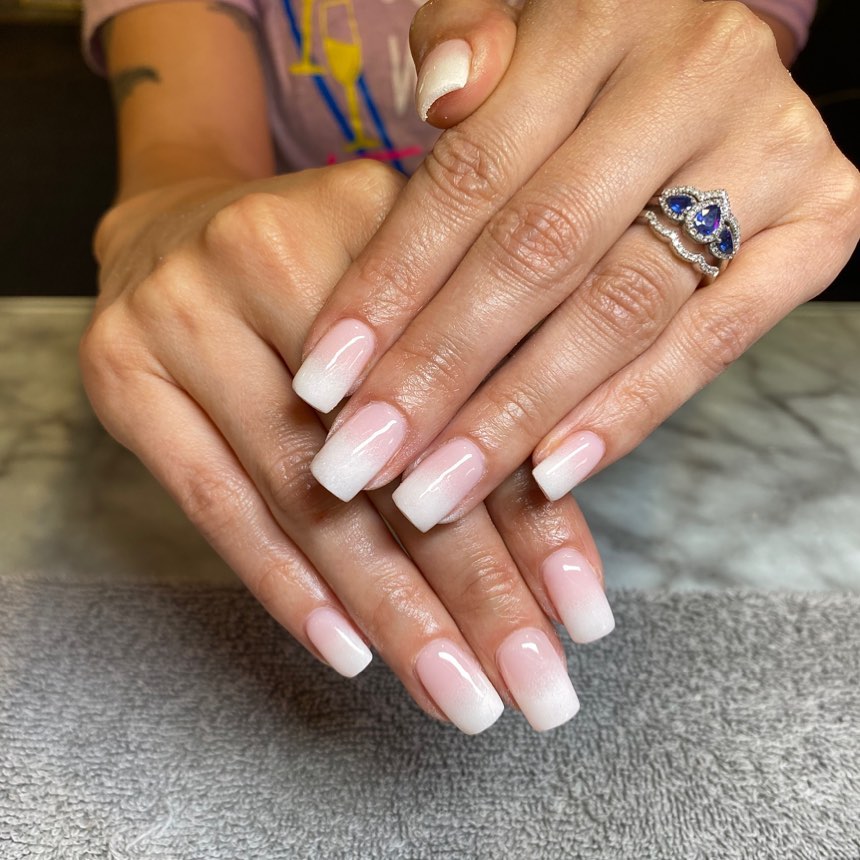 via @glambygladys_
40. Matte Ombre Nails
Nails with a matte finish always look more exciting and unusual than a classic glossy top. You can have gradient nails of any color and add a matte top, but remember that the shade may become more muted.
Matte ombre nails are the hottest trend that will remain at the peak for a long!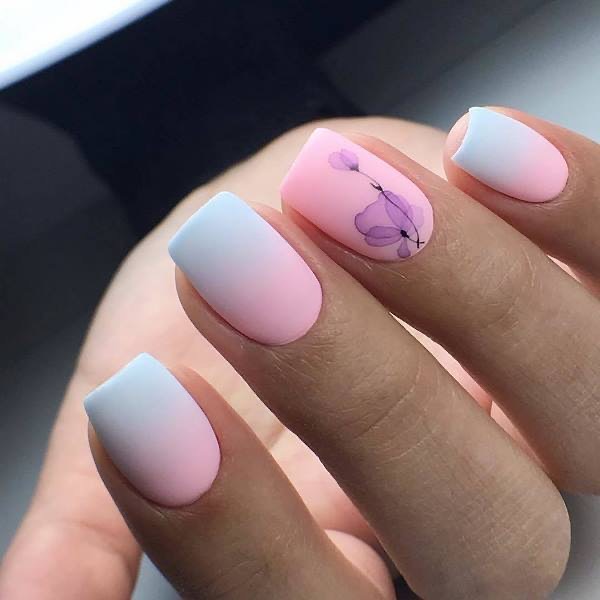 via @mariyaneil_
FAQ
What are Ombre Nails?
An ombre nail is a type of layered manicure that entails two colors blending and graduating seamlessly into each other. It involves one dark nail color and one light. The dark color is often placed on one side. It then transitions to a light nail color (usually white) on the opposite side of the dark color nail. Your nail tech can add more design to your ombre nails, such as glitter, chrome, studs, and holographic effects.
What Colors are Good for Ombre Nails?
As mentioned above, ombre nail design often involves two colors—a combination of dark and light shades. The dark colors can be black or purple, and the light ones are often white cream or a lighter shade of the dark color. It can also be a completely different color but a lighter one. For example, the dark nail color is black, while the lighter one is pink.
Can You Get Ombre on Real Nails?
The answer is a big yes! Choose your preferred nail polish (gel or acrylic), nail tape, and to create an ombre effect, a makeup sponge. Make sure you clean your nails first to get the desired effect smoothly and apply a base and topcoat to ensure it lasts longer. How Do You Do Ombre Nails? There are various methods when applying ombre nail designs. You can use the sponge method using two traditional nail polish colors and a makeup sponge for the blending step. You can also apply the brushed blend technique, which is perfect if you're using a gel nail polish.