The orange manicure deserves special attention among the numerous laconic and rebellious nail designs.
Delicate, rich orange, monochromatic, and decorated can complement every look effectively.
Bright orange nails are the perfect manicure idea for any season. Don't believe it? Let's see this right now!
Neon Orange Nails
Which summer nail art is considered one of the most spectacular and popular? Of course, this is a manicure using neon colors!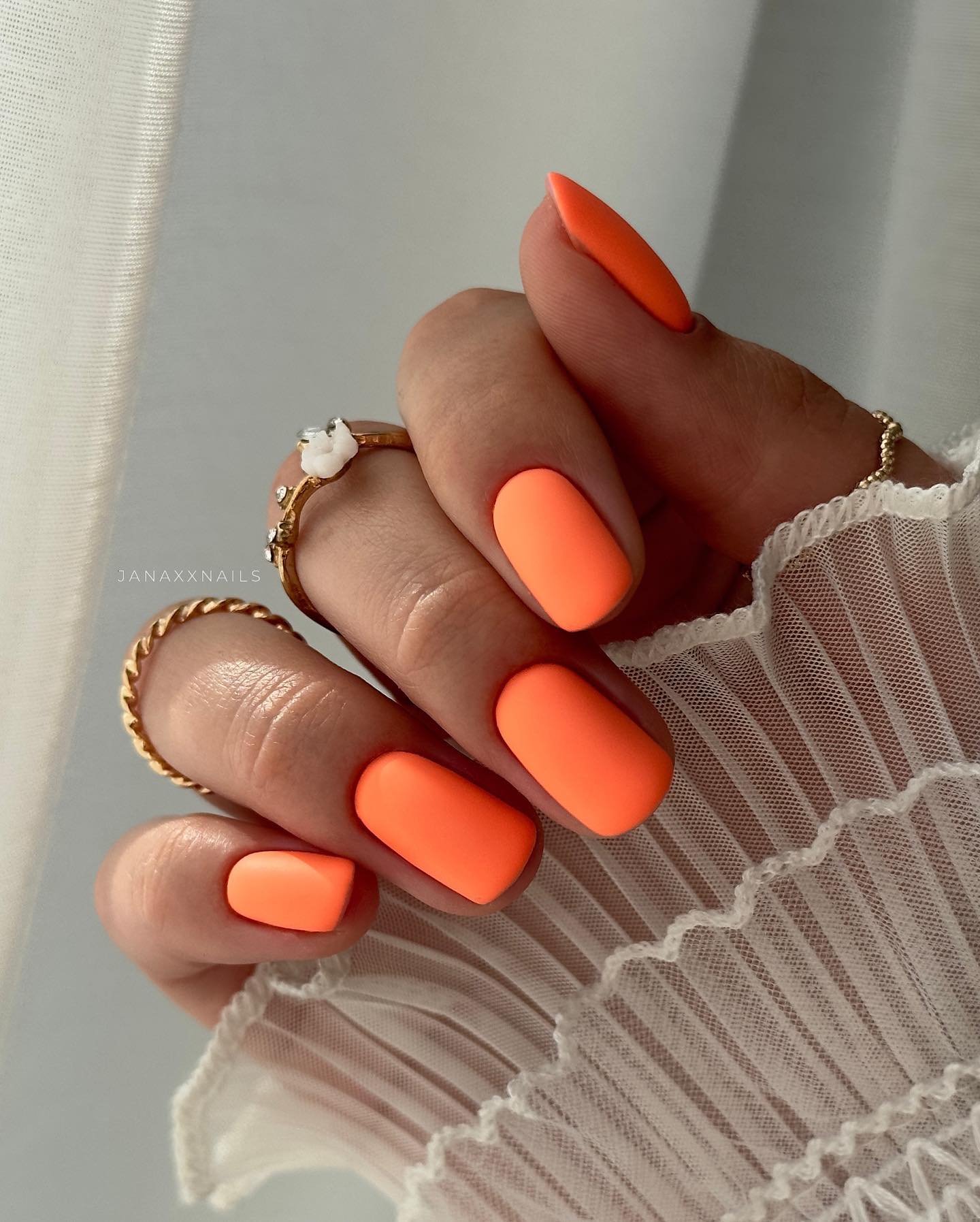 via @janaxxnails
Orange nail designs are a bold and noteworthy trend that self-confident fashionistas cannot ignore.
Which neon nails to choose? It depends on your desire! You can go for a single-colored sparkling orange manicure or a combination with other shades, such as yellow, green, or pink.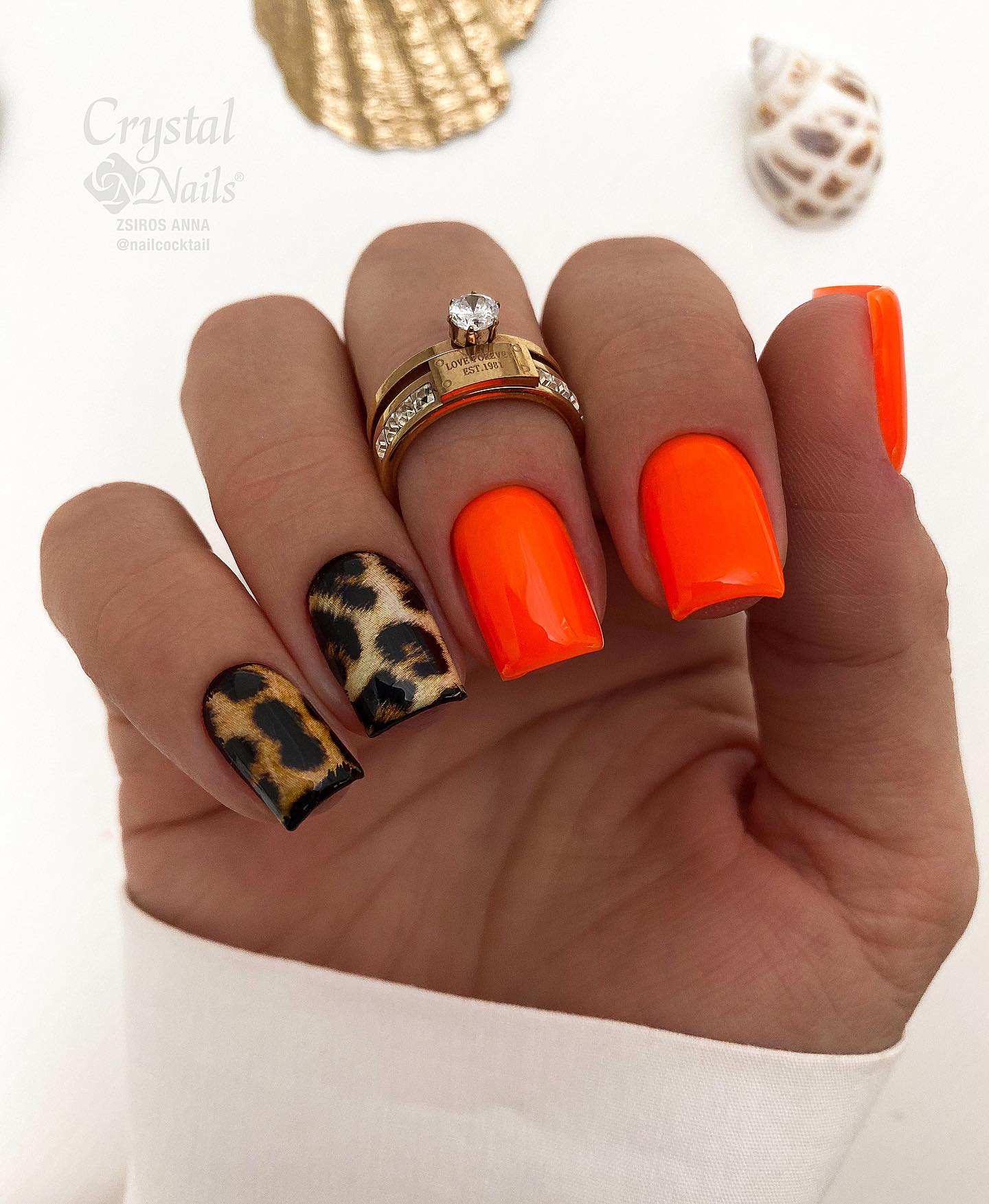 via @nailcocktail
Burnt Orange Nails
It's impossible to imagine autumn without orange shade, right? At this magical time of the year, do not deny yourself the pleasure of realizing a long or short manicure idea with warm, sunny colors!
What can fall orange nails be like? In addition to the classic solid color coating, remember the following designs:
Themed stickers with fall motifs, such as pumpkins, leaves, or acorns;
Metallic foil or metallic varnish in gold or copper color for intricate decor;
Abstract patterns in darker shades;
Marble accents, achieved by combining bright orange with creamy neutral tones;
A matte finish that gives contrasting nails a velvety and elegant look.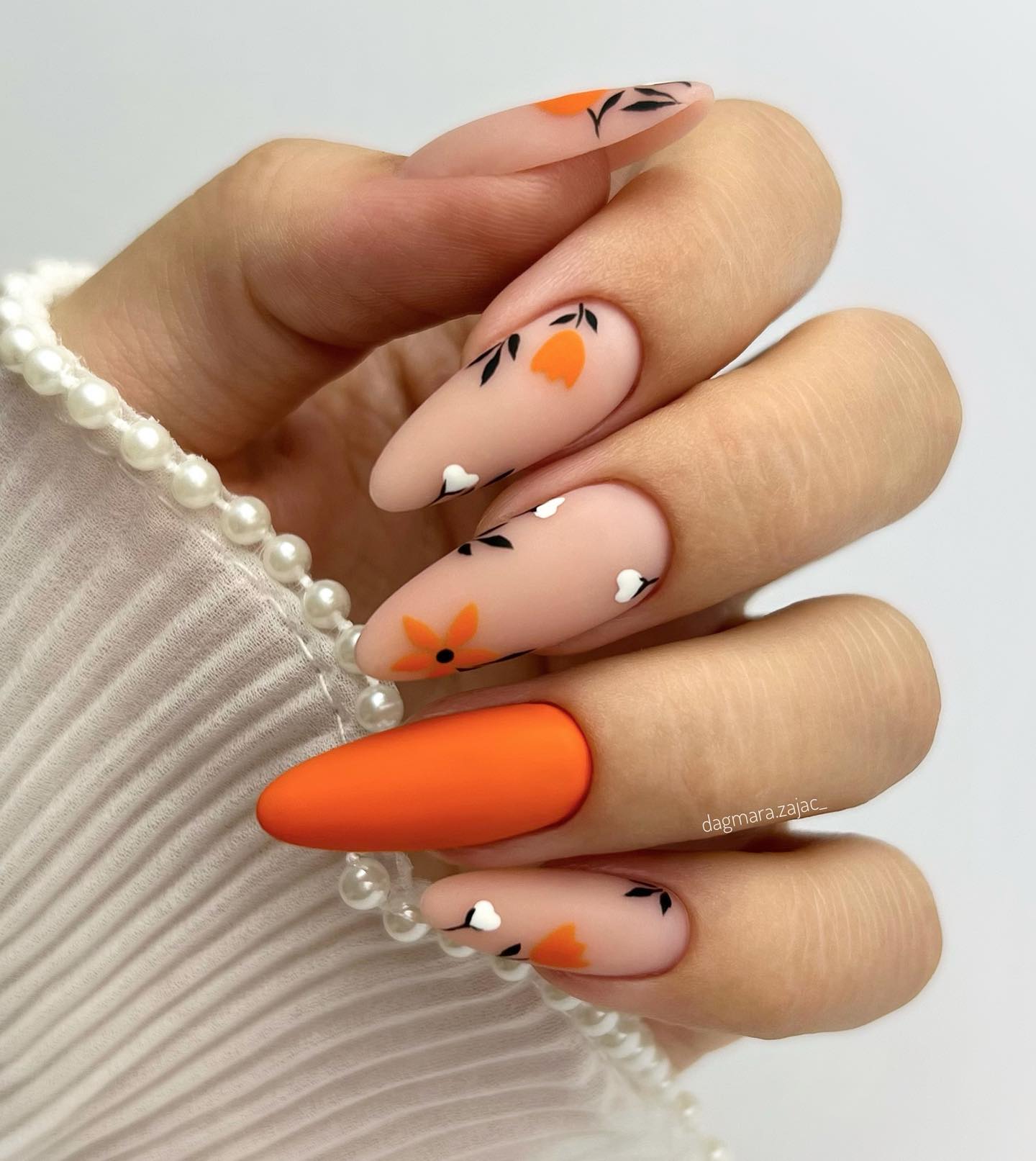 via @dagmara.zajac_
Pink and Orange Nails
Orange and pink nail designs create a bright, playful look for weekends, vacations, or parties. How can you mix these colors?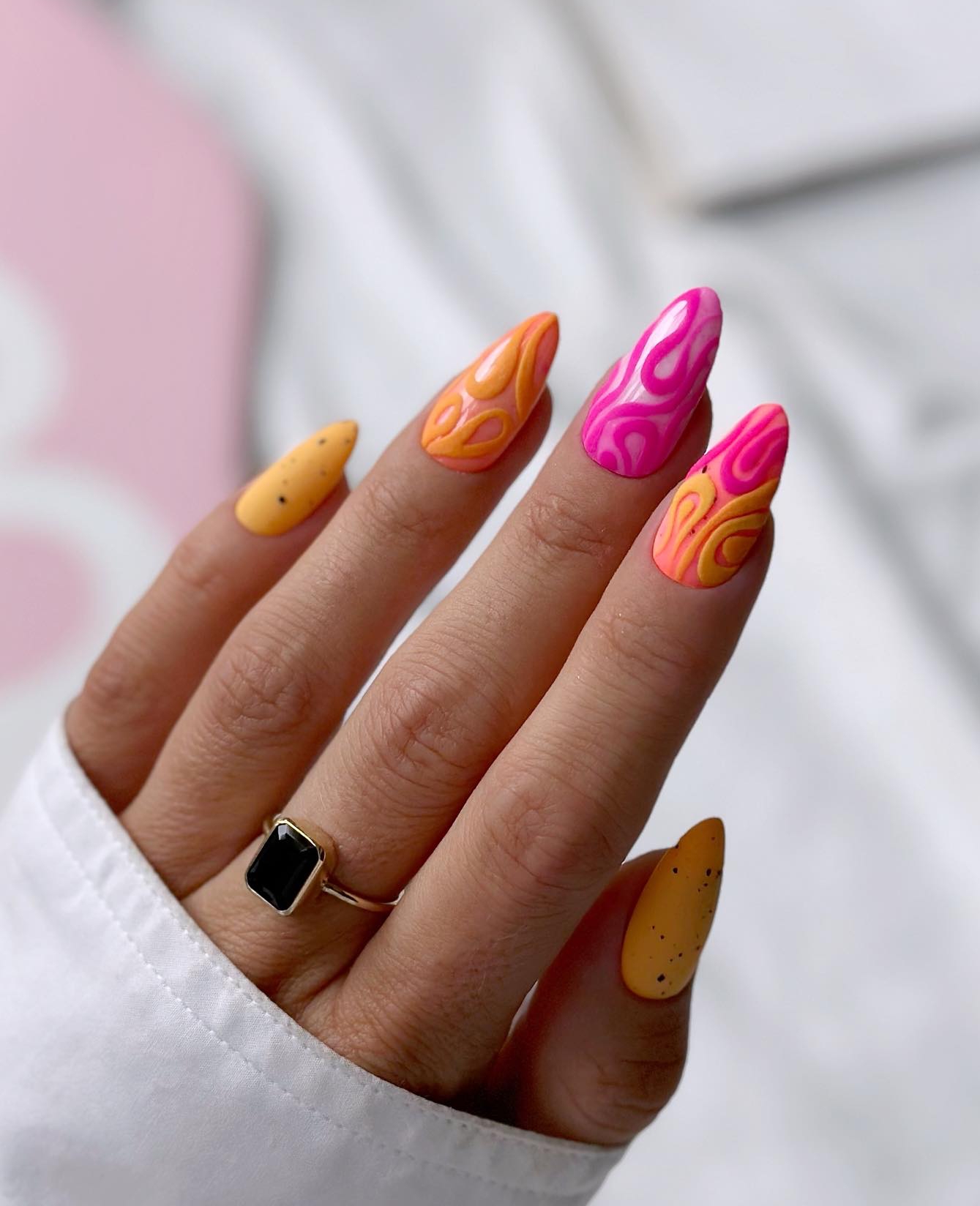 via @anetaujwary
If you prefer a more discreet manicure, add a pink accent nail to the orange color. Among the original and more daring solutions are shimmering glitter designs, dizzying orange-pink ombre, or feminine floral patterns.
Remember such a charismatic solution as the tie-dye effect. Mix pink and orange nail polish using a sponge or water marble technique to give your nails a funky, slightly psychedelic look.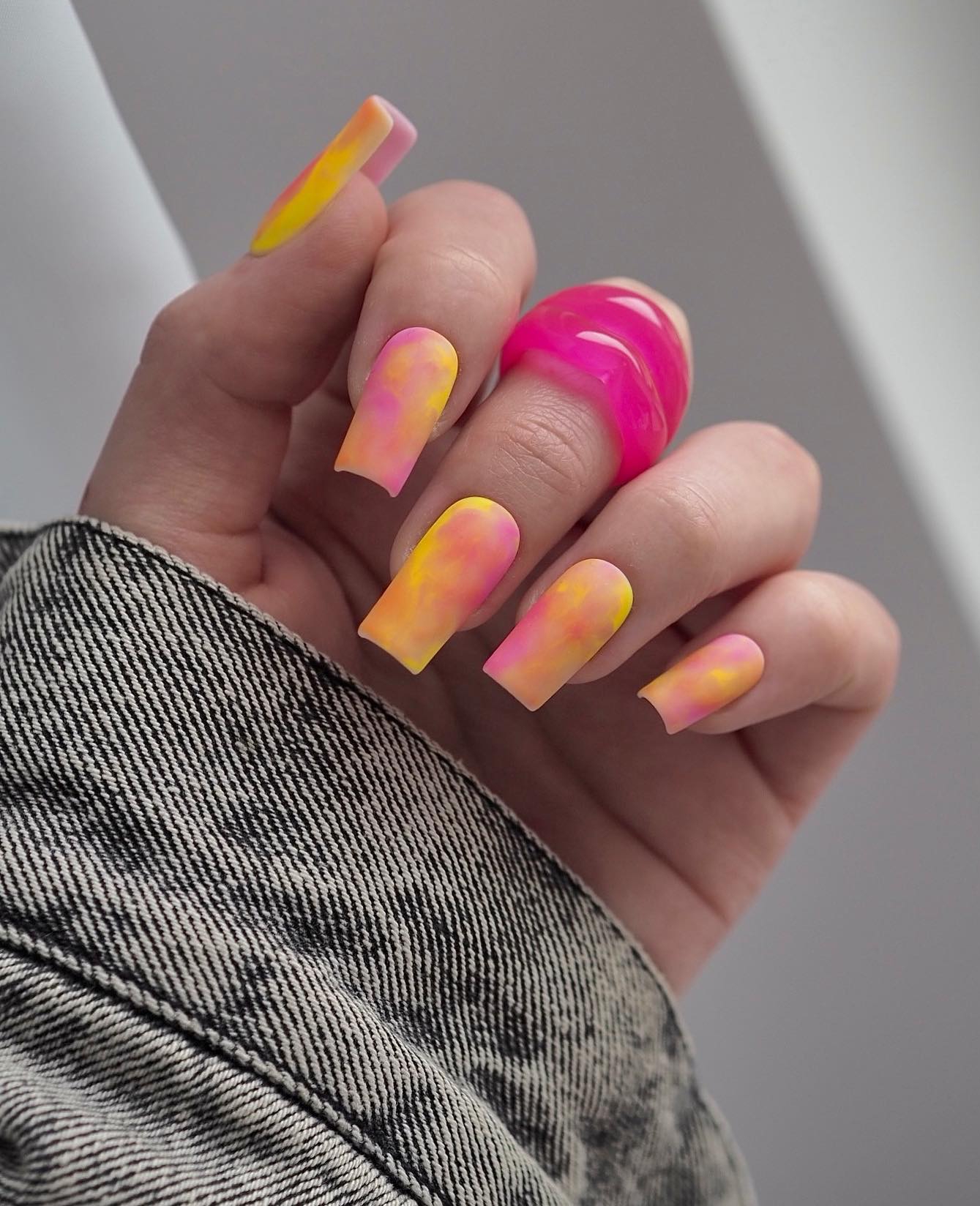 via @napaznokciach
Ombre Orange Nails
Another sophisticated fall season manicure idea is orange ombre nails. They feature a stunning gradient effect that goes from one shade of orange to another.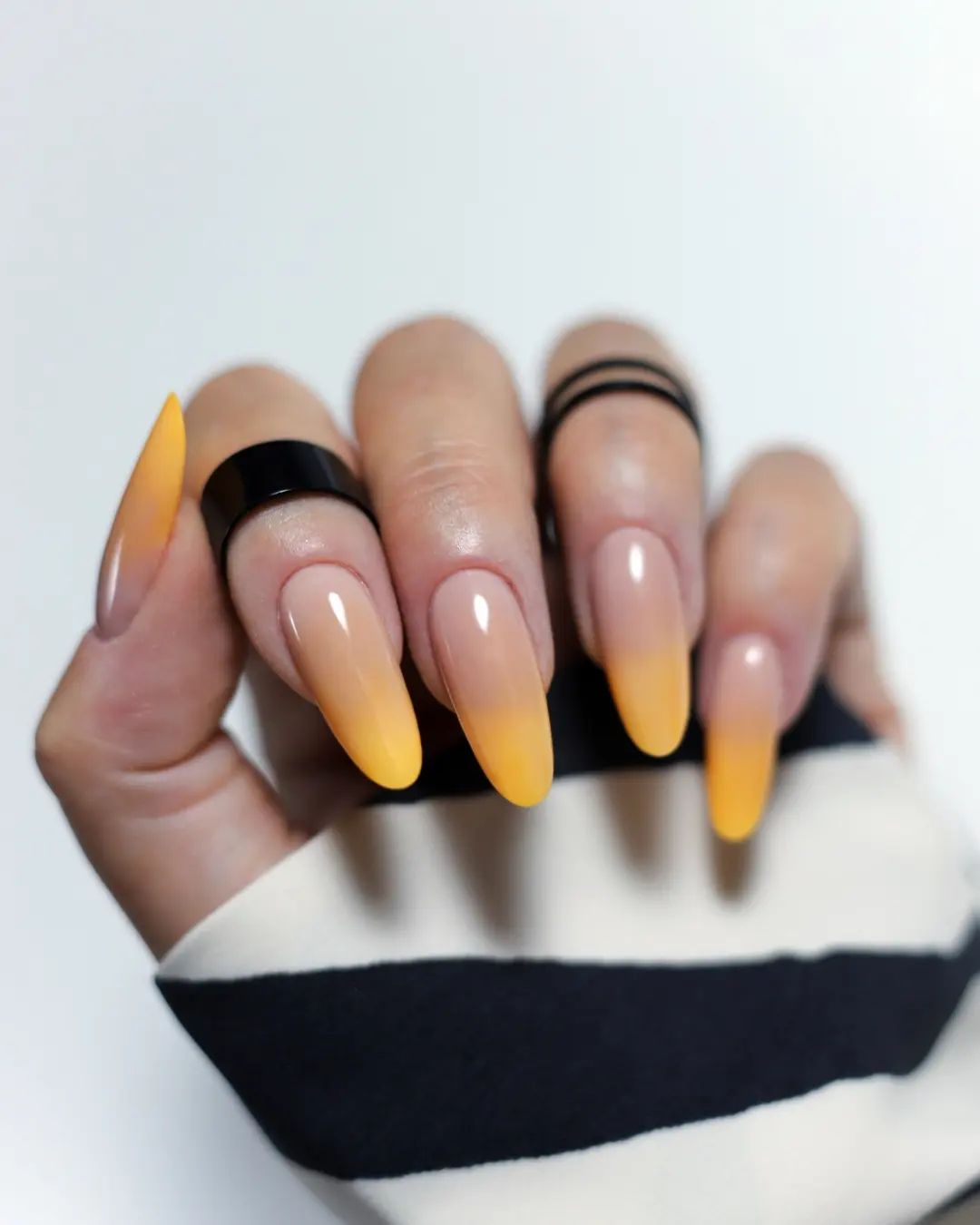 via @nailcoon
In addition to the classic option, in which rich shades turn into pastels or vice versa, you can choose contrasting designs. Thus, masters often use black, pink, yellow, coral, and turquoise with orange to obtain classy ombre nails.
Want more glitz and glamour? Add glitter or metallic accents to your design by placing them along the transition line between orange shades.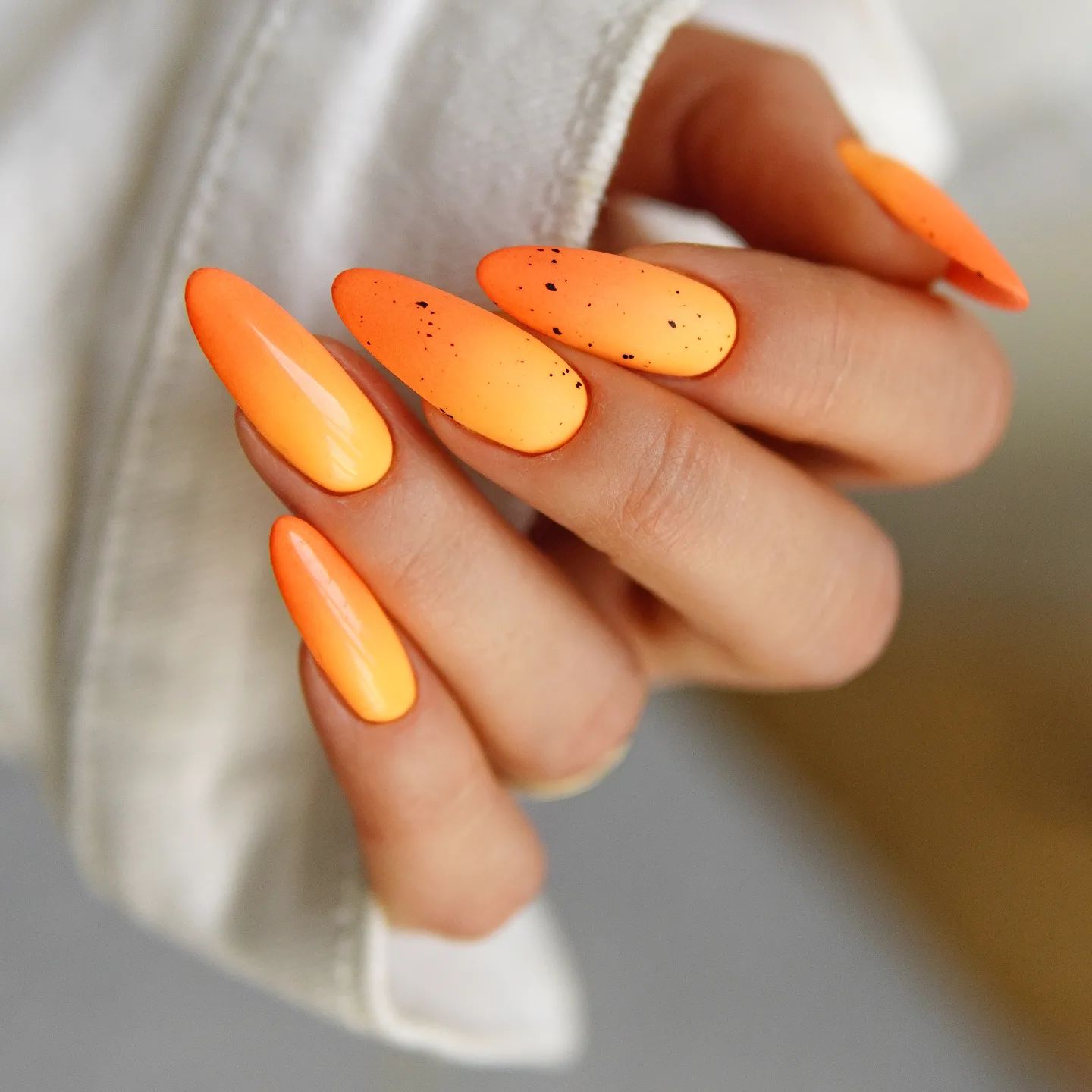 via @kamjaw_indigo
Orange French Manicure
Orange French tip nails are a great way to diversify a classic and discreet French manicure. You can use regular or neon polishes, complementing the design with sparkles to create a stylish accent.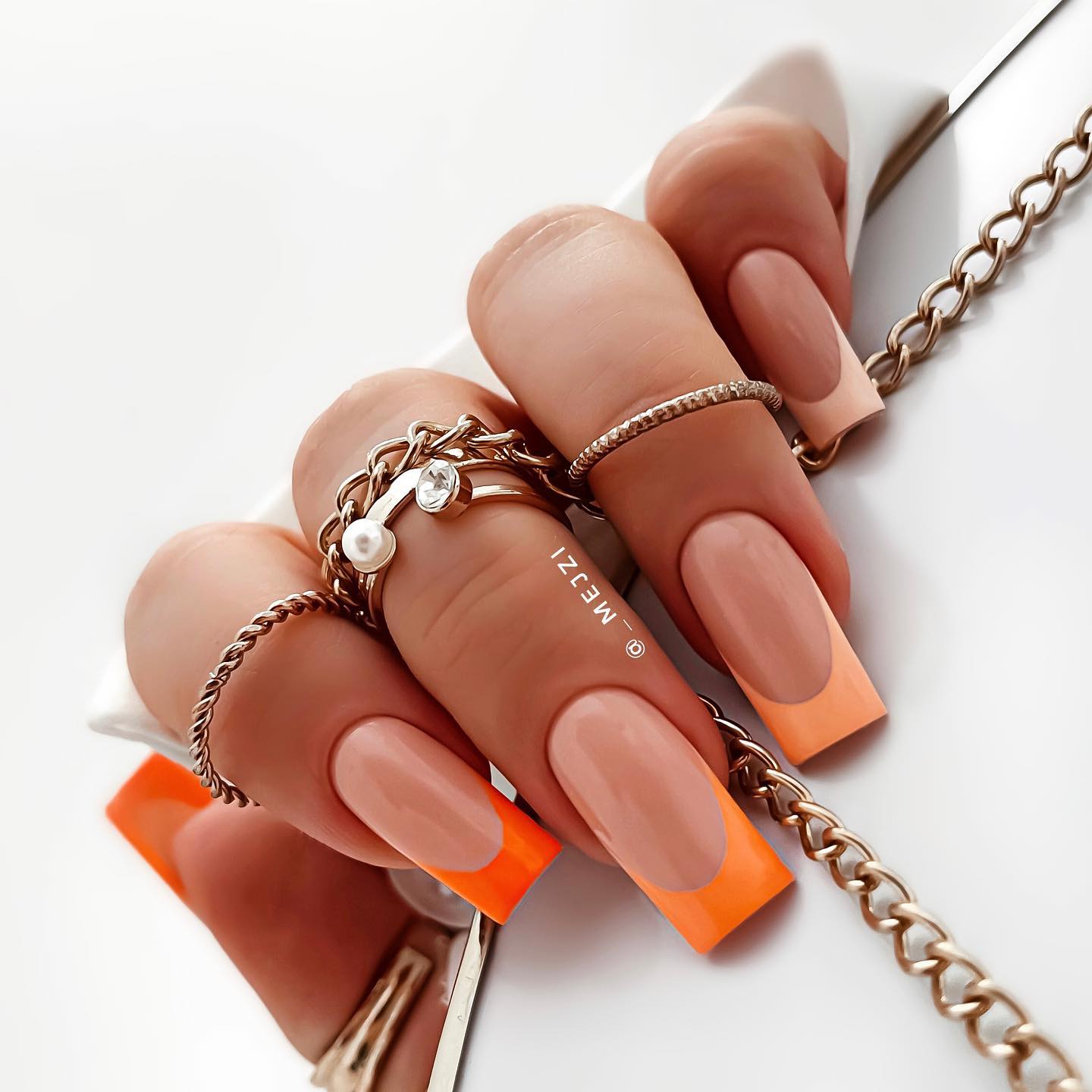 via @_mejzi
How do you get the bright nail art? Create a subtle gradient by mixing orange shades, or add negative space between the base color and the tip, leaving a thin line without color coverage.
Another original solution for French manicures is using different textures. Apply a matte finish to your nails, leaving the ends glossy. Such a design with the orange trend this season will surely help you stand out!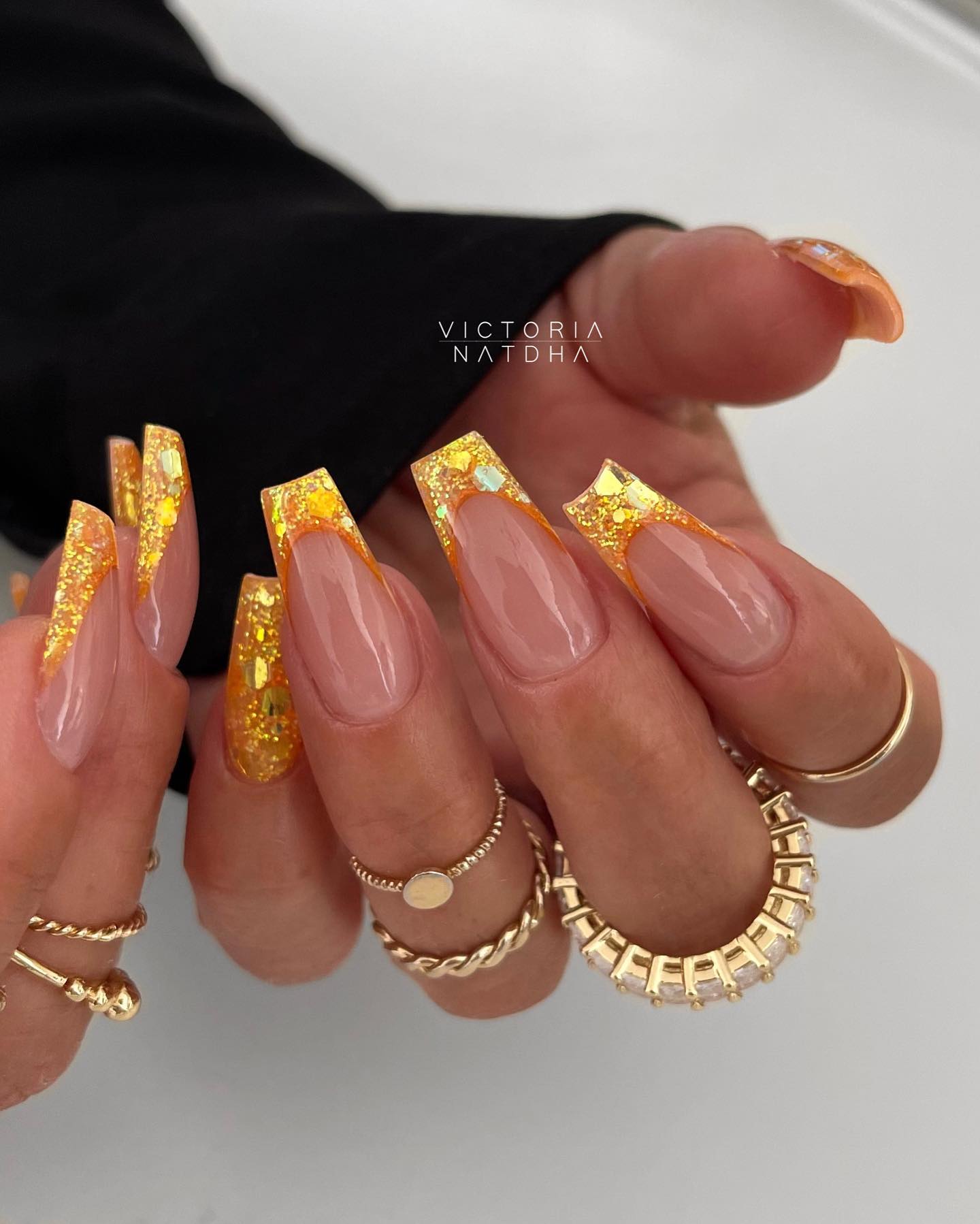 via @victorianatdha
Orange Acrylic Nails
Acrylic orange nails are the perfect base for creative nail art. You can create both a sophisticated and elegant mani or a daring design with its help.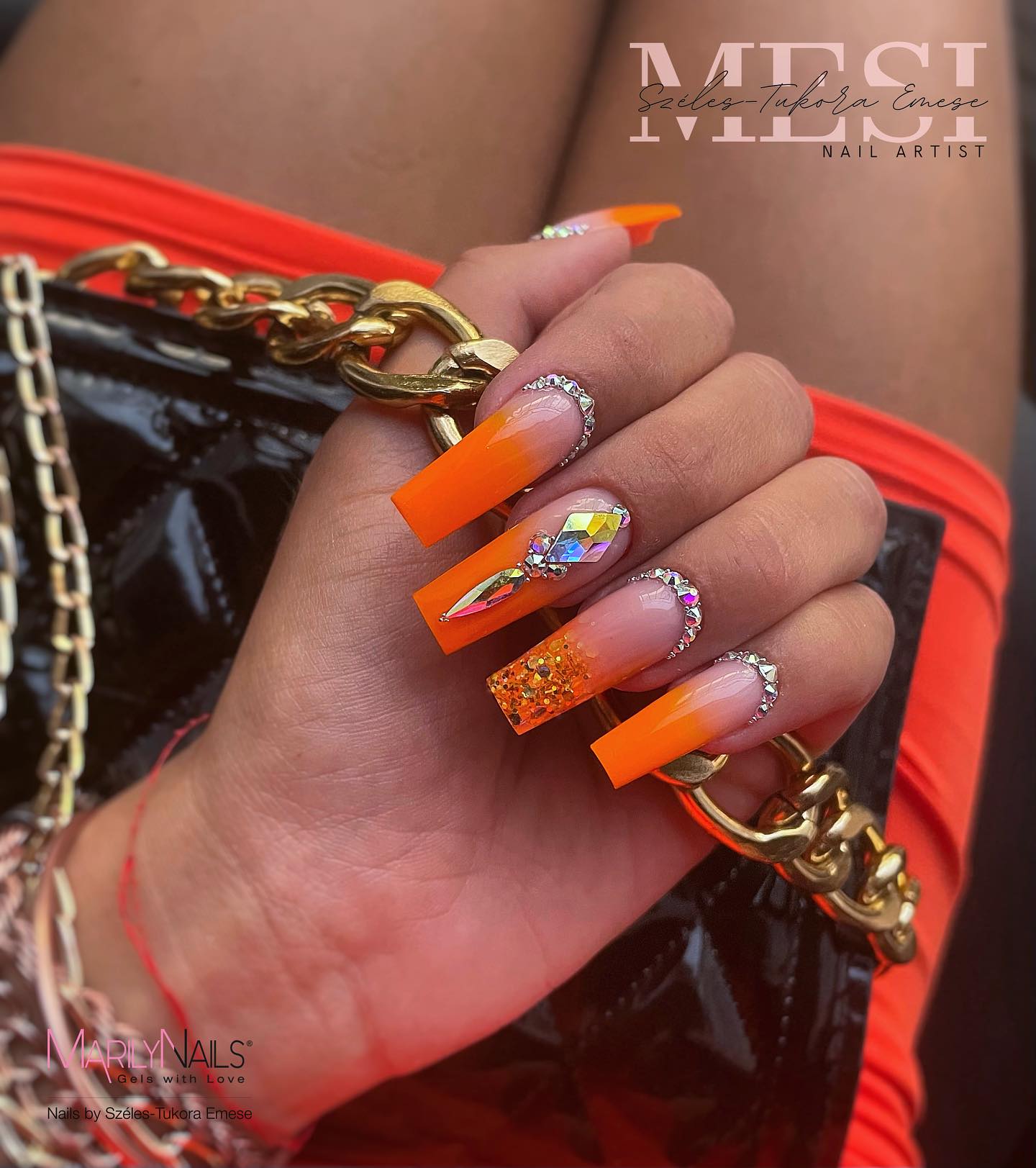 via @nailsbymesii
Are you looking for stylish everyday manicure ideas? Try white nails with an orange design. Use geometric patterns, tropical motifs, or Halloween attributes as decor for the season. For example, pumpkins, ghosts, or black cats will create a festive mood and a seasonally appropriate look.
A multifaceted marble manicure will come to the rescue for a special event. You will get this effect if you mix white and orange colors, creating veins and streaks characteristic of natural stone.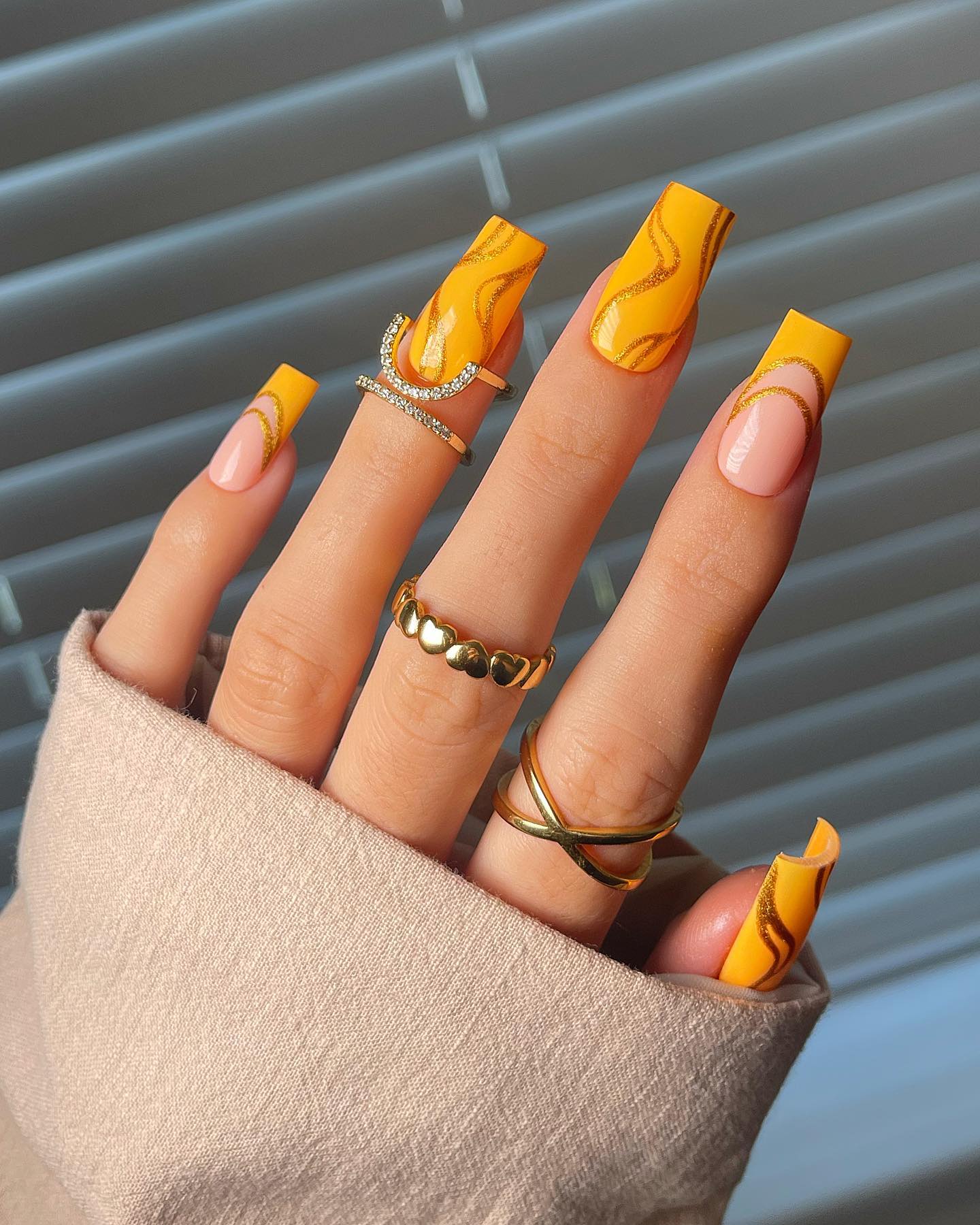 Coffin Orange Nails
Do you like charismatic and provocative coffin nails? Numerous coffin nail ideas suggest using a bright orange shade. You don't have to do just a one-color manicure (although it will look incredible!).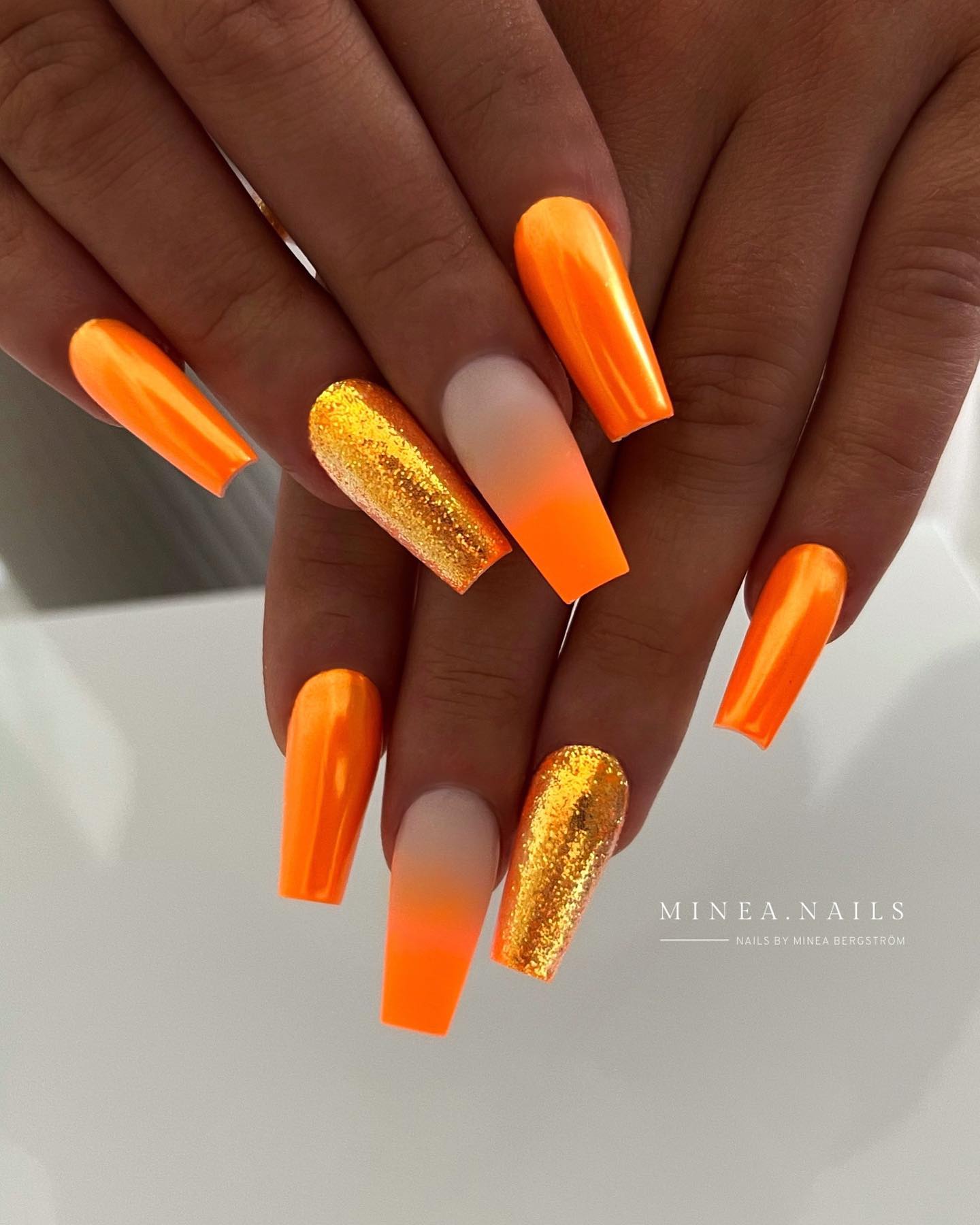 via @minea.nails
For a new nail design on coffin-shaped nails, use matte shades of orange and black or add gothic and Halloween elements. Even if you do not belong to any subculture, nothing prevents you from getting a manicure with black lace ornaments, crosses, or bats. On long nails, there is enough space to embody any creative ideas!
via @mzsofi__
Light Orange Nails
Do you need interesting short manicure ideas? One of them is light orange nails.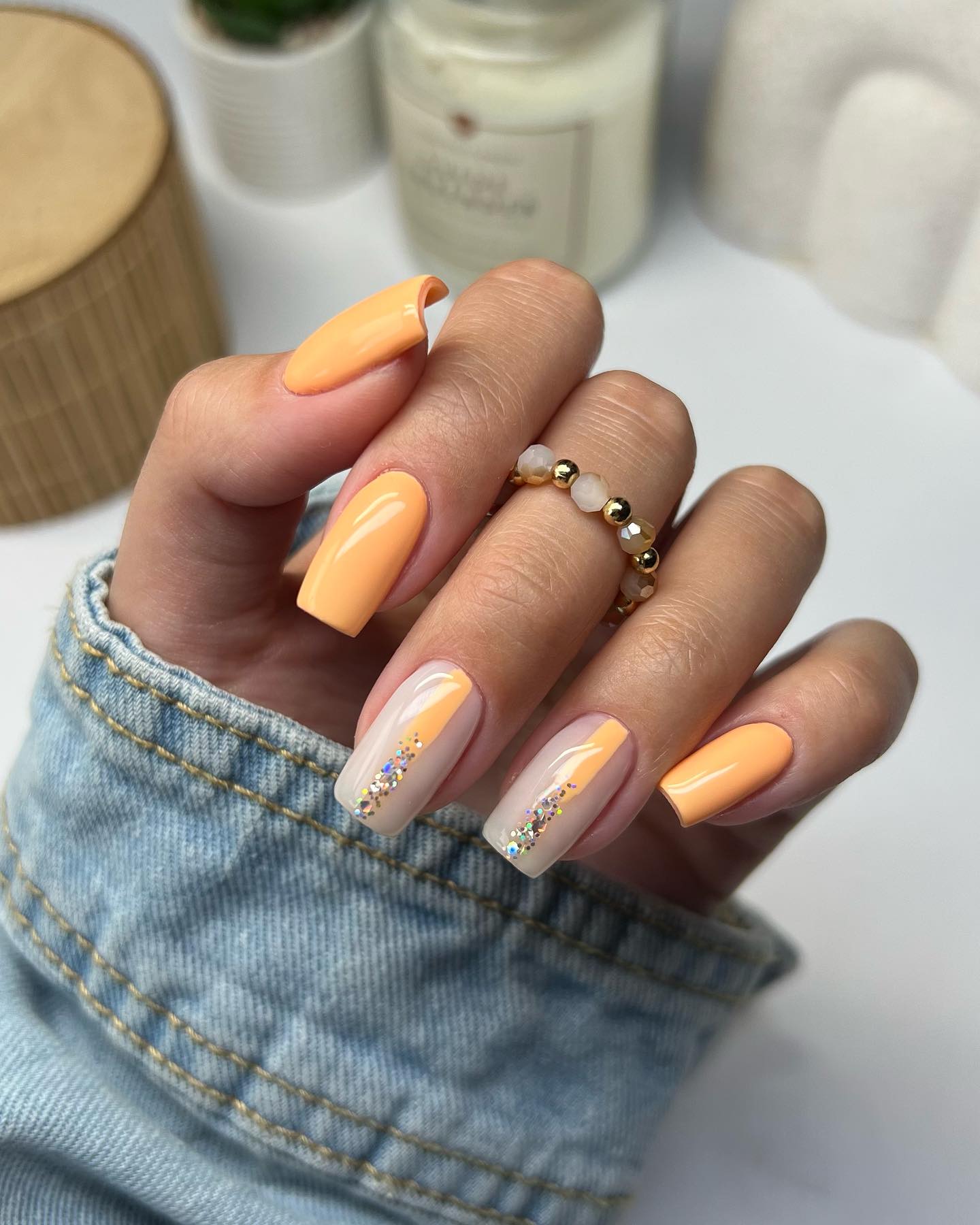 via @vviki.mani
Pastel sunny shades perfectly complement a discreet everyday look for the office. In addition, they can be an ideal basis for nail art if circumstances allow it. Numerous patterns, rhinestones, stamping, and marble effects look great on delicate orange nails.
To create a romantic look, you can use delicate ombre with heavenly, light green, or lavender shades as orange nail designs.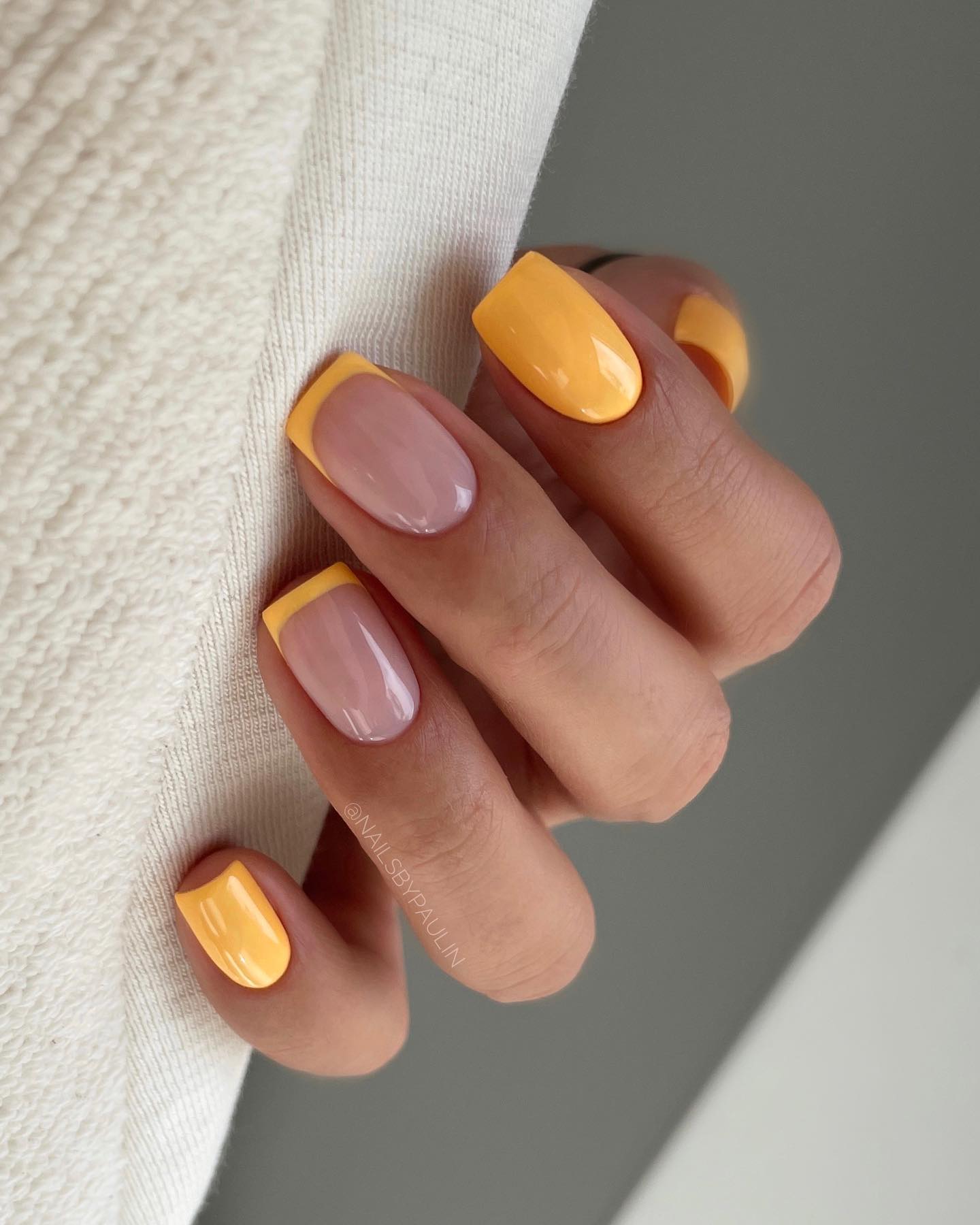 via @nailsbypaulin
Orange and Blue Nails
Bright shades, unexpected combinations, impressive decor — all this is about summer nail ideas! How can you emphasize your individuality with an orange manicure?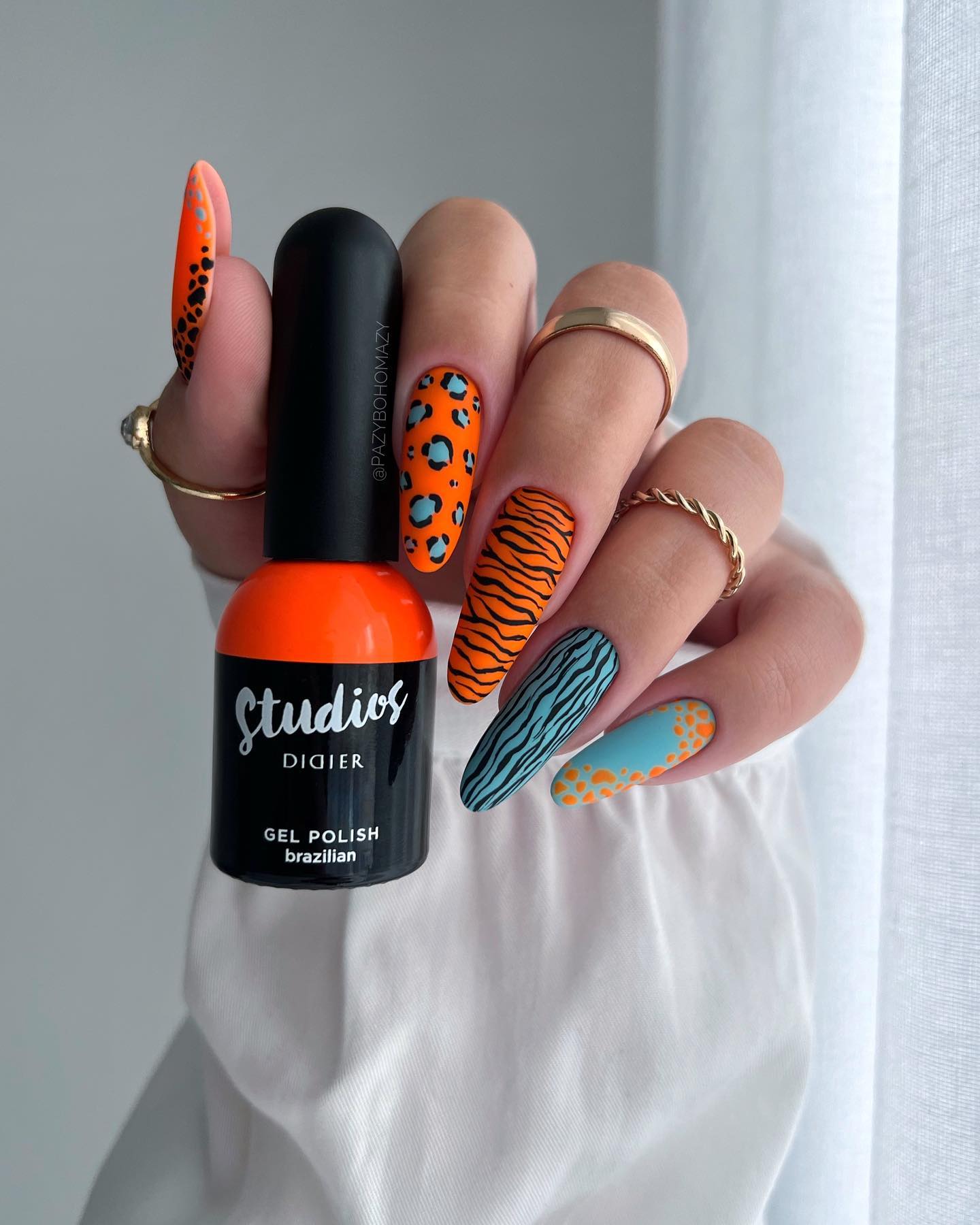 via @pazybohomazy
The most obvious option is to create a unique marine mood with blue and orange nails. You can draw waves, sunrise, sunset, add tropical trees, and whatever you want!
If you prefer a more minimalist manicure, choose a French one with orange tips.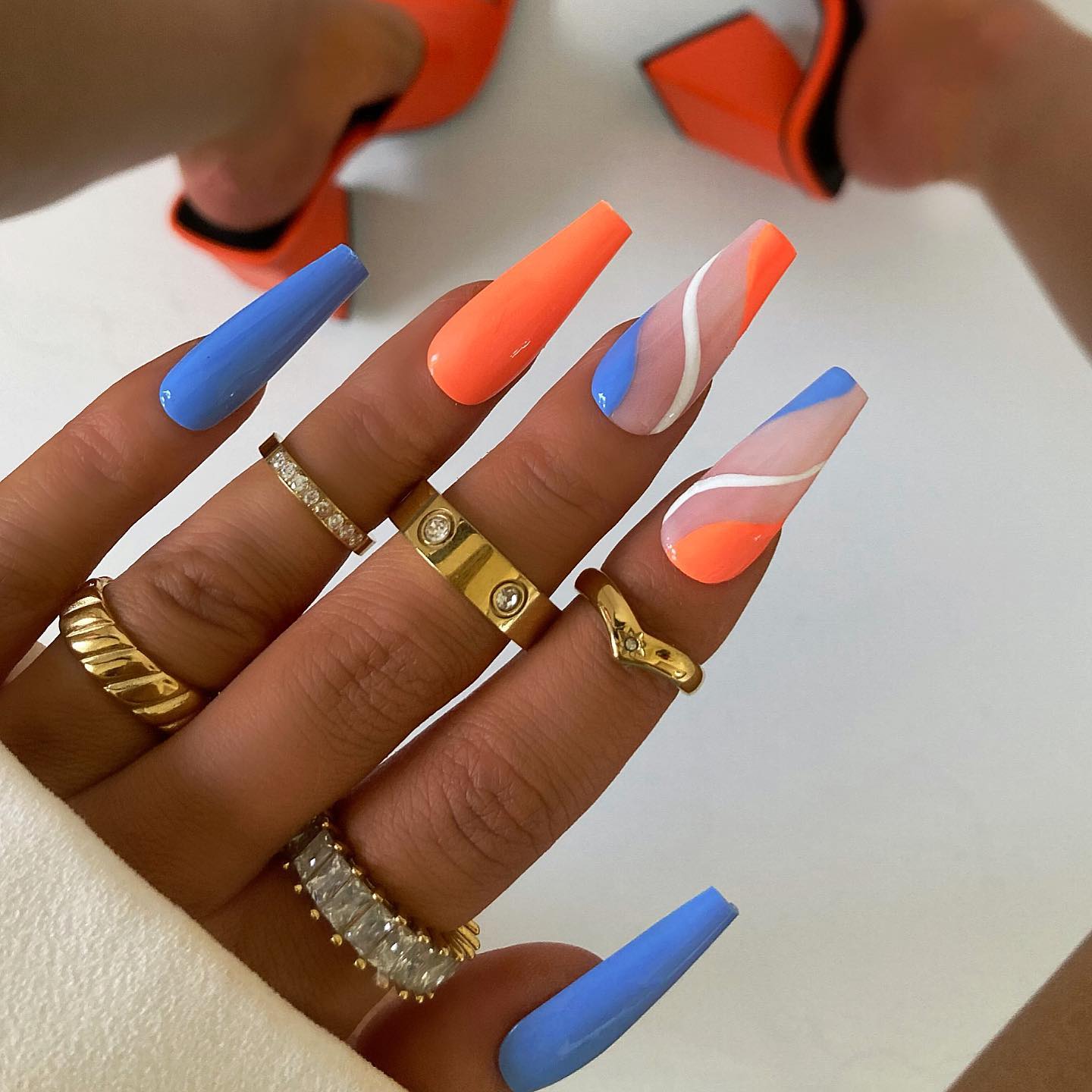 Orange and White Nails
Contrasting an orange manicure with the addition of white can create a playful mood without being too noticeable. Due to this feature, universal design is popular in everyday life.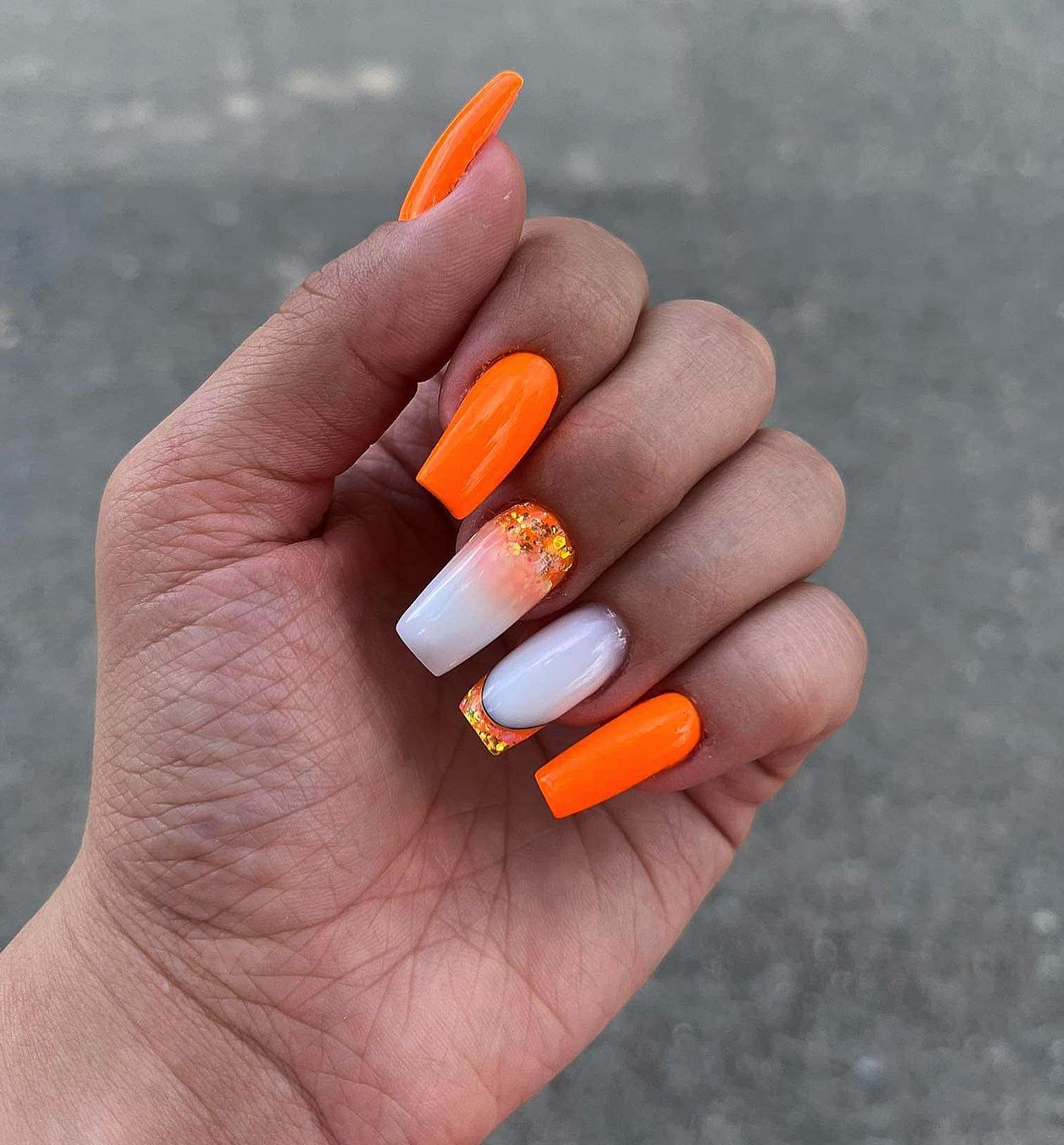 via @nailsbyzozi
What white nail ideas are the current season's trends? This category includes classic French manicures with orange decor, marble manicures and ombre, laconic stripes or dots, and glitter designs.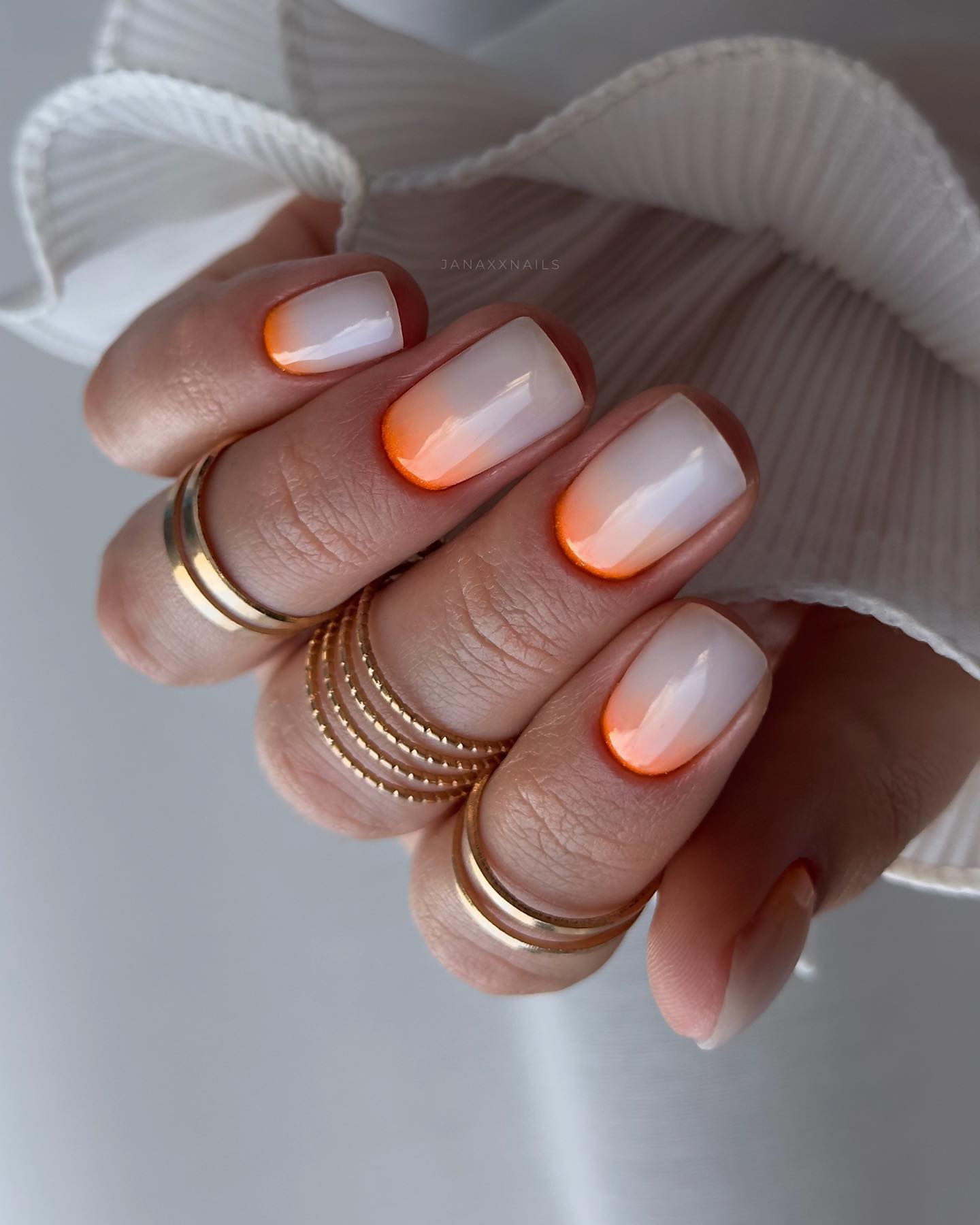 via @janaxxnails
Orange Chrome Nails
Chrome nails with a mirror metallic tint will not leave fans of bright designs indifferent. The radiant effect of such a manicure is achieved using orange nail polish with chrome thresholds or pigments.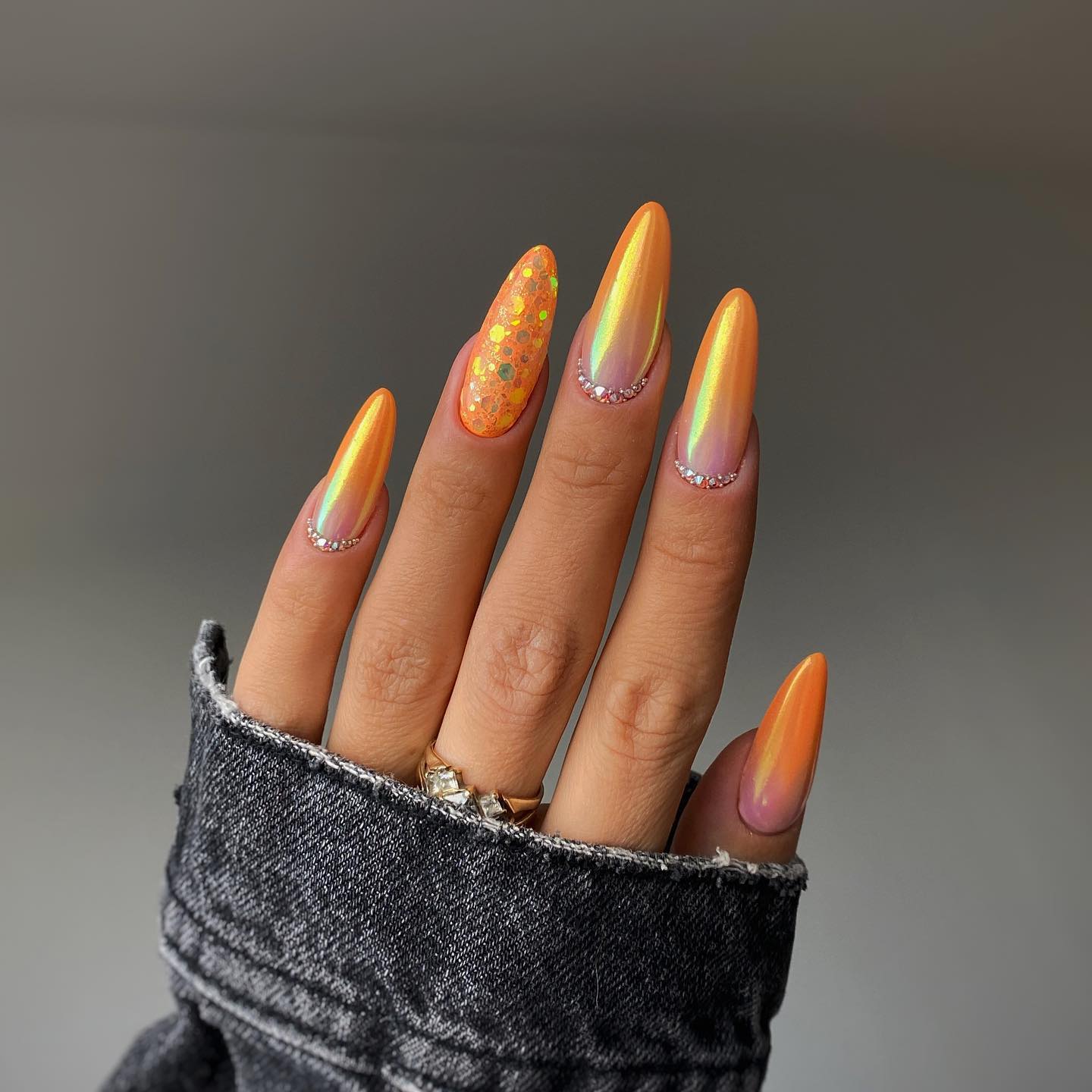 via @pegi_nails
Chrome orange is the perfect color to create a bold and energetic look for different occasions. It can range from a fiery bright orange to a more muted and elegant shade.
How do you customize orange nail art? Add geometric patterns, nail stamps, rhinestones, or a matte finish to your chosen color. The velvety texture will not interfere with the fascinating play of light and reflections in different lighting conditions.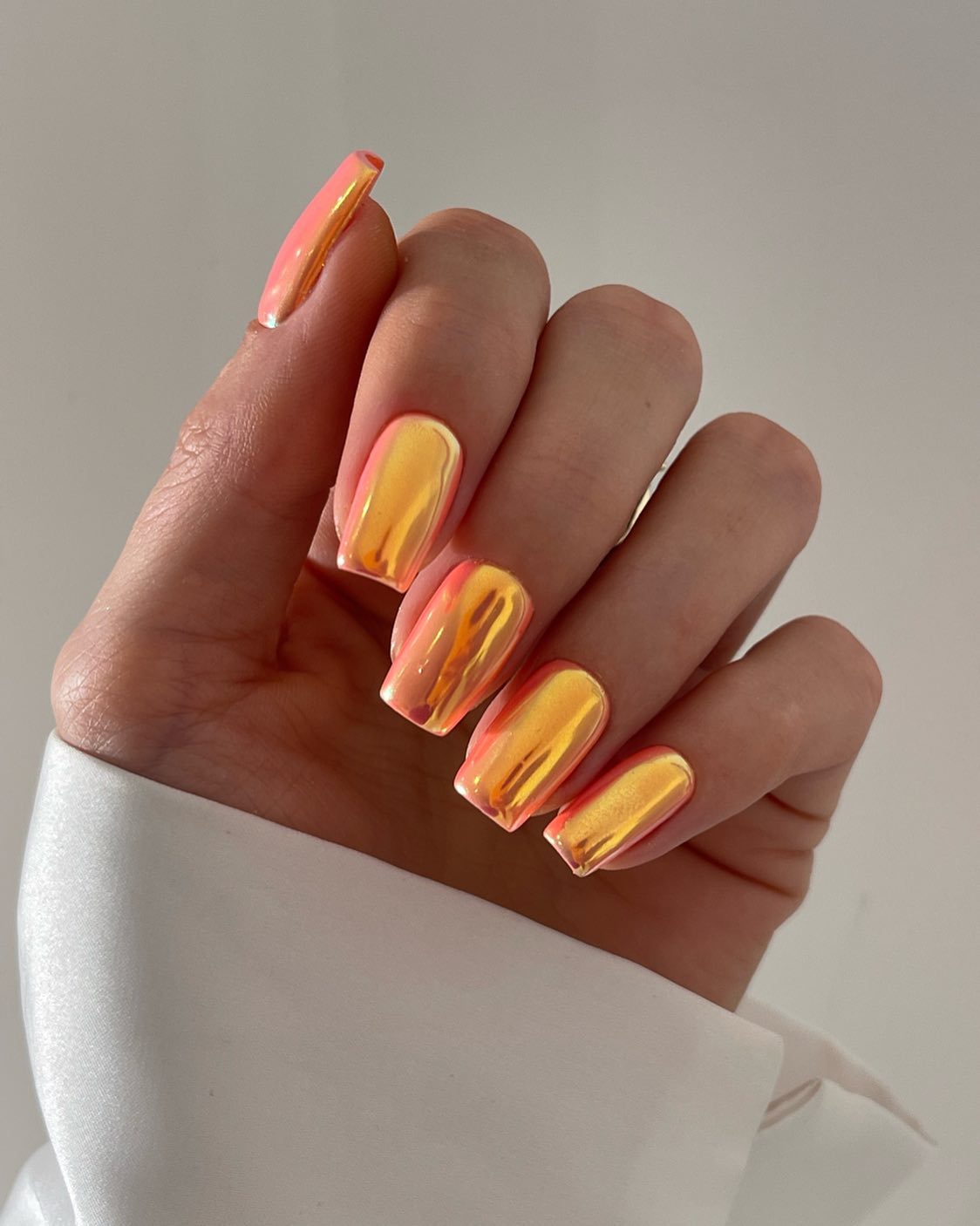 via @gelsbybry
Black and Orange Nails
Black and orange are among the most successful combinations that can be adapted for different looks.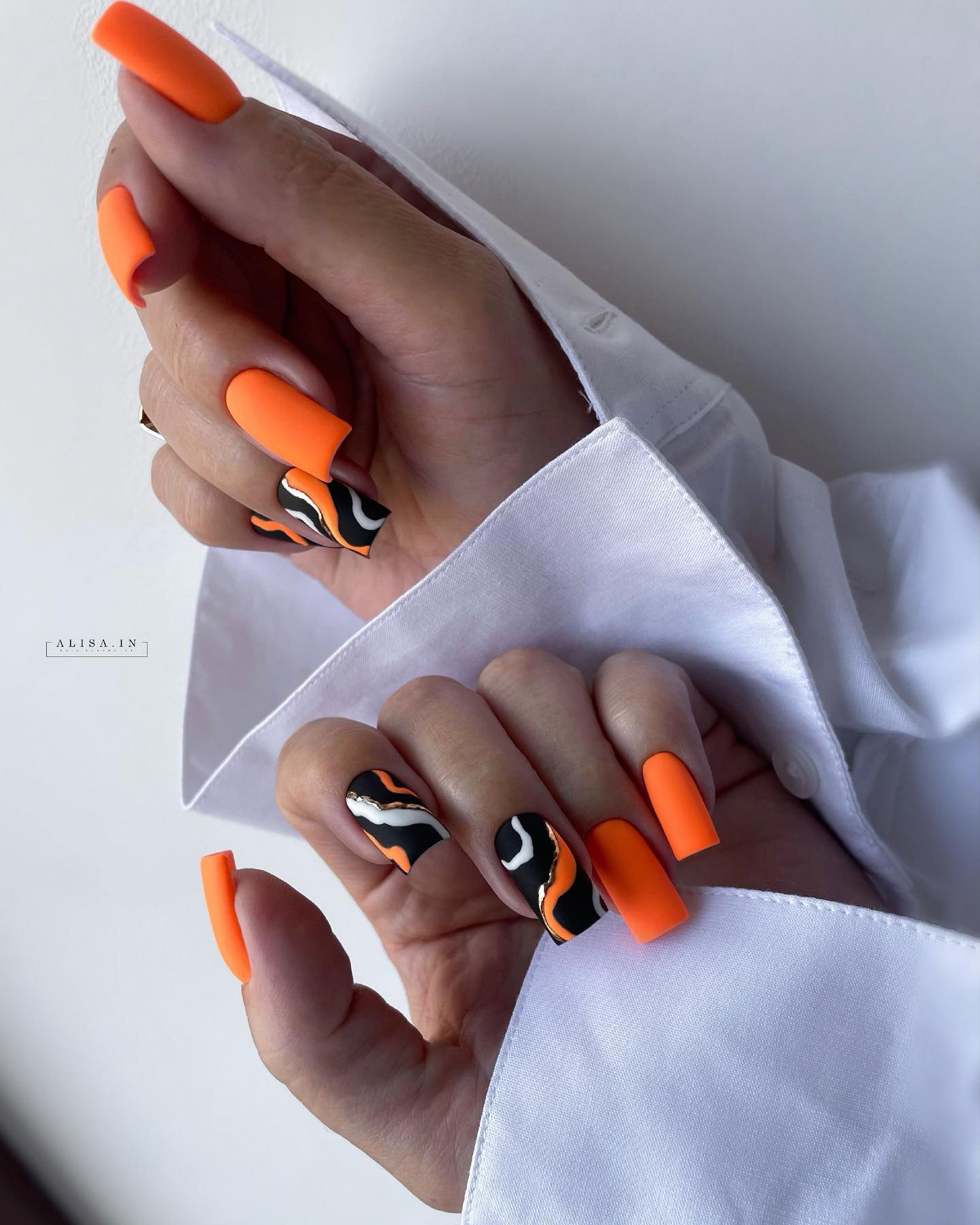 via @alisa.in_
Are you looking to make a splash this Halloween? The best solution would be coffin black and orange nails, which can be decorated with themed images if desired. The combination of these colors conveys an eerie yet festive vibe, making them the perfect choice for a party.
In addition to Halloween, black nail ideas with orange ombre harmonize perfectly with looks in retro, vintage, punk rock, etc. styles. It all depends on what shades and decor you choose.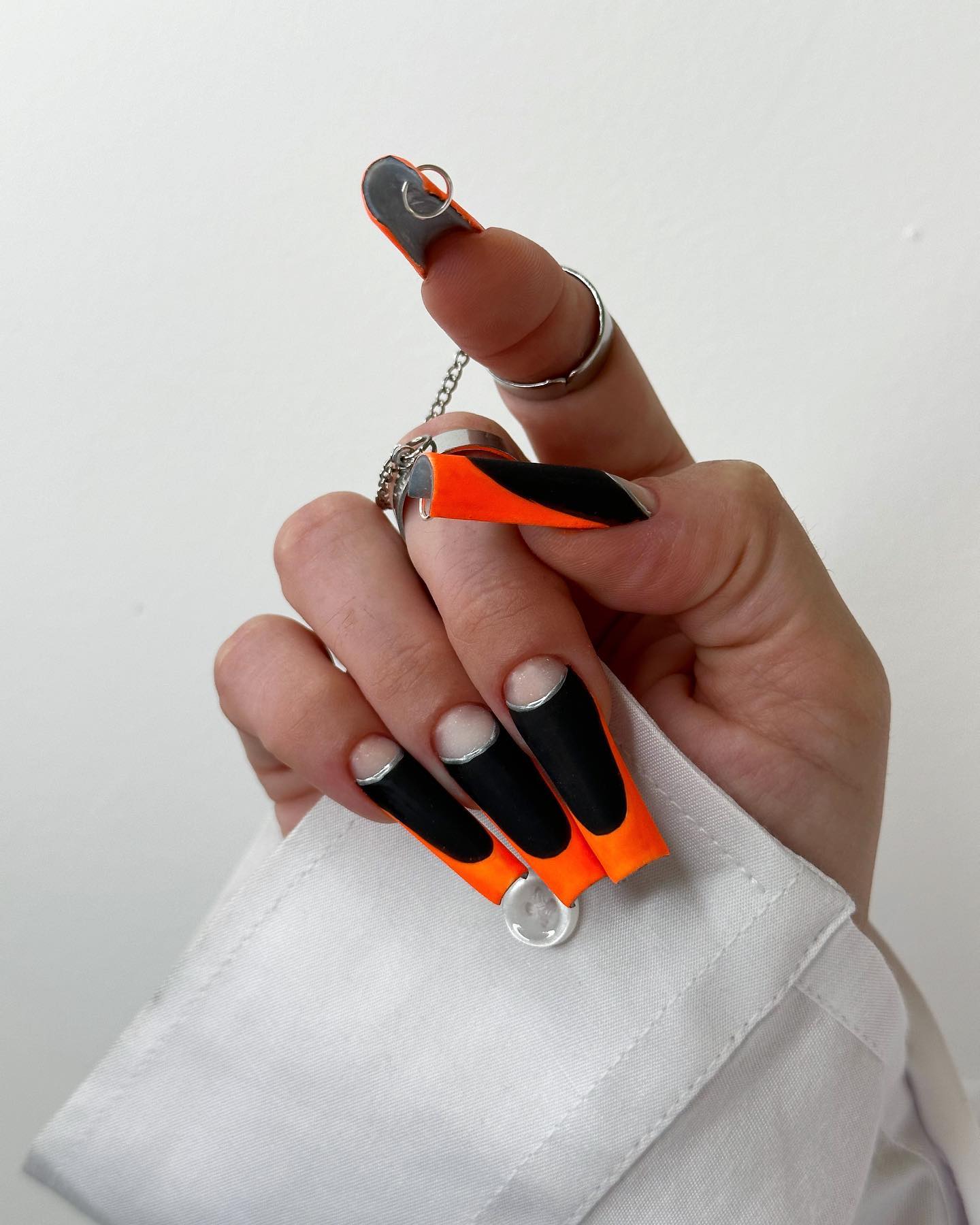 Red and Orange Nails
Orange red nails can be adapted to different styles and themes. For example, they will be an excellent manicure idea for the fall season.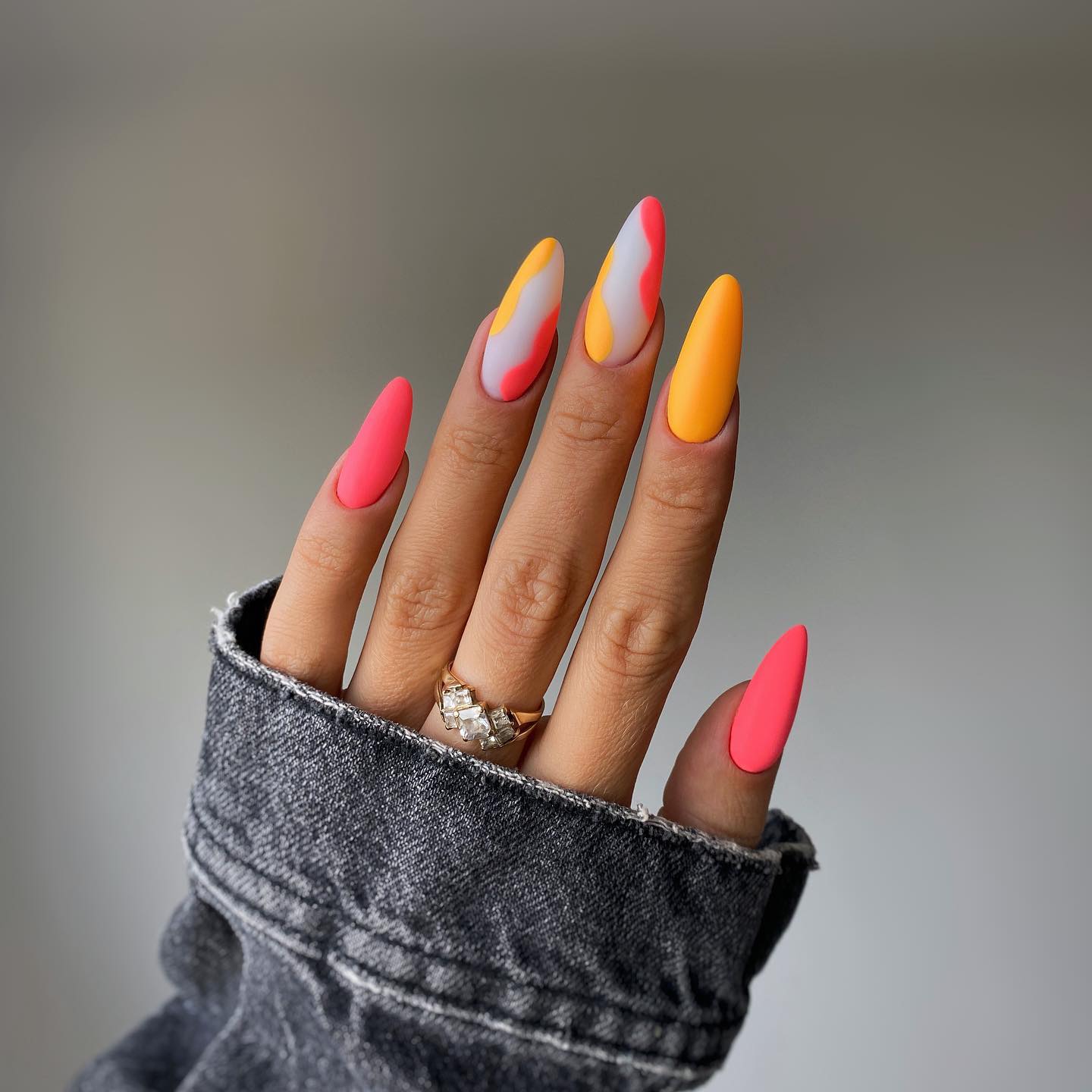 via @pegi_nails
It's up to you to decide how to combine rich, warm shades. You can make a contrasting accent nail, combine colors by applying them one by one, or create original patterns with their help.
Energy, optimism, passion — all this is about red-orange designs. If you are close to the listed character traits, get just such a manicure this fall!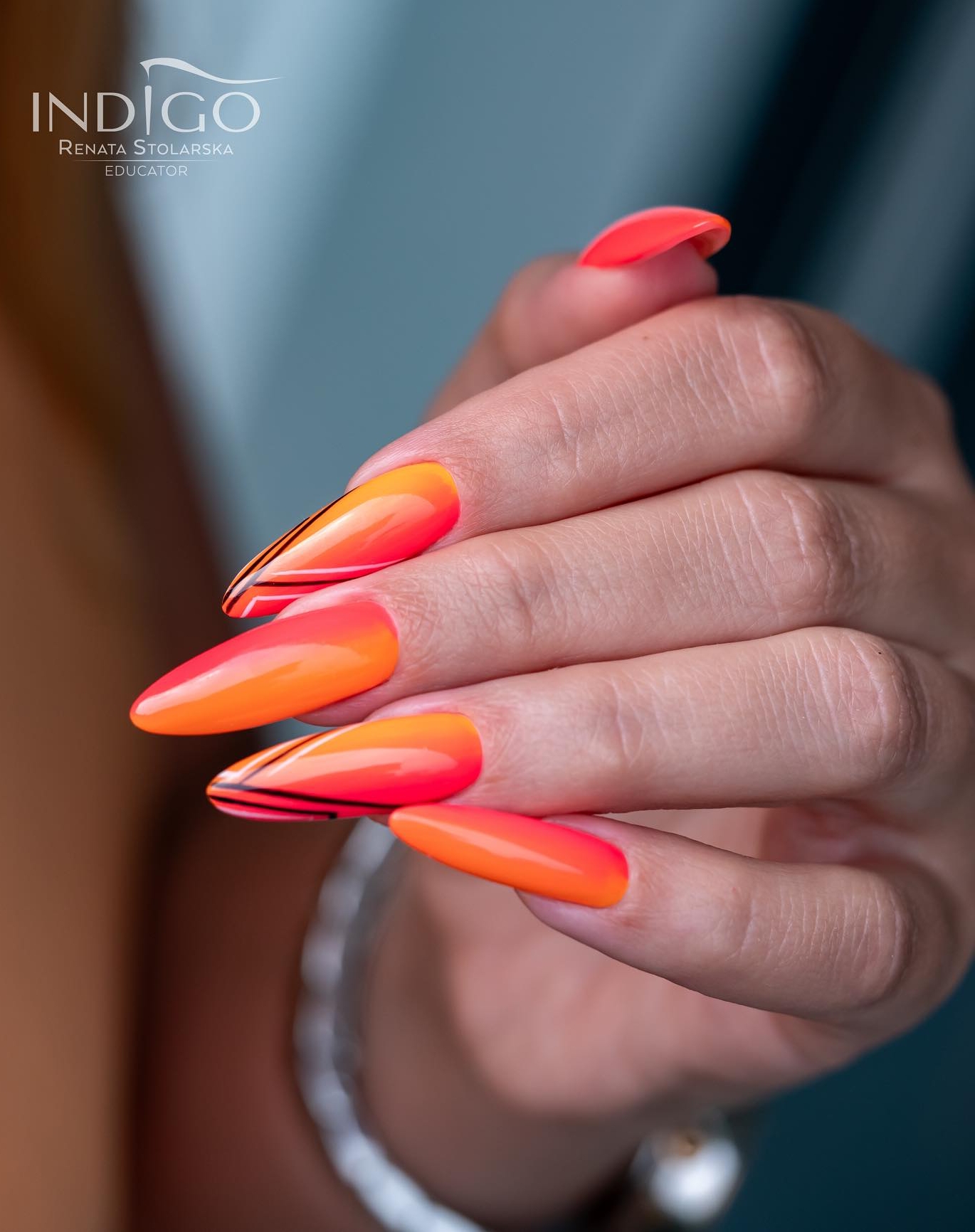 Pastel Orange Nails
Pastel shades on nails, representing sun and warmth, are often associated with spring and summer. However, they can transition into fall when paired with deeper autumnal shades.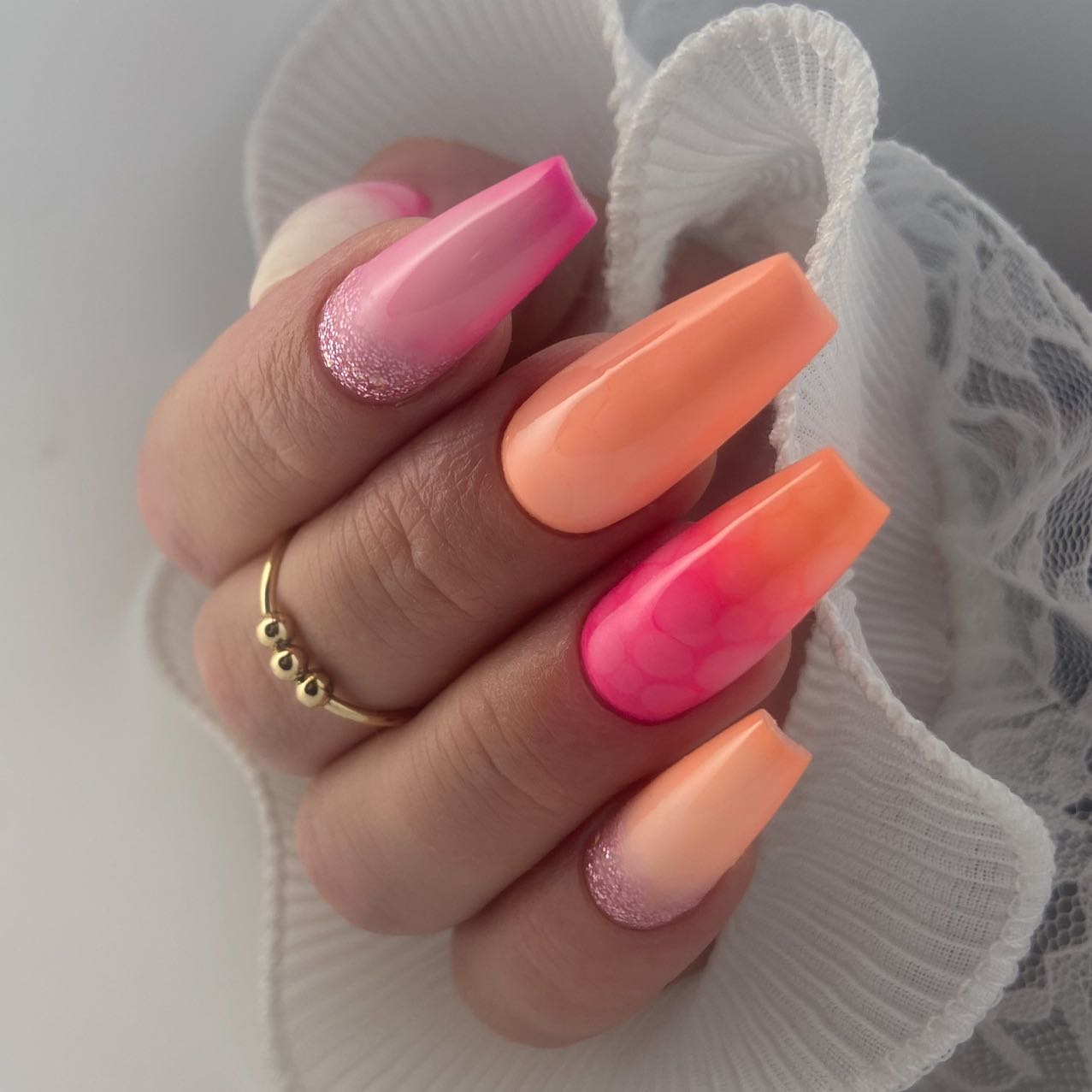 Delicate orange nail ideas are used to create intricate designs. They form an unobtrusive background that allows you to reveal other colors and decorative elements. These fun manicure ideas include geometric patterns, rhinestones, modelling, and artistic painting.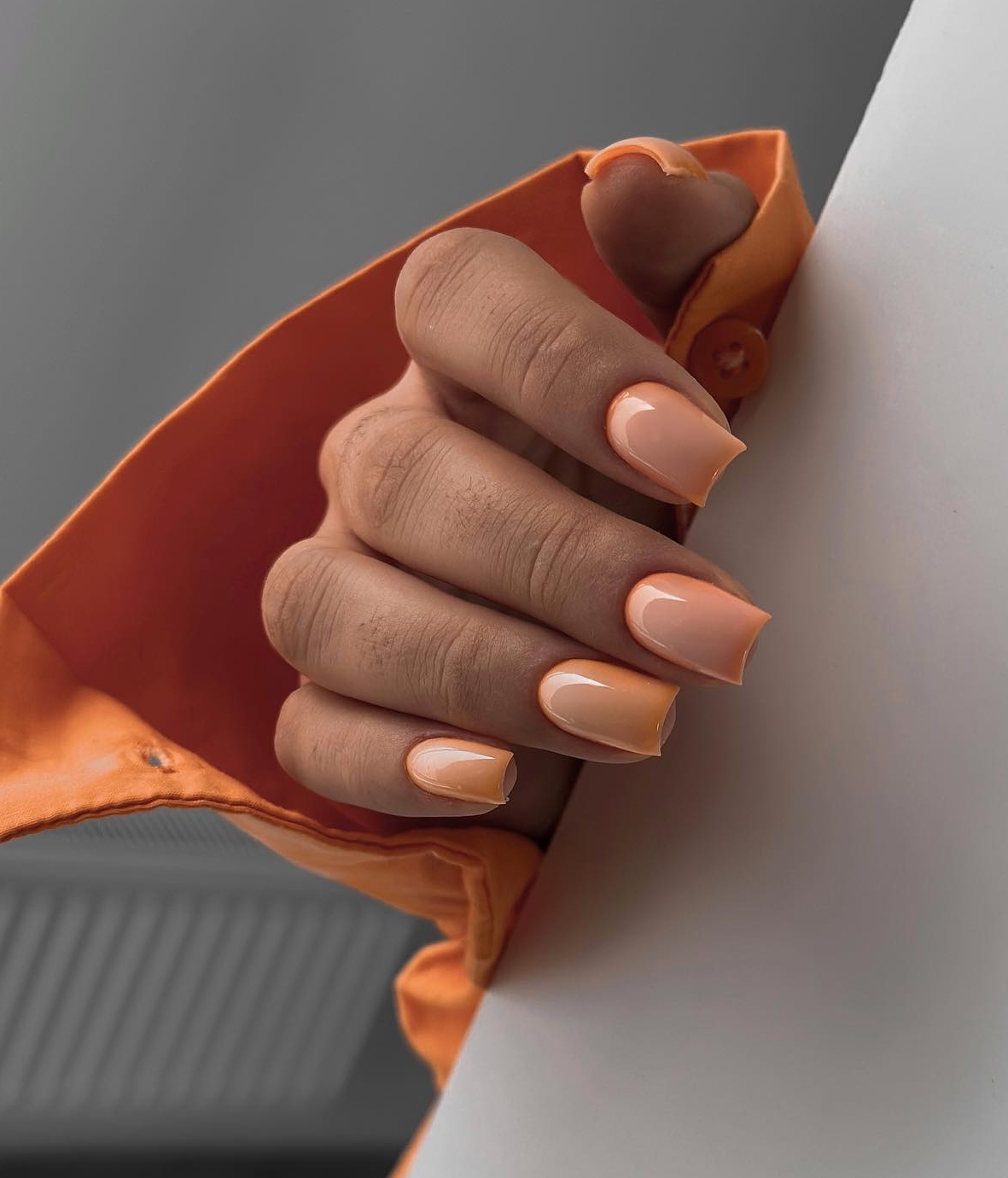 via @nastaran.khosravi.nailart
Purple and Orange Nails
Purple and orange are opposite on the color wheel, making them complementary colors. When used together, they create a striking contrast that instantly attracts attention.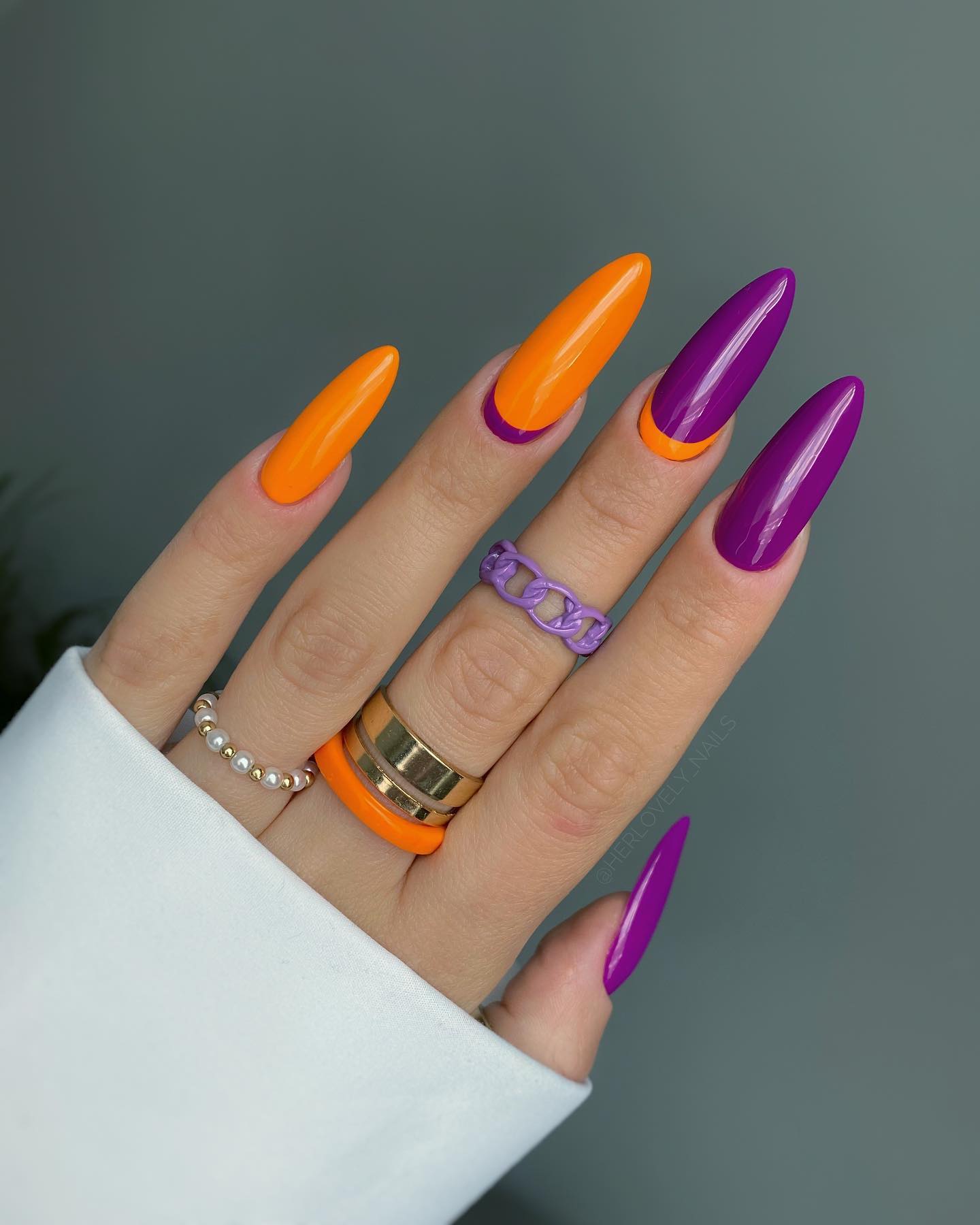 via @herlovely_nails
An orange and purple nail design can be easily adapted to each season. They convey the warmth and energy of summer, the cozy and inviting atmosphere of autumn, and even the playful spirit of spring. You only need to choose the right shades and nail art elements to get the desired look.
Thus, bright orange summer nails can be complemented with rich purple and numerous sparkles, and for an autumn manicure, use more muted tones and a matte finish.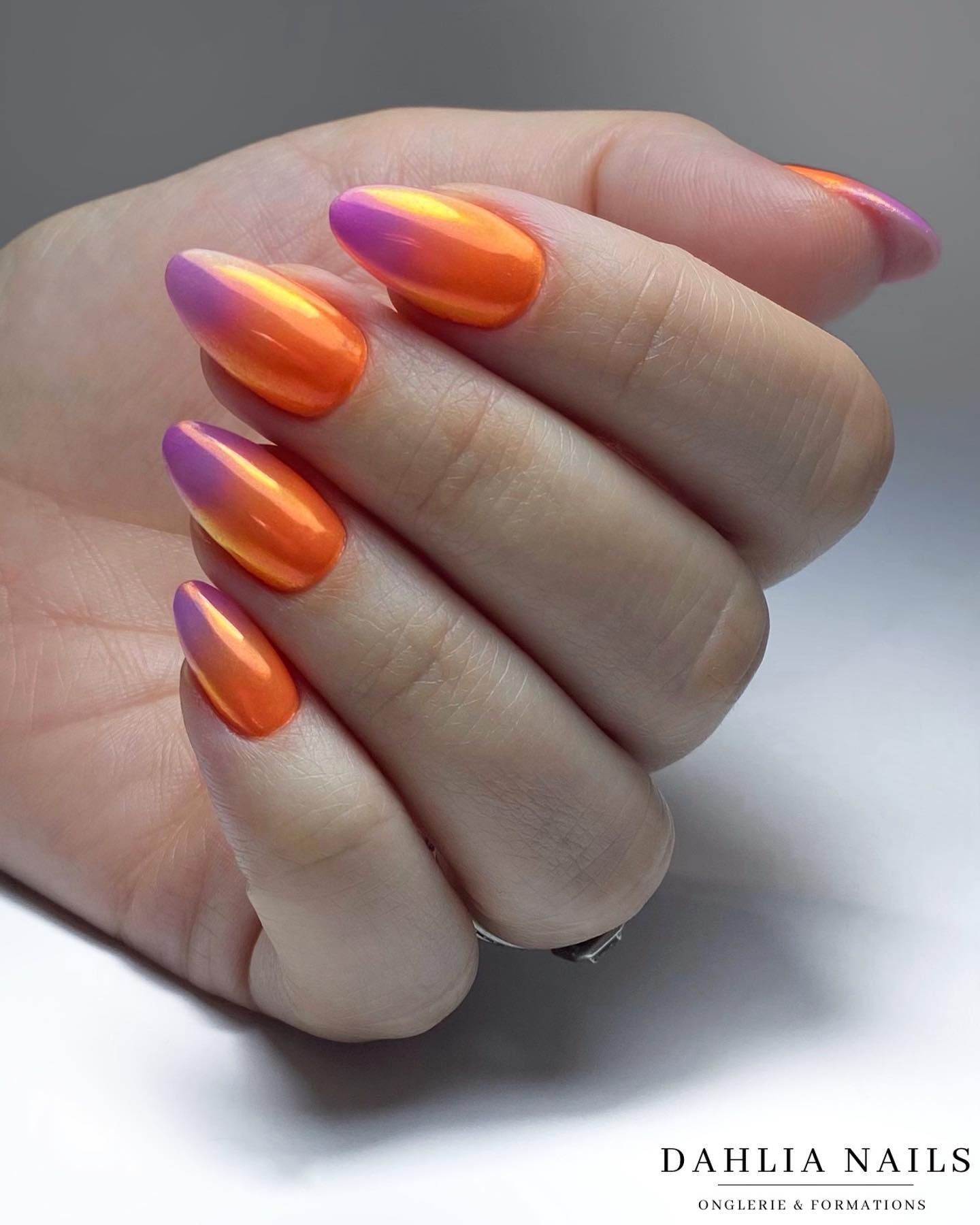 via @dahlia_naiils
Matte Orange Nails
Matte burnt orange nails are the epitome of sophistication and discreet elegance. The lack of shine is intriguing and creates an eye-catching contrast with the vibrant orange.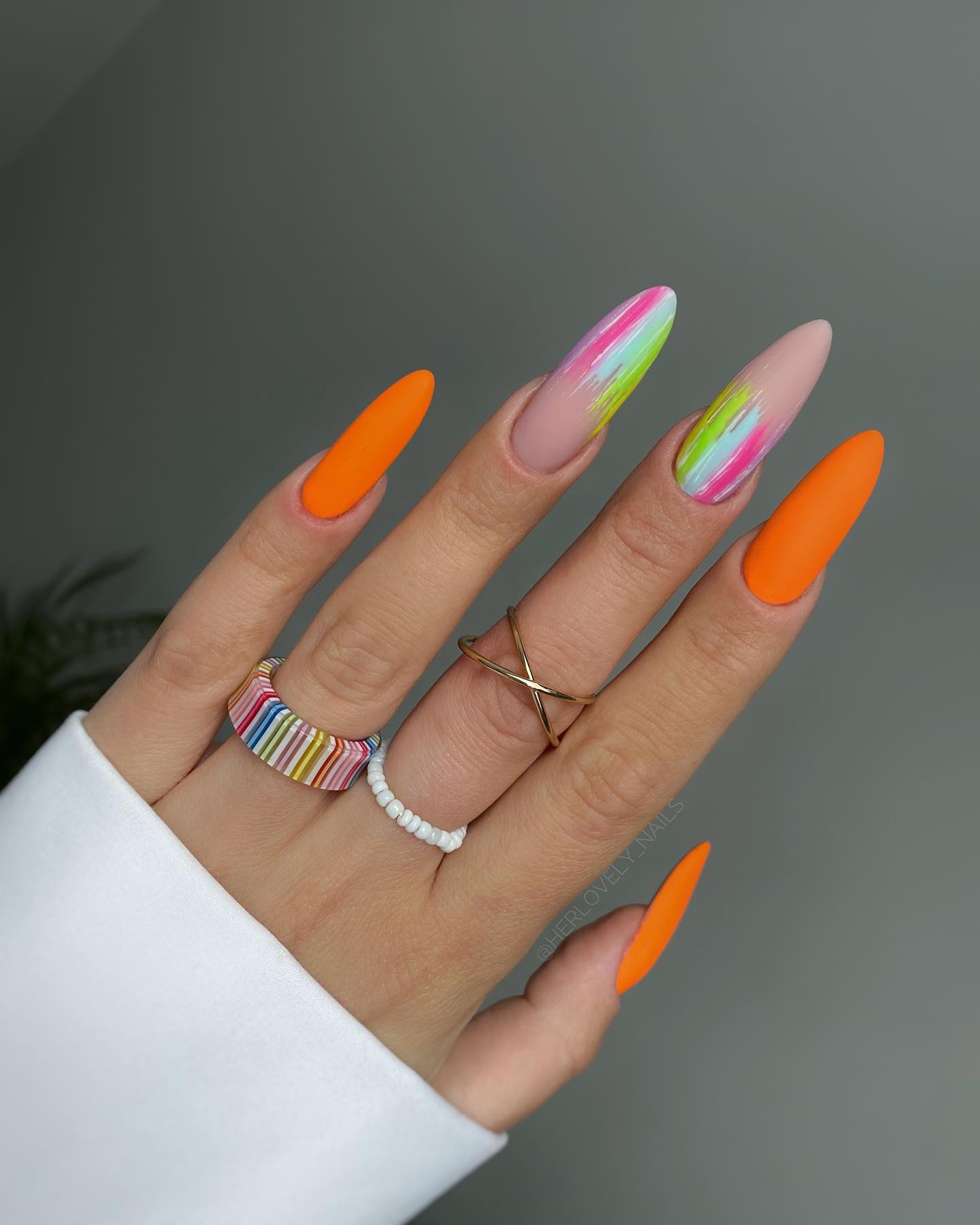 via @herlovely_nails
Orange nail art will be suitable in almost any situation. In addition, such a manicure will delight you with its durability. As a rule, matte nails are more durable and chip-resistant than glossy nails.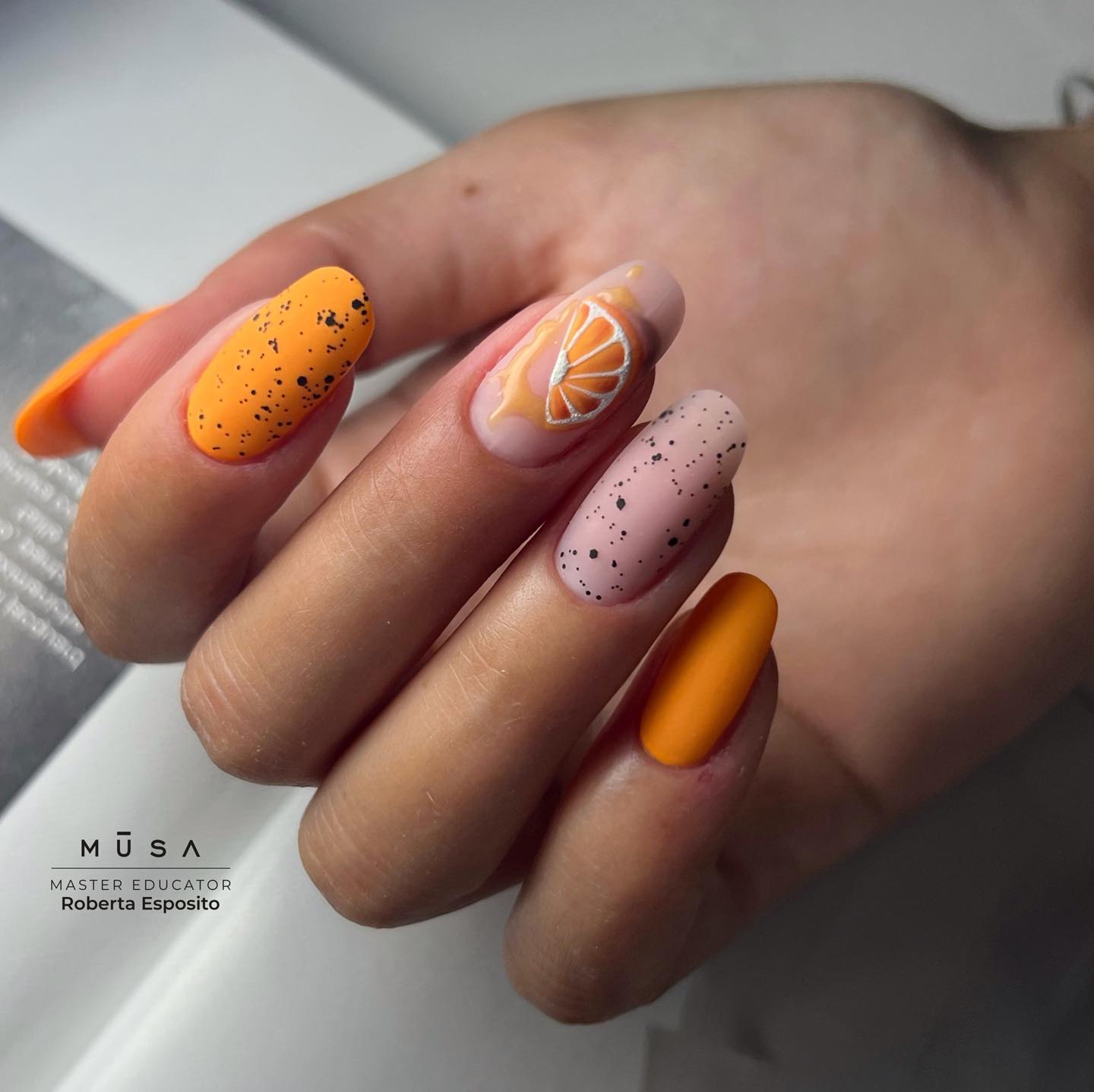 via @robertaesposito_nailmastermusa
Coral Orange Nails
Cheerful and colorful coral nails are a luxurious addition to a summer look. This manicure creates a relaxed and festive atmosphere and is in perfect harmony with any skin color.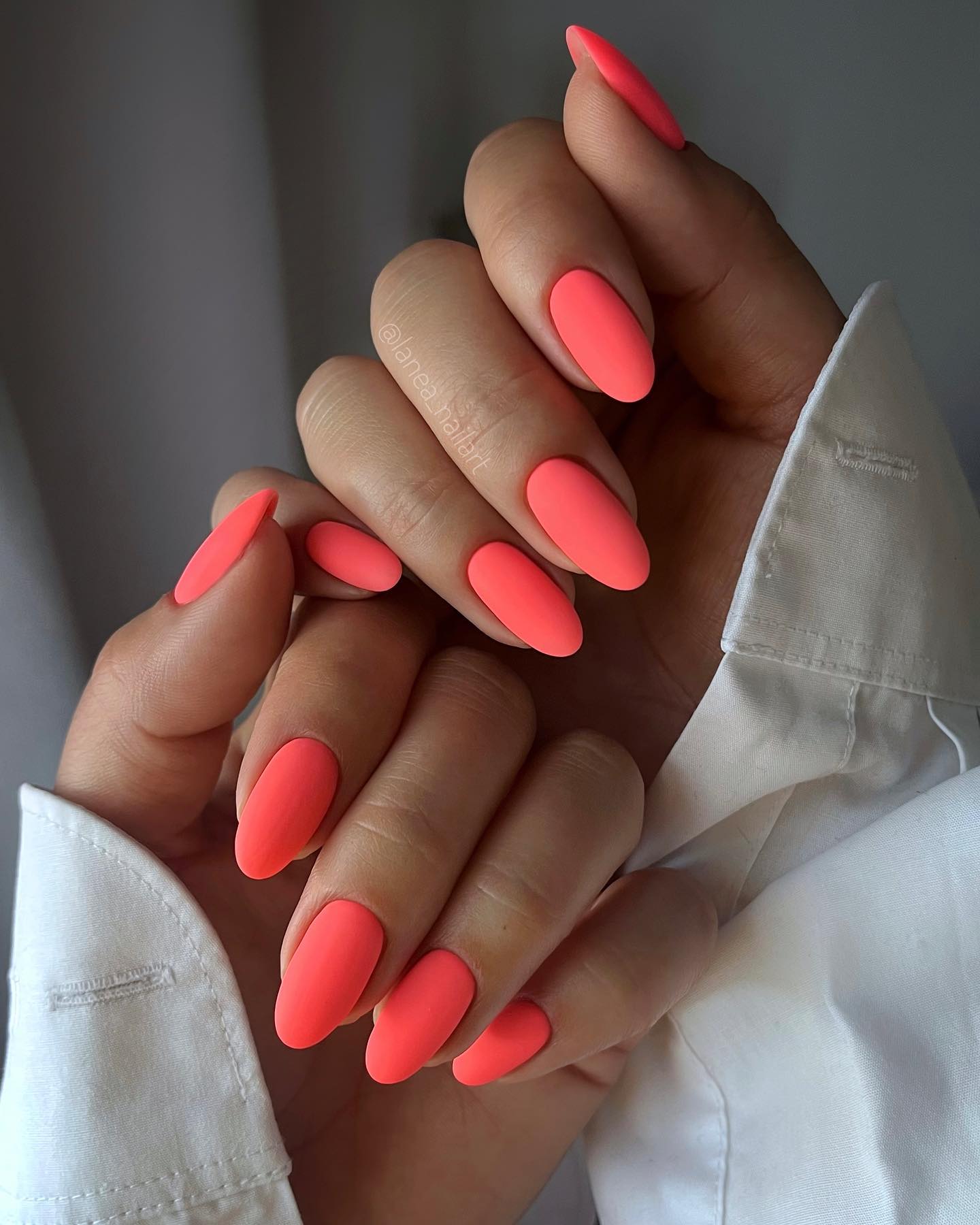 via @lanea_nailart
Long or short nails can be either plain or decorated with art. However, try not to overdo it with the amount of decor. A perfect option would be coral glitter nails with sparkles in a pastel or contrasting shade.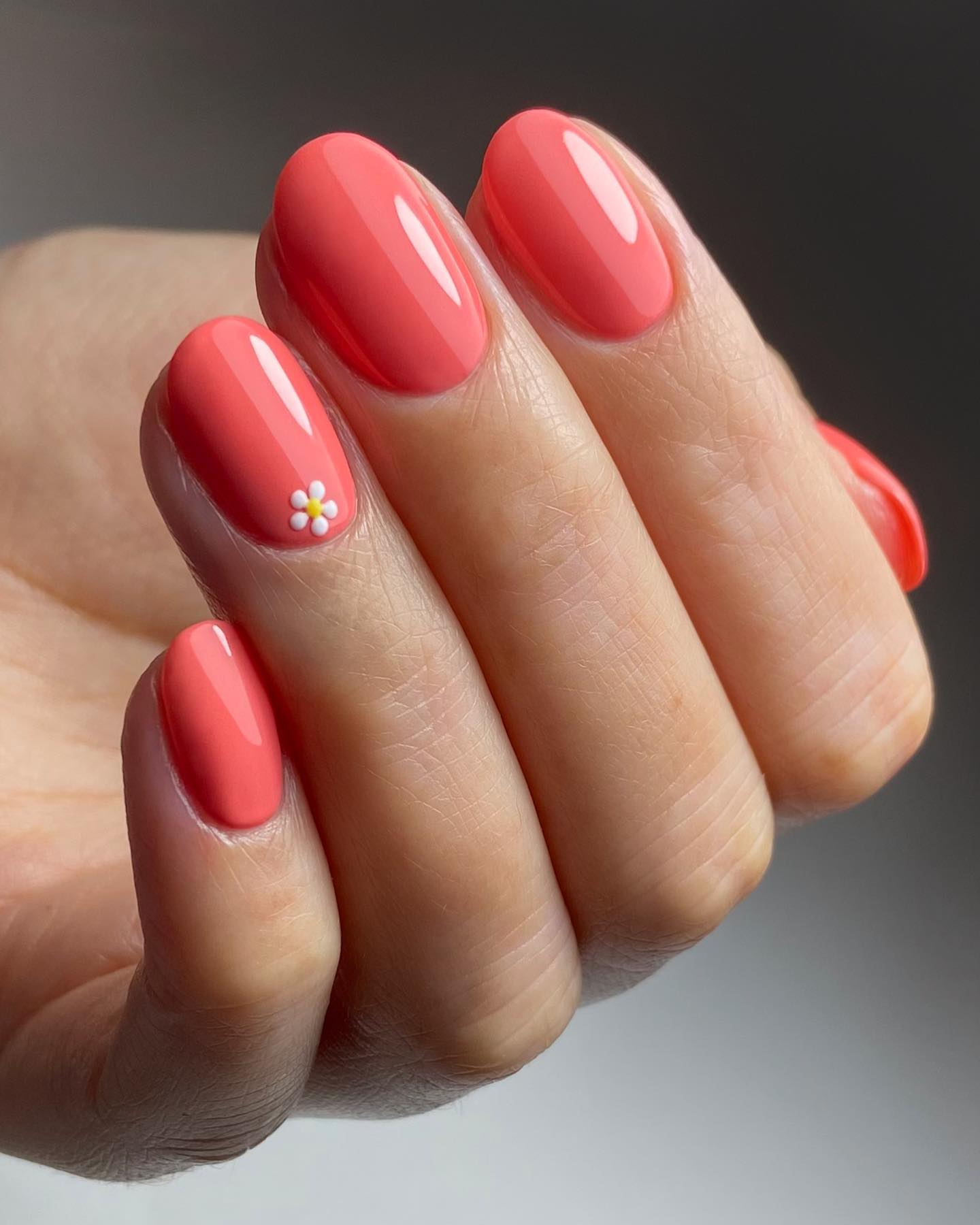 via @monmayernails