If you need inspiration for your next manicure, look no further than green nails. When it comes to fashionable nail art design, you can submerge in the enthralling magnificence of nature through various shades of green nails.
The best color to express your love for nature is green, which stands for renewal, harmony, and freshness. Every design, from luxuriant forests to serene meadows, highlights the beauty of nature.
These gorgeous green nails will calm you down and help you rekindle your love for nature, whether you prefer understated elegance or ornate design. Get ready for a manicure session celebrating nature's captivating allure with these fantastic green nail ideas.
Rich Dark Green Nails
You may embrace the charm of the green nail trend with dark green nails. Dark nail polish has a rich, deep, beautifully refined tone, giving your manicure a dash of mystery and class. You can choose dark green nails for everyday or parties throughout the year.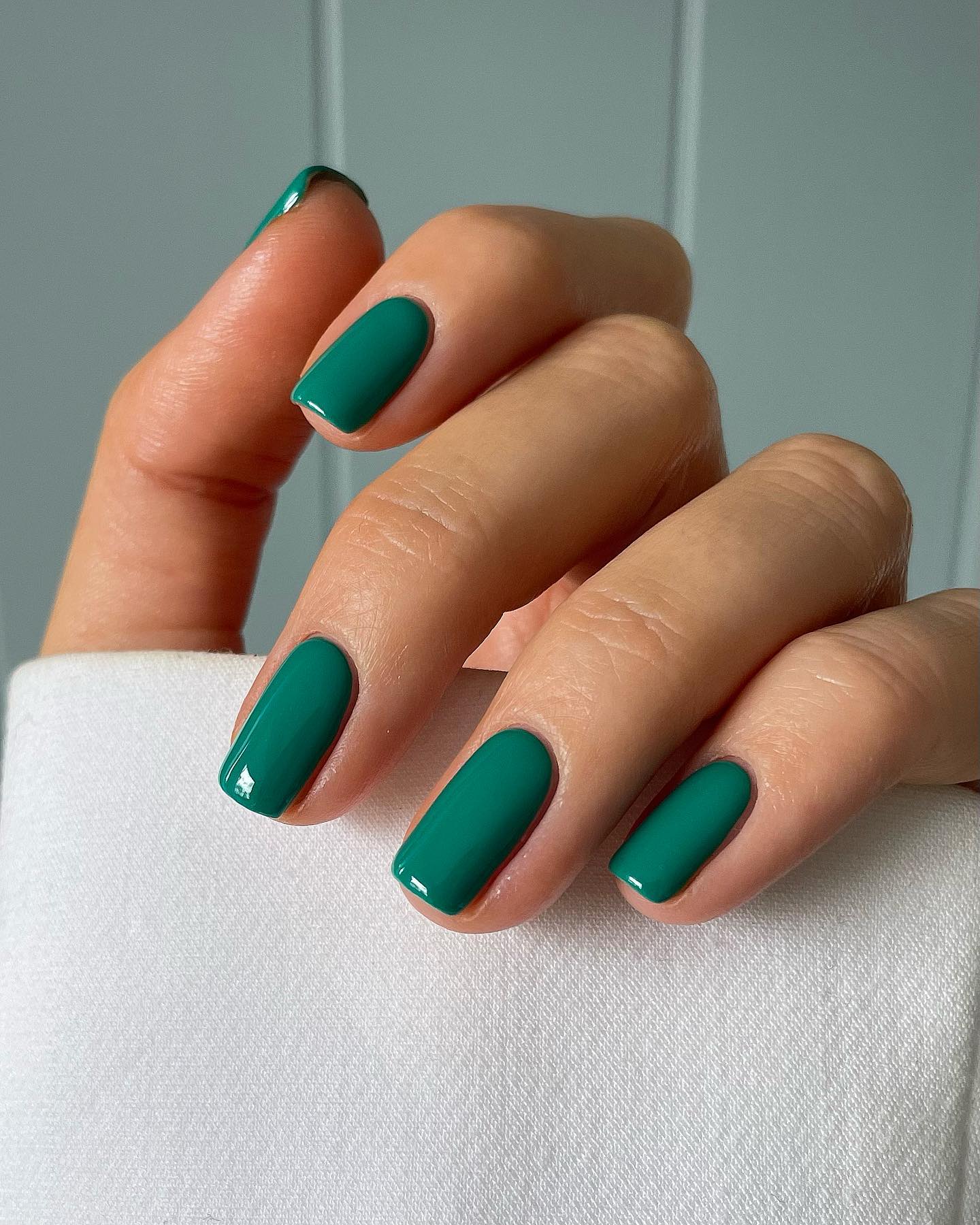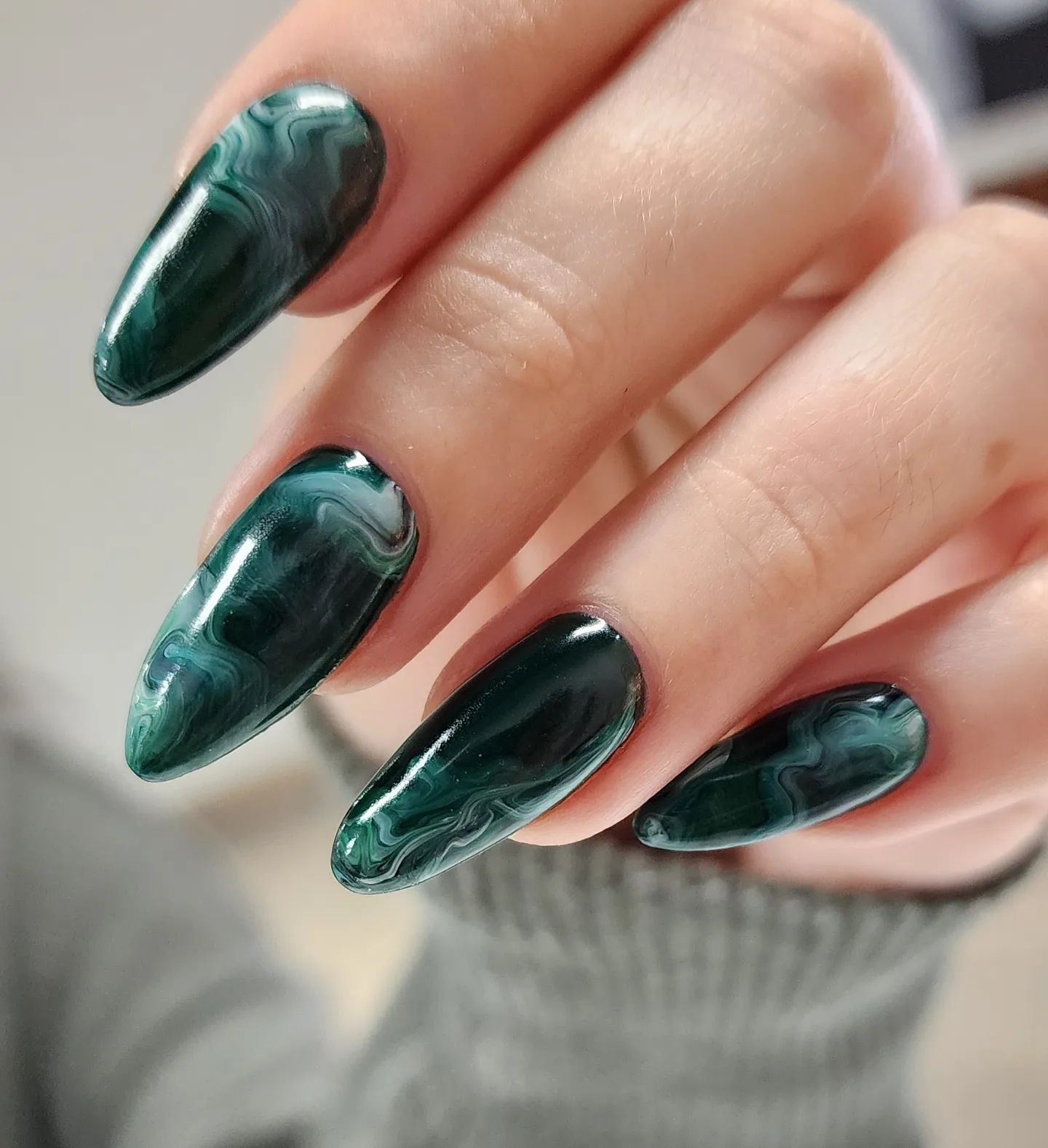 via @thenailloft.ltd
Soothing Sage Green Nails
Be ready to enhance your next mani with sage green nails. Whether you select a matte or glossy finish, relaxing these acrylic nails will add a touch of sophistication to your hands. Enjoy the serenity of sage green and achieve a polished and sophisticated look.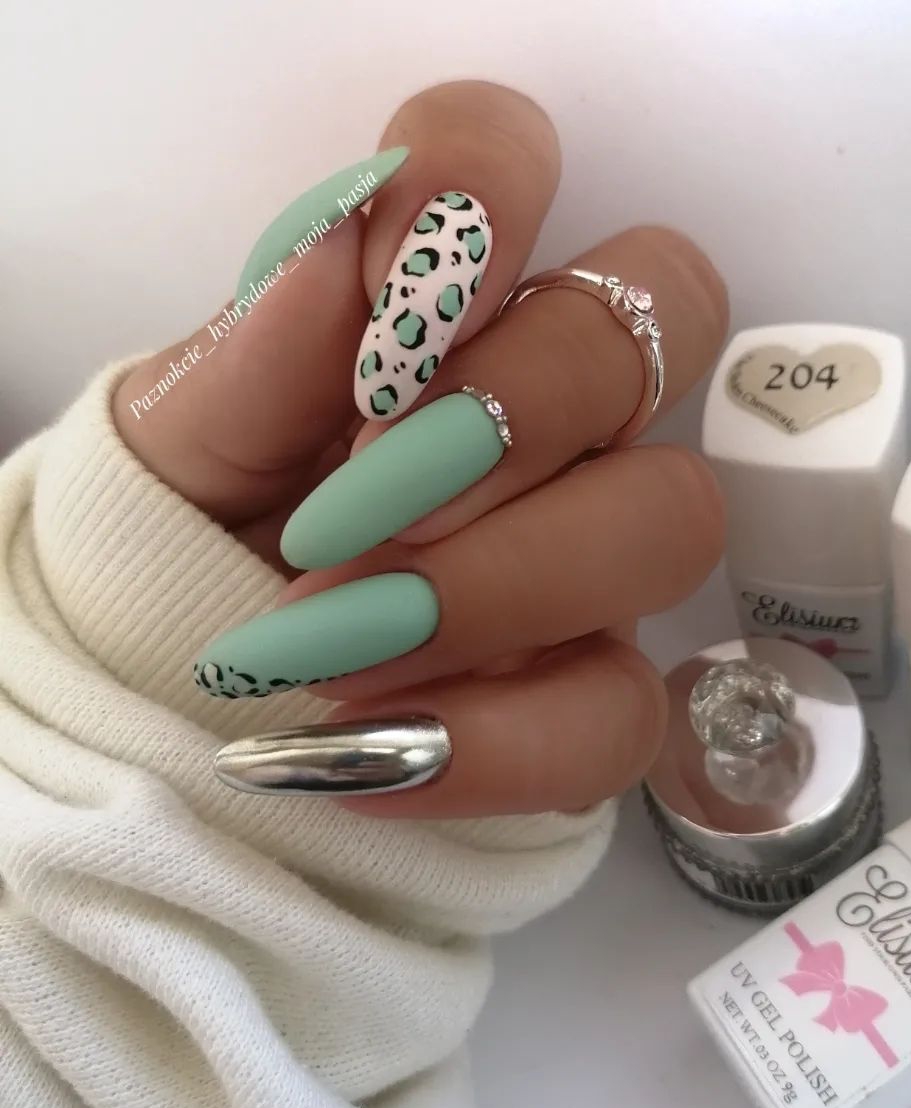 via @paznokcie_hybrydowe_moja_pasja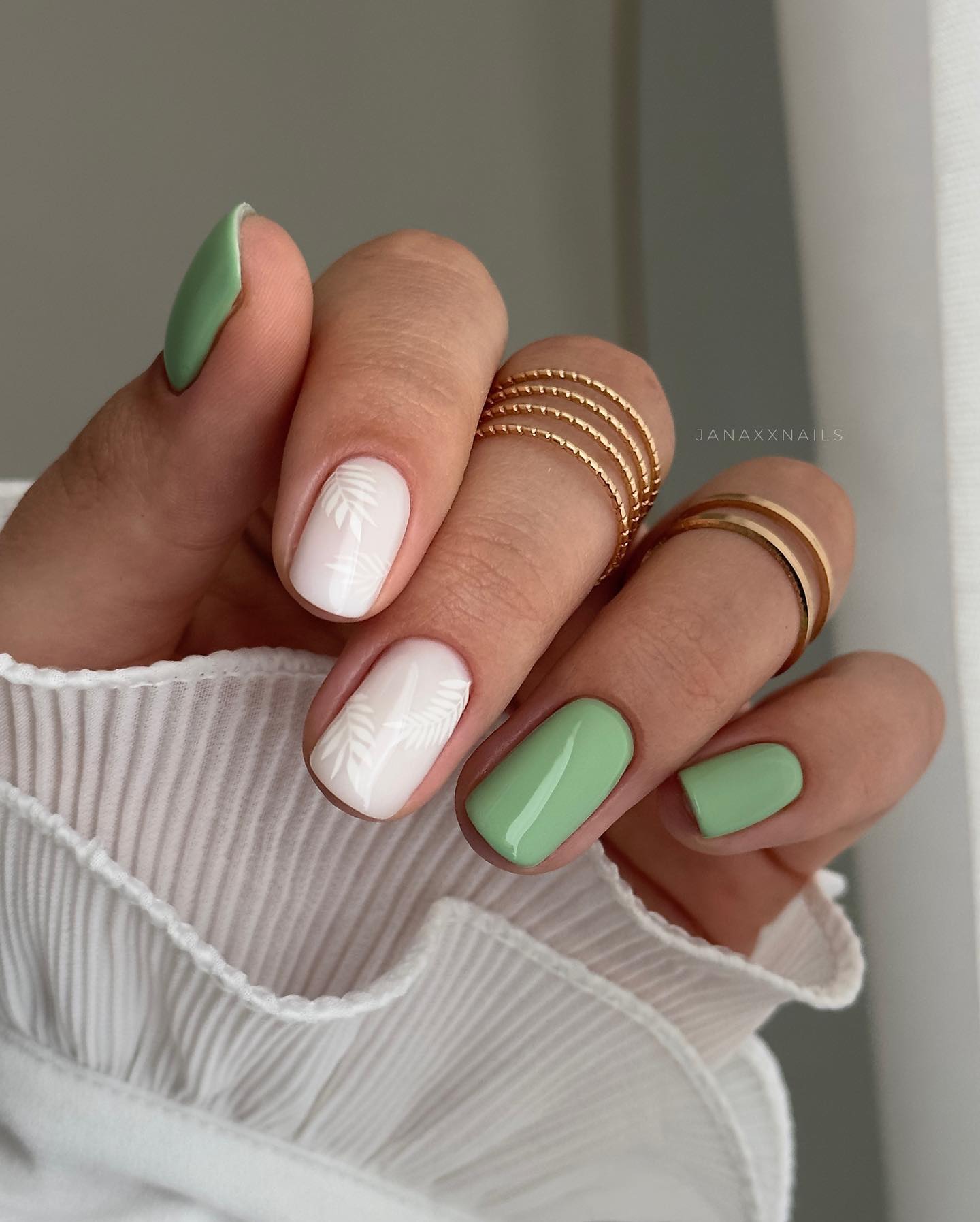 via @janaxxnails
Elegant Olive Green Nails
Olive green nails can give you a fashionable and elegant look. The versatile shade of green polish gives your manicure a sense of class and individuality. Explore the beauty of matte olive green nails for a refined and enhanced style statement.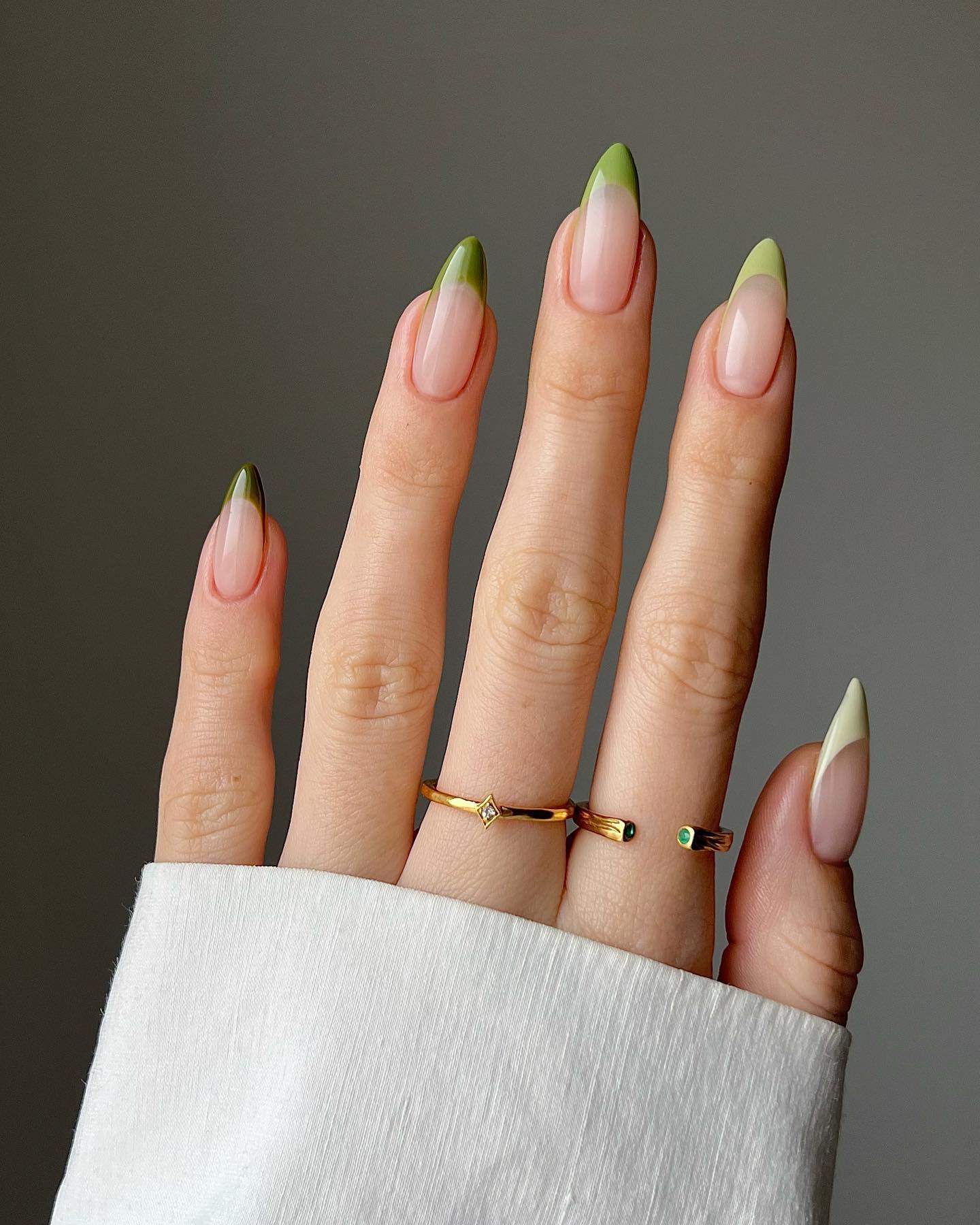 via @thehotblend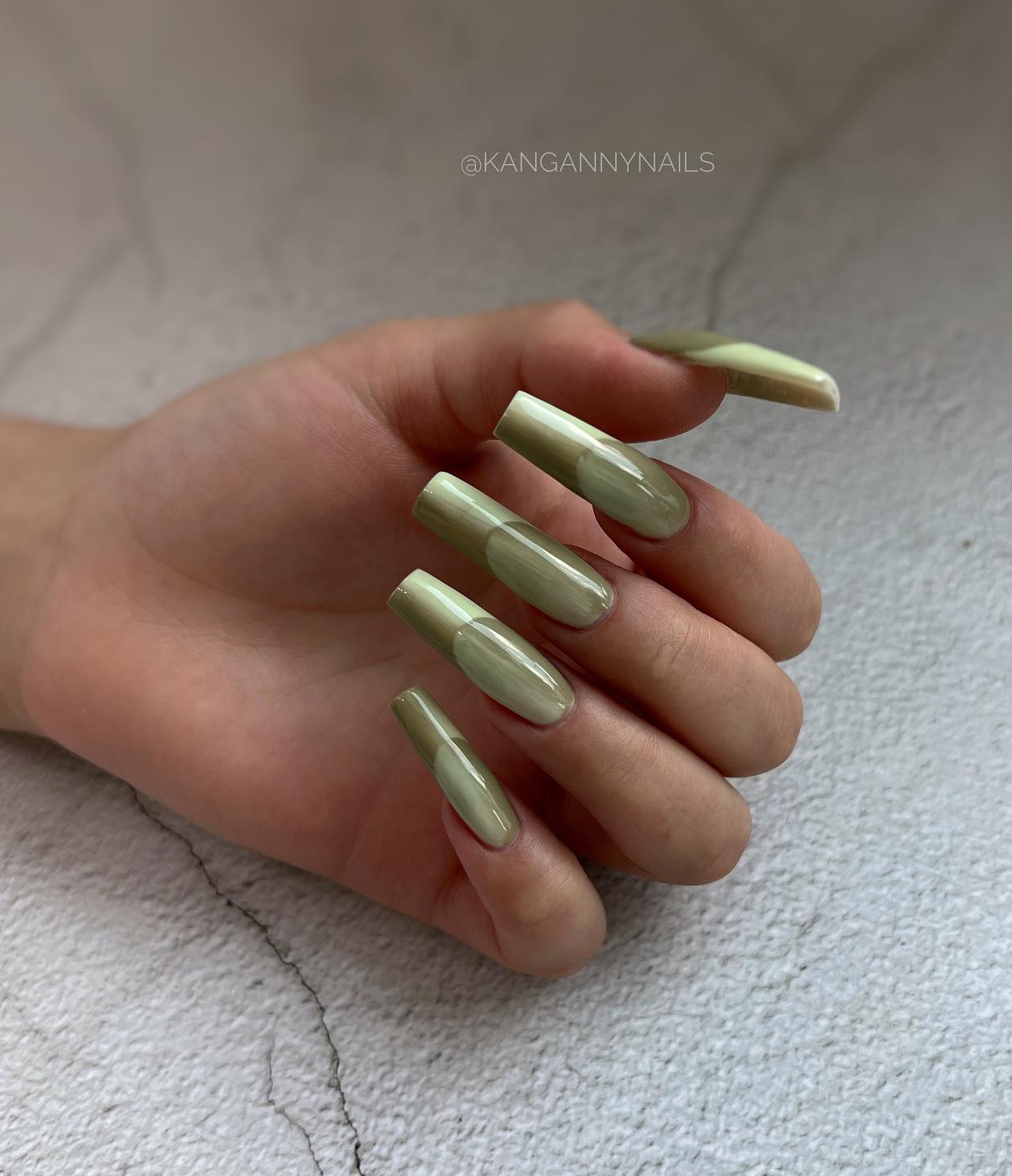 via @kangannynails
Alluring Emerald Green Nails
Discover the allure of emerald nails this time. This stunning nail color, renowned for its depth and richness, can elevate any manicure. Nothing can beat emerald green when choosing one shade from all shades of green. This bold and spectacular nail color is suitable for both casual days and occasions.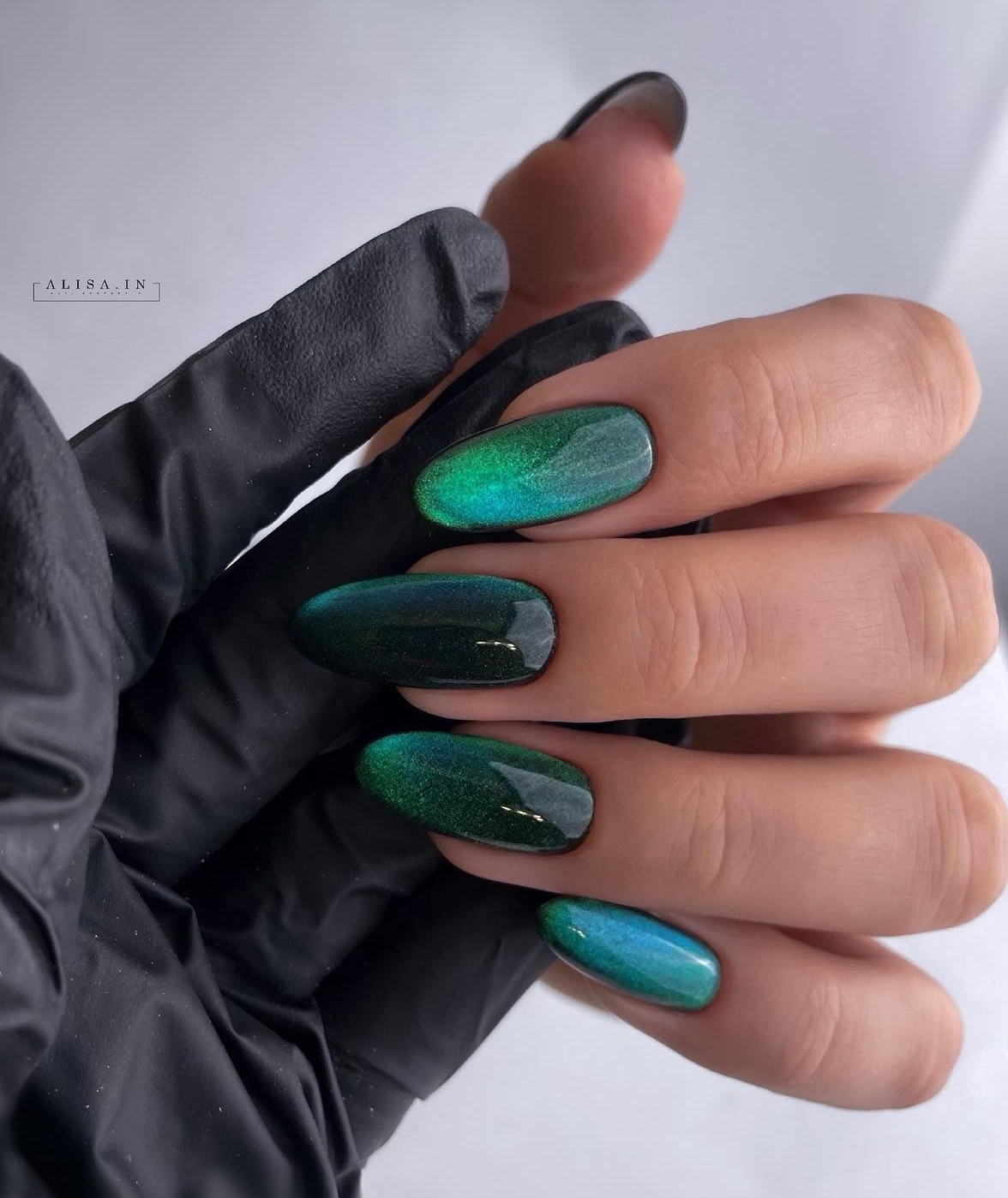 via @alisa.in_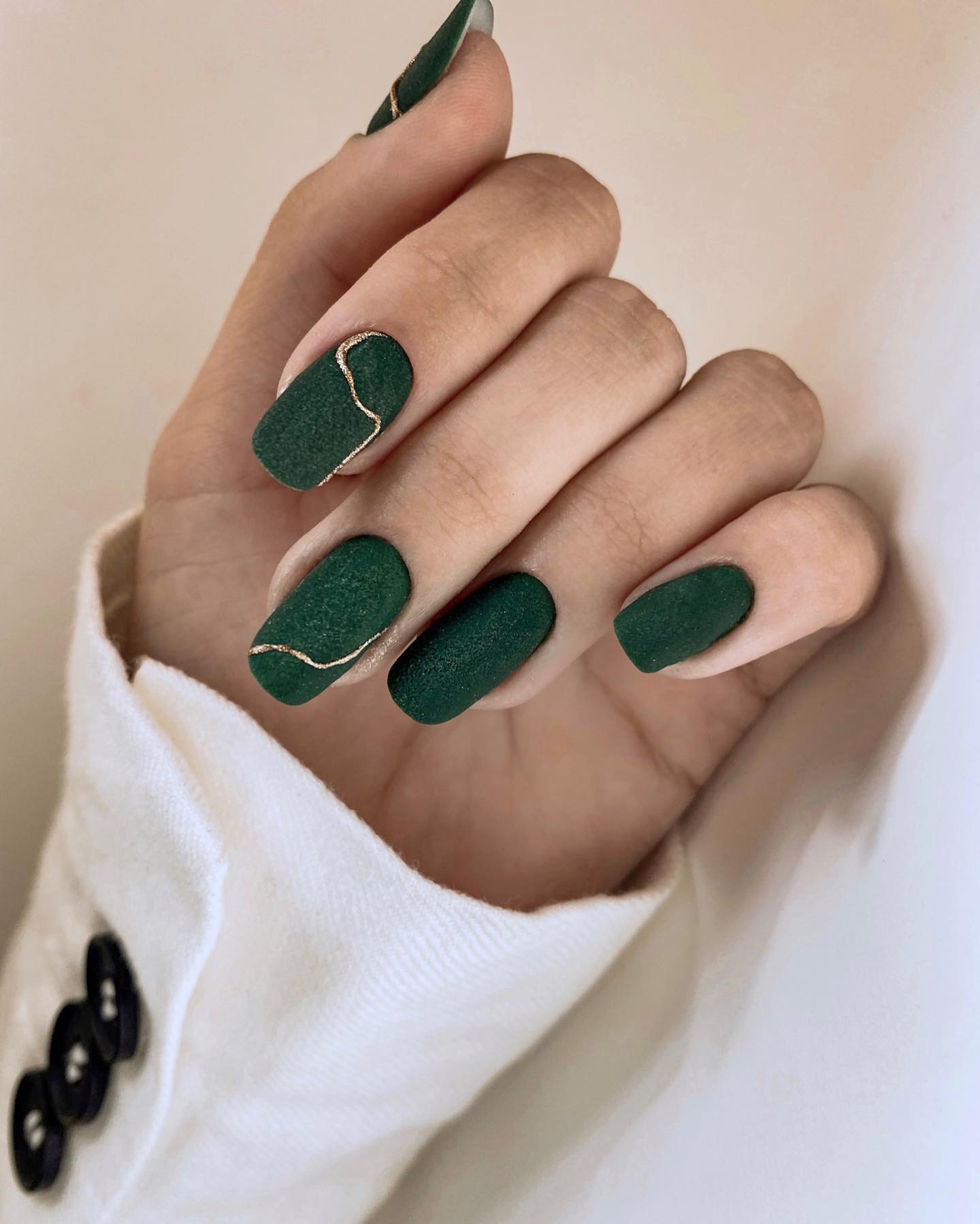 via @trutaroxana
Graceful Green French Tips Nails
Add a dash of style to your classic white nails with French green tips. This design gives your fingertips a pop of color and sophistication. The traditional French manicure is beautifully complemented by the light green nails, which provide a stylish and appealing appearance.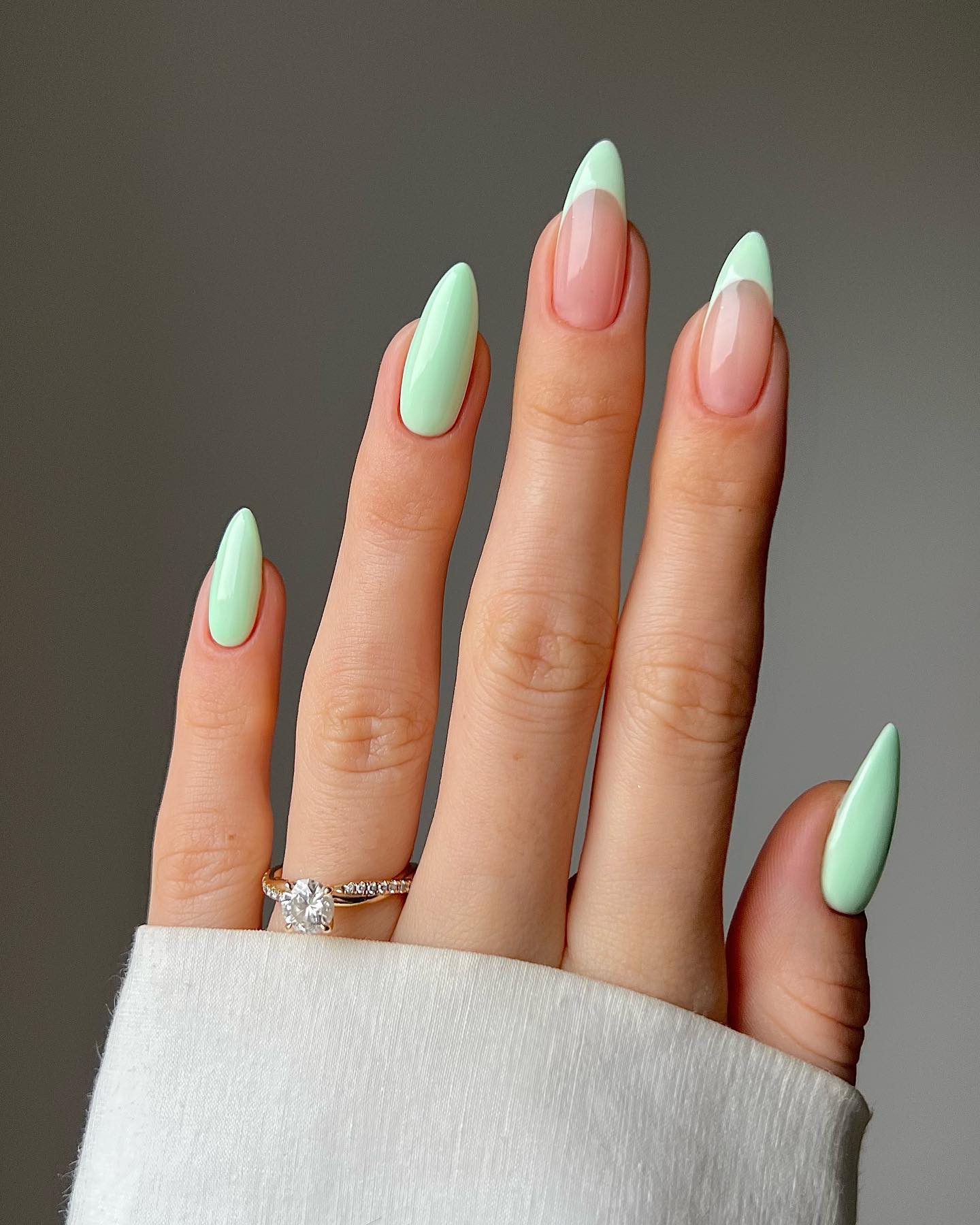 via @thehotblend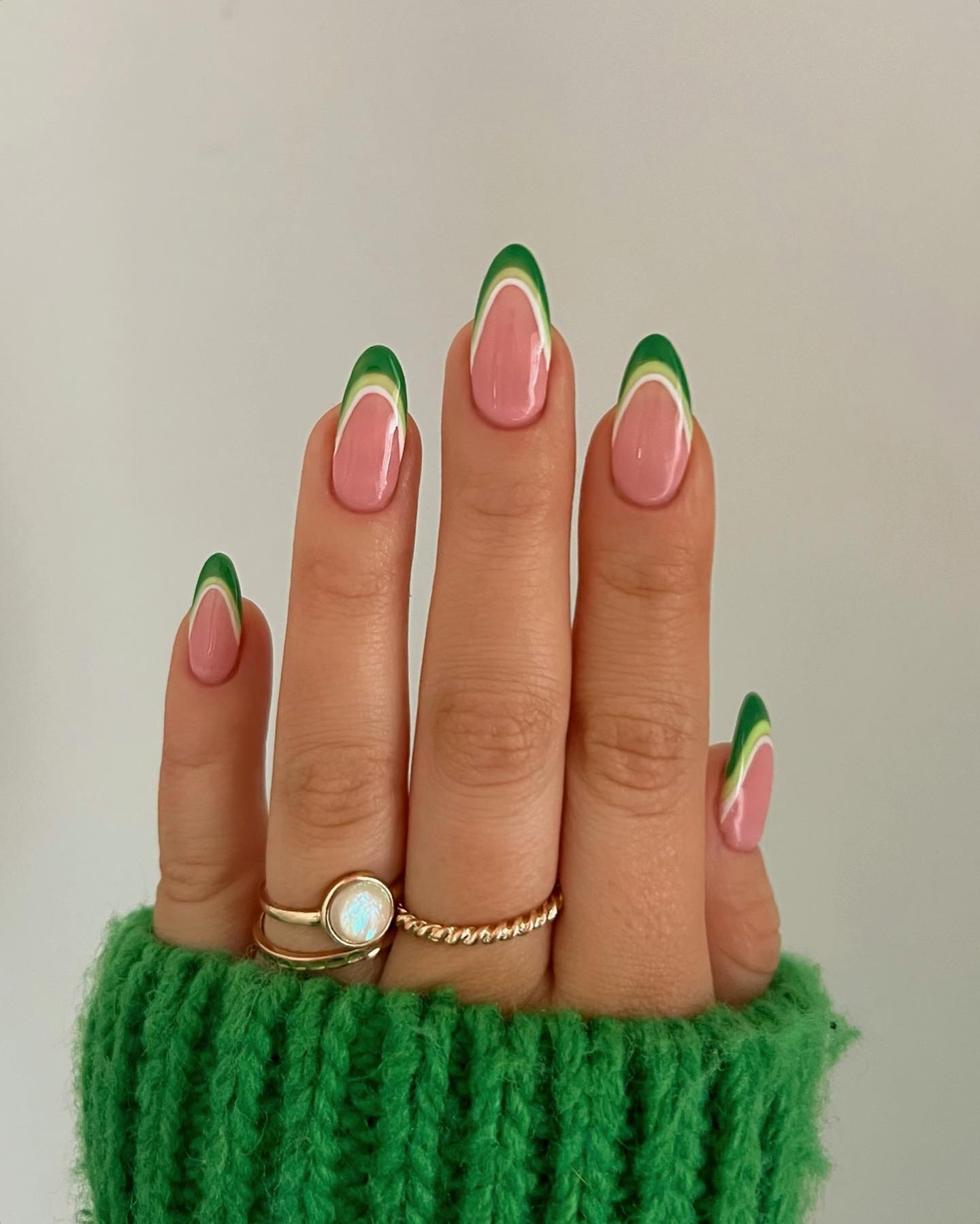 via @charsgelnails_
Captivating Black & Green Nails
Make a statement with the striking black and green combo. Irrespective of your nail shapes, the edginess of black and the vibrancy of green acrylic nails is genuinely captivating. With different lovely nail art designs, you can rock this nail color combination even for formal events.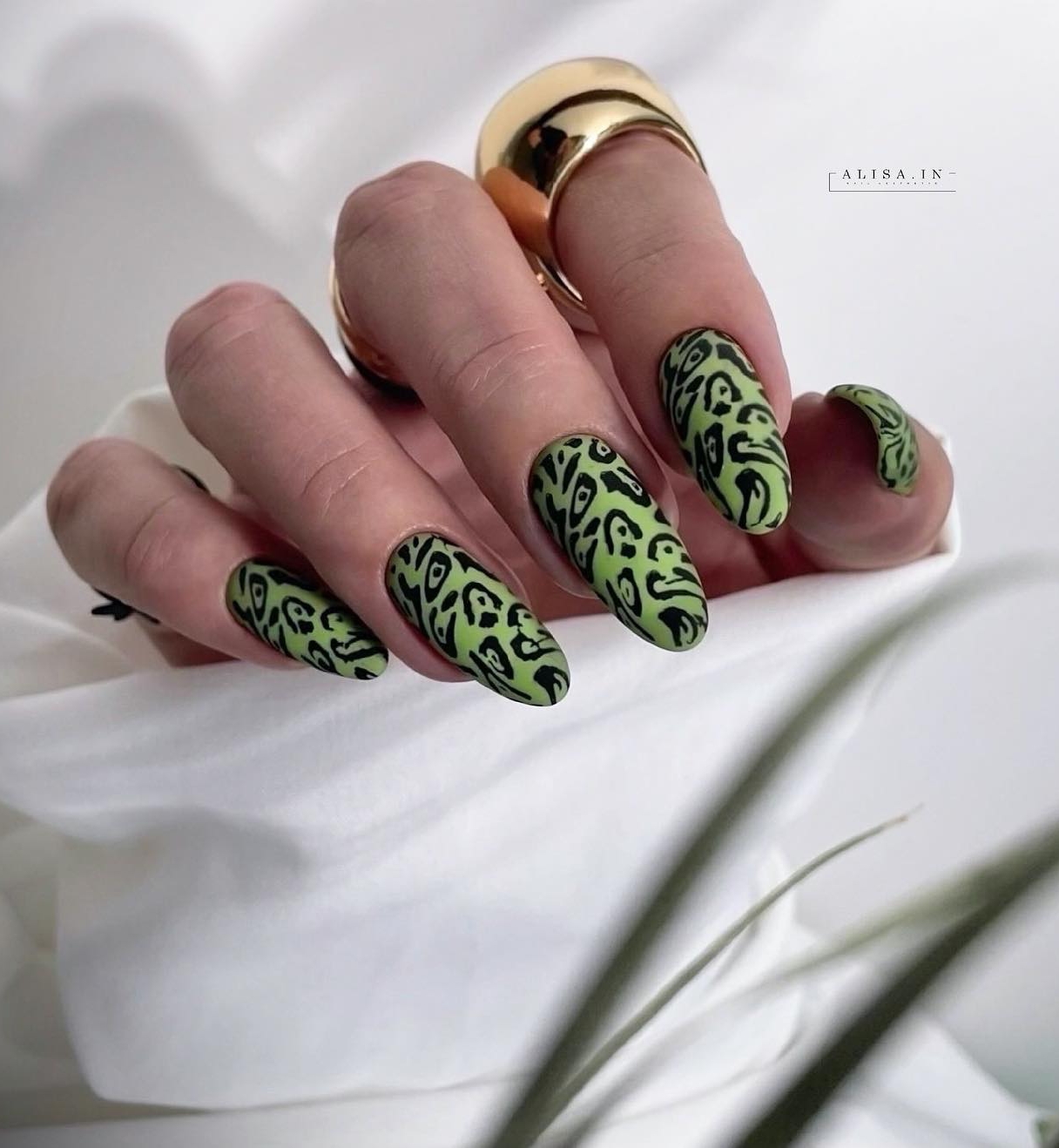 via @alisa.in_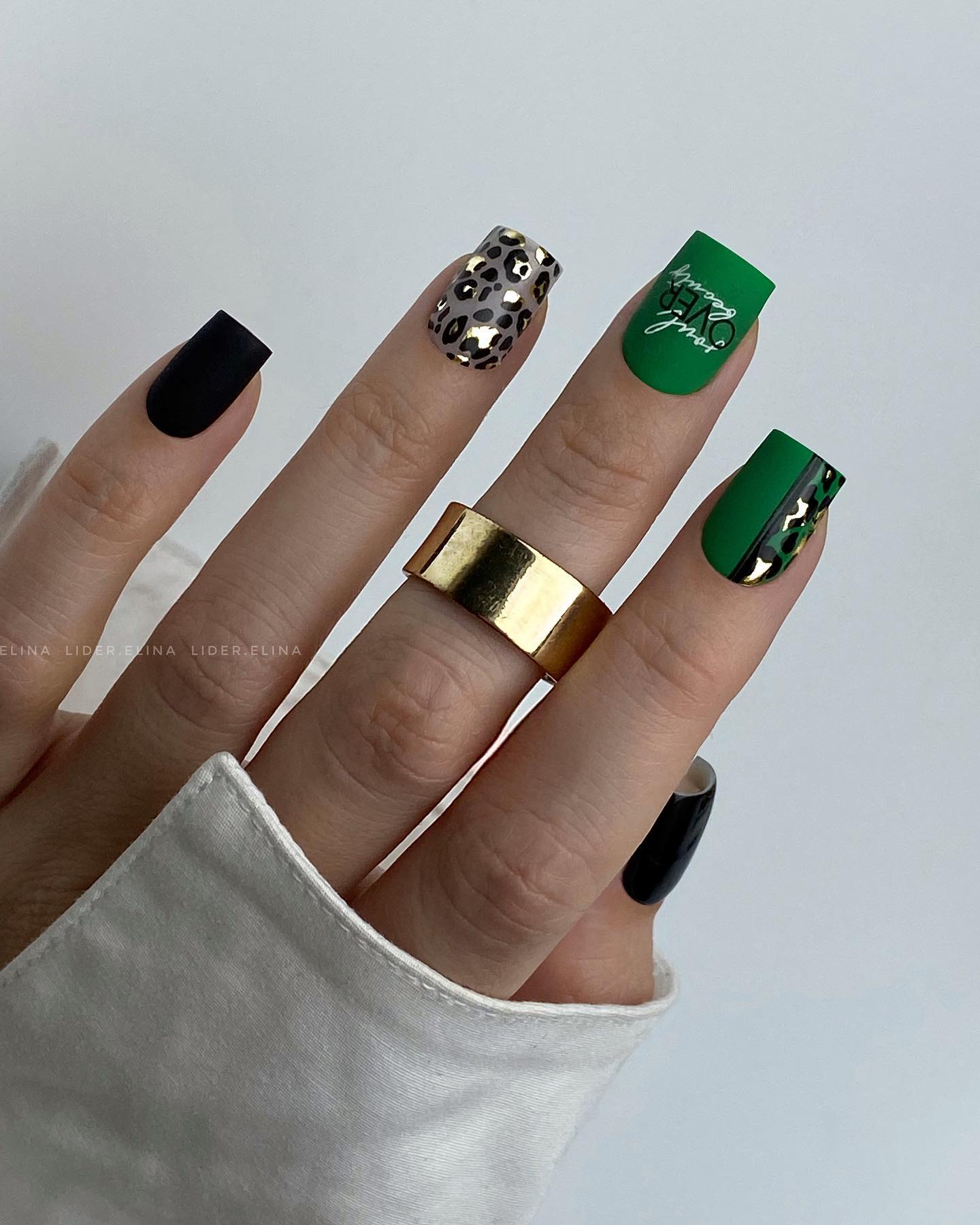 via @lider.nail
Delicate Light Green Nails
Light green nails may offer you a fresh, contemporary appearance. Whether you go for a short manicure or experiment with green acrylic, these nails exude a vibrant and youthful appeal. Be gentle with light green to give your hands a delicate touch.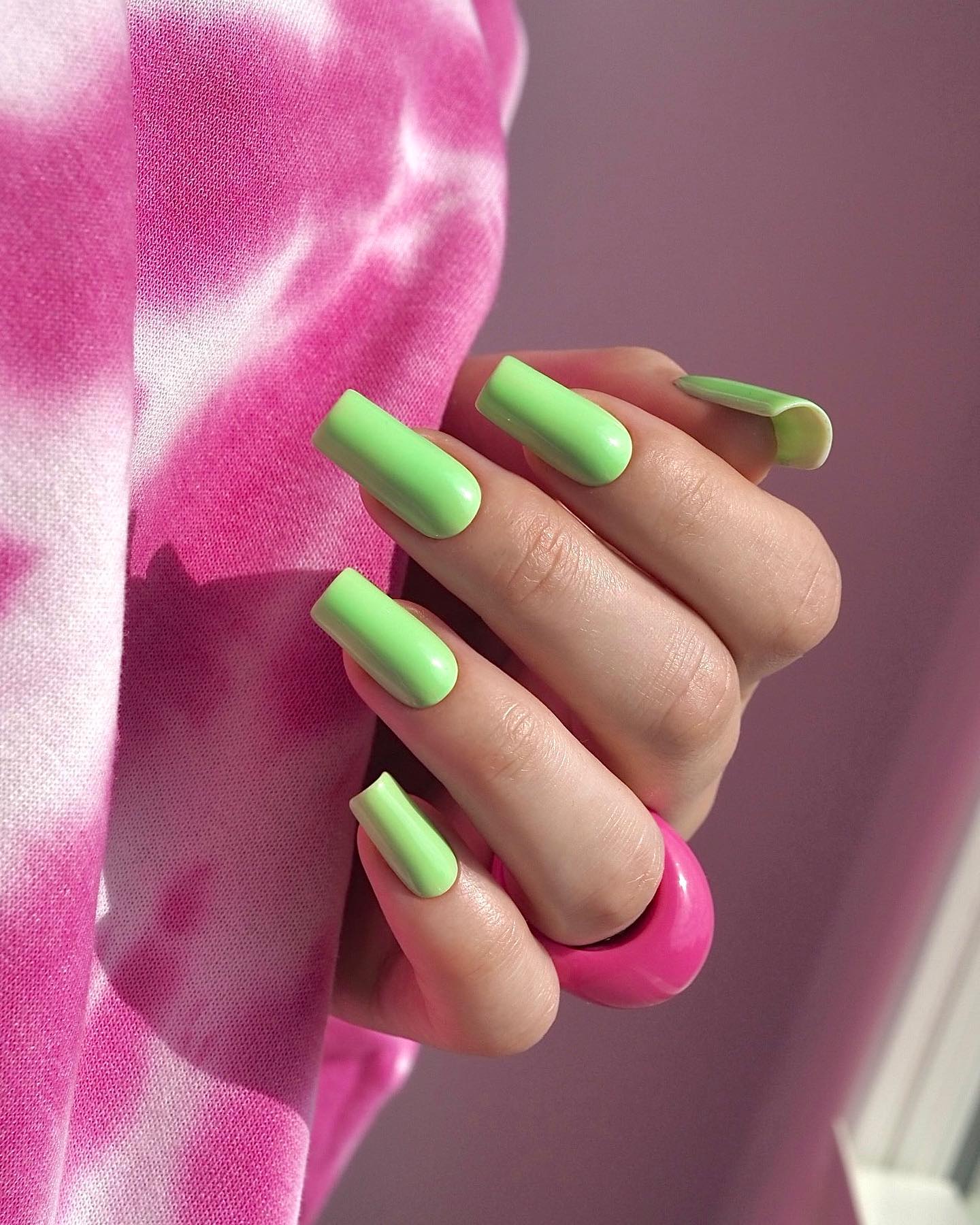 via @napaznokciach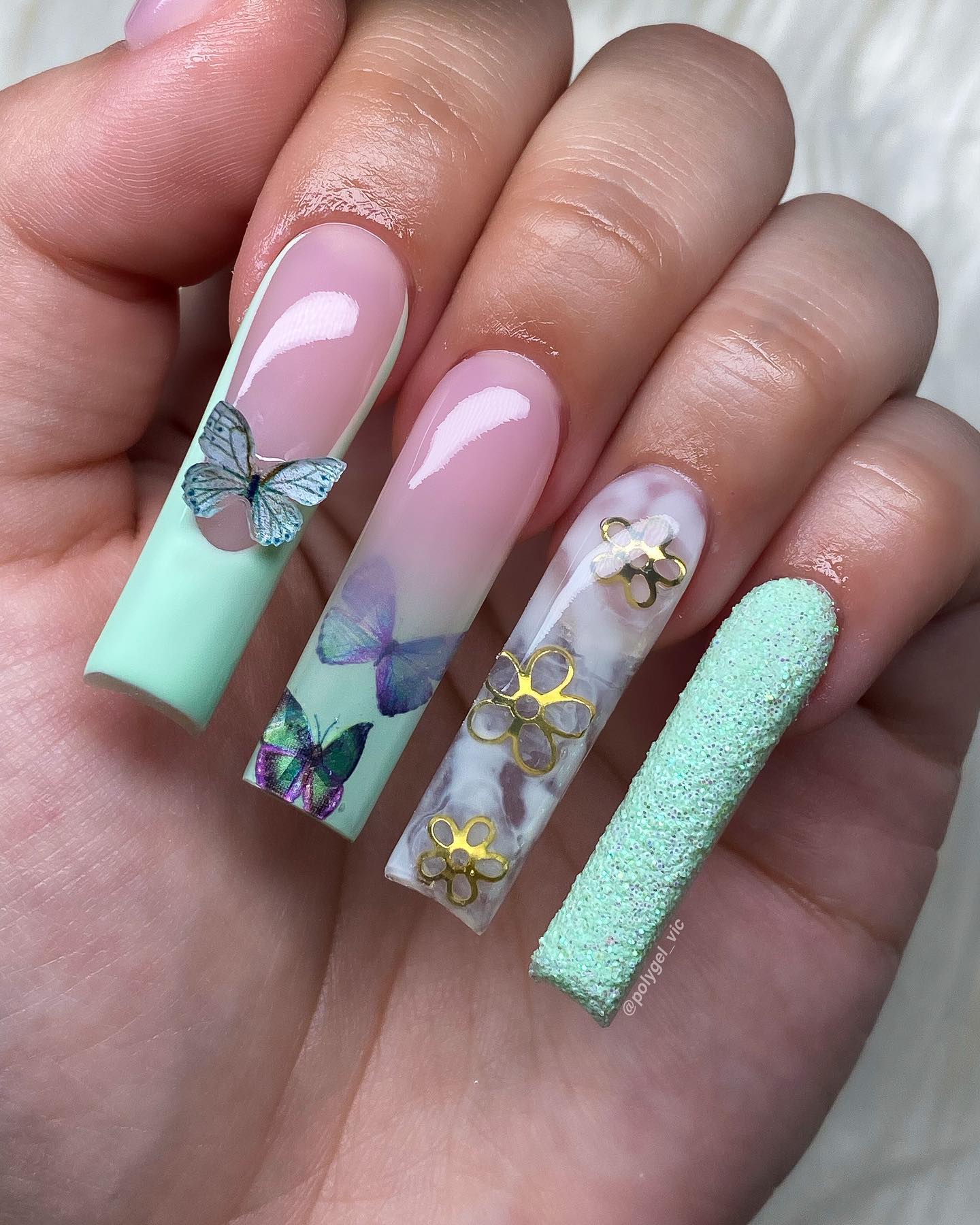 via @polygel_vic
Daring Neon Green Nails
Bright green nails are a sure way to draw attention. This bright nail art trend is perfect for those who want to add a splash of color to their manicure. Choose neon lime nails for a summer season that stand out, or experiment with a daring twist on the traditional French manicure.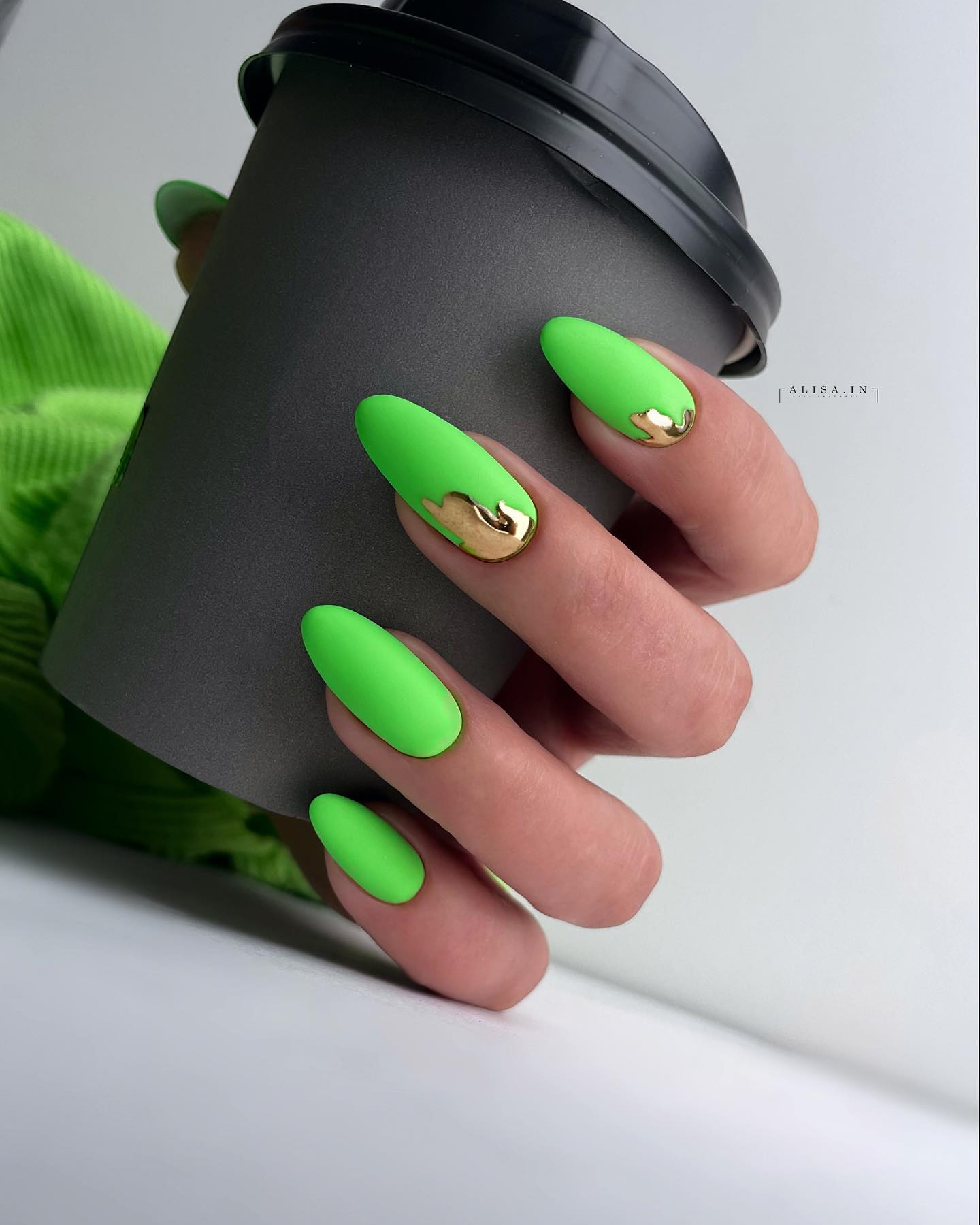 via @alisa.in_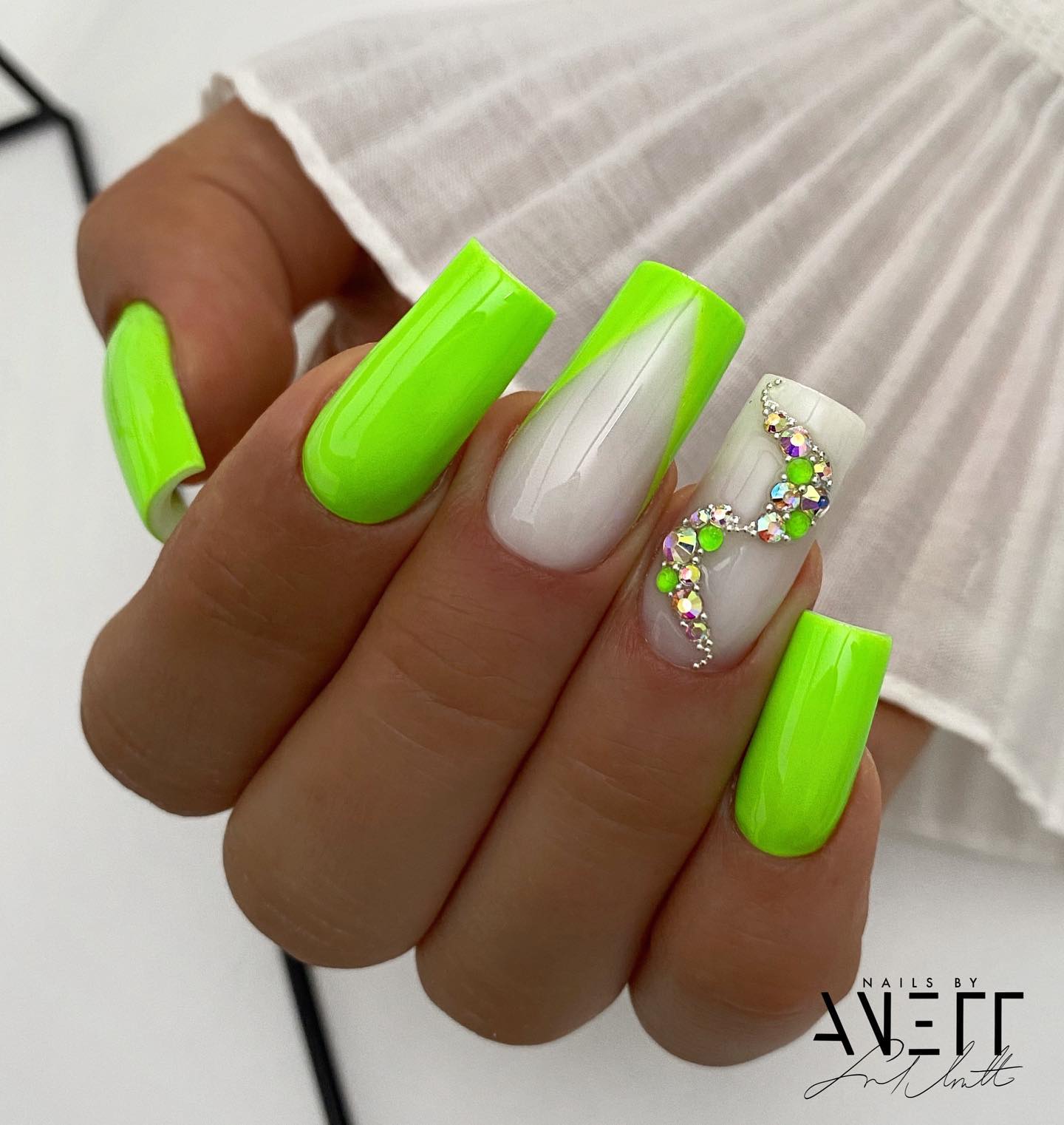 via @l.anett.nails
Summer Lime Green Nails
Are you looking for a refreshing summer nail mani idea? Look no further than the striking lime and yellow nail color combo. Get lime green nails with the design of your choice for a summery vibe and elevated look. The lime green polish is versatile and pairs well with many different nail colors, helping you achieve the desired nail look.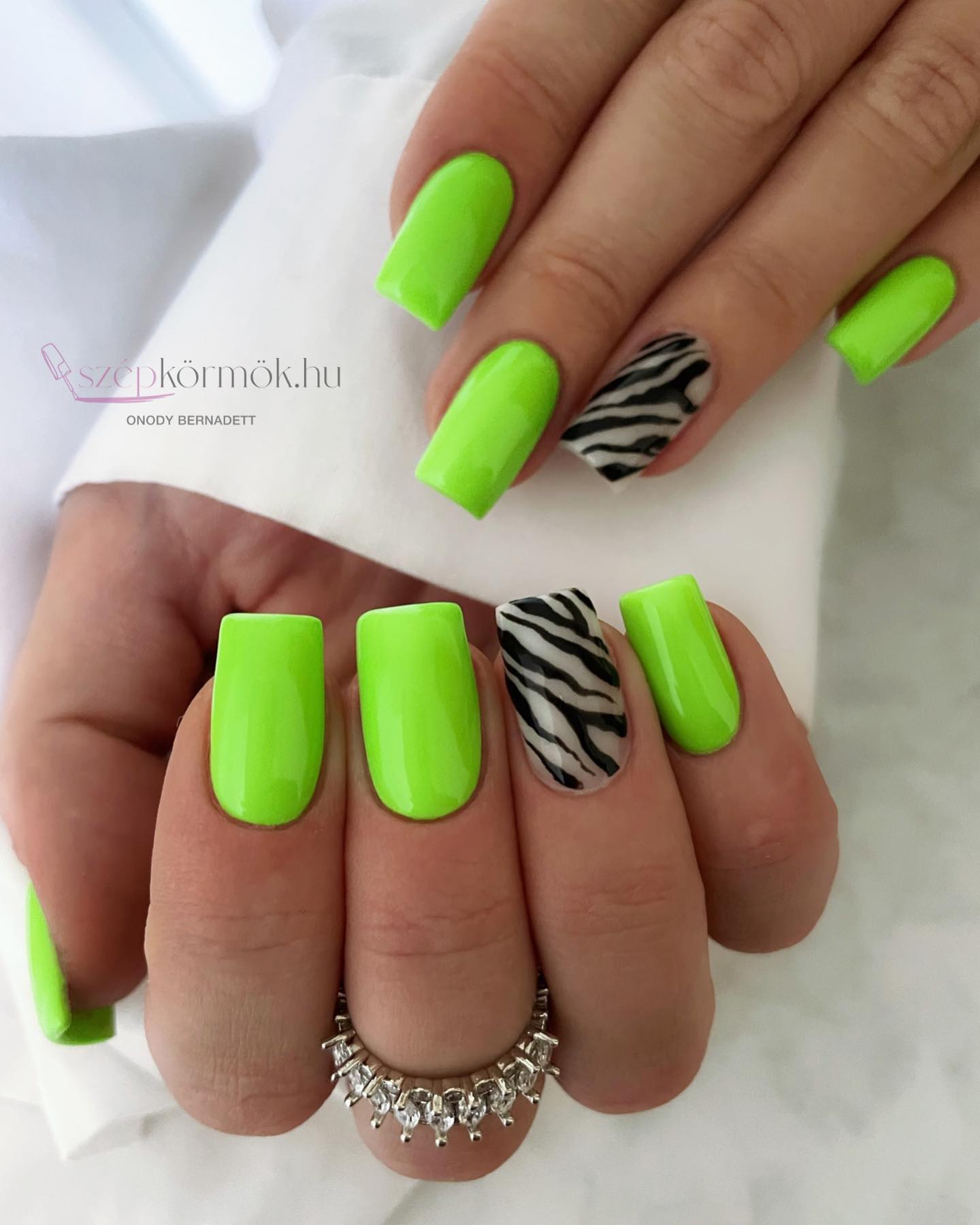 via @_bettynails_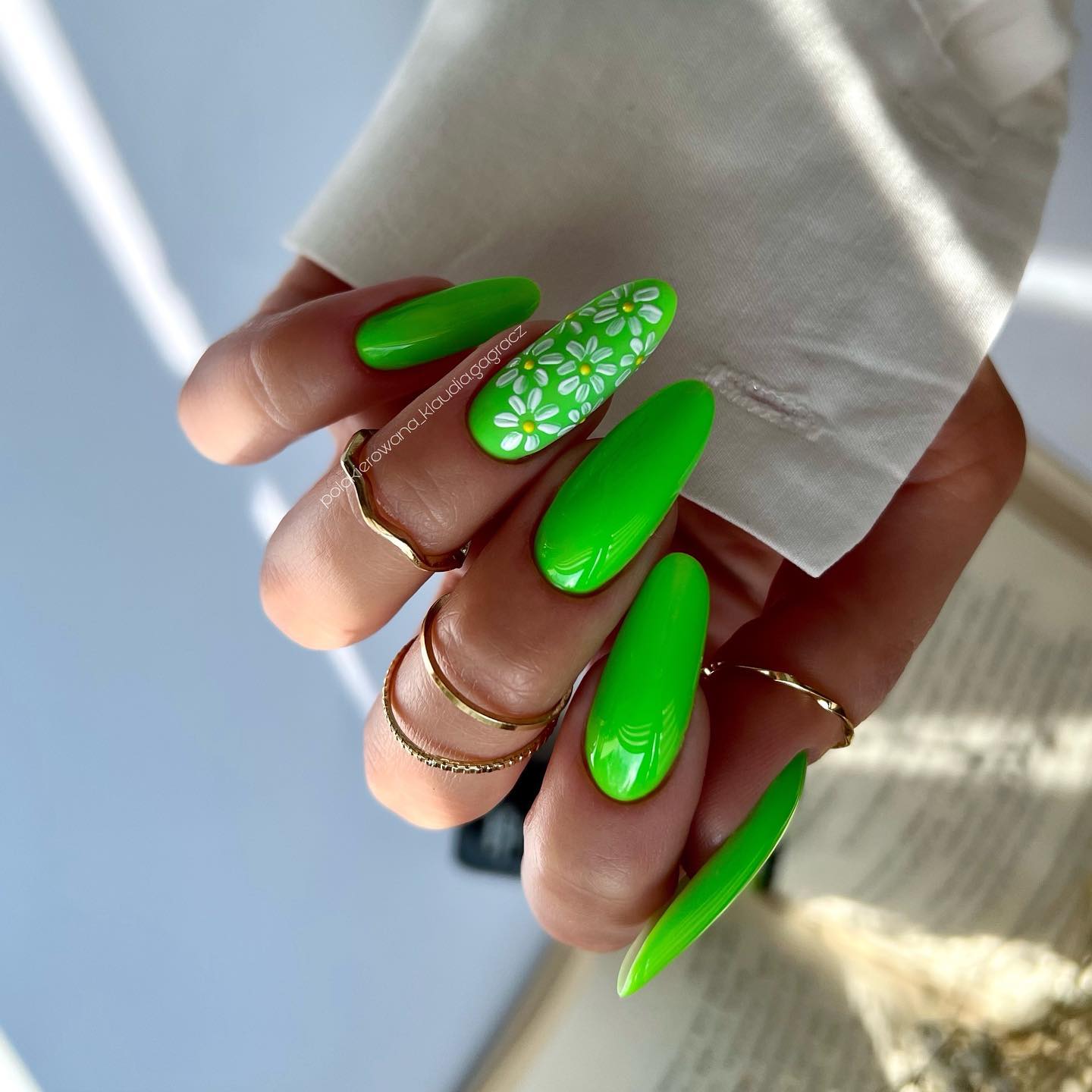 via @polakierowana_klaudia.gagracz
Striking Forest Green Nails
With magnificent forest green acrylic nails, you can help delve into nature's beauty. For a striking woodland-inspired manicure, embrace the elegance of dark green nails with forest nail art design. One such pretty nail design idea is painting all nails in dark green color and having an accent nail with a leaf design.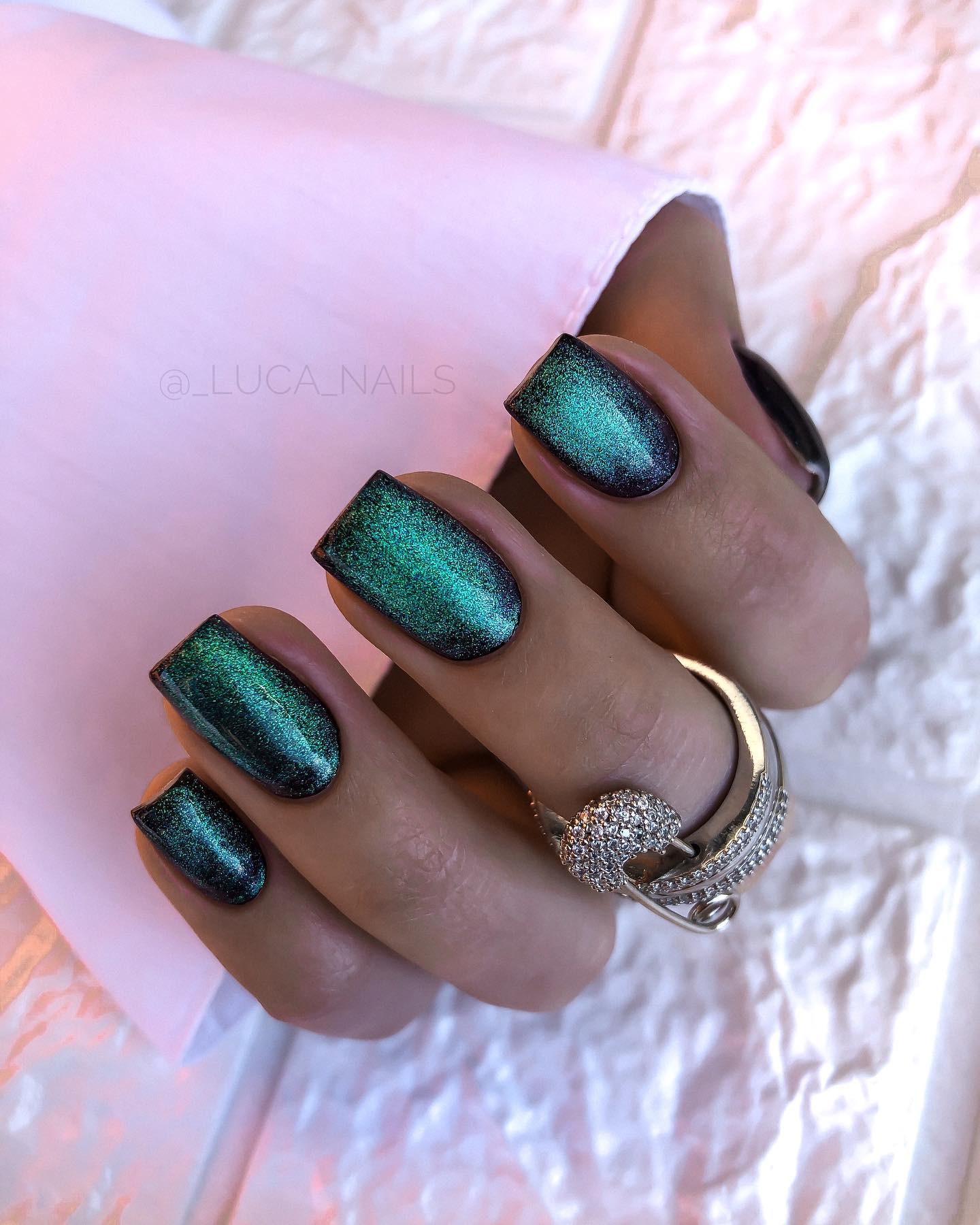 via @_luca_nails
Voguish Green Matte Nails
Combining any green polish with a matte finish on nails can give a stylish and elegant appearance. People with almond-shaped nails can flaunt this nail look more than others. It gives your manicure an edgy yet refined feel.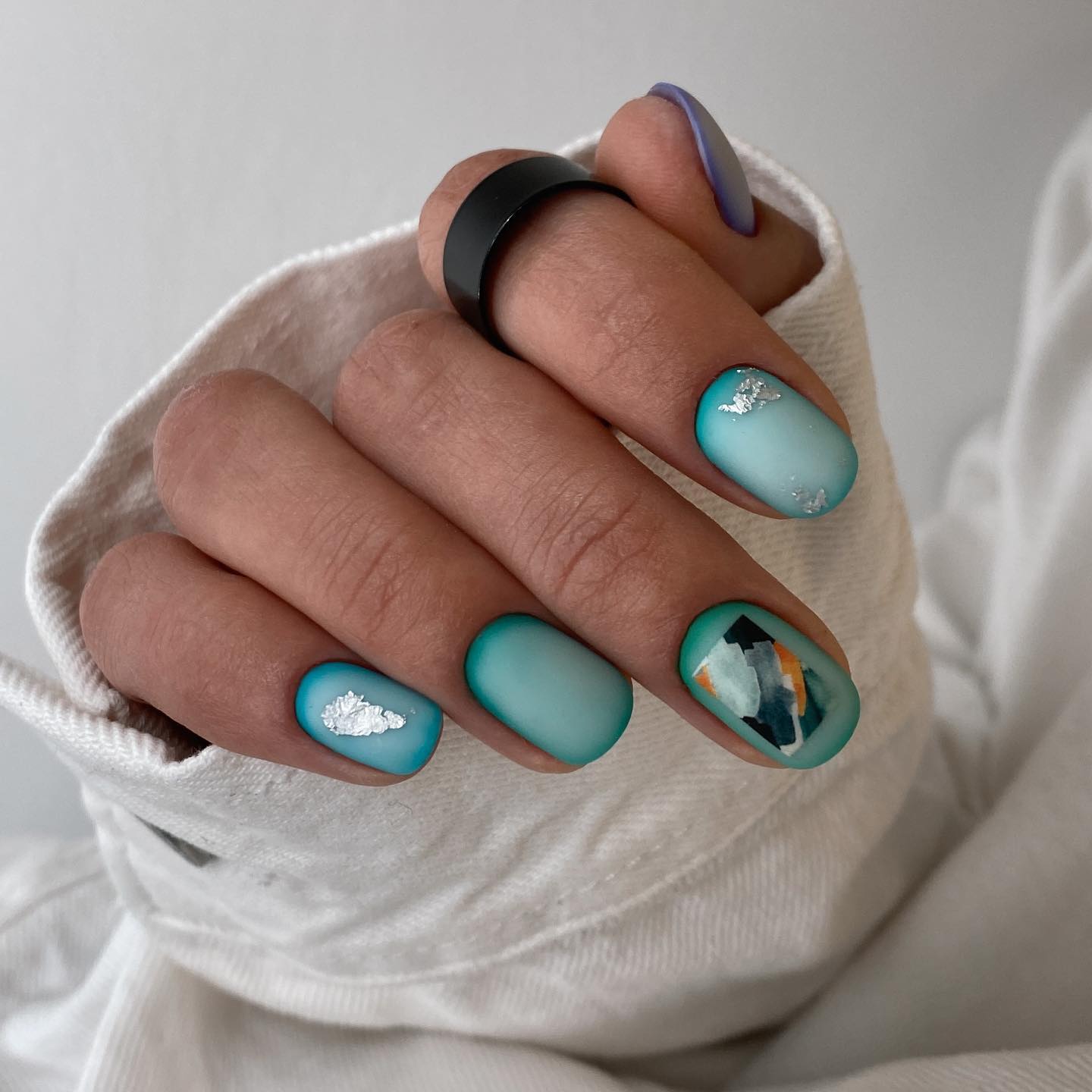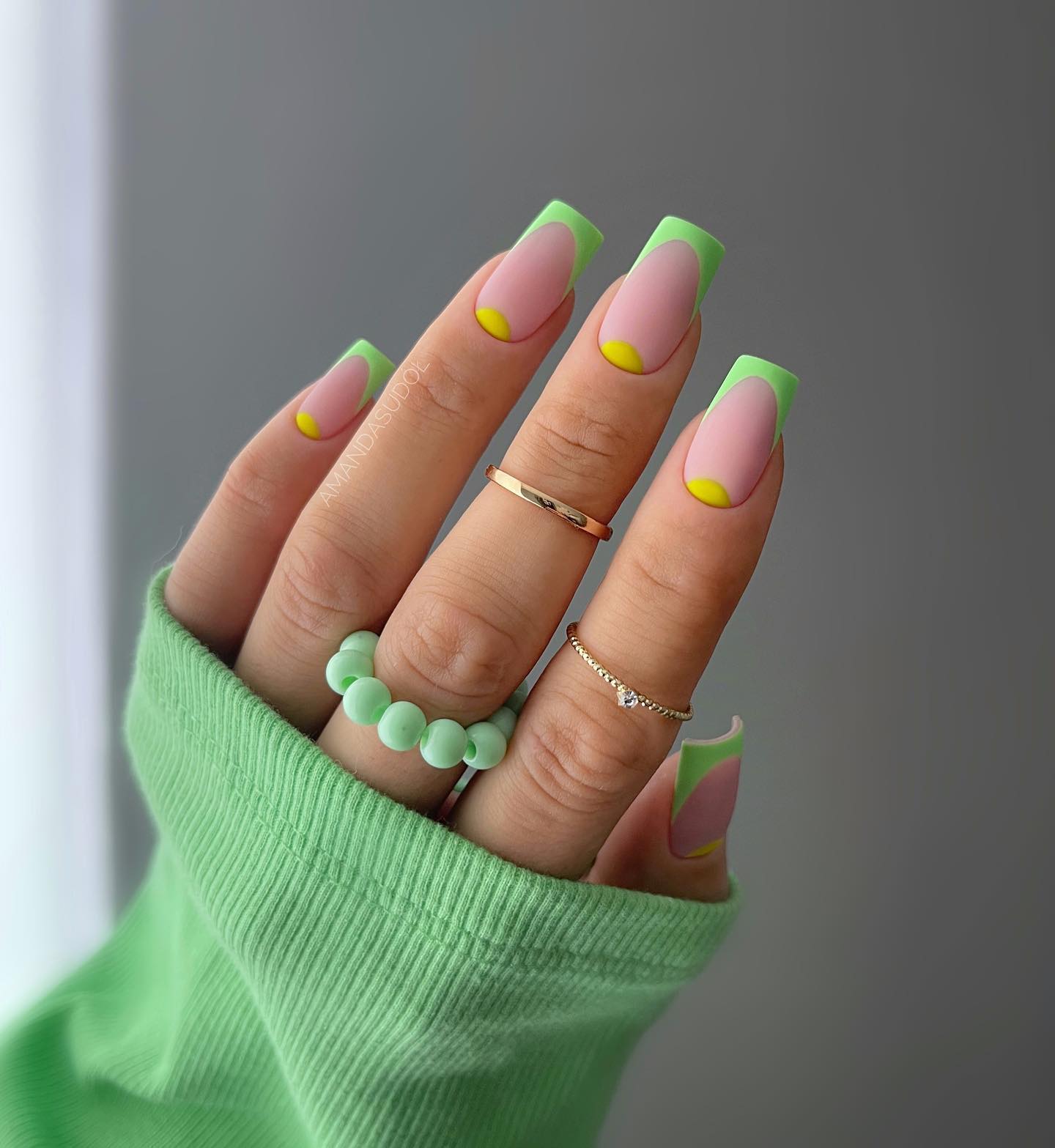 via @amanda.sudolll
Luxurious Green & Gold Nails
The gorgeous gold and green nail combo will make your manicure stand out. The beauty of these two shades of summer manicure is combined to give your fingertips a dazzling and vibrant appearance.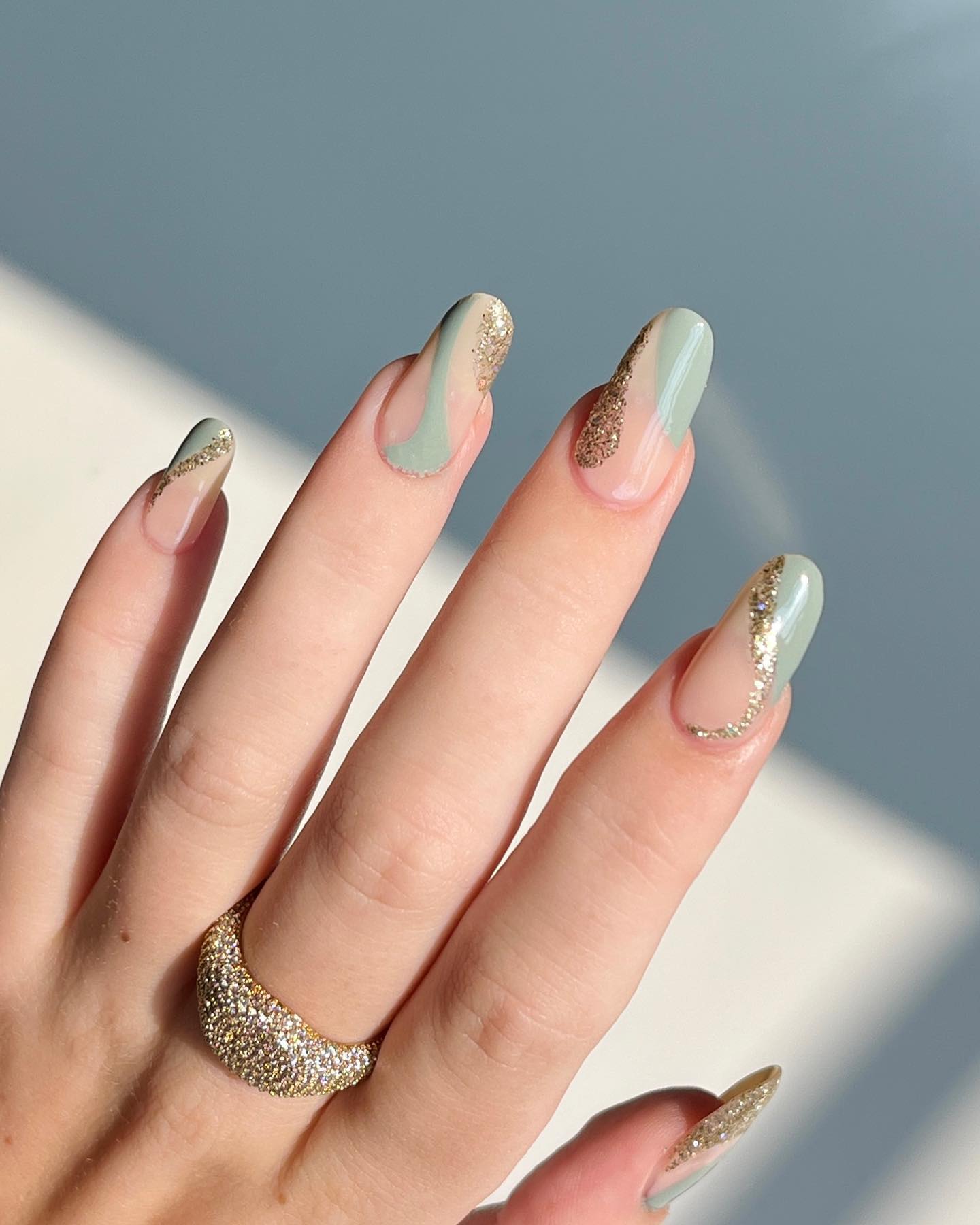 via @nailsbyj03
You can give your nails a luxurious elegance by embracing the beauty of gold highlights against lush green tones.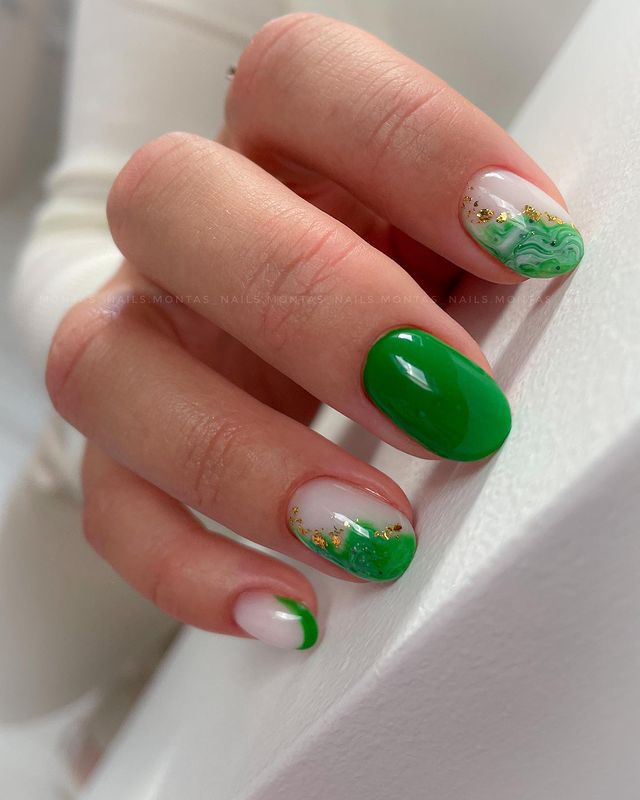 via @montas_nails
Modern Mint Green Nails
Are you looking for a new color for a manicure this season? Don't resist the allure of mint green designs. These light green nails are a pretty choice, offering a modern, trendy look suitable for any situation.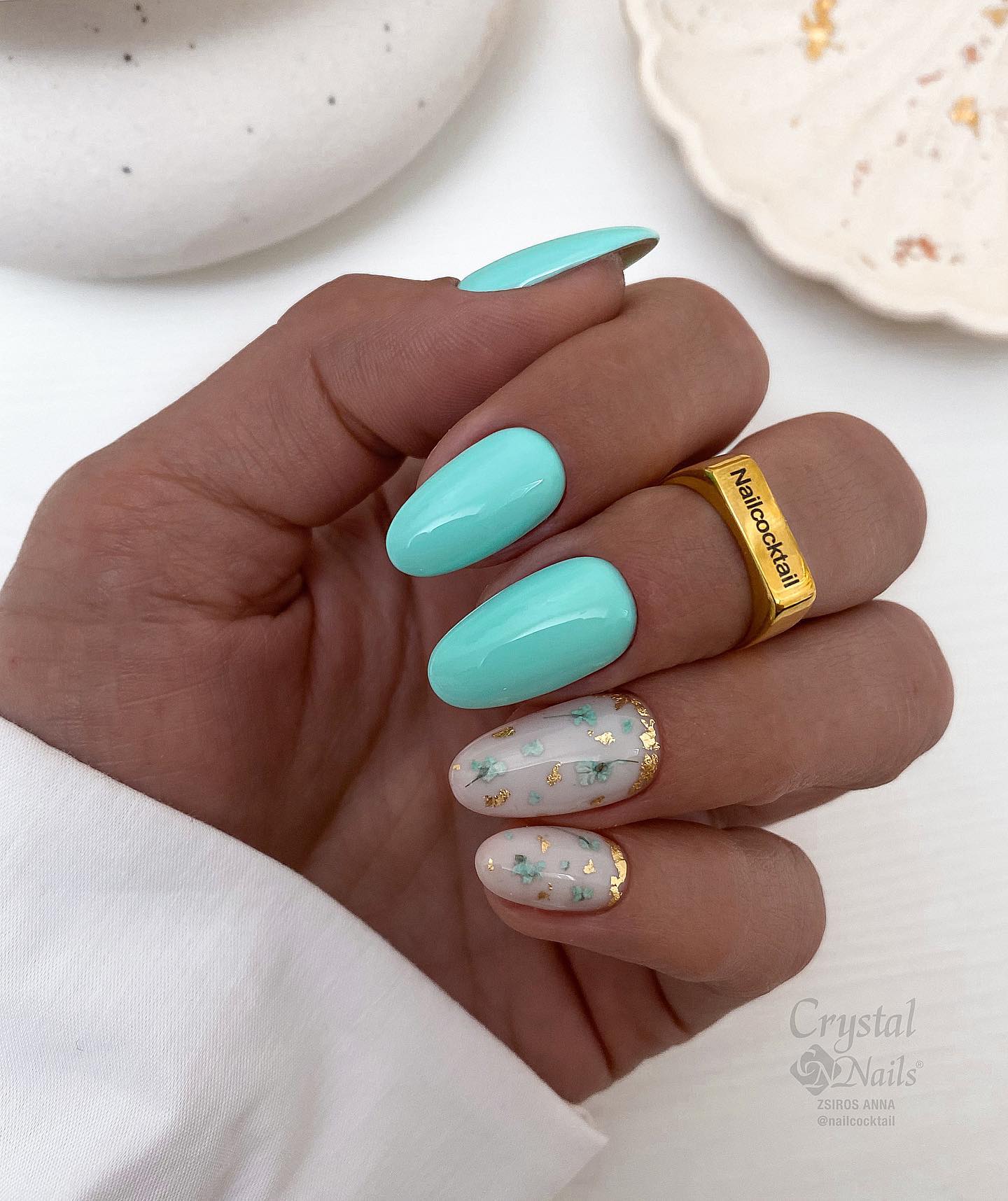 via @nailcocktail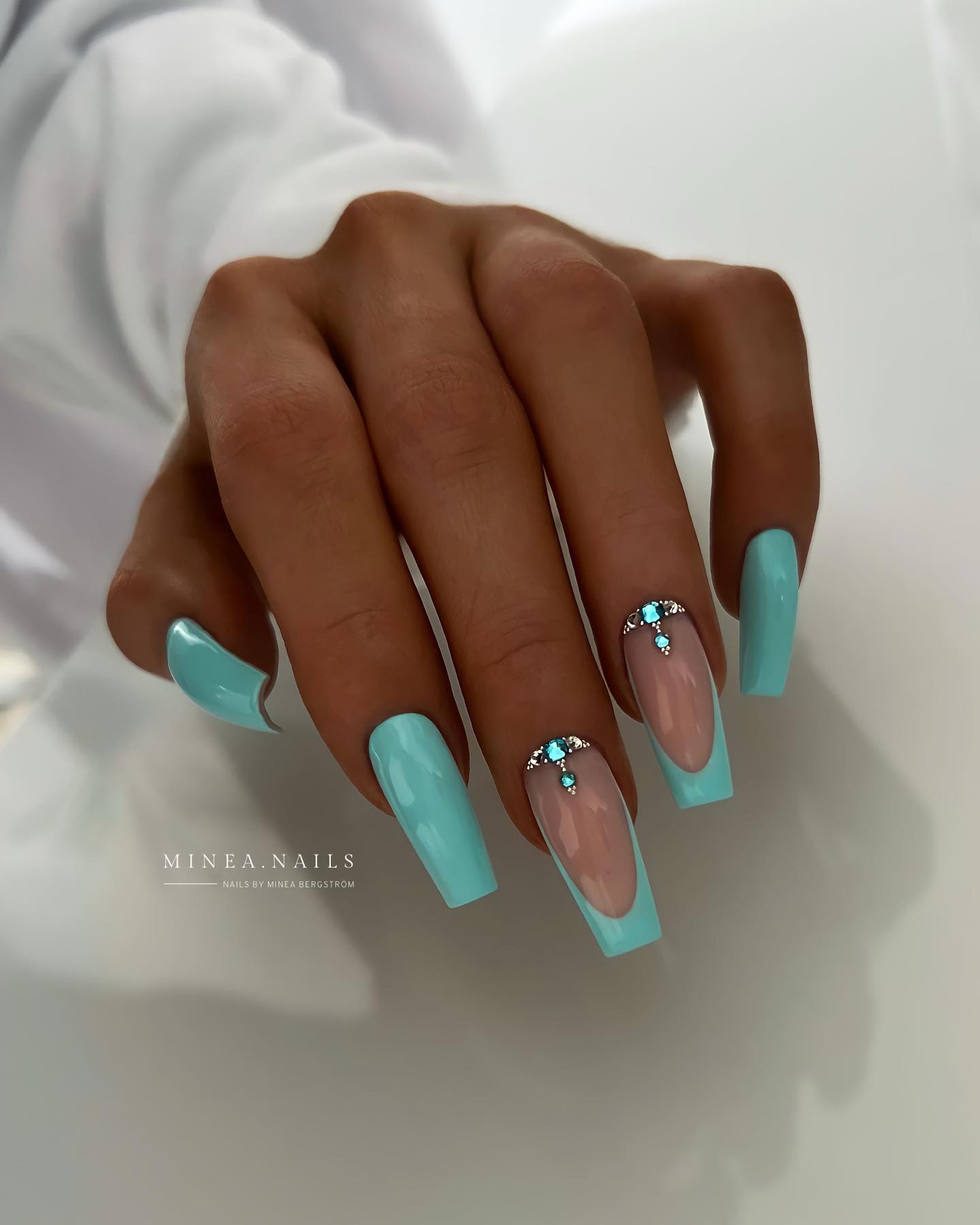 via @minea.nails
Fresh Pastel Green Nails
If you like pastel shades, consider pastel nail ideas this season. The pastel and green nail color combo looks fresh and beautiful in all weather. You can prefer all plain pastel nails or artwork on them for an enhanced look.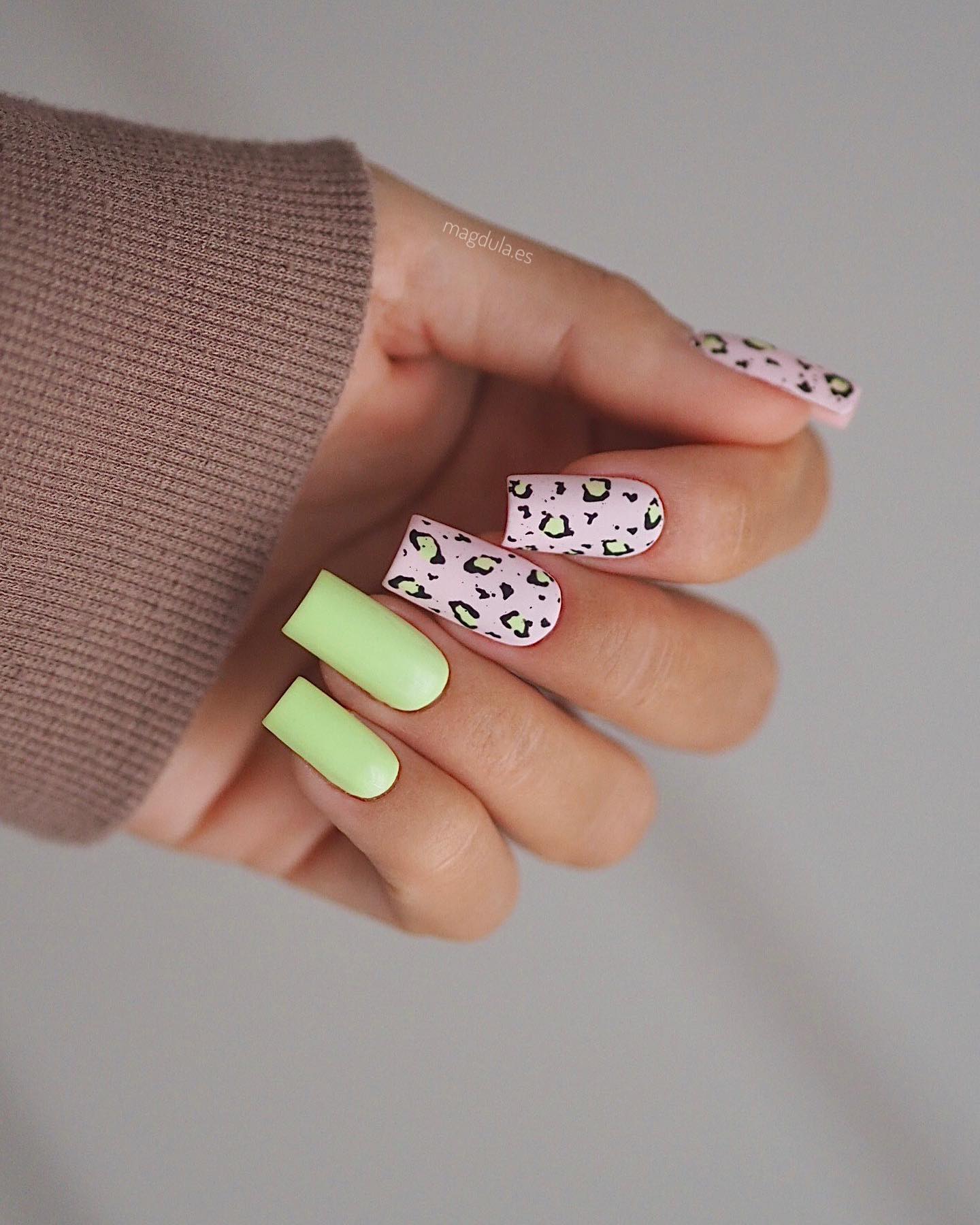 via @magdula.es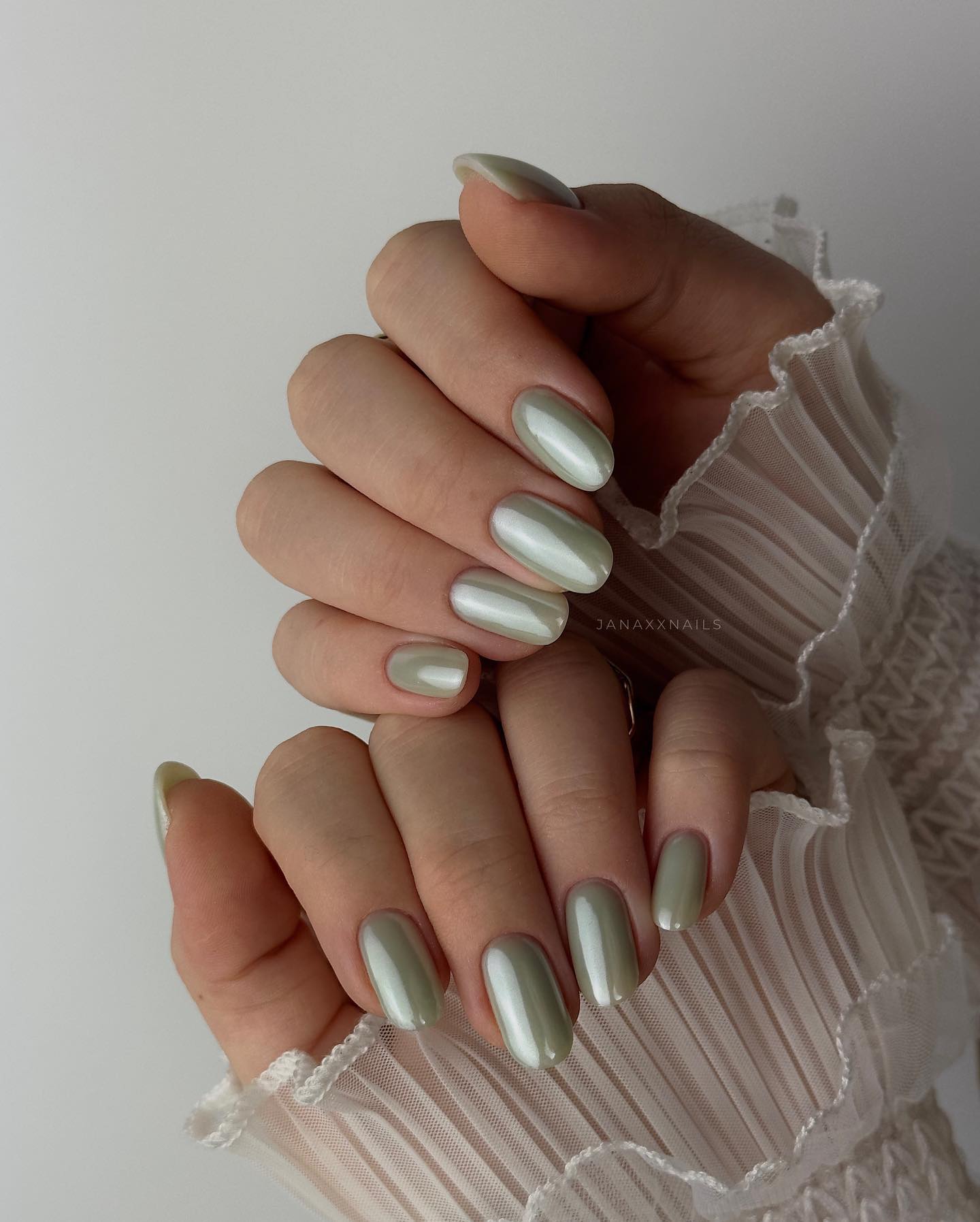 via @janaxxnails
Lovely Green Ombre Nails
Try ombre nail ideas for a nice transitioning effect. The green gradient nails look fascinating and provide lovely depth and refinement. Ask your nail artists for other wonderful coffin emerald nails to rock this season.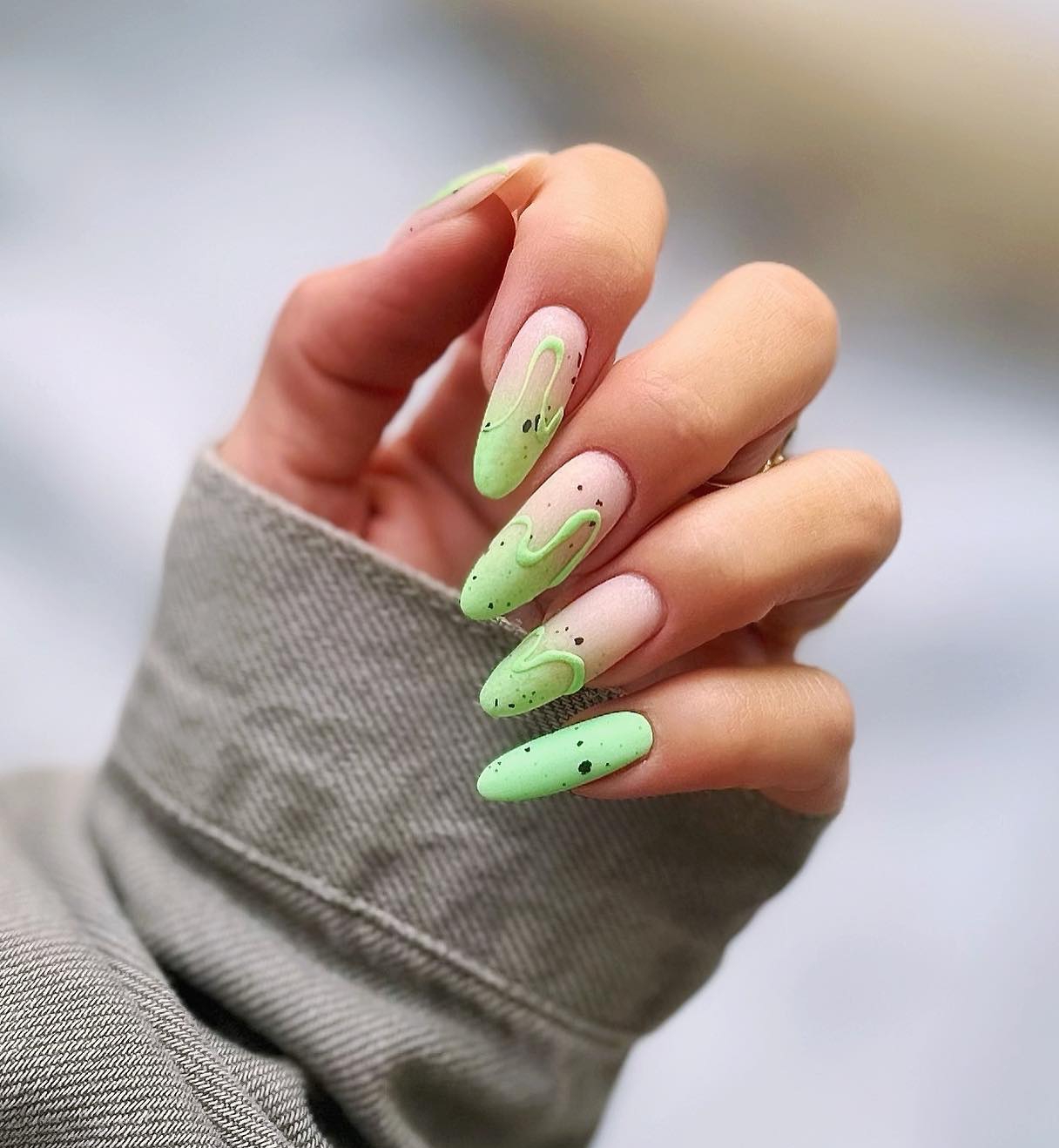 via @anetaujwary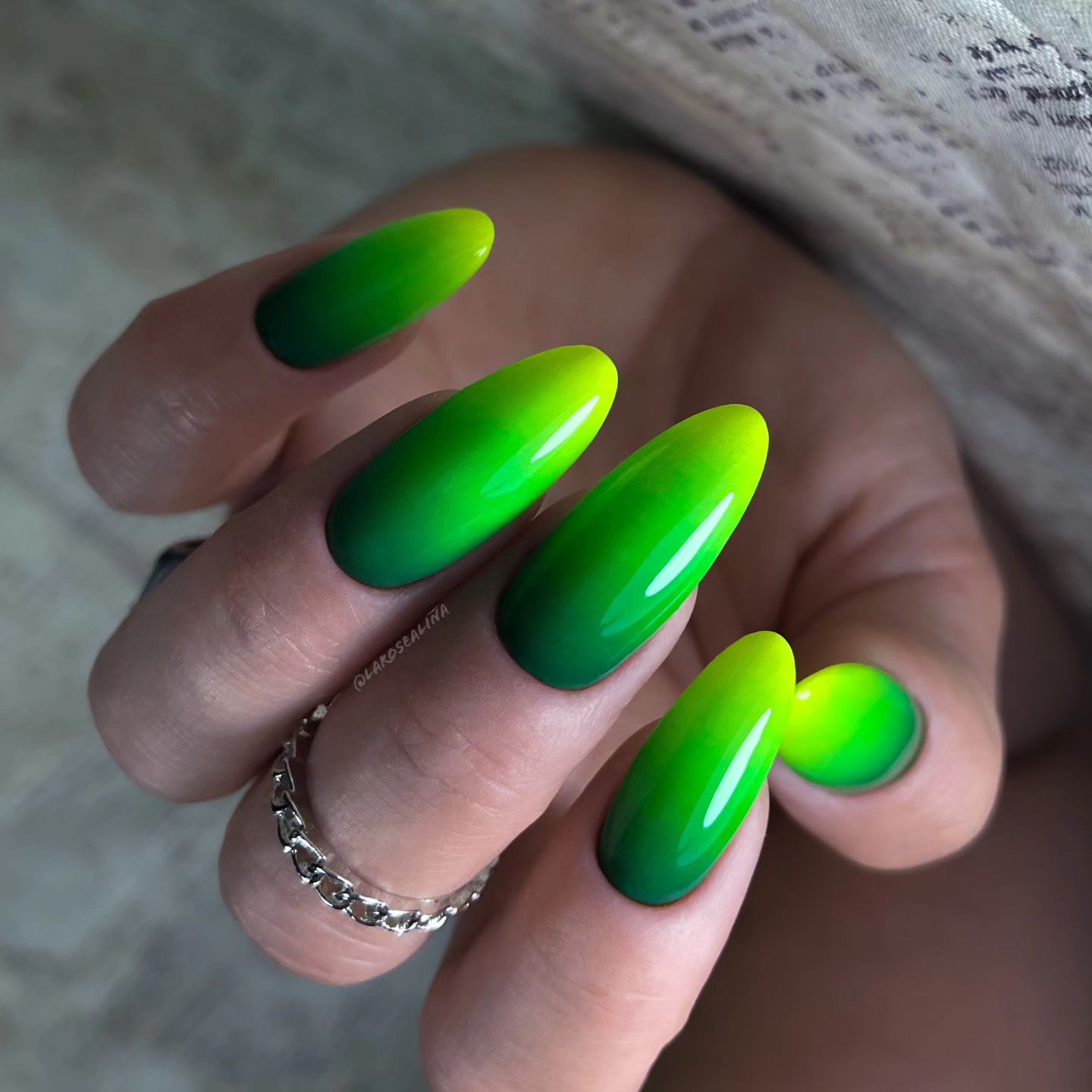 via @larosealina
Fanciful Pink & Green Nails
Green and pink nails are the perfect combination to grab attention. This innovative combination adds a fanciful and elegant touch to your manicure. Try bold pinks, delicate pastels, or army green nails for a fashionable spin.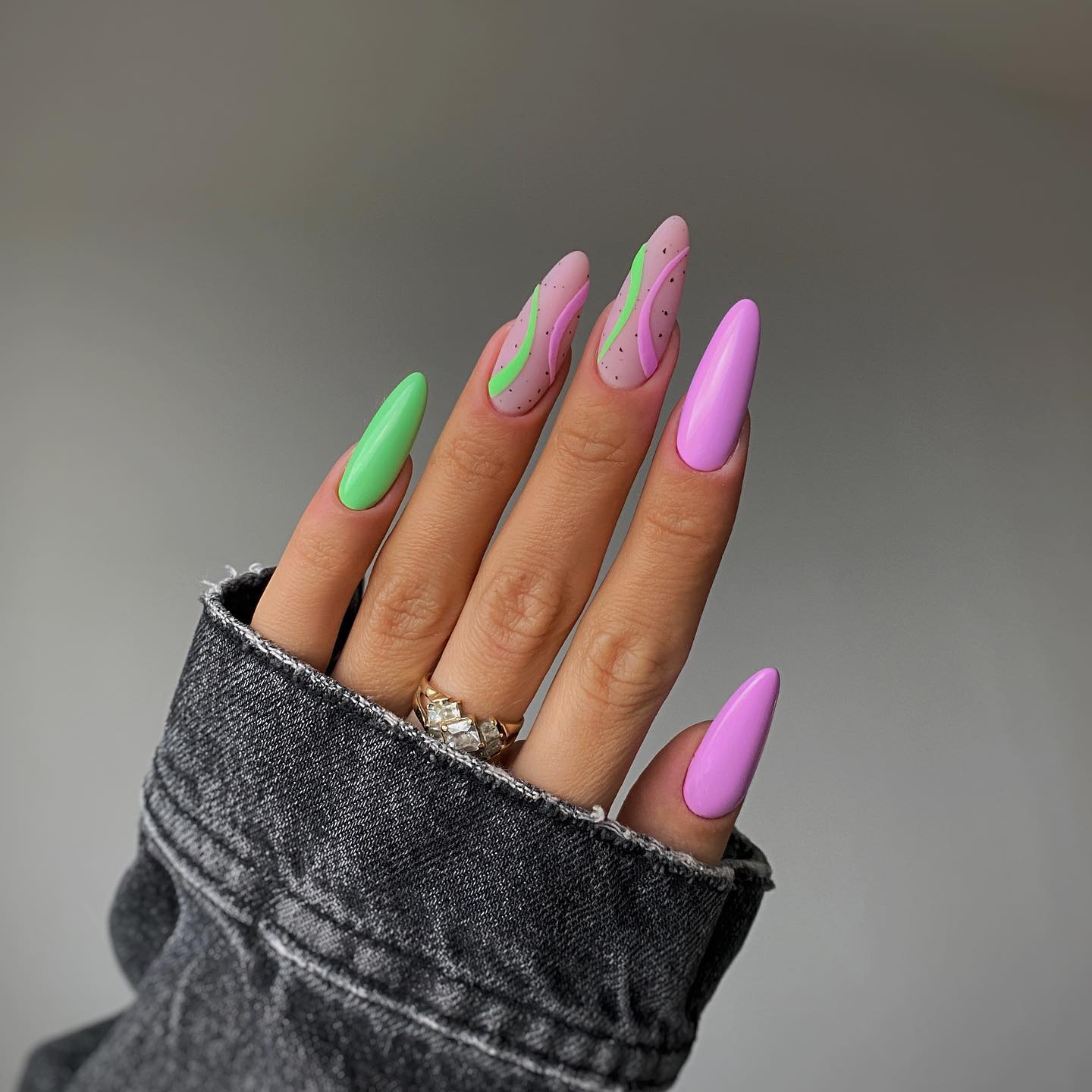 via @pegi_nails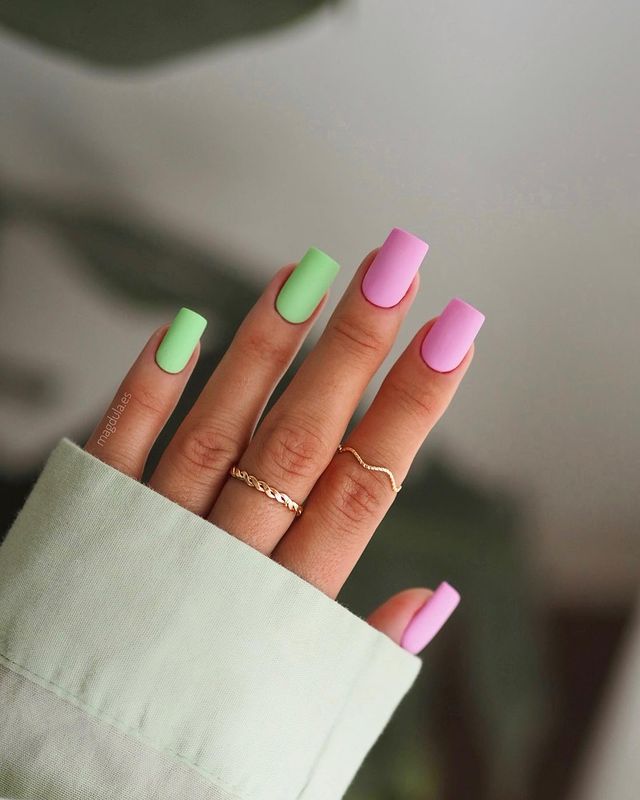 via @magdula.es
Exquisite Green Tea Nails
Try hot green tea nails as your next manicure idea. They add a sense of serenity to your fingertips with their calming tones. Alternatively, you can choose beautiful green marble nails. These nails are versatile and pair amazingly with various outfits.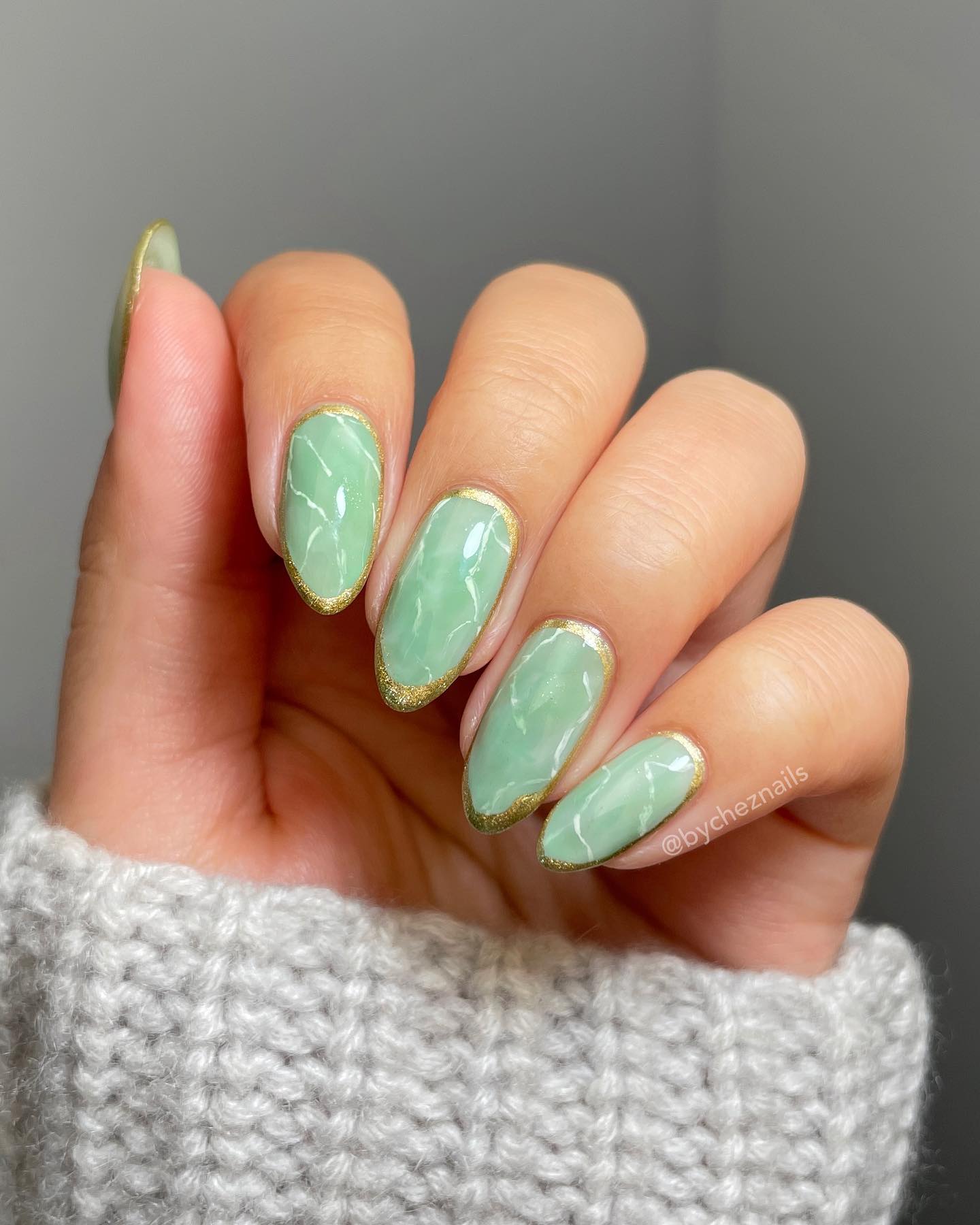 via @bycheznails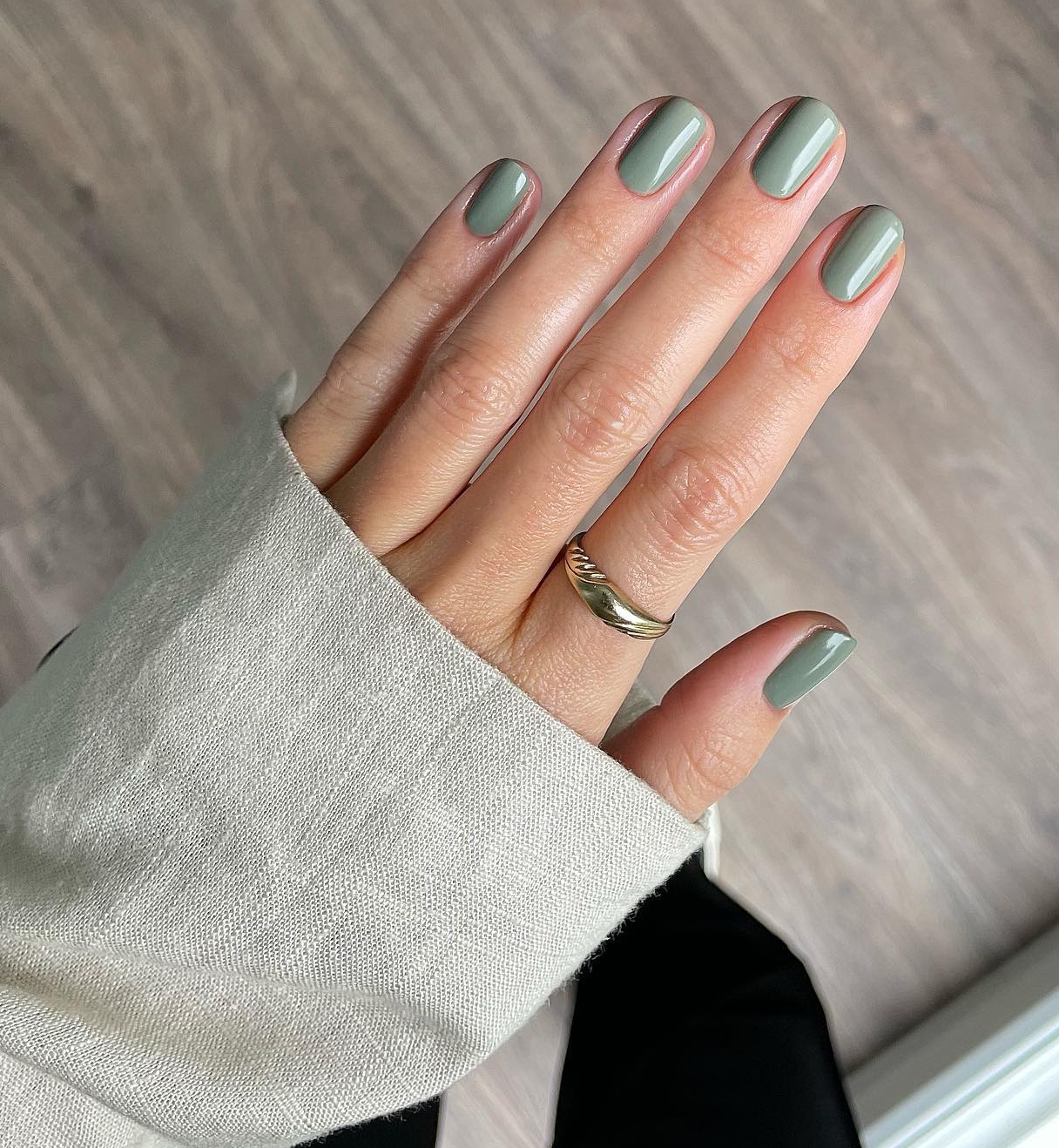 Astonishing Green Marble Nails
Go for gorgeous marble manicure patterns with deep green tones. With its beautiful and unusual appeal, the marble nail designs will enhance your sense of style, making it the perfect long nail idea.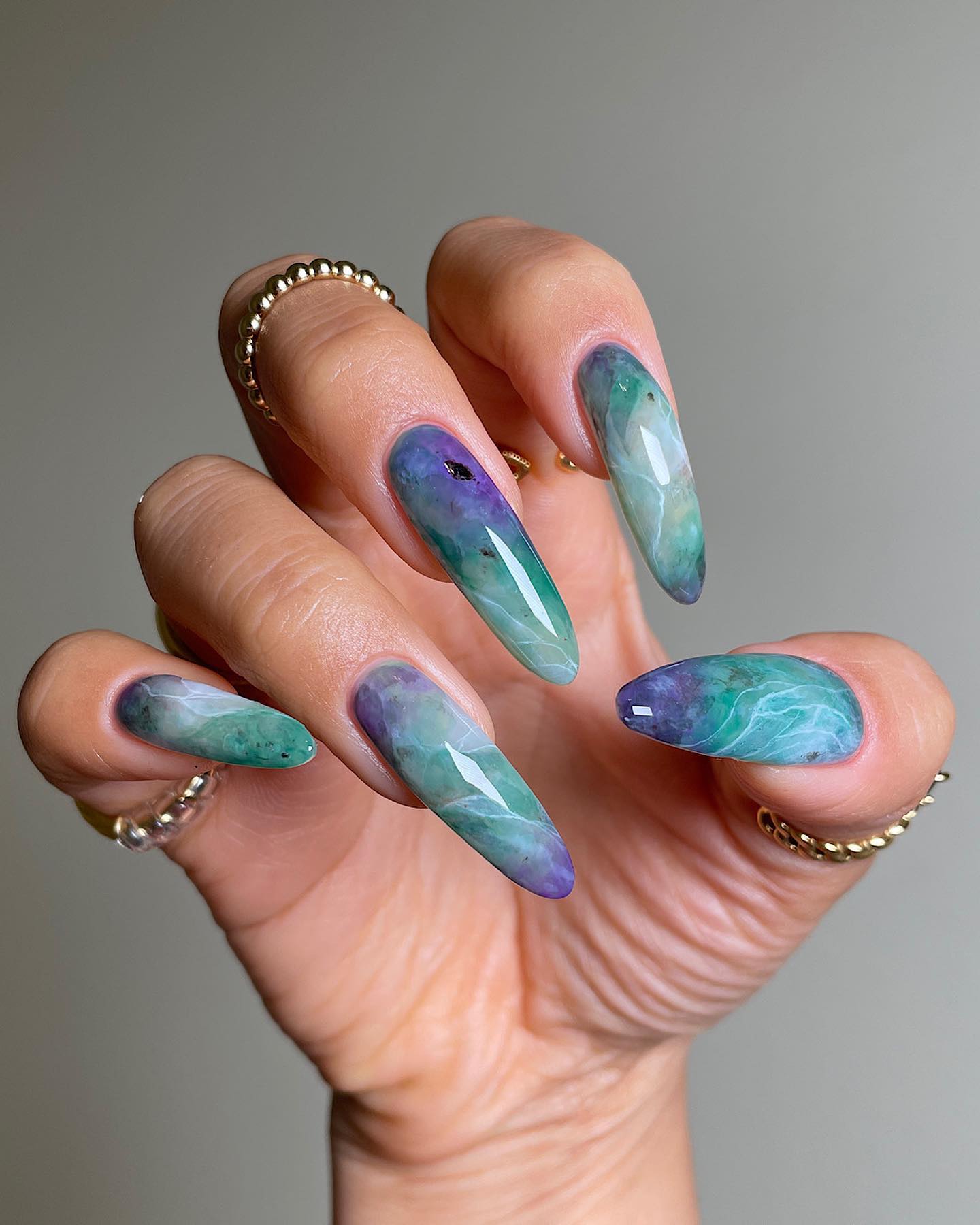 via @sansungnails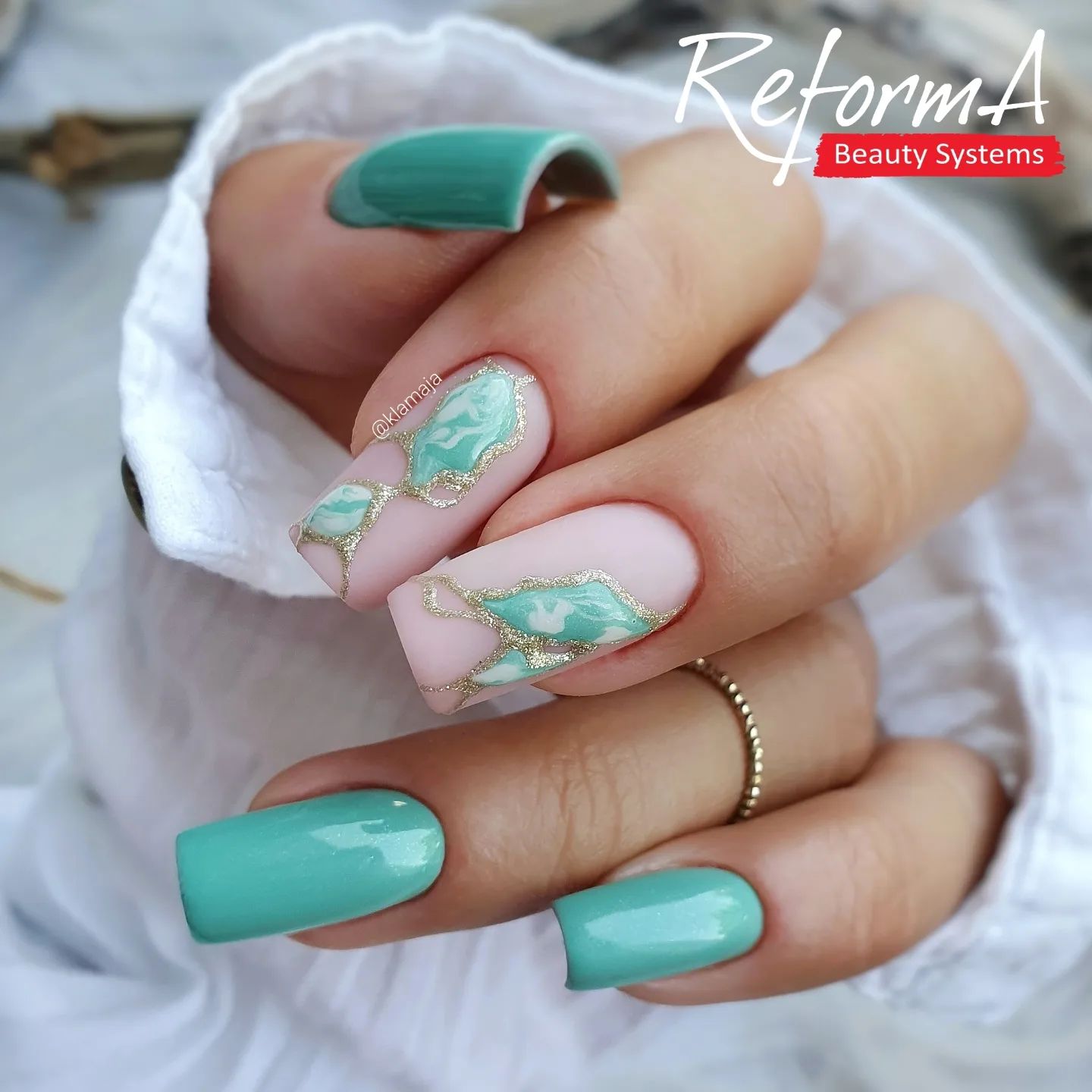 via @klamaja
Dazzling Green Glitter Nail Art
Prepare to dazzle with green glitter nail art! Add a bit of glitz to your sage green nails with glitter polish to level up your manicure game. This adaptable and eye-catching green nail idea will soon become your favorite color for any season.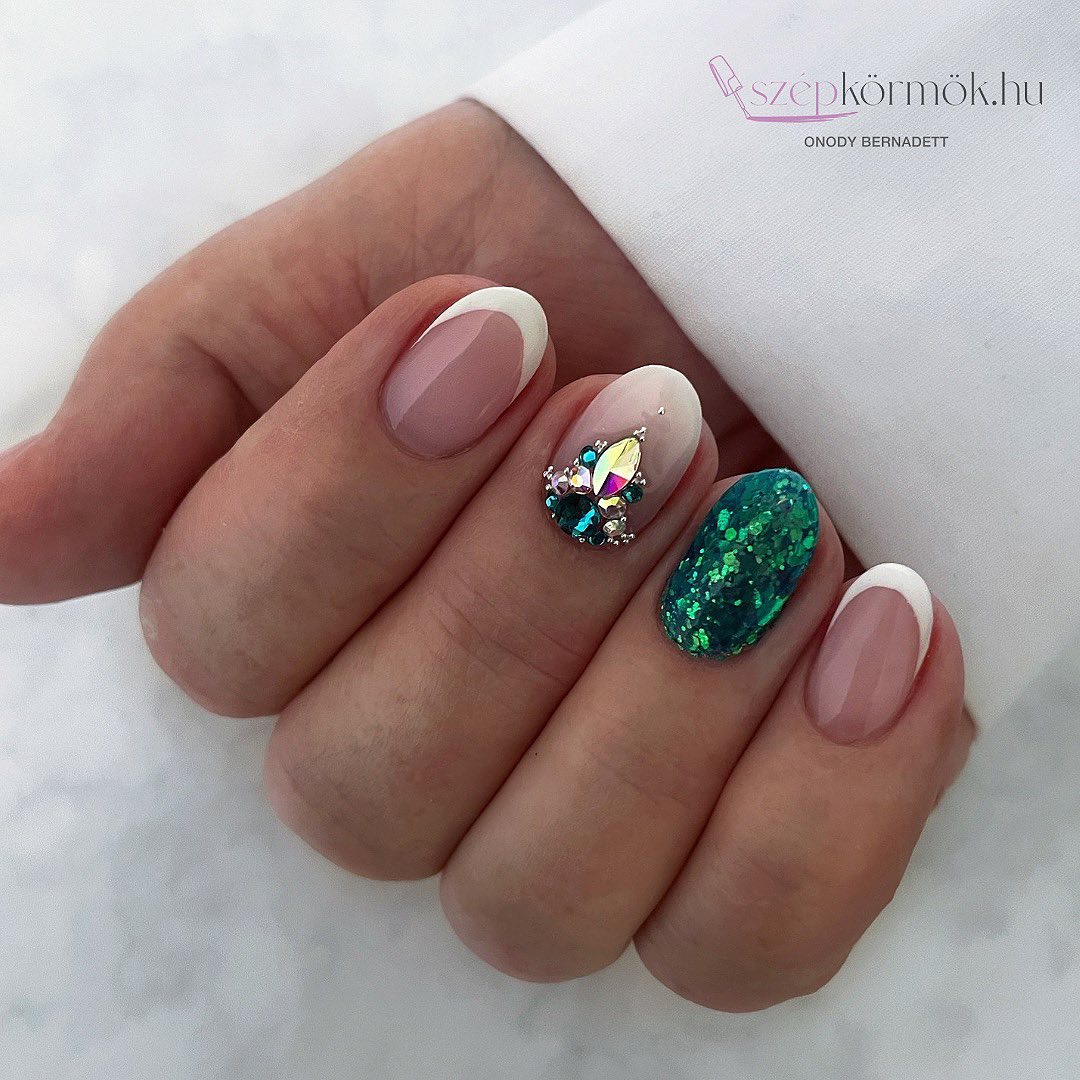 via @_bettynails_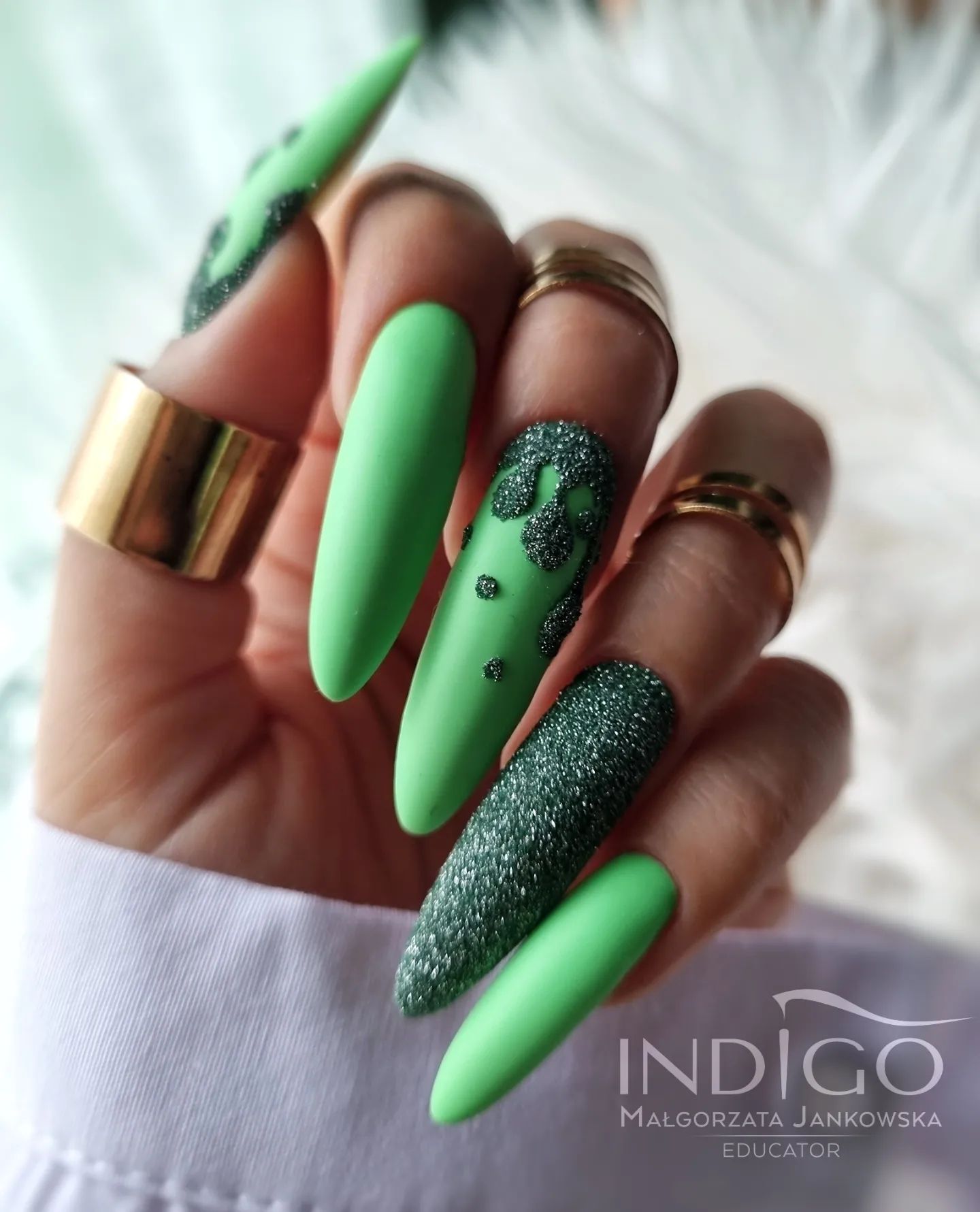 via @malgorzata_jankowska_indigo
Easy-Going Green & White Nails
The beauty of white and green nails has never faded. Whether you opt for a straightforward French manicure or a striking accent nail design, the combination of white and green creates a versatile and fashionable look. Choose between a glossy or matte finish to achieve the ideal effect.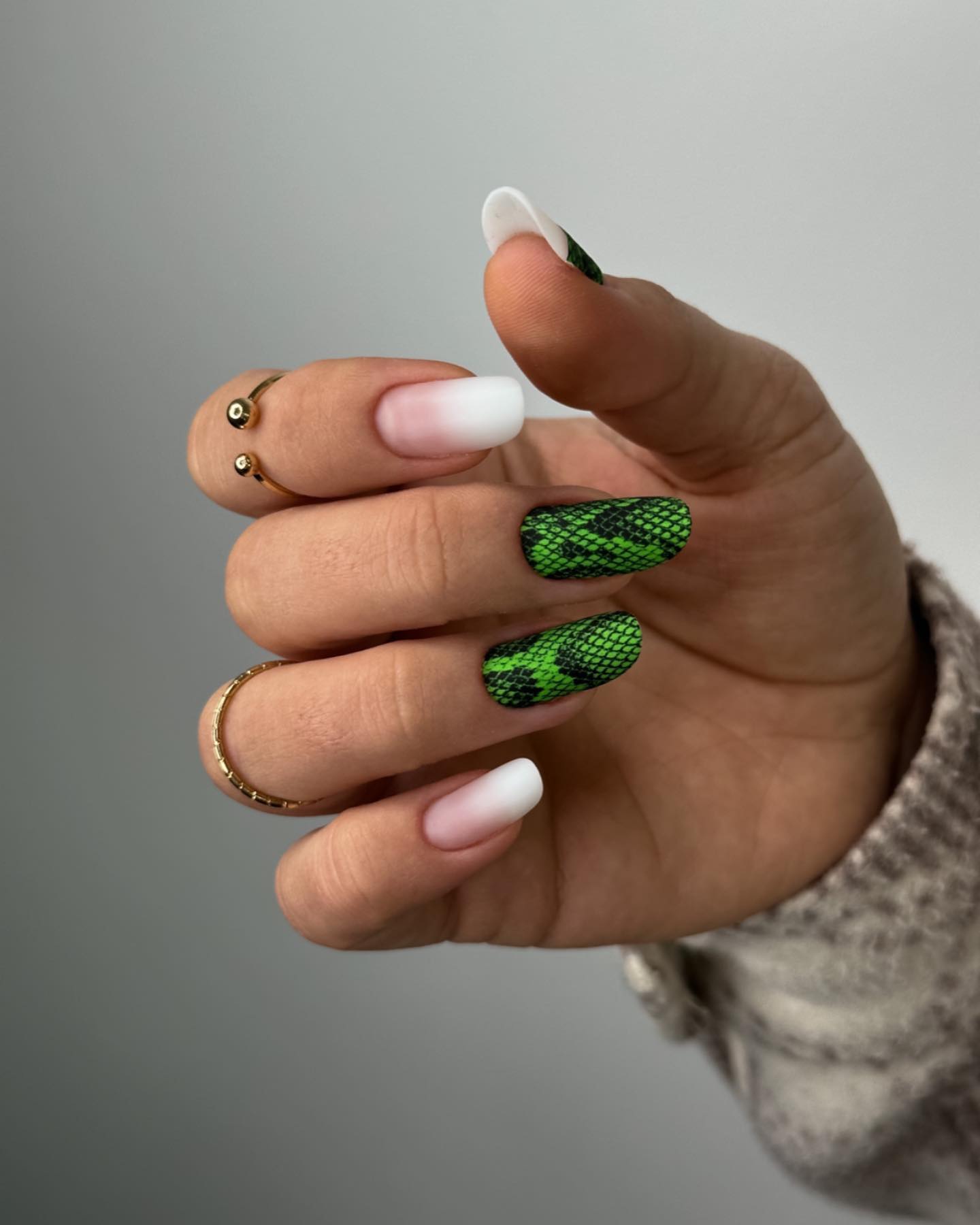 via @lider.nail
FAQ
What Does Green Nail Polish Symbolize?
Green nail polish may signify many things depending on cultural, individual, and symbolic interpretations. In general, the color green is associated with harmony, renewal, development, and nature. It denotes a bond with nature and stands for balance and vitality.
The color green is usually linked to calmness, tranquillity, and relaxation. It also stands for plenty, richness, and fertility. In many cultures, green is associated with healing and rejuvenation and is considered lucky.
Additionally, green is commonly used to promote sustainability and environmental consciousness. Wearing green nail paint allows people to exhibit their love of the natural world, show that they are environmentally concerned, or enjoy how calming and revitalizing the hue is.
Last but not least, the significance of green nail polish is arbitrary and can vary depending on the wearer's tastes, cultural standards, and circumstances.
Green might also be a sign of youth and vigor. The vibrant and glittering nature of the color can evoke sensations of vitality and life. Because green is generally linked with new beginnings, it is a popular option for persons wanting a fresh start or beginning a new chapter in their lives.