You can hardly find a woman who doesn't like pink color. And since the palette is broad, every lady can choose her favorite shade, suiting her appearance. And, of course, pink nails never get out of trend!
Different shades of pink are often used in summer nail art, adding romance to their owners. Do you have any ideas for your next manicure? Don't forget about pink polish! On this page, we want to offer some interesting ideas on how to use this color in your nail design, and every lady will find something suitable!
1. Stunning Pink Ombre Nails
Cute ombre nails have been at the peak of popularity, and it is a great manicure idea for every day. The classic ombre implies beige and white colors, but why not diversify your nail art with brighter shades? It's hard to imagine summer nails without pink, so add it to your ombre. Pick the pink polish that best suits your preferences and skin color, and enjoy a perfect manicure.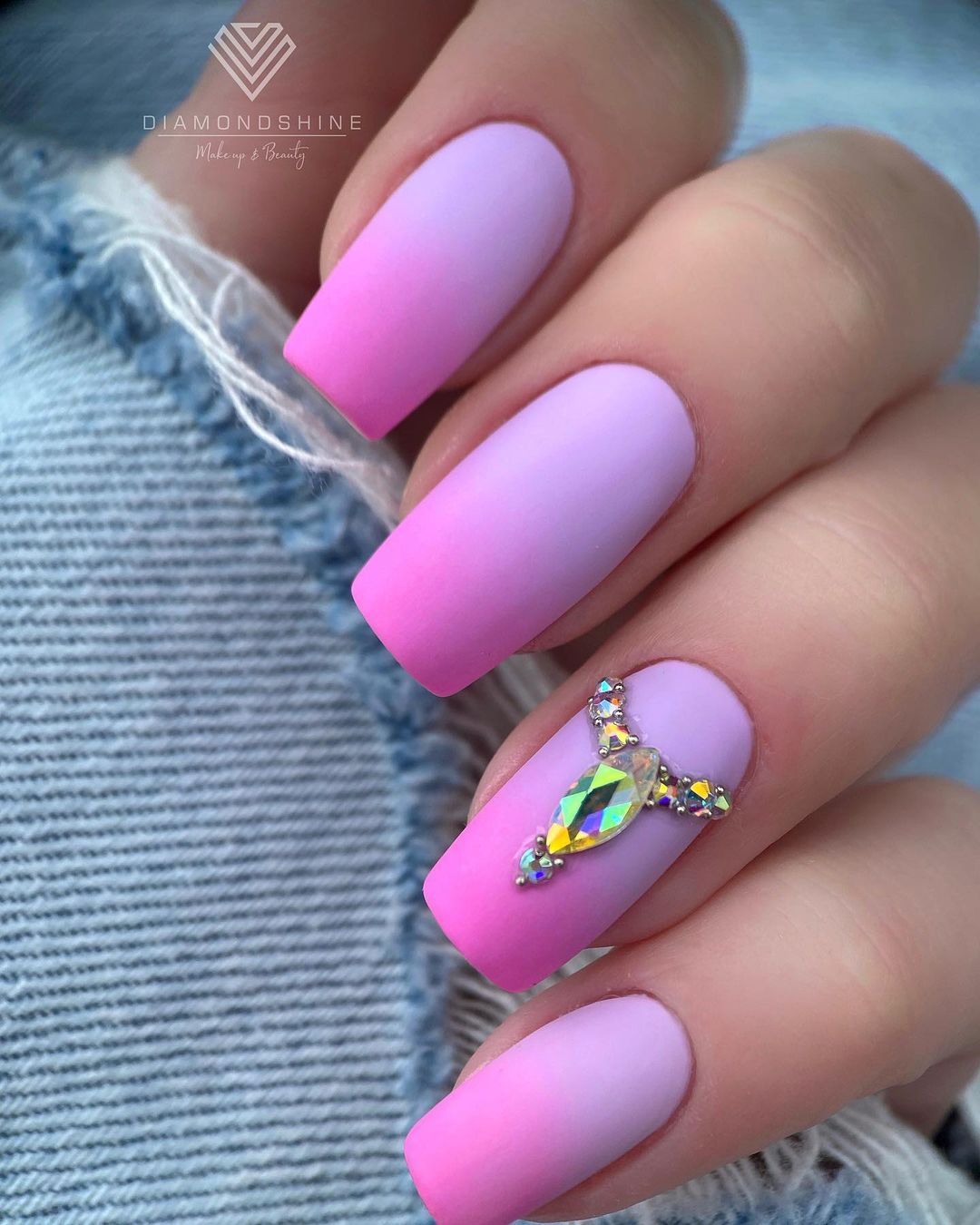 2. Gorgeous Pink and White Nails
Pink and white nail designs always look winning and make a perfect color combination. Making a pink manicure for the summer mood is the best way to get attractive nails suiting all styles and occasions. Consider it as the next nail idea during your visit to the beauty salon, and admire the result on your elegant fingers.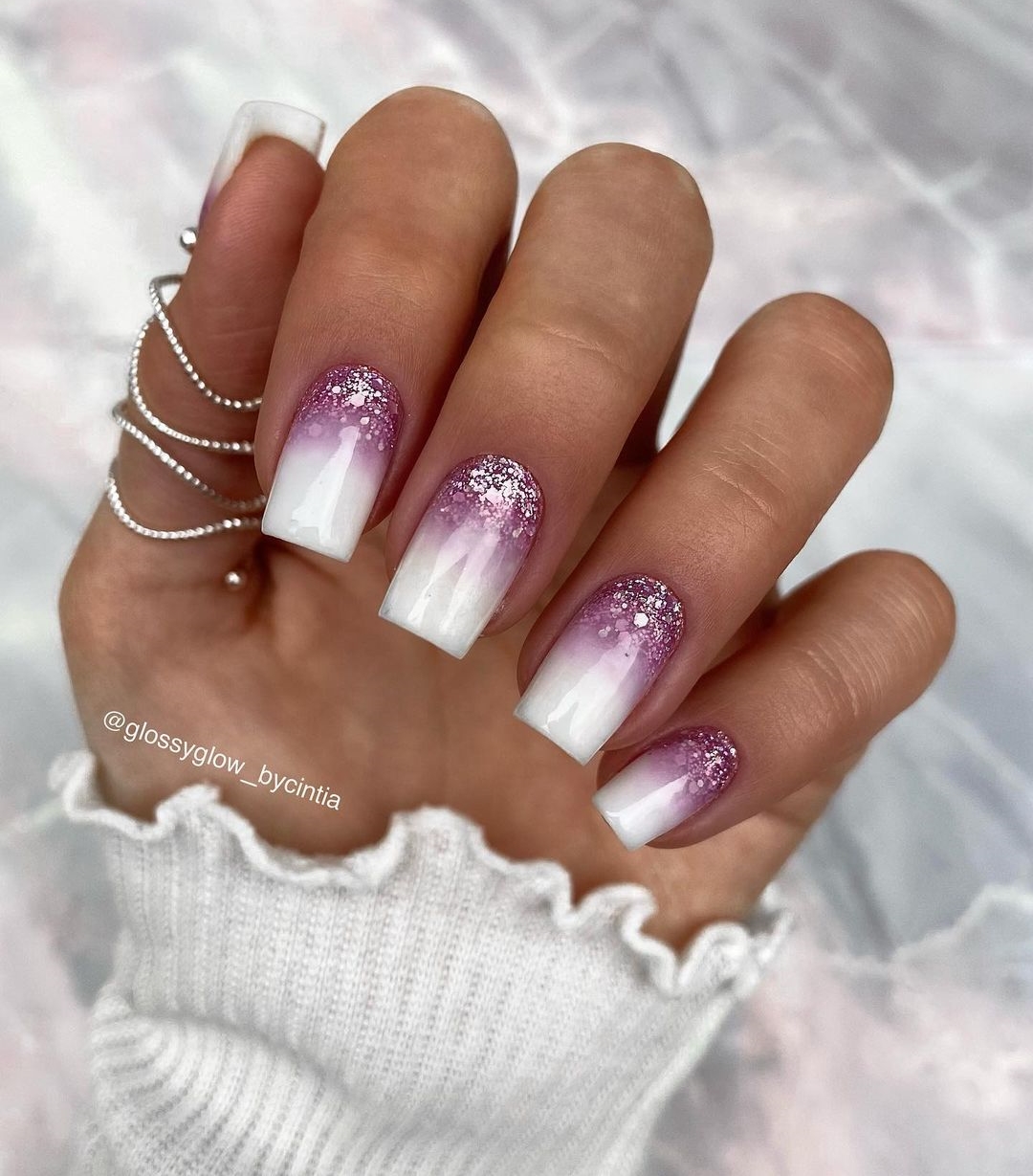 3. Universal Manicure with Light Pink Nails
Nude colors have firmly rooted in all manicure trends, and light pink is one of them. Such light shades look lovely on all nail lengths and always highlight the elegance of the lady's fingers.
More and more women prefer manicures with no bright designs, so light pink nails are the best option in this case. It will become one of your favorite pink nail designs! And those who would like to make their mani more unique can add rhinestones or glitter on one finger.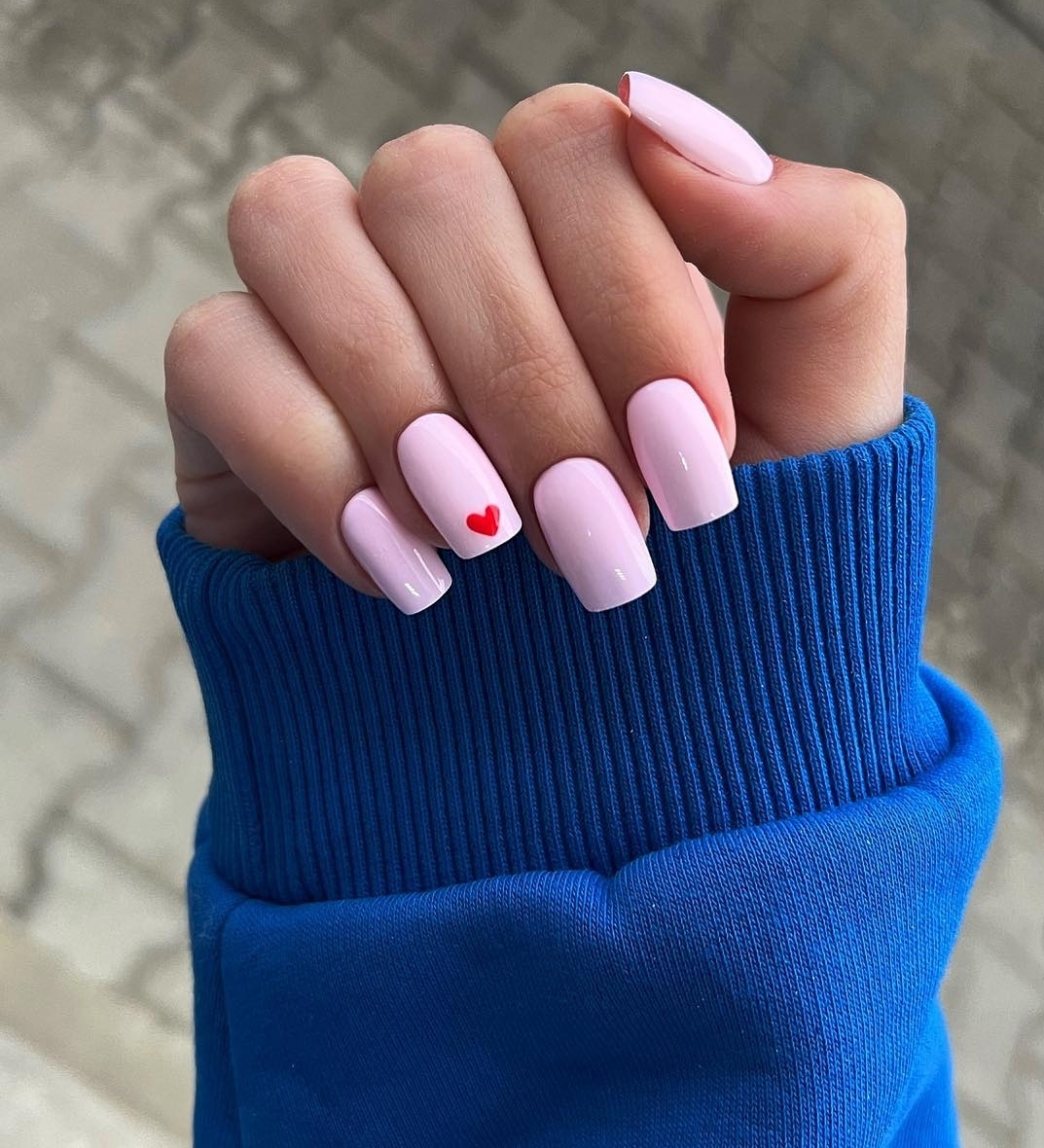 via @tatjanails
4. Impressive Pink Acrylic Nails
Many ladies would like to have a long, attractive manicure, but what to do if nails are brittle and short? Here, acrylic nails come in handy since it's the easiest way to extend nails in a few hours and enjoy a perfect pink nail design. Forget about short nails and get dozens of admiring glances on your well-groomed hands.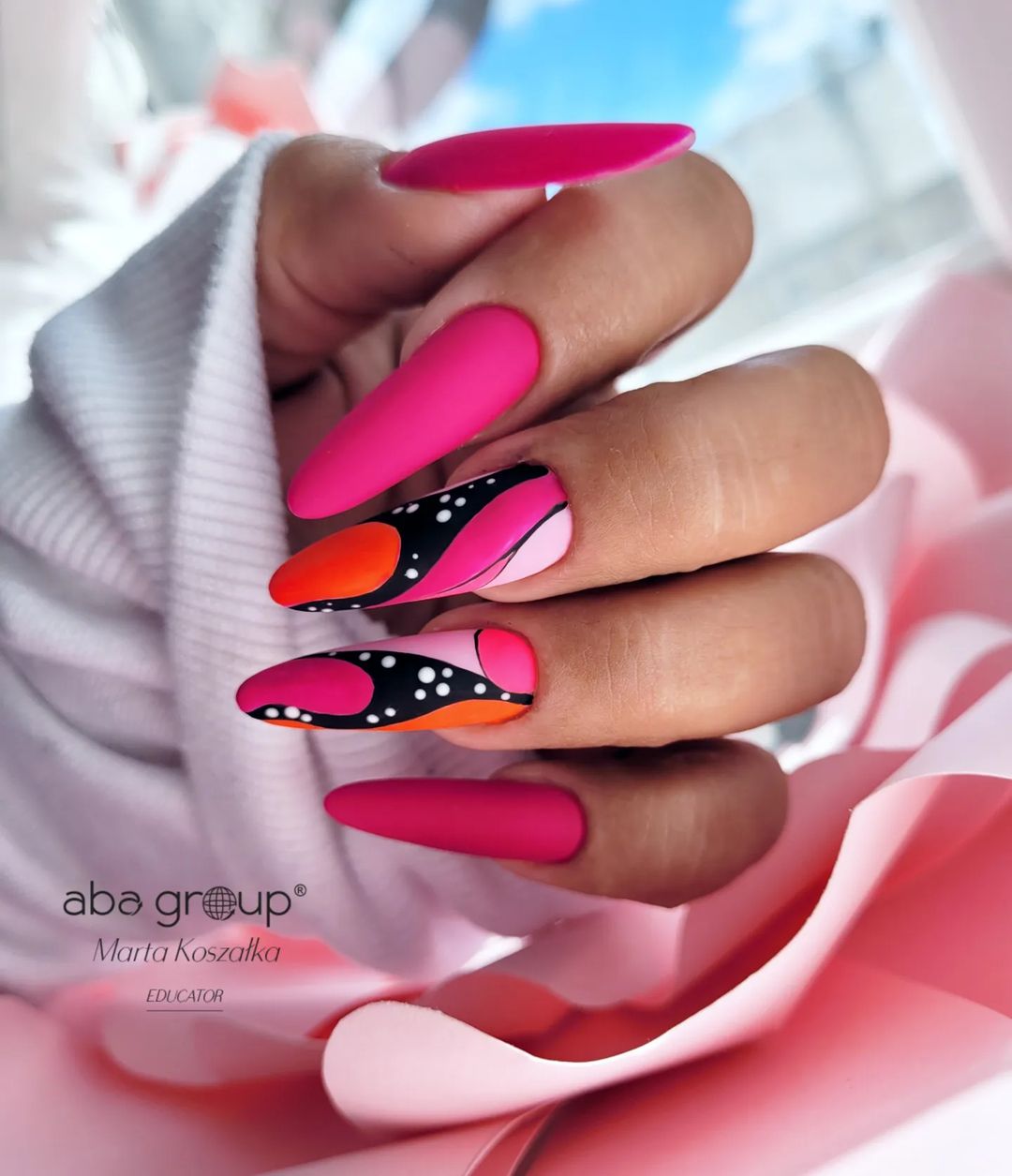 5. Hot Pink Nails for Bright Personalities
Summer nail designs are not limited to nude and pastel colors. Barbie pink shade is an excellent option for ladies who love being at the center of attention. Apply hot pink nail polish and get a bright and attractive manicure! One more idea is choosing a more neutral shade and adding some patterns and stickers to get cute summer nails.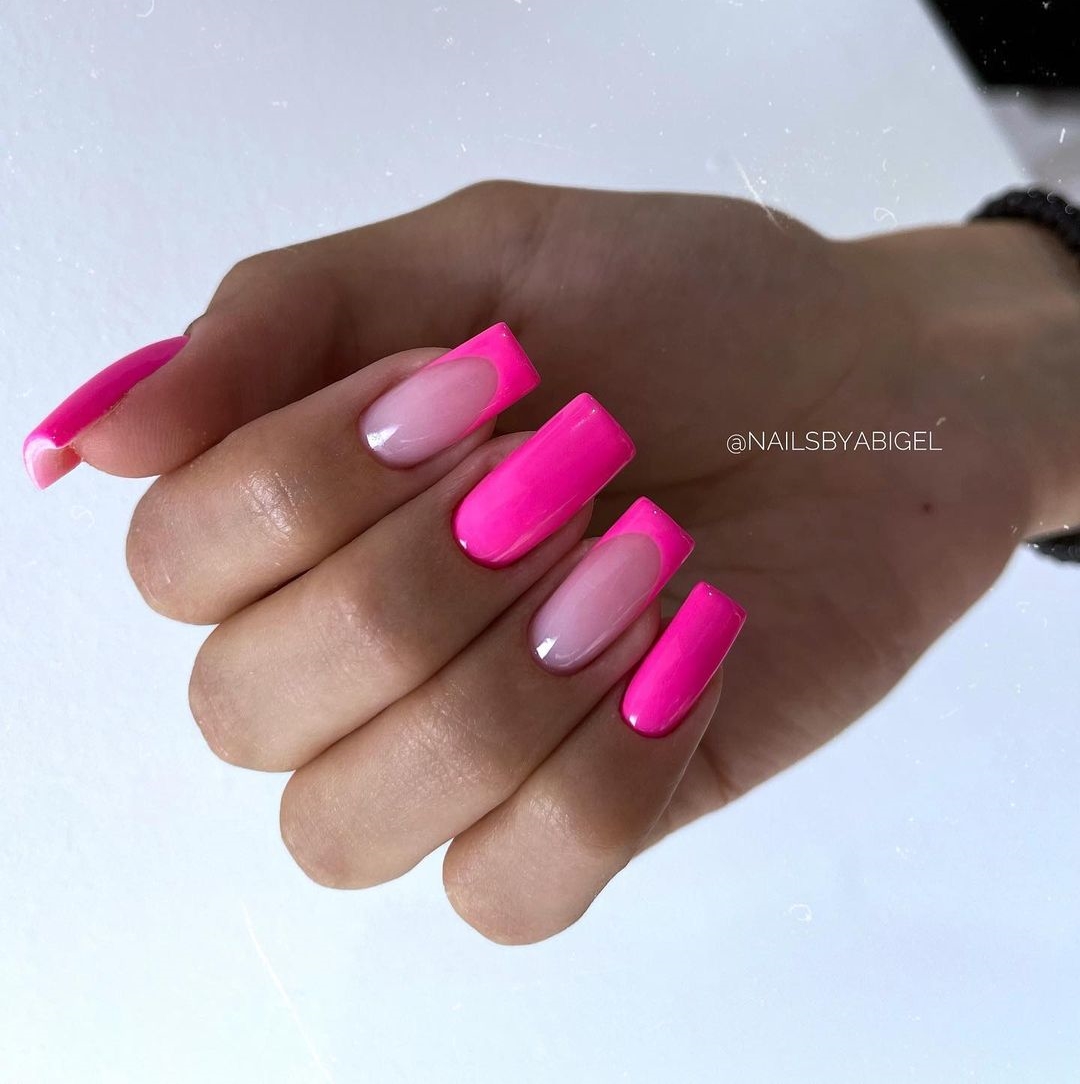 via @nailsbyabigel
6. Unusual Classic: Pink French Tip Nails
Many ladies like a classic French manicure, implying nude base and white tips. And what about such a design with bright pink nails? Pick your favorite gel polish colors and be ready to create a unique manicure. Draw pink tip nails, which look elegant but unusual, and get a stunning art that everybody would like to repeat.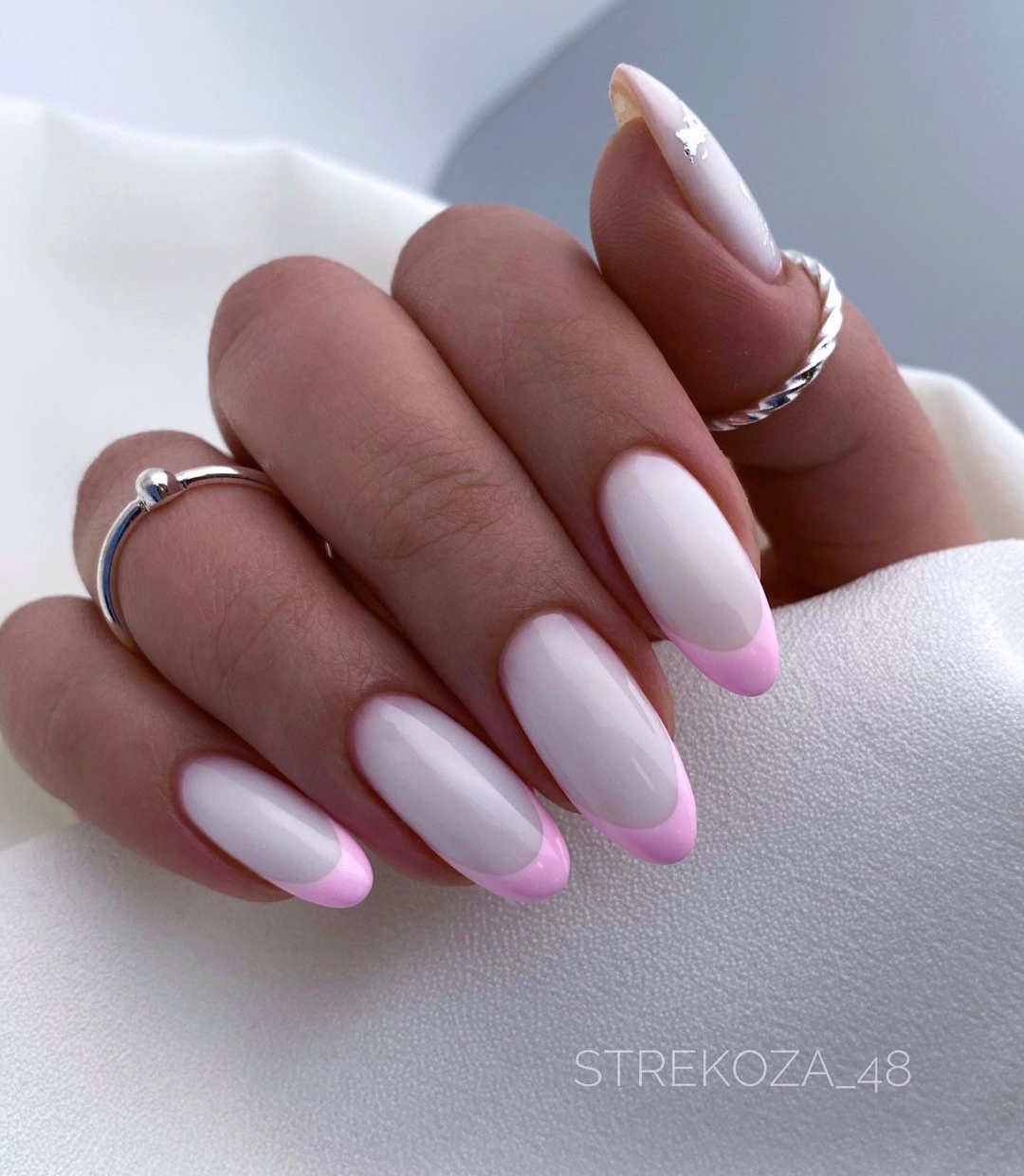 via @strekoza_48
7. Cute Baby Pink Nails
Light pink nails will never lose their relevance among women of all ages. It's one of the most common pink shades, suiting all women with any skin color. A light shade is a perfect base for pink nail designs, allowing you to turn on your imagination and develop a unique manicure idea.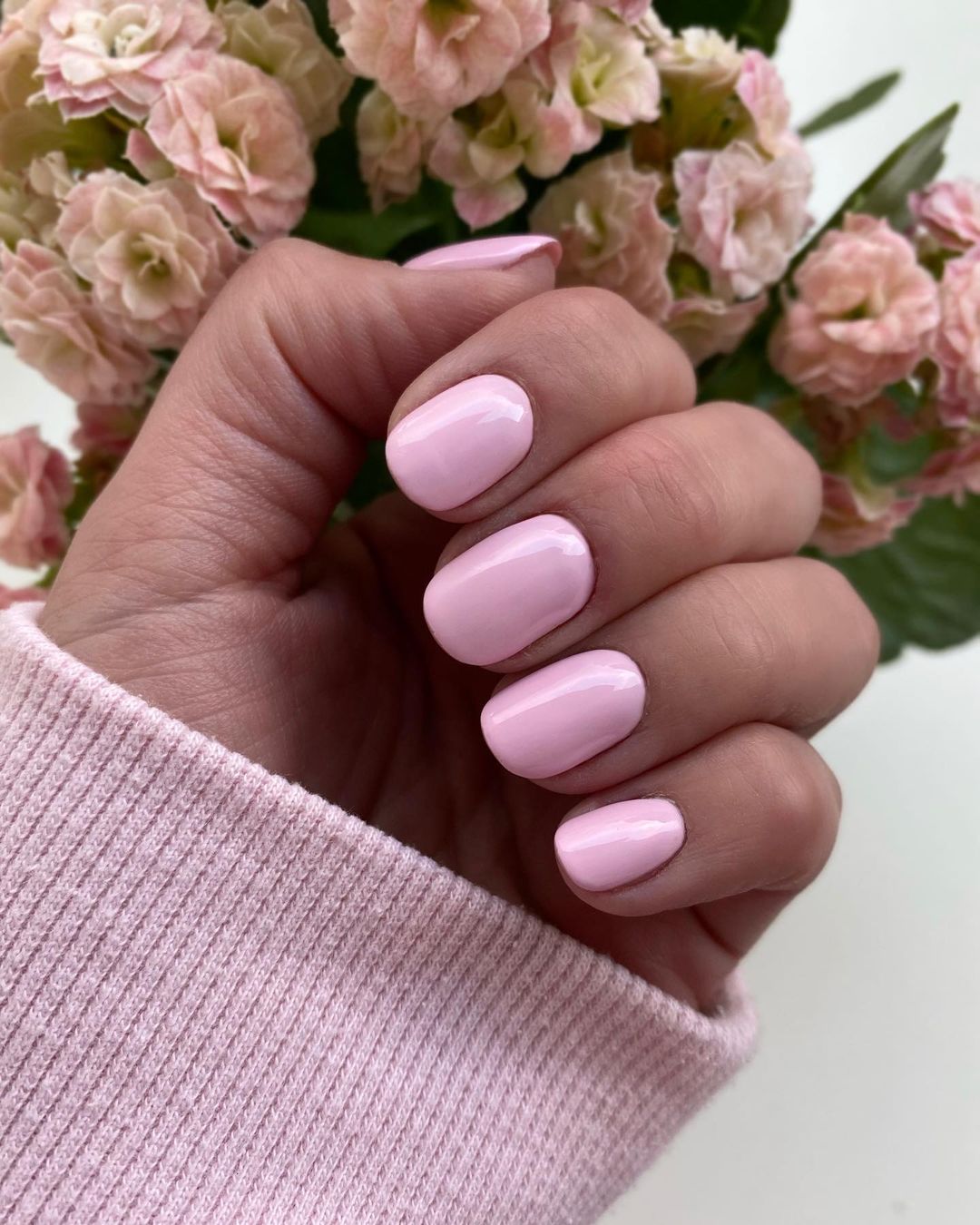 via @kolobrzeskamama
8. Elegant Nude Pink Nails for All Occasions
Plain pink nails are the choice of modern ladies who value their comfort. Such a manicure is suitable for any occasion and fits any style. Nude pink nails look elegant and strict, and if you want to make your mani brighter, add stickers or glitter. You should also pay attention to rainbow manicures, implying different shades of pink color on your nails.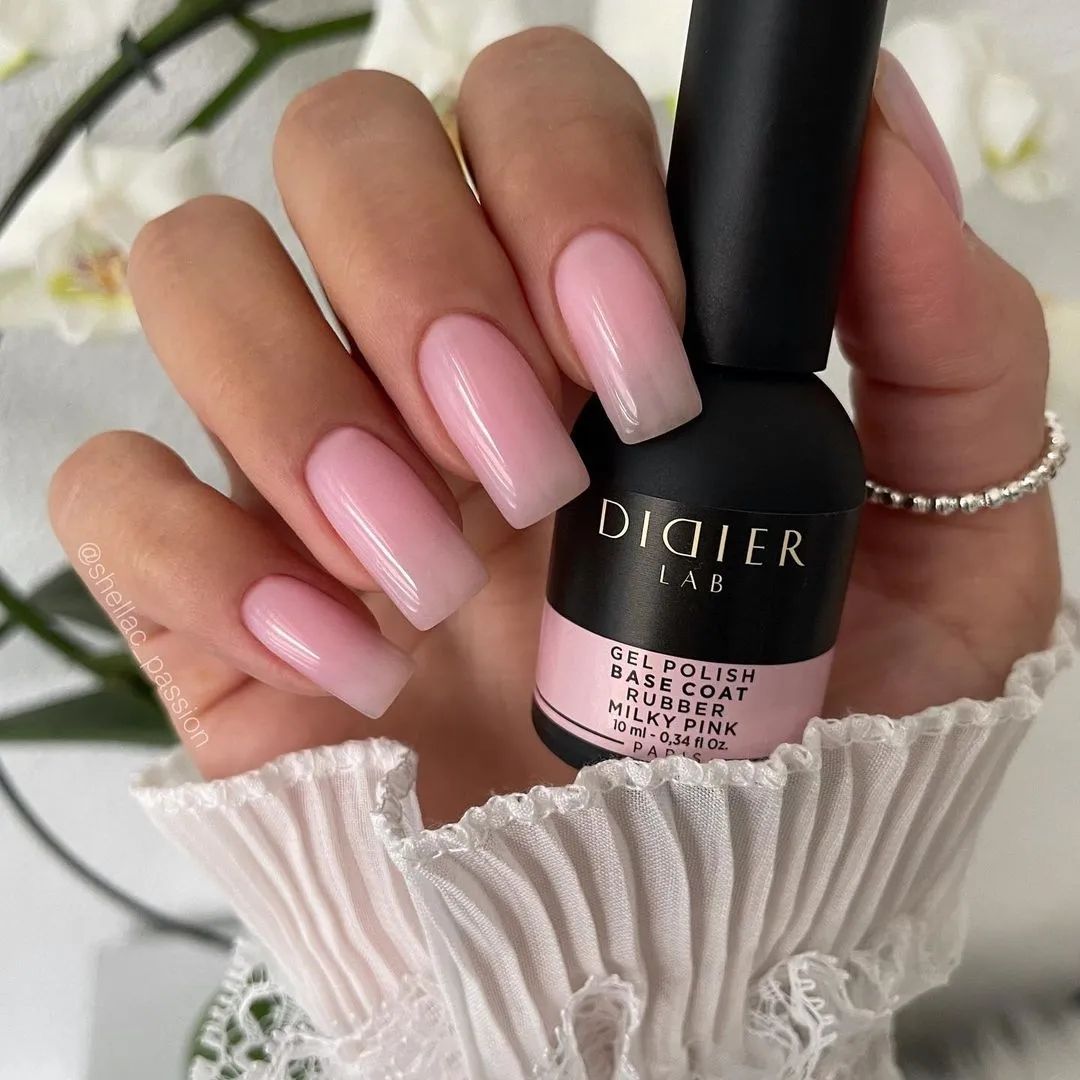 9. Extravagant Black and Pink Nails
The combination of these colors has always been great, but remember that it's bright and makes an accent to your look. Black and pink nail designs are perfect for all nail shapes and lengths, making them a universal manicure idea.
Apply some black patterns on your beautiful pink nails to get a unique design. The most common options are in minimalistic style and include abstract lines and geometric figures. Don't forget about this cute idea during your next manicure appointment!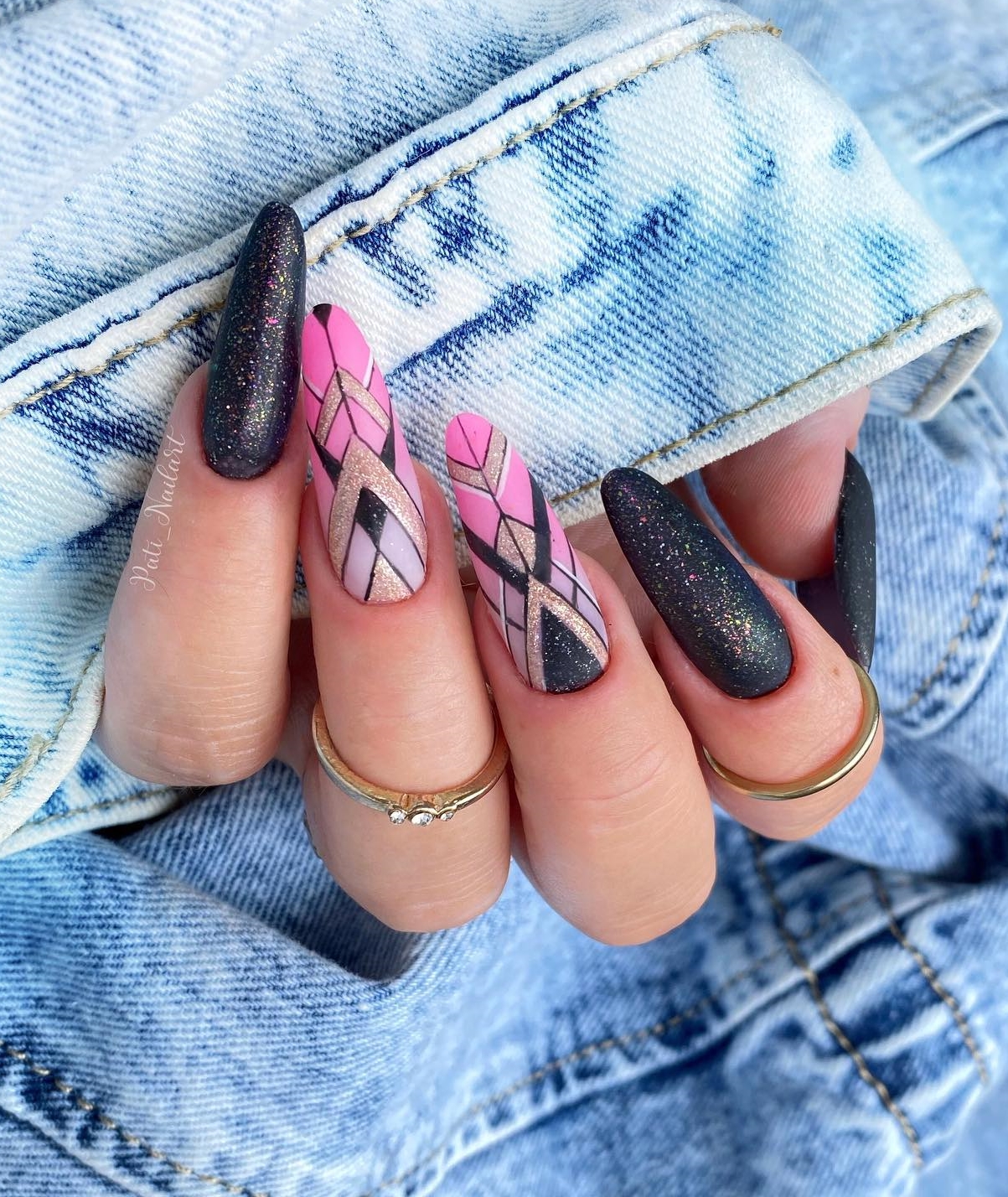 via @pati__nailart
10. Always Winning Clear Pink Nails
Soft pink nails are a great idea on any occasion, and a lady will always look relevant and stylish. Clear nails with no complicated designs are now at the peak of popularity since women often prefer simple manicures. Choose the most suitable shade and enjoy minimalistic nail art designs!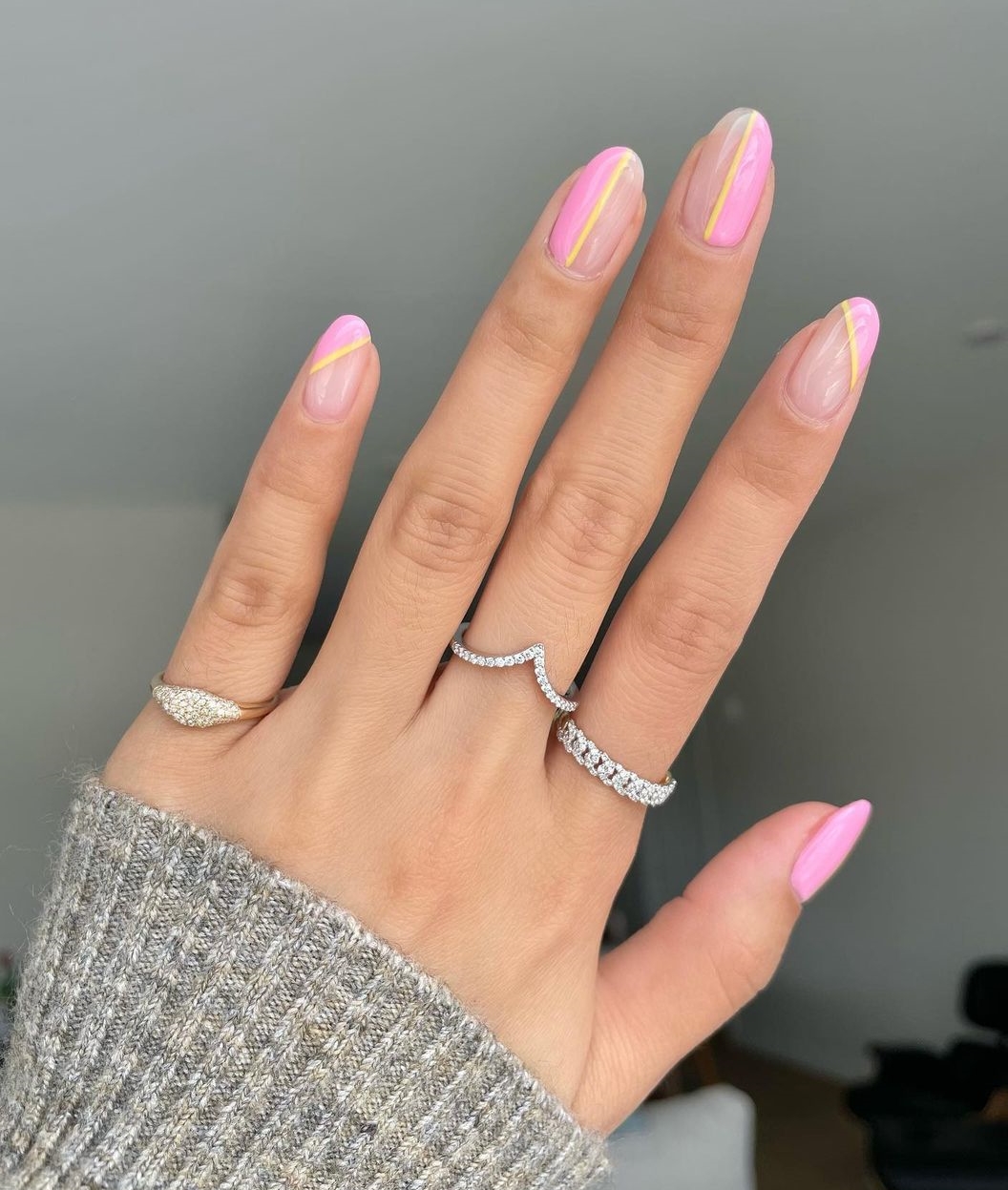 via @amyytran
11. White and Pink Nail Ideas
It seems that pink and white nail designs will never lose their relevance, as these shades are considered classic. While monochrome white nails look too simple for many ladies, applying some bright pink is always a great idea! Many women choose the combination of milky and light pink colors as their wedding nails so that the manicure doesn't distract attention from the dress.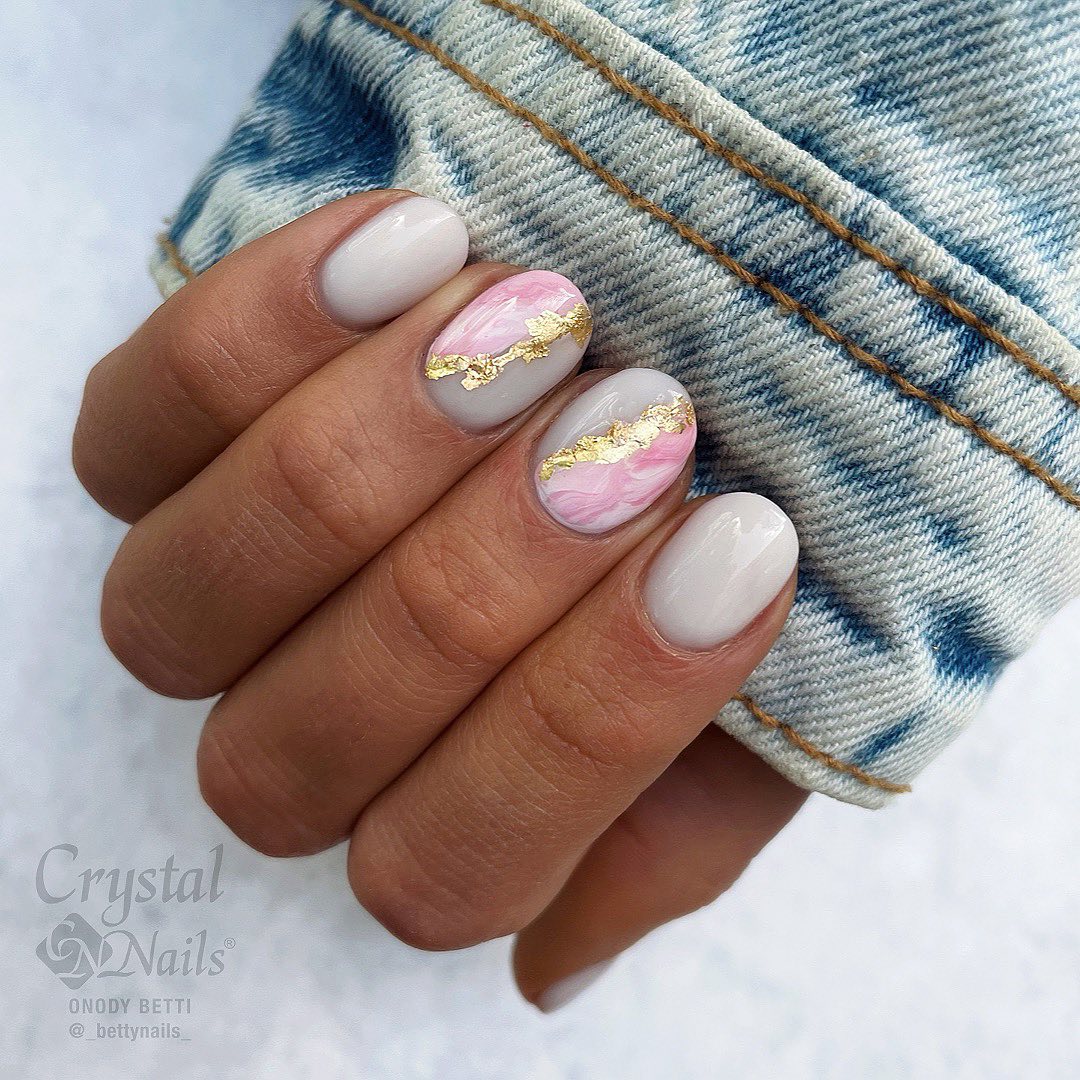 via @_bettynails_
12. Attractive Pink Coffin Nails
Coffin nails are now very popular among stylish ladies, and the most significant benefit of this shape is that it looks stunning in any color. Such long nails will not leave the woman without attention! Pick a perfect shade for your manicure, and enjoy your solid pink nails for several weeks.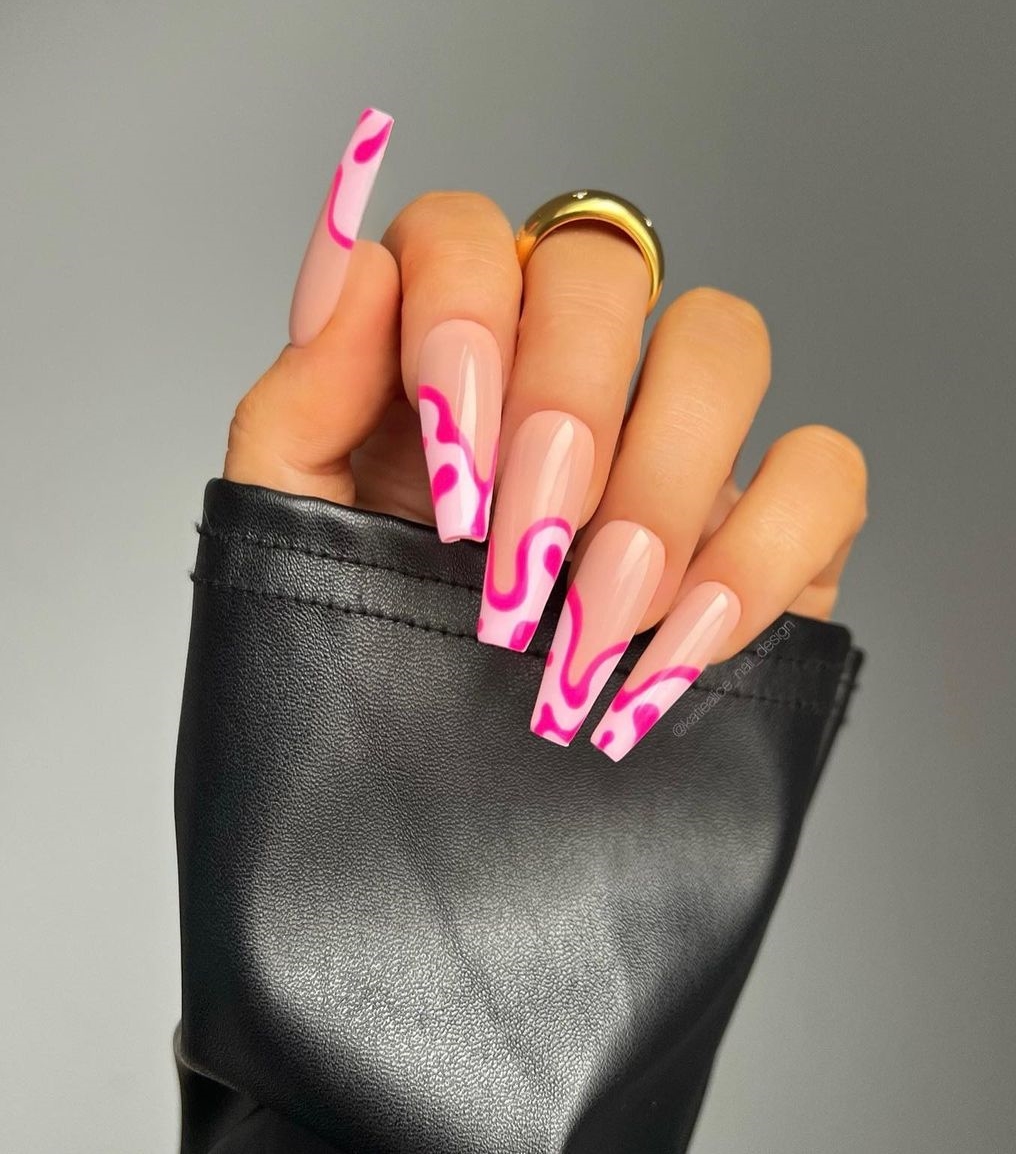 13. Shiny Pink Nails with Glitter
Adding sparkles to your pink nail design is always a perfect idea to shine every day! Glitter nails are becoming more and more popular: if before it was considered a festive mani, now ladies prefer such nail polishes daily. The color palette is enormous so that each lady will find the most suitable shade for her attractive pink glitter nails.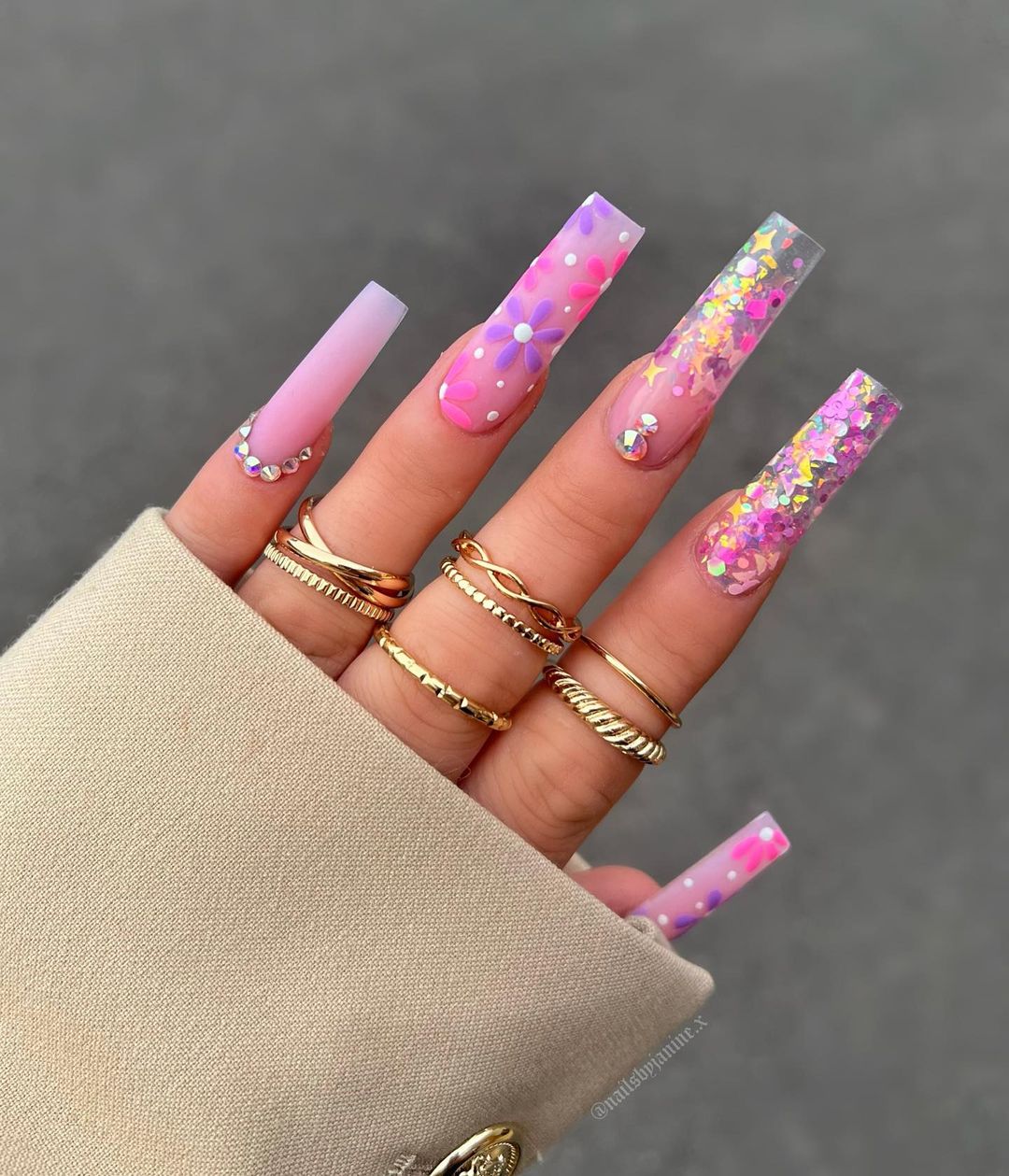 via @nailsbyjanine.x
14. Classic Pink Marble Nails
Marble nail designs have remained on the top list of all trends and are not planning to leave their positions. Such minimalistic but unusual nail art has won the women's hearts since it's suitable for any event.
And, of course, making a pink manicure is an awesome idea! Pick the best white base and add light pink chaotic lines. It's one of the most impressive summer nail ideas adored by women.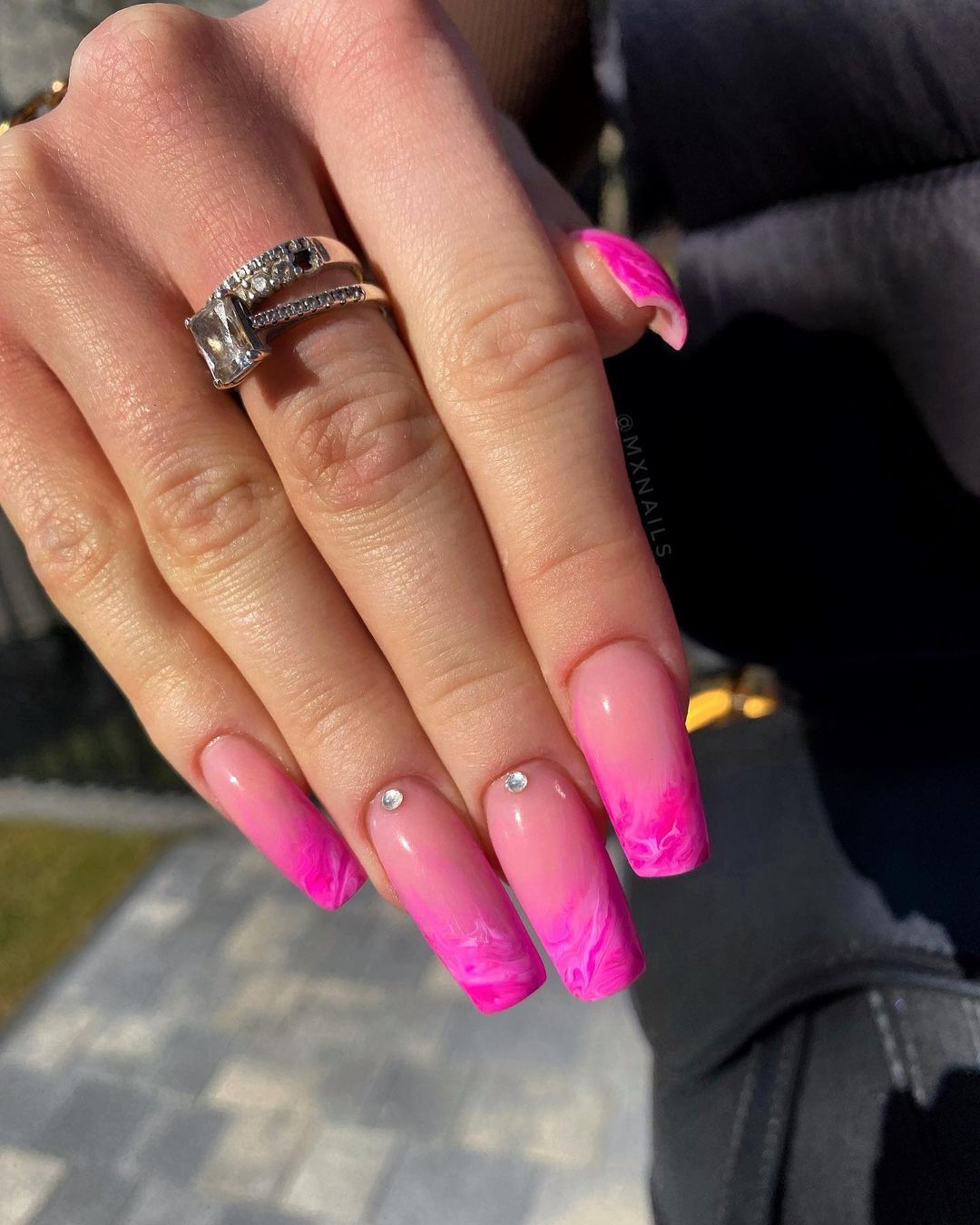 via @mxnails_
15. Bright and Attractive Neon Pink Nails
Are you in the mood to make bright pink nails? Then, you shouldn't forget that neon nail polishes are extremely common among ladies, especially in summer. Such a trendy option suits bright personalities who enjoy standing out from the crowd. And if you are not ready for such experiments, make one neon accent nail, which also looks remarkable.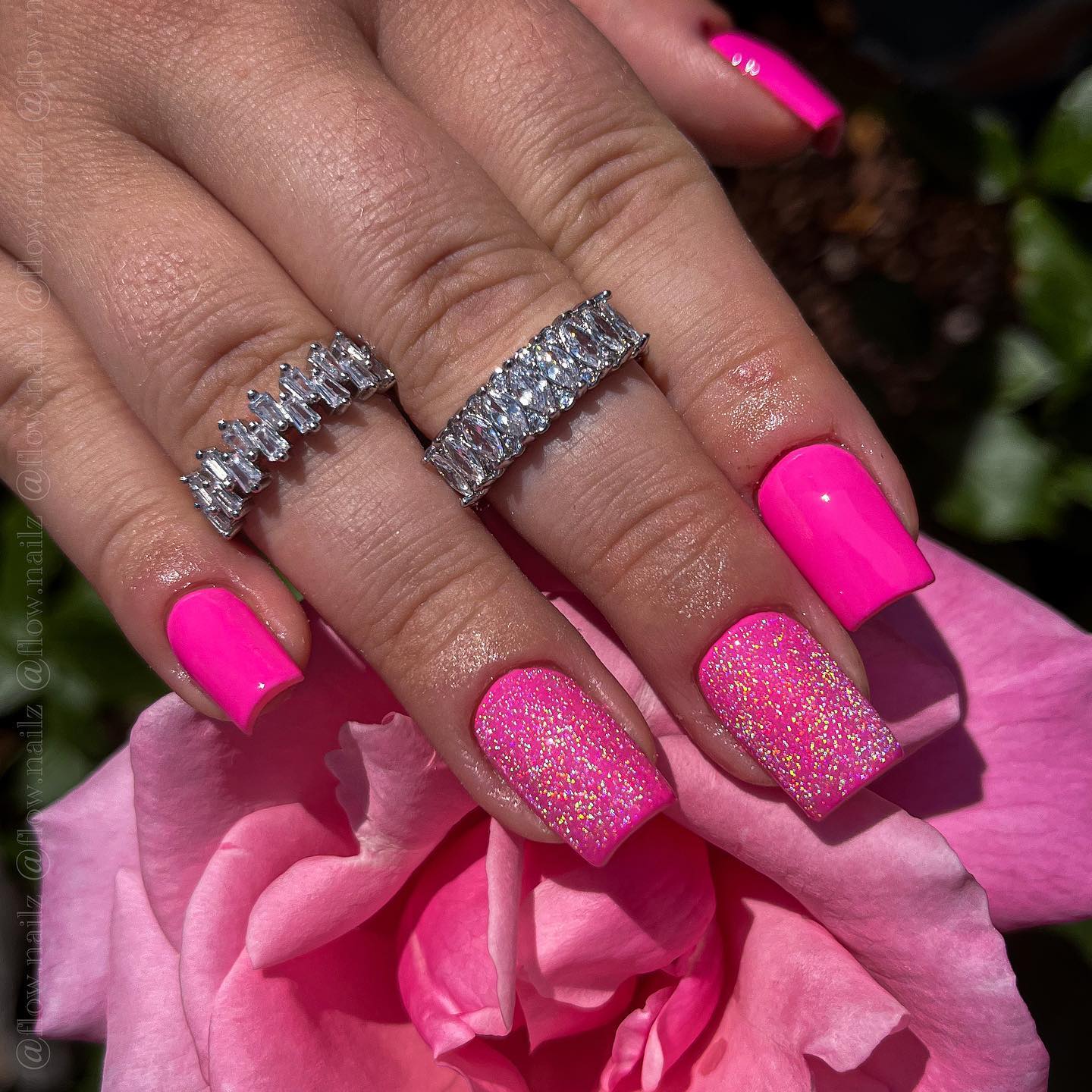 via @flow.nailz
16. Pink and Blue Nails: Perfect Contrasting Art
Have you ever thought of the pink and blue color combination? Even though it may seem unusual to many people, such a contrast looks wonderful! If you are already bored with simple pink designs, consider this idea during your next visit to a beauty salon. Deep blue nail color is one of the best options for summer, so combine it with your favorite pink shade and enjoy your bright summer nails.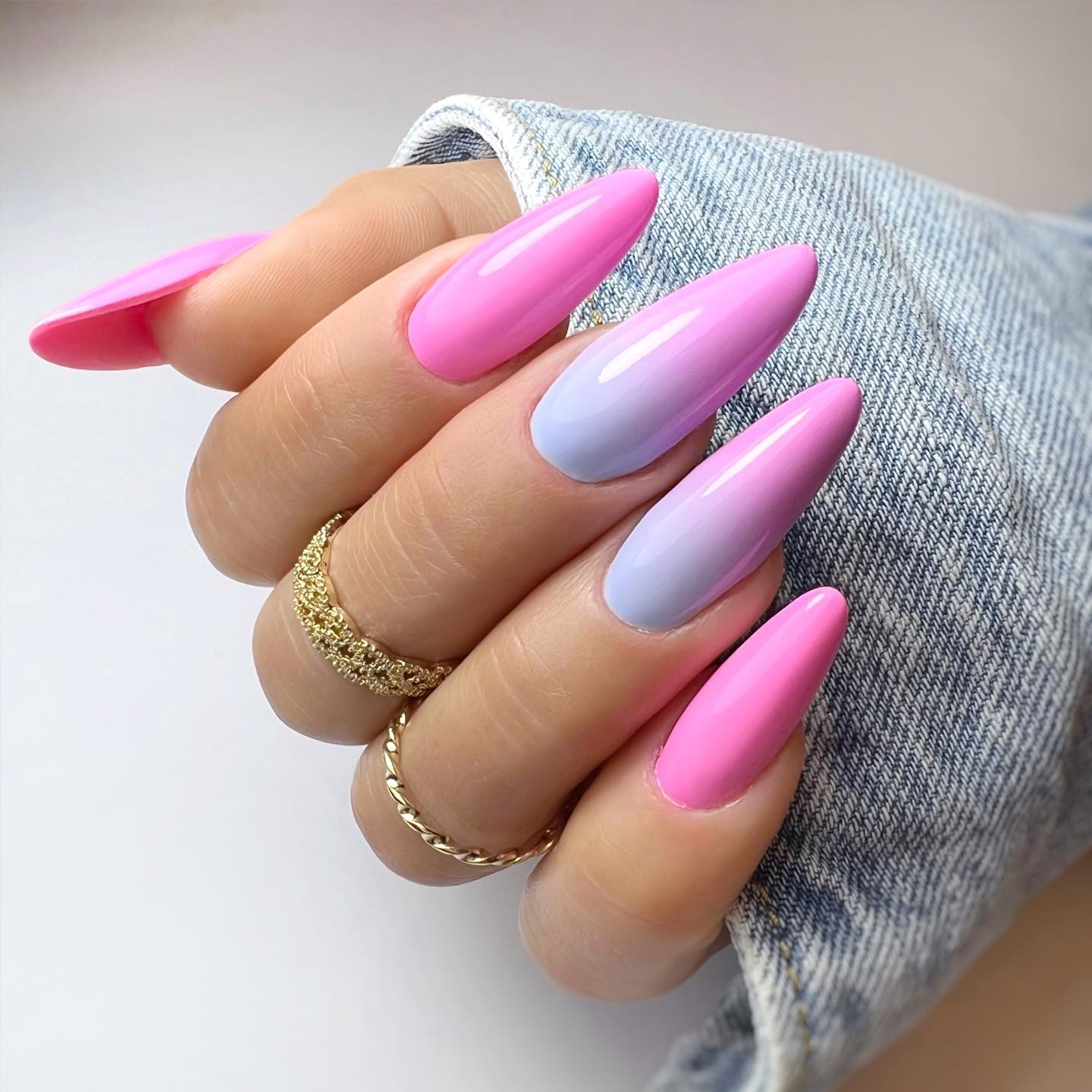 17. Pink and Gold Nails to Shine Brighter in Summer
If you want to add an unusual accent to your cute pink nails, you should not forget about gold nail polish! Adding it to all fingers may be too sparkly for many women, so the best option is to highlight two accent nails.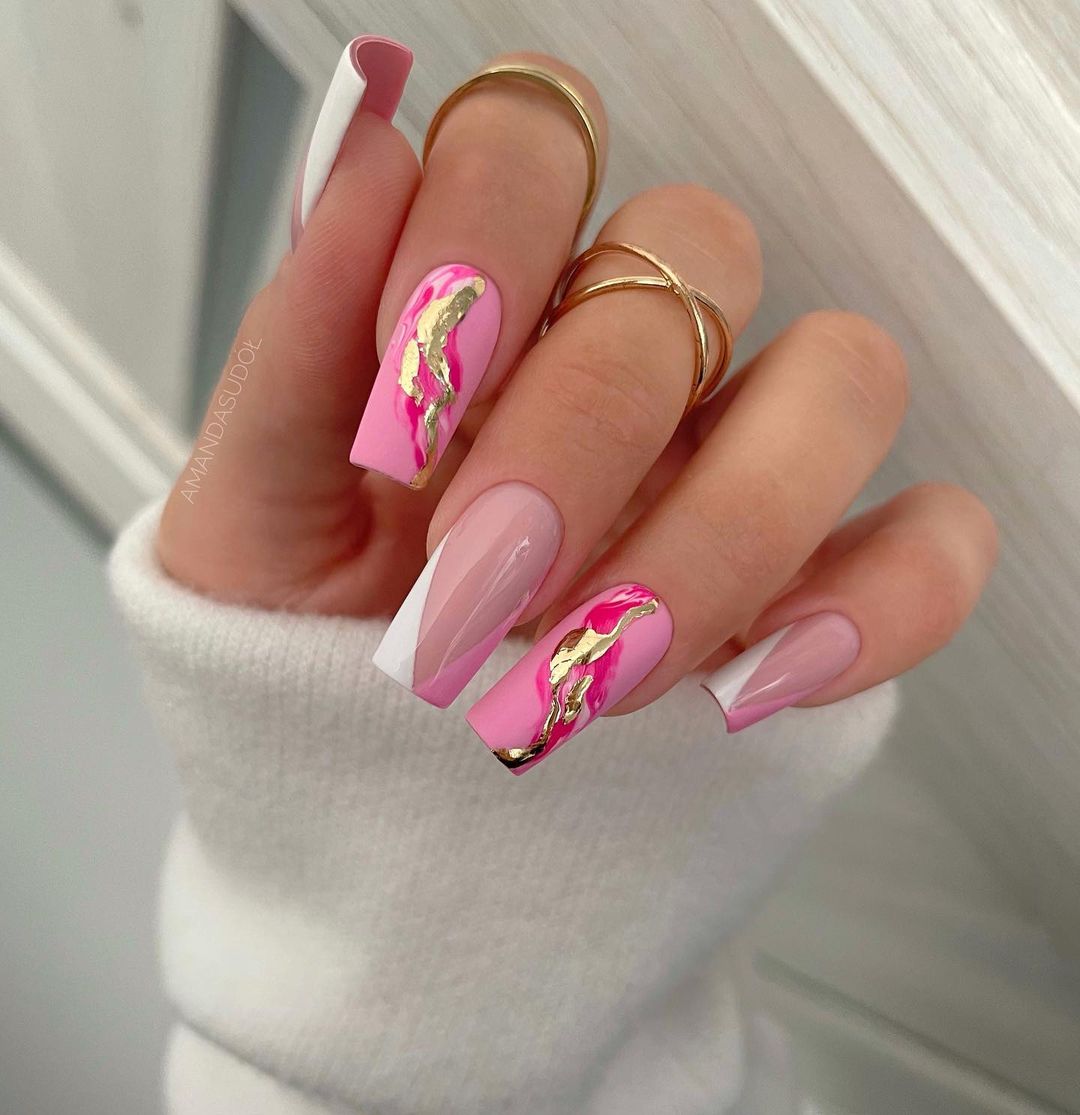 via @amanda.sudolll
18. Stylish Short Pink Nails
Many ladies prefer short nails since it's a convenient and stylish option. And, of course, different shades of pink are considered a universal feminine manicure that suits all shapes and lengths. Pink nails for summer add a bright mood and elegance to their owner. Moreover, almost every nail design looks wonderful in pink shades.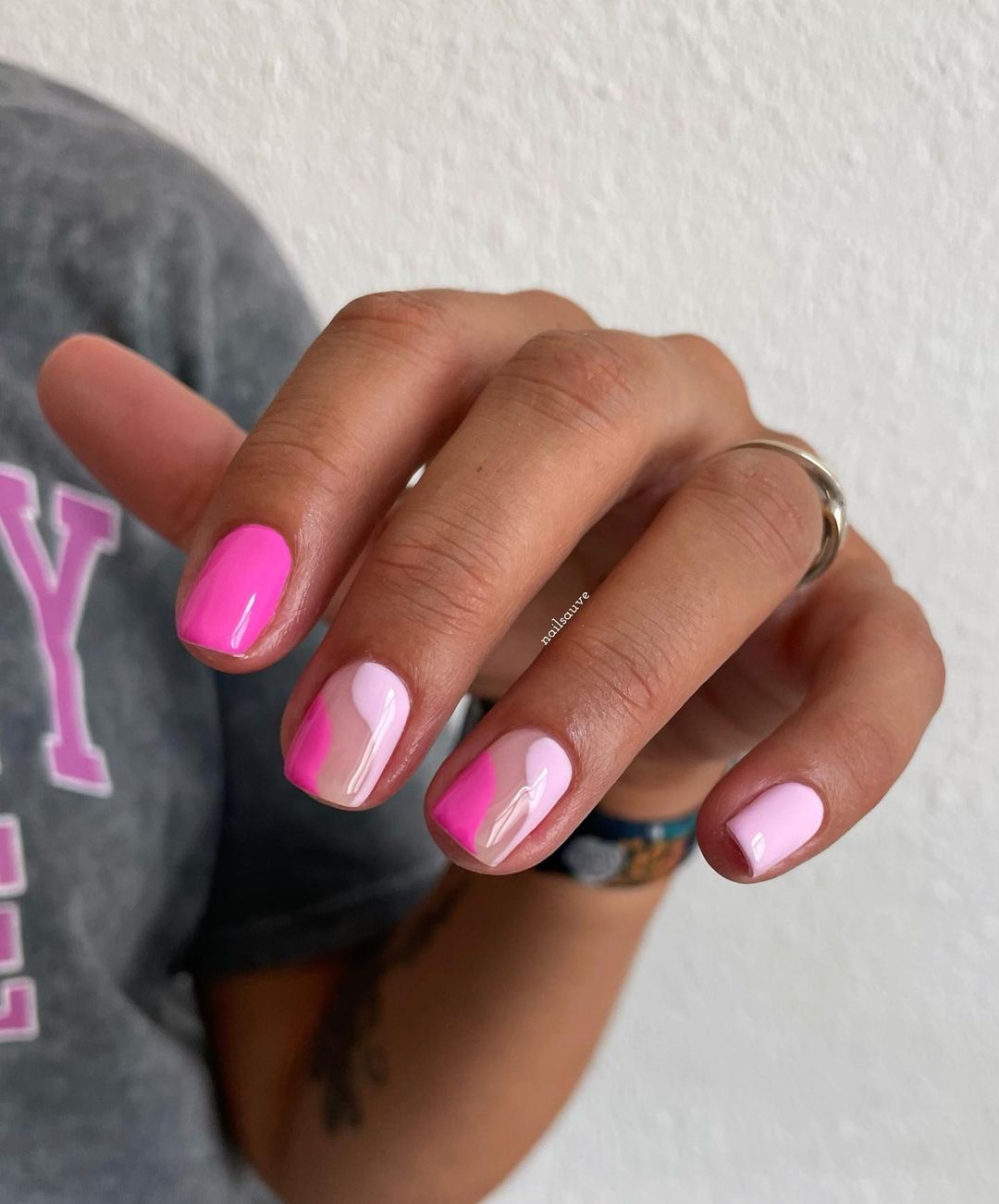 via @nailsauve
19. Pink and Purple Combination for Unusual Designs
Do you like purple mani? And what about combining it with pink shades? We are confident that it's a perfect solution for an unusual and gorgeous nail design. For instance, think about making a unique French or nail art with abstract lines. Another idea is to select pale pink nails and add purple flowers, looking incredibly stylish on long and short nails.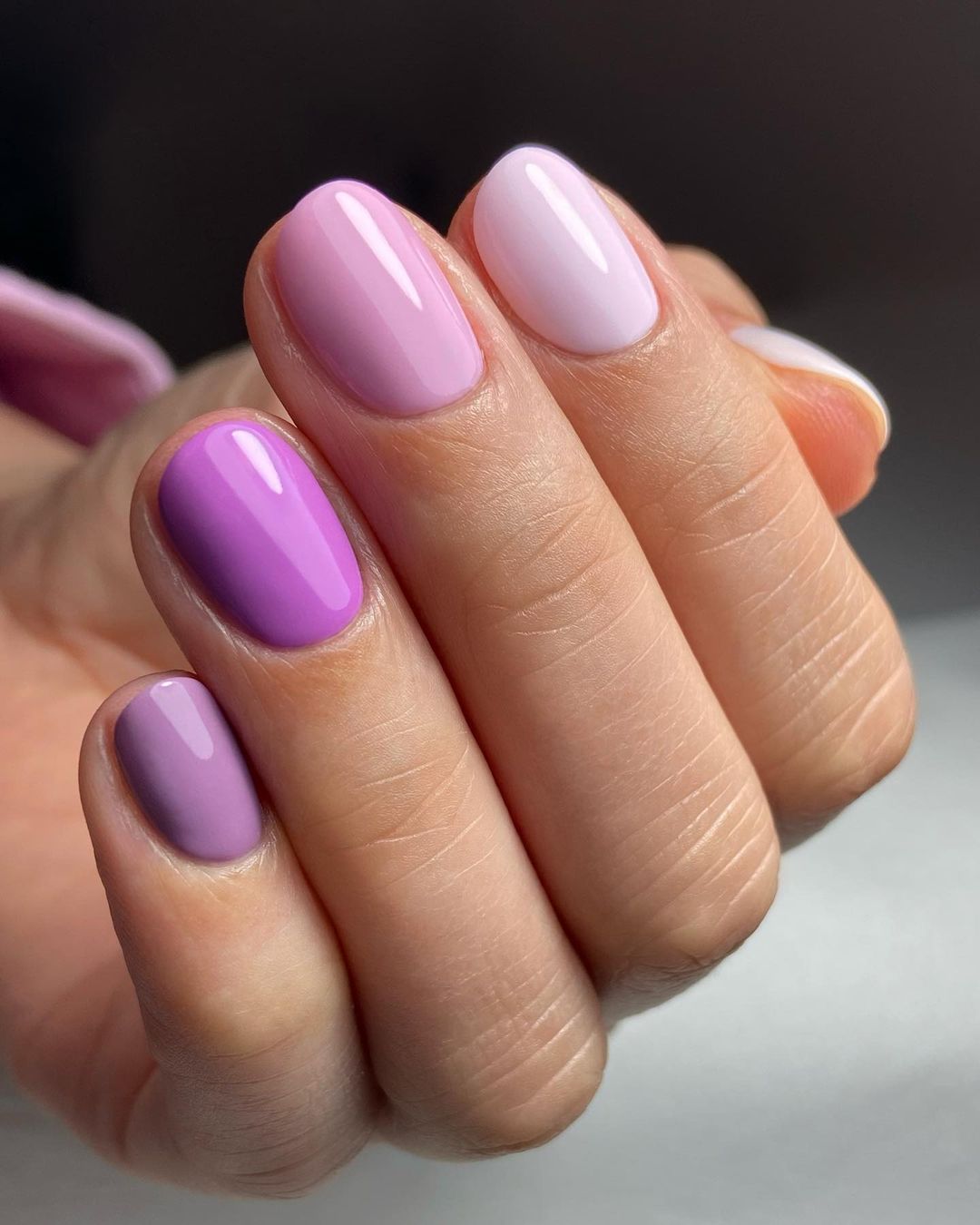 via @monmayernails
20. Pink Butterfly Nails: Choose a Perfect Pattern
Numerous pink nail designs are available for ladies, so it's up to your imagination! French nail tips of different colors are one of the trendiest ideas! And pink shades will perfectly suit such a manicure. If you want to make your nail art even more exciting, add a butterfly pattern as your ring finger nail design.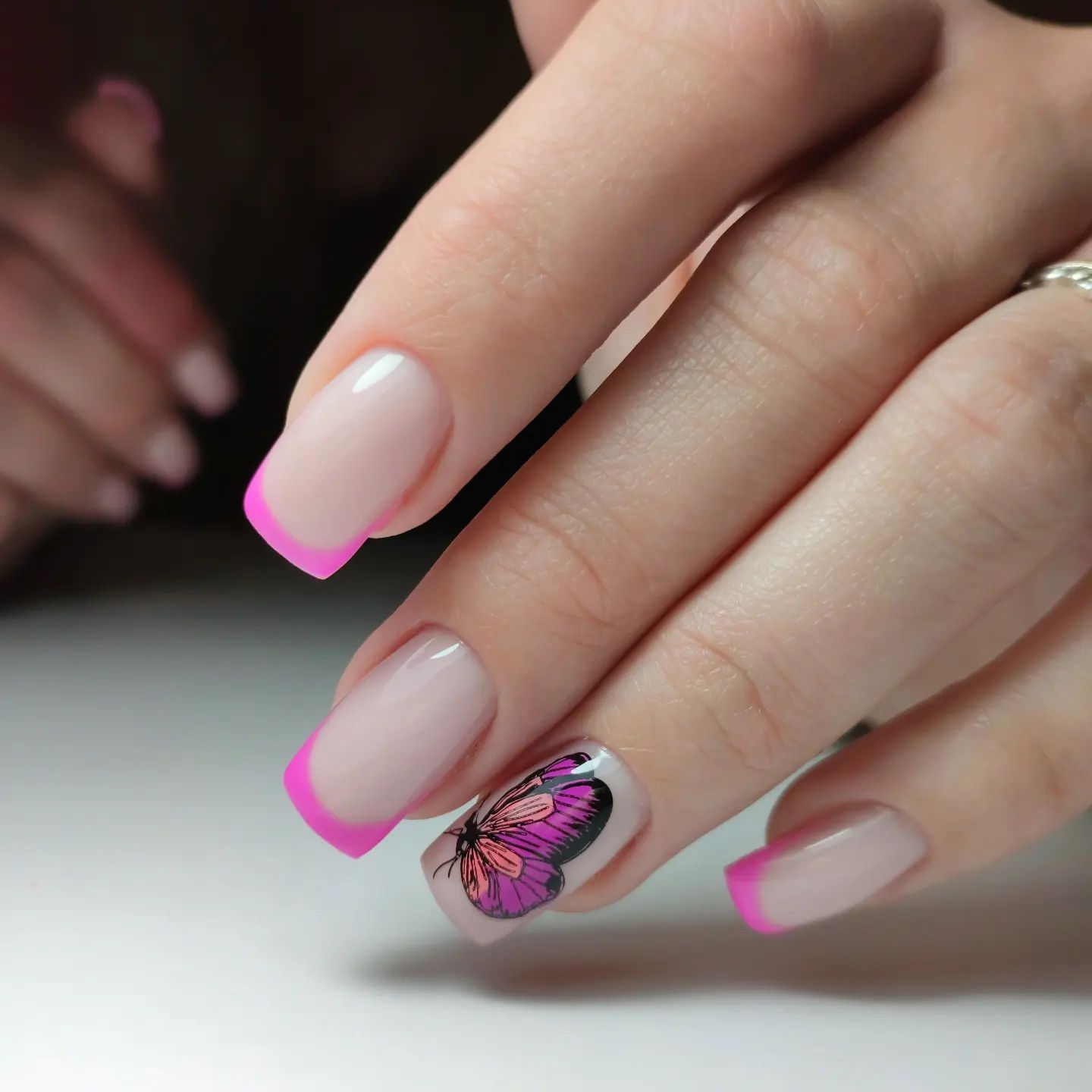 via @emely.nails__
21. Classic Pastel Pink Nails
Pastel nail polish is a great option for a classic, strict mani that suits all ladies. If you are searching for a cute summer manicure, pick your favorite shade of pink and turn on your imagination. For instance, cotton candy nails are a tender and nice option for short and long nails that all women will definitely like.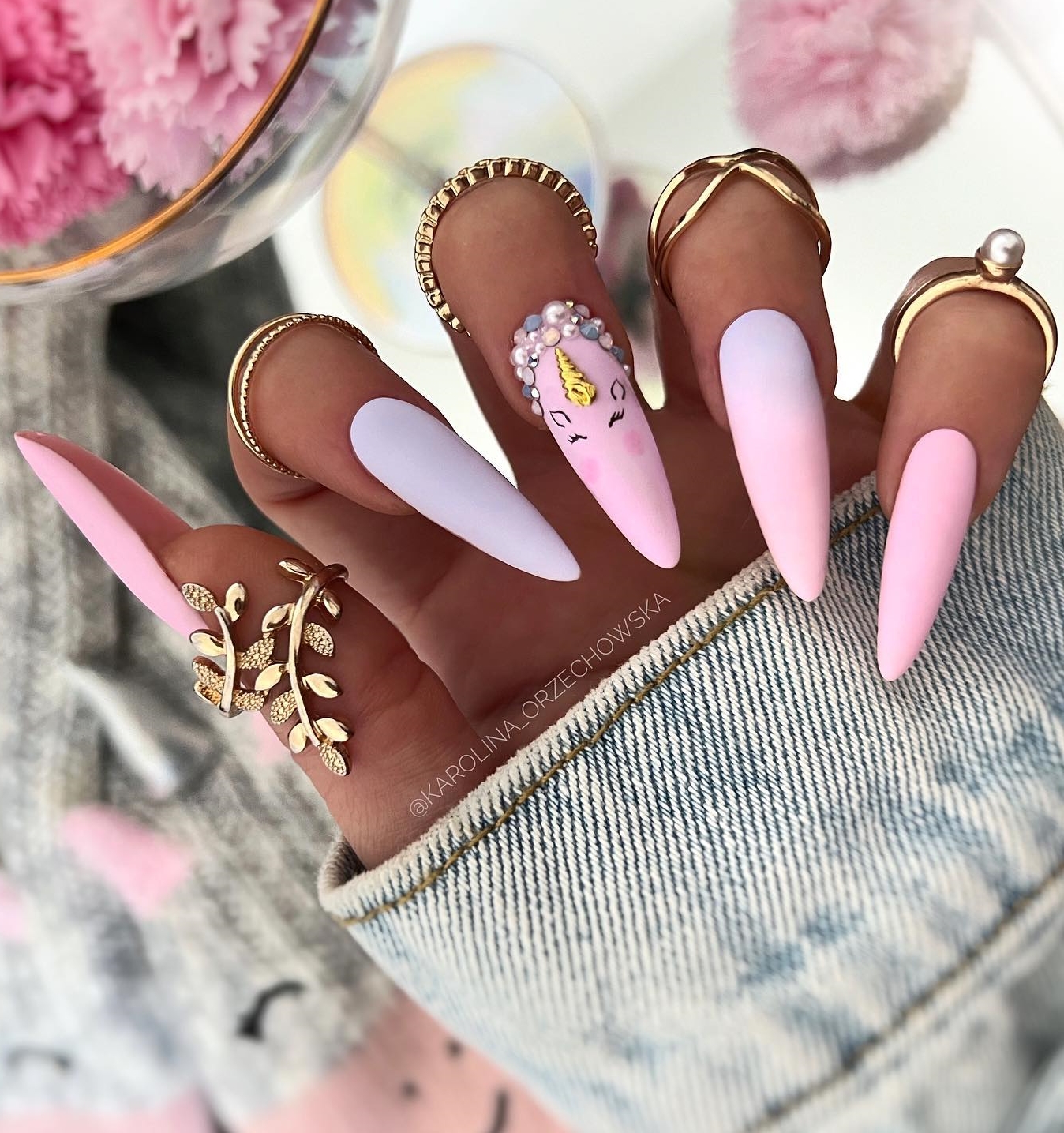 22. Matte Pink Nails for Stylish and Elegant Women
The easiest way to make a unique manicure is by adding a matte finish. Hot pink nails will look more muted and calmer with such a top. Different shades of pink are the best option for your eye catching summer mani!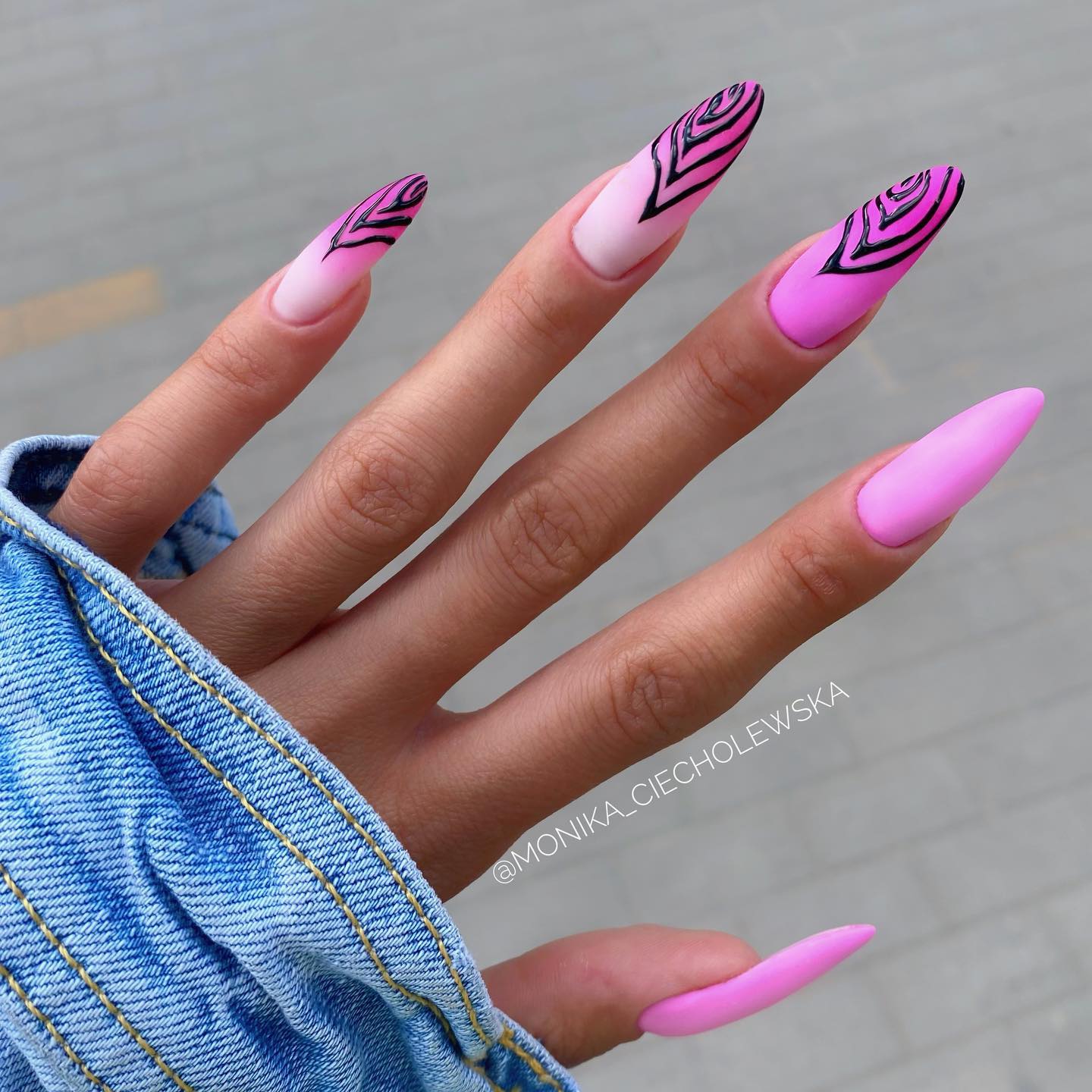 23. Hot Pink Nails with Diamonds
Gold rhinestones on pink nails are always a great idea for everyday and special occasions. You can find numerous pink nail designs with glitter and diamonds that look strict and attractive. If you don't want your manicure to be too shiny, pick a top coat with a light shimmer, looking extremely stylish.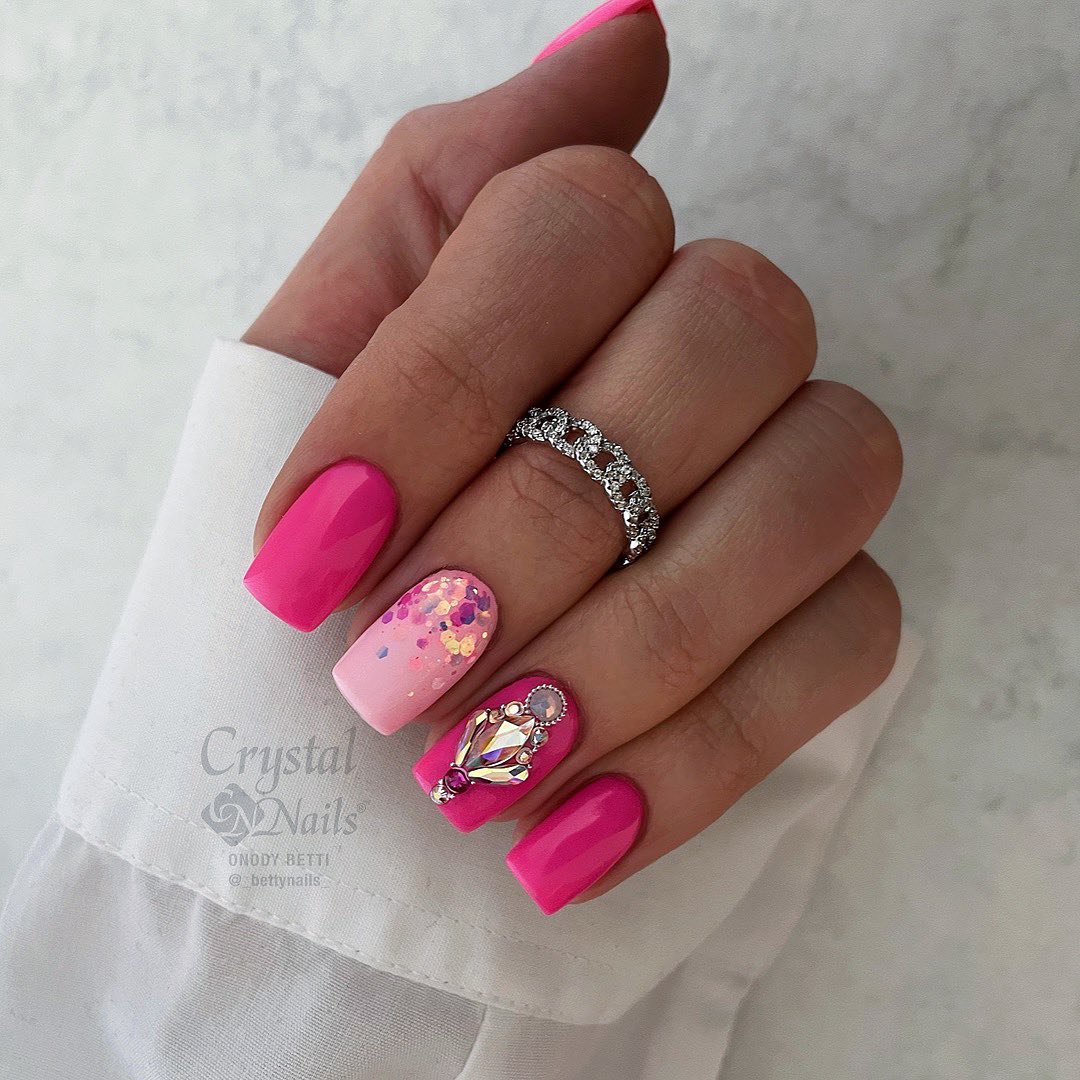 via @_bettynails_
24. Pretty Pink Powder Nails
Pick a noble pink powder polish and make the manicure of your dreams right now! Pink acrylic nails are the choice of self-confident and elegant ladies; moreover, such a mani suits all occasions. And if you are in the mood to make a fun pink nail design, add some glitter or a cute sticker!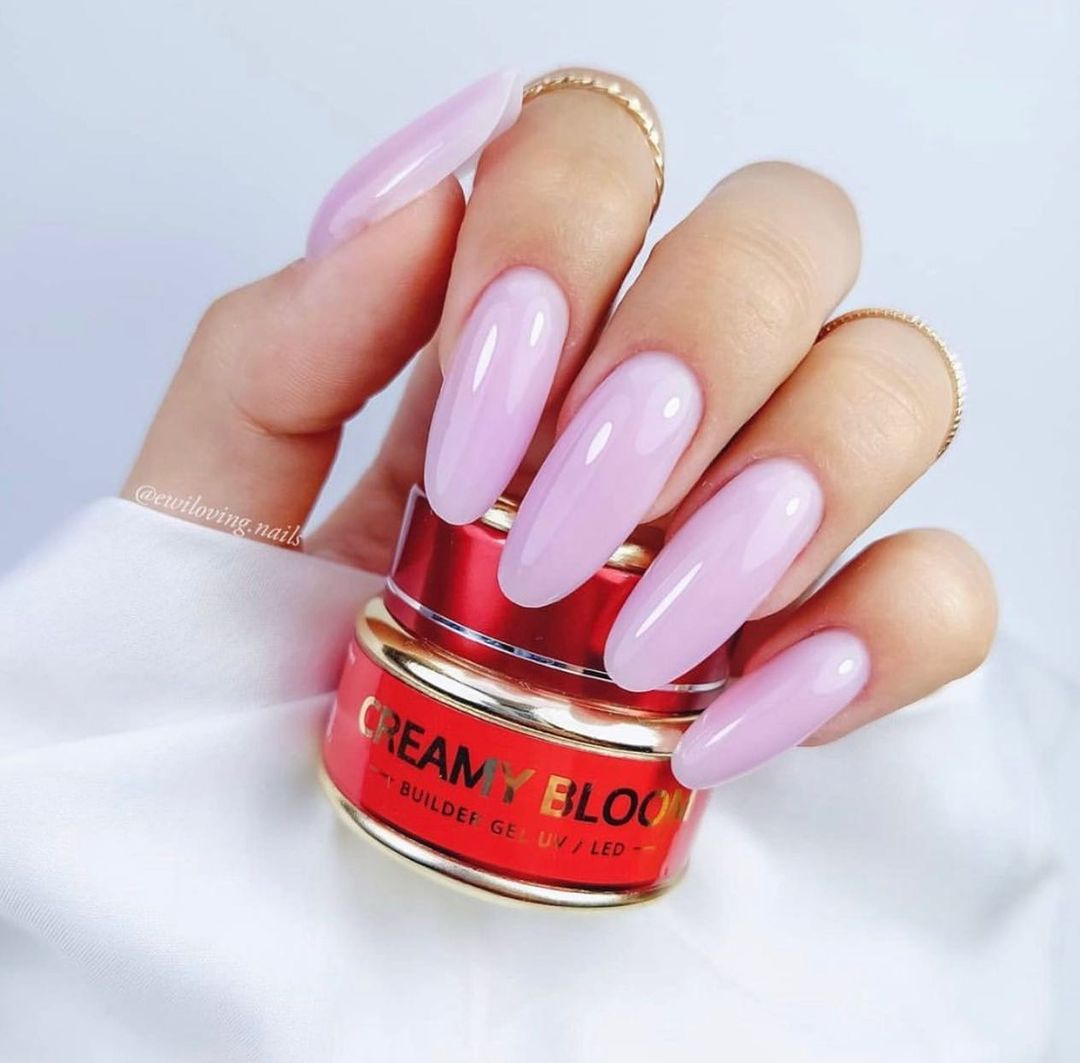 25. Pale Pink Nails as the Most Classic Option
Pale pink nail design is one of the most common nude manicures that is adored by millions of women. If you want to make colorful art, consider that pink and white nails are a perfect combination. For instance, pick a pink base coat and apply white lines or flowers, making a perfect summer manicure that will attract admiring glances.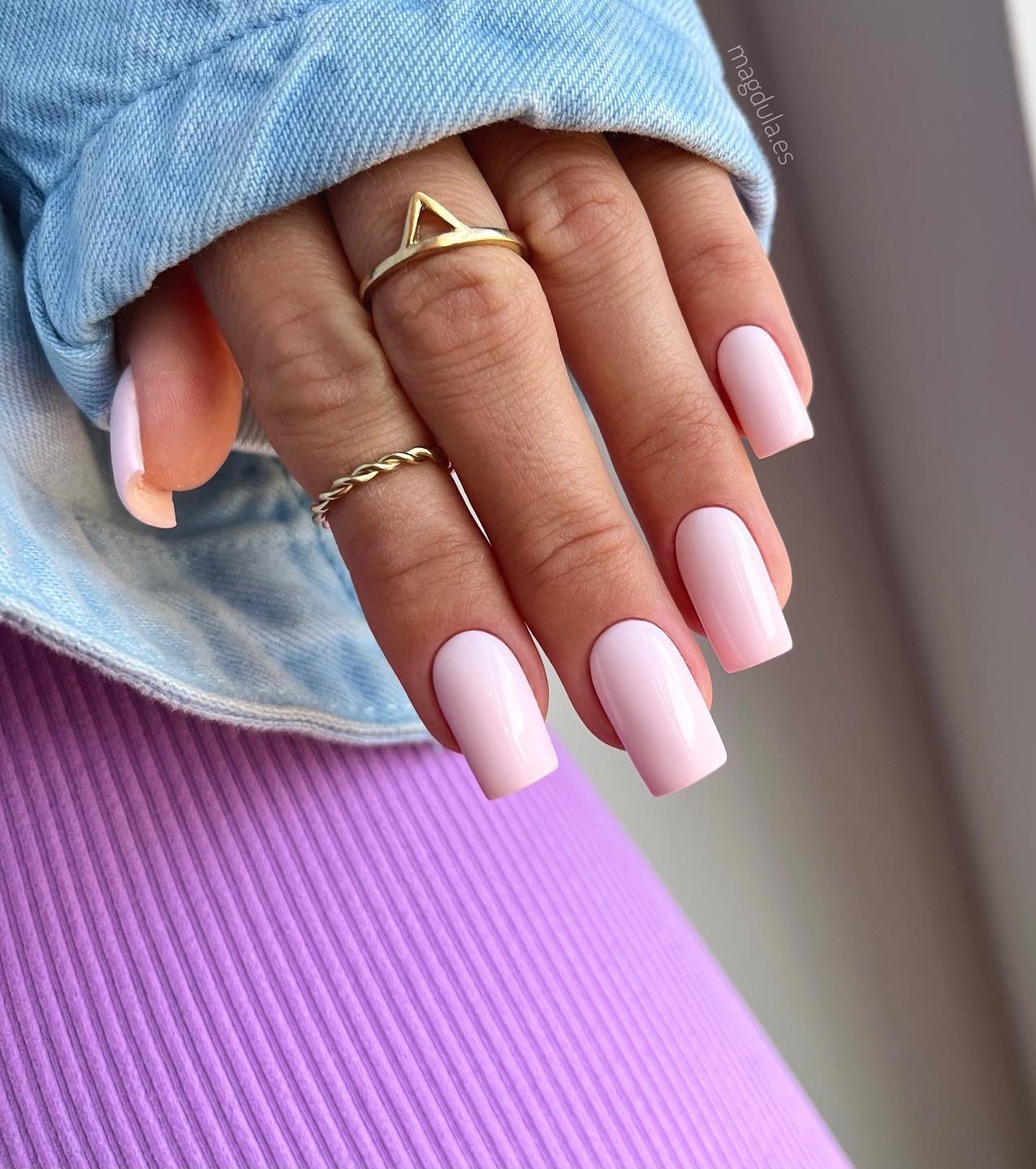 via @magdula.es
26. Perfect Manicure with Pink Swirls
Ladies know that different shades of pink nails will never go out of trend. But monochrome color is often too boring! Consider light pink swirls on clear nails, a simple but attractive art. Save this idea for your next salon visit!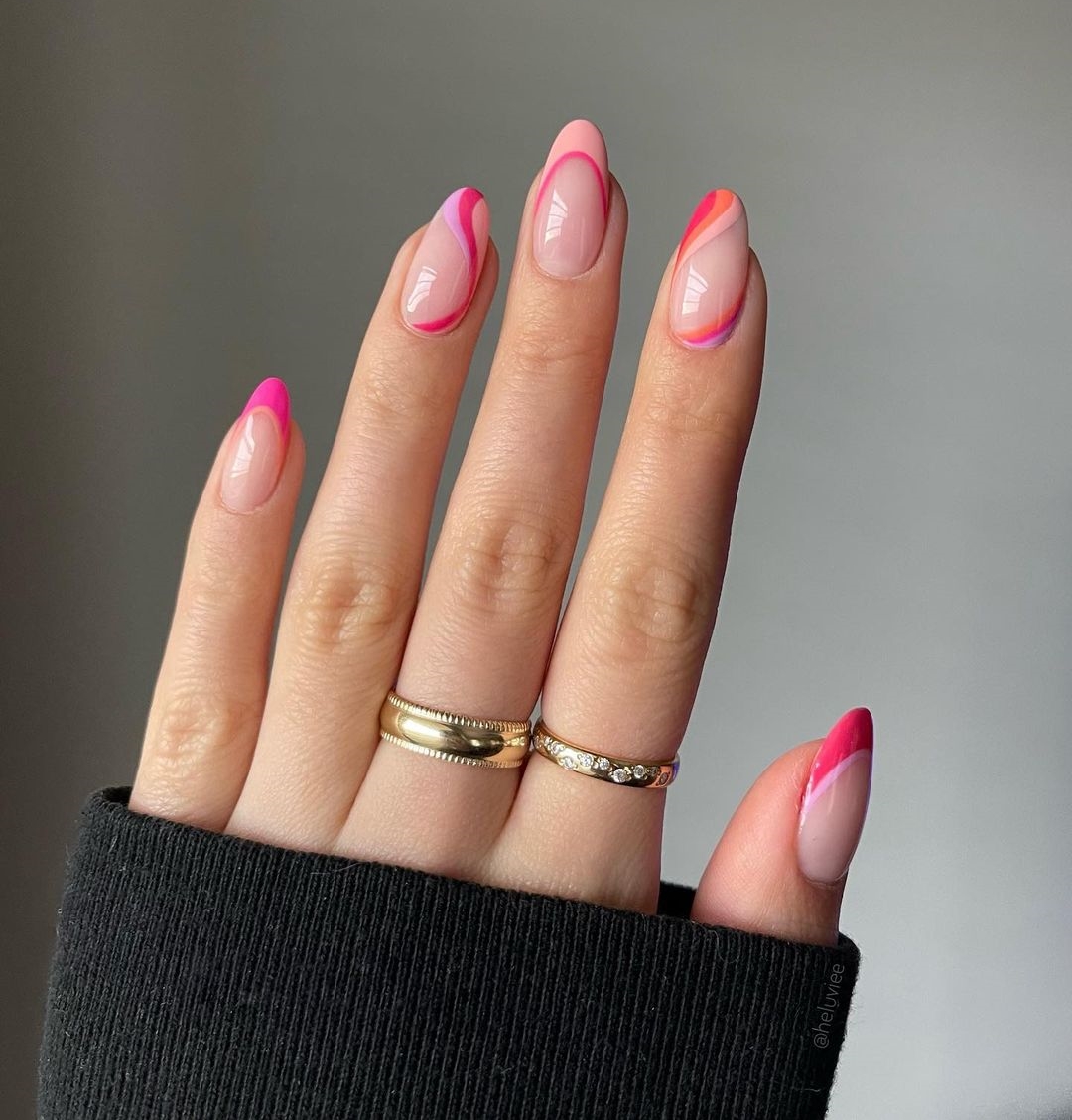 via @heluviee
27. Pink and Red Nails Combination
Do you know that red and pink are a perfect color combo? Red nails have become classic, and almost all women adore this color since it's noble and always relevant. And if you have longer nails and want to make an unusual design, add some pink patterns and enjoy your manicure.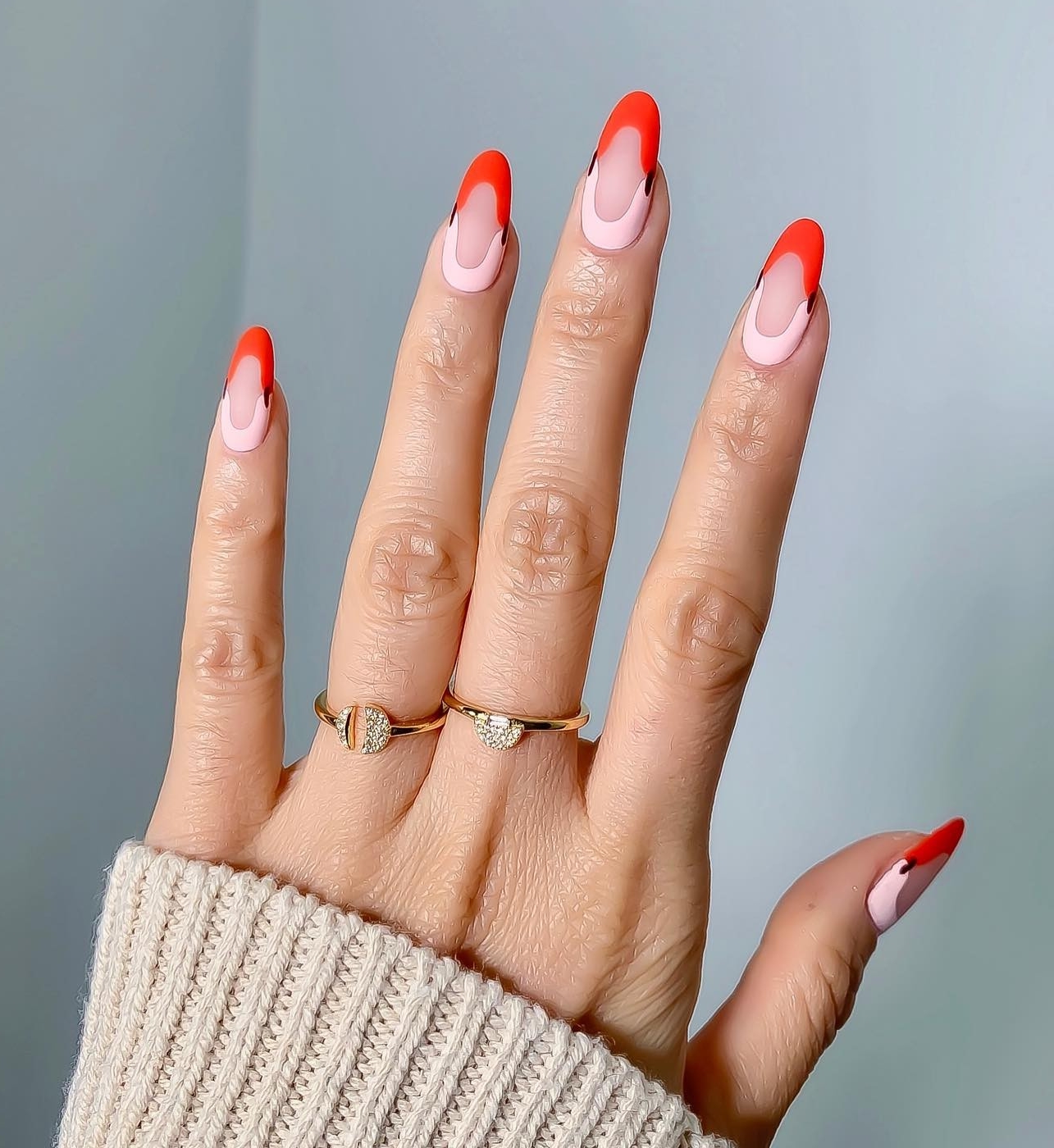 via @nails_and_soul
28. Dark Pink Nails for Perfect Designs
Dark pink is often underestimated, and women rarely choose it in beauty salons. However, this shade is stylish and elegant, so pay attention to it during your next nail appointment. You can perfectly complement pink designs with silver glitter. Choose the best shade for your cute pink nails and add some sparkles to make it more unique.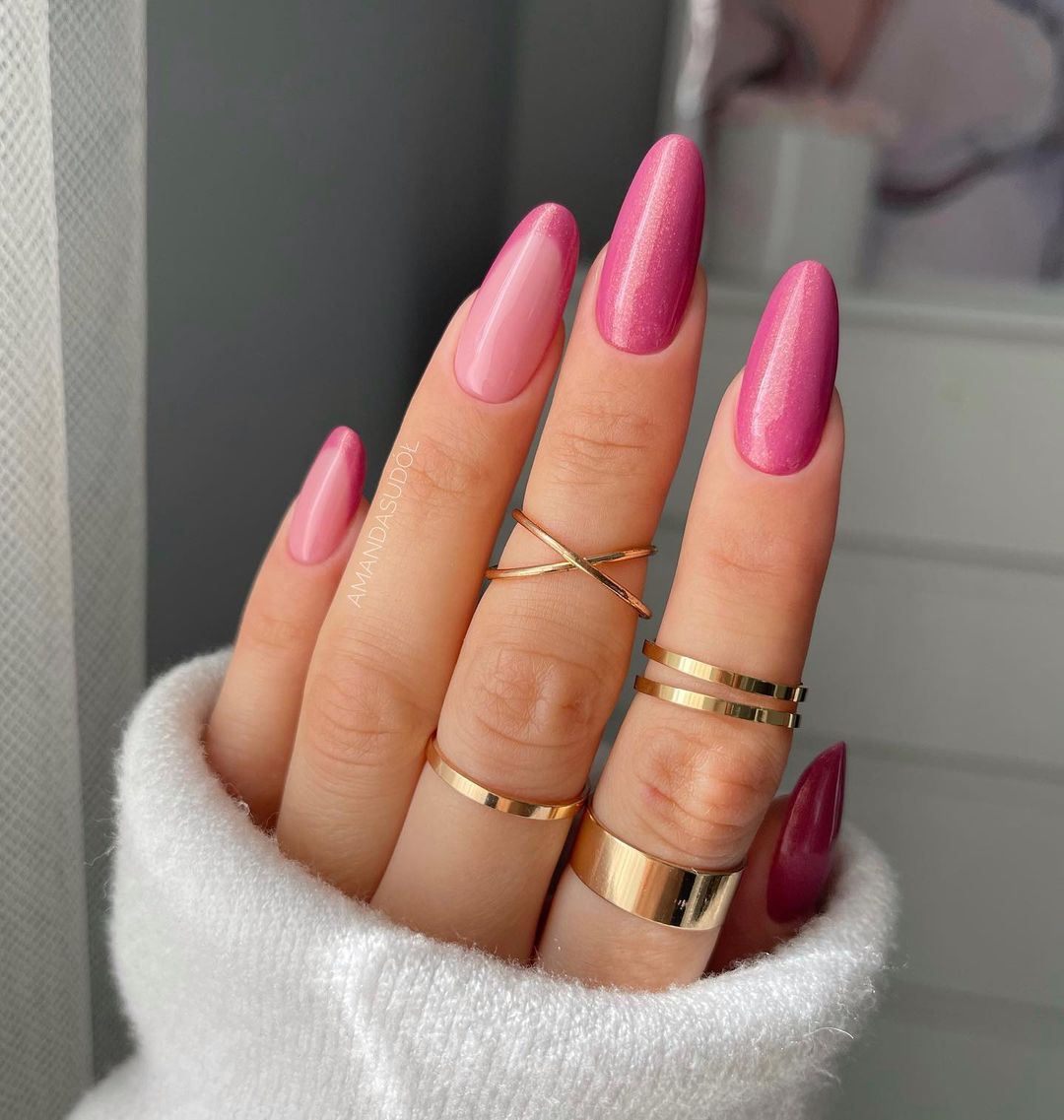 via @amanda.sudolll
29. The Trendiest Pink and Green Nails
Have you ever thought of making a manicure with a mix of pink and green? Many think it's a fun color combination, but it looks very stylish if you pick the trendiest shades. Apply a matte finish to make your mani even more unusual. Pay attention to the manicure with geometric figures and abstract lines, one of the most popular designs.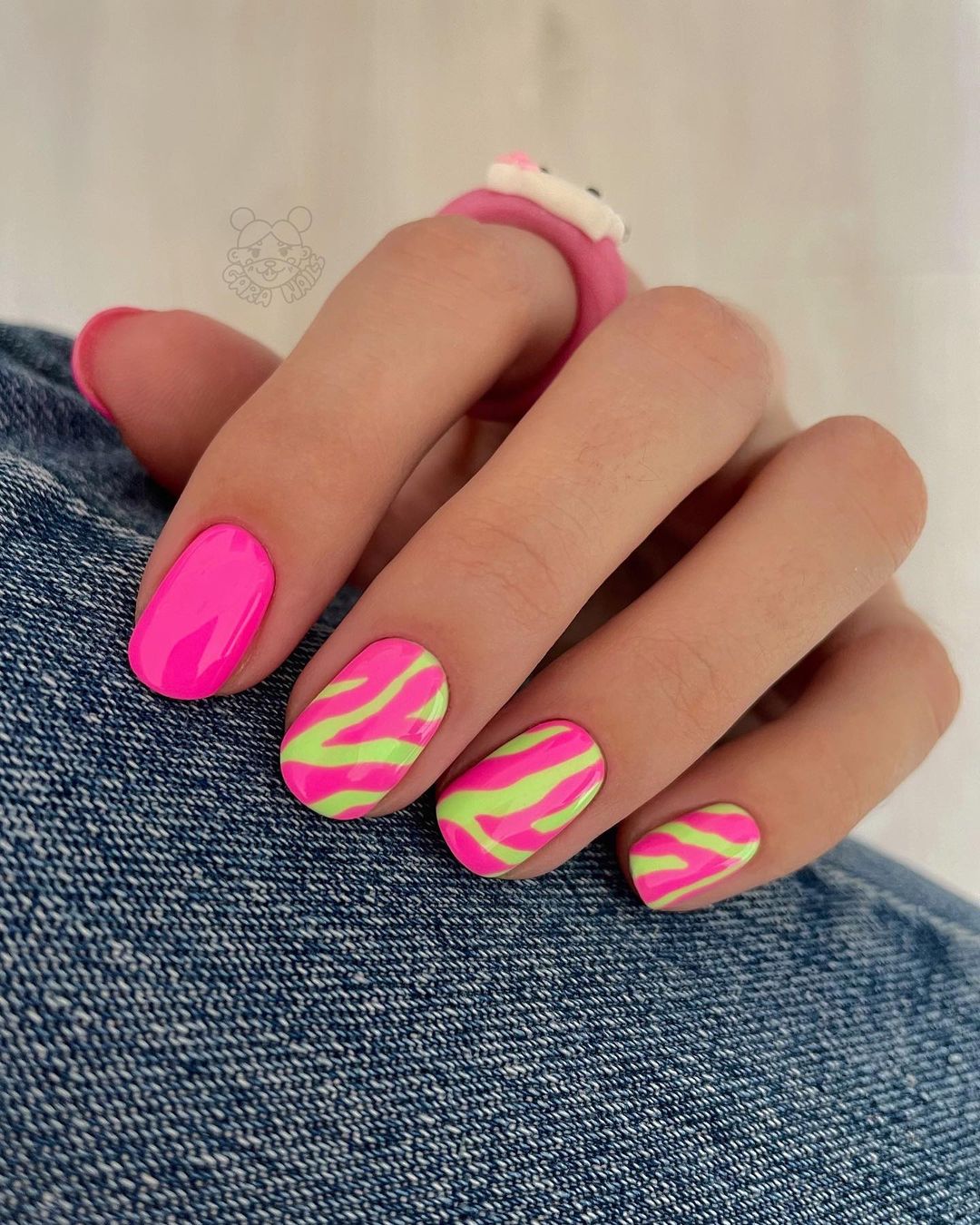 via @gara.nails
30. Barbie Pink Nails for Stylish Girls
Are you looking for some trendy nail ideas? The pink color will remain on the top list of all trends for many seasons. Bright pink nails, also known as a Barbie manicure, suit all ladies with any skin tone. Moreover, it doesn't matter whether you have short or long square nails since this shade is amazing for all shapes.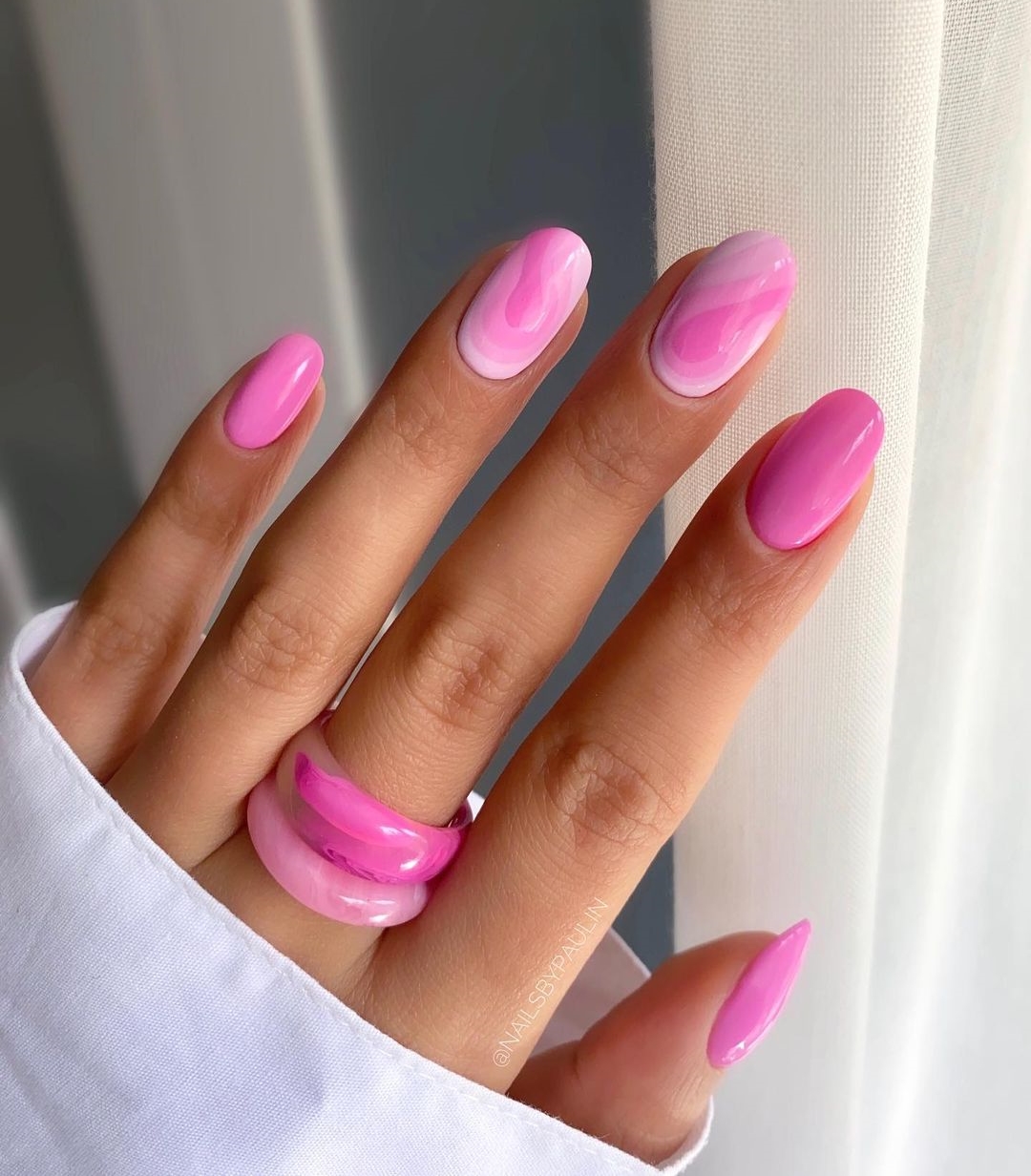 via @nailsbypaulin
31. Pink and Silver Nails
All colors look fantastic with silver glitter, and different shades of pink are not an exception. Silver lines on a pink base are a perfect solution for a cute and elegant summer manicure. It's one of the most common pink nail trends that will never lose relevance, so consider it when visiting your nail technician.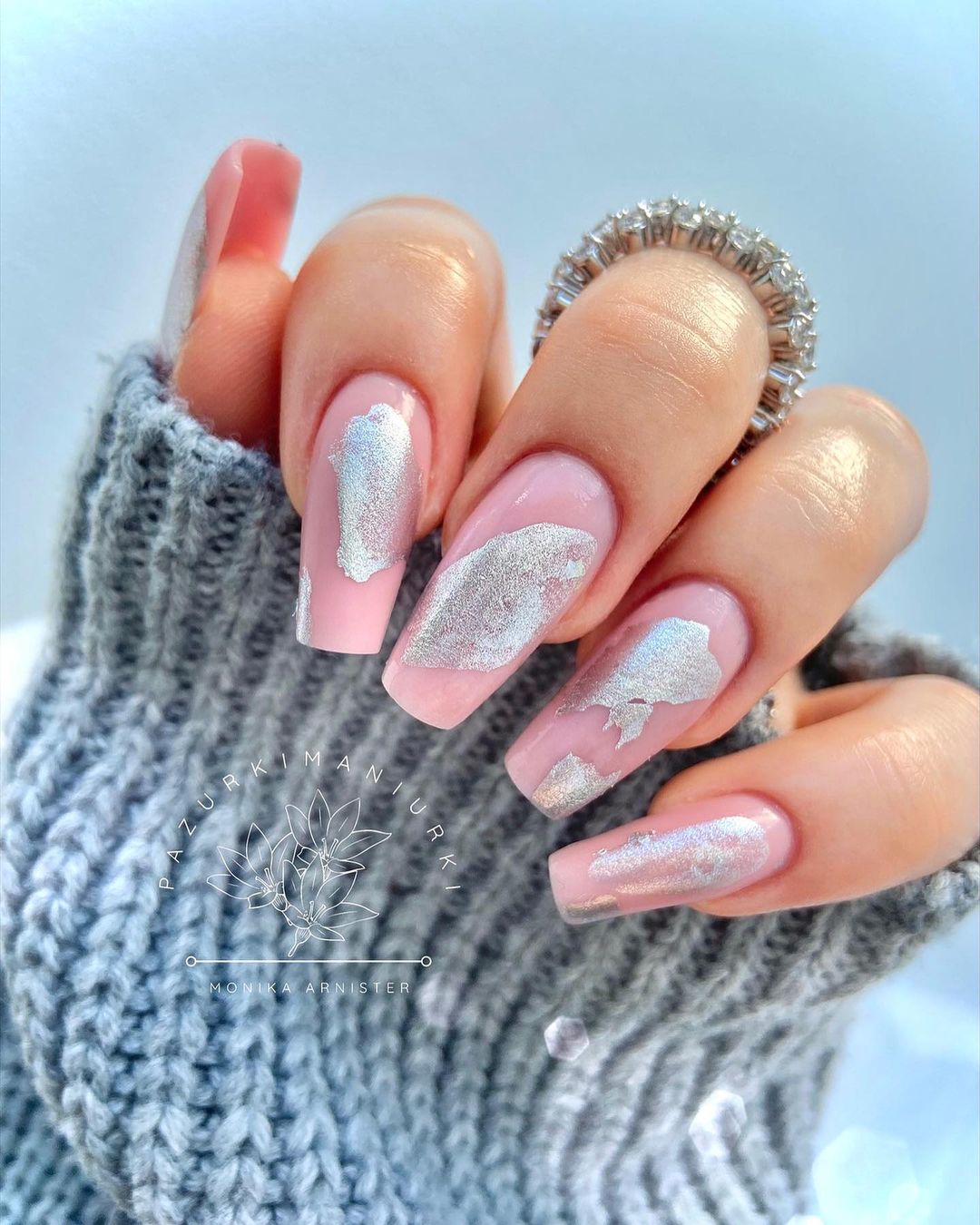 via @pazurkimaniurki
32. Noble and Elegant Blush Pink Nails
Pink nail design is always a great idea if you don't know which shade to pick in the beauty salon! Pick a beautiful color combination and add contrasting shades to create a unique manicure for summer. Blush pink is an excellent option for almond and stiletto nails, which look noble and elegant on any lady.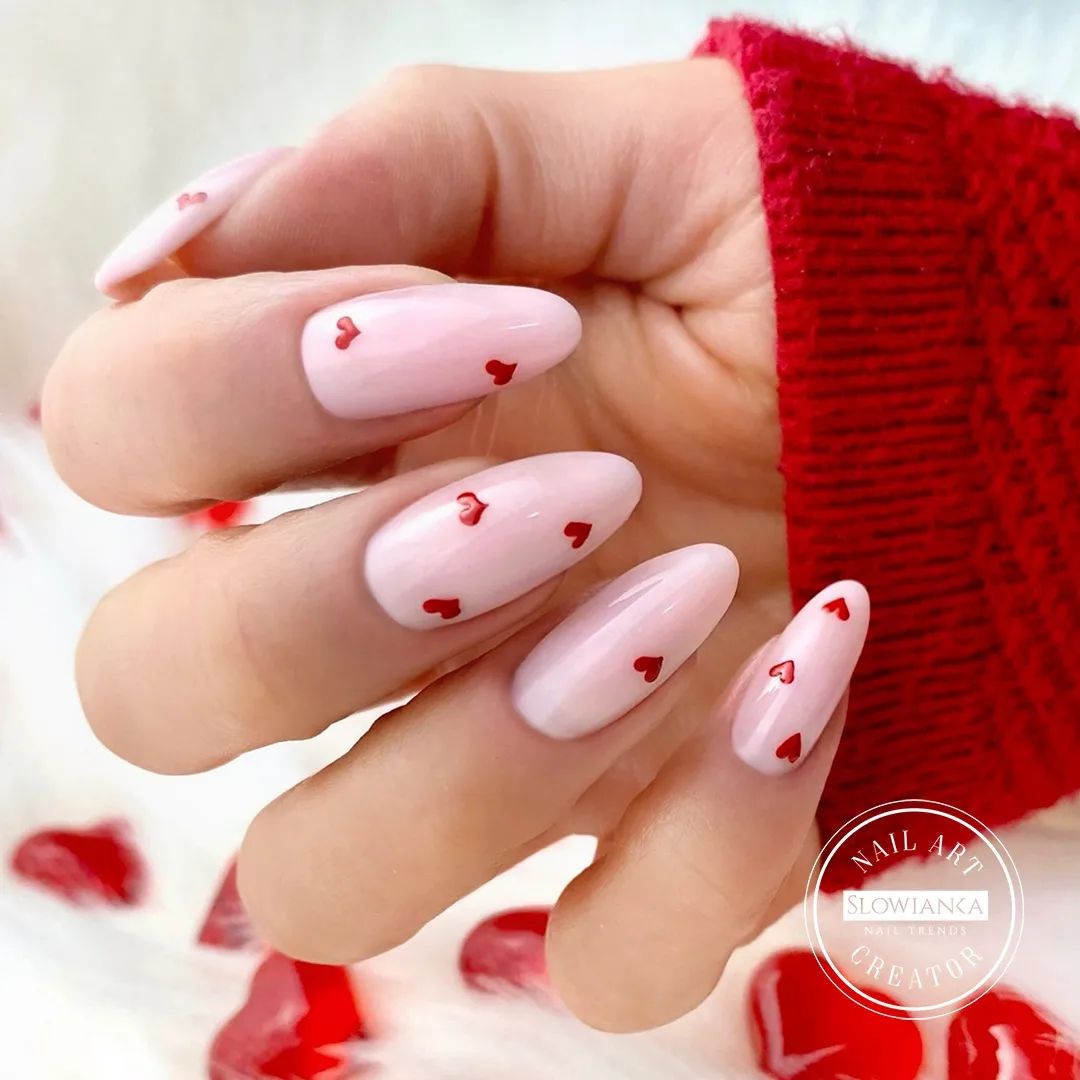 via @slowianka_nails
33. Attractive Shiny Pink Chrome Nails
The chrome top is very popular among stylish ladies since this sparkling manicure is perfect for summer. Light glitter on a chrome nail design shines attractively in the sun and can immediately cheer you up. Select the shade you like most and enjoy your shiny nails! The palette of summer nail colors is enormous so that every woman will find something suitable.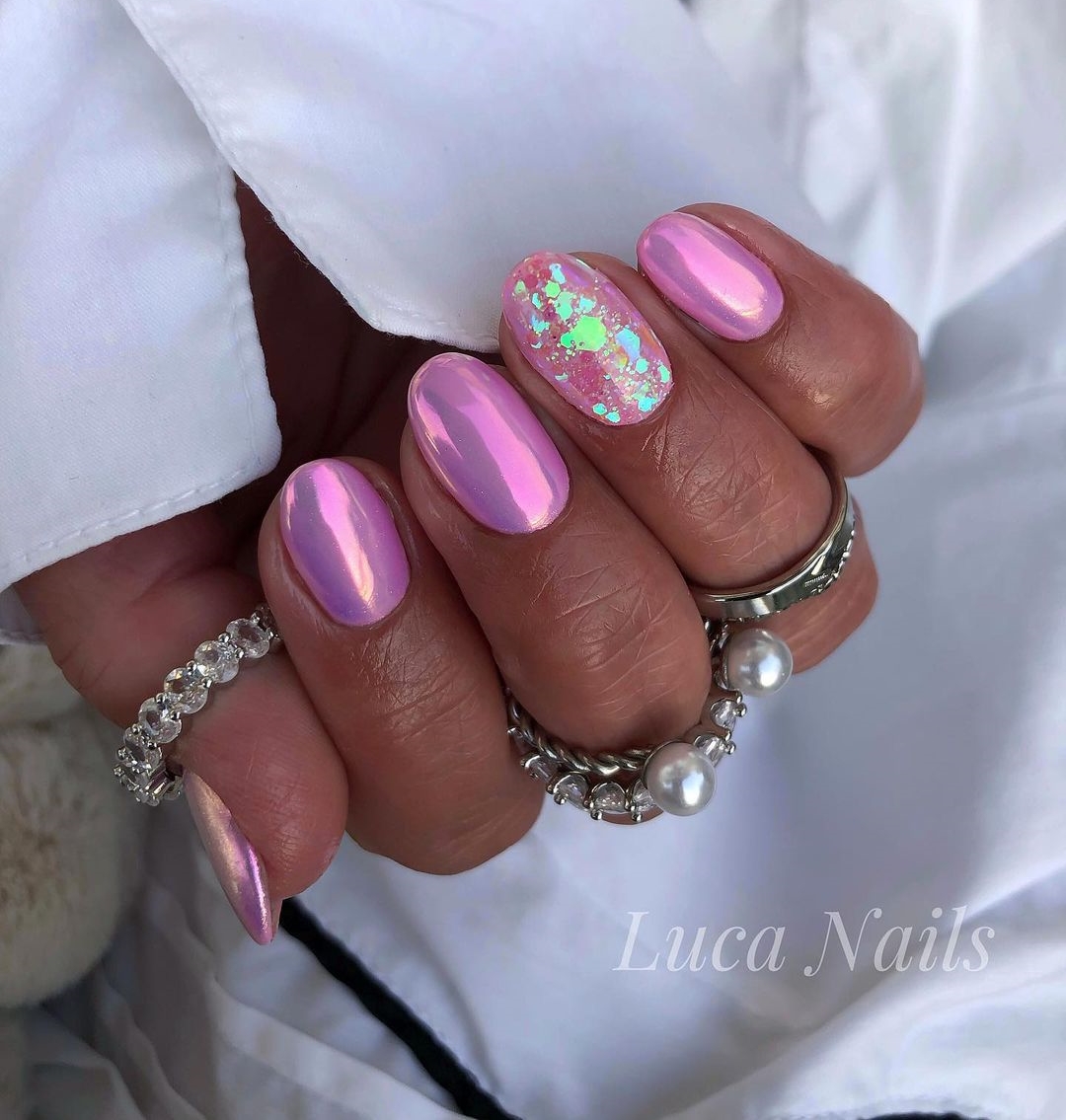 via @_luca_nails
34. Pink and Yellow Nails for Sunny Days
A combination of pink and bright yellow is the best solution for summer. Turn on your imagination and create a unique design for your acrylic or natural nails. Maybe you like the French manicure or ombre? The selection is insane, so think over the best manicure ideas and visit a beauty salon to bring them to life immediately.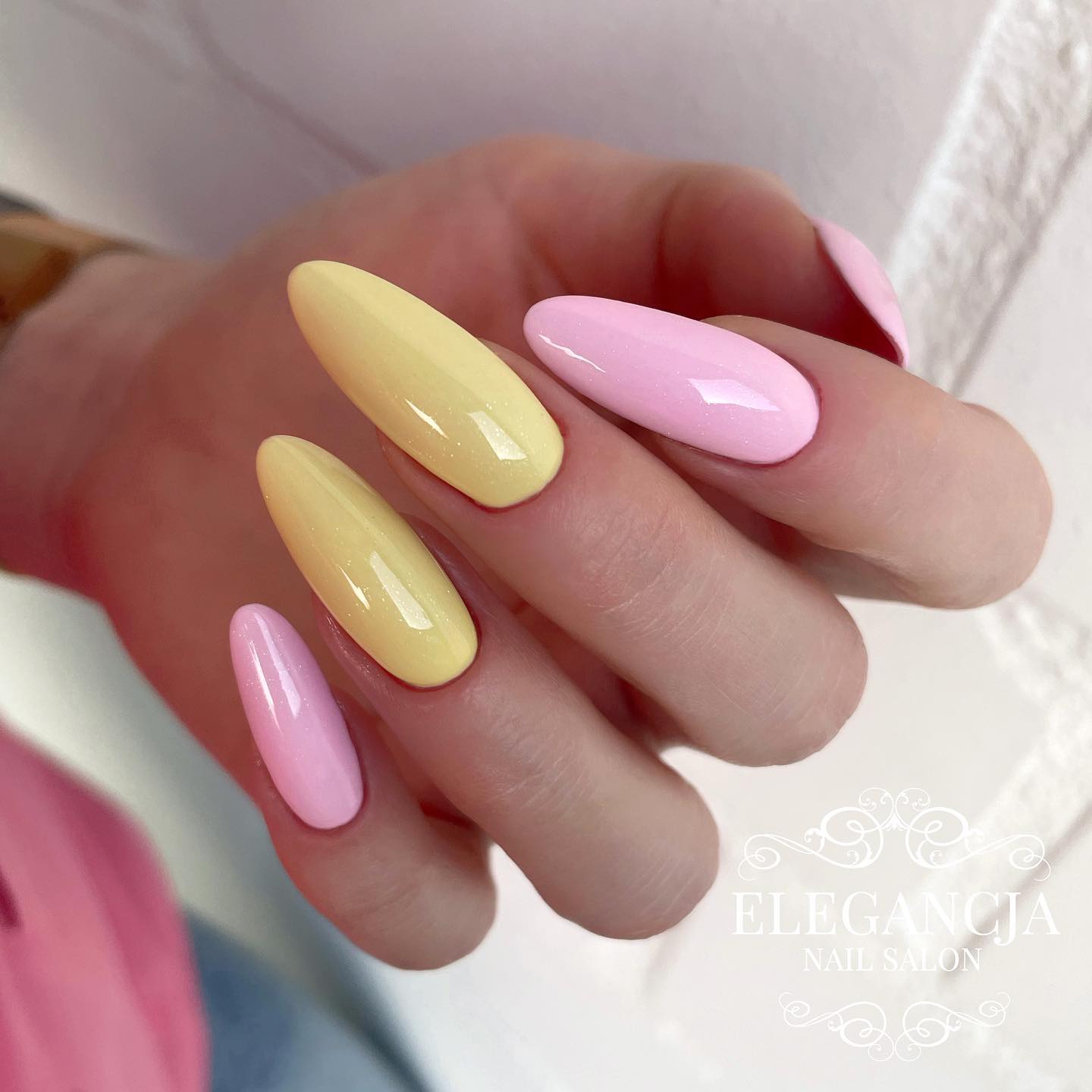 via @elegancjanails
35. Unusual Pink Leopard Print Nails
Animalistic prints have always been popular among stylish ladies, and many prefer such a design on their nails. A cute leopard design can create a bright accent to your look and will attract attention. For instance, pick a perfect pink and blue combination and go on.
The selection of pink nail ideas is huge since you can combine this color with numerous other shades. A leopard print mani also looks wonderful with a matte finish.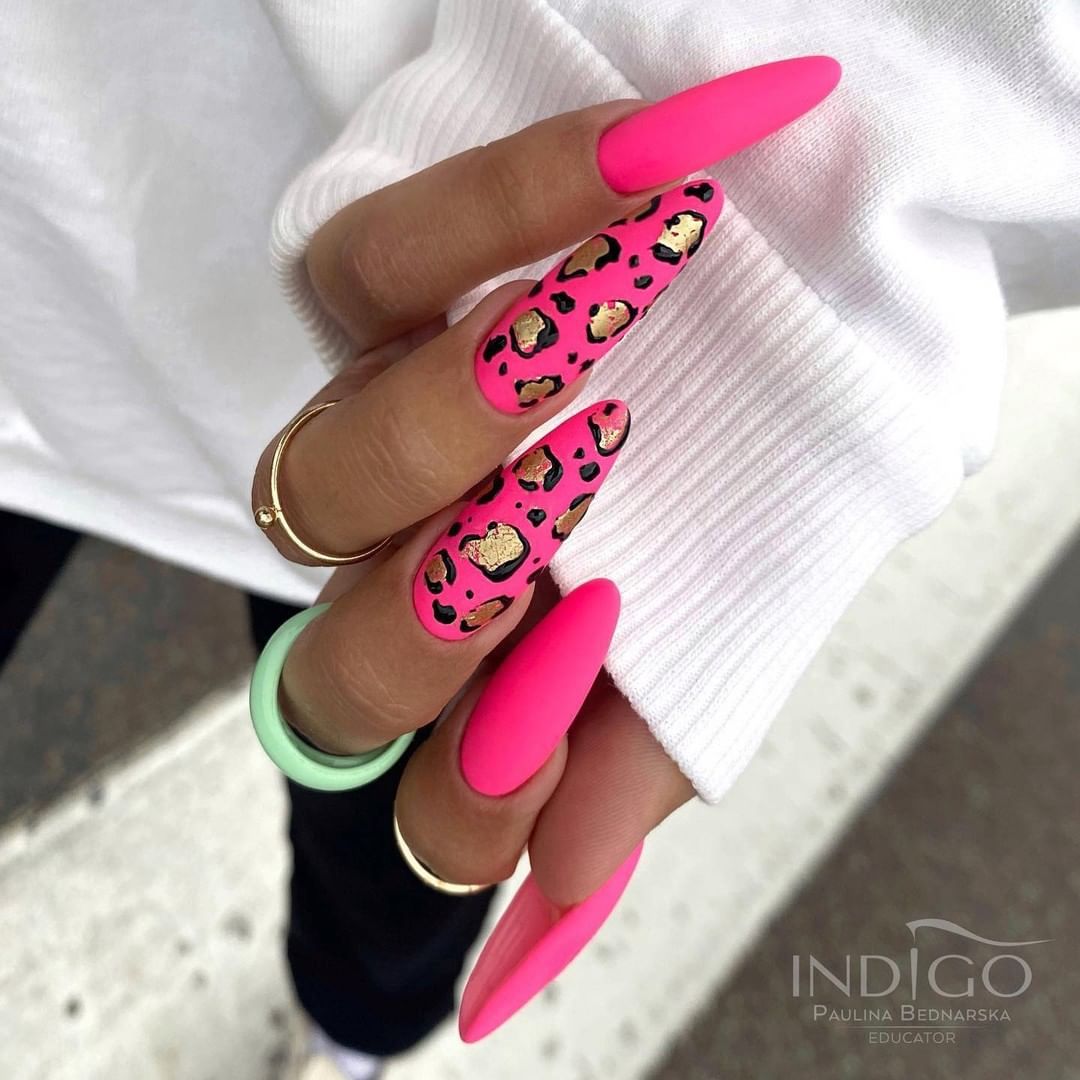 36. Hot Pink and Black Nails
Are you a fan of black nail designs? Since dark colors look too gloomy during summer, we offer you to dilute them with some bright shades. For instance, you can make an extravagant French manicure, applying a pink base and black tips. If you like pink acrylic nails, consider adding black patterns or stickers to create a stunning manicure that all ladies would like to repeat.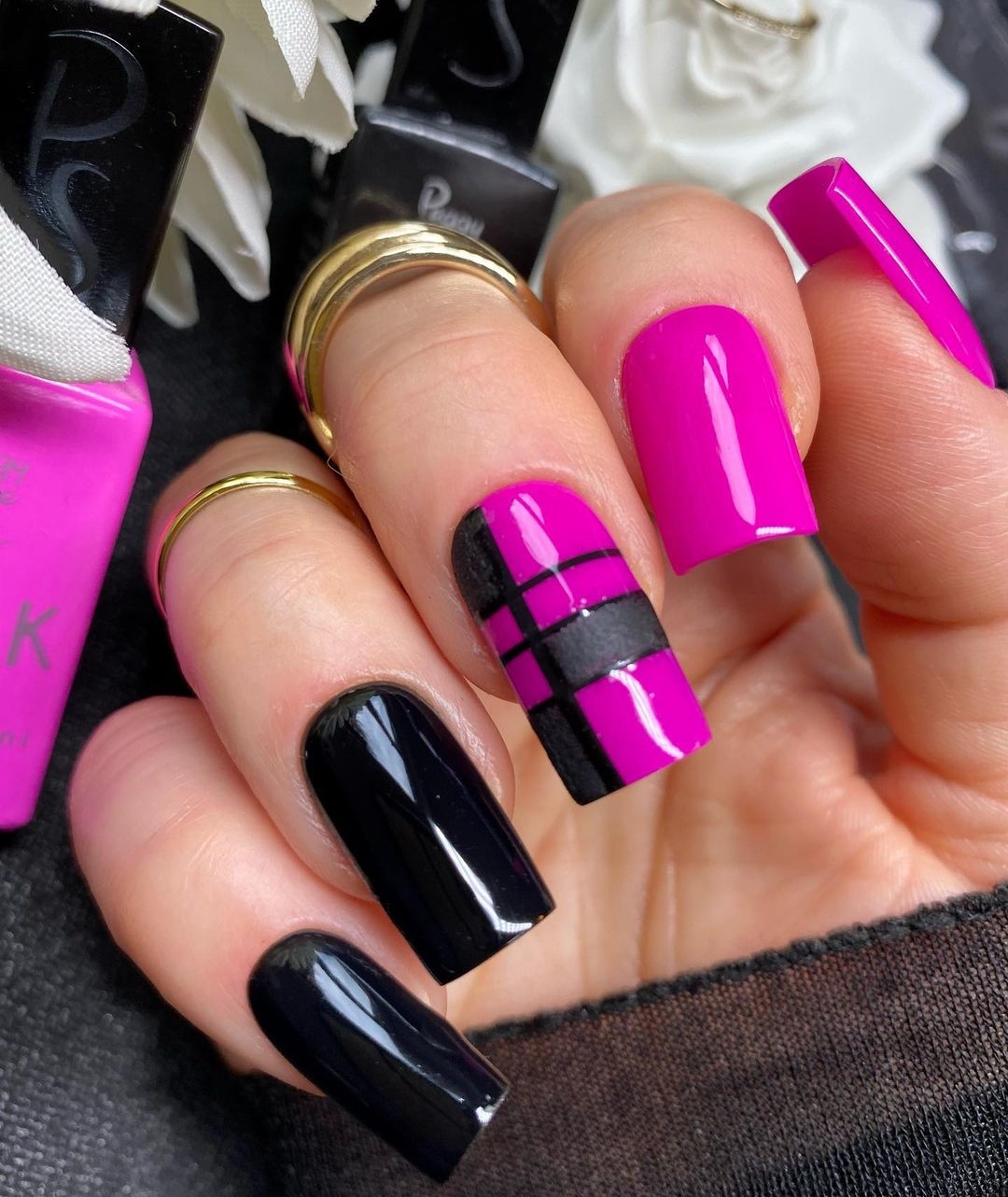 37. Experiment with Pink Flame Nails
Pink fire nails will create a bright accent to your look, even if you have a strict and discreet clothing style. Flame nails are designed for self-confident ladies who love being at the center of attention. Of course, this idea is not for short nails, but long square flame pink nails will look fantastic on any occasion.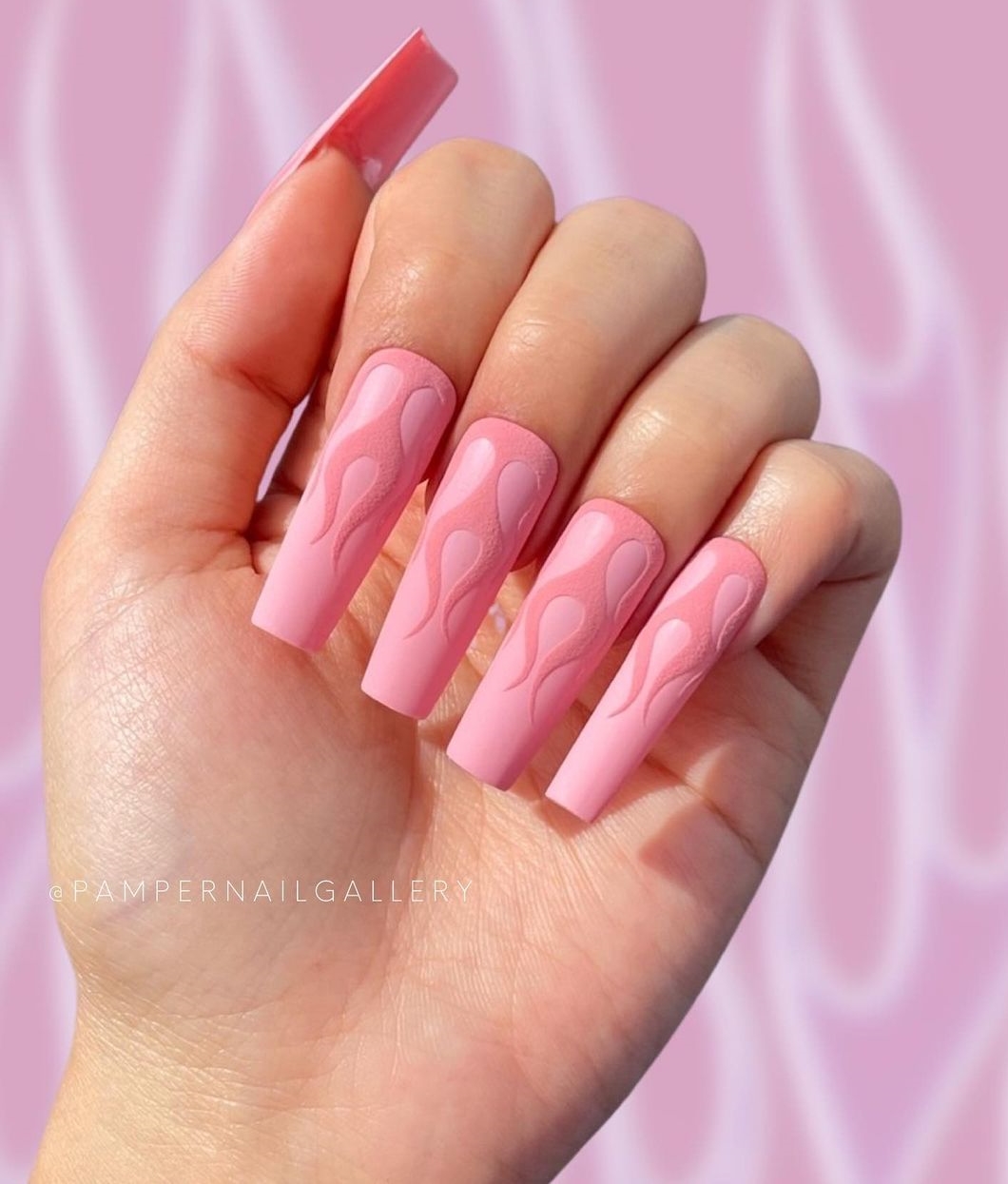 38. Classy Bubble Gum Pink Nails
Choose soft pink nails for everyday or special occasions since this manicure looks stunning and suits all clothing styles. Moreover, you can complement this color with any design you like. For instance, you can pick pink press on nails and create unique patterns on your fingers. Pale pink nails are a truly universal option for all shapes and lengths.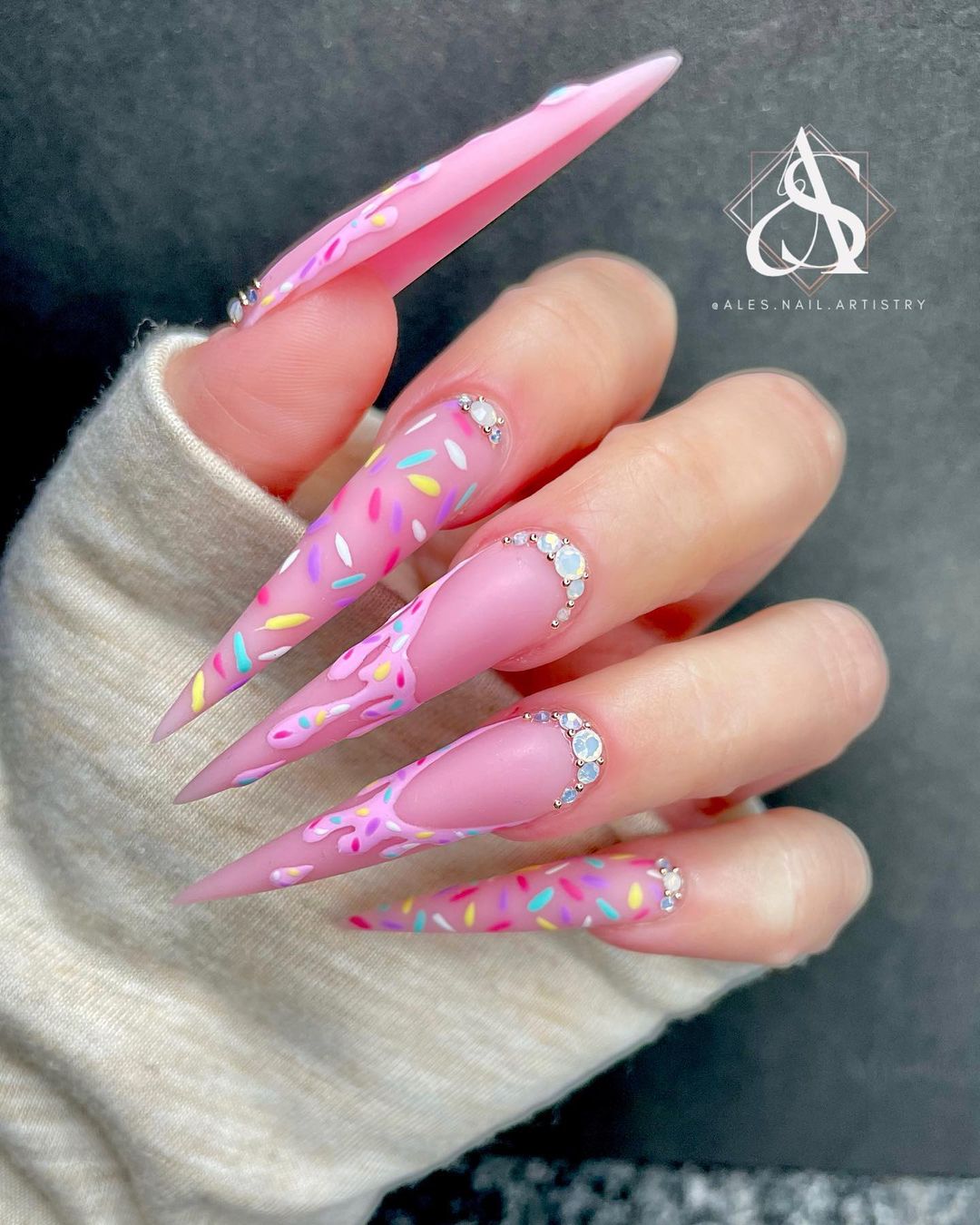 39. Fabulous Pink and Gray Nails
Classy gray nails are always a great idea, but add a pinch of romance with nice pink nail polish. You can perfectly complement summer gray nail designs with colorful patterns, stickers, or glitter. Matte or glossy nails? It's up to you to decide!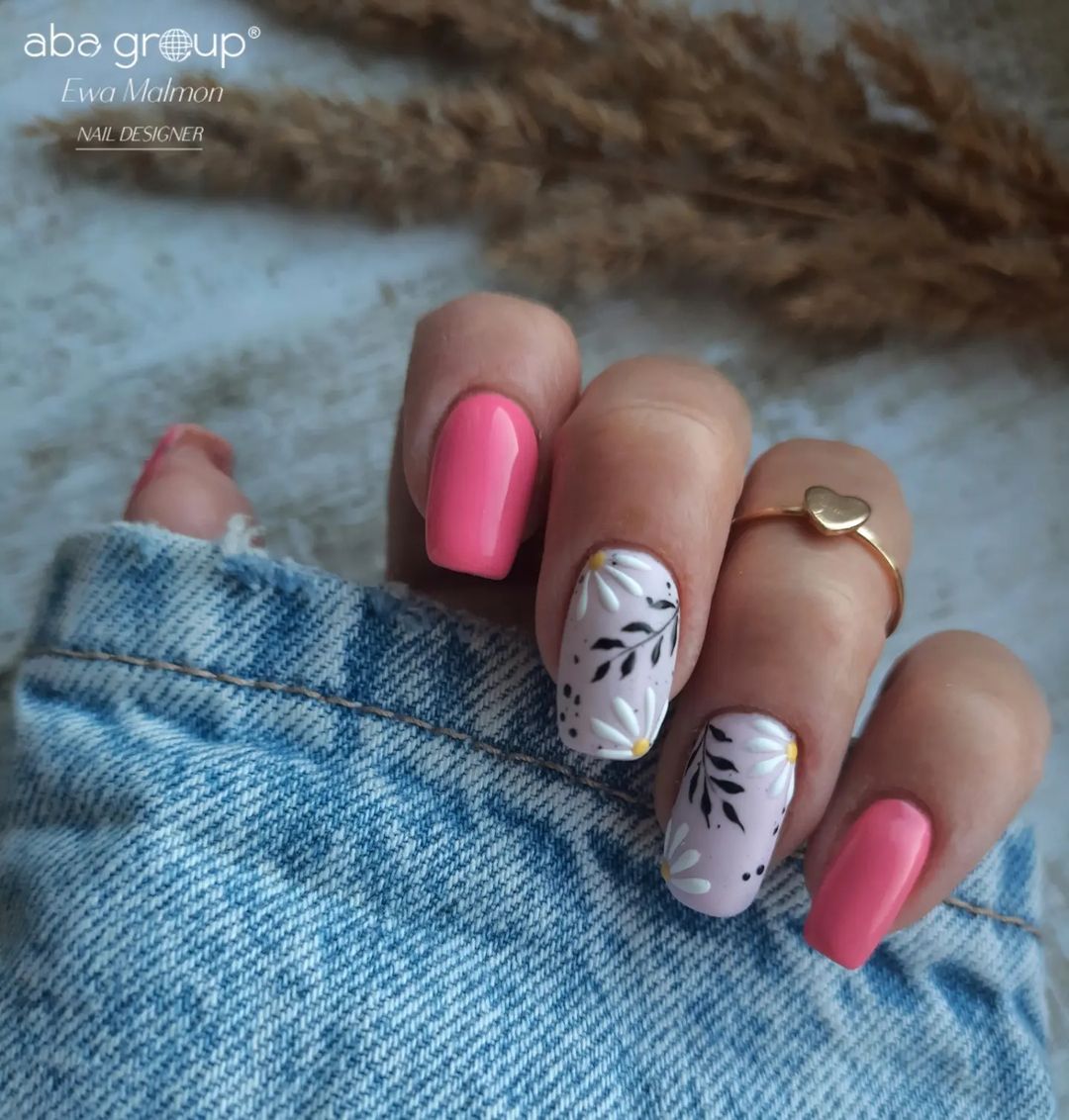 via @evamal_nails
40. Perfect Pink and Brown Nail Art
We bet you haven't thought about combining pink and brown polishes on your nails! However, it's one of the latest trends of manicure that is quickly gaining popularity among stylish ladies. Such a fun color combination will look stunning on any occasion and suits women with all skin tones. Make square pink nails and add a brown design – what can be better?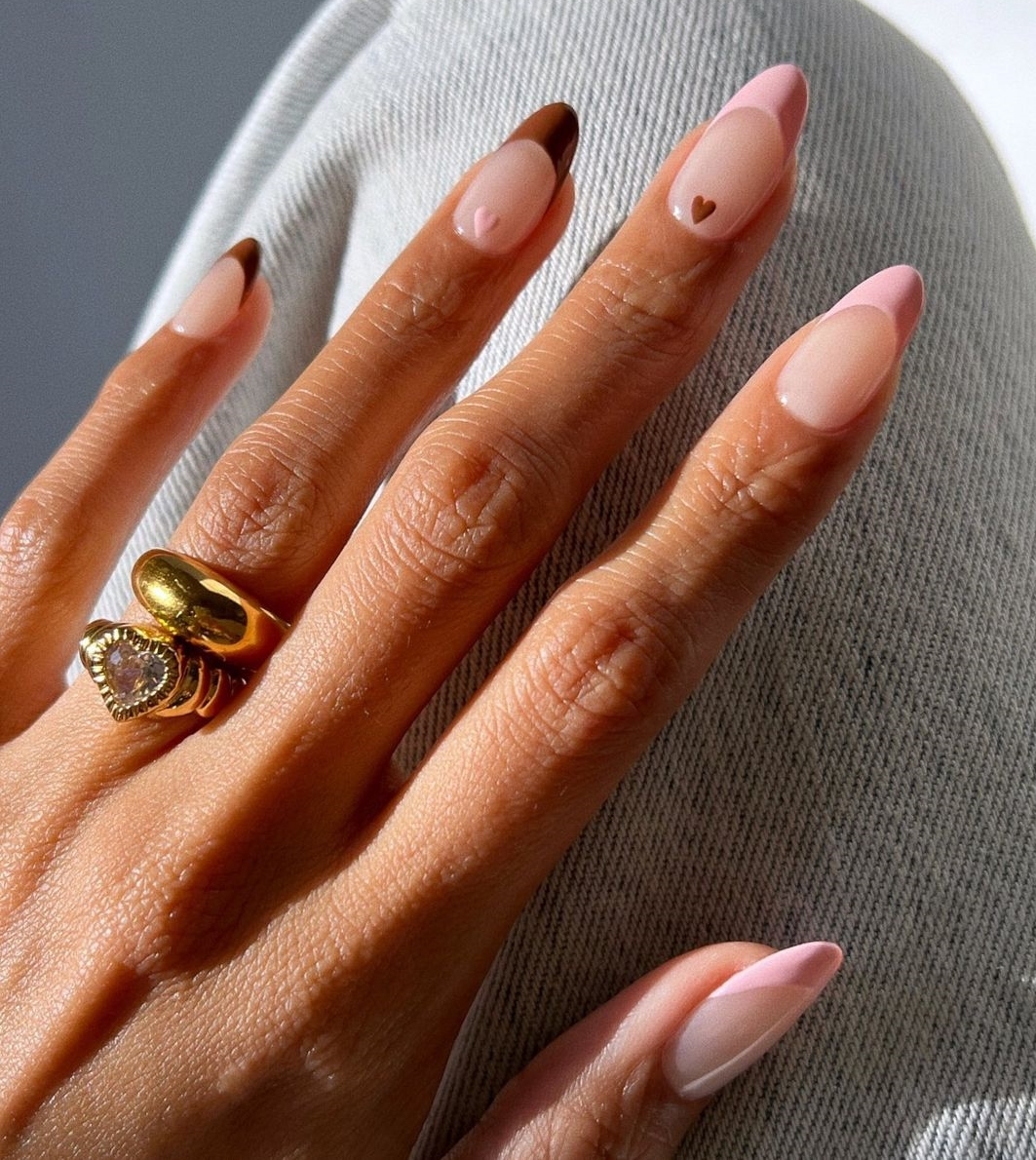 via @overglowedit
41. Wonderful Pink V Tip Nails
V tip nail designs are now as popular as the classic French manicure. And you can choose any shades you like to proceed with your perfect manicure! For instance, pick a nude base and apply pink nail tips, an elegant and romantic combination. It's worth noting that such nail art looks best on long nails in almond and stiletto shapes.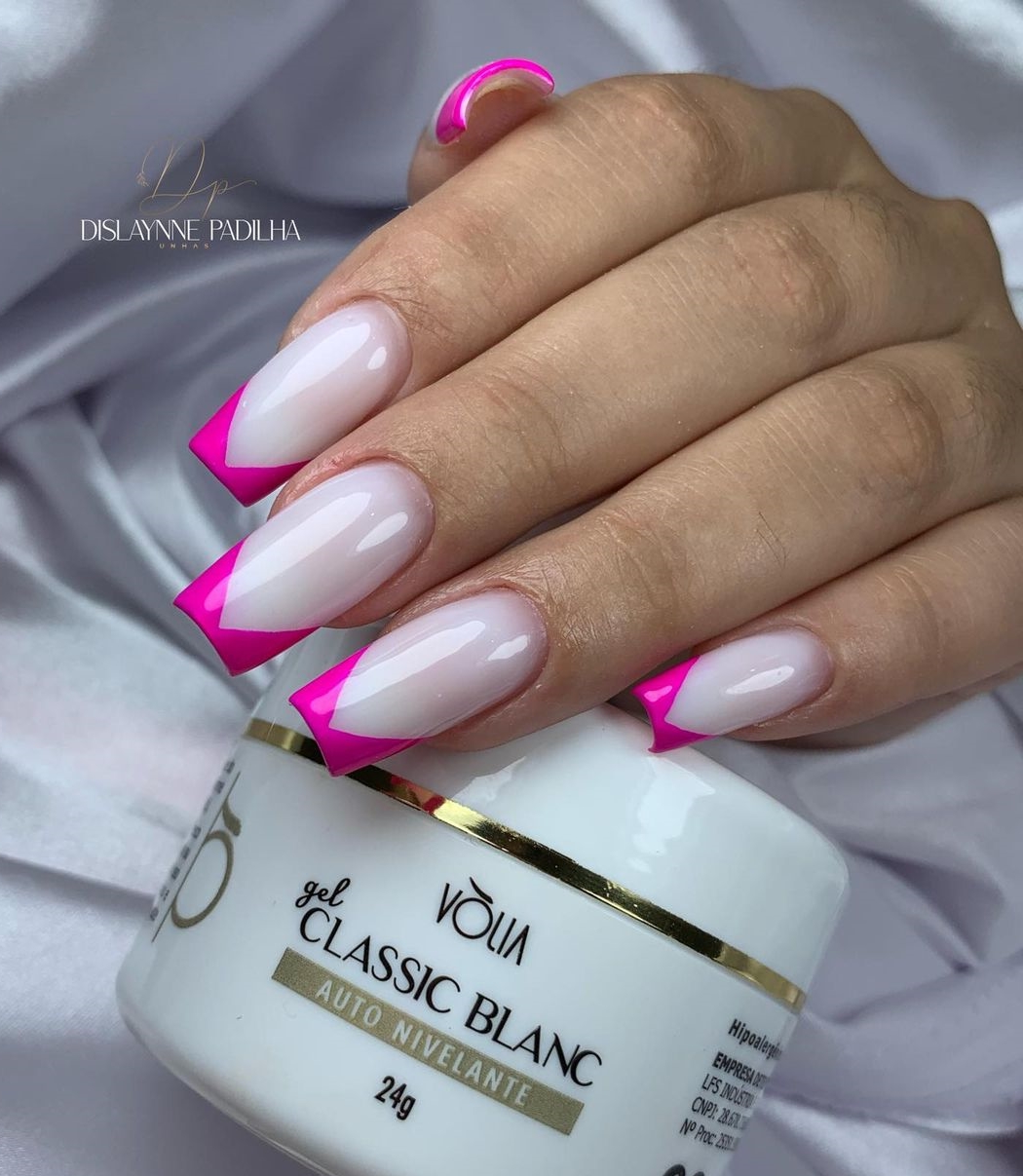 42. Pink Nails with Floral Design
Floral designs are especially popular in spring and summer when ladies prefer manicures in light colors with exciting art. White flowers on pink nails suit all shapes and lengths and can be combined with any clothing style. Select the perfect shades of pink and turn on your imagination. If you don't like much design in your mani, make one accent nail with a pattern and leave others in monochrome color.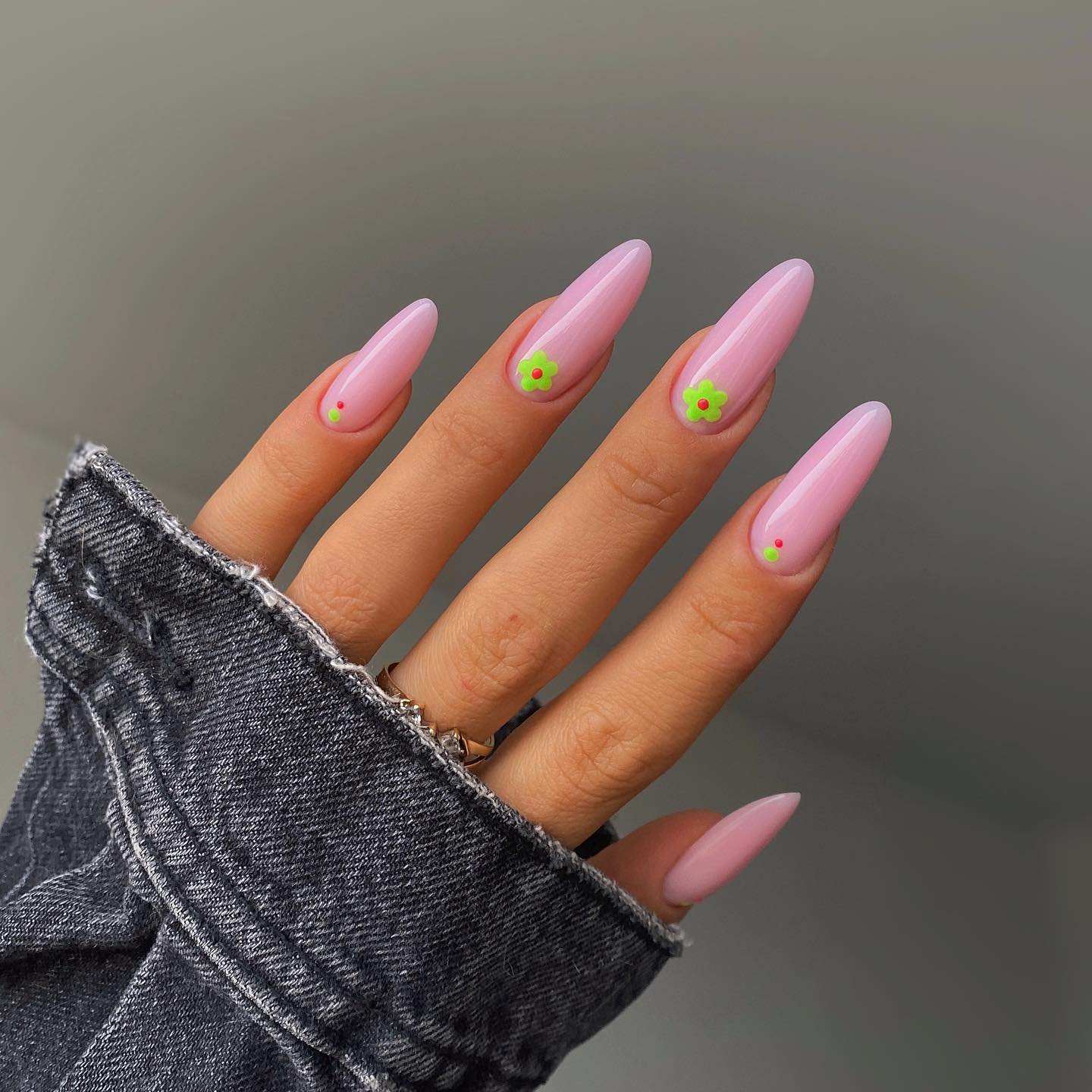 via @pegi_nails
43. Sparkly Pink Nails with Foil
A nail design with foil will be at the peak of all trends since it's a minimalistic and stylish way to decorate your manicure. You can combine hot pink nails with gold or silver foil that shines beautifully on the sun. One more option is picking a foil of a matching shade and enjoying your monochrome mani with an exciting accent.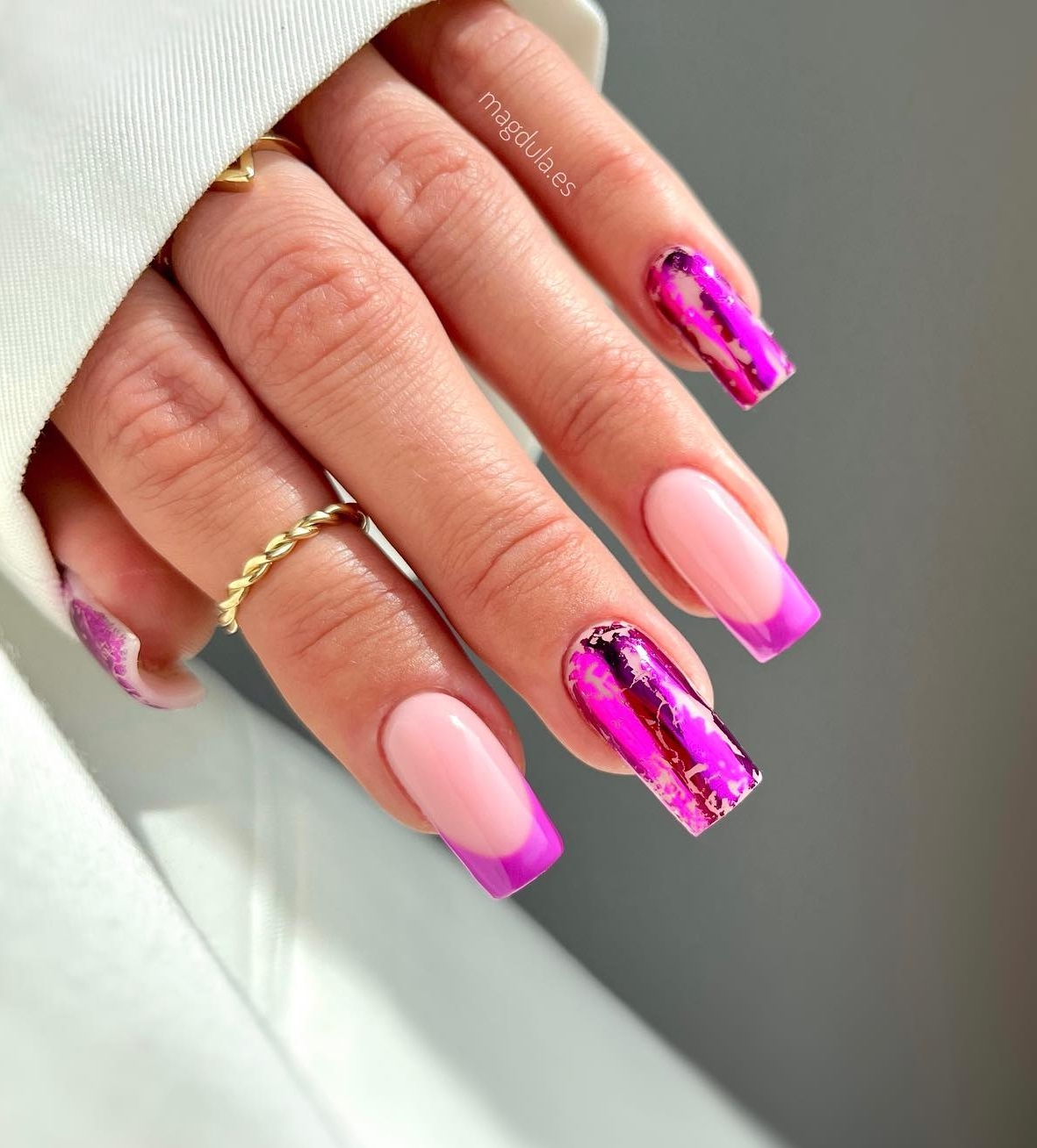 via @magdula.es
FAQ
Many ladies prefer making manicures at home, while others only visit beauty salons. However, every woman can face the situation that she needs to remove the gel polish immediately without her nail technician.
How to remove gel nail polish at home?
Even though many women think that removing the gel polish at home will damage their nails, it's not true. Everything will be fine if the procedure is done correctly, and your nails will remain strong and glossy. The whole process is effortless, so ensure that you have a nail file, cotton pads, foil, and gel nail polish remover, and follow the guide:
Use a nail file to remove the top layer of the gel polish.
Cut the cotton pads into small triangles that can fully cover a nail.
Add some acetone to the cotton pad, apply it to the nail, and wrap tightly in foil.
That's all! Wait for several minutes and remove the foil from your fingers. The gel polish will come off together with it. If something goes wrong and some polish still remains on the nails, you should repeat the procedure.