Blue manicure is a chameleon of nail art that easily adapts to any occasion and season. The blue spectrum offers a versatile palette for limitless creativity, from bright neons to deep blues. Using blue in a manicure can create a calming effect, acting as a visual refuge amid the hustle and bustle of everyday life.
Blue nail art is a universal choice for any nail shape, circumstance, and season. From deep blue to bright azure, numerous shades embody sophistication and playfulness, making them suitable for business and festive settings.
A chic blue manicure can give you confidence. Its visual appeal and stylish charm will make you feel flawless, collected, and ready to conquer the world around you. Essentially, a blue manicure goes beyond aesthetics — it's a powerful form of self-expression, a mood enhancer, and a timeless accessory that says a lot without saying a word.
Blue is often associated with trust, loyalty, and wisdom. Choosing a blue manicure can convey a sense of security and sophistication, adding meaning to your nail art. It goes well with evolving nail trends. Blue nails provide a dynamic base for staying on trend, whether it's the current obsession with ombre, chrome trim, or intricate nail art.
A variety of blue shades allows you to express yourself. Whether you're feeling bold with royal blue or whimsical with baby blue, your nails are a way to showcase your mood and personality.
Whether icy pastels for a winter manicure, bright blues for a playful summer, or deep, rich tones for a cozy fall vibe, gorgeous nail color looks stylish and unique. See for yourself by making one of these time-tested designs!
Light Blue Nails
A light blue manicure on almond nails is an airy elegance that perfectly complements a fresh look. It can be decorated with minimalistic geometric patterns, delicate floral accents, or a subtle ombre effect.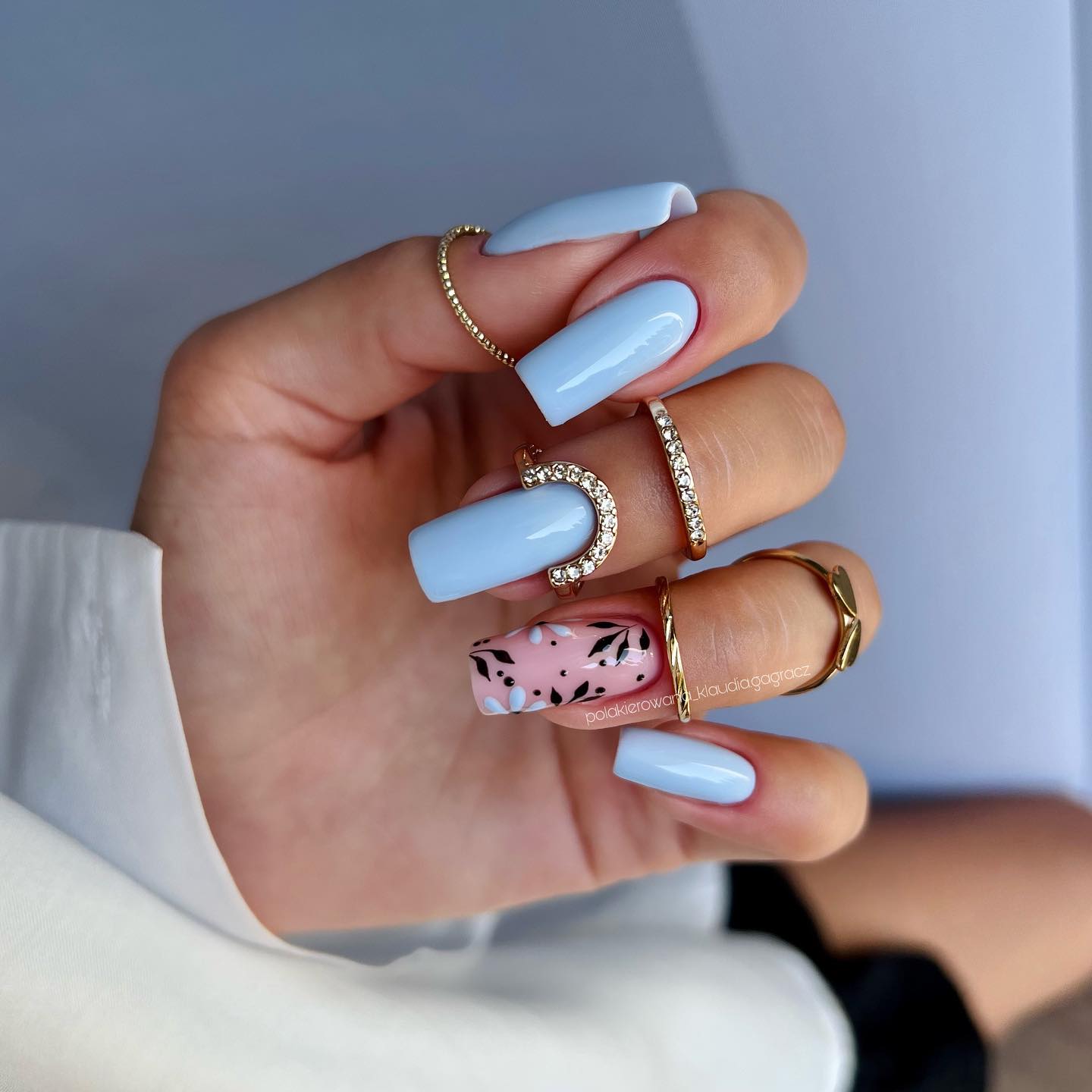 via @polakierowana_klaudia.gagracz
Blue summer nails go well with pastel-coloured clothes and accessories, creating a harmonious and sophisticated look. You can wear them with casual jeans, an elegant suit, or a chic evening outfit.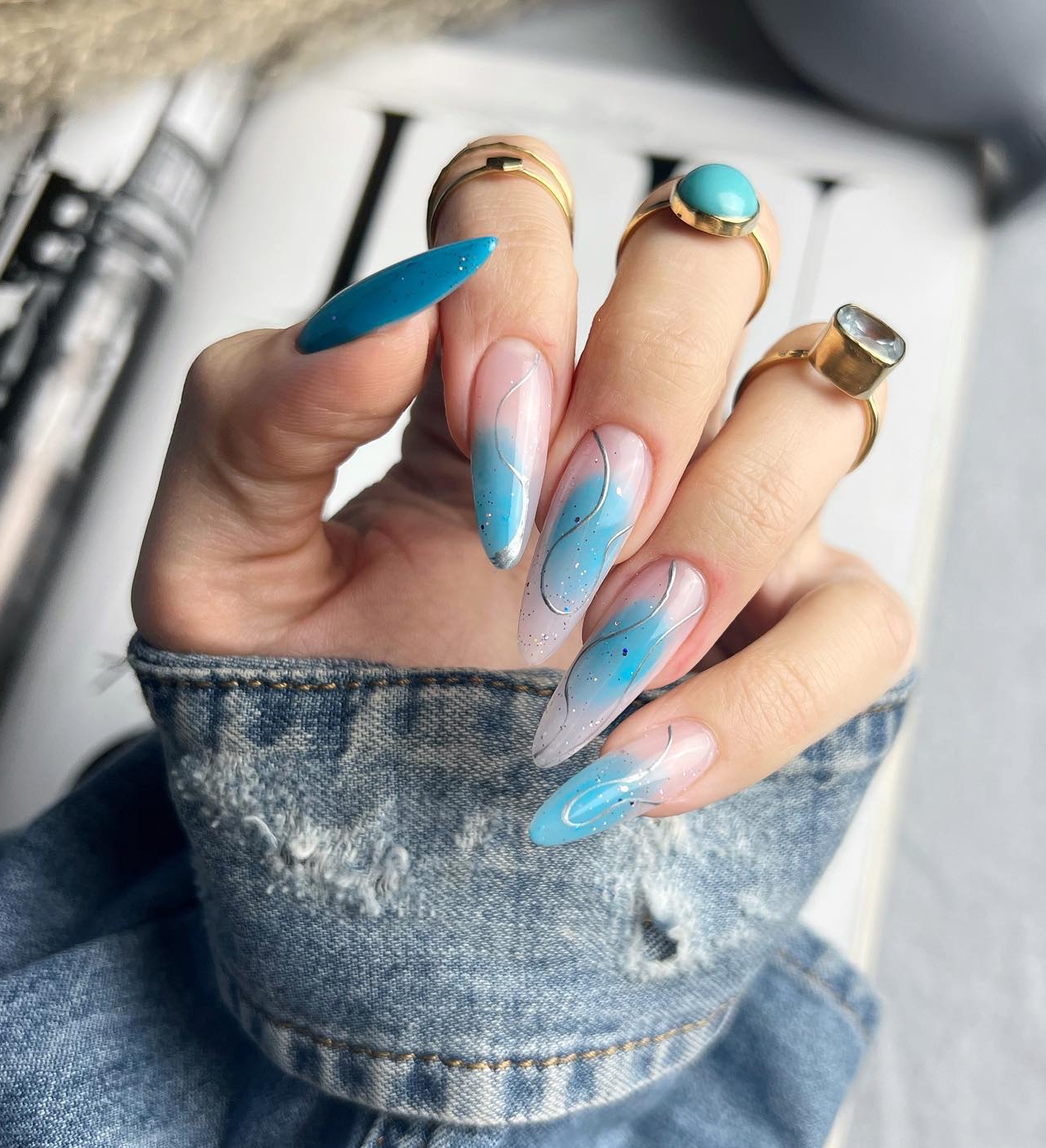 via @majamarkowicz
Deep Blue Nails
If you want to add a touch of glamour, choose the deep shade of blue. They are perfect for girls who value courage and prefer provocative looks.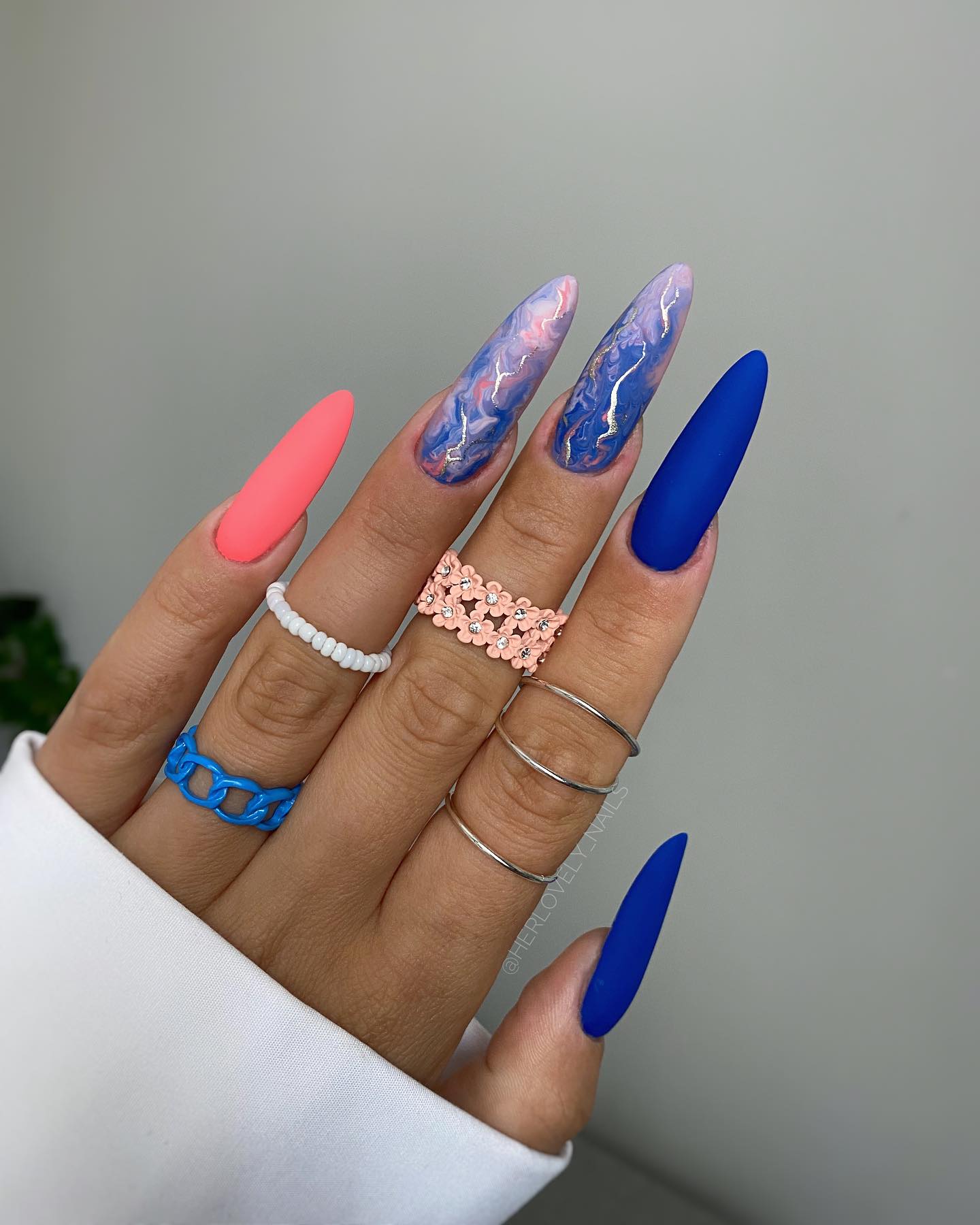 via @herlovely_nails
Different patterns on long nails complement the dark blue background effectively. You can use metallic varnishes, rhinestones, and other luxurious decor to create them.
Pair dark blue nails with gold or rose gold accessories. With such a manicure, you will attract attention at evening events and cocktail parties.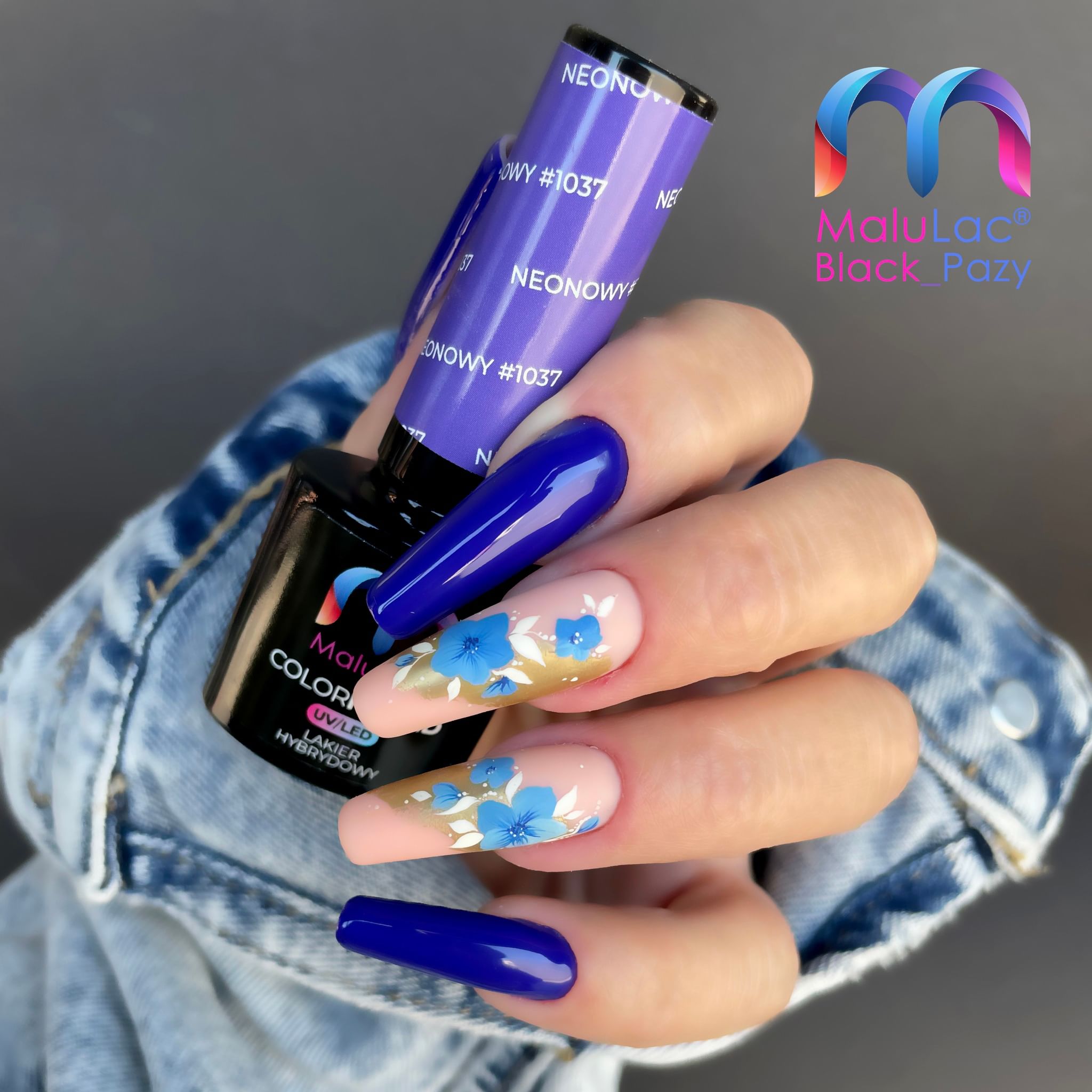 via @malulac_pl
Blue Ombre Nails
Shades of blue with gradients create an effective combination of light and dark tones. This manicure is suitable for beauties who value an original and dynamic look.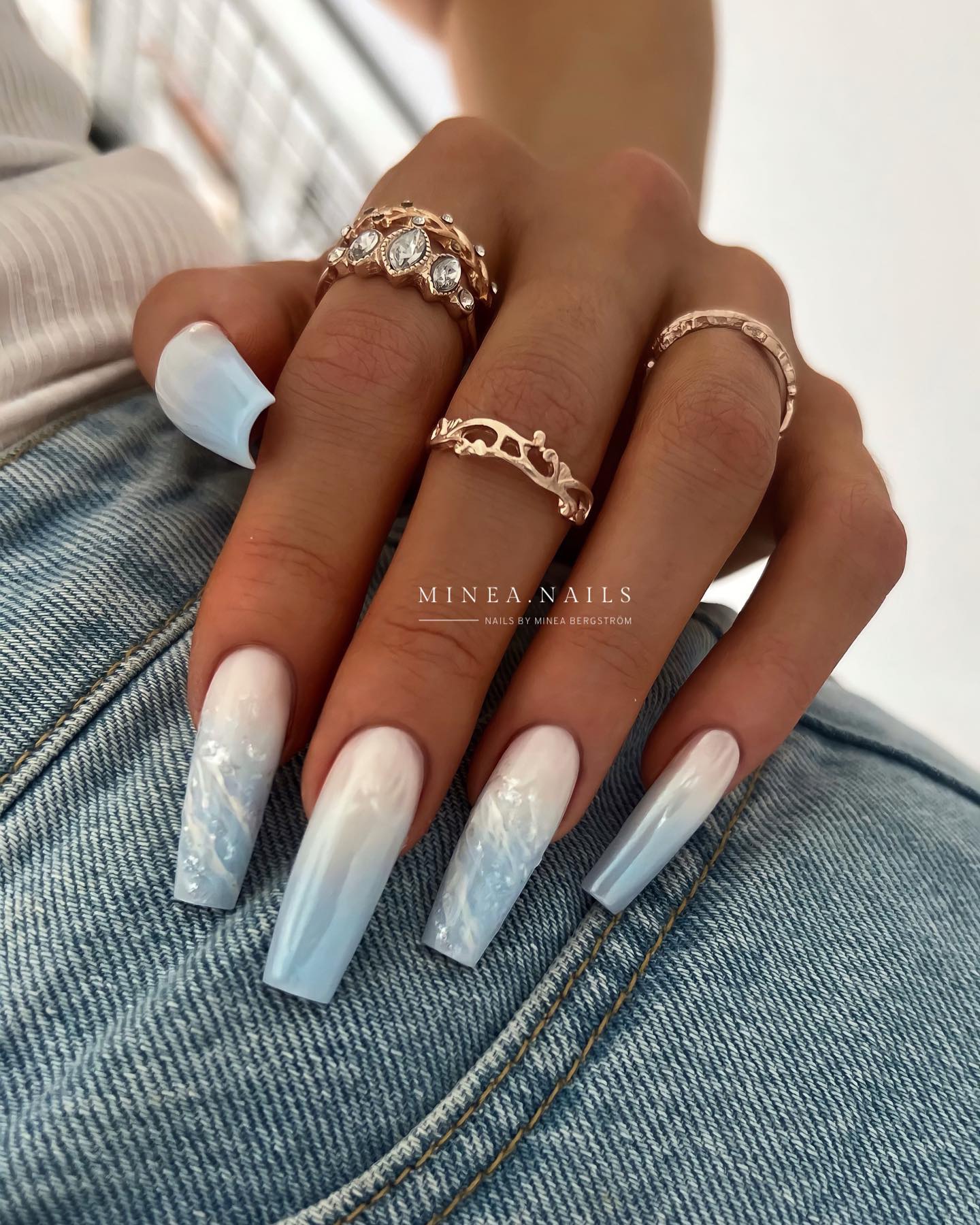 via @minea.nails
Blue nail art goes well with an outfit variety — laconic casual, feminine dresses, or daring glam rock-style clothes. Silver or white gold accessories go well with short ombre nails, giving the ensemble a touch of sophistication.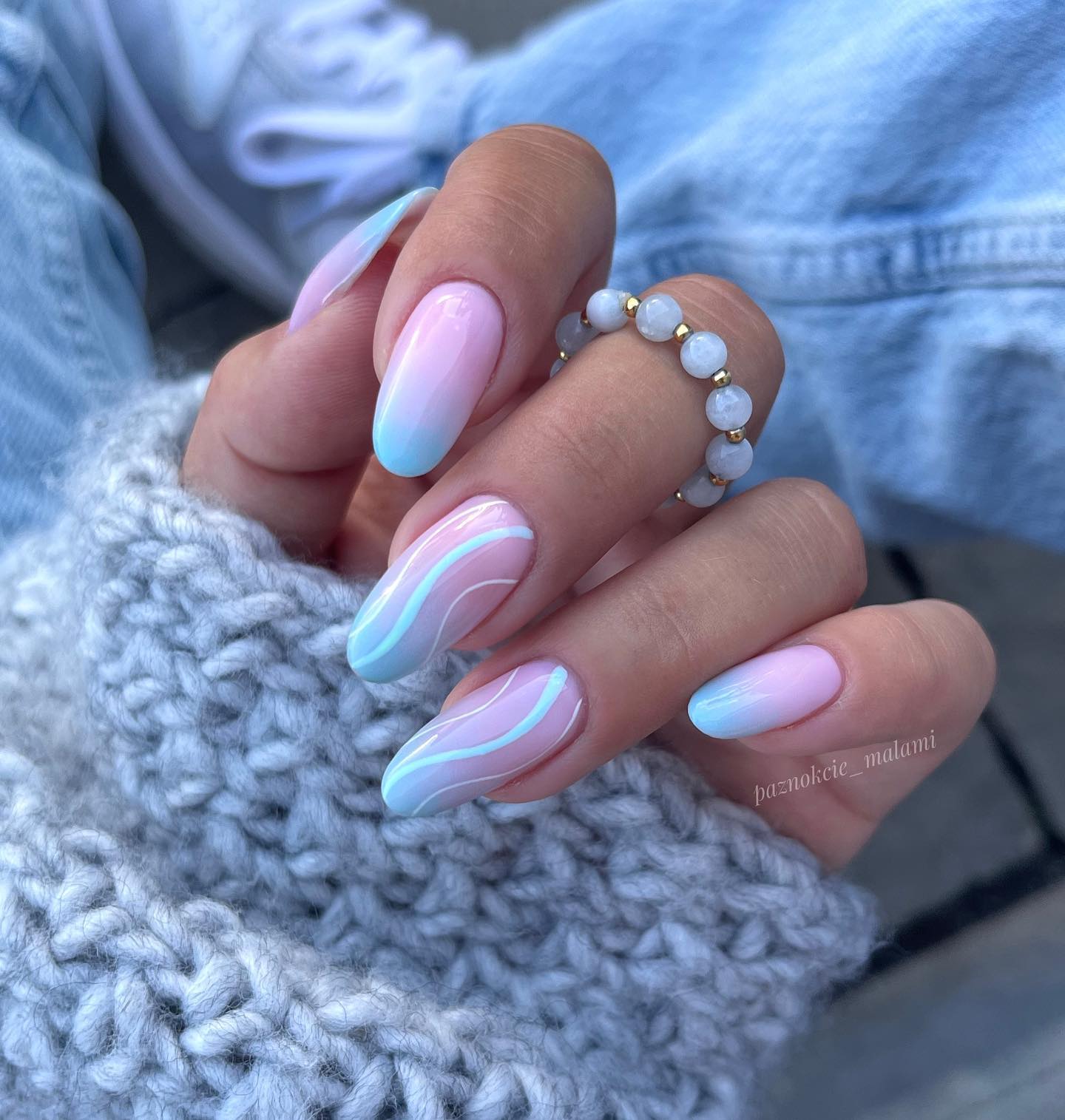 Blue French Tip Nails
Classic and timeless elegance with a modern twist — this is a blue French manicure!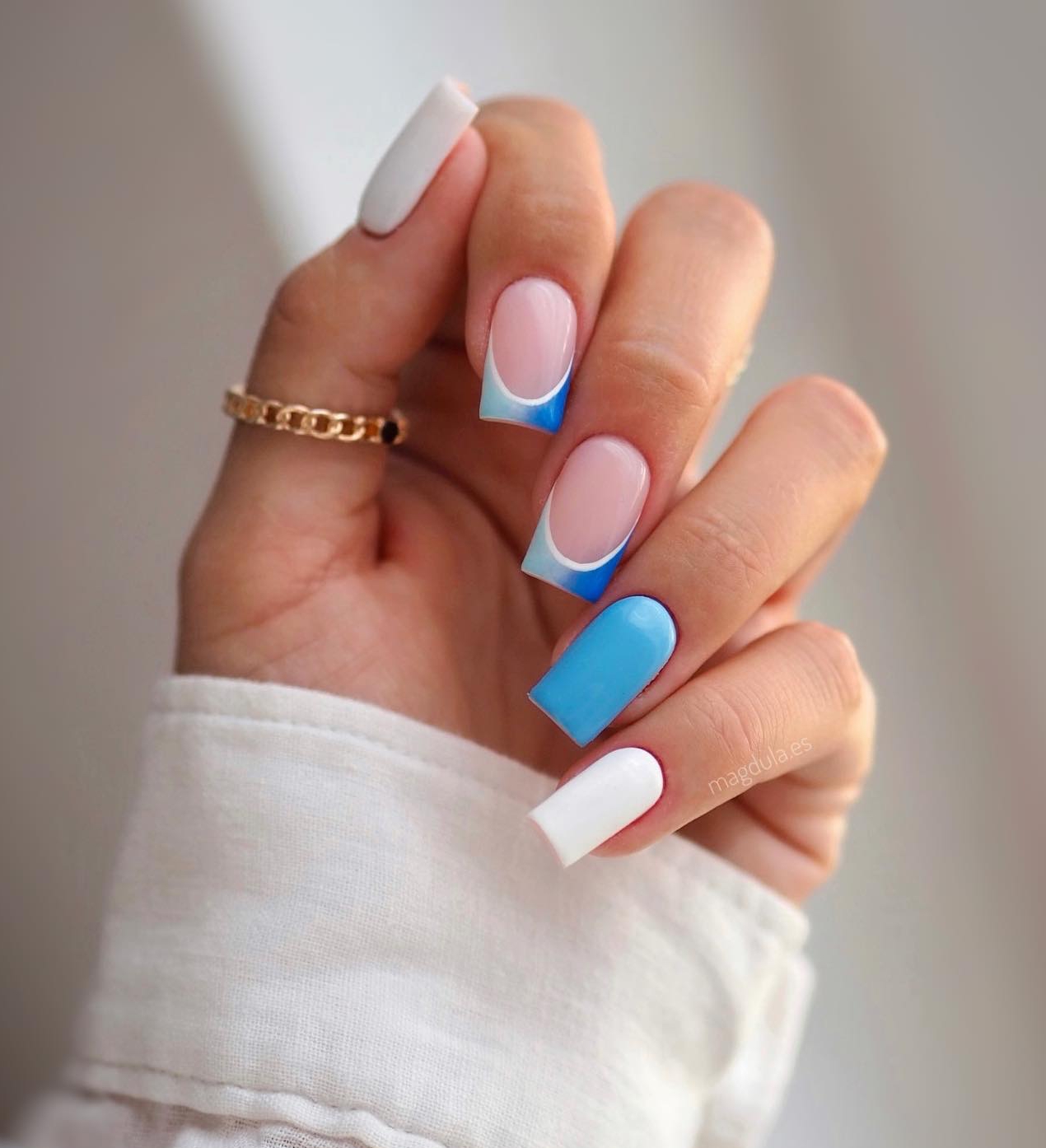 via @magdula.es
The unusual design has a bright contrast and will only be left with compliments from others. Intense light blue nail tips look great with a clear base or other colors. For example, you can experiment by adding a blue jacket to pale yellow or white nails.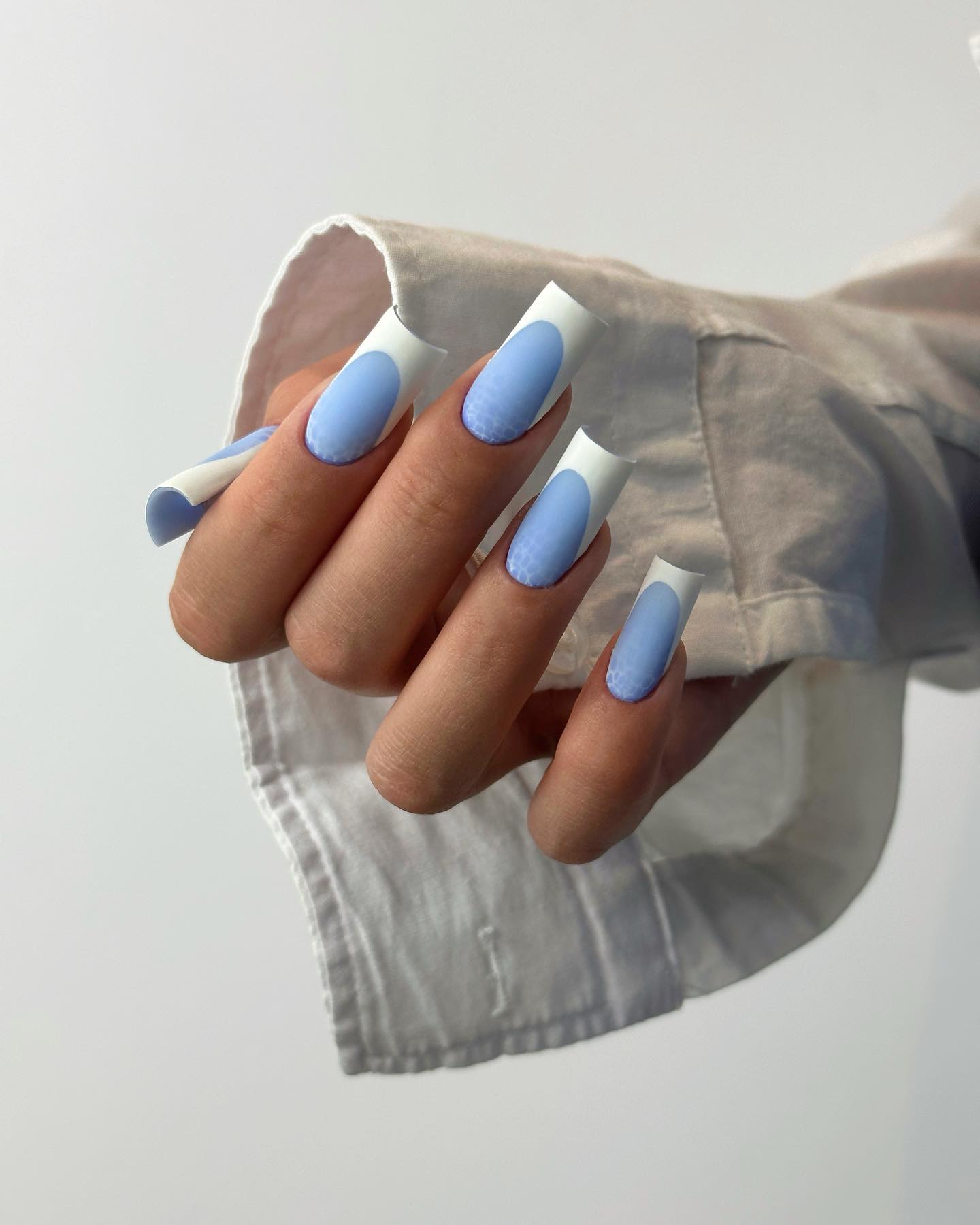 via @andradasnailss
Blue Acrylic Nails
Blue acrylic nails are more than just a trendy look. Their impressive length makes them a perfect canvas for creativity!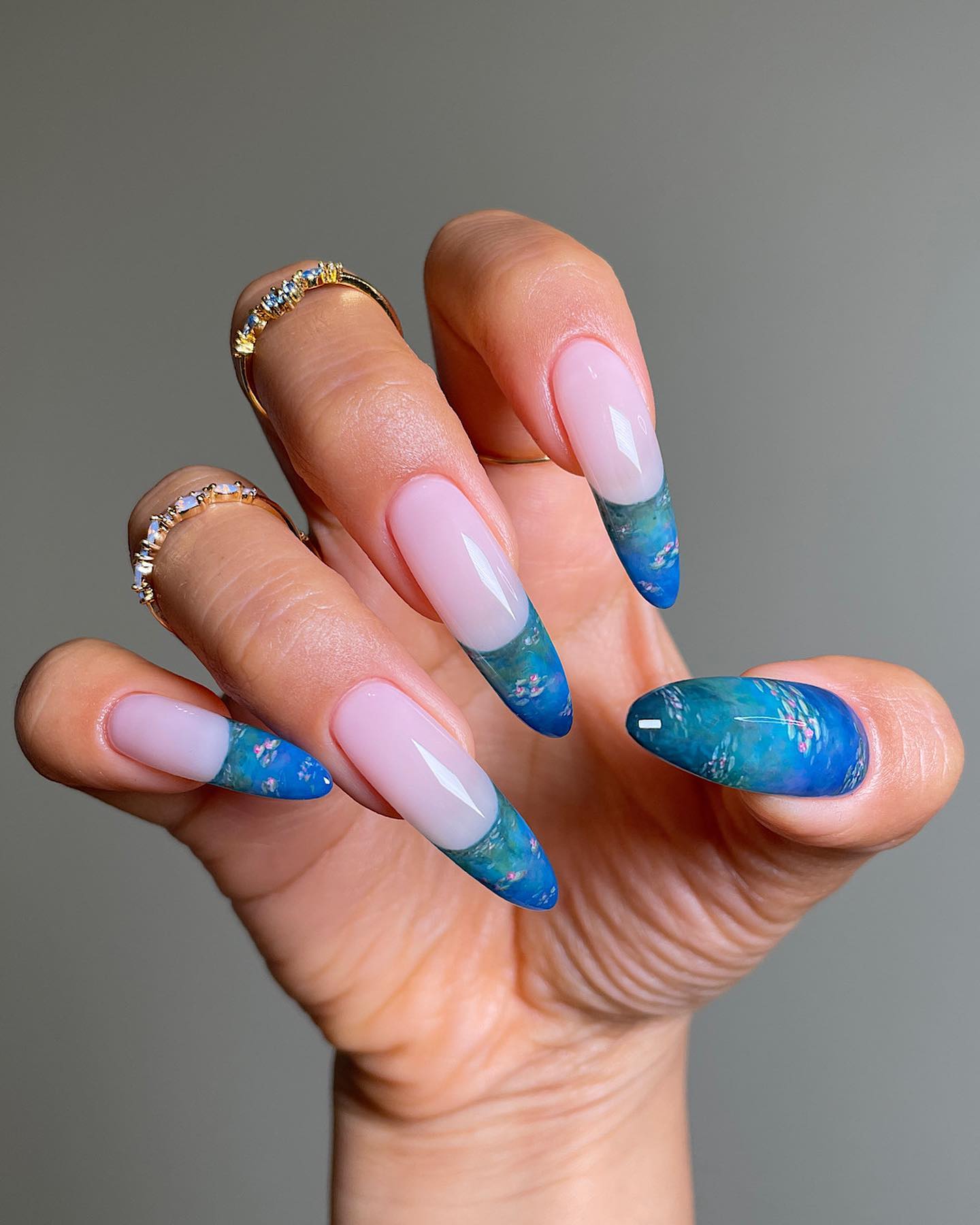 via @sansungnails
On coffin nails, you can embody the most daring design ideas and demonstrate the artistic talent of the master. What could be a modern, trendy manicure in blue tones?
The simplest option is acrylic nails with French tips. If that's not enough for you, add intricate patterns, stamping, glitter, or 3D decorations. On blue and white nails, all these elements will look amazing!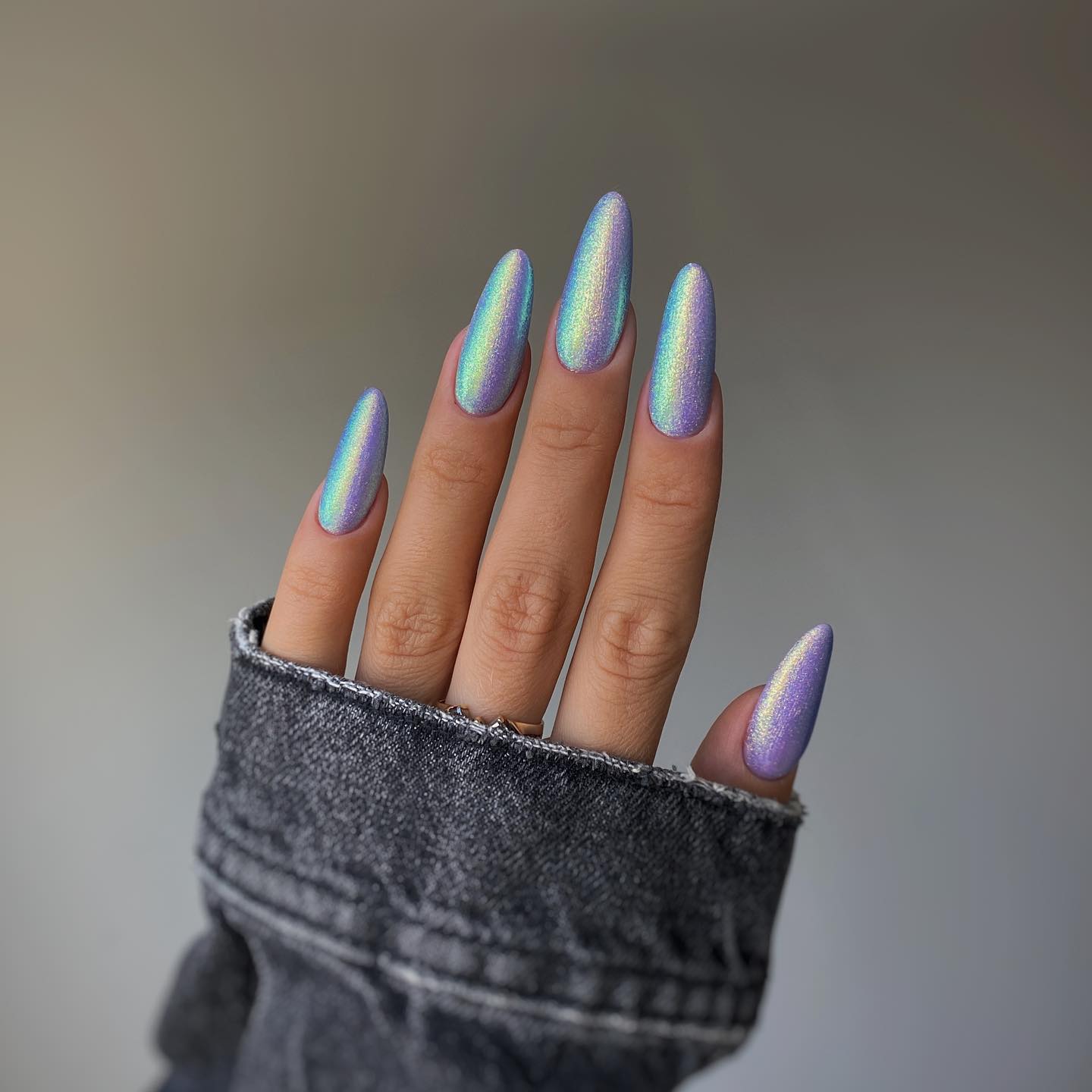 via @pegi_nails
Navy Blue Nails
Dark blue nails are ideal for those looking for sophistication and piquancy. Their deep, rich hue looks luxurious in both glossy and matte finishes.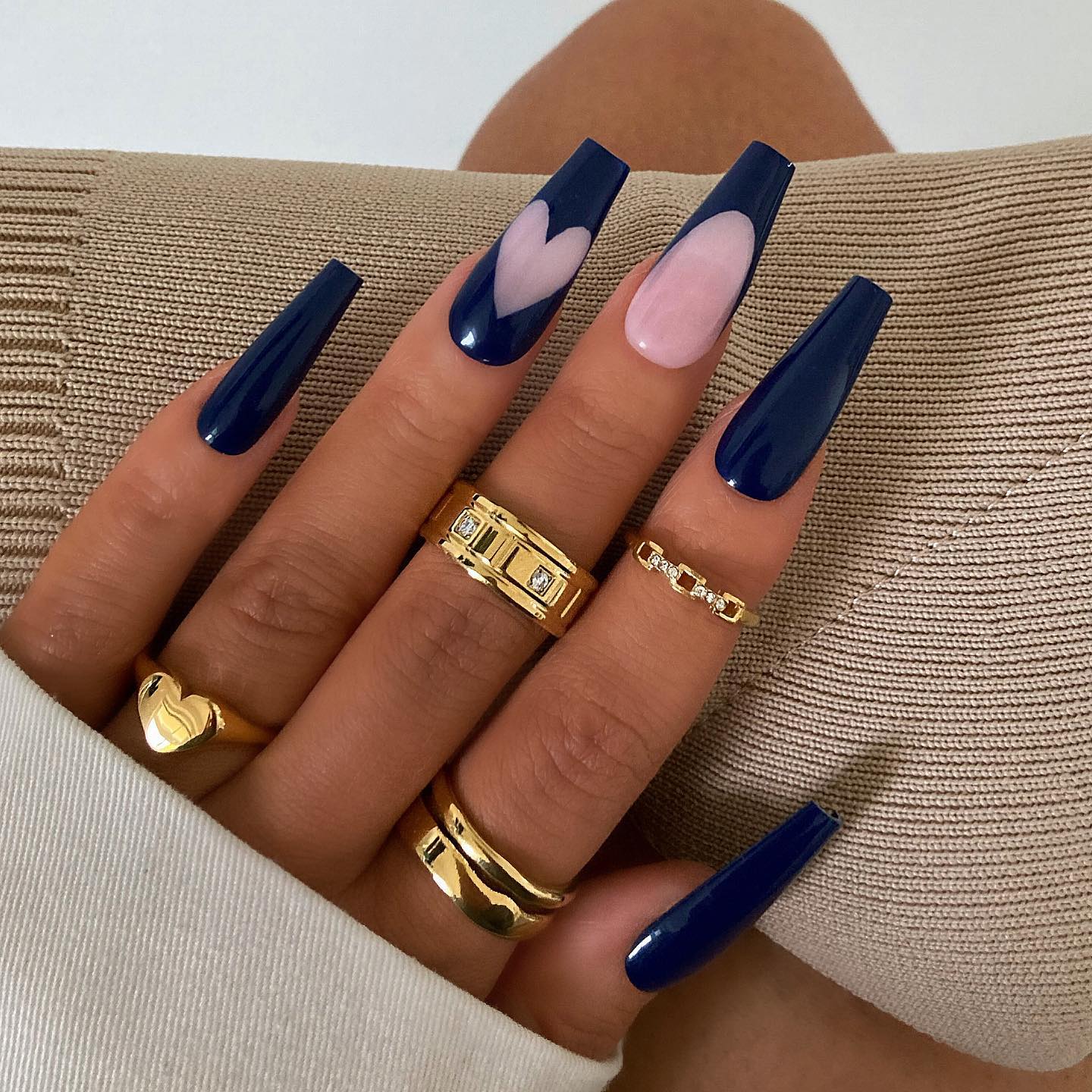 Dark blue coffin nails are a magical addition to theme party looks. Why not become a seductive witch for Halloween or a magnificent Snow Queen for Christmas? Choose suitable darker shades of blue and enjoy experimenting!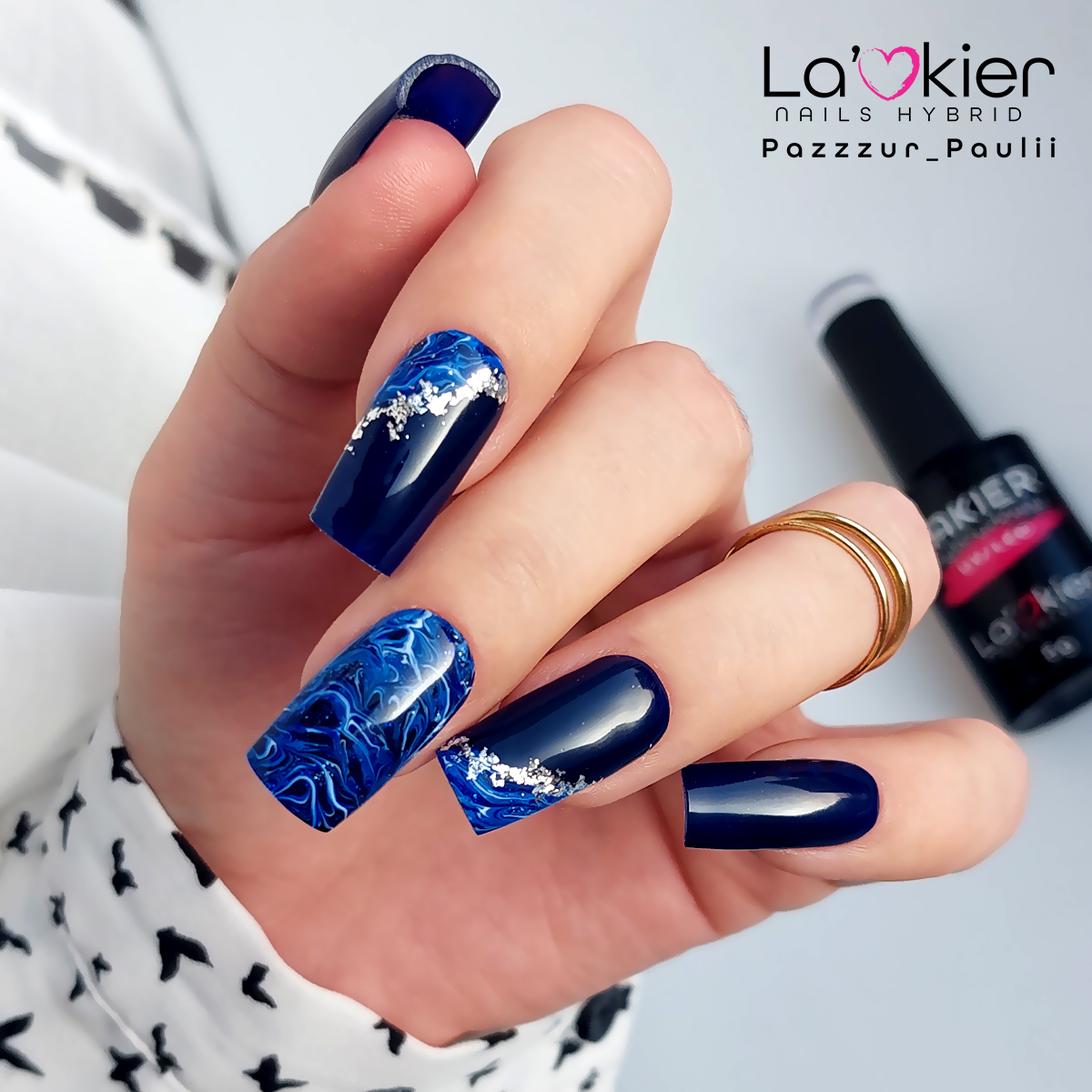 via @la_kier_pl
Baby Blue Nails
Light blue nails are a charming manicure appropriate even in the office. They attract attention with their softness and serenity, allowing you to create feminine looks.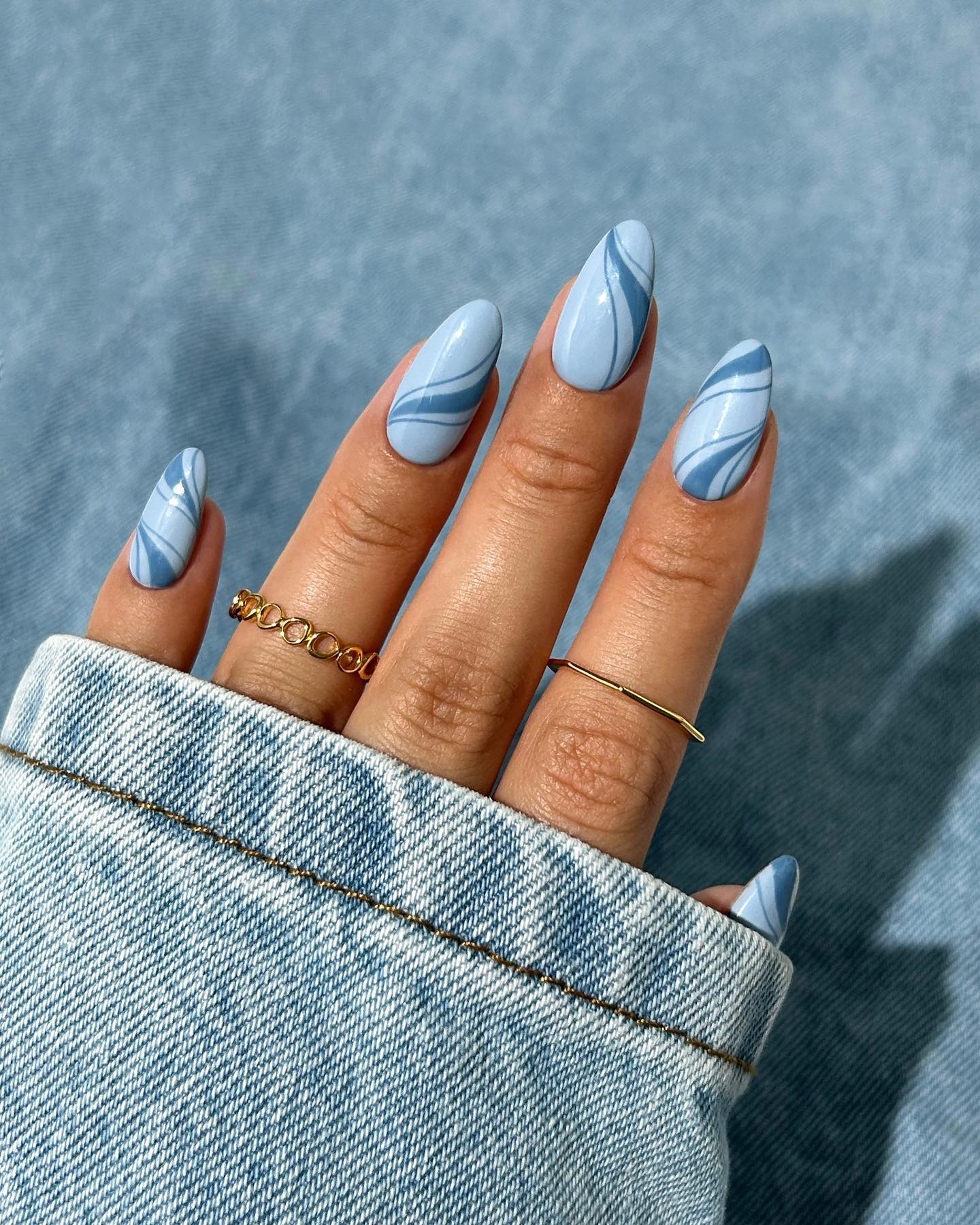 via @thenaillologist
Sky blue nails stand out for their discreet elegance among numerous color combinations on short nails. Whether you choose a solid color manicure or add a playful design like clouds or stars, this solution will give your outfit a simple and stylish finish.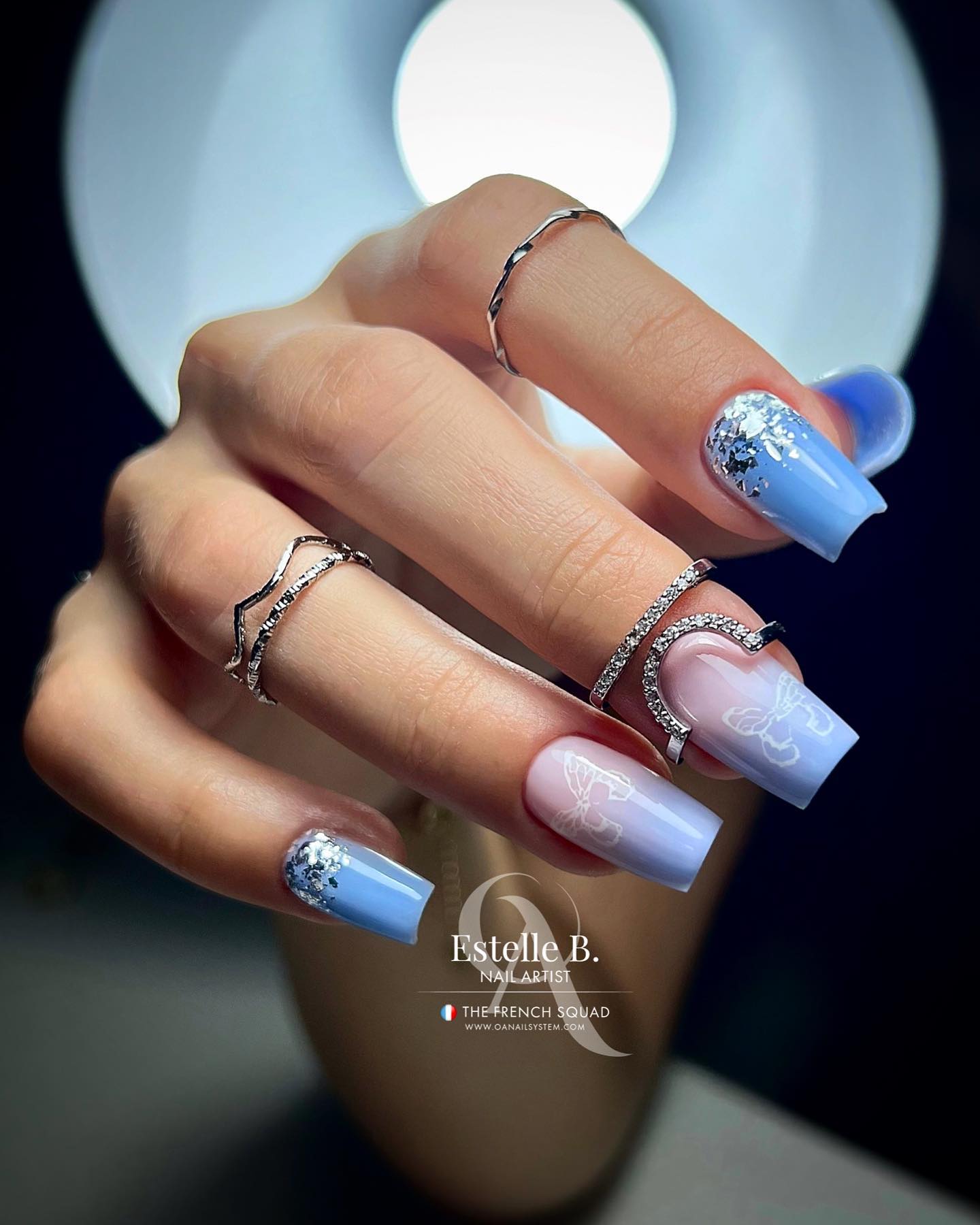 via @joyvanails
Pink and Blue Nails
Do you love pink nail art? Try combining pink and blue for new impressions!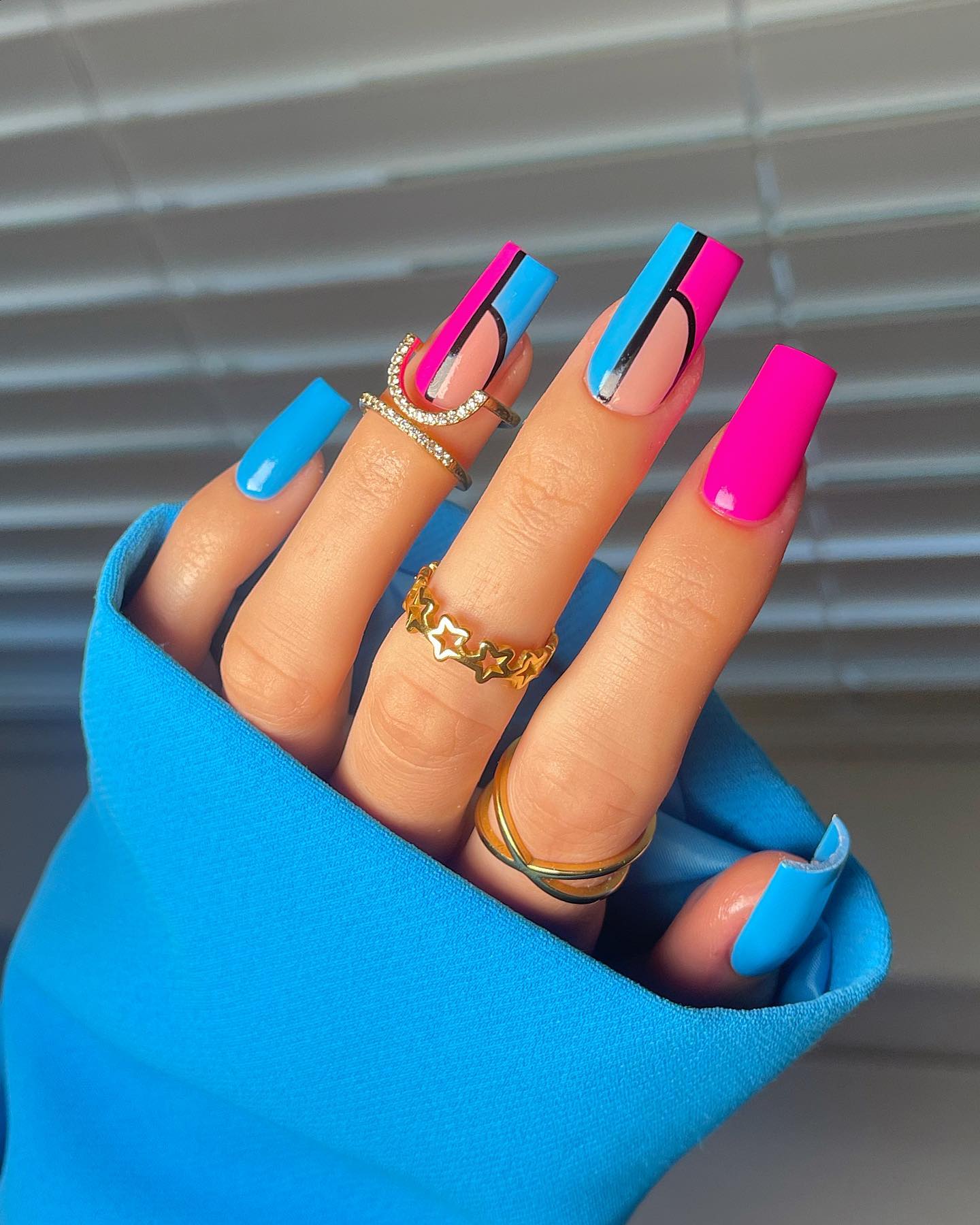 This color combination is attractive and dynamic. It has everything — femininity, courage, and a craving for creativity. You can make multi-colored French tips or complement blue nail designs with pink ombre, geometric patterns, or rhinestones.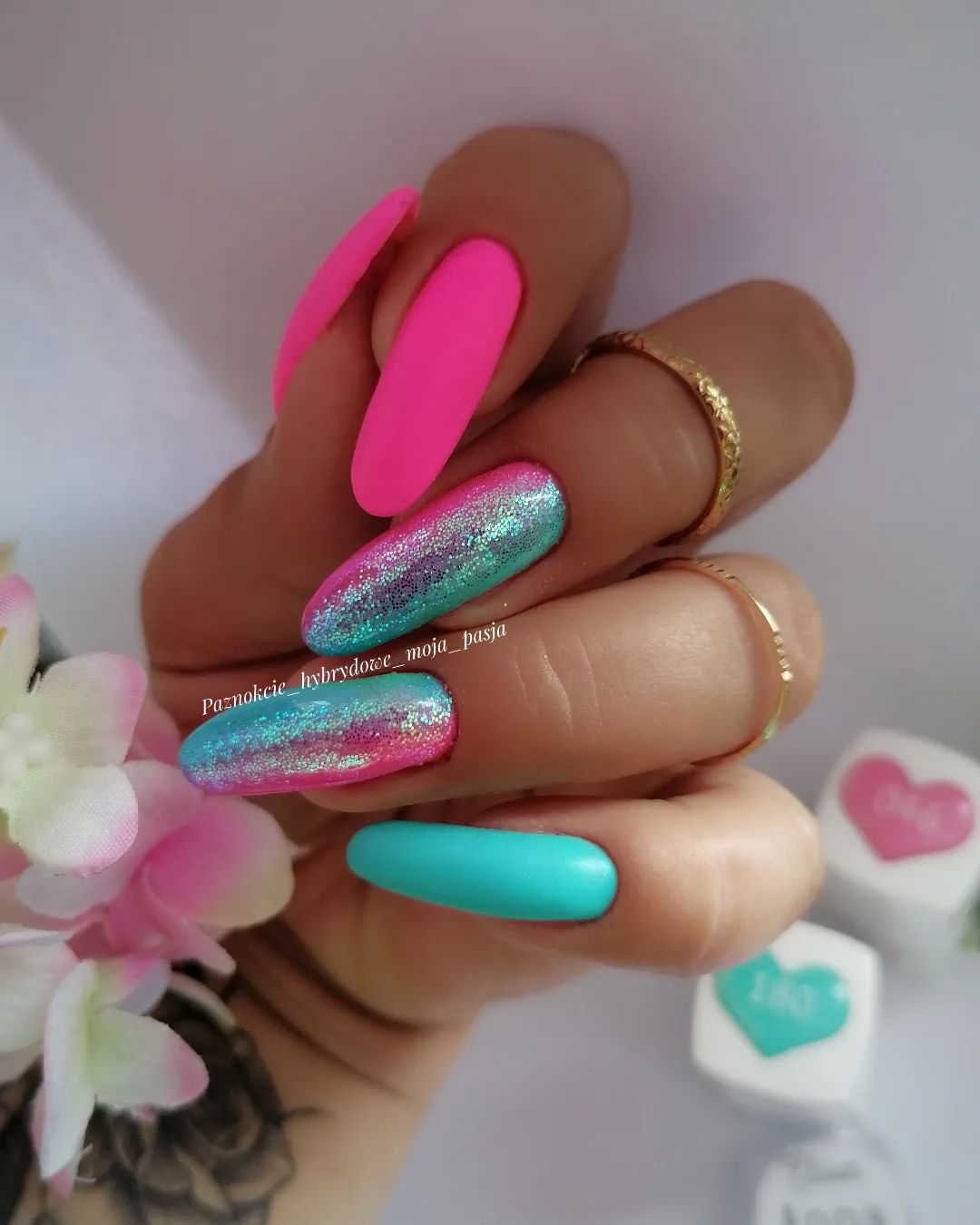 via @paznokcie_hybrydowe_moja_pasja
Blue Chrome Nails
Fans of shiny and bright designs will certainly appreciate sparkling chrome nail ideas!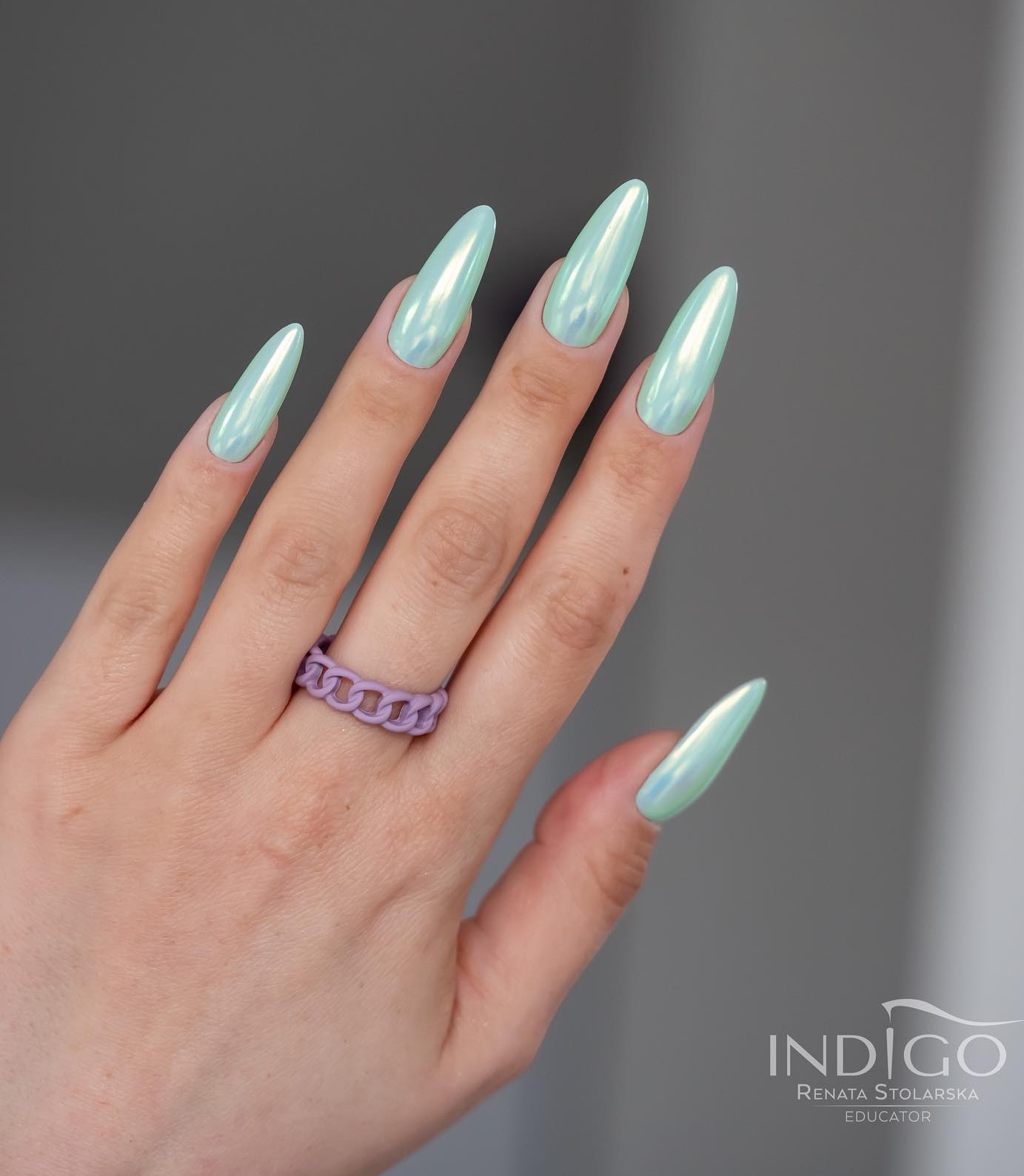 Their uniqueness lies in the mirror shine achieved by applying chrome powder. Chrome short nails catch the light and showcase a futuristic, glossy look. The stunning metallic effect typical for gold or silver nails elevates any outfit to a cosmic level!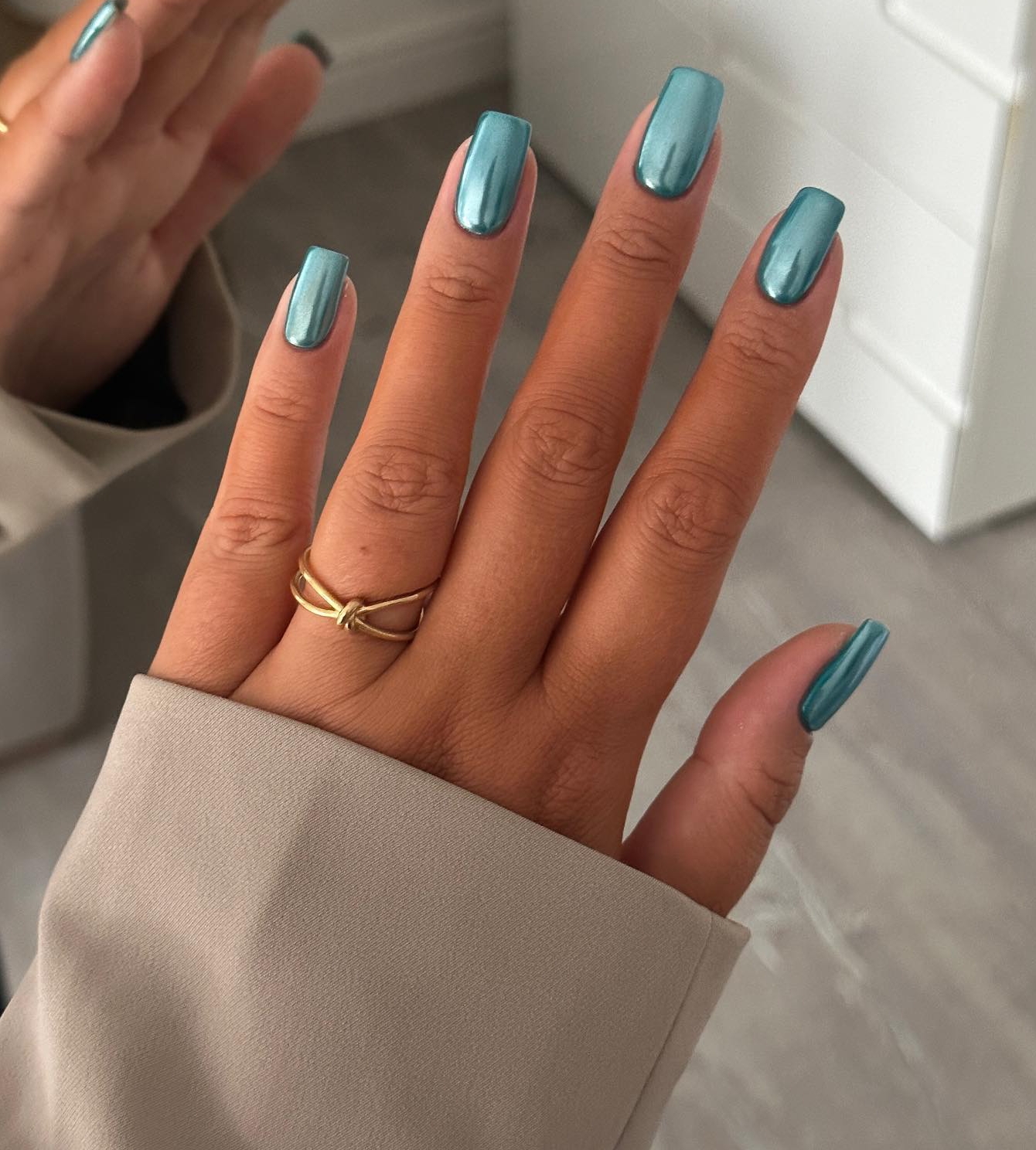 Blue Coffin Nails
Are you looking for incredible manicure ideas that will impress everyone? Sky blue coffin nails will help you make a fearless statement!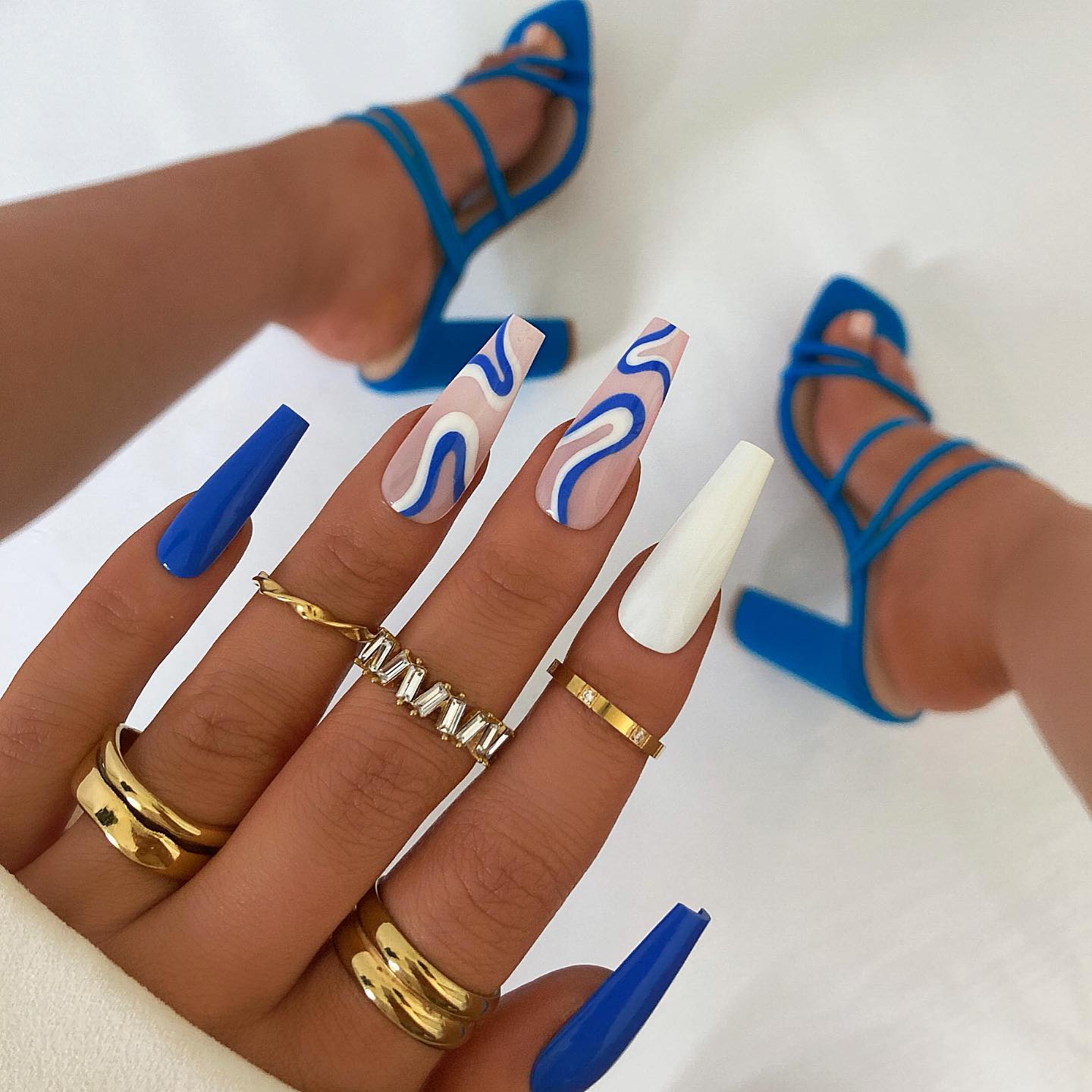 This nail shape looks fantastic with navy, deep royal, or baby blue shades. In addition, elongated long blue nails create the basis for any intricate works of art. If you prefer minimalism, add iridescent silver glitter to your chosen color!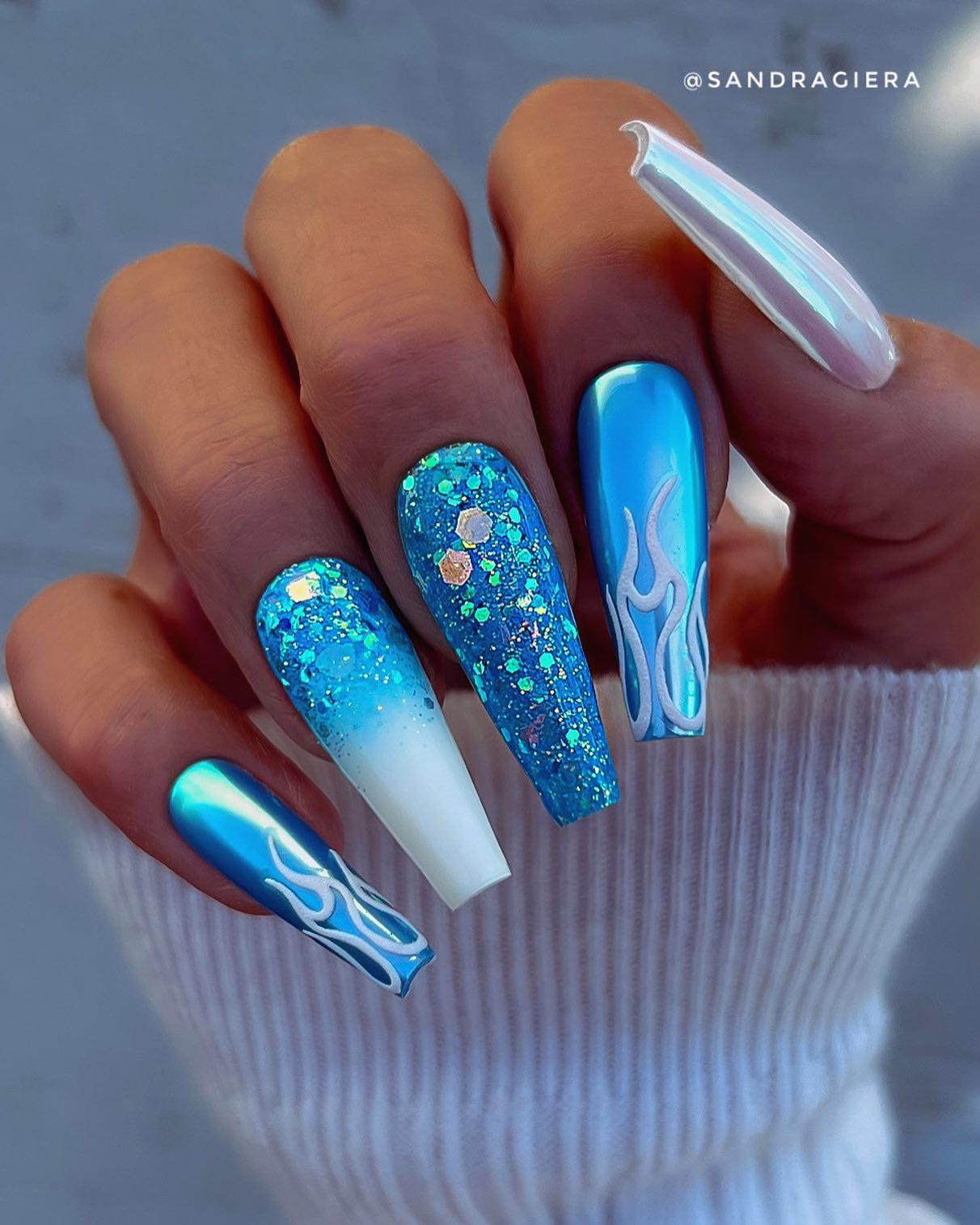 via @sandragiera
Royal Blue Nails
Short royal blue nails are the choice of true queens! This deep and majestic shade, which radiates self-sufficiency and independence, will be an addition and a highlight of an evening look.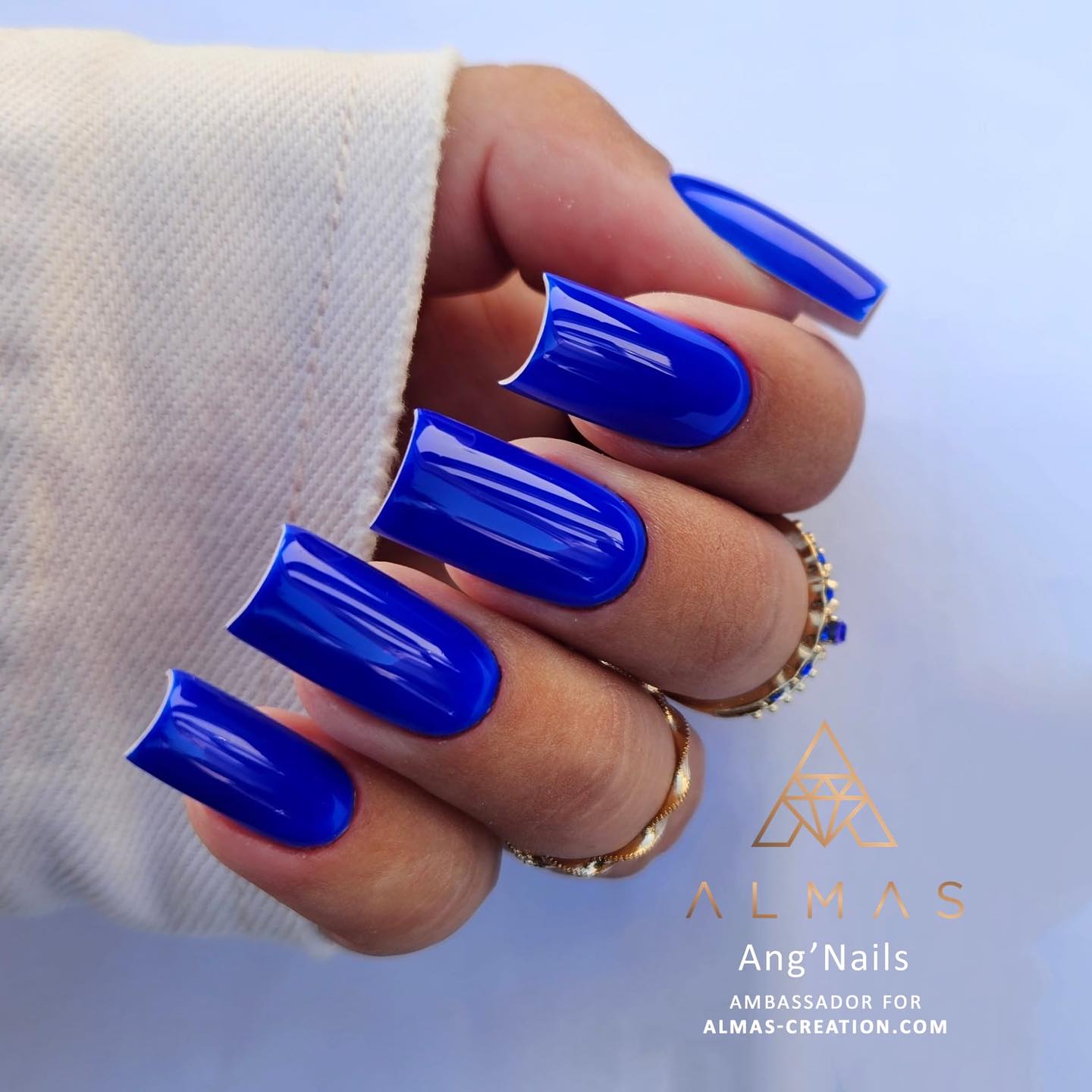 via @_almascreation_
You can experiment with glossy or matte finishes and try royal blue ombre nails. The transition from white nails to royal blue nails makes a strong impression.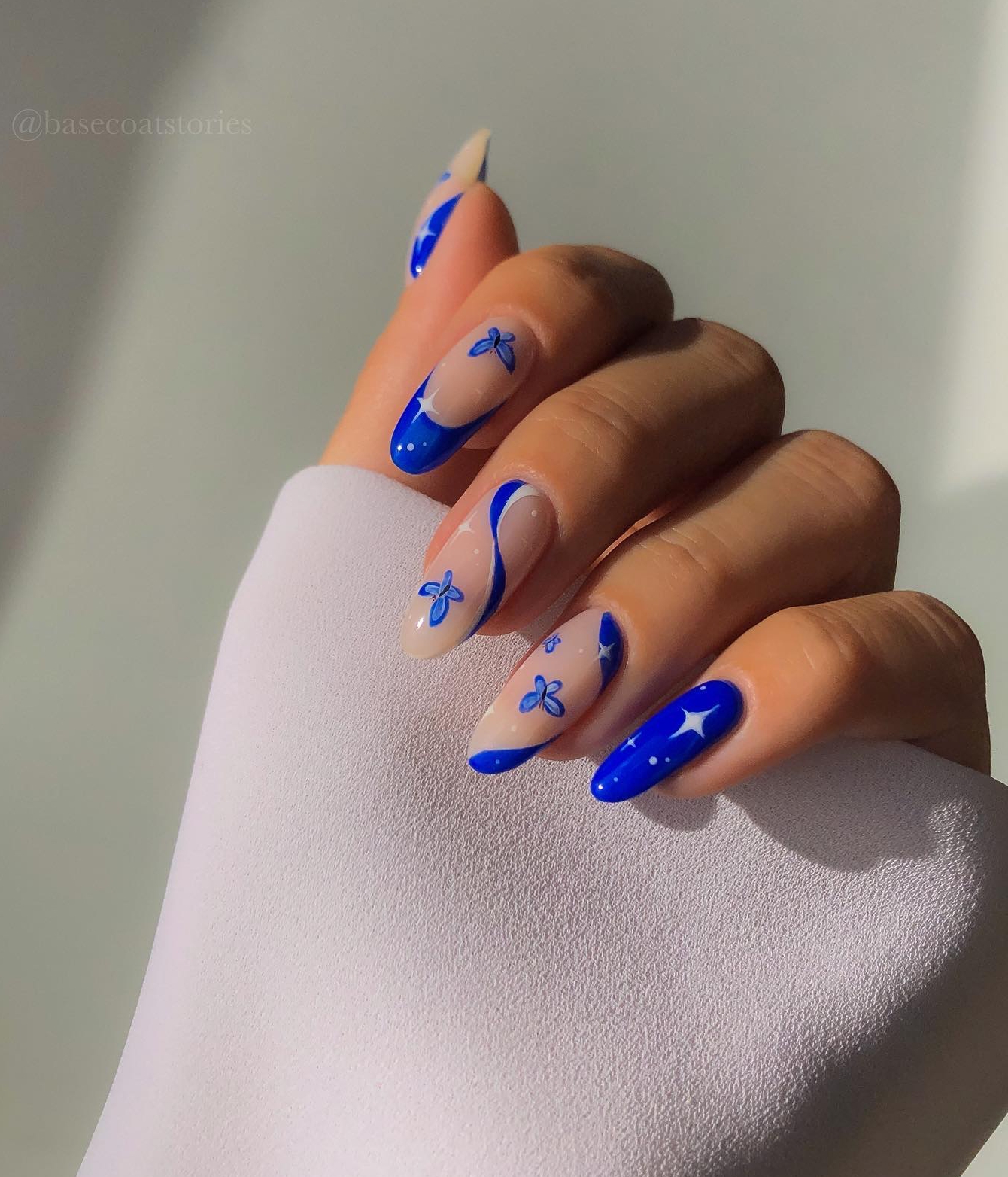 via @basecoatstories
Blue Ocean Nails
Do you dream of your serene ocean? This blue manicure will help you find it.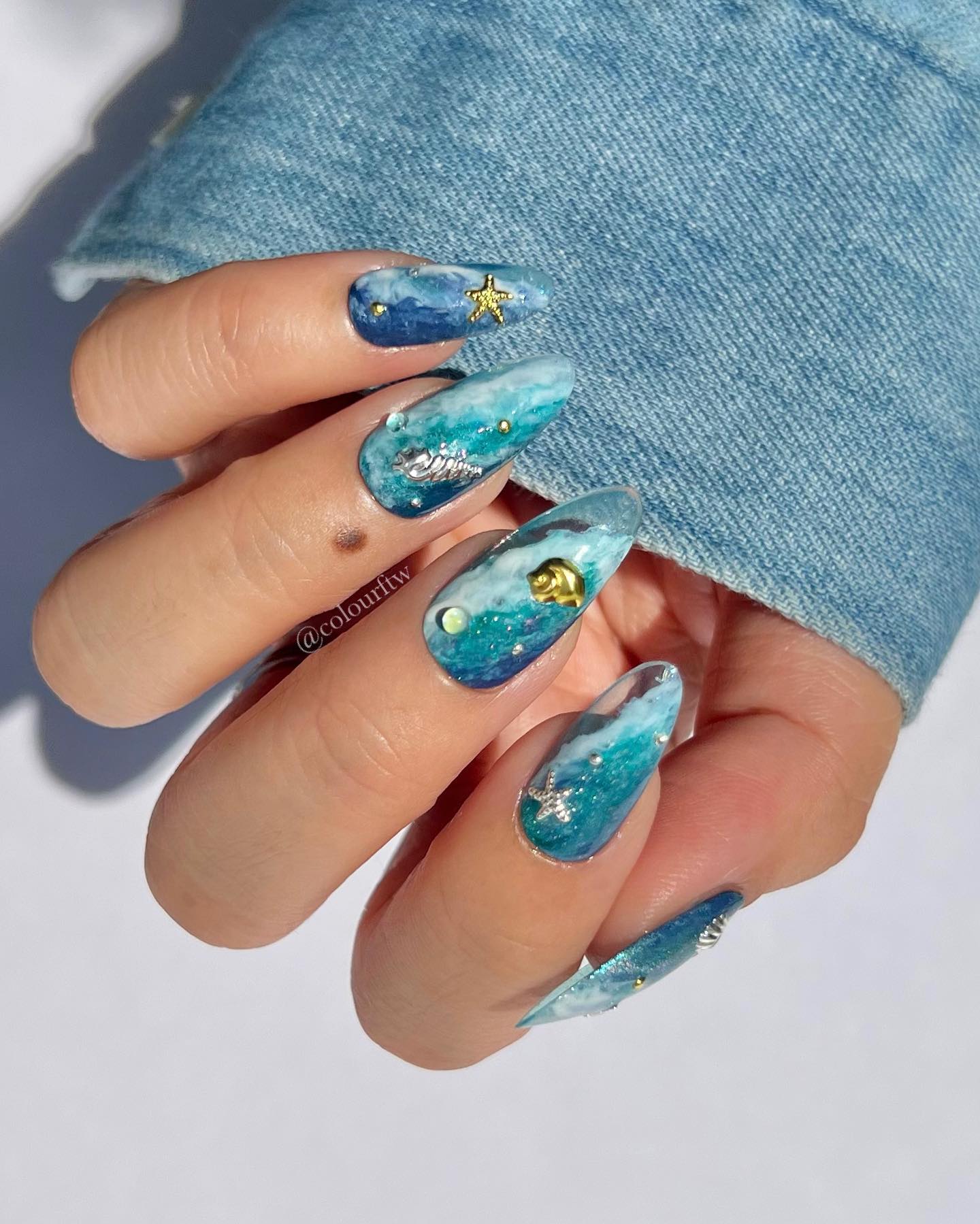 via @colourftw
A unique feature of the popular design is the combination of shades that mimic the deep blue sea. Do you want to make cute blue nails? Decorate them with shell accents or a subtle ombre effect. You can feel like a mermaid and be transported for a moment to your underwater kingdom in the middle of a noisy metropolis with light blue nails!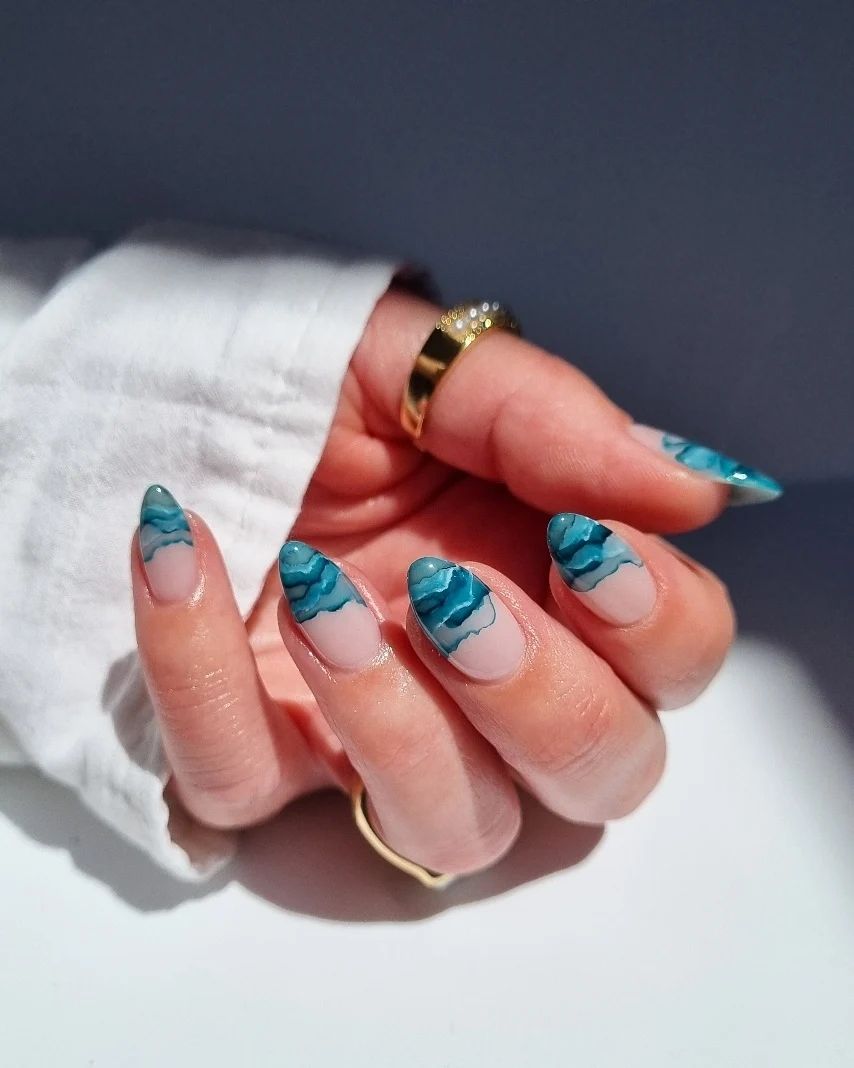 Blue Nails with Rhinestones
Perfect your manicure with blue diamond nails. What sets this design apart is a touch of glamorous elegance: a manicure with rhinestones adds a spark of sophistication.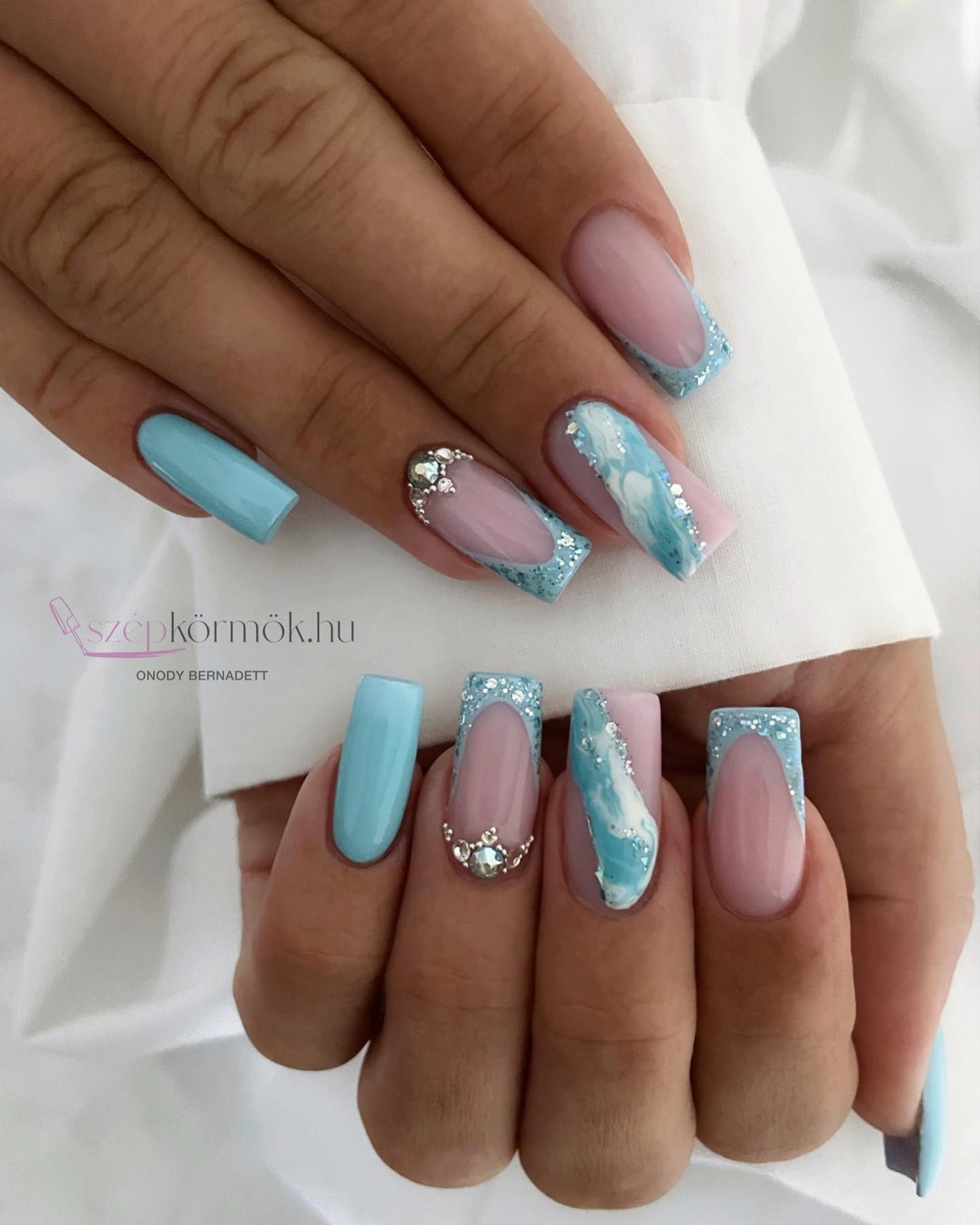 via @_bettynails_
Be it a laconic pattern or numerous sparkles on different shades of blue, these nails turn into dazzling look elements. The manicure will shine as brightly as your personality: don't miss this chance!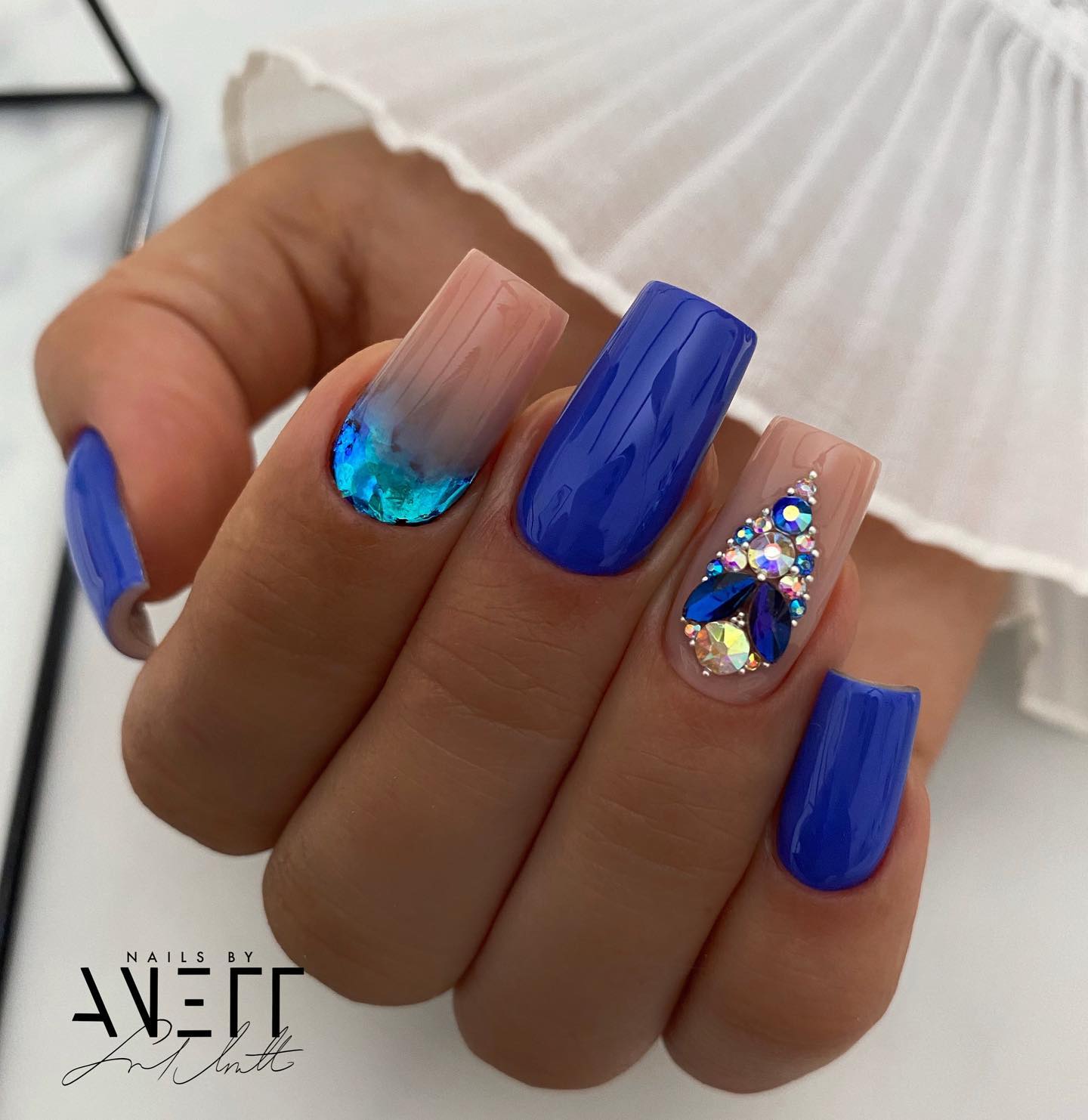 via @l.anett.nails
Blue and Black Nails
Black nail ideas with blue create a bold and charming combination. The unique feature is the sharp contrast between these two powerful shades.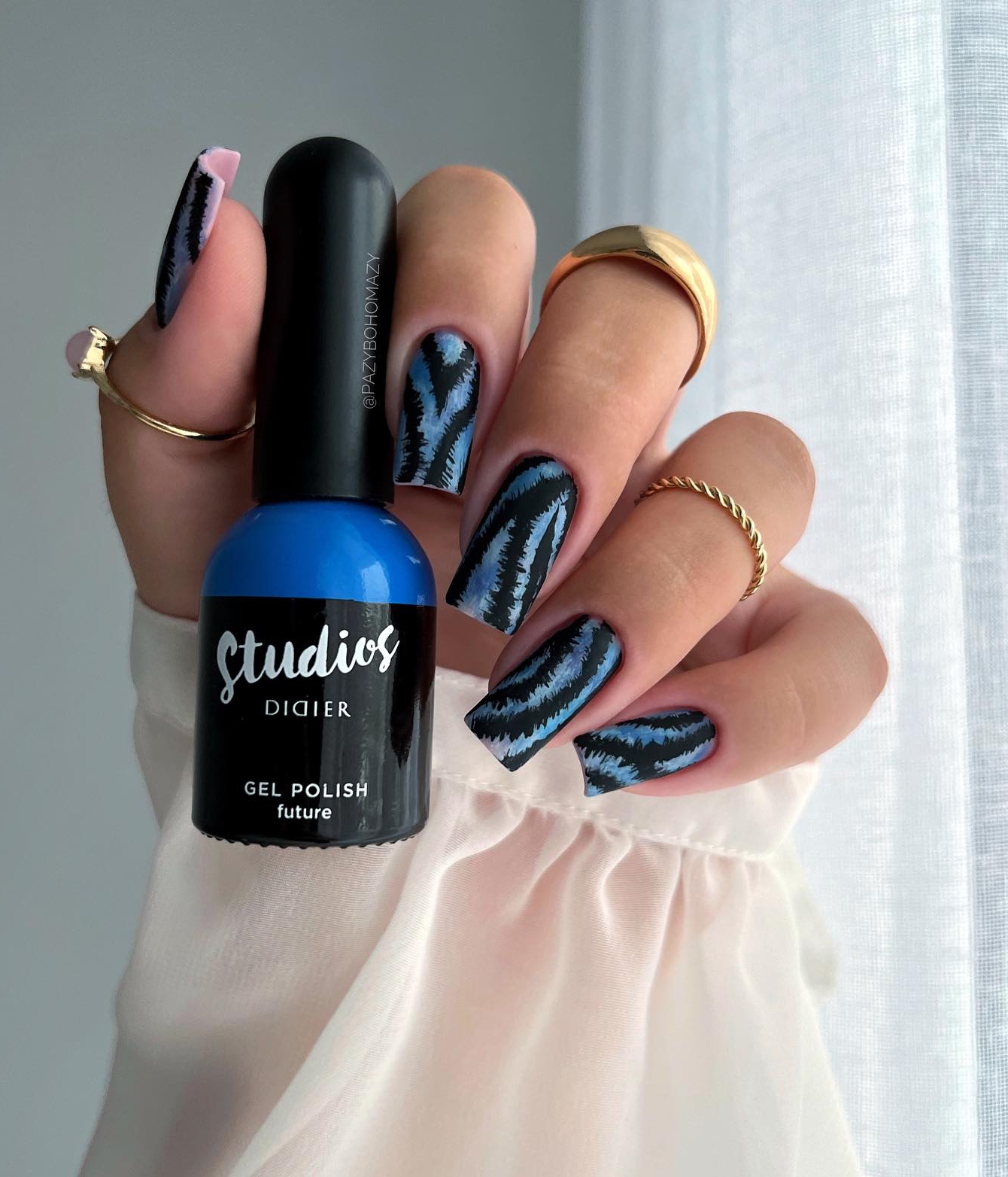 via @pazybohomazy
Navy blue nails with black French tips embody mystery and elegance. If you wish, you can add non-trivial patterns or metallic decor to the dark, mesmerizing aesthetics.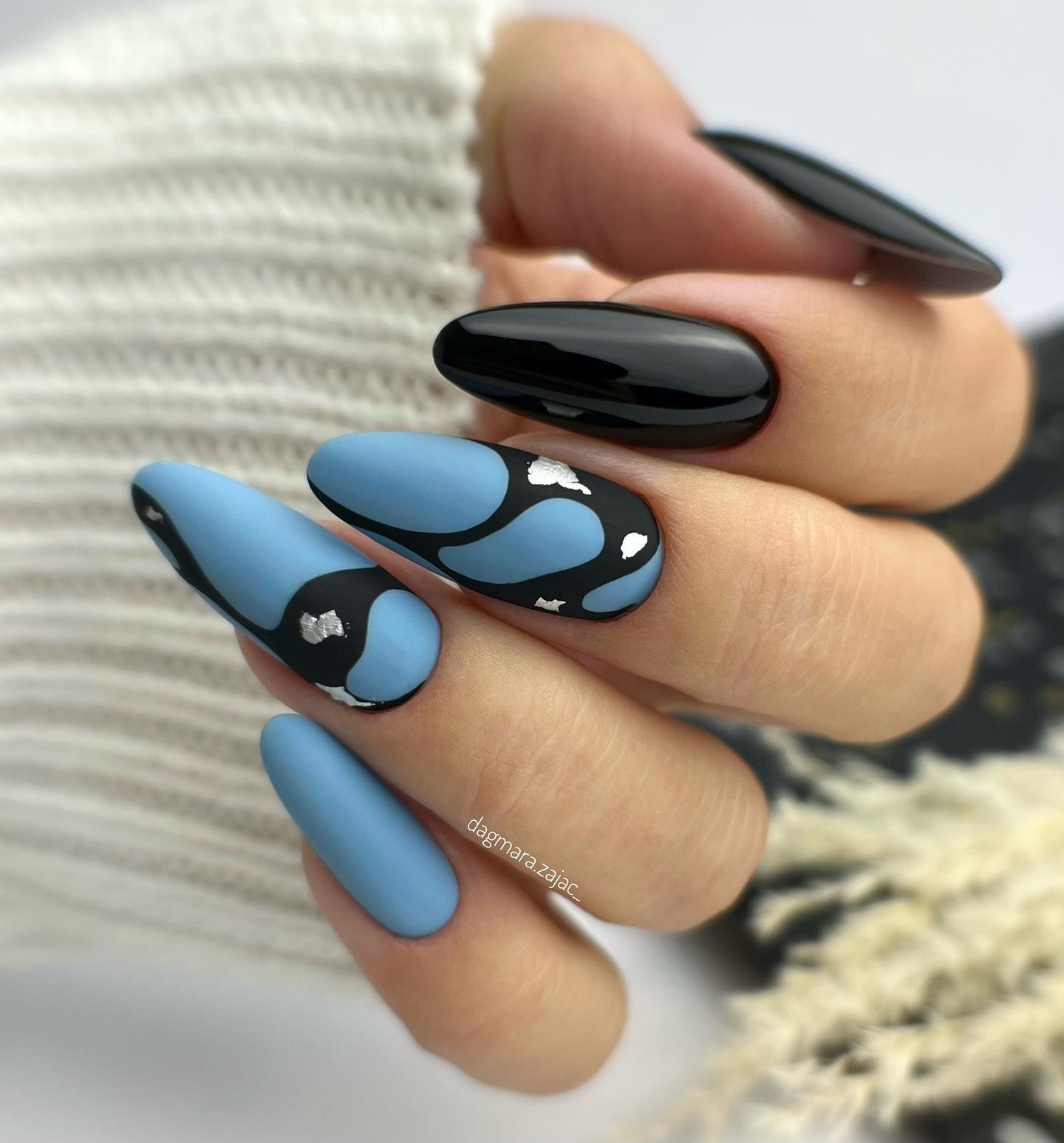 via @dagmara.zajac_
Blue Glitter Nails
Make a statement to the entire fashion world with glitter blue nails!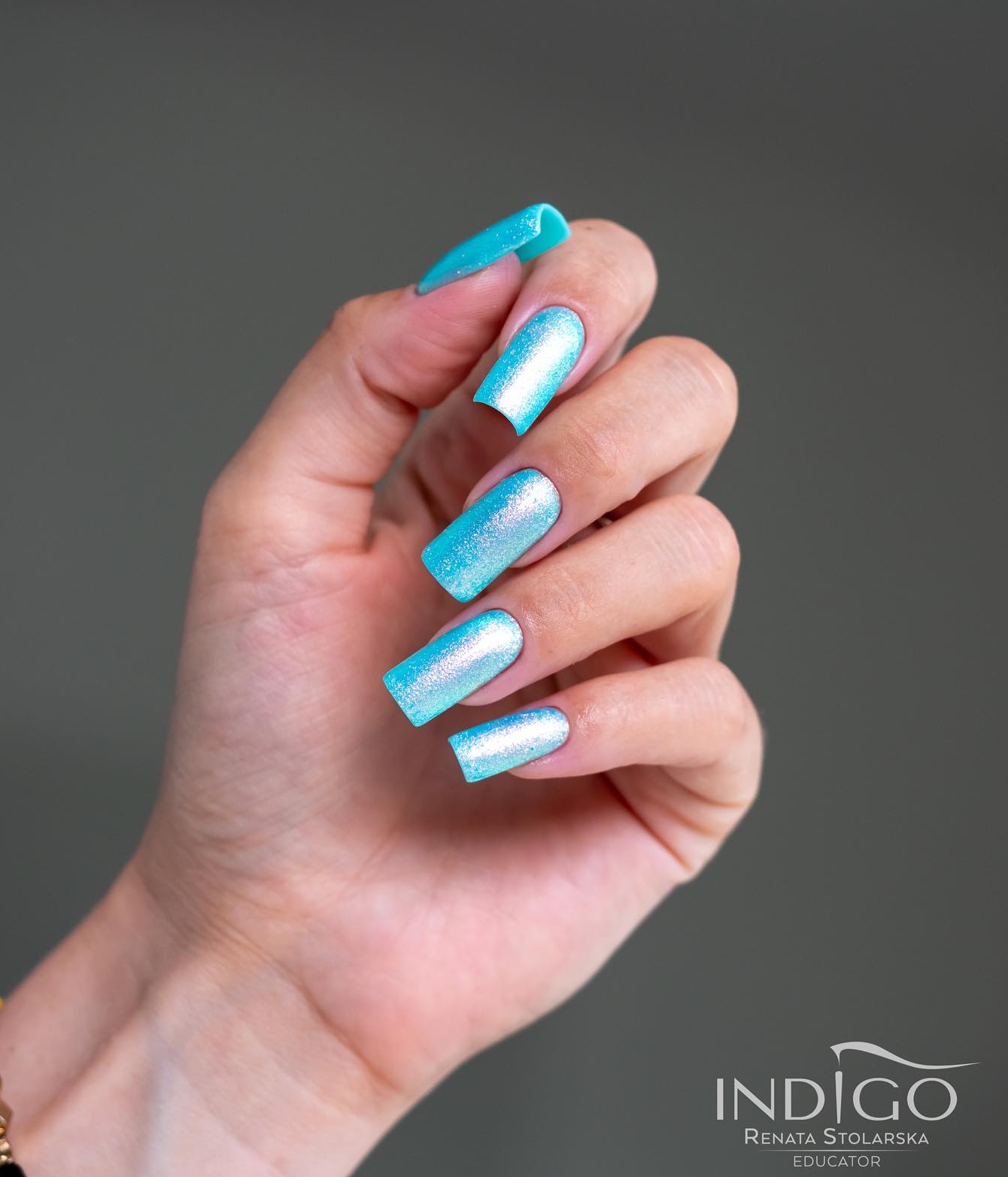 Glitter, glamour, sophistication, and showiness — you get it all with silver glitter. It will perfectly highlight deep blue nails, highlighting the many benefits of this unique color.
It is not at all necessary to make all your nails shine. For more subtle designs, you can use glitter on accent nails or as a minimalist decoration.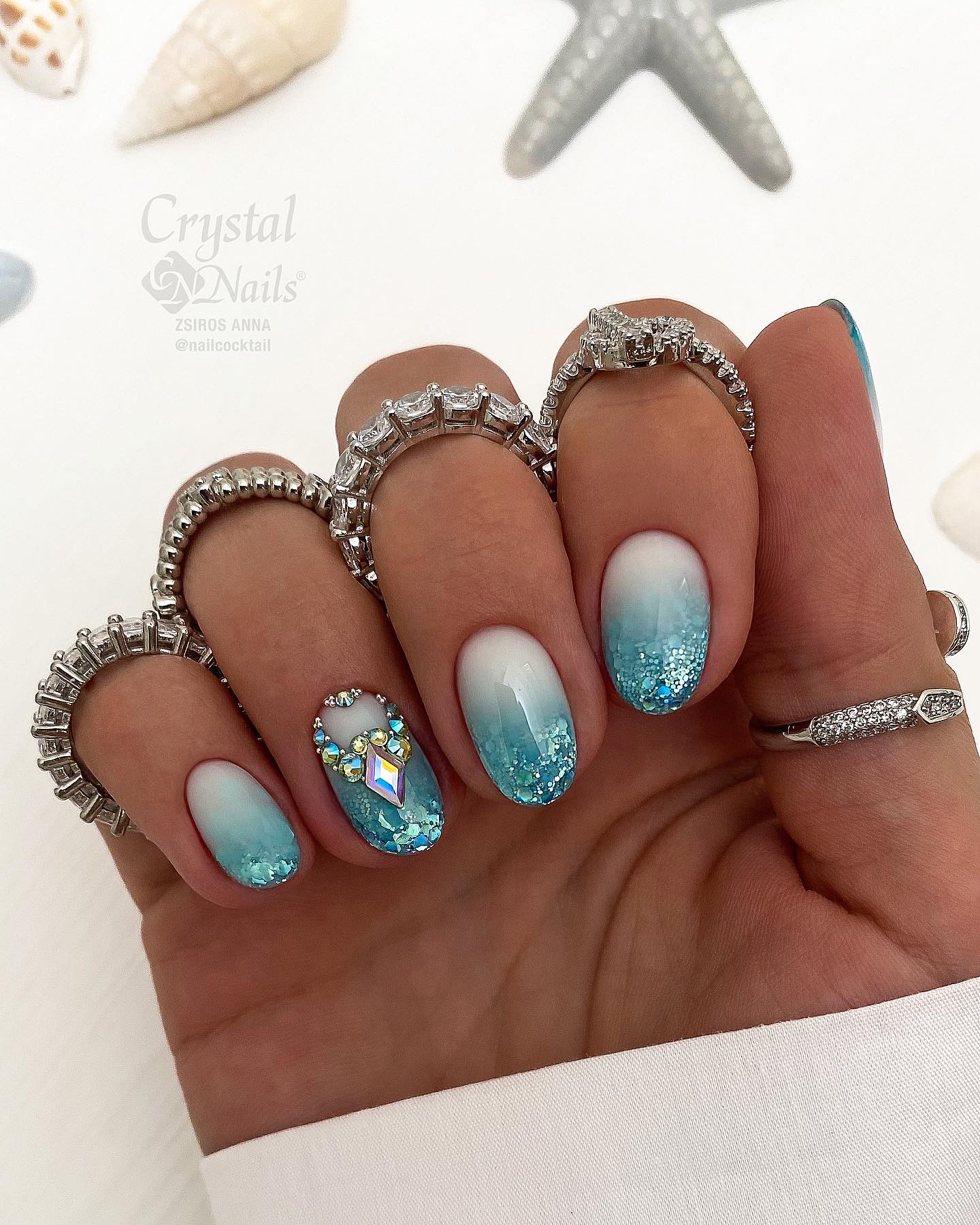 via @nailcocktail
Blue and Purple Nails
Go on a space journey with blue and purple blue nails — a design that harmoniously combines two mega-popular shades!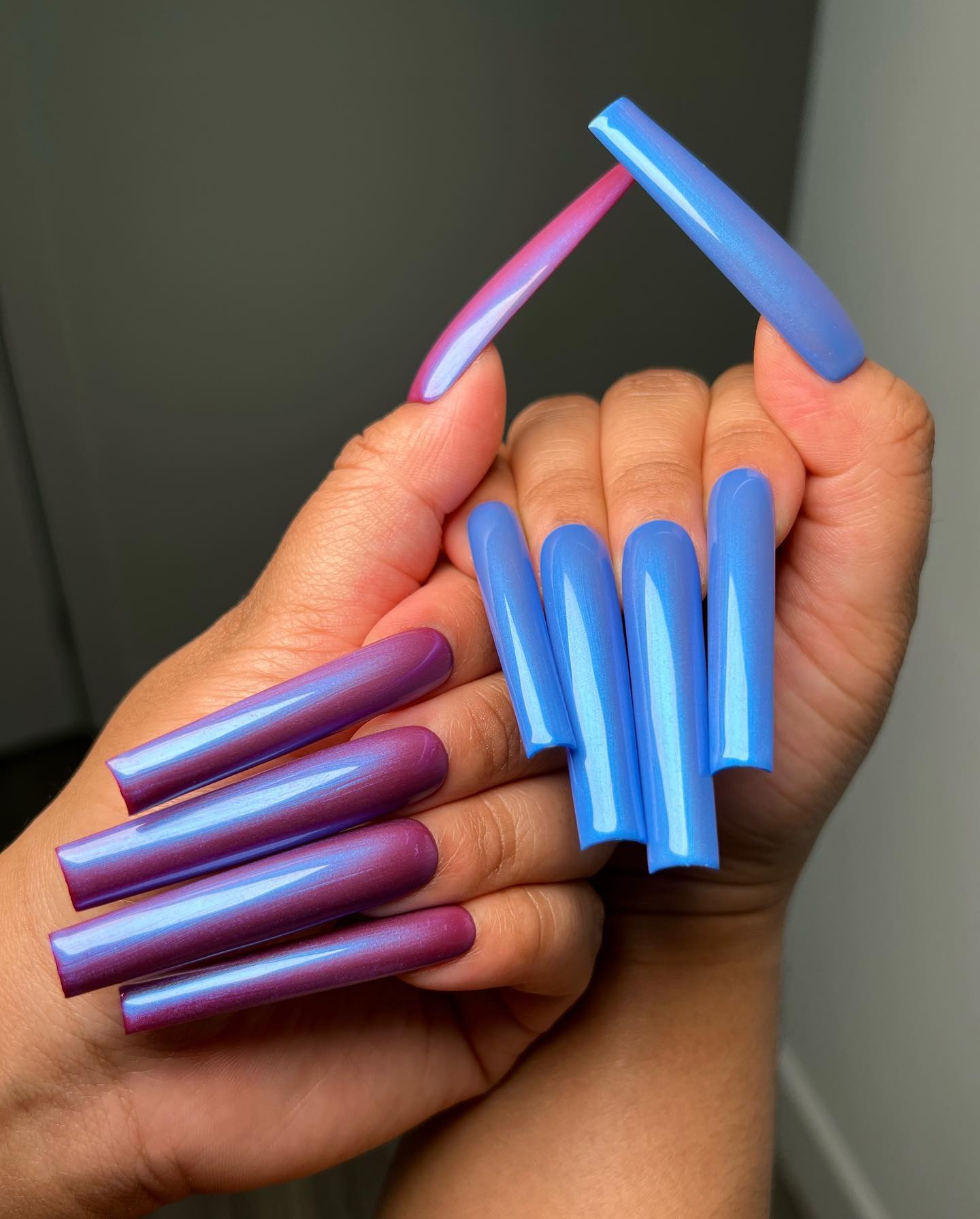 via @tracynailz
The original design will 100% appeal to lovers of non-standard solutions! The cosmic charm created by these shades will suit any nail shape and length.
What will be an unforgettable journey through the nail art galaxy? Only you can decide! It could be light blue nails combined with a cosmic ombre, a mesmerizing night sky, or charming designs with falling stars.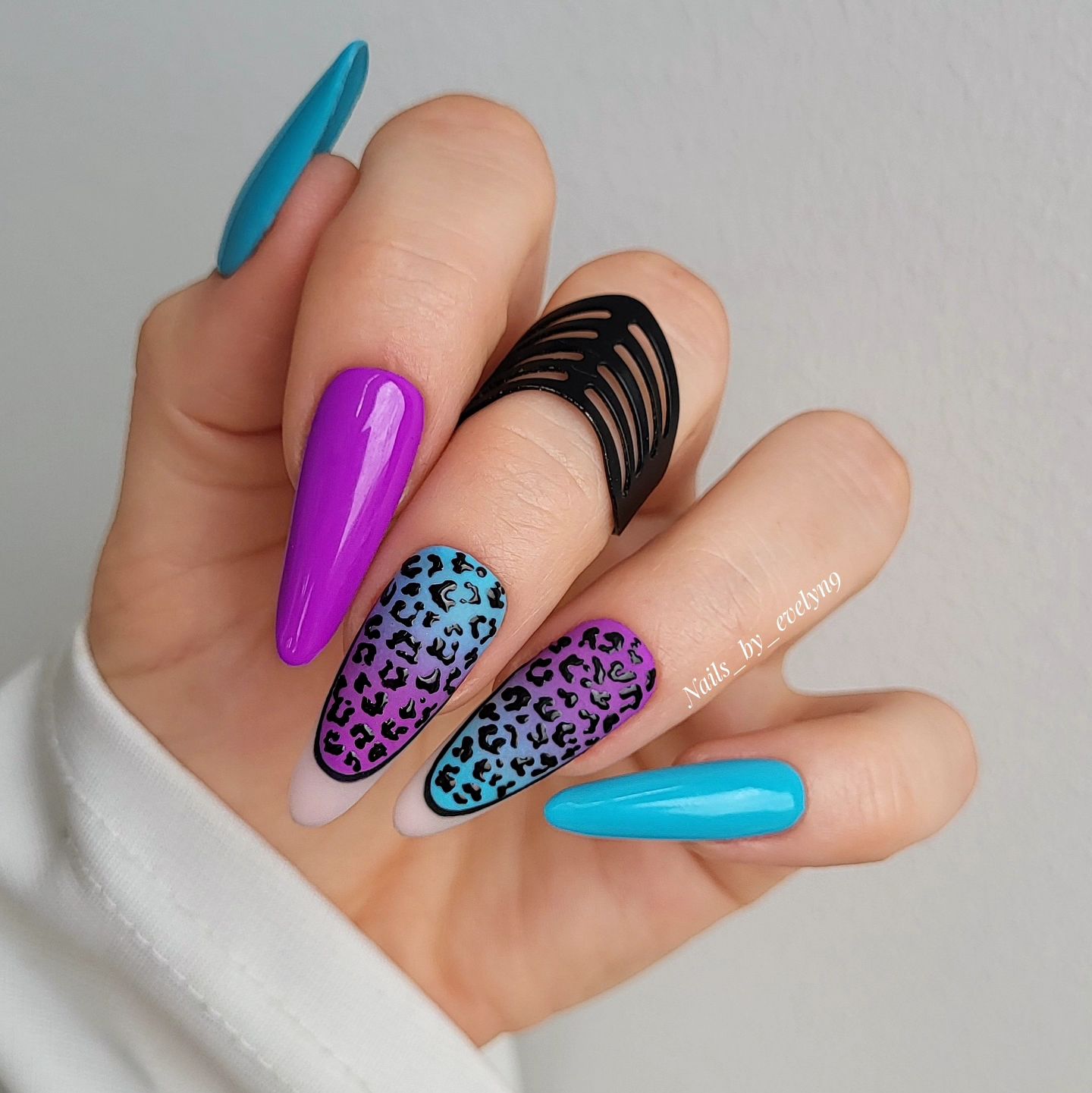 Pastel Blue Nails
Immerse yourself in a universe of tenderness and elegance with pastel nail ideas. These airy and unobtrusive shades will be a boon for office routines and formal events.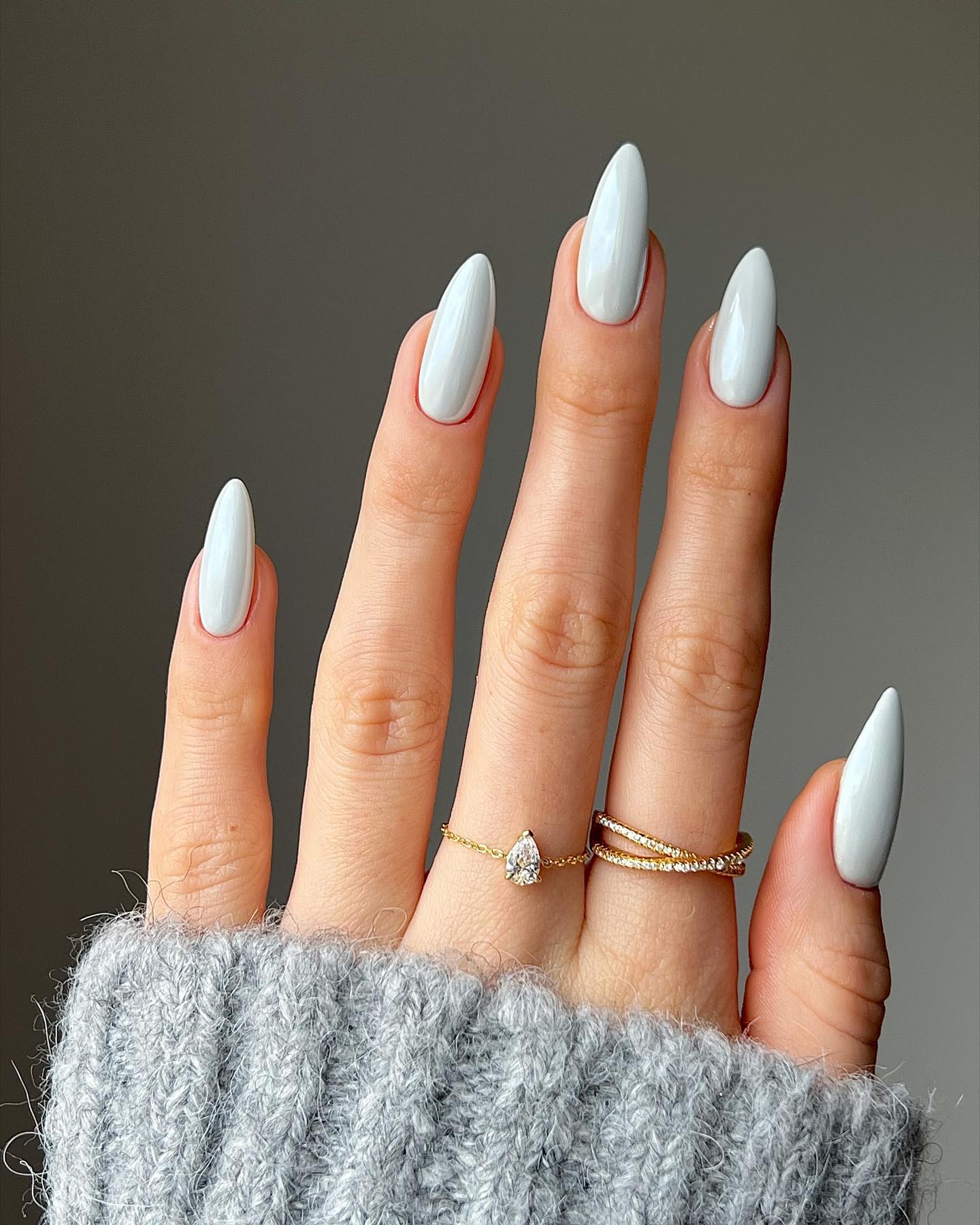 via @thehotblend
If you're ready to add some bright notes, use a short pastel manicure as the basis for abstract patterns or geometric stamping. Such elements will refresh the design and make it one of this year's trends!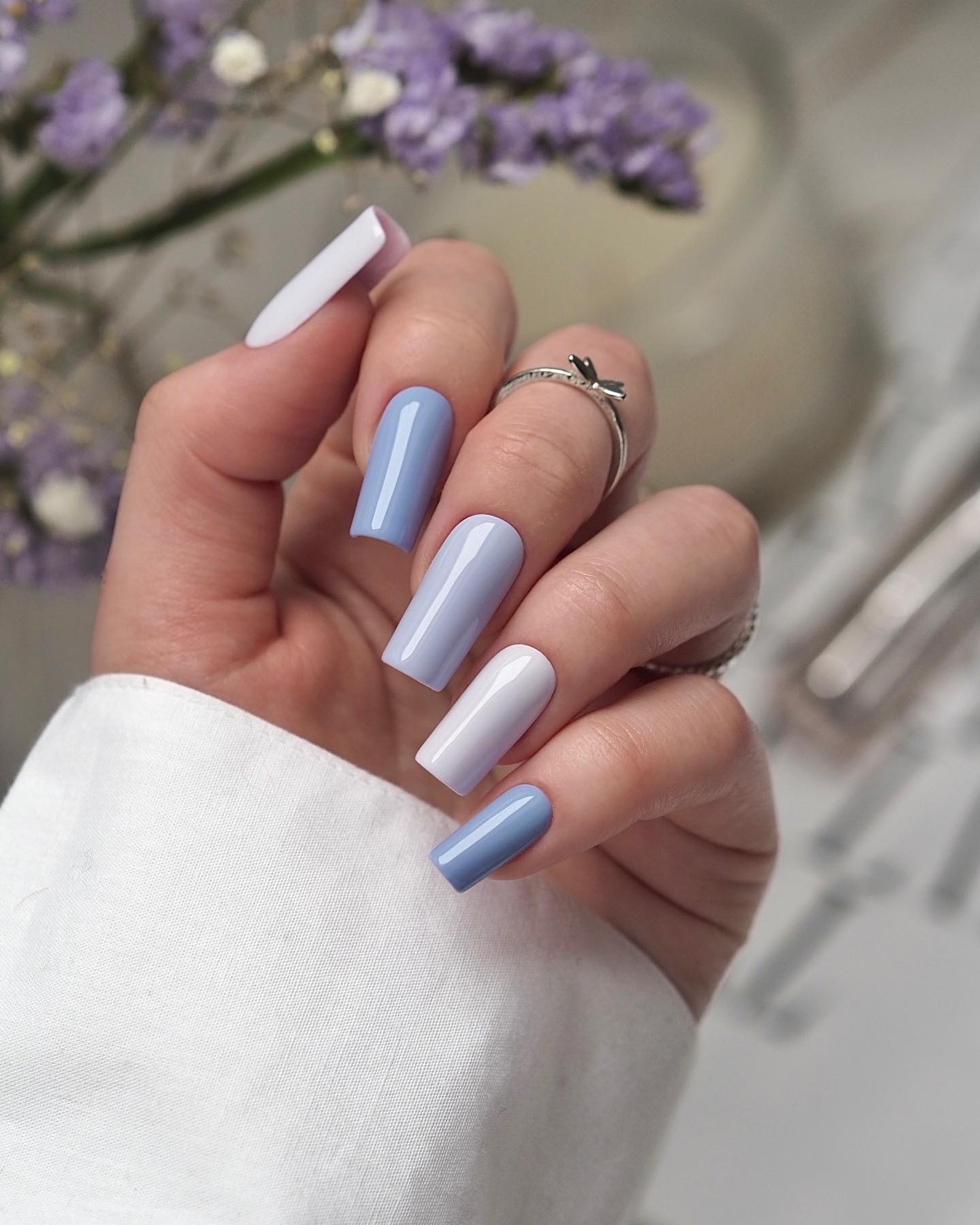 via @napaznokciach
Matte Blue Nails
Do you like velvet chic? In this case, dark blue matte nails are what you were looking for!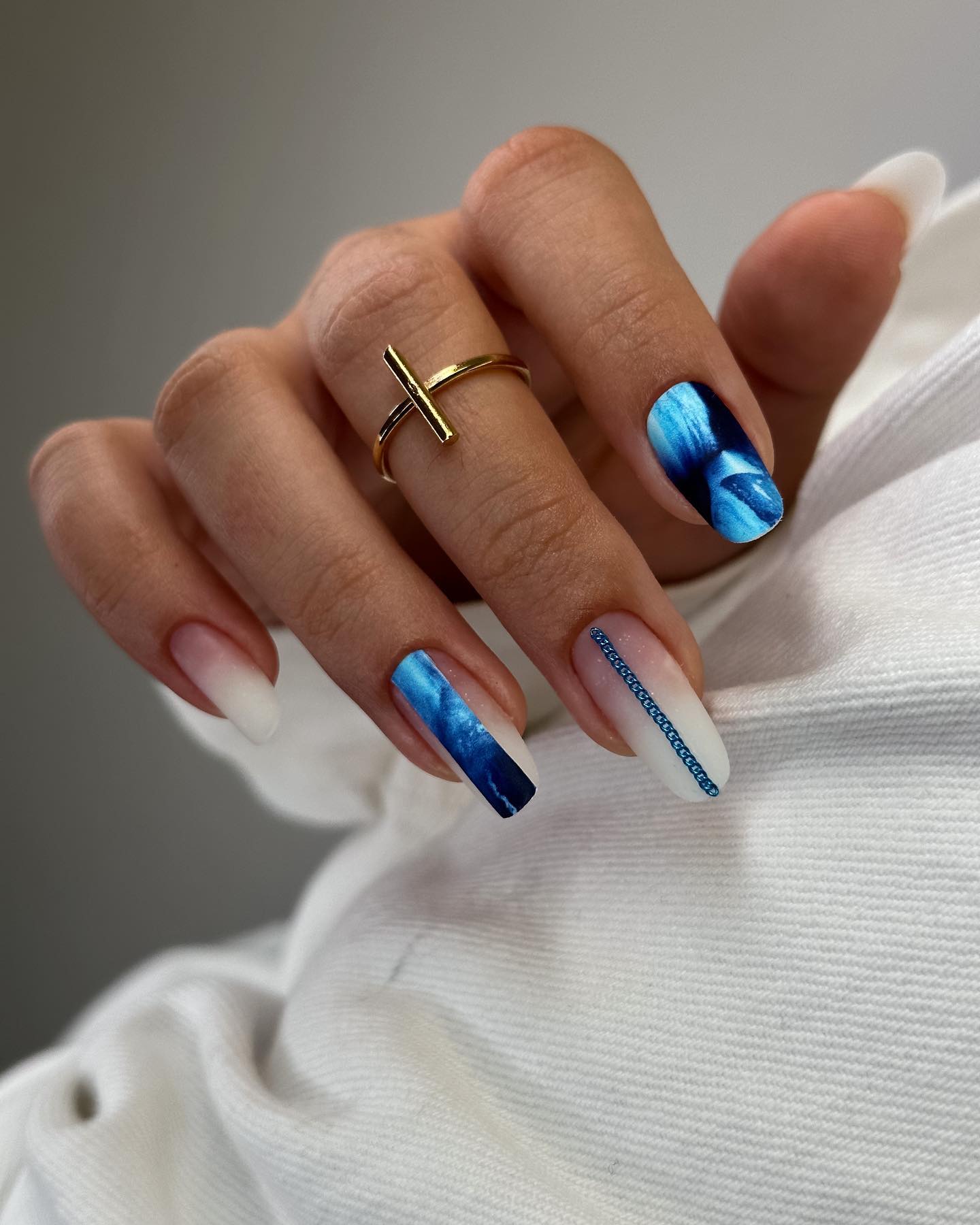 This design is characterized by its lack of shine and a soft finish with a velvety texture. A delicate matte finish can amazingly transform any shade of blue — from heavenly to blue-black. If such a discreet manicure needs to add color, a stylish solution will come to the rescue — blue nails with pink patterns!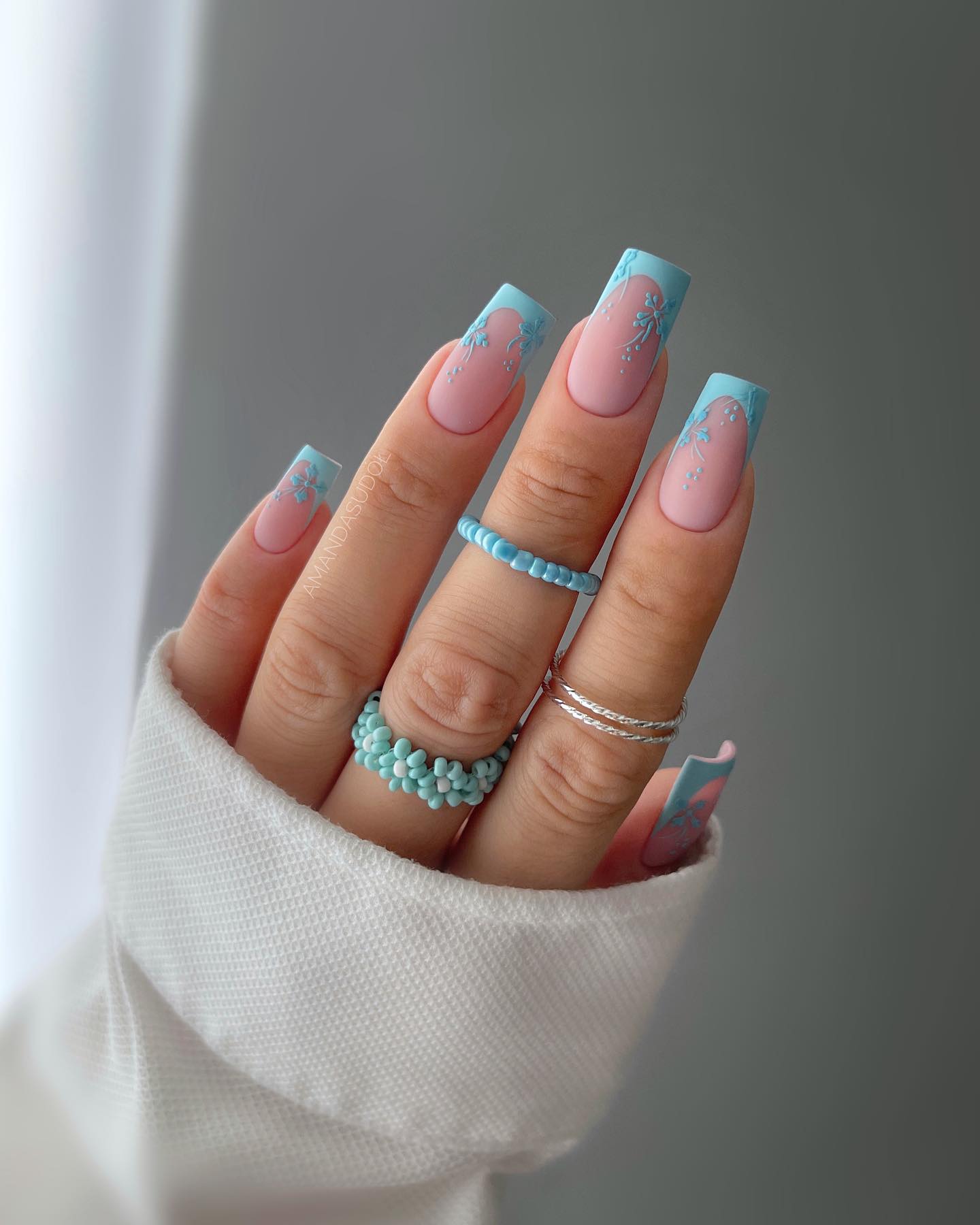 via @amanda.sudolll
Blue Winter Nails
Create a Christmas miracle for yourself — choose winter nail designs! They convey the frosty elegance of the season and recall the magic that characterizes this fantastic time of year.
via @magdula.es
To embody sweater nail ideas, use winter shades of blue — icy and cool. Silver glitter, painted snowflakes, rhinestones, or a frosty ombre effect are ideal as decor.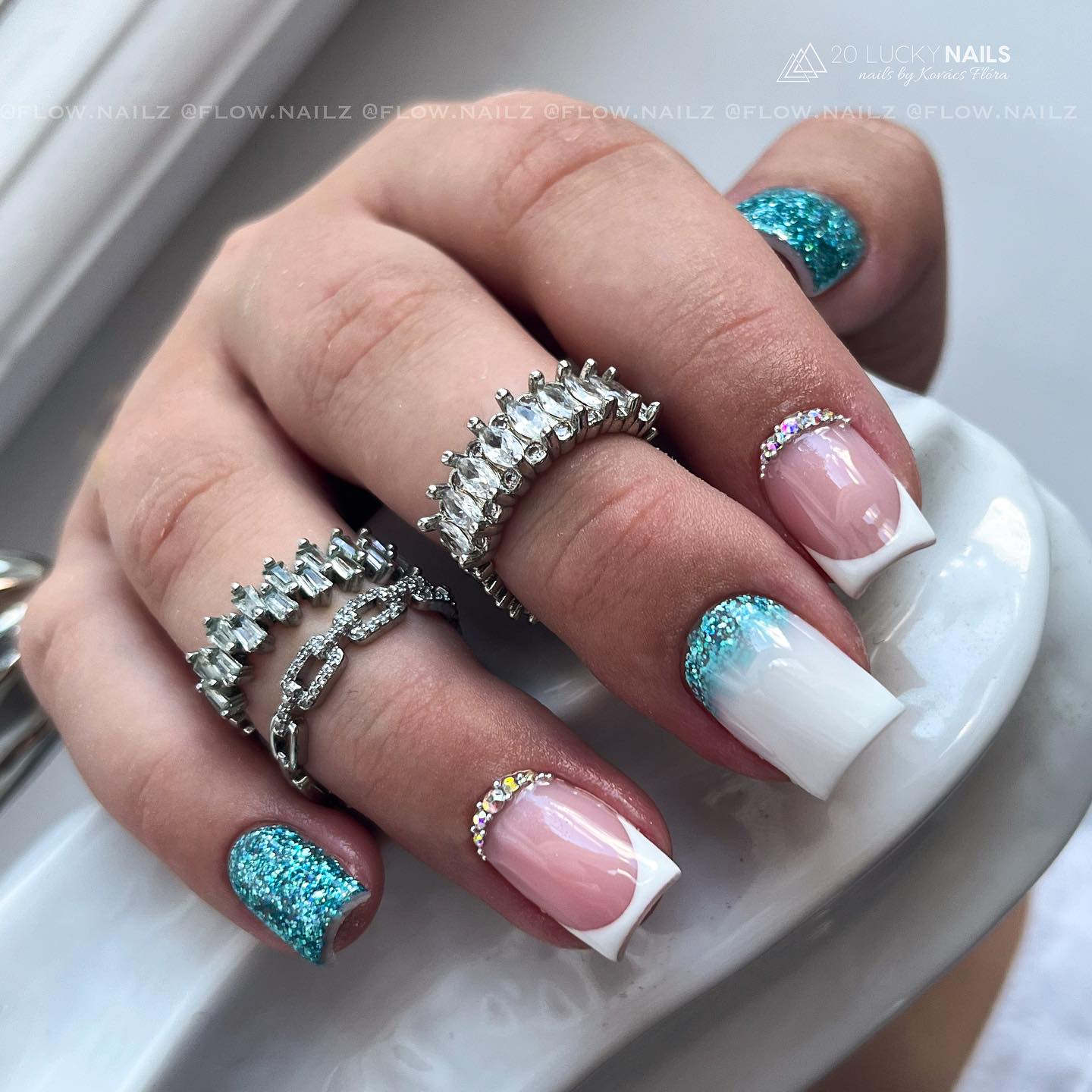 via @flow.nailz
Blue Butterfly Nails
Let your nails take a fancy flight with blue butterflies!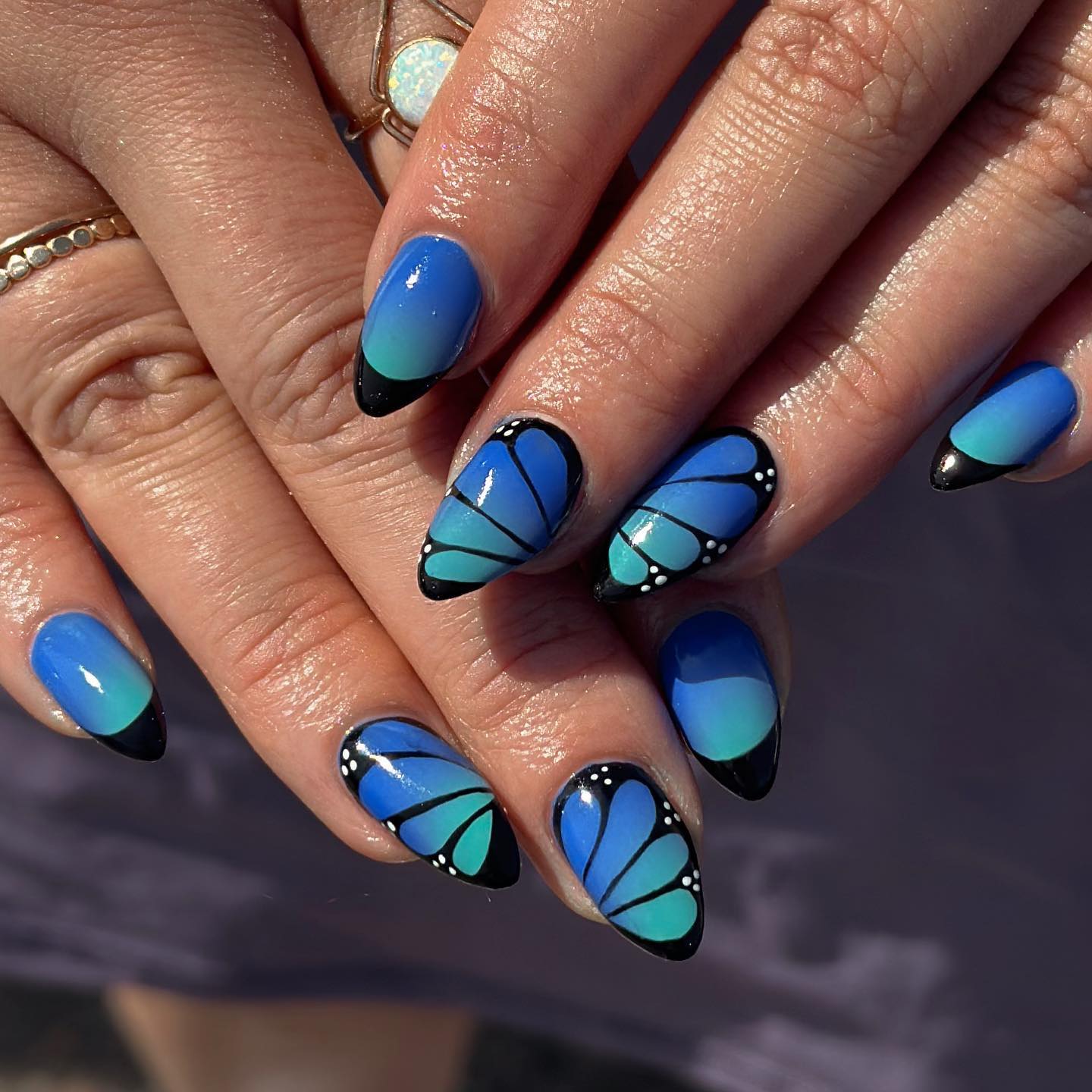 via @tamaminails
Agree; a manicure with a butterfly design is simply impossible to resist. What it will be depends on your preferences. You can draw realistic butterflies or create an airy abstract design that resembles their wings. Matte or glossy finish will give this design additional expressiveness.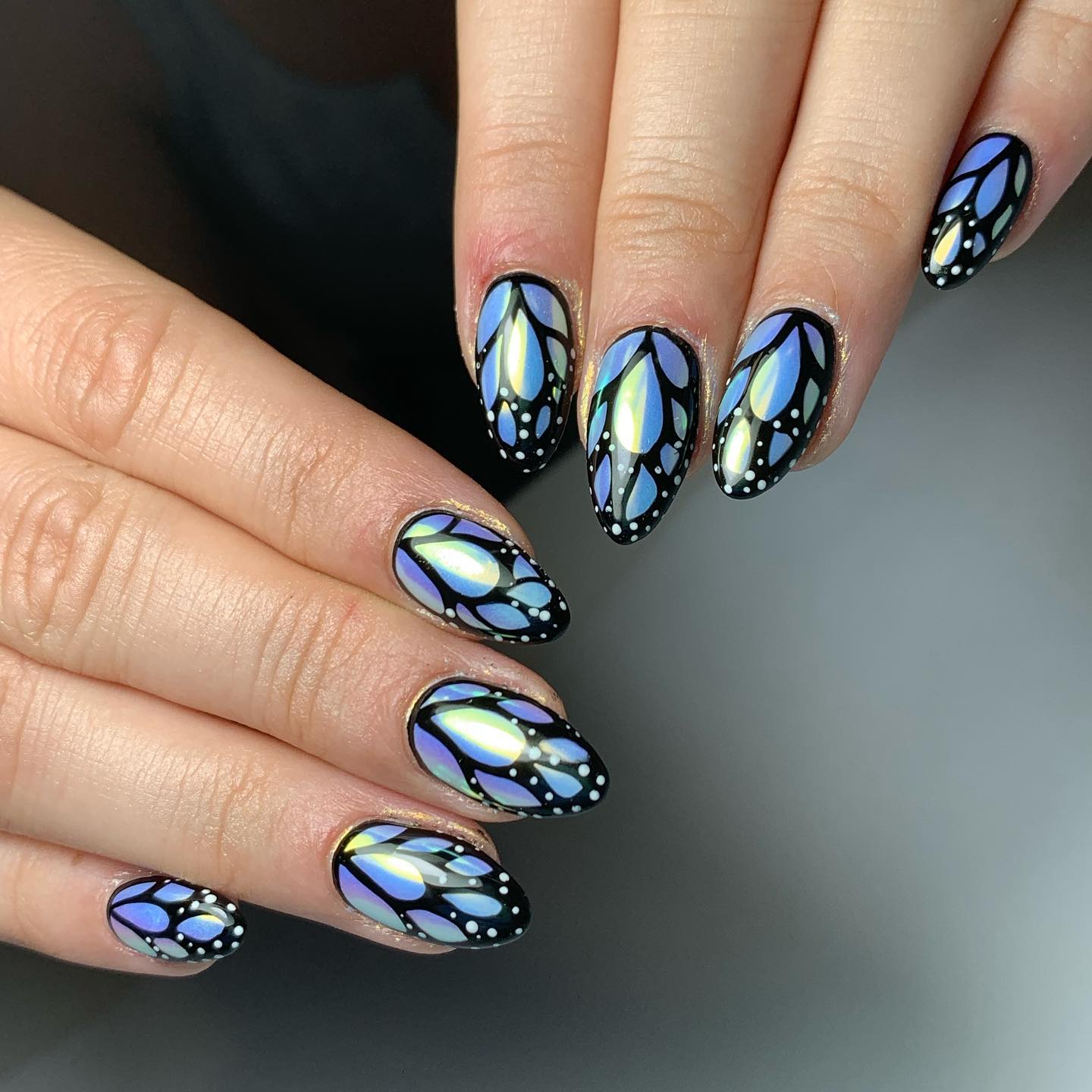 via @bgar.nails
Red, White and Blue Nails Combo
This manicure combination, with red, white, and blue elements, allows you to prepare for Independence Day or use patriotic motifs in your everyday look.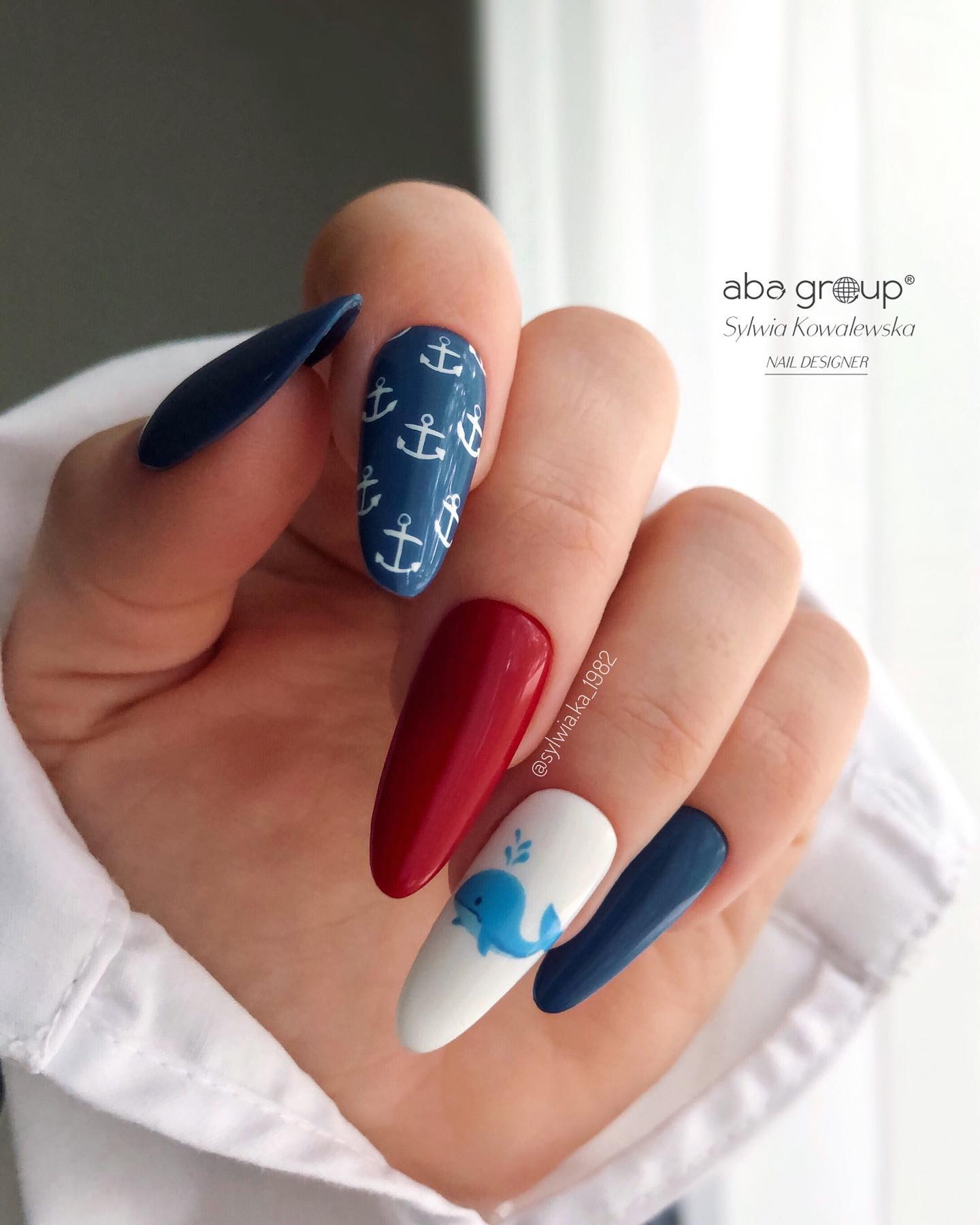 via @sylwia.ka_1982
These can be laconic red and white stripes on blue summer nails, dynamic patterns, or images related to the symbols of America. If you want a universal design relevant at any time of the year, try turning red nails into reality!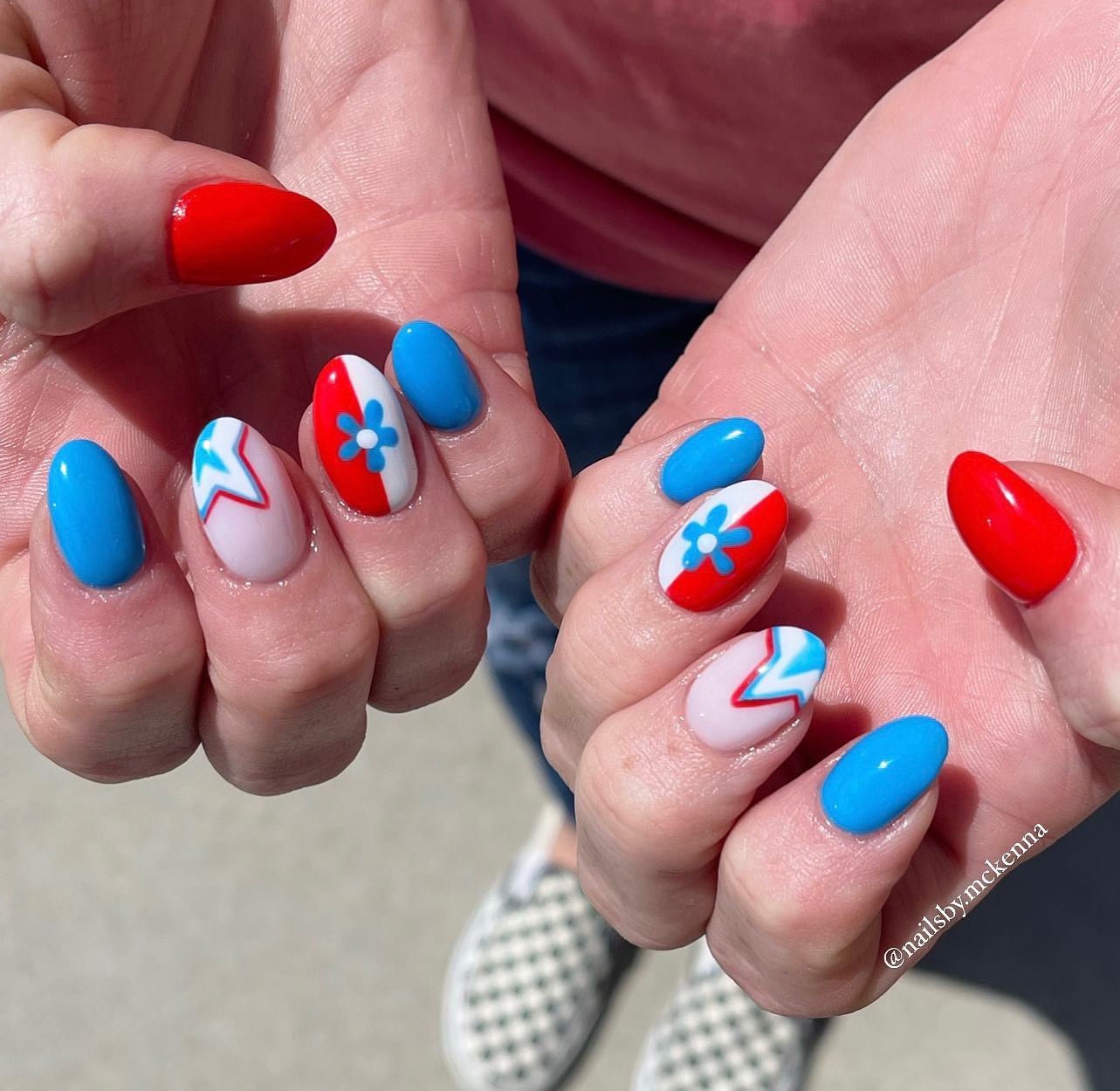 via @nailsby.mckenna
Neon Blue Nails
Fill your nails with electric energy with deep blue neon nails! This design exudes power, boldness, and a love of originality.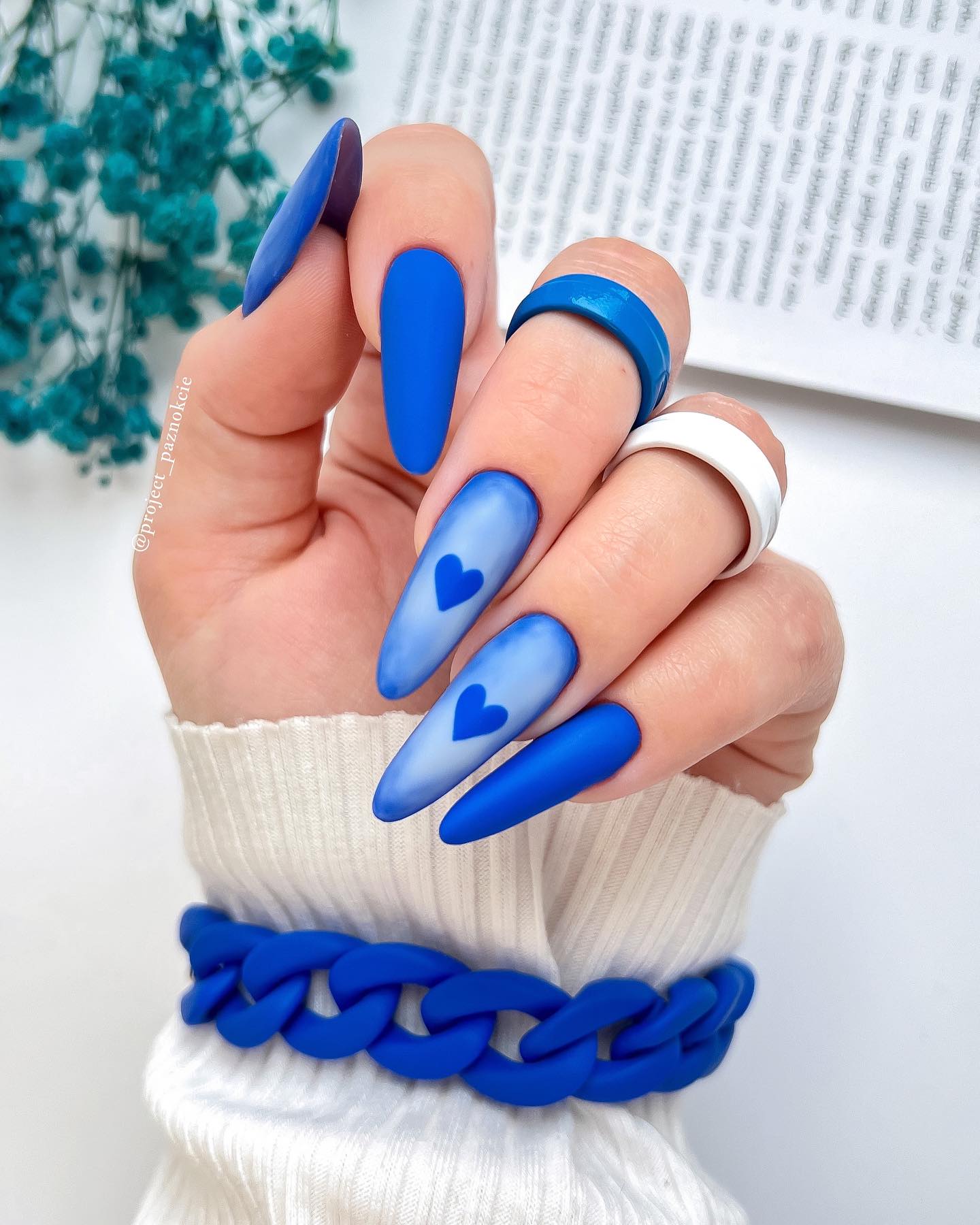 The neon manicure shine attracts the attention of everyone around and goes well with other bright shades. Blue nails can add variety to your usual designs, no matter the time of year!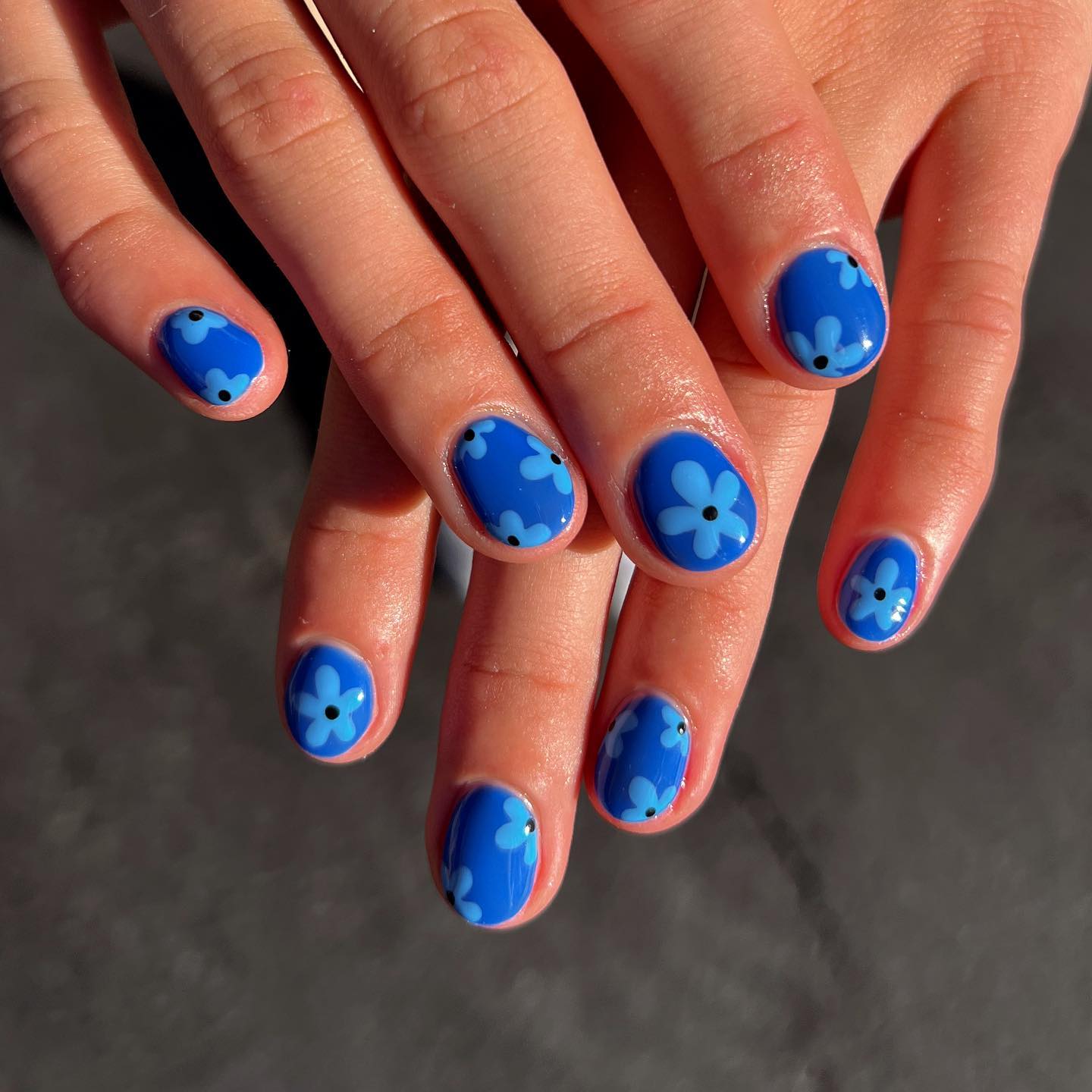 via @mynailgirlness
Blue Flame Nails
Flame nail design can be realized in different colors, including blue! You will surely love the fiery elegance of this manicure.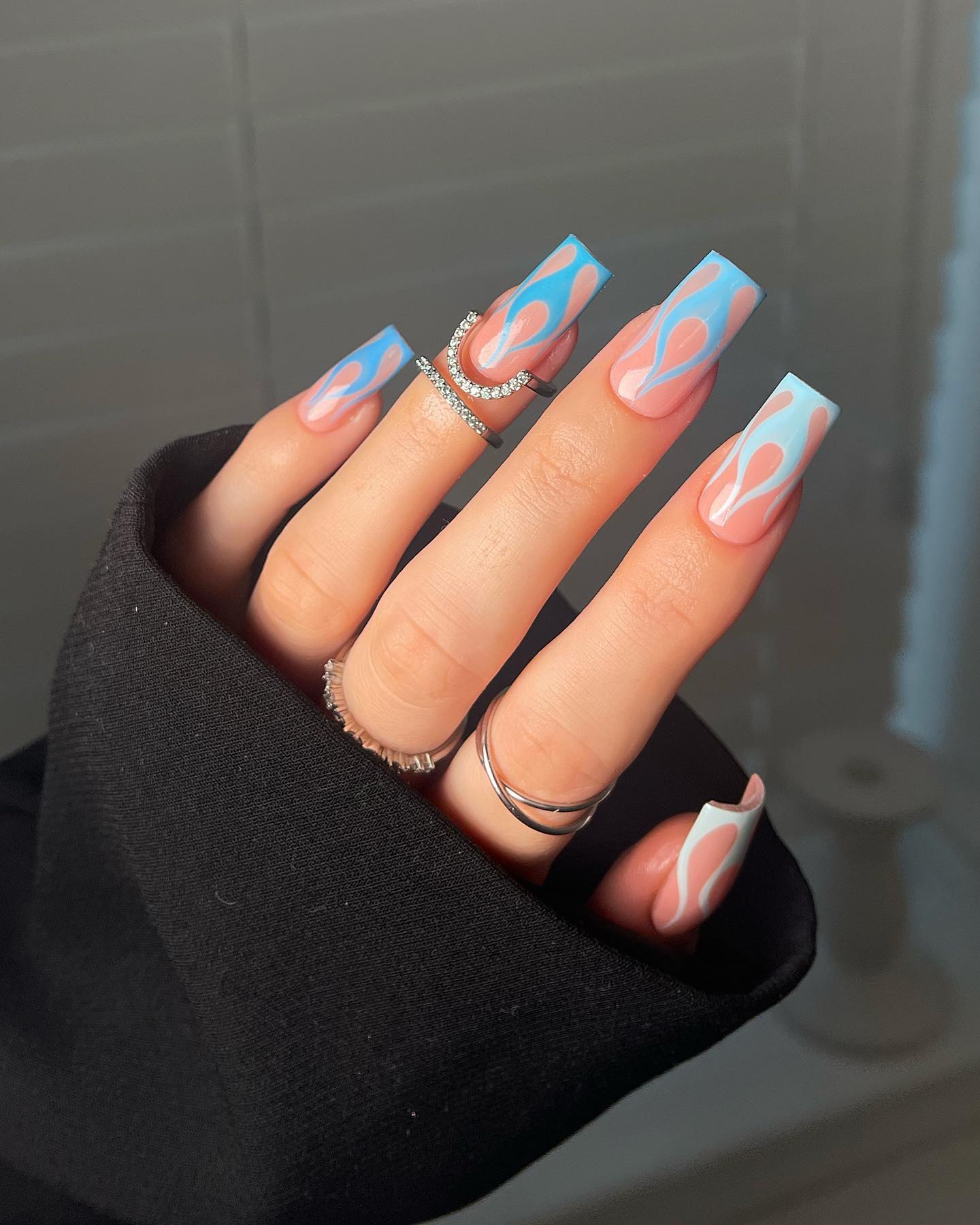 What sets this design apart is the use of flame motifs, creating a dynamic and exciting effect on blue almond nails. Whether it's a subtle flame accent or the centerpiece of intricate nail art, these nails embody passion and boldness.
Want a bit less drama? Use a white nail design as a base and complement it with blue accents.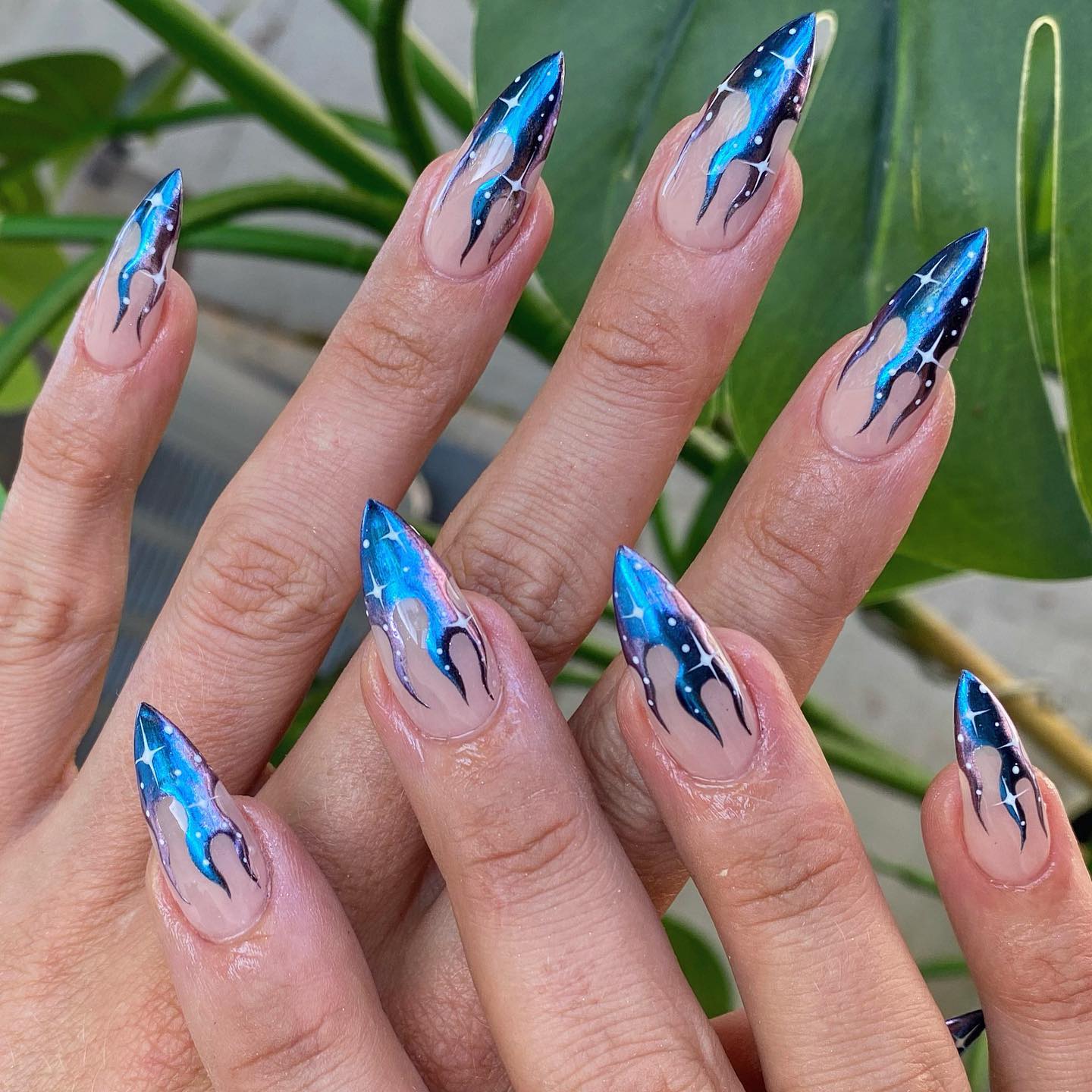 Orange and Blue Nails
Achieve vibrant harmony with blue and orange nails, a combination that seamlessly blends warm and cool!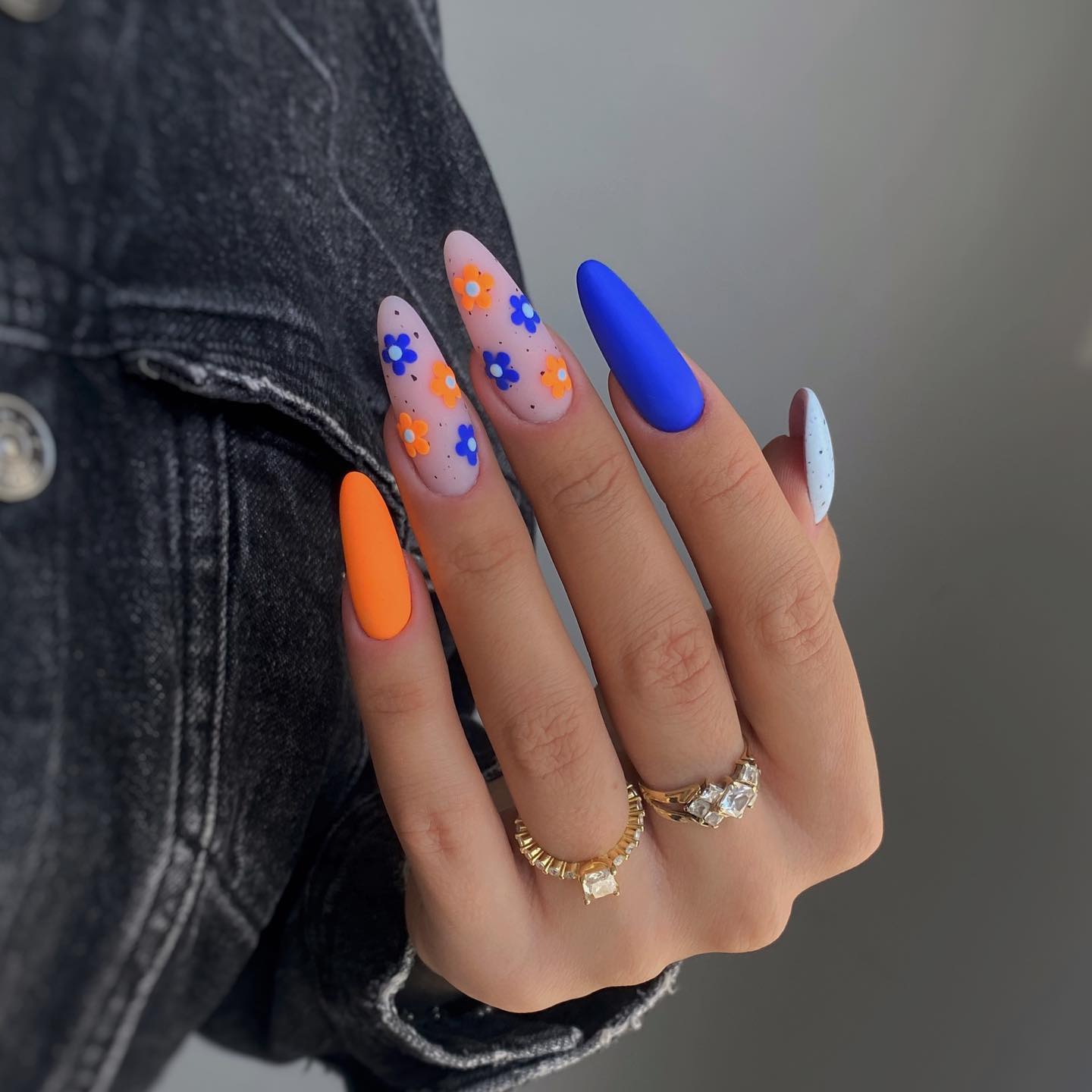 via @pegi_nails
The dynamic contrast between these complementary shades makes manicures a must-have year-round. Depending on the season, you can diversify the navy blue and orange combo with additional colored elements, ombre, or playful-themed patterns.
Bold manicures are ideal for women who want a design that exudes energy and harmony. If you need more discreet solutions, prefer a universal colored French manicure. Blue and orange French tips with a transparent base look appropriate even in a business setting.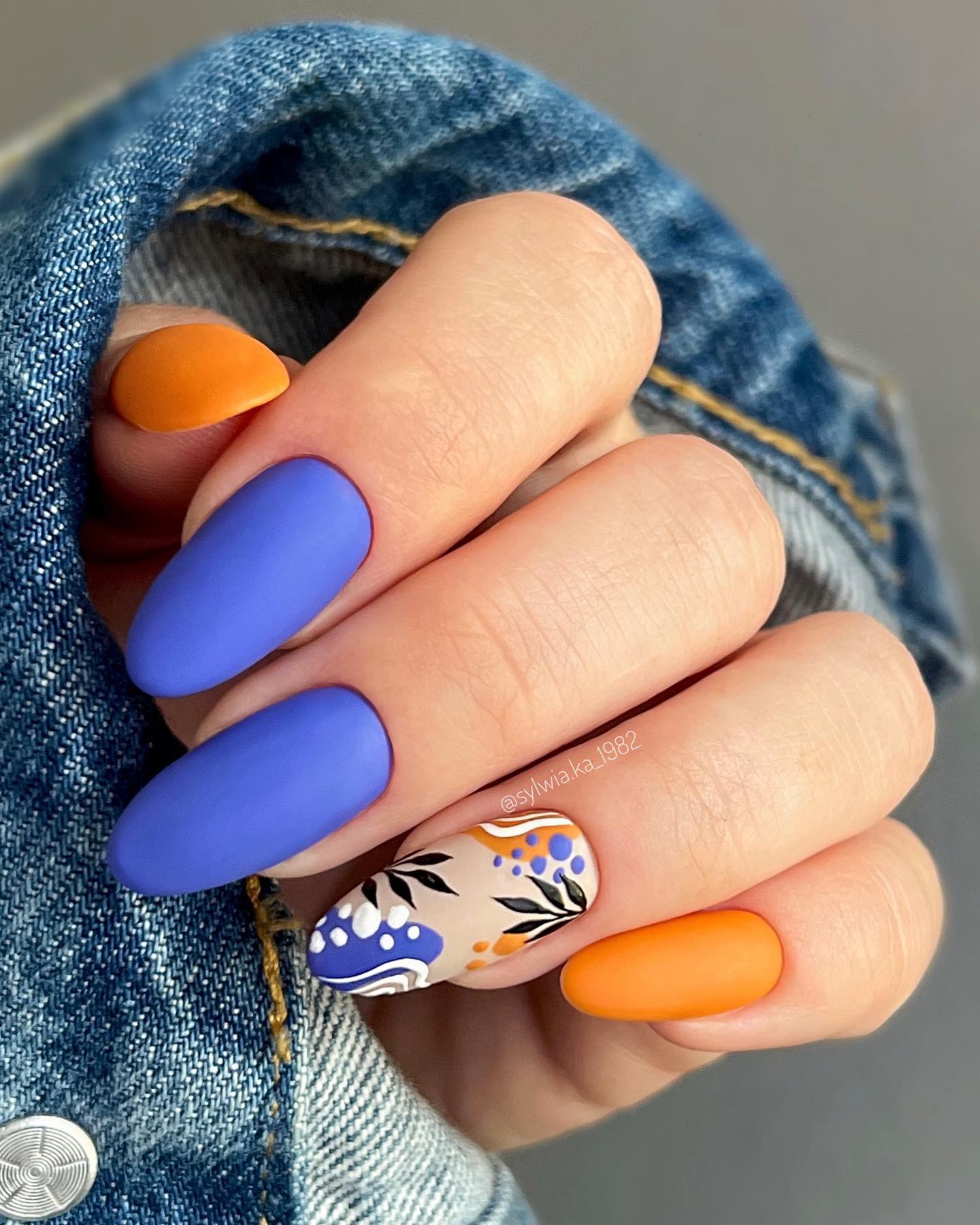 via @sylwia.ka_1982
Tiffany Blue Nails
It's hard to find a woman who can resist Tiffany's iconic theme. Blue nail art's tenderness, style, and charisma deserve your attention!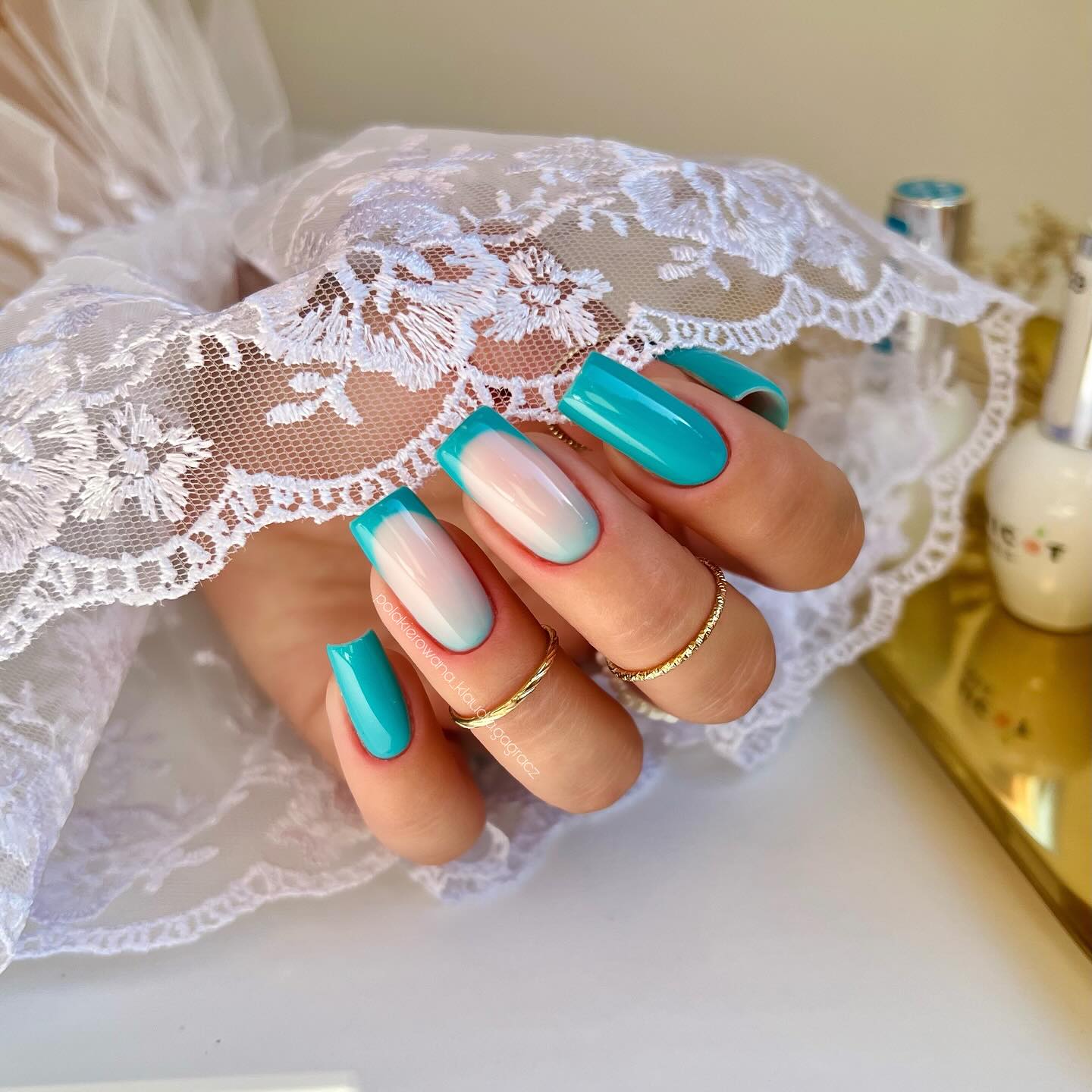 via @polakierowana_klaudia.gagracz
The iconic Tiffany blue nails with rhinestones are the elegance and luxury epitome. This manicure is ideal for those who appreciate classic and refined aesthetics.
The discreet glamor of French tips in the Tiffany style will harmoniously complement your summer look, your outfit for a cocktail party, or a New Year's corporate event!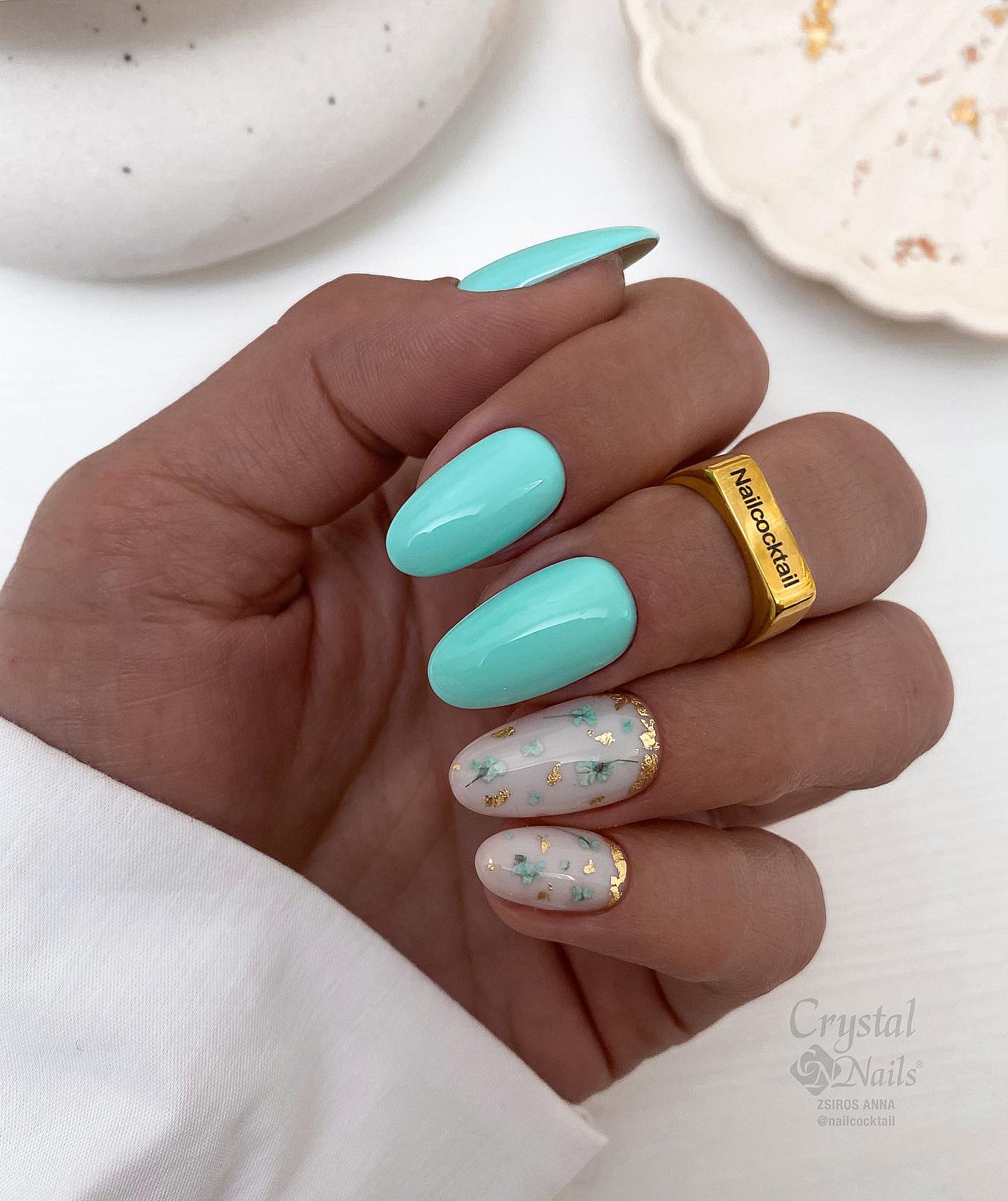 via @nailcocktail