Nails with rhinestones began to gain popularity in the early 2000s. This time was marked by the emergence of many original design trends that are still relevant today.
Swarovski rhinestones in different colors and sizes allow you to create individual nail art. Moreover, you can make such a luxury design in a beauty salon or at home.
We invite you to get acquainted with the top ideas for a shining and trendy manicure!
Coffin Nails with Rhinestones and Glitter
A great way to make a statement and grab the attention of others is to choose a coffin nail shape with rhinestones and sequins. Such a manicure opens up endless creative possibilities.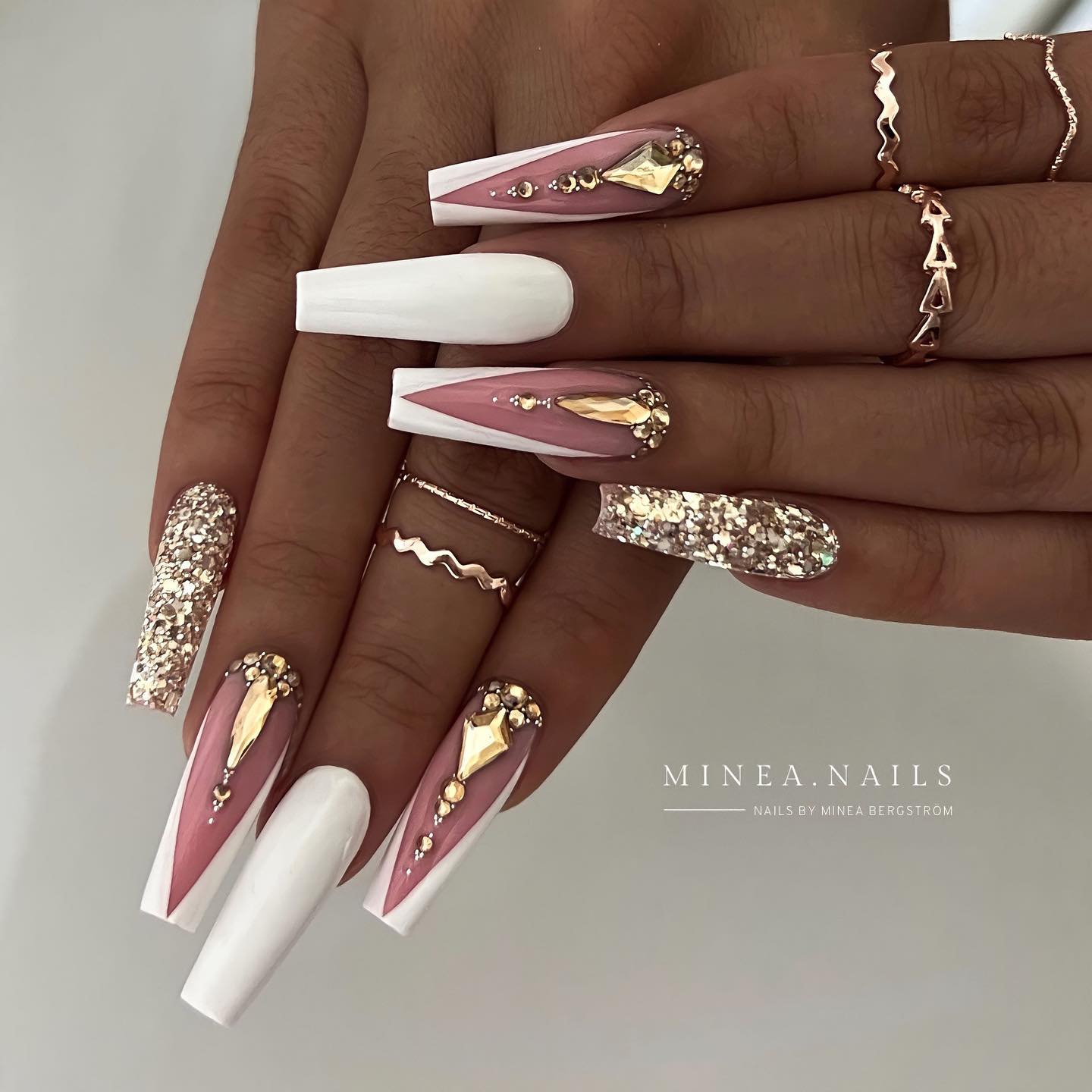 via @minea.nails
Choose any shades of the palette color, add large or small rhinestones, and use the ombre effect or other techniques to get a textured surface of the nails.
Choose a chic, classic French manicure if you prefer more versatile and conservative designs!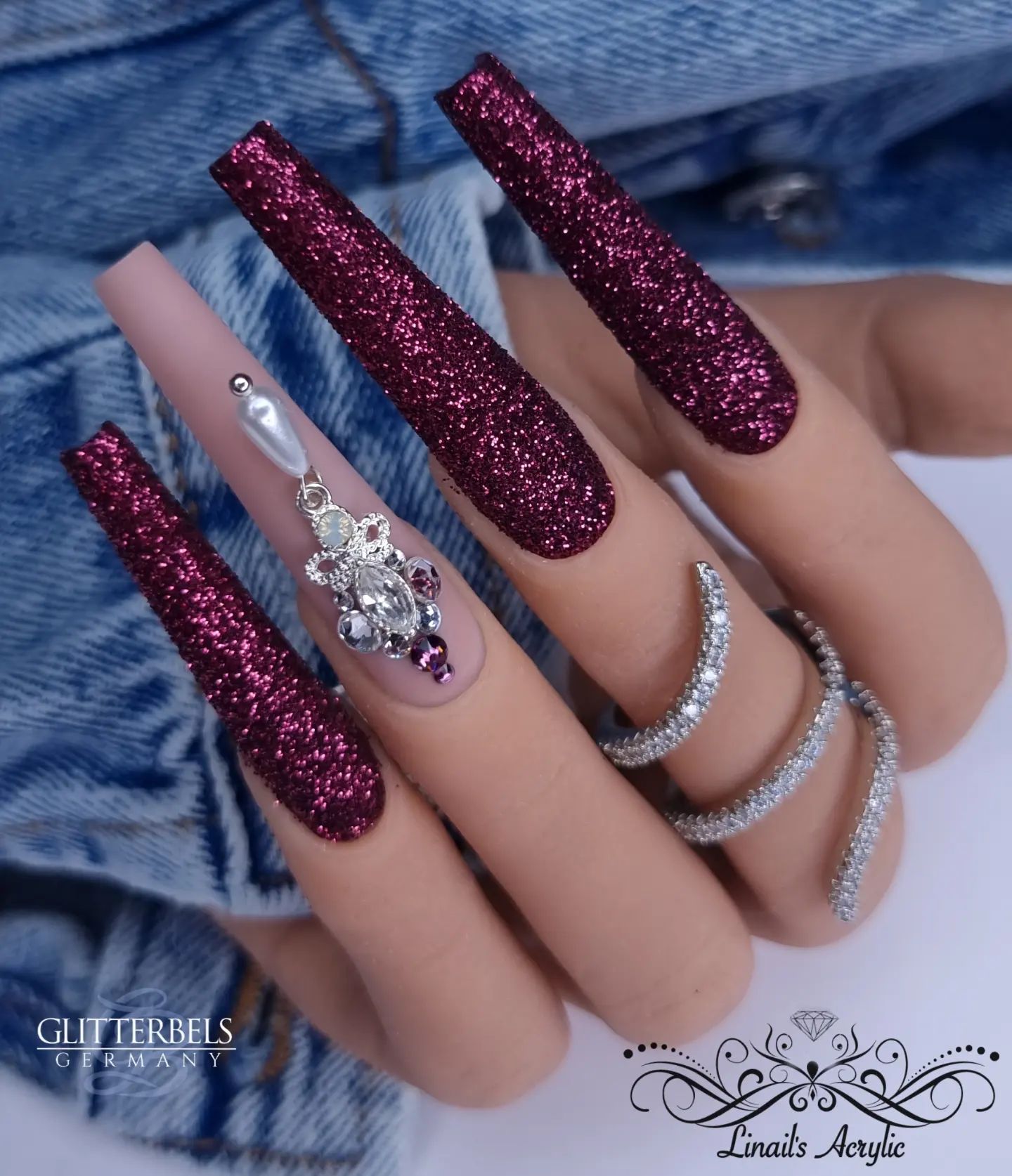 via @linails.acrylic
Laconic Nude Nails with Rhinestones
Discreet nude nails with rhinestones complement a modest yet sophisticated look. They are perfectly harmonious with the business style or look for festive events.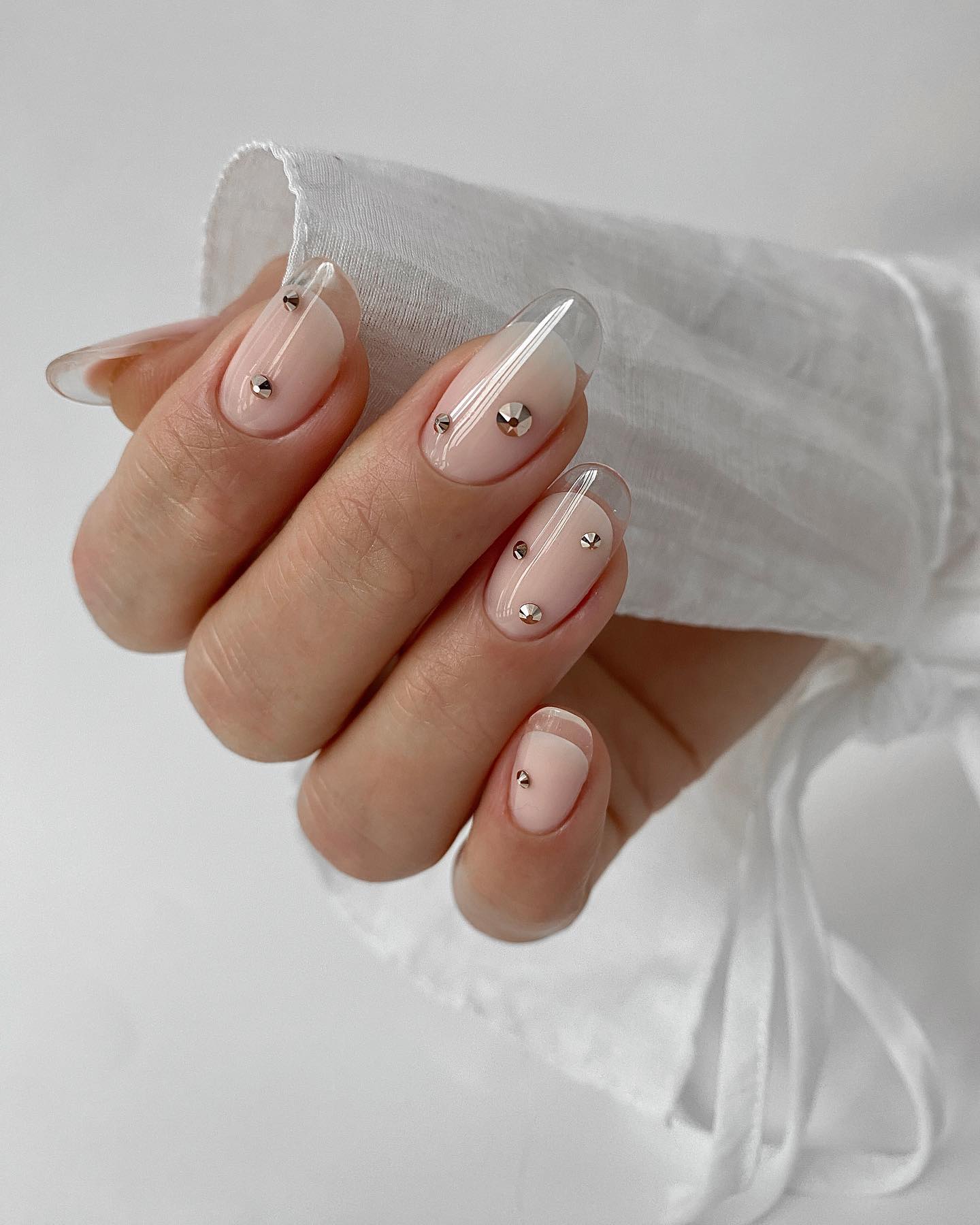 via @trutaroxana
As a base, you can use pastel colors or clear acrylic nails. Place rhinestones in separate pebbles along the cuticle line or at the tips of the nails and layout minimalistic patterns, gradients, or real works of art — there are no limits to your imagination!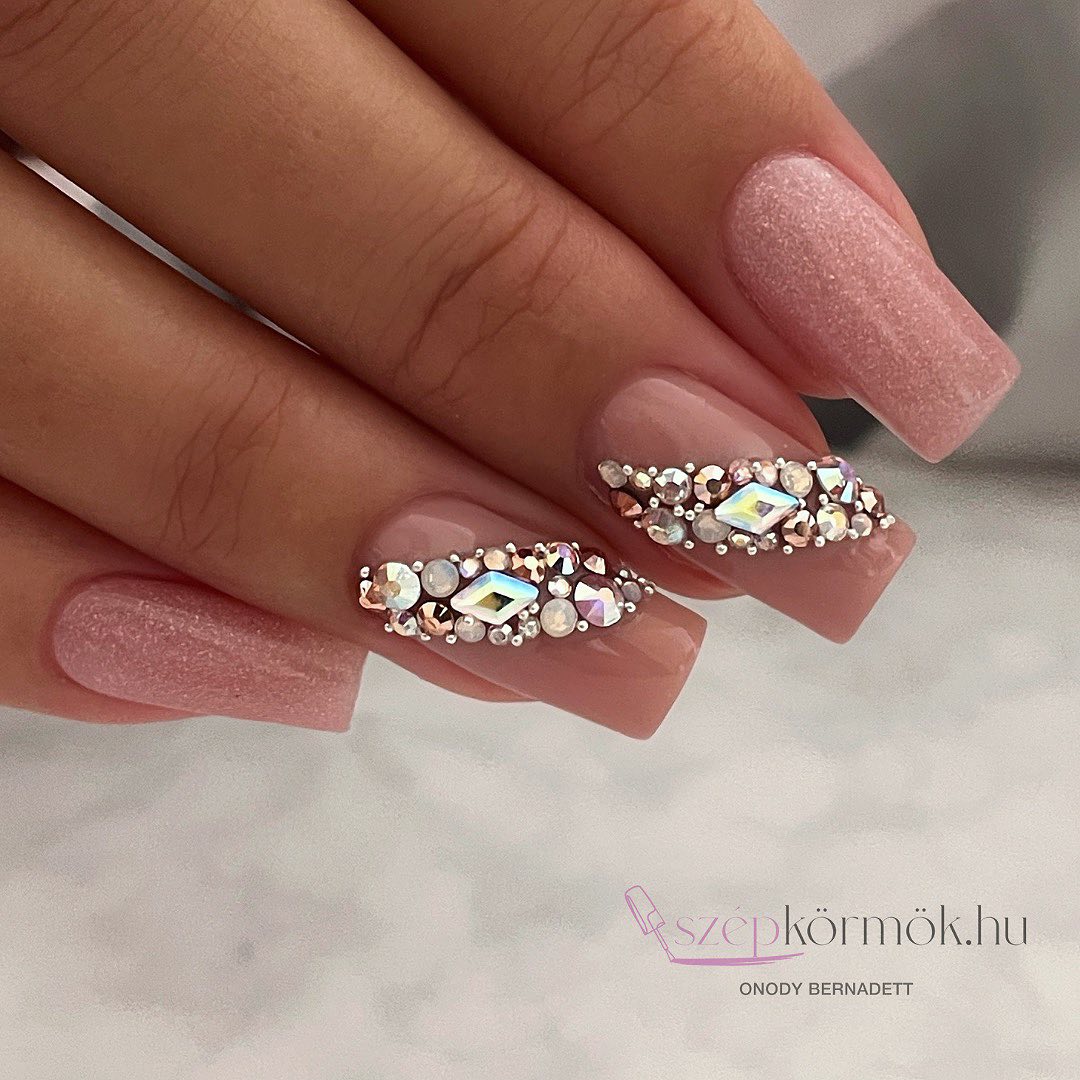 via @_bettynails_
Refined White Nails with Rhinestones
Are you looking for an eye-catching wedding, prom, or event design? Pay attention to a manicure such as white nails with diamonds.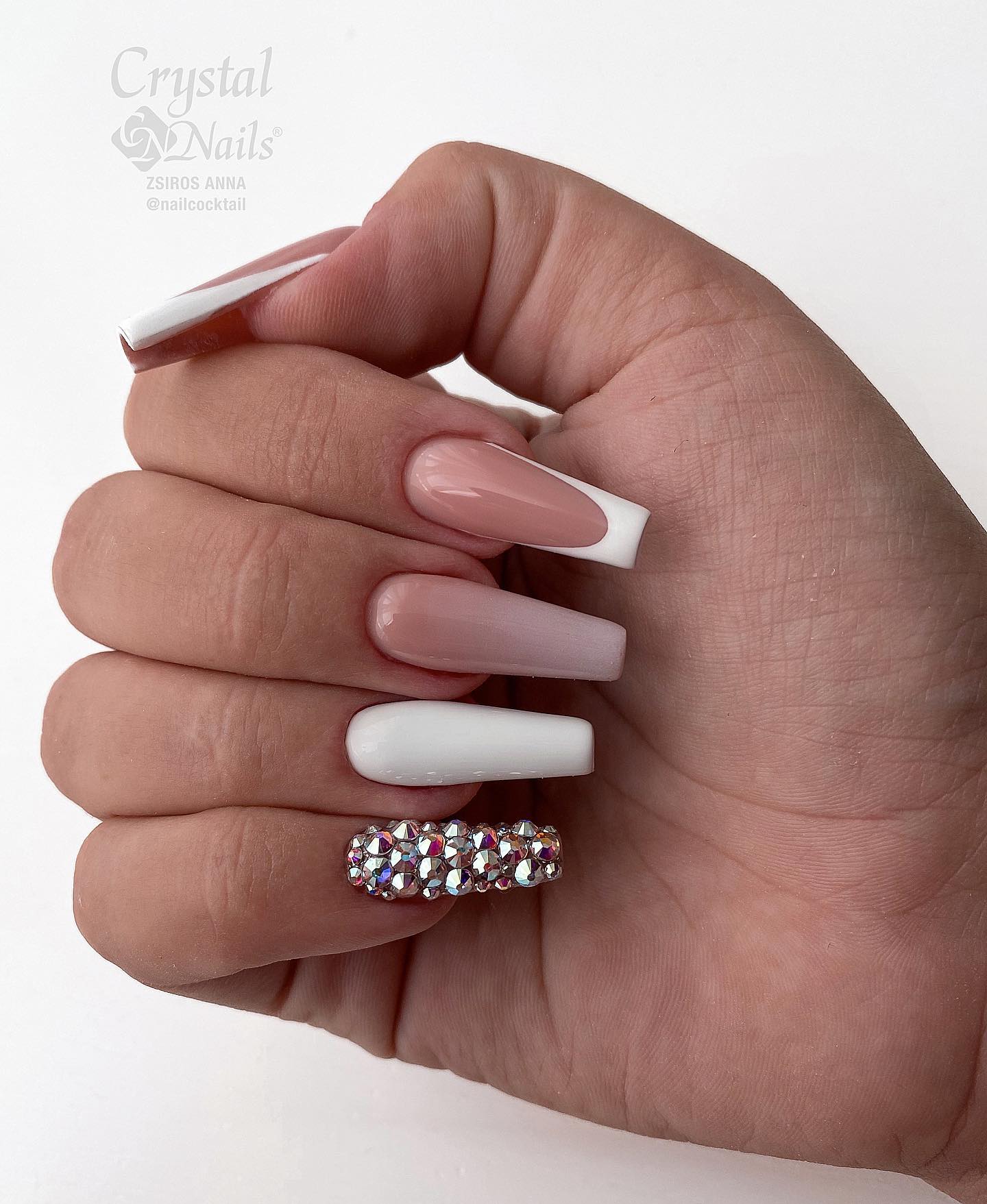 via @nailcocktail
There is nothing extra in this design. It can be a laconic white coating or a bold-radiant, luxurious accent to the look.
Decorate a white manicure with abstract nail art designs or create delicate flowers or hearts from rhinestones. Any of these options will earn compliments from others!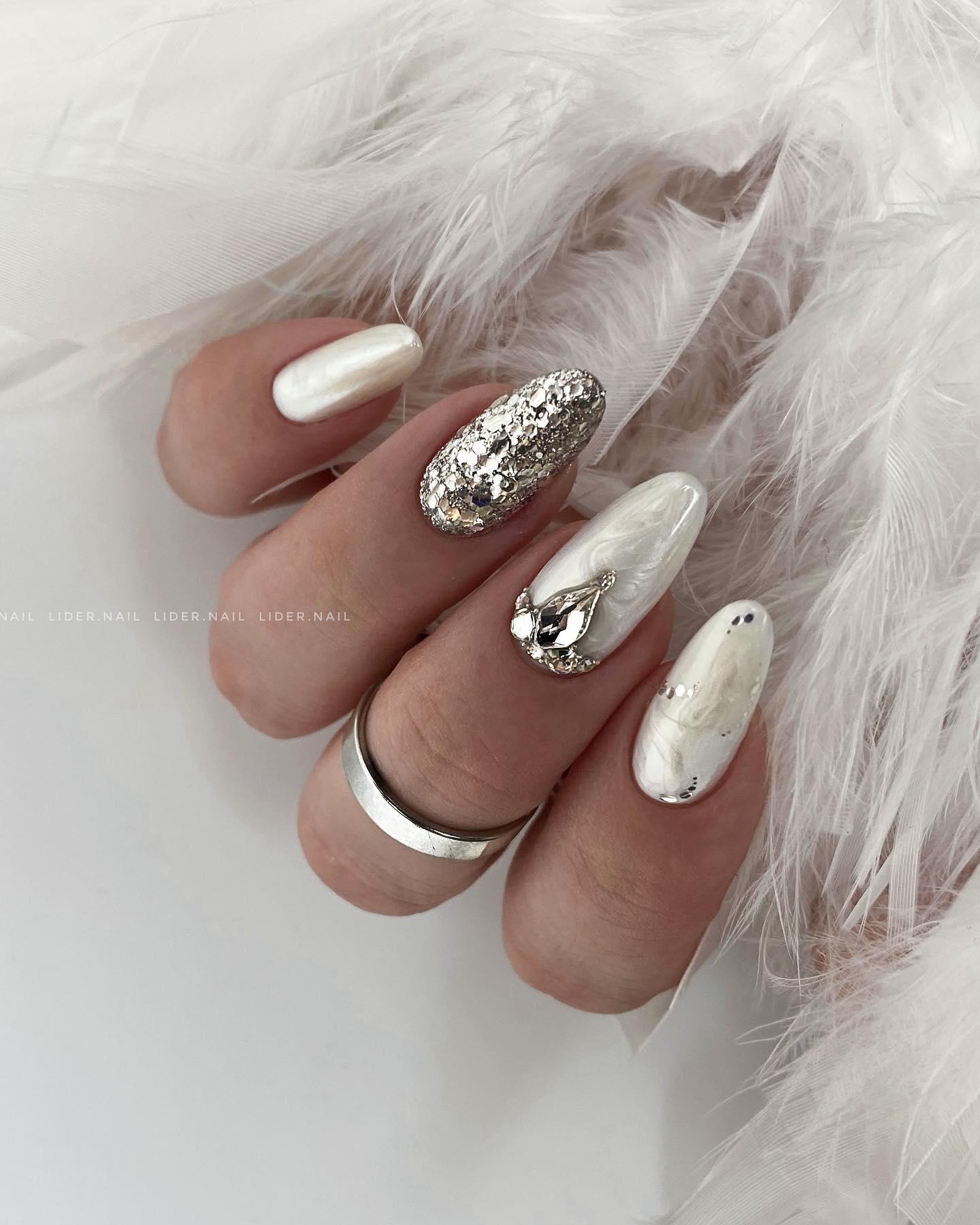 via @lider.nail
Pink Nails with Rhinestones for Feminine Looks
Can anything be as feminine as pink manicures and rhinestone nail art designs? If it doesn't turn you into a Barbie, it will emphasize the sophistication and romance of the image.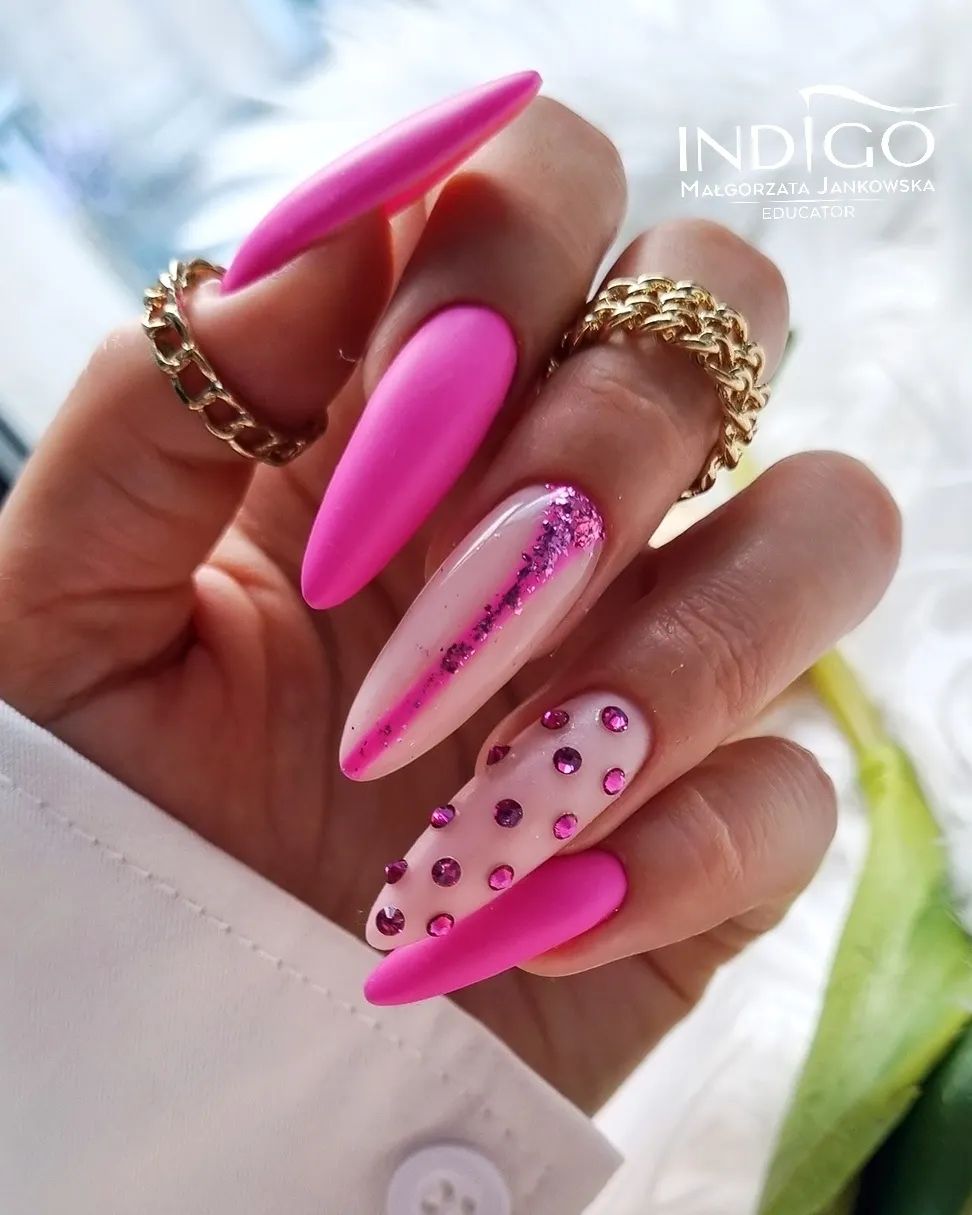 via @malgorzata_jankowska_indigo
You can combine hot pink nails with rhinestones for accent nails or use them to create patterns on all fingers. For example, the hearts will look thematic.
The vibrant shade of pink nails with rhinestones is tender and extravagant glam rock. It all depends on what colors and details you choose!
via @minea.nails
Defiant Acrylic Nails with Rhinestones
Acrylic long nails with shiny gel can be embellished with rhinestones for a unique and intricate design.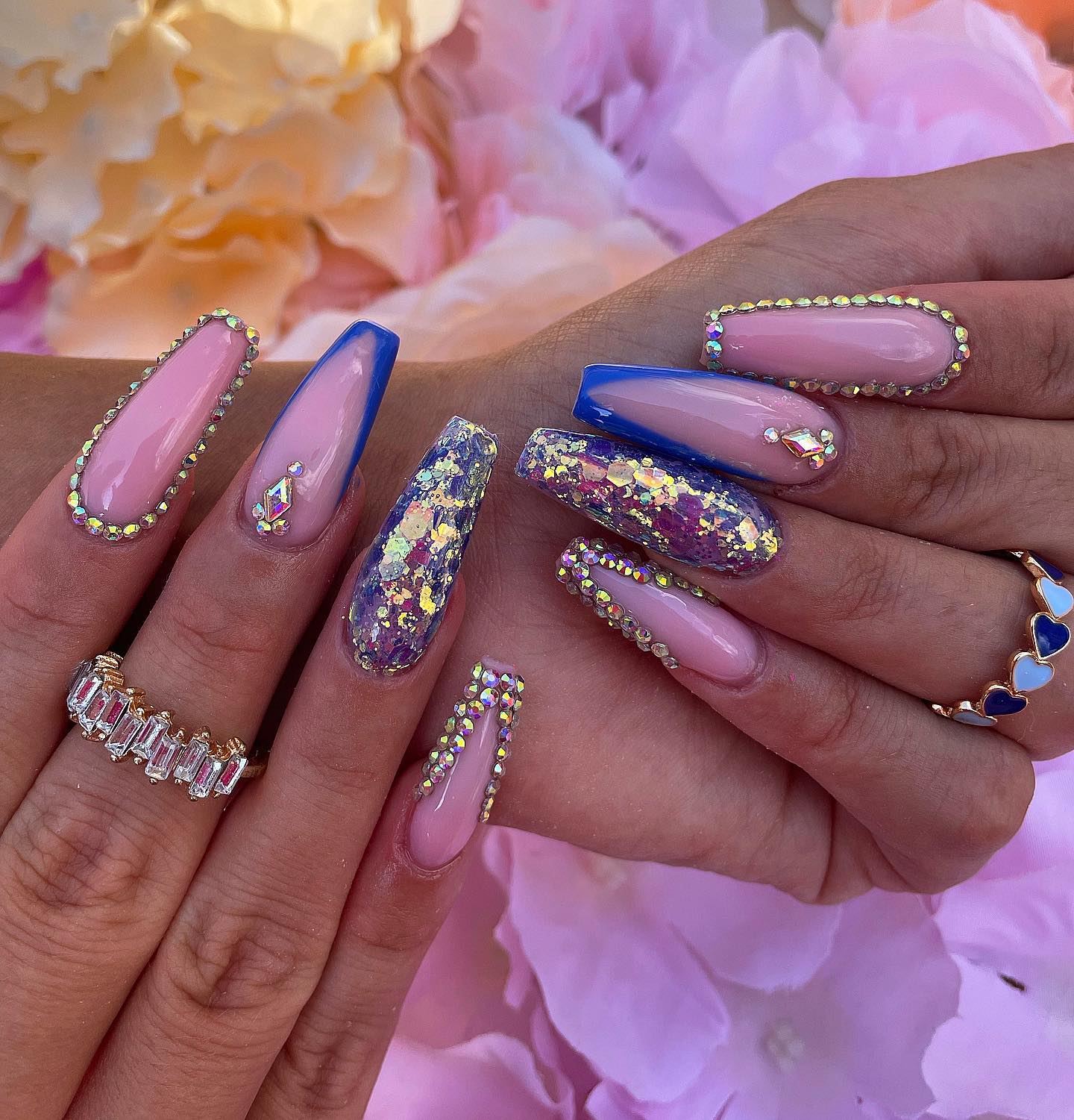 via @zsofinails_
For example, trendy acrylic nail ideas include creating 3D flowers, butterflies, and patterns. Such a manicure is characterized by dynamism and texture, distinguishing you from the crowd.
In the skilful hands of a master, acrylic rhinestone nails will become a masterpiece and a bright addition to a spectacular look.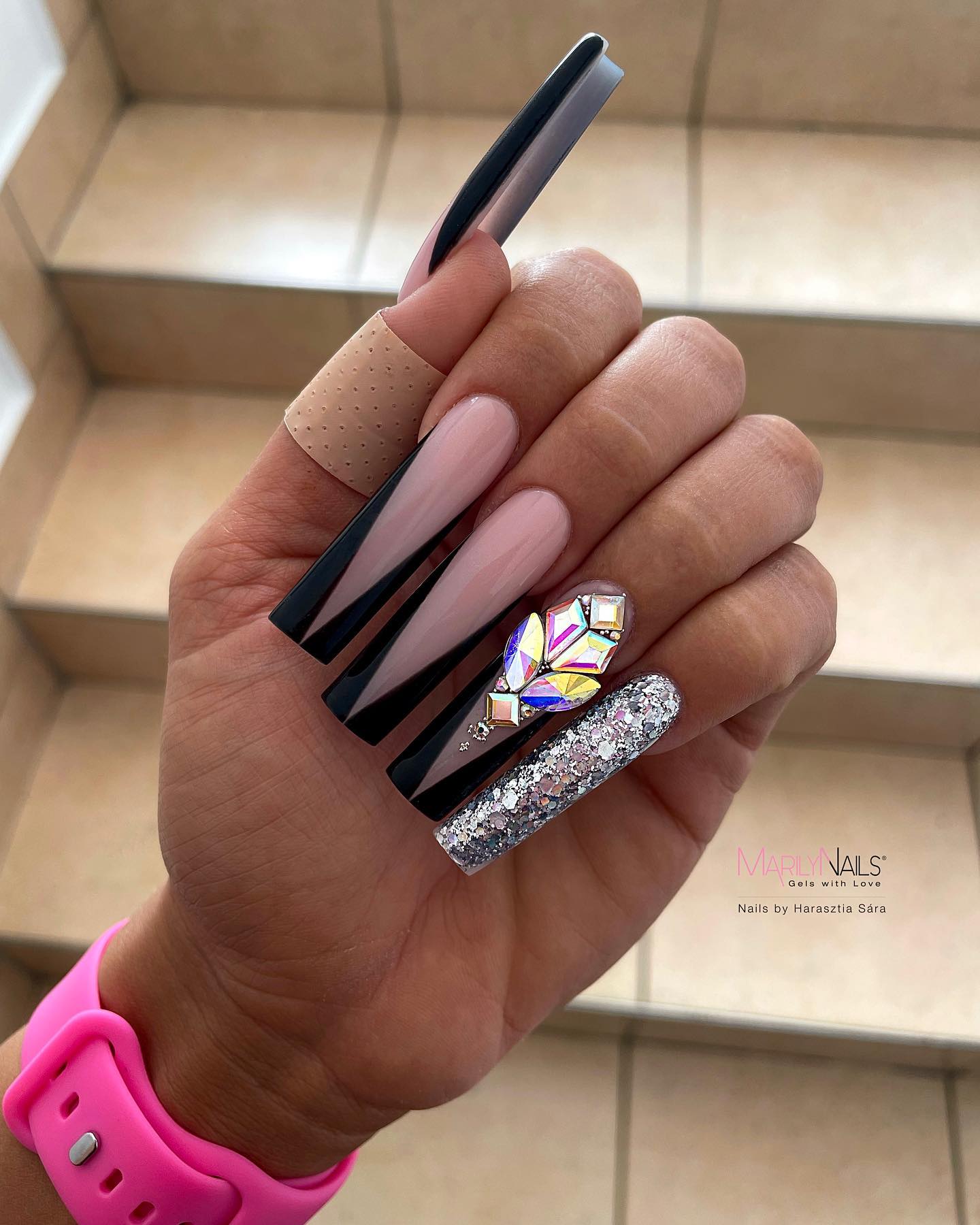 via @shara___nails
Black Nails with Rhinestones
It's bold, attractive, and stylish — all about black nails with colorful rhinestones!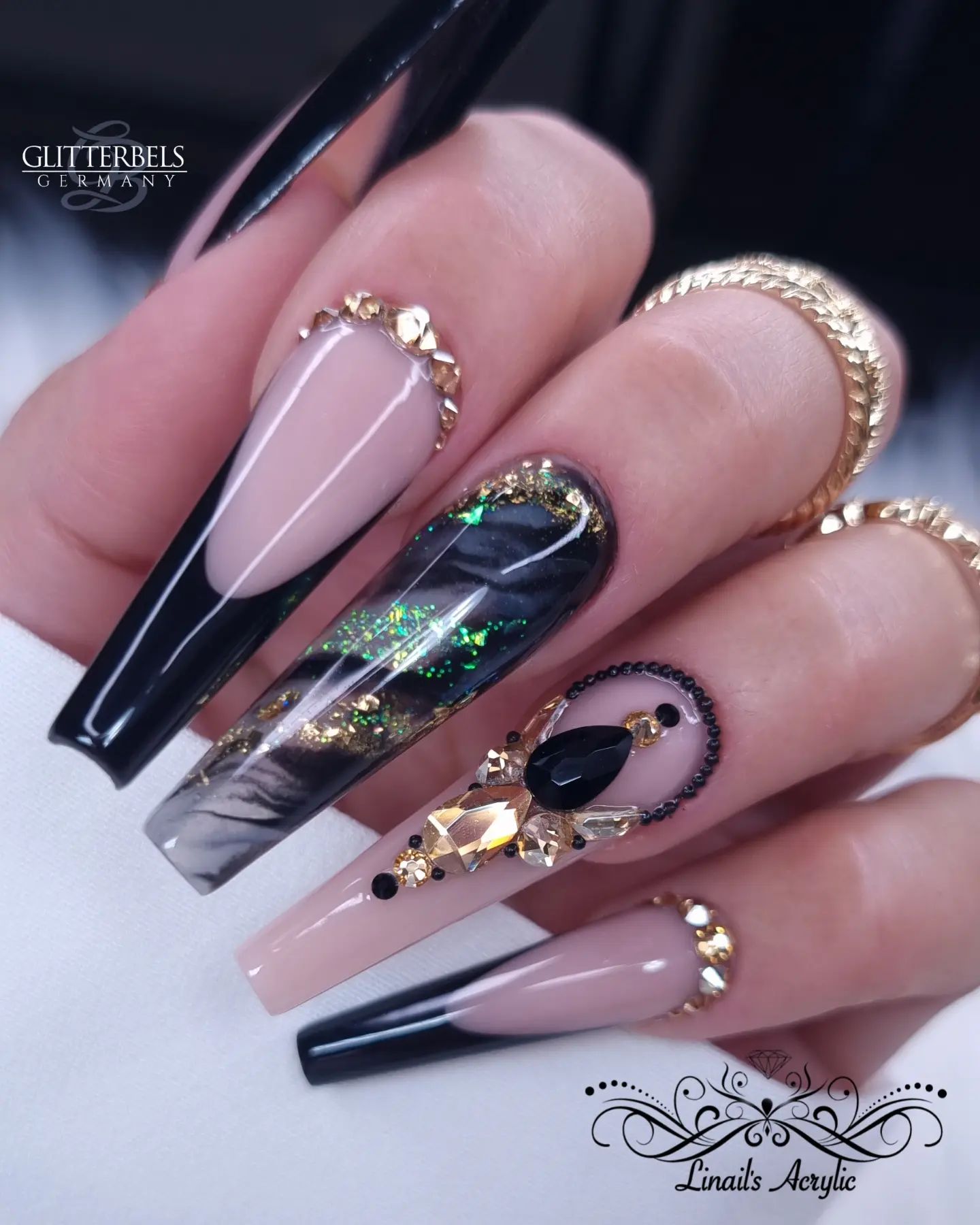 via @linails.acrylic
How can you express yourself in this design? Choose what is closer to you, for example, a gothic bow, a shimmery space, or subtle, neat rhinestones on the ring finger.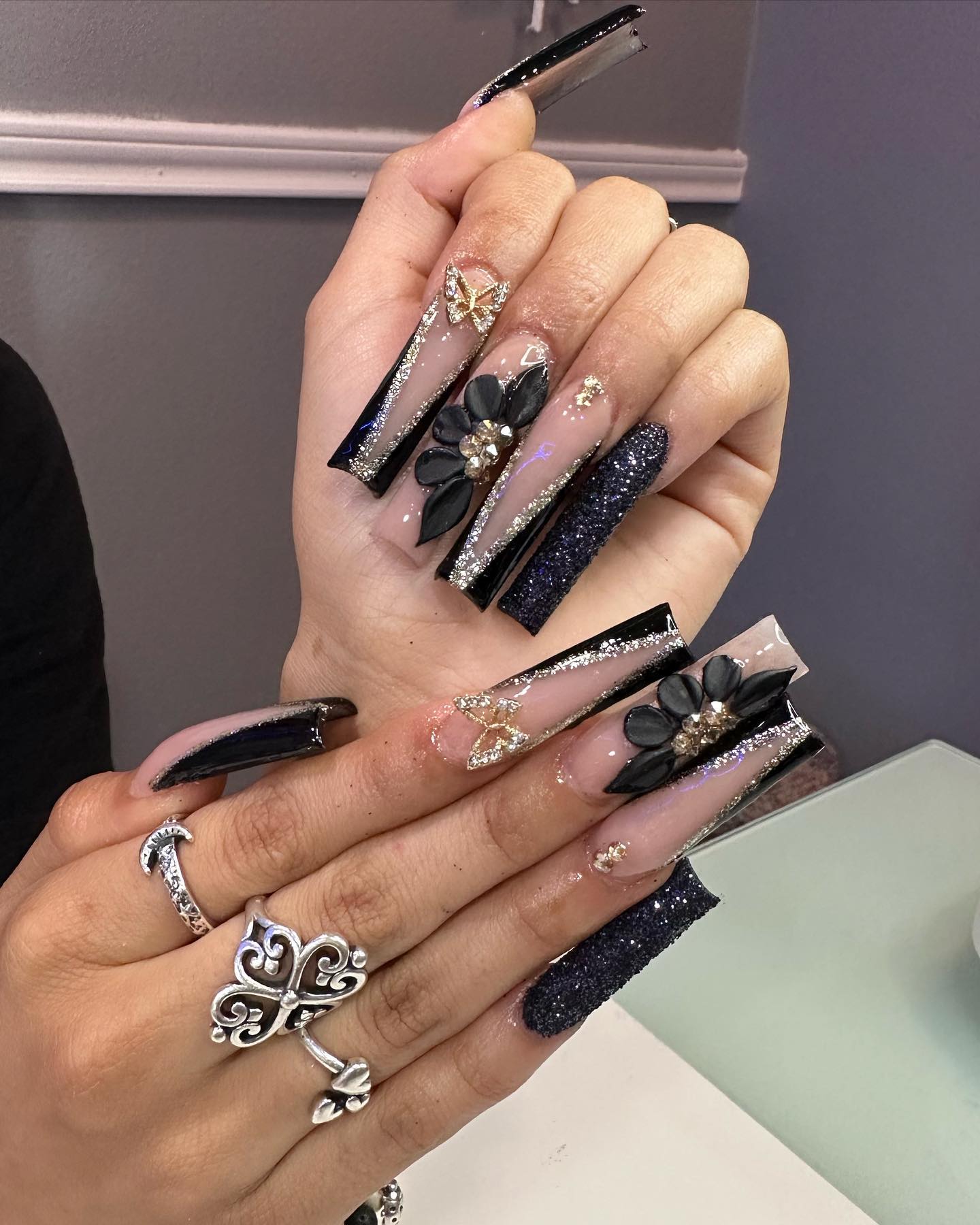 via @nailsbybayleigh
Classic French Tip Nails with Rhinestones
Rhinestones can easily transform a classic French manicure with white or pink tips.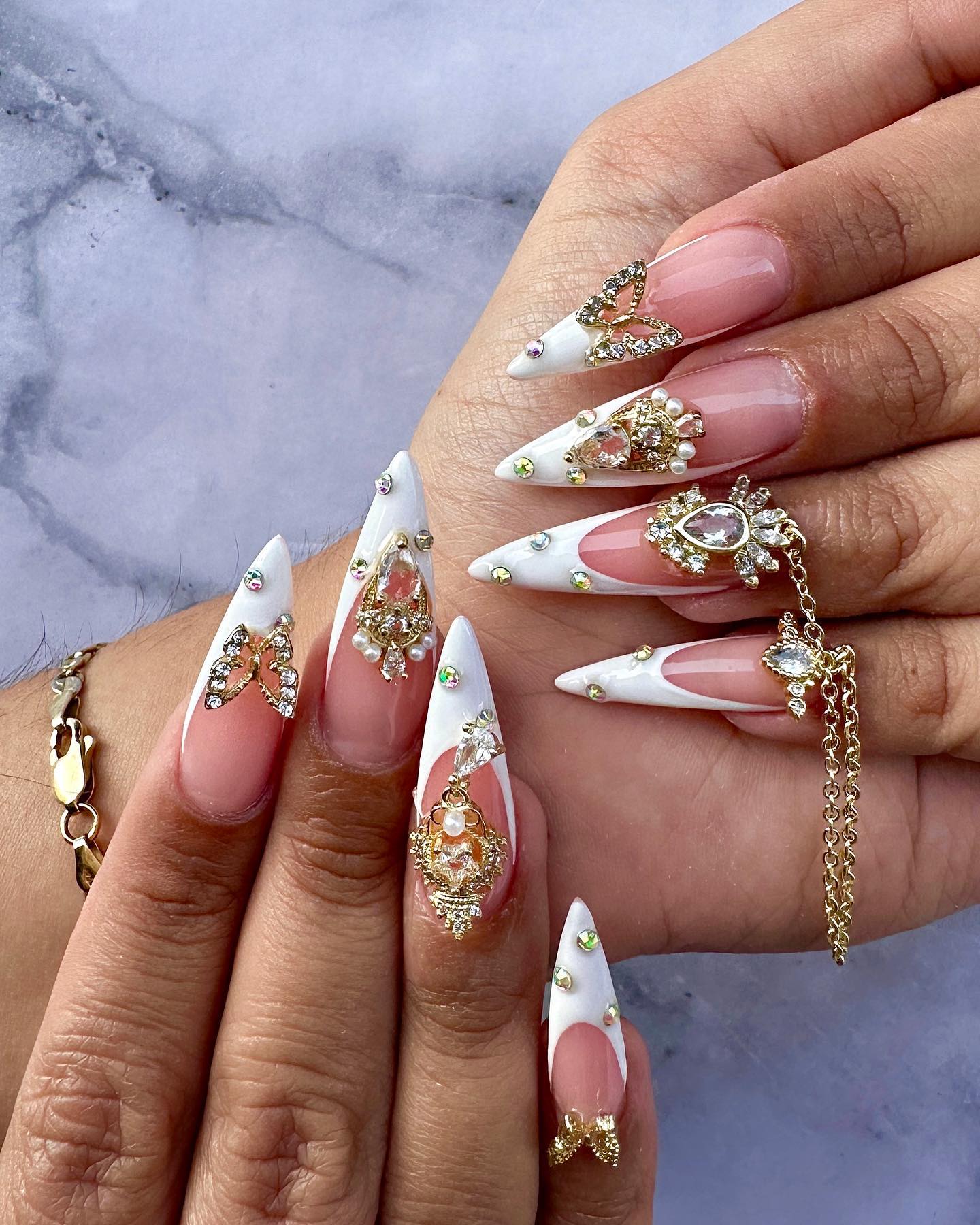 via @queennailspa95
Use them singly to outline nails of different shapes or create an iridescent gradient with glittery pebbles of various sizes.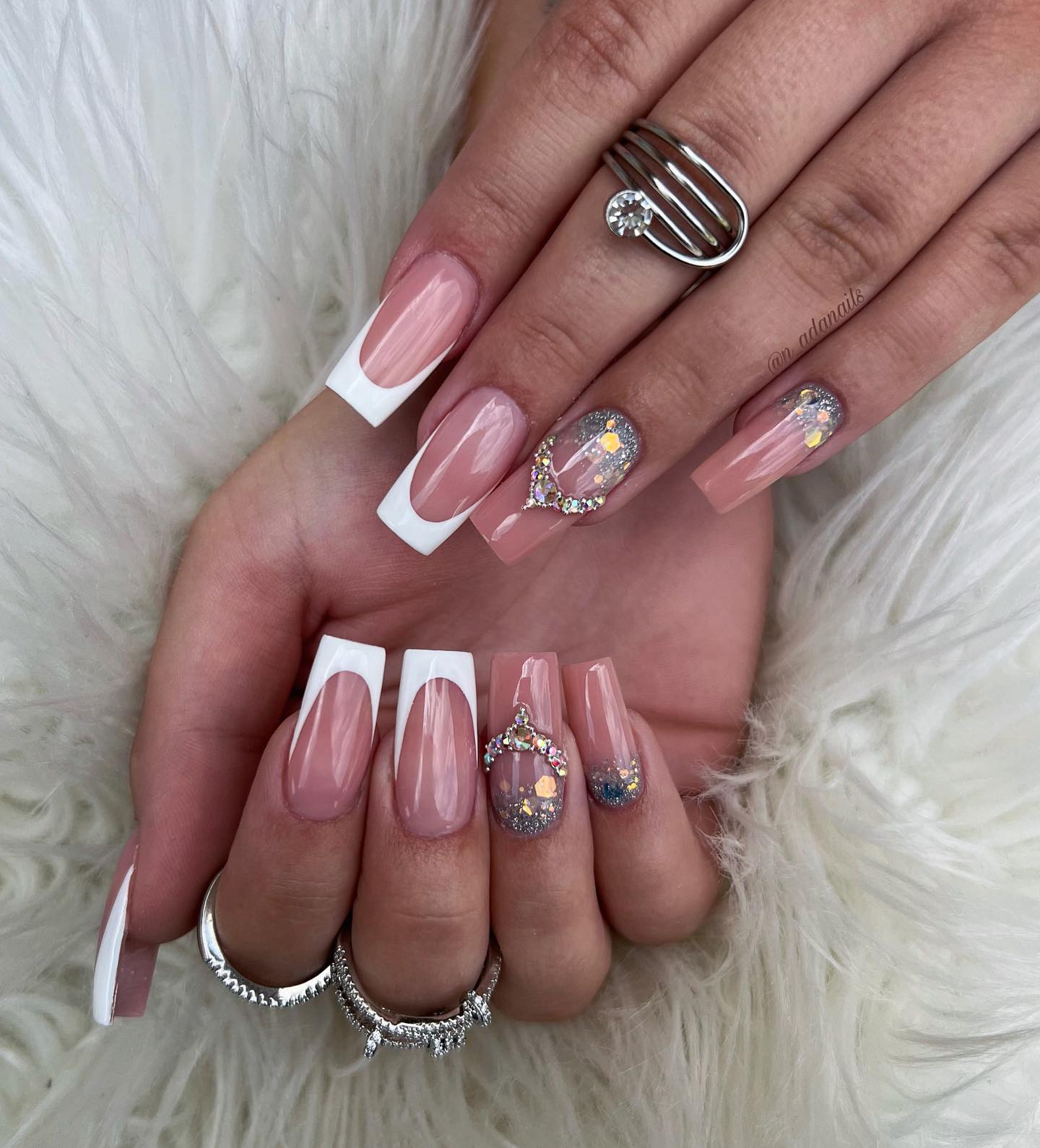 via @n_adanails
Short Nails with Rhinestones
Short nail ideas include many chic options for any occasion. So, you can place a few rhinestones on the ring fingers for a neat yet slightly glamorous manicure.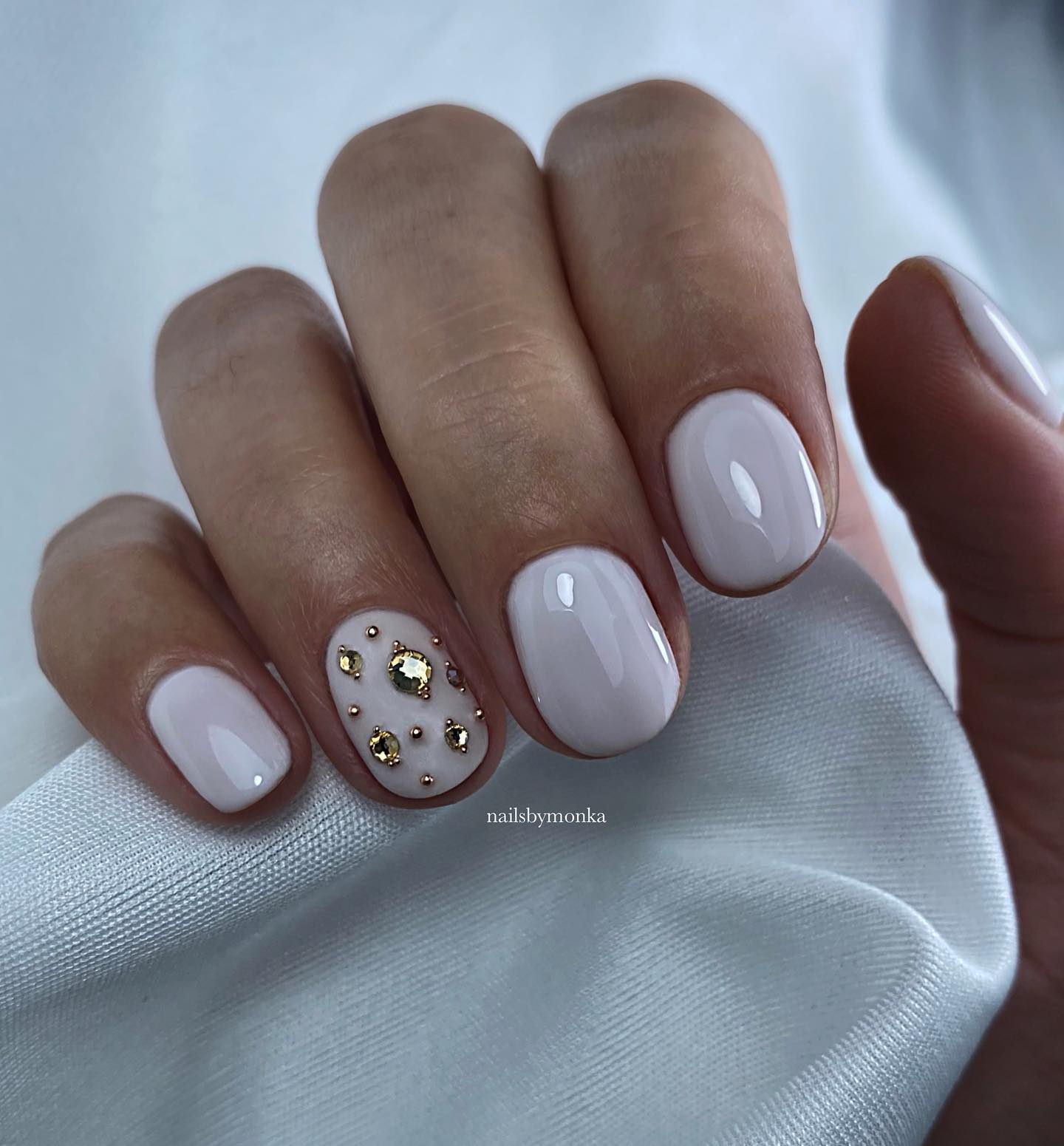 via @nailsbymonka
Are you ready to experiment? Then, try rich black or hot pink short nails to decorate with linear patterns of rhinestones, which will visually increase the length of the fingers.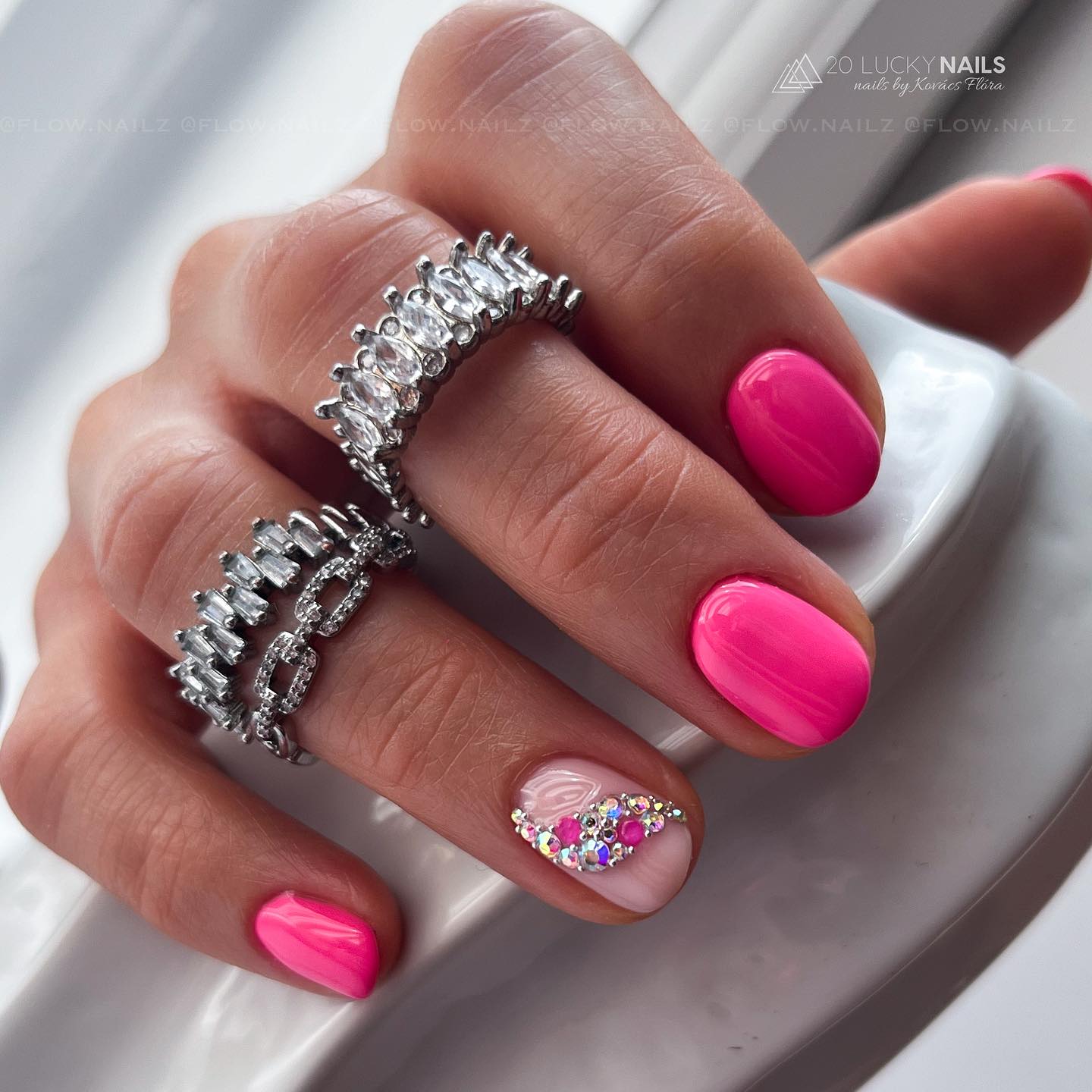 via @flow.nailz
Luxury Black and Gold Nails with Rhinestones
Black and gold glitter nails are the epitome of luxury and glamour. They will help create an irresistible look for celebrations and themed parties, such as a holiday in the style of the Great Gatsby.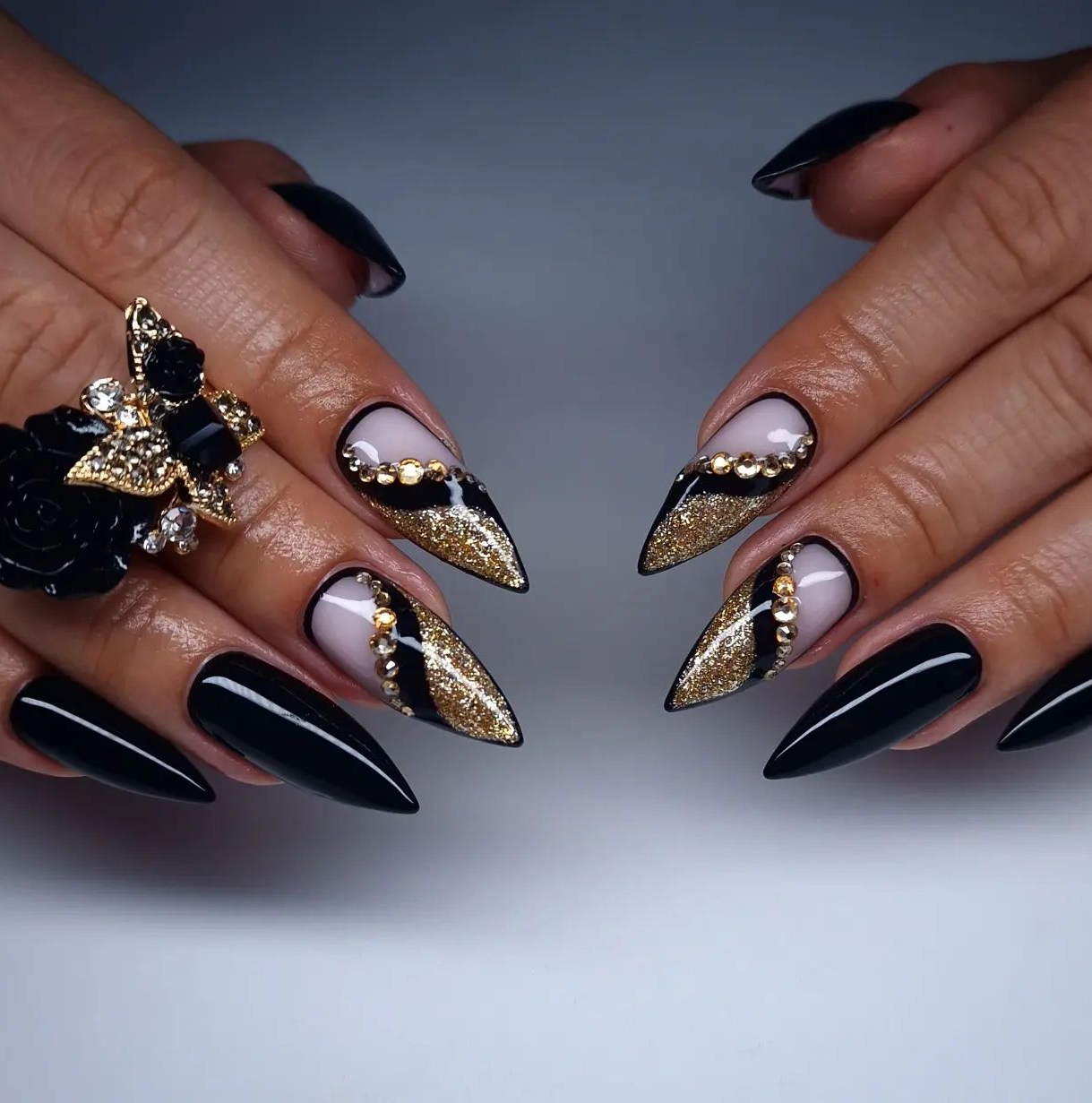 via @ms_nails2019
How do you get a chick look of your black nails? Place gold rhinestones on a black art deco background and create abstract patterns or elegant lines on accent nails.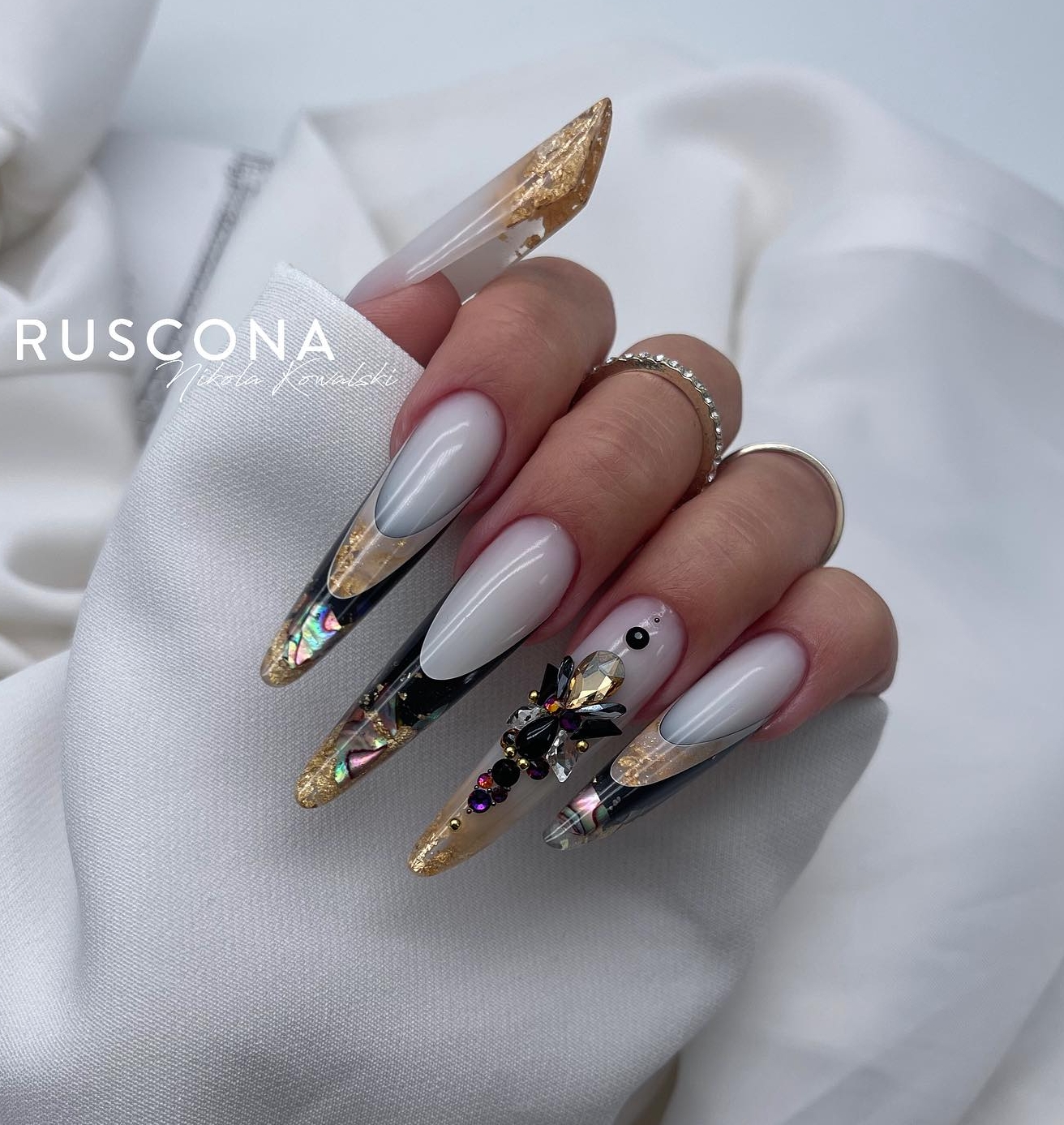 Long Red Nails with Rhinestones
Long nails with rhinestone designs in red or rose color are the choice of brave and self-confident girls!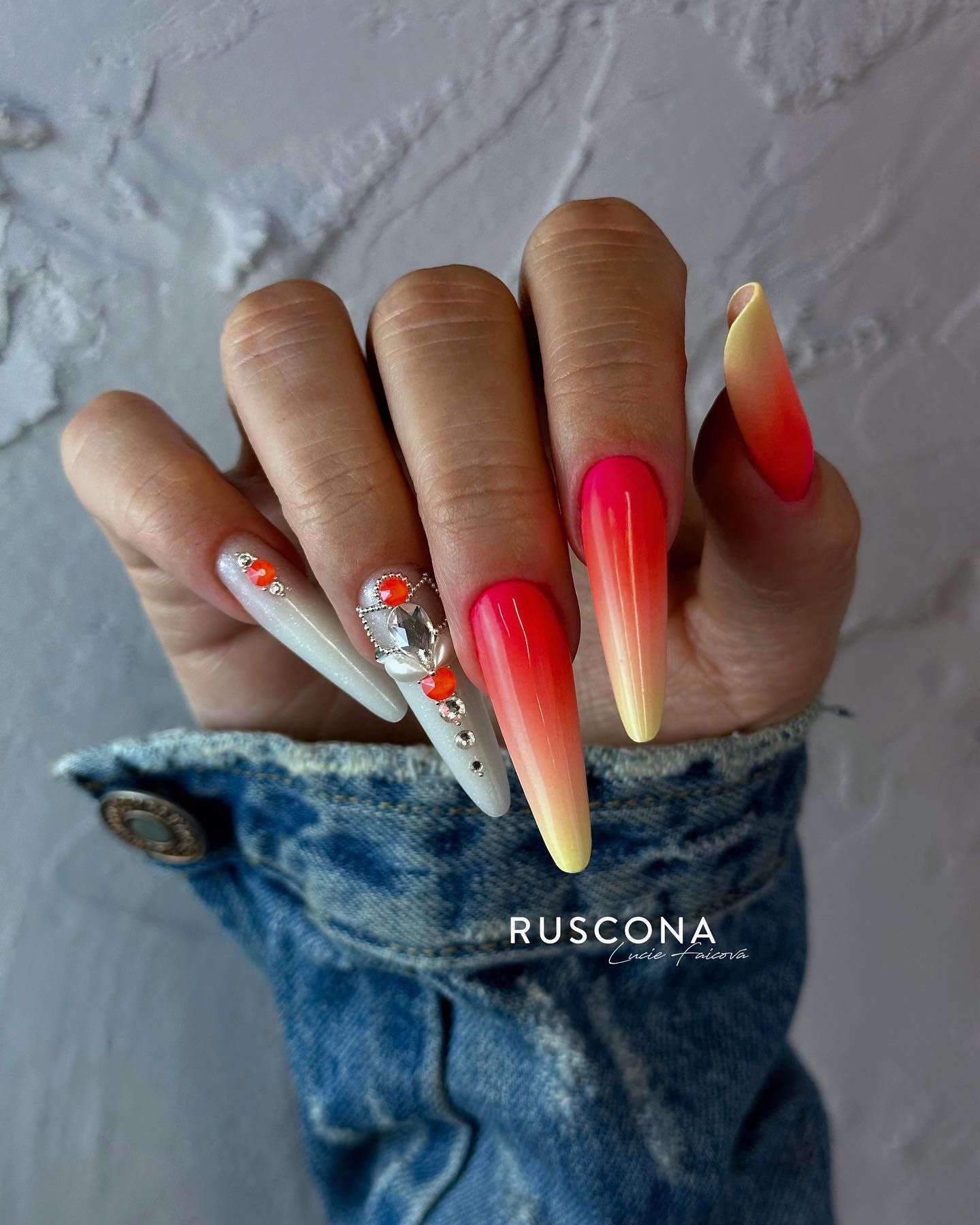 To create a fiery and captivating image, you can use a different number of rhinestones, placed alone or in a gradient. Red manicure ideas are the inspiration, so feel free to get creative!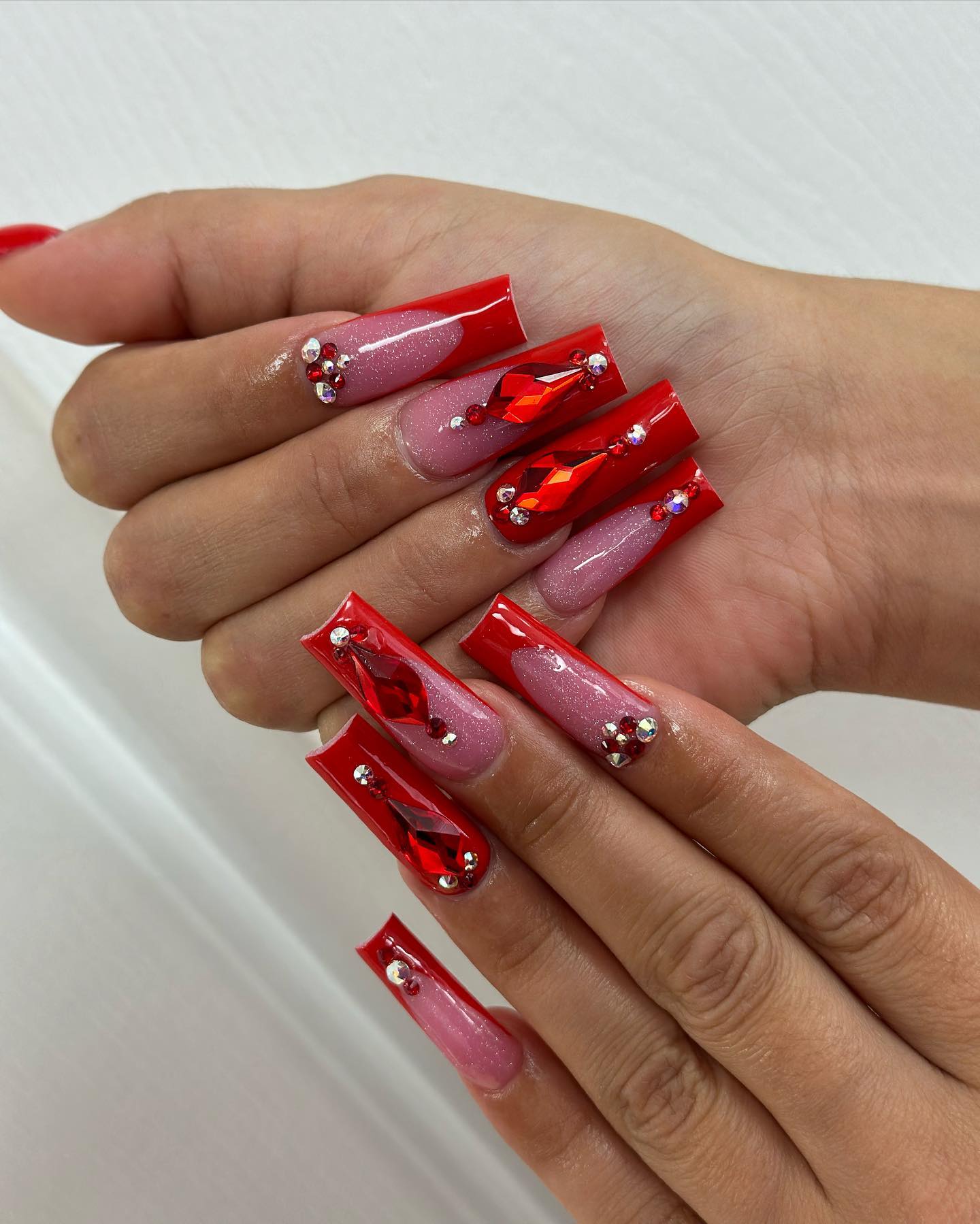 via @laquedlv
Ombre Nails with Rhinestones
Ombre nails with rhinestones guarantee a spectacular combination of colors and textures. This design has a unique depth and volume.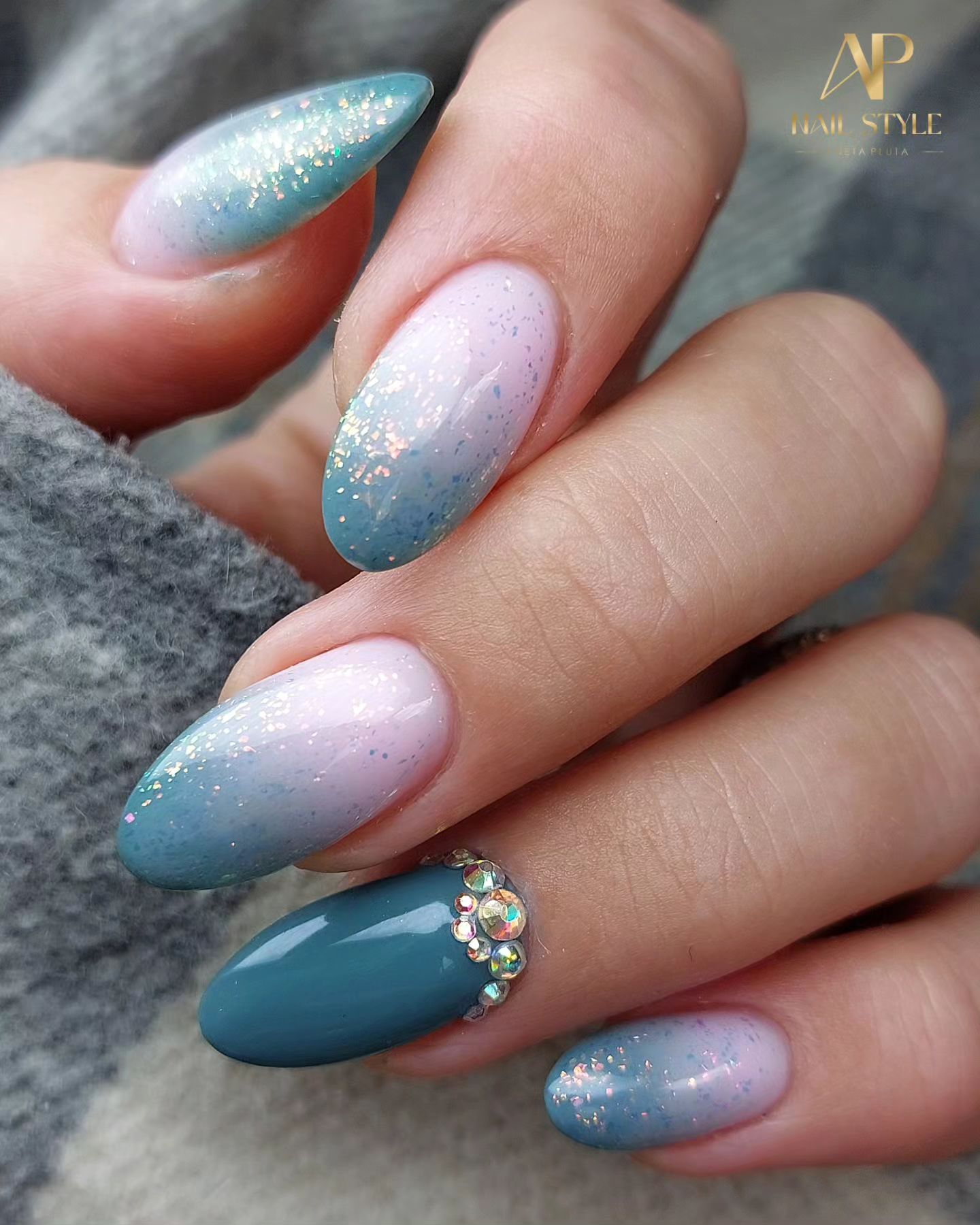 via @anetqaplu
Nails with rhinestones and ombre look great on any length and shape, but they are incredibly stylish to complement coffin-shaped nails.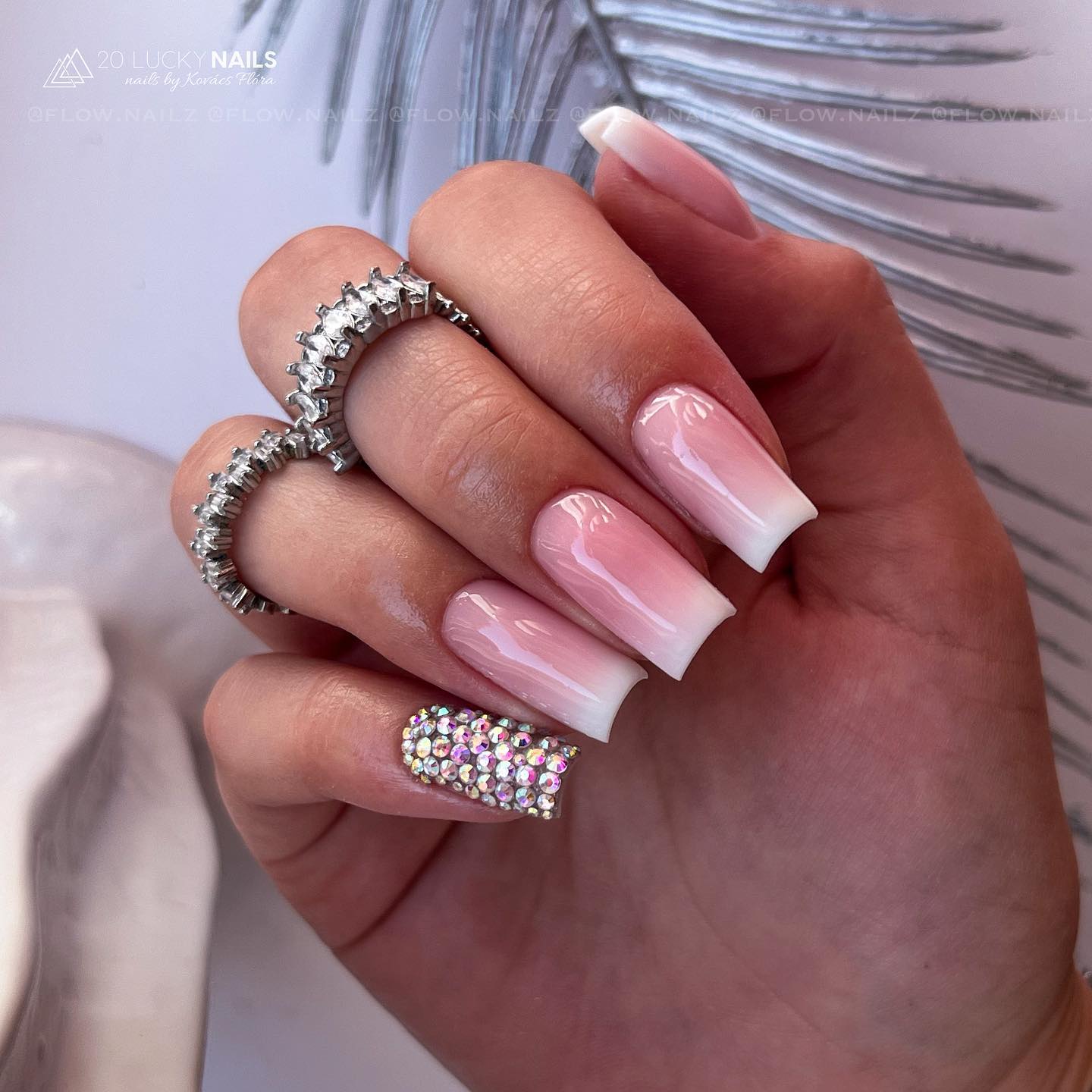 via @flow.nailz
Matte Nails with Rhinestones with a Velvety Texture
Swarovski crystals on matte nails attract with a combination of a soft, velvety shade with a slight sheen.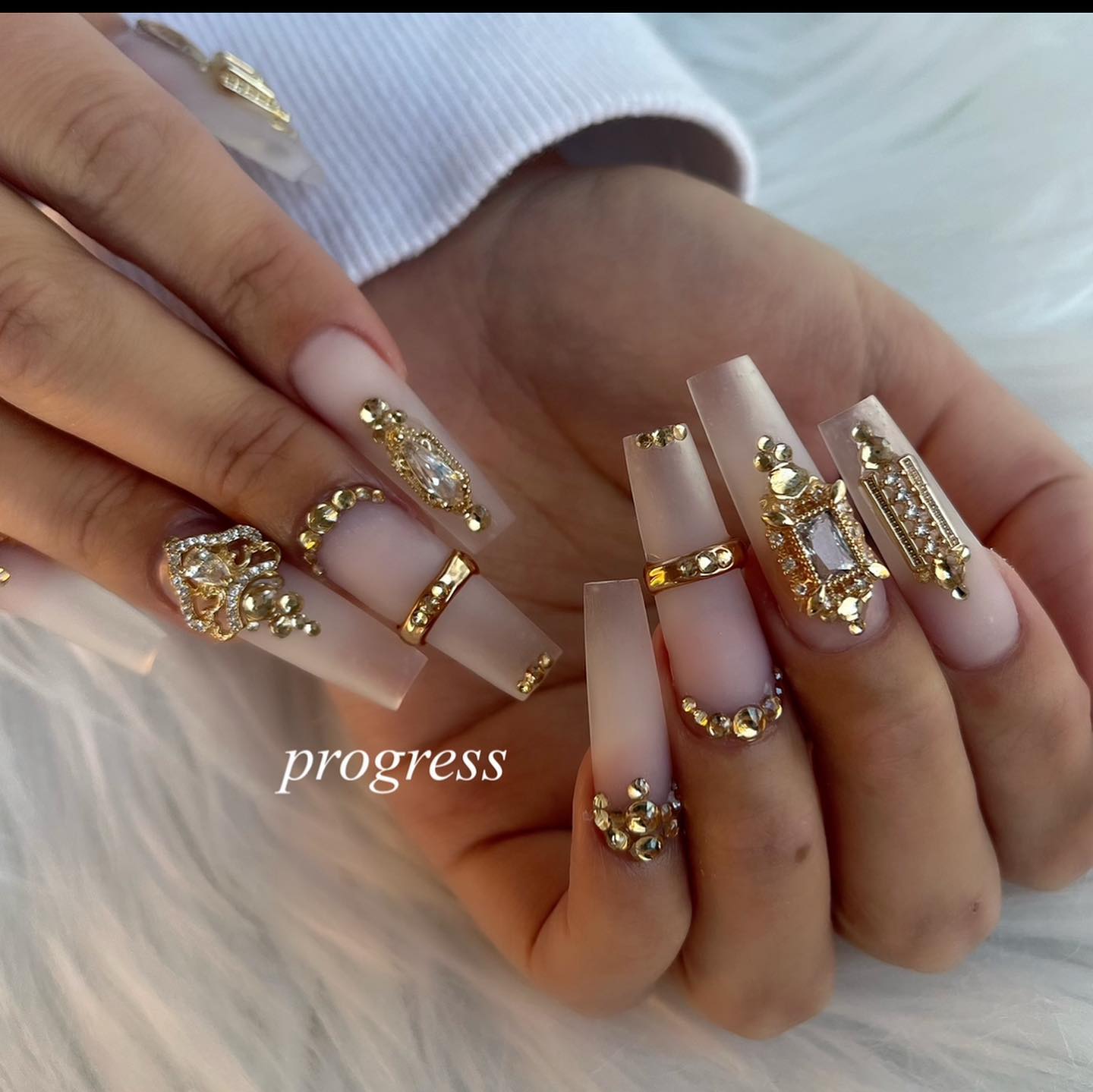 via @maaai_920
Numerous matte nail ideas offer a sophisticated modern take on rhinestone nail art designs, combining edgy glamor with understated elegance.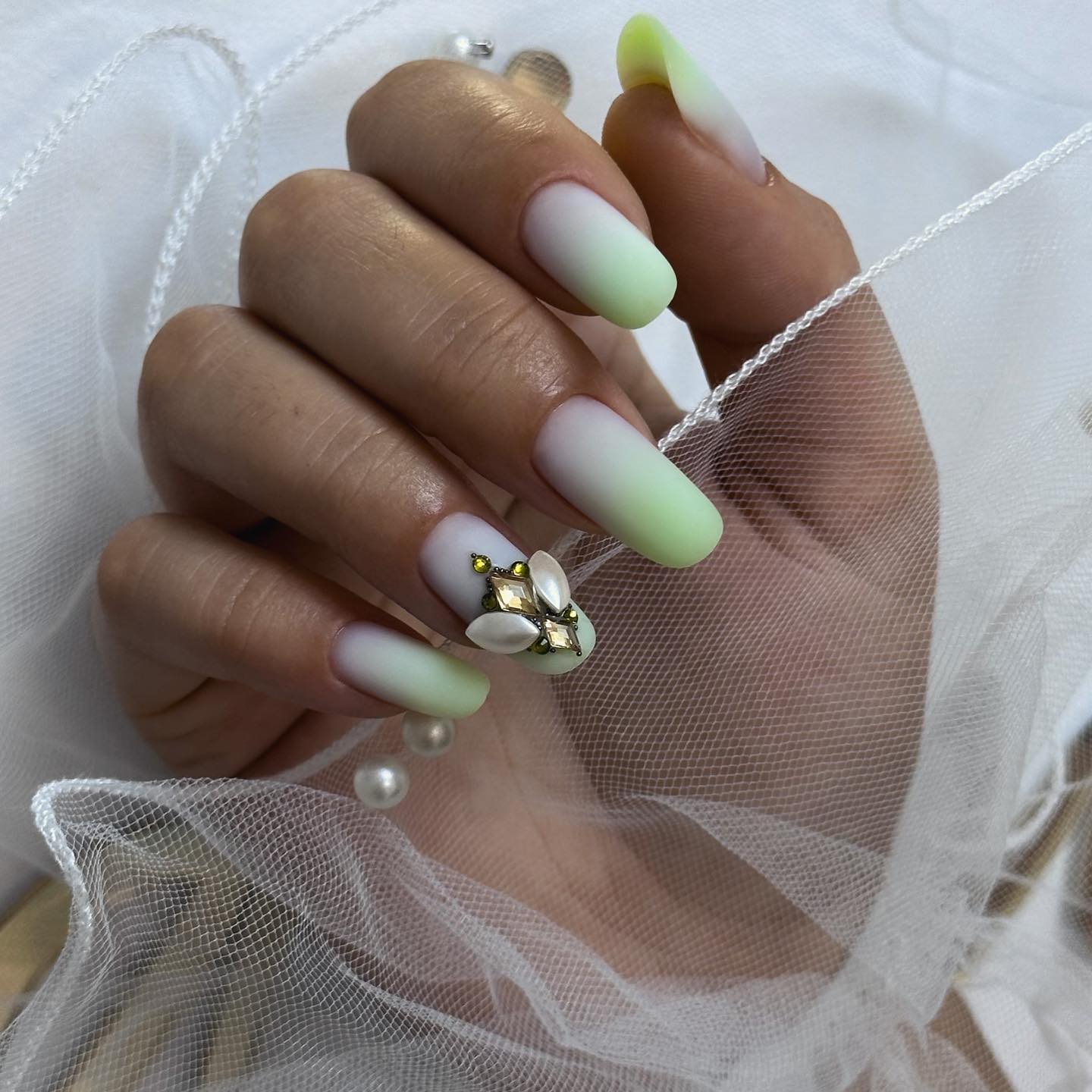 Feminine and Gentle Almond Nails with Rhinestones
Almond nail shape is a beautiful nail art canvas. It only improves if you add a few rhinestones to this manicure!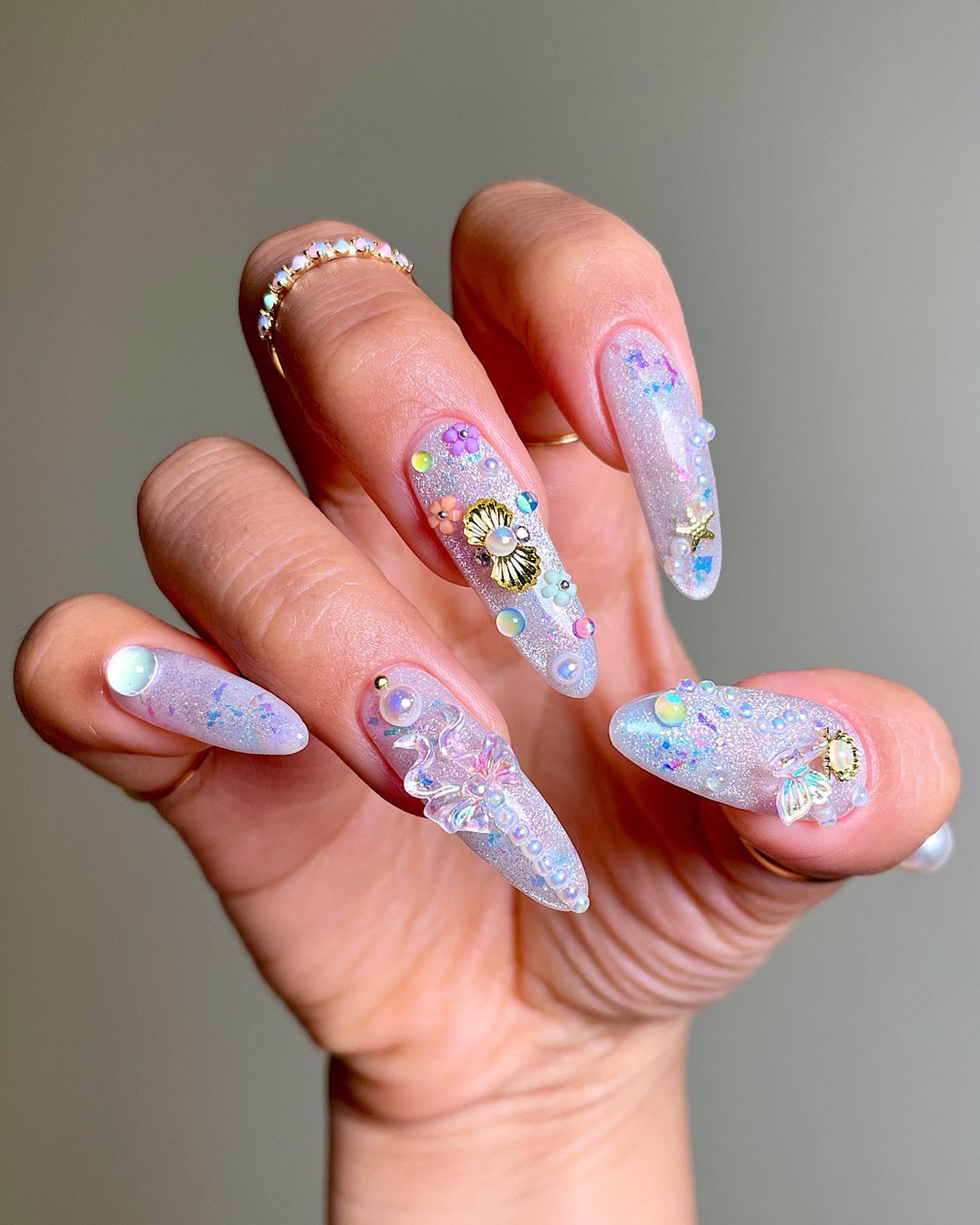 via @sansungnails
Often, girls choose light pink nails or designs in other pastel colors that radiate femininity and sophistication.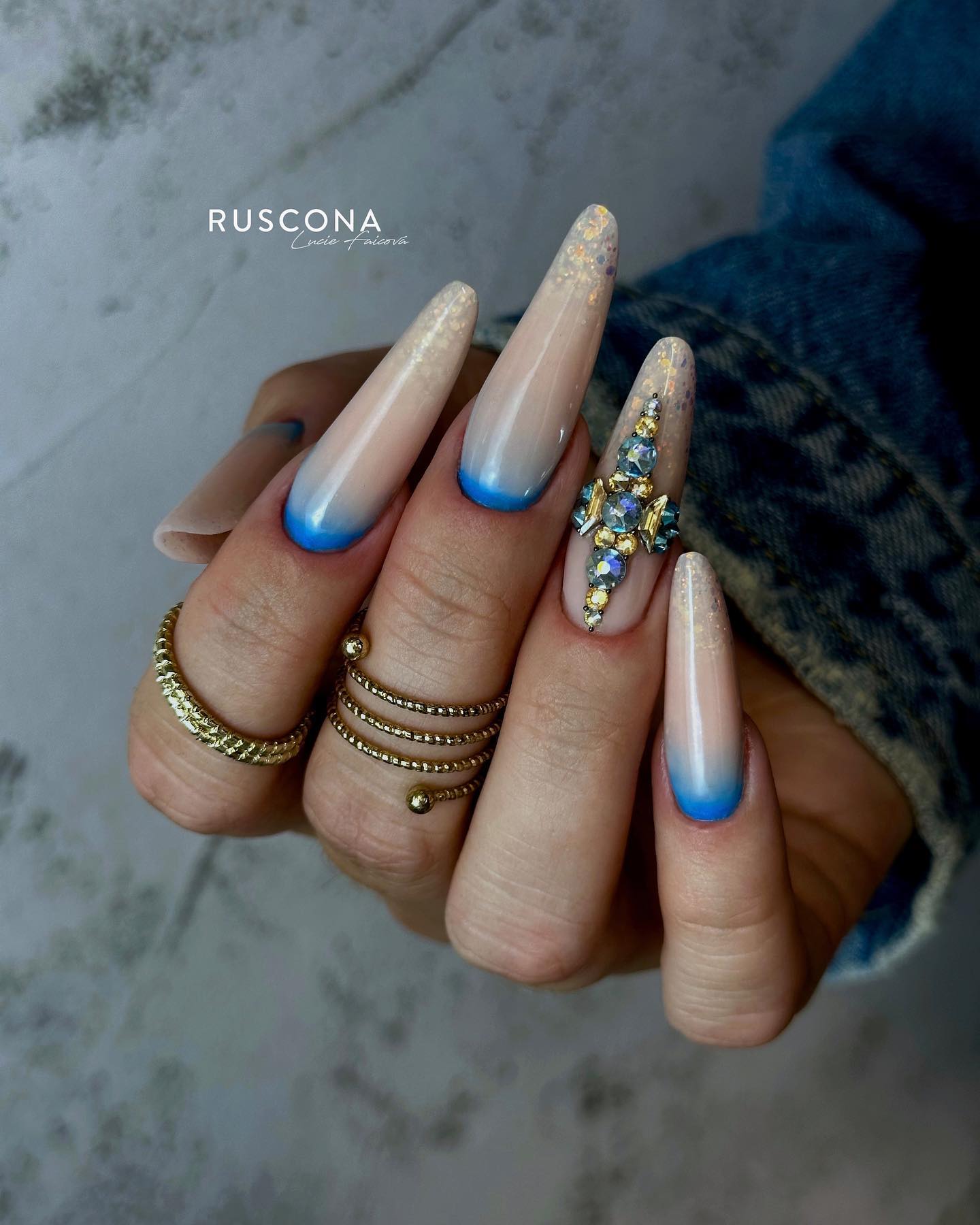 Trending Nails with Colorful Rhinestones
Playful sparkling rhinestones on long nails deserve your attention.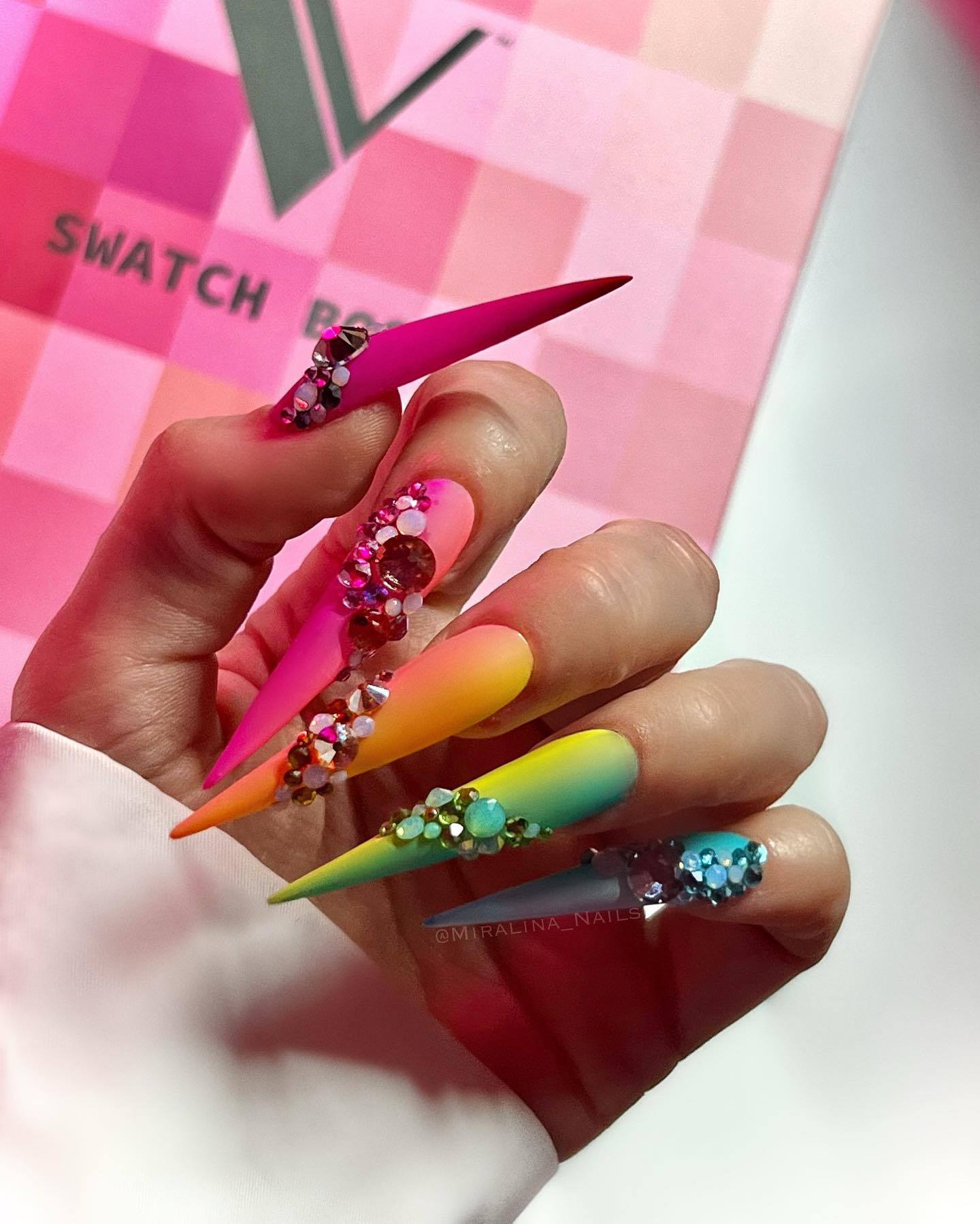 via @miralina_nails
Rainbow patterns, gradient metallic designs with gold or silver rhinestones, and colorful mosaics are just a few of the ideas that are easy to implement with green rhinestones and decor in other colors.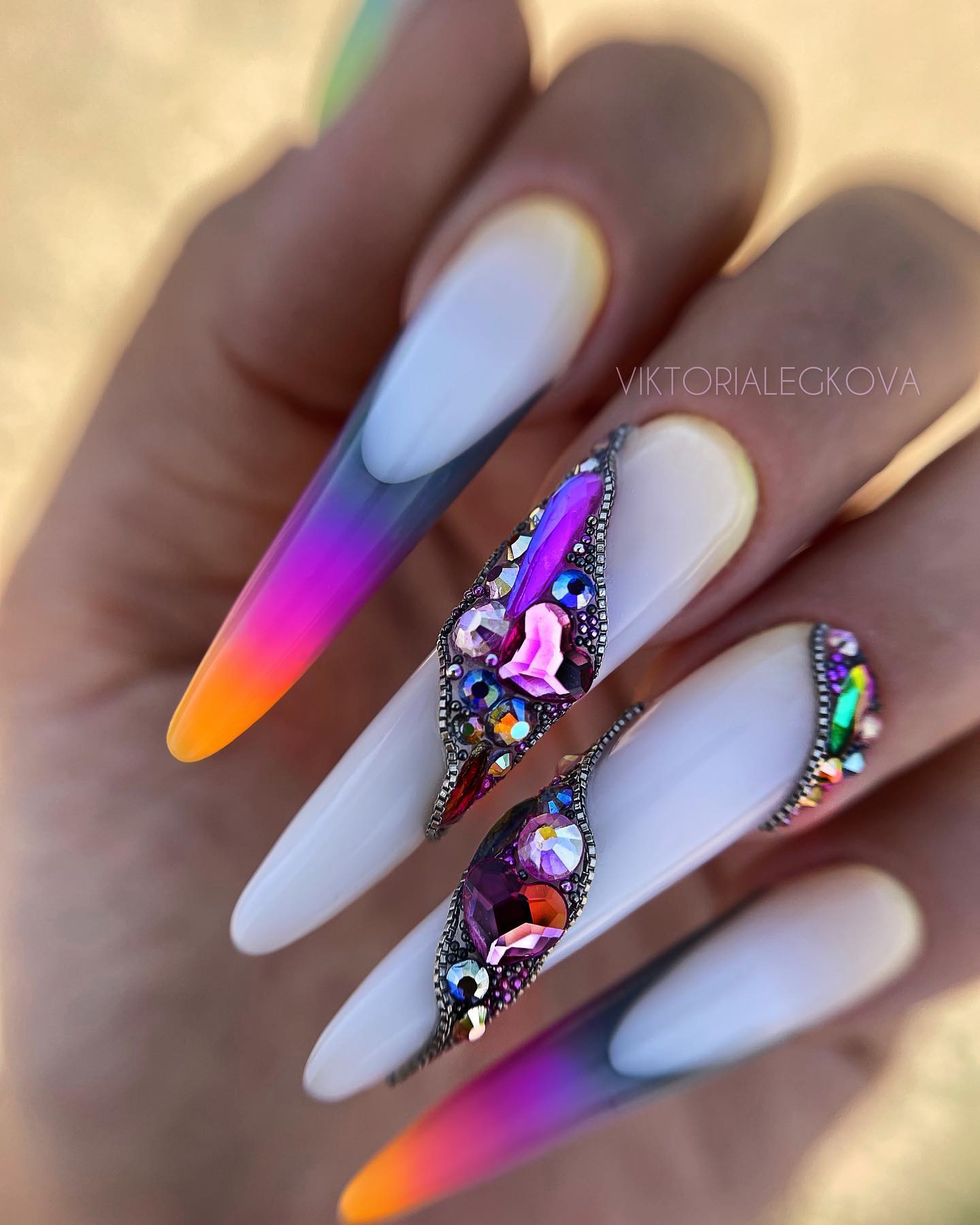 via @viktorialegkova
Square Nails with Rhinestones
Square nails of any length allow you to realize the wildest ideas! One of them is a French manicure with decor.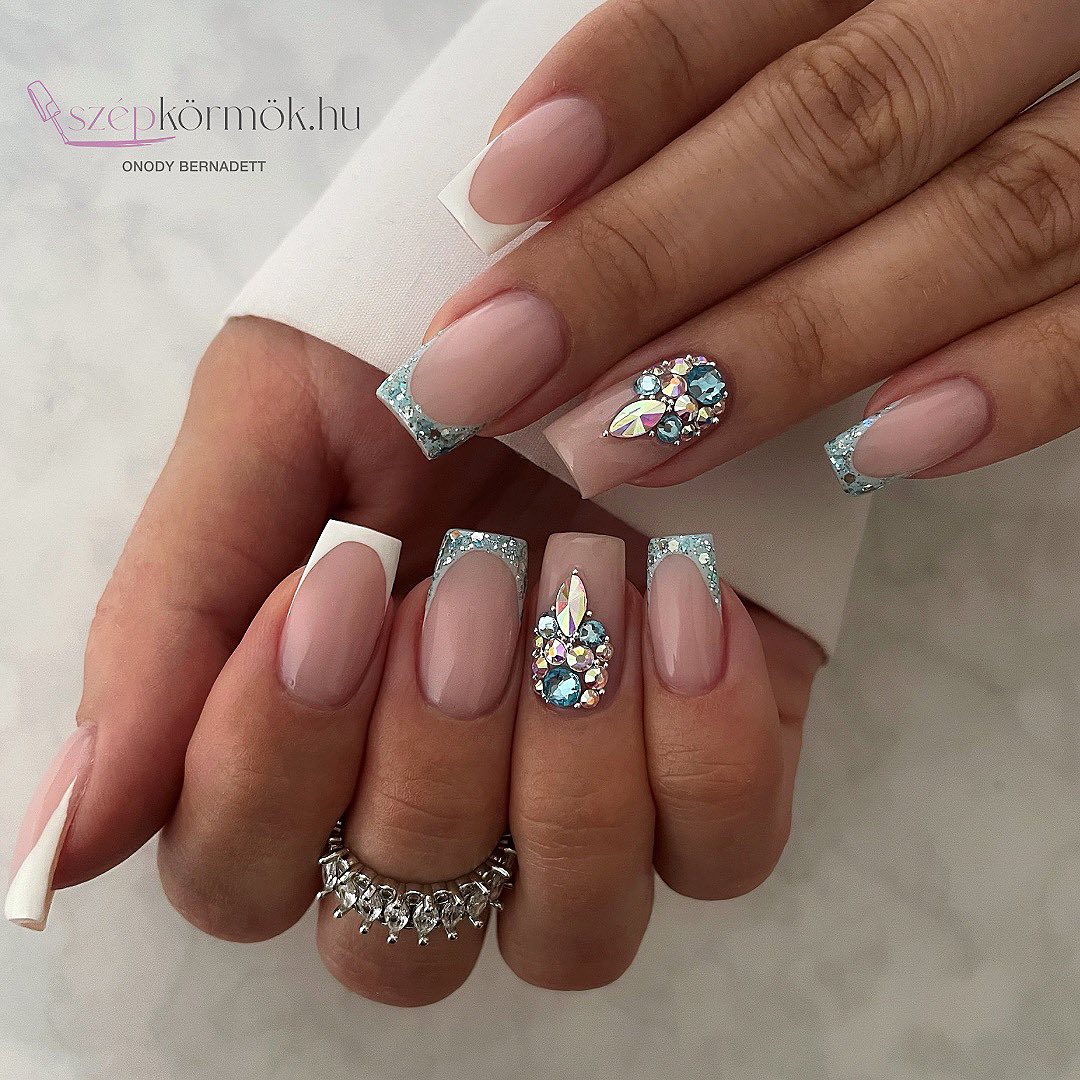 via @_bettynails_
To diversify a traditional design, choose tips in bright colors and use sculpting or rhinestones for nails.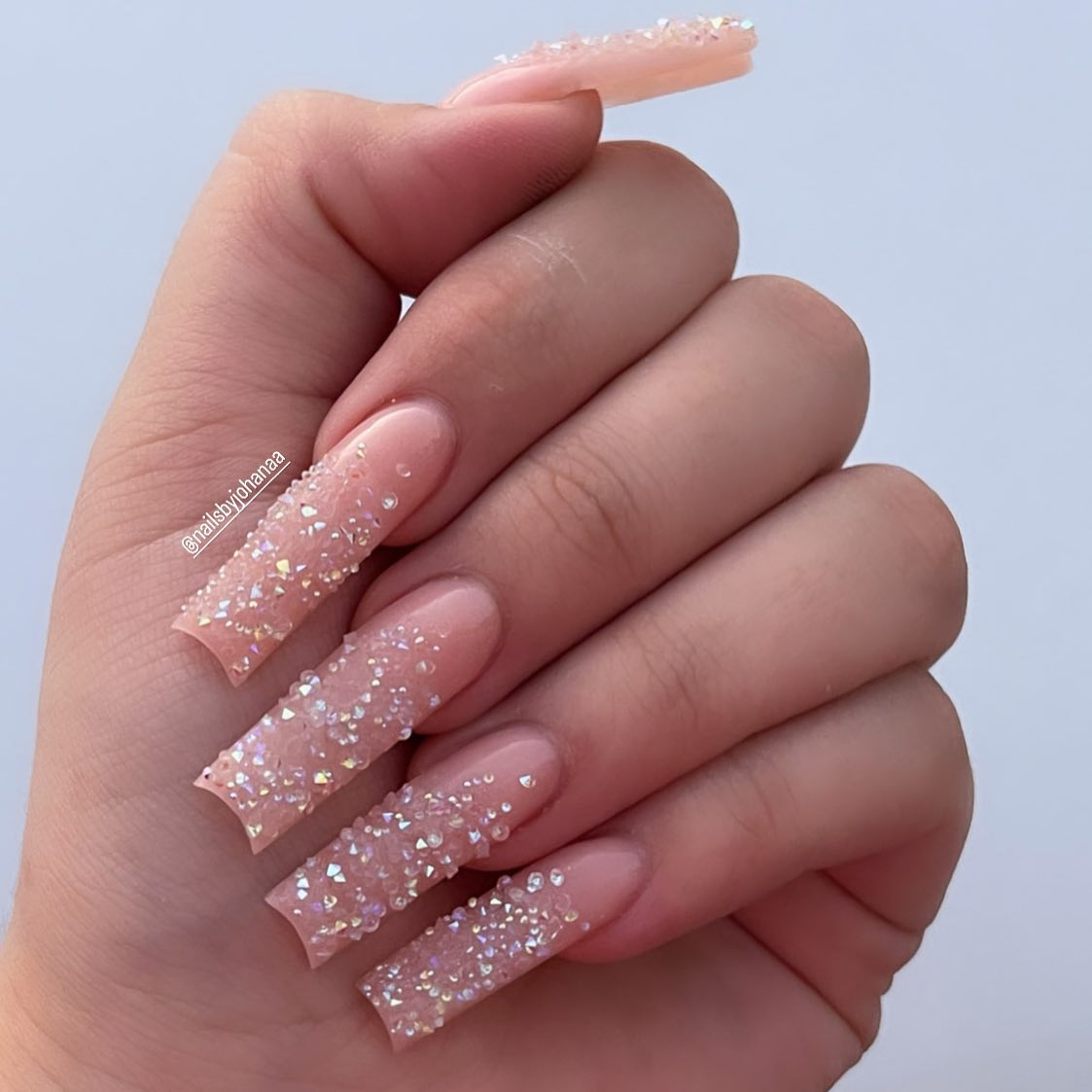 via @nailsbyjohanaa
FAQ
How to apply rhinestones to nails?
To apply rhinestones to your nails, follow the simple instructions:
Prep nails by cleaning and shaping them.
Apply a clear base coat to form an adhesive surface.
Take the rhinestones with tweezers and carefully place them on the nails while the base is still sticky.
Secure the rhinestones with a top layer.
That's all you need to fix the rhinestones!